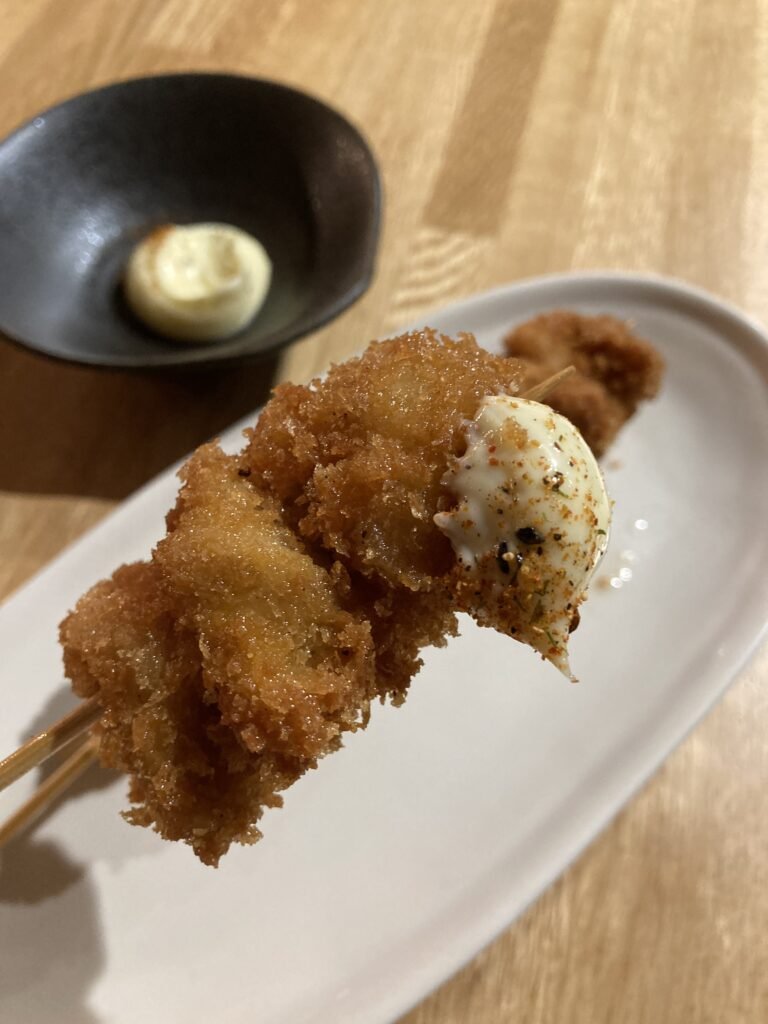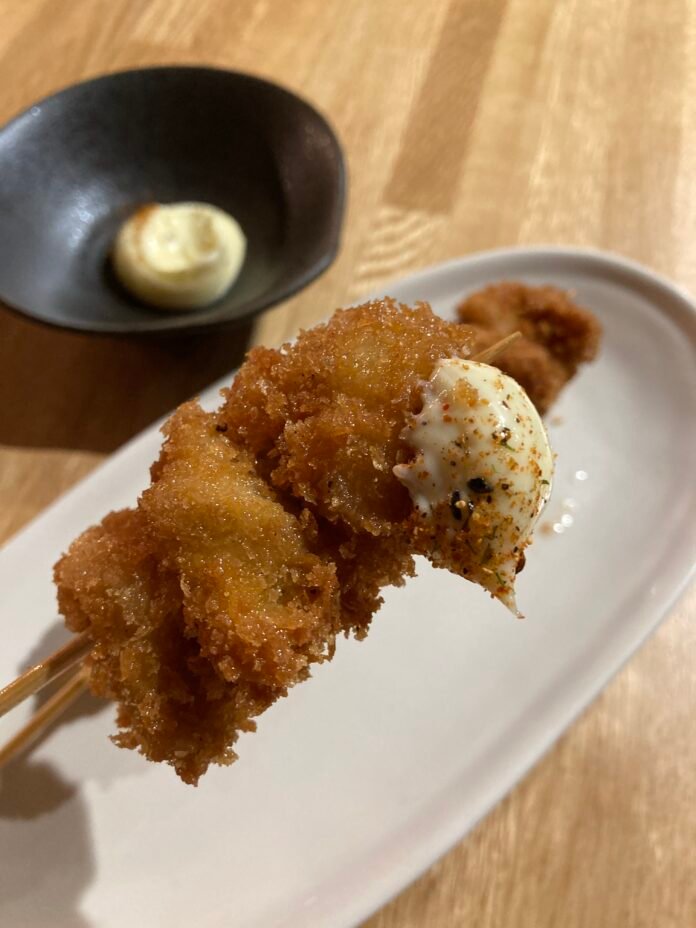 Everyone may know of the traditional Japanese Fried Chicken, called 'karaage'. Marinated chicken breasts are gently deep fried with hints of soy sauce and garlic, resulting in succulent, crispy fried chicken. In contrast, torikara is coated in breadcrumbs, offering a different type of crunch and juiciness to karaage. It's great to enjoy as a snack and I will show you how to make torikara as well as a karaage variation.
What is Torikara?
Torikara is chicken breasts that have been cut into finger size pieces, breaded and then deep fried. The result is a deliciously addictive, crunchy and juicy piece of chicken that will satisfy anyone's taste buds. Fried chicken is great but what further elevates to another level, is the use of sauces, spices and herbs as a topping. It is common to use sauce such as mayonnaise or yuzu spice to add another dimension to torikara.
What is Difference Between Karaage and Torikara?
Karaage is a classic Japanese fried chicken dish, that can be found anywhere throughout Japan from izakayas to convenience stores. Pieces of chicken are marinated in a soy sauce, mirin, sake and garlic. Next, is is coated in flour and deep fried till golden brown and crispy.
Karaage is probably one of the most common dishes throughout all of Japan. You will most definitely find it in every izakaya you go to and every convenience store has it's own brand of karaage. It's one of my favourite dishes that my mother used to cook. The sweet, salty and juicy chicken was incomparable to the likes of KFC or other western style fried chicken.
On the other hand, torikara is not marinated but it is simply seasoned with salt. It is then rolled in flour, dipped in an egg and then breadcrumbed and deep fried till golden brown. The differentiating taste comes from the variety of toppings used. Although it is similar to karaage, torikara has more versatility in terms of flavour.
---
History of Torikara
The real boom of torikara started only in 2009 when a shop called Kinnotorikara started making the delicious snack. As street food started to become more and more popular, this shop decided to take the classic Japanese karaage (fried chicken) and turn it into a quick and easy snack. Fast food became increasingly popular and with karaage being found in restaurants and izakayas, there was no way to find it on the go. Therefore Kinnotorikara pioneered the delicious torikara stick.
---
Toppings for Torikara
Mayonnaise
Avid readers of my 'How to make' articles know my love of kewpie mayonnaise. This is a popular topping for Japanese karaage as it balances the salty and juicy chicken. With torikara, it goes just as well and will a dash of Japanese seven spice (Shichimi), it is the perfect topping.
Lemon
Another common topping for Japanese karaage. Lemon helps cut through the meatiness of the chicken and refreshes your palette. Having deep fried chicken can be quite heavy to consume so lemon really helps brighten and lightens the dish. It's the same for torikara and because it is often served in quite large portions, lemon is a great topping.
Barbeque
Barbecue topping isn't as popular in Japan as it is in Western countries. For anyone travelling to Japan, it might be harder to find than usual. However, if you can get a hold of it, the tangy, sweet and salty barbecue taste goes brilliantly with fried chicken.
---
How to make Torikara
Ingredients
1 Chicken thigh or breast
1 Egg
15g plain flour
Panko Breadcrumbs
Neutral flavoured oil
Topping of your choice (mayonnaise etc.)
Method
STEP 1
Cut your chicken thigh/breast into small bite size pieces. Season the chicken with salt and pepper. You can also season it with garlic/ginger if you like! Get creative and don't feel limited to my recipe! Leave this to marinate for 20 minutes.
STEP 2
Prepare the flour, egg and panko breadcrumbs in three separate bowls.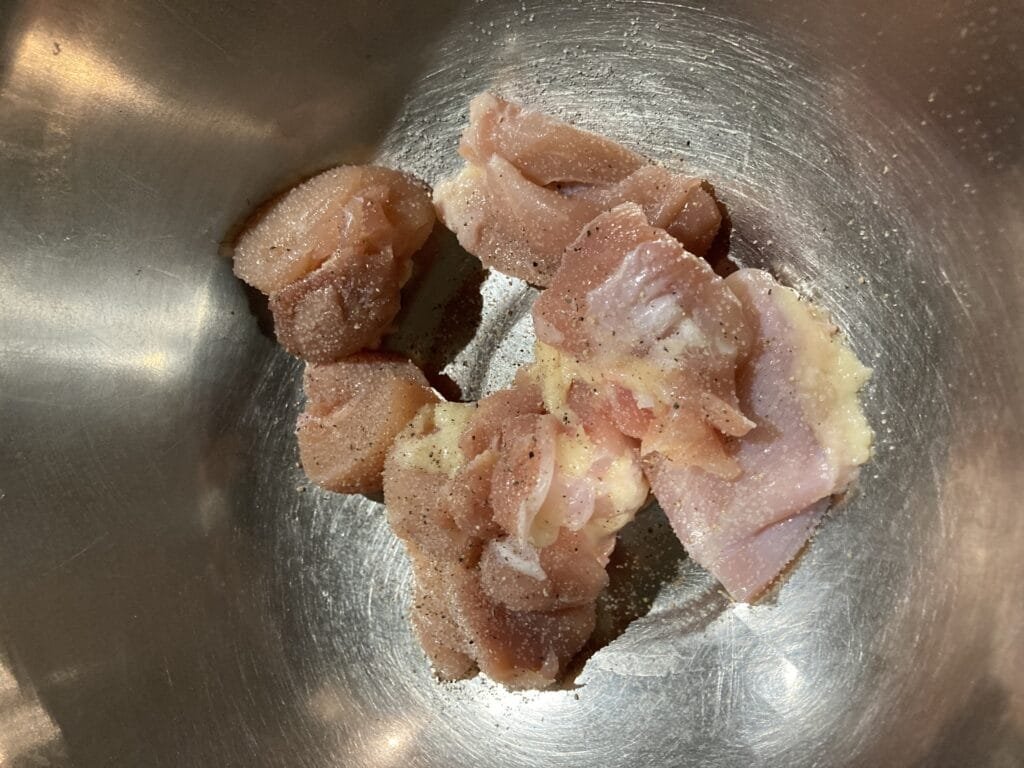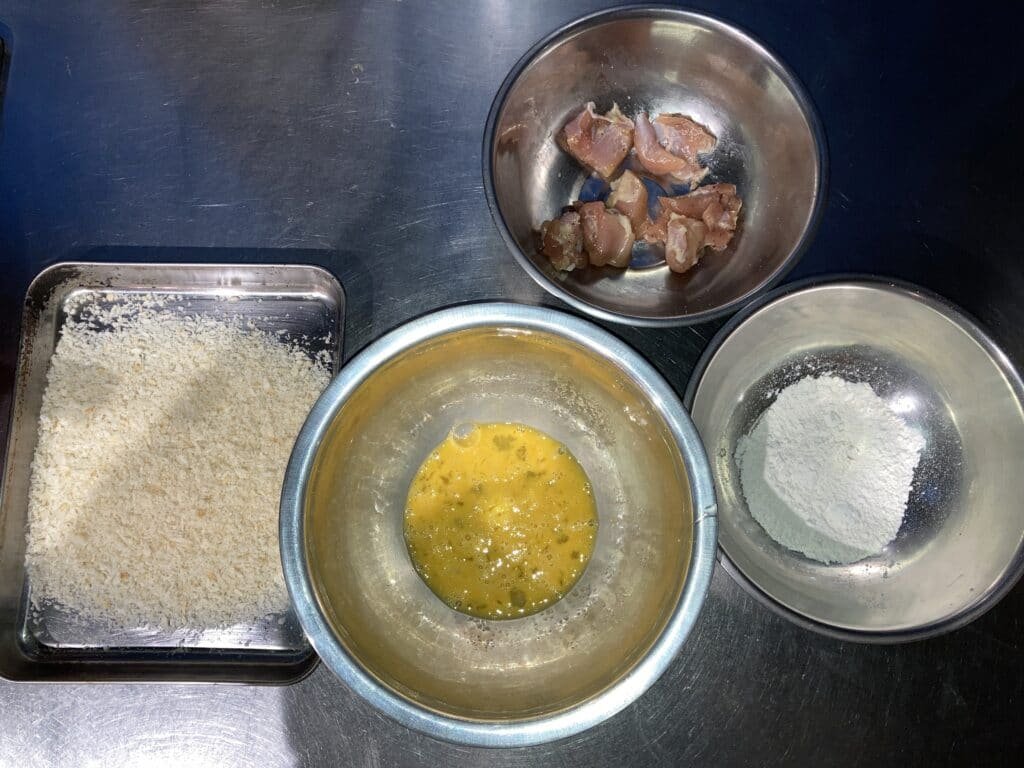 STEP 3
Heat your oil to 170 degrees.
STEP 4
1 piece at a time, roll the chicken into the flour with your right hand. Shake each piece to remove excess flour.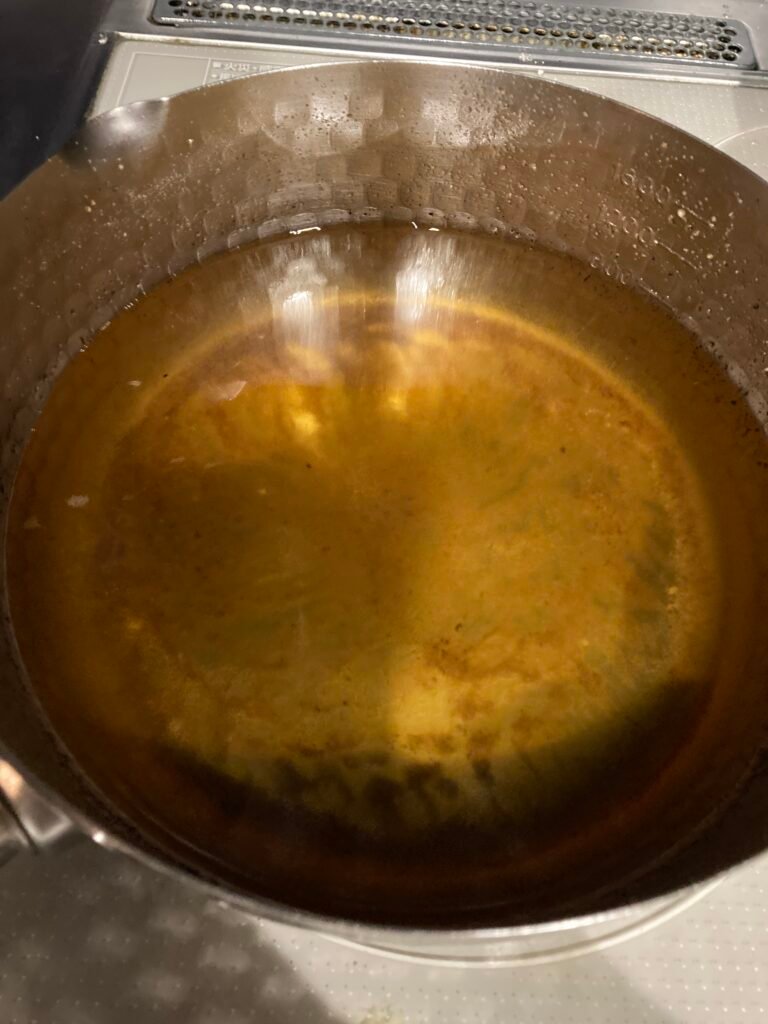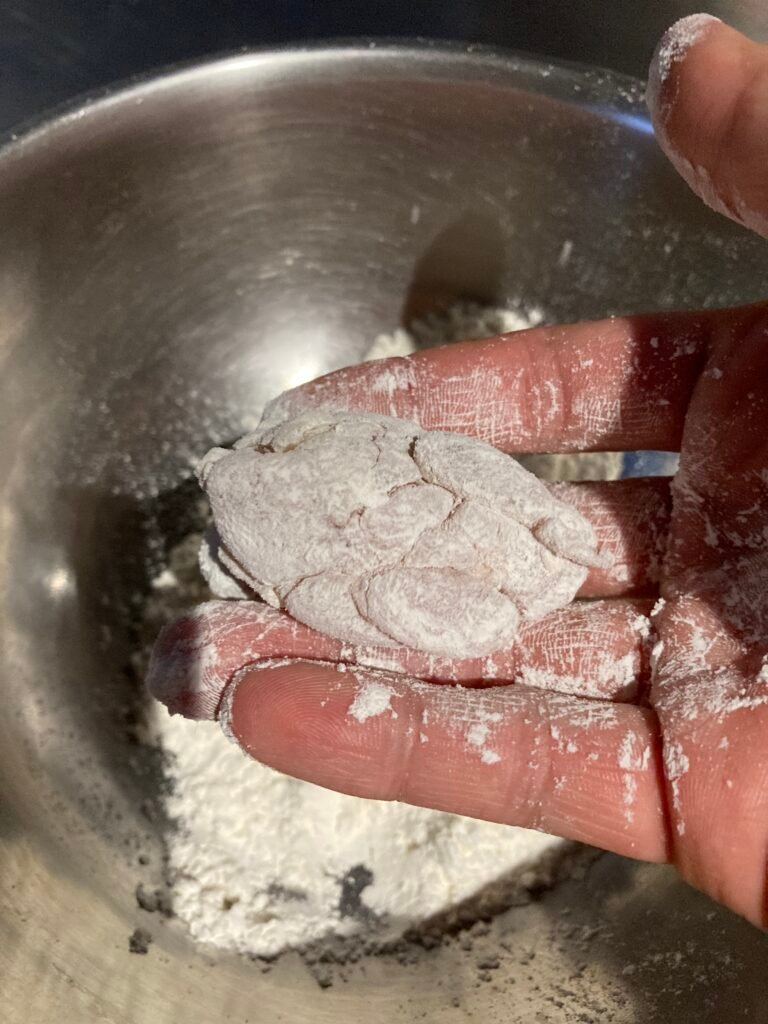 STEP 5
Add the flour coated chicken into the beated egg. Using your left hand, roll the chicken in the egg and make sure it is fully coated. This will ensure all the chicken gets coated in the breadcrumbs.
STEP 6
Using your right hand, roll the egg washed chicken in the breadcrumbs. Pat the panko all over to make sure it is fully coated.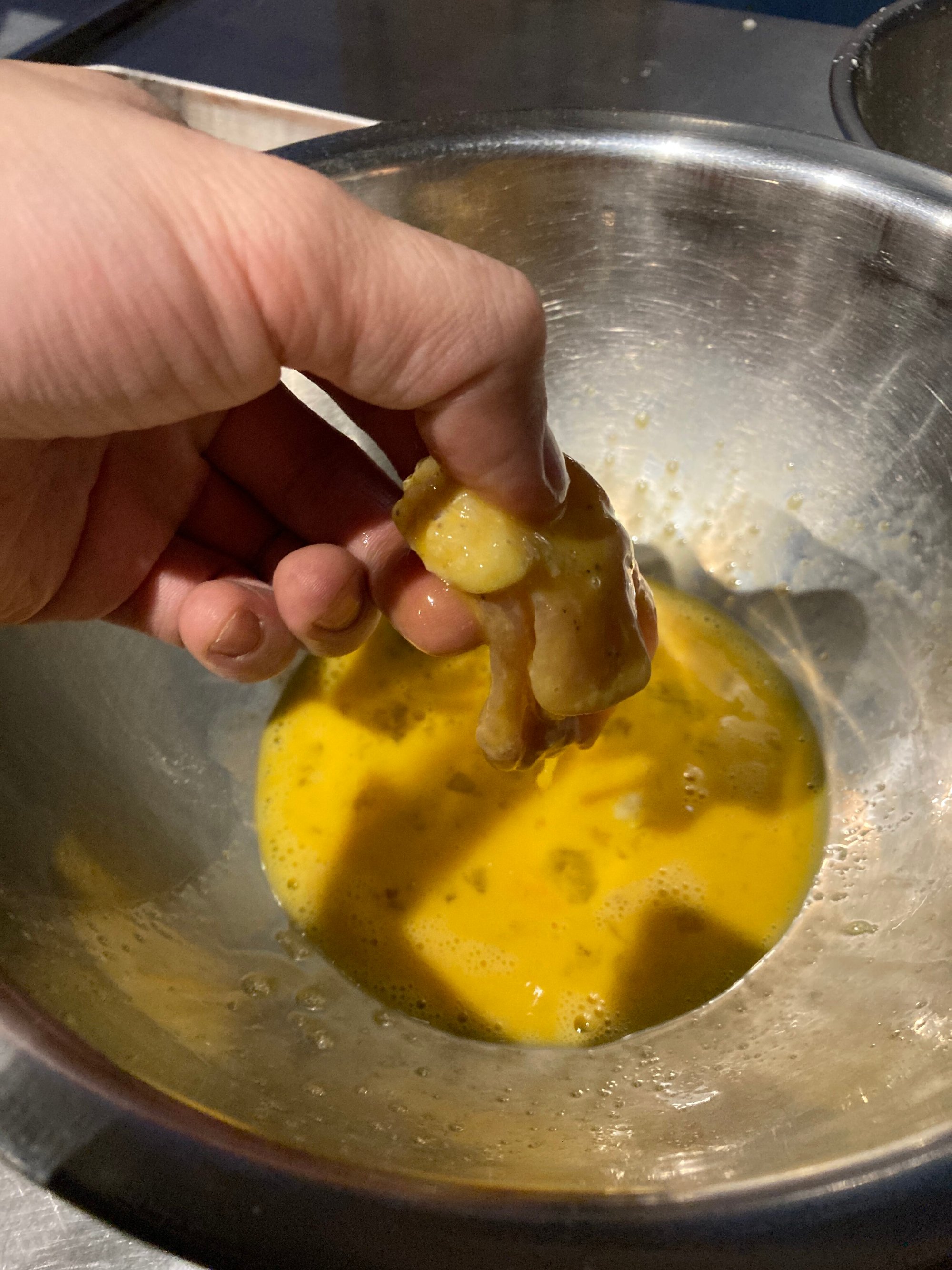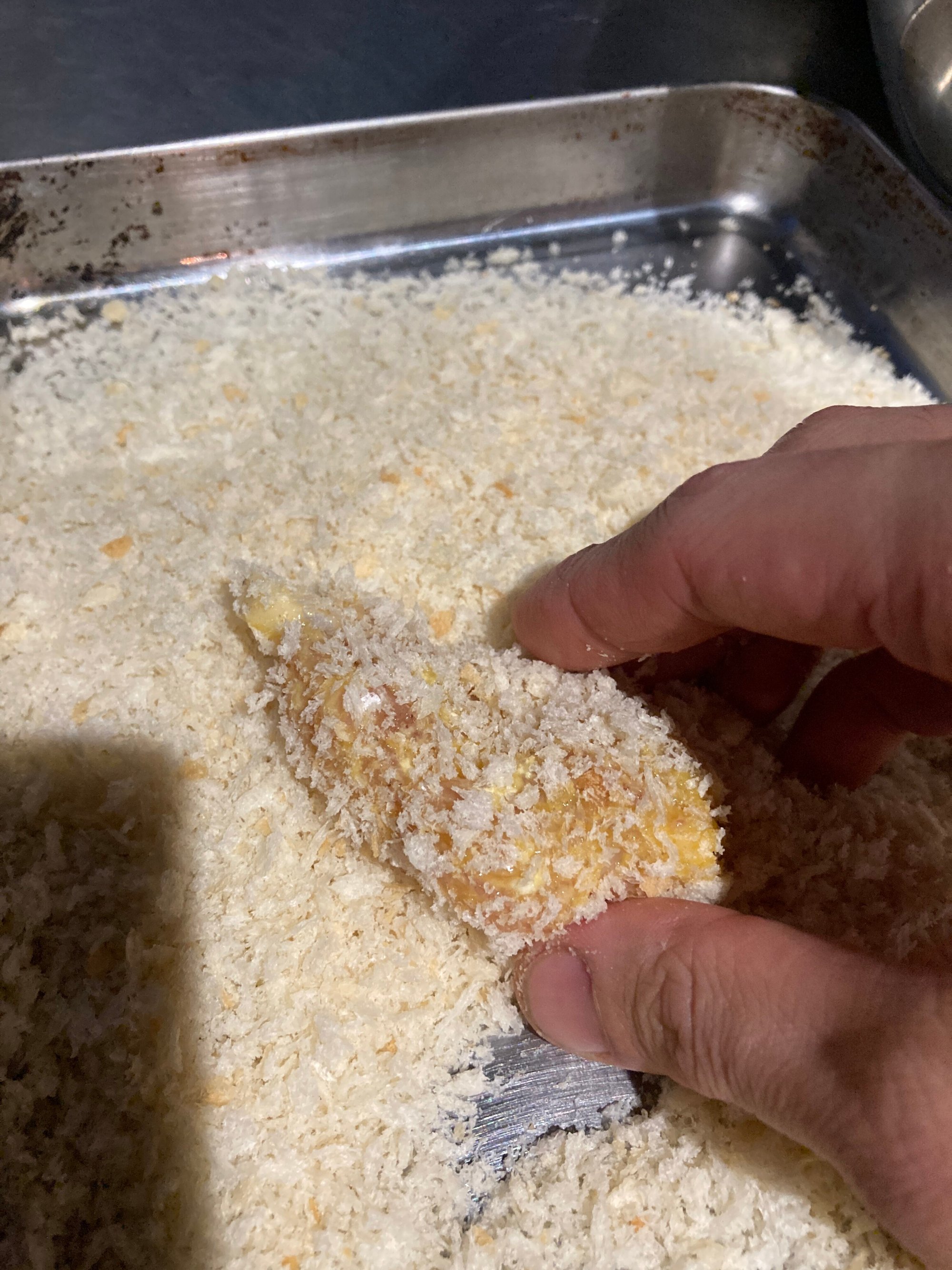 STEP 7
Skewer the chicken onto the sticks. I would recommend adding no more than 2/3 pieces as it will become difficult to deep fry.
STEP 8
Deep fry the chicken until golden brown and cooked through.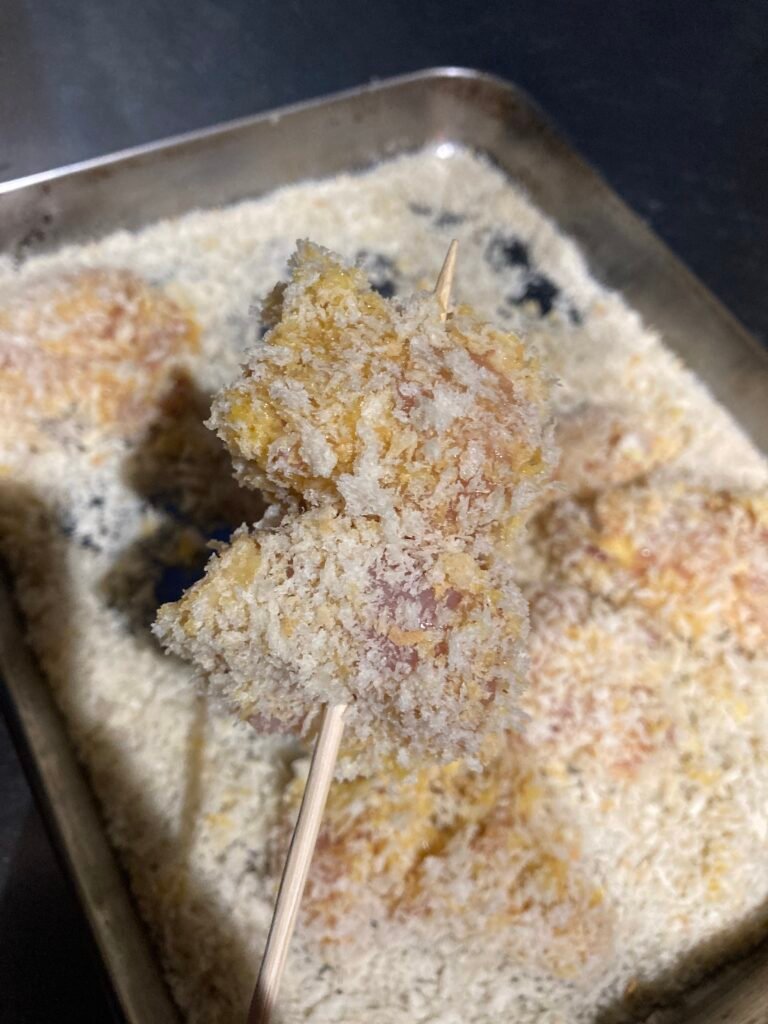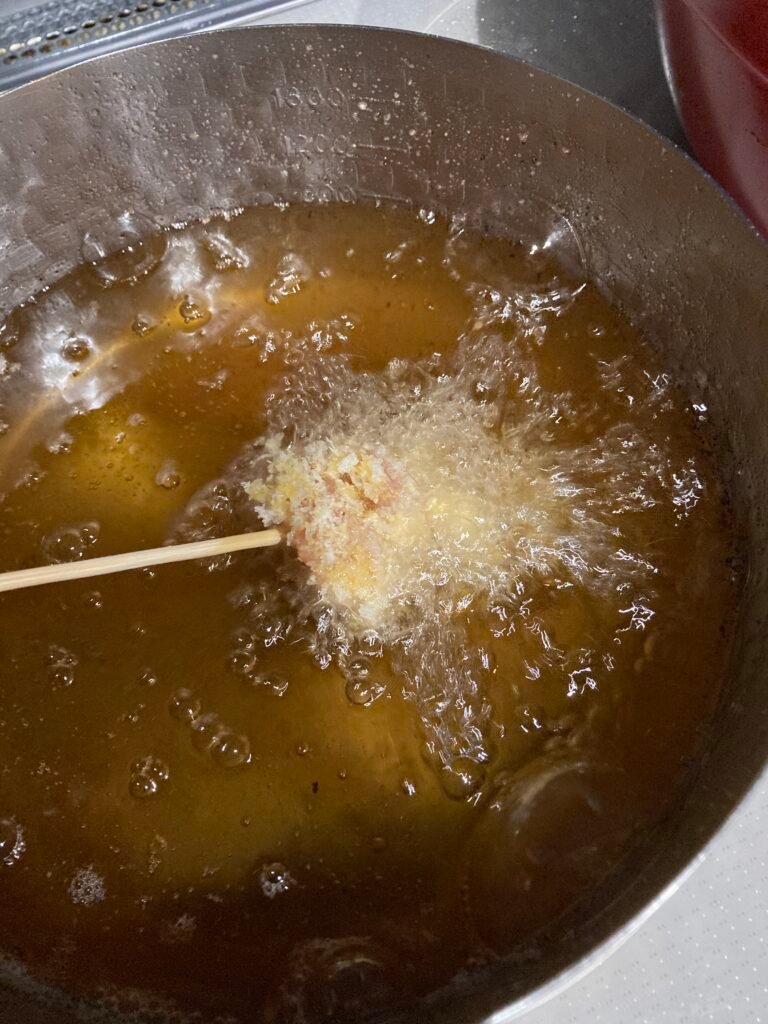 STEP 9
Let the chicken rest for a couple of minutes.
STEP 10
Plate and eat with your favourite toppings! I chose my personal favourite, mayonnaise and Japanese seven spice.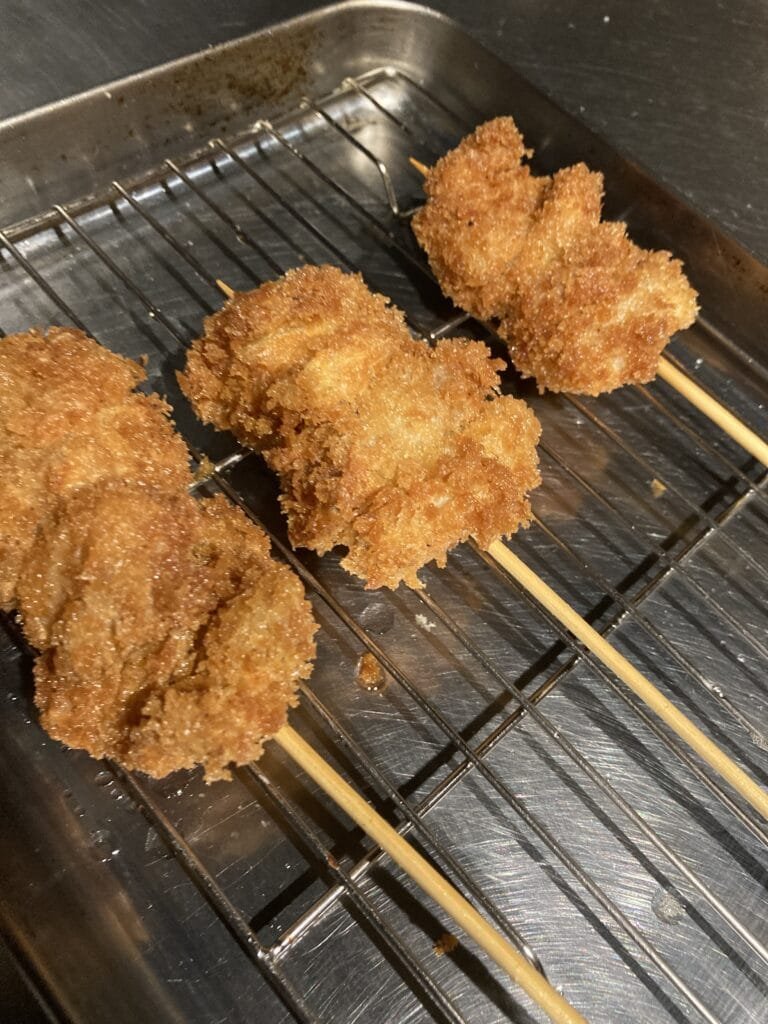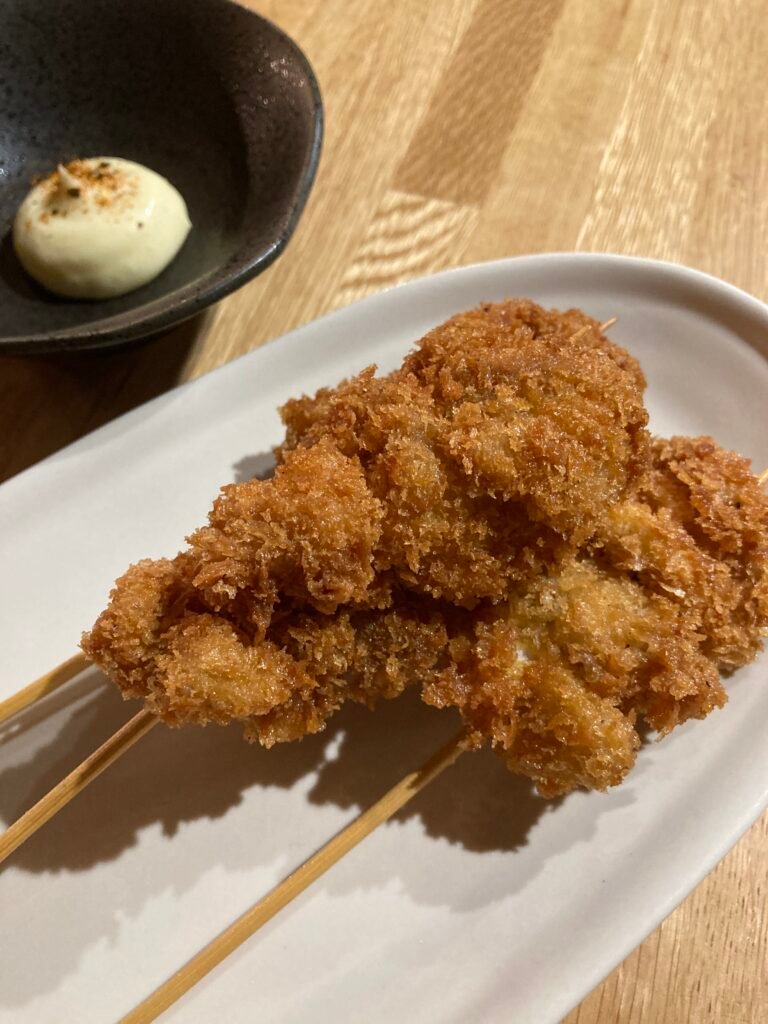 ---
Check out the video below on Torikara!
---
Tips and Tricks
Chicken thigh or breast?
You can use either chicken breast and thigh. Chicken breast is extremely low in fat so it is extremely 'meaty'. It's can be quite bland as it is a lighter meat, so some extra seasoning may be necessary. This is great for deep frying as you get a good ratio of chicken meat to the panko breadcrumb exterior. However, as there is little fat, it is easy to overcook and become extremely dry, so be careful! If you nail it just right, it can be absolutely delicious!
On the other hand, chicken thigh is a darker meat, so has a more intense chicken flavour to it. There is less meat than the chicken breast but you do get a more succulent and flavourful piece of meat. This is my personal favourite but feel free to choose whichever you like!
Bread crumbing
When bread crumbing your chicken, separate your hands into 'wet' and 'dry'. The wet hand should just be used for the egg wash and the dry hand for the flour and panko breadcrumbs. This will stop your fingers becoming covered in gluey breadcrumbs and makes the whole process easier!
Resting
After deep frying your chicken, let it rest for a couple of minutes (This applies to frying any type of meat). Resting the meat will help it relax and become even more tender. The best analogy I have is, imagine you enter a really hot bath. You will tense your whole body due to the heat, however as your body gets used to the heat, it will start to relax and become less tense. This is exactly what is happening to your fried chicken meat!
Karaage (Japanese fried chicken)
Torikara sticks are usually made my deep frying bread crumbed chicken but I would also recommend just using the classic karaage method. Simply cut your chicken into bite size pieces and marinate with ginger, garlic, soy sauce, mirin and sake. Leave this for at least 30 minutes. Cover each piece with a mix of half cornstarch and half flour and deep fry till golden brown and cooked through. If you are using large pieces of chicken, deep fry twice, once at 150 degrees Celsius and again ay 180 degree Celsius. The first fry will cook the meat and the second fry will help give a crunchy exterior. Alternatively, there are instant karaage marinade packs, which supply all the seasonings and instructions for you, which I would recommend if you can get a hold of them!
---
Where to Eat torikara
Kinnotorikara
The store that will have you licking your lips, Kinnotorikara is the holy grail for fried chicken lovers. The main store is located in Osaka but they have branch stores all across Japan, so you can't miss it. They specialise in torikara sticks and you can get them in various sizes. Succulent golden chicken are delicately fried to order and are served in 3 different sized: 1 person, 2 people or 4-5 people. Furthermore, you can choose from a variety of toppings including their original spice (number one recommendation, sweet chilli and even chocolate! It may sound strange but the sweetness of the chocolate actually balances well with the saltiness of the chicken. It may not be to everyones taste but I would definitely recommend it.
If you are looking to make a full meal out of it, they also have fries available as well as my personal favourite, cheesy fries. There are two sweet items and of course, they are fried. However, they are only sold in the Shibuya store in Tokyo. Deep fried ice cream and strawberries are a unique treat that should definitely be enjoyed along your visit!

Opening Hours: Mon-Fri 12:00pm-10:30pm, Sat/Sun 11:00am-10:30pm
Phone number: 090-7556-6972
Address : 1-5-12 Namba, Chuo-ku, Osaka
Yukari Sonezaki Main Store
Festivals (or 'Matsuri' in Japanese) are extremely popular in Japan. You will find a variety of festivals held all throughout the year and they are a great chance to experience the Japanese culture and, of course, the food! One of the most popular festivals is the annual summer fireworks festival in Osaka, called, Naniwa Yodogawa. Tens of thousands of people flock to the banks of the Yodogawa river to watch the spectacular fireworks illuminate the sky. Along the streets, you will find plenty of stalls selling all kind of foods from yaki soba to takoyaki and even Torikara! This is my personal way to enjoy torikara as it is a great party food to enjoy with your friends and family as you watch the stunning fireworks light up the mid summer night sky.
There are many more festivals that you can enjoy such as the Tenjin Matsuri or the Kishiwada Minato Matsuri. Be on the lookout for any of these festivals if you are in Japan. They often only occur once a year so it really is the best way to experience something unique in Japan as well as eating some great food!
Date: Early August (If you are planning to go, research beforehand as the date changes year to year)
Entry: Free
Website: https://www.yodohanabi.com/
Food Stalls
When you are roaming the streets of Japan, you might come across some food stalls in parks and on the streets of the city. Food stalls and trucks are not as common as they are in Western countries so they might be hard to come by. I usually see food stalls in parks and food trucks scattered throughout the city on occasion. If you do come across one, i would always recommend trying them as they often serve great food along with unique takes on the classic dishes.
You may be able to find some around Dotonbori in Osaka or maybe around Kuromon Market.
---
Final
Torikara is a great alternative to the classic Japanese fried chicken. It is perfect to enjoy as a snack or, if you are really craving it, a full on meal. Definitely visit Kinnotorikara to get the full experience!