OSAKA IS HOME TO A FEW REAL OLD TOWNS and two of the 100 most famous "oldest and important roads" (made cultural heritages) in all of Japan. These two roads happen to be right here in the southernmost part of Osaka prefecture: First, the Takeuchi Kaido (connecting Mt. Miwa in present-day Nara Prefecture with Mt. Nijo in Osaka). Second, the Jonomon-suji in present day Tondabayashi (a town in Southeastern Osaka on the Kintetsu line about thirty minutes ride from Tennoji).
While the first has the most history, it is the second road- and its surrounding area-that is home to one of the most awe-inspiring gems of preserved history in all of Osaka: the beautiful, must-see township of Jinai-machi (寺内町).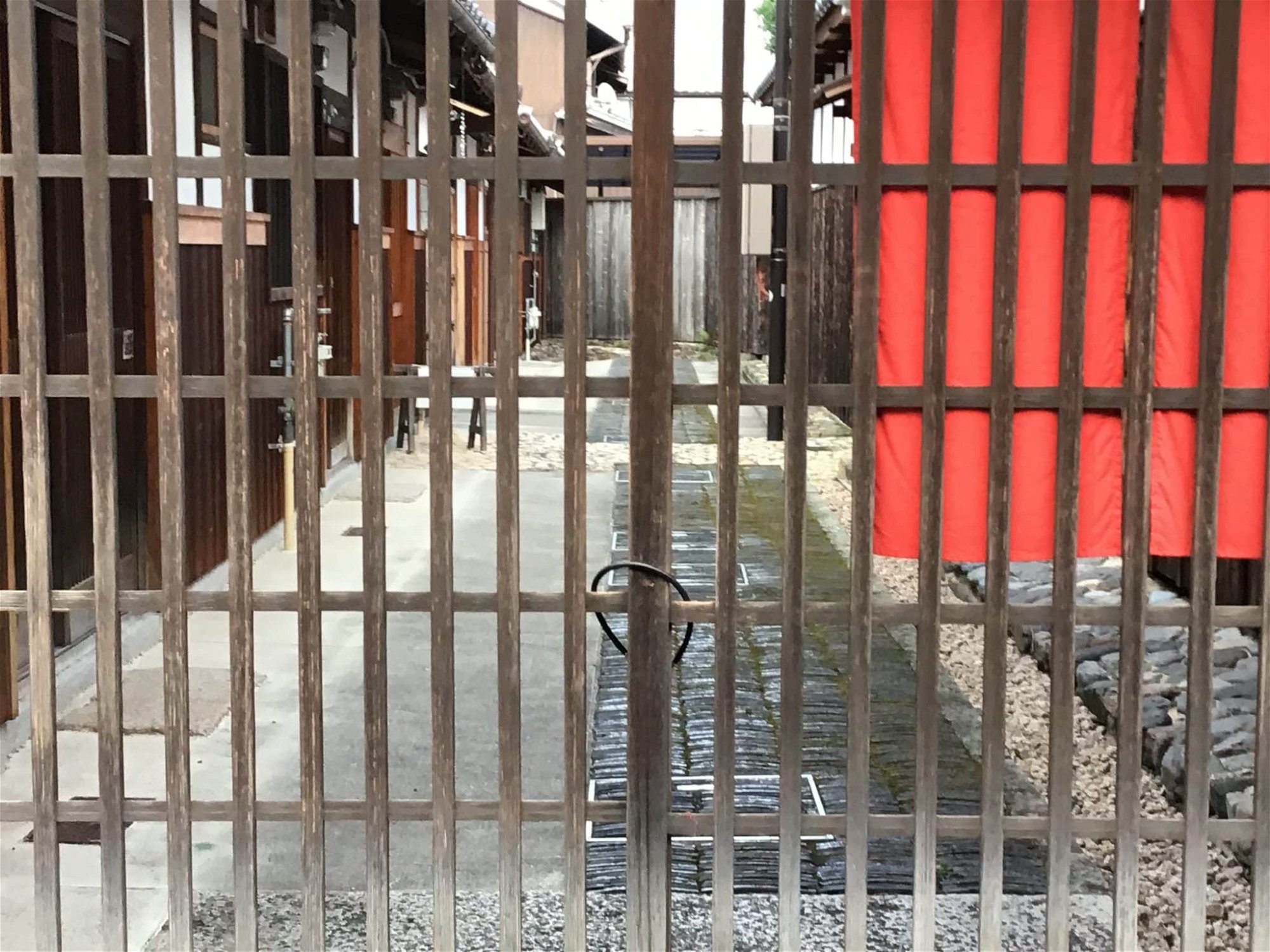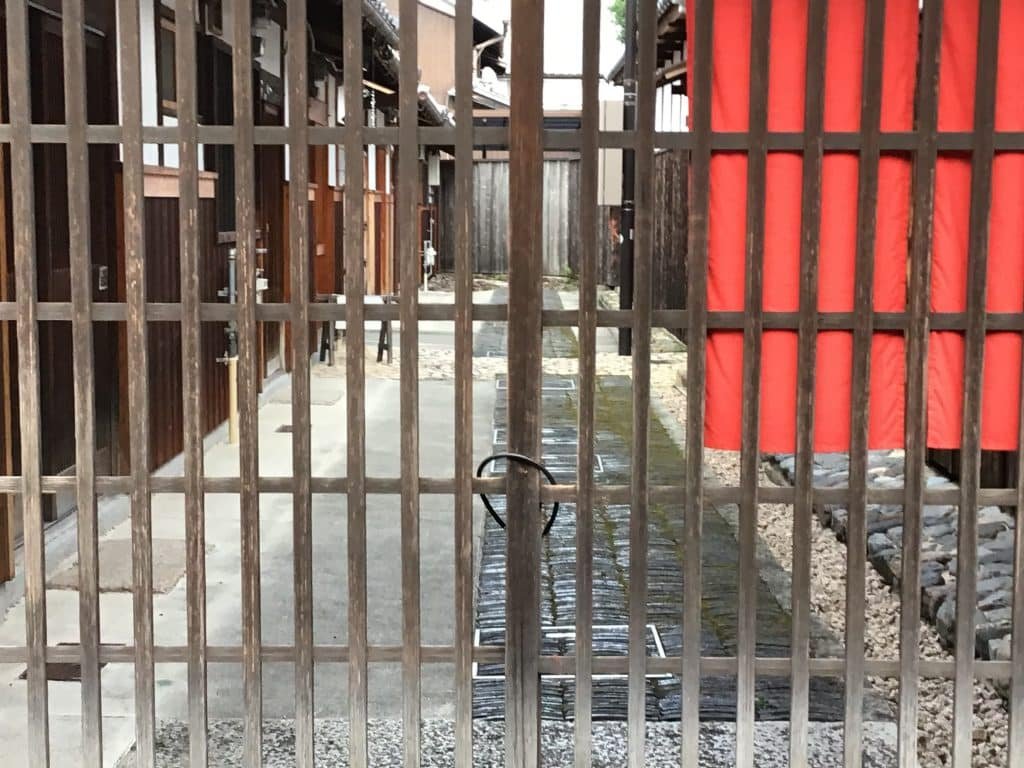 Kawachi Minami Region's Secret Village
Jinai-machi dates back to the third year of the Eiroku Period (1558- 1570) and was once the largest commercial town connecting the most important trade routes in Minami Kawachi (southernmost region of Osaka prefecture). Even in her earliest years, she was hailed as the "pulse of distribution". Long whispered amongst its locals, "All of the wealth and riches in Minami-Kawachi gather in Jinai-machi."
Resting just four kilometers south of the old Takeuchi Kaido route and but ten kilometers north of yet another famous old road, the Koya Kaido, a pilgrimage and trade route running south by south-west into Wakayama prefecture, Jinai-machi in its hayday would become a main "go-between hub" through which both routes- as well as other lesser-known roads like the nearby Amano-Chiyoda-Tondabayashi Road- could connect and conduct trade.
The stone embedded Jonomon-suji runs central through the rustic town of Jinai-machi, (also called Jinai-cho) sided by white walled or lumber clad buildings reaching two stories or more. Lattice on panel walls can be seen the full length of many structures broken only by square ports and windows. Stone-fitted foundations are fitted with a certain ingenuity into the water drainage system that at one time was proliferate around the town in the forms of aqueducts and moats. Streets were laid out with "disappearing corners" wherein should this receive an enemy from within, armed townspeople could converge from any avenue in numbers with the enemy taken by surprise. Various craftsmen were responsible for building up this well preserved town steeped so vividly in the past, it is as though its visitors have travelled through time to stand upon its grounds.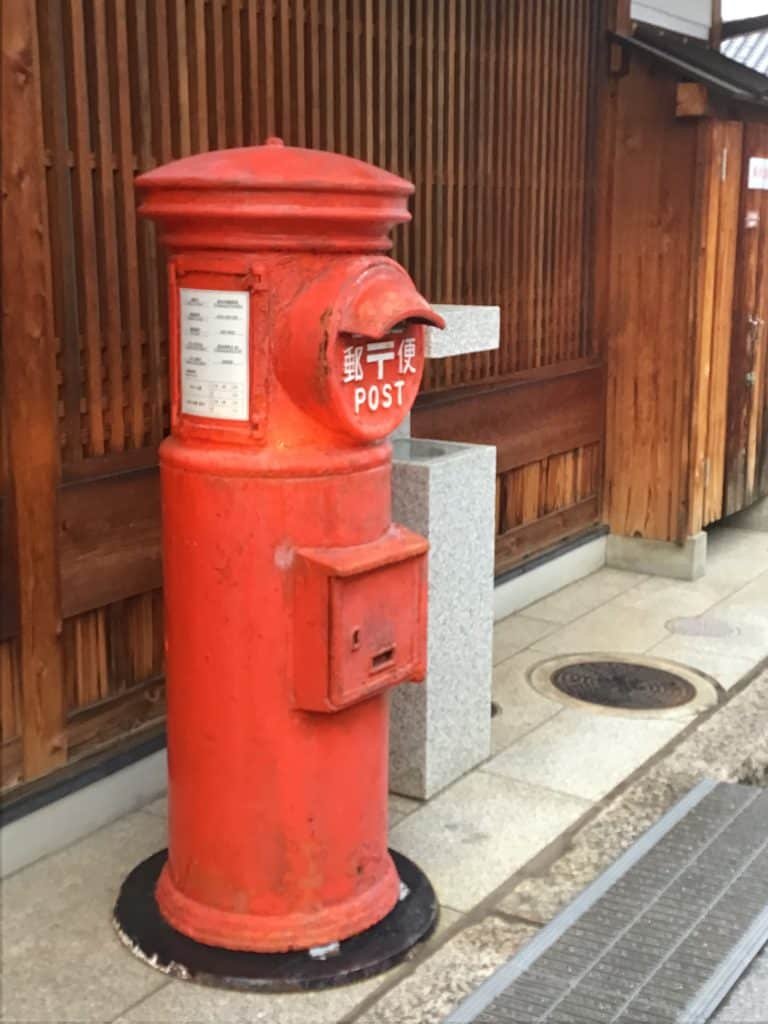 Built up through the years around the town's center temple, Kosho-ji Betsuiin, its intricacies in craftsmanship, attention to detail in construction and masonry, its waterways and earthworks, and its many hidden treasures, make this the greatest preserved town in all of Osaka.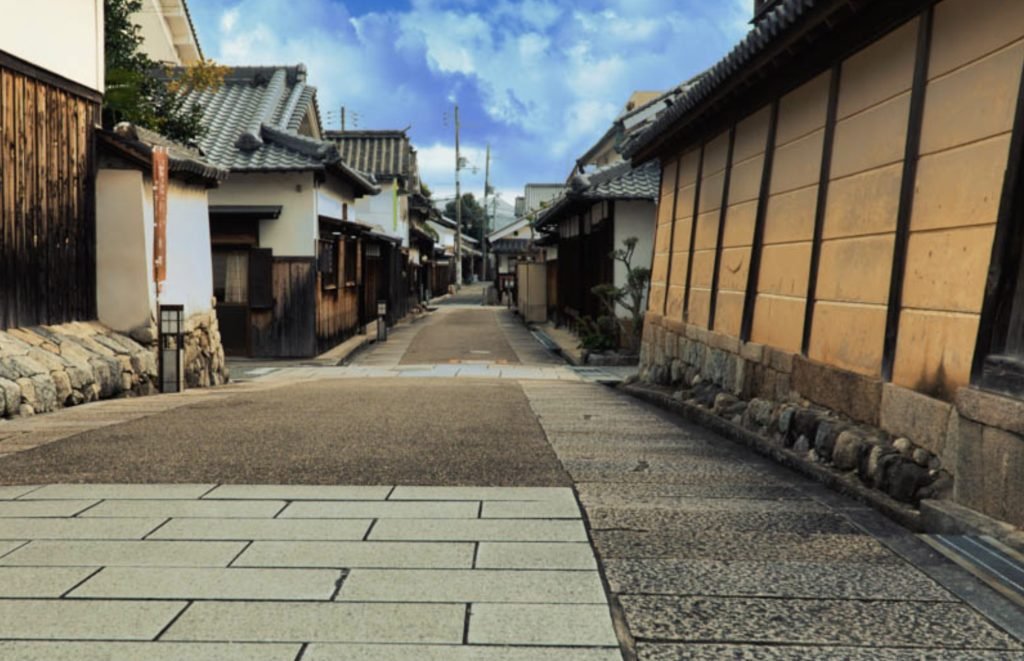 "All of the wealth and riches in Minami-Kawachi gather in Jinai-machi."

Koshoji Betsuin Temple's inner hall. The town roots are invested in this centerpiece.
With its merchant class history, a center hub of trade and commerce, numerous warehouses, storehouses, and living quarters were designed for purpose and built with precision. Consistency in preservation is written deep into the annals of the town-code so that today she remains a traditional town, unchanged from the past. Jinai-machi could very well be Osaka's best kept secret! Travel back in time with us as we explore her back pages. First, let's learn a bit about why she exists.
Geographic Importance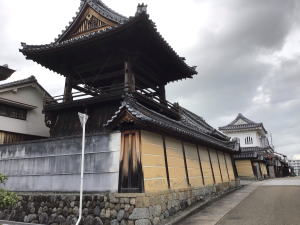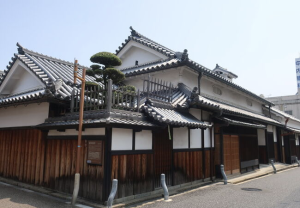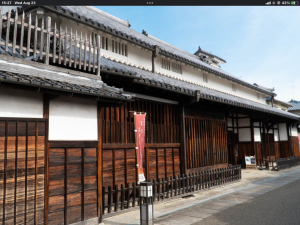 The Takeuchi Kaido, as mentioned above, is the oldest national road in all of Japan. Running from Naniwa Port near Sakai City Ward through to southeastern Nara prefecture in present day Sakurai township (home to Omiwa Shrine or Miwa San) her midsection travels through the smaller towns of Fujidera, then Kishi, on Tondabayashi's northern-most border, then on through Taishi cho- a mere four km. north of Jinai-machi. Why it is important to this article is for the fact that locally, it is well known as the "Sun Road". The layout of this road became foundational for the layout of the temple and roads surrounding it in Jinai-Machi.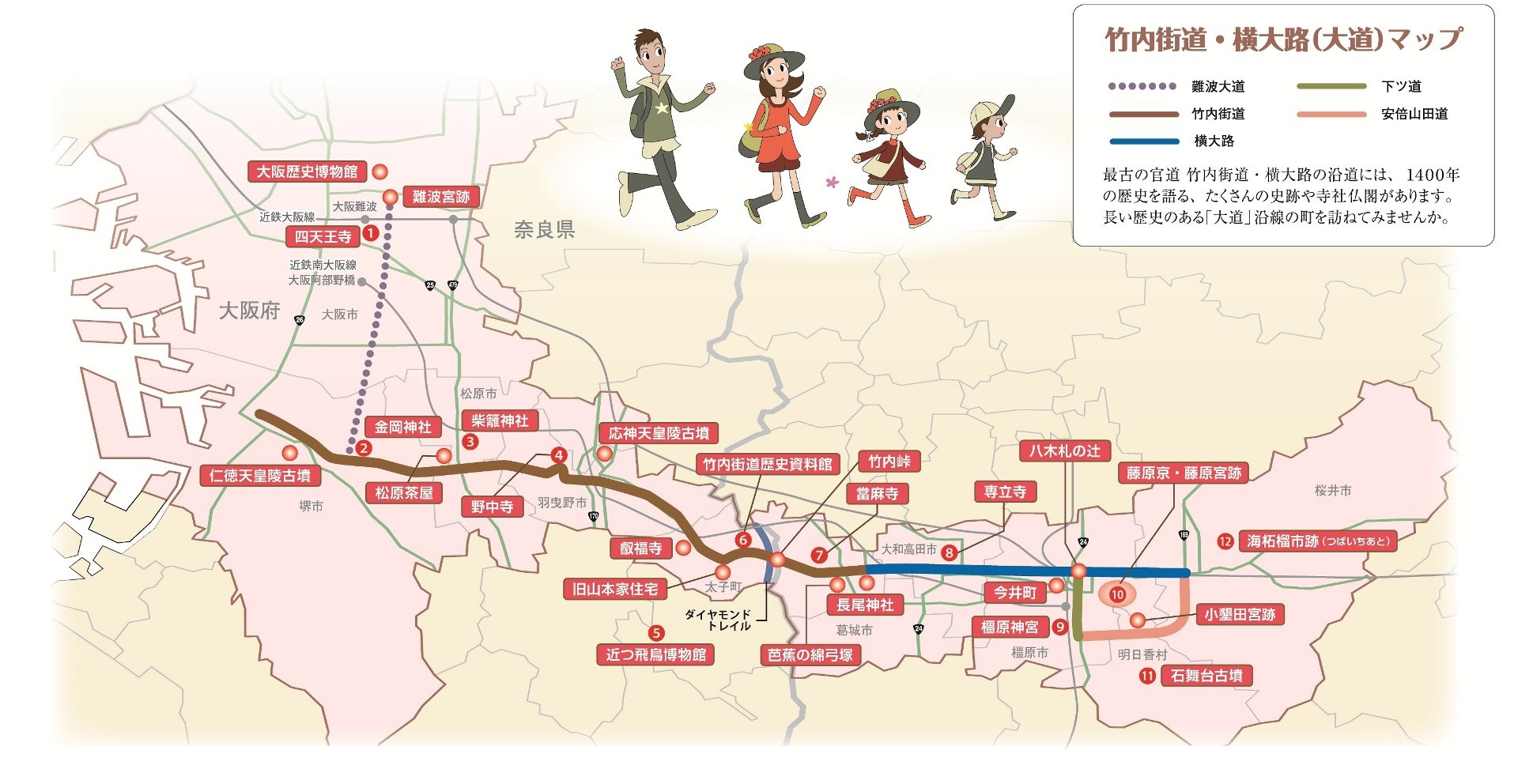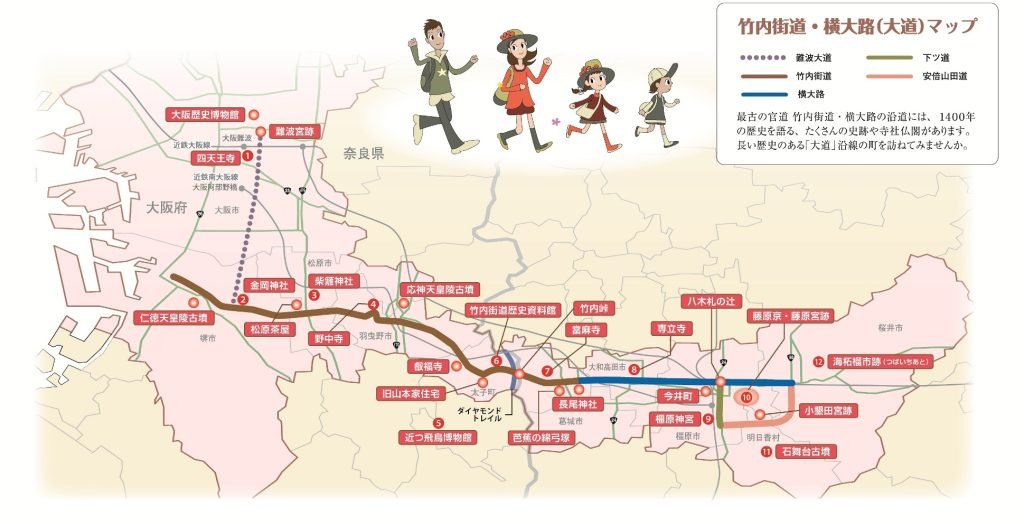 During both the spring and autumnal equinoxes, the sun rises above the peak of Mt. Miwa and sets beyond Mt. Nijo into Osaka Bay. The road, built in 613, was laid out along the course the sun takes during these equinoxes.
Traversing through the Furuichi and Kashihara-Asuka valley plains, up and over the Nijo-Katsuragi mountain range that separate them, it was also often dubbed the "Sun Dragon Road" with Mt. Miwa's Omiwa Shrine representing the head, and Mt. Nijo's Nagao Shrine- representing the tail of a dragon.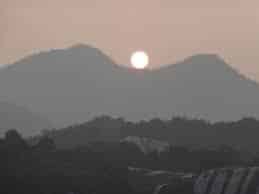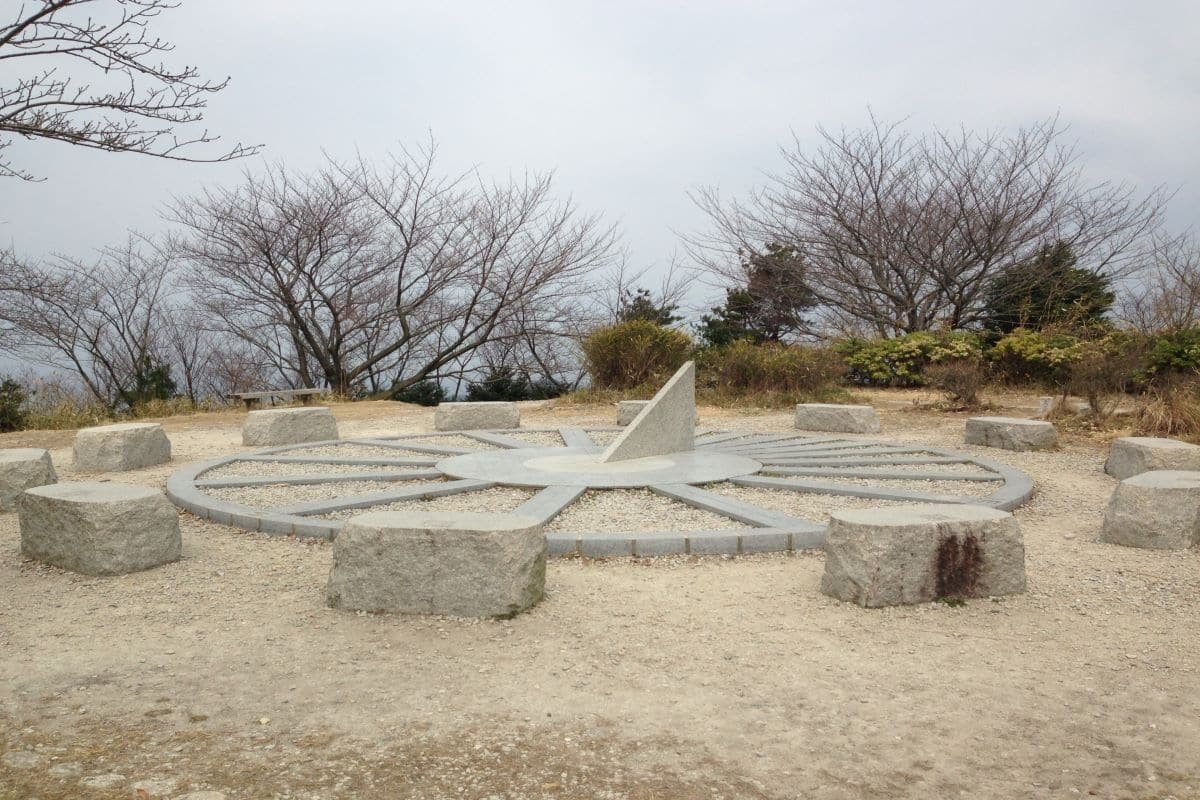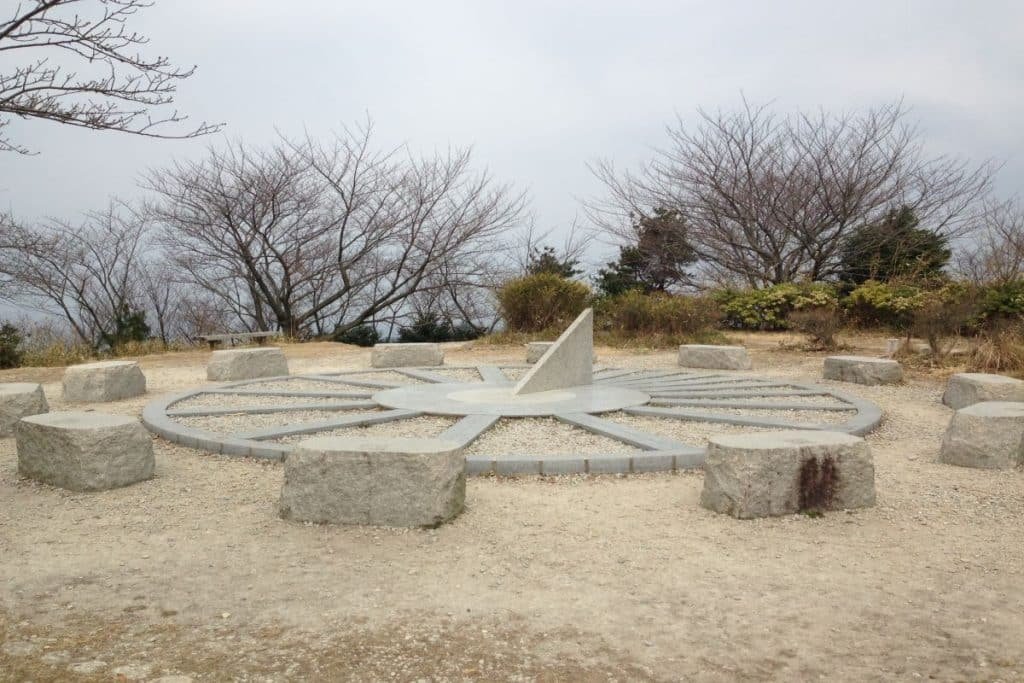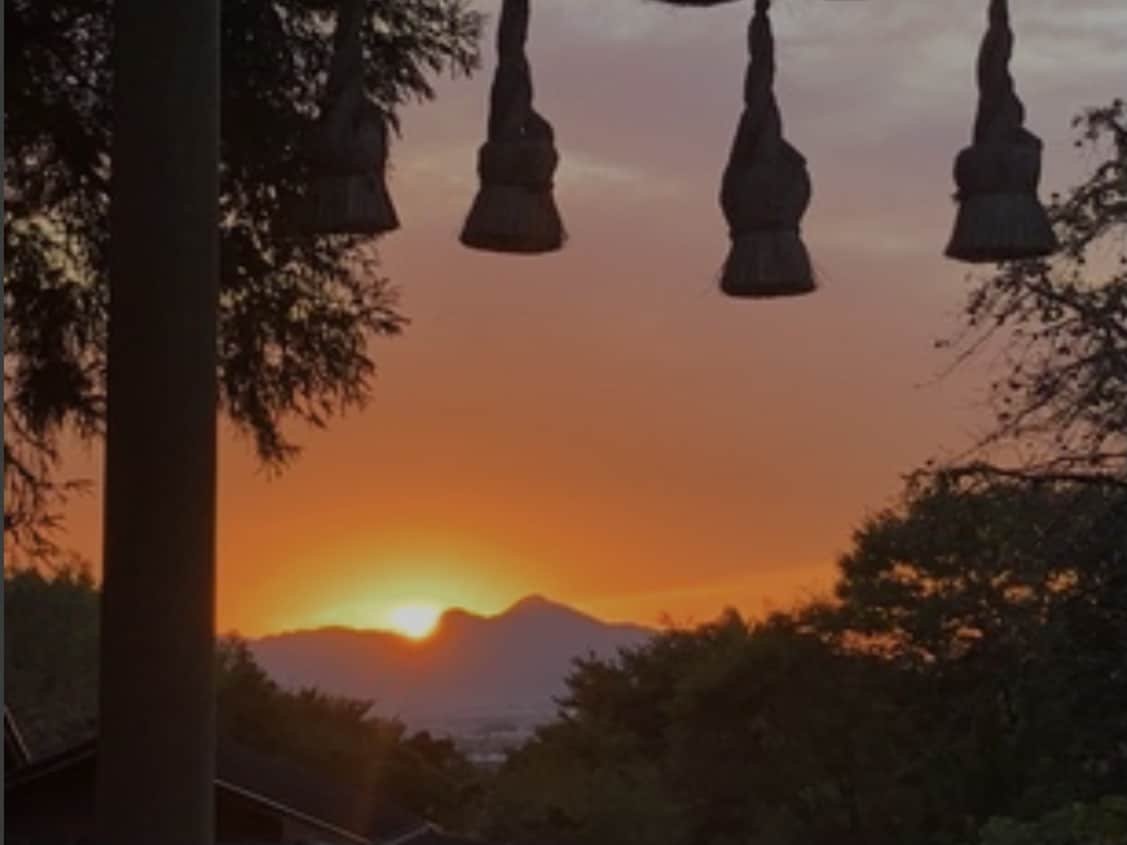 Tip: During the six or seven main days surrounding either equinox, the sunrise and sun sets are taken in by locals in the know. From points in northernmost Jinai-machi and farther northward along the Ishi river, one can view the pinpoint sunrise over the peak of Mt. Nijo as well as the sunset over Jokoku-ji temple at Jinai-machi's westernmost end.
Earliest History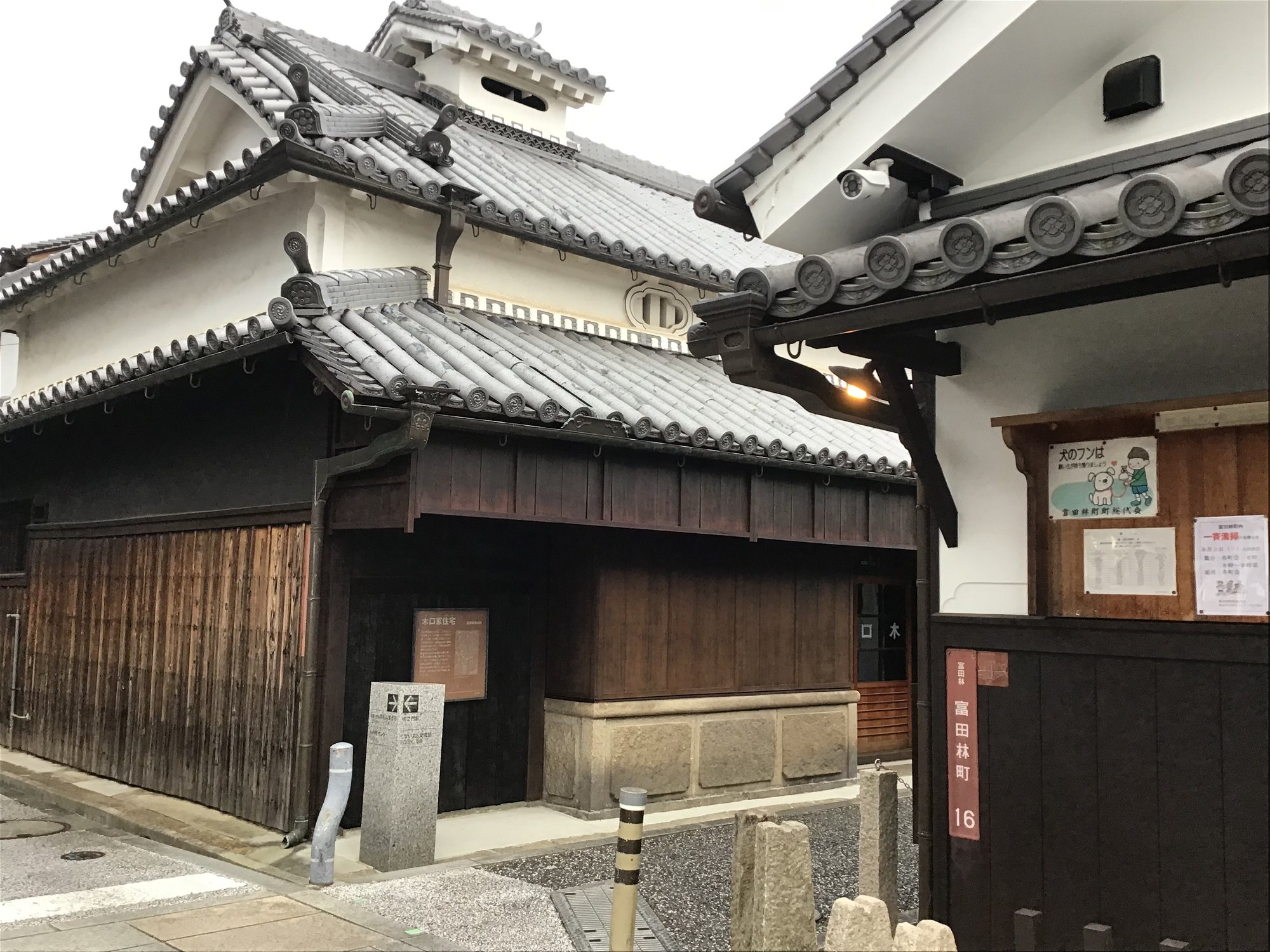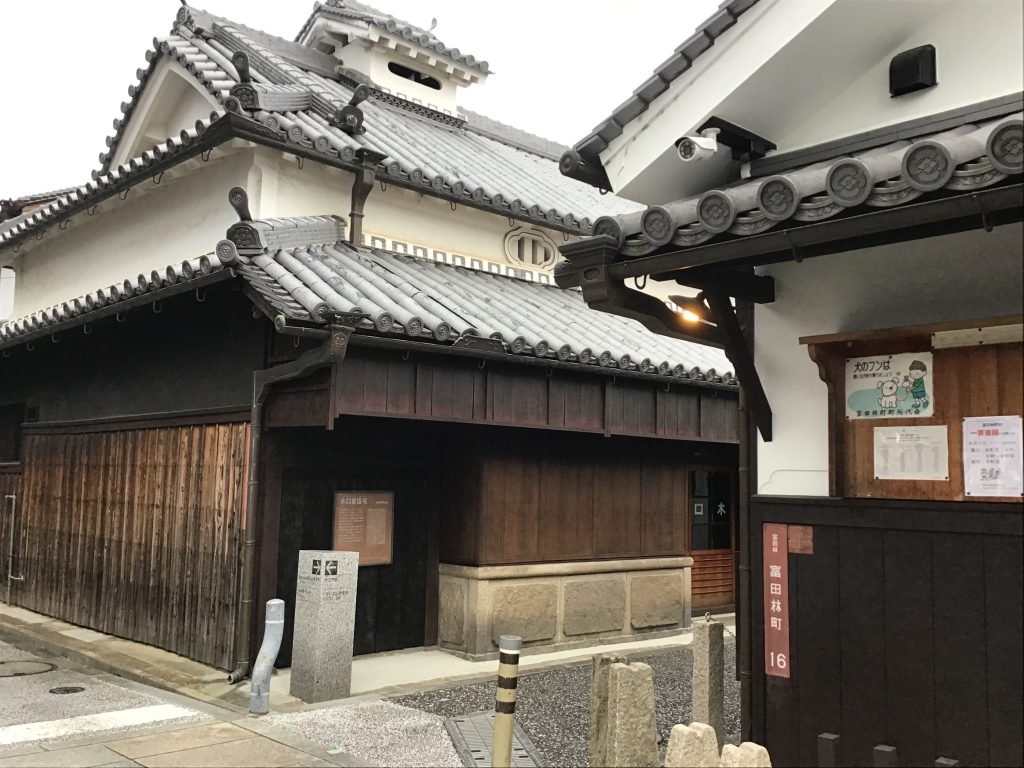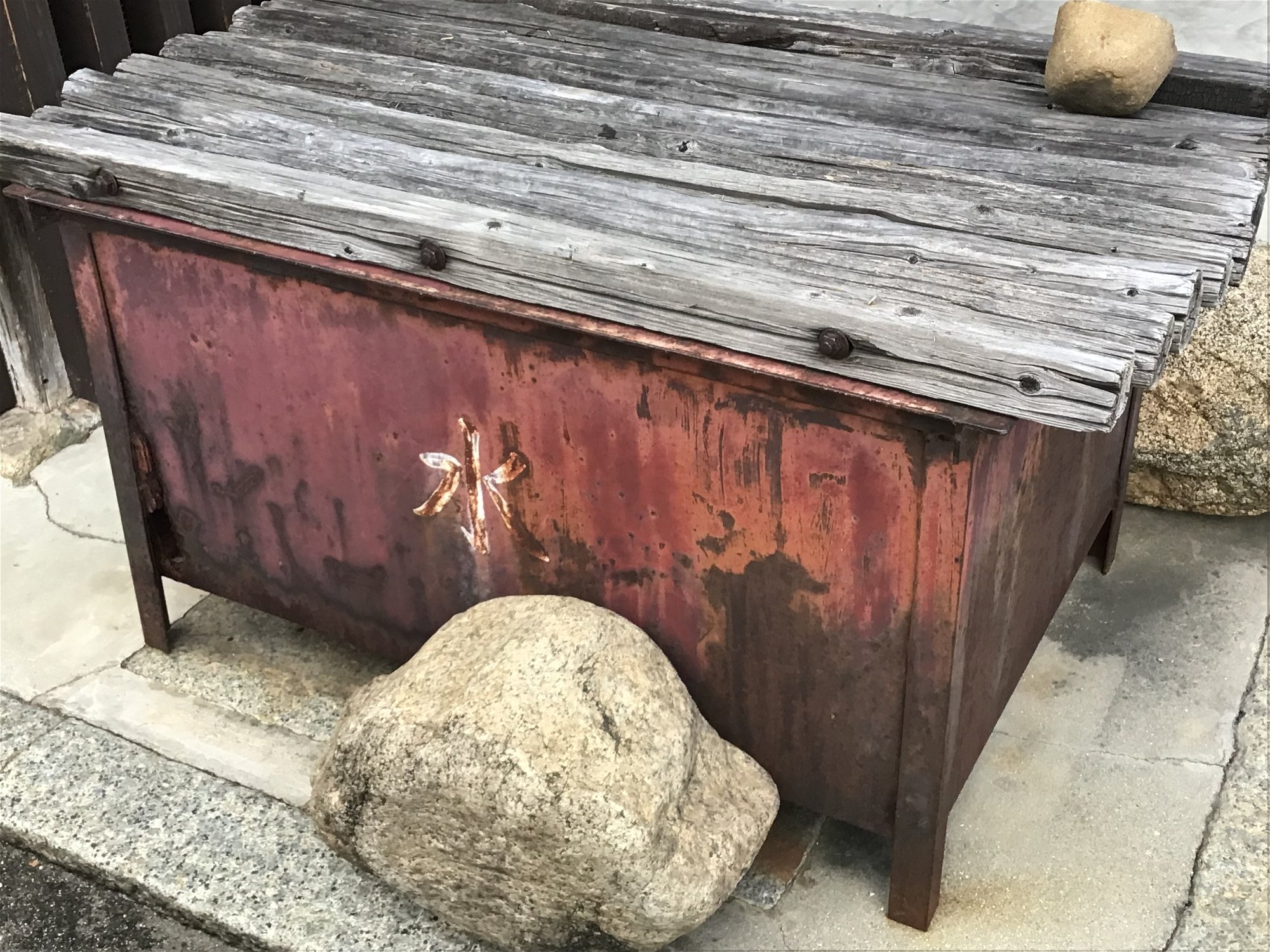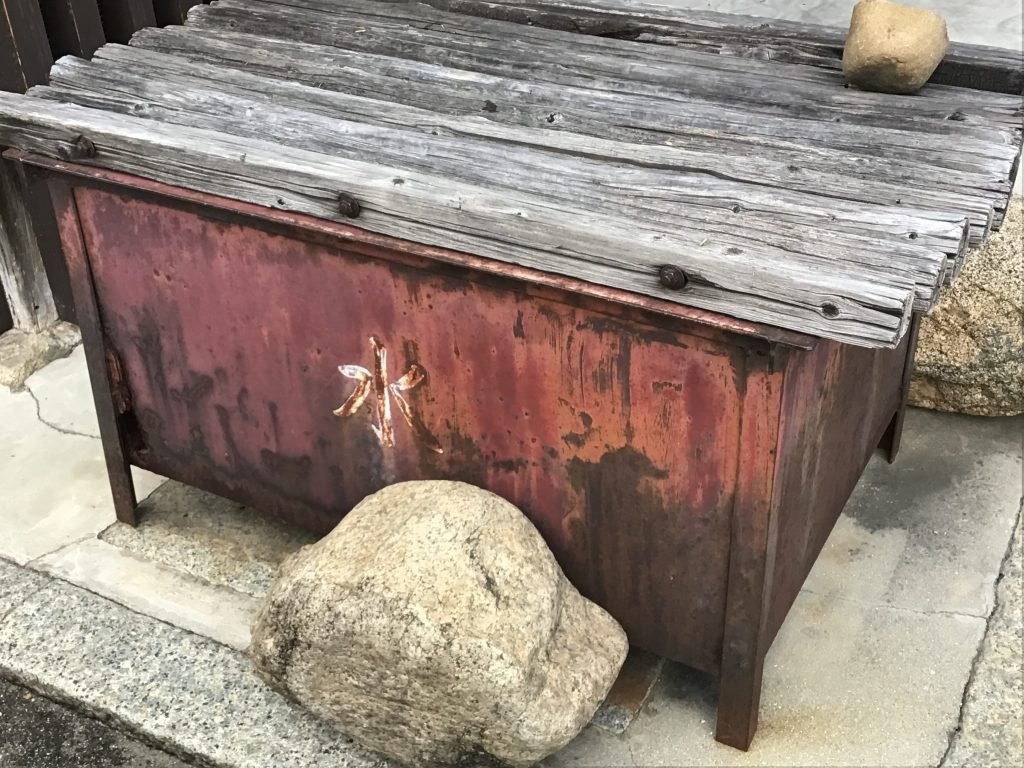 It all began with the building of a city with moats and gates! During the Sengoku Period (1467 ~1562) religious, autonomous communities called Terauchi-cho were born in various places as urban settlements, adjacent to the precincts of Buddhist temples up and down the Ishi River plain of the Furuichi valley as well as the Takeuchi Kaido.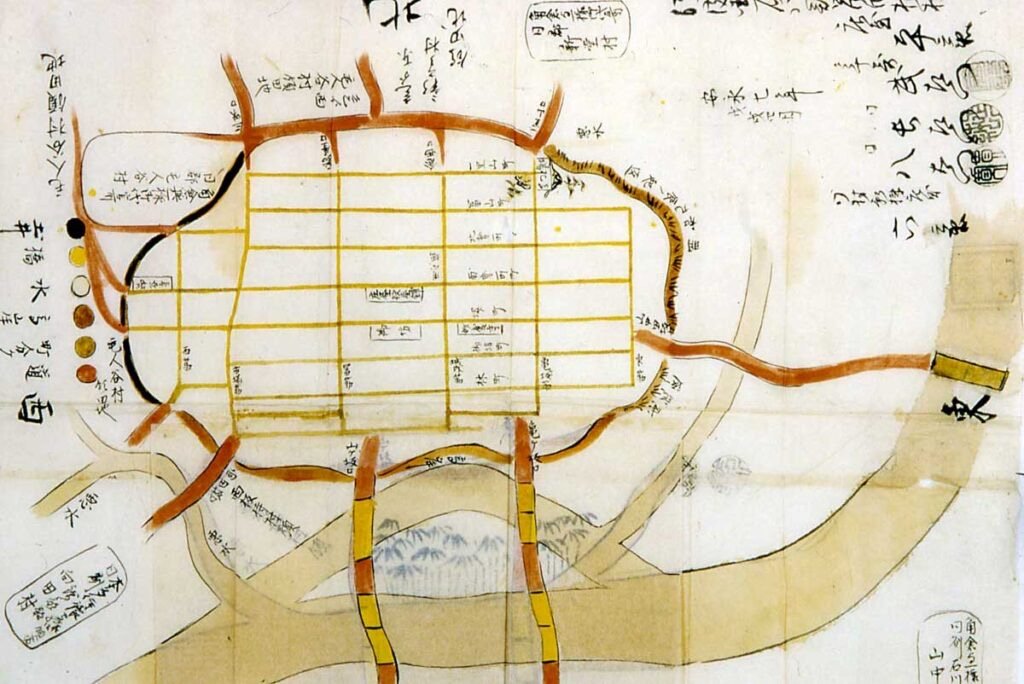 Under the temple doctrine of the Hogan-ji Temple sect of Buddhism known as Ikko-Ikki, these communities sought autonomy; they were given the right to govern and protect themselves free of the Daimyo or any other feudal interference. This allowed the main temples to act as a sort of county seat, relegating the affairs of the people and the buildings of towns to temple and main town headmasters.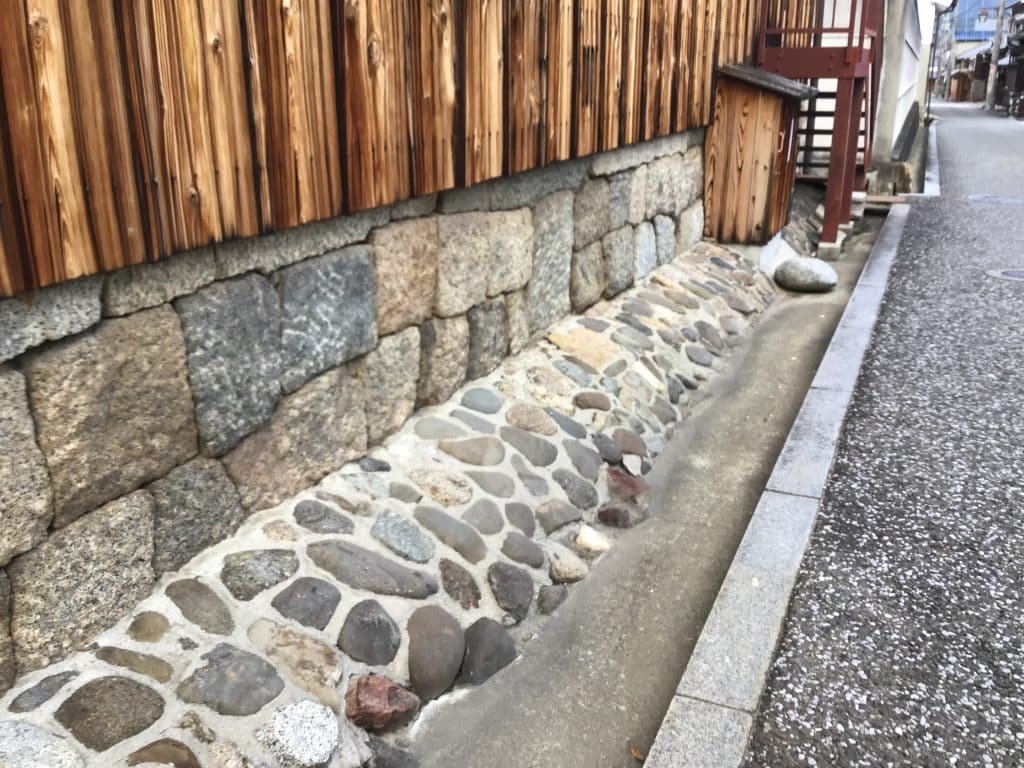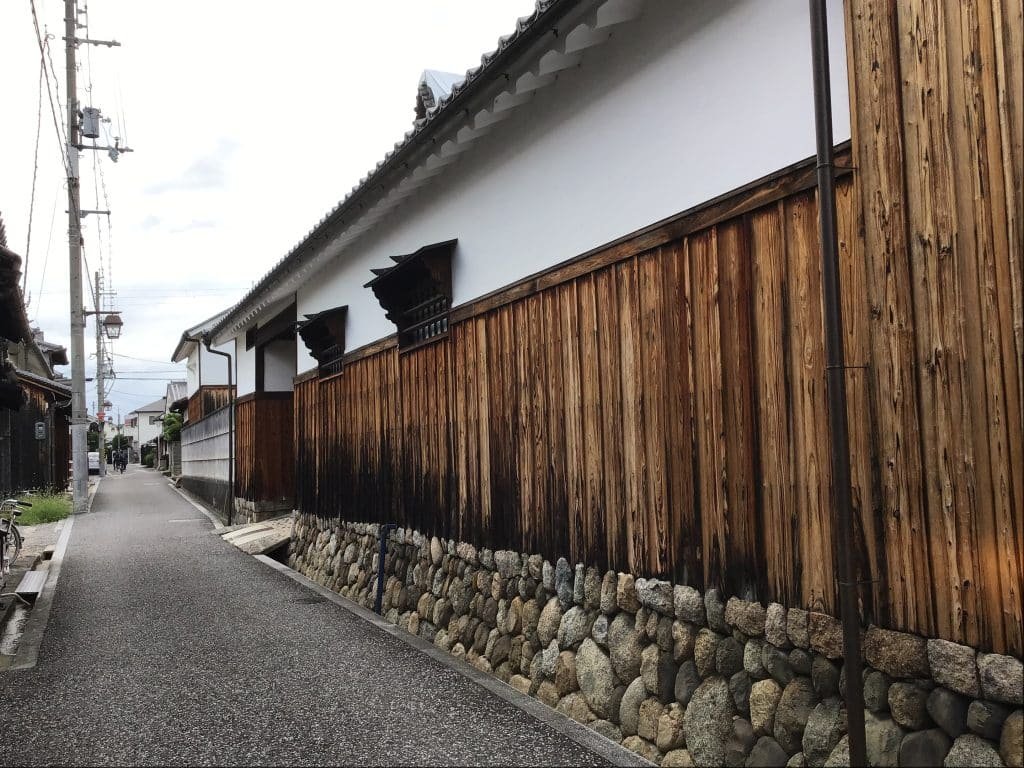 Jinai-machi, in what is now present day Tondabayashi city, was one of these. It's main road-the second oldest road in Osaka mentioned- Jonomon-suji- rest just south by southwest of the Takeuchi Kaido route. Jinai-machi's earliest beginnings was with the succession of lands around 1558 when then Buddhist priest, Shoshu Shonin of the Shinshu sect, the 16th master of Koshoji Temple in Kyoto, Sengoku period, and 14th member of the Hogganji temple family, received the rough turf of Tomita-Tonda, a largely barren river terrace set on the Ishi river ridge, for one hundred bronze pieces.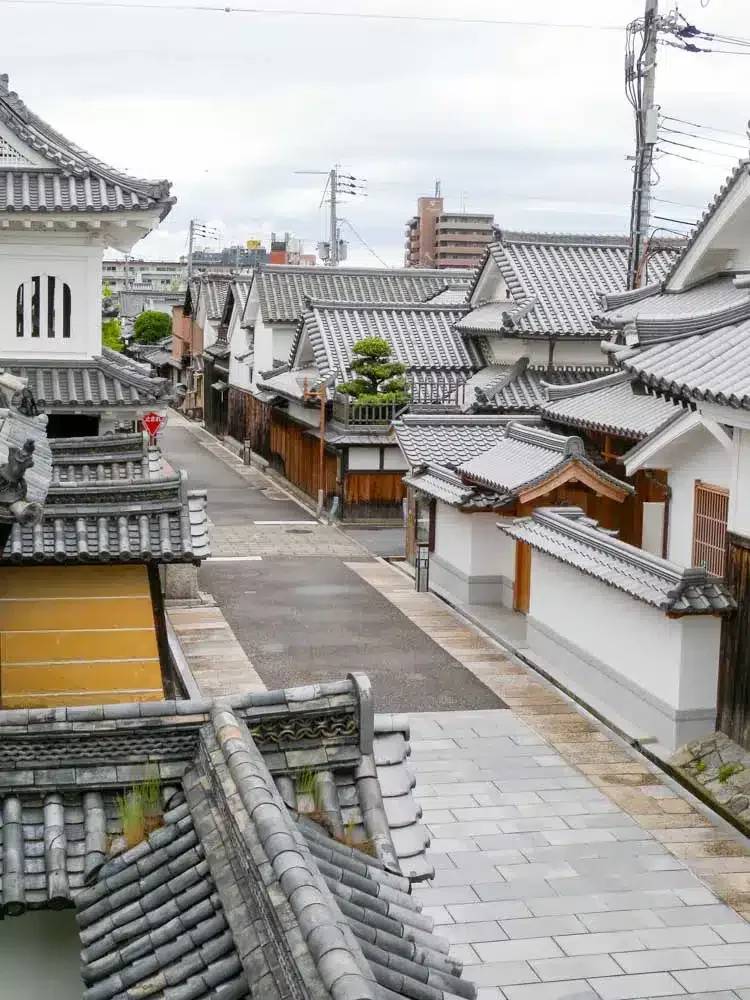 (Above: Kosho-ji Betsuin Temple P.C. osakaphotos.com/tondabayashi)
Shoshu Shonin instructed that a temple town be designed, and its construction carried out by two town headsmen of each of four surrounding townships: Shindo, Nakado, Mobitani, and Yamamakada. The town would be an autonomous, fortified town complete with sustained waterways, moats, walls, bamboo groves, and gates; a fortress city.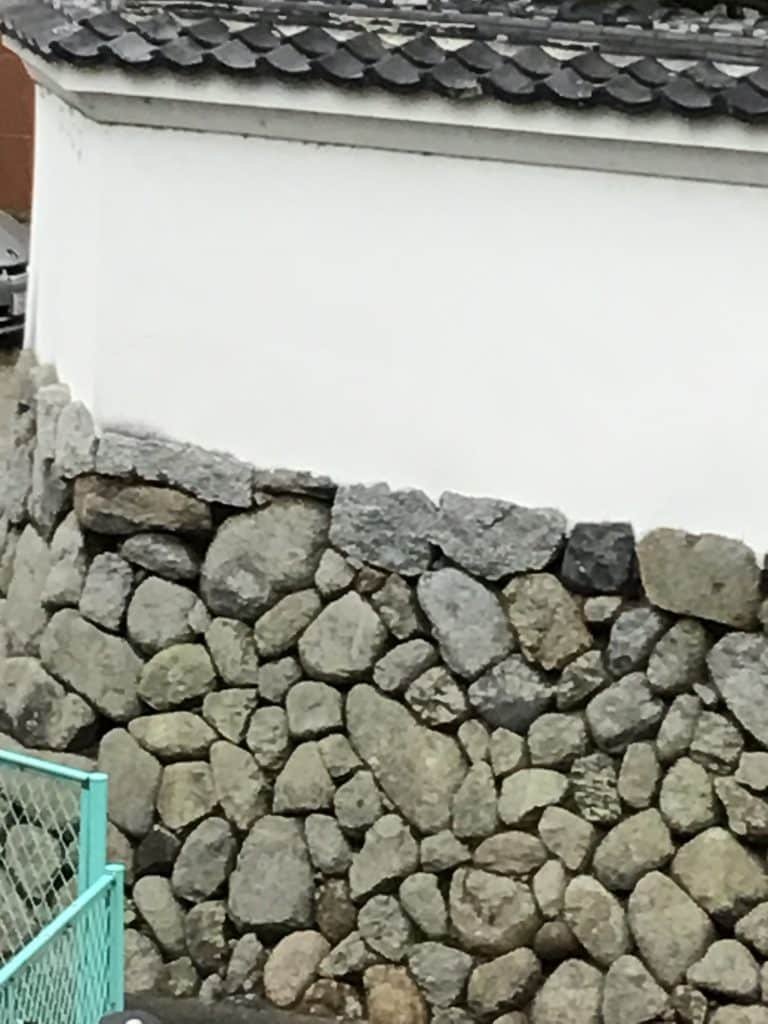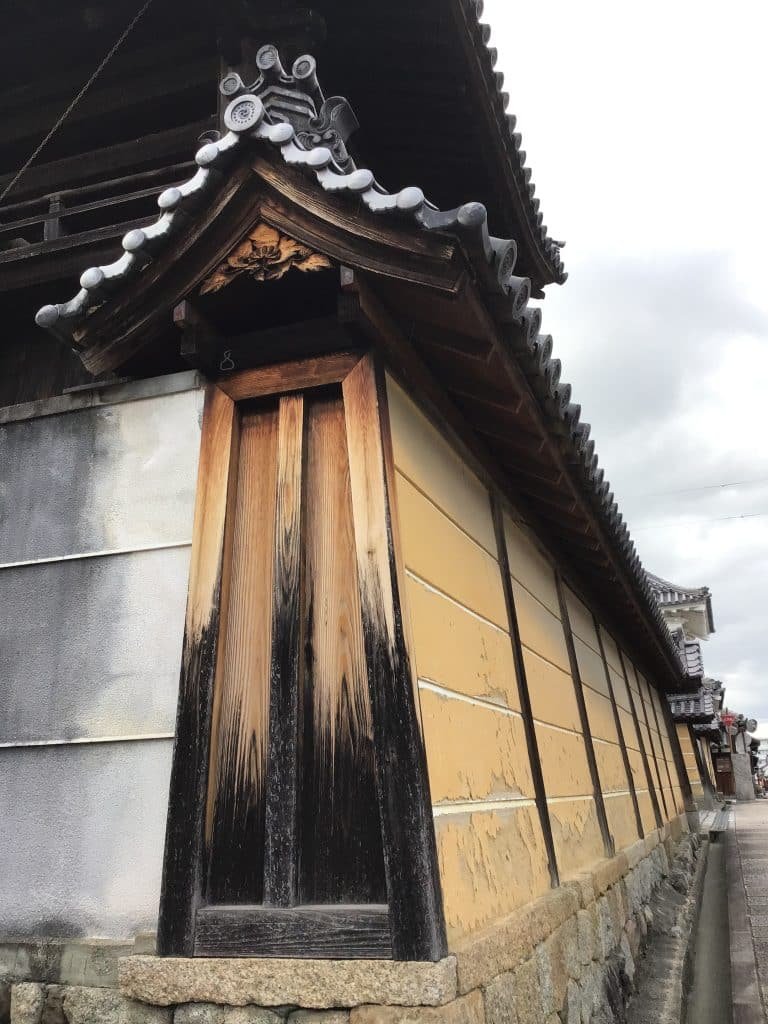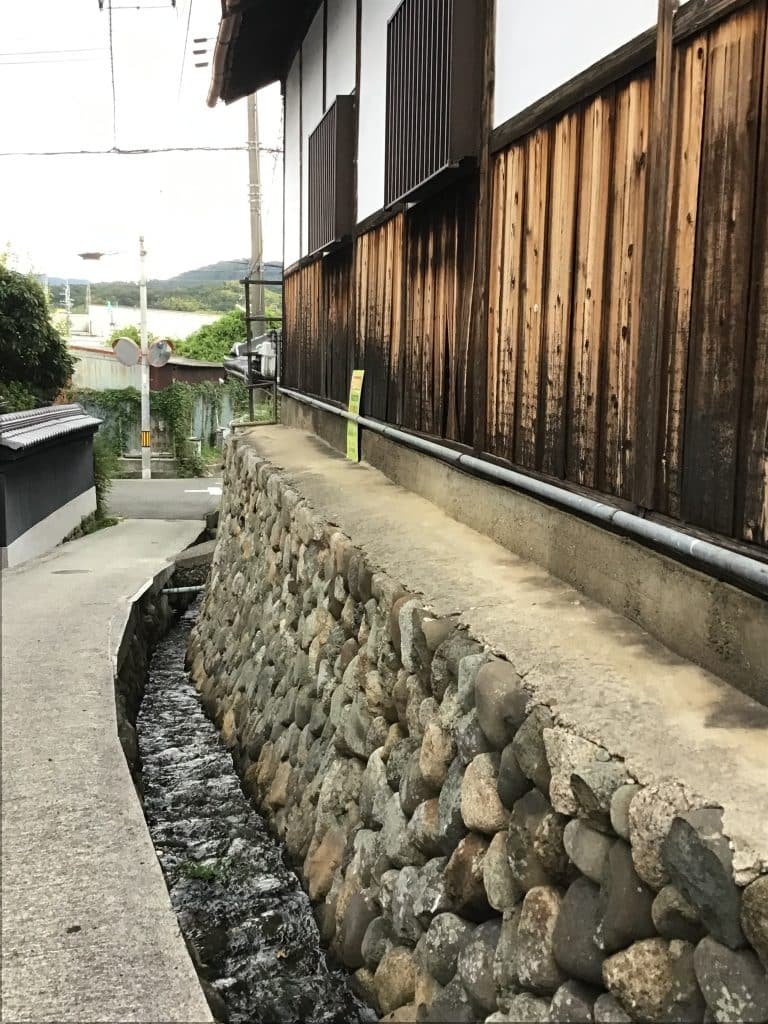 Further, the temple, a branch of Kyoto's Kosho-ji, would be laid out in accordance with a similar concept as that of the Sun Road, its grounds spanning the town from the east to the west. It would be called Kosho-Ji Betsuin. For those who farmed the rich land, or the ones made their living in commerce, as opposed to owning fields, Jinai-machi would be a town of merchants and trade as well as one of religious practice.

As the town flourished, by 1699 there were 149 shops involved in 51 different forms of business. Jinai-Cho developed into first a commercial town, next, a cultural town. Noh and Joruri, traditional forms of plays were often hosted throughout the town in much later years in places such as Koshoji Betsuin Temple and the Sugiyama Residence.

Nearby the clear and sweet water of the Ishi river flowed . Boats and flotillas of commerce crossing trade routes flowed out of Jinai-machi. Grapes as far as an eye could see were planted in the basin as well as rice and rapeseed. Wine making as well as sake brewing thrived. There Jinai-machi entered a period of contentment often labelled a free spirit movement. Wherever you went in Jinai-machi, there was feeling of happiness driven by the free spirited farmers, craftsmen, and merchants contend with the fruits of their labor.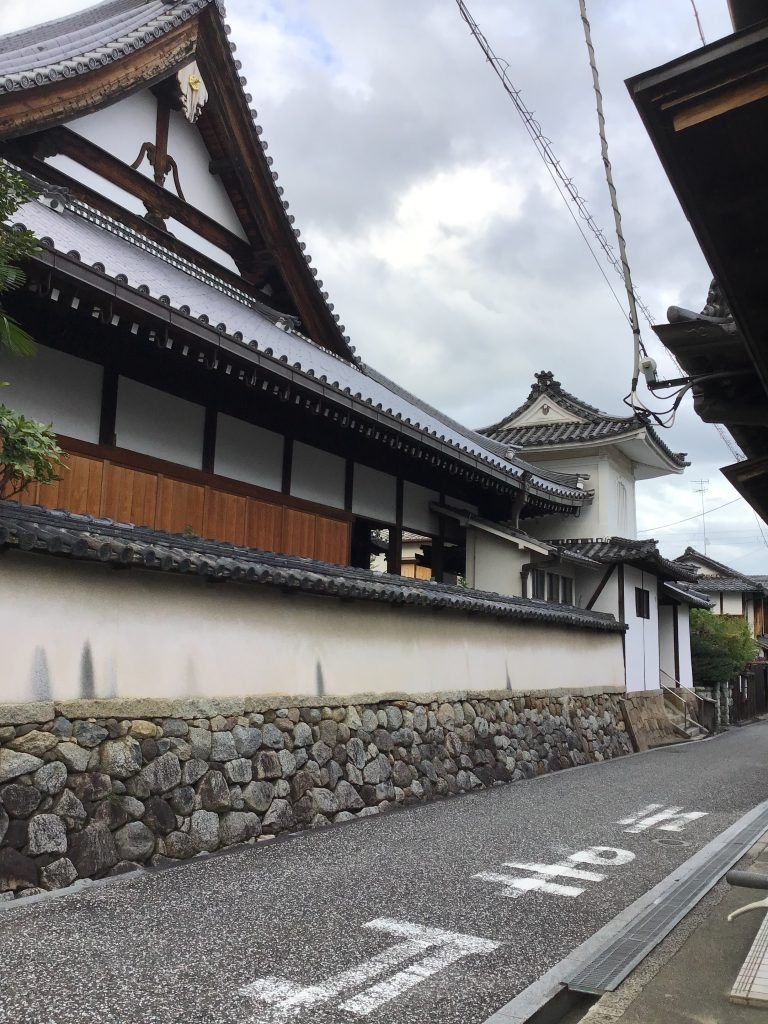 With the Takeuchi Kaido to the north of Jinai-machi, and the Higashi Koya Kaido stretching north-south into Wakayama Prefecture's famed Koya Pilgrimage, these two routes converged to make Jinai-machi the most proliferate trading town during the Edo Period (1603 – 1837). Her valleys and plains rich with acres and acres of cotton, rapeseed, grapes, and many other crops being farmed over a vast area surrounding a town of religiously devoted citizens, it would become the "Mecca" of Buddhism and trade flourishing in the Minami Kawachi area.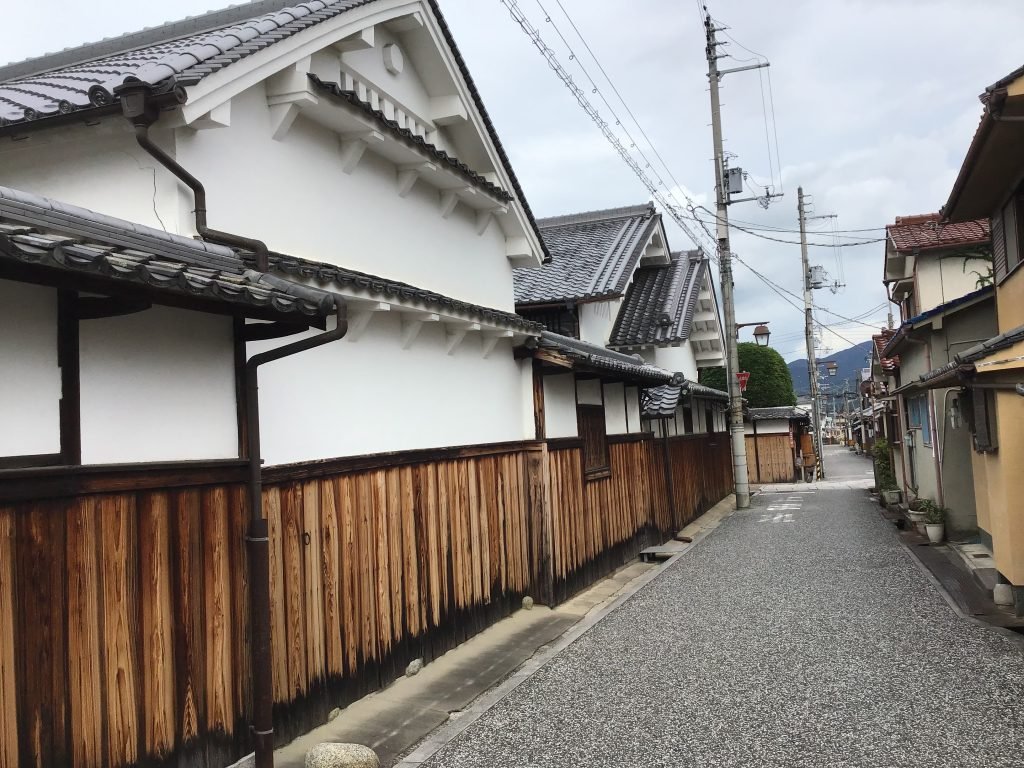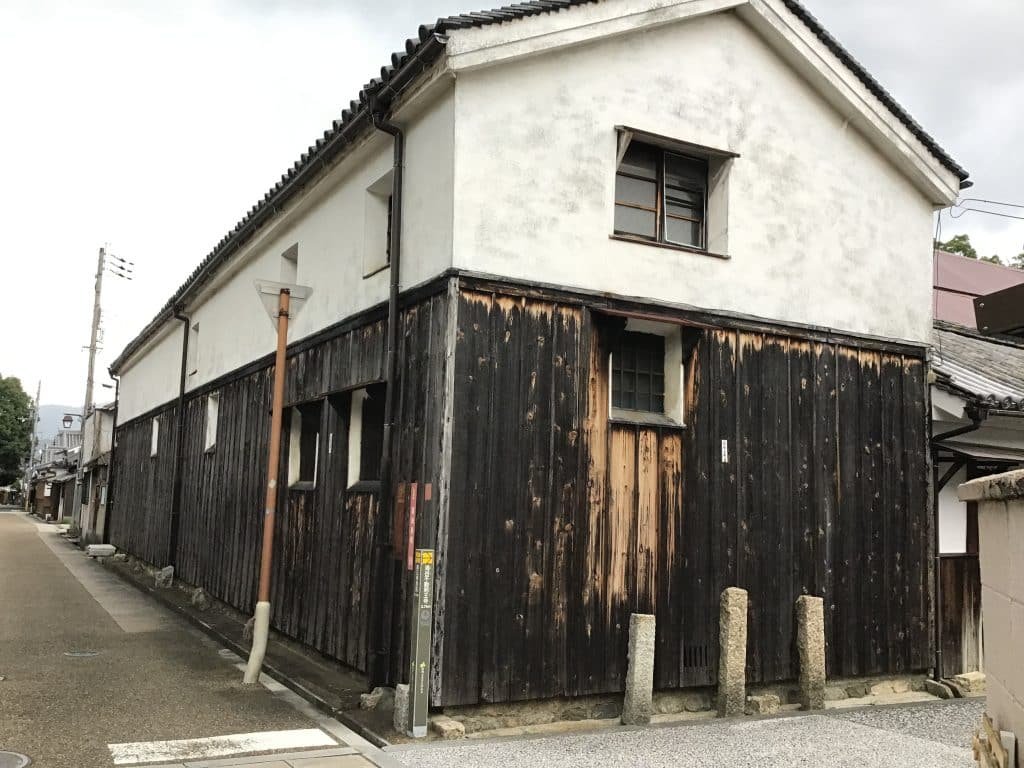 Jinai-machi Today: A Cultural Heritage.
"Earthen walls and yojinbori (ditches used for fire prevention), parts of which remain today, are also reminiscent of the ancient times. In particular, the Jonomon-suji Avenue, extending north and south at the middle of the district, brims with a historical atmosphere. Out of 600 town houses in the district, 250 are traditional houses. The former Sugiyama family's residence, located in the southwest part of the district, was designated as a national important cultural property, and the former Nakamura family's residence as a prefectural tangible cultural property. The entire district was designated an important traditional architectural preservation district by the national Ministry."- Tondabayashi Kirimeiki Information Center Guide /Credit: http://www5d.biglobe.ne.jp/~heritage/english.html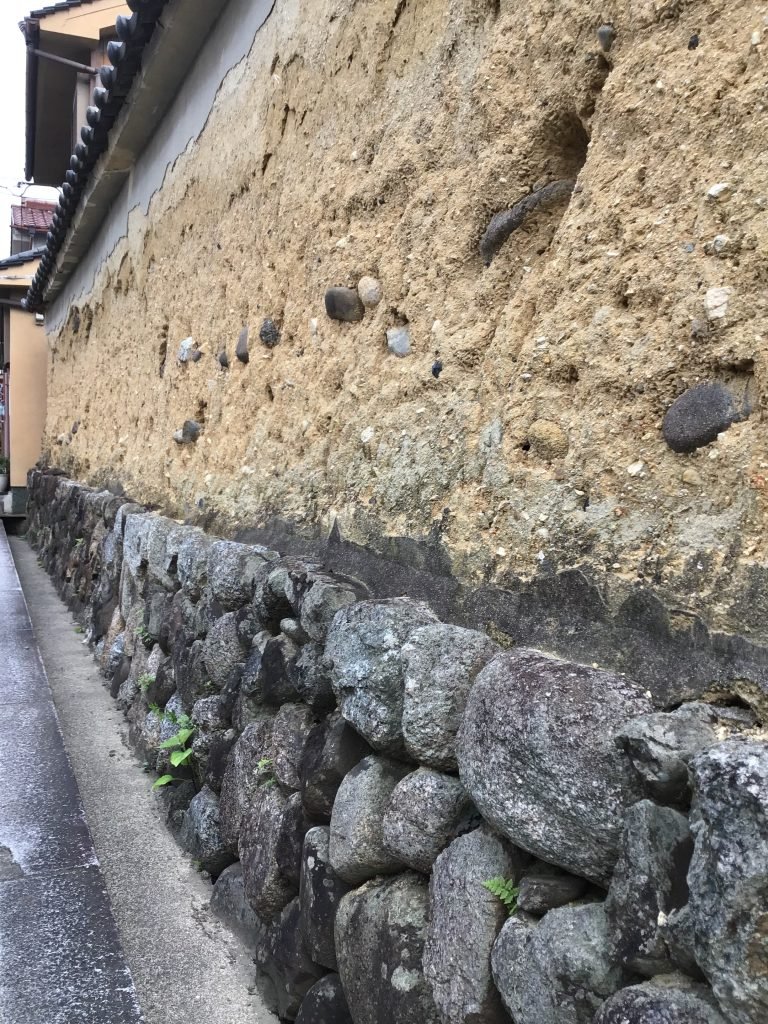 "Tondabayashi Jin-ai-ma-chi is a historic district of preserved traditional townhouses built from the Edo (1603-1867) to early Showa period (1926-1945). The only town of its kind in Osaka Prefecture selected as an Important Preservation District for Groups of Traditional Buildings, the 400 meter by 300 meter 'Temple Town' is protected by moats and earthworks surrounding 200 Buddhist temples, townhouses, warehouses, gates and other structures of significant cultural and historical importance. Consisting of six streets, running from North and South and seven streets running east to west. Each road is made with a disappearing corner or intersections that cannot be seen from a distance. On the main trade road, Jonomon-suji -upon which sets the East gate of Kosho- ni Betsuin Temple, no electrical cables, wires, or telephone poles can be seen.  Visitors might feel as though they stepped right into a film set shooting a movie of the past. Such is the tranquillity of this beautiful old town."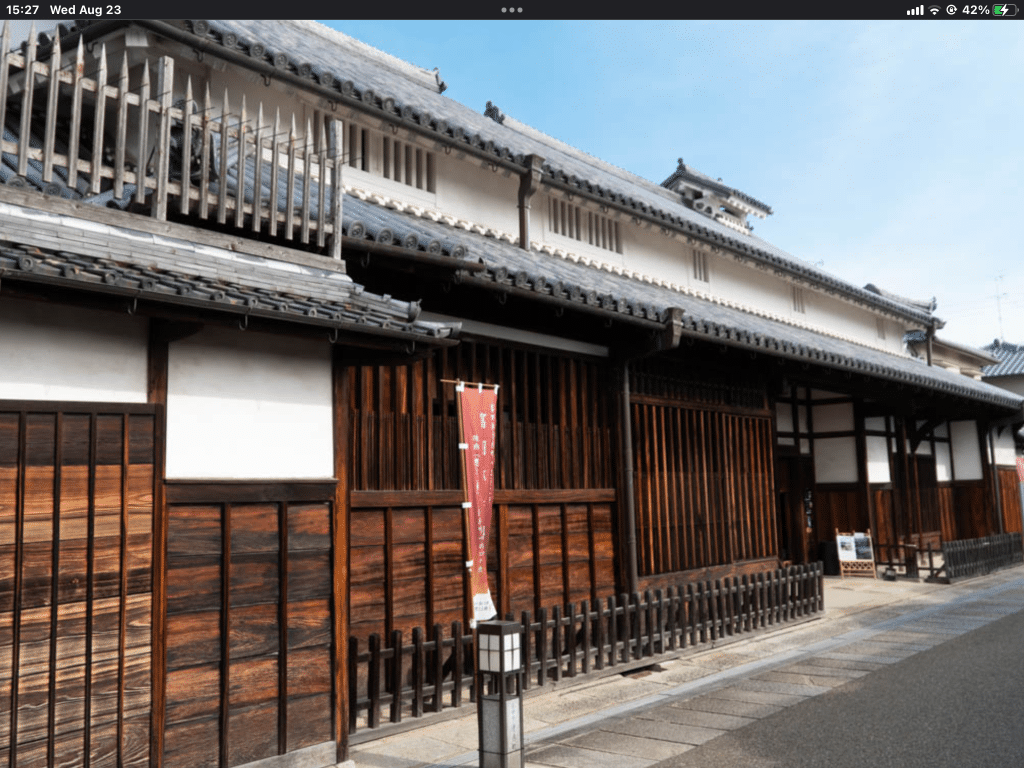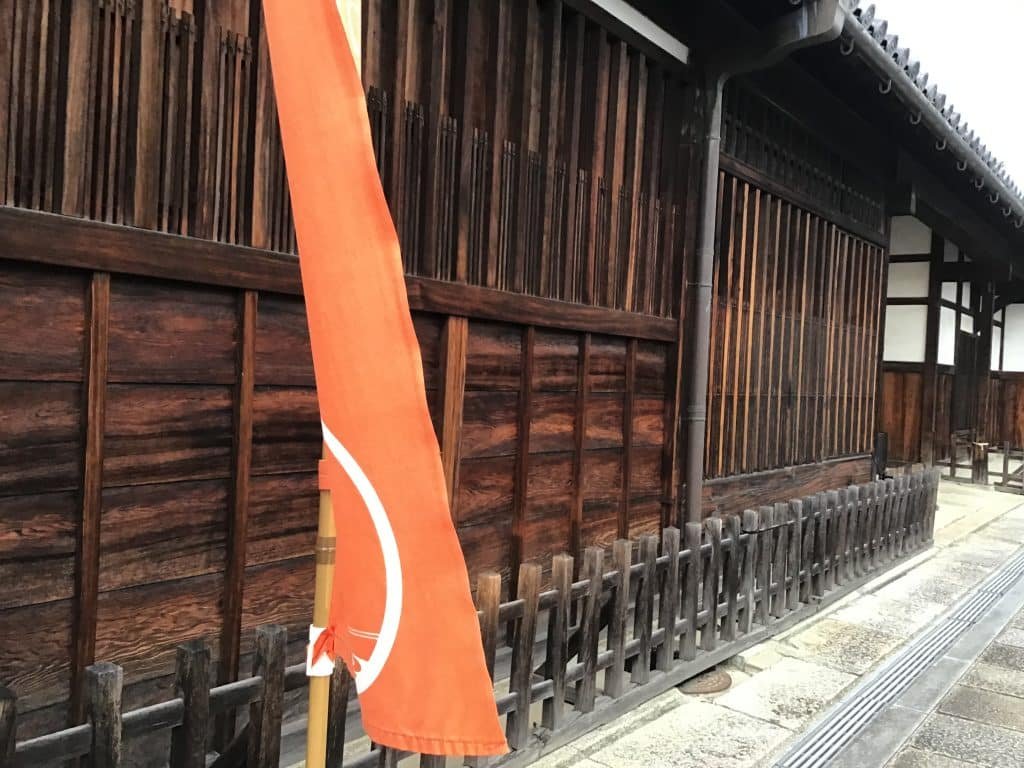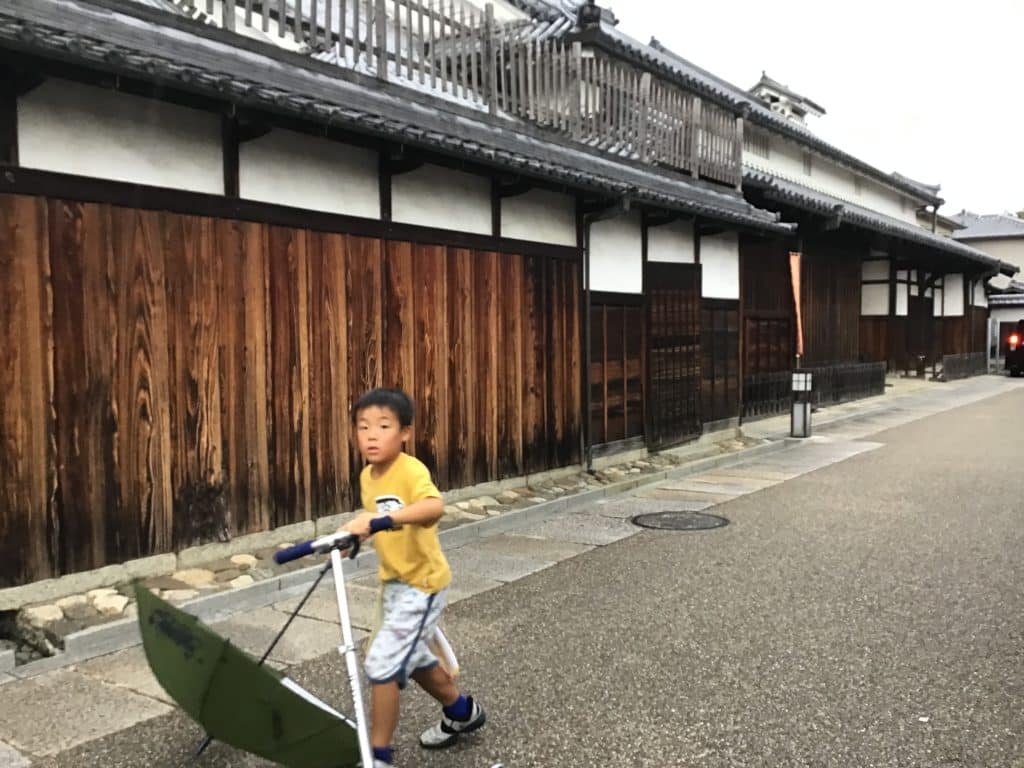 History, history, it's all about the history here! Every guidebook or pamphlet put out by the city and found at the first stop off the train, the old Kirameki factory-turned- Tourist Information Center, totes its history as the foundation for today's Tondabayashi.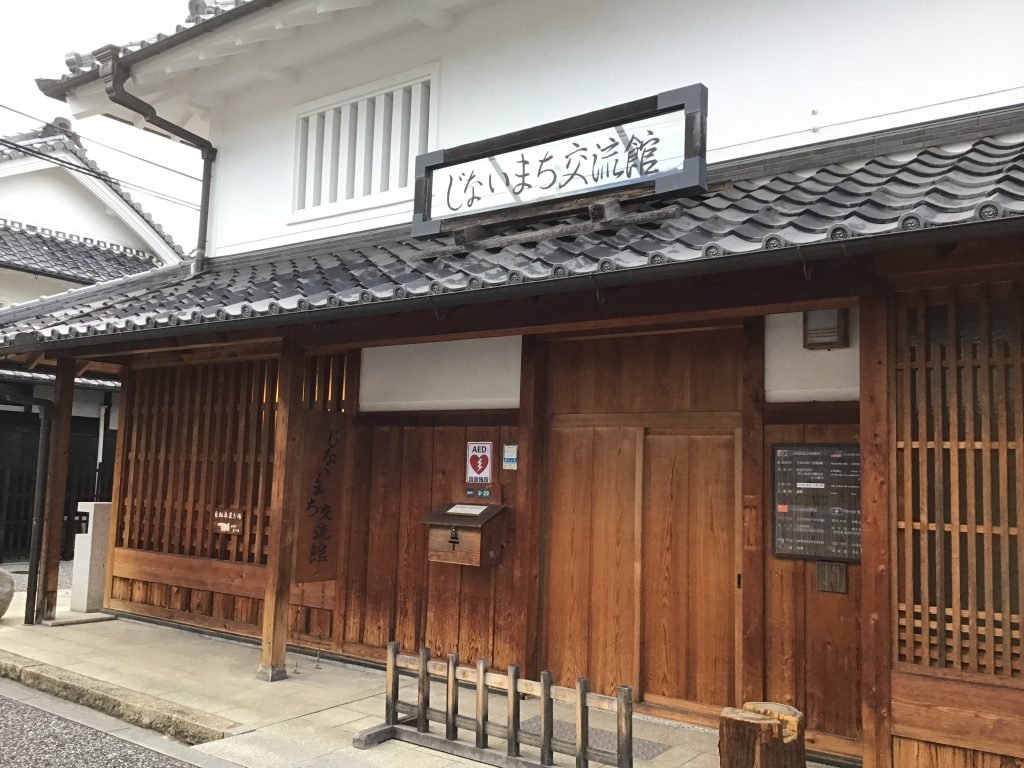 Not only Jinai-machi, but the surrounding Tondabayashi area abound in clean, pure river water, hills, mountains, forest, the most hectares of open field farming, a large agricultural park, temples and landmarks. Tondabayashi beckons. She welcomes work-weary city dwellers as well as foreign travelers to come and partake of the abundance she has to offer. And Jinai-machi is and always has been the center for all she stands for.
That an old township — deemed a National Architectural Preservation site, with several Cultural Heritages assigned within by the Ministry of Land, Infrastructure, Transport and Tourism—exists just a short, smooth ride down the tracks from Osaka proper, who knew? Can you even resist come checking it out? Take it from Osaka.com, there is so much to see here!
Come one, come all! Take a leisurely stroll through her passages!  Stay at an old warehouse- turned- ryokan.  Drink freshly pressed coffee in her storehouses-turned very quaint cafes.  Eat freshly rolled buckwheat soba in one of her oldest restaurants.  Shop for crafts , souvenirs, original crafted goods, even intricate hand made trinkets and small-handicrafts such as purses, pouches, even wind chimes made with the fabric of century-old kimonos in her various shops.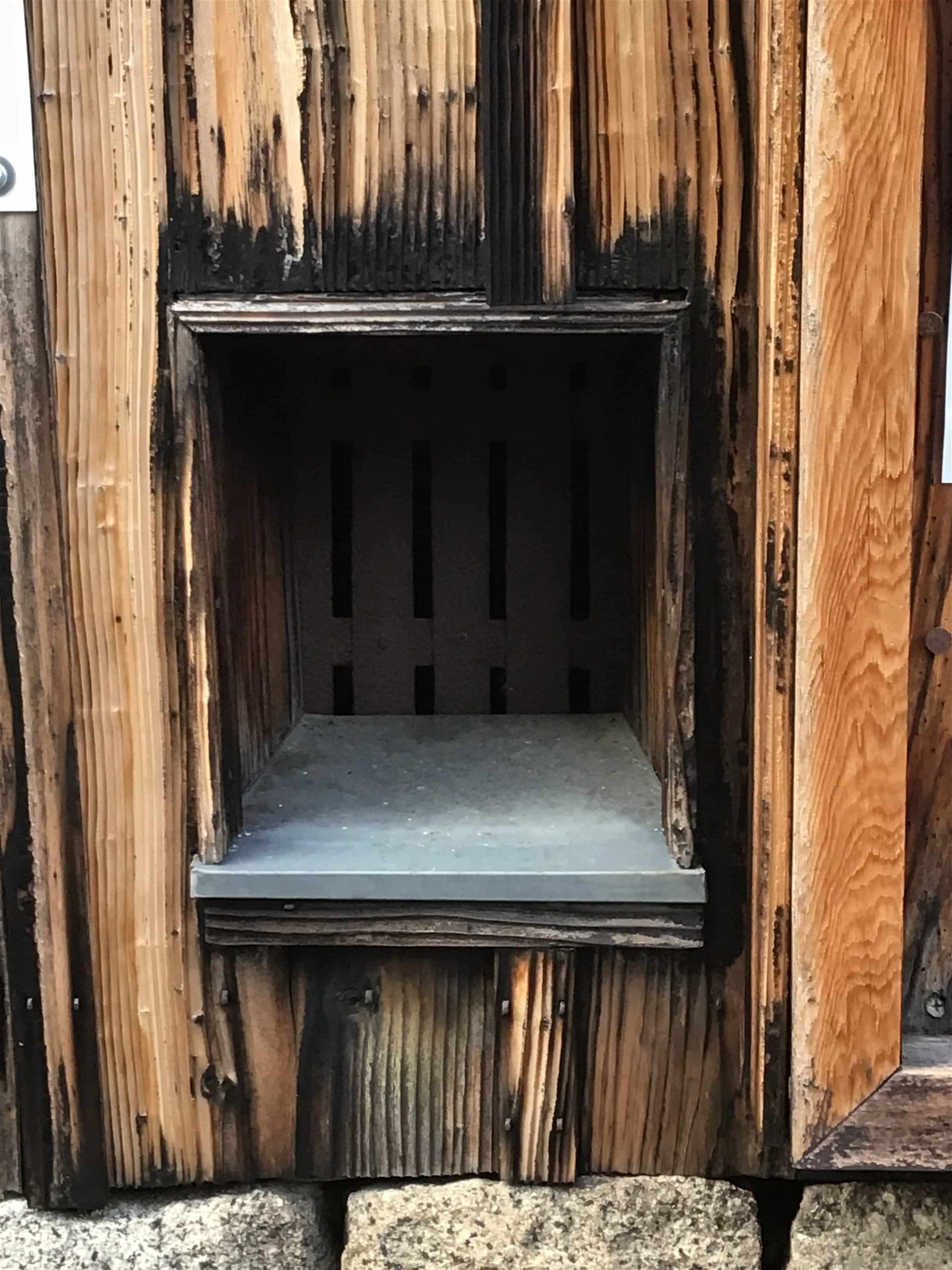 Let's go to Jinai-machi: First Steps
The friendly, hearty people of Jinnai-machi welcome you to come, walk her finely laid avenues and boulevards, traverse her hidden side streets and alleyways, explore and give thought to her preserved structures, peruse her shops and cafes to "see, feel, smell, and taste history".
Visitors coming from Osaka and surrounding areas can take the Kintetsu Line through Furuichi to Tondabayashi station. Across from the station, the Kirameki Visitor Center has free maps, detailed pamphlets in both Japanese and English- all free of cost. This should be your first stop! Obtain free maps and pamphlets here!
Note: This town is a non-parking accessible area.  Outside the area pay parking exists but it's an additional walk that can be alleviated if you simply take the train!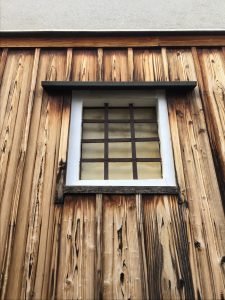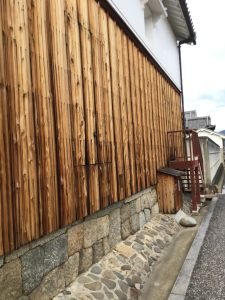 Some venues such as the Sugiyama Residence (original sake brewery) charge a small fee to enter the confines of their premises but are well worth it! Other venues such as Haccho Jaya, the buckwheat shop afore mentioned, or Zaccha-Marche coffee and souvenirs welcome travelers to step in freely and enjoy the ambiance their shops offer.
Strolling Through
The majority of this "old town" is made up of intricately preserved traditional buildings, many a marvel in architecture utilizing tile, wood, marble, and stone. Utilizing various roofing techniques and ridge design, each building tells a different story. Walking in and amongst these structures, the canny eye can spot many different intricacies in craftsmanship and masonry. Even the stones used in the different waterways and retaining walls each possess a character of their own. Take this one below, center-right…Is it not a petrified tree? Take the stone a few to the left of it…note the three passes of a very sharp adze or chisel that left the indentations in that stone. Marks made and left on times past.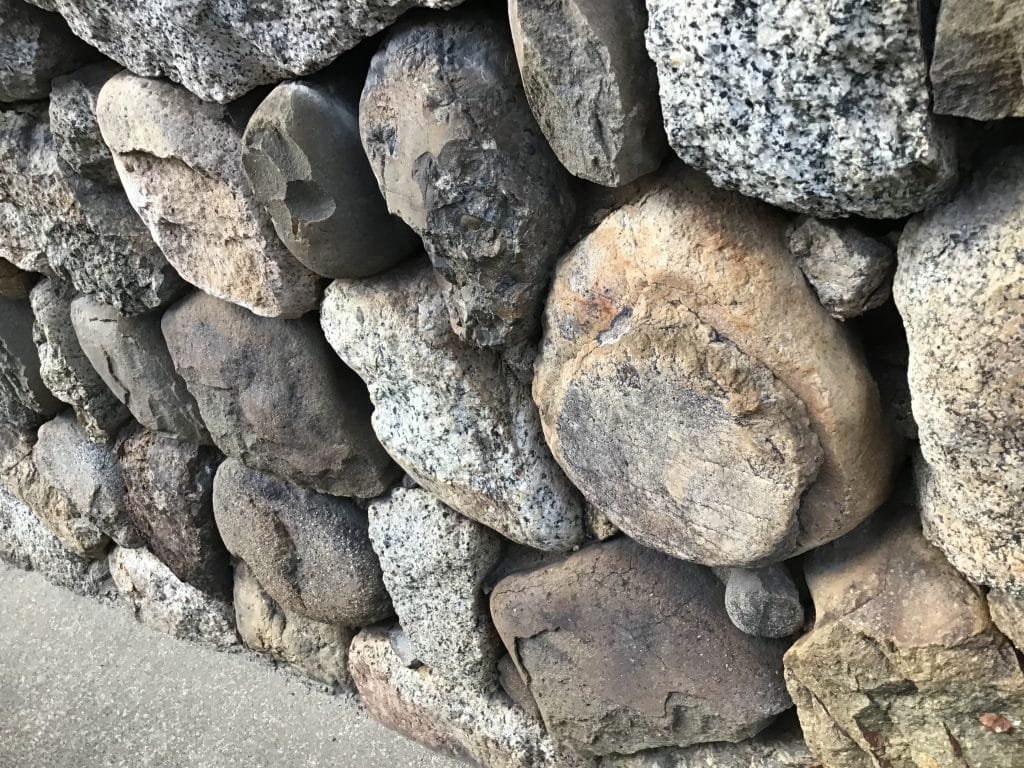 Note: The mushiko-mado for instance, rounded or squarish windows in the second or third stories in the highest position of the walls, allow air and light to penetrate the confines of the attic or uppermost floors. From each era, Edo, Meiji, and Taisho, buildings constructed during each period are represented by a differently shaped window: small oval in the Edo Period, An elongated oval in the Meiji period, and square or rectangular shaped during the Taisho Period.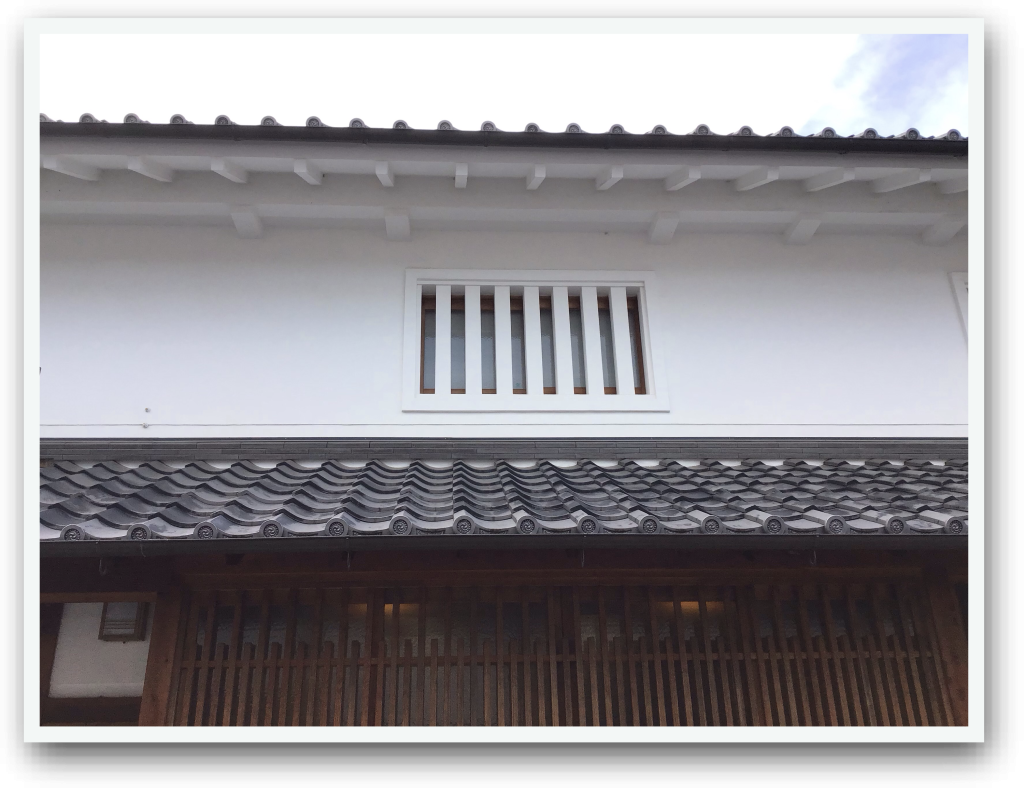 A fair number of these old buildings have been converted into spaces to be perused and enjoyed by the public. Let's take a look at just a few of these venues of the many Jinai-machi has to offer: the order in which each locations falls below, should, if you obtain the visitors map in English at location number one, take you in a loop around the village to see the area in the best order.
While I will mention only a handful of some of the more well known locations, you should be able to see everything else in between upon this route. Feel free to criss cross each area to enjoy some of the other residences, structures, rock walls, and water systems, as well as small shops, cafes, and other hidden gems.
There are also traditional foods to be had here such as tiger shrimp korroke, pickled eggplant, buckwheat noodles,and a few coffee houses with original menus containing dishes made traditionally in addition to fusion. Tondabayashi has a wealth of fruit and vegetables! There's something for everyone here!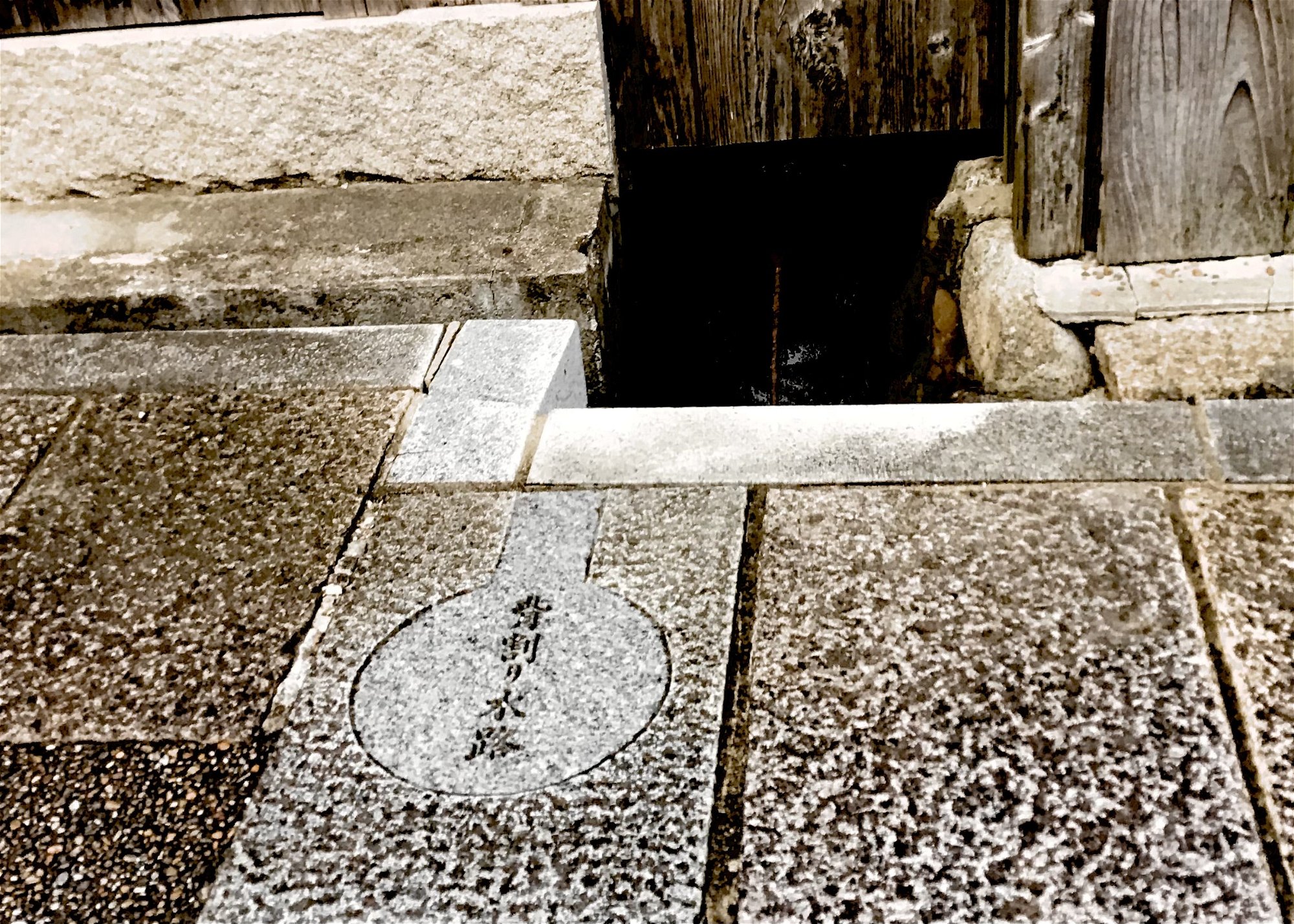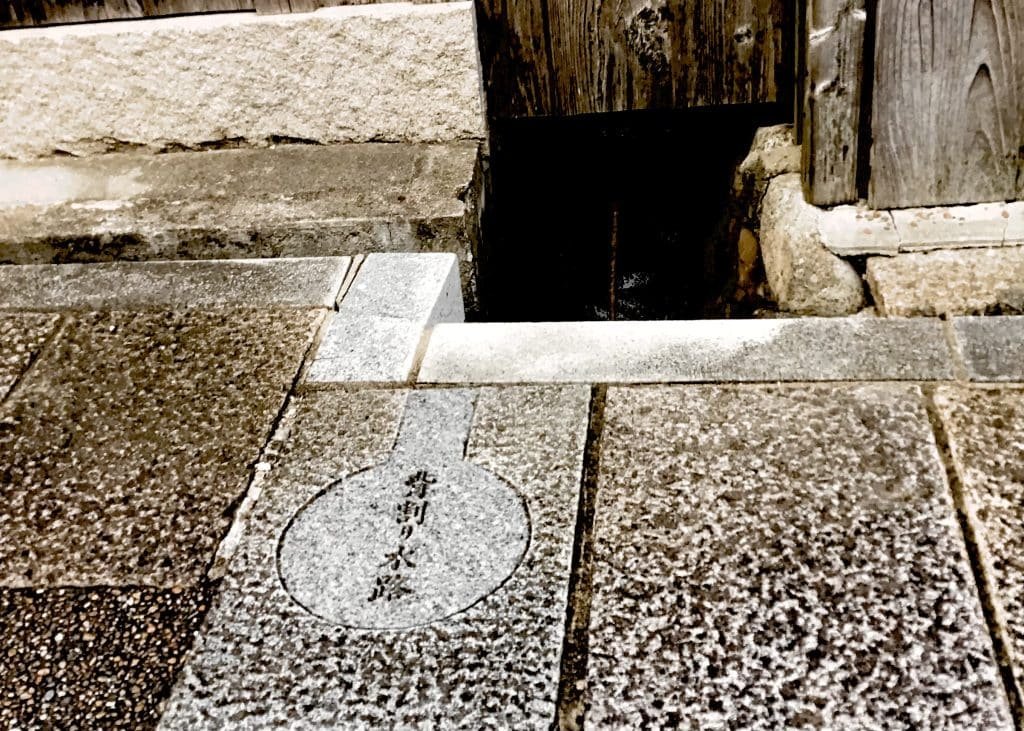 A Few Main Places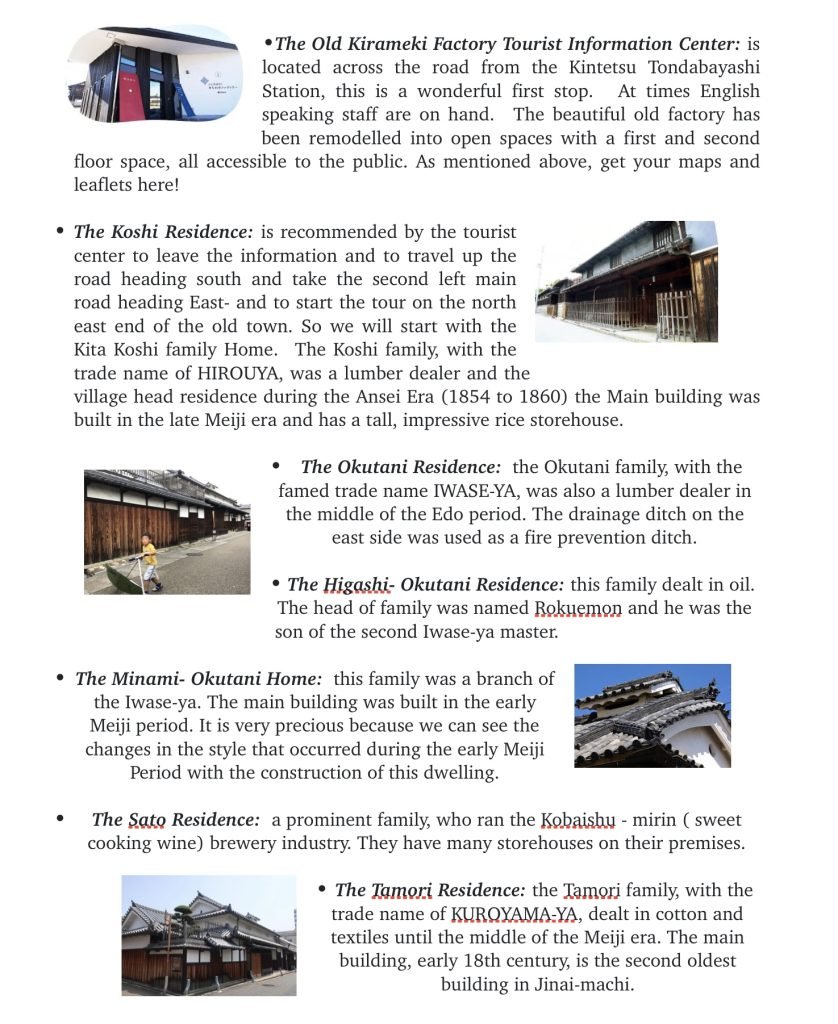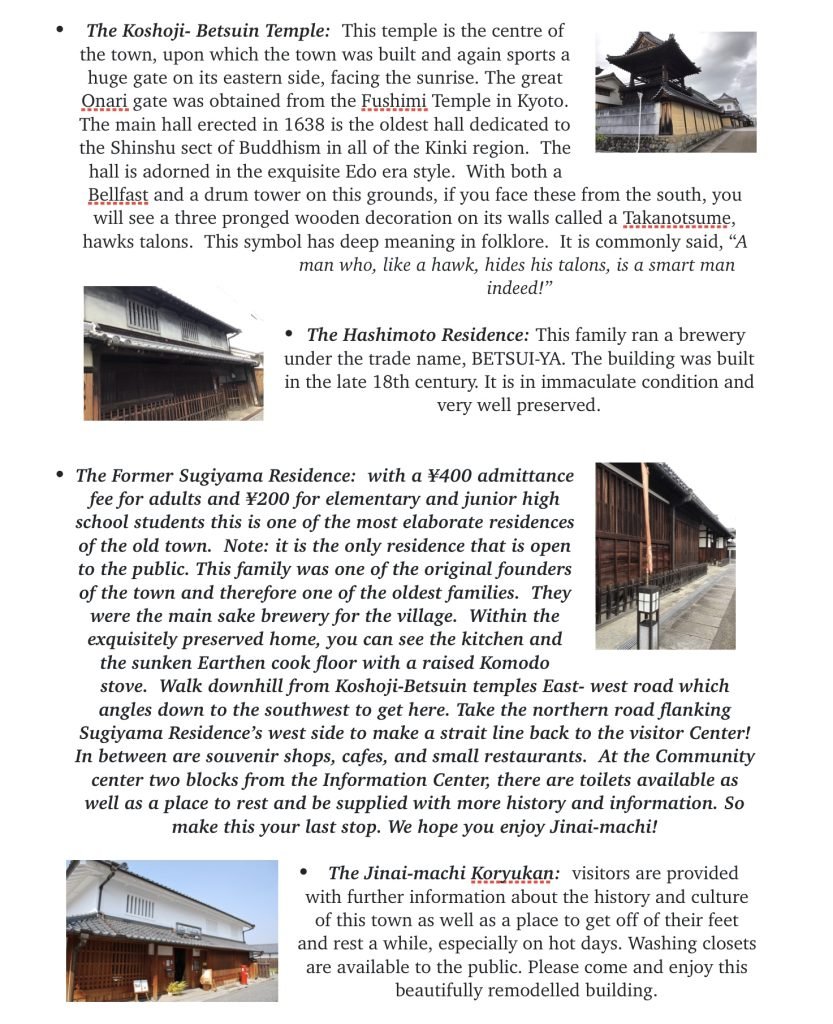 (Above: Jinai-Cho pictures/ domiciles- P.C. osakaphotos.com/tondabayashi)
See more information and maps/ links here: Tondabayashi Kirameki Museum.
For English and Japanese plus GUIDED TOUR Information check this very informative website: Jinnai Information via Biglobe!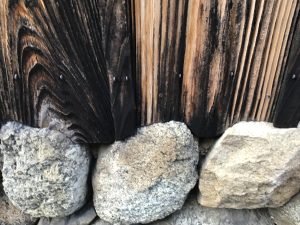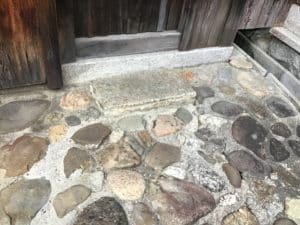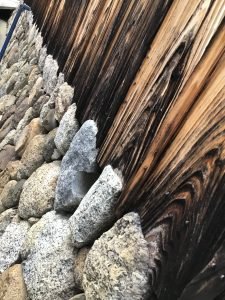 It's the Small Things That Count!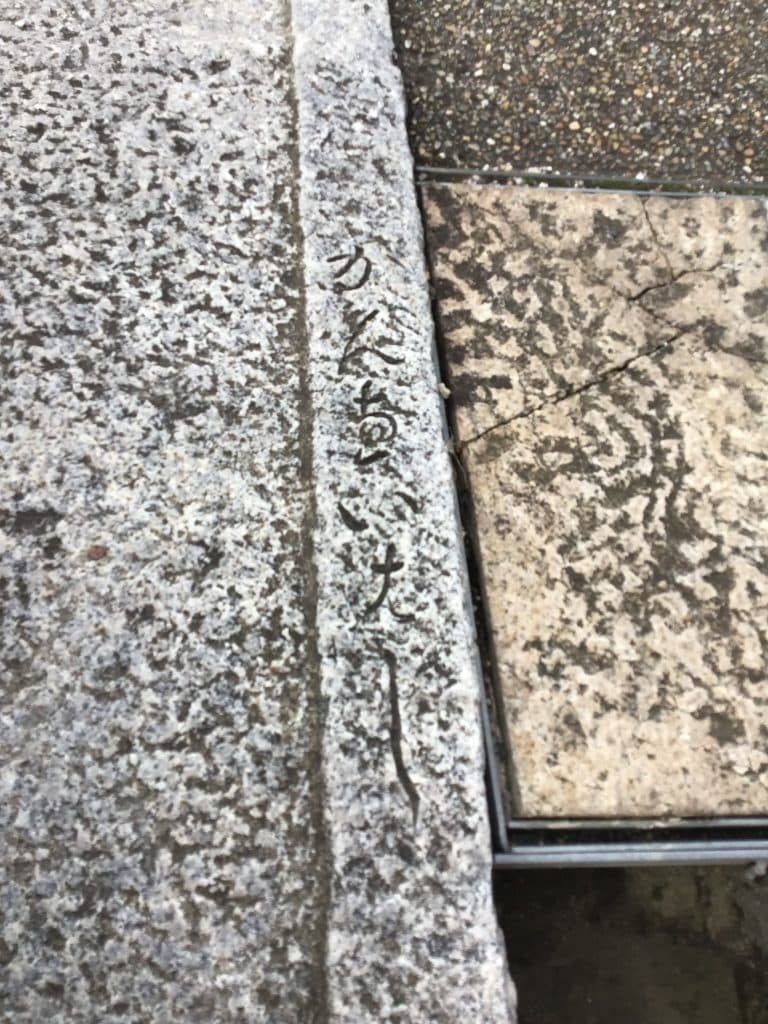 As you begin to get the feel of the place, you will start to pick up on small things here and there. A threshold of pavers. A rock with a perfect hole, centred . A stone that had been cut and shaped for a use different than the structure it supports. You can see earthworks, waterways, even the remnants of bridges that existed in times past. One of these most interesting bridge remnants are stones set into the paving at an intersection , pictured above, on Jonomon- suji.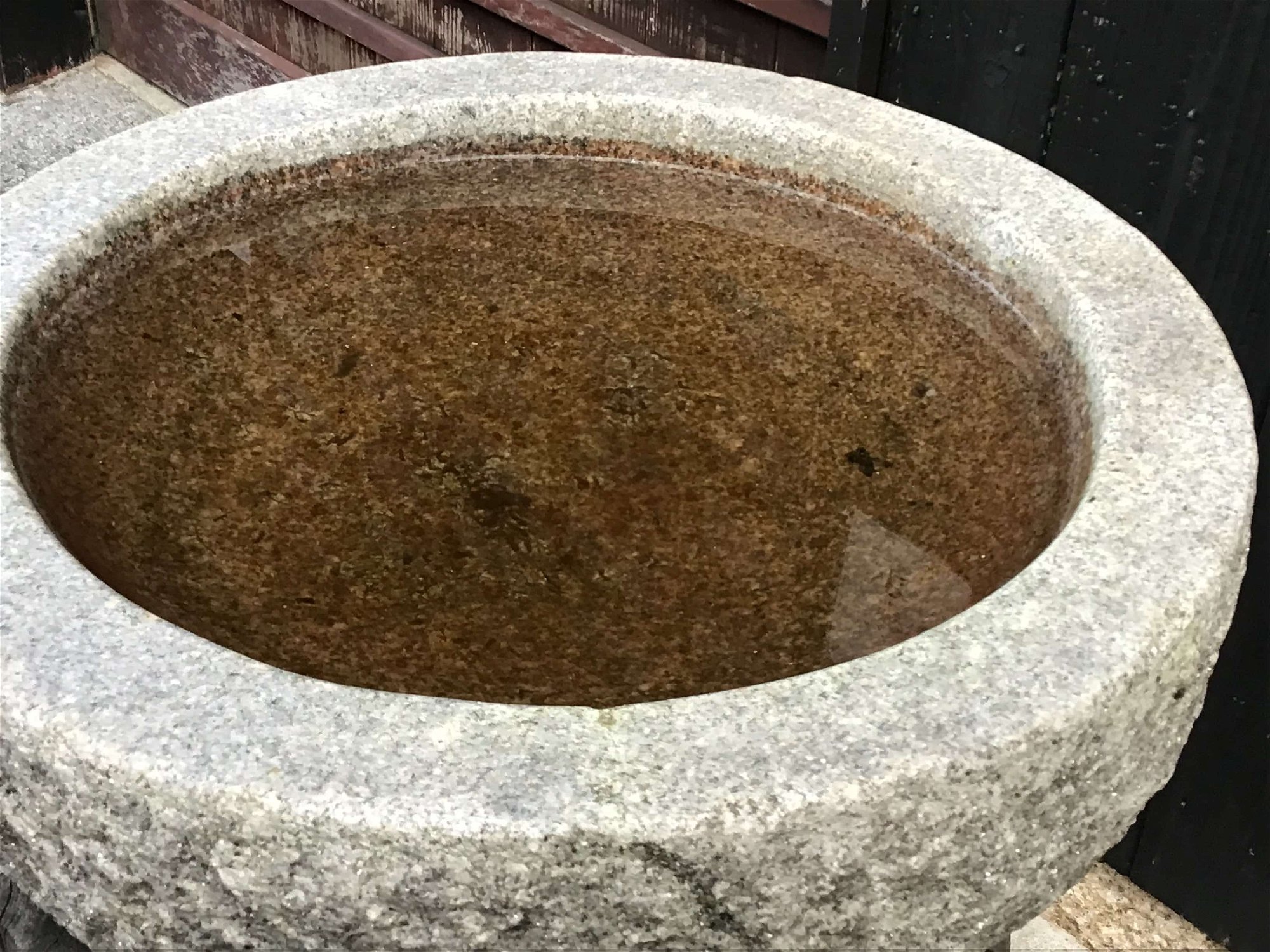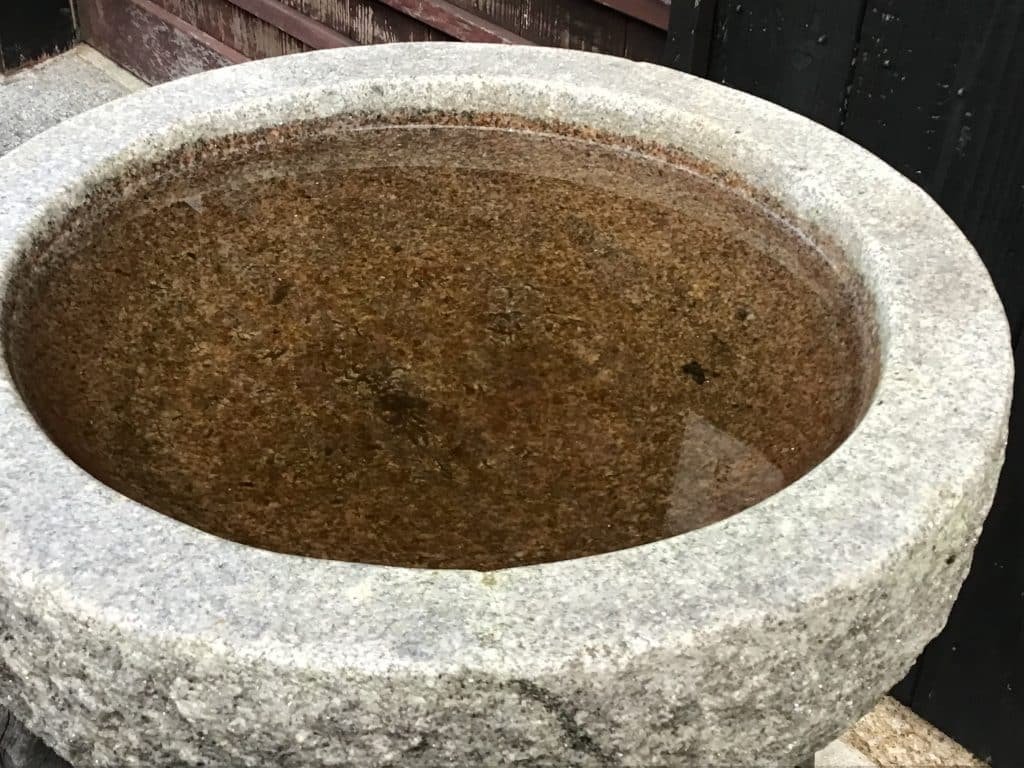 You'll find small nuggets of pure history that carry the mark, the thinking, the character of the person who formed it. If there is credit at all to be found in the old adage, "It's not what you'll take with you in life, but what you'll leave behind", Jinai-machi certainly does not disappoint!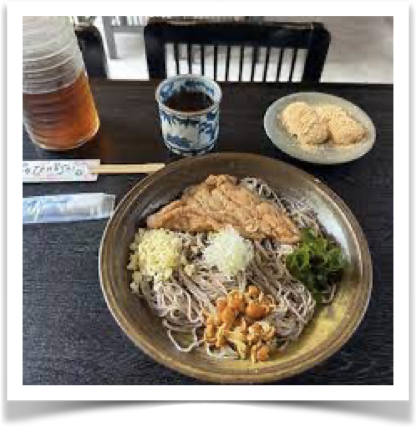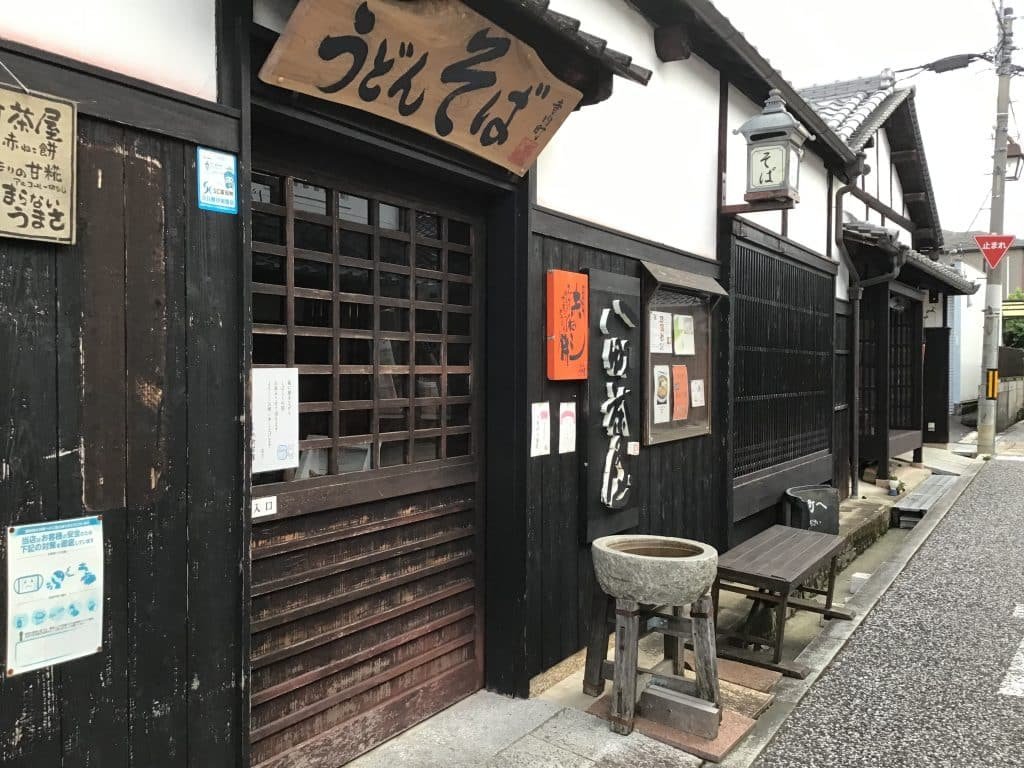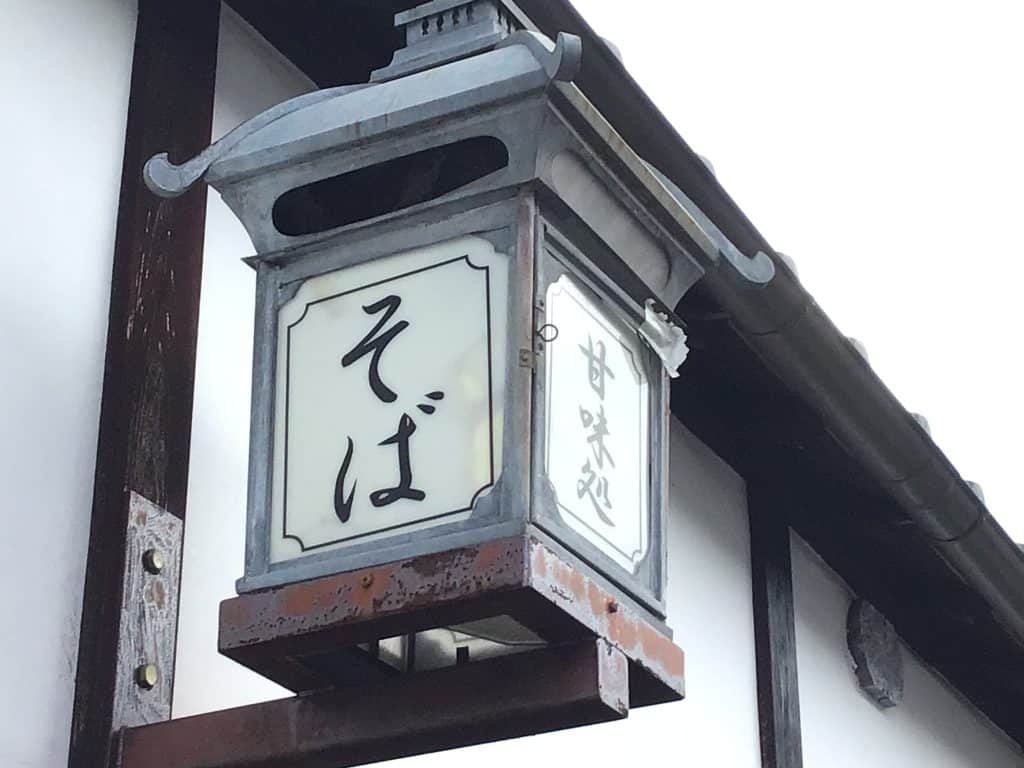 Take in a cup of tea or coffee. Enjoy a small bite to eat in some of the quaint cafes and small eateries around the town. Allow your eye to meander along the smallest of things. A vintage soba sign.  A small air vent a the foot of a building, the odd stone in a run old stones within a wall. The brilliant white clay in contrast with wood and granite. A small window with its own design. A faded fire red fire cistern. A run of tiles embedded along a garden path, a carved poem upon a street paver.  The local's unhurried life as they make their way to their homes at dusk.  Whatever you find here is a picture to take away and ponder with a desire to explore more!  Thank you for joining us in Jinai cho! Directions below!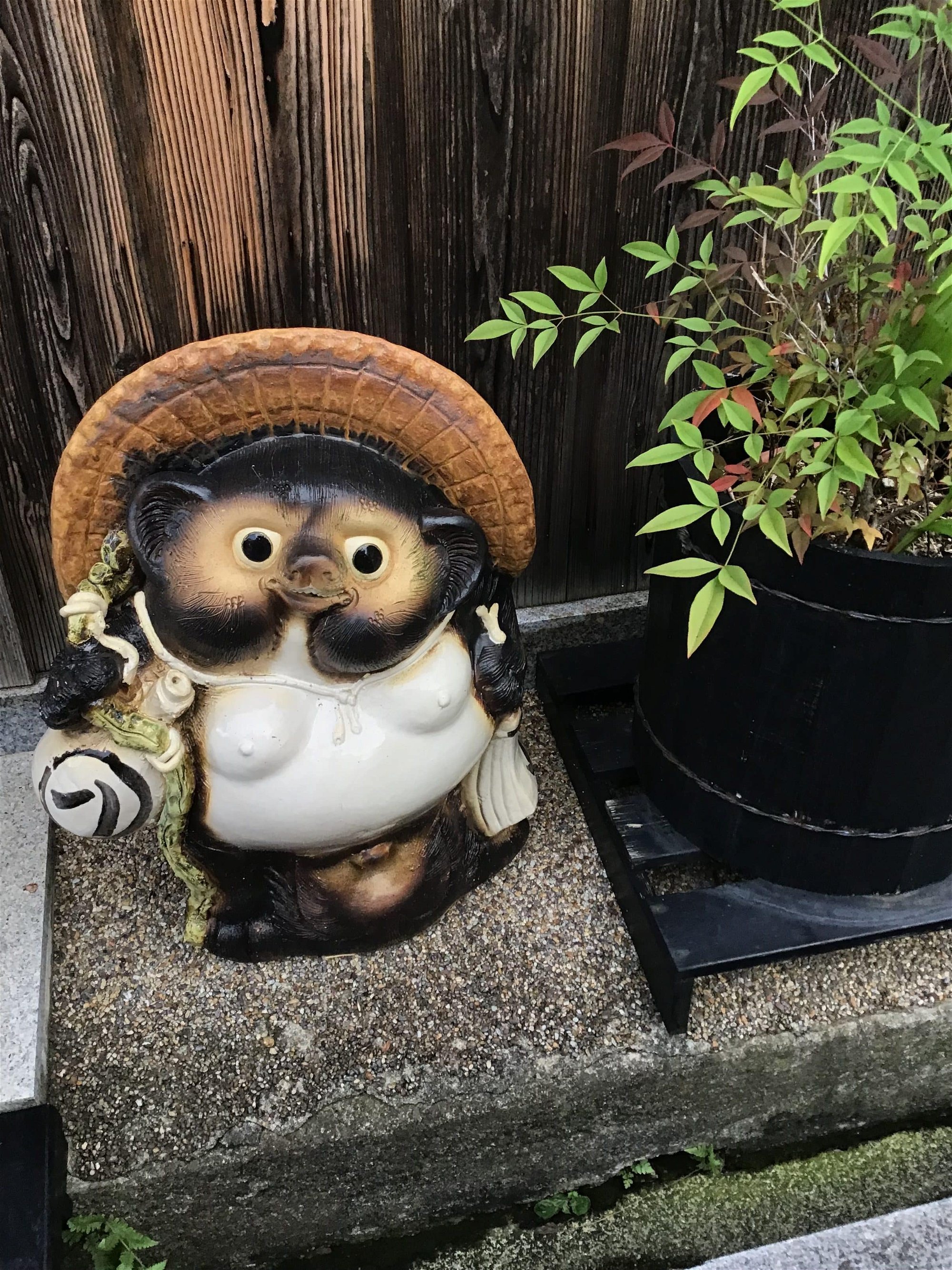 How to get there
Directions to Tondabayashi Station/ Jinai-machi from Tennoji: Tondabayashi Station can be easily reached utilizing the Kintetsu Line route shown below. If on a Kawachi Nagano or Rinkandenentoshi bound train to the southernmost part of Osaka, Tondabayashi lies on this route. A switch at Furuichi station therefore is not necessary. A switch is necessary if on a Kashihara bound train. When arriving Tondabayashi Station, take the East exit, cross the street to the Jinai Kirameki Information Center! You have arrived!