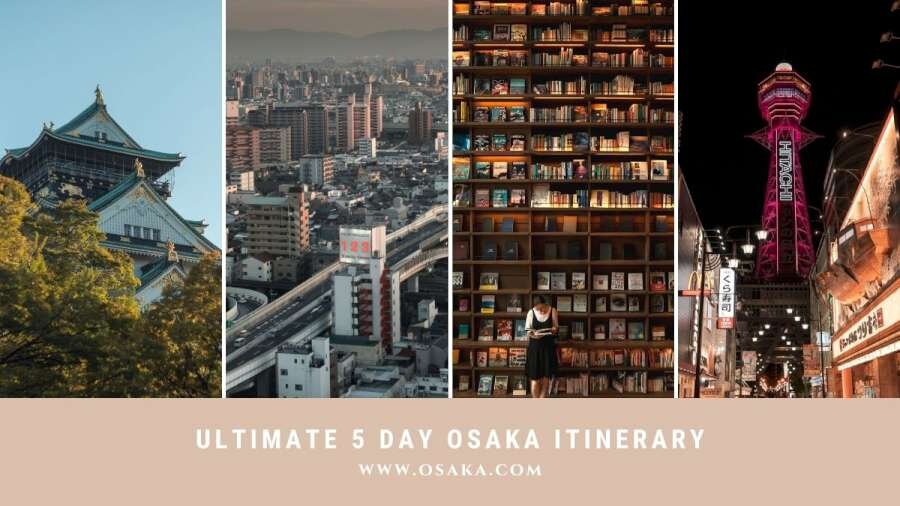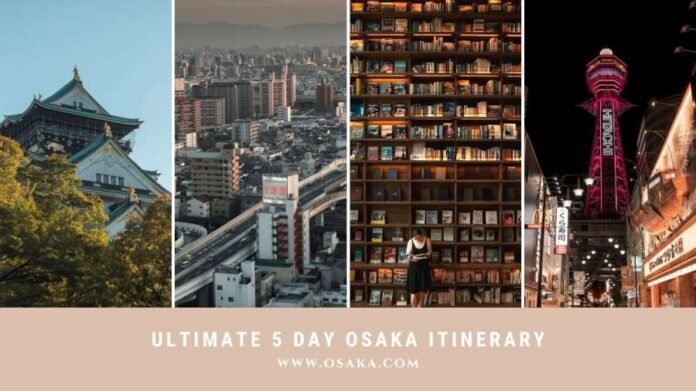 Osaka is endlessly interesting and absolutely delicious! Being known, as the city of merchants and Japan's kitchen, Osaka has a long history, as this area has been settled for millennia and its convenient central location became the foundation of early Japanese civilization. The city was culturally and economically thriving since long time ago, when Tokyo was still an unimportant backwater known as Edo. Today's Osaka is the 3rd largest city in Japan (after Tokyo and Yokohama) and it is an unmissable place to visit. osaka 5 day itinerary
I have been living in Osaka for a year now, I am proud to call it my home and I love exploring its hidden corners. That is why it makes me sad sometimes to see travelers often skipping Osaka on their trip around Japan. Osaka has a lot to offer and I am sure it will not disappoint. I prepared for you an ultimate itinerary on how to spend here 5 perfect days to get the most out of this city and see the top locations and tourist attractions. I hope it will inspire your future travels!
Notes:
*To every place I mention in this article I will give you a detailed description how to get there from two main areas in Osaka – Namba (central Osaka) and Osaka-Umeda (also called Kita in the northern part of the city). There are several big stations in Kita ward: Osaka station, Umeda station, Osaka-Umeda station and Nishi-Umeda station, and they are all connected. It is one of the busiest stations in the world, however, if you follow the signs, it is not so difficult to navigate. In this article, I will be using the term Osaka/Umeda station and I will always emphasize from which station you will have to take the train to a particular place.
*You may have seen written both terms Namba or Nanba, Dotombori or Dotonbori – both terms are correct (in Hiragana alphabet there isn't any difference in writing), so don't get confused, Namba and Nanba are really the same place. I will be using Namba and Dotonbori.
Check out our video on what to do in Osaka during a 5 day stay
1. DAY
Morning – arrival
Starting the day with the arrival to Osaka and getting comfy in the hotel room. After everything is unpacked and you are in full energy to explore, let's hit the city and get out for some lunch! As I mentioned before, Osaka is known as the Nation's Kitchen with unique delicious local cuisine. The best place to sample some street food is Kuromon market, and that will be our first stop.
Afternoon – Kuromon Market and Namba
Kuromon market is a covered market street stretching for more than half a kilometre and offers a wide variety of street food. There are over 150 stalls selling fish, meat, fresh produce, traditional sweets, but also souvenirs, low priced clothes and homeware. One can get easily overwhelmed by the hustle and bustle but it has its own charm. The best dishes to try here are: takoyaki, fresh oysters, grilled scallops, creamy sea urchin, tiny octopus on skewer with a quail egg inside, or grilled eel – unagi. As a dessert, get some of the delicious fresh fruit, for example caramelized pineapple or white strawberries.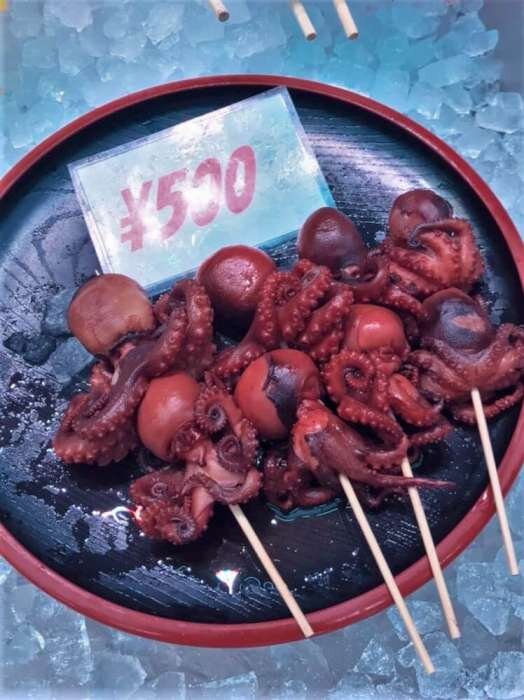 From Kurumon market it is easy to walk to busy Namba area (approximately 1 km). Don't miss visiting Namba Yasaka Jinja, a unique shrine that may not be big in size, but it features a giant lion head and hosts occasional performances.
For all the urban architecture enthusiasts, I would recommend heading to top of the Namba Station to the Namba Parks. Not only you will get a beautiful sunset view, but you can take a rest in this green area from the busy streets. Namba Parks is actually also a shopping mall with many boutiques selling international and Japanese brands and there are plenty of cute cafes and restaurants as well.
Getting to Kuromon Market
From Osaka/Umeda station – take the red Midosuji, or blue Yotsubashi metro lines from Umeda station to Namba and from there just walk.
If your hotel is in Namba area, you can just take a walk, there is no special connection to the market.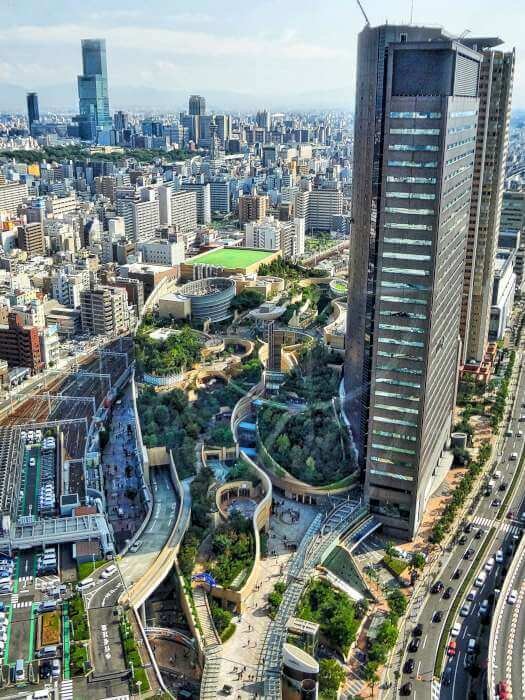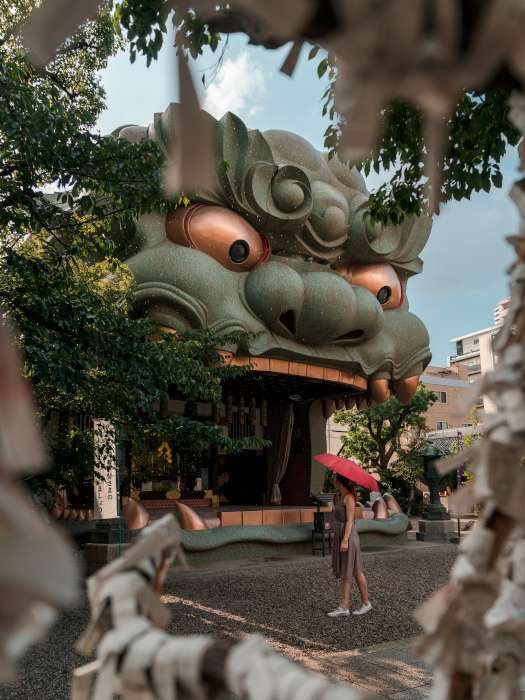 ---
If you're interested in Osaka's cuisine, check out our detailed guide here
---
Evening – Dotonbori
Let's finish our first day in Dotonbori, lively area known for its colorful neon lights, giant moving mascots above restaurants and the best street food. You will be spoiled by the variety of options here! Dotonbori is the perfect place to try some dishes that originated in Osaka, like okonomiyaki or takoyaki. Many restaurants in this area offer English menus for tourists so you won't get lost in translation. When browsing the back streets of Dotonbori, called yokocho in Japanese, don't miss quiet mysterious Hozenji Temple, or Misono Building with many quirky bars on its second floor. osaka itinerary 5 days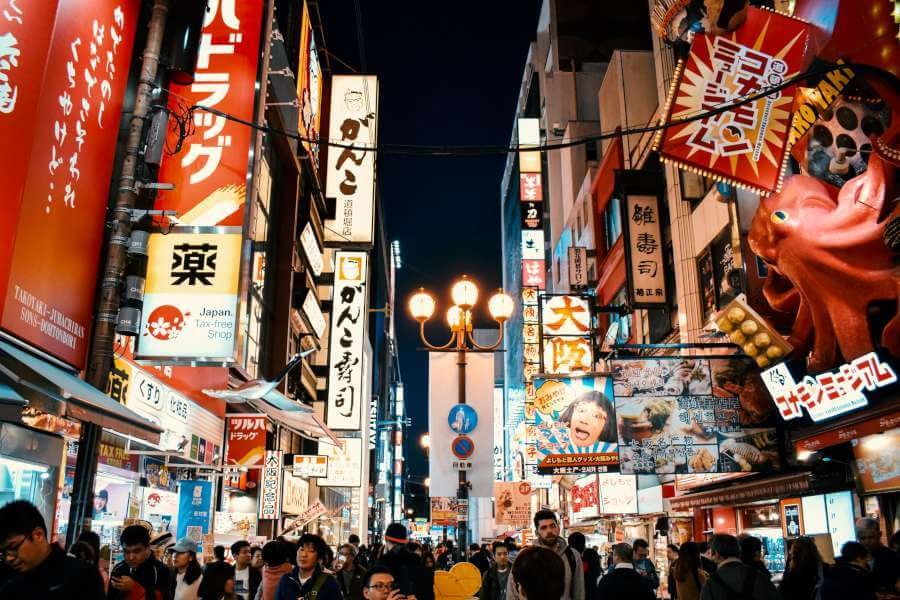 If you would like to know more about the cultural significance of Dotonbori and how Osaka got its nickname "Nation's Kitchen", I would recommend joining a food tour that will take you around the Dotonbori and Namba area and where you can sample some of the best typical dishes. Arigato Japan are number one in providing food tours around the country and they take pride in providing the best service possible. They provide small intimate tours, where you can meet other fellow travelers and they will take you to places where only locals go. osaka itinerary 5 days
---
2. DAY
Morning – Cycling tour
Starting the day with delicious coffee and breakfast in Brooklyn Roasting Company Kitahama café in Nakanoshima Island before setting off on the half-day tour around Osaka with Cycle Osaka. The tour will take you around the downtown and you will discover some architectural treasures, such as Osaka Central Hall, Mint Museum and of course stunning Osaka Castle. Osaka is a city of bikes, everyone is riding them so this experience will surely make your trip more memorable. osaka itinerary 5 days
Getting to Nakanoshima Island:
From Osaka/Umeda station – Take the red Midosuji line from Umeda station to Yodobashi station, from there it is 8 minute walk to the Brooklyn Roasting Company Café. Alternatively you can take the bus num. 62 from Osaka Eki Mae station to Kitahama 2 chome.
From Namba – You can also take red Midosuji line to Yodobashi station.
Cycle Osaka tours start at Osaka City Central Public Hall which is only 4 minute walk away from the cafe.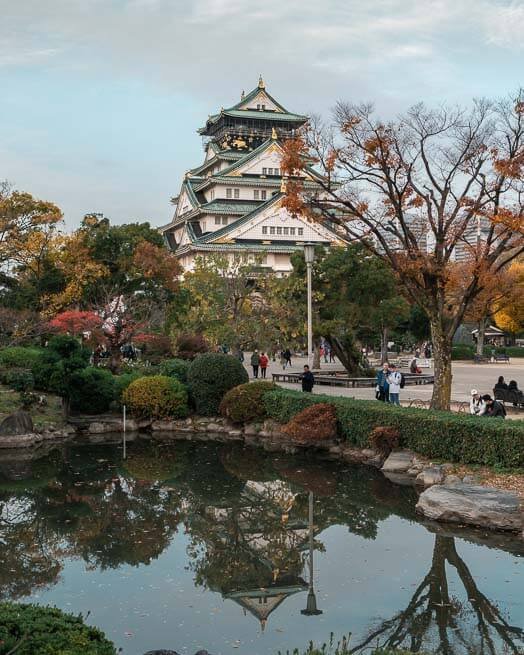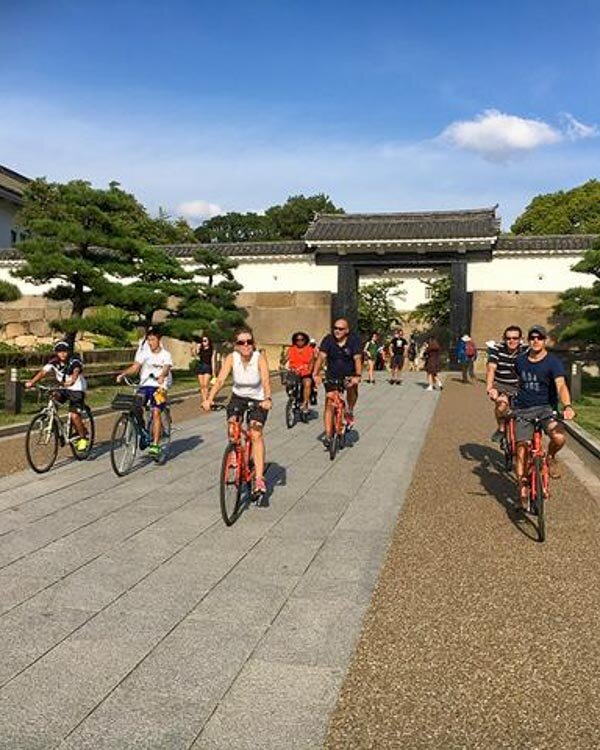 ---
If you like cycling, read our cycling guide made by a local resident of Taisho Ward.
---
Alternative plan
If cycling is not your cup of tea, or if you are visiting Osaka on budget, you can spend the morning discovering Osaka Castle and its park. The park is large and it is a popular hangout place for locals and tourists alike. In spring time, at the beginning of April, there are five thousands of cherry blossom trees in bloom giving the place dreamy atmosphere. You can grab a bite in nearest combini (convenience store) and have a picnic there. osaka itinerary 5 days
Lunch in Fukushima
Fukushima is a lively area spreading between Nakanoshima Island and Osaka Station. The cycling tour will finish in Nakanoshima and from there it is about 20 minute walk to the main street. Fukushima is known for many great international as well as Japanese restaurants, and small bars. If you are craving some delicious sushi, try Fukushima Bar Niku Sushi or Netaichi Fukushima, for meat lovers there's M of Grilled Meat, while restaurant Grilled Vegetables Nanone will please all the vegetarians. However, if you would like to eat some western food for a change, Fukushima has many great Italian and French restaurants too, my personal favorite is Pizza Regalo. osaka itinerary 5 days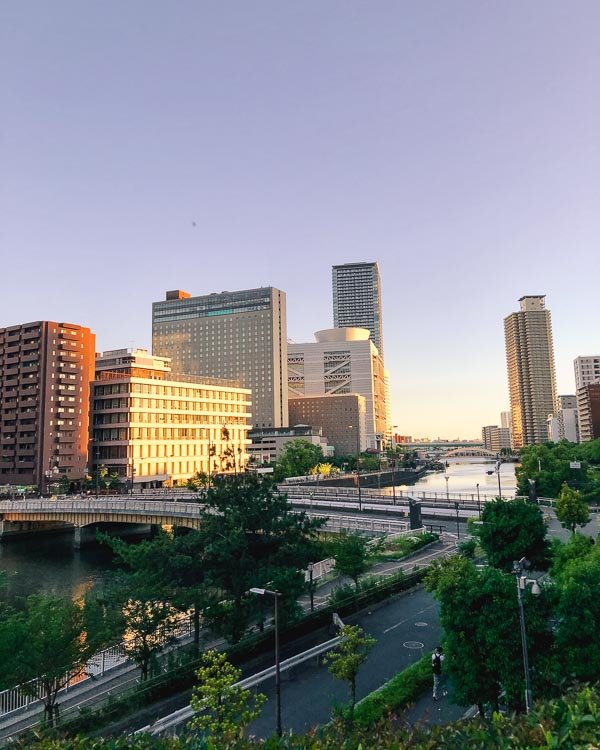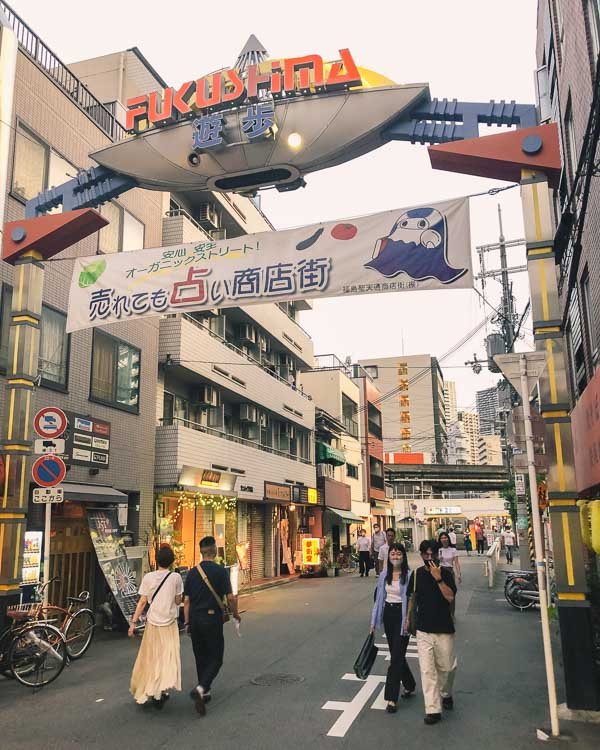 Afternoon – Shopping around Osaka-Umeda station
In the afternoon let's walk away those calories from lunch by doing a little bit of shopping around Osaka-Umeda station! Osaka station is just a short train ride from JR Fukushima station (platform 2, only one stop). Take the Bridge exit from Osaka station and as soon as you get out of the building, you will see many different shopping malls and shops. Grand Front Osaka, Lucua, HEP Five, or Yodobashi shopping mall are located one next to each other and they offer a variety of local and international brands. osaka itinerary 5 days
I would recommend checking out the Grand Front Osaka and HEP (stands for Hankyu Entertainment Park). Grand Front is really large and you can find here many cute cafes, while HEP features giant red Ferris wheel that you can hop on right in the mall. Osaka itinerary 5 days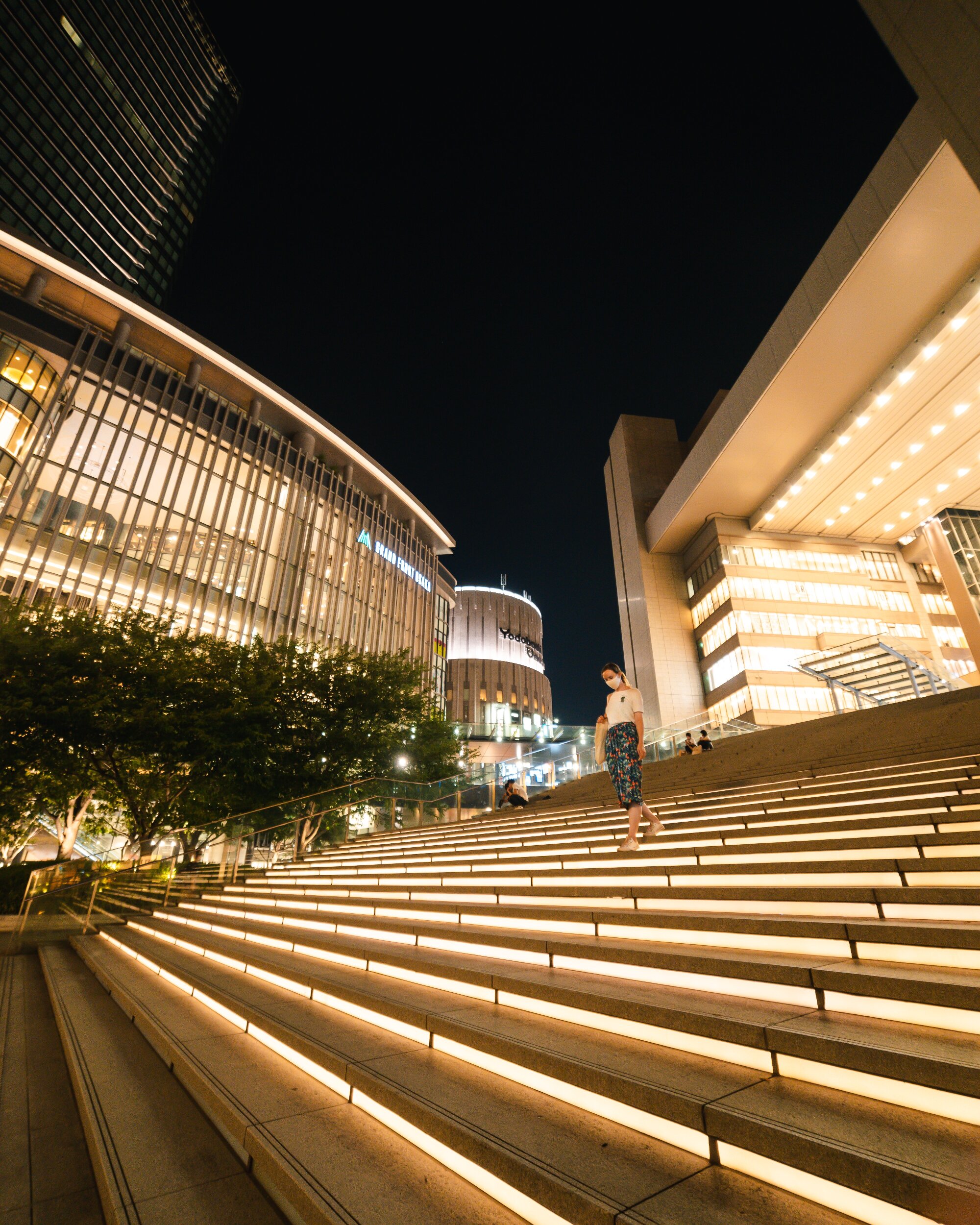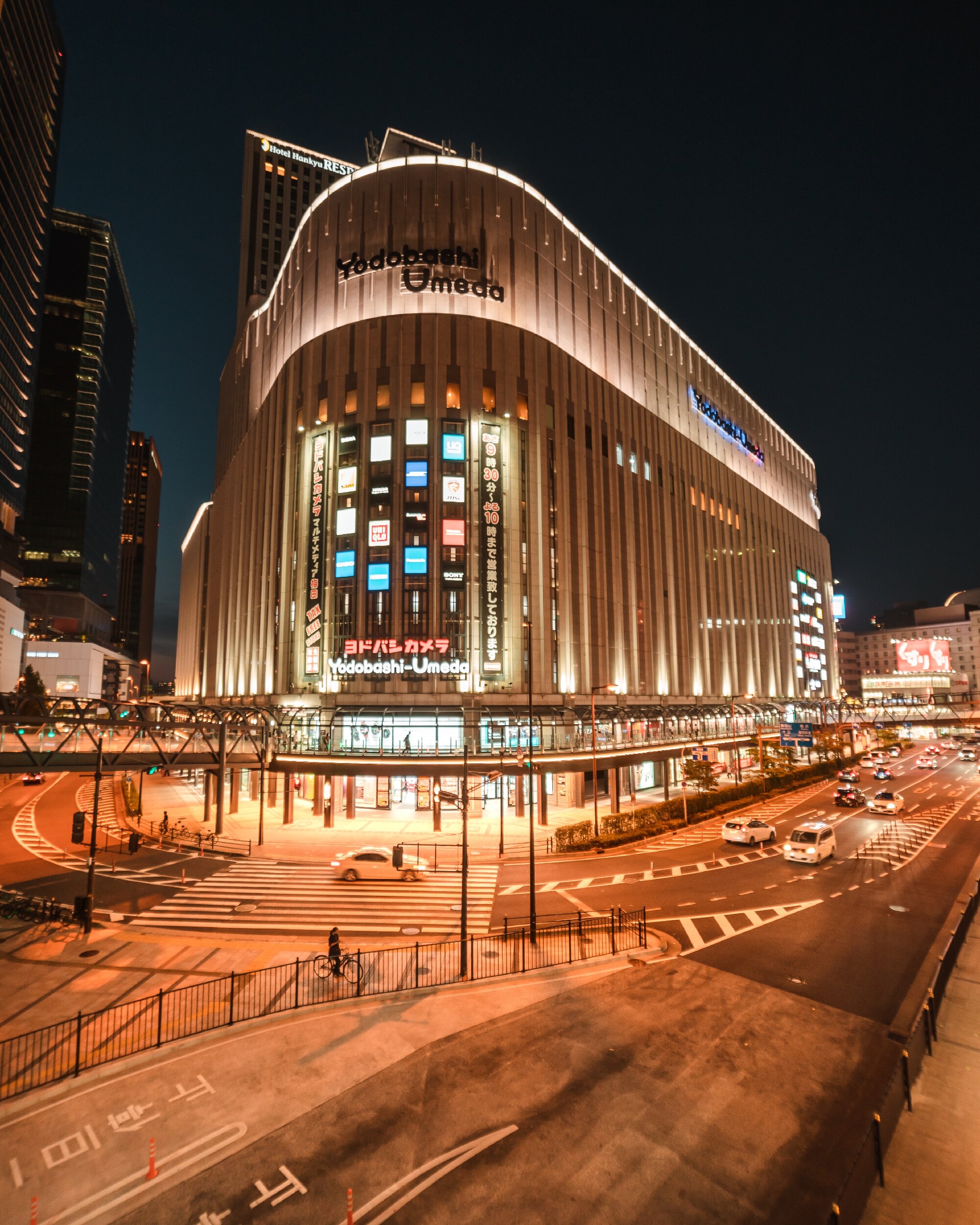 ---
If you're interested in Osaka's shopping opportunities check out our article on shopping
---
Sunset and dinner – Umeda Sky Building
From Osaka Station you can see Umeda Sky Building, a unique 170 metres tall skyscraper consisting from two separate buildings joined by a round observation deck on the top. It is the perfect place to watch the sunset from and enjoy the spectacular 360 degree views over Osaka. osaka itinerary 5 days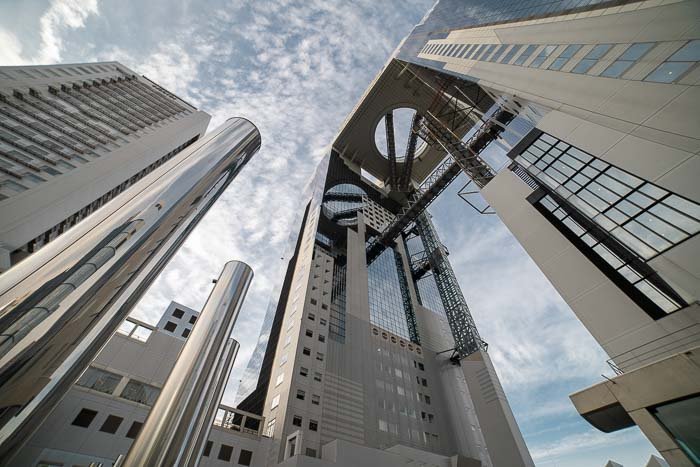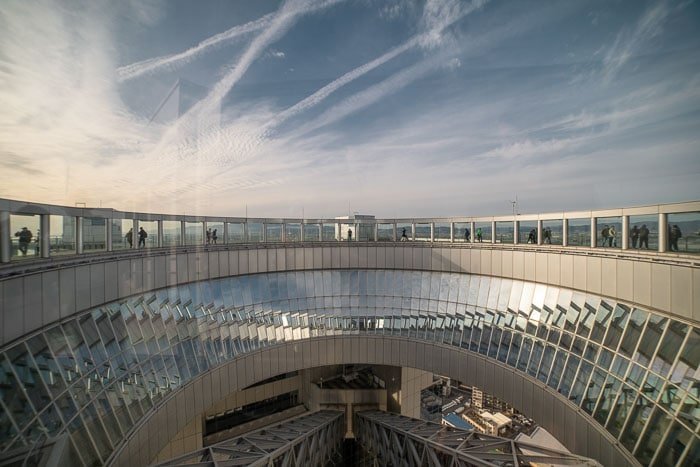 However, The Floating Garden Observatory is not the only attraction that Umeda Sky Building offers. There's also an art museum – Koji Kinutani Tenku on the 27th floor in the west tower, while the east tower features cinema on the 3rd floor, and a Sky Lounge and a Chinese restaurant on the 39th floor. For me, however, the real treasure lies underground on the B1. You will find here a small retro alley called Takimi Koji, which reminds the townscape from Japanese Showa period, and it's full of tiny gourmet restaurants. Such a unique place to have dinner after a busy day! osaka 5 day itinerary
Alternative plan for the evening
If visiting Umeda Sky Building is out of your budget, you can go up on the roof of the Osaka Station. Take the elevator from Lucua department store to the 11th floor and watch the sunset from there for free! The view from the roof is beautiful, there's a grassy area, wooden benches and a convenience store so you can even have a picnic here. Once you are up, find a staircase on the left side that will take you even higher to an actual garden with herbs, flowers, vegetables etc. One level down on the 10th floor, on the other hand, you will find a small Japanese Zen garden.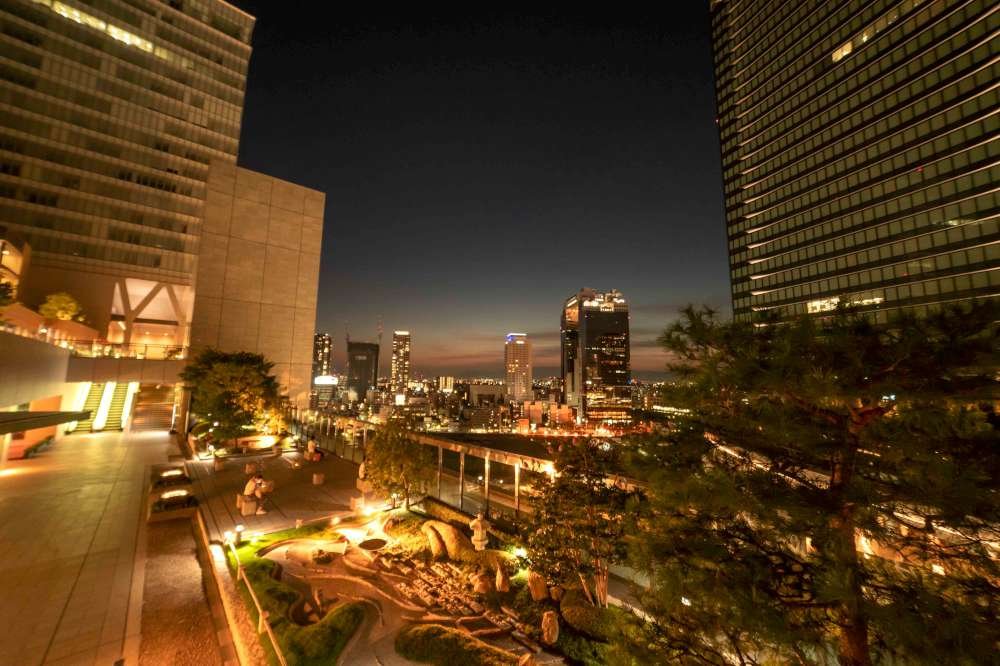 ---
3. DAY
Full day in Universal Studios
Did you know that Universal Studios in Osaka are the first Universal Studios built outside the United States? The entertainment park was opened in 2001 and since then it welcomed millions of visitors. It spreads through 54 hectares, so you will really need a full day to see and experience it all! The most popular attractions include – Wizarding World of Harry Potter, Jurassic Park rides, live shows and parades, Despicable Me Minion Park, Water world and many more. osaka 5 day itinerary
You can also find here restaurants, shops, hotels and cafes. Universal Studios Japan really take care of their visitors of all ages. It is open daily from 9:00 to 19:00 and the 1-day pass for adults start at 7800 yen (tax included).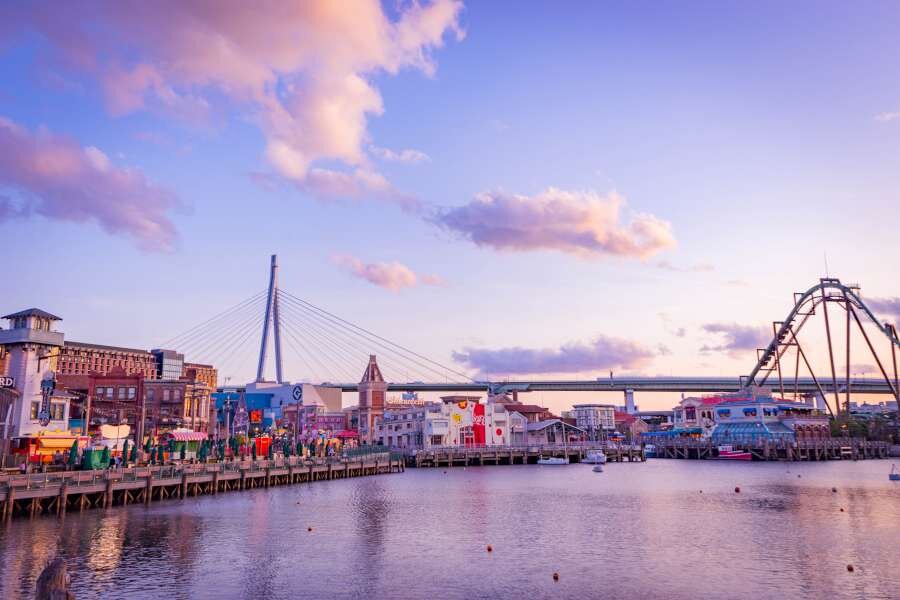 ---
Here's everything you need to know about USJ in our detailed guide
---
Alternative Plan – Hirakata Park and surrounding area
If Universal Studios are out of your budget, or you would like to experience something different with maybe a little bit of less tourists but the same amount of fun, visit Retro Amusement Park in Hirakata! Hirakata Park opened its doors for the first time in 1910, which makes it the oldest theme park in Japan. It is also one of the very few independently owned theme parks that are left in Japan, due the competition such as Universal Studios or Disneyland in Tokyo.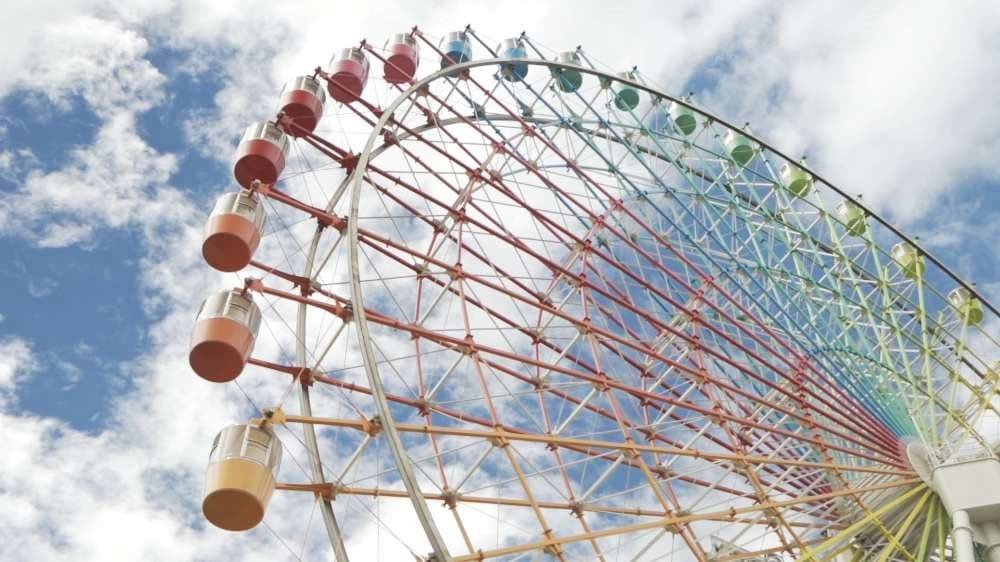 Hirakata Park offers 43 different attractions to suit all the ages, for example Ferris wheel, old-school wooden roller coaster or children's merry-go-rounds just to name a few, and you can also find here an array of restaurants. In hot summer days you can cool down in a pool and if you are seeking some peace and quiet, you can hide in a beautiful Rose Garden. It is truly a great place to spend the day with your family, or go on an unusual date. This places breathes with nostalgia, colors and fun!
Fees & Opening hours:
The entrance fee for an adult is 1500 yen, but if you want an all-day pass with all attractions included, you will pay 4500 yen. The park is open daily from 10:00 to 17:00 (however, the opening hours can vary depending on seasons and public holidays so double check in advance).
How to get there:
Hirakata Park is located only 8 minute walk from Hirakata-Koen train station on Keihan Line.
From Osaka/Umeda Stations: You have to take the JR Loop Line from Osaka station to Kyobashi station (leaves from platform 2). Once in Kyobashi, you have to come out from the JR station and purchase a separate ticket to the Keihan line. Keihan Kyobashi station is located right opposite of the JR station. The train to Hirakata-Koen leaves from platform 2 and the journey lasts about 23 minutes (6 stops).
From Namba Station: You will take the red Midosuji metro line to Yodoyabashi station. In Yodoyabashi, again you have come out of the station and find Keihan station, which is located right next to it (there are signs that will navigate you). Then you will take the Keihan line from platform 3 to Hirakata-Koen. The journey should last 30 minutes (9 stops).
Evening – Hirakata T-site
Because the Hirakata Park closes at 5 pm, you have the whole evening before you. Only one short train ride from Hirakata-koen to Hirakatashi station, you will find a very modern shopping center with interesting interior, called Hirakata T-Site. T-Site is located right next to the station and it features amazing bookstore with 7 metres high shelves, cafes, restaurants, accessories from local designers, kids section, art gallery and more. It is truly more than just a shopping. The mall is open until 11 pm so you will still have plenty of time to explore this area. osaka 5 day itinerary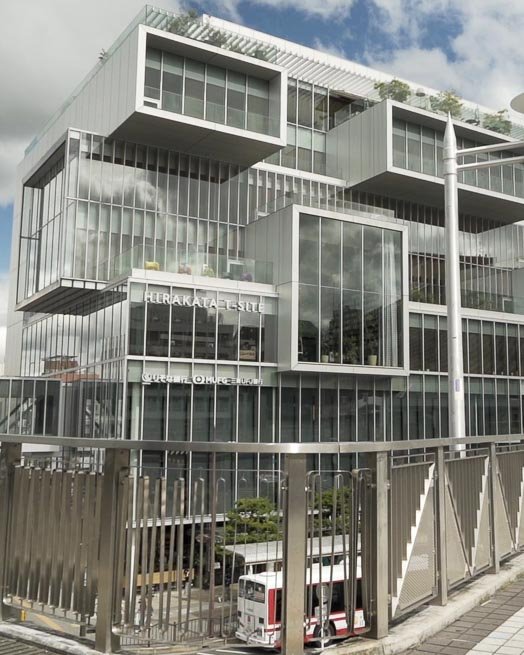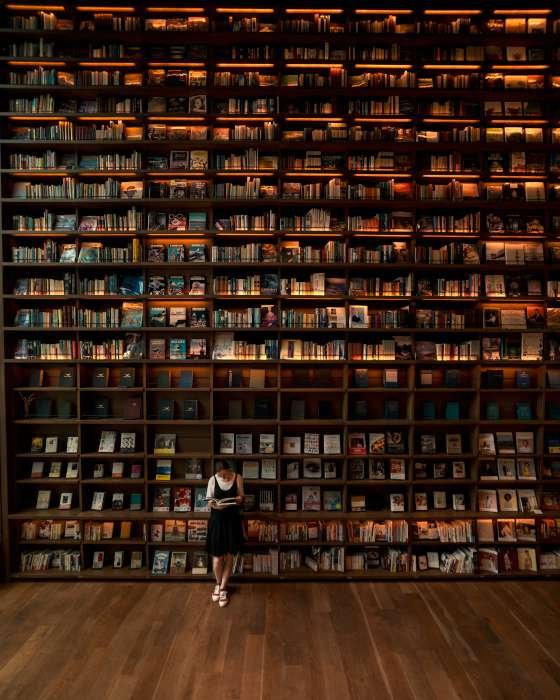 Getting back to your hotel from Hirakata T-Site:
Take the limited express Keihan train from Hirakatashi station to Kyobashi. The limited express will bring you back to Osaka within 15 minutes.
To Osaka station – from Kyobashi take the JR loop line to Osaka station (don't forget to change the stations from Keihan to JR and to buy another ticket).
To Namba – at Kyobashi station, look for the metro station (there should be signage to take you to the right direction), then take the light green Nagahori-tsurumi-ryokuchi metro line to Shinsaibashi station. Shinsaibashi station is not far from Namba station and it is quite possible that you can simply walk to your hotel from here. If it's not the case, take the red Midosuji line to Namba station (only one stop).
---
4. DAY
Breakfast
Let's start our fourth day in Osaka with some delicious breakfast nearby the main stations, before exploring the southern part of Osaka – Tennoji.
Breakfast options nearby Osaka station:
The 33 Tea Bar and Terrace;
The Hilton Plaza Hall The Grand Cafe
Breakfast options around Namba:
Head to Café Street, where you will find many cafes serving breakfast. My favourite one is for example Café Mog Namba where you can get some fluffy pancakes;
There are also many cafes in Namba Parks and around the shopping mall, for example Original Pancake house, Harbs Namba Parks, or famous Starbucks.
Morning – Shitennoji Temple
In the morning we will explore the oldest, officially administrated Buddhist temple – Shitennoji that was founded in 593 AD by Prince Shotoku, who supported the introduction of Buddhism in Japan. The main pagoda is truly majestic and besides the main halls, you can find here a Zen garden and an artisan market taking place every month on the 21st and 22nd (so if you like markets and are in search of unique souvenirs, you can plan your visit around these dates). osaka 5 day itinerary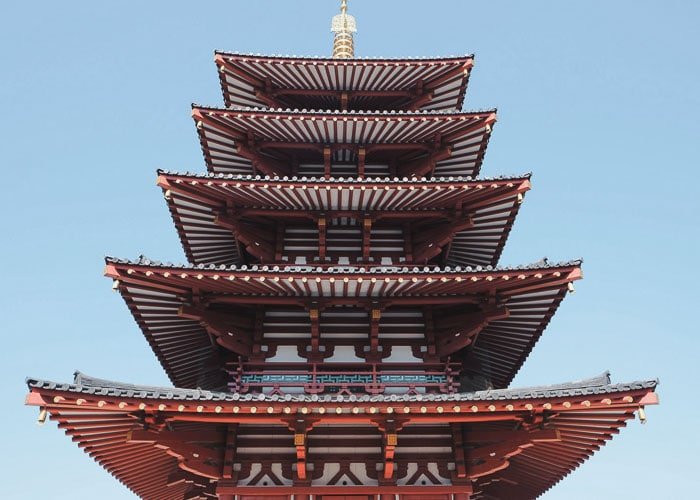 Shitennoji Temple is open daily from 8:30 am to 4:00 pm. The entrance to the area is free of charge, but you have to pay 300 yen if you want to visit the Inner Precinct and 500 yen to go inside the Treasury House. It is truly a pleasant place to explore and soak up the spiritual vibes of the place.
Getting to Shitennoji Temple:
From Osaka/Umeda station – take the JR loop line from Osaka Station to Tennoji station (15 minutes, 6 stops, leaves from platform 1);
From Namba – take the green Yamatoji line to Tennoji station (6 minutes, 2 stops).
From Tennoji station it is about 10 minute walk to the temple.
Lunch – Tennoji Park and Abeno Harukas
After exploring the Shitennoji Temple, come back to Tennoji station and have a rest in the vast park nearby. You cannot miss! It is lined with cafes and restaurants, some of them offering take-away in woven baskets so you can have stylish picnic outside. There's also a small ZOO on the other side of the park, which can be fun to visit if you are traveling with kids.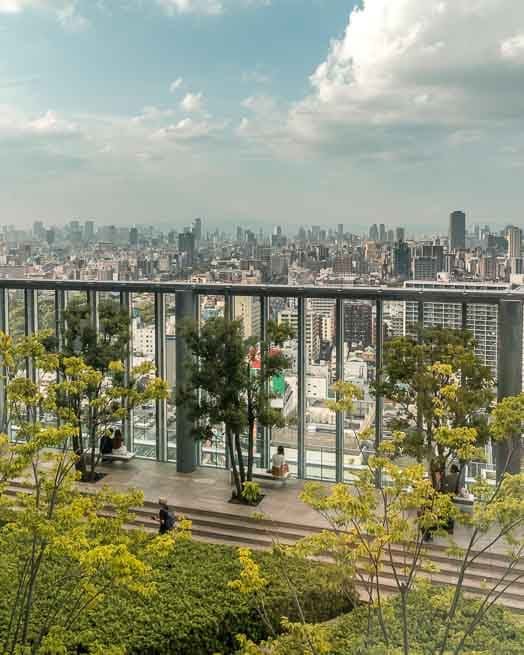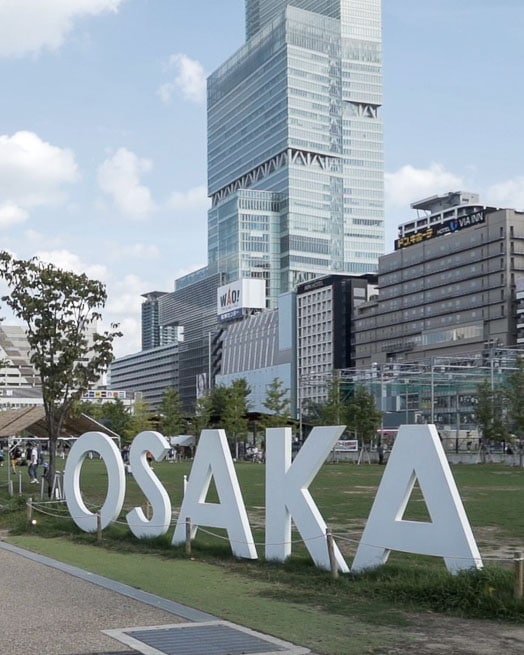 While enjoying the atmosphere in the park and having a bite, you will notice the tallest skyscraper in Japan towering above the Tennoji Park. It is Abeno Harukas with a viewing platform on the top that will give you the best views wide and far! The tickets cost 3500 yen per person, so it is a little bit pricey but honestly it is worth a visit. If you are traveling on budget, take the elevator just to the 16th floor, where you will find a lovely garden free of charge, also with some epic views.
Late afternoon – Cooking class
I bet that by now you experienced some delicious dishes of Japanese cuisine and realized that Osaka is all about food. Therefore, today's afternoon is dedicated to a cooking class so we can learn some more about the food culture in Osaka and practice to prepare your favorites at home. Eat Osaka is the number one cooking class, located in the nearby suburb Shinsekai.
Getting to Shinsekai from Tennoji:
You have two options how to get to Shinsekai – you can either go back to Tennoji station and take the JR loop line to Shin-Imamiya station (only one stop) and walk from there (about 5-8 minutes), or you can take a walk from the Tennoji Park, which will take you approximately 15 minutes to the place of the cooking class. osaka 5 day itinerary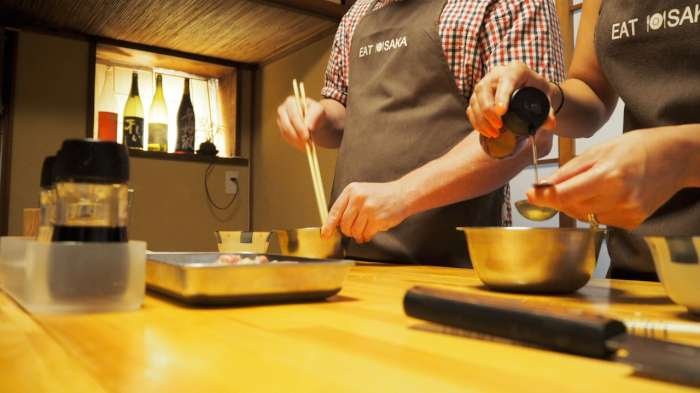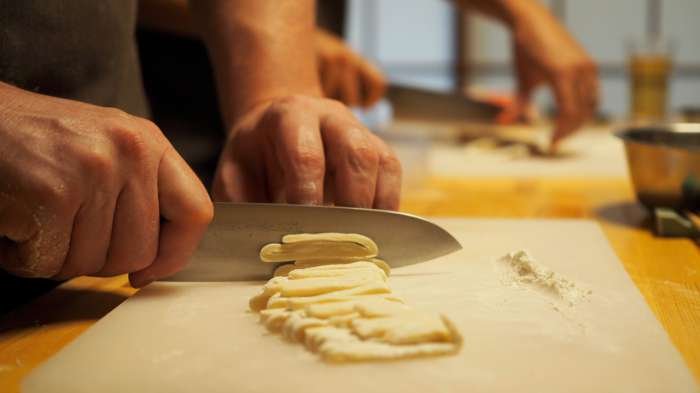 The afternoon cooking classes with Eat Osaka start at 5 pm and last about 2-3 hours. It is important to book your session in advance to secure the spot. It is family friendly, so kids are also welcome and you can choose from 2 different types of classes – home cooking or street food. You don't have to worry about not speaking Japanese, as they have professional English speaking staff and it is honestly one of the best experiences to have in Osaka! osaka 5 day itinerary
Evening – Shinsekai
After the fun cooking class, let's stay in Shinsekai for a little bit. Shinsekai is an old neighborhood of Osaka with undeniable retro vibes. It was designed with European cities in minds, especially Paris, and the main feature of Shinsekai – Tsutenkaku Tower, was supposed to resemble the Eiffel Tower. The original Tsutenkaku was dismantled during WW II to make artillery, but as the locals missed it, a new one was built in 1956. You can go up to the observation deck for only 800 yen. The observation deck spreads through two floors – one is more subtle and quiet, while the other is in disco style and it's very fun. osaka 5 day itinerary
Shinsekai is known for its tiny izakayas (Japanese pubs), neon lights, smart ball parlors and unique atmosphere. The famous, crunchy Japanese dish kushi-katsu was firstly prepared here, in legendary Daruma restaurant. Today, there are three Daruma's in Shinsekai and you won't miss them as they all have funny mascot of an angry man at their doors. osaka 5 day itinerary
Check out our video guide to Tsutenkaku tower and Shinsekai neighborhood
While strolling around Shinsekai, you will notice a funny creature with short hands and mischievous smile at the doors of many restaurants, on top of Tsutenkaku Tower and it has also its own shrine. His name is Biliken and he is the "God of Things as They Ought to be". The legend says that if you rub the bottom his feet, he will grant you a wish (because he cannot reach there as his hands are very short)!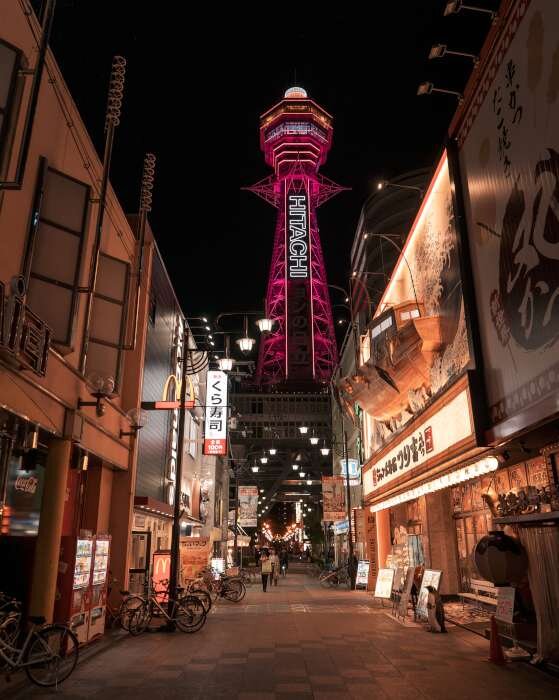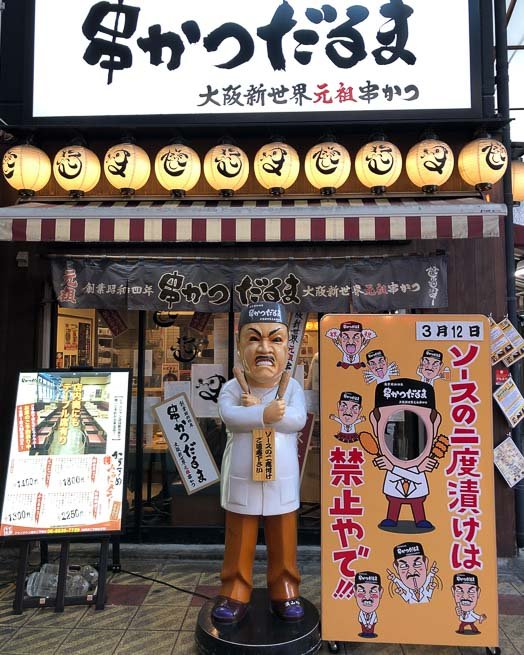 When heading to the Shin-Imamiya station to take the train back to the hotel, I would recommend stopping by in Don Quixote right across the station. Don Quixote is famous Japanese retailer and you can buy here honestly everything from groceries, souvenirs, camping equipment, clothes or second-hand luxurious brands such as Prada or Louis Vuitton (*note: selling fakes in Japan is strictly prohibited so you can be sure these are real. In Japan it is not unusual to see shops re-selling second-hand high end bags from famous designers).
Don Quixote is really fun and it is worth to go inside just to experience some crazy Japanese shopping. There are so many distractions, different music in every aisle, stuff hanging from the walls etc. This particular shop is open until 5 am! How crazy! Anyway, in Don Quixote you can buy some unique and unusual Kit Kat flavors that you won't find anywhere else in the world. They make great souvenirs for family and friends. The craziest flavors are for example wasabi, soy sauce, sake, apple pie, cherry blossom, green tea or Asian citrus fruit yuzu just to name a few. osaka 5 day itinerary
Getting back to the hotel:
From Shin-Imamiya take the JR loop line to get to Osaka/Umeda stations, or green Yamatogi line to get to Namba.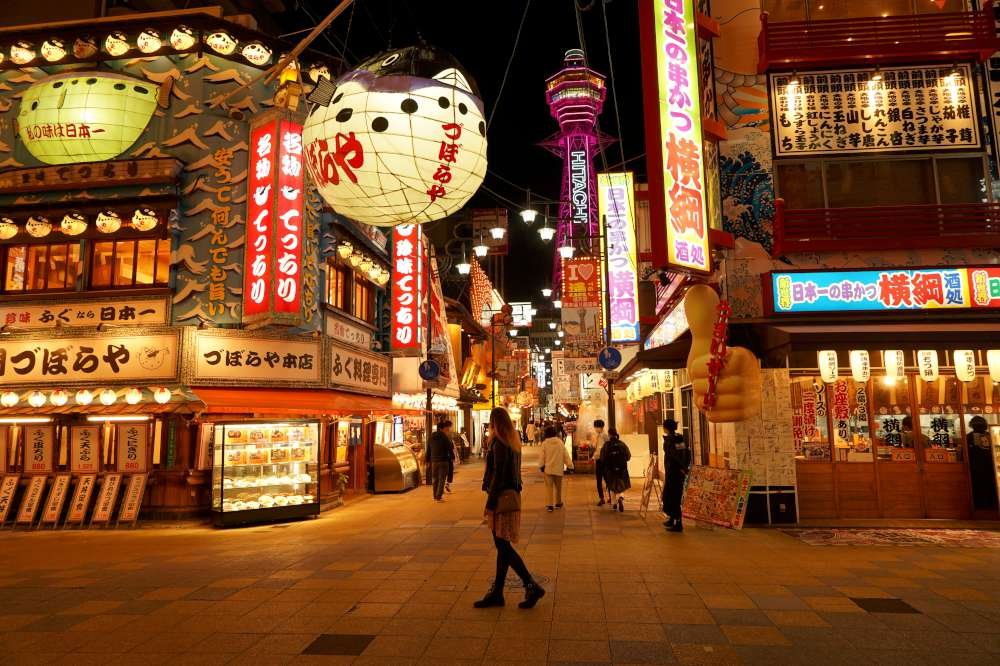 ---
If you're interested in Shinsekai and wondering what to do there, don't miss our detailed guide here
---
5. DAY
Morning – Osaka Bay and Kaiyukan Aquarium
Here comes the last day of your stay in Osaka and it will be packed with even more epic memories! In the morning, take the train to Osakako station in Osaka Bay, and have some light breakfast in one of the cafes in the area. For myself, I can recommend 9 Borden Coffee, Yukihana no Sato, or Kissa Non. osaka 5 day itinerary
Getting to Osakako Station:
From Osaka/Umeda station: From Osaka station take the JR loop line from platform 1 to Bentencho station, and from there green metro Chuo line to Osakako.
From Namba: From Namba station take the blue Yotsubashi line from platform 2 to Hommachi station. At Hommachi you have to change to green metro Chuo line to Osakako.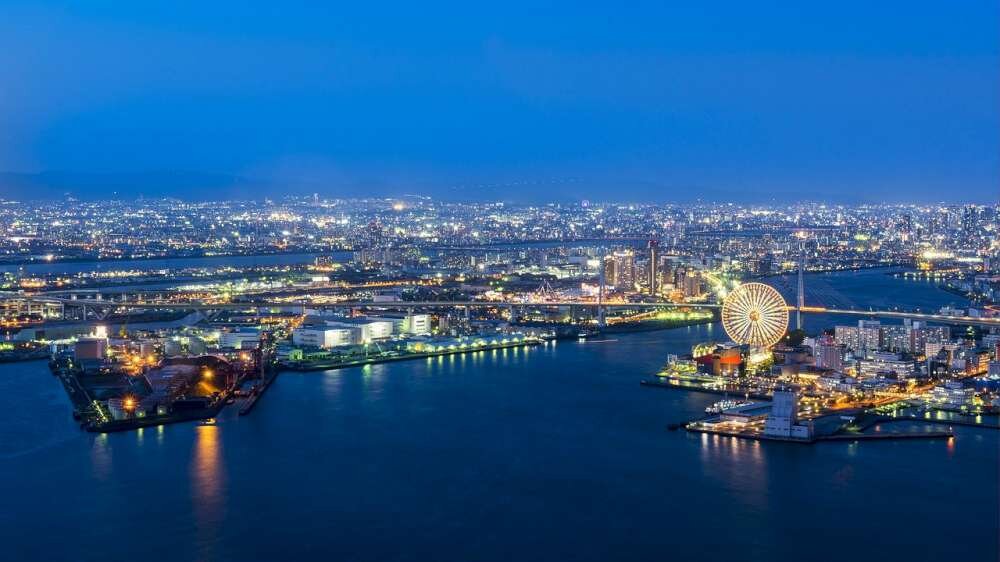 Osaka Bay is known for many tourist attractions but the most interesting one is definitely Kaiyukan Aquarium, the biggest aquarium in Asia and one of the biggest in the world. The walk-through aquarium features several exhibits displaying different habitats of marine life in 27 water tanks. The most breath-taking is the Pacific Ocean exhibit which is in the 9 metres deep tank and besides many different types of fish, you can also see here manta rays and two whale sharks. osaka 5 day itinerary
Water tanks are not the only interesting exhibition in Kaiyukan, you can look forward to see some penguin and even pet sting rays in more shallow pools. osaka 5 day itinerary
The ticket price to Kaiyukan is 2400 yen for and adult, 1200 yen for children aged 7-15 and 600 yen for 3-6 years old. The recommended time to spend there is around two hours and you will walk something over one kilometre. The whole time you will be walking down a ramp (which stroller and wheelchair friendly) thus you will literally feel like you are descending deeper down into the vast ocean. osaka 5 day itinerary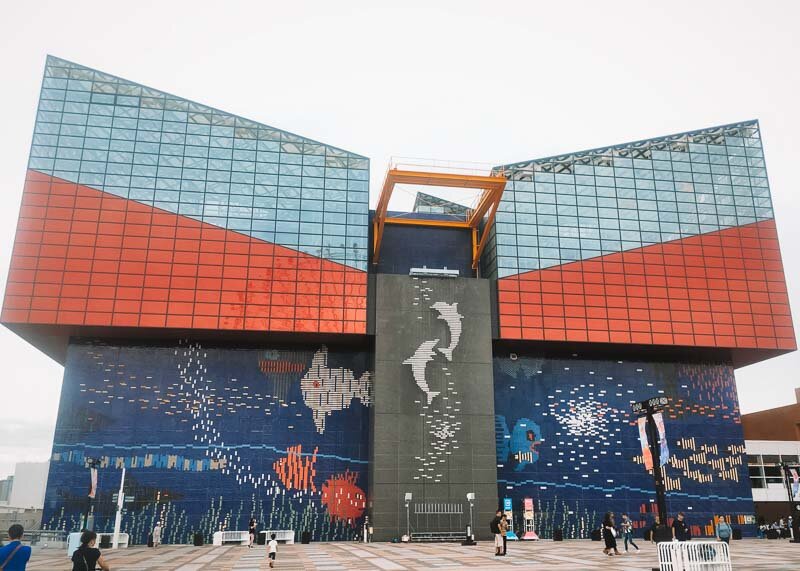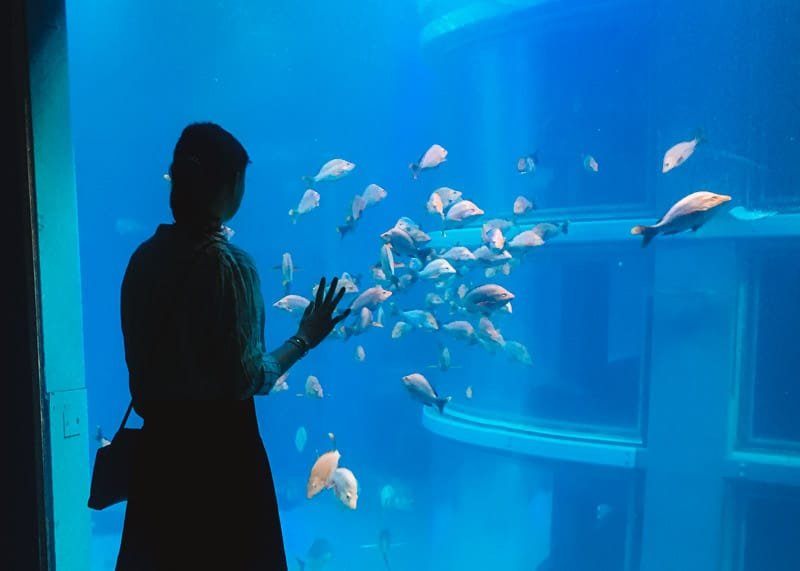 Lunch – Food Theme Park – Naniwa Kuishinbo Yokocho
The aquarium is located in an entertainment and shopping quarter called Tempozan Harbor Village where you will find shops, giant Ferris wheel, discovery center, LEGO Land and even sightseeing cruise ship Santa Maria. You can spend here a nice afternoon before setting off to another place in Japan or flying back home.
The aquarium is located in an entertainment and shopping quarter called Tempozan Harbor Village where you will find shops, giant Ferris wheel, discovery center, LEGO Land and even sightseeing cruise ship Santa Maria. You can spend here a nice afternoon before setting off to another place in Japan or flying back home.
For your last, but not least, lunch in Osaka I want to recommend Naniwa Kushinbo Yokocho, which is a super cute food theme park with variety of gourmet restaurants. It is family friendly and it has retro atmosphere from the 1960s. You can find here many typical dishes from Osaka, such as okonomiyaki and takoyaki. It will be the cherry on top of your trip in Osaka. osaka 5 day itinerary
Getting back to your hotel:
To Osaka/Umeda station – take the green Chuo line from Osakako to Bentencho station where you can switch to JR loop line (from platform 2) that will take you to Osaka station.
To Namba – you also have to take the green Chuo line from Osakako to Hommachi, where you switch to red Midosuji or blue Yotsubashi lines – both will take you back to Namba.

osaka 5 day itinerary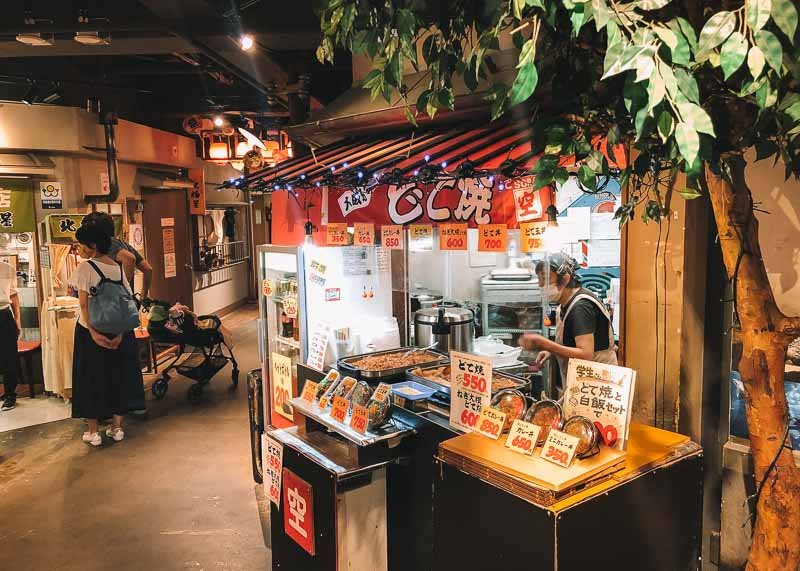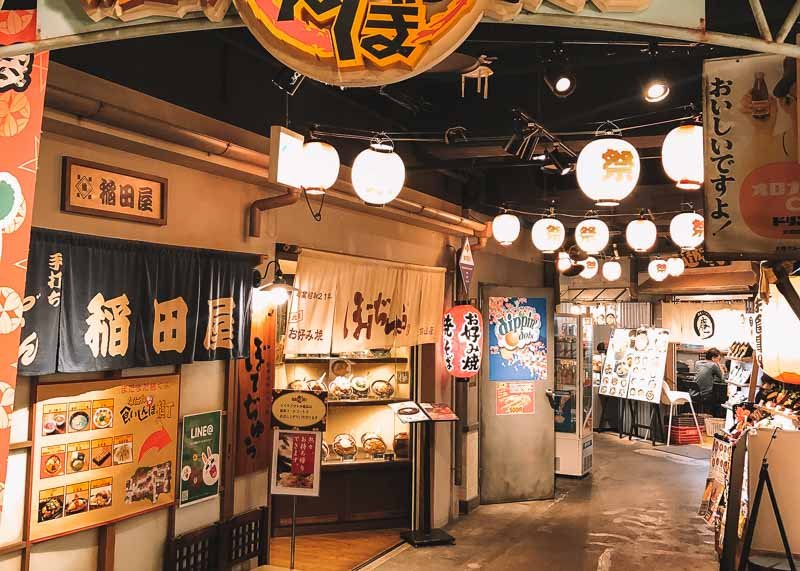 Afternoon – departure
I left the afternoon of the 5th day free for you to pack and depart Osaka, or do some more last-minute shopping. Osaka is great and I believe this 5 day itinerary will help you plan your trip here!
---
WHAT TO DO ON A RAINY DAY
Osaka experiences approximately 98 rainy days per year and even though there can be weeks without a single raindrop, there's a chance that some light storm catches you. But don't worry, there are plenty of cool things to do here on rainy day!
Museum of Housing and Living
The exhibits in the Museum of Housing and Living are constructed as a townscape in full scale so you will feel like you have transported yourself back in time to an unknown traditional Japanese village. It is truly a perfect recreation of life in Osaka from the Edo period. You are able to hire a kimono here and make a photo-shoot among the cute wooden houses while learning about Osaka's development.
The museum is open daily, except on Tuesdays, from 10 am to 4:30 pm. The entrance fee for an adult is 600 yen, the kids are free.
Getting there:
From Osaka/Umeda stations – Take the purple Tannimachi metro line from Higashi-Umeda station to Tenjimbashisuji 6-chome station which is located right next to the museum. It is only 2 stops.
From Namba – If you live around Namba area, take the brown Sakaisuji line from Nippombashi station (around 500 m far from Namba station). Ride 6 stops (around 10 minutes) to Tenjimbashisuji 6-chome station.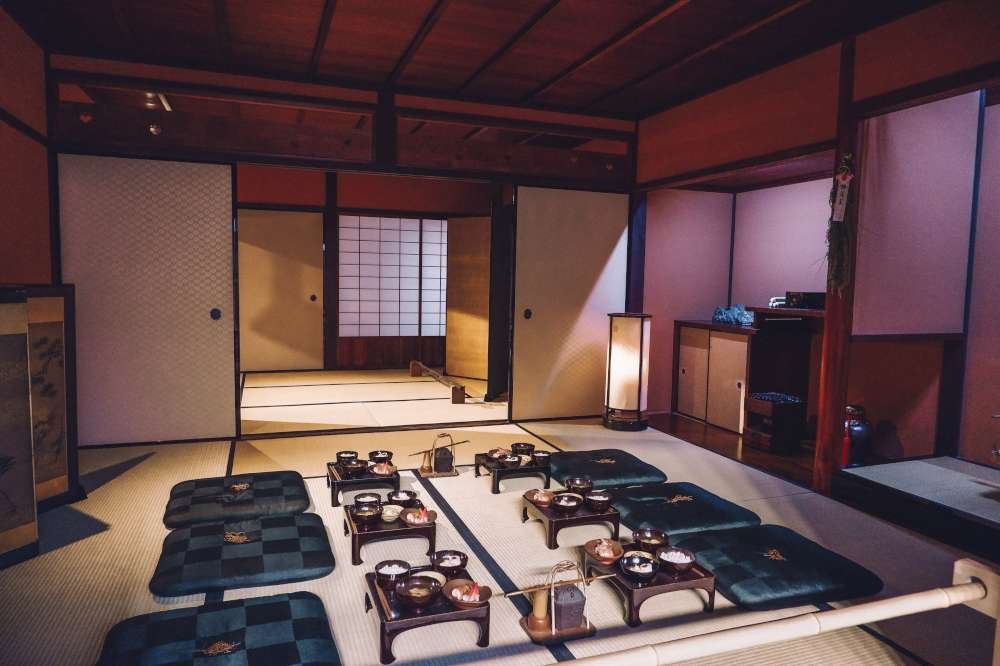 ---
Here's our visitor's guide to the museum of Housing and living in Osaka
---
Osaka Museum of History
This contemporary museum is very visually oriented, you can find here several large models of how life in Japan looked like from ancient times to the present day. The exhibition halls are spread over 4 floors and the museum is located right next to the Osaka Castle Park, so from the upper floors you can enjoy great views over this historical landmark.
Similarly to the Museum of Housing and Living, Osaka Museum of History is also closed on Tuesdays. It is open from 9:30 am to 5 pm and the entrance fee is 600 yen for adults, while kids are free and high school students pay 400 yen. osaka 5 day itinerary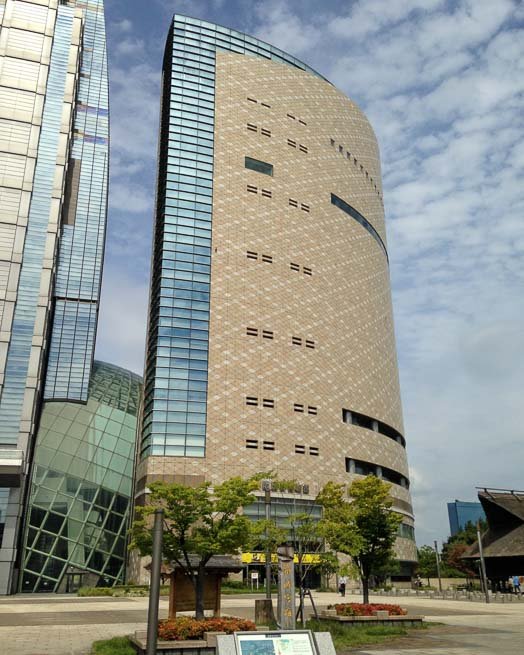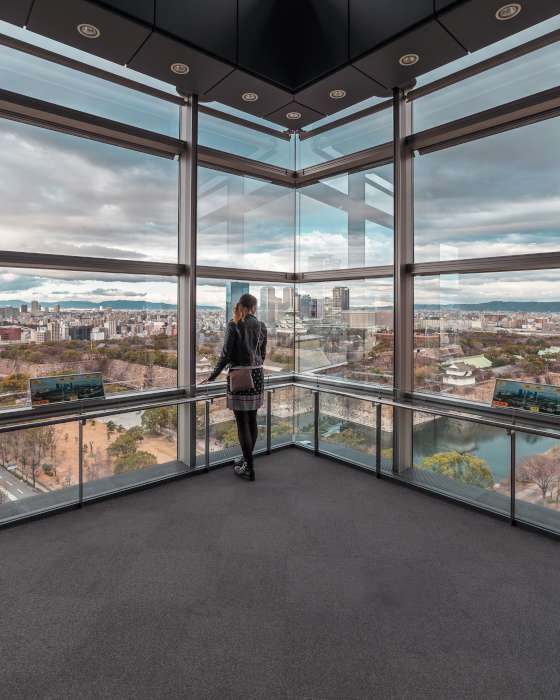 Getting there:
From Osaka/Umeda stations – Take the purple Tannimachi metro line from Higashi-Umeda station to Tanimachi-yonchome station (only 3 stops). From there it is only 3 minute walk to the museum.
From Namba – Take the blue Yotsubashi metro line to Hommachi (2 stops) and here you will have to change to the green Chuo line. In 3 stops, Chuo line will take you to the Tanimachi-yonchome station and from there it is only 3 minute walk to the museum.
---
Here's our visitor's guide to Osaka's museum of History
---
Science Museum
Science Museum is a large educational facility located on the Nakanoshima Island in central Osaka. Its interactive exhibitions are spreading through 4 floors and are equally enjoyable for adults as well as children. There is also a Planetarium located in the basement of the museum and it holds several science shows throughout the day. This was Japan's first ever planetarium but it went through complete renovation in 2004. Most of the exhibits are in Japanese only, but in the museum you can find many pamphlets with English translations. osaka 5 day itinerary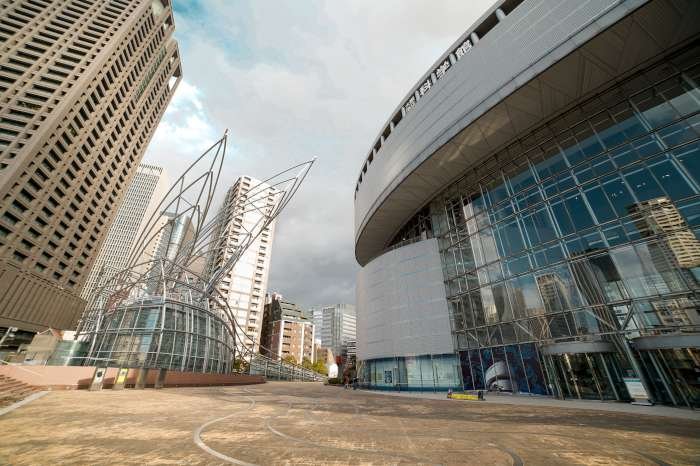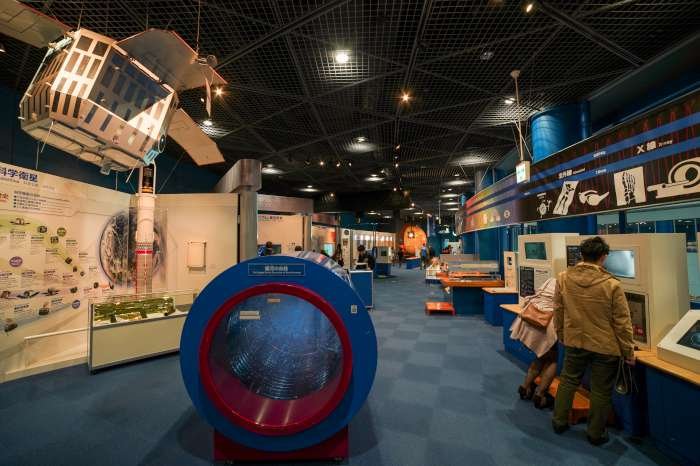 If you have some time to spare, an Art Museum is located right opposite the Science Museum. It is not very big, but still interesting. It is located entirely underground and it's full of vibrant contemporary paintings, photographs and art installations.
Both museums are open daily from 10:00 am to 5:00 pm, but they are closed on Mondays. The entrance fee to the Science Museum is 400 yen, plus 600 yen if you would like to visit the Planetarium. The admission to the Art museum is 460 yen.
Getting there:
From Osaka/Umeda stations – Take the blue Yotsubashi line from Nishi-Umeda station to Higobashi station (only one stop). From there the museums are only 6 minute walk.
From Namba – You can also take the blue Yotsubashi line to Higobashi station (3 stops) and walk from there.
More options
Rainy days are perfect for shopping. You can visit the covered shopping arcades, for example Shinsaibashi-suji near Dotombori that stretches for over 1 km, or shopping malls around Osaka station such as Grant Front Osaka and HEP Five with giant red Ferris wheel. osaka itinerary 5 days
Other places that are worth visiting also on a rainy day are Umeda Sky Building, Abeno Harukas or Kaiyukan Aquarium. All of them are entirely covered so you will stay dry!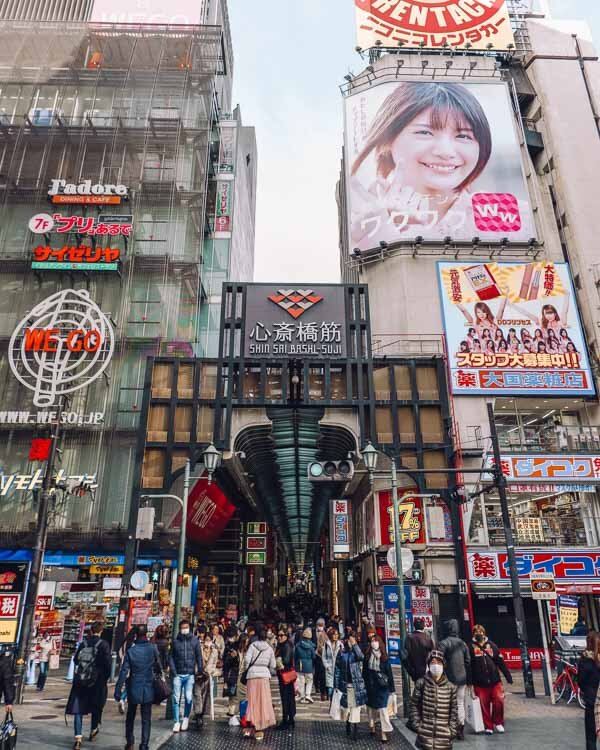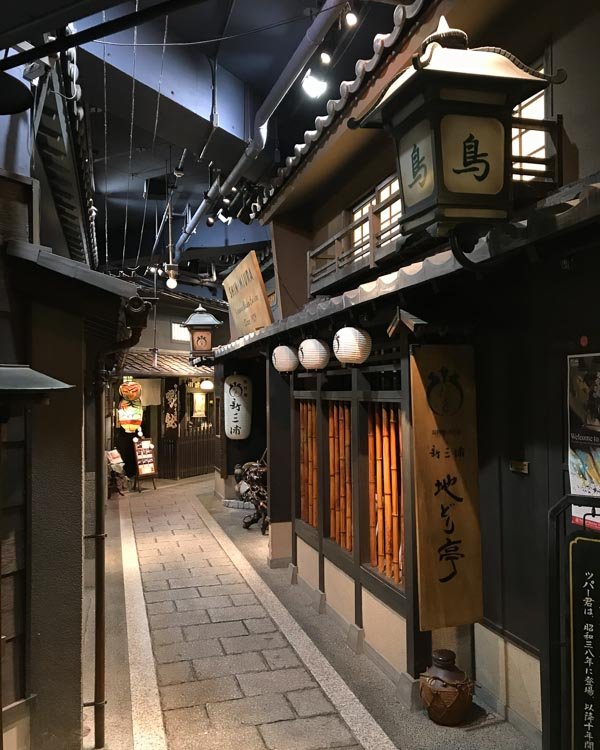 RECOMMENDED PLACES TO STAY
Osaka/Umeda Station area
Budget accommodation:
Briller Nakazaki
Bijou Suites Sorriso
Minn Osaka-North
Mid-range:
Hilton Osaka Hotel
Hotel Granvia Osaka – JR Hotel Group
Splurge:
Inter Continental Hotel Osaka
Ritz Carlton Osaka
Conrad Osaka
Namba Station area
Budget accommodation :
Hotel the Flag Shinsaibashi
FP Hotels South Namba
Mid-range:
Fairfield by Marriott Osaka Namba
Hotel Royal Classic Osaka
Cross Hotel Osaka
Splurge:
Swissotel Nankai Osaka
---
For more details on where to stay in Osaka read our guides here