March 26
@
10:00 am
–
4:00 pm
DUE TO RAIN THE EVENT HAS MOVED INDOORS
The event will now be held here:成協信用組合大正支店 3-chōme-8-1 Izuo, Taisho Ward, Osaka, 551-0031.
Getting there: From JR Taisho Station take the #70, #71, #76, #90 bus to Eirakubashisuji Station. Takes 3 minutes. 210 Yen
The location is changing from Chishima Park to a vacant credit union store (3-8-1 Izumio, Taisho-ku, Osaka). The venue is within a 15-minute walk from Chishima Park. For those coming by bus, please get off at Eirakubashisuji bus stop. Walk 1 minute west from "Eirakubashi" intersection.
If you read our Taisho Bar and Restaurant Guide last year you might remember reading about beautiful Mt Showa in Chishima Park. It was made from earth dug up to create a new subway line for Expo 70. Mt Showa is the second smallest man made mountain in Osaka.
In October, The Taisho Ward Office created a series of six monthly events called "Taisho Tombolo Marché" to promote the ward. The final event will be held on March 26th and it promises to be a lot of fun!
Taisho Tombolo Marché will be full of food, drink, workshops, live music, food and drink 🎪 and many new stores.This time there will be many stalls, so it will be a great opportunity to see what they have to offer!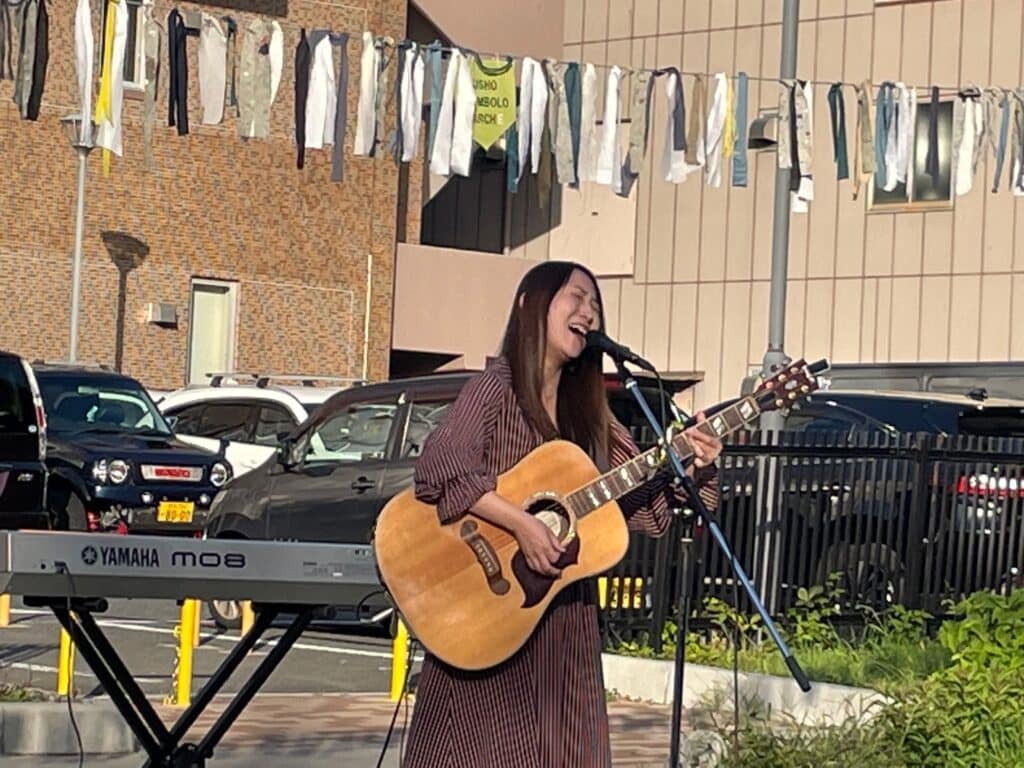 List of Restaurants: 1) 🍹Soeurs (cookies, soda) ②🌾Komeichi Rice Shop (rice) ③🍙KOMEICHI (sanpo bento, matcha) ④🍱Poireau (bento, coffee, wine) ⑤🥘Magen (Bean-curd soup with red bean paste) ⑥🫓Shimazoe Shokudo (Western-style modern fusion dishes and sangria) ⑦🍲Kappou Takeda (seasonal dishes, chiffon cake) ⑧☕T.works (hand drip coffee, coffee beans) ⑨🍜TREE OF LIFE (laksa and chai) ⑩🥢NAO-YA (hormone yaki, yakisoba)⑪🍪MICRADO (cookies, lemon cake) ⑫🍕Gab's Pizza (stone oven pizza) 13. 🇸🇩BAOBAB – music and food kitchen – (Sudanese cuisine)
I have been to Shimazoe Shokudo, which is a five minute walk from Taisho Station. It is owned by an Okinawan woman and her daughter and the food is phenomenal. Last Novemeber I visited the 2nd Tombolo Marche, and had the opportunity to try Gab's homemade stone pizza, which was quite tasty! I also enjoyed the delicious organic bento from Komeichi. It was nice to eat outside and listen to music while watching the festivities. On Sunday I'm really looking forward to trying Sudanese cuisine from Baobab.
List of Shops:①🏁Taisho Tombolo Marche Shop (original goods) ②🇲🇽Mecha Gracias (Mexican goods) ③💡De Pagie (lamps, lighting and orders) ④🍴Kuranism (wooden vessels, small cloth goods) ④🍴Kuranism (wooden vessels, small cloth goods) ⑤🎨Kotoridanshidesu (illustrations and goods) ⑥🧶Haneko (Clothes, Gacha Gacha) ⑦🎶World Musical Instruments Ragam (Musical instruments and goods from around the world) ⑧📚Kosho-ri (Books, miscellaneous goods)
💚Workshop💚 (1) 📸Museum of Mount Showa (under the supervision of Ryukazu Maeda, a junior high school student photographer. Showa (Making a Mt. Showa illustrated book). Free of charge / Can be accepted on the day of the workshop (to the main office).
Live Concert: The event will also feature free musical performances from l'seowa, Kimu, Coni and a special collaboration band called Syowazans.
There are a lot of empty homes and stores in Taisho and the ward is encouraging people to move in or start their own business. I asked General Director of Taisho Ward, Yoshitaka Furukawa-san, what kind of support potential residents could get: "Our UR danchi (public housing) is famous for allowing DIY-style reform. We've relaxed the rules to give residents more freedom to reform their apartments after consulting with the UR staff. They can do things like covert oshiire (closets with sliding doors) into beds and or add a door. Those people interested in refurbishing vacant homes and businesses can consult with the ward office for advice about each step in the process."
To aid in this matter, a "fictional" real estate company has been set up at the foot of Mt Showa to answer questions during these events. The company is staffed by lawyers, judicial scriveners, architects, real estate agents and building lot building traders, to help you find a property or solve a vacant house problem. Please feel free to consult with their lawyers, judicial scriveners, architects, and real estate agents about property searches, vacant housing issues, and more.
I visited an old house in the Shin Okajima neighborhood that was in the process of being renovated. It will be interested to see how much progress has been made since November.
If you are interested in joining the walking tour then plan on getting there at 10:00. Please consult the information booth out front for more details. A stamp rally has been set up at every destination. Download a map here.