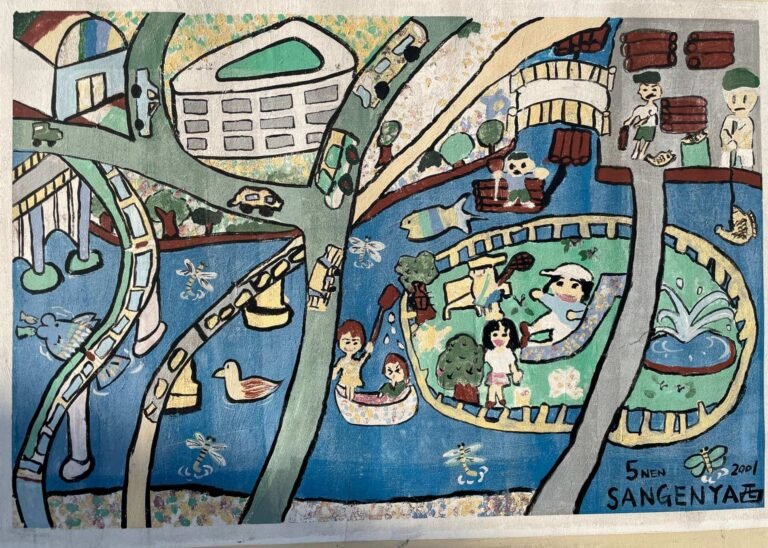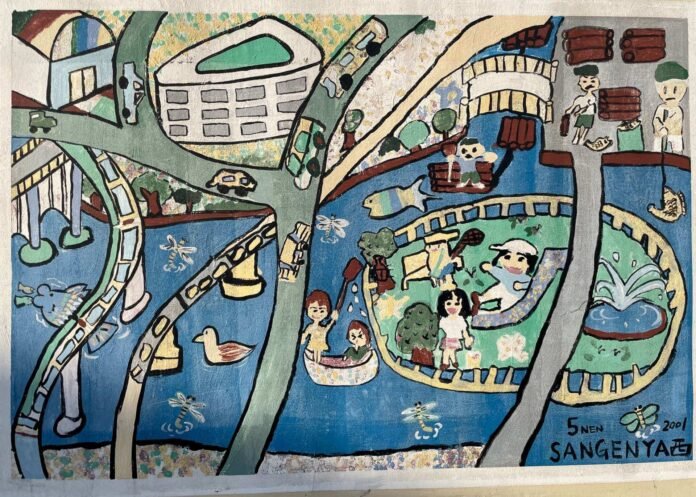 Introduction to Taisho Ward
When it comes to barhopping in Osaka, Taisho Ward has it all. You can find tiny standing bars under the tracks, postwar era izakaya in narrow back alleys, delicious street food in nostalgic shopping arcades, a plethora of Okinawan restaurants, and affordable modern establishments run by a new generation of innovative chefs. For those also interested in sightseeing, this guide is meant to be read in conjunction with two very informative articles on Osaka.com by Taisho native Sayaka Takami: a fascinating history of Taisho and a guide to touring Taisho on bicycle that also serves as a roadmap to many of its hidden charms. Taisho Labo (in Japanese) is a great source for shops and events in the area.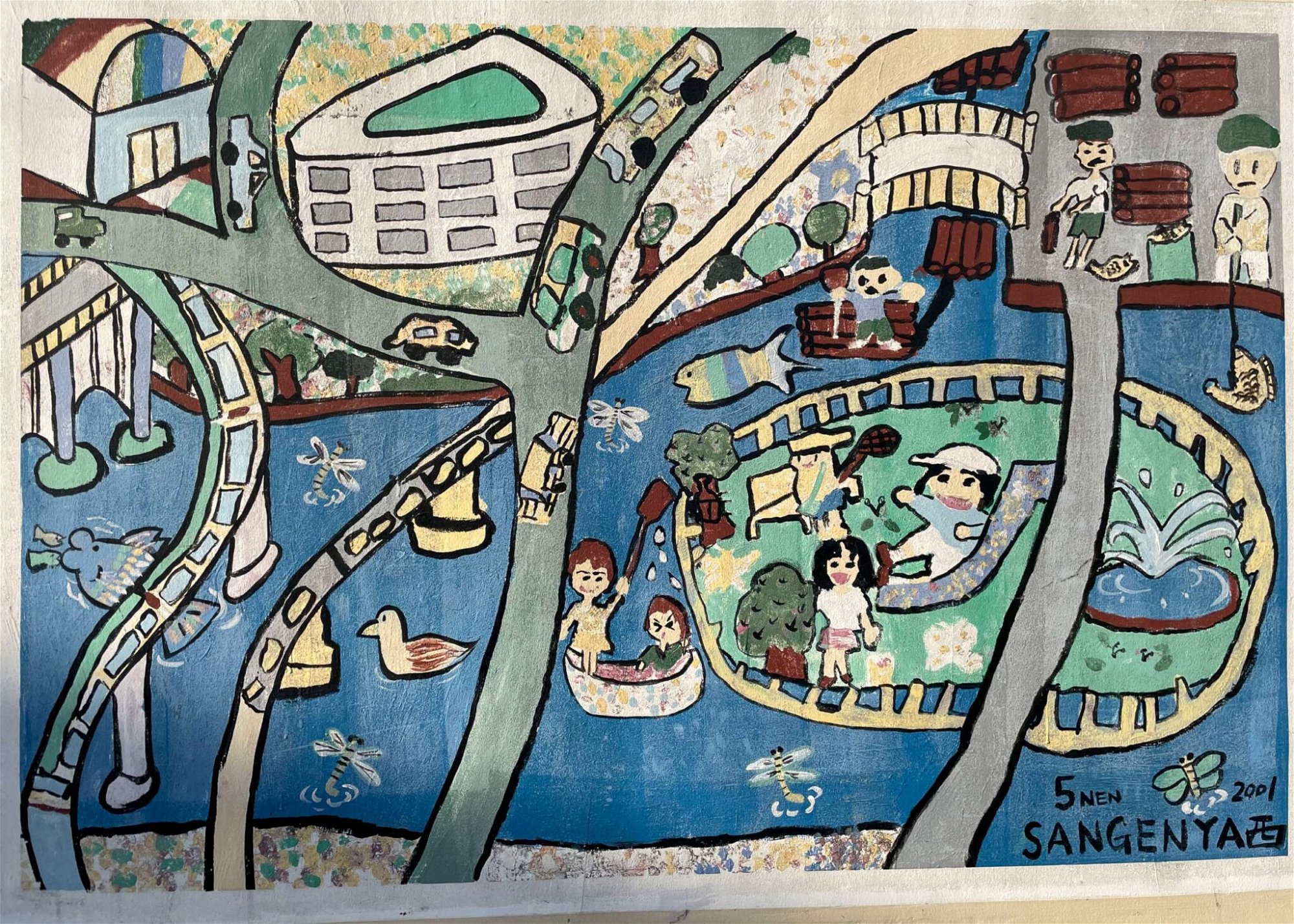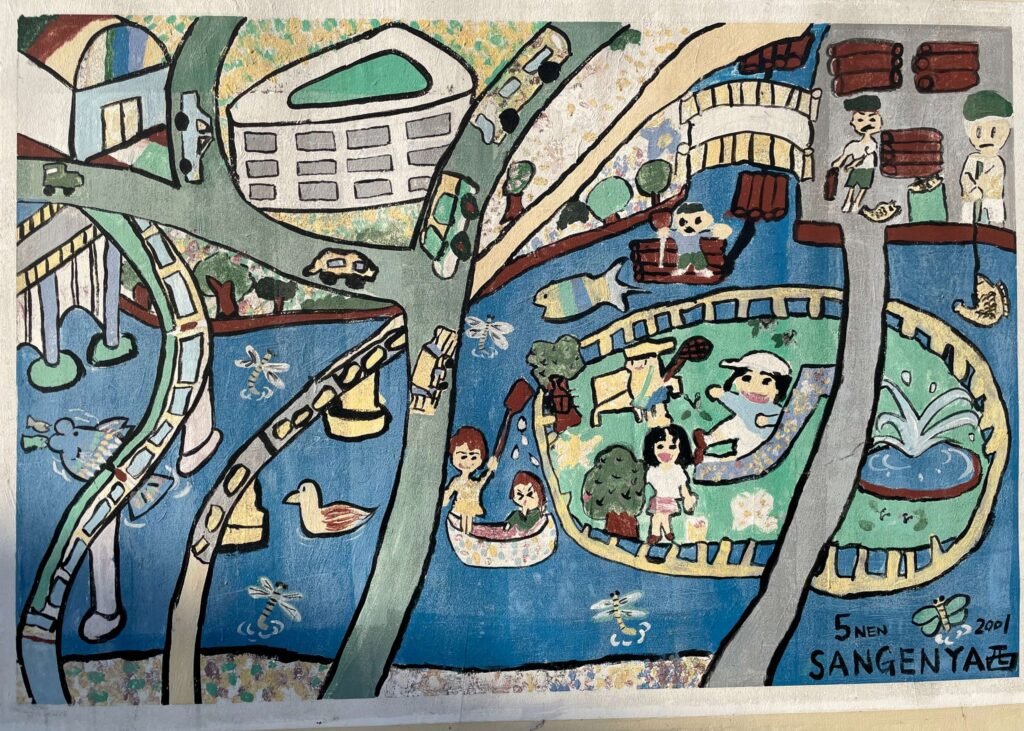 Getting There
Take the Osaka Loop Line to Taisho Station or the Osaka Metro Nagahori Tsurumi-ryokuchi Line to Taisho. You can also take the Osaka City Bus from Namba Station to Taisho Station. A one-day pass called Enjoy Eco Card that allows unlimited rides on all Osaka Metro subway and bus lines on weekends is available for ¥600. It is highly recommended for those planning on exploring some of the more remote areas of Taisho out towards Ikea.
---
Taisho Station Area 大正駅
All of the restaurants and bars around Taisho Station (with one exception) listed here are located just a couple of minutes or less from the station, which makes barhopping a breeze. Taisho Station is located in area called Sangenya which means "three houses." I've tried to group the restaurants by location in order to make them easier to find. The first six restaurants listed here are across the street from Taisho Station and the last eight (starting with Miyako) are on the same side of the street as Taisho station.
Kuroshio Sushi くろしを寿司
Address: 1-chōme-17-2 Sangenyanishi, Taisho Ward, Osaka, 551-0001. Tel:06-6553-7999. Open 17:00-23:00. Closed Sun.
The master of Kuroshio Sushi, Abe-san, is riding a high tide. Customers from all over Japan flock to to his tuna-specialty restaurant, which he founded 37 years ago. The name is taken from the Kuroshio Current (also known as the Black Current) that begins off the east coast of Taiwan and flows northeastward past Japan.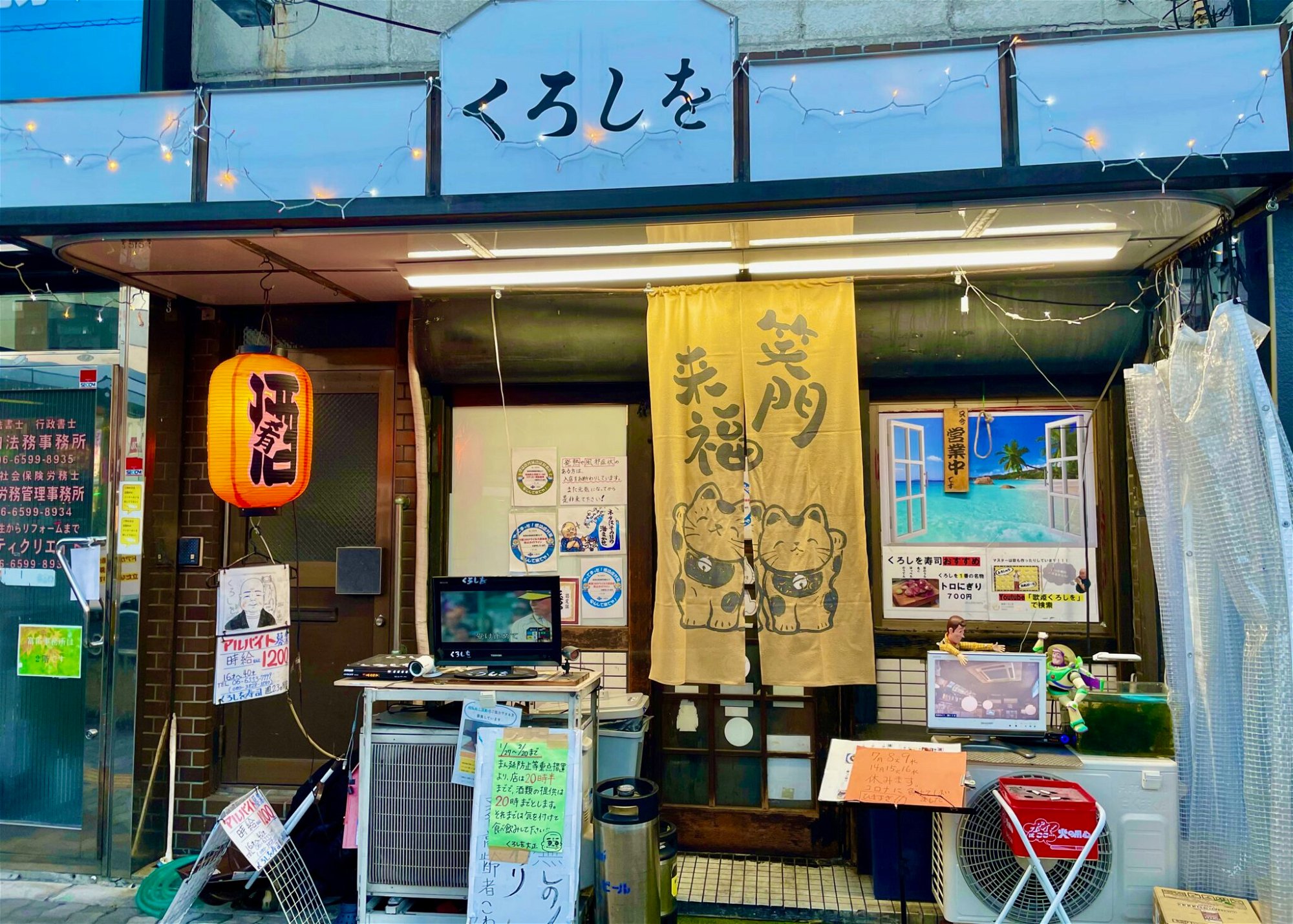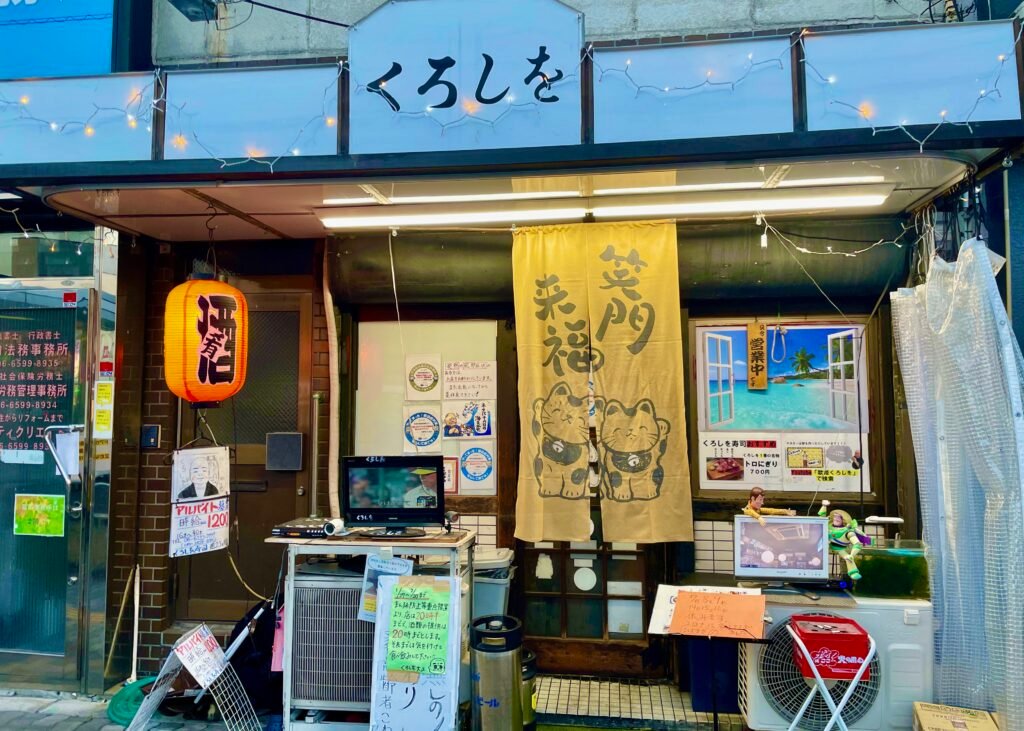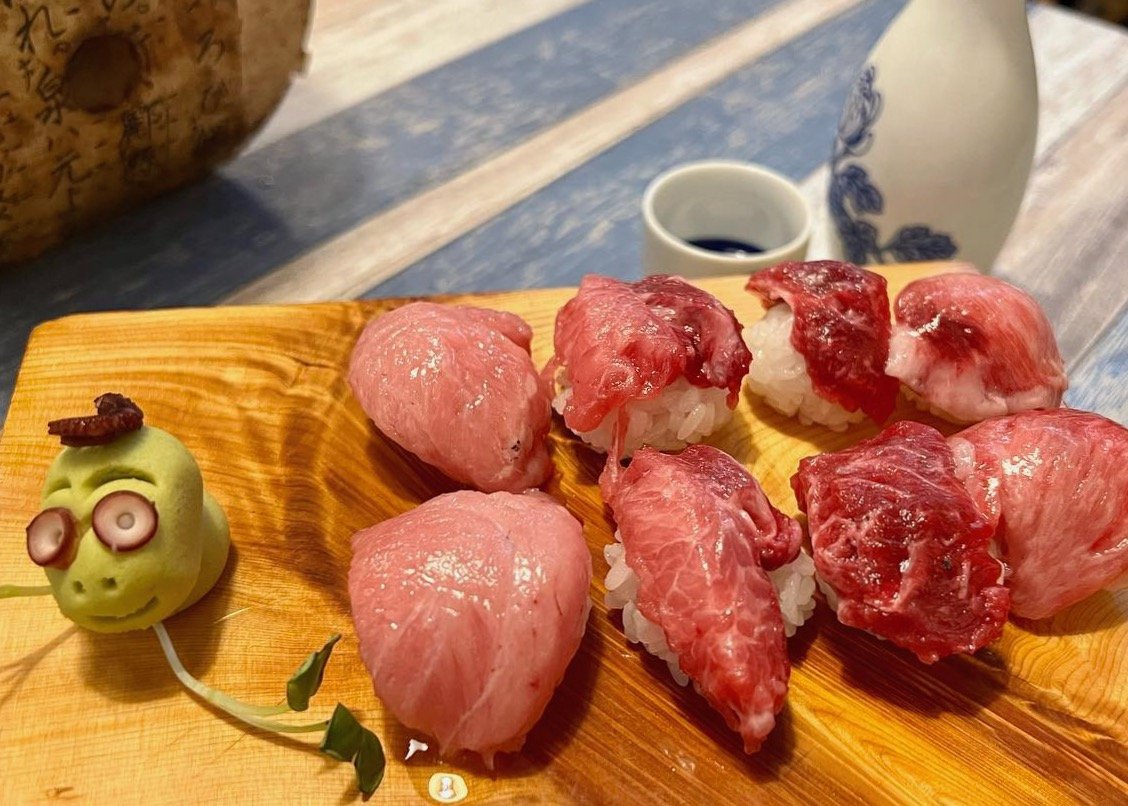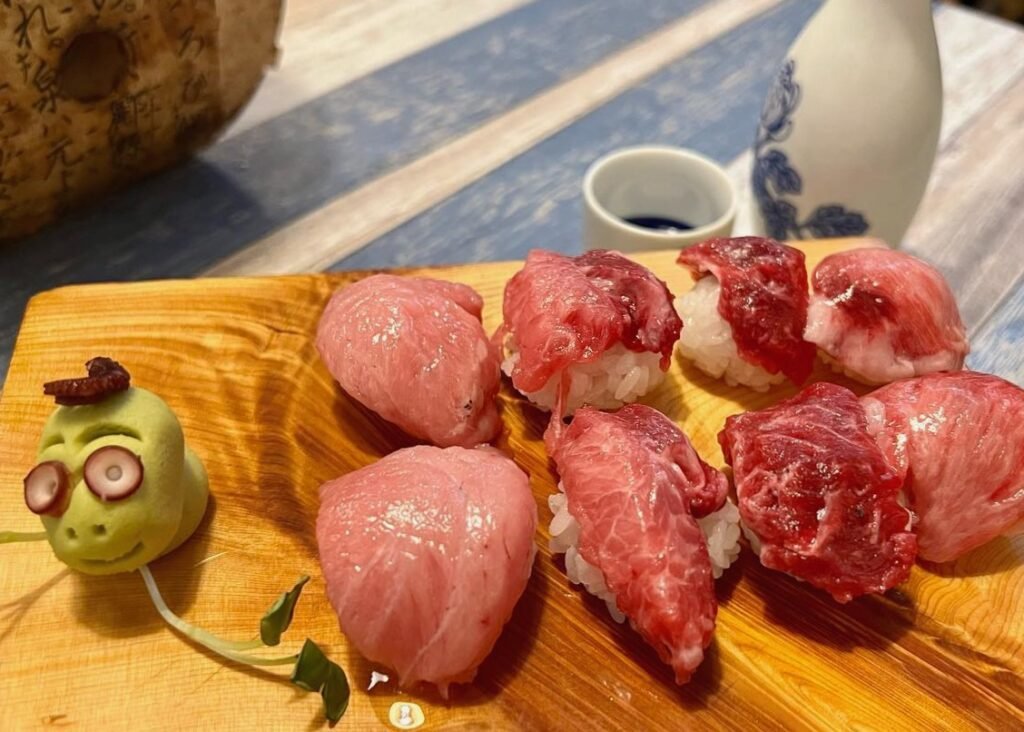 One of the most popular items on the menu is the toronigiri set (8 pieces for ¥700). Abe recommends you eat the four cuts (x2) from the head of the tuna in the following order: 1.Me no ura (muscle behind the eyeball), which is actually quite delicious in spite of its appearance. 2. Ago (chin) 3.Hopeta (cheek), more commonly known as kama-toro, a highly marbled part of the tuna known for its balance of fat and sweetness. 4.Nouten (top of the head), a very rare cut because a very large tuna only yields one kilogram of this precious meat.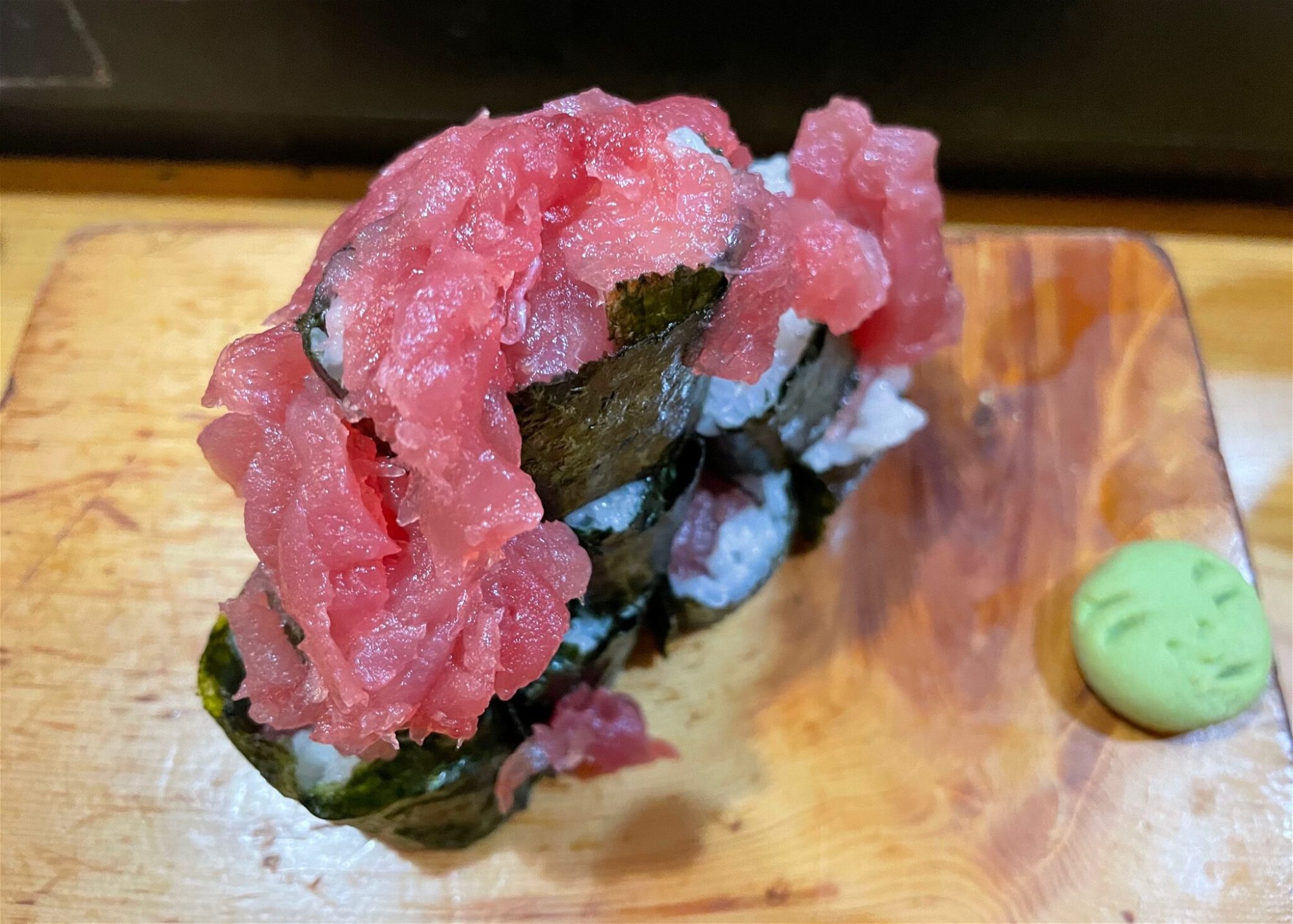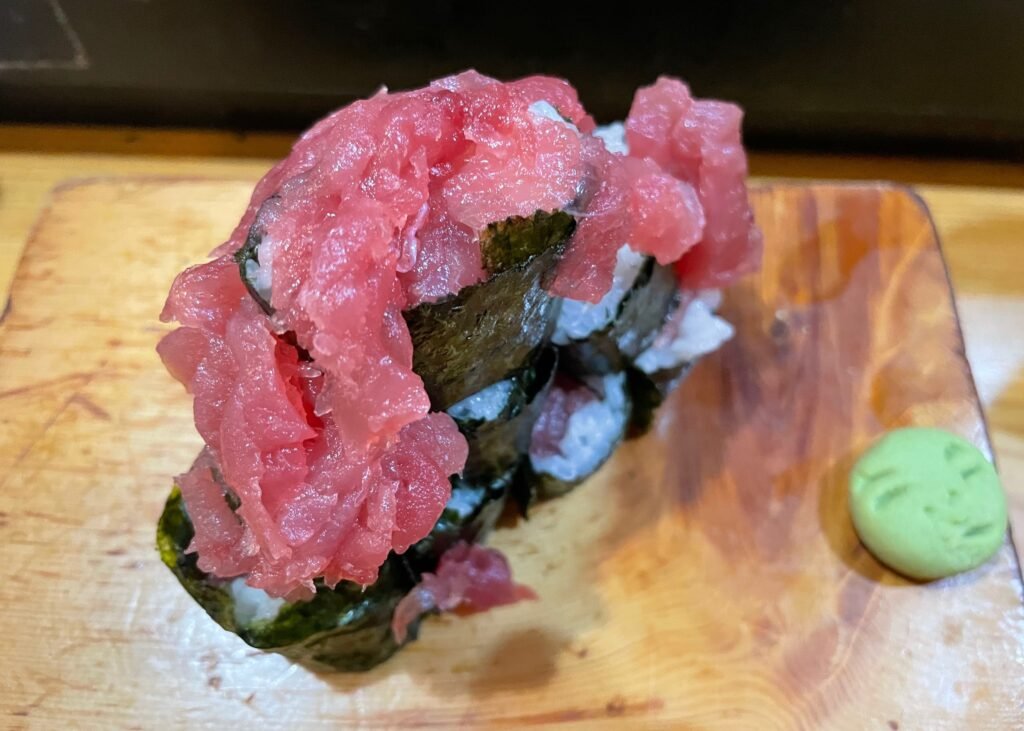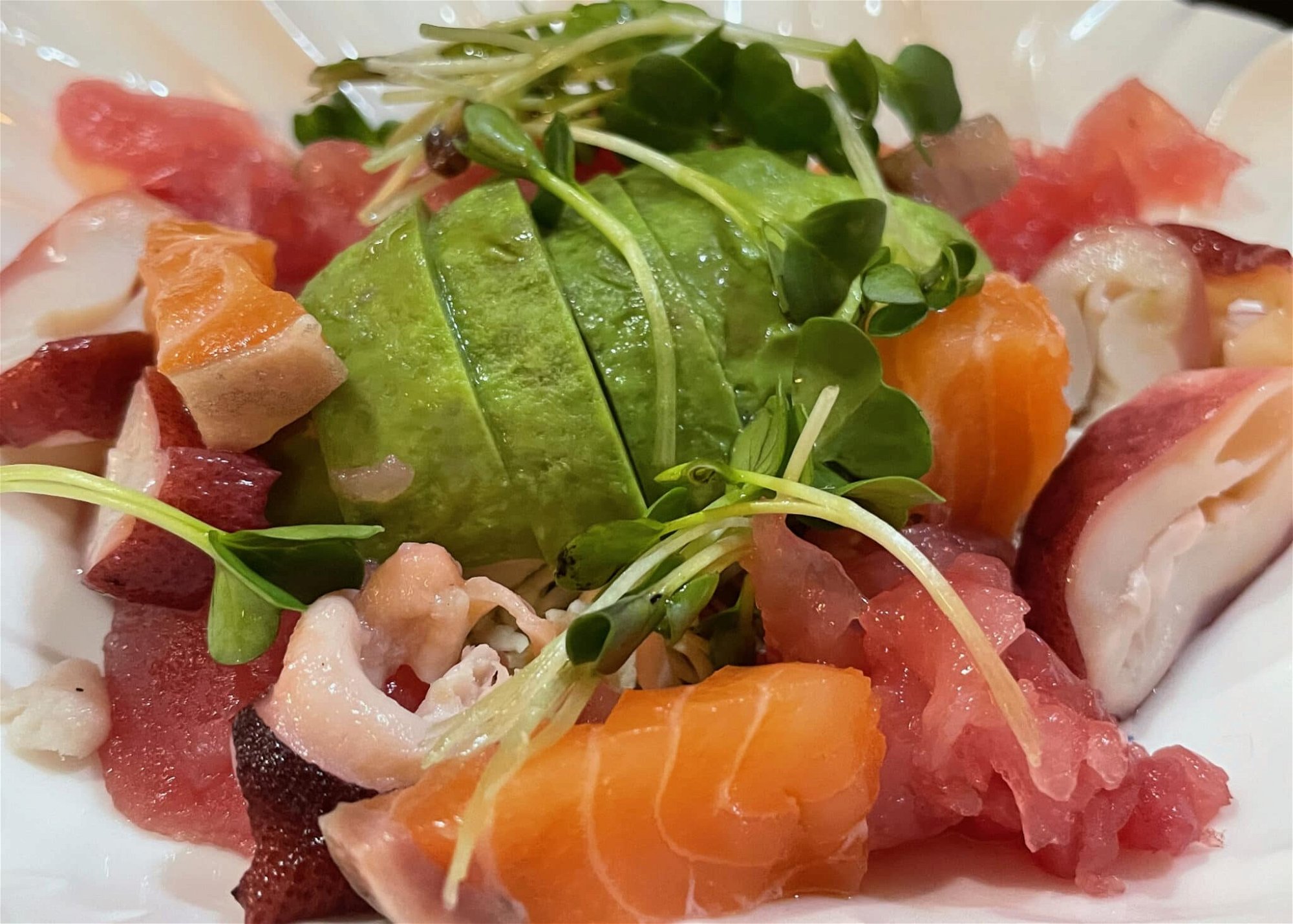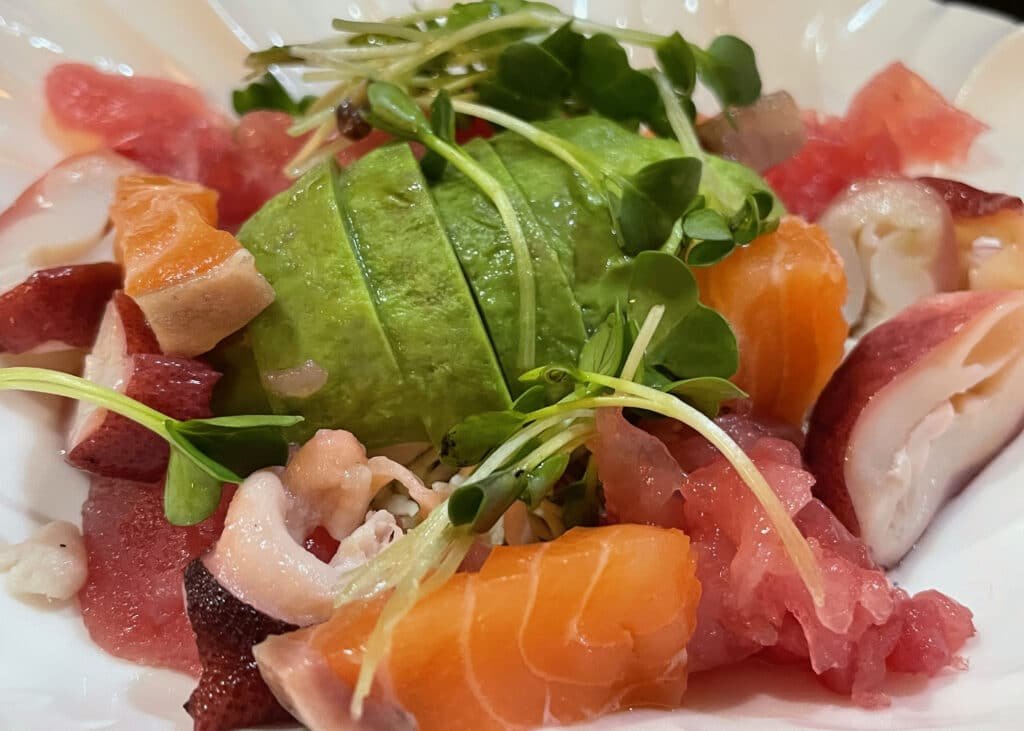 The tekkamaki special (¥500) is also highly recommended. Abe makes a mountain out of eight pieces of tuna roll and then layers additional cuts of tuna on top—it looks like a sushi volcano that has just erupted. The Avocado Cappaccio (¥500) is a Mexican-influenced dish that contains juicy slices of salmon, tuna and octopus. The best deal on the menu is a tasty negitoro maki for only 100 yen.
Abe did not always own a successful restaurant. He often tells the story about how his luck turned around on a fateful day. Fifteen years ago, Abe purchased a brand-new Super Cub motorcycle for a considerable sum of money. One day he went outside the restaurant and discovered that someone had stolen his prized possession. When Abe visited the fish market the next day, a shopkeeper, whom he had never met before, noticed that he looked sad and dejected. In order to lift his spirits, the shopkeeper gave him a very expensive gift: the head of a tuna.
Abe had never prepared anything from the head of a tuna, but he discovered that the aforementioned muscle behind the eyeball had a unique taste that was a real winner. He went back to the shopkeeper and asked him to sell him the head of a tuna on a regular basis in order to save his struggling restaurant. The kind shopkeeper quoted a very low price and has been selling it to him at the same price ever since.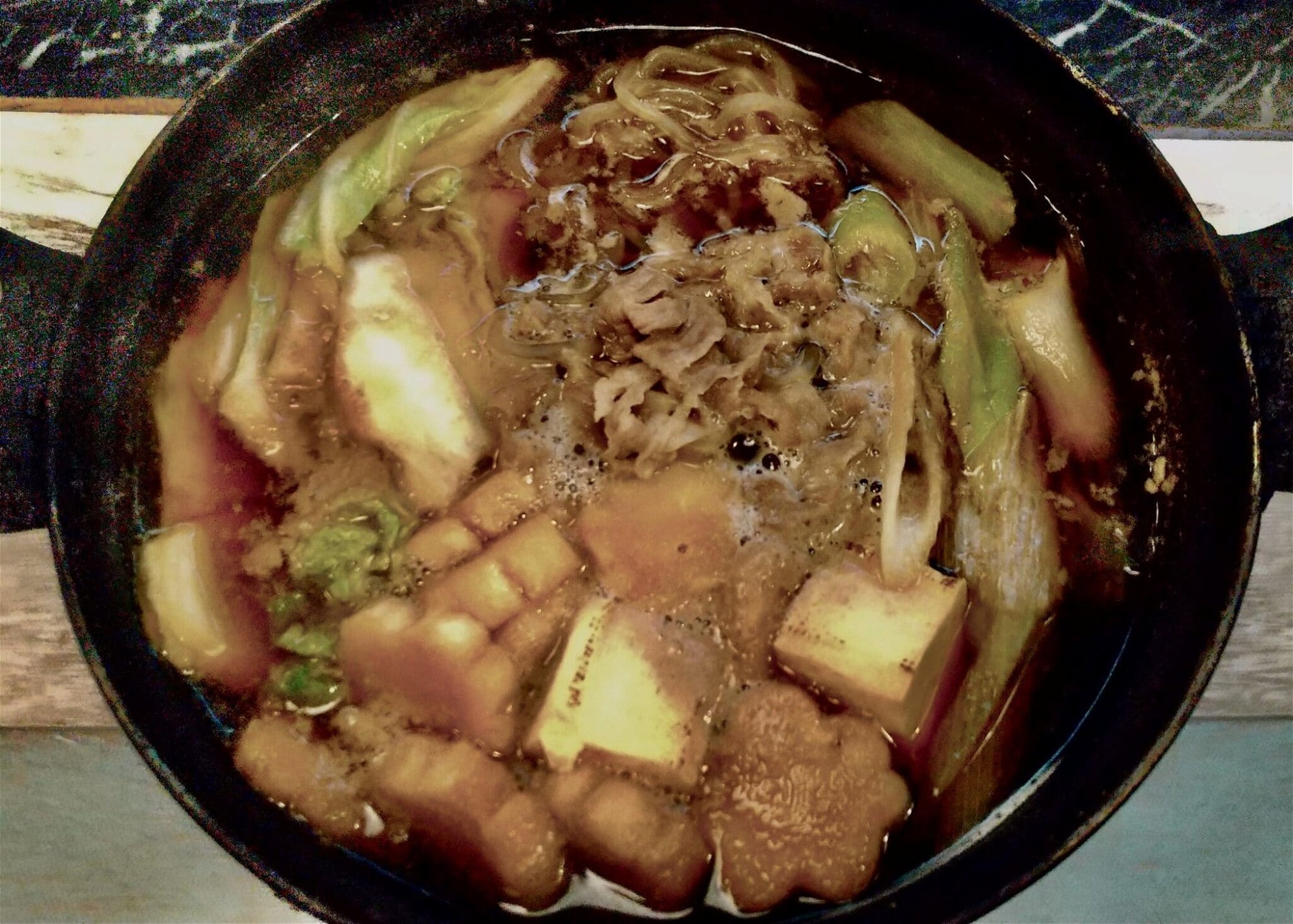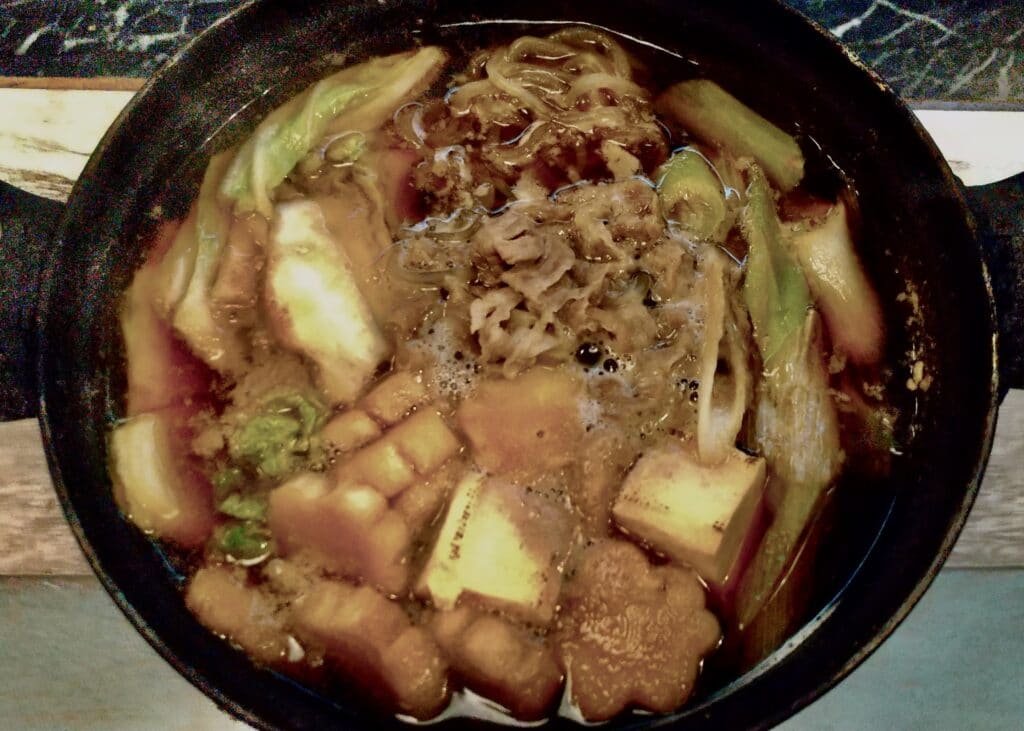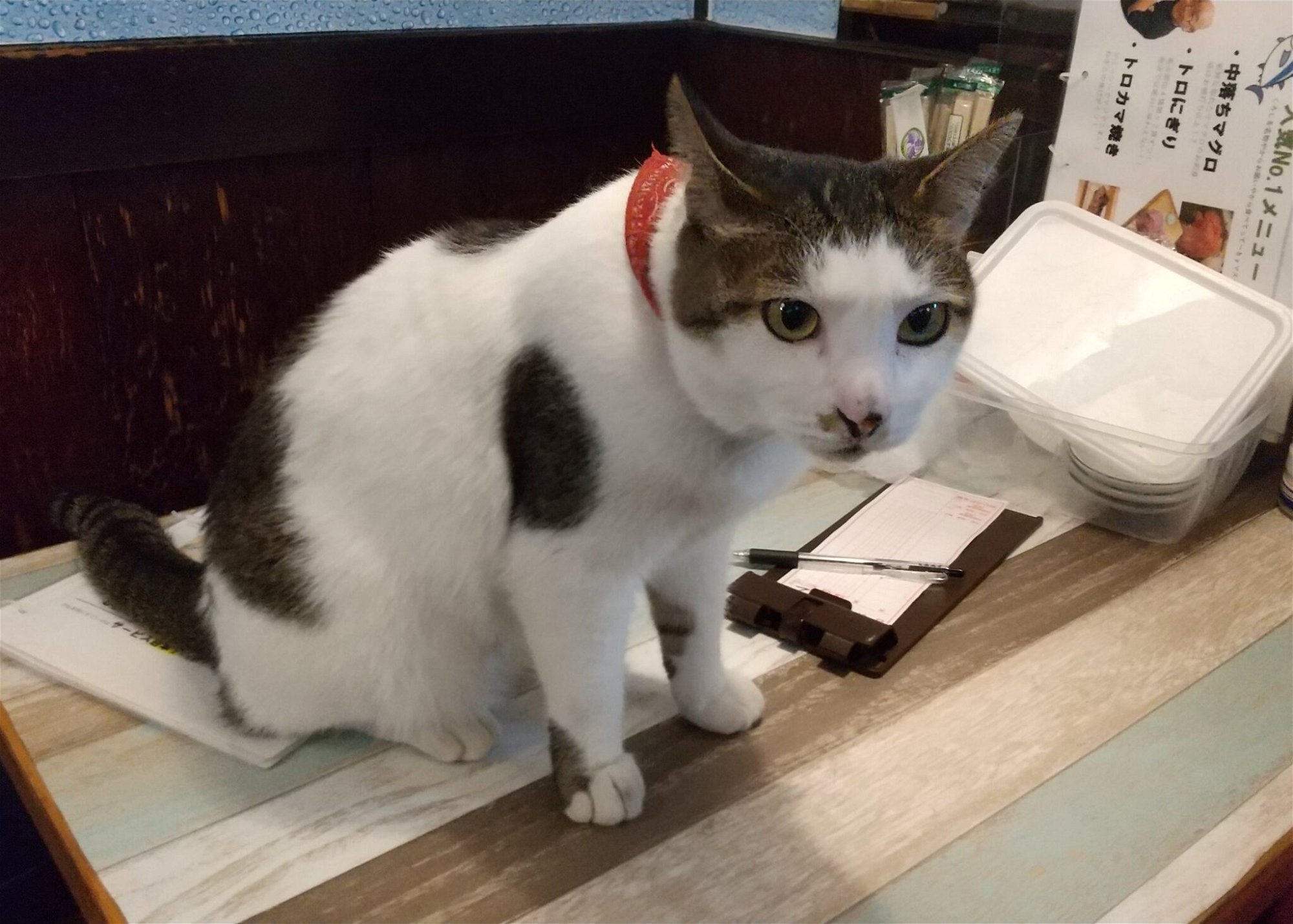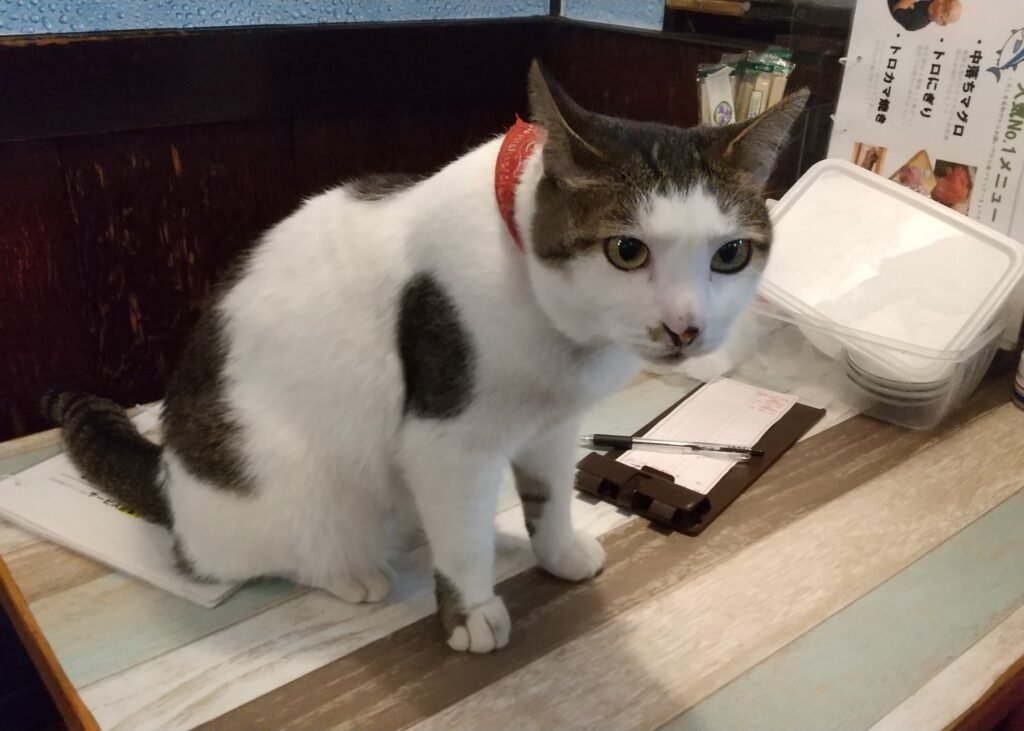 In a country known for omotenashi (hospitality), Abe has taken the concept to extremes by offering a variety of sābisu (service) items to customers such as free candy, snacks, and canned drinks, and they can win more free items by spinning a roulette wheel. All diners are given a free pot of sukiyaki, an incredible value. The sukiyaki comes with eggs that are personally illustrated by Abe to make fun of his baldness, which seems to be a major pastime of his. The restaurant features a selection of photoshopped movie and anime posters such as "Back to The Fusafusa," a parody of Back to The Future in which Abe has to go back in time to the days when he had an exuberant (fusafusa) head of hair.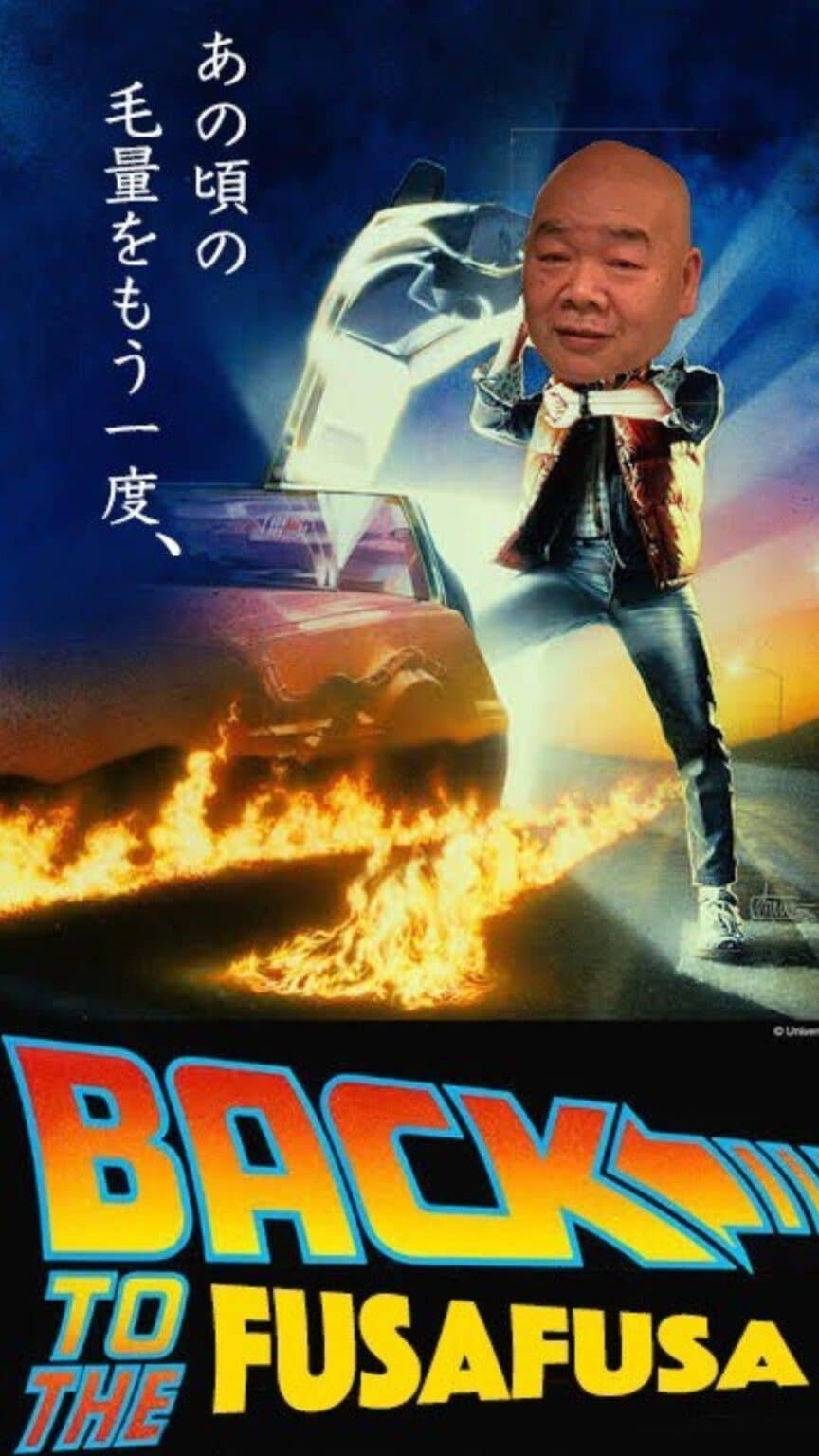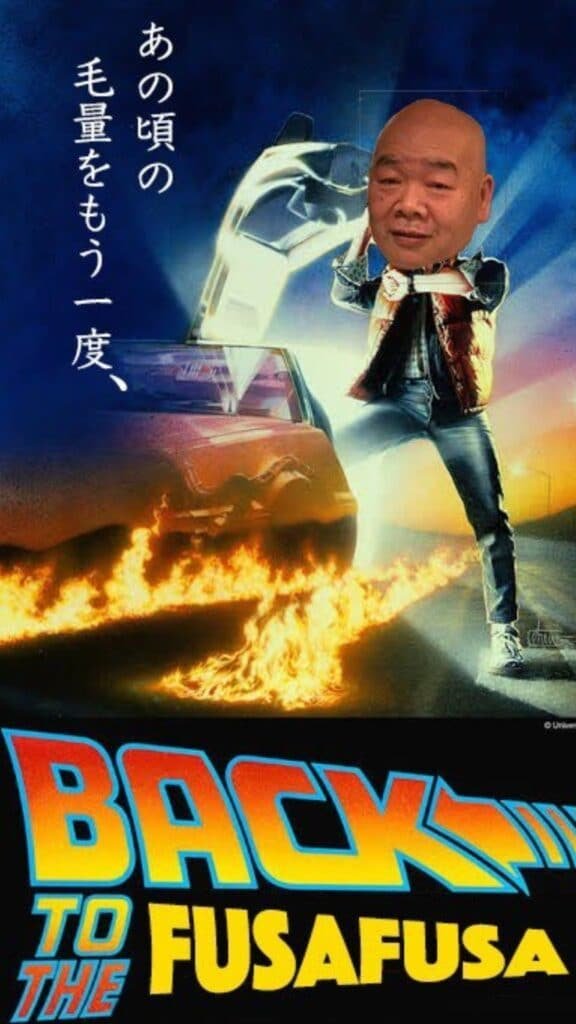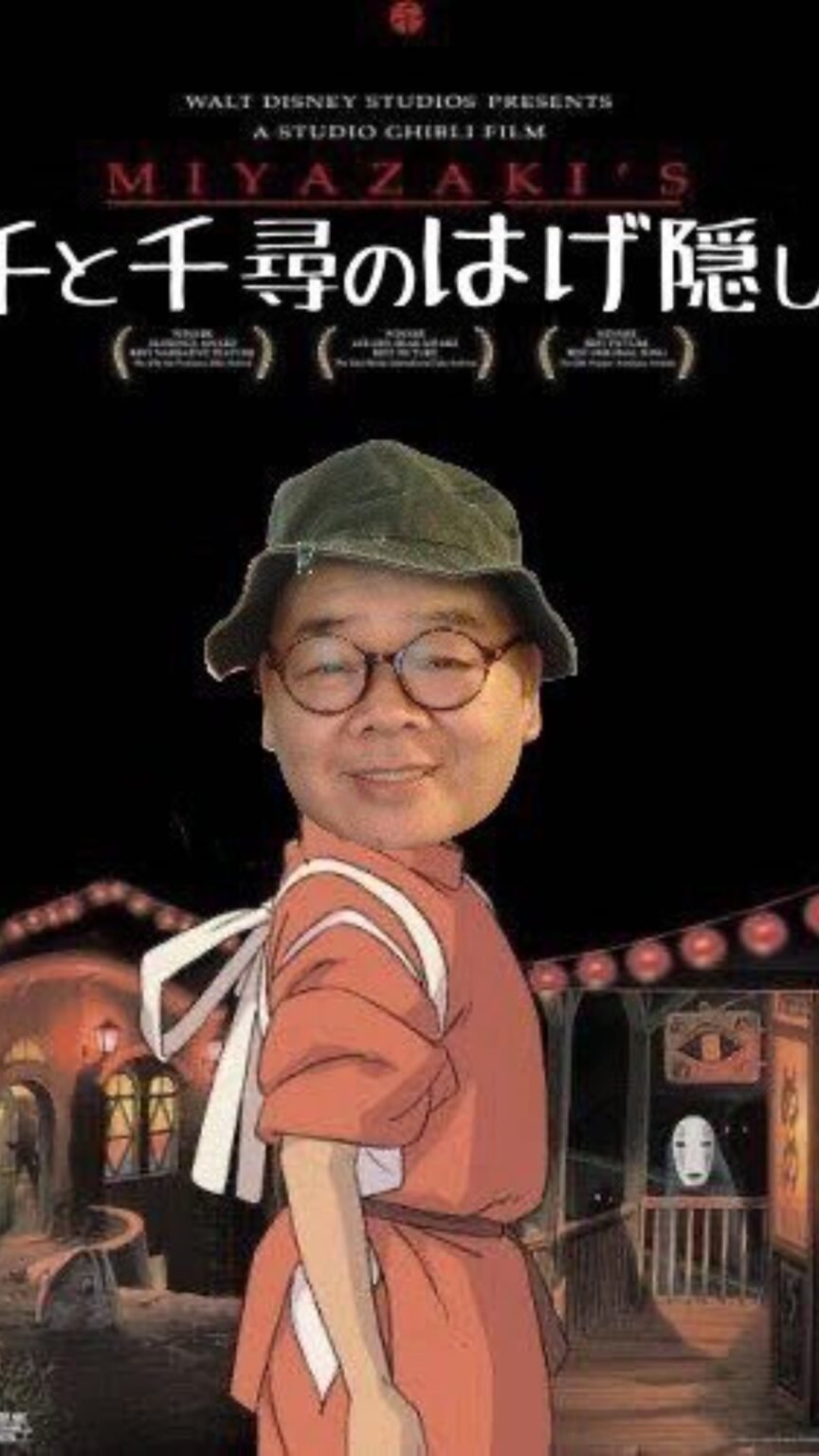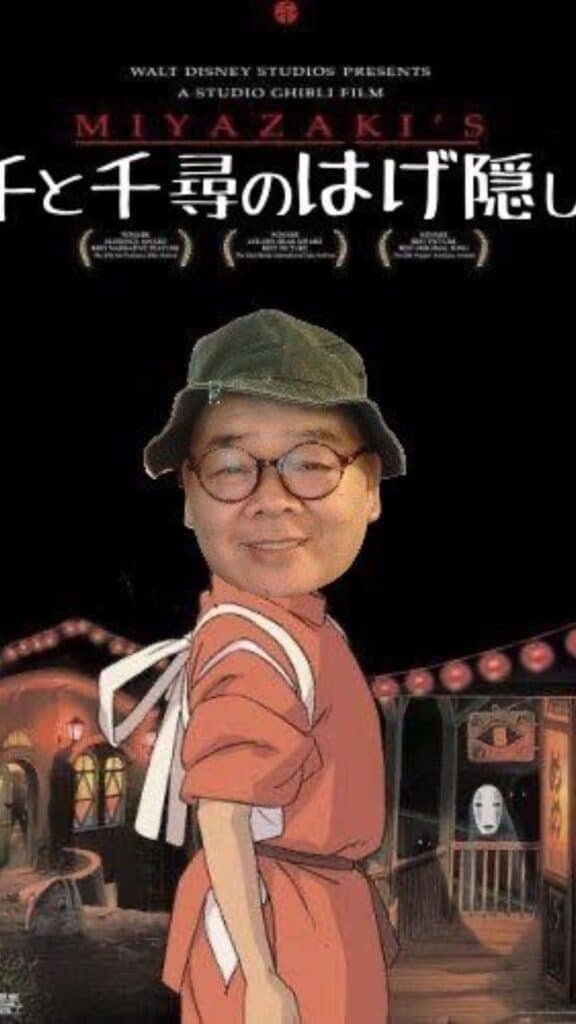 Abe, who has appeared on television over 35 times, is also a talented singer and songwriter with a repertoire of 30 songs including Takoyaki no Uta (takoyaki song). The sushi chef was even invited by the Hanshin Tigers to sing his ode to retired catcher Daiki Katayama, who was so overcome by emotion that he broke down in tears. Abe, who often performs his songs for customers, said that he donates all of the proceeds from his musical endeavors to charities he supports such as UNICEF.
Don't be surprised if a friendly cat named Satsuki jumps on your table. You'll be handed a pouch of treats to give her. Please bear in mind that there is a 350 yen tsukidashi table charge, which gets you a small dish that changes daily. It is well-worth the small fee, and a chance to try something new.
Micchy 立ち飲みミッチー
Address: 1 Chome-16-18 Sangenyanishi, Taisho Ward, Osaka, 551-0001 Tel: N/A. Open: 14:00-21:00. Closed: Mon.
The late writer Ramo Nakajima coined the term senbero in 1980. It means to get buzzed and full from a selection of drinks and food at an inexpensive restaurant for ¥1,000. An increase in prices in recent years has made it more of a challenge to stay within budget, but you still can find plenty of senbero izakaya and standing bars in Osaka.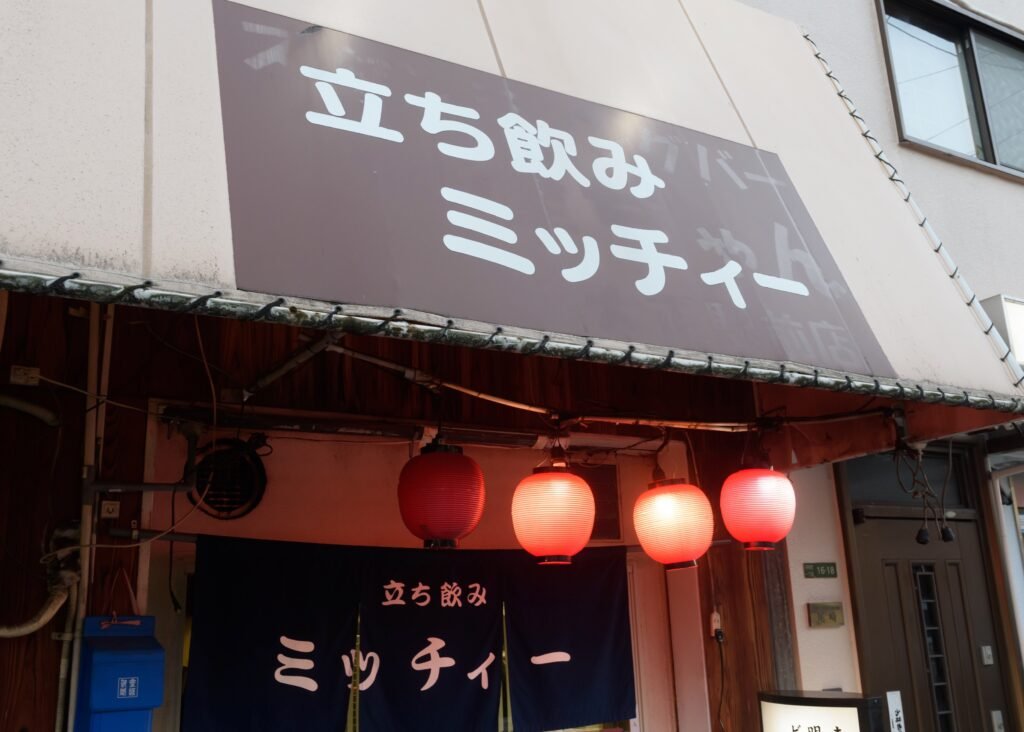 Micchy is definitely the cheapest standing bar in Taisho. The items on the menu items run from ¥200-¥400 and they have daily specials for ¥180. On top of these low prices, there is also a happy hour from 2 p.m. until 6 p.m. All draft beer, chu-hi and highballs are only ¥250. Free snacks such as nuts, cookies and those Japanese Kit Kats that tourists seem to go bonkers over are available on the counter. Help yourself.
I order a happy hour beer and choose four items from the ¥180 menu: 1. Atsuage kimchi, deep fried tofu splashed with ponzu sauce that is topped with kimchi, green onions and bonito flakes. 2. Beef–kalbi yakiniku (Korean barbecue). 3. Macaroni gratin. 4. Deep fried pork and shrimp kushiage, another name for kushikatsu, one of Osaka's most popular dishes.
Don't let the low prices fool you. The food here is prepared with the same care as the best restaurants in Osaka by the friendly master, who has a warm smile that lights up the entire bar. Seriously, this gentleman looks like he came straight out of central casting and could probably appear in television dramas as the kind bar owner who listens to everyone's problems without passing judgement.
My total came to only ¥970 (around $8) for four very satisfying dishes and an ice cold beer. I think Ramo Nakajima would have been proud.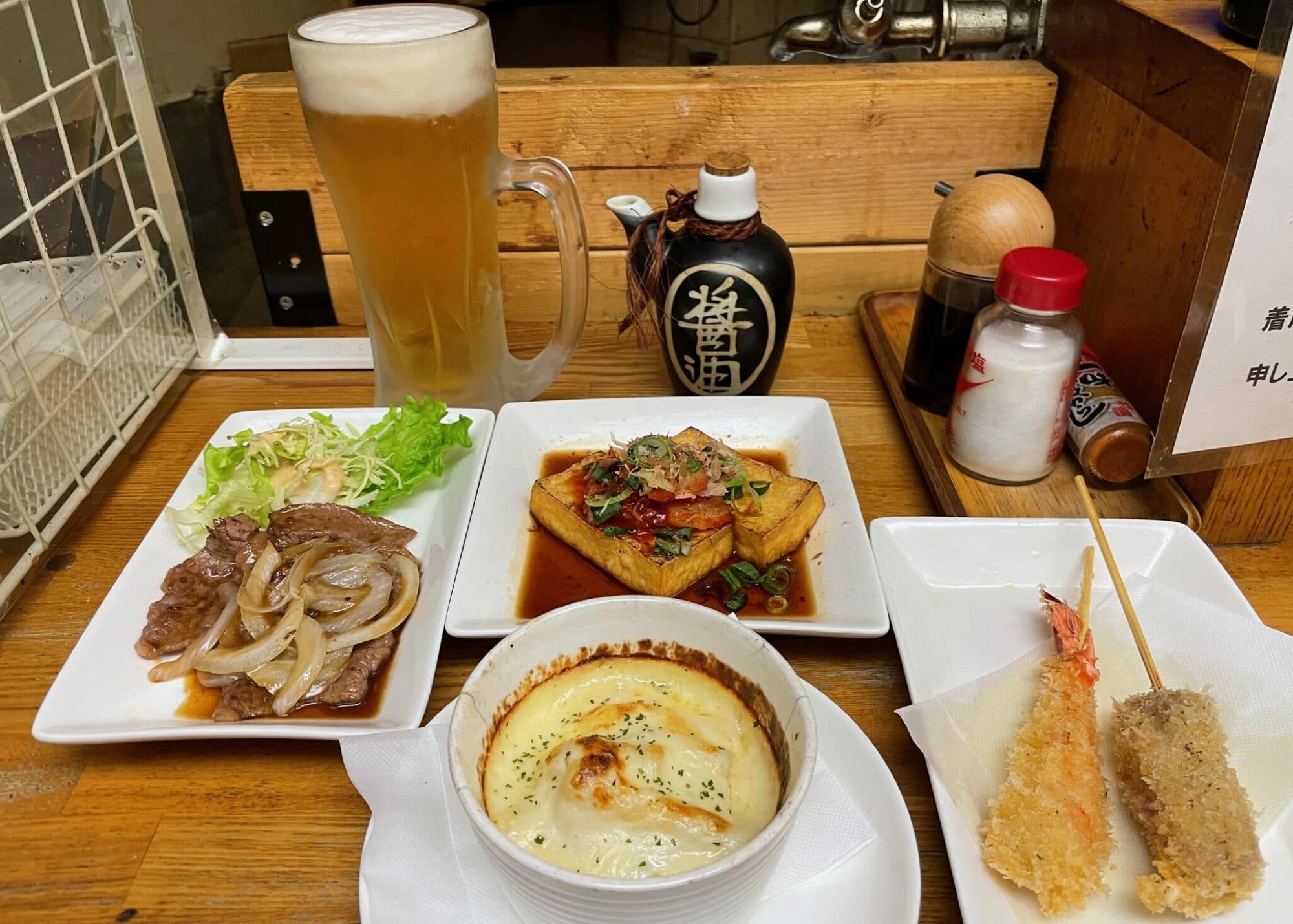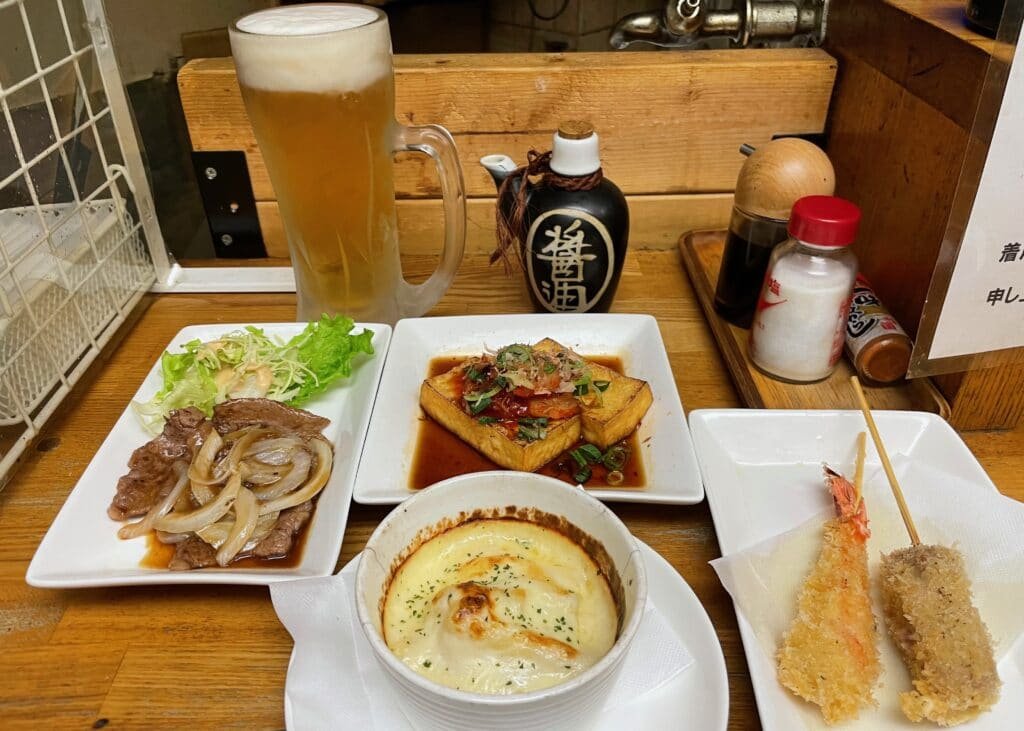 Yakiton Nonoya 焼きとん 乃ノ家
Address: 1 Chome-4-8 Sangenyanishi, Taisho Ward, Osaka, 551-0001. Tel: 06-6554-5050. Open M-F 17:00-23:00; Sat: 12:00-23:00.
I'm drinking at the counter with Kaai Tomi, a well-known blogger, illustrator, columnist and TV personality who has visited over 1,500 bars and restaurants since 2006. She is trying to explain why she considers Nonoya to be a Tokyo style drinking establishment, but I am not fully grasping it.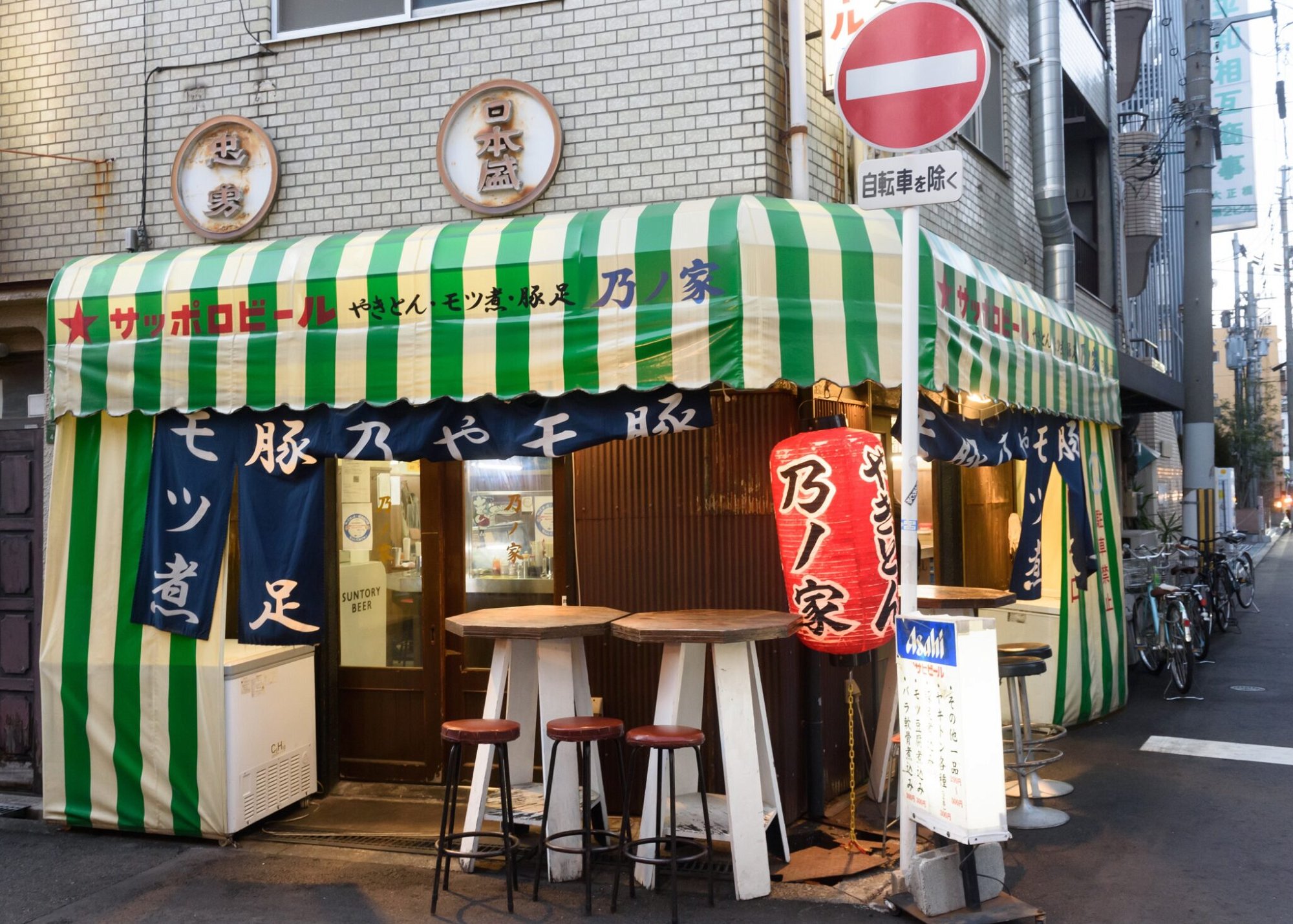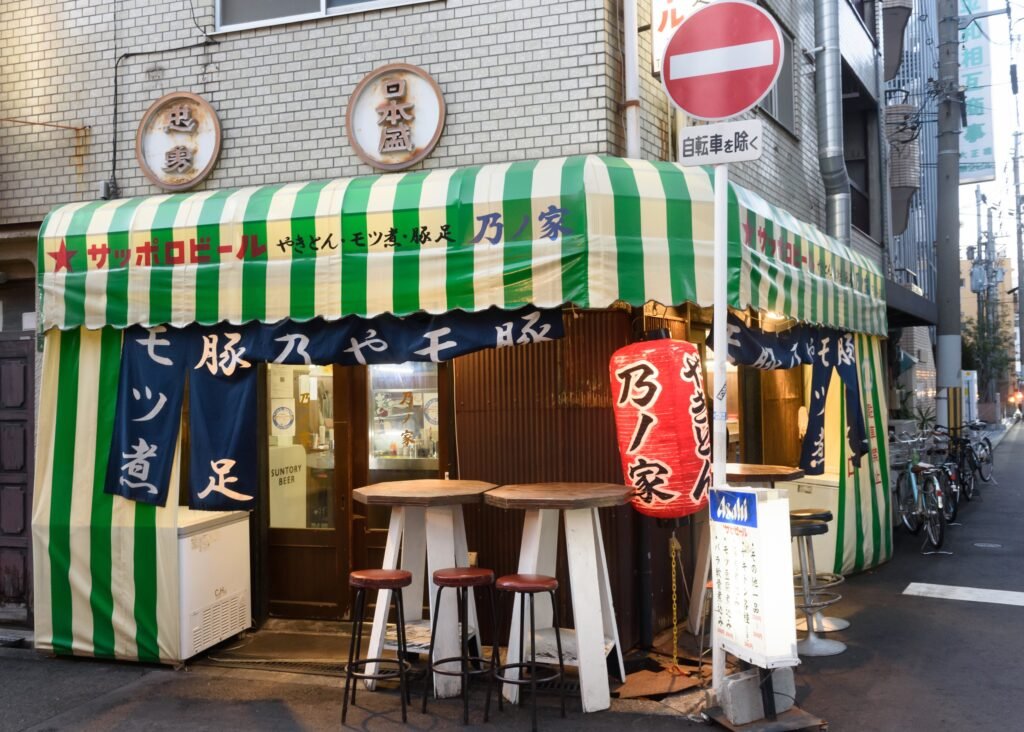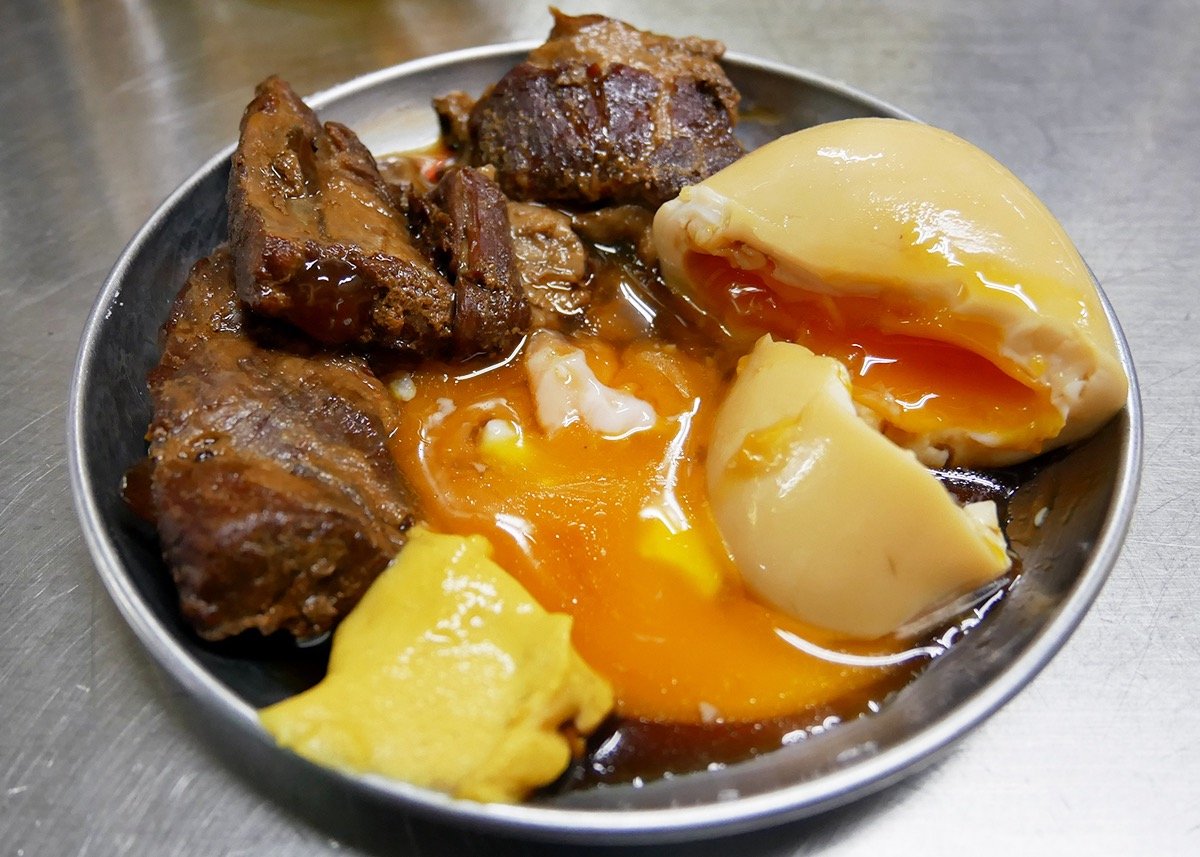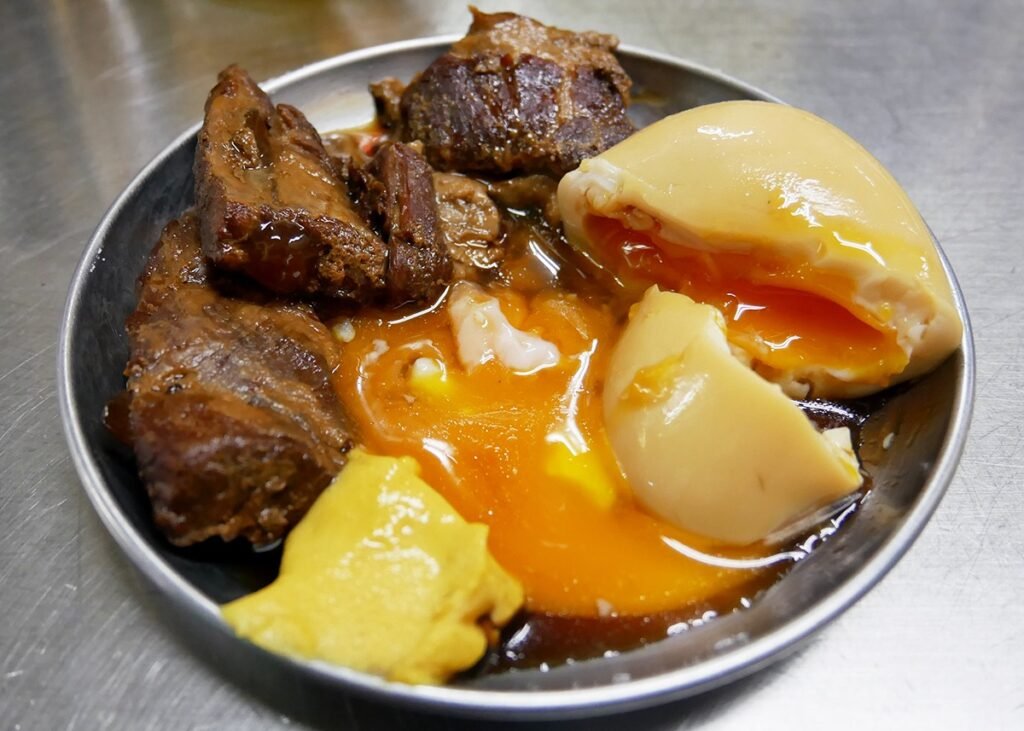 "Tokyo is known for yakiton—skewered pork," she explains. "They also sell Hoppy and Baisu Sour, two drinks that are very popular in Tokyo and hard to find in Osaka. The atmosphere of Nonoya is typical of a sakaba (bar or saloon) in downtown Tokyo from the Showa era. Does this make any sense?"
We are joined by our good friend Tatsuya Inaoka, a frequent visitor to standing bars all over Kansai. Tatsuya is a walking encyclopedia of obscure drinking terms such as "geiin bashoku", an old Chinese-Japanese saying that means "drink like a whale, eat like a horse."
"Hoppy is my favorite," says Tatsuya. "I sometimes search for izakayas that have it on the net." In the spirit of trying new things, I order a Baisu Sour. It's a bright pink drink made with sour plum and shiso (perilla) extract that is mixed with shochu (I found out later that both Hoppy and Baisu have been sold all over Taisho for many years. There might even be a local distributor).
Kaai suggests we order the bara nankotsu nikomi, boiled pork rib cartilage (¥300). "This is the dish to have when you come to Nonoya," she says. The rib cartilage is soft and floppy and comes with a [soft boiled] egg that is super melty! The sweet and spicy sauce makes me want to drink more!"
It's my turn to order. All of the food on the menu is ¥200, ¥300 or ¥400. I choose the Taiwan-fu subuta, deep fried Taiwanese-style sweet and sour pork (¥300), yakiton sanshu kushi mori, a moriawase of three kinds of yakiton (¥400), tomato kimchi (¥300) and smoked liver (¥300). Tatsuya doesn't eat pork so he orders yakitori (¥300). We are served by a young Vietnamese worker who tells us he has lived in Osaka for 5 years. It's nice to get a taste of Tokyo in Osaka without having to hop on the bullet train.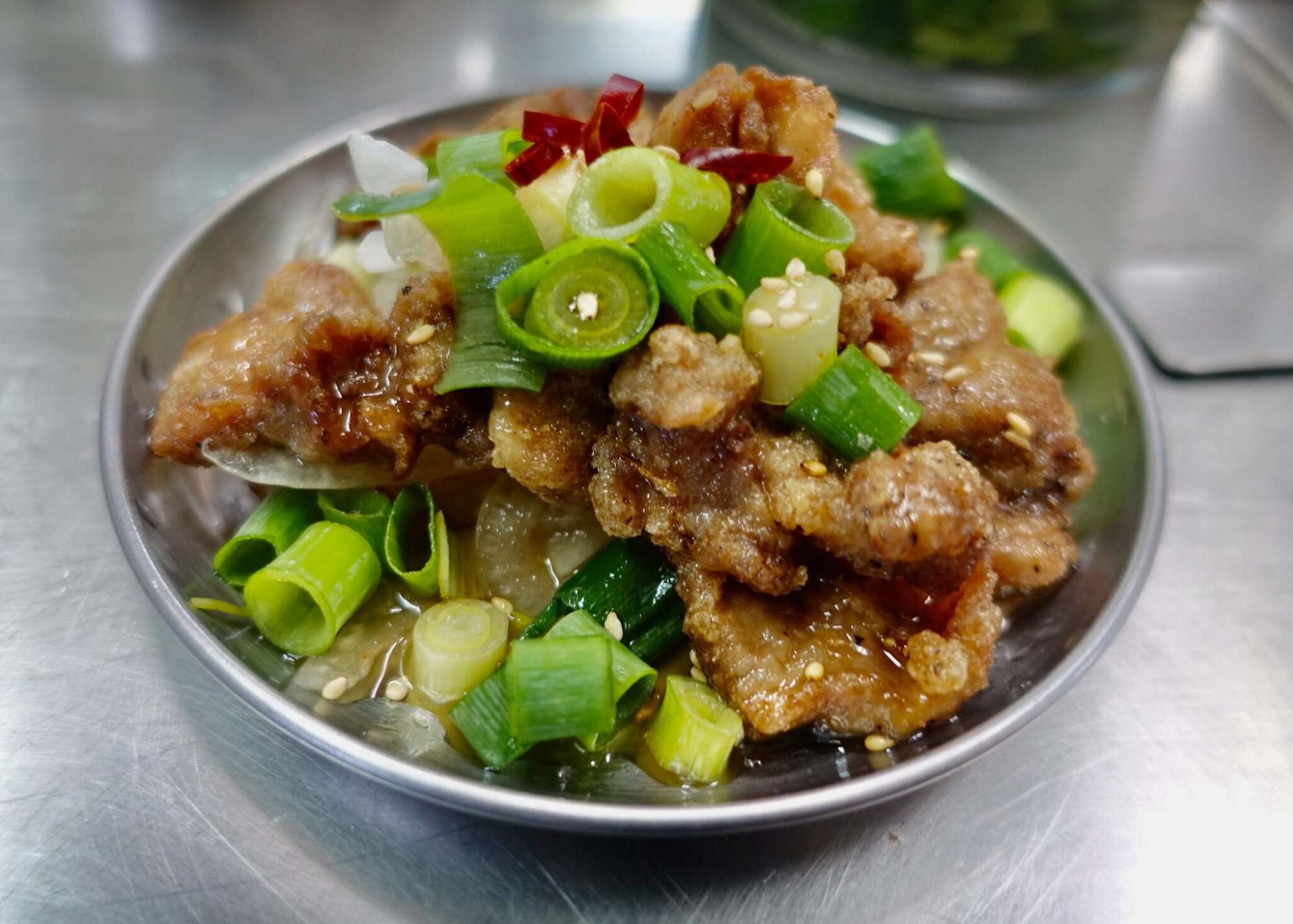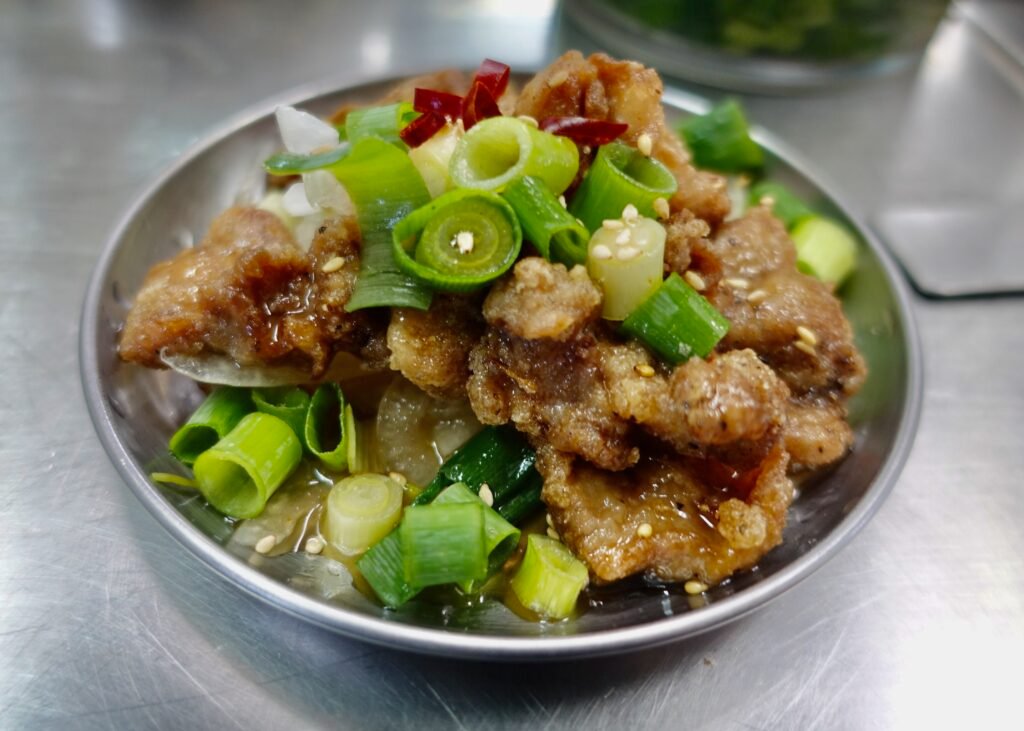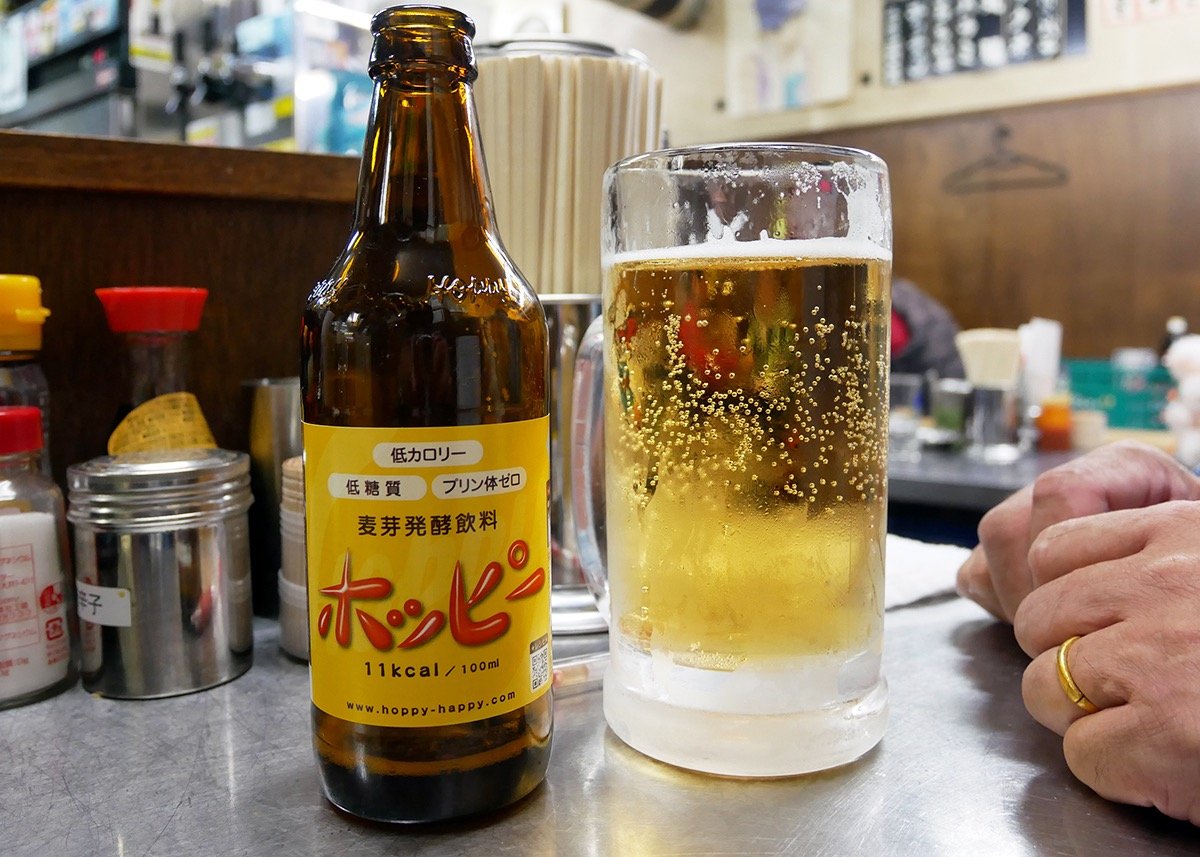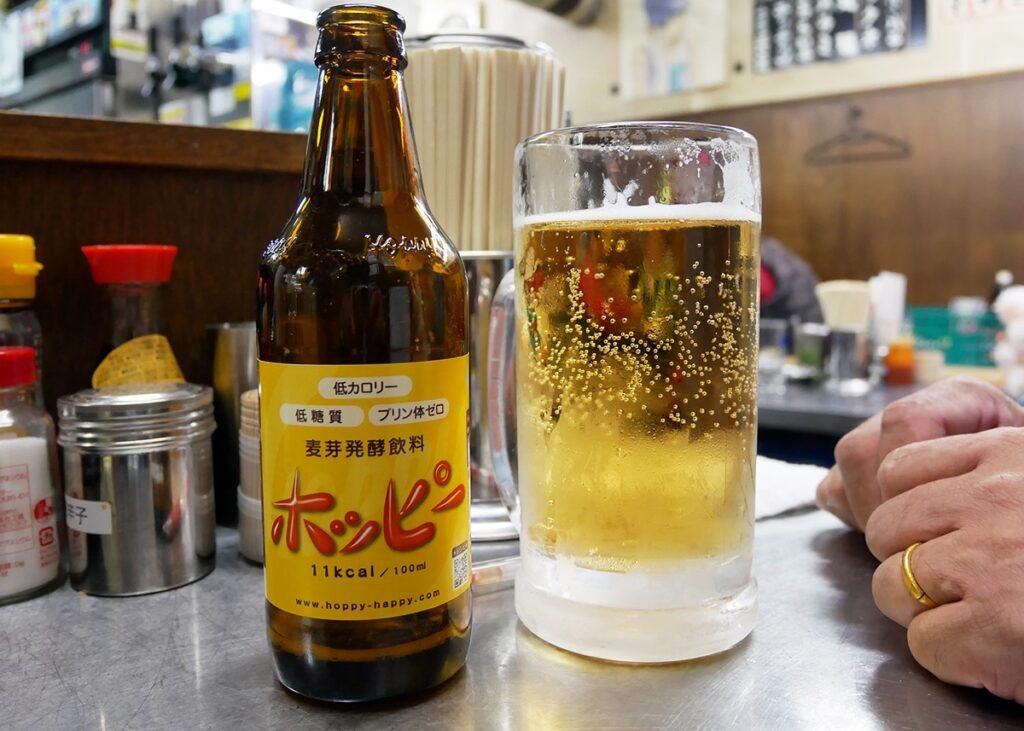 Nonoya has two other locations less than a minute away: Oden Nonoya and Nonoya Honten, a spacious robatayaki that specializes in seafood.
Tenshin no Kimochi てんしんのきもち
Address: 1 Chome-2-11 Sangenyanishi, Taisho Ward, Osaka, 551-0001. Tel: 050-5872-7710. Open: 11:00-23:00. Website Instagram
Tenshin no Kimochi is a new gyoza speciality shop located next door to Nonoya. It has a stylish interior that would not look out of place in some of the more exclusive areas of Osaka, but the prices are reasonable and the staff is down to earth and accommodating. It's a welcome addition to the neighborhood.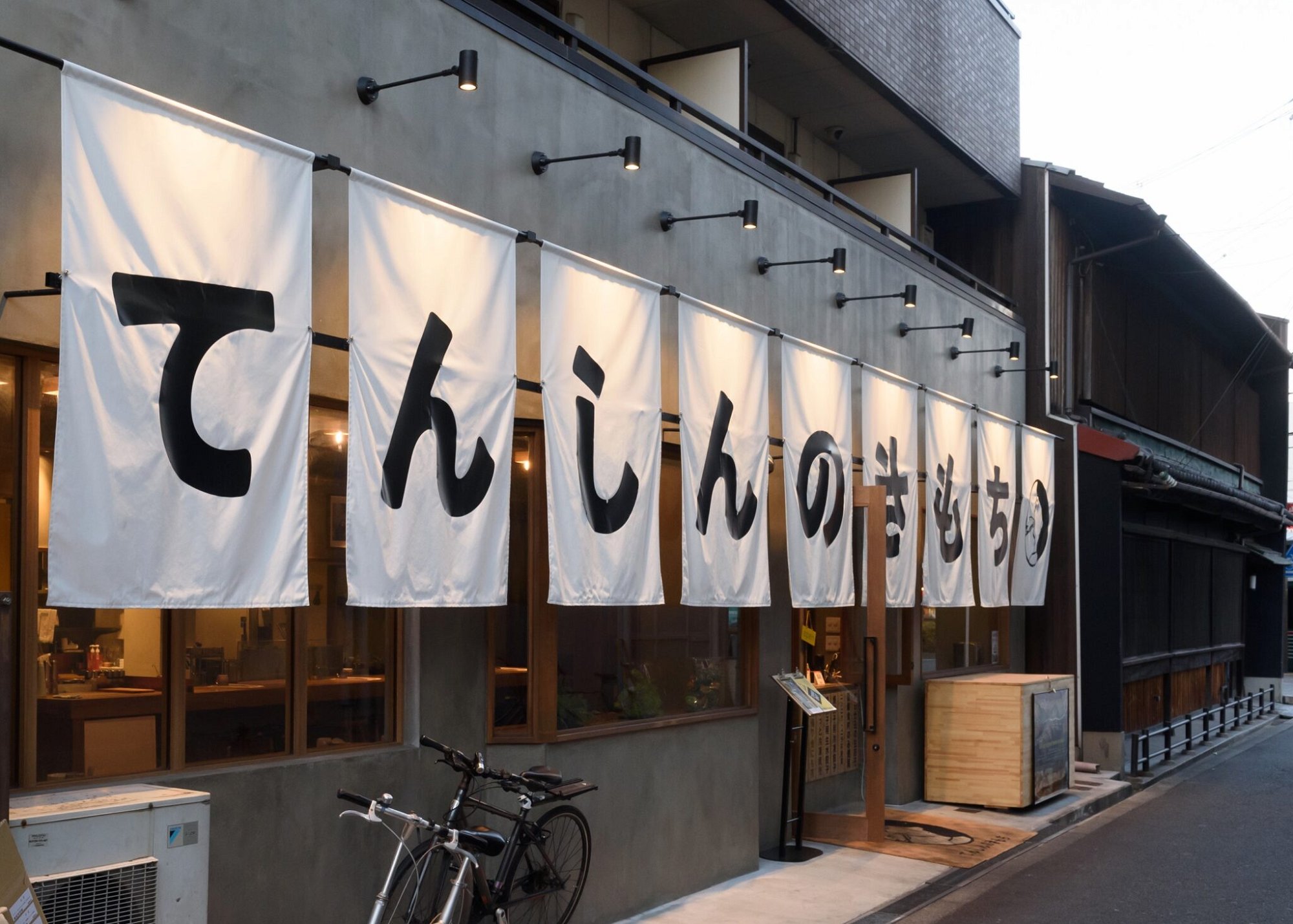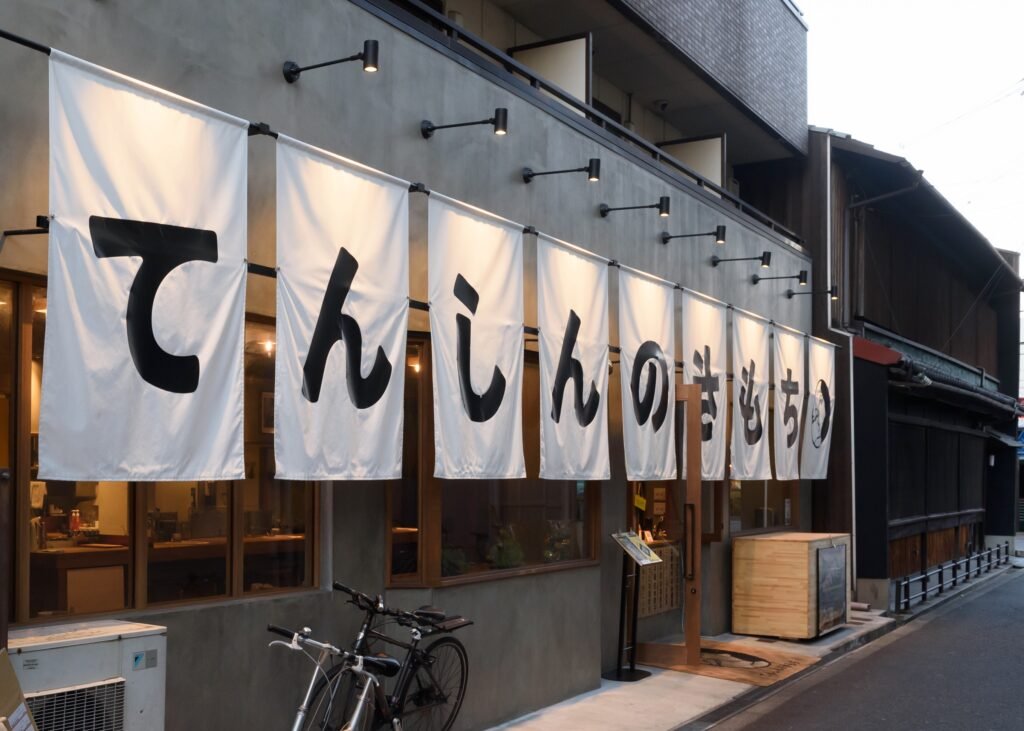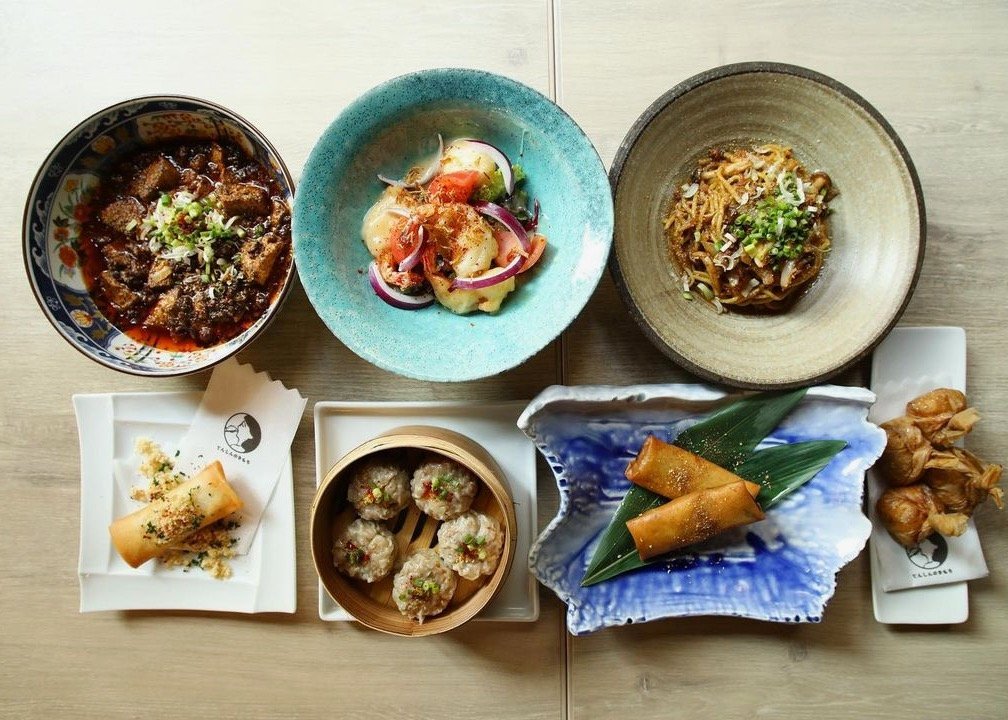 When I visited the restaurant for the first time with two friends we started off with an order of Truffle and Butter Flavored Fried Gyoza (5 for ¥580), which was outstanding. Our waitress asked us if we would like to increase our order to six pieces so we could divide the dumplings evenly. You can also order half sizes of selected menu items in order to sample a variety of dishes.
Be sure to try the Malajiang Spice Suigyoza (5 for ¥528), boiled gyoza that contains Chinese spices and is flavored with sauce made from szechuan peppercorn and chili. The gyoza at Tenshin no Kimochi is made with Napa cabbage, regular cabbage and four types of minced pork. It does not contain the usual garlic or chives.
On my second visit, I had a nice chat with head chef Hirokazu Iwasaki. I was very surprised to learn that his specialty is Italian cuisine and that he had never prepared Chinese food before working at Tenshin no Kimochi. I told Chef Iwasaki that I just had to try the Oyster Futomen Yakisoba (¥1,078) after seeing a photo of the fried noodles on Instagram. It's made with thick egg noodles procured from a local factory in nearby Kujo that was established in 1919.
One of the things I like about Taisho is that younger business owners seem to be making an effort to blend in with the culture and traditions of the older shops, creating a nice balance of old and new.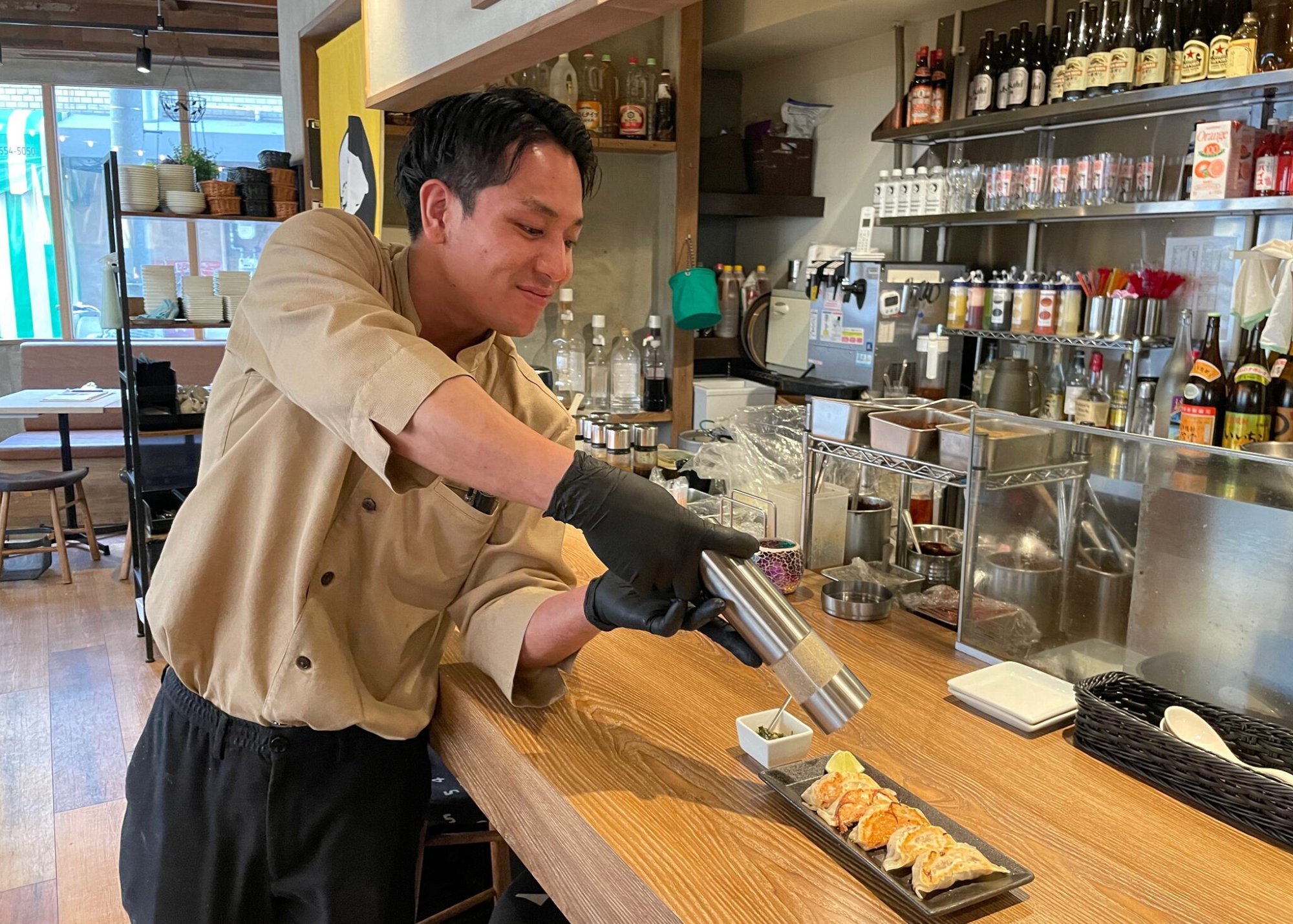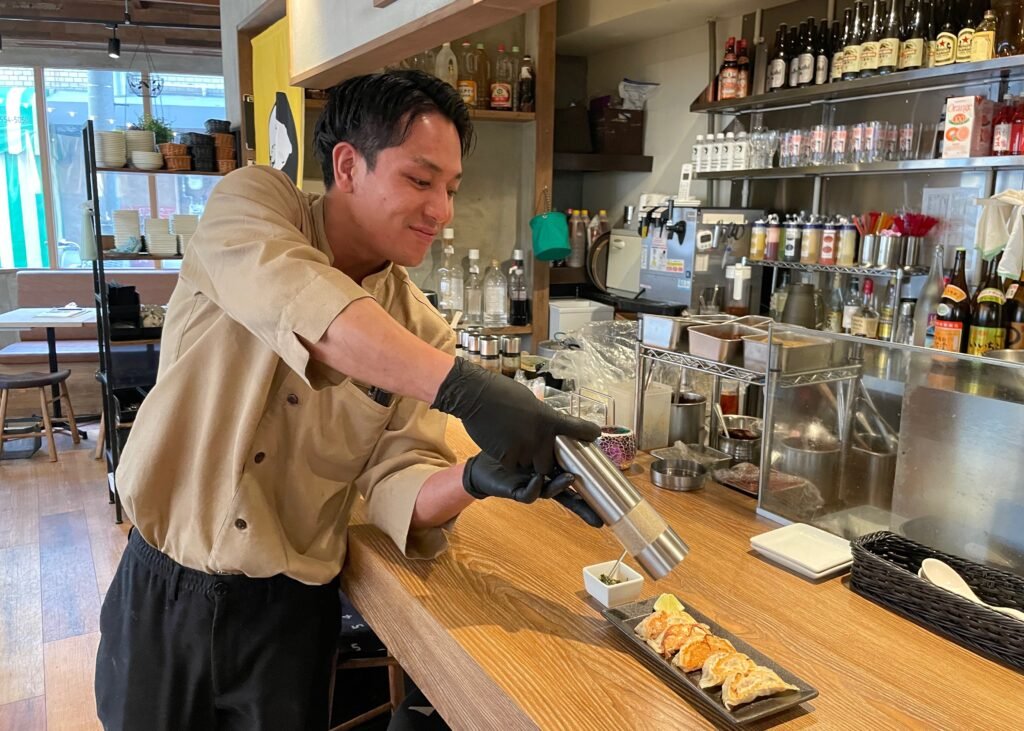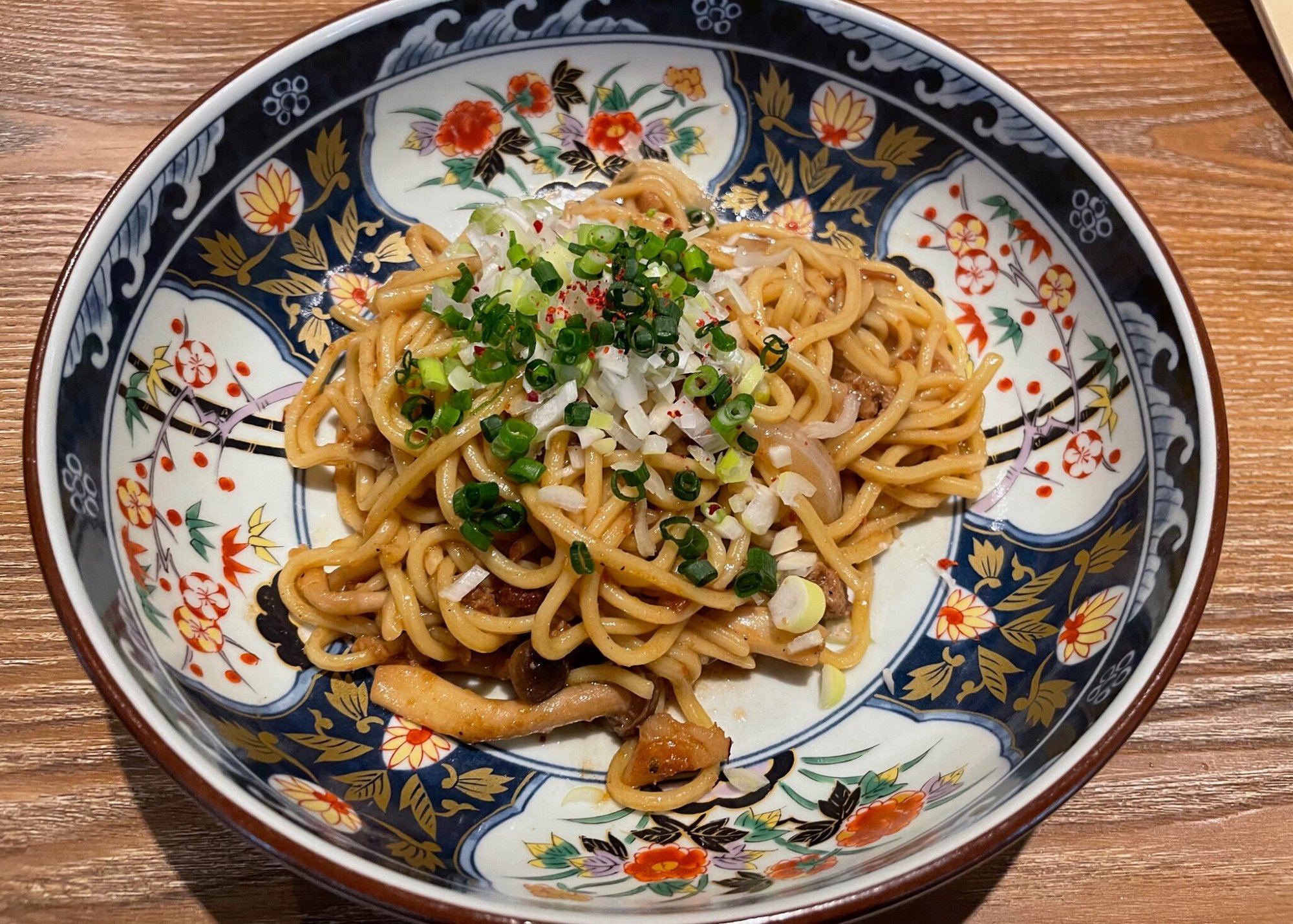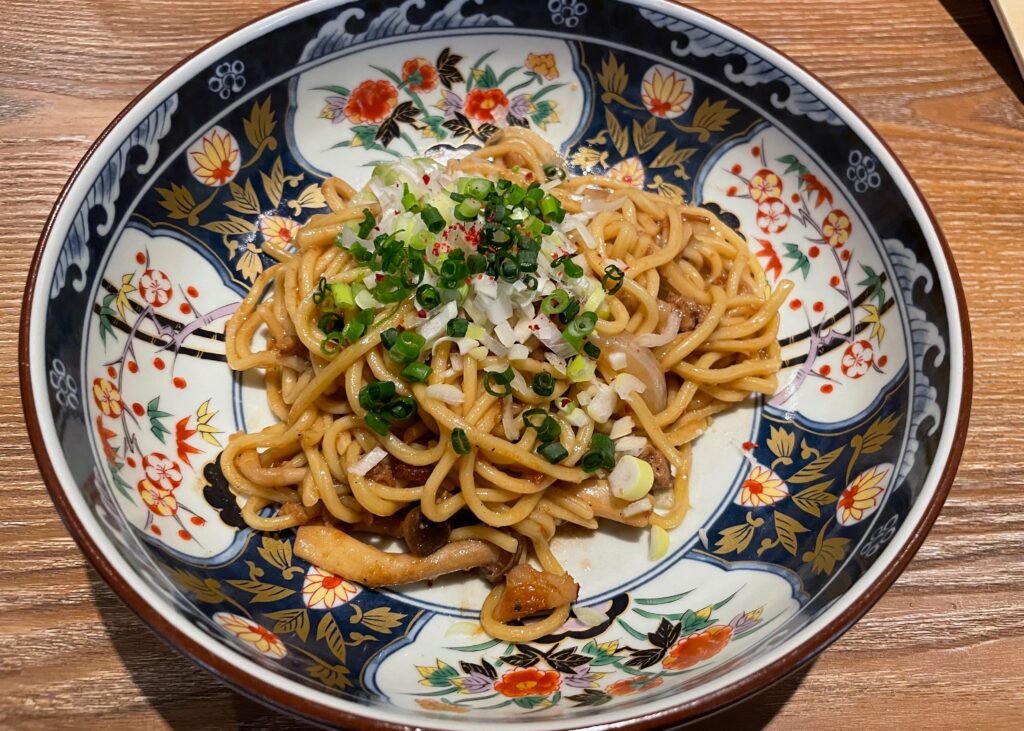 Okawa 立ち呑み処 大川
Address: 1 Chome-2-9 Sangenyanishi, Taisho Ward, Osaka, 551-0001 Tel: 06-6651-3131. Open: 17:00-22:00. Closed Sun
Okawa is the kind of place where you feel welcome the minute you slide open the doors. Customers at the 50 year old izakaya can be found standing around a rectangular counter called a ko no ji counter because it is shaped like the katakana character ko (コ).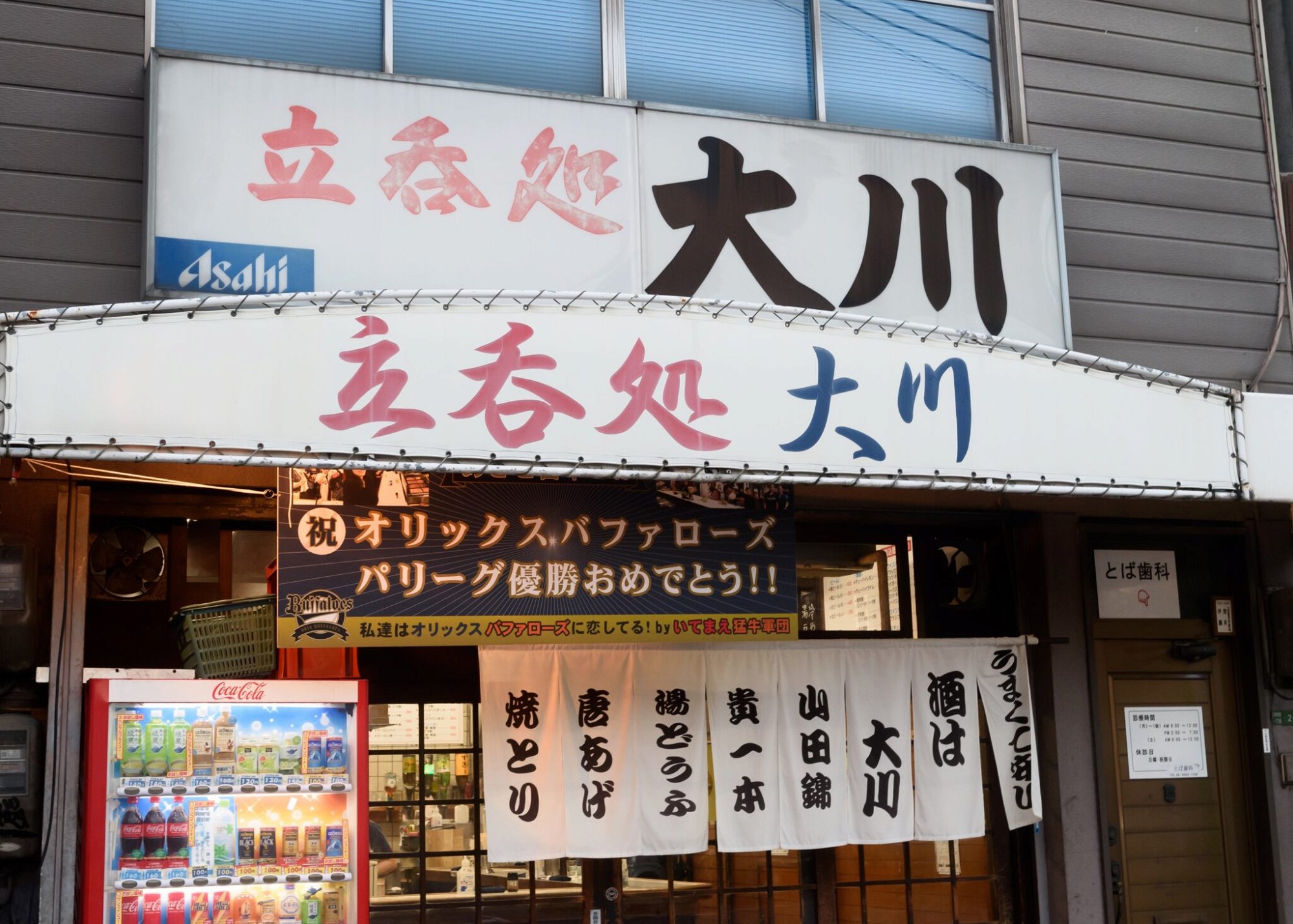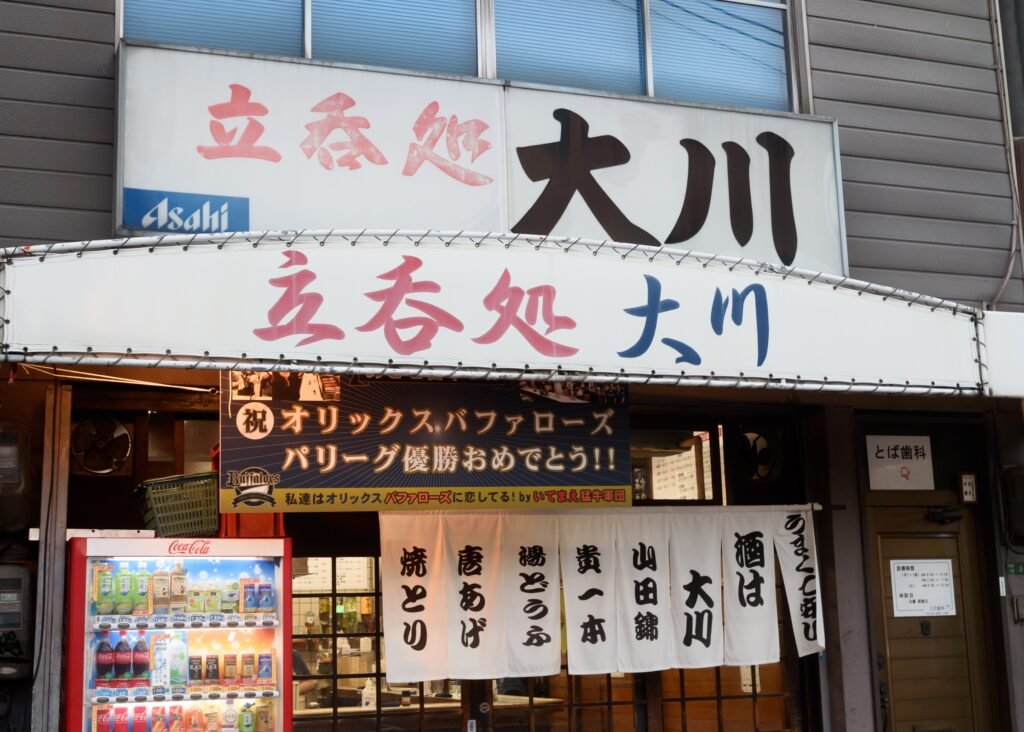 "You have to try the geso karaage (deep fried octopus tentacles)," says a middle aged man on my left. "It's their specialty." The dish is exquisite. I order nikusui (simmered beef and green onions in soup stock) and chikuwa tempura (tube shaped fish-paste cake). I'm not a fan of of chikuwa in oden, but this tempura in dashi is heavenly and a steal at only ¥230 yen.
My drinking buddy Tomokazu arrives. He calls over the owner, Takeshi Okawa "I'll have a water. "Huh?," replies Okawa-san incredulously. "Are you serious?" "Yes, replies Tomokazu. "And when I say water, I mean the water that comes from rice. Give me a bottle of sake!"
Okawa brings Tomokazu his sake. "At our peak we got 200 customers a day and sold 300 bottles of sake, he tells me. "Nowadays we get 50 people and sell 50 bottles of sake. I wish that things would return to normal soon."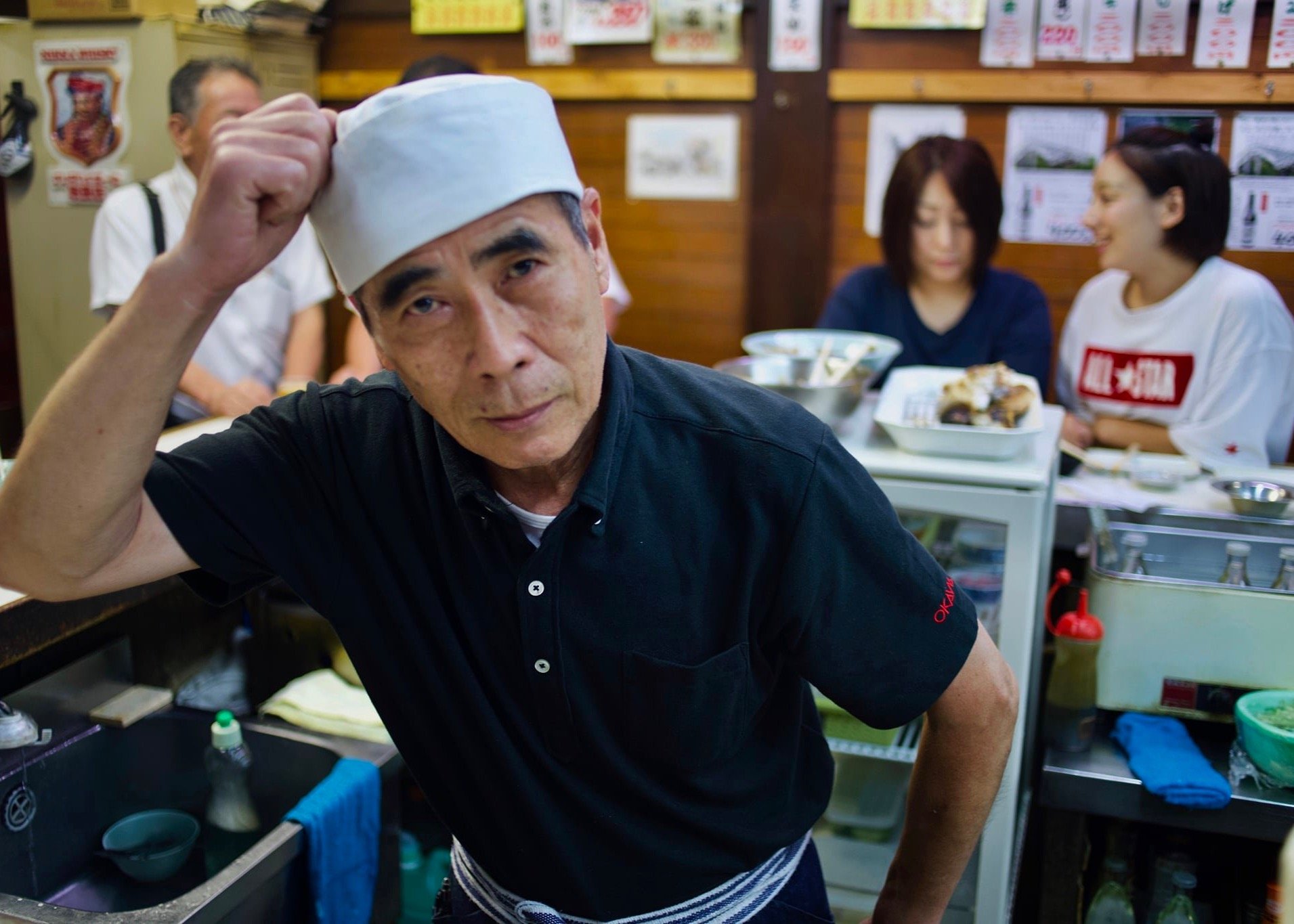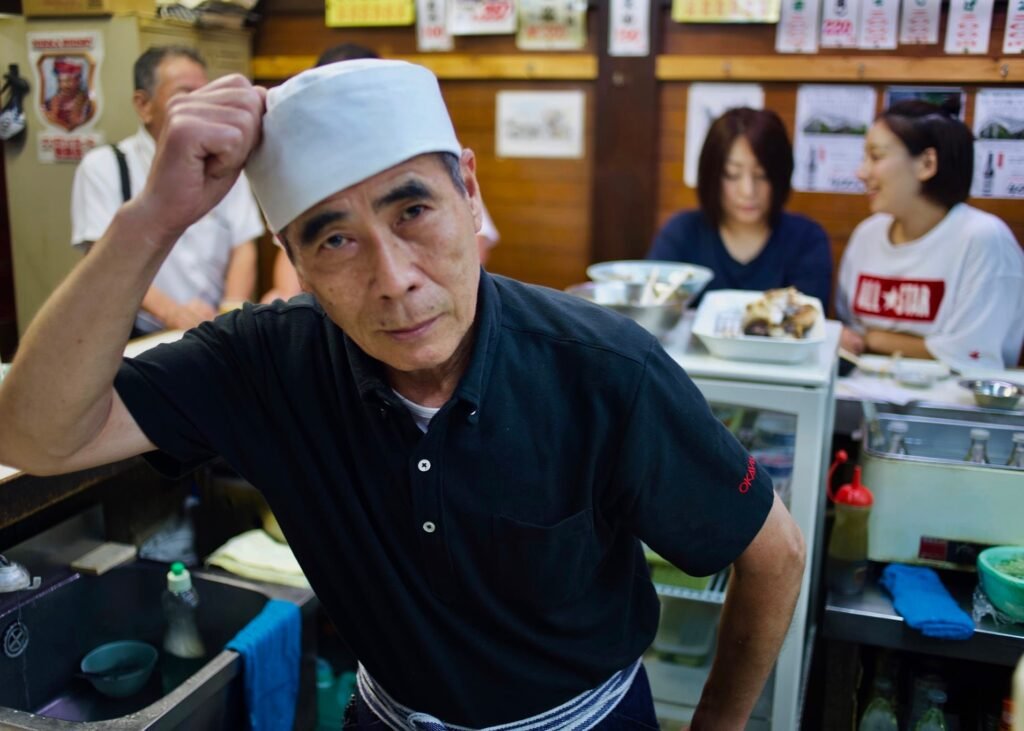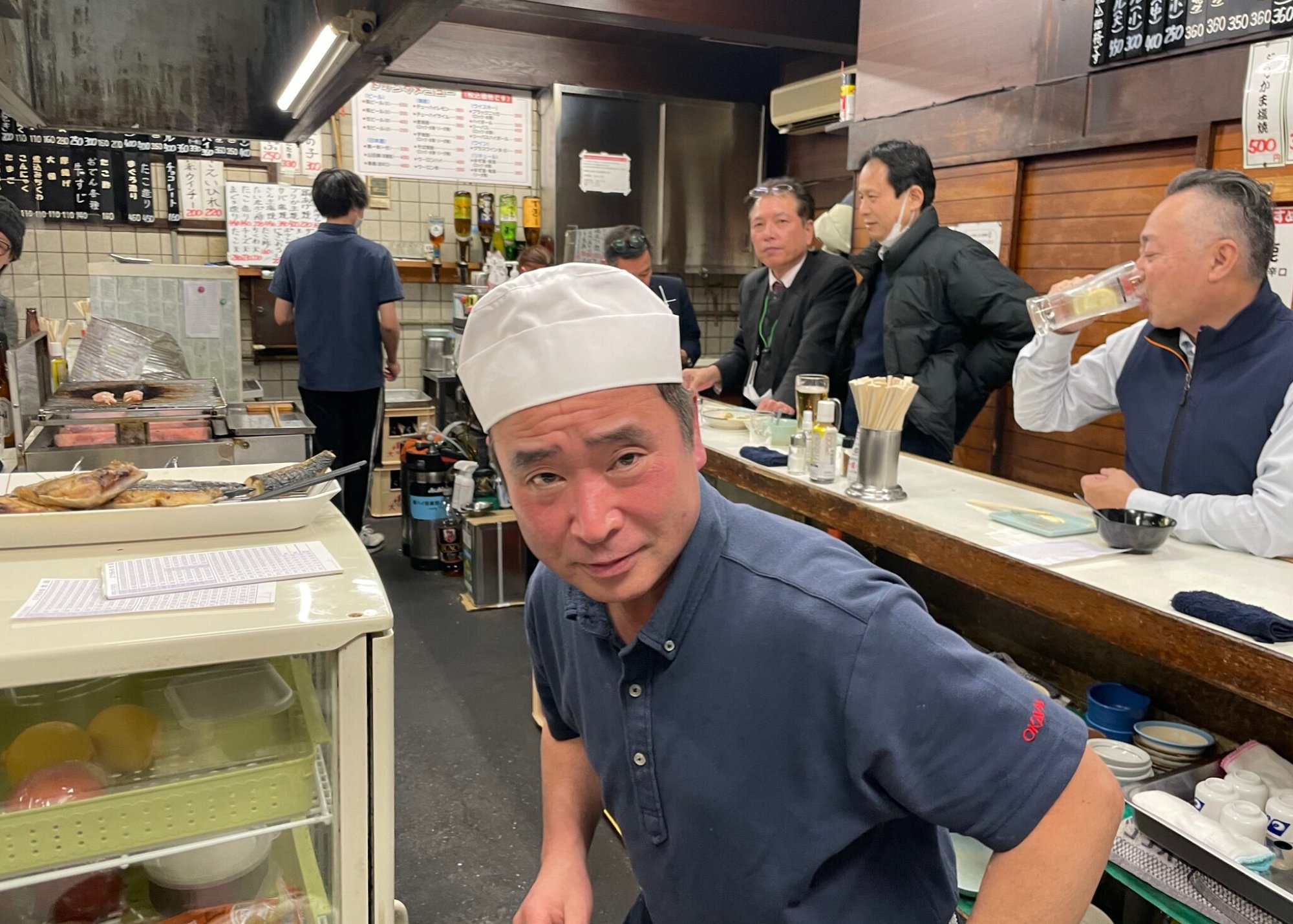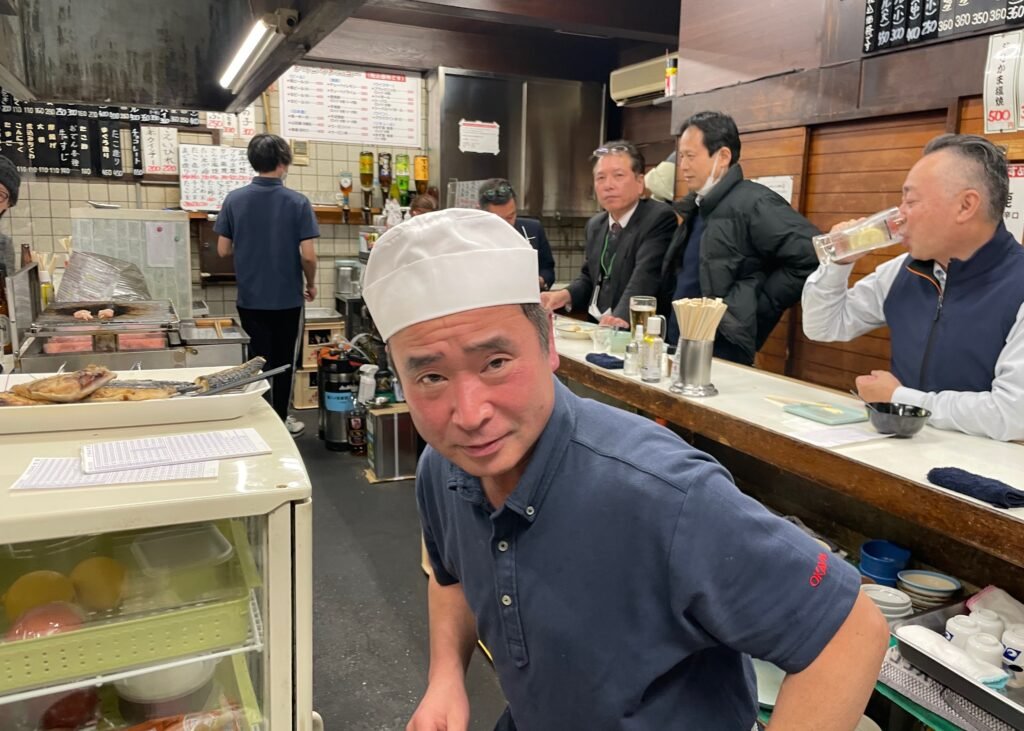 Takeshi Okawa is the son of the beloved founder, who is affectionately known as Abe-chan. According to this article he is currently on leave for health reasons. Takeshi whips out his phone pulls his phone and shows me photos of his new granddaughter. "My daughter moved to New York to study music. She married an American guy and now they live in Arkansas."
I order aji-fry—fried horse mackerel (¥160) and French fries (¥220) and explain to Tomokazu that my friend Dave calls this combination "Osaka Fish and Chips." I'm not saying it comes close to anything you can get from a chipper in London, but it does the job if you get it with tartar sauce.
These days, almost all counters in Osaka are partitioned with dividers made of plastic or fiber glass to enforce social distancing, but the barriers haven't managed to affect the friendly atmosphere at Okawa. Come for the food, stay for the laughs.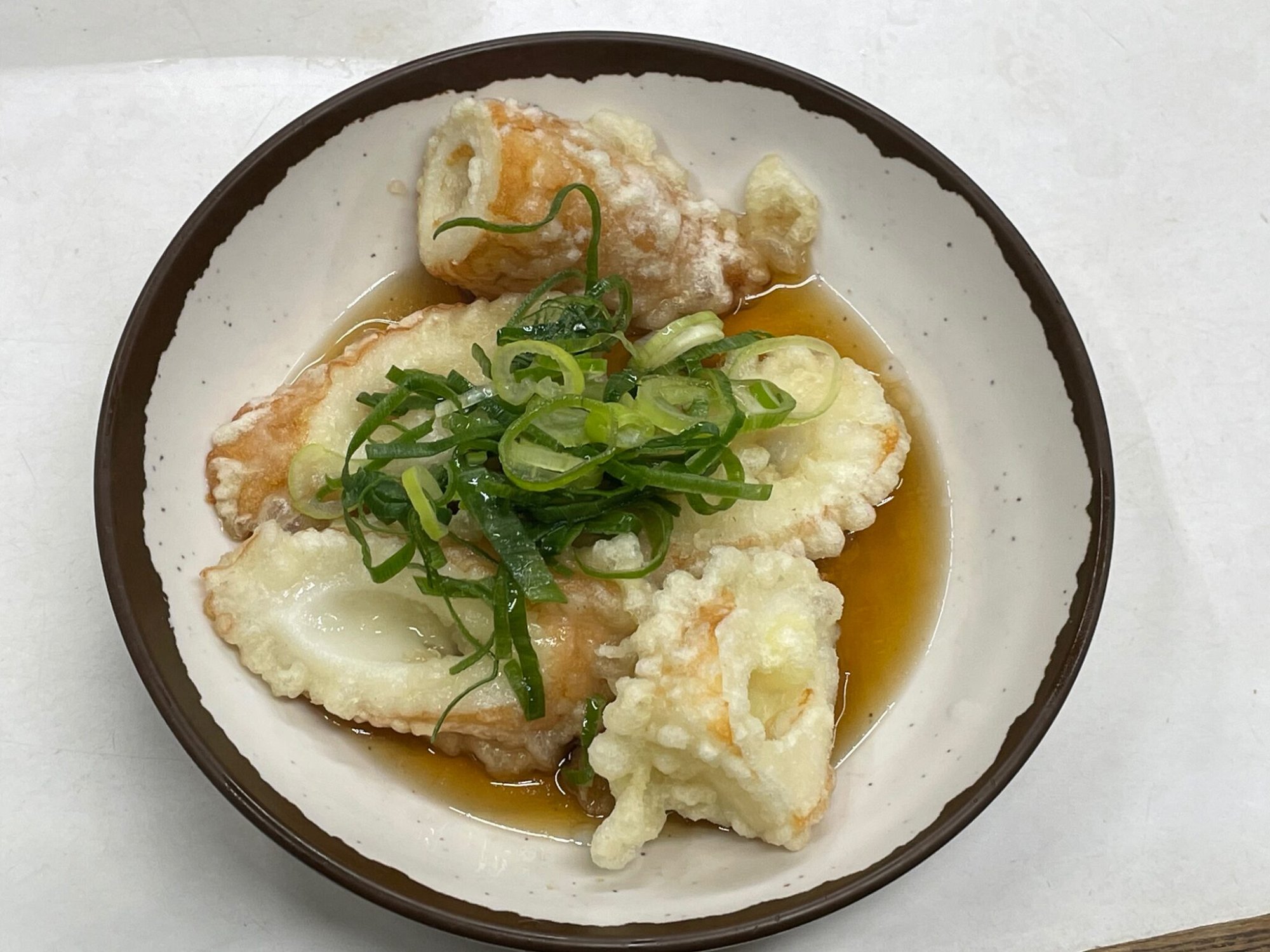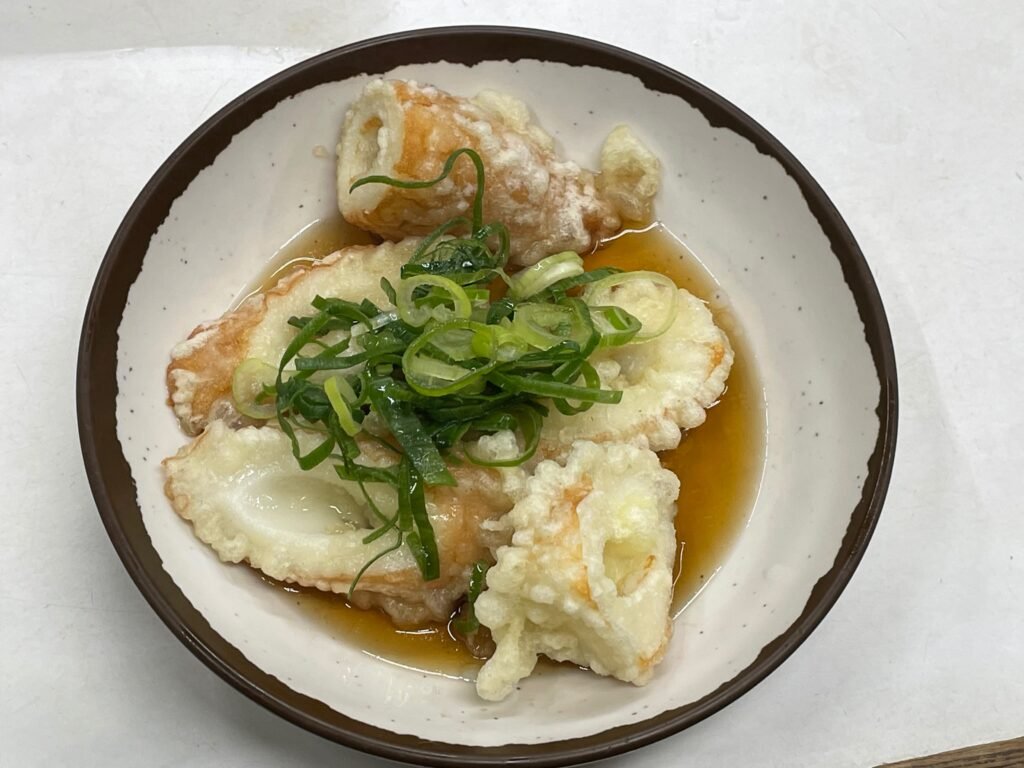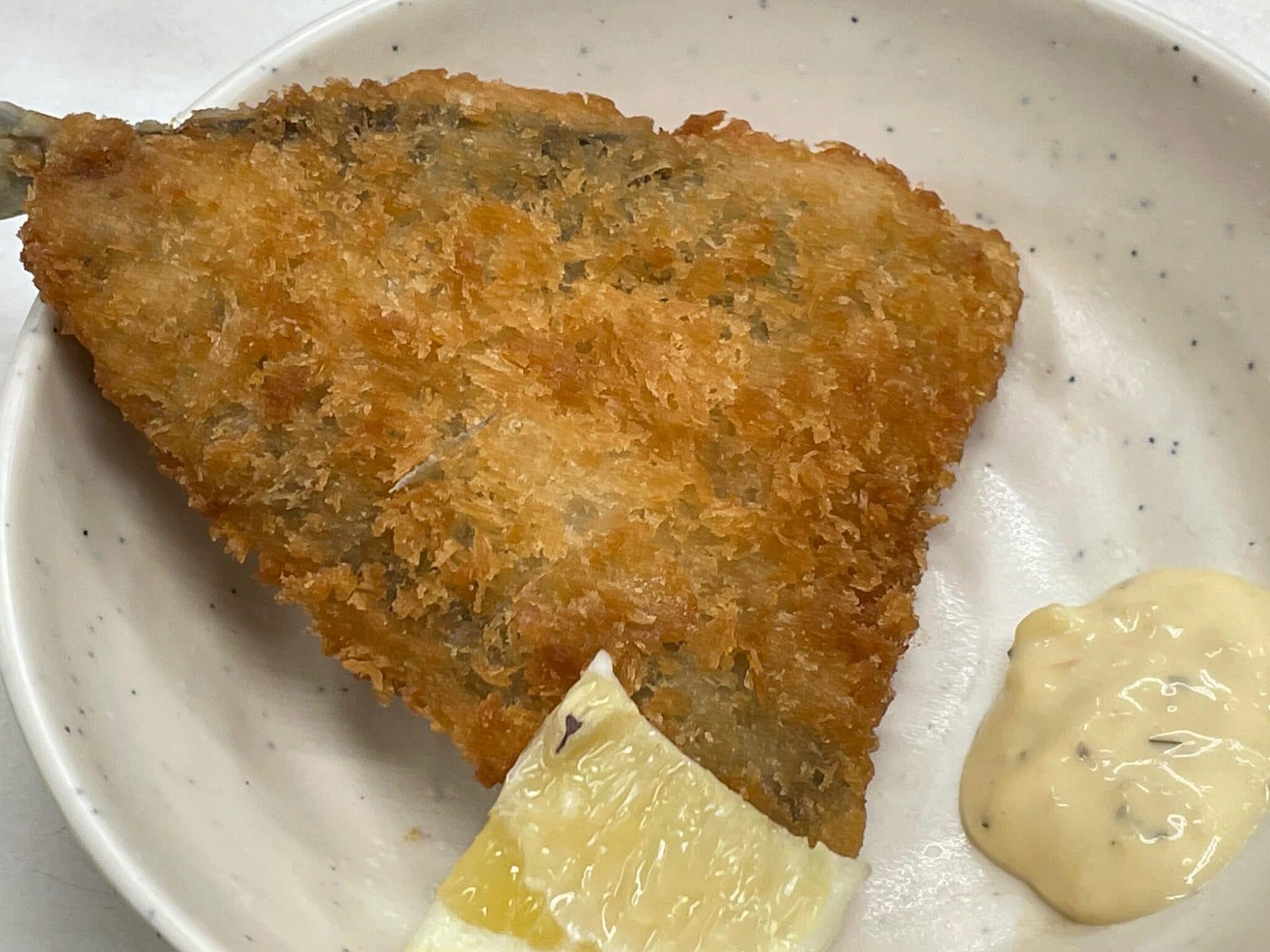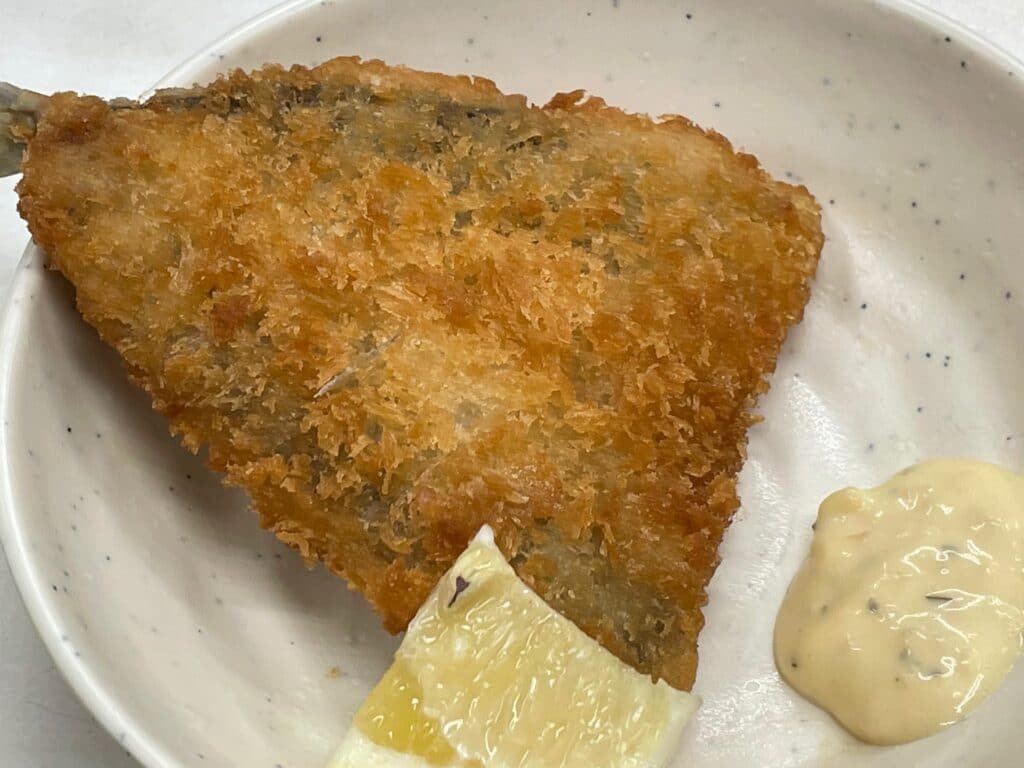 Tugboat Taisho タグボート大正
Addresss: 1 Chome-1-14 Sangenyanishi, Taisho Ward, Osaka, 551-0001. Tel:06-6556-0679. Open: 11:00-23:00. Website
San Francisco has Fisherman's Wharf, New York City has The South Street Seaport, and Osaka has Tugboat Taisho, which opened in early 2020 on waterfront space on the Shirinashi River opposite the Kyocera Dome, where major music and sport events takes place. Tugboat Taisho includes a food hall and features a dozen restaurants and bars. A live house is located upstairs for concerts and art exhibitions.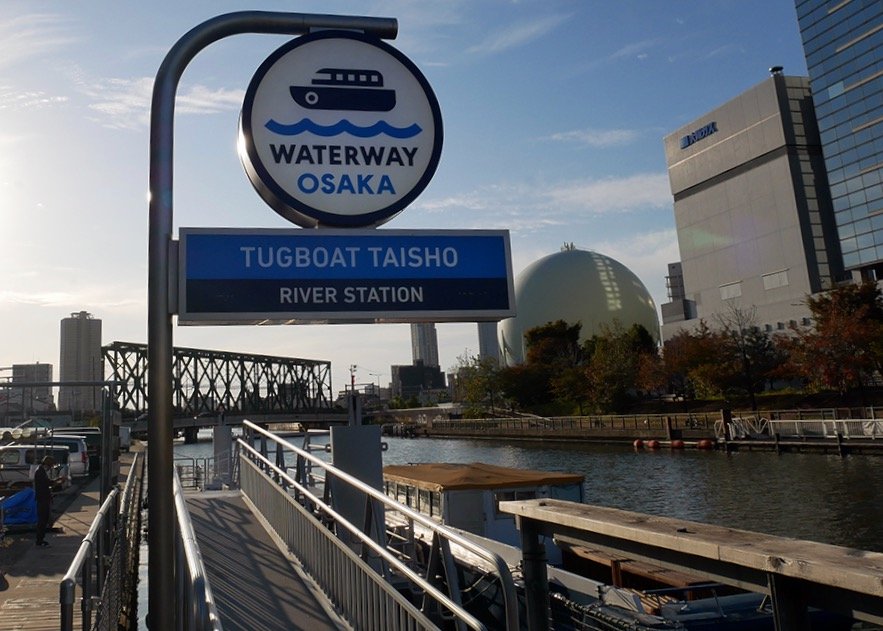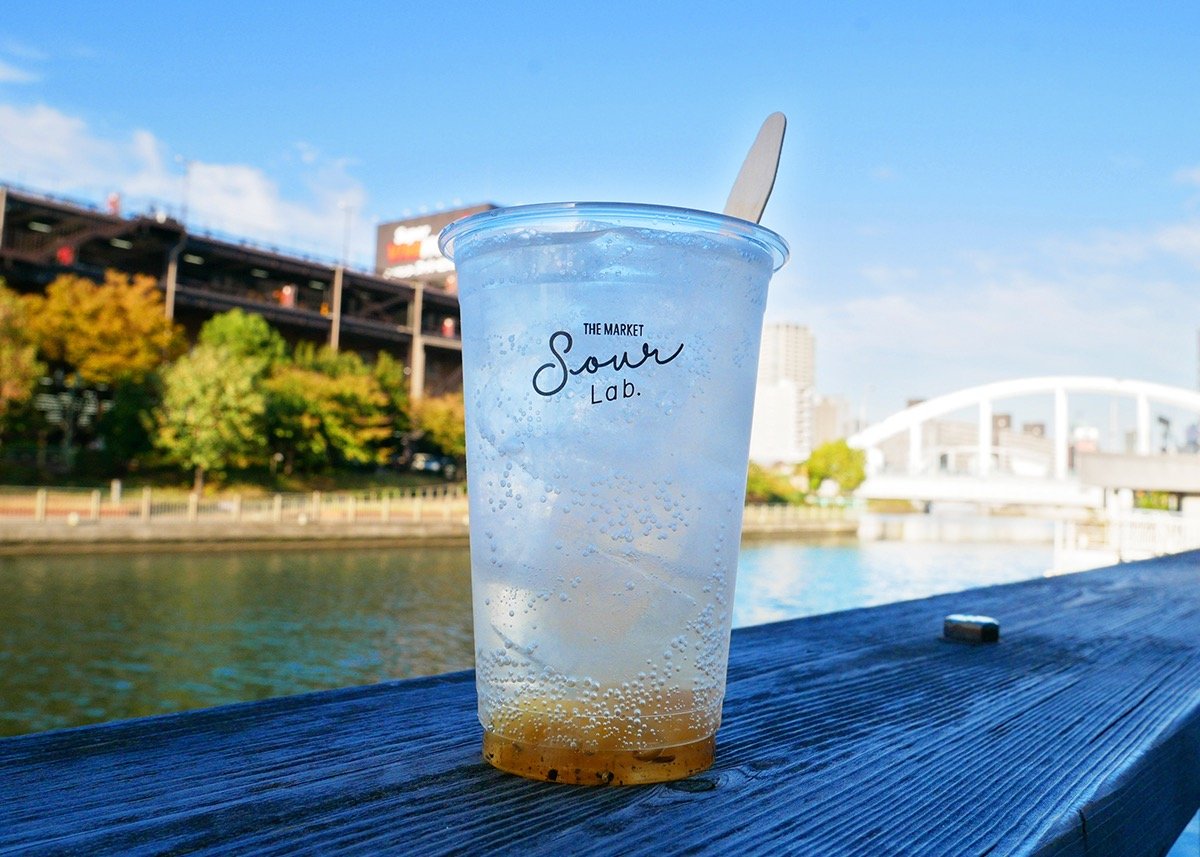 I visit Tugboat Taisho with my wife on pleasant spring day. Upon entering the food hall, the first thing we notice is a DJ spinning the latest songs for customers sitting at nearby tables. Tugboat Taisho seems to attract a younger, fashionably-dressed crowd in their 20s and early 30s, but there are also a few families in attendance enjoying the music.
We start off with a couple of drinks at The Market Sour Lab, a stand that specializes in very sour cocktails made with a selection of fruit, herbs and botanicals. You can choose between 0% and 11% alcohol. My wife goes with a 3% drink that contains sliced fig, fig syrup and fresh mint and sour soda (¥600). I choose the spicy lemonade sour (6%), which contains cinnamon and pepper (¥550). It's nice to drink outside with a view of the river.
Our next stop is Pizzeria Da Dots, the only floating pizzeria in all of Japan. It has a firewood kiln imported from Italy. We order a Marinara (¥1,080) and a Mais, a white pizza with sweet corn, Italian ham, fresh cream, basil and mozzarella(¥1,740). This is some of the best pizza I've had in Japan. The size was impressive and the crust was especially good. And for those of you who think that corn on pizza is sacrilege, I'll have you know that this is not a Japanese creation, but an authentic Italian dish called pizza mimosa.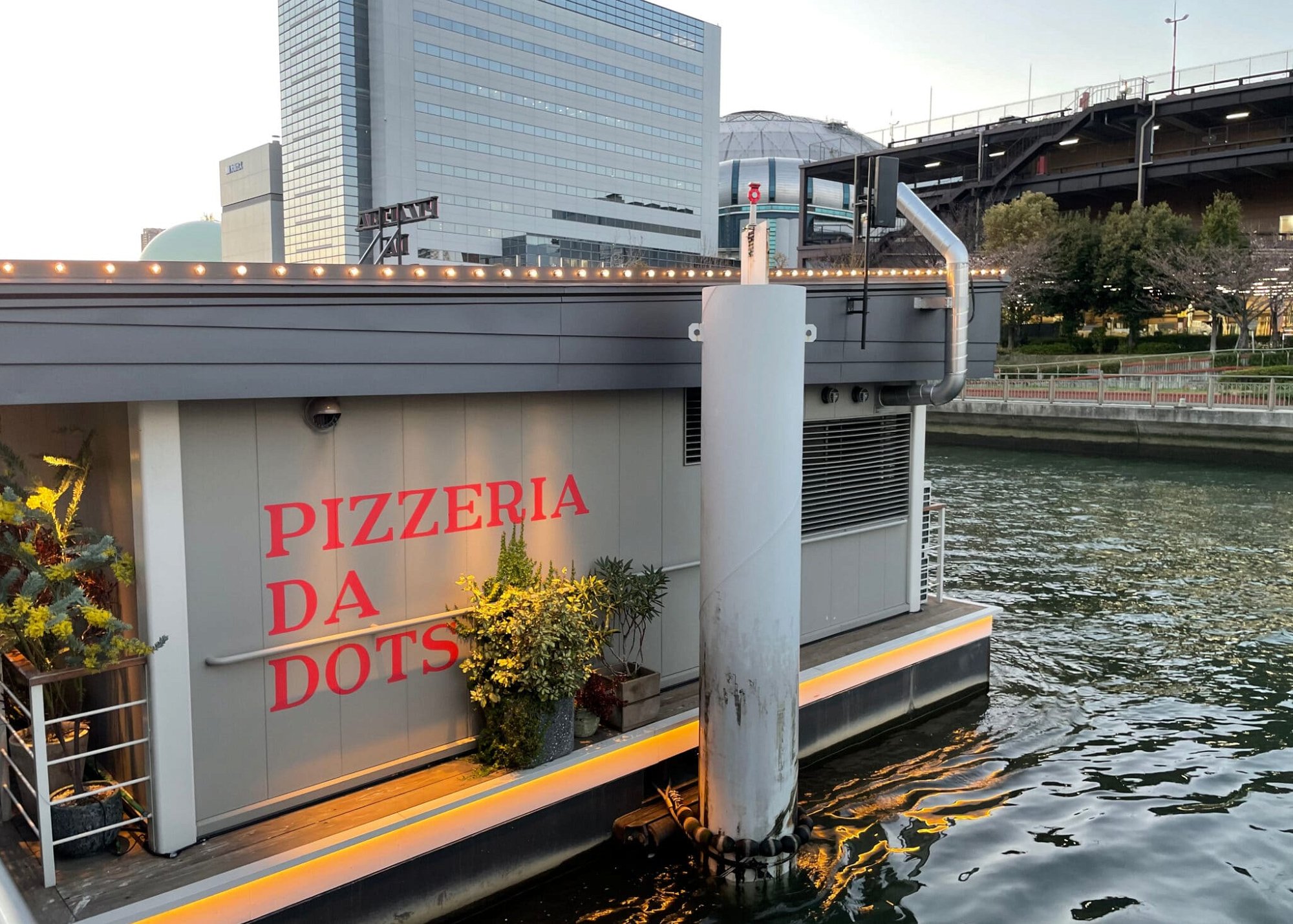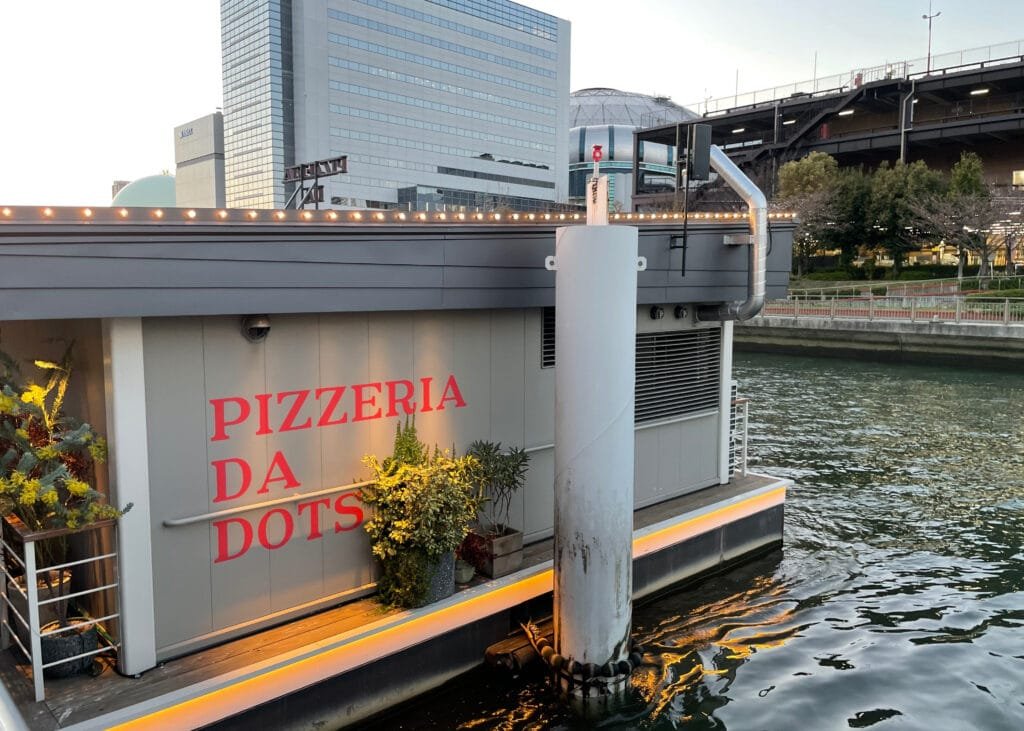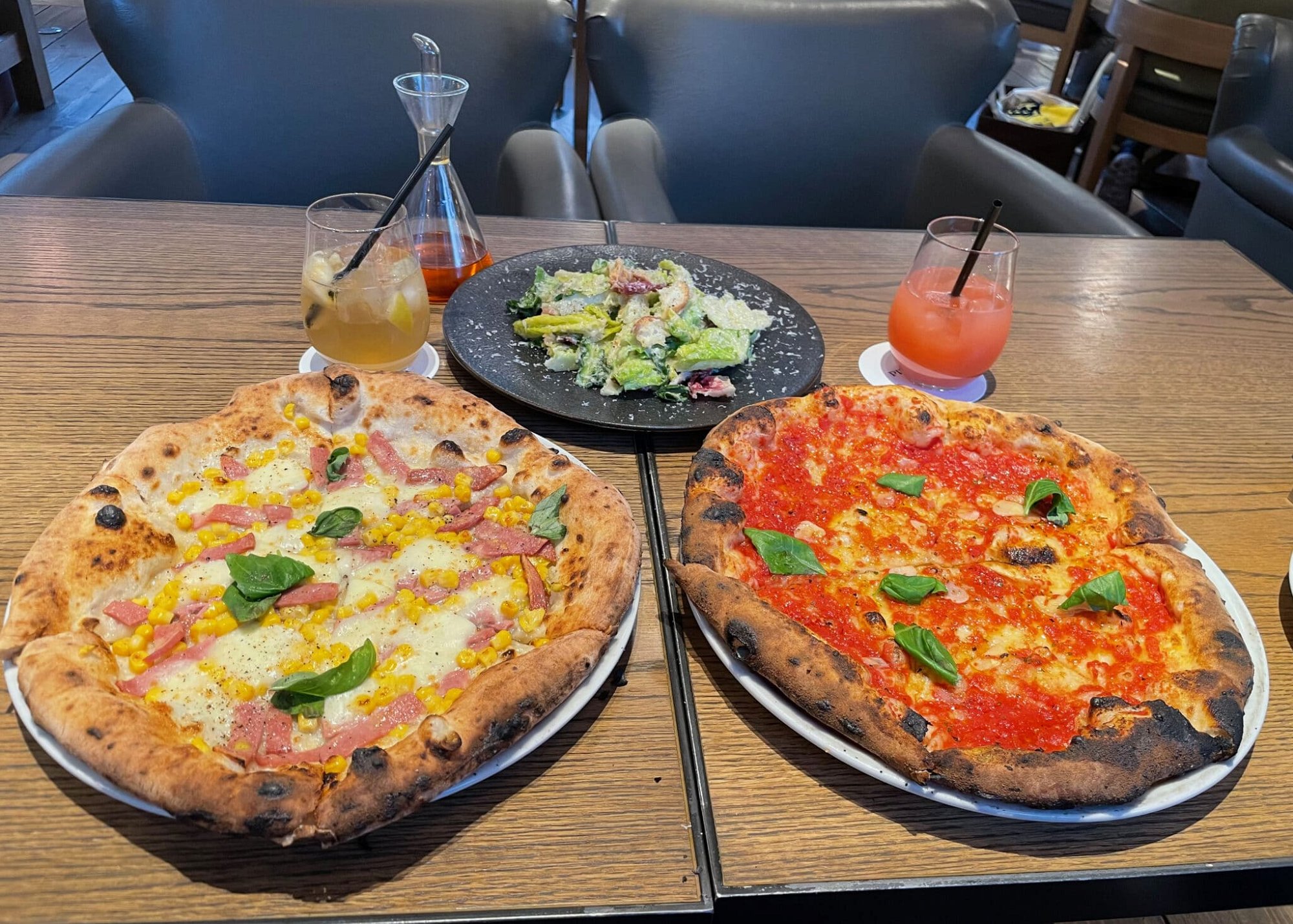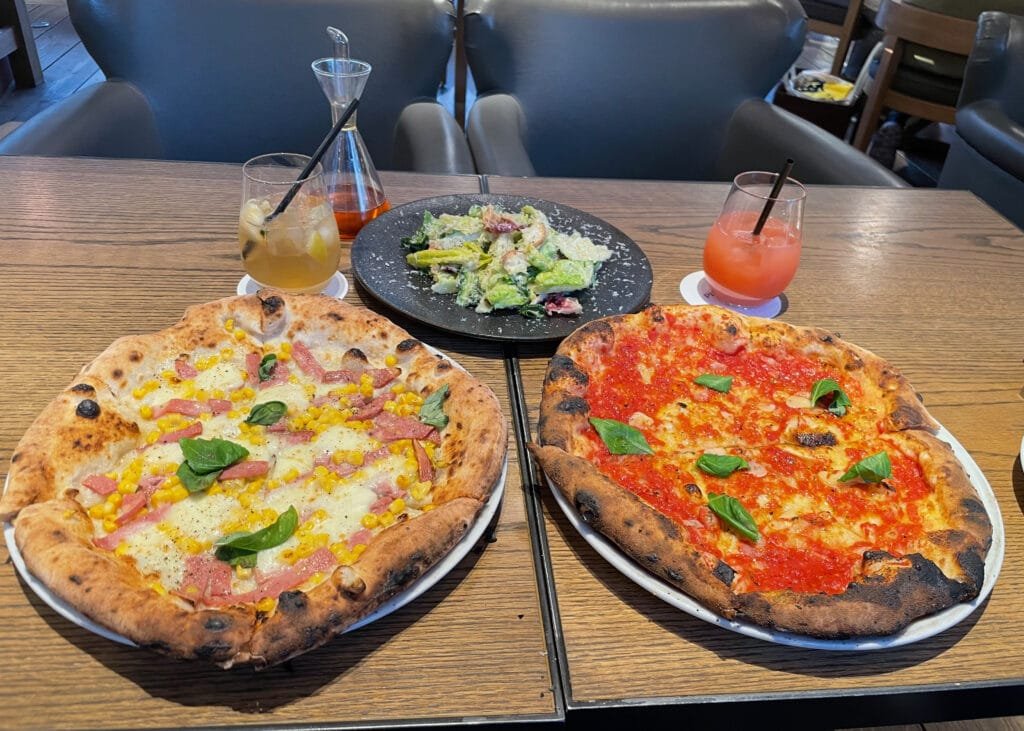 After finishing our meal, we go back to the food hall to Marca Brewing, a stand that offers a flight of four different craft beers for only ¥1,200. We notice that that the food court was starting to fill up with Hanshin Tigers fans coming from Kyocera Dome. They seem to be in good spirits, so I guess their team won.
In need of caffeine, we head to Mondial Kafee 328 by the entrance. My wife chooses a set of cappuccino and a seasonal tart topped with whipped cream and rosemary(¥1,200). When I place my order for a chocolate croissant (¥200) and an iced caramel latte (¥559) the barrister asks me if I would like to add CBD hemp seed oil for an additional ¥300. Sure, why not? We take our order to one of the tables outside. The cool river breeze will make Tugboat Taisho the ideal hang out on a hot summer day.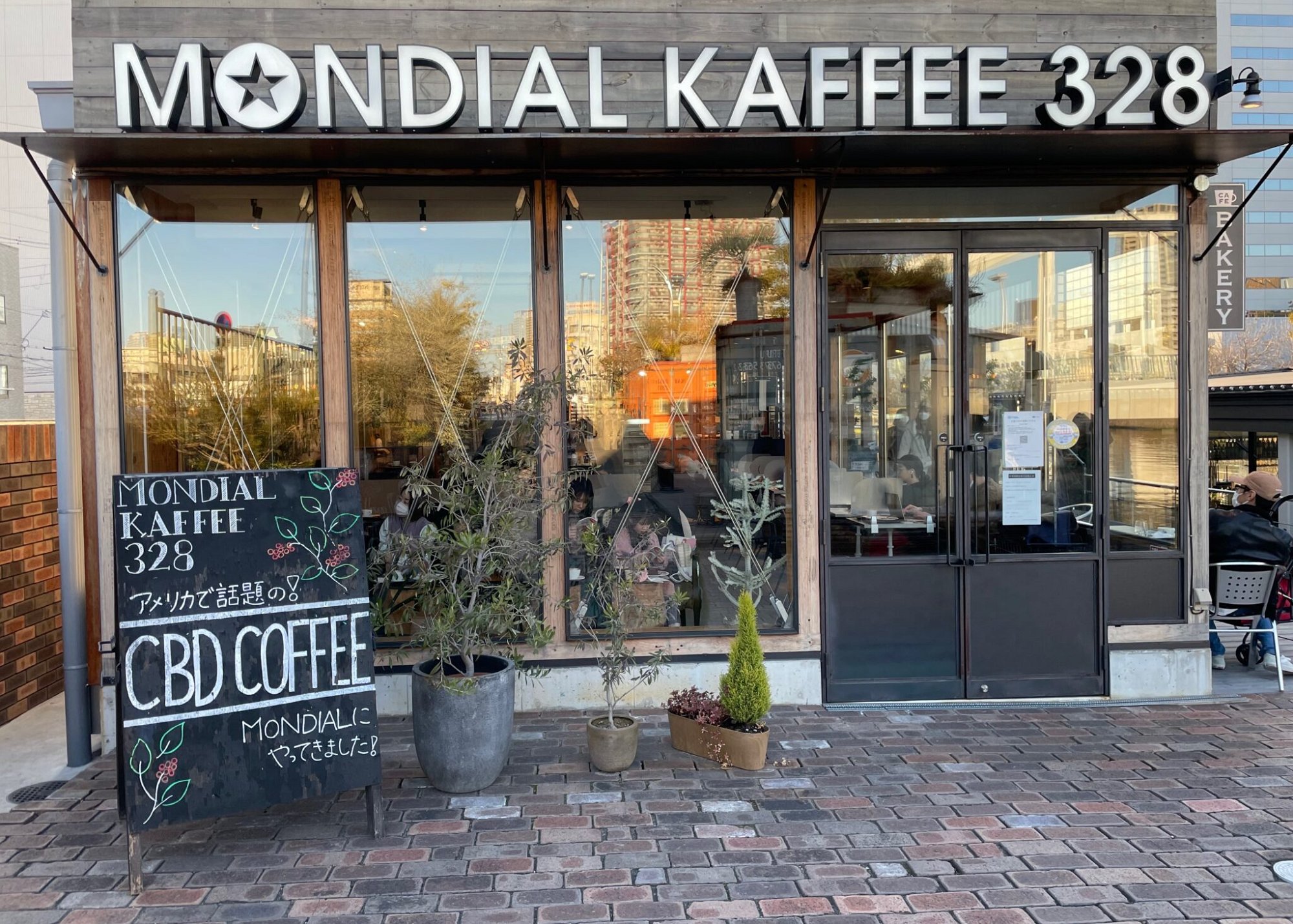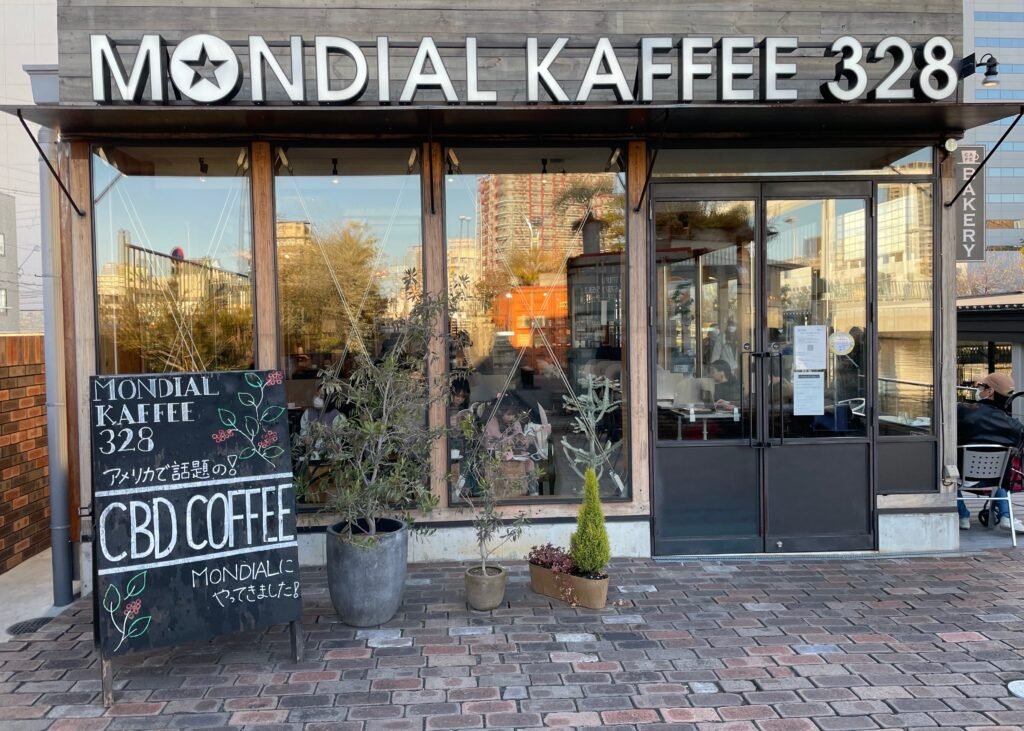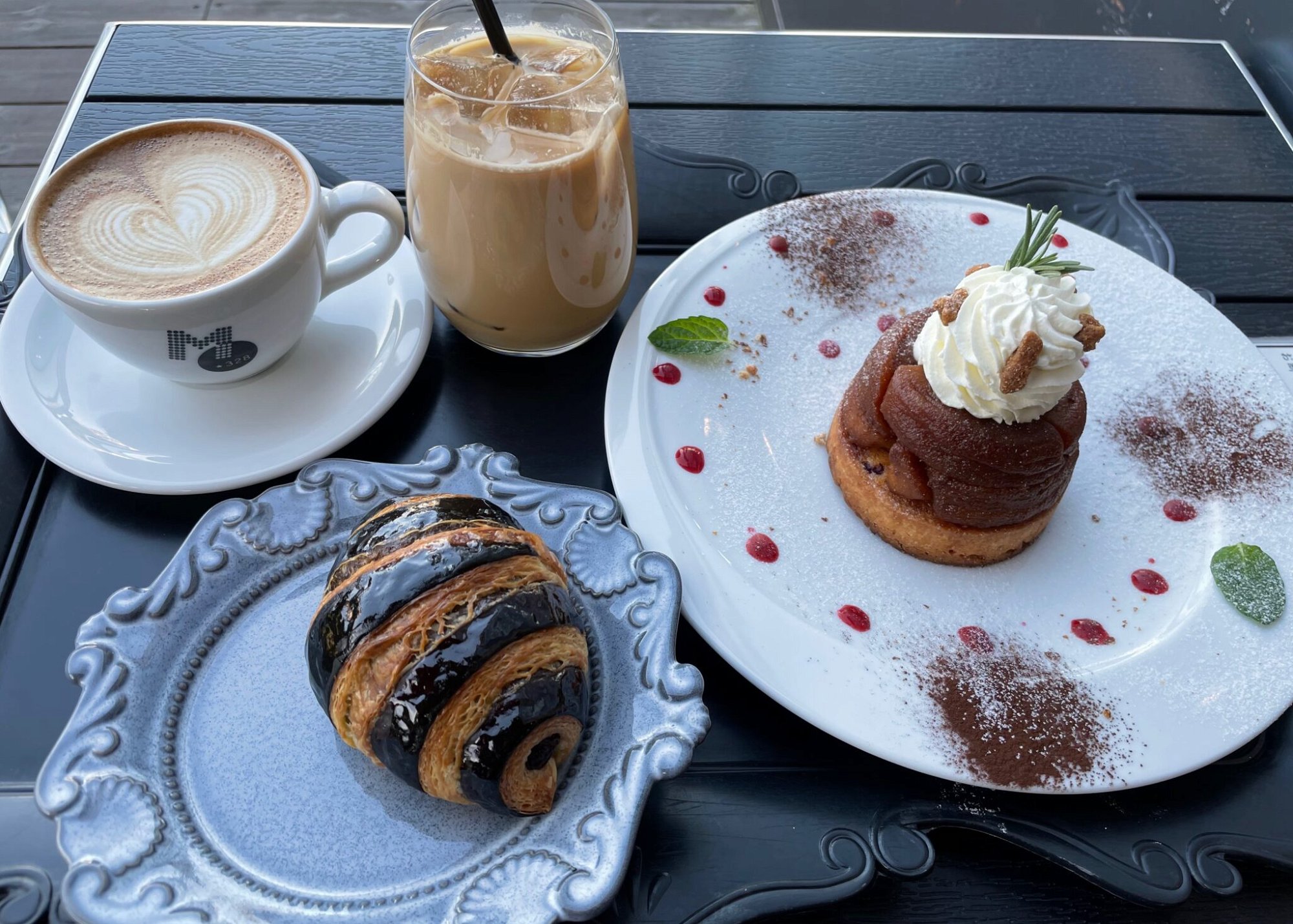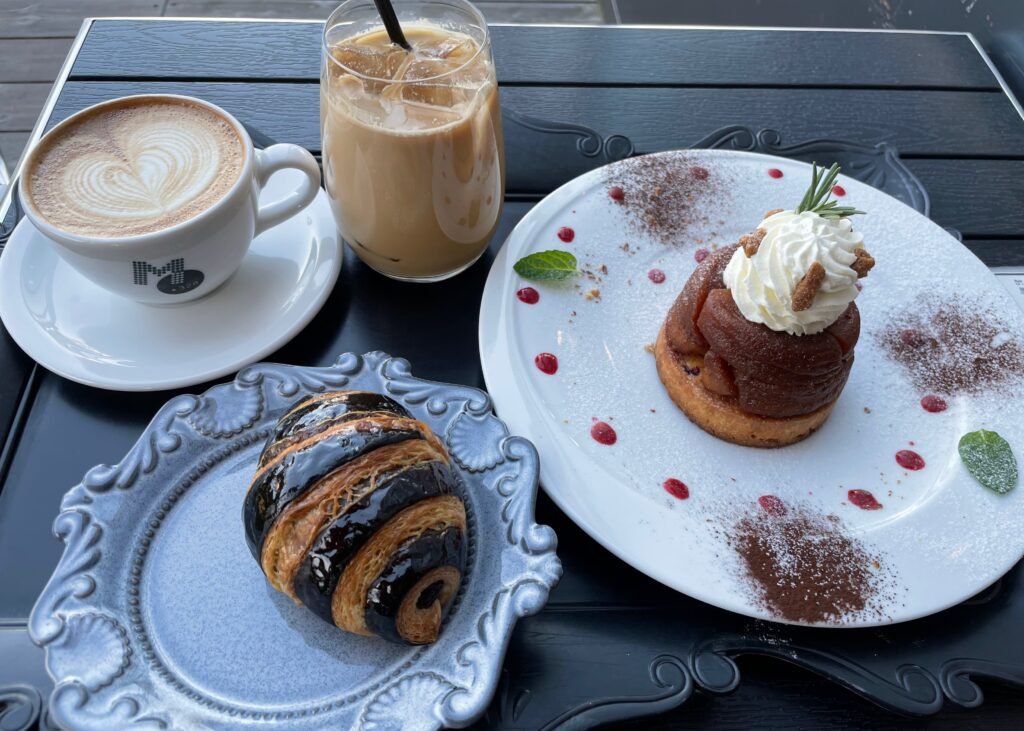 Miyako ミヤコ
Address: 1 Chome-4-11 Sangenyahigashi, Taisho Ward, Osaka, 551-0002 Tel: 06-6551-6538. Open: 17:00-21:30. Closed: Sat, Sun, Hols.
Miyako is an old-school yakiniku restaurant that has been on the corner next to Taisho Station for 55 years. You can't miss it, look for the sign that says "Variety Meat" in English. Stepping into Miyako is like a portal into Osaka in the 1960s, and the aroma of grilled meat that wafts in the air is intoxicating. I sit down at the counter knowing that I am in for a real treat this evening.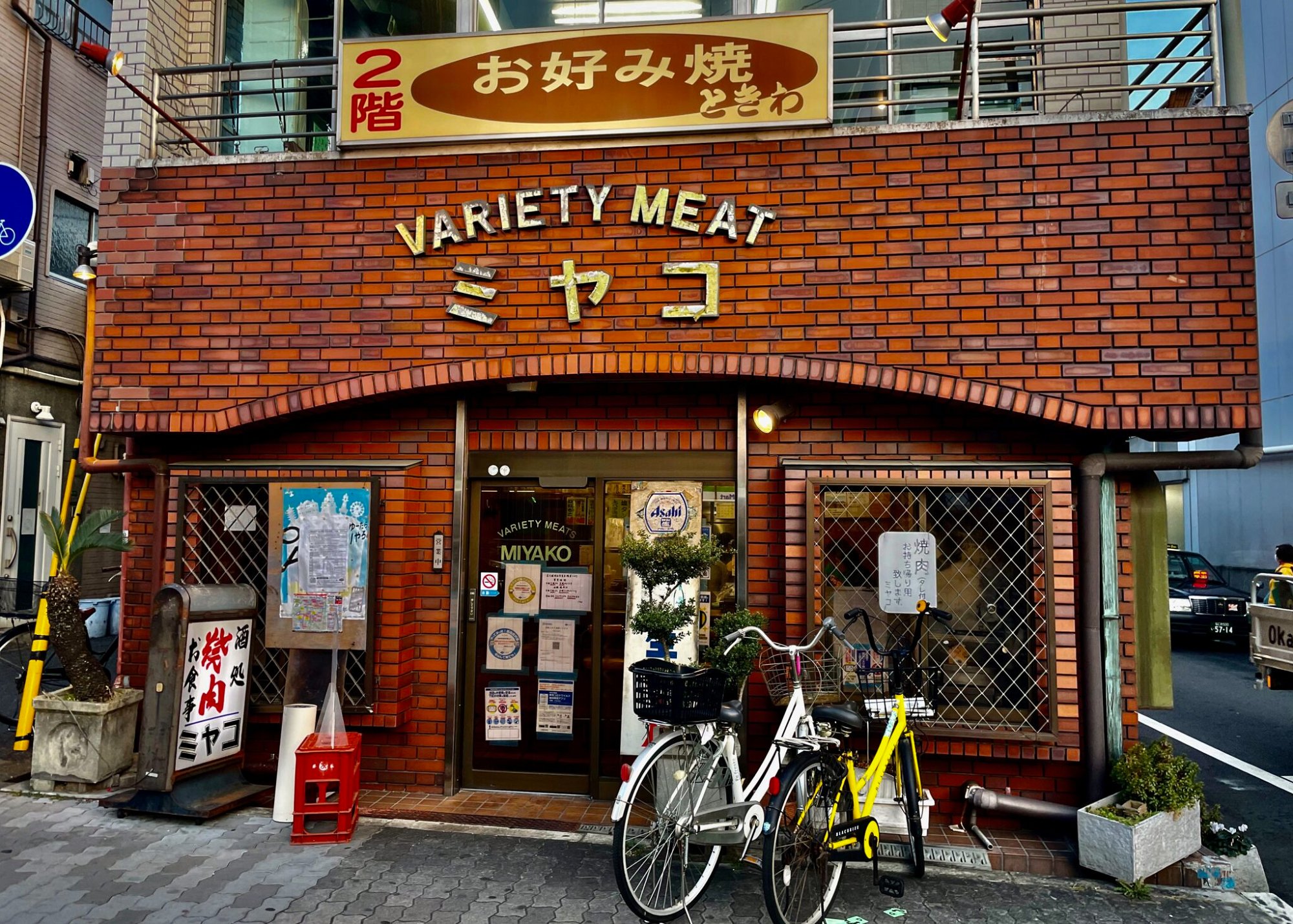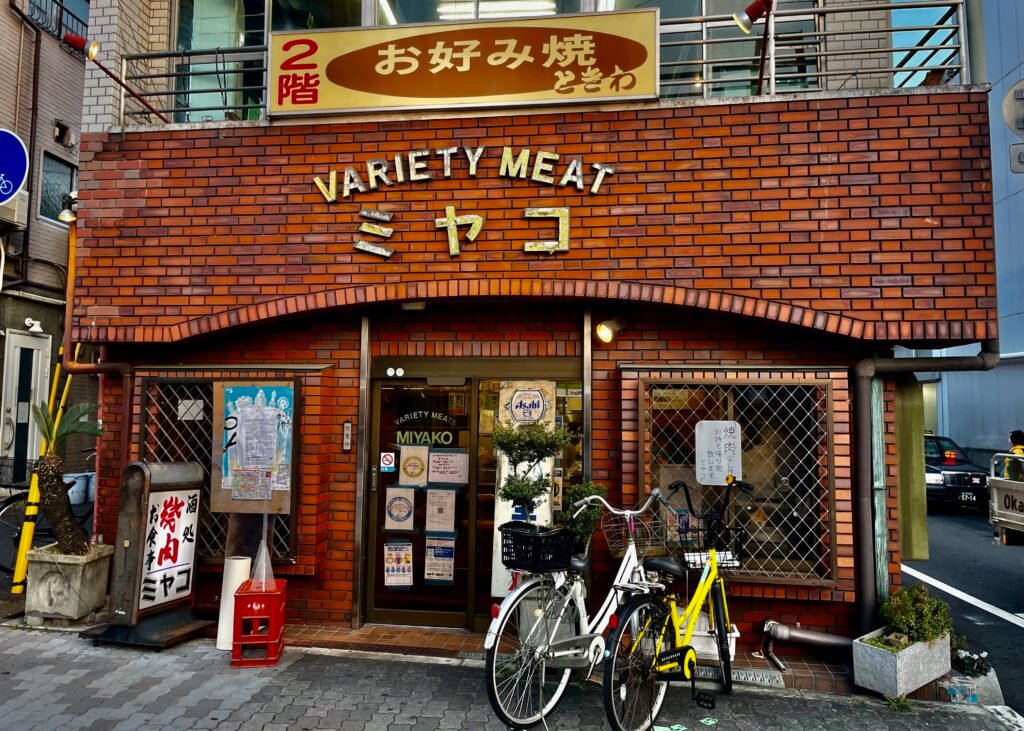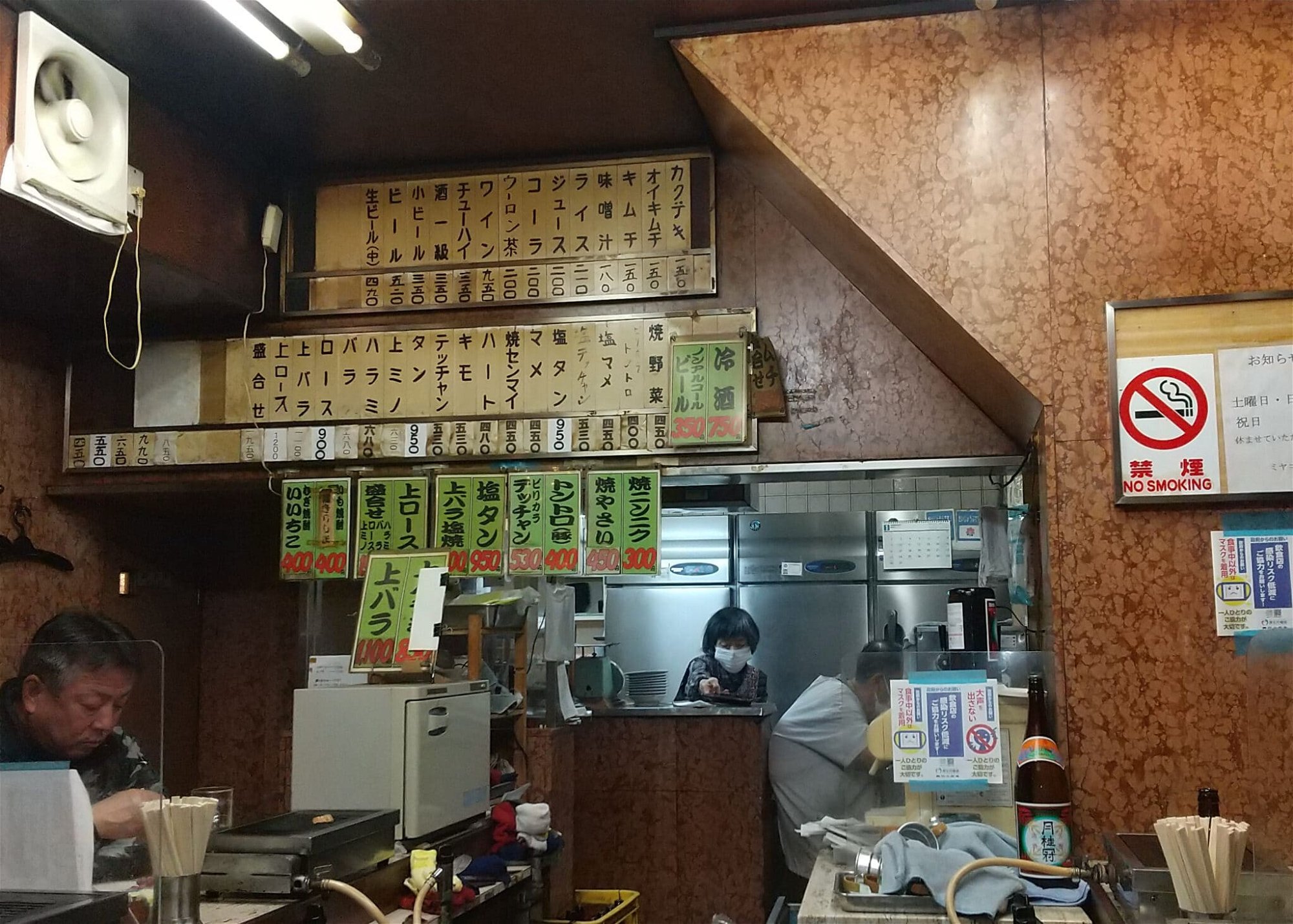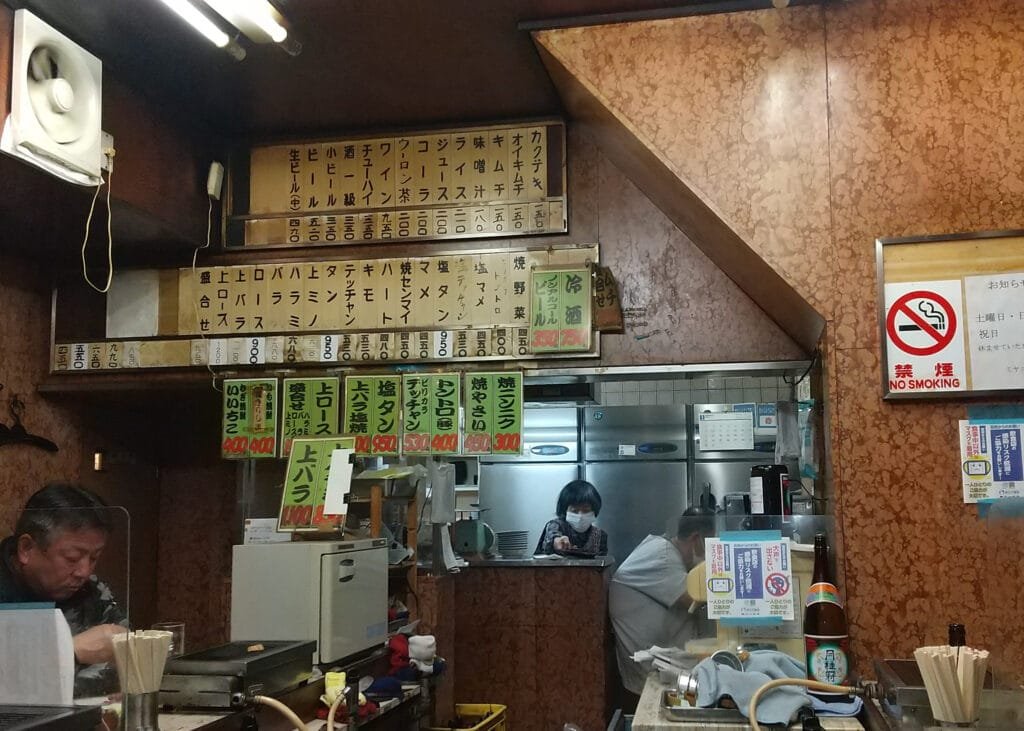 The quality of the meat is so high that customers often get it to go to prepare at home. I was slightly disappointed to learn that their delicious tare (sauce) is not for sale because I've never tasted anything quite like it. I notice a sign on the wall that says their miso soup is made with kombu (kelp) from Hokkaido, katsuobushi from Okinawa, and miso from Nagano Prefecture.
I don't want to get filled up when barhopping, so I order light. I start with pirikara (spicy) tecchan (¥530), a term that originated from the Korean word (dae-chang) for large intestine. The more common term in Japanese is shimacho. Tecchan is rich in fat and has high nutritional value. I recommend it for anyone who is interested in trying horumon (offal). I then choose harami (skirt steak), which comes from the diaphragm so it has a bolder flavor than other cuts of meat. My third choice is not meat, but kakuteki (¥150), cubed daikon kimchi.
The owner tallies up my total on a decades-old wooden soroban (abacus). Next time I will splurge and try the moriawase (¥1,950) of rosu (shoulder meat) bara (boneless rib meat) jomino (beef rumen) and harami (skirt).
Nanchattei no Erie ナンチャッ亭のエリー
Address: 1 Chome 17-30 Sangenyahigashi, Taisho Ward, Osaka, 551-002 Tel: 06-7181-7350. Open: 17:00-23:30. Website
The name of the restaurant is a clever pun. Nanchatte is a gag expression that means "just kidding." The kanji tei (亭) is from ryotei (料亭), a traditional Japanese restaurant. Erie is the name of the owner.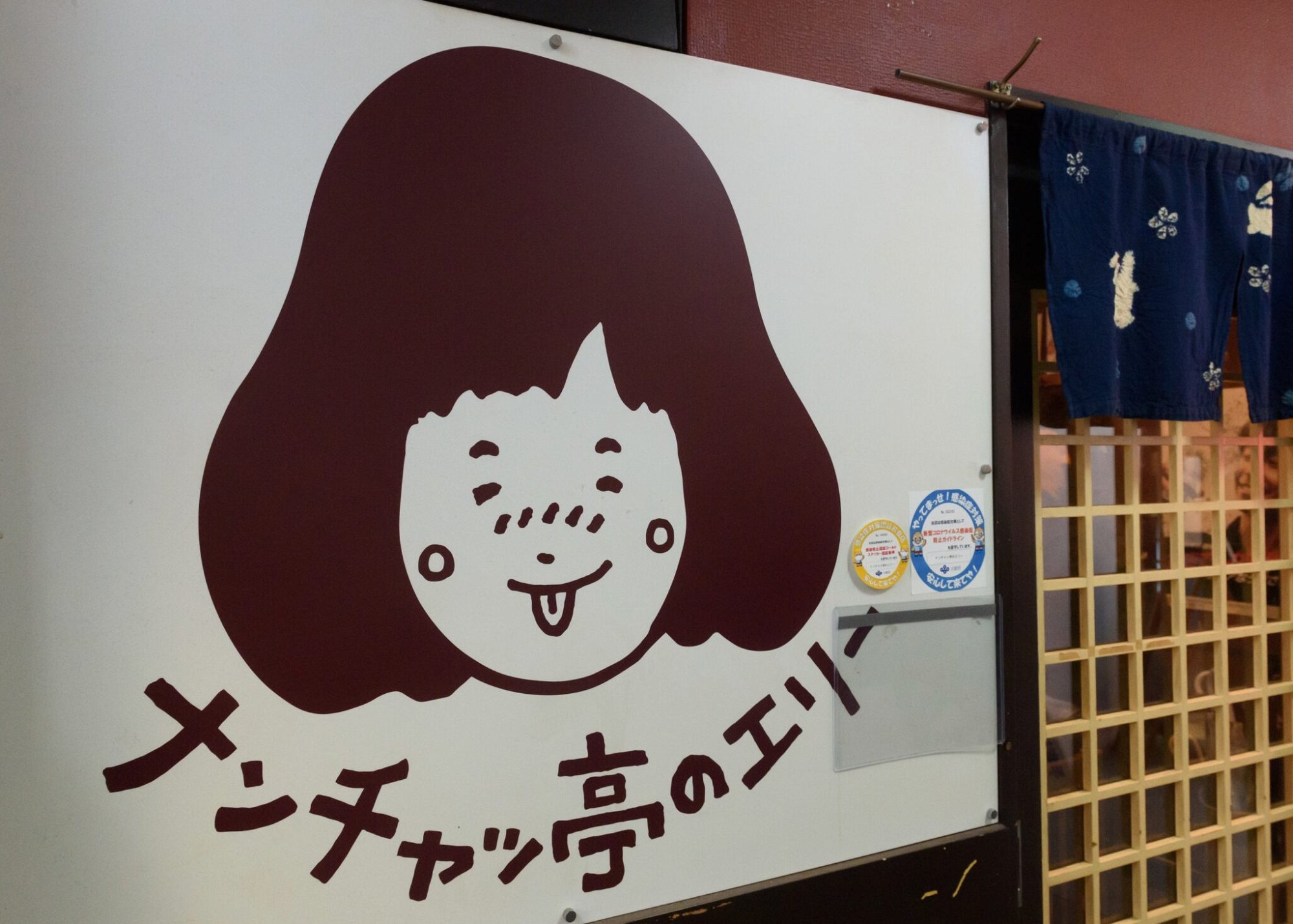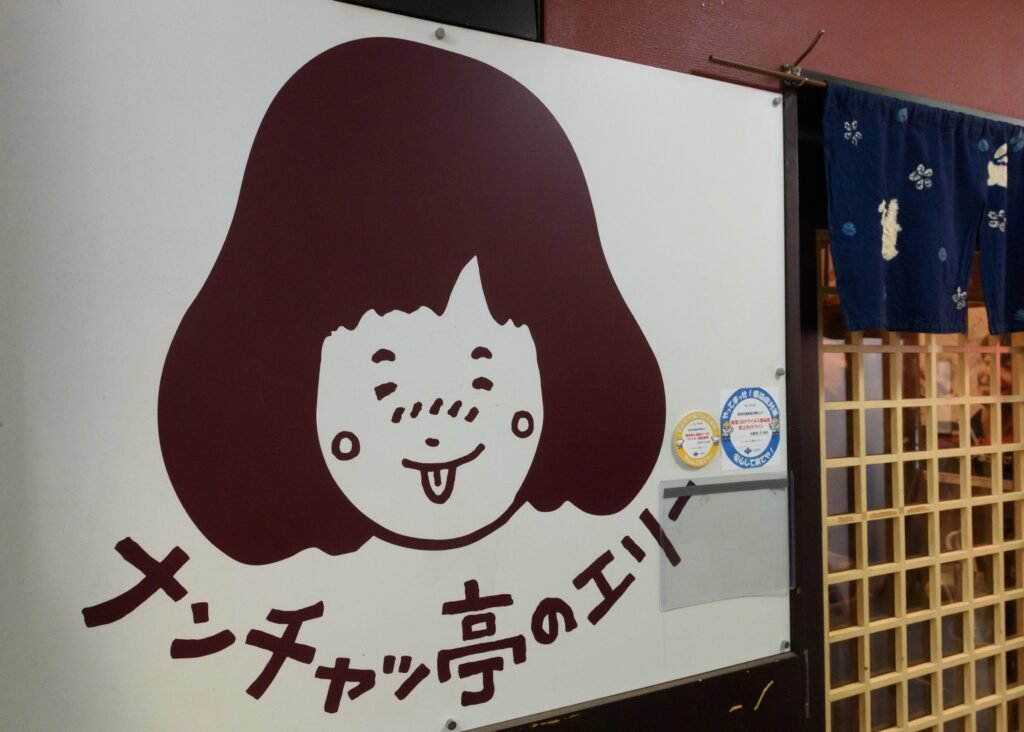 Nanchattei no Erie features obanzai, a traditional style of simple cooking native to Kyoto that relies heavily on seasonal vegetables and seafood. The term was coined in 1964 by Shige Omura to describe traditional home cooking of Kyoto.
When you enter the restaurant, you will see huge bowls lined up on the counter displaying the the menu items for the day. The bowls are numbered from 1-10 and you can choose four dishes for ¥840. It's an easy way to order without knowing what the dishes are called in Japanese.
Traditional obanzai requires that at least 50% of the ingredients originate in Kyoto, but this is Osaka and I'm sure Erie-san has put her own spin on the concept. I order pumpkin tofu stew, nikujaga (meat and potato stew), satoimo (taro roots), soboro (ground chicken) with ankake sauce, and penne pasta with anchovies.
Another feature of obanzai is hospitality—cooking with the intention of making other people happy. The delicious meal was made even more enjoyable by the impeccable service by Erie and her staff who treat customers with attentiveness and warmth. Drinks are reasonably priced and there are plenty of other menu items to choose from. I leave the restaurant feeling like a millionaire even though I had spent less than ¥2,000.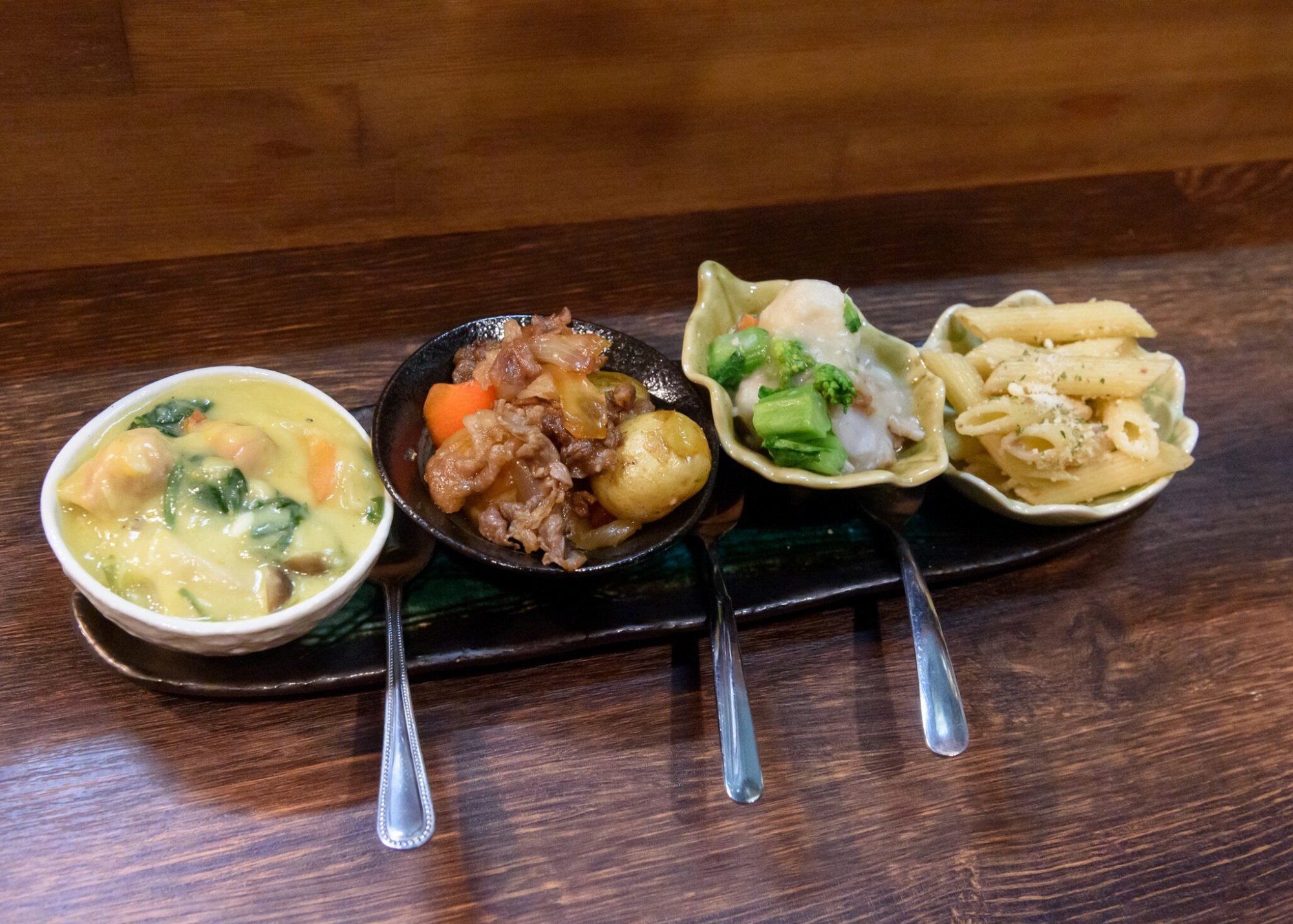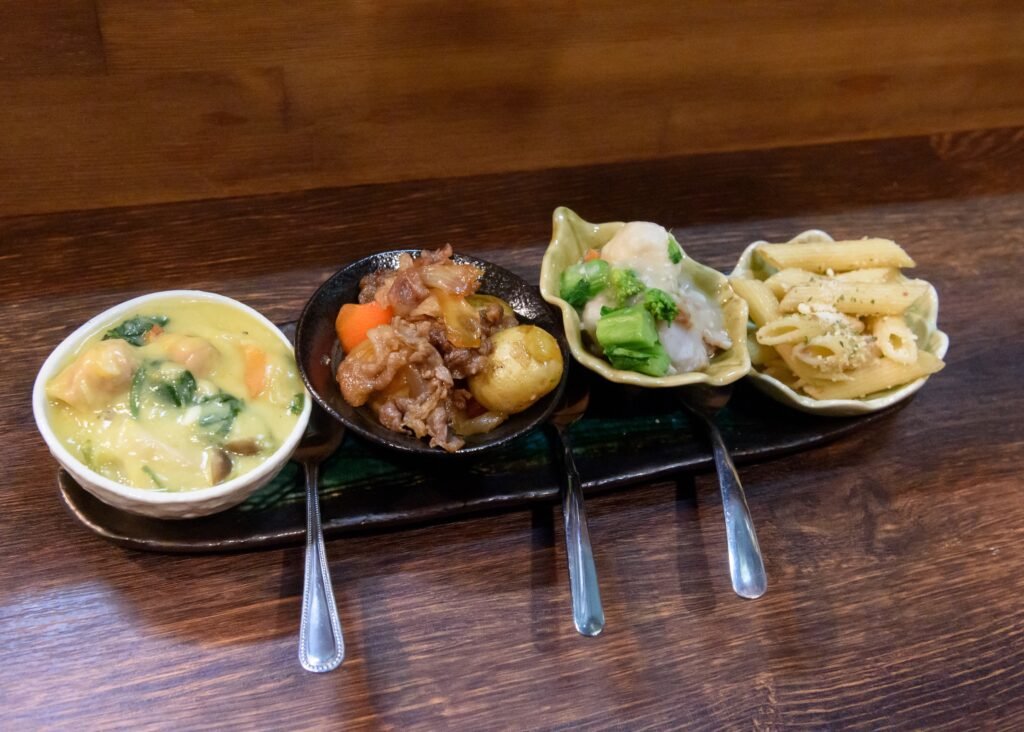 New Kureya ニュークレヤ
Address: 1 Chome-9-20 Sangenyahigashi, Taisho Ward, Osaka, 551-0002 Tel:06-4393-8909. Open: 15:00-24:00. Closed: Wed. Instagram
New Kureya would not look out of place on the set of Bladerunner 2049. At night the small bar under the tracks at furthest end of Taisho Station is lit up in a purple hues that would make the perfect cover of a synth wave album. It started off as a standing bar (hence the red neon sign that says "stand" in katakana), but after a few months the owners realized that customers were better off sitting down, so they added stools.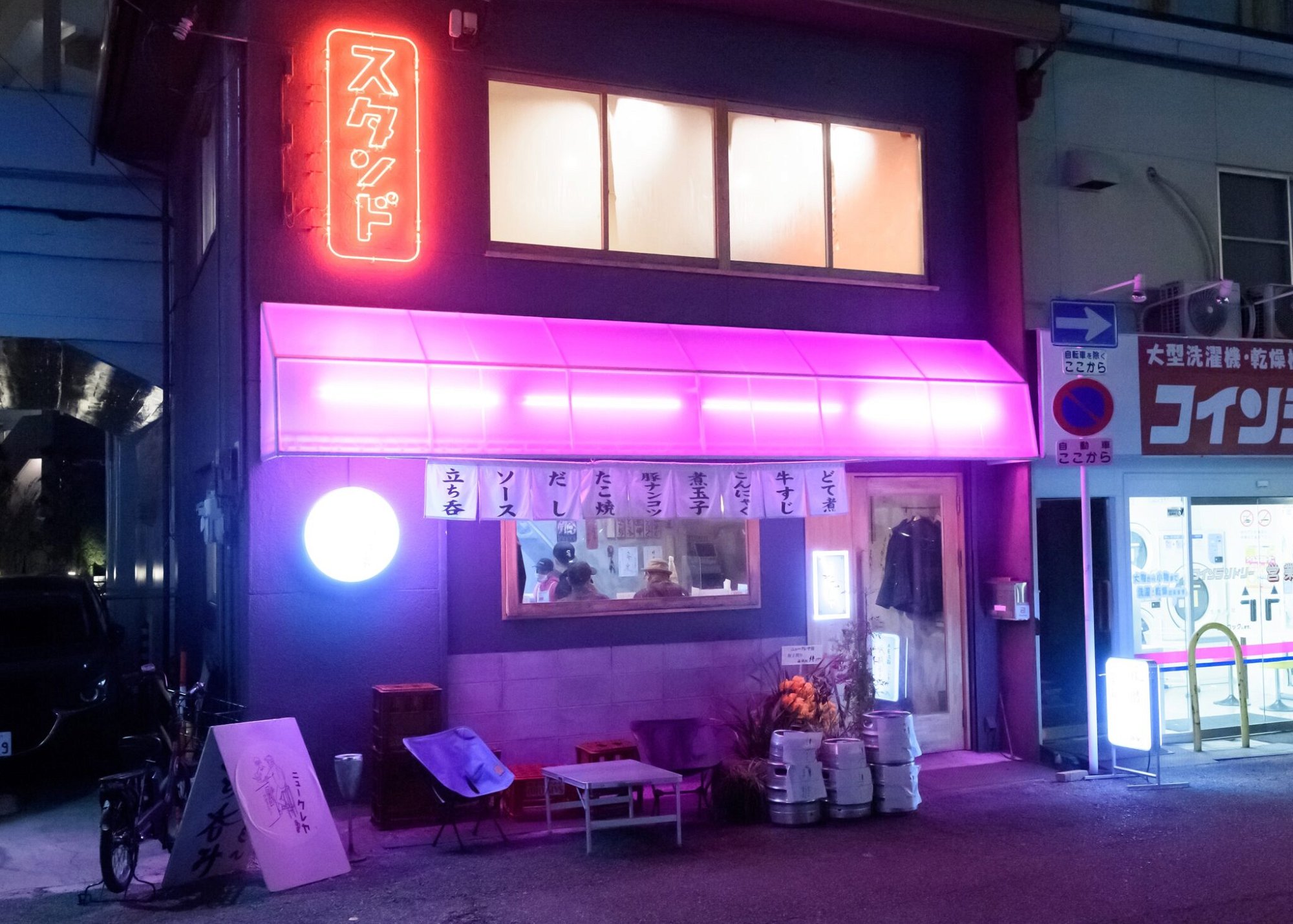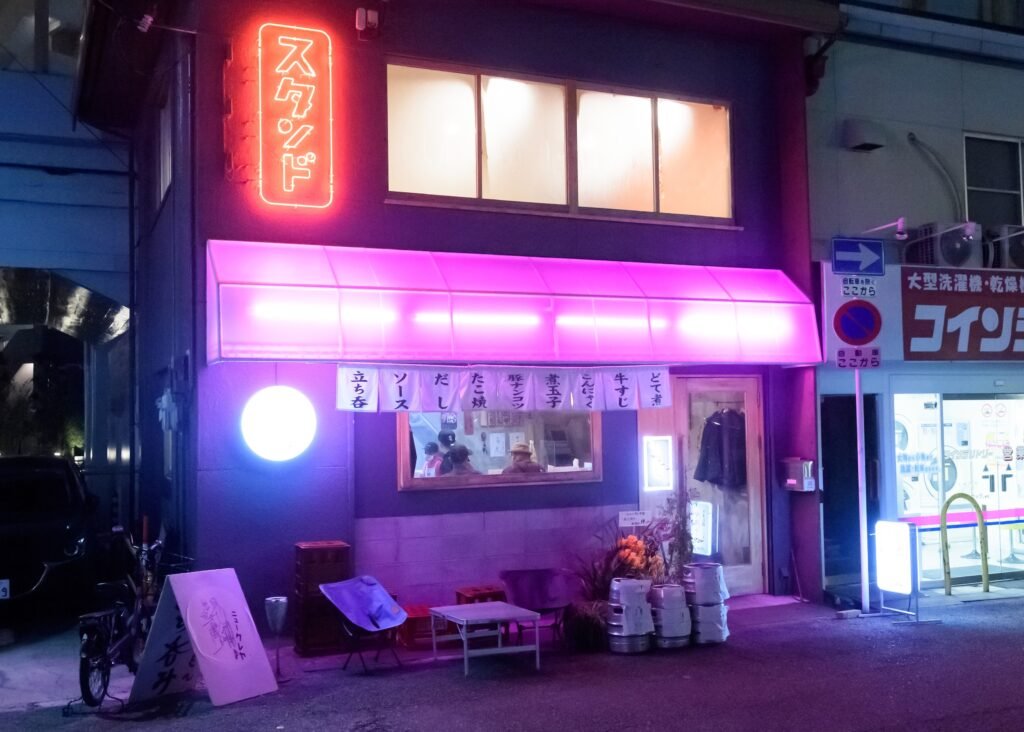 New Kureya, which recently celebrated its second anniversary, specializes in takoyaki and doteyaki. I order takoyaki in a broth made from shiitake mushrooms (¥530). The broth is so tasty that it is served in a small earthenware cup in case you want to sip it. The takoyaki is made from scratch, so it takes some time to prepare, but well worth the wait. The doteyaki moriawase (¥680) consists of beef tendon, a block of tofu and konnyaku. The beef is made with barley miso and has a sweet taste—it will melt in your mouth.
The restaurant also features an impressive selection of seafood dishes and daily specials. I decide to go with yodare-dori (mouth-watering chicken/¥530), a szechuan dish that is topped with a generous helping of fresh pakuchi (cilantro). I quench my thirst with a refreshing lemon sour chu-hi that hits the spot.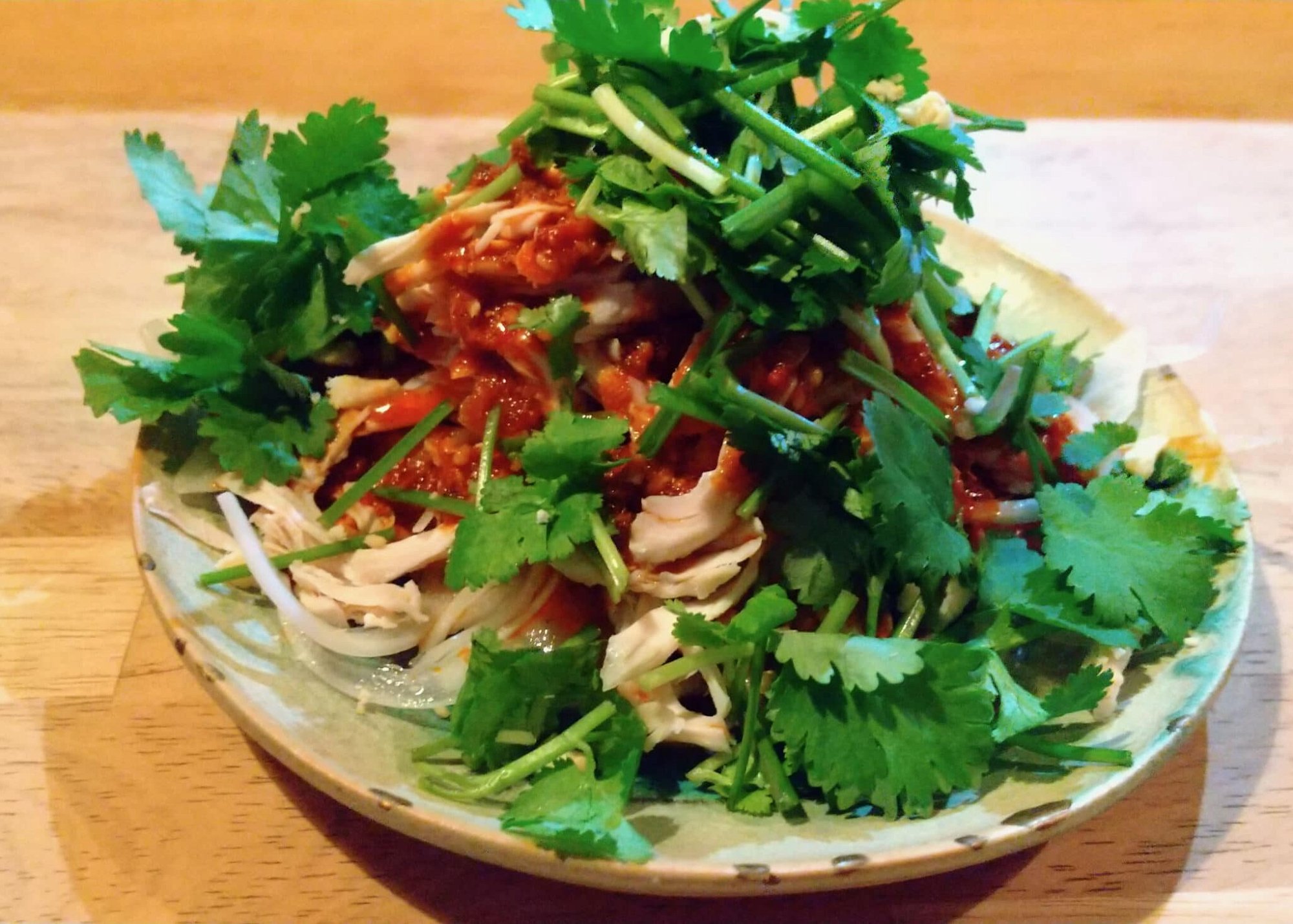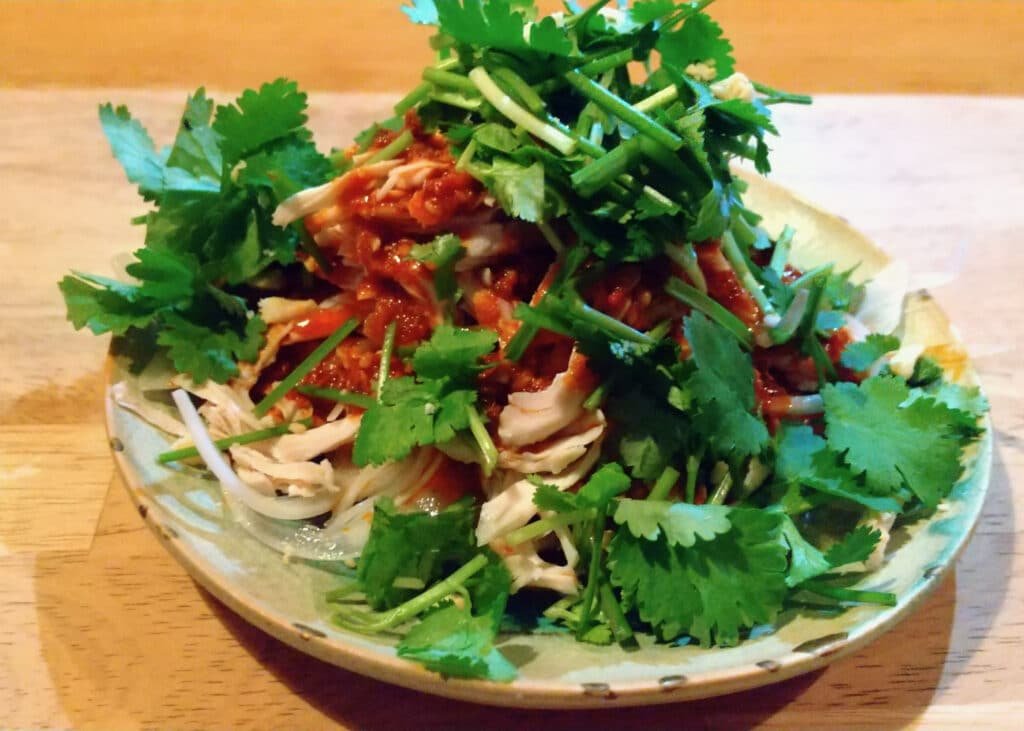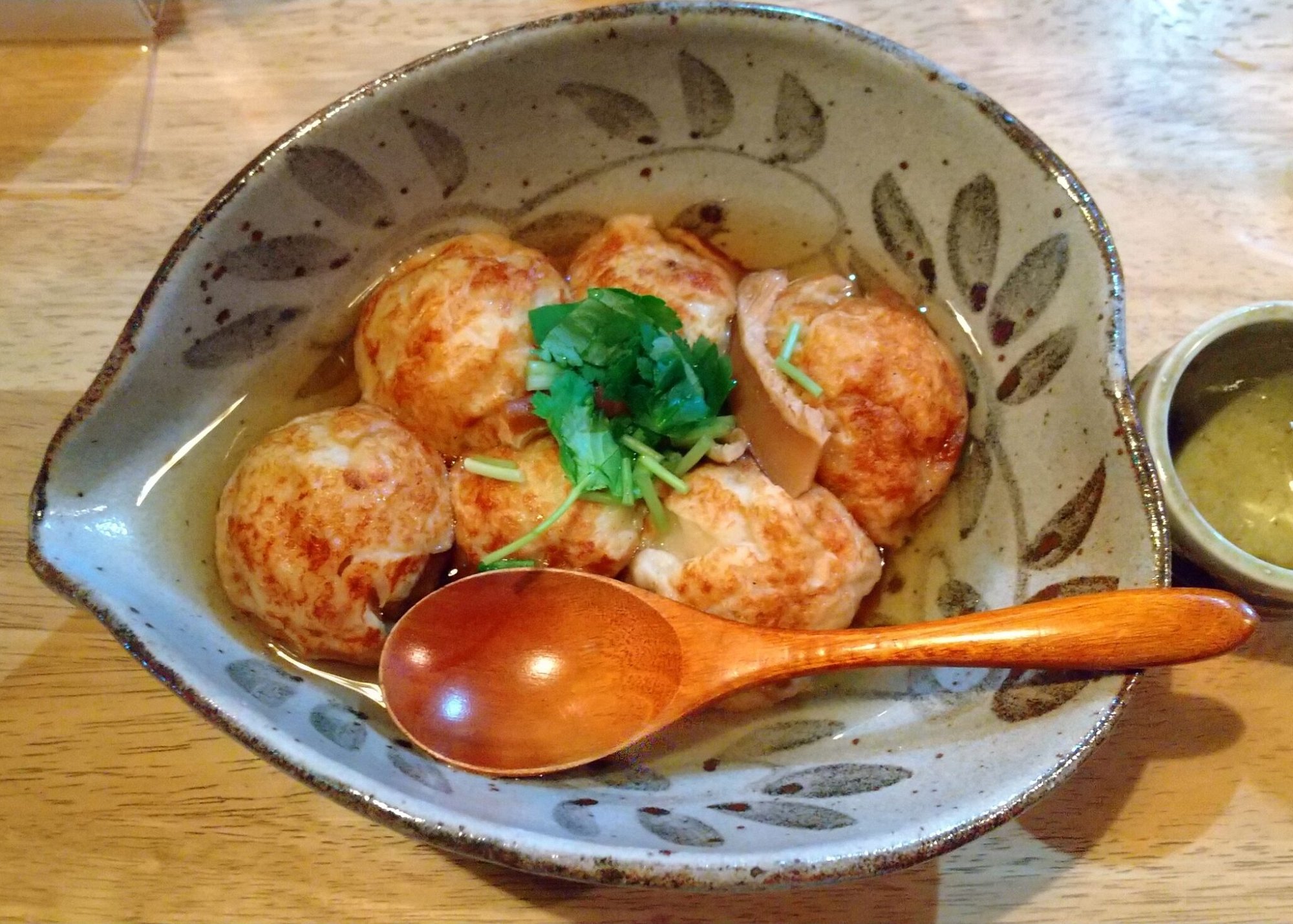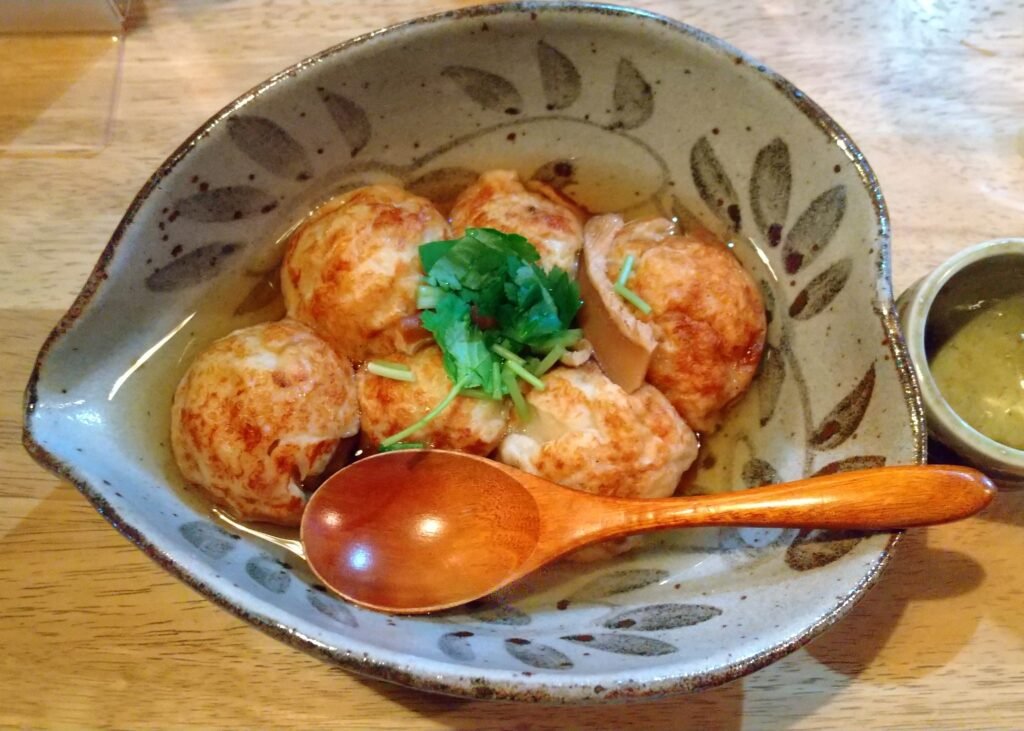 Kurasuno クラスノ
Address: 1-chome 3-11 Sangenyahigashi, Taisho Ward, Osaka. Tel:06-6551-2395. Open: 16:00-22:00. Closed: Sat, Sun.
Kurasuno is one of the most famous and beloved restaurants in Taisho. It was founded in 1949, by Tomokazu Matsubara, who was captured by Soviet troops during World War 2 and sent to a prison camp in Krasnoyarsk, Siberia, where he endured two years of hard labor in freezing temperatures. After he was released, he returned to Osaka and named his new restaurant Kurasuno, a shortened form of the Japanese word for Krasnoyarsk.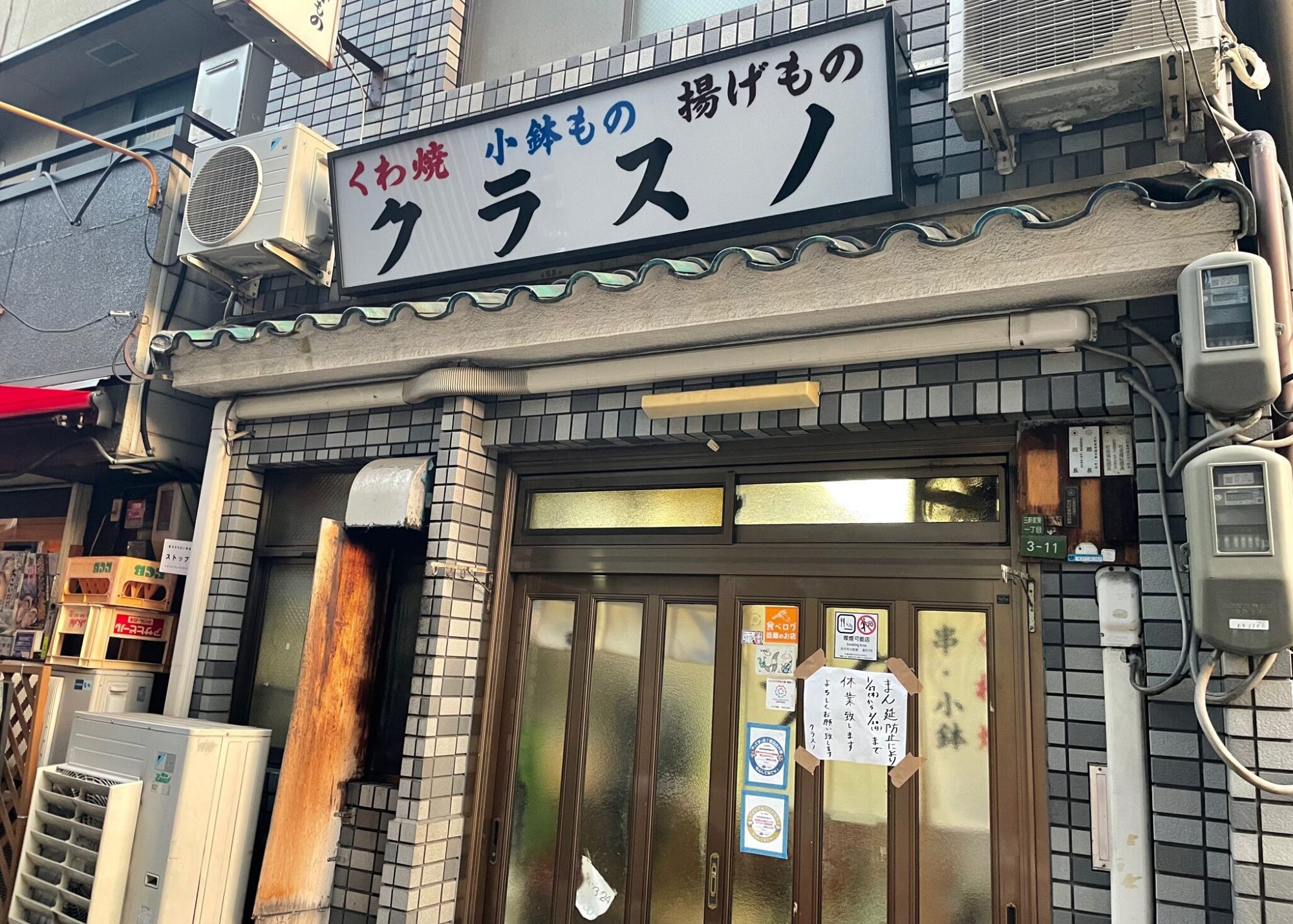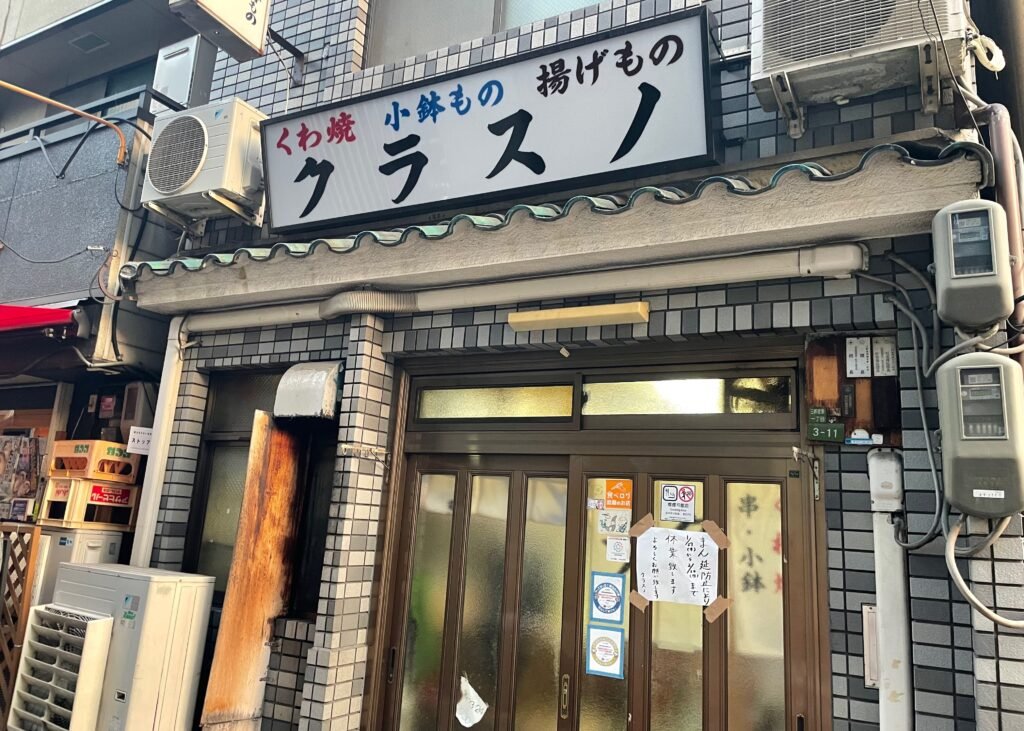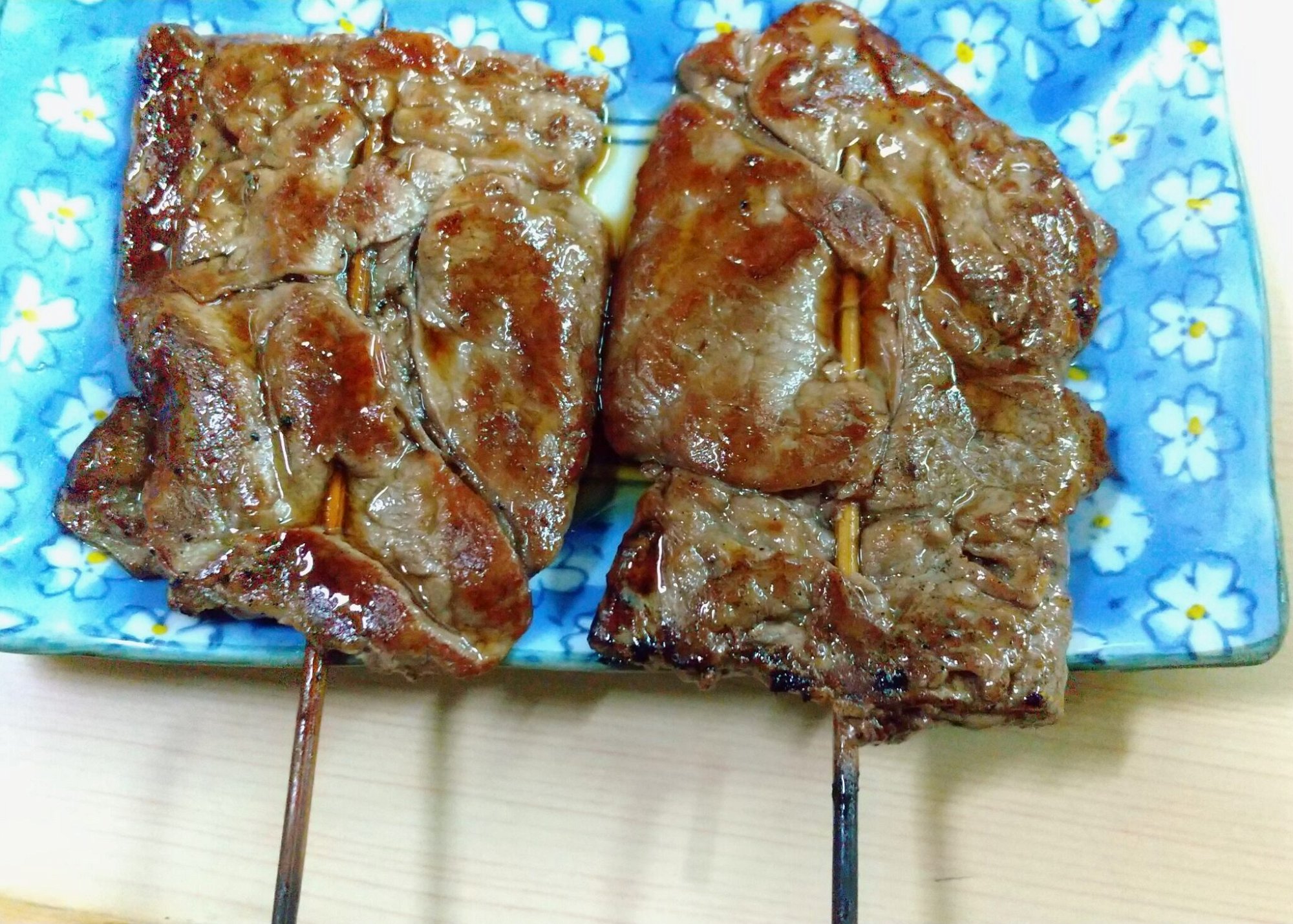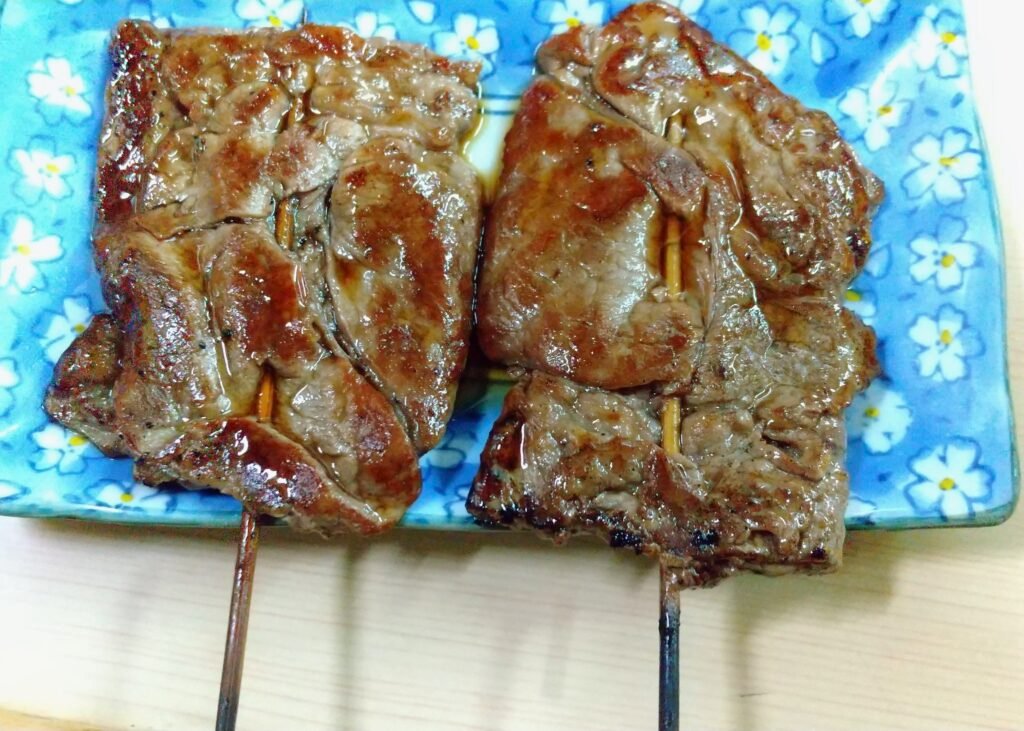 Matsubara passed away in 2017 at the age of 101, and the restaurant is currently owned by his grandson, Hirotomo Matsubara. Kurasuno is famous for kuwayaki, a traditional form of teppanyaki cooking that uses an iron grill. The grilled beef with sauce (¥390) is highly recommended.
Customers also come to Kurasuno for the delicious dashimaki tamago (¥330), a rolled omelet cooked in tempura sauce made from dashi stock. Order it with a cold beer. Everything on the menu is outstanding, from the onigiri rice balls (¥170) to the grilled eggplant (¥280)
TNT Craft Beer Pub
Address: 1-chōme-2 Sangenyahigashi, Taisho Ward, Osaka, 551-0002 Tel. 080-4242-2357. Open 17:00-24:00. Closed Tues. Website
"I didn't choose Taisho as much at it chose me," says owner Jesse Theriot. I got an opportunity to build TNT up from scratch six years ago and kind of ran with it." Theriot, who is also the co-owner of Rock Bar Cherry Bomb in Shinsaibashi, was born in Northern California and grew up in Colorado. He first came to Japan in 2005 because he thought living a year or two in a foreign country would be a good life experience.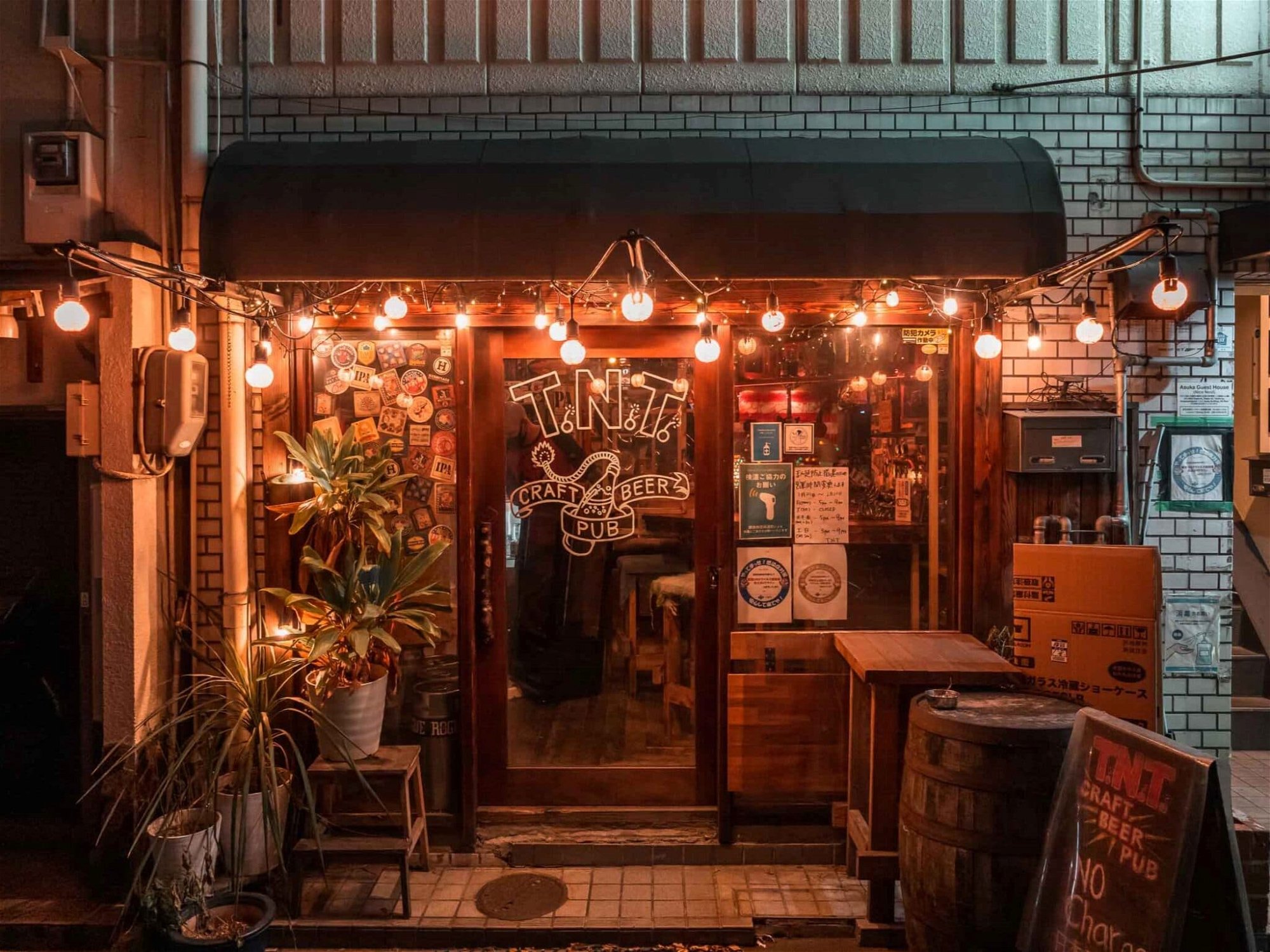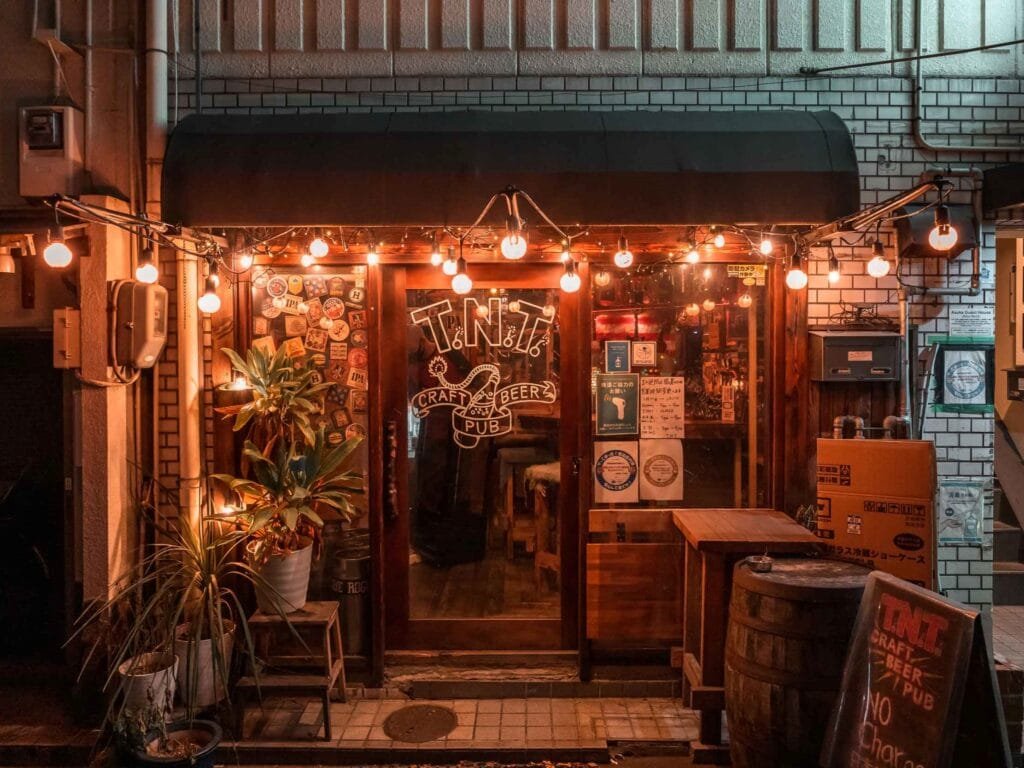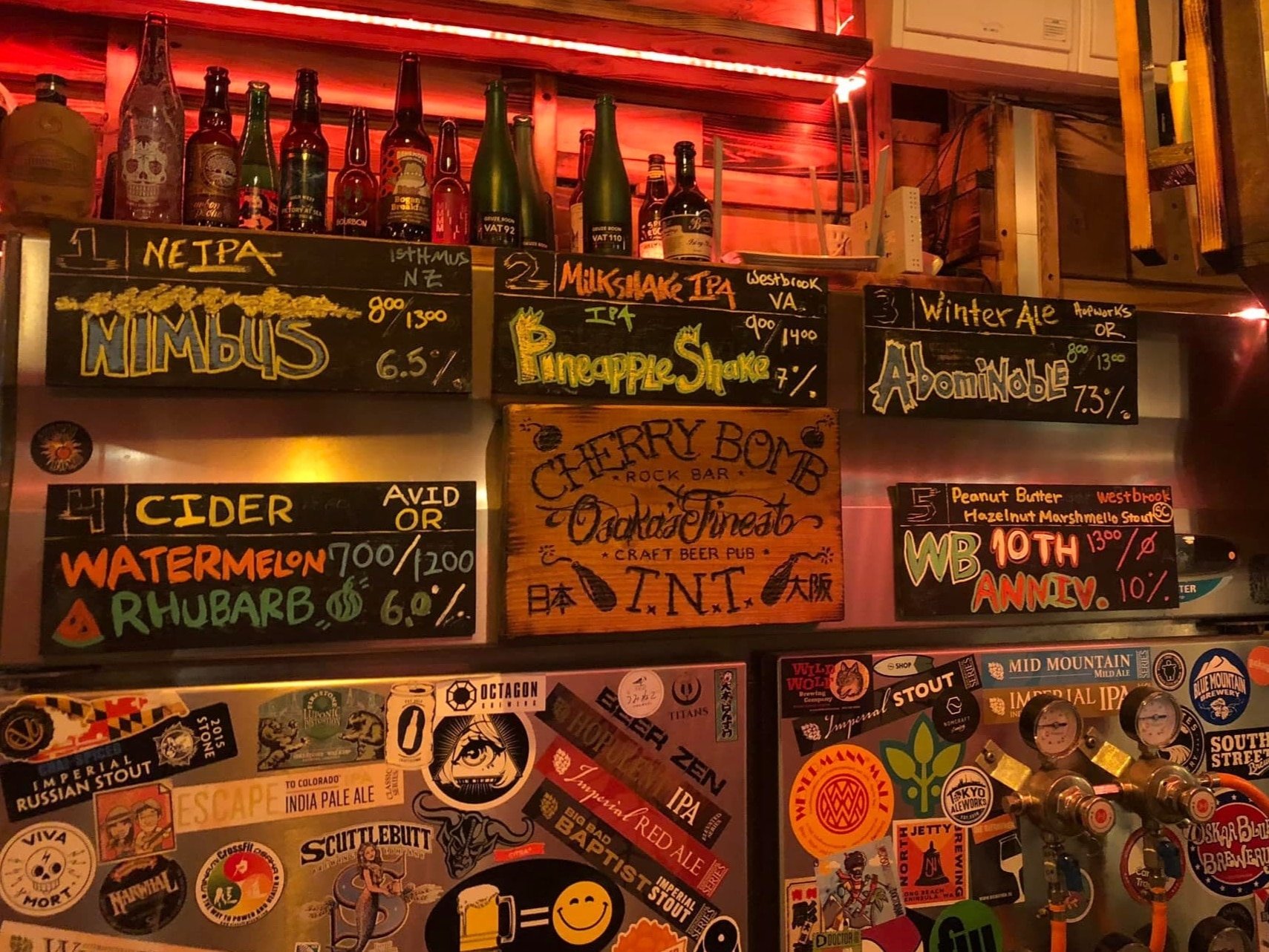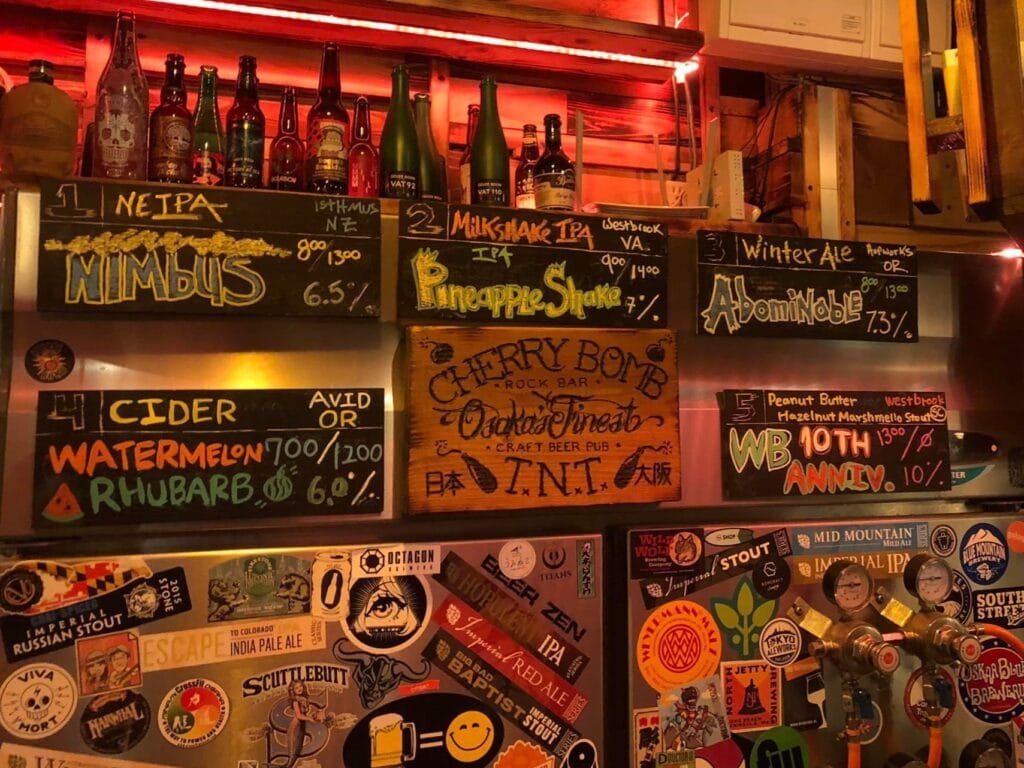 "TNT has everything I love in a pub," says Rodney Smith, an illustrator, comedian and tour guide from New Zealand. "A warm cocoon of charred wood, inviting lighting, and an ever-rotating five delicious craft beers on tap. Big enough to jam in the occasional live music event, but small enough that it never feels empty, even if it actually is. A tribute to the good company of accumulated bottles, stickers, and chunky tap pipe that wouldn't look out of place in the guts of a submarine."
"I always keep at least one IPA, one sour and one big stout," says Theriot. "With the other two taps I like to change it up depending on the season, whatever's weird and new. In the fridges I usually have a lot of sours, stouts and hazy IPA's. As well as some of the crazier high alcohol beers, like some 11% dessert stout that I just got in."
I've been drinking the holy triumvirate of Asahi, Kirin and Sapporo quite a lot recently. It's time to treat myself to something a bit different. I start off with a Pineapple Milkshake IPA from Westbrook, Virginia (¥900). Then I grab a can of Parrot Dog Falcon, a pale ale from New Zealand (¥900) and order a grill cheese sandwich (¥700). It's important to support local businesses during these tough times, so I go for the big dog on tap #5: Peanut Butter Hazelnut Marshmallow Stout (¥1,300).
Rodney Smith has kindly offered to take me to a restaurant called Karaimonya Guillotine that specializes in spicy food. It wouldn't be very neighborly if I didn't offer to split a tall boy of Hop Wave, a double IPA from West Coast Brewery (¥1,500).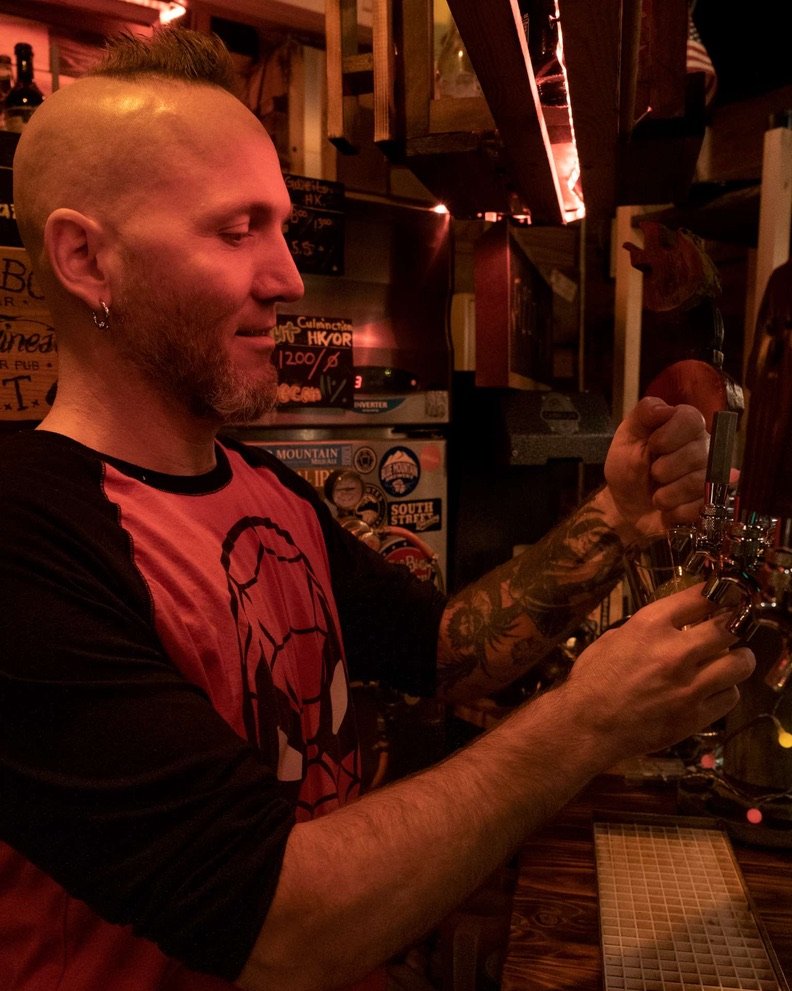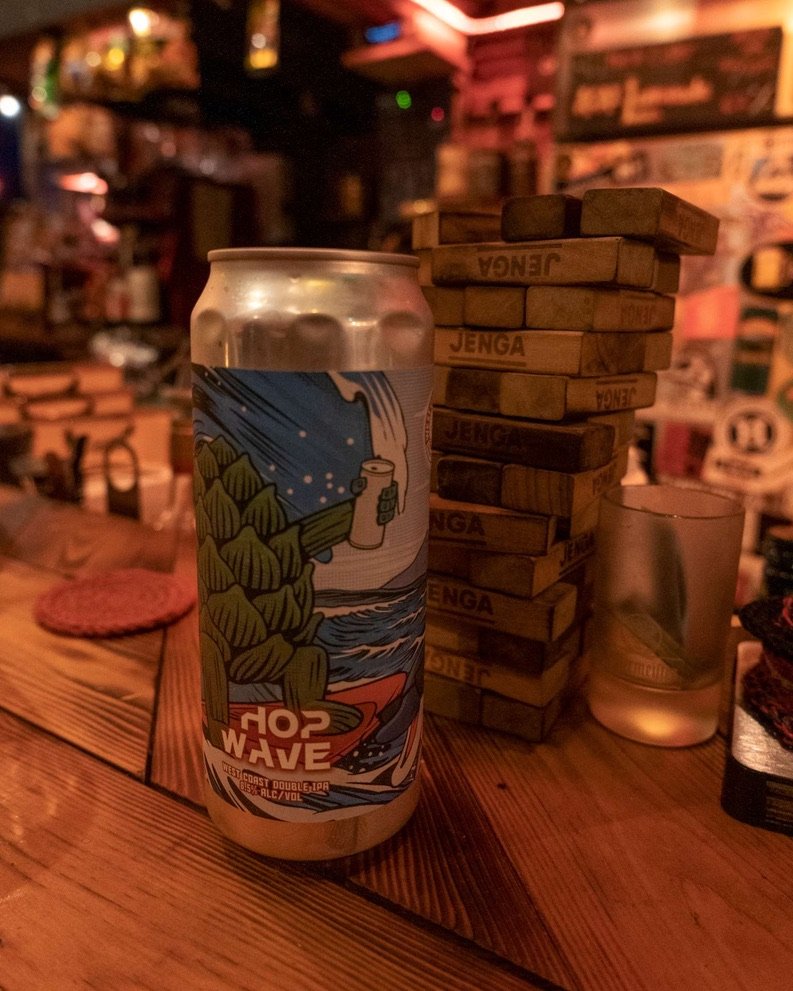 As we are leaving, Smith tells me that he often has food delivered from nearby Sushi Bun and eats it at the bar. I'll keep that in mind for next time.
Karaimonya Guillotine 辛いもんやギロチン
Address: 2f, 1-chōme-5-10 Sangenyahigashi Taisho Ward, Osaka, 551-0002 Tel: 06-6606-9978. Open: 17:30-23:00. Website
Karaimonya Guillotine is only a short stroll away from TNT. Rodney Smith and I make our way up the stairs to the second floor. We take off our shoes, and a waiter leads us to a table. Seating is also available at the counter where you can watch the staff prepare your meal.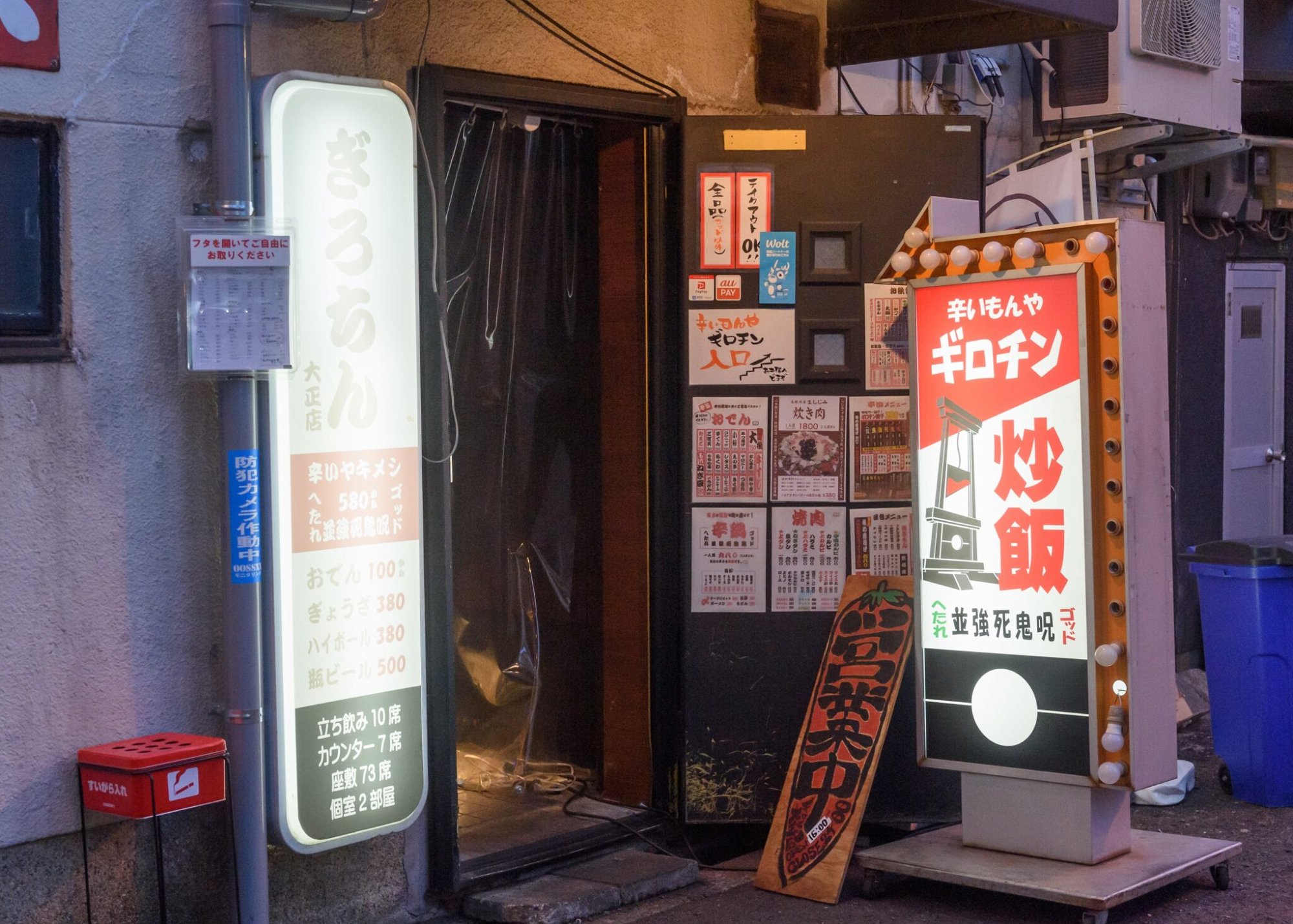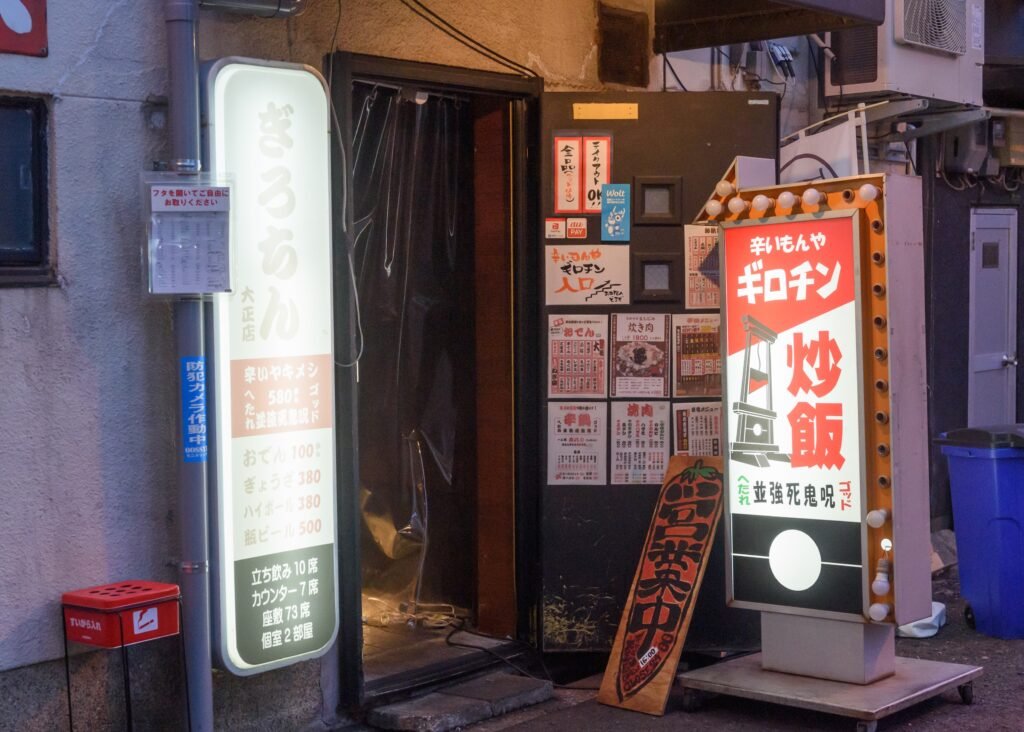 "Guillotine was a local recommendation that I share with the fervor of the truly converted," says Smith. "If your religion is spicy food, I summon thee to worship in this Showa-era dark wood paneled church to sweaty foreheads and scorched tastebuds. Serving traditional oden on the side, the real appeal are the spicy izakaya-style offerings. It's not just about heat, the flavors are sublime, and it's also surprisingly great value."
The fried rice starts at ¥638 and the price increases according to spice level. You can choose from 7 spice levels: Hetare (zero heat for children and wimps), Nami (Normal), Kyo (Strong), Shi (Death) Oni (Demon), Noroi (Cursed), and Kami (God), which is prepared by the staff using masks and goggles and definitely not recommended for beginners.
Extreme heatseekers must sign a waiver before ordering God-level (¥1,980). It contains a secret blend of spice powder and topped with trio of bhut jolokia ghost peppers, which was certified by the Guinness Book of World Records as the hottest chili pepper in the world. Those who manage to finish their meal will be handed a 'victory' wristband from the staff.
"I had a tiny piece of the jolokia," says Smith. "It was smaller than my little fingernail and I was essentially shocked into silence for the next 15 minutes."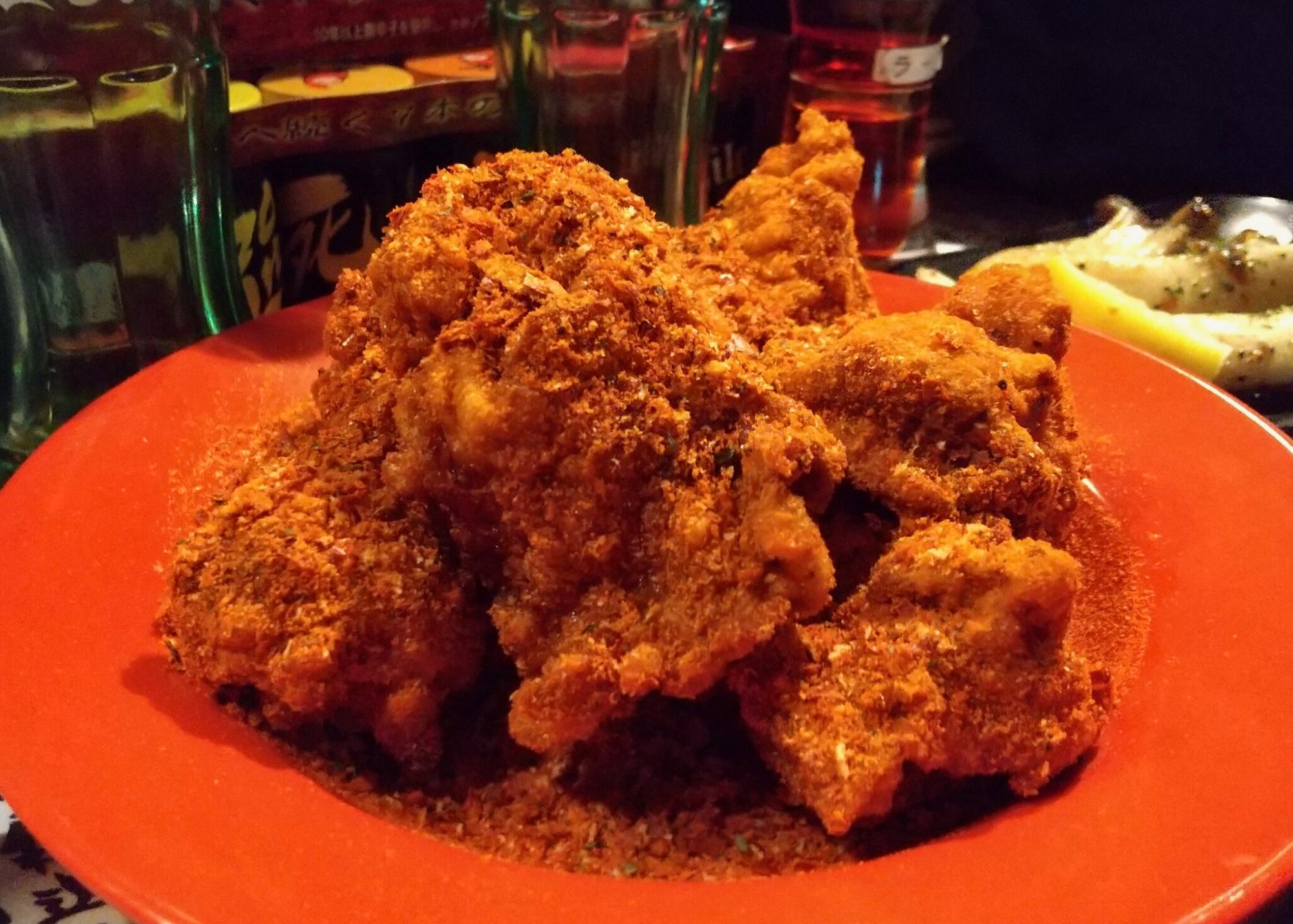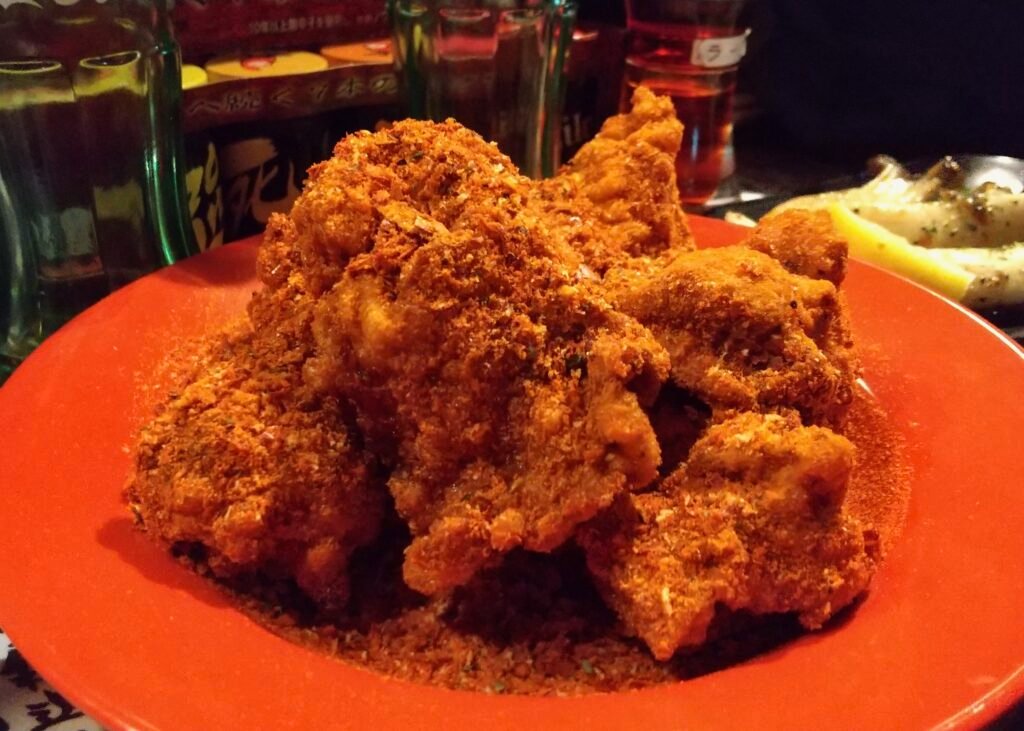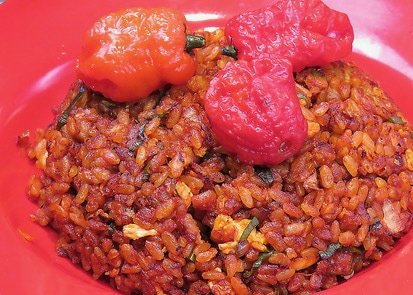 Although it's not on the menu, there is is an even higher spice level called "Devil" that contains capsaicin extract, which is 1,600 times hotter than chili pepper. It's topped with a whopping 13 jolokia ghost peppers, but you need to clear God level three times before you are allowed to order it. The chef told me that only three people have cleared this level since the shop opened.
Since it is my first time at Guillotine, we decide to start off with the "Strong" spice level. In addition to the fried rice, we order gyoza (¥418), sausages (¥528) and eringi mushrooms with butter (¥528). Rodney was right, the extra heat is a welcome addition and had no affect on the delicious taste.
I tell our waiter that it's time to bring the real heat. I order a "Death-level" karaage (fried chicken/¥780), which arrives smothered in a blanket of red spices. I chug down a beer, coke and iced water in rapid succession, but the tingling sensation can't be extinguished. It's actually quite pleasant once you get acclimated to the heat. I recommend sitting at the counter so you can watch the staff prepare your meal.
Karaimonya Guillotine has two other locations in Minami Semba and Shinmachi.
Manmaru 立ち呑み処まんまる
Address;1 Chome-2-4 Sangenyahigashi, Taisho Ward, Osaka, 551-0002 Tel: 06-6555-5688. Open: 17:00-23:00. Closed: Sun. Instagram
Manmaru, which means "perfect circle," is another place near the station that is known for very low prices and friendly service. Most of the home cooked dishes such as omurice (rice omlette), spaghetti napolitan, karaage (fried chicken) and ika (squid) tempura run from ¥180 to ¥380. I've been dying to try their kitsune menchi, a meat cake served inside fried tofu, but it always seems to be sold out. I order the ham-katsu (¥180), a deep-fried ham cutlet that was featured on Midnight Diner:Tokyo Stories (Shinya Shokudo) on Netflix.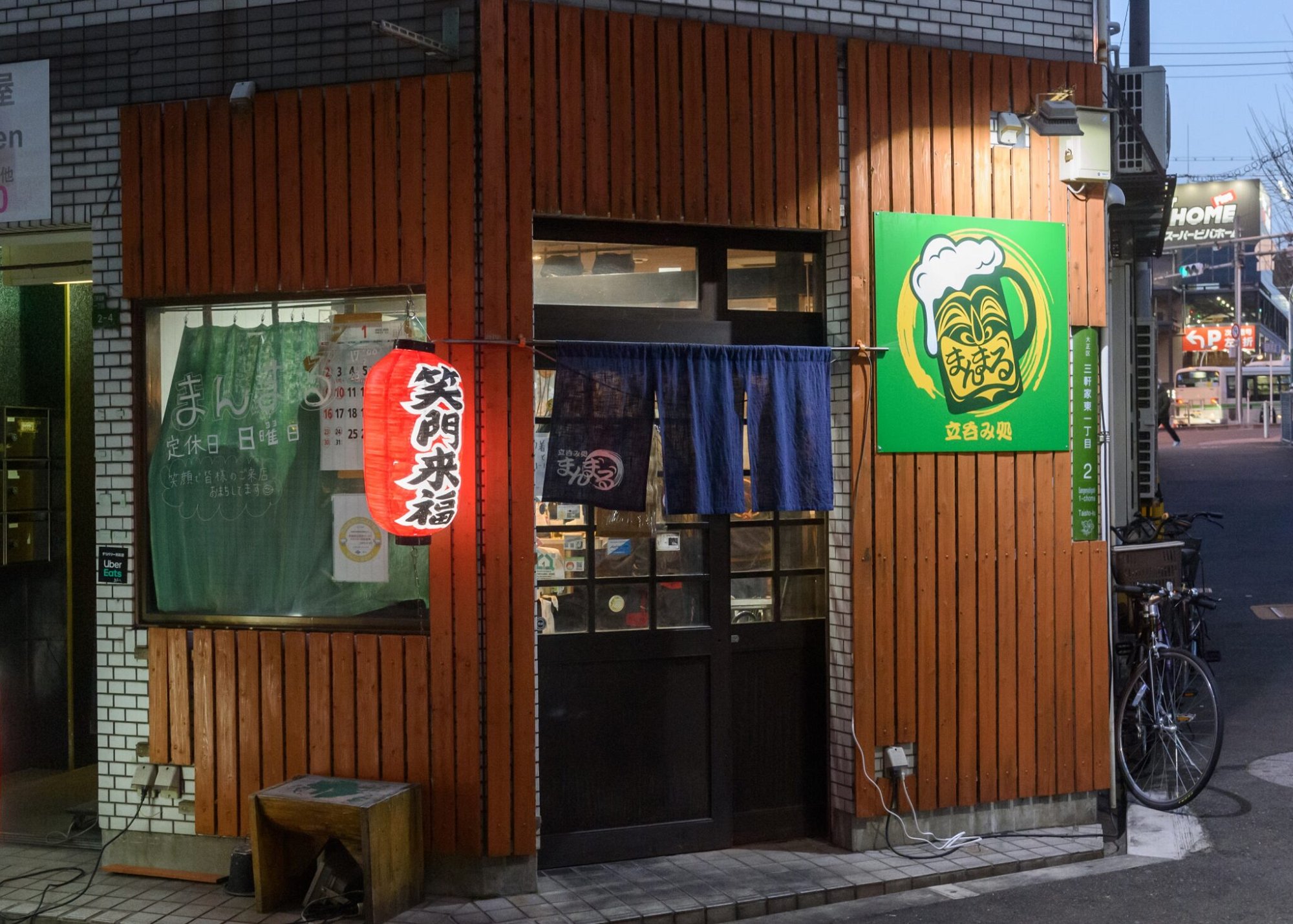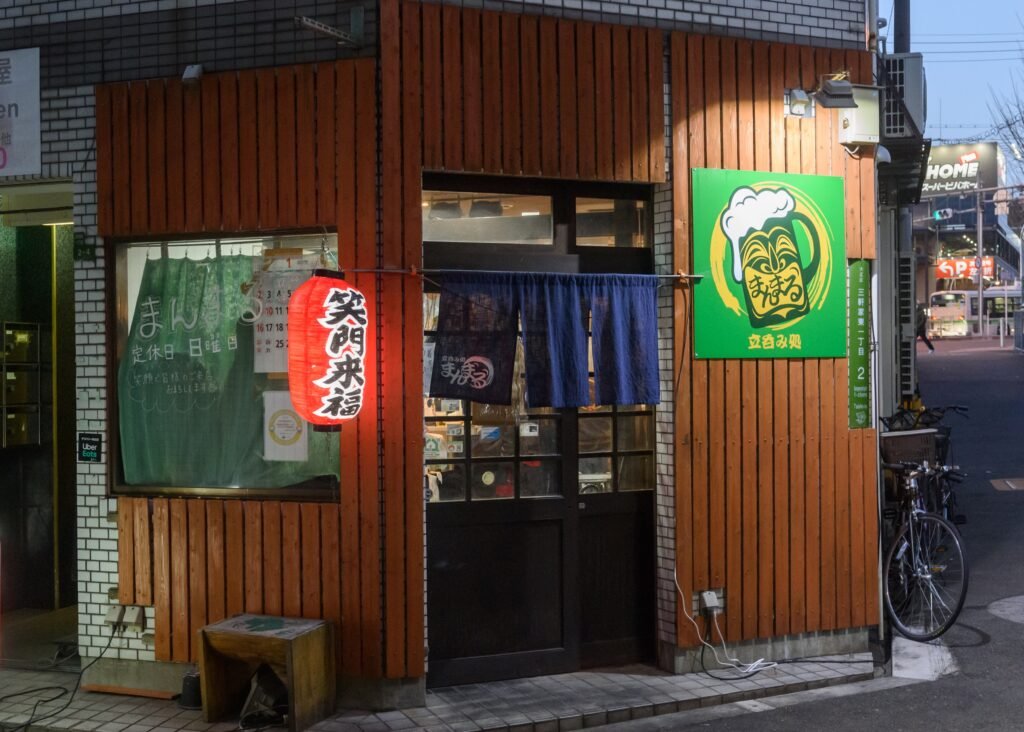 The standing bar is already a fixture in the neighborhood, even though it opened just a couple of years ago. The friendly laid back atmosphere make it the perfect place to unwind after a long day. It's not surprising that Manmaru attracts a lot of repeat customers who fall in love with the place after a single visit.
After chatting for a bit with the manager ("Mama"), I discover she grew up in the same part of Osaka that I have resided in for the last three decades. In fact, there is a very good chance that I taught her English in junior high school! There are times when Osaka feels like a small town in which everyone knows each other and this is one of them.
I meet the owner ("Master"), who works as an architect during the day. Once a month the bar hosts intimate live shows with Master on vocals, Mama on shamisen and one of the regular customers on guitar. I'm looking forward to going their next show.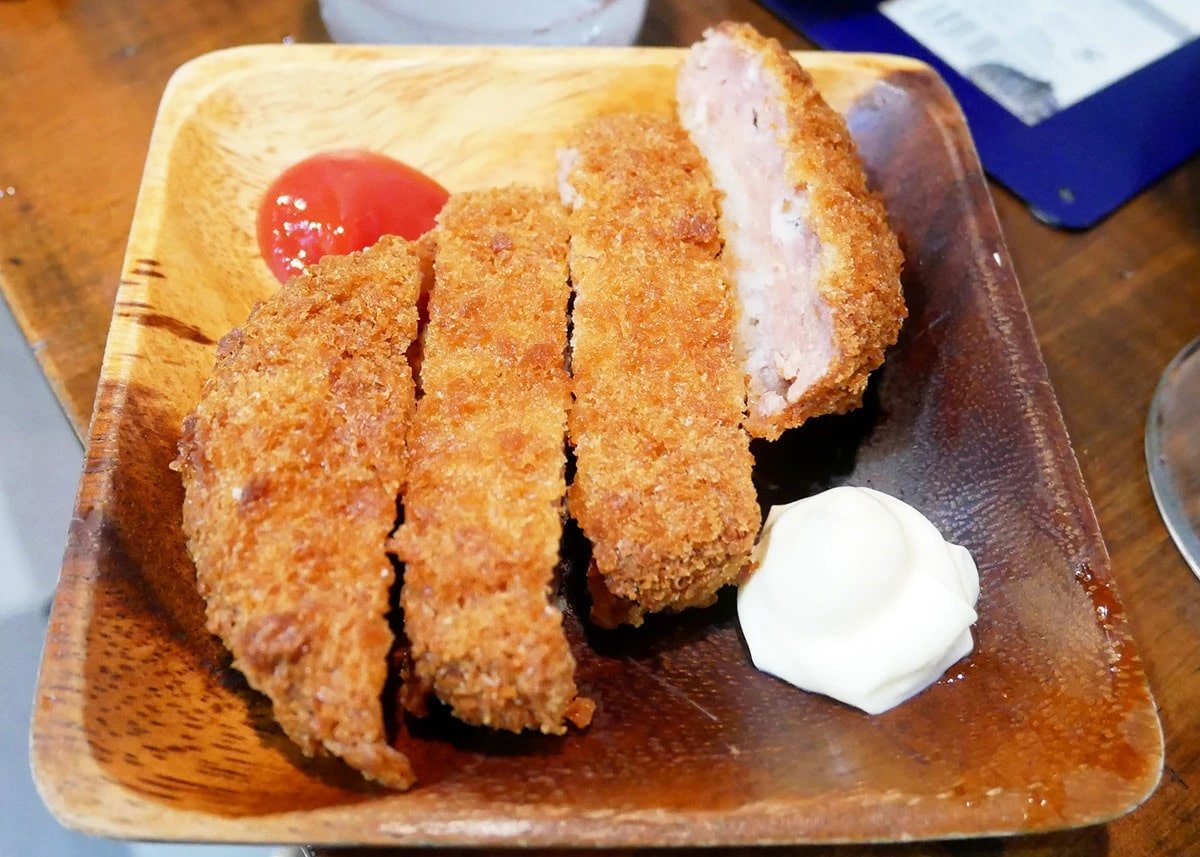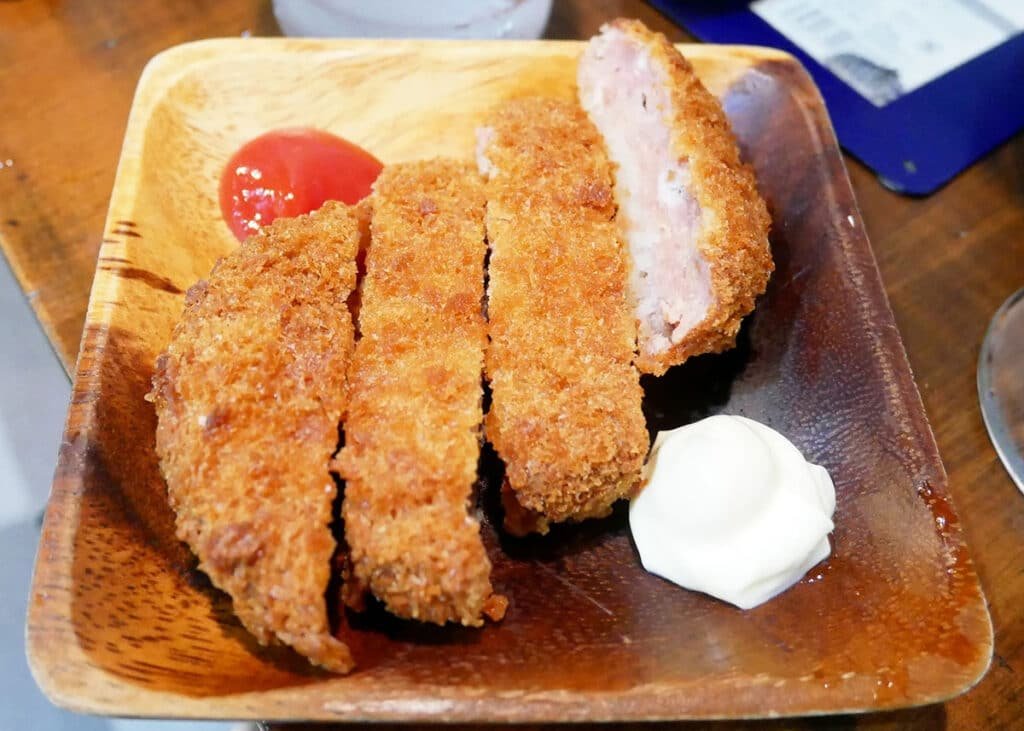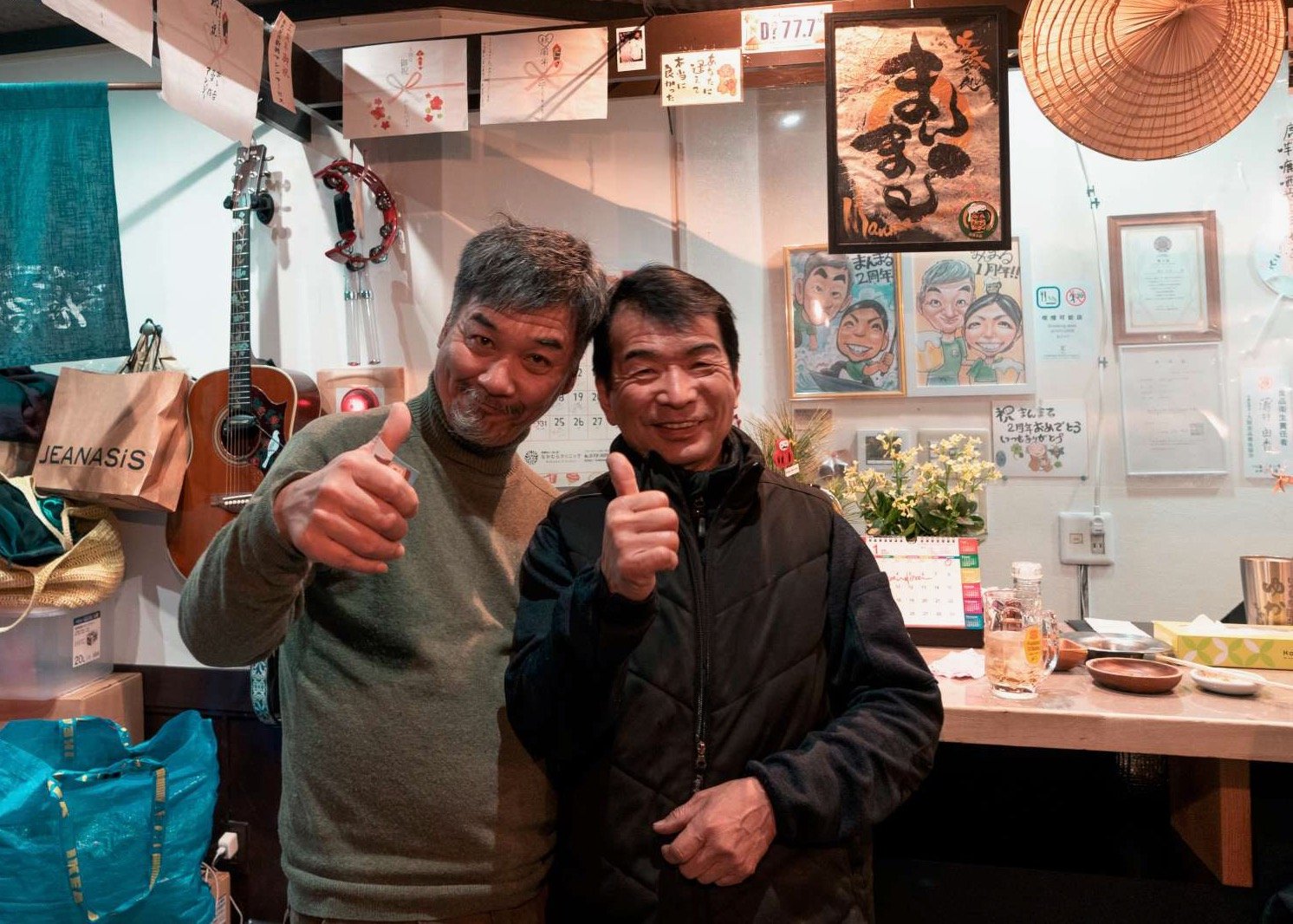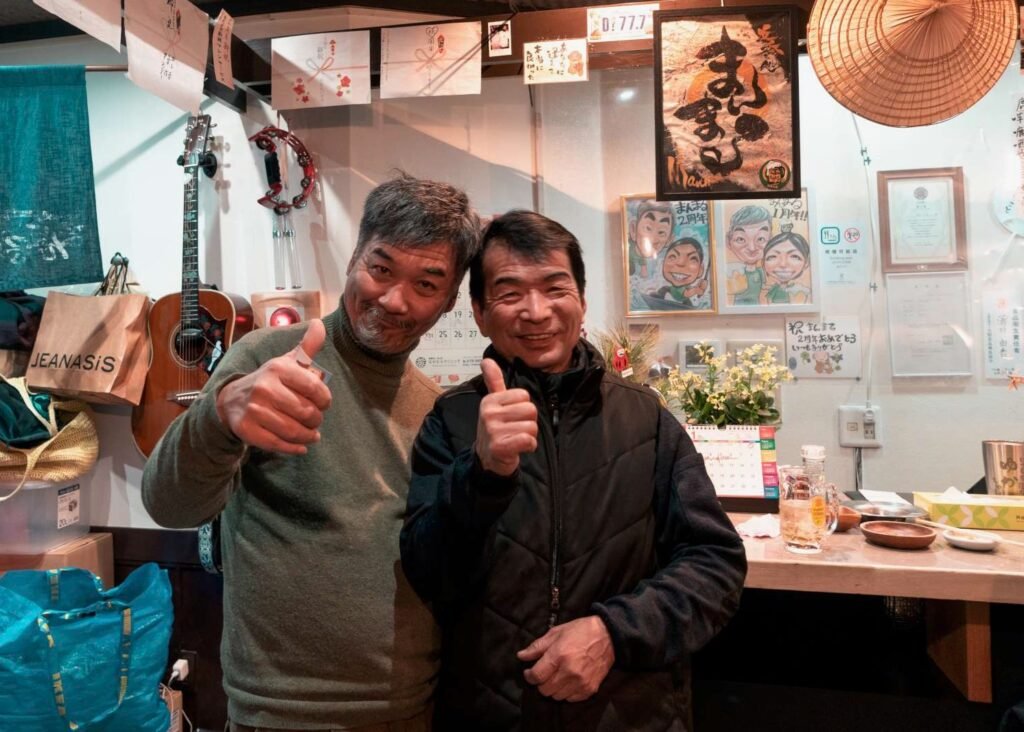 Bicycle and Coffee Amigos Cafeteria 自転車とごはんのお店アミゴ 食堂
Address: 1-chōme-13-8 Sangenyahigashi Taisho Ward, Osaka, 551-0002. Tel: 06-6556-3666. Open 9-15:00. Closed: Thurs. Facebook.
Bicycles and Coffee Amigos Cafeteria is located about five minutes from Taisho Station near the central post office. The shop was started by Goro Kanemitsu as a way of giving back to the community. Refurnished bicycles (priced between ¥4,000-¥7,000) from Kanemitsu's main shop, Amigos Factory Outlet in Naniwa Ward are displayed outside. Proceeds from sales are donated to help fund local children's cafeterias that provide nutritious meals to children and meal support for single-parent households.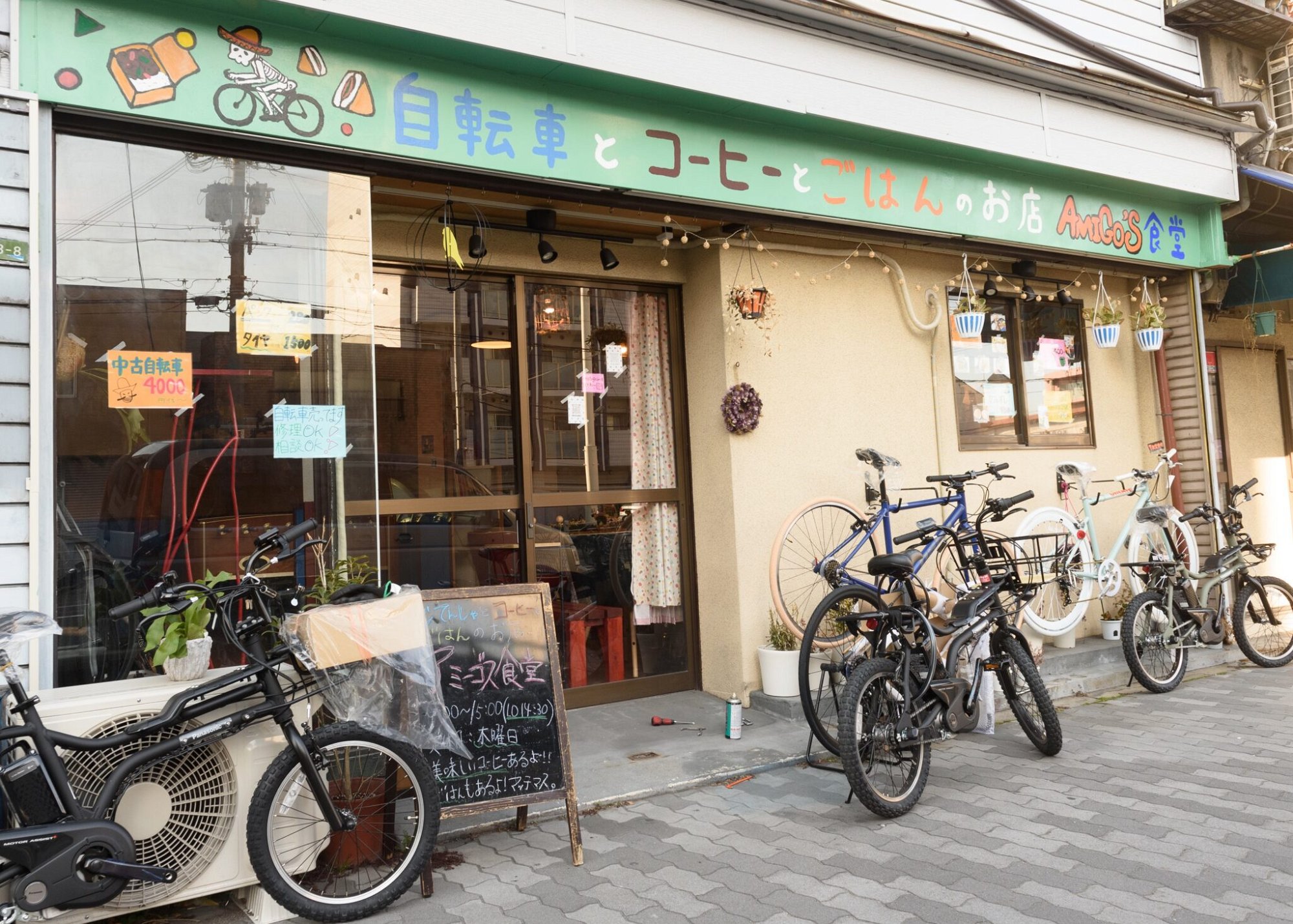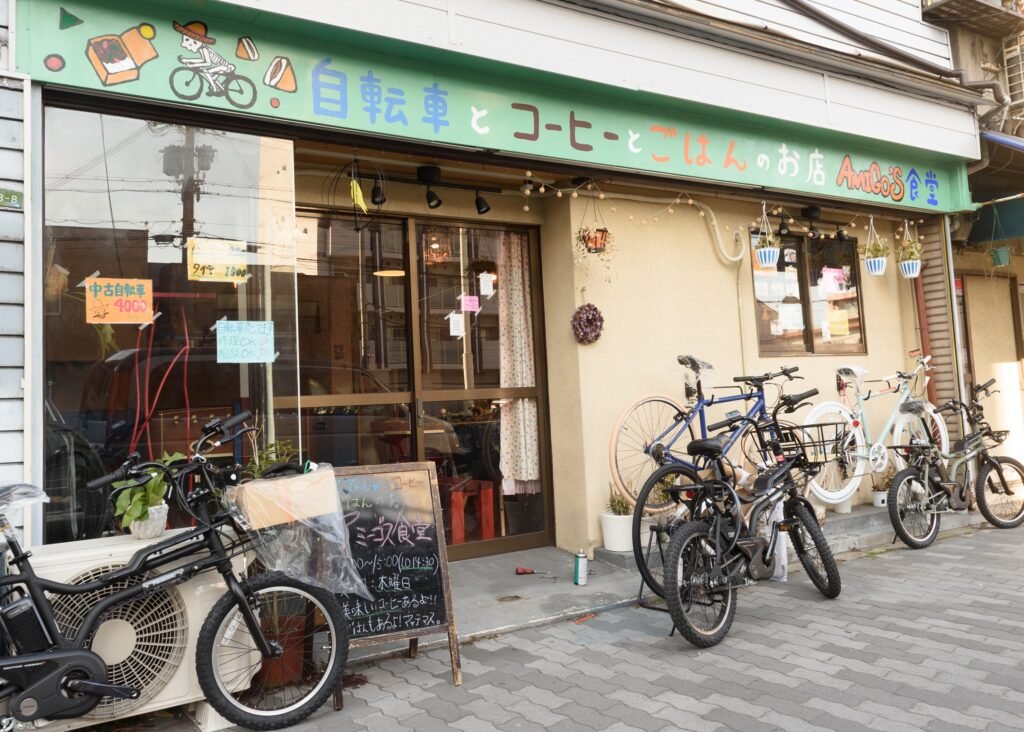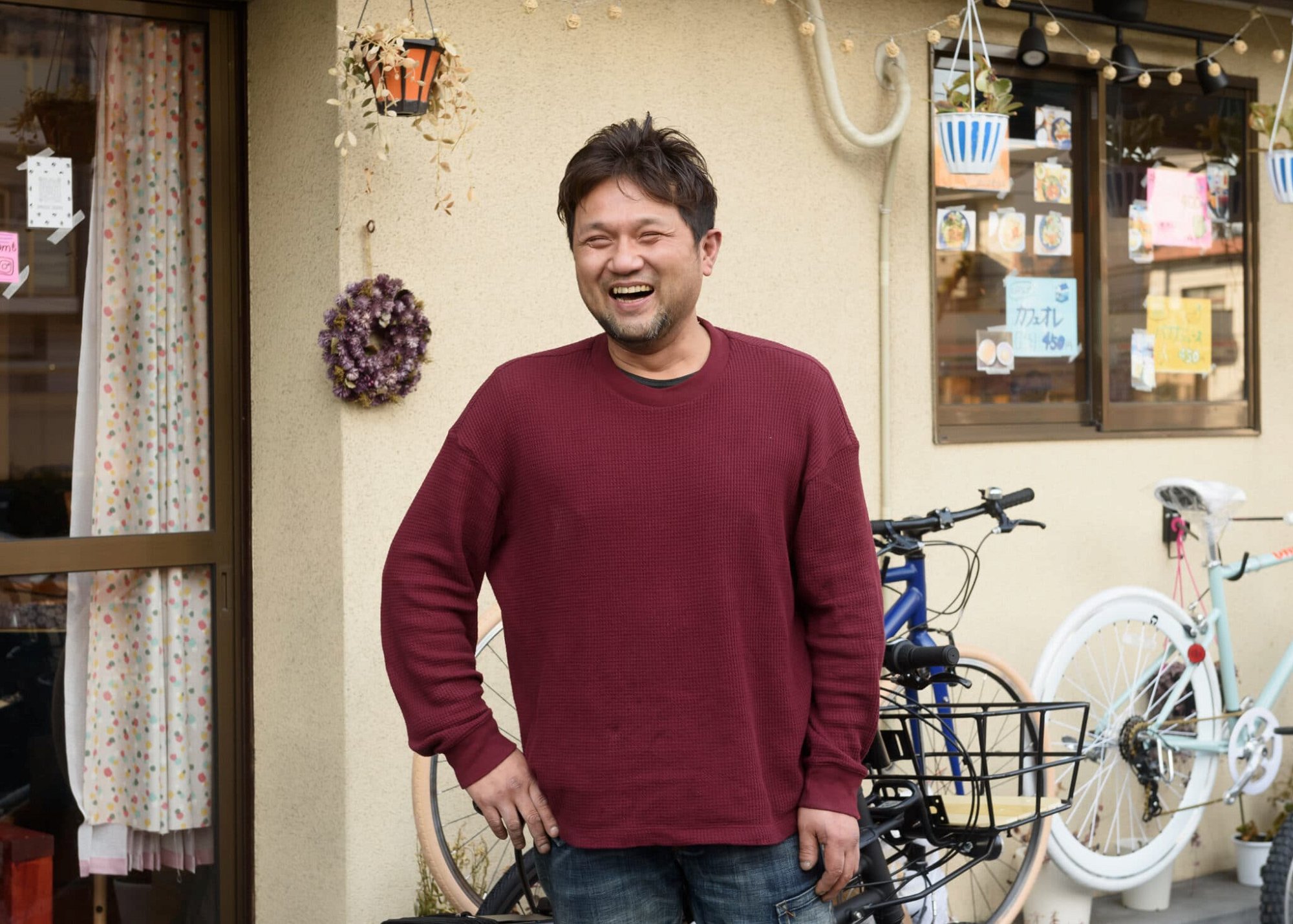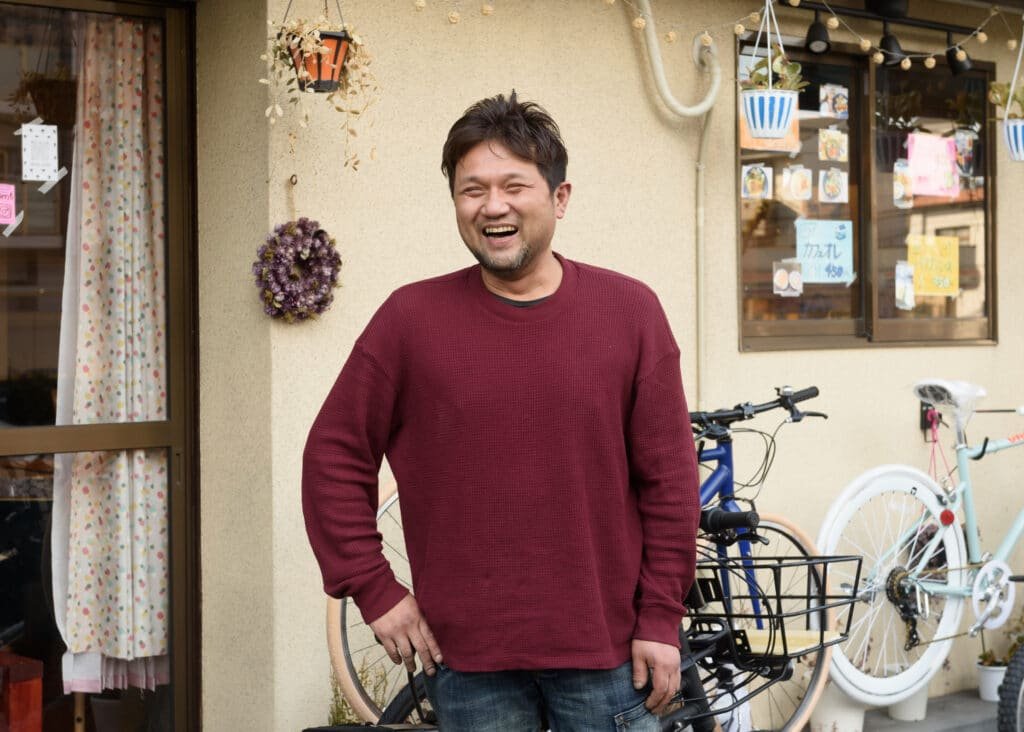 "The reason for creating Amigos Cafeteria is that I often heard about children's cafeterias and similar places that offer support," says Kanemitsu. "But in so many cases they end when the restaurant closes or the owners change their minds."
There are close to 3,600 children's cafeterias (kodomo shokudo) in Japan, including 330 in Osaka, but Kanemitsu is working hard to help make them more sustainable.
"I am creating a system so the children's cafeteria can continue to operate even if I am no longer the owner," says Kanemitsu. "The general public will still be able to drop into the shop to drink coffee or order a meal. They can buy a bicycle or have repairs done. All of this will generate funds to keep the children's cafeteria going."
Amigos does not currently offer alcohol, but the freshly brewed coffee more than makes up for it. I order the green curry tsukemen dipping noodles (¥1,000). This is some of the best green curry I've ever had in Osaka. It has just the right balance of spiciness and flavor.
"I like green curry," says Kanemitsu. "But some people don't like it, so we use dashi soup stock to make it easier to eat."
My drinking buddy Tomokazu orders the fried rice (¥700), which is prepared using butter, dashi and soy sauce and topped with chicken and avocado stir fried in sweet miso. Amigos has a vintage foosball table and I consider challenging Tomokazu to a match, but we need to be on our way.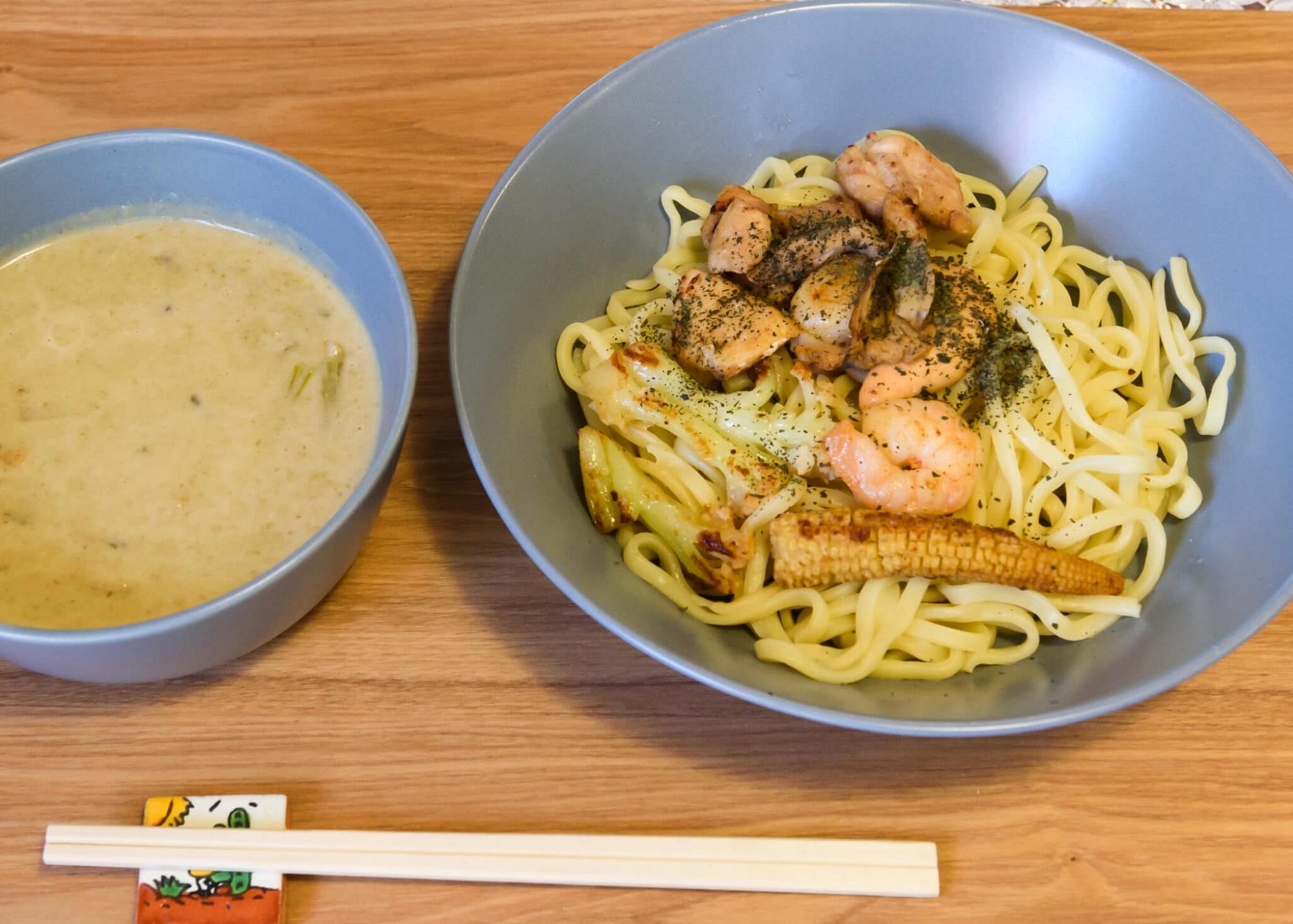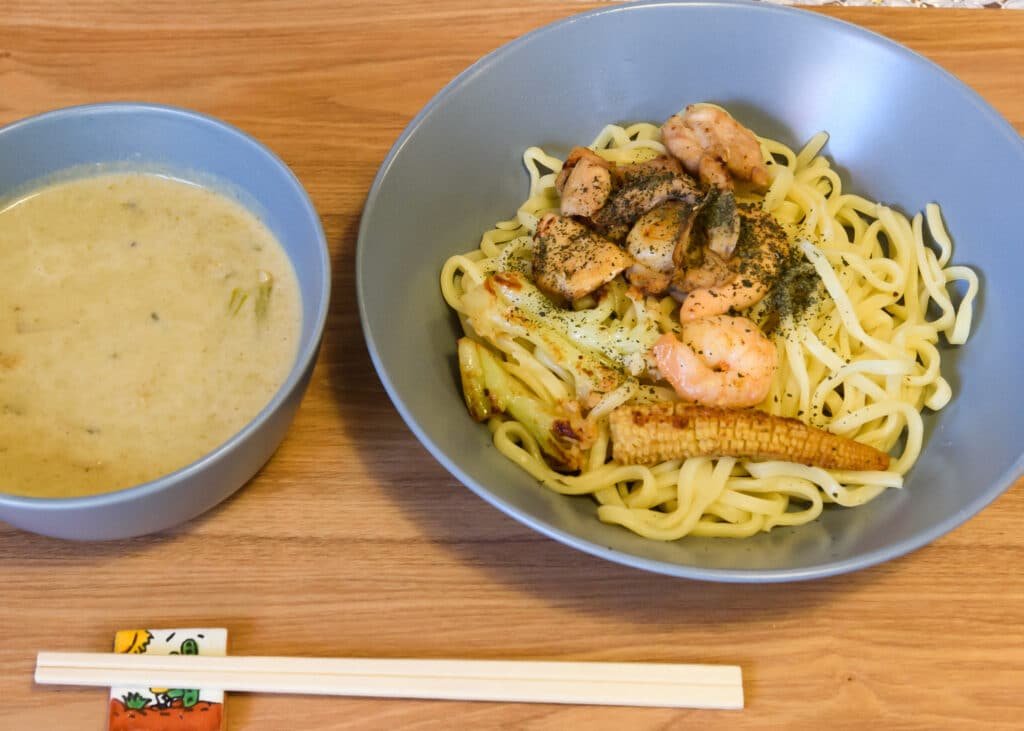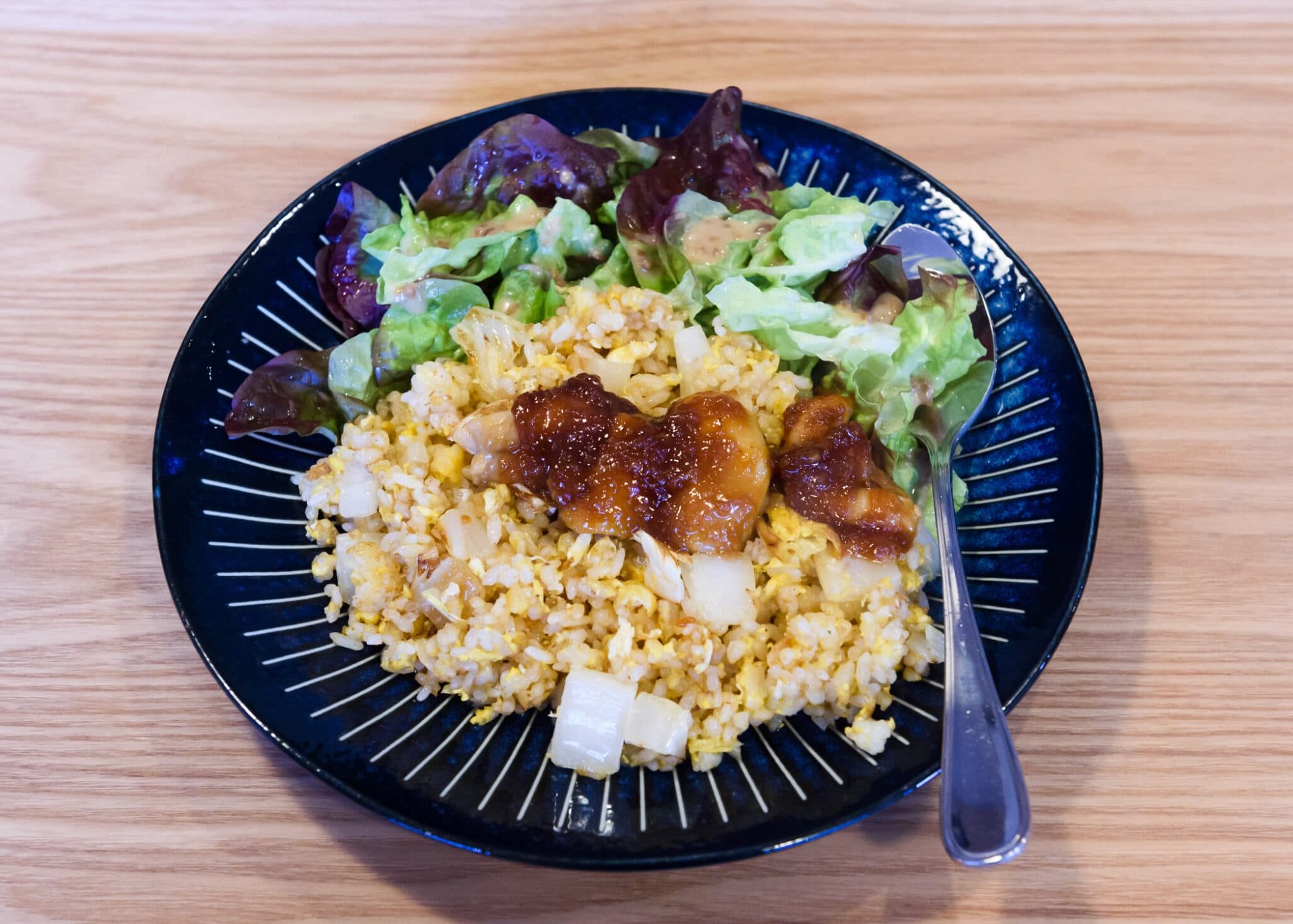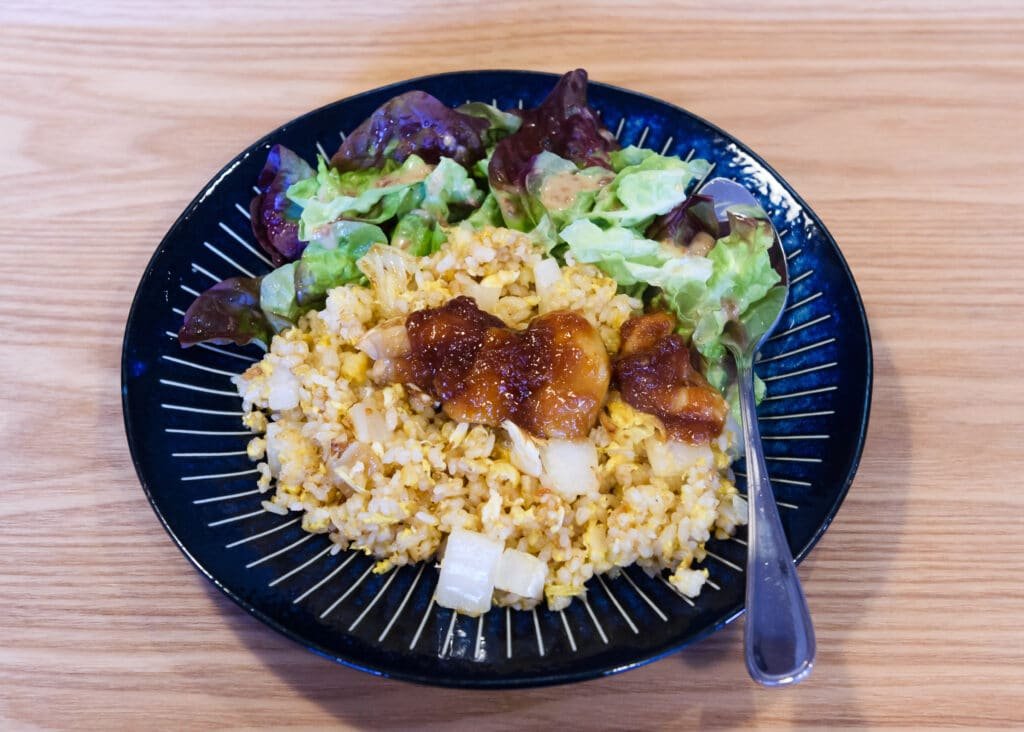 I promise Kanemitsu that I will buy my next bicycle from Amigos in order to support a worthy cause. Kanemitsu says he can deliver it to my apartment on his day off, so I won't have to peddle all the way home from Taisho.
---
Sansen Shotengai 三泉商店街
The area between Sangenya and Izuo is called Sansen. It contains the Sansen Shotengai, a 333 meter shopping arcade that was established in 1911. Its predecessor, Sansen Kyodo Ichiba was a famous wholesale market in western Japan at the end of the Meiji Period. The arcade. is lined with many old shops with nostalgic hand painted signs, many which have closed in recent years.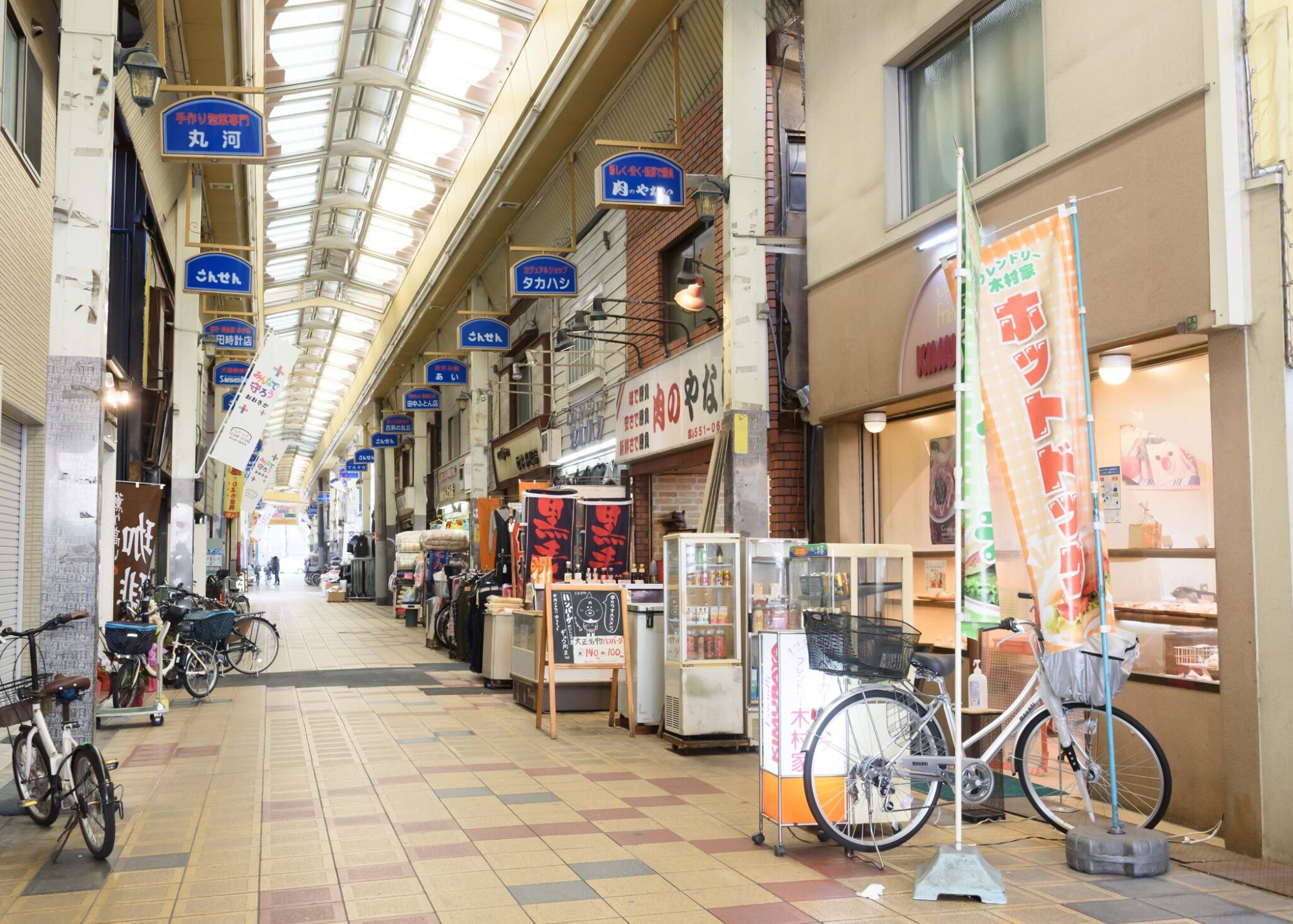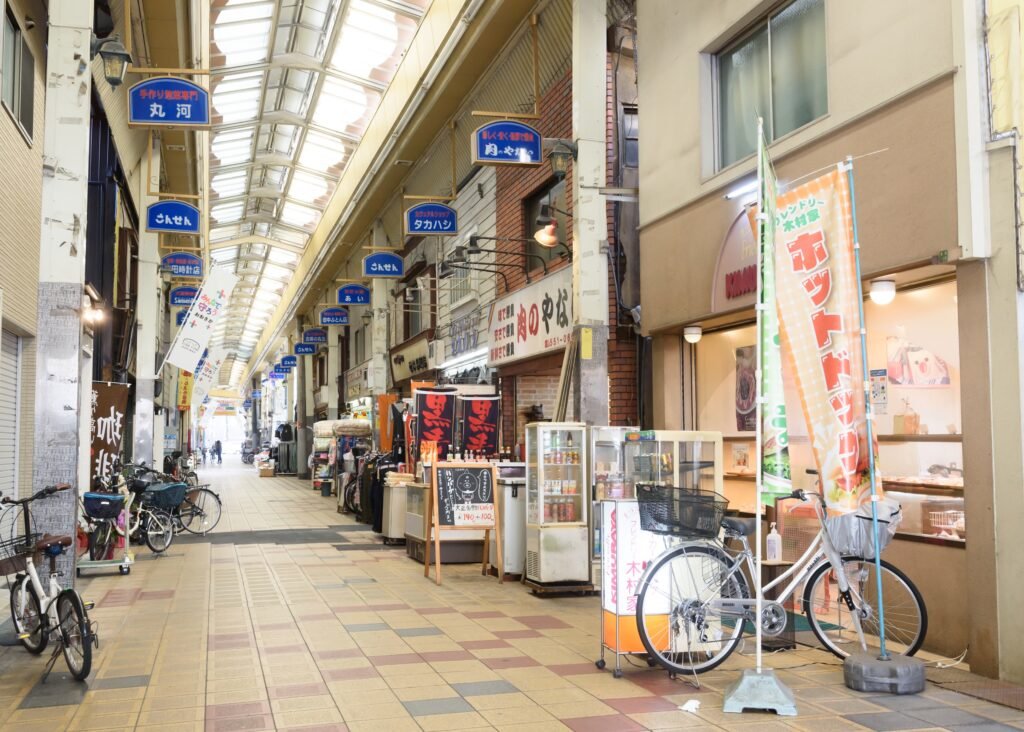 Having explored the area around Taisho Station over several visits, I've returned to Taisho to see how much ground I can cover in a single day on foot. Tomokazu plans to take me to me some out-of-the way spots that only locals know about. This would be much easier on a bicycle, but Osaka has very strict laws about riding under the influence of alcohol (often ignored), so we're going to walk. Full disclosure: I got lost on my first couple of attempts to make this journey, and had to come back a few more times to get it right. Check each entry in this guide for the nearest bus stop. If you get tired of walking, you won't have to wait very long for a bus to arrive. The bus service in Taisho is fast and efficient.
Sake no Minoriya 酒のみのりや
Address: 1-chōme-23-12 Izuo Taisho Ward, Osaka, 551-0031. Tel:06-6551-0184. Open:10:00-14:00, 16:00-21:00. Closed: Tues. Bus from Taisho Station: #70,#71,#94 to Sansen Ichiba Dori (5 minutes).
We enter Sake No Minoriya, one of few drinking establishments in the Sansen Shotengai that is not permanently shuttered. The narrow standing bar is packed with regulars, so we move to a table by the exit. One of the owners is deep frying pork cutlets and it smells delicious.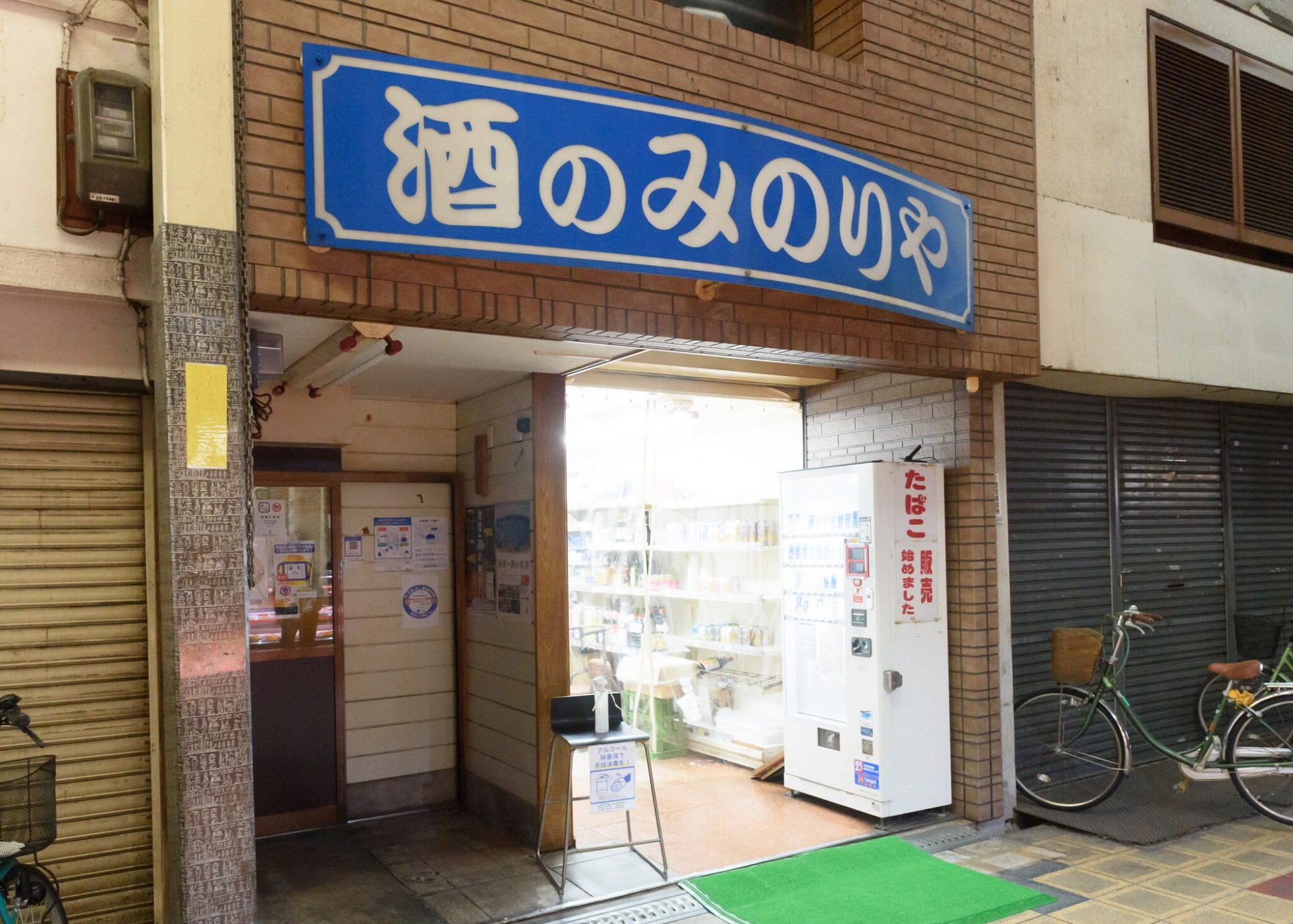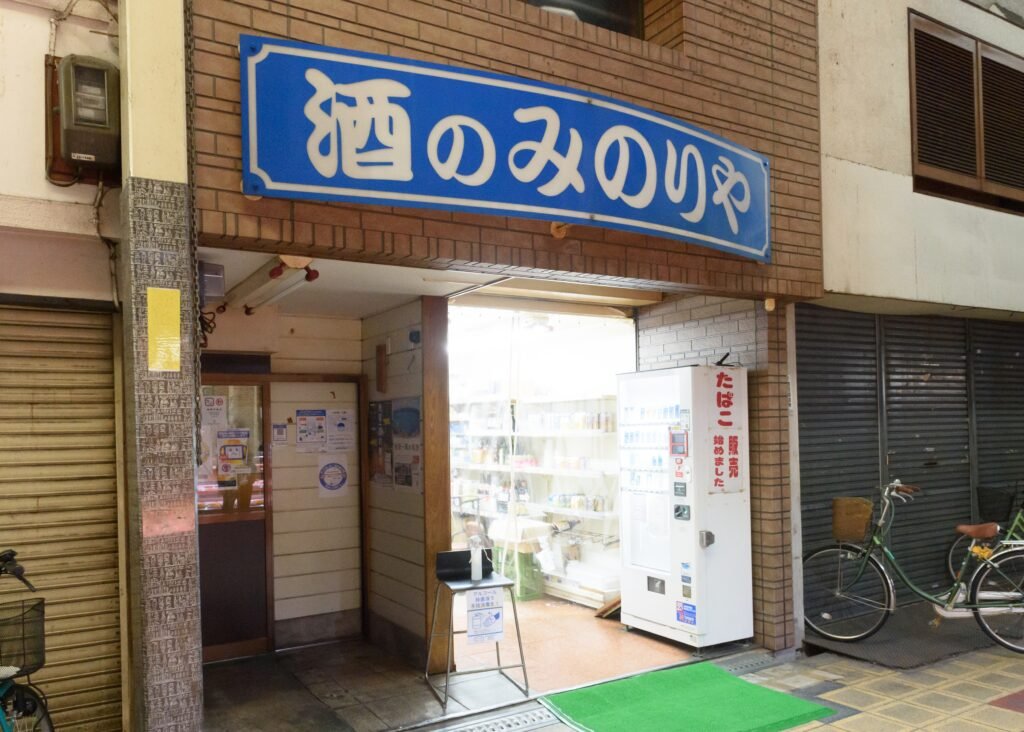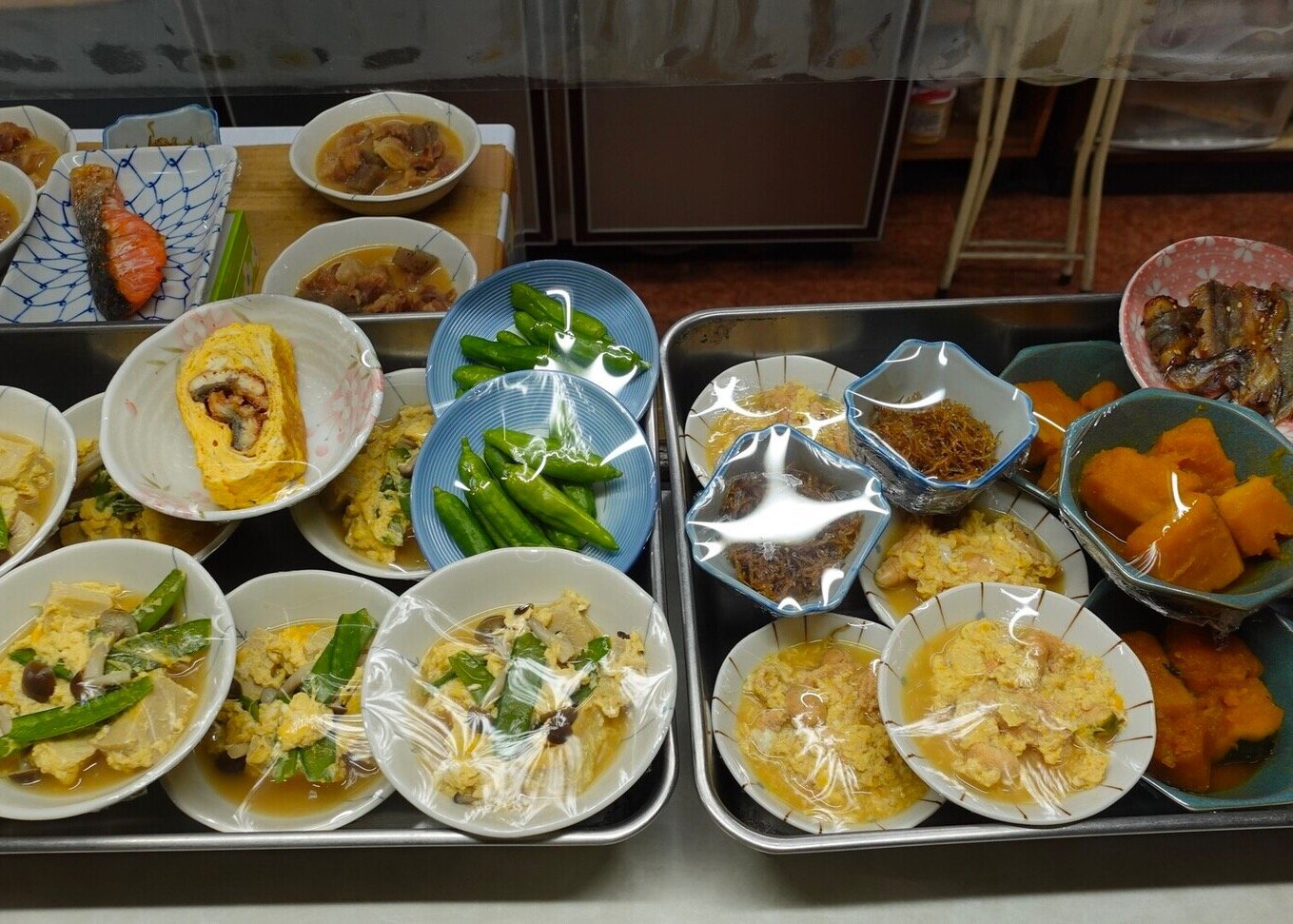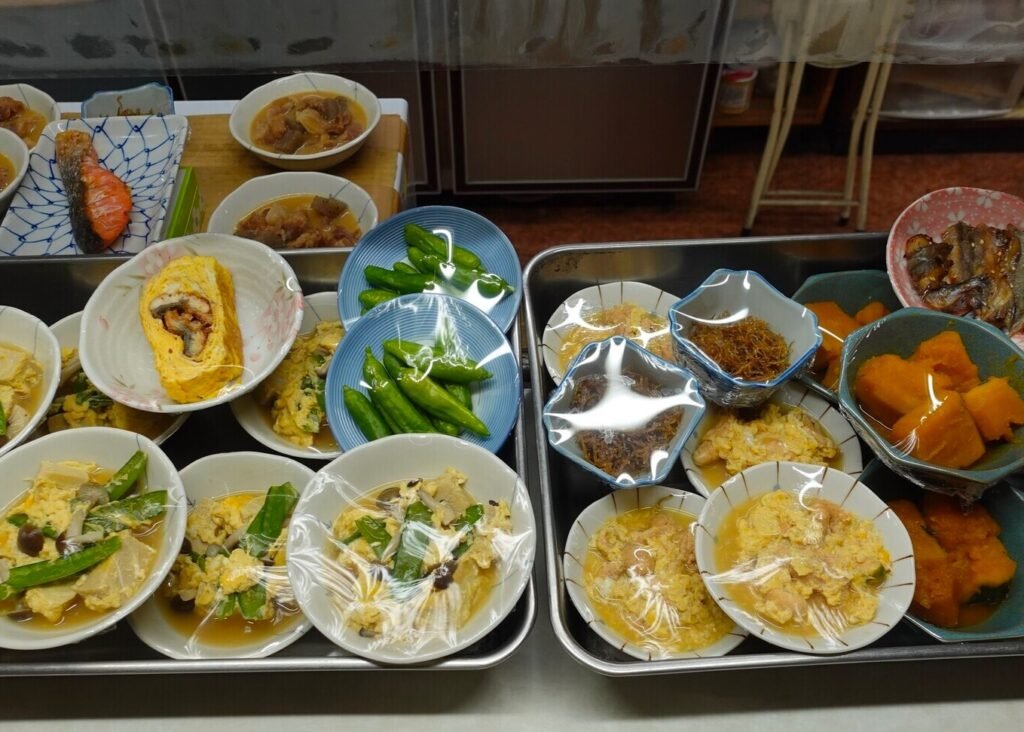 Sake no Minoriya has wide selection of small dishes of food on the counter in the ¥150 to ¥450 price range. Otsumami is the term used for snacks or side dishes that go well with alcohol. Anything from peanuts and edamame to yakitori and sausages. The term ate (from sake no ate) is more commonly used in the Kansai region. Another great term is sakana which can refer to a side dish of food and/or talking trash, such as complaining about the boss at work in order to give added zest to the drinking session.
We are planning to eat at the next couple of stops, so we forgo a meal and order a couple of bottles of Sapporo beer, which we drink from small Asahi Super Dry glasses. I've been told that drinking from mismatched beer glasses is common in Osaka, but rarely occurs in other parts of Japan. I'm not sure if this is true or not.
The shelf behind me is for "bottle-keep," a system in which customers can purchase a bottle of liquor and have the unfinished portion stored until the next visit. Several of the bottles are dressed up in Hanshin Tigers aprons and assorted key chains. Bottles at Minoriya are kept for three months. I've always wanted to have my own bottle-keep, but have never gotten around to it.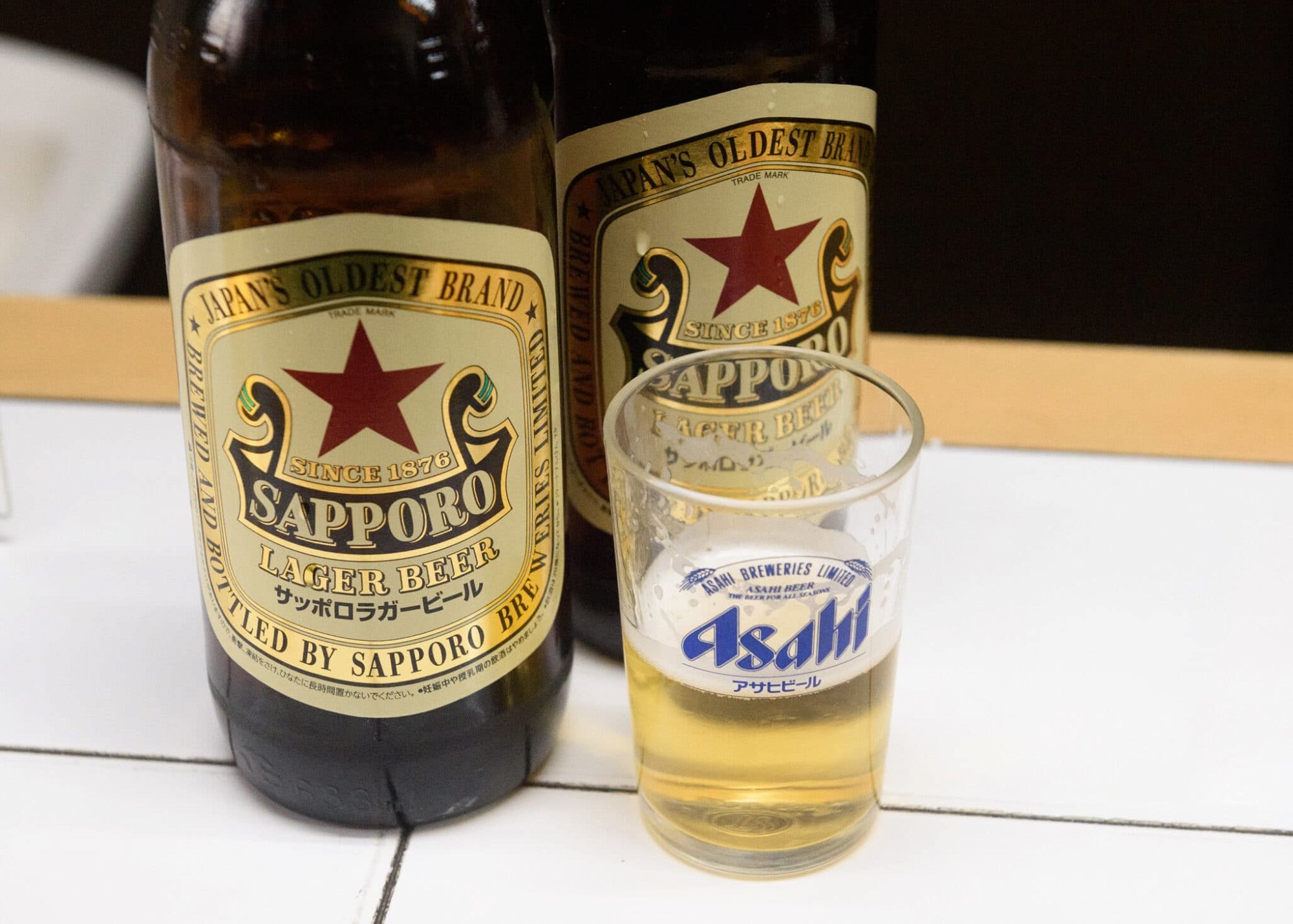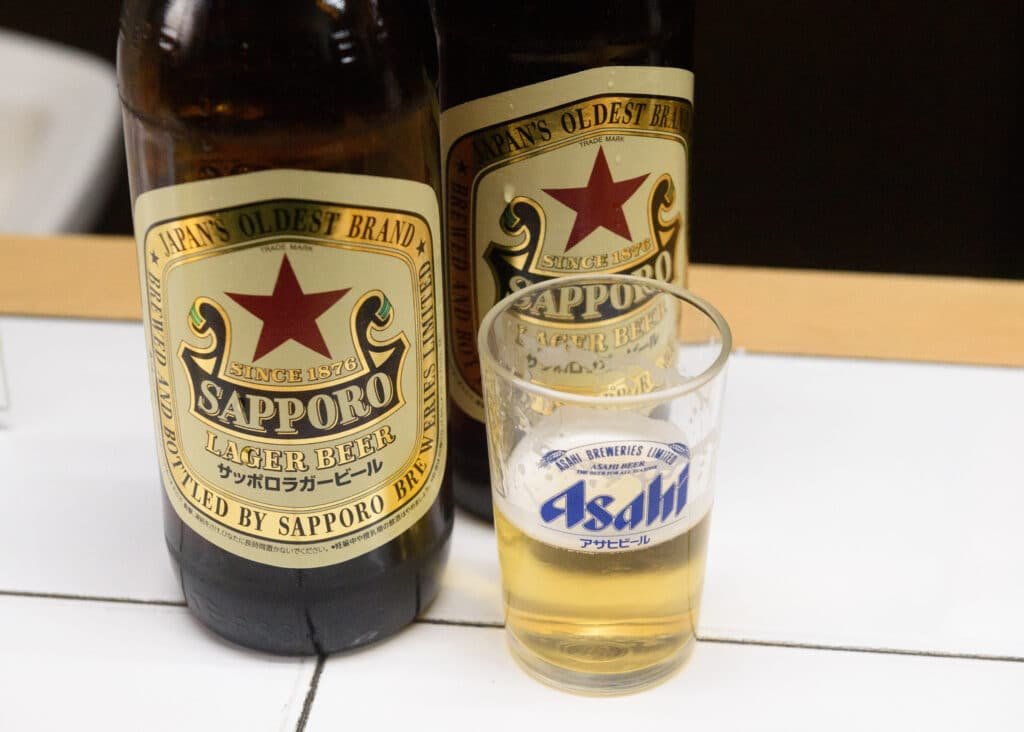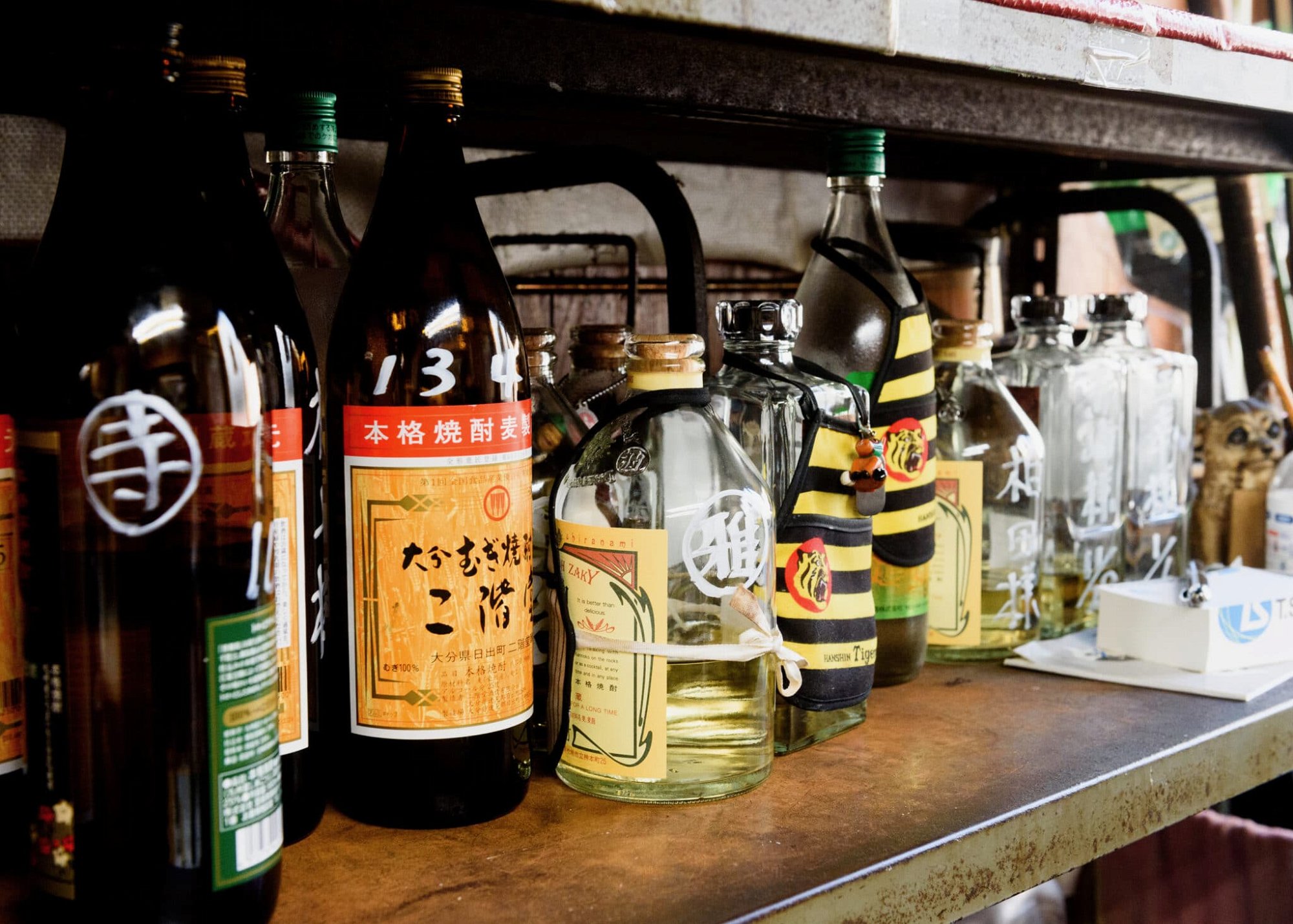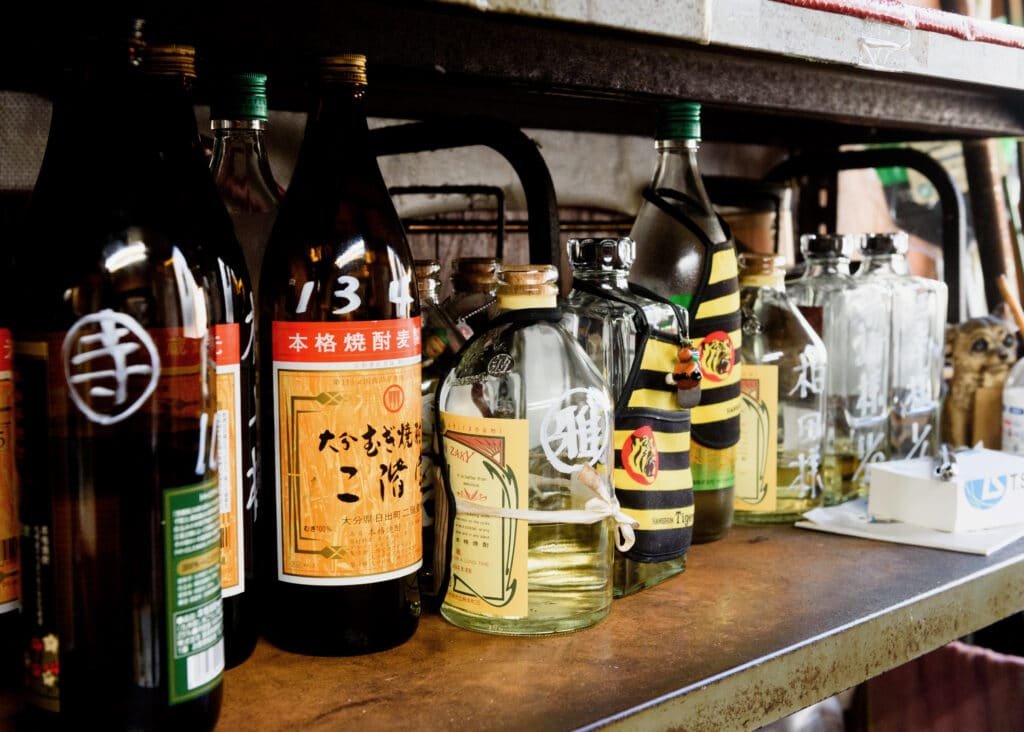 ---
Izuo Area 泉尾
The Izuo area was settled in 1702 as Izuo Shinden. Every day many local people on bicycles come and go through the Izuo Shotengai, a shopping arcade that has the traditional atmosphere found in many downtown areas of Osaka. The shopping arcade has attracted many newer shops in recent years, including a grocery store that caters to the growing Vietnamese population.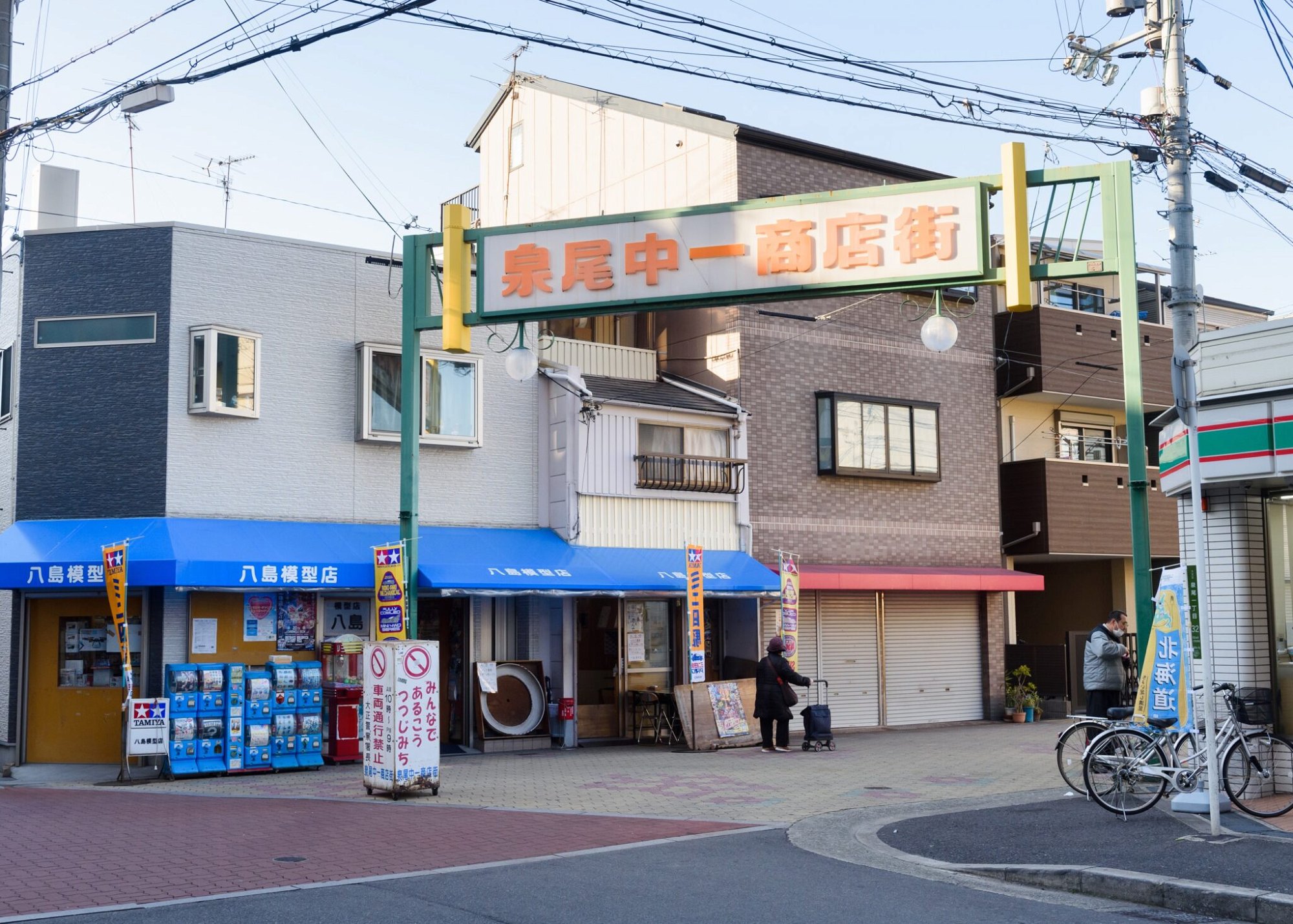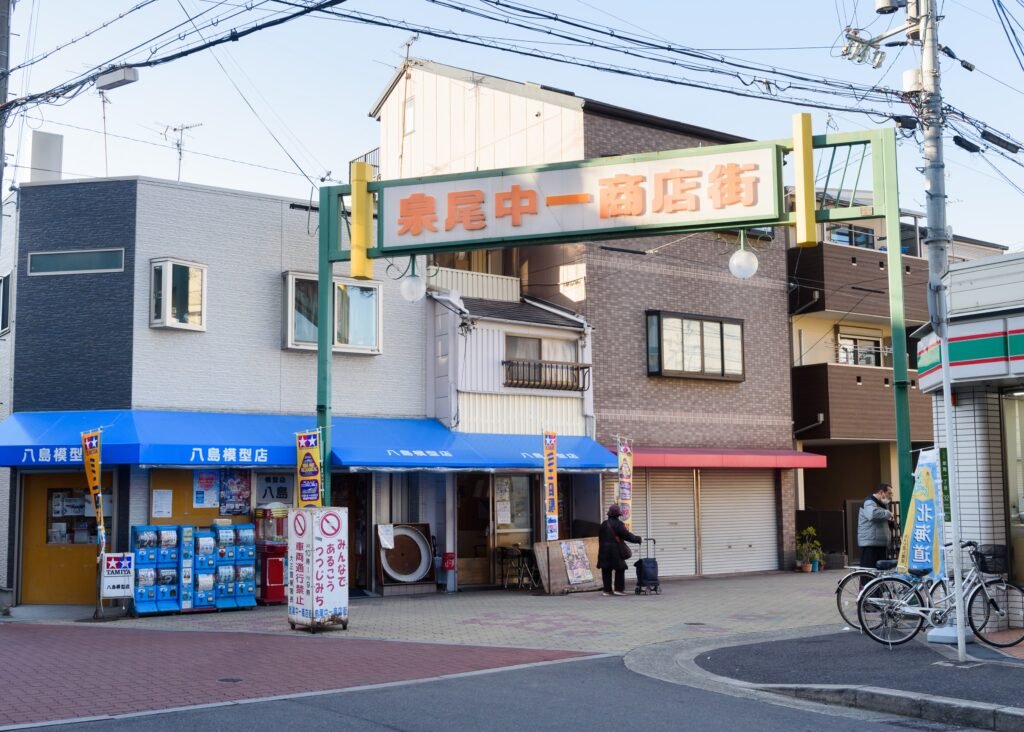 Okinawa Tacos 沖縄タコス
Address:1-chōme-32-5 Izuo Taisho Ward, Osaka, 551-0031. Tel:06-6536-8120 Open: 11:30-18:00. Closed: Tues. Bus from Taisho Station:#70 #71 to Sangenya Higashi 4 Chome (5 min). Instagram
After exiting Sansen Shotengai, we walk another block and come to Okinawa Tacos, a fairly new restaurant located on the corner of the street. Okinawan tacos were developed by Charlie's Tacos in 1956 to serve US military personnel stationed on the islands. They consist of crunchy shells made from rice flour, ground beef with taco seasoning, shredded lettuce, tomatoes, cheese and salsa sauce.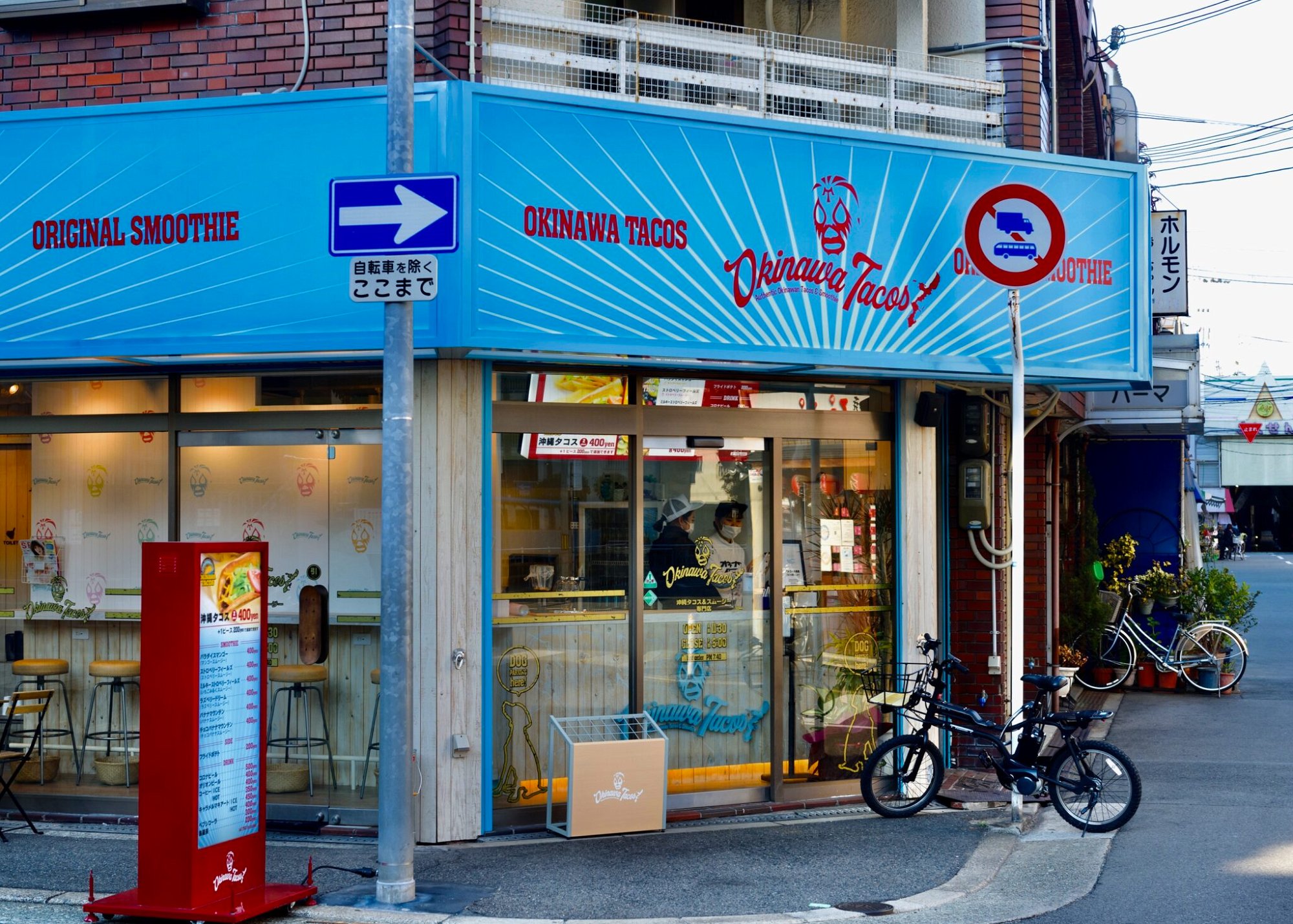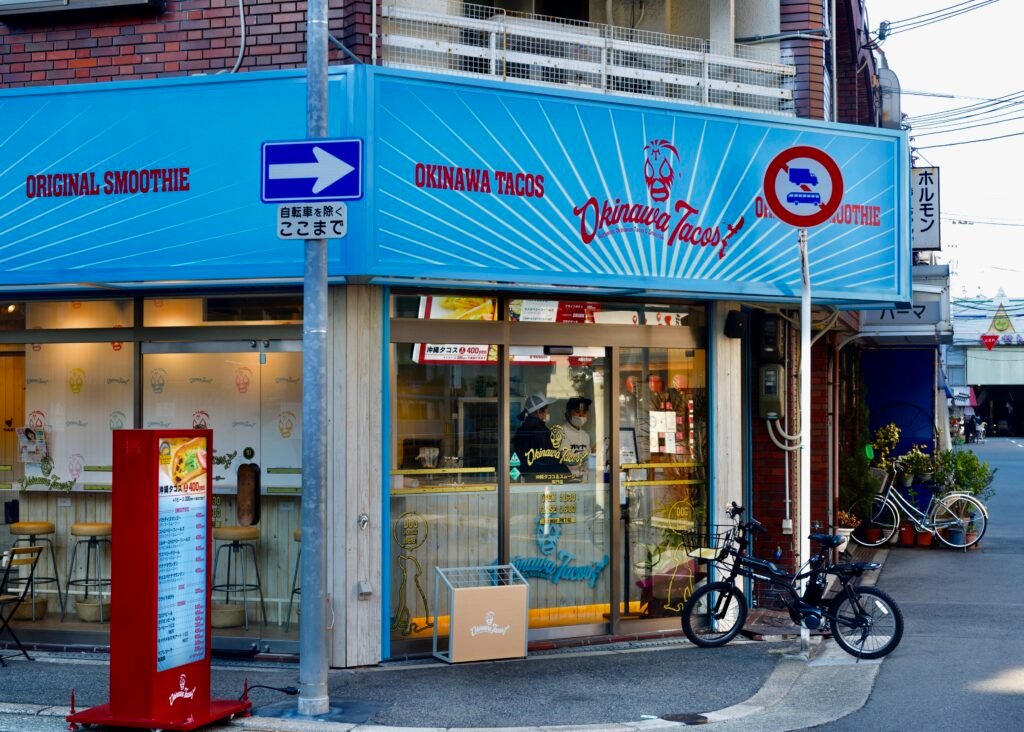 I order the tacos (2 for ¥450), a bottle of Orion beer (¥400) and Okinawan French fries (¥200). Tomokazu chooses spicy Okinawan fried chicken (¥450) and taco rice (¥500). We sit down at a table in the back. The walls are decorated with ghoulish portraits of Joe Strummer of The Clash and Brian Jones of The Rolling Stones.
While waiting for our food to arrive, three staff members in their early 20s come to our table for a friendly chat. One of them informs me that her dream is to travel to California to eat at In-N-Out Burger. I tell her that I've never had one of their burgers either. I appreciate the fact that the staff went out of their way to make us feel welcome as first-time customers.
Our food is brought out a few minutes later on wooden trays. The tacos are delicious, packed with flavor and the lettuce and tomato have been freshly chopped and sliced. I love the taste of the crunchy shells, which are surprisingly chewy and don't crumble. I find that these modest-sized tacos are perfect for barhopping. If you are still feeling hungry, you can order additional tacos for only ¥225 yen each.
Okinawa Tacos is owned by Kasatani-san an early member of hardcore legends S.O.B and K.G.G.M. He has just opened a second location near Taisho Station (close to TNT Craft Beer Pub). The chef at the new restaurant is Fire-san, a member of the veteran rockabilly band Shamalama.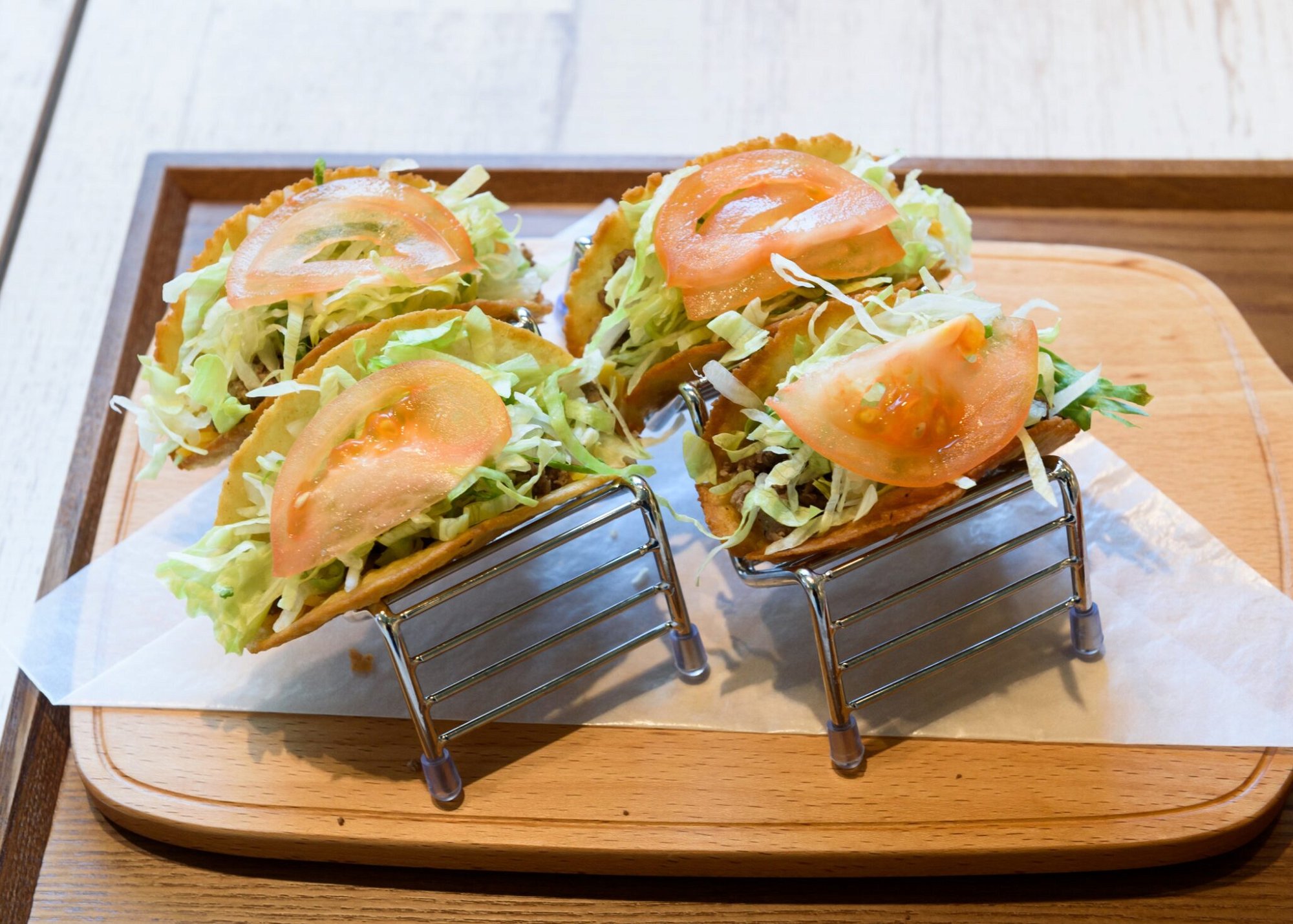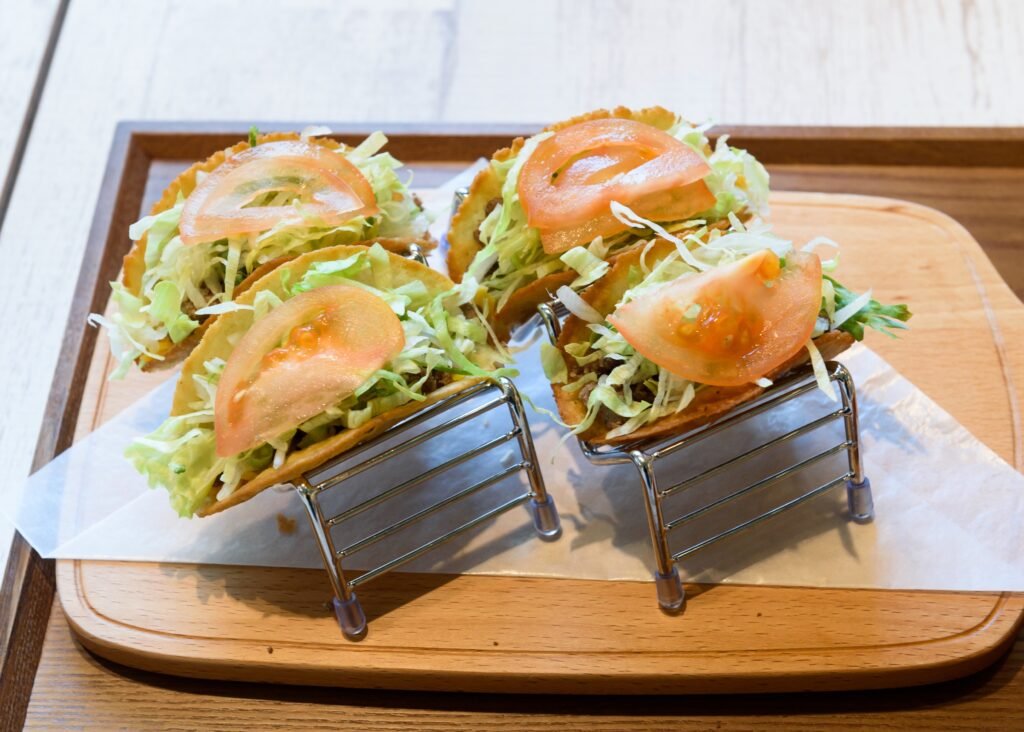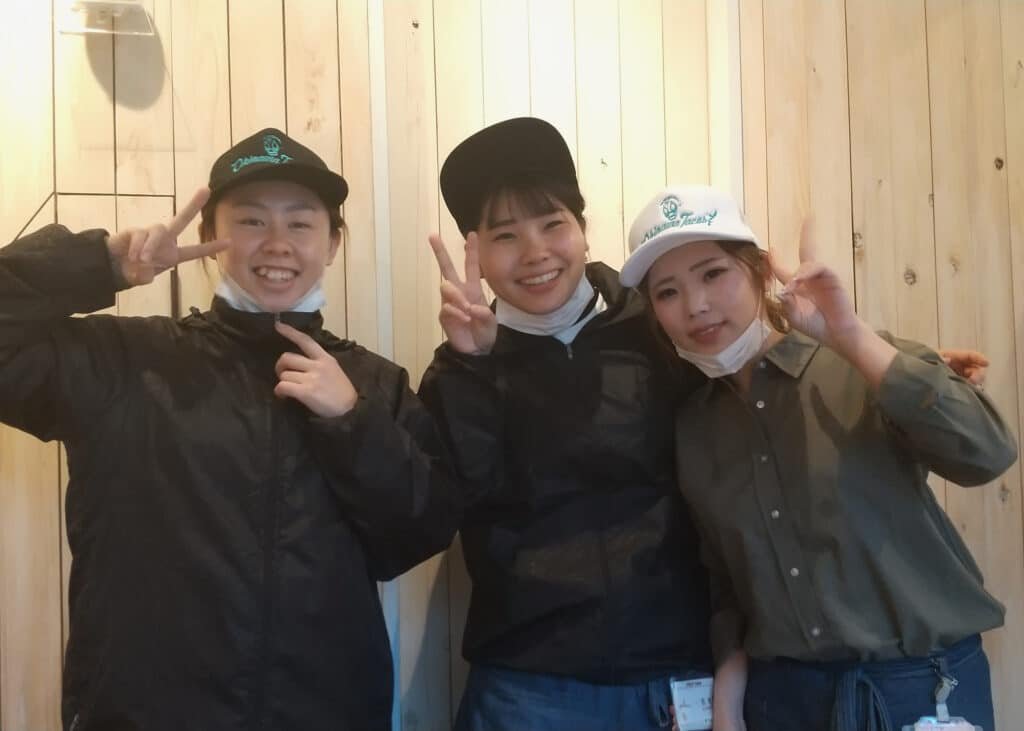 Chikara Horumon ちからホルモン
Address: 2 Chome-12-15 Izuo, Taisho Ward, Osaka, 551-0031. Tel: N/A. Open:15:00-19:30. Closed: Mon. Bus from Taisho Station: #70 #71 to Sangenya Higashi 4 Chome (2 min).
Chikara Horumon has been a local favorite in Taisho for decades. The tiny neighborhood stand with a teppan style metal grill that is located on a side street to the left of the shotengai. Only two things are offered on the menu: pork horumon (offal) and pork kimo (liver), both which sell for only 70 yen, and are dipped in garlic sauce that is addictive.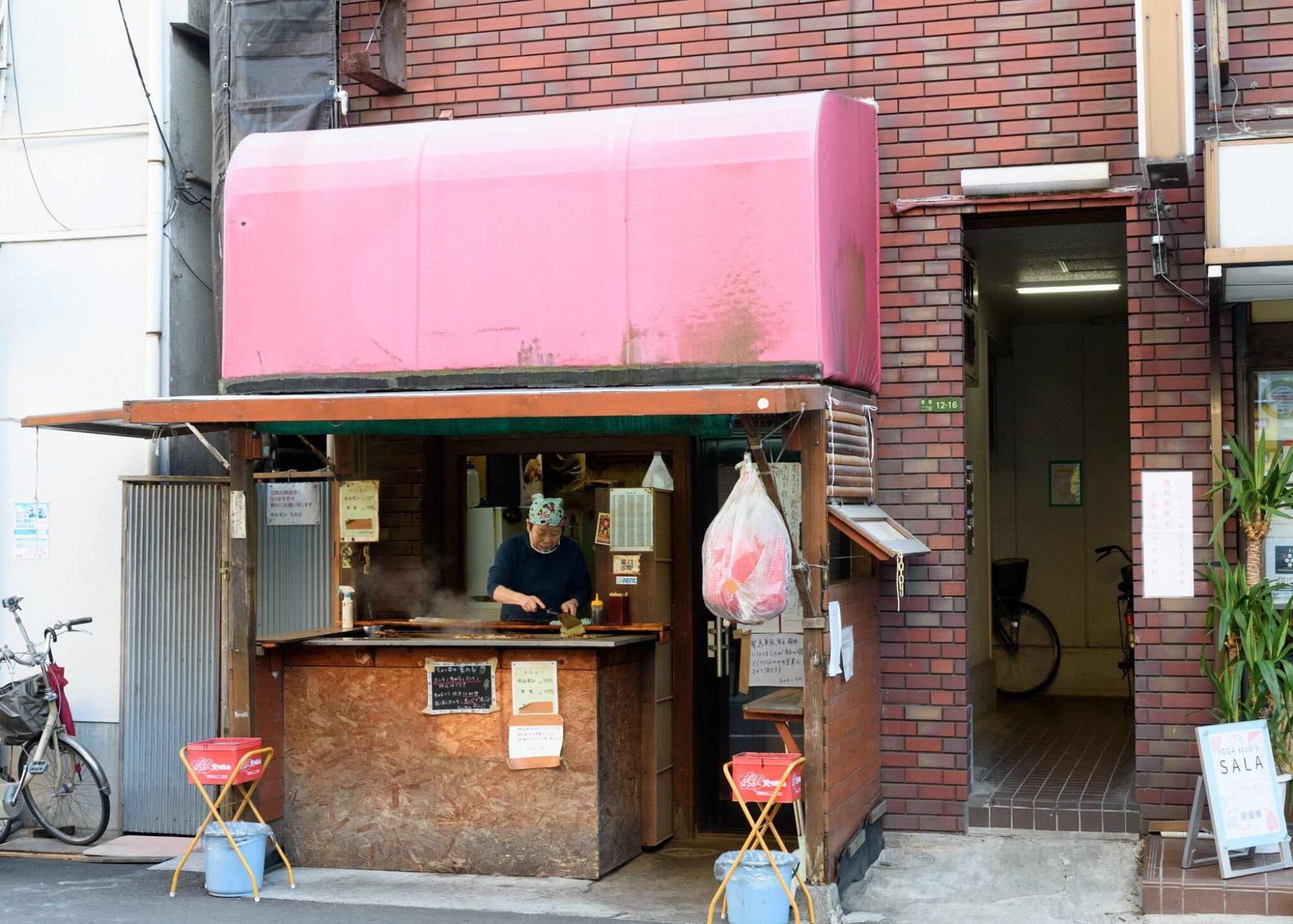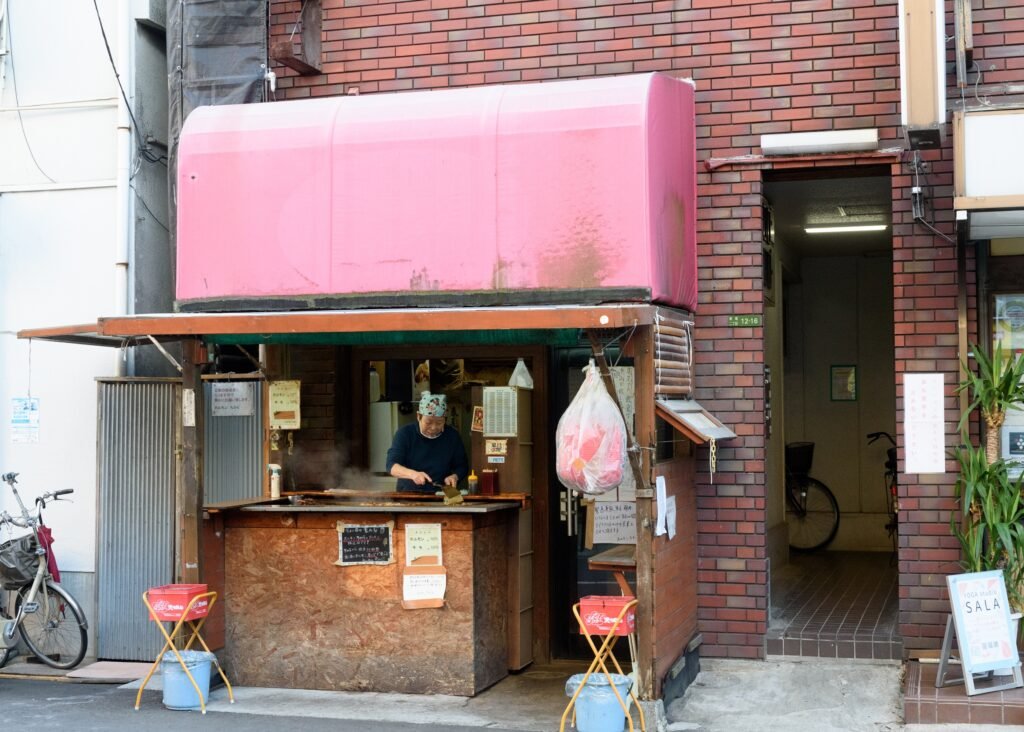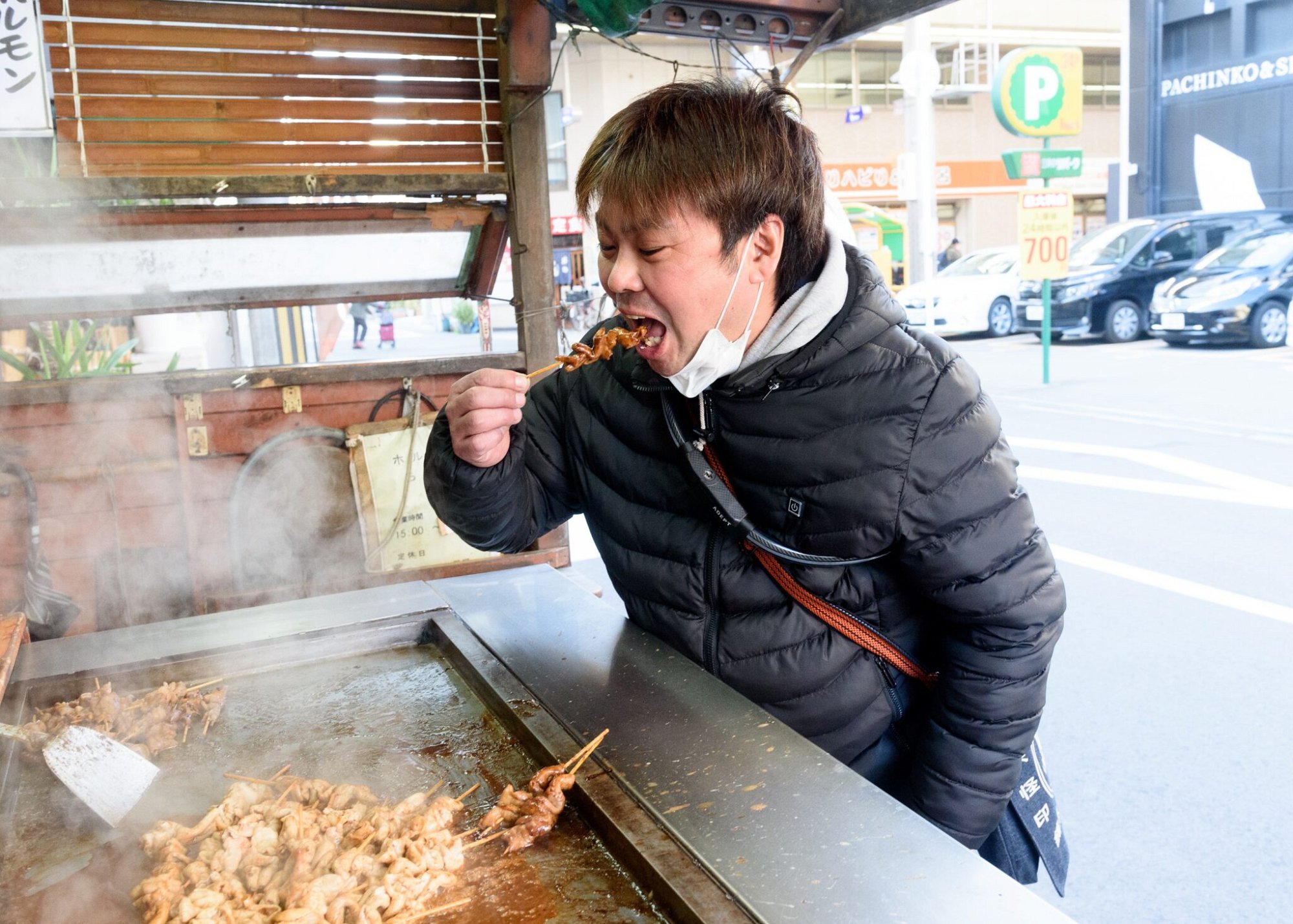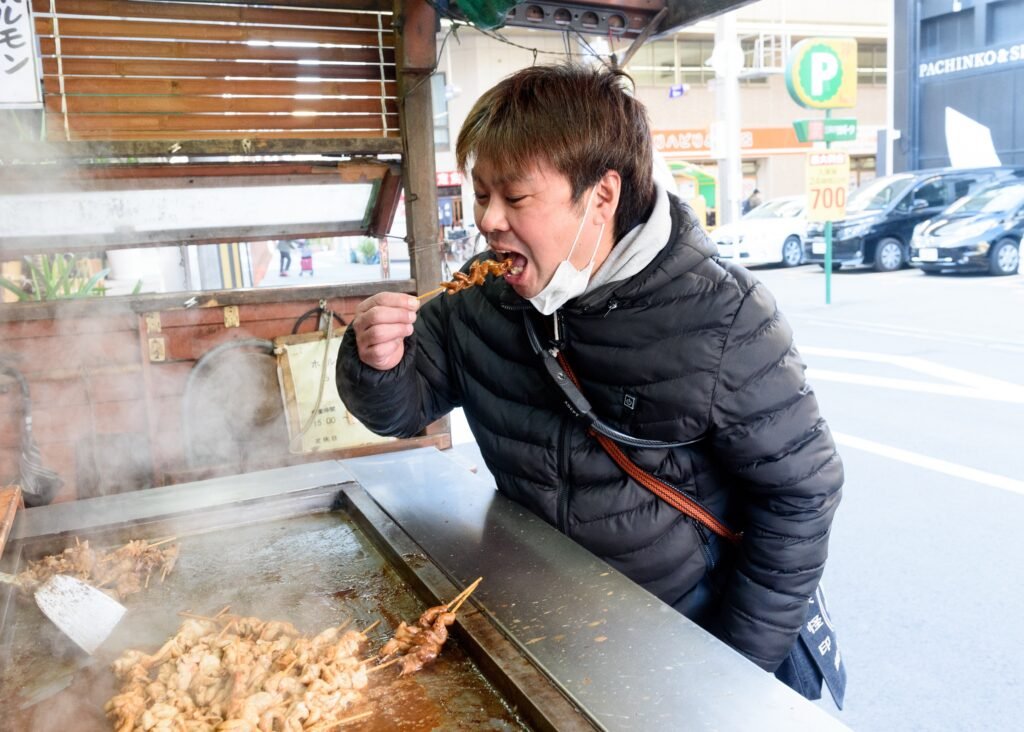 Chikara Horumon is the unofficial sister shop of Yamaki Horumon in Nishinari, which has the exact same set up, menu and taste (although the sauce at Yamaki is said to be more pungent). According to reports, the owners of Chikara and Yamaki were co-workers at a horumon shop that has since gone out of business. They kept the taste alive by branching out on their own over 40 years ago.
In recent years, Yamaki Horumon has become something of a tourist attraction, thanks in part to dozens of videos that have racked up millions of views on YouTube. It is not uncommon to see over fifty people waiting in line for over an hour, much to the chagrin of regulars who had been going there for years for a cheap meal.
Chikara Horumon is still very much under the radar and draws no such crowds. Before the pandemic Chikara sold cans of beer and it was common to see people eating and drinking by the counter (like they still do at Yamaki), but these days the shop only offers takeout. I order one skewer of each selection, hand the owner 200 yen, and receive 60 yen in change. It's the perfect stop for a quick bite of Osaka street food.
Kiyoshiya きよしや
Address:4-chome 11-21 Izuo Taisho Ward, 551-0031. Open:9:00-21:00. Closed: Sun, Mon, Holidays. Bus from Taisho Station:#70,#71,#76,#91 to Minami Izuo (8 min).
Tomokazu and I leave Izuo Shotengai, and walk several blocks to Kiyoshiya, a friendly standing bar run by two sisters in their late 70s and early 80s named Sumie and Keiko. A third sister, the eldest, retired a few years ago but occasionally comes in to help out.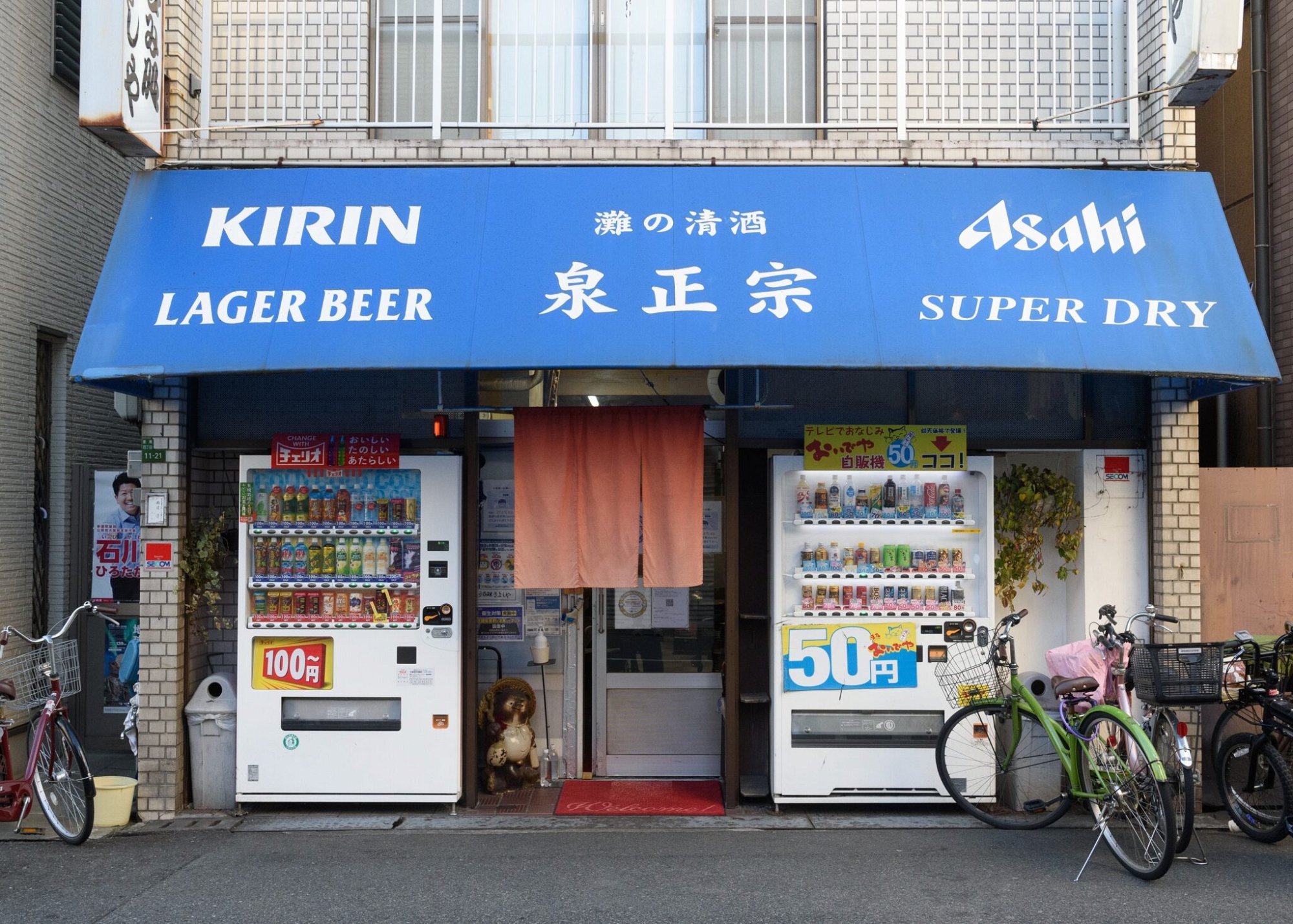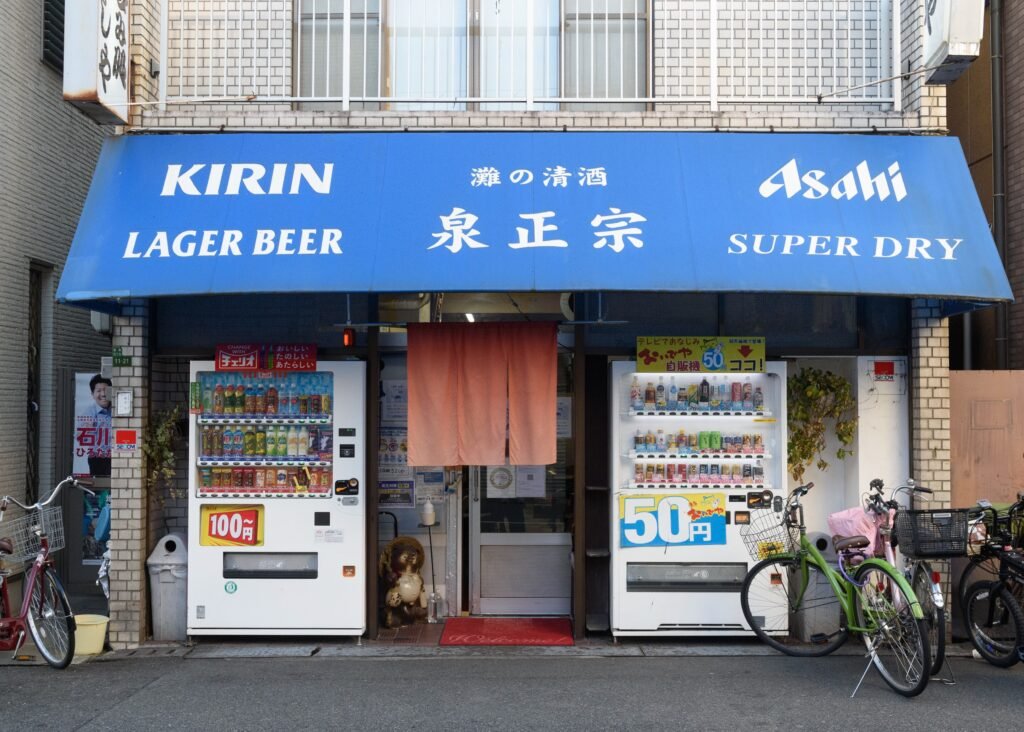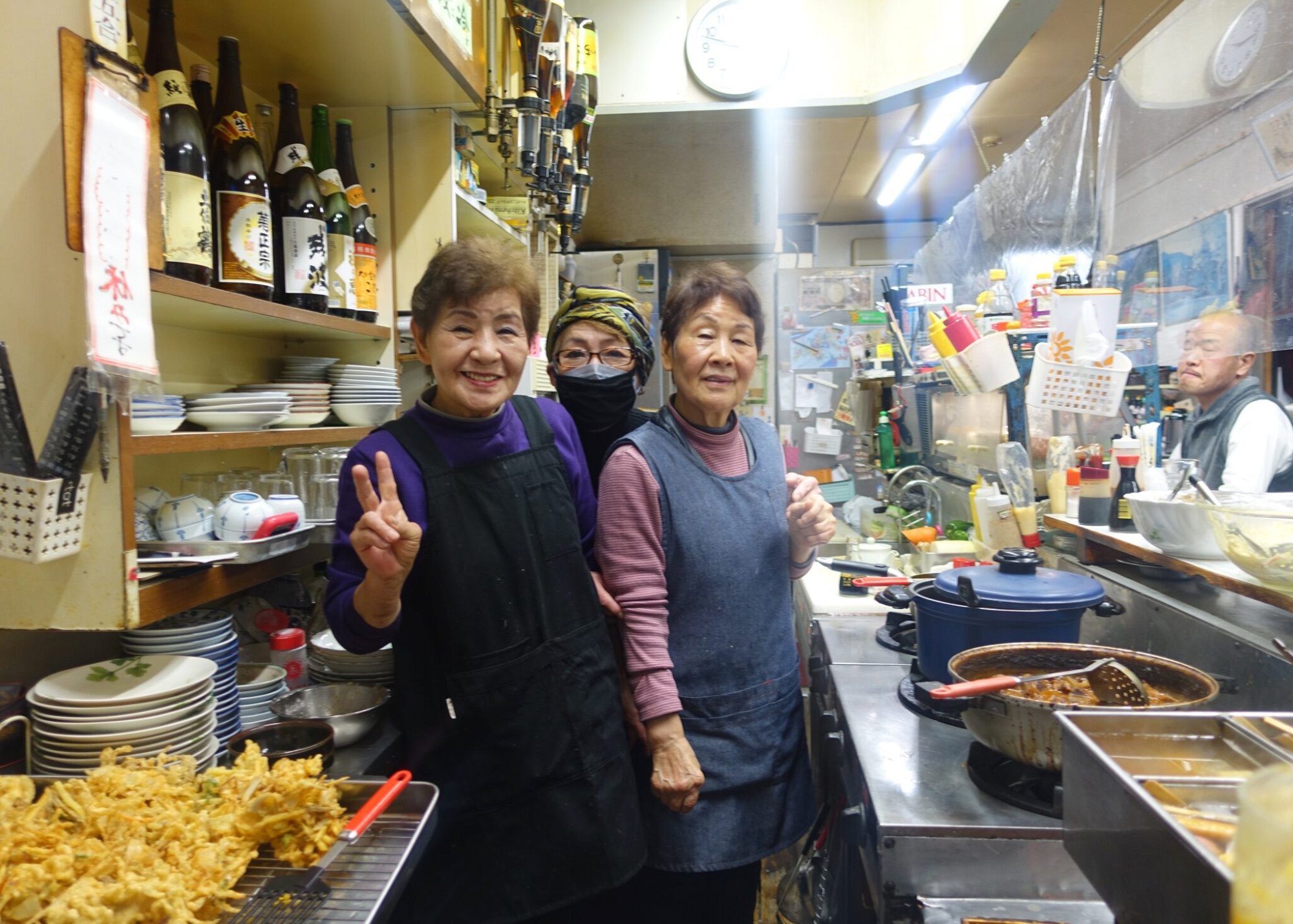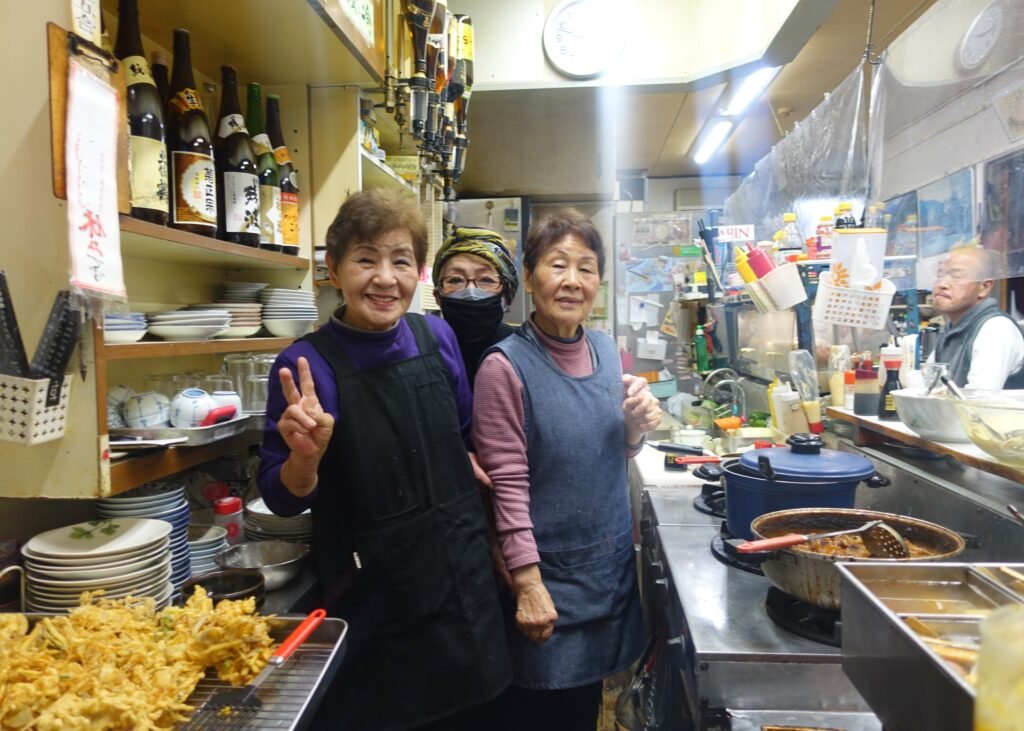 We take a seat at the counter and order two bottles of beer. It's fairly common practice for older standing bars in Osaka to.bring in chairs and stools for their customers, many whom are getting up there in years.
"The customers can sit," says Sumie with a smile "I am on my feet for 12 hours a day."
Kiyoshiya offers quality izakaya fare such as tempura, curry and rice, karaage (friend chicken) yasai itami (stir fried pork and vegetables), but their signature dish is their take own special take on chijimi, a savory Korean pancake (¥500). I have never seen such a large order of chijimi before. Its size and thickness reminds me of Chicago deep dish pizza. It's crunchy, chewy and delicious!
I notice an interesting saying taped to the wall, so I decided to look it up: 酒と女は2合まで (Sake to on'na wa 2-gō made). It translates roughly as "No more than two flasks of sake and two women." It's a clever pun using two different kanji that sound the same. The counter for flasks is gou (合); The counter for wives or mistresses is also gou (号).
While this saying about about drinking and conducting affairs in moderation may seem outdated today, the fact that it is on the wall of a bar owned by two elderly sisters is a good example of the playful sense of humor found in Osaka.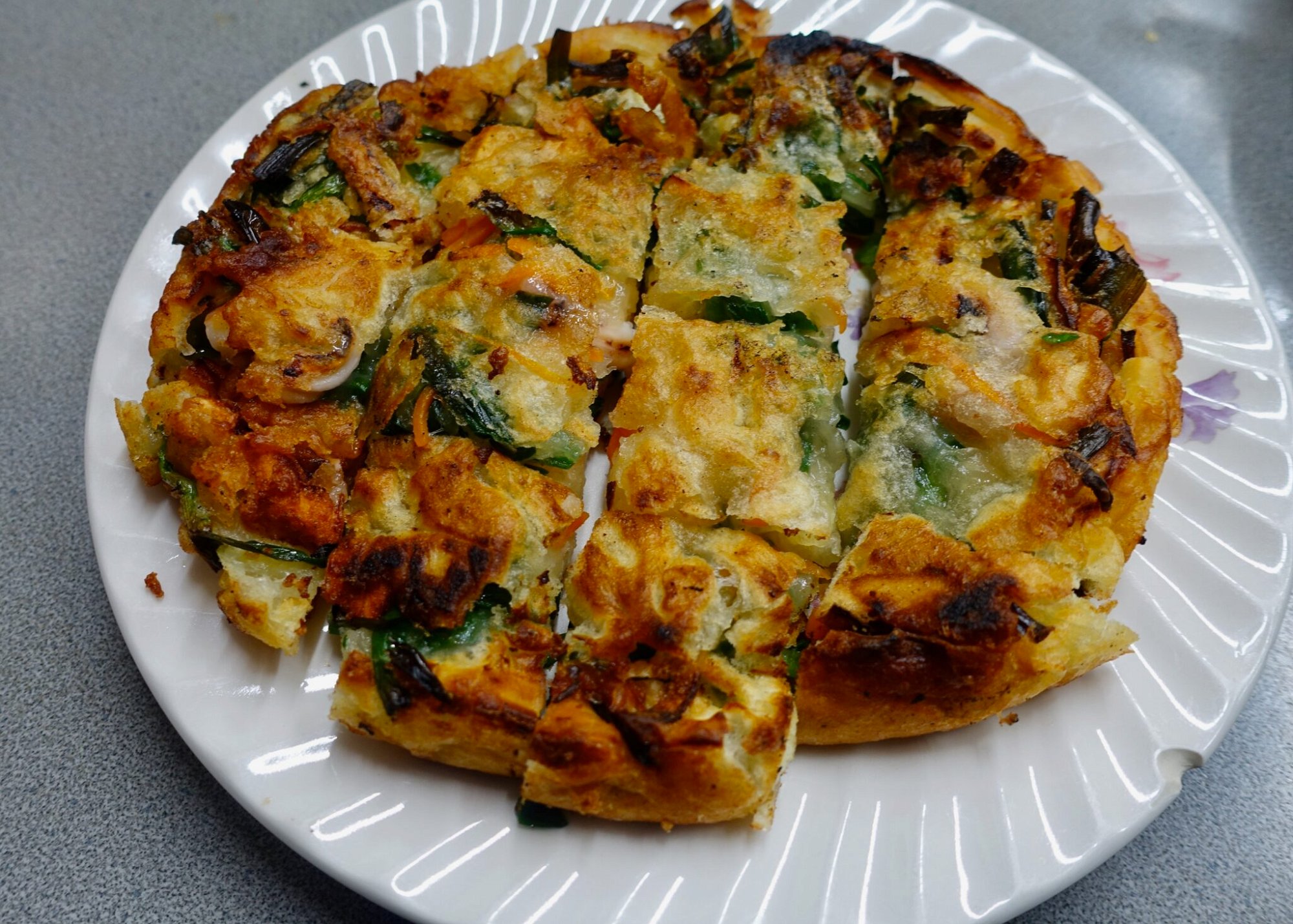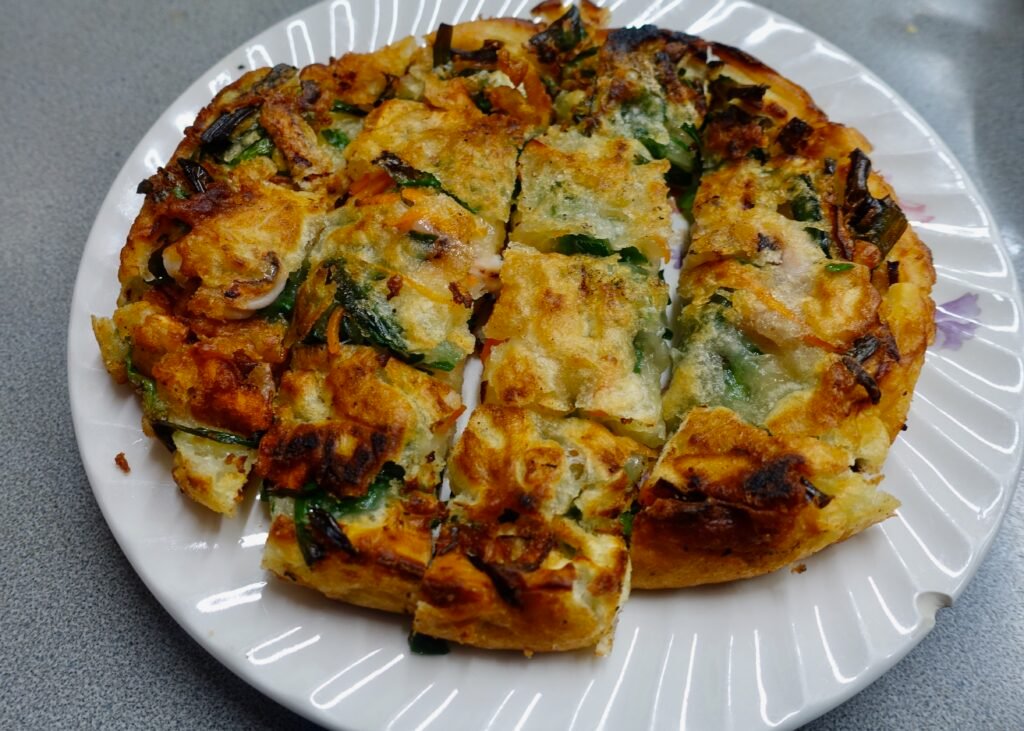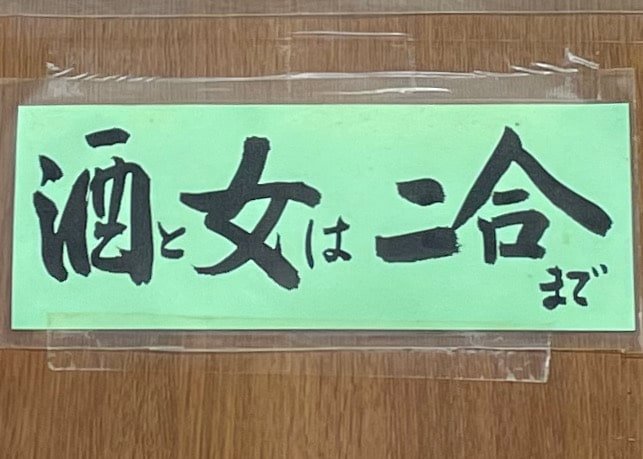 Jozenji Temple 浄泉寺
It's a short walk from Kiyoshiya to Taishodori, the main avenue that runs through Taisho. We cross the street and come to a Jozenji, a Buddhist temple with an impressive gold dome. I've never seen anything like it in Japan. We are heading to Chishima Park, which is only 10 minutes away, but we take a slight detour by turning left at McDonalds and walk towards Kobayashihigashi area in order to buy a bento at Tangoya Saketen.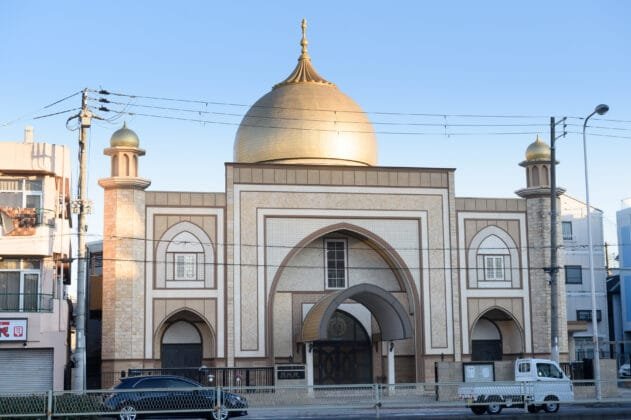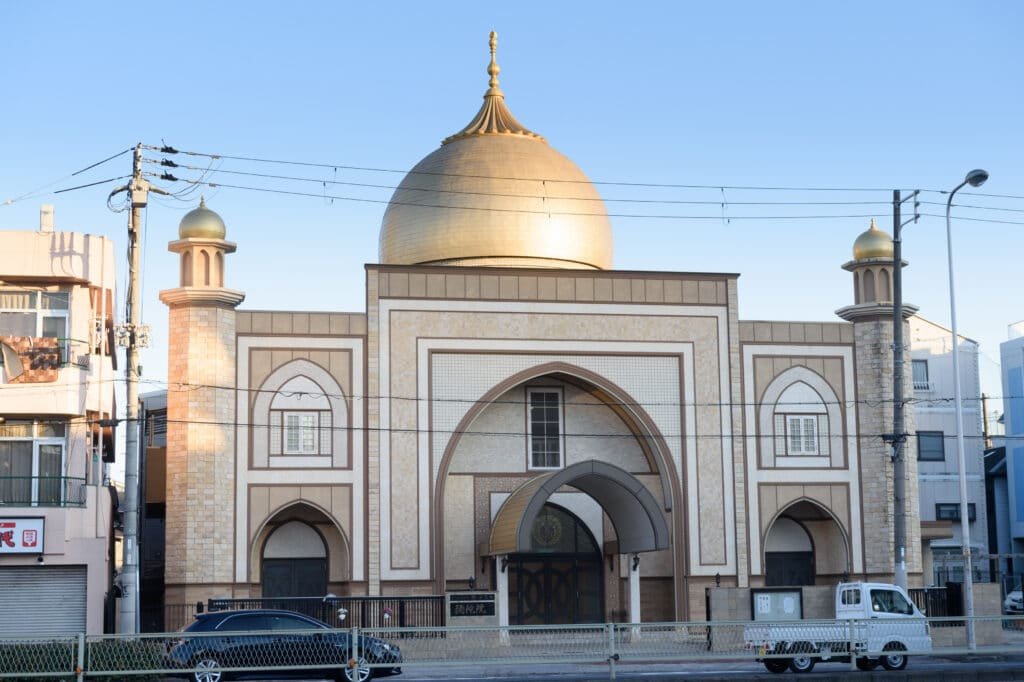 ---
Kobayashihigashi Area 小林東
Kobayashi is a medical and welfare care zone that includes a nursing home, a fire station, a police station, and an athletic facility with an indoor pool called Taisho Sports Center. Kobayashi Park, which has 100 cherry trees, contains a baseball field and a playground for children.
Tangoya Saketen 丹後屋酒店
Address: 2-chome 1-3 Kobayashihigashi, Taisho-ku, Osaka, 551-011. Tel: 06-6554-2561. Open:11:00 to 21:00. Closed:Sun and Hols. Bus from Taisho Station: #94 to Kobayashihigashi 1-chome (11 min). Instagram
Tangoya Saketen is located on the first floor of a residential building. It's a combined liquor store and bar called a kakuuchi that charges a slight markup on the retail price if you choose to drink inside. Most kakuuchi (the term originated in Kyushu) tend to be from the Showa-era, but the nostalgic atmosphere and cheap prices have attracted younger drinkers in recent years.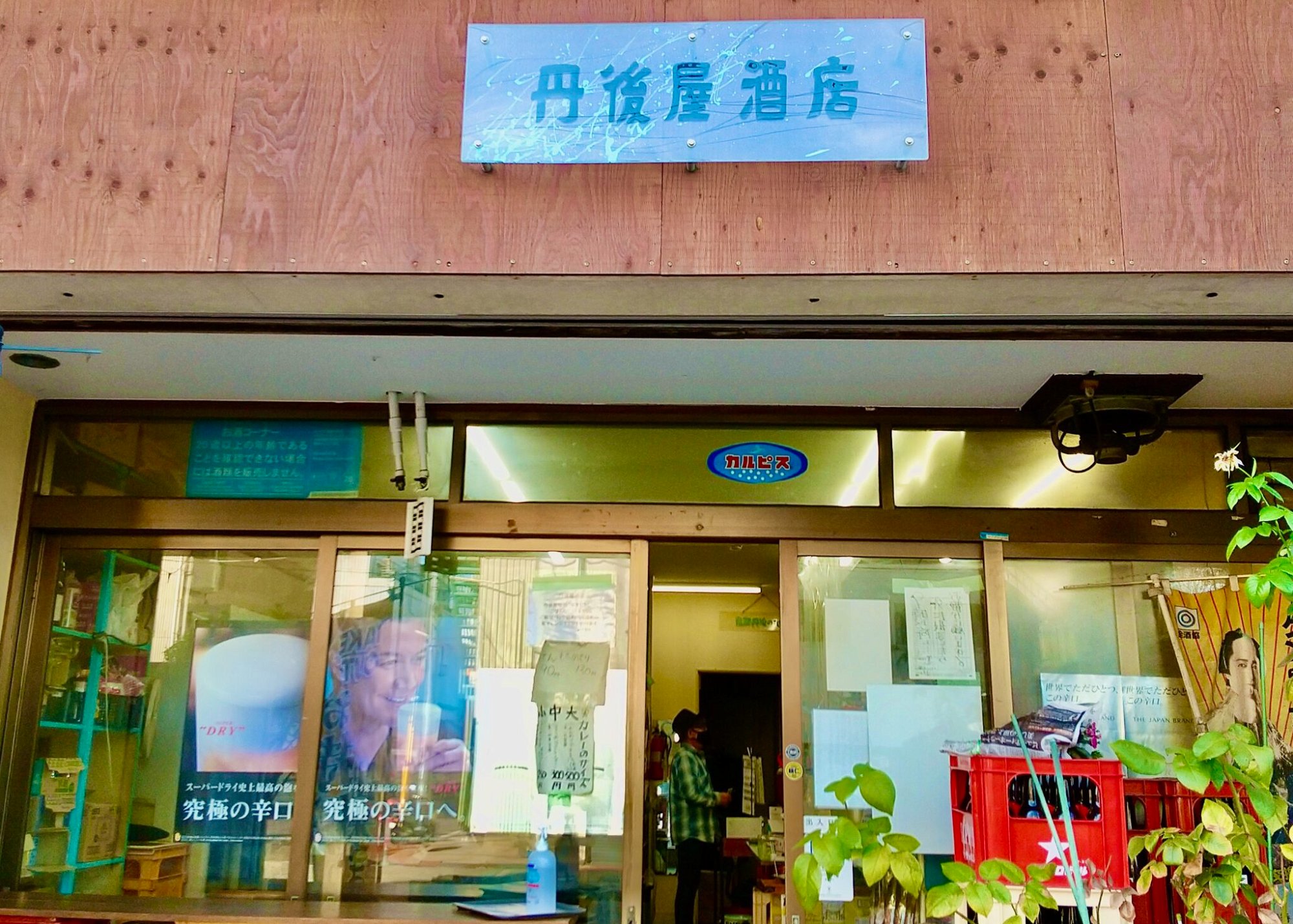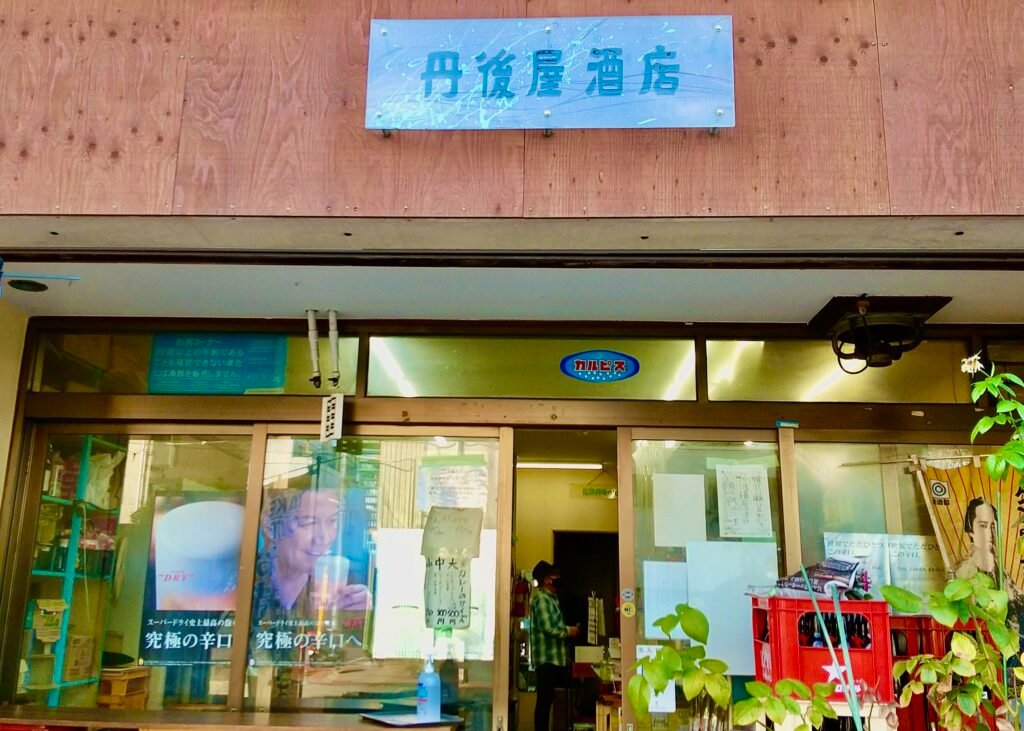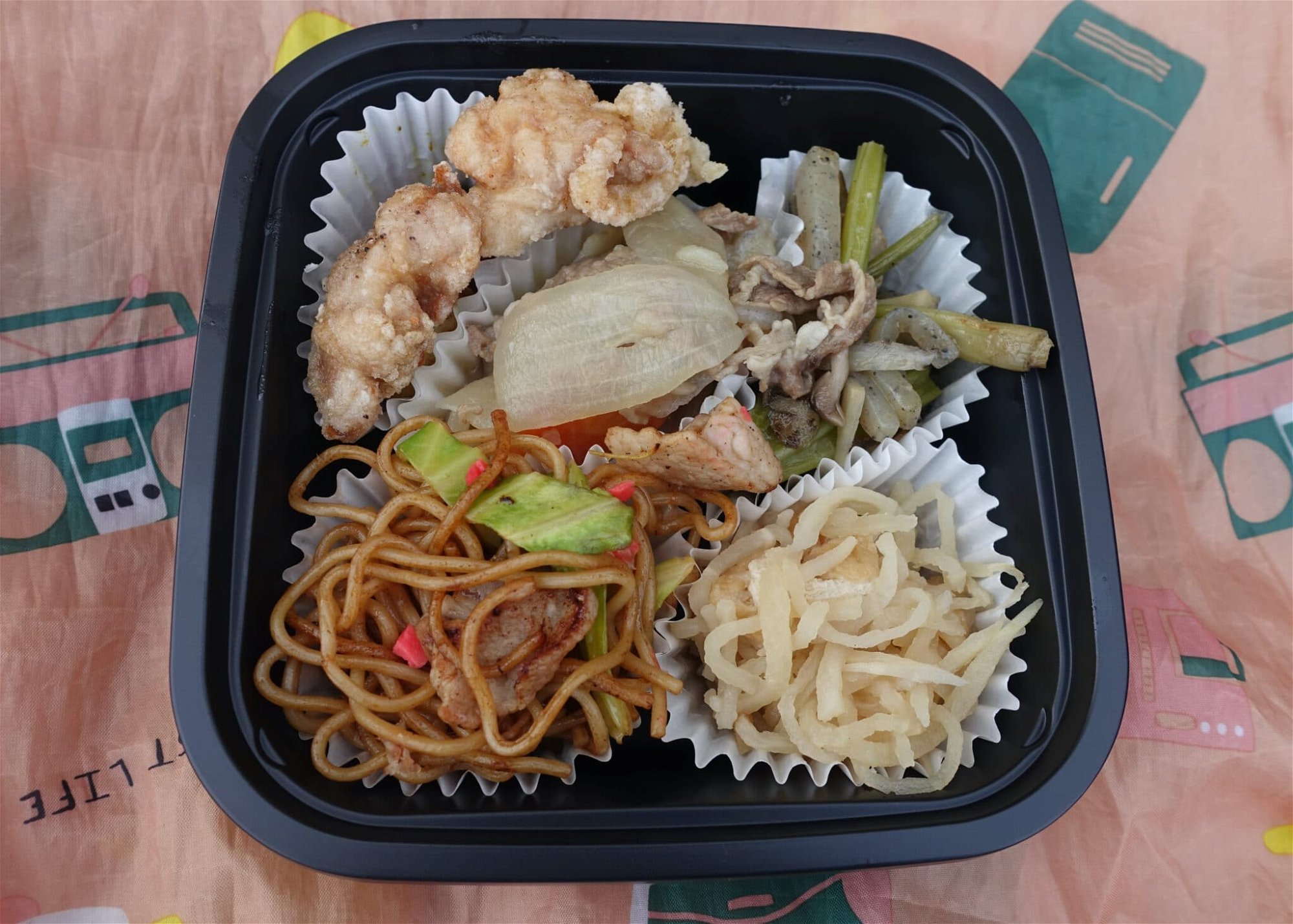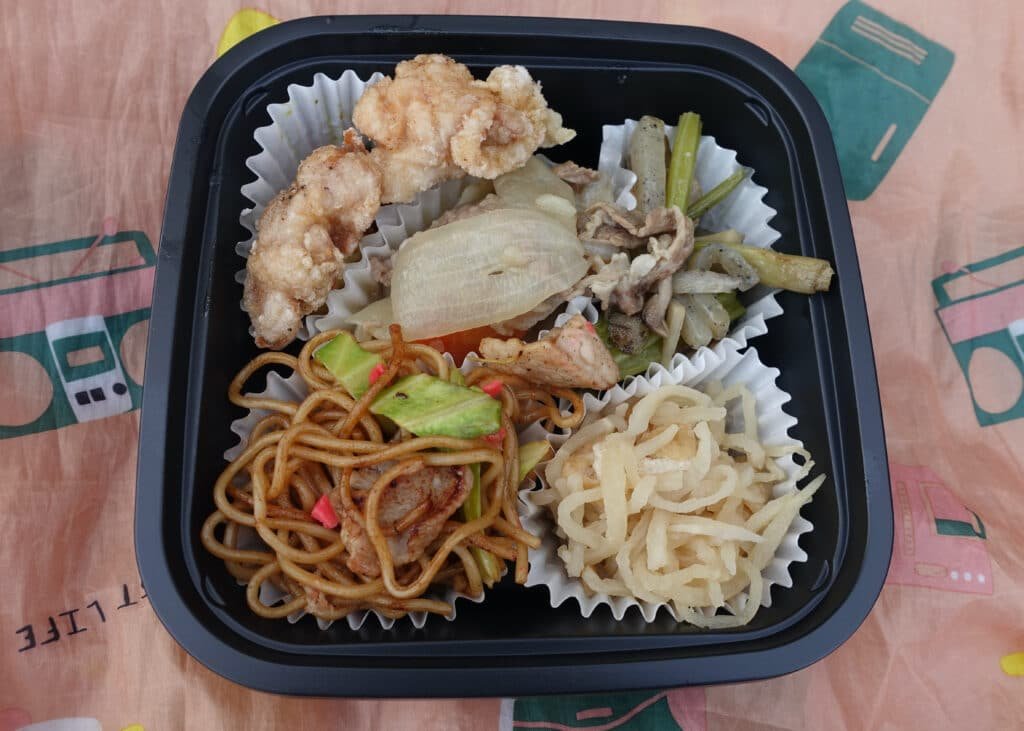 Tangoya, which takes its name from the Tango area of Kyoto that is known for delicious sake, has gotten a reputation on social media as very inexpensive place to drink that serves delicious home cooked styled food, courtesy of the second-generation owner, a cheerful woman named Toko-san who often posts new menu items on Instagram that bring in new customers (like me!). Although it seems new, Tangoya has been around for over 40 years.
The daily specials include over two-dozen items, everything from curry and rice to oden and sashimi. A selection of the daily specials are available as a take-out bento box, so we order two to take to nearby Chishima Park. The bento box seems small at first glance, but it's densely packed with extremely tasty karaage (fried chicken), curry-flavored wiener, quail eggs, nikujaga (meat and potatoes stew), yakisoba, and a boiled appetizer containing shimeji mushrooms, konnyaku, and fuki (butterbur).
---
Chishima Area 千島
Chishima is home to the Taisho Ward Office and Chishima Park, which contains a 33 meter high man made mount called Mount Showa, which was made from 1.70 million cubic meters of soil left over from construction for a subway line in preparation for Osaka Expo in 1970. It only takes a few minutes to reach the top, which boasts a 360 degree panoramic view of Osaka, Nara and Kobe. Bicycles can be rented from nearby Taisho Community Center for only ¥300 yen a day. Please click here for more information.