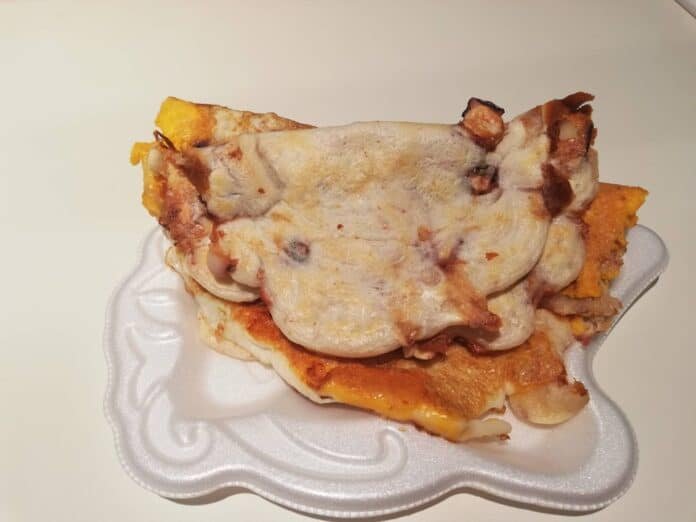 Osaka squid is referred to as Ikayaki. Ika means squid and yaki means fried. There are actually two types of Ikayaki, one is simply grilled squid that is then cut into bite sized pieces, which can be found throughout Japan. The other one is actually a type of squid pancake, which is popular in Osaka. For this article, I will go through step by step on how to make Osaka squid.
What is Osaka Squid – Ikayaki?
Ikayaki, to put simply, is a squid pancake. It is similar to okonomiyaki and takoyaki, in the fact that it uses a batter (You can view my okonomiyaki guide here and takoyaki here). The texture is a bit more chewy from the dough and the squid. They are both fried together and the folded resulting in a mochi style texture. It is then topped with okonomi style sauce and sometimes mayonnaise.
History of Ikayaki
Ikayaki is part of the 'powder culture' in Osaka. This revolves around quick, delicious food that is flour based. This Osaka squid pancake was said to have been born around 1950 in the Momodani Yakiya Kaiyukan shop. Similiar to the birth of okonomiyaki, Ikayaki was created through using staple ingredients. The use of a batter and slicing squid thinly allowed people to pack flavour and nutrition into the dish, very quickly.
Squid
The specific type of squid used in Ikayaki is called the Japanese flying squid. These squid are found in the northern areas of the pacific ocean near Japan, but they can be found around coastal China, Russia and towards part of Canada and Alaska. They travel through the water by jet propulsion, sucking water into their mantle and then forcefully expelling it out through a siphon.
The use of this squid is important because it is a lot 'meatier' than normal squid. You will be able to notice the tenderness and the amazing squid taste.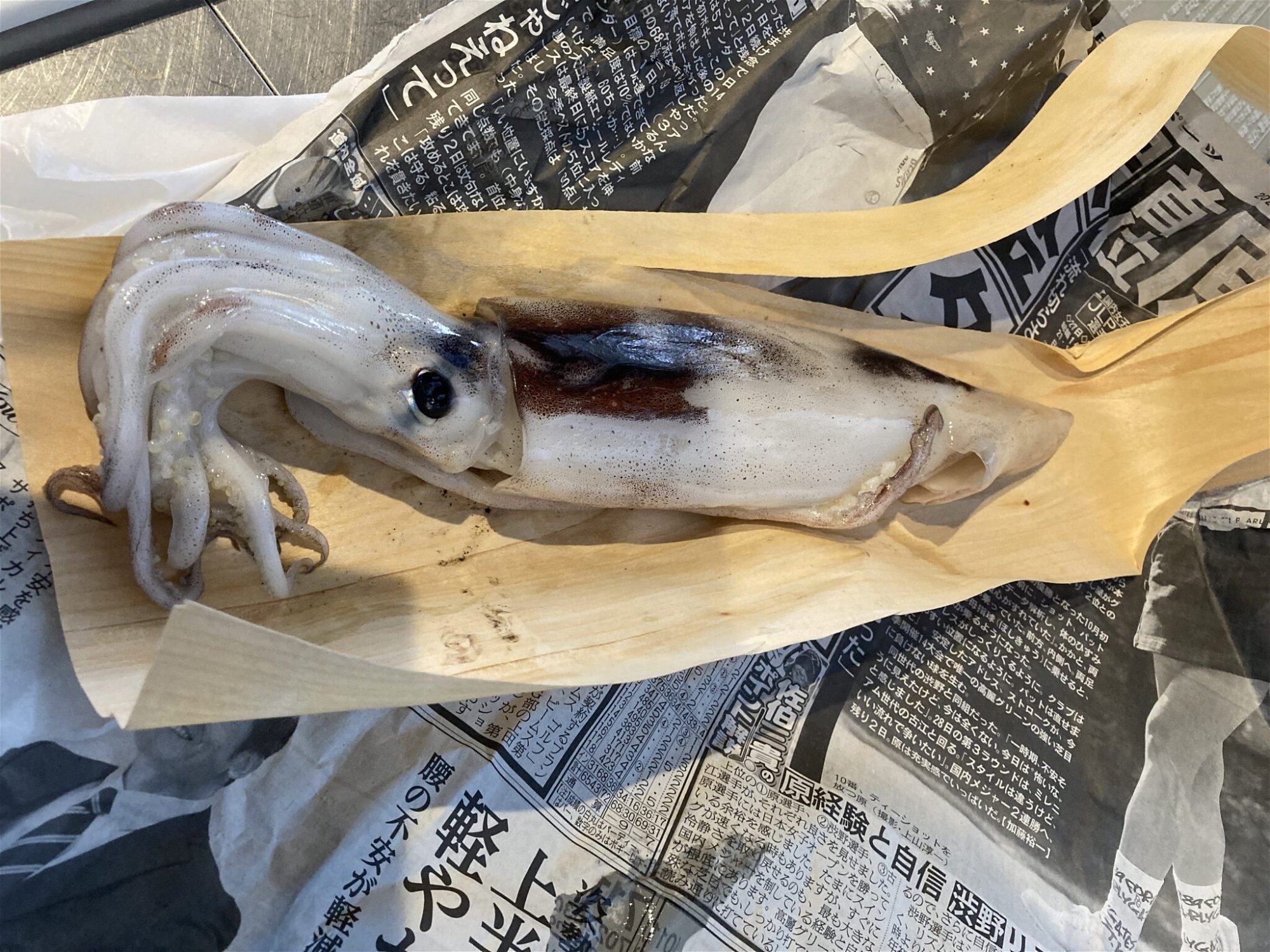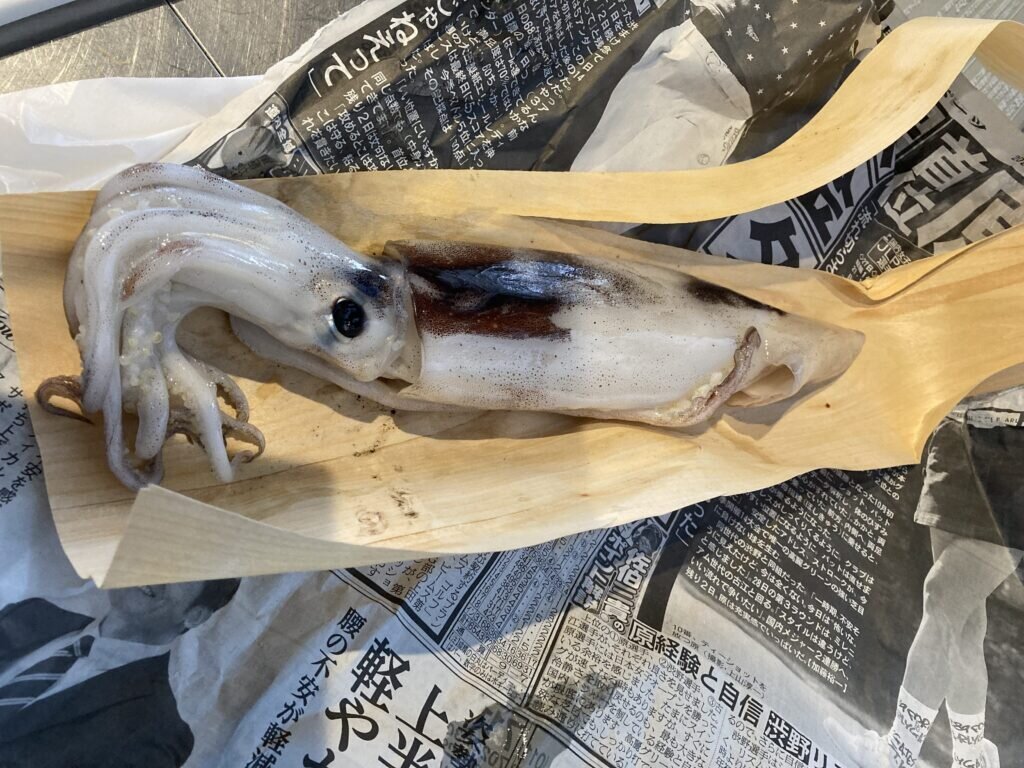 How to make Ikayaki
Ingredients
1 Squid
180ml dashi (You can view my dashi recipe here.)
100ml
2 egg
2tbsp Soy Sauce
2tbsp Sake
Toppings of choice
Spring onion
Okonomi Sauce
Mayonnaise
Method
Step 1
Prepare your dashi. For this recipe, I just have to put 600ml of water with 1 pack and heat it up gently to a boil. Once made, leave to cool.
Step 2
While you are waiting for your dashi to cool, you can start preparing the squid. For this recipe I used Pacific flying squid. First of all hold the squid by the two eyes with your stronger hand. With your other hand, loosen the joint between the head and the body.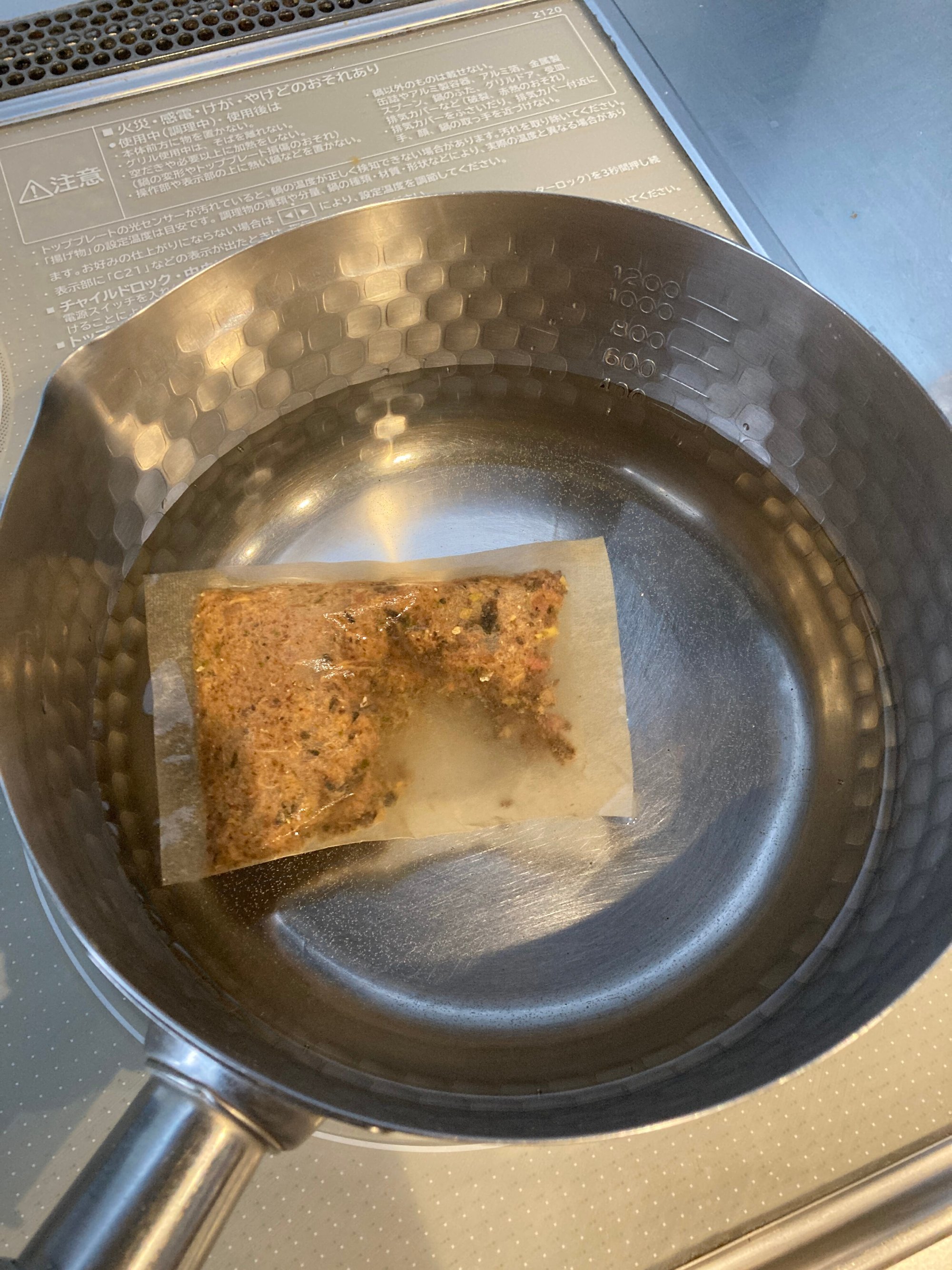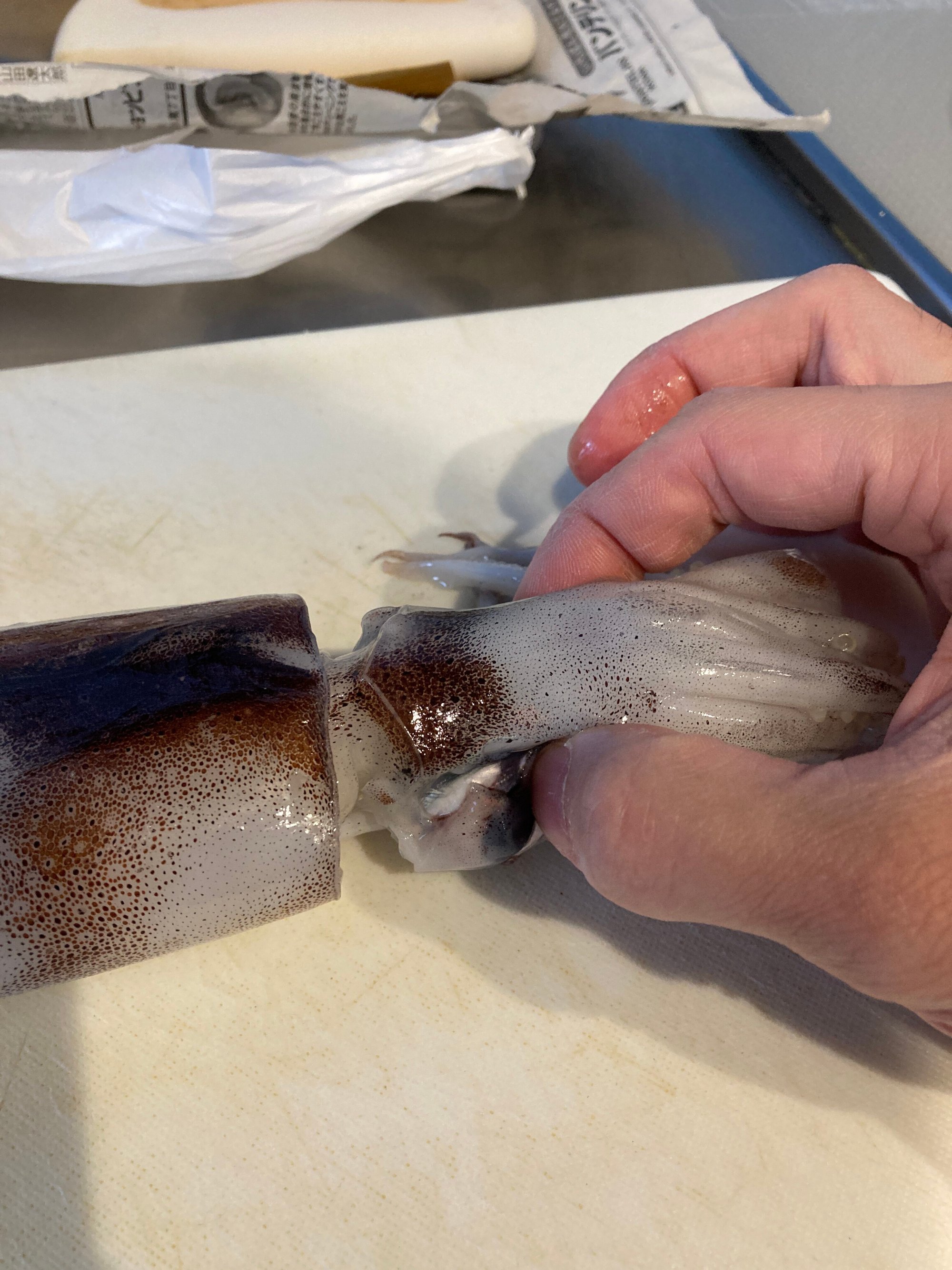 Step 3
Gently pull out the head and the intestines. Inside the body, there will be a piece cartilage, which you need to take out.
Step 4
Cut the body in half so that it is butterflied. and then clean with water. There may be some remaining bits of intestines so make sure you clean thoroughly. Next, cut into bite size pieces or strips.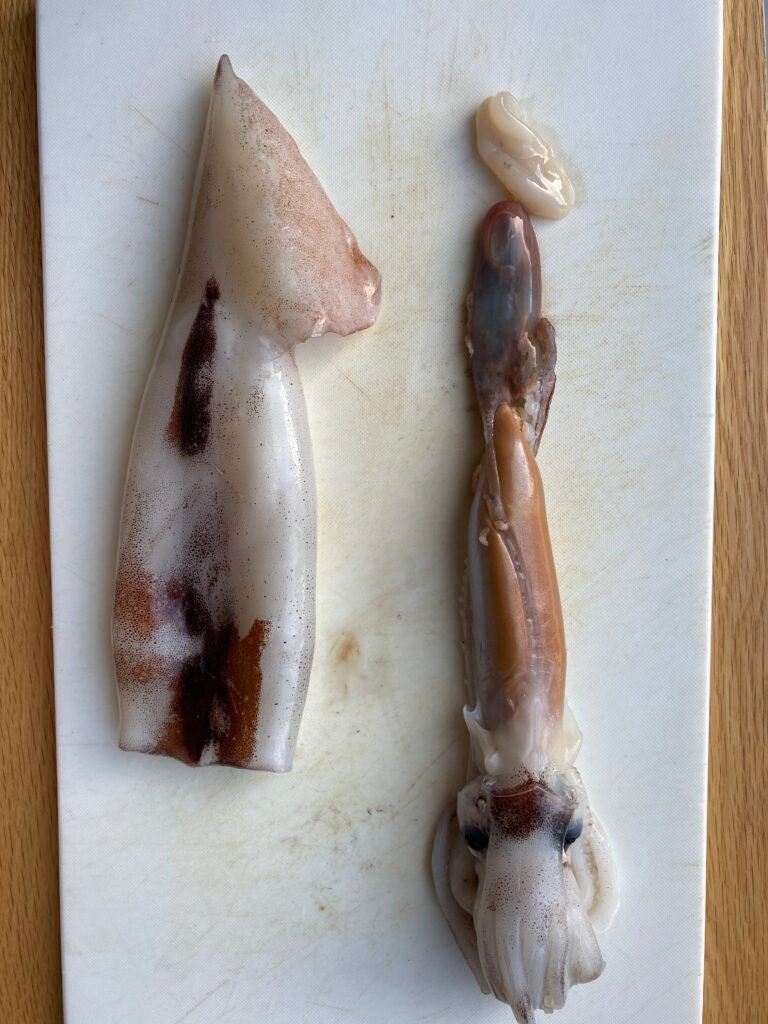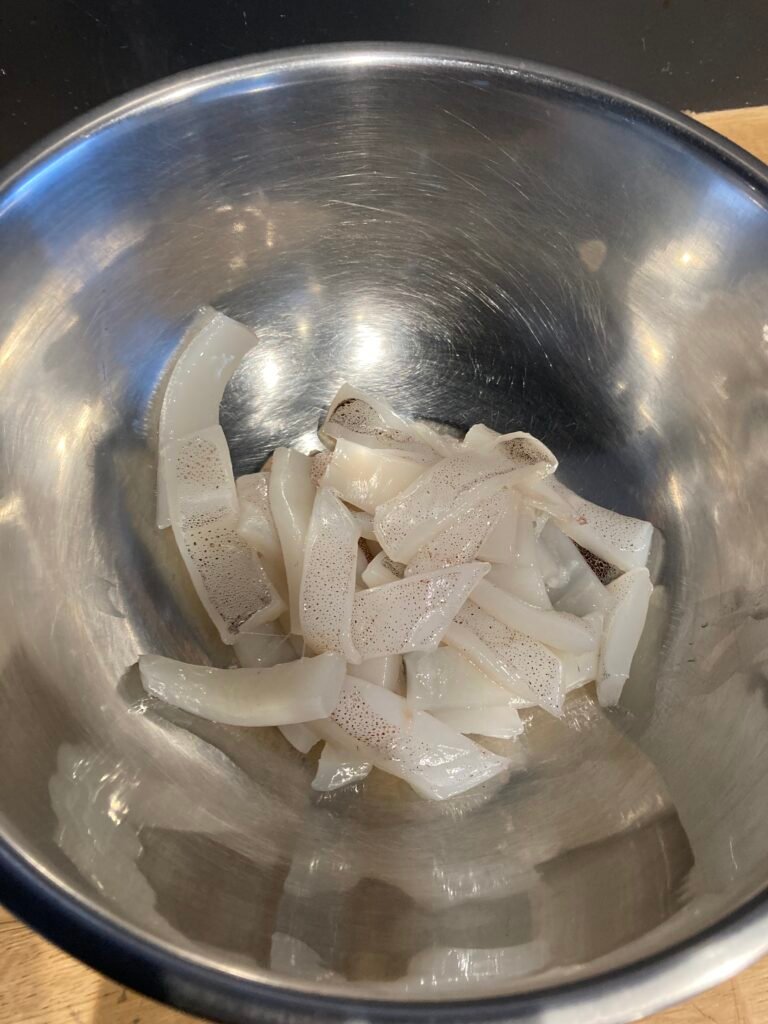 Step 5
Weigh your flour and slowly whisk in your dashi until combined. Next Add the soy sauce, sake and squid.
Step 6
Heat the fry pan on medium-high heat and add some oil. Add one ladle of the batter and spread out across the pan evenly.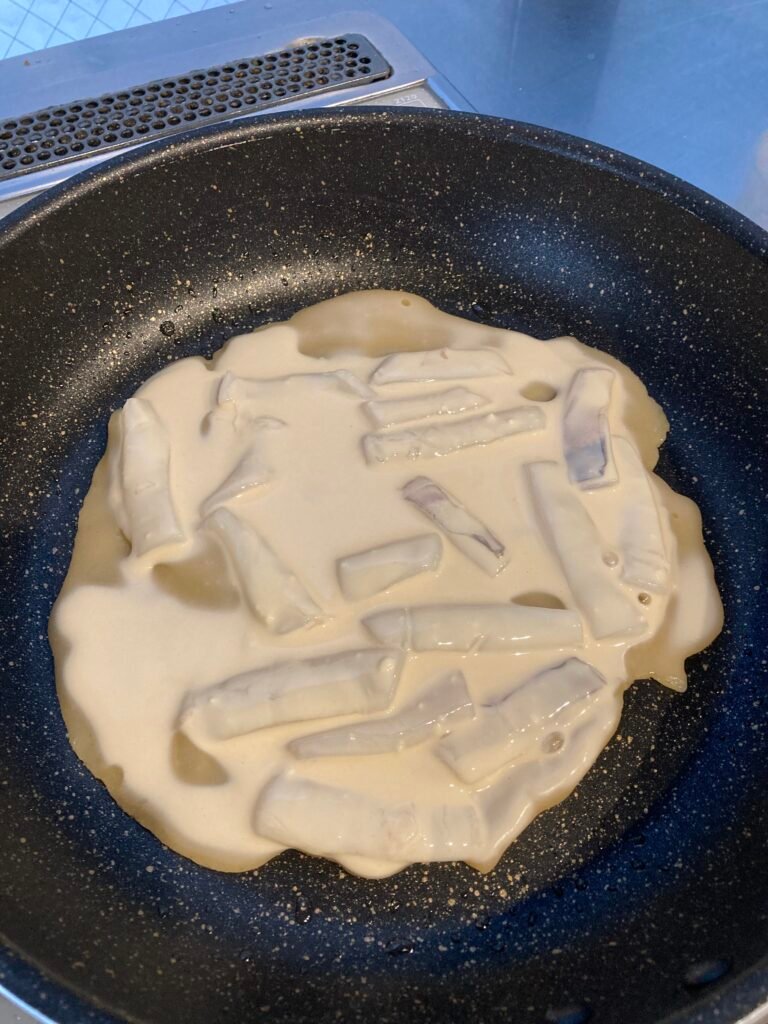 Step 7
After 1 minute (or until golden brown) flip over and fry another minute. The squid should be white and cooked through evenly. After frying, place on a board or plate.
Step 8
In the same pan, add some more oil and fry your eggs. Place them whole directly in the pan and use a spatula to break them apart. Spread it out to around the size of your squid pancake.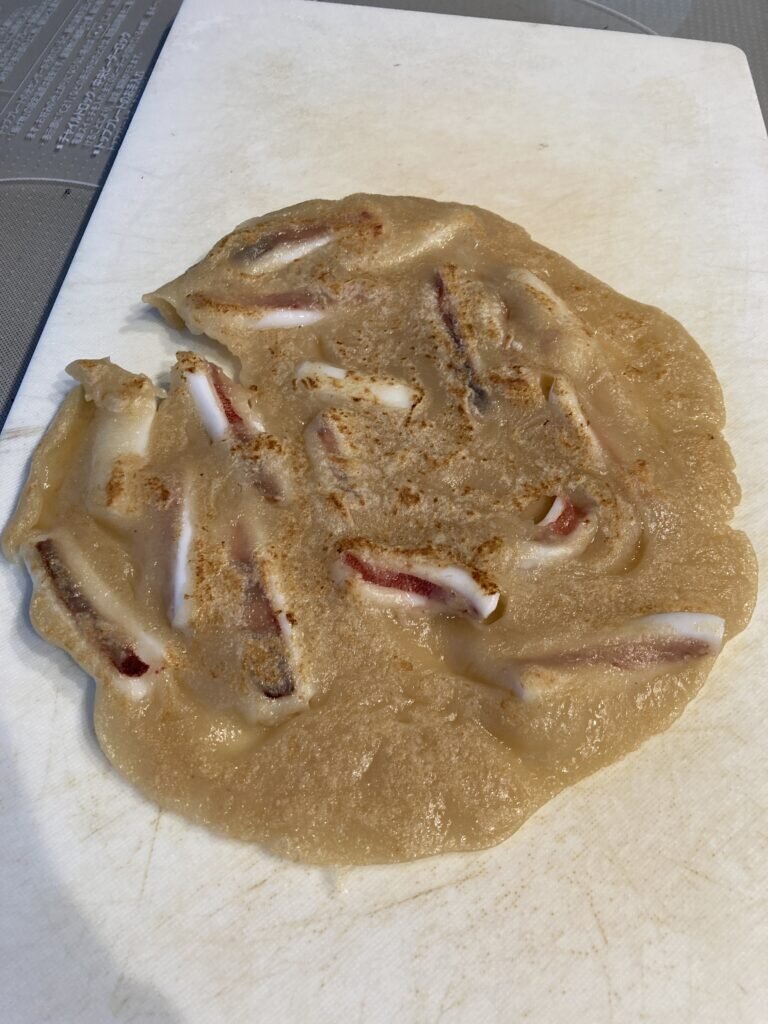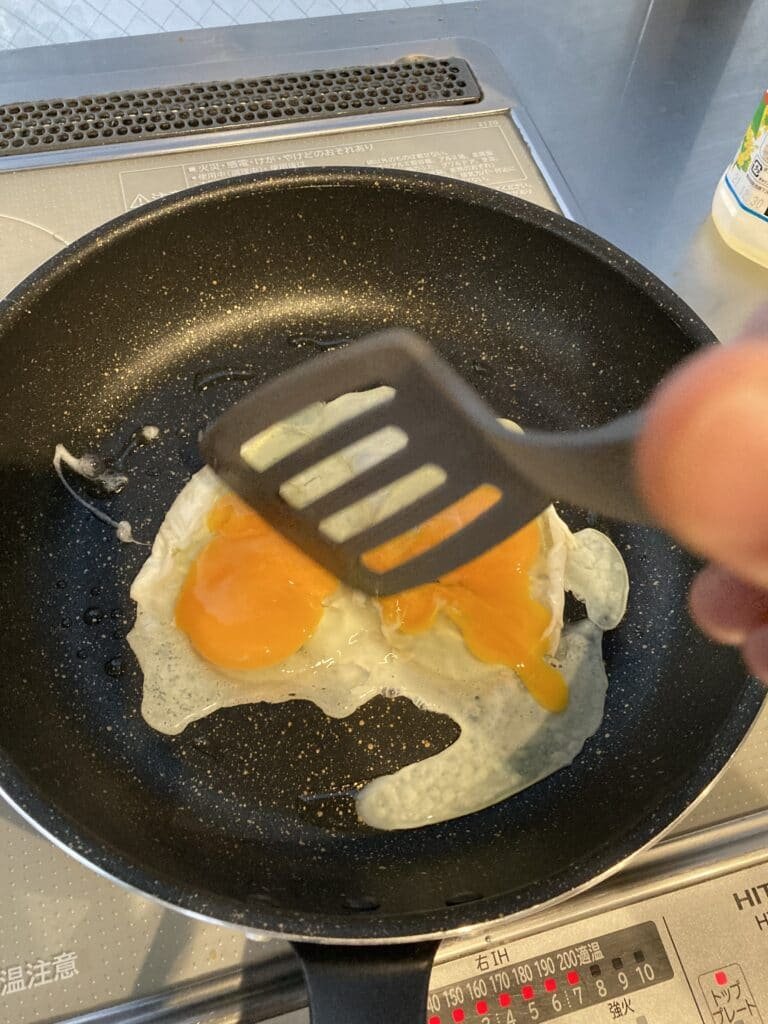 Step 9
After slightly cooked, place your squid pancake on top of your eggs and wait till fully cooked through.
Step 10
Place on your plate and then add your toppings. Enjoy!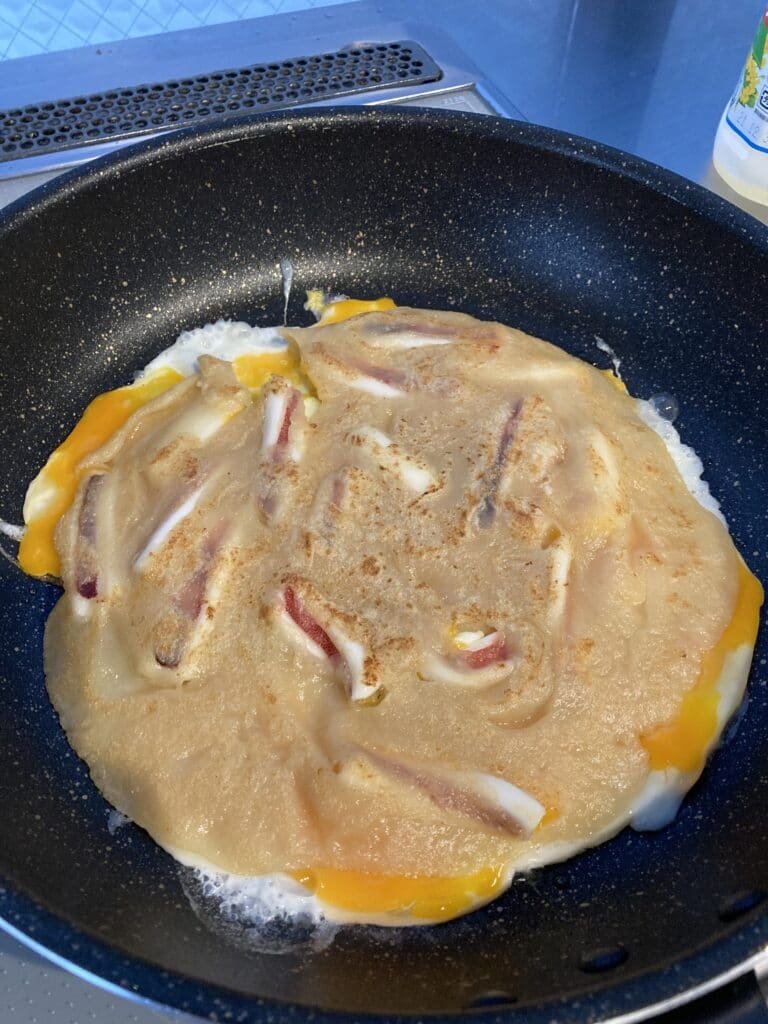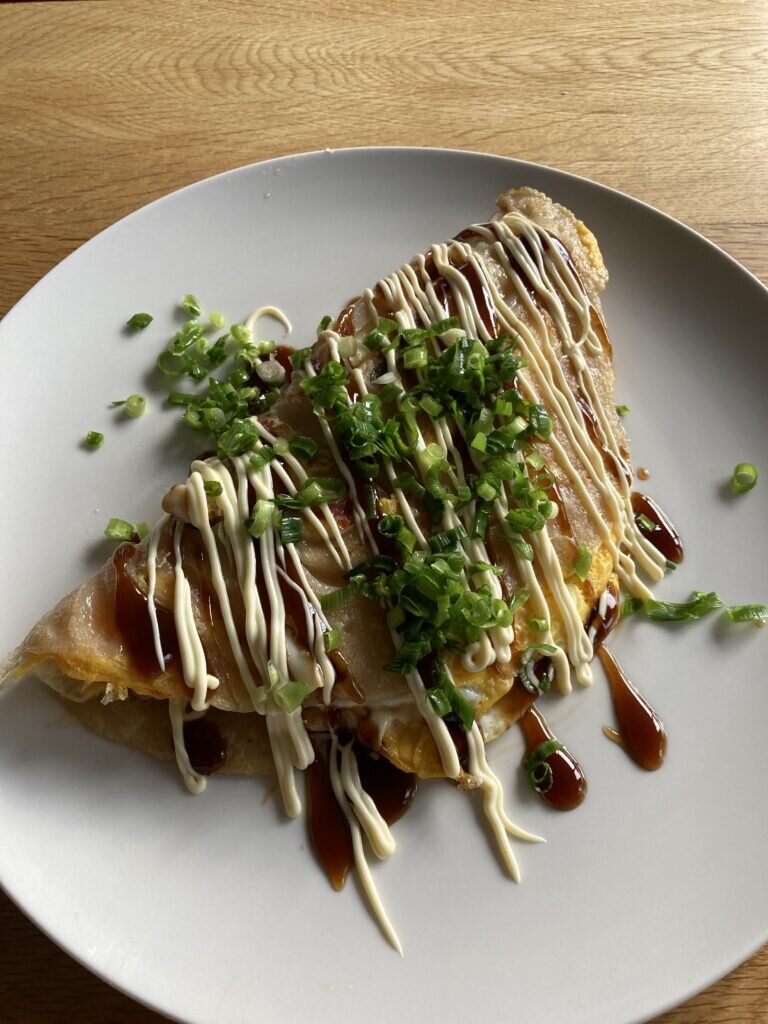 Toppings
Okonomi Sauce
Okonomi Sauce is sweet and has a strong umami flavour, making it one of the most important toppings. It is similar to Worcestershire sauce but is less salty and instead sweeter. One of the most famous brands of okonomi sauce is 'Otafuku Okonomi Sauce' and can be found in most Asian supermarkets. However, if you want to make your own, you can use ketchup, Worcestershire sauce, oyster sauce and sugar.
Kewpie Mayonnaise
Japan's most famous mayonnaise, made by Kewpie, isn't like your normal mayonnaise. One of the main differences is the use of egg yolks instead of whole eggs contributing in a rich and creamy mayo. As a result, there is a punchier kick and the final sprinkle of MSG adds the extra umami flavour. This mayonnaise creates a fantastic balance between the sweet and umami packed tonkatsu sauce and the creamy mayonnaise.
Green Onions
For Ikayaki, I find that this is one of my favourite toppings. It is an extremely simple dish with not too much texture. The pancake is soft and the squid is chewy. It also resembles a pickle because it helps cut through some of the heaviness of the batter.
Where to enjoy Ikayaki in Osaka
Yakiya Kaiyukan
The birth shop of Ikayaki, this is definitely the place to go. The main store is located near JR Momodani Station and a branch store is located in the Tempozan Marketplace "Naniwa Kuishinbo Yokocho". Here, they use two hot iron plates like a sandwich grill. First, they spread a mixture of dough and squid onto the hot plate. Next they crack a raw egg on top and mix to combine. They then close the top hot plate so that it can cook through on both sides. This usually takes around 1 to 1 and a half minutes. After finish cooking, they spread their special hot sauce on top and then fold like a crepe. Furthermore, they wrap it in paper so you can eat without directly touching the hot Ikayaki.
The result is a beautiful soft and fishy pancake. The use of dashi in their batter gives extra umami and the sauce has an excellent balance and sweetness and sharpness. As the sauce is spread on top and then folded, you can a taste every bite you take. If you are looking for something a bit more adventurous, they also have other flavours. Cod roe and spring onion with mayonnaise are two popular options!
Furthermore, they have an online shop so you can order it to your door. You can order their batter as well as pre made Ikayaki, which can be warmed up in a microwave.
Address : 〒552-0022 Osaka, Minato Ward, Kaigandori, 1 Chome−1−10
Phone Number: 06-6576-5824
Opening hours: Mon-Sun, 11AM – 8PM
Hanshin Department store
This is located in Umeda, Osaka and is your typical department store that you will find in Japan. It has a host of retail shops full of clothes and boutique items. However, on the basement floor, there is a food court with a small stand selling Ikayaki. Here you can enjoy different varieties of Ikazaki from plain to spring onion filled ones. It is an extremely popular place and there is usually a queue for their famous Ikayaki. Furthermore, it comes on a cute plastic squid plate! This is one of the most popular places to eat Ikayaki, especially after a long day shopping. On busy days they sometimes sell up to 10,000 Ikayakis, so be prepared to wait a while for yours!
Address : 〒530-8224 Osaka, Kita Ward, Umeda, 1 Chome−13−13, B1F
Phone Number: 06-6993-0555
Opening hours: Mon-Sun, 10AM – 10PM
Isohachi Ikayaki
This small little stand is quite unassuming. It is run by a family and offers some fantastic Ikayaki at a reasonable price. For just 120 yen, you can get a delicious Ikayaki in no time at all. The shop started in 1952 and you can see that through the equipment being used. It is rustic and very charming. The cast iron grills that they use have been used for decades and actually enhance the flavour of their Osaka squid.
You can watch a video on Isohachi Ikayaki here.
Address : 〒557-0033 1 Chome-3-1 Bainan, Nishinari Ward
Phone Number: 06-6661-9826
Opening hours: Fri-Sun, 11AM – 6PM
Final
Ikayaki is a great quick snack or meal for anytime of the day. It's packed full of flavour and so quick and easy to make! If you are ever looking for something to eat while roaming the streets of Osaka, look no further than Ikayaki.