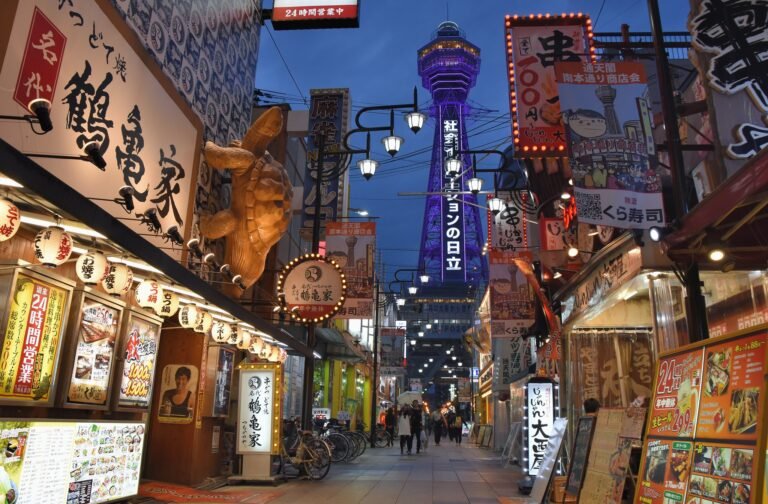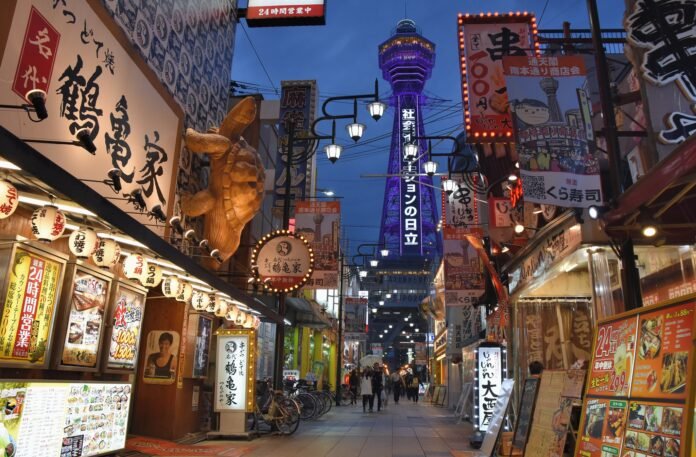 Osaka is a big place. Indeed, it is the third largest city in all of Japan, after Tokyo and Yokohama. In six years of living in Osaka, I still haven't seen everything this amazing city has to offer. So, how can one cover the entire city in just three days? The best of Osaka
How can you distill years of possible adventures into a single long weekend?
That is the challenge we will face today, dear readers. So, please join me as we embark on a three day tour de force of the very best Osaka has to offer.
To give you an idea of how long it takes to tour each location, I have included a rough guide of times, but please feel free to go at your own pace.
The people of Osaka are noticeably more laid back than most others in Japan, and this is often reflected in their sometimes lax approach to timekeeping!
Anyway, without any further delay, here is your three day guide.
Day one: 9am: Arrive at Osaka Station, breakfast in Umeda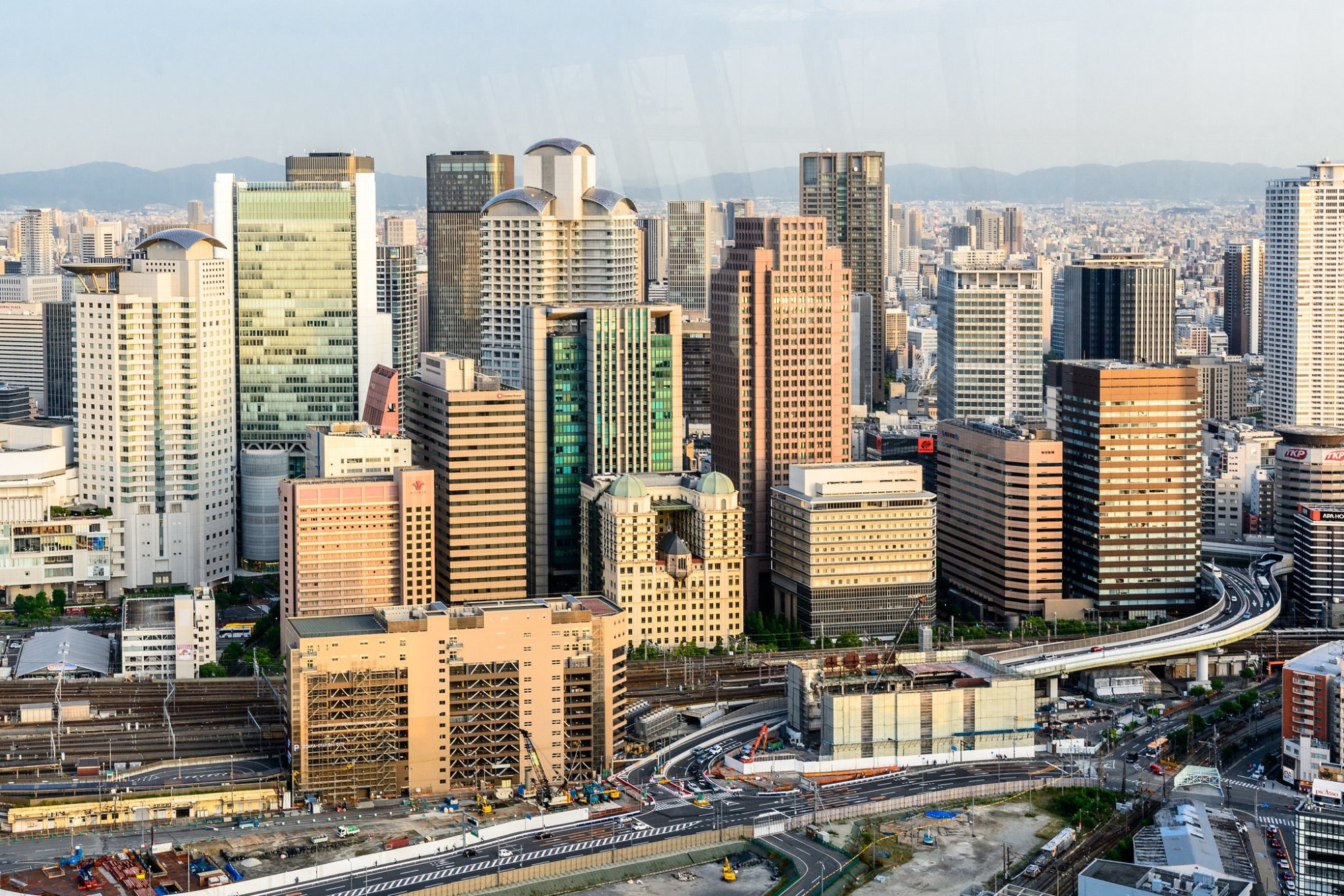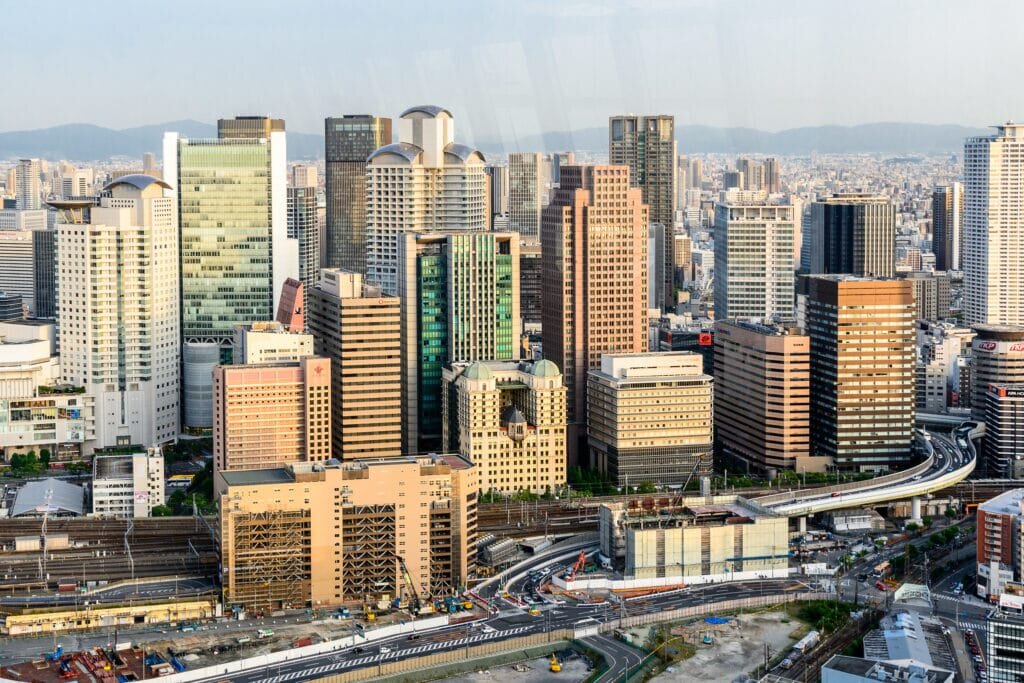 Osaka's main point of entry for most visitors is JR Osaka Station, located at the heart of Umeda, Osaka's business and retail focal point.
There are a multitude of options available for breakfast, however, if you are new to the city, I highly recommend taking the short 5 minute walk across the street from Osaka Station to Grand Front Osaka.
Located on the 7th floor of the South Building, you will find Honolulu Coffee.
In addition to some excellent coffee blends, Honolulu Coffee also offers some great food options. The usual breakfast fare of toast, sandwiches or omelets are available, however I would especially recommend their pancakes. Thicker, sweeter and more buttery than any you will find elsewhere in Osaka, they are just the kind of energy food you'll need for what promises to be a busy day ahead.
However, starting your first day in Osaka off with a trip to this particular coffee shop isn't just about the food. From the 7th floor you can enjoy fantastic panoramic views of the entire city, as it stretches out all the way to the bay area.
And speaking of the harbourside….
Day One: 10:30 am: The Osaka Kaiyukan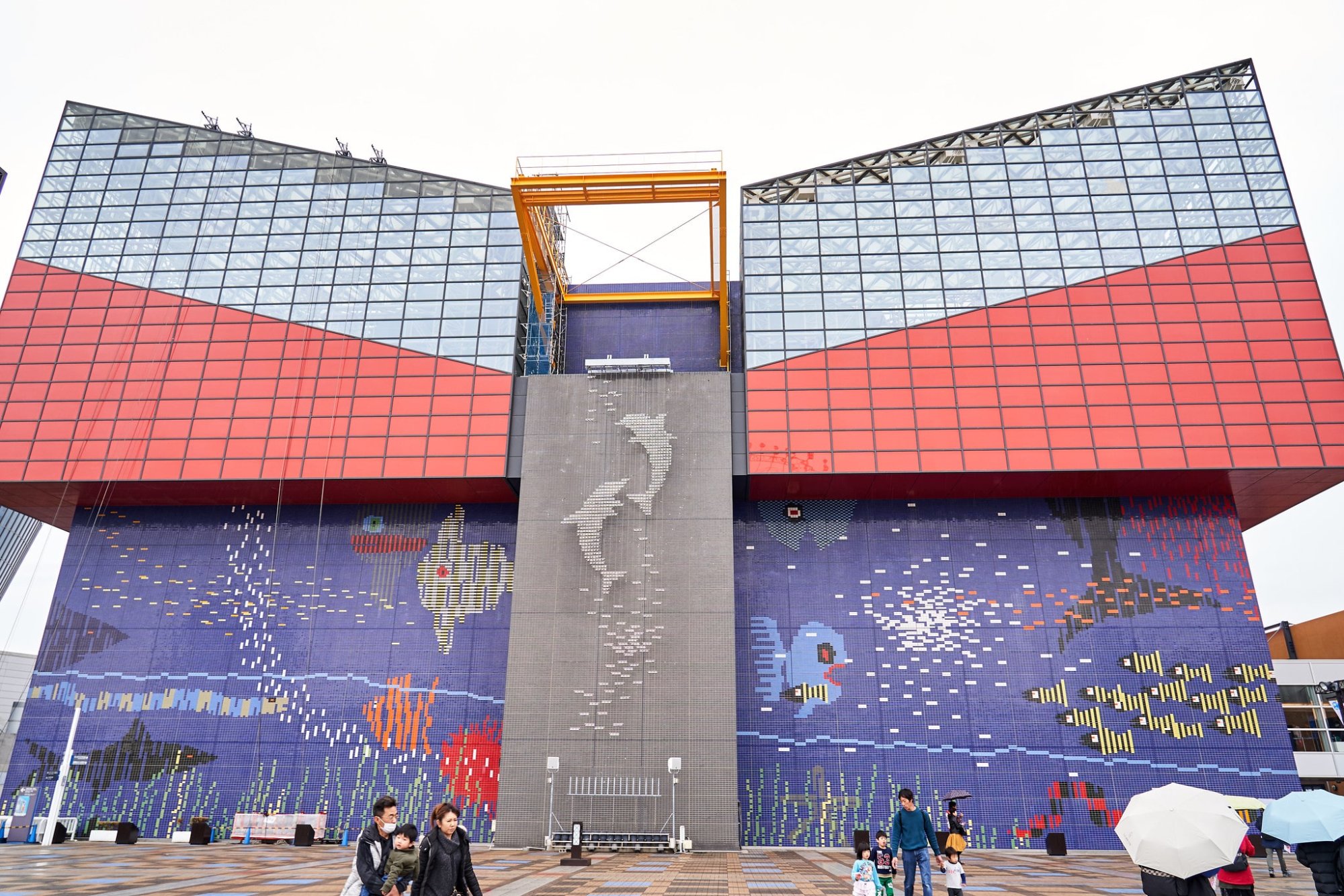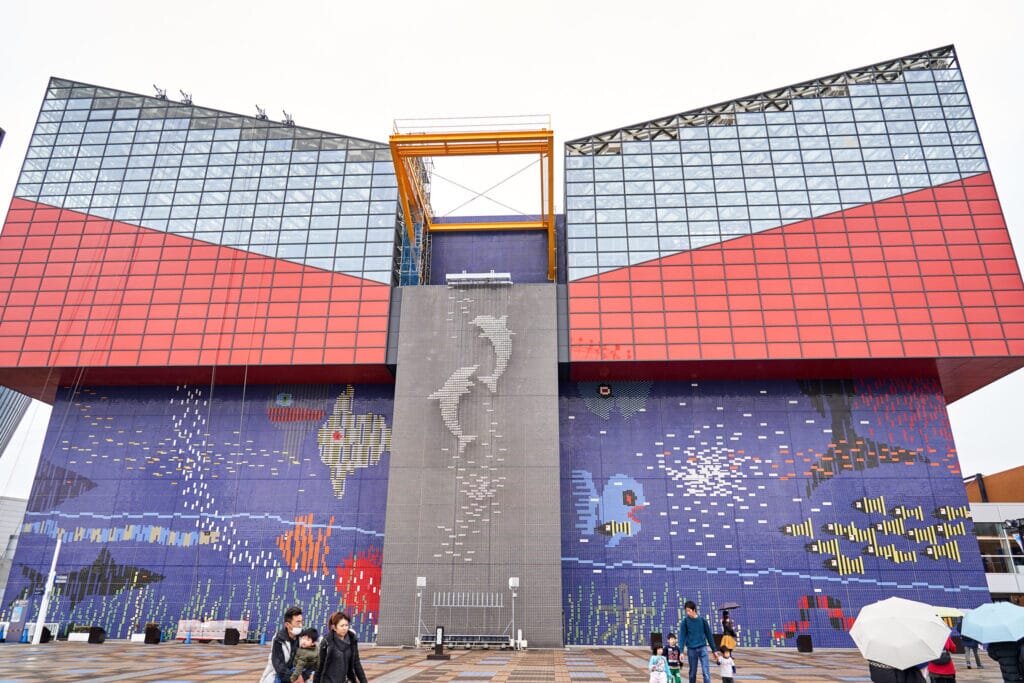 Though a trip to a city as bustling and dynamic as Osaka may seem like a rather strange time to be getting in touch with nature, few can resist the charms of the absolutely adorable wildlife on show at the Osaka Kaiyukan, one of Asia's largest aquariums and marine life exhibits.
Dolphins, penguins, baby sharks the Kaiyukan has them all.
To reach the Kaiyukan, take the Midosuji subway line from Umeda headed towards Tennoji, after two stops, get off at Honmachi. At Honmachi, change to the Chuo Line, bound for Cosmosquare and get off at Osakako Station.
The Kaiyukan is a 5 minute walk from Osakako Station and is clearly signposted.
Such is the size of this massive structure, it will take a good two or three hours to see everything and fully appreciate it all. I recommend setting the whole morning aside to enjoy it to its maximum potential. For further details, please have a read through our in-depth look at the Kaiyukan here. Tickets for the Kaiyukan cost 2400 yen for adults, 1200 yen for kids aged 3 to 15, and 600 yen for toddlers 3 years old and under.
You'll also find plenty of good lunch options nearby. Which is good, because you'll certainly be ready for food after all that walking.
Day One: 1pm: Lunch at Tempozan Marketplace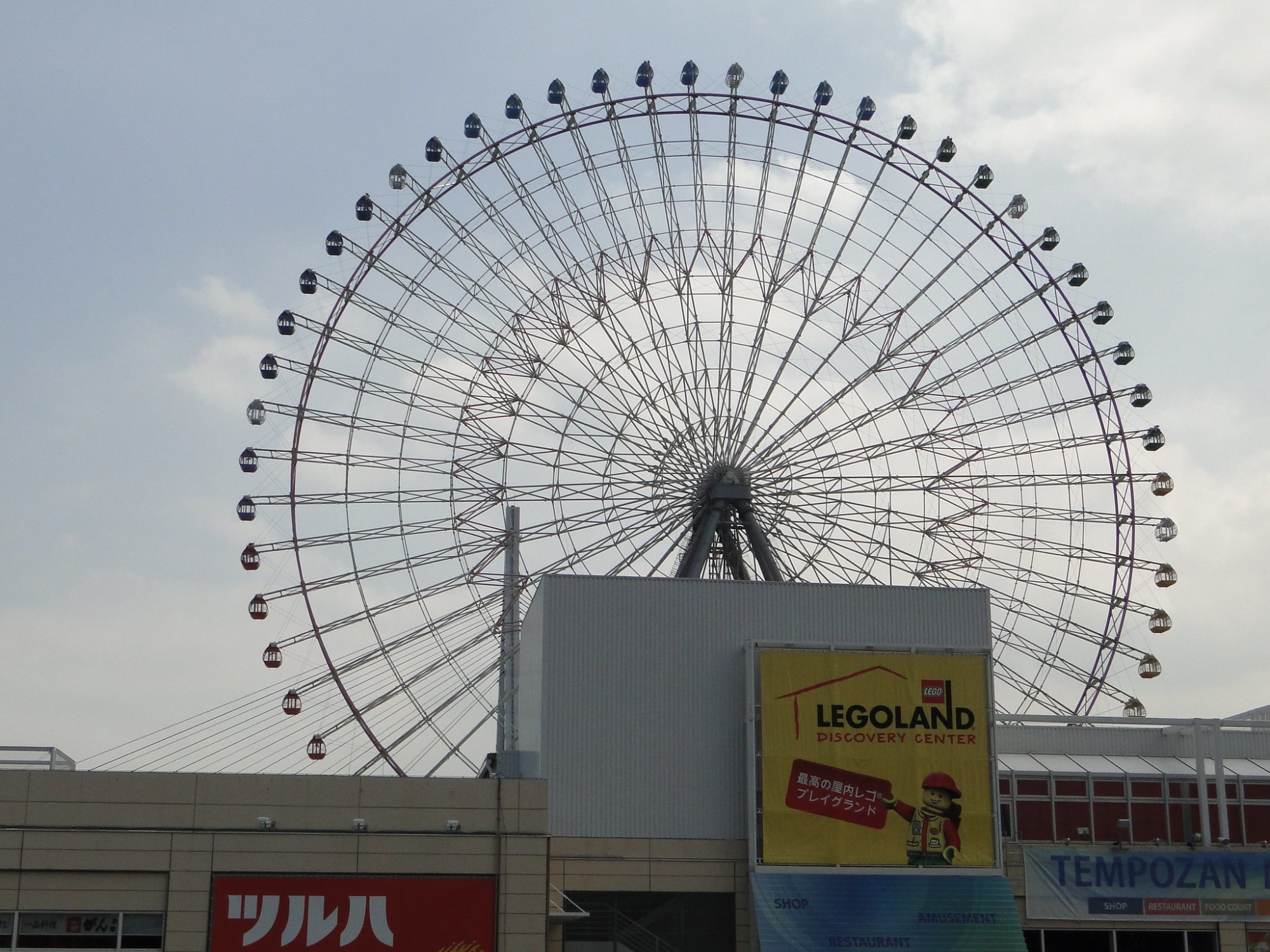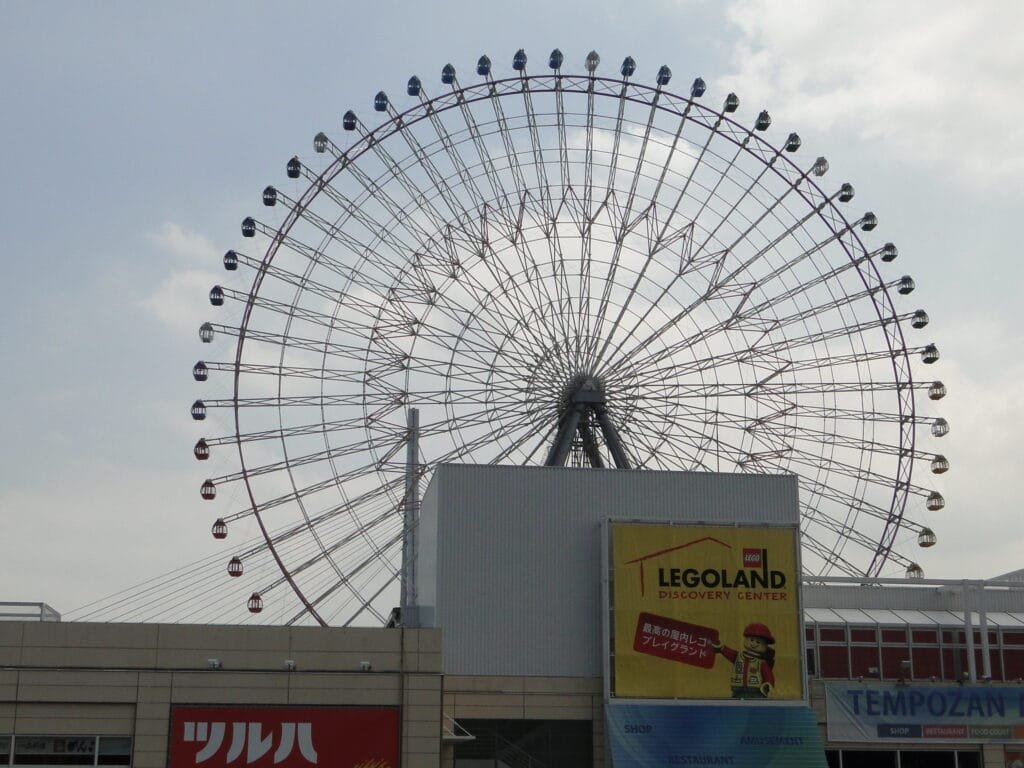 Just across the courtyard from the entrance to the Kaiyukan, about two minutes on foot, you will find Tempozan Marketplace. This is a multi-purpose shopping and entertainment complex, popular with both tourists and locals.
You can enjoy regular western foods, such as Wendy's Hamburgers, KFC and Subway Sandwiches at the food court. However, if you want something more local and authentic, then towards the rear of the center you will find the Naniwa Kuishinbo Yokocho, a stylized corridor of local eateries based on Showa Era downtown Osaka aesthetics. The likes of Kushikatsu, Okonomiyaki and Jikuken Curry are all readily available here.
Before heading off to our next destination, you may want to also have a ride on the Tempozan Ferris Wheel, one of the largest of its type in Japan.
If you have young kids with you, they may also enjoy a visit to the Lego Center on the 2nd floor, next door to the Ferris Wheel.
Day One: 2:30pm: Shitennoji Temple and Tennoji Park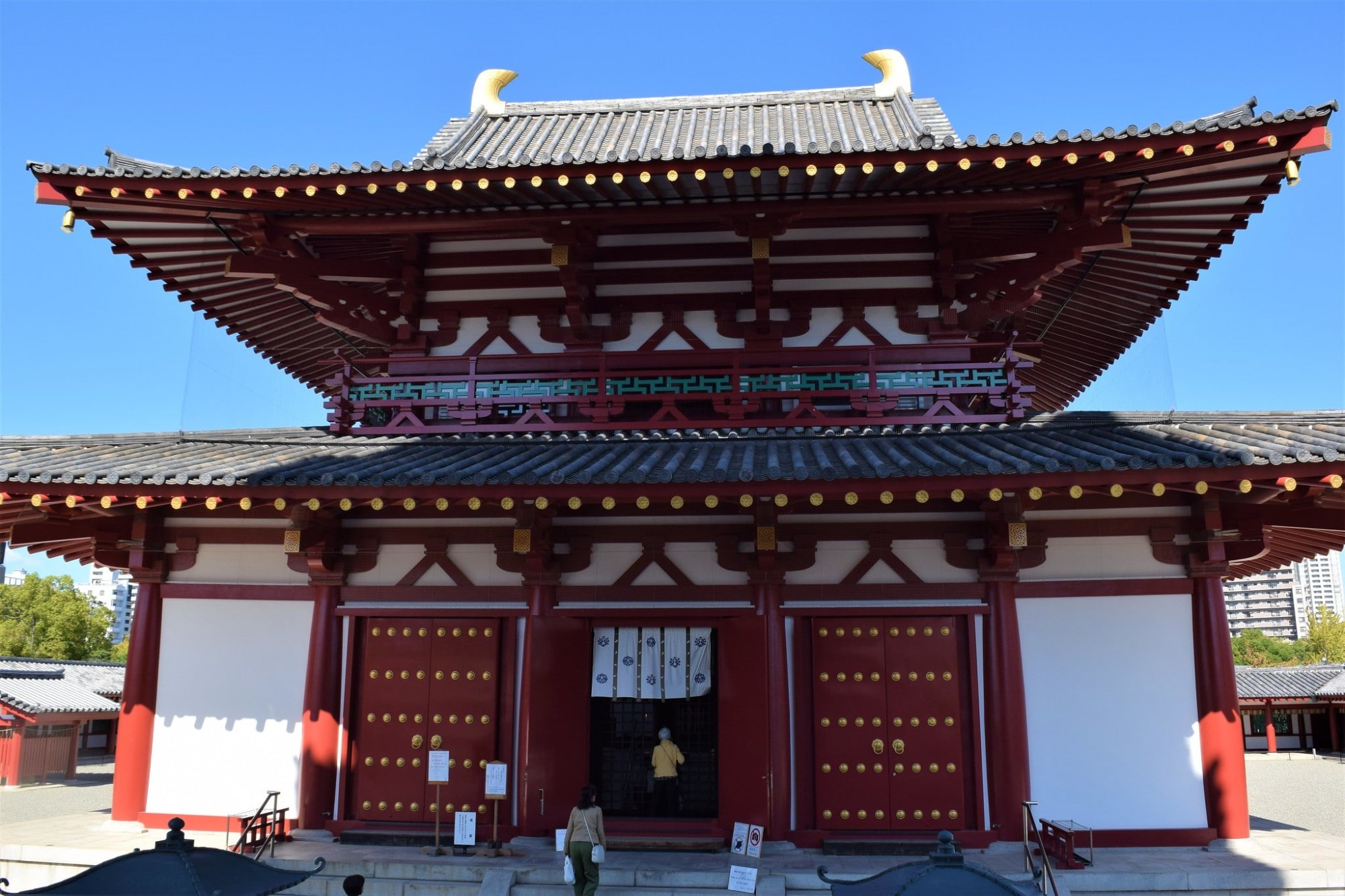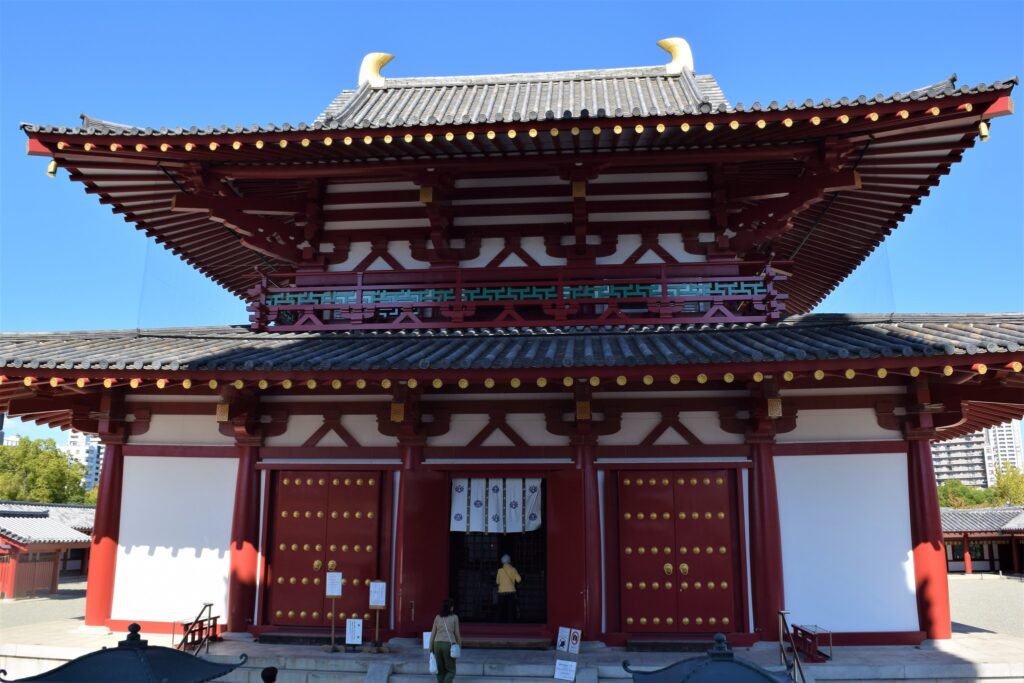 You've had a busy day so far, so for the afternoon, let's enjoy something a little more serene and laid back. How about a trip to one of Japan's oldest Buddhist Temples and a stroll in the park?
From Osakako, take the Chuo Line to Bentencho Station. From Bentencho Subway Station, head downstairs to JR Bentencho Station and take the Osaka Loop Line to Tennoji.
The total journey should take around 25 minutes, depending on how busy the trains are.
Once you arrive at Tennoji Station, the Shitennoji Temple complex is about ten minutes' walk away.
Dating from the year 593 AD Shitennoji is one of the oldest Buddhist Temples of its type in all of Japan.
While the complex has, of course, been rebuilt several times over its 1500 year history, it has retained the style, structure and ambiance of the original design, with everything as it was all those centuries ago.
As well as providing for some great photo opportunities, and a chance to sample Japanese history up close and personal, the temple is also a great place to enjoy some quiet reflection and, if you are so inclined, maybe even say a little prayer for the prosperity and good health of your friends and loved ones.
From Shitennoji Temple, it's about 7 minutes walk or so down to Tennoji Park.
Depending on what time of year you visit, there are numerous events, festivals and exhibits that you can enjoy in Tennoji Park. There is also the added optional pleasure of having a stroll around Tennoji Zoo at the far end of the park.
You'll find some great little cafes dotted around the park too, if you want to just kick back and indulge in some people watching.
For the eco-conscious among you, there is also an organic farmers market and adjoining café, selling the finest local, humanely sourced produce.
Tennoji can be quite a busy place, but these two venues can provide quite the tranquil oasis and something a little different from the predictable hustle and bustle of city life.
Day One: 5:30pm: Sunset at Abeno Harukas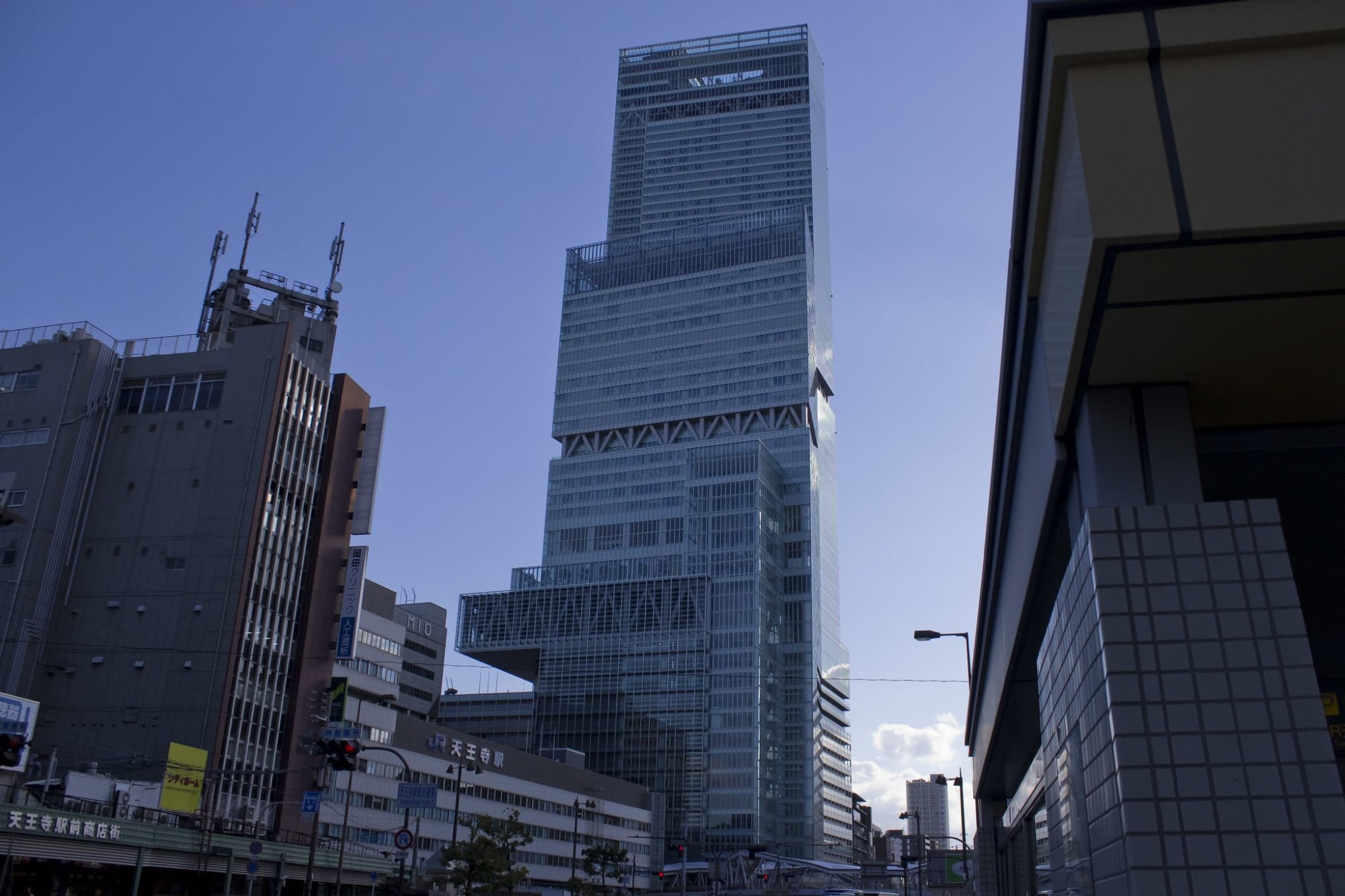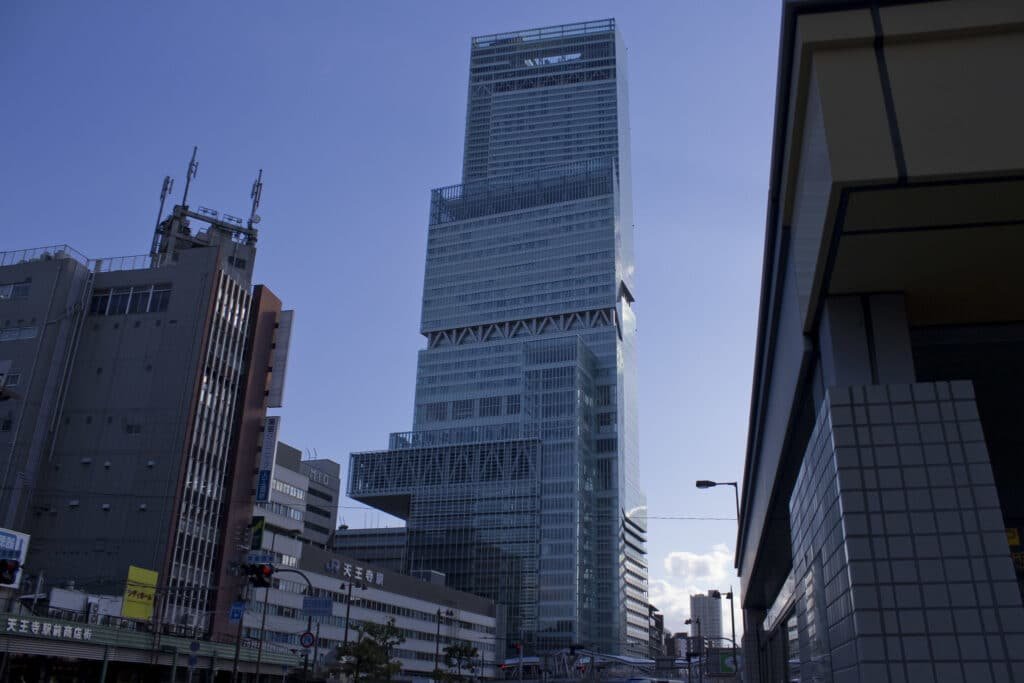 If there's one thing I love about Osaka, it's the numerous opportunities it affords you to view the sunset over the city from one of the numerous skyscrapers around the city.
Of course, if you're going to watch the sunset over the Osaka Bay, then you may as well do it from the highest point of the tallest building in the city: Abeno Harukas.
Abeno Harukas is located just across the street from Tennoji Park. It shouldn't be hard to spot where!
Opened in 2013, and standing more than 300 meters tall, Abeno Harukas is, by quite some distance, the tallest building in all of Osaka, and indeed the tallest building in Japan. Technically, Tokyo Tower and Tokyo Sky Tree, which are both taller than Abeno Harukas, are classed as transmission towers rather than buildings.
Entry to the observation deck of Abeno Harukas on the 60th floor costs 1500 yen per person.
Typically, the sun usually sets in Osaka between 6pm and 7pm, though this does of course vary seasonally. So make sure you check that day's forecast and get up to the 60th floor in plenty of time. There are also numerous exhibitions and other shows held throughout the year in the Harukas building, though these will usually involve an additional fee.
Day One: 7:30pm: Dinner in Umeda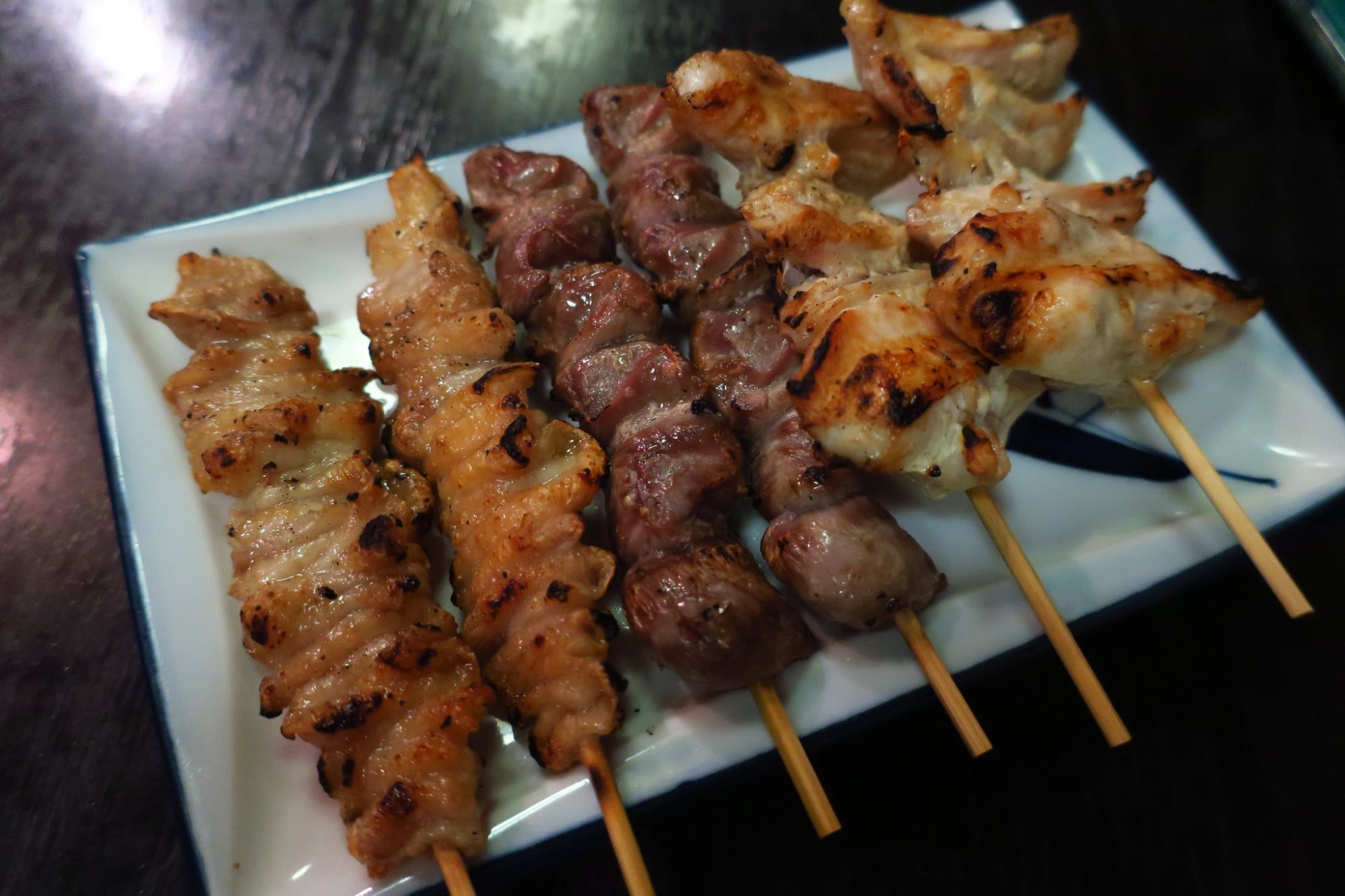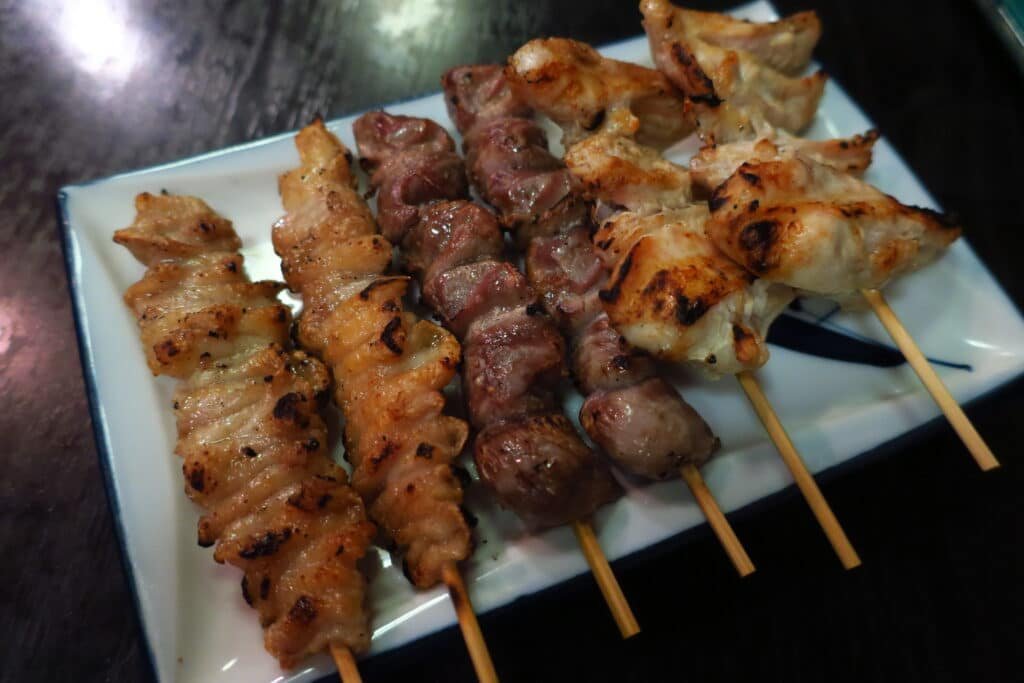 To round off our first day in Osaka, it's time for some dinner back where our day started.
To get back to Umeda from Tennoji you have two options.
Either take the Osaka Loop Line from JR Tennoji Station (across the street from Abeno Harukas) to Osaka Station, or head downstairs to the Tennoji Subway Station (located in the basement of Abeno Harukas) and take the Midosuji Line to Umeda.
In either case, you're looking at a commute of between 20 and 25 minutes.
In Umeda you have a few different options. If fine dining is your thing, then you can head back to Grand Front Osaka where you will find a selection of Japanese and western restaurants, as well as some excellent Sake bars for your post dinner drinks.
If you're like me however, you probably want something a little less formal. You are, after all, on holiday, aren't you?
One thing Osaka does exceedingly well is Izakaya. An izakaya is kind of like a Japanese bar and restaurant rolled into one. In many ways its similar to a tapas bar you would find in Spain. Dishes are small, yet tasty. You may get through half a dozen or so in a typical sitting. The same goes for the drinks!
In Umeda, my personal favourite izakaya is Kyushu Danji, about 3 minutes walk from Hankyu Umeda Station, or about 7 minutes walk from Umeda Subway Station.
The service isn't the best, but the food is always delicious, and the portions are a decent size.
If you go there on a weekday evening you can have all you can eat and drink for 2 hours for only 3000 yen per person. This rises to 4000 yen on weekends, but even at that price it still represents pretty good value.
Kyushu Danji is also open until 11.30pm so if you fancy heading out to some of the nearby bars or clubs, this could also be a good place to kick back and have a few drinks to round off your day.
And so Day One comes to a close. Hopefully you've still got plenty of energy in reserve, because we have an equally packed second day in store…
Day 2: 9am: Breakfast in Namba
To start day 2, we shall head over to Namba, one of Osaka's busiest commercial districts.
Assuming that you've stayed at a hotel in or close to Umeda, then you'll want to take the Midosuji line from Umeda Subway Station as you did on day one.
Take the train heading for Tennoji, after 4 stops you'll come to Namba.
Namba has plenty of options for breakfast.
If you're on a budget, the likes of Yoshinoya and Sukiya offer Japanese fast food options such as beef bowls and katsudon.
However, if you don't mind splashing the cash, and want to try something a little classier, then I would recommend Café Swiss Gourmet.
Situated inside the Osaka Swissotel, this café offers excellent tea and coffee as well as a choice of breads and cakes from around the world. They also do some rather delicious Japanese tea and dessert options too.
The Café is also ideally positioned for our next destination:
Day 2: 10:30am: Shopping in Namba and Shinsaibashi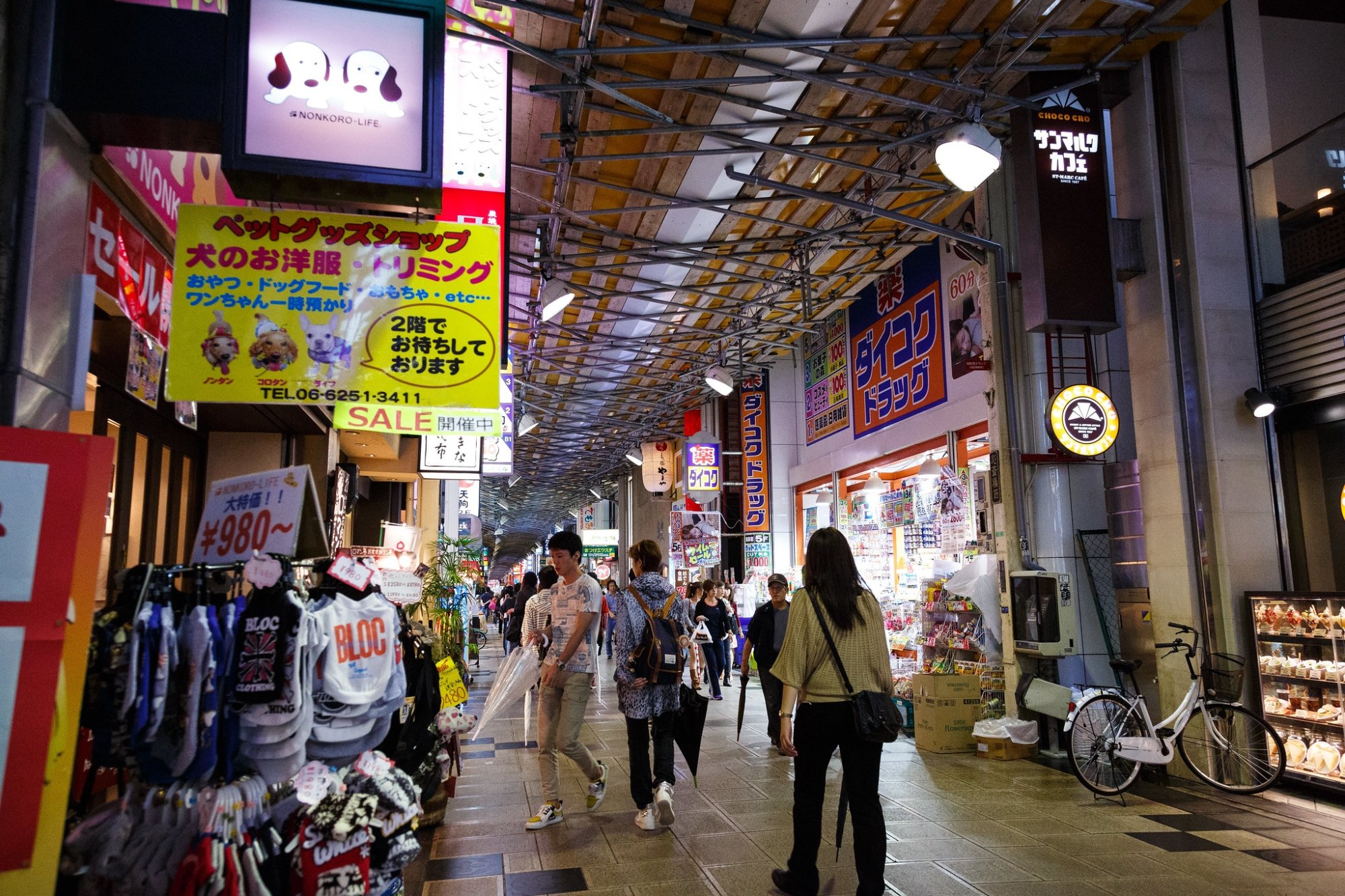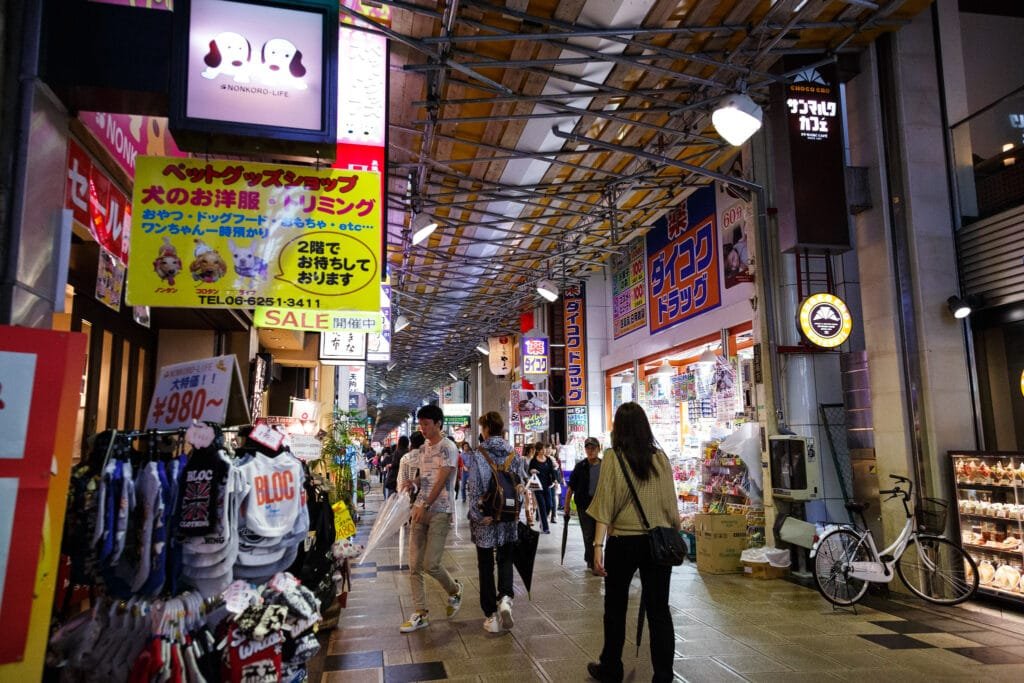 The area of Namba and Shinsaibashi is basically just one long maze of interconnecting alleys, backstreets and shopping arcades, lined on both sides with all manner of shops targeting tourists. Everything from tacky souvenirs to high end fashions and cosmetics is covered here.
The dividing line between Namba and Shinsaibashi is the Dotombori, a canal that cuts right through the city center of Osaka, but more on that later.
When shopping in Shinsaibashi and Namba, it pays to check out multiple stores before deciding on a purchase. Unlike in many other big cities, in this part of Osaka there is very little coordination between different stores, so sometimes items can be drastically cheaper in one shop than they are in another.
Also, if you're visiting from outside Japan, make sure you have your passport with you so you can take advantage of duty free shopping tax deductions in the larger stores. Actually, if you don't have a residence card for Japan you are legally obliged to keep your passport on you at all times anyway.
Day 2: 1pm: Lunch on the Dotombori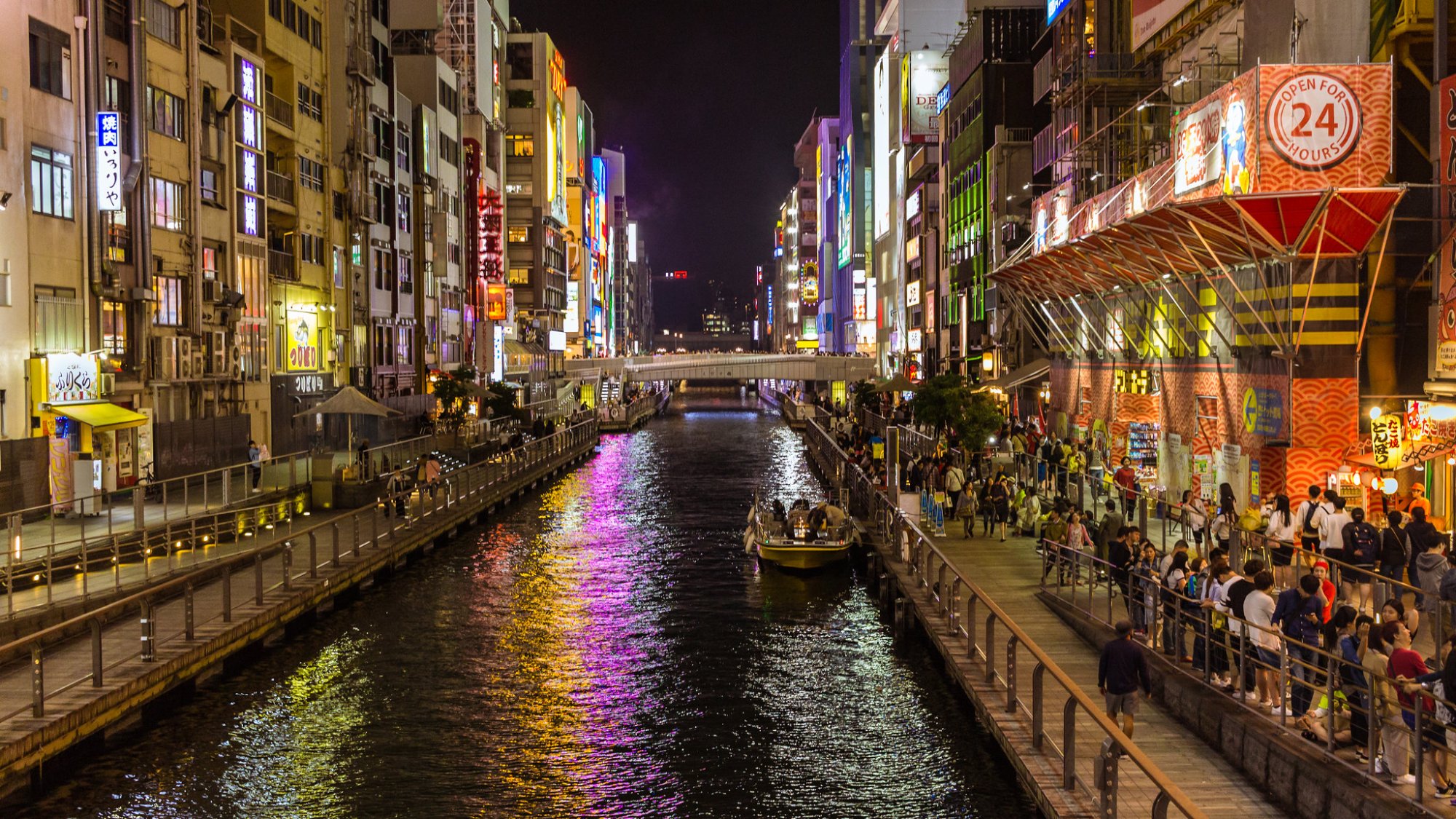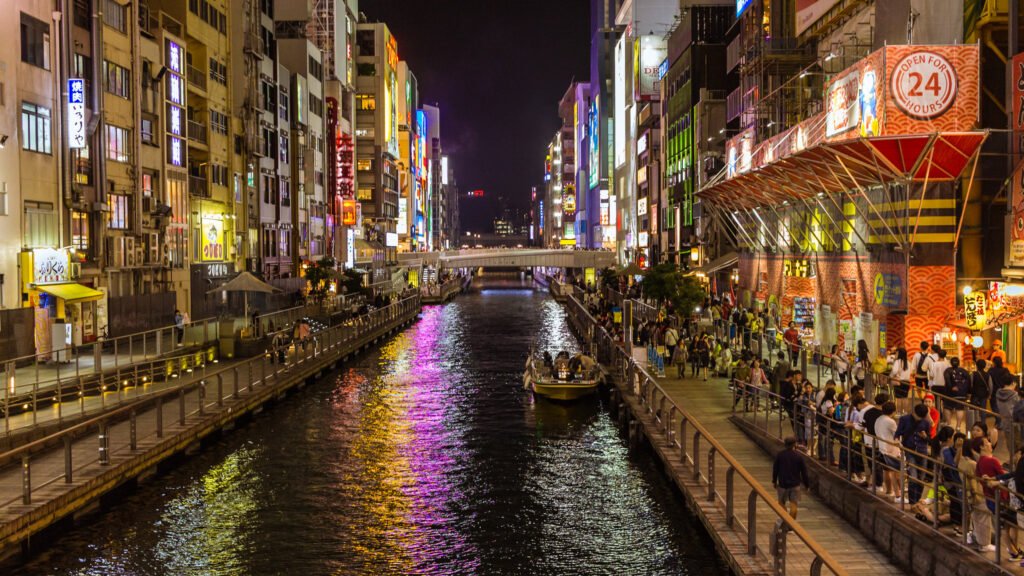 Once you've completed your shopping, you will, no doubt, have worked-up quite an appetite. However, we want to keep this lunch fairly light since we'll be having a big dinner later on (more on that in a while).
Thankfully, in the streets that run parallel to either side of the Dotombori, you'll find plenty of street food stalls. In Osaka, we call these vendors "Yatai".
They have a wide selection of options available. Torikara, a kind of fried chicken on skewers is popular, as is okonomiyaki (a kind of savoury pancake with meat and vegetables). However, if you're a first time visitor to Japan, then no trip to Osaka is complete without trying the city's signature dish: Takoyaki!
Takoyaki are small, soft, round dumplings with octopus meat inside.
Usually there are served in portions of 6-8 pieces, topped with mayonnaise, sweet brown sauce and bonito flakes.
However, takoyaki stalls these days have a wide range of different sauces, toppings and garnishes to suit your own tastes, so don't be afraid to experiment.
Day 2: 2:30pm Osaka Castle and Osaka Castle Park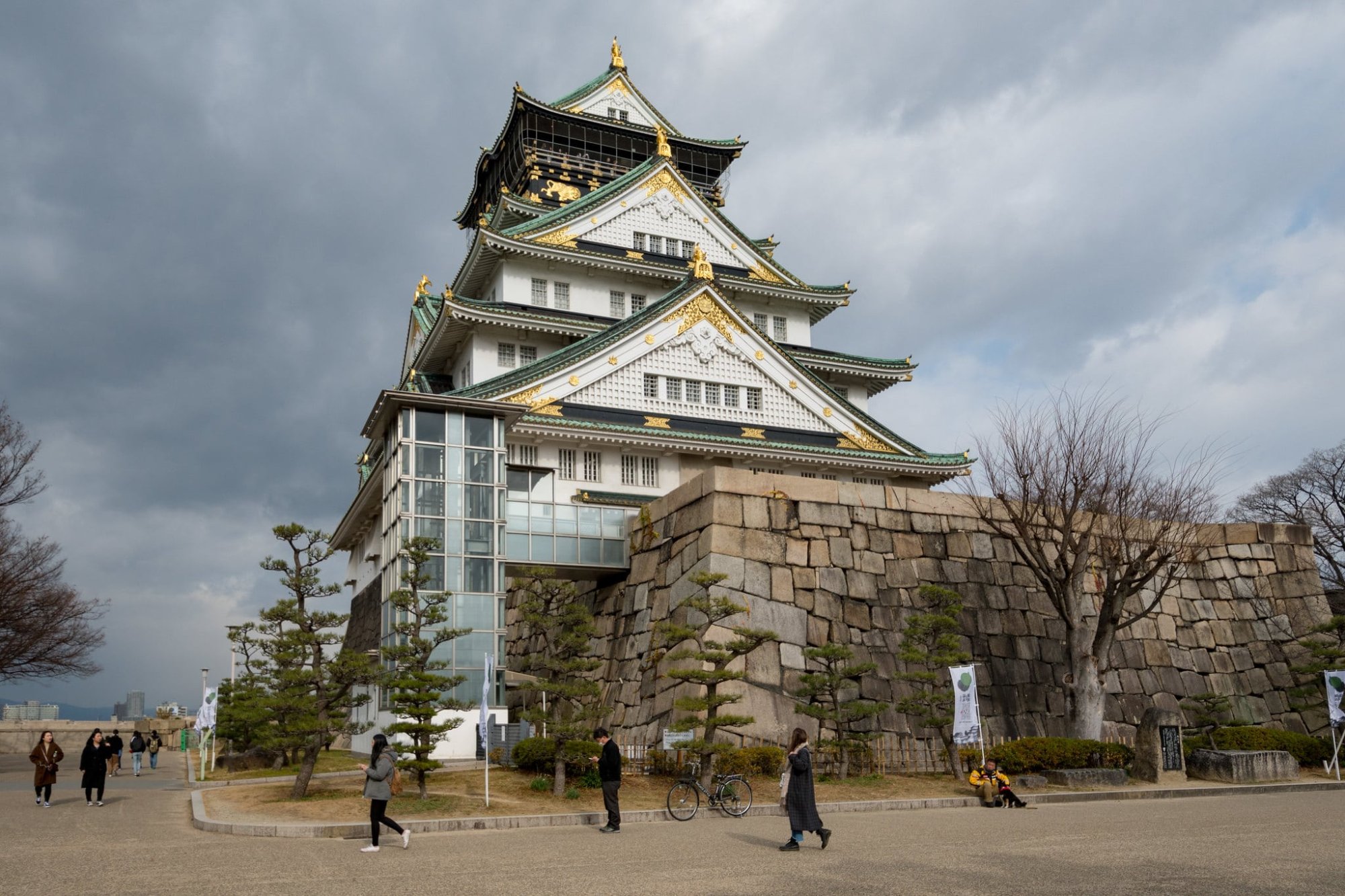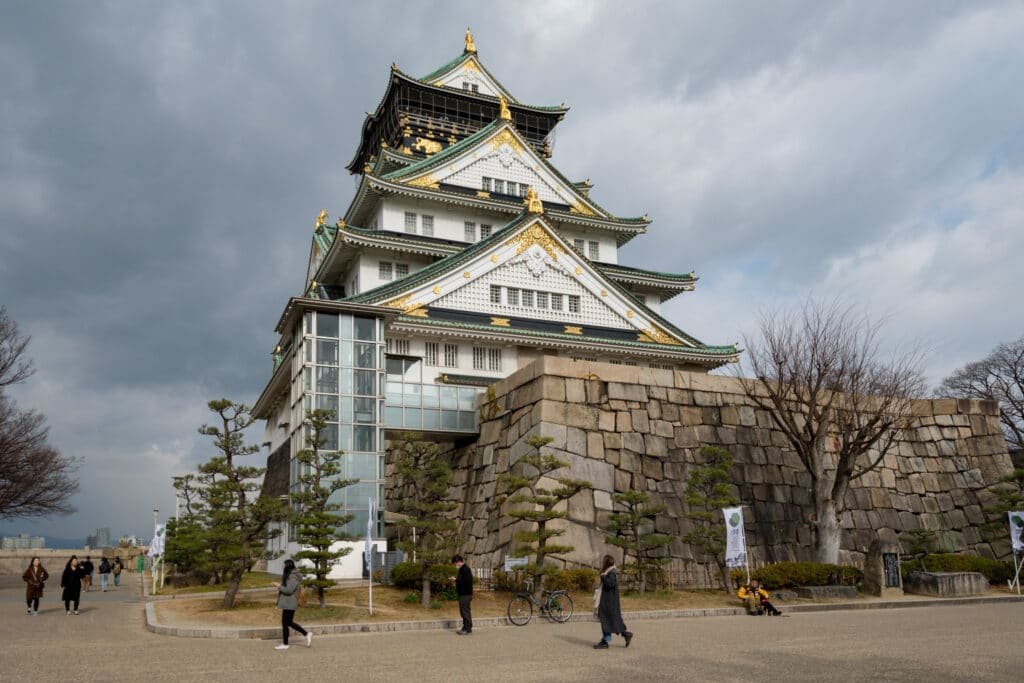 Ok, we've spent the morning immersed in commercialism, now it's time to rediscover the soul of Osaka as we take a trip into the city's feudal past, with a visit to Osaka Castle.
To get to Osaka Castle, head back to the subway station. Both Shinsaibashi and Namba Stations are on the Midosuji Line and are roughly equidistant from the Dotombori area.
Once you reach the subway, you want to take the Midosuji Line in the direction of Umeda, but this time, get off at Honmachi.
From Honmachi, take the Chuo Subway Line one stop to Morinomiya Station.
The total journey should take less than ten minutes.
Once you reach Morinomiya, head upstairs, out of the station, and you should be able to see Osaka Castle Park at the bottom of the slope. You can walk there in about 3 or 4 minutes.
Osaka Castle itself is within the Park. Admission to the castle costs 600 yen per person, children under the age of 15 are free.
The castle is open from 9.00am until 5.00pm each day, with the last admissions being at 4.30pm. However, I strongly recommend you give yourself more than 30 minutes to look around and absorb the atmosphere of this magnificent piece of history.
Originally built under the supervision of the warlord Hideyoshi Toyotomi, the castle originally dates to 1583. It has however been destroyed and rebuilt multiple times in the wars and natural disasters that have followed in the 430 or so years since its inception.
After seeing the castle, I also highly recommend taking an hour or so to walk around and appreciate the park too. In April of each year Osaka Castle Park is a popular venue for Cherry Blossom viewing parties. In summer, it makes a decent picnic spot too.
At any time of the year, it's a nice nature spot to enjoy, in the heart of the big city.
Also, you'll need to clock up a few walking miles, because now It's time to round off day two of our Osaka odyssey with dinner, a very large dinner!
Day 2: 5:30pm: Dinner in Tsuruhashi
Once you've seen all you want to see at Osaka Castle and Osaka Castle Park, it's time to head back to Morinomiya Station. This time however, we want to head to JR Morinomiya Station, rather than the subway. These stations are about 200-300 meters apart, with the JR station being at the bottom of the hill, directly across the road from the main entrance to Osaka Castle Park.
Once you reach JR Morinomiya Station, take the Osaka Loop Line heading back towards Tennoji. You won't be on the train though, as just one stop later, you'll find yourself at Tsuruhashi. Depending on what way the wind is blowing that day, you might be able to smell your dinner already.
For Tsuruhashi, as Osaka's own Korea Town, is home to the very best Yakiniku (flame grilled meat) restaurants in the entire city.
There are a plethora of restaurants to choose from. However, I personally would recommend Sumibi-Yakiniku Ryu.
Just a short 2 minute walk from JR Tsuruhashi Station, this restaurant offers just the right balance of low prices without compromising on food quality. The service is excellent too.
Depending on how brave you're feeling, there are two set dinners I would recommend.
If you want something familiar, then the assorted Yakiniku platter, priced at 2000 yen per person, is the way to go. It includes all the usual cuts of beef, pork and chicken you're familiar with, just waiting to be grilled over the hot coal fire set into your table.
However, if you're feeling a bit more adventurous, (and it is your last meal in Osaka, so why not?) then there is the further option of the Upper Horumon platter. For just 1700yen per person, this includes intestines, stomach, heart and various other entrails. It may not sound especially appetizing but these items actually taste great once they're grilled up. As the old adage goes: "Never think too hard when you're hungry!"
More information on Horumon can be found in this handy guide.
With dinner concluded, assuming your hotel is in or around Umeda, I recommend heading back to the hotel for some relaxation and an early night. Our third and final day promises to be the busiest yet.
To get to Osaka Station, simply take the Osaka Loop Line from Tsuruhashi to Osaka Station. The journey will take around 15 minutes.
Day Three: 8am: Universal Studios Japan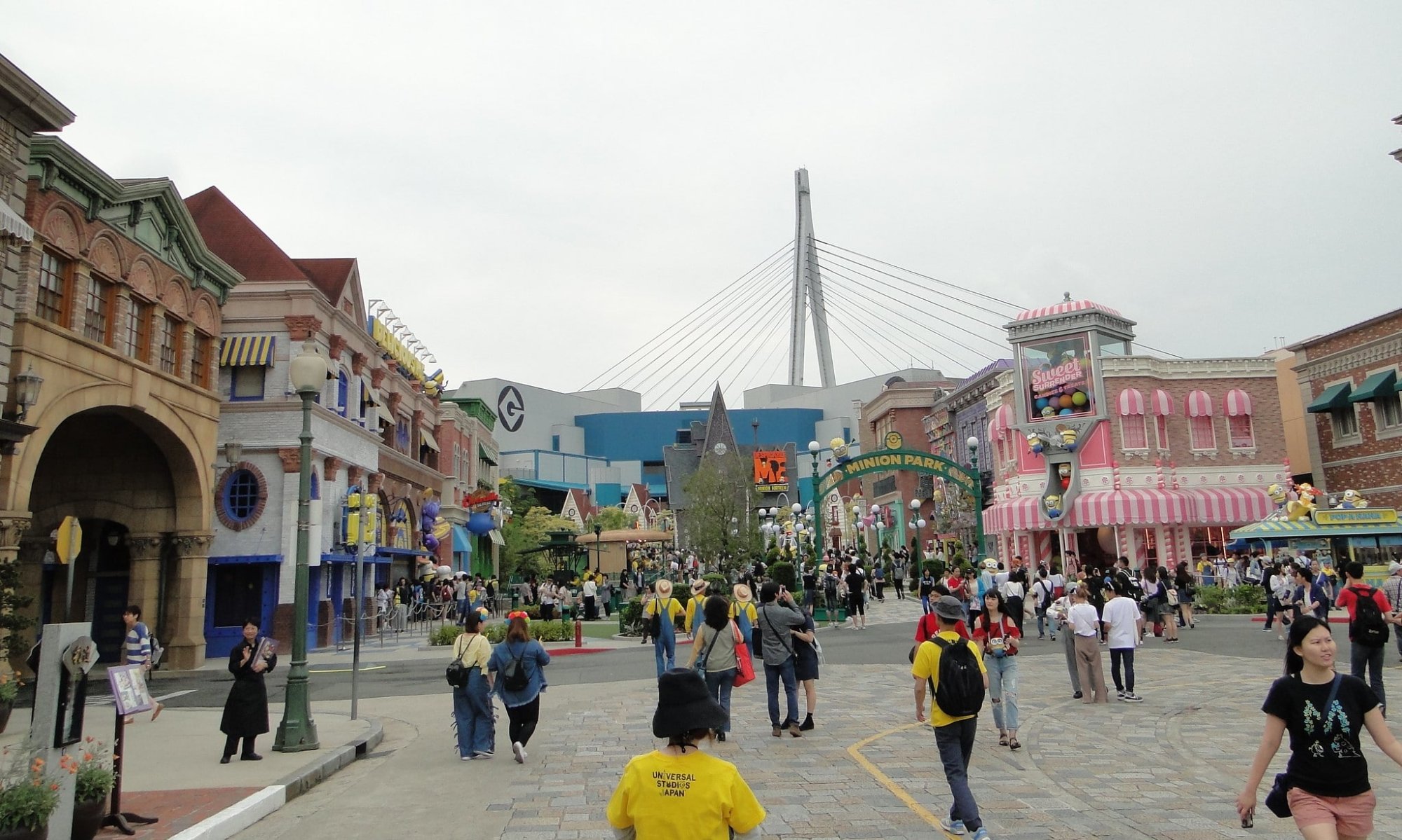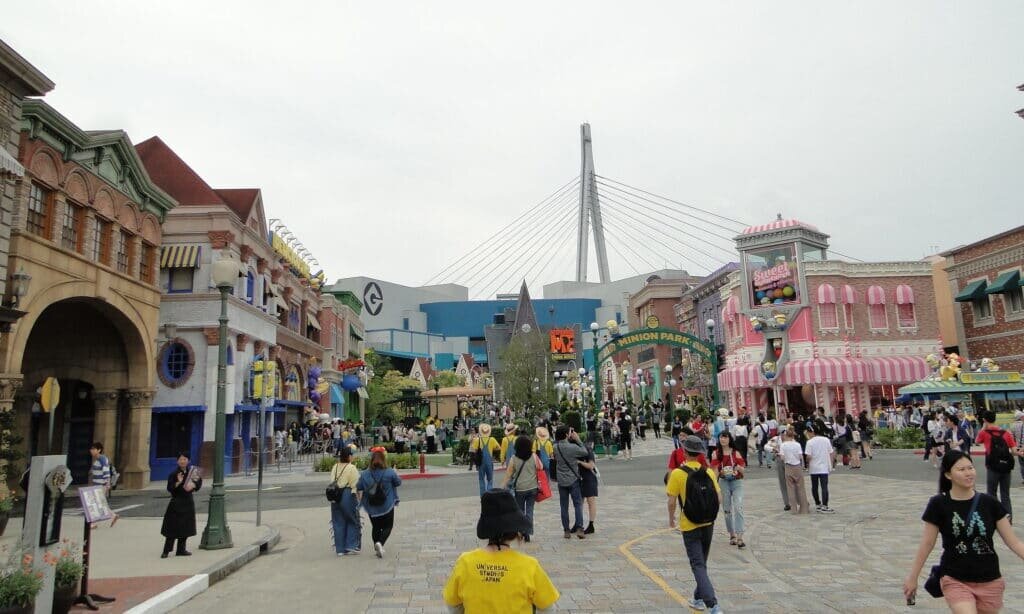 Yes, no visit to Osaka is complete without taking the time to visit its iconic theme park, Universal Studios Japan. USJ as it is colloquially known, has been a mainstay of Osaka for more than 20 years. However, to get the best out of your time there, I highly recommend getting there as early as possible. Ideally you want to be there by 8am, so you can purchase your express pass.
You can find a detailed breakdown of how the express passes work on the official USJ website.
However, to summarise, the express pass for access to 7 different rides will cost an extra 5400 yen per person on top of your one day entry ticket, which costs 7800 yen for adults, 5400 yen for kids.
So, USJ certainly isn't cheap, but it really is a once in a lifetime experience, so personally, I think it's worth it.
The express passes are sold on a first come, first served basis. So it pays to get there as early as possible. As I said before, it is expensive, but the express pass reduces your average waiting time for the busier rides to around 30-40 minutes instead of 2 or 3 hours (sometimes even longer during school holidays).
With your passes purchased and having safely entered the park, it's time for some breakfast.
Day Three: 9am: Breakfast at USJ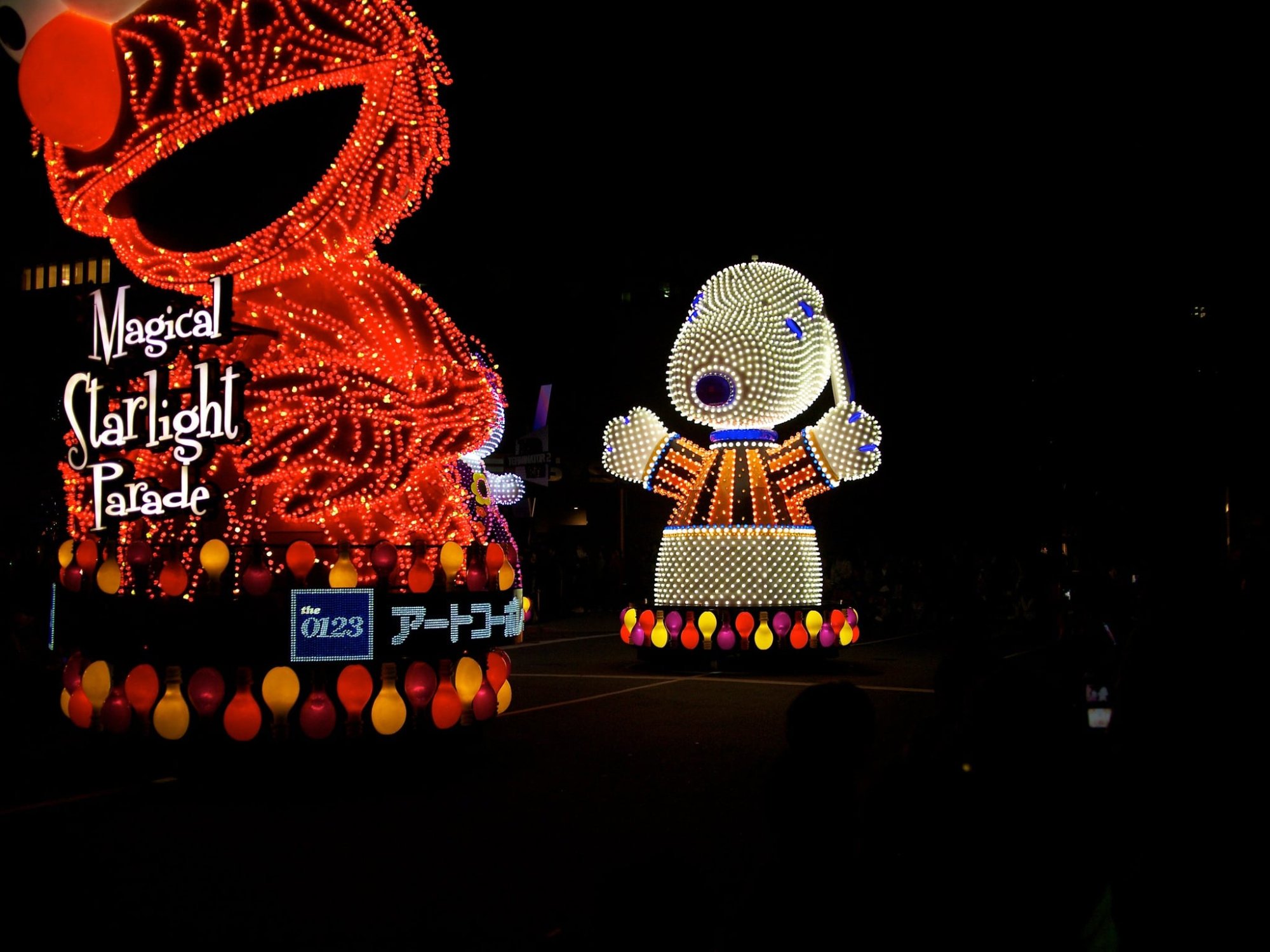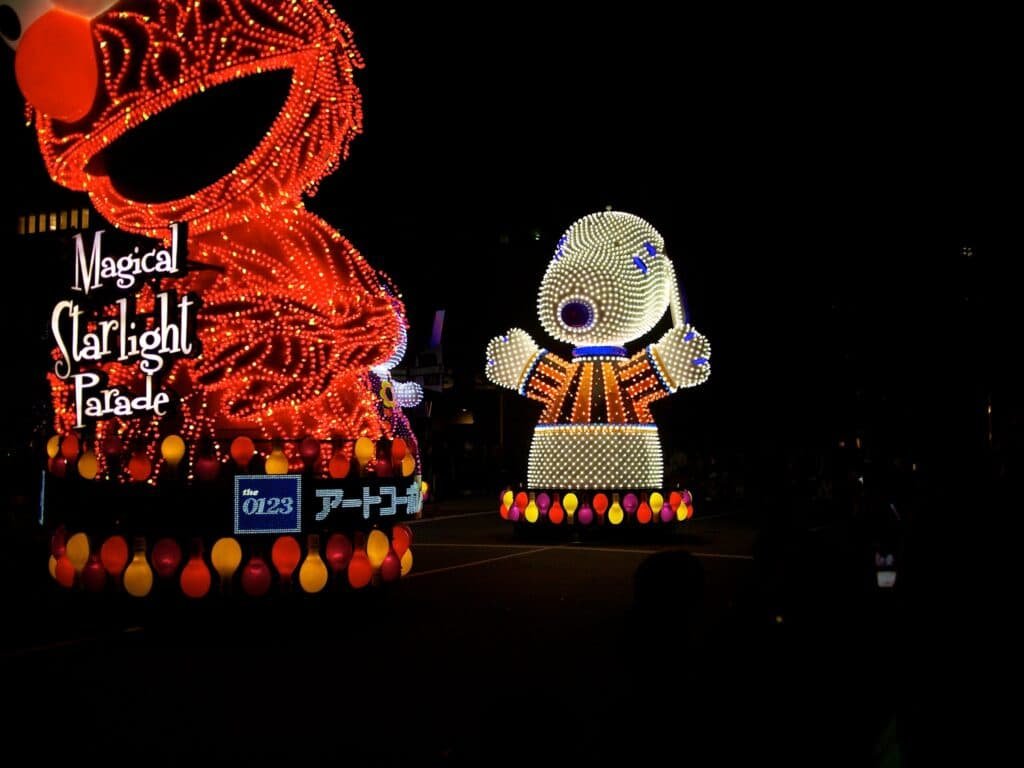 There are all manner of restaurants across the USJ park, more than a dozen in total. However, for breakfast I recommend heading over to the Universal Wonderland area, to Snoopy's Backlot Café, to enjoy breakfast in the company of everyone's favorite Beagle and his friends.
Day Three: 9:30 am: USJ Rides and Attractions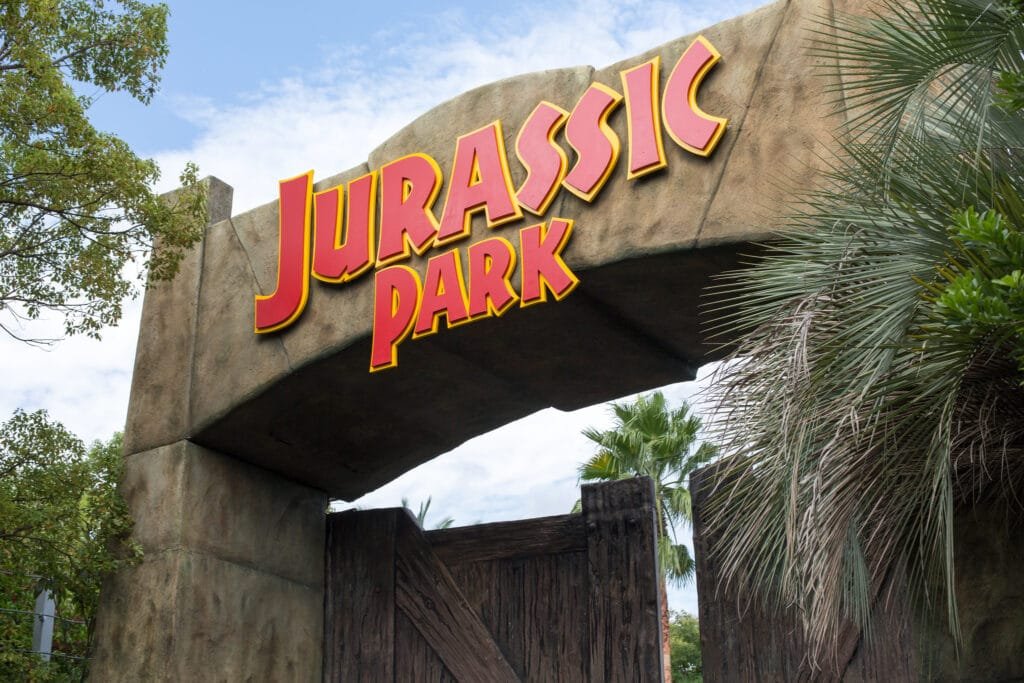 You can of course make your way through USJ's 8 different areas in any order you wish.
However, as they are usually the busiest in terms of waiting times and such, I recommend dedicating your morning to seeing The Wizarding World of Harry Potter and Jurassic Park. Elements of both these areas should be covered by your express pass.
Day Three: 1pm: Lunch at USJ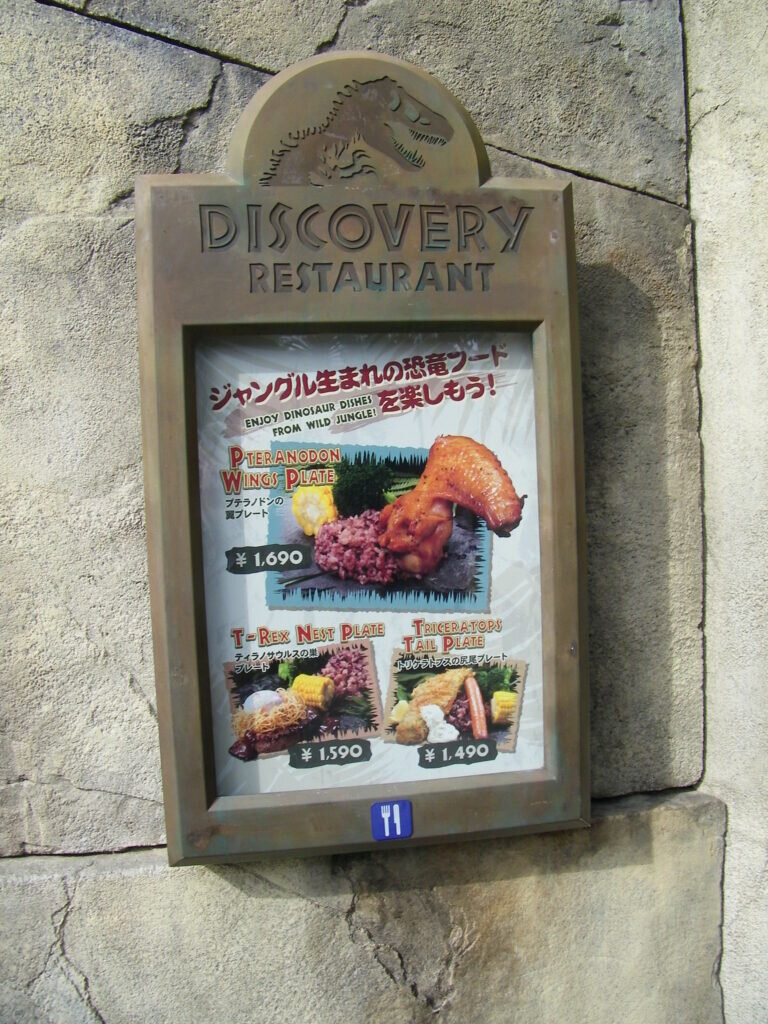 As I mentioned previously there are more than a dozen restaurant and café options in USJ for your lunchtime needs. However, if I had to choose a personal favorite, it would be the "Lost World" restaurant in the Jurassic Park area. Their loco moco is the best you'll find this side of the Cretaceous Period!
Day Three: 2pm: Rides and Attractions at USJ (part 2)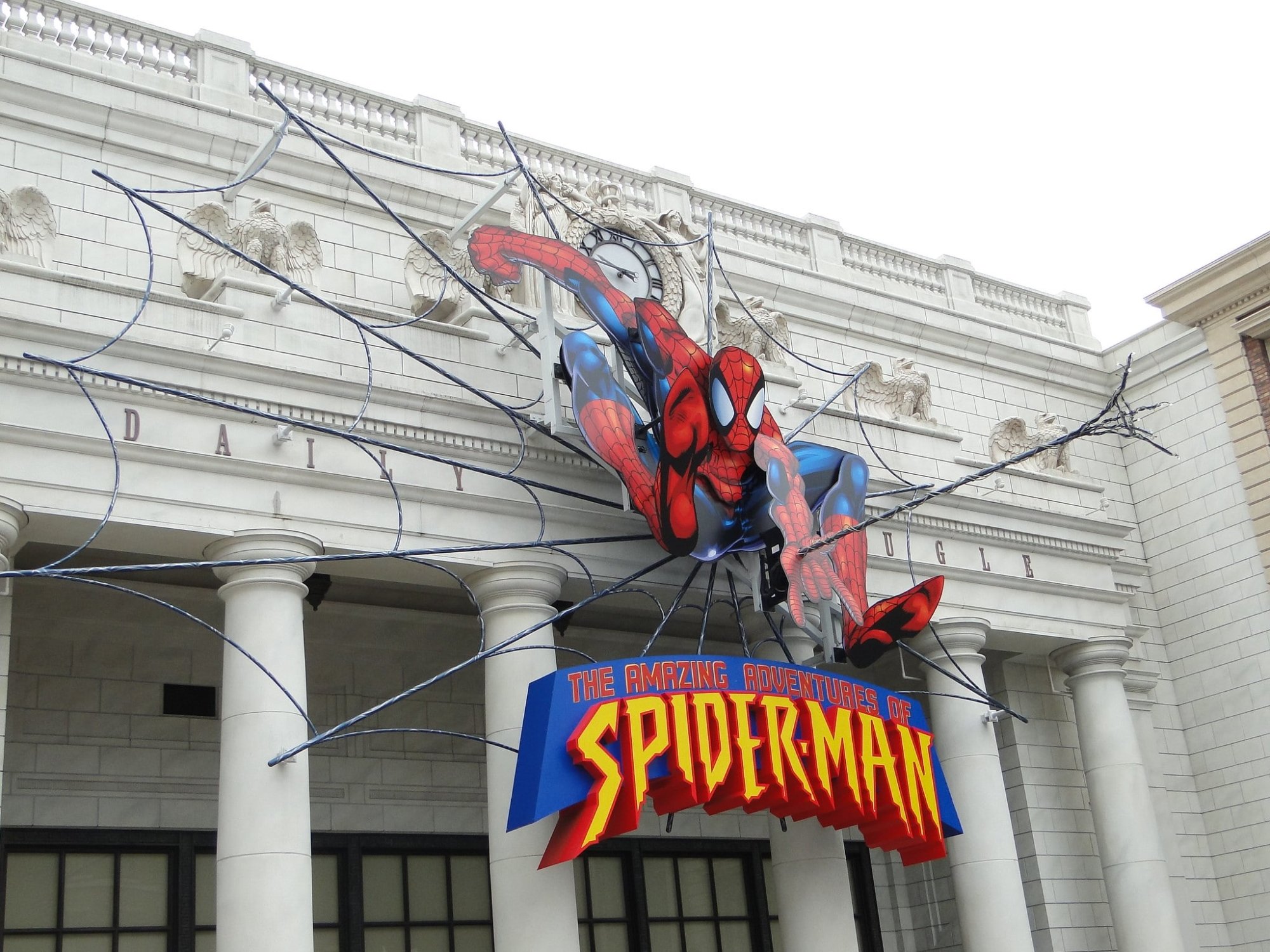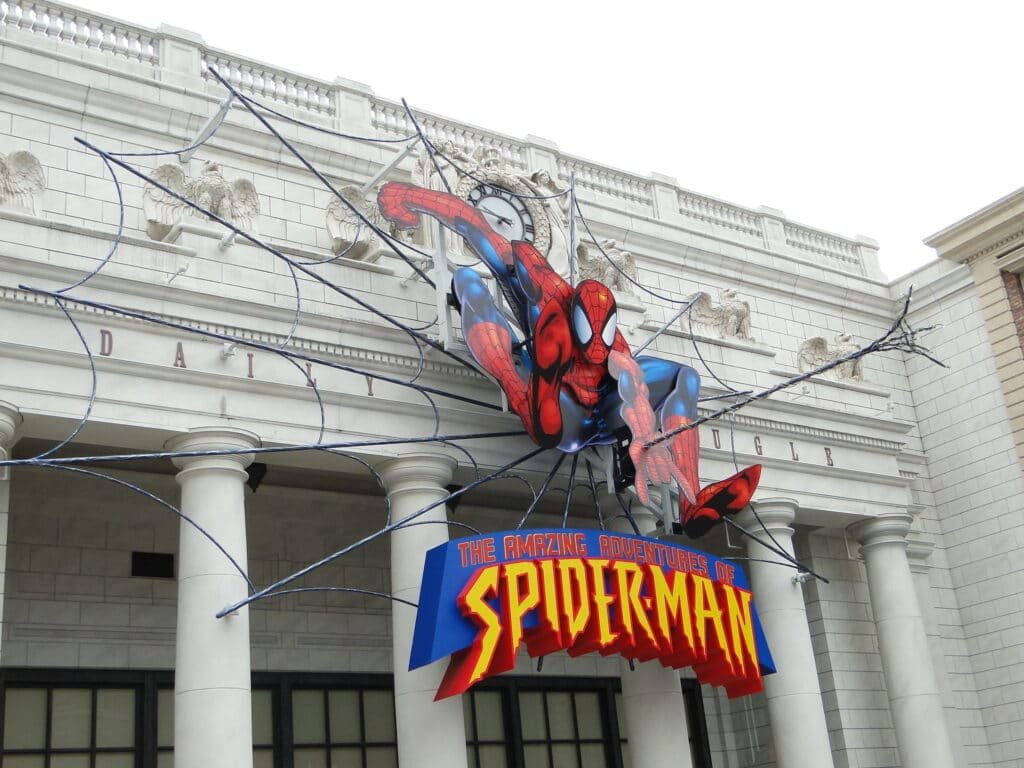 With Jurassic Park and Harry Potter out of the way you can now make your way around the rest of the park. Your express pass will give you the choice between jumping the queue at Spiderman 4D or Jaws. I strongly recommend using your pass at the Spiderman ride as the wait is always significantly longer than that for Jaws.
Spiderman is probably my personal favorite of all the rides and attractions at USJ, though it certainly isn't for the faint-hearted.
Also, if you're running short of time and want to squeeze in one final attraction before you leave, I suggest leaving "Backdraft" until the very end, since it is usually no more than a 20 minute wait.
Day Three: 5:30pm: Shopping in Den Den Town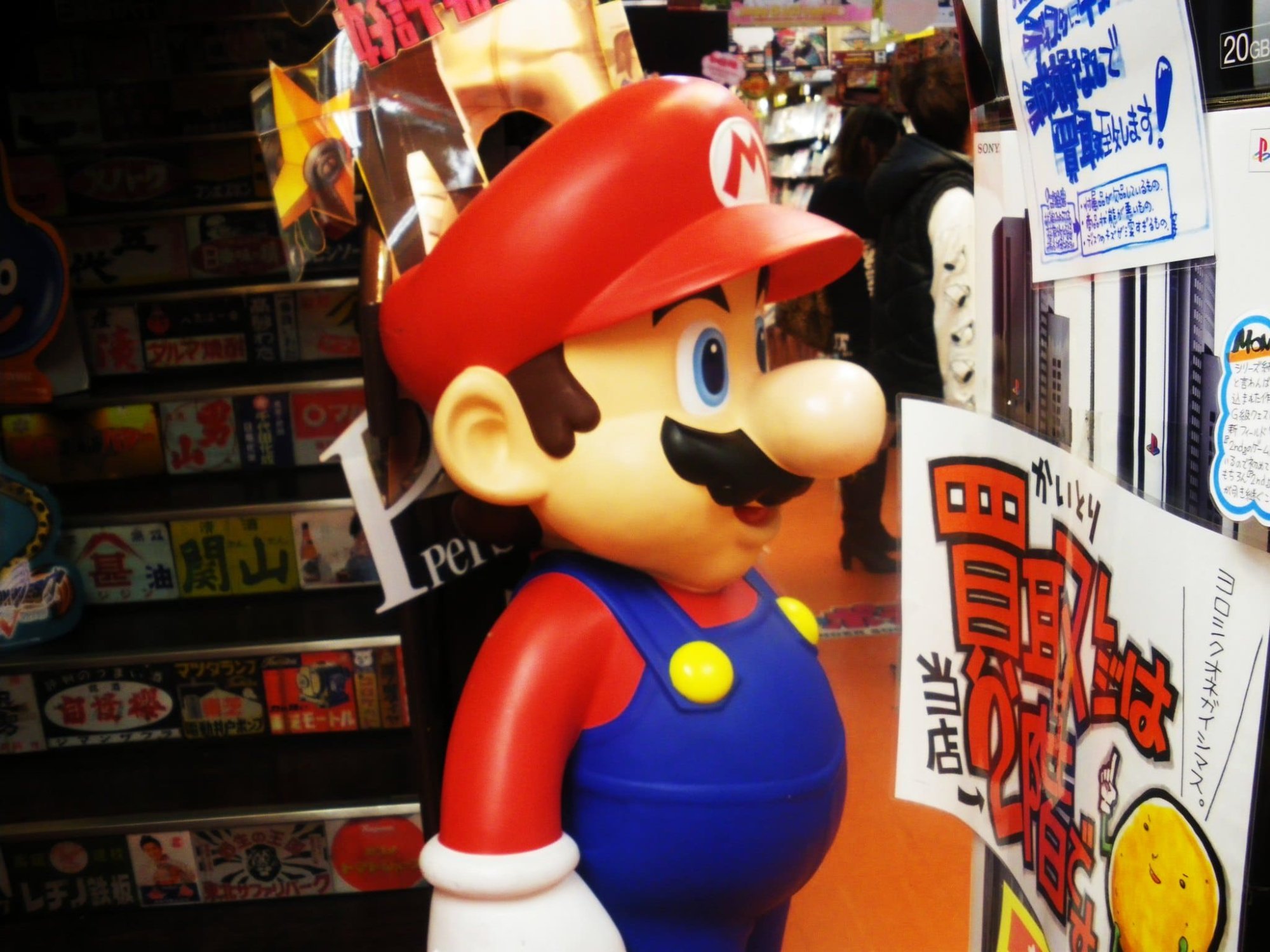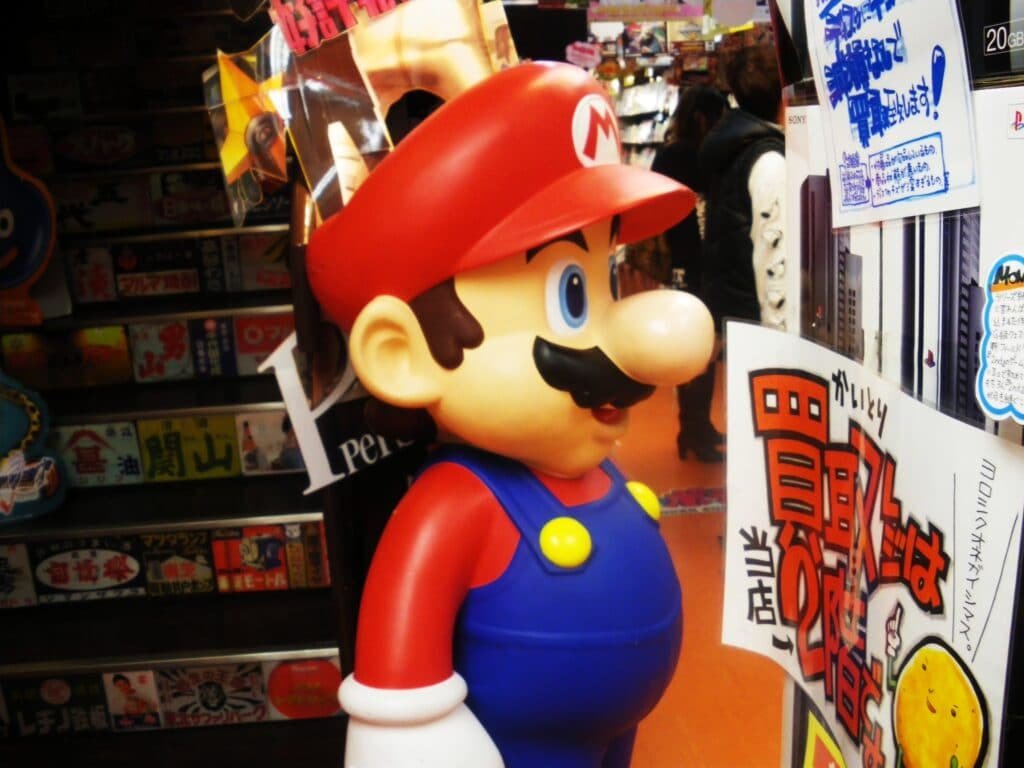 Since it's your last night in Osaka, you'll probably want to pick up a few souvenirs and gifts for friends back home.
If you want to treat your friends and loved ones to a gift that is uniquely Japanese, and reflective of Osaka, then Den Den Town is a good place to find it.
To reach Den Den Town from USJ will take around half an hour. Take the JR train line from Universal City Station back to Nishi Kujo. From Nishi Kujo, head downstairs to the Kintetsu Railway line and take the train onwards to Nippombashi.
Once you reach Nippombashi, follow the signposts for Den Den Town. You'll reach the main strip in about 7 minutes.
Similar in many ways to Tokyo's Akihabara Electric Town, though decidedly less commercial in nature, Den Den Town offers the very best in consumer electronics, home entertainment, duty free shopping and "geek culture" merchandise. Geek culture has enjoyed something of a renaissance in recent years and many visitors to Den Den Town are initially surprised to learn that so many of their beloved toys and animation franchises from childhood, Transformers in my case, actually originated in Japan.
Retro gaming features prominently too, with entire floors of some stores dedicated to the SEGA Mega Drive, Nintendo Super Famicom and a host of other consoles from the early days of gaming in the 80s and 90s.
For this 30-something writer, stepping into these stores was like entering a time capsule of my childhood. For a more detailed look at what you can find in Den Den Town, please check out our extensive guide.
With the last of your shopping concluded, there's just enough time for one final hurrah before we say goodbye to Osaka, until the next time anyway.
Day Three: 7:30pm: Dinner at Namba Parks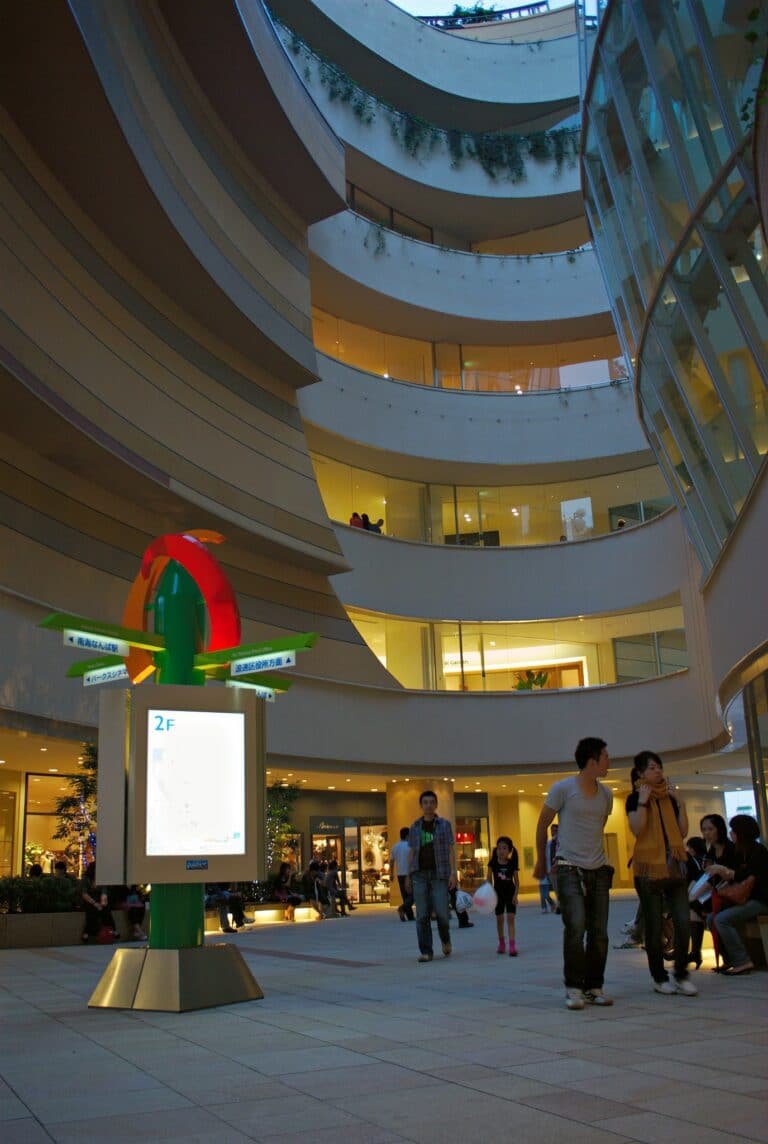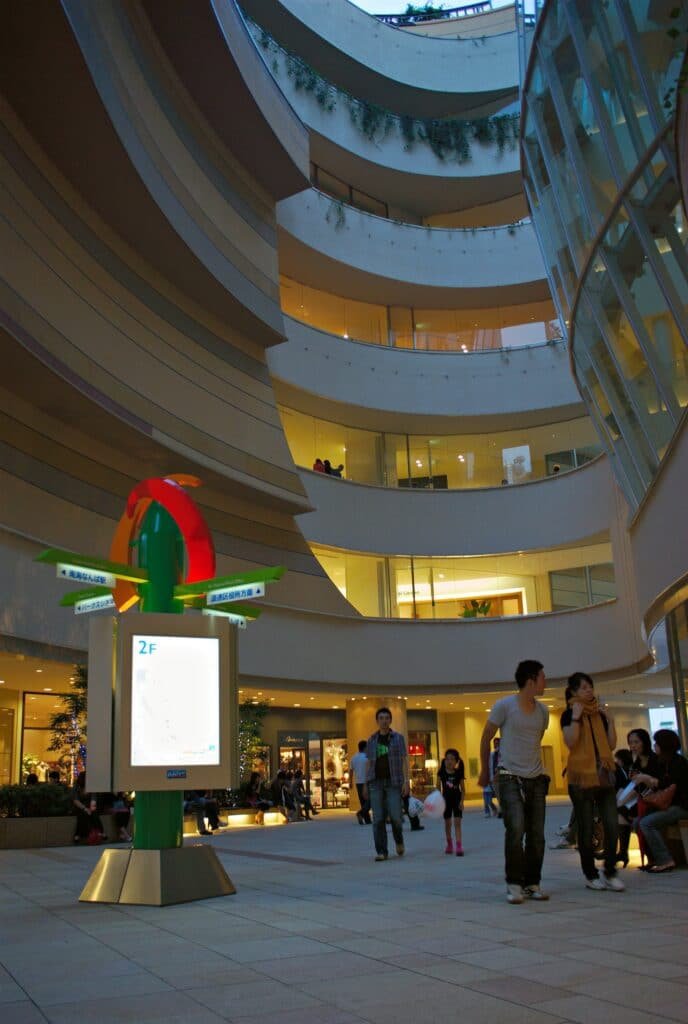 After a thrilling and fun-packed three days, we want to round off your visit to Osaka with some style and class. Luckily Namba Parks is on hand to accommodate you.
This multi-storey shopping and entertainment complex has several bars and restaurants on its upper levels. However, my personal recommendation would be Kobe Motomachi Doria.
Doria is an example of Japanese fusion cooking. It looks a lot like a gratin or lasagna to the untrained eye. The big difference though is that rather than having potatoes or pasta as its filling, doria consists of rice, with meat, sauce and cheese on top.
According to local history, the dish actually originated in a hotel restaurant in Yokohama around 100 years ago, when the resident Swiss chef, lacking the potatoes needed for a gratin, but having plenty of rice, decided to improvise.
Doria at this restaurant comes in a variety of flavours. Most like the classical "Bolognese style" sauce and cheese version. I'm a fan of the chicken curry doria, but Kobe Motomachi has something to suit all tastes.
After dinner, before you head for home, be sure to take a stroll around the rooftop garden on Namba Parks' top floor. The panoramic views it offers of the city will give you one final, epic memory to take home with you.
From here, head downstairs to Namba Subway Station, were a 10 minute ride on the Midosuji line, will take you back to Umeda, where Osaka Station and your journey on to your next adventure await you.

Hopefully you have enjoyed this three day tour of the best of Osaka. However, please remember that this is a city that takes years to fully explore, understand and appreciate.
You may have only scratched the surface, but hopefully what you have seen over these three days is enough to whet your appetite for a longer Osaka adventure in the future.
As we say in Scotland: "Haste ye back!"
Basic Itinerary
The following is a handy printable guide you can take with you when you go on your three day tour of Osaka.
Day One:
| | | |
| --- | --- | --- |
| Time | Activity | How to get there |
| 9am | Breakfast at Honolulu Coffee | 5 mins walk from Osaka Station |
| 10:30 am | Osaka Kaiyukan Aquarium | Subway Umeda to Osakako (20 mins) |
| 1pm | Lunch at Tempozan Marketplace | 2 mins walk from Kaiyukan |
| 2.30pm | Shitennoji and Tennoji Park | Subway Osakako to Tennoji (25 mins) |
| 5.30pm | Sunset at Abeno Harukas | Across the road from Tennoji Park |
| 7:30pm | Dinner at Kyushu Danji, Umeda | Subway Tennoji to Umeda (22 mins) |
| | | |
Day Two:
| | | |
| --- | --- | --- |
| Time | Activity | How to get there |
| 9am | Breakfast at Café Swiss | Subway Umeda to Namba (15 mins) |
| 10.30 am | Shopping in Namba/Shinsaibashi | Walk 10 mins from Café Swiss |
| 1pm | Lunch on the Dotombori | Walk 2 minutes from Shinsaibashisuji |
| 2:30pm | Osaka Castle and Castle Park | Subway Namba/Shinsaibashi to Morinomiya (15 mins) |
| 5.30pm | Dinner in Tsuruhashi | JR Morinomiya to Tsuruhashi (3 mins) |
| 8pm | Return to Hotel | JR Tsuruhashi to Osaka (15 mins) |
| | | |
Day Three:
| | | |
| --- | --- | --- |
| Time | Activity | How to get there |
| 8am | Arrive at Universal Studios Japan | JR Osaka to Universal City (12 mins) |
| 9am | Breakfast at USJ | |
| 9.30 am | USJ rides and attractions | |
| 1pm | Lunch at USJ | |
| 2pm | USJ rides and attractions. | |
| 5.30pm | Shopping at Den Den Town | JR Universal City to Nishi Kujo, Kintetsu Line Nishi Kujo to Nippombashi (26 minutes) |
| 7.30pm | Dinner at Namba Parks | Walk from Den Den Town (10 mins) |
| 9pm | Return to Osaka Station | Subway Namba to Umeda (10 mins) |
| | | |