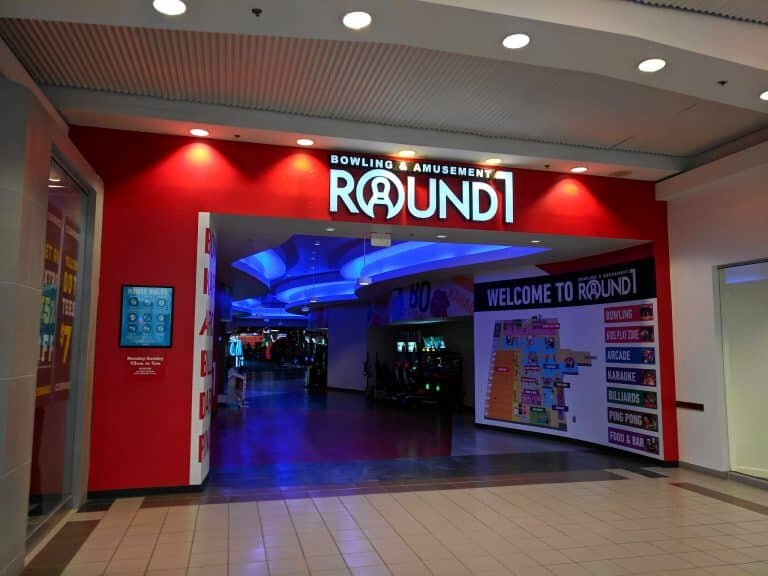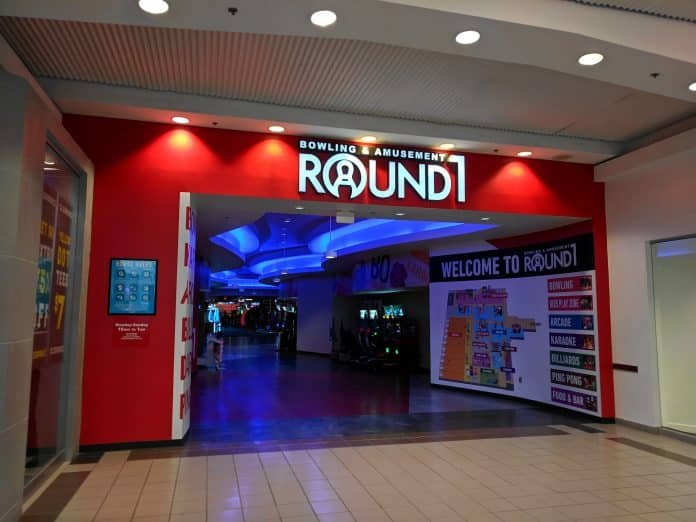 Named for its close proximity to Osaka Castle (Joto literally means "to the east of the castle"), Joto ward is one of Osaka's smaller districts.
With Kyobashi on its border, and the recently expanded Osaka Business Park just a short walk away, this area has undergone something of a surge in popularity in recent times, as both a residential hub and tourist hang out.
Kyobashi Station, which sits to the south west of the ward, offers a plethora of department stores, entertainment options, bars and fine dining.
One of the highlights, especially for younger visitors to the area, is "Round One".
Though marketed primarily as a bowling alley, Round One offers so much more. It is also a multi-level game center, kids play area, restaurant and bar. This combination of so many activities in one place makes it a highly popular spot not just for teenagers, but also for young couples on dates, families with kids, and even older people looking to get out the house for a few hours.
This multi-generational blend really characterizes the whole of Joto Ku. It is undoubtedly one of the most demographically diverse areas in all of Osaka.
Its close proximity to both Umeda and Namba, attracts young urban professionals, whilst the areas many parks and recreational facilities, such as the excellent Joto Sports Center, provide plenty to do for both families and elder citizens.
Given the area's diverse nature, you will also find some excellent dinner options, especially if you're looking for something a bit different.
One such place that I highly recommend is Chang Noi.
This Thai restaurant, owned by a family of Thais, serves up authentic Thai home cooking every day from 5.30pm.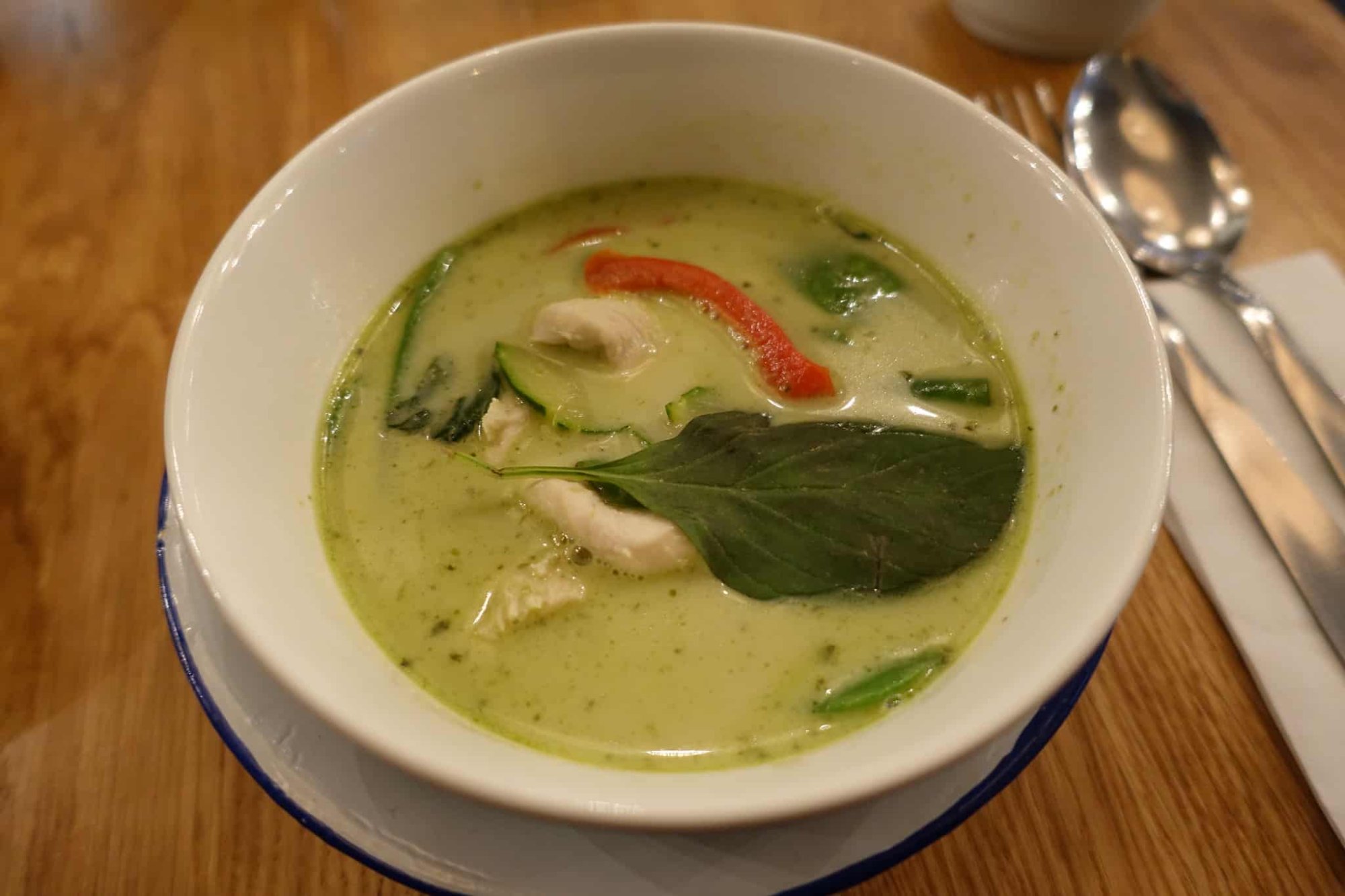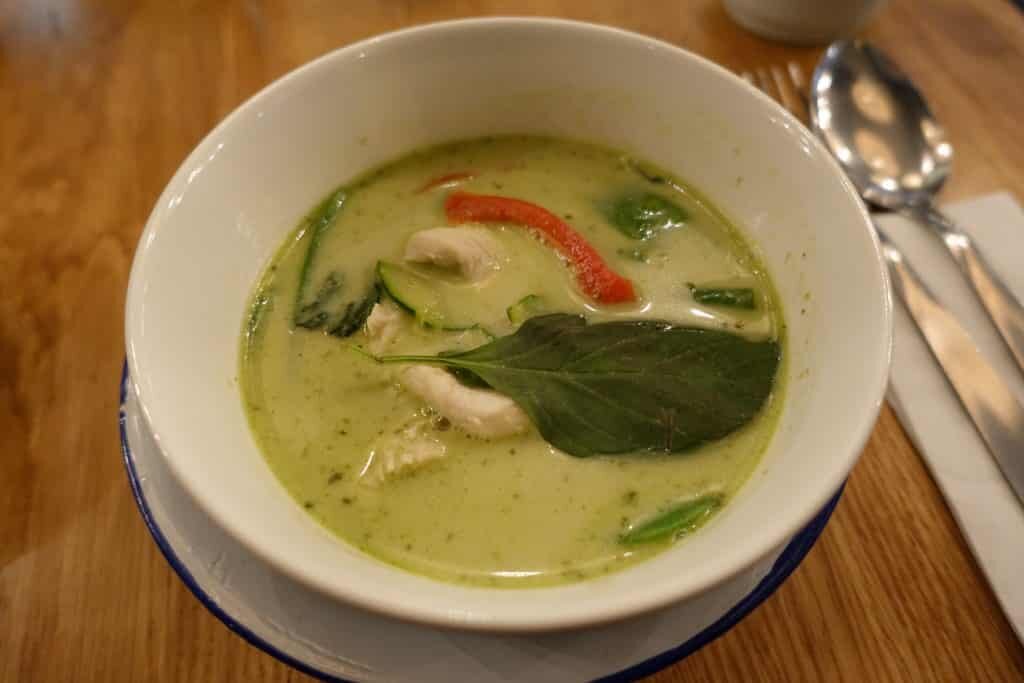 Of course all the usual favorites one would expect from a Thai restaurant are covered. The likes of Green, Yellow and Red Curry, as is the ever-popular Pad Thai.
Incidentally, the staff in this restaurant once explained to me why Thai curry has three different colors. It's all to do with the amount of chili peppers used in the recipe. Red has the most intense, red peppers, giving it a crimson color and a heat that burns but tastes great. Yellow is the medium level of spice, utilizing yellow chili peppers, and finally green is the mildest with its use of green chilies.
She also told me that the color scheme makes it convenient when introducing the dish to new customers. In her own words: "Think of it like traffic lights. Green is the mildest so you can drive straight on into it. Yellow is a little fiery so maybe slow down and be careful. Red means stop! Don't proceed any further unless you are sure you can handle a truly hot curry."
Whilst the curry is good, when you visit Chang Noi, I recommend trying their speciality dish, Khao Soi.
Originating in Myanmar and Northern Thailand, Khao Soi is the Burmese interpretation of hand-made noodles as we would know them in Japan. Traditionally served in a soup along with vegetables, herbs and occasionally beef or chicken, it may look like a cup noodle, but this is one taste sensation you are sure to never forget.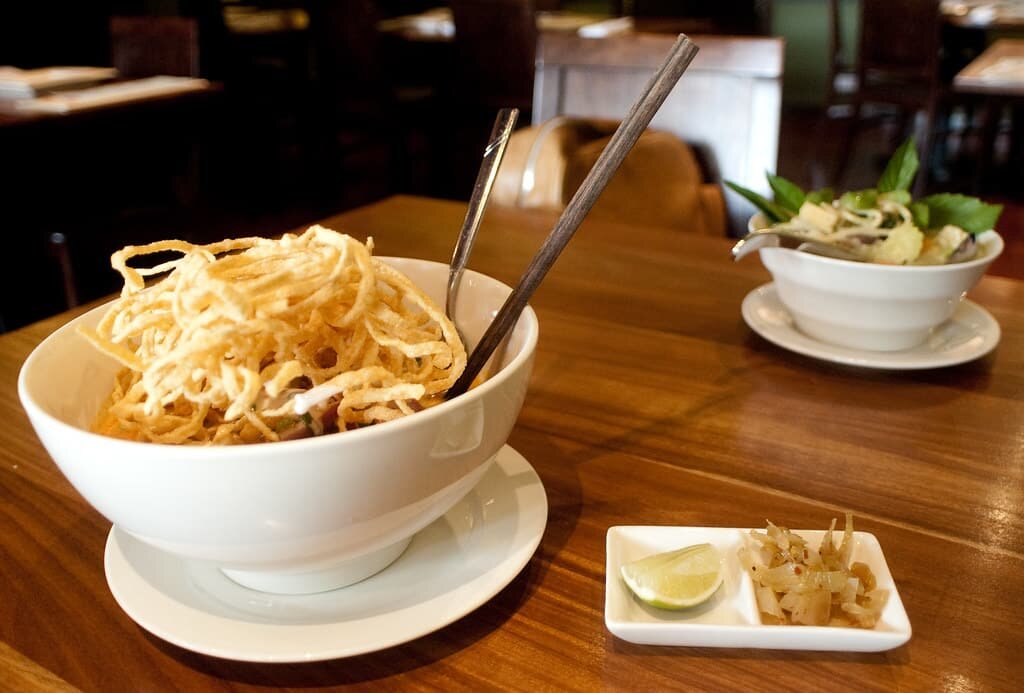 Also, don't forget to wash down your dinner with a bottle of the honey scented Phuket Beer, just be careful how you pronounce that name once you've had a few!
However, if you have been on your mind, then perhaps the best place in the area is Keihan Hub, part of the Hub national chain of British theme bars.
Much like the other Hub bars in Shinsaibashi, Tennoji and Umeda, this bar offers a wide range of drinks from Europe and the US as well as a fairly competent attempt at a Japanese interpretation of British pub food. The steak and Guinness pie is always a winner, and the Cornish pasties are exquisite.
As a Scotsman however, I have to say I wasn't entirely sold on the idea of the Haggis Pizza.
Ten out of ten for effort though.
Joto Ward is also a good place to base yourself if you're planning to explore Osaka for a few days. Being that little bit further away from the city center than the likes of Namba, Umeda and so on means hotels and hostels around Joto are a lot cheaper than you would expect to pay elsewhere in the city.
However, thanks to the wide variety of transport links, you are never more than about 20 minutes away from the action, wherever you are!