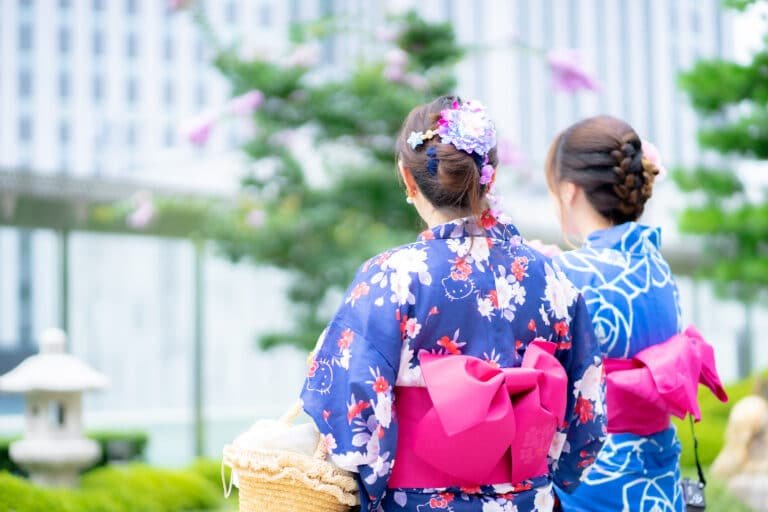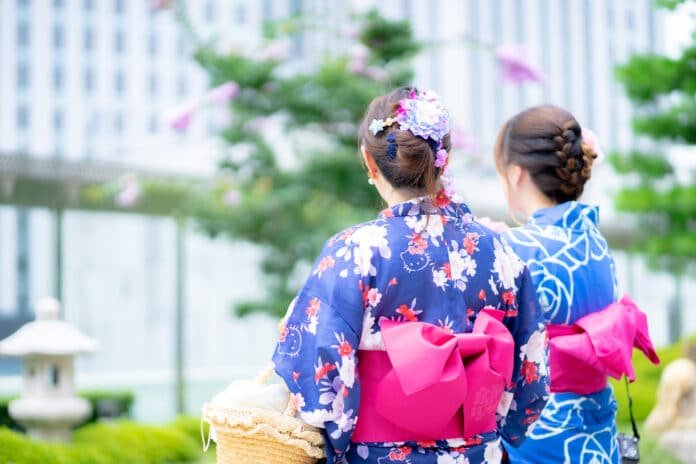 What is Aizen Festival?
History of Aizen Festival?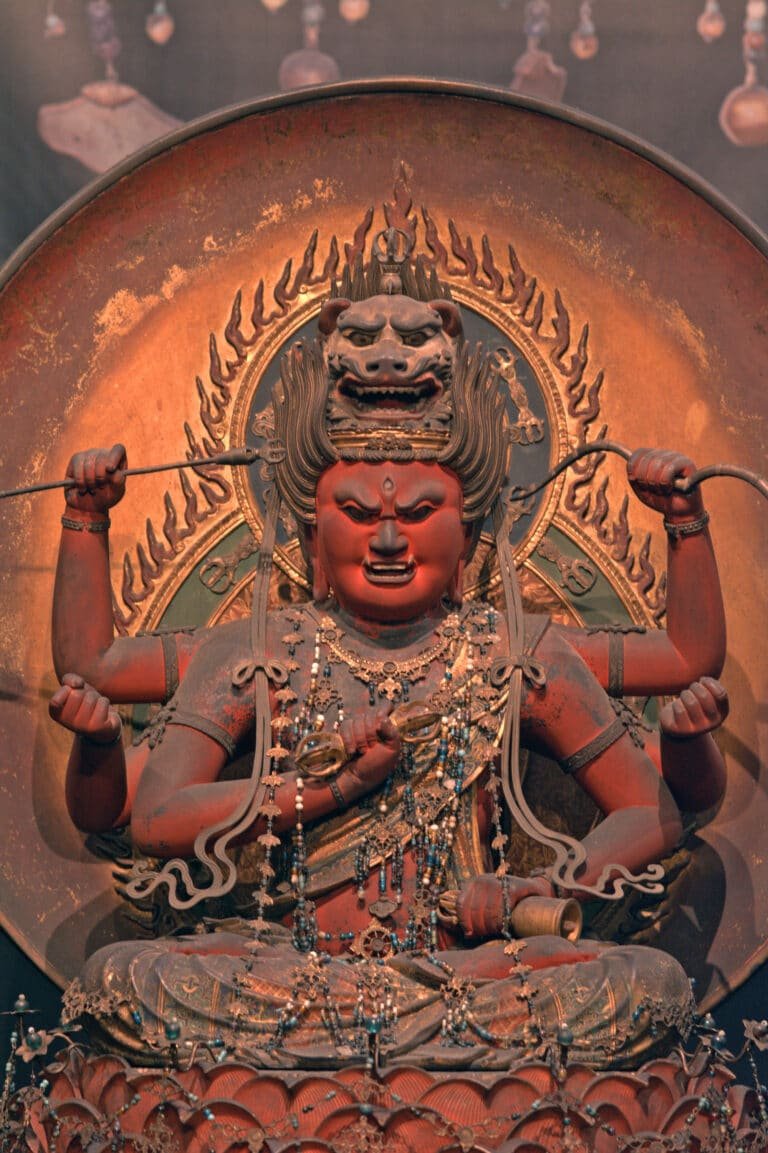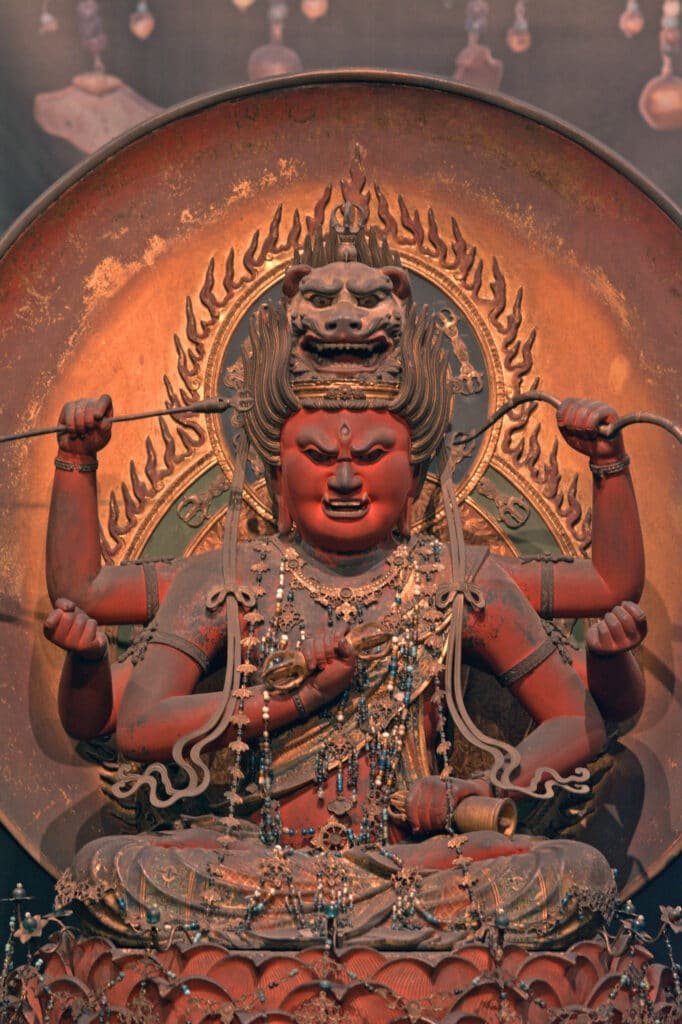 Hoekago Parade
Hoekago is one of the most important events of the Aizen festival and occurs on June 30th. Traditionally, geisha are carried on a special palanquin from various districts to a district or shrine. Now, while geisha do make appearances at the festival, they are mainly "Aizen Musume" (Aizen Daughters – A group of selected girls). 12 selected girls, selected by the committee, elaborately dress up in yukatas. They are then hoisted up by the palanquin and paraded through Tanimachisuji Street and towards Aizendo temple. A merry of bells and shouts of "Aizen-san Hoei-Kago, Beppin-san Hoei-kago, Shobai-hanjo Hoei-kago" sweep the streets.
Aizen is the god of love, marriage, while Beppin-san refers to a fair lady. Shobai-hanjo means business prosperity. Finally, Hoei comes from the name of the era when geisha first visited Aizen-do by a palanquin.
As the Aizen Musume reaches the temple, the carriers lift them in front of the main hall. The surrounding worshippers receive warm smiles and flowers. This is in the hope of prosperous business, good luck in charm, and fulfillment of romance.
Unfortunately, as of 2018, the parade has stopped as the festival has decreased in size.
Nagoshi no Harae
In addition to the Hoekago people visit shrines and pray for health and well-being for the rest of the year and to purge themselves of any sins. Usually, this takes place at Shinto shrines but the Aizen festival takes place at a Buddhist temple. It is unique to have these two religions meet so it is an interesting way to see both at the same time.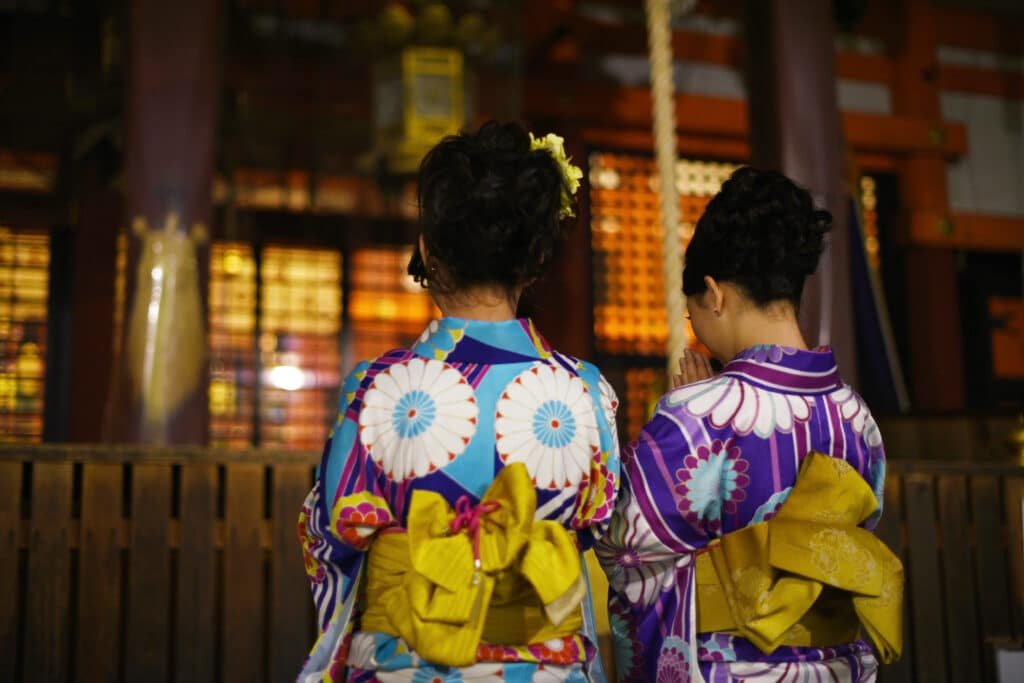 Aizen Musume
Not everyone can become an Aizen Musume as there are various applications in place. Around 300 to 400 applicants are recruited for the first interview. At the end it is whittled down to just 10 Aizen Museum. The recruitment process comprises of energy, charm, enthusiasm to take part in traditional festivals" and "people who can participate in 3 days and PR activity days". In addition to the 10 "daughters", 2 international students are selected from Seifu Institute of Information Technology in Osaka. The age limit to become an Aizen Musume is 18-35 years old.
Aizen Musume's outfit is a yukata sponsored by Kyoto Koizumi Co., Ltd., with artificial flowers of Aizen wig inserted in their head. On the first day of the festival, they perform PR activities as well as performing songs and dances. On the second day, a contest begins to decide "Miss Aizen".
Aizen-Do Temple
Aizen-Do dates back to 593, when Prince Shotoku built Shitenno-ji Temple. Following this, he built seven shrines in order to protect it, called Shichi-Gu. Futhermore, four more temples were then built to provide means of social welfare, calles Shiko-In. The leader of one of the temples, Seyaku-In was the percusor of Aize-n-san. Gradually, as the temple became more popular, it gained the name "Aizen-Do" based on the deity, Aizen Myouou, that is enshrined there.
Aizen-Do collapsed due to Ishiyama War in the 1570's. Later, it was rebuilt but the Aizen-Miyouou diety can only be seen on special occasions, such as the Aizen Matsuri.
There is a unique praying method at Aizen-Do. First, you must get one of the special papers to write your wish. Then, holding the paper inbetween your hands, lift it above your nose and chant "Un, Shicchi Sowaka" seven times. Deposity your wish and money in the box and your wish will be granted.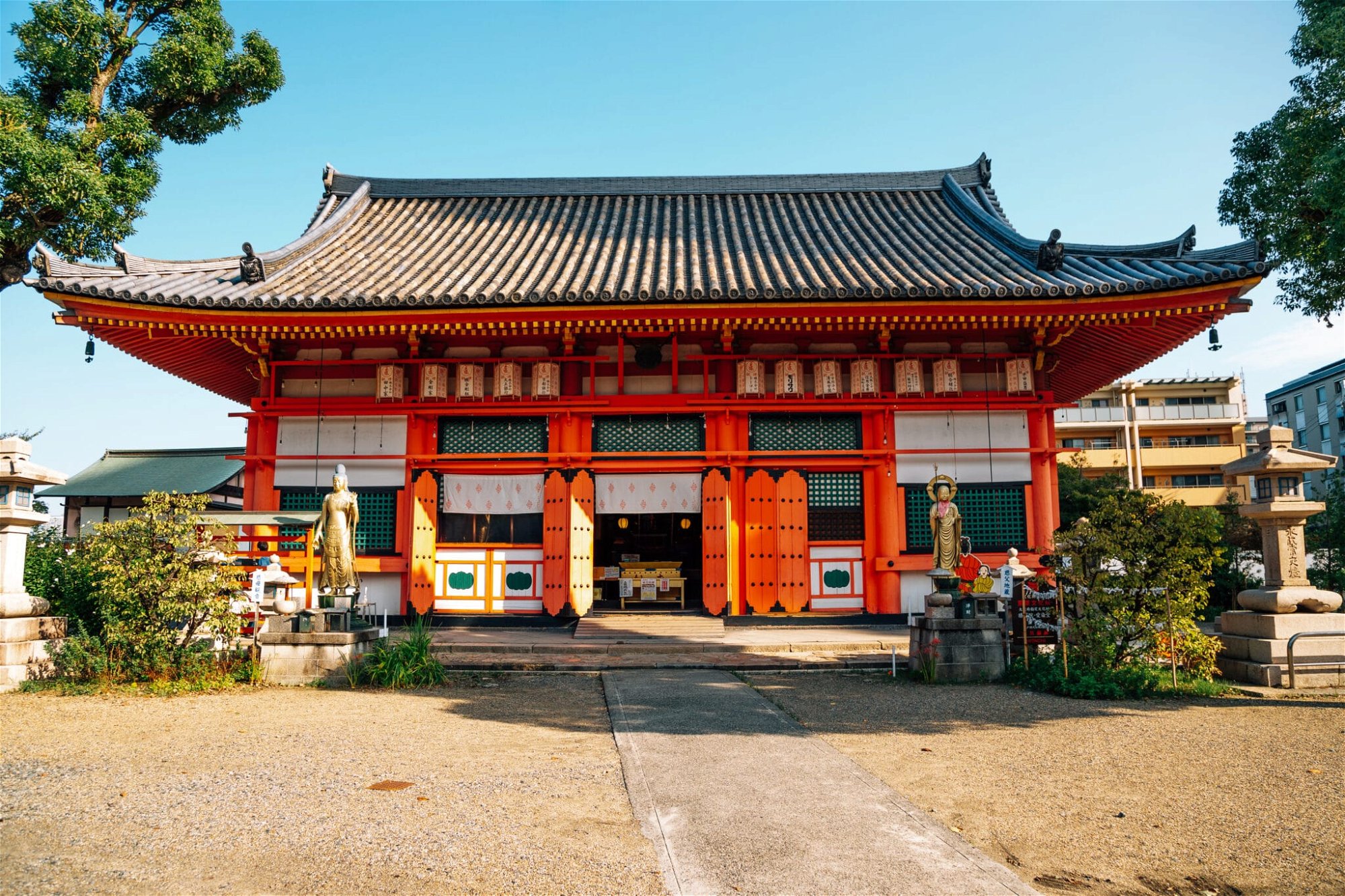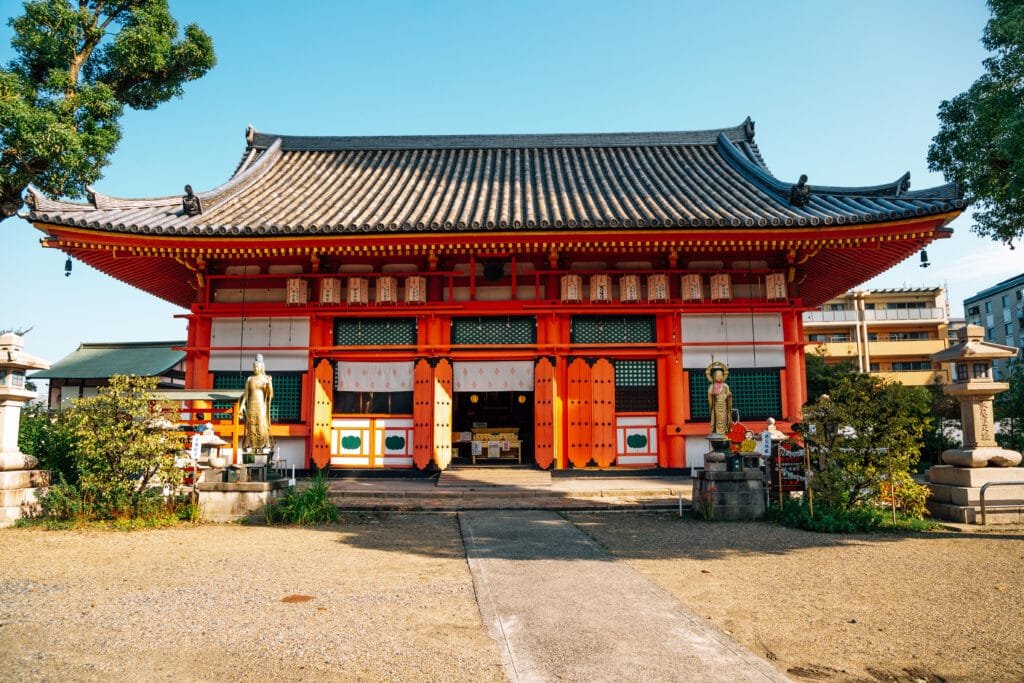 Recent Changes to Aizen Matusri due to COVID 19
Online prayers
On the official website, there is an online prayer section. You can now send your prayer online to a monk who has mastered the Aizen Royal Law. They will then pray for your wish at the Aizen-do main hall during the Aizen Festival. This way, you can connect your prayers even if you are far away or can not make it.
Online Aizen Musume
The Aizen Festival is also known as the "Yukata Festival". It is a local practice to wear a yukata on this day, however, it has also started online! To take part, you just have to post on Instagram, a picture of yourself in a yukata with the hashtag #AizenMusume. Next, the winners will receive souvenirs and special gifts.
Watch a video on the Aizen festival here!
Where to Enjoy Aizen Festival in Osaka?
The main event takes place at the Aizen-do, where most of the prayers, wishes, and other events take place. It is located quite centrally in Osaka, so it's easy to access. Furthermore, the entrance fee is free! The closest station is Shitennoji Yuhigaoka station on the Osaka Metro Subway. In addition, from Namba station, you can walk towards Ikutama Shrine. Next, go south towards Tanimachi street and it will take around 20-30 minutes to Aizen-do temple. Using this route will give you a more historic and scenic perspective of Osaka.
Web: www.aizenmatsuri.osaka/#ch01
Phone: 06-6779-5800
Address: 5-36 Yuhigaoka, Tennoji-ku, Osaka-shi , Osaka 543-0075
Final
Aizen Matsuri is the start of Summer and there is no better way to kick it off than to dress up in a Yukata. Soak in the traditional Japanese culture and relax in the sun, whilst enjoying the festive singing, dancing, and prayers!