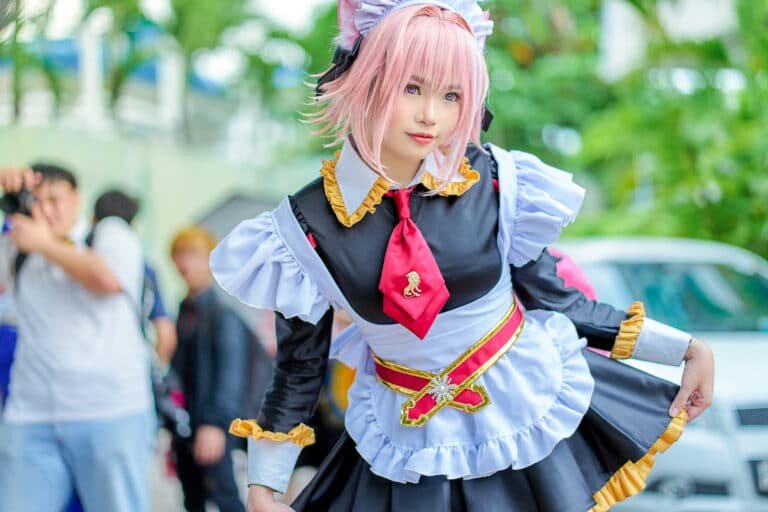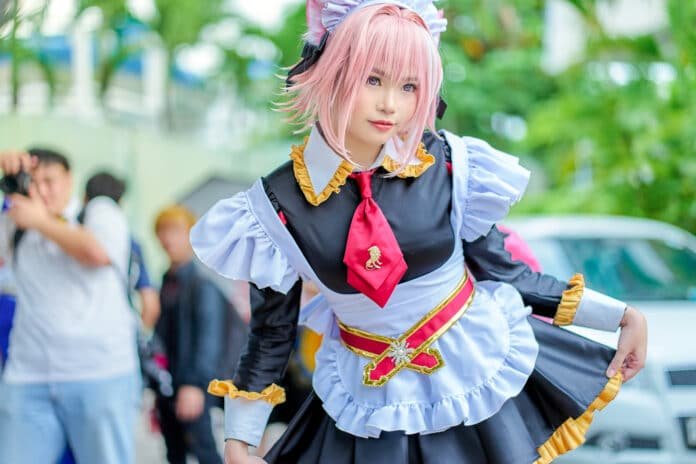 Dressing up as our favourite characters is something we usually associate with Halloween. However in Japan, dressing up (or cosplay) is a common event in which millions of people take part. From anime to video game characters – Dragonball to Street Fighter – there are countless cosplay opportunities. Japan celebrates its love for these characters with special cosplay events throughout the year – one of which, takes place in Osaka. Let's get into what makes cosplaying so popular in Japan.
What is Cosplay?
Even now with its popular following, some of you may be asking what cosplay actually is. Let's quickly break it down. Cosplay (a mix of costume and play) is the activity of wearing self-made costumes to derived from characters from various fiction and non-fiction stories. Movies, video games and anime are just some of the sources of inspiration for people that cosplay.
Manga is a Japanese-style comic book that started to grow in popularity in the 1950s and 60s. Following this, in the 1970s, Japanese college students began dressing up as manga characters – attending college events as well as manga conventions. In 1975, the Comic Market began to introduce self-published comics, which allowed the start of cosplay in Japan to flourish. At this time, the term for dressing up was known as "kasou". However, this word didn't carry the nuance and essence that conveyed the spirit of cosplaying. It is at this time that Nobuyuki Takahashi and his university friends came up with the word "cosplay" in one of their article – they published it in June 1983 featuring the Comiket convention in Tokyo.
A quote from Nobuyuki Takahashi
'Cosplay is a fan's expression of his or her love for a favourite character.'
'Drawing a piece of artwork, writing a story, animating a movie and showing this to others is a manifestation of that love. And cosplay is one of those expressions in which fans use their entire bodies.' But has Takahashi ever cosplayed? 'Nope, not even once. Typically, I wear casual clothes at the office. Whenever I wear a business suit, that's me cosplaying. Cosplaying as a businessman."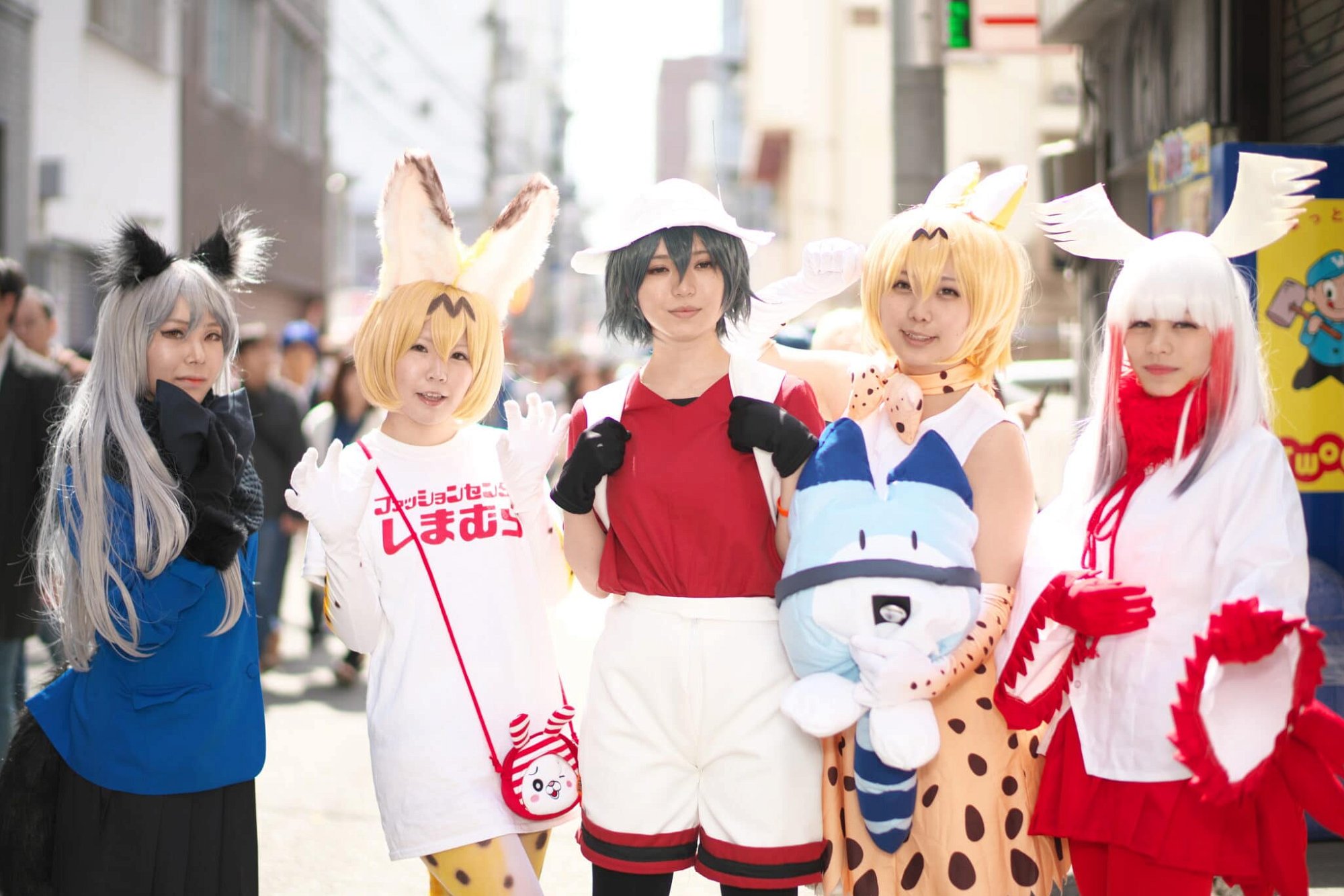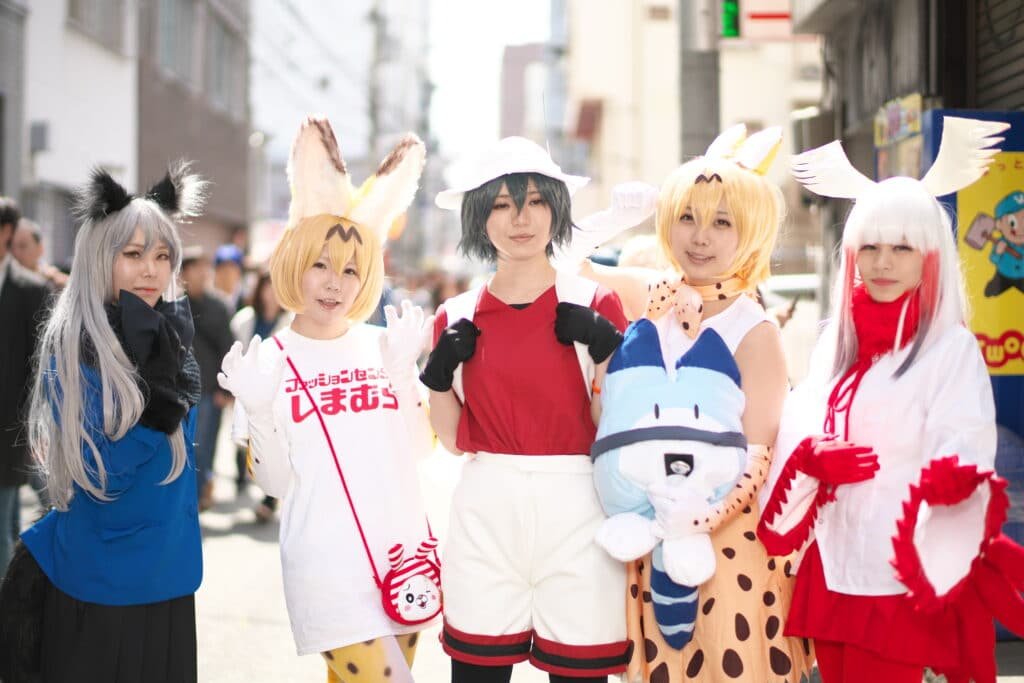 Why is Cosplay so popular?
The boom of cosplay coincided with the boom in manga and anime. Manga started to target different demographics, increasing the fan base interaction. For instance, "Shojo Manga" is for girls under 18, while "Josei Manga" is for adult women. They started to cover all types of genres, gaining country-wide recognition. Cosplaying became an avenue for people to express an alter ego, in the form of their favourite characters. There is no prejudice against the person, their roots, their background, their looks. Instead, cosplaying allows people to enjoy themselves and integrate with fellow cosplayers. Districts such as Akihabara in Tokyo, Ohsu in Nagoya and Nipponbashi in Osaka, have become the center of this subculture. Now, Japan has become the leading country for cosplay, attracting visitors from all over the world. Like many traditional Japanese festivals, cosplaying became a popular venue for cultural exchange.
Cosplaying is now a serious business. The growth of SNS has led to multiple avenues for cosplayers to make money. Diehard fans of anime, manga and various other characters, are willing to pay for things like prints and photos. The fanbase is massive pathing a way for cosplayers to earn a living through twitch (a streaming service), social media platforms, as well as in person appearances at conventions and such. You can find many cosplay artists who have hundreds of thousands of followers such as Mon or Filipina cosplayer Alodia Gosiengfiao. These artists spend days to create their costumes. Often they closely replicate they favourite characters or by adding their own unique twist. Furthermore, they elevate their outfits by matching the persona of the character, as well as being energetic and positive. Although it may sound easy, it's time consuming and takes a lot of energy!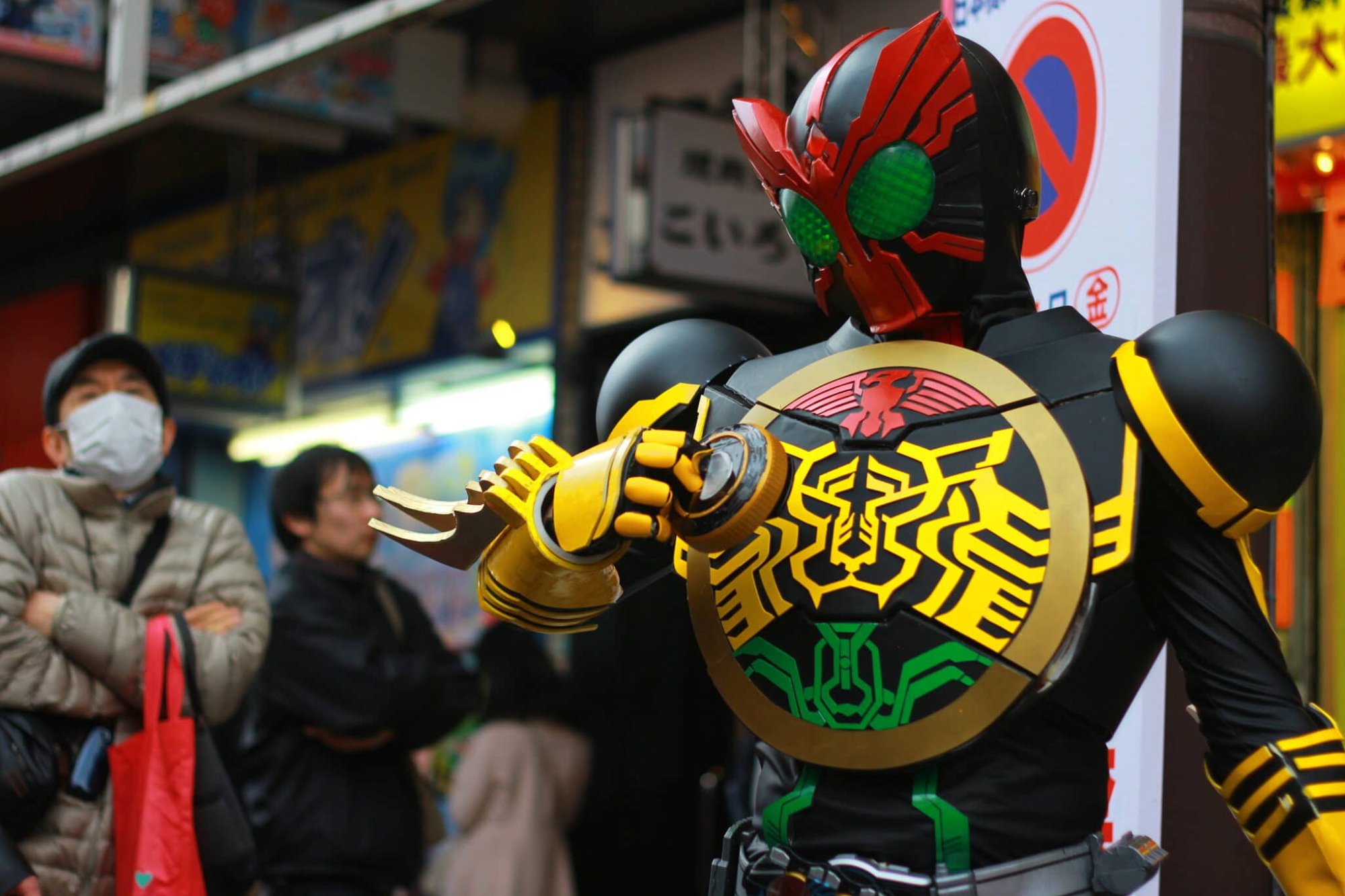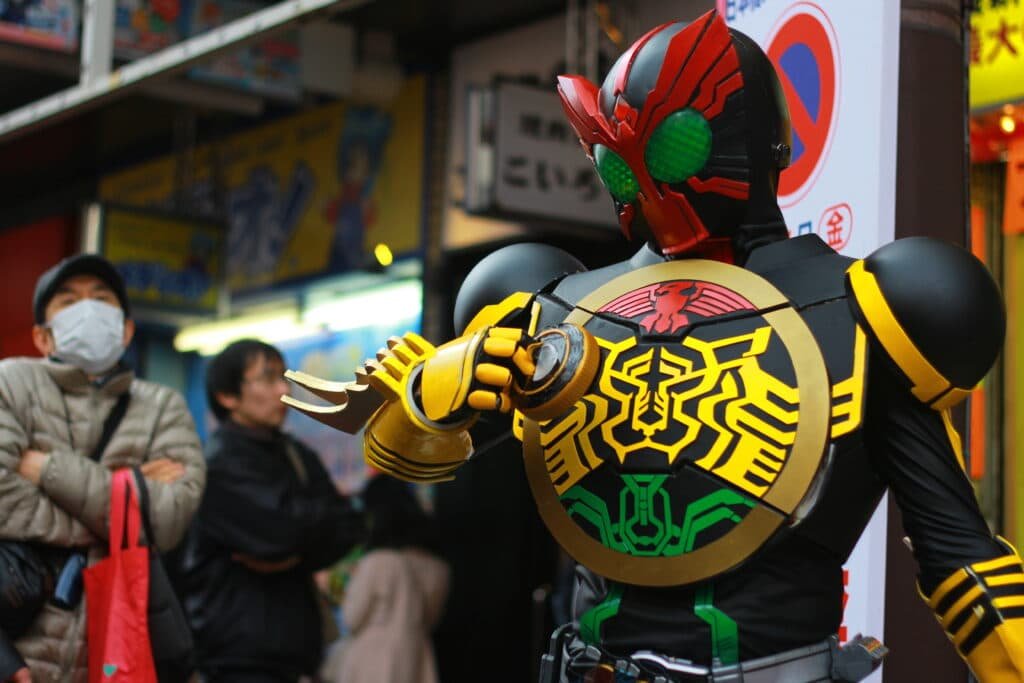 What is the Osaka Cosplay Street Festival
Once a year, on the spring equinox in March, the Nipponbashi neighbourhood transforms into an elaborate cosplay festival. During the month of March, Osaka closes the streets of Denden Town (also known as electric city or the Akihabara of Osaka) for the "Osaka Street Anime Festa". Here, locals can celebrate Osaka's thriving "otaku" and cosplay culture – featuring cosplay fanatics, music performers, food vendors and fans of anime and manga. Cosplayers roam the streets, marvelling in each other's costumes, taking photos with each other. Whilst some cosplayers dress up for fun, others take it more seriously, spending countless hours and money into their costumes. These festival goers use this as a chance to get their name out into the cosplay scene – taking their chance to get into the World Cosplay Summit in Nagoya.
What is an Otaku?
As the manga and anime industries started to boom, fans looked for a way to connect with each other. This saw a rise in clubs and conventions in the 1980s. These events were fuelled by fictional universes. A writer, Nakamori Akio, described these convention-goers as an "otaku", or in English, a geek, nerd or enthusiast. The artlcle, Manga Burikko, appeared in 1983. He critisised the anime and manga subculture by saying this:
"The boys were all either skin and bones as if borderline malnourished, or squealing piggies with faces so chubby the arms of their silver-plated eyeglasses were in danger of disappearing into the sides of their brow; all of the girls sported bobbed hair and most were overweight, their tubby, tree-like legs stuffed into long white socks."
The resulting article gave negative's connotations to the word "otaku". However, whilst some people have this perception of the negative stereotype surrounding Japanese nerd culture, there is a different side to the meaning. Otaku gather as friends to discuss, share and acquire information about their beloved characters. Whilst people have an image of the "loner nerd", it is quite the opposite. People make lifelong friends through anime and manga and that is nothing to be ashamed of.
World Cosplay Summit
Founded at the same time as the Osaka cosplay street festival, the World Cosplay Summit (WCS) was launched to gather the best cosplayers from across the globe. Held in Nagoya, the WCS is a competition to determine the best cosplayer in the world of that year. All participants have to win through preliminary round organized by national and regional organizers who have partnerships with WCS. In the final competition, the 2 cosplayers from each nation do a 2 minute presentation on stage, replicating a scene from their representing character. Of course the costume is important but capturing the essence and personality of the character is just as vital. At the end, one nation is crowned the title of best cosplayer in the world.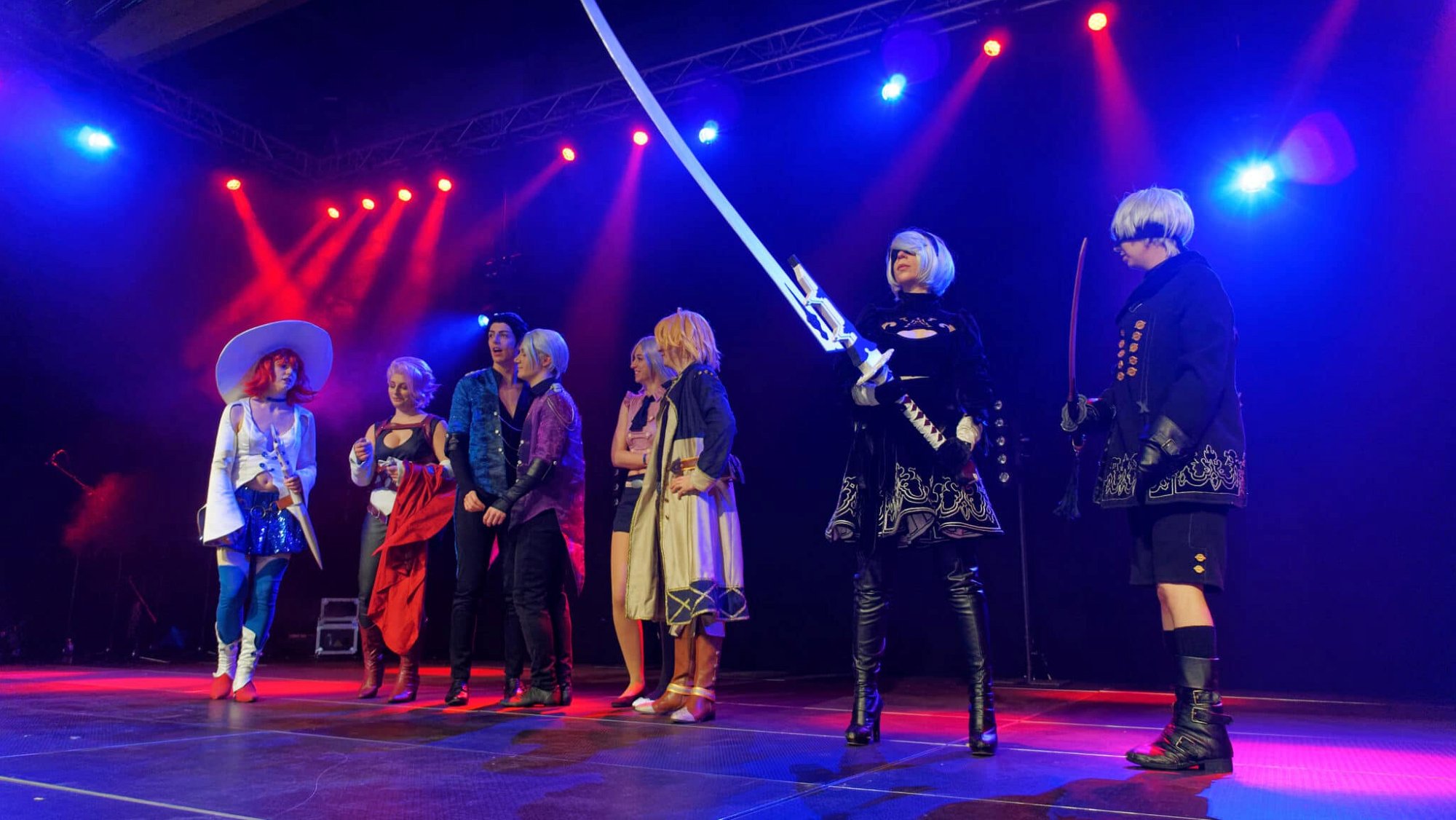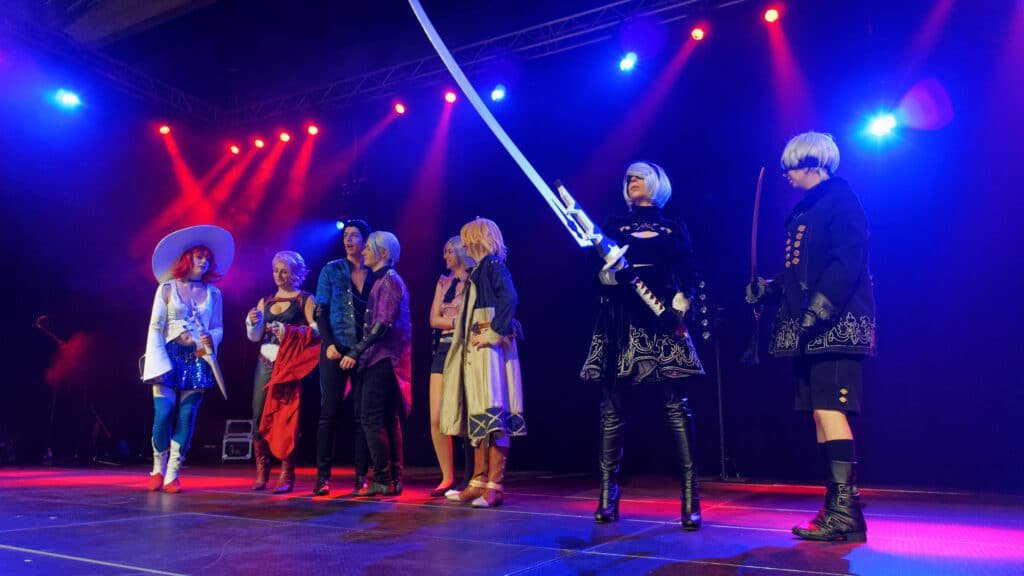 History of the Osaka Cosplay Street Festival
During the early 2000s, the Nipponbashi area started to decline as more retailers started to relocate in the centre of Osaka. As a way to revitalise the area, the city decided to run the cosplay event, which saw a boom in activity within the Nipponbashi district. The cosplay festival started in March 2005 attracting approximately 131,000 visitors. From this point onwards, the event started to grow, now attracting over 200,000 people from across the country and globe. It has now become established amongst cosplayers across the globe as well as cameramen to take professional photos.
Unfortunately, the council decided to cancel the festival in 2020 and 2021 to prevent the spread of the covid-19. Many participants of the festival have shown an outcry through social media, as the event was an opportunity to express their passion for cosplay and their favourite characters. However, people have been enjoying cosplaying at home, sharing their photos through SNS.
How to enjoy the Osaka Cosplay Street Festival
The start of the festival begins with a musical performance on the grand stage. Local television networks are set up to broadcast the opening but any visitor can watch the performance. At around 11 am, the first cosplayers make their way through the streets of Nipponbashi. From this point on, more and more cosplayers appear parading down the streets. The main streets and smaller side streets will become full of festival goers making quite difficult to move. However, at the Namba Carnival Mall (located a little away from the venue), there is a cosplay area where you can relax and enjoy the costumes on show.
Anyone can join in on the festivities either dressing up or just looking around at others' costumes. If you are more serious about taking part and dressing up, you can purchase a wristband for 2000 yen. This will allow you to participate in the parade, photoshoots and costume contests, as well as use it on the on-site changing area. Alongside this, there are live performances, raffles and food vendors to enjoy some of the local delicacies. Annually, there are over 10,000 people that participate together.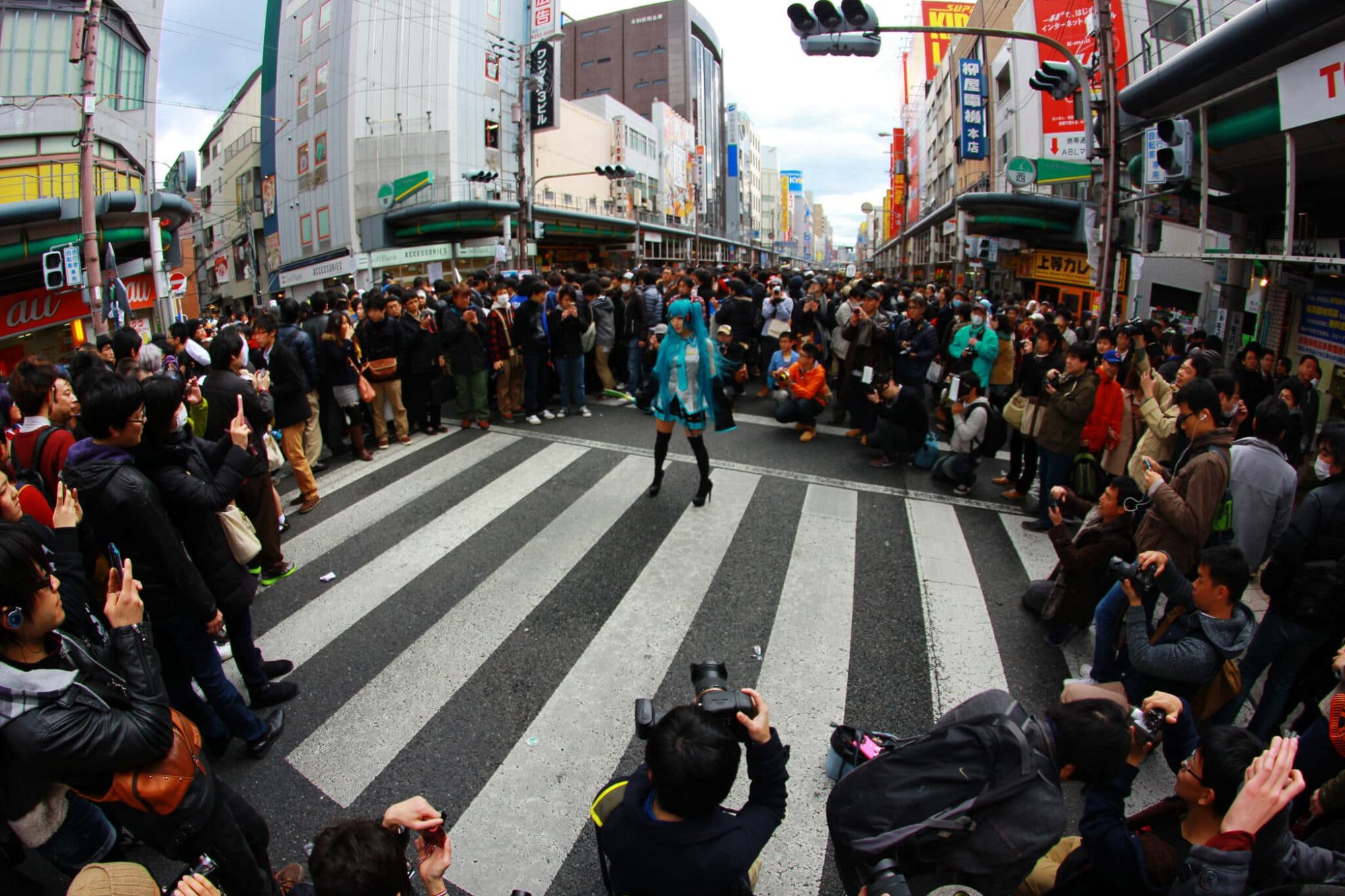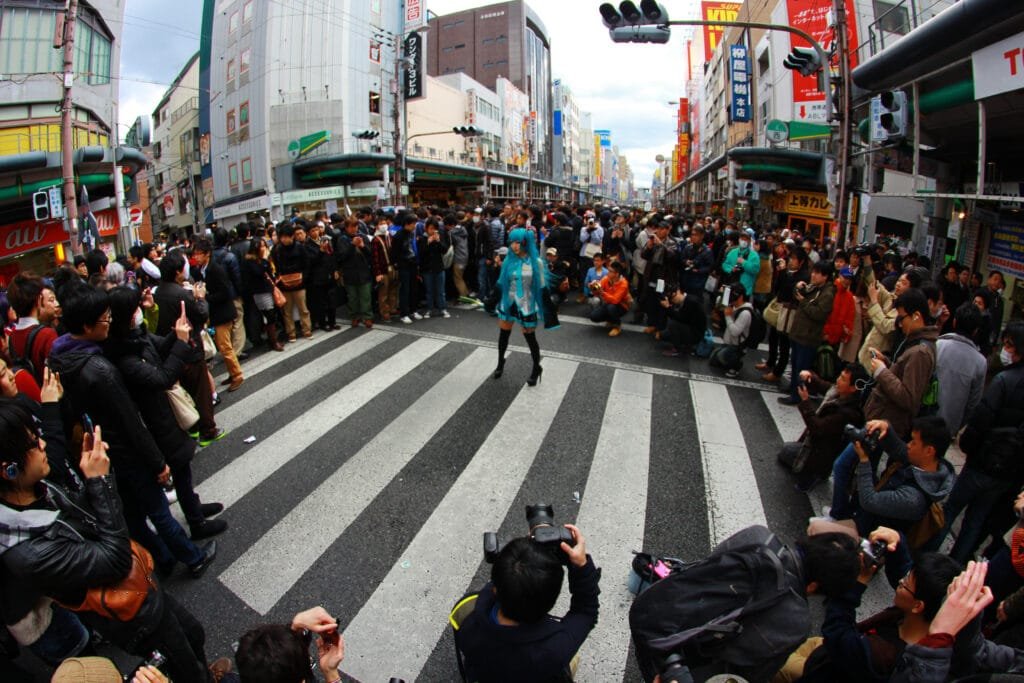 Den Den Town
Den Den Town is home to all things anime and manga attracting fans from all over the world. Tucked away in the southern part of Osaka the "electric city" includes a wide variety of stores, from anime and manga to collectable goods. The small town runs along Sakaisuji Avenue in the Nipponbashi district. Along the main road of Sakaisuji Avenue, there are a number of electrical stores such as Sofmap and Bic Camera. Here, you can purchase any electrical goods you can imagine, all at very reasonable prices. Furthermore, there are numerous pop-culture-related stores, with figurines, books and maid cafes.
One road behind Sakaisuji Avenue lies Ota Road – short for "Otaku Road". Here, you can find the majority of anime and manga-related stores. The most popular shop is Anime, where you can find figurines from your favourite anime or original manga to add to your collection. In addition, small vintage stores sell iconic games consoles such as the Nintendo 64 and the Sega Mega Drive. Finally, there are small spaces dedicated to "Gashapon". These are vending machine dispensed capsule toys, which are very popular throughout Japan.
All of this makes for a great day out if you are not visiting the festival. However, if you are planning to take part in the festival, the streets will be busy with people, making these shops a little harder to access.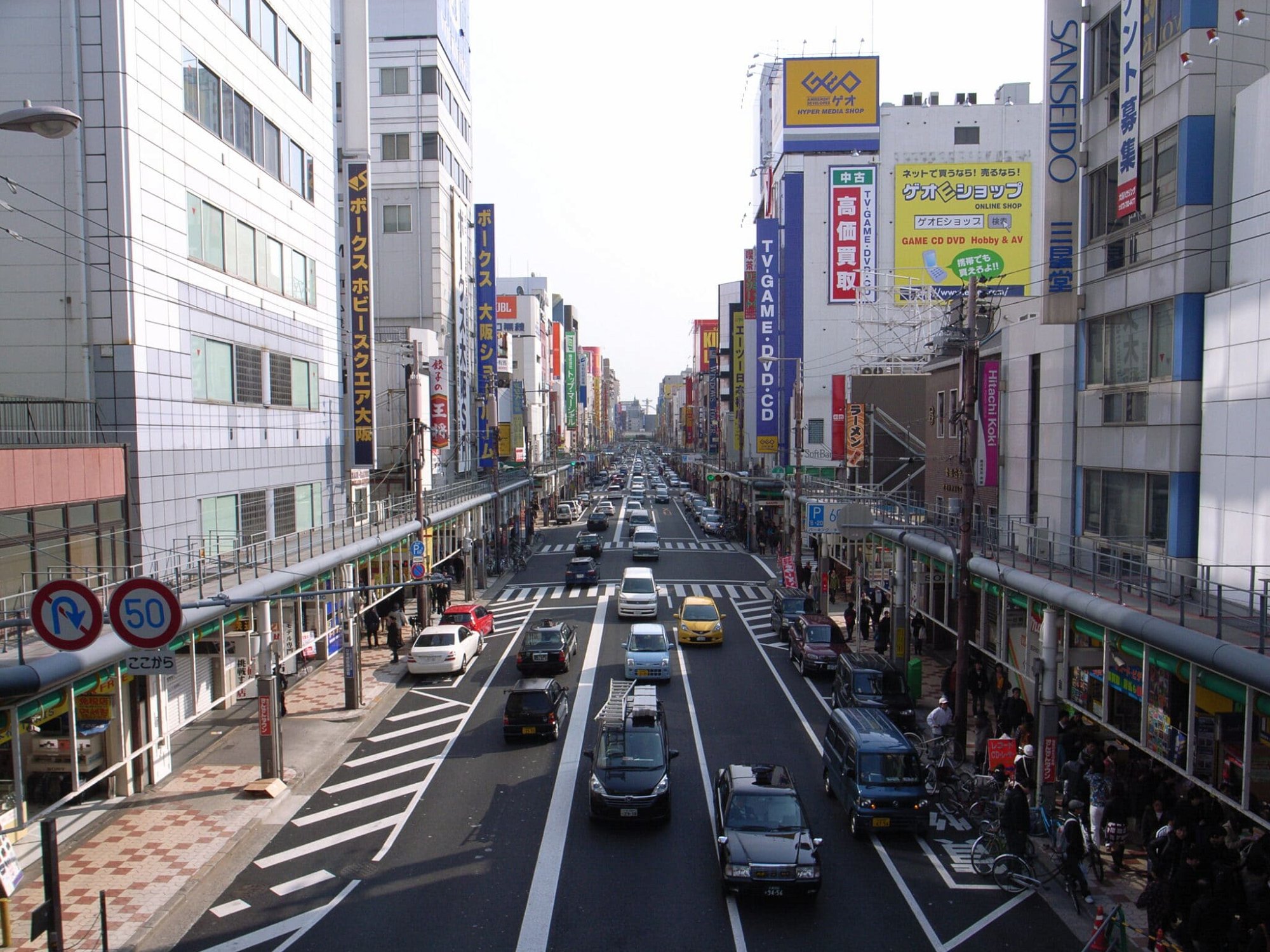 Access
Address: 〒556-0005 Osaka, Naniwa Ward, Nipponbashi, 3 Chome, 5丁目
Opening Hours: 11AM – 7PM
Website: www.nippombashi.jp
The Osaka cosplay street fashion is a fantastic event for any anime or manga lover. Marveling at everyone's costume gives a glimpse into Japan's "otaku" world. Whether you dress up or just want to take some photos, this festival is a unique insight into the pop-culture side of Japan.