Negiyaki is very similar to one of Osaka's most famous dishes, Okonomiyaki. (You can view my guide on okonomiyaki here!) The ingredients are very similar but the core of okonomiyaki is cabbage. However, with Negiyaki, the core base is leeks. 'Negi' in Japanese directly translates to leeks/green onions and 'Yaki' translating to fried.
What is Negiyaki?
The same as okonomiyaki, Negiyaki is a savoury pancake consisting of flour, eggs, dashi, yam and green onions. However, the cooking method is similar to Hiroshimayaki. First the batter is spread onto the teppanyaki (hot plate). The negi is then placed on top and fried till the batter at the bottom is nice and golden brown. From here, there are many ways to finish the negiyaki. In some places, pork is placed on top and in other places, it is folded in half. What's great about negiyaki is that almost every topping matches well with the green onions, especially pork, shrimp or tofu if you want a vegetarian option!
The result is a nice crispy exterior and soft pancake with the aroma of the green onions giving a nice richness and sweetness. Compared to okonomiyaki, the sauce spread on top is more of a soy sauce base to contrast with the sweet green onions.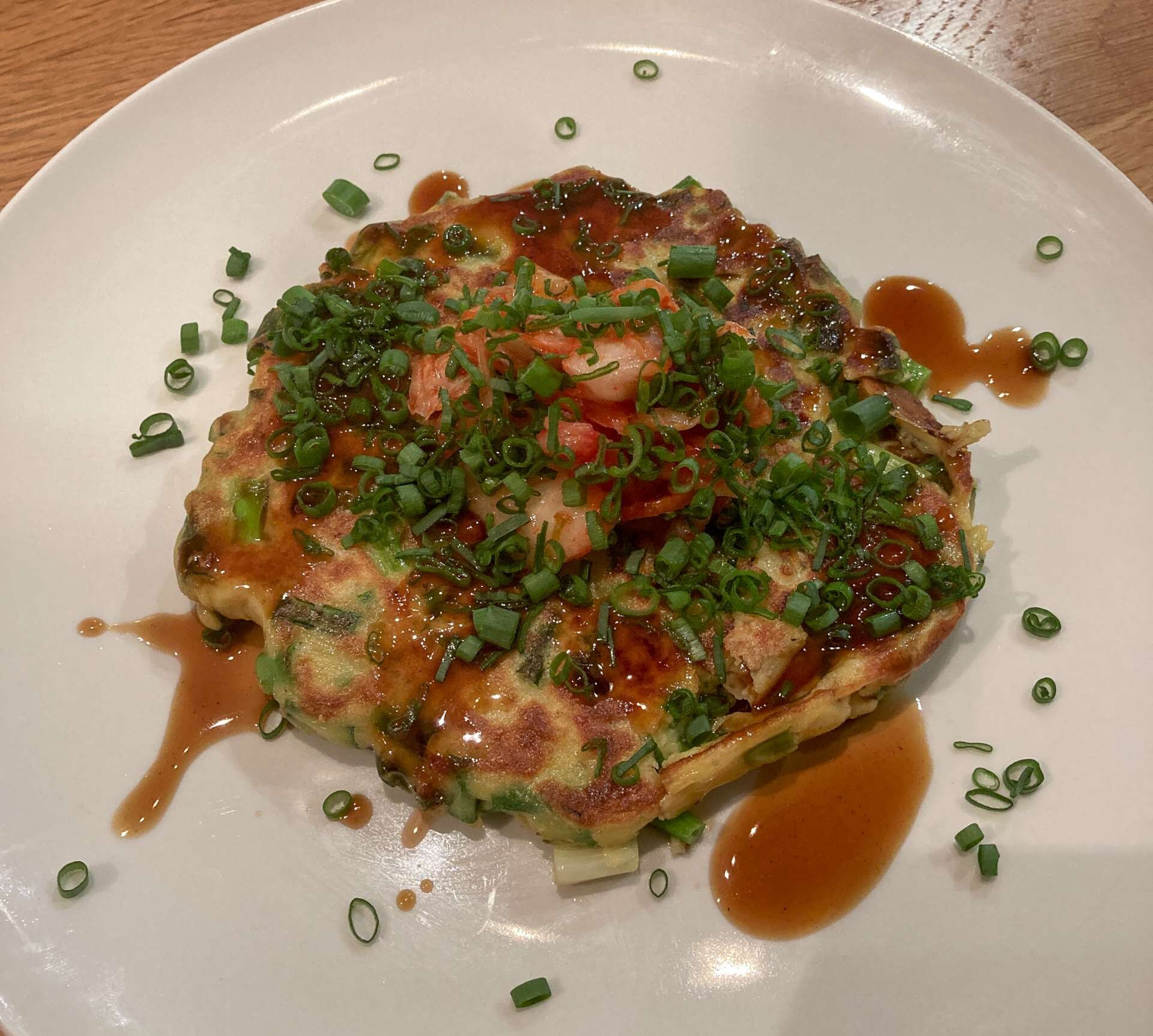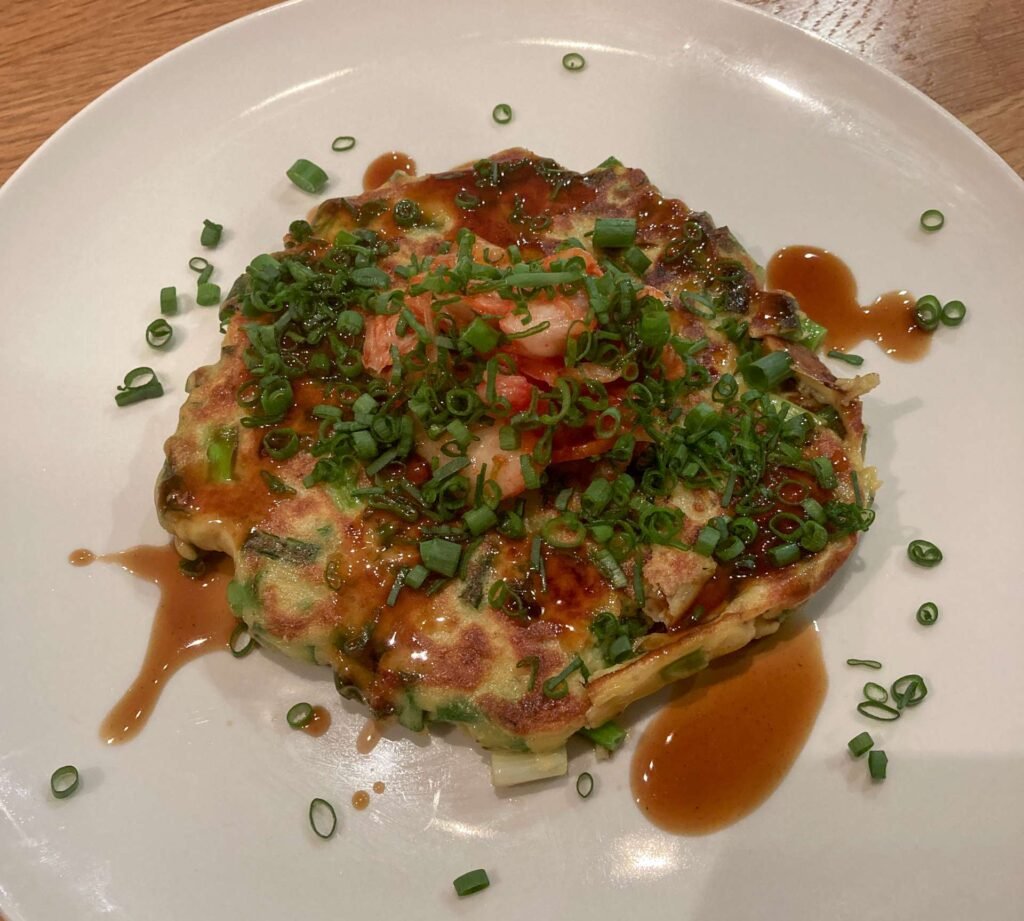 History of Negiyaki
Centuries ago, pancakes were enjoyed all over the world. Dating back to the 16th century, 'funo-yaki' was eaten by Japanese people. This is a savoury pancake that was eaten with sweet miso. The pancake tastes like a deep fried batter with the miso cutting through the heaviness of the pancake. However 'funo-yaki' slowly grew out of popularity and were very rarely eaten. Now, the main types of 'funo-yaki' that are eaten are Okonomiyaki, Hiroshimayaki and Negiyaki.
Negiyaki was born in the near the end of the Shora Era (1926-1989). An okonomiyaki restaurant called 'Yamamoto' in Kakudacho, established the new Negiyaki in 1965. It came about when one of the staff made it for their children after school. The lack of ingredients meant that she had to improvise and decided to use green onions as a replacement for the usual cabbage. Customers then found out about this creation and requested themselves. It then boomed in popularity and has become a staple of the restaurant ever since.
Toppings for Negiyaki
Soy base sauce
The regular sauce used for okonomiyaki is a mixture of Worcestershire sauce, tomatoes and other vegetables, creating an umami, sweet and salty sauce. However, while this is okay of Negiyaki, I feel that the aroma and flavour of the green onions is quite strong so it does not balance well. Instead a lighter soy sauce base and a sharpness of lemon is perfect to match the sweet green onion.
Green Onions
What goes well with fried green onions? More green onions! The frying of the negi inside in the pancake makes it soft and sweet. However, the raw crunch and bite of the topped negi adds a new texture and tanginess, which balances well with the whole dish.
Katsuoboshi
Katsuboshi is fermented and dried bonito fish, which has been shaven into flakes. These are great to add for a final sprinkle of umami to your negiyaki. The katsuboshi has to be added last because as it hits the steam from the negiyaki, the bonito flakes start to move as if they were dancing! Not only does it offer a theatrical display but also wets the appetite, showing a freshly made, hot negiyaki.
How to make Negiyaki
Ingredients
100g flour
100ml dashi
3cm grated chinese yam
1 egg
100g green onion
1tbsp Soy Sauce
1tbsp Okonomi Sauce
1/4tsp lemon juice
Method
STEP 1
Make your dashi. If you do not have any premade/instant dashi, you can follow my recipe from scratch here. I had some leftover dashi packs so I used one of those!
STEP 2
Cut the green onions into 1cm pieces for the filling. If you are planning to use some as a topping, cut them a little finer.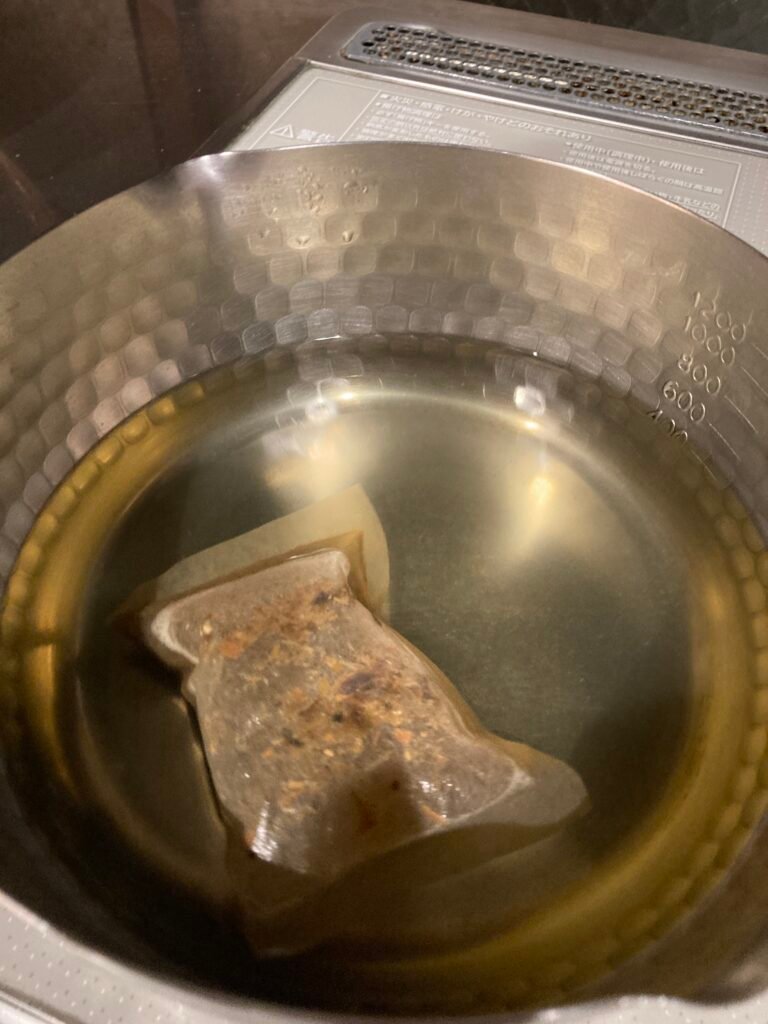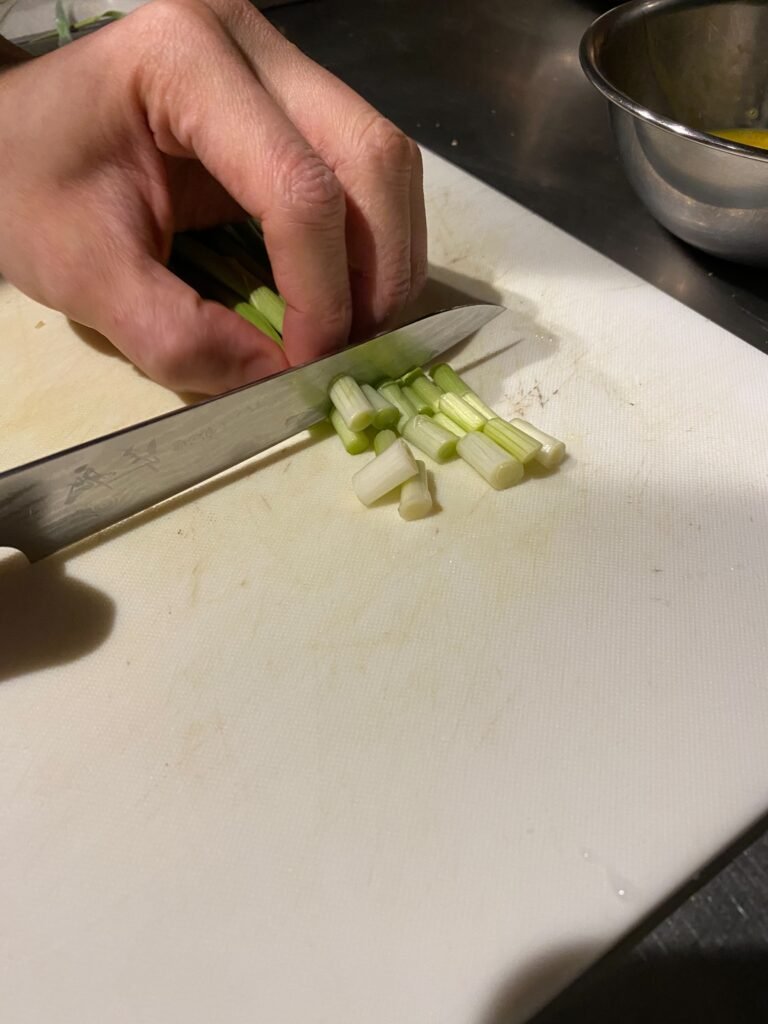 STEP 3
Mix the flour and the dashi and egg.
STEP 4
Peel and grate the Chinese yam. Use a paper towel to get a good grip of the yam as it can be quite slimy and hard to hold.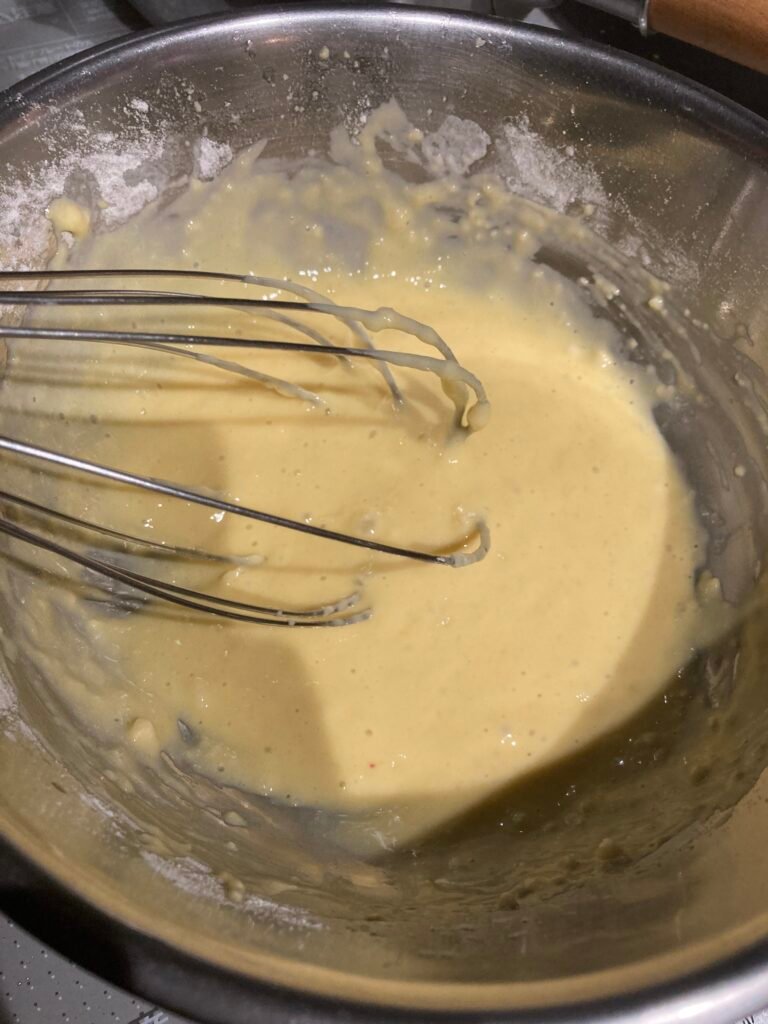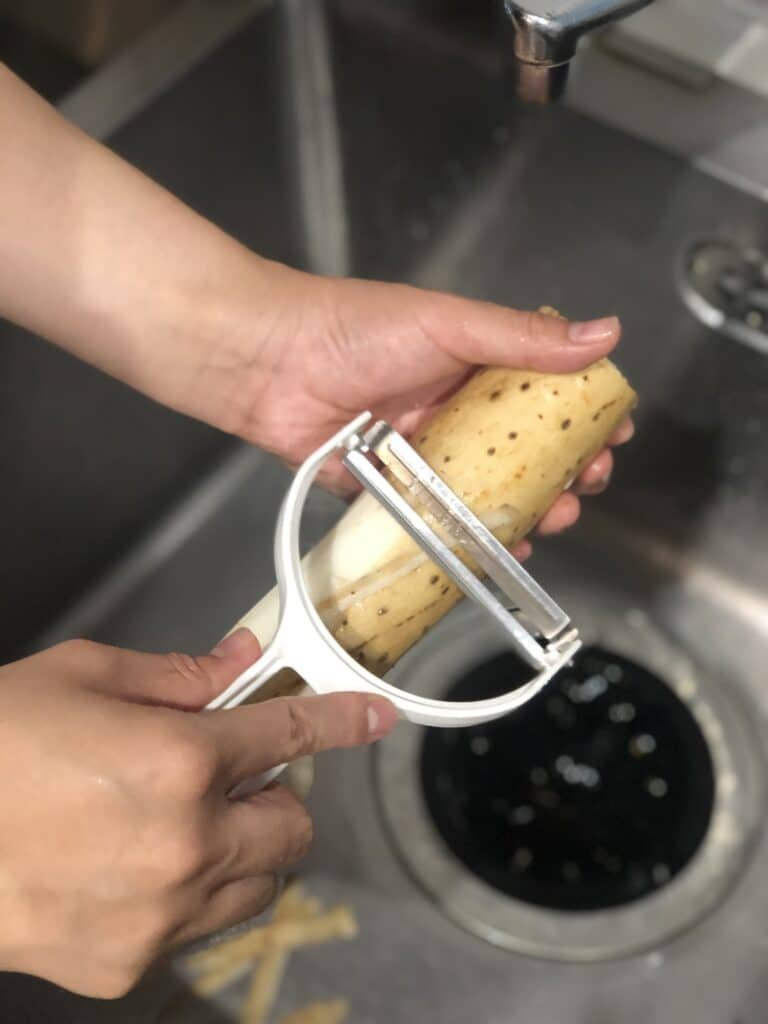 STEP 5
Add this into the flour mix along with the chopped green onions
STEP 6
Heat a fry pan to medium heat and half a ladle of the batter. Spread out evenly.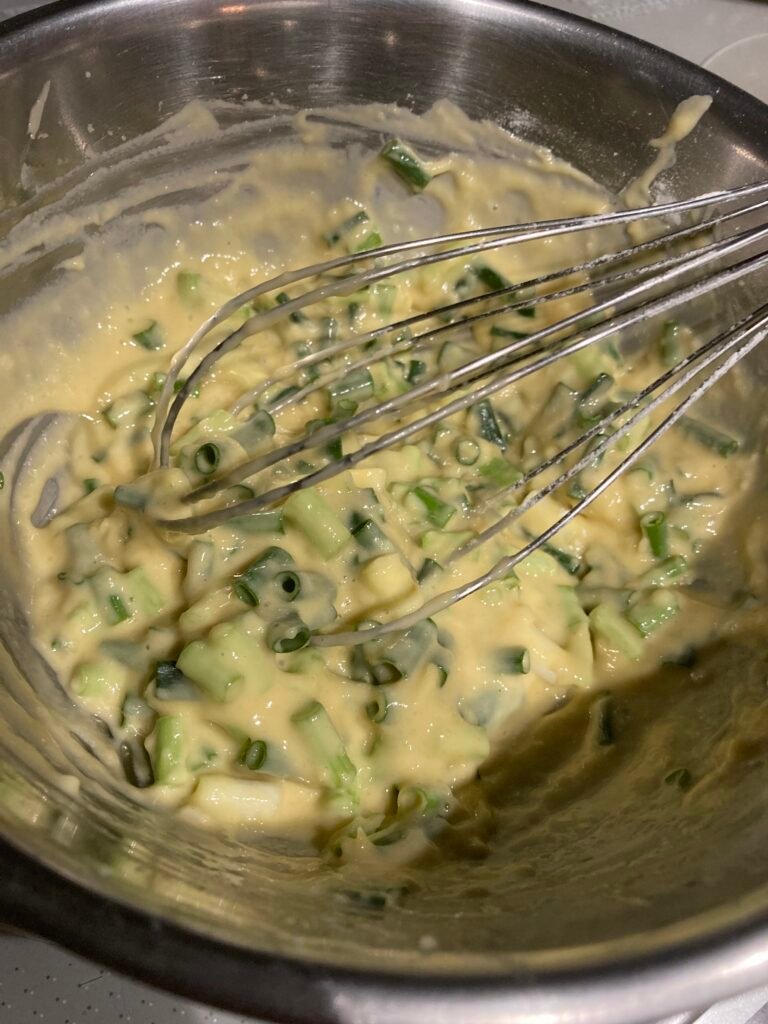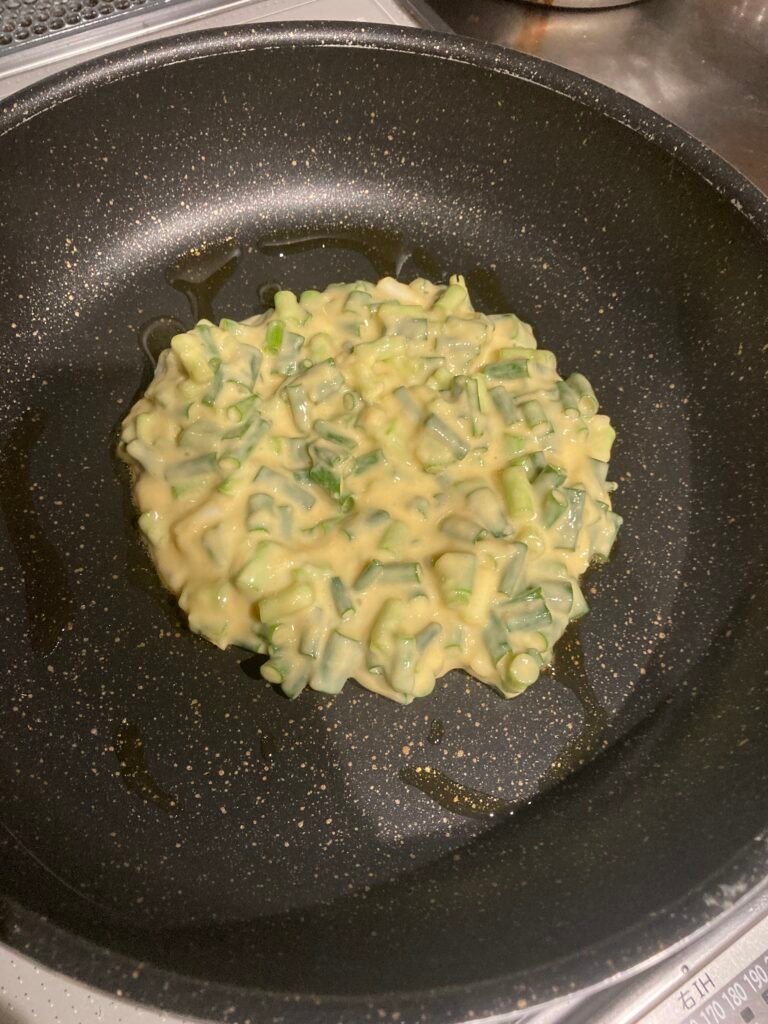 STEP 7
After a couple of minutes, the bottom should be crispy and golden brown. Flip the negiyaki over. Fry for another couple of minutes until cooked through.
STEP 8
Serve and top with the soy based sauce and additional green onions (or any other additional toppings you have! I used some leftover kimchi!)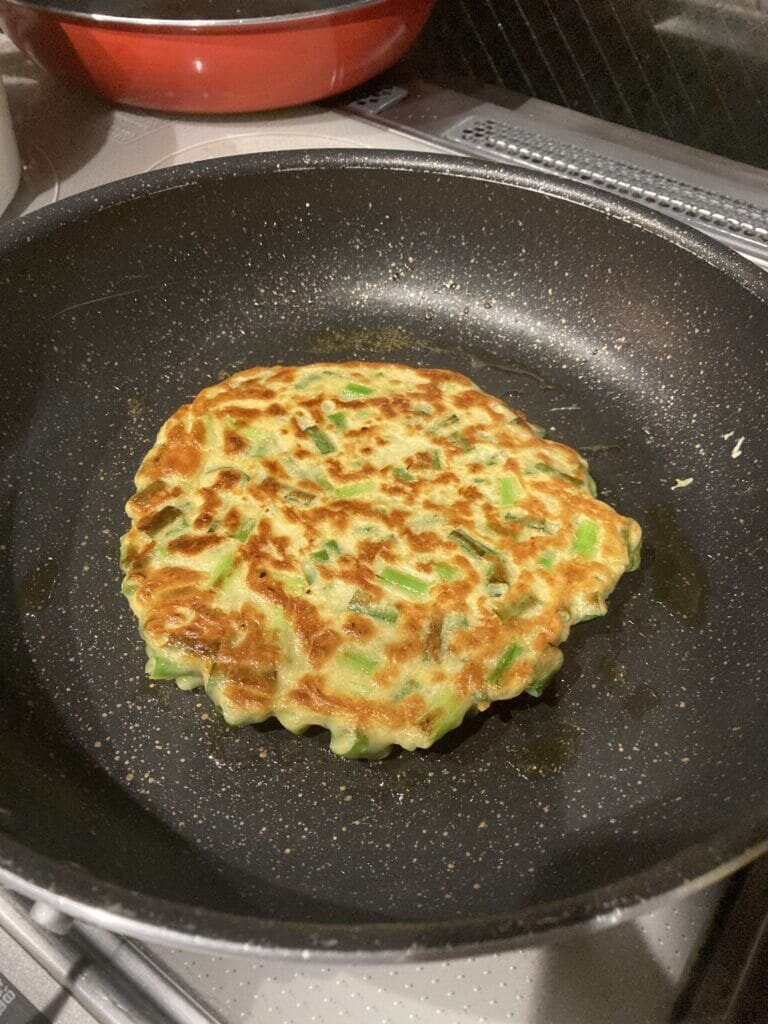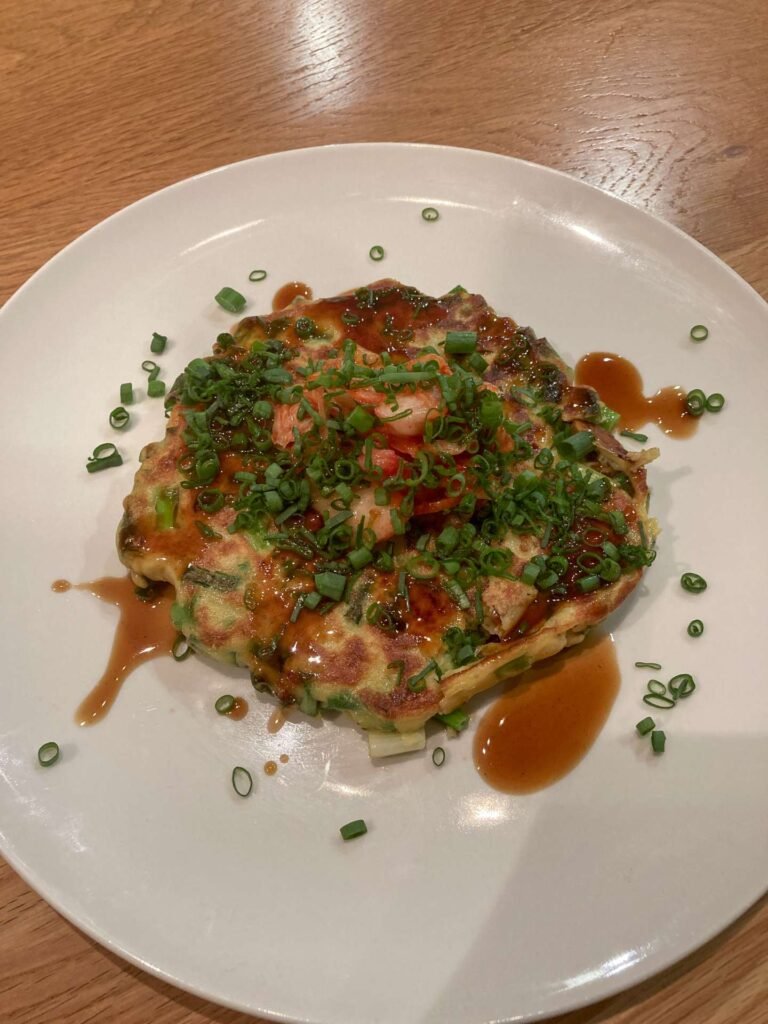 Where to Eat Negiyaki in Osaka
Yamamoto – Flagship store
Within Yamamoto lies the origin of the negiyaki. If there is only once place you can go, this should be it. As there are many varieties of negiyaki available throughout Japan, it is always special to have the original dish. The batter is beautifully soft and pairs well with the beautifully sweet green onions. They also have some other toppings available such as konjac (East and Southeast Asian vegetable) so it's a great way to have a unique twist on a classic.
There might be a wait during peak times for lunch and dinner so I would recommend trying to avoid the rush. Within the centre of the restaurant, there is a hot plate, where the chefs make all the negiyaki and other dishes. Once it is made, the negiyaki is then transported to the hot plate infant of you, which will keep it nice and warm as you eat. This keeps the exterior of the pancake nice and crisp, while the inside being deliciously soft. The soy sauce also has a lighter and refreshing taste than okonomiyaki.
There are some branch stores available in Shin Osaka Station and in Kakudacho, where you can enjoy their negiyaki. However, nothing beats a bit of history than the eating at the flagship store in Jusohon-machi.

Phone Number: 06-6131-0118
Opening hours: Mon-Sun 5:30pm-10:30pm
1-8-4, Jusohon-machi, Yodogawa-ku, Osaka-shi, Osaka
Yukari Sonezaki Main Store
Founded in 1950, this okonomiyaki shop is said to be the founder of 'creative okonomiyaki'. Here you can enjoy okonomiyaki with unique toppings such as mocha and cheese. Furthermore, you can also enjoy different flavours of negiyaki, including beef tendons and kimchi. I would definitely recommend this shop if you are looking for a unique twist on a classic!
Phone Number: 06-6311-0214
Opening hours: Mon-Sun 11am-11pm
2 Chome-14-13 Sonezaki, Kita Ward, Osaka, 530-0057
Fukutaro
They are especially known for their fluffy okonomiyaki but also their wide varieties of negiyaki, having more than 10 different types. Some unique flavours include rice cake and cheese. Alongside this, they use the freshest ingredients available, buying from the Osaka Central Wholesale Market everyday.
In the main store, there are a variety of seating options available. From counter top to tatami style rooms, you can experience something different every time you go! You can watch the chefs prepare your dish or dine privately with your friends and family.
They also have some branch stores available in Takashimaya Department Store and in the Umeda region.
Phone Number: 06-6634-2951
Opening hours: Mon-Fri: 5pm – 12:30am , Sat/Sun : 12pm – 12am
3-17 Sen Nichi-mae 2 Chome, Chuo Ku, Osaka, 542-0074
Hirokazuya
The unique feature of Hirokazuya is that it is open until 7am in the morning. It's the perfect place to go after a night out in Osaka or if you're really jet lagged. The crispy texture of negiyaki along with the saltiness of the home made soy sauce is perfect sober or after a few drinks! The extra dash of lemon on top gives a nice sharpness.
They also combine one of osaka's most popular dishes, Takoyaki, with their negiyaki. It's a unique flavour, with an interesting texture that can not be missed! If you like takoyaki and okonomiyaki, this is the place to go!
Phone Number: 06-6312-5654
Opening hours: Mon-Fri: 6:00 pm – 7:00 am
9-5 Kamiyamacho, Kita Ward, Osaka, 530-0026
Hozenji Yokocho Yakizen
Hozenji Yokocho is a popular tourist destination in Namba, Osaka. The cobbled pathway and the lanterns light up an intertwining set of streets filled will small izakayas, restaurants and also the Hozenji Temple. One of those izakayas is Yakizen. The atmosphere is very cozy, almost like you are eating at your grandmother's house. The negiyaki is thicker than the traditional one but it is surprisingly light and refreshing. This is due to some of their side dishes, which they recommend. Various tsukemono (Japanese pickles) are on their menu, which help cut through the negiyaki and refreshes your palette. One of the most popular is the eggplant pickle called, Mizunasu no Asazuke. If you are roaming around Hozenji Yokocho, this is a great place to relax and eat some great quality negiyaki.
Phone Number: 06-6211-7289
Opening hours: Mon-Fri 12:00 pm – 3:00 pm / 5:00 pm – 10:30 pm
Sat/Sun : 12:00 pm – 10:30 pm

1-1, Namba, Chuo-ku, Osaka-shi, Osaka
Final
Negiyaki is a great alternative to the traditional okonomiyaki! Green onions have quite a strong taste but the sweetness really comes out and with the soy sauce, it really is a great meal for any time of the day.