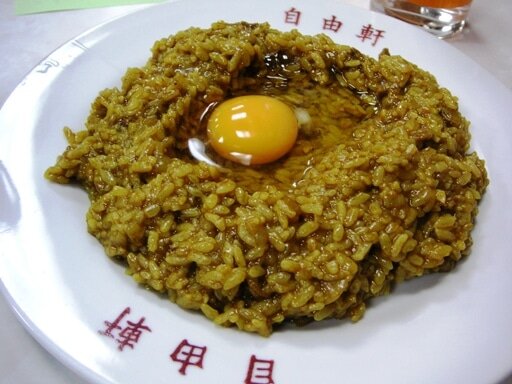 WHAT IS JIYUKEN CURRY?
Opened in Nanba, Osaka, Jiyuken Curry is steeped in history. Instead of having the curry and rice separately, a unique japanese curry roux mixed with rice to form into one. The curry is then topped with a raw egg, which is a popular topping within Japanese cuisine. The raw egg on top was a high grade ingredient at the time of its founding. This was not only visually appealing, but also added a silky texture to the dish when  mixed together. The yolk adds richness as well as nutrients, such as protein, that were lacking in the dish.
HISTORY OF JIYUKEN 
During 1910, Jiyuken was founded in Nanba, Osaka and is also considered Osaka's first Western restaurant. Jiyuken is currently in its 4th generation and has a turbulent history. During its first opening in 1910, the atmosphere was very casual and homely with a retro feel to it. As the store became popular, it started to expand, however it was quickly halted by the Second World War, in which, it was burnt down. The second generation decided to build a new store in the same location, creating the same famous Jiyuken Curry. This led to the third generation owners building a new store, replicating that of the original one. They said they did not want to destroy the image of the original Jiyuken, which was loved by many for such a long period of time.
During that period, curry was difficult to serve warm as rice cookers had not been invented in that time. Founder, Shichi Yoshida wanted to serve his customers delicious, hot curry. This resulted him in created his famous Jiyuken Curry. He devised a recipe, where cold rice could be mixed with the hot curry to form curry rice. Yoshida's curry could utilise cold rice to create a heart warming dish, which everyone was familiar with. 
CURRY ROUX
The curry roux is the most crucial part of the dish. As Jiyuken Curry is fairly simple, there is no hiding in the preparation. If you have a good curry roux, you'll have an amazing Jiyuken Curry. I will not be able to tell you exactly what they use in the Jiyuken Curry mix, however it is a lengthy process. Tomato paste is used along with a mix of spices and a homemade beef stock. The beef stock is the real key as it gives an extra umami punch. When cooking the curry, the roux is mixed with a dashi called Usukushi. This is a secret dashi stock that has been passed down generations.
There are some pre made Japanese Curry roux in supermarkets such as Golden Curry. For this recipe, I'll use this premade roux to show the convenience and ease of making Jiyuken Curry.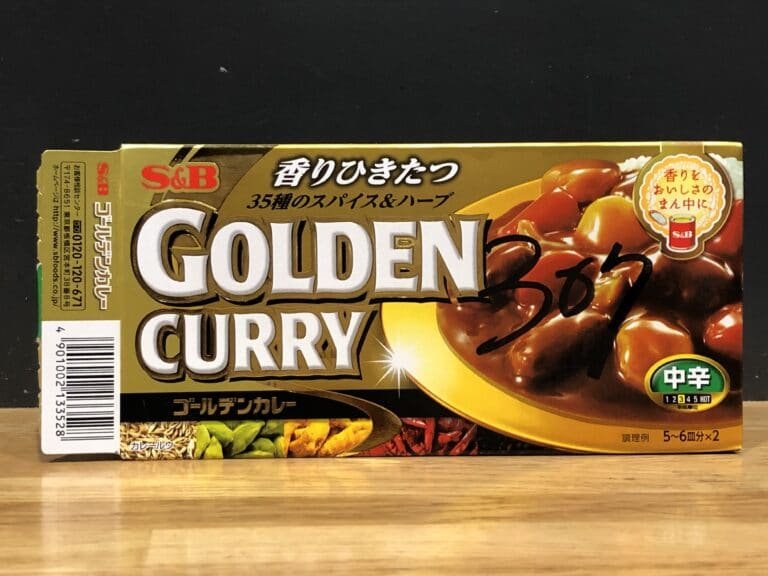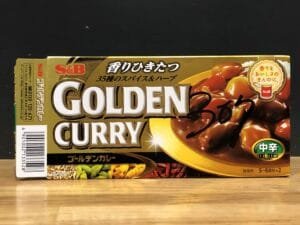 You can use pre made curry roux or make your own. My recipe for homemade curry roux is:

45g unsalted butter
30g all purpose flour
8g curry powder
6g garam masala
2g cayenne pepper

Melt butter over low heat. Then, once it is fully melted, add the flour and cook for 15-20 mins. This will cook the flour out and remove the grainy and floury taste. It will slowly become a light brown colour. After, add all the spices and stir for 1 minute till fully incorporated. You can use immediately or store in a plastic container in the fridge for a month or so. Use around 1/4 of this roux mix for your Jiyuken Curry, however feel free to add more.
HOW TO MAKE JIYUKEN CURRY
Ingredients
1/2 onion finely diced
1 clove of ginger
30g mince (pork or beef)
Curry roux 
1 portion of rice
Start by finely mincing your garlic and onion.
ONION
To mince at onion quickly, half it and cut the top off, while keeping the root on. This will help keep the onion together as you cut it. Peel and then cut through, as close to the root as possible. After, make 3 cuts horizontally but not all the way through. Use your guiding hand to pull the onion together and then slice through. This is quite tricky if you do not have a sharp knife, so take your time!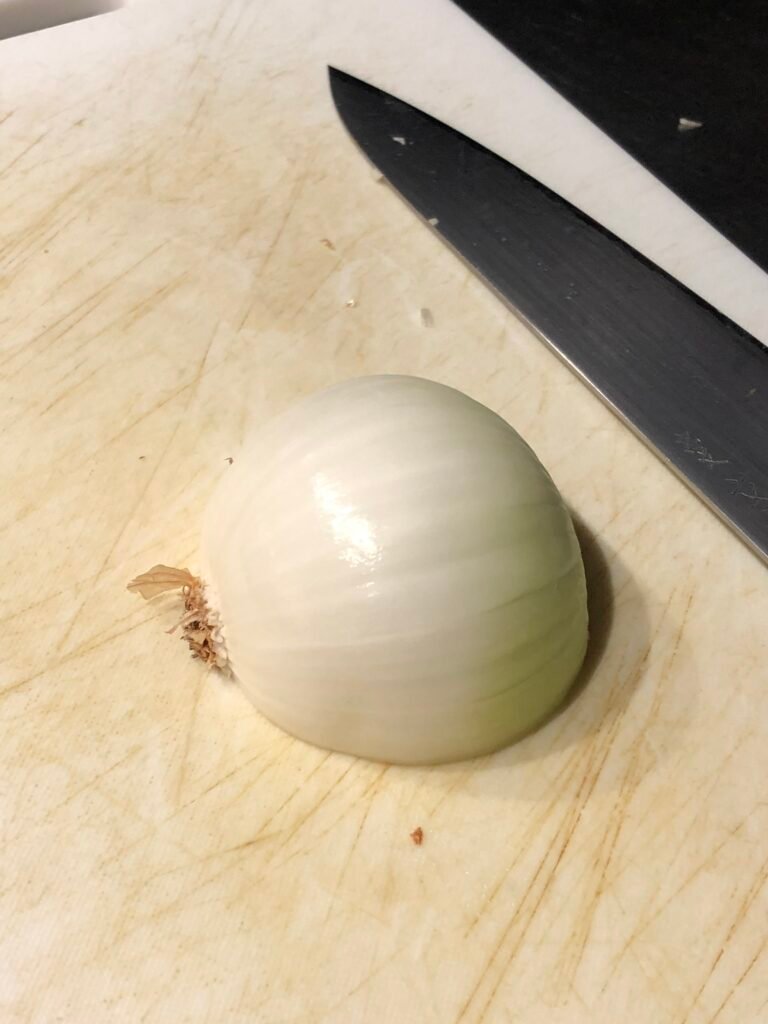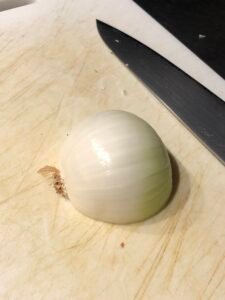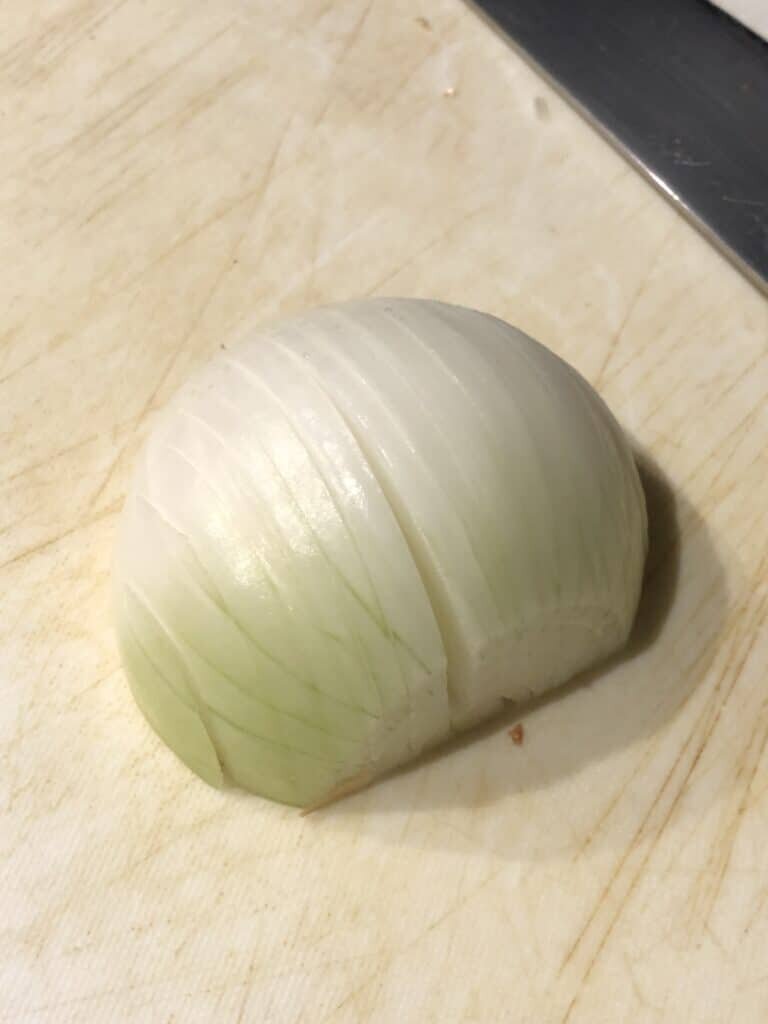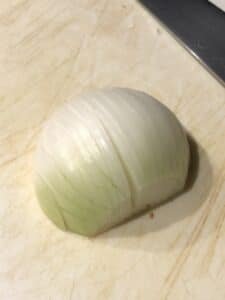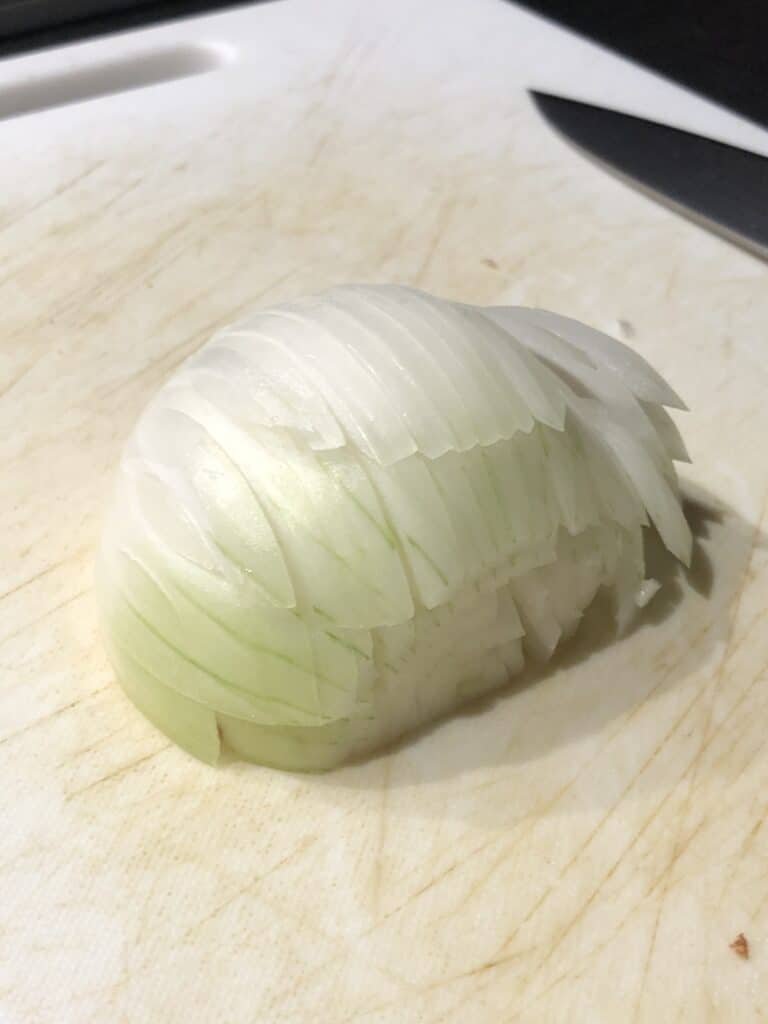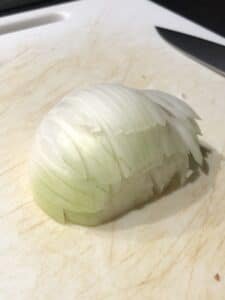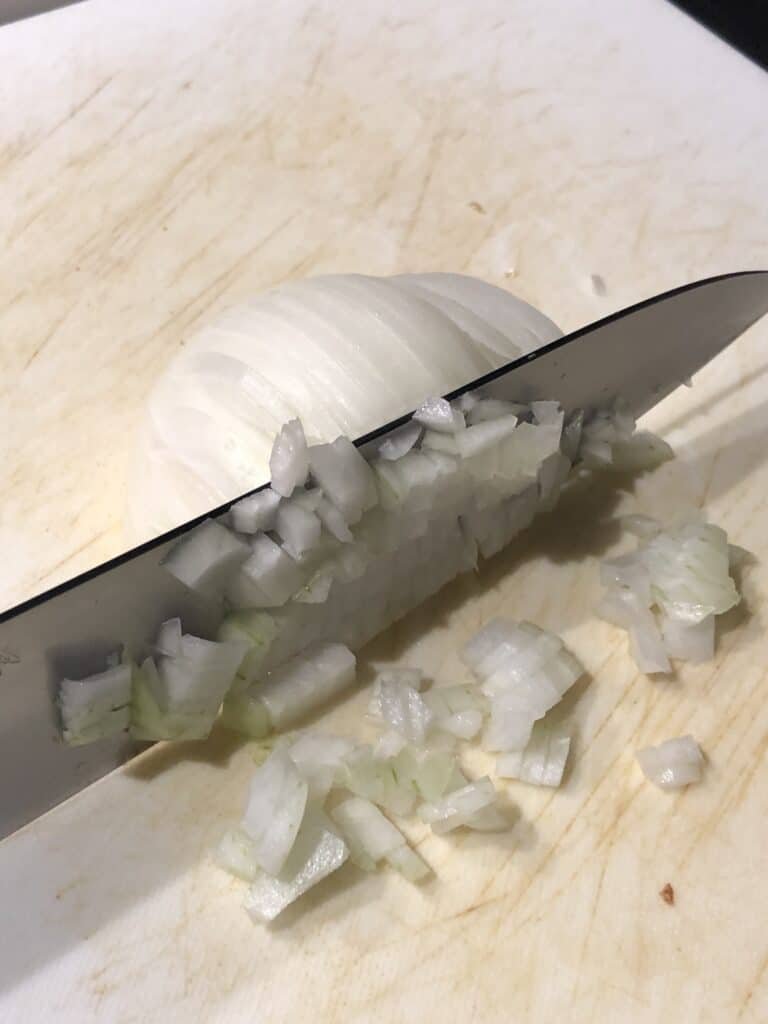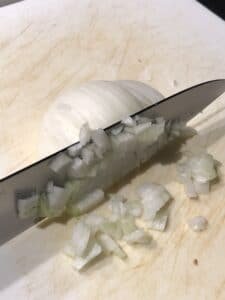 Next gather all your ingredients. I like to put mine on a tray for easy use.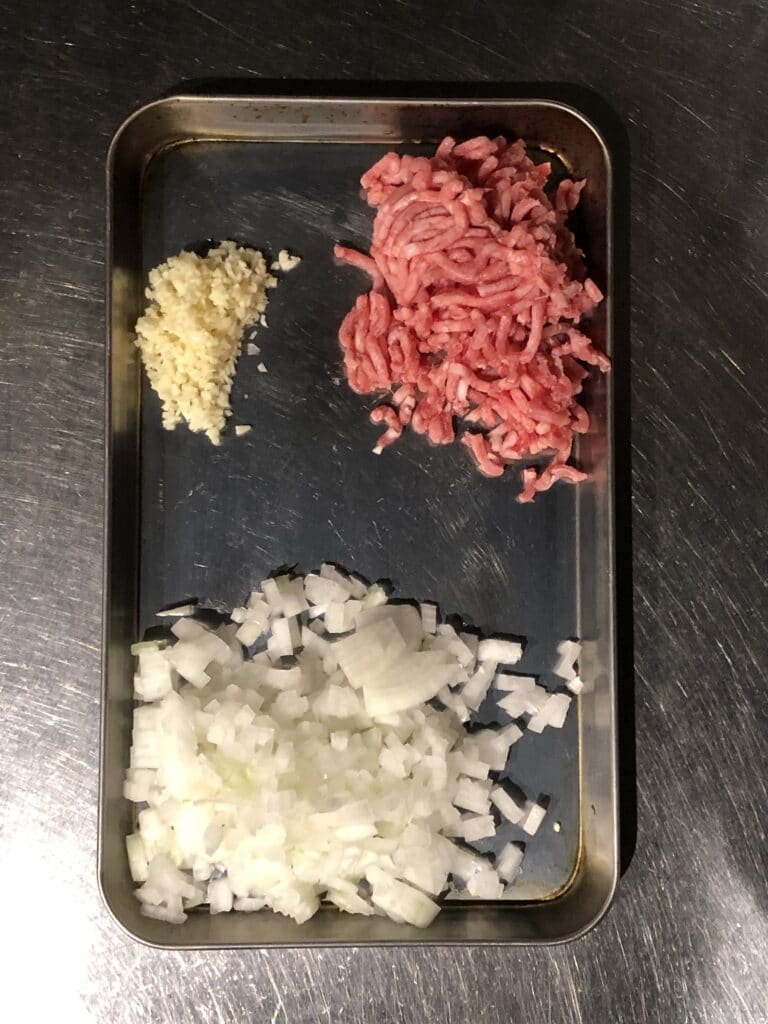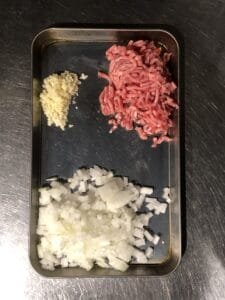 Start by heating some vegetable oil in your pan on low heat. Add the minced garlic. You want to fry this on low heat as it will burn easily. Wait until the garlic has turned a slight brown and the aroma is strong.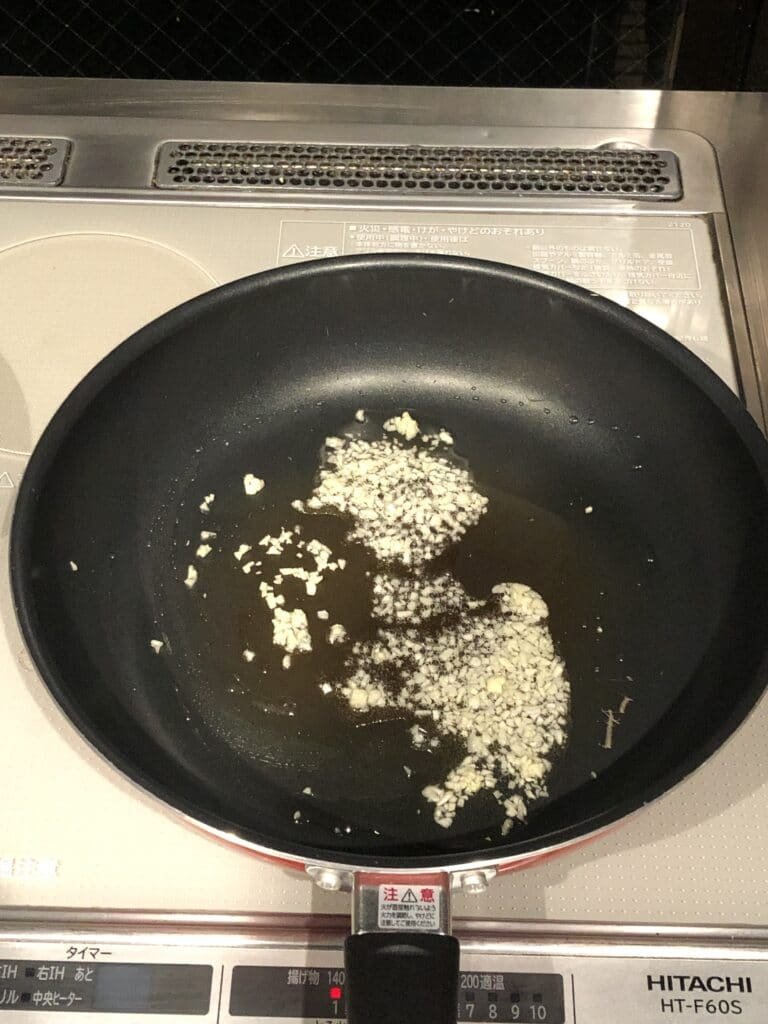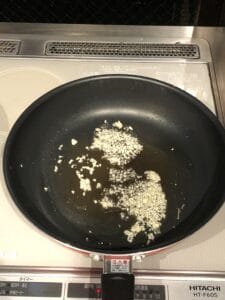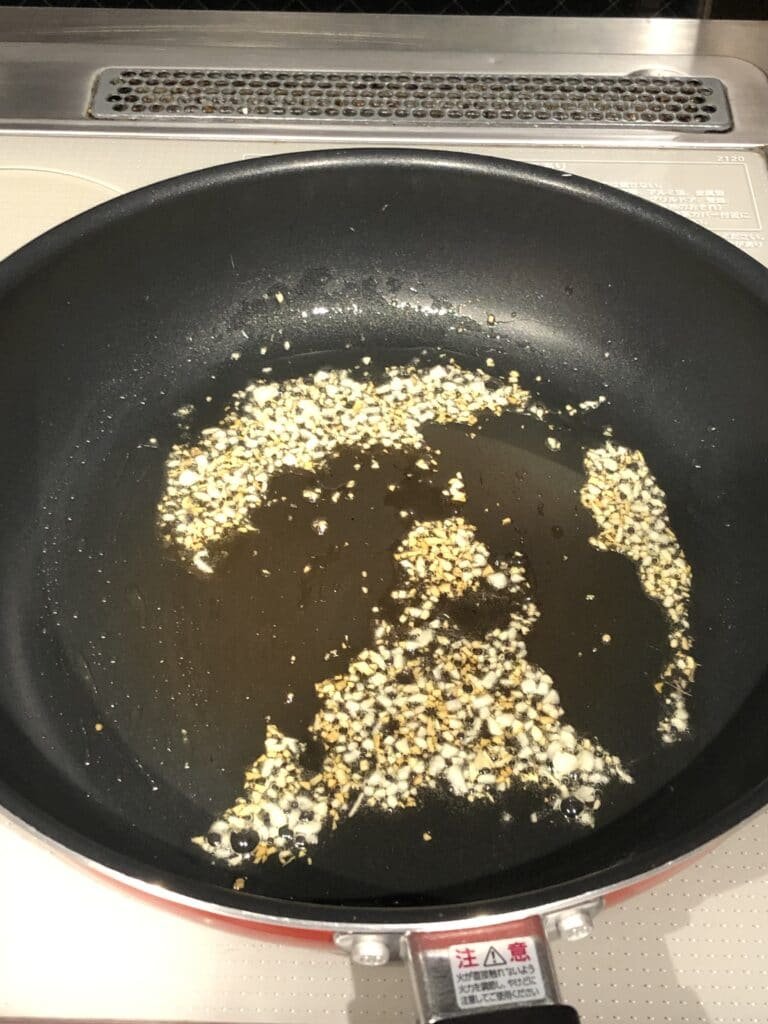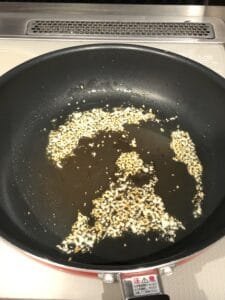 After the garlic is brown, add the onion. Turn the heat up to medium and fry till brown and caramelised. The onion will add sweetness to the curry.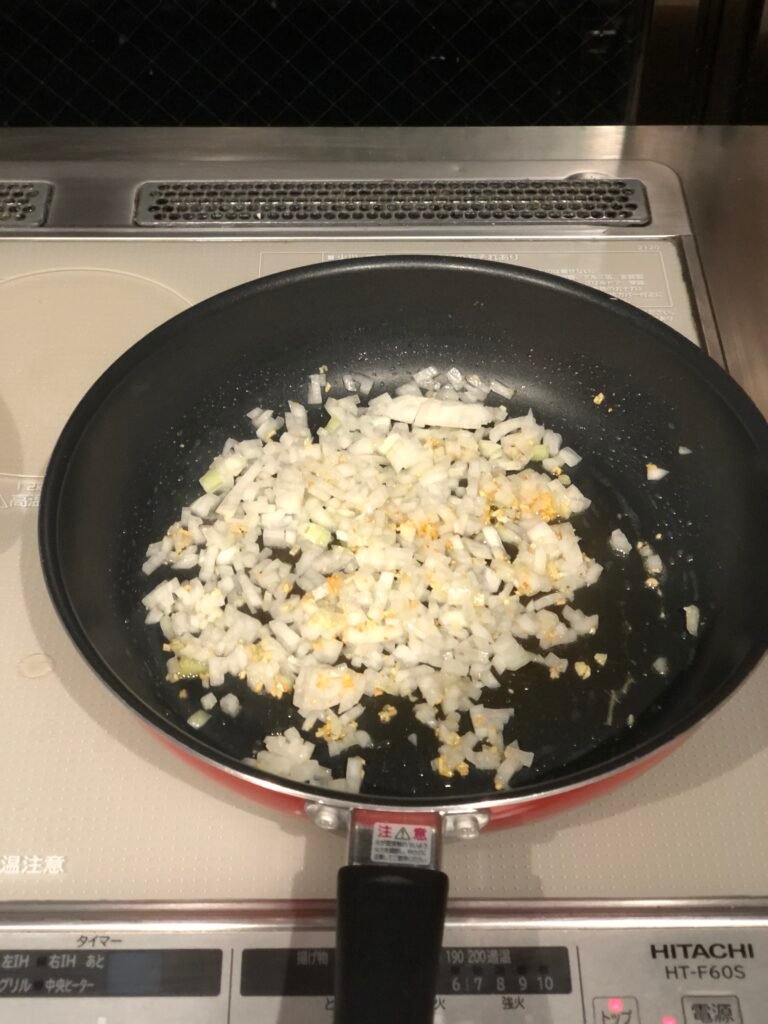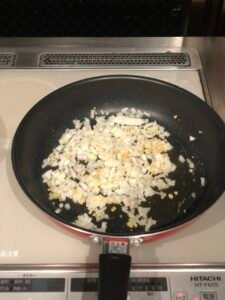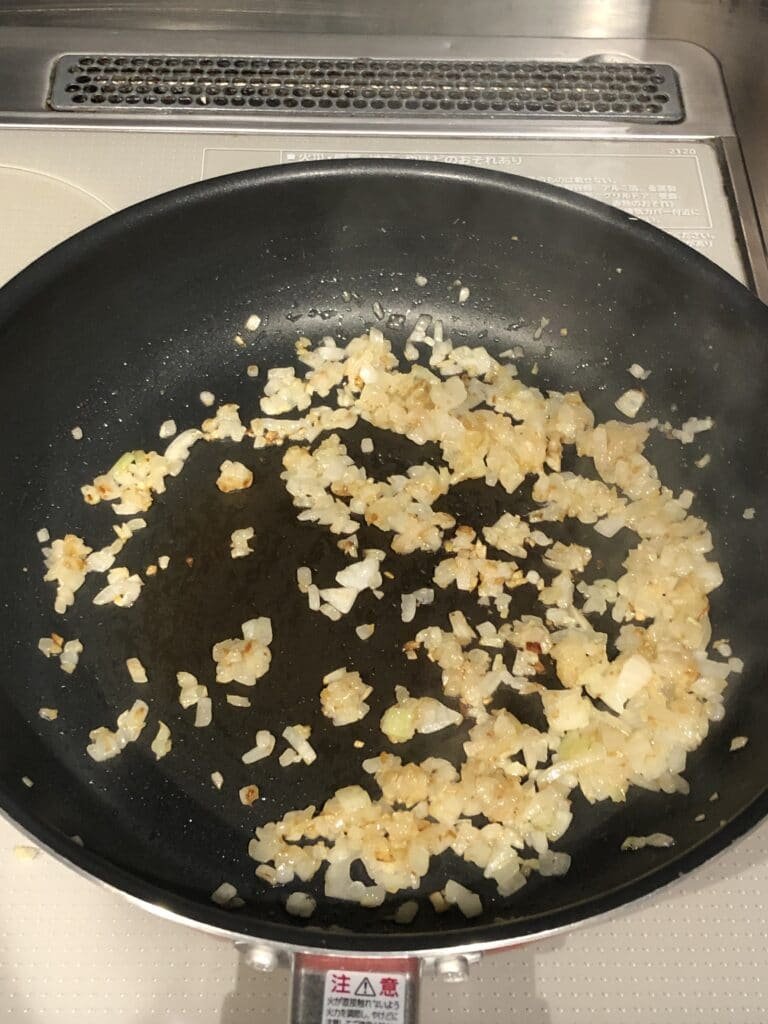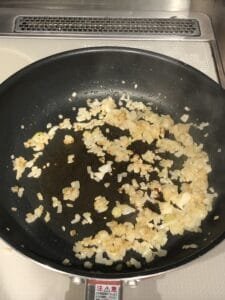 Once the onions are caramelised, turn the heat to medium – high and add the mince. Season on top of the raw mince with salt.*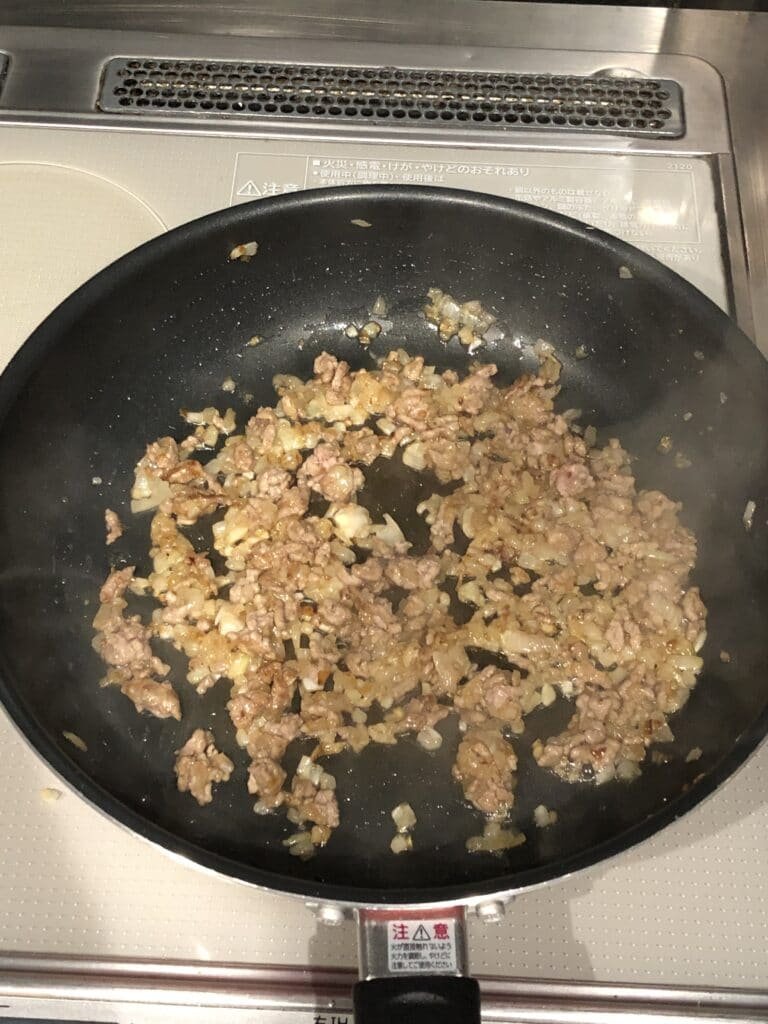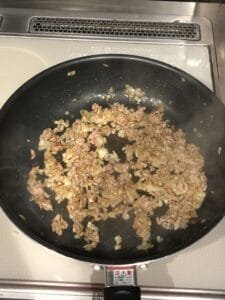 Once the mince is cooked, add 200ml of water and bring to the boil. Turn down the heat to low and let simmer for 1 min. Stir and scrape any of brown parts stuck to the pan as this will add incredible depth of flavour. After 1 minute, add your curry roux and dissolve.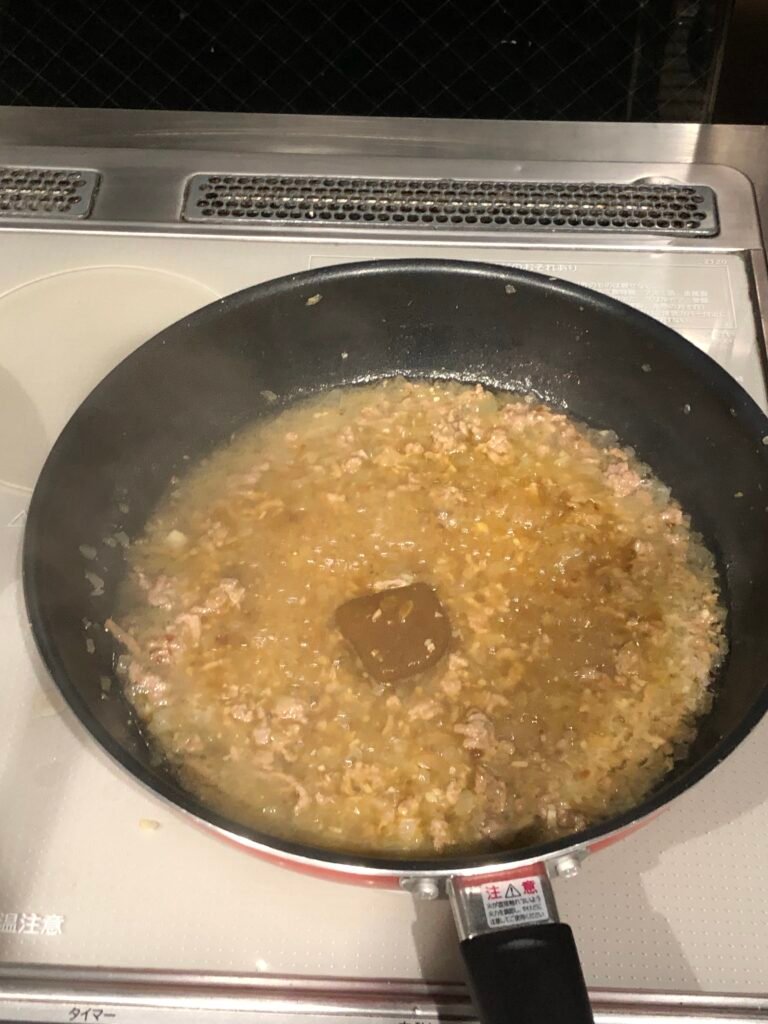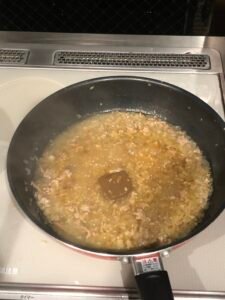 You should be after quite a thick texture. Taste the curry and add salt and pepper to your taste. If it needs more of a curry kick, you can always add more roux. It's completely up to your taste!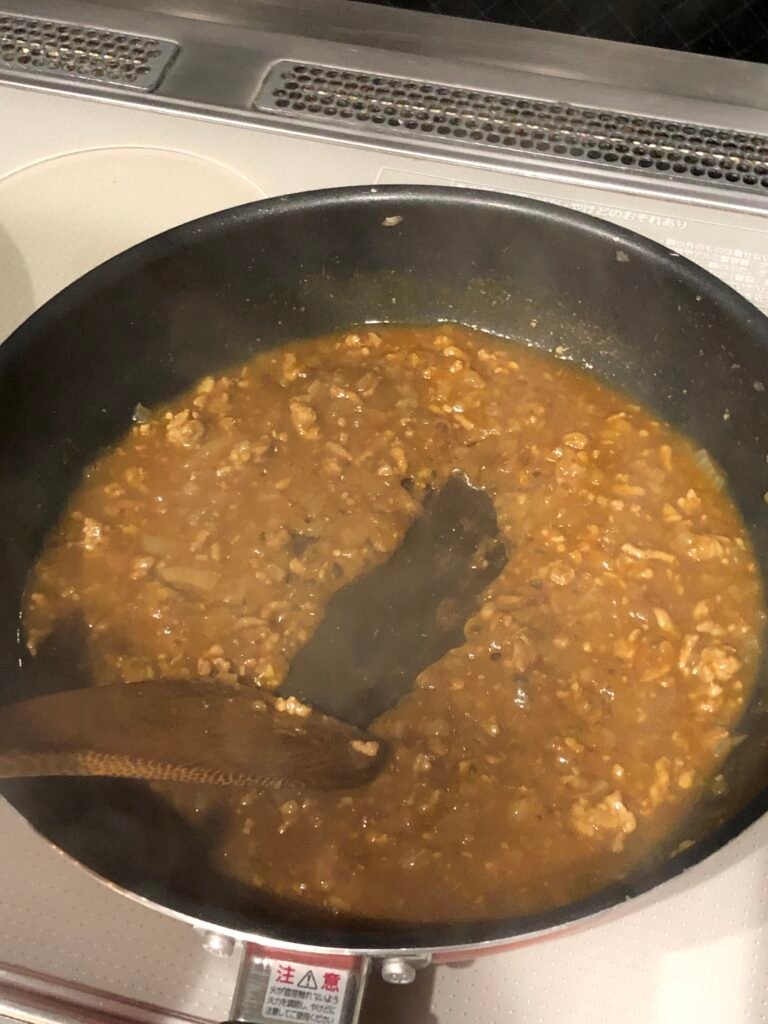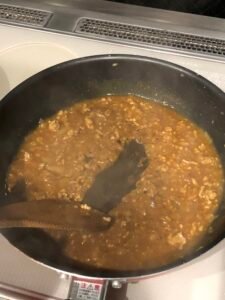 Finally, add your rice and mix together till fully incorporated.*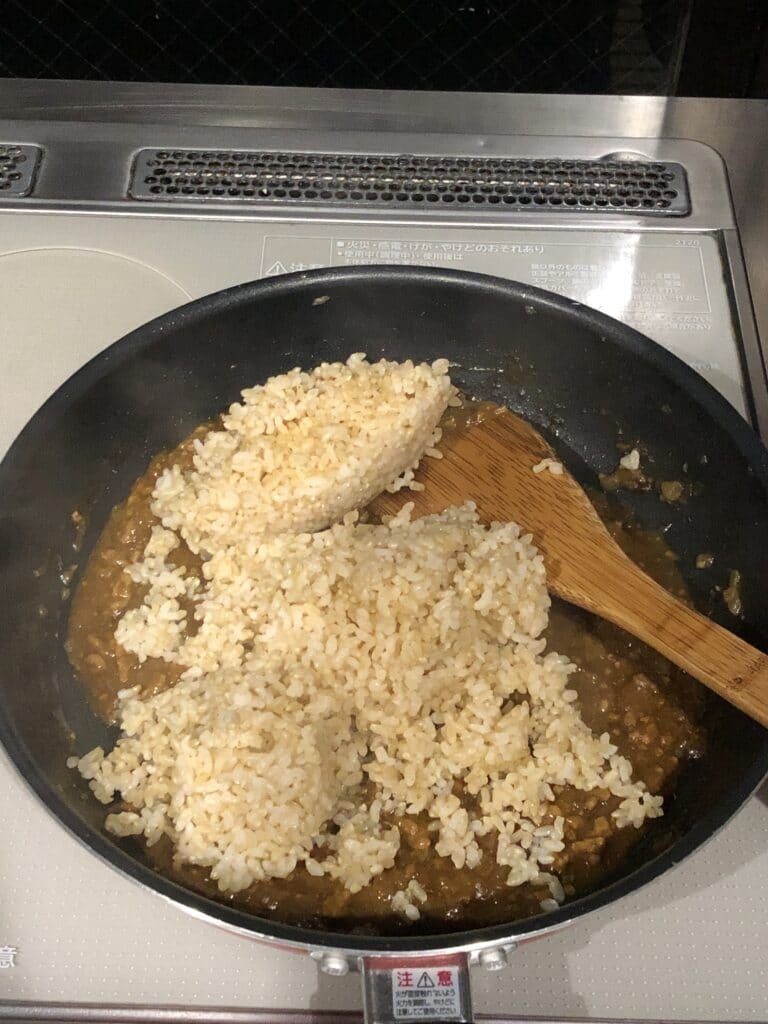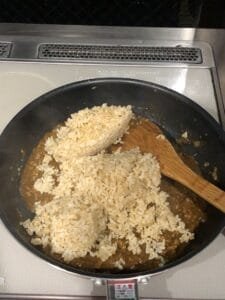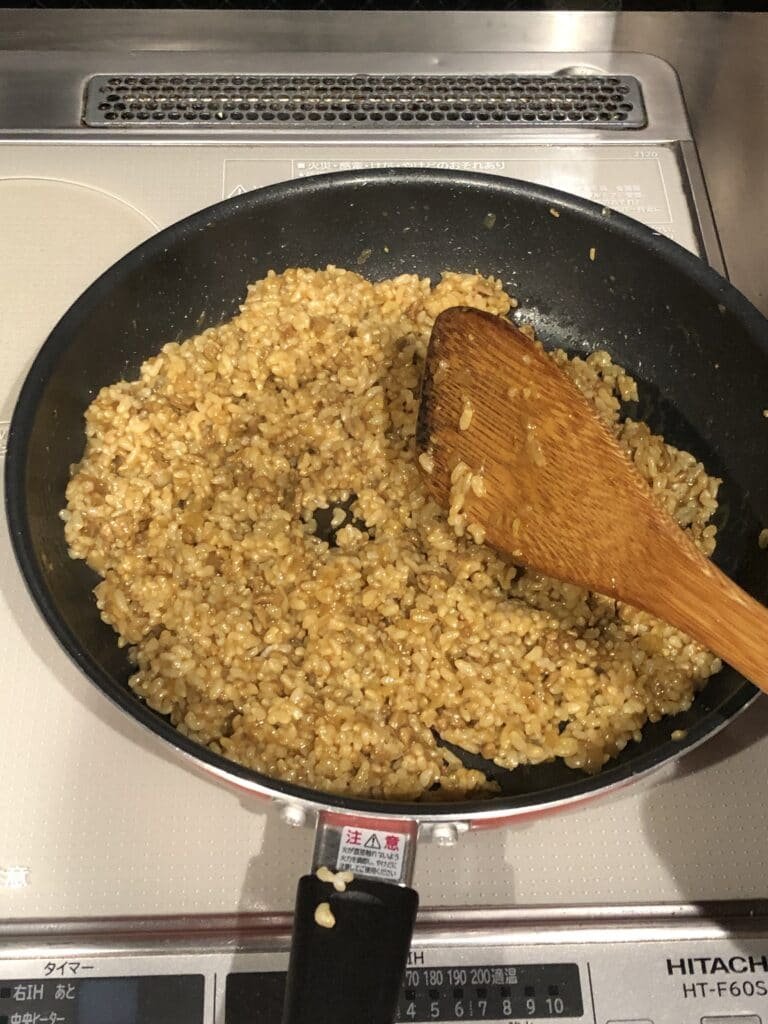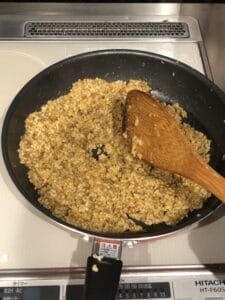 PLATING
To serve, place the curry in your bowl and make a well in the middle.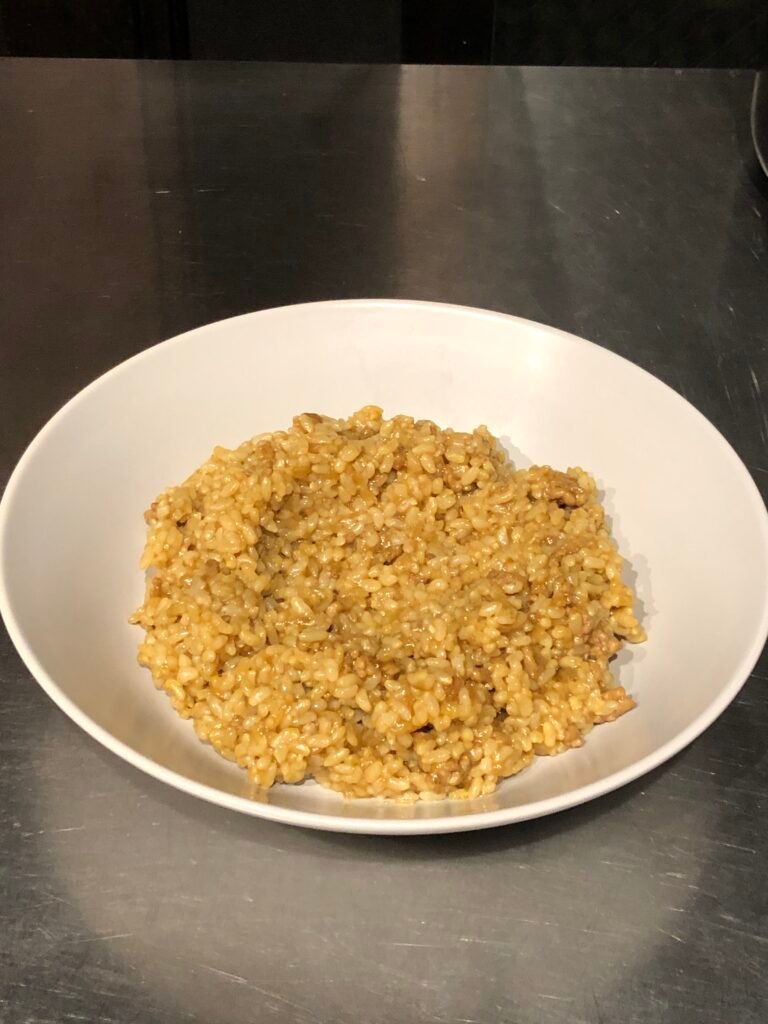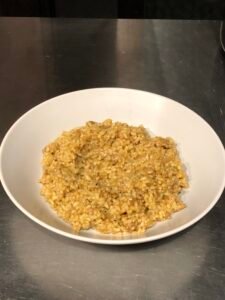 Crack a raw egg in the middle and mix. Enjoy!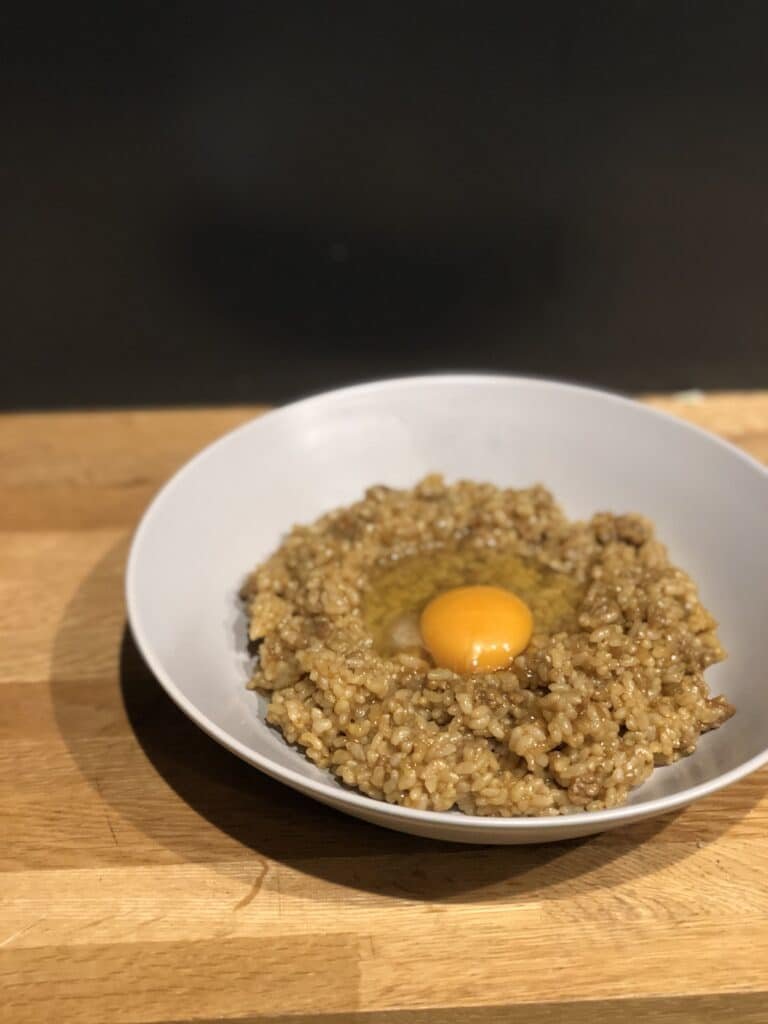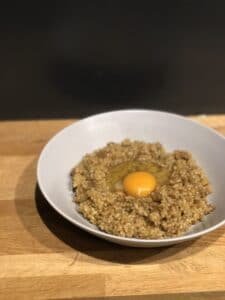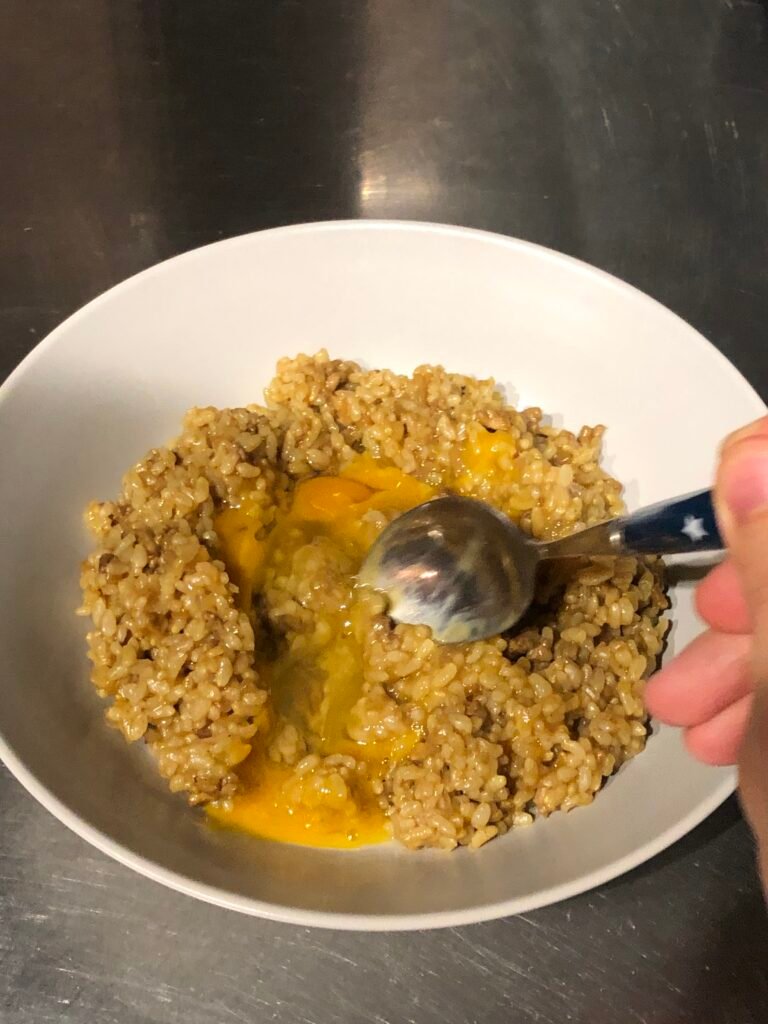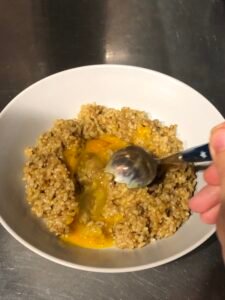 NOTES

* It's important to turn up the heat as if the pan is not hot enough, the mince will start boiling instead of frying. As a result, the frying will help brown the meat (known as the maillard reaction) giving it an umami flavour.

* I used brown rice (genmai) for my curry as that is all I had. However, white rice is more authentic and should be used instead! Also, cold rice is actually best for this recipe as just cooked rice may become mushy and create an unappealing texture. 

Here is a video showing how to make Jiyuken Curry! (I do not own any rights to this video)
https://www.youtube.com/watch?v=q4LMR_1ICvc&ab_channel=papadesuyo777
TOPPINGS
Sakyu Rakkyo Pickles
Sakyu Rakkyo look similiar to garlic but is actually a type of Japanese shallot. These pickles are a common condiment with Japanese curry. They offer a fantastic tang and help cut through some of the heaviness of the rice through its sweet and sour flavours as well as its hearty crunch.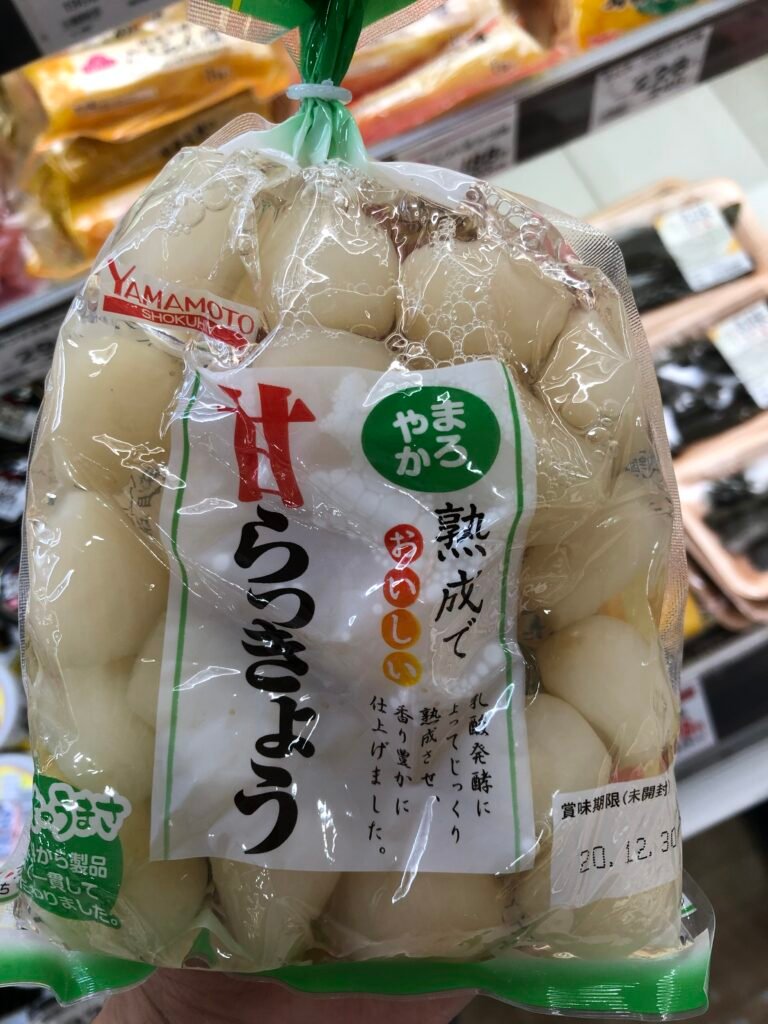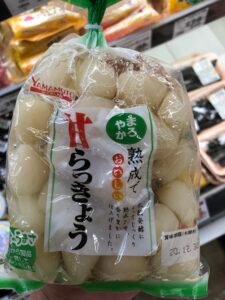 Worcestershire Sauce
Japanese Worcestershire sauce has many varieties but are often sweet and kind of fruity. It can be mixed with the curry to add further depth of flavour, balancing well with the spice of the roux.
Spring onions
Spring onions may not be a common choice of topping but i believe that the crunch and sharpness it brings is similar to the rakkyo pickles. It also adds a nice vibrant green to diverge from the monotonous brown colour!
WHERE TO ENJOY JIYUKEN CURRY
Jiyuken is the flagship store in Nanba, Osaka. If you want the authentic dish, that is the place to go. You may find other types of Jiyuken Curry in different stores but it is the curry roux that makes the difference. The raw egg topping might be a put off to travellers but it is common throughout Japanese cuisine. It adds nutritional value as well as a rich and creamy taste, which might take some getting used to. It helps to balance the spiciness from the curry and helps emphasise the umami of the roux. Nevertheless, it is definitely recommended to try this style of curry.
A regular customer at Jiyuken was a famous writer called, Sakunosuke Oda. He used to write about people's daily lives and Jiyuken Curry was a part of that. He noted the curry and became a vital member of Jiyuken. Sakunosuke used to eat Jiyuken curry with a splash of Worcestershire sauce over the egg. It is recommended to try the curry with just the egg and some with the Worcestershire sauce. It is fun to get a little taste of history!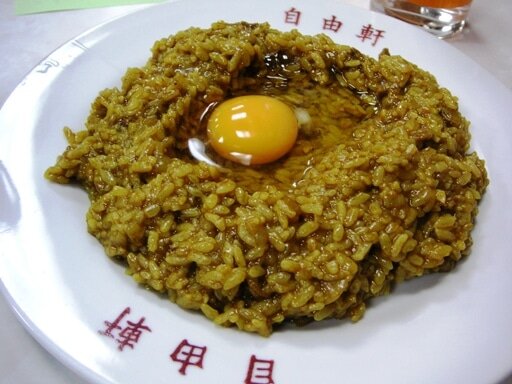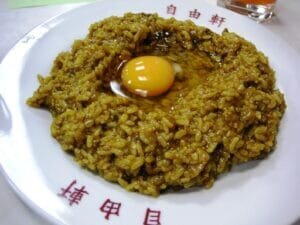 MEAL SETS
To eat alongside the curry, there are plenty of meats available. Sirloin steak is a popular dish and a set is available containing Jiuken curry and a steak at a very reasonable price. Furthermore, you can order a selection of meats and the curry as a set. As the curry is prominently rice, the meat adds more variety to the dish and is a great way to enjoy it.
There are two lunch sets available, A and B. A set includes fried shrimp, hamburger steak, fried chicken and roasted pork alongside a small portion of curry and a salad. B set includes fried shrimp, ham and chicken cutlets, cream croquette and a small portion of curry and salad. These lunch sets are very reasonable and a great way to taste a little bit of everything on the menu.
NOT JUST CURRY?
Although Jiyuken Curry is the most popular dish, there are many other types of food available, which are a must eat. There is a dry curry and Japanese style curry available as well as Hayashi Rice. This resembles a curry but a demiglace sauce is used as well as some ketchup, giving a sweet and sourness.
Address: 3 Chome-1-34 Nanba, Chuo Ward, Osaka, 542-0076
Telephone: 06-6631-5564
JIYUKEN CHAIN
The location of the flagship store is found in the centre of Nanba and is known for its restless atmosphere. The hustle and bustle can be quite overwhelming, especially if you are travelling with a family. Within the food court  'Naniwa Shokuin Shinbo Yokocho', on the second floor of the Tempozan marketplace, there is a Jiyuken store. They serve the same food as the flagship store as well as some kid's plate, making it more family friendly. This store is open from 11:00 to 20:00 and opening hours can vary depending on public holidays.  It can be accessed in about 5 minutes on foot from Osaka Port Station on the Chuo Subway Line.
Address: 552-0022 Osaka, Minato Ward, Kaigandori, 1 Chome−1−10 天保山マーケットプレース
Telephone: 06-6576-5821
ONLINE
Jiyuken curry is now available to purchase online as well as in some department stores. It's extremely difficult to make their original curry roux so you can buy them in packs online. However, they have a five curry set with some Worcestershire sauce to put on top. These are great for home use and they have instructions on the back on how to prepare. 
FINAL
Jiyuken Curry is not the most refined dish out there. However, it is one of those dishes, which keeps making you take bite after bite. It warms your heart and fills your body with happiness, even after so many decades. It's exactly what the owner, Shichi Yoshida would have wanted.