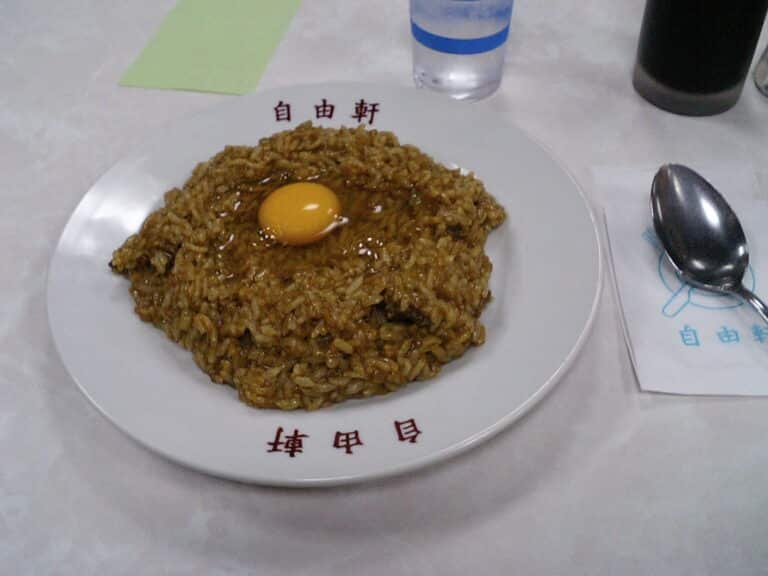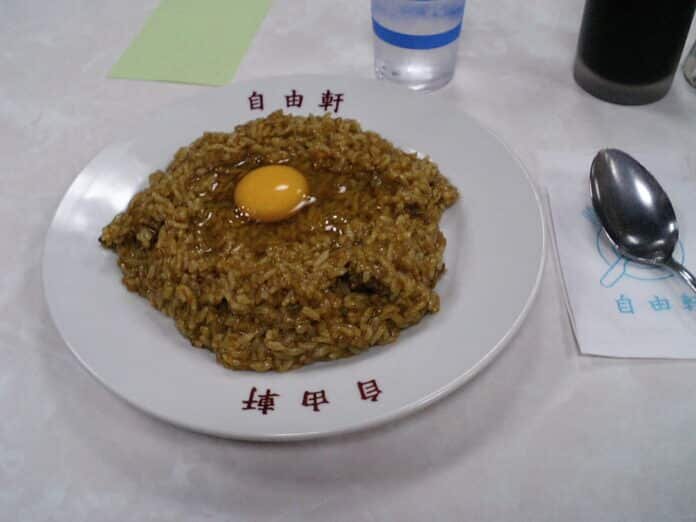 Everyone loves a good curry, but in Osaka, we do things a little differently…
What is Jiyukan Curry?
I have to admit, there are few foods in this world I love more than a good curry. However, when you say that word to the typical man or woman on the street, their heads probably don't bring up images of Osaka. Delhi, Bombay or perhaps Bangkok are the sorts of places where one would expect to find a good, satisfying curry experience.
However, there is a curry that's unique to Osaka, and from my own experience, I can assure you, it's a good one.
It's called jiyuken curry.
In a style similar to the Indian biriyani, in jiyuken the curry sauce, rice and vegetables are all cooked together creating a delicious, sloppy blend of rice, curry and veggies.
In many parts of Japan, this is known colloquially as a dry curry., however there's an added ingredient that sets the jiyuken curry aside from the rest.
That ingredient is eggs. Two raw eggs are place atop the curry just before its served.
Mixing these into the curry not only gives you a protein boost, it also lends the curry itself an extra weight, and thickness which leads to a fuller, more flavorful taste experience.
Varieties of Jiyuken Curry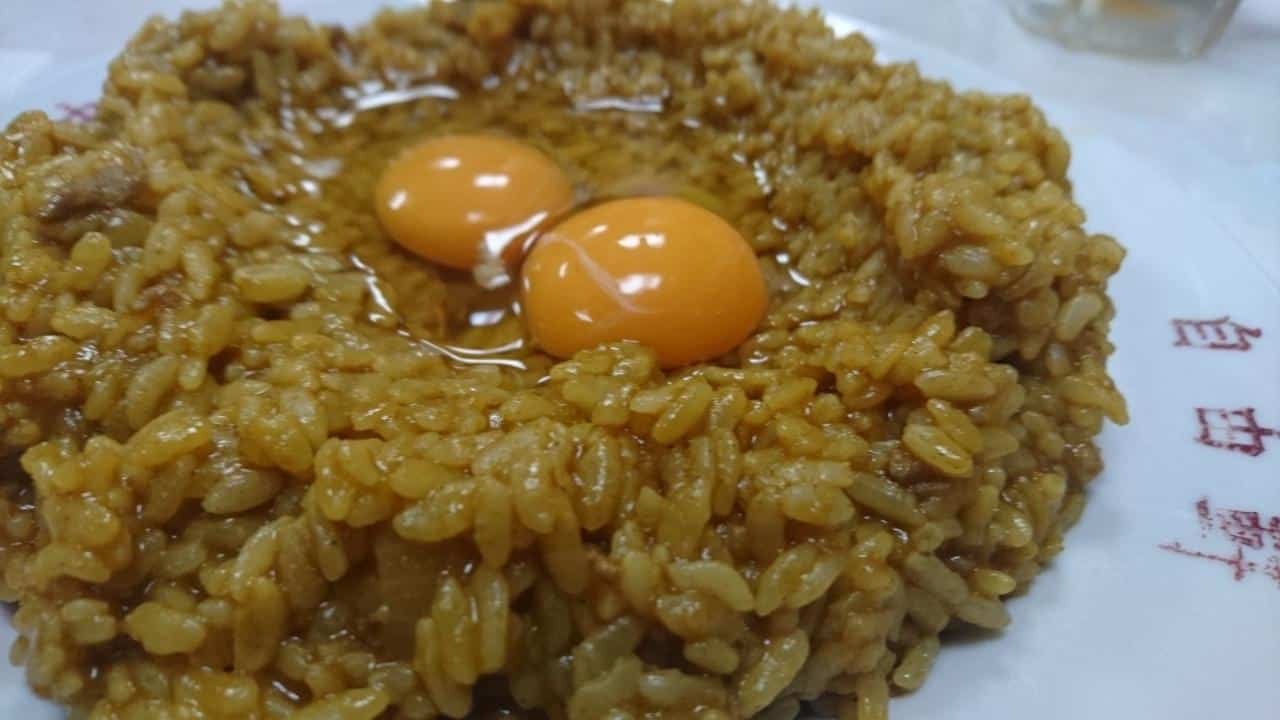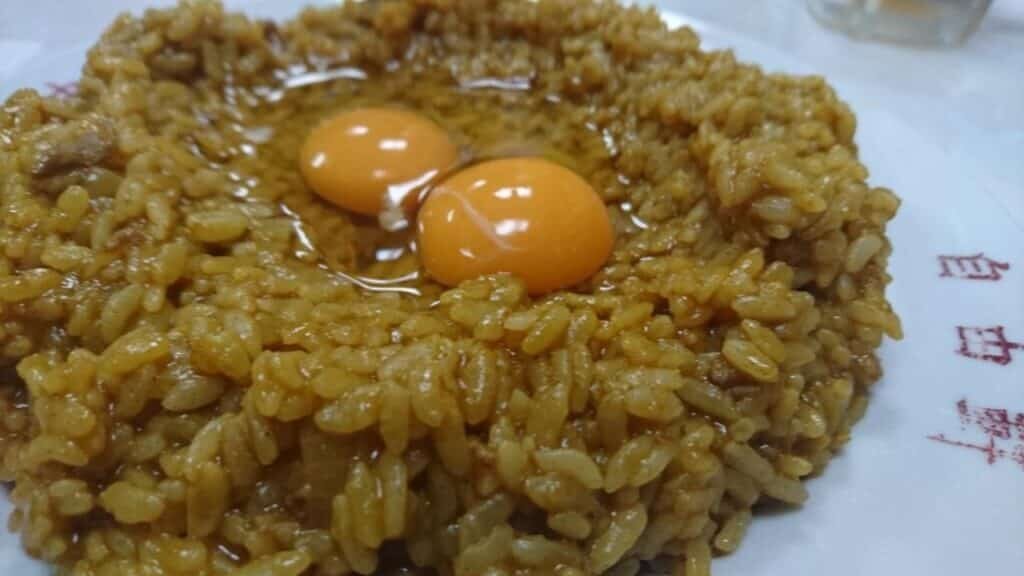 In general the base curry sauce and the consistency of the rice and accompanying vegetables doesn't change much whenever and wherever you have your jiyuken curry.
Where you can inject some variety however is when it comes to choosing what you take with your curry as a topping or side dish. This is one area where Osaka curry houses really go above and beyond your preconceived notions of what goes well with a curry.
The likes of crab cream croquettes, frankfurter sausages or hamburger steaks with cheese certainly aren't things you would expect to find in a local curry house in Europe, or indeed in much of Japan. They are, however, par for the course in Osaka!
Where to buy Jiyuken Curry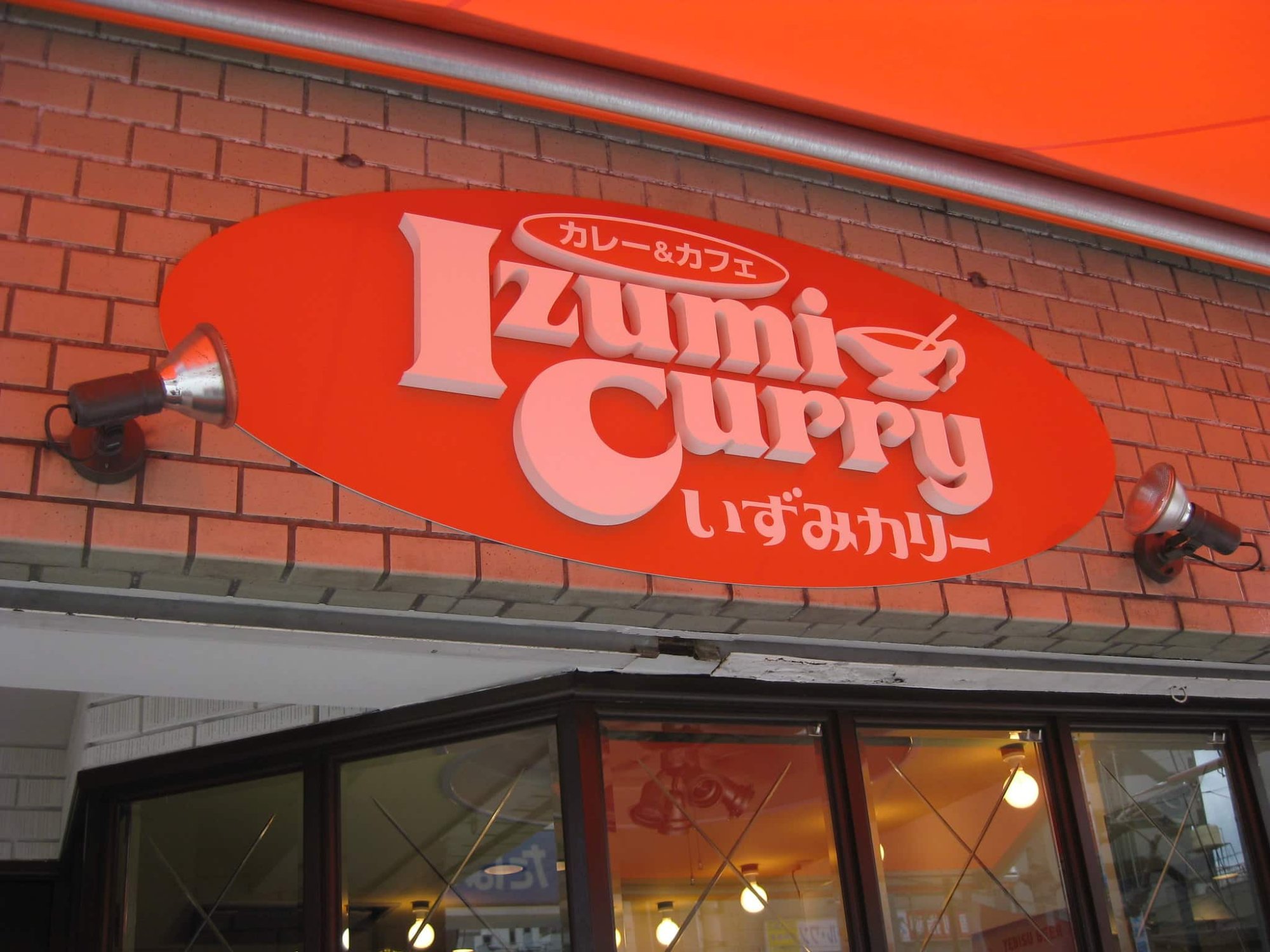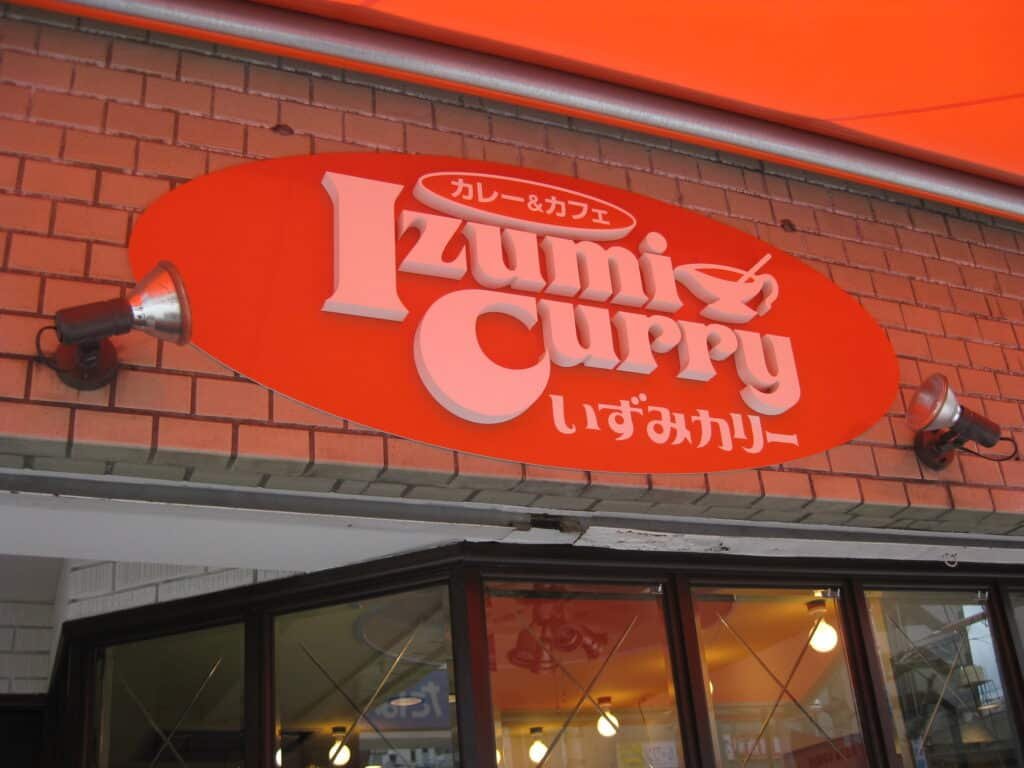 The name Jiyuken actually comes from a restaurant in Osaka's bustling nightlife district, Namba. The restaurant, named Jiyuu Ken. Recently, a branch of this popular franchise has also opened at Tempozan Market Place, in Osaka's harbor district. Positioned just across the courtyard from the Osaka Kaiyukan, one of Japan's biggest aquariums, the Tempozan branch of Jiyu Ken makes the perfect place for a bit of lunch and relaxation after an afternoon of aquatic adventuring.
However, if going in the evening, I recommend you seek out the Jiyu Ken restaurant in Namba instead, as Tempozan is something of a sleepy suburb and everything there tends to close down quite early on in the evening.
How to make Jiyuken Curry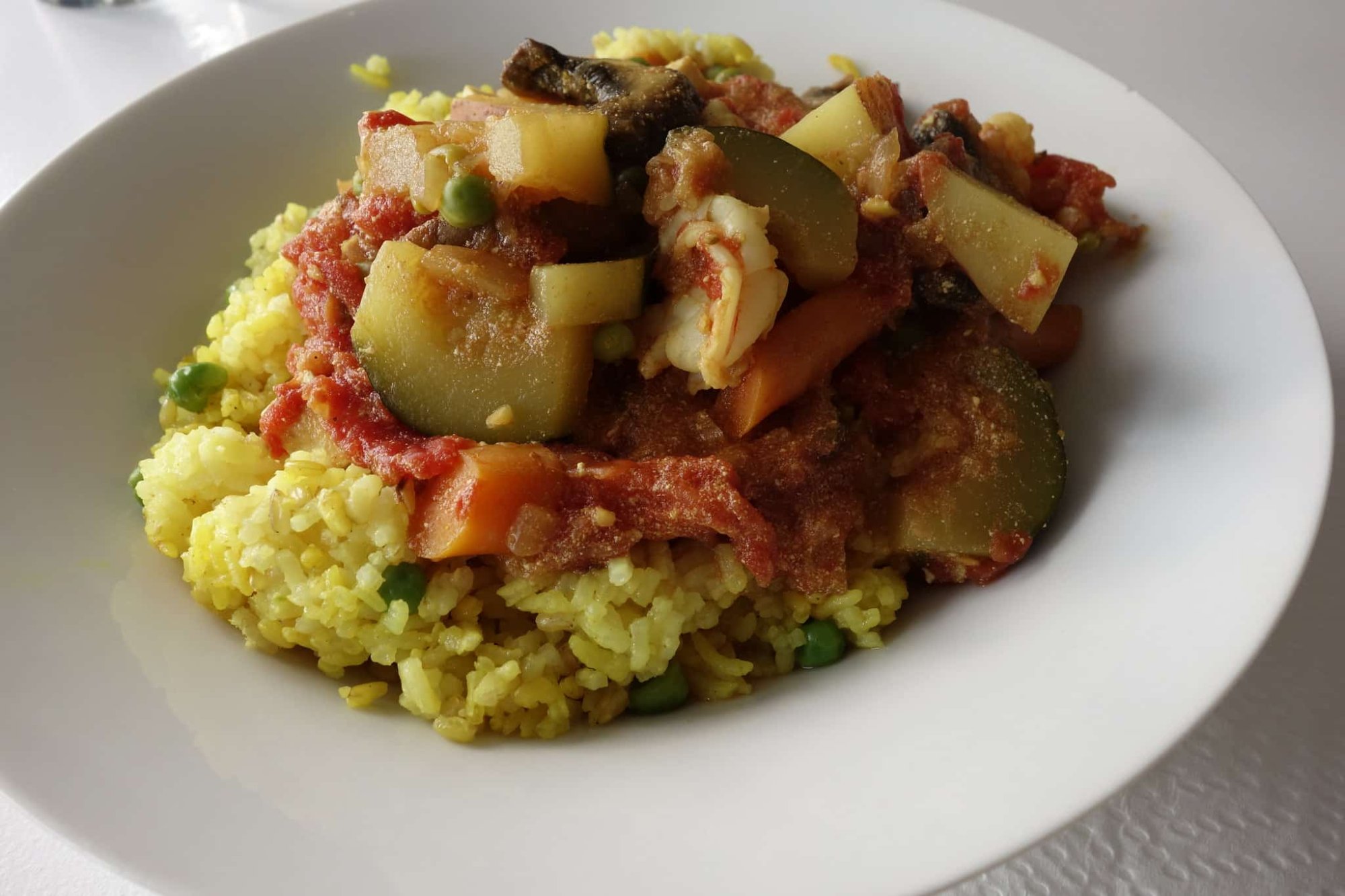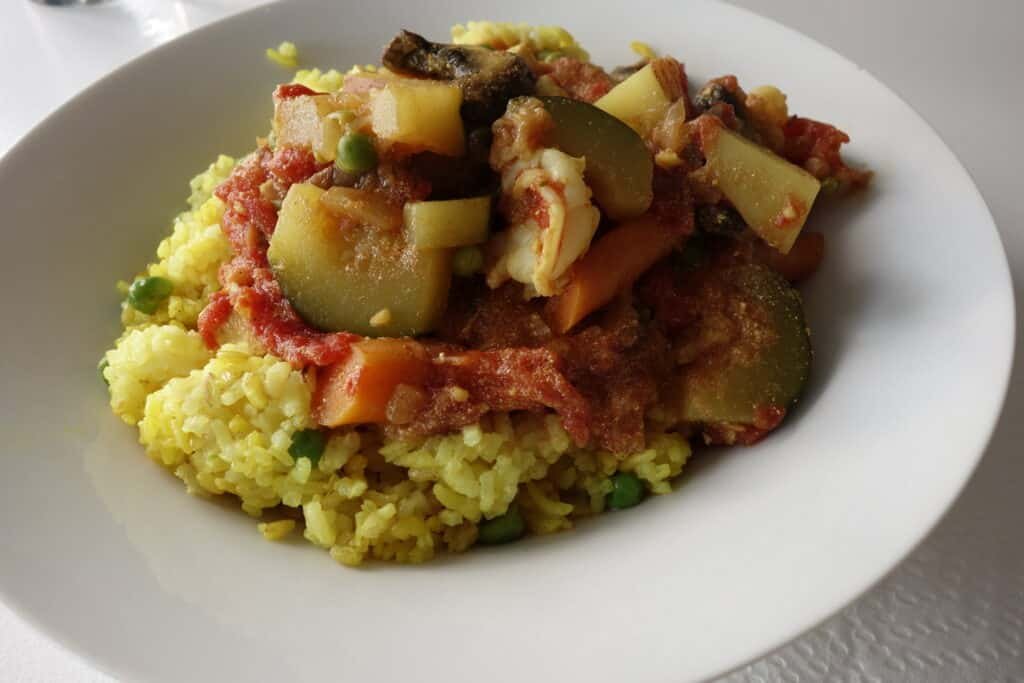 Of course, you may just want to take a shot at making your own Jiyuken curry. After all, it's just a case of breaking a couple of eggs over a curry, how hard can it be?
Well, this kind of attitude has been the ruin of many a poor, unfortunate curry chef in Osaka. To make a curry is easy, but to make a tasty and truthful interpretation of a Jiyuken curry, needs a little more nuance.
First of all, it's important to note that Japanese curry is, in most cases, a lot sweeter than what you may be used to in your own country. If you've ever tried, for example, Chinese food in a number of different countries, you'll notice the taste is a little different depending on the local palate.
The same applies in Japan, where curry is made sweeter to account for the local palate which tends to shy away from spicy or bitter foods.
With that in mind, here is what you'll need to make a tasty Jiyuken curry from scratch
Ingredients:
1 pack of Japanese curry paste
500 grams of white rice.
2 tomatoes
1 onion
200 grams of cooked chicken breast meat
1 large potato
2 eggs
Directions
First, boil your rice until it is cooked through and is soft but not sticky. Be careful not to overcook your rice, because if it becomes like a porridge, it won't bond well with the other ingredients later.
Finely chop your onions, tomatoes, potato and chicken into small pieces, toss them all into a wok, with a little sesame oil and gently sauté them. After a minute or so, add your block of Japanese curry paste.
Stir thoroughly, adding water regularly to ensure the sauce is a little more watery than usual, but not too watery. Things will soon thicken up as the curry sauce bonds with the potato and chicken.
Finally, add the rice and stir until every grain is coated in the curry sauce.
Spoon the curry and rice mix onto a round plate and crack open two raw eggs over the top before you serve.
Jiyuken Curry is one of those classic dishes, that doesn't look like much, but one taste and you'll soon be hooked for life!