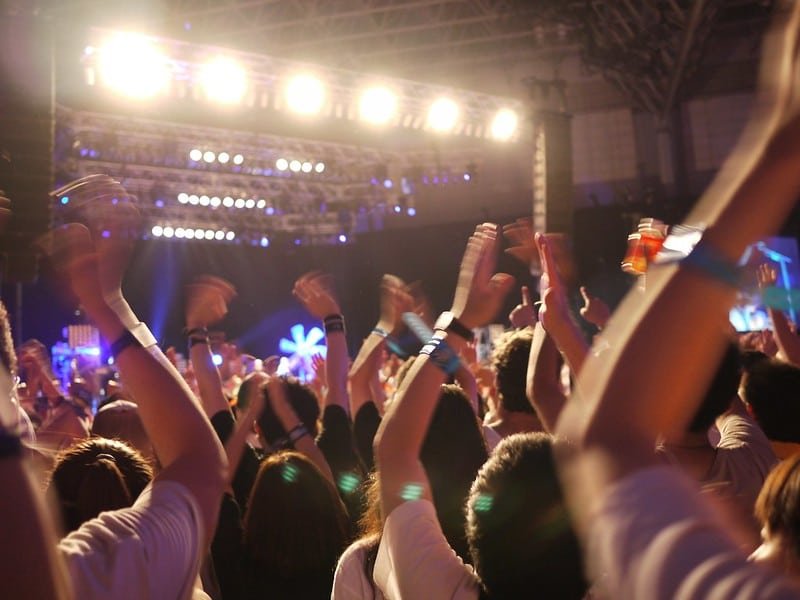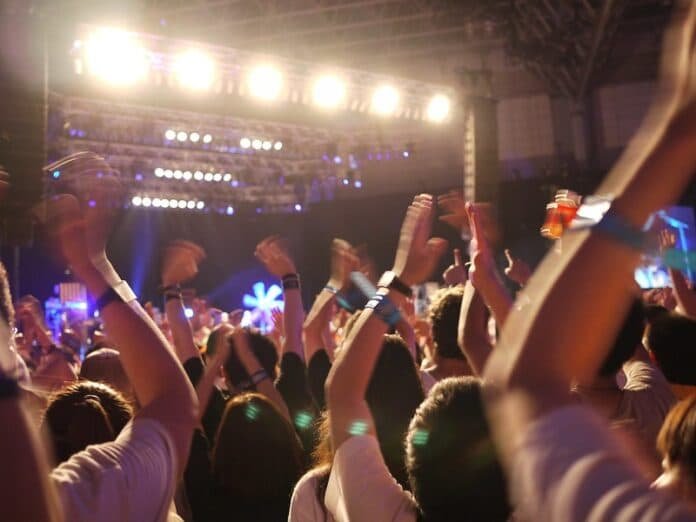 What is the Summer Sonic Festival
The Summer Sonic Festival is a two or three day rock festival held in Osaka and Chiba at the same time. The line up usually contains a mix of major rock Japanese artists, smaller indie groups as well as international artists. It is an independent festival, owned by Creativeman Productions Ltd but Live Nation Entertainment took over in 2014. Furthermore a spin off festival, Sonicmania (with an EDM focus) started from 2011.
Timeout says that Sonicmania, "Held as a warm-up for Summer Sonic each year, the all-night Sonicmania party caters to dance kids who aren't so well served by the main festival itself."
Sonic Mania
Sonic Mania is a seperate festival to the Summer Sonic Festival and is almost considered a "warm up" to the main event. This festival begins a month before Summer Sonic, usually in August. There are three stages, Crystal Mountain, Sonic Wave and Space Rainbow, which are all lively until the early hours of the morning. There are tow tickets: regular for ¥12,000 plus a required ¥500 drink purchase, or platinum for ¥20,000. The platinum ticket allows for a free welcome drink, shuttle bus transport between Zozo Marine Stadium and Makuhari Messe, a special lounge and viewing area as well as a few other benefits. The show starts at 10pm, with the grounds opening at 8pm.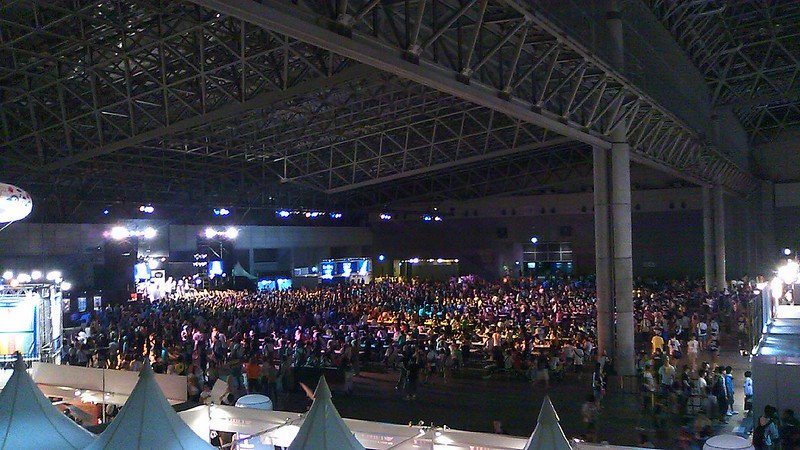 History of the Summer Sonic Festival
The Summer Sonic festival started in 2000 originally held in Yamanashi Prefecture and Osaka. The popular amusement park, Fuji-Q Highland in Yamanashi could only hold a maximum capacity of 20,000. This quickly became a problem as the venue was too small. Therefore from 2001 onwards, Chiba Prefecture and Osaka hosted the festival. Although it is in Chiba, people refer it as the "Tokyo venue". The initial concept of the festival was an "urban summer festival", which you can easily on a day trip. It takes inspiration from the Reading and Leeds Festival held in the United Kingdom.
In the early 2000s, Western rock was a pivotal trend in the lineup of the musical acts – Green Daay, Guns N'Roses and Radiohead were some of the popular acts. However, as musical genres and trends changed over time, more J-Pop and idol bands began performing at the festival. Initially, the audience age group was mainly in their 20s and 30s. With the expansion and diversification of music genres, people in the teens and 40s upwards began attending the festival. The organisation anticipated around 30,000 festival goers at da, which reached to 120-130,000 in the 2010s.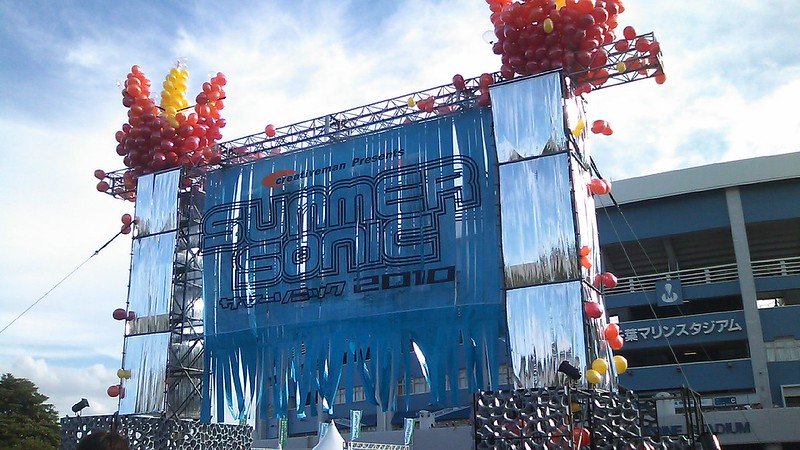 How to Enjoy the Summer Sonic Festival
Tickets for previous events sold for 14,000 yen for a 1 day pass,
however
there is no update for the 2022 festival
as of yet
.
At the venue, staff will exchange the tickets for wristbands and will serve as your access pass to the event – so don't lose them
!
Primarily
, people enjoy their favourite bands and artists from all over the world. The first artist starts at around 10:30-11:00am all the way till the evening at around 9-10pm. Alongside this, there are plenty of food and drink stalls to keep you ready for all the partying and dancing.
Finally, there are official merchandise available to
purchase
– from various t shirts to hats
.
Unfortunately, the Summer Sonic festival
was cancelled
in 2020 and 2021. In 2020, a limited time online show was available to watch. It showed archived footage of each artist for a limited time of 24 hours.
In 2021 the festival "Super Sonic" took its place. This started on September 18th (Sat) and 19th (Sun), at ZOZO Marine Stadium in Chiba.
However
, the festival in Osaka
was cancelled
.
Limited tickets were available and strict guidelines were in place to prevent the spread of COVID 19
. As of today, the 2022 Summer Sonic festival is going ahead.
To keep up to date, the official Summer Sonic website can be found here!
https://www.summersonic.com/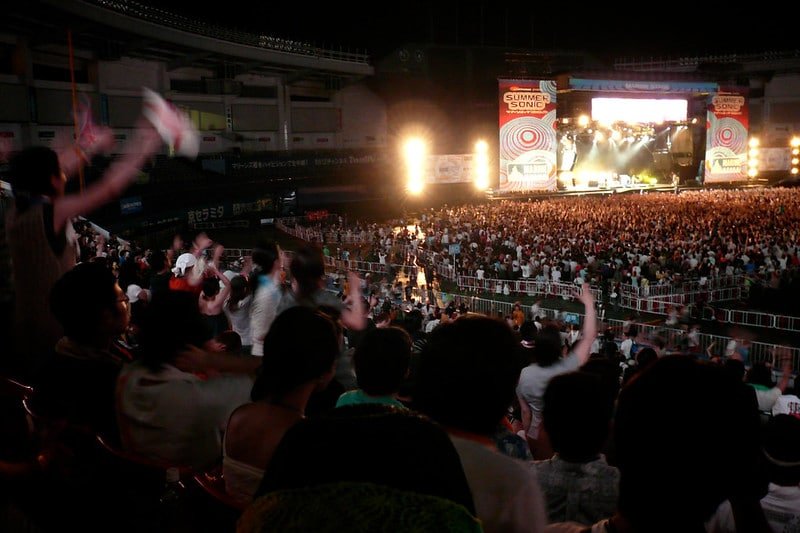 Previous Headliners
2000 – The Jon Spencer Blues Explosion, Green Day
2001 – Beck, Marilyn Manson
2002 – Guns N'Roses, The Offspring
2003 – Bur, Radiohead
2004 – Green Day, Beastie Boys
2005 – Nine Inch Nails, Oasis
2006 – Metallica, Linkin Park
2007 – Black Eyed Peas, Arctic Monkeys
2008 – The Prodigy, Coldplay
2009 – My Chemical Romance, Linkin Park, Beyonce
2010 – Jay-Z, Stevie Wonder
2011 – The Strokes, Red Hot Chill Peppers
2012 – Green Day, Rhianna
2013 – Metallica, Muse
2014 – Arctic Monkeys, Queen + Adam Lambert
2015 – The Chemical Brothers, Pharrel Williams
2016 – Underworld, Radiohead
2017 – Calvin Harris, Foo Fighters
2018 – Noel Gallagher's High Flying Birds, Beck
2019 – B'z, Red Hot Chill Peppers, The Chainsmokers
---
Osaka – Ookini Arena Maishima
The Ookini Arena Maishima is an indoor sporting arena in Maishima Sports Island, Osaka. The arena was foremally known as the Fumin Kyosai Super Arena.
The surrounding Maishima Sports Island is an artificial island on Osaka Bay. The luscious island has a wide variety of sports facilities – from a football training ground, which is used by the professional football team Cerreso Osaka, to the tennis centre Seaside Tennis Garden. Furthermore, it's the home area for Osaka Evessa, a professional B. League basketball team, and was the first dedicated basketball arena in Japanese history to be under the exclusive ownership of a pro basketball team.
Outside of sports, there is Lodge Maishima, an auto camp site and a barbecue garden. In addition, there are plenty of places to relax and enjoy the surrounding views. Shin-Yuhigaoka (a popular as a top sunset viewing spot), Maihama Shore (where sea breezes and waves create relaxing sounds) and the Seaside Promenade make for great places to stroll around.
Finally, there is Maishima Pottery Village – a pottery centre for making Naniwazu-Yaki, equipped with a climbing kiln, the only kiln of this kind in Osaka City. The pottery village offers 2-hour hands-on classes in hand-formed pottery, as well as workshops for beginners and those hoping to become professional potters.
Access
From Tokyo
Departing from Tokyo station, it takes about 2 hours and 30 minutes to get to Shin-Osaka Station on the Nozomi bullet train. The JR Kushiro limited express takes you from Shin-Osaka Station to Nishikujō. The No.81 bus takes you to Maishima Higashi bus stop, just a few minutes walk from the Ookini Arena.
From Osaka
Leaving from Osaka Station, take the Osaka Loop Line to Nishikujō Station. From there, the No.81 bus takes you to Maishima Higashi bus stop, just a few minutes walk from the Ookini Arena.
There are two major airports in Osaka, Kansai International Airport (KIX) and Itami Airport. The Kansaikuko Line takes a little over an hour to Nishikujō Station. From there, the No.81 bus takes you to Maishima Higashi bus stop.
Opening Hours: Depends on Event
Tel: 06-6460-1811
Website: www.human-arena.com/
Address: 2 Chome-2-15 Hokkoryokuchi, Konohana Ward, Osaka, 〒554-0042
---
Tokyo – Makuhari Messe
Makuhari Messe is a Japanese convention centre, just a little outside of Tokyo, in Chiba prefecture. Makuhari is the name of the area and Messe derives from a German language word meaning "trade fair." It hosts a wide arrange of events including high-technology as well as certain sports during the Tokyo 2020 Olympic Games.
During the end fo the 1980s, the surrounding district was built on reclaimed land. This began a new, modern style of architecture, that includes elevated promenades, walkways and stylish streets. The district hold many attractions such as a baseball park, seaside park, shopping malls, and the Makuhari Messe convention centre. This is the main attraction in the area, which is also the second largest convention centre in Japan behind Tokyo Big Sight. Surrounding the convention centre is a series of elevated pathways, which connects nearby hotels, restaurants and shopping outlets. These are mostly found in Kaihin-Makuhari Station long with the Plena Makuhari Mall and the Mitsui Outlet Park. Here, you can buy international and domestic apparel and accessories.
Furthermore, there are numerous park and recreational grounds to relax in. The main attraction is the seaside park, which splits into the "central section" and "seaside section". The central section includes large playing grounds, making it perfect for children to enjoy themselves. There is also a gorgeous and immaculately maintained Japanese garden with only a 100 yen entrance charge. Finally, the seaside section is located next to Makuhari Beach. A sequence of meandering pathways make for a nice walk.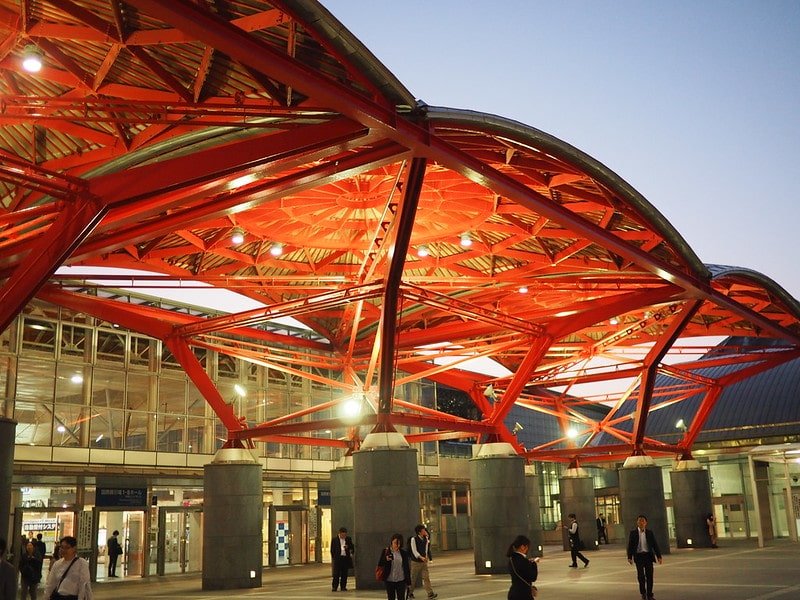 Access
The main station to access Makuhari Messe is JR Kaihin-Makuhari Station. If you can not get access to this station, close-by are Makuhari Station and Makuhari-Hongo Station, which is a 15-20 minute bus ride away.
From Central Tokyo
From Tokyo Station, take the JR Keiyo Line, which goes directly to Kaihin-Makuhari Station. A one way trip costs 570 yen and takes around 30 minutes by express train (it will take a little longer by local train).
In addition, there are the JR Sazanami and Wakashio express trains. These also runs between Tokyo Station and Kaihin-Makuhari Station. However, they cost a little extra, at 1090 yen per ride but are slightly faster and less crowded. These two trains are limited and depart hourly, so be sure to check your timing! All of the above trains are covered by the Japan Rail Pass.
From Narita Airport
If you are flying into Narita airport, the Keisei Bus is a direct link to Makuhari Messe. The one way trip takes about 40 minutes, costs 1000 yen and depart approximately every hour. The Keisei bus is not covered by the Japan Rail Pass.
Opening Hours: 8am – 8pm
Tel: 043-296-0001
Website: www.m-messe.co.jp/en/
Address: 〒261-8550 Chiba, Mihama Ward, Nakase, 2 Chome−1
---
You can watch a video on Supersonic 2021 here!
Final
The Summer Sonic festival is the perfect event to enjoy your favourite rock artists from Japan and around the world. Both the Maishima Sports Island in Osaka and Makuhari Messe in Tokyo have wonderful recreational parks and shops around to enjoy before or after the festival.