What is Tanabata Festival?
Tanabata (七夕) translates to the "Evening of the seventh" and coincides with July 7th every year. Strips of colorful paper, called tanzaku, line the city streets. Other vibrant ornaments and decorations hang from bamboo branches. The streets and homes of Osaka become alive and vibrant. Tanabata Festival
People generally celebrate this day as they write their wishes on small pieces of paper. This may be in the form of a letter or as poetry, which is they hang on bamboo. Furthermore, At midnight the next day, the wishes are then set afloat along a river or burnt.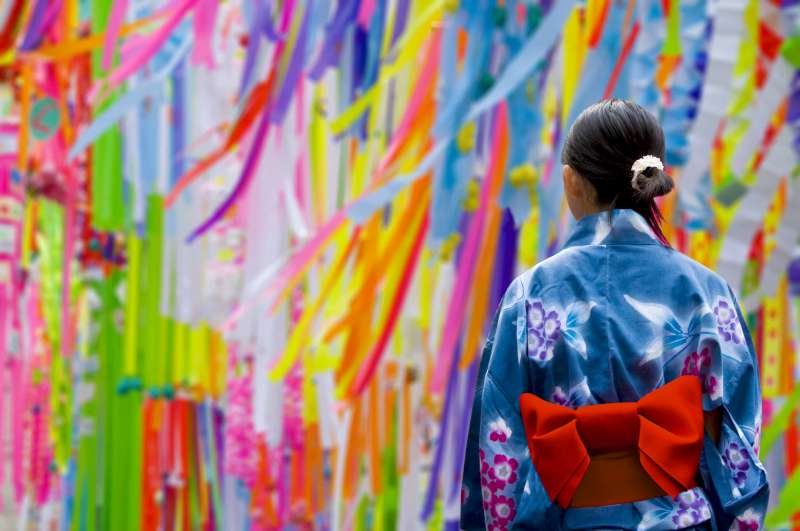 ---
History of Tanabata Festival
Tanabata is one of the five, yearly festivals in Japan. The origin began in China and made its way to Japan. It derives from the stars Vega and Altair. In Chinese mythology, these two stars portray different characters. Vega (named Orihime) was the weaver star and patron of silk farming. Next, Altair (named Hikoboshi) was an agricultural messenger.
The folktale states that the two characters fell in love and decided to marry. As a result, they started to neglect their obliged duties. Orihime's father banished the two of them to separate ends of the milky way. Orihime became a shell of her former self due to the loss of her husband and began to weep. Her father became moved by her tears and decided to allow the two to meet. He granted them a meeting on July 7th, as long as they kept to their duties for the rest of the year.
This folktale made its way from China to Japan during the Nara period in 710-94. During that time, young women were weaving clothes. They wanted to improve their talents using the weaving loom. The Chinese folktale merged with the Japanese legend of tanabata-tsume. This is a Japanese tale of a celestial maiden who weaves clothes for the gods). The origins of Tanabata started from this point.
Tanabata was first celebrated by reading poetry while gazing upon the night sky. Yet, it wasn't until the Edo period (1603-1868), it became wider known. People started writing their wishes on tanzaku and hanging them on bamboo branches.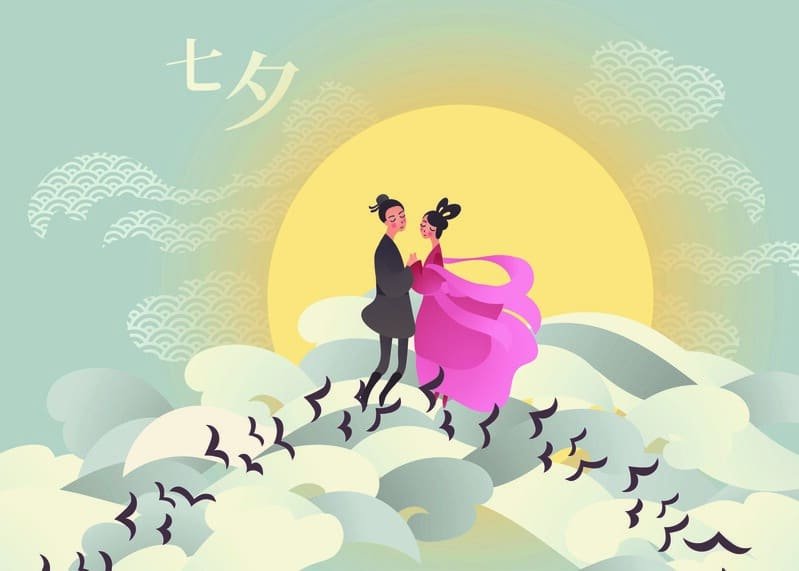 ---
Decorations
Tanabata is not limited to the tanzaku wishes. Many decorations and ornaments play a pivotal role in the whole festival. Colorful streamers, called fukinagashi, are also hung. These represent those who wish to become more skillful weavers. Amikazari, portray the wishes of fishermen that hope to catch full nets of fish. Furthermore, Kinchaku are small little bags, which are very common. These represent prosperity, and folded swans, orizuru, portray longevity. All these ornaments are paper and other light materials. This was to ensure that the current of the river can wash them away. As a result, the wishes will come true. But, in recent times, these have to be burnt instead due to environmental impacts on the rivers.
Bamboo hangs the tanzaku due to its branches growing upwards, lifting the wishes up to heaven.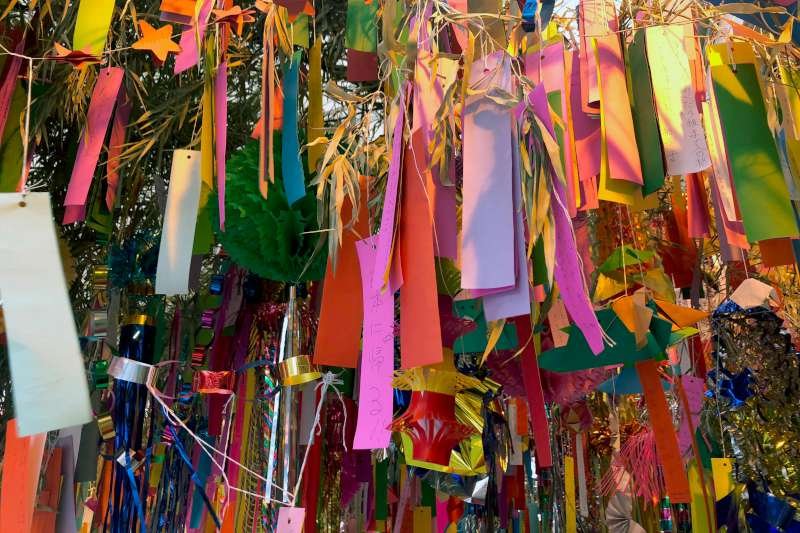 ---
Food
People eat soumen during Tanabata. Soumen is extremely thin wheat flour noodles, which is usually a cold noodle dish. Also, some green onions, seaweed, and a dipping sauce, called tsuyu, are available. As a matter of fact, Soumen originated from a Chinese sweet, known as sakubei in Japanese. The intertwining noodles represent the Milky Way and Orihime's weaving threads.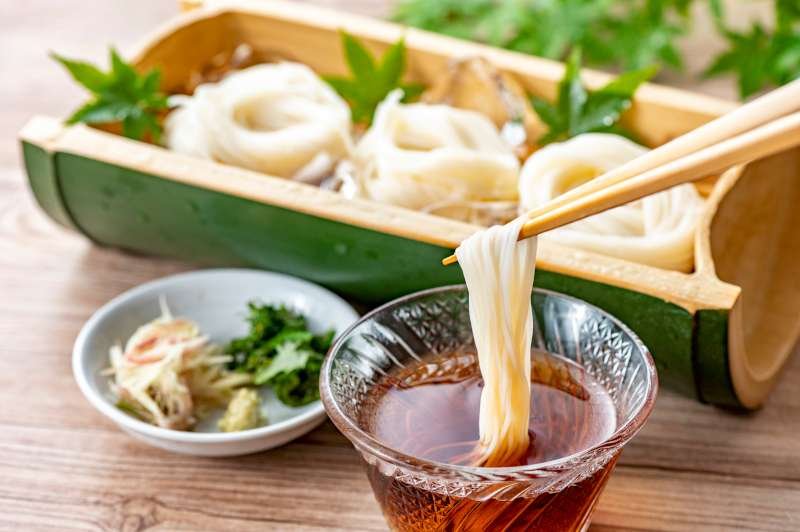 ---
Where to enjoy Tanabata Festival in Osaka
Full map of places
Umeda Sky Building

Tanabata occurs under the looming Umeda Sky Building. Beautiful decorations and ornaments line the surrounding streets. The results is a beautiful and modern festival.
Website: https://www.kuchu-teien.com/event/umedatanabata/
Access: 9-minute walk from Exit 5 at Umeda Station on Midosuji Line
Address: 1-1-88 Oyodonaka, Kita-ku, Osaka
Shitennoji Temple
The historic temple and pagoda is a beautiful spot to take part in Tanabata. The approach to the temple is beautifully lit up with lanterns. On top of this, night stalls line the streets with traditional foods and drinks.
Website: http://www.tanabatanoyuube.net/
Access: Osaka Metro Tanimachi Line Shitennoji-mae Yuhigaoka Station
Address: 1-11-18 Shitennoji, Tennoji Ward, Osaka, 543-0051
Tenma River
A blue LED ball, called inori hoshi, floats over the Tenma River. Furhtermore, 70,000 blue lights are also floated down the river. It makes a spectacular sight during the evening!
Website: https://osaka-amanogawa.com/
Access: Keihan Tenmanbashi Station Naniwabashi Station / Osaka Metro Tenmanbashi Station Kitahama Station
Address: 2-8 Tenmabashikyomachi, Chuo Ward, Osaka, 540-0032
Osaka Temmangu
Temmangu is one of the most significant shrines in Osaka. It is a 10th century Shinto shrine, where a majority of the major festivals in Osaka take place. A spectacular bamboo circle lines the entrance along with beautiful ornaments and decorations.
Website: https://osakatemmangu.or.jp/
Access: Osaka Metro Tanimachi Line / Sakaisuji Line Minamimorimachi Station / JR Tozai Line Osaka Tenmangu Station
Address: 2 Chome-1-8 Tenjinbashi, Kita Ward, Osaka, 530-0041
Isshinji Temple
Bamboo decorations are made in front of the teahouse and Sanmon Buddhist temple next to Isshinji Temple. You can decorate your own one for free. At the end of the festival, these decorations are burnt.
Website: https://www.isshinji.or.jp/
Access: Osaka Metro Tanimachi Shitennōji-mae Yūhigaoka Station · JR Loop Line Tennoji Station
Address: 2 Chome-8-69 Osaka, Tennoji Ward, Osaka, 543-0062
You will find many small shrines and hidden areas throughout Osaka, holding their own Tanabata event. Be on the lookout when you are roaming the streets during early July!
---
Watch a video on Osaka's Tanabata here:
---
Final
Finally, Tanabata Festival is one of the most beautiful and exciting festivals of the year. Watching the streets being lit up by the colourful decorations and the wishes of the local people is beautiful and heart warming. The whole city seems to come as one and is truly an unmissable experience if you are in Japan.