The year 1970 saw the opening of the first World Exposition in Asia, in the Senri Hills on the north of Osaka. The 70' Expo became the biggest event in the post-war Japan and with over 64 million people attending, it was also the biggest World Expo in history. Today, at the place of this grand event, there's a large area of lawn and forest with plenty of educational and recreational facilities, known as Expo 70' Commemorative Park.
The park is spread out around The Tower of the Sun, an unusual concrete structure that once used to be the face of the 70' Expo and now it is an inseparable part of the park, as well as Osaka. Over the years, the park became a popular place to hang-out, to enjoy nature, sports, picnics and seasonal flowers.
With its 264 hectares where you can find gardens, museums, restaurants and lakes, there's enough entertainment to fill your whole day. I personally love this park, and here are some of my suggestions and tips on how to spend here some quality time.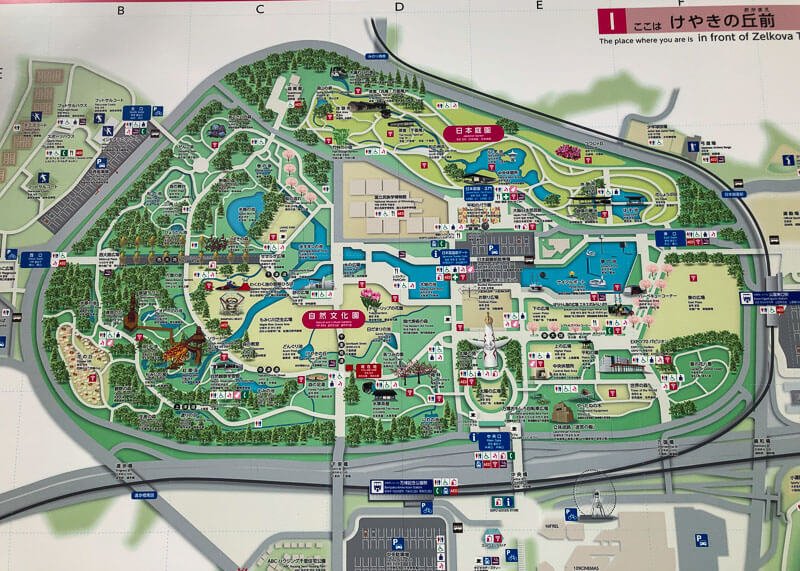 Tower of the Sun
Tower of the Sun will be the first thing you see even before you enter the park. This oddly-looking concrete structure, however, hides more than just meets the eye. It was built as a part of the Theme Pavilion to present the main theme of the Expo, which was "Progress and Harmony for Mankind". After the closure of the Expo, almost all of the pavilions were taken down, but the Tower of the Sun was selected for permanent preservation.
The Tower was created by an avant-garde Japanese artist Taro Okamoto. According to Okamoto, the Tower was presenting the past (lower part), present (middle part) and future (the face) of the human race. It is almost 70 meters tall, it has 20 meters in diameter at the base and each of its arm is about 25 meters long. Currently it has three faces – two at the front and one in the back. The top face "Golden Mask" represents the future, while the "Black Sun" on the back represents the past.
Tower of the Sun Museum
Interior of the tower is open to public and you can see here an amazing structure of the Tree of Life that goes through several floors. The Tree of Life represents history of all life on Earth – from the 4 billion years ago, through the age of trilobites, fish, reptiles and mammals to human beings. However, the idea behind the Tree is not that humans would be superior to other beings on this planet. The Tree is simply a model of biological evolution that wants to show you the "Energy of Life".
To be honest, I had no idea that there's something inside this strange tower and I really loved the Tree of Life. Some of the statues might be a little bit outdated but with the background music and lightning it is very well done and still interesting.
Useful information for visiting the Tree of Life
Opening hours: 10:00 – 17:00
Admission fees: 700 yen for high school students and above; 300 yen for middle and elementary school
There are just stairs, no escalators, but there's also a lift to take you to viewing platforms.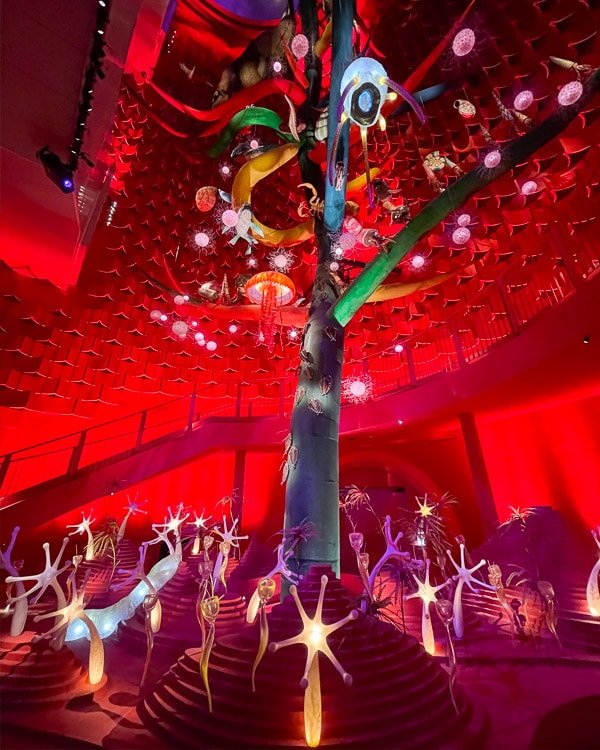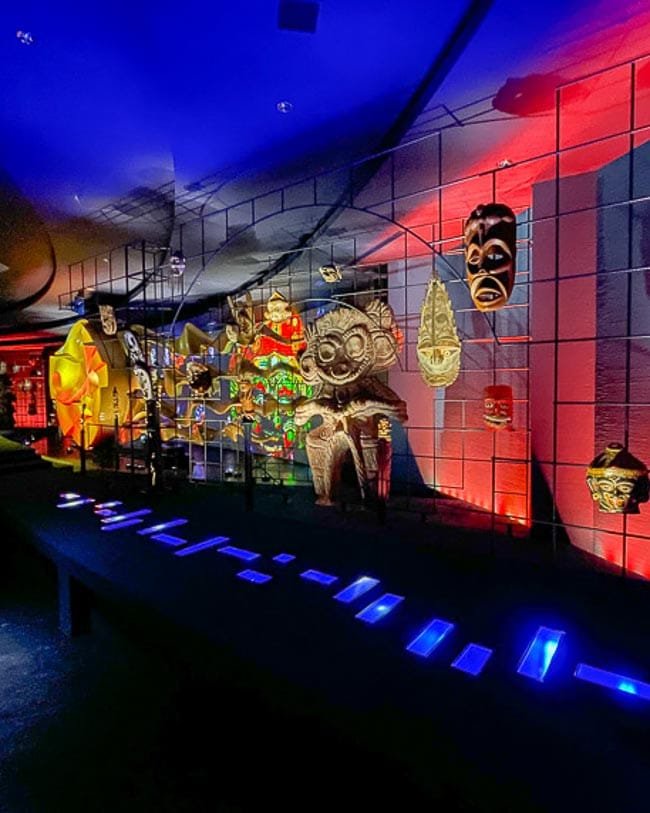 Museum of Ethnology
Within the Expo Park, you can also find Museum of Ethnology – a fun and interactive museum that takes you on a trip around the world in one day and it will definitely spark your wanderlust. The exhibits include ethnicities and nations around the globe. You will start in Polynesia and make your way through Americas, Europe, Africa and Asia all the way to Japan. It is beautifully presented with lots of attention to detail.
For more information check out our Guide to the Museum of Ethnology here.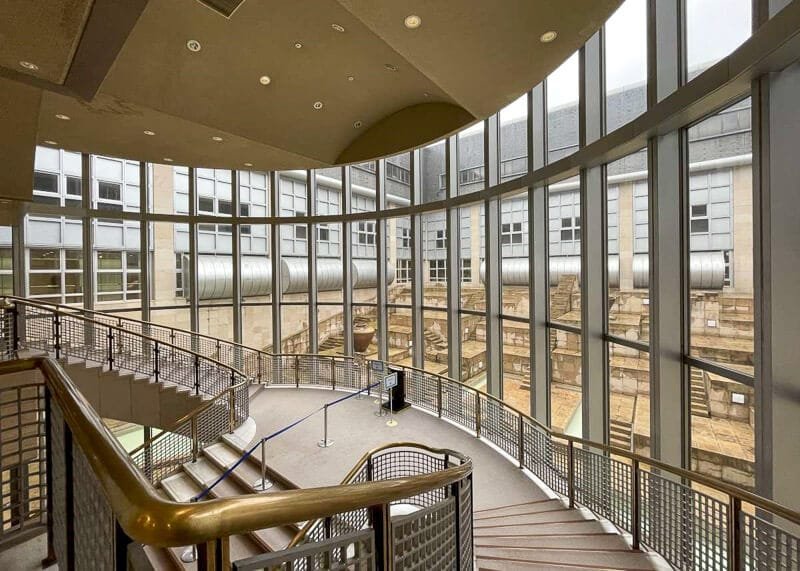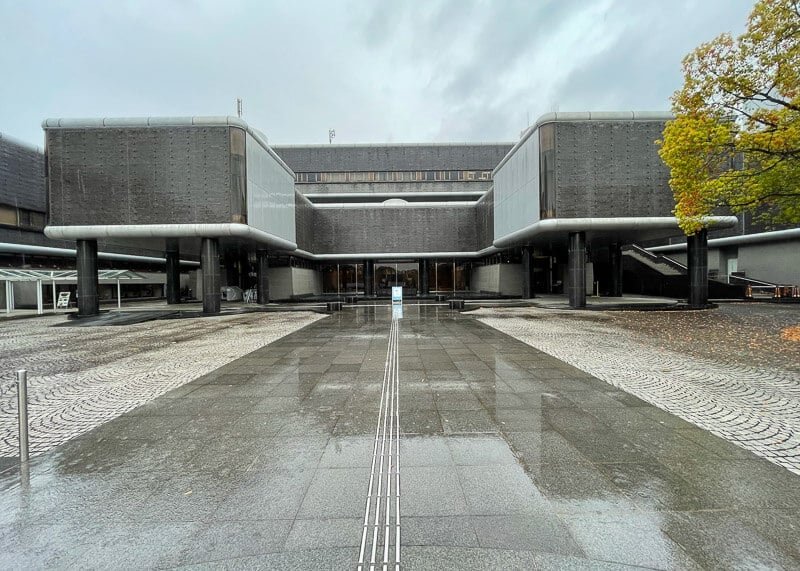 Natural and Cultural Gardens
Natural and Cultural Gardens feature large open spaces and lawns, perfect for a family picnic. They are surrounded by 5000 cherry blossom trees so this area is particularly popular in spring. Beside the cherry blossoms there are many other seasonal flowers blooming all year round. You will also find here children's playground, barbecue corner and a pond where you can race small motor boats.
Sorado Aerial Promenade
Sorado is named from Japanese words sora which means sky, and do meaning road. This 300-metres long wooden boardwalk will take you on an adventure through the trees where you can watch birds singing and enjoy the views over park's gardens. At the end of the promenade is a viewing platform with the views wide and far.
Sorado Aerial Promenade is free of charge and it is located within Cultural and Natural Gardens. It is particularly beautiful in autumn when all the leaves on the trees change colors into bright red, orange and yellow. If you happen to be on the promenade in autumn, don't miss the signs pointing to the Maple Waterfall, nice small waterfall surrounded by maple trees.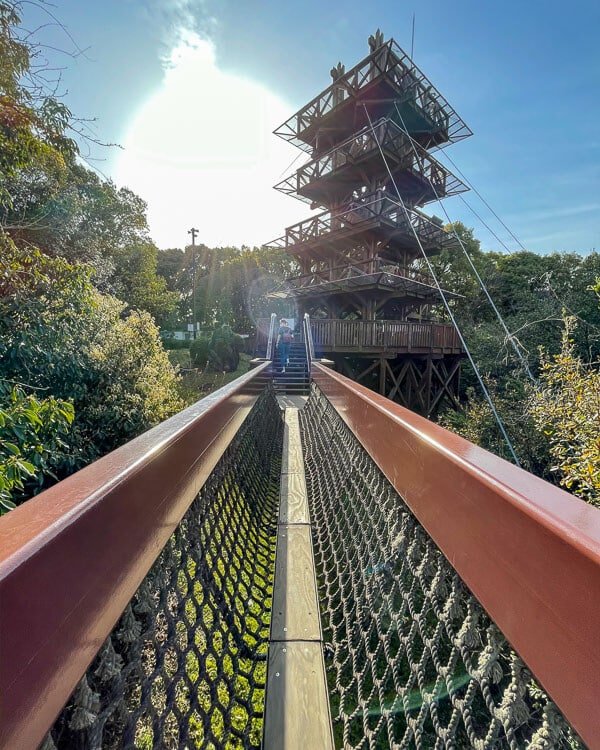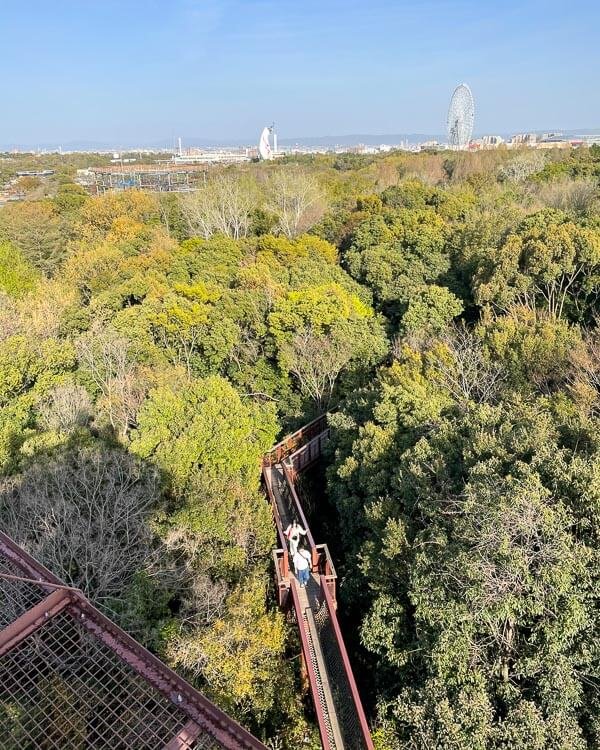 Hana-no-oka Flower Hill
Not far from the Sorado Promenade, you will find Hana-no-oka Flower Hill. As the name suggests, you can enjoy beautiful seasonal flowers on a fairly large field. There are different flowers planted throughout the year – in spring it is colourful poppies and blue nemophilas, sunflowers decorate the hill in summer and autumn brings joyful cosmos.
Visiting the hill is free of charge and you will find here a couple of viewing platforms, benches and photo spots to chill and enjoy the beauty.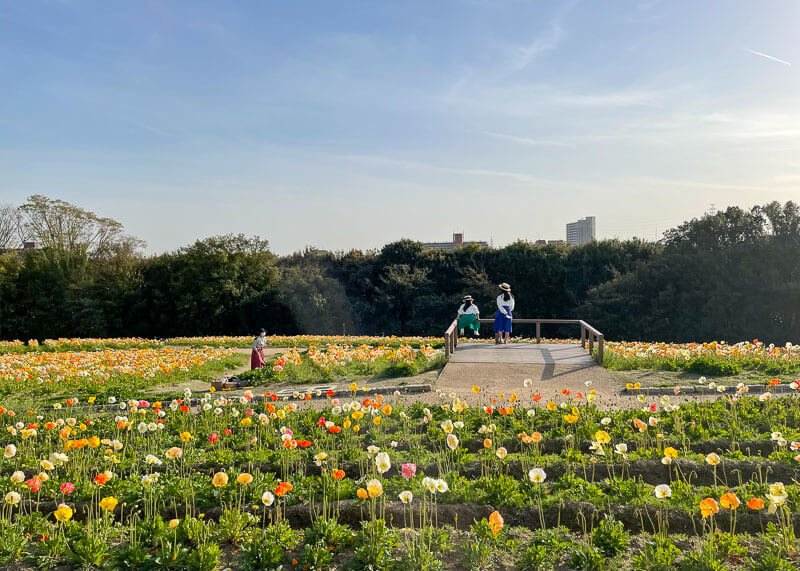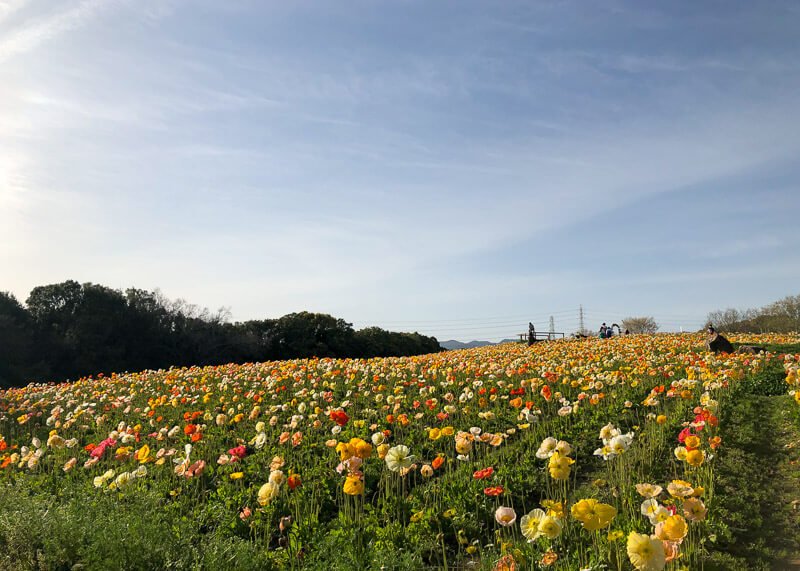 Japanese Zen Garden
The Japanese Garden was created for the original Expo in the 70ties. There are four main parts that represent ancient, medieval, modern and contemporary landscaping styles.
There's extra 250 yen entrance fee to the Japanese Garden (70 yen for children). It is open daily from 9:30 to 17:00, but it is closed on Wednesday (except for cherry blossom season and in autumn, when it's open every day).
Banpaku Beast
The newest addition to the Park's attractions is Banpaku Beast that opened only in March 2020. Banpaku Beast claims to be the largest hexagonal athletic tower in the world. It has four main floors that go up to the 24 metres height. Each of the floors has its own athletic facilities and an observation deck. All together you can try over 120 different kinds of activities, such as climbing, slacklining, zip lining or even riding on barrels or balancing on elevated ropes on bicycles.
Behind the construction of Banpaku Beast are German developers from the company KristallTurm that focuses on high rope courses and amusement park attractions.
Useful information for visiting Banpaku Beast
Banpaku Beast prides itself in the high level of safety so it can be enjoyed by people of any age – from elementary school students to seniors. The only condition is that you must be taller than 125 cm to enter the facility and over 140 cm tall to use the harnesses. Underage kids must be accompanied by an adult (over 18 years old).
Fees
The admission is paid per hour and it costs 3500 yen for an adult and 3000 yen for elementary school children. That one hour includes lecture time and equipment set-up so you will probably want to spend there at least 2 hours to fully enjoy this facility.
Location
The Banpaku Beast is located within the Natural and Cultural Gardens. The start of the Sorado Aerial promenade is very close to it.
Other
There are no changing rooms so please wear comfortable clothes. Sandals and high heels are prohibited. Person who drank alcohol beforehand cannot attend the facilities. You will have to sign a consent before using this facility.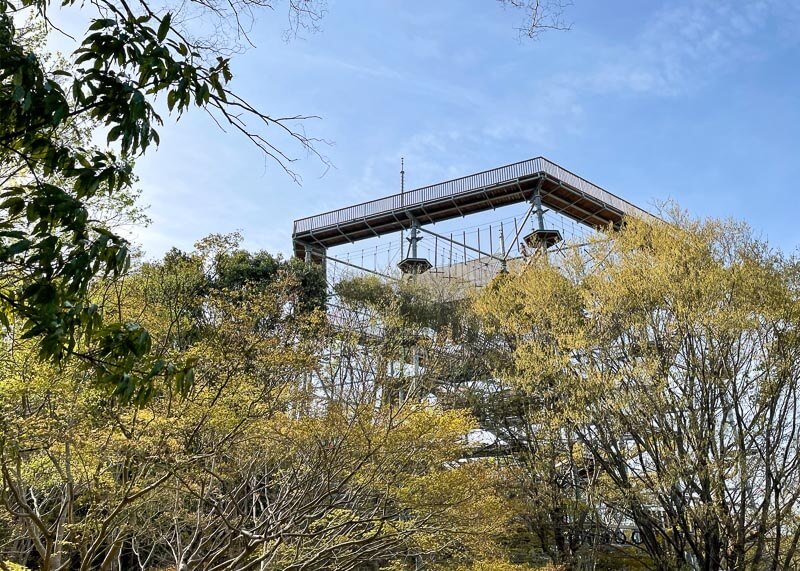 Tulip Garden and Rose Garden
Flower Hill is not the only place to see flowers in Expo 70' Commemorative Park. Tulip Garden features around 100 000 tulips of 32 different kinds in variety of colors. They usually bloom throughout the whole month of April, right after the cherry petals start to fall down.
The full name of the Rose Garden is Heiwa-no-Baraen, or Rose Garden for Peace. You can find here donations of roses from nine countries that donated them in the wish for peace. The garden is quite large, featuring over 5600 roses that are in their peak every year in May.
Both Rose garden and Tulip garden are free of charge.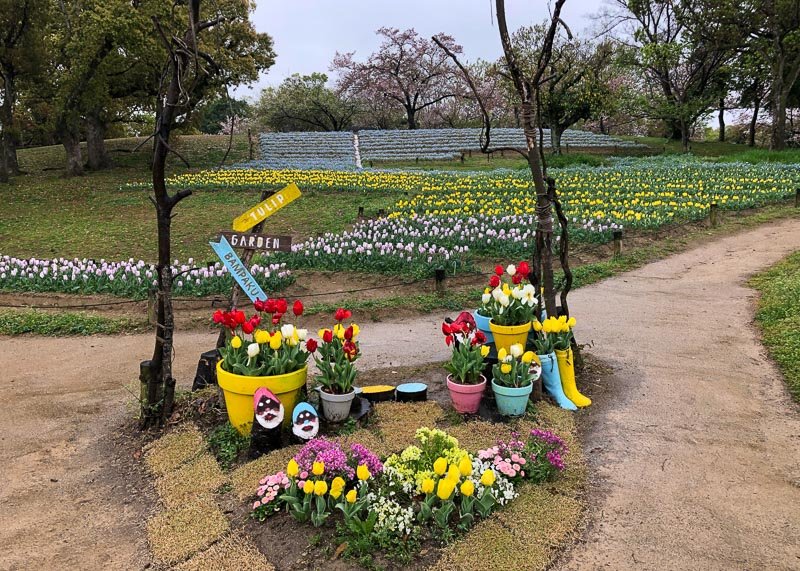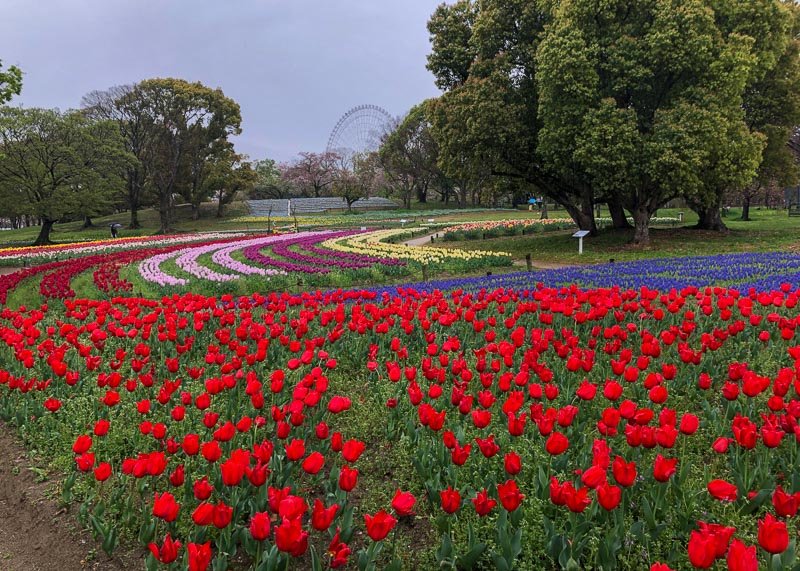 Japan Folk Crafts Museum
If you are interested in Japanese crafts, you shouldn't miss this small, but unique museum. Japan Folk Crafts Museum showcases pots, vessels, ceramics and earthenware by local artists in their permanent exhibition, but you can look forward to ever-changing seasonal exhibits as well.
The museum is located next to the Osaka Museum of Ethnology and the Rose Garden of Peace. It's open daily from 10:00 to 17:00, with the last admission at 16:30. The entrance fee to the museum for adults is 710 yen, 450 yen for students and 100 yen for elementary school kids.
More attractions in the Expo 70' Commemorative Park
As I mentioned at the beginning, the Expo 70' Commemorative Park has countless attractions. You can really spend here a whole day without being bored. Other interesting places that I stumbled upon during my visits are a small bamboo forest, traditional tea houses. Here you can sample some Japanese tea or a Forest Foot Bath, where you can experience 'onsen for your feet'. Unfortunately, this attraction was closed during my visit, but it should be a lovely area where you can rest your tired feet after walking all day around this vast park.
On a hot summer day, you can relax on the banks of Dream Pond and try one of its pedal boats to admire the beauty of the park from a different perspective. There are many modern playgrounds for the kids. They are conveniently located around the park so you are never too far from one.
If you are very interested in the original Expo that took place in the 70ties, you can visit the Expo 70' Pavilion, where you can see over 3000 photos and videos that commemorate this event.
Because the park is so large, there's a Forest Train to take you around. Along the main path you will see vending machines for tickets and 'train stations'.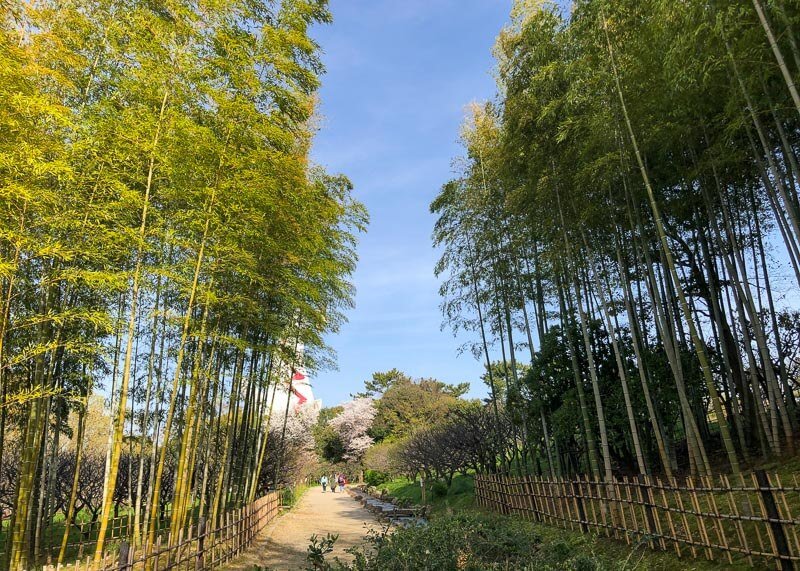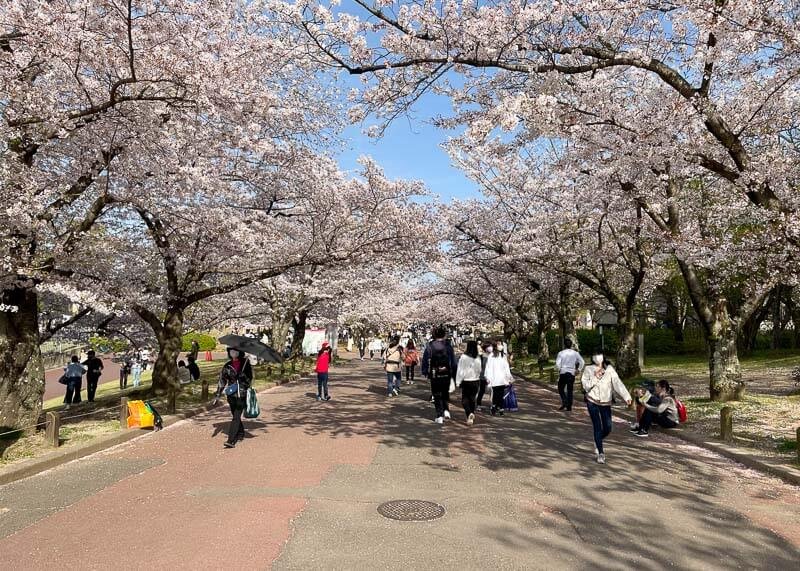 Outside the Expo 70′ Commemorative Park
LaLaport EXPOCITY
Once you exit the Expo 70' Commemorative Park, the fun doesn't have to necessarily come to an end! On the other side of the road there's a massive shopping and entertainment district called LaLaport ExpoCity. You will find here over 300 shops of international and local brands, a plethora of restaurants and a cinema complex with Imax. It is divided into different sections and each section has its own theme which is followed by shops as well.
Redhorse Osaka Ferris wheel
Part of the ExpoCity is also a giant Ferris wheel. With its 123 metres, the Redhorse Osaka Wheel takes the pride to be the tallest Ferris wheel in Japan. However, that is not all. All its gondolas have glass bottoms, so you will really get the most panoramic view anywhere you look. Be aware though, that these glass bottom gondolas in this height are nothing for the faint-hearted.
Each gondola is equipped with air-conditioning in summer and it is heated in winter. It is also the world's first Ferris wheel built with seismic isolation structure to provide the maximum safety.
Fees
There are two types of gondolas in the Red-horse Wheel – the price for the regular gondola is 1000 yen (per person) and it can take up to 6 people. There are also VIP gondolas that can take 4 people and the price is 8000 yen. You will have to make a booking in advance for the luxury gondola.
Opening Hours
The Wheel operates daily from 10 am to 10 pm, with the last admission at 9:30 pm.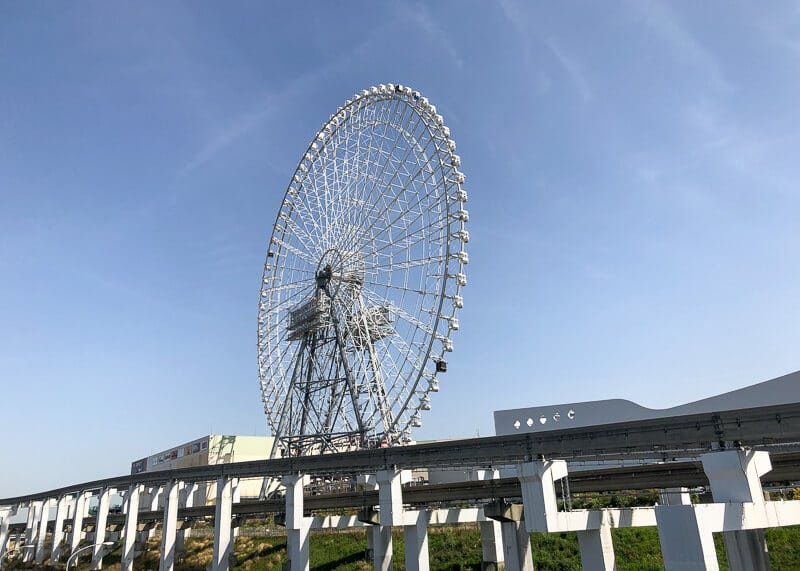 Nifrel AquaZOO
Nifrel is also part of the ExpoCity and it was built with the assistance of Osaka Aquarium Kaiyukan, one of the biggest aquariums in Asia. However, it is more than "just" an aquarium. It is an interactive space and a "living" museum that combines a zoo, aquarium and an art museum under one roof. Many of the animals don't live in cages so you can get really close to them. Its unique approach is enjoyable by kids and adults alike.
Opening hours
The opening hours may vary seasonally, so I would recommend checking their website prior your visit. The usual opening hours are from 10:00 to 20:00 and the last admission at 19:00.
Admission fees
The entrance fee for adults (including high school students) is 2000 yen. Elementary school students pay 1000 yen and younger children 600 yen.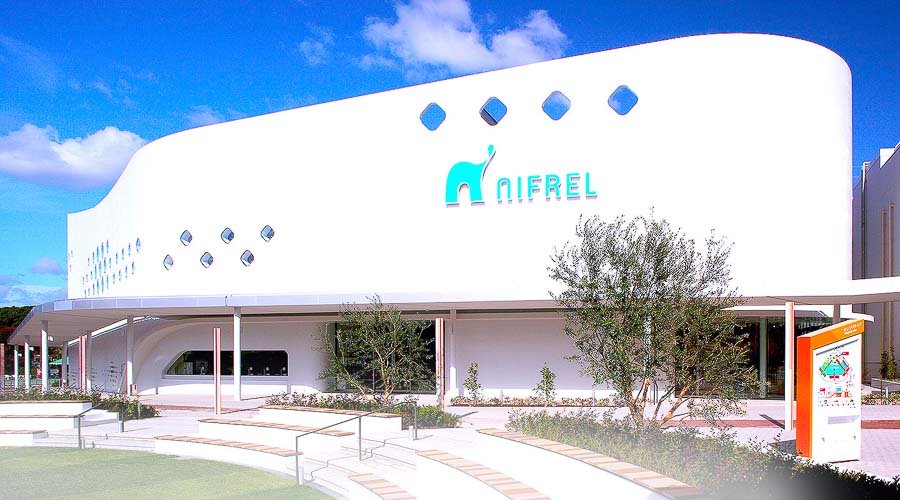 Useful information before you visit Expo 70′ Commemorative Park
Getting there
The Expo 70' Commemorative Park is located in Suita city on the north of Osaka. The most convenient way hot get there is by Osaka Monorail, which adds to the fun! The closest monorail station to the park is Bampaku-kinen-koen station, which is located right at the Expo-city.
From both Namba and Umeda stations you can take red Midosuji subway line to Senri-chuo and hop on the monorail from there. From Senri-chuo to Bampaku-kinen-koen it is only 6 minute ride (2 stops).
Another option is taking Hankyu Senri line from Osaka-Umeda to Yamada station and from there it is only one stop to the Park. From Yamada you can see the Tower of the Sun, however, it is still more than 2 km to walk, so I really recommend taking the monorail.
Fees and Opening hours
Even though it is a public park, you have to pay fee to be able to access the gardens. The admission for adults (14 years old and above) is 260 yen and 80 yen for kids.
The park is open daily, except of Wednesdays, from 9:30 to 17:00 and the last admission at 16:30. If a public holiday happens to be on Wednesday, the park will be open and closed on Thursday.