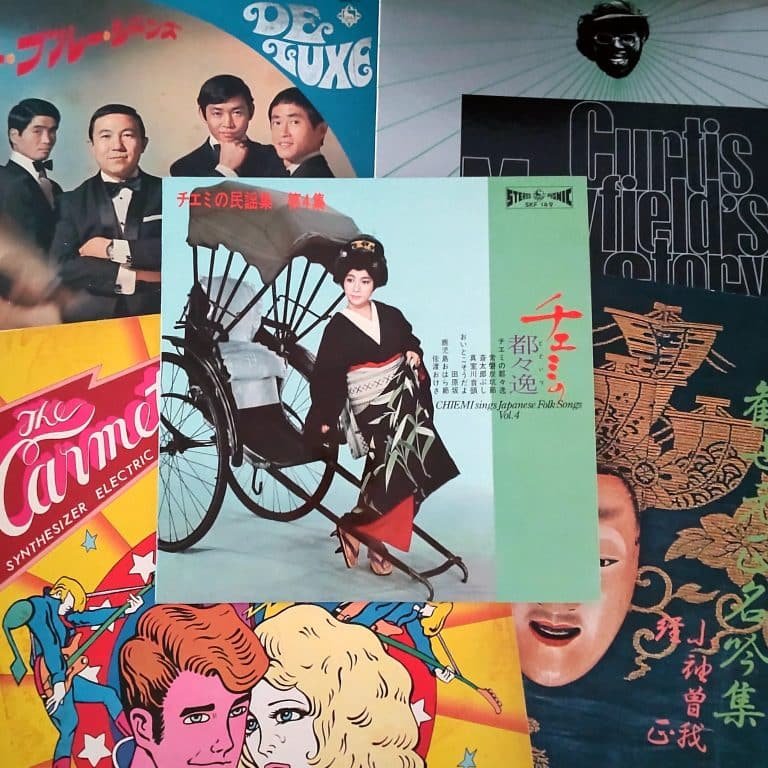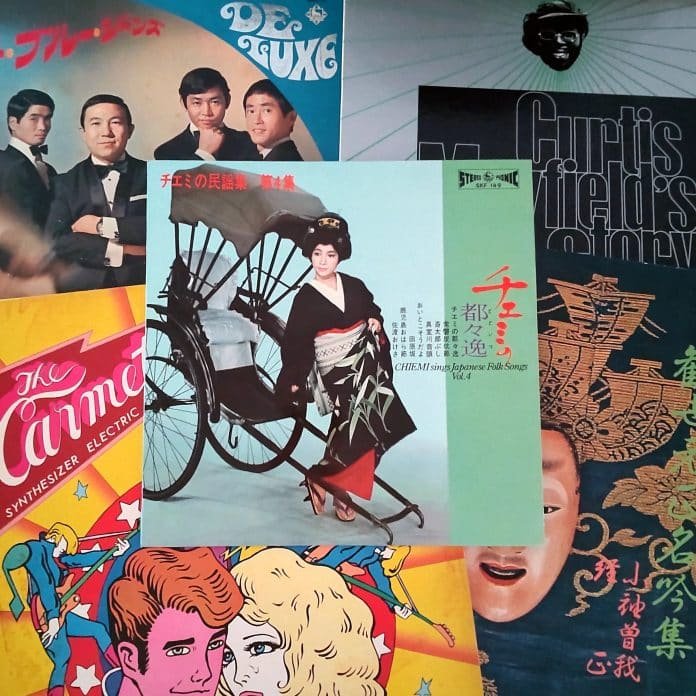 Where do I start?
Do you want to know some of the best places to buy music in Osaka? Okay, this will get you started. But you know you're gonna have to do some hard work, don't you? Don't you!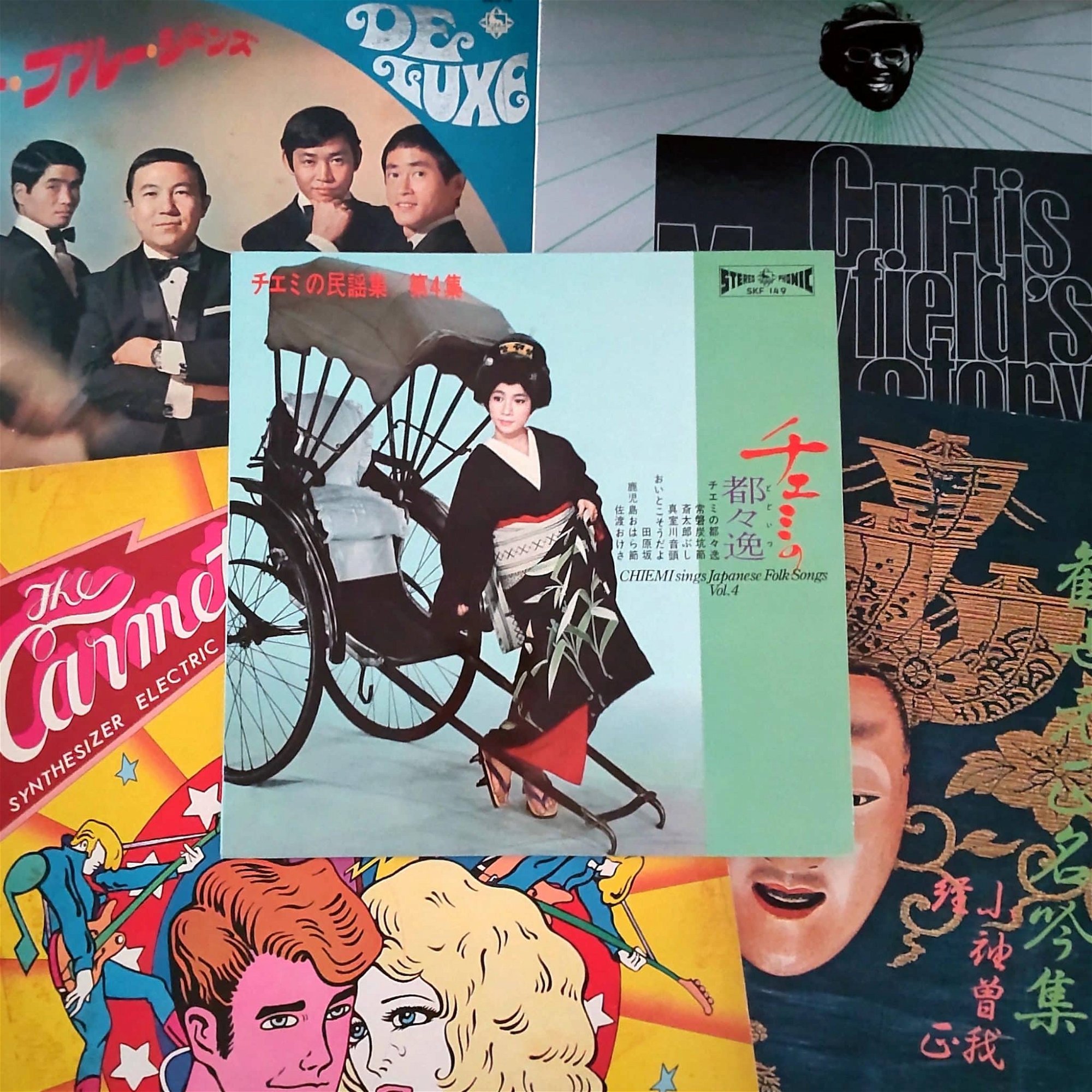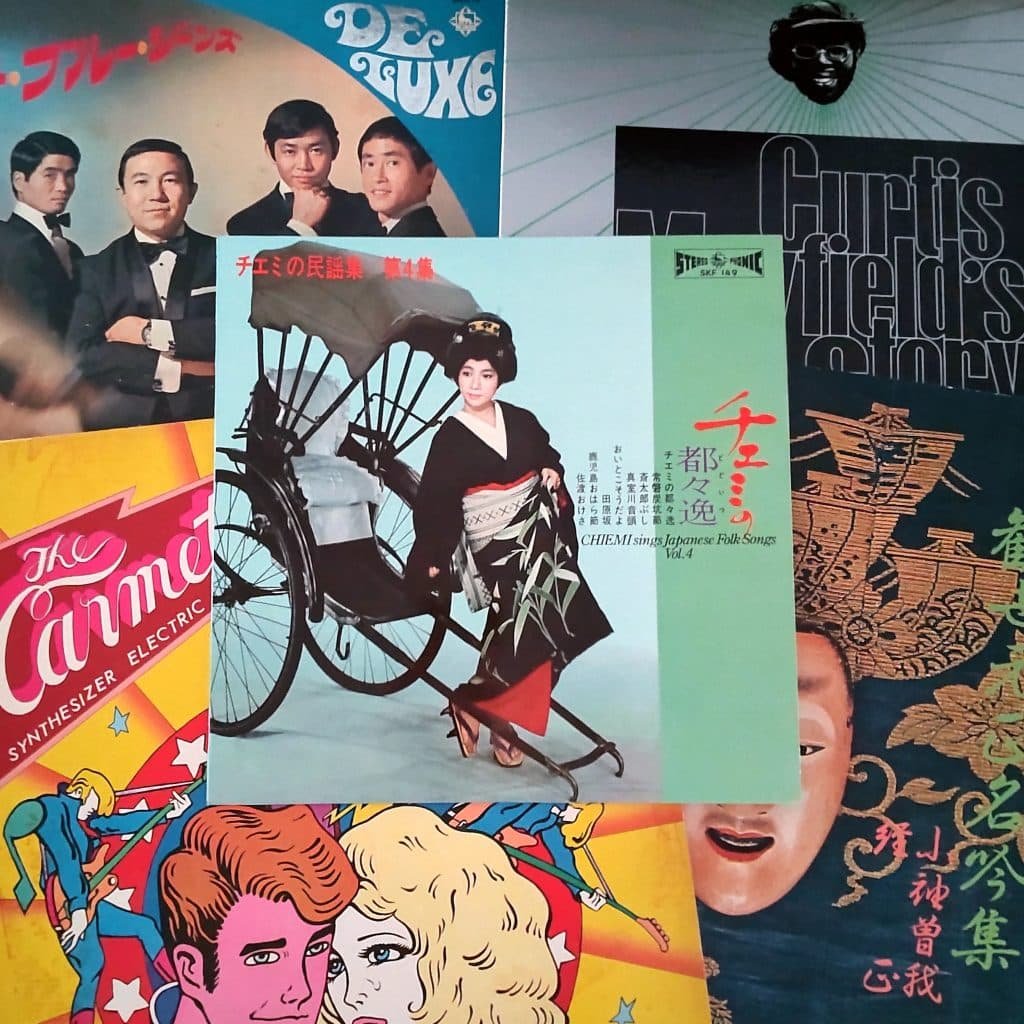 As a music junkie, I used to have three rules of music buying:
Rule number one: Never spend more than ¥500 on an album.
Rule number two: Never buy an album that you've already heard.
Rule number three: Always judge an album by its cover.
Rule number four: If a record shop doesn't have a bargain bin, leave. The bargain bin is where the digger meets his mentor.
OK, that's 4 rules. You caught me out, fair and square. Well done. You can count. You'll be needing that skill later, when it comes to haggling.
Rule 5 of 3: If you don't take risks, you'll never find any gems!
In any culture's music, there are amazing gems to be found, and that's no different in Japan, whose musical history is very different to that of America and Europe. The sooner you leave your preconceptions behind, the sooner you'll have your mind expanded, and start to find music that you never knew existed. That has been my experience time and again, in my 20 years of living in this country.
Disk Union: Umeda
Let's start with the obvious. Everybody knows Disk Union in Umeda. They know it because it has the best selection of the widest range of music of all the shops in Osaka at pretty reasonable prices, as as well as some super rarities at eye-watering prices. Unless you're the owner of a successful company, you can leave those pieces alone, and come away with some great bargains. Especially if you don't mind your records not having an obi strip, which can literally double the price of an LP. Music sounds better if it still has the original obi on it, right? Of course it does!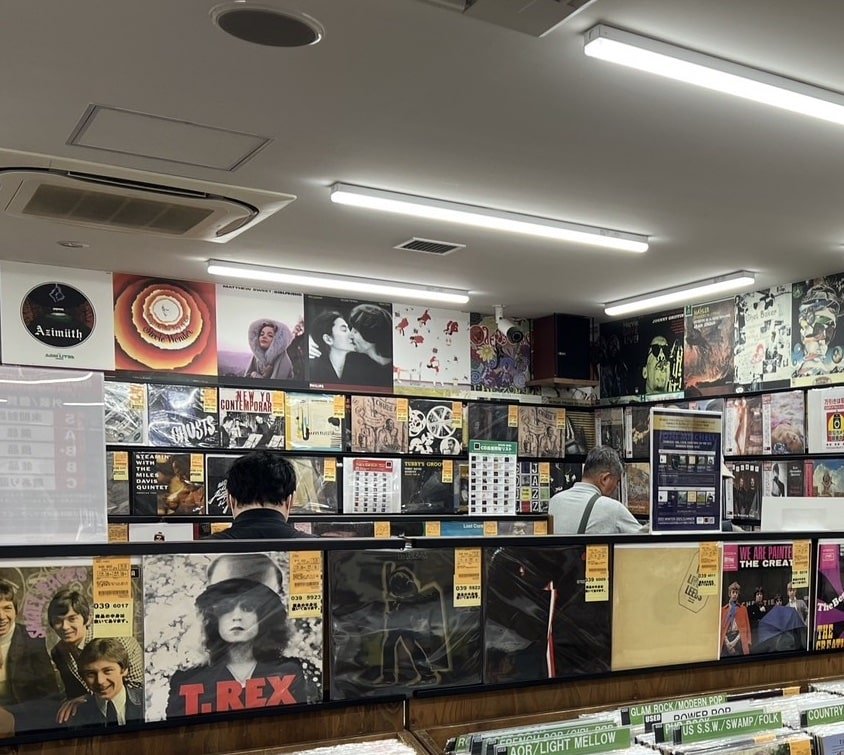 Where does the word "obi" come from?
Music junkie fact as relayed to me by the top record buyer in the Osaka area who wishes to remain anonymous. Let's call him Mr KM: The obi, which is found on most Japanese LPs and CDs, originally used with kimonos and books, was a shop's inventory system helper and for a while after they were introduced, they would be ripped off to help with stock-keeping. At some point, customers started to ask for the obi to be left on. Everything was working so well until the customer turned up! You can often get an obi-less version much cheaper because of the number of collectors who fetishize them.
Two shops in the same small cluster of buildings, Act III, about 10 minutes walk from JR Osaka, and Hankyu Umeda station. A rock pop shop and a classical shop, the latter of which shouldn't be ignored because there are Avant classical and Gendai ongaku (the phrase most-used for modern Japanese avant Garde like Toru Takemitsu, Steve Reich and Stockhausen) originals nestling amongst the Mozarts and Beethovens, and also boxes of all-genre 100 Yen records outside, in which you might find a few gems if your timing is impeccable, or very little if your timing is bad.
Be open minded! You're only going to waste a few 100 yen if you don't like what you've bought! Buy a handful! Live! In those boxes, I've found loads of interesting stuff but off the top of my head: Japan-only compilation overview of Curtis Mayfield's career imaginatively titled "Curtis Mayfield's Story", David Bowie bootlegs, lesser-known soundtracks, and the ever present, but excellent in the 60s and very early 70s Takeshi Terauchi & Bunnies LPs, and countless others. Advanced tip: check the correct record is in the sleeve. Even this 59 year-old writer has fallen foul of this perennial problem in recent weeks.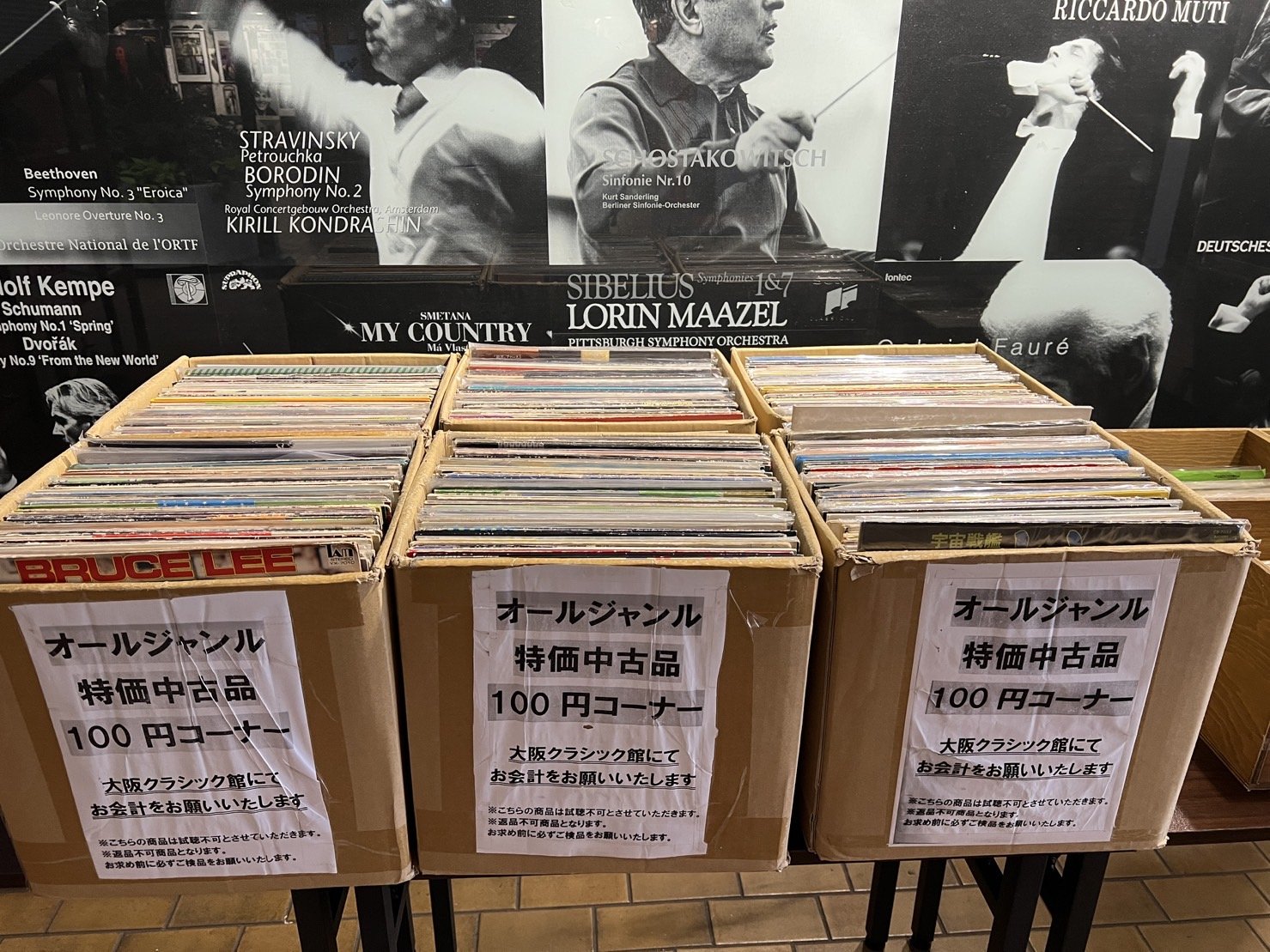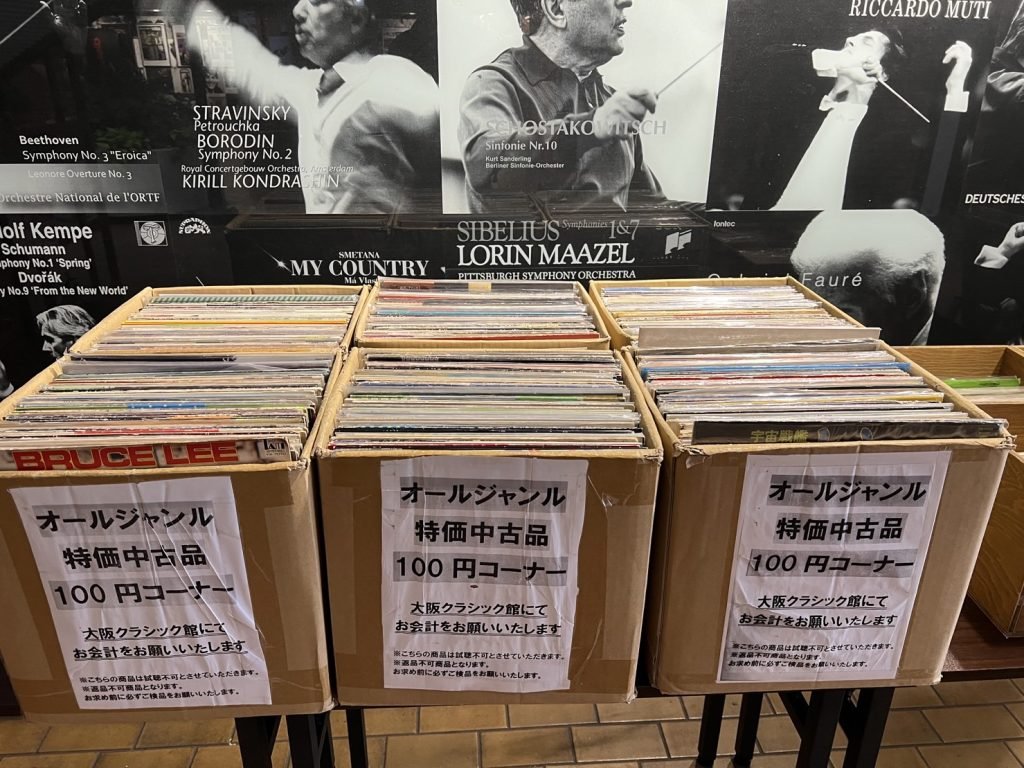 Moving onto the main attraction, the main all-genres store opposite the classical store is where most people will find what they're looking for. I have heard a rumour that if you turn right after entering the store, you'll find a large amount of CDs, but as I'm only able to turn left, I always find myself in the vinyl part of the store, which is split up into the fairly predicable sections of rock, pop, indie, jazz, soundtracks, heavy-metal, kayokyoku, dance, rap, world and reggae and then often subdivided.
There's also a special section for record store day releases, and boxes on the floor, underneath the racks, where you will find cheaper records. New releases and some collectables are displayed on the walls, which I generally don't bother to look at, but most buyers say you should always check. Staff are very efficient, but not particularly interested in chatting about music or recommending.
Pricing: 8/10 Bargain bin: 8/10 Friendly: 6/10. Helpful: 9/10; WTF Surprise potential: 8/10
Disk Union: 〒530-0027 Osaka, Kita Ward, Doyamacho, 15−17 ACTⅢ 1F. 10 minutes walk from JR Osaka, Hankyu Umeda. 5 mins walk from Nakazakicho subway station.
Phone: 06-6949-9219
Business hours: 12:00 (11:00 Saturday Sunday)-20:00 everyday.
Web: https://diskunion.net/
Map: https://goo.gl/maps/KJ6NnsNutFSfzaSE9
BOOK OFF
Recently shops like BOOKOFF are stocking more and more vinyl, along with the standard rows and rows of CDs. You'll have to take particular care, checking the quality of the vinyl itself, as the staff don't seem to do too much of that, but for choice and price, you'll be able to come away with a few a few hours worth of music for not much money. Also, if you're lucky enough to live in an area with a healthy recycle shop, you should visit it every few days to see what comes in. I've been finding that a lot of these recycle shops are keeping less and less vinyl and CDs these days, but they're always worth keeping an eye on.
Pricing: 6/10 Bargain bin: 8/10 Friendly: 5/10. Helpful: 6/10; WTF Surprise potential: 7/10
BOOKOFF: All over the city.
Business hours: Generally 10:00-22:00
Map: https://goo.gl/maps/SkceLzLbTJY7ed7V7
What about Amemura?
You might be wondering why I haven't spent much time talking about Amemura (America Mura) in this article, and that's not because the shops that don't have good stock, but because the prices are predicated on the rent paid in that area, and so tend to be rather overpriced for most music lovers. For that reason, I encourage any diggers who are shocked by the prices in those shops, to explore others in slightly out of the way areas, such as Chikotan in Nagai, where the stock is less picked over, and the owner will probably have more time to chat about music, and find be able to recommend you something, more than the busier shops.
Miserable old men shop owners
Record shops have been too long, the domain of miserable old men, and there are still a few in Osaka, so I never visit a shop for a second time owned by a miserable old git. Which brings us neatly on to:
Friendly shop owner #1: Gummo, Tototo Records
Tototo Records 5 minutes walk from Minami Morimachi subway station on the purple Tanimachi line. A small shop on the third floor, run by Gummo is the friendliest record shop owner in Osaka, always chatty with his customers and also well-connected to local musicians and events, and his shop is jam-packed with a variety of genres on vinyl, CDs, occasionally VHS, tapes, T-shirts, and all sorts of other music ephemera. That area is starting to attract other new record shops and, given the rents in America Mura, and in Umeda, this might become another cluster of interesting record shops in the near future. One word of warning: Gummo is super friendly, but don't expect to get one over on him, if you're selling your second hand music to him. He's a businessman and knows his prices very well.
Pricing: 7/10 Bargain bin: 9/10 Friendly: 10/10. Helpful: 10/10; WTF Surprise potential: 7/10
Tototo Records: 〒530-0041 Osaka, Kita Ward, Tenjinbashi, 1 Chome−18−14 . 4 mins walk from Minami Morimachi subway station.
Phone: 06-4397-3121
Business hours: Thursday-Sunday 12:00-20:00
Web: https://tototorecords.jp
Instagram: tototorecords_ig
Map: https://goo.gl/maps/k6CA8WEgbek2mqFPA
As always, be a regular if you can, and you might get a bit of special treatment after a while. If you're only in Osaka for a couple of days, be extra friendly and hope for the best. If you don't speak Japanese, don't be intimidated. Speaking your own language with enthusiasm goes a long way. Start with: Sumimasen, nihongi dekinai … then be enthusiastic!
Chicotan Records Nagai
Chicotan Records in Nagai is a perfectly-formed tiny shop in the back streets of Nagai park. Only 10 minutes walk from the Nagai subway station on the Midosuji line, the owner is reserved but extremely knowledgeable if you can get him talking, you'll find that he has decades of knowledge and will be able to help you find one or two very interesting items. As far as I know he doesn't speak English, so if you can take a Japanese speaker you'll get better results. Loads of bargain bin boxes on the floor, full of records in various states of slight disrepair, but as always, get your washing machine working and make the best of what you buy.
The last time I went there we talked about Maki Asakawa and how some of her later LPs a bit tricky, after which we navigated towards Gendai Ongaku, the Japanese term for avant-garde music, after which the owner recommended to me a fantastic Yoshitaka Azuma LP, Moonlight Of Asia, an obscure 80s electronica classic which I had never even heard of before. Price with obi: ¥1000. In the bag! How can you possibly go wrong with that kind of recommendation? Yes, out of the way. Will it be open? probably. Worth the effort? Definitely!
Pricing: 9/10 Bargain bin: 9/10 Friendly: 5/10. Helpful: 8/10; WTF Surprise potential: 8/10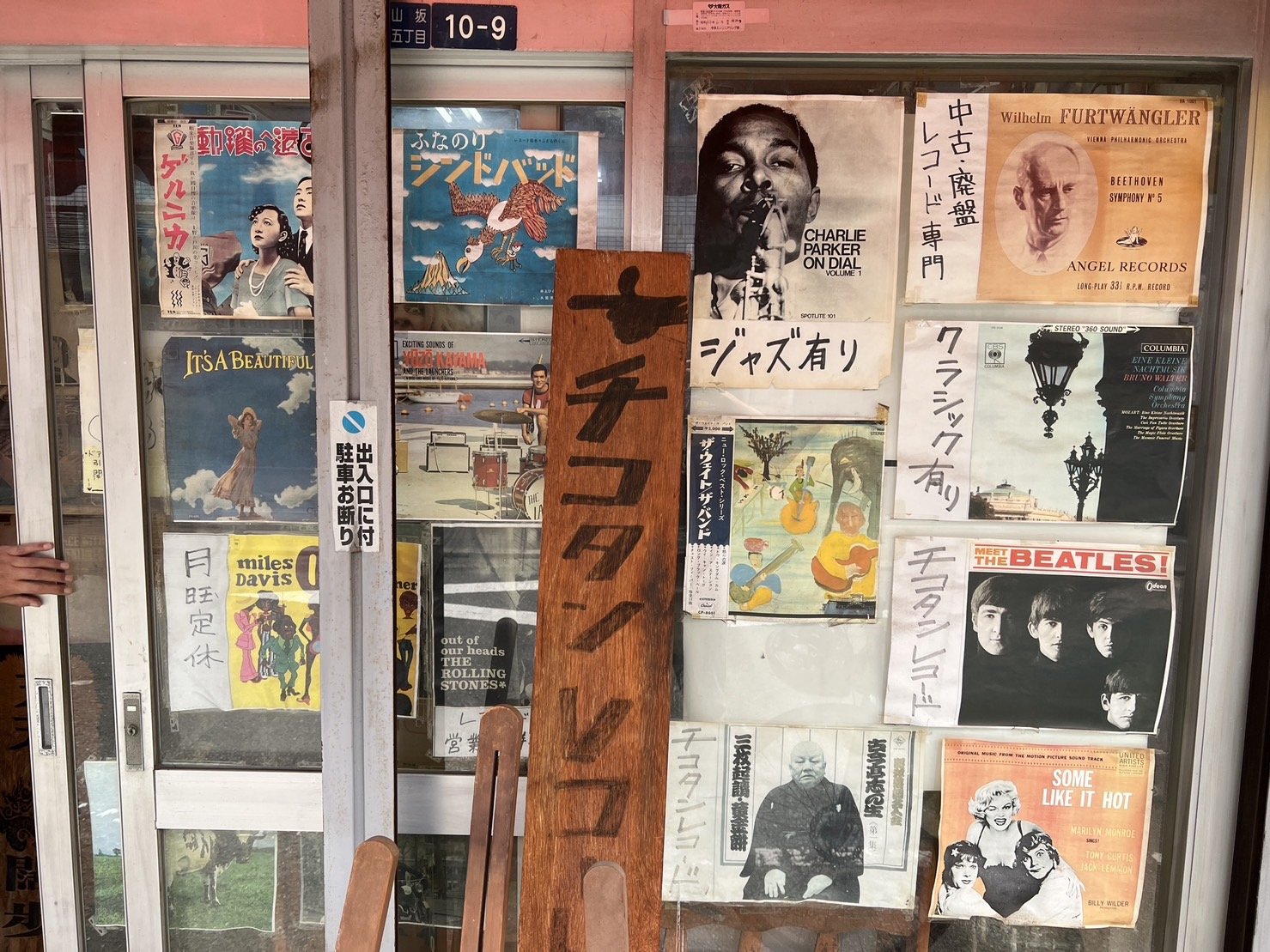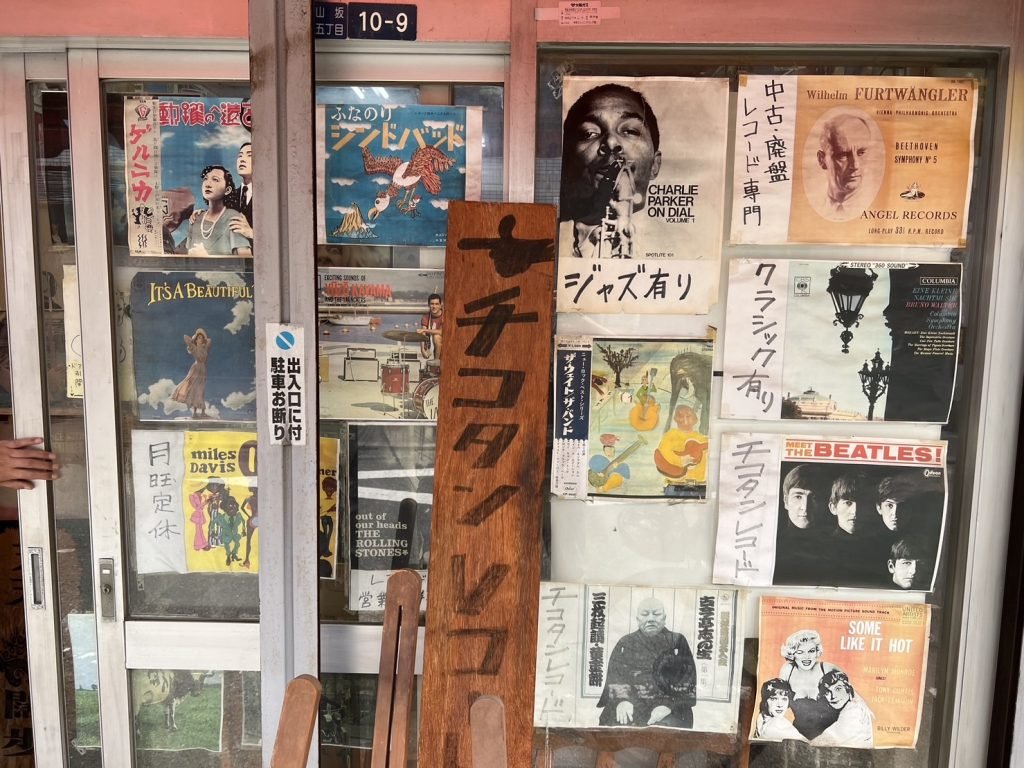 Chicotan Records Nagai: 5 Chome-10-9 Yamasaka, Higashisumiyoshi Ward, Osaka, 546-0035. 3 minute walk north from JR Tsurugaoka Station. 10 mins walk from Nagai subway station.
Phone: 080-1448-7386.
Business hours: Tuesday – Sunday (13:00~18:00)
Map: https://goo.gl/maps/5cTPjqCGzXDJ42SR9
Shitennoji Flea Market
The number of flea markets in Osaka has decreased over the last few years, especially during the Covid period, but flea markets can be a fairly productive source of records and CDs such as Shittenouji flea market near Tennoji, has been going for many many years and still has plenty of stalls which sell extremely reasonably priced CDs and records, as well as all sorts of other tat for your significant other. Taking place on the 21st and 22nd of the month, the earlier you get there, the better the worms of course, but even if you turn up late, and dig hard, there will be remaining treasure. I promise.
On my most recent visit on in May, I found the 7 inch Soundtrack theme of the amazing Japanese animated movie, Belladonna of Sadness by Mayumi Tachibana (soundtrack by Masahiko Sato re-issued by Finders Keepers in 2015 and a stone cold classic) and a few LPs, none of which were more than ¥500, so rule 1 still applies. In fact the price of LPs at Shitennouji hasn't increased for as long as I can remember. If you can haggle, either in Japanese, or in your own language, and be nice with it, you'll earn the respect of stallholders, and come away with cheaper shopping bills. Don't expect it to work every time, because it won't, but chat to the stallholders and you might be surprised what happens. If you go *really* early, don't forget your flash light.
Shittenouji Flea Market (21st & 22nd of each month. Starts early!):
Shitennouji, Tennoji Ward, Osaka, 〒543-0051. 5 mins walk from Shitennōji-mae Yūhigaoka subway station
Map: https://goo.gl/maps/qxkWSngvDWvTQ43m8
Friendly man #2: Junya, Drella Records
Drella near Shinsaibashi, is a tiny well-packed shop tucked away behind the shops on a side street. Owner Junya, another very-friendly soul, always prepared to help you try to find something to suit your tastes and happy to chew the fat. Prices are reasonable, even slightly on the cheaper side, so you don't need to worry too much about breaking rule number 1 to an extent. Because the shop is so small, you'll find less in every genre but I've found plenty there. Friends have recently found real gems in the noise genre.
Good finds for this writer: Tim Buckley's 1st album Australia pressing 1400 yen, a compilation of UK Zoo Records including Teardrop Explodes, Big In Japan etc 1000 yen. The shop is so small, I don't think it has a bargain bin, but the prices are very reasonable so they're forgiven. If you're a noise music collector, such as Nurse With Wound, Organum or Lemon Kittens, you might be lucky.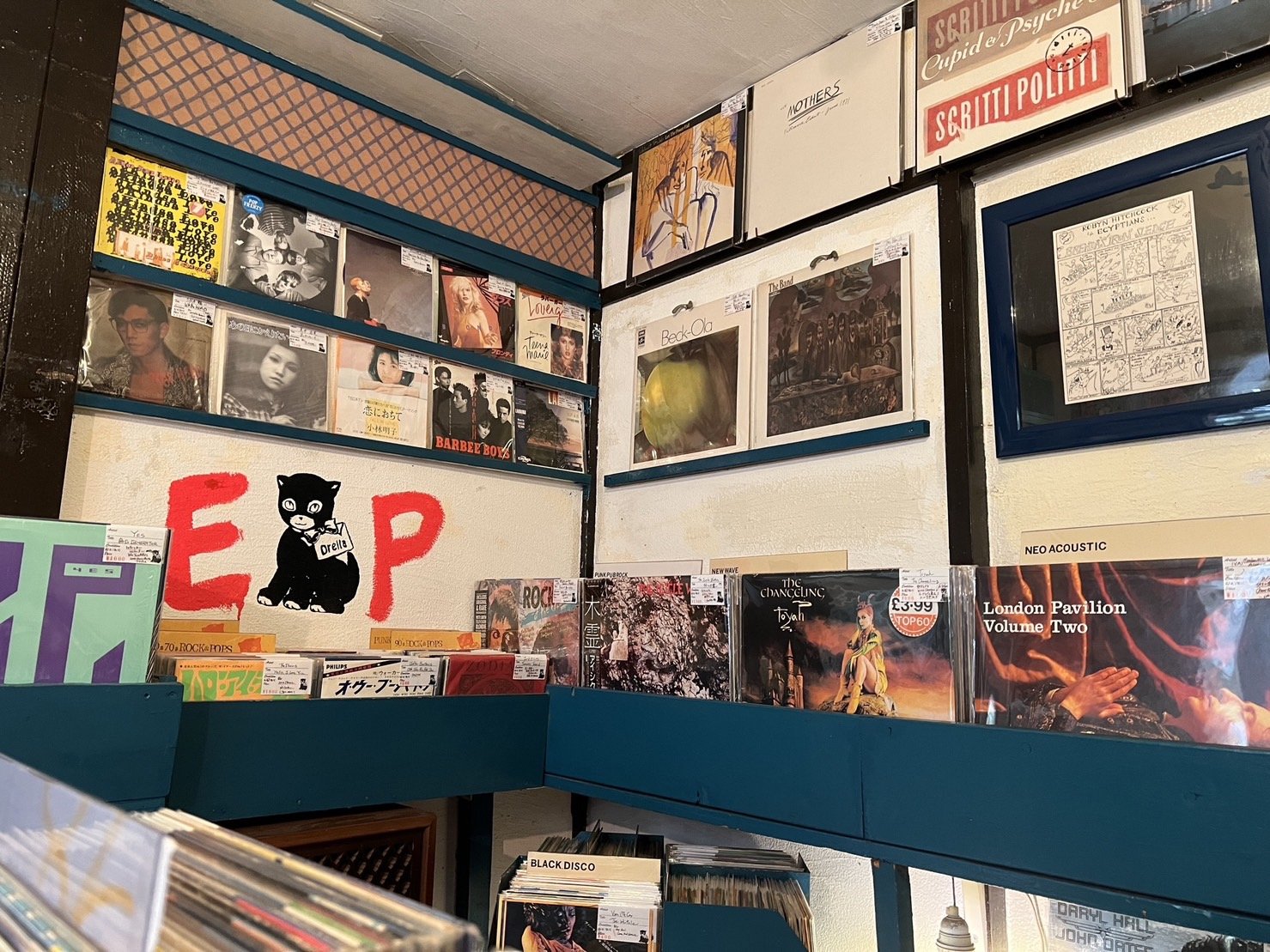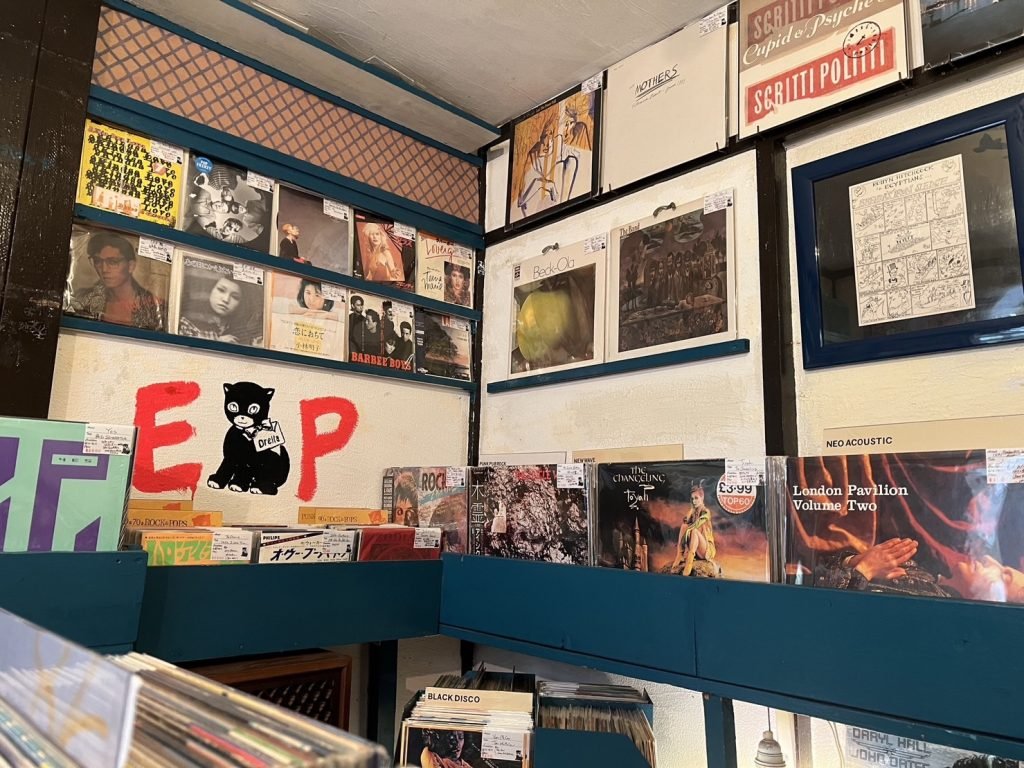 Drella Records: 〒550-0013 Osaka, Nishi Ward, Shinmachi, 1 Chome−22−20. 8 mins walk from Shinsaibashi subway station.
Business hours: Thursday -Tuesday 13:00〜19:00
Phone: 06-6568-9294
Web: https://drellarecord.com/
Map: https://goo.gl/maps/Mm4nSJBiykHv8Sf99
Keep a look out for new shops and share!
Don't forget that places that sell LPs and CDs are constantly closing down and opening up, so explore, wherever you go, and share that information with your fellow diggers, who in return will share their information with you. There is always enough to go round, and there may be a vinyl revival going on at the moment, but in any moment soon, another mass offloading of vinyl and CDs could be about to happen so get some points in the bank.
Osaka Record Map
Get yourself an Osaka Record Map, on the counter of most of the places I've mentioned, and most of all, don't pay stupid prices. There are bargains to be had all over Osaka if you are prepared to be patient and dig hard!