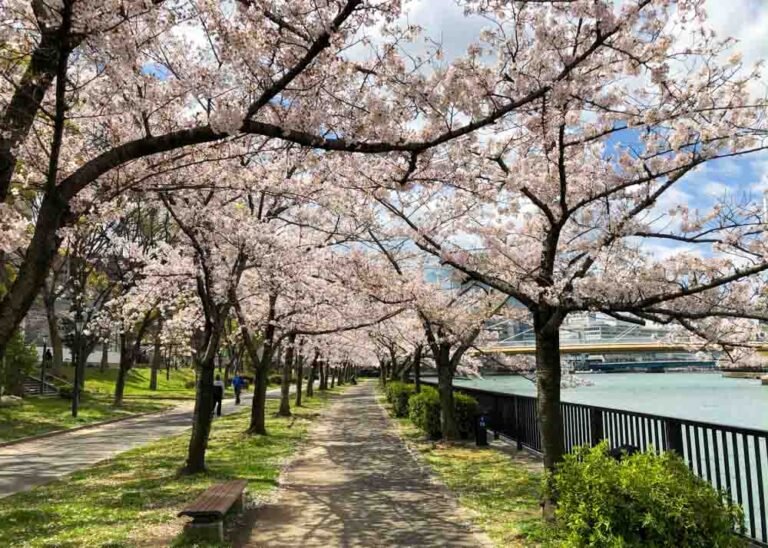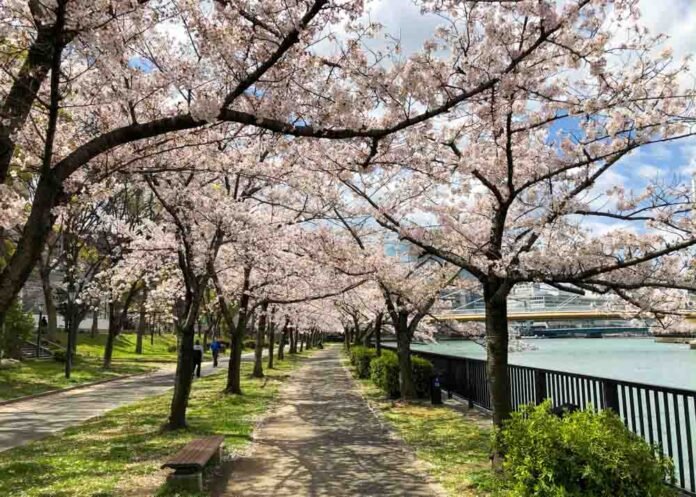 Cherry blossom viewing (or hanami 花見 in Japanese) is one of Japan's biggest events. Friends and families gather to view the highly anticipated blooming of the pink cherry blossoms. An explosion of pink petals, lines the streets of Japan, attracting millions of people across the country and world. The ephemeral, euphoric and short-lived cherry blossom season lasts just a few weeks. Whilst being one of the most beautiful sights in Japan, the tradition of hanami dates back centuries ago, conveying life, death and renewal.
What are cherry blossoms?
Cherry blossom flowers (or sakura in Japanese) are part of the Prunus tree, which are grown throughout the world. They are most commonly found in countries with temperate climates, like Japan and areas in Northern Europe. In many countries, the species of cherry blossoms produce smaller petals which, whilst still beautiful, are not as suitable for hanami.
In Japan, the Prunus Speciosa (Oshima Cherry) and Prunus Jamasakura (Yamazakura) cross-bred species are grown throughout the country. There are larger trees and bloom significantly larger flowers, making them a beautiful spectacle. Cherry blossom trees are easy to mutate so many of the trees found in Japan are cultivars. These have been specifically grown and sustained for their beautiful flowers, which started from the Heian Period (794-1185). They are mostly white in colour but have a slight tinge of pink and are most commonly found around rivers or castle moats. Additionally, they bloom and usually fall within a week.
Different varieties of cherry blossoms bloom at different times of the year. However, most hit full bloom during late March and early April in Osaka. However, in colder regions of Japan, such as the Northern prefecture of Hokkaido, flowering starts during late April and full bloom during early May.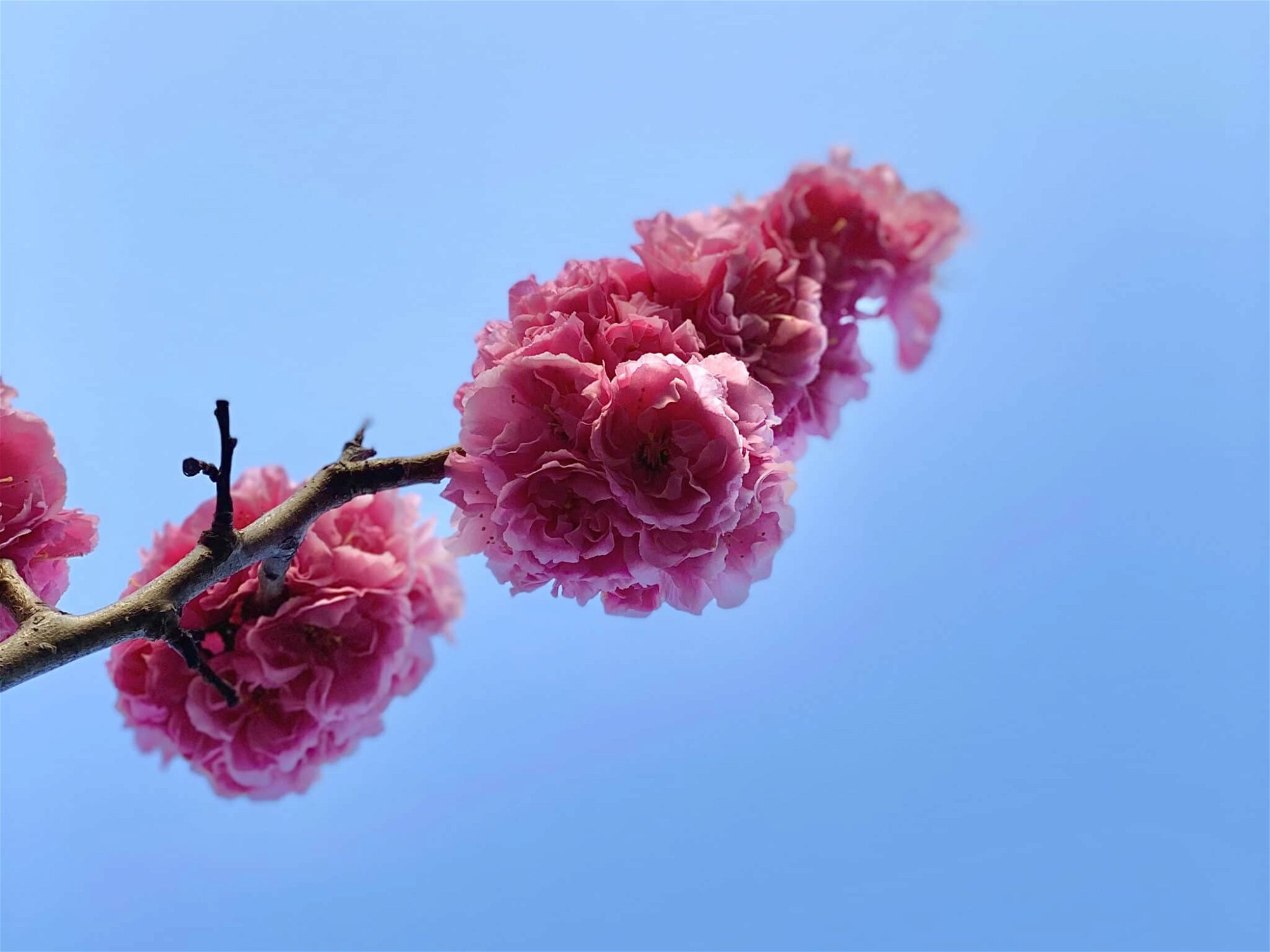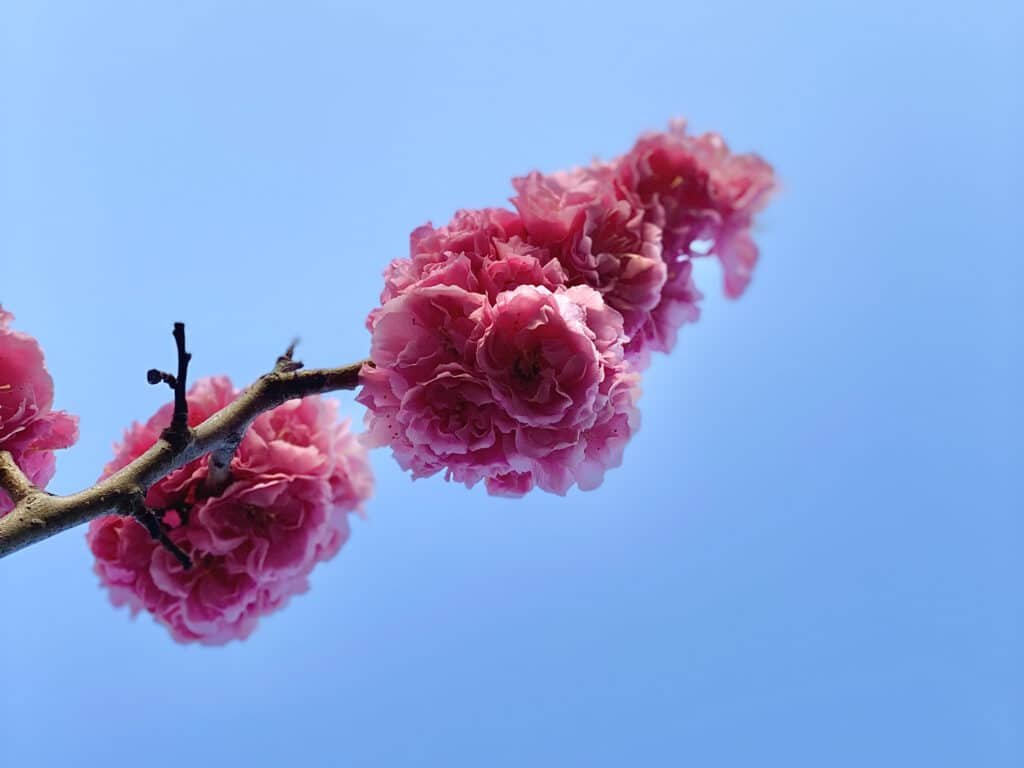 History and Meaning of Cherry Blossoms
Cherry blossom runs deep through Japanese culture and history. It can be found on countless paintings, folding fans and many everyday items. Tied to Buddhist and Shinto influences, cherry blossoms convey themes of mortality, mindfulness and living in the present – they are a metaphor for life. The initial stage of flowering is slow but soon erupts with beauty during blossoming. The full blossom is short yet glorious, gracious and intoxicating yet they now the inevitable fate. Finally, as they slowly float down from the trees, it reminds us that our lives are fleeting too. The rise and fall of cherry blossoms helps us not to forgot to cherish the little things in life. It can end at any moment, so why not enjoy and revel in the things we have around us – friends, family or a beautiful sunny day.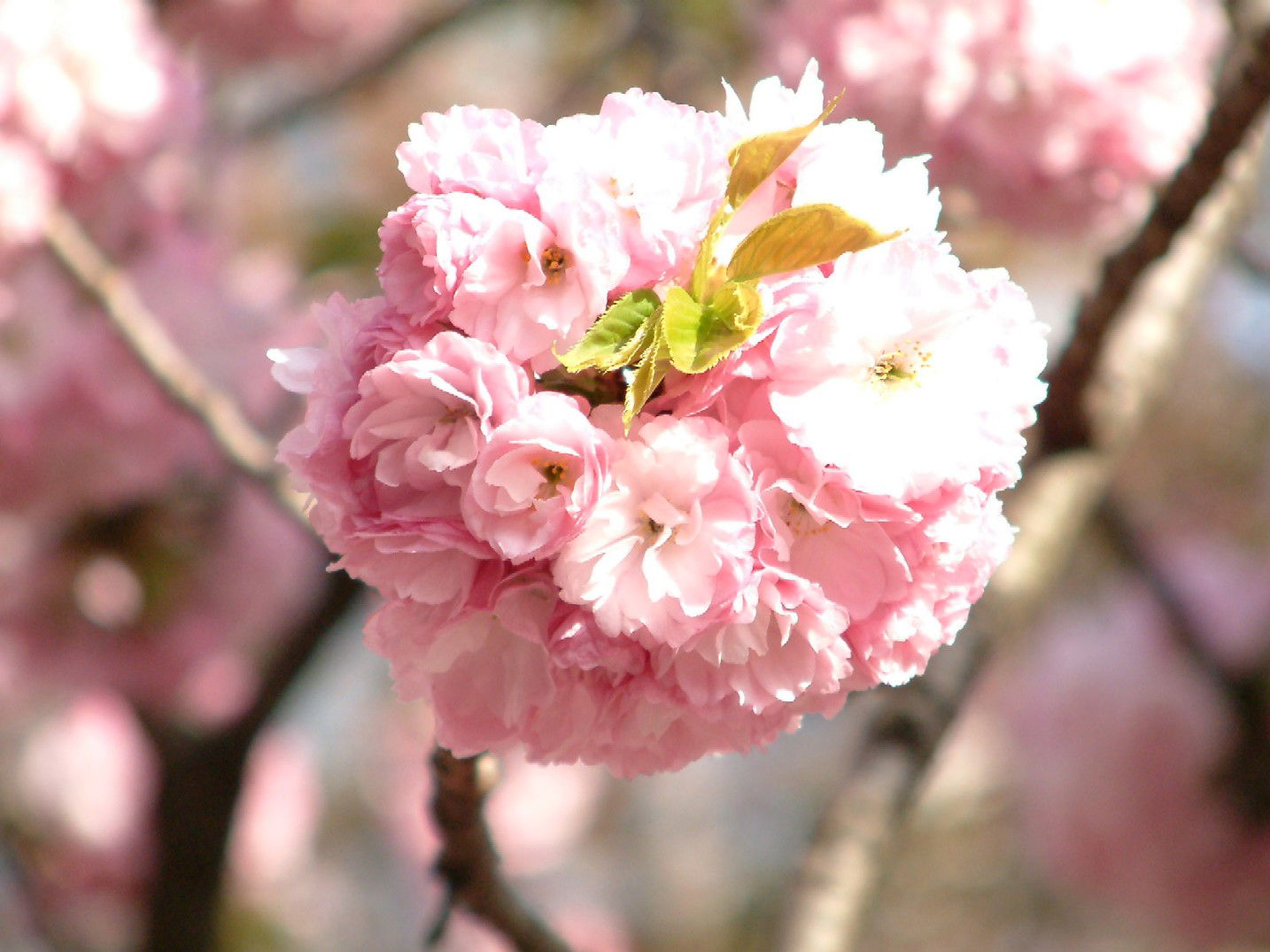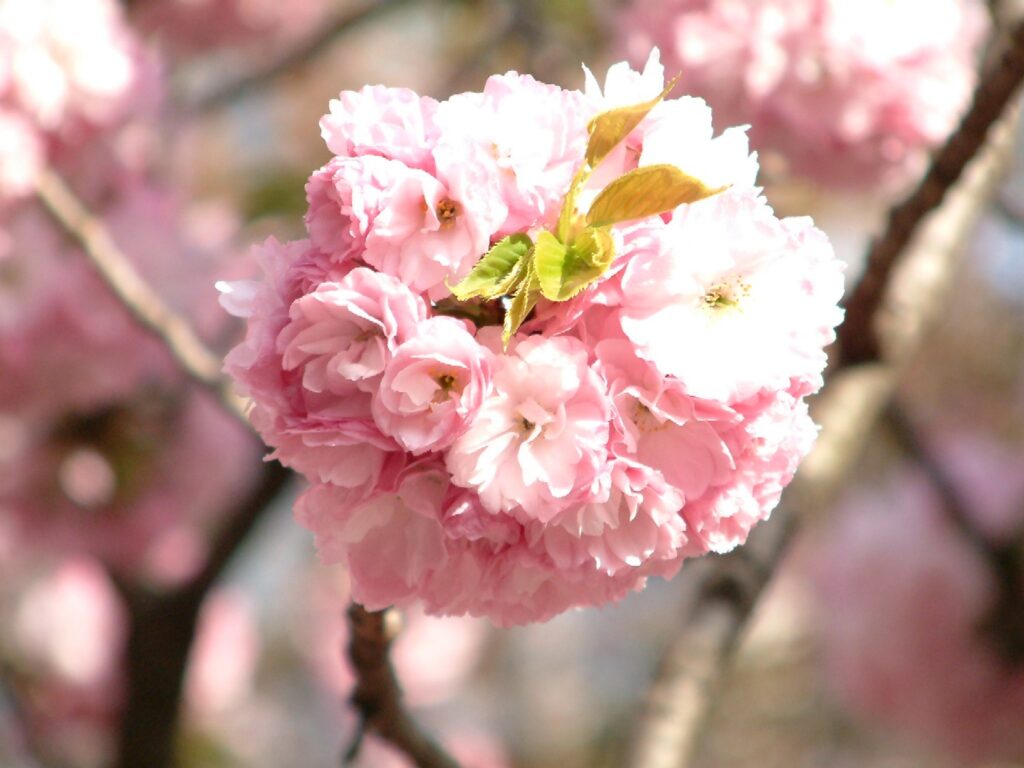 Hanami
The ancient tradition of enjoying the stunning cherry blossoms bloom is hanami – which literally translates to "flower viewing". Groups of friends and families gather under the blossoming trees, enjoying food and drinks. The practice of hanami began during the Nara period (710-794) when people admired plum, or ume, trees. These bloomed much earlier, around mid-January to the end of February. However, from the Heian period (794–1185), sakura flowers became more popular. At this time, hanami only members of the Imperial Court took part in hanami. It soon spread to the samurai society and then by the general public in the Edo Period.
Now, millions of people enjoy hanami all over Japan, making it one of the most anticipated events of the year. Groups of people, prepare a tarp for the day-long viewing. Food, drinks and games are often prepared in advance. Everyone takes off their shoes before getting comfortable on the tarp, whilst enjoying homemade bentos, which are sometimes sakura-themed. In many areas, you can also enjoy the spectacular sakura trees in the evening. Illuminations light up the trees creating an ethereal atmosphere, so you can enjoy hanami all day long!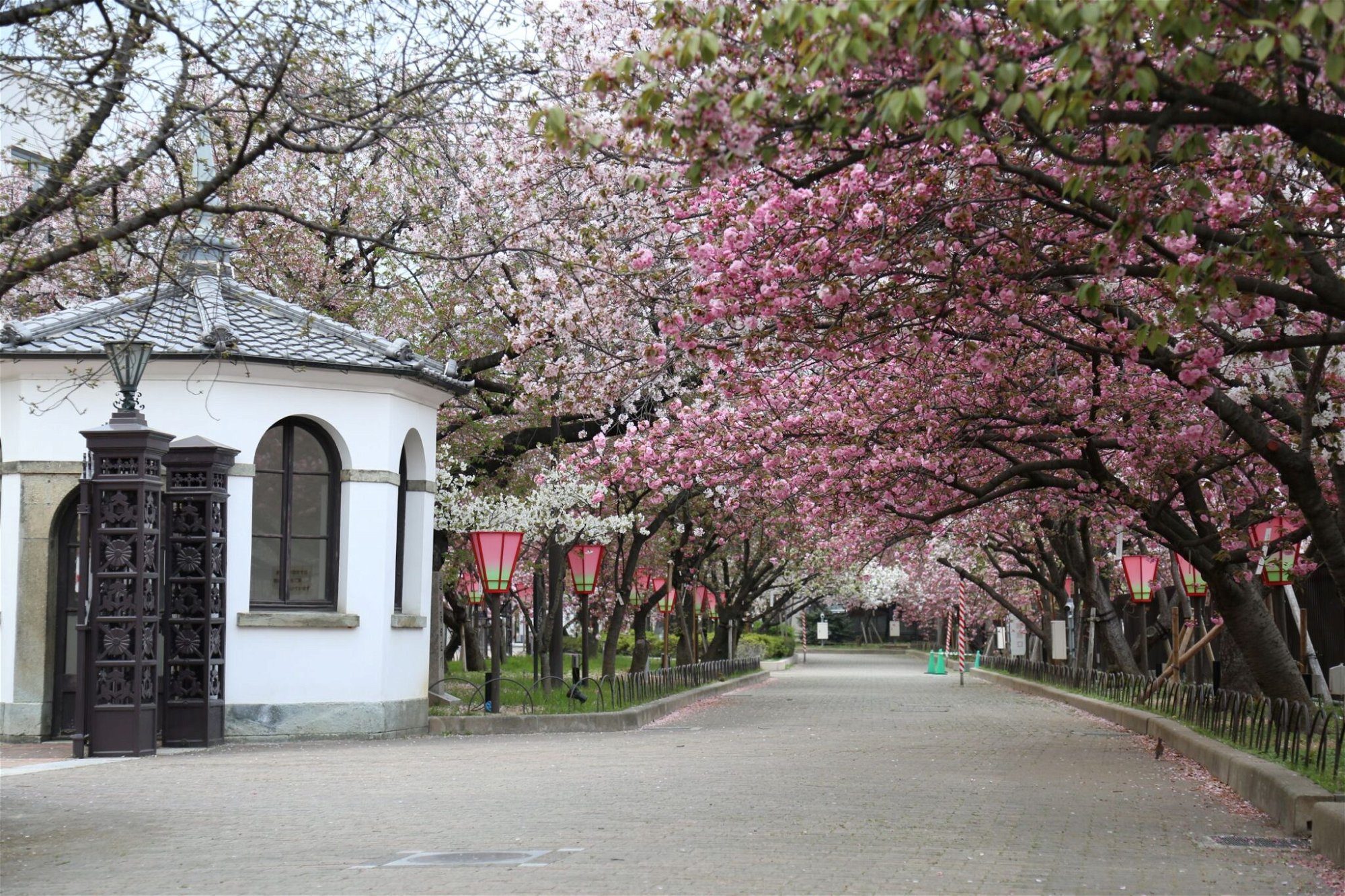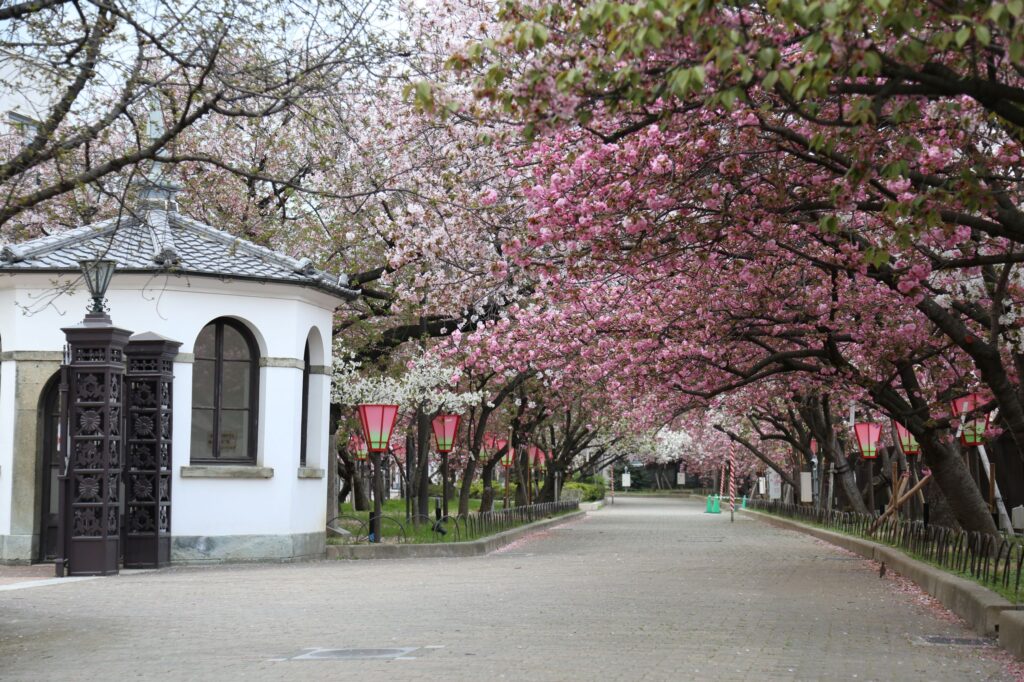 Tips o to enjoy Hanami
Get there early
Being one of the most popular events of the year, it can get very crowded, very quickly. Many companies have staff hanami parties, as well as large groups of friends and families. Typically, they arrive early and mark their spot by leaving their tarp on the desired spot. Whilst in some places, it may be hard to get the perfect spot, if you arrive early in the morning, there are plenty of good places available.
Perfect spot
Once you enter the area suitable for hanami, avoid setting up near sidewalks and trashcans. Whilst it may be quiet when you first arrive, it will get extremely busy as well as dirty around trash cans.
Toilets
During peak times, there will be long queues for the toilet. If you feel the urge to go, get there early! Another note is to bring tissues and wet wipes as public toilet paper may also run out during the day.
Bring Warm Clothes
Whilst the temperature may be warm whilst walking around, hanami is usually sitting down for the most part. Therefore, always bring an extra jumper, jacket or blankets, especially if you are planning for a long hanami!
Bring Warm Clothes
Whilst the temperature may be warm whilst walking around, hanami is usually sitting down for the most part. Therefore, always bring an extra jumper, jacket or blankets, especially if you are planning for a long hanami!
Top Spots in Osaka
1. Osaka Castle Park – Nishinomaru Garden
Osaka castle is one of the most iconic landmarks in the city. The eight storied castle sits powerfully on sheer walls of cut rock, surrounded by moats. Along these moats, there are over 3,000 cherry blossom trees, with most of them located in Nishinomaru Garden. This garden resides in the castle's former western citadel, boasting 600 cherry blossom trees as well as a tea house. From the garden, there are stunning views of the castle along with he beautiful cherry blossom trees.
The whole castle grounds and parks cover over two square kilometres with plenty of green spaces as well as small shrines. Whilst you can enjoy the sakura sitting down at Nishinomaru Garden, you can also walk around the castle grounds enjoying different views.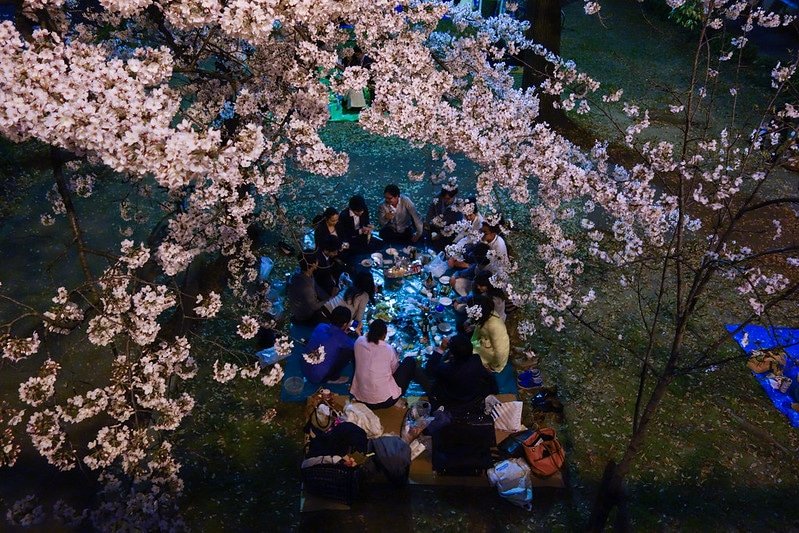 Access

Opening Hours: 9:00 – 17:00 (March – October), 9:00 – 16:30 (November – February) Admissions close 30 minutes before closing time (20:00 during cherry blossom season)
Admission Fee: 200 yen all year (350 yen during cherry blossom season) Free for children middle school age and under, Osaka city residents age 65 and over, and those with disabilities
Website: www.osakacastlepark.jp
Address: 2 Osakajo, Chuo Ward, Osaka, 540-0002
2. Kema Sakuranomiya Park
Cherry blossoms line the riverside park, which is ontop of a river terrace. It runs from the Kema Araizeki (overflow weir) and Temmabashi Bridge. Surrounded by office buildings in the financial district of Kitahama, Kema Sakuranomiya Park is an oasis in the city. The rows of cherry blossom trees centered around Tenmanbashi to Sakuranomiyabashi (Ginbashi) are incredibly beautiful! Over 4,800 cherry blossom trees, spanning 1.3km, it is one of the top spots in Osaka. Furthermore, there is a water bus available to ride and view the sakura from the water!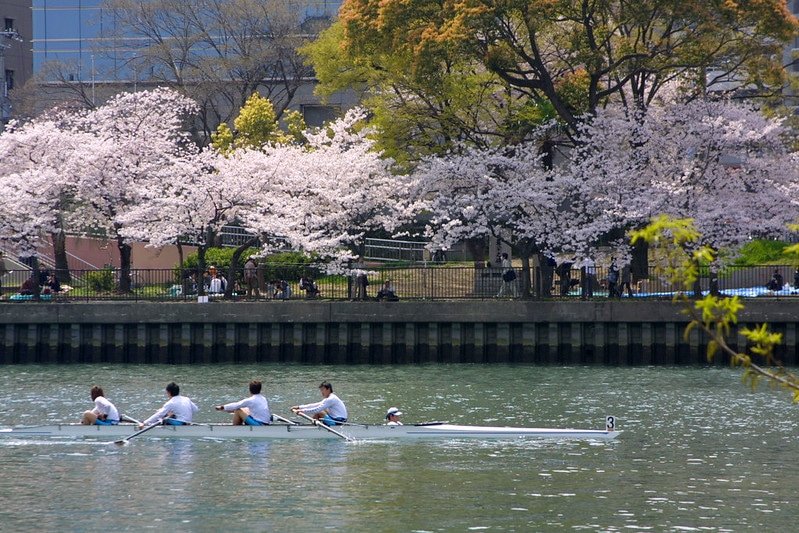 Access
Opening Hours: Always Open
Admission Fee: Free
Website: www.osakapark.osgf.or.jp
Address: Nakanocho, Miyakojima Ward, Osaka, 534-0027
3. Osaka Mint Bureau
The Osaka mint Bureau is the head office of Japan Mint. This is a governmental agency that is responsible for all of Japan's coins and medals. Whilst the building is of great importance, the surrounding gardens are beautiful. Every year the gates are open for the public to view the trees for free. There are more than 300 trees with over 100 different varieties. Most of these are the later blooming yae-zakura trees, with more than five petals per blossom.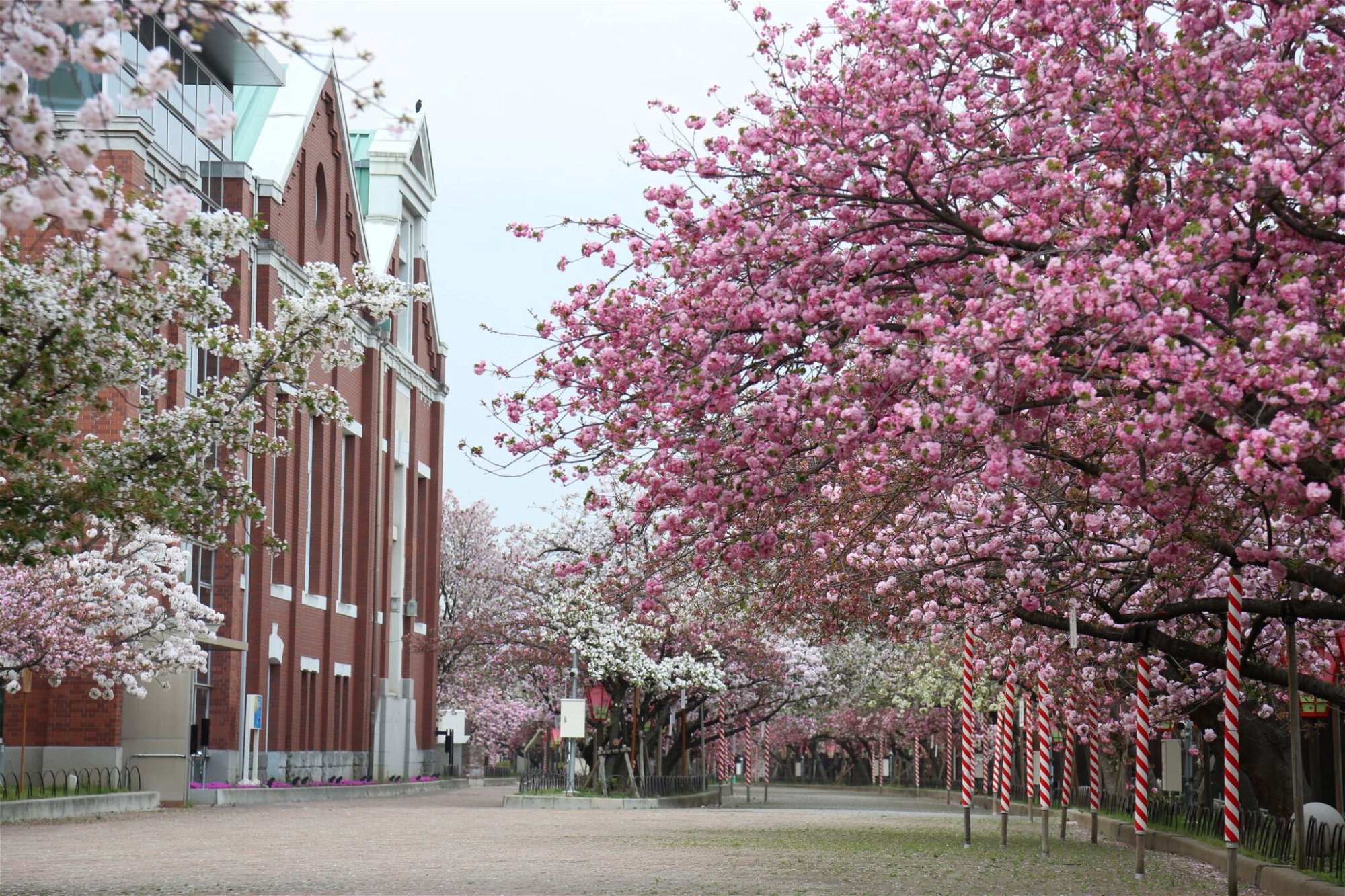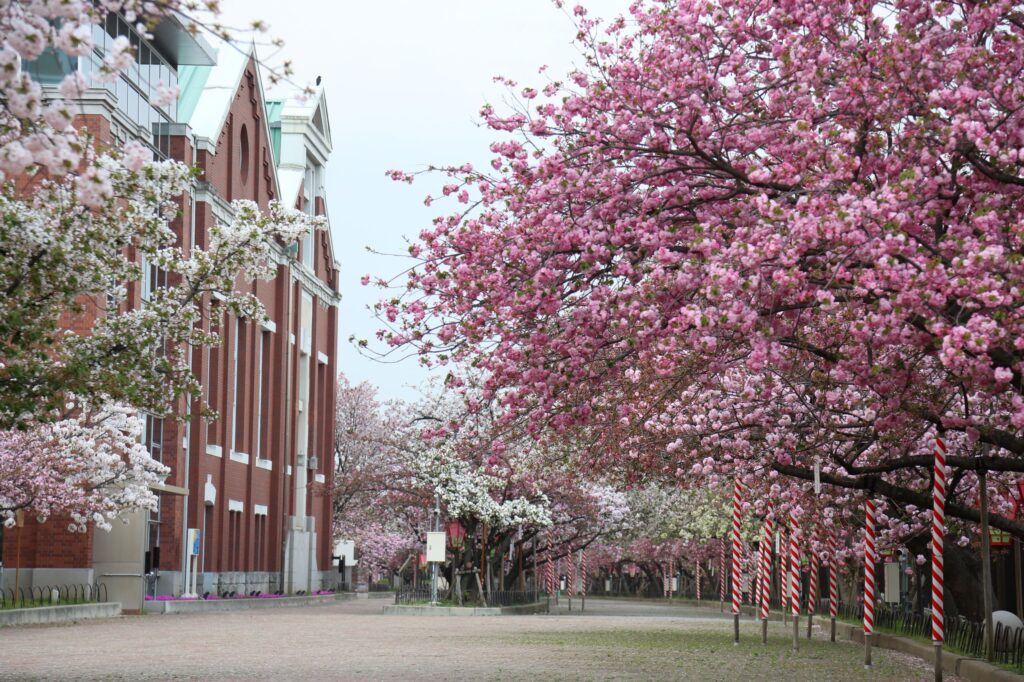 Access
Opening Hours: 9:00am to 4:45pm (entry until 16:00)
Admission Fee: Free
Website: www.mint.go.jp
Address: 1 Chome-1-79 Tenma, Kita Ward, Osaka, 530-0043
4

. Daisen Park
Daisen Park is in Sakai City, next to the Kofun of Emperor Nintoku, the world's largest burial mound. With approximately 1000 cherry blossom trees and 51 different species, the park aims to be the top hanami spot in Osaka. There are many different features of the park, such as the rock garden and peace tower. However, the Sakurakaido is the most impressive. Historically, the Umagase Highway used to run through the park. From 1995, operations began to preserve the road and integrate it with the park. Weeping cherry trees line the road, which blooms a spectacular dark pink colour.
Access
Opening Hours: 9:30am – 5pm
Admission Fee: 200 yen
Website: www.city.sakai.lg.jp
Address: 2 Chome-204 Mozusekiuncho, Sakai Ward, Sakai, Osaka 590-0802
5. Expo '70 Commemorative Park
Known as the "Tower of the Sun", the park is one of the "100 Best Cherry Blossom Spots in Japan". Along the Higashioji, which leads to the Tower of the Sun, boasts around 5,550 cherry blossom trees. Located in the south-eastern section of the park, the Higashioji area offers the most spectacular views o the sakura and the Tower.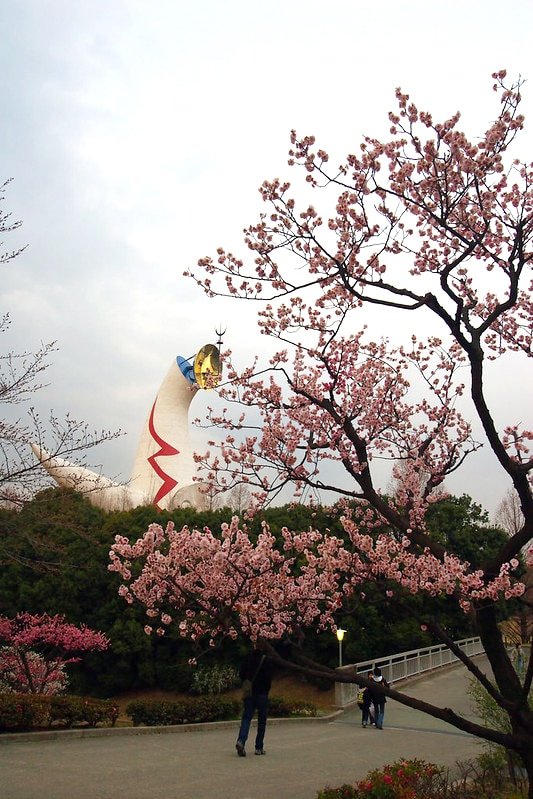 Access
Opening Hours: 9:00am – 5:00pm (9:00pm during Cherry Blossom season)
Admission Fee: 260 yen
Website: www.expo70-park.jp
Address: 1-1 Senribanpakukoen, Suita, Osaka 565-0826
6. Satsukiyama Park
The park is in the centre of Ikeda City. It's a vast park that spreads over Mt.Satsuki at an altitude of 315m. It's famous for its 35,000 cherry blossoms. Here, you can get a beautiful view of the sakura and Osaka City. Additionally, there are large complex grounds and Satsukiyama Zoo!
Access
Opening Hours: Always Open
Admission Fee: Free
Website: www.ikedashi-kanko.jp
Address: 2 Chome-5 Ayaha, Ikeda, Osaka 563-0051
7. Katsuo-ji
The temple is somewhat less popular in comparison to other places. However, the stunning sakura against the backdrop of the temple makes it one of the best views in Osaka. In particular, the late boom weeping cherry blossom from mid-April to May is a must visit!
Access
Opening Hours: Mon-Fri 8:00am – 5:00pm, Sat 8:00am – 5:30pm, Sun 8:00am – 6:00pm
Admission Fee: Adults – 400 yen, Elementary to Junior High School – 300 yen, Preschool – 100 yen, Children 2 years old or younger – Free
Website: www.katsuo-ji-temple.or.jp
Address: 2914-1 Aomatani, Minoo, Osaka 562-0021
8. Nenpo Shinkyo Kongo Temple
Similar to Katsuo-ji, the Nenpo Shinkyo Kongo Temple boats 150 cherry blossom trees. At the centre is Haiden Square. If you stand at this spot, you can see a full 360-degree view of pink sakura, which feels as if you are in a cloud! Additionally, there are around 2,000 tulips 20 to 30 vermilion flowers, which you can also enjoy!
Access
Opening Hours: 8:30am-3:00pm (open to general public in late Mar. and Apr. 5-10)
Admission Fee: Free
Website: www.nenpoushinkyou.jp
Address: 3-chōme-4-22 Midori, Tsurumi Ward, Osaka, 538-0054
9. Hirakata Park
Hirakata Park is an amusement park that is suitable for all ages. The park is paint lit with 300 cherry blossom trees, making it a fantastic place to enjoy the flowers and get a thrill! It is one of Kansai's largest amusement parks, attracting over a million visitors a year. The Red Falcon ride zooms straight past the blossoms along its course making for a unique viewing experience!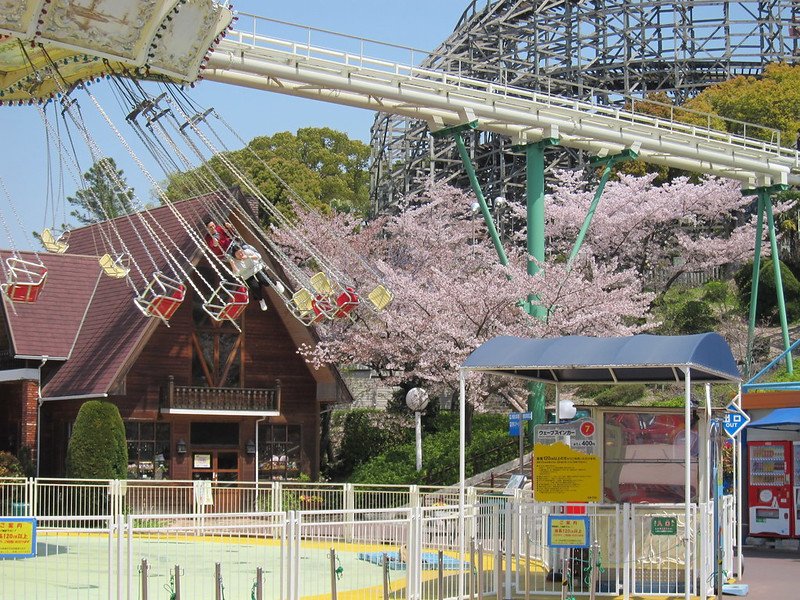 Access
Opening Hours: Mon-Fri 10:00am – 5:00pm, Sat & Sun 10:00am – 8:00pm, Closed on Wednesdays
Admission Fee: Adults – 4,400 yen, Elementary school students – 3,800 yen, 2 years old to preschool children 2,600 yen
Website: www.hirakatapark.co.jp
Address: 1-1 Hirakatakoencho, Hirakata, Osaka 573-0054
10. Fukakita Ryokuchi
A little less known spot but at Fukakita Ryokuchi park, there are many cherry blossoms available to view. What makes it special is that you can have a barbecue there, so it's a fantastic spot to eat, drink and enjoy the sakura season! Furthermore, there are plenty of open spots and children's parks for kids to enjoy themselves.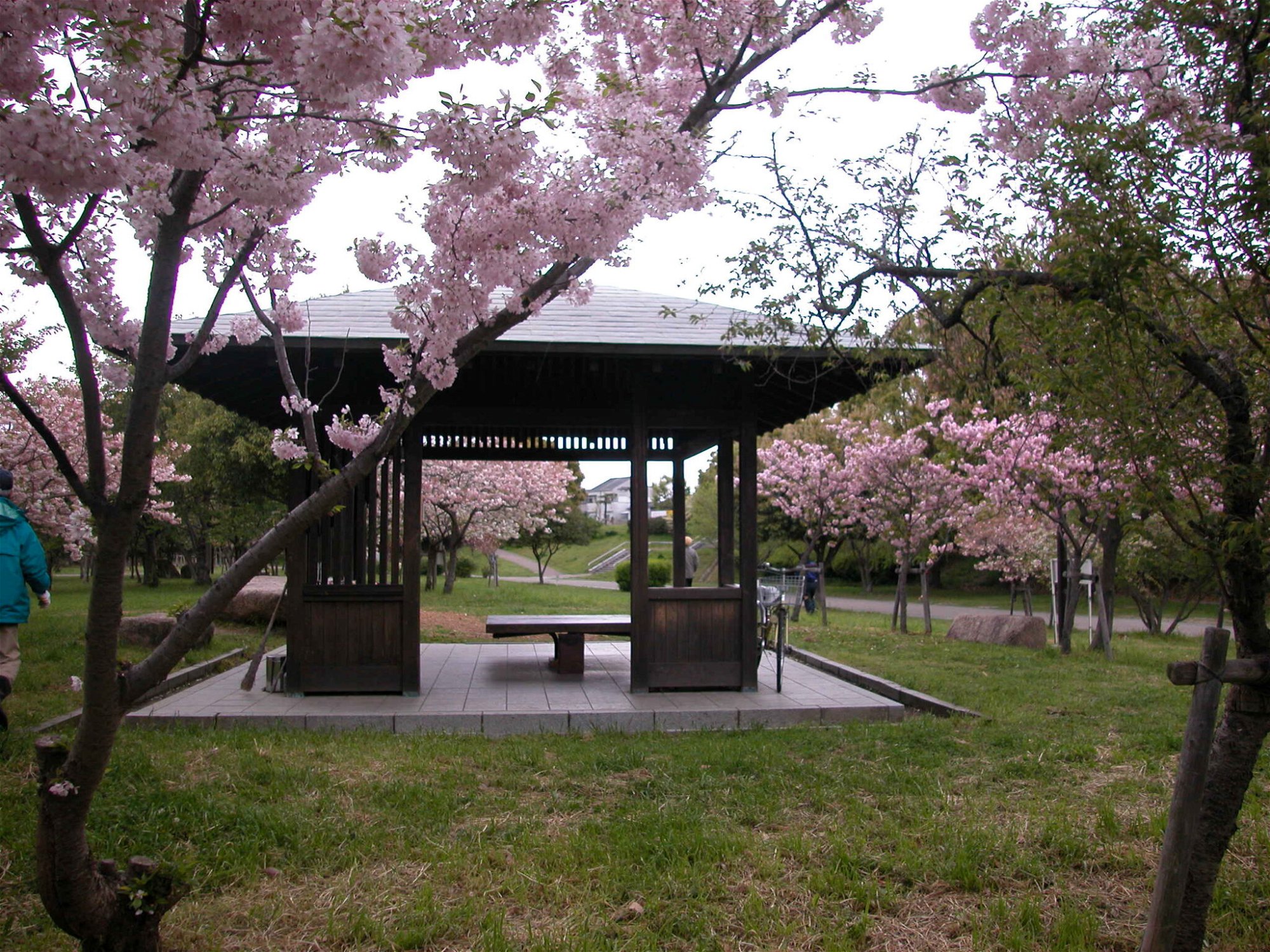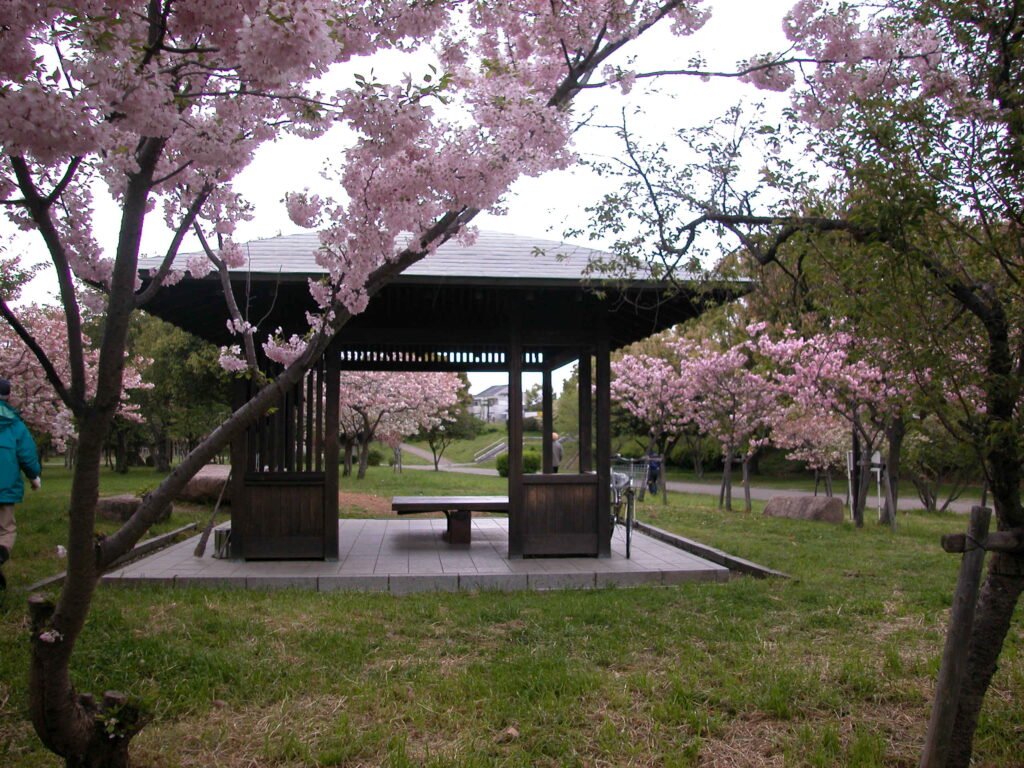 Access
Opening Hours: Always Open
Admission Fee: Free
Website: www.fukakitaryokuchi.jp
Address: 4 Chome-284 Fukonokita, Daito, Osaka 574-0071
Cherry blossoms and hanami are one of the most anticipated events of the year! The beautiful and powerful blooming of the white and pink leaves, is a stunning sight. The ephemeral feeling of the falling petals is steeped in history and human nature. Viewing all of this with friends and family during hanami, is the perfect way to send your spring in Japan.