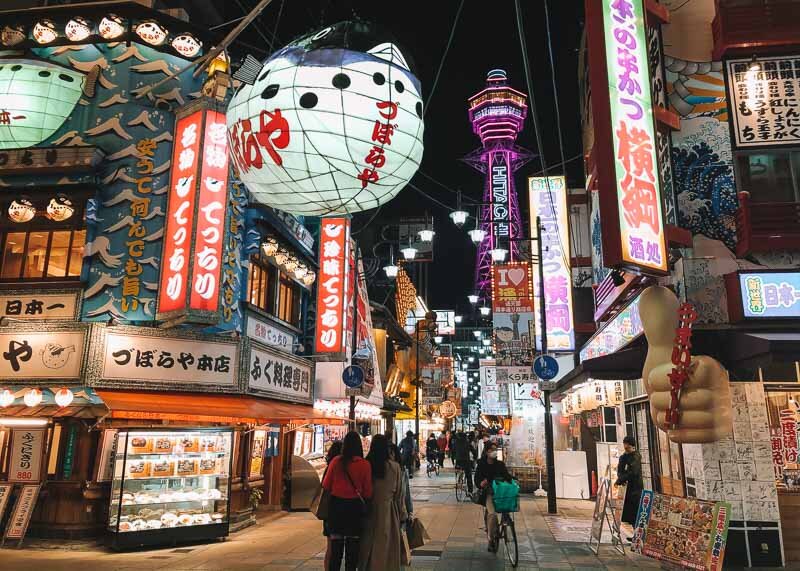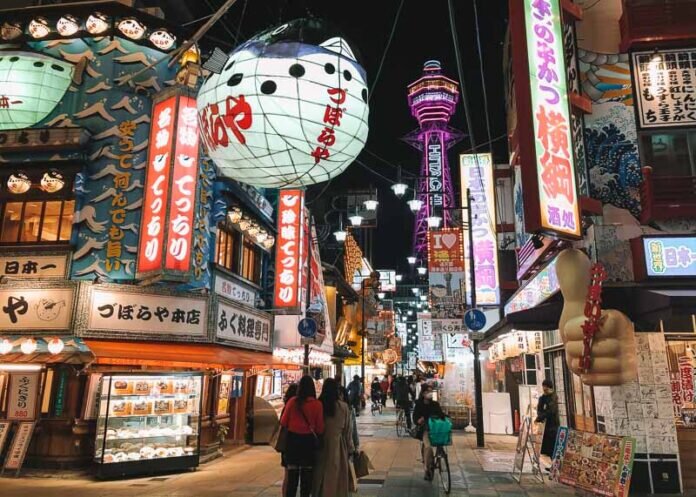 Often overlooked tourist spot
Osaka is famous for many things but its most popular tourist attractions are undeniably Osaka Castle and colorful Dotonbori full of neon lights and cosmopolitan nightlife. Besides these two, however, there's also one more major symbol of Osaka that defines the city and tells us more about its history – Tsutenkaku Tower. The word Tsutenkaku can be translated as Sky Route Tower and it is the pride of suburb Shinsekai, located in the southern part of Osaka. Let me take you on a short adventure to Shinsekai and Tsutenkaku Tower and their journey through the decades!
Check out our short video guide to the Tsutenkaku tower and Shinsekai
Shinsekai – The new world
Shinsekai is a popular district in Osaka, however, it is not your typical Japanese neighborhood. The suburb, since its beginnings, was inspired by Western culture, architecture and fashion that you can still notice here today. The word "shin-sekai" means the new world (shin = new; sekai = world) and that is exactly what it was supposed to be when it was built during pre-war era in 1912. shinsekai tsutenkaku
Shinsekai took the main inspiration from Paris in France and Coney Island in New York. The main feature of Shinsekai was nothing else than Tsutenkaku Tower. The original was built in 1912 and it strongly reminded of the Eiffel Tower sitting on top of the Arc de Triomphe in Paris. Together they created the main entrance to Luna Park, whose inspiration came from a popular amusement park in Coney Island. During its biggest fame, the Luna Park featured mechanical rides, an aerial cable car, spa, funhouse, theatre and more.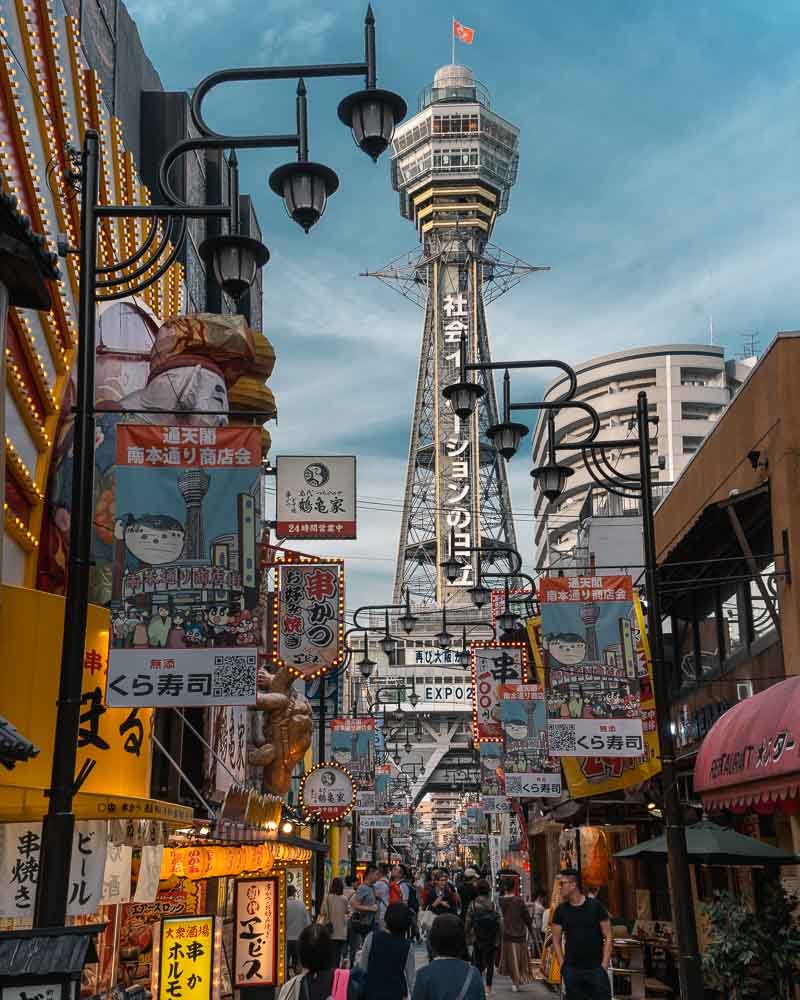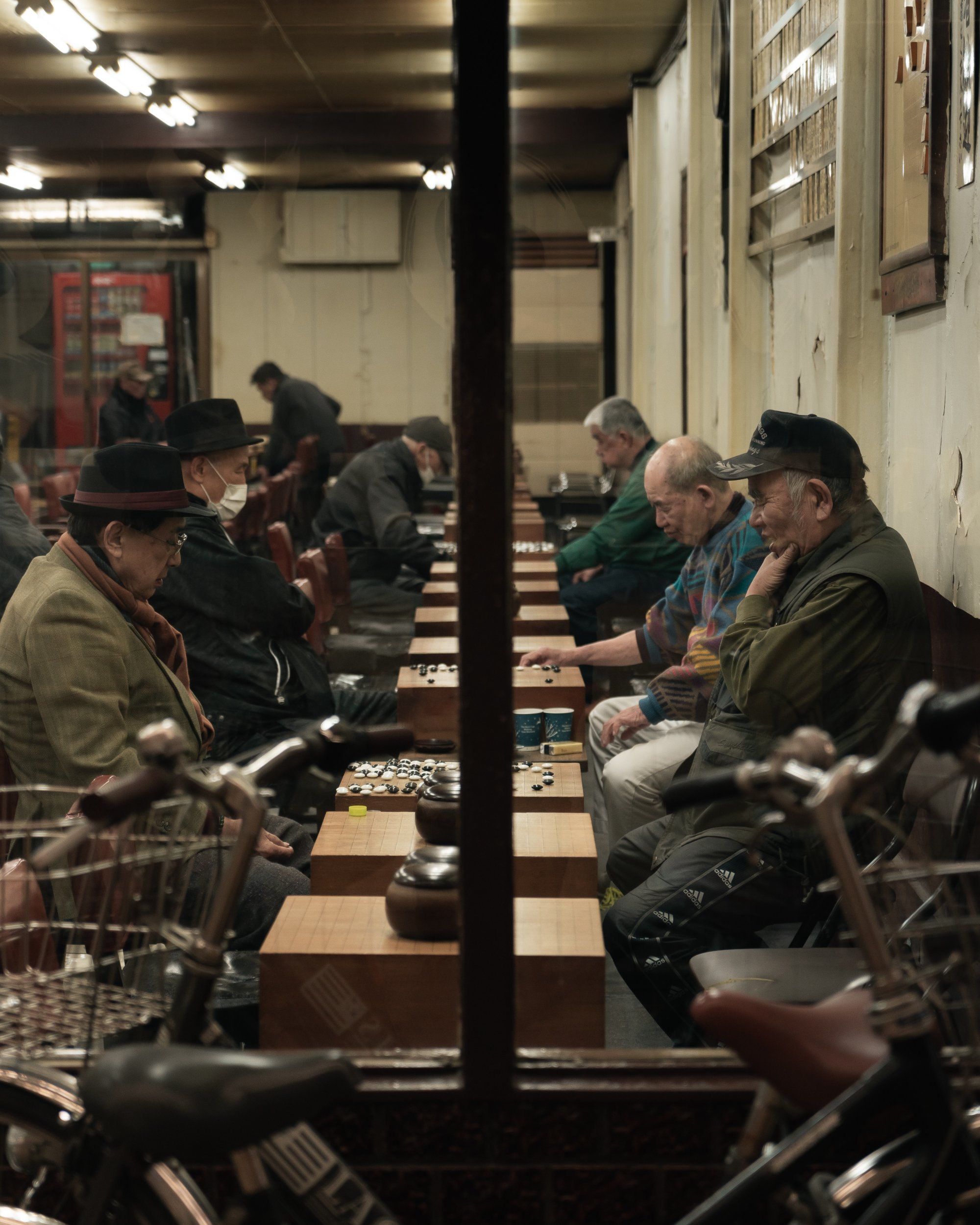 Sadly, Shinsekai as Osaka's amusement district was thriving only for 13 years and in 1925 the Luna Park was forced to close its doors. Several years later, in 1943 a fire broke down, damaged the tower and the park, and in the end they were demolished by Japanese government. In the aftermath of the WW II., the whole area was neglected and forgotten and it developed the reputation of being the rough and poor part of Osaka. shinsekai tsutenkaku
Despite the gloomy past, Shinsekai started to get people's attention again in the 90's for its retro atmosphere and so this neighborhood has become a place, where tourist attractions and local haunts collide. On the main street you can see lanterns, neon lights, arcades and restaurants, but ducking into a side alley you will find a different world with tiny bars, and fun crazy fashion of old ladies full of leopard prints and sequins or even Osaka's "red light district". This place is definitely one of its kind not only in Osaka, but in whole Japan.
Tsutenkaku Tower and its history
As I mentioned before, the original Tsutenkaku was built in 1912 and it served as an entrance to the amusement park. At that time, with its 64 meters, it was the second tallest structure in whole Asia and it was luring visitors from wide and far to see this unusual building. Beside its grand size and western look, it was also connected to the Luna Park by an aerial tramway to give people a 'flying sensation' as they were entering the park.
Unfortunately, when the fire damaged the tower, instead of repairing it, the officials decided to dismantle it and use the material to make artillery used in the WW II. After Tsutenkaku was gone, the whole area of Shinsekai and its reputation went down the hill and what once used to be fun and colorful amusement park became sad and poor neighborhood.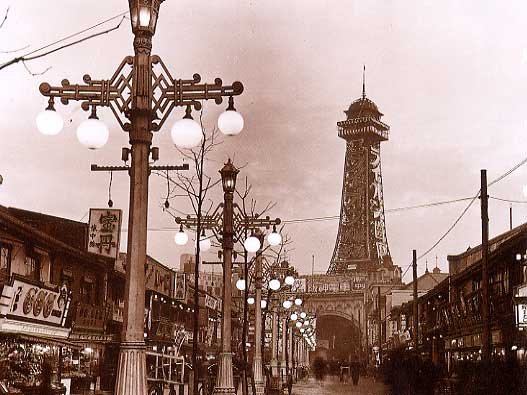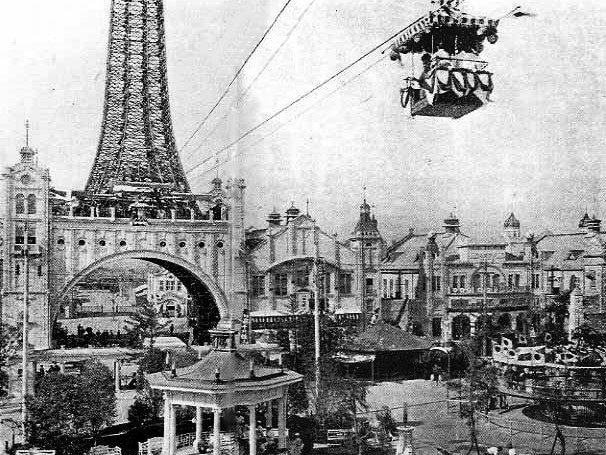 The locals, however, didn't give up their hopes. They missed their beloved tower and they were determined to get it back! They lobbied with Osaka's officials until a new office was set up to bring the Tsutenkaku Tower back to Shinsekai. The architect to design it was Tachu Naito, well-known for its earthquake-proof designs. During his remarkable career, he built many broadcasting and observation towers around Japan, including famous Tokyo Tower. He was called the "Father of Towers" and with his help, a new Tsutenkaku was again open for public in 1956.
Today's Tsutenkaku Tower is 103 metres tall and although it is far from being one of the tallest buildings in Japan, it still offers great views over Tennoji Park and Shinsekai. It is packed with souvenir shops, it features few observation decks and a café and from the outside it's decorated with LED lights that change color every couple of months depending on the season; for example in March and April they are pink because of blooming cherry trees, while Christmas in December is celebrated with red and green colors (at the moment the Tsutenkaku Tower is lit up with blue lights in solidarity with medical workers). The lights on the very top of the tower signal the weather forecast for the next day (white = sunny, blue = rainy, and orange = cloudy).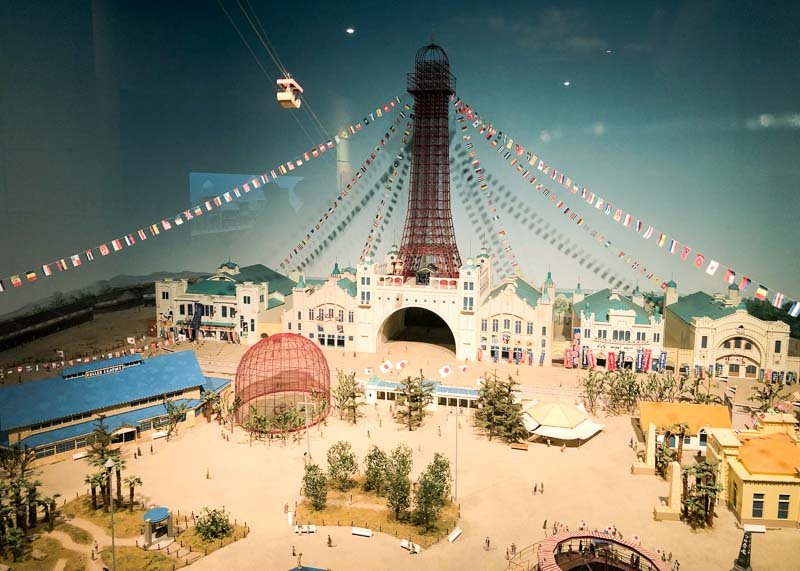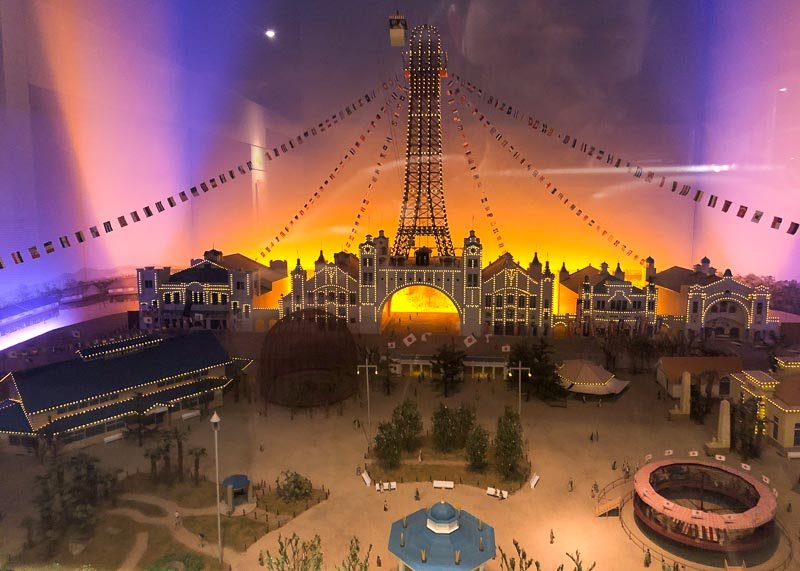 Visiting Tsutenkaku Tower
When visiting the Tsutenkaku Tower, first thing you'll notice is the mural above you that showcases beautiful Japanese style painting of flowers and a peacock. It is the exact recreation of a mural that once used to be on the ceiling of the original Tsutenkaku in 1912 and it also illuminates at night.
You enter the tower through one of its legs and you will be led underground to a colorful room called Wakuwaku Land with a souvenir shop and a ticket counter. Once you get you ticket, you will be taken to the elevator to bring you up to the observation platform. The ride up is experience by itself, because on the elevator's ceiling you can watch a short video of the Tsutenkaku's history.
The first observation deck is located in 88 meters above ground and it is painted in warm yellow hues. This is the most popular place to be at sunset because the whole floor suddenly turns into gold. The retro vibes of Shinsekai accompany you everywhere and here it's no different. The golden shining beams, sun in the distance and the views over Osaka make this relatively small space feel cozy and filled with nostalgia. Around the circumference of the platform, you will notice some little happy figures, plus one smiley chubby dude with short hands in the middle. This is Billiken and his companions are seven deities of good fortune. They shall grant you any wish if you rub Billiken's feet!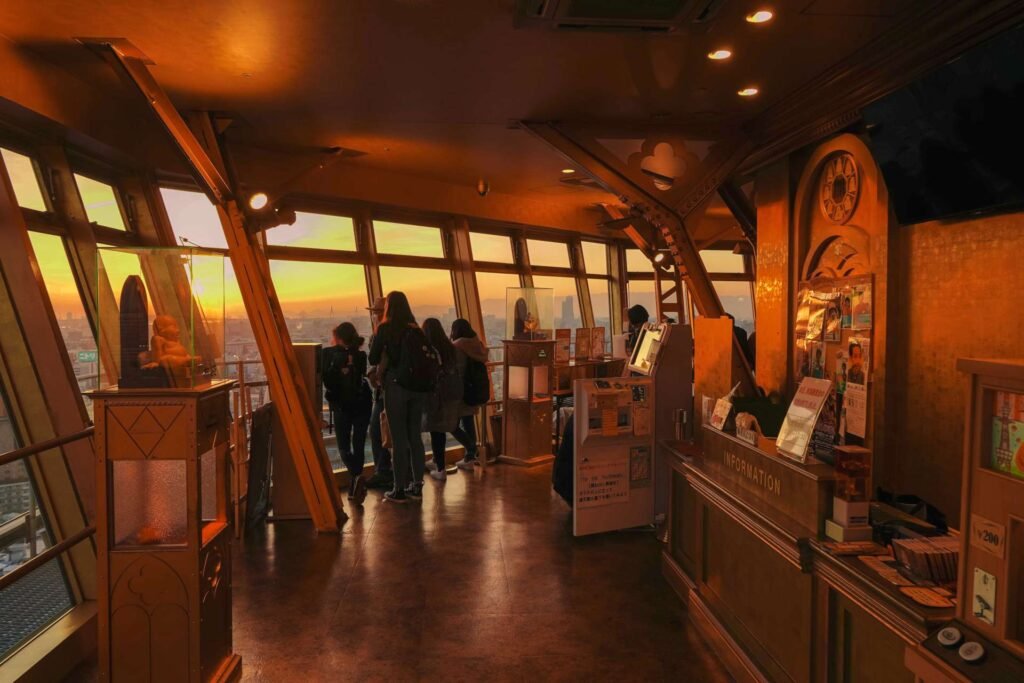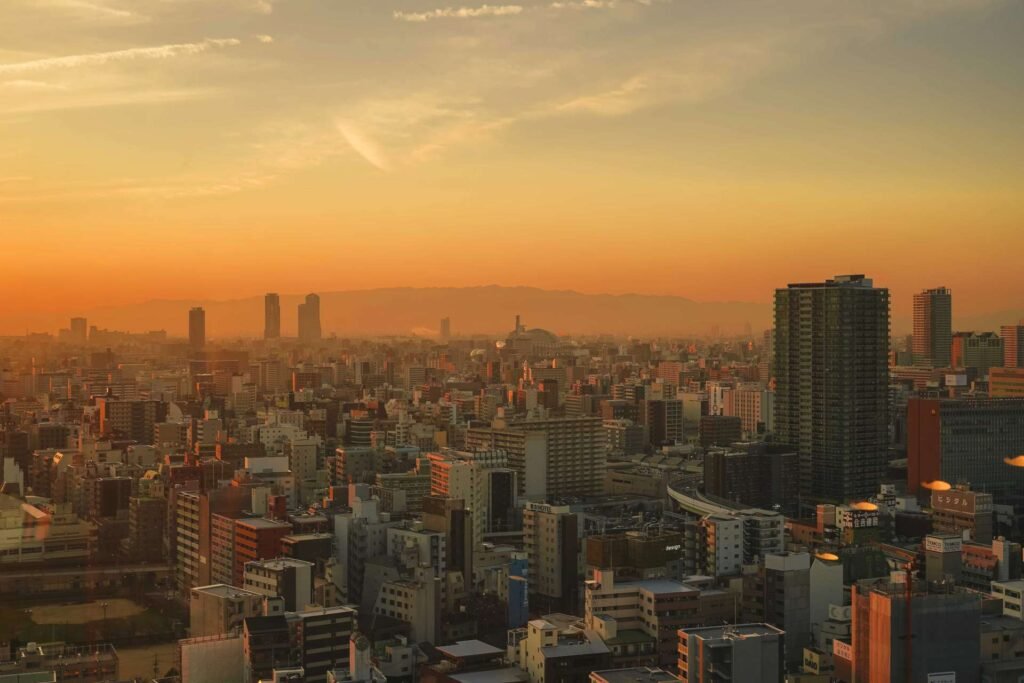 As it's getting dark, it is time to go one level up to yet another observation platform. For an extra 500 yen you can go to the very top of Tsutenkaku, to an open air deck that is called Tembo Paradise. From here you will have the whole Osaka at your feet. Funny fact is, that you can actually rent Tembo Paradise for a private function for mere 10,000.00 yen and one week notice prior your event. Some couples chose it as the perfect spot for a proposal!
After enjoying Osaka views on a fresh air, it is time to move down. Under the Golden Observation Platform are a few more. The first one has a real party vibe with purple lights, music and disco balls hanging everywhere – Light Observation Platform. Underneath, there is modern Japanese-style Garden full of greenery and with a calm atmosphere –Tsutenkaku Garden. On the 3F you will find a Café de Luna Park, a souvenir shop and a diorama that will show you how the Luna Park looked like during the times of its biggest glory.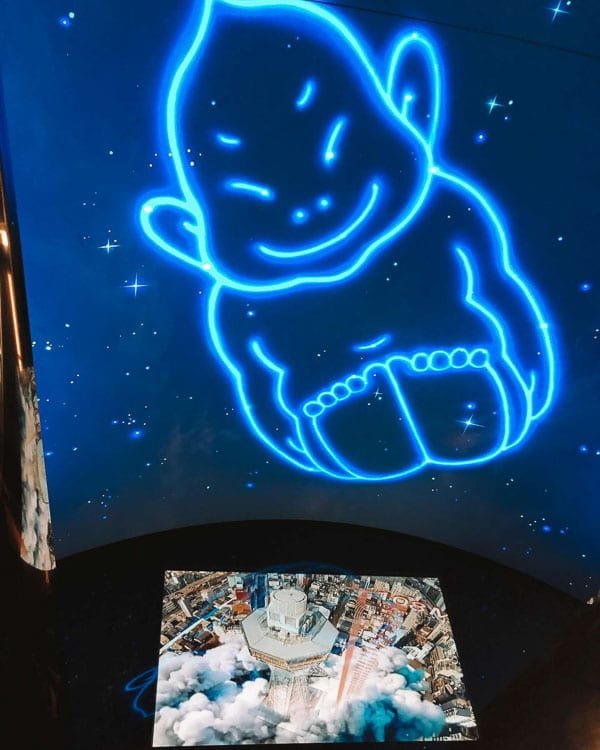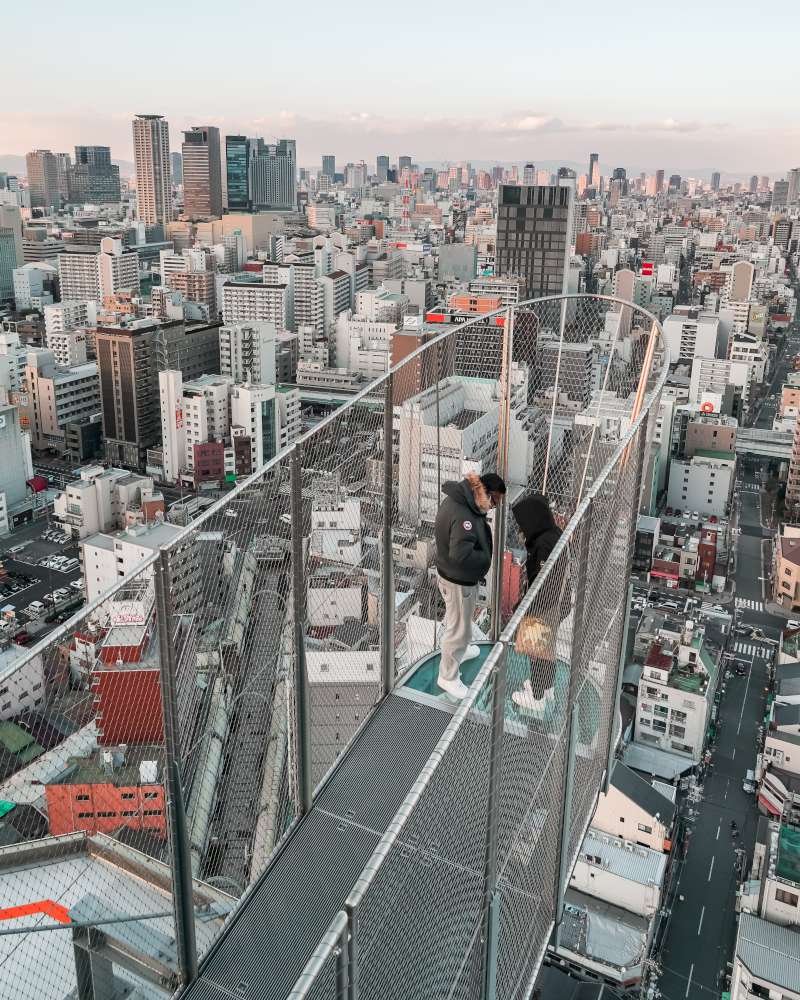 The Story of Billiken
Let's get back to Billiken, because this happy figure deserves more attention! This may come as a little surprise, but Billiken is not originally Japanese. He was created by an American teacher Florence Pretz in Kansas City, Missouri in 1908. This mischievous monkey-like man with pointy head and short arms and legs appeared to her in her dream. As soon as she drew him and obtained the design patent, Billiken became famous and beloved character. Even though in the USA his popularity considerably decreased over the years, he is still the mascot of St. Louis University and St. Louis High School in Missouri.
Billiken is known as the "God of Things as They Ought to be". He was brought to Japan by a Japanese businessman and soon he was dignified to a deity. The original statue of Billiken was on top of the first Tsutenkaku Tower and it is said that if you rub the bottom of his feet (because he cannot reach there with his short arms), he will bring you a good luck. In Japan, Billiken still enjoys big popularity and in Shinsekai you can literally find him on every corner. If you buy a Billiken charm for yourself, it shall bring you luck, but if you receive it, or give it as a gift, it brings you even better fortune!
If you are interested in Billiken's story, don't miss our in depth article on its origins HERE.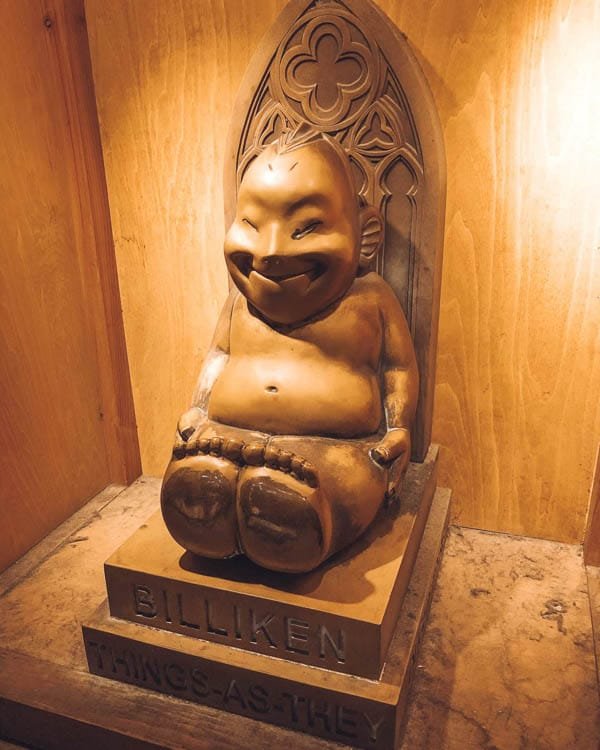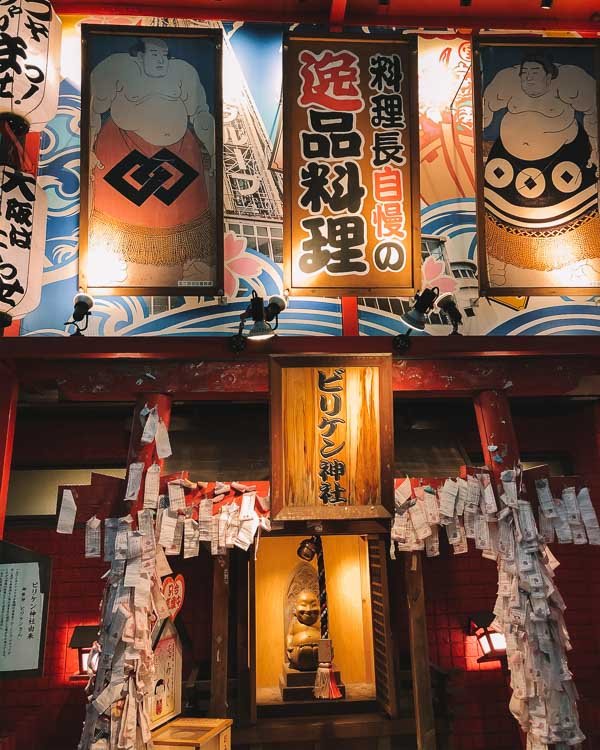 Useful Information
Official Website: tsutenkaku.co.jp
Address
1 Chome-18-6 Ebisuhigashi, Naniwa Ward, Osaka, 556-0002
How to get there
From Osaka-Umeda Station – take JR loop line from Osaka Station to Shin-Imamiya station, from there you can reach Tsutenkaku in 5 minute walk (about 500 m). Other option is taking red Midosuji metro line from Umeda Station to Dobutsuen Mae Station and walk 7 minutes from there. Both journeys take about 15 minutes.
From Namba – you can take green Yamatogi line to Shin-Imamiya Station (only 2 stops), or also take Midosuji line to Dobutsuen Mae Station (also 2 stops).
Entrance Fees
Adults (high school students and older) – 800 yen; elementary students (5 years old and more) – 400 yen; special outdoors observation platform Tembo Paradise – extra 500 yen on top of your ticket (can be purchased on the top).
Opening hours
General observatory – open daily from 10 am to 8 pm (last admission at 7:30 pm); Tembo paradise – 10 am to 7:30 pm (last admission at 7 pm)
What to do in Shinsekai
Besides the Tsutenkaku Tower, Shinsekai has much more to offer to its visitors. Here's some inspiration what to do in this neighborhood!
Visit Tower Knives Shop and Showroom
Japan is known for its high quality kitchen knives that will last you years. The Tower Knives are located just around the corner from Tsutenkaku Tower and it is not just a regular shop. They also have a remarkable showroom where their English speaking staff will tell you the history of this Japanese craft, you will be able to have a look around their amazing knives collection, try some of them and if you decide to buy one for yourself, they are able to engrave your name (in kanji or katakana) on the blade.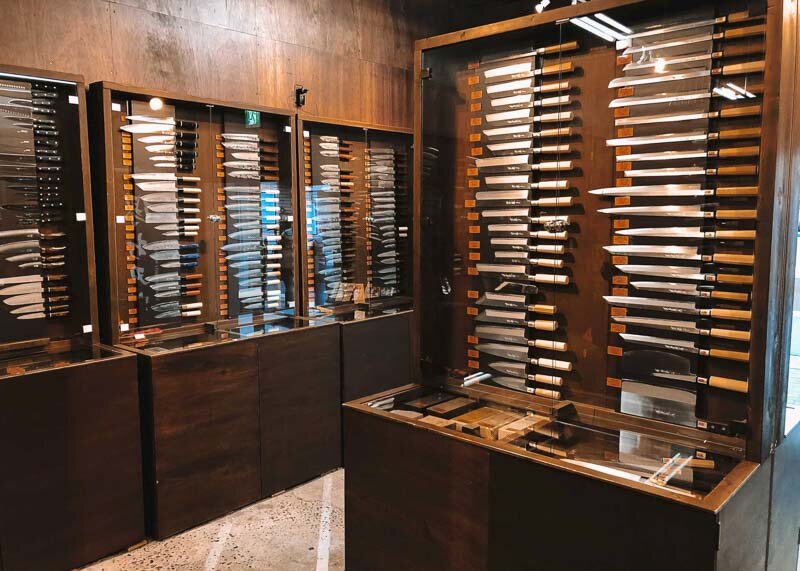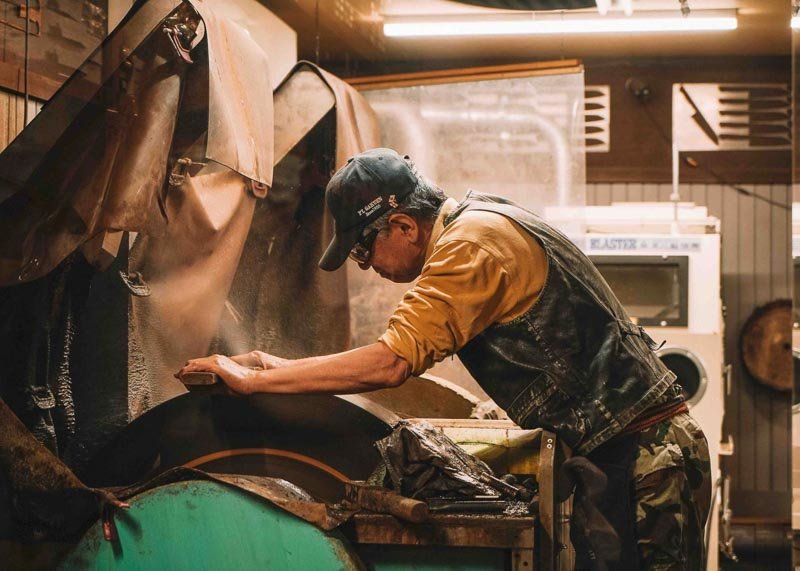 Eat some Japanese manju cake
Manju is a typical Japanese dessert that you can buy anywhere across the country. It is type of a sponge cake usually filled with sweet azuki beans – anko. In Shinsekai, Sohonke Tsuriganeya-honpo shop has been a family-run business for over 100 years. They shape their manju cakes into a bell, the exact same one that you can find in Shitennoji Temple in Osaka. It is because merchants of Shinsekai decided to put money together and donated the huge iron bell for the temple at the beginning of the 20th century. The owner of Sohonke manju shop was among them and he wanted to preserve this memory by shaping his cakes as little bells.
Try Battera Sushi
Battera sushi, or hako zushi is a type of sushi typical for Osaka and there are many restaurants in Shinsekai where you can order some. It's a type of pressed sushi that is cut into rectangular shapes and it is really delicious.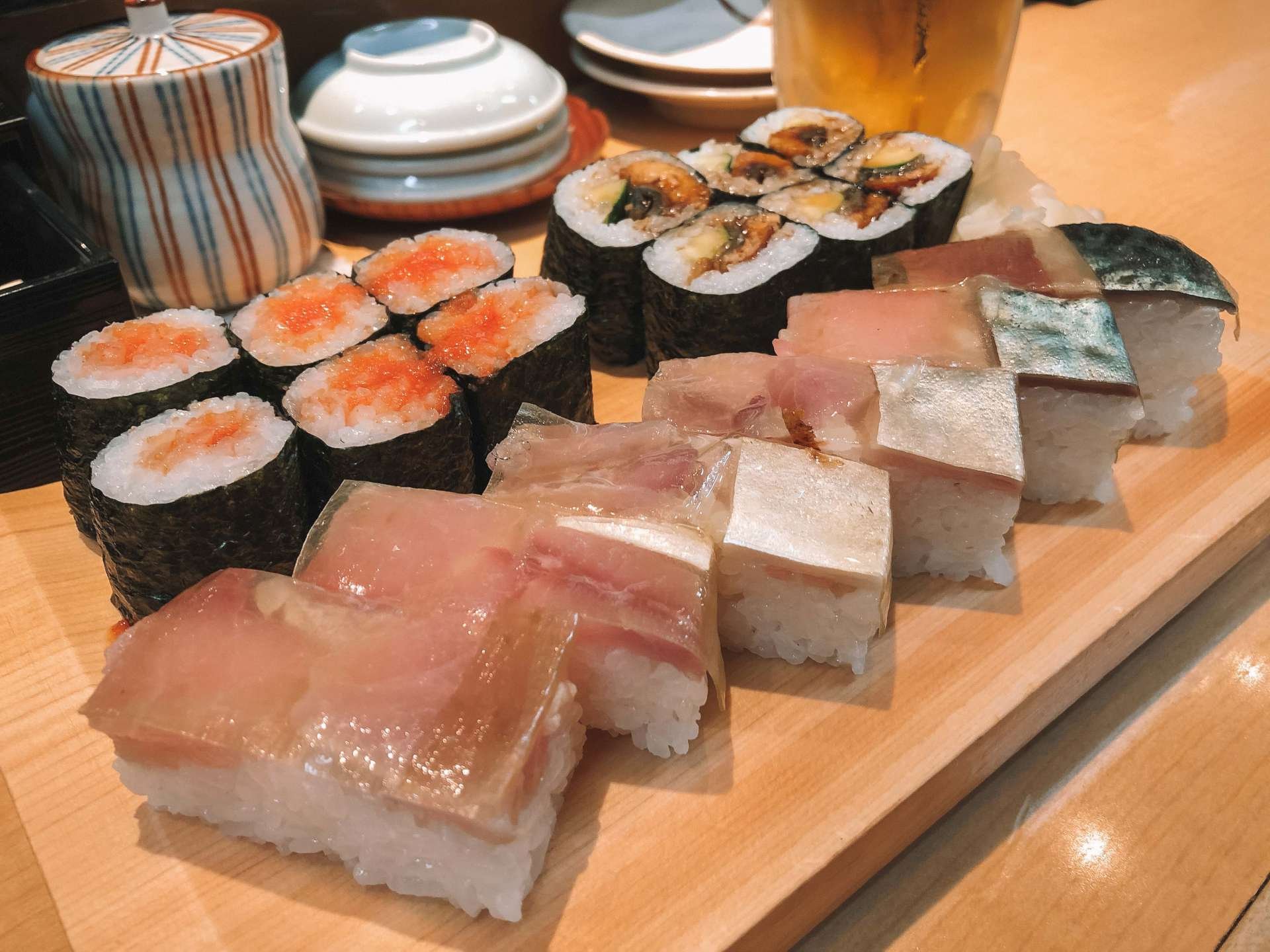 Visit Asahi Theatre
Asahi theatre, only about a hundred metres away from the Tower Knives, was built in 1910 and it was originally a cinema. In 1977 it went under complete renovation and today it can seat 300 people to enjoy taishu engeki, or "theatre for the masses". Unlike famous Japanese kabuki theatre, taishu engeki is more of a lighter genre, often compared to a musical, satire or revue. During the weekends the Asahi theatre also hosts live comedy shows, and even though you may not understand Japanese, it is a fun way to look into different aspect of Japanese culture.
Play smart ball
When you are travelling around Japan, you will surely notice many pachinko parlors around the country. Pachinko is similar to western-style pinball game, but in Japan you play for money and the rules are quite complicated. Smart ball is like an older cousin to pachinko and its arcades are slowly disappearing, but in Shinsekai you can still find a couple of them. You just put a 100 yen coin in, wait until all the balls come out and then you push the button until you get more and more of them, or until there's none left. It's very easy, but a lot of fun. In smart ball you don't play for money, but you can still get some prizes such as pocky, or a plushie toy.
Eat kushi-katsu in Daruma restaurant
Kushi-katsu is deep fried food on a bamboo stick that is delicious and juicy on the inside and crunchy on the outside. It is a very popular street food that originated directly in Shinsekai in Daruma restaurant. You can find three joints of Daruma, plus many different kushi-katsu restaurants in the streets of Shinsekai today and it is a must to try this yummy dish when wandering around.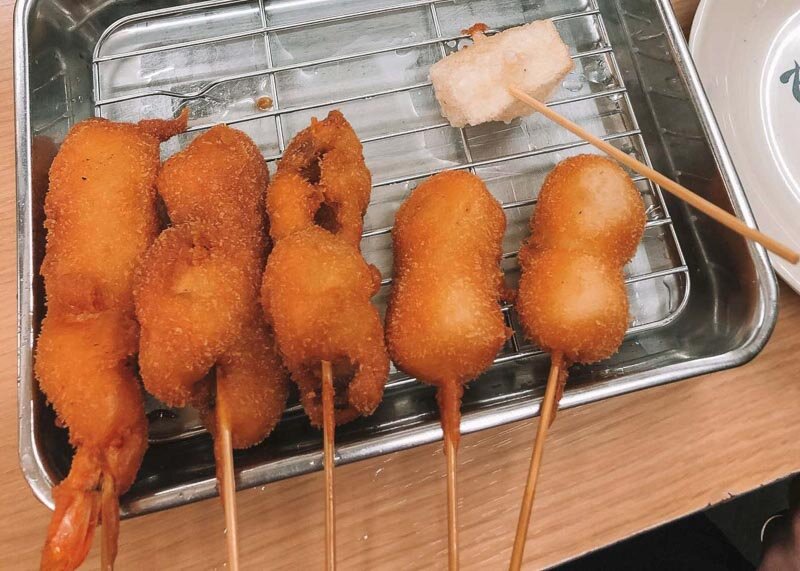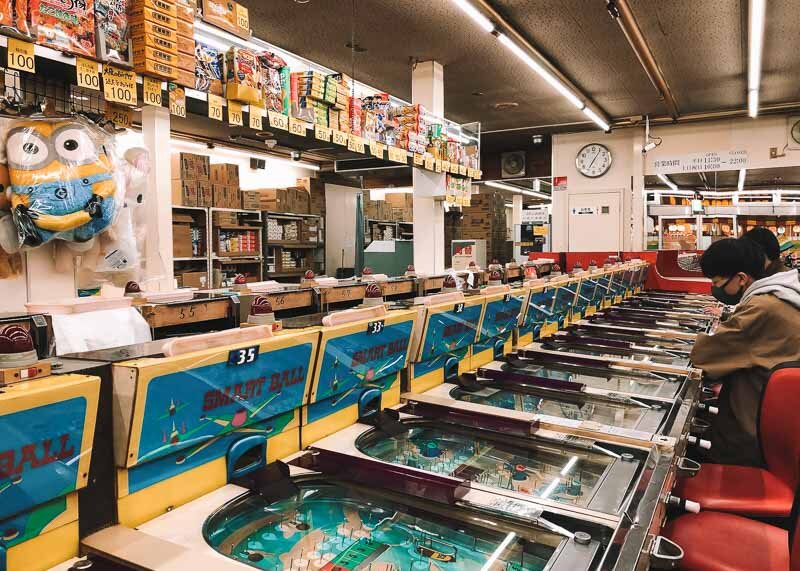 Visit Billiken Shrine
Besides having its glorious place on top of the Tsutenkaku Tower, Billiken has also its own little shrine. Just put 5 yen into the box, ring a bell, rub his feet and make a wish!
Take fun pictures with neon lights
In terms of intensity and colourfulness of the neon lights in the streets, Shinsekai is just like a smaller Dotombori. The most picture perfect spot is just a few steps down the street from the Biliken shrine, but any streets surrounding the Tsutenkaku Tower will also give you an epic view.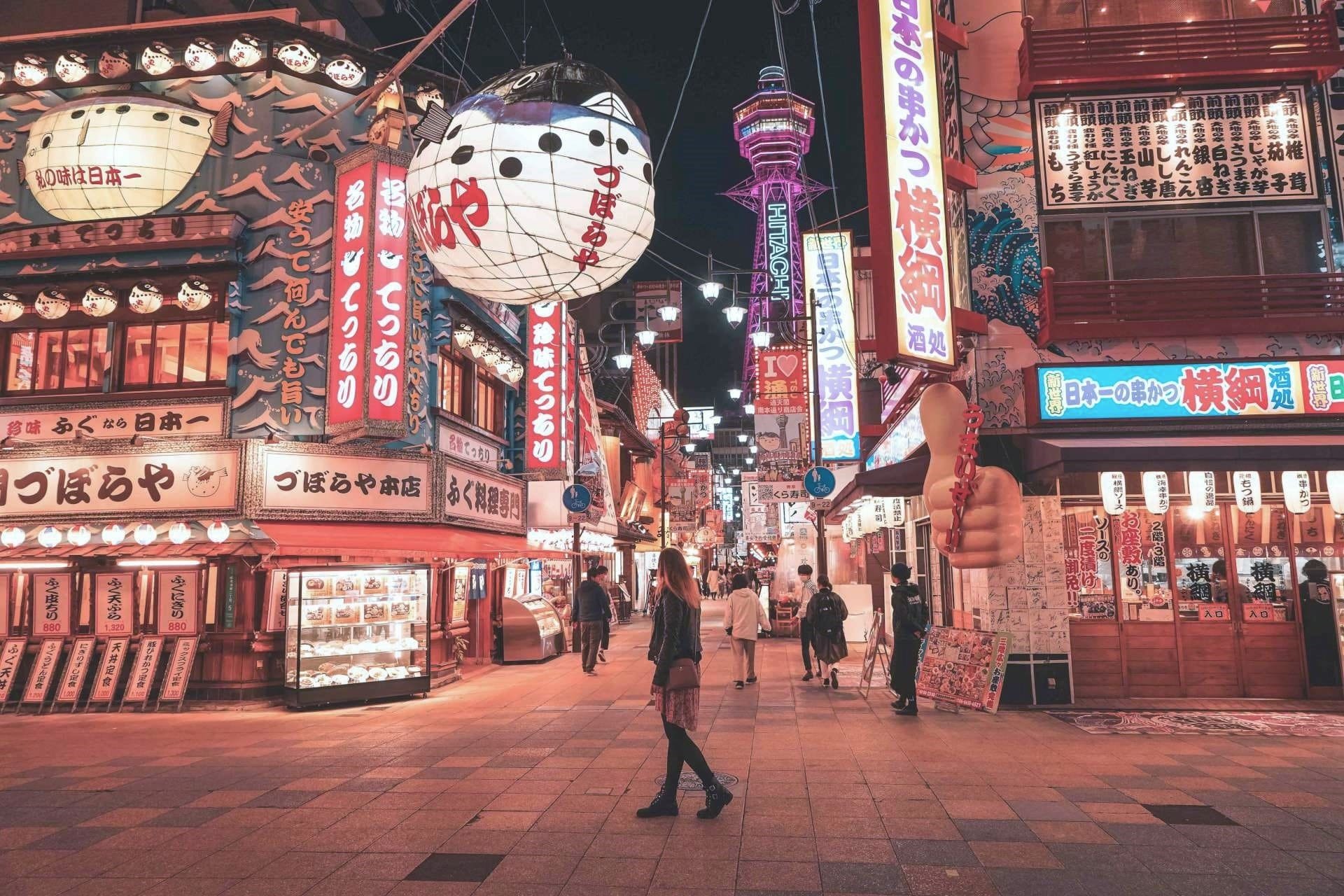 Drink mixed juice in a vintage café
Mixed juice is a famous drink in Japan that you can find in many cafés, convenience shops or vending machines. The first one was mixed directly in Shinsekai in 1948 in a café called Sennariya Coffee. Today, there are a couple other stylish vintage cafes where you can enjoy this fruity drink together with a nice piece of cake.
Visit Tennoji ZOO
If you are travelling around Japan with kids, maybe you would like to visit the Tennoji ZOO which is located nearby Shinsekai. It's not too big, but it features over 200 animal species in different environments from rainforest to savannah.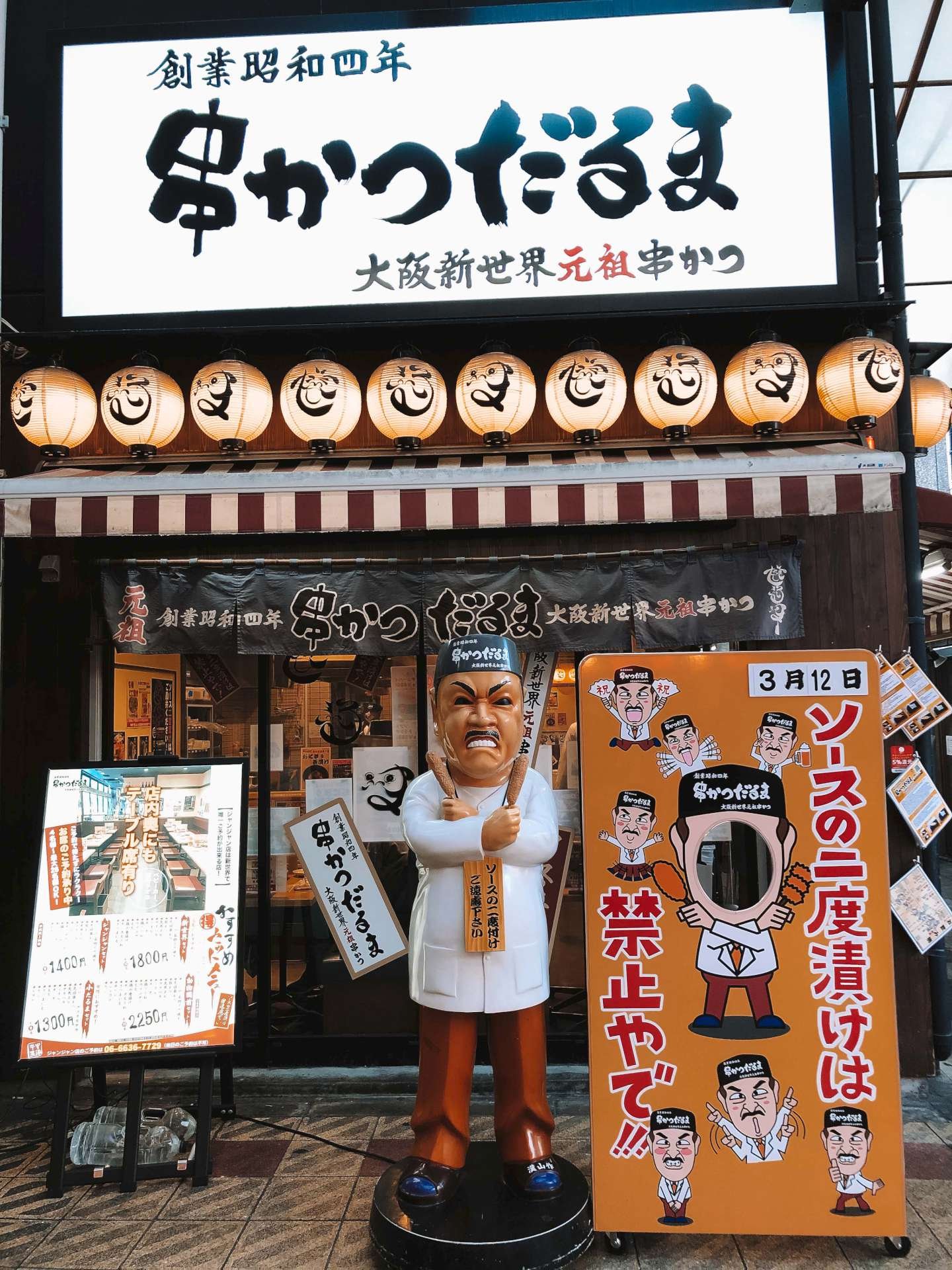 Since I have arrived to Osaka and set my foot for the first time in Shinsekai, I fell in love with this area. It has this gaudy colorful retro vibe, and it may be little bit "rough around the edges". It will evoke in you the nostalgia from the 60's, it will feed you well and let you peek inside the life of locals.