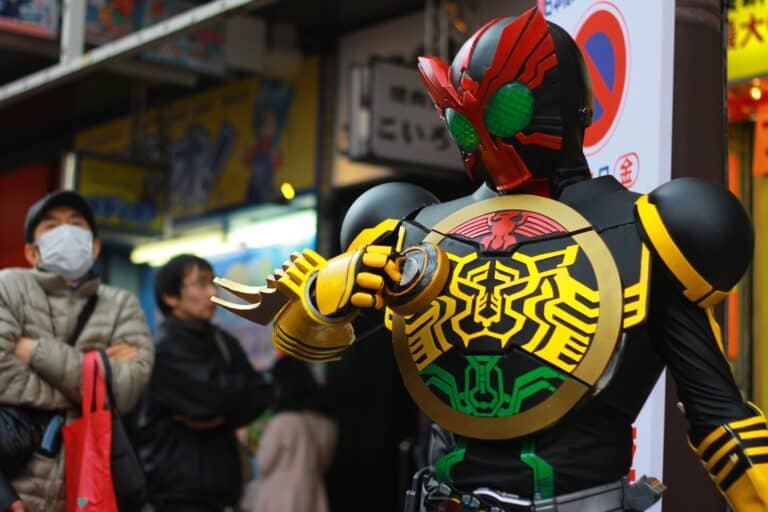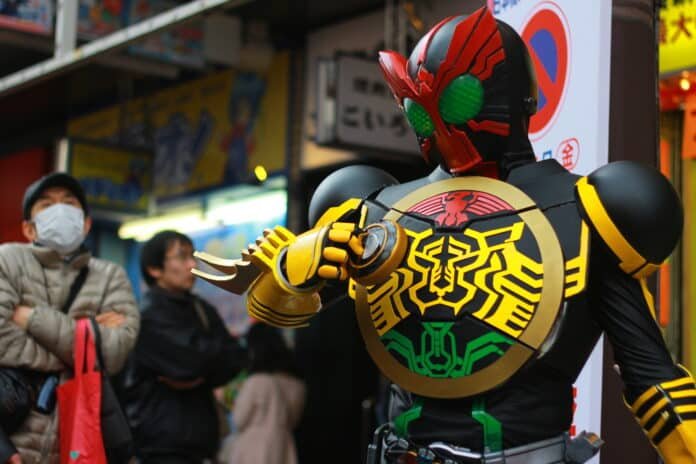 For many lovers of Japan's culture, people, and spectacle, one of the most common gateways into such fandom is through what is now affectionately known as the "Geek Culture". den den town osaka
As a teenager, being called a "geek" was usually seen as an insult, though with my love of Star Trek, Transformers and many other such scifi shows, I definitely fitted the description.
These days however, most of us wear that "geek" label with pride, and nowhere is this more apparent in Osaka, than in Den Den Town, Osaka's own little paradise of "geekery".
The History of Den Den Town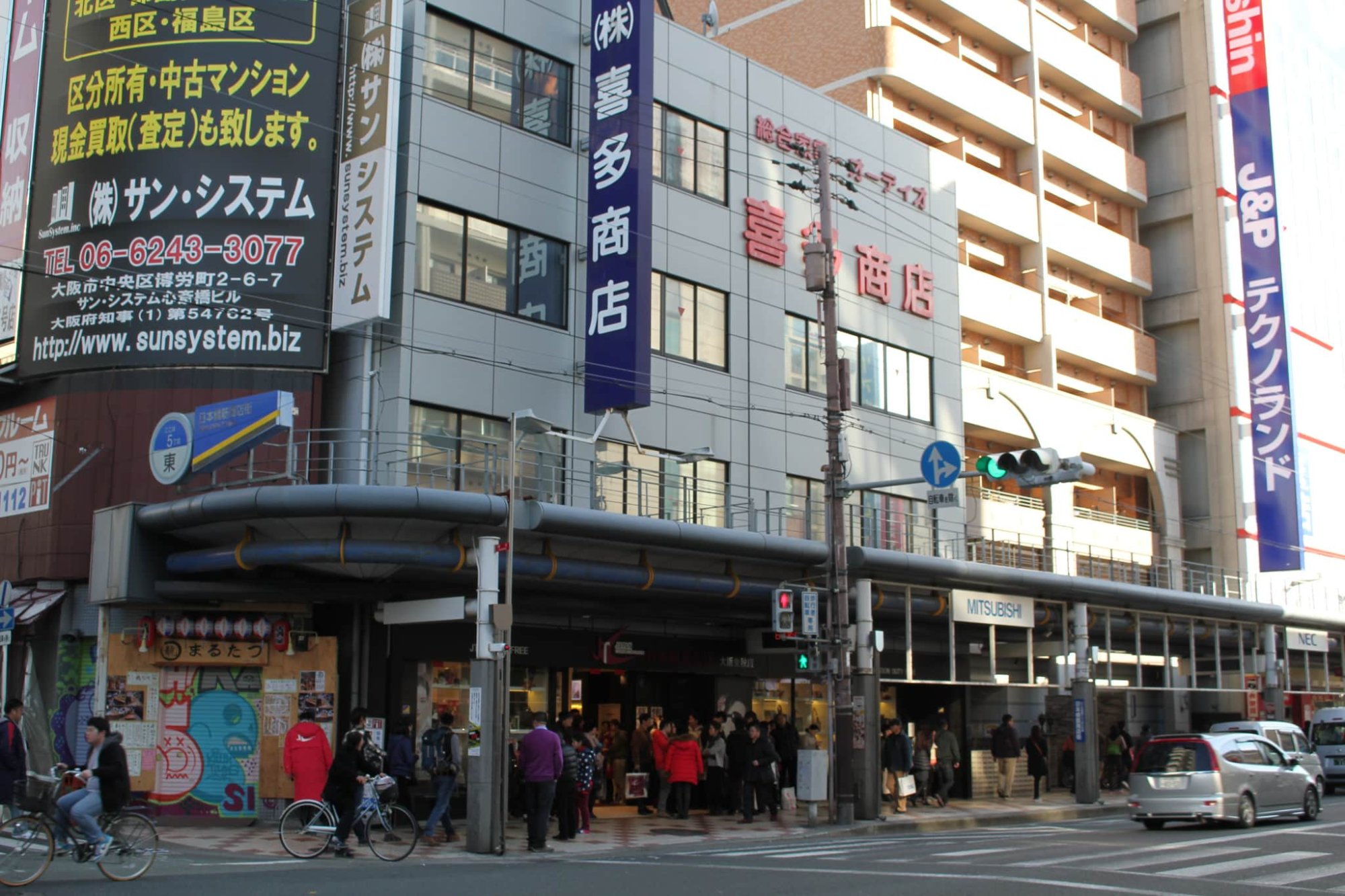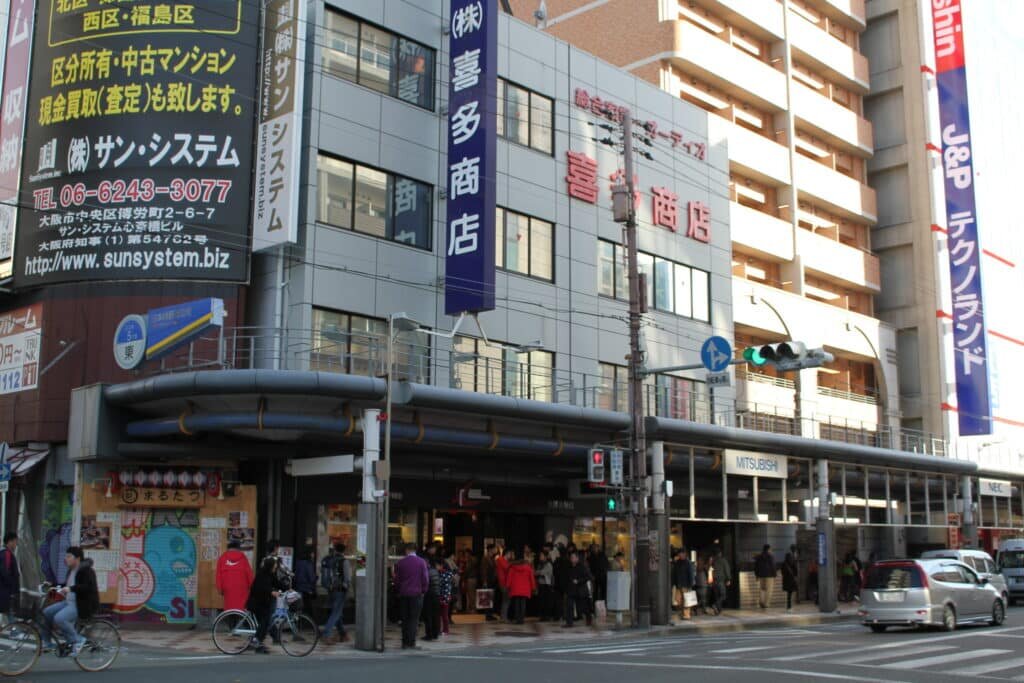 Much like Akihabara in Tokyo, Den Den Town started its life in the electronic consumer goods boom that ran in tandem with Japan's post-war economic revival from the 1960s up until the early 1990s. Throughout that time, if you were in Osaka and you needed anything electrical, be it a kettle, a computer or even a state of the art TV, Den Den Town was the place to go.
In more recent years, the opening of massive, multi-level flagship stores by Bic Camera in Namba, and Yodobashi Camera in Umeda has drawn most of the consumer electronics consumers away from Den Den Town. However, a hardcore remains, catering to more specialized equipment, entertainment and gadgets. With its large emphasis on hard to find and second hand goods, Den Den Town has, in modern times, crafted a character all of its own, that stands apart from both its more famous Tokyo analogue, Akihabara, and other shopping and entertainment districts in Osaka itself.
Most people have heard of Akihabara, the "geek capital" of Tokyo and indeed of Japan, but these days that place has sadly succumbed to the realities of commercialism and unrestrained corporate capitalism, with many of the shops, cafes and restaurants in the area becoming restrictively expensive, and the unique charm and charisma of each individual store being traded in for more of a "one size fits all" profit-driven approach.
It's still a nice place to hang out but it lacks the character that used to define it.
Den Den Town still has that distinctive charm and unique quality that means it remains to this day the place where the awkward, the different, the geek will always feel at home.
So, the tourist guides may tell you that Akihabara is Japan's Mecca for Geek Culture, but those of us who have been here long enough to remember how Akihabara used to be will tell that, these days, Osaka's Den Den Town is where it's at.
What to See and Do in Den Den Town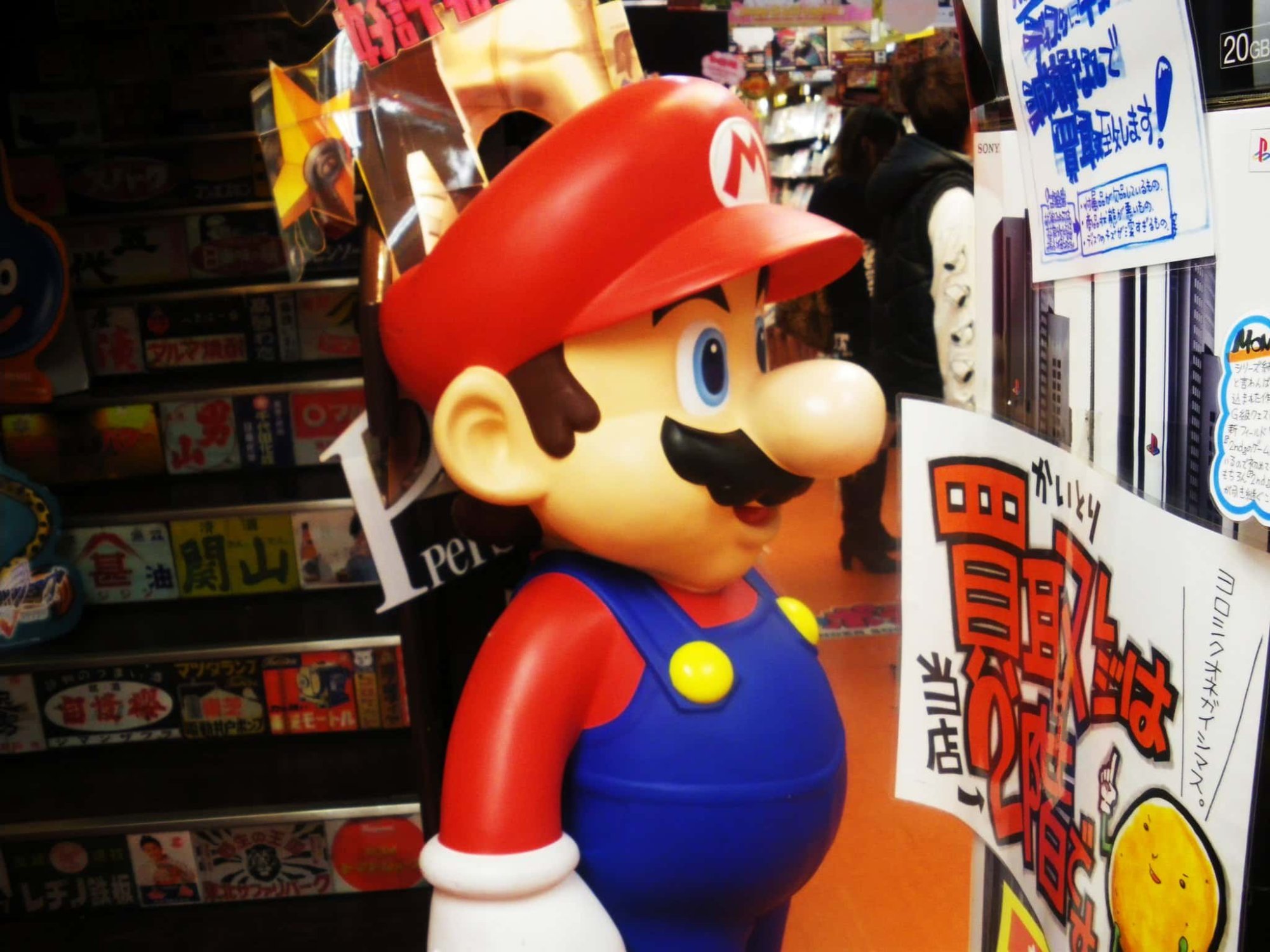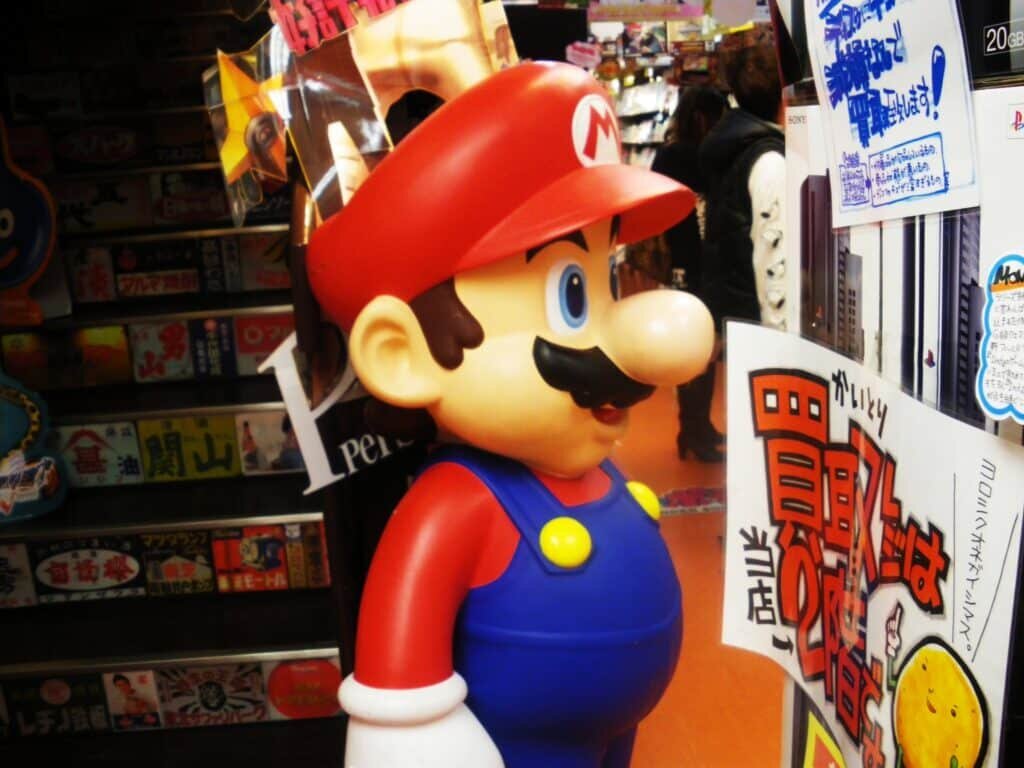 With that in mind, let's take a closer look at what makes Den Den Town such a special place to visit. Here are some things you must see when you go to Den Den Town:
Video Game Stores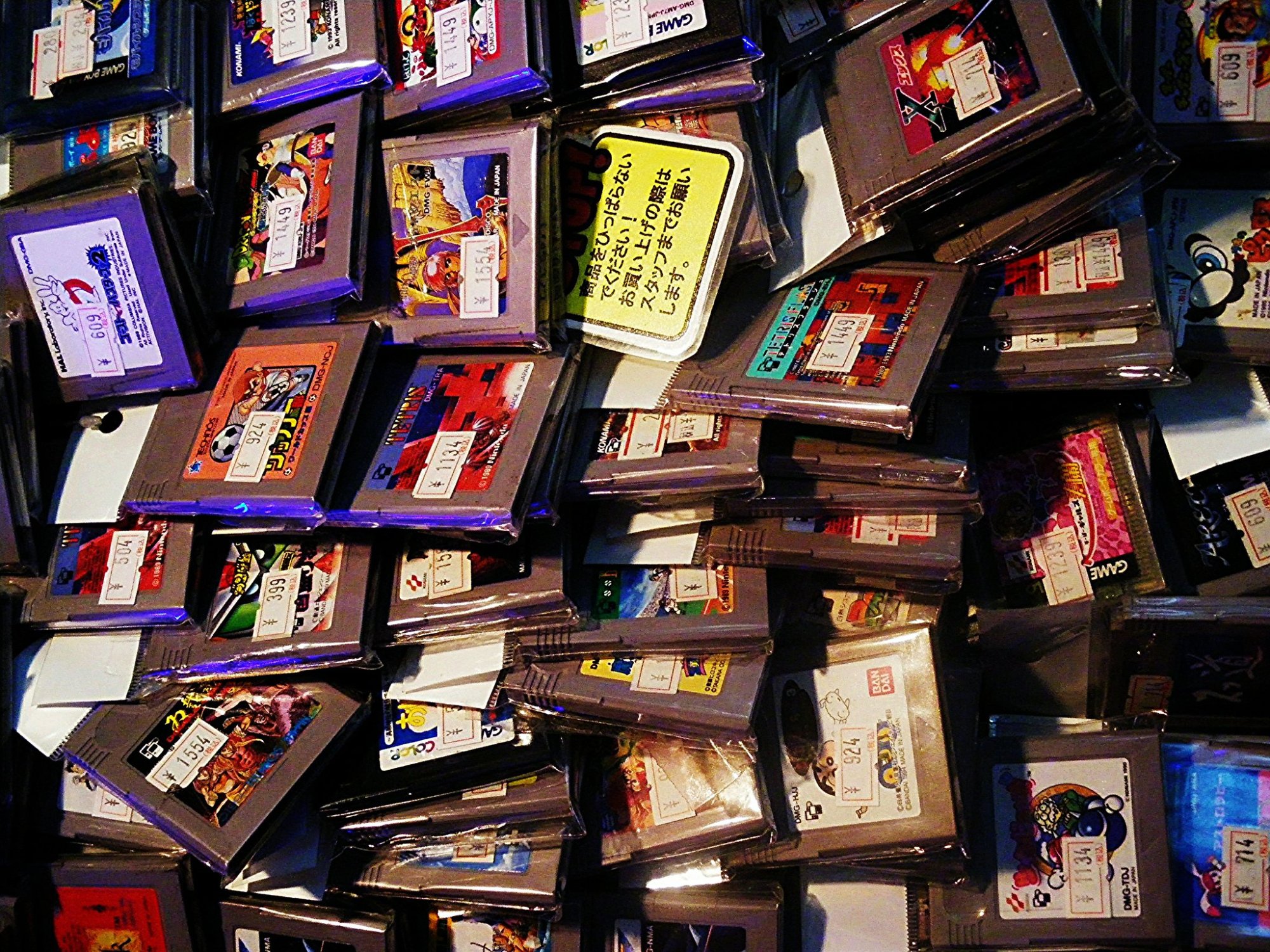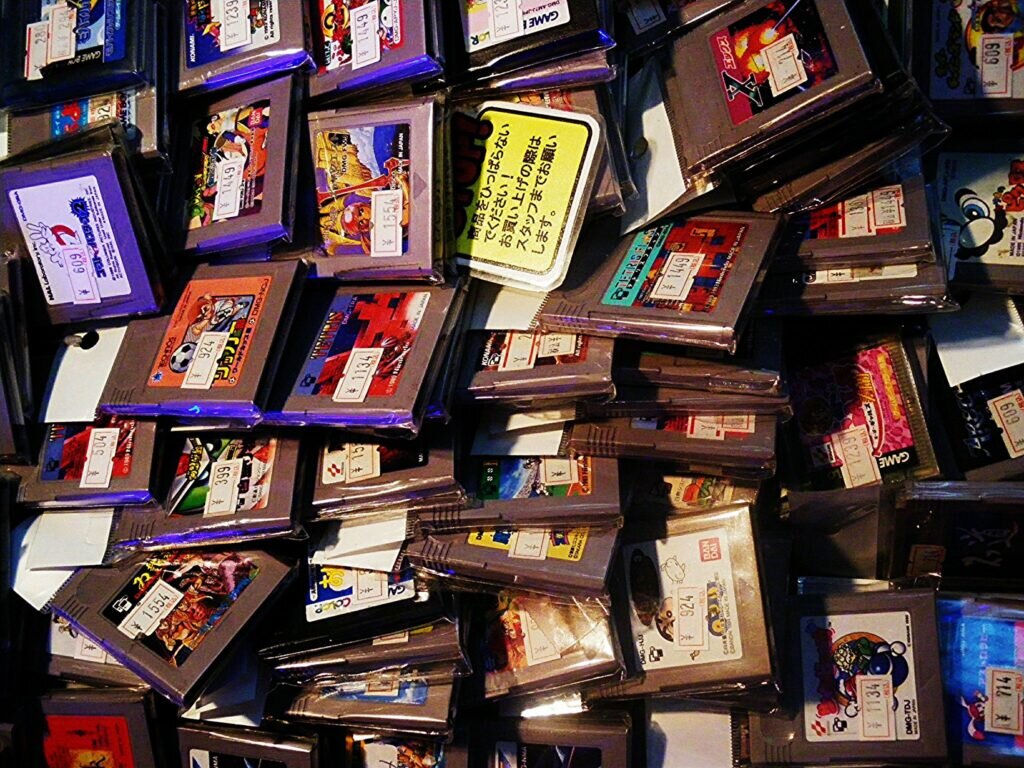 Video games are where the twin charms of Den Den Town (technology and geekery) meet in perfect unison.
So it just stands to reason that there would be quite a few video games stores in Den Den Town.
Here are some of them, for your consideration:
Super Potato
It may sound like a vegetarian café for comic book heroes, but Super Potato is actually one of Japan's best known stores for retro video games.
Their Den Den Town branch is located just a short walk from Nankai Namba Station and is also within easy reach of both Nipponbashi and Ebisucho subway stations, which denote the beginning and end of the Den Den Town District, making it the perfect spot from which to begin your tour of the area.
Growing up, one of my great loves was video games, especially those produced by Japan's own SEGA corporation. Although no longer a console developer, and focusing more on software and arcade games these days, just the sight of the SEGA logo triggers all kinds of joyous nostalgia in most people like me in the early 30s to mid‑40s age group, who grew up playing the Mega Drive and Master System consoles.
Of course it's not only SEGA you'll find in Super Potato. A visit here is like stepping into a museum of Japan's gaming past. Alongside familiar sights such as the Nintendo Super Famicom (Super NES in the west), you'll find games and consoles long since forgotten such as Panasonic's 3DO and the much maligned, but in my opinion vastly under-rated PC Engine system.
Game Tantei-Dan is another game store in Den Den Town, a short walk from Super Potato that specializes more in hard to get games of the retro past. Unlike Super Potato, who specialize more in stock from the late 80s up until the mid-2000s, Game Tantei-Dan delves deeper into the past. Some of their more collectable items go back as far as the 1970s, when even in Japan, video gaming was still very much in its infancy. If you're old enough to remember the Nintendo Game and Watch from around 1983, then you'll be pleased to know that Game Tantei-Dan is one of the very few places in Osaka where you can still, from time to time, find these rarest of rare items in nearly new condition!
However, perhaps your gaming tastes are more modern.
In that case, you can't go wrong with GEO
Although the movie, game and comic rental chain has branches all over Japan, their Den Den Town store is one of the best in the country for recent second hand video games. The PS2, PS3 and PS4 are well-covered here. You may also find an occasional X-box game here and there too. Microsoft's flagship console never really took off in Japan, but whatever games there are for it to be had here will most likely be found in GEO Den Den Town, and at a significantly reduced price too. As an example, back in 2016, I was able to buy a PS4 console and 3 games from GEO for 34,000 yen. Not bad when you consider that even today, the console alone still retails for 32,000 yen in most stores.
Model and Hobby Shops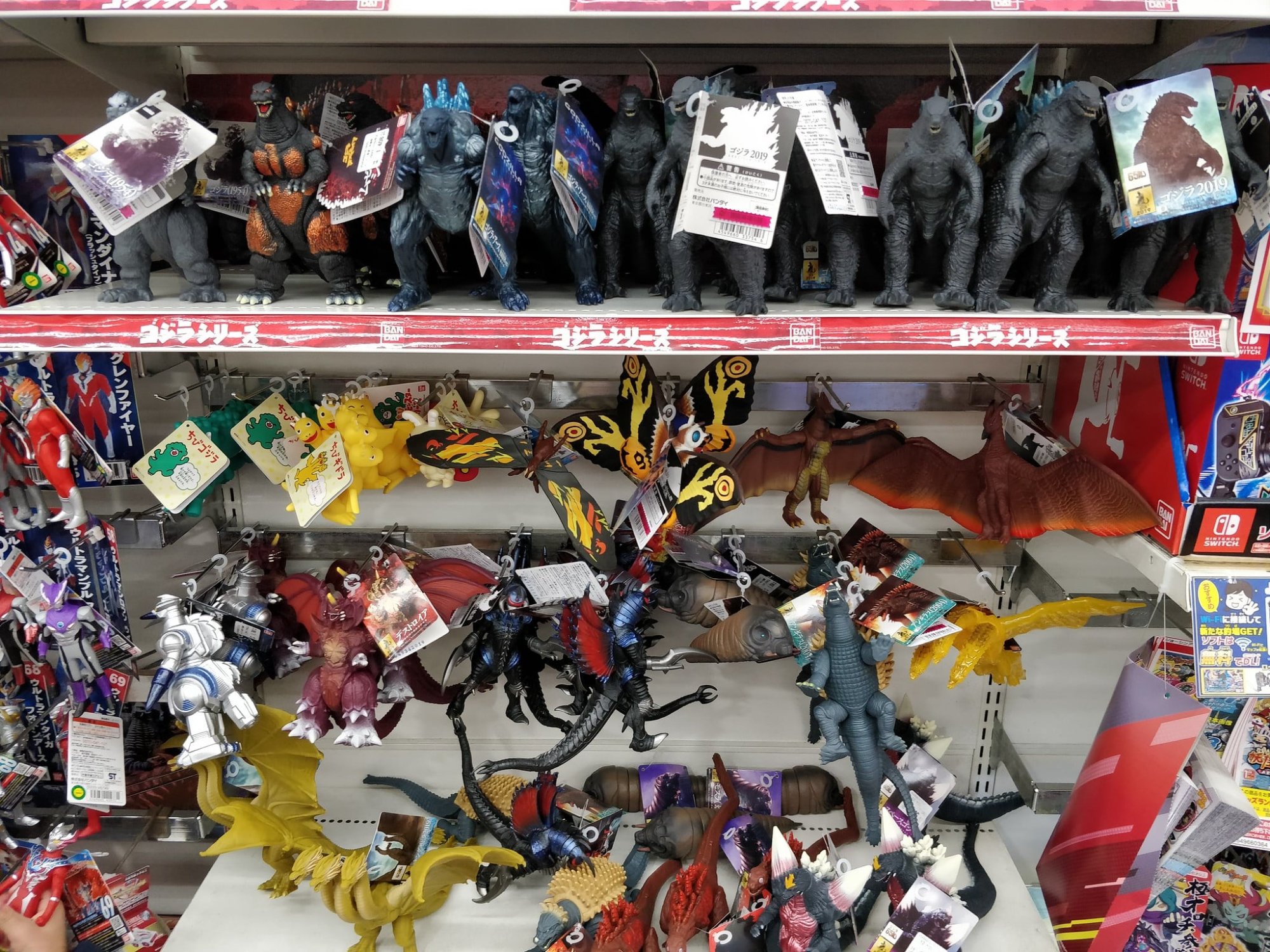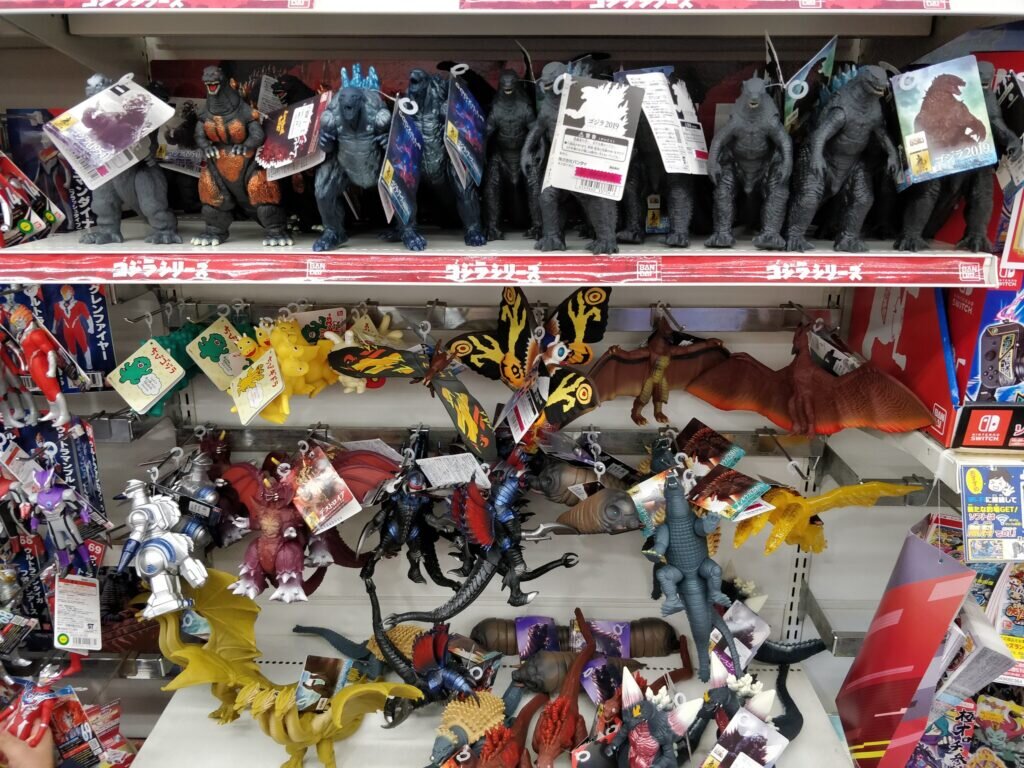 While it is often portrayed as the preserve of the socially inept, model kits, figures and related paraphernalia are a huge industry in Japan, bringing in billions of yen each year.
In Japan, as is probably the case in many other cultures, there's plenty of crossover between gamers and figurine/model hobbyists.
So, it will come as no surprise to you to learn that Den Den Town has a veritable plethora of hobby and model stores for you to browse when you visit. Let's now take a look at these in greater detail:
One of the most popular stores of this kind in Den Den Town is Super Kids Land.
Again the name here is perhaps a little confusing to the first time visitor. Super Kids Land is neither a toy shop nor a nursery for Superman's offspring, it is, in fact one of Den Den Town's Best known locales for model kits, anime figures, card games and such related goods. Whilst many of these models can be found by searching online, those vendors usually charge a premium and will often only offer the generic individual model or figure for purchase.
By buying locally here in Osaka, not only will you probably find the figures and models you want for a far lower price (compared both to ordering online and similar stores in Akihabara, Tokyo), but you'll also be able to pick up limited time promotional versions or special issues that aren't typically available to international buyers.
Here's an example of such, from my own experience:
As a Transformers fan, it was in Super Kids Land a few years ago where I was finally able to track down a "God Jinrai". This was a special, upgraded version of the famous "Optimus Prime" character only available in Japan.
I also got him for about 40% less than the lowest price I could find online!
If you're interested more in the Anime and Manga Figurine side of things then Gee Store Osaka is another place you must visit!
Gee Store is just a 2 minute walk down the street from Super Kids Land, and indeed offers much of the same kind of hobbies, crafts and figures. However, Gee Store has a much heavier focus on Manga and Anime characters as opposed to the more Movie, TV and cartoon themed merchandise you will find in Super Kids Land.
If you're a budding cosplayer (someone who likes to dress up as your favorite anime/manga character and attend conventions and festivals) then Gee Store also has a huge range of cosplay props and accessories to give your costume that little bit of extra sparkle amongst the crowd.
If you're more of a model maker, then after your visit to Gee Store, be sure to head next door to Yellow Submarine Namba.
Yellow Submarine has all manner of model kits, paint sets, craft materials and all kinds of other associated add-ons. You'll find everything from military aircraft to model cars, Gundams to Godzilla. Whatever kind of model you're after, if a Japanese company makes it, Yellow Submarine has it.
Some of us, of course, are a little pressed for time, and we don't have time to visit a multitude of stores in a single day.
So, if you're looking for somewhere that has a wide selection of all of the above under one roof, then Volks Osaka Showroom is probably your best bet. Comprising 8 massive floors, this toy, model and hobby shop covers everything you're likely to need all in one place.
Home Electronics Stores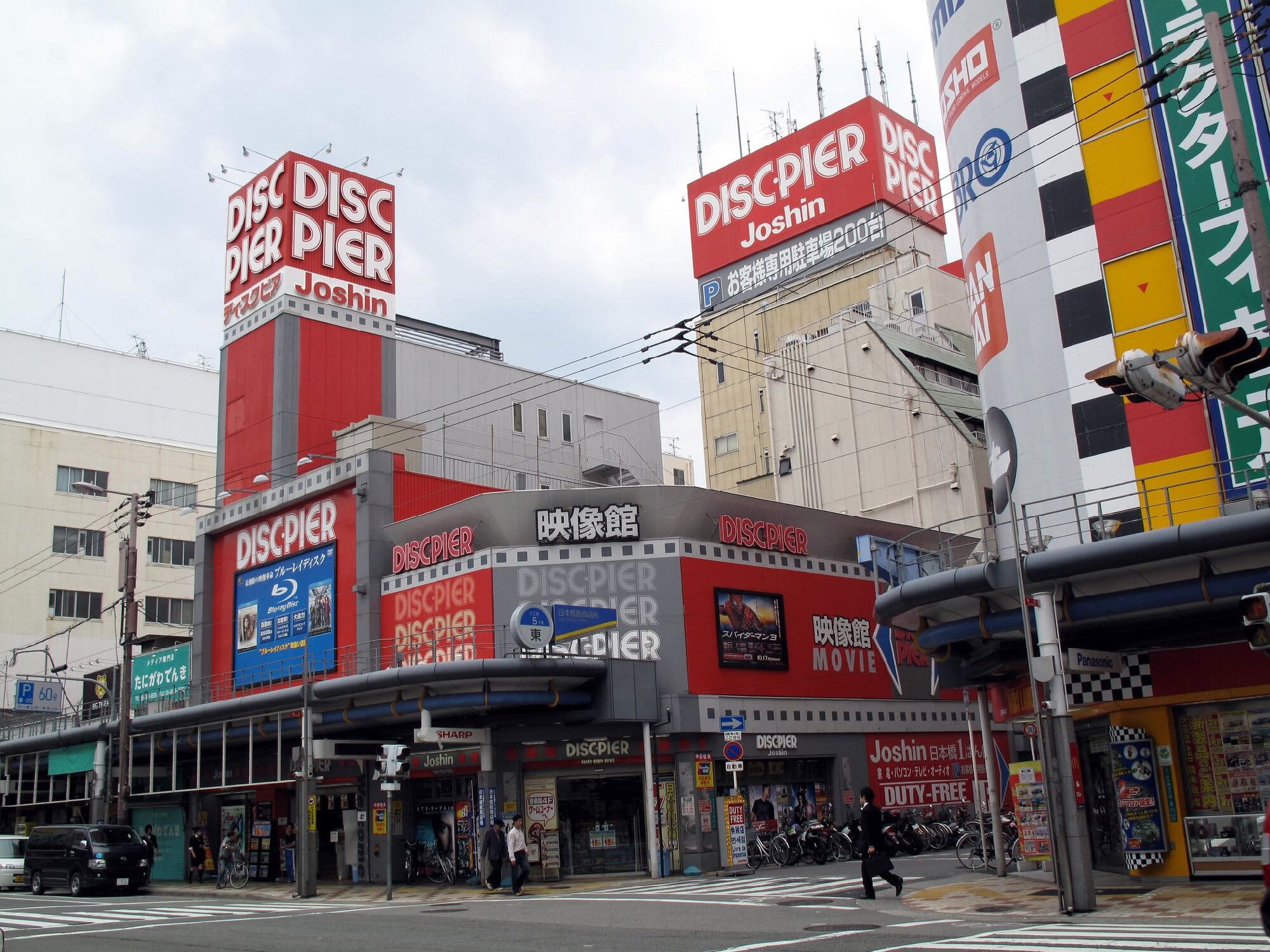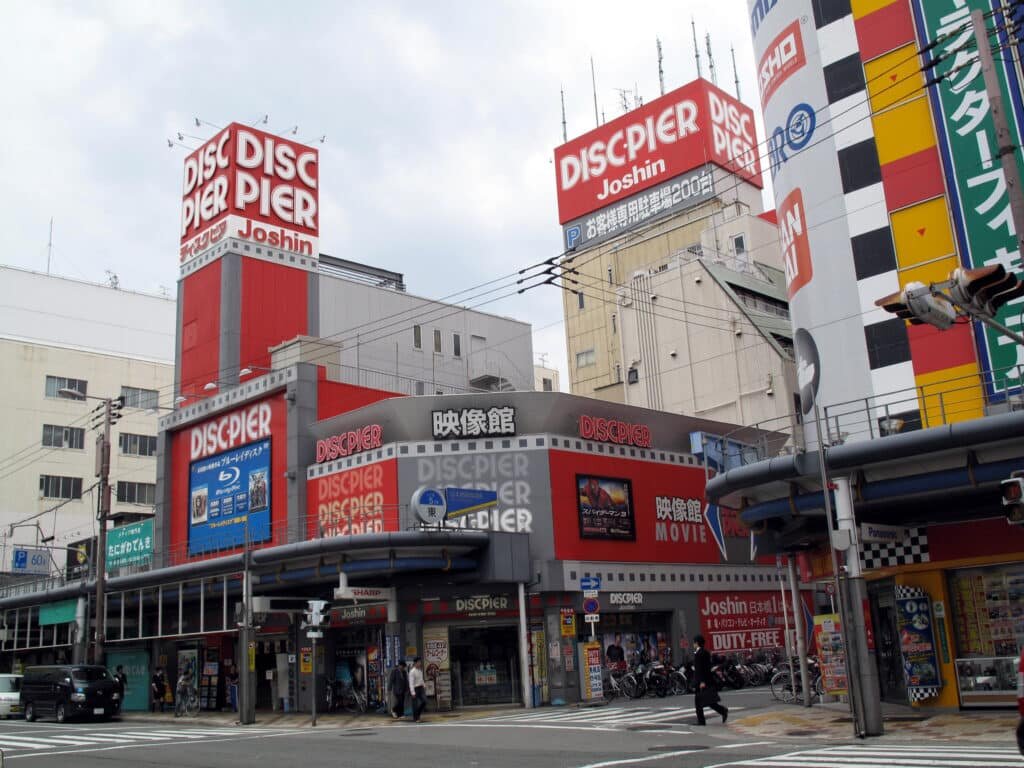 Behind gaming and hobby items, home electronics is probably the third most common category of consumer goods you will find in Den Den Town. After all, "den" is taken from the Kanji for electricity.
There are a variety of electronics stores across the area, covering everything from the latest laptops and music systems, to a new fuse for your old kettle.
So, let's have a look at your options for home electronics shopping in Den Den Town.
Ok, so not every tourist who comes to Japan is looking for a new 56 inch flatscreen TV, as I was the first time I entered Sofmap. However, this store offers electronics in all shapes and sizes, from the ultra-modern to the totally retro.
This massive, multi-level discounted and second hand electronics store sits right in the middle of the Den Den Town area and is something of a focal point for all the surrounding shops.
Here you will find everything from pocket-sized calculators and translators right up to sound systems designed to reverberate around your entire house!
Given the expected influx of foreign visitors, a number of the Sofmap staff can speak at least basic English, Chinese and Korean. They will also be able to help you find out if the specific equipment you are interested in will work in your country and whether any additional transformers or power converters are required.
Also, as a further convenience for visiting customers from overseas, Sofmap also offers tax free shopping. You'll need to take your goods to a the specialist Tax free counter when you pay for them and be sure to bring your passport with you to confirm you're not a Japan resident.
If you have a specific home appliance you are looking for, then LAOX Osaka may be a good place to start. This multi-level department store is one of the best in the area for those larger home electrical items. If you're on a tight budget, they also have plenty of imported items from the likes of Taiwan, China and South East Asia that will cost significantly less than their Japanese counterparts. As is also the case with Sofmap, LAOX offers duty free shopping provided you bring your passport and accompanying tourist visa with you. For larger items you can also arrange to have them shipped to your home address for an additional fee.
If second hand goods are more your thing, then Janpara is certainly worth a look
When I first arrived in Osaka back in 2013 and was desperately low on funds, awaiting my first pay day, Janpara was where I managed to find a new laptop with pretty decent specs at the time for under 20,000 yen. If you're in need of a new tablet, computer or phone urgently, you're a bit strapped for cash and you don't mind items that work fine by may be a little bumpy around the edges, then Janpara is the place for you.
On the subject of computers, I will freely admit that I am a functional illiterate when it comes to computer programming, building new systems, parts and maintenance and so on.
However, if you are clued up in such fields and you want to pick up some new parts while you're in Den Den Town, then you really must pay a visit to Silicon House Kyouritsu Electronic Industry.
This is the go-to place in Osaka for new and used computer components, peripherals and other accessories. Not only will you find anything the average computer geek could ever need, but you'll also find it at very competitive prices.
Once again, if you're in a hurry and looking for something of an amalgam of all of the above, then Joshin Nippombashi is probably your best bet. This multi-floored Electronics department store has everything large and small that you can need. Though of course, the trade-off is that you'll probably pay a bit more than you would if you went to one of the smaller, independent traders down the street. One common theme of all the home electronics stores in Den Den Town is that they seem to be a perpetual state of price war. So if you are looking for a specific item, I highly recommend checking out multiple stores, to be sure you can get the best price.
Entertainment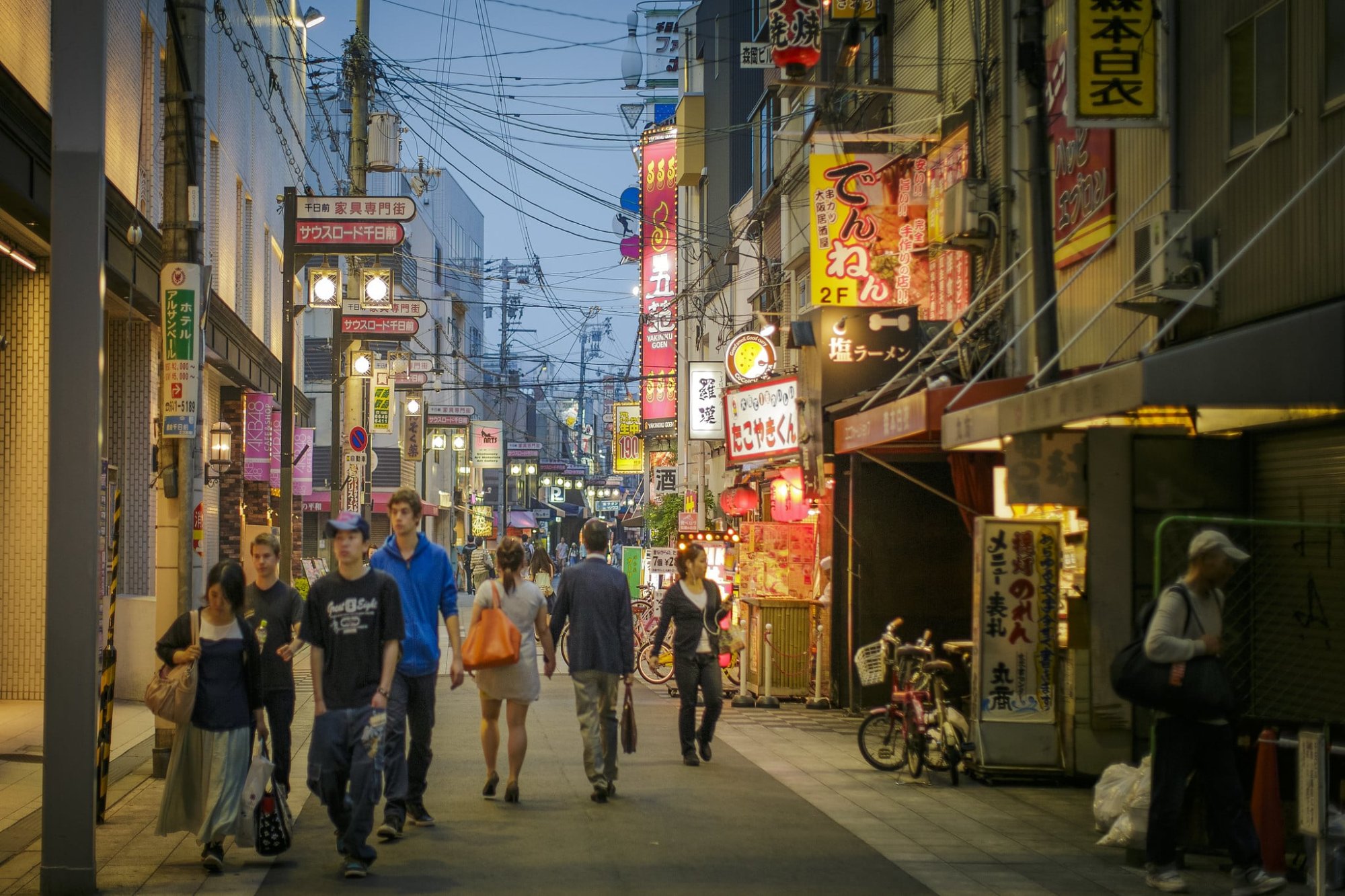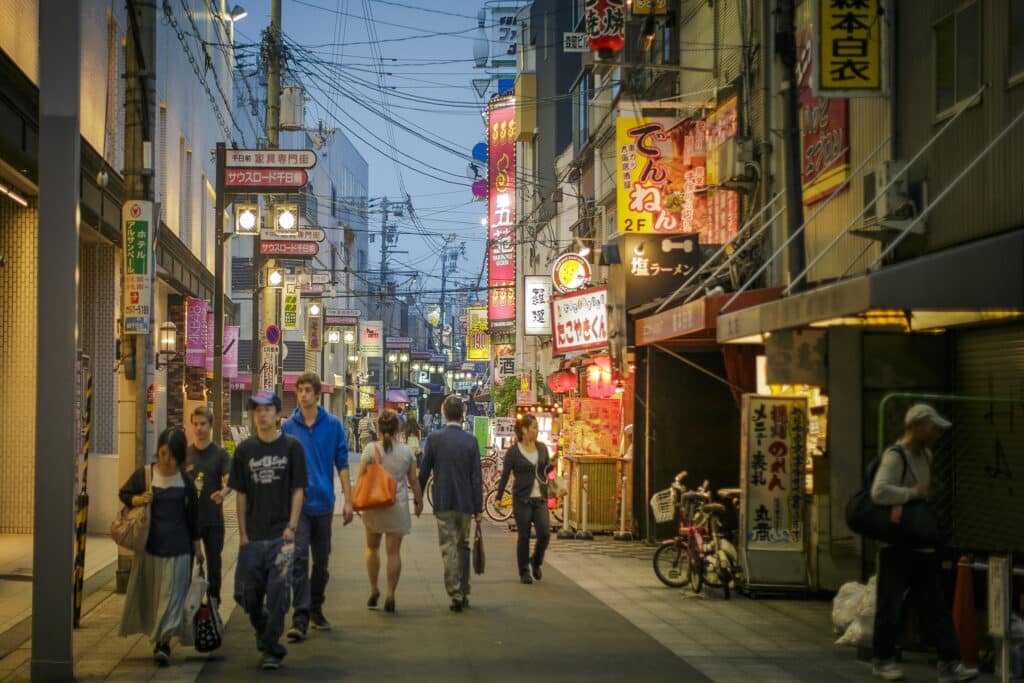 Of course, there's a lot more to Den Den Town than just shopping.
There are a host of entertainment options available too.
Here are some ideas.
Game Centers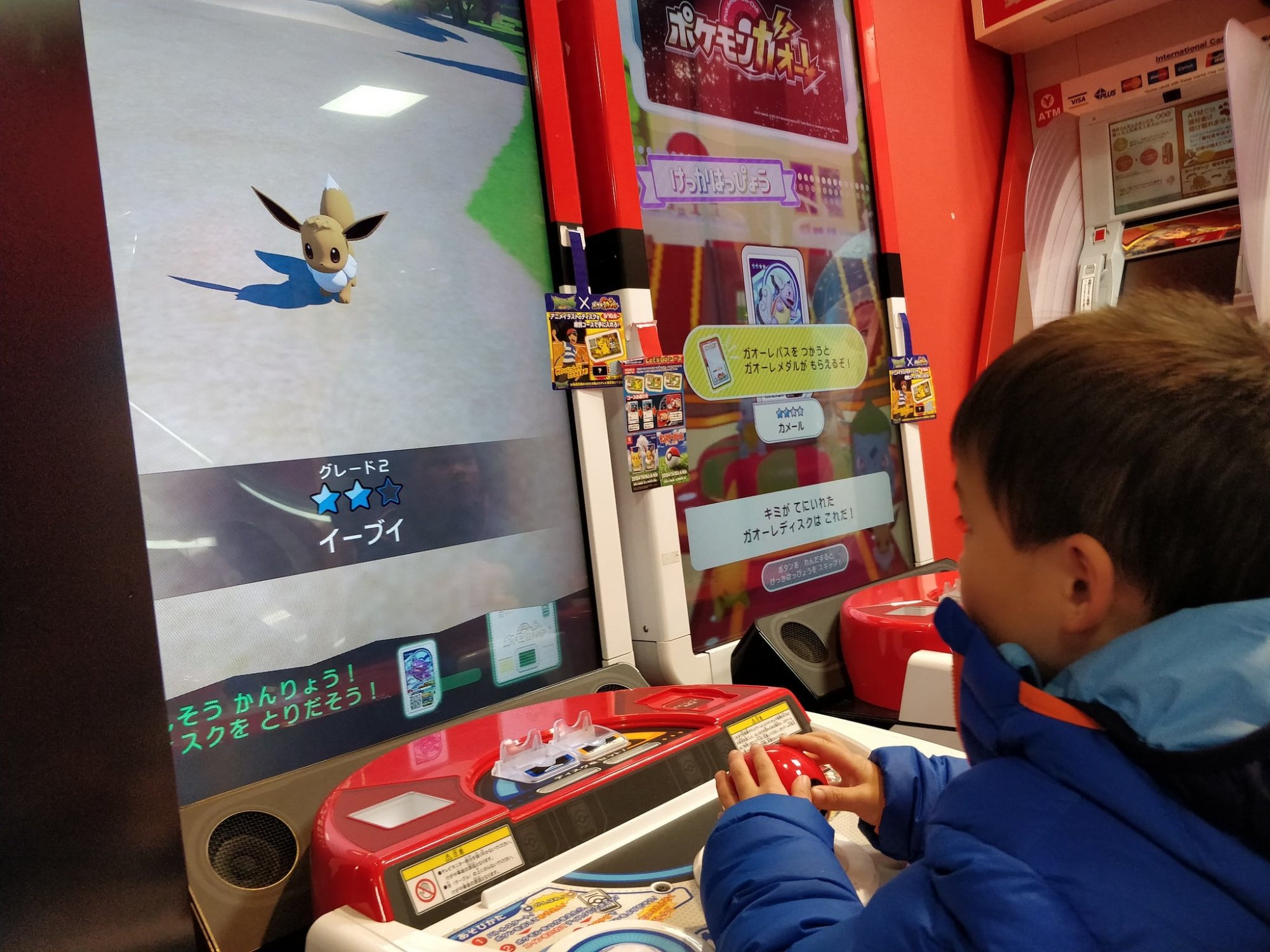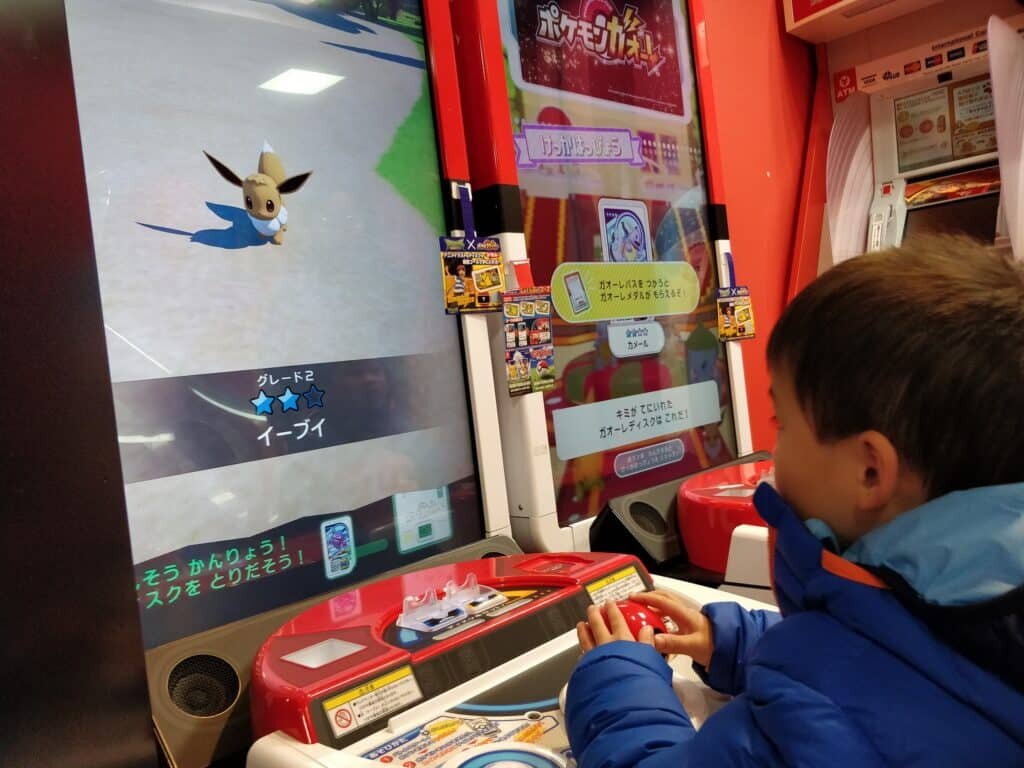 For as long as video games have existed so too have game centers. Whilst the video game arcades that dominated the urban and seaside landscapes of the 1980s and 90s in Europe and the US are now largely extinct, in Japan they have endured. Arcade gaming, games of chance and "UFO" claw catcher machines remain a huge business here in Japan.
Given the clientele that so commonly frequents Den Den Town, it is only logical to think that you'll find a few high level game centers around there too.
Leading the way, of course, is my beloved SEGA Corporation with their SEGA Namba Avion gaming center. Here you'll find the latest in light gun games, action racing games, and prize contests, alongside old-school classics like Virtua Fighter and Sega Rally.
Namco, the creators of the much vaunted Tekken and Soul Calibur fighting game series', have their own dedicated gaming arcade too, with Namco Osaka Nippombashi. In addition to the above mentioned fighter's you'll also find various gaming cabinets based around the likes of Kamen Rider, Power Rangers and a host of other heroes in the Namco/Bandai back license back-catalogue.
Perhaps lesser known outside Japan, but still a powerhouse of gaming in their own right is Taito Corporation, who amongst other things, gave us the original Space Invaders, back in the day.
They too have their own dedicated gaming center in Den Den Town: Taito Station Osaka Nippombashi.
My personal favourite however is Retro Games Zarigani. Where you can play a wide selection of classic titles from what I consider to be the golden age of arcade gaming, the late 1980s to mid-1990s.
Also, in and around these gaming centers, you will find the mysterious Gatchopon machines.
No trip to Den Den Town, or indeed Japan in general, is complete without at least one visit to a "Gatchapon" machine.
You will see these meter or so high gumball style vending machines dotted all around Den Den Town. They are usually found either at the entrance to shops and gaming centers, or sometimes within their own designated areas on the shop floor (usually near a game center or the toy section).
Each machine is themed on a certain set of characters, an anime, TV show or sometimes movies.
You put in your money, which can range from 200 to 500 yen depending on the size of the reward, twist the handle and after a few seconds, a large plastic ball will drop out of the machine.
Pick this up, snap it open and you'll find your new figurine, keychain or other small memento inside.
Over the years I've found the likes of Iron Man, Darth Vader, Robocop and even my beloved Transformers in various Gatchapon capsules.
Make sure you pick up at least one while you're in Den Den Town.
Maid Cafes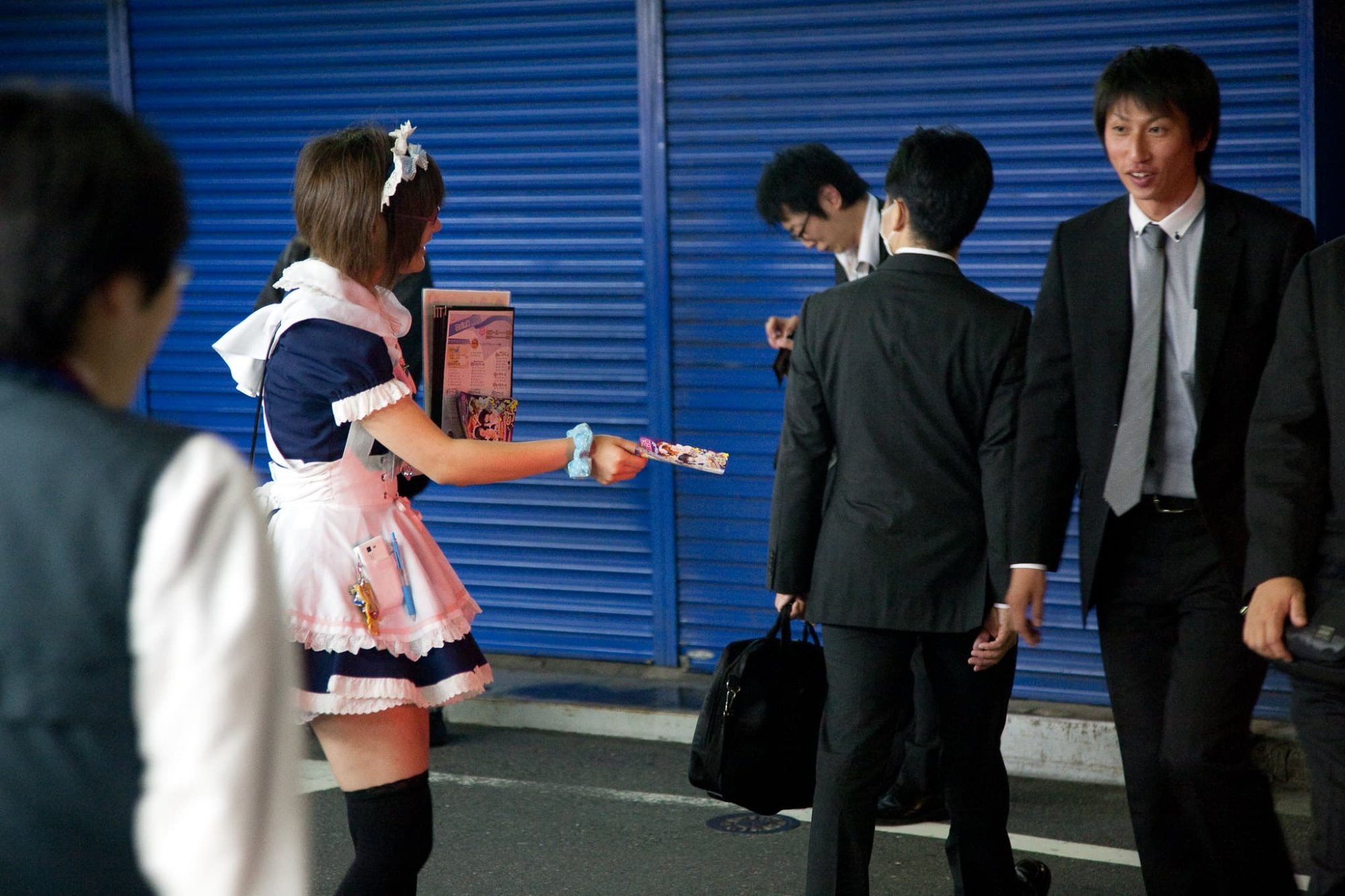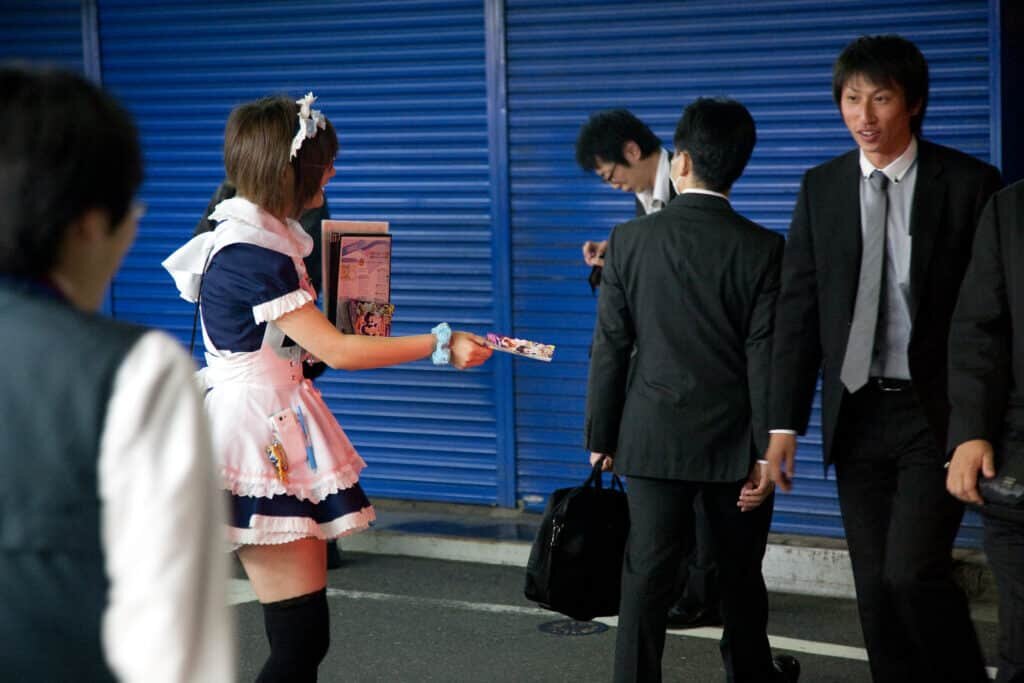 Ok, I'll be honest, maid cafes aren't my thing. I find the whole experience a bit weird and uncomfortable, so I haven't actually been to any of these cafes in Den Den Town. The venues I am about to discuss are based on the recommendations of friends and colleagues.
Café Doll is known for its cutesy décor, matched only by the cuteness of the costume's worn by the staff.
If you're feeling hungry while being pampered by your maid, then Maid Café and Dining Bar Milk offers a range of delicious meals and drinks as well as first class maid service.
If you'd like to enjoy the cosplay element of a Maid Café in a more conventional café/restaurant type setting, then Maidreamin, is probably the place for you. Their snack and drink menu is also a little cheaper than the other venues too.
Food and Drink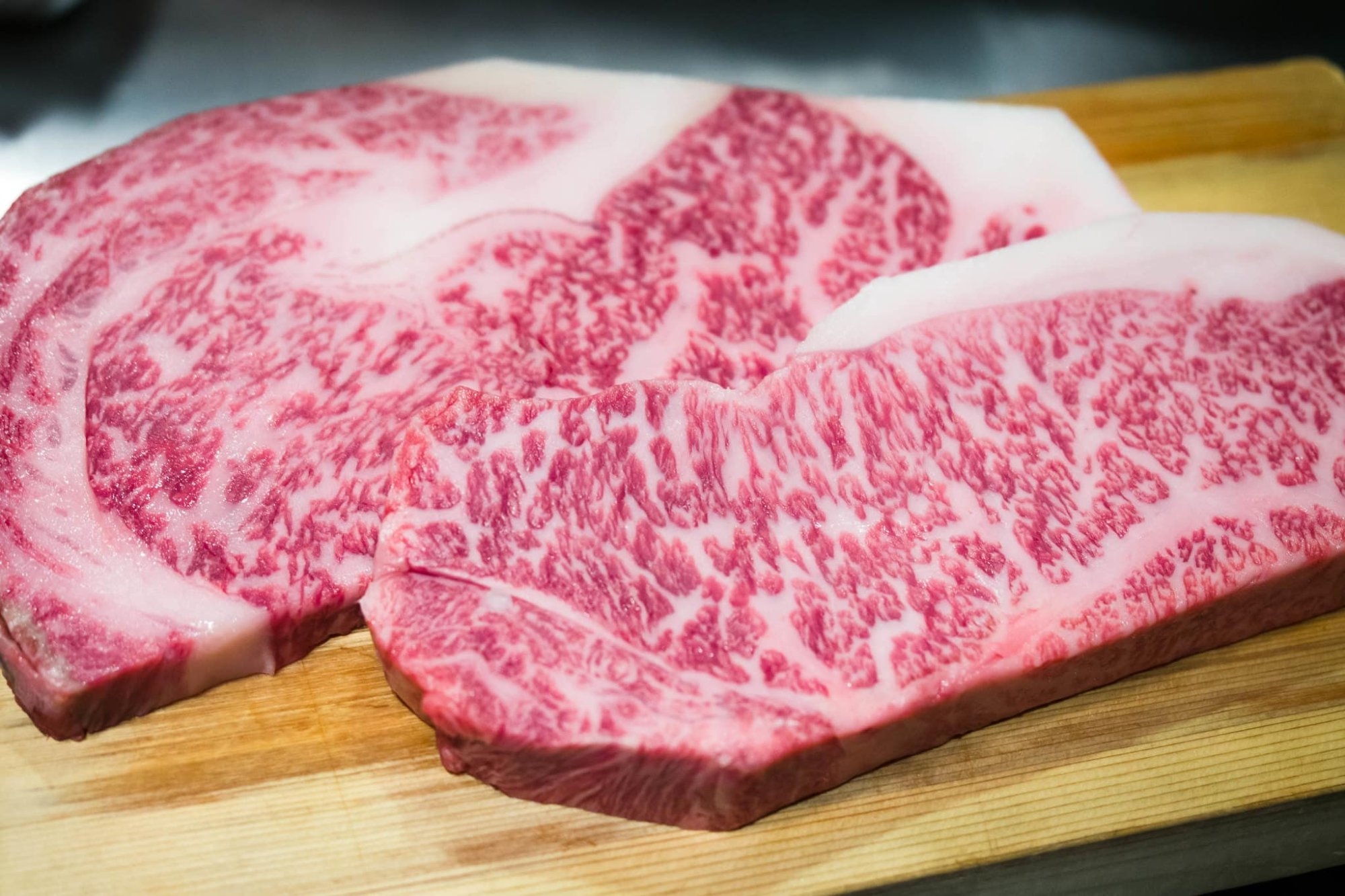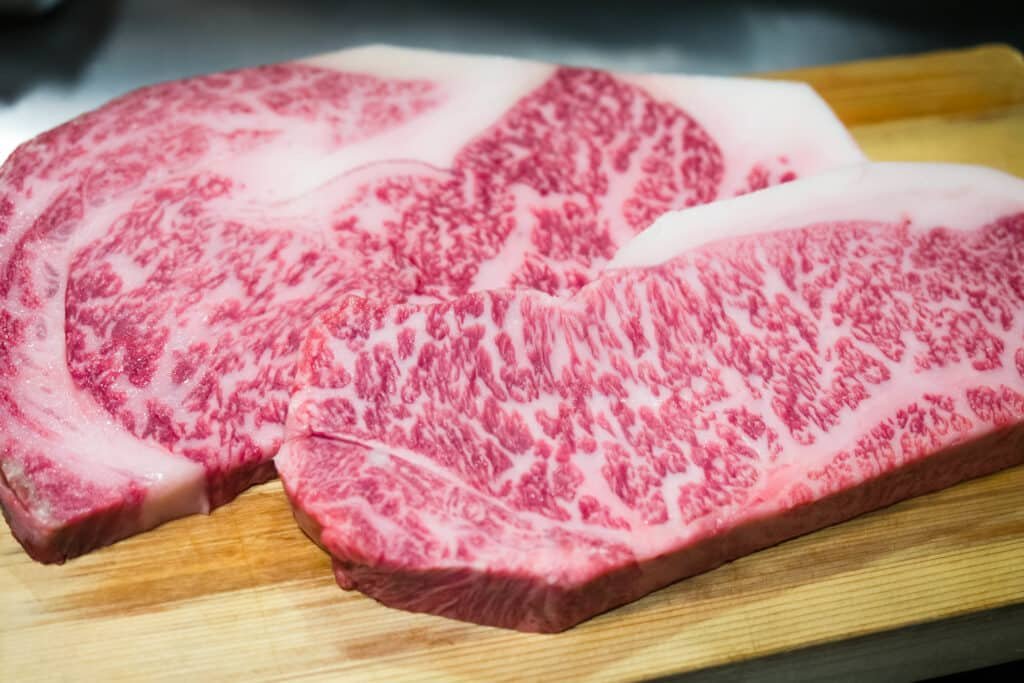 I don't know about you, but when I'm a little stressed out from all those busy crowds of sometimes overly-eager shoppers, a sit down and a nice curry for lunch can do me the world of good.
Thankfully Den Den Town has you covered in this regard with two of the very best Japanese curry houses in all of Osaka.
The Nippombashi branch of the famous Coco Ichi curry chain has a range of fantastic curries with all manner of accompaniments all for less than 1000 yen. Those new to Japan will also probably enjoy the novelty of ordering your food from a vending machine via a ticketing system rather than paying at the counter!
If you want your curry a little more rustic however, then I recommend Joto Curry, an Osaka-exclusive curry chain, with its own unique, somewhat peppery curry flavor.
On the other hand, if you have a hankering for the world famous Kobe Beef, then Kobe-Gyu Miyabi is a great place to go for dinner. Be prepared to pay the premium price that comes with such a delicacy though!
Perhaps however, you're after something a bit simpler, something simple, delicious, yet at the same time, something that says loud and proud "This is Osaka!"
Well, don't worry, because just around the corner from the main street of Den Den Town you'll find Kuromon Market, one of the best places in Osaka to enjoy freshly prepared seafood. They also some pretty decent barbecue meats and skewers in summer too!
Kuromon Ichiba (meaning the black gate market) comprises around 170 different stores, the majority of which are aimed at those in the catering trade, selling top quality knives, plates and other utensils in addition to fresh meat, fish and vegetables.
However, many of the food vendors also have restaurant facilities on site and offer a wide variety of delicious local delicacies.
Yes, you'll find the usual suspects such as takoyaki, okonomiyaki and yakitori here in abundance, but I really recommend treating your visit to Kuromon Ichiba, as a chance to branch out. Ever tried freshly grilled squid? Seasoned whale meat? Miso glazed tuna steaks? They are all here and so much more.
For the kids, I also recommend trying that famous Osaka drink: "Mixed Juice". It's a unique fusion of milk, yoghurt and a number of pureed fruits such as bananas, strawberries and pineapples, which is then chilled to perfection. If you're having something a little spicy for lunch then there's nothing quite like a little "mixed juice" to take the edge off the heat.
Upon exiting the western end of Kuromon Market, you will find yourself back at Nippombashi Station, where you can take a train back into the heart of the city and your Osaka Odyssey can continue.
The Nippombashi Street Festa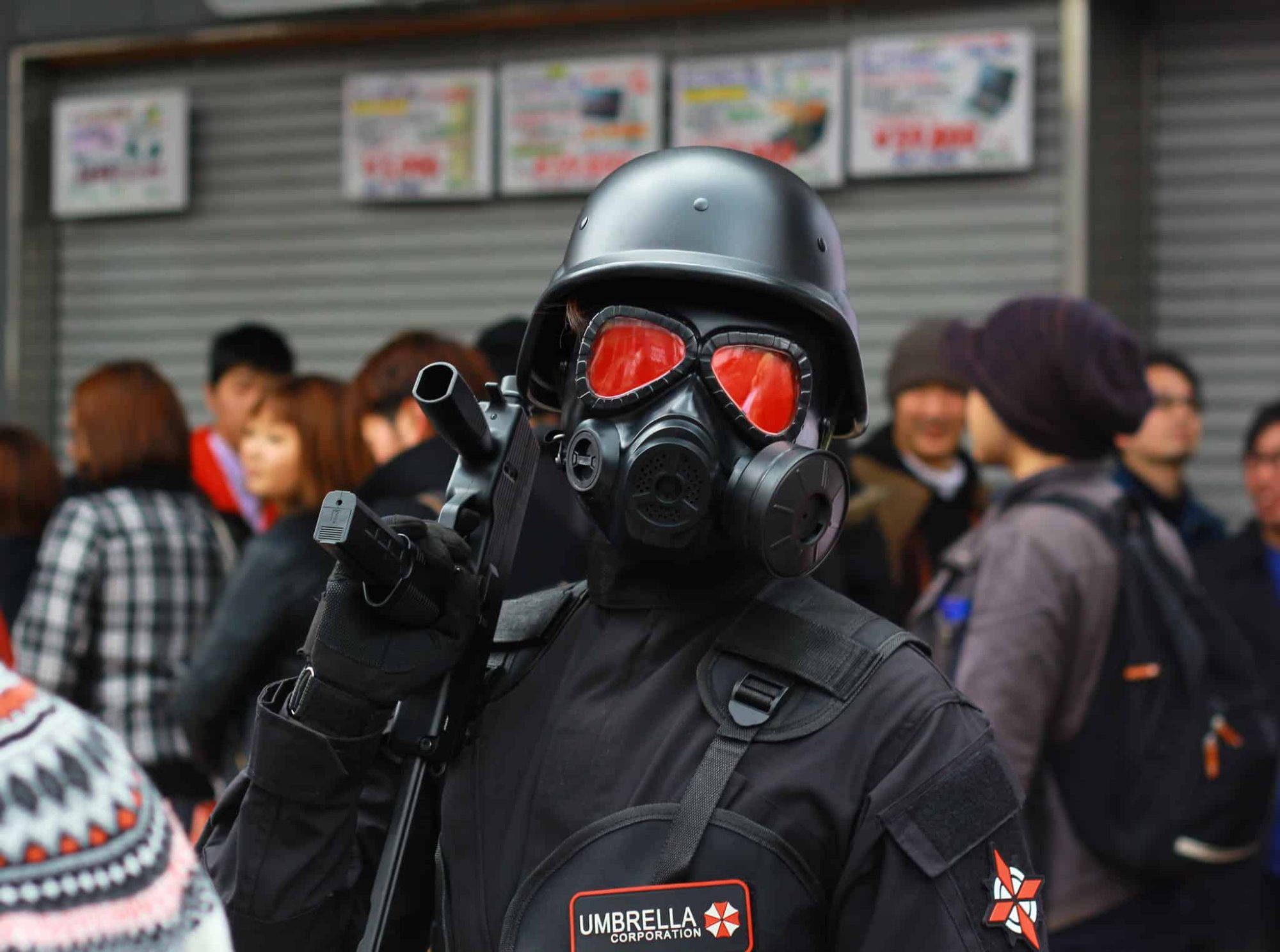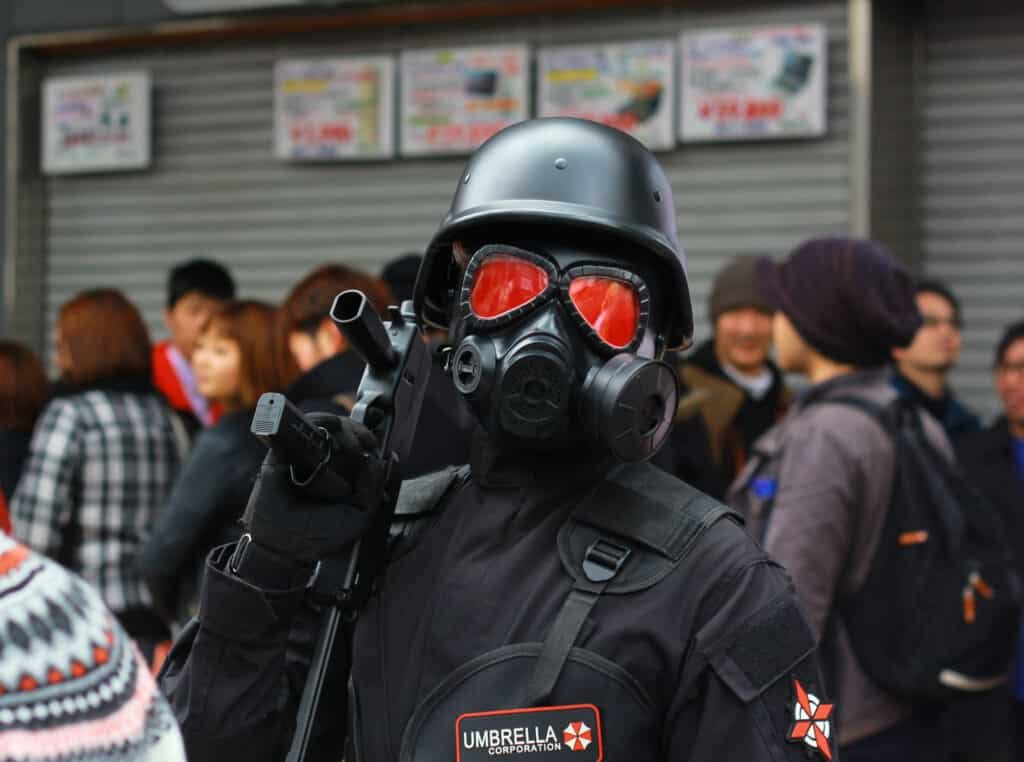 No detailed account of Den Den Town would be complete without a mention for the huge Street Festa, a cosplay festival that takes place in the district in March each year. den den town osaka
The weekend long event culminates in a huge cosplay parade with participants donning some truly whacky, weird and wonderful costumes and parading down the street to a variety of music and dance. Truly a sight not to be missed.
With each passing year Den Den Town continues to grow, both in stature and reputation. If this continues I expect it will soon surpass even Akihabara as Japan's Mecca of Geekdom. den den town osaka
For now, I recommend taking in this spectacle as soon as you can, before too many more tourists learn about it!