Yuko Tanaka is a veteran character actress originating from Osaka, active from the early 1980s on and still going strong. Her so far last big movie premiere took place at the Cannes Film Festival in May 2023 in Hirokazu Kore-eda's Monster (Kaibutsu), played at the prestigious Competition Section of the festival.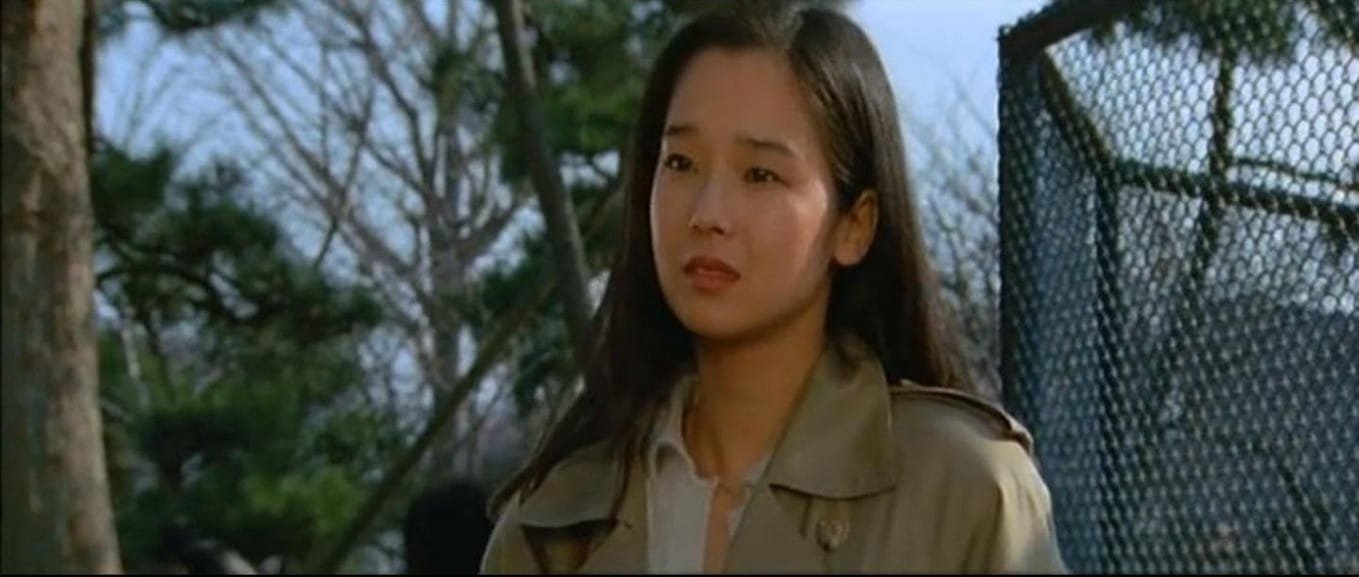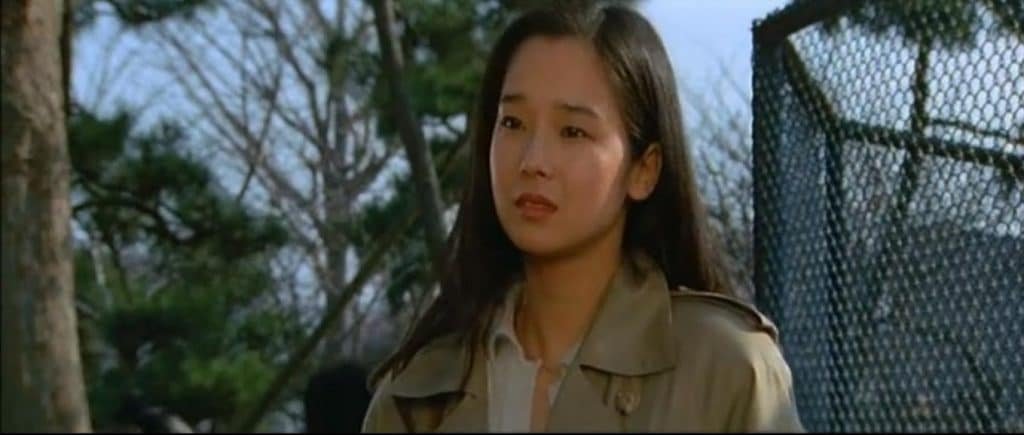 At the Cannes Film Festival in 2018, Hirokazu Kore-eda had won the main prize, the Palme d'Or, for his family drama Shoplifters. Thus, expectations for Monster were quite high. Despite missing out on the Palme d'Or this time, Kore-eda's film, set to the final score written by late composer Ryuichi Sakamoto, was one of the most popular entries in the festival, with critics and audiences alike.
The film tells the story of a single mother who notices strange changes in the behavior of her elementary school-age son. She blames those changes on a teacher at the school her son attends. But soon, perspectives change. Who is the monster inflicting those changes, asks the film. Really the well-meaning teacher or rather the over-protective mother herself?
Yuka Tanaka delivers an outstanding performance as Fushimi, the school's principal. It's a complex role but she delivers the contradictory facets the role requires quite naturally and seemingly quite at ease.
Yuko Tanaka 田中 裕子
The kanji read Tanaka Yuko, family name first, given name second, according to Japanese naming tradition. Internationally, however, like most other Japanese actors, she is known according to western naming conventions. Thus Yuko Tanaka.
Tanaka was born in 1955 in Ikeda, a city in the north of Osaka Prefecture, as Hiroko Sawada. Yuko Tanaka is her artist's name.
Her youth in Osaka didn't last long, though. From the second year of junior high school on, she grew up in Sapporo, Hokkaido. After graduating from high school in Sapporo, she moved to Tokyo to attend Meiji University, Department of Drama.
In 1978, while still a student at Meiji University, Tanaka joined the Bungakuza Theater Company in Tokyo and began there her career as an actress. In 1979, she got her first role as the younger sister of the main character in the NHK TV drama Sister Ma (Ma Nee-chan).
Early Acting Career
A lot of actresses as well as movie directors, cameramen and so on at the time got their break in pink movies, Japanese sex movies. Tanaka stayed clear of the genre though her early movie roles were decidedly erotically charged art-house productions.
She had her first movie role in Shohei Imamura's classic Eejanaika (Why Not) in 1981. Fiercely independent film maker Shohei Imamura was at the time, among other films, already famous for his 1966 Osaka drama The Pornographers.
The film depicts a revelrous movement during the late 1860s, the time right before the Meiji Restauration. People just went ahead seeking pleasure, asking "ee janai ka?" (why not?). Once the movement starts to get political, marching towards the Tokyo Imperial Palace, government troops end the revelries with a large massacre.
The film centers on Genji, a former farmer who had just returned from an accidental but lengthy stay in the U.S. Genji is the one who started the carnivalesque uproar of the disaffected Edo youth. Fittingly, Shigeru Izumiya played the role, a popular folk singer of the 1970s.
Yuko Tanaka acts in the role of Omatsu, a girl who had been sold to a brothel. Genji, who is from the same hometown, secures her release and return to her hometown. She later ends up in Edo where she supports Genji and his rebellious undertakings.
The film received several awards – and they all went to Yuko Tanaka. Japanese Academy Awards 1982: Prize for best supporting actress and for newcomer of the year; Hochi Film Awards 1981 and Blue Ribbon Awards 1982: Yuko Tanaka as best supporting actress.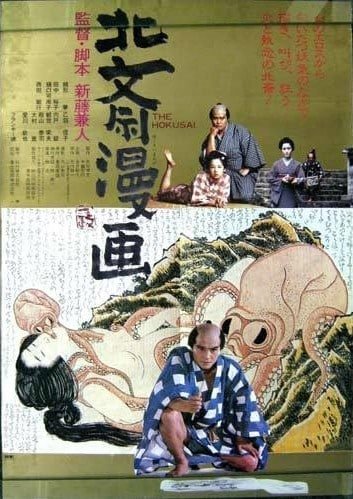 In the same year 1981, Tanaka got the role of Oei, the daughter of woodprint artist Hokusai in Kaneto Shindo's Hokusai Manga (known internationally as Edo Porn).
Though the film was clearly on the risqué side, it couldn't have been more classically Japanese. Kaneto Shindo was a legendary master of Japanese cinema and the movie focused on one of the most famous Japanese artists ever, Hokusai.
Ukyo-e artist Hokusai (1760 – 1849) is best known for his Thirty Six Views of Mount Fuji, a series of woodblock prints that includes the Great Wave off Kanagawa and Red Fuji.
In his time, though, Hokusai was a struggling artist. Like most other ukiyo-e woodprint masters of his time, he also created shunga, artfully crafted woodprint porn.
The film follows the developments that lead to Hokusai's most celebrated shunga, The Dream of the Fisherman's Wife (1814), depicting a nude lady enjoying erotic action with two large octopuses. The birth of tentacle porn, so to say.
Tanaka did not play the girl with the octopuses but Hokusai's dedicated daughter who helps her father all the way to attain the success he eventually achieves.
Awards for the film: both Japanese Academy Awards and Blue Ribbons Awards for Yuko Tanaka as best supporting actress.
In 1982, Tanaka landed her first lead role, in the crime drama The Rape (Za reipu) by Yoichi Higashi.
In the same year, the call came to switch from artfully crafted weirdness to the real mainstream.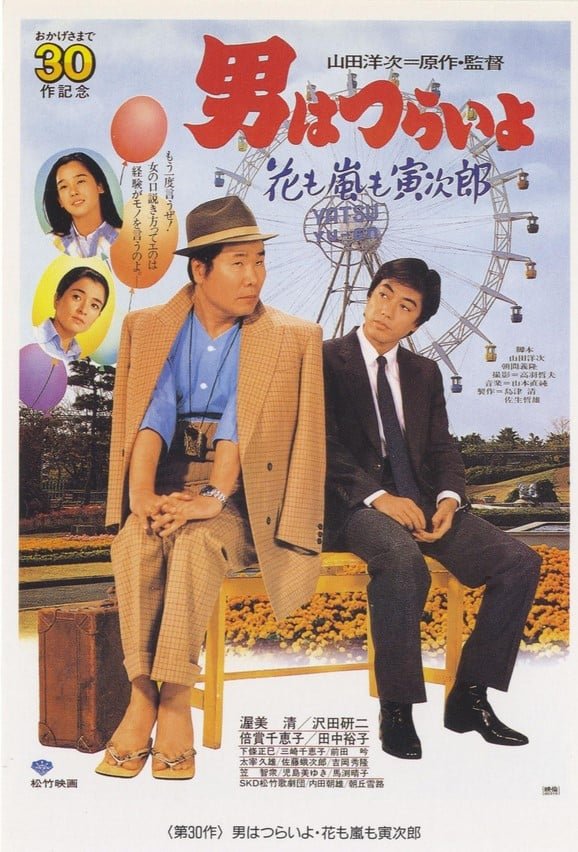 Tora-san, the Expert
Otoko wa tsurai yo (It's Tough to be a Man), outside Japan better known as the Tora-san series, is one of the longest running movie series in the world, spanning 48 installments, made between 1969 and 1995. All entries were directed by Yoji Yamada, all featured Kiyoshi Atsumi as the main character, Tora-san.
Tora-san is a small salesman based in a very traditional district in Katsushika Ward, Tokyo. In each episode he travels to a different region of Japan, selling the few wares he carries in his small suitcase. In every episode, he falls hopelessly in love with another woman only to learn in the end that the lady is actually interested in someone else.
It's all light entertainment with plenty of comedic moments, vaguely set in nostalgic times, circa the mid-1960s. The series was extremely popular with Japanese audiences and still receives plenty of TV reruns today.
In the 30th episode of the series, Tora-san, the Expert (Otoko wa tsurai yo: Hana mo Arashi mo Torajiro), released in 1982, Yuko Tanaka plays Tora-san's love interest.
They meet in the scenic small onsen village of Yunohira in Oita Prefecture (a place absolutely worth a visit, btw) and some confusion ensues, leading Tora-san to believe that Keiko (the character played by Tanaka) is actually in love with him. In fact, she falls in love with a zoologist she also meets while being in Oita. The two eventually marry at the end of the movie.
Life trumped art in that case. The zoologist was played by composer / rock star Kenji Sawada. Sawada and Tanaka first met while shooting Tora-san, the Expert, they met again when acting together in the Seijun Suzuki – directed comedy Capone Cries a Lot (Kapone oi ni naku, 1985).
In 1989, Sawada and Tanaka married. They are still a couple today.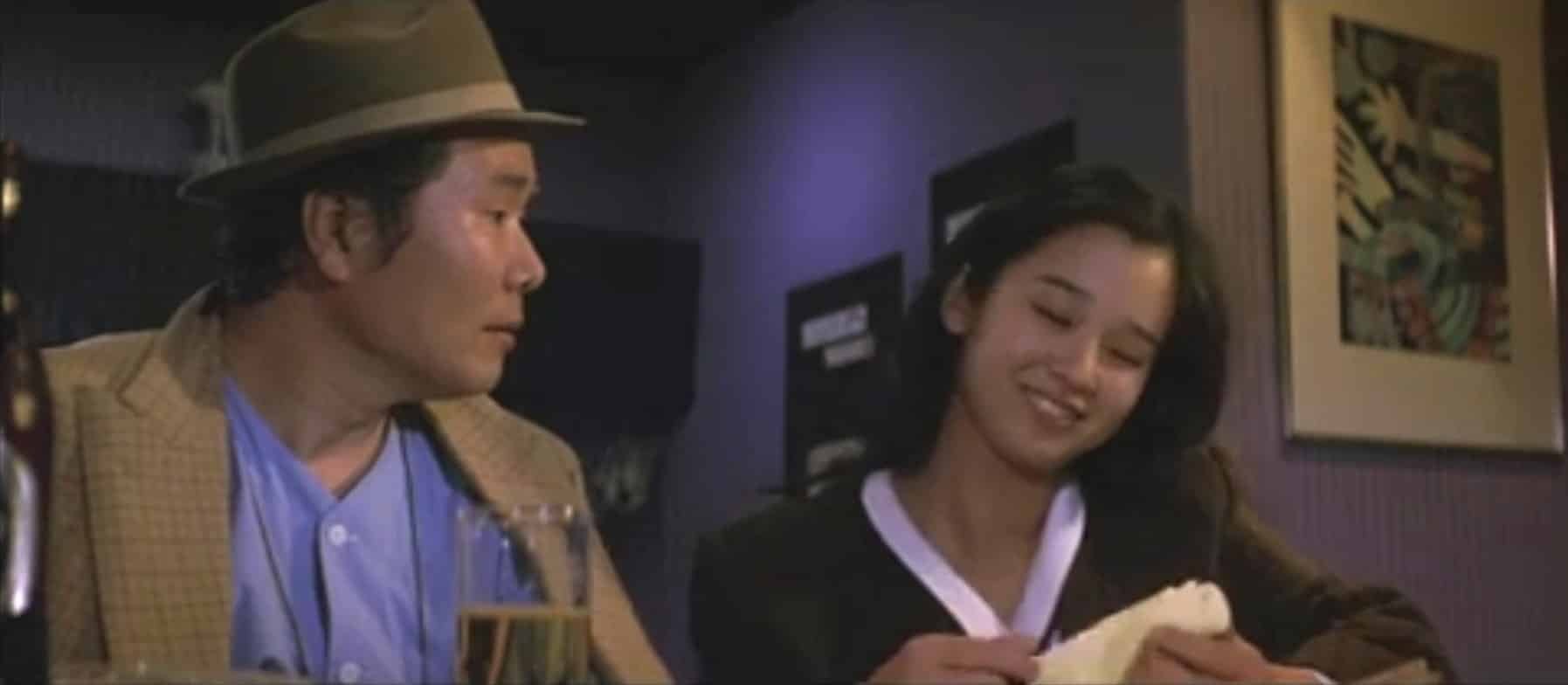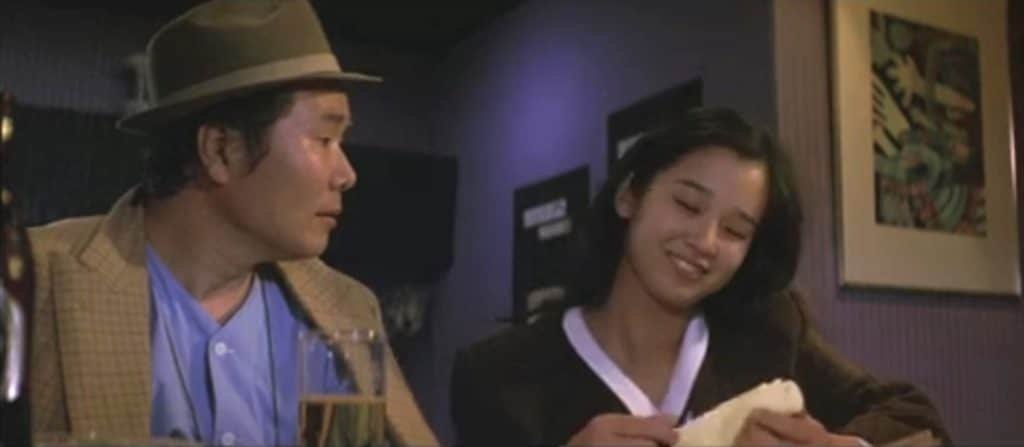 Yuko Tanaka's Image
What made Yuko Tanaka so outstanding as an actress? What was the secret of her success? Sure, she was good looking in her younger days but that alone can't explain her success.
It's rather that she could convincingly portray modern girls with very traditional traits and values. On screen, she always comes off as the filial daughter deeply concerned about her parents or as a hardworking girl open for new experiences and with a good sense of humor but still deeply rooted in Japanese family traditions and conservative values.
In the late Showa era (the 1980s) with all its shrill personalities on TV and movie screens, her down-to-earth personality and her dedication to continue the best of Japanese traditions in the modern-time characters she played, made her the Japanese dream girl.
Tanaka blended nostalgic visions of the filial girl of yore with her appearance as a thoroughly modern young woman. Late Showa audiences, yearning for seemingly easier times in a vague past, loved her. She was seen as the perfect daughter-in-law.
Later on in her career, Tanaka took on more mature roles but she built up her reputation in those early films in the 1980s.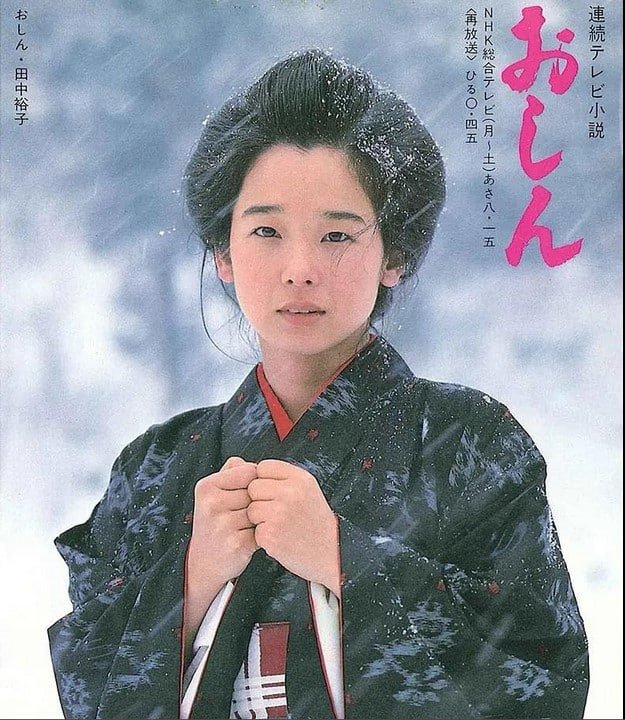 Oshin
Exactly those traits she was able to display in the morning television drama Oshin, at first airing from April 1983 to March 1984 on Japan's national broadcaster NHK.
The 297 15 minute episodes of Oshin recapitulate the story of a poor countryside girl starting out in the late Meiji Period (in about 1907) who through hard work and perseverance overcomes all obstacles and eventually builds up a successful supermarket chain in her later days (the 1970s).
Oshin, the main character of the series, was played by three different actresses, representing the character at different ages. Yuko Tanaka played Oshin as a young woman.
Being a great success in Japan, the series also played internationally on quite a big scale. TV stations in 68 countries aired Oshin, most successfully in China, South-East Asia and the Arab countries, including Saudi Arabia.
The story of the poor but filial and hard-working girl eventually finding success translated well across all cultural barriers.
Oshin made Yuka Tanaka a household name especially in China, a country just opening up to the outside world at the time, seeking economic success after decades of strict Maoist rule.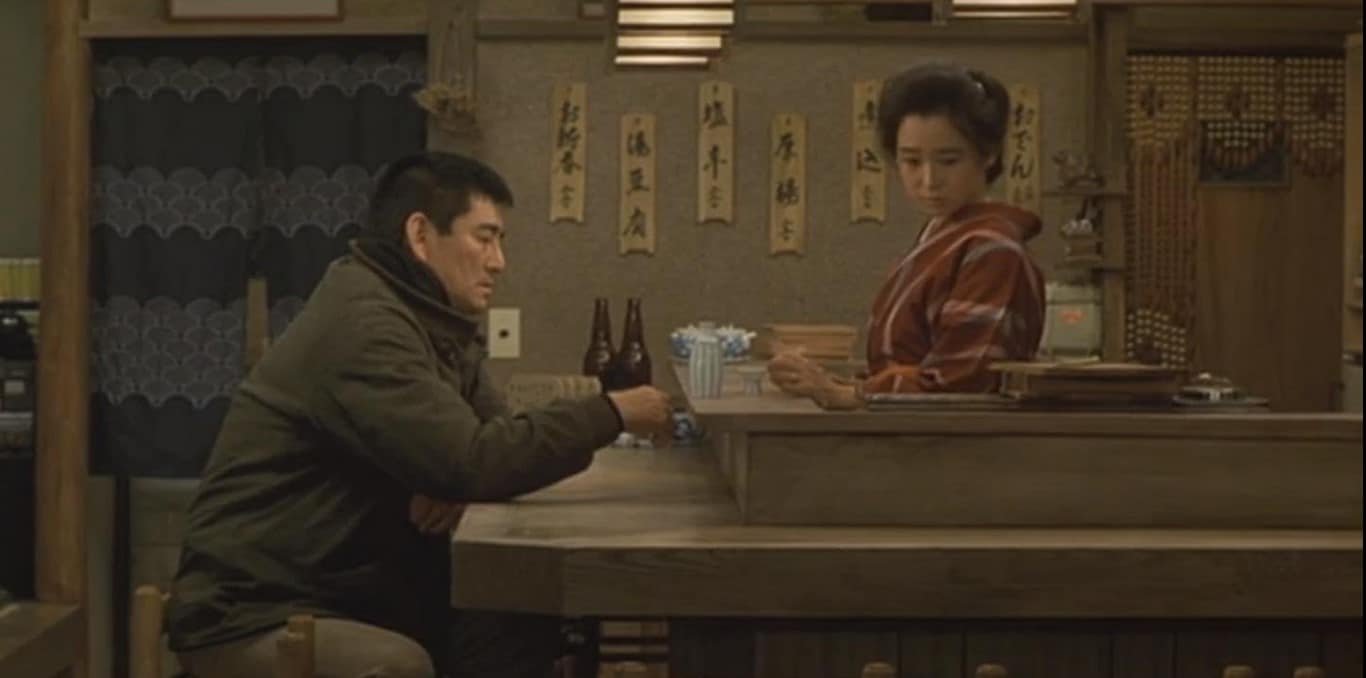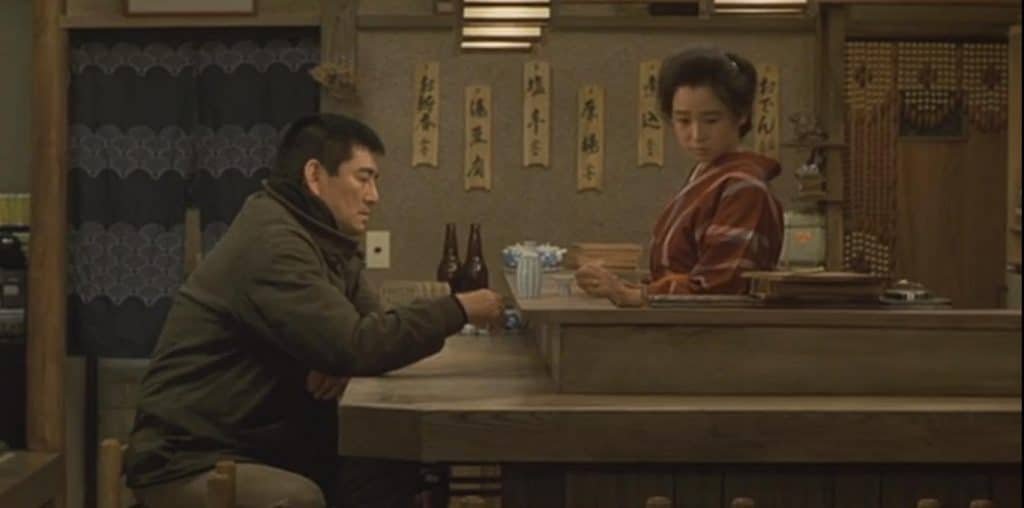 Yuko Tanaka's Osaka Movies
As of 2023, the Internet Movie Database (IMDb) lists 61 titles with Yuko Tanaka as an actress. The list includes several animation films where Tanaka did voice work, most notably in Hayao Miyazaki's Princess Mononoke (1997). TV dramas with multiple episodes are only listed once.
But did Yuko Tanaka actually act in any movies that would qualify as Osaka-centered films? She did.
One of them is the 1985 yakuza thriller Yasha, directed by Yasuo Furuhata. A yakuza played by veteran actor Ken Takakura (best known internationally for his role as Osaka police officer in Black Rain, 1989) has retired to a tiny fishing village where he leads a honest, hard-working life.
But one day, a young woman named Hotaruko (played by Yuko Tanaka) opens a bar in the fishing village. Shuji, the former yakuza played by Ken Takakura, quickly falls for her urban charm. But soon, Yajima, Hotaruko's old pimp shows up, an Osaka yakuza played by Takeshi Kitano. Yajima starts to sell drugs to the local fisherman. When Yajima suddenly disappears in the midst of conflicts over a large debt to his yakuza gang, Hotaruko begs Shuji to look for him in Osaka.
Yuko Tanaka could very well play a yakuza affiliated bar girl. A bar girl absolutely dedicated to her master though, to the Takeshi Kitano – character.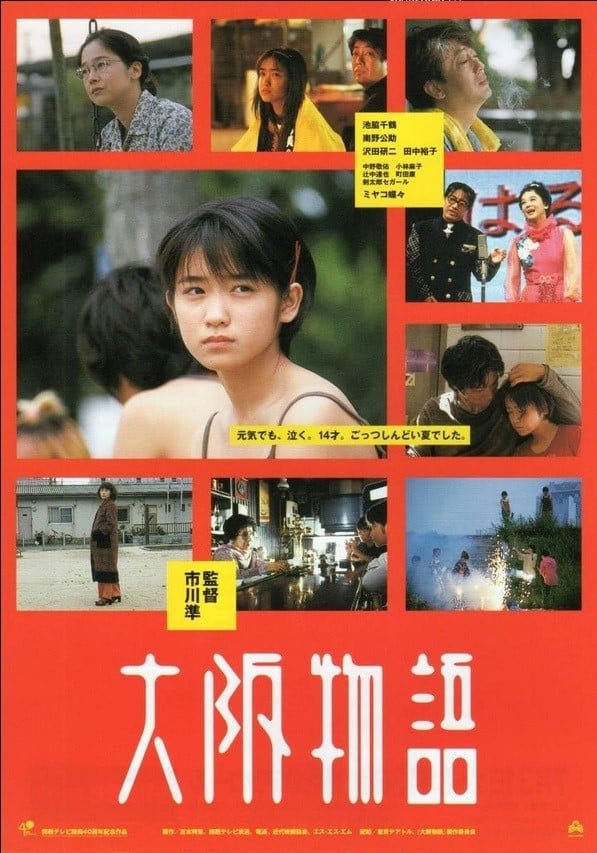 In 1999, Yuko Tanaka acted in Jun Ichikawa's Osaka Story (Osaka Monogatari) as Harumi, the wife in an unsuccessful comedy duo. Her husband was played by her real husband, Kenji Sawada.
Clearly drawing on Yasujiro Ozu's 1953 family drama Tokyo Story (Tokyo Monogatari), one of the absolute classics of Japanese cinema, Osaka Story can be seen as an homage to Osaka's long-standing tradition of manzai (duo) stand-up comedy. Quarreling couples are a standard of manzai comedy… just that in the case of Osaka Story the husband / wife duo quarrels all the time, off the stage more than on the stage. Which leads to serios problems down the line.
In 2008, Yuko Tanaka appeared in Homeless Student (Homuresu Chugakusei), an Osaka drama directed by Tomoyuki Furumaya and based on an autobiographical novel by comedian Hiroshi Tamura.
Tamura, a middle school student, finds himself suddenly homeless after his father loses the family apartment. While his siblings try to work out the situation together, Tamura decides to confront the situation solo. He becomes homeless and lives in a park.
Tamura and his siblings are helped by various sympathetic adults, among them the characters played by Yuko Tanaka and her movie partner Ryudo Uzaki (famous for his role in Tattoo Ari).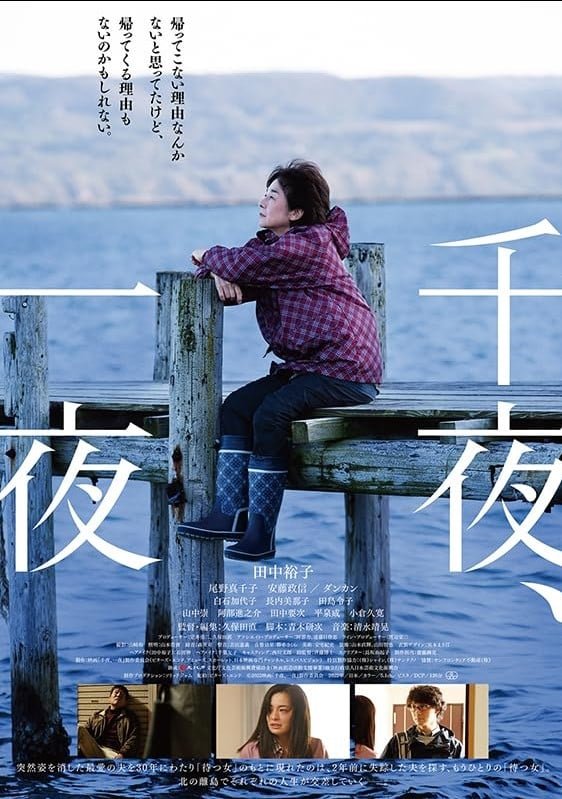 Yuko Tanaka's most recent lead role was in the 2022 production Thousand and One Nights (Senya, Ichiya) directed by Nao Kubota. Tanaka plays the wife of a Sado Island fisherman who has disappeared 30 years earlier. Despite all the time that has passed, she is still tirelessly searching for him…
Shortly after the premiere of Thousand and One Nights, Tanaka appeared on the big screen in Cannes in Hirokazu Kore-eda's Monster. What will be next?