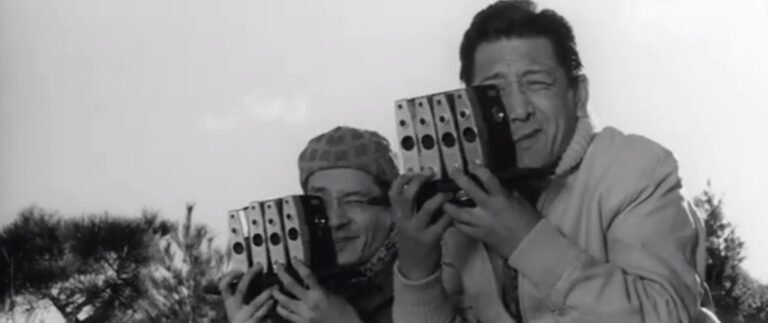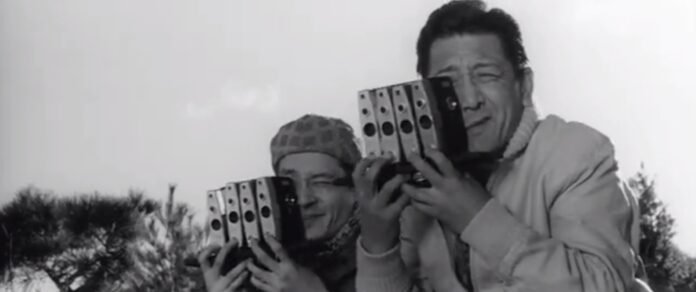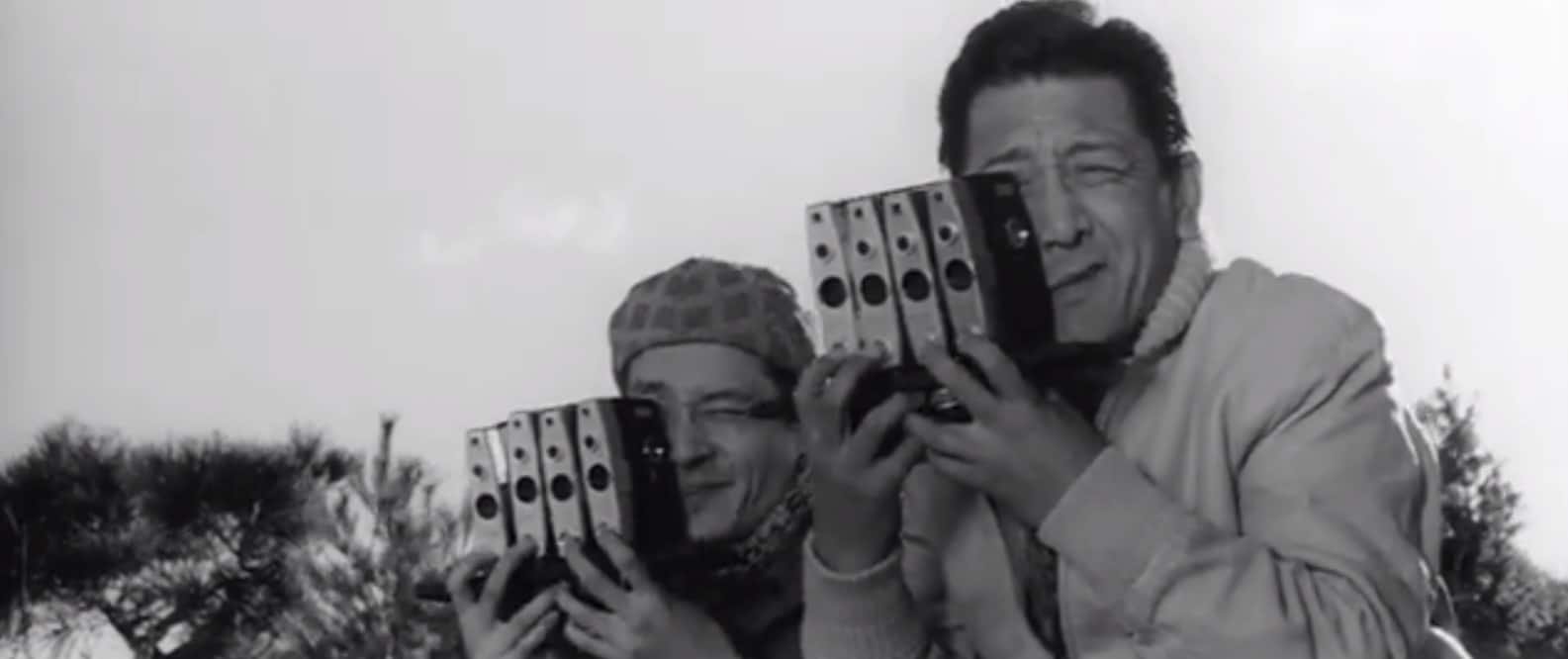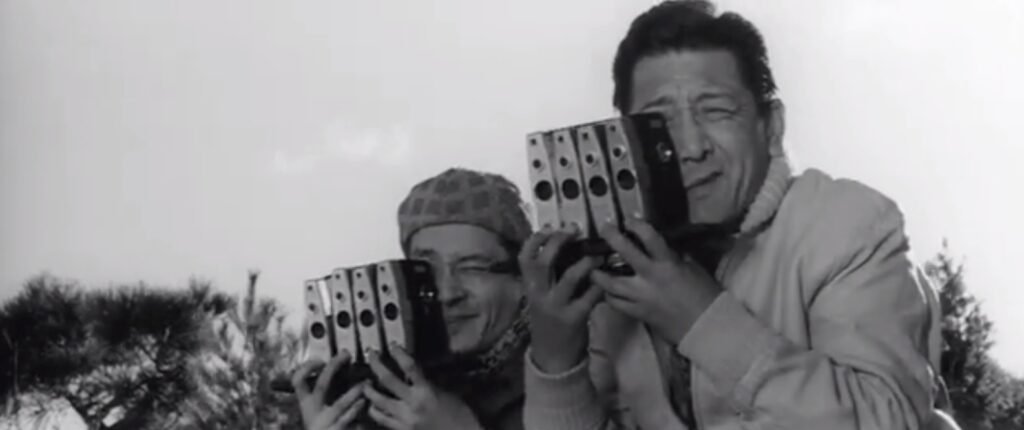 Pornographers at work in the mid-1960s: Subuyan Ogata, the main character of the film (played by Shoichi Ozawa) and his co-pornographer Banteki (Haruo Tanaka) meet up with their models at a suburban train station. They are next seen trudging up the slopes of Mount Rokko near Kobe in search for a secluded spot. Mount Rokko being a very popular day trip destination for Osakans. "The male model is a backwasher at a Tennoji bathhouse." Mr. Ogata, frequently referred to as Subu in the course of the film, explains. "He is very simple-minded but he's got a big one." "And the girl?" Banteki asks. "One of our prostitutes." Subu answers. "Only one girl?" "Two would be too expensive."
They find their secluded spot and start their filming. We don't see the models in action. Instead we see the two pornographers with their cameras: each has a set of four 8mm cameras inserted into a small rack, they push all the 'start' buttons simultaneously.
What they shot was a 'blue film'. 'Blue film' and 'ura eiga' (below the table film) were the Japanese expressions for illegal pornography in the days before 'ura video' became available under the table.
Hardcore pornography was frequently shown or sold in 8mm format in the red light districts of hot spring towns or to wealthy customers in big cities like Osaka.
8mm film could be developed relatively easily under home-made darkroom conditions. It didn't need any expensive laboratory. That of course meant that simply the film negative that had run through the camera became the positive to be screened.
Duplicating the films would demand much more expensive technology. Japanese pornographers of the era usually shunned those costs.
They sold the developed 8mm originals. To stay cost-effective, they shot their scenes with as many 8mm cameras as possible simultaneously – just as Subu and Banteki do in the opening scenes of The Pornographers.
The Pornographers (Japan, 1966) "エロ事師たち"より人類学入門
The film is based on the book "Erogotoshitachi" yori jinruigaku nyūmon (An Introduction to Anthropology through Pornographers) by novelist Akiyuki Nosaka (1930 – 2015). Nosaka was by no means an underground writer. He was famous for his children's stories, he was elected to the Diet, the Japanese parliament in 1983.
His 1963 novel Erogotashi-tachi however described the practices of Osaka blue film producers in quite some detail. Details that don't appear in the film.
If you had hoped to learn much more of the techniques used by those early Japanese pornographers from Shohei Imamura's 1966 film The Pornographers, you will be sorely disappointed.
Instead, movie director Shohei Imamura, one of the grand old masters of Japanese cinema focuses on the private life of blue film maker Subuyan Ogata.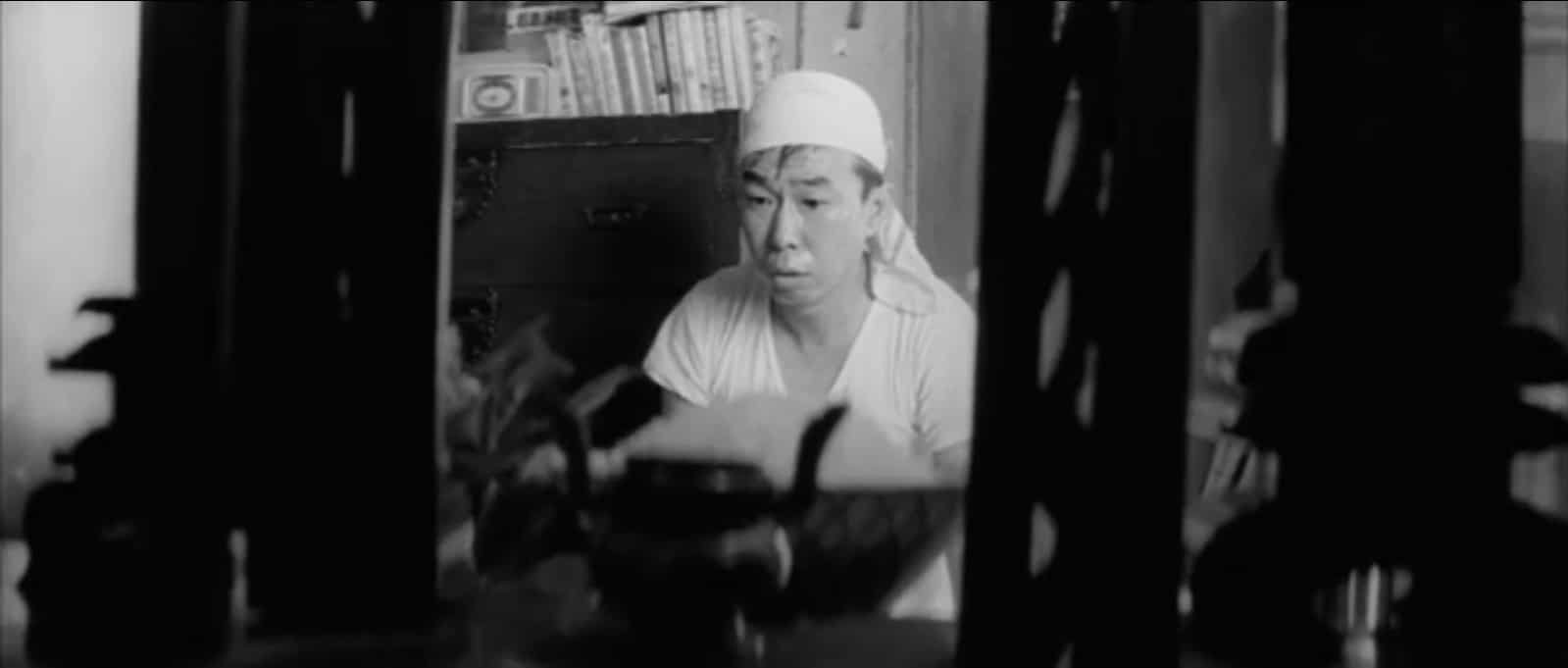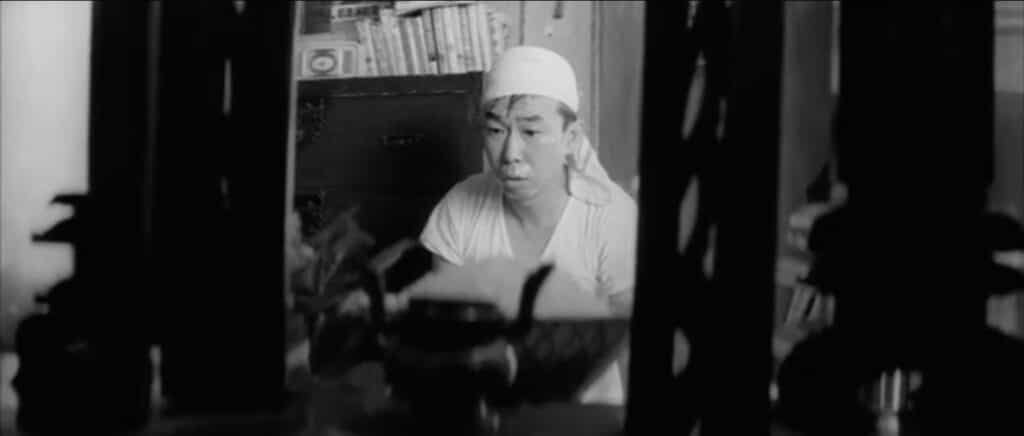 Distributed by Nikkatsu, Japan's oldest movie studio, and released in Japan under the same title as Nosaka's novel, Imamura's film aims to show a slice-of-life portrait of a man struggling on many fronts. The need to make money being one of those challenges though the need to keep his own carnal desires under control seems to be the hardest of his struggles.
Subu's Life
Subu is a middle-aged man and he lives at his girlfriend's place. Her name is Haru (played by Sumiko Sakamoto), she runs a barber shop and she is a widow. She can't forget her husband to whom she has pledged to never to have another man in her life after he dies.
A carp in an aquarium in her room represents the spirit of her deceased husband. If the carp jumps, it shows the deceased husband's disapproval with her actions. The carp often jumps, especially when Haru has sex with Subu.
Haru has two teenage children from her first marriage still living in the house. Koichi, her son (Masaomi Kondo) is a ruthless youth, trying to grab as much money off Subu as he can.
Keiko (Keiko Sagawa), Haru's 15 year old daughter however poses a very different problem. She certainly is as greedy as her elder brother but she is very attractive at the same time.
Subu has a hard time keeping his desires towards her in check.
Erotic Suppliers at Work
Haru's barbershop doesn't make much of a profit. Her son Koichi however decided that he needs to go to college. Not being intelligent enough to pass the exams, he needs to bribe his way in.
Subu, a hard-working man who really loves Haru and her family, needs to come up with the cash to keep the family going.
Needless to say, the family doesn't know his true profession. They believe that he is in the business of selling medical supplies. Well, in a way, he is. He and his colleagues do really believe that they do society a favor with their activities, that they are actually helping people in need. In need for sexual release, that is.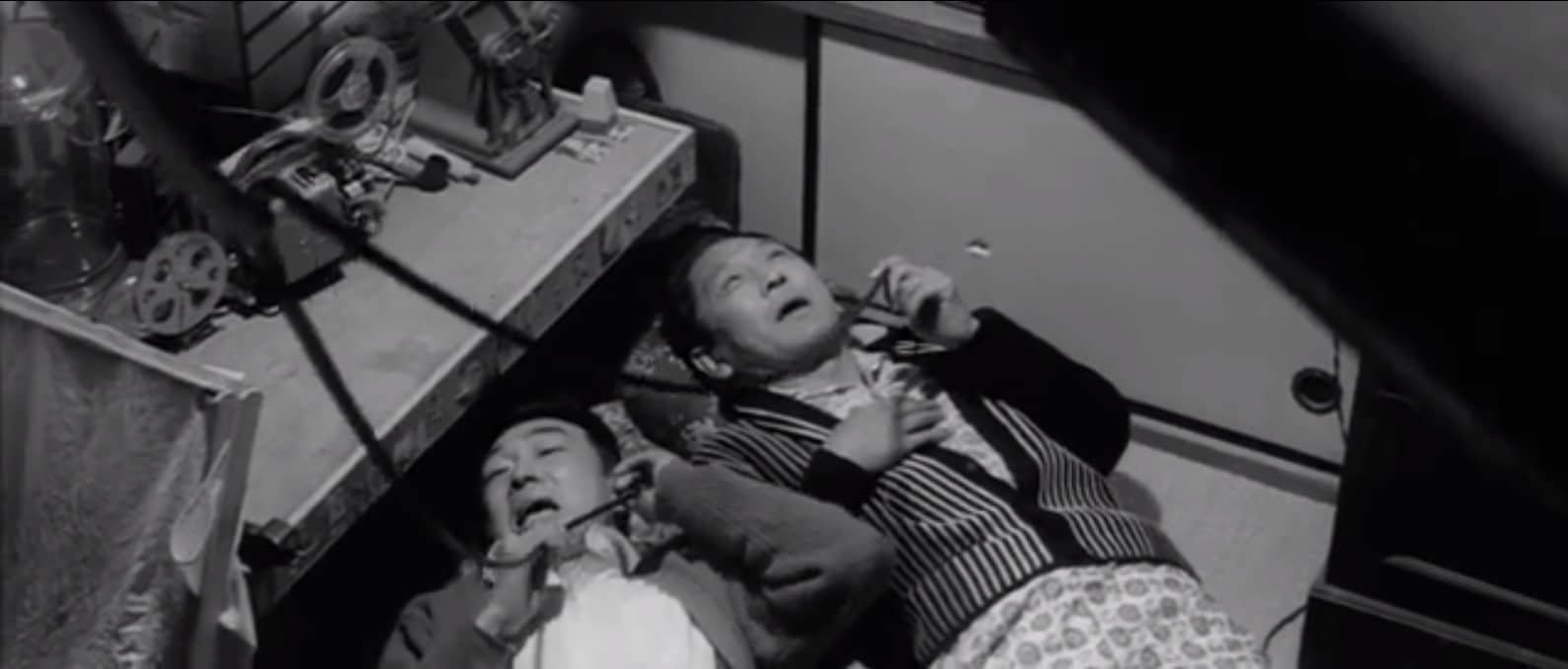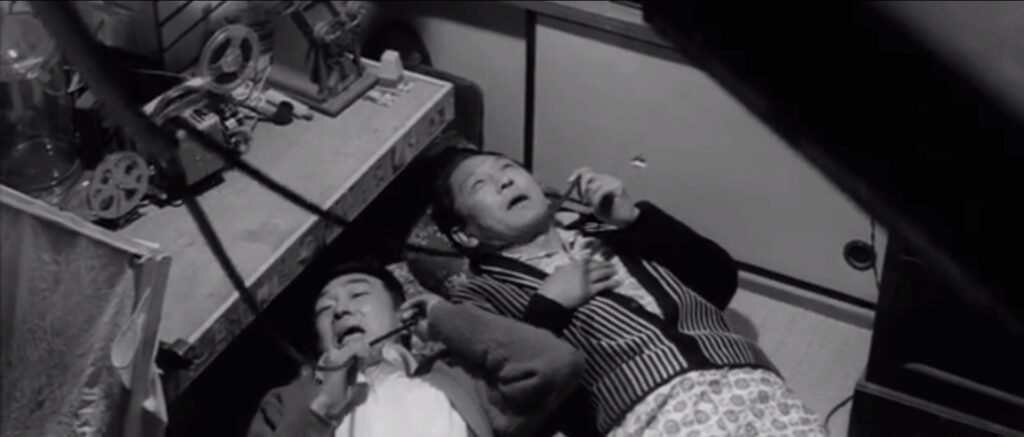 He shoots two blue movies a day, he stays out all night on the balcony in freezing winter to record the sounds a neighboring couple makes during sex on a magnetic tape intended for sale, he sells an erotic potion "from Hong Kong" to an elderly businessman suffering erectile dysfunction.
One corporate customer tells Subu that his office uses the blue films to bribe the tax collectors. Such a movie show would make them quite mellow when it came to detailed investigations… and there was always the promise of more shows if they stayed that way.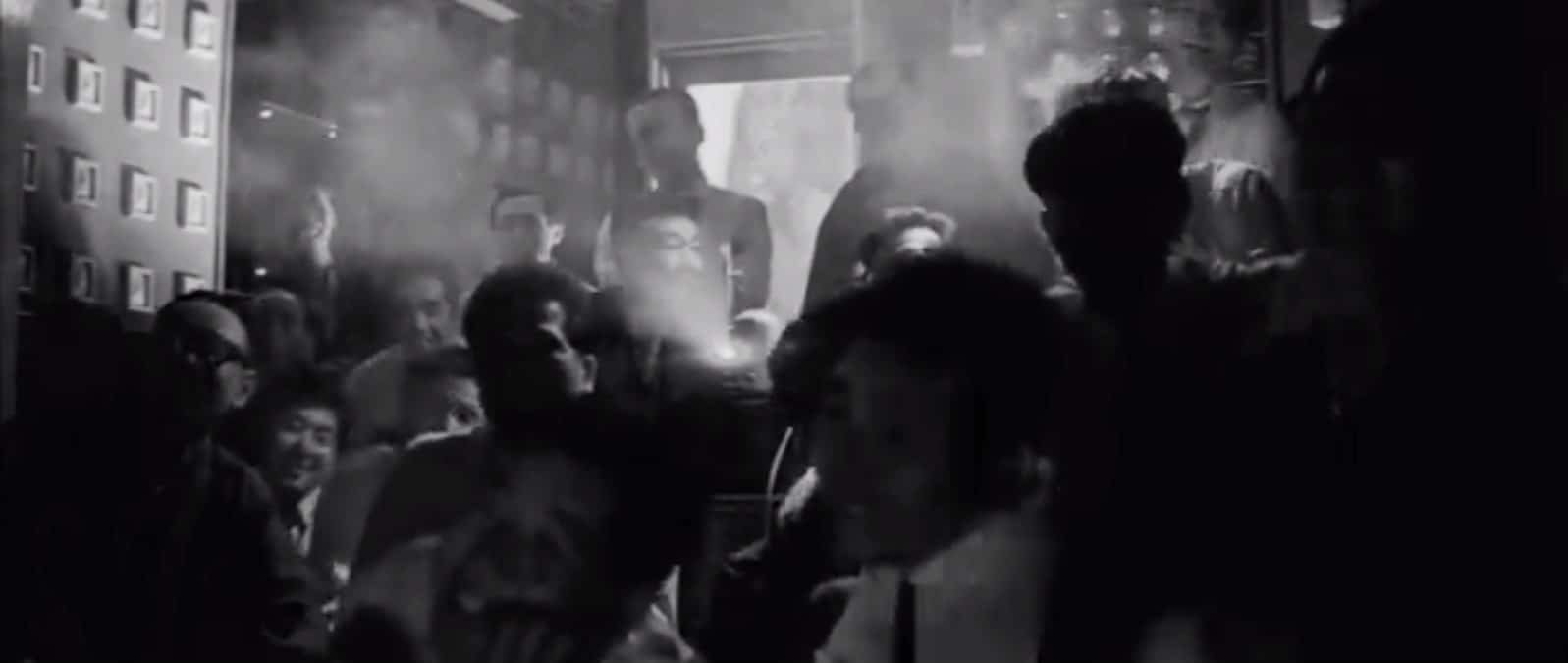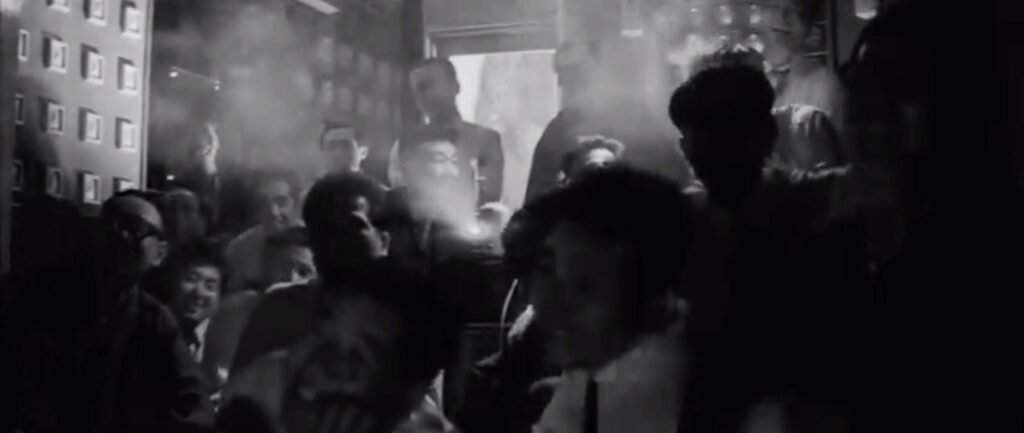 In scenes that play out quite comedic, Subu sells a "virgin" to a rich client, a man embittered that he was always the "second" when it came to women during his long and financially successful career. Presenting a fake "virgin certificate" from a quack doctor no less. All that despite her being a young mother and thus far from being a virgin at all.
A yakuza gang demands a share in Subu's profits, from time to time Subu is sent to prison for his illegal pornography.
Yet he keeps going undeterred until the family finally breaks apart. Haru goes crazy and is sent to hospital where she holds obscene speeches to the assembled crowd below her window.
Subu eventually spirals into his own surreal world about which I won't give anything away here. Except that it leads to quite a strange and unexpected ending.
Social Satire
The films clearly aims at being a dark comedy or social satire. This is underlined by the film being presented as a film-in-a-film: At the beginning of the movie, a few guys are watching a blue film, suddenly a carp enters the picture, then an exterior shot of the building housing Haru's barbershop. Wondering, "What the hell is going on?" they keep on watching. At the very end of the movie, we see those same guys with their 8mm projector again. Their screening session has finished. Imamura's two-hour movie was just a small private movie show after all, watched by three guys enjoying an intimate view of Subu's personal life.
Much of the humor playing out in the course of the film might be lost on today's audiences, though. There are quite a few funny scenes but Japanese audiences at the premiere in 1966 would of course see plenty of satirical references to contemporary times.
For today's viewers, the film feels like a time capsule depicting the daily struggles of folks on the lower rungs of society in the days of an aspiring Japan, the days when the first Shinkansen trains made their high-speed trips between Tokyo and Osaka. Imamura's film certainly doesn't invite any nostalgia to those days, though.
The Director: Shohei Imamura
Shohei Imamura(1926 – 2006) is today considered one of the masters of Japanese cinema. He is particularly associated with the works of the Japanese New Wave of the late 1960s / early 1970s, alongside directors like Hiroshi Teshigahara, Masahiro Shinoda and, perhaps internationally most renown, Nagisa Oshima.
Though the Japanese New Wave can hardly be called a 'cinematic movement' – the various directors all pursued their very own artistic visions and used very different styles to present those visions on screen. What they all had in common was an interest in challenging traditional Japanese cinema by focusing on characters on the margins of society who had hitherto had not had any presence on the big screen. Be they hard-working folks from the lower classes, sexual deviants, ethnic minorities or members of the nascent 1960s youth subcultures.
Imamura himself grew up as the son of an upper-middle-class doctor's family in Tokyo. Living through the poverty of the post-WWII era however, a time when he became a black market merchant, endeared him to the folks on the lower rungs of society.
Their lives, their desires and their follies became the topic of his films.
After an apprenticeship with acclaimed traditional director Yazujiro Ozu (1903 – 1963), Imamura expressed his distaste with Ozu's romanticized portraits and eventually formed his own production company Imamura Productions.
The Pornographers was the first film Imamura produced on his own, just the way he wanted to make the film.
A production, he called 'messy' by himself but thus just in tune with the messy lives of Subu, his family and collaborators. The messy life of the Osaka underclass.
Osaka Locations
Akiyuki Nosaka's novel "Erogotoshitachi" yori jinruigaku nyūmon (An Introduction to Anthropology through Pornographers) clearly played out in the busy shopping district of Senbayashi in Asahi Ward in the north-east of Osaka.
It's trickier with the movie. For an international viewer, Subu's struggles might simply take place in an unidentified large Japanese city. The word "Osaka" is never used in the film, no obvious landmarks are in sight. Though Osaka Castle can be briefly spotted by attentive viewers in the background outside a window of Haru's barbershop. A seemingly casual but certainly well-composed shot.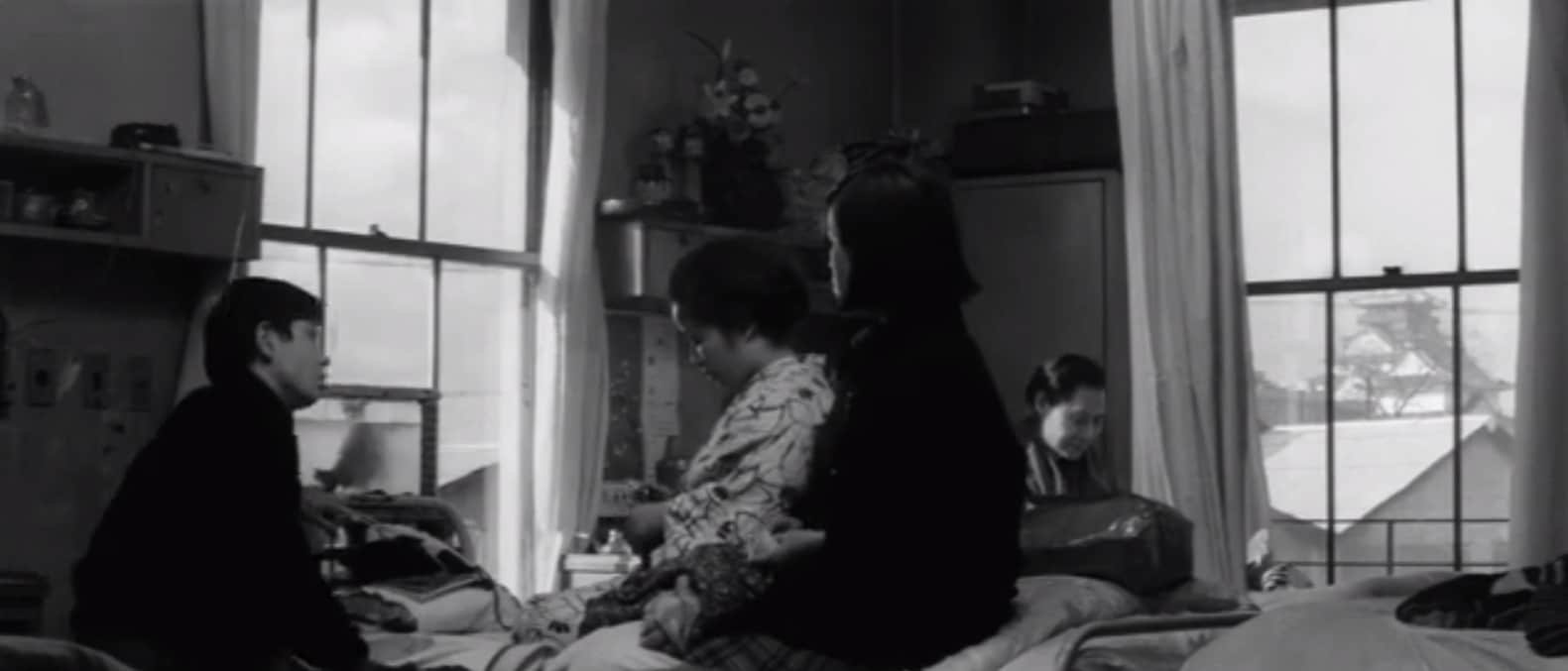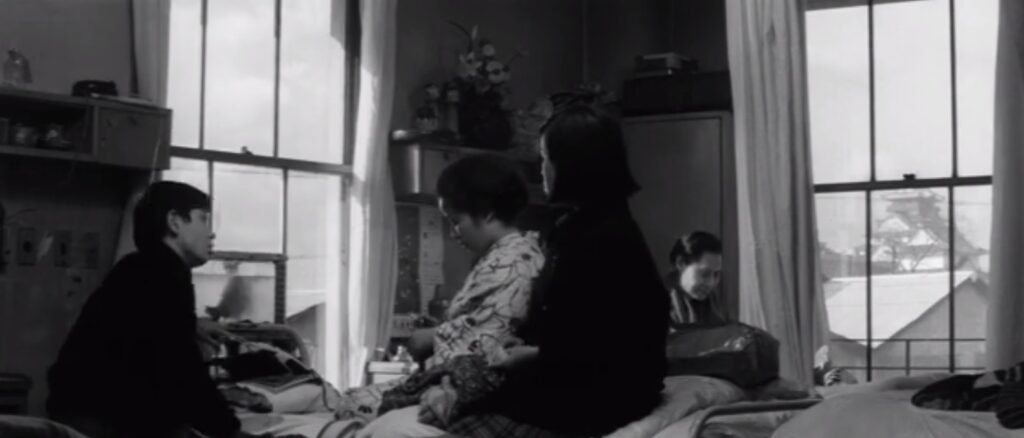 For Japanese audiences (and foreign viewers with a knowledge of Japanese) however, it is absolutely clear where the story unfolds: everyone in the movie speaks in thick Kansai dialect. Subu and some of the other characters often and very casually resort to rough language, language that isn't part of daily conversion in, say, Tokyo.
Occasional references are made to Osaka localities like Tennoji Zoo or Moriguchi (a city in the north-east of Osaka) in the way locals talk about their own city. As in "Got a great offer for a place in Moriguchi. Should we move shop there?"
The website of the film's distribution company, Nikkatsu, proves very helpful when it comes to further identifying of the actual shooting locations. The website states that the opening scenes were shot on the slopes of Mount Rokko near Kobe, it states that the location of Haru's barbershop was close to Kyobashi Station in the southern part of Miyakojima Ward.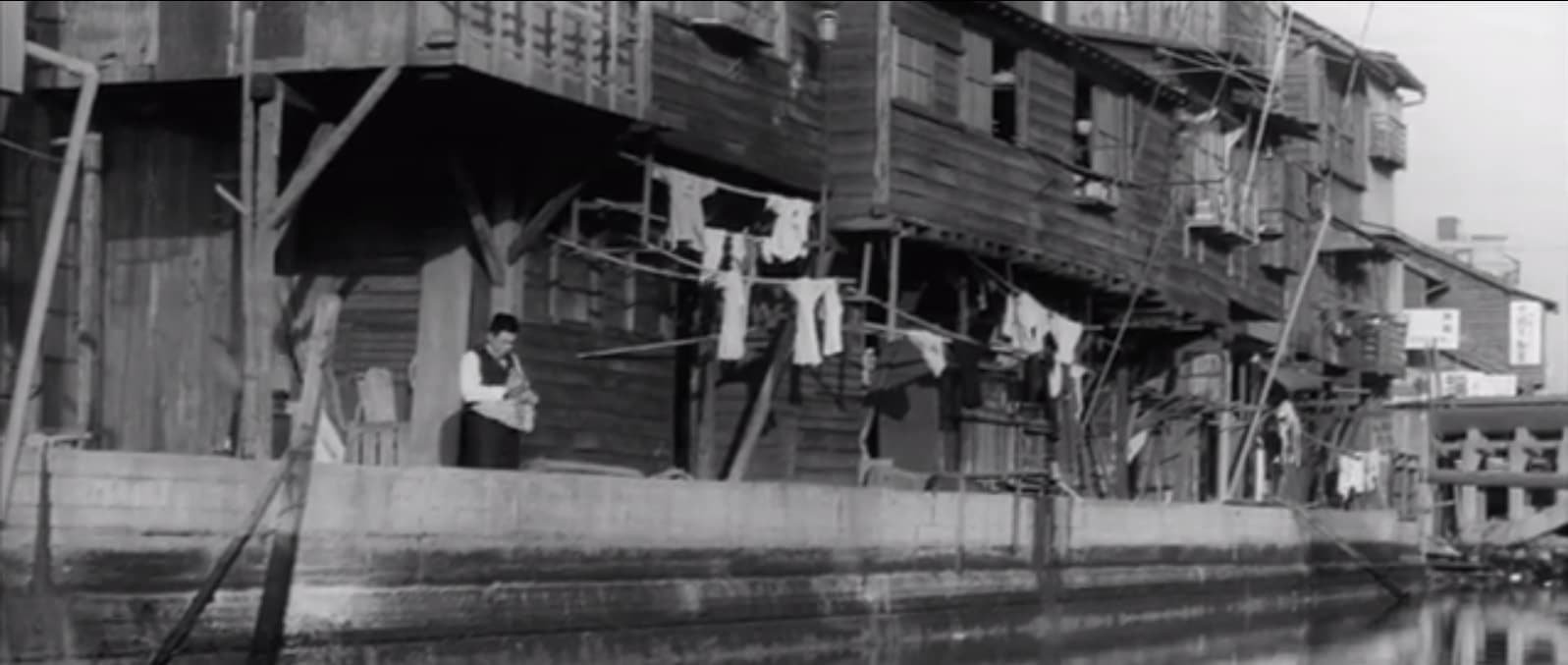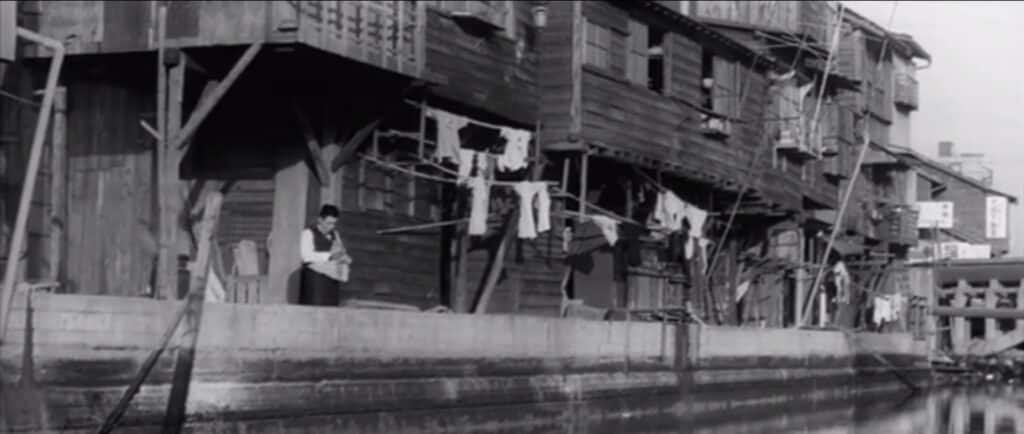 The house stood on a riverside. The only river there is the Neya River, flowing by just south of Kyobashi Station. So, the ramshackle wooden structure housing Haru's barbershop / Subu's home must have stood right at the Neya River. Today, however, a road runs all along the river in that section of town.
No surprise there, though. The type of buildings where Subu resided hardly exist in Osaka at all anymore. Structures that were neither historic nor modern. Large but flimsy, they had the old-style sliding doors and tatami floors but were equipped with all the modern amenities people even on the lower rungs of society could afford: refrigerators, toaster ovens, black & white television sets. And the aquarium for the carp, of course.
Clearly in sight briefly is the old Kyobashi Keihan Railway Station entrance, alongside a billboard announcing a show at the Kyobashi Gekijo Theater, a location apparently not far from the family's living quarters.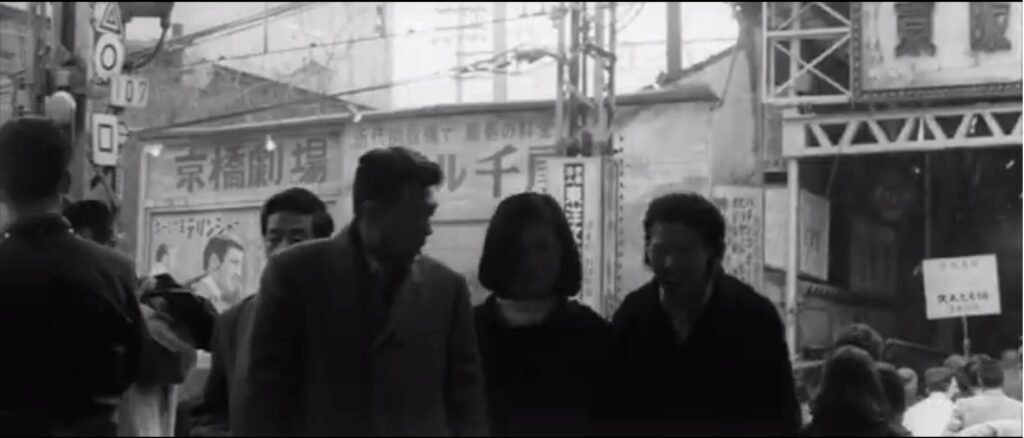 The Nikkatsu website further reveals that the hospital where Haru was interred and from which she did her crazy speeches was the Higashi Osaka Municipal Hospital in Higashiosaka City. Higashioasaka (East Osaka) is a city on the Eastern outskirts of Osaka Prefecture.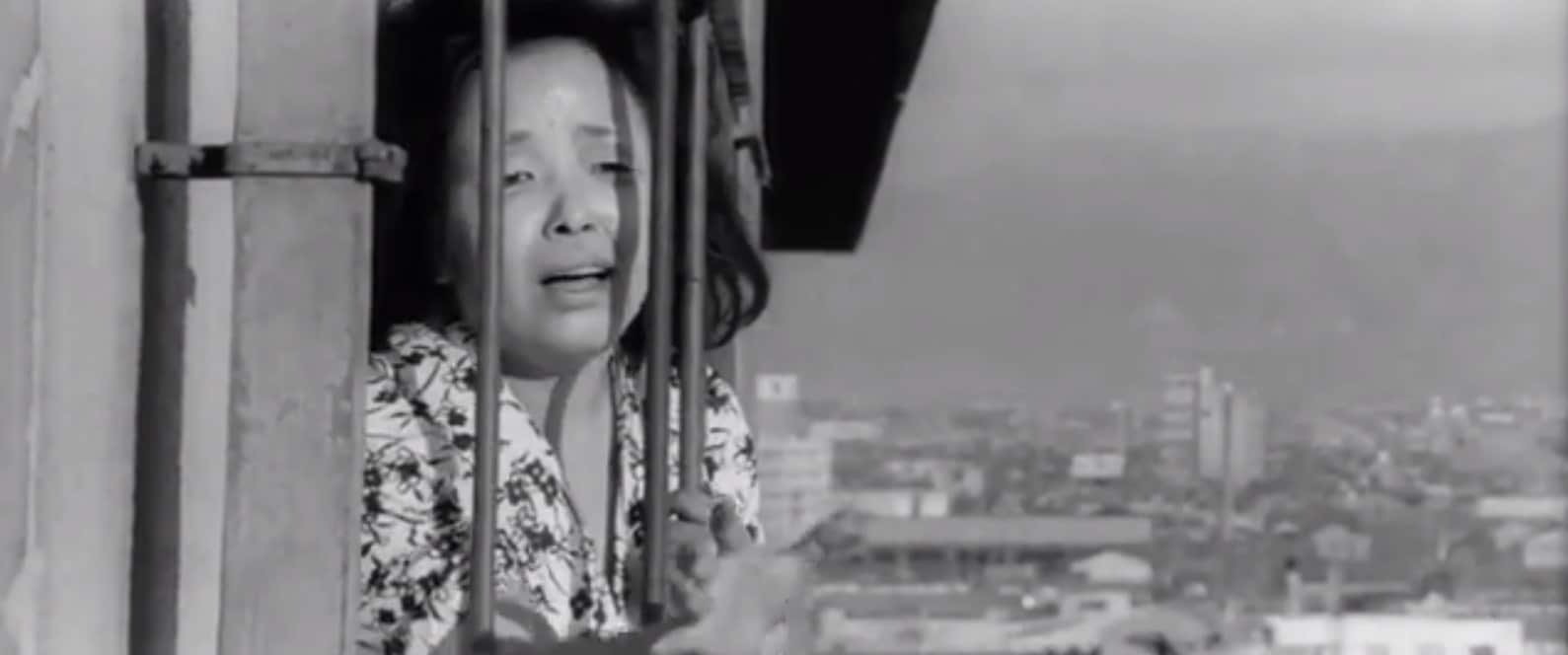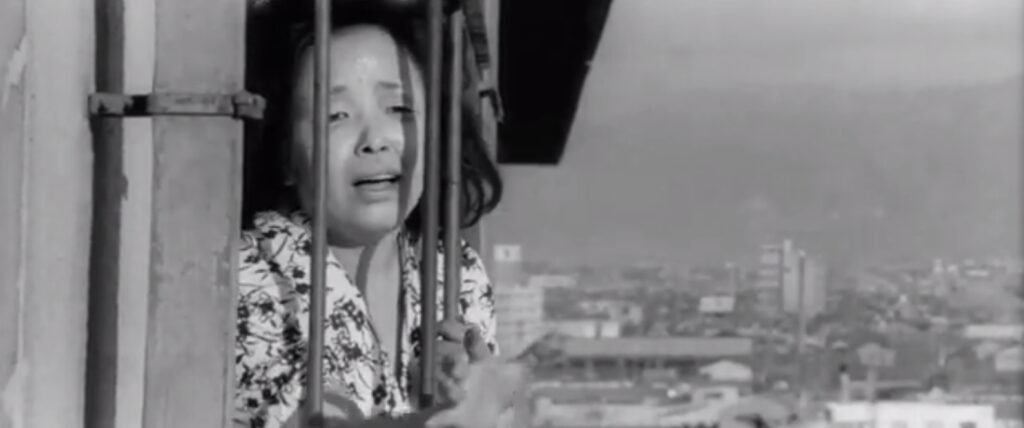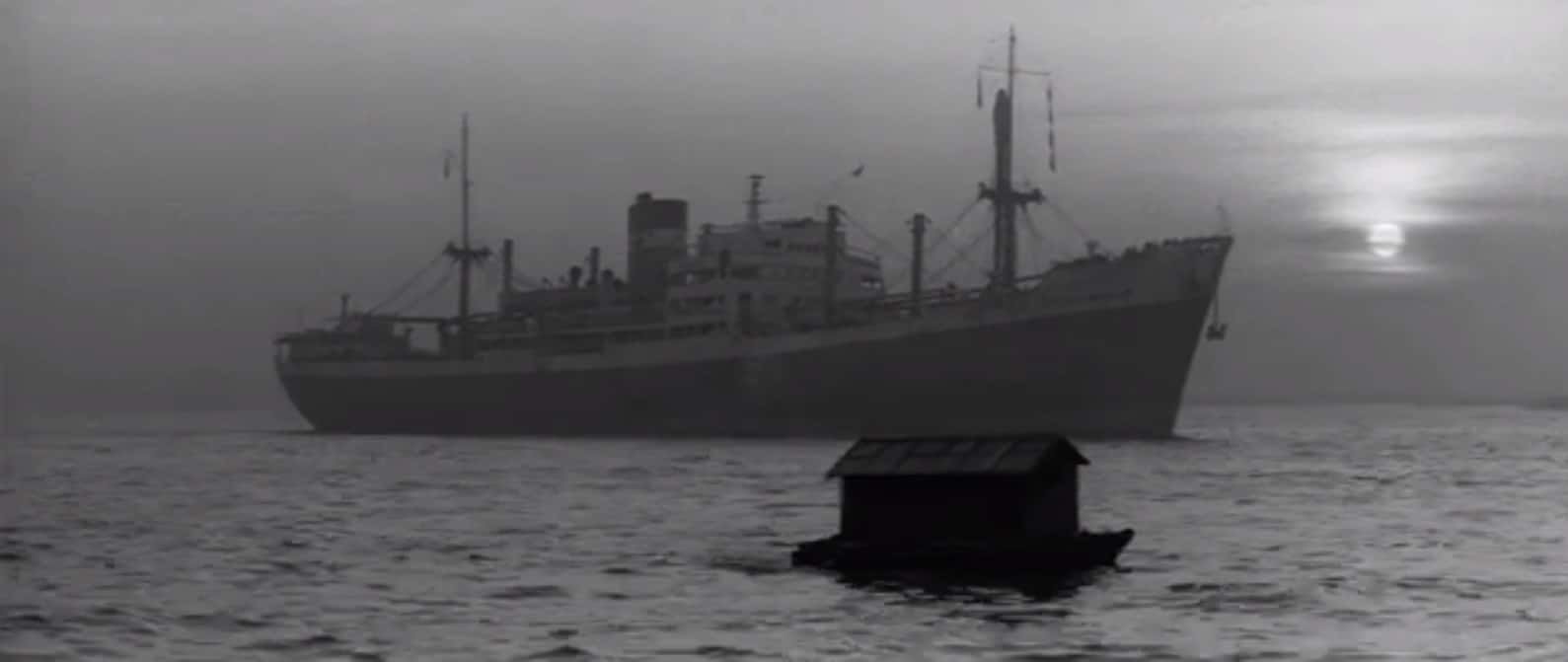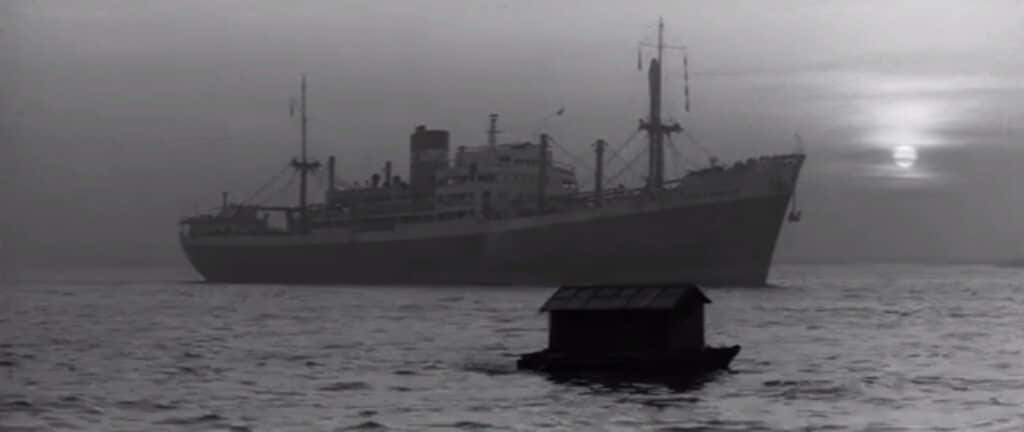 The final scenes take place on the Yodogawa River and in Osaka Bay. How did that houseboat get there and why? Who's in it? Watch the movie to find out.