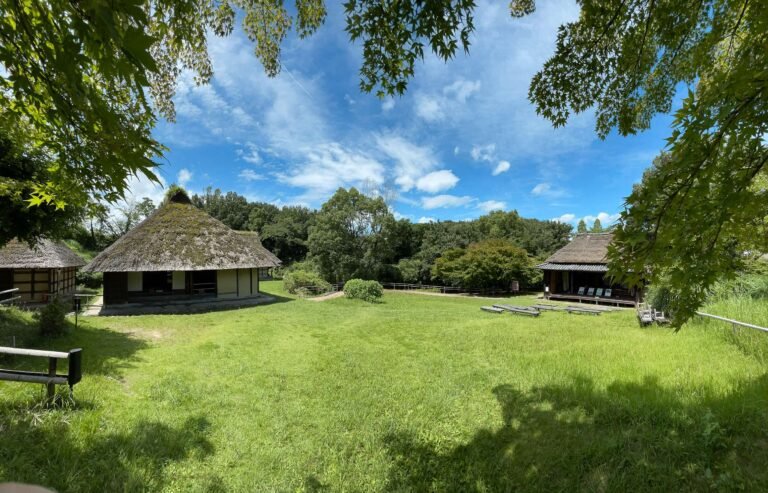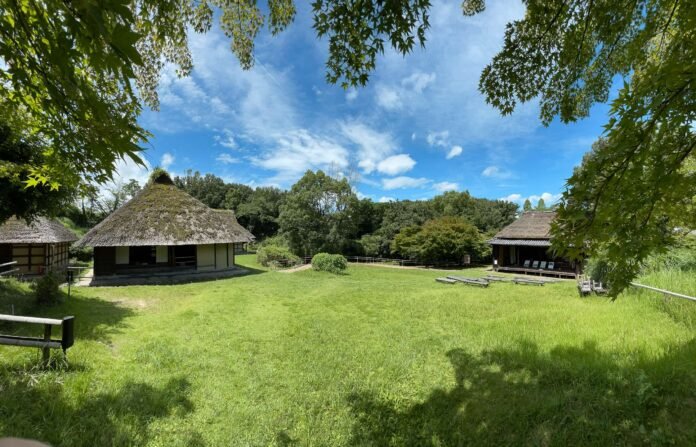 Countryside creates a great portion of every nation's personality. Japan has an incredible history and picturesque countryside with traditional architecture. You can never run out of the things to do in Japan's metropolitan cities. However, if you're seeking a little bit of calmness and serenity, visiting Japanese villages in the mountains can offer you what you are looking for. hattori ryokuchi park
Luckily, if you are curious about life in the Japanese countryside, you don't have to travel far from Osaka! Only short metro ride from the city, you will find yourself in the Toyonaka city with vast Hattori Ryokuchi Park. Let me present you, why this park is worth your visit.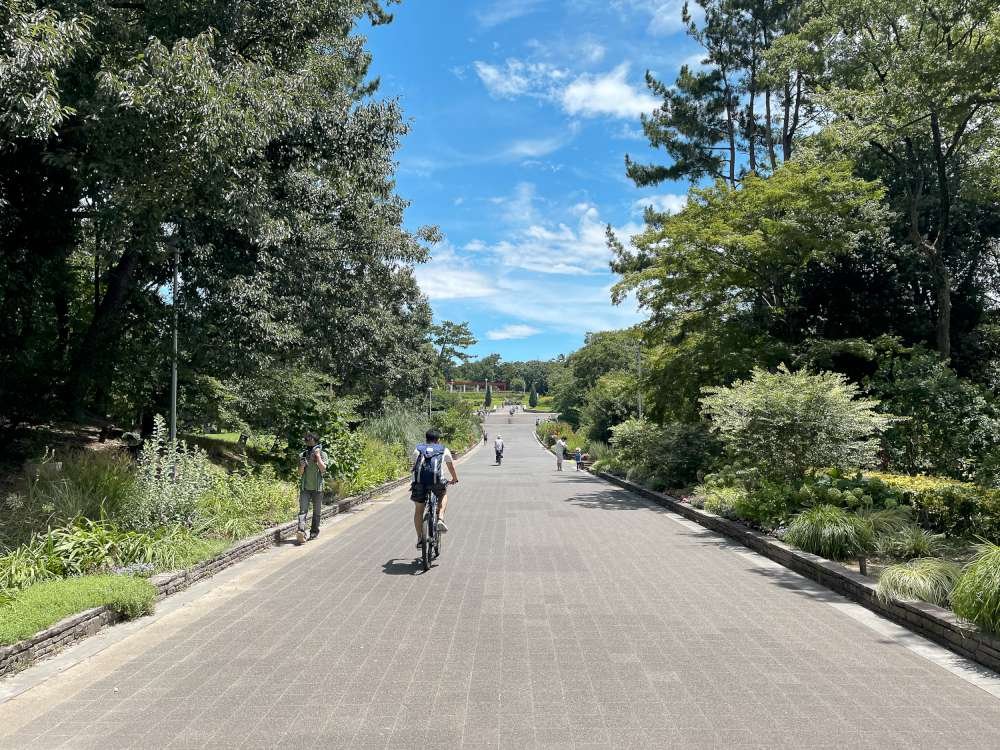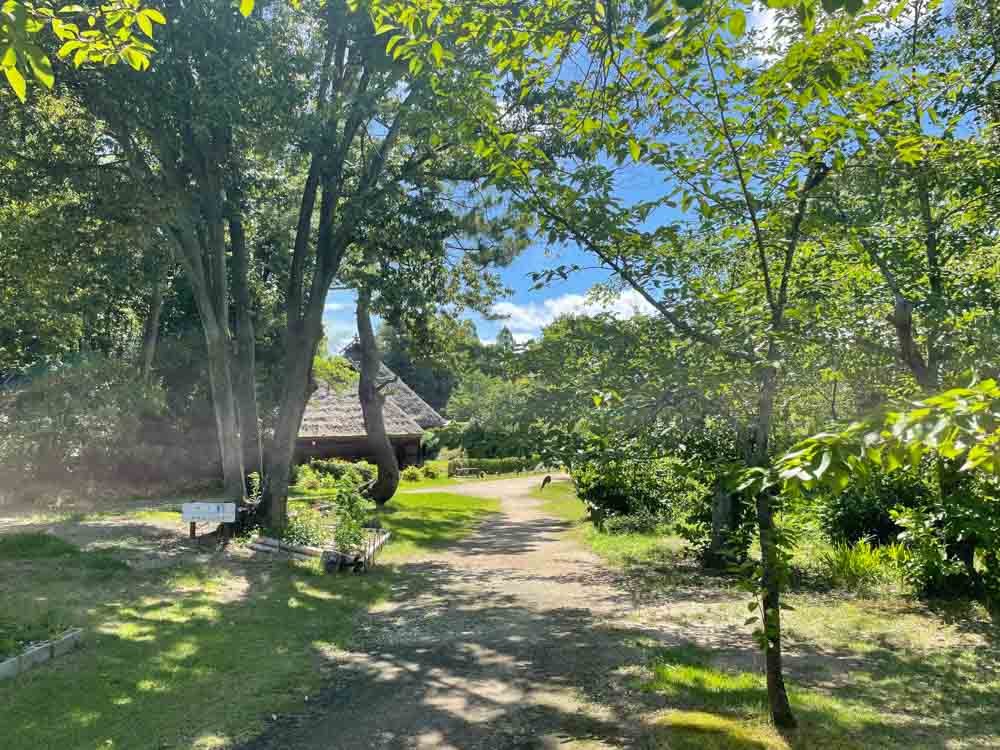 Hattori Ryokuchi Park
Hattori Ryokuchi Koen is a large hilly park in the northern part of Osaka. It is over 120 hectares large and it is a favorite getaway for locals, however, it is not as widely popular and it still remains a very unique destination especially for international travelers. Hattori Ryokuchi koen (koen means park in Japanese) is ranked in the Japan's Top 100 Historical Parks, as well as Top 100 Urban Parks in Japan.
Beside the seasonal flowers, multiple ponds and brooks, and rich greenery, the park hides one special surprise, a place where you will be transported to a different time. Open-Air Museum of Old Japanese Farmhouses showcases traditional dwellings similar to those tucked away in the Japanese mountains. If rural architecture from various parts in Japan from 17th – 19th century is something of your interest, you shouldn't miss this place!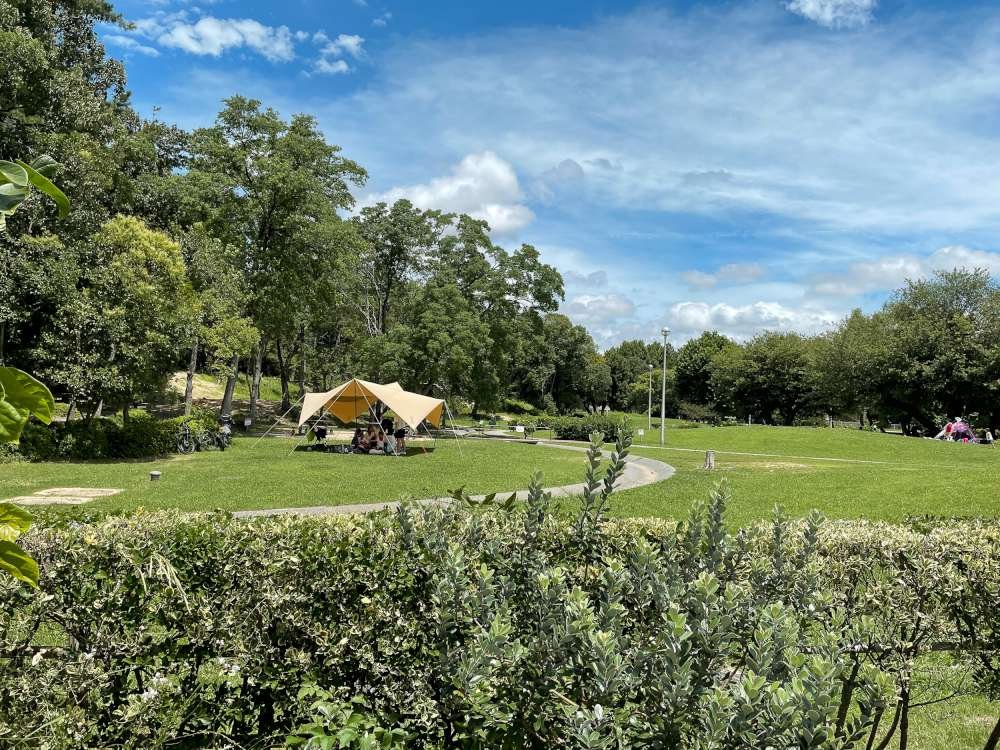 Open-air Museum of Old Japanese Farm Houses
The Museum of Old Japanese Farmhouses in the Hattori Ryokuchi Park is an outdoor museum with traditional Japanese houses from all over the country. They were all built in the Edo period (17th-19th century) and people lived in them until 1950ties. Later they have been moved and restored for the museum. Inside the houses you can find daily items and tools from Edo period.
The open-air museum spreads on the 36,000 sq. meters. It has on display 12 farmhouses from different parts of Japan – from Iwate prefecture on the north to the islands of Kagoshima on the south. Their differences in style were determined by the climate, culture and customs characteristic to each locality.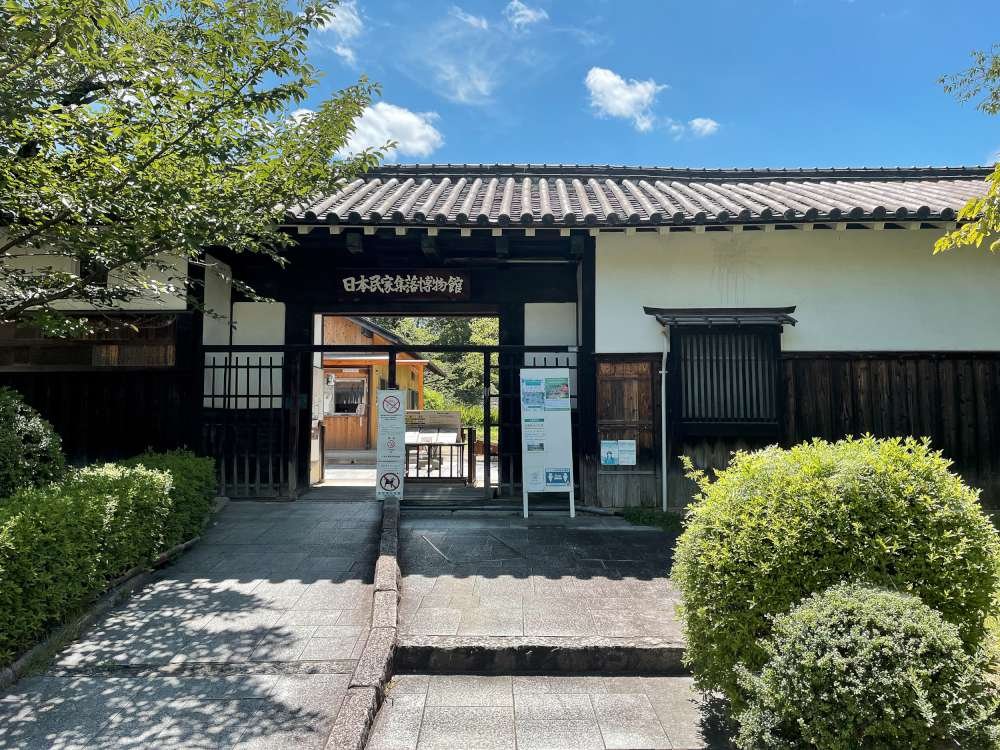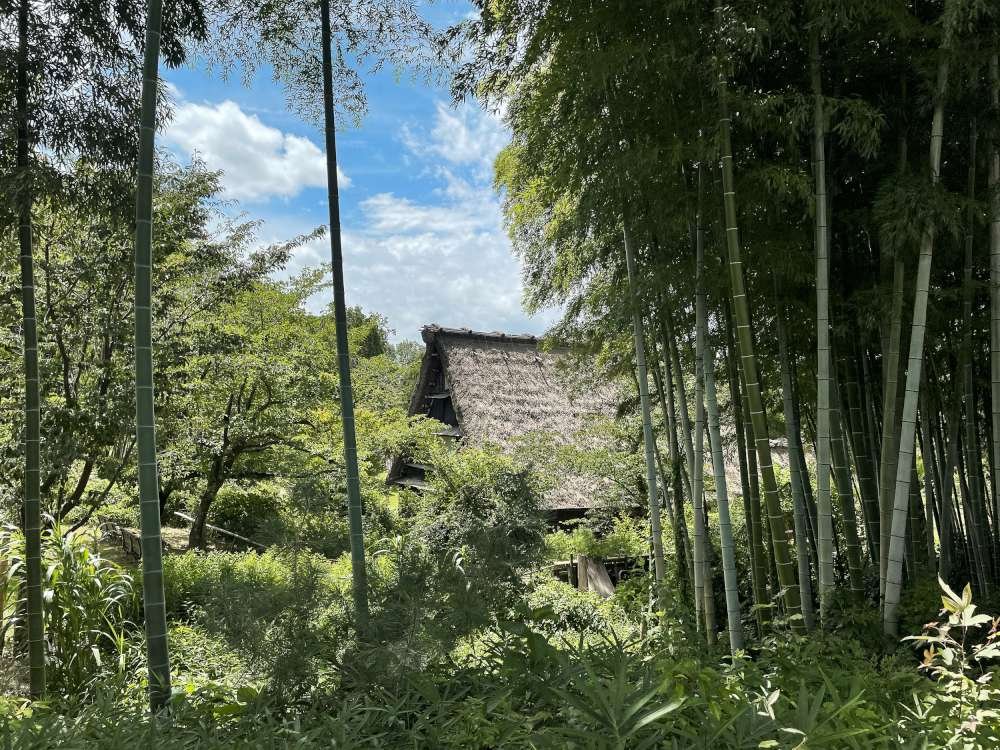 The museum is not far from the city, but you can feel here the true charm of a countryside. On the premises, there are plenty of cherry and plum trees, as well as a small bamboo forest and vegetable gardens. The whole area is covered by lawn and you can see and hear insects buzzing around you. It is truly remarkable and for a while you will forget that you are still in busy Osaka.
Different styles of Japanese Farmhouses
The museum is laid out as a village with everything that belongs to it. Here are few examples of what you can see here.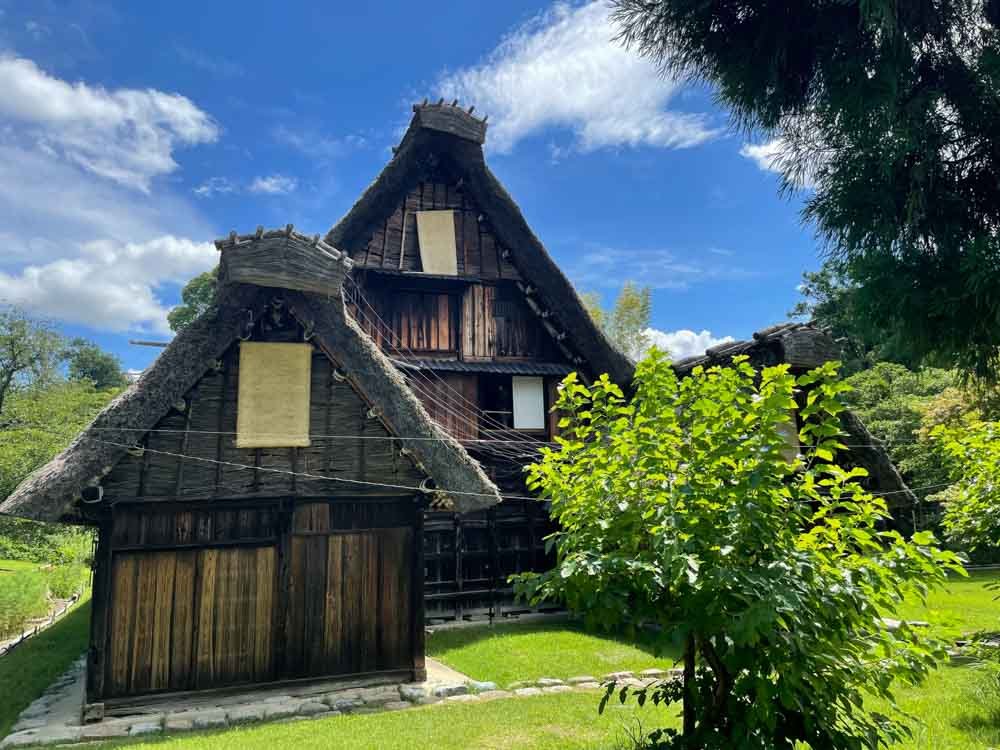 Gassho Style Farmhouse from Gifu Prefecture
The first house you'll be passing by in the museum is be the traditional farmhouse in Gassho-zukuri style from Shirakawa-go village in Gifu prefecture. Mountains in this region were truly impenetrable, so there were not many occasions for foreign influences and it still feels like the time has stopped here. Shirakawa-go is famous for its typical houses with pointy roofs made of straw that attract visitors from wide and far every year.
Gassho-zukuri means 'housing for the people' and this architectural style was popular with farmers, merchants and artists. This style has typical steep roofs that remind the shape of praying hands with fingertips touching but the palms remain apart. The thatched roof is not attached and fixed, it is just placed on the frame which makes it wind resistant. Except for the floors, no nails were used in this type of houses.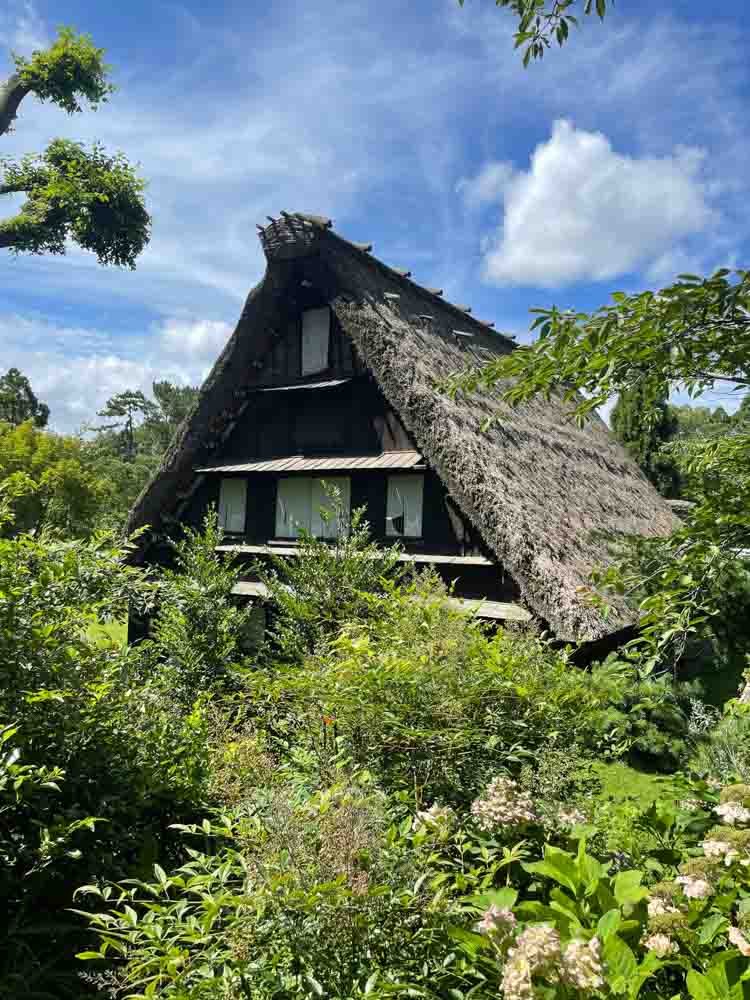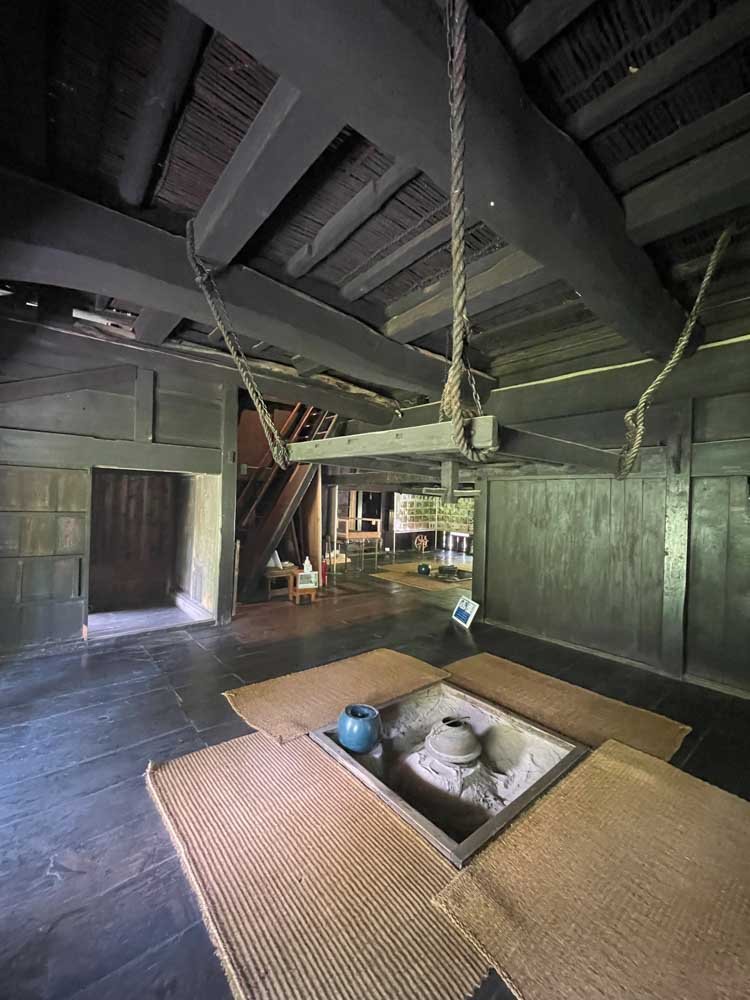 This particular farmhouse is the original from Shirakawa-go village. It was moved and rebuilt for the museum in the 1956. It belonged to the Ohi family, who were raising silkworms and had a silkworm workshop right under the roof, while the bottom floor was designated living area.
In the museum, you can enter the house and experience how people lived here in the past. Don't forget to climb up the stairs to see the silkworm workshop. The house may seem to you big enough for Japanese standards, but let me tell you that at the same time, there were about 20 people of one family living under this roof. A family consisted of parents, the eldest son with his wife and children, and other brothers or sisters with their children. This custom continued in Shirakawa village until late Meiji period (1868 – 1912).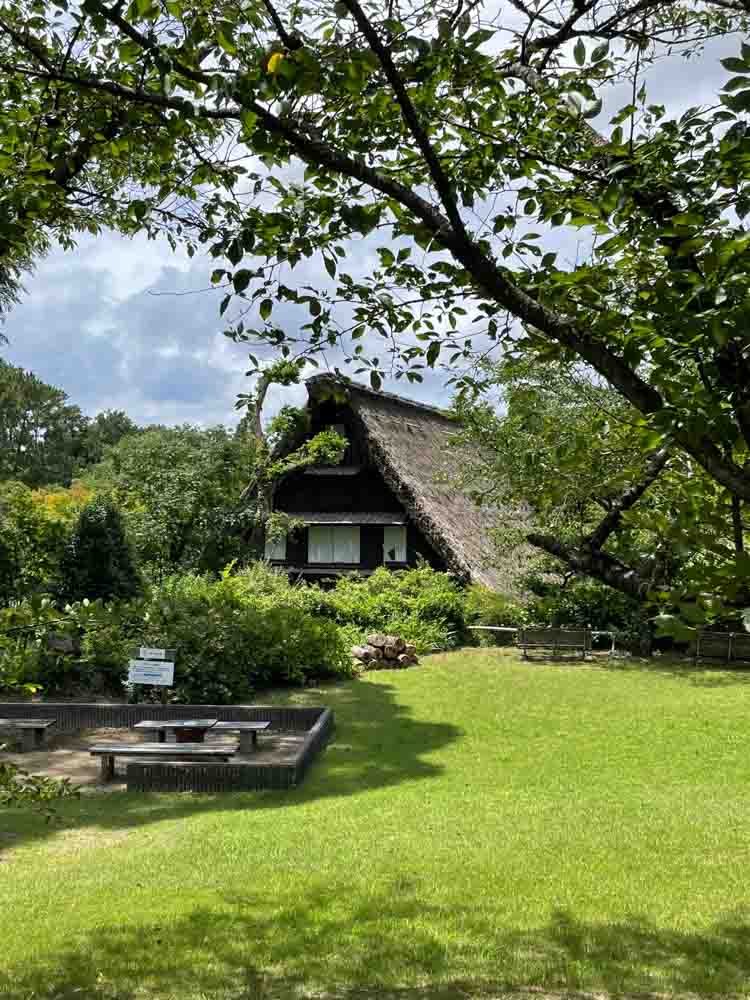 Farmhouse from Shiiba, Miyazaki Prefecture
The next house in the museum is also from a mountainous region, but this time we will travel to the south of Kyushu, to Miyazaki prefecture. Houses in this area were built long and narrow to mimic the environmental conditions of the valley where they were located.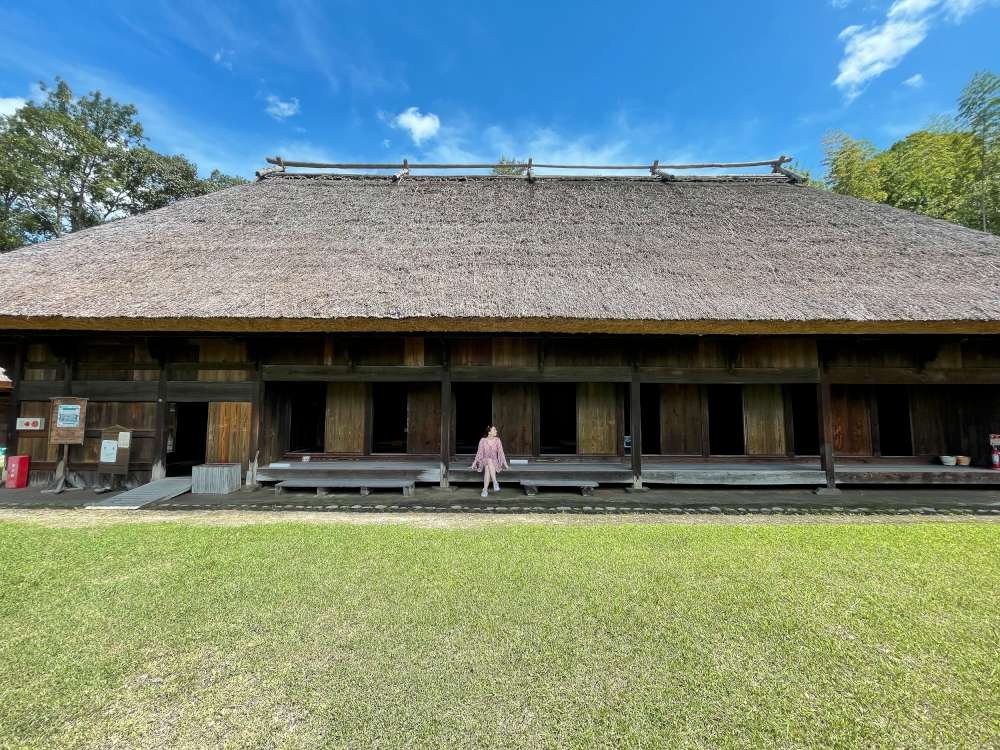 The architecture style from Shiiba is called Saoya-zukuri, with the rooms arranged in a row divided only by sliding doors. Most of the houses in Shiiba village were facing a mountain on one side, so this wall didn't have any windows to protect the house from moisture or falling rocks.
Just like the house from Shirakawa, this building is also an original from Shiiba and it was moved and rebuilt in 1959 to be displayed in the museum.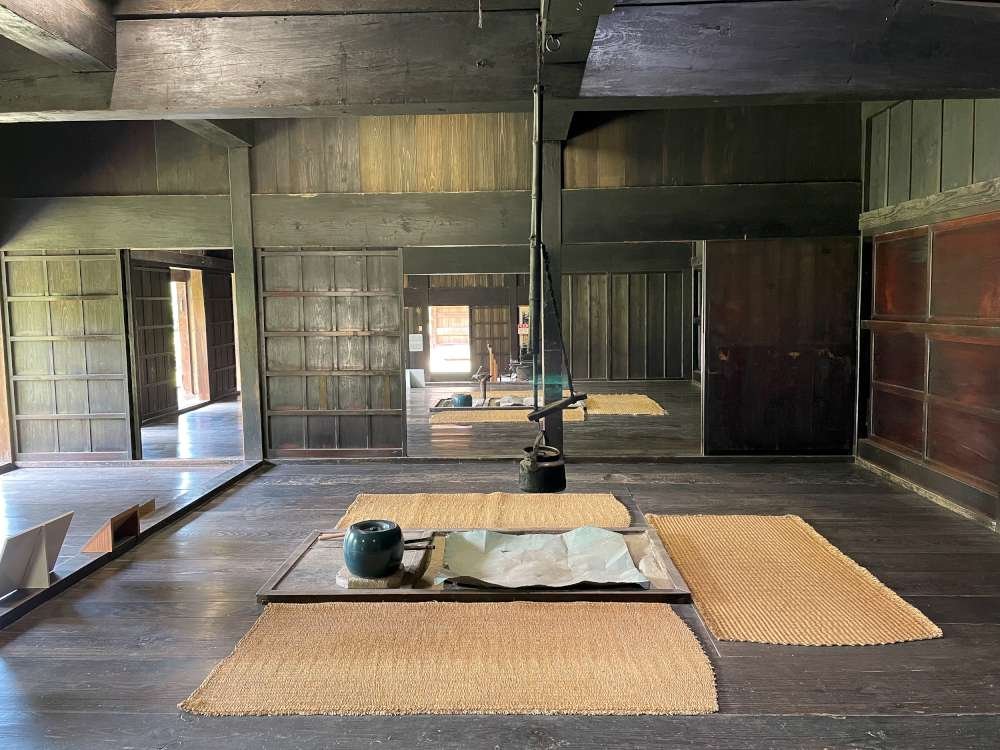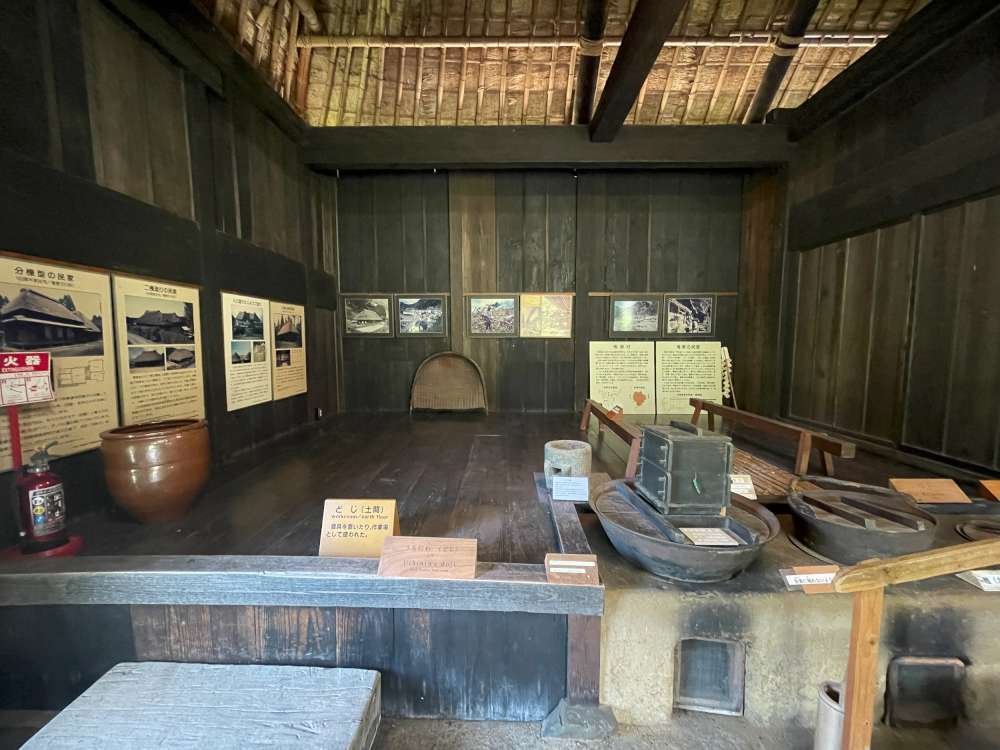 Settsu-Nose Farmhouse from Osaka
Osaka prefecture has also its representation in the museum. Nose County is located in the mountains on the north of Osaka. The area between Nose, Tamba and the Sea of Japan is significant with its own architectural style called Irimoya-zukuri. The house originally belonged to the Izumi family and it is the oldest of all the houses you can see in the museum. It was built in the early Edo period (1603 – 1867) and it was moved and reconstructed in the museum in the 1960.
If you have visited Museum of Housing and Living in Osaka, you will recognize the similarities with this original house, however, the Settsu-nose house's floor plan differs from the most houses in Kansai area. It can be explained by the high status of the Izumi family.
The part of the house with earthen floor served as kitchen, stable and storage space, while the elevated side with tatami floors was the living area with bedroom, guest room and dining room. The house has also a wooden veranda.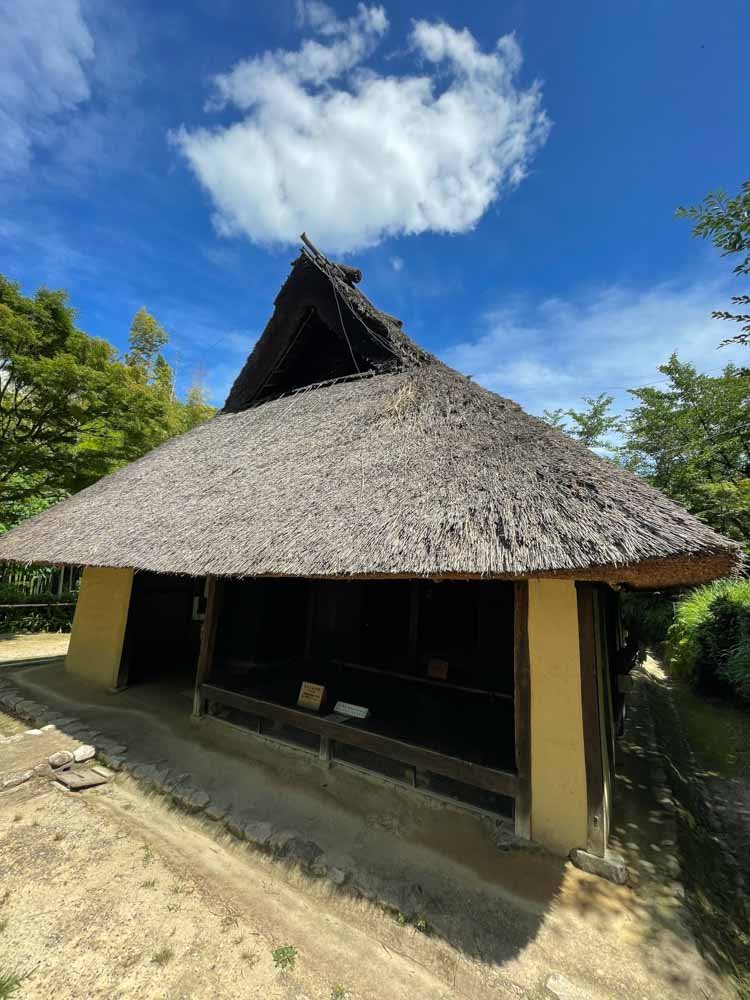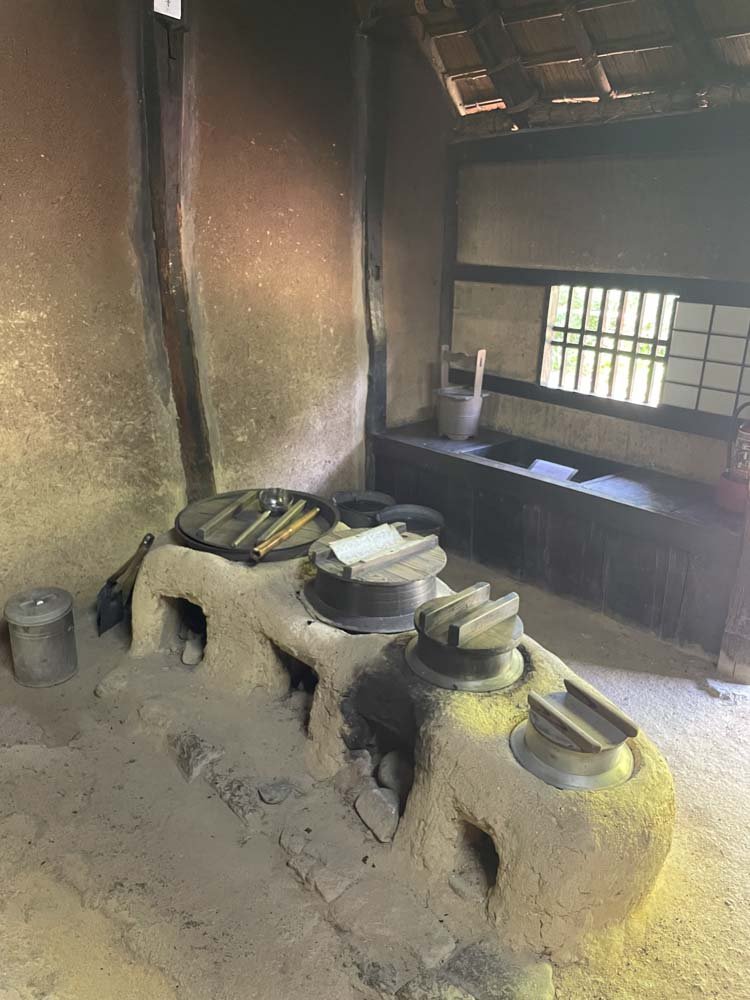 Memorial Monument – Ibaraki city, Osaka prefecture
In the Open-Air Museum you will experience the countryside life with all of its aspects, not only houses. That is why a small cemetery is also included. The stone tombs come from the Ibaraki city in Osaka prefecture. This style of graves come from the period between 12th and 16th century. The stone statues that you can see here were originally placed on top of the graves.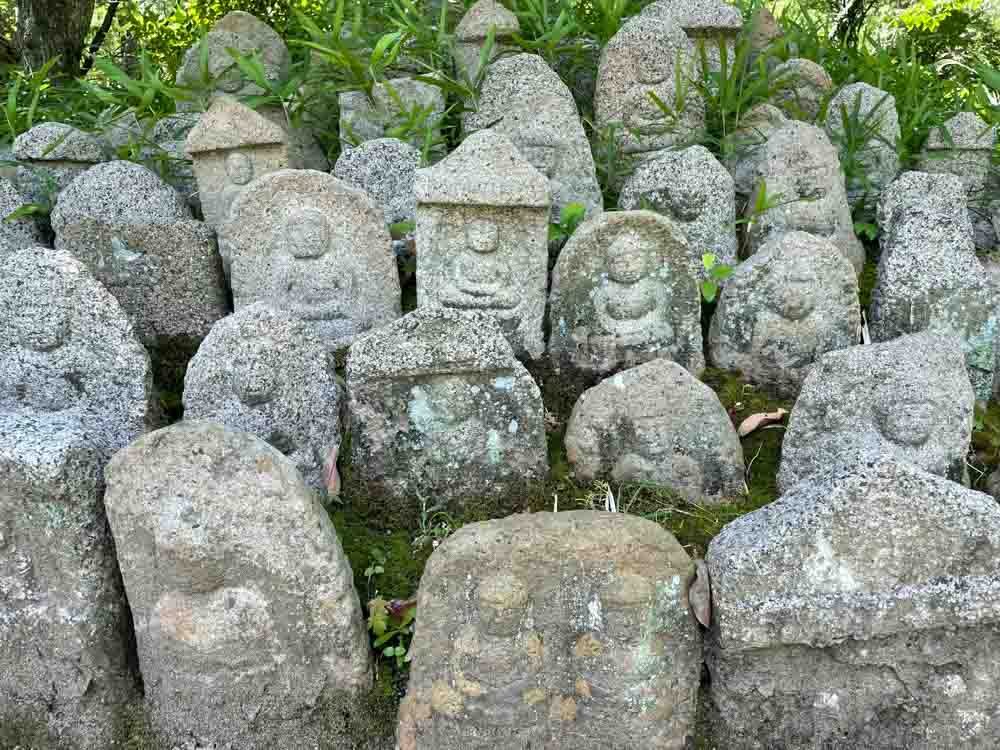 Kabuki Stage from Shodoshima Island
At the further end of the museum you can find a Kabuki stage from Shodoshima Island in Kagawa prefecture. Local people were performing Kabuki not only for entertainment but also as a dedication to their guardian deity. Kabuki theatre originated in the early Edo period and it is a classical form of Japanese dance-drama performed solely by male actors.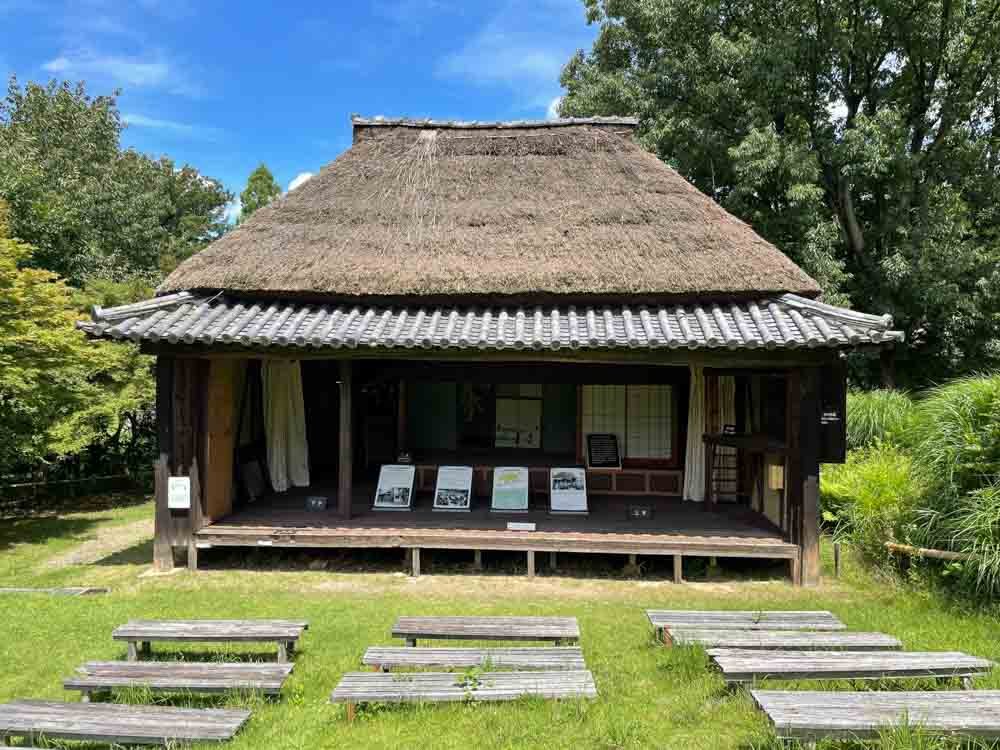 Farmhouse from Tsuruga, Fukui Prefecture
You will see at the first sight that this farmhouse is a little bit different from the others. The area of Kohoku region in Fukui prefecture is marked by heavy snowfalls every year, so the thick pillars of the house that support the roof were built inside the walls. The walls are not wooden like with other houses, but they are made of mud. The house was the former residence of Yamashita family from Sughihashi village.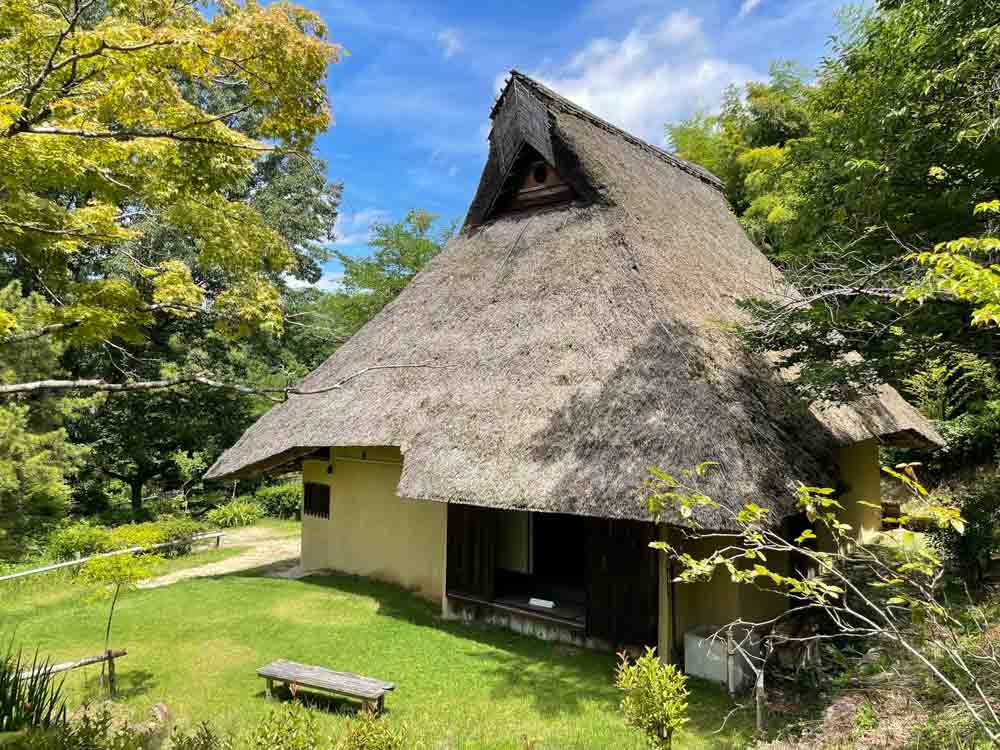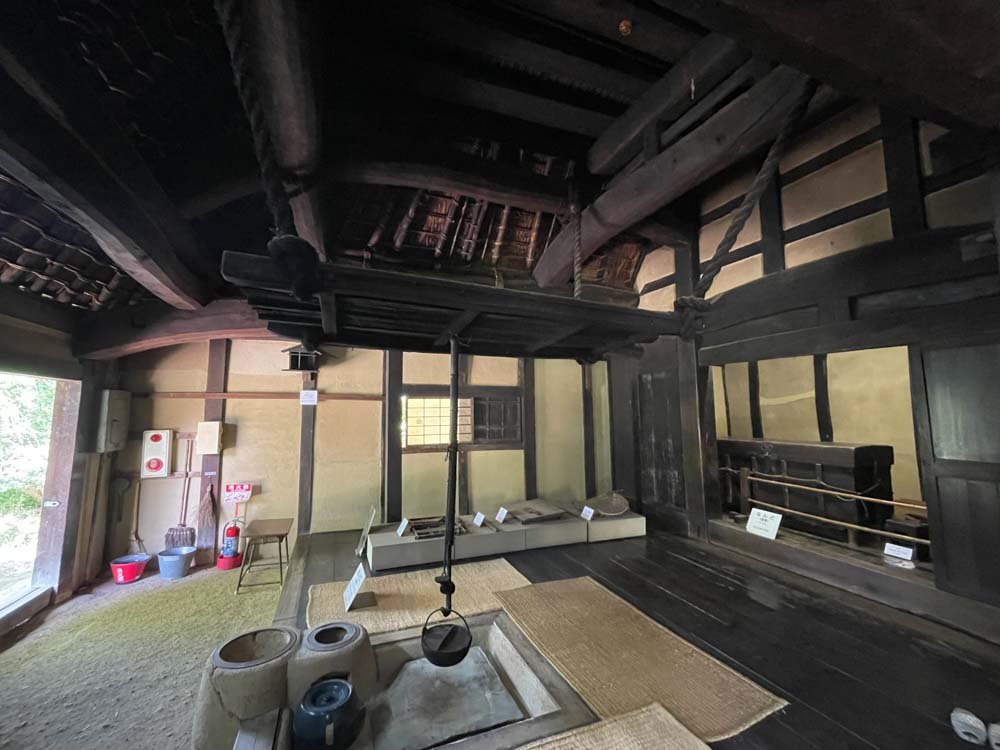 Yamato Totsukawa farmhouse, Nara prefecture
Totsukawa village is located in the mountainous region of Yoshino Kii mountain range on the borders of Nara and Wakayama prefectures. Houses here were built by levelling the slope of the mountain so they were long and narrow with the rooms placed in a row.
You will notice that unlike other houses, this farmhouse doesn't have a roof made of straw, but it's wooden. This region produces a lot of cryptomeria. Cryptomeria is a type of cedar tree native to Japan and China. The roof of this house is made of thinly cut boards made of the bark of the tree. This area suffers of heavy rainfalls and frequent typhoons, and this type of roof can protect the house better.
The farmhouse belonged to the Maruta family, who ran a sake brewery in the early Edo period. A large warehouse for the sake wad built right next to the main building.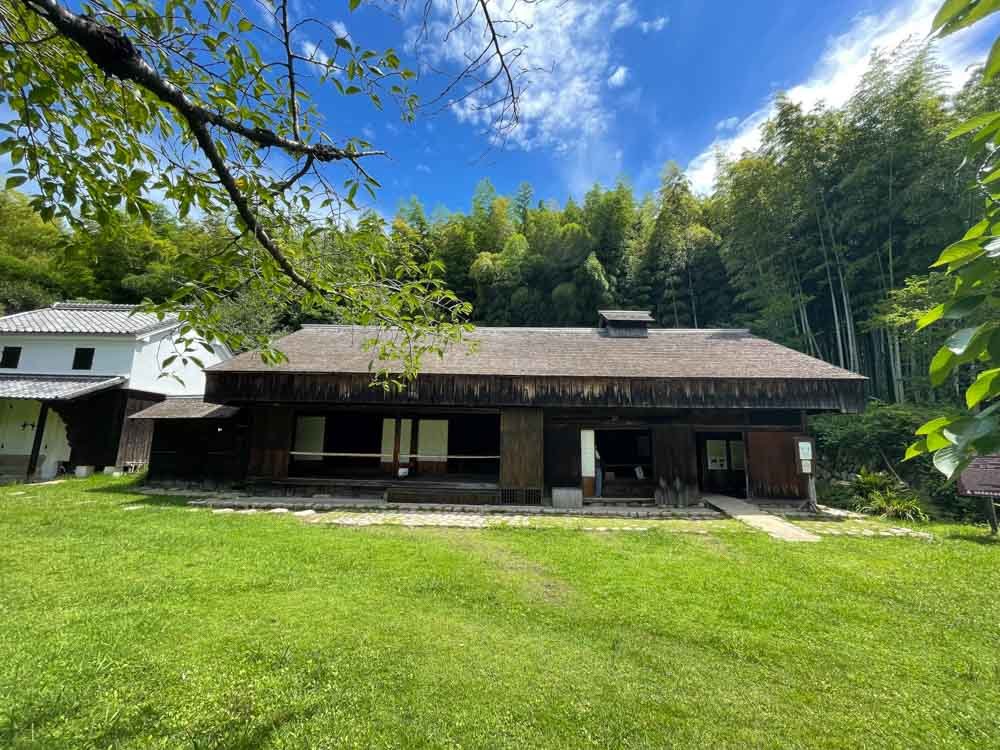 Beside the houses, you can also visit a teahouse from North Kawachi, or see a windmill from Sakai. Unfortunately during our visit the teahouse, as well as a couple of other houses were closed for renovation.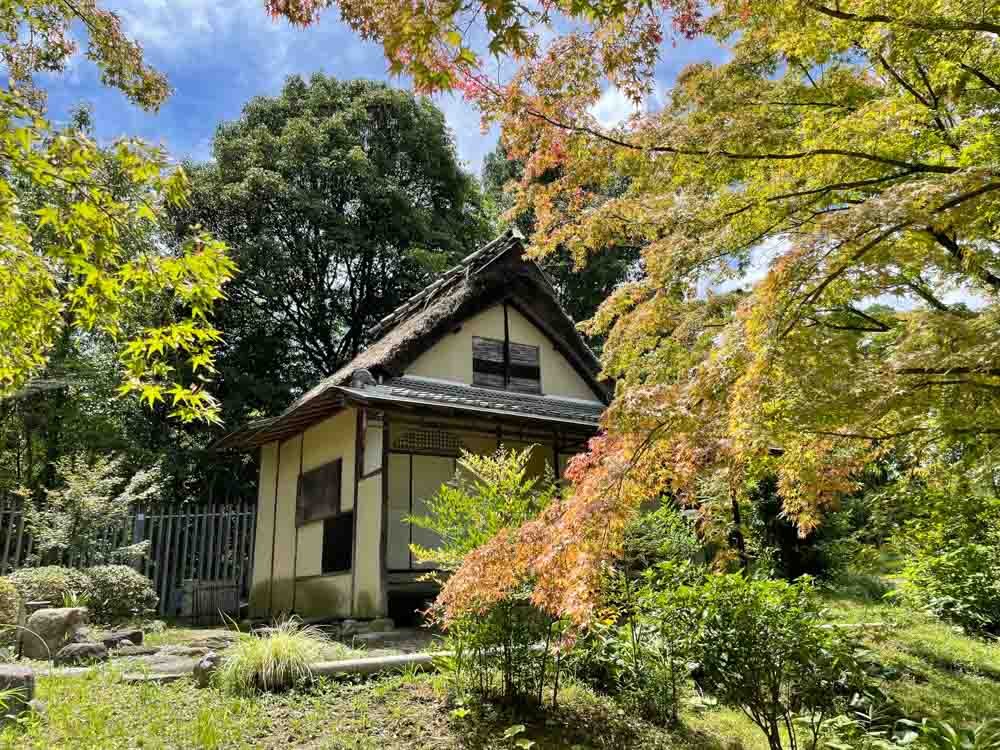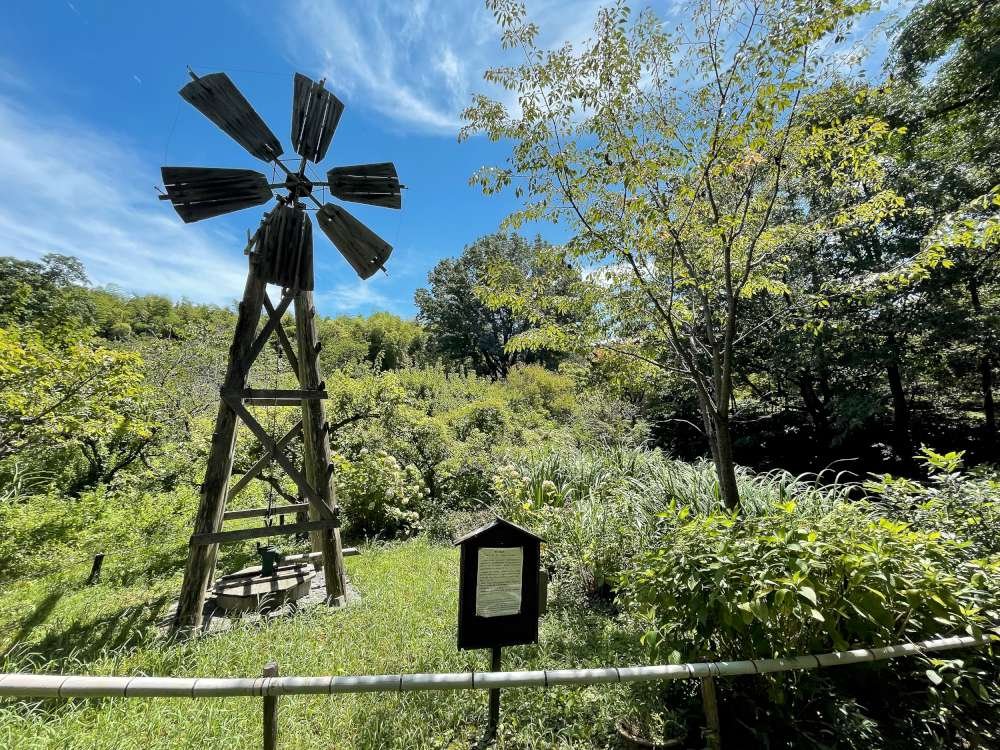 Opening hours to the Museum
The museum is open daily from 9:30 am to 5 pm with the last admission at 4:30 pm. The museum is closed on Mondays, but in case of a public holiday it will be closed on the following Tuesday.
Admission fees
The entrance fee to the museum for an adult is 500 yen. High school students pay 300 yen and elementary school students 200 yen. Admission for younger children is free of charge.
Best time to visit
The museum is open all year round and it is charming in any season. In spring you can look forward to blooming cherry trees, while in summer you can enjoy singing cicadas and everything is lush green. Autumn brings warm orange and red hues of ever-present maple trees and because the park is nearby mountains, you can look forward to see some snow here in winter. There is really not a wrong time visit this special place.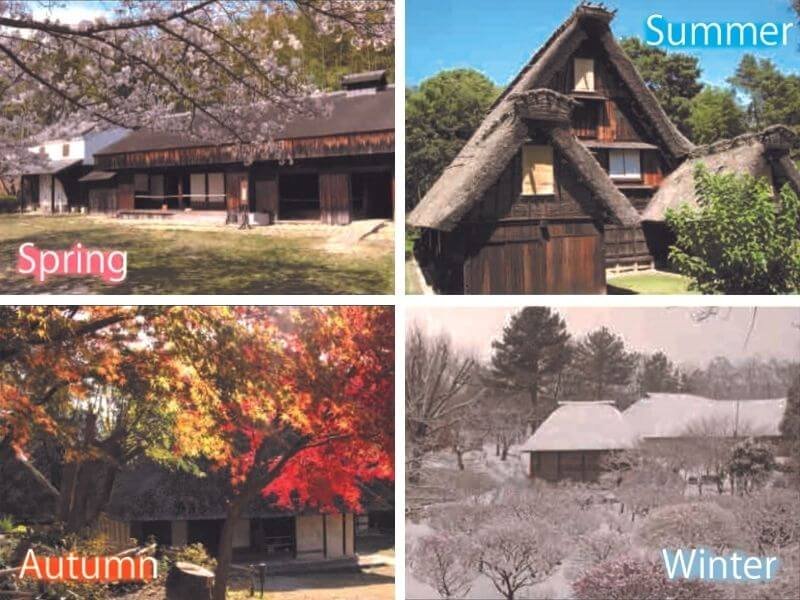 Hattoriryokuchi Toshiryoka Botanical Gardens
If you love flowers and exotic plants, you shouldn't miss the opportunity to visit the Hattoriryaokuchi Toshiryika botanical gardens as well! The Botanical gardens are located on the south-west side of the park and they feature a bamboo garden, children's playground, arboretum, large greenhouse and a park with about 2500 cherry trees that bloom at the beginning of April.
The gardens are open daily from 10:00 am to 5:00 pm (except of Tuesdays when they are closed).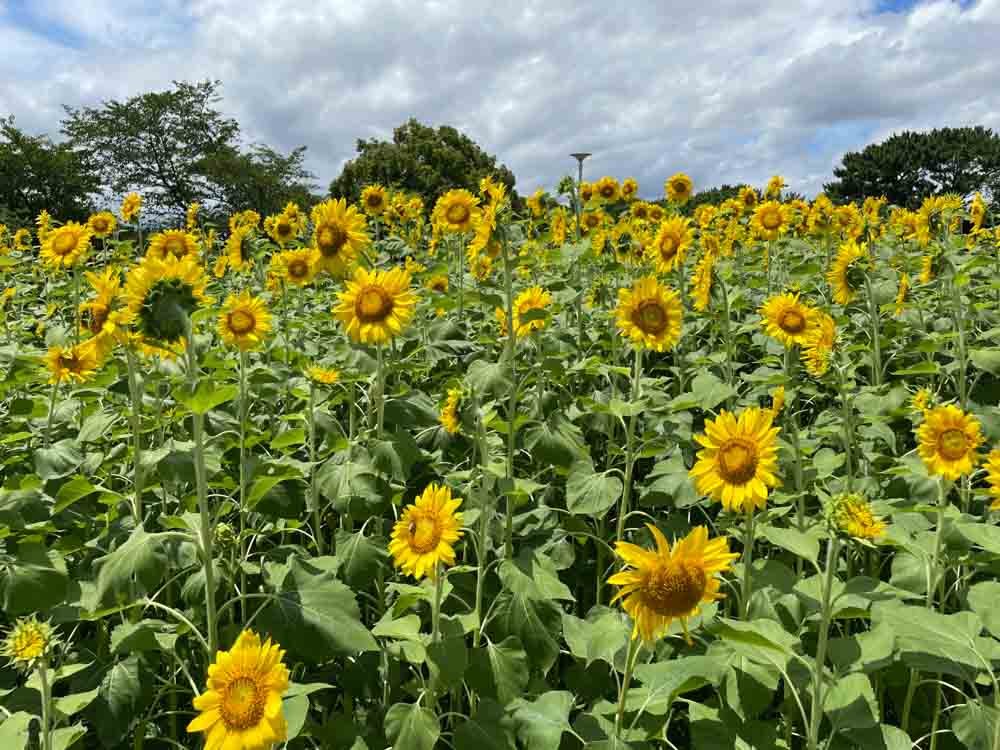 Other attractions in the Hattori Ryokuchi Park
Hattori Ryokuchi is truly an amazing park, offering its visitors many activities. Seasonal flowers are planted on the Circular Flowerbed so there are always some in bloom all year round. Throughout a year, different live performances take place at the Outdoor Concert Hall. Sports enthusiasts will appreciate many sports facilities, such as soccer and baseball fields, tennis courts, athletic track or horseback riding.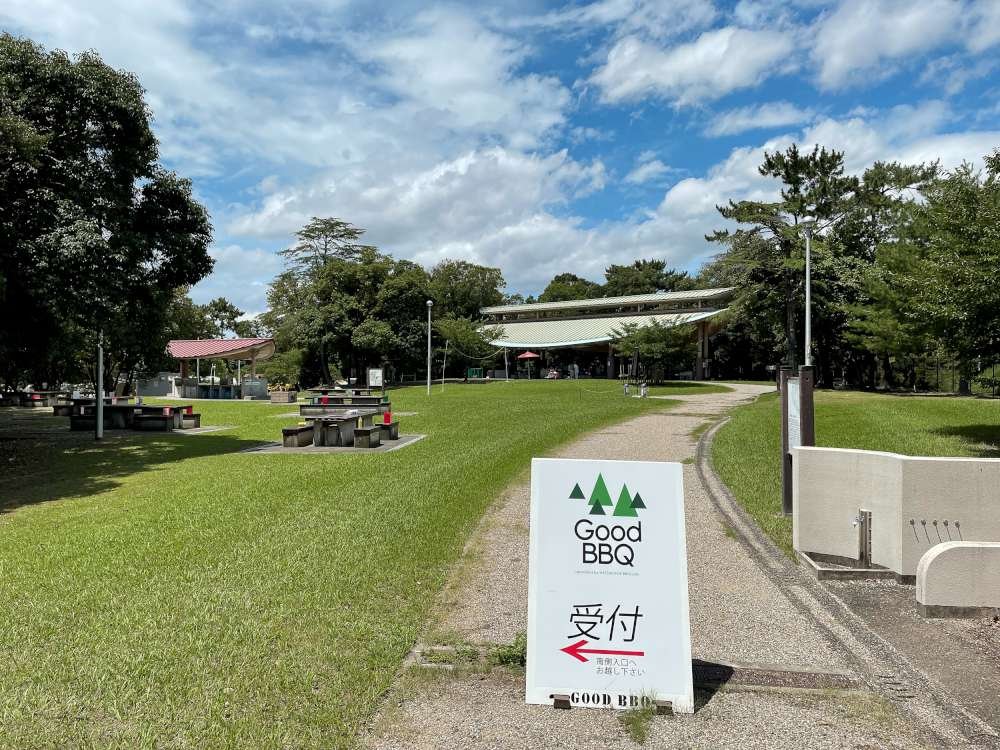 Children will enjoy the Amusement Centre with multiple slides, monkey bars and a pond with live ducks. During hot summer days, Children's Paradise Waterpark is open by Wakatake Pond, where kids can play in multiple pools with waterslides.
If you are visiting Hattori Ryokuchi Koen during July, don't forget to check out Shiratori Bridge that crosses a pond with hundreds of blooming lotus flowers. It is probably the best place in Osaka to see them in such large numbers.
Within the park, there are not only several restaurants and cafes, but also a barbecue area with public grills and tables where you can prepare your own picnic lunch.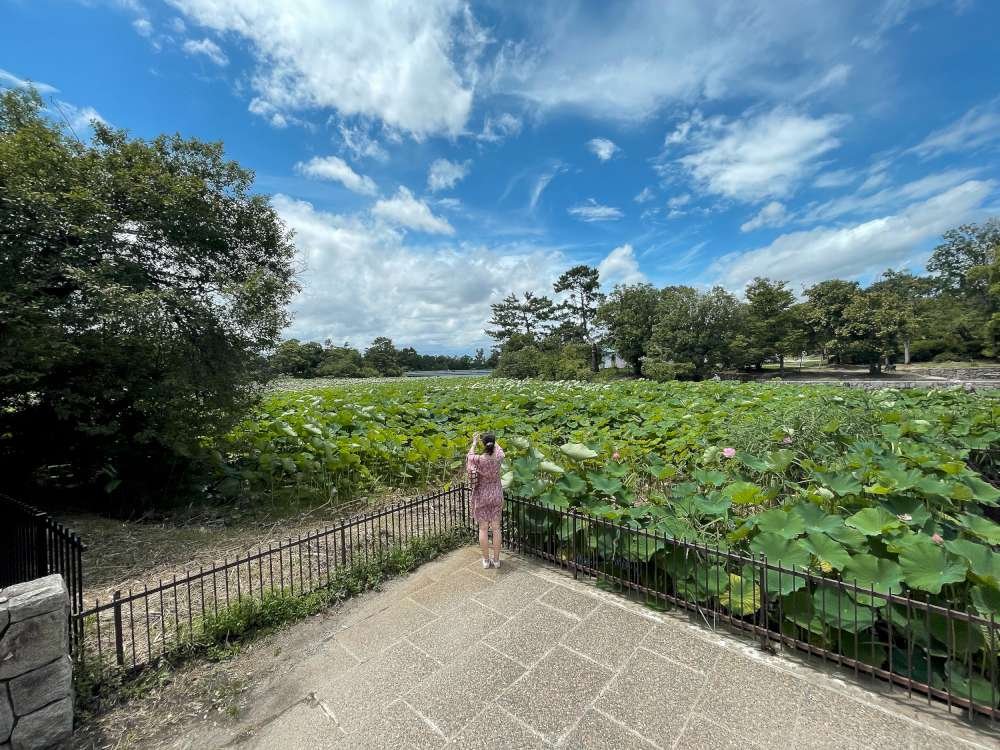 How to get to the Hattori Ryokuchi Park
The closest station to the Hattori Ryokuchi Park is Ryokuchikoen station. You will get there via red Midosuji metro line. Midosuji line runs through both biggest stations in Osaka – Namba and Umeda. From Umeda station the journey takes about 13 minutes and from Namba 22 minutes.
From Ryokuchikoen station it is about 5 minute walk to enter the park and about 12 minute walk to get to the Open-Air Museum of Old Japanese Farmhouses.