Introduction
Day Drinkers of the world unite! Welcome to part 2 of our guide to early morning restaurants in Osaka that serve alcohol. If you haven't read part one, click here and read it first. This time we have four places conveniently located in close proximity in Nishinari Ward, including a Korean restaurant, a beloved local izakaya and not one, but two yakiniku and horumon restaurants. Ohayo Gozaimasu and Kampai!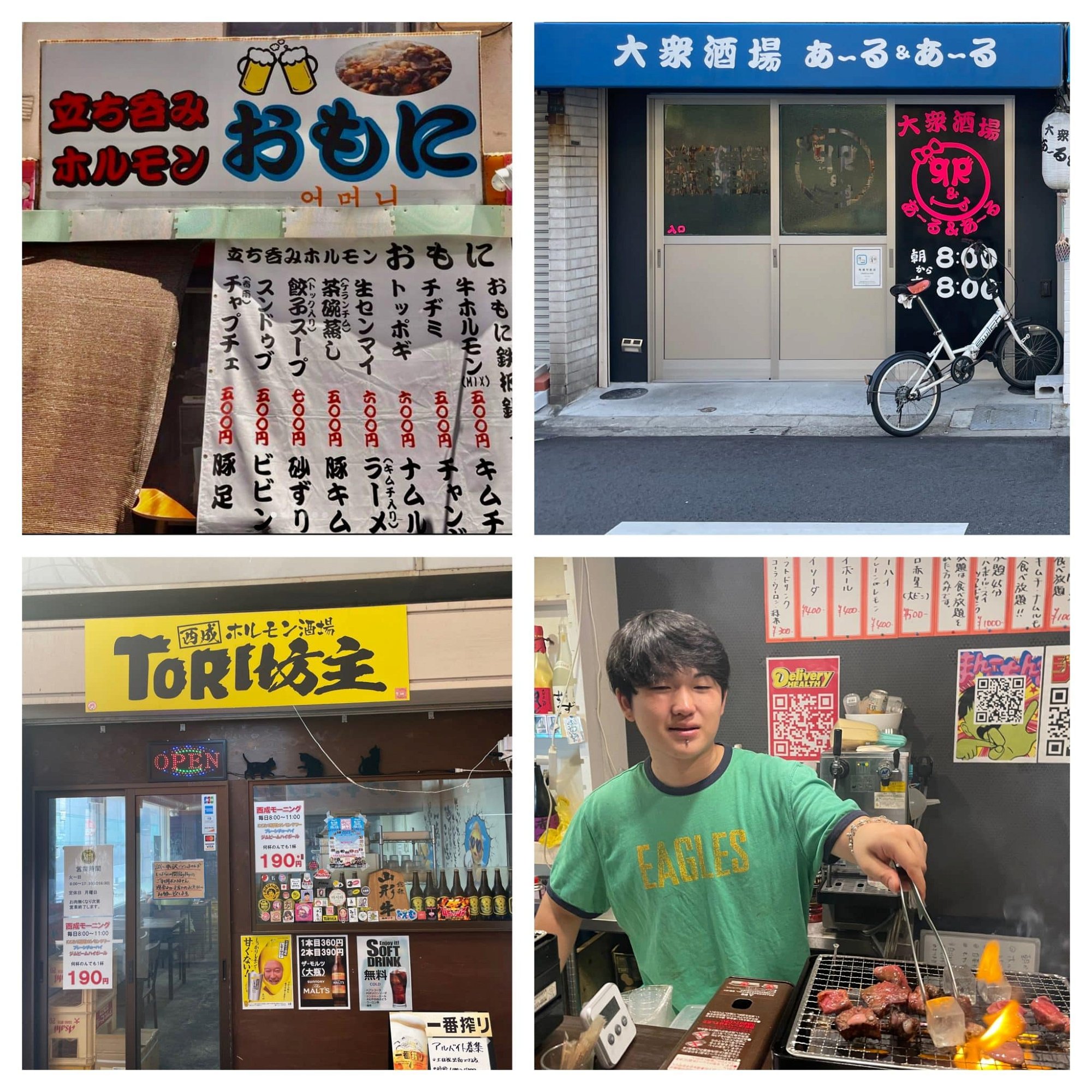 Omoni 立ち呑みおもに (9:00 A.M)
Address: 2 Chome-3-15 Haginochaya, Nishinari Ward, Osaka, 557-0004. Tel:06-4396-8830 Open: 9:00-20:00. Closed: Mon.
Omoni has been a popular fixture in the Haginochaya area of Nishinari Ward, serving delicious Korean food at low prices. One of the best things about this family-owned business is the open-air seating: you can either sit at the counter or outside at one of the tables on the street. There is nothing better than drinking a cold beer on a hot summer day or sharing a bottle of soju when it gets colder. The staff and regulars are very friendly and can be a bit boisterous at time, creating a wonderful festive atmosphere that starts early in the morning.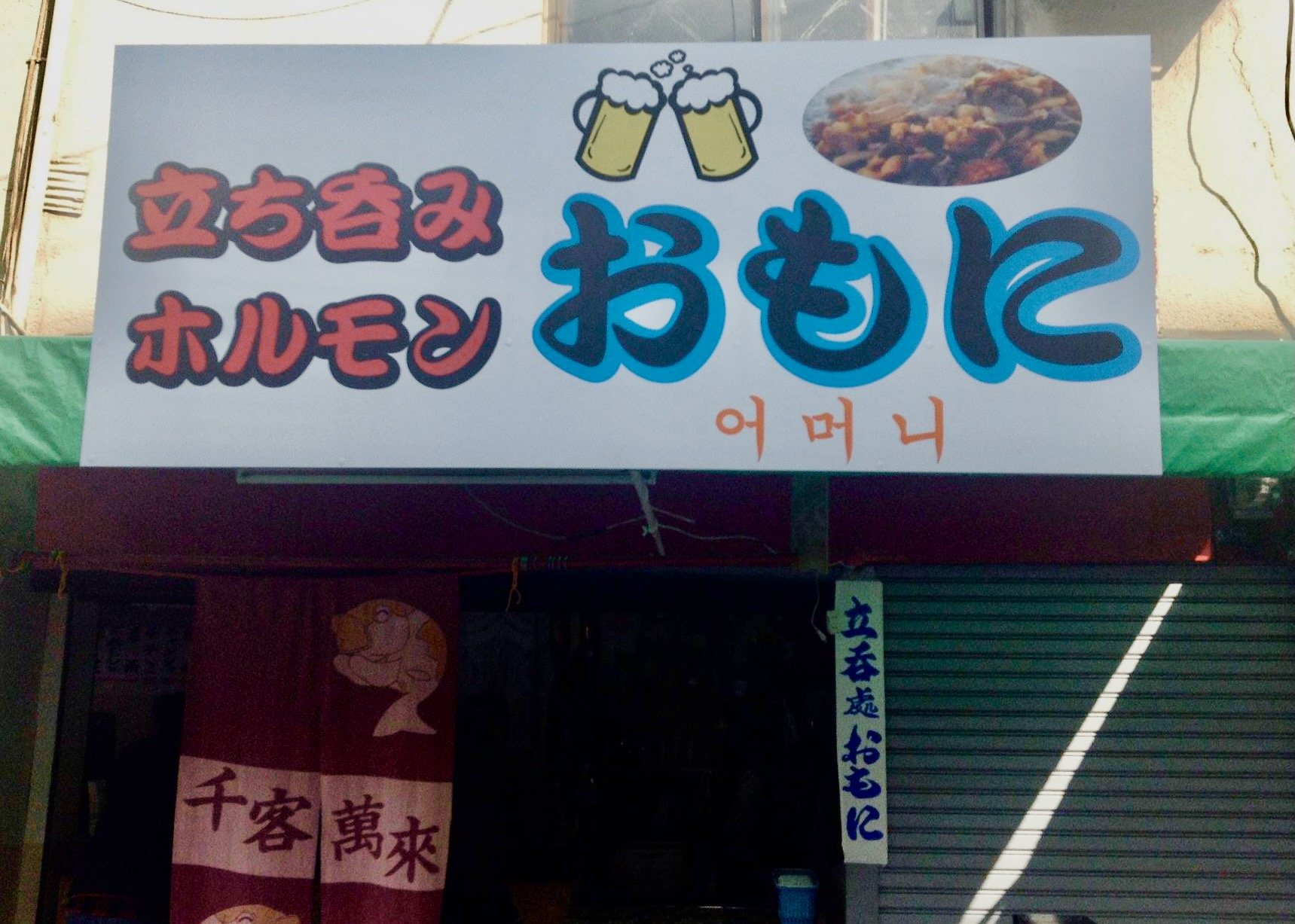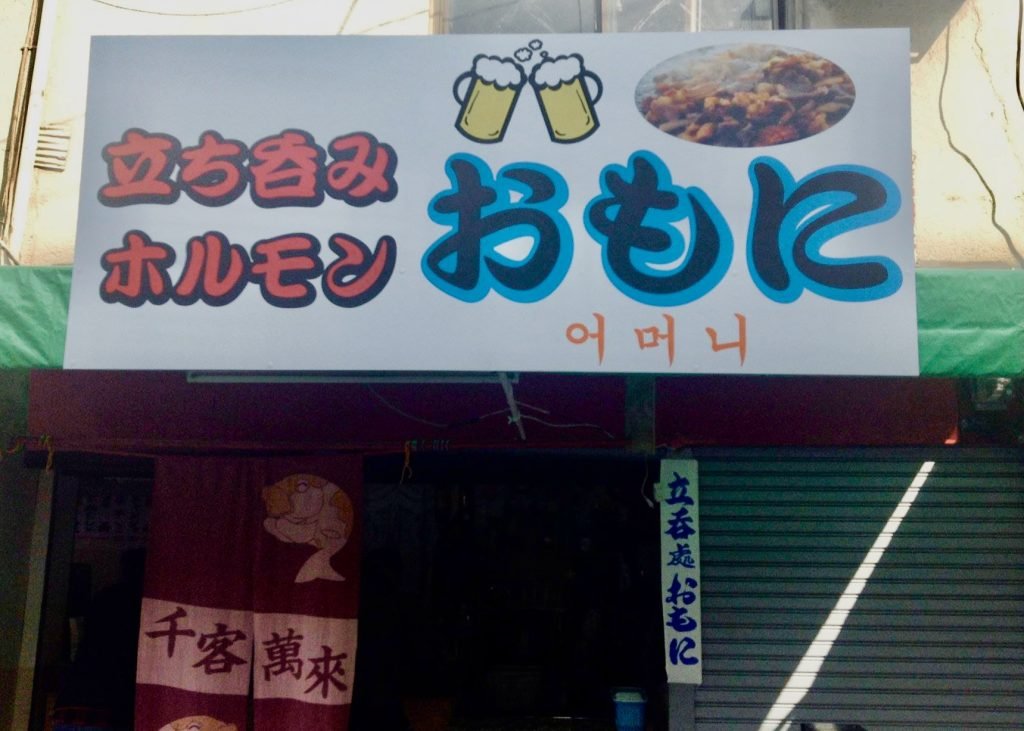 A few of us here at Osaka dot com have a special relationship with Omoni, which means mother in Korean. Shortly after it opened, a good friend of writer Wes Wesson named Rick Rouse visited him in Osaka for the first time in almost 20 years. We planned a huge bar hop that would take us from Nishinari to Ikuno Koreatown between Momodani and Tsuruhashi Station and back to Naniwa Ward.
The hop didn't start off the way we planned. The staff at the first place we went to at 9:00 A.M. was surly. Later we realized that it was a big misunderstanding, but at the time we were a bit upset. We weren't going to let it stop us from showing Rick a great time, so we went on to the next place, a personal favorite, which shall remain nameless, only to discover a note on the shutters stating that the owner had overslept and would be open at noon, making us 0 for 2 as "seasoned local guides."
Making New Friends Over Beer and Soju
If we were showing someone around like Walter Sobchack from The Big Lebowski, he would have gone into his "They a bunch of amateurs" rant by now. Fortunately, Rick is a mellow guy who just goes with the flow. Wes and I realized that Omoni was just around the corner. Although we had only been there once before shortly after it opened, the middle aged owner—whom everyone calls Omoni, naturally, and her son remembered who we were and made us feel right at home. We were soon joined by two more friends, Tatsuya Inaoka and photographer Ross Randles. Rick had a great time from the moment he sat down. Omoni even came out of the kitchen area to style his dreadlocks.
Wes soon discovered that he had a lot in common with Omoni's son, Hage-san who was in the military at the exact same time he was stationed in Korea in the early 90s. "He's three years my senior and they all come from Taegu, the part of Korea I did the most tours in. I told him I used to go in for between joint forces and he right away said, Yep…TEAM SPIRIT! He then poured me a tall glass of Shochu and water on the house."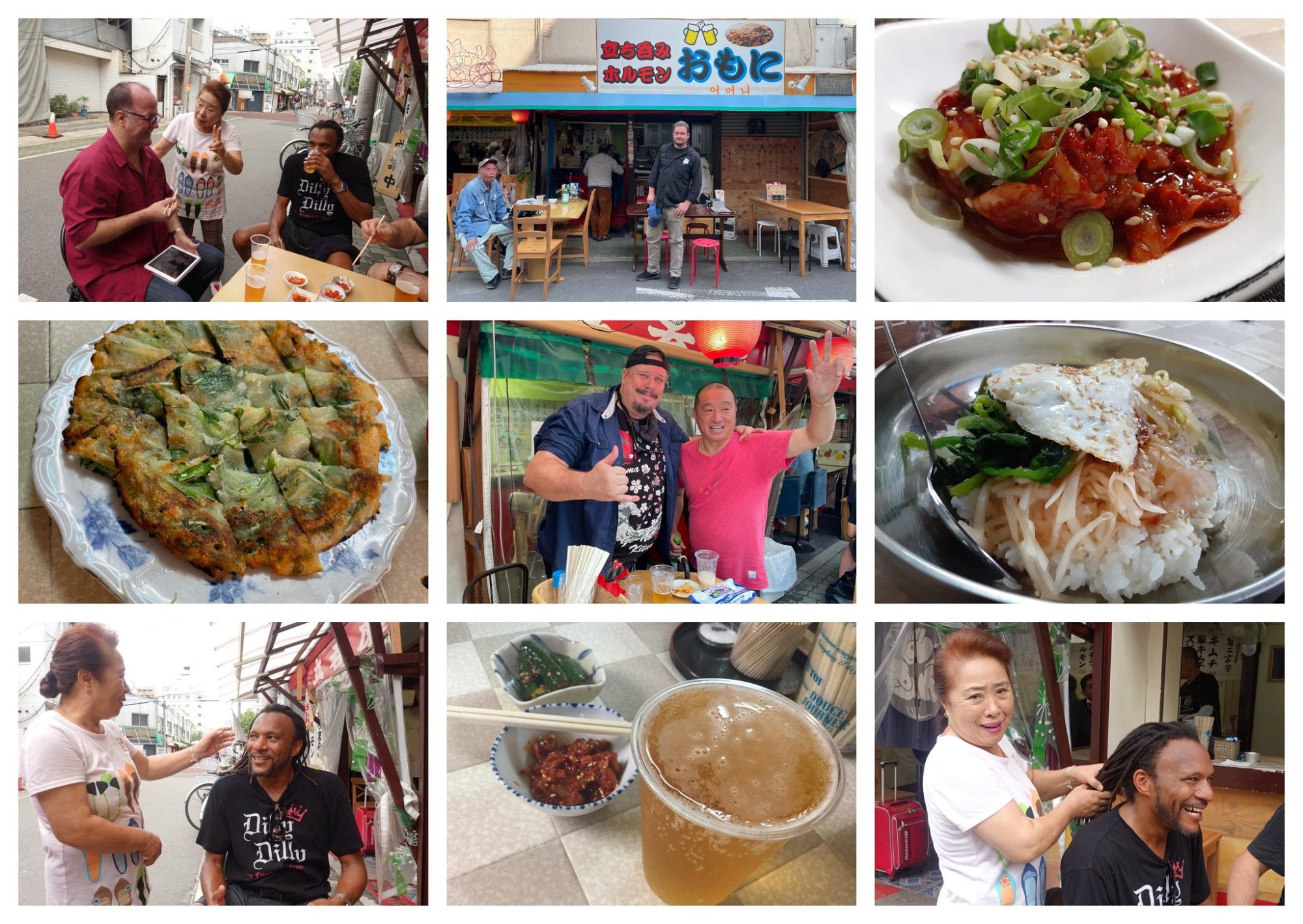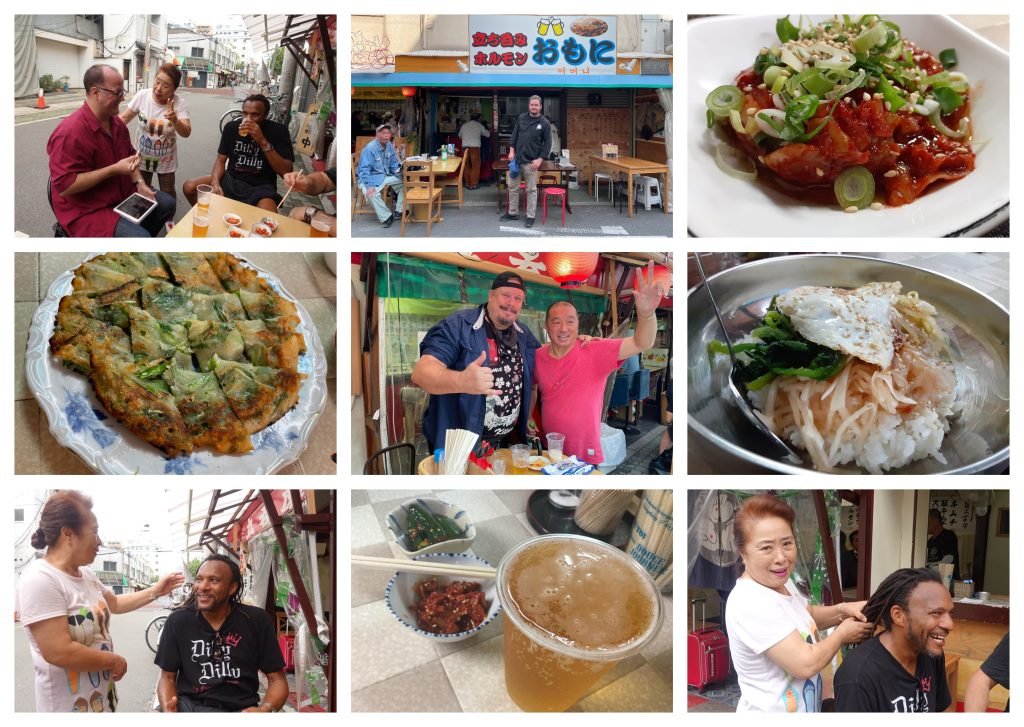 We ordered chijimi (buchimgae in Korean), harusame (chapchae) glass noodle stirfry chanja (spicy cod innards), and butakimchi, a Japanese version of the Korean dish jaeyook bokkeum. The first sip of beer from plastic cups was magical. Wes Wesson said at the time: "I'm just gonna throw this out here…..but nama [draft] beer in baseball stadium plastic cups thing going on at OMONI is the BEST thing to hit Nishinari- if not Osaka!" Some beer drinkers might think we are insane for advocating the hated plastic cup, but in this case for whatever reason it works like a charm.
Korean Cuisine For The Whole Neighborhood
It goes without saying that Korean food in Japan often does not taste the same as the food in Korea, but the Korean-Japanese community, which has a long history in Osaka, has developed their own distinct style of cuisine that can be appreciated in its own right. When they first opened, prices at Omoni were dirt cheap (100-400 yen), and the standing bar catered to more of an older neighborhood crowd, many whom were unfamiliar with Korean cuisine. Some older regulars I spoke with said they came for the mixed horumon dish, a Nishinari favorite, but quickly became fans of the more traditional dishes after trying them for the first time.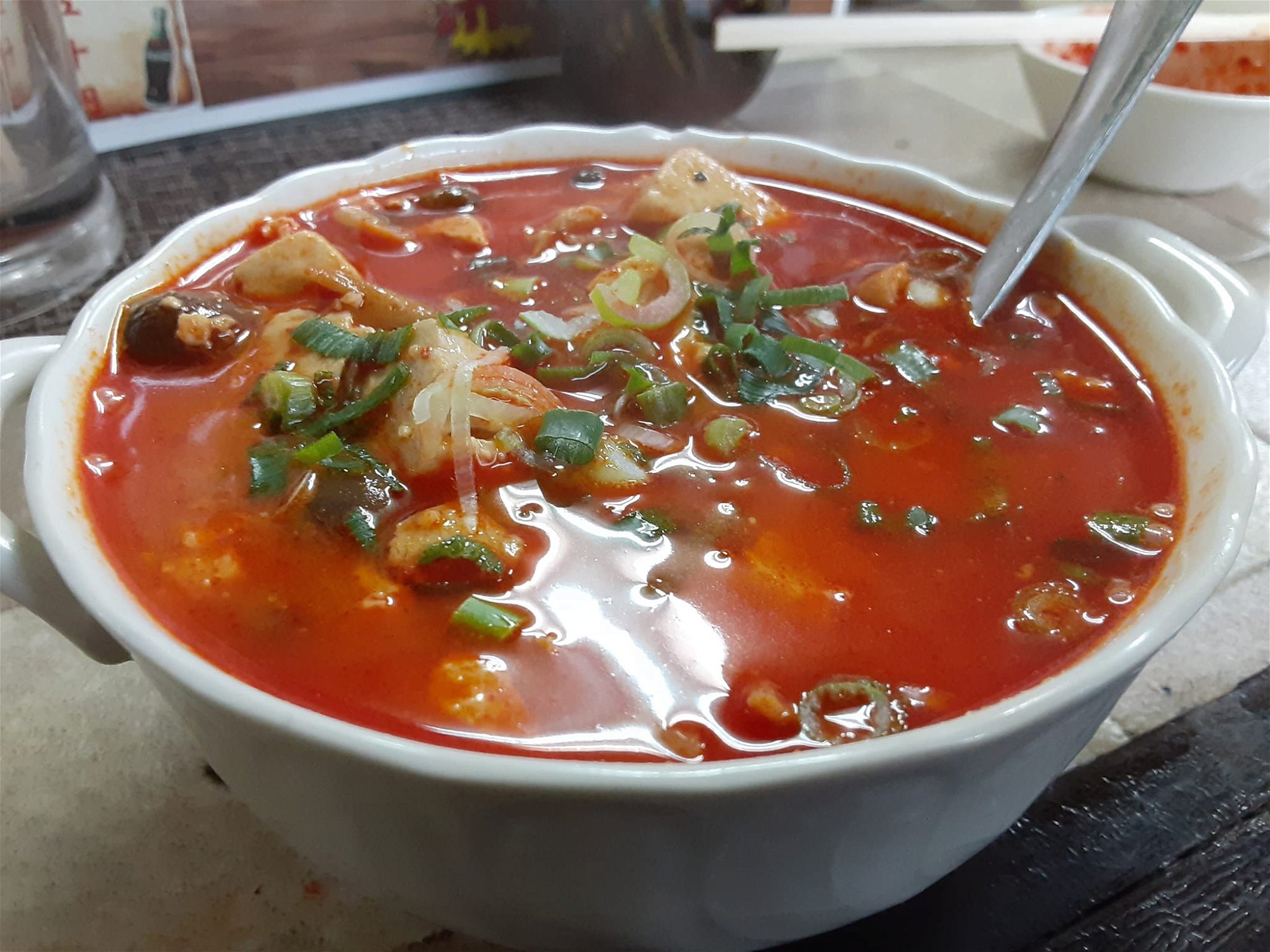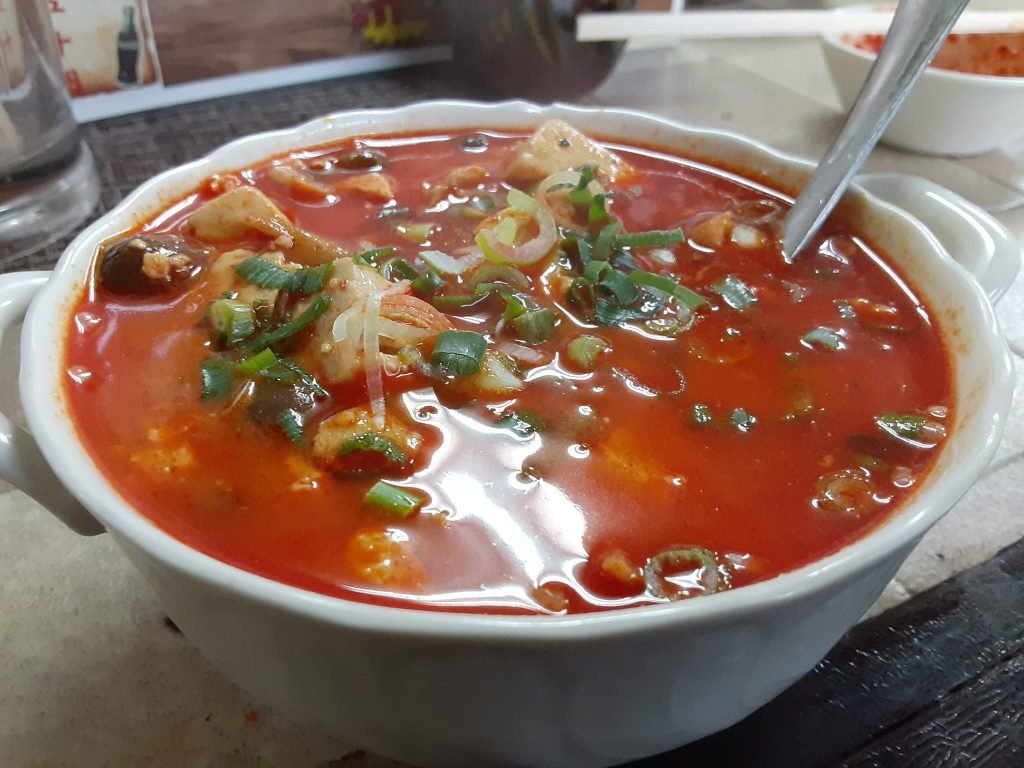 The prices of most dishes currently range from 500-1000 yen (which is still incredibly cheap), but the menu now includes spicier dishes such as sundubu jjigae, a stew loaded with velvety soft tofu, vegetables, and mushrooms blanketed in a rich and savory broth, expertly made by Omoni and her attentive staff.
Omoni now has a broad clientele of all ages, many of whom learned about the restaurant through word of mouth and videos by popular YouTubers. Rather than causing a divide, the younger crowd has seamlessly mixed in with the neighborhood regulars, and it is not uncommon to see 20-year-olds laughing with customers as old as their grandparents. It's one of the many features that distinguish Nishinari Ward.
Taishu Sakaba R & R 大衆酒場あーる&あーる (8:00 A.M)
Address: 2 Chome-13-2 Hanazonokita, Nishinari Ward, Osaka, 557-0016. Tel: 090-9884-8228. Open: 08:00-20:00. Closed: Wed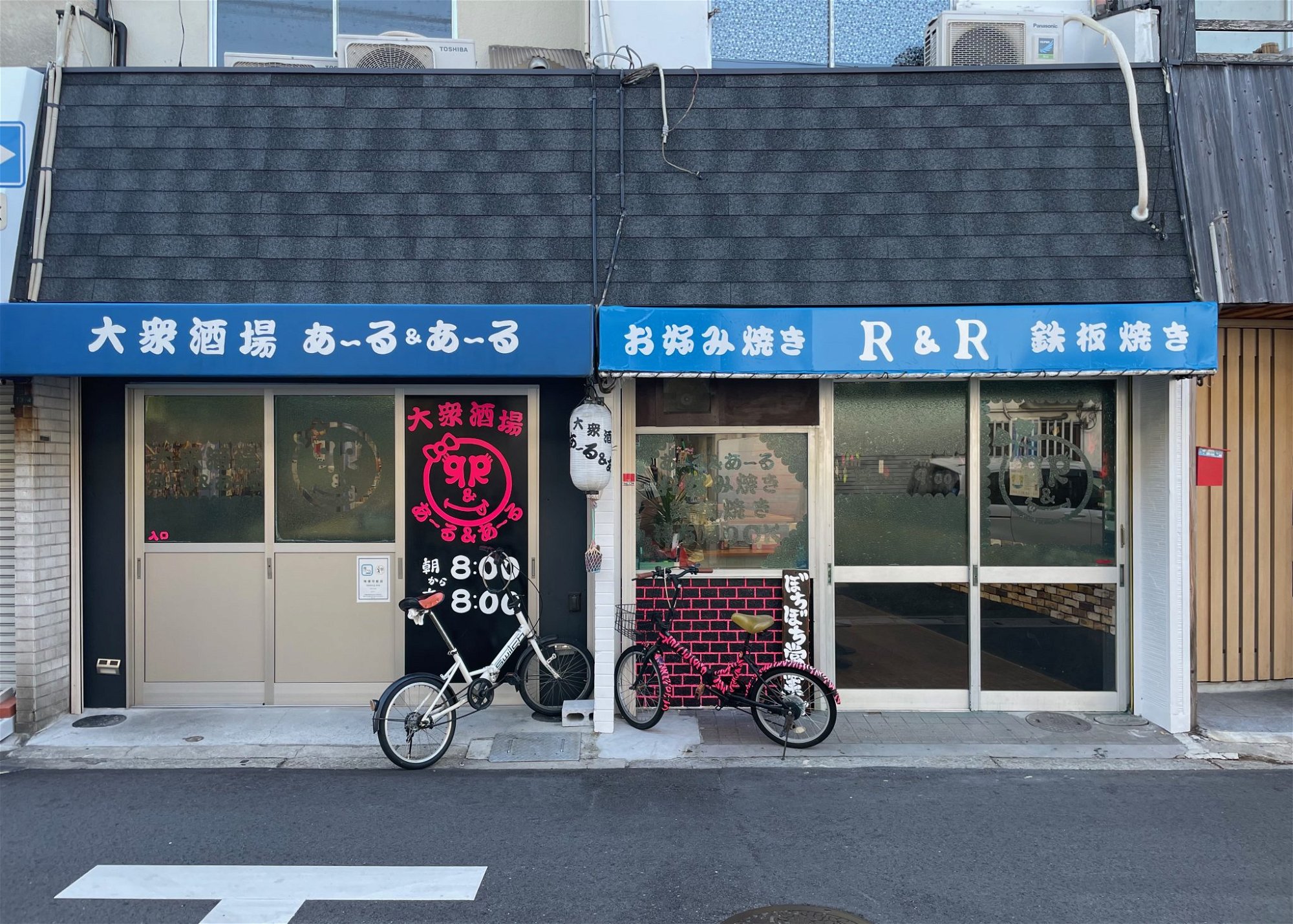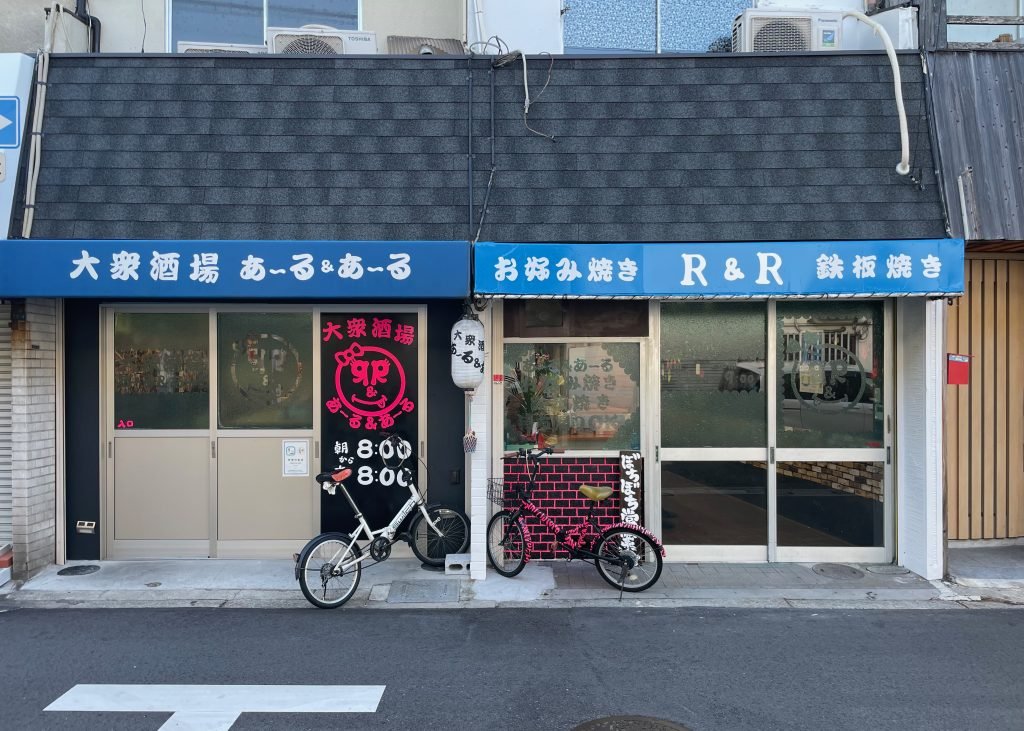 A few years ago I was drinking at Mabuhai, a karaoke bar next to the Nishinari Police Station, with Mike F, a longterm British resident of Osaka. We were having a good time chatting with a few of the regulars, one of whom was Mr Yukio Patariro Inoue, a prolific explorer of Nishinari and beyond who has introduced hundreds of bars and restaurants on social media as a public service. I had often seen him on my Facebook feed wearing a yellow bicycle cap, but this was the first time meeting the legendary drinker in person.
Reiko and Rie
Mr Patariro Inoue told us about one of his favorite restaurants, Taishu Sakaba R&R, an early-morning izakaya near Haginochaya Station on the Nankai Line and kindly offered to take us there. It was about a ten minute walk from Mabuhai. I loved the place from the minute I walked through the door. Laid back cozy atmosphere with fliers for concerts on the walls and a collage of hundreds carefully cut-out photos of regulars having a good time.
I assumed that R&R stood for "rock and roll, but they actually stand for the initials of the owner Reiko and her daughter (who doesn't work there). Coincidentally, there is another woman whose named starts with "R" named Rie, who sported green hair the first time we met her. Eagle-eyed readers may remember Rie from our article on New Kokoya and Nishinari Peace.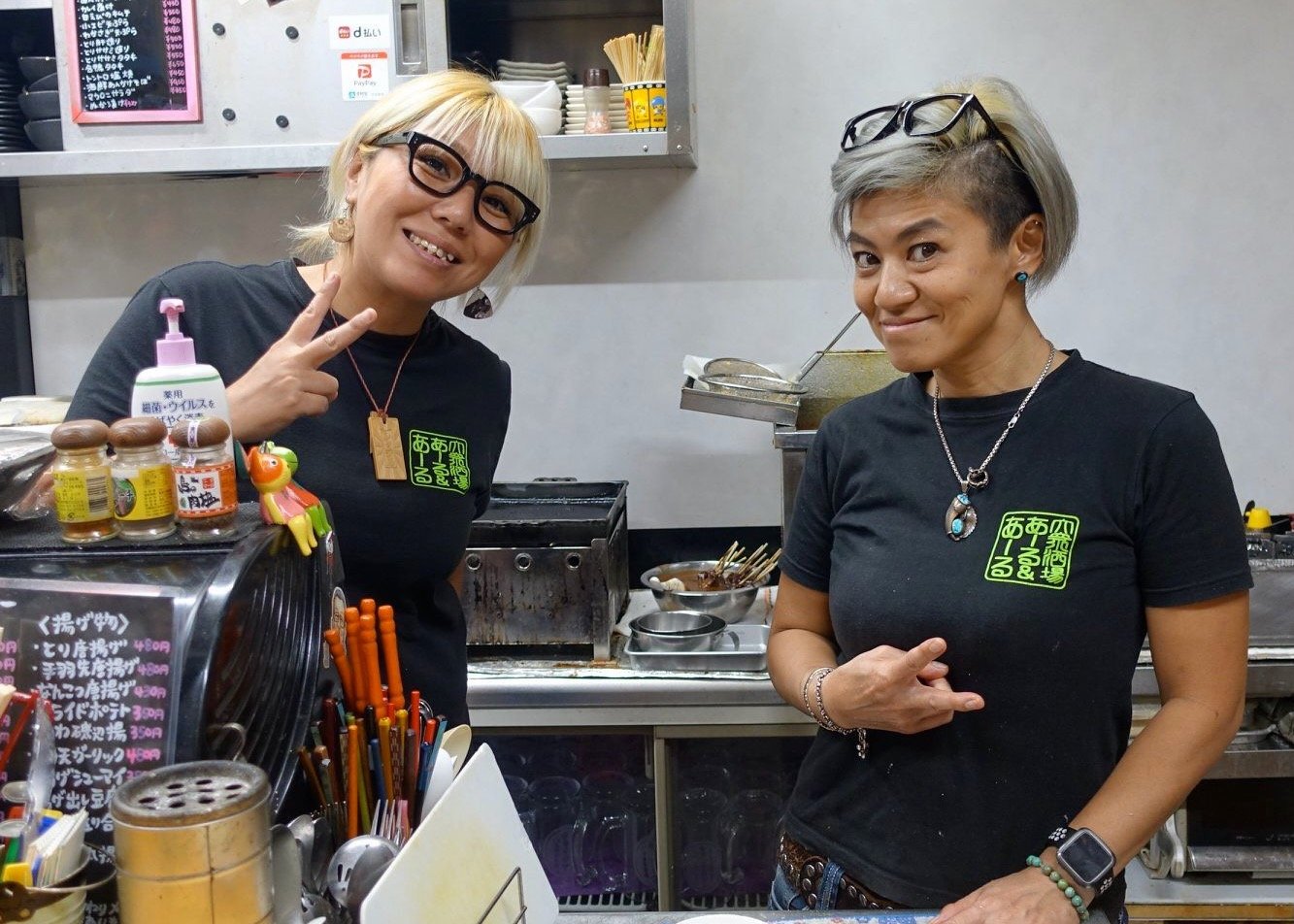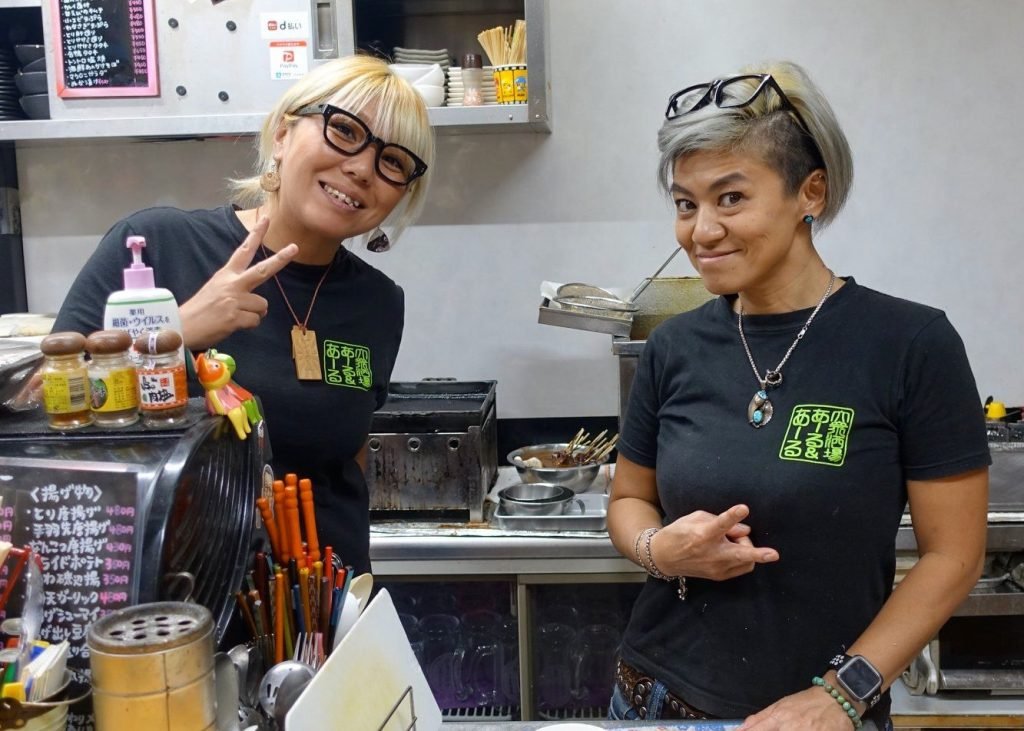 Reiko honed her cooking skills working at several izakayas before branching off and starting her own place. On our first visit we ordered several of her signature dishes including buta kimchi itame (pork and kimchi stir fry) ¥550; nankotsu karaage (deep fried chicken cartilage) ¥430; yakisoba (fried noodles) ¥450; agedashidofu (fried tofu in dashi sauce) ¥450 and yakimeshi (fried rice) ¥680. Taishu Sakabu R&R also offers Homemade Curry and Rice (¥700), but it's only available from the 25th to 27th of the month.
Godlike Garlic Eggplant Tempura
I wasn't paying much attention when Mr Patariro Inoue ordered a tempura dish for us, but I knew it was a winner from the very first bite. I asked Mike F. what he thought it was and he said something like, "I believe it is an aubergine." "Oh, it's a zucchini? "I inquired. "No, that would be a courgette. Aubergine is nasubi." "Well, this is the best goddamn eggplant I ever had in my life! The actual name of the dish is 茄子天 ガーリク nasubi ten garlic or garlic eggplant tempura (¥480). I might have completely passed this culinary delight over since I didn't know kanji for eggplant. Now I'll never forget them.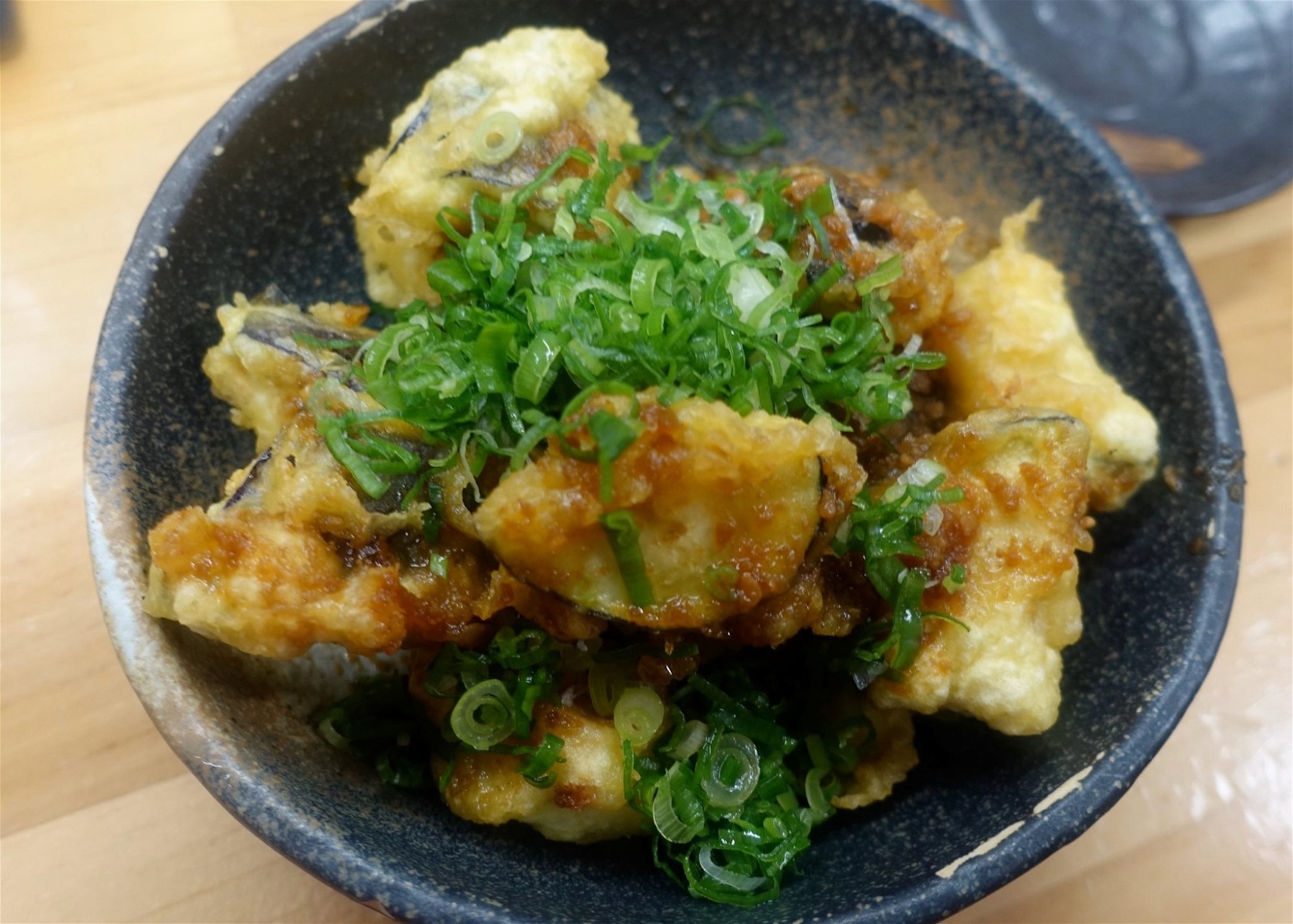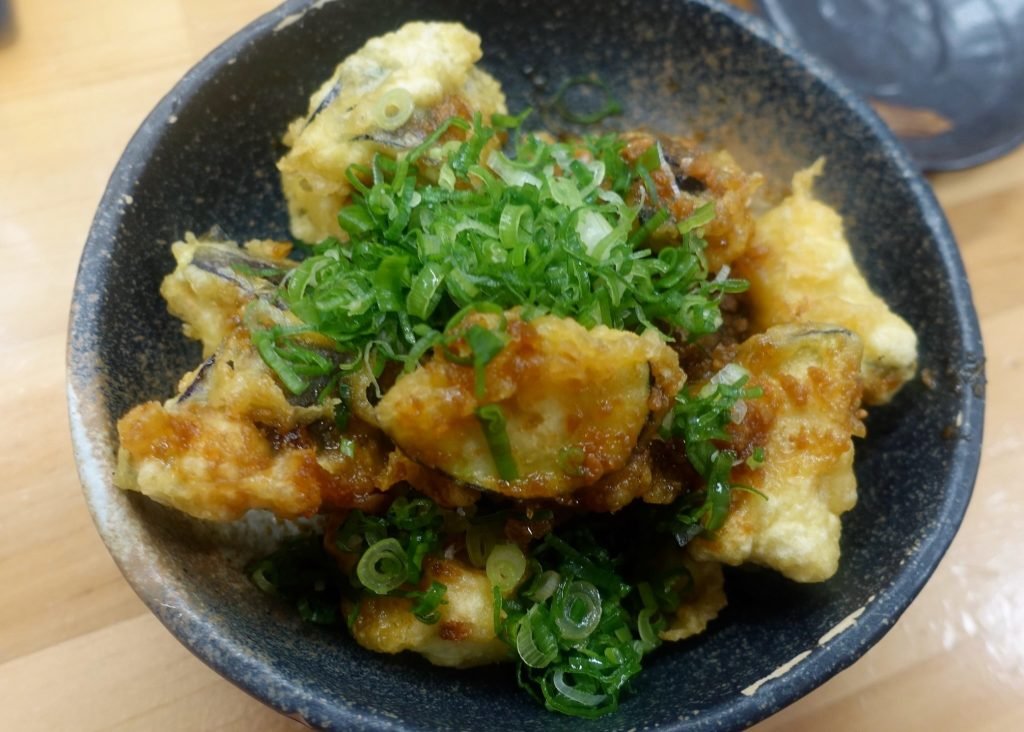 I had told a couple of friends about R&R and both sent back testimonials raving about the garlic eggplant tempura. "Godlike eggplant," wrote Wes Wesson, a fellow writer for Osaka.com. "So end of July I got caught in a torrential downpour in Haginochaya. I made the dash into R&R and Reiko served me up a beer. I told her that I had tried to make her garlic eggplant tempura recipe once but didn't have tempura batter or the proper sauce. She sent me home with a small glass jar of her special sauce. Dreamlike!"
R&R Shower Set: A hot shower and a small beer or chuhai for 880 yen
Taishu Sakaba R&R is also famous for their "Shower Set" Refresh yourself with a shower in the back room and then enjoy a nice cold beer or chuhai and a small dish (kobachi) of food, all for only ¥880. This is something you'd expect to see at a truck stop in Arkansas, but it is perfect for Osaka and works on so many levels. Say you miss the last train and have to stay out all night. Why check into a pricey hotel? Stay out drinking all night and wash the stench of booze and cigarettes in the morning before heading home to the wife and kids or straight to work. I've never tried the shower set but you can watch a video of it here.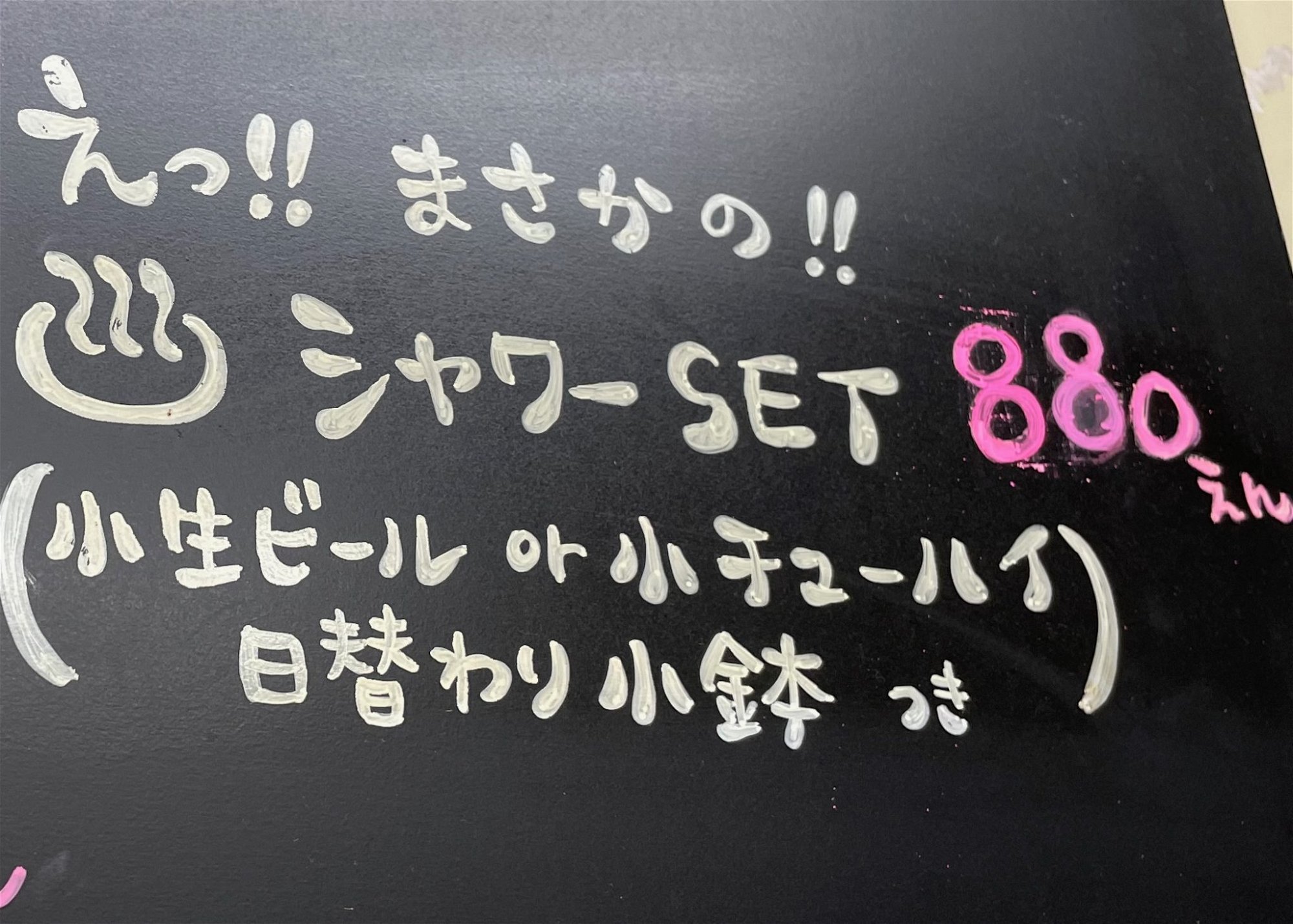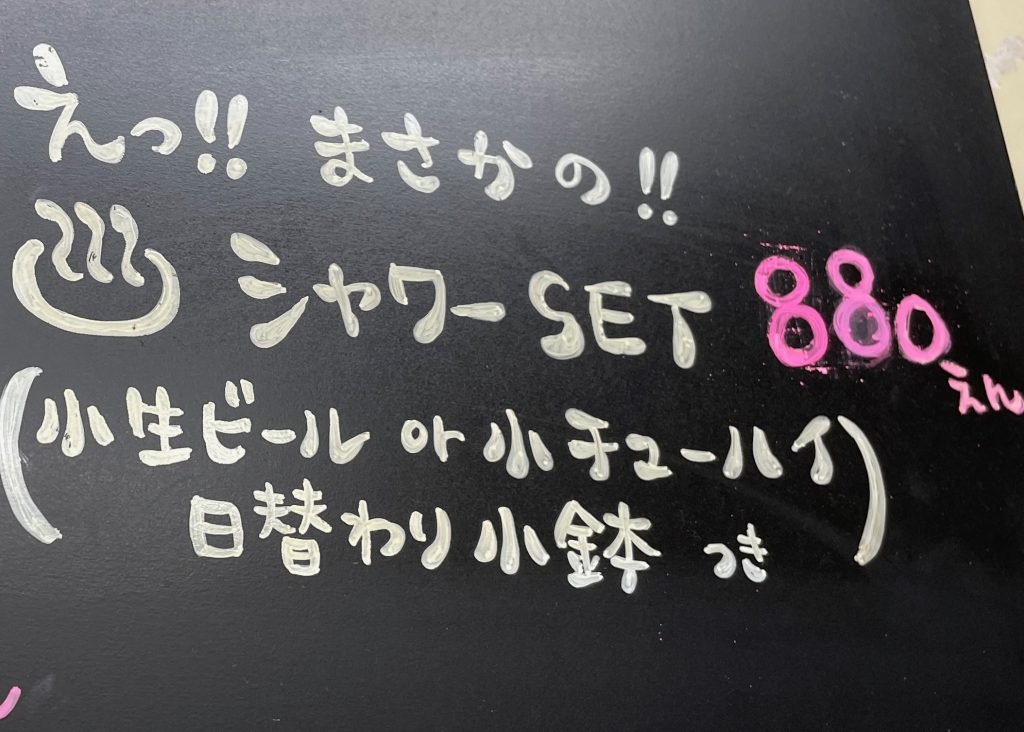 Make Your Own Morning Set
Taishu Izakaya R&R doesn't have an official morning set, but don't let that stop you from ordering your own a la carte from their extensive yakimono menu (grilled or pan fried items), which include several nice egg dishes that are perfect for breakfast such as dote omuretsu (beef sinew stewed in miso and mirin omelet) ¥480, medamayaki (sunny side up fried egg) ¥250, ham and eggs (¥350), niratama (scrambled eggs with garlic chives) ¥380.
My personal favorite is the tonpeiyaki (rolled pork omelette with sauce and mayonnaise) ¥450. I usually order it with a tomato chuhai, a Japanese cocktail drink that is considered an Osaka specialty. My friend Jake ordered a ryokucha hai, a cocktail of shochu and green tea, so I decided to get one as well, but it was just too strong for me. Thankfully, Jake had no problem drinking two at the same time so it didn't go to waste.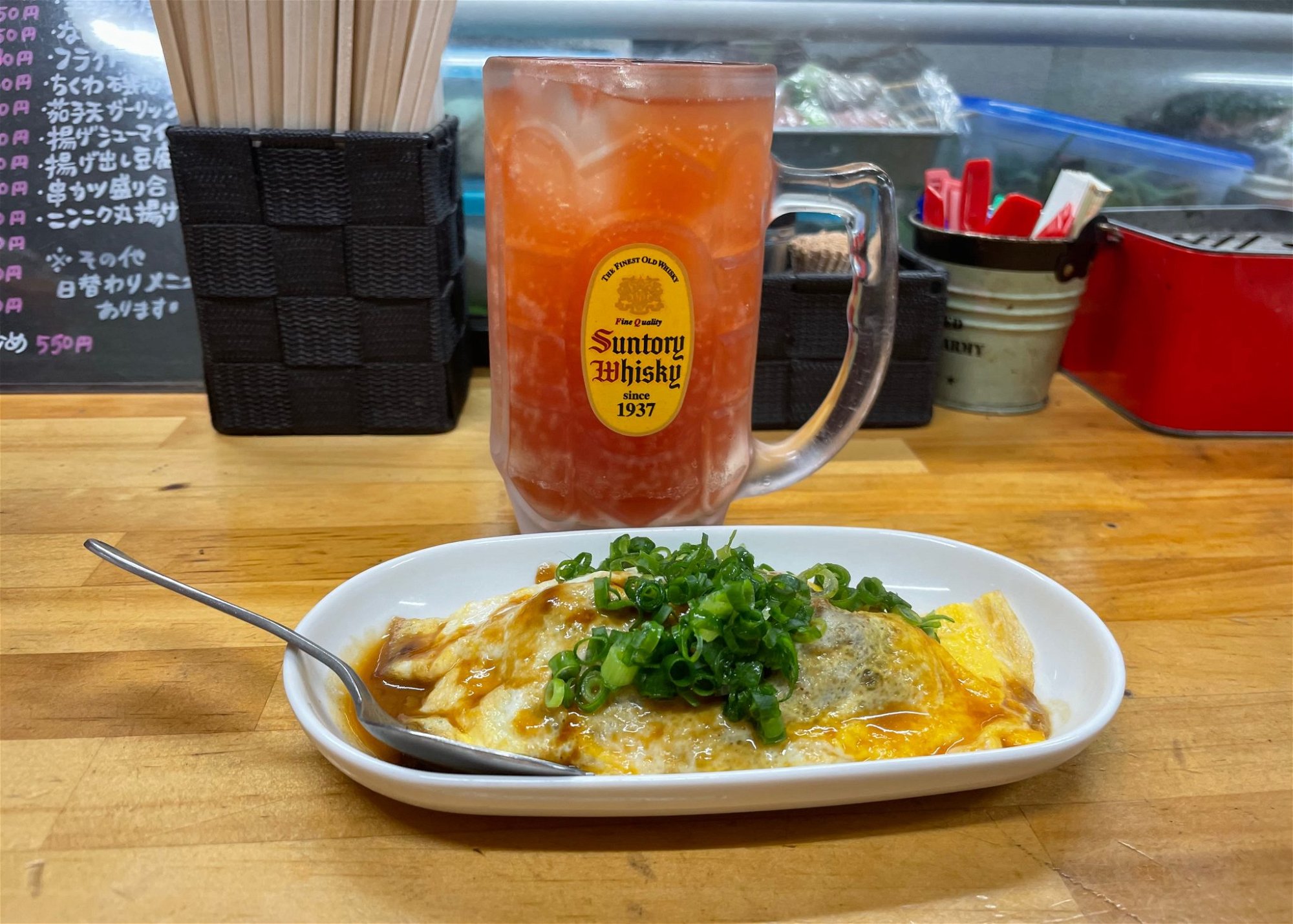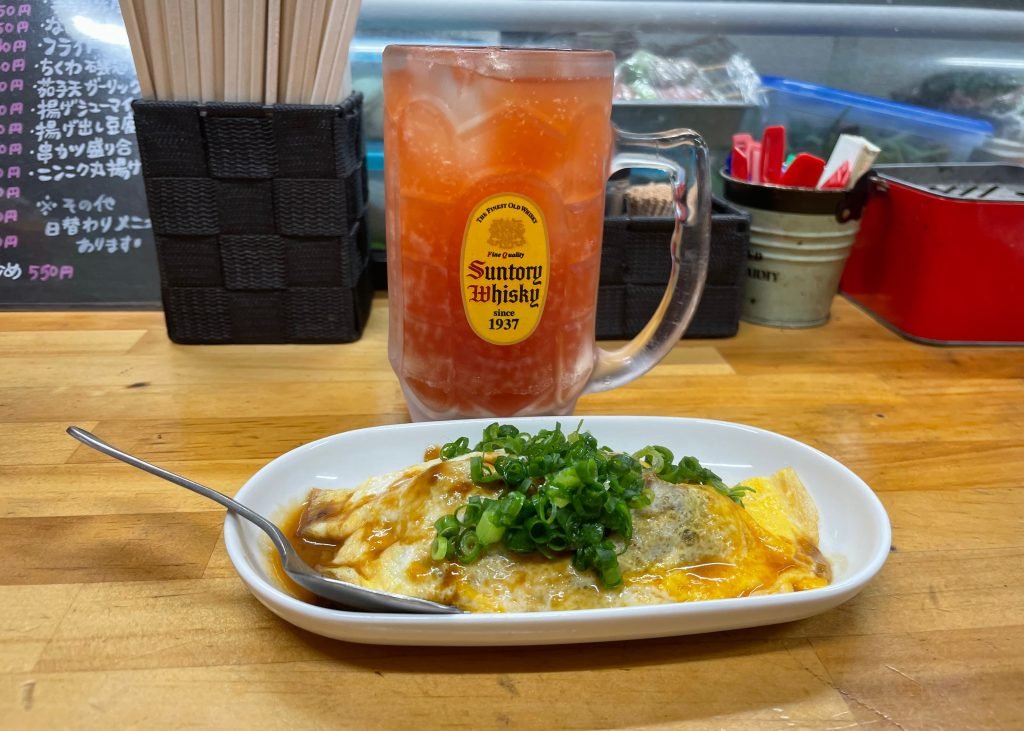 If eggs are not your thing in the morning, Taishu Sakaba R&R also has a nice selection of poultry dishes such as tori shioyaki (grilled salted chicken) ¥450; tori teriyaki (chicken teriyaki) ¥450; tebasaki shioyaki (grilled salted chicken wings) and chicken, cabbage and garlic stir fry ¥550. These dishes go well with an order of ninikumaruage, a deep-fried head of garlic. You can even order aka wiener (¥380), octopus shaped red wieners, as seen on the hit show Midnight Diner: Tokyo Stories on Netflix.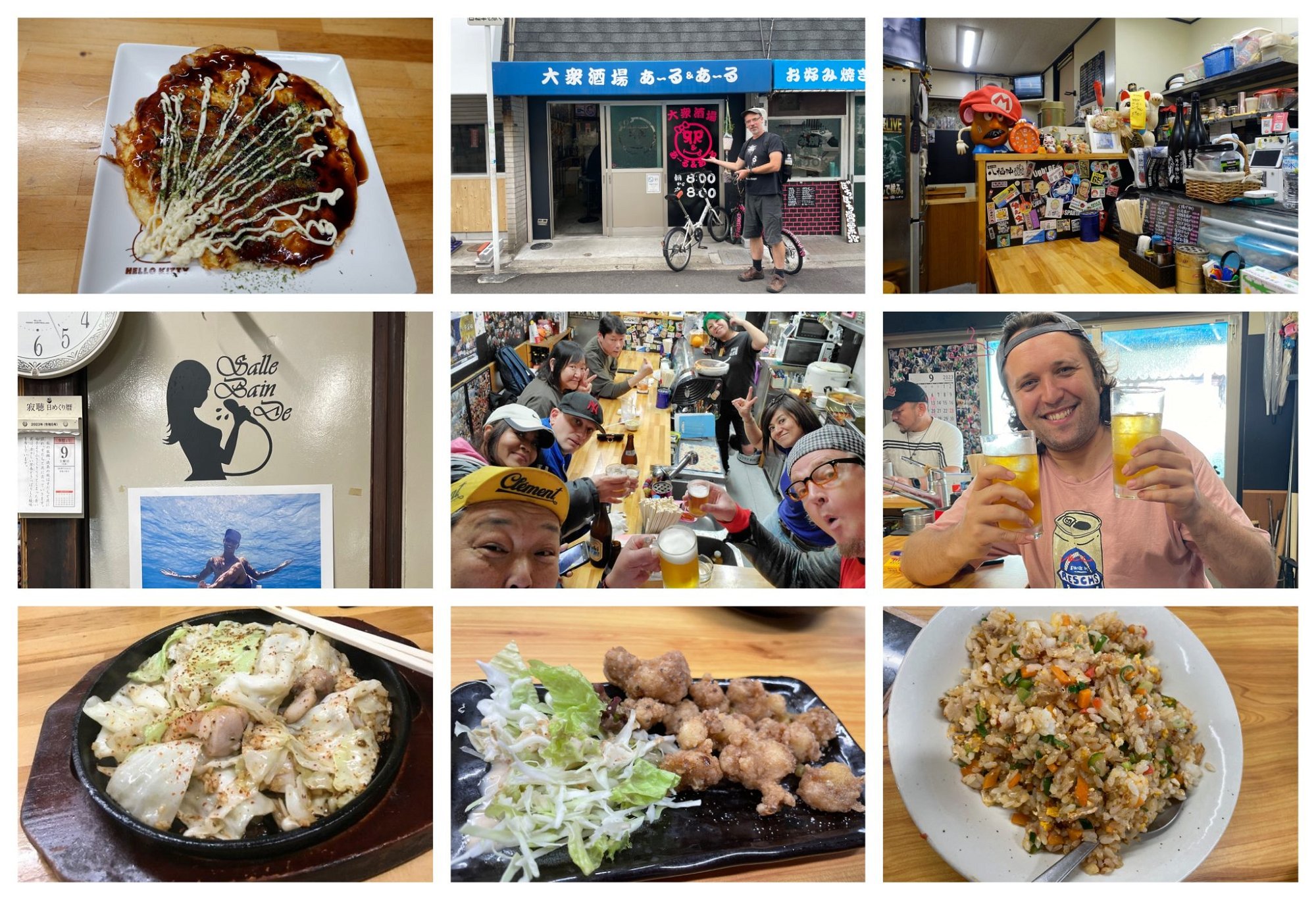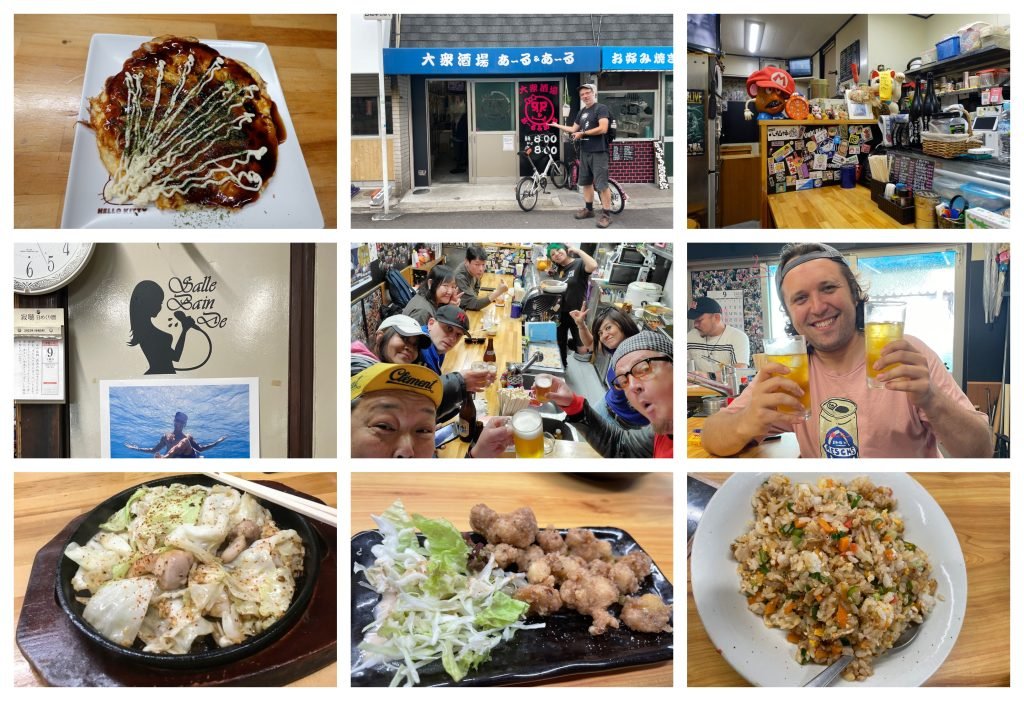 From the ippin mono appetizer menu you can choose from hiyakko (cold tofu) ¥150; ika shio (salted squid) ¥250; mentaiko (seasoned cod roe) ¥300; jako oroshi (cold tofu with young sardines and grated radish on top) ¥250; nametake oroshi (mushrooms with grated daikon); morokyu (cucumber with miso paste) ¥250; pirikarashi kyuuri (spicy cucumber) ¥350; sliced tomato ¥300. 
Keep in mind that Taishu Sakaba R&R is open until 20:00. You don't have to order these dishes for breakfast, but its nice to know that you can rock up in the morning and order delicious izakaya food to start your day.
Okonomiyaki R&R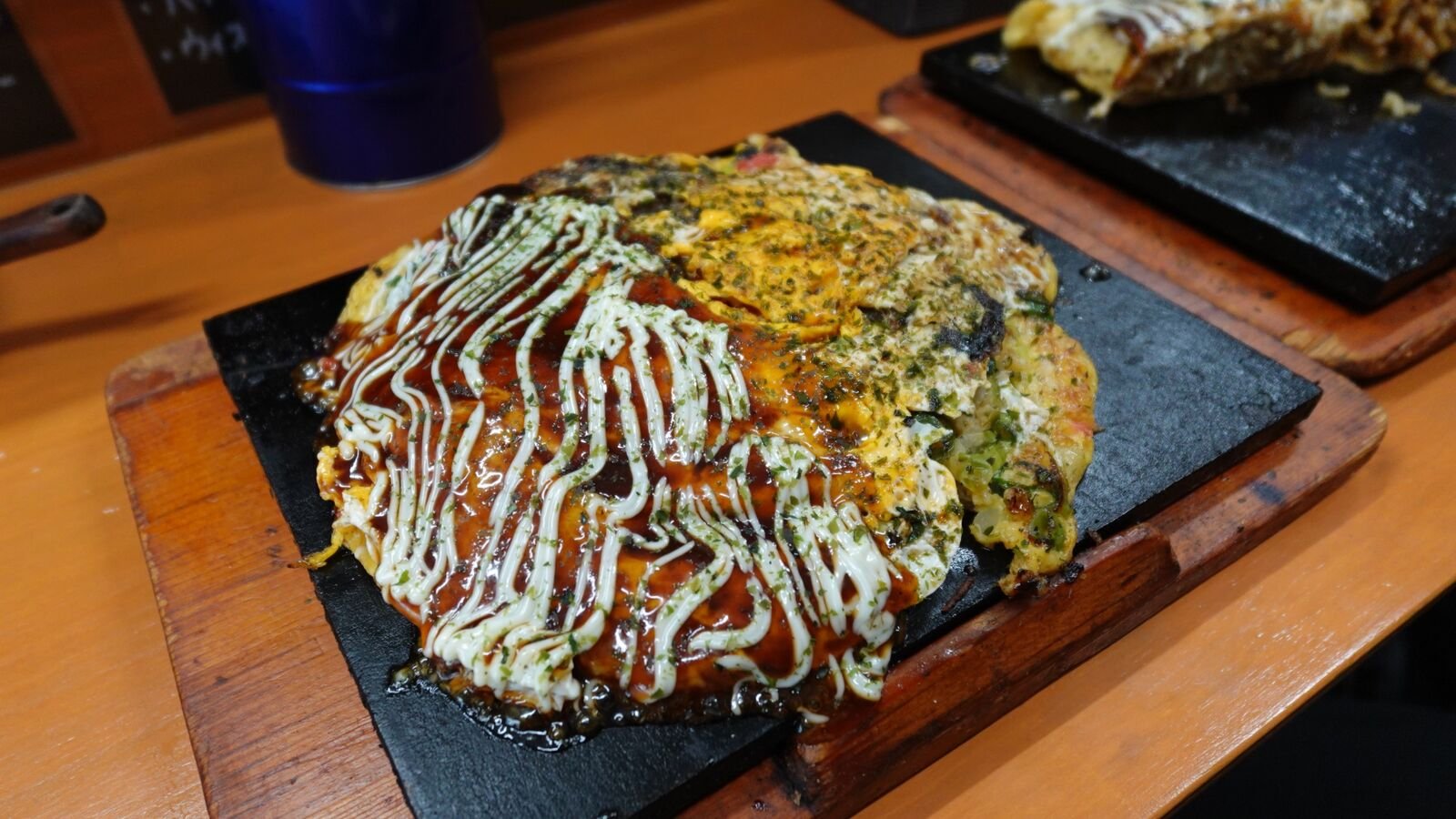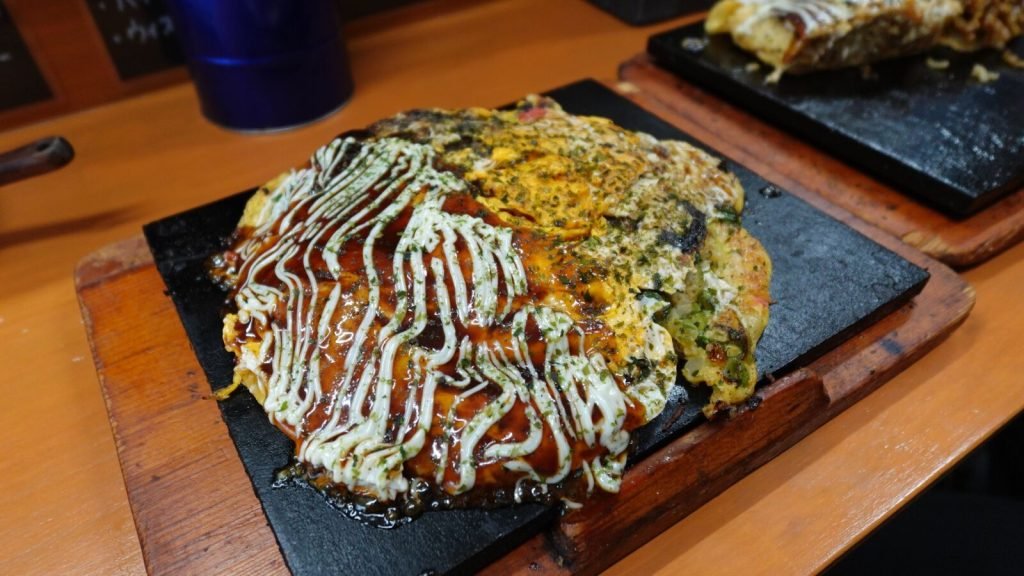 On my last visit to Taishu Sakaba R&R, I was surprised to see that the Vietnamese restaurant next door had recently been replaced by Okonomiyaki R&R (11:00-21:00), which is run by Reiko's parents. You can order food at both restaurants and your order will be placed through an opening in the wall linking both restaurants. The pork, squid and shrimp okonomiyaki is very reasonable at only ¥700, but I ordered the negi-sujiyaki, which contains beef tendons and leek for ¥1,200. Another winning dish for the R&R, which I'm starting to think stands for Rest & Relaxation.
Toribozu Honten ホルモン酒場TORI坊主本店 (8:00 A.M)
Address:2 Chome-10-15 Sanno, Nishinari Ward, Osaka, 557-0001. Open:8:00-18:00. Closed: Mon Twitter Instagram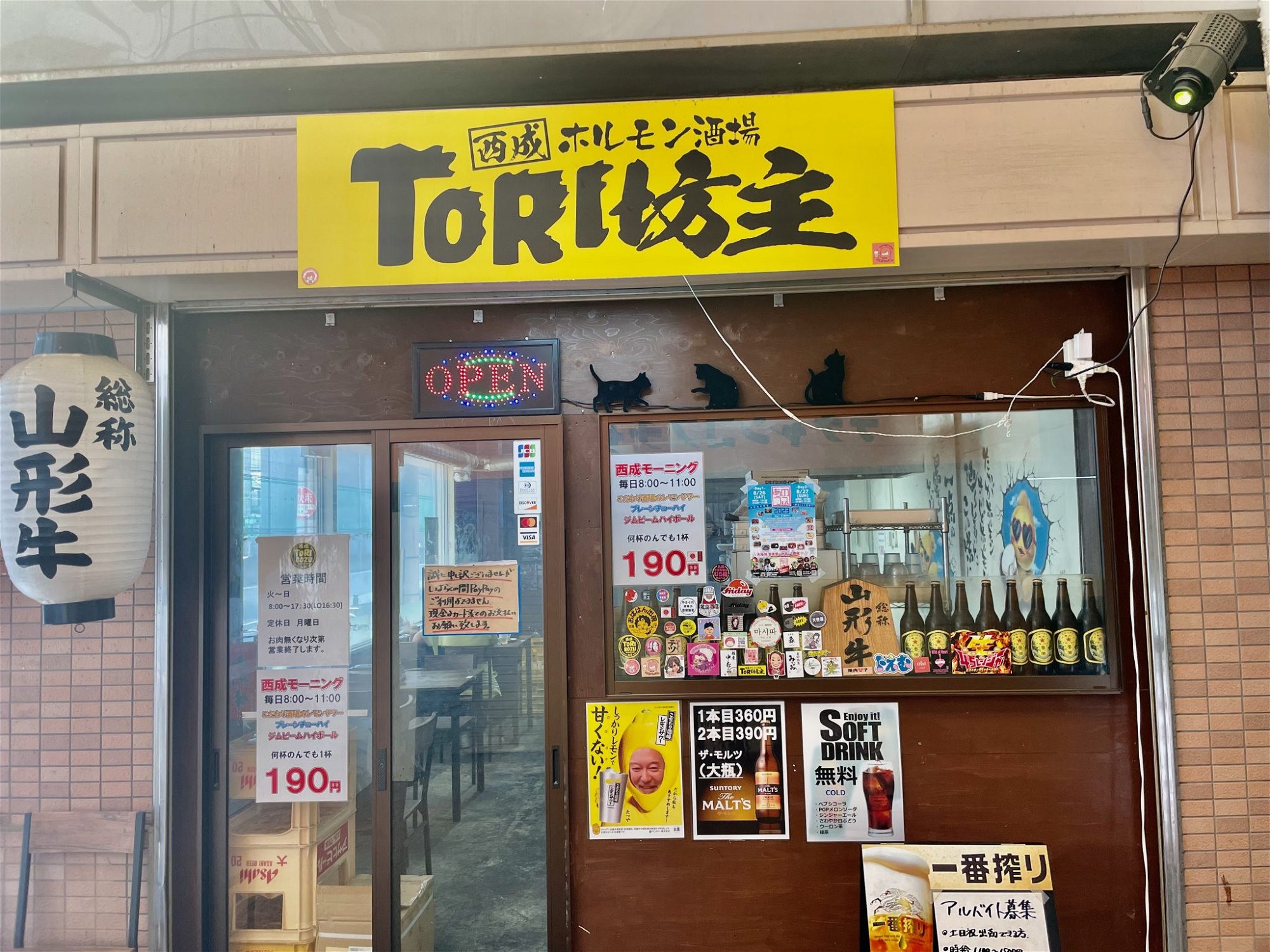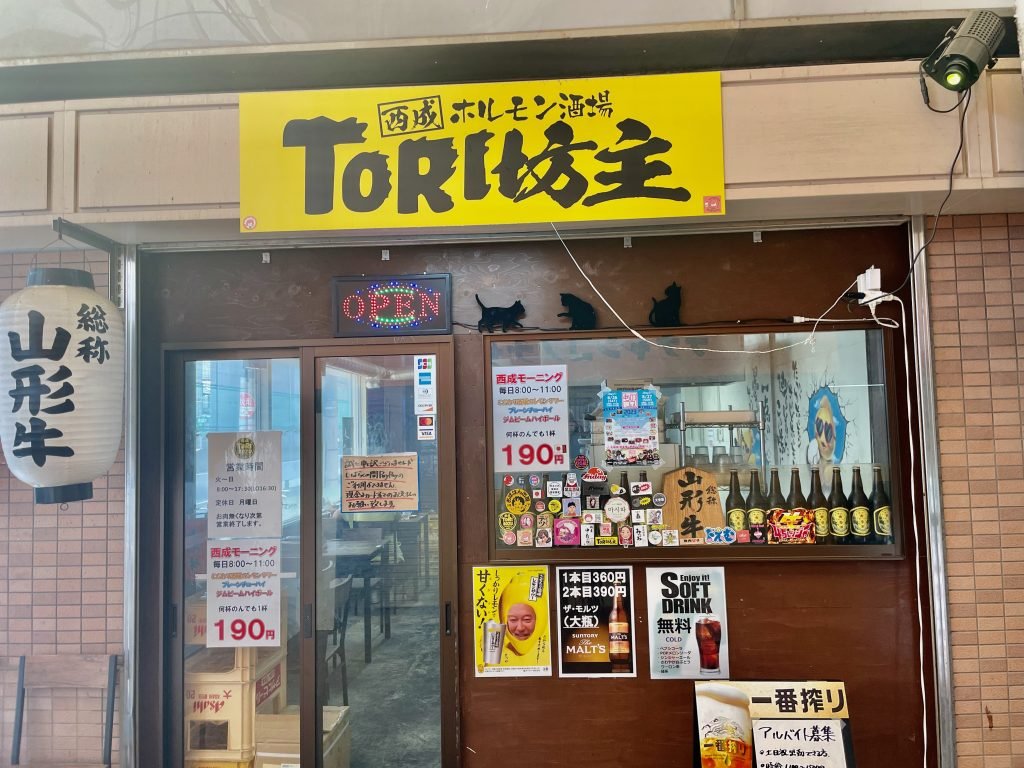 Toribozu is a yakiniku restaurant that is located in the historic Sanno Shotengai, which feels like taking a time machine to Osaka 1975. The area is very close to the many inexpensive hotels frequented by travelers. If you're having trouble sleeping due to jet lag after a long flight then head on down to Toribozu first thing in the morning for a one-of-a-kind experience in Deep Osaka with interesting local characters. Once you get a whiff of the intoxicating aroma of meat sizzling on the grill you'll be glad you skipped that international coffee chain.
Barbecue and Beer For Breakfast? Why Not?
Having yakiniku aka Korean barbecue at 8 AM may be a stretch for some, but you haven't lived until you've had yakiniku for breakfast in Nishinari. I loved Lost in Translation, but Bill Murray was dead wrong when he grumbled "What kind of restaurant makes you cook your own food?" Grilling your own meat is part of the fun. Toribozu serves up high quality cuts of meat that are reasonably priced. Choose from chicken (¥380), horumon (¥480-¥980) or Yamagata beef (¥380-¥1080). The most expensive thing on the menu is the Chateaubriand, which goes for ¥1,680.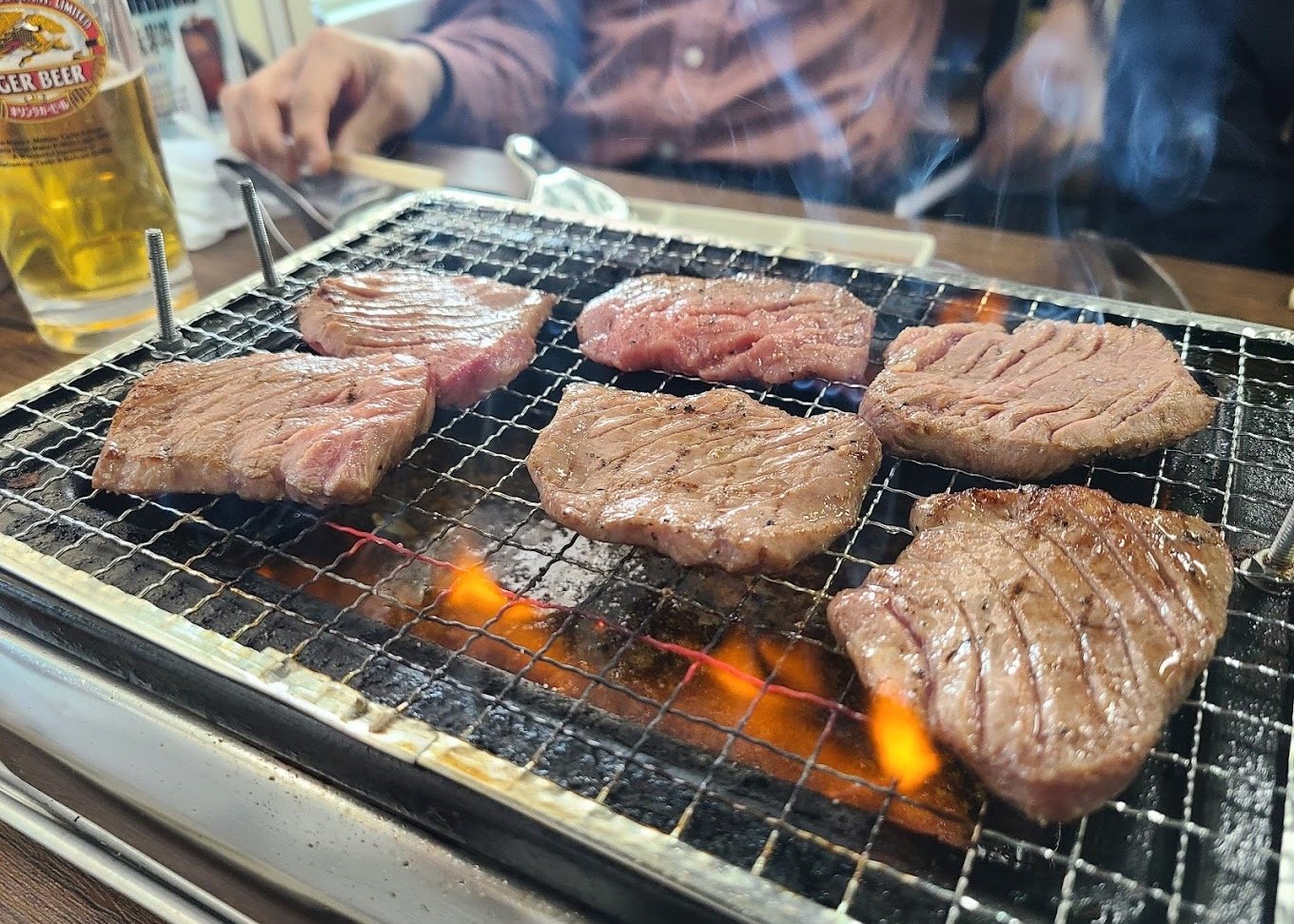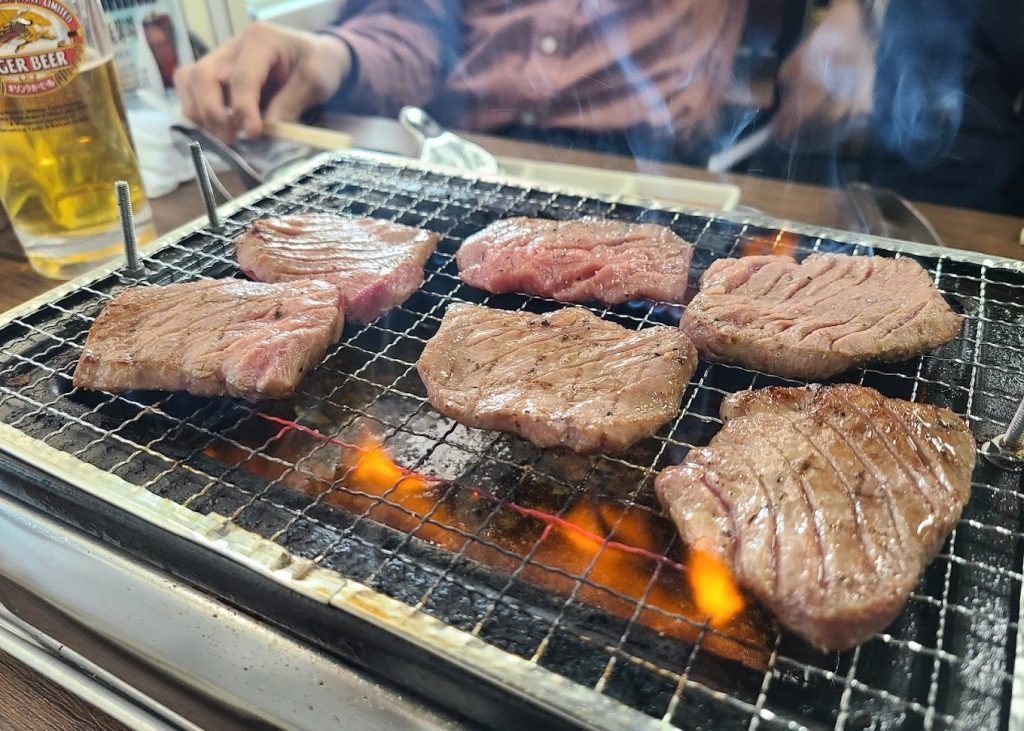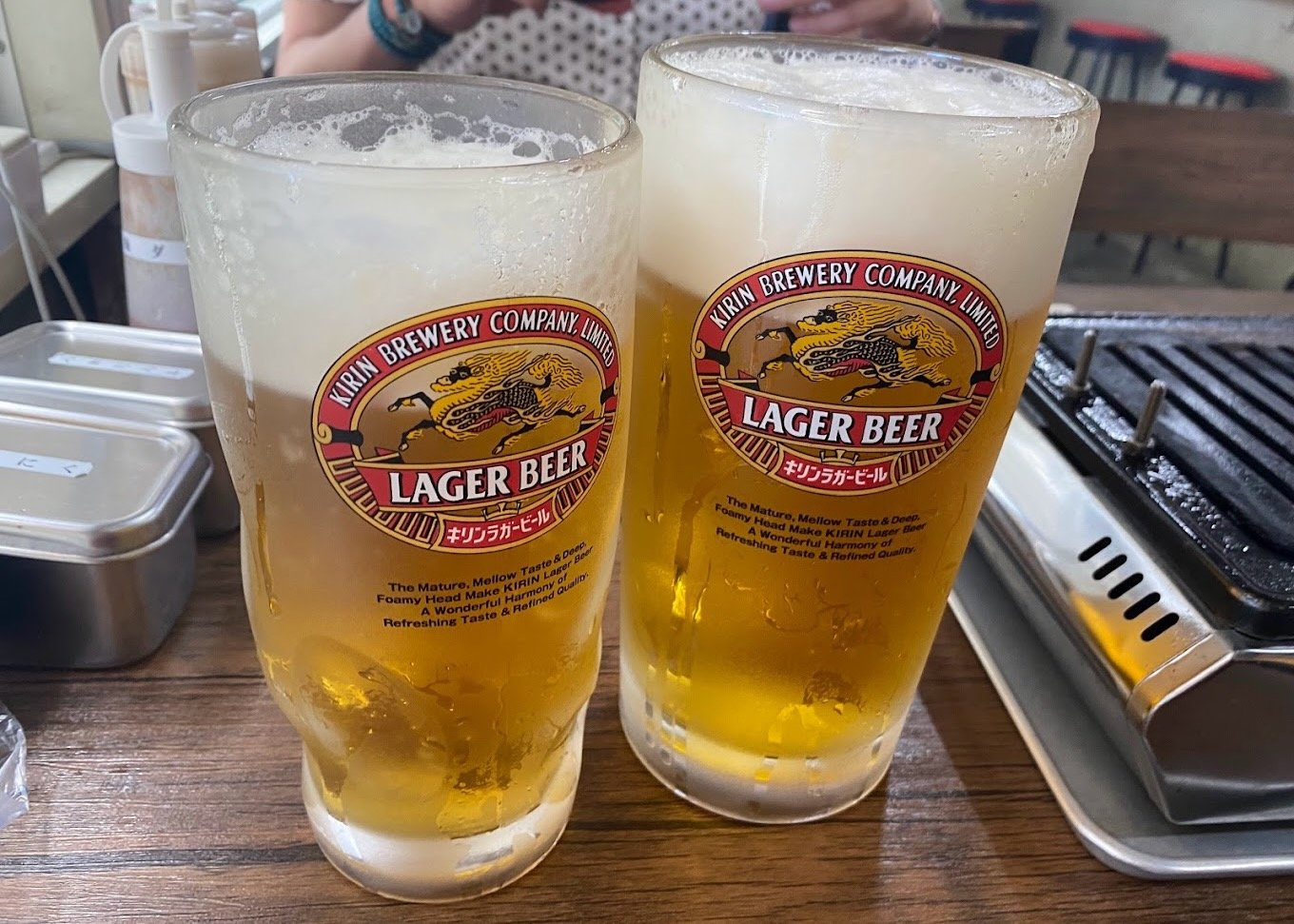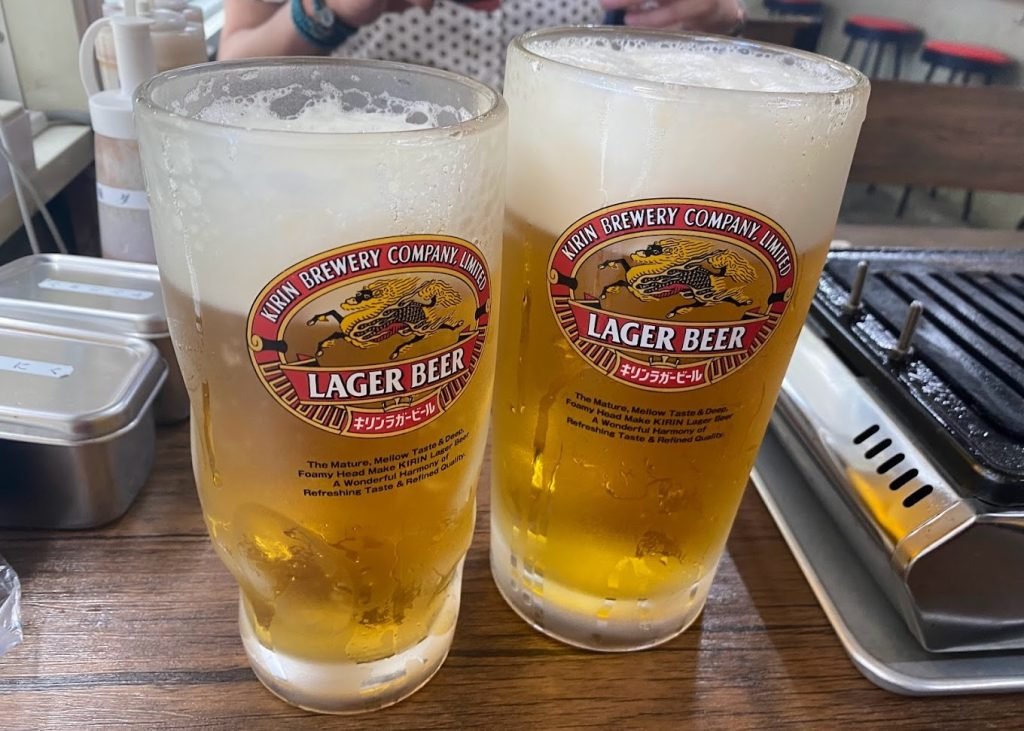 The drinks at ToriBozu are extremely cheap if you order before 11 AM. A chuhai or Jim Beam highball cocktail is only 190 yen, which translates to $1.27 at the current exchange rate. A large bottle of Suntory Malts beer is only 390 yen ($2.61) for your first one and 360 yen ($2.41) for your second one. I know I must sound like a broken record talking about these cheap prices, but they don't even sell large bottles of Japanese beer in the US and other countries. A small or middle sized bottle can cost $12 or more at a Japanese restaurant abroad.
Delicious yakiniku, nabe and ramen in a historic shopping arcade
ToRibozu also has two other locations in the Sanno Shotengai. The owner-chef started out with a ramen restaurant a few doors down. I say without exaggeration that it was some of the best ramen I've ever had in Japan. Unfortunately, the owner developed an allergy to flour and couldn't make noodles anymore so he switched to yakiniku, which has been very successful. The original location of the ramen shop is now a nabemono restaurant called ToRi Nabe Minami that specializes in hot pot dishes.
Hold the presses because new information has come to light. I just found out that ToRibozu Honten transforms into a ramen shop after 18:00 called Menya Nakamura, so you can still enjoy their delicious noodles. Mention ToRibozu on social media and you'll get a free gift if you visit one of their restaurants, such as a rubber wristband or a complimentary drink. ToRibozu has also produced collectible miniatures of all of their signs (see photo), but they might be sold out by now. This is a really good idea and I wish more local restaurants would produce their own swag, because Osaka really lags behind in the merchandise department compared to Tokyo and Kyoto.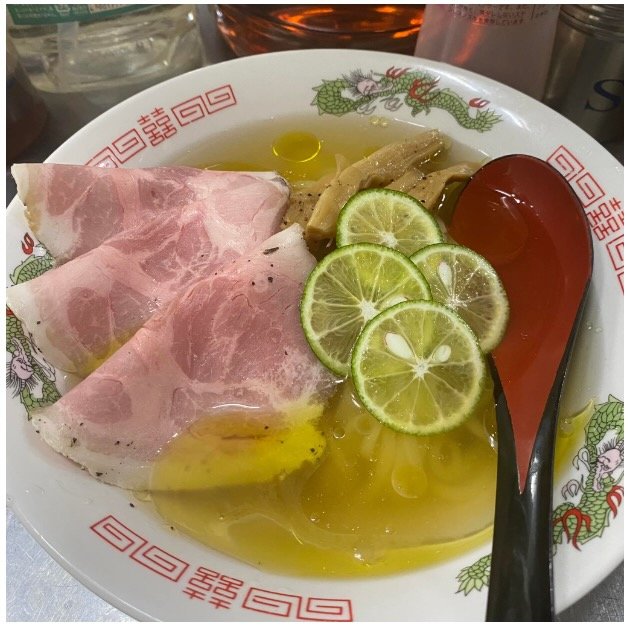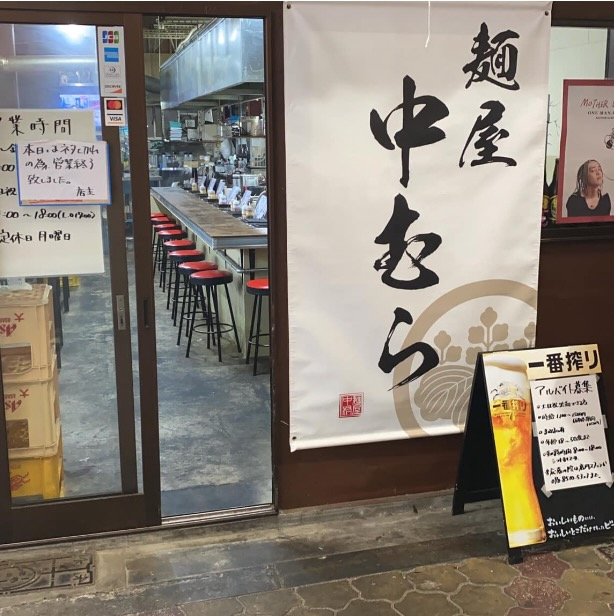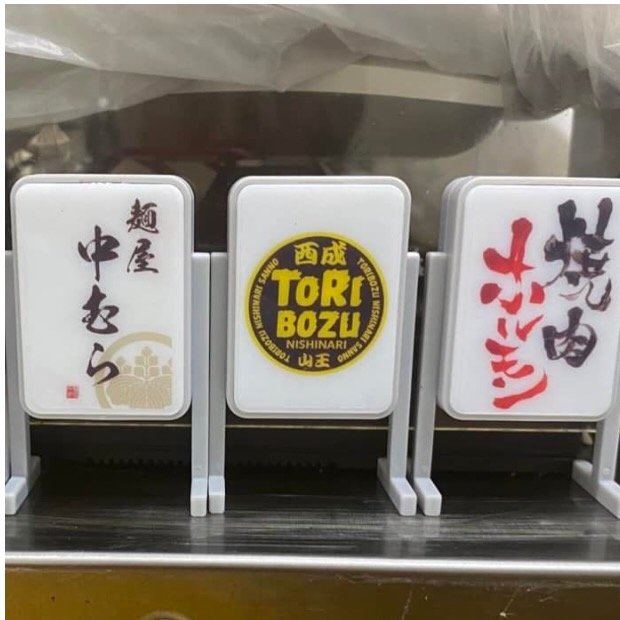 45 Ranger All-You-Can-Eat Horumon 45レンジャー ホルモン食べ放題 (9:00 A.M.)
Address: 2 Chome-13-28 Sanno, Nishinari Ward, Osaka, 557-0001. Open: 9:00-15:00. Closed: Mon. Last Order: 14:00.
45 Ranger is the newest shop under the ToRibozu umbrella. Have you ever gone to all-you can eat tabehoudai when your eyes were bigger than your stomach? You might pay anywhere from 2,500 to 4,500 for 60 to 90 minutes of unlimited barbecue, only to find that you got completely filled up after 25 minutes. More often than not, unless you are Andre The Giant, the house always wins and you never get to eat as much food as you imagined. In many cases it might have actually been much cheaper to take your time and order a la carte.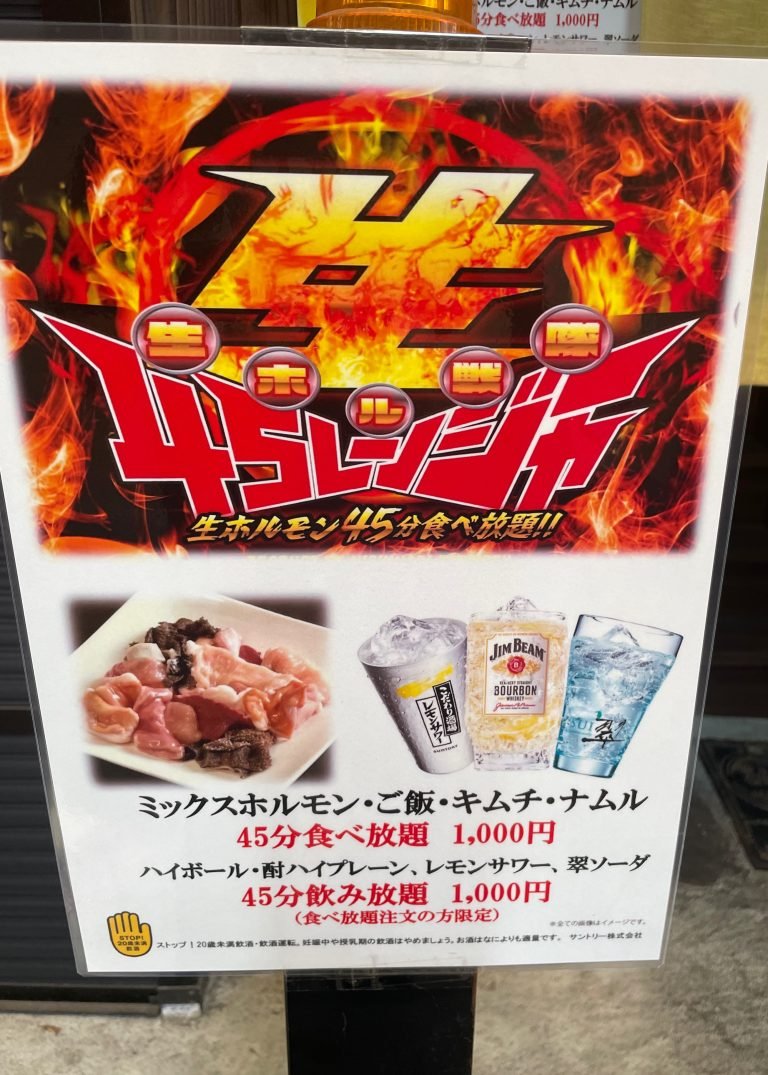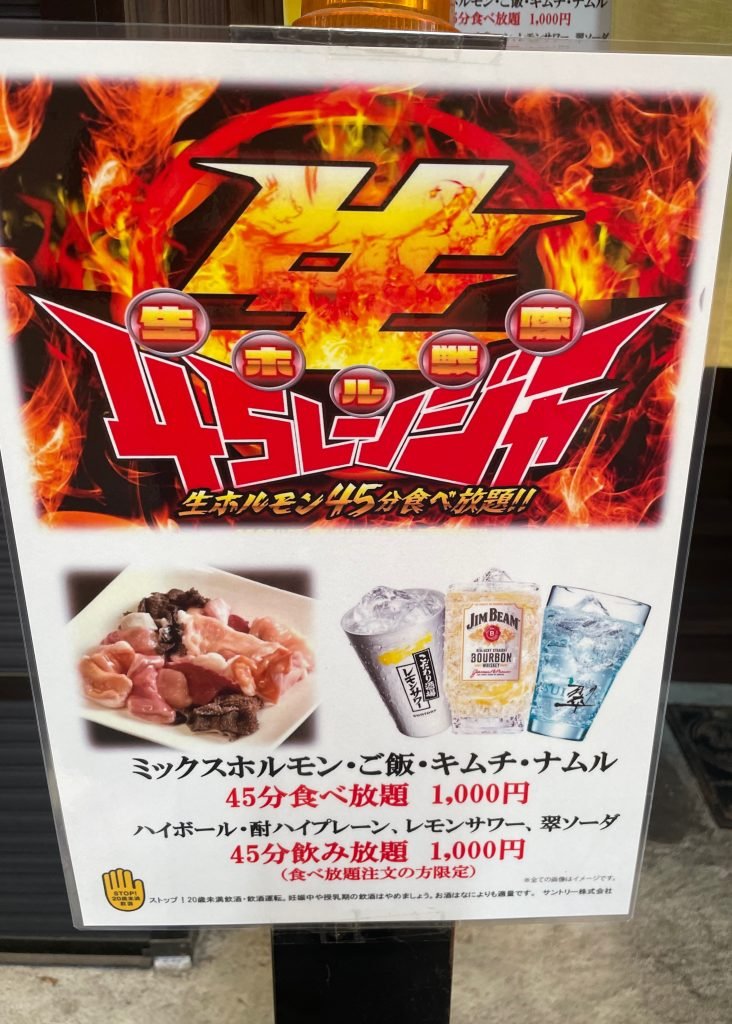 45 Ranger, however, redefines the concept of the yakiniku all-you-can eat by offering a short and sweet deal: 45 minutes for 1,000 yen. Now before you read any further, keep in mind that this is for horumon, you're not going to get premium cuts of beef, so if you are not a fan of offal then this restaurant is not for you. The good news is that fans of high quality horumon will leave stuffed to the gills. The deal also includes as much kimchi, namul and rice as you can consume.
I visited 45 Ranger while it was undergoing something of a soft opening directly across from Toribozu Honten in a bar on the second floor. By the time you read this the restaurant will have moved to a bigger location in the aforementioned Sanno Shotengai. I went up the stairs and was greeted by a young employee in his early 20s wearing a green Eagles t-shirt who told me had just been hired and was on the job for only three days.
Sapporo Red in a Yona Yona glass: Life is Good
The young employee told me about the all-you-can drink nomihoudai option which includes alcoholic drinks such as Jim high balls and lemon sour chuhai but not draft beer. I didn't want to load up on booze, so I ordered a bottle of Sapporo Red nicknamed akaboshi (red star) for 500 yen and paid 1,500 yen up front because they had a cash on delivery policy, which I actually prefer in this scenario. I was given a Yona Yona glass for my beer, which I thought was a nice touch because Yona Yona is one of my favorite brands of beer. Osaka is famous for serving beer in glasses that don't match. Why throw out perfectly good glasses just because you decided to go with a different brand?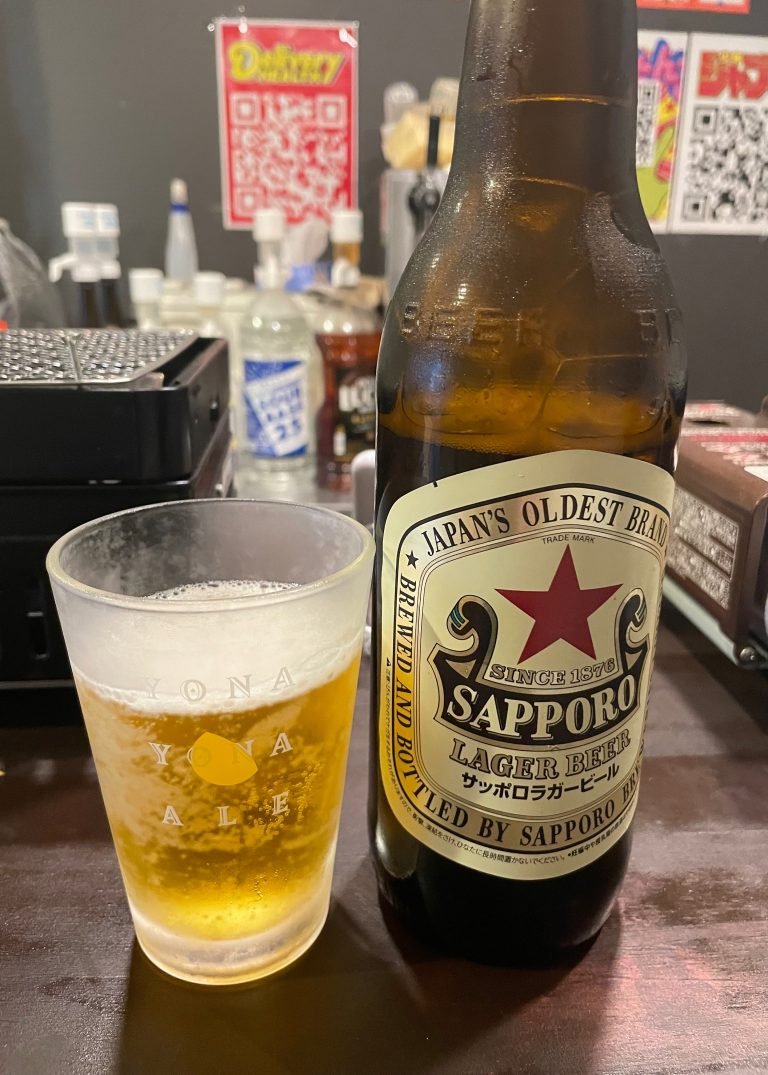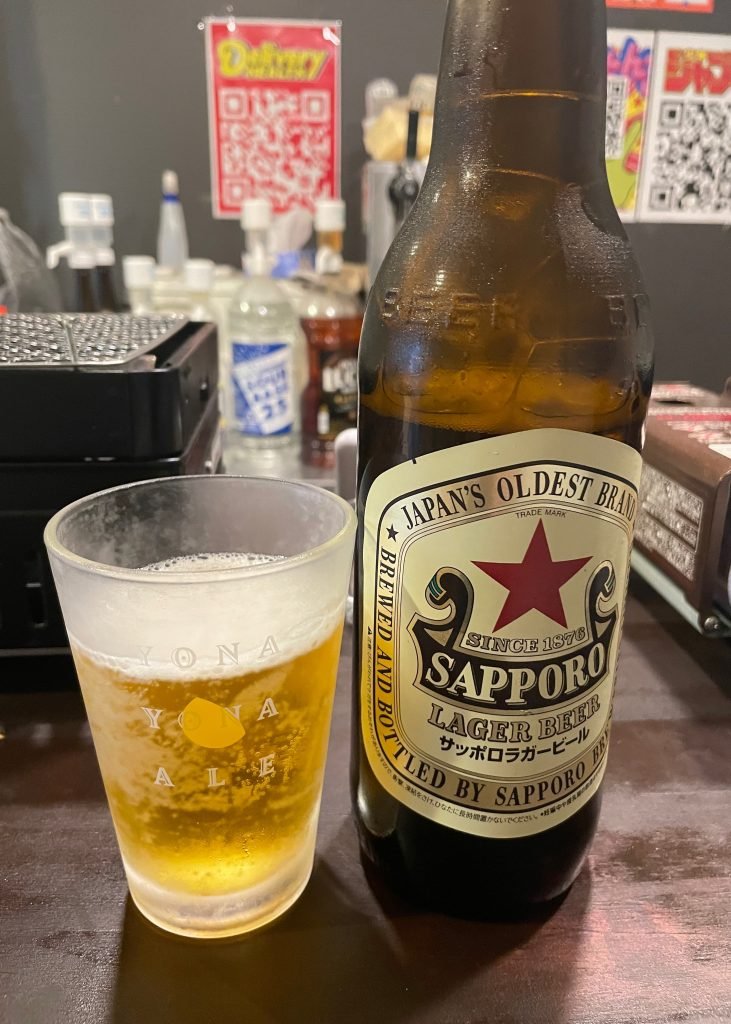 The young staffer inquired as to how many grams of meat I wanted to begin with. I had no idea how to respond to his question, so I asked him to recommend an appropriate amount. He stated that most customers usually start with 350 grams. He then asked if I wanted the meat salted (shio) or flavored with sauce (tare) and I chose the latter.
Horumon Paradise: 500 grams in 45 Minutes
Despite having lived in Japan for three decades, I doubt I will ever completely master the metric system because the American education system misled me into believing that the Imperial system was far superior (despite the fact that it makes no sense). So I was surprised at the amount of meat I got and was not sure if I could finish it all in the allotted time now that the clock was ticking. But my reservations turned out to be unfounded, it was the perfect amount of meat for the first round.
I had a nice chat with the young employee, who told me he worked in Umeda and was unfamiliar with Nishinari. In fact he had trouble finding Sanno Shotengai on Google Maps. While we were chatting he added ice cubes to the grill to keep the flames from scorching the meat. I recommended a few places in Nishinari and he told me about a few of his favorite spots in Umeda. And that, dear readers is how you find out about new places from locals before the Michelin Guide sends their inspectors to Osaka to sniff out restaurants for their bib gourmand section.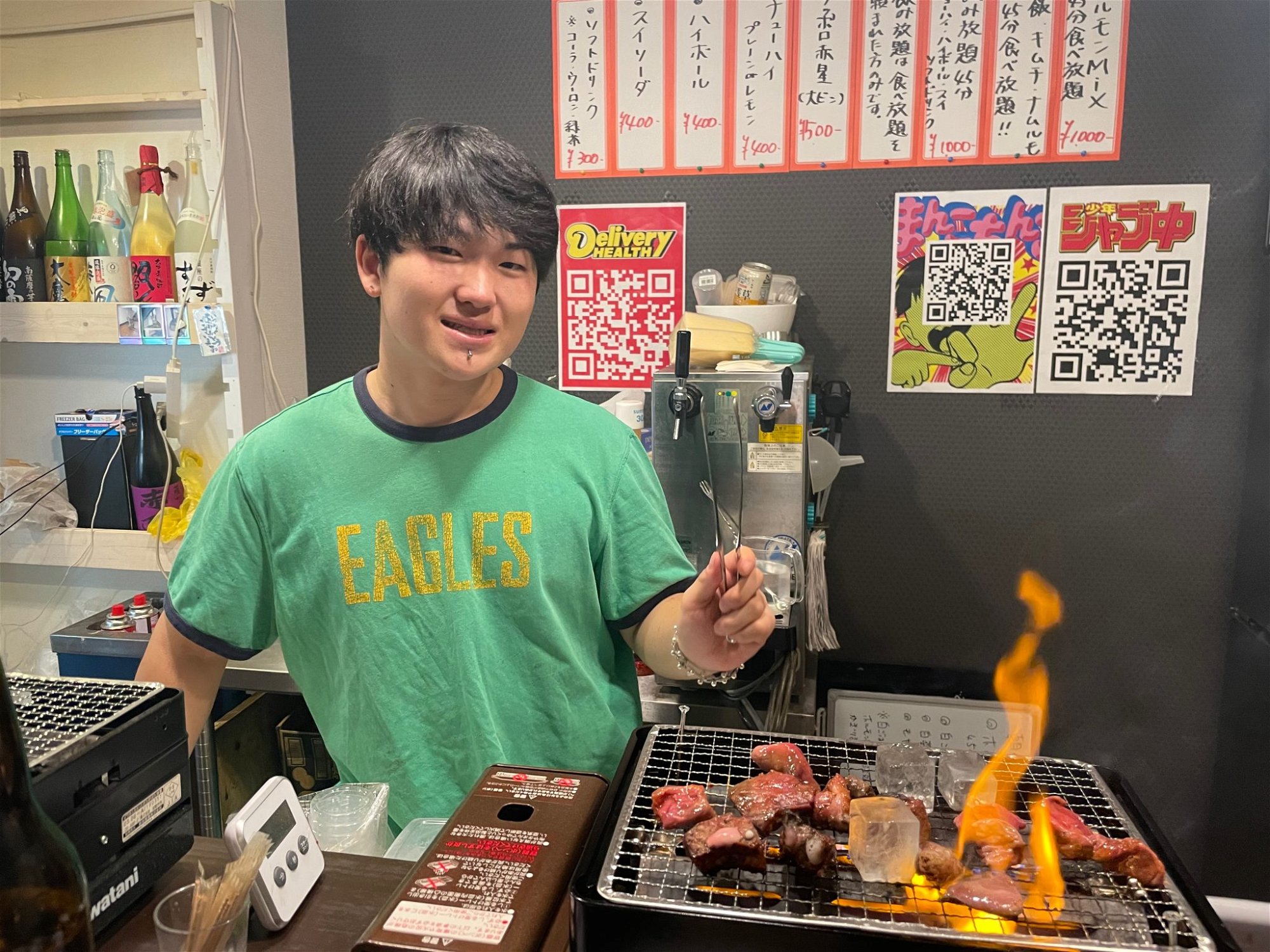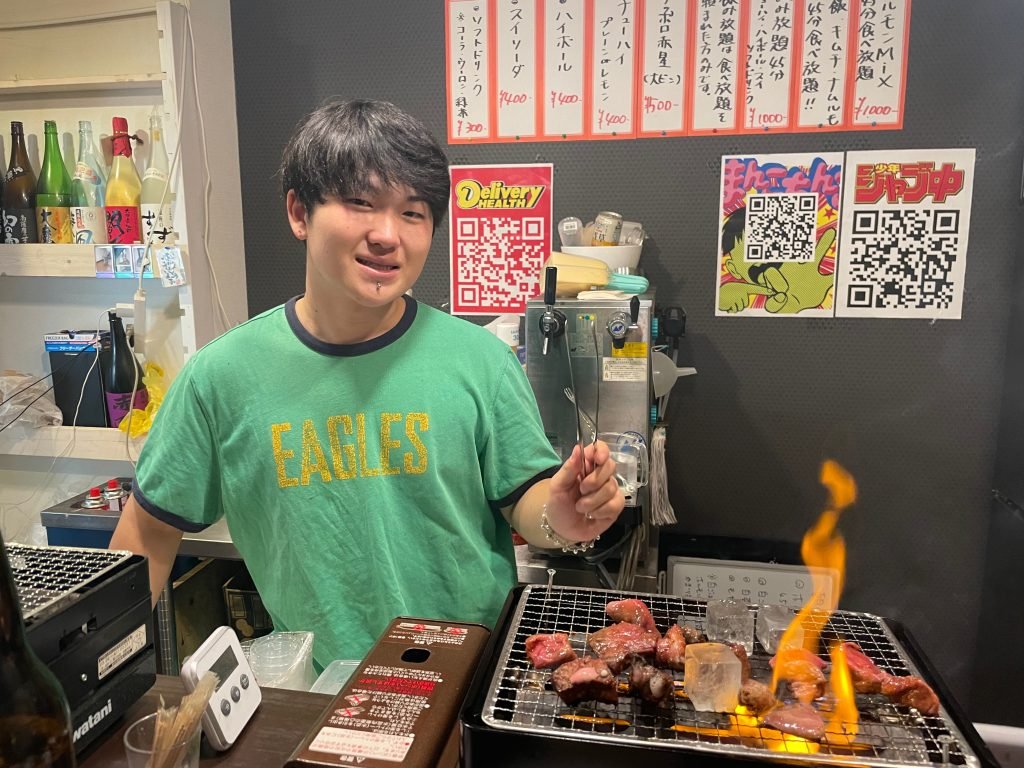 After loading up on kimchi and namul, I still had room for another round of horumon. This time I went with a more modest 150 grams which was the perfect amount because I could not eat another bite. You can be fined for wasting meat at an all you can eat barbecue restaurant, but in my experience they usually let you off with a warning if it was your first offense (unless you leftover an ungodly amount of charred meat). I had a wonderful meal with side dishes and alcohol for only $10.04. I will definitely visit 45 Ranger at their new location soon.