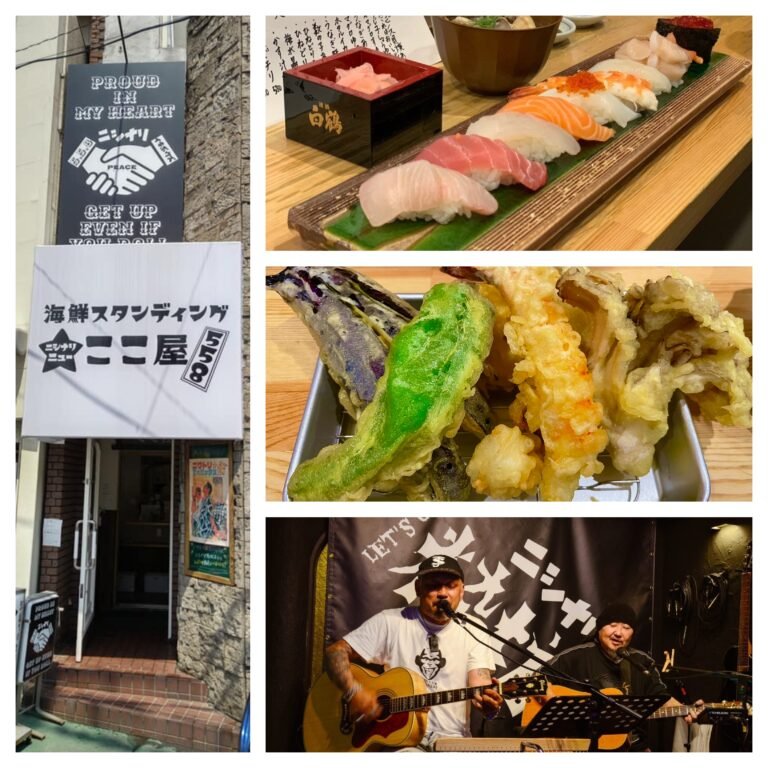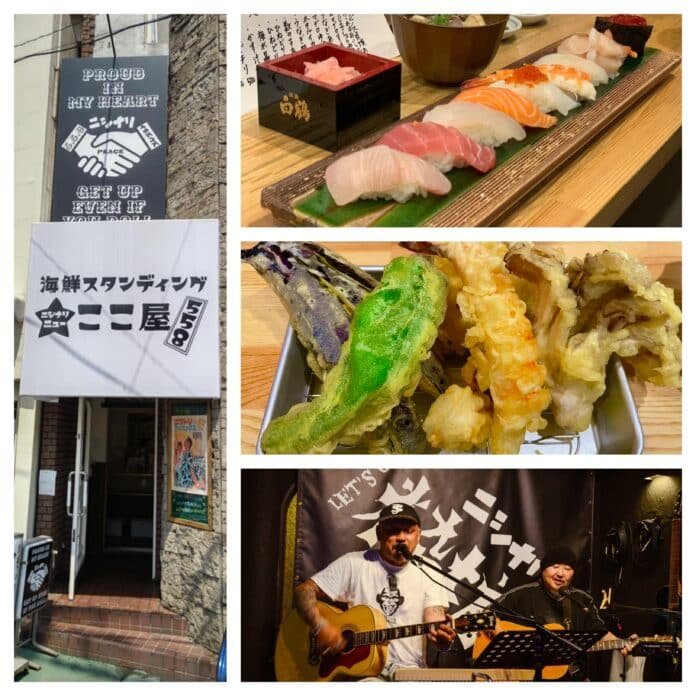 Address: 2 Chome−7−11 Hanazonominami, Nishinari Ward, Osaka 557-0015. Tel: Open: Tue-Fri 12:00-20:00; Sat, Sun 11:00-20:00. Closed: Mon. Nishinari Peace opens around 18:00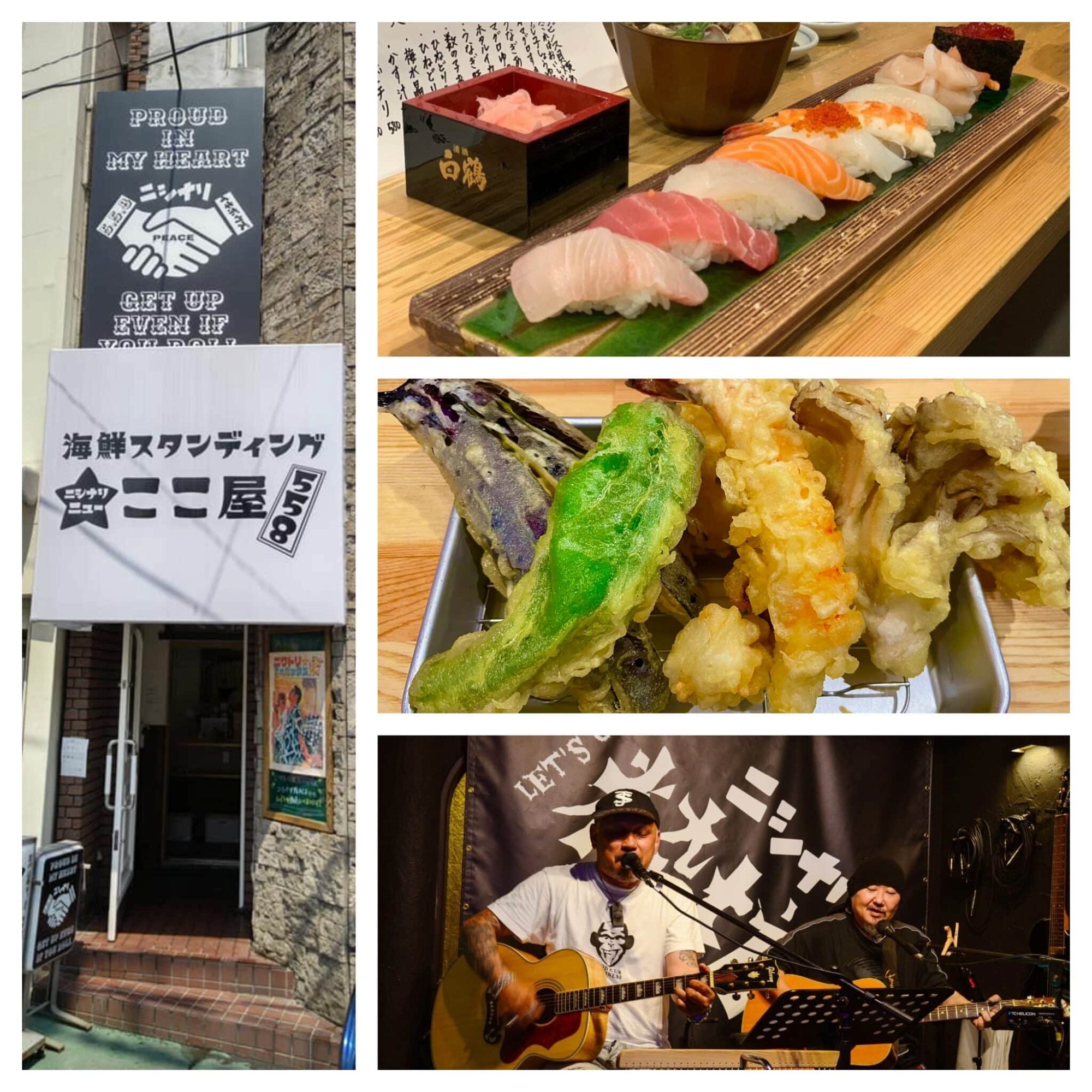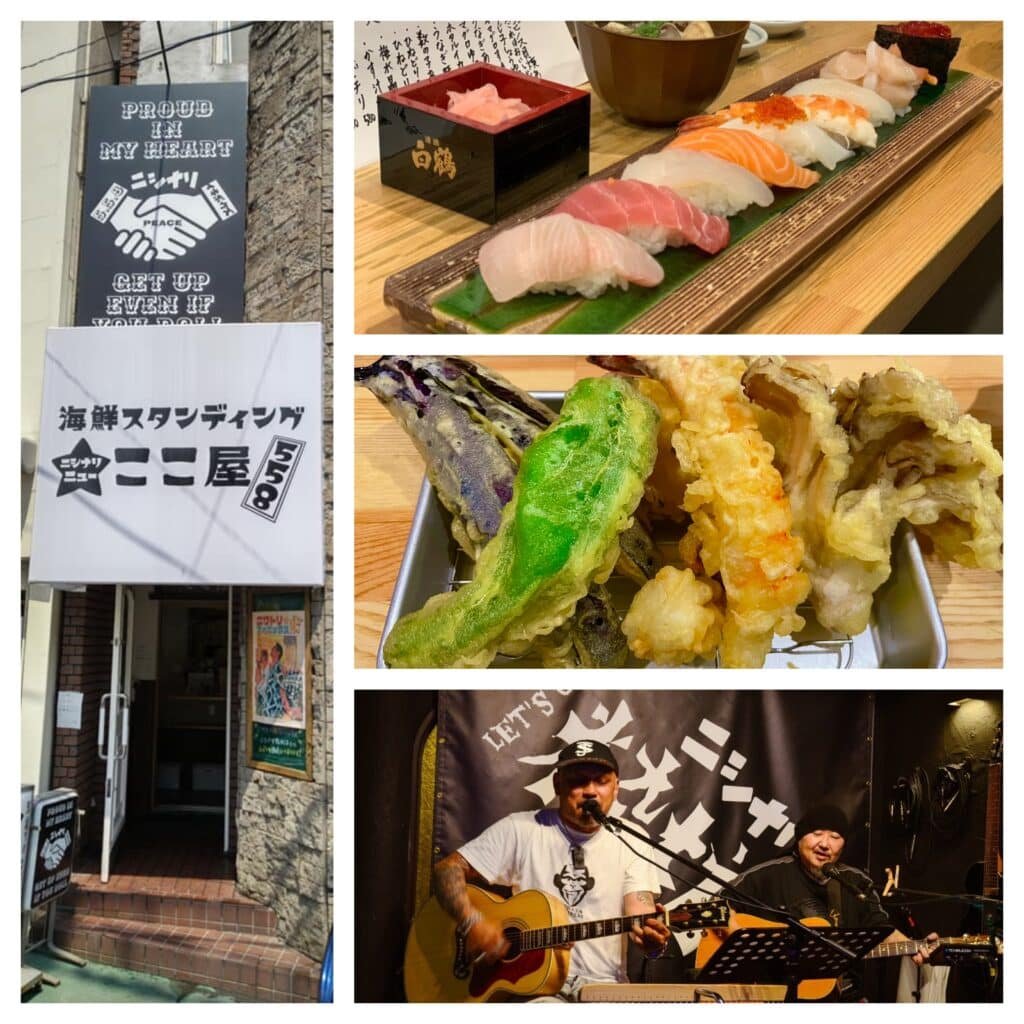 Introduction うま過ぎや! ニューここ屋 – Nishinari New Kokoya
Nishinari Seafood Standing New Kokoya (海鮮スタンディング 西成ニューここ屋) is a standing sushi restaurant near Tengachaya Station that has a live music bar upstairs called Nishinari Peace. Come for the sushi and tempura, stay for the rock and roll.
With piercings and tattoos, some of the friendly staff could be mistaken for members of a local punk band, but the fresh fish they serve rivals that of Japan's most exclusive sushi restaurants. The name itself reflects the down-to-earth atmosphere you'll find inside. Koko (ここ)means "here" in Japanese and ya (屋) is the kanji for a shop or a restaurant. In Osaka dialect "koko ya!" (ここや!) is a very casual way of saying "Here!" So no need to worry about reservations or a dress code when you come (drum roll, please) "here".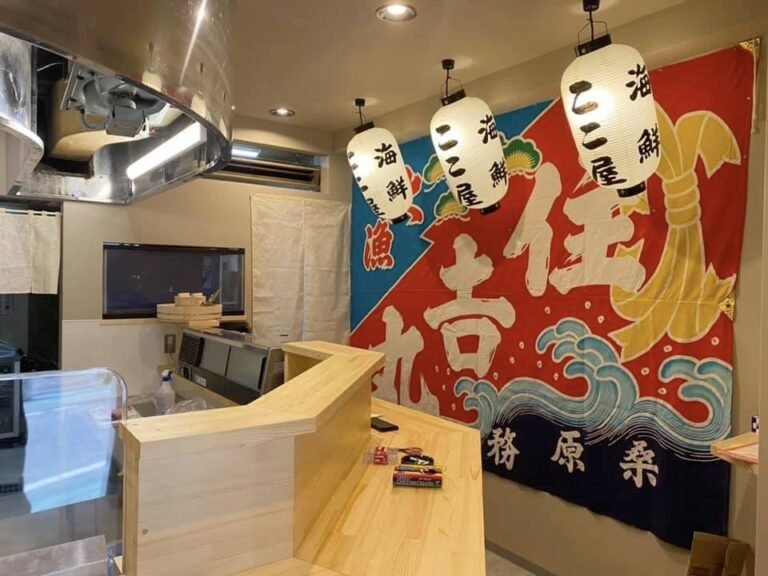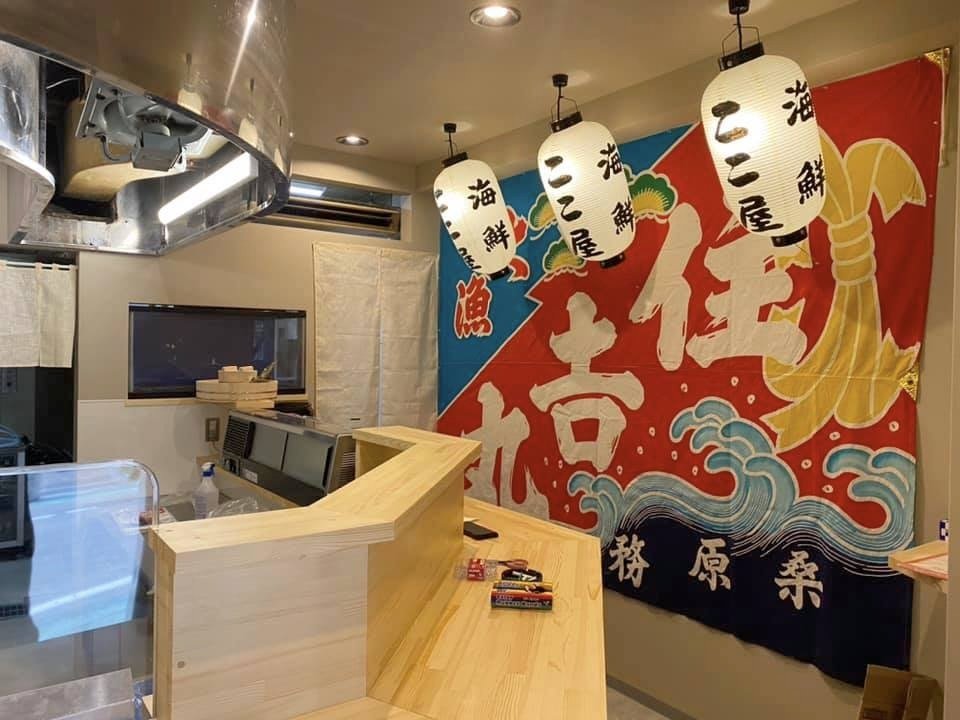 New Kokoya is owned by the husband and wife team of Naoki and Junko. Naoki also runs a fish store in Hannan, Osaka during the day, which may explain why they are able to keep quality high and prices very low. Junko, who sports an impressive neck tattoo of a rose on a U.S. dollar bill, is the shacho (aka the "Big Boss") of New Kokoya.
The original Kokoya was located near Haginochaya Station, a sleepy local stop on the Nankai Koya Line, but moved Tengachaya Station, an express stop, two years ago after it started to get popular through word of mouth. The counter fits six to eight people, and the restaurant is often full, but you won't have to wait that long to get a spot. Expect a warm welcome from the staff when you walk through the door.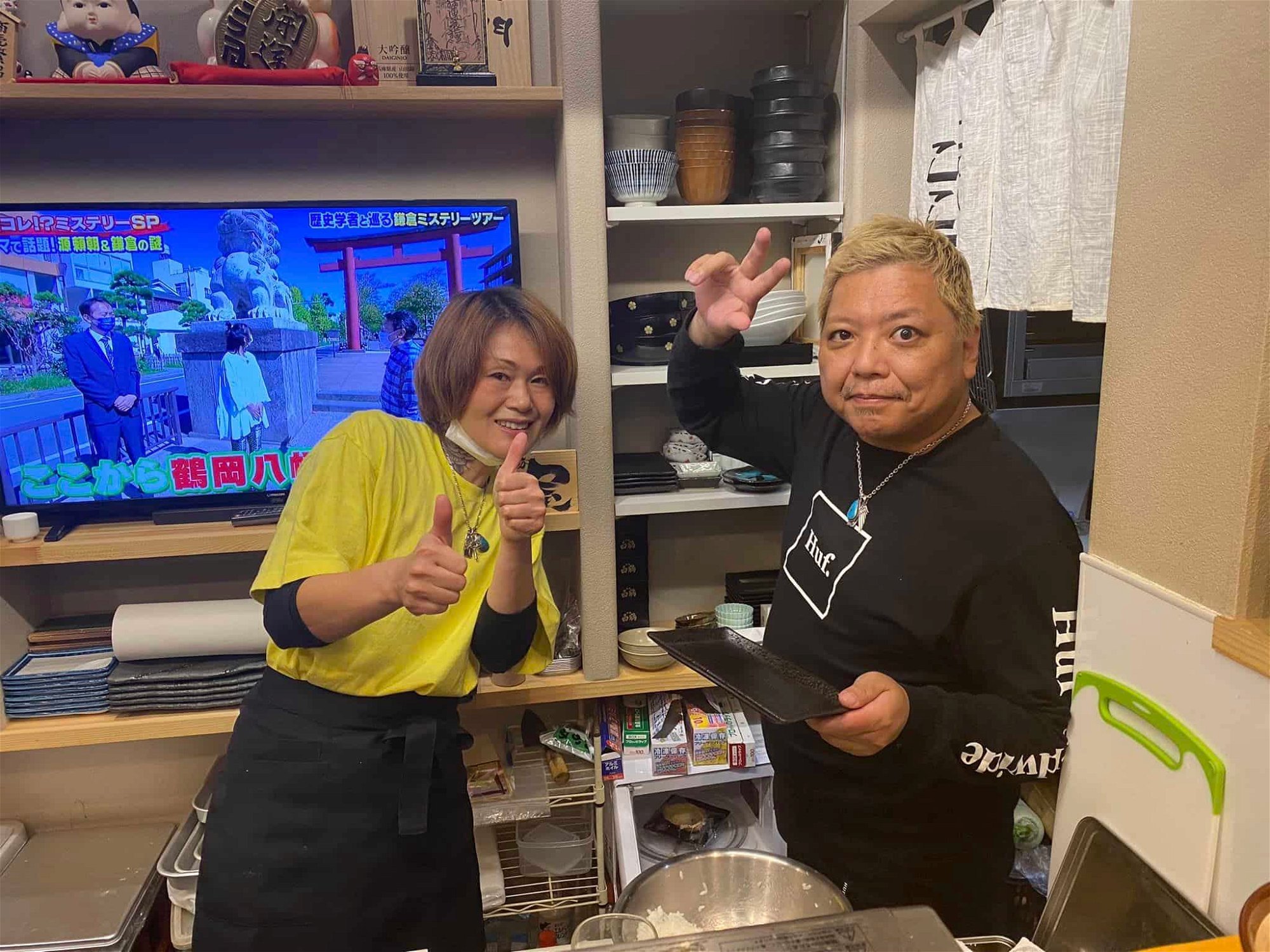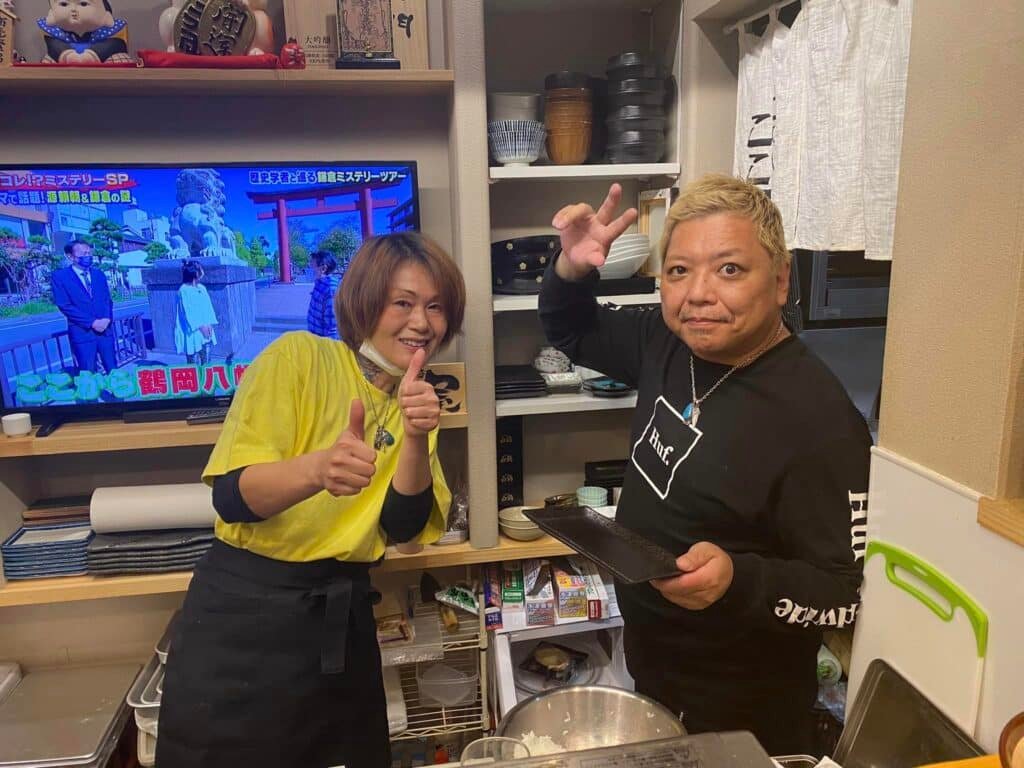 I have a small confession to make. For the first two years that I lived in Japan, I purposely avoided eating raw fish. In fact, I didn't even know the difference between sushi and sashimi and didn't care. After I tried negitoro, however, it was game over, man! My avoidance of all things sushi came to a complete halt. I started to enjoy going to kaitenzushi (conveyor-belt) sushi restaurants. There was no need to order, I just selected whatever caught my eye. Although I still enjoy kaitenzushi chain restaurants, it was time to broaden my horizons and learn to decipher the menu at a sushi restaurant on my own. I've selected 10 of the best dishes I've tried over the course of a year.
1.Sushi Set (¥1,000) 圧巻な寿司盛り合わせ
New Kokoya offers 10 pieces of sushi for only ¥1,000 (half-set ¥580). I'm far from an authority on sushi, and I'd probably make a fool of myself trying to discuss it with a real connoisseur, but I have eaten enough good sushi in the last two decades at to know an incredible deal when I see one. Everything in this set was outstanding, especially the sake (salmon) and the maguro (tuna), although I still didn't really understand the difference between chutoro and otoro when I ordered it for the first time.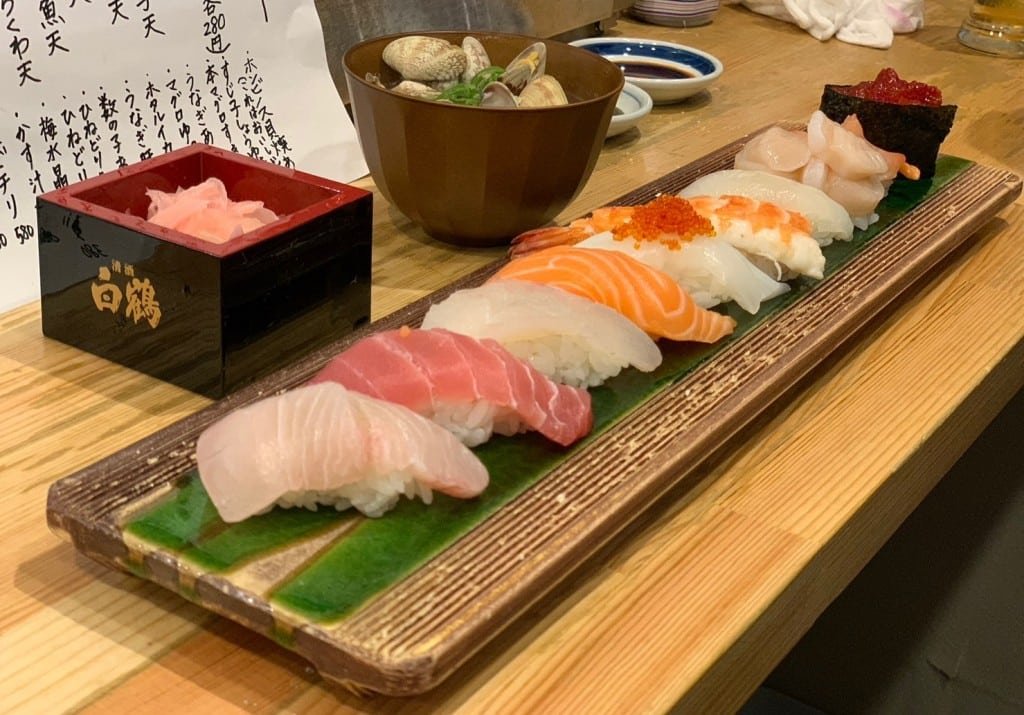 2. Sashimi Set (¥1,000) 絶妙なお造り盛り合わせ
On my second visit to New Kokoya I ordered the "otsukuri moriawase set." Otsukuri is the Kansai term for sashimi and moriawase is a combination platter, so it's an easy way sample the menu without ordering multiple dishes. An otsukuri plate is usually decorated with colorful items such as flowers and edible leaves.


The otsukuri moriawase at Kokoya consists of 10 different types of sashimi, two pieces of each. My order contained maguro (tuna), salmon, tako (octopus), hamachi (yellow tail), tai (sea bream), ika (squid) kanpachi (amberjack) and suzuki (deep sea bass). The sashimi was expertly prepared and exceeded my expectations I paid only ¥1,000 ($7.31) for 20 pieces of some of the best sashimi I've ever had in Japan.
In September of last year, I chose New Kokoya as the first stop on a barhop around Nishinari Ward to celebrate (fellow Osaka.com writer) Wes Wesson's 50th birthday. The plan was to meet up with our good friend Mike F. at 11:00 a.m sharp, but I overslept and arrived at the restaurant at noon.
We weren't planning on having a big meal. However, due to my lateness I felt it was proper to treat my friends to the bigger portions of sashimi and tempura as an apology. After all, the big five-oh only comes once, so might as well start off with a bang. I ordered two large bottles of Sapporo Red to quench our thirst while we waited for the food to arrive.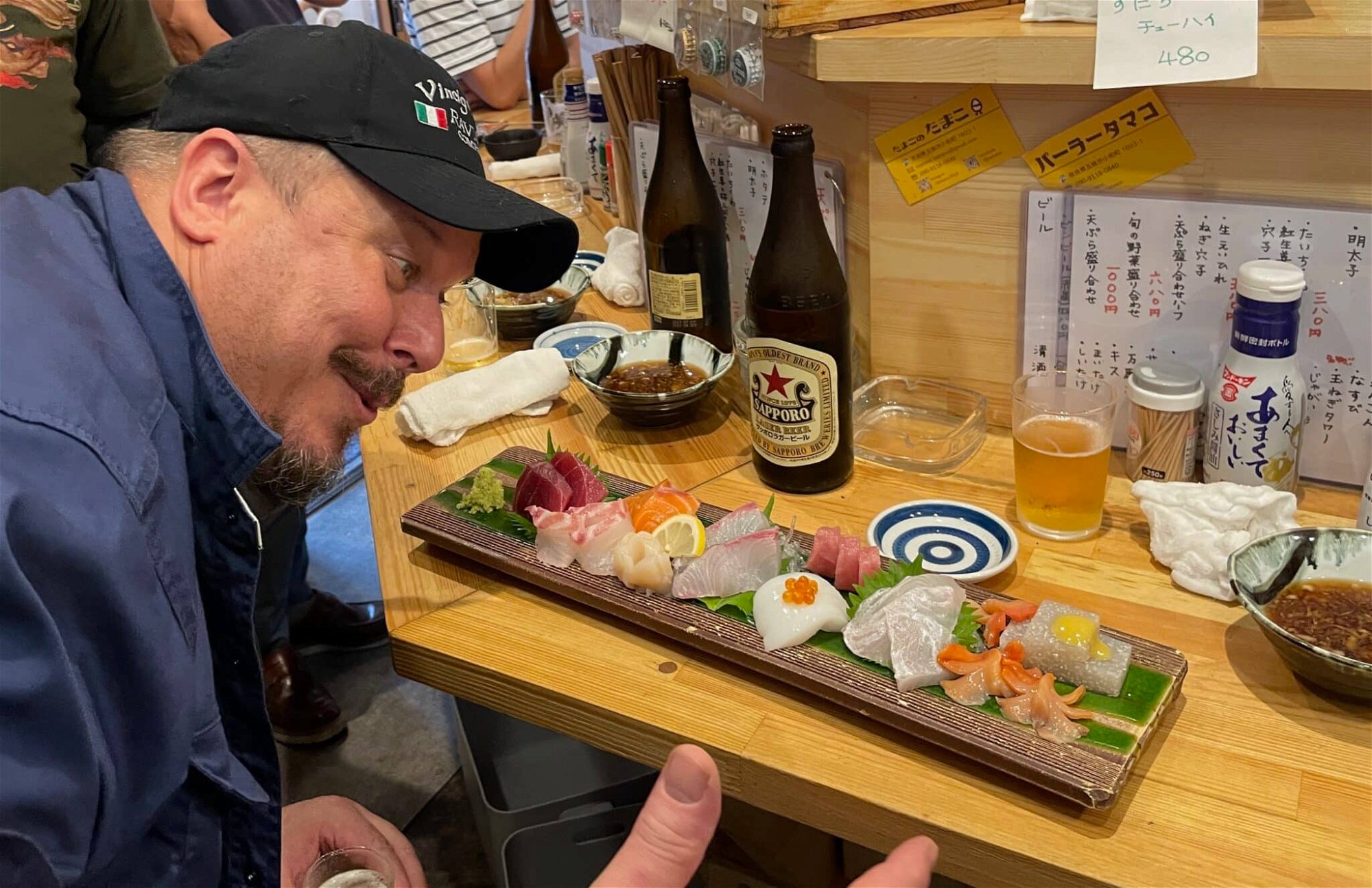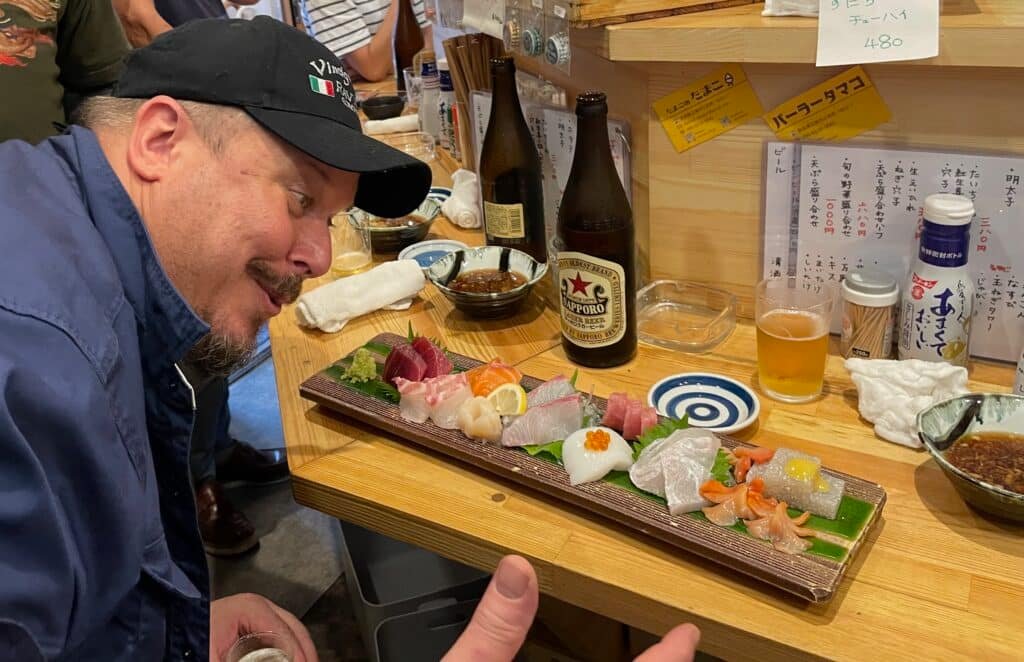 It is not uncommon to strike up a conversation with other customers at a place like New Kokoya. The customer on my right told us that was a chef at a Chinese restaurant in Kobe. His grandparents emigrated to Japan from Hong Kong decades ago. What better recommendation is there than seeing a chef eating at another restaurant?
New Kokoya is one of those restaurants that attracts chefs on their days off—including other sushi chefs from nearby restaurants. A mutual respect is formed amongst chefs who serve quality food. I have run into New Kokoya owner Naoki at a few of my favorite restaurants in Osaka.
Our otsukuri set arrives first. This time the set contained 20 pieces of chutoro maguro (tuna), tai (sea bream), sake (salmon), hotate (scallops), kampachi (great amberjack), ika (squid), hirame (olive flounder), noten (top of the head of the tuna; a delicacy), komochi konnyaku (konjac containing fish eggs) and akagai (red clam).
One of the things I really like about New Kokoya is that the sets are constantly changing according to what is available or in season. Leave it to the capable hands of the staff, they won't do you wrong. Sometimes you get 12 different items and sometimes you get thick atsugiri cuts sliced into three pieces. The set below is from a visit in July. It contains kampachi, tuna, sea bream, red clams. sazae shellfish, tachiuo (hairtail), shima-aji (striped jack), engawa, aji (horse mackerel), and taikawa yubiki (parboiled sea bream skin).


3. Tempura Set (¥1,000) 天ぷら盛り合わせ
Mike F. doesn't like raw fish, so he had to patiently sip his beer while Wes and I devoured the delicious sashimi. We ordered a couple of more bottles of beers just in time for Junko to bring out a nice-sized platter of over 10 different kinds of tempura that contained o-ebi, (large shrimp), ika (squid), pike conger, satsumaimo (yam), tamanegi tower (onion tower), kabocha (pumpkin), asparagus, maitake mushrooms, manganji green chili peppers, eggplant.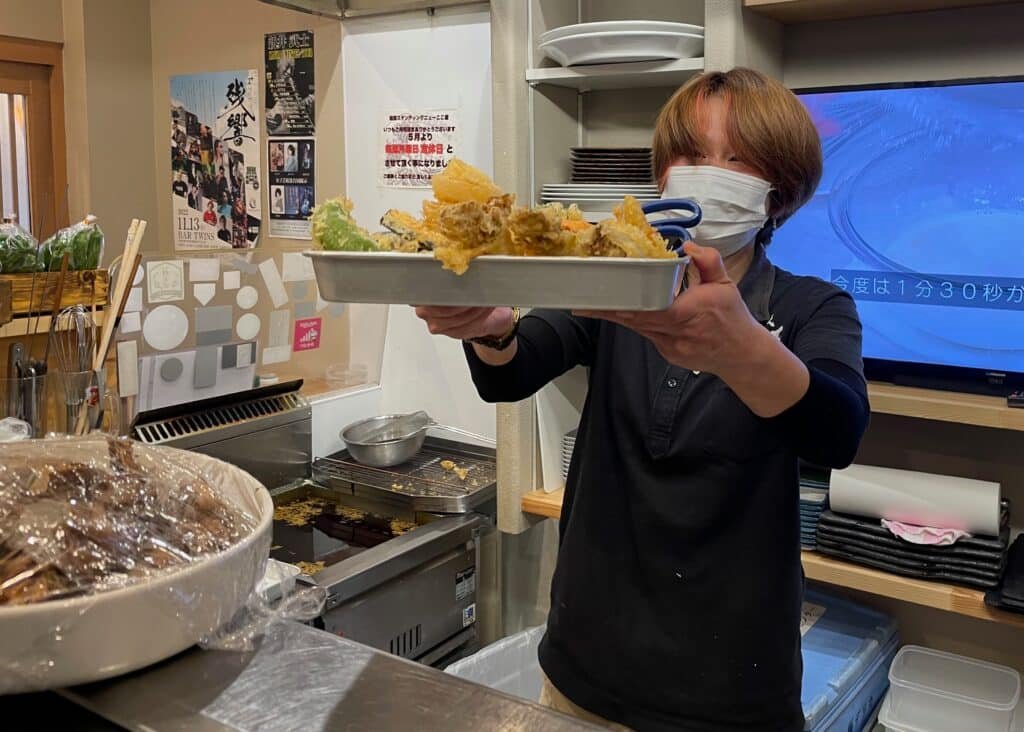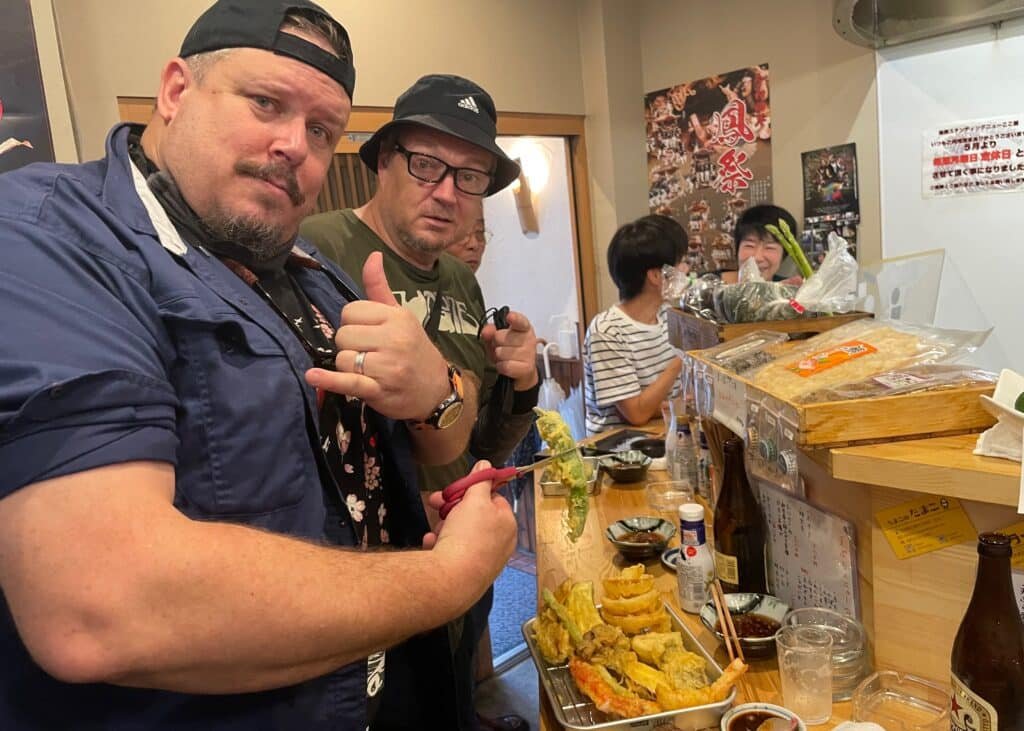 Wes Wesson: "The tempura arrived just as we were about to finish our second bottle of Sapporo Red, affectionately known as "akaboshi" (red star). It was lightly salted and sizzling on our plates. Every item on that platter had a distinct flavor that you couldn't replicate at home. It was as if every ounce of umami flavor had been extracted for maximum effect. A pair of scissors came with the order to break up the bigger items such as the onion tower and satsumaimo yam. It had been years since I had tempura that good and fresh from the fire. We ate like kings."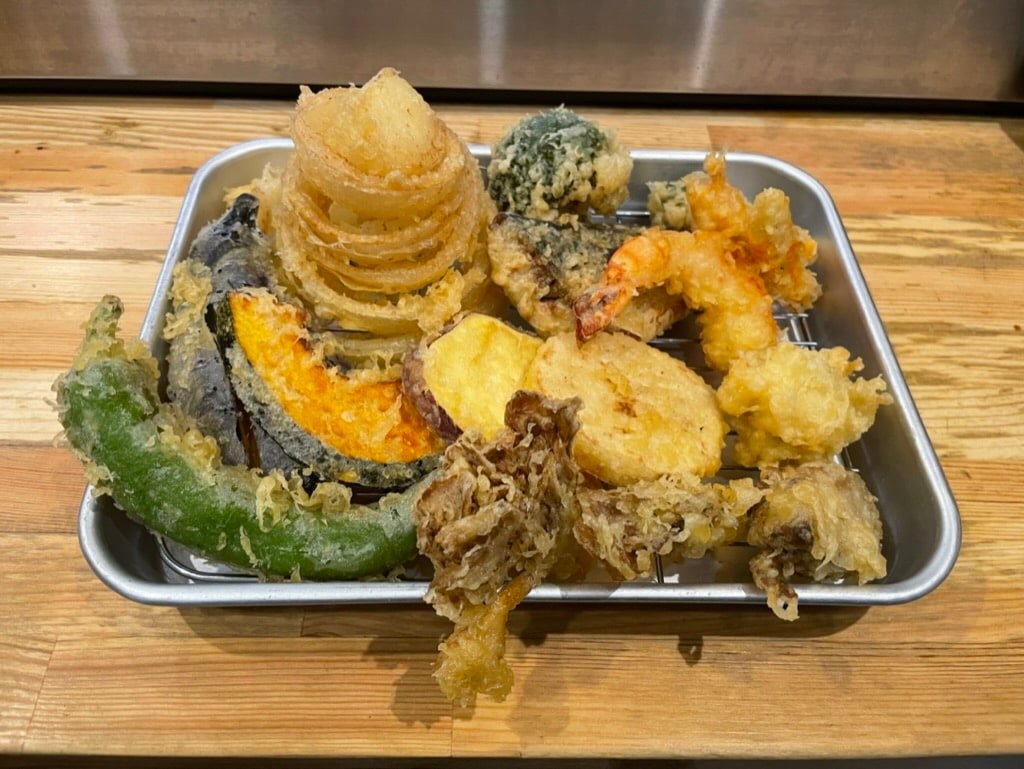 4. Anago Tempura + Green Onions (¥580) ネギ穴子天ぷら
I was in New Kokoya last month and couldn't help but notice that the man standing next to me had just received a dish that looked appetizing, so I apologized for interrupting his meal and asked him what it was. "This is tempura anago (sea water eel) with negi (green onions)," he replied. "I've never seen it on the menu at another restaurant. As far as I know, it is only available at New Kokoya." I trust the opinion of a regular customer much more than any food critic, so I quickly raised my hand to order: "Sumimasen, negi anago onegaishimasu."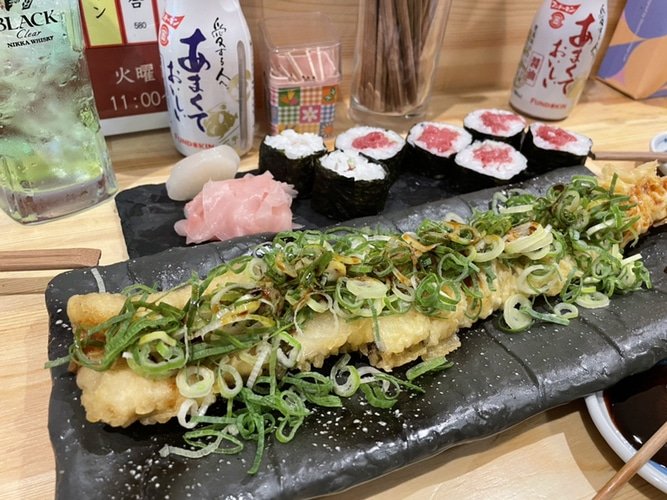 The anago was crunchy and delicious, and smothered with a generous amount of green onions. I found it paired well with an order of tekkamaki (tuna sushi rolls, ¥480) and a Kobayashi ochawari, a highball coctail made with a tea bag containing a blend of three different kinds of tea. Green tea cocktails have gotten popular in the last few years. I found it refreshing change from convenience store cocktails in a can.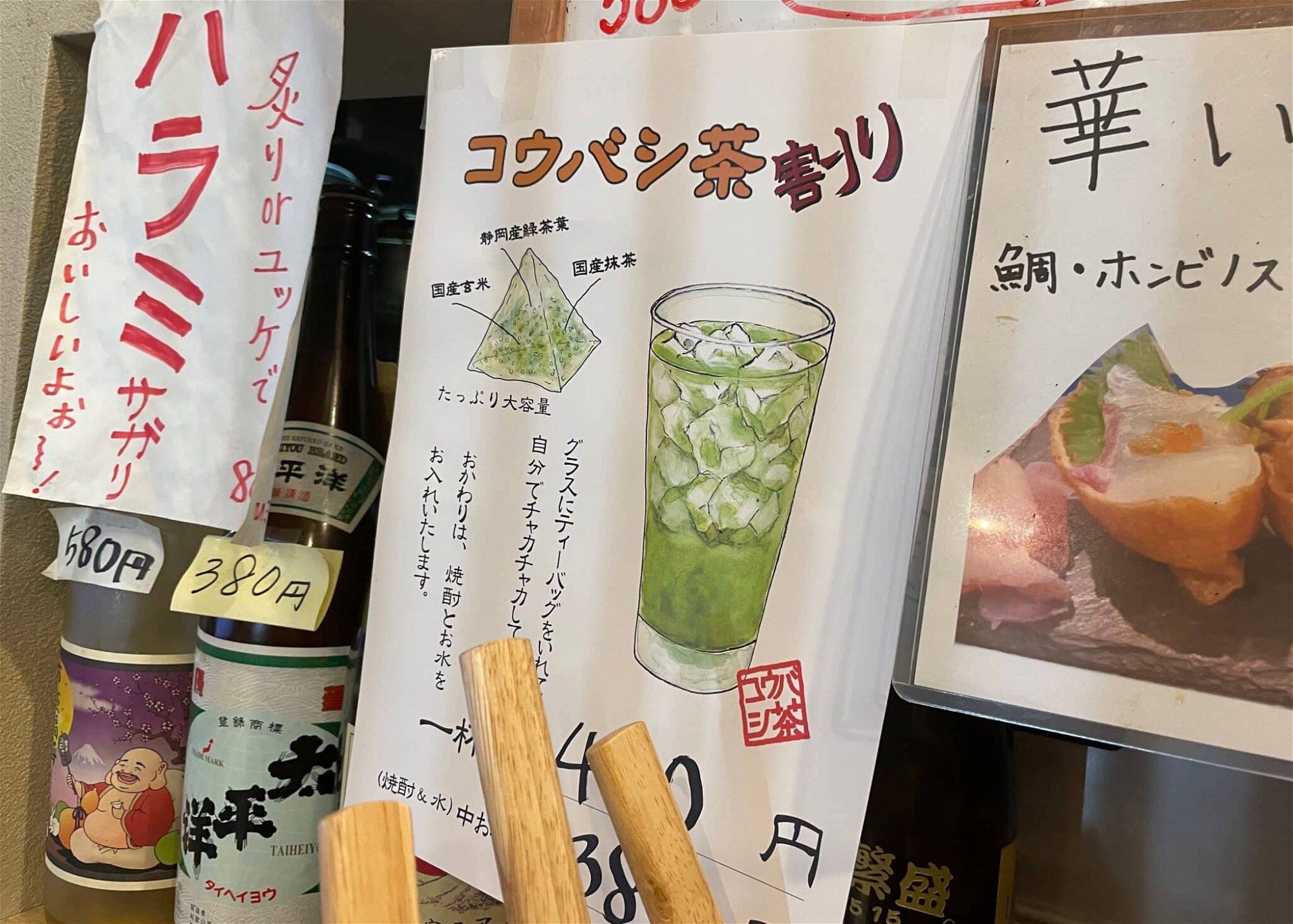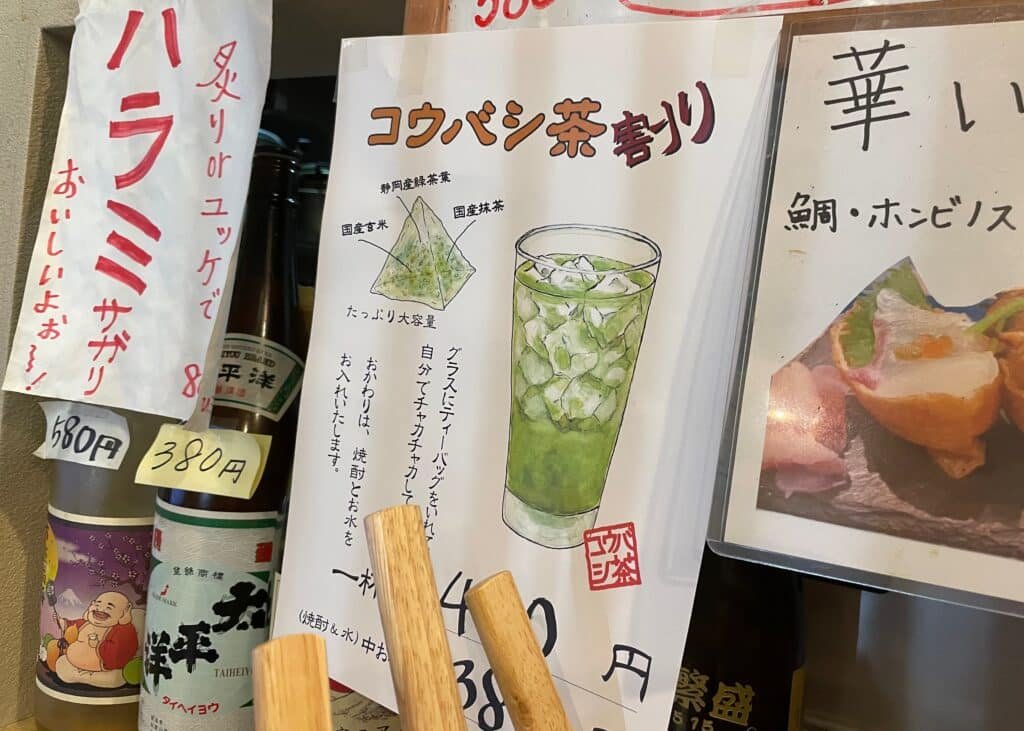 5. Hana Inari 華いなり
I noticed a picture of an intriguing dish taped to the main menu: inarizushi stuffed with various types of fish, but I can't read the first kanji. I didn't want to point and say "Kore kudasai" (This, please), so I turned to customer next to me once again and asked, "Excuse me, how do you read this (華) kanji? "Oh, that's "hana," he replied, "which means flower." I know the kanji (花) for flower," I said, a little perplexed, "but this one is more complicated."
Hana inari are so-called because they resemble colorful flowers. Each one cost ¥180, but I decided to buy three for ¥500. I quickly selected maguro yuke (seasoned tuna sashimi with a raw quail egg) and salmon ikura (salmon with cod roe), but couldn't decide on the third choice, so I told Junko to surprise me.
Junko selected the hotate (scallops), which are topped with a small amount of cod roe and a pinch of wasabi. Another fantastic dish. For the record, the two other choices were and tai (sea bream) and honbinosu shellfish from Funabashi, a city in Chiba Prefecture.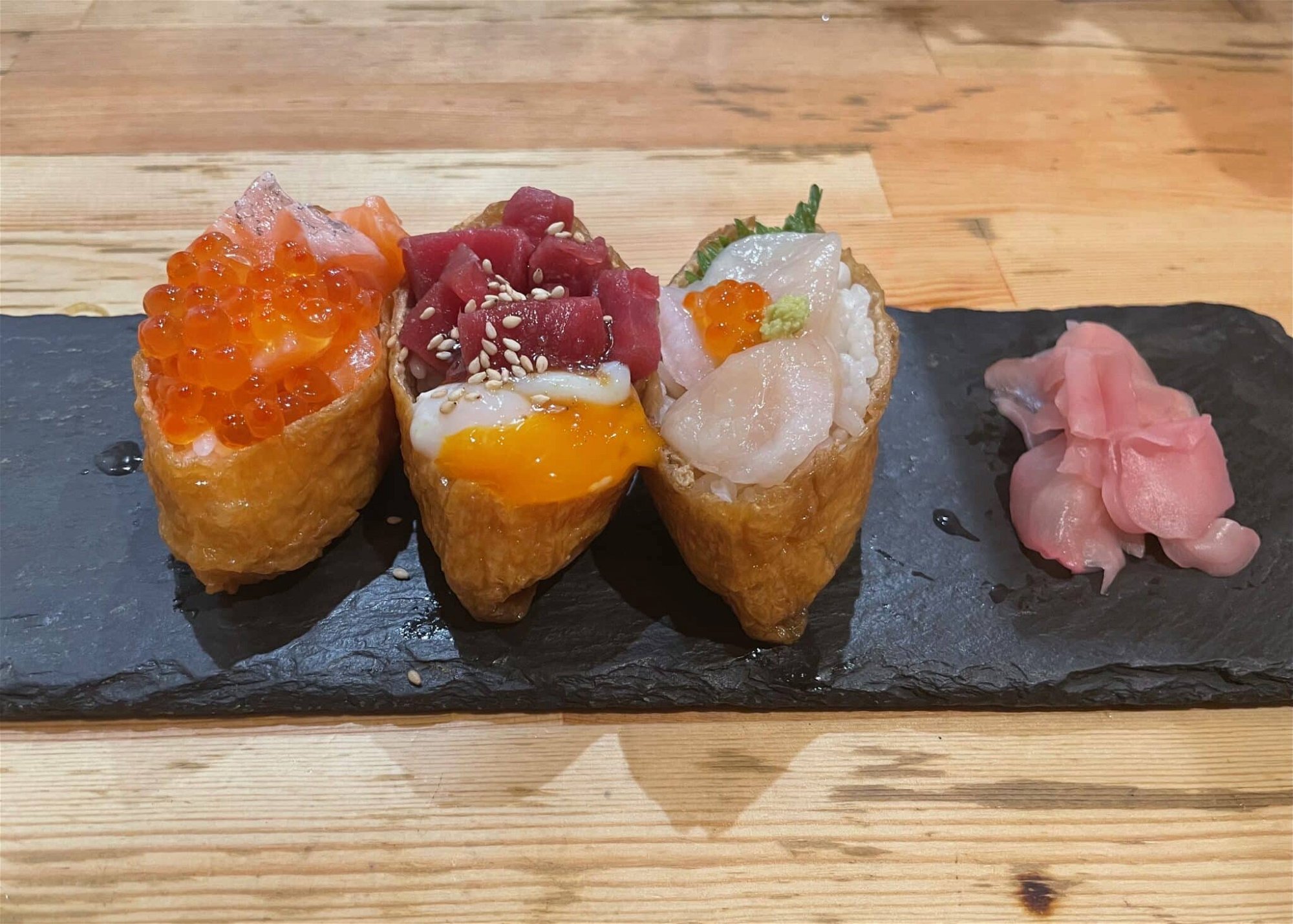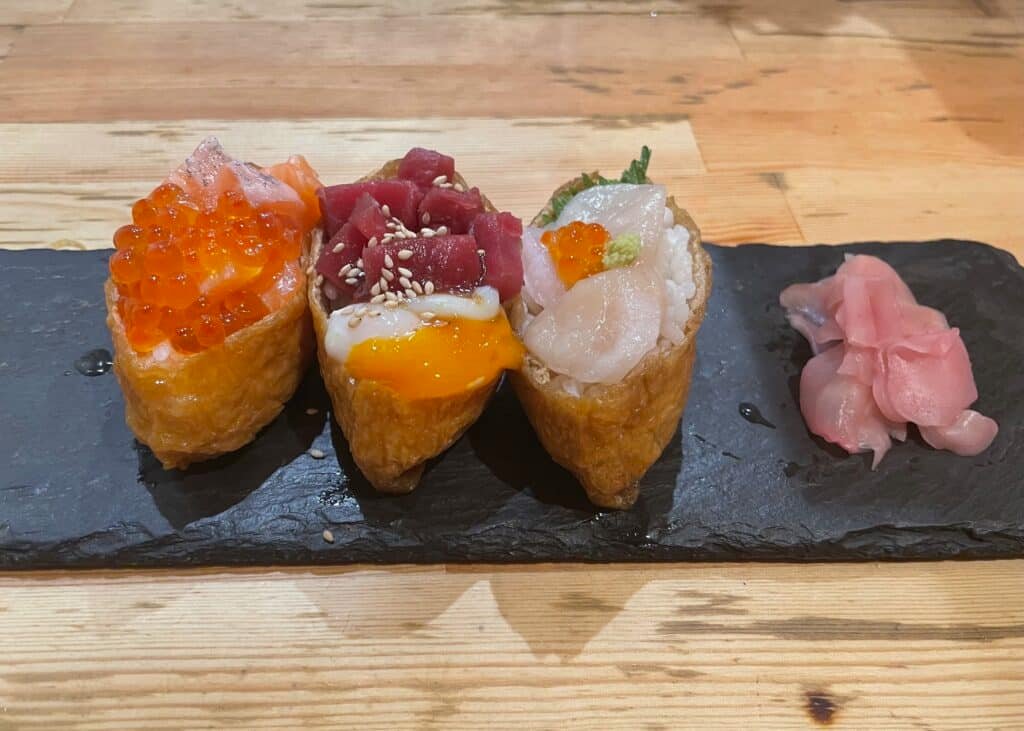 My new dining companion inquired as to whether sushi is popular in my country, America. I told him that top sushi chefs in my country are treated like rock stars. They are so well-known that, like Elvis and Beyonce, they are frequently referred to by their first names (Masa, Nobu). He was visibly surprised when I told him that one exclusive restaurant in New York offers an omakase set over $1,000.
The thing I love about these kappo style restaurants is that there is no VIP treatment whatsoever. If the three wealthiest people in the world walked through the door they would stand at the counter like everyone else.
6. Shrimp Tempura Ebi Mayo Sushi Rolls ¥580 えびマヨ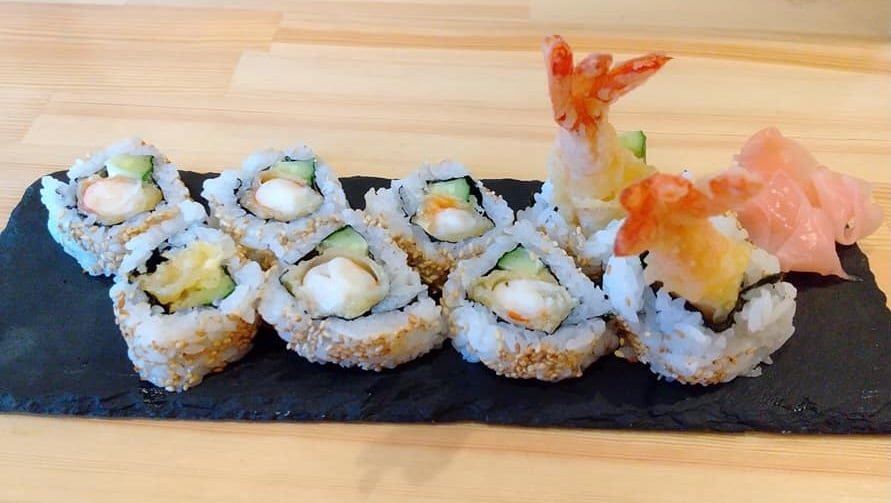 Visitors to Japan were often baffled why so many restaurants would add mayonnaise to traditional Japanese cuisine. Then celebrity chefs such as David Chang started singing the praises of "umami" in Japanese mayonnaise, and before you know it $13 plastic bottles of Kewpie were flying off the shelves at gourmet specialty stores in New York (Now you can get it at Walmart for $6.28).
These crunchy shrimp tempura sushi rolls with mayo are the ultimate comfort food. For only ¥580, or $4.24, you get 8 rolls made with two jumbo shrimp. The rolls are also topped with cucumbers and goma sesame seeds on the outside. I like how the two ends have larger portions with the tails sticking up. Outside of Japan, this dish would most likely be served with teriyaki sauce, but mayonnaise works much better. Try this addicting dish on your first visit to New Kokoya. You'll be back for more!
Fresh Bluefin Tuna and Daily Specials Menu (English Translation)
New Kokoya is known for their excellent fresh bluefin tuna, which is called "namahon maguro" in Japanese. You can choose from 8 different bluefin tuna sets. The daily specials menu is on the right side in red with sashimi and tempura selections underneath. This is only a small selection of the items available at New Kokoya (There is a more extensive tempura menu above the counter with prices starting at ¥100). Please note that this is not an official translation and the restaurant does not have an English-speaking staff.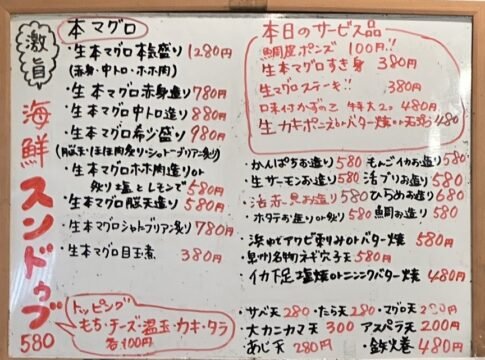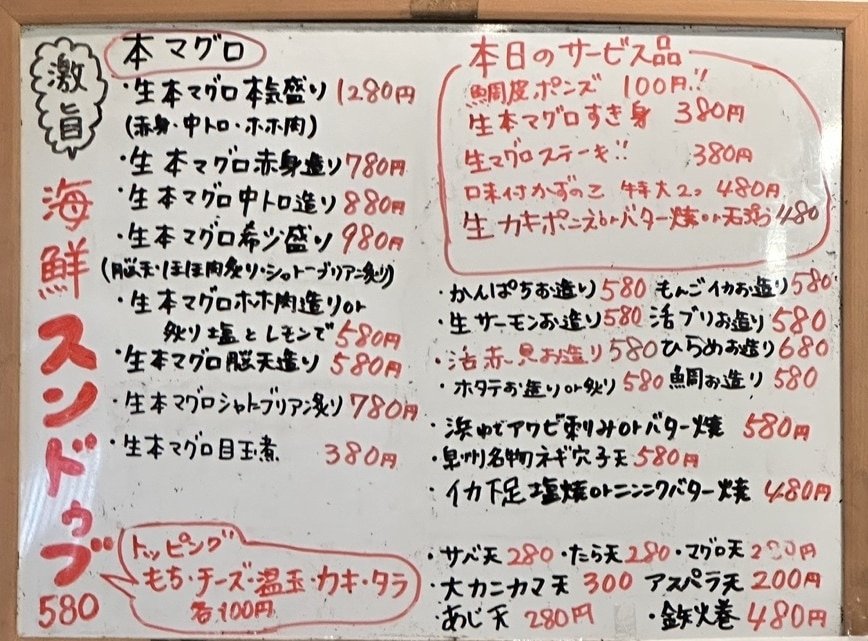 FRESH BLUEFIN TUNA MENU (Namahon Maguro)
Fresh Blue Fin Tuna Special Set* (¥1,280) Akami, chutoro, hohoniku *see description below
Akami Sashimi (¥780) From the middle region, akami is tender and savory in taste.
Chutoro Sashimi (¥880) Chutoro comes from parts of the back and abdomen. A tasty balance of lean and fatty meat.
Hohoniku Sashimi or Hohoniku Aburi (broiled with salt and lemon) (¥580). Hohoniku is meat that comes from the cheek that is usually cooked. It has an elastic texture and a nice balance of fat and red meat.
Noten Sashimi Set (¥580) Noten refers to the end of the head, with the largest tuna providing two cuts. It is notable for its succulence and balance of flesh and fat.
Chateaubriand (¥780) Tuna broiled like a tenderloin steak.
Kishou (Rare and Unusal) Set with Noten, Hohoniku Aburi, Chateaubriand* (¥980).
Medama Boiled Eyeball (¥380). "Japanese chefs cook the fleshy, tennis ball–sized eyeballs as appetizers or bar snacks. They lightly braise eyeballs in a mixture of soy sauce and mirin or sautée them with sesame oil and ginger."
DAILY SPECIAL SERVICE MENU
Taikawa Ponzu (sea bream skin in ponzu sauce, ¥100)
Maguro-Sukimi (grated tuna, ¥380). Fresh Maguro Steak ¥380
Aji-Tsuki Kazunoko (herring roe with added flavors, ¥480 for 2)
Kaki (crab,¥480) raw with ponzu or cooked with butter or tempura
SASHIMI (OTSUKURI) ¥580
Kanpachi, Mongo Ika Squid, Salmon, Akagai (red clam) Ikeburi (live fish from tank) Hotate (scallops, raw or broiled), Hirame (flounder, ¥680)
TEMPURA
Saba (mackerel, ¥280. Tara (¥280). Maguro (tuna, ¥280). Okanikama (big crab stick, ¥300). Asparagus (¥300). Aji (horse mackerel, ¥280).
OTHER
Awabi (abalone, ¥580). Boiled (hamayude) or baked with butter
Ika geso (deep fried squid tentacles, ¥480) with salt or garlic.
7. Fresh Bluefin Tuna Special Set 生本マグロ本気盛り
I visited New Kokoya at the beginning of March with my good friends Tatsuya, an authority on standing bars, and Jake, an Aussie who had recently moved back to Osaka after six years away. I was resolved to try some previously untried dishes from the bluefin tuna menu this time.
We decided on the Fresh Bluefin Tuna Special Set (namahon maguro honki mori) that comes with akami, chutoro, and hohoniku. The set contains four atsugiri (thick slices) of each cut, prepared with the finest of care. Akami has an impressive red color and is low in fat and rich in minerals. The chutoro was tender and had a slightly sweet buttery taste. The hohoniku abari, broiled cheek meat (middle photo), was particularly impressive, it was like eating tender cuts of beef tenderloin.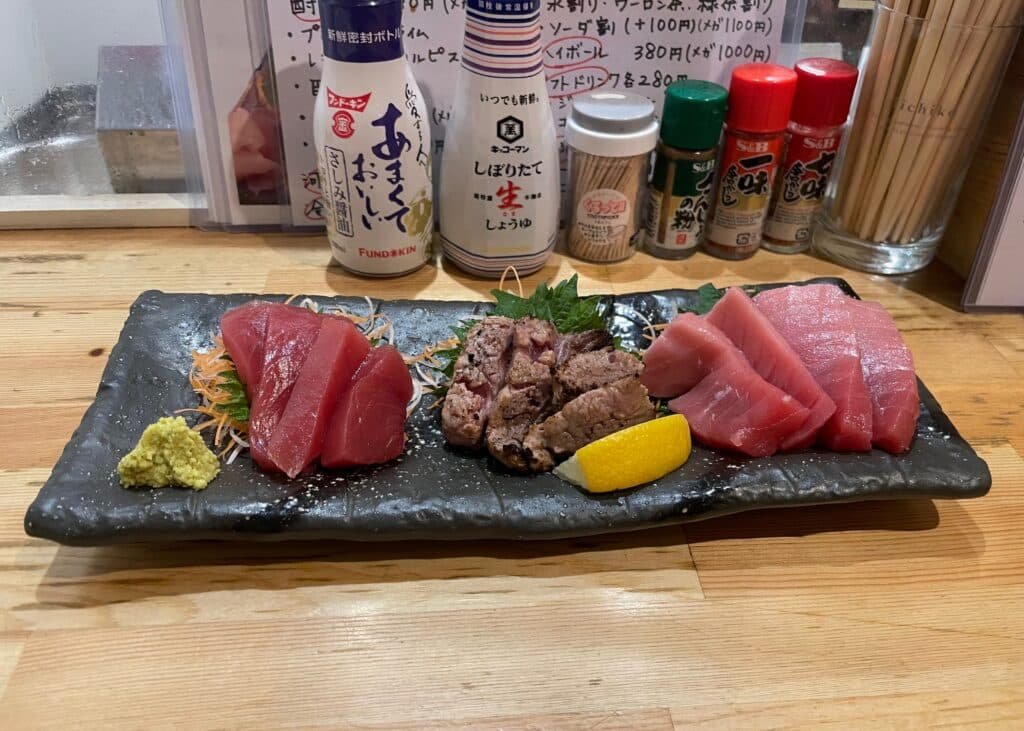 8. Chateaubriand (¥780) シャトブリアン
After trying hohoniku abari for the first time, we were in the mood for some more broiled tuna. シャトブリアン which is French for a Chateaubriand steak, "a large front cut fillet of tenderloin grilled between two lesser pieces of meat that are discarded after cooking." Jake, being a cultured young man of high intelligence, taught us to the correct French pronunciation, which Tatsuya and I appreciated.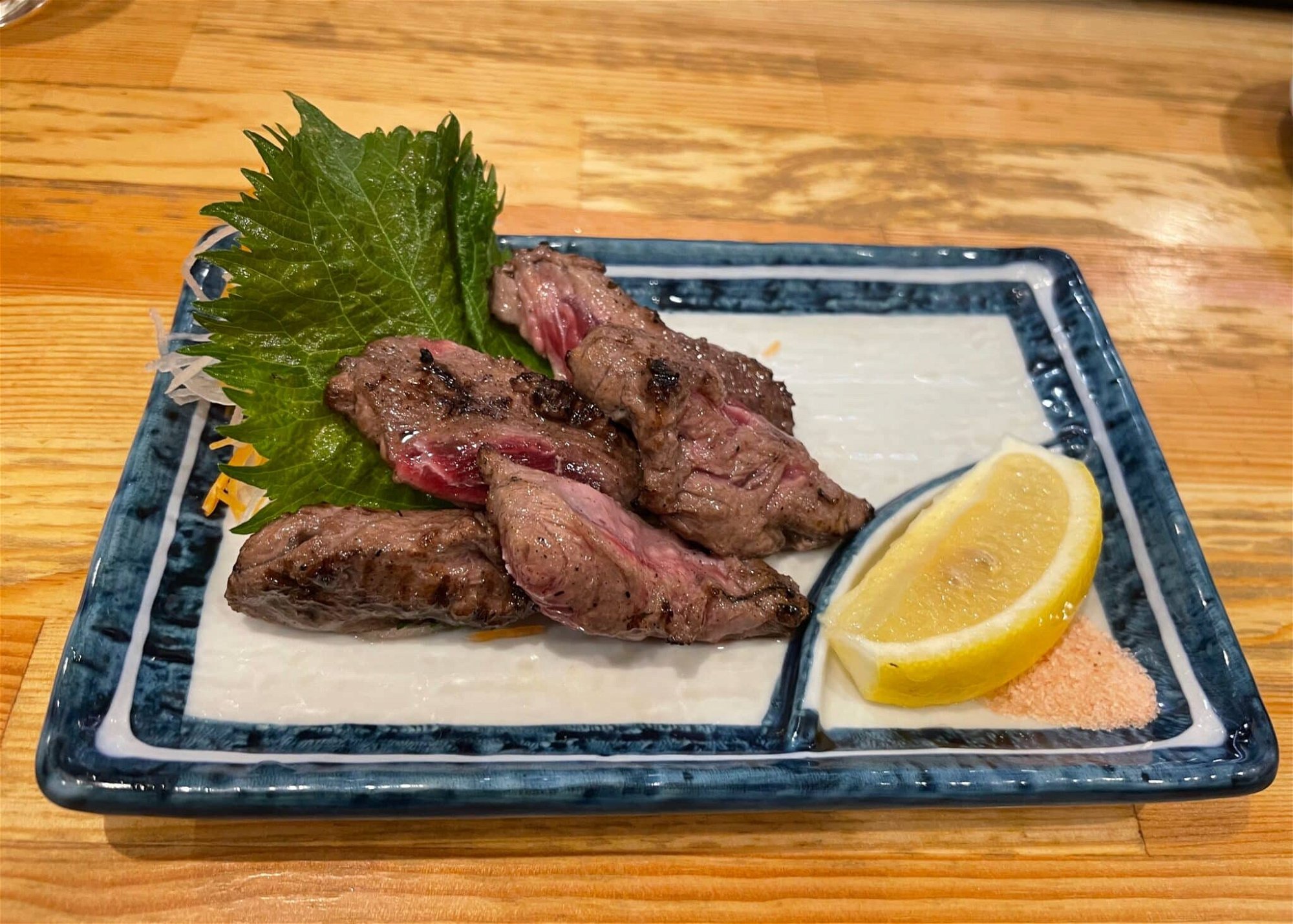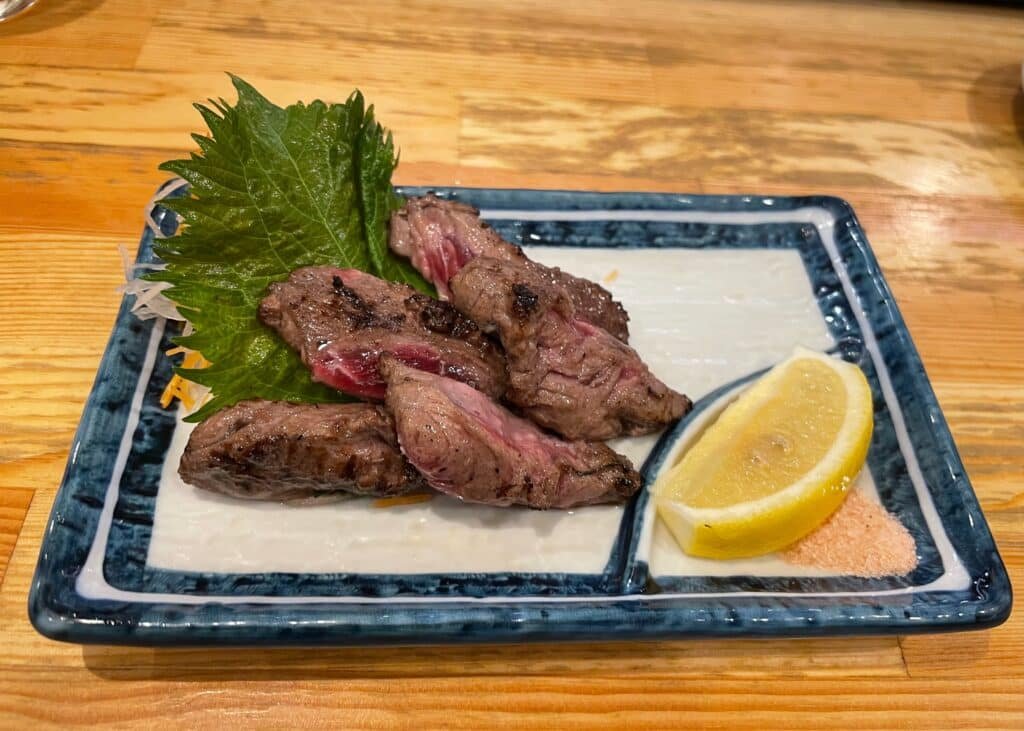 Tatsuya wanted to squeeze a lemon on the meat, but I told him that we should taste it first. I'm glad we waited because the taste was out of this world. How can I best describe it? You know how when sushi was first getting popular in certain countries, there was always that one guy who always made the same corny jokes. "Raw fish? Can't you throw that on the grill and cook it up? Who do I have to kill to get a steak in this place, bada bing bada boom! (I pictured Paulie Walnuts from The Sopranos at a sushi restaurant in Japan). If you are a pescatarian who misses the taste of a nice juicy steak then this is the dish for you.
When I later questioned Naoki, the proprietor, about whether the Chateaubriand maguro steak was a unique dish, he said that his employees had created it, though he couldn't confirm whether Kokoya was the only establishment to offer it.
9. Harami Sagari Yuke (¥800) Grilled Beef with Raw Quail Eggs
For meat aficionados, New Kokoya provides this excellent dish. Harami (dorsal skirt) is from the dorsal area of the diaphragm. In yakiniku restaurants For yakiniku, it is one of the most widely used cuts because of its suppleness, moderate marbling, and strong meaty flavor. Harami is often served with sagari, from the lower diaphragm in the ventral area. It's moist and tender, similar to the outside skirt, but with a milder flavor. The meat is seasoned in an original sauce and served with raw quail eggs, lettuce and green onions with a sprinkling of sesame seeds.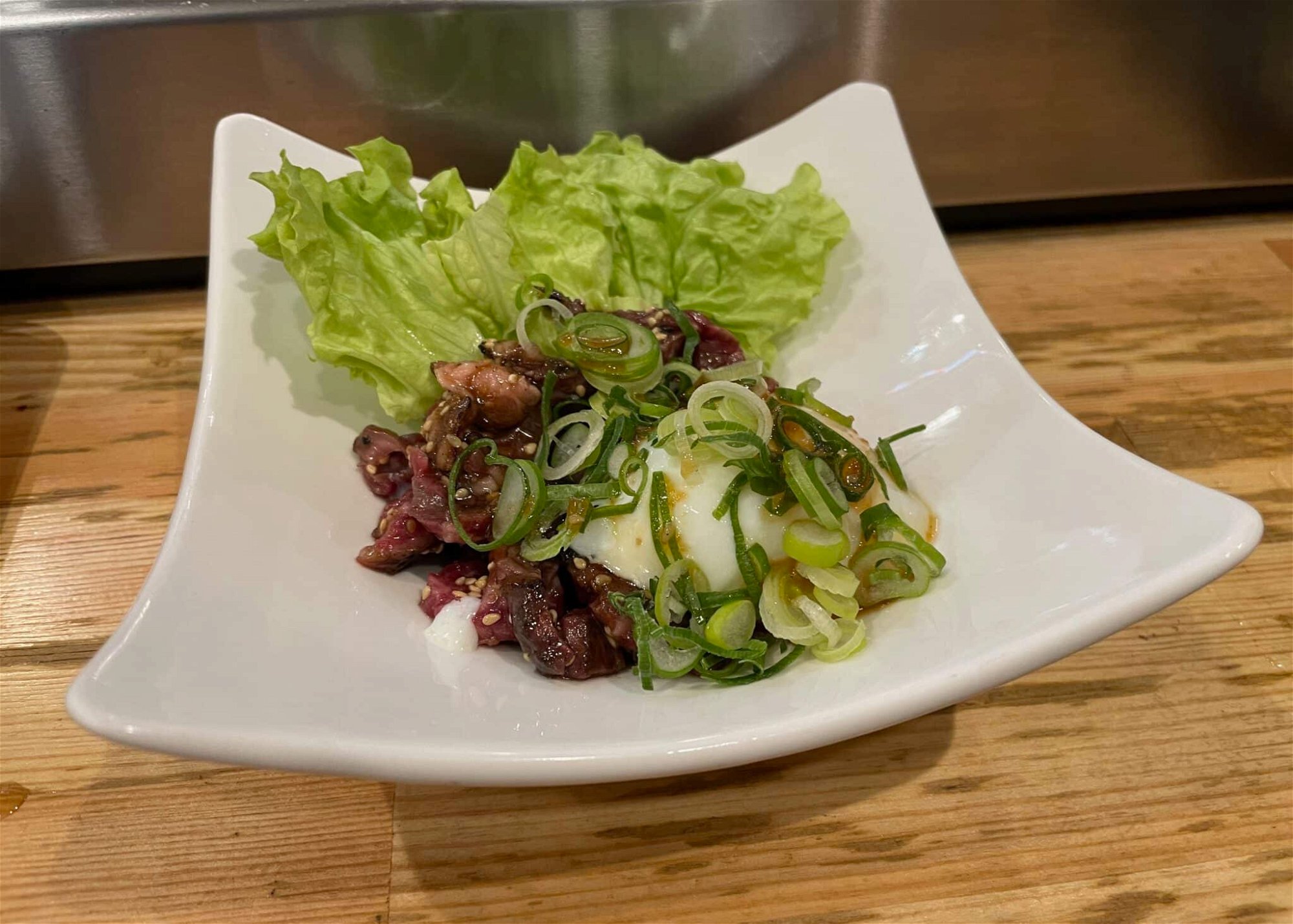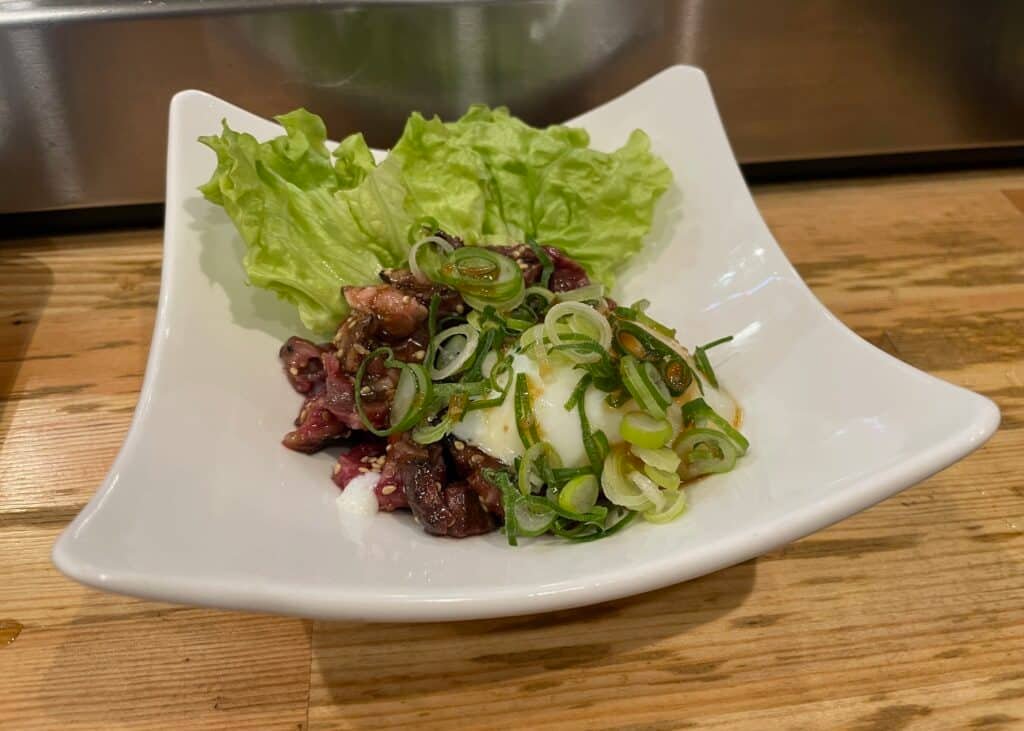 10. Half Sets (¥580) ハーフセット
The very first time I visited New Kokoya by myself I made the mistake of ordering full sets of the sashimi and tempura. Fortunately, a member of the staff was kind enough to inform me that it was way too much food to be consumed by one person. She suggested that I order half sets for only ¥580. This was great advice because I was completely full when I finished both half sets and saved ¥840.
Tatsuya and I insisted on ordering half sets of the tempura and sashimi because it was Jake's first visit at New Kokoya and we couldn't let him leave without trying them. I made one small adjustment by adding an a la carte order of their famous "tamanegi onion tower" for an additional 100 yen. We couldn't eat another bite when we finished both half sets. Stuffed to the gills it was time to head off to Nishi Tengachaya for another bout of drinking.
Even in times of runaway inflation, shortages and skyrocketing prices, you can still have a wonderful meal without breaking the bank. I've brought several Osaka natives there who left the restaurant in awe after paying the bill.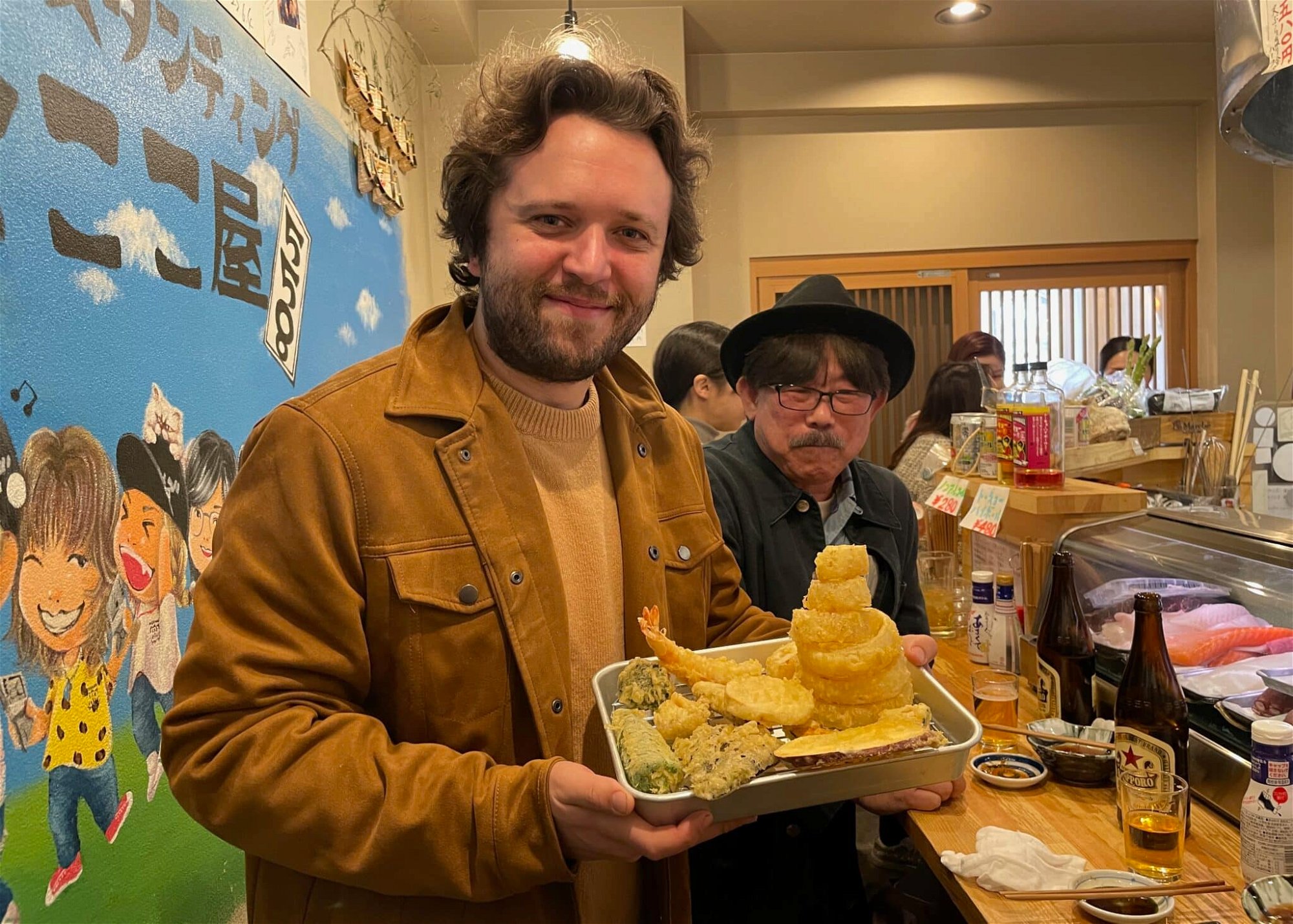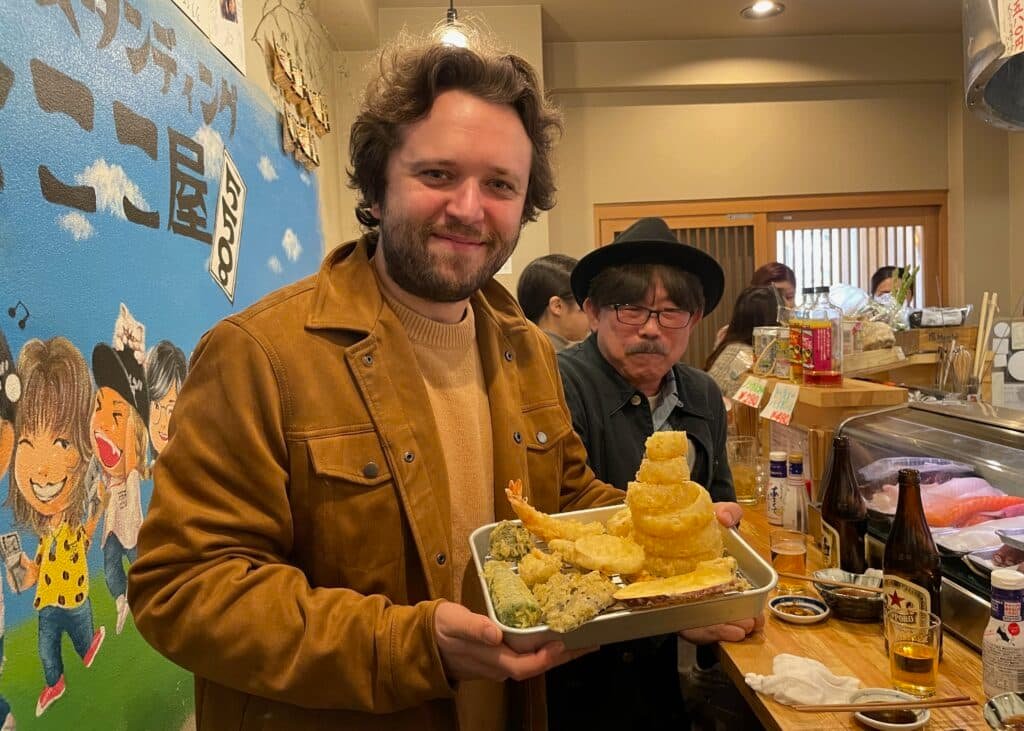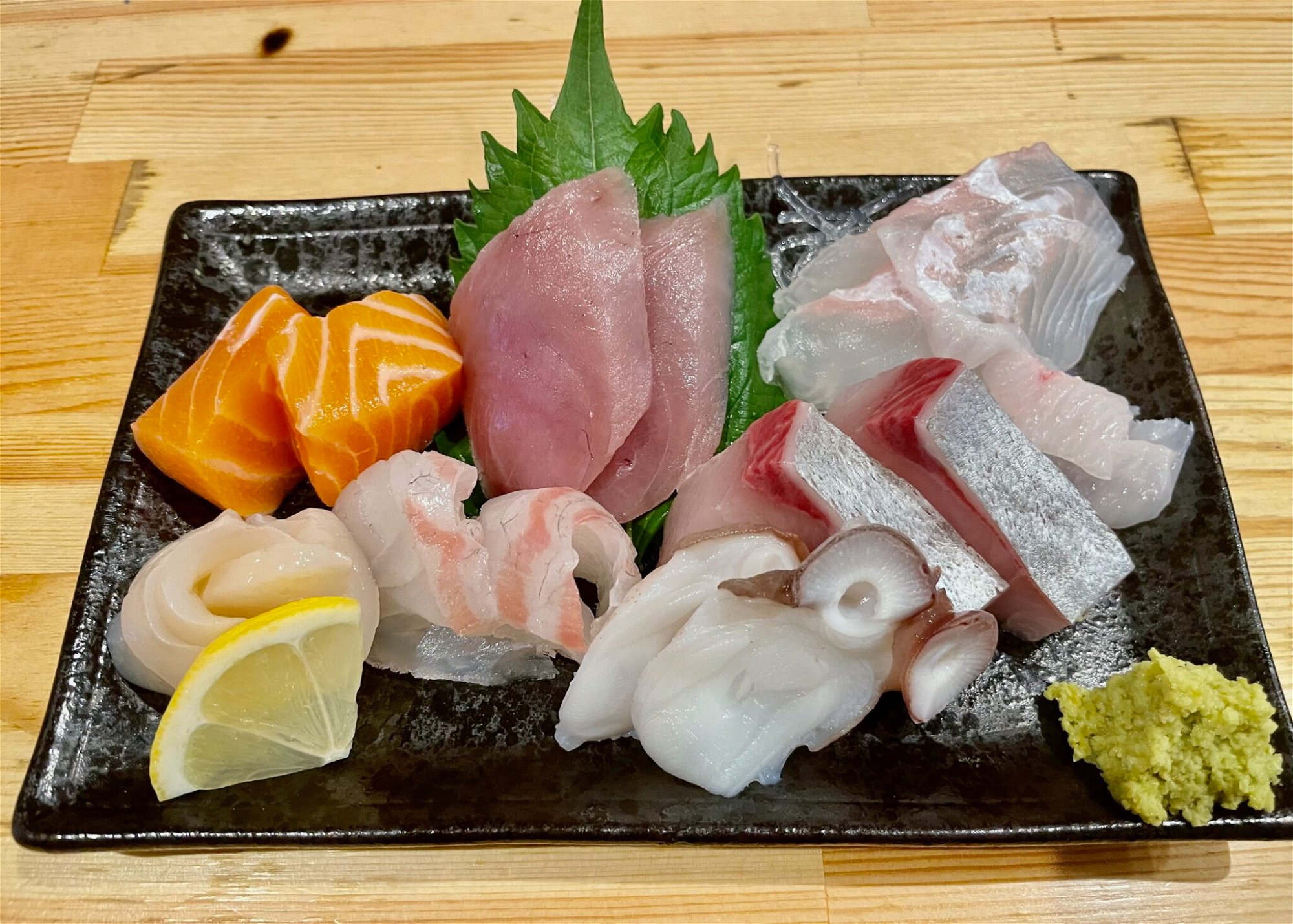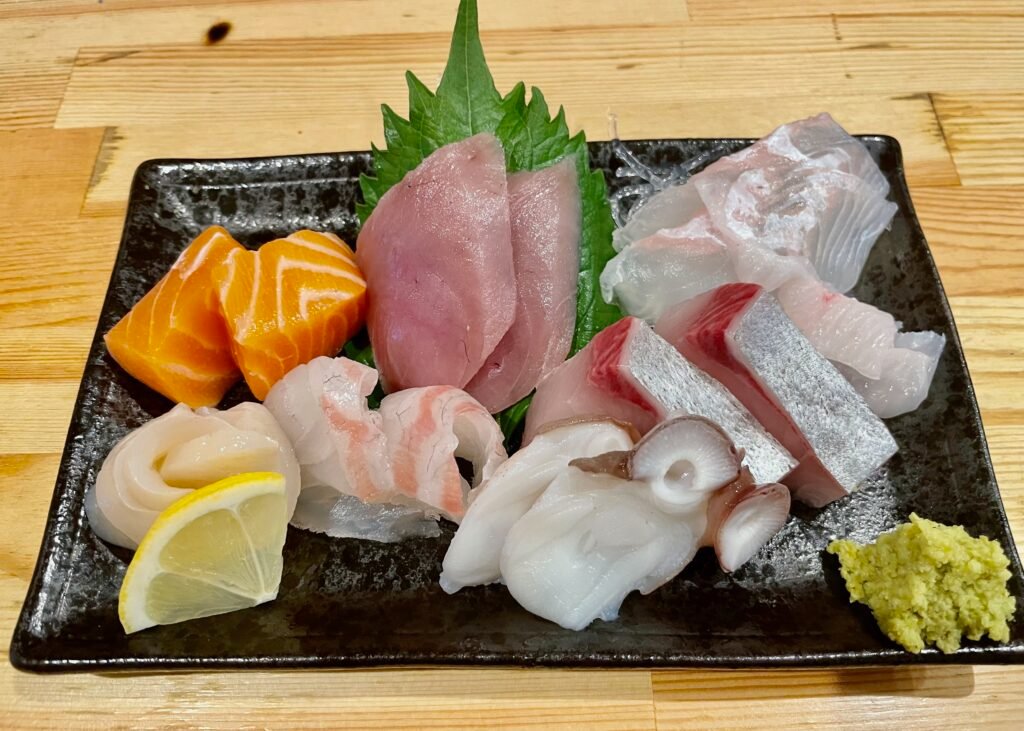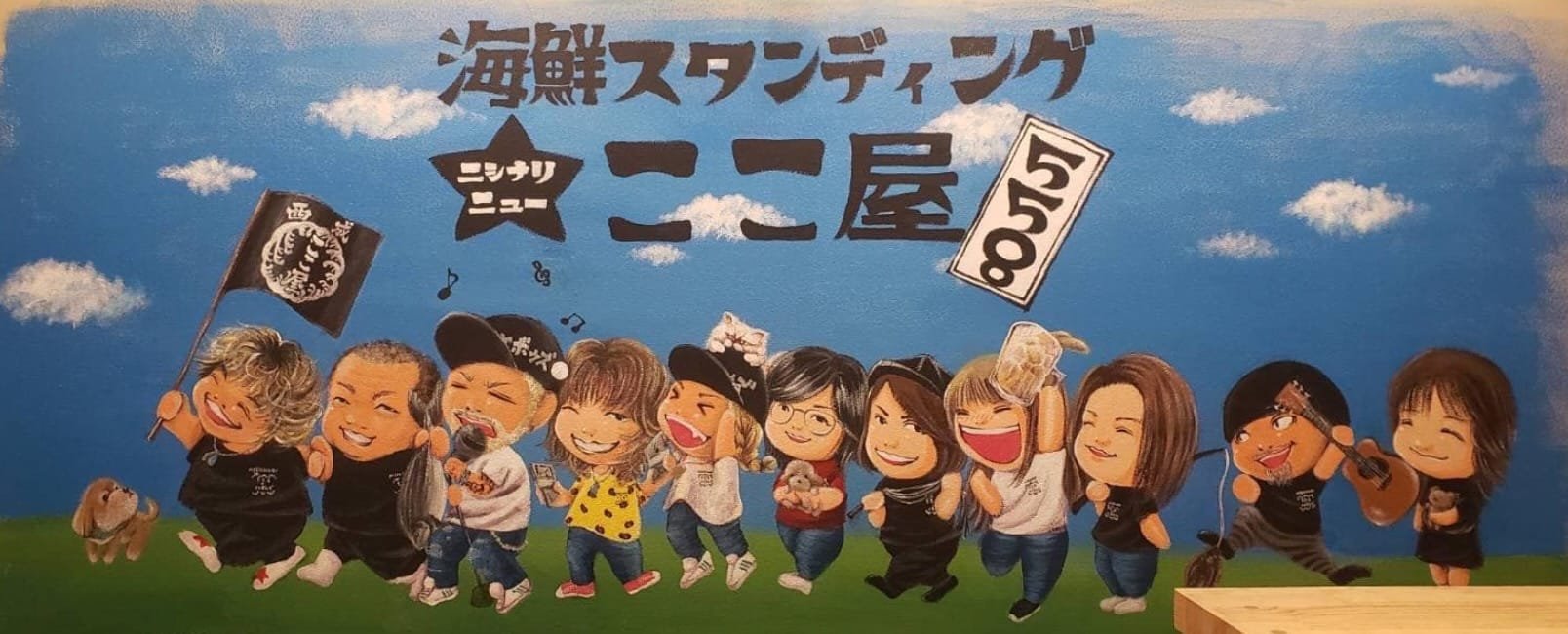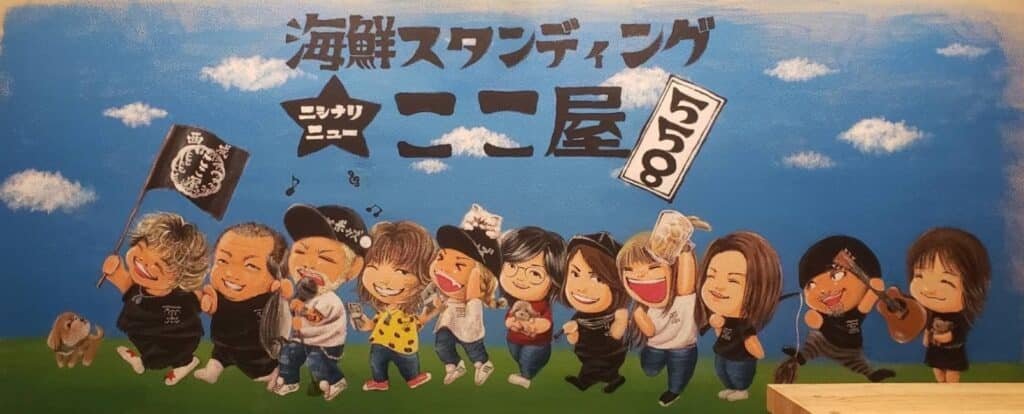 Nishinari Peace: Let's Sing a Neverending Song 終わらない歌を歌おう
Nishinari Peace is the bar and live house above New Kokoya that is run by Masa (aka Ikibozu) and his wife Rie, who also works at a sakaba called R&R near Haginochaya Station that opens at 8 a.m. for early morning drinkers. The original Kokoya was located right next door to R&R, and Rie and Ikibozu soon became good friends with the owners, Junko and Naoki. Ikibozu worked at Kokoya part-time and would often play acoustic shows in the area with his frequent collaborator, singer-songwriter Koji Seki, aka Sekigochi (せきこ〜ぢ).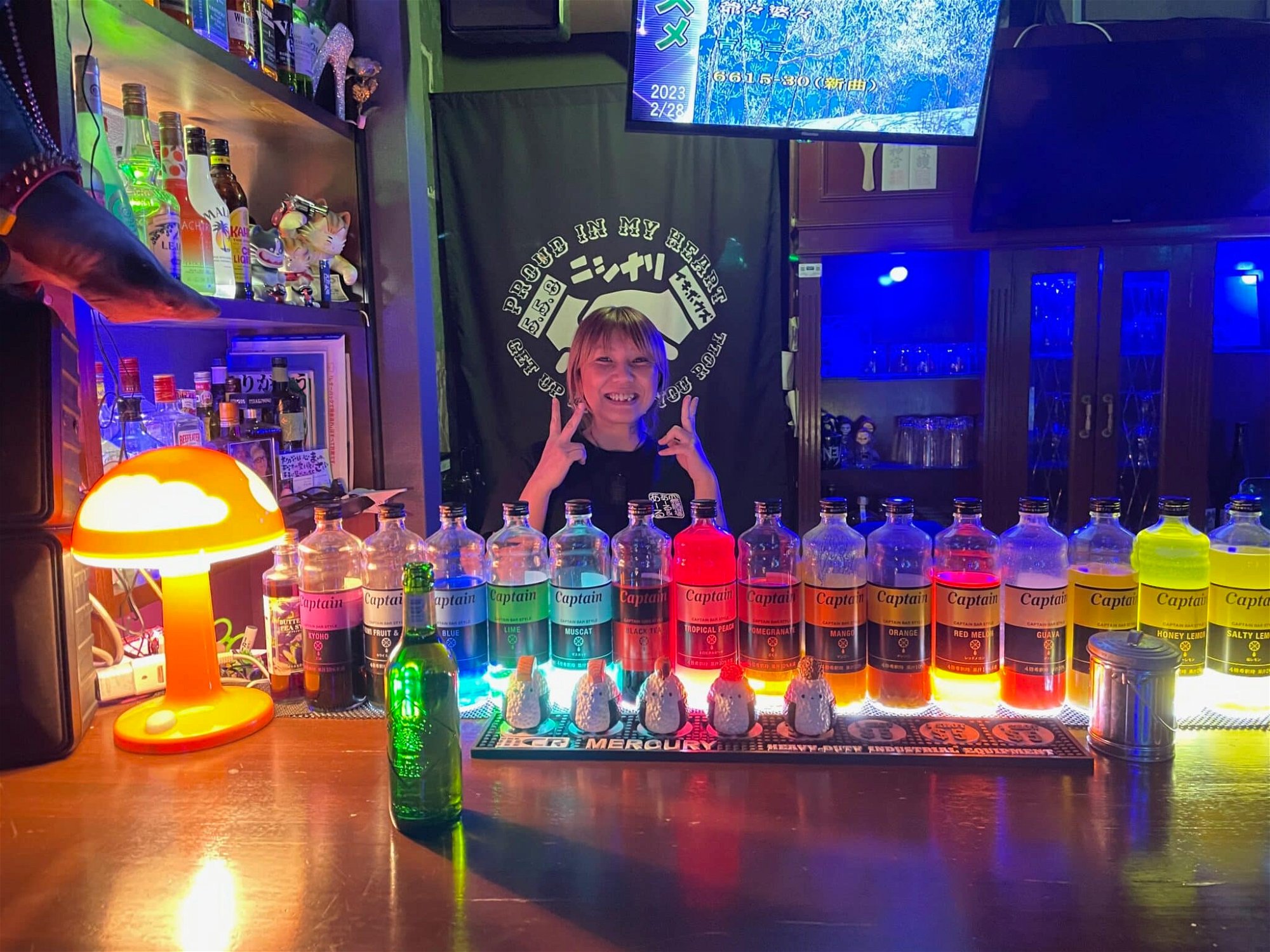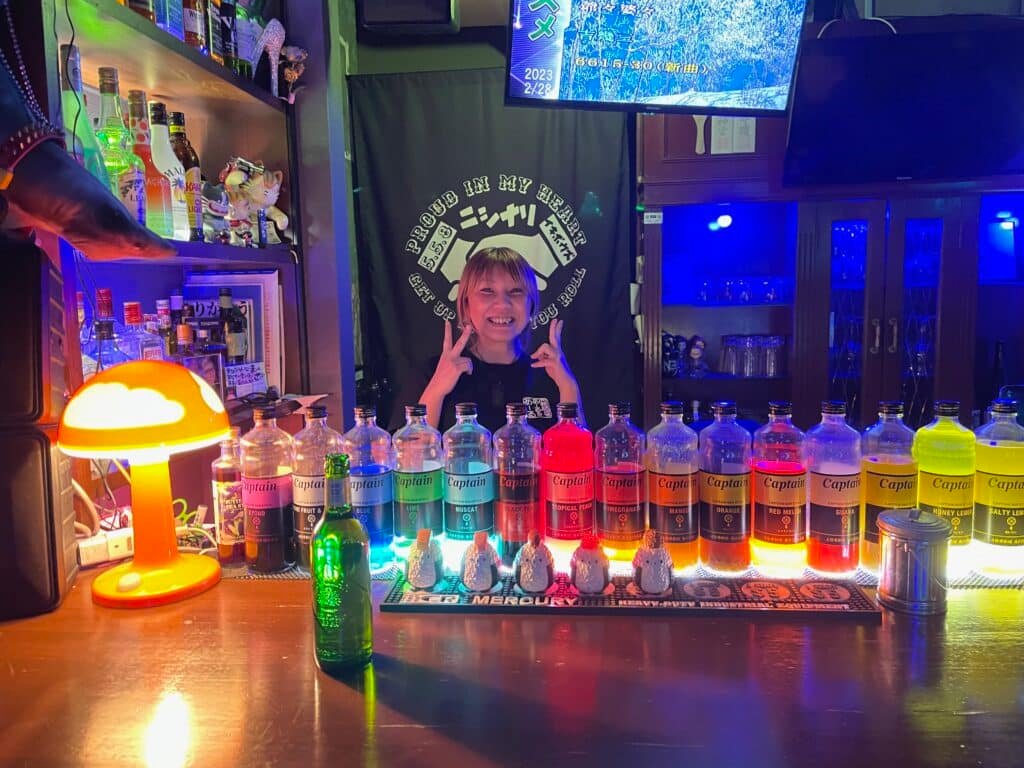 When Kokoya decided to move closer to Tengachaya Station, an express stop on the Nakai Koya line, they found the perfect four story building that would serve all the needs of their close circle of friends. The third floor contains a event space and a place to crash for musicians who perform shows at Nishinari Peace. The fourth floor is a recording studio managed by the aforementioned Koji Seki. Ikibozu designed signs with English slogans that appear on the facade of the building:"Get Up Even if You Roll" "Peace in My Heart," "To My Heart's Friend and Beyond" and "Isn't It Over?"
Ikibozu, 49, was born in a small town in Wakayama. Iki (粋) means stylish and bozu means "Buddhist priest" or "shaved head."). He chose the nickname because of its negative connotation meaning "troublemaker." In his teens he became fascinated with British punk rock bands such as G.B.H. and UK Subs and dressed the part sporting a full mohawk. "There was not much of a punk scene in my hometown," says Ikibozu. "When I was 17 I wrote a letter to Michiro Endo, the singer of (Japanese punk band) The Stalin, and he wrote me back. We soon became life-long friends." Ikibozu was later active in the rockabilly scene.
Ikibozu is a huge fan of The Blue Hearts, one of the most popular Japanese rock bands of all time. He and Rie have matching tattoos on their forearms of a verse from The Blue Hearts' song "Owaranai Uta wo Utao" ("Lets sing a neverending song"), which Ikobozu translated into English.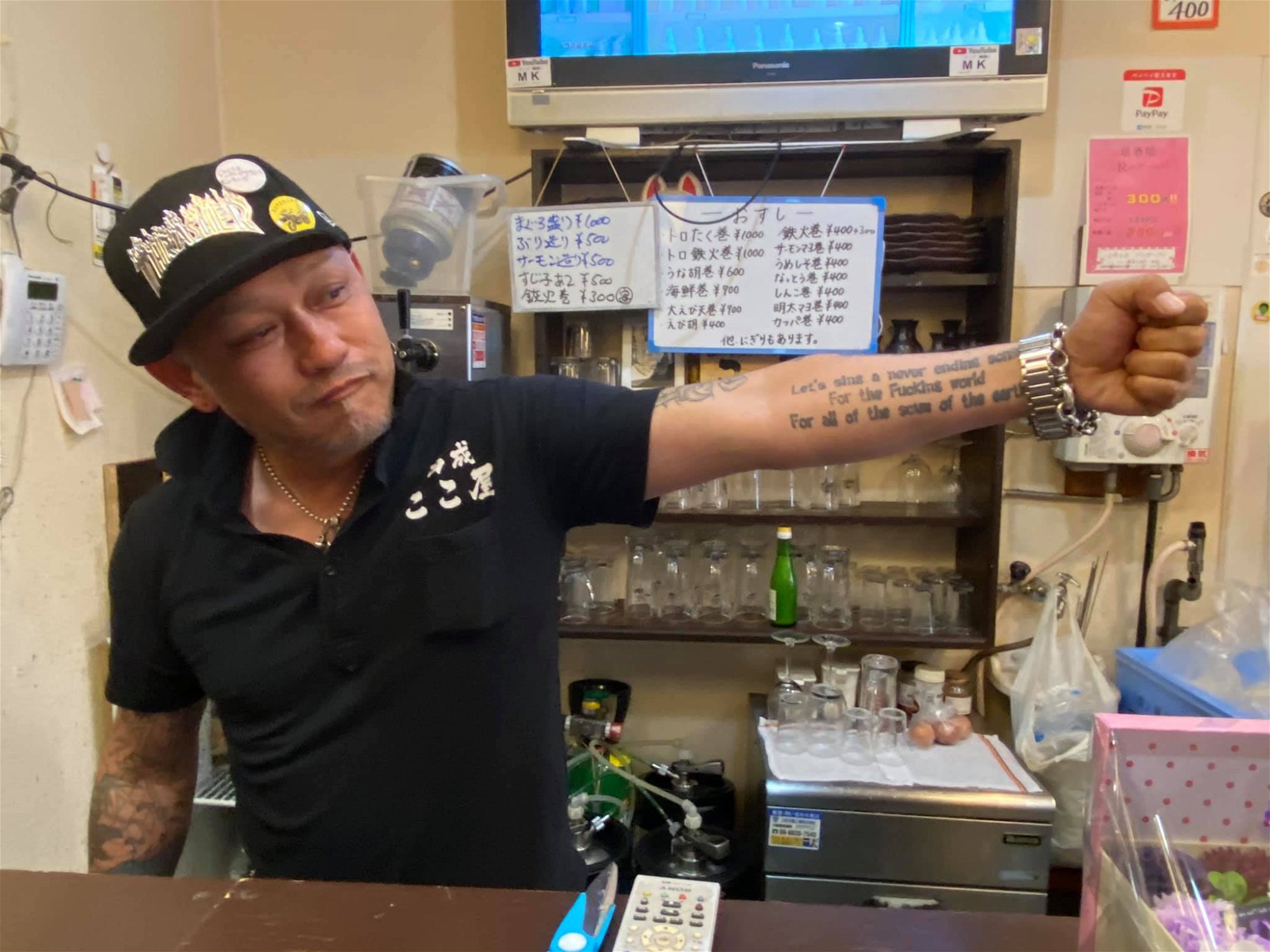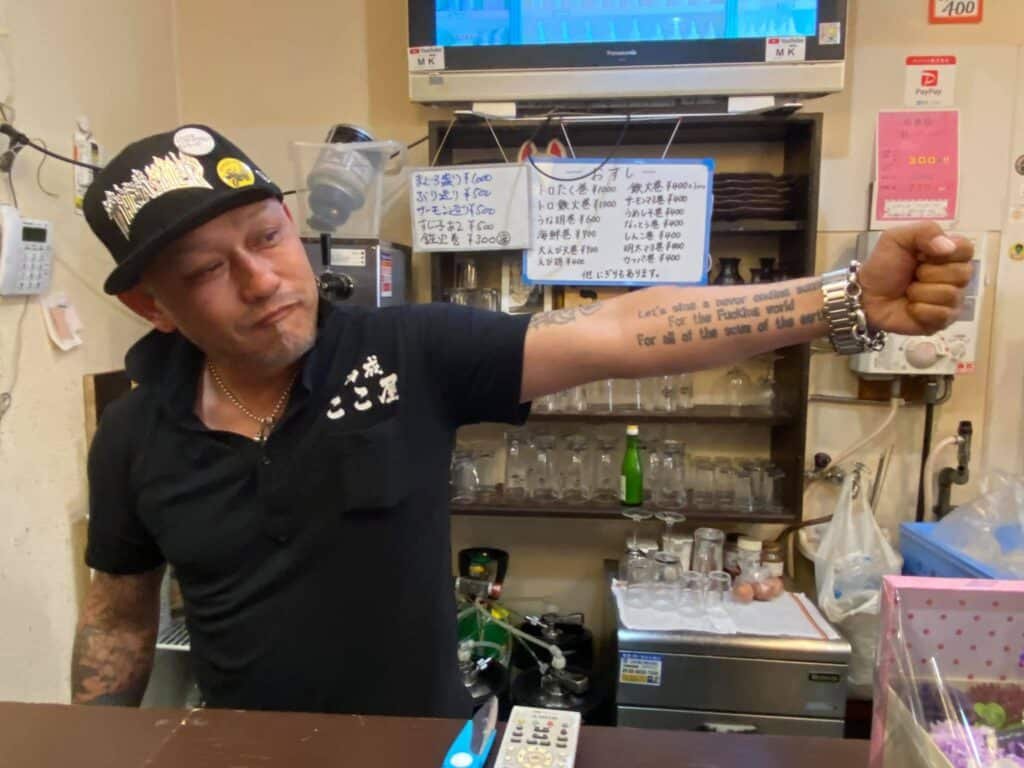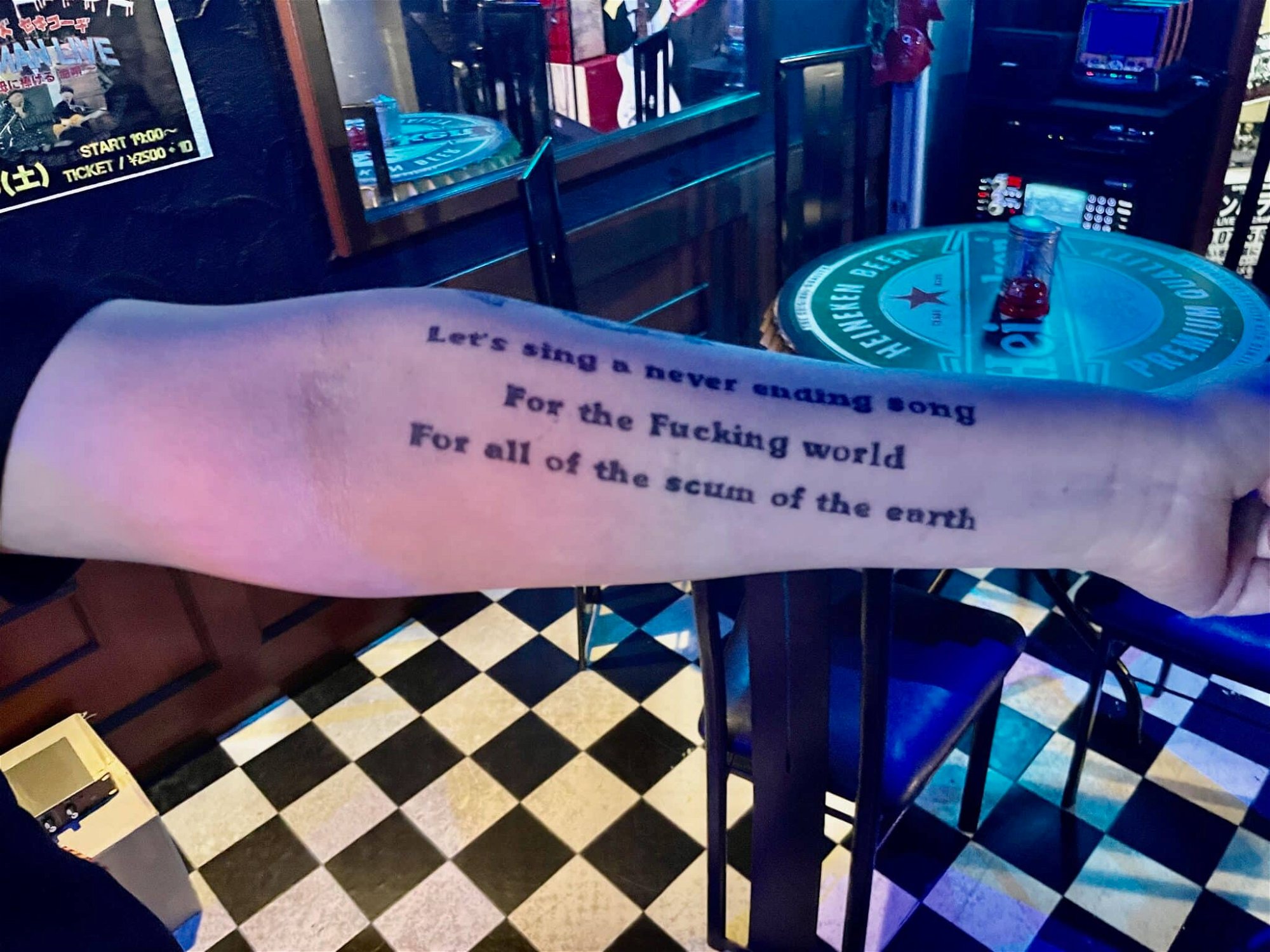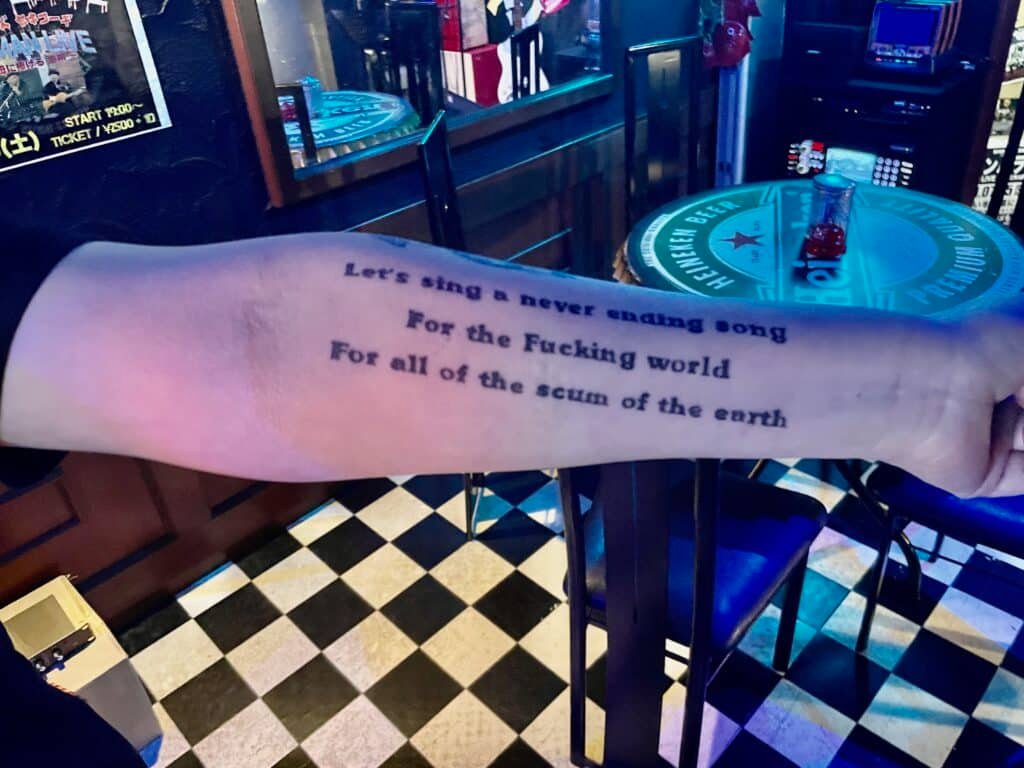 Proud in My Heart 心の中の誇り
On our first visit to Nishinari Peace last year, Wes Wesson and I told Rie a meandering story story about how Ikibozu once got a drunken customer at the R&R to stop pestering us without saying a word. "Ikibozu just gave him a look, and that silenced him," Wes explained. "He was like a zen master."
We ordered two bottles of Kirin Heartland, which comes in eye-catching green bottles. One of my favorite things about Nishinari Peace is the menu's simplicity. They mostly serve drinks, including excellent high ball cocktails made with "Captain Bar Style" flavored syrup such yuzu and pomegranate made by Nakamura Shoten, a local beverage company in Konohana Ward, Osaka that was founded in 1935.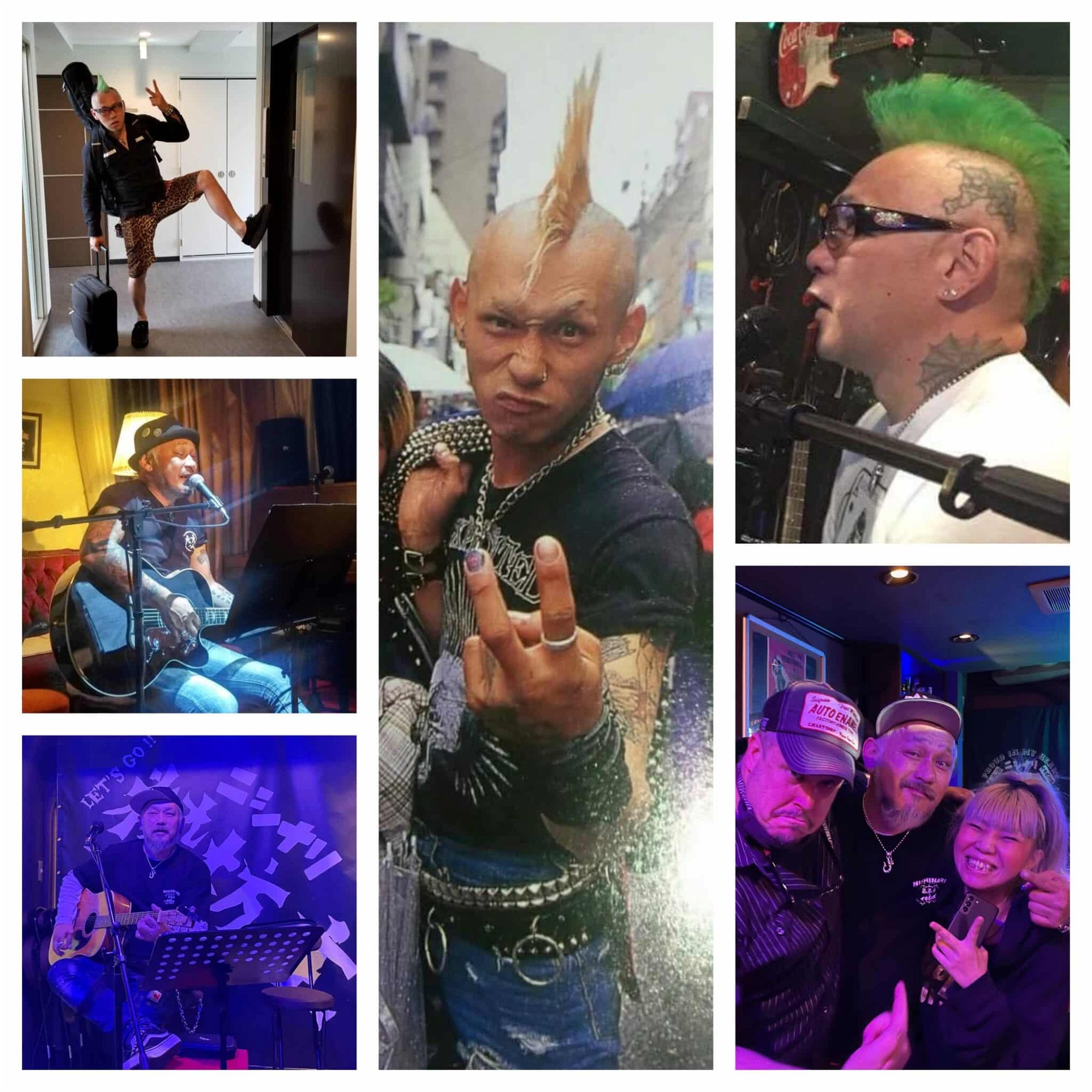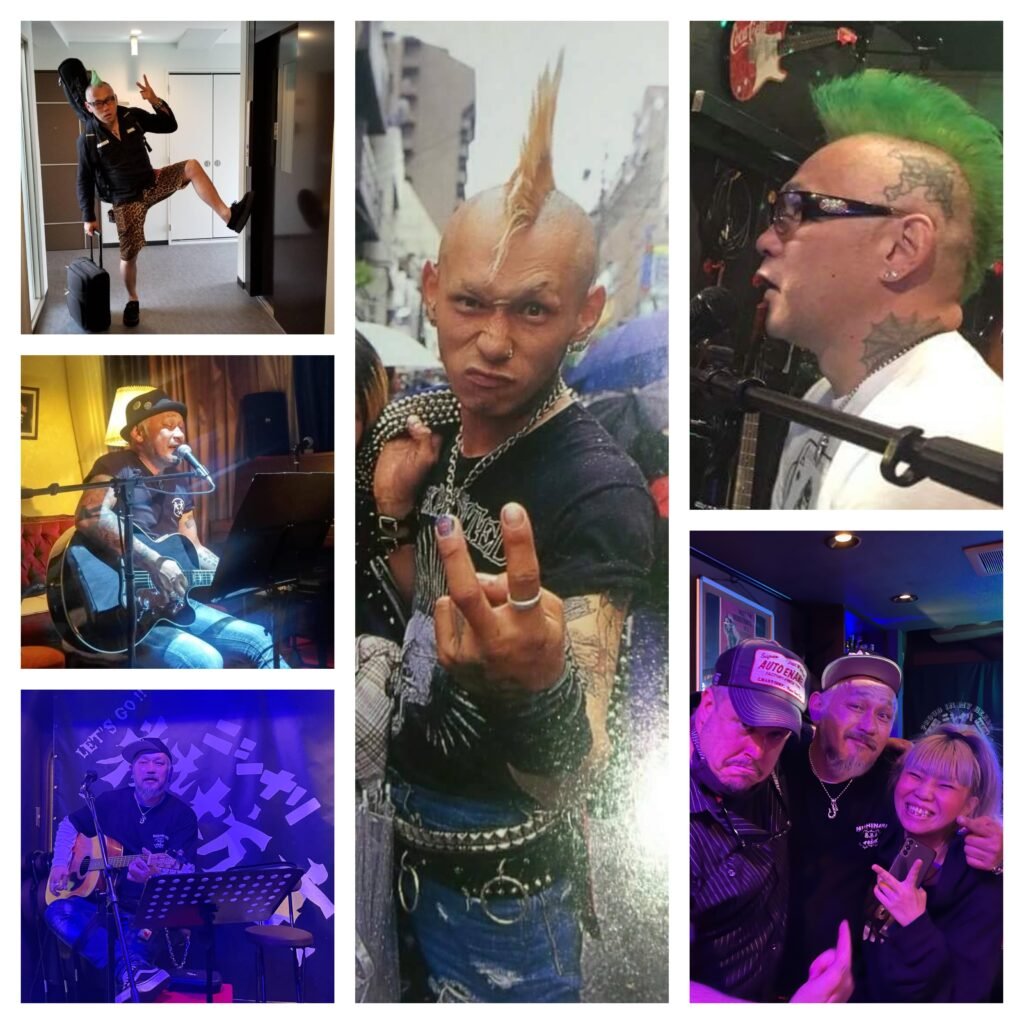 Ikibozu walked through the door about 10 minutes later. He had just come from a screening of Niwatori Phoenix, the sequel to the the 2018 cult hit Niwatori Star (English title: Smokin' On The Moon). Ikibozu made his acting debut in Niwatori Phoenix playing a gangster. He will also appear in the upcoming independent film Arigato Monster as the leader of a hangure gang.
Rie told him the story about how he saved us from being hassled by the drunken customer, but I don't think it registered with him. However, he did remember us from the R&R and seemed happy to see us again.
It turned out that the man who actually silenced the drunk was a regular at R&R who bears a strong resemblance to Ikibozu. "People confuse them all the time," said Rie with a laugh. "In fact it just happened today. Someone called me and said told me that my husband was at the bar, but it was that guy you saw!"
Every month, Nishinari Peace hosts two to four live concerts. Ikibozu decided to sing a song to welcome us to his bar despite the fact that there was no scheduled performance for the evening. He took the small stage with his guitar and belted out a soulful number that included an improvised line that specifically mentioned Wes and me.
Get Up Even If You Roll 倒れても立ち上がる
A cheerful middle-aged gentleman in a Hanshin Tigers fishing cap took a seat by the bar. He noticed my vintage Hanshin Tigers cap and introduced himself as Billiken, Osaka's unofficial mascot. "Everyone says I look just like him, don't you agree?"
We got into a discussion about music while drinking bottles of Corona Beer with limes. Billiken-san heaped high praise on Julia Murphy, a singer from Wakayama whom he had seen perform last May at an event commemorating the first anniversary of New Kokoya and Nishinari Peace. I believe he mentioned that he had written a song for the singer, but I could be wrong. It was fun to drink with such an interesting character so many interesting stories.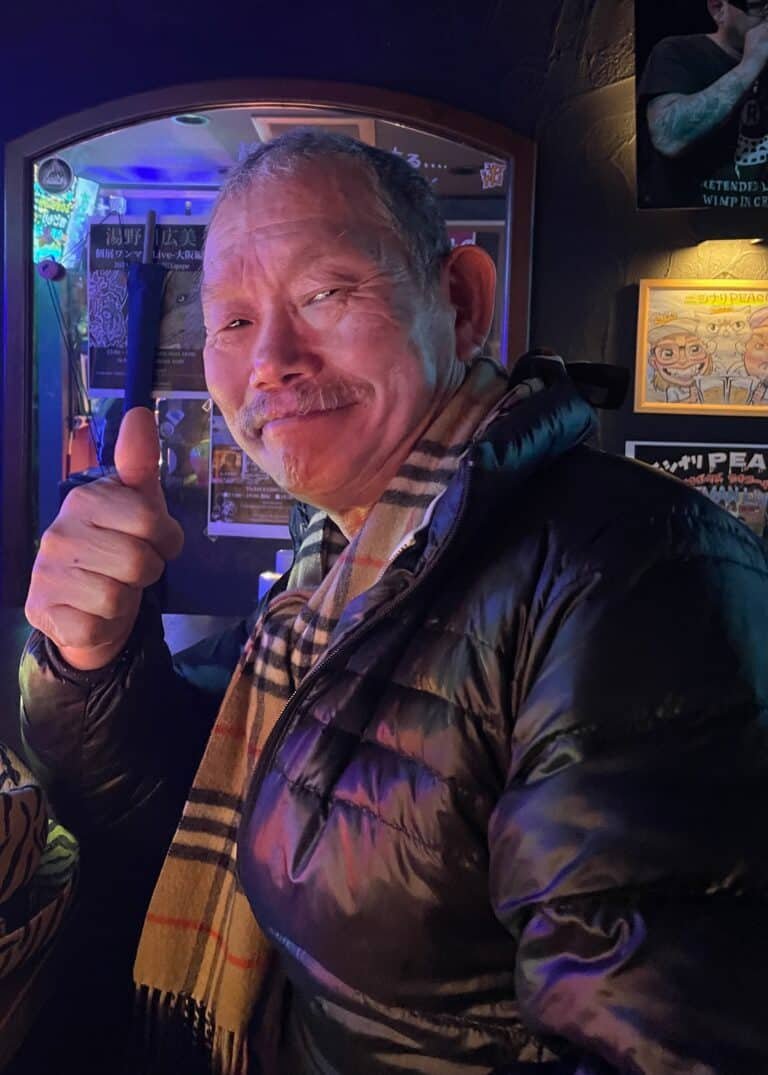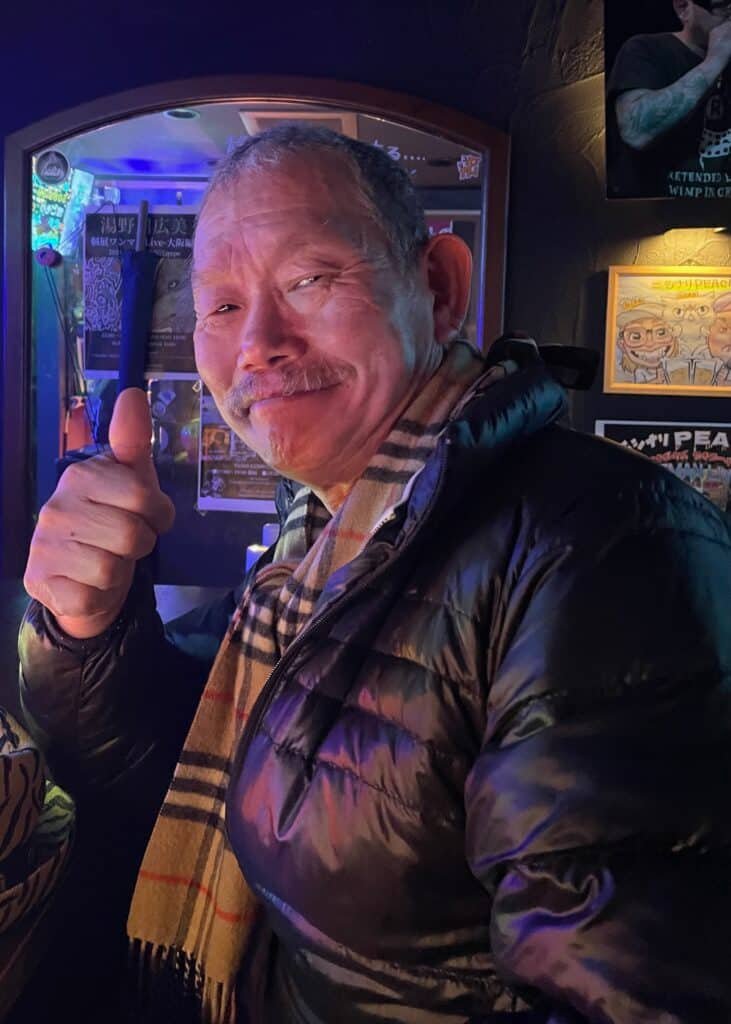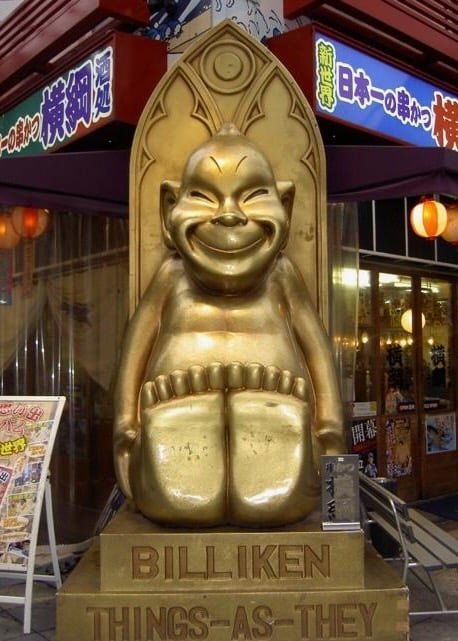 Naoki, Junko and a couple of the staff came up to the bar after New Kokoya closed. They ordered drinks and shared a few laughs. Ikibozu sang another song for them. Anthony Bourdain often wrote eloquently about chefs socializing and drinking to unwind after a long day working in the cramped quarters of a kitchen preparing food, so it was nice to see this up close and personal. It reminded of a time when I was attending a lot of underground rock shows in Osaka. When the shows ended, the bands and some of their fans would often move to an izakaya and hold a drinking party called an uchiagekai.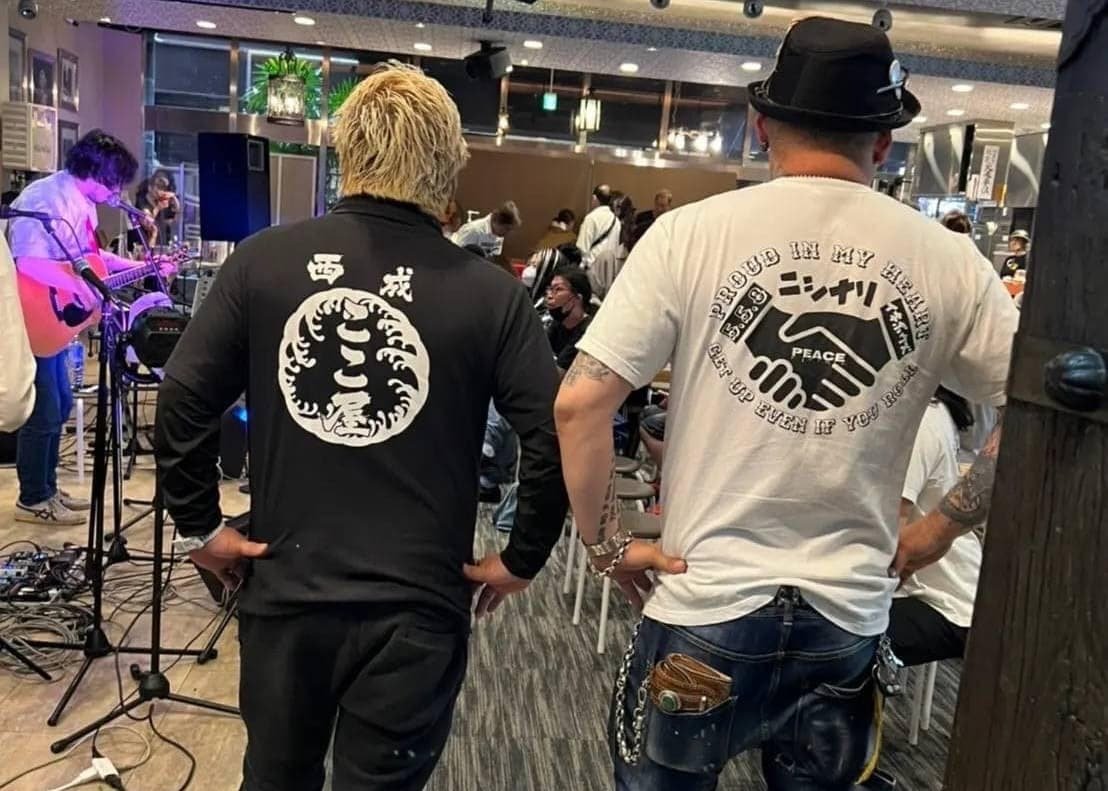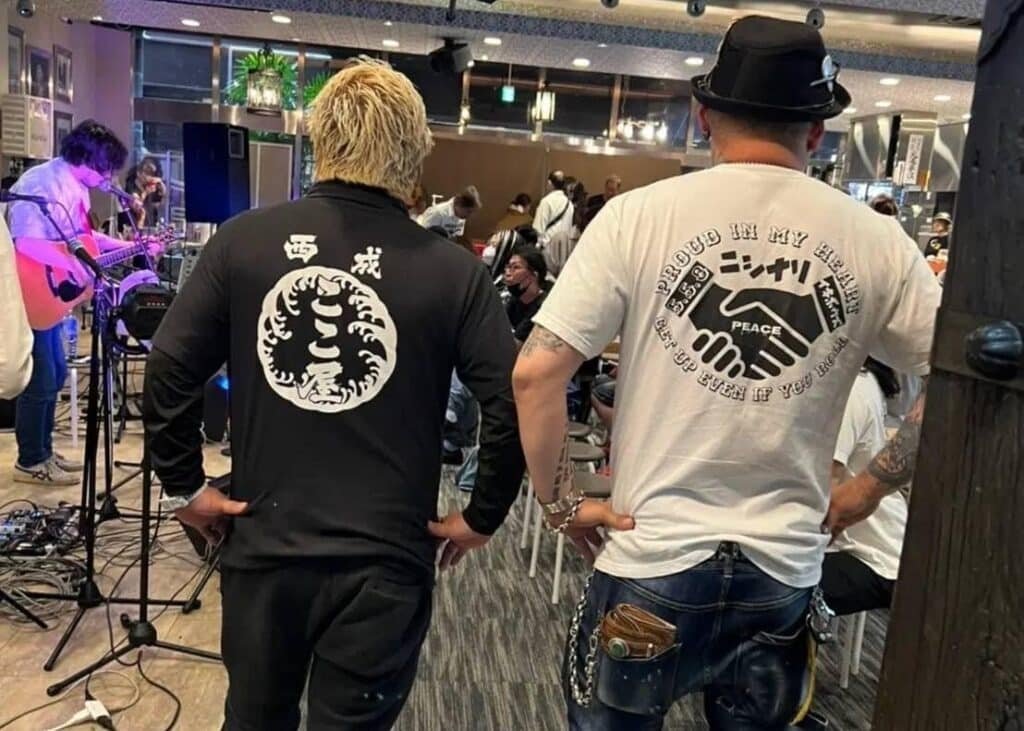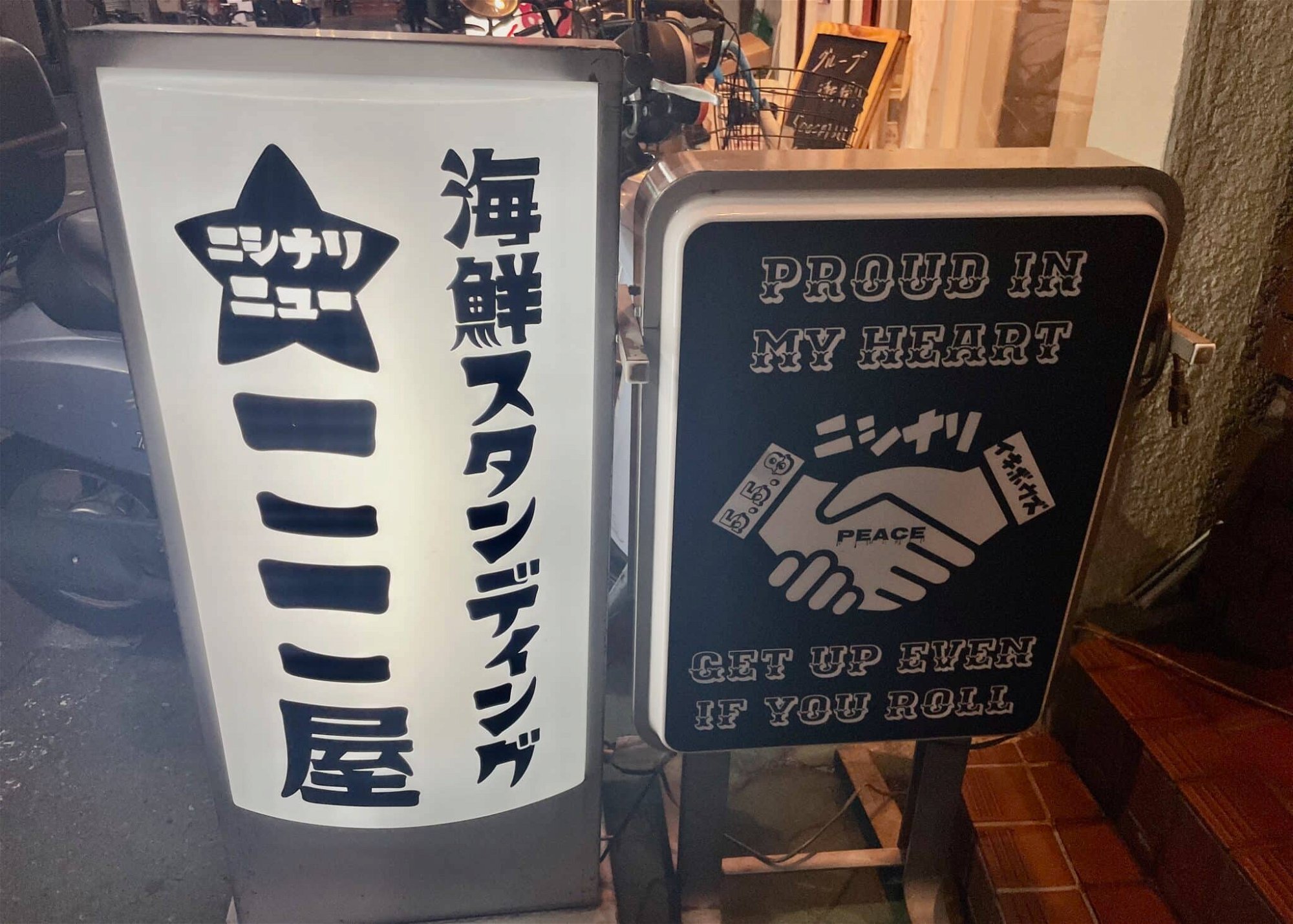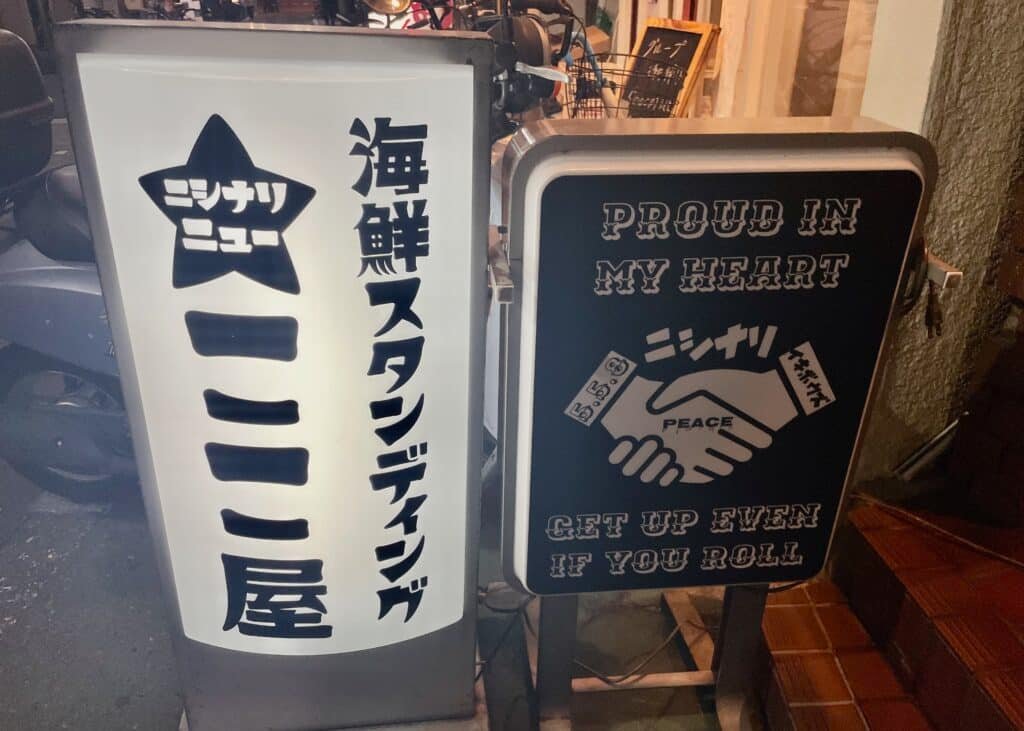 Ikibozu wrote and sang the theme song to Nishinari Peace. During breaks in their shifts, the restaurant staff of New Kokoya provided background vocals at the recording studio upstairs. He also cut a New Kokoya song and hopefully both songs will be available to the public soon because they are really catchy, with great lyrics, and fun to sing along. Ikibozu sang about how people end up places like this and make friends: "My hometown is Wakayama, by the sea. But now I'm a Nishinari man. I've drifted along and ended up here. Each encounter was a miracle."
Wes and I were having the time of our lives drinking cocktails and listening to music—simple pleasures in life that we often take for granted, but the witching hour was approaching. As the song says, you have to know when to fold them, know when to walk away. We quickly finished our drinks, wandered out into the beautiful Osaka night and took the train home.