Introduction 朝酒は門田を売っても飲め
If I were to tell you that I drank a beer with breakfast this morning you might be tempted to make a snarky comment about my liver and tell me I had a drinking problem. Day drinking often gets a bad rap and many people still swear by the old adage that you shouldn't start drinking until 5 p.m. Few people, however, would bat an eye at someone enjoying a couple of cocktails in the afternoon or sharing a bottle of wine during lunch. But drinking in the early morning? That's something you read about in a Charles Bukowski story about hardened barflies in flop houses on skid row. It also brings to mind the hilarious Onion headline: "Man Drinking Beer At 7:30 A.M. On Bus May Be Onto Something".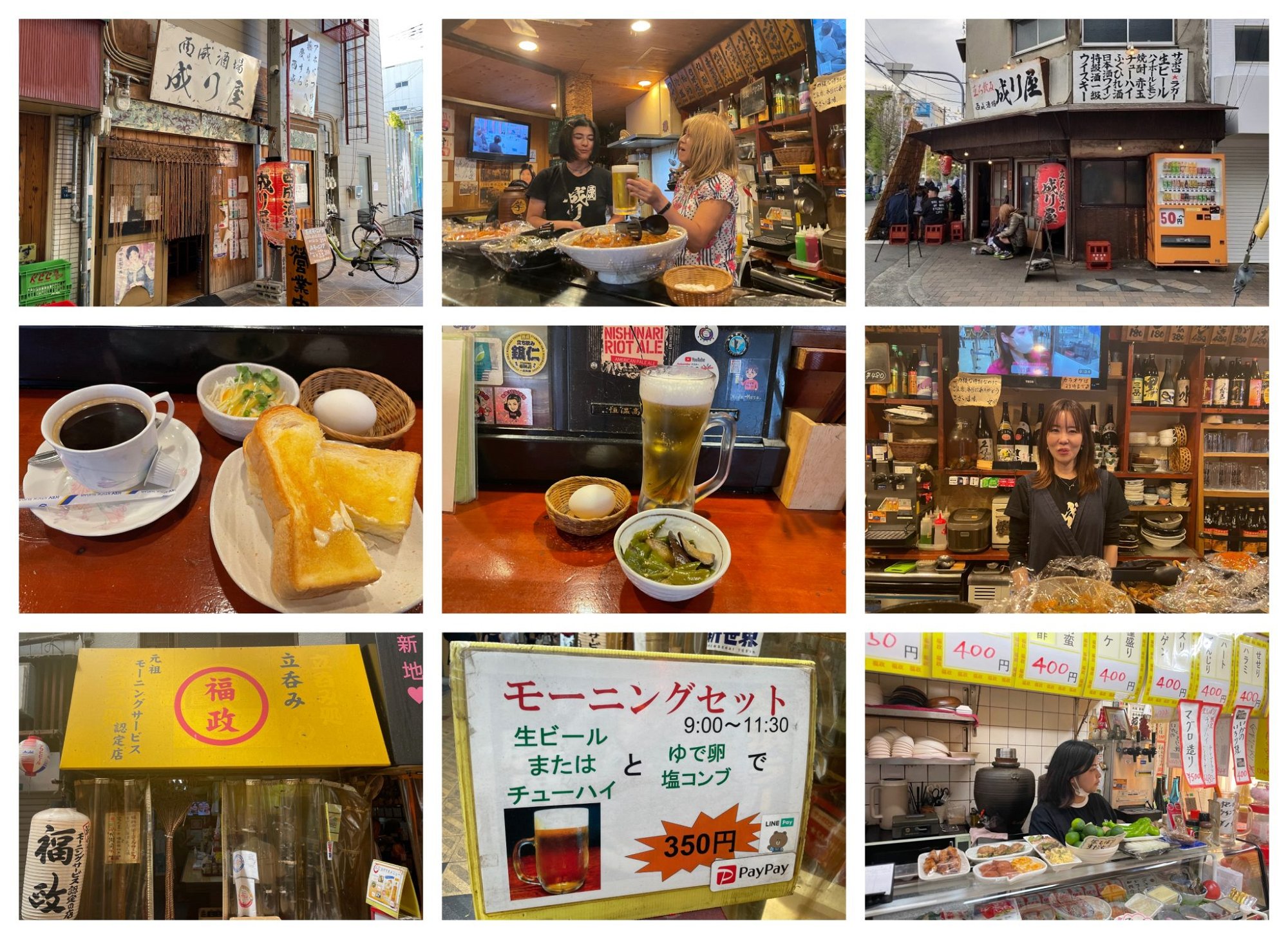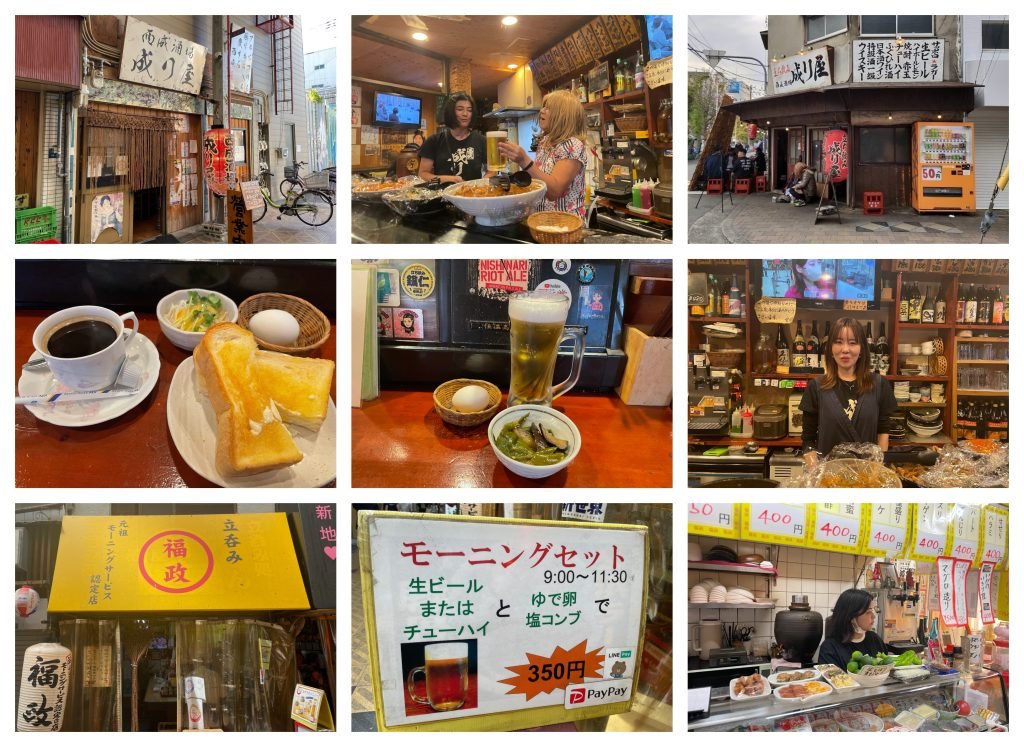 Asazake 朝酒(morning sake) and hirunomi 昼飲み(day drinking)
I don't think the "five o'clock rule" really applies to Japan, a country in which both asazake 朝酒(morning sake) and hirunomi 昼飲み(day drinking) are considered quite normal. There is an old Japanese proverb used to describe the delicious taste of morning sake: "Asazake wa kadota wo uttemo nome" that roughly translates as "Drink sake in the morning even if you have to sell your best rice field." (Kadota 門田 is considered the best rice field because it is closest to the entrance of the house). An English equivalent is "Our fathers which were wondrous wise, did wash their throats before they washed their eyes."
Don't get me wrong. I am not suggesting going on an early morning drinking spree on a workday. We're talking about a choi nomi (ちょい飲み), a wee drink on your day off. Here is a selection of 4 early-morning restaurants all located in walking distance from one another in Nishinari and Naniwa Wards. All of these places have extensive menu items, but I have selected dishes that are the most suitable for breakfast.
Nariya 西成酒場成り屋 (9:00 A.M)
Address: 1 Chome-14-10 Sanno, Nishinari Ward, Osaka, 557-0001. Tel: 06-6556-7789 Open: 09:00-23:00.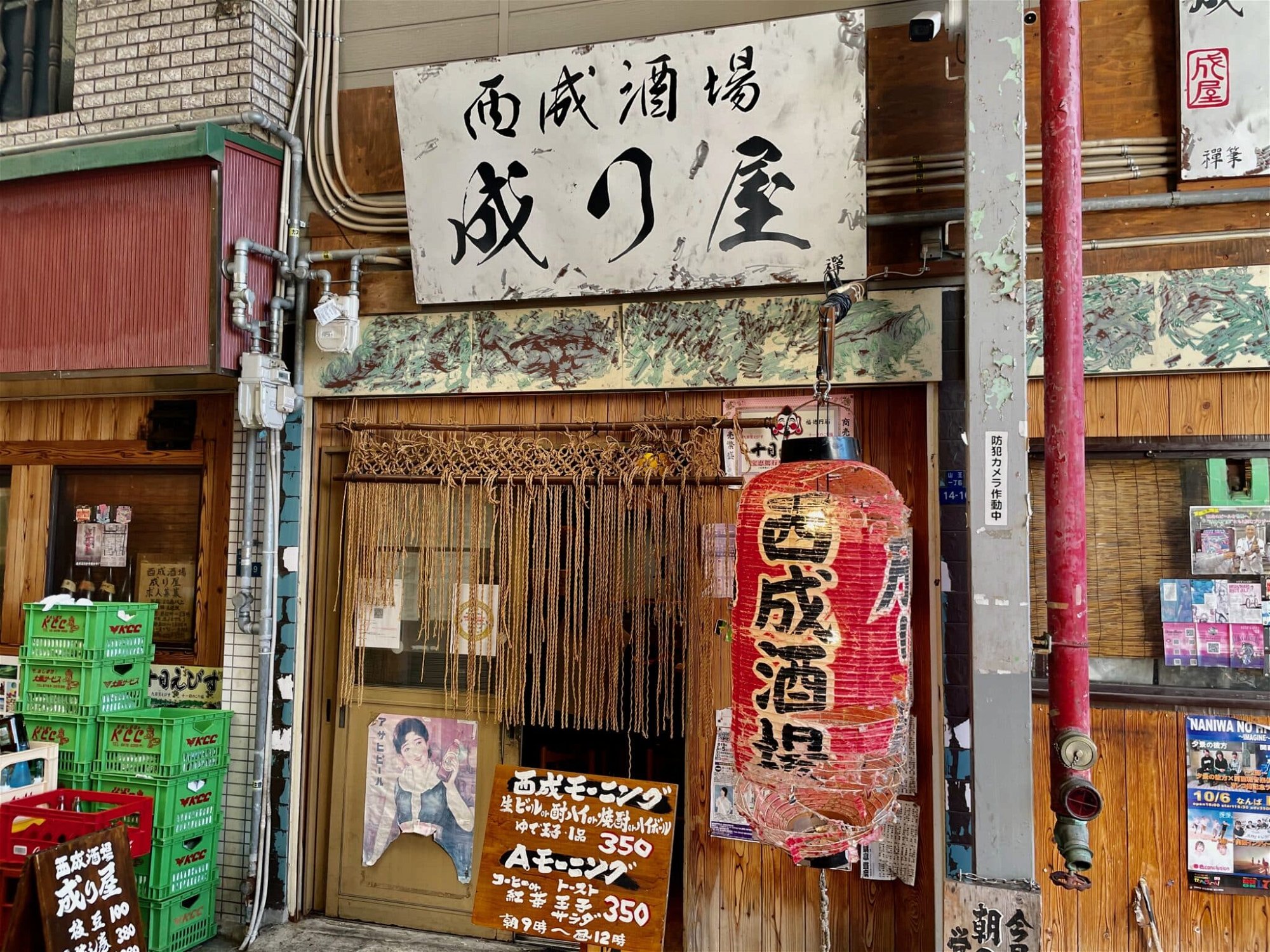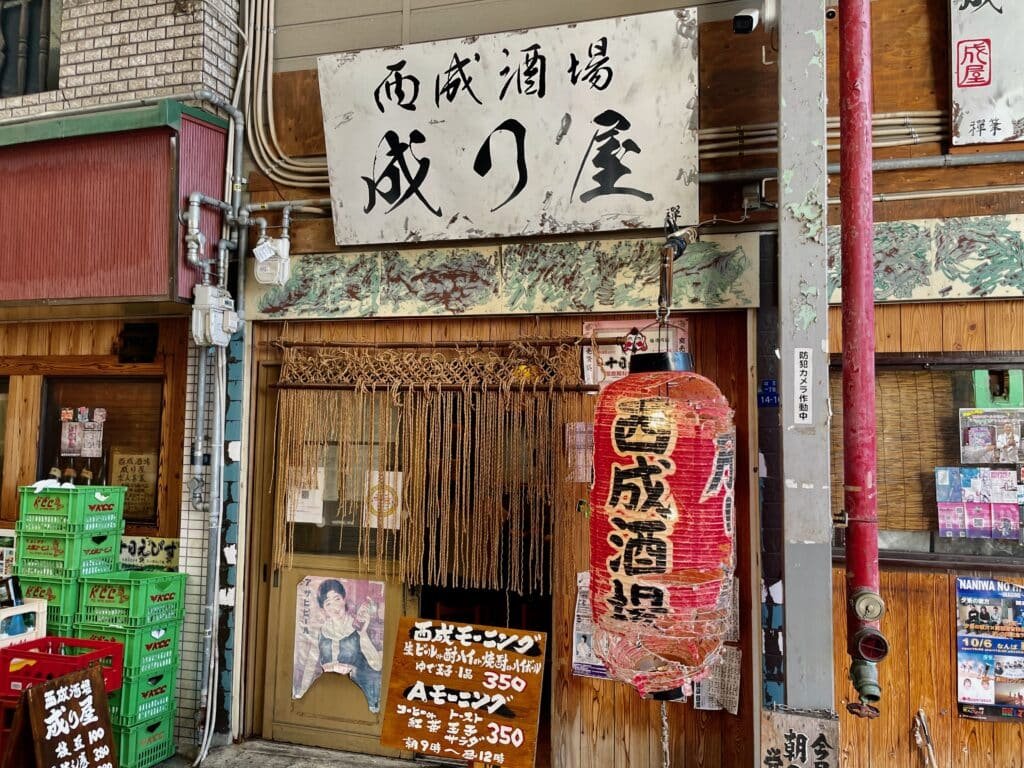 Nariya is located in the Tobita Shotengai, a 100-year old shopping arcade in heart of the backpacker district in Nishinari by Exit #2 of Osaka Metro Dobutsuenmae Station. Although Nariya has been open for only five years, it quickly became a neighborhood favorite with long time residents and travelers. Owner Hiromi Hidaka, who started the business in her early 20s, has a knack for putting together high quality food at very low prices with staff made up of friendly local characters straight out of Lou Reed's masterpiece "A Walk on The Wild Side". Nariya has been so successful that it has spawned three sister shops: a standing bar in Nishinari (see below), a smaller location in Jan Jan Yokocho in Shinsekai and a bar on the Sennichimae in Namba that serves cocktails.
Morning Set: Coffee Tea or Alcohol?
The word kosupa (コスパ) means "cost performance" and Nariya soon became famous in Nishinari for offering two type of inexpensive breakfast sets for under one coin. The "A" Morning Set is the typical set you would find in Osaka, consisting of a hardboiled egg, a small salad, toast and hot coffee or tea. The Nishinari Morning, however, consists of a hardboiled egg, a daily appetizer and your choice of draft beer, chuhai or a highball. Both sets are only 350 yen, which as of this writing is only $2.37!
I first visited Nariya around 9:30 on a Saturday when it was packed with workers from the many bars, restaurants and clubs that make up the mizu shobai or water trade coming off an all-night shift of entertaining customers. There was only one free seat at the counter and I was lucky to get a seat. I ordered the Nishinari Morning Set with a draft beer from the only employee, who had her hands full preparing a backlog of breakfast orders.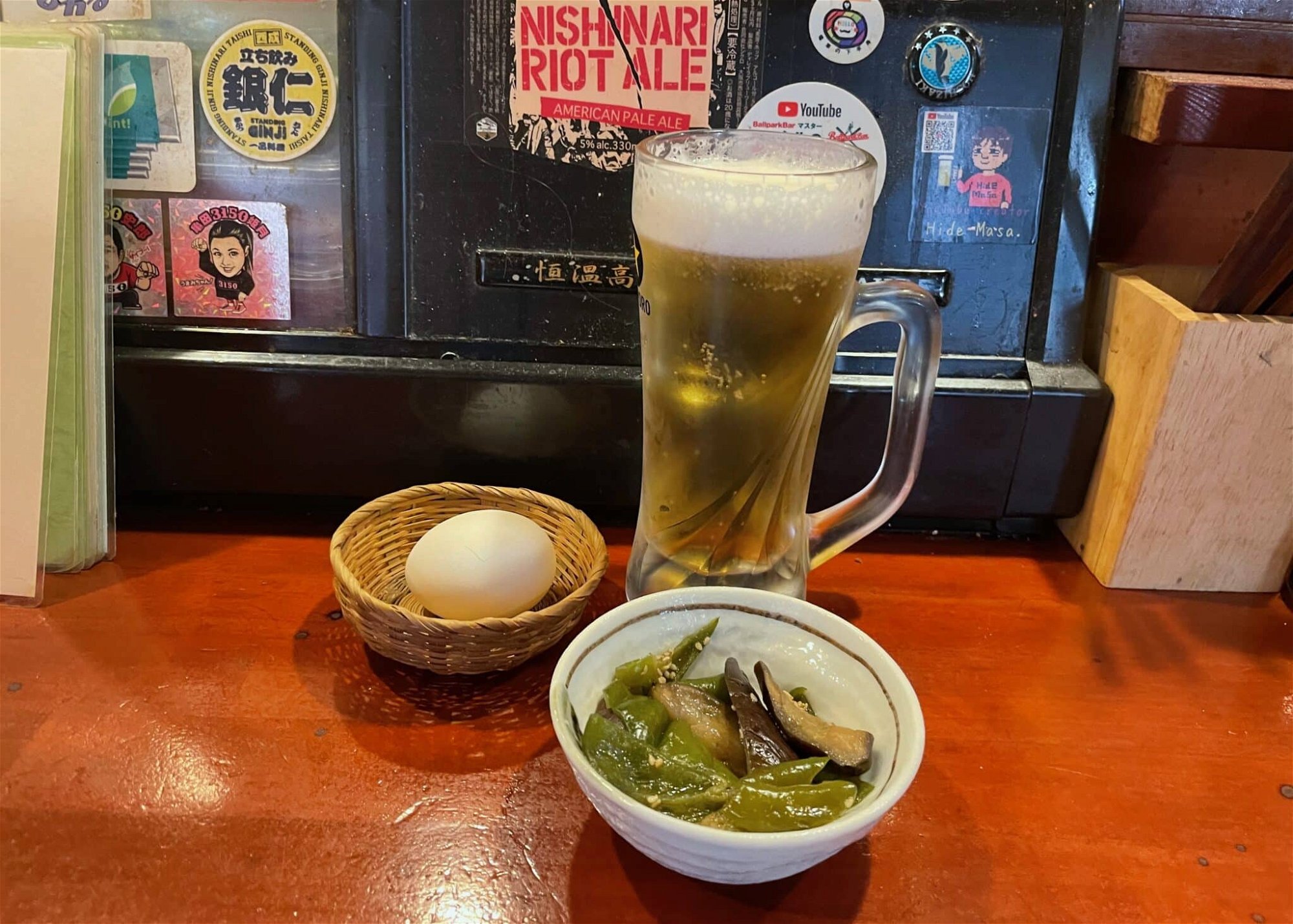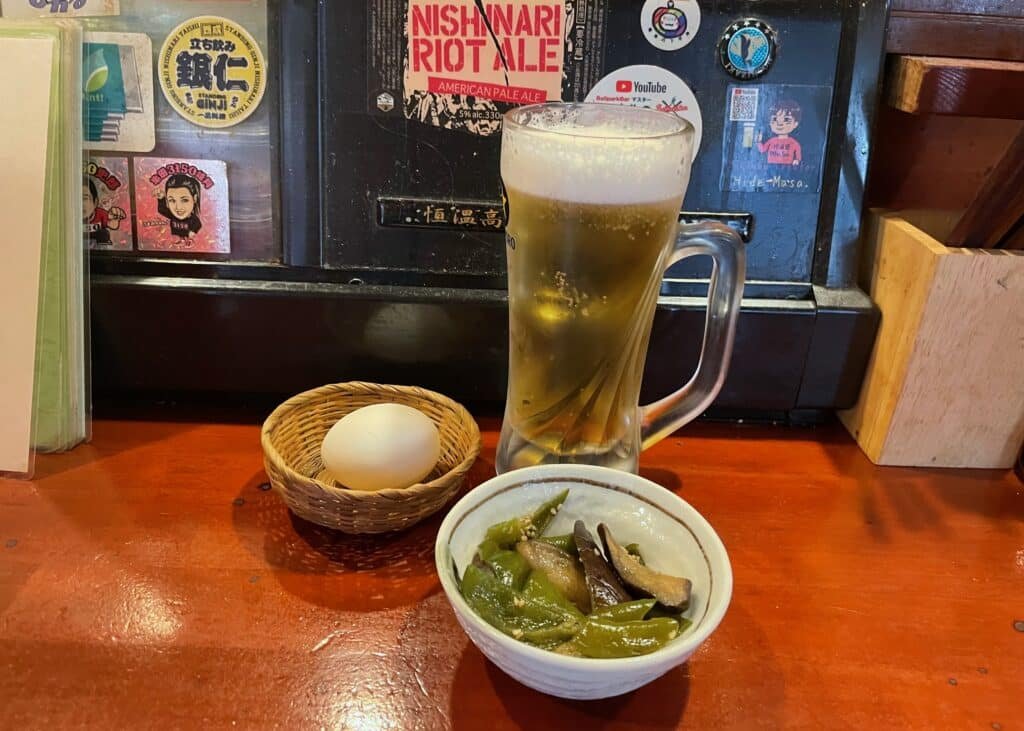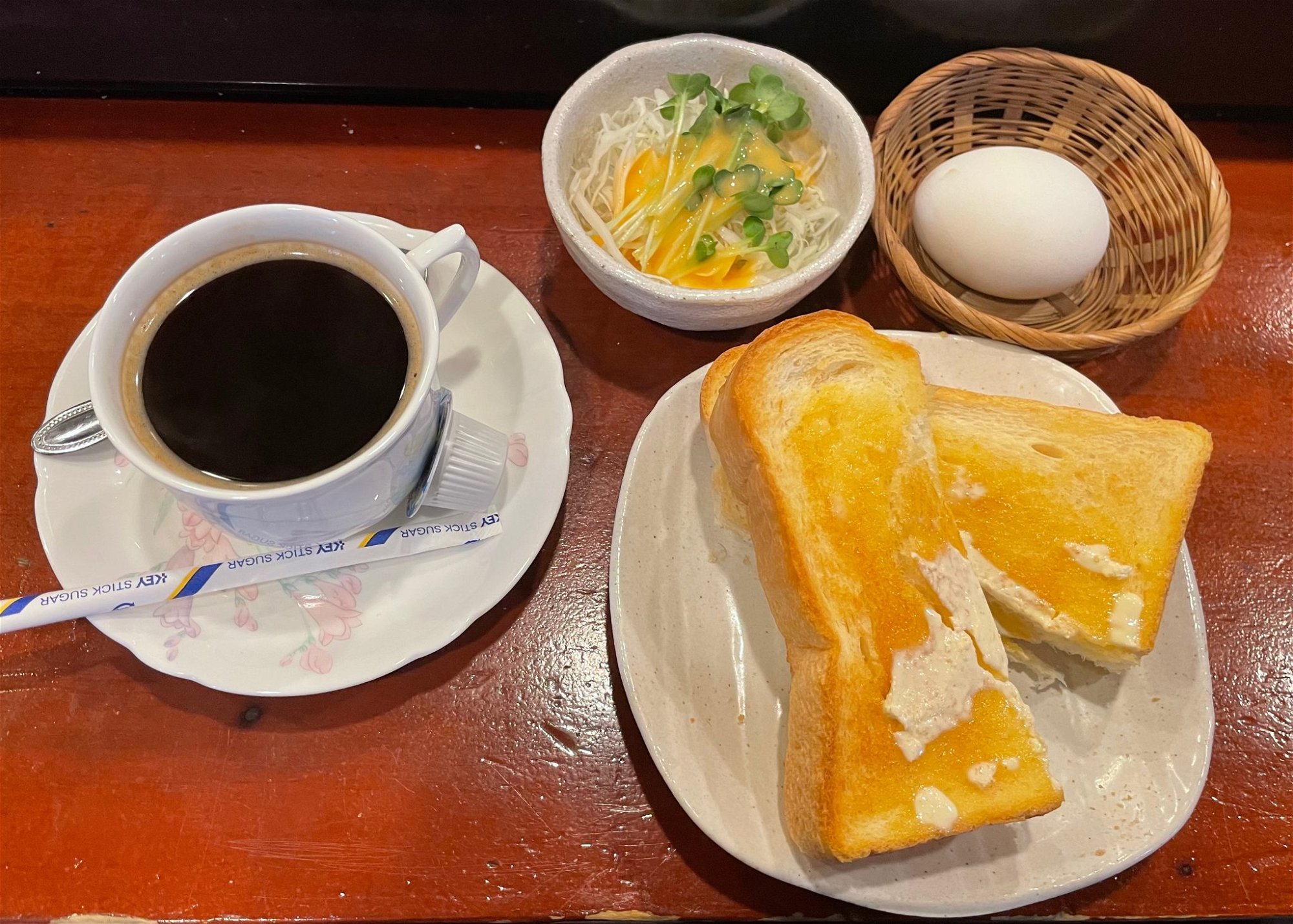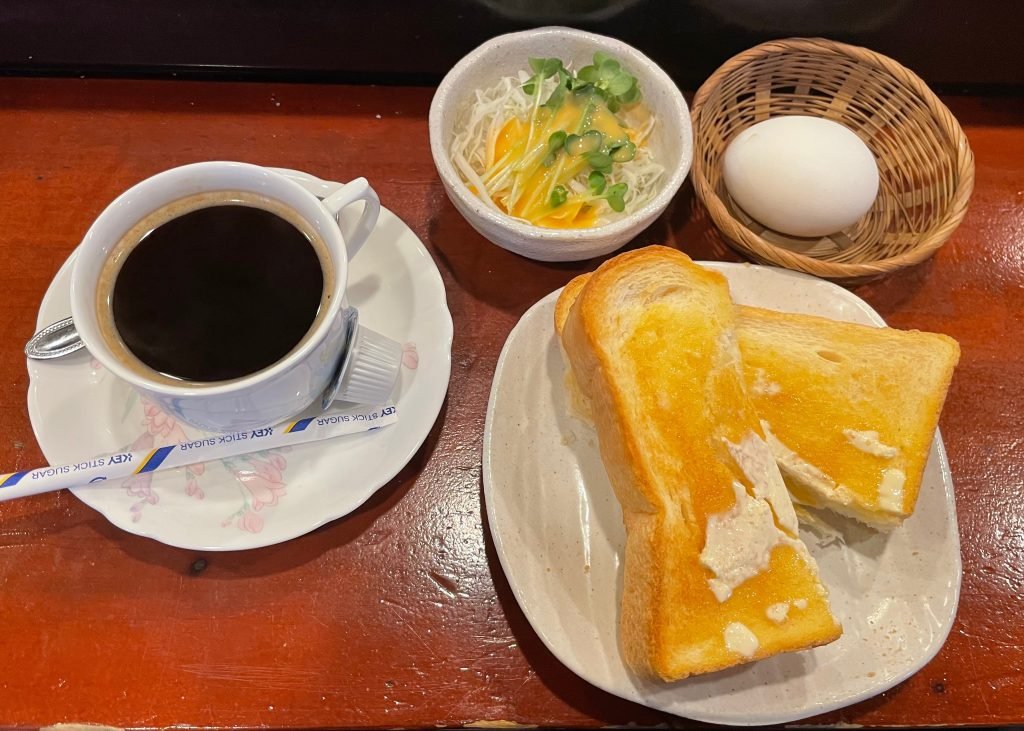 While I was waiting for my order a middle aged male customer sitting next to me shouts out: "Onesan, Where is my toast? I've been sitting here for 10 minutes! "Shut up!,"said the female employee. "Can't you see the place is packed and I've got a bunch of orders!" "I'm sorry, said the customer. "Don't be angry at me!" The employee replied, "I'm working as fast I can!"
It took me a couple of moments to realize that the customer is actually a regular and "complaining" was just playful banter, the kind found in Japanese comedy called manzai. By responding to the "irate customer" the employee was able to announce that she was a bit behind orders in a fun and entertaining way that made the other customers laugh. (Believe me, it sounds funnier in Osaka dialect. This is just a rough translation from memory.)
Ramune Momojiri: Drag Queen Funk Bass Guitarist
Before you could say manic pixie dream girl, help arrived minutes later in the form of an angel from heaven: a middle aged drag queen(女装) in a blond wig named Ramune Momojiri, who quickly got the orders up to speed while posing for photos and cracking jokes. Ramune, who has her own YouTube channel, can often be seen outside the other Nariya in Nishinari playing funk music on bass guitar.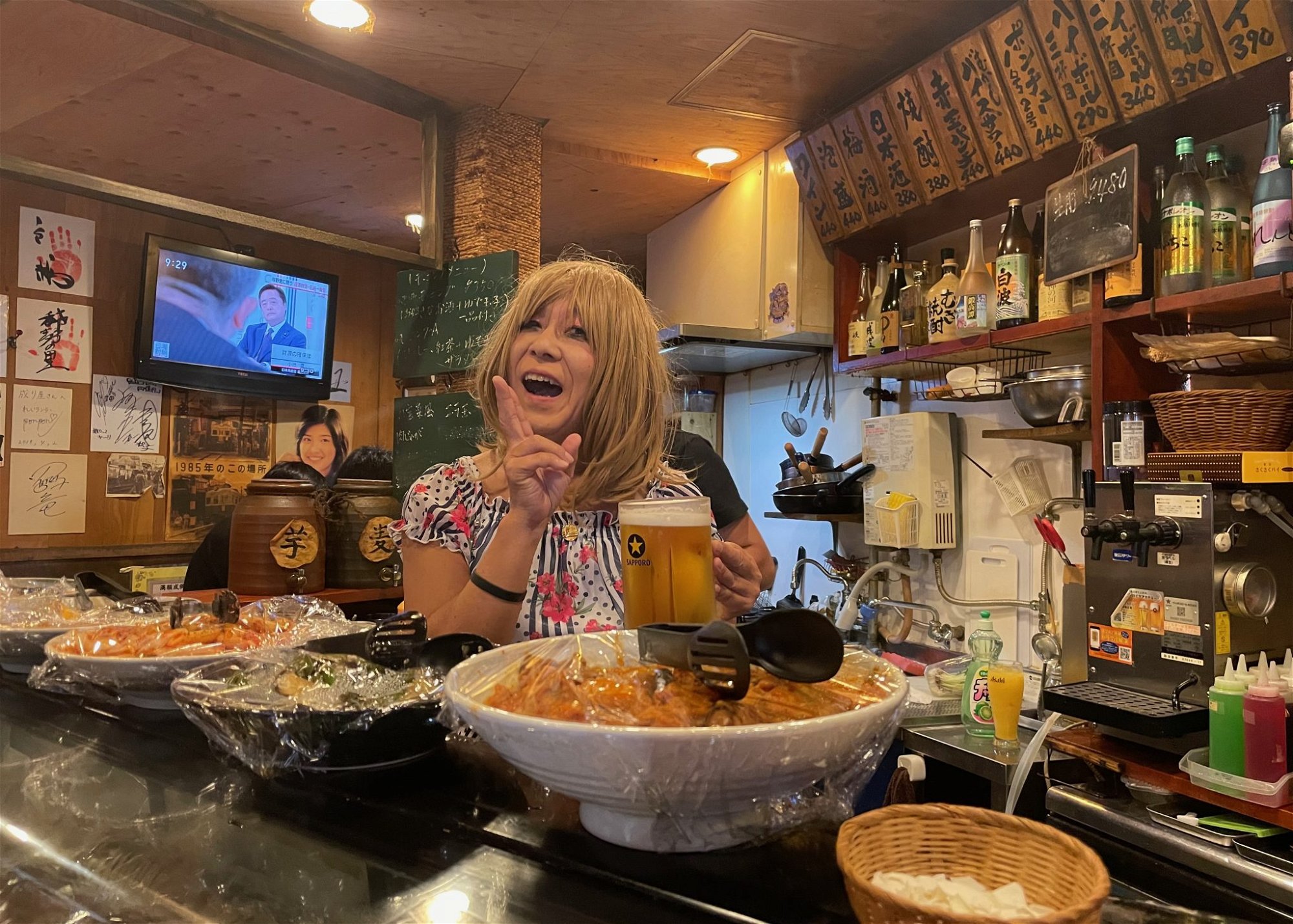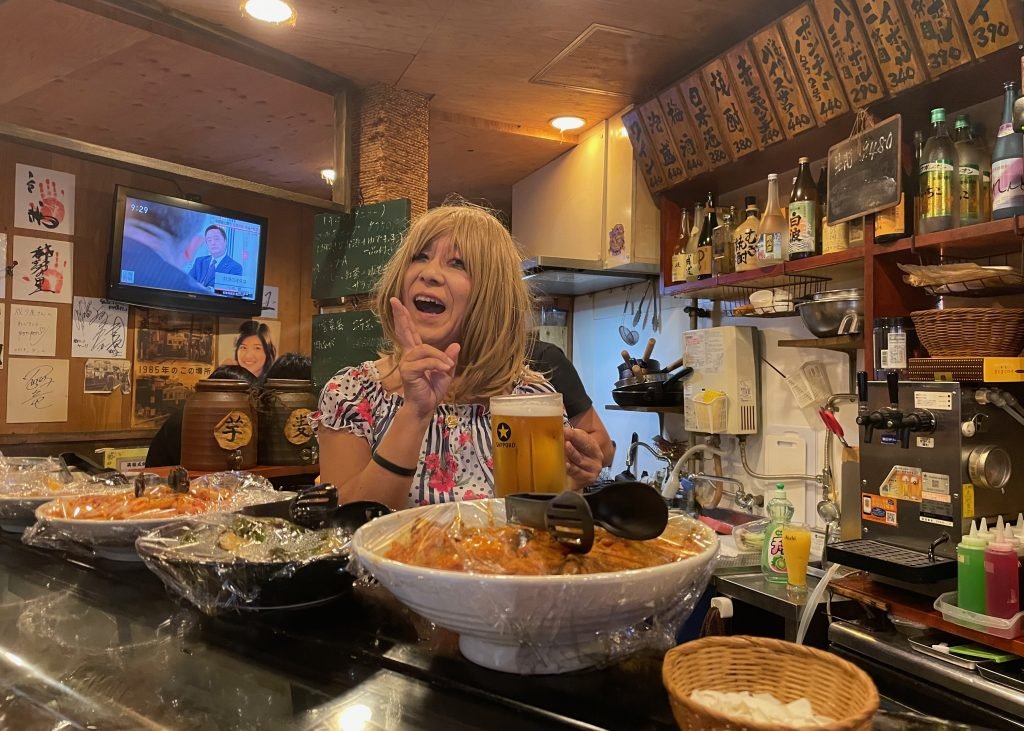 Nariya also offers karaoke, which sounds like a recipe for disaster in the morning, but the customers and staff belted out impressive renditions of nostalgic enka tunes and hit pop songs. Who doesn't want to hear a killer version of U.F.O. by Pink Lady while having beer and eggs for breakfast? Unfortunately, I may have killed the mood by belting out My Way—the Sid Vicious version. It's my go-to karaoke song but I may have to retire it soon. That being said, I absolutely refuse to sing By The Way by The Red Hot Chili Peppers, which seems to be the Millennial karaoke anthem among foreigners in Japan.
Meeting the Owner of Nariya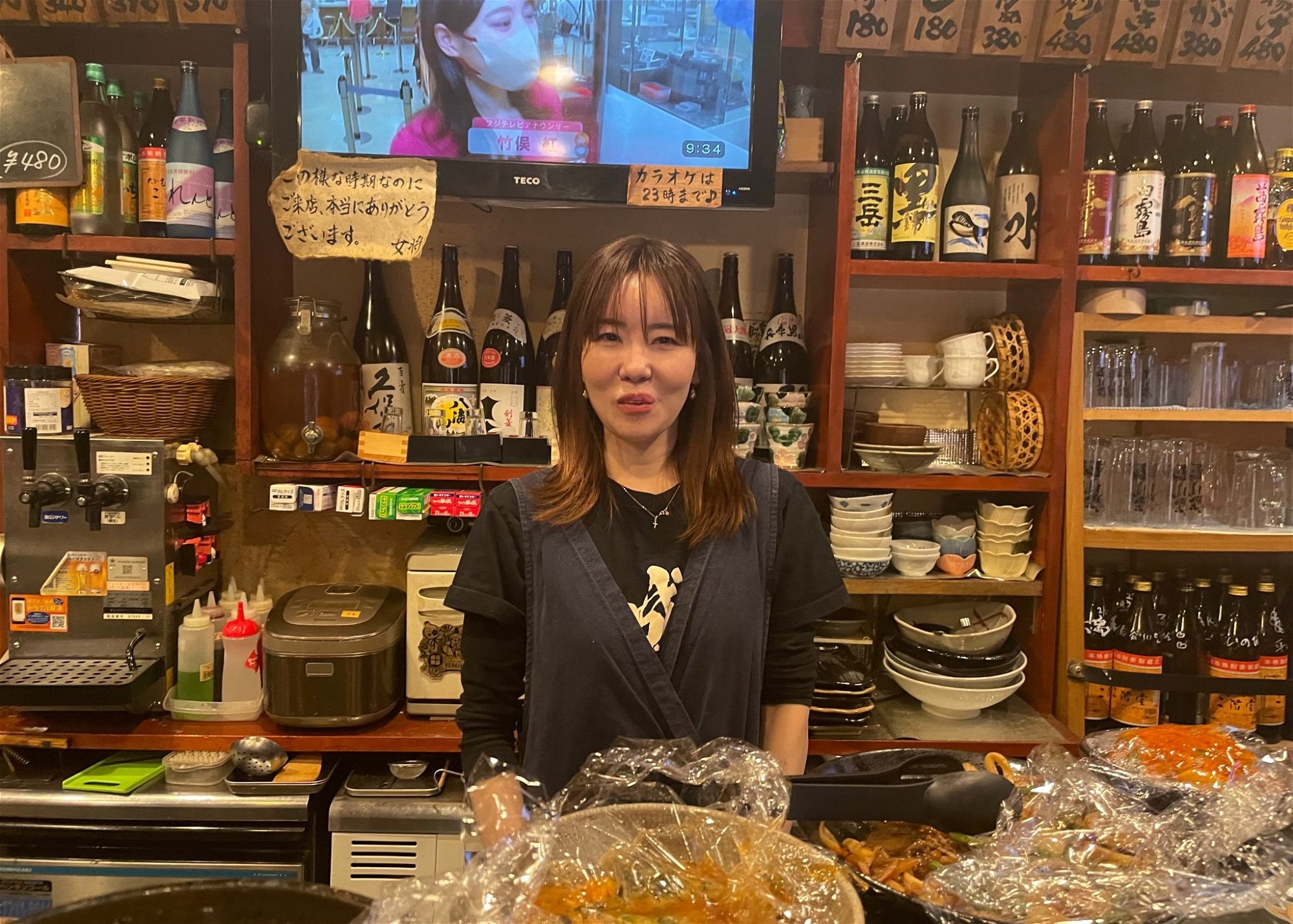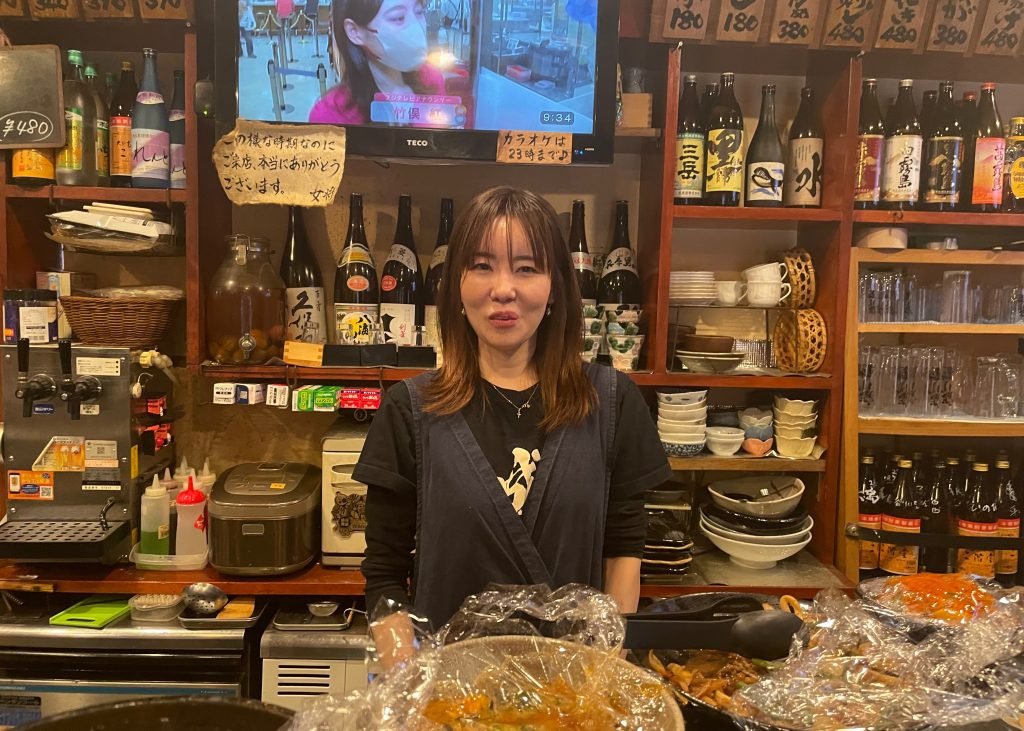 On my second visit to Nariya I met Hidaka-san, the aforementioned owner of Nariya, who was incredibly friendly and welcoming. I can see why Nariya attracts customers of all walks of life. This time I decided to forgo alcohol and ordered the "A" morning set with coffee. The buttered toast look so good that I took a bite before taking a photo of the entire set. Thankfully, Nariya offers toast as a side dish and I got the shot.
There is one thing that I probably will never try at Nariya. There is a rather large jar of habushu on the counter aka Okinawan Snake Wine. There is literally a dead viper in the jar. I know that the late Anthony Bourdain once at a warthog anus in Nambia, but this is where I draw the line. If anyone has tried habushu before, let me know in the comments.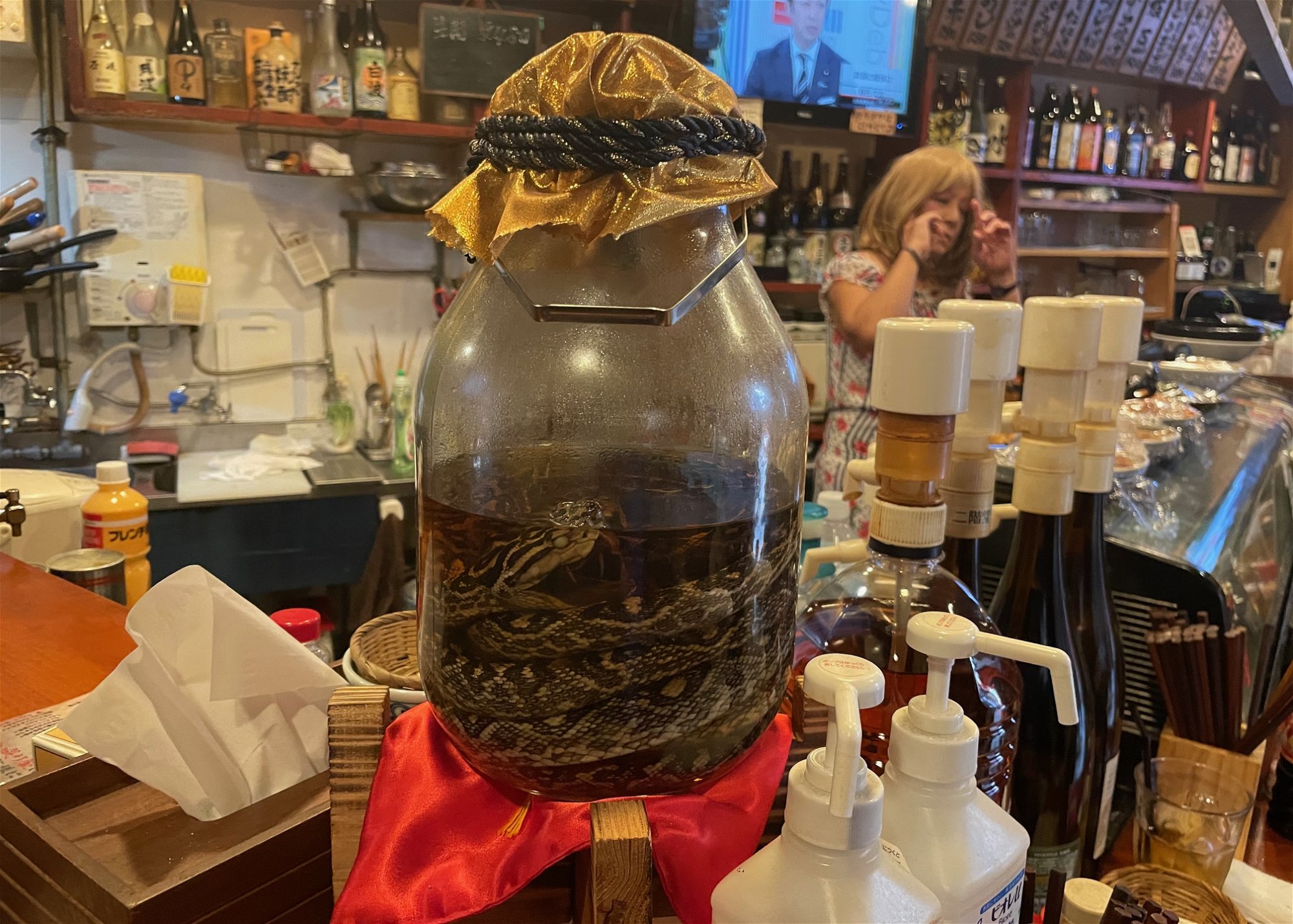 Standing Bar Nariya 立ち飲み西成酒場成屋 (9:00 A.M)
Address: 3 Chome-2-5 Haginochaya, Nishinari Ward, Osaka, 557-0004. Tel: 06-6648-8186. Open: M-F 09:00-18:00; Sat, Sun 09:00-20:00.
You often hear about how chains ruin and gentrify local neighborhoods, but there are cases in which a local restaurant can expand organically and actually improve a neighborhood without infringing on its character. Standing Bar Nariya is located directly across the street from Sankaku Koen aka Triangle Park. Not the one in Amemura, but the one in Nishinari that has a lot of homeless day laborers.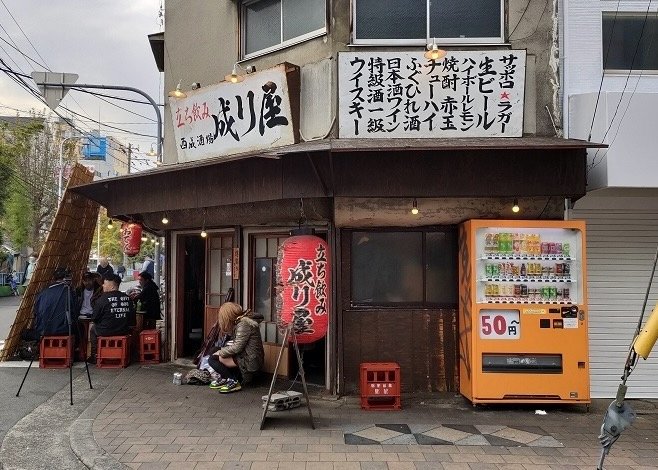 Ramune-san getting ready to play bass at Standing Bar Nariya
Although there are still plenty of YouTubers who make videos with sensationalist clickbait titles such as The Most Dangerous Slum in Japan, Nishinari is steadily improving and has become a popular tourist destination for food tours. Nariya offers the best of both worlds: Authentic Osaka street food that will appeal to tourists at prices that locals on a fixed income can afford.
Mezamezake: Wake-Up Sake 目覚め酒
Take the drink menu, for instance. From 9 A.M. to 12:00 mezamezake 目覚め酒 (wake-up sake), your first order of draft beer, chuhai or a highball cocktail is only 180 yen ($1.22). You can also get filled up on edamame (100 yen, 68 cents), potato salad (280 yen, $1.90), Tulip chicken (380 yen, $2.57) nikudofu (meat tofu, 380 yen) or their famous naporitan spaghetti (480 yen, $3.25)! With inflation skyrocketing, these are not normal in a major metropolitan city in 2023.
Don't feel like drinking before noon? Not a problem. Standing Nariya also has a sliding system for highball cocktails: Your first drink is 280 yen ($1.90); the second is 230 yen ($1.56) and your third is reduced to a measly 180 yen ($1.22). That's three potent alcoholic beverages for less than the sales tax at most cocktail bars.
Once inside, be sure to try the tori momoyaki chicken (grilled chicken leg, 380 yen) and ham steak. I want to say that this ham steak is the closest thing you can find in Japan to genuine Canadian bacon, but some Canadians I know might get offended, so I will bite my tongue. I don't want to get kicked in the noggin with the business end of a size 12 Sorel boot!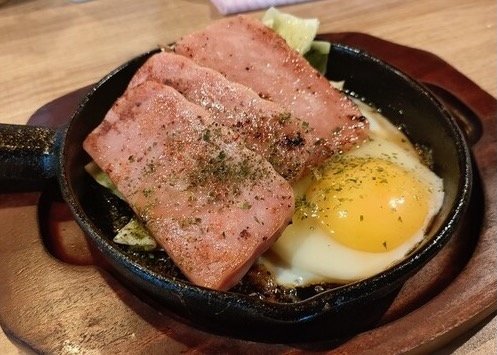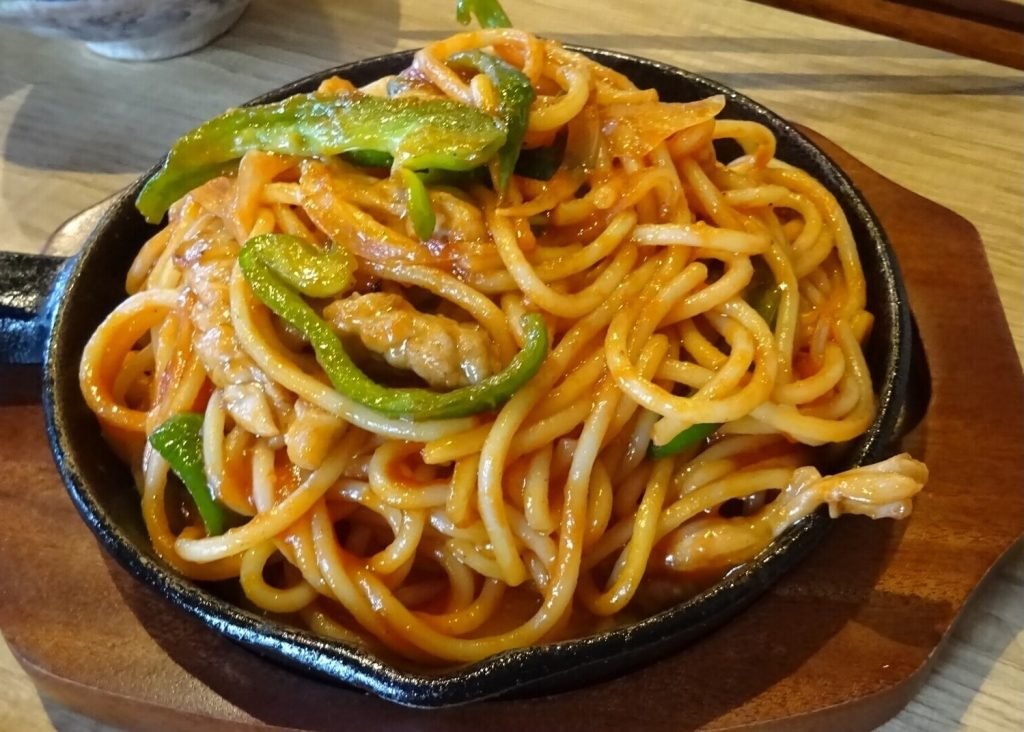 Fukumasa  立ち呑み福政 (9:00 A.M)
Address: 3 Chome-4-7 Ebisuhigashi, Naniwa Ward, Osaka, 556-0002. Tel:N/A Open: 9:00-20:00. Closed: Mon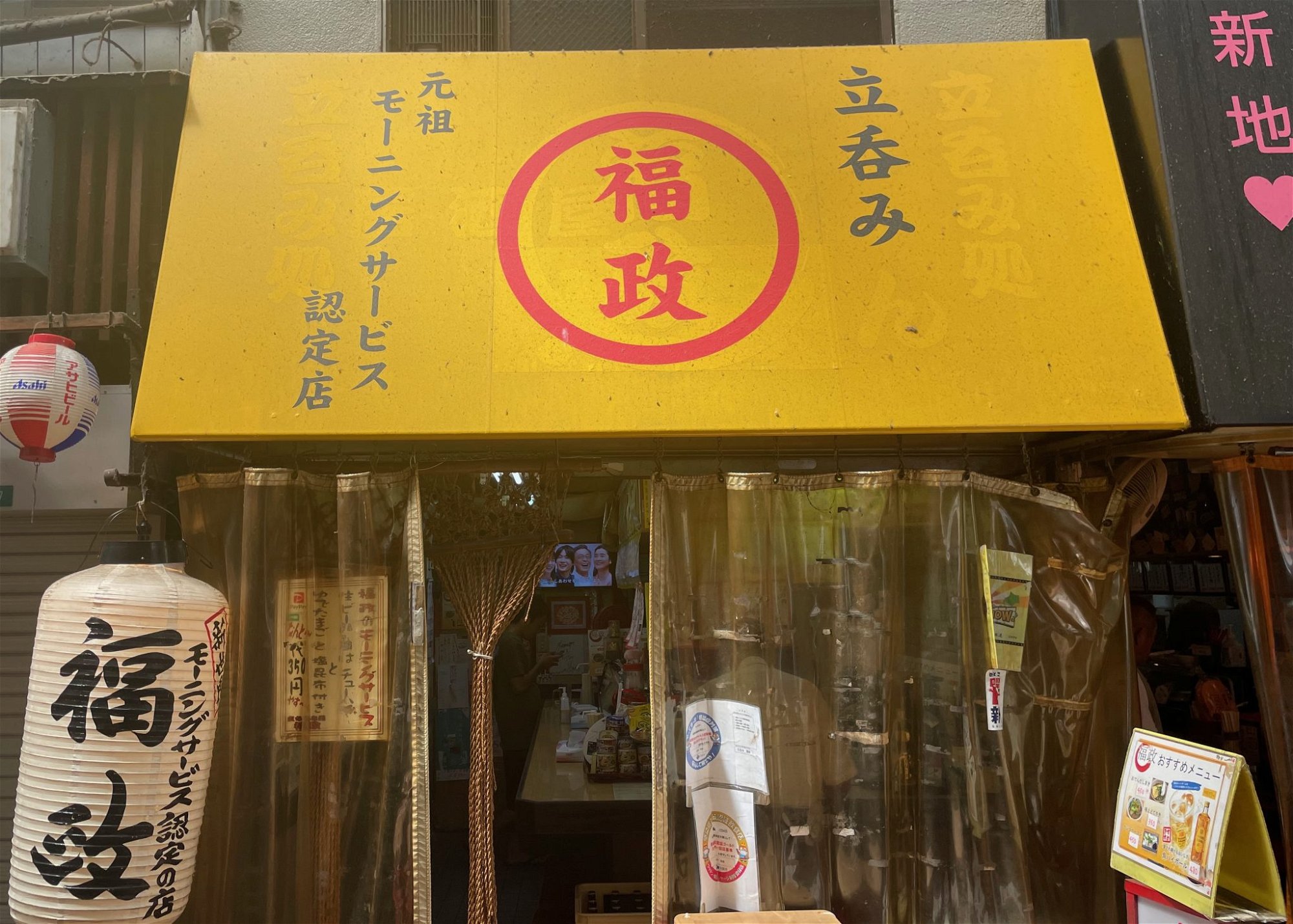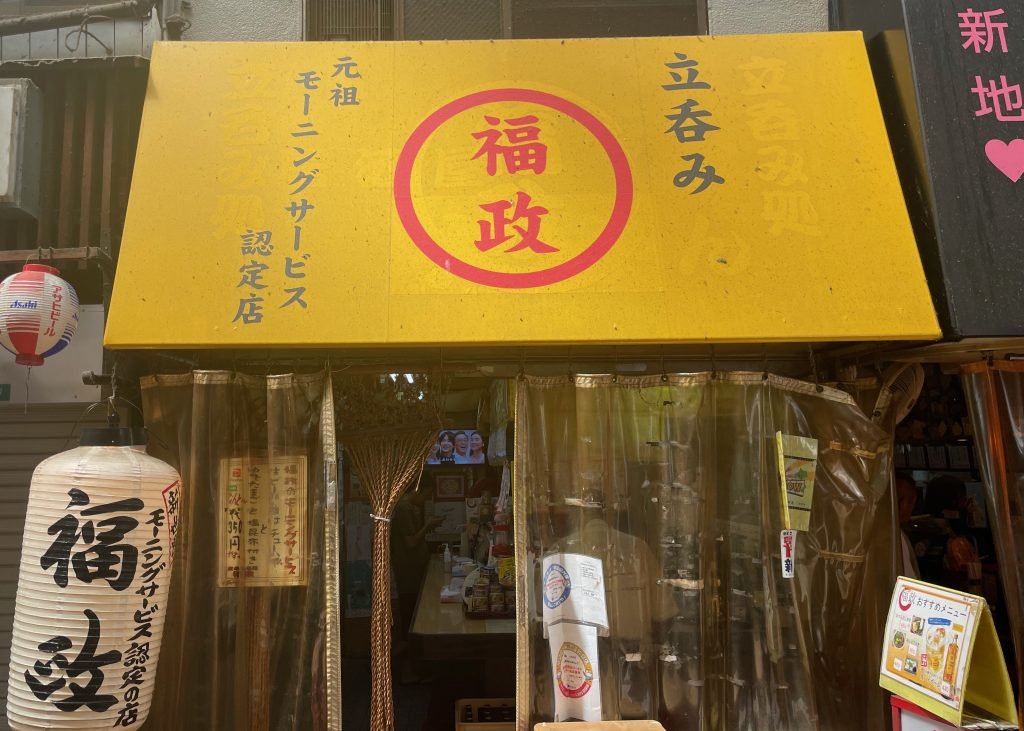 I could have titled this article Early Morning Restaurants in Nishinari…except for one small problem. Jan Jan Yokocho and Shinsekai, which are often featured in articles about the ward, are actually in neighboring Naniwa Ward. Imagine Cliff Clavin, the know-it-all postal worker from the TV show Cheers trying to explain the difference:
"Excuse me buddy, Did I just hear you say that you had great kushikatsu at Shinsekai in Nishinari? I don't mean to burst your bubble, fella, but it's a little known fact that Jan Jan Yokocho and Shinsekai are not actually in Nishinari-ku (西成区), but in Naniwa-ku (浪速区). Oh, you knew that and you were just speaking colloquially. Well, friend, maybe you start respecting the boundaries as determined by the fine city of Osaka! As a postal worker with 25 years of service I feel that we should honor the postal codes of each ward. I should do WHAT to myself? Hey mac, you are out of line. It's a common misconception that…. Do I want to step outside…why would I want to…OK I'll finish my beer and be quiet."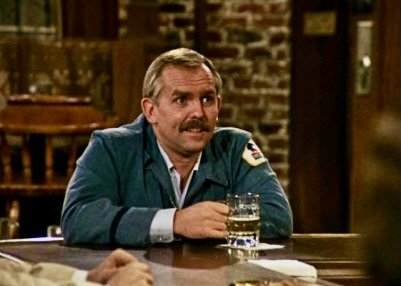 Fukumasa was one of the first places in the area to offer the morning set with beer…and the 350 yen ($2.37) price hasn't gone up in ten years! I can tell you this from personal experience. In 2013, my friend Mike and I decided to try the morning set, which was then offered at 8 A.M. When I saw Mike standing at the end of Jan Jan Yokocho I couldn't believe we both got up on 6 A.M. and rode on the train to actually try this set. What were we thinking? It was something that never happened again…until now (at least for me).
If you ever explored Osaka at dawn you'll feel a sense of tranquility. The streets are being cleared of rubbish, storeowners are sweeping the floors and preparing for a new day of business. The streets are almost empty at this time, even in areas that are full of tourists later in the day. It's nice to walk around and enjoy the peace and quiet before the morning rush hour.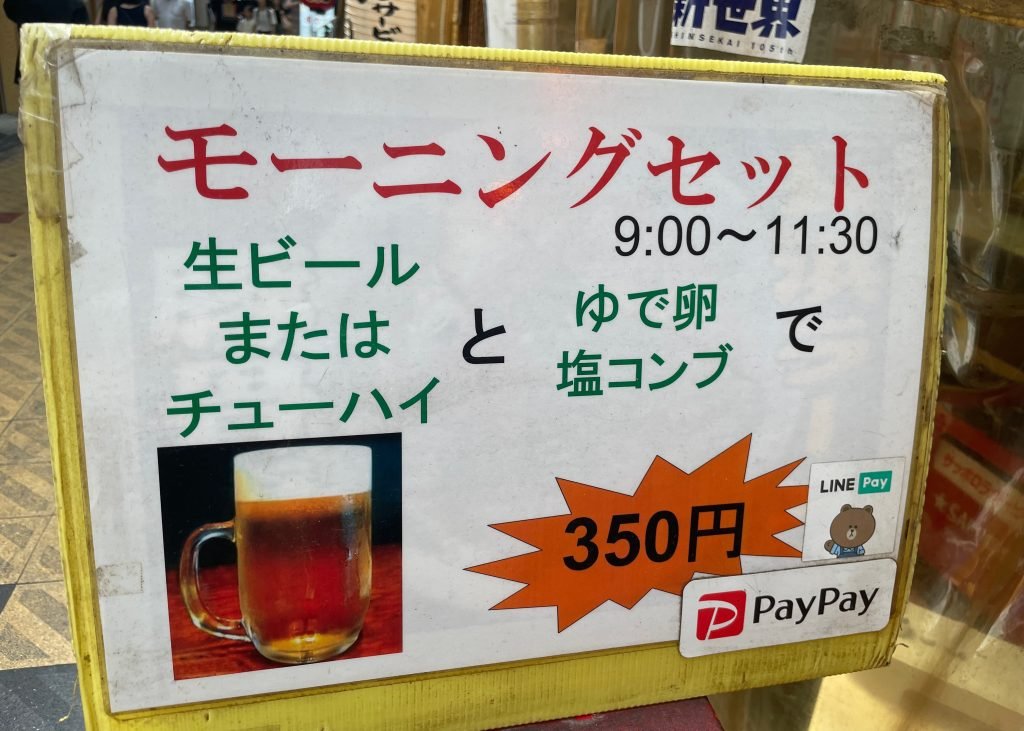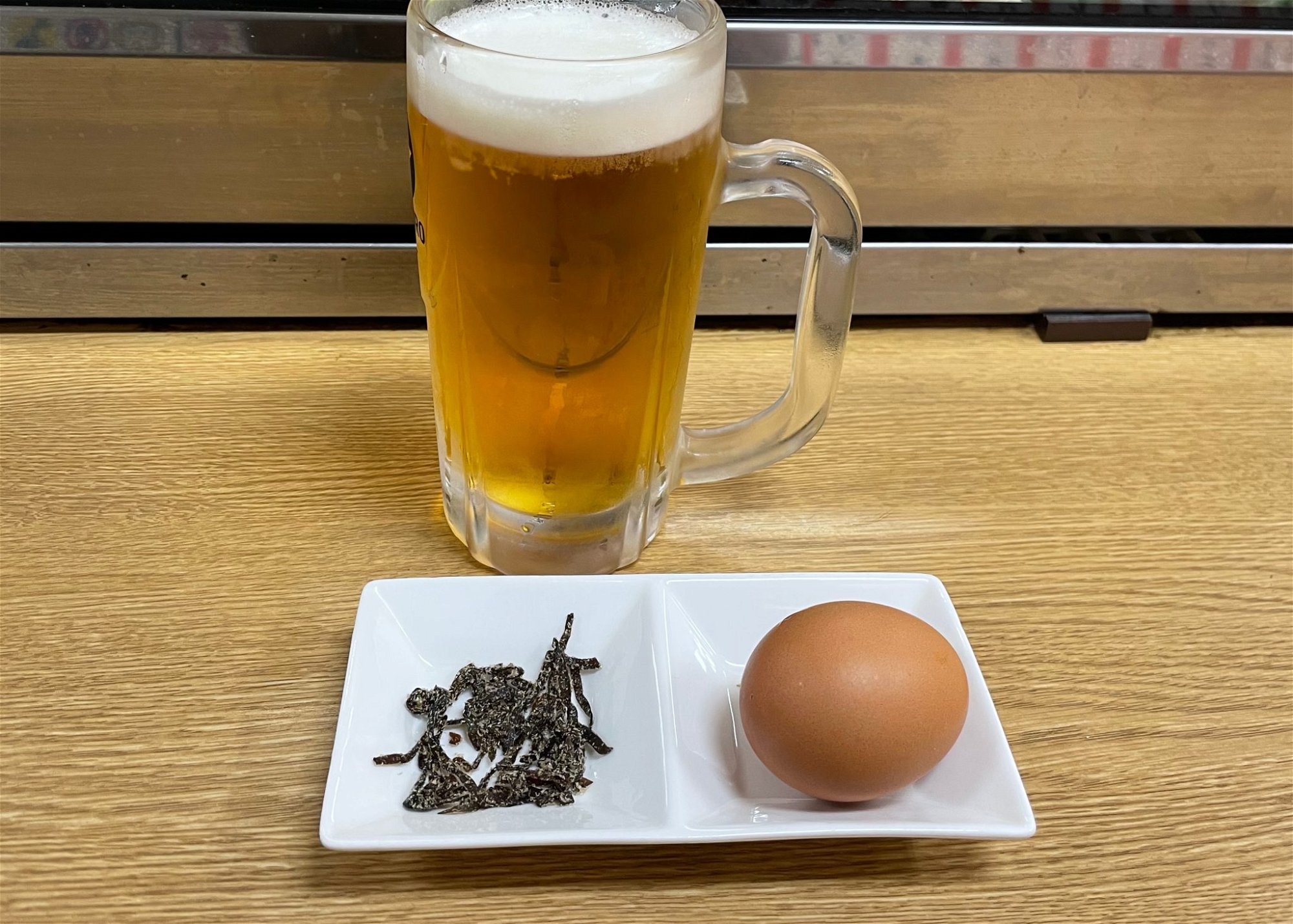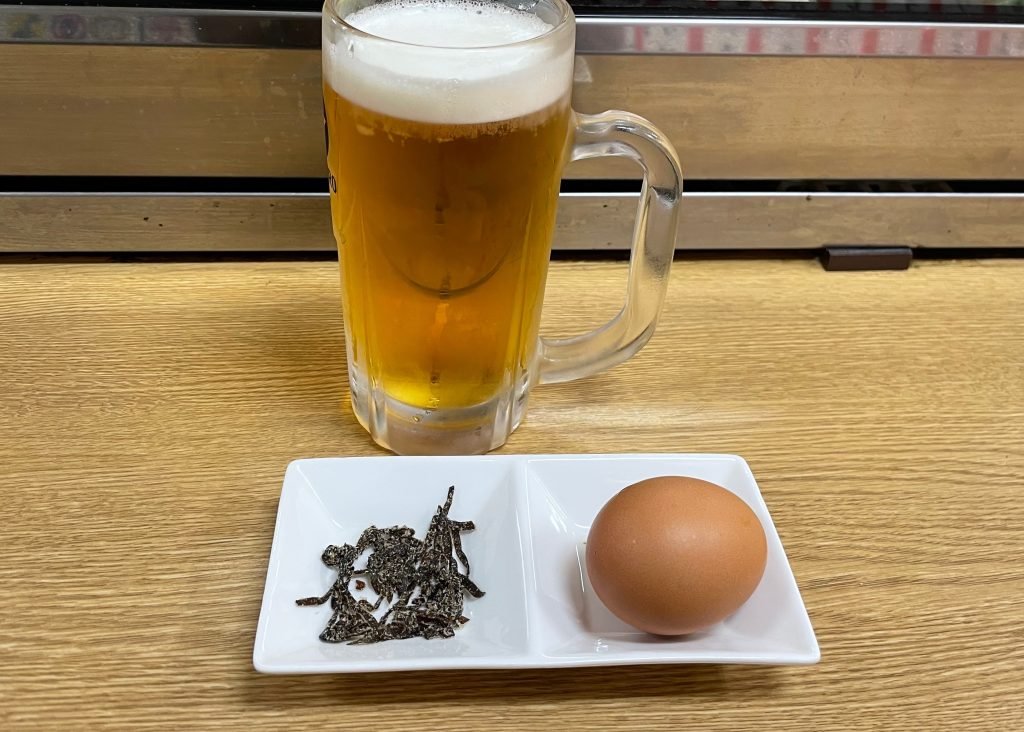 Fukumasa had only been open for a couple of years at the time—I believe it replaced a beloved standing bar that had been a fixture in the neighborhood for many years. Back then it was known as a "girls bar" because of the young attractive staff and was usually packed with early morning drinkers.
When we went there we met a man from Tohoku who had just come off the night shift at a factory. He spoke a thick dialect of what is called "zuzu ben" that is hard for many Japanese to understand. I only understood half of what he was saying. But it made me realize that someone is always coming off the night shift: convenience store workers, hotel staff, taxi drivers, night club workers. The people who work hard to make our lives easier in the big city.
Return to Fukumasa
Going back to Fukumasa was like putting on a pair of comfortable old shoes. The newness was gone, the pictures on the wall faded. It looked like a neighborhood joint that has aged with grace and style. It wasn't as packed as in 2013, but there were a couple of regulars who came in and ordered the morning set. One regular from Kyoto who works nights in Osaka said he comes almost every day for breakfast.
I needed a little more food in my stomach to handle a frosty mug of beer in the morning, so I ordered a dish of food for 400 yen that had dashimaki tamago with meat, piman nikuzume (green pepper stuffed with beef) and a reddish fish that I had never heard of called called menuke (pacific ocean perch). The damage came to 750 yen ($5.08). A great deal for that much food with a draft beer or chuhai.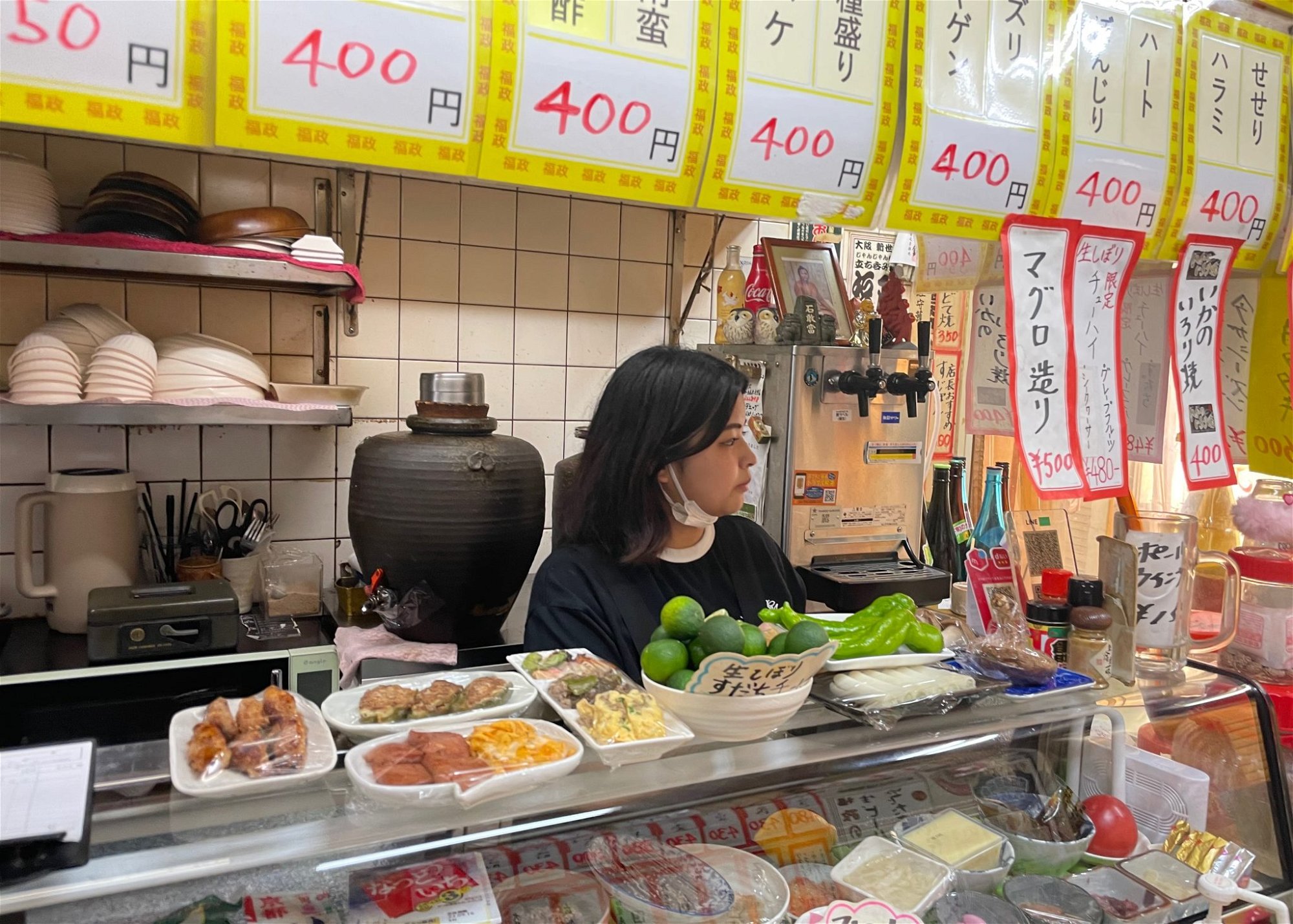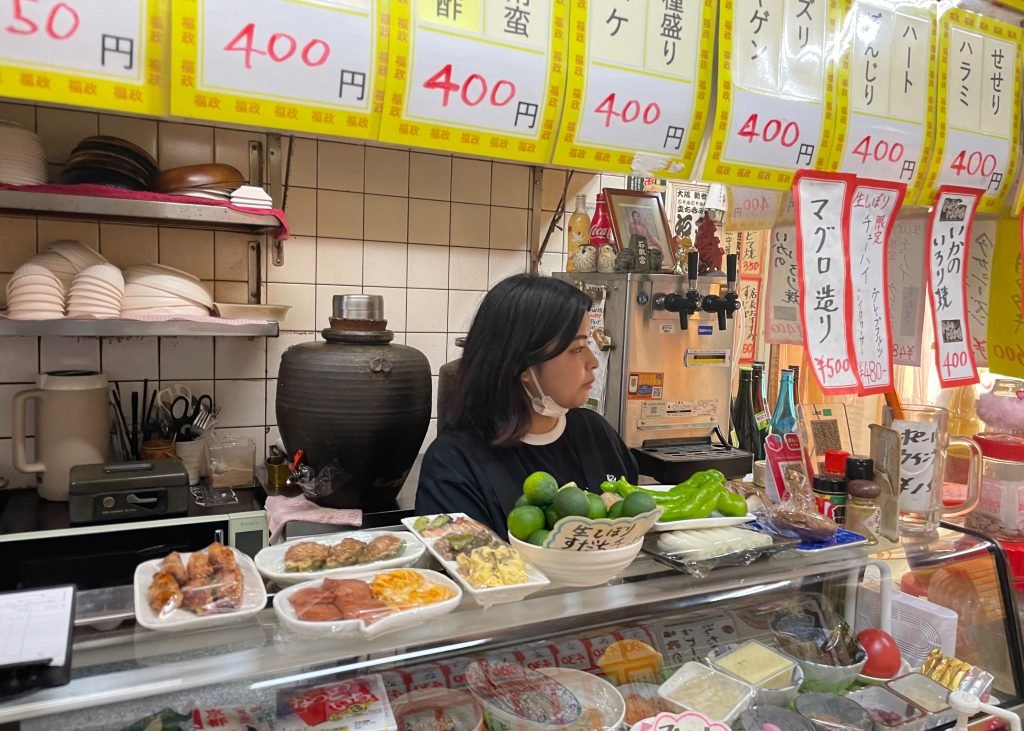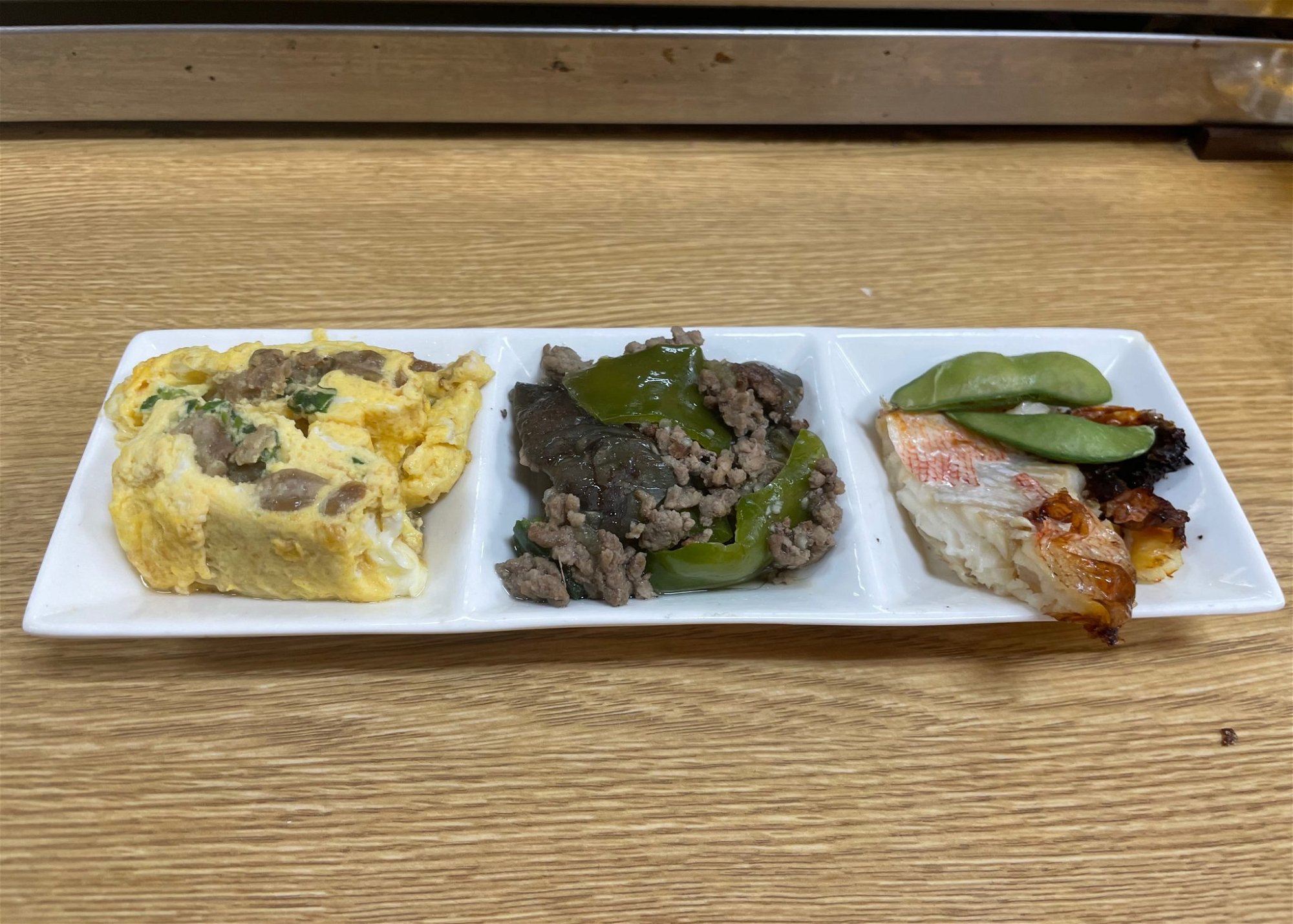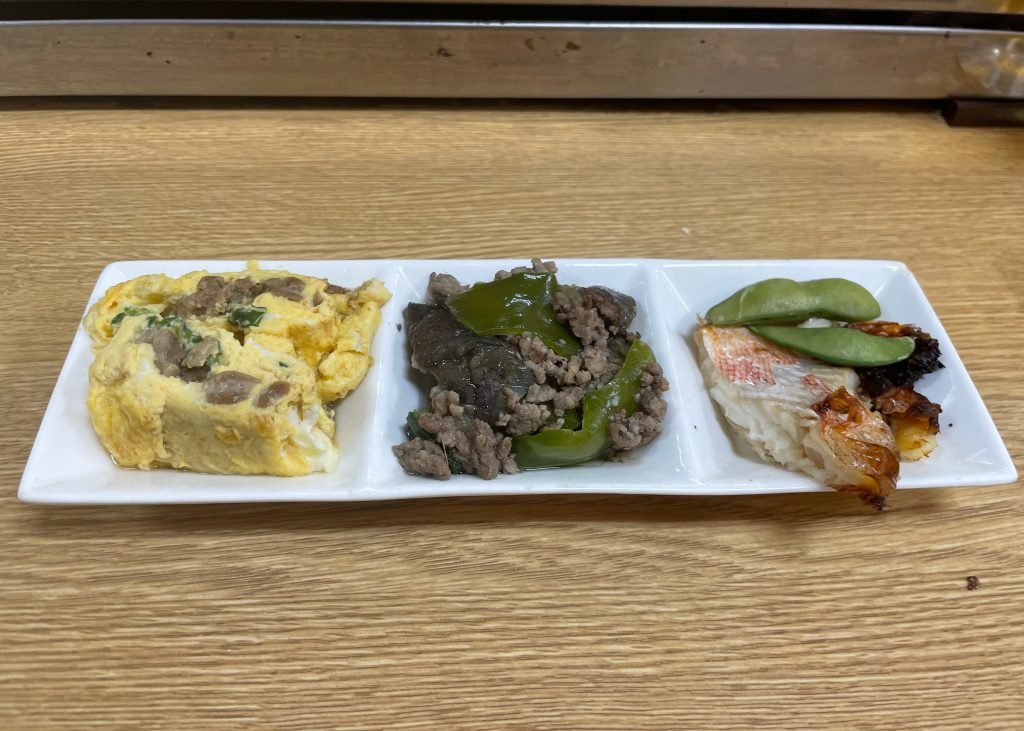 Nonkiya のんきや (8:00 A.M.)
Address: 3 Chome-4-5 Ebisuhigashi, Naniwa Ward, Osaka, 556-0002. Tel: N/A. Open: 8:00-20:00. Closed: Tues, Wed.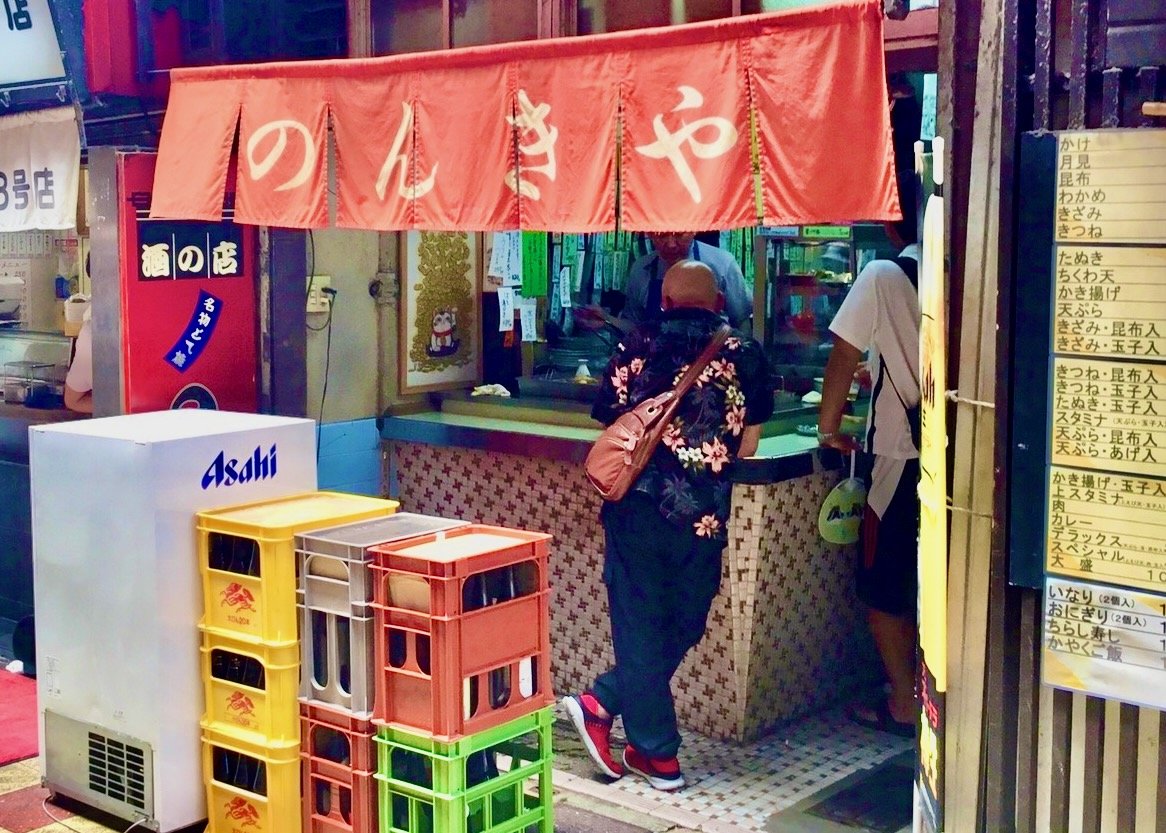 Nonkiya, located four shops down from Fukuma, is one of the oldest restaurants in Jan Jan Yokocho. This was our first stop on our early morning barhop back in 2013 (see above) and it hasn't changed a bit. At the time we thought it might be a bit "difficult" to enter because most of the customers seemed liked long term regulars, but we were welcomed in after lurking around the entrance for a couple of minutes. Nonkiya is famous for delicious doteyaki and oden. Even though it is usually packed with tourists in the afternoon, it still feels like a friendly neighborhood tachinomiya.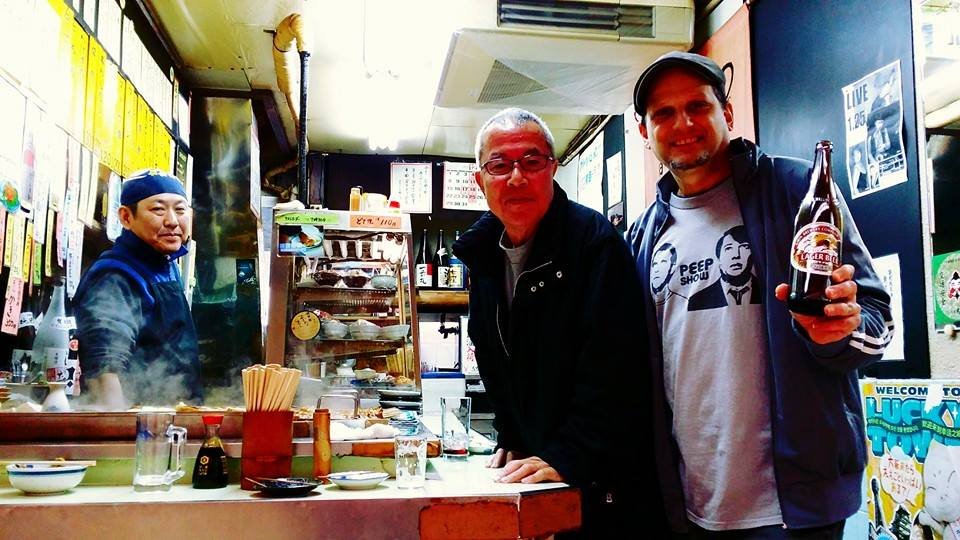 This concludes part 1. In the next installment I'll cover places in the same area that serve alcohol from 6:00-9:00 A.M.