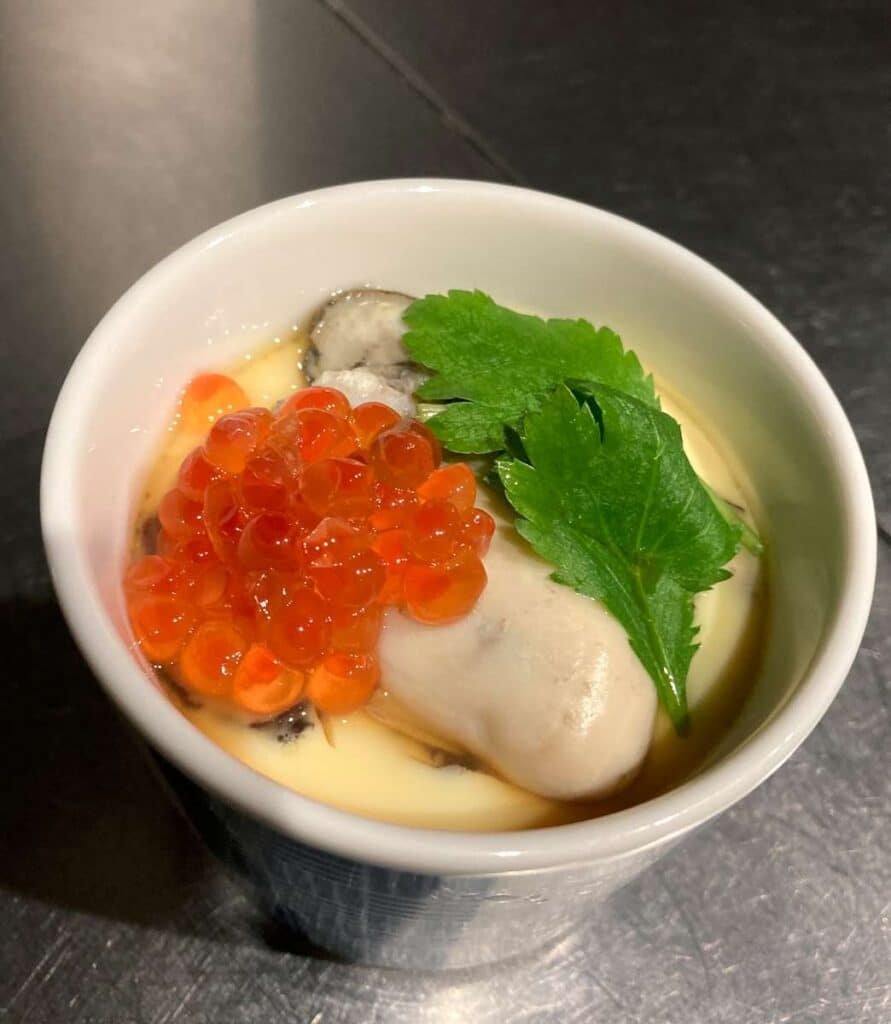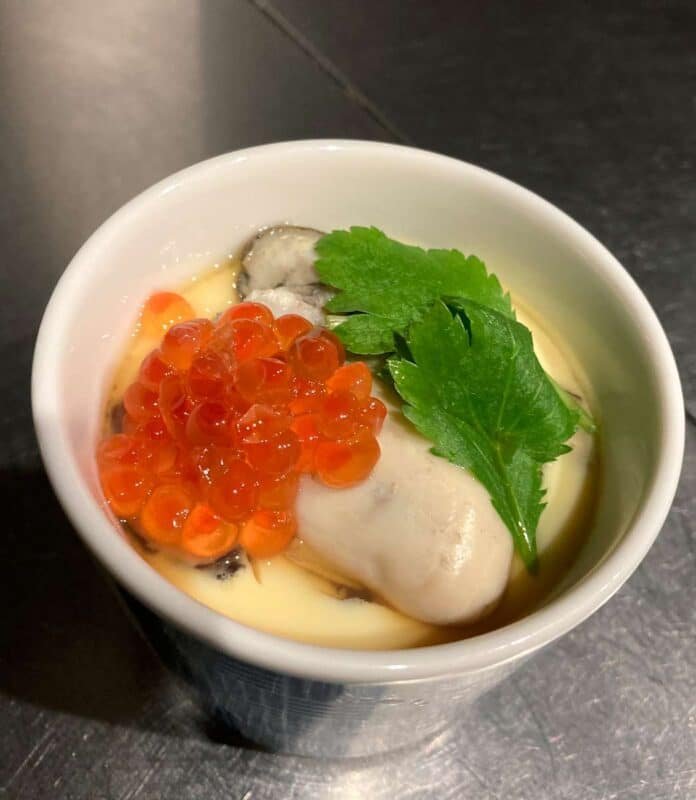 In this article, I will teach you how to make Kappo Cuisine, in particular one of my favourite dishes, Chawanmushi (steamed egg custard)
What is Kappo Cuisine?
There are two main cuisines in Japan, one being 'Kaiseki' and the other being Izakaya style food. Kaiseki is a refined Japanese course dining experience, featuring some of the best seasonal ingredients around the country. Izakaya style food usually consists of small plates of yakitori, grilled fish and meats alongside some alcohol. Kappo Cuisine falls in between these categories.
Kappo cuisine is a multi course meal that is usually left up to the chef, or also called 'Omakase'. Directly translated, it means 'cut and cook' and emphasises the relationship between the chef and the customer. The customer and chef are usually in sight of each other, with the whole experience being on one floor. However, Kaiseki is usually base in different rooms and floors. Furthermore, similar to Kaiseki, some of the finest seasonal ingredients are used to create a casual yet formal dining experience. The course is less structured than that of Kaiseki making it less informal.
Traditionally you might find chefs that are trained in one particular area, such as Sushi chef. However Kappou trained chefs have to be skilled at all kinds of cooking from stewing to frying. This usually takes 10-20 years to master so it takes a lot of patience and determination to achieve this goal. Due to the extensive training, kappa trained chefs are dwindling.
History of Kappo Cuisine
It is said that Kappo cuisine started in the Edo Era, where Kappou cuisine was classified as a high class cuisine. Similarly, at this time, Kaiseki Cuisine was also popular at this time but was more of a light meal along with a traditional tea ceremony. The flavours were very seasonal and not heavily seasoned so it pairs well with the tea.
As time passed by, Kaiseki and tea ceremonies became more of a high class event where these aspects became celebrated. The result of this was that Kappo cuisine was seen as less formal. Counter seats were also a new feature of Kappo restaurants, which exacerbated this. From this point, Kappo started in grow in popularity in the Taishou and early Showa era.
Types of Kappo Cuisine
Spring
Shiitake mushrooms are perfect for the spring season. These are considered more earthy and flavourful than other mushrooms such as button. Shiitake are quite rich and almost have a smoky like taste with a luxurious mouth feel. Furthermore, they are used in a variety of dishes, especially in soups and udon dishes. However, my particular favourite is tempura, which is a light batter that is gently deep-fried. The tempura batter is so light that it is almost like air but it gives the shiitake a crunchy exterior. It balances perfectly with the umami flavour and texture of the mushroom. It can be enjoyed as is but I recommend adding some rock sea salt to sprinkle on top.
Summer
In summer, one of the most popular ingredients is Sea Urchin (Uni). The best sea urchin comes from Hokkaido, in particular, Rishiri Island. The sea urchin feed on umami rich kelp, giving it a delicious creamy and sweet taste. Sea urchin can traditionally be enjoyed raw or as sushi. However, one dish I particularly like is Chawanmushi. This is a traditional Japanese dish of egg steamed with dashi, creating a custard like texture. The addition of uni adds further creaminess and sweetness, enhancing the complexity of a relatively simple dish.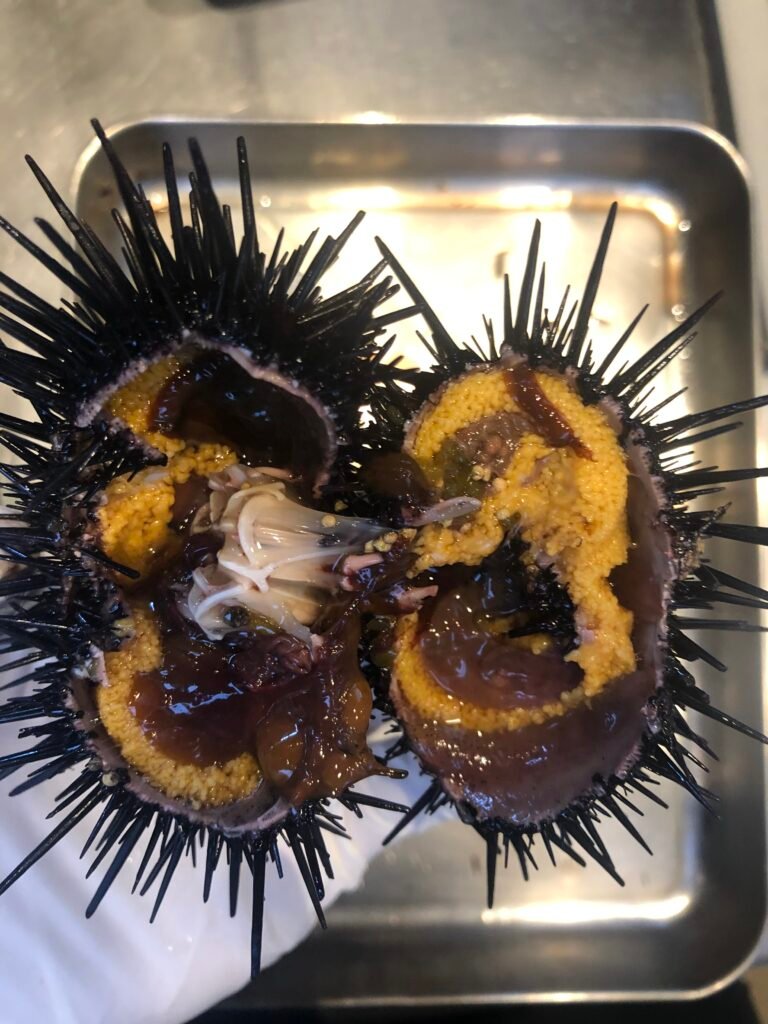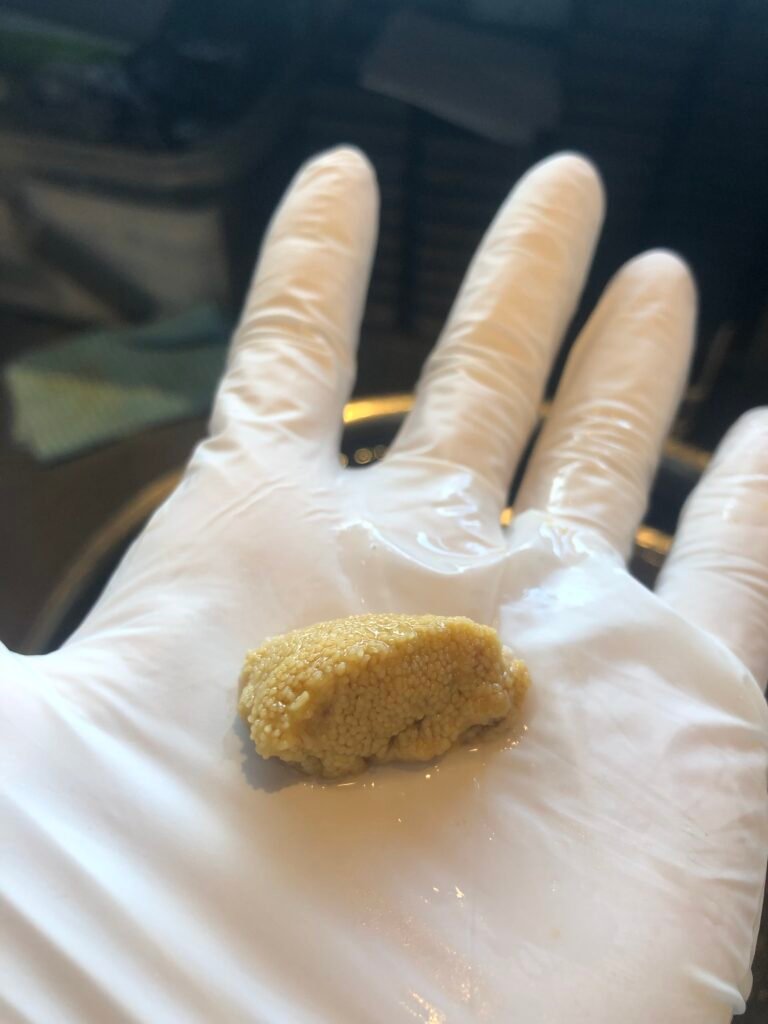 Autumn
One of the most prized vegetables during the Autumn season, is the Matsutake mushroom. It might even be a contender for the world's most expensive vegetable, coming in at an astonishing $150 per 100g. This will feature on many menus with it being used in light dishes to allow the mushroom flavour to sing. One popular dish is Matsutake soup, which is a classic in Japan. The mushrooms are boiled in dashi along with some mitsuba (Japanese parsley) and tofu. The light dashi is packed with umami, while allowing the mushroom flavour to be the star.
Winter
Fish is a one of the most common items that is changed as it is usually served sashimi style. Seasonal fish are brought in from all over Japan, with some of the best coming from Hokkaido. Sashimi is usually served with shiso, radishes and think grated daikon (horseradish). I was lucky enough to enjoy some buri (Japanese Amberjack) all the way from Hokkaido! It was meaty with marbling of fat, which gave it a rich and silky mouthfeel.
Another dish I enjoyed was brussel sprouts that were grilled over charcoal, like yakitori. The use of charcoal gave it a delicious smoky flavour while enhancing the sweetness of the cabbage!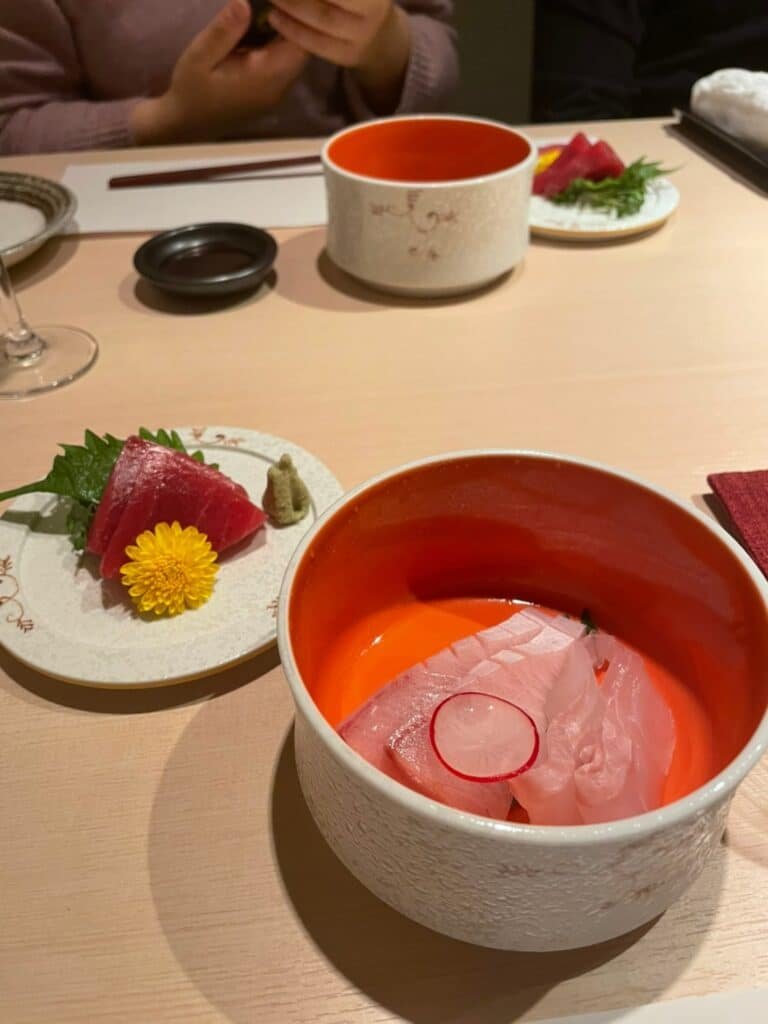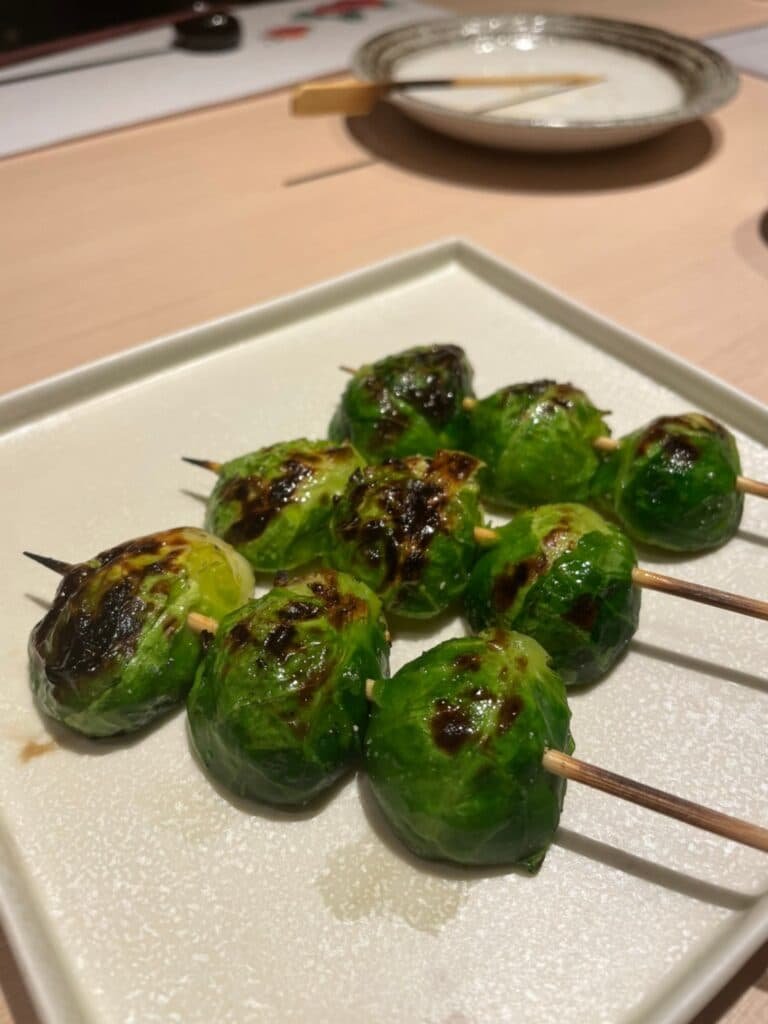 How to make Kappo Cuisine – Chawanmushi
Ingredients
2 dried shiitake mushrooms
100ml dashi
2 Oysters
Mitsuba (Japanese parsely, optional)
Salmon Roe (optional)
Ice water
1/4 tsp salt
1/2 tsp mirin
1/4 tsp soy sauce
*I found some great oysters at my local fishmonger as they were right in season. You can use any protein as a replacement, such as chicken or prawns! This might change the cooking time so please adjust as necessary.
Method
STEP 1
Make your dashi. If you do not have any premade/instant dashi, you can follow my recipe from scratch here. I had some leftover dashi packs so I used one of those!
STEP 2
Rehydrate your shiitake mushrooms by adding hot water to them. Allow them to sit for 15 minutes. After they have rehydrated, squeeze out the remaining water and cut into 1cm size pieces. Keep the remaining liquid (shiitake dashi).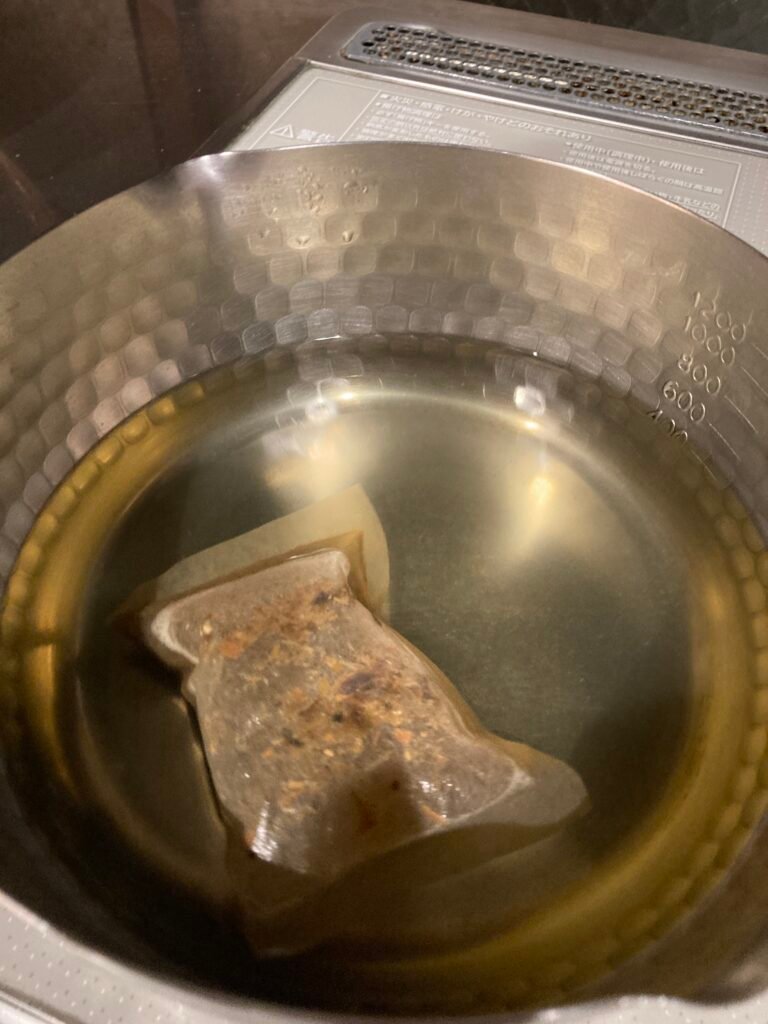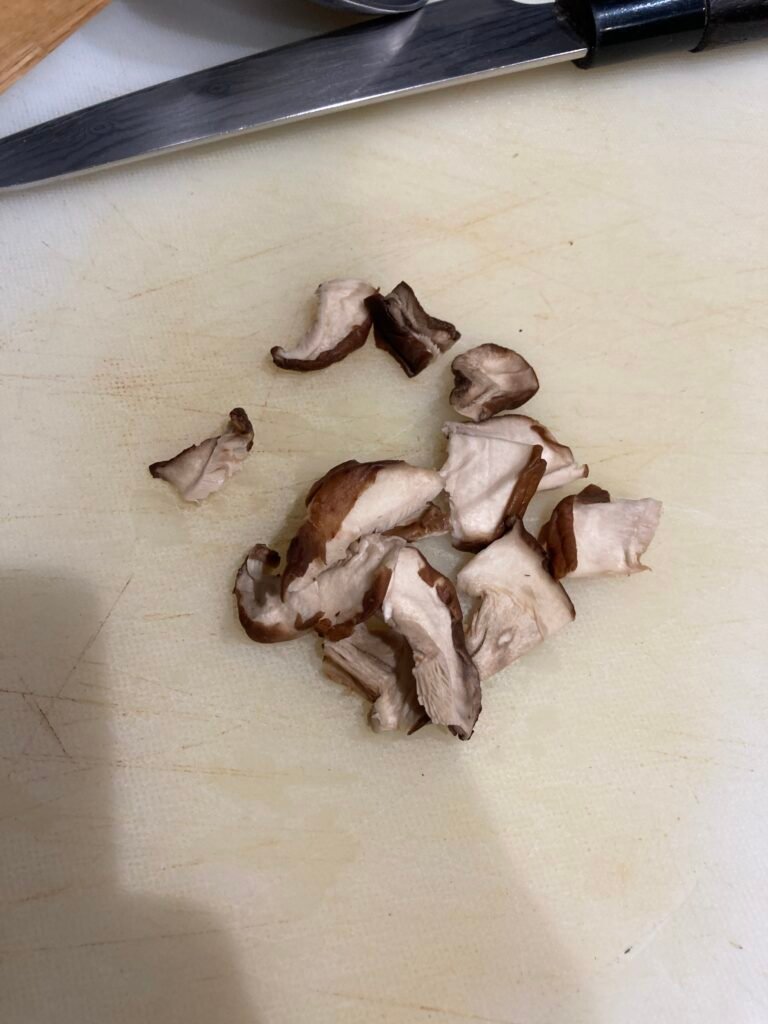 STEP 3
Remove the shell off your oyster. (You can also get a hold of oysters that already have been shelled.) Boil you oyster for a minute or so but be careful not to overcook. This will help get rid of any fishy taste and aroma that might spoil the chawanmushi.
STEP 4
Immediately place the oyster in ice water to stop the cooking process.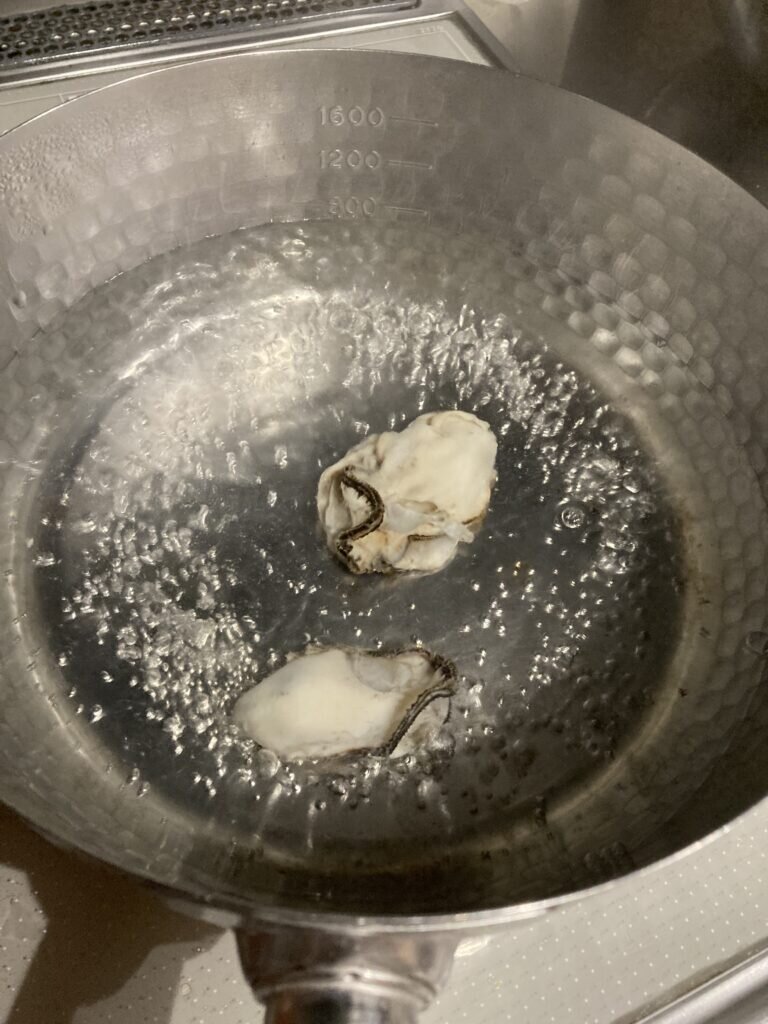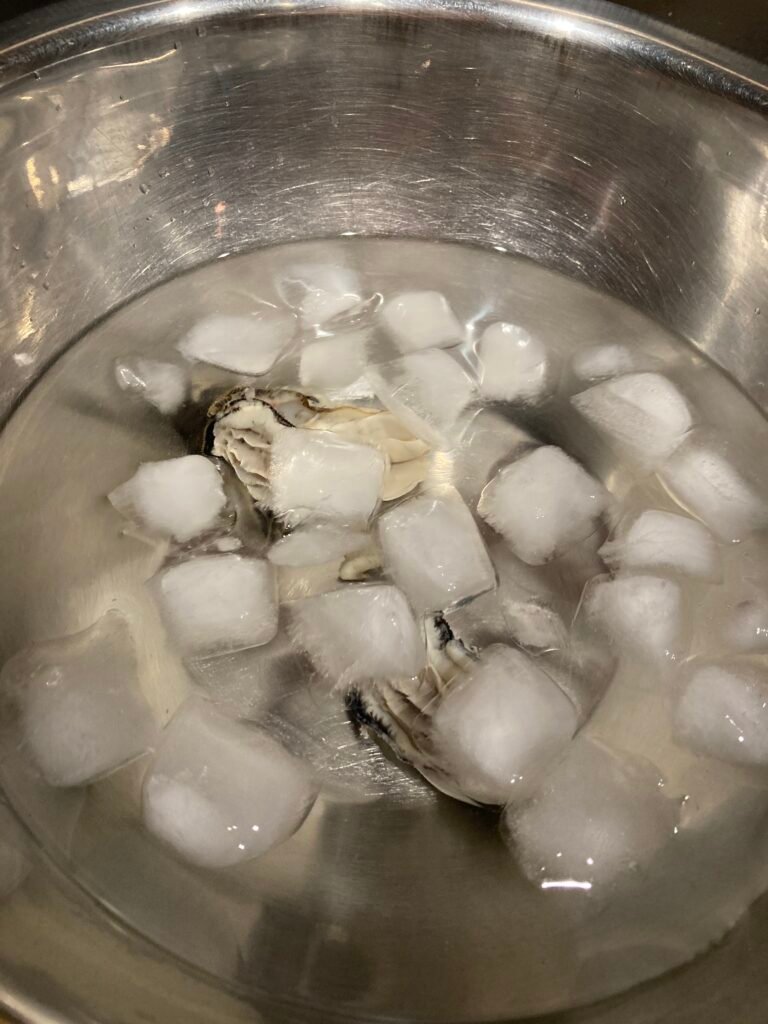 STEP 5
Wipe ALL of the water from the oyster and set aside. It is important to remove as much water as possible, otherwise the chawanmushi will not set properly.
STEP 6
Mix your eggs along with the mirin, soy sauce, salt, dashi, and 2 tbsp of shiitake dashi.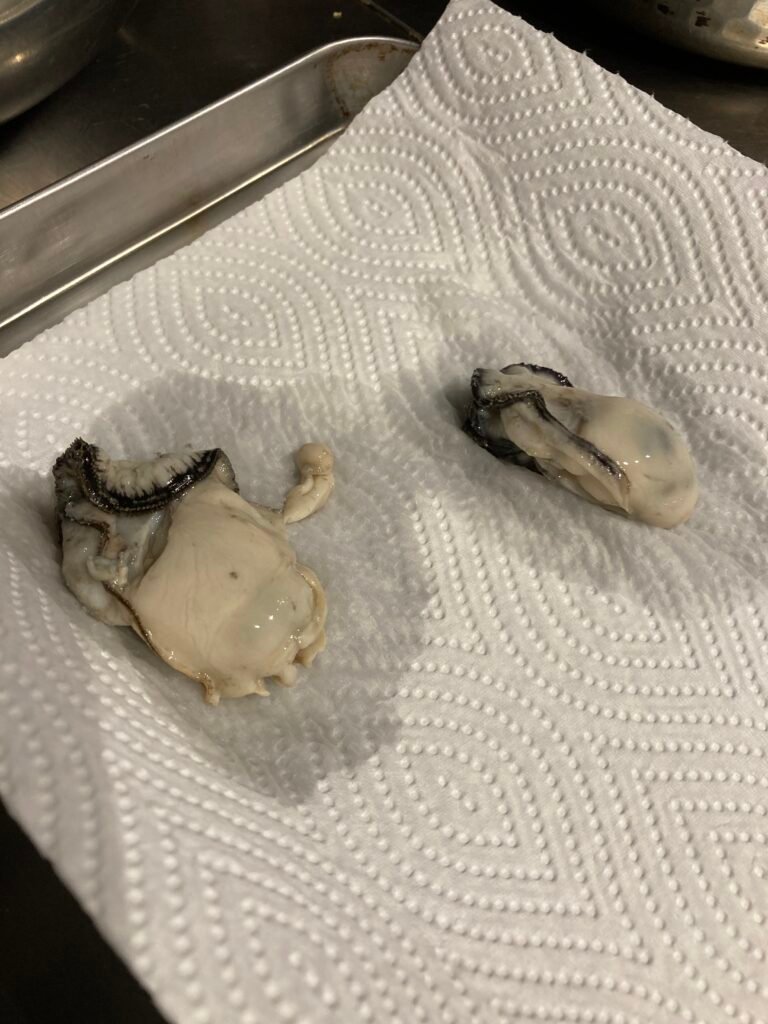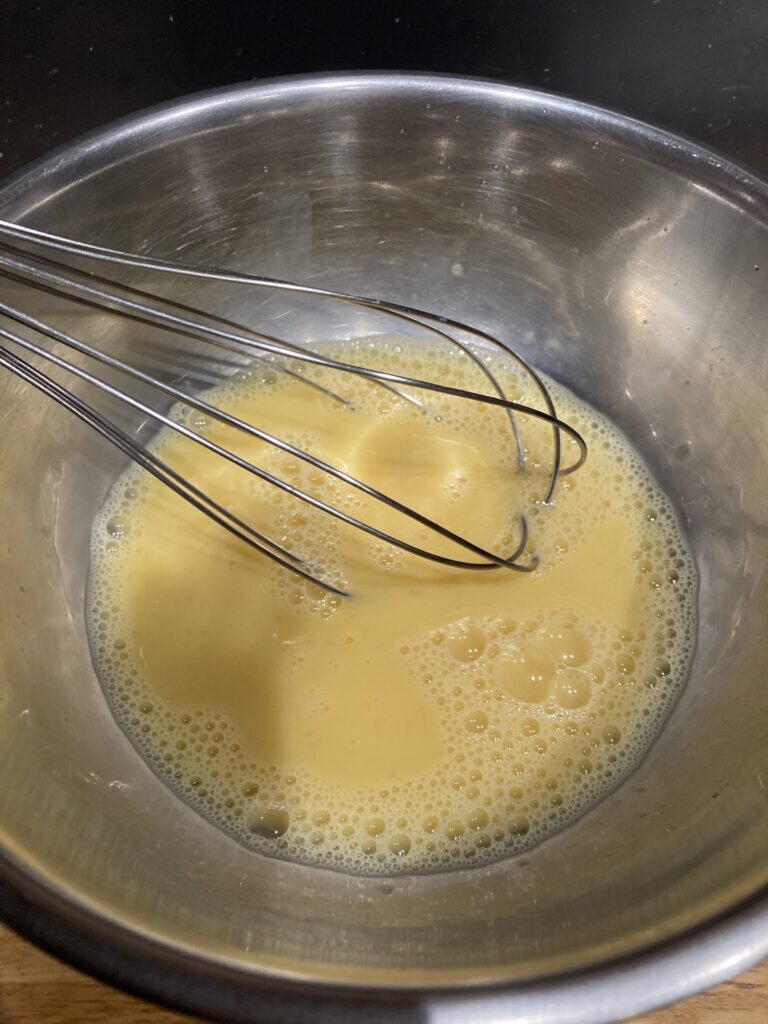 STEP 7
Strain through a sieve so that the chawanmushi will be nice and smooth.
STEP 8
In you chawanmushi cup, place 2 pieces of shiitake and then one oyster the bottom.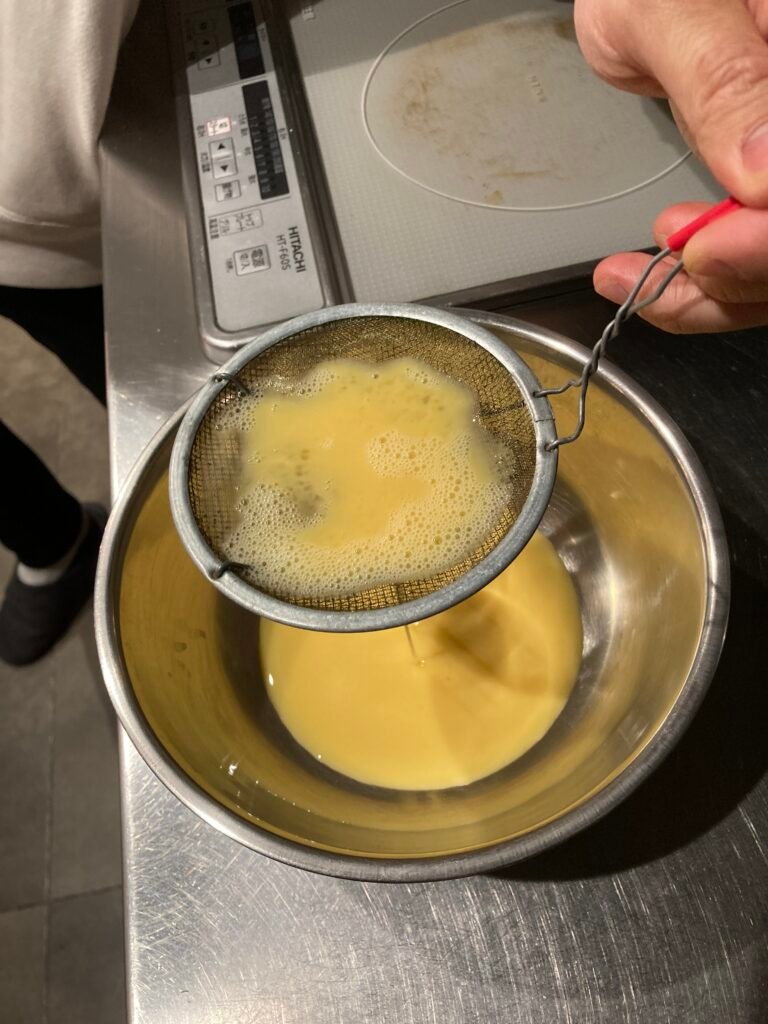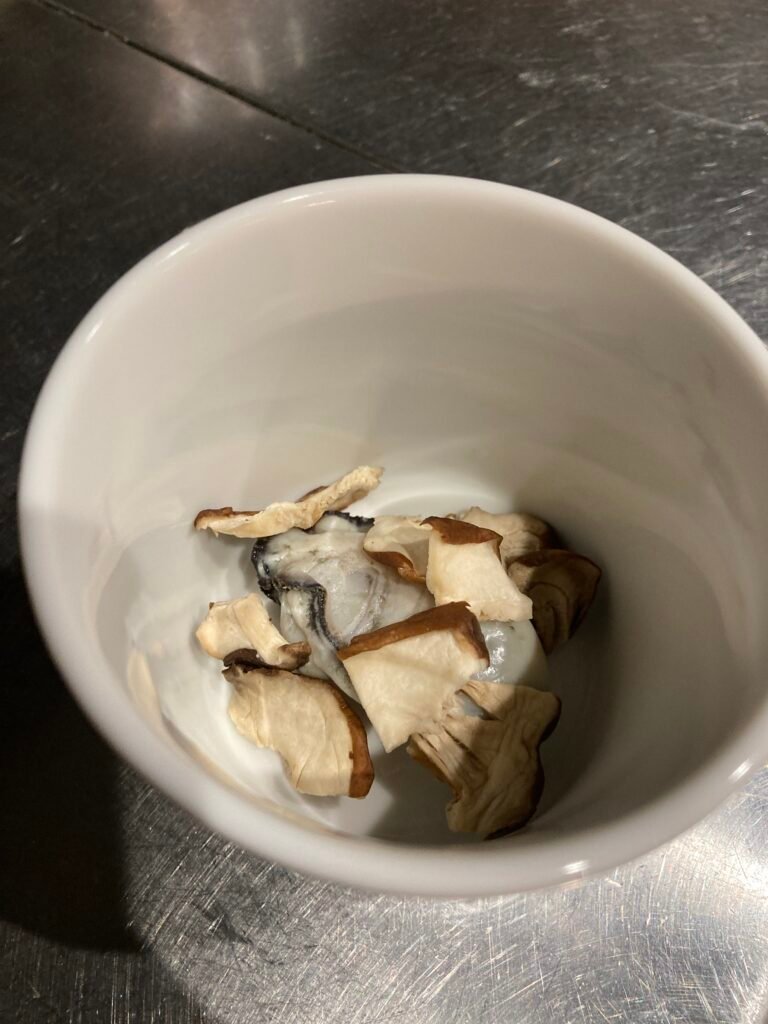 STEP 9
Fill the cup with egg till around 3/4 full.
STEP 10
Cover with a lid. If you don't have a lid, you can cover tightly with aluminium foil.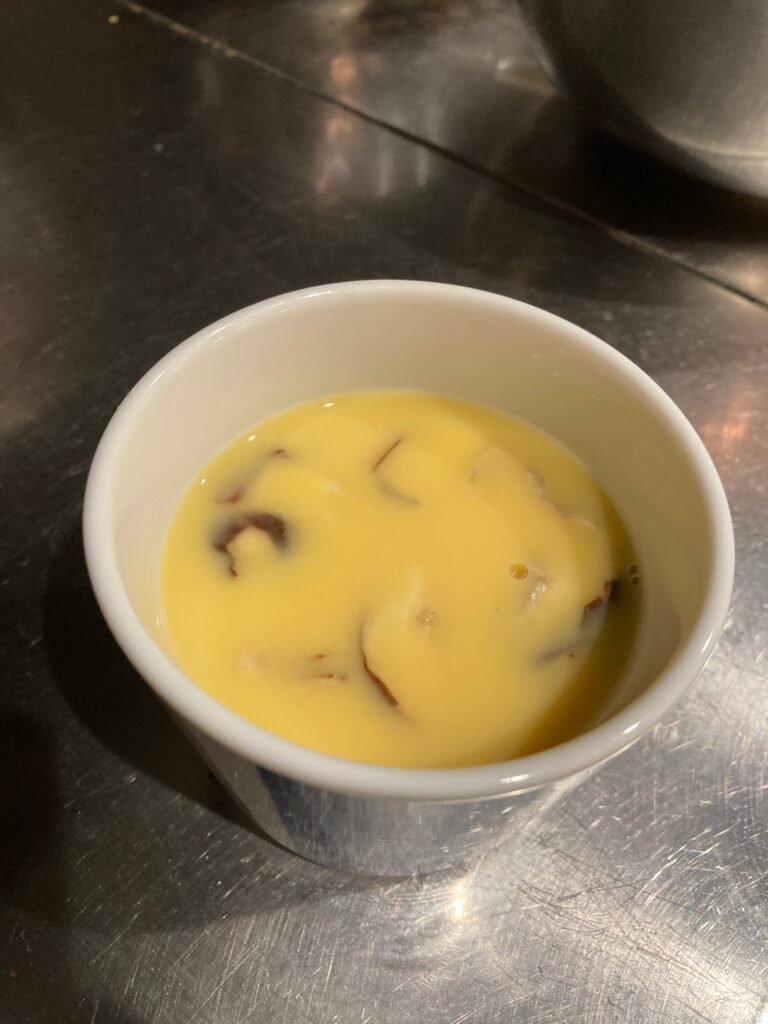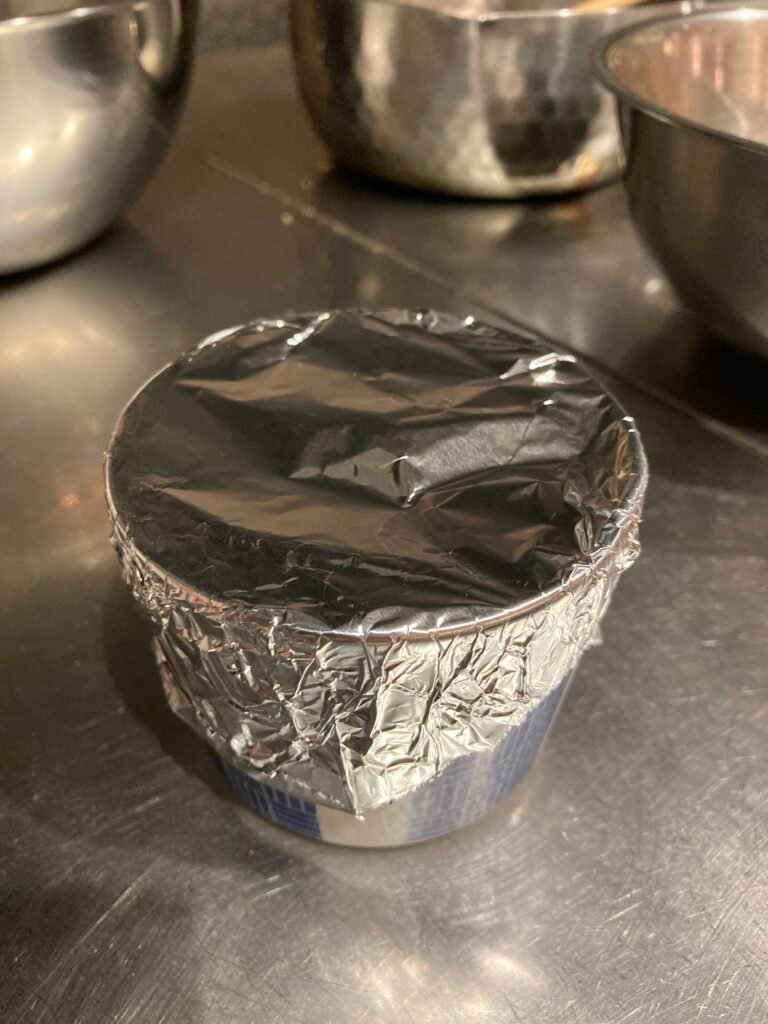 STEP 11
Fill a large saucepan with water till around 1/2 full. Boil and then reduce the heat to the lowest setting. Add your chawanmushi and then put a lid on top of the saucepan. The water should cover just over half of the cup.
STEP 12
After 3 minutes, take off the lid and place one more oyster on top, just so it is sunk into the chawanmushi. There should be a thin film on top of the chawanmushi to show that is cooking properly. Place the lid back on and cook for another 4-6 minutes.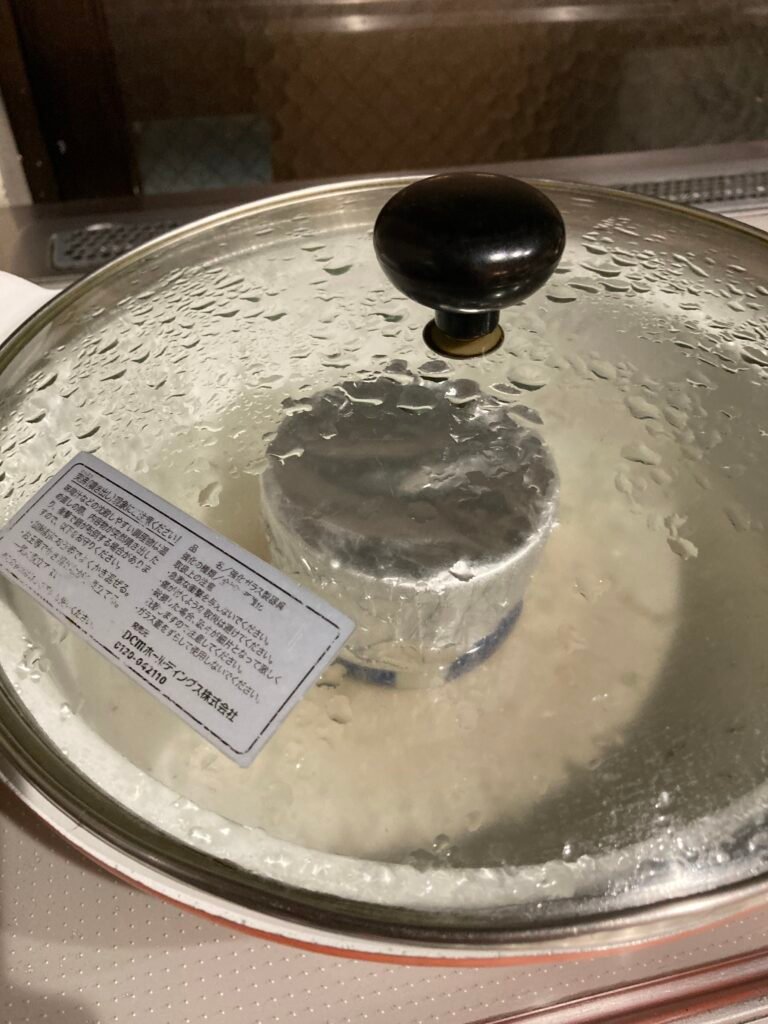 STEP 13
Turn off the heat and then leave as it is for 1 minute. To check if it is done, place a chopstick or toothpick in the centre.
STEP 14
Top with salmon roe and enjoy!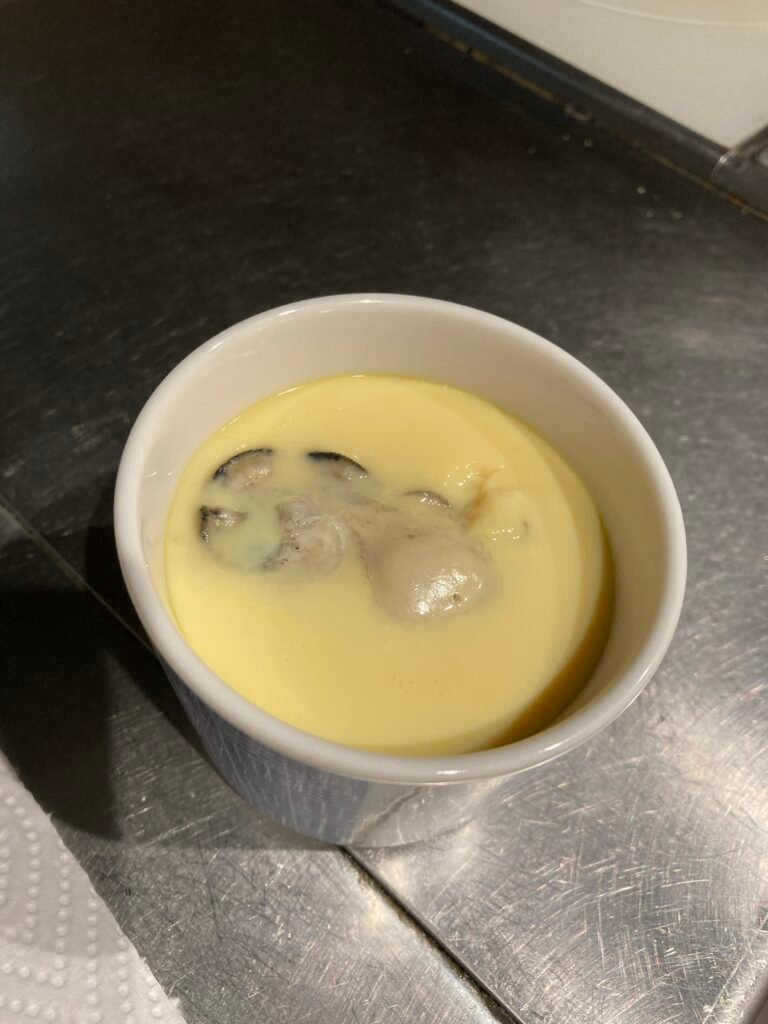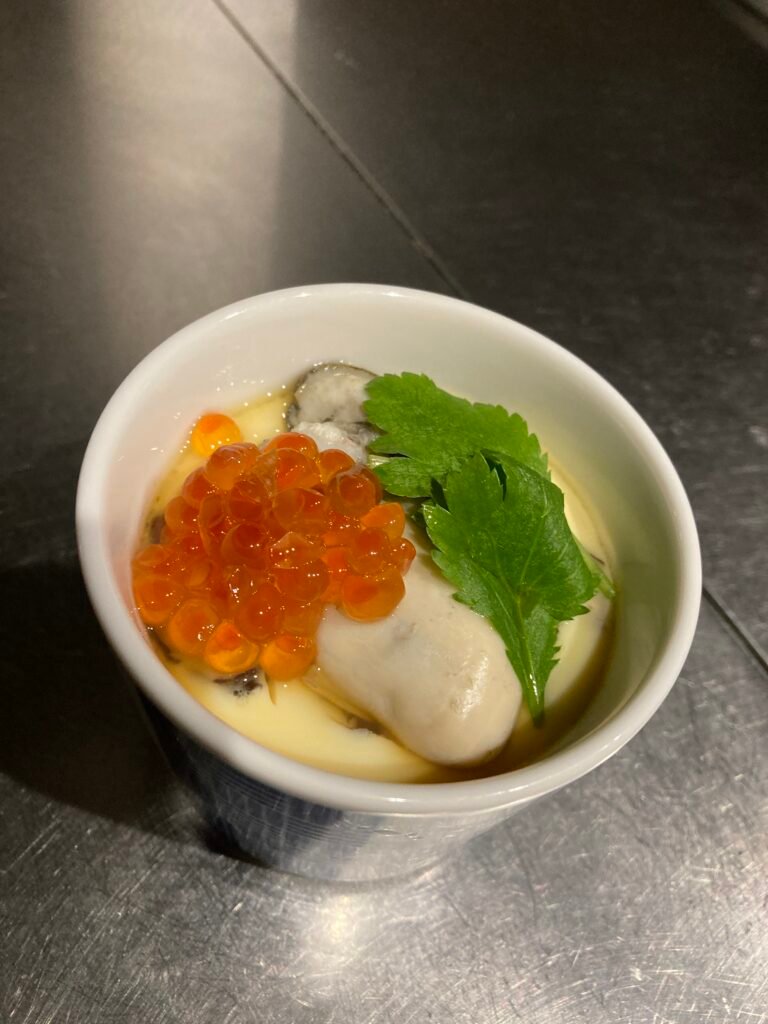 ---
Check out the video below on how to make Chawanmushi!
---
Where to Eat Kappo Cuisine in Osaka
Iroha – 彩葉
Iroha is a quaint restaurant located in the Kita Shinchi district. It is tucked away in a nondescript building so you will know exactly it's appearance to be able to find it. You can't find it just by wandering around and it's no wonder you need a reservation to eat there. You can order a la carte but the recommendation is the Omakase course. This will set you back around 12-15,000 yen and is perfect for any special occasion or as a final meal in your trip to Japan. There are no English speaking staff or signs so ask your concierge or a Japanese friend (if you have one) to sort out a reservation for you.

Phone Number: 06-6344-7355
Opening hours: Mon-Sat 5:30pm-10:30pm (Closed on Sunday and National Holidays)
Iwakawa
At Iwakawa, there is nothing too fancy. Just an open kitchen, a long counter top table and the guests seats. The counter is at a nice height so that the whole space feels extremely open, allowing you to see right into the kitchen. The chefs are also very friendly, openly speaking about their ingredients and cooking methods. It encompasses everything great about a Kappo cuisine style restaurant. The chefs almost become theatre performers, artistically slicing and plating their dishes. There's no back kitchen to hide in so they are always on show.
Phone Number: +81-6-6344-7355
Opening hours: Mon-Sat 11:30-14:00, 17:00-23:00 (Closed on Sundays and National Holidays)
Kigawa
Kigawa is a long established member of Kappo cuisine and is one of the most reputable in Osaka. The restaurant has a very relaxing atmosphere with stylish decor. The food is traditional Osaka style with some Western influences. The use of herbs such as basil, which is not commonly used in Japanese cuisine, is a unique twist to Kigawa's dishes. They focus a lot on sashimi and using seasonal ingredients so the menu might change almost every day! I would recommend to always ask for the Chef's omakase. One thing i particularly love is the array of plate and ways they present their dishes. It looks almost like pieces of art!
Kigawa was awarded one michelin star and there is no wonder why. Eveything down from the atmosphere to the ingredients is top quality. The lunch course costs approximately 8,000 yen and for dinner, about 15,000 yen. However, this does depend on the ingredients and menu on that particular day. There are also some English speaking staff so don't worry about communication. In terms of reservation, it is not 100% necessary, however, I definitely recommend booking in advance.
Phone Number: +81-6-6344-7355
Opening hours: Tue-Sun 11:30-14:00, 17:00-21:30 (Closed on Mondays)
If you are ever in Japan and someone invites you out for Kappo cuisine, you should feel honoured! This style of cuisine is on the high end and contains some of the finest ingredients, so definitely indulge if you ever have the chance!