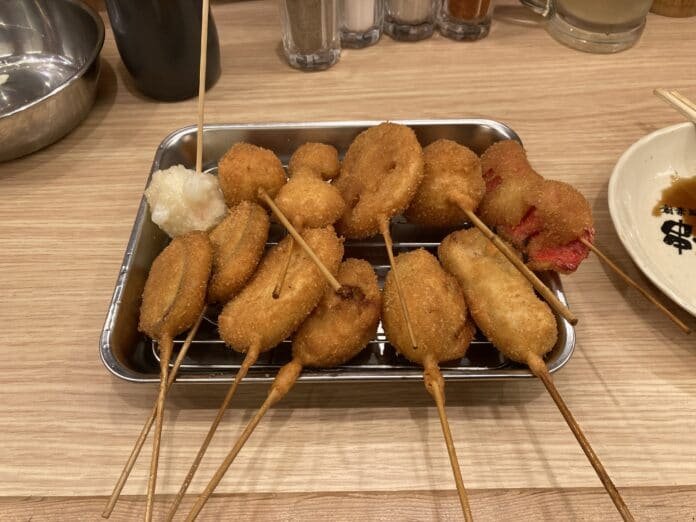 Kushikatsu (also known as kushiage) is one of Osaka's most well known dishes, amongst the ranks of Takoyaki and Okonomiyaki. It's a a great meal to have with some drinks and relax with friends and family. In this article, I will explain the ins and outs of Osaka's famous Kushikatsu.
What is Kushikatsu?
Kushikatsu, simply put, is deep fried meat and vegetables on skewers. "Kushi" refers to skewers and "katsu" means deep fried. The ingredients have been cut into bite size pieces to make it easier to eat. The meat and vegetables are coated in flour, egg and then panko, which is then delicately deep fried. You then dip the kushikatsu into a special Worcestershire type sauce and enjoy! (If you plan to eat out in a kushikatsu restaurant, don't double dip your kushikatsu for hygiene reasons! If you want more sauce, you can spoon it onto each skewer.)
Some typical ingredients used are:
Beef, pork, octopus, onion, eggplant, lotus Root, shiitake mushrooms and small green peppers
However, in each restaurant, they may have their own original dishes like cheese and mochi. Keep a special look out for these! You can watch a video about kushikatsu down below and here.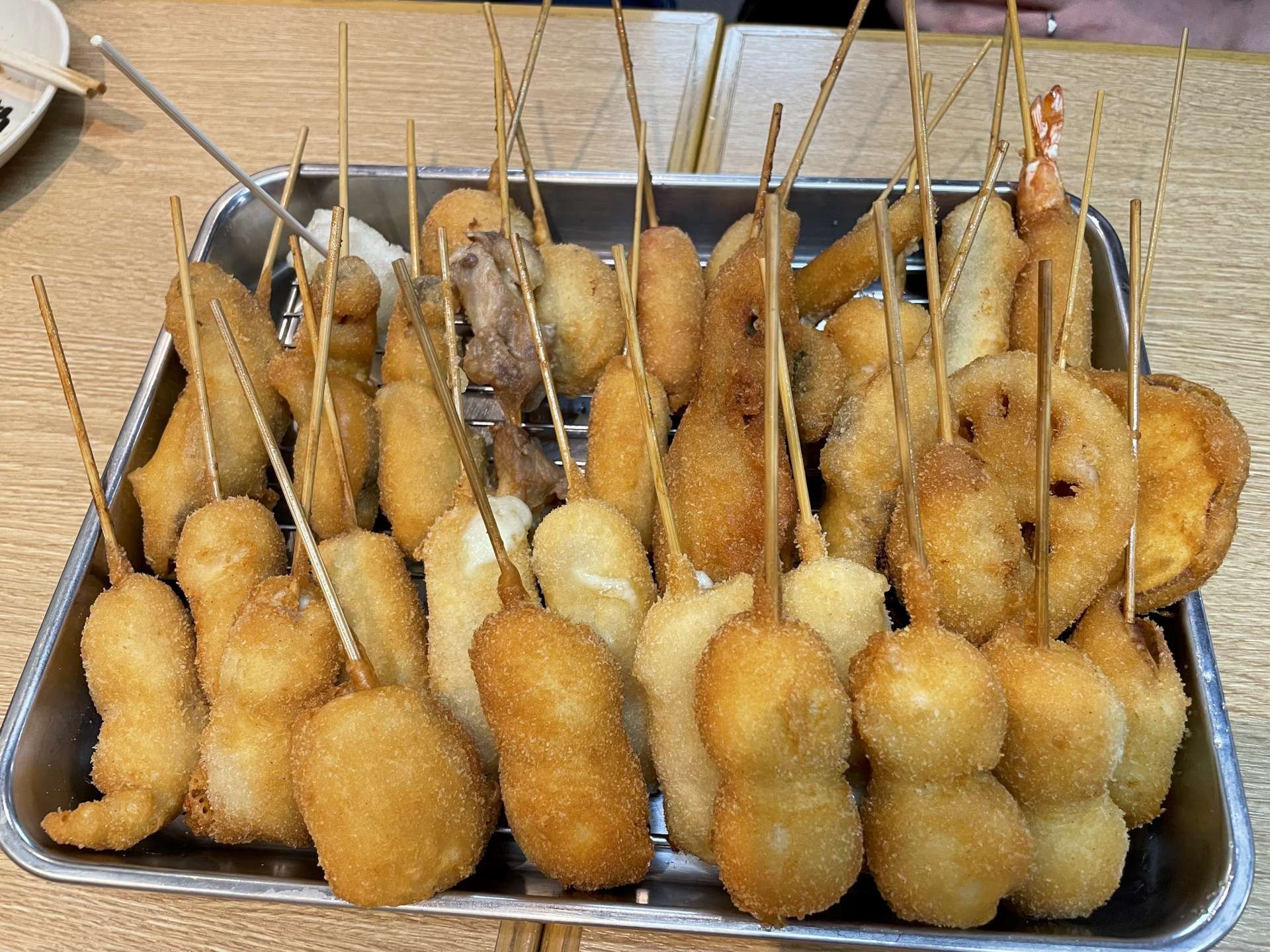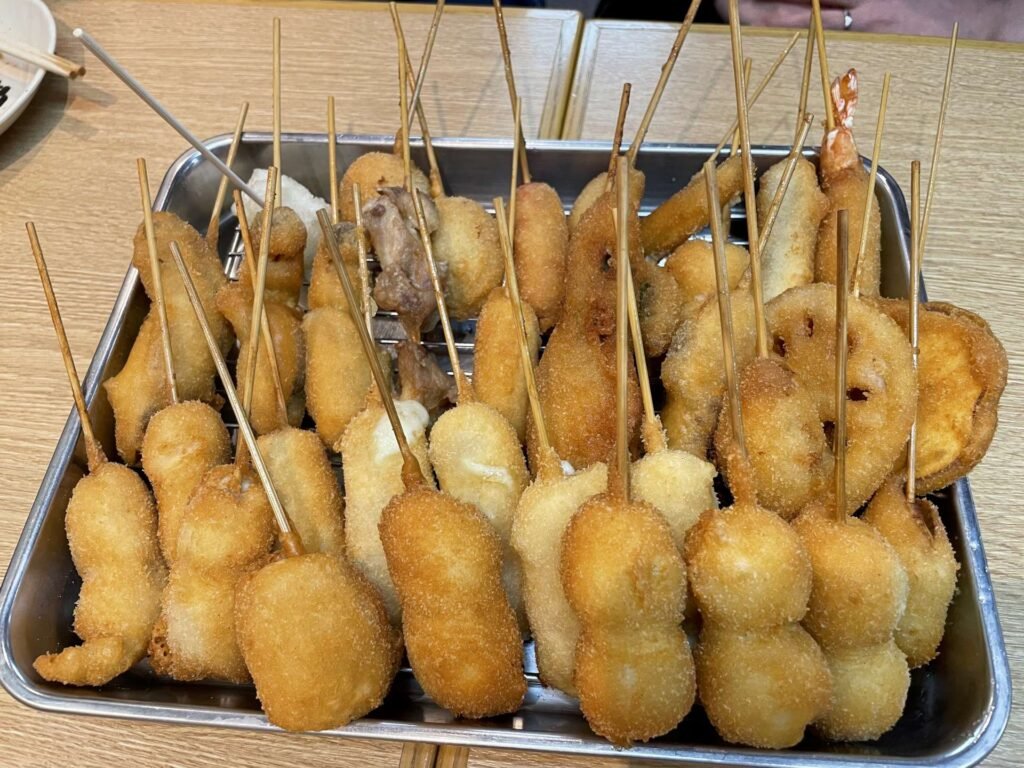 Osaka Kushikatsu
Osaka kushikatsu uses a variety of fish, meats and vegetables. However, unlike other regions in Japan, kushikatsu in Japan only contains one ingredient on each skewer. The skewers are smaller in portion and people often order more than in Tokyo. Diced cabbage leaves are also served as a side to help balance the oiliness of the kushikatsu.
Kansai Kushikatsu
Referred to is a kushiage, meat and onions are alternately skewered and deep fried in panko breadcrumbs. It is then served with a sauce that is sweeter than the usual Worcestershire sauce as well as some mustard. In Nagoya, the meat is dipped in a hatch miso based sauce. This type of miso is a speciality in Nagoya.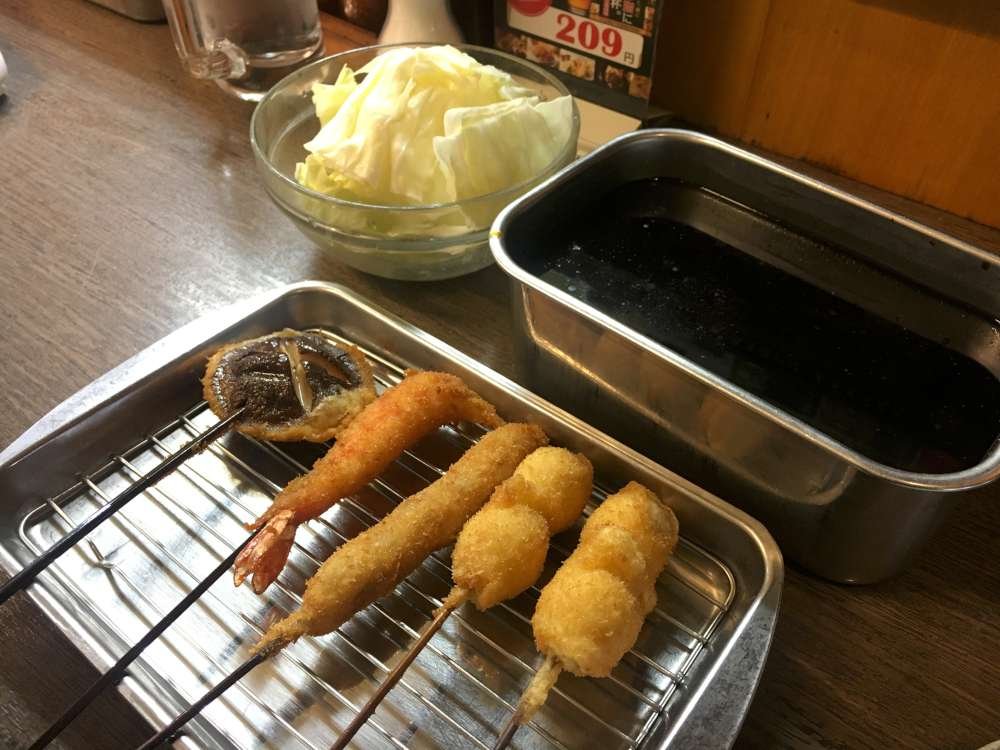 ---
History of Kushikatsu
The origins of Kushikatsu is said to have started in the Shinsekai neighbourhood in Osaka. In 1929, a small food bar started to serve this now popular dish. The kushikatsu was cheap, filling and delicious. This dish was popular among manual labor workers. The panko crust offered a crunchy texture to balance with the soft meat and was a great alternative than the usual way of cooking protein.
Kushikatsu started to grow in popularity and shops started to pop up all over Osaka and Japan. The flour and egg was substituted for a remade batter of flour, egg and sometimes yam. This was a quicker way to make kushikatsu and helped provide food for the influx of customers. This battered helped to quicken the preparation process. However, in higher end kushikatsu restaurants, you can still find the original method of preparation.
---
How to make Kushikatsu
Ingredients
120g panko breadcrumbs
Salt
Pepper
Neutral flavoured oil (enough to fill half a saucepan)
Bamboo Skewers
Kushikatsu Batter
1 egg
200g all purpose flour
200-220ml water
Kushikatsu Sauce
5tbsp Worcestershire sauce
3tbsp ketchup
3tbsp water
1tbsp soy sauce
1tbsp sugar
Kushikatsu Ingredients
Onion
Eggplant
Pork Loin
Chicken Thigh
Lotus root (renkon)
---
Method
Step 1
Prepare the sauce by mixing all the ingredients together. Use a small whisk to help incorporate and multiply the ingredients if needed.
Step 2
Start preparing all the meat and vegetables. Cut them into bite size pieces. For the pork, use the back of your knife and pound slightly to help tenderise. Season with salt and pepper.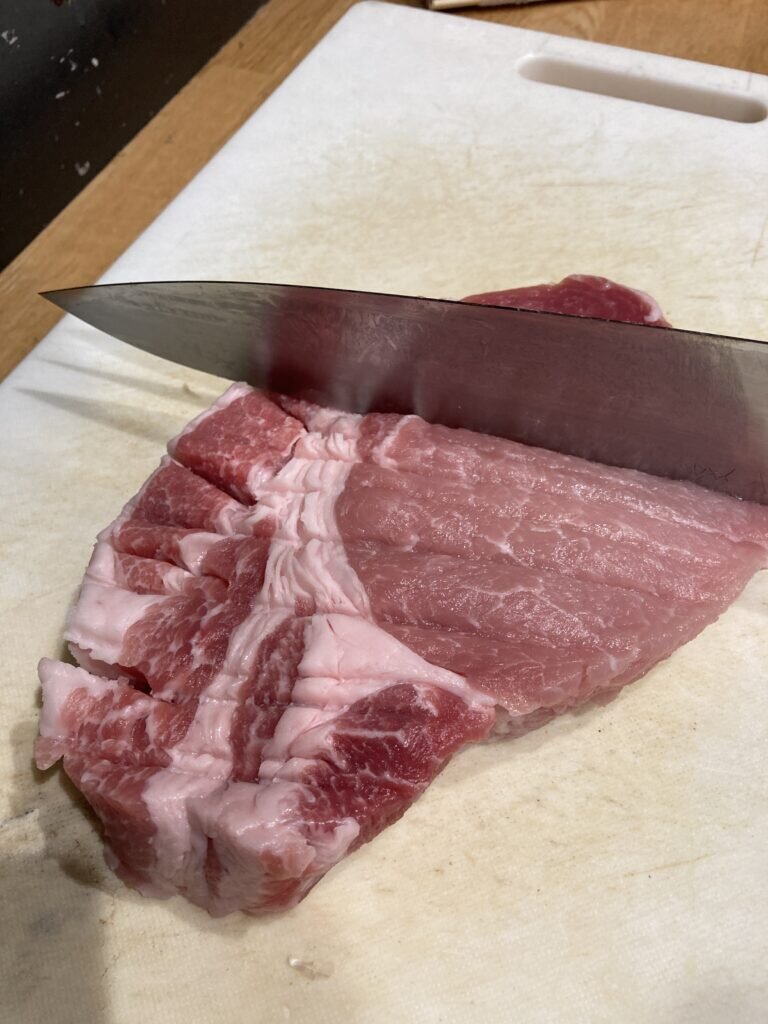 Step 3
Skewer the ingredients. It's up to you how much you want to put on one skewer. Place onto a tray, ready to be deep-fried.
Step 4
Prepare the batter. Whisk the egg, and 3/4 of the water together. Gradually add the flour and then the rest of the water. The batter should cover the back of a spoon and should be runny but a little thick. *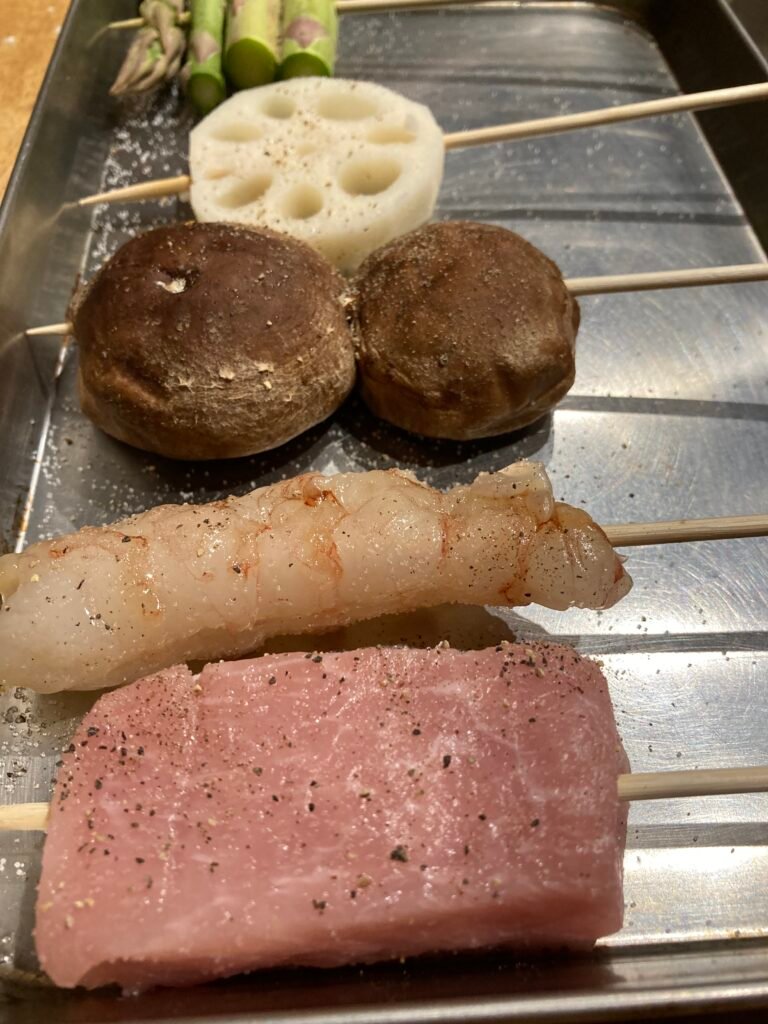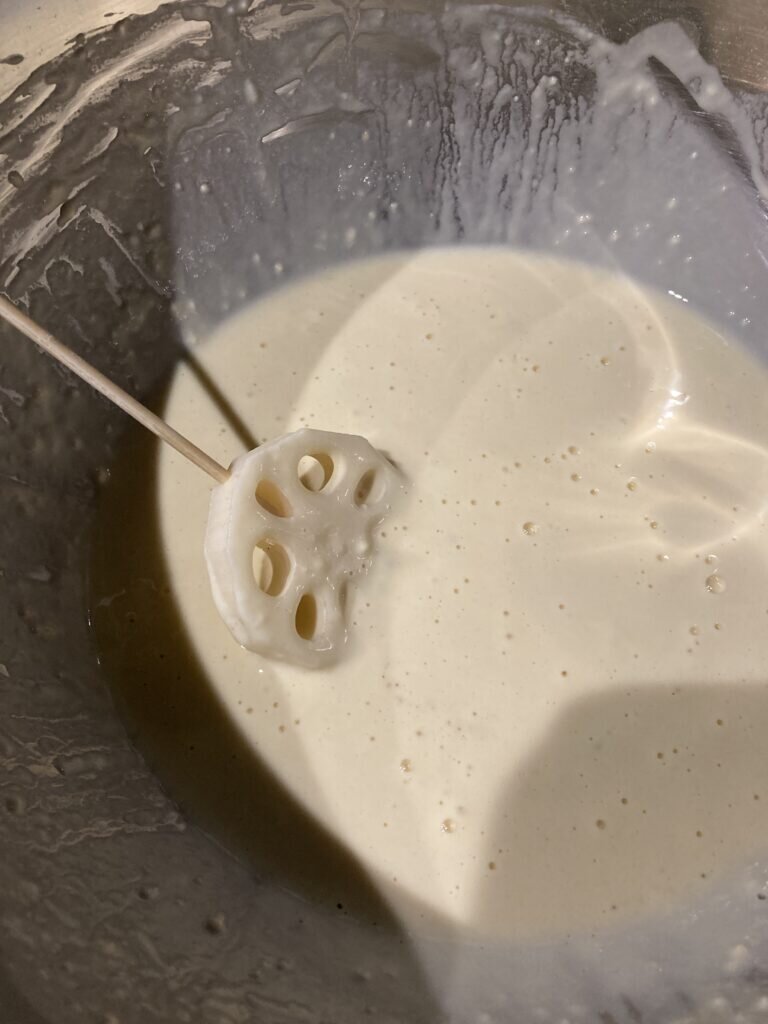 Step 5
Heat your oil to around 180ºC or 360ºF. Place your breadcrumbs in a bowl.*
Step 6
Dip your vegetables in the batter and then into the panko breadcrumbs.* Deep fry until golden brown or cooked through. Place on a wire rack.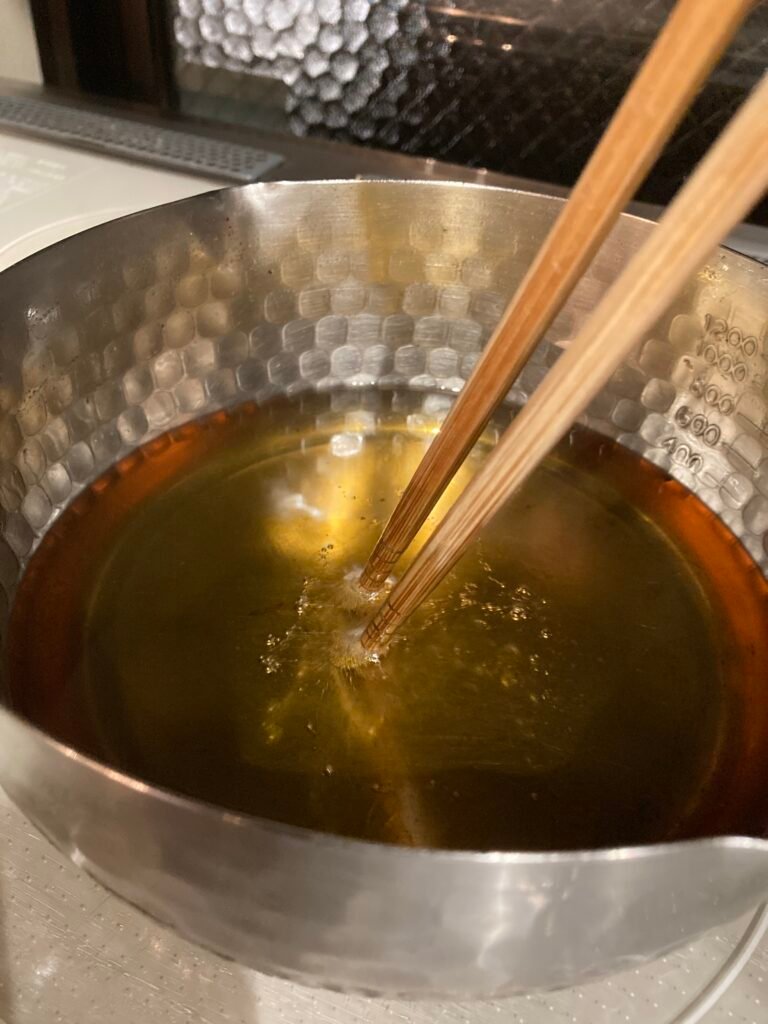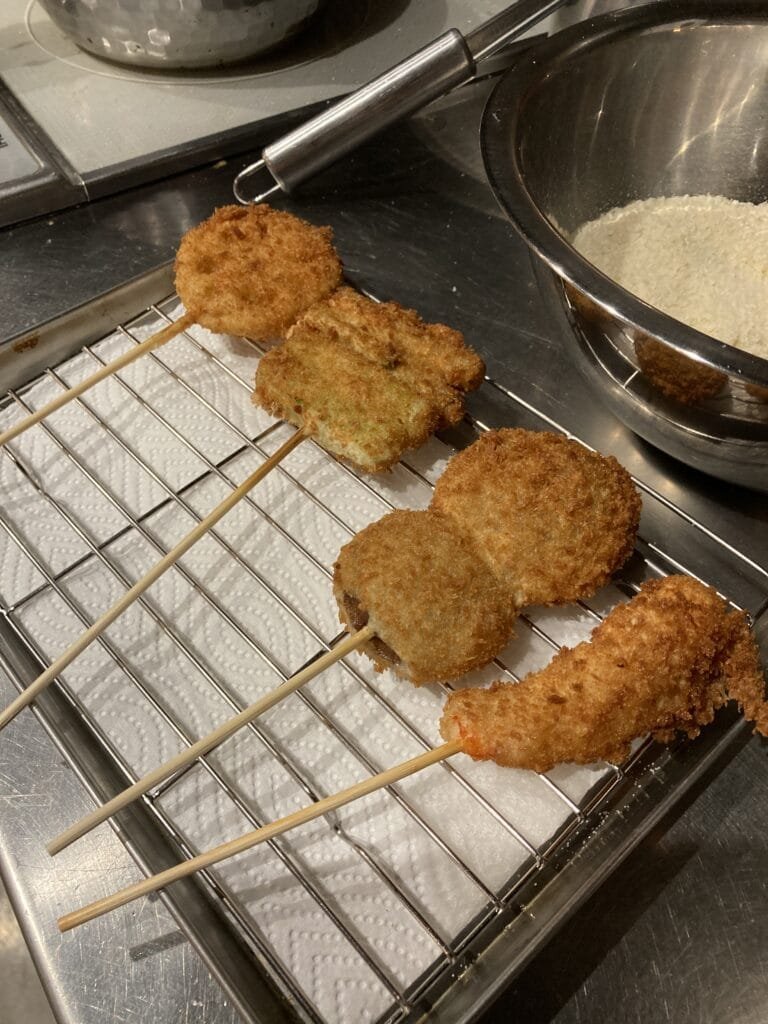 Step 7
Clean the oil as you go so that nothing burns. Then deep fry your meats.
Step 8
Place on a wire rack. Dip in the sauce and enjoy!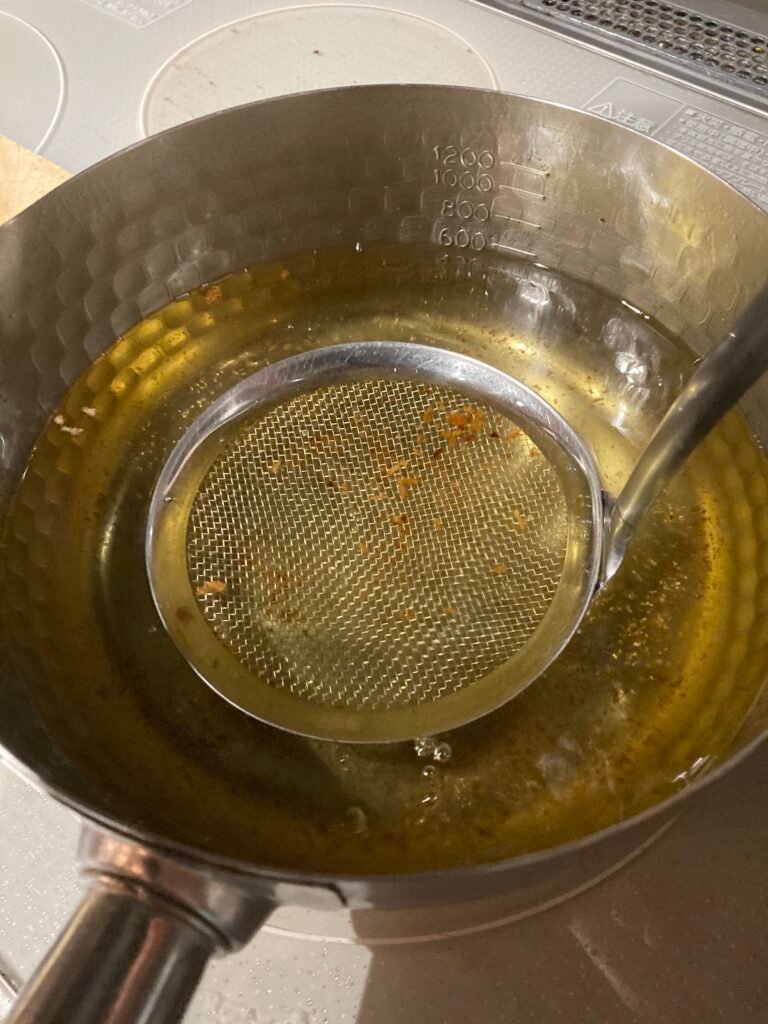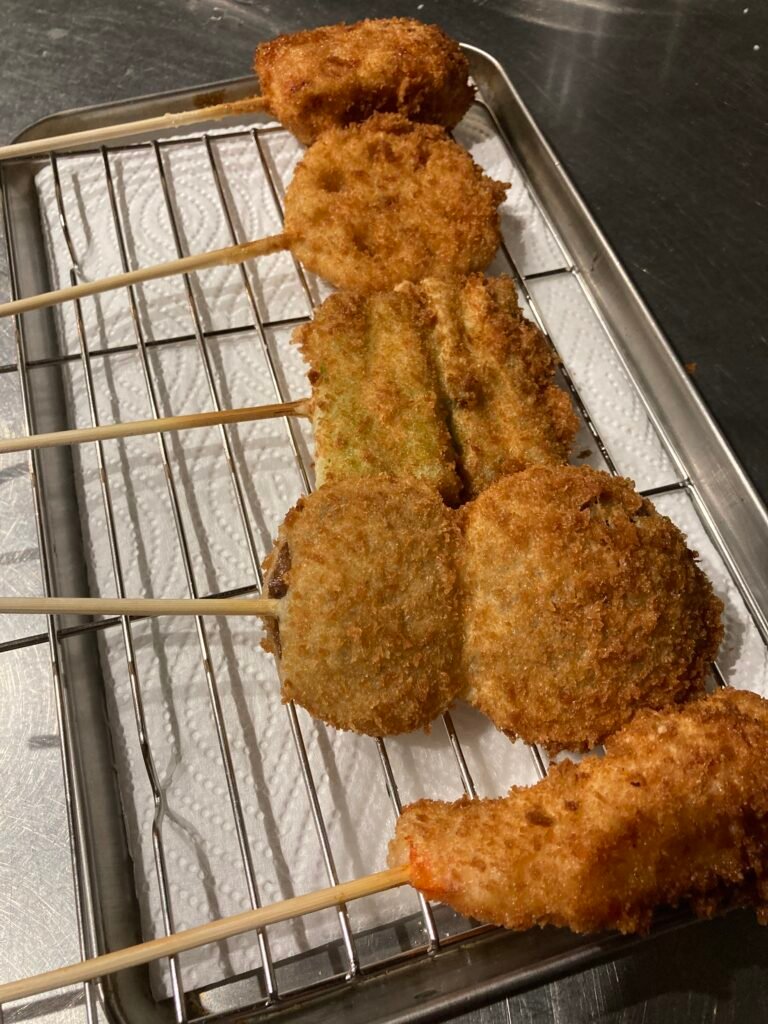 ---
Notes
Step 6*
If you do not want to make the batter, you can use the traditional method. Roll your skewers in some seasoned flour. Pat them to get rid of any excess flour and then dip into a heated egg. Next place into the panko breadcrumbs and then deep fry.
Step 8*
You can put your panko breadcrumbs into a food processor and blitz if you want a finer coating. This is up to you!
Step 9*
You want to lightly coat the skewers in the batter. If you overcoat, it will be heavy to eat and quite filling. Also, you want to start with the vegetables as they are more delicate in flavour and will not leak into the oil. As a result, the oil stay clean and helps to cleanly deep fry each skewer, retaining its pure flavour.
---
Where to enjoy Kushikatsu in Osaka
Kushikatsu Daruma
This is one of the most famous chains for eating kushikatsu. The original store is in Daruma area in Osaka, however there are several stores across the city. At Daruma, you can enjoy a whole variety of ingredients for different cuts of meat from wagyu to offal, to even deep fried cheese! Everything is fried to order and at the restaurant I went to, you could watch everything the chefs were doing, right in front of you! The batter if light and crispy, so you can keep on eating and eating. The skewers are priced from 120 yen to 350 yen.
One of the most unique kushikatsu I had there was the mochi mocha ice. Deep fried ice cream was a new experience for me! The crunchy exterior with the sweet and cool ice cream was delicious!
On top of this, the sauce was a great mix and sweetness, saltiness and tanginess like Worcestershire sauce. The mascot is actually an angry man holding two skewers making an 'X' mark. This refers to the no double dipping rule!
Furthermore, there are some extra toppings such as black pepper, white paper, salt and some chilli spice to customise your kushikatsu!
Address : 〒556-0002 2 Chome-3-9 Ebisuhigashi, Naniwa Ward, Osaka
Phone Number: 06-6645-7056
Opening hours: Mon-Sun, 11AM – 10PM
Kushikatsu Tengu
Tengu is similar to Daruma but slightly cheaper. It can get quite busy at peak hours, so be prepared to queue! However, this just shows how good the kushikatsu is here. Most of the skewers coast around 100 yen to 200 yen. At your table will be their original sauce, which you can dip your kushikatsu in, but remember, don't double dip!
The restaurant has a nice nostalgic atmosphere to it. As there are only bar seats, it feels very warm and cosy. The chef will place your kushikatsu in front of you on a tray and you can enjoy at your own pace.
Address : 〒556-0002 3 Chome-4-12 Ebisuhigashi, Naniwa Ward, Osaka
Phone Number: 06-6641-3577
Opening hours: Tue-Sun, 10:30AM – 9PM
Kushikatsu Bon
This is a special restaurant that has been awarded one Michelin star. Deep fried and gourmet don't often go hand in hand but this restaurant has found the magic touch. Kushikatsu Bon started in Kitashinchi, Osaka's busiest shopping district. The owner's aim was to introduce kushikatsu to the world and since, has opened a shop in Paris.
Chef Kenji Otani uses only the top ingredients to create his kushikatsu. Some examples include his Japanese black wagyu beef topped with kombu and Pacific herring eggs, sea urchin and caviar. This style of kushikatsu takes the humble skewer to the next level. The menu consists of three Omakase (chef's recommendation) menu.
16 Skewers – 12,500 yen
18 Skewers – 13,500 yen
20 Skewers – 14,500 yen
If you are looking for gourmet kushikatsu, look no further than here! Make sure to call to make a reservation in advance.
Address : 〒530-0003 B1F, Dojima Merry Center Building, 1-3-16, Douzima, Kita-ku, Osaka, Osaka
Phone Number: 06-6344-0400
Opening hours: Mon-Sun, 18:00-24:30
---
Kushikatsu Karatto
Karatto is a moderately prices kushikatsu restaurant, which is sort of hidden away. It is situated in a century old traditional style warehouse that has been renovated. The interior is filled with stylish and subtle furniture, unlike places success as Daruma. Instead of the usual dipping sauce, their recommendation is to use just salt to enhance the flavour of the meat/vegetable. There are the regular types of kushikatsu, however there are some more irregular ones including avocado and banana.
The best part of Karatto is that it is open till 05:00 so it's great to go after a night out!
Address : 〒542-0085 1-3-23 Shinsaibashi-suji, Chuo-ku, Osaka-shi
Phone Number: 06-6258-2255
Opening hours: Mon-Sun, 17:00-05:00
---
I absolutely love eating kushikatsu if I'm looking for something quick to eat. The variety of meats and vegetables means that you never get tired of it. It is also a great meal to have when drinking with friends and family. Furthermore, using your hands to eat makes it more casual and fun! If you are travelling around Osaka, this is a must eat meal!