Address: Seyhan Kebab, Naniwa Ward, Osaka, 556-0002. Tel. 080-3114-3434. Open 11:00- 22:00. Instagram
Run- Don't Walk!
Shinsekai. North end. Tsutenkaku Tower plaza arcade. Hondori shopping street. South of four corners, across from Naniwa police station stands a newly refurbished retro-eighties style arch: Shinsekai Gate. Walk though it. No- wait! DONT WALK. RUN! …Run through it!
Follow a certain …. aroma ….to an unpretentious Turkish cafe-kitchen just fifty meters down, on the right. Just trust me! You can thank me…later!
This article will exclaim the climb to prominence this small, obscure hole in the wall has taken along with its five‐star hotelier chef turned "King of Kebab" in Shinsekai, Osaka.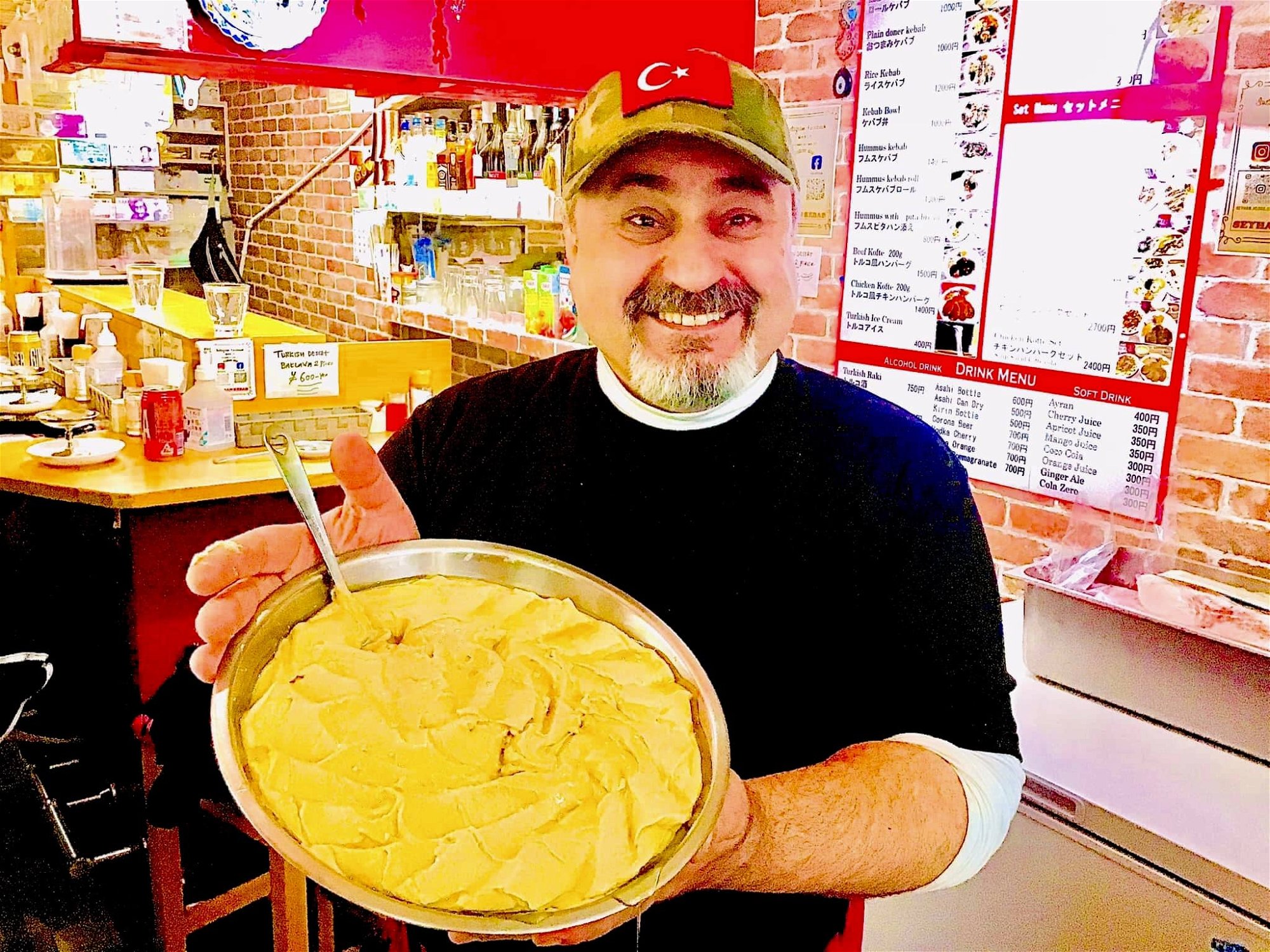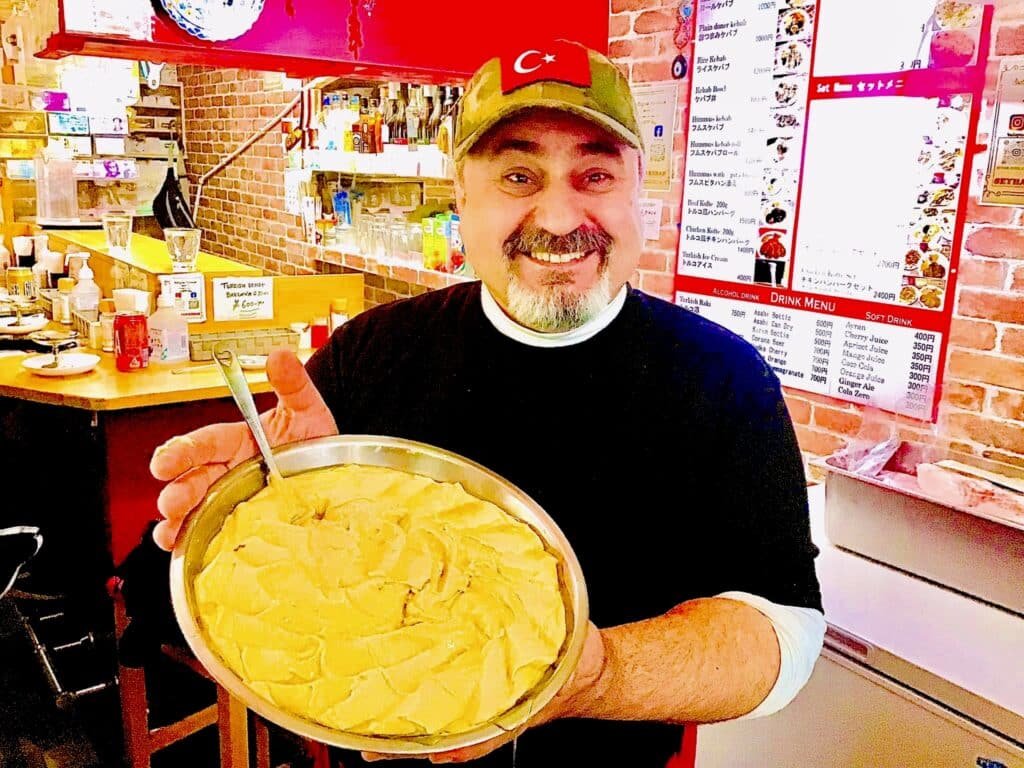 Follow Your Nose-It Always Knows!
Out of -seemingly-a crack in a wall just north of Shinsekai's sprawl, there emits a warm, wafting breeze, upon which rides an instantly exotic odor! An intriguing, rich tang! A spicy, aromatic siege! A sudden conflagration of the olfactory senses! A wonderfully tantalizing sensation descends! GLORY!
The aroma lifts, swirls around us, pulses upwards and – like the proverbial genie out of a lamp- streams under our noses, into the arcade, out onto the plaza, up the brick road to the Naniwa four corners, down the Osaka Metro steps, and through the corridor clear out to Ebisu Yasuji.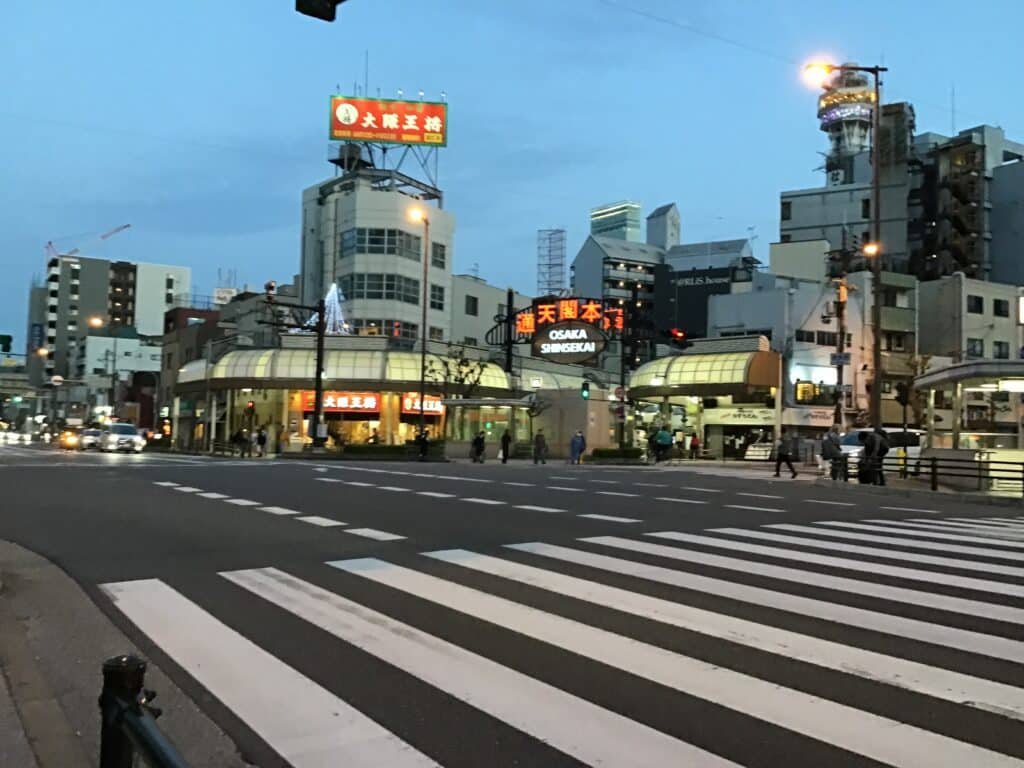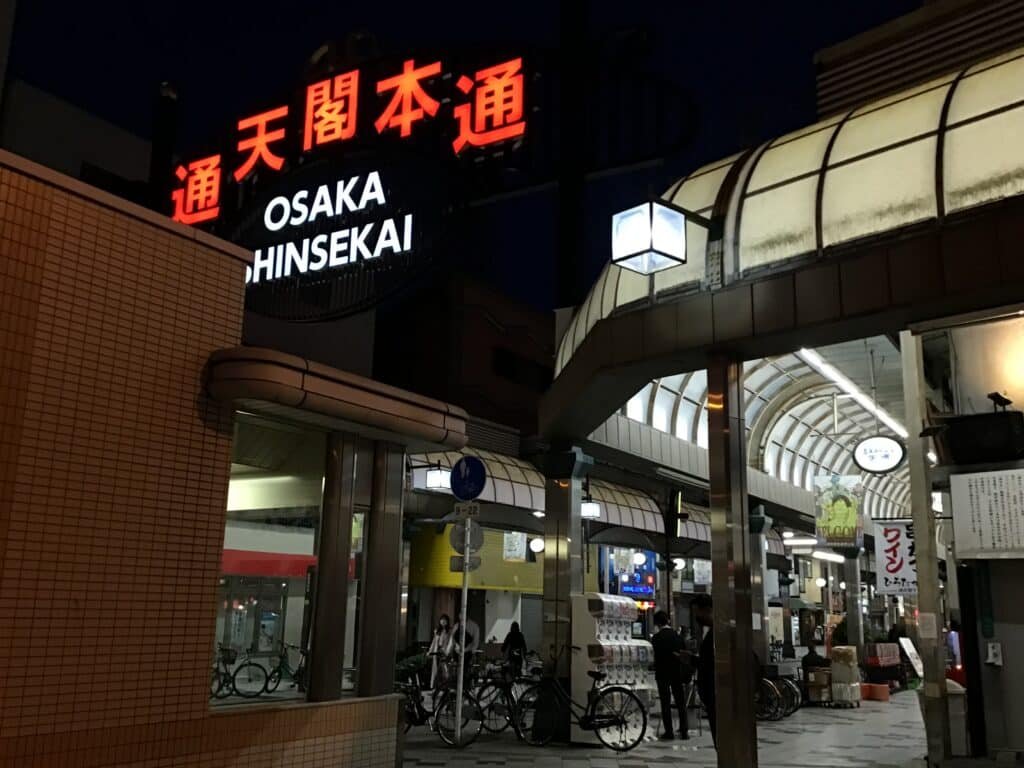 If the "Genie" is the wafting aroma, then the "Lamp" is a certain obscure, unimposing kitchen with Turkish lanterns bearing the Turkish National "Red Banner" emblazoned with a white crescent moon and five pointed star!
North Shinsekai: Kushikatsu, Takoyaki, and…Kebab??
Unobtrusive, at times seemingly idle, this Turkish cafe/ kitchen is the realized dream of long-time immigrant resident, Mahmut Seyhan, (Türkiye).
For the kebab loving Middle Eastern residents, Muslim tourists in search of Halal food, European expats and others, it is 'home away from home.' For the average traveler following the guidebook to Osaka's iconic tower district, it's a surprise sat practically on the front DOORSTEP to Tsutenkaku tower. Imagine a Texas BBQ startup set right on the promenade to the Eiffel Tower! Yeah! SURPRISE!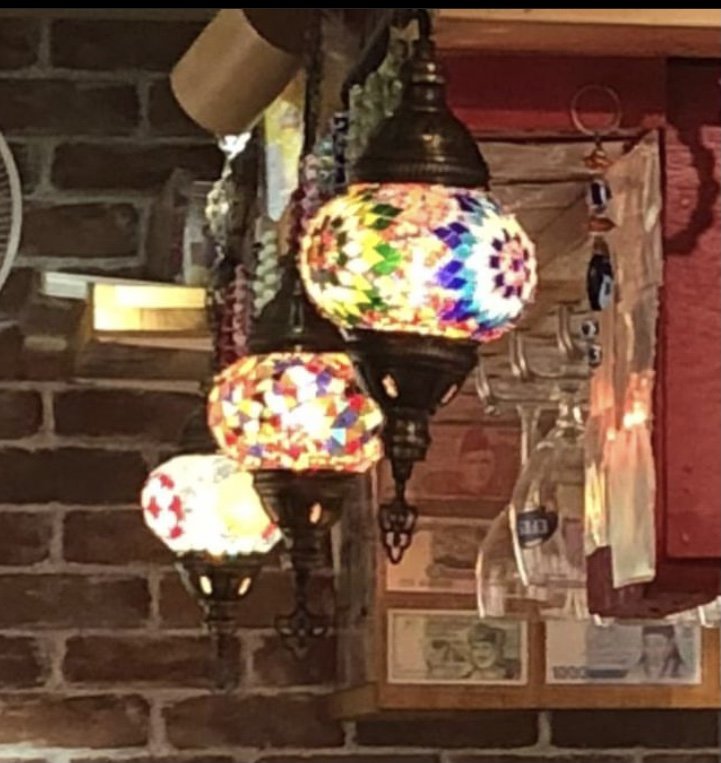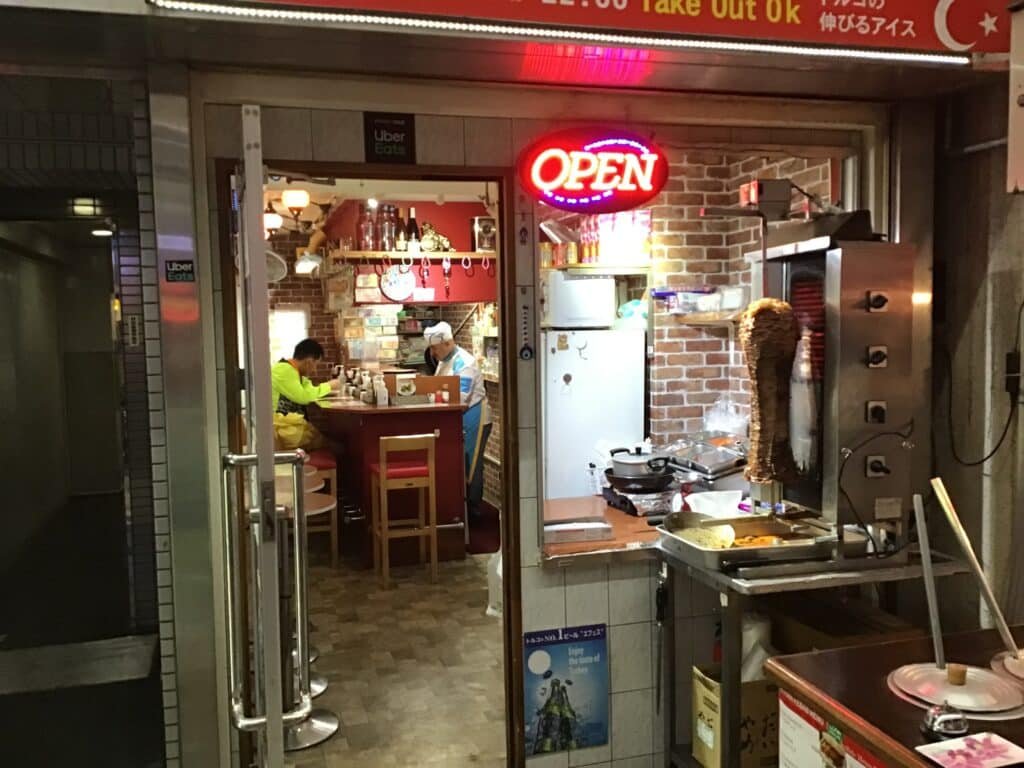 Easily overlooked, the brisk stroller (upon whose mind rest mounds of Takoyaki, slices of ice-cold yellowfin, skewered fried treats, ice-cold draft beer, the tower, electrifying street scenes,) might easily stroll right past this gem of a place were it NOT for the aroma.
Though upon my radar back in 2017- 2018, I myself must have passed it no less than a few dozen times. I recall thinking, "What exactly IS a kebab place doing in all- famous Shinsekai?"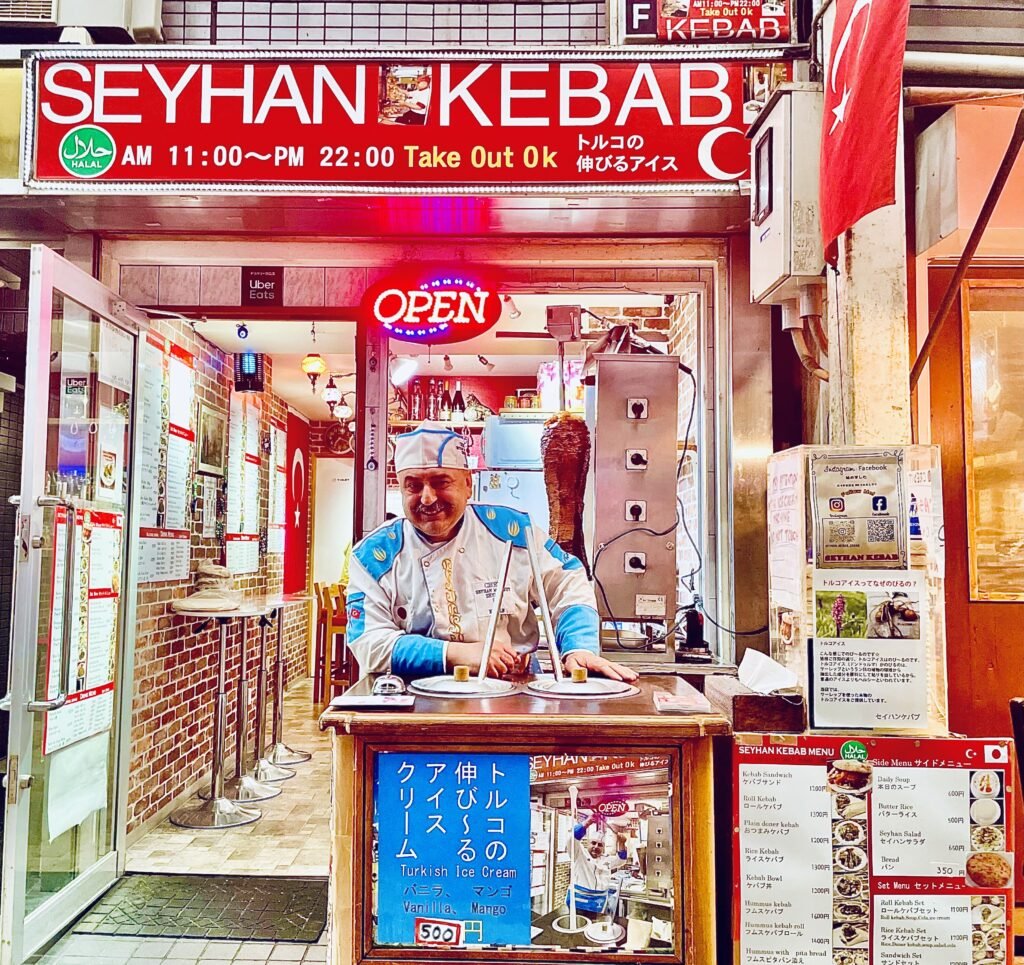 Before long it was less a question 'WHY KEBABS?' than the proclamation: "Wow! KEBABS!" First, there was talk. Next, there were queries. Soon, there were posts: legendary level Kebab-hysteria. My social media feed looked like this: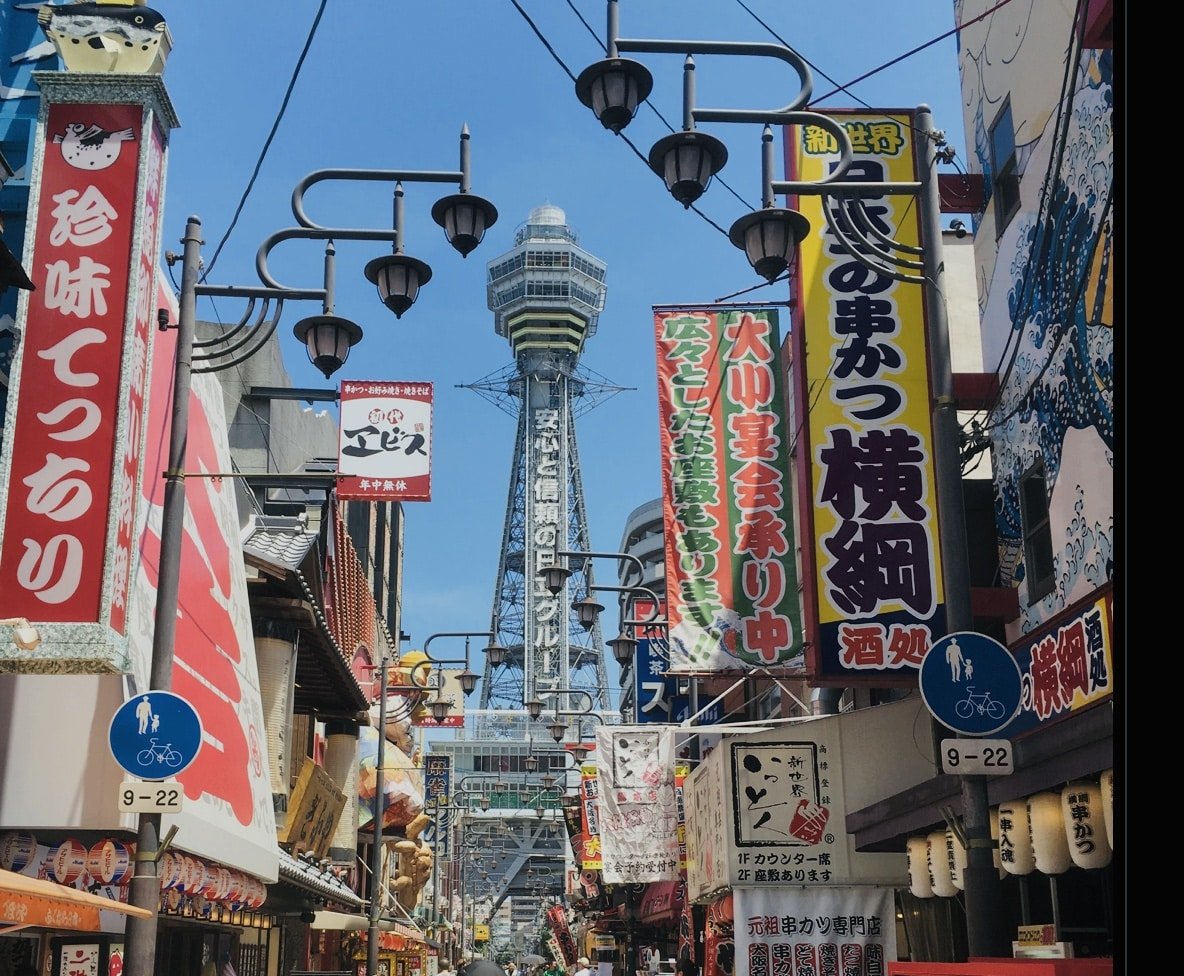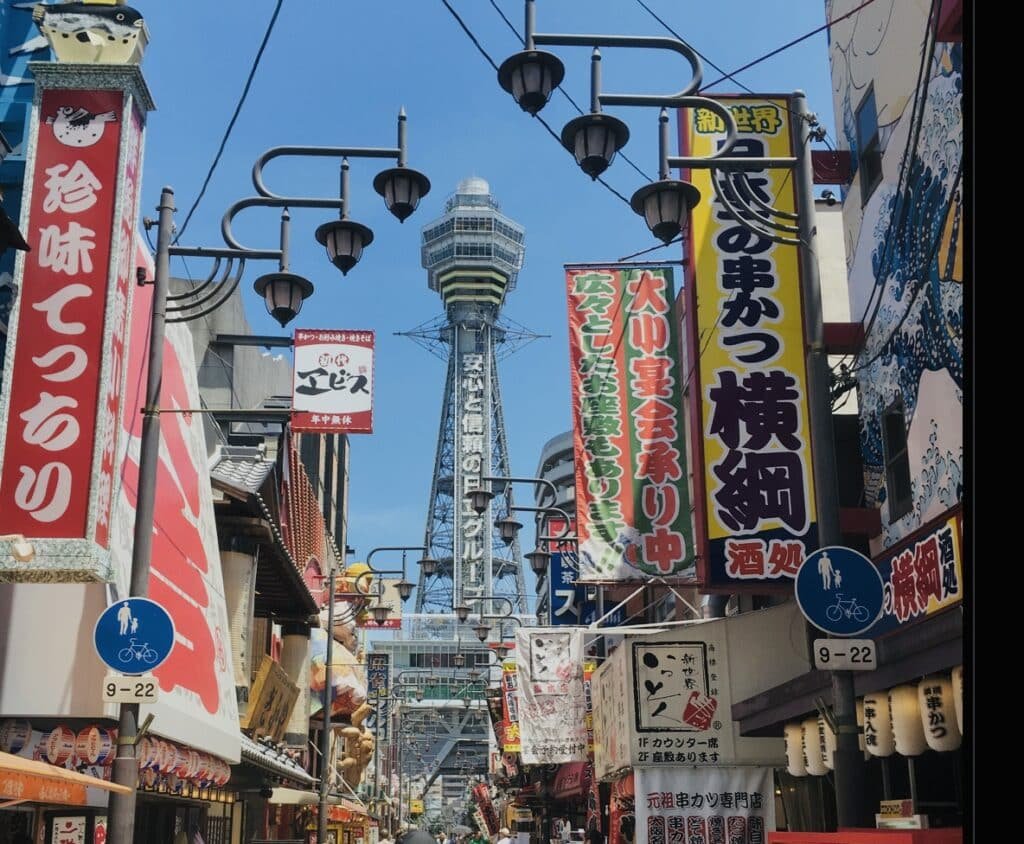 Shinsekai of ALL places has got the best Doner kebab ANYWHERE in Osaka!….
Look at that Turkish place in the 'Shin' !! It has a baseball bat-sized wrap that KNOCKS THE BALL OUT THE PARK!!!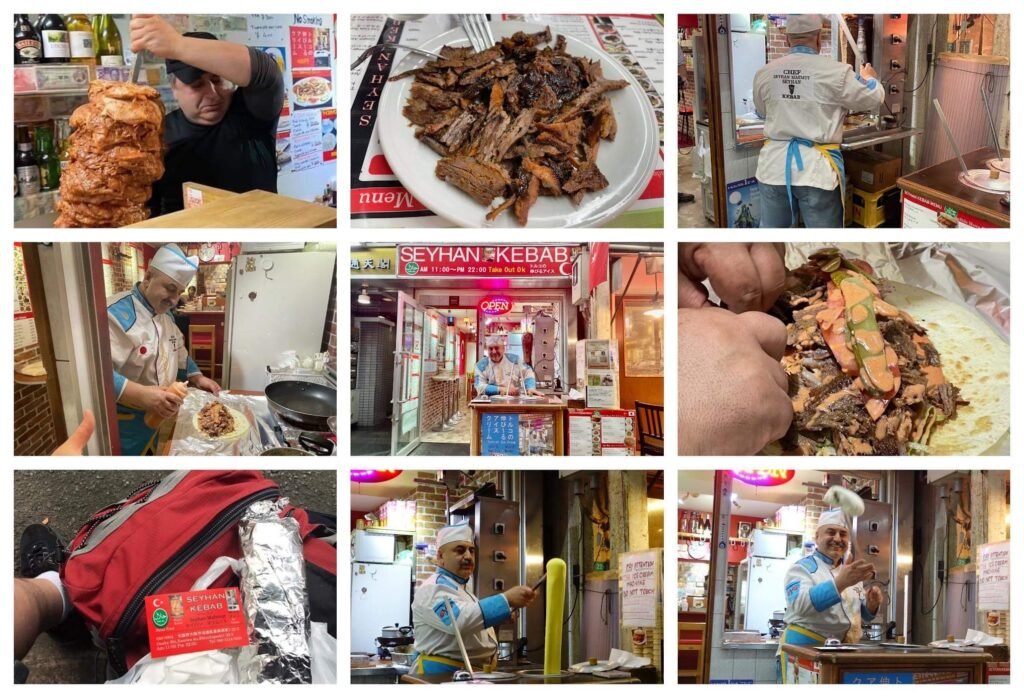 Social media spread the hype like wildfire describing them as the best kebabs, kofta, hummus, and raki anywhere in Kansai. My own crew wrote telling me, "You're missing out! He's on the plaza right here in the heart of Osaka's own kitchen– SHINSEKAI!!"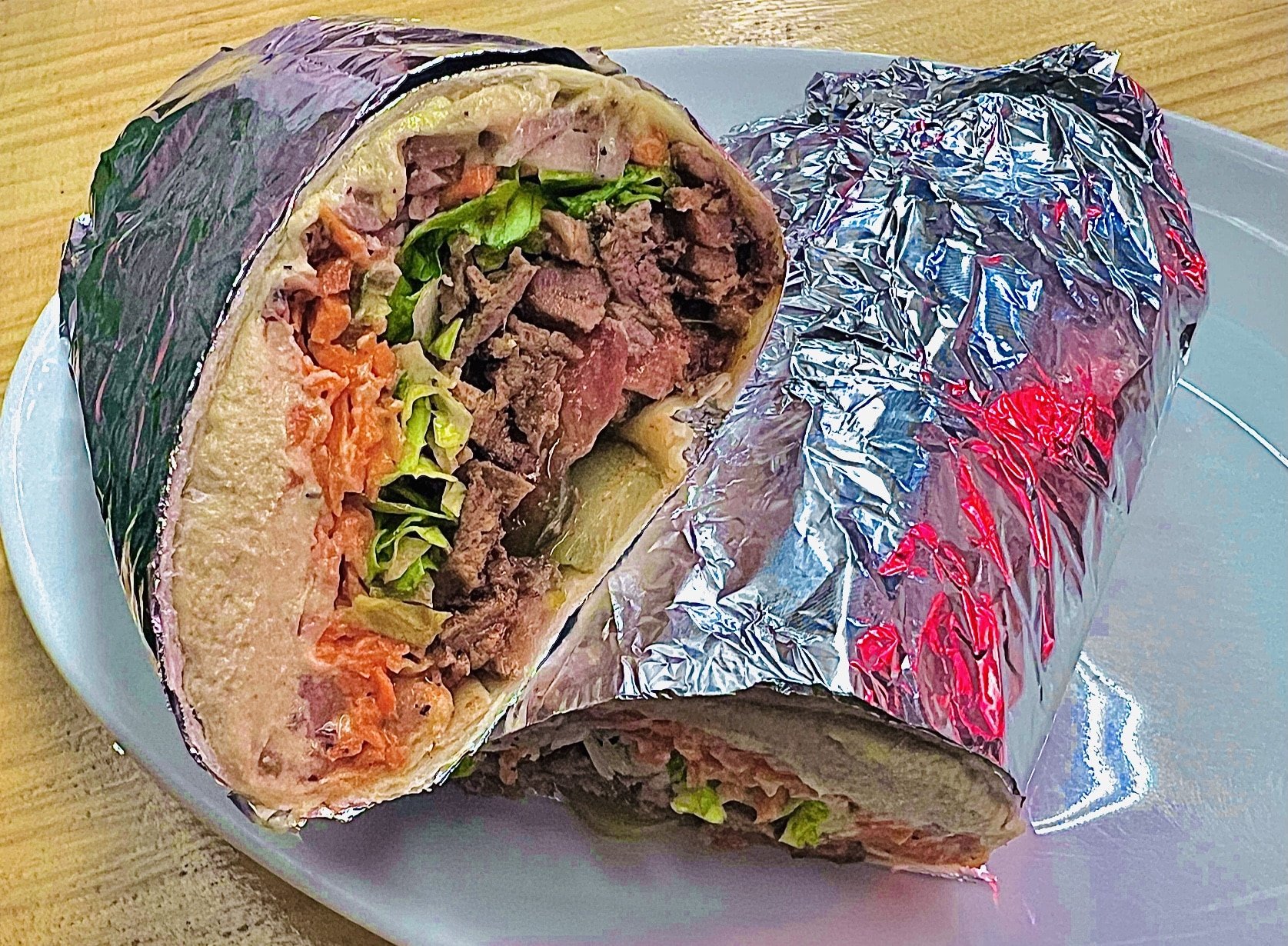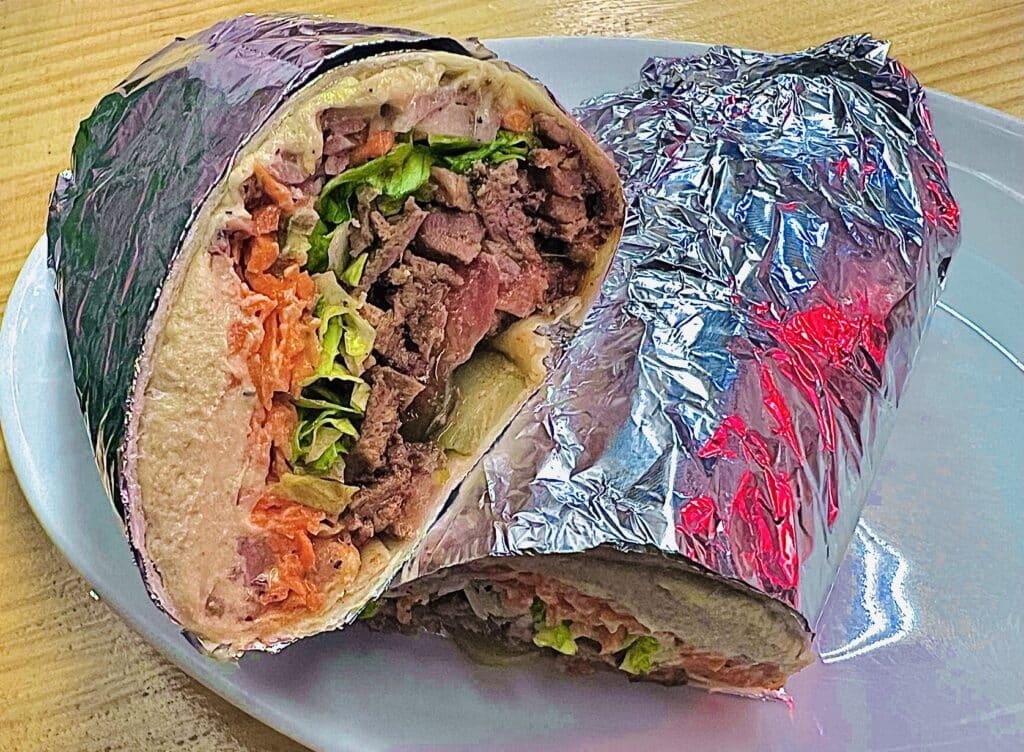 "Seriously? …That small place on the plaza with the Turkish flag? NO WAY!"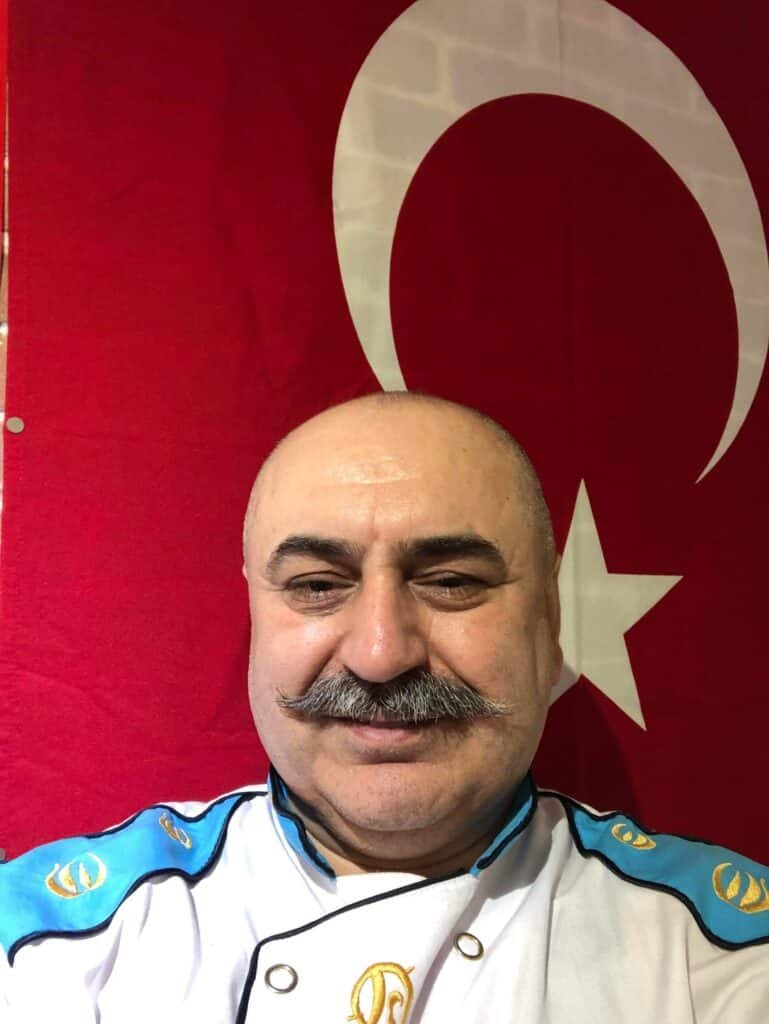 YES WAY! The VERY place I'd passed time and again with the sign above the door:
OPEN. SEYHAN KEBAB. …. Who Knew??
The time of my discovery was back in 2018. Most of us who did find this place enjoyed two years of best-ever kebab madness before 2020 – and the pandemic- nearly closed the place down.
Halal Kitchen
Fast forward three years to March 2023. It has been some time since I could whilst a way a slow afternoon with a friend. I've come to take tea with Mahmut Seyhan.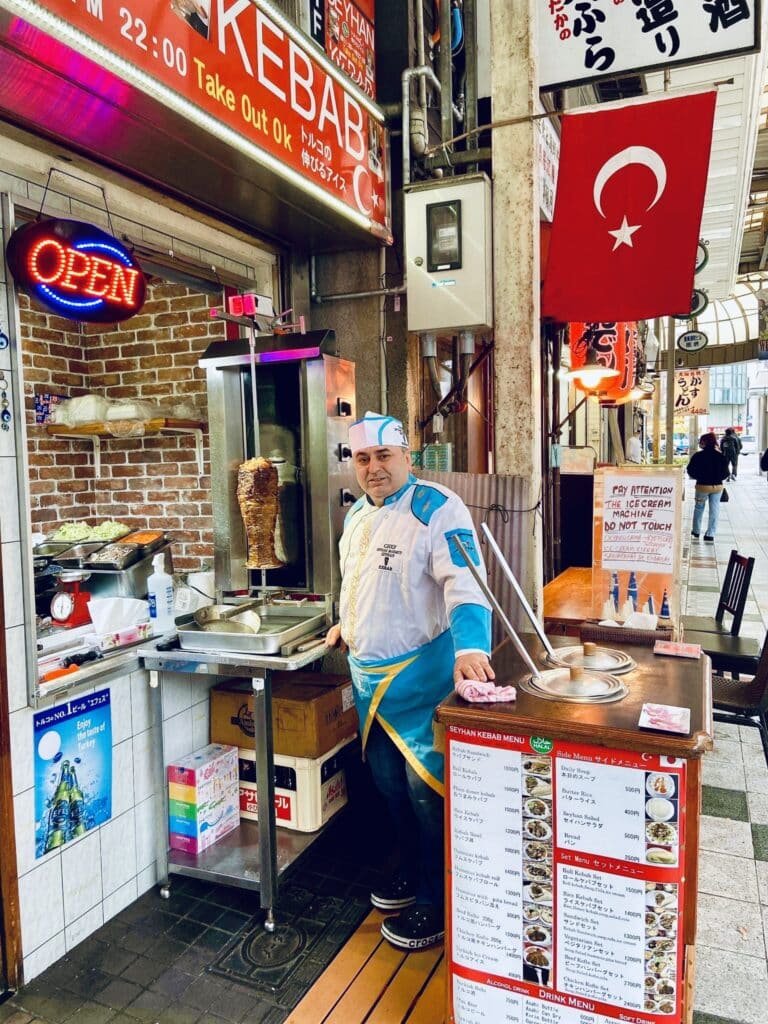 Seyhan pares his long knife against his homing blade, long strokes both sides of the knife. His hands flash as steel slides on steel. Snapping up a flat catch pan with a handle, he begins shaving the 100 % Halal meat "torompo"- a Spanish word where I come from meaning: 'spinning top'. I take my seat outside at the tables and watch the show.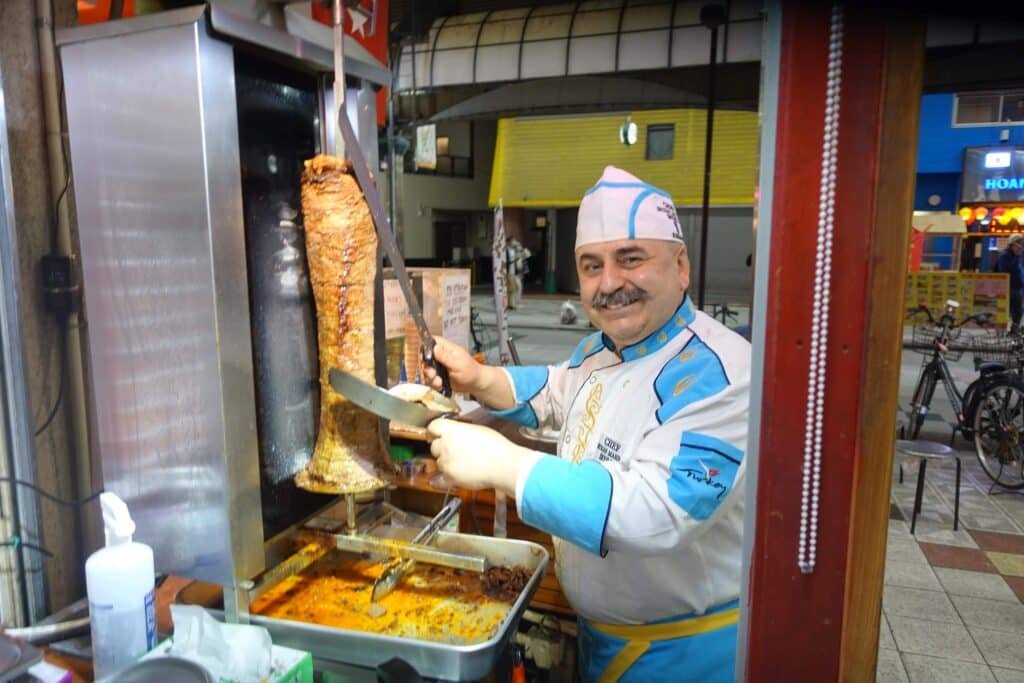 Seyhan used the better half of an early morning to "hang the donor". Now the upright vertical grill sparks and sizzles as the meat uniformly browns and chars, slowly, creating a thick, crispy BARK! The "wafting aroma" is thanks to the permeating marinade of spices – exactly those spices and HERBS which perfectly represent the flavors of the country, the dish, and the Man!
Nodding to me, Seyhan plates a few shavings for my critique. "Here, give this a try!"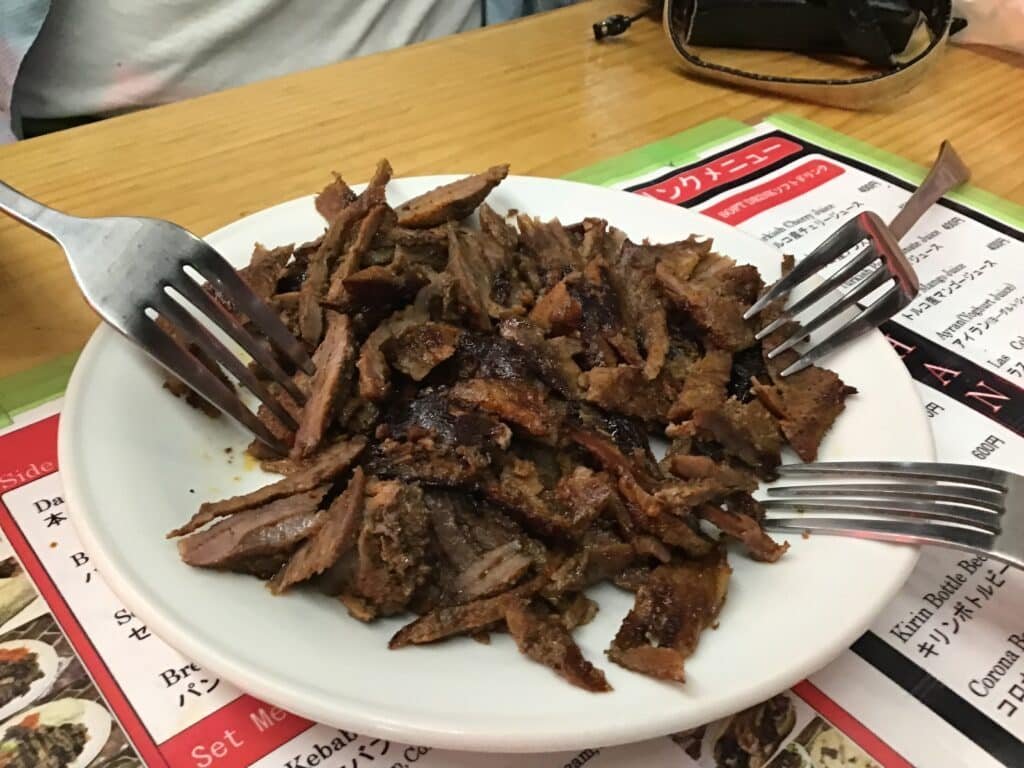 "What is THIS?" I exclaim. "It's not chicken!" I squint trying to take a closer look at the spinning doner.
Seyhan winks, "I'll tell you later!"
His kitchen is scrupulously clean and simple. A fresh array of vegetables beaded with water, chopped onions flecked with purple sumac, and delectable pickles are set in ice-cold containers. Pita-pocket bread and large, circular wraps toast upon a hot pan.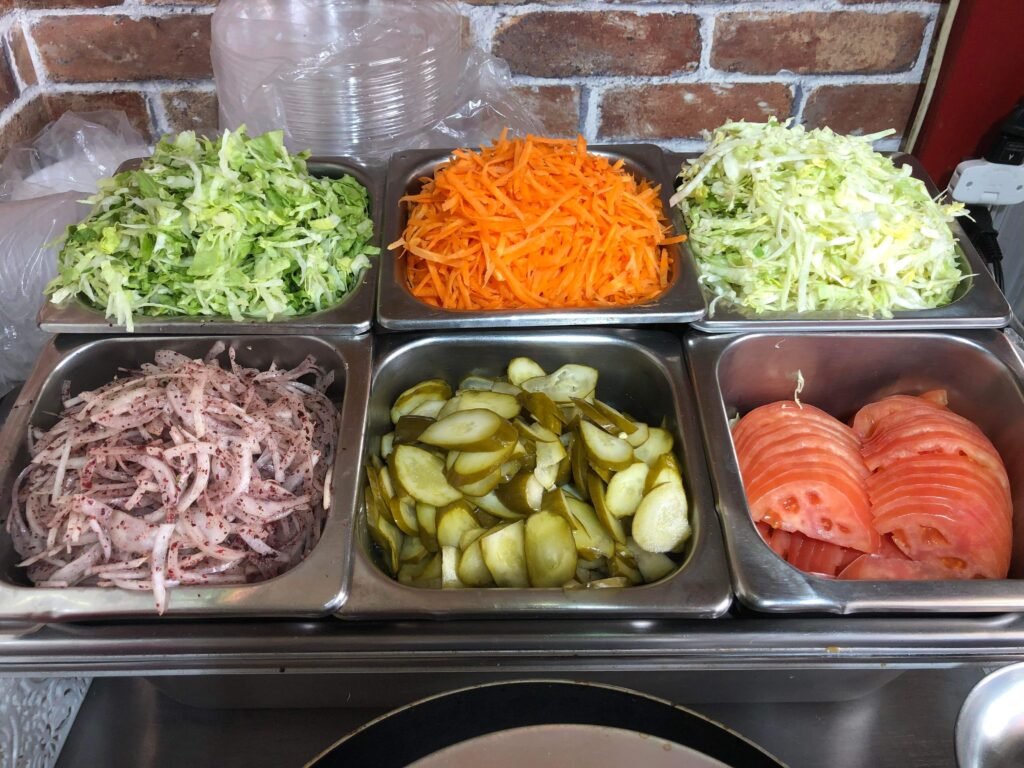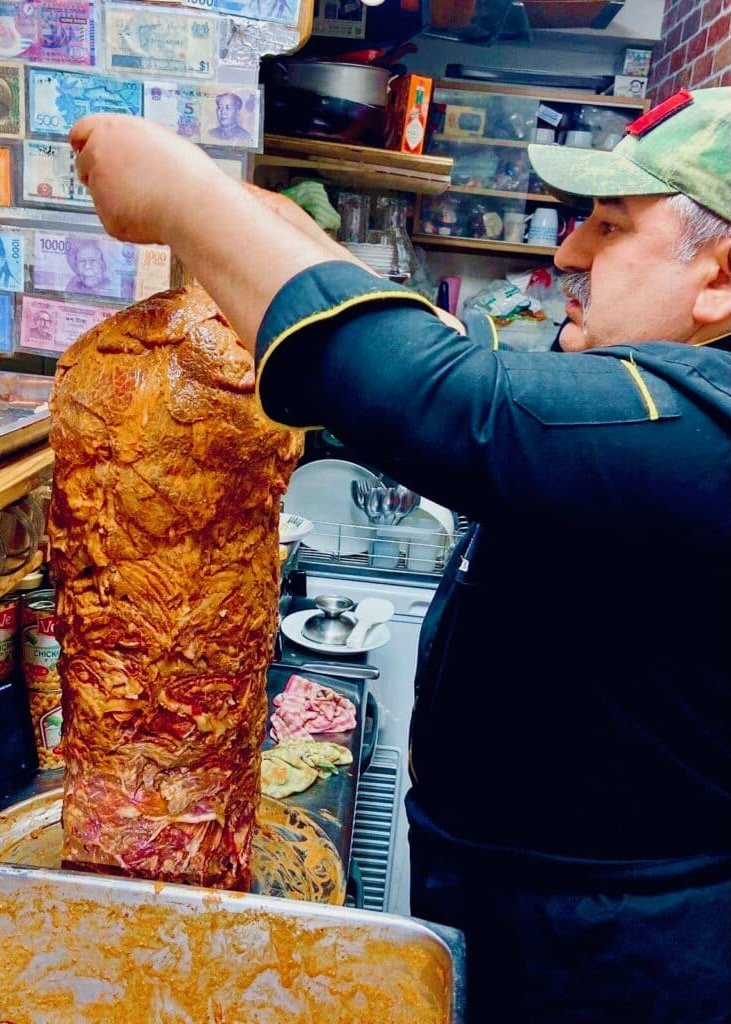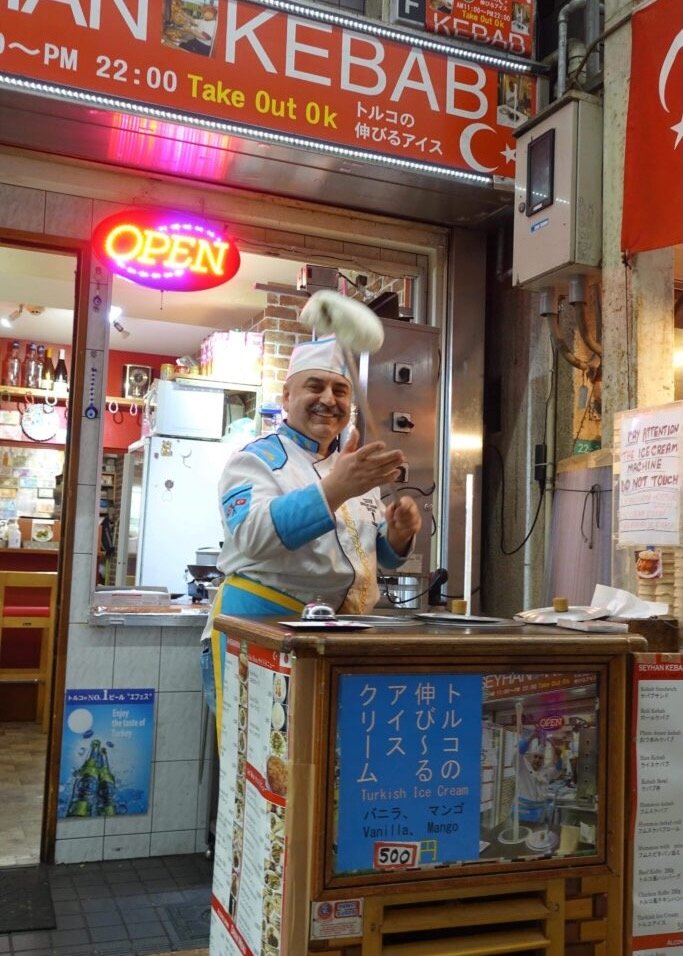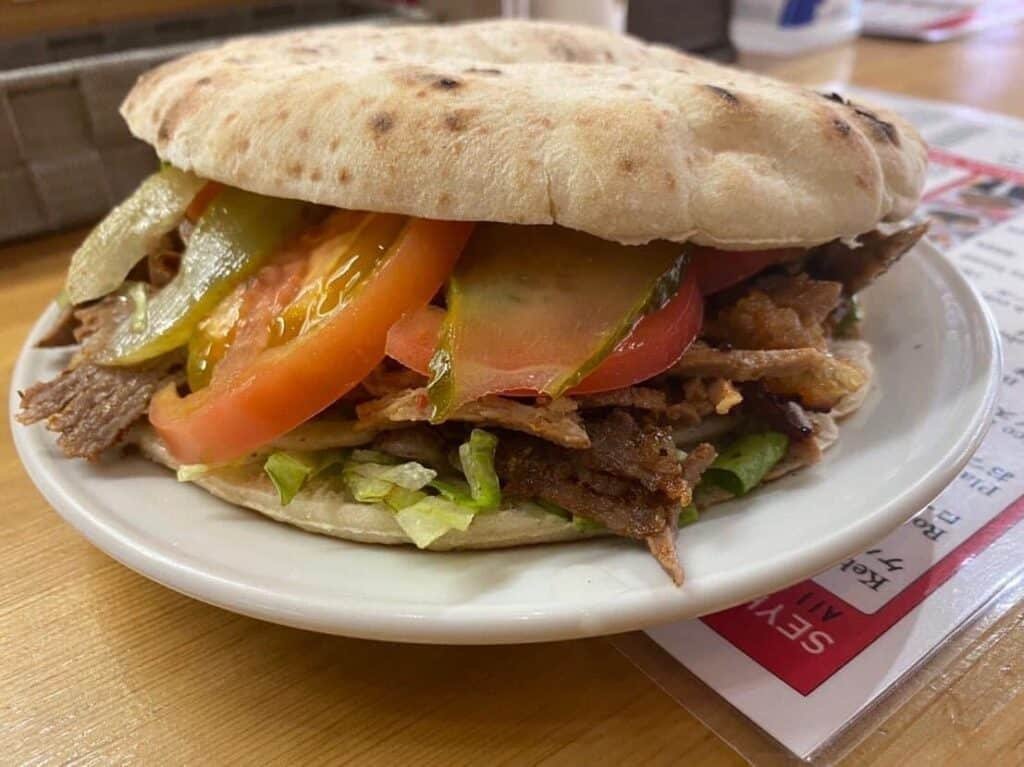 Large stainless bowls filled with handmade hummus dripping with virgin olive oil are relegated to the cooling unit in the back. Menus of kebabs, wraps, hummus kebab rolls, kabab rice bowls, koftas, soups, mixed sets, teas and various drinks line the walls.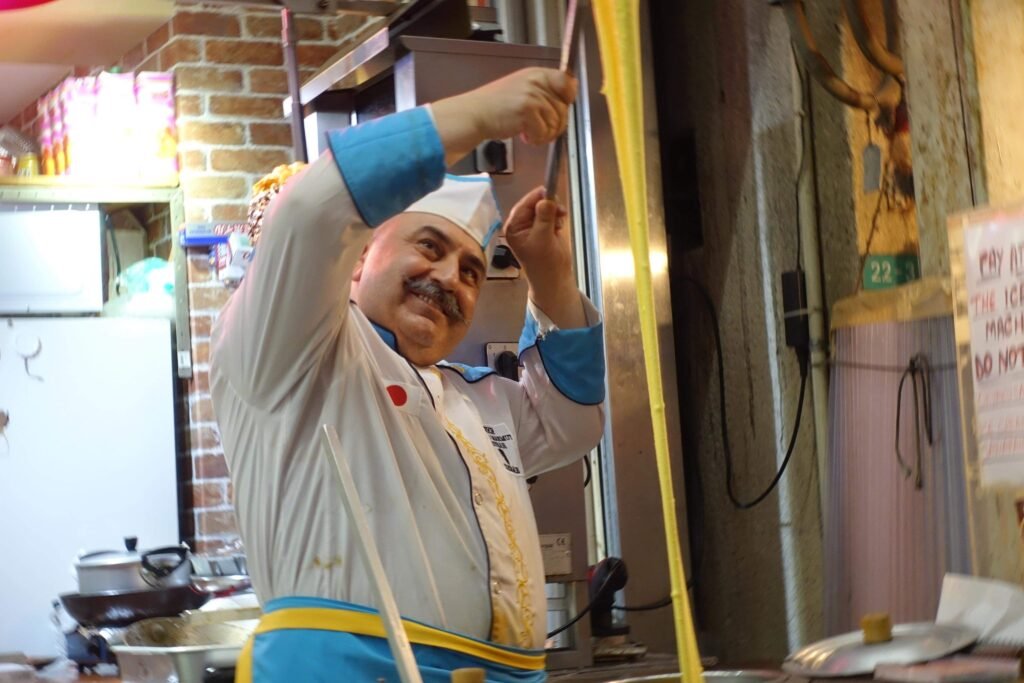 DONT forget the ICE CREAM! A refrigeration unit hums and freezes the thick, delectable Turkish ice cream found deep inside twin stainless-steel buckets within.

Meet the Man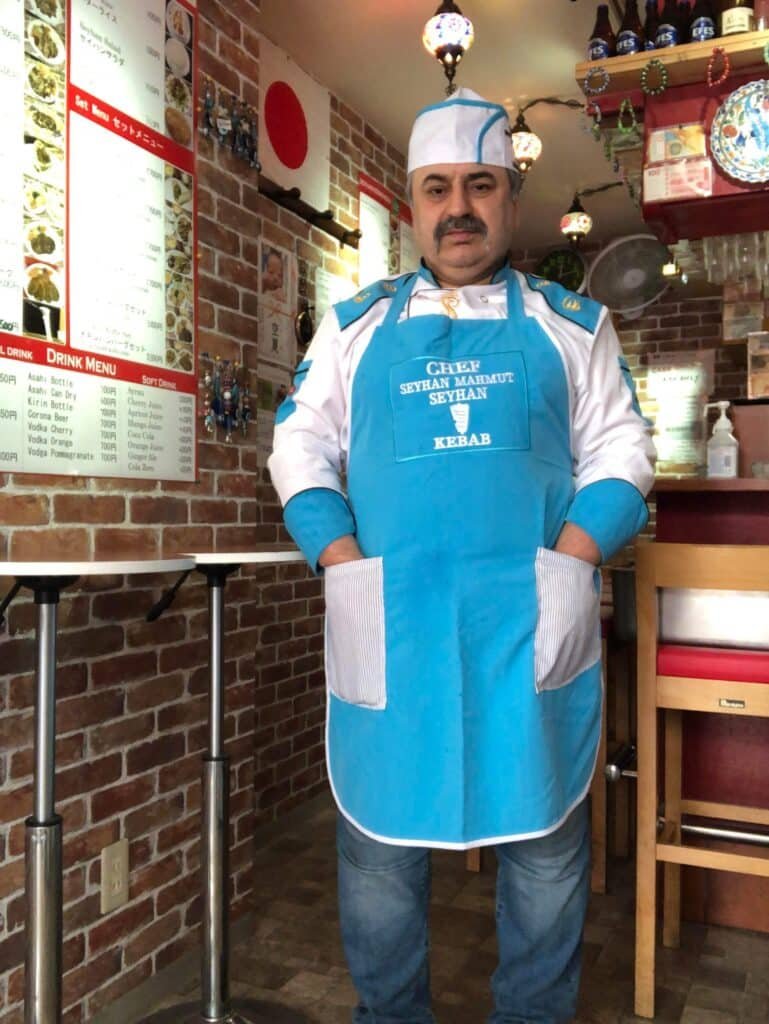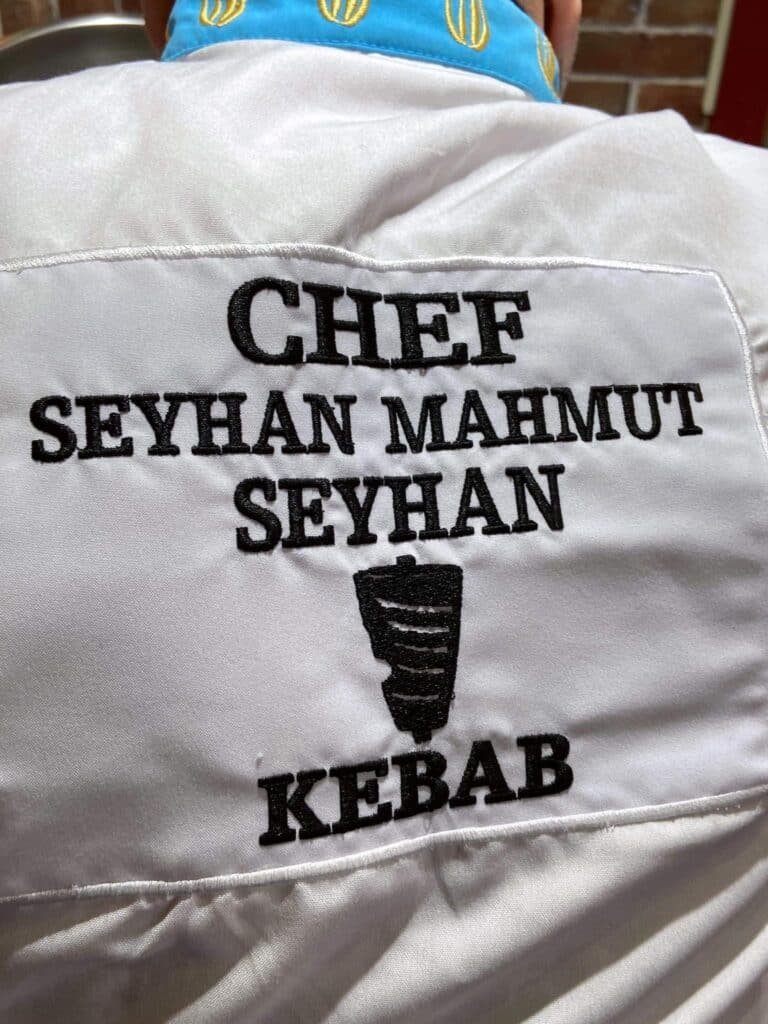 Birds twitter in the slow lull of the afternoon. It is warm on the plaza.
Seyhan takes his place across from me outside at the tables. "Slow traffic today and the day is not cold! Perfect for tea time," he winks, his hands furnishing a small pot and two mini crystal glasses. Between us sits dish filled with white sugar cubes. The hot Turkish tea is rose colored. Steam curls like a ball at the tops of the crystal.
Eyes twinkling, pressing a sugar cube lightly dipped in hot tea to his mouth, Seyhan takes a long pull at the crystal flute. He lets go with a contented sigh. As he turns to regard me, the tips of his full mustache – something nonexistent pre-pandemic-twist upwards as he smiles. "So then…. what would you care to know my friend?? Is it the secret of my humble food or the warmth of my heart?"
We chat. In Japanese. Turkish not being my forte, English not being his.
He tugs at the ends of a twisted mustachio and asks me if I've ever been to Istanbul. "Only in my dreams," I replied. His food is perhaps the closest I've been.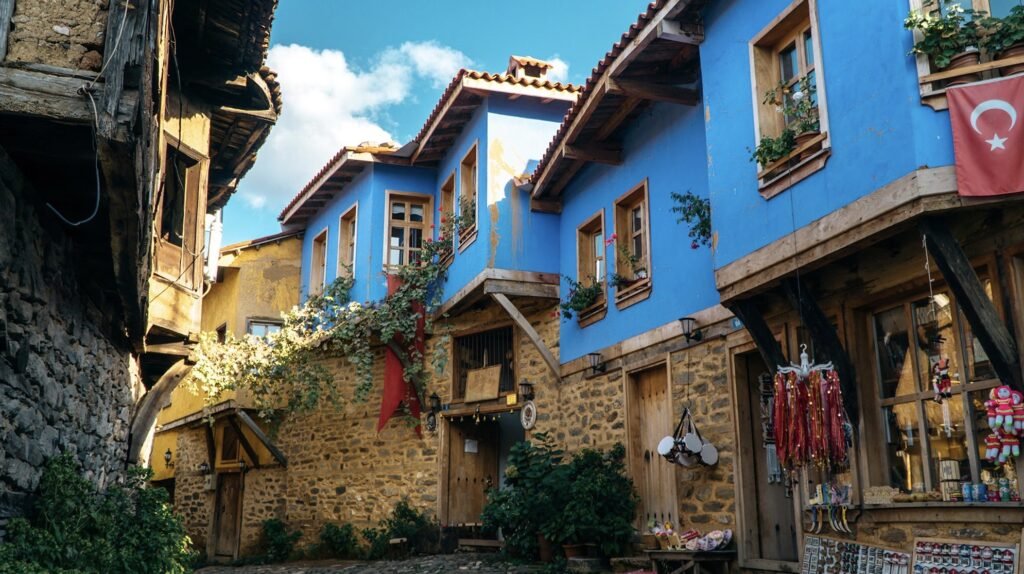 Seyhan looks off into the distance as we sip our tea, his expression waxing nostalgic. Turkish tea seems to be the conductor that moves thoughts to expression and expression to words. There is always a long pause between installments.
"I was born to two loving parents in the small village of Buyuk Bekisler Village, Mecitozu township, in Corum province, Turkeye. In my youngest years I was a sheep herder." He chuckles at my expression and sighs again as he tops of my tea.
"It was very, very beautiful there. "
"There was a shortage of jobs in the countryside. People were poor. So, having completed primary school, at thirteen I dropped out in favor of being schooled around the tiled and iron stoves of the hoteI industry. I was fourteen when I left out on my own for Istanbul.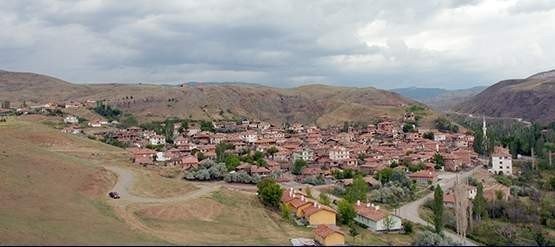 You can imagine the climb to cook that is -for a youth-only the most bane chores in the industry, washing dishes, tending to waste, cleaning. Peeling vegetables was actually a rank up from that.
By the time I was 15 I began working in the kitchens of four- and five-star boutique hotels finally learning the cooking trade. It took six long years to master cooking. Then, suddenly, I was 21.
In Turkey, mandatory conscription into military service is 21. I entered the Turkish Army and served my two years. I then returned to Istanbul to work for a new five-star restaurant.
Here was where my life as a young man entered an age of responsibility and with it, the promise of prosperity. 23, I married. I worked hard; I had my first child. I worked harder.

Japan Bound
"Life turns on a Turkish Cuura (dime) they say. A young, industrious Japanese couple had encountered my service and asked if I would hear a proposal. Would I come work for them in Japan as head cook of their kitchen? Turkish salary was very low for a newlywed. Perhaps this route would allow me to save for a home for my family one day.
Before I knew it, said 'goodbye' to my parents and took my wife and child to start a new life in Japan. In May of 2000 I had my Japanese workers VISA, joined my employers, and worked for Tughra Turkish restaurant on the Dotombori.
Eight years of work, 12-hour shifts, the birth of my second child. I was saddened that my first child, my son, 6 was speaking only Japanese and reluctant to Turkish. Up to that point I barely knew common greetings used in the restaurant industry. When I began to lose my son however, it was then I enrolled on my only day off into the Municipal building on the 4th floor of OCAT for Japanese classes.
Within three months I finally started communicating! I began to experience happiness! Previous to that point, I had felt lost, wondering if I should not pack up my family and return home.
Now, finally I felt like I had opened doors to a normal life here! I was finally speaking and for the first time in a very long time, I was feeling comfortable. I could speak to customers, I could share a joke, I could laugh. I cried!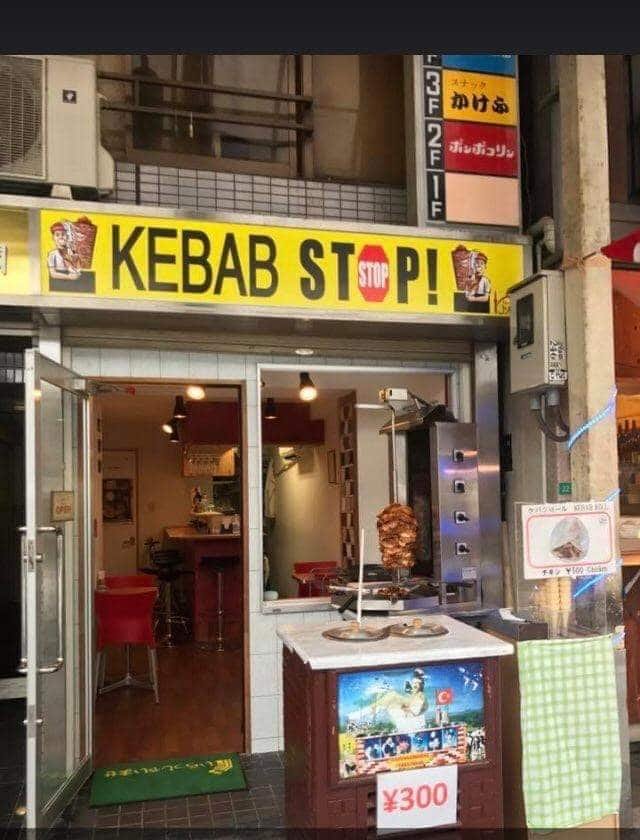 On July 21, 2008, with no warning, Tughra closed. Not knowing the reasons why, I watched the owners pull their stakes and leave. Suddenly I was unemployed and on my own."
Starting Over
The next eight years saw Seyhan work for various jobs he could find, such as the Fuurutsu Taikukan Omise CHUBAN as a seller of fruit. He worked hard, he accepted the jobs he could find and continued to save money. Back home he bought first one flat- then another. He had his parents and brother move into these.
In 2017 a small bar upstart owned by a Japanese man in Shinsekai was up for sale. The "bar" sold drinks, pita bread, and sported a very small, half trompo spinning slowly, each hour with next to zero clientele. It barely made it two months.
He sold out to Seyhan who, on his own savings and a small loan, repurposed it into a full Turkish Kitchen.
In 2017 Seyhan slowly realized his dream…
"Sell easy -to -make, high quality comfort food, at a decent price, make money, pay off debts, " He leans over the table and lowers his voice…" Make happy customers, keep it quality and very close to your skill set…Afterall, I hadn't gone thru the trouble of enlisting in five-star restaurants to lower my standards!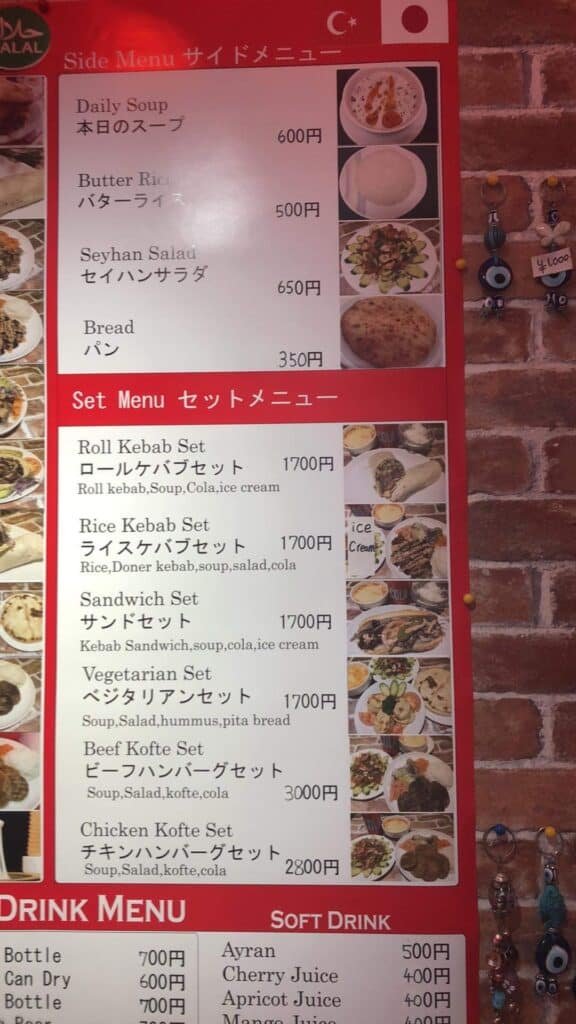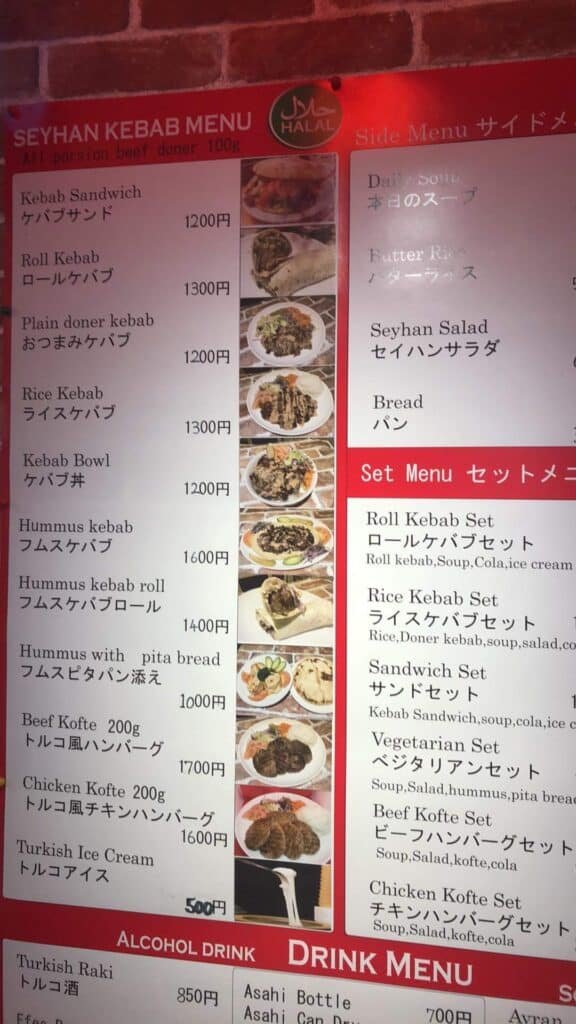 Kebab is a worthy, very popular fare, famous in Greece, Turkey, Iran, Levant, Maghreb, Gulf, Uzbekistan, Afghanistan, Pakistan, North India clear to Europe and beyond."
2018-19 were even better years for Seyhan Kebab. He had made a base for himself. Then an unforeseen tragedy struck everybody knows all too well about.
In February 2020, a certain Princess Cruise ship docked in Yokohama was next to the first IF NOT THE FIRST anyone here had heard of a pandemic level virus on the rise. Seyhan's hopes ground to a halt only to be replaced by fears.
While 2018-19 had customers falling in like cherry blossoms, February 2020 saw all of this come to a slow trickle, then a complete halt…. day after day of zero customers.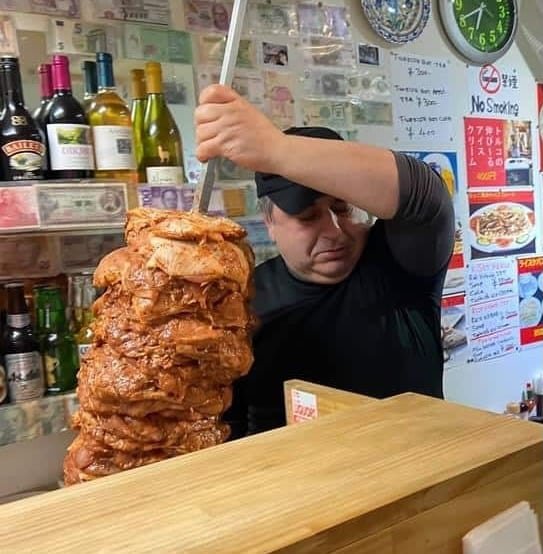 Babe Ruth of Kebabs
Seyhan rises and steps behind the meat counter, "Customers will start to come soon…what are you having?" Seyhan strops his long blade. I ask him if he has enough hummus for me? He laughs and retrieves one of the bowls from the back. It drips with olive oil as I capture the shot you see above.
"Make it the usual then friend! But! I want to know what that meat is! Best I've had yet!" I stood up to stretch and grab my wallet. "I have been dreaming a week now for your famous hummus, chicken and veggie wrap!"
Seyhan's menu sports many different items and styles of kebabs to choose – from kebab wraps to kebap on a plate or in a bowl over rice.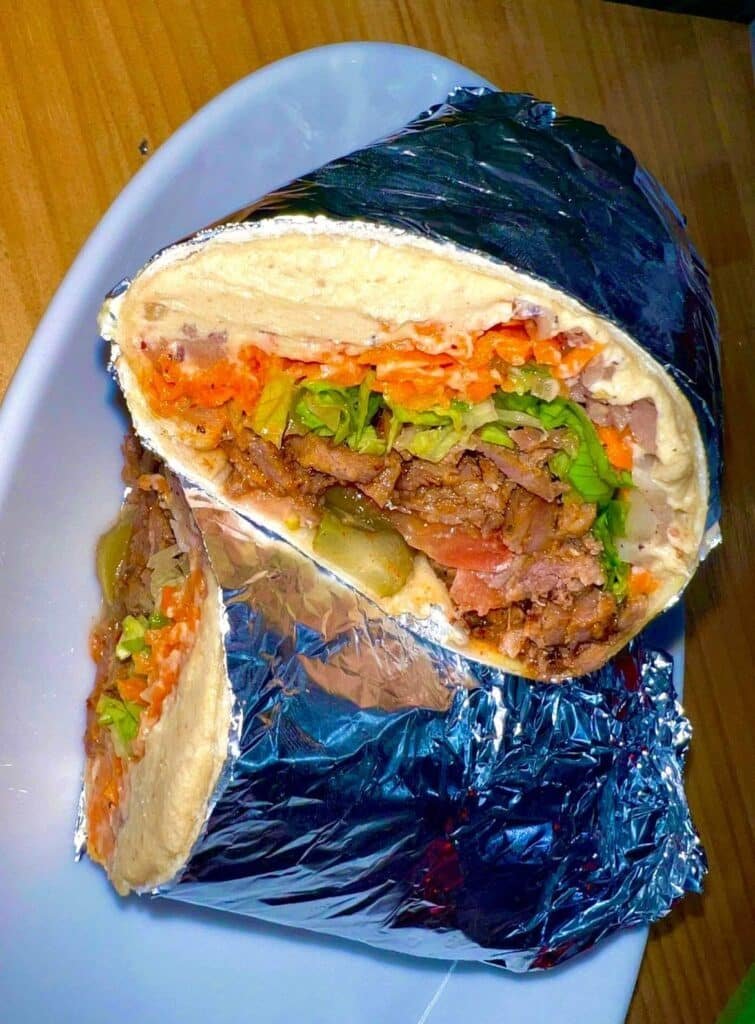 A favorite is THIS tortilla wrapped MEGOLITH, a Hummus Kebab Roll" (we call it the "Louisville Slugger", the "Bat", the "Babe Ruth of kebabs"!) the most fortuitous kebab on his menu. An unbelievably savory concoction of shaved, seared meat, creamy hummus, fresh, crispy vegetables, and his signature mix of sumac onions.
Seyhan's long knife pare the shards of perfectly grilled meat onto my soon -to-be doner-dinner. I feel lucky to be here, lucky he's here, and still OPEN.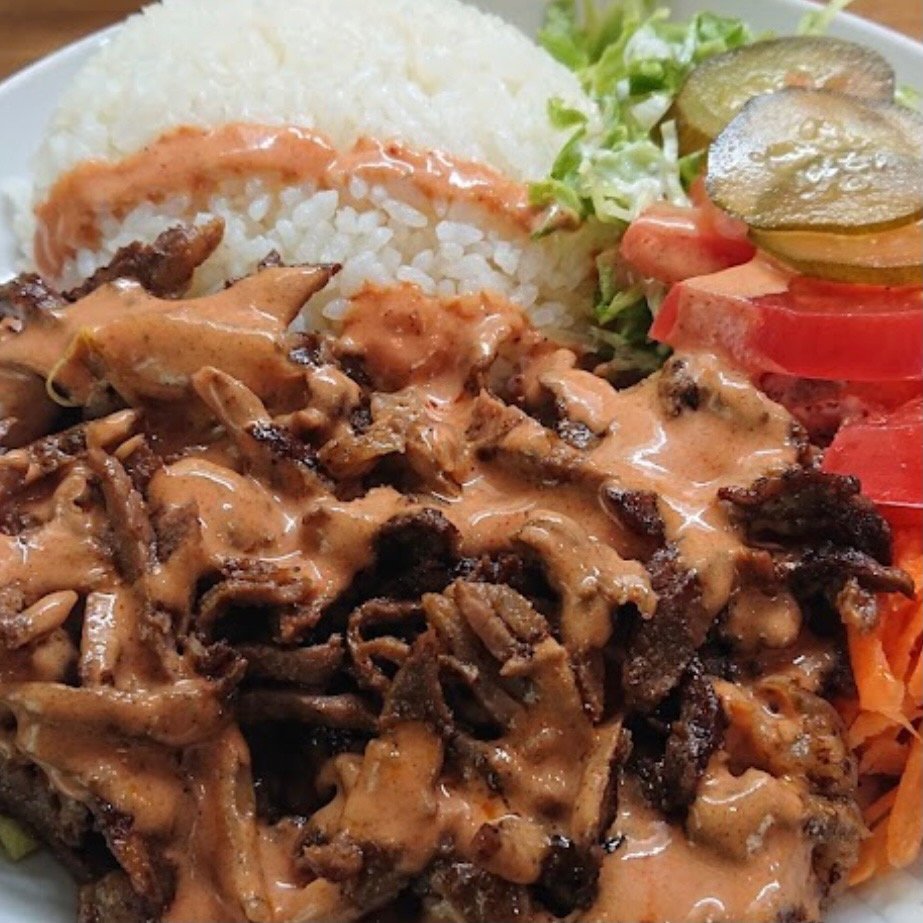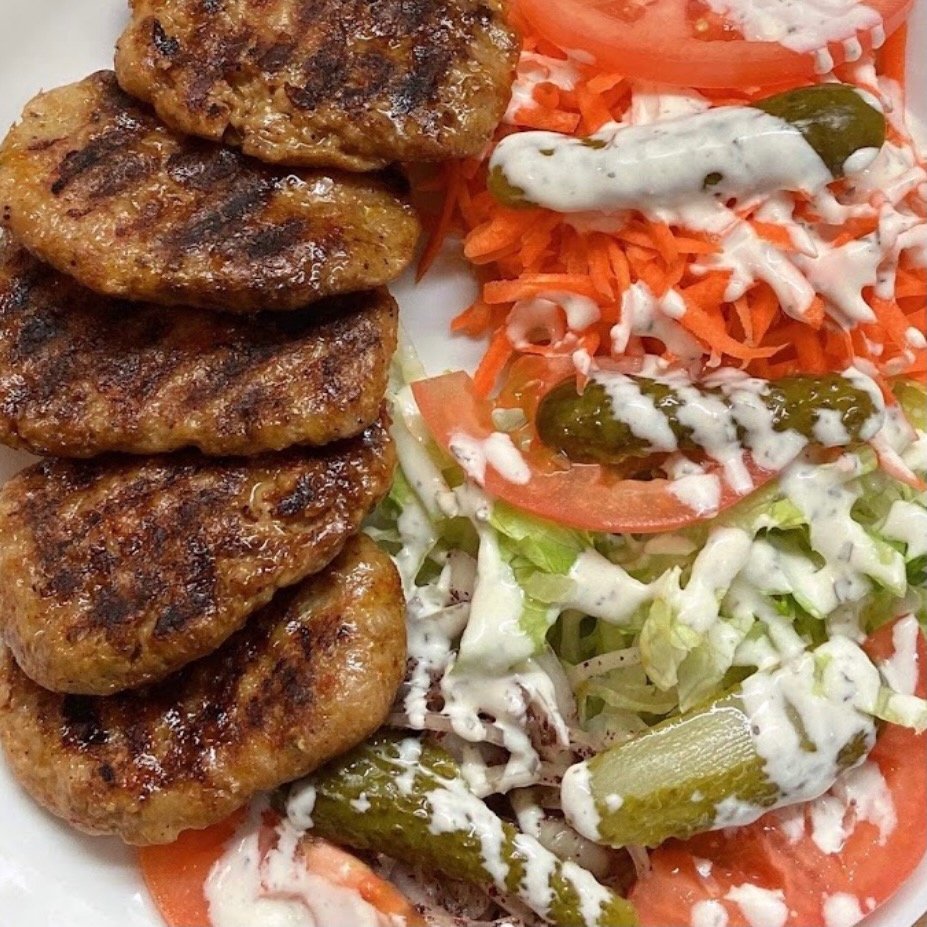 A Man With a Big Heart
During the pandemic between 2020-2021 only unlucky travelers stuck in Japan when travel ground to a halt could make it to his place to eat. Seyhan insured his doors were open for these people. If they had no money, he fed them.
"Of course, I needed revenue to stay open. I needed customers. But when it was apparent that customers couldn't come, we tried to deliver what we could. It was no longer about the money; it was about staying open to help those I could."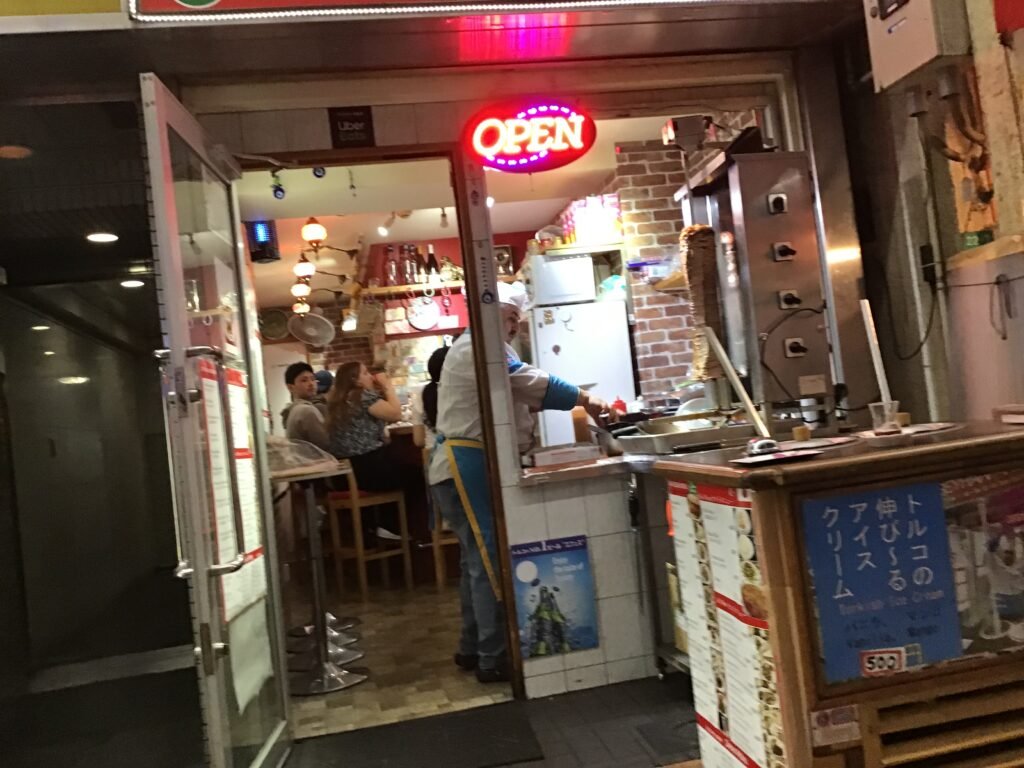 Seyhan replaces my tea with a new hot pour. "It is what we are to do. It doesn't matter to me if I am Muslim, many of my clientele are of other religions, backgrounds and so on…still, they need to eat. I think this alone kept us open. To do this. It's not heroism- don't get me wrong…. It's a simple matter of caring for your fellow man. What better opportunity did I have to be what I had desired to become? I hung in there, yes, Sir. That's all."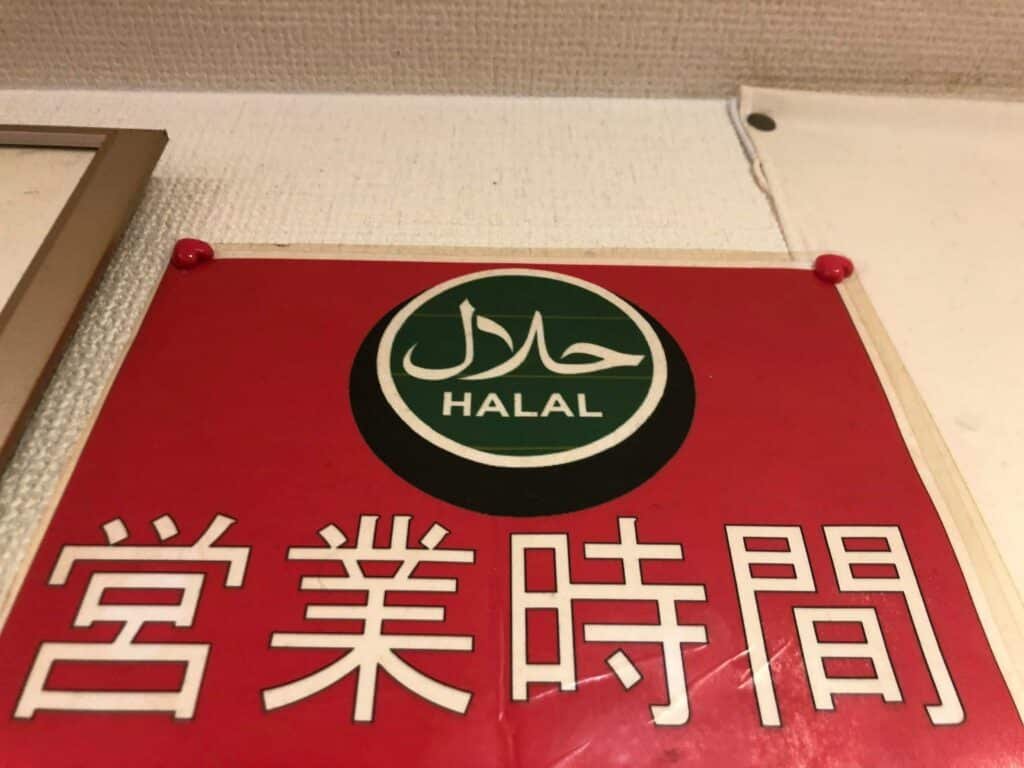 Back to Basics
2021, October. Businesses supplemented by the government to stay open were slowly seeing clientele shift back through the pipeline. A war torn Seyhan who had worked from the trenches had become exhausted.
A minor setback necessitating a short term in the hospital, a return to TURKEY to see his ailing mother, and hailing advice from his elders, Seyhan decided to make some changes.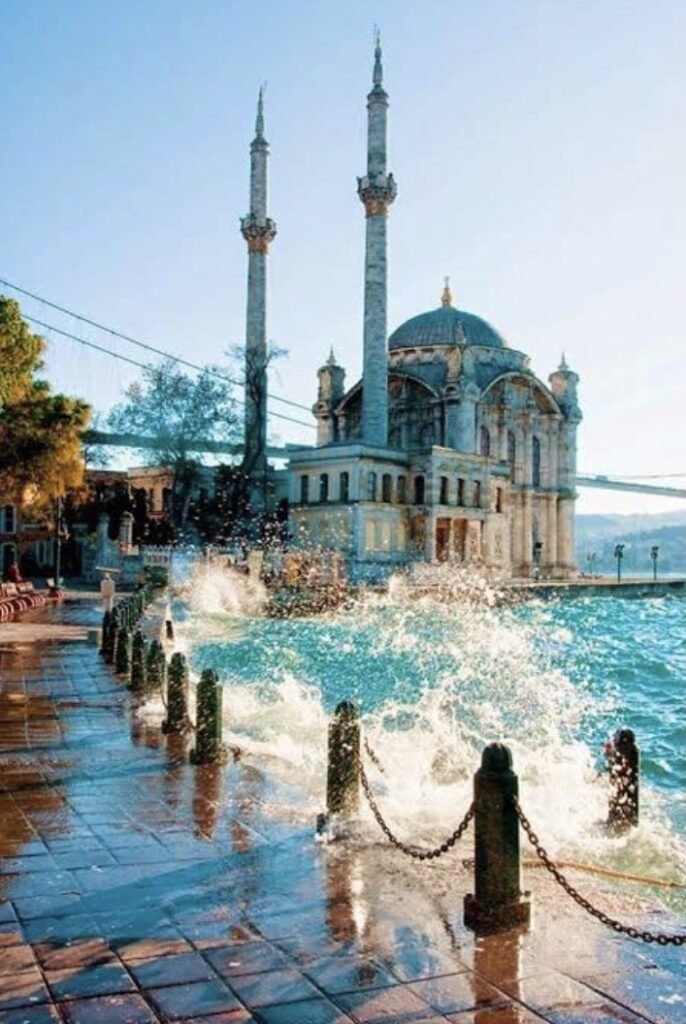 At the Mosque in Istanbul, He prayed for a new direction and energy. He bought new upgrades for the restaurant. He opted for a fresh image starting with the quality of food on down to the very attire he wears. His shop- and its food would undergo an extreme makeover.
He would do what no other shop in Osaka was doing. He would increase his fresh vegetables, use mostly handmade condiments and pickles… and he would source only the best Halal breads and meat.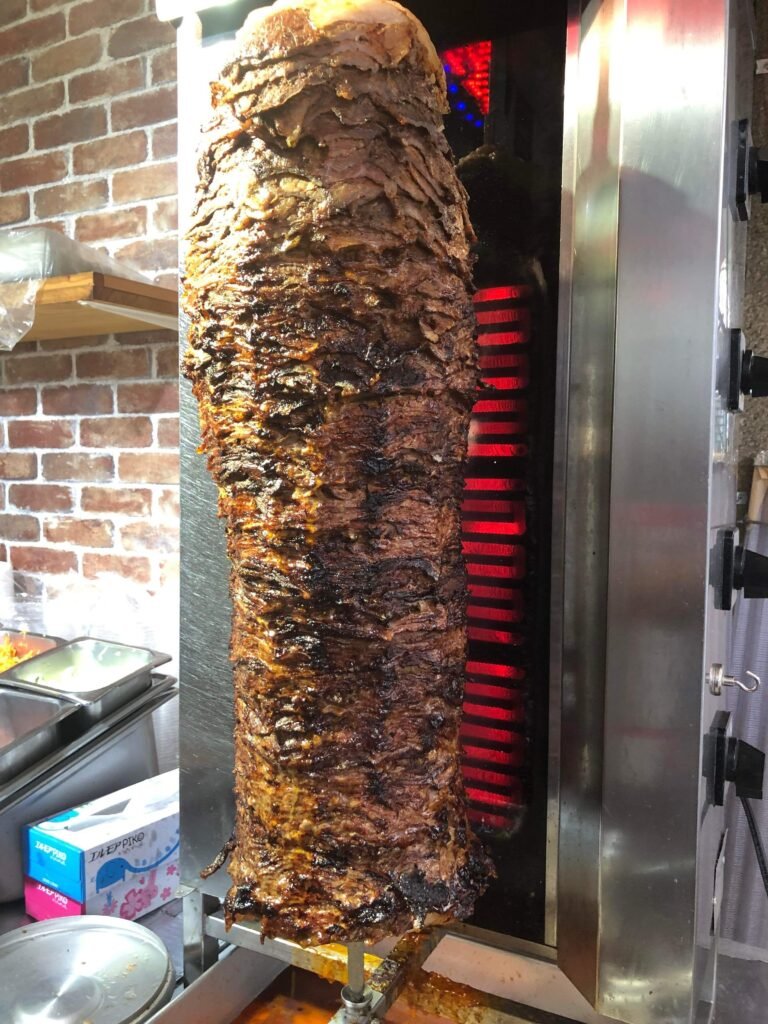 Bring on the BEEF!
Seyhan brings me half of my hummus wrap cut, on a plate, the other wrapped in foil to take home to my wife.
As I dig in, he grins and winks. "Pretty good, eh? No longer chicken, my friend! I switched to 100 percent high quality HALAL beef sourced locally. Right next door!
You know I used to do chicken kebabs with the same shredded cabbage and dressings as any other Kebab place here in Osaka. But it's not a proper kebab as you'll find from Istanbul to Berlin and beyond using real herbs, hand ground spices, best quality meat and vegetables. Now you can find that right here in Shinsekai!"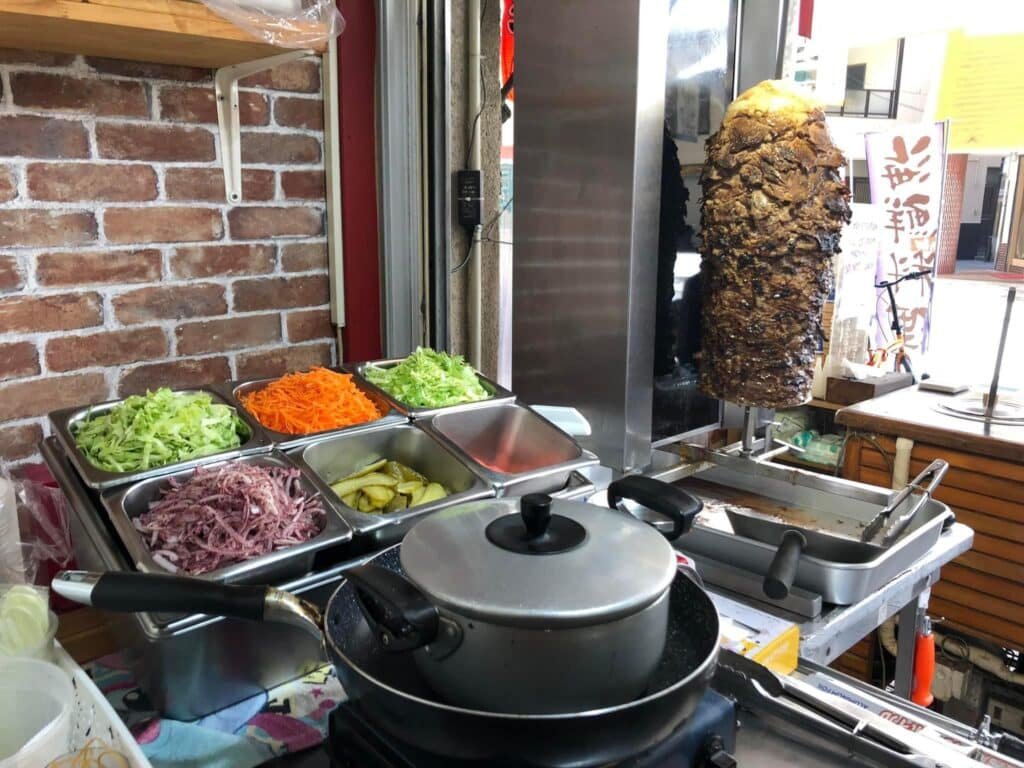 In one sweeping bow, Mahmut Seyhan had just one upped everyone else in the kebab game here in Osaka.
Now, to my brothers of other kebab establishments here…. we're strictly talking quality. I won't mention names, you know who you are, but if you have been serving a few shards of charred chicken dropped into a pita with a gate-ball sized fist of shredded cabbage filler, topped off in a dripping thousand island sauce for the last twenty plus years, ok, tasty enough, but we both know your game has been one of ECONOMY.
Seyhan is the only one – even when he was doing chicken- I've come across yet with THAT quality taste that has you coming back for MORE.
Say your Prayers
Evening 18:30. Seyhan is serving up kofta and kebabs to some weary, hungry tourists from Indonesia who have come to prayer – Ramadan. Seyhan's bell calls for prayer and the ending of fasting. Out of respect I place my food down and bow my head.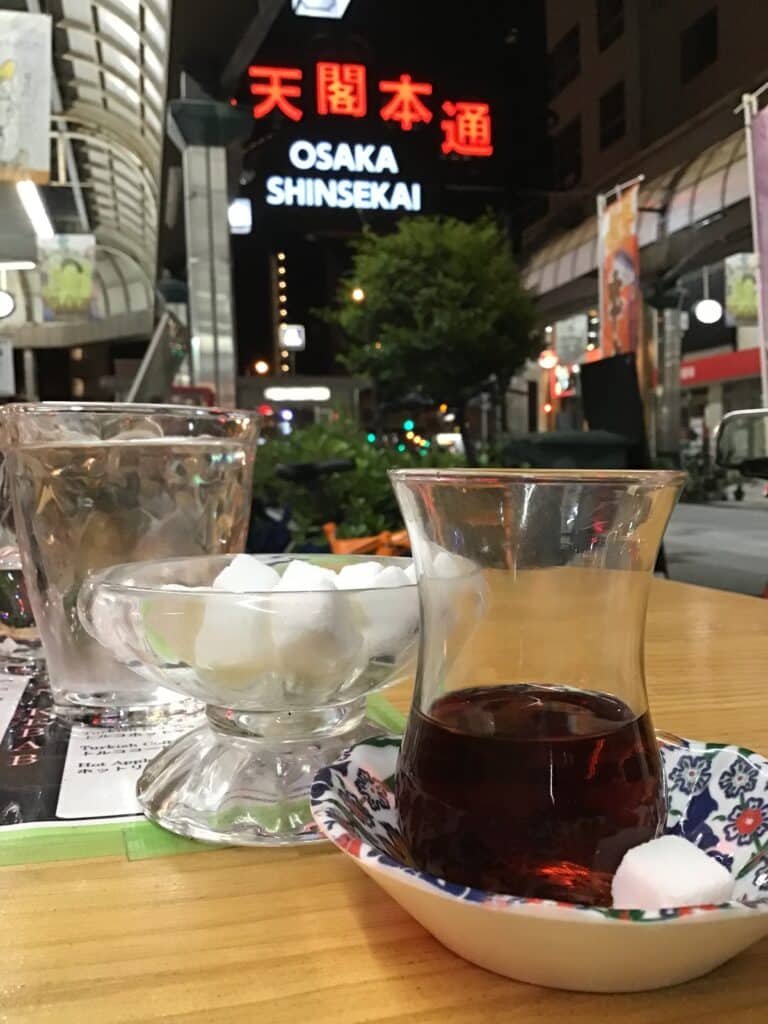 Prayers ended; I finish the last of my dinner. A tourist couple approach, the man beams at me, "You look like you're enjoying that kebab! Do they have take-out too then? "- he points to my bag.
I smile, rising to give them my table. "You bet they do! And the best food ever! Have a seat, folks!"
"HEY! Seyhan, you've got a couple of hungry customers!"