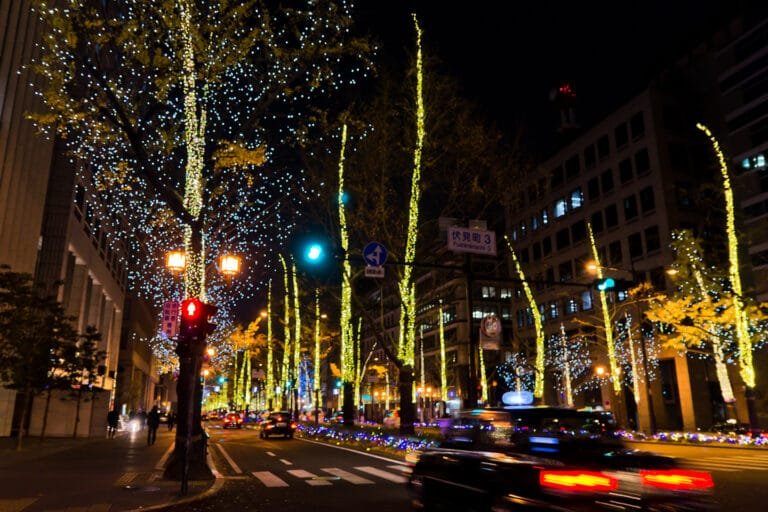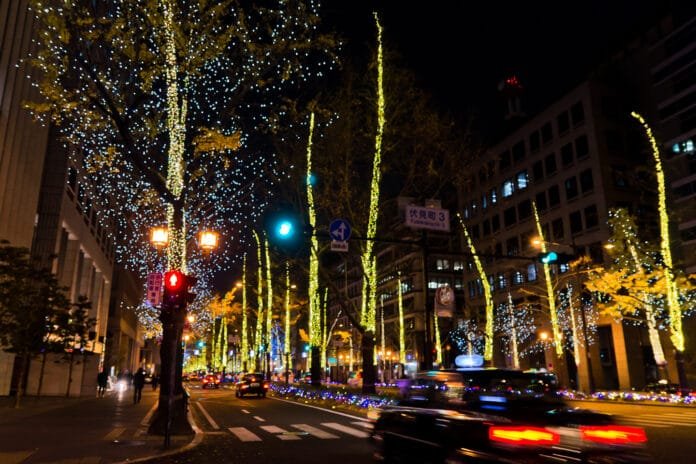 As Summer draws to a close and the cold weather sweeps in, the streets of winter in Osaka become alive with a fantastic display of illuminations
.
Aside from the neon lights of Dotonbori, LED lights wrap around the sidewalk trees, projection mapping, and iconic winter figures, fill the heart's of Osaka residents with the winter spirits
.

osaka festival of lights
Japan is notorious for its festivals as they love to go all out for their matsuri's throughout the year.
In winter, there are some of the finest illumination displays – most of which have significant meanings
. Furthermore, a
ccording to the Japanese Government's Agency for Cultural Affairs estimate, as of the end of 2018,
about 84 million
or about 67% of the Japanese population are Buddhist
.
The significance of light in Buddhism is important as it dispels the darkness of ignorance and symbolizes God within humans
.
In Osaka there are some significant spots, which are worth seeing.
Although you can find many illuminations throughout Osaka, the "Festival of Lights" event is actually split into two, "Umbrella: Midosuji Illumination" and "Osaka Hikari Renaissance"
.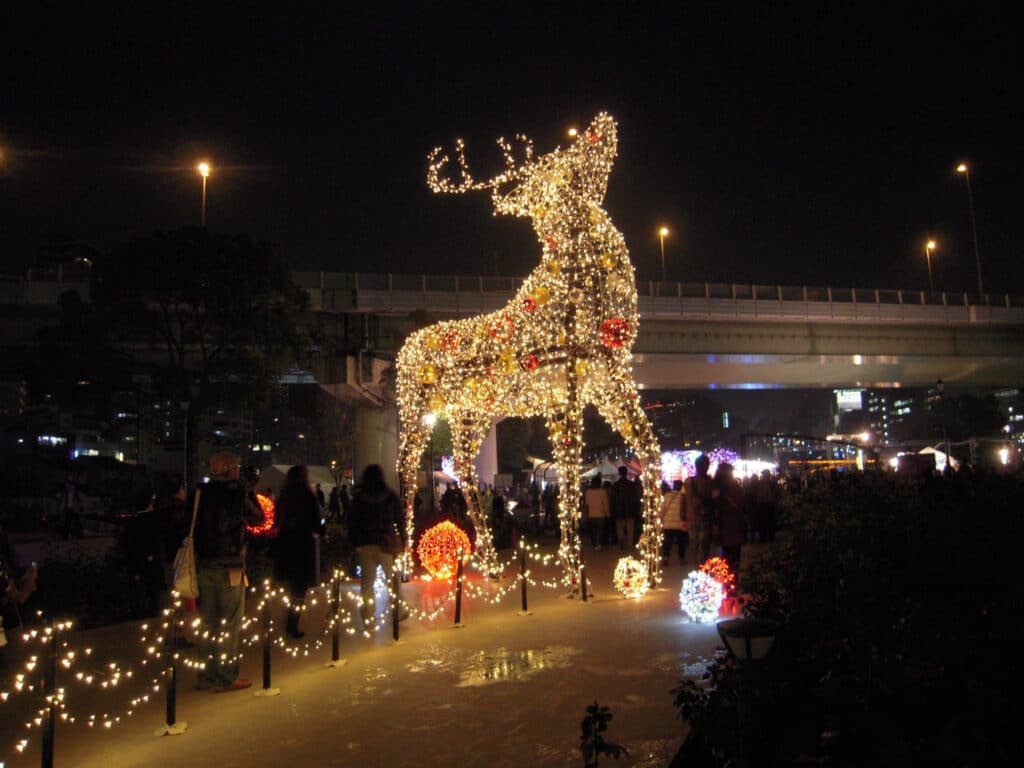 Midosuji Illumination
Date: November 3rd until December 31st
Location: Ooebashi-Kitazune intersection to the Hanshin Mae intersection
People say Midosuji is Osaka's symbol streetlike to that of Harajuku in Tokyo. Comparatively, the broad street, running north-south through the heart of the Minami District, hosts high designer shops, department stores, and all sorts of cafes and restaurants. In addition, the boulevard runs 4km long, running through Umeda, Shinsaibashi, Ame-mura, and Namba districts. Rows of trees line the pathways, which is a spectacular sight in Spring and Autumn. However, in Osaka's Winter, all these trees become illuminated in a sea of blue, white, and shades of purple.

In January 2015, the Midosuji Illumination gained the world record for "most roadside trees illuminated." The concept of the illumination was a "symbolic street illumination that wraps the people of Osaka in light." Furthermore, along the shrubs and bushes, small white LED lights mimics snow. Moreover, the whole boulevard becomes alive – even the grey office buildings become covered in hues of white, red, coral, yellow, and pink. Lastly, at Namba Shrine, the tori gate at the entrance is even lit up, making for a great photo!

Above all, walking along the promenade with friends or family makes for a great way to spend the evening. Keep warm with the people around you, and enjoy the light and hope of the illuminations! Keep a look out for the prayer crane ornaments – they brighten up and energize those who see them. The cranes will be on display in various locations across Midosuji, so have some fun looking out for them as you walk around!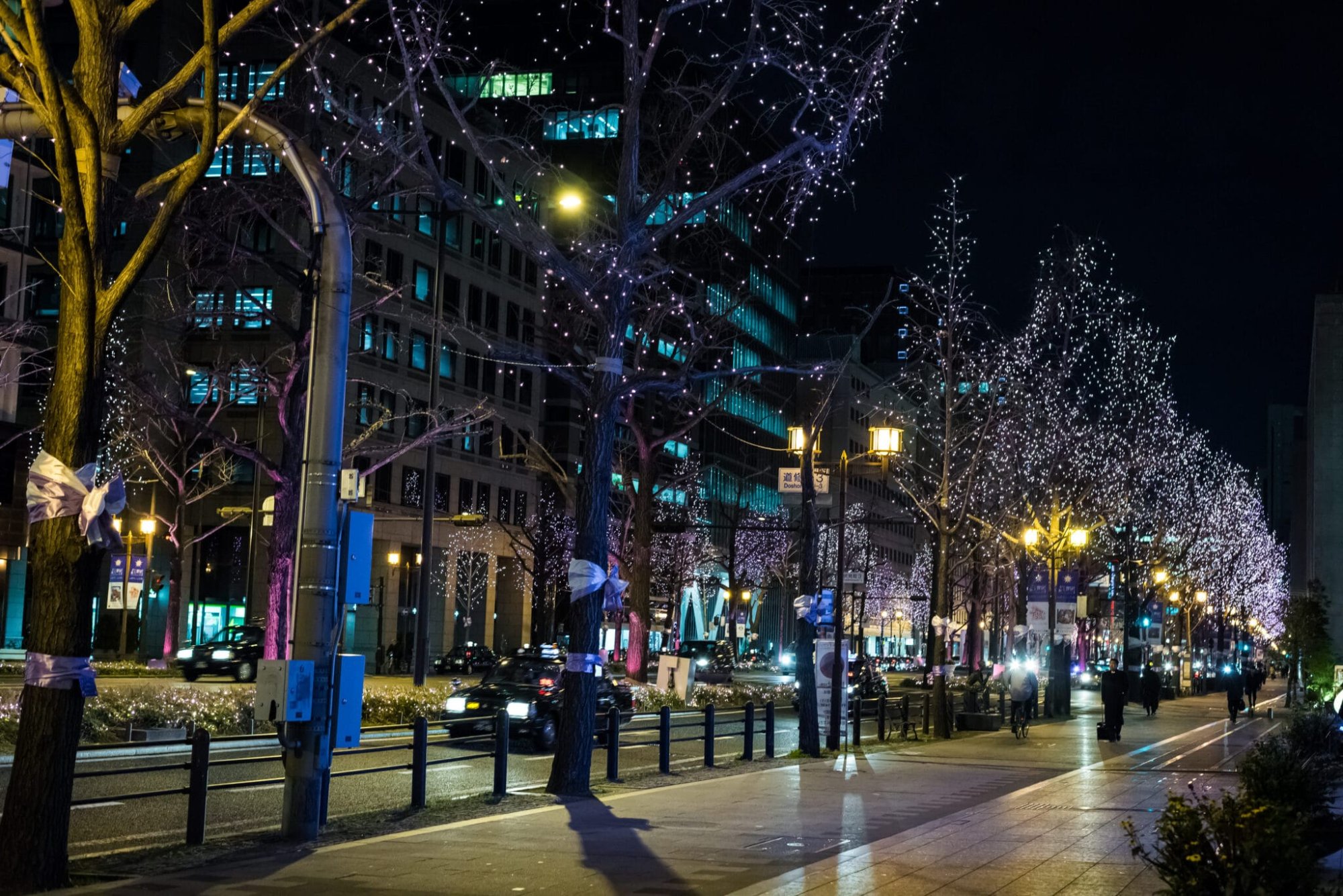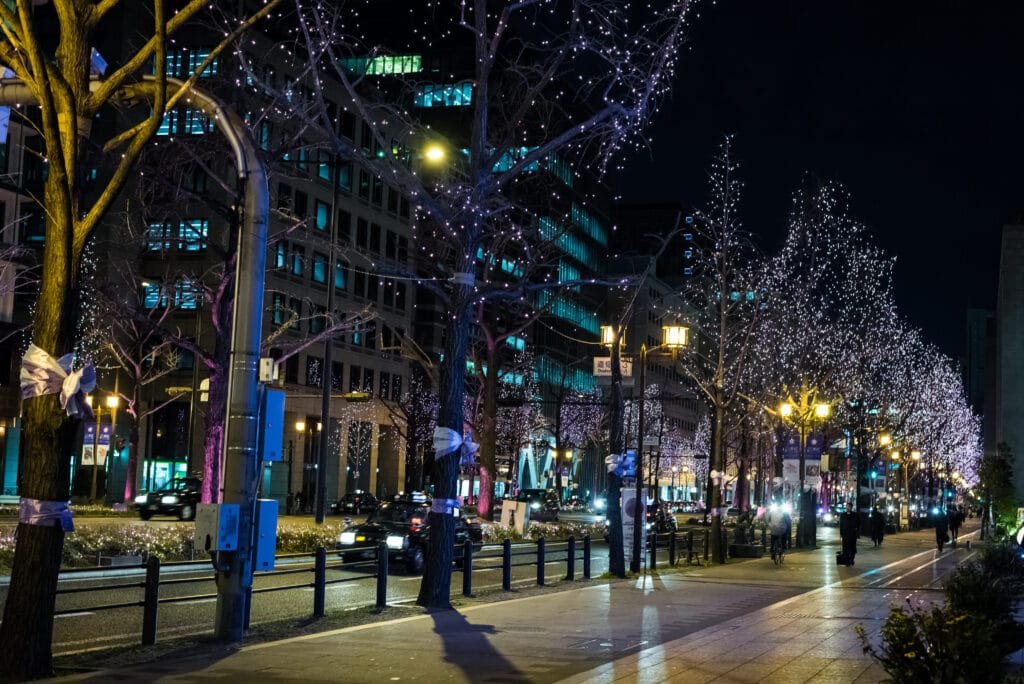 AR Experience
In designated areas, guests can enhance their experience by using their phone.
Pointing your phone at different spots throughout the Midosuji boulevard will make different object appear
.
"Yodoyabashi Odona", " Meiji Yasuda Life Insurance Company Osaka Midosuji Building", "Midosuji MTR Building", "Hommachi Garden City", and the "MInamimido Shinshu Otaniha Namba Betsuin Temple" are the five spots, which you can experience VR
.
At these designated spots, scan the 2D codes, stand at the designated locations, and point your smartphone at the trees
. The AR images should appear on your screen.
Nearest Transport:
Subway: Directly connected to Umeda, Yodoyabashi, Hommachi, Shinsaibashi and Namba Stations on the Osaka Metro Midosuji Line.
Address:
〒530-0017 大阪市北区角田町~〒542-0076 大阪市中央区難波
Hikari Renaissance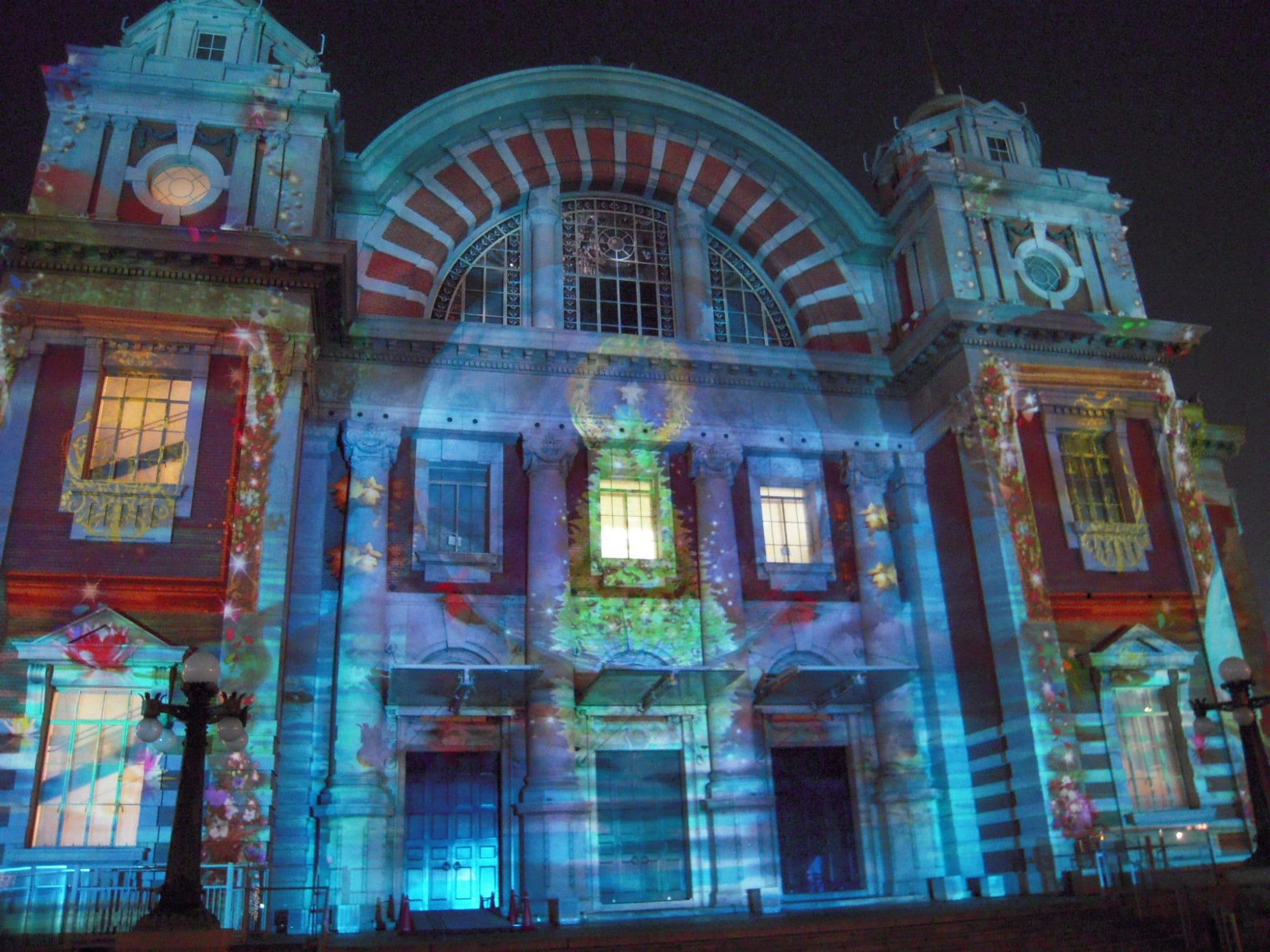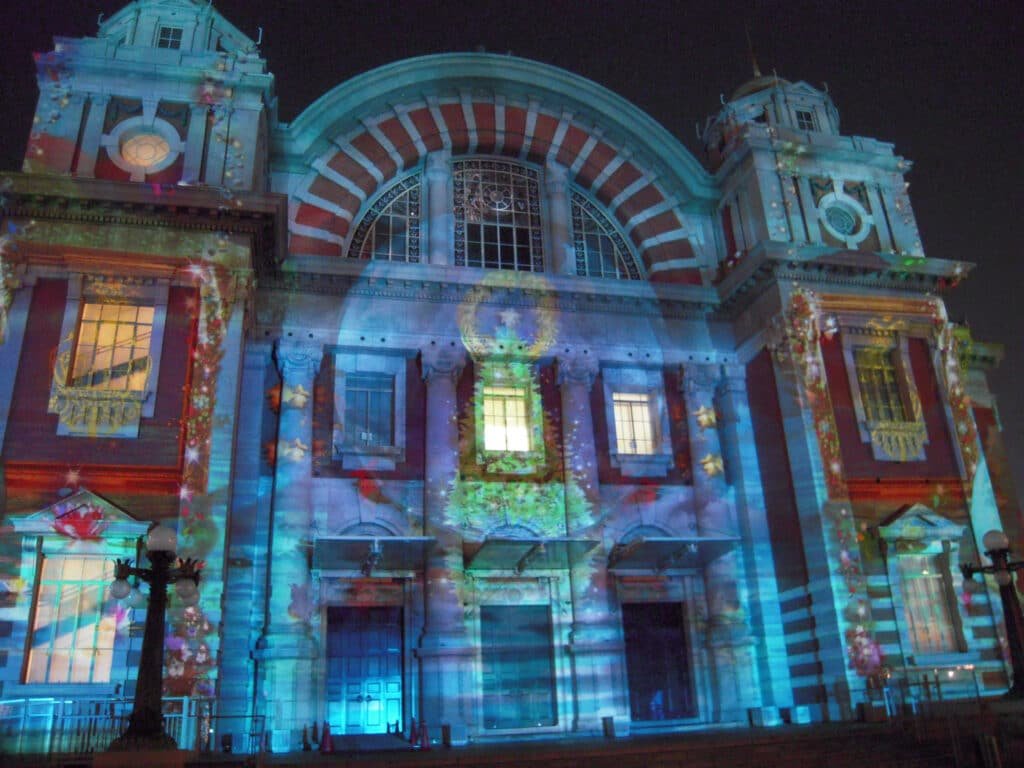 Date: December 14th until December 25th
Location: Between Osaka City Hall and Nakanoshima Park

Nakoshima is a small bay area sandwiched between the Dojima River and Tosahori River. This area is home to buildings designated as Important Cultural Properties of Japan, including the Osaka Central Public Hall and Osaka Prefectural Nakanoshima Library. These two monuments were pivotal in spreading arts and culture throughout the city. The unique appearance of the city hall and library is western like, so you almost forget you are in Japan.

The waterfront of the Nakoshima area is a festival of light art and projection mapping. Nearly 1,500,000 LED lights are used throughout the festival as well as a "Wall Tapestry Lighting Show" on the front of the Nakanoshima Library. Two projection mapping shows take place: Art of Light and a flower-based light painting display. The Art of Light takes place every 15 minutes or so between 5 pm and 9 pm. However, the flower-based show is on from 9 pm to 9:30 pm each evening.

Coupled with the festive lights, there are multiple places to eat. There are two separate zones hosting food vendors, selling traditional Japanese festival foods, as well as international foods. Osaka favourites, takoyaki, okonomiyaki, and yakisoba are, of course, available. International foods include Chinese dumplings, kebabs, and German sausages. Furthermore, there are often small stalls selling quaint little trinkets and goods, which make for a great souvenir.
Subway:
Directly
connected to Umeda, Yodoyabashi, Hommachi, Shinsaibashi and Namba Stations on the Osaka Metro Midosuji Line
.
〒530-0017 大阪市北区角田町~〒542-0076 大阪市中央区難波
Watch a video on the Osaka's winter illuminations here
Other Illumination areas
Ibaraki Illumi-Festa – 12/11 to 1/24
Shimamoto-town Illuminations – 12/1 to 12/31
Daito City Illumination Event – 11/28 to 12/25
Sakai Illumination – 12/1 to 1/15
Kirakuza Street – 11/1 to 2/28
Habikino City – 11/21 to 12/25
Rinku Community Development Council – 11/13 – 2/17
*Some of the events may be canceled due to COVID-19*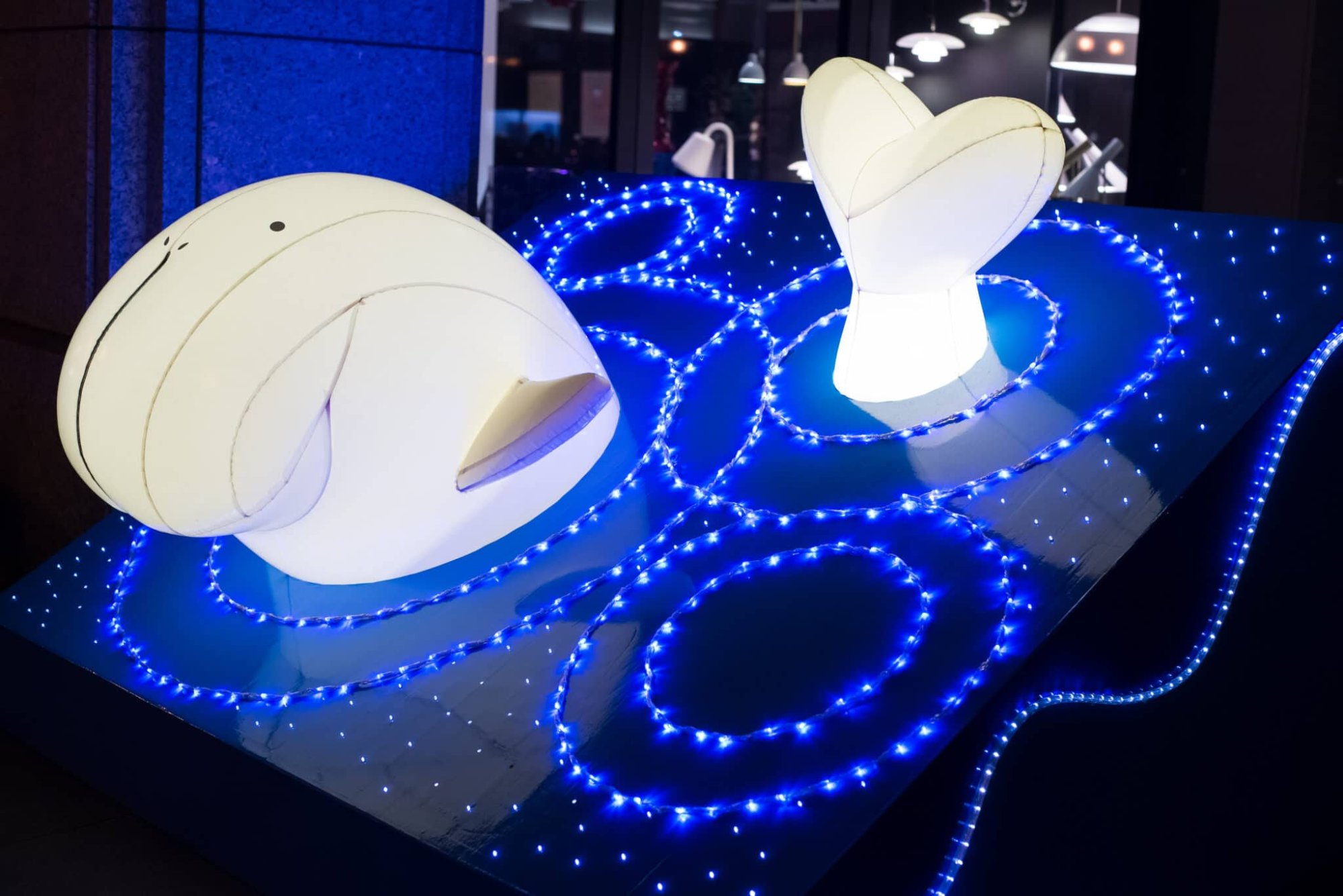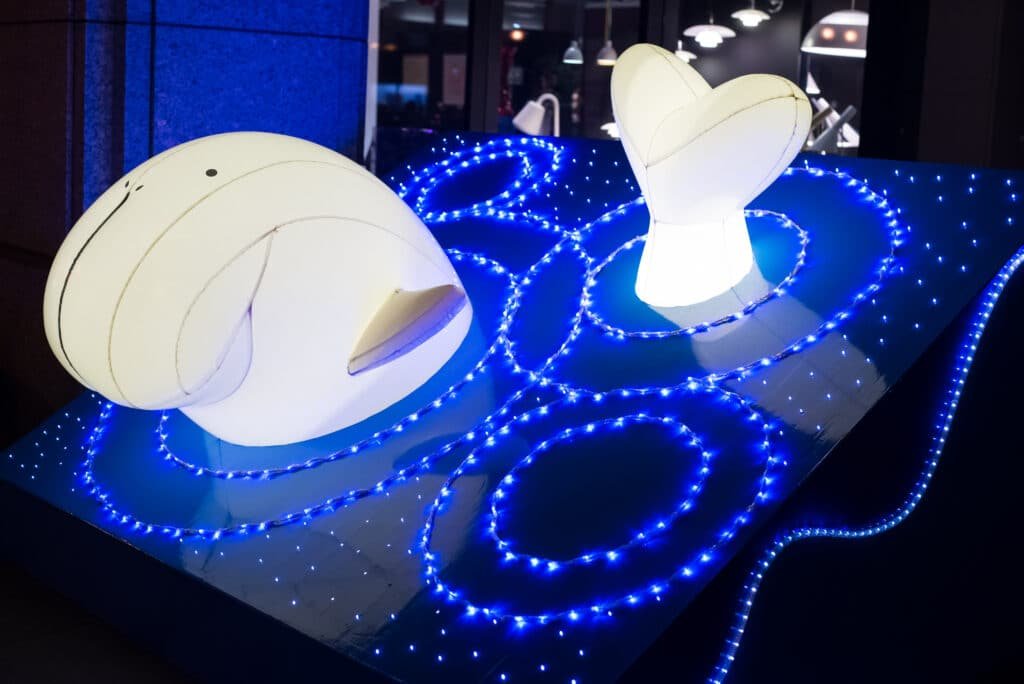 Final thoughts on Osaka Festival of Lights
Both the Hikari Renaissance and Midosuji Illumination are key events during Osaka's winter season. The two are symbolic displays of "light and water" for Osaka. Finally, watching families and couples enjoy the festive season truly warms your heart and is an event you can not miss!