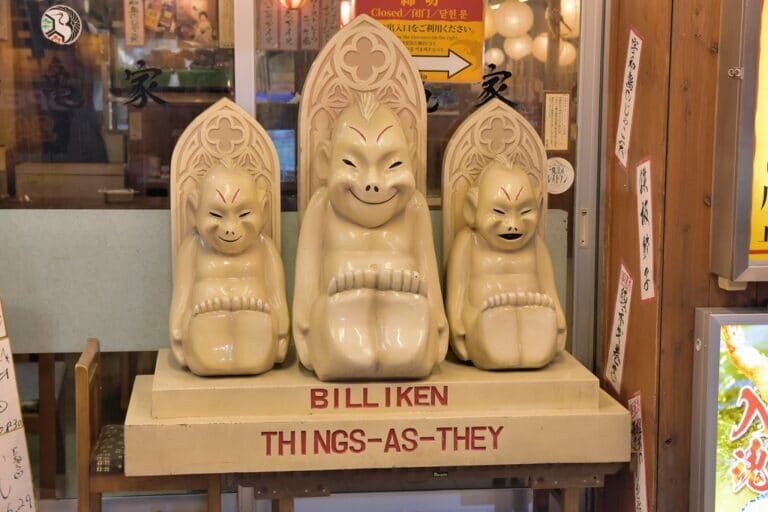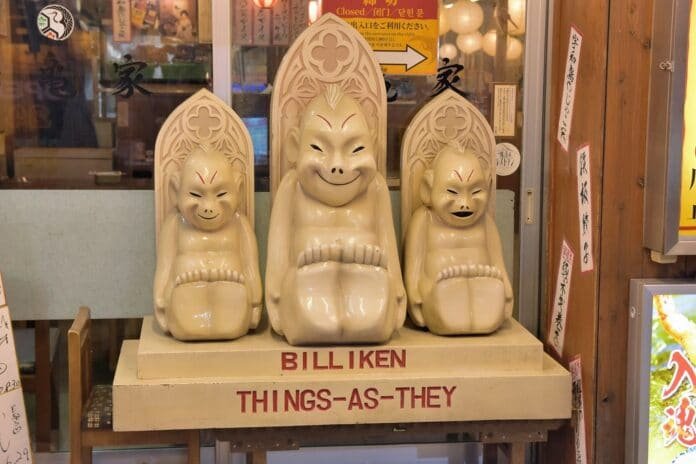 If there's one thing the Japanese love, it's cutesy mascot characters, and Billiken is no different. From Kumamoto's adorable chubby bear, Kumamon, to Funabashi City's bizarre infant/pear hybrid "Funnashi" these characters are everywhere. My personal favorite is Itami Airport's official mascot "Sora-Yan". She is basically an aircraft with an air hostess's hat and scarf. However, what makes her especially cute, is the fact that her red cheeks and slightly dopey smile make her look like she's had a few beers before work!
However, as beloved as these modern day characters are, they are nothing compared to Billiken, the original character mascot of Osaka. Up to today, this cheeky little guy charmed the people of Osaka with his naughty smile for more than a century.
If you spend any time at all walking around Osaka's busy shopping streets, you will most likely run into Billiken. With his round, almost monkey like face, he sports a wide grin. He always sits with his feet facing straight outwards. Billiken is one of those attractions that many people remember seeing when they visit Osaka. However, they often have trouble recalling his name. It is tradition to rub Billiken's feet whenever you see him, to bring you good luck.
The Origins of Billiken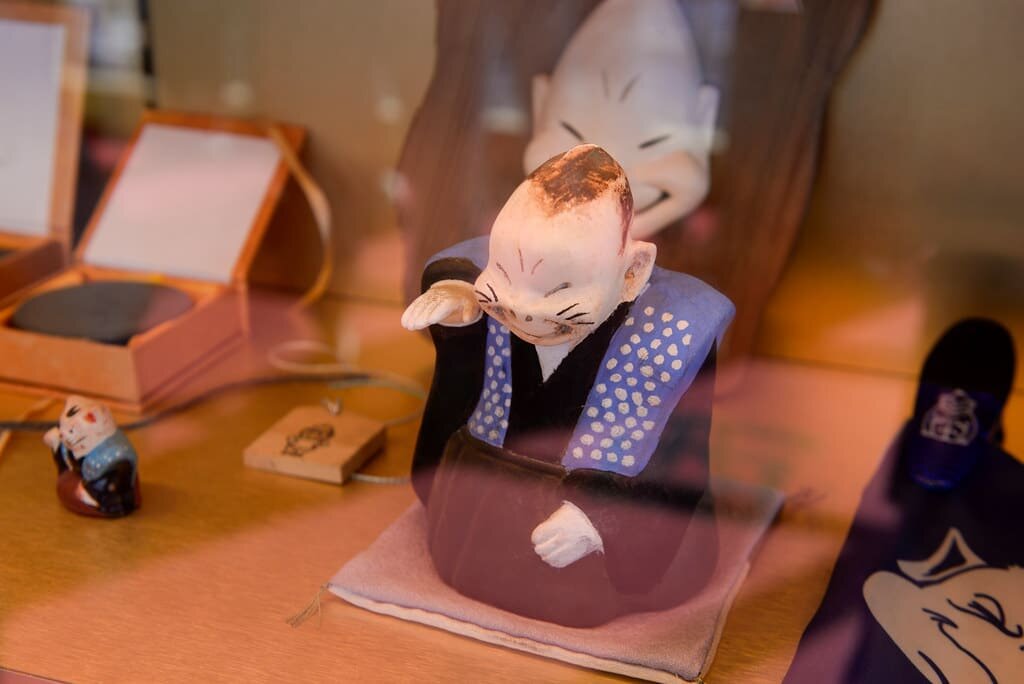 Despite being a well-known character in and around Osaka, Billiken's origins actually come from elsewhere. He comes not from Japan, but from the United States. To be exact, he comes from Kansas City, Missouri, or rather, his creator does.
Florence Pretz, an art teacher, claimed that she first thought of the character when she saw it in a dream. The name Billiken is believed to originate from the 1896 poem "Mr Moon: A Song of Little People". The poem came from the pen of the famed Canadian poet William Bliss Carman. However, Pretz didn't patent the name and likeness of Billiken as we know him today until 1908. In the early 1900s in the US, there was a major push towards charms and other artefacts. People grasped onto anything said to bring good luck, positivity or just general "good vibes" to its owner.
Branded as the "god of things as they should be", Billiken found fame in those early years as part of this craze. It was even rumored at the time that L. Frank Baum, author of the legendary Wizard of Oz novel kept a Billiken in his office at home as a good luck charm.
Billiken also found his way to Alaska around this time and became popular amongst collectors of Inuit art when one local Inuit artist named Angokwazhuk created a carving of the character. Over the years, Billiken continued to gain popularity in the region. To this day Inuit interpretations of him still sell well in many souvenir shops around the state capital city of Anchorage.
It wasn't until few years later, that Billiken first found his way to Japan.
Billiken Comes to Osaka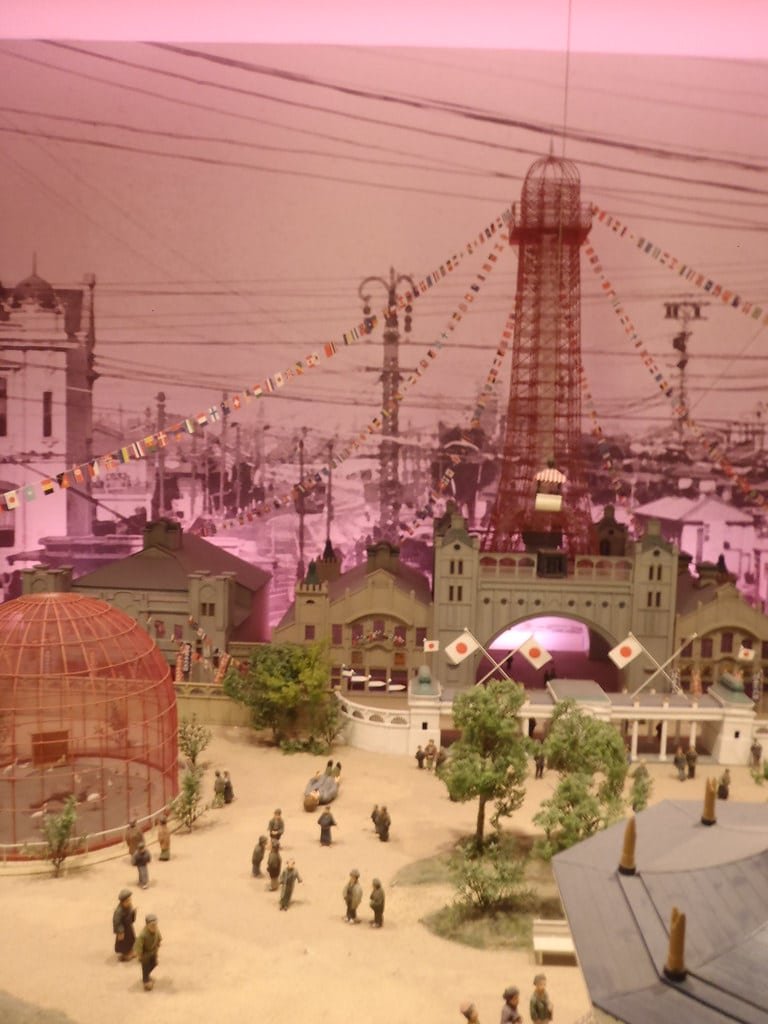 Billiken's long and fruitful relationship with the city and people of Osaka began in 1908. It was around this time that Billiken figurines first began to appear in the homes and businesses of local people, as well as amongst Kansai's Geisha community, who carried them as symbols of good luck.
The first example of a publicly displayed Billiken statue in Japan was the wooden Billiken statue at the Tsutenkaku Tower in Osaka's Shinsekai district. This statue went on public display in 1912. Later that same year, the most famous of the early Billiken shrines in Japan opened to the public, when a wooden Billiken statue took up residence at Luna Park, a popular amusement park of the day.
This statue later gave rise to one of Osaka's most baffling and enduring mysteries. When the park closed in 1923, the wooden Billiken statue went missing. Despite numerous leads and false ownership claims down the years, the original statue has never been found.
Billiken around Japan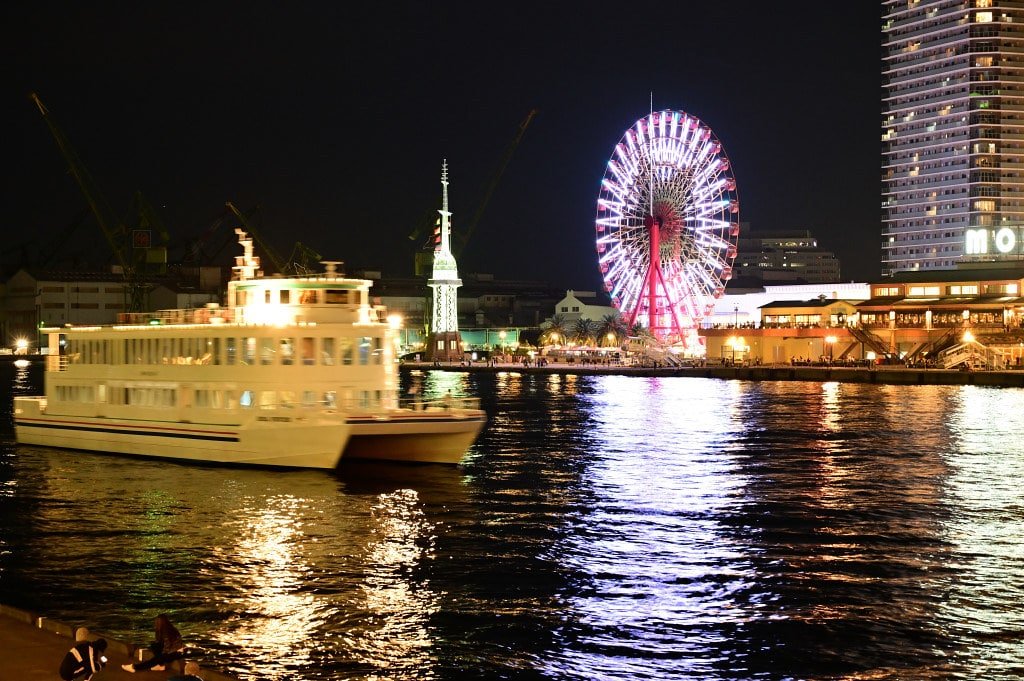 Around the same time, two other, similar Billiken statues went on display in the neighboring city of Kobe. The statues stayed at the Chinju Inari and Matsuo Inari shrines. They remained on display until the outbreak of World War Two. When the war broke out, sadly Billiken became a victim of the extreme nationalism that overtook much of Japanese public life at the time. Zealots removed him from display as the government sought to clamp down on the worshipping of "foreign gods and idols".
Thankfully, after the end of the war and a period of healing and reconciliation, the statues were returned to their rightful homes in the shrines.
However, the Billiken in the Tsutenkaku Tower remained in place throughout. It was eventually replaced with a second generation statue in 1980, as part of a more general overall renewal of the Tsutenkaku Tower and its surrounding area.
This statue was replaced in 2012 after more than thirty years of wear and tear. The current Billiken can be found on the 5th floor observation platform of the Tsutenkaku Tower. To this day, he remains a big draw for both locals and visiting tourists who seek him out in the hope he will throw some good luck their way.
Billiken's Place in the Modern Day World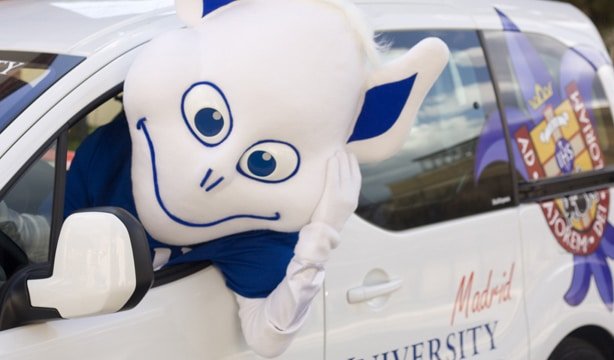 Today, Billiken's popularity goes far beyond just his role as a lucky mascot for Osaka. The character remains popular both across the US and Japan. Indeed, it could be said he has a global following. A version of Billiken serves as the official mascot of St. Louis University. Indeed, the university also names their athletic teams "The Billikens". A "junior Billiken" also acts as the mascot of the affiliated St. Louis University High School. Statues of Billiken can be found on the campuses of both institutions.
The exact origin of the link between Billiken and St Louis University sports teams isn't known. However, one popular legend around those parts is that the character has a slight facial resemblance to legendary football coach John "Chief" Bender, who coached the St. Louis team from 1910 to 1911.
Throughout the years, a number of now defunct minor league baseball teams in and around the St. Louis area also carried the Billiken name.
Billiken and Kushikatsu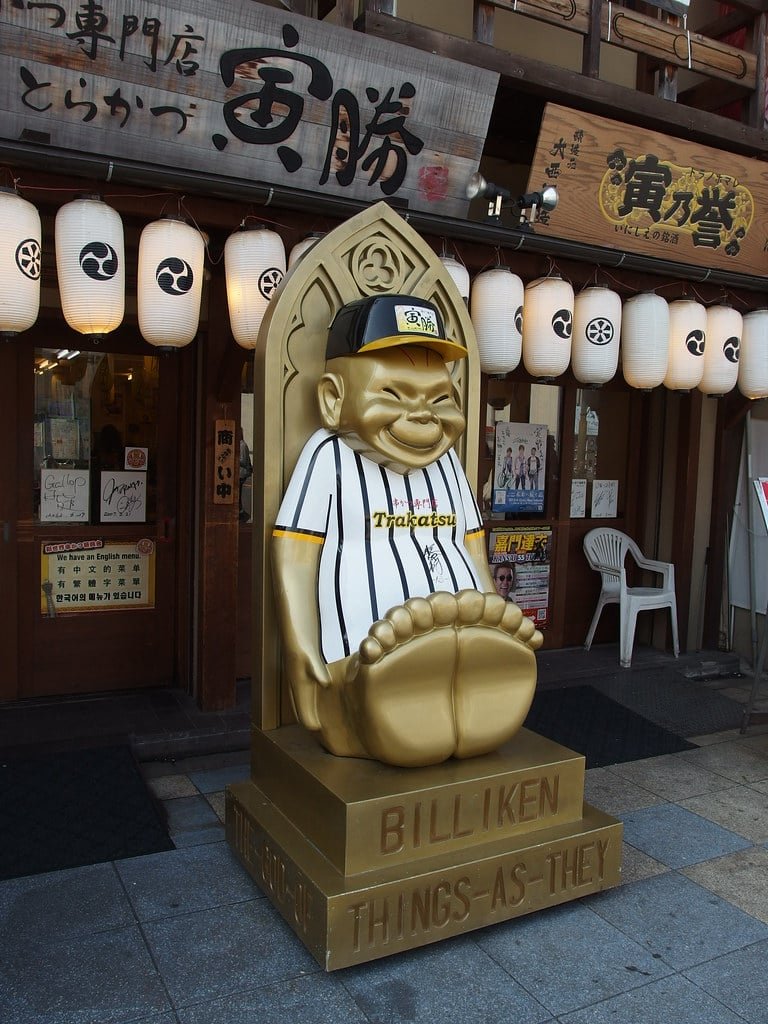 Another popular place to see Billiken statues around Osaka, besides shrines and tourist traps is outside Kushikatsu restaurants. Many of these restaurants lie all across the city. You'll notice them by their giant Billiken statues near the entrance.
Don't forget to rub Billiken's feet for good luck before you go inside!
Kushikatsu is a dish prepared using deep fried, breadcrumb coated skewers of various meat, vegetables and in some cases even insects! You dip your skewers into the large tray of sweet katsu sauce on the table and then eat them. Remember, you can only dip each skewer in the sauce once. Not only is double-dipping unhygienic, it's also considered very bad luck to do so!
Although there are several excellent Kushikatsu places to try all across Osaka, my personal favorite is actually right next to the Tsutenkaku Tower. You'll recognize Asahi by both its massive Billiken statue at the front door and its external wall of paper lanterns. The décor of this amazing place is surpassed only by the tastiness of the food on offer.
If you're feeling especially brave, you may fancy trying some scorpion, locust or some other variety of insect kushikatsu. In that case, I recommend Kushikatsu Jan Jan. In addition to their branch in Shinsekai, they also have another recently opened branch in the Dotombori area.
Be sure to rub a Billiken's feet before you embark on this particular culinary adventure. Something tells me your stomach will need all the luck it can get.
How Billiken Spreads Good Luck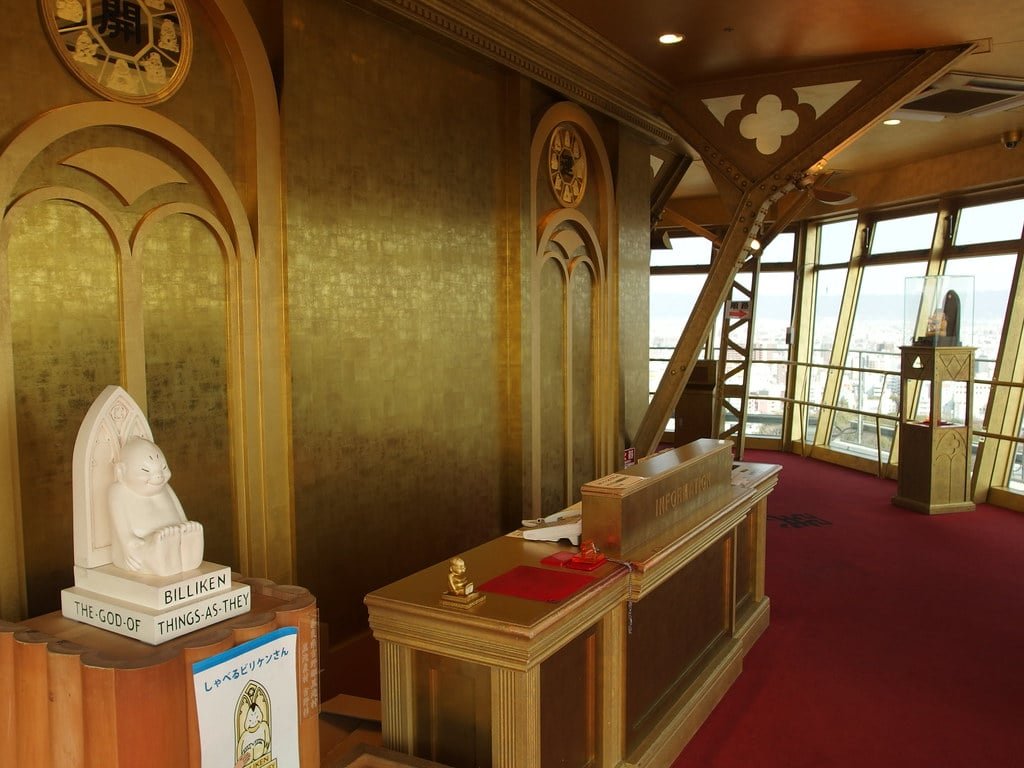 There are many ways in which we can draw on Billiken for a bit of good luck. In Osaka, the most popular way to do this is to go to the best known Billiken shrine at the Tsutenkaku Tower in the Shinsekai area. This is about 5 minutes' walk from JR Shin Imamiya Station. You'll see the distinctive tower as soon as you exit the station. The pathway leading up to has various bars, restaurants, cafes and souvenir shops on either side. You can enjoy these at your leisure, as you make your way to and from the Tsutenkaku. Entry to the upper levels of the Tsutenkaku Tower, where Billiken lives, costs 500 yen.
Once you reach the Tsutenkaku, head to the 5th floor and you will soon find the Billiken shrine.
Head over to the shrine, wait in line, and when it's your turn, throw a coin into his collection box, rub his feet, and make a wish. If Billiken looks on you favorably, your wish might come true, or so the legend says.
More generally, people like to keep Billiken statues at their place of business or at their home. It is something of a daily ritual to rub Billiken's feet each morning and make a wish that the day ahead will be a prosperous one. In this respect, you could say that Billiken is similar to the more ubiquitous "Maneki Neko", the cat with one raised paw, often seen in homes and businesses around Japan as a symbol of good luck.
Where to Buy Your Own Billiken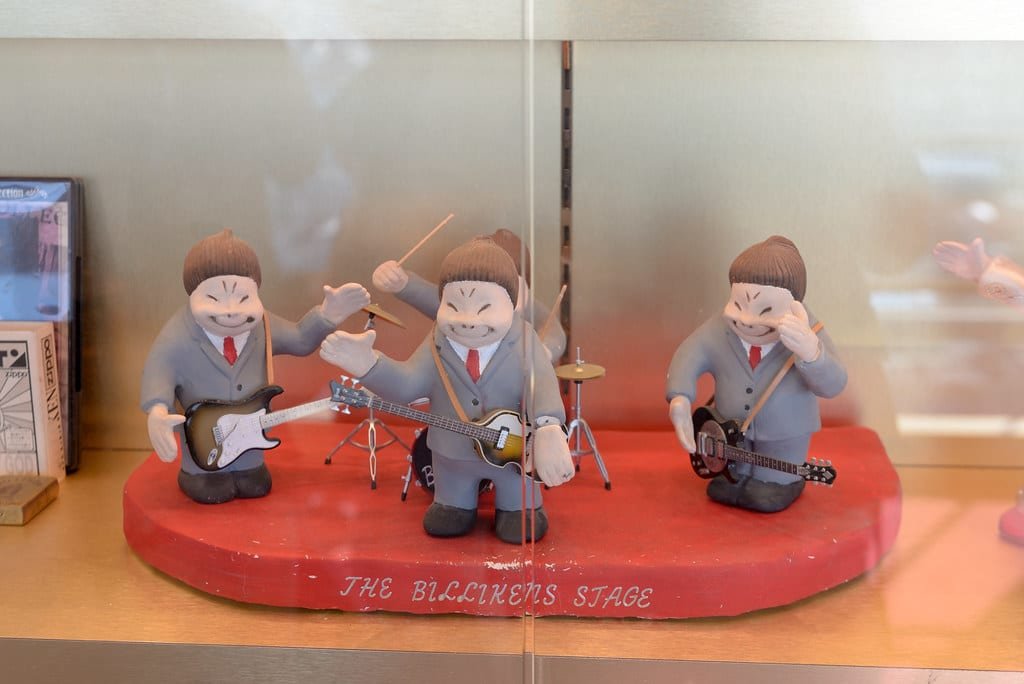 Maybe you're the kind of person who believes in this kind of divine intervention. Or, perhaps you're just one of those people like me who sees no harm in inviting a little bit of good luck into your life from somewhere. In either case, you'll probably want to pick up a Billiken of your own next time you're in Osaka. There are many places where you can do this.
Of course, the obvious place is the Tsutenkaku Tower. It is Billiken's spiritual home after all. However, as someone who visited there numerous times down the years, I can tell you that not just the Billiken figurines, but most of the souvenirs in general around there tend to be overpriced and of lesser quality.
Instead, I suggest that you head over to Namba and Shinsaibashi. The shopping arcades in and around Shinsaibashi-Suji have a host of souvenir shops and gift stores that sell Billiken merchandise. Also, since there's plenty of competition around this area, prices tend to be a whole lot more competitive.
The nearby geek mecca of Den Den Town also has a number of shops selling these kinds of souvenirs. In fact, go off the main strip and you may find prices even lower here than in Shinsaibashi or Namba.
Billiken is everywhere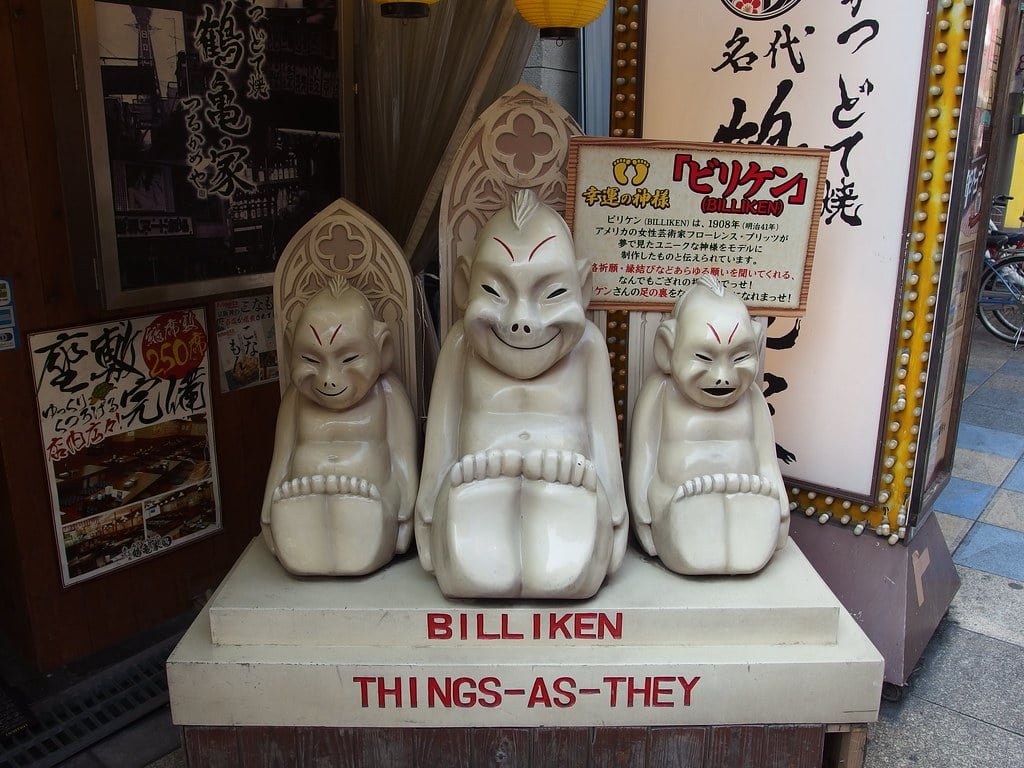 Perhaps the reason why Billiken endures as a much loved character and mascot for Osaka even after more than 100 years is his adaptability. From restaurants, to shrines, to sports teams, the little guy just seems to become the center of attention wherever he goes. In many ways, Billiken is the template by which most modern mascot/lucky charm characters come into being. His mischievous grin, his simple pose and of course the gimmick of rubbing his feet for good luck all combine to make a simple, yet highly memorable image. Add in the added bonus of his "cool, foreign" origin and he's the perfect example of how to create a loveable and endearing character
I have little doubt that long after you and I depart this world, Billiken will still be going strong, and still adding more and more fans to his name.
What does the next 100 years hold for Osaka's favorite adopted son? Only time will tell.
---