The city of Kawachinagano, in the far south of Osaka Prefecture, sits among the hills that mark the border with the neighboring prefectures of Nara and Wakayama. And despite a population in excess of 100,000 people, the majority of the area is covered in dense woodland.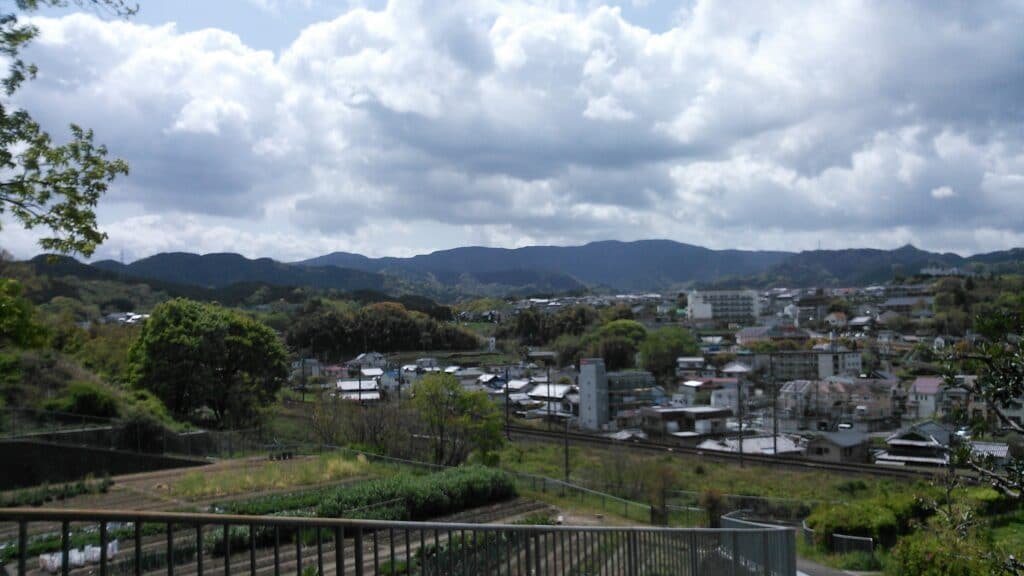 Alongside its modern conveniences and rustic charms, Kawachinagano has a rich history that was recently awarded cultural heritage status and is in the top 20 cities with the highest number of national treasures in Japan.
History of Kawachinagano
Kawachinagano has played an important role in the history of the Kansai region for well over 1,000 years and some of its myths and legends go back to the foundation of the very first kingdom of Japan. Jimmu-Tenno, the legendary first emperor is thought to have camped out with his army on a small hillside during his attempt to conquer the land of Yamato.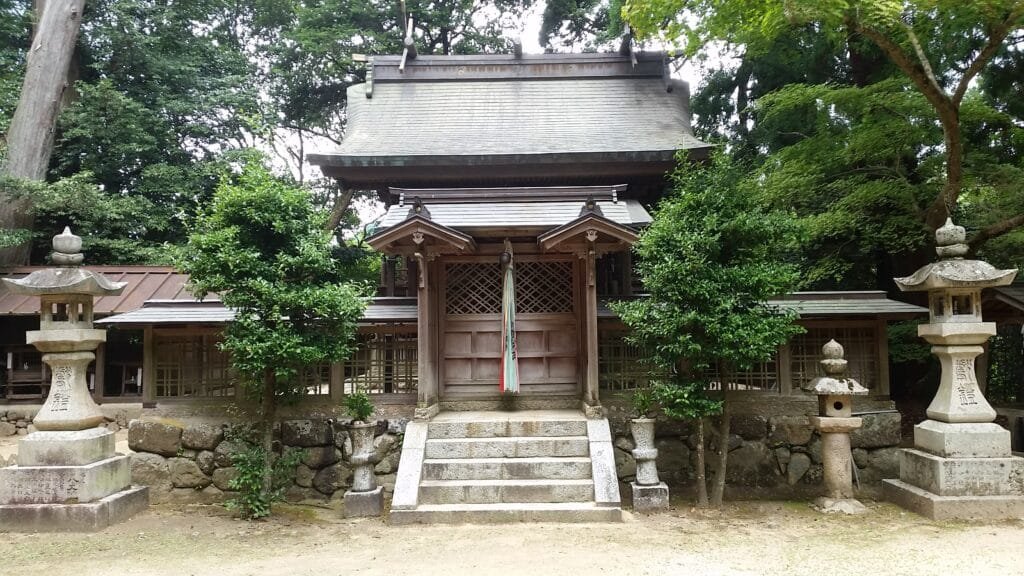 Jump forward to the 7th century and the legendary monk and founder of Shugendo, En-no-Gyoja, used the mountains of Kawachinagano to help develop his ascetic practices. The very first path he is thought to have forged passes the length of the southern and eastern borders and stretches off all the way to the coast of Wakayama Prefecture. He also founded a handful of temples scattered around the city which still exist today.
Some hundred or so years later another legendary monk, Kukai, would spend time in Kawachinagano studying at a number of temples. Then, on his return from China, would pass through Kawachinagano again as he searched for the perfect place to found his monastery.
Once he had established Koyasan, Kukai would sometimes make trips north to Kyoto to attend the emperor and each time, would pass through Kawachinagano on his way. This path eventually evolved into the Koya Kaido; a pilgrimage first made by Emperors and eventually by people from all walks of life. Now somewhat forgotten, there are still several local legends associated with this ancient road.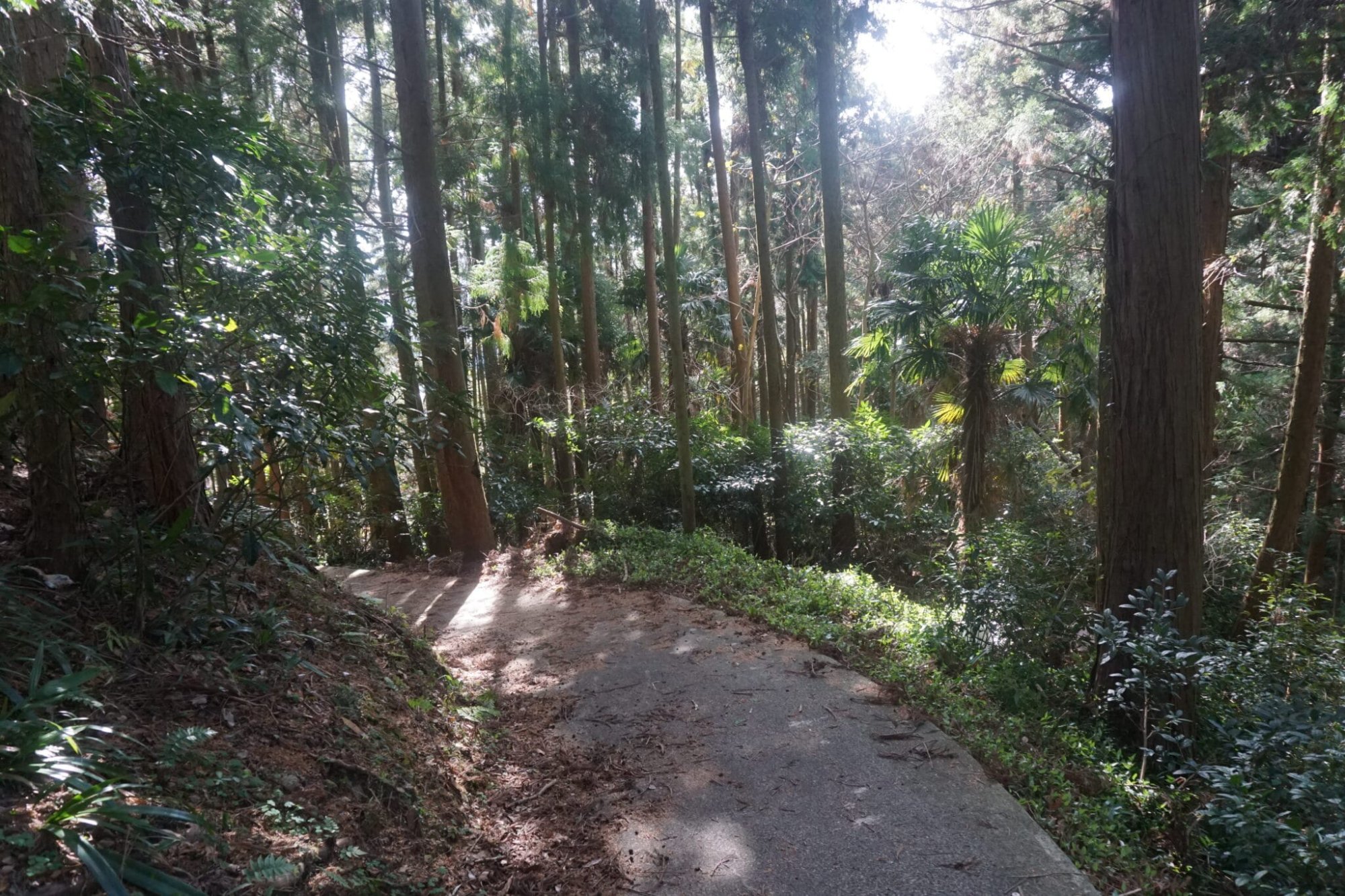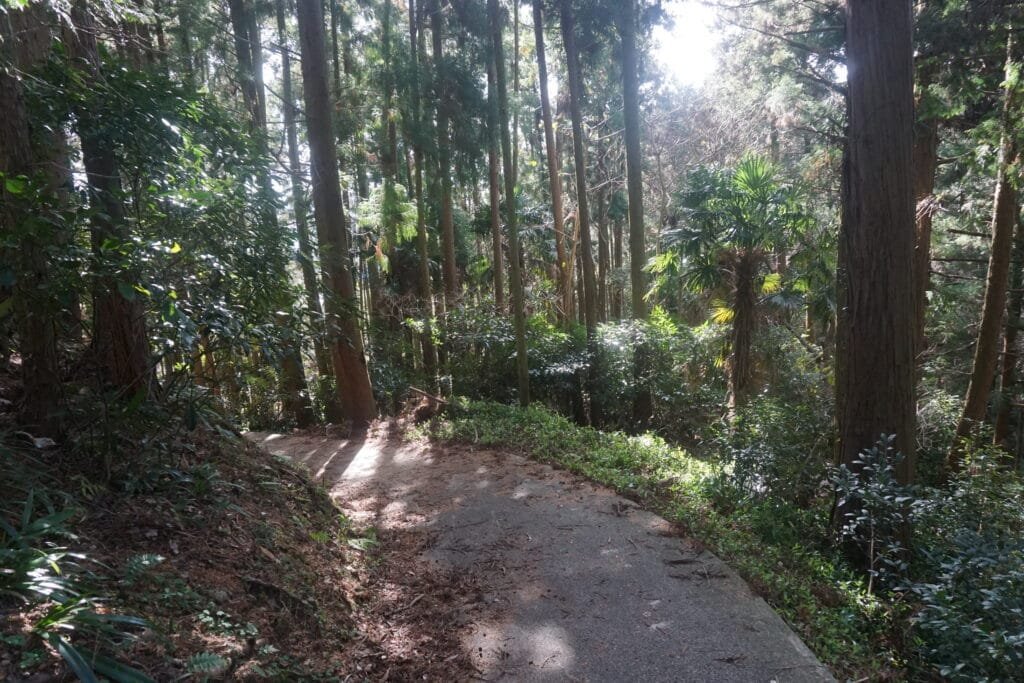 Then during the 14th century, Kawachinagano played a central role in the Genko War which saw the end of the Kamakura Period and the beginning of the Nanboku-cho. A young samurai lord by the name of Kusunoki Masashige was educated at the temple of Kanshin-ji and went on to become a top commander serving Emperor Go-Daigo. A master tactician and peerless warrior, he won a string of victories against the Kamakura Shogunate and often against overwhelming odds.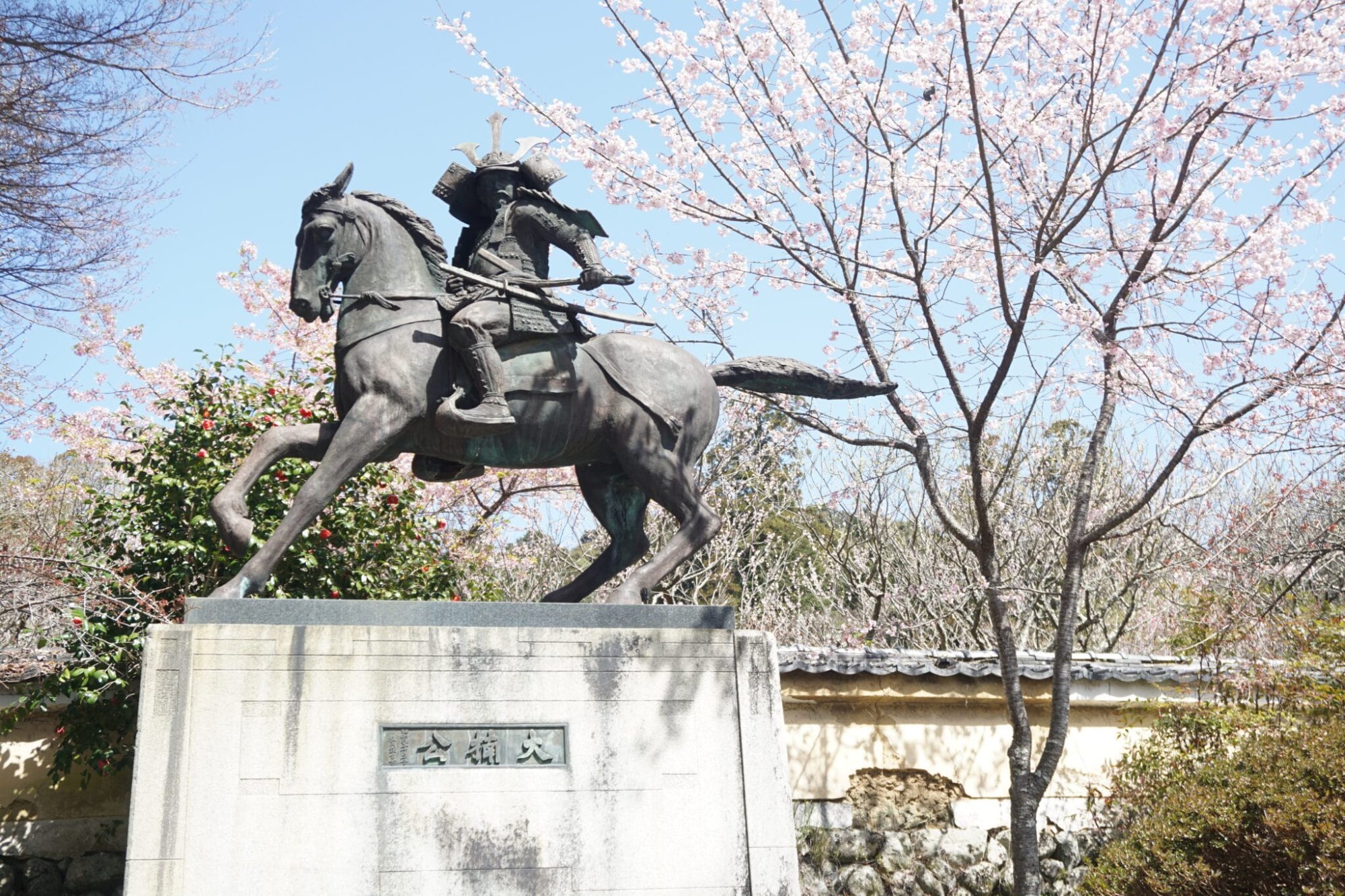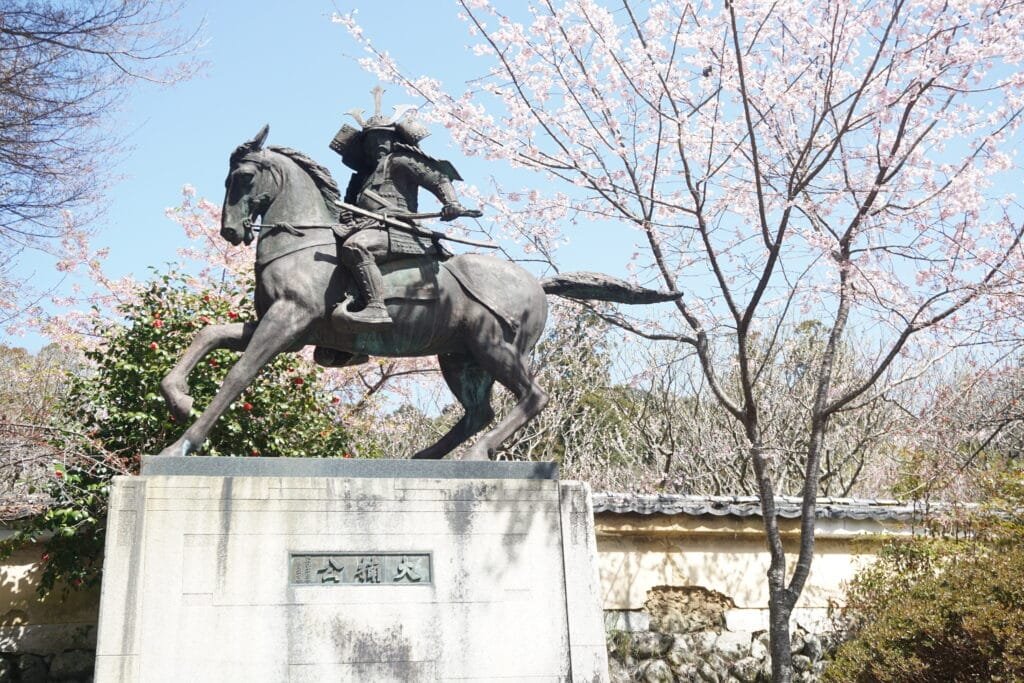 His victories in Kawachinagano and at the nearby mountain castle of Chihaya-jo tied up enough of the shogunate forces that his colleague Nitta Yoshisada could capture the capital city of Kamakura. However, another colleague, Ashikaga Takauji, would then turn against them. All of Kusunoki's plans to defeat or placate the traitorous former general were ignored. Instead, Kusunoki was ordered to meet him in open battle at Minatogawa in Kobe.
Outnumbered and knowing it was a foolhardy plan that would end in his death, he nonetheless made the charge as ordered by his Emperor. His small force was cut down to a man and Kusunoki's head was removed and sent back to Kanshin-ji in Kawachinagano for burial.
It stayed relatively quiet in Kawachinagano for the next 600 years. It served as a post town of sorts on the Koya Kaido, serving pilgrims before they crossed over the mountains into Wakayama Prefecture to the south. For a time, it also had a thriving cotton industry though this is long since gone.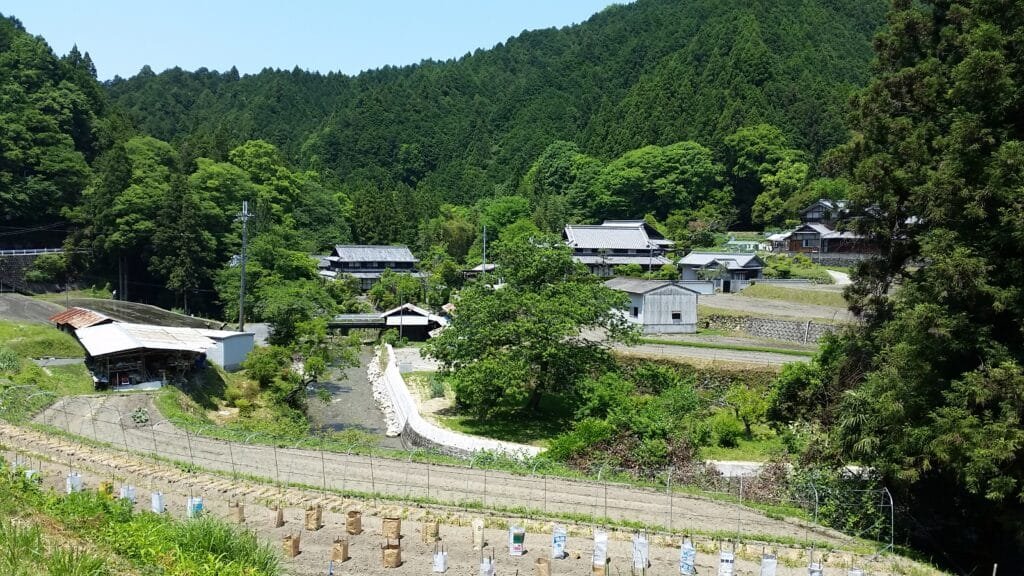 ---
A hidden Osaka
The area that defines the city of Kawachinagano is a large wedge shape that rises up as it meets the mountains at the edge of Osaka Prefecture. The majority of the population live in the northern and central areas of the city which is a fairly typical urban setting.
As you explore further south, the steeply sloping residential areas give way to a small clusters of old houses nestled among thickly forested hills. These small farming communities are extremely rustic and picturesque, far from what most people imagine when they think of Osaka.
In the east, as you head up towards Mount Kongo and Nara Prefecture beyond, you pass through the quaint villages of Oi and Kobuka. They sit in a small valley against a backdrop of forest and are separated from each other by a small expanse of rice terraces and farmland.
The small Ishimigawa River passes through them both, feeding their crops. One used to be able to go freshwater fishing along a short stretch of the river in Kobuka until a typhoon caused enough damage that the aging population were unable to repair.
In the far south are the villages of Chihayaguchi and Amami, more farming communities that lie directly on the Koya Kaido Pilgrimage Road. Throughout these villages, if you know where to look, you can find mysterious little spots that have stories linking them directly to the history of the Koya Kaido.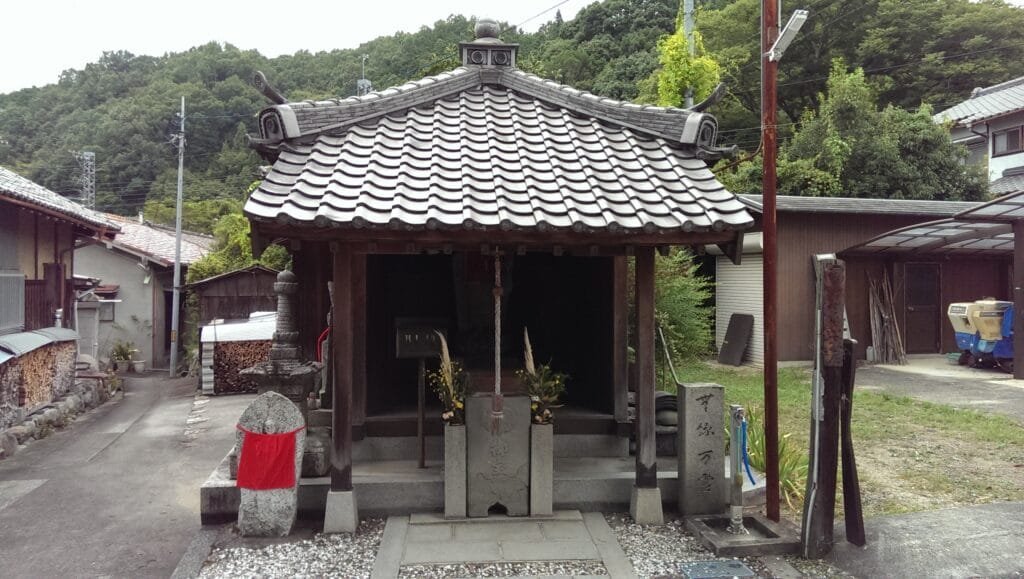 Chihayaguchi has a small crossroads shrine called the Gosho-no-Tsuji Jizo, built by a wealthy family to pray for a young daughter who disappeared without a trace as they passed through on the way to Koyasan. And a little further down the road is the Taimatsuya, a small hall built in a place that Kukai performed a miracle and taught a young family how to make special rice dumplings to thank them for offering him breakfast.
In Amami is another crossroads, Deai-no-Tsuji, where Kusunoki Masashige and a small group of men fought a daring battle and achieved a stunning victory against vastly superior army. They were camped on a small mountain, Kanayama (Iron Mountain) that overlooks the crossroads. To give thanks for his victory, Kusunoki built a small Inari Shrine at the top of the mountain.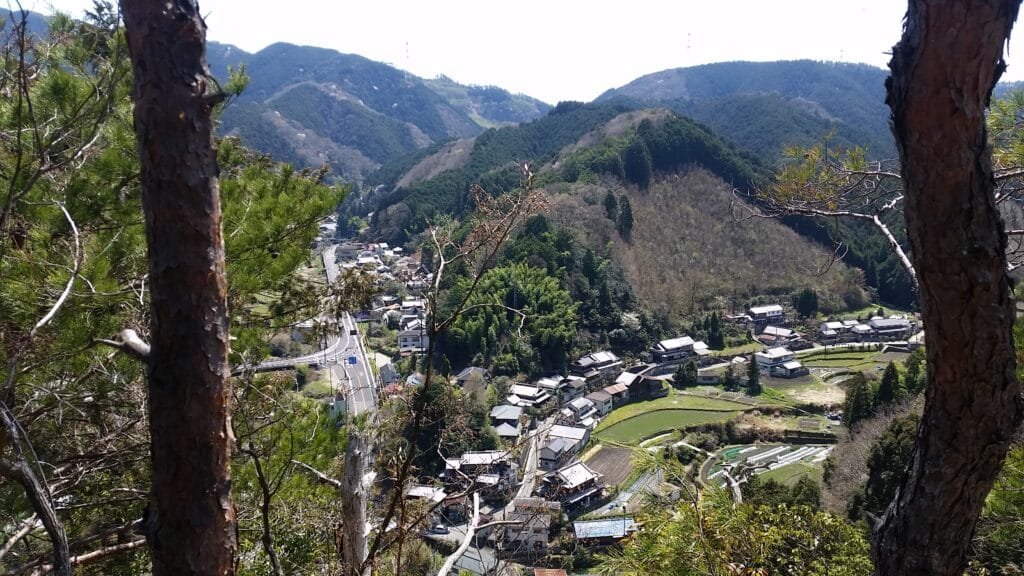 Although not the original 14th century shrine, there is still an Inari Shrine at the summit. However the trailhead is extremely difficult to find and in many places, the trail itself is almost invisible. A handful of worn, red torii gates scattered along the path are all that is there to guide you.
Heading west at the crossroads takes you up into the village of Nagaretani. Here you can find a small shrine called Nagaretani Hachiman Jinja whose giant, 400 year old ginko tree is a registered natural monument of Osaka Prefecture.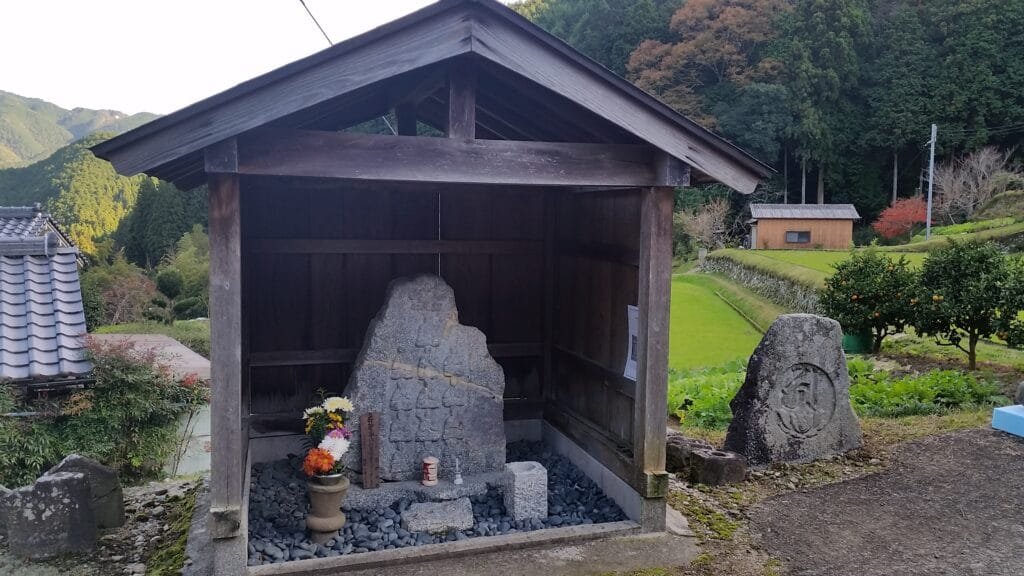 Further up the hill is the Jusan Butsu, known colloquially as the 13 Christian Jizo. Local legend suggests that Nagaretani may have been a Hidden Christian community and this carving of 13 images of Jizo is thought by some to represent an image of Jesus and his 12 disciples. The carving itself is hidden between a few houses and overlooking another pretty set of rice terraces.
Heading instead south from Deai-no-Tsuji crossroads takes you further along the Koya Kaido and eventually into Wakayama Prefecture. The modern road heads through a long tunnel under the mountains. The Koya Kaido itself heads along a narrow road and up over the mountains through the Kimitoge Pass.
On the eastern side of Amami, hidden on another small hillside, is Kanii Jinja. This small shrine is dedicated to Jimmu-Tenno, the first emperor, and marks the location where he is believed to have camped with his army as he tried to conquer the kingdom of Yamato.
This shrine has an unusual harvest festival where men from three surrounding villages will walk in slow procession carrying lanterns and singing a traditional Ise-Ondo style song. Once gathered at the shrine, they set their lanterns down and the Shinto priest proceeds to shower the spectators with a mixture of hot sake, rice and salt by dipping a pair of Sakaki branches into the cauldron and swinging them wildly.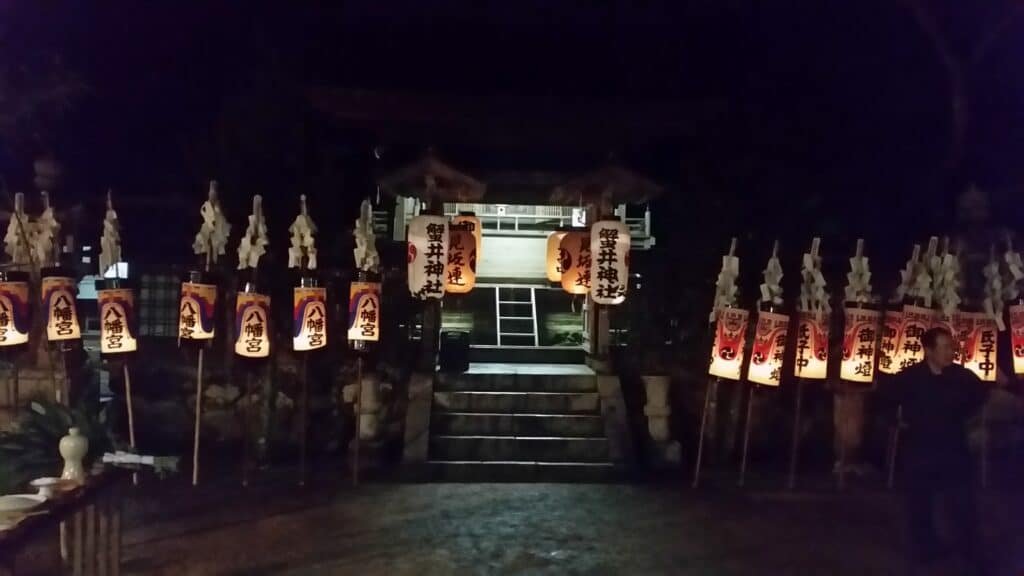 The entrance to this mysterious little shrine is on a narrow lane known as the Hinoki (Cypress) Slope. It is believed to be inhabited by mischievous tanuki spirits who like to play spiteful tricks on unsuspecting travellers. The lane leads up into the village of Shimanotani, possibly the most isolated and one of the prettiest parts of Kawachinagano.
Over on the far south-west corner of Kawachinagano is Takihata, with its large man-made lake and dam. It is another area of natural beauty with a small centre dedicated to local crafts and the old village that now lies below the lake.
---
Places of interest
While the really rural parts of Kawachinagano are perfect for people looking for some slow, relaxed exploration, there are many interesting locations scattered around the city that relate to both its rich cultural heritage and natural beauty.
Kanshin-Ji
The main hall of this temple and the statue of the goddess Kannon held within are both national treasures. The grounds are a great place to experience autumn leaves and also include a grave containing the head of Kusunoki Masashige as well as the grave of 14th century emperor Go-Murakami.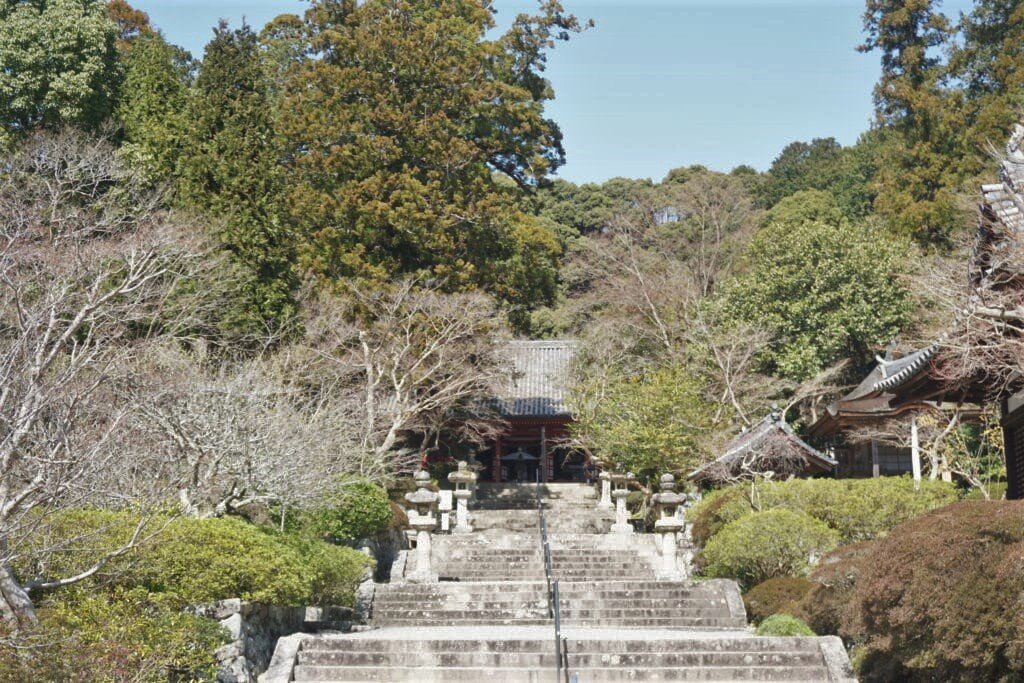 Enmei-ji
This mysterious temple is another local hotspot for autumn leaves and there is a local legend of an Oni (demon or ogre) living in the woods nearby.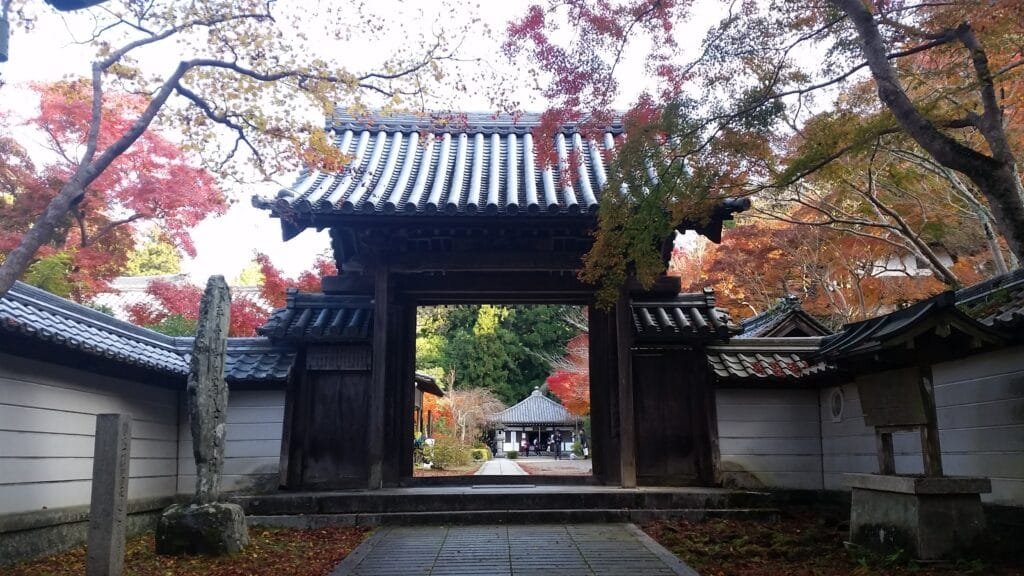 Amanosan Kongo-ji
Another important local temple whose statues are also listed as national treasures. This temple was once the home of two opposing emperors during the Nanboku-cho period. One of the small imperial villas has a small, beautiful courtyard garden.
Mount Iwawaki
This mountain dominates the southern skyline of Kawachinagano and is a popular and simple hike. There is no public transport serving the mountain however so unless you have a car, it is a couple of hours walk from either Amami Station or the Takihata Dam area. Especially popular in late summer and Autumn for a large pampas grass field at the summit, it also hosts the mysterious temple Iwawaki-dera.
Here's a short video of Mount Iwawaki hike from Kimitoge station for pampas grass viewings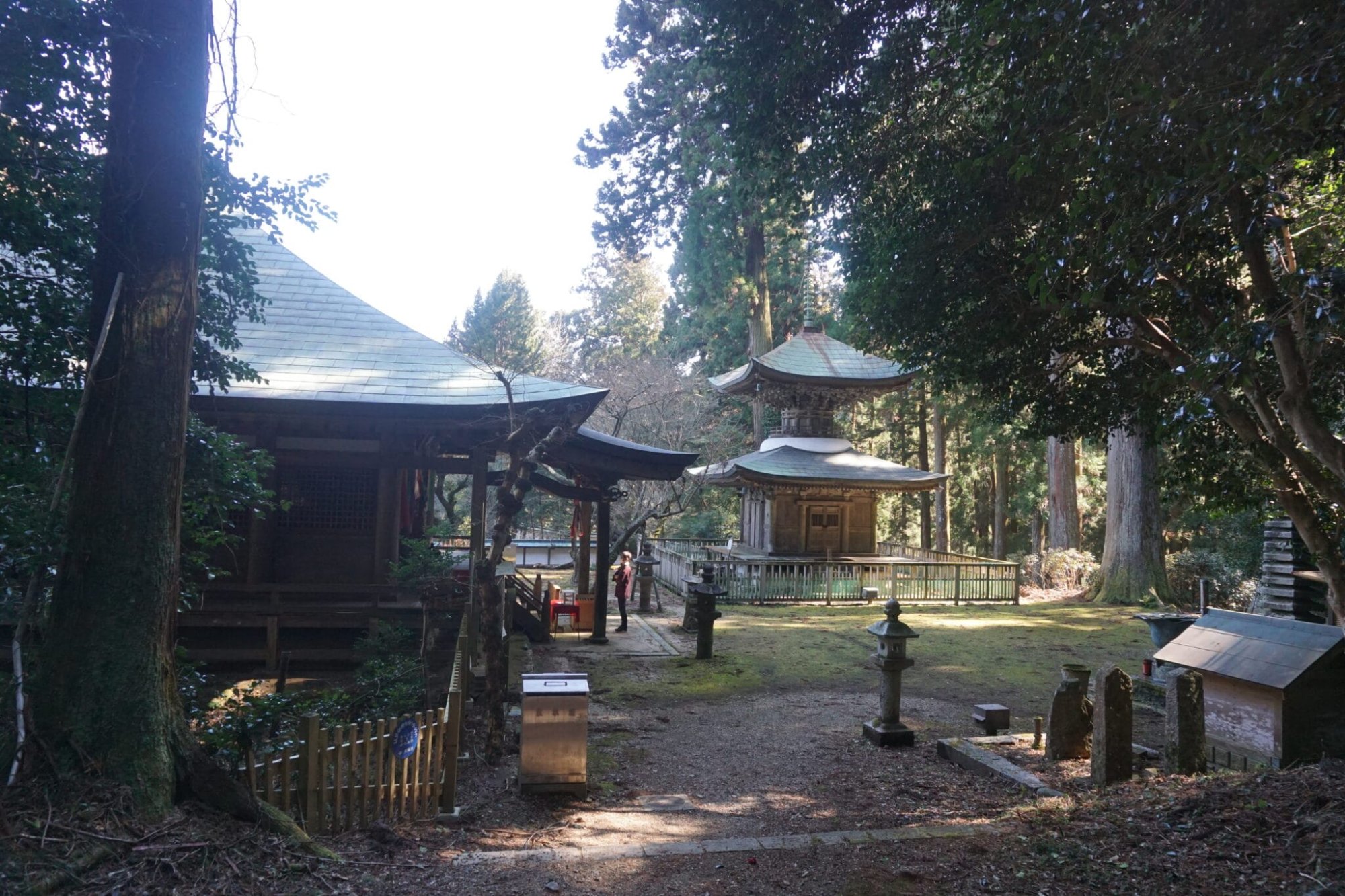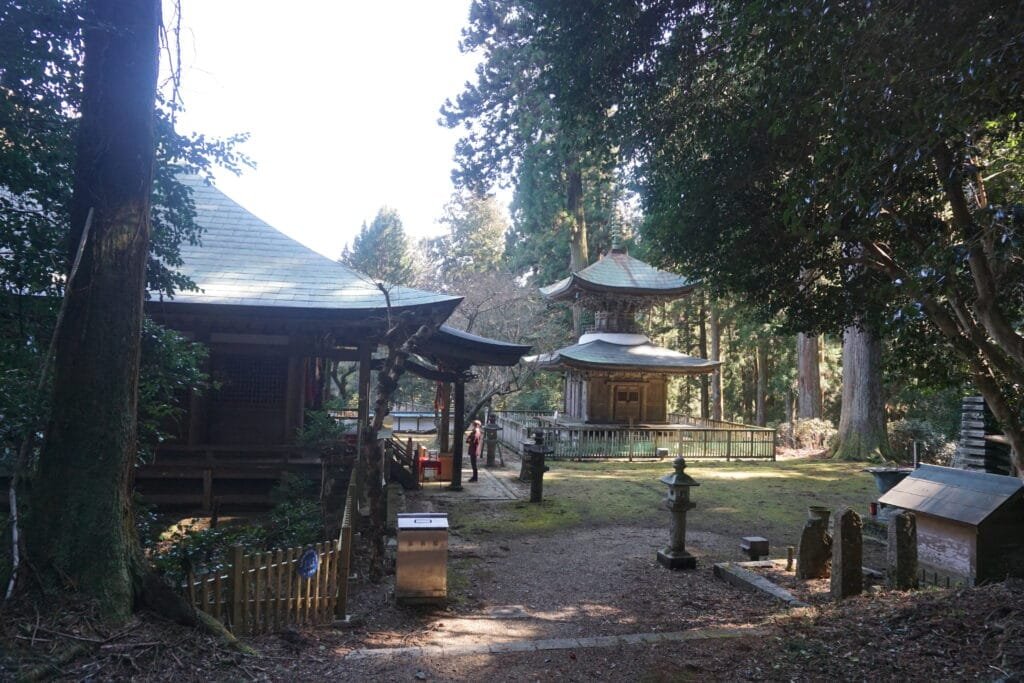 Mount Kongo
Although this mountain is actually within the neighboring district of Chihaya-Akasaka, it can easily be reached by bus from Kawachinagano Station. It is the highest point in Osaka Prefecture and a relatively easy hike. It has the most consistent snowfall in all of Osaka Prefecture in late January and early February.
Diamond Trail / Katsuragi 28 Shuku Kyozuka
Iwawaki-san and Kongo-san are both part of the Diamond Trail, a long hiking trail that runs along the mountainous border between Osaka, Wakayama and Nara Prefectures. Roughly parallel to the Diamond Trail is the mysterious Katsuragi 28 Shuku Kyozuka, a Yamabushi pilgrimage trail thought to follow the first route that En-no-Gyoja took through these mountains when he was first developing the idea of Shugendo.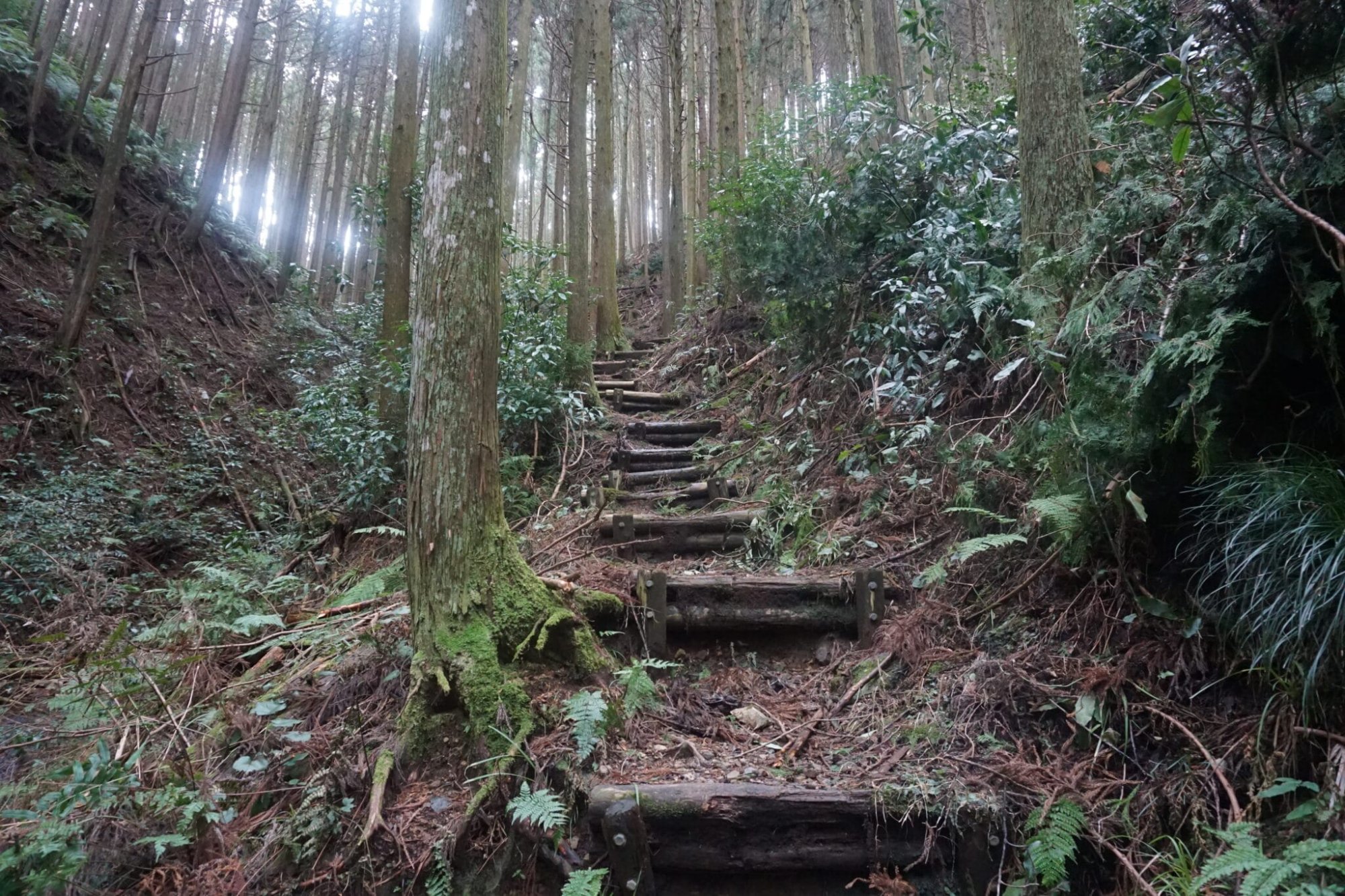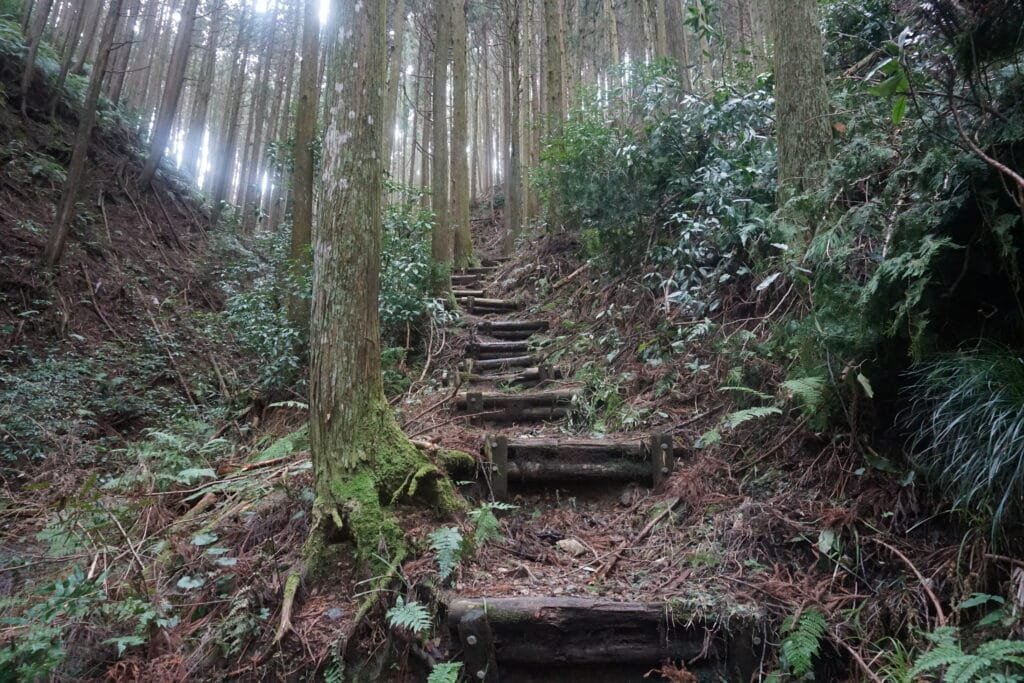 Kansai Cycle & Sports Centre
A small adventure park of sorts, its large swimming pool makes it a popular place in summer. It also has a selection of bizarre novelty bikes to ride and a cycle track for normal rental cycles.
Kuromaro Village / Hana-no-Bunkaen
The Osaka Prefectural Flower Garden is a great place to view seasonal flowers and in early spring, they set up kotatsu (tables with heated blankets) under the plum blossoms. The nearby Kuromaro Michi-no-Eki (Roadside Station) has a restaurant, cafe/gift shop and a supermarket which sells produce grown and made by local farmers.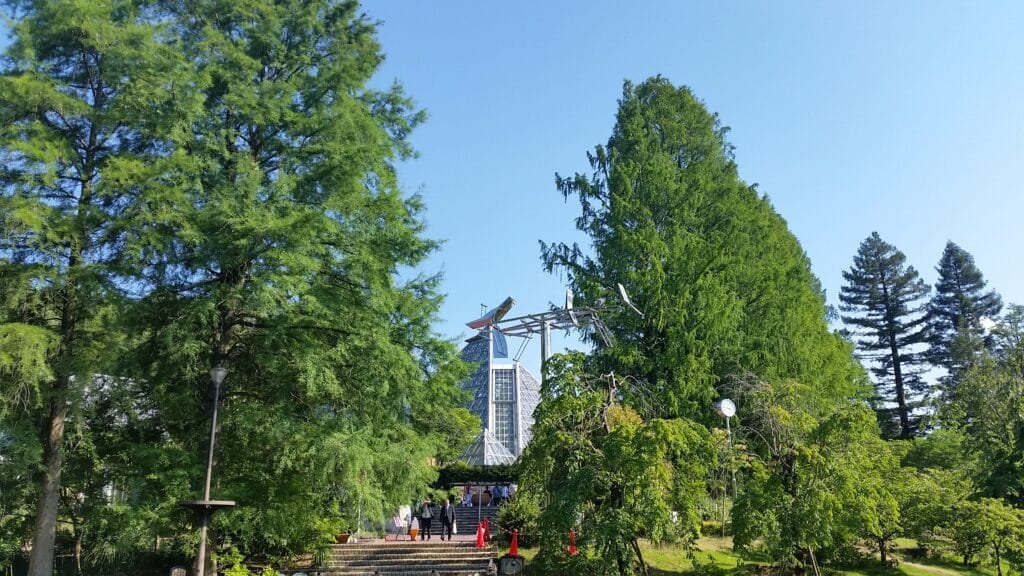 Saijo Sake Brewery
The Saijo Sake Brewery is just a short walk from Kawachinagano Station and occupies an impressive Edo Period building. One of its most popular products is Amanosake. From a recipe that is over 400 years old, this sake was once brewed by the monks of Amanosan Kongo-ji and was a favourite drink of 17th century warlord and unifier of Japan, Toyotomi Hideyoshi.
---
Where to Eat
KU-RI
This Shojin-ryori restaurant is within a traditional old house that forms part of Kanshin-ji temple. The traditional Buddhist temple food is sublime but due to a limited number of servings per day, it can be very difficult to get a reservation.
Botefuku
This is a small family run restaurant that specializes in Okonomiyaki and Yakisoba. Their "Deluxe" Okonomiyaki measures 30cm across and nearly 3cm deep with generous helpings of squid, shrimp and pork.
---
Where to Stay
Amami Onsen Nanten-en
This traditional ryokan with natural radium hot springs is just a short walk from Amami Station in the rural southern part of Kawachinagano. The Taisho Period main building is a registered cultural asset, having been designed by renowned architect Kingo Tatsuno, of Tokyo Station fame.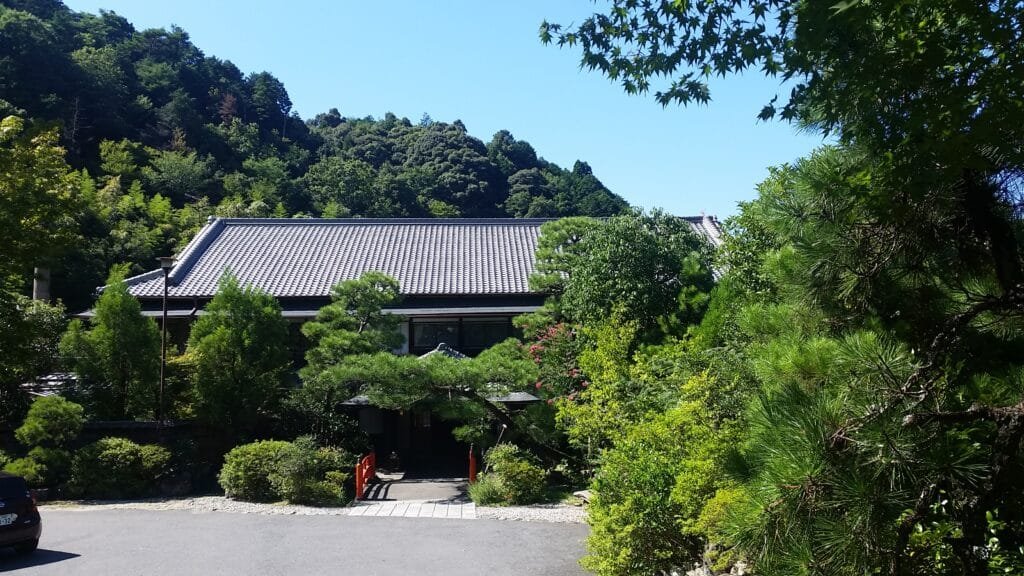 The owner is a master of tea ceremony and ikebana flower arranging and can hold classes in both, assisted by an English-speaking member of staff. Unusually for a traditional ryokan, it also has an outdoor swimming pool which is open from mid-July to the end of August each year.
Nanten-en is tattoo friendly, LGBTQ+ friendly and can prepare vegan and vegetarian kaiseki if guests provide them with their dietary requirements a few days in advance.
Their English website can be found here.
---
How to get to Kawachinagano
Kawachinagano is served my two main railway lines. The Nankai Koya Line, starting at Namba Station in downtown Osaka, runs through the city on it's route to Koyasan. Alternatively, you can take the Kintetsu Line from Osaka Abenobashi with the line ending at Kawachinagano Station.
The Nankai Line gives travellers easy access to downtown Osaka, Kansai Airport and Koyasan whereas the Kintetsu Line opens up additional destinations such as Asuka and Yoshino in Nara Prefecture by changing train at Kintetsu Furuichi Station.
---
Travel tips
The best way to get around Kawachinagano is either by car or rental cycle. There are buses that go passed many of the points of interest but some of the more rural stops have a fairly infrequent service.
E-bikes are almost essential given that the city is extremely hilly, but these can be easily hired from near the Saijo Sake Brewery. Amami Onsen Nanten-en also has a few available for guests as well as some custom Google Maps for their recommended routes.