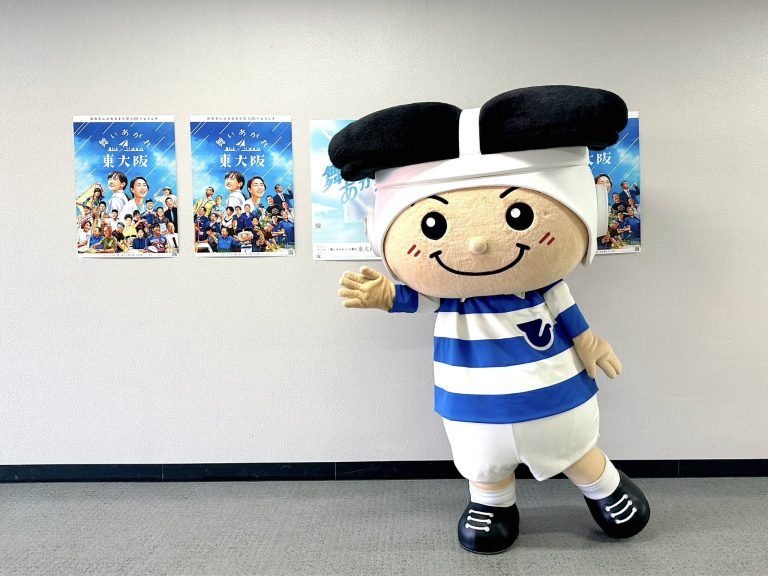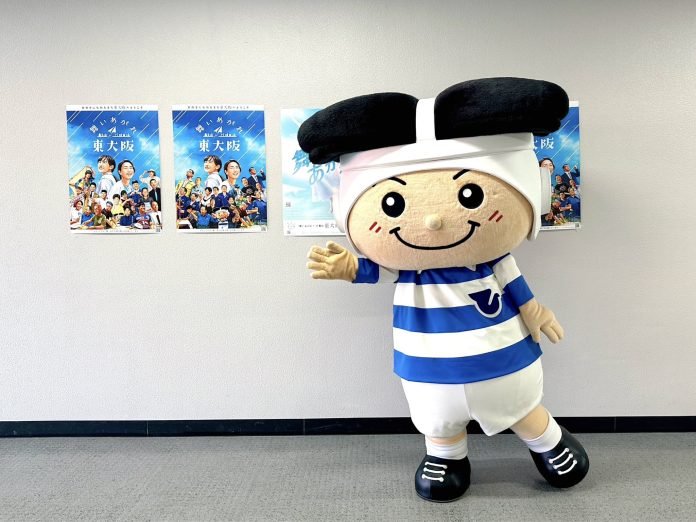 Shopping for Souvenirs is something of a ritual for most travelers. As much as we love visiting new places, we equally enjoy sharing that experience with our friends and family who couldn't come along for the ride.
Osaka, of course, has no shortage of shops offering a variety of souvenirs and other keepsakes. However, even for the discerning shopper, it can be sometimes be difficult to find genuinely good, memorable souvenirs amidst the tide of tourist tat. Today, we hope to guide you on this journey. As someone who bought numerous souvenirs for friends and family during my 5 years in Osaka, I like to think I have a certain feel for quality local goods.
So, for your consideration, I give you the top 5 souvenirs for friends and family to remind them of your time in Osaka.
Sporting Souvenirs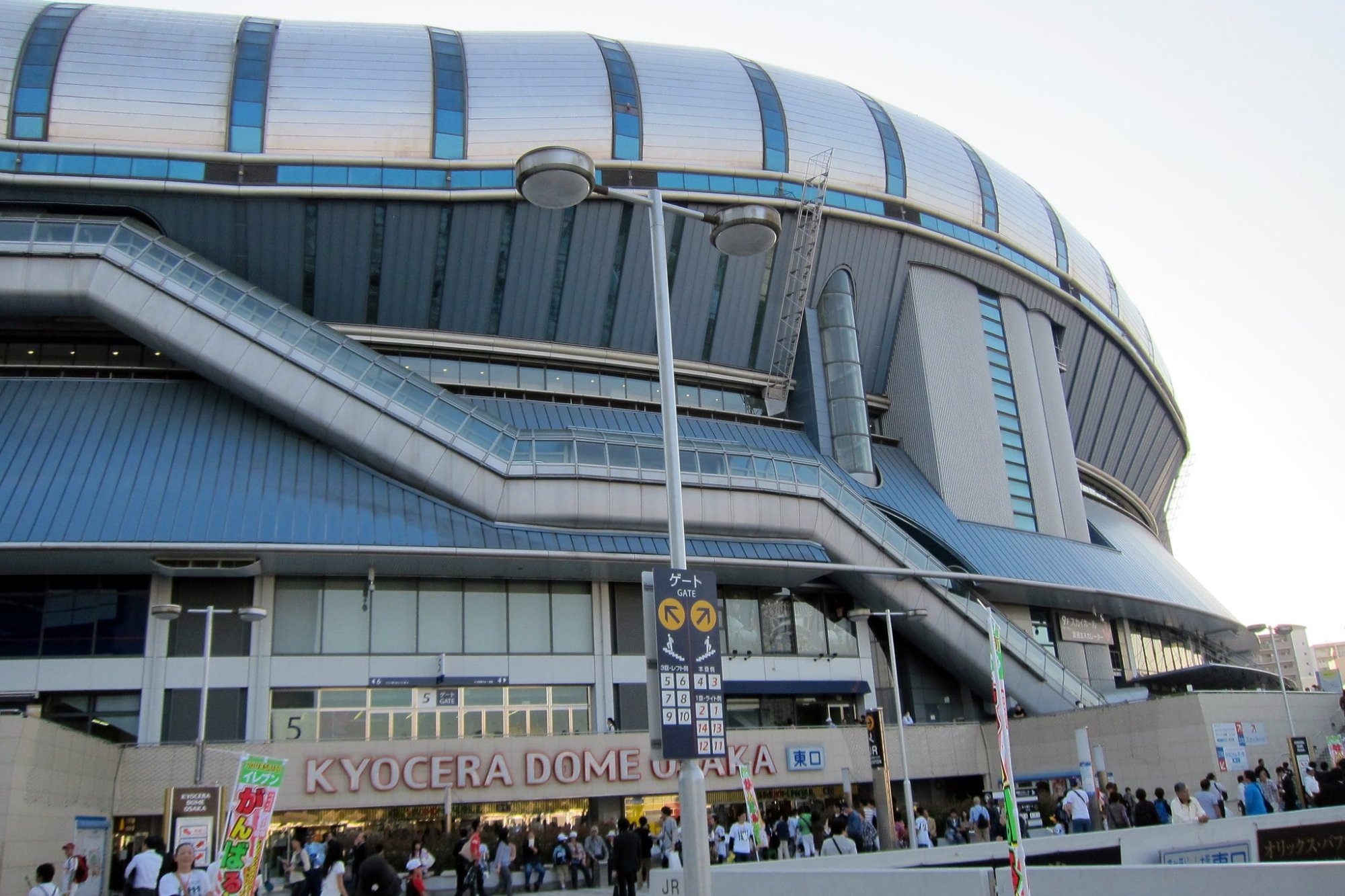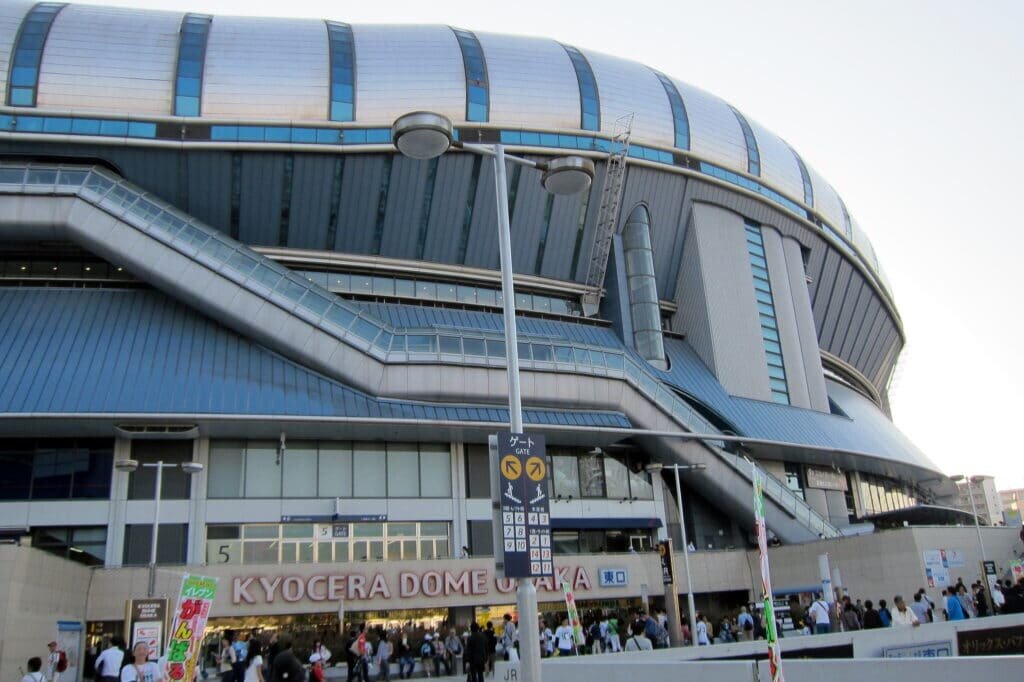 Osaka has a huge sports fan culture, traversing multiple sports. I'll admit to a bit of a personal bias on this one. As a lifelong football (soccer to our American friends) fan, some kind of souvenir from the local team is always the first thing I ask for when friends or family visit somewhere I've never been before. I'm fortunate enough to have amassed more than a hundred shirts and scarves, covering about 50 or 60 countries. Personally, I've only visited 16 countries so far in my travels. As they say, it pays to be well connected.
If team sports are your thing, then Osaka has a swathe of options to choose from. There are the two top tier soccer clubs, Gamba Osaka and Cerezo Osaka. Additionally we have last season's Baseball league winners, the Orix Buffaloes, who play out of Osaka Kyocera Dome, in Nishi Ward. However, many baseball fans in Osaka, including most of my Japanese friends, follow the Hanshin Tigers. Despite playing their home games primarily at the Koshien Stadium, in neighboring Hyogo Prefecture, the Tigers do, from time to time, play regular season games in Osaka.
Soccer Souvenirs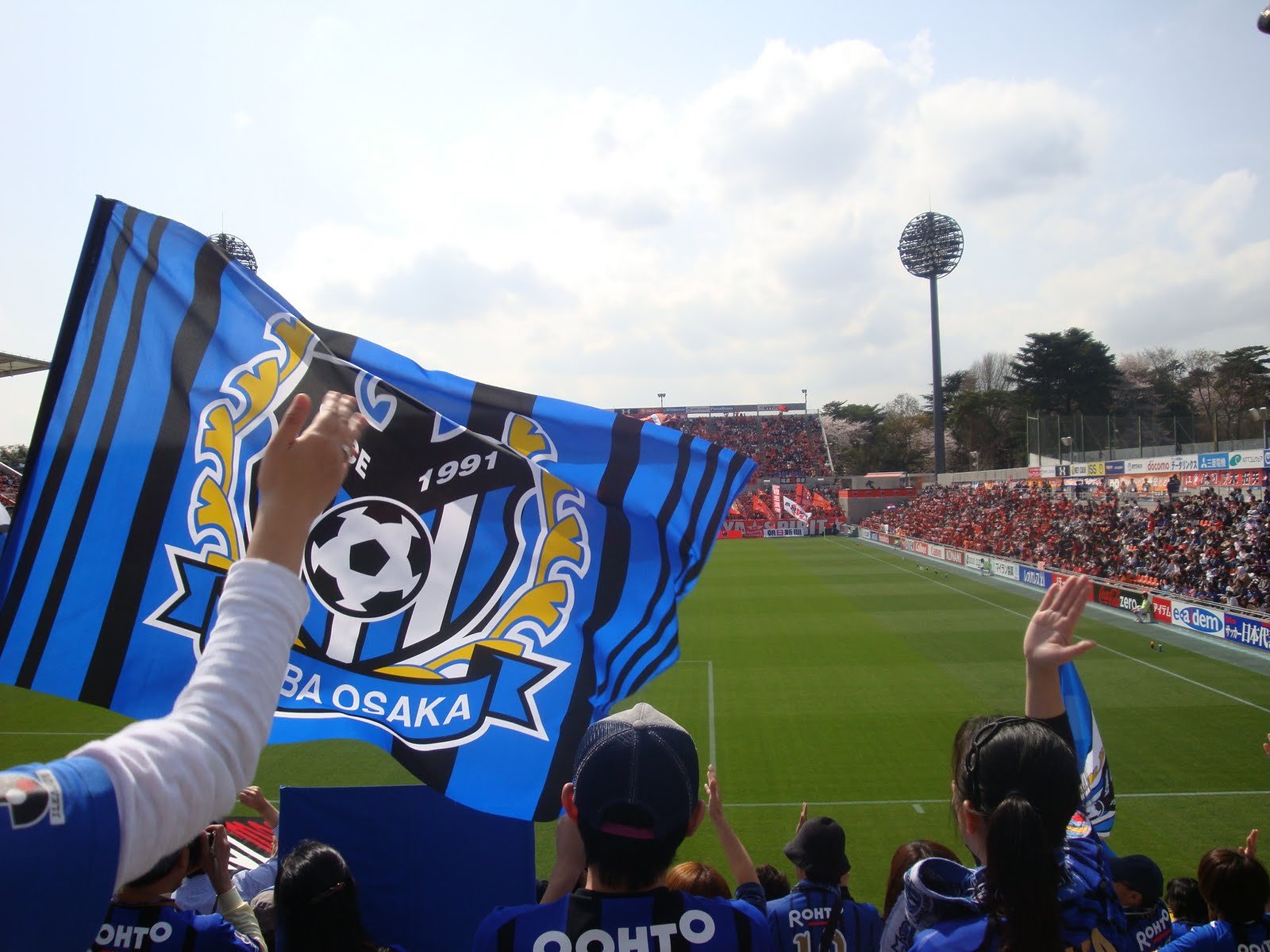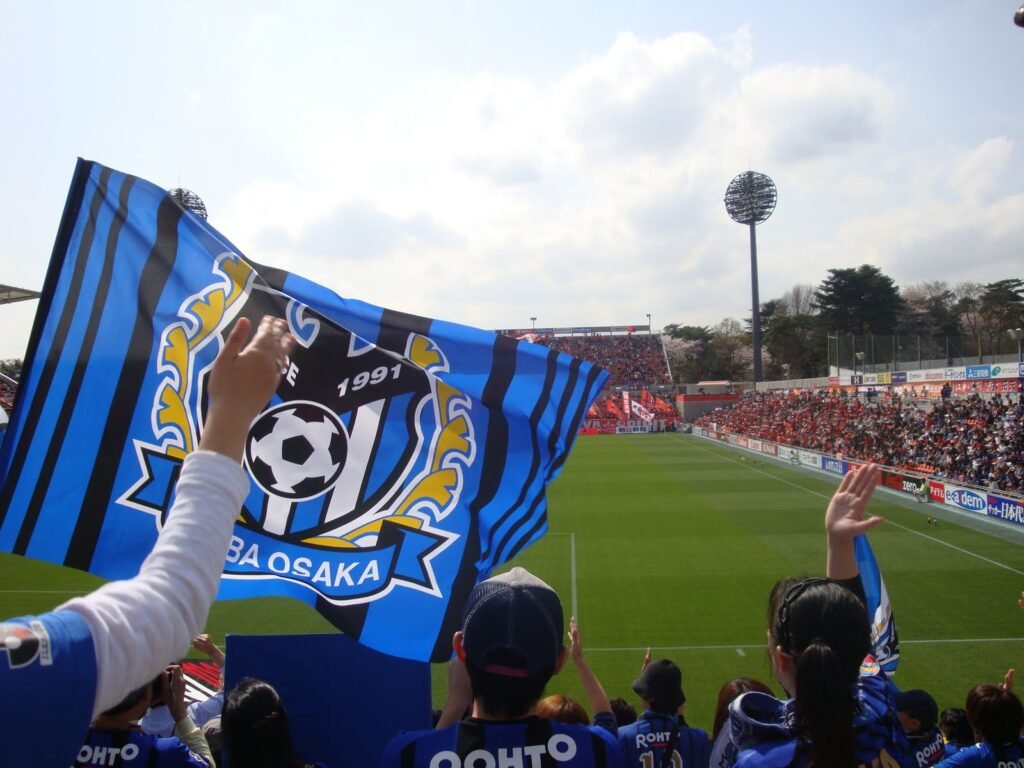 Team jerseys are an elegant yet expensive choice for your souvenirs. As far as Cerezo and Gamba are concerned, a current season jersey will cost about 16,000 yen for adults, and about 10,000 yen for kids. However, smaller souvenirs such as team scarves, flags, and mascot plush toys are available for just a couple of thousand yen. For European football fans, J-League scarves have an interesting quirk to them. Whereas in most other parts of the world, soccer souvenir scarves are made from conventional, knitted wool, Japan does it a little differently. Given the heat and humidity of summer here, the scarves take the form of elongated sports towels, printed in the likeness of a European scarf. A nice souvenir, and remarkably practical during warm summer days too.
Baseball Souvenirs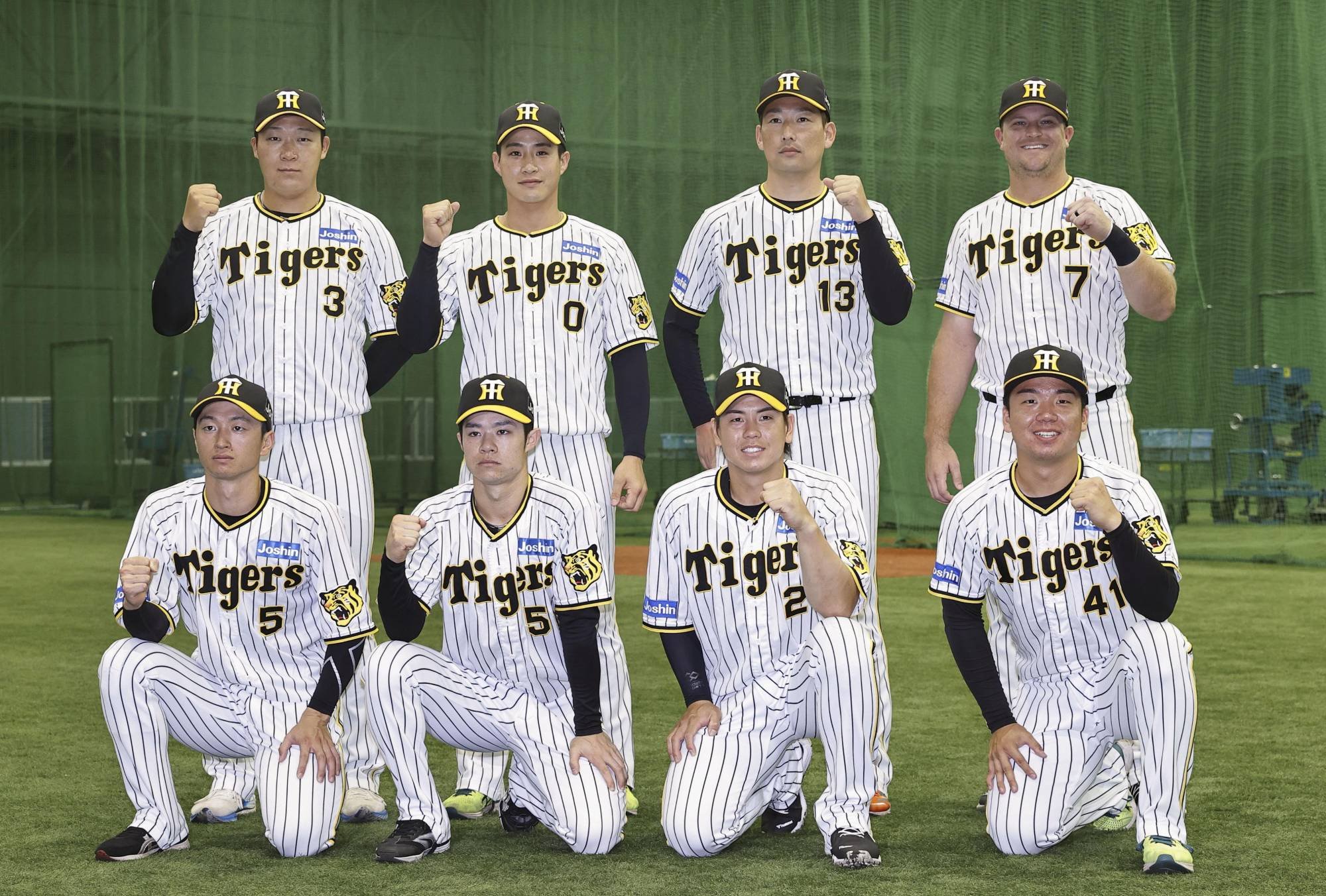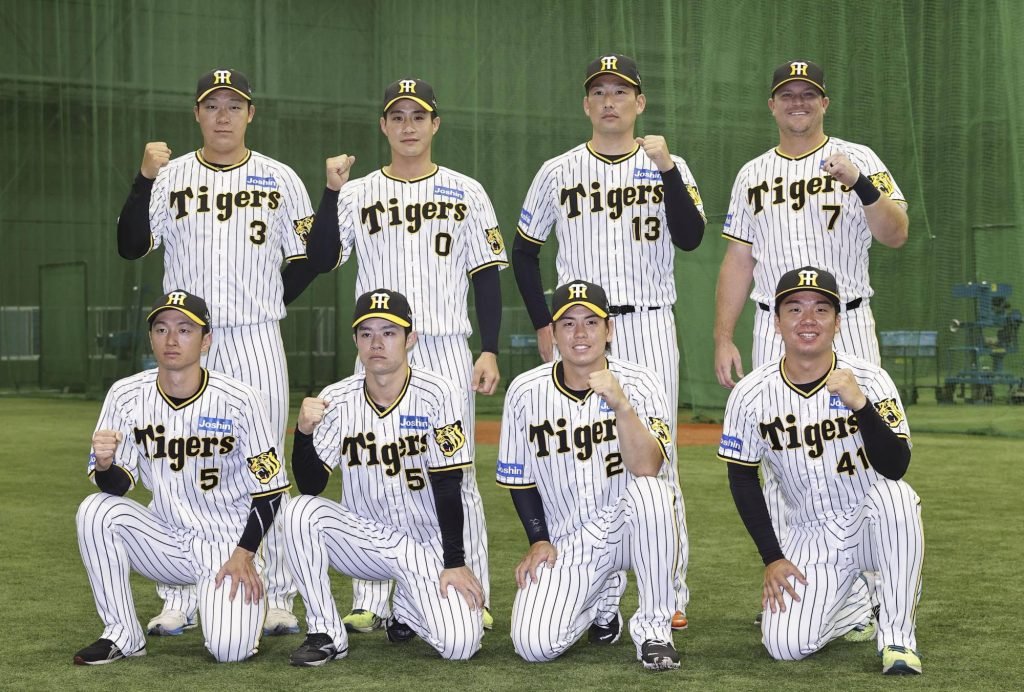 For Baseball fans, the best place to pick up Hanshin Tigers souvenirs is at their official store. The store sits on the 8th floor of the Hanshin department store building, near JR Osaka Station.
Orix Buffaloes also have an official club shop located within the Osaka Kyocera Dome complex where they play their home games.
Baseball jerseys are a little cheaper than soccer shirts. Current season jerseys will cost 12,000 yen for adults, and about 7,000 yen for kids. However, as was the case with the soccer clubs, a variety or smaller souvenirs are available to suit your own budget.
Knives and other Kitchenware Souvenirs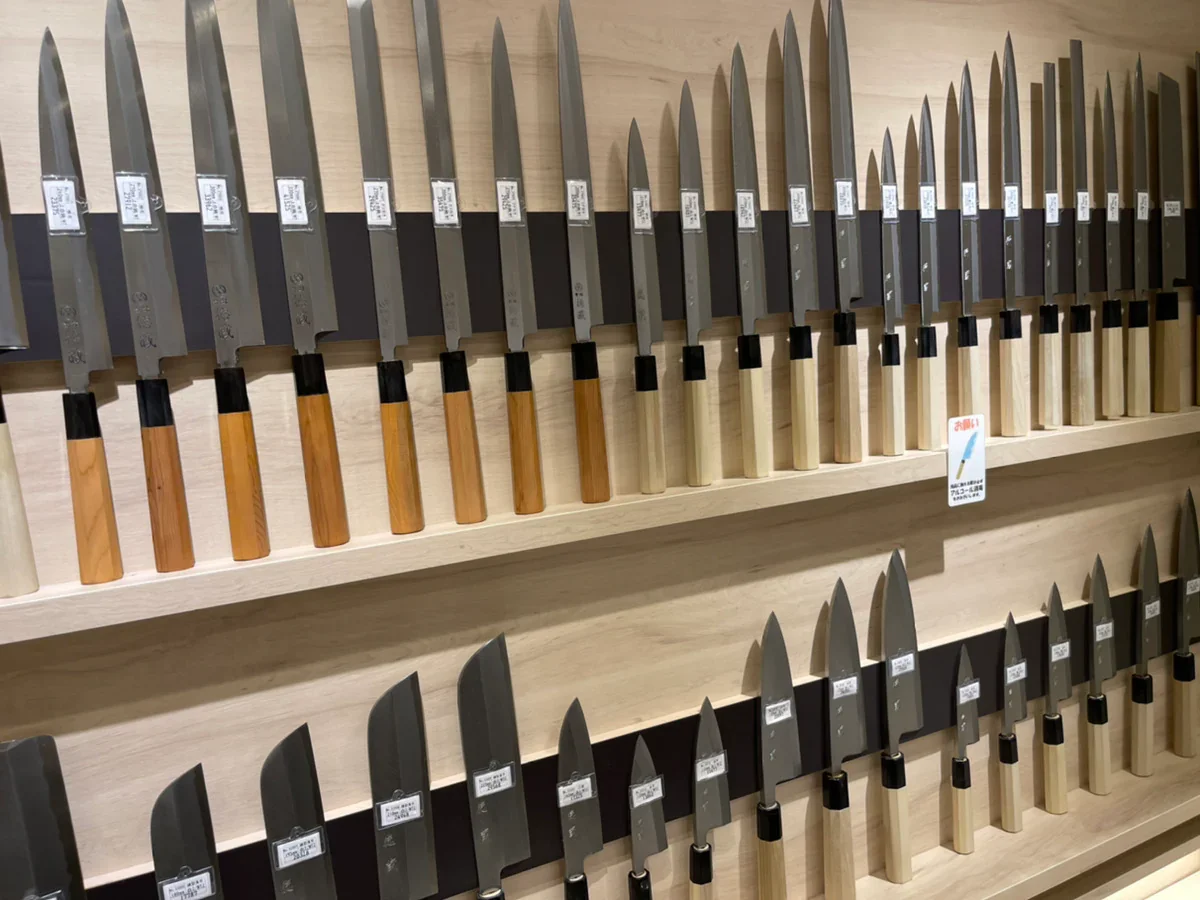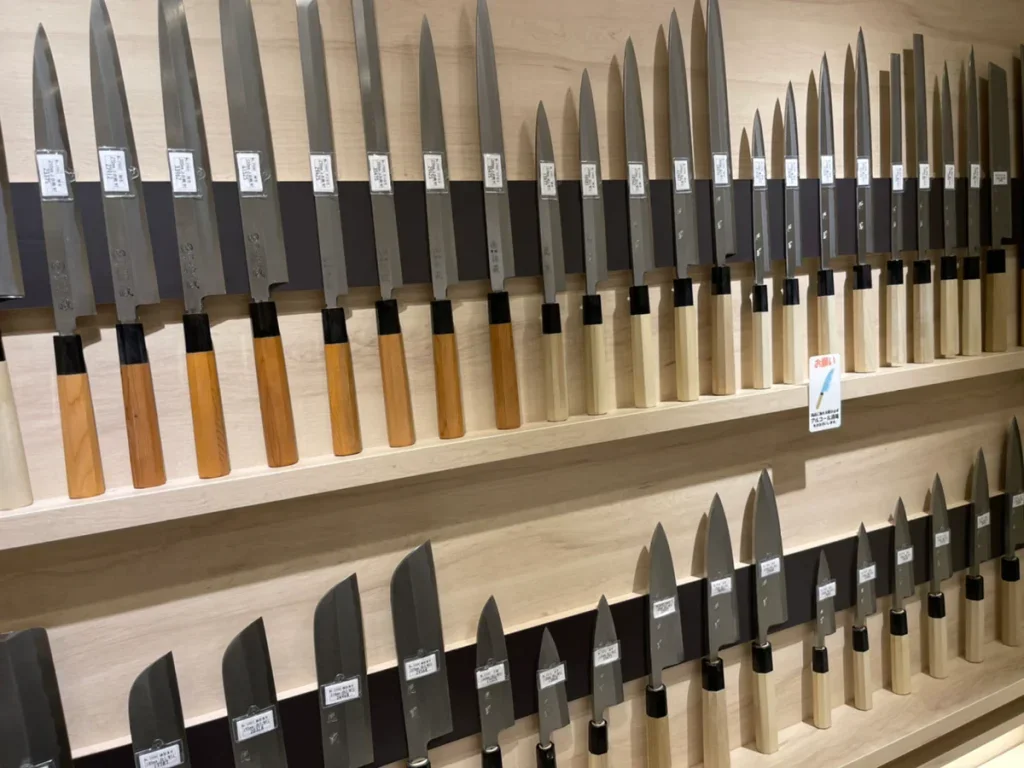 Osaka enjoys a global reputation for its food culture. Unfortunately, even if I could somehow navigate the customs regulations against importing food items, I doubt a piping hot tray of takoyaki would survive the 18 hour flight back to my native Scotland!
So, if you can't take Osaka's exquisite cuisine back home with you, you can at least take home the means to prepare it.
Thankfully, Osaka has some outstanding knife and kitchenware stores.
Your first port of call in this regard should be Sennichimae Doguyasuji Shoutengai.
Located in Chuo Ward, about 5 to 10 minutes' walk from Namba Subway Station, this street contains a huge range of cooking utensil shops. From small filleting knives, to huge soup pots, whatever your culinary choice, Doguyasuji has you covered.
Of course, as with any tourist trap, there are a smattering of vendors here who are, let's say, not entirely honest about their wares.
Beware of Imitations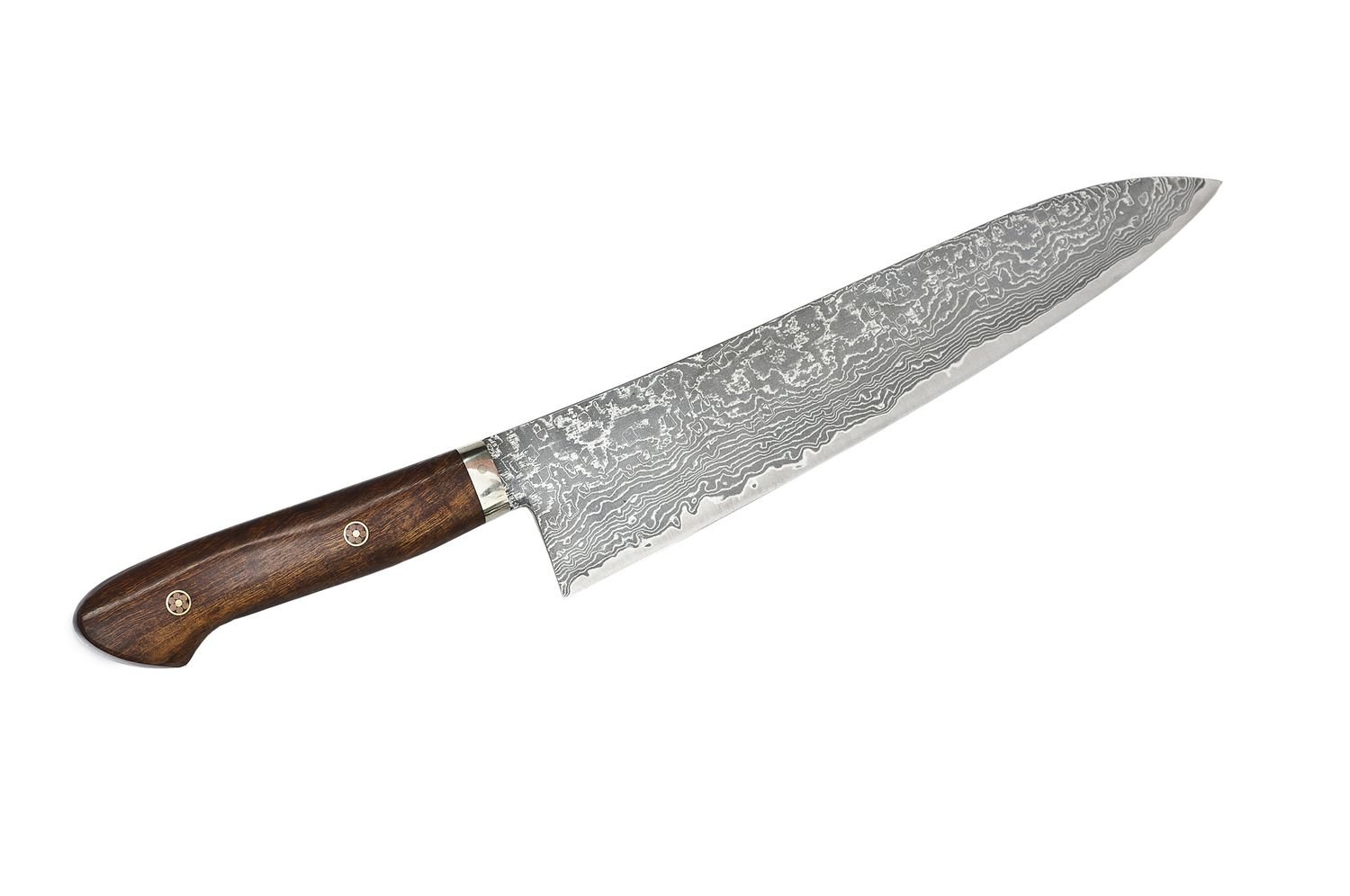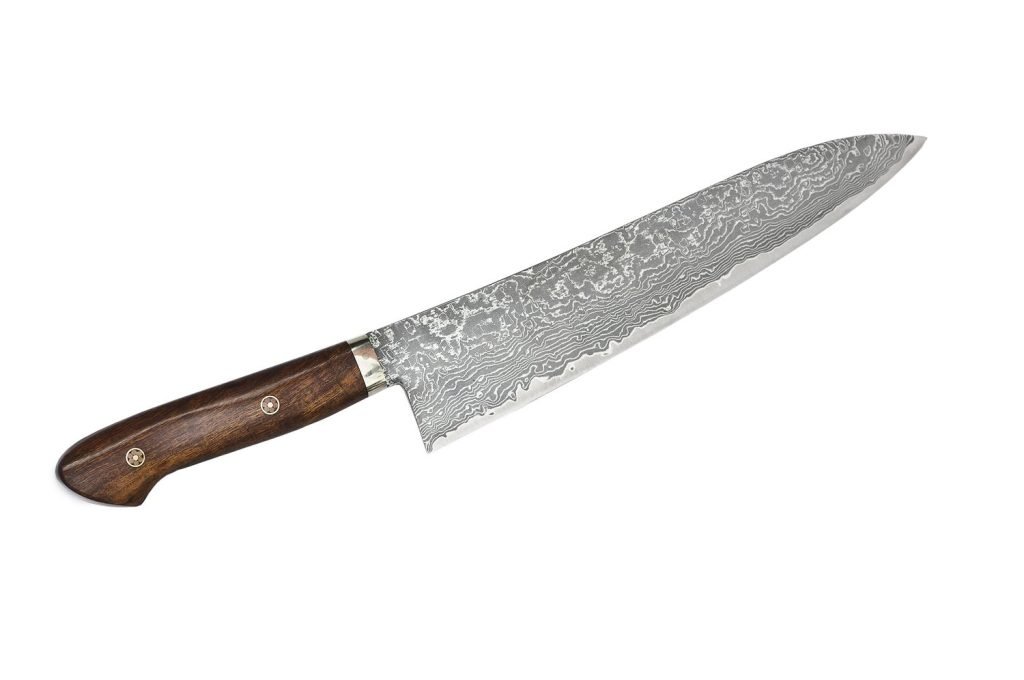 In recent times there has been a recurring issue with some stores selling Chinese-made imitations of Japanese knives, whilst still charging premium prices. There are a couple of easy ways to avoid these traps.
First of all, a genuine knife will not only say "made in Japan" on it. It will also have the maker's own brand or family symbol on it, and a specific location where it was forged. For example, do not buy a knife that says "Product of Honshu, Japan." Honshu is the name for the entire main island of Japan, stretching from Miyagi prefecture in the north, to Hiroshima in the south. So, as far as locations go, it's not exactly very specific.
Secondly, be wary of vendors that market their knives as "high-quality, Damascus steel."
Damascus steel refers to a pattern on the blade, resembling a series of light and dark waves, produced during the forging process. It has no direct correlation to the strength or sharpness of the knife. The easiest way to spot a fake is to look at the wave pattern. If a Damascus steel blade is forged correctly, the pattern will vary across the blade. If the patten looks the same across the entire blade, it's probably a fabrication.
Also, as a final point, please be aware of the laws around bringing kitchen knives into your own country when going home. Nobody wants to have their prized souvenirs taken away at customs control. In some cases, it may be better to buy the knives in Japan, and ship them separately before you return. Each country is different, so make sure to check the rules ahead of time.
Saucy Souvenirs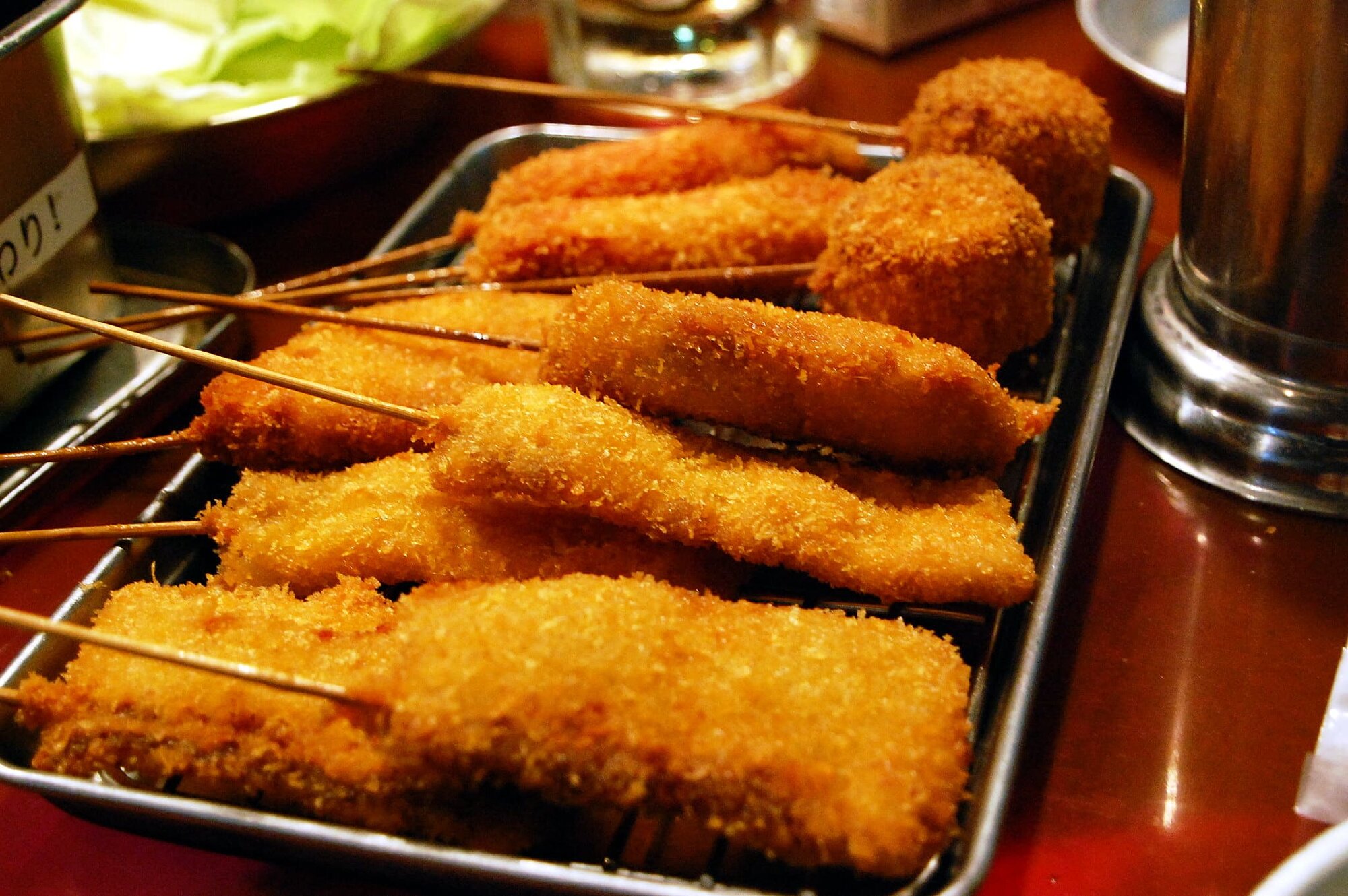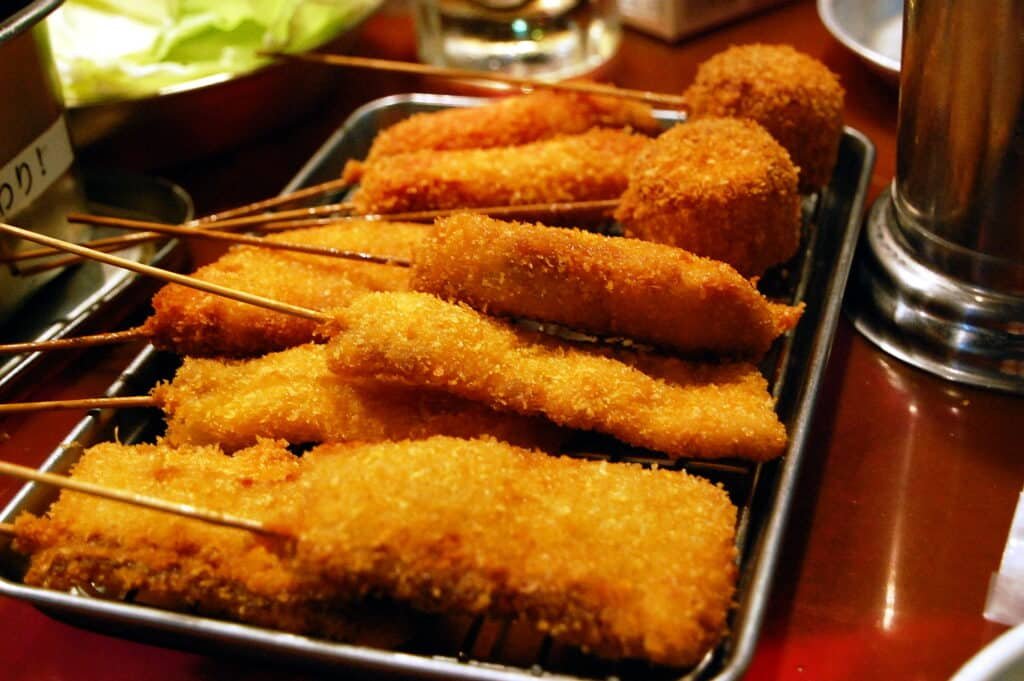 We are staying on the culinary theme with this one. It stands to reason that as "Japan's Kitchen", Osaka also has some of Japan's best sauces. Indeed this is true. Osaka residents often remark when they visit other parts of Japan about the relative paucity of sauce selections available in supermarkets and food specialty shops. And, in the case of most countries, provided you don't pack them in your hand luggage, taking home a sauce bottle or two as souvenirs is far simpler than most other food items.
Osaka has a wide selection of fine sauces, preserves and garnishes, but for the purposes of today's discussion, let us focus on three of the best.
Hermes Sauce
This sweet, rich and flavorful sauce is made in Osaka's own Higashi Sumiyoshi Ward. It is probably best known as an accompaniment to Tonkatsu (fried pork cutlet) or other similar fried foods. For those from the UK, it's taste evokes memories of HP brown sauce. Fruity, tangy and with just the right amount of salty spiciness, Hermes sauce is the condiment of choice for many of Osaka's amateur cooks and chefs. Hermes sauce can sometimes be difficult to find in regular supermarkets or food stores. So, you may want to order it directly from the manufacturer, Iwami Foods.
Hasamezu Fukuoka Soy Sauce
Contrary to what the name may suggest, this sauce is not a product of the Kyushu region of Southern Japan. Fukuoka refers to the Fukuoka Soy Sauce Company, originally founded in Mie Prefecture, and currently operating across Osaka. This particular soy sauce has a little more of a spicy kick to it than other, lighter soy sauces, such as the ubiquitous Kikkoman.
In truth, it probably has more in common with something like Worcestershire sauce than conventional soy sauce. This is no bad thing however. Hasamezu Fukuoka Soy Sauce is the perfect accompaniment to any dish than maybe needs that little extra kick. The easiest place to find Hasamezu sauce is from the company's shop in Chuo Ward, Osaka City. Please note that the shop usually closes on Thursdays.
Shabu Tei Shabu Shabu Sauce
Shabu Shabu is one of those Osaka dishes so simple in its style yet so delicious. Meat and vegetables, boiled in a light broth, then eaten with accompanying rice, salad and sesame flavored sauce. This "goma" sauce, to give it its Japanese title, is the secret to a truly satisfying shabu shabu experience. At least, that's what most Osaka residents will tell you. So, a bottle of shabu shabu sauce makes an excellent souvenir gift to compliment any pantry.
Of the huge variety available, Shabu Tei is perhaps the best Osaka has to offer. Before you buy the sauce, why not try it for youself at one of Shabu Tei's 4 different restaurants across the city?
Osaka Mascot Souvenirs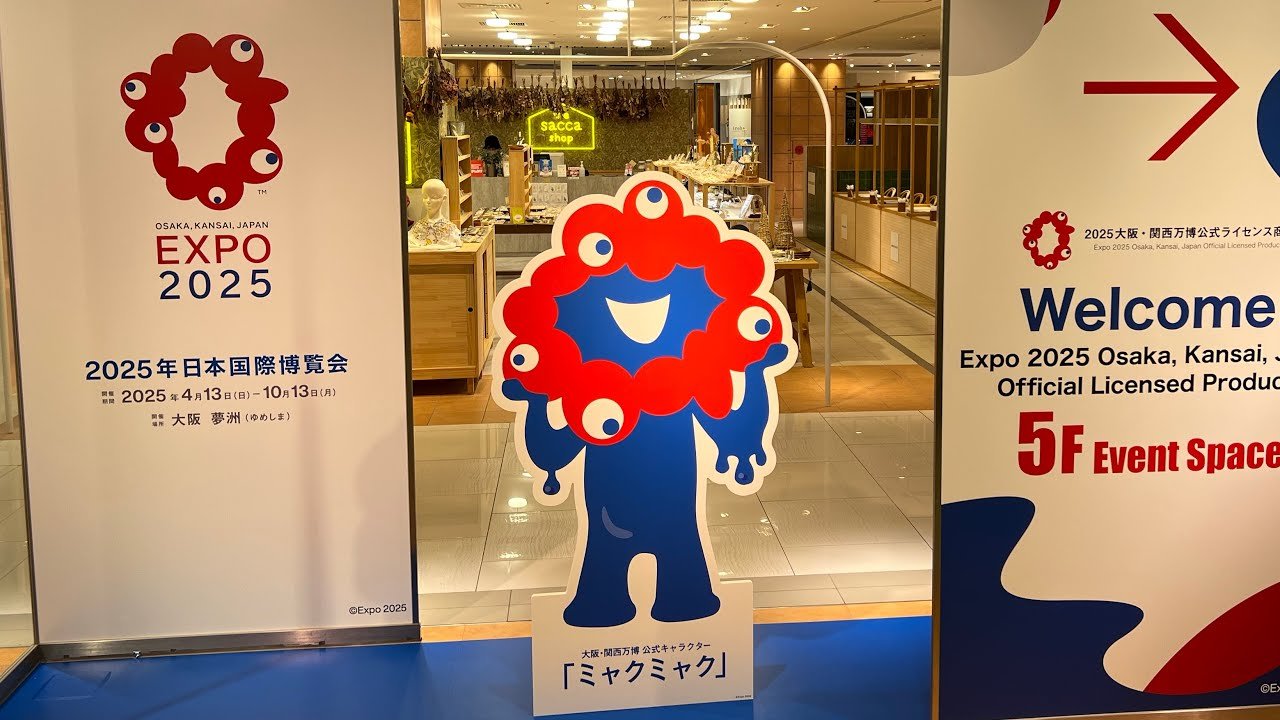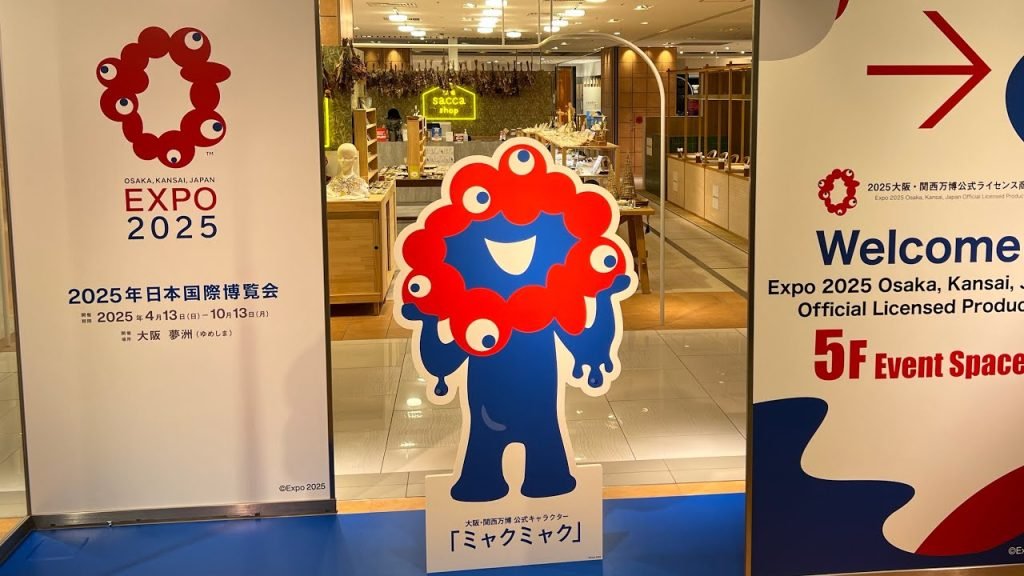 Nothing says "Japanese" quite like a cutesy mascot, and Osaka has plenty of them. Of course, I suggest you forego the nightmare inducing, multi-eyed Myaku Myaku, Mascot for the Osaka 2025 World Expo.
Instead, here are 3 cute suggestions for those who love plushy toys, but don't want to induce trauma in their younger friends and relatives!
Yumemaru-Kun Mascot of Chuo Ward, Osaka City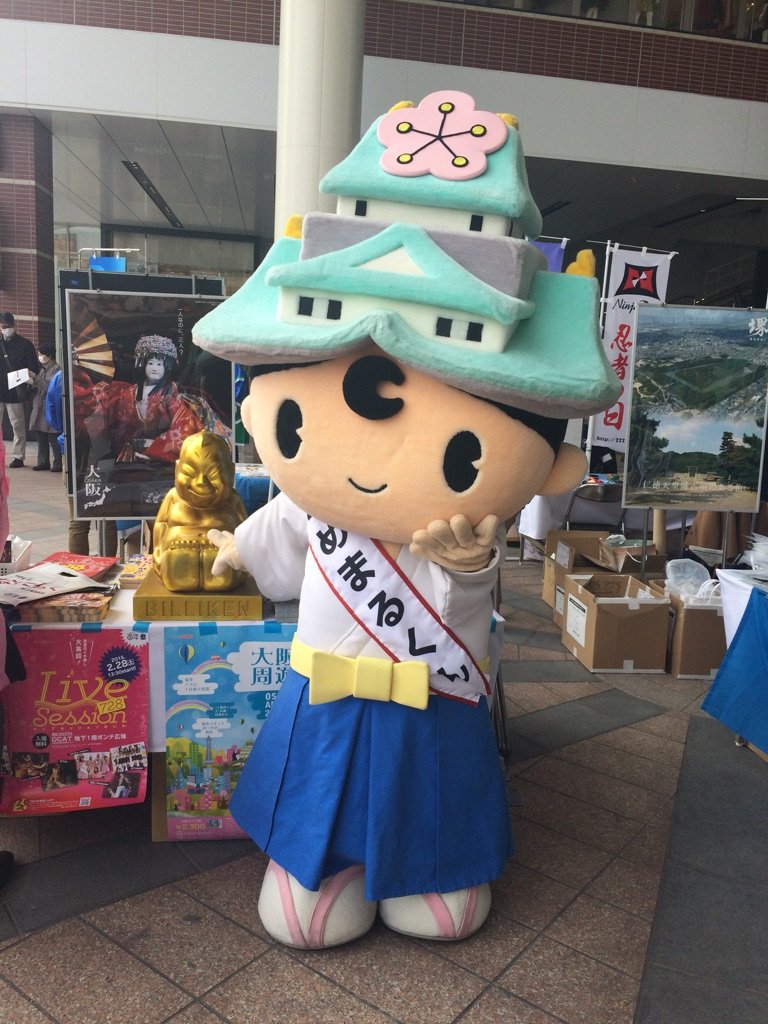 They don't come much cuter than Yumemaru-Kun, an Osaka Castle-themed mascot. He comes dressed in a traditional men's hakama and robe, with light, attractive colors. The centerpiece of his outfit though, is undoubtedly his oversized hat, in the shape of Osaka Castle. Atop his hat rests single sakura flower, to reflect the popularity of cherry blossom viewing in springtime across the Osaka Castle Park area. You can find Yumemaru-Kun merchandise at many souvenir shops across the Namba and Shinsaibashi shopping districts.
Try-Kun, Mascot of Hanazono Rugby Stadium, Higashi-Osaka City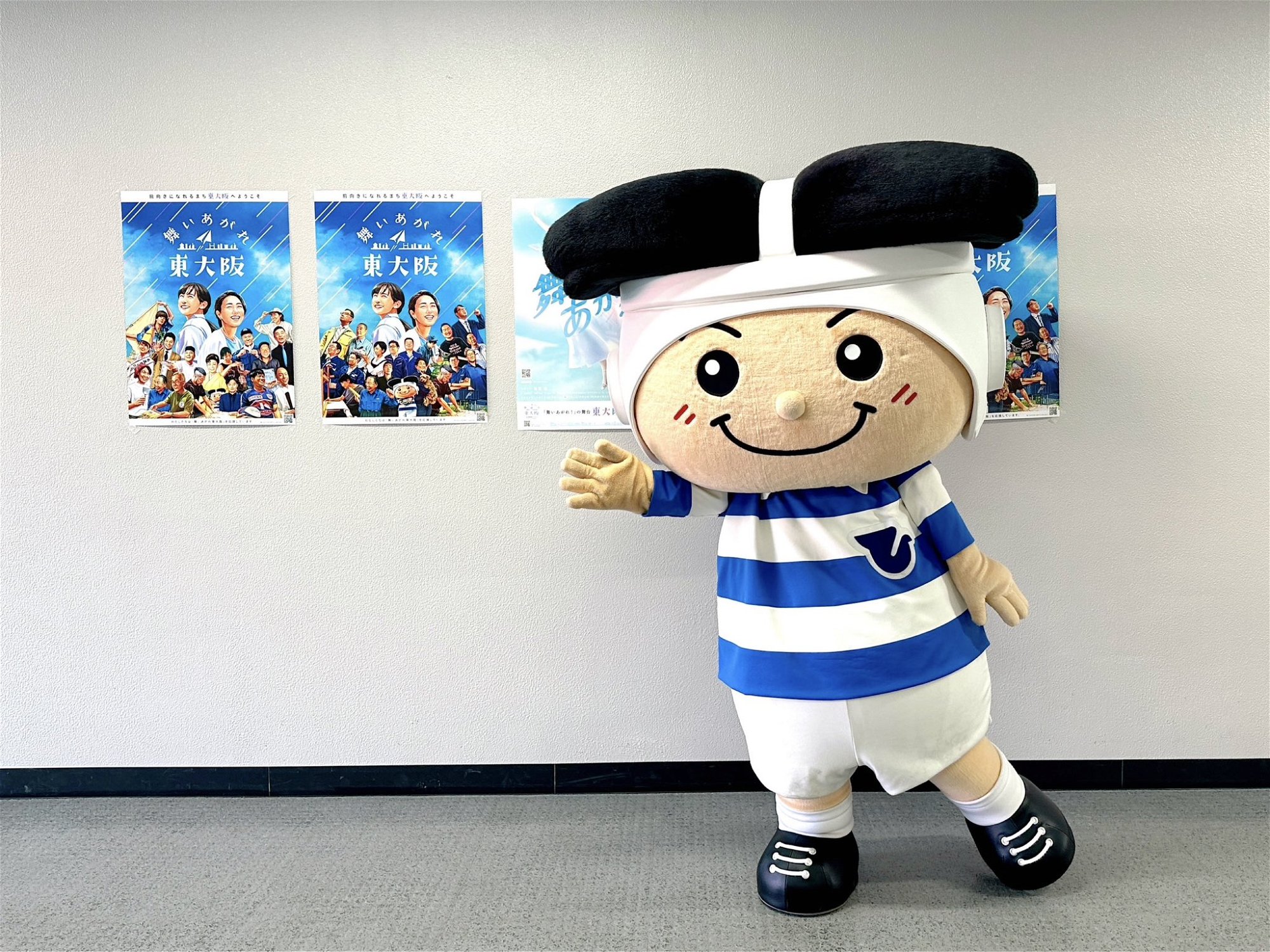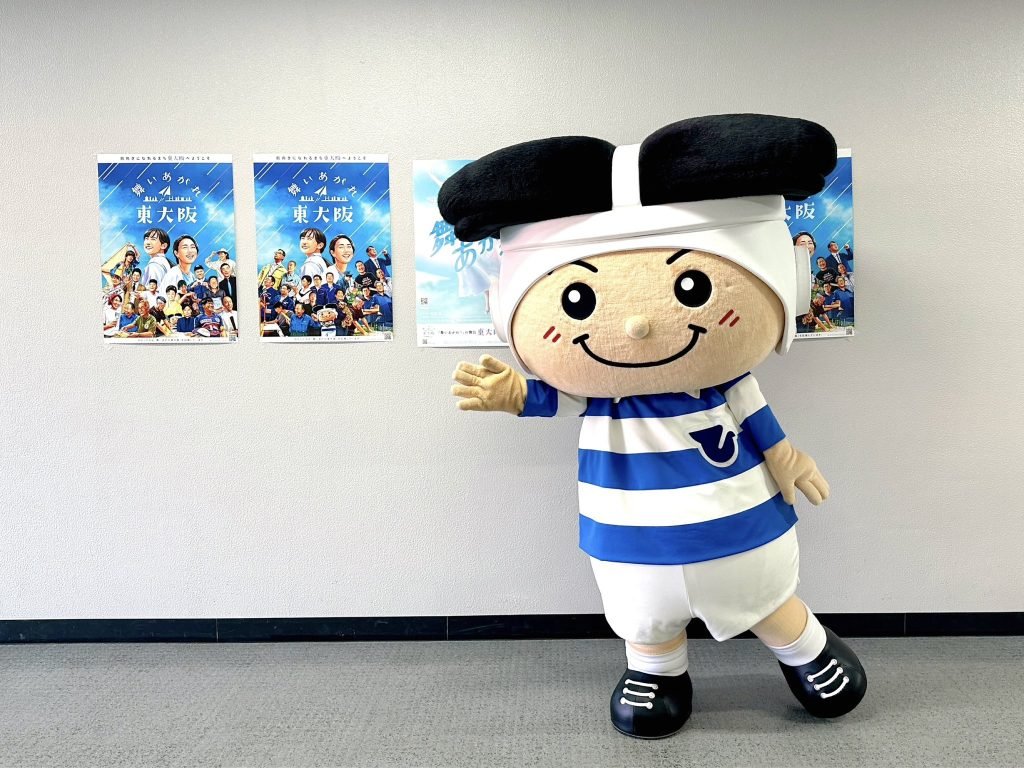 Not exactly, the most original name for a rugby-themed mascot, but Try-Kun is popular nonetheless. During the Rugby World Cup back in 2019, this mascot's popularity soared. He's remained popular both locally and across the country ever since. You can buy Try-Kun goods from the gift shop at Hanazono Stadium or through Japan Rugby's online shop.
Sora-Yan, Mascot of Osaka Itami Airport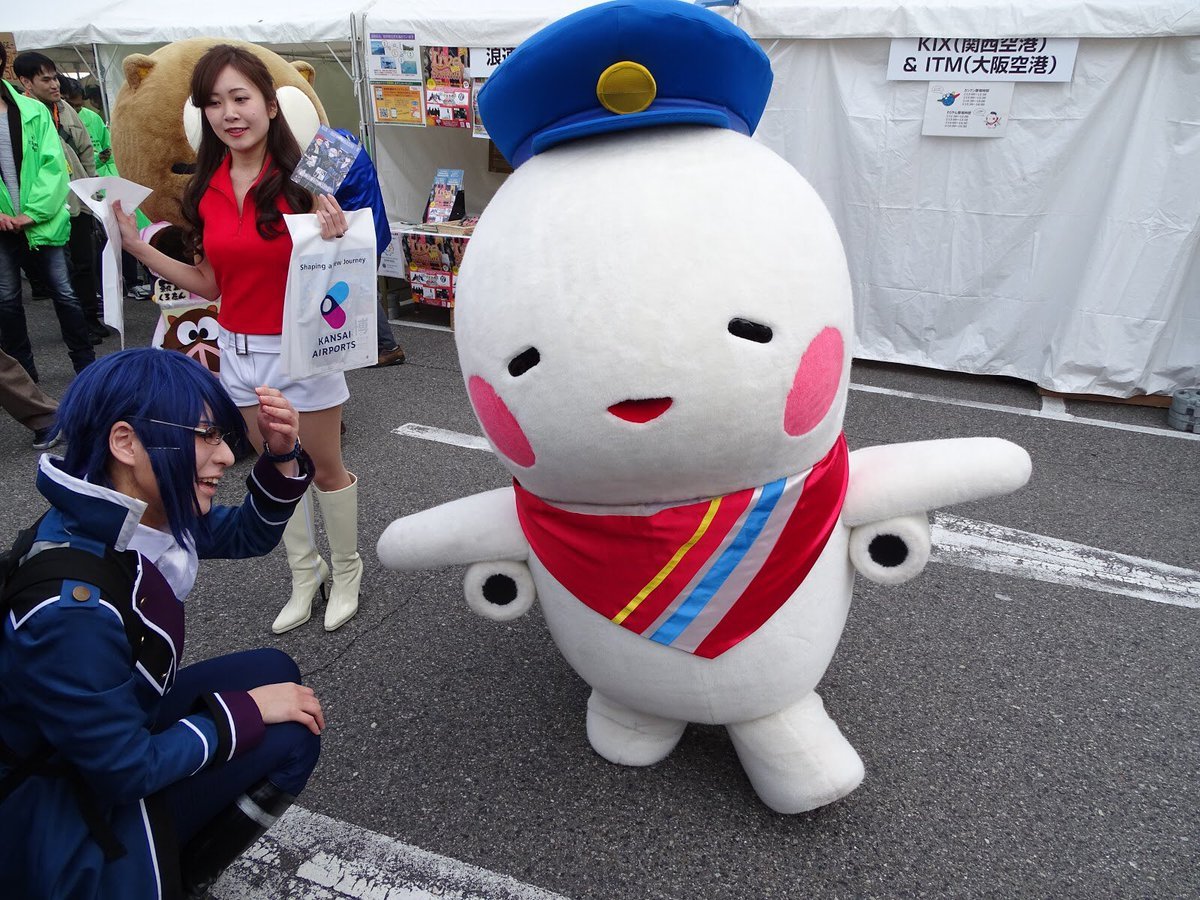 Despite being absolutely adorable, Itami Airport's Sora-Yan mascot caused quite a stir when she first appeared. Her rosy red cheeks, puffy face, and small, squinting eyes, led some to speculate she might have had a few shots of shochu before first meeting her fans!
However, despite the initial round of comedic jabs and articles, Sora Yan has grown to become a much loved fixture at Itami Airport. She remains one of Osaka's most beloved mascot characters, and a great idea for last-minute souvenirs.
Yukata and Kimono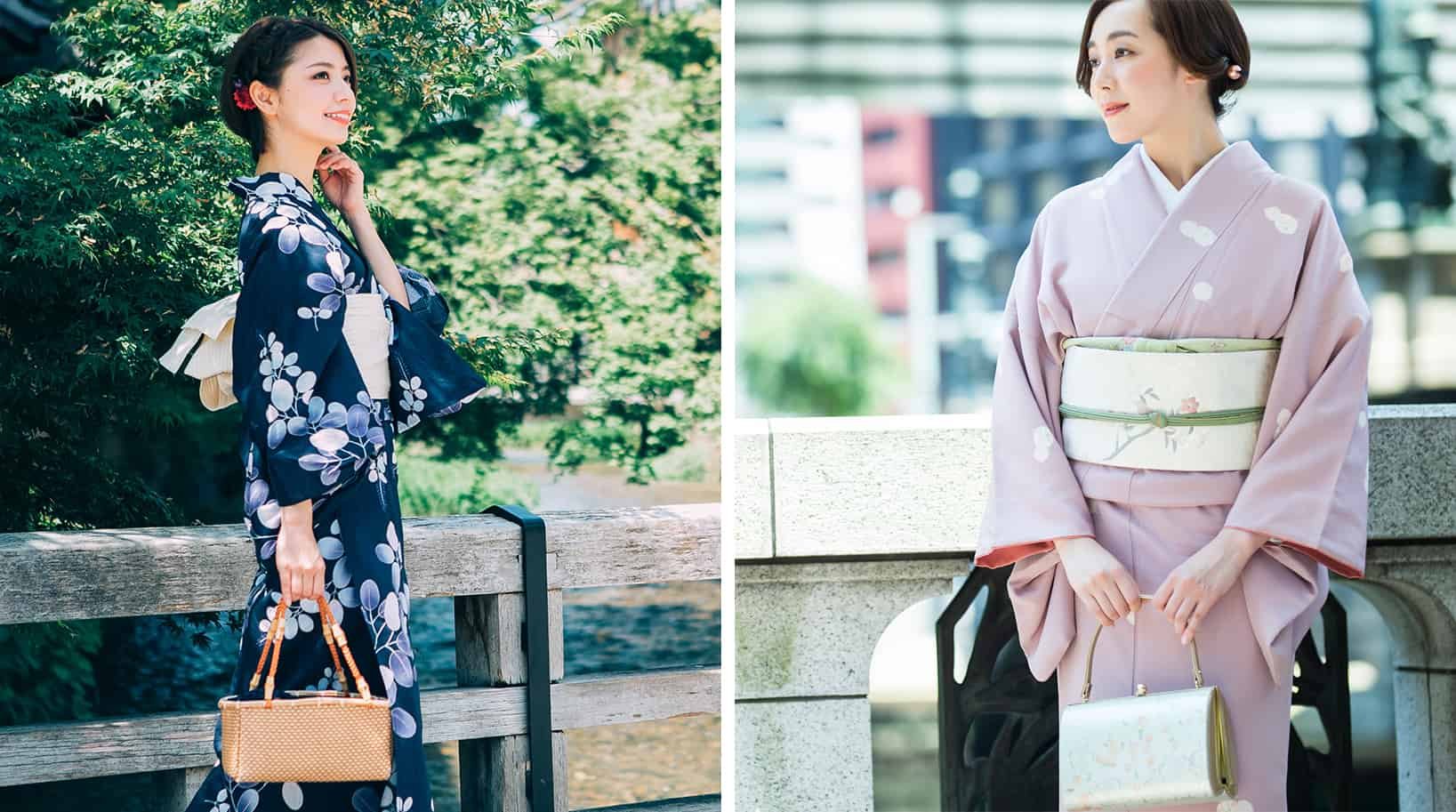 This last one may seem like a bit of an obvious choice. However, many who see Japanese kimonos and their lighter, summer equivalent, the yukata, often fear they will be far too expensive. Thankfully, in Osaka, this is no longer the case. As more and more department stores and clothing shops enter the market for fashion goods as souvenirs, kimono and yukata prices have become far more realistic. Men can now pick up an excellent yukata set for less than 10,000 yen. Kimonos run a little pricier, given their more intricate details and thicker fabrics.
However, you can still find excellent quality kimonos for both men and women in the 20-30,000 yen range. Prices go even lower if you aren't too fussed about the use of synthetic materials in the manufacturing process.
Hankyu Department Store in Umeda, near JR Osaka Station offers a selection to suit all budget levels.
However, I would encourage you to take a wander around some of the backstreets in and around Shinsaibashi and Namba. Here you will find a few bespoke kimono makers, who can tailor a design to suit both your financial and aesthetic needs. I advise doing this towards the beginning of your holiday as some makers may need a few days to put your order together, depending on what you want.
A Final Word on Souvenirs
What I am about to say here applies to most holiday and travel venues, but it bears repeating anyhow. If you want to find the best quality souvenirs, I advise you to try and look beyond the typical "tourist traps". Not only are many of these goods mass produced far away from Osaka, but they lack the quality, authenticity and, in all honesty, beauty that comes from authentic, locally produced wares. The people of Osaka, much like the rest of Japan, pride themselves in their work. Hopefully they can offer you some satisfying souvenirs when next you visit!