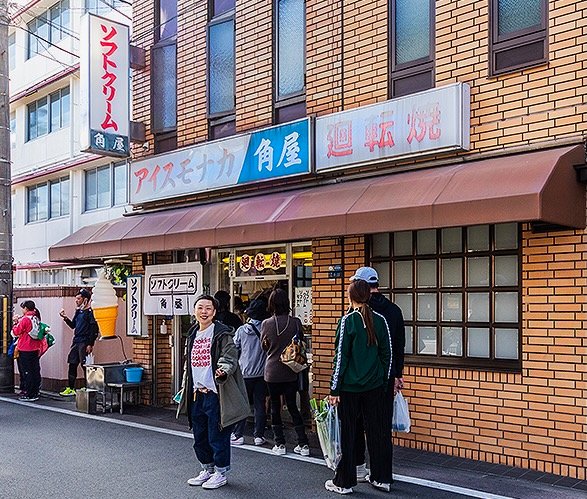 Introduction
Osaka native Junko Ogawa is the creative force behind Junko Gohan, a blog she started in 2017 that showcases her impressive skills in the kitchen. Let's face it, there are a LOT of cooking blogs, Instagram accounts and YouTube channels out there that have millions of followers, but Junko isn't catering for the masses. Her mouthwatering dishes such as Falafel and Grilled Lemon-Thyme Salmon and Tri Formaggio Cornbread are meant to be savored in intimate setting among friends. I caught up with Junko for an exclusive interview.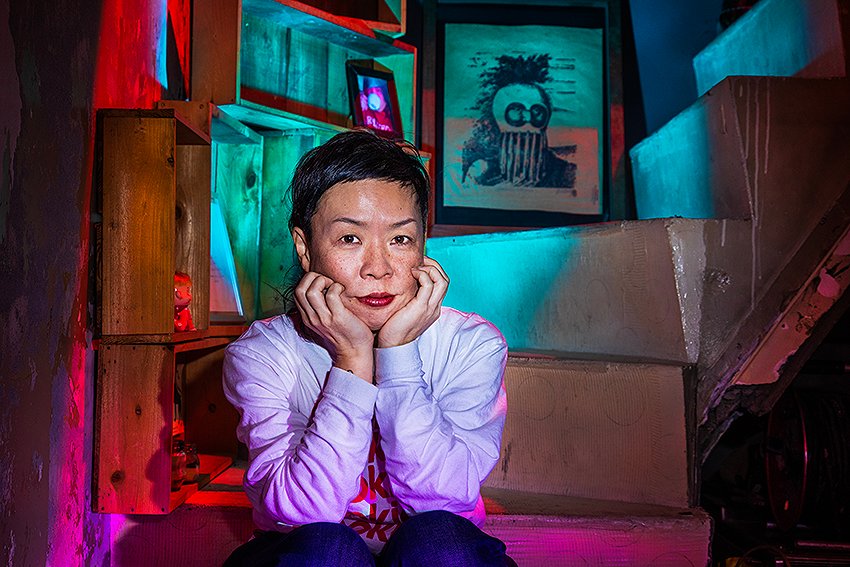 Junko Ogawa Photo Credit: Rik Sanchez
In addition to pop ups at local shops and cafes, Junko, who is fluent in English after spending 18 years in Vancouver, Canada (1999-2017) does bilingual cooking performances that humorous, educational and in her own words "a bit arty."
"She's a fearless performance-chef who made me rethink my limited concept of what an avocado can do, says Terminalian Drift author and musician Jerry Gordon, who witnessed one of Junko's shows. "I laughed and smiled and learned about the multi-purpose East German household knife."
Junko Gohan Instagram Facebook
Part I: Junko's Hometown — A Tour of Sembayashi and Morishoji
I've wanted to write an article about Junko for several years, but I didn't want to do the usual sit down interview where I peppered her with a bunch of questions. Besides, we've just spent the past three years sitting at home communicating via Zoom in our pajamas and sweat pants—I needed to get out of the house and start exploring more of Osaka. I find you can learn a lot about a person by having them show you around their hometown.
Junko grew up in Asahi Ward, which is located in the North East part Osaka near Moriguchi, a city in Osaka Prefecture, so we arranged to meet at Sembayashi Station on the Keihan Line in November of last year. We were joined by our old friend, Rik Sanchez, a photographer from El Paso, Texas who has lived in Osaka for 32 years.
1.Sembayashi Shotengai
Address: 1 Chome-5-20 Sembayashi, Asahi Ward, Osaka, 535-0012.
Sembayashi Shotengai is a 700 meter shopping street in Asahi Ward connecting Sembayashi Omiya Station on the Osaka Metro Tanimachi Line and Sembayashi Station on the Keihan Line. It started off as a public market during the Meiji Period after the establishment of Morishoji Station. The arcade were spared from damage of the Osaka Air Raid and remnants of prewar structures can still be seen in the alleyways.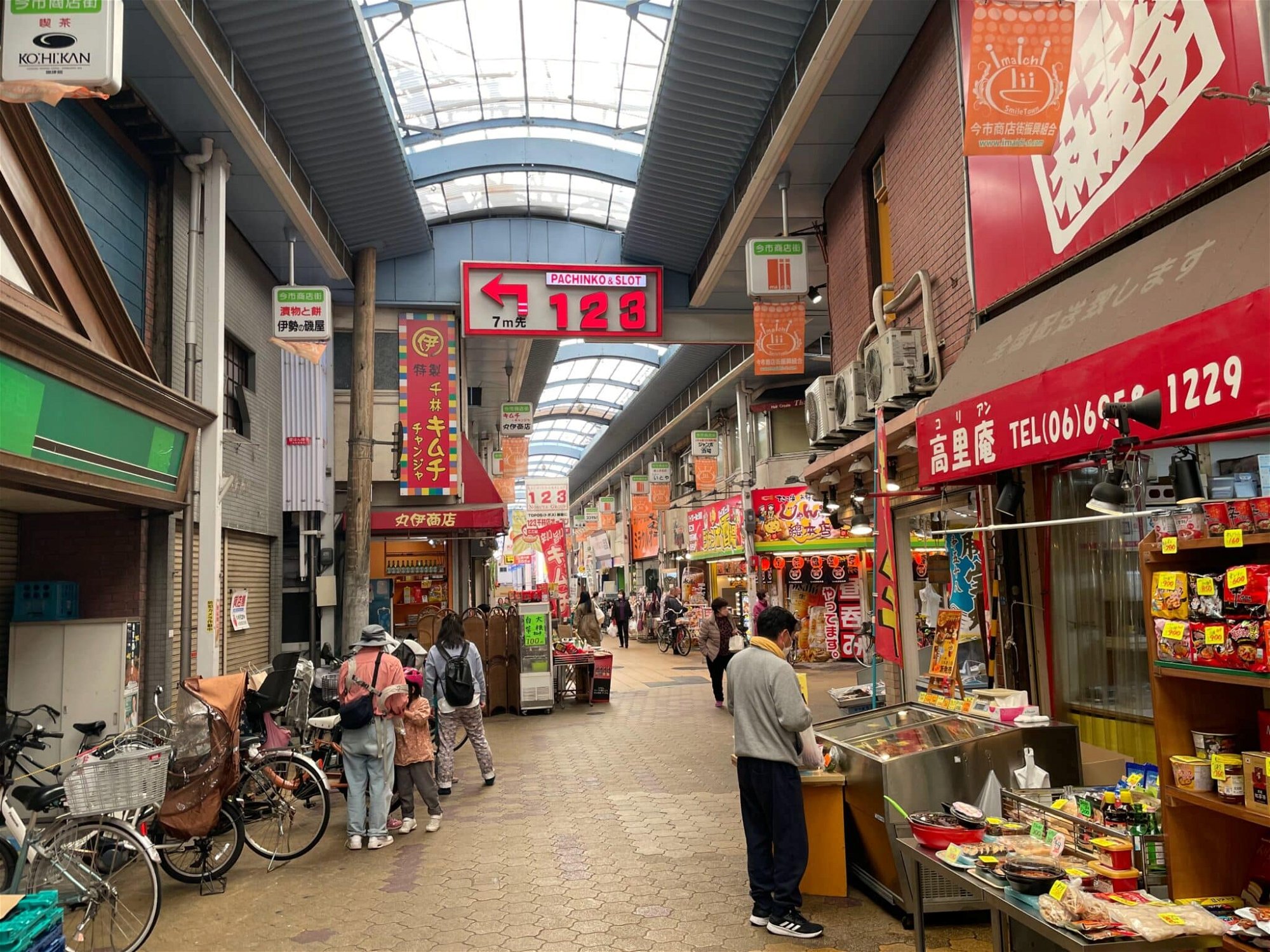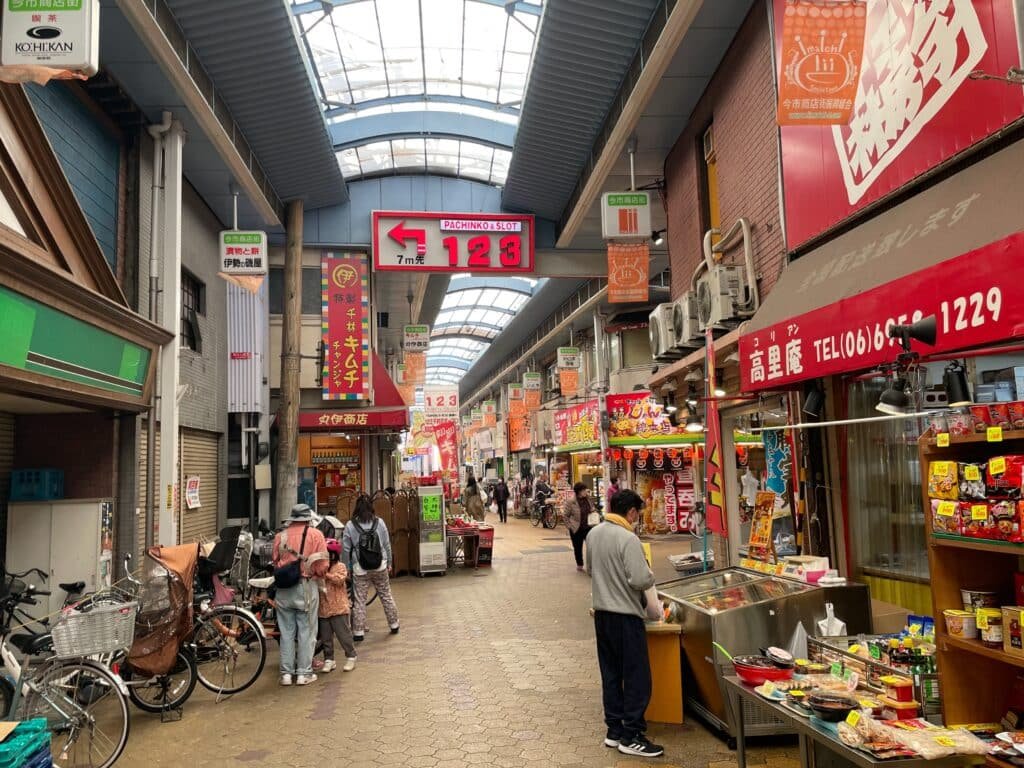 Junko Ogawa: "My "jimoto", I grew up in the area. I was commuting to my high school by Keihan, so I often roamed around there when coming home. You can spot many of those "typical" Osaka obachans in leopard print clothes on bicycles, mouth honking instead of ringing bells to clear the passageway. There are still many "old mum n pop" shops there, and I truly feel that I moved back to Japan for this atmosphere.
Today, the shopping arcade currently features around 200 shops; it is known for low prices and an old-town atmosphere. If you have ever visited Tenjinbashisuji Shopping Street, you'll notice a few similarities, although Sembayashi is much smaller and doesn't seem to attract that many foreign tourists. It's much bigger than I expected and you can spend an entire afternoon wandering around and browsing shops.
2. Minoru お菓子のデパートみのる
Address: 1 Chome-1-13 Sembayashi, Asahi Ward, Osaka, 535-0012. Tel: 06-6953-7708. Open: 10:00-18:00.
Our first stop is Minoru, a fruit and confectionary shop not far from the station. Junko insists we have to try the "mixed juice," a popular drink in Japan's old-fashioned cafes, known as kissaten. Mixed juice is simply blended fruit juice, similar to smoothies, but it has been around much longer. The birthplace of mixed juice is said to be Sennariya, an coffee shop in Shinsekai. The combination of various fruits, including bananas, tangerines, and apples, with milk has a simple taste that has universal appeal.
Junko Ogawa: "Minoru is a fancy fruits parlor (to me anyways). Getting "mix juice" is always a treat, but the shop obachan is often kind of grumpy. I forgive her though."
It pays to buy mix juice from a fruit store because you get the freshest ingredients. At only ¥200, it is a refreshing and healthy way to start off our tour of Sembayashi Shotengai.
3. Patisserie Lisbon リスボン洋菓子店 千林店
Address: 2 Chome-2-12 Sembayashi, Asahi Ward, Osaka, 535-0012. Tel: 06-6951-4228. Open: 9:00-20:00. Closed: Tues.
Our next stop is Patisserie Lisbon, a colorful shop located on a side street near Sembayashi Park that specializes in sweets such as New York cheese cake, soufflé, German style tiramisu, brûlée with pudding inside. The prices here are low, with most items in the 300-400 yen range.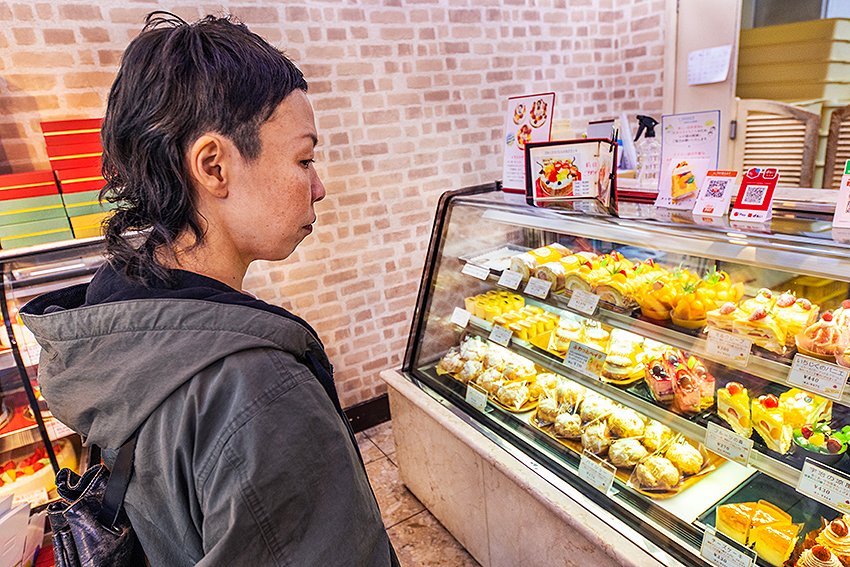 Junko shops for cream puffs at Patisserie Lisbon. Photo Credit: Rik Sanchez
Junko Ogawa: "Not too much of a sweet tooth myself, but their cream puff pastries made my eyes open as a kid. They made me love custard cream so much!
I had the Mont Blanc sponge cake (¥345). It was soft and fluffy and the cream inside was fresh and delicious. It pays to shop in a shitamachi (downtown) area because I've seen this same item for almost ¥600 at shops in Umeda.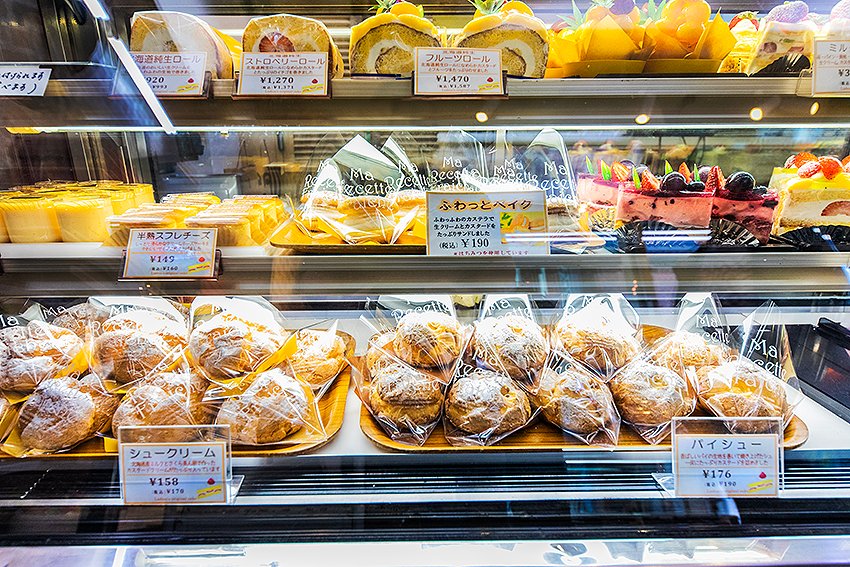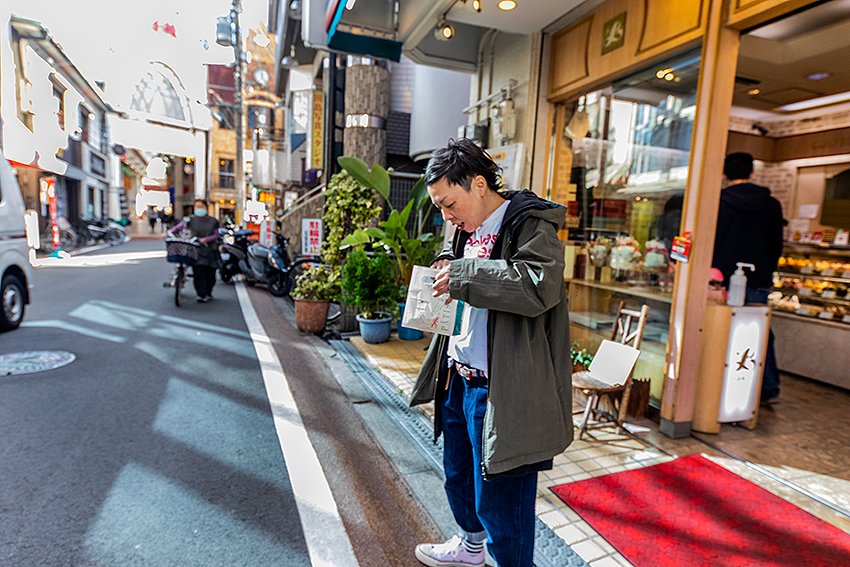 Cakes and pastries on display at Patisserie Lisbon Photo Credit: Rik Sanchez
4. Kadoya 甘味処 角屋
Address:2-chōme-8-21 Morishōji, Asahi Ward, Osaka, 535-0013. Tel: 06-6952-1487 Open: 13:30-20:00. Closed: Tues.
We arrive at one of the most famous landmarks in the Sembayashi /Morishoji area: Kadoya, a sweets shop that has been around since the late 1950s. Kadoya offers dozens of items, from Uji Milk Kintoki (宇治金時ミルク), shaved iced and sweet bean paste to apple mango soft pudding.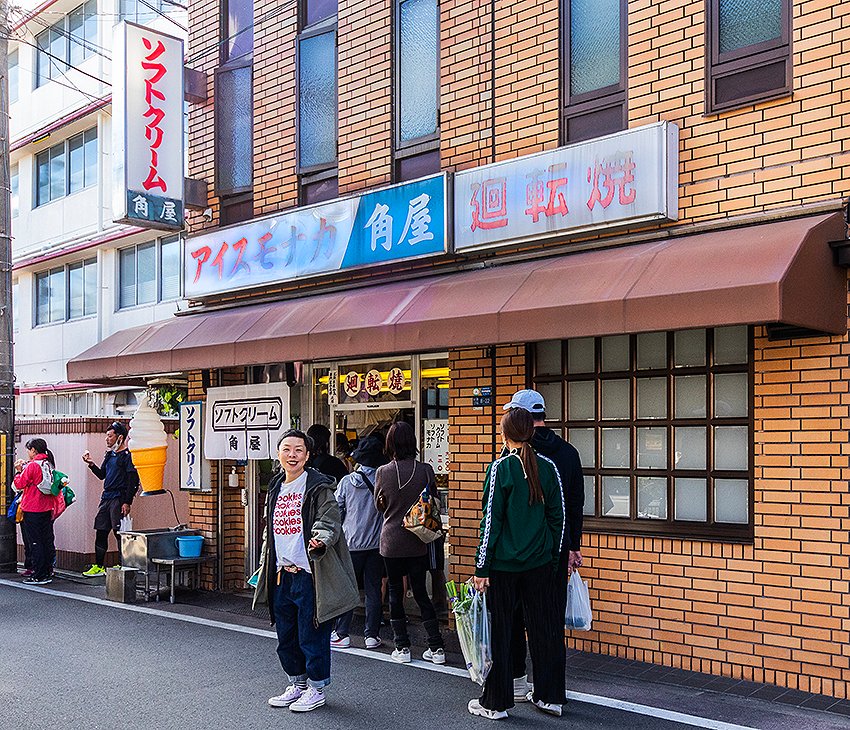 Junko in front of famous landmark Kadoya Photo Credit: Rik Sanchez
Kadoya's biggest selling item is their "monaka aisu," an ice cream sandwich made with two thin crisp wafers and a generous serving of soft serve ice cream. It's not unusual to see people lining up outside for this delicious treat, especially on a hot day in the summer.
Another popular item, especially in winter, is kaiten-yaki, a round pancake-like sweet with azuki bean paste filling. The term kaitenyaki is commonly used in Kansai, Kyushu and Okinawa, but the sweet is also known as imagawayaki in Kanto, obanyaki in Tohoku and oyaki in Hokkaido (Gozasoro, named after a famous shop, is also used in some parts of Kansai).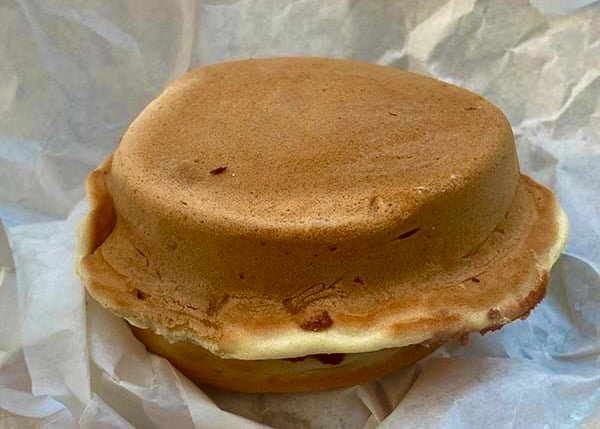 Another specialty at Kadoya is cold coffee (80 yen), which is made with shaved ice. When you drink it you can enjoy the crispy texture of sherbet. Since this is a sweet shop and not a coffee shop, the coffee sweetened from the start with syrup.
Junko Ogawa: "Their large-sized parfait is unbelievably cheap! It was my stop before home from my high school. I so wanted to share those big parfait or kakigori (flavored shaved ice) with a boyfriend, but that never happened in my high school years. WTF."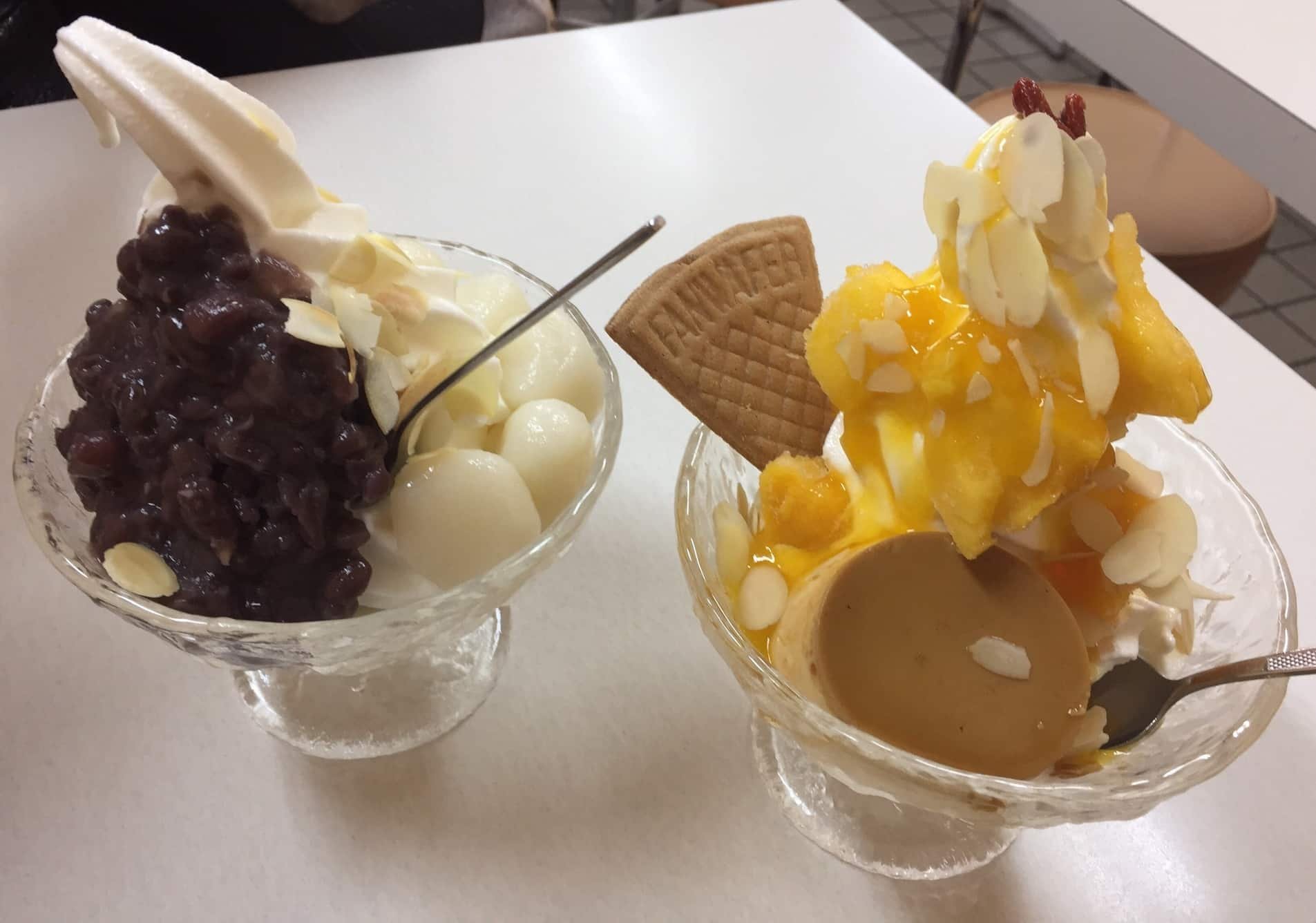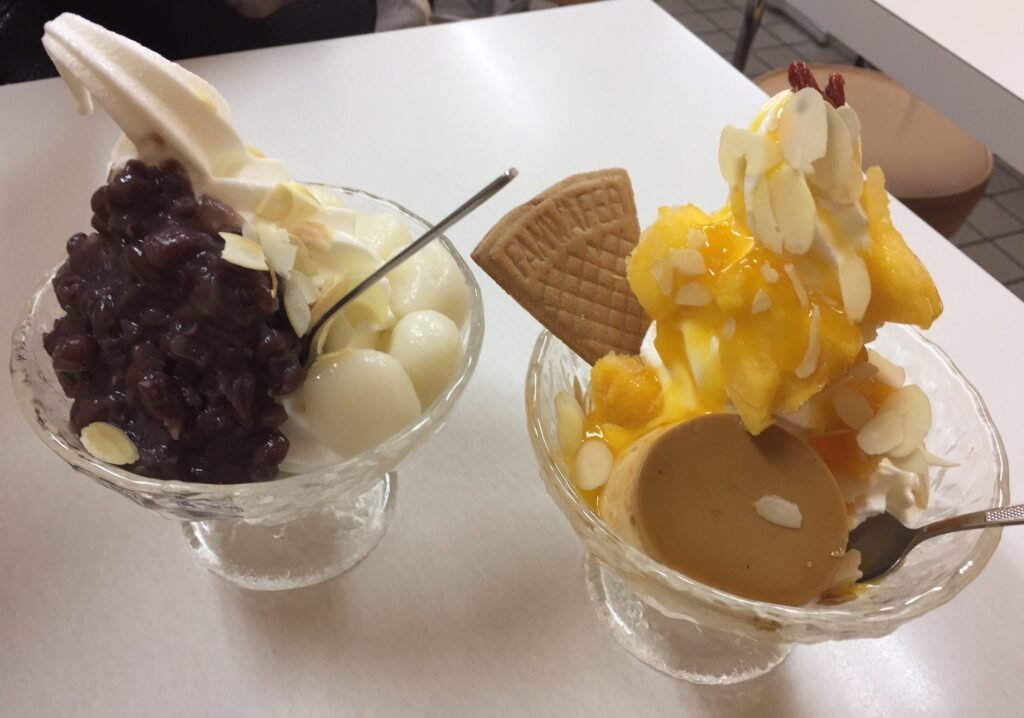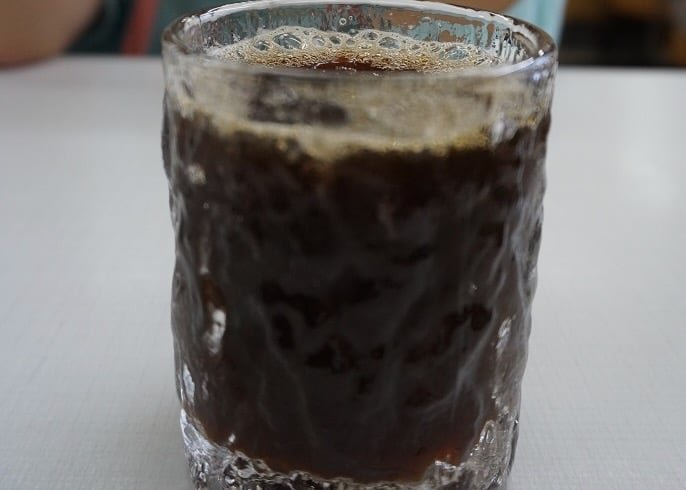 5. Yodoya 淀ヤ食堂
Address: 〒535-0022 Osaka, Asahi Ward, Shinmori, 3 Chome−15−23. Tel: 06-6951-1990. Open: 11:30-14:30; 17:00-21:00. Closed: Tues
Junko Ogawa: Yodoya Shokudo is a Showa-style yoshokoya close to my parents house. Nothing too special but simply tasty. The staff are very kind and friendly, l feel so relaxed every time being there.
Yodoya in Morishoji Photo Credit: Rik Sanchez
The word "yoshoku" literally translated as "western food." It is used to describe a Japanese take on American or European dishes that originated during the late Meiji Period (1868-1912) and early Taisho Period (1912-1926) such as kareraisu (curry and rice), hambagu (hamburger), tonkatsu (pork cutlets) and omuraisu (rice filled omelette). Nowadays, yoshoku does not mean "Western cuisine" but is recognized as a category of Japanese cuisine.
I'm excited that Junko has brought us to one of her child favorites. Restaurants like these served ultimate comfort food when you are in the mood for a hearty meal that tastes like home cooking. The menu items offered are often similar, but yoshokoya often put their own spin on each dish.
Junko orders the "A Lunch," which consists tonkatsu (pork cutlet), fried egg, salad, miso soup and rice (¥1010); Rik gets the karaage (fried chicken) set (¥960); and I decide on the hambagu and ebi furai (hamburg and fried jumbo shrimp) set (¥1030).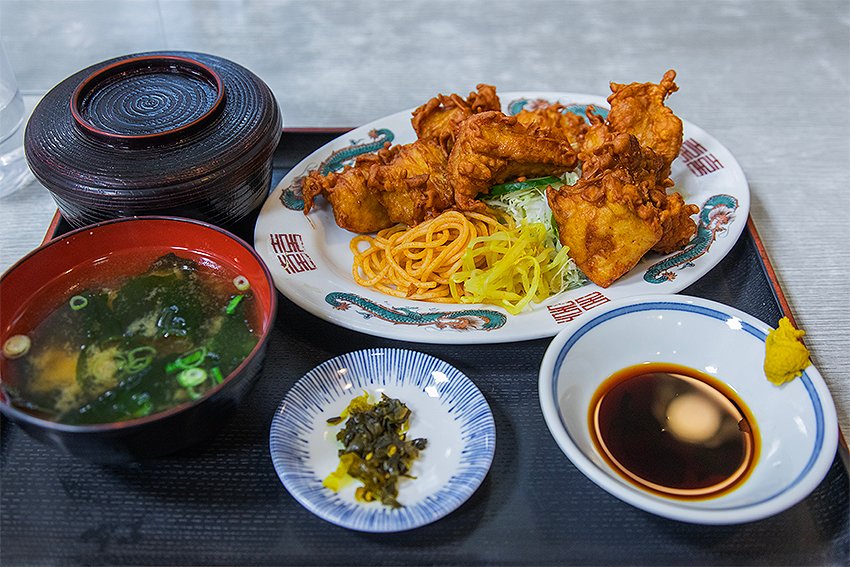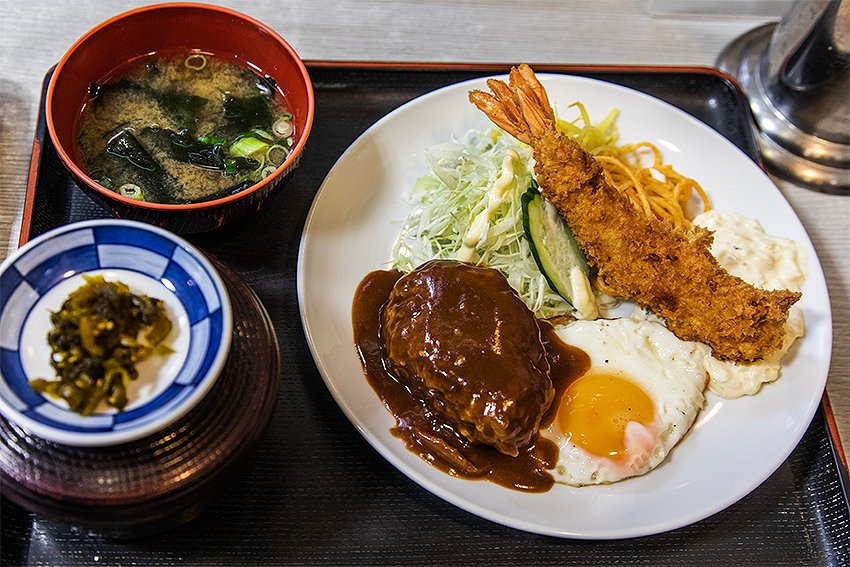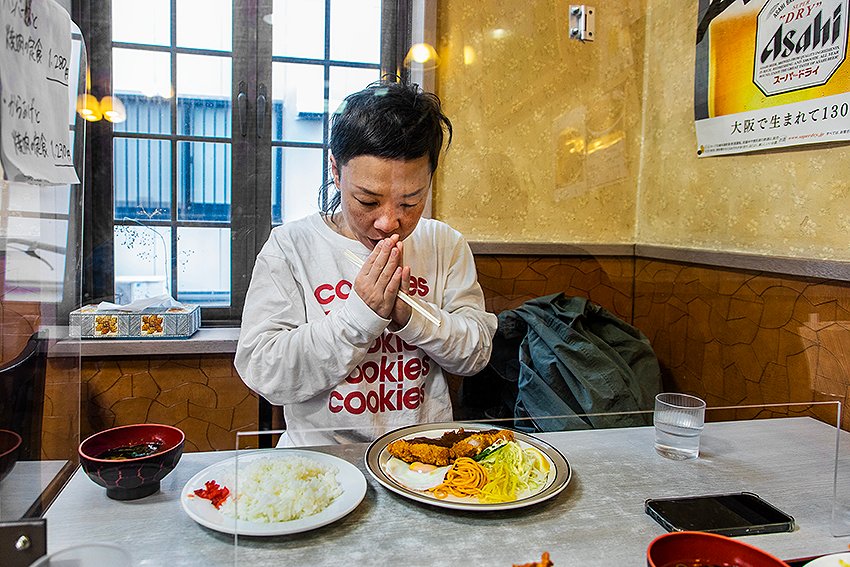 Lunch sets at Yodoya Photo Credit: Rik Sanchez
6. Matsuhisa 大衆酒場 松久
Address: 1 Chome-13-28 Morishoji, Asahi Ward, Osaka, 535-0013. Tel:06-6951-3061. Open: 12:30-23:00. Closed: Tues. Instagram
Matsuhisa has been a fixture in the Morishoji neighborhood since 1945. It is currently run by the grandsons of the original owner.
Junko Ogawa: "I remember my dad liked having me when he was going for a drink. Sometimes he would get me on his moped to Matsuhisa, had me sit on his shoulder while he was drinking and eating. I loved watching people work over the counter, and dad often gave me yakitori. I was dripping yakitori sauce on his head, but he never got mad, he gave an oshibori to wipe the sauce off of his head."
"Of course my drunk dad drove the moped home. I think I was 3 or 4 then, and when you think about it now, it's just a horror story."
Junko outside of Matsuhisa in Mori Shoji Photo Credit: Rik Sanchez
I have wanted to come to Matsuhisa for several years, but we are all stuffed from our big lunch sets at Yodoya and couldn't eat another bite. One thing I've learned from exploring various neighborhoods in Osaka is that you can't try to cram everything into one day—sometimes it's better to wait for the right moment.
In April of this year, I returned to Matsuhisa with Ross Randles a Texan who has lived in Osaka for over 20 years. Ross had just come back from a visit to his hometown of Waco for the first time in seven years and was itching to go to a neighborhood izakaya. We couldn't have asked for a better place. The minute we entered we were greeted with an irrashaimase, which was followed by "Welcome to The Jungle" in English.
This is the kind of place we love. When Ross mentioned he was from Texas one of the staff asked him about the late guitarist Stevie Ray Vaughn. He also mentioned he was a big Johnny Cash fan so Ross and I tried to sing a few lines of Folsom Prison Blues, but we couldn't remember most of the lyrics except for "I shot a man in Reno just to watch him die. We spoke to a friendly woman with a tiny dog who spoke fluent English. She told us she spent a year in Montana as an exchange student when she was in high school.
We were in the mood for some good old-fashioned Osaka soul food, so we ordered a bunch of items in rapid succession (in the order they appear in the photo collage below: (top middle) taiyo enoki(sunlight mushrooms) (top right) kanpachi (greater amberjack), (middle left) big and small bottles of Sapporo Beer, (middle right) renkon (lotus root) and Vietnamese-style fried potatoes (bottom left) barbecue (skewered chicken and green pepper) (bottom middle) Samurai Roll (dashimaki tamago rolled eggs and cheese sandwich).
Ross was having such a great time he bought the staff a round of drinks. They returned the favor by gifting us with very nice towels and spanking new umbrellas to keep us from getting soaked in the rain. Matsuhisa ticks all the boxes: neighborhood favorite, 70 years of history, great food and friendly staff and customers. I'm adding it to my top five list of izakaya and standing bars in Osaka.
7. Shokuji Shubo Shima 食事酒房しま
Junko graciously showed me around her hometown, but I wanted to come back one more time on my own to get a better feel what is is like to explore Sembayashi without a local guide. I chose to go to Shima, which is located in a narrow street in front of Sembayashi Station.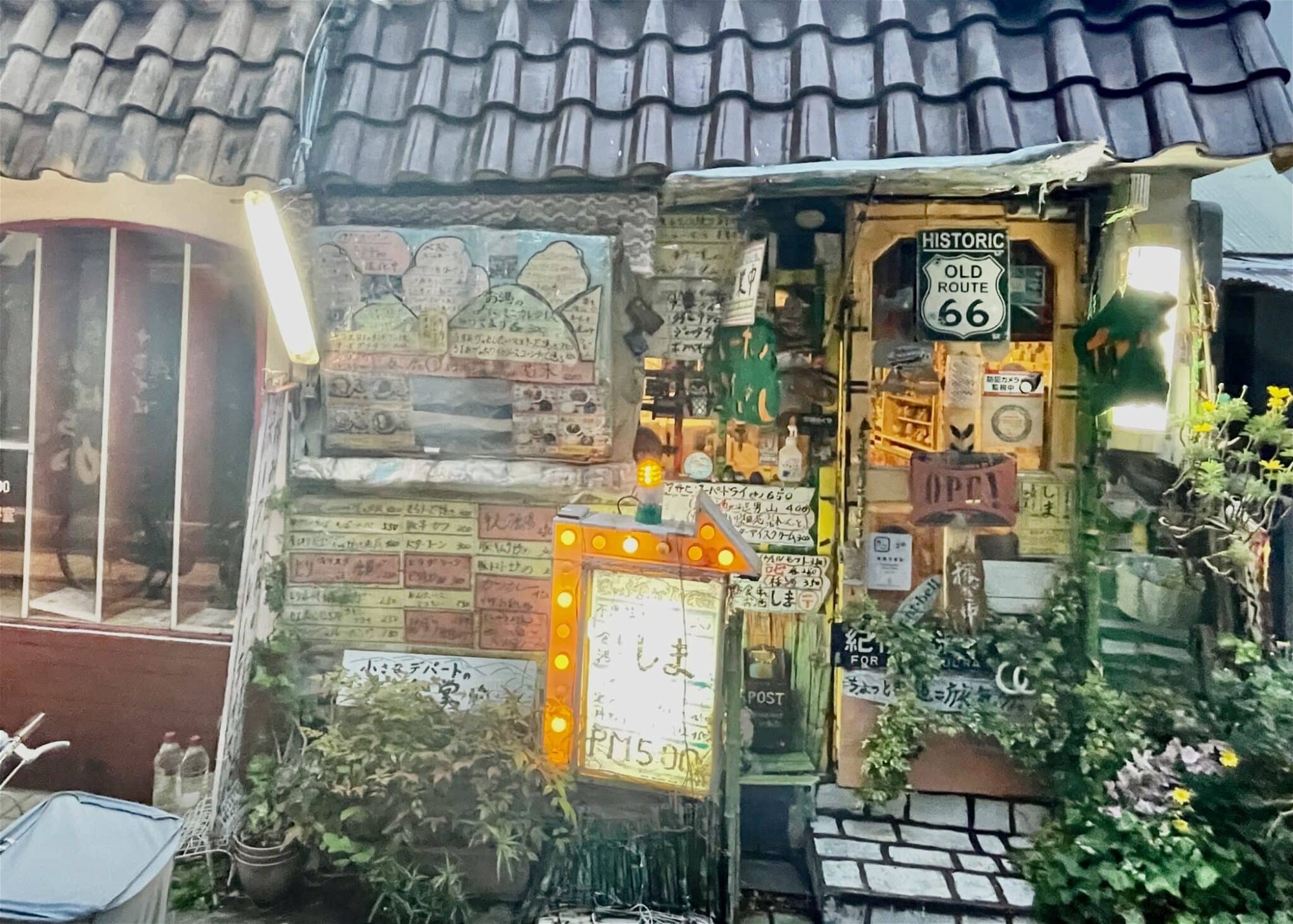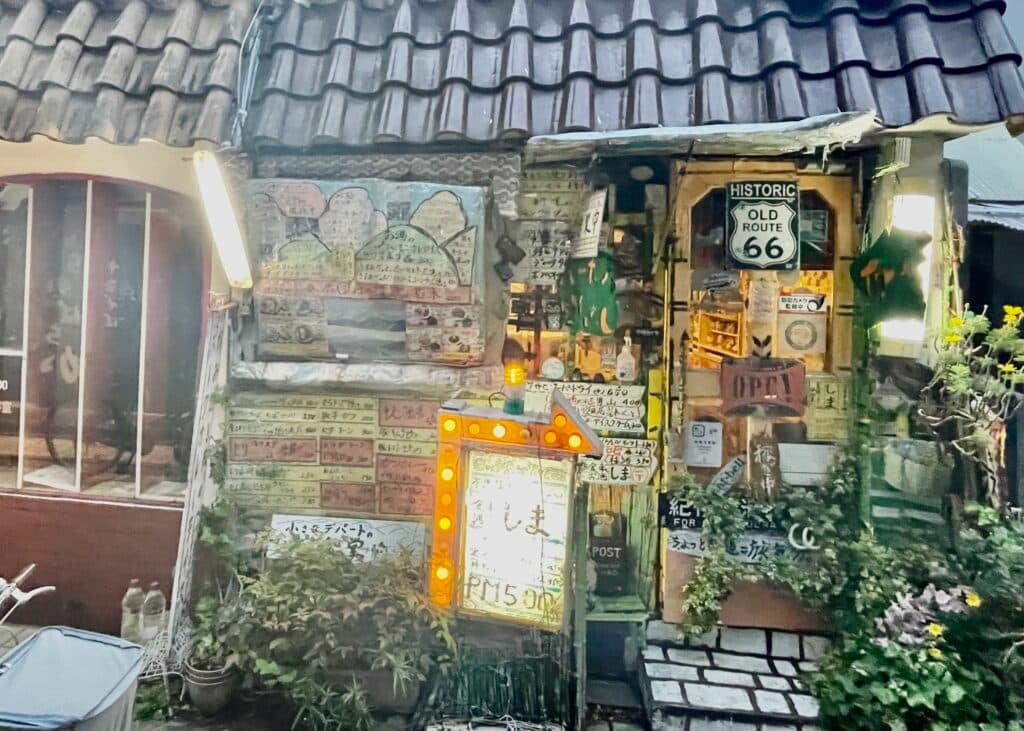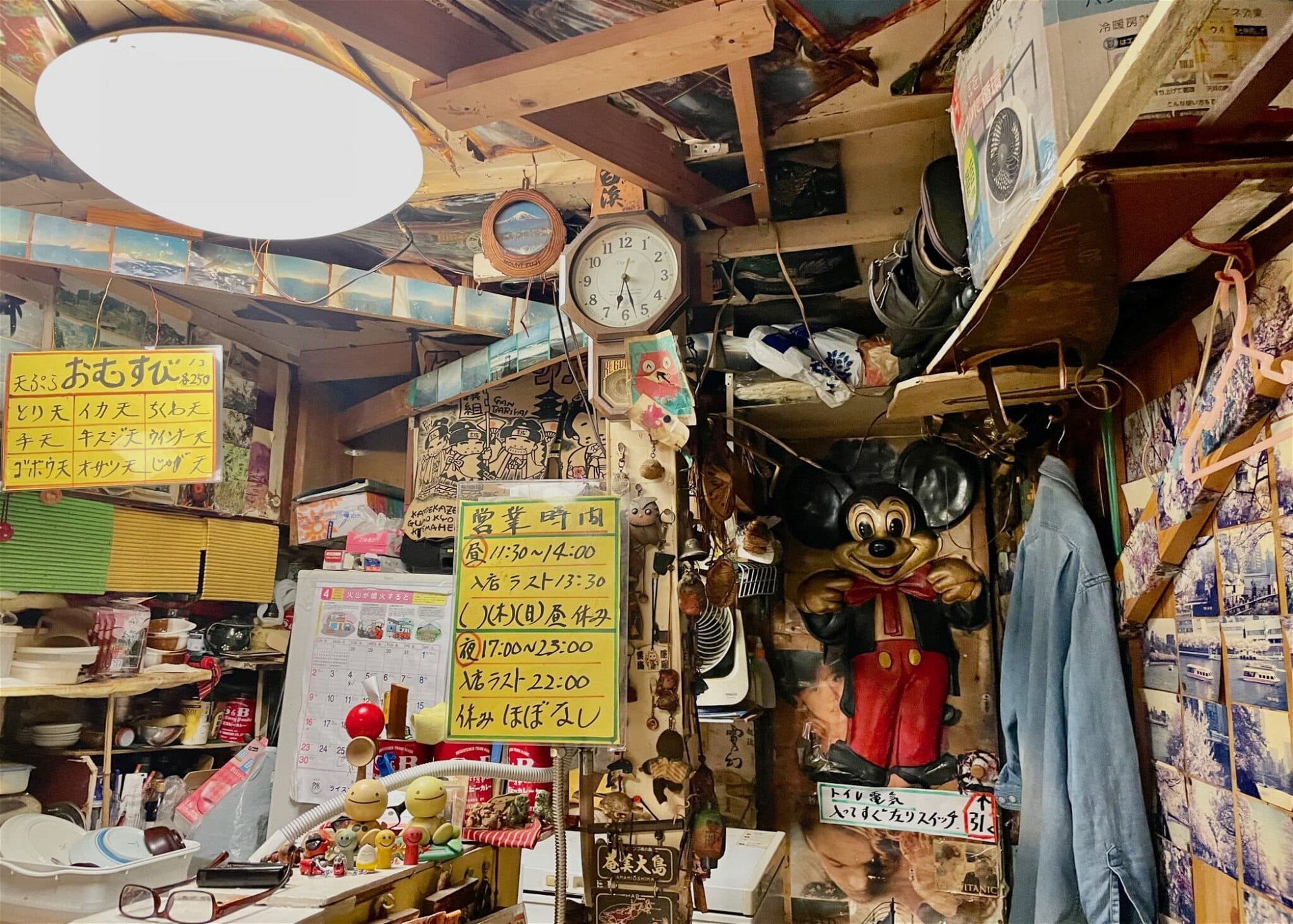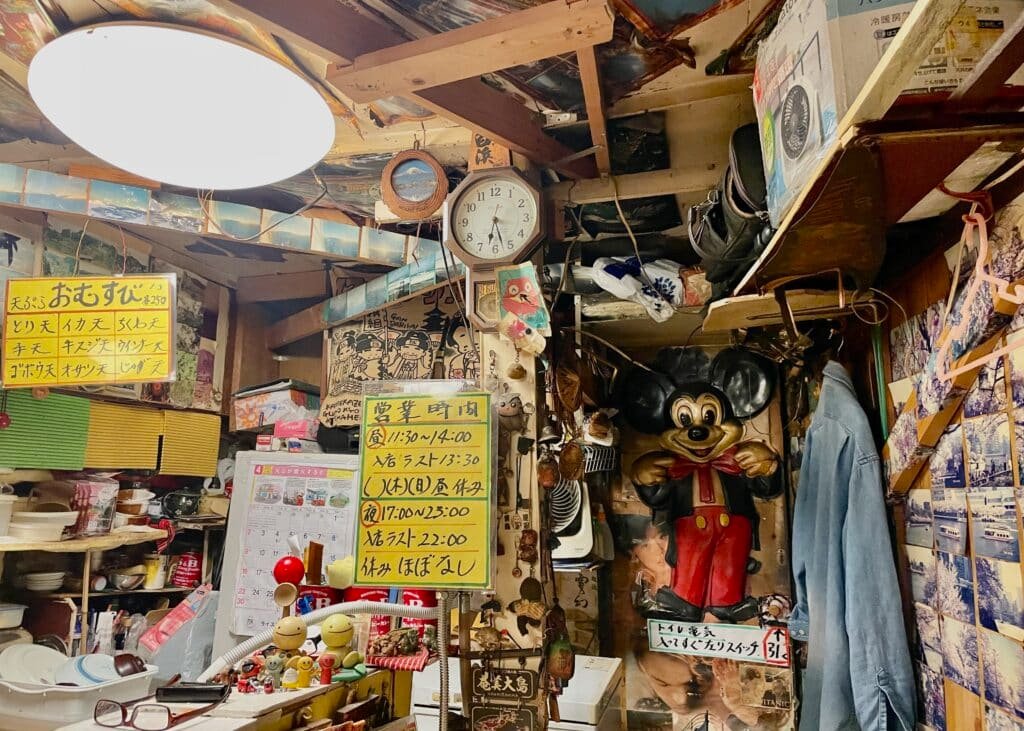 The tiny restaurant looks like it was designed by architect firm run by Tim Burton, Hiyao Miyazaki and Salvador Dali. Every inch of the exterior and interior is taken up with a collage of menus, old signs, pennants toys and assorted knick knacks. I've never been to a place that was so chaotic yet welcoming.Once inside you are greeted by a sinister-looking Mickey Mouse.
I wish I could take credit for "discovering" Shima, but the truth is it has been a go-to spot amongst curry aficionados and for years—the restaurant offers over 2,500 items on the menu! I found out about Shima from the wonderful Japanese locals' favorite food channel. You can watch the video on Shima here with English subtitles.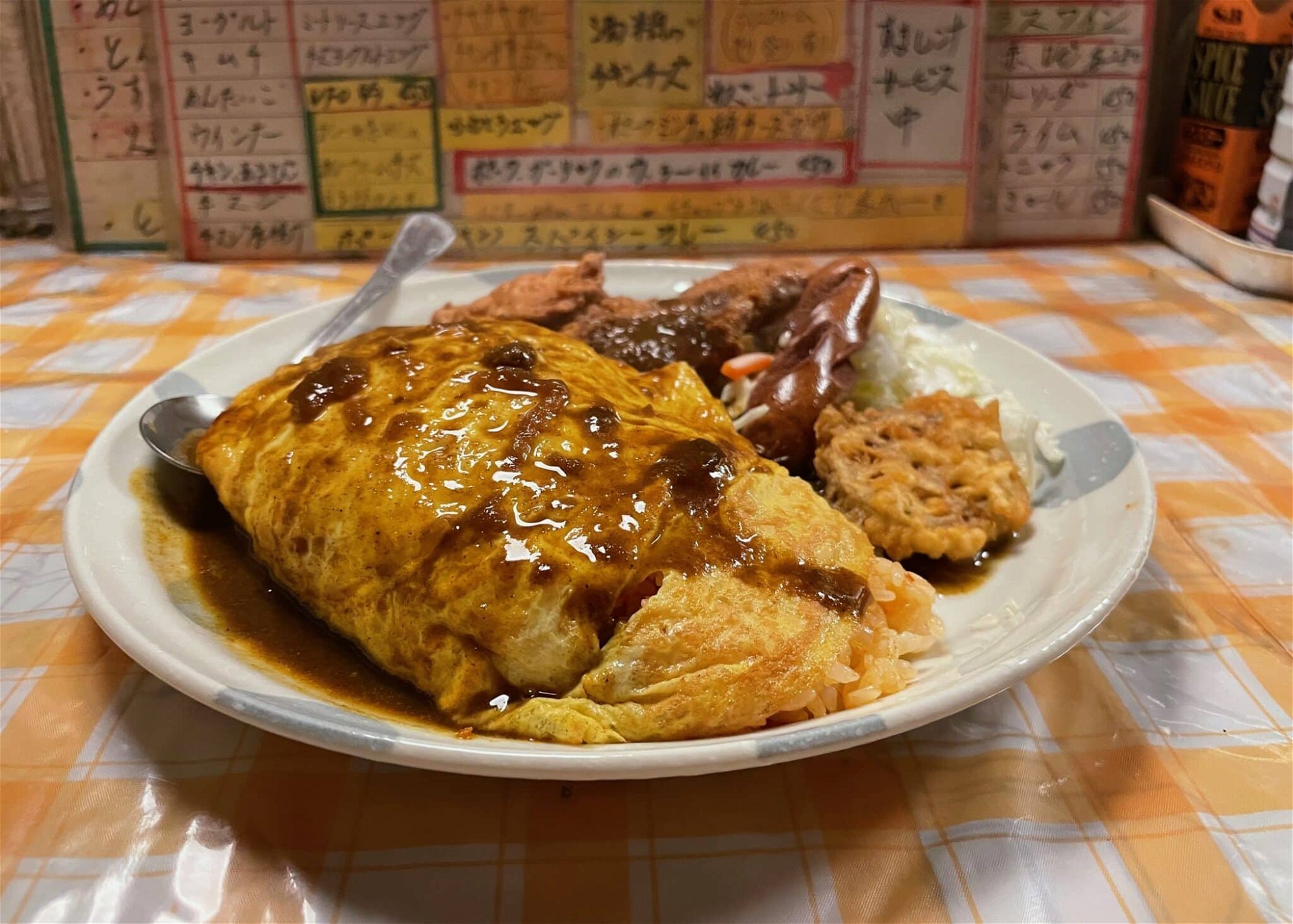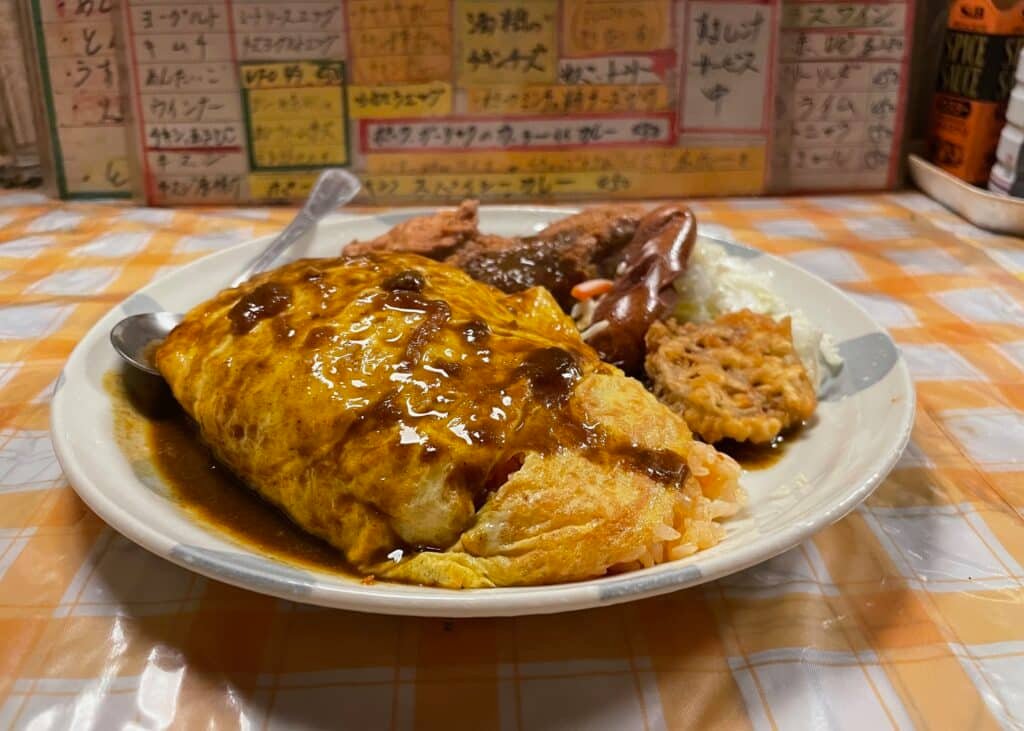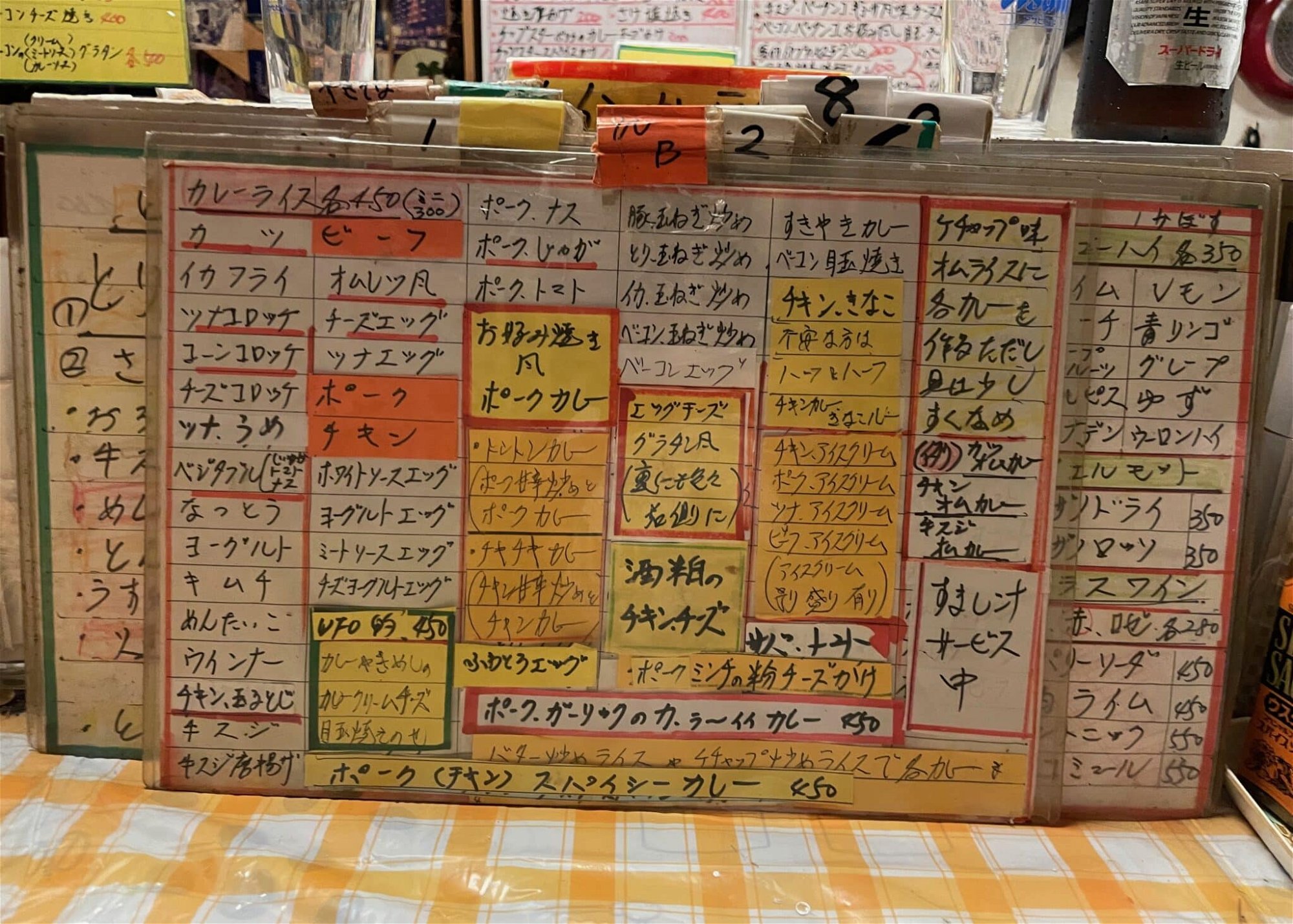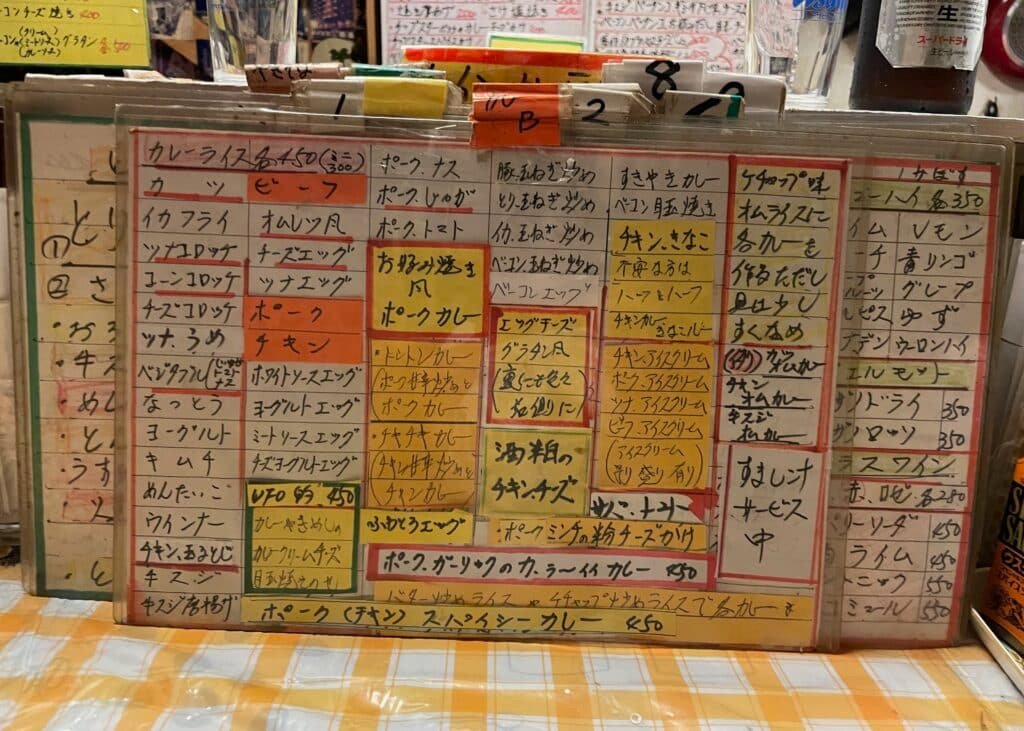 When I told the owner that I discovered his shop on YouTube he replied. "I don't care about YouTube or the Internet so I won't watch it. I'm going to run this place for another 9 years and then it will close for good." I also asked him if 2,500 items on the menu qualified him for entry in the Guinness Book of World's Records. "Not at all! I have TV stations contacting me all the time, but I turn them all down. That stuff doesn't interest me."
I ordered the "Ketchup Omurice Curry Set" for ¥550. In addition to omurice, the set comes with karaage (fried chicken) tonkatsu (pork cutlets) and a sausage, all flavored with delicious homemade curry. I also ordered one of the cheapest items on the menu. Chip Star potato chips with curry for ¥150. Chip Star is a brand of chips that always disappoints, but it pared well with curry. After downing a bottle of Asahi Beer, I ordered a lemon sour made with fresh squeezed lemon juice.
Despite the media attention, Shima is still way below the radar. It's well worth a trip to Sembayashi just to spend some time inside this lair.
Part II: Junko's Two Fave Hangouts in Daikokucho and Amemura
1. Edenico Coffee (Daikokucho) エデニコ 大国町
Address: 1 Chome-6-2 Daikoku, Naniwa Ward, Osaka, 556-0014. Tel: Open: 17:00-23:00. Closed: Sun. Website. Instagram. Facebook.
Junko Ogawa: "I lived in the same building from 2017 until 2020. It has a collection of unique people and great music, this place has been my base since my relocation from Canada. Very creative, non-pretentious people. They can create anything from nothing. If I didn't discover these people, my life would have been very different."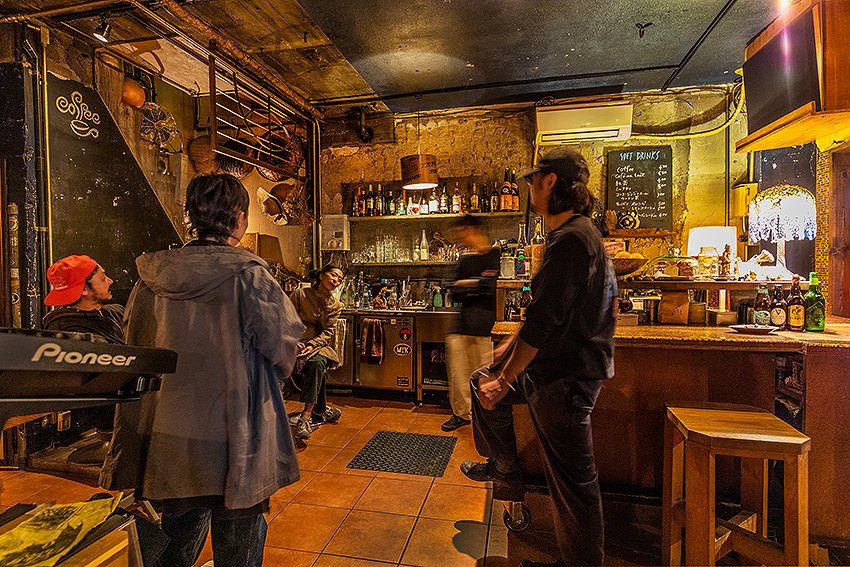 Inside Edenico Photo Credit: Rik Sanchez
Daikokucho is located between Namba and Dobutsuenmae on the Midosuji Line, two areas I know like the back of my hand, but I have not spent much time in this part of town. When we visited, the shop was in the process of being renovated but I could still appreciate the modern speakeasy vibe. A few English-speaking foreigners stopped by while we were there, so if you want to visit a chill oasis in the heart of the big city then this is your new hangout.
Edenico, which frequently hosts DJ events, has a nice selection of vinyl including albums by punk pioneers Television and trumpet player Jon Hassell. In addition to coffee made with organic fresh beans that are hand-roasted on charcoal fire, Edenico offers a dinner plate (English menu!) for ¥1,000 that includes 8-9 items such balsamic shiitake, gluten free quiche, soy meat cutlet, Moroccan soup that seems vegetarian friendly.
Junko Ogawa: "The original owner started off riding around Osaka selling coffee from his bicycle. He passed away in the Hawaiian ocean in 2018, then group of friends took over the business since. He was very well known in the Osaka underground party scene, but he was behind-the-curtain kind of guy."
Part III: Meet The Ebners: Rudolf and Junko
At Edenico we met up with Junko's husband, Rudolf Ebner aka Rudolf Eb.er, a noise artist from Switzerland who has lived in Osaka since the 90s and collaborated with the likes of Merzbow and Masonna. Onstage Ebner performs with an intensity that can be frightening and uncomfortable to watch. Offstage, Ebner is soft-spoken and polite. I asked Junko how they met. "Our mutual friend was playing Pika Space in Shinsekai for a Night of 1000 Eyes event in 2018. I introduced myself because I saw him once at Environment 0g a few months before that. That was the beginning of all!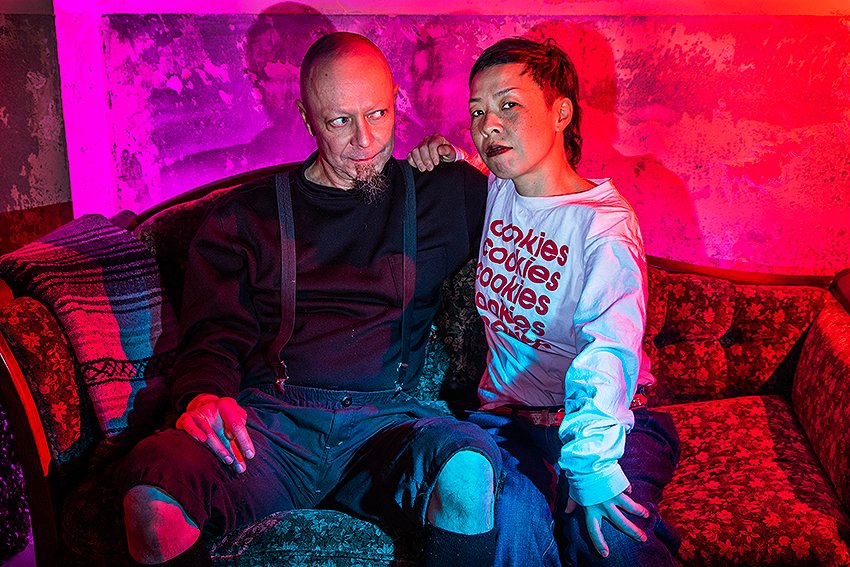 Ebner, who usually dresses in black, has a passing resemblance to actor Gary Oldman. Junko also has as innate sense of fashion, although her outfits are a bit more colorful that can best be described as hodgepodge Osaka thrown together downtown international chic. I thought it would be cool to pay homage to iconic poster for Sid and Nancy, the 1986 film directed by Alex Cox about Sid Vicious of the Sex Pistols. Rik Sanchez set up his strobe lights and after a few test shots he got this incredible portrait of Rudolf and Junko sitting on a couch at Edenico.
2. Root Down Records (Ame-mura) ルートダウンレコード (アメ村)
Address: 542-0086 Osaka, Chuo Ward, Nishishinsaibashi, 1 Chome−10−33 北炭屋ビル 5F. Tel: 06-6241-2232. Open: 13:00-22:00. website.
Junko Ogawa: "This is a record shop with a modest bar. Having the first sip of cold beer after the steep stairs to 5th floor is a bliss. Again, awesome people and music. I can spend hours here. They specialize in Afrobeat, funk, R&B, hiphop, Jazz, some ambient, but mostly focusing on black music. I also get information for good parties from here."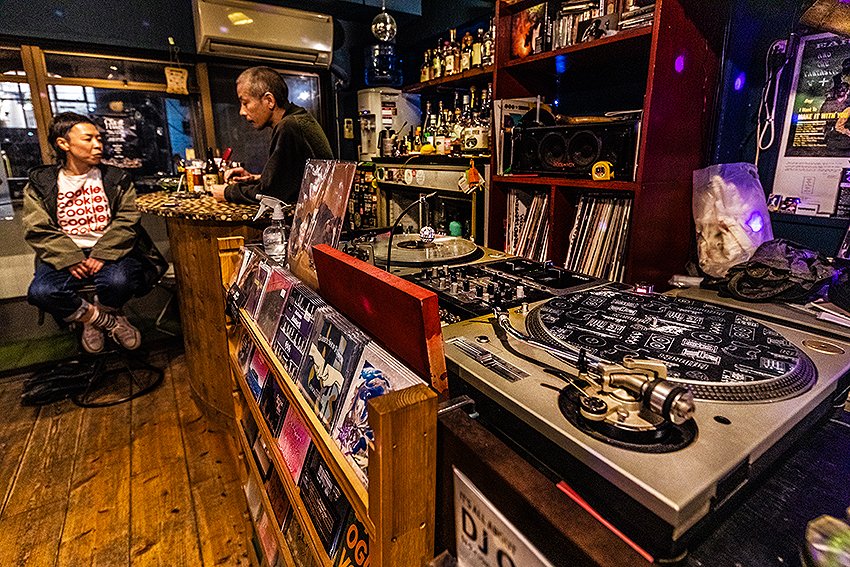 Junko talking to the owner of Root Down Records Photo Credits: Rik Sanchez
This is a great concept for a record store and I can see why Junko likes this place. Sit down and have a drink after digging through the record bins. Kill a couple of hours hanging out listening to music five stories up in Ame-mura. They have even have two impressive turntables for DJ events. Check out their collection of autographed records on the wall including a signed copy of the Coffy soundtrack signed by Roy Ayers. Junko was right, climbing up those stairs took a lot of effort, but I had to do it twice because I forgot my bag inside.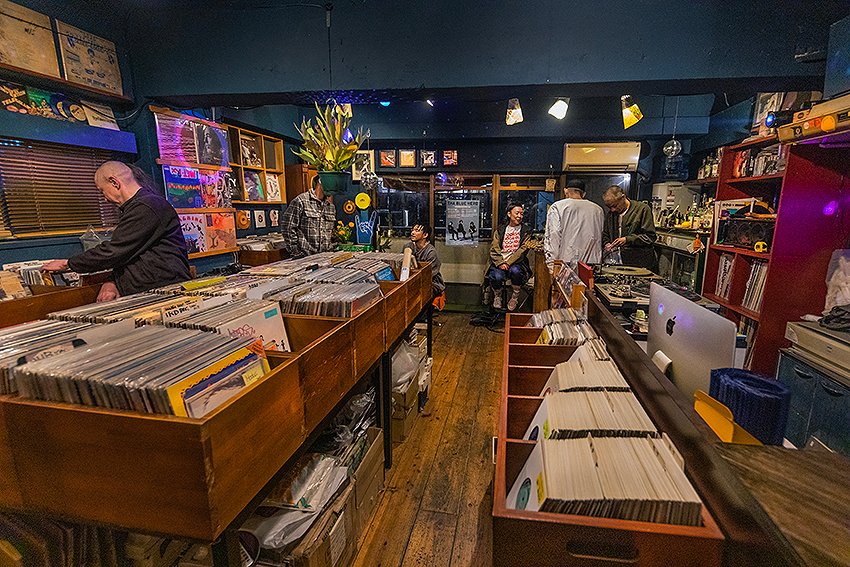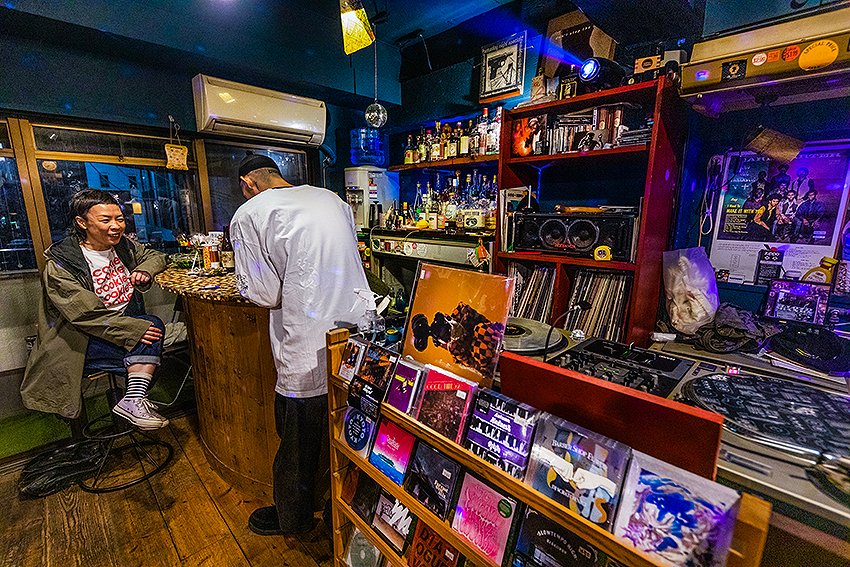 Part IV: Interview with Junko Ogawa
1.Describe your hometown. What do you like about it?
It is the people! Funny, friendly, and helpful – there's a real sense of community. Osaka people turn negatives into humour which I think is a form of strength. We Osakans are good at seeing the bright sides in tough times.
I know that half of your family is from Kyoto. Can you talk about your family background a bit?
Actually it was my great grandfather who was from Kyoto. He was trained as a leathersmith from a young age, then opened the shoe shop in Tanimachi. My grandfather had inherited the business, as he loved partying, it was natural to fall in love with my geisha grandma at his favorite party place.
Unfortunately my grandma Saku passed away when my mom was only three, and other relatives who knew her are all pretty much dead, so we only know a bit. We don't even know where her ashes are buried. The chaos of the post WW2 didn't help.
Someday I'd like to research deep in our family history.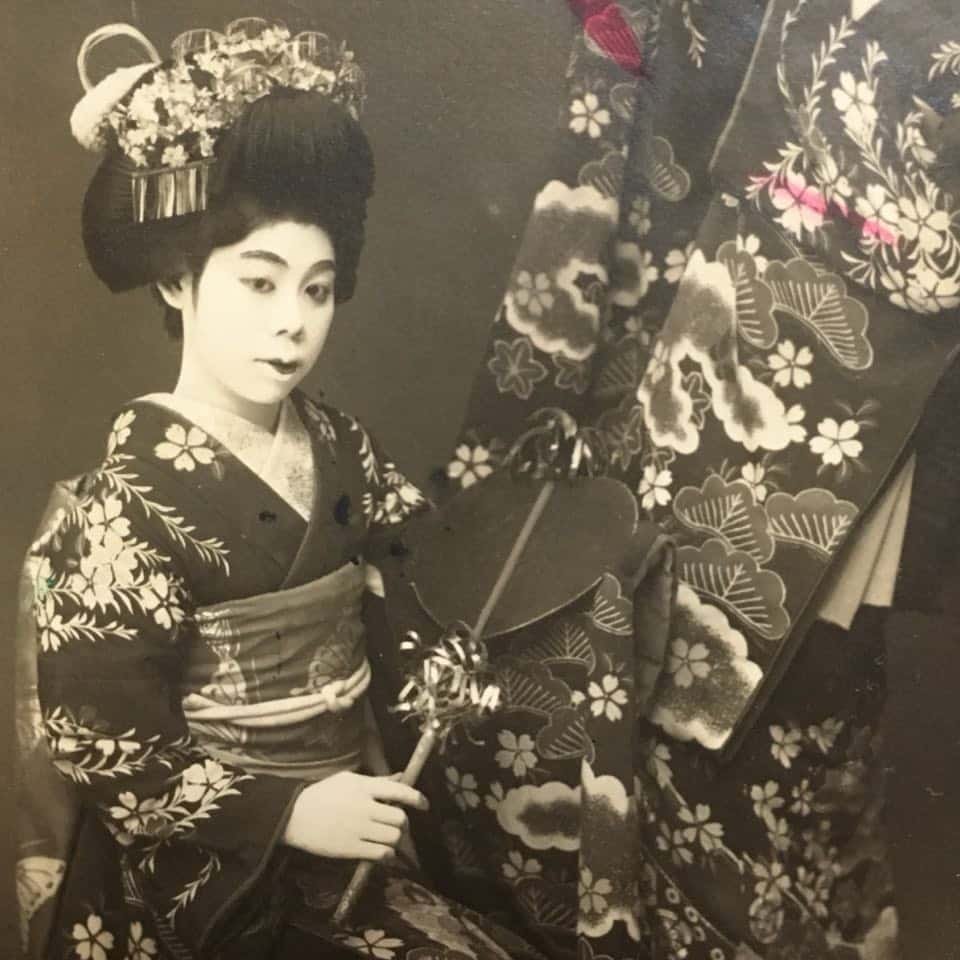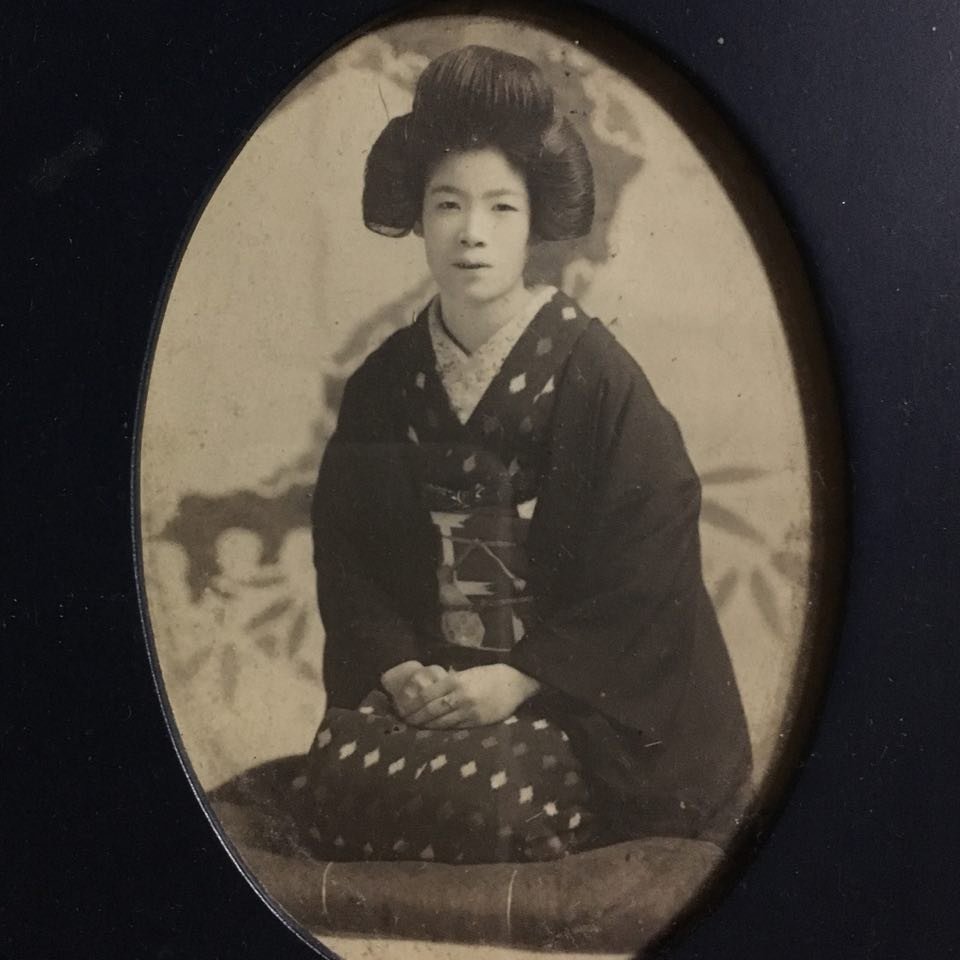 3. Tell me about Kobayashi Shoes in Umeda, which was started by your great grandfather in 1921.
When he opened the shoe business in Tanimachi, Osaka, he made a fortune from making ice skate shoes, ski boots, and men's fashion shoes. The business had to be closed during the WW2, but my grandpa who took over the business by then re-opened the shop in Umeda after the war.
The shop is smaller than my kitchen, but it is a four story building with a basement. There are antique ice hockey equipments still being displayed as well as other antique junks. Now the shop is run by my uncle but he somewhat takes pride in keeping the shop dirty. According to him, the craftsman's studio should be messy.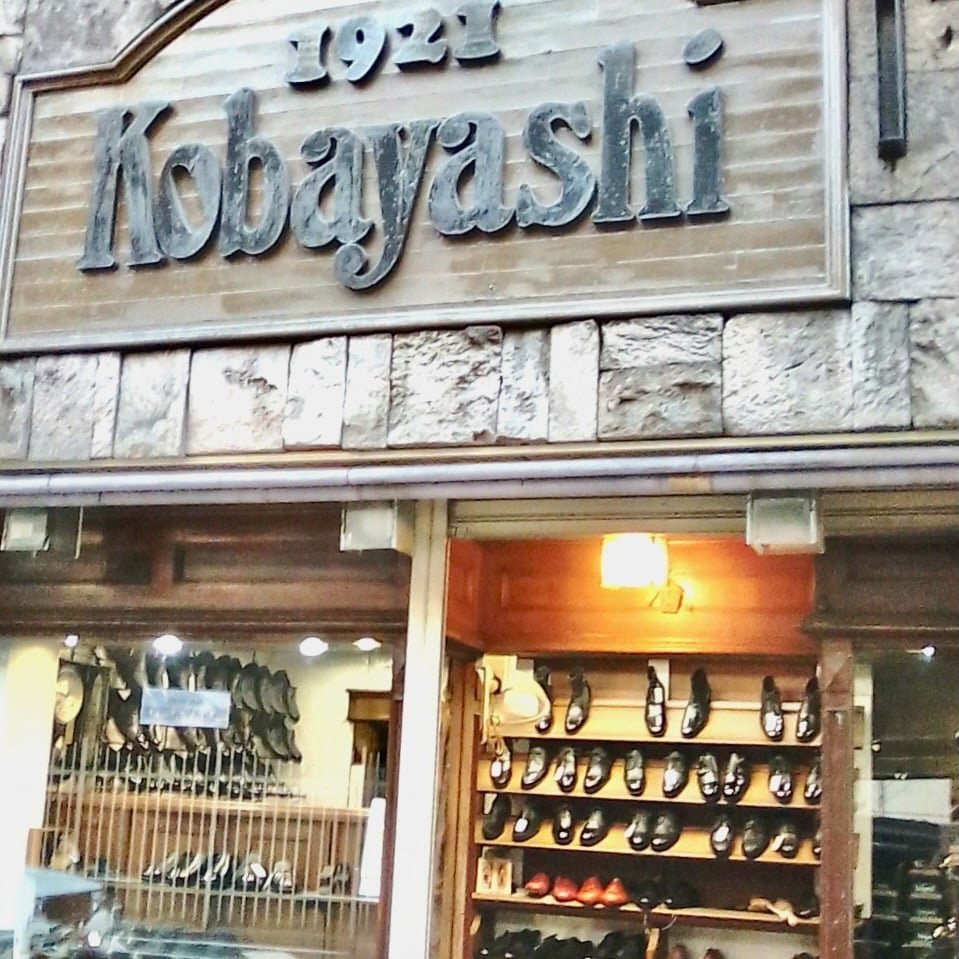 Website: http://www.kobayashi1921.com/
4. Why did you decide to move to Canada in 1999?
Since my childhood, I've always been chatty and often dreamt of living overseas and learning English so I could reach out to more people. Originally I was hoping to move to England for my love of the 70's to current music from the UK. However, I promised my parents to make the dream come true on my own, so Working Holiday Visa was the only option due to very limited funds, and the UK was not offering WH Visa back then.
As long as I could learn English, the choice of country was not too much of a concern, and I happened to have some Canadian friends so I decided to move to Canada.
5. Did you have any culture shock when you moved to Canada?
Big land but small town – Vancouver where I lived was a big small town. I couldn't believe I could walk across downtown Vancouver in 30 minutes
The taste of real maple syrup, real cheese and bacon. I found out that the ones I was eating in Japan were bullshit, no wonder why I didn't like them much.
TOFU! You know, those firm, spongy tofu don't exist in Japan.
The sun still shining 9 pm in summer, nice dry beautiful summer! It is hot but cool in the shade, the ocean is still cold which was shocking coming from hot muggy Japanese summers. When I saw people swimming in the ocean, I thought they'd gone out their minds. I got used to after few summers.
The colour of the lakes! Maaaan, that was real, not only in the postcards!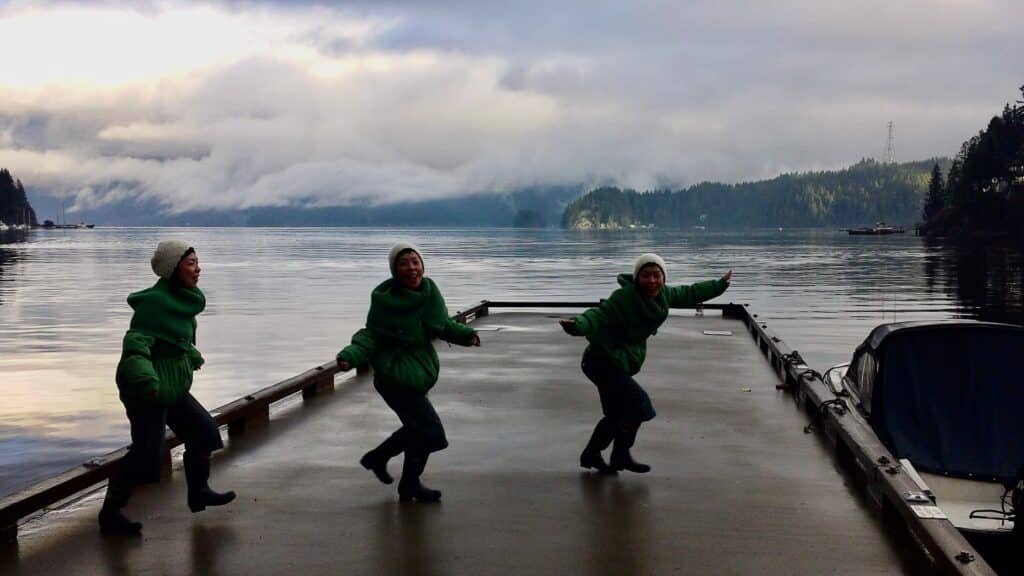 6. What do you miss about Canada the most?
The wide variety of restaurants. I felt that I was so lucky to be able to taste the whole world in the city. Herbs and spices from all over the world were also available at every grocery store, even naturopathic remedies sold at most grocery stores.
I guess I miss grocery stores in Canada the most. Veggies are not individually wrapped in plastic, organic/non-organic, vegetarian, vegan etc, whatever your dietary policy is, it's not prejudiced and you don't have to go to specialty shops like Japan (though it is slowly changing here the last few years)
The central heating system, mountain views and beautiful sunset from the window, massive trees on the side walks, gorgeous dry summers.
And, the friends I made there, especially dog friends.
7. What are some of the jobs you did in Canada?
Maaaan, I did so many different jobs, some I can't tell my parents. Server, dishwasher, cook, life model, fashion retail sales associate, store manager, fashion wholesale sales rep…and a trimmer on a farm.
8. Why did you decide to move back to Osaka? Did you experience any "reverse culture shock" upon your return?
Though I got the permanent resident status in Canada, I always felt something was amiss. Once I became comfortable with my English communication skill and other skills, I was searching for a way to be my own boss.
However, experiencing the sky-rocketing rent, living expenses, and small businesses kept shutting down, replaced by big chain stores that made the city so generic and boring. To be honest, for a person with a creative/artistic mind, Vancouver was not suitable. Very little money left meant no freedom.
Thought about moving to Montreal, but my gut told me that I'd get my freedom back in Japan.
9. Describe Junko Gohan. How did you get the idea? When did you develop an interest in cooking?
"Junko Gohan" was named by a friend. She says the name represents my original cooking as my dishes are borderless, hard to categorize.
My first roommate in Canada was a very independent vegetarian woman (and an English teacher!) She taught me cooking, vegetarianism, veganism, healthy eating, and English. She plays a big part in how I've become who I am today.
As I mentioned earlier, Vancouver was full of multicultural cuisines, so ended up mixing them all up. Making staff meals out of leftovers for many years developed a very important skill. I can be very spontaneous and flexible when it comes to cooking. Some people criticize me for not following authentic recipes, but I think 美味しかったらなんでもええやろ!(Anything goes as long as it's delicious!)"
I am thinking about doing workshops for new foreign residents in Osaka, going to grocery stores together, giving ideas for substituting ingredients you can't find here, then cook together…that sort of thing.
This sounds cheesy, but My ultimate dream is world peace. What I can do for the world may be small, but I can provide a table with mixed culture food with good vibes. You don't fight when eating something tasty even if the food is totally foreign to you.
10. Where do you like to shop for ingredients to make food?
Yaoya Nanatsuboshi(八百屋ななつぼし) in Shinmachi. It's anorganic produce store. As a cook, I feel so lucky to know this place. They have many obscure strain of veggies and fruits that you don't see in normal supermarkets. Super enthusiastic but chill owner and friendly staff, and super yummy yaki-imo there.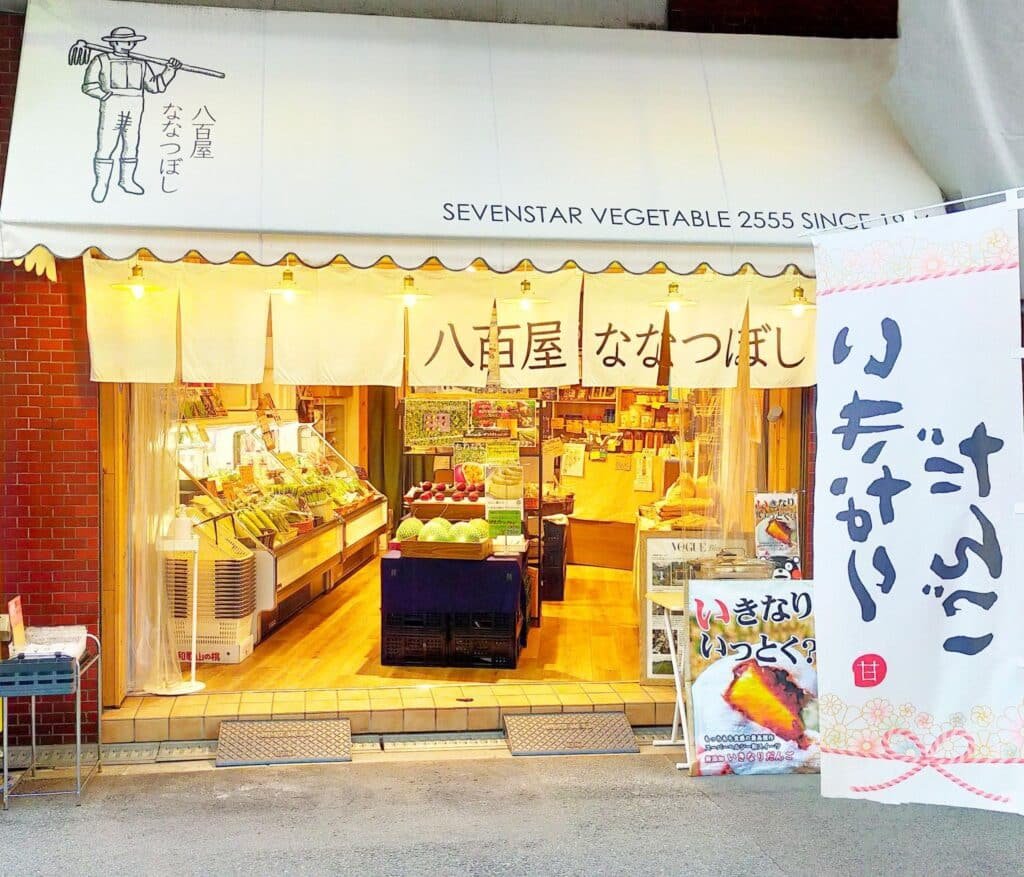 11. Do you have any favorite Osaka dishes?
"Konamon"(flour-based dishes) such as takoyaki and okonomiyaki—those are not my favorite. Maybe I overloaded on them as a kid.
I looooooove "mizu-nasu", a very juicy eggplant that is eaten raw in salads; "battera" – pressed mackerel sushi; and "tecchiri" fugu (blowfish) hot pot with ponzu sauce.
Part V: Junko's Original Recipe—Coconut Miso Soup with Kabocha Squash
Ingredients
・ Kabocha Squash _____ 400g
・ Miso 50g _____ (2 tbsp)
・ Dashi Powder _____ 5g(1stick)
・ Water. _____ 300ml
・ Coconut Milk _____ 250ml
Instructions
1.Wash the Kabocha and remove seeds with a spoon, then cut in 2cm cubes
2. Add Kabocha cubes in a pot with the water(300ml), the water should be just enough to cover the Kabocha cubes.
3. Add in the Dashi powder, and cook in medium heat. Remove the foam produced by Kabocha with a spoon as being cooked. Cook until just soft.
4.Reduce heat, add in the coconut milk, cook for another 10 mins. Do not boil.
5. Add in the miso in a small strainer dunk it half way into the requid, and stir with a spoon to desolve the miso paste.
6. Let it cook for another 5 mins or longer, according to your favourite texture. Don't worry if kabocha gets mush, it'll be tasty anyway.
NOTES
Adding toasted mochi into the soup is highly recommended! The soup is surprisingly tasty(or even tastier) next day, and served chilled!