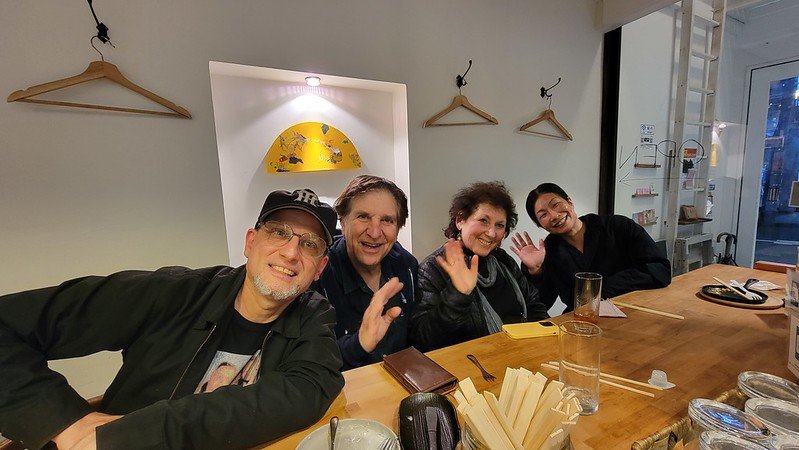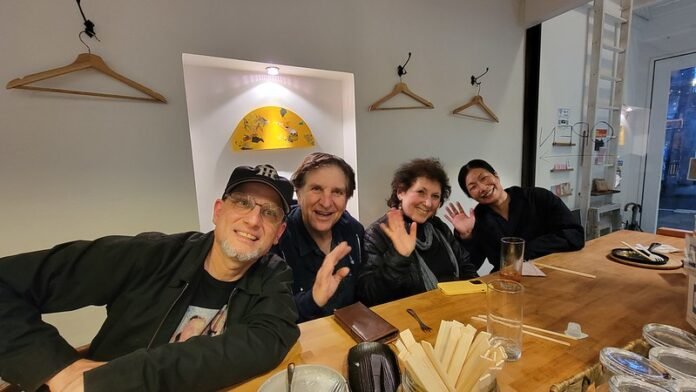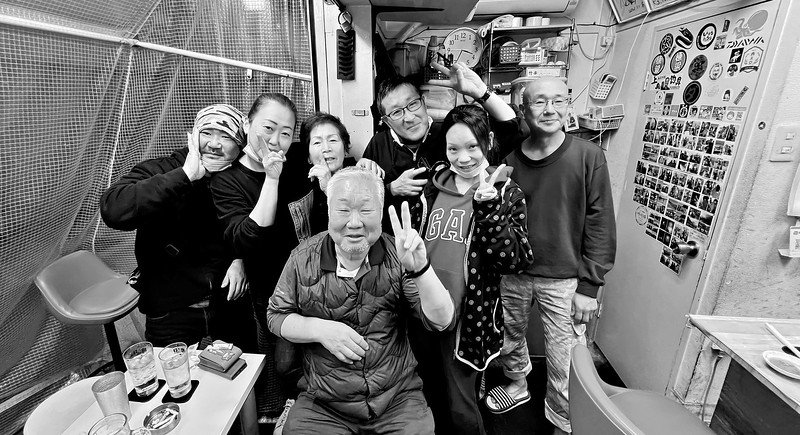 I had visited Osaka several times before, stopping for the requisite selfie at Dotonbori in front of the Glico running man, and fighting through the crowds of Namba and all that street food. Osaka photography
I'd been to Umeda, as the JR train, which I knew barely, always stopped there for switching to other locations. And while there, I visited the late Panasonic City for a look at only-in-Japan tech gear from the Osaka based global concern.
That was in November 2019, on my last visit to Japan. But finally, the borders re-opened again in 2022, and we made plans to visit in March 2023, during the heavily travelled cherry blossom season.
My goal was to visit family in the Kobe area, and film several episodes of my PhotowalksTV show, which airs on YouTube and Amazon Prime.
I was most interested in really exploring Osaka, the second city of the country, through the lens of my iPhone, since I produce the series on smartphones, the same gear my viewers use. I reached out to Osaka.com to see if I could someone from the staff to appear on the video with me, and publisher Allan Hsu recommended Matt Kaufman, a local teacher and writer who specializes in finding great hidden bars and restaurants that aren't on the tourist radar.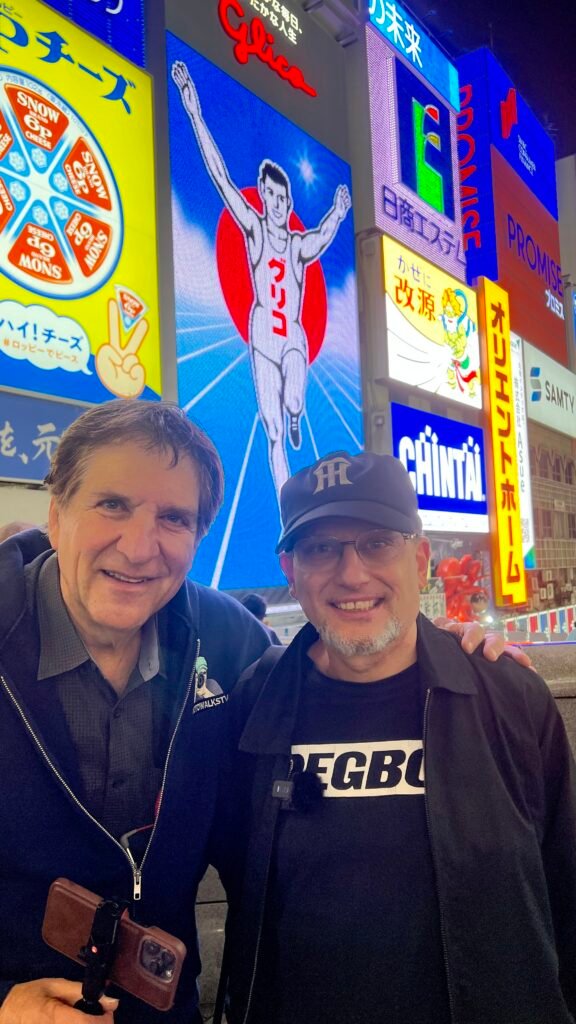 Matt, an ex-pat from Brooklyn, was outgoing, talkative and open to showing me more of Osaka than I could ever handle. That, and I feel like I made a new friend for life. Thank you, Matt!
Meanwhile, for my video, I told Matt I would handle the best photo spots in Osaka (Dotonbori, Namba, the skyrise observation decks, Osaka Castle, street food and cheesecake sightings and the Expo 70 Park.) If he could show me the backroads of Osaka, the backstreets, that would be great.
Remember that my late dad Jerry Graham hosted a 1980s local travel show called Bay Area Backroads, and my PhotowalksTV series shares the basic theme, but with a contemporary twist. We're both about getting out of the car and exploring on foot; my twist is that it's through a smartphone lens.
Matt had me meet him in the Nishi Tengachaya district, which he chronicled in a recent article for Osaka.com. He likes the area because it's a place where "time has stood still," and one can see the old Japan without the throngs of people. That, and he wanted to show me how the people of Osaka have great humor, and are outgoing. Nowhere better to prove the point than an izakaya in an old Japanese shopping arcade of Nishi Tengachaya.
Our many stops included the old coffee shop, Maruya, where a cup costs 150 yen and an old beat-up TV blare the ball game, we had a street food master make us okonomiyaki to order without a huge crowd or lines. This little pancake with meat toppings is considered one of the two must-have street foods in Osaka, Matt told me, along with the takoyaki, fried octopus balls. I'm not a fish person, so I passed on that one. The master of the Oyatsu Corner, Higashirua-San, pictured below, made the okonomiyaki for us.
We saw this classic food market that looked like it stepped out of a painting, which I naturally had to capture with my iPhone, the camera I use to produce the Photowalks episodes.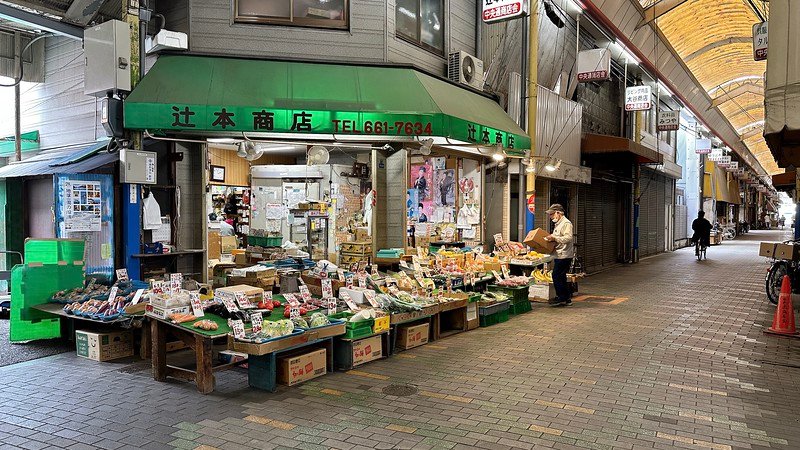 The highlight: visiting the izakaya Shishimaru Taro, a very "Cheers" like establishment where, it's not like everyone knew your name, but during the visit, they did learn about you, and how to laugh and have a good time with you, even with the language barrier.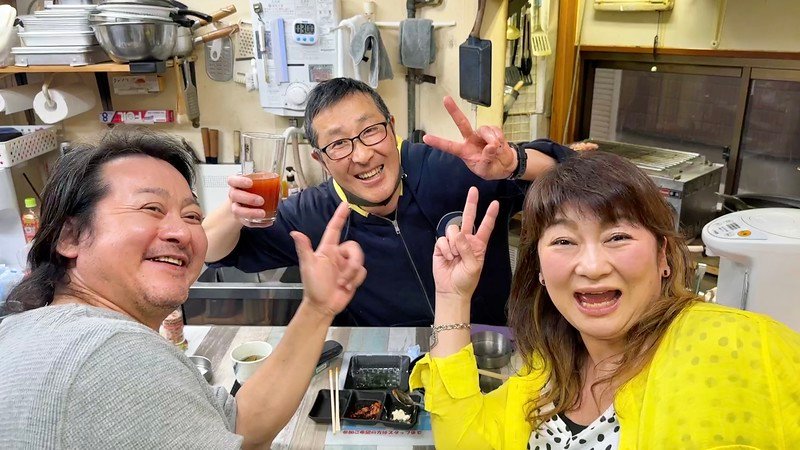 I handed out my PhotowalksTV business cards, which is a fantastic ice breaker when you can't speak the language. People can look at the pictures on the card and smile back at you. We shared food together, we laughed, we took pictures.
My goal was to take behind the scenes photos of Osaka we hadn't seen before, and specifically get as many people photos as I could. Because it's easy to take great photos of historic or commanding buildings, but to make travel photography really pop, you want to see faces. That's what sets the photos apart from the crowd.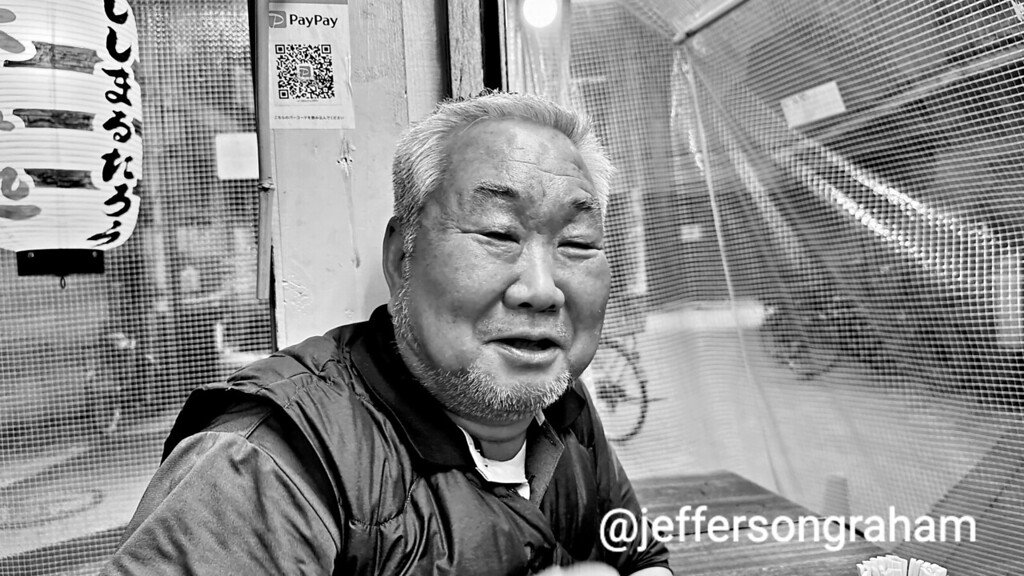 And through Matt's kindness, I was able to get great shots of the man from Maruya, the street food master Higashirua-San, and the gang at Shishimaru Taro. As he explained, if you say "Pose?" folks will understand. No one put their arms across their chest and refused.
Within the izakaya, where everyone was seemingly having a ball, people mingled and laughed, and let me photograph them to their hearts content. When I asked them for an official pose, they bunched together and laughed more, while flashing the ubiquitous peace sign. Master Syoujiro Kawabe was especially animated.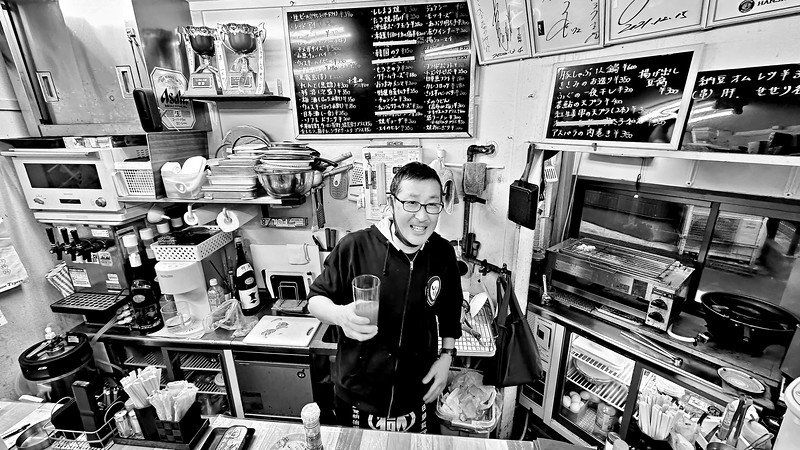 Even without Matt's help, I was able to arrange a big group shot of everyone, including the manager, by waving them all into a corner. No one turned me down.
After the izakaya, which I figured would be the topper, Matt brought me to a karaoke bar down the way, Mabuhai, where owner Katherine (from the Philippines) spoke English and arranged her own selfies. She served us drinks, snacks and we shared a big table with a bunch of revelers, including a man who liked to dress as a woman occasionally. He wasn't a transvestite or transgender, he told us. He was a cross-dresser who just liked to put on a wig and dress, leave the wife and kid at home, and come relax at this bar. God bless Japan for its openness.
He grabbed the mic and sang a tune, followed by Katherine.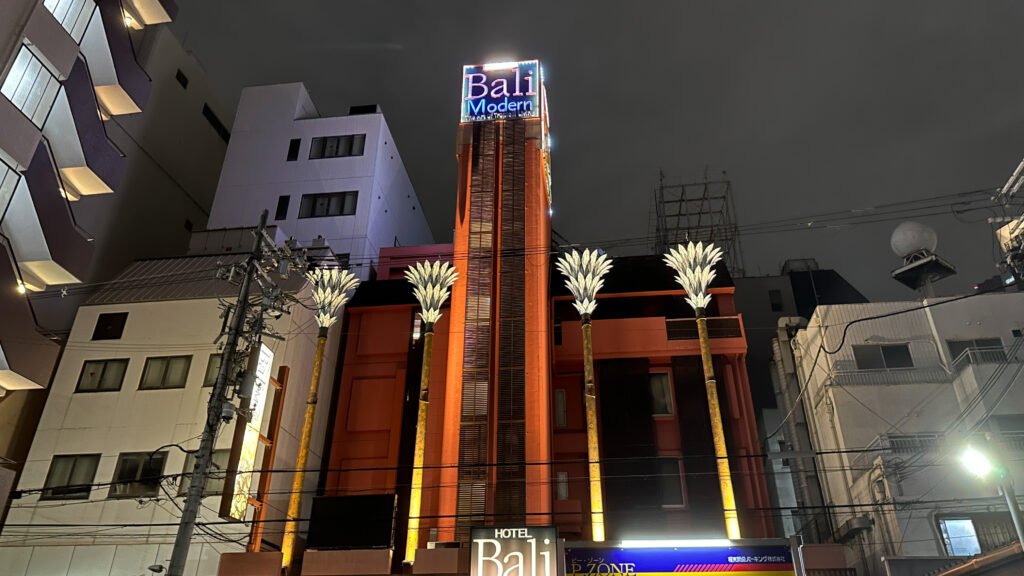 We left and passed by the "Love Hotels" that dot the neighborhood and made one last stop: another izakaya, run by the outgoing Tathuo Morizawa who agreed to film an opening for my Osaka episode no. 1: He said something to the tune of, "Famous Photowalker has come to Nishinari, Osaka. Please watch."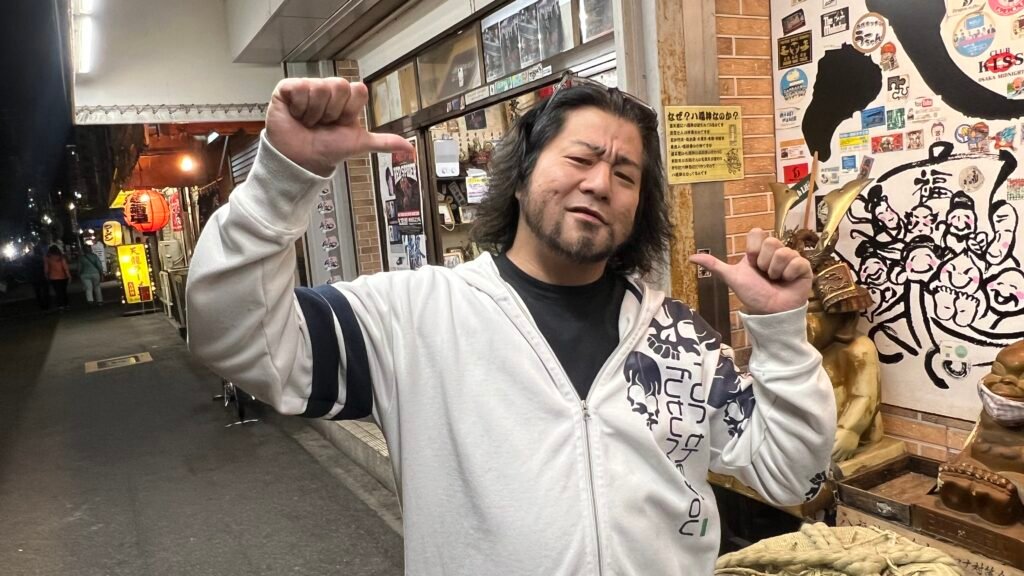 Nishinari is another hidden part of Osaka, which Matt refers to as "deep."
"Often portrayed as a venue for the less endearing elements of Japanese society, Osaka is considered by some to be inferior to its nearby neighbor and former imperial capital, Kyoto," writes Liam Carrigan, also on Osaka.com.
"If anybody feels this way about Osaka, then perhaps Nishinari Ku is where they feel it the most. It is, after all, one of Osaka's more socially deprived areas, playing host to the busiest red light district…However, as is so often the case in Osaka, one needs to look beyond this erroneous, exterior facade to see the true character of the town."
Hence, going deep.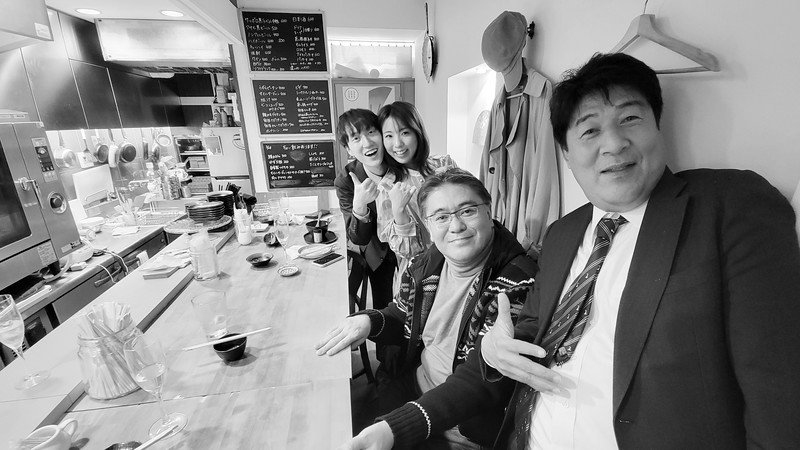 I heard from others that I was going to a sketchy area, but trust me, I know sketchy and this was anything but. In California we have people living on the streets, urinating and defecating there, waltzing into stores and stealing things right and left. Not so in polite Japan! I saw one homeless person during my ten days in Japan, and the streets were spotless.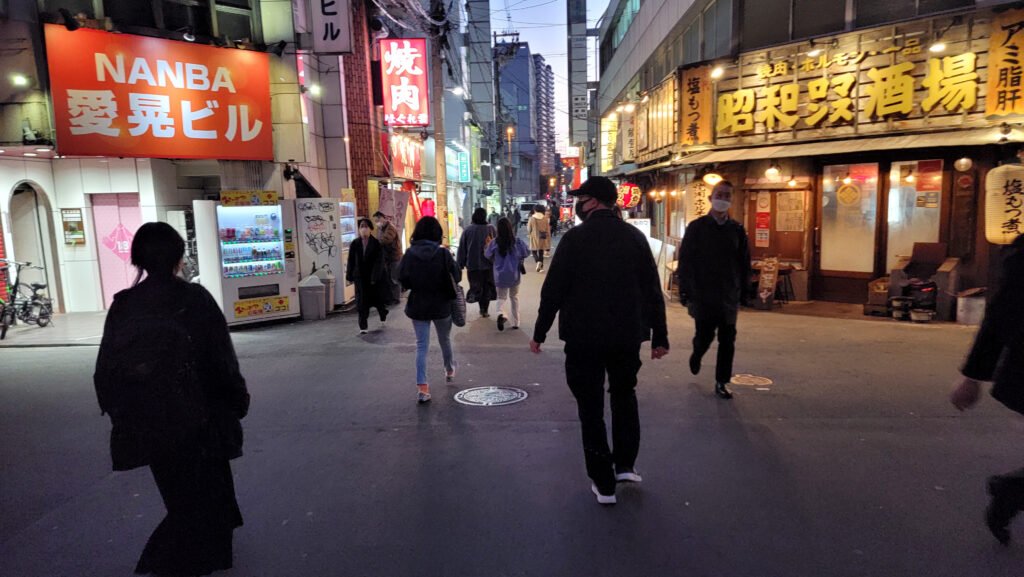 We met up a few nights later in Dotonbori, where I needed to film my open for the first of the Osaka episodes. Makes sense, right? Dotonbori is the most famous sight in Osaka, so I had to stand there.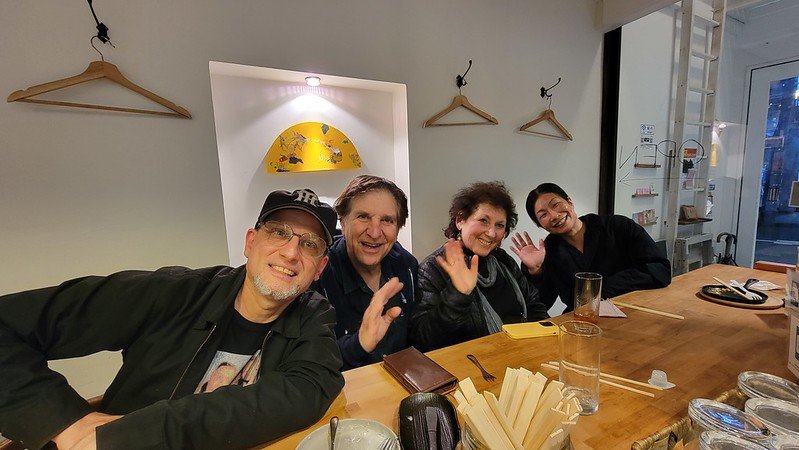 This time, the wives joined us, Matt's bride Mami and mine, Ruth. We ditched jam packed Dotonbori pronto, and while still in Namba, got off the beaten path to a quiet sidestreet, and another izakaya, Toriichiban Honpo, a Korean BBQ sort of place with a little grill in the middle of the table for us to cook chicken parts ourselves.
This is similar to yakitori restaurants in Japan, except that we did the cooking. This was my favorite restaurant of our time in Japan, as the cooked to order stuff on the table was fantastic, and we also got yummy fried chicken and salads. But no desert.
So for that, Matt brought us a few blocks away to a "Stand-up Bar" called K's, which promised sweet stuff on the outside.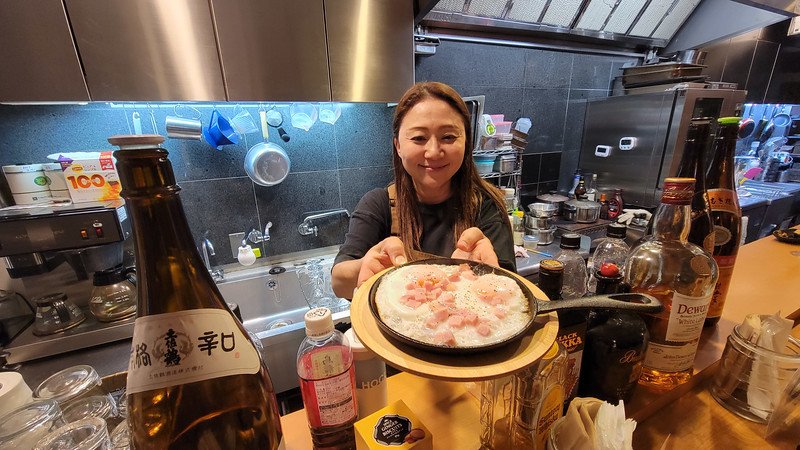 We found four seats at the counter, and the manager apologized for not having sweets and suggested (per Matt's translation) an egg dish, which was fantastic.
Then, the next thing you know, a plate of pancakes topped with ice cream shows up.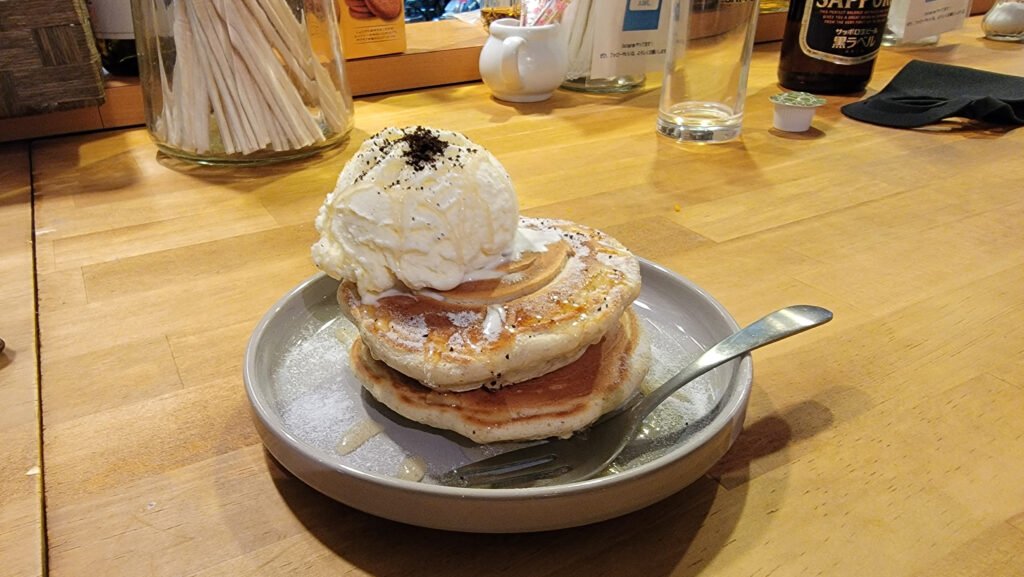 As with the other izakaya, everyone in the place laughed and posed for me, including the manager.
As Matt told me several times, the secret of a successful trip to Osaka hinges on being creative.
"People are reading the same guidebooks, they're watching the same top five YouTube videos of destinations in Osaka. So obviously there's going to be a lot of people going to the same places, just like in any major city. What I recommend you do, go to a side street. Go away from the crowd and take a chance."
Which is exactly what we did and thank you Matt and Allan for showing me the way. This is everything I've ever wanted to do with PhotowalksTV, see the rest of the world through the camera lens, and show off what places are really like to folks to help get them to explore more.
I can't wait to return.
Arigatou indeed.