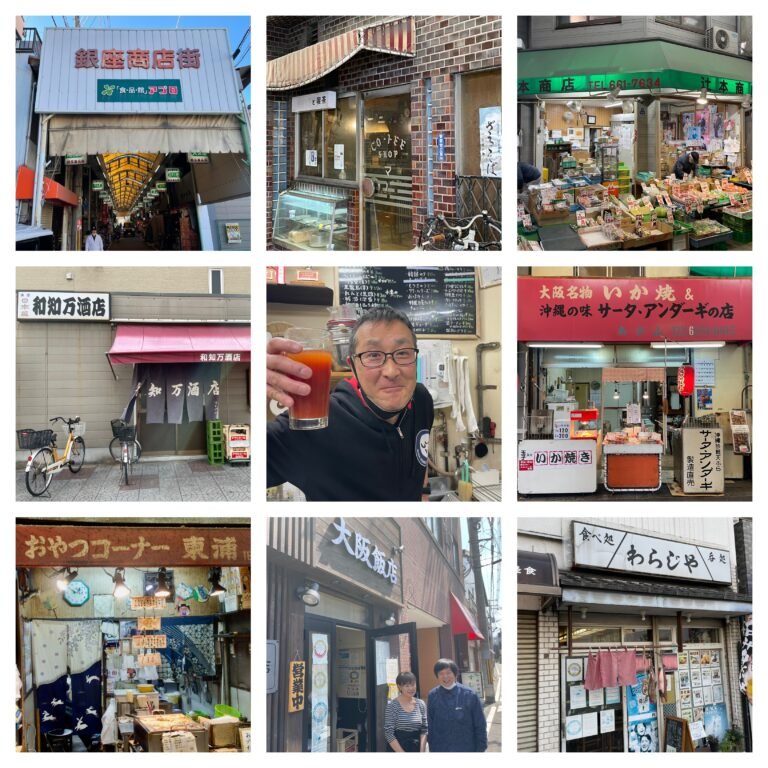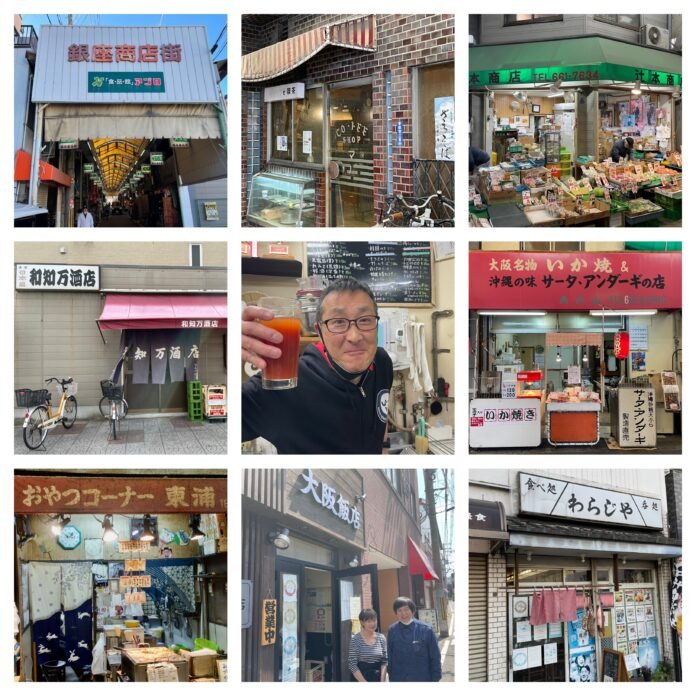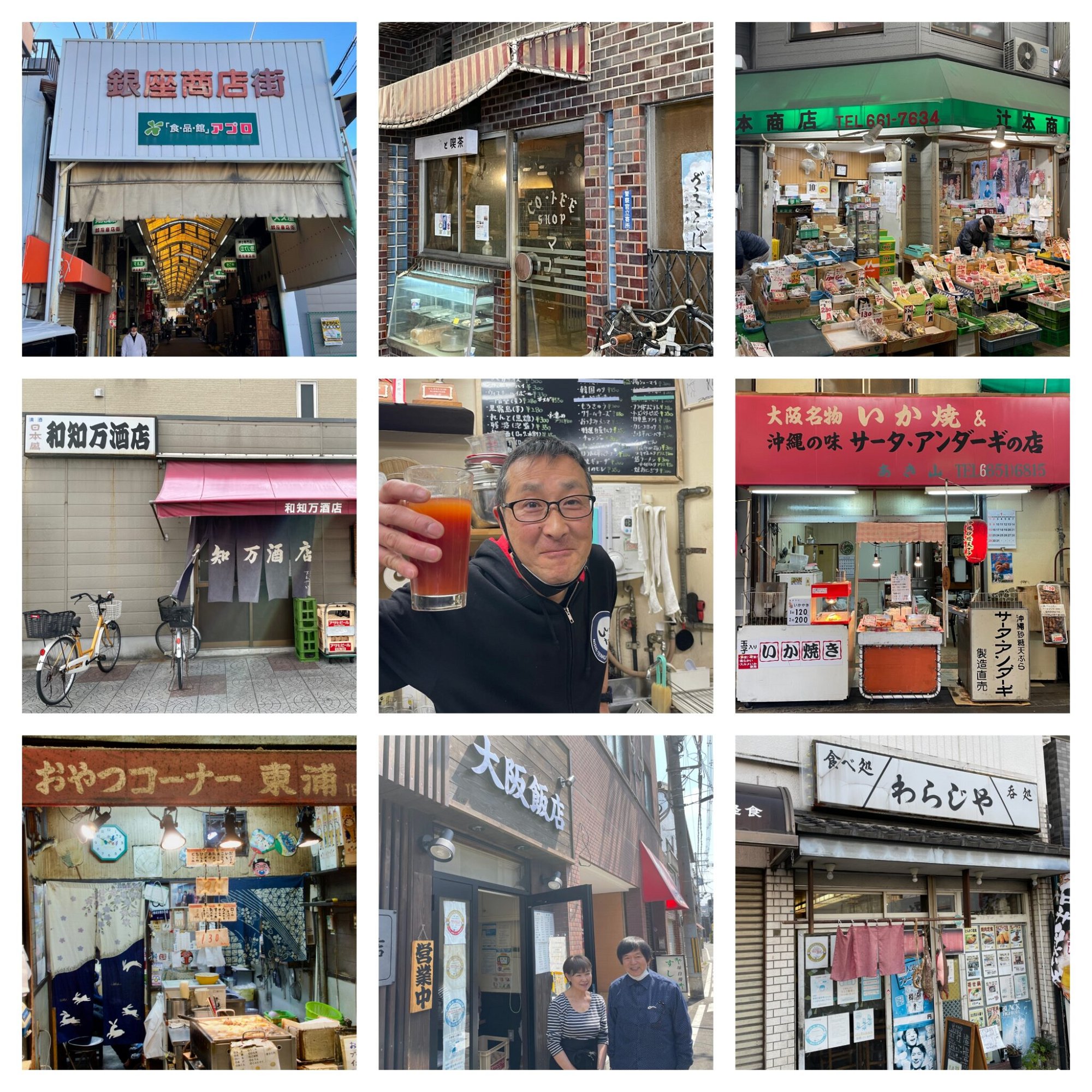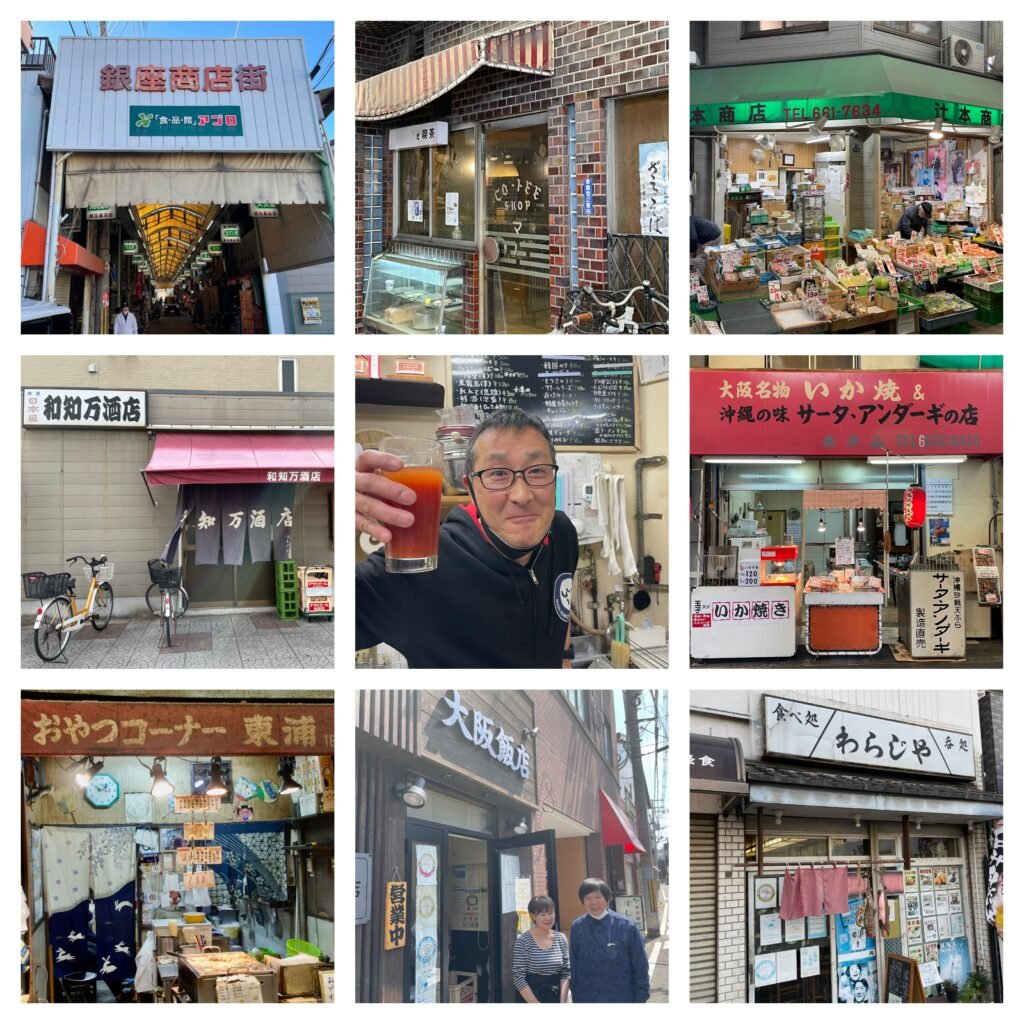 Introduction
Welcome to a new feature called "Osaka Daytripping" in which we spend the day exploring some of the lesser known parts of Osaka not found in most guide books. This month Osaka.com writer Wes Wesson and I visited Nishi Tengachaya and Kishinosato, two areas that are easily accessible from the Nankai Line and Osaka Metro.
Nishi Tengachaya 西天下茶屋
The area known as Tengachaya was named for a famous tea house that was visited by Toyotomi Hideyoshi in the late 1500s. The teahouse itself was destroyed during air raids in 1945 but a monument still exists (please see the Kishinosato section) at the original location. Today the area known as Tengachaya takes up half of Nishinari Ward, yet it has no fixed boundaries. It is generally used as a generic name for the area around Tengachaya Station on the Nankai Line and Osaka Metro Tengachaya Station.
Nishi Tengachaya Station is an above-ground train station in Nishinari-ku that was established in 1915. Following a company merger, it became a part of Nankai Electric Railway in 1922. The unmanned station is served by the Shiomibashi Line (Koya Line), which only has six stations, starting at Kishinosato-Tamade and ending at Shiomibashi. Nishi Tengachaya Station is popular among train enthusiasts because of its historic station building, one of the few remaining in Osaka that hasn't been completely remodeled or demolished. Its famous rusted old sign was only recently replaced.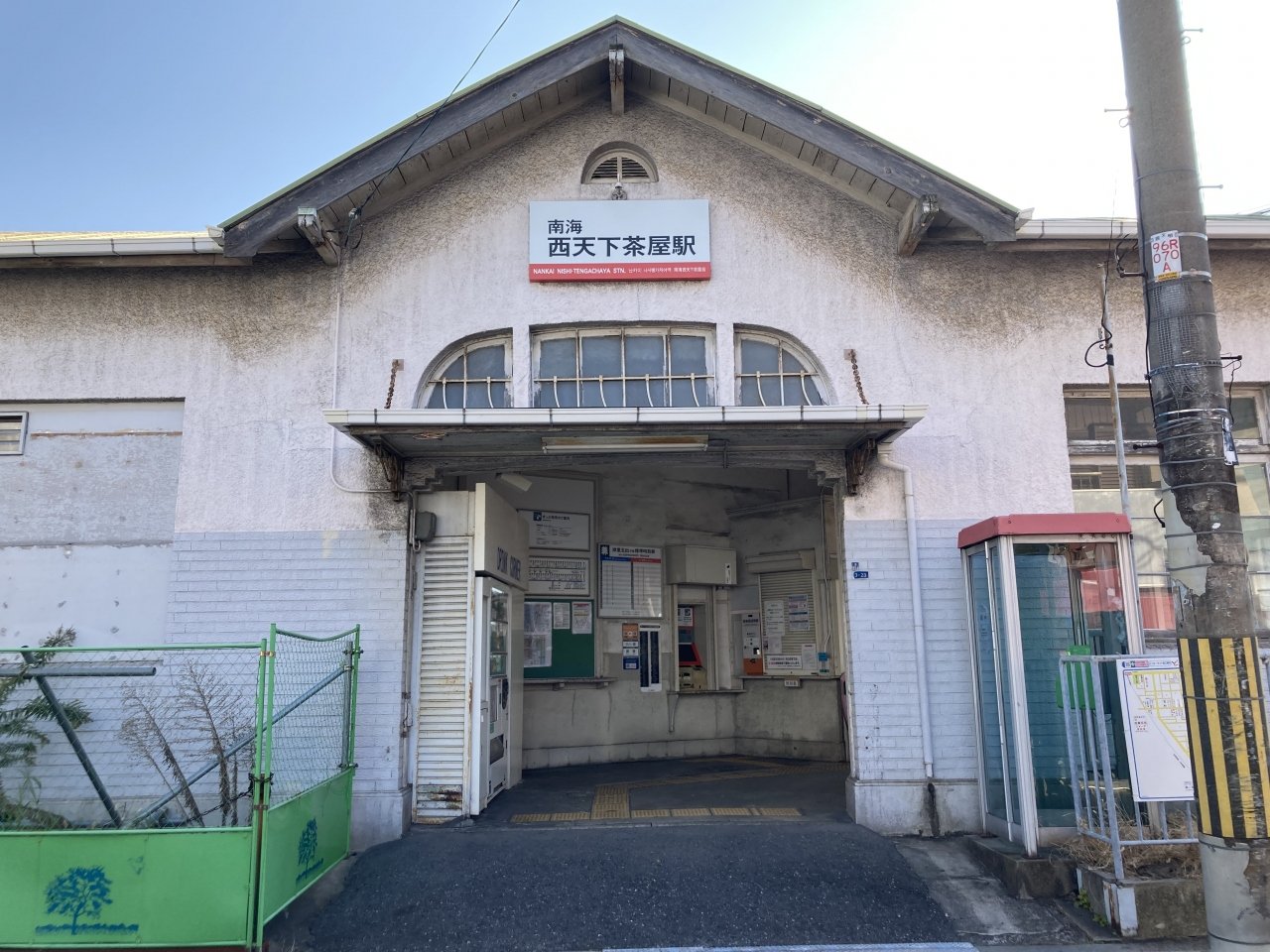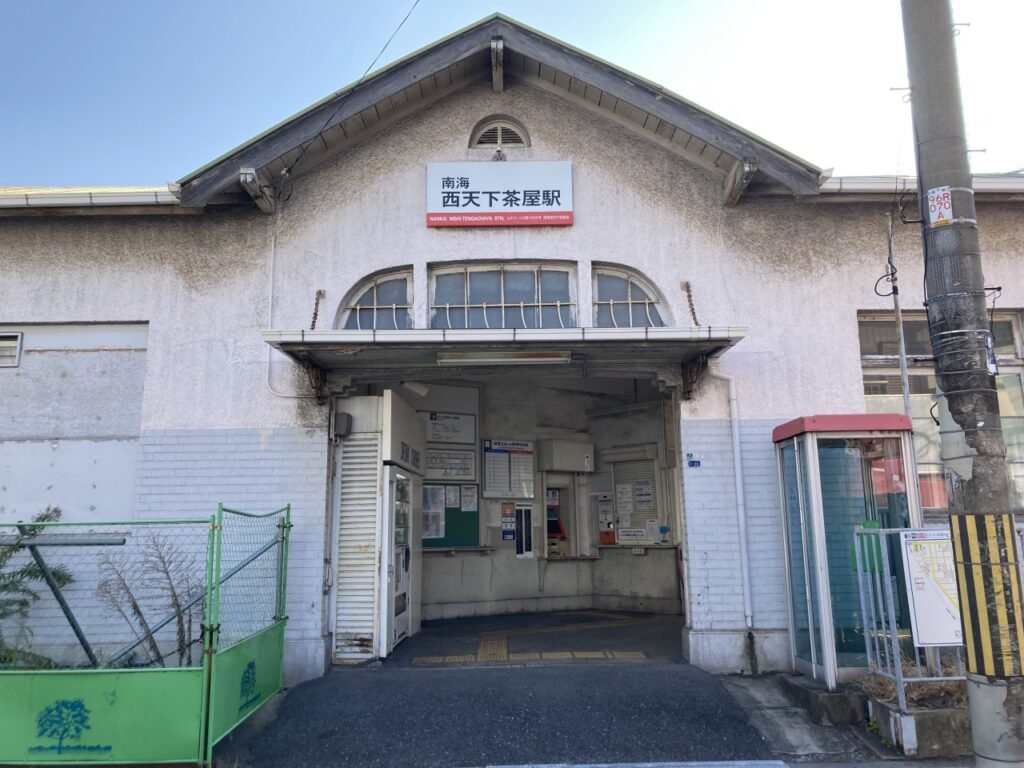 Getting There
Believe it or not, taking the train to Nishi Tengachaya station is not always the best way to get to Nishi Tengachaya. For one thing the trains on the Shiomibashi Line only run twice an hour, so if you miss your train you have a 30 minute wait. It is actually much easier to take Osaka Metro or the Nankai Koya Line to Tengachaya Station and walk 10 minutes to Nishi Tengachaya.
Ginza Shotengai 銀座商店街
Address: 1 Chome-2-19 Senbonkita, Nishinari Ward, Osaka, 557-0053.
Ginza Shotengai, which was founded in April 1946, is a two-minute walk from Nishi Tengachaya Station. It has a strong Showa atmosphere and doesn't get many tourists. Because of its proximity to the station, people often refer to the entire shopping arcade as "Ginza Shotengai." (Nishi Tengachaya Shotengai (西天下茶屋商店街) is another unofficial name.) In reality, there are actually five interconnected shopping arcades, each managed by a different shop owner association.
Despite the fact that some sections of the shopping arcade only have a few active businesses, each association still has a say in things like promotional campaigns, decorations, and even the music played for shoppers. They can also band together to prevent developers looking to gentrify the area from evicting businesses.
Ginza Shotengai follows a straight path from beginning to end, whereas other parts of the shopping arcade branch off into Y-intersections with different entrances and exits. You don't need to know the individual names of the sections to find your way through the maze of shops, but it can help to pinpoint specific shops if you are in a hurry. You can walk the entire shopping arcade in about 10 minutes.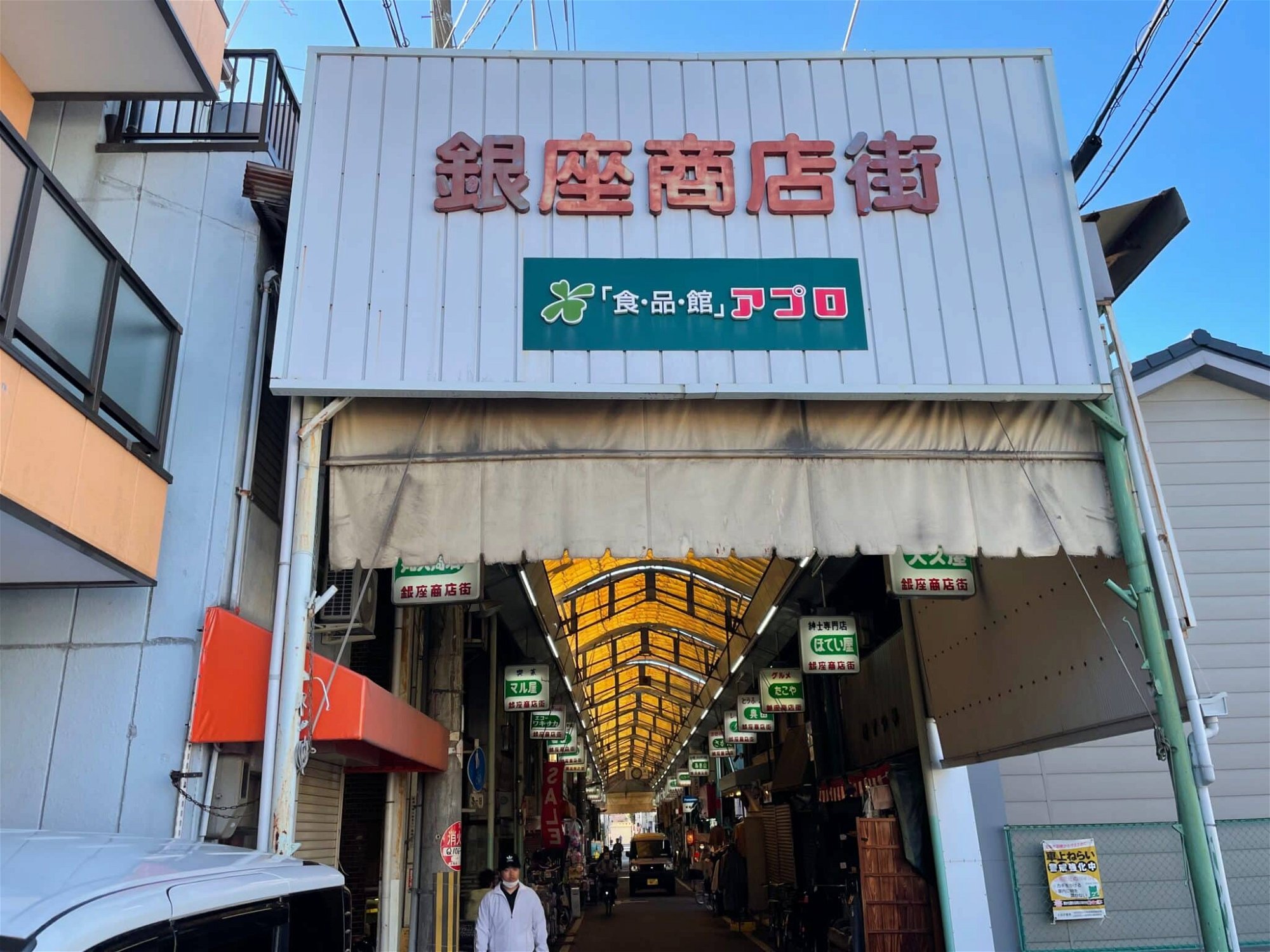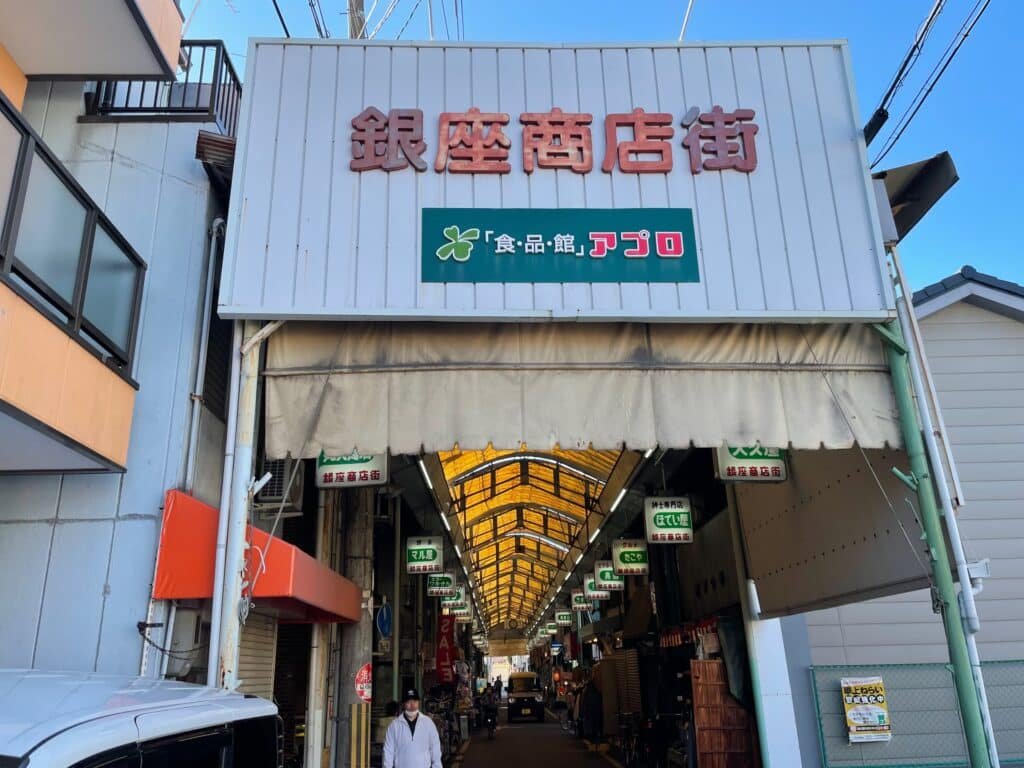 Coffee Shop Maruya 喫茶店マルヤ
Address:2 Chome-1-33 Senbonkita, Nishinari Ward, Osaka, 557-0053. Tel:06-6661-9166. Open: Every day 7:00-19:30.
Our first stop is an 88 year old coffee shop called Maruya that is frozen in time. A strong cup of coffee is ¥160 ($1.10) and an order delicious hot cakes with chocolate sauce and whipped cream is only ¥80 (55 cents). The owner is a huge fan of Charlie Chaplin and strongly resembles his idol. The coffee is strong and delicious. Most of the items on the menu are under 300 yen.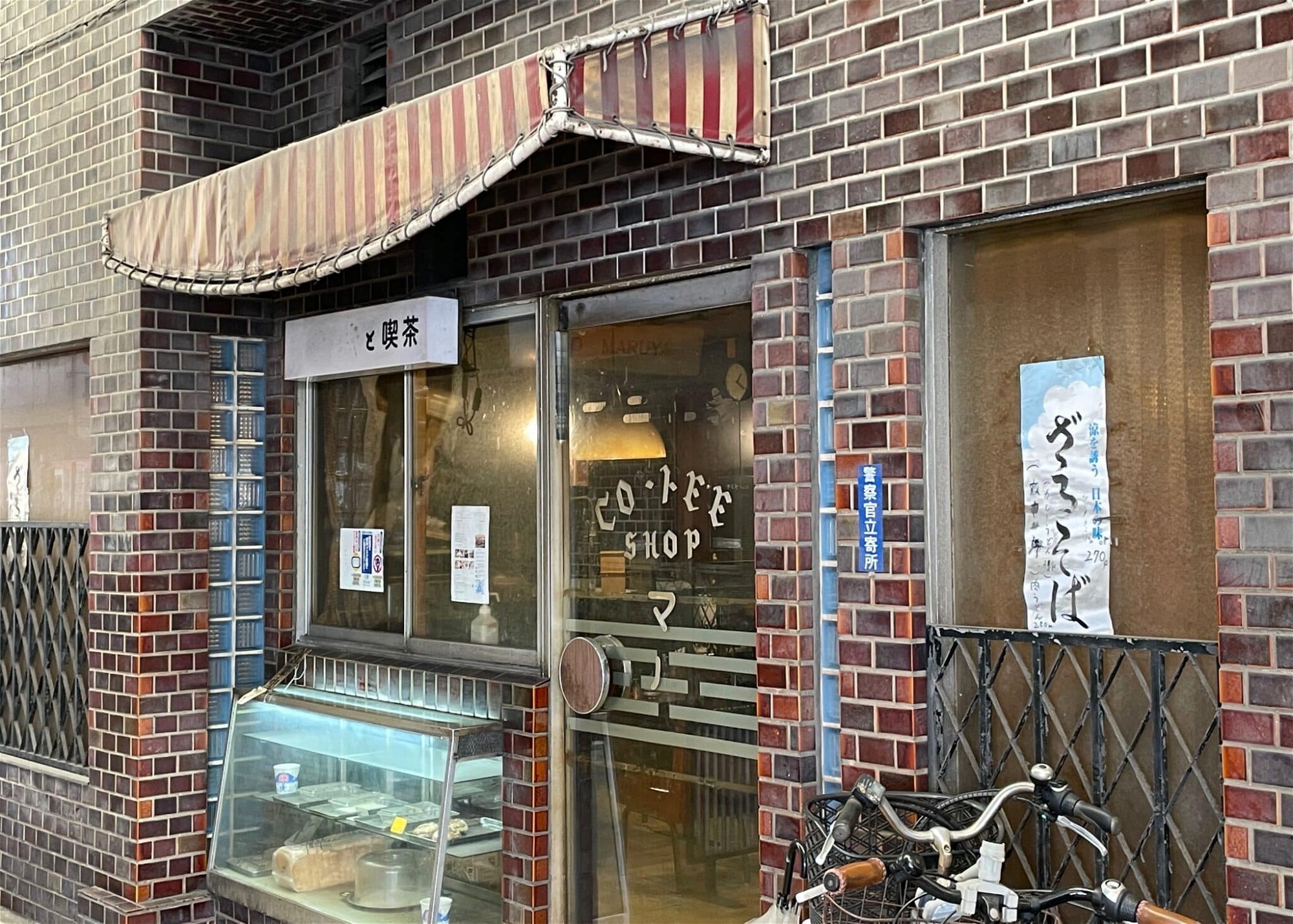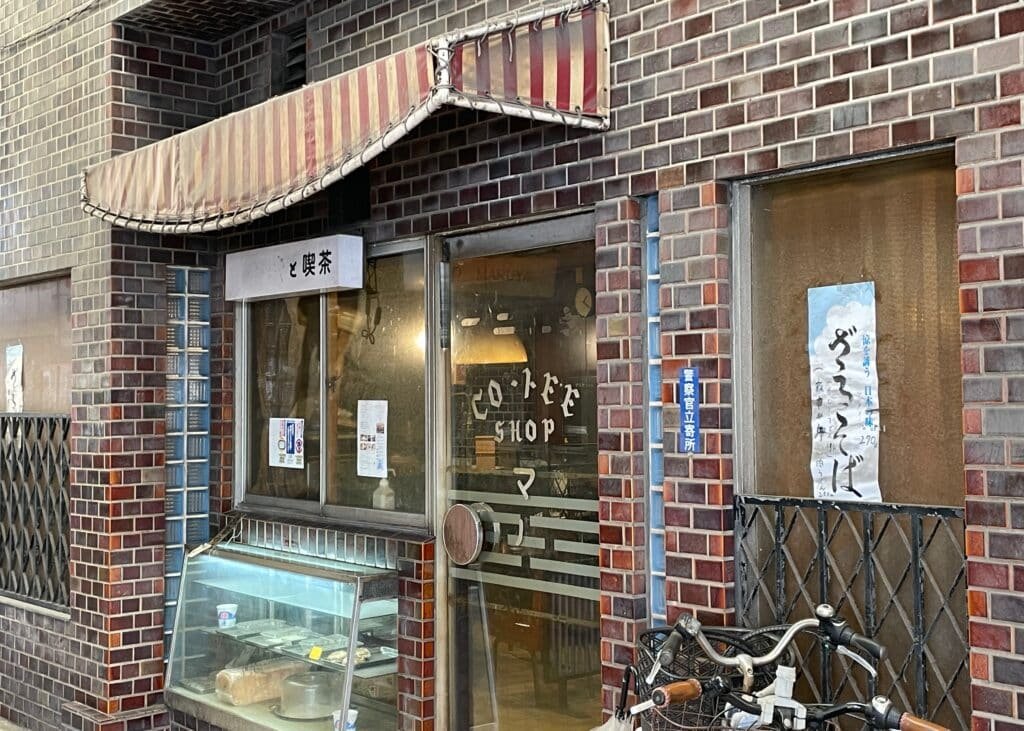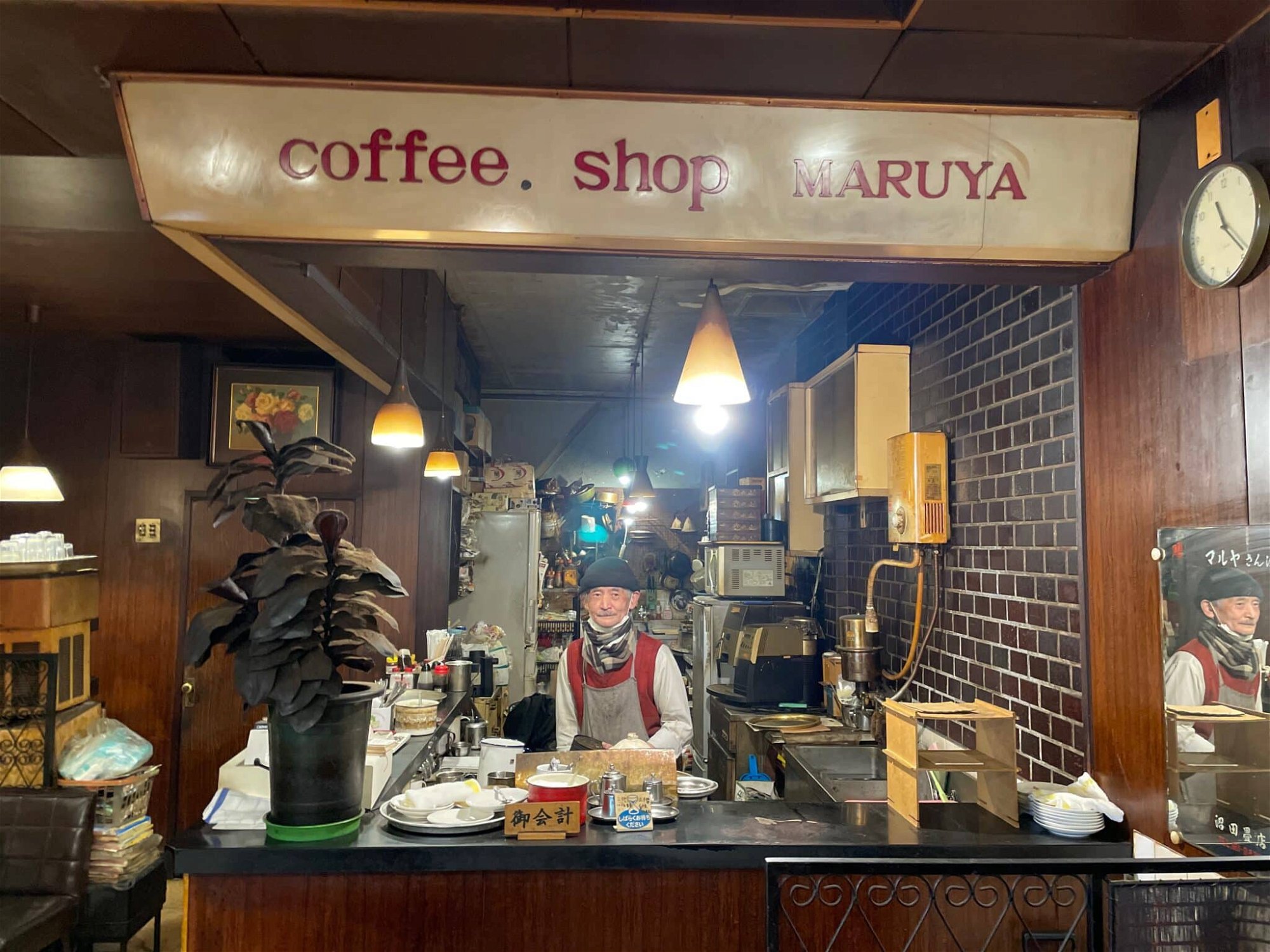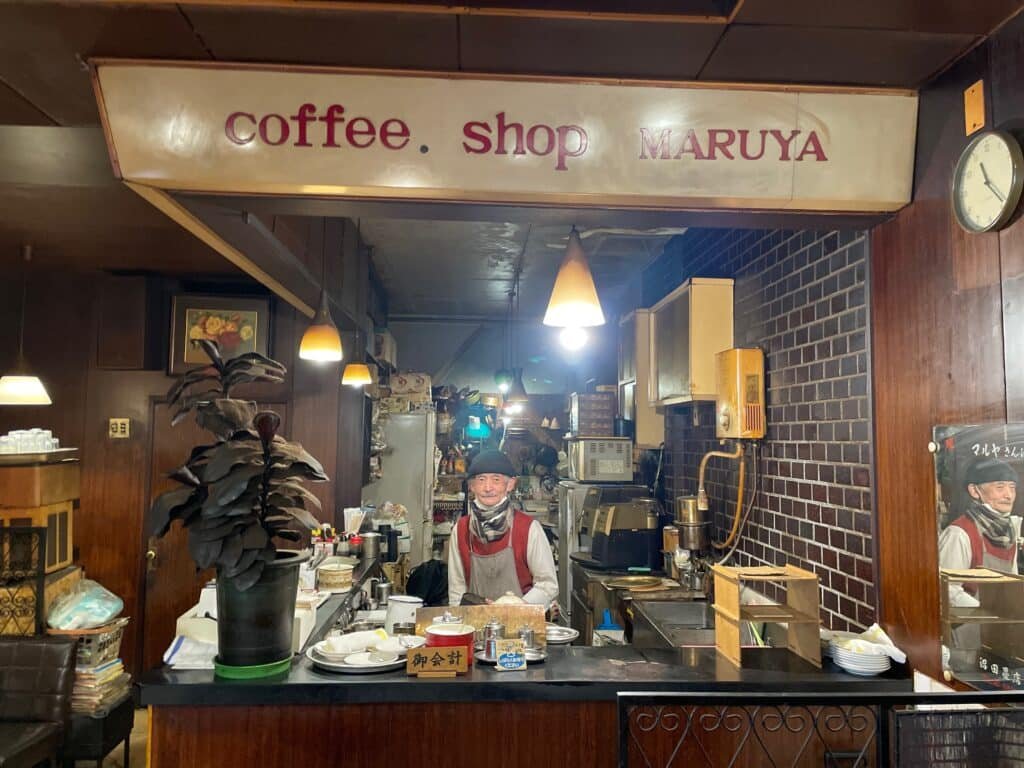 Here's a sampling of the prices of the most popular items: hot dog (¥170), egg toast (¥120), tendon(¥290), tempura udon (¥270), omuraisu (¥270), curry and rice (¥250), fruit juice (¥100). The curry and rice looks good, but we plan on eating at other places, so we will have to try it another time. However, our willpower crumbles when we notice another customer being served a chocolate parfait. It's a steal at only ¥250. For a long time there was just ONE tattered menu in the whole shop with menu items crossed out and new prices added, but fortunately someone made color copies just in case the original was lost.
In recent months Maruya has received quite a lot of attention after the shop was visited by popular YouTubers. The one thing to keep in mind when ordering at Maruya is that the owner is in his 80s (he wouldn't reveal his age but that is my estimate) and might get flustered with a large order. He has no other staff to help him, so please be patient if your order takes a while or the owner makes a mistake.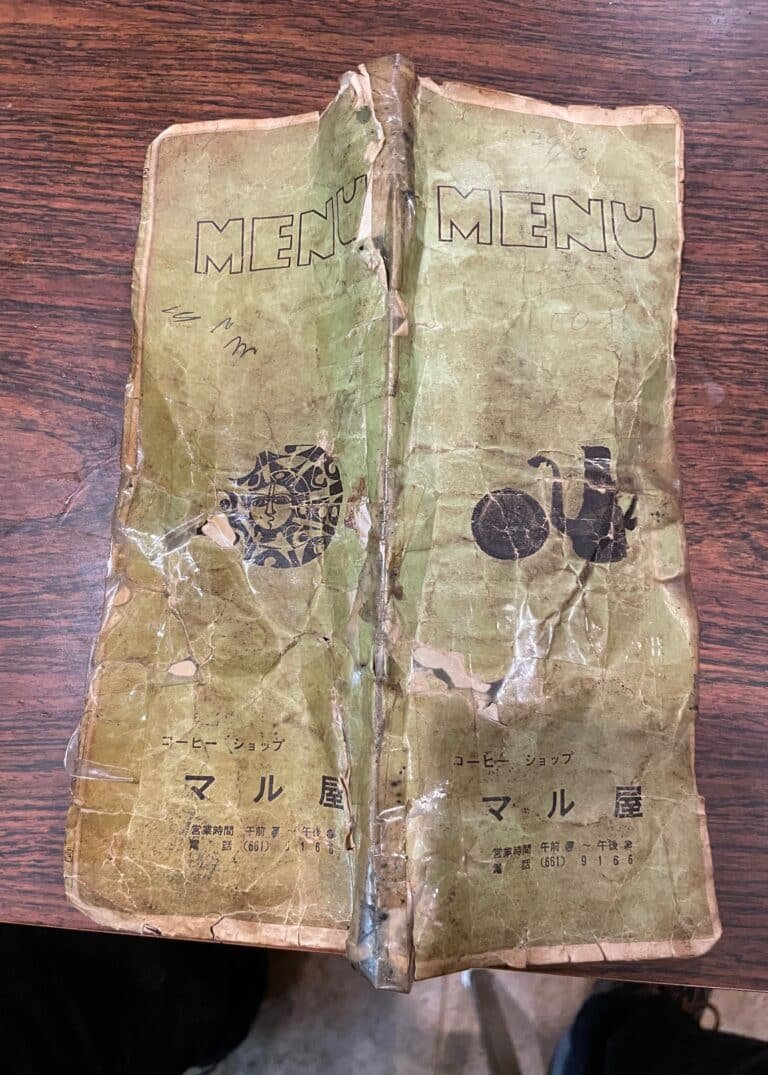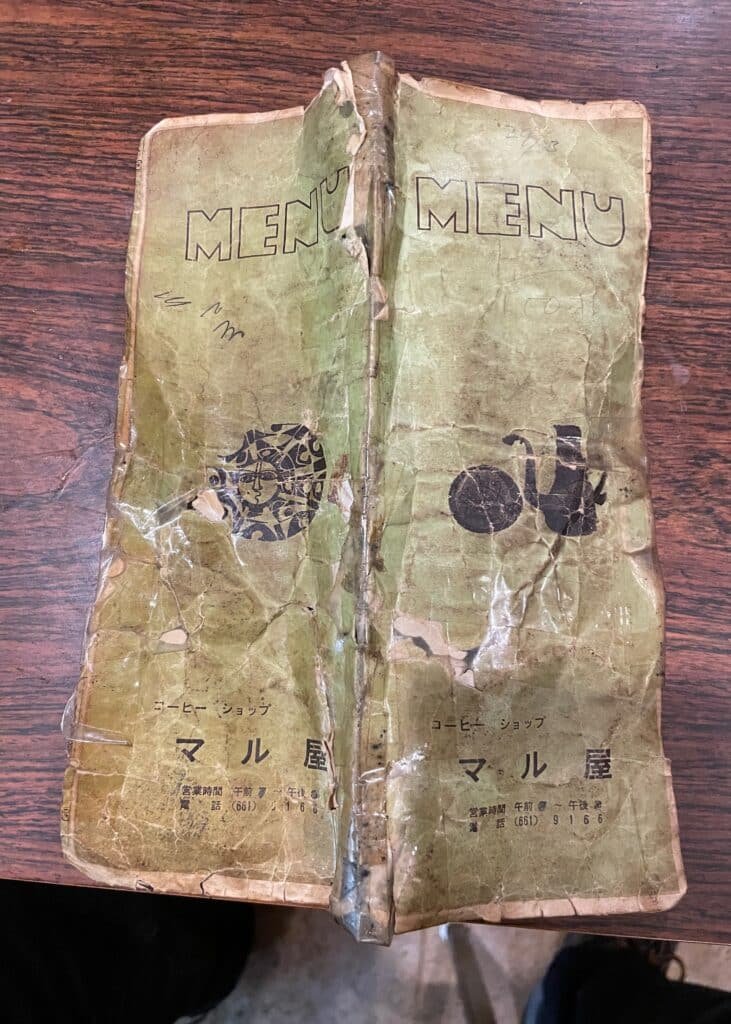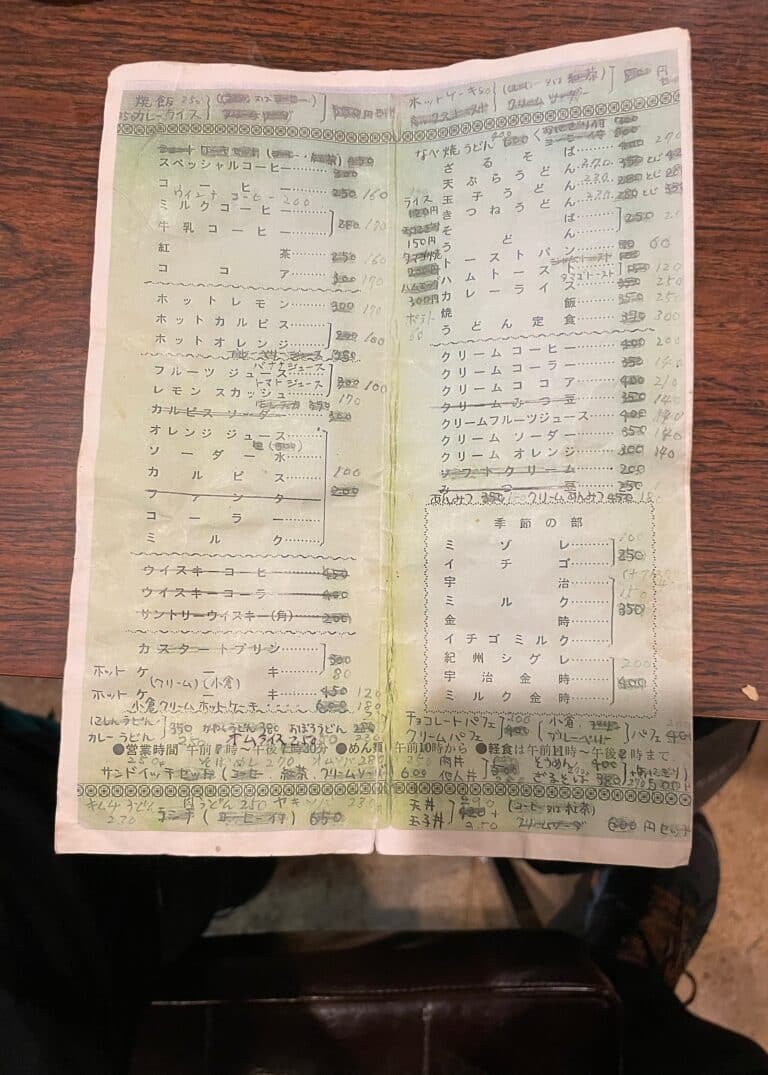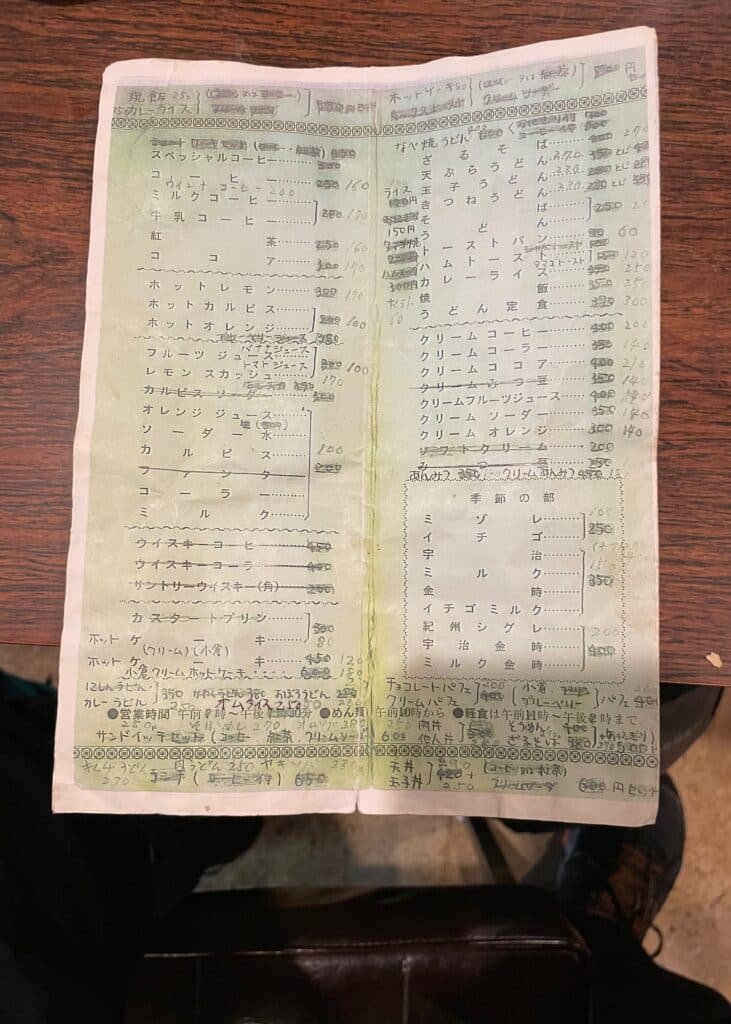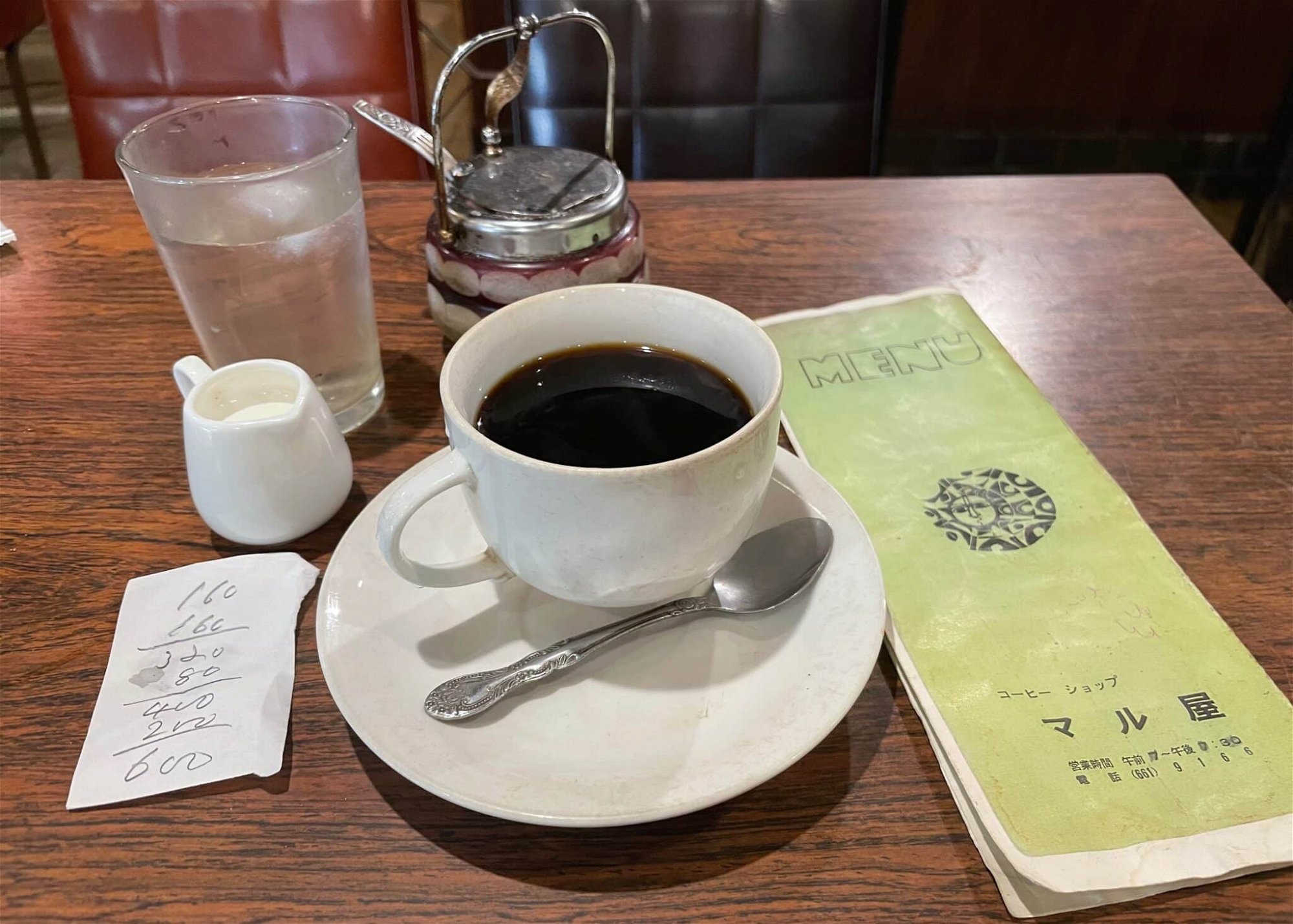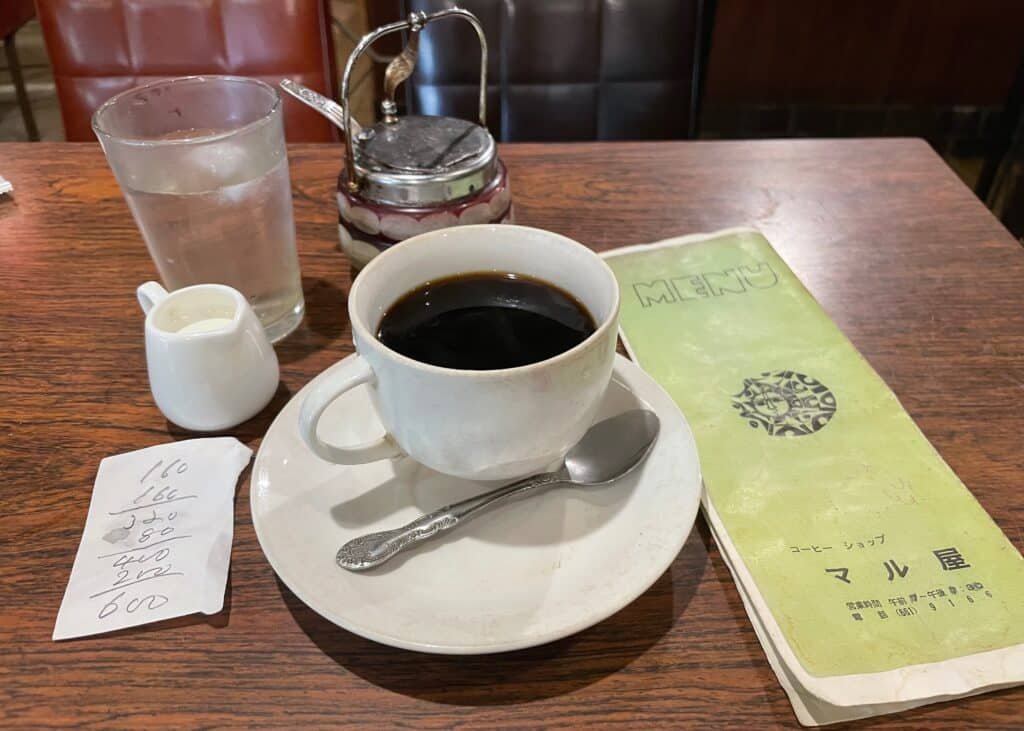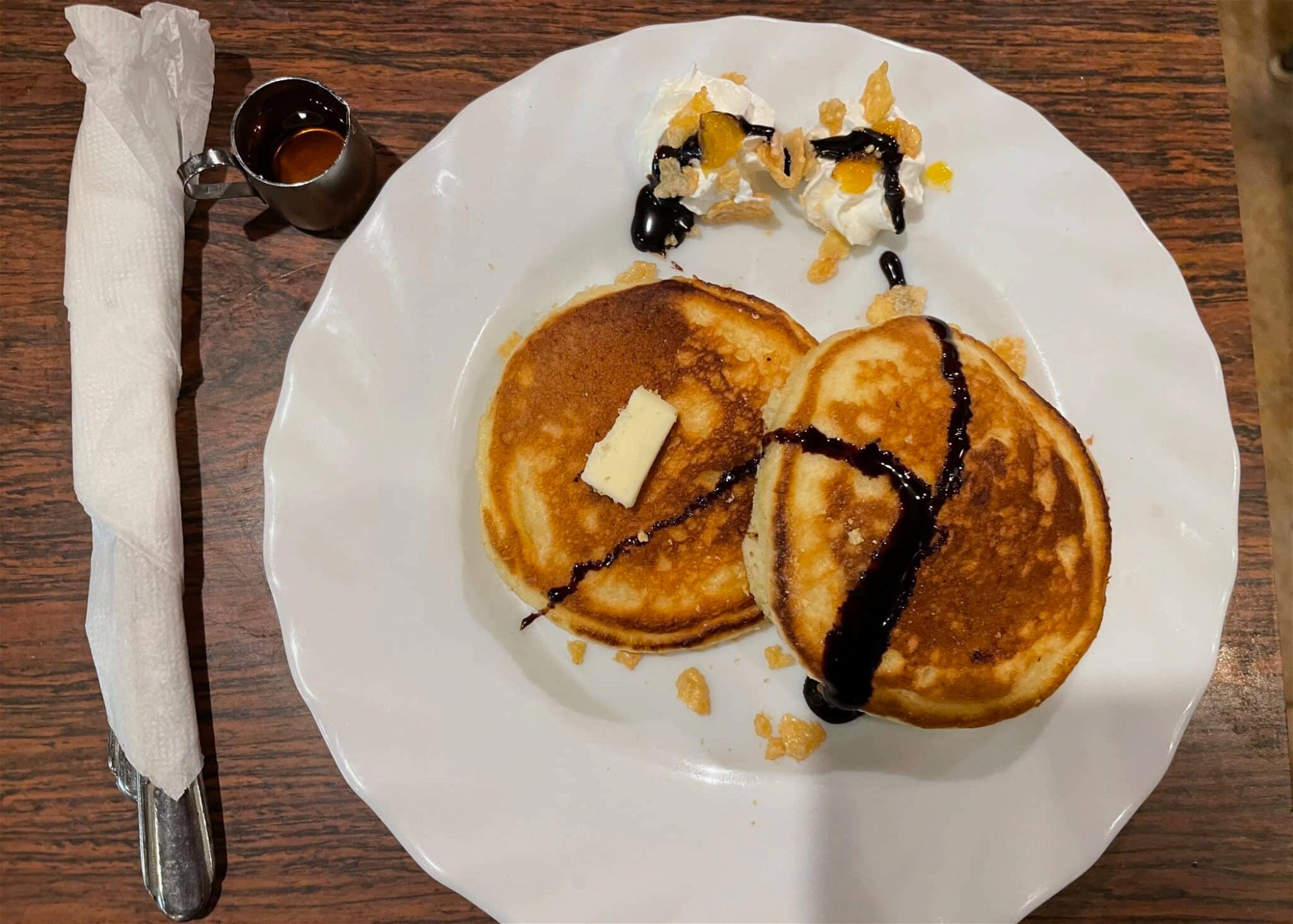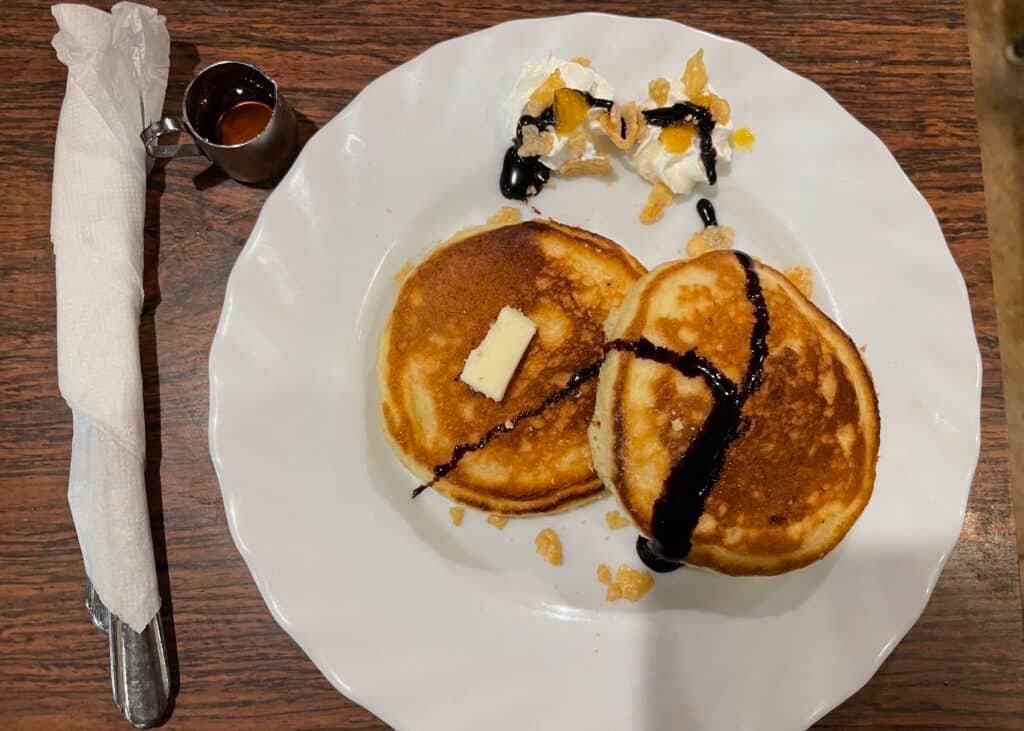 Smoking has been banned in Osaka but customers can still smoke at older shops such as this one since it has been grandfathered in.
Wes Wesson:"Matt, MAN! I feel like I just stepped back into 1974 and the home of my youth. For one, everything back then was either green, yellow, and orange, often a mix of all of it. Then take my Dad, he was a chain smoker. Smoke ingrained itself in EVERYTHING. Can you smell that? I grew up with that smell in the carpets, drapes, covers, pillows, even my clothes. My mother hated him for it."
"Years after he stopped smoking the place smelled just like this," Wesson continues. "Yet somehow, its nostalgic for me—just like this fan and old TV! It's like wafting into the nicotine stained past on cigarette smoke. But listen, all l the places clear up through the 80s were like this. Smoke was everywhere. For better or worse, it made these places what they were and are—­those lost gems that are left like this old place. I like it. I think I'll stay here a while."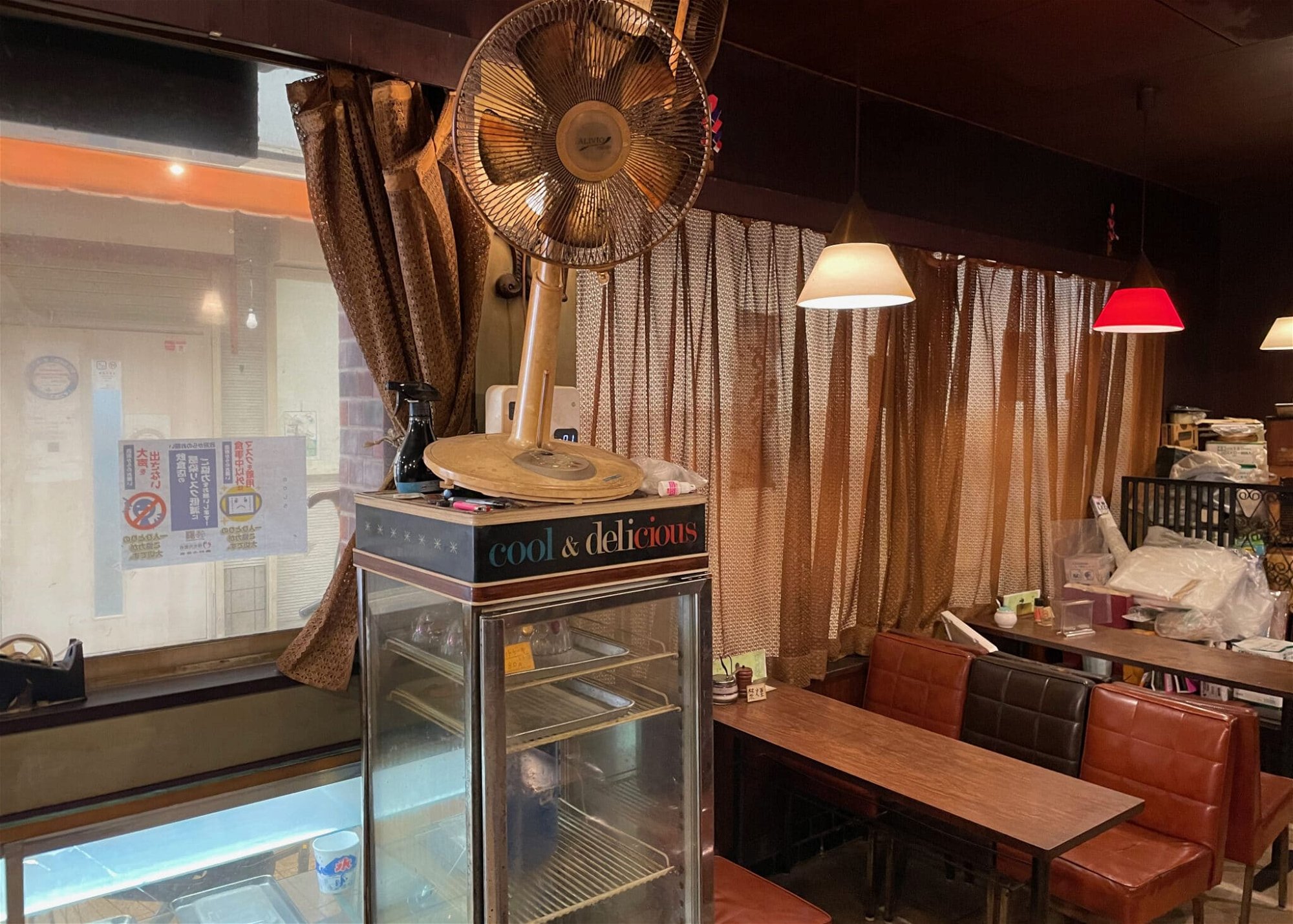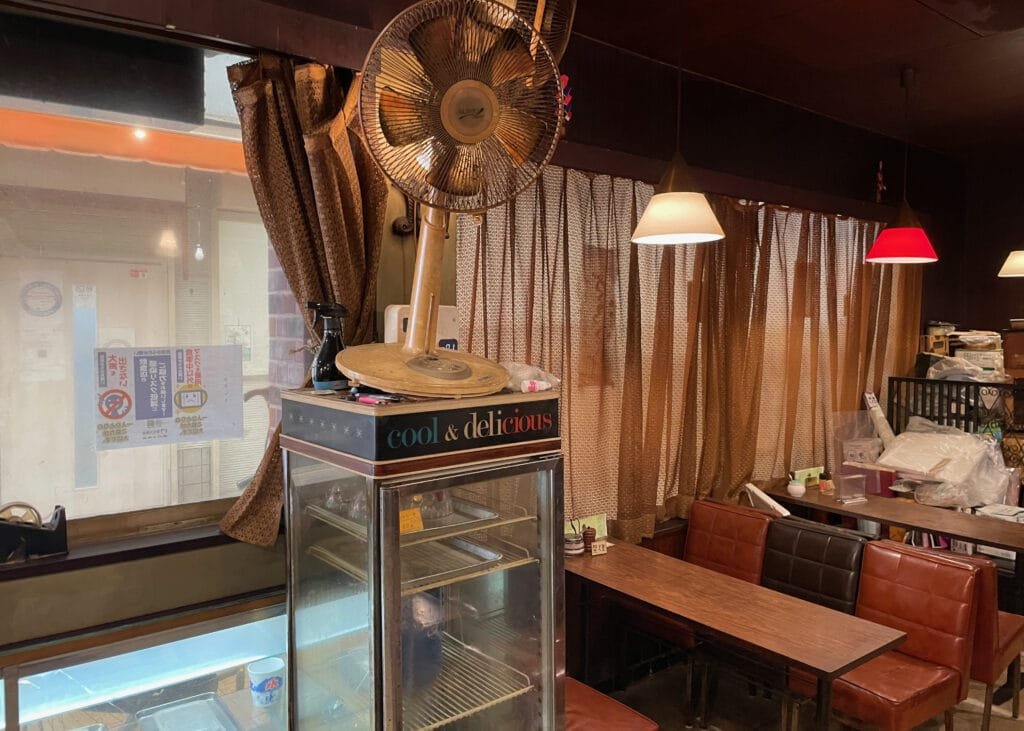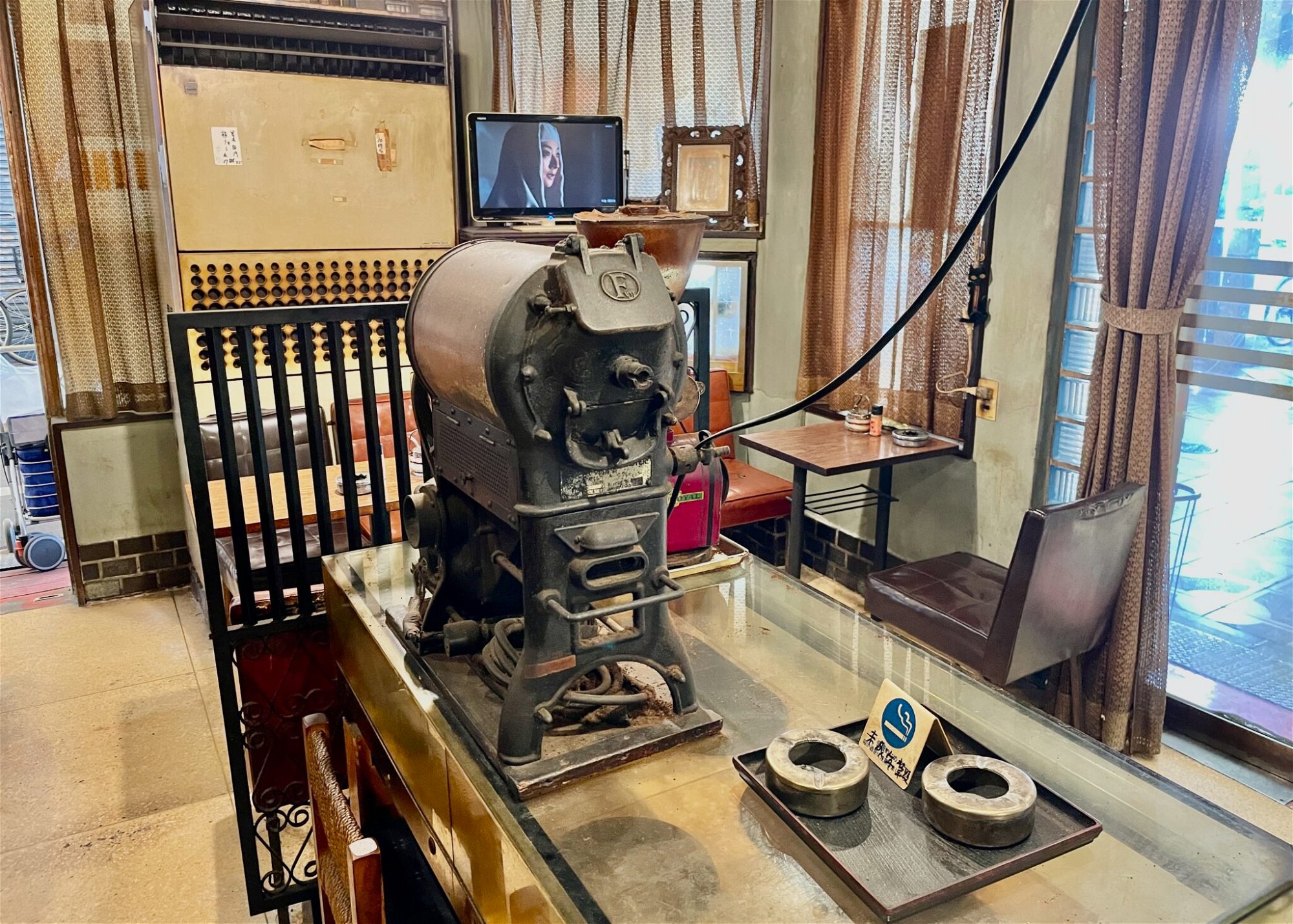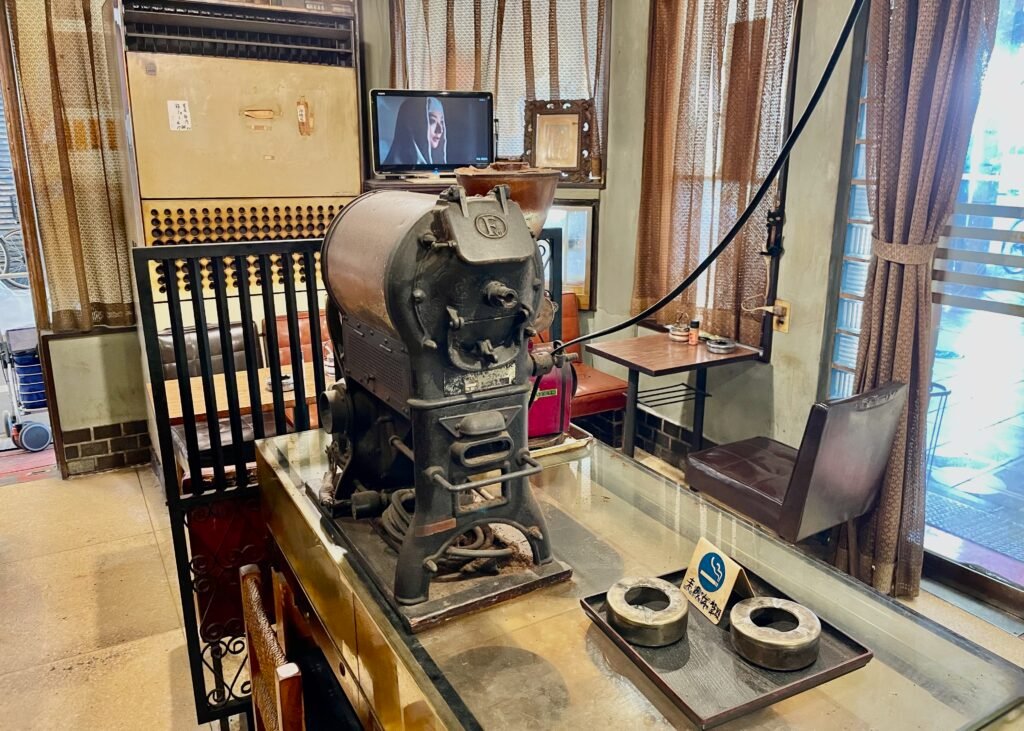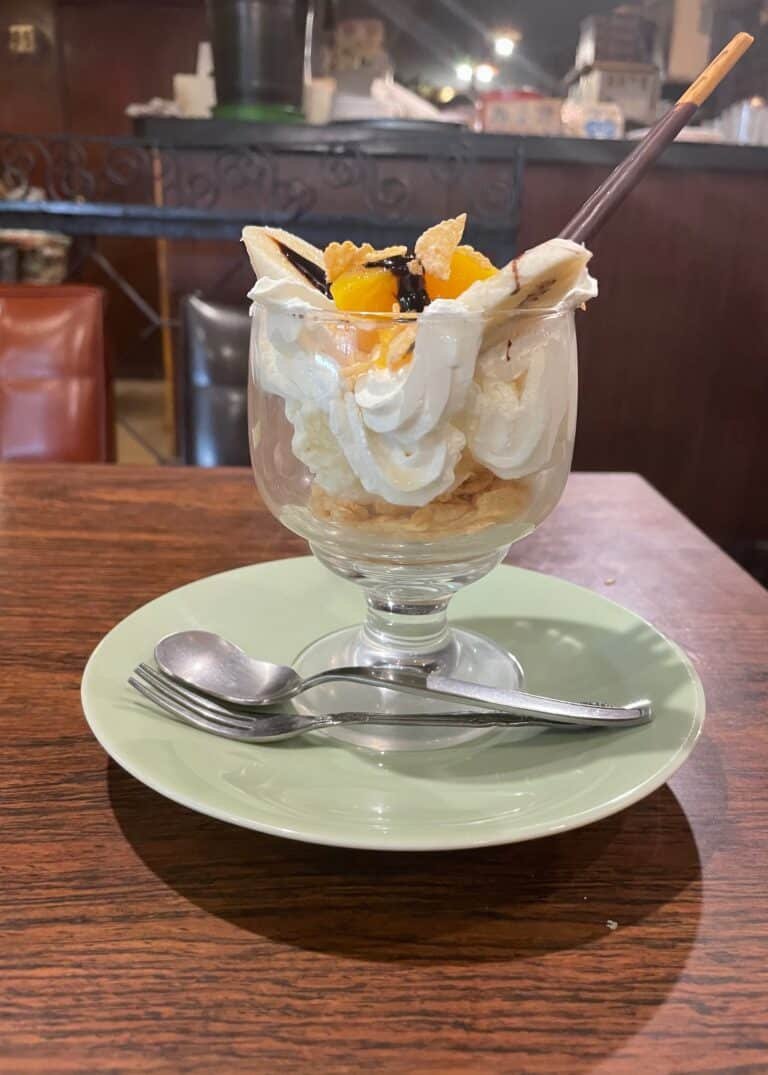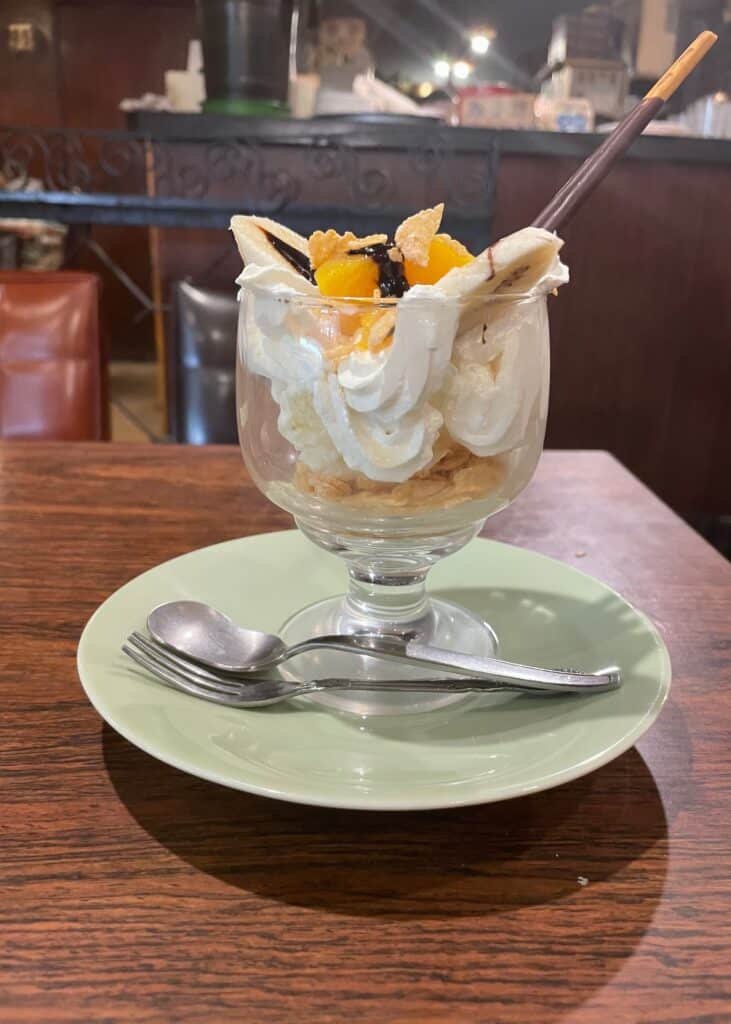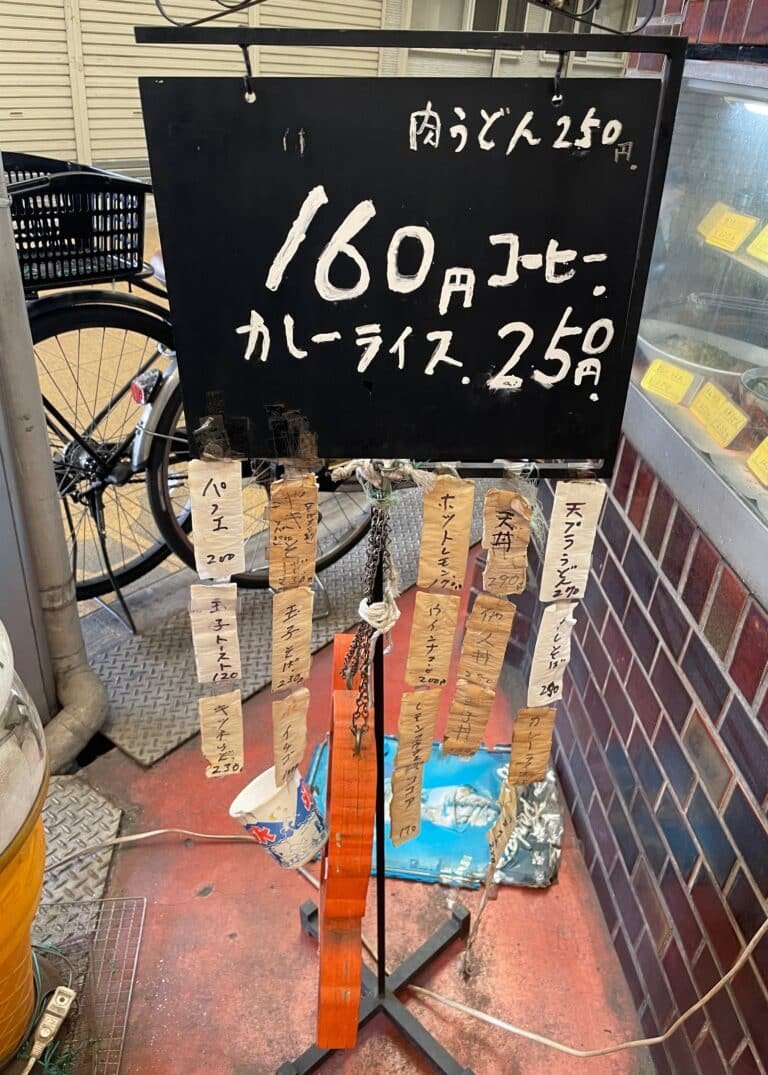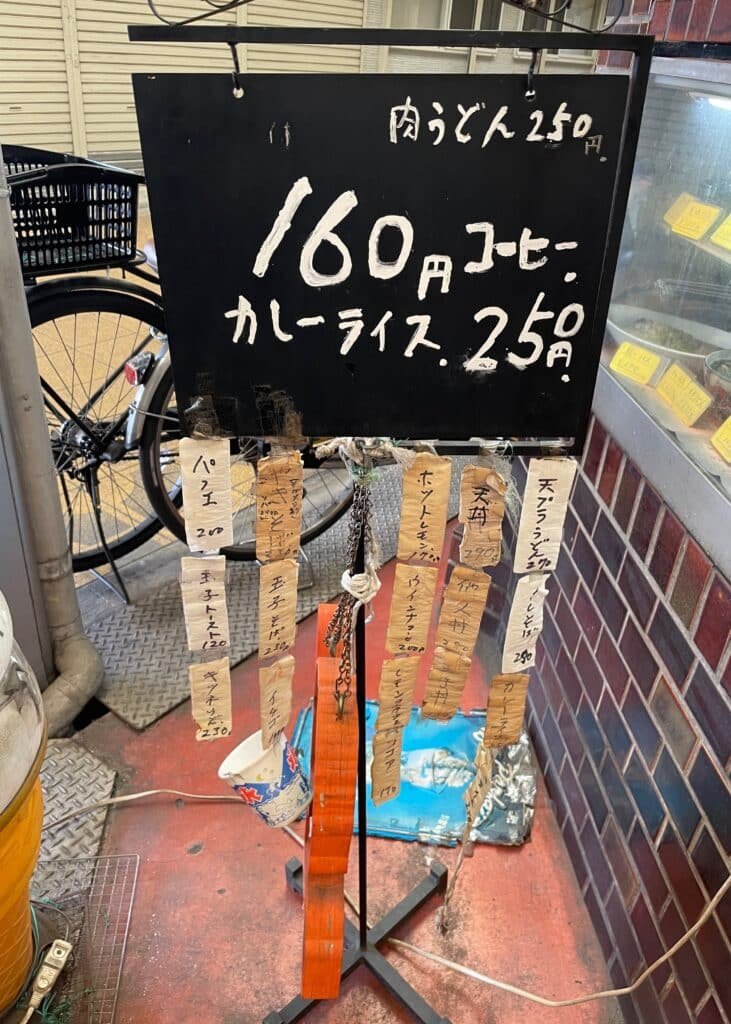 Watch a video of Coffee Shop Maruya below:
Hikari Shokuhin 光食品
Address:3 Chome-2-1 Tengach aya, Nishinari Ward, Osaka, 557-0014. Tel:06-6653-8764. Open:8:00-18:00. Closed: Sunday.
After leaving Maruya, Wes makes a beeline for small shop called Hikari Shokuhin that specializes in croquettes and fried food. He comes back with an order of ika tempura (squid tempura), which we wolf down quickly in a quiet corner of the shopping arcade. If you visit Kyoto's Nishiki Market, you will notice signs warning tourists not to walk while eating. In fact, they attempted to fine people 1,000 yen for walking and eating, but the plan backfired. There are no such signs in the Nishi Tengachaya shotengai because it receives few visitors from abroad.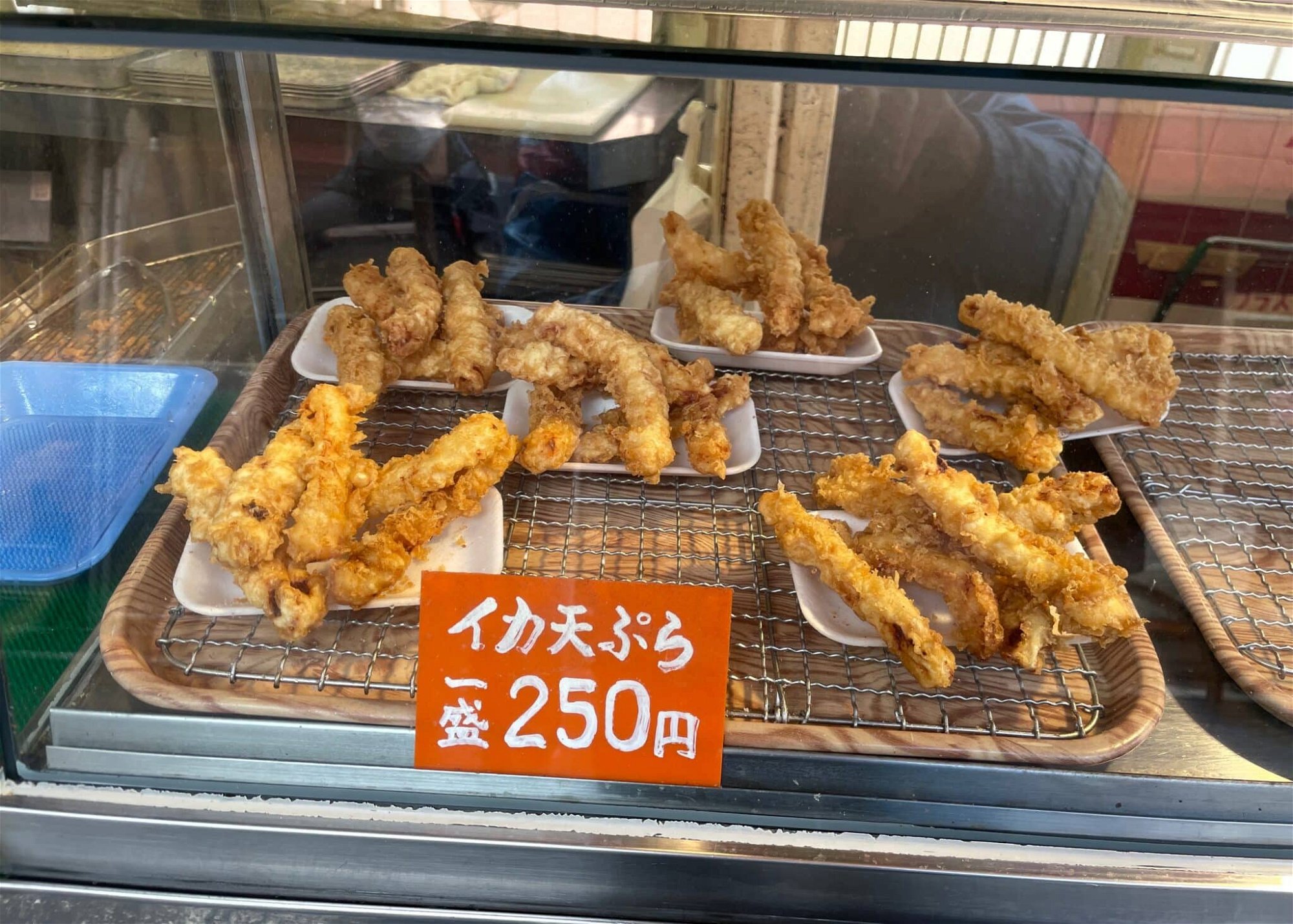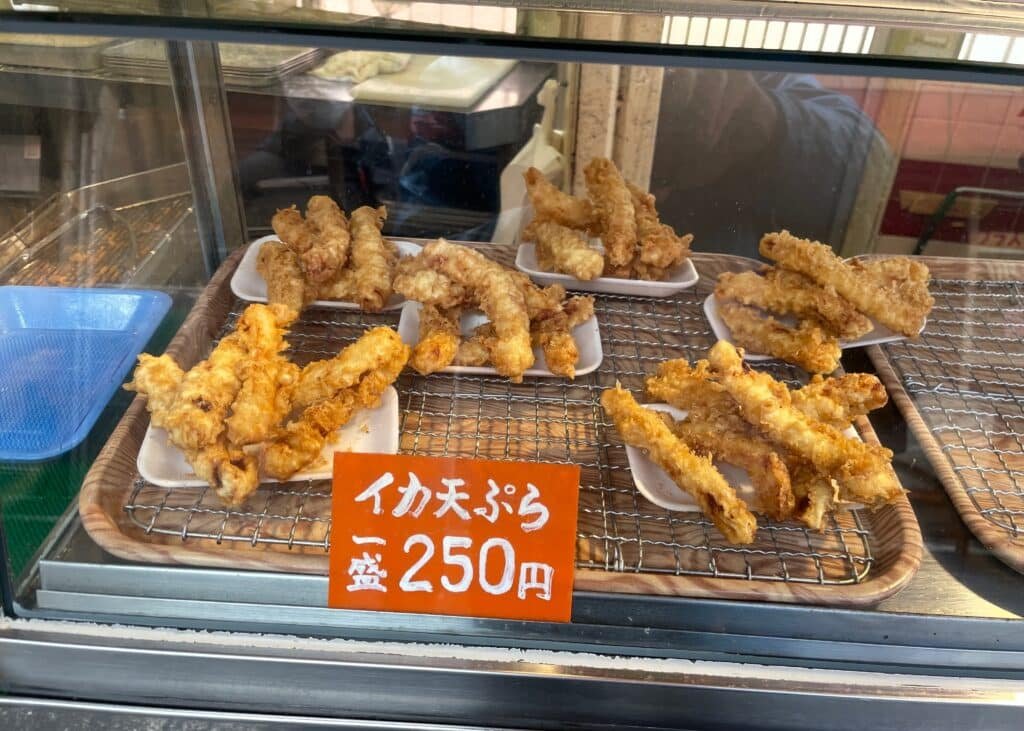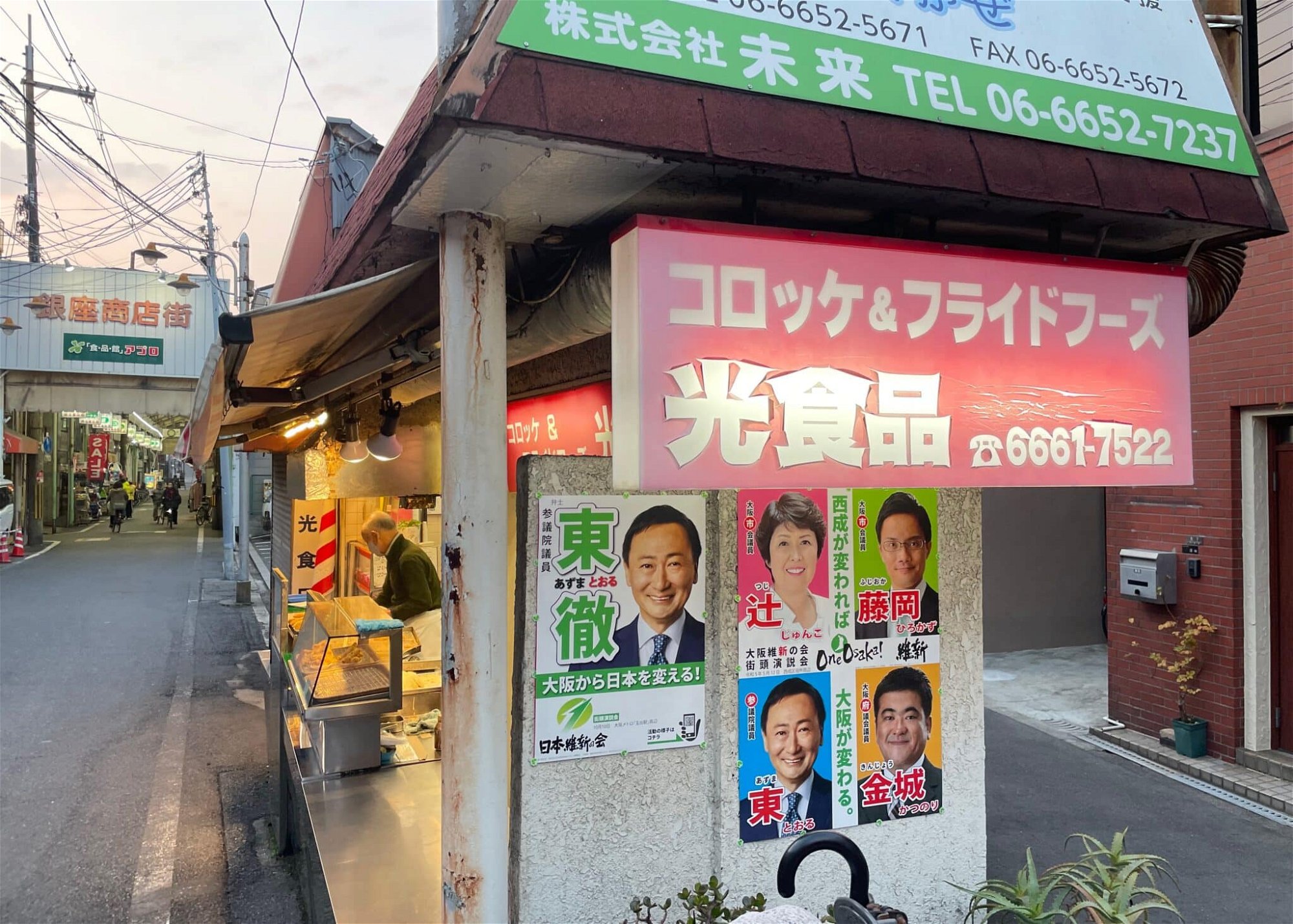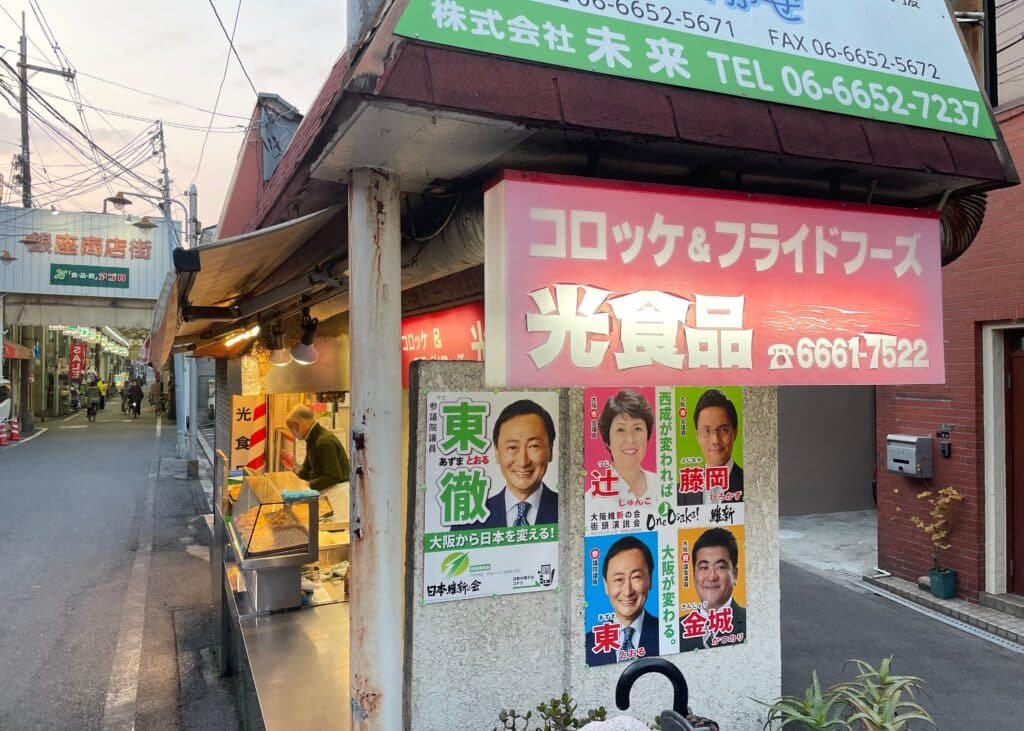 Santa Andagi Akiyama サータアンダーギの店 あき山
Address:3 Chome-13-2 Tachibana, Nishinari Ward, Osaka, 557-0051. Tel:.06-6651-6815 Open: 10:00-18:00. Closed:Sunday.
Akiyama is another small shop that sells ikayaki (a squid pancake) and sata andagi, a sweet doughnut-like deep-fried buns that originated in Southern China (called Sa-yung) and later spread to the Japanese prefecture of Okinawa. They are also popular in Hawaii, where they are usually just called "andagi." Wes was stationed in Okinawa in the late 80s so I have to pick up a couple in honor of his service. Another winner, but I'm worried we are outpacing ourselves with too much fried food in such a a short time. I make a mental note to slow down but sometimes it's hard with so many tasty treats calling out to us.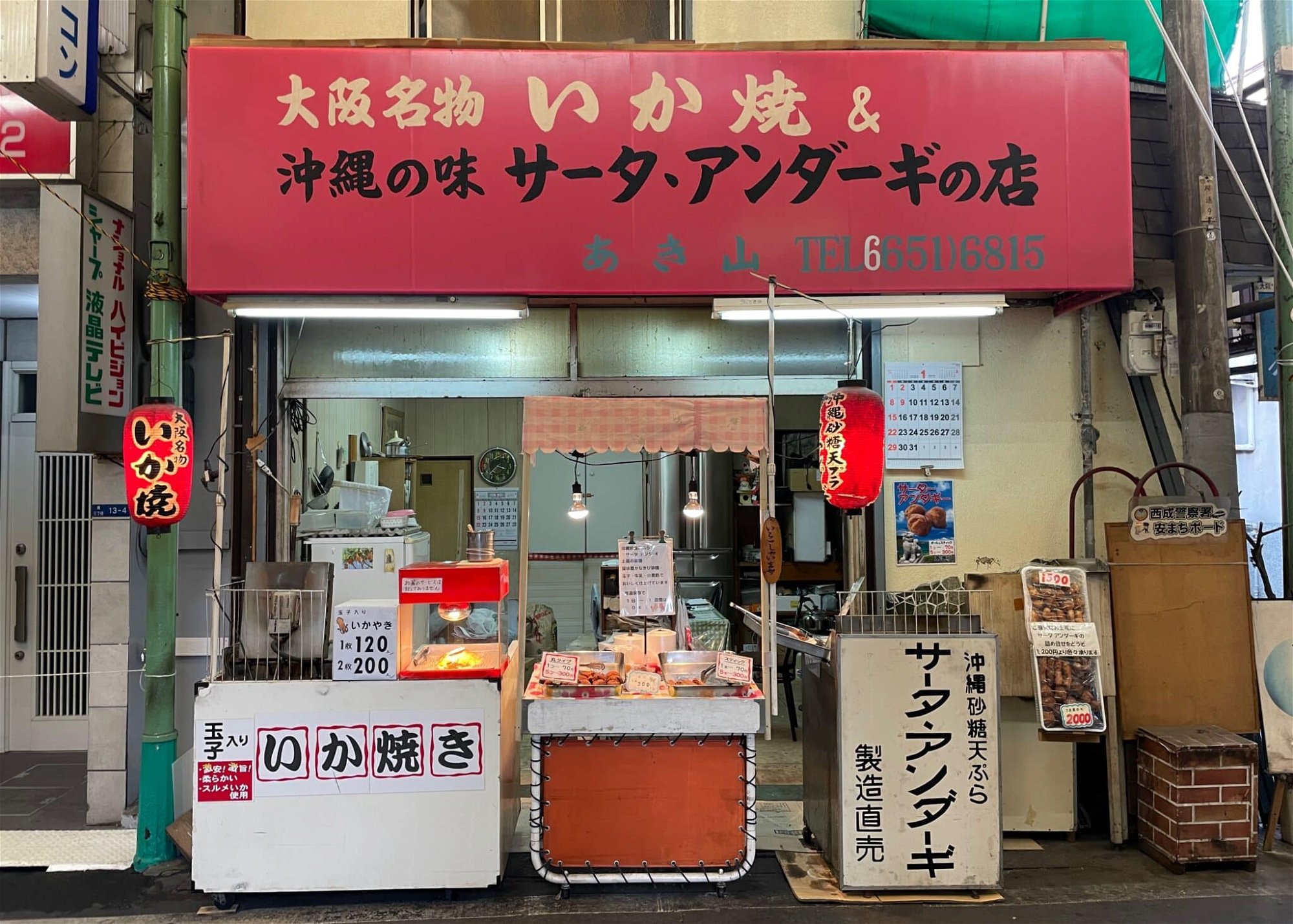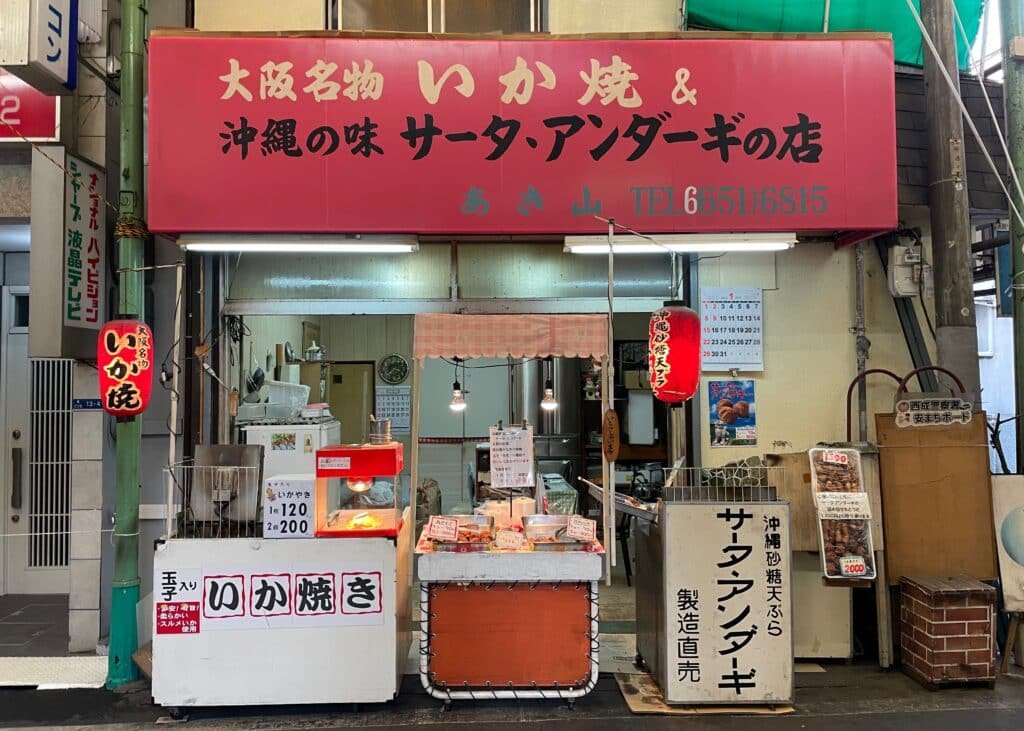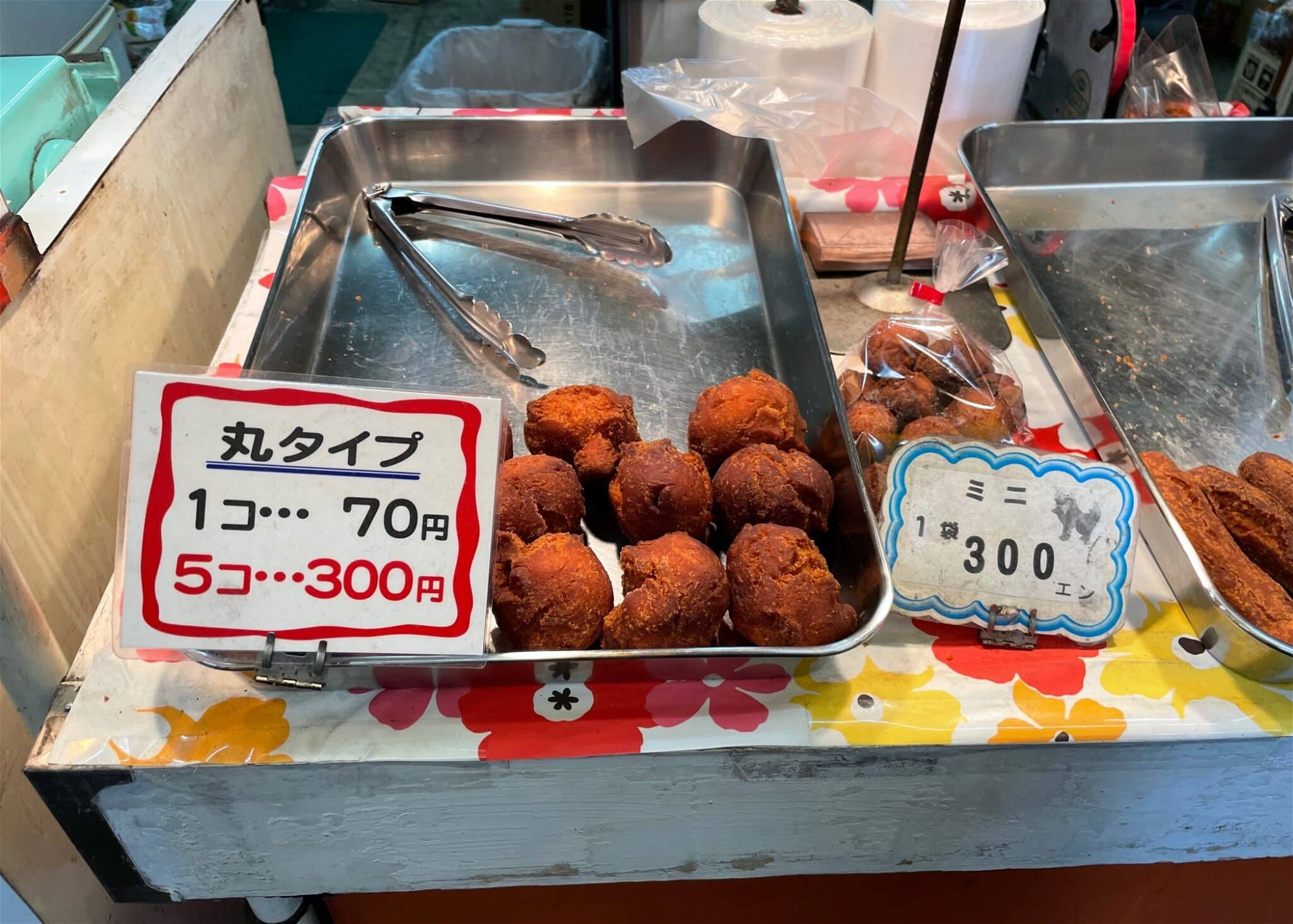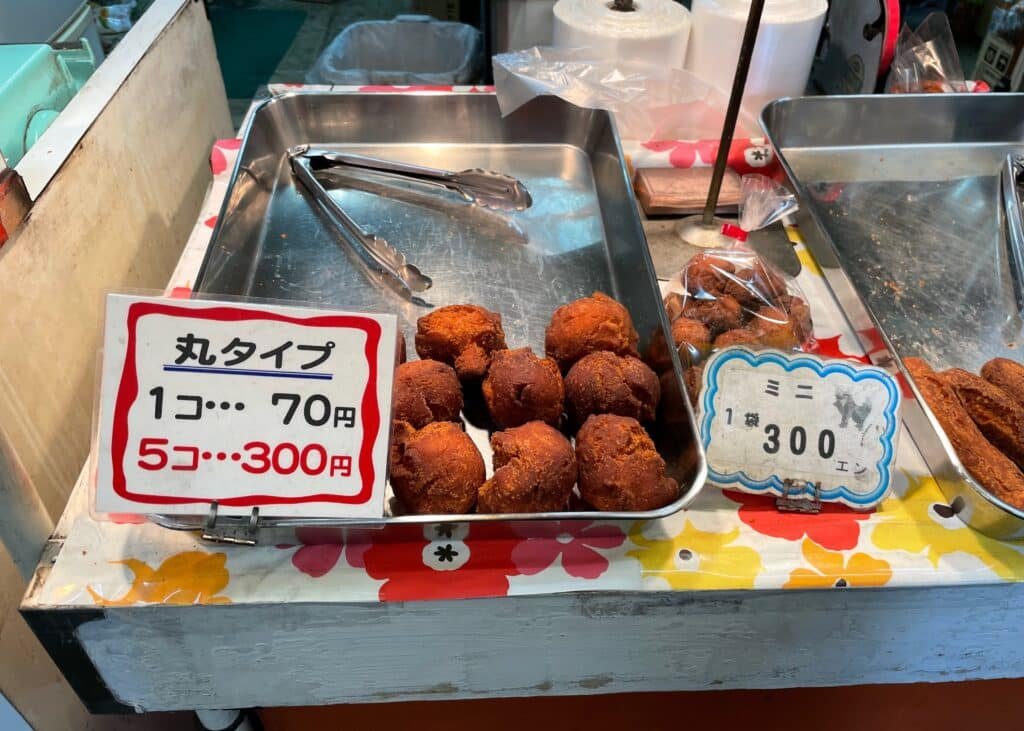 Wachiman 和知万
Stop the Presses! New information has come to light less than 24 hours before publication.
I've been running into a drinking buddy named Yoshio at several bars in Nishinari since 2014. And every single time he recommends a tachinomiya called "Watchman, which I could never find. I assumed that it was a standing bar that had something to do with watches. I've tried looking up ウォッチマン but never got a result.
I went to a restaurant for lunch with my wife yesterday and Yoshio walked in the door. We got to talking about Watchman again. Finally, he said, "Let's just go there after we finish eating."
So we walk towards Nishi Tengachaya. I tell him that I am writing an article about Nishi Tengachaya and the deadline is tomorrow. We arrive at the standing bar and it turns out that the name is actually "Wachiman (和知万).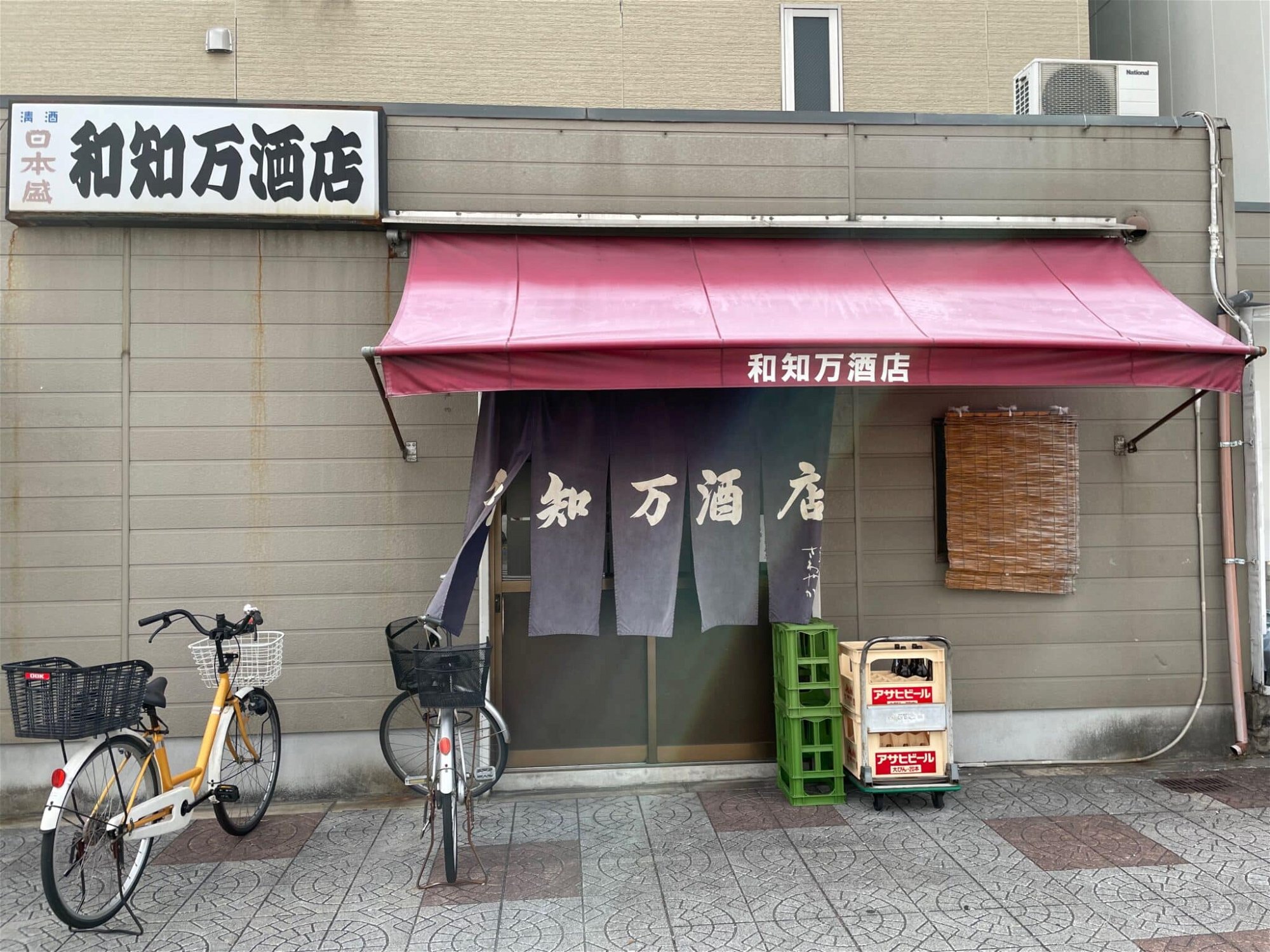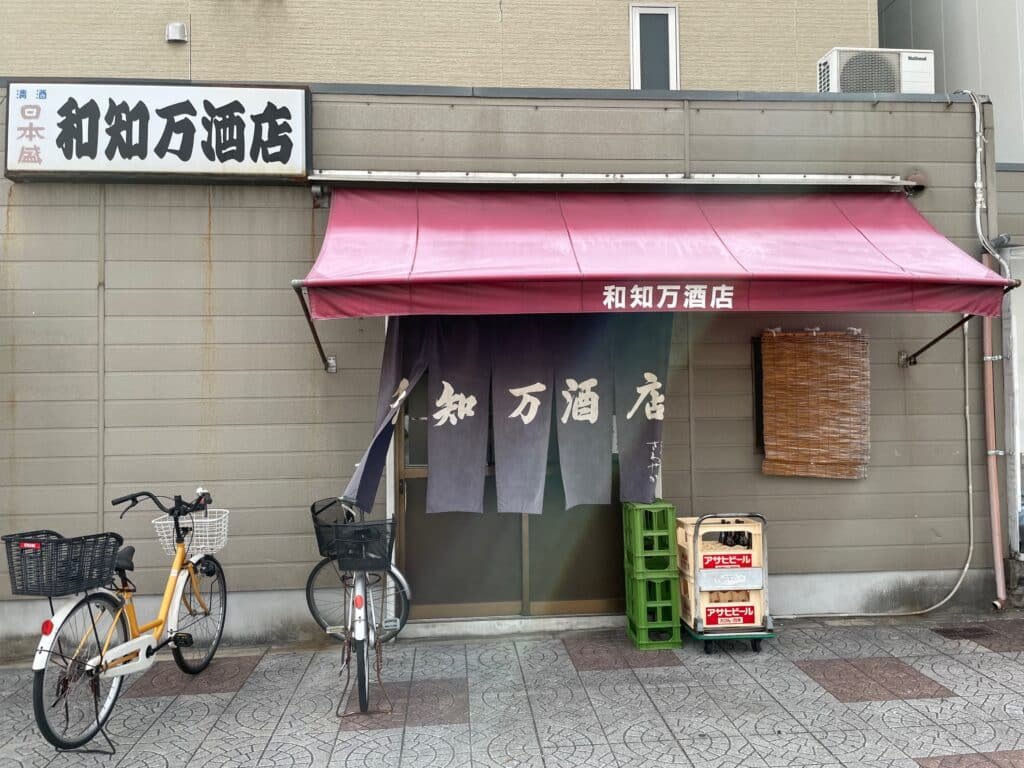 My jaw dropped. THAT's Watchman?!! I must have walked by it a dozen times. We go inside and the owner explains that Wachicho was the name of a town in the Funai District of Kyoto that was merged with other towns to create the town of Kyotemba in 2005. The added the kanji "man" (万) to the name for financial prosperity.
There is a counter in the shop for about 8-9 people and a small table on the right side where customers can sit. We ordered the doteyaki which was cooked in soy sauce instead of the usual miso. The yakitori (sauce and salted) was also excellent. We also had boiled tofu with the shops homemade mix of ponzu and Okinawan chili peppers (shima togarashi). Draft beer is only ¥350. Will definitely come back.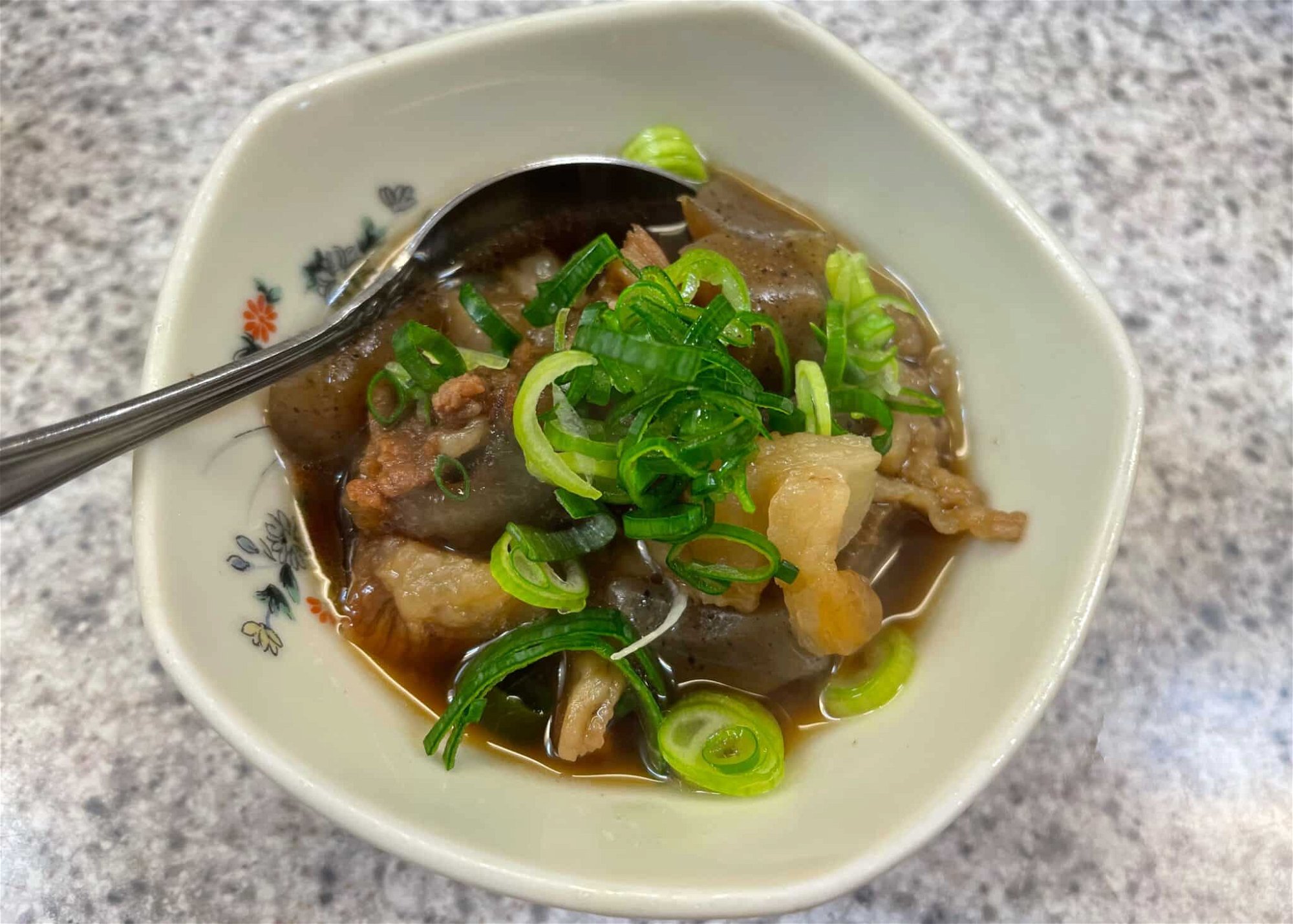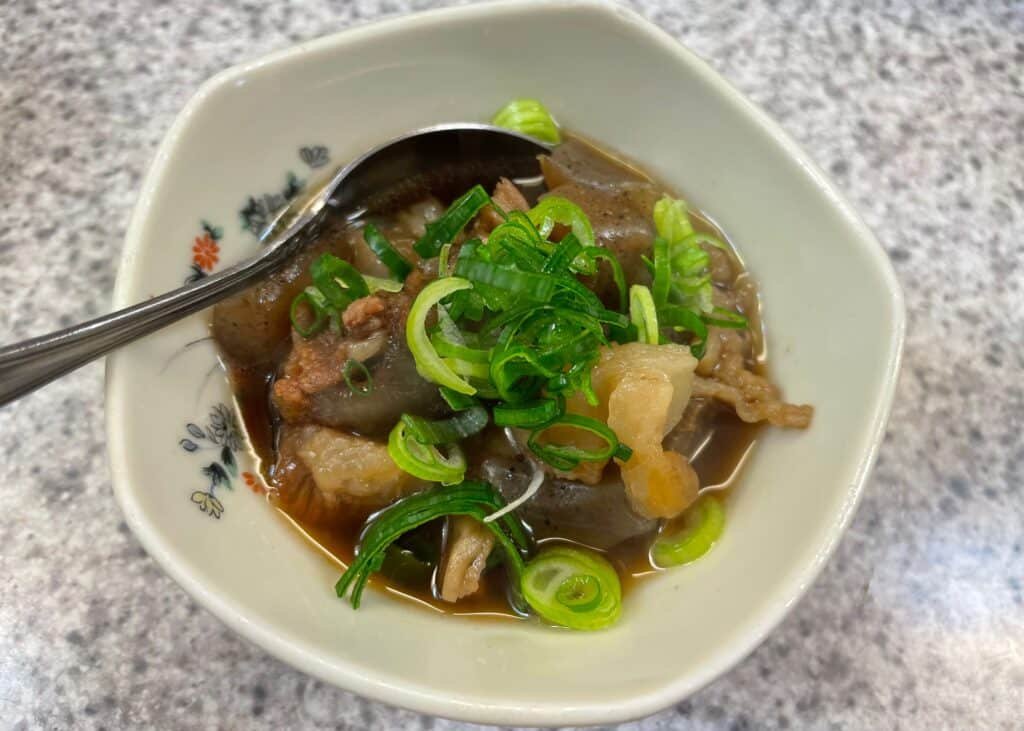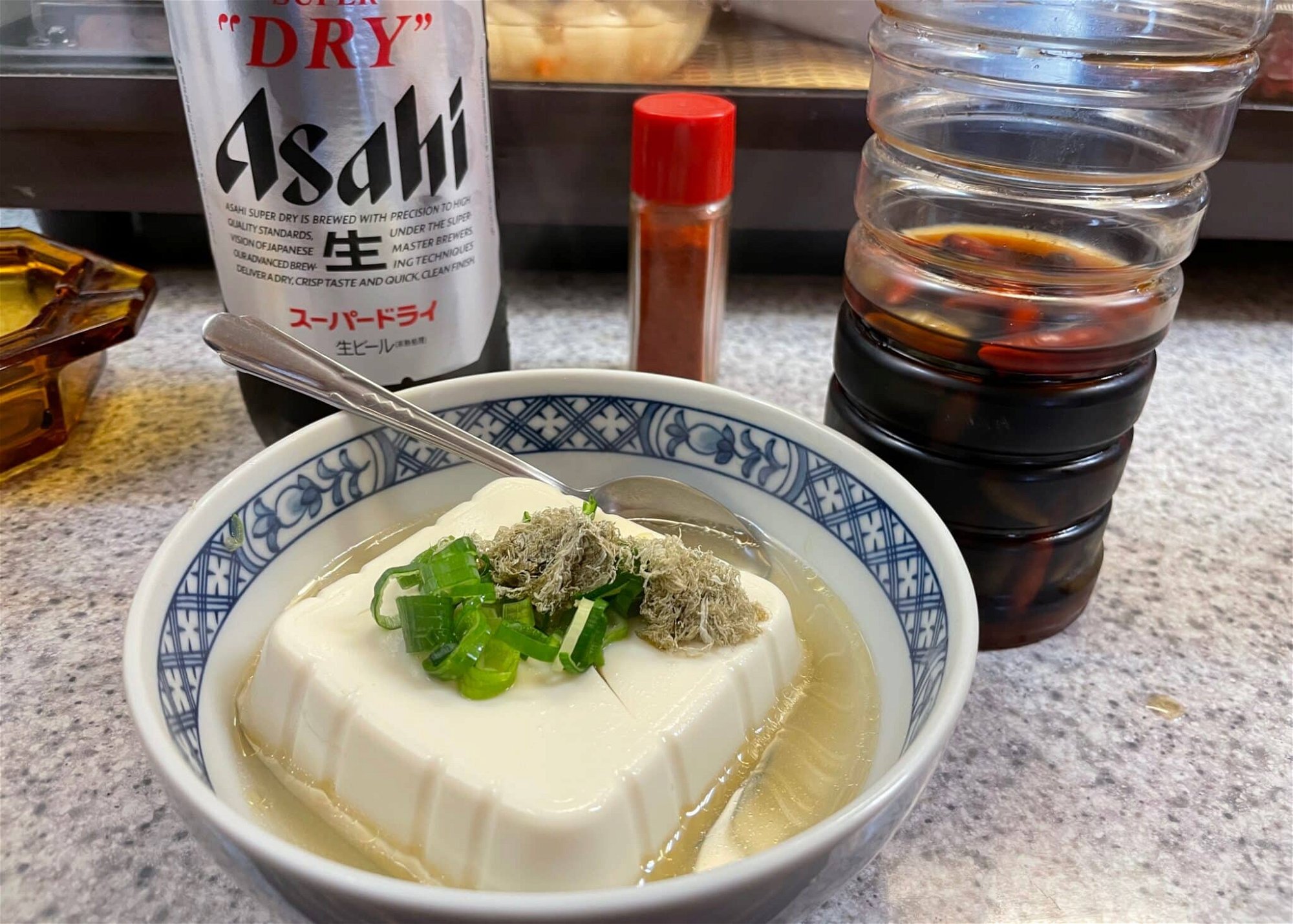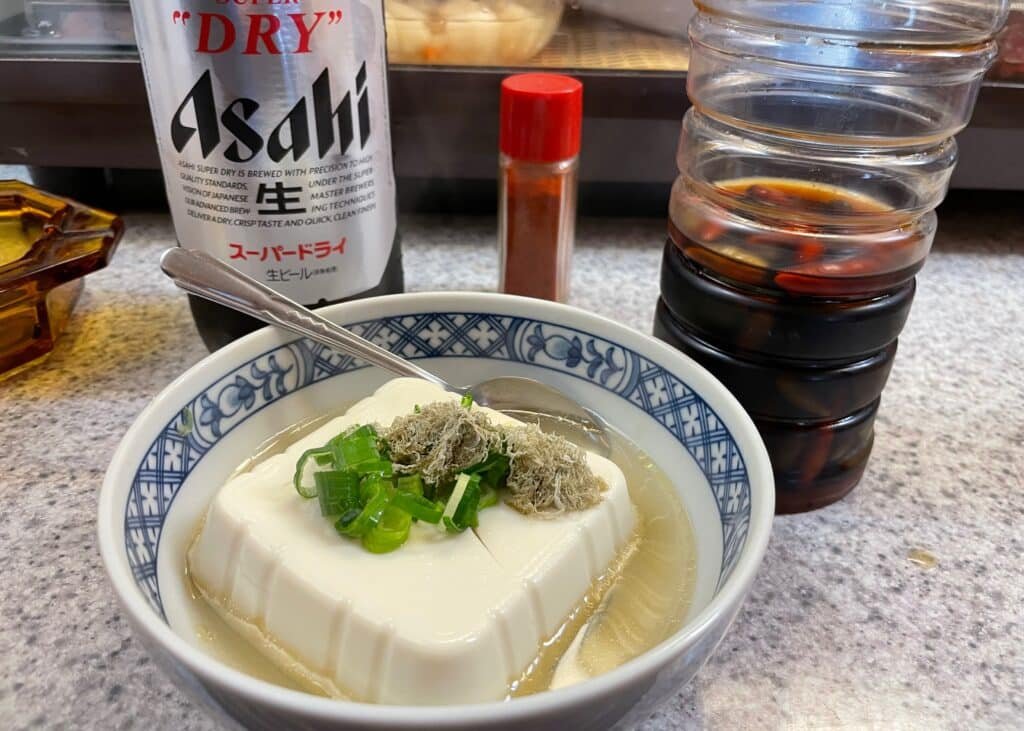 Nostalgic Vending Machines 
Wes and I are always on the lookout for unsual vending machines whenever we visit a shitamachi (downtown) neighborhood. On the side of Akiyama (see above) you can fill up an empty plastic bottle with water for only 50 yen. There's a machine next to it that converts 100 yen coins into two 50 yen coins in case you don't have the exact change. This is a great way to save money and reduce the use of plastic bottles, but I've never seen one of these machines outside of a supermarket.
We also spot some old gachapon machines. The Japanese onomatopoeia "gachapon" is composed of two sounds: "gacha" for the sound of a toy vending machine's crank rotating, and "pon" for the sound of the toy capsule dropping into the receptacle. Both the machines themselves and any toy obtained from them are referred to by this term. If you look carefully you can see that one of the machines sells candy cigarettes.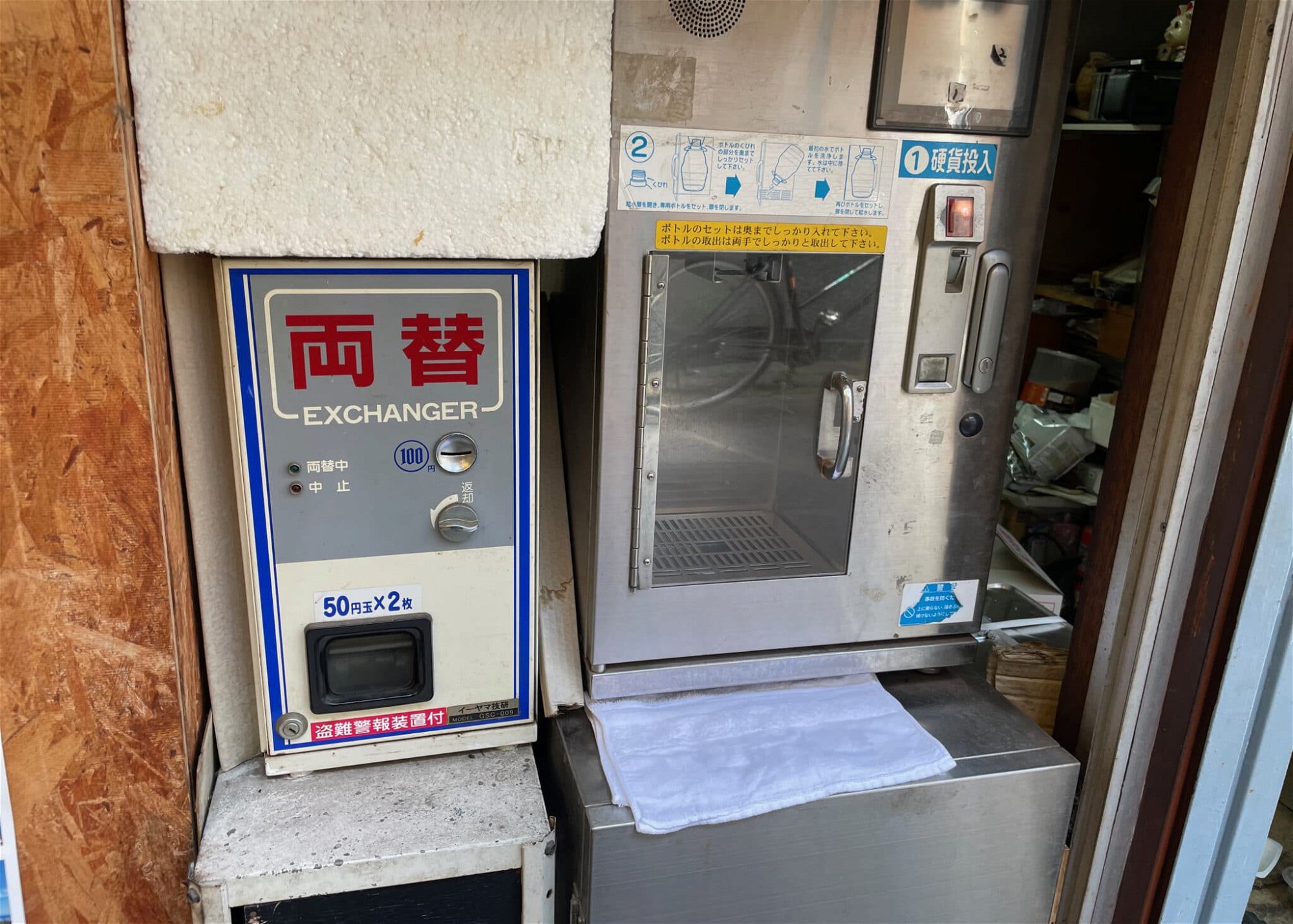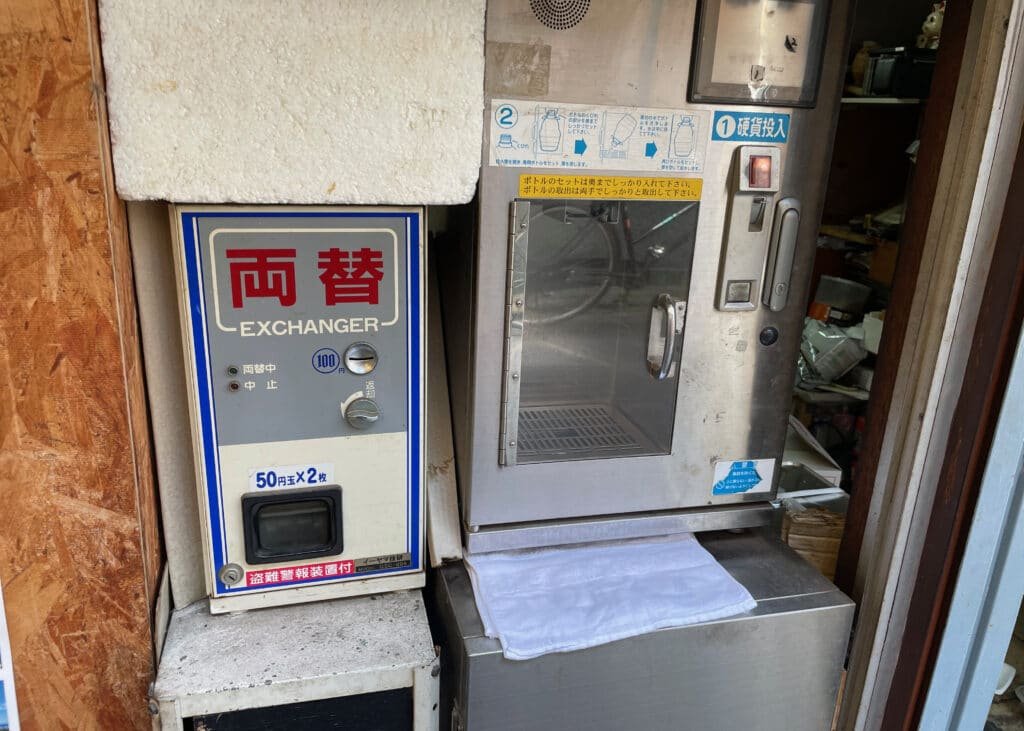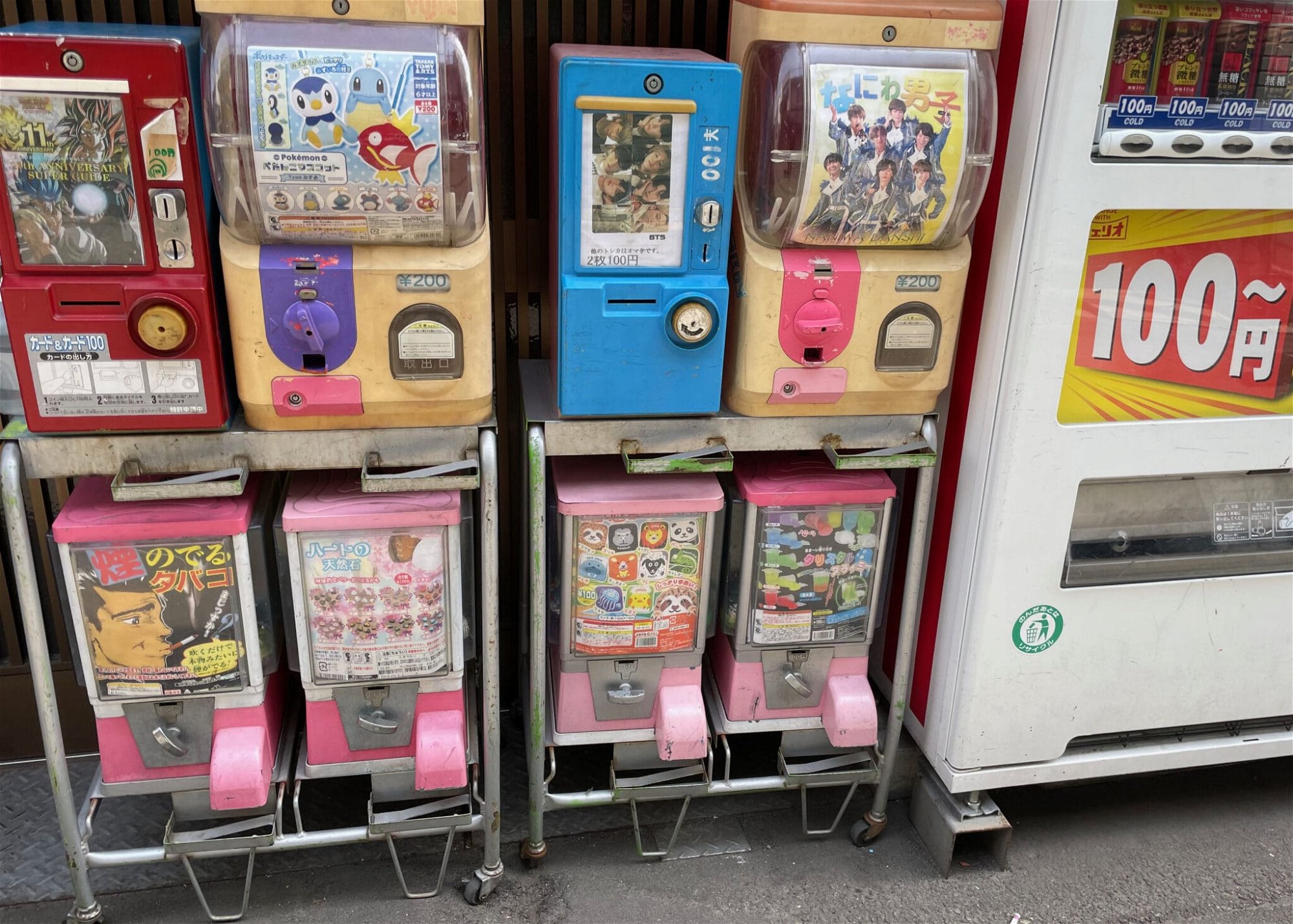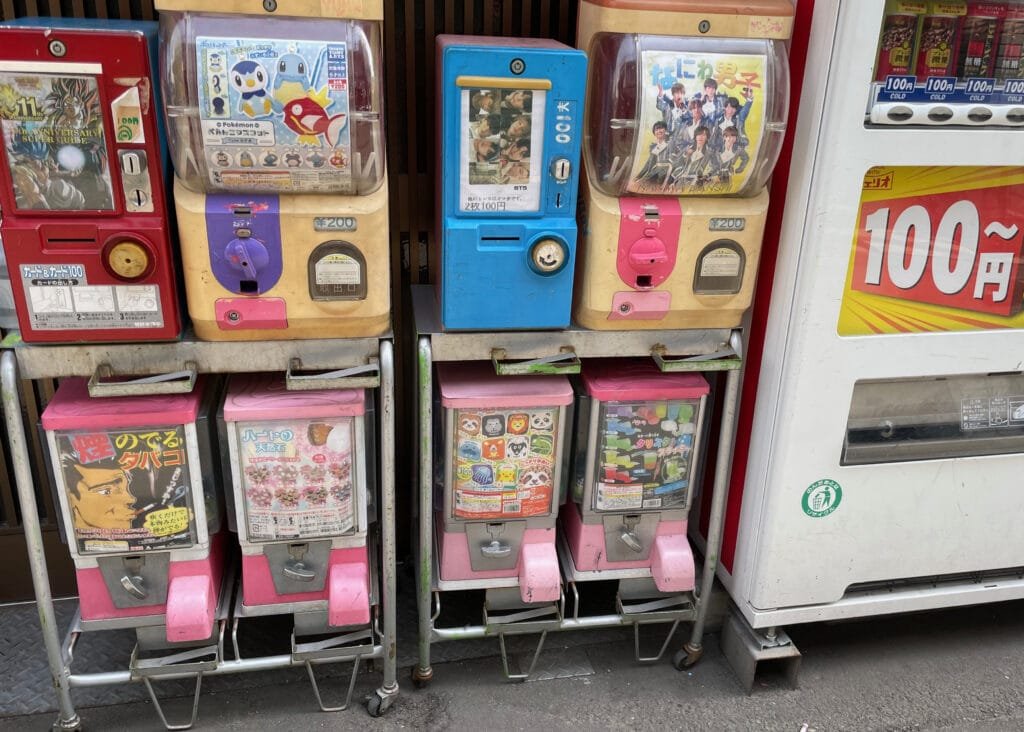 Exploring Pre-War Buildings
When discussing local Osaka history, I occasionally hear the word "barakku" (バラック). It is common to think of this as "military barracks," but in this case it refers to "shacks" or "shanty towns." During WWII, fire bombings destroyed much of what is now Nishi Tengachaya, and shanty towns sprang up in the bombed out remains of the town. These shacks were frequently remodeled into homes and shops over the years. Pre-war structures can still be found in this area if you know where to look.
Wes is a carpenter by trade and often remodels old buildings. He's developed an expertise in identifying pre-war buildings and structures. I know very little about carpentry or architecture so I am going to give him the floor like a pro wrestler slapping the hand of his partner during a tag team match.
Wes Wesson: "You can always tell a pre-war building-those that survived the bombing, from a post war building. Take this one, look up into the eaves, matching lumber, of a size they don't mill today, stucco with flecks of shell in it of a design from many built circa 1930s.
Go down this alley here and follow my lead. All these you'll notice are post war. Timbers are mismatched, stucco is thin, you can see the chicken wire through the stucco indicating only a bare amount of stucco was used. I see this all the time when I'm remodeling old buildings. I often am asked to remodel a first floor of an old place and they might ask me for a ceiling fan install. Well, I have to go upstairs, lift the tatami, and got though the second floor to get access the ceiling first.
So I pry up the old floor boards and I'm struck with the mismatched, often half burned timbers and teruki or thin lathe boards used in the framing, a thing I also find in wall reconstruction. None of the dimensions match, looks slapped up by a non professional, and chinked with mud and full sheets of age yellowed newsprint dating 1946, 1947, 1948—amazing articles with pictures still intact, shoved into spaces as insulation.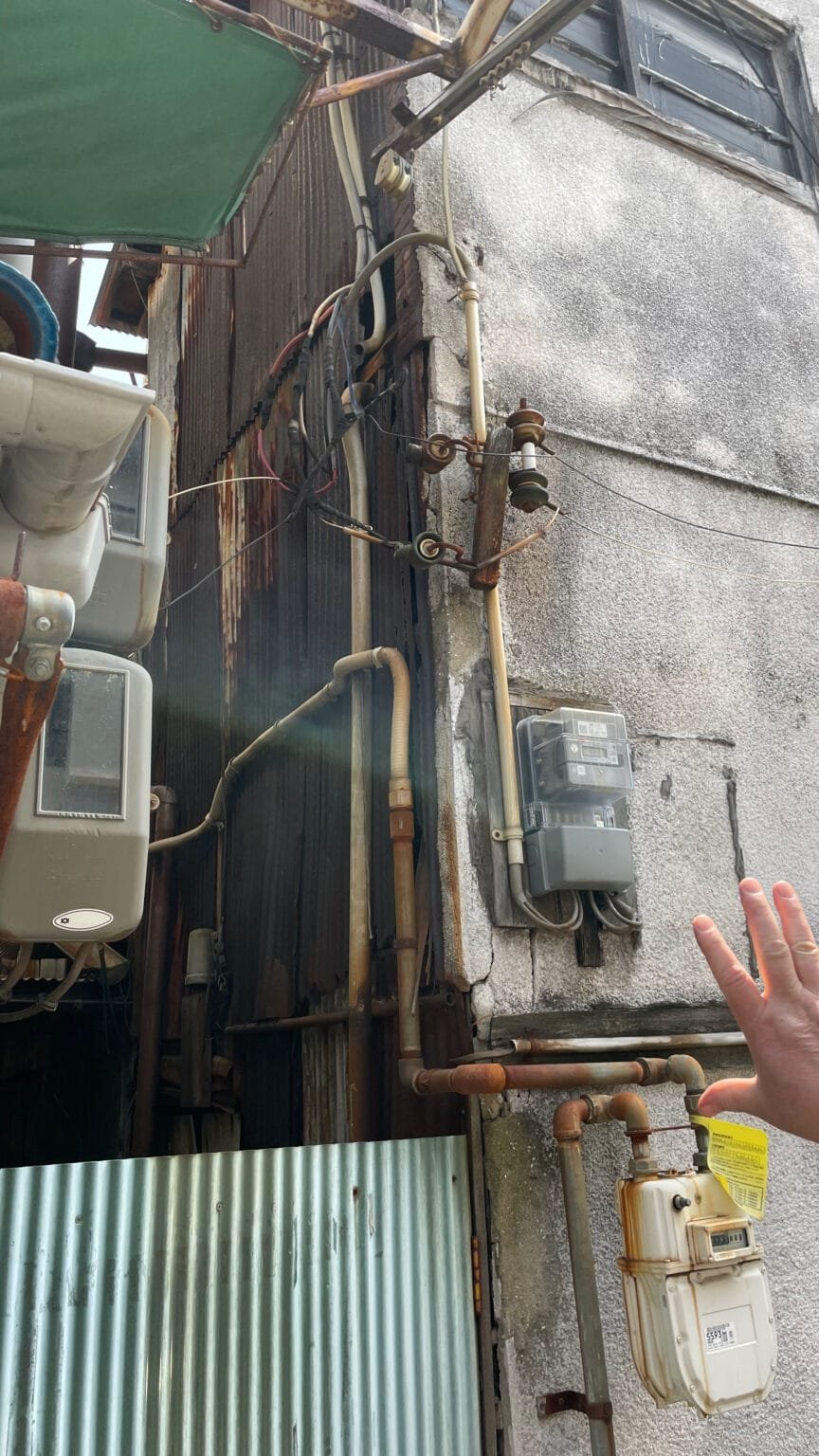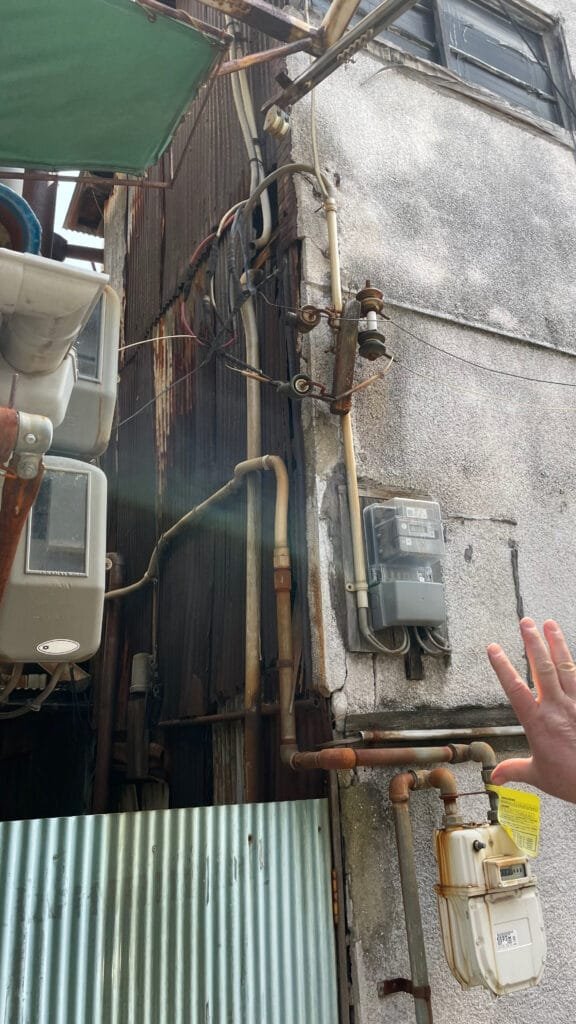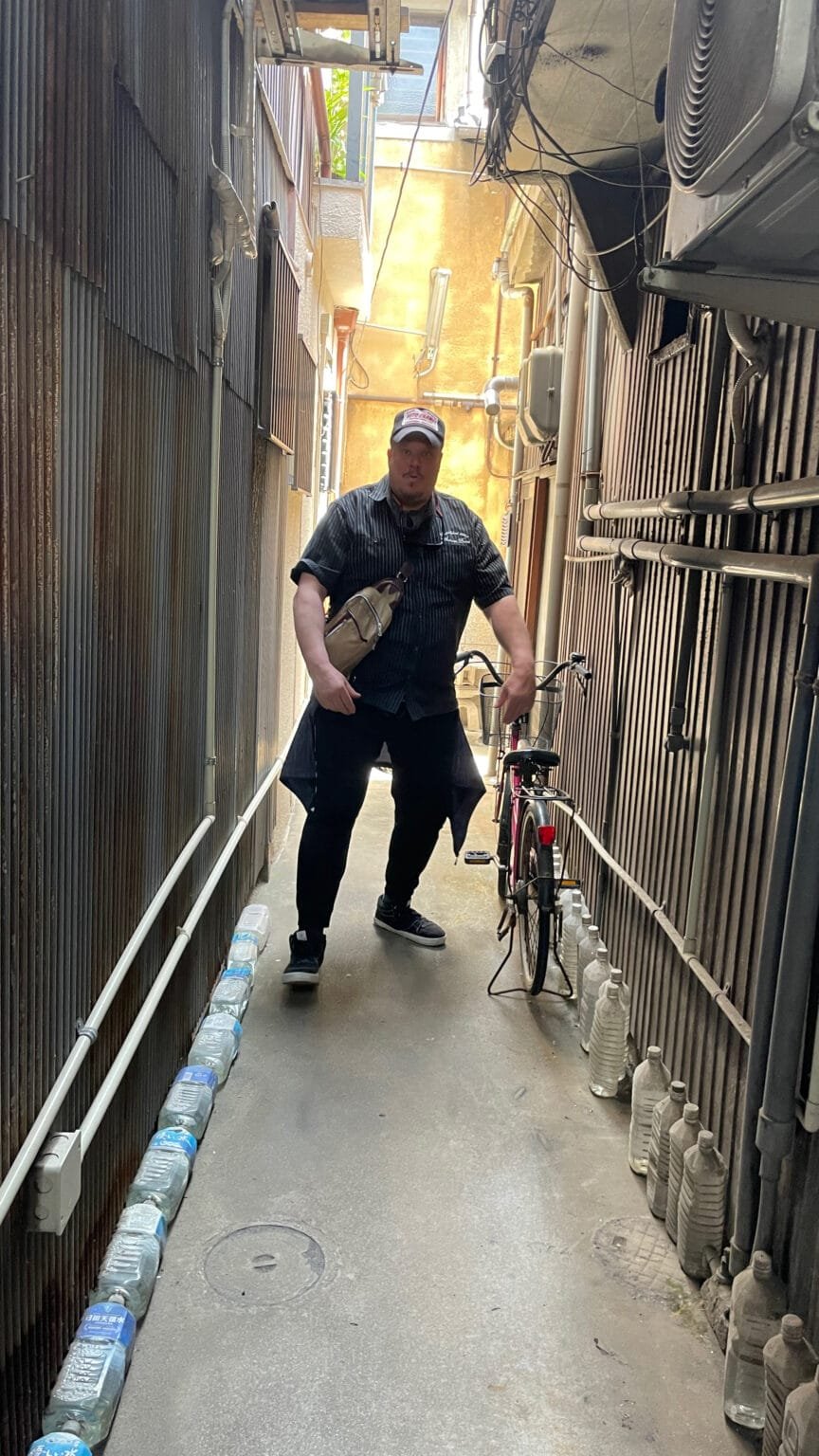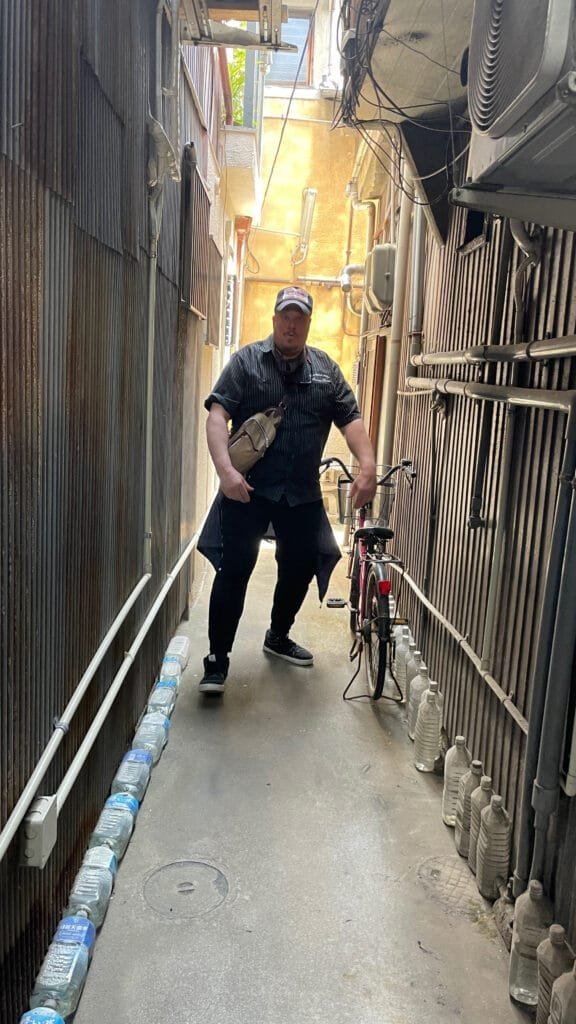 After 1945 and the bombings and fires, they rebuilt as rapidly as they could, often people helping each other with little to no carpentry experience. The main thing was, you couldn't just drive over to the lumber yard. They had to source their lumber from what was left of bombed out buildings, whatever the fires hadn't totally razed. Half burned timber? Better than nothing. So they propped up these buildings with anything they could get their hands on. They'd patch together and nail up chicken wire, and being traumatized by the fires, opted to stucco or cement their buildings, never to return to wood and paper—that's where all that started, see?
Now you have all these varying half stuccoed buildings over the landscape with totan corrugated metal sheeting if they couldn't get cement. It usually takes three coats of stucco to properly achieve a thick, even finish. A scratch coat is first applied over and pressed into wire or chicken coop wire, a brown coat, thicker across the dried scratch, then a final coat of finer cement over the top of a dried brown coat. Well, folks couldn't get nor afford that much material.
So the reason you often see these buildings with uneven coats is for the fact that folks would add to the scratch coat in subsequent years, slowly patching their homes with added coats. In addition to newspapers, I've seen inside walls insulated with old blankets, even women's kimonos ripped into shards and stuffed into the spaces. A veritable time capsule and museum in one."
Mori Shoten Vintage Toy Shop 森商店
Address:2-chōme-1 Senbonkita, Nishinari Ward, Osaka, 557-0053. Tel: N/A. Open: N/A.
The rise of suburban shopping malls and Amazon has rendered independently-owned mom and pop toy stores obsolete. Most children today have no idea what it was like to walk through the doors and be amazed by all of the toys on display. Imagine being able to travel back decades in time and purchase the toys you had as a child. Mori Shoten appears to be a typical toy store from the outside, but upon entering, you realize that everything they sell is vintage toys from the 1980s, 1990s, and early 2000s."Every last bit of this stuff puts tamagochi, purikura, and Pokemon Go! to shame," says Wes. I know it makes us seem old, but what can you do? We are children of the 1970s who were impressed by Pong and Mattel electronic basketball.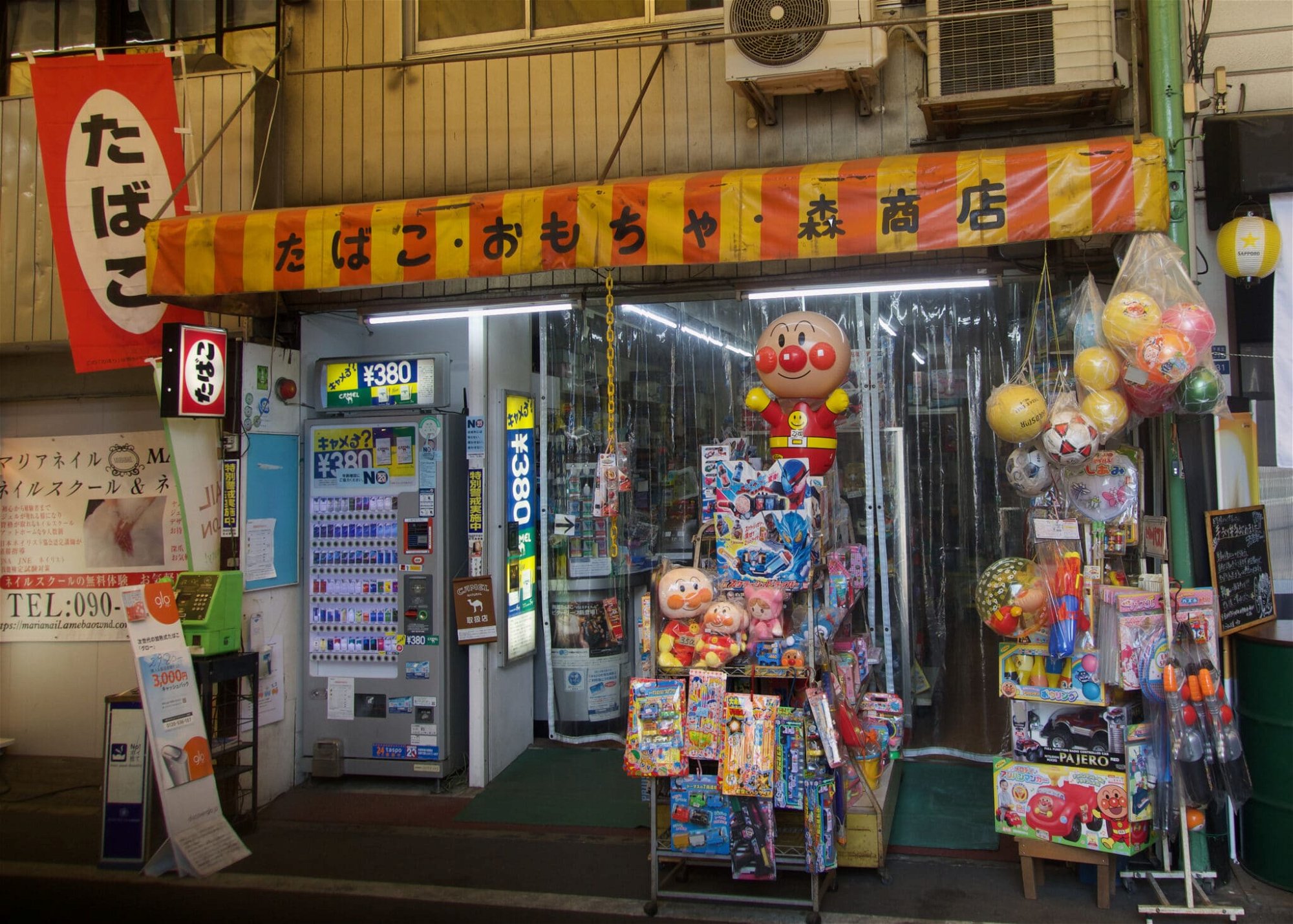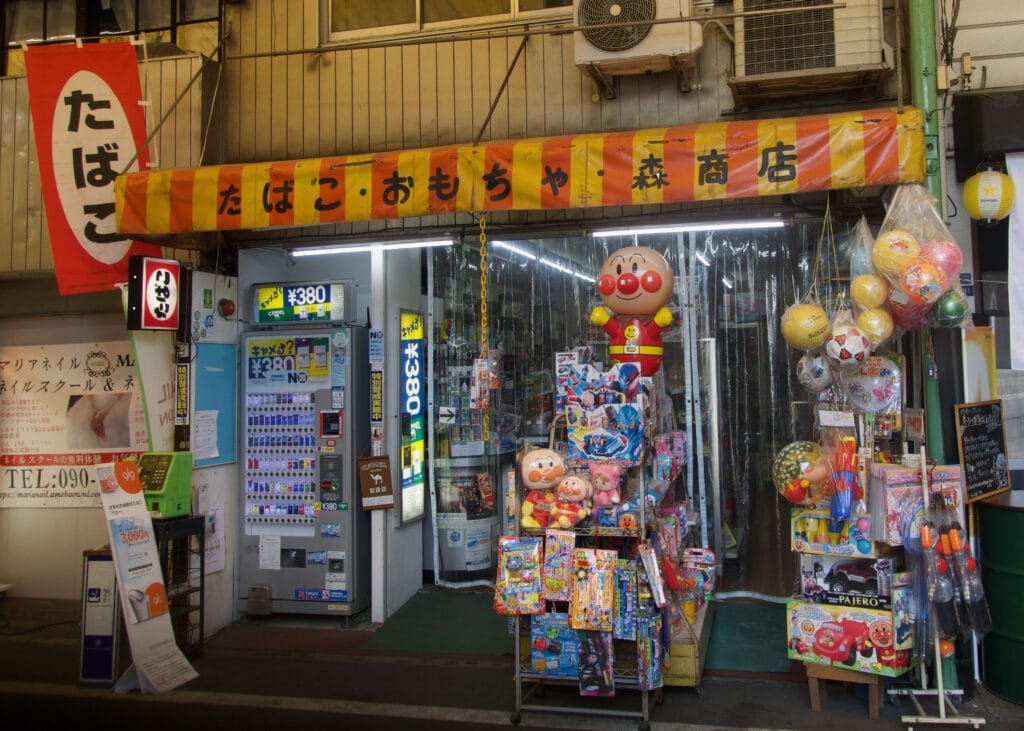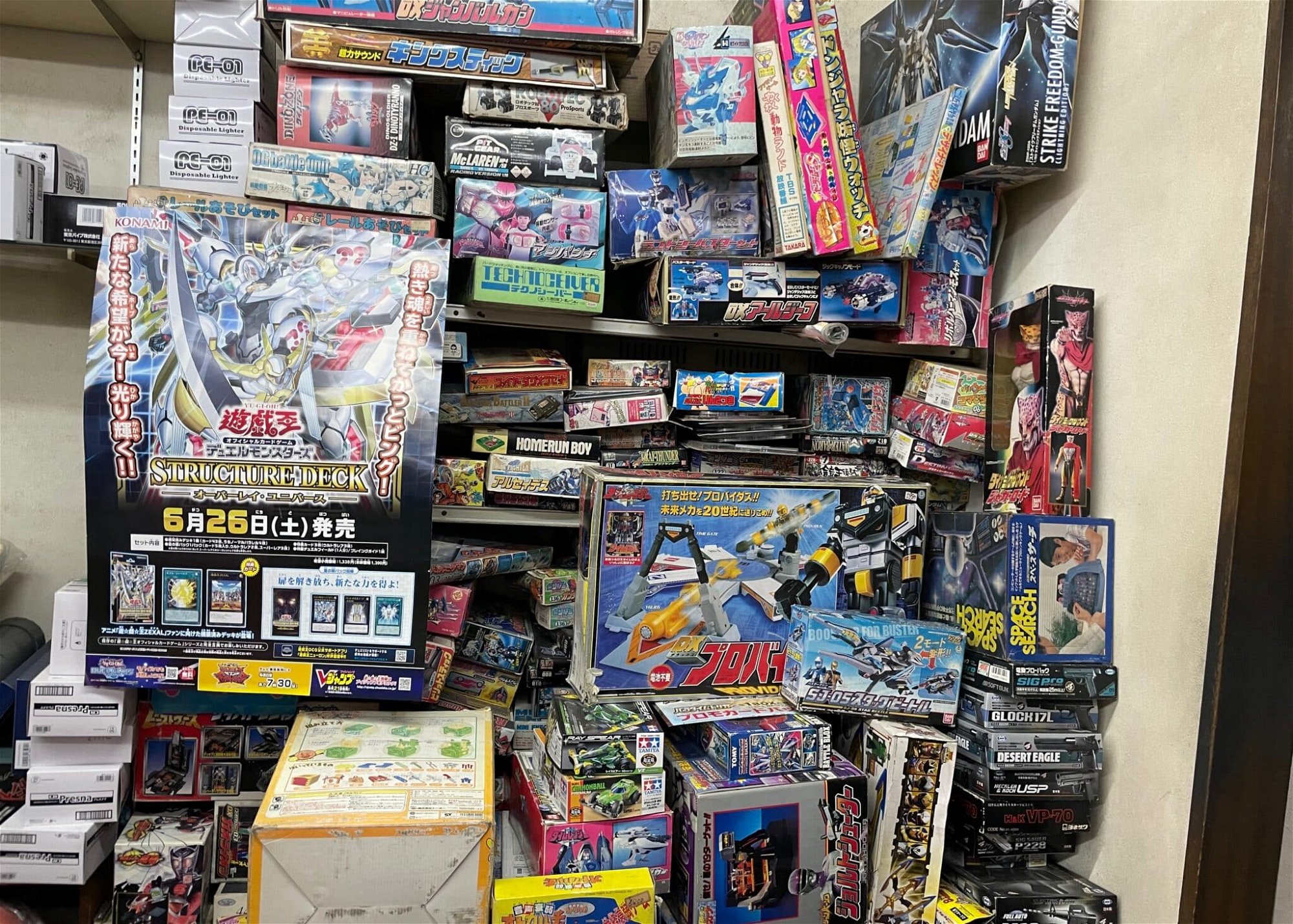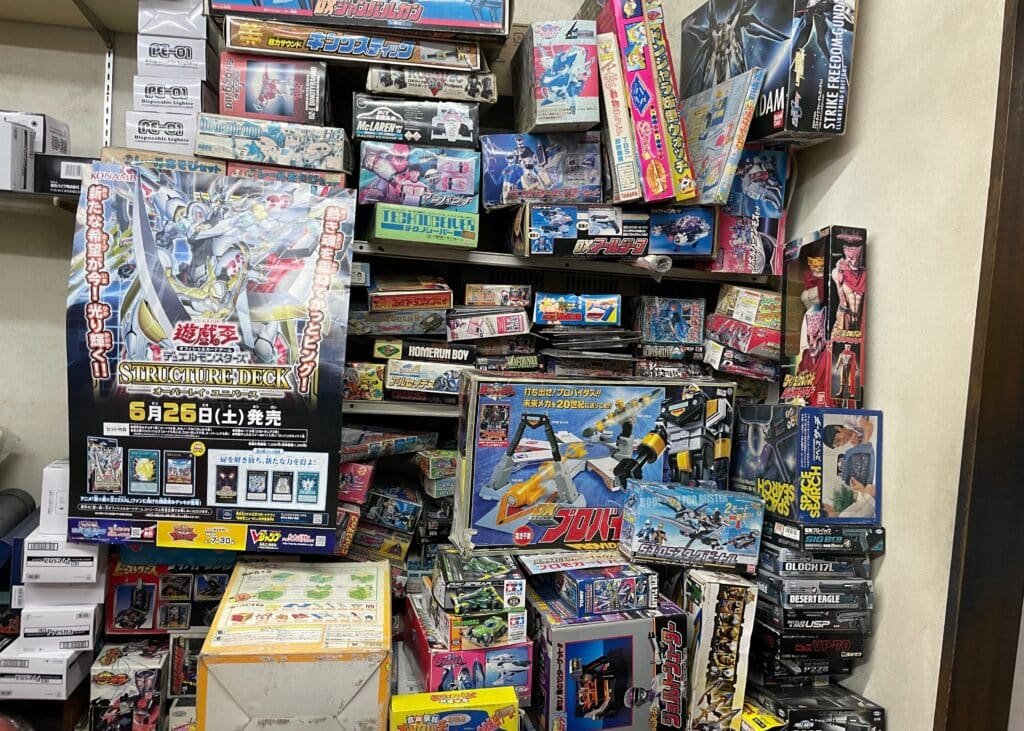 I had no intention of purchasing anything when I noticed a double pistol set and holster in the original packaging. It looks like something kids in the 1950s would play with after watching Gunsmoke on TV. Unfortunately, these toy pistols appear a little too realistic to be carried around by grown men wandering aimlessly through the streets of Osaka.
Consider being pulled over by the police for no apparent reason with two nice and shiny Smith & Wesson replicas in your bag: "But officer, I wasn't planning on holding up a bank with these fake guns. This is a present for my son!" The officer would most likely ask, "How old is your son?" and I would respond, "He is 24, but…" So it's easy to see how purchasing this vintage toy pistol set could be more trouble than it's worth, especially when you consider that even the slightest intercultural miscommunication could result in a potential violation of Japan's strict gun laws.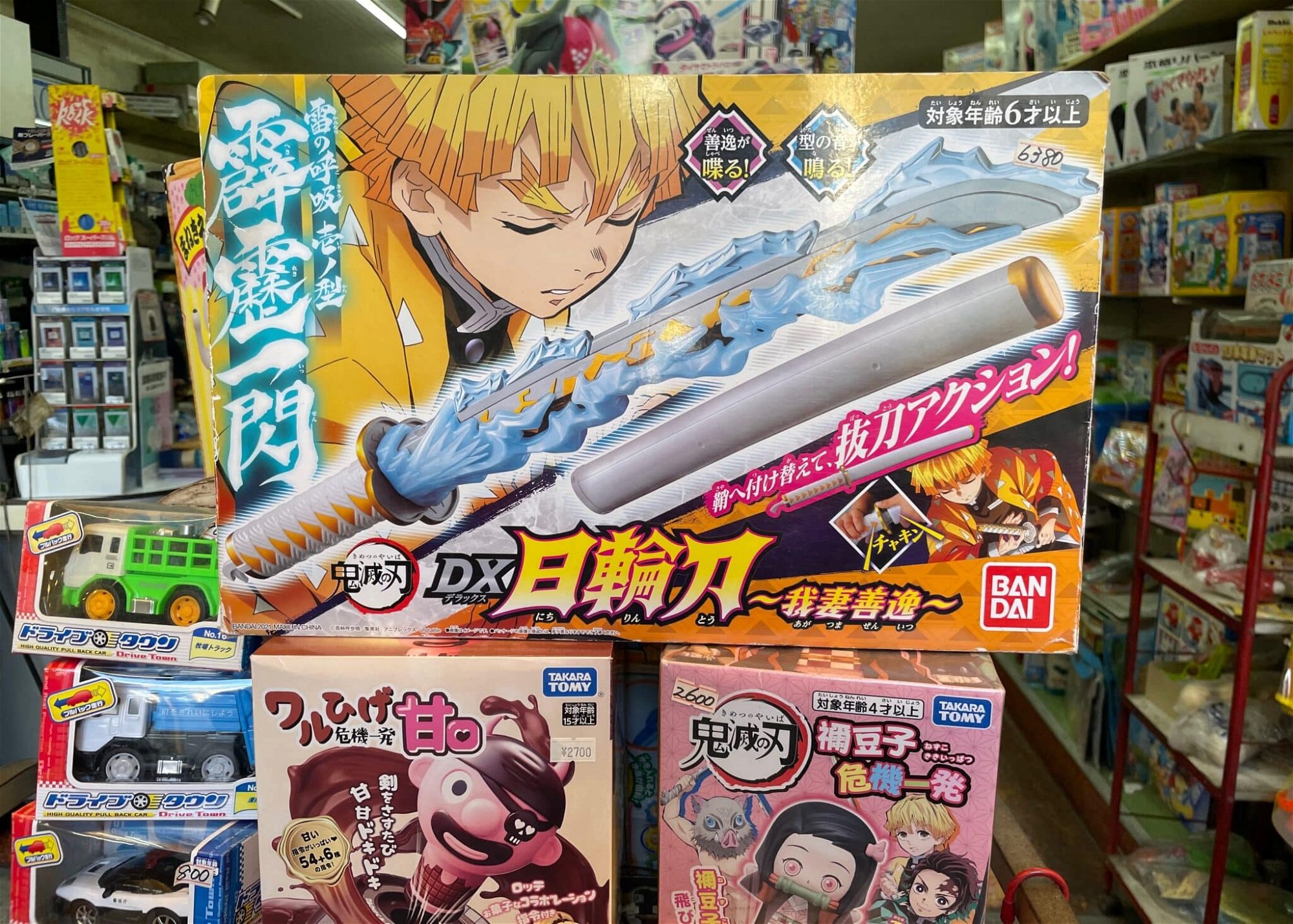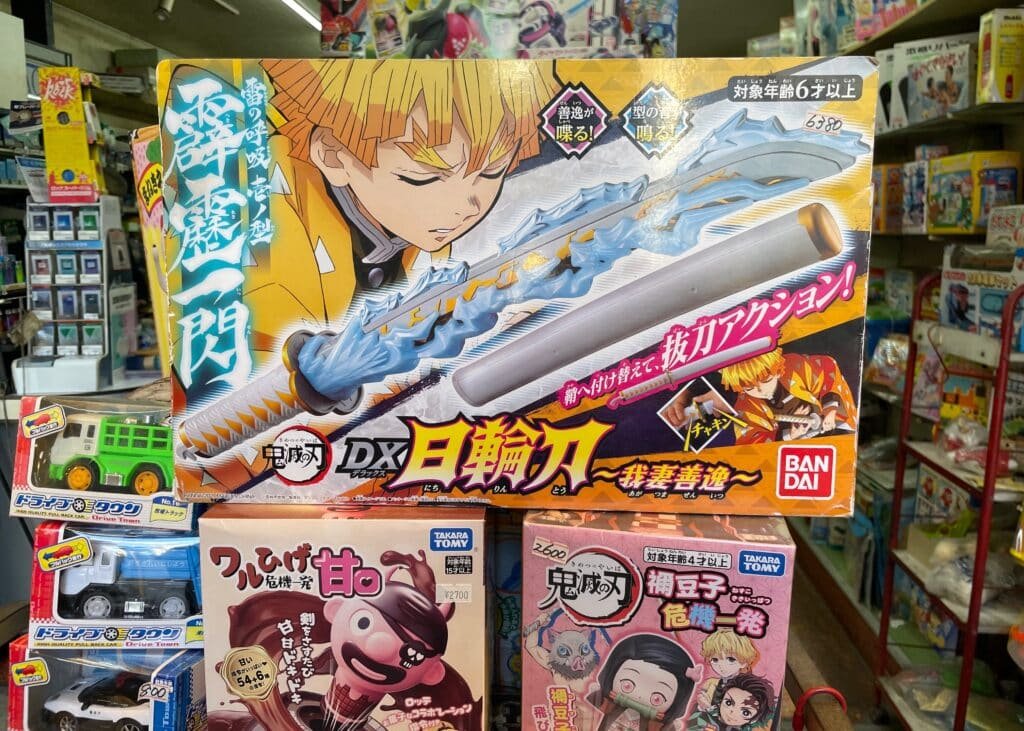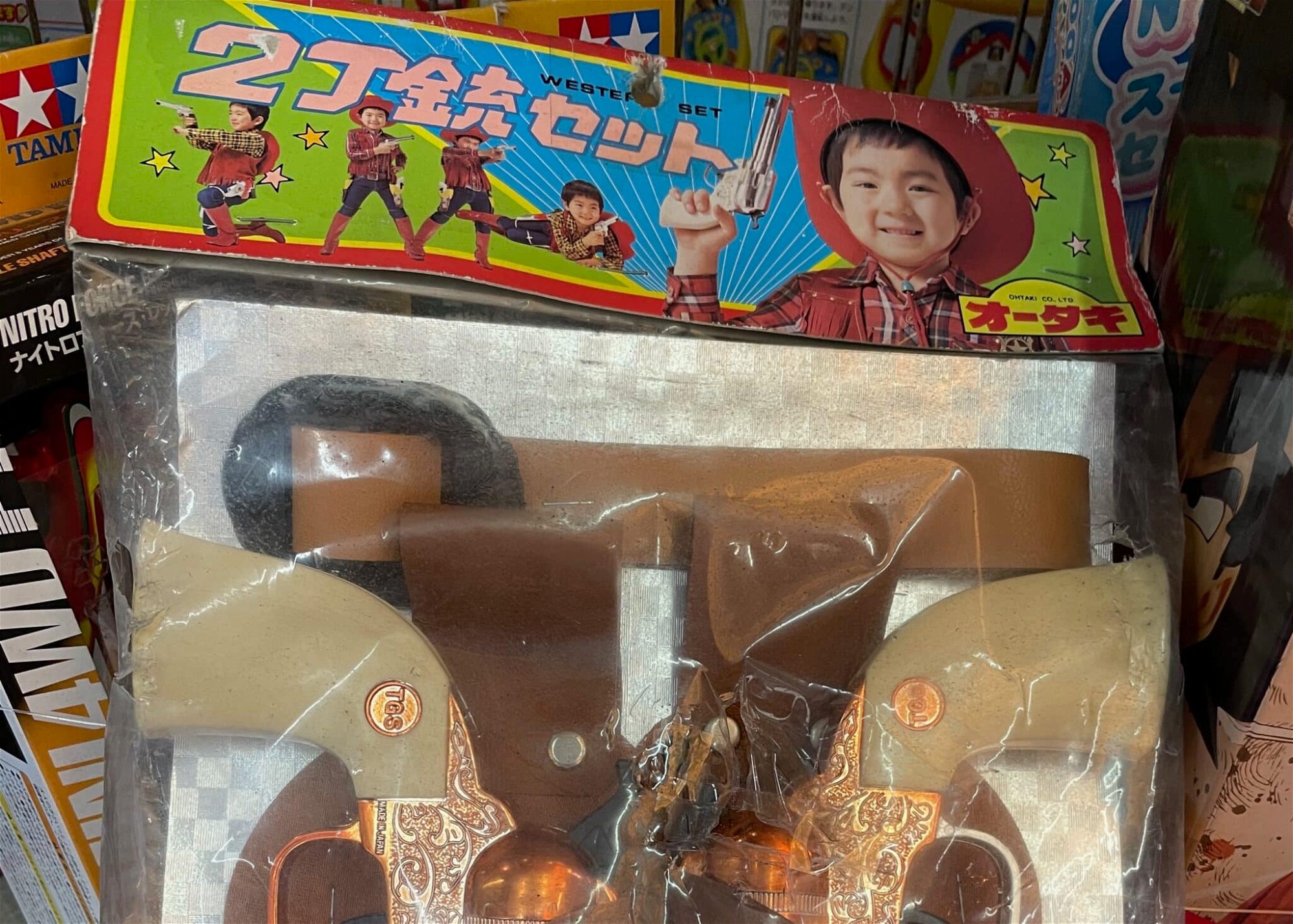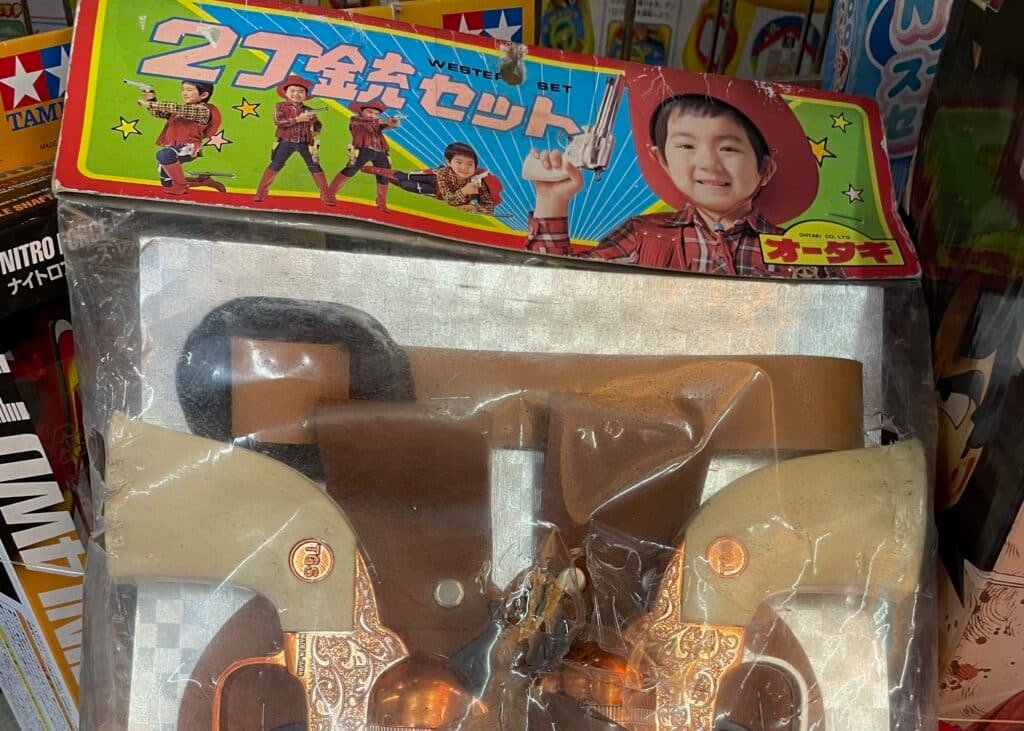 T.Box Iwasaki Shoes
I've always had a soft spot for inexpensive off-brands of sneakers that you can only find at mom and pop shops for around ¥1,000. Most of these brands don't have any following whatsoever, they are simply purchased and worn without much thought. I have no idea what sneakerheads who pay thousands of dollars for vintage Air Jordans and limited-edition Yeezys would think of footwear that costs slightly more than a Big Mac set at McDonalds, but I happen to think that many of these no-name brands are actually very stylish.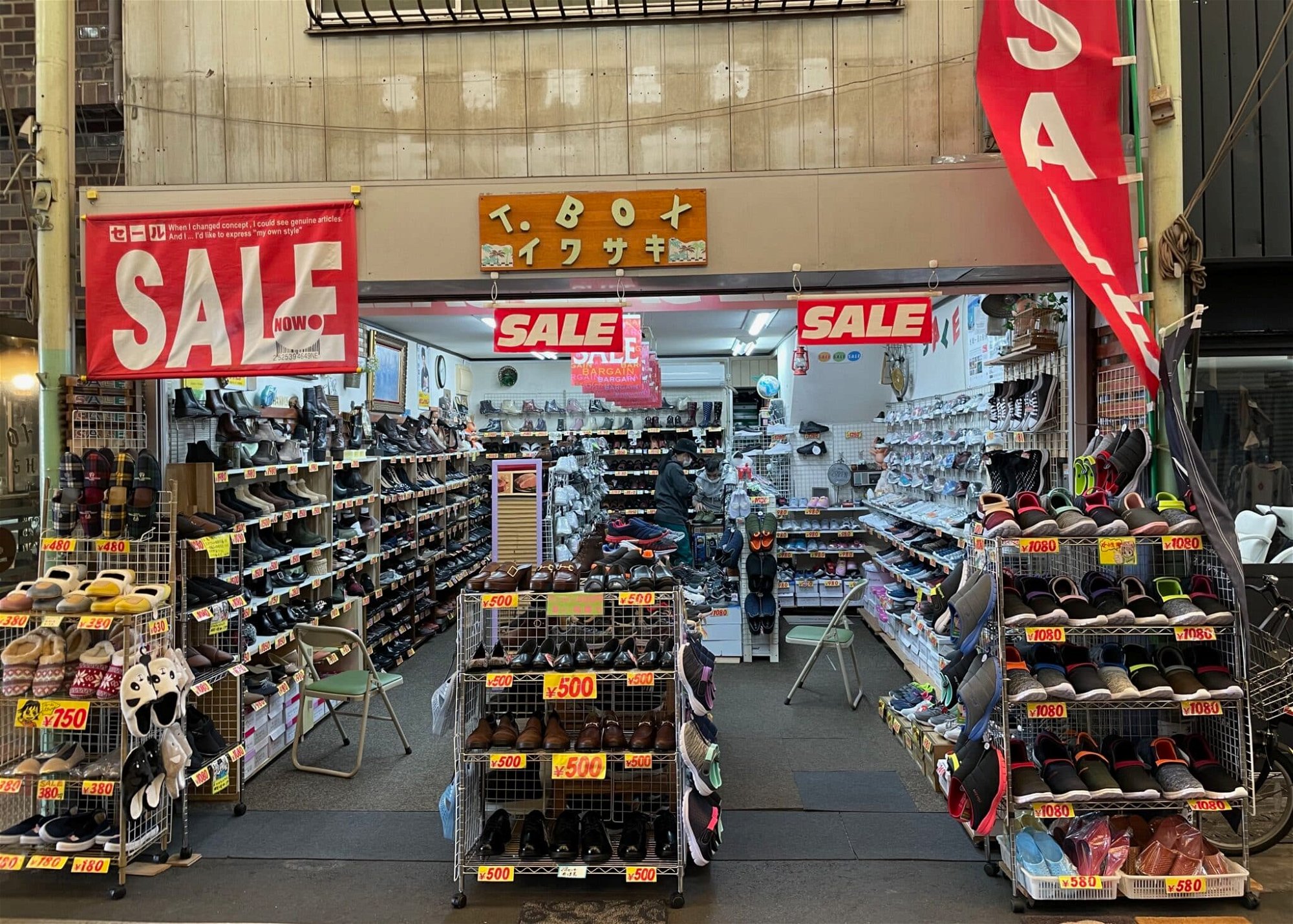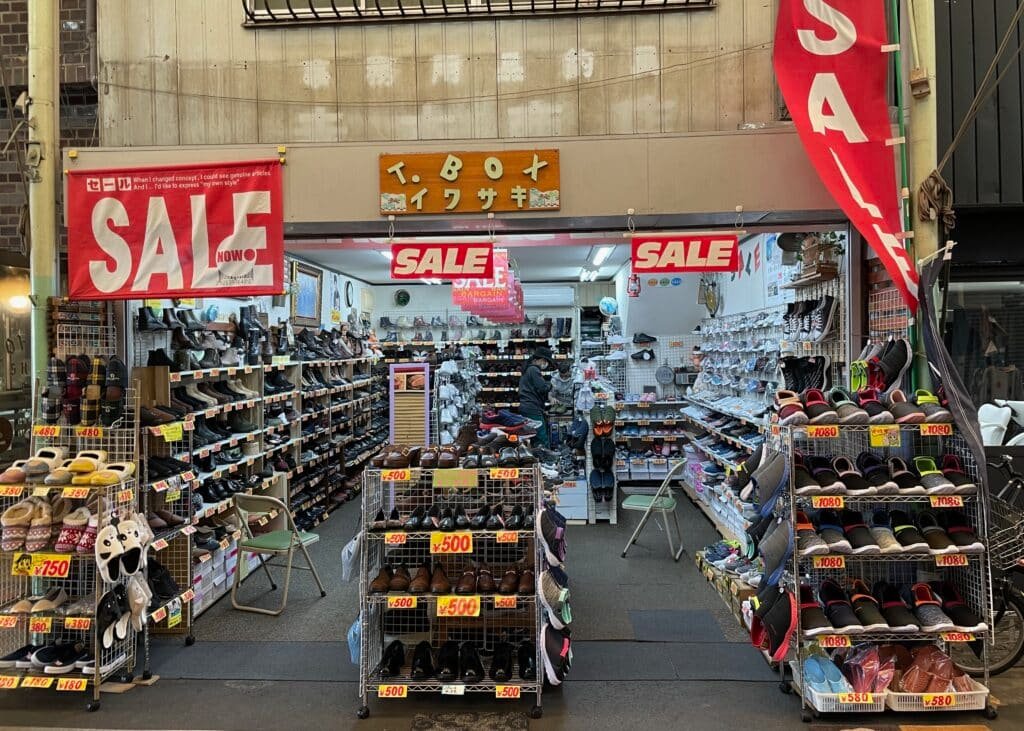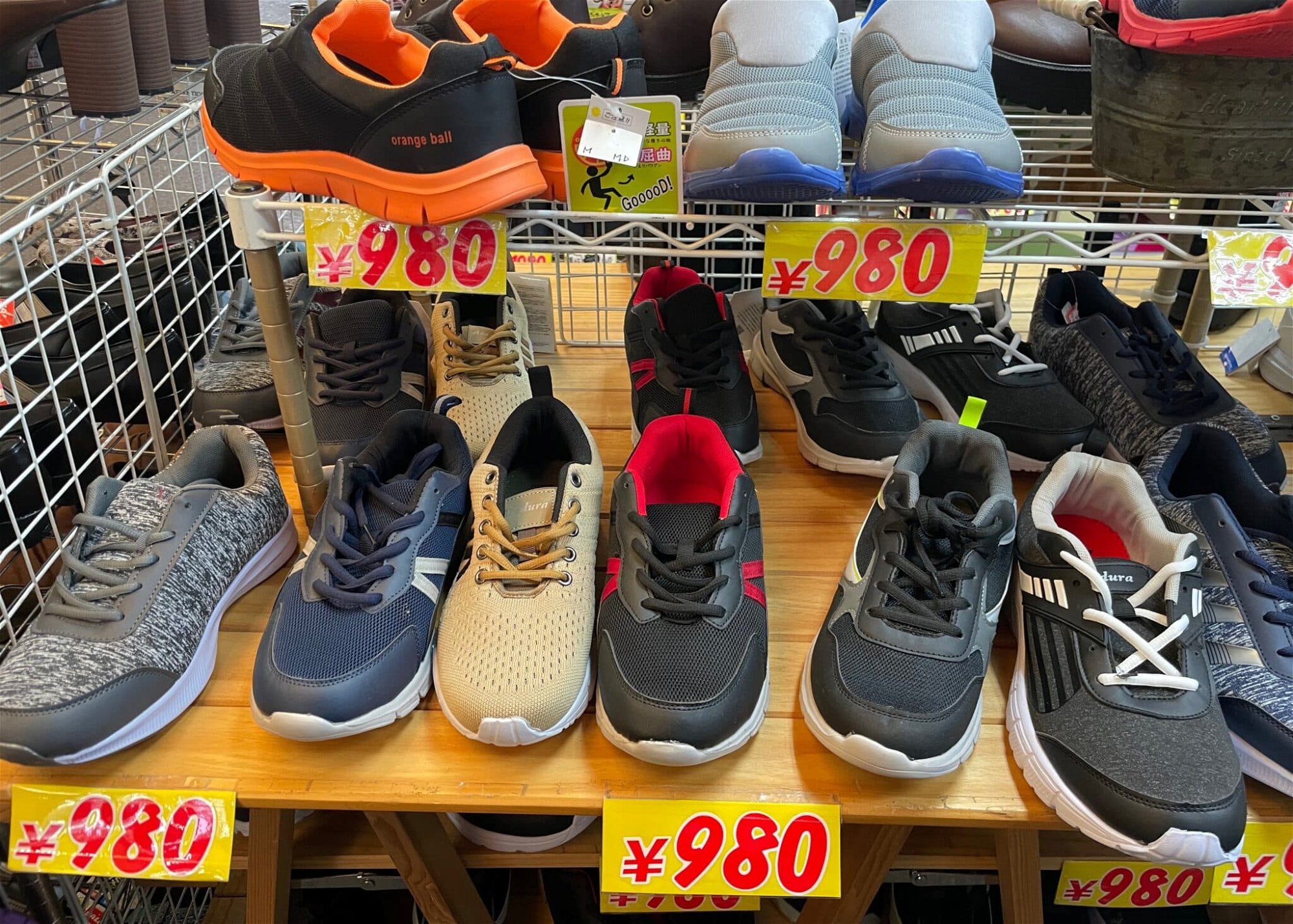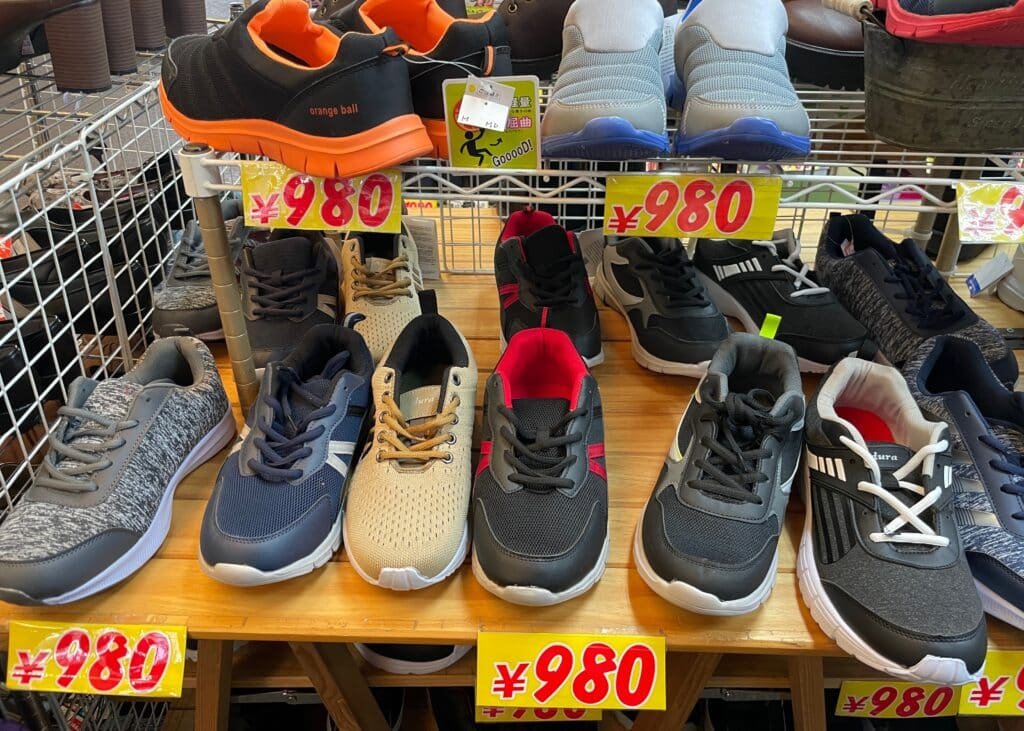 Imagine buying a pair of sneakers in Osaka that nobody has back home. Isn't that a lot more impressive than shelling out big bucks for a mass produced shoe on a major label? All we need is one high profile hip hop artist or athlete to start wearing "Osaka shitamachi-style discount sneakers" for this trend to kick off, pardon the pun.
Nishi Tenga Shotengai 西天下商店会
Address: 1 Chome-14 Senbonkita, Nishinari Ward, Osaka, 557-0053.
Nishi Tenga Shotengai was established in 1948. The original shopping district of Nishi Tengachaya dates back to 1938. According to a book The History of Nishinari-ku, the shopping district contained a total of three movie theaters, including the Fortune Theater. All of the movie theaters were closed during the war.
If you look closely, the kanji for Nishi Tenga Shotengai(西天下商店会)and Nishi Tengachaya Shotengai (西天下茶屋商店街) are a bit different. The kanji kai or gai "会" is for association and kai or gai (街) means boulevard or street. They are spelled the same in romanized letters, but mean different things. Trivia-obsessed postal worker Cliff Clavin of the TV show Cheers would probably find this information fascinating, but the average person does not need to know this to enjoy the shopping arcade. Consider it an easter egg for the linguists out there.
Watch a video of Nishi Tenga Shotengai below:
Yorozuya Cycle Shop 自転車のよろず屋
We make a right at Maruya Coffee and head into Nishi Ten Shotengai. Many of the shops inside this part of the shopping arcade are shuttered. Wes and I do a double-take when we come across Yorozuya Cycle shop: the tiny store is overflowing with tires and bicycle parts and there isn't any room to step inside. It was like watching an episode of Storage Wars in which the door was opened and the entire contents of the locker just came pouring out.
Wes realizes that we have been staring much longer than is socially acceptable, so he goes over and makes conversation with the couple that own the shop. We learn that it has only been around for a few years. There are a lot of bicycles in the shopping arcade so I imagine they do nicely fixing flat tires for neighborhood residents. The next time I passed by the shutter was closed. I have no idea how they got all of that stuff back in the shop.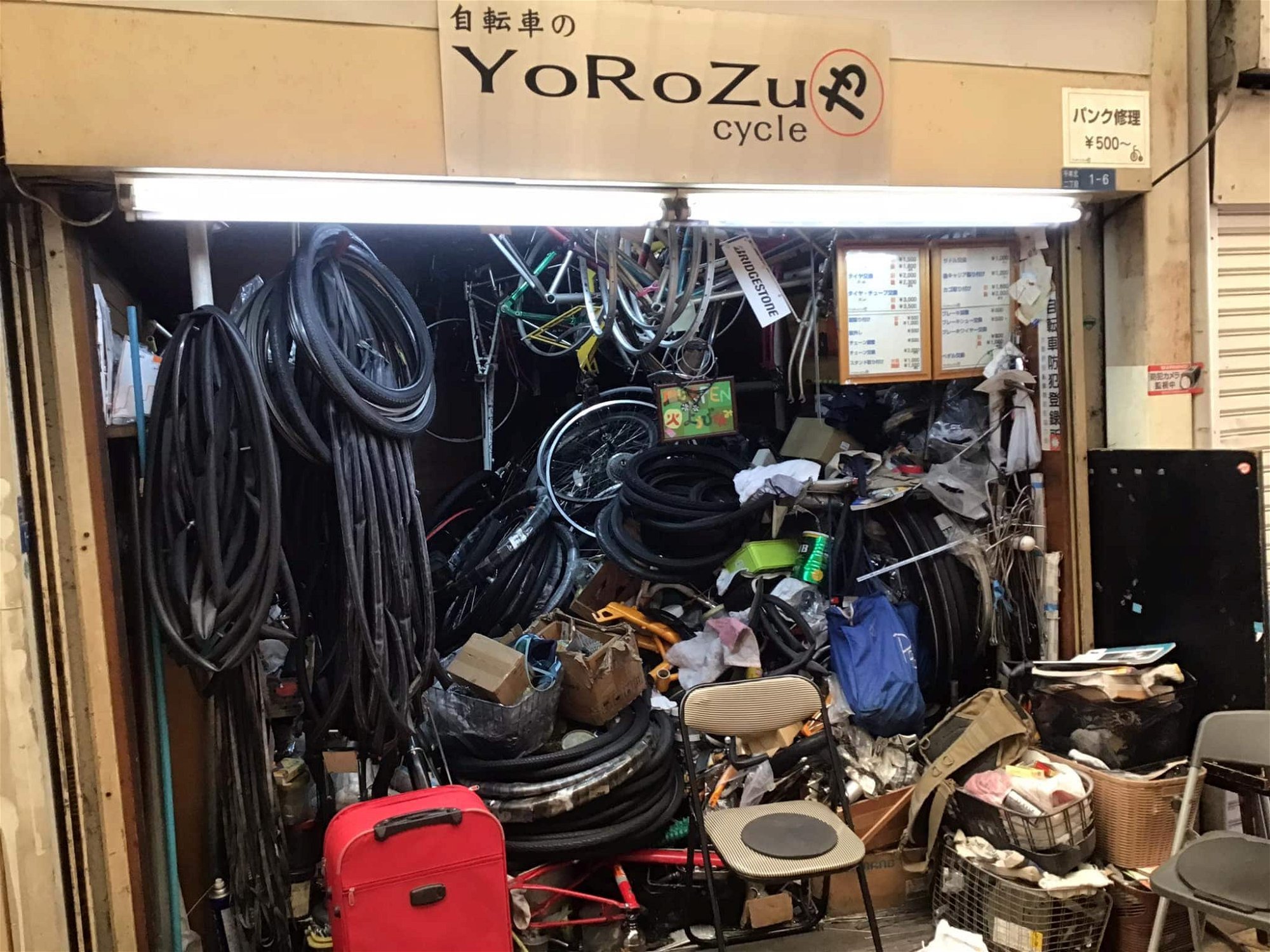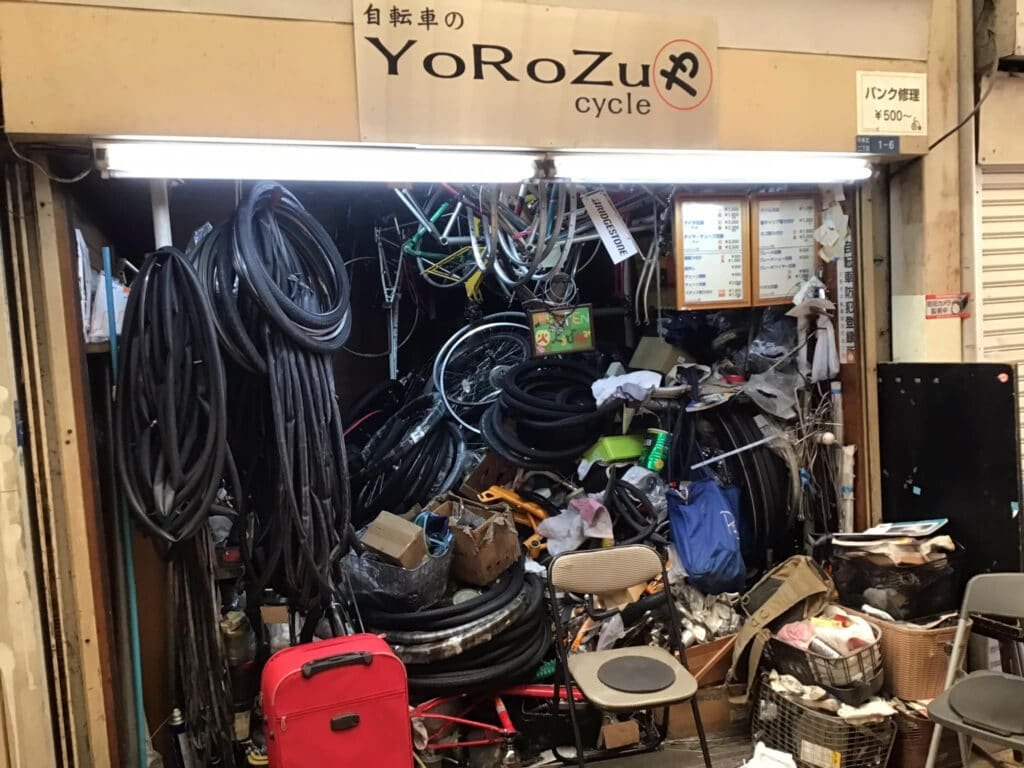 Yorozu Recycle Shop リサイクルショップよろず
When we come to a recycle shop a block down named Yorozu, our eyes almost pop out of our heads. I'm not sure if this shop is related to the previous one, but "yorozu" can mean "general store" or "jack-of-all-trades." I occasionally watch YouTube videos about how enterprising people flip items they find at flea markets and garage sales such as old coffee mugs, watches and toys. This shop is a veritable gold mine, and you could definitely pay for your children's college expenses by selling some of these vintage items that are only available in Japan on eBay.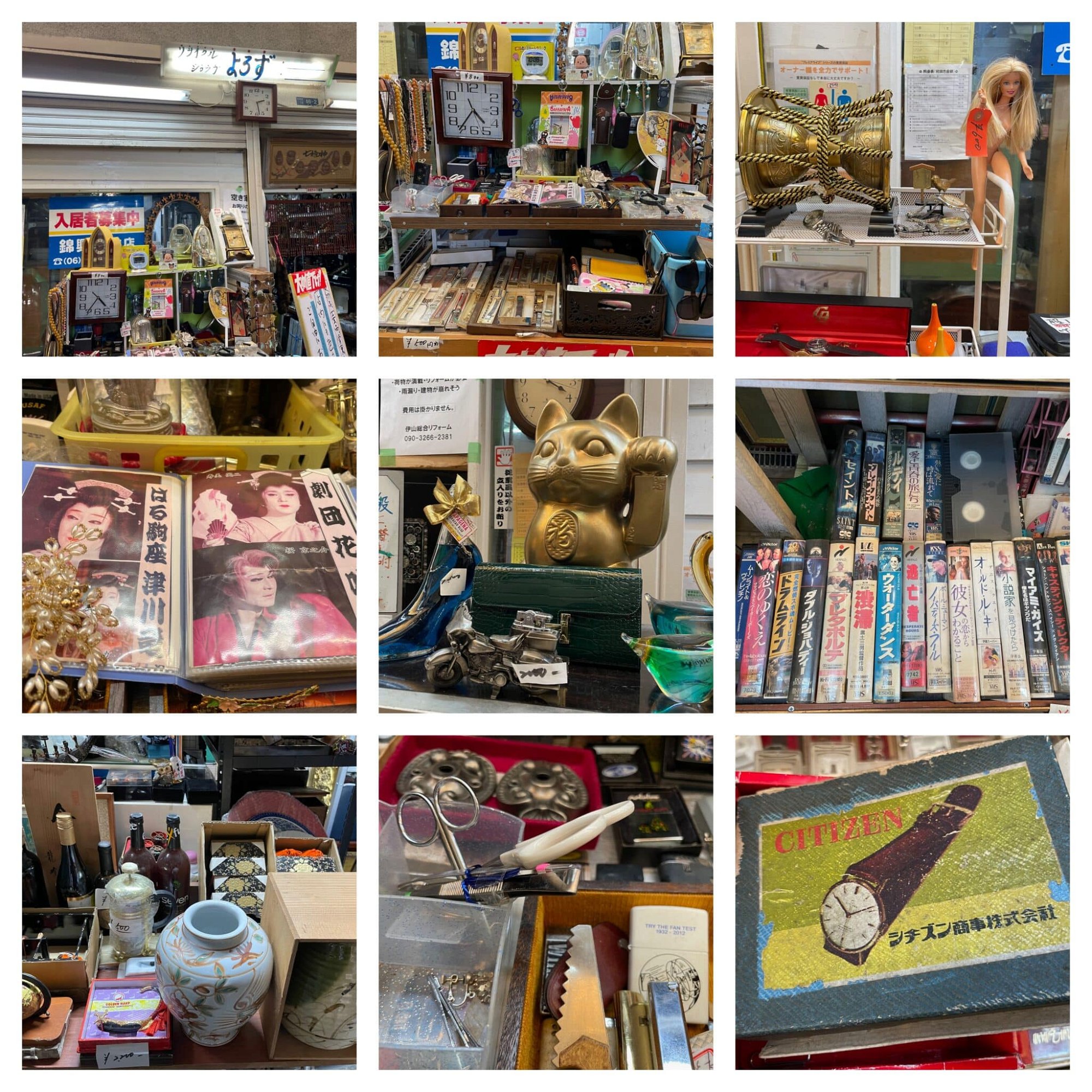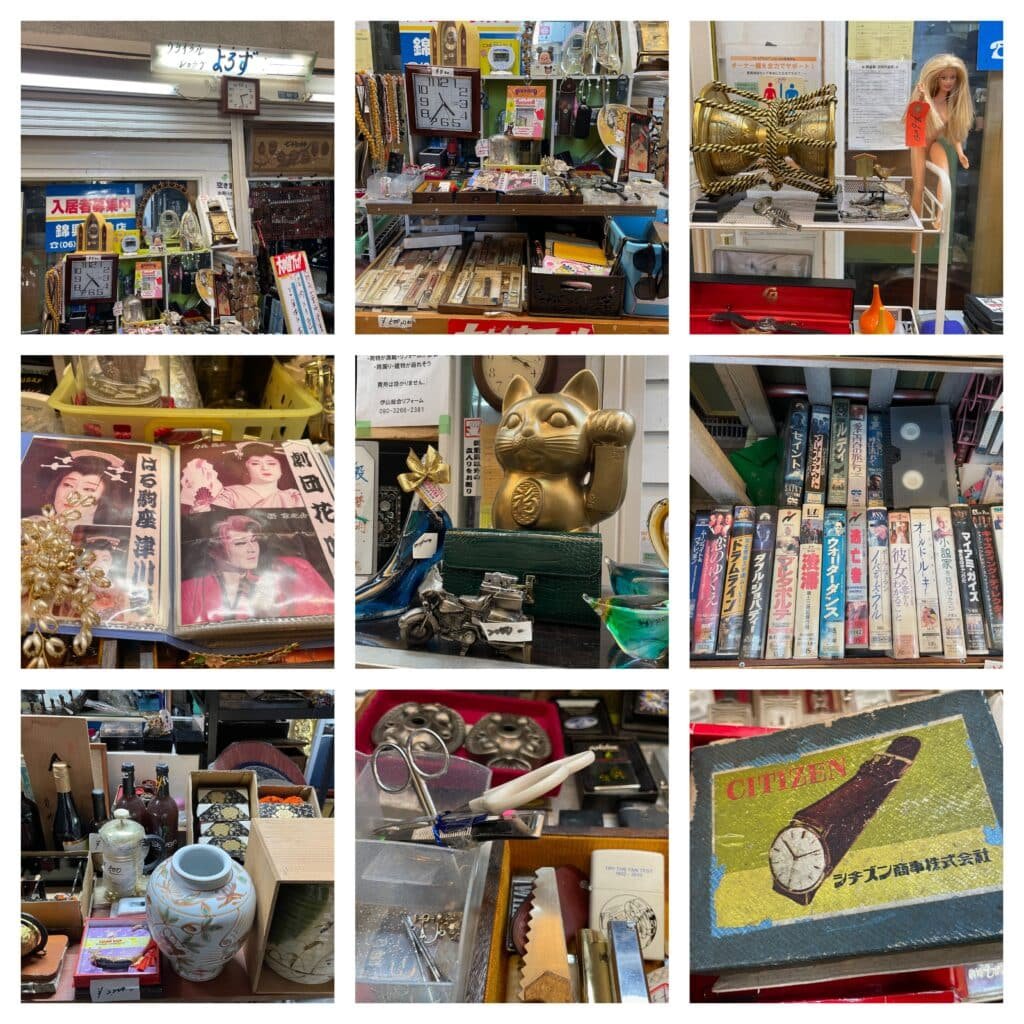 Wes Wesson: "Matt, check it out! They have a maneki neko! A " beckoning cat, " they call it. Let me give it a little belly rub! I need all the luck i can get!" Wow, love these old items. I had a mini globe like this as a kid. Check this vase! ¥500 yen! Oh, look, this too , 500 yen coffee maker! Wanna janken (rock, paper scissors) for it? Haha! Sorry Matt, this babies going home with me!"
"Look at these chirashi (fliers) of this actor. Man, this is a window to the past here. I could be wrong, but I think it reads: gekidan hana fubuki. So the performance groups translates as 'flowers that fall like heavy snow', right? You can see these kabuki actors are all men, enacting the geisha. Do you recognize this guy in the lower left right? Sakura Kyonosuke is his stage name. He'd be like what? Ninety?"
"Man, we might spend all our drinking money here! Look at all this loot! You better take home this ¥600 naked Barbie, you'll never get a better price in all of Osaka!" Check out that old clock, it probably came out of some old snack parlor! Take that home and feel nostalgic. We could even pick up some old shades and gold watches. Hit the town in style!"
Thanks, Wes. Personally, I have my eye on those old VHS tapes. They fetch high prices from collectors. (I'll come back on my own when Wes is not around because I don't want to tip him off). I bet there are also some rare CDs and albums to be found here, too. I could spend hours looking through all of this stuff.
Watch the video of Yorozu Recycle Shop below:
Minamihondori Shotengai 南本通商店会
Address: 2 Chome-18-18 Senbonkita, Nishinari Ward, Osaka, 557-0053.
Nishi Tengachaya Shotengai, as previously stated, has a Y shaped intersection. Minamihondori Shotengai is one of those branches, and we appear to have reached the proverbial fork in the road. The shopping arcade was given the moniker "Down Town" many years ago. It consists of two blocks and many of the shops are closed today.
Watch the video of Minamihondori Shotengai below:
Takoyaki Daun Taun
Address: 1 Chome-11-38 Senbonkita, Nishinari Ward, Osaka, 557-0053. Tel:06-6658-5420. Open Every day:12:30-20:30.
We come across a takoyaki shop called "Daun Taun," which is a katakana transliteration of "Down Town." Some might call this a "misspelling," but I think the sign is charming just the way it is.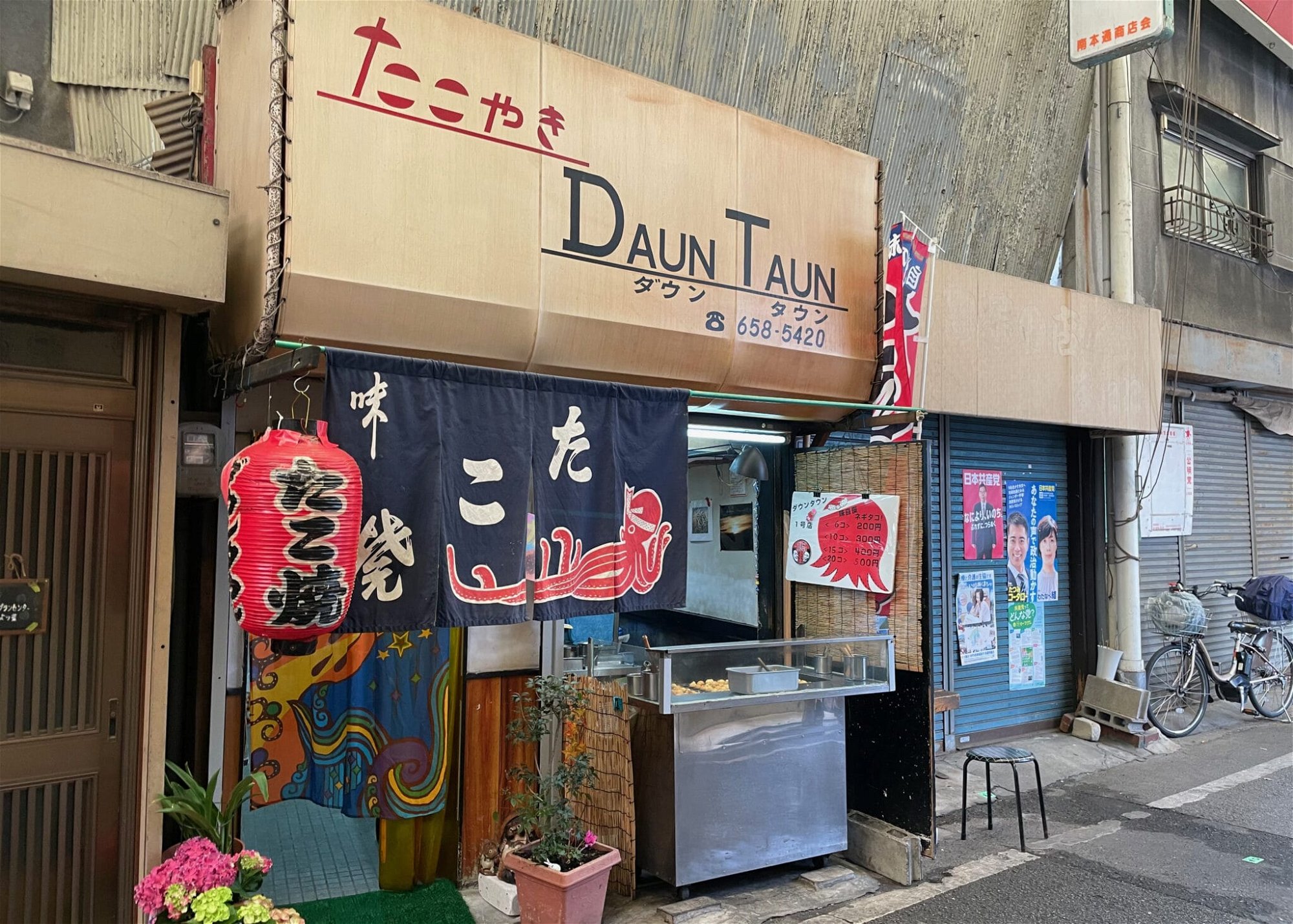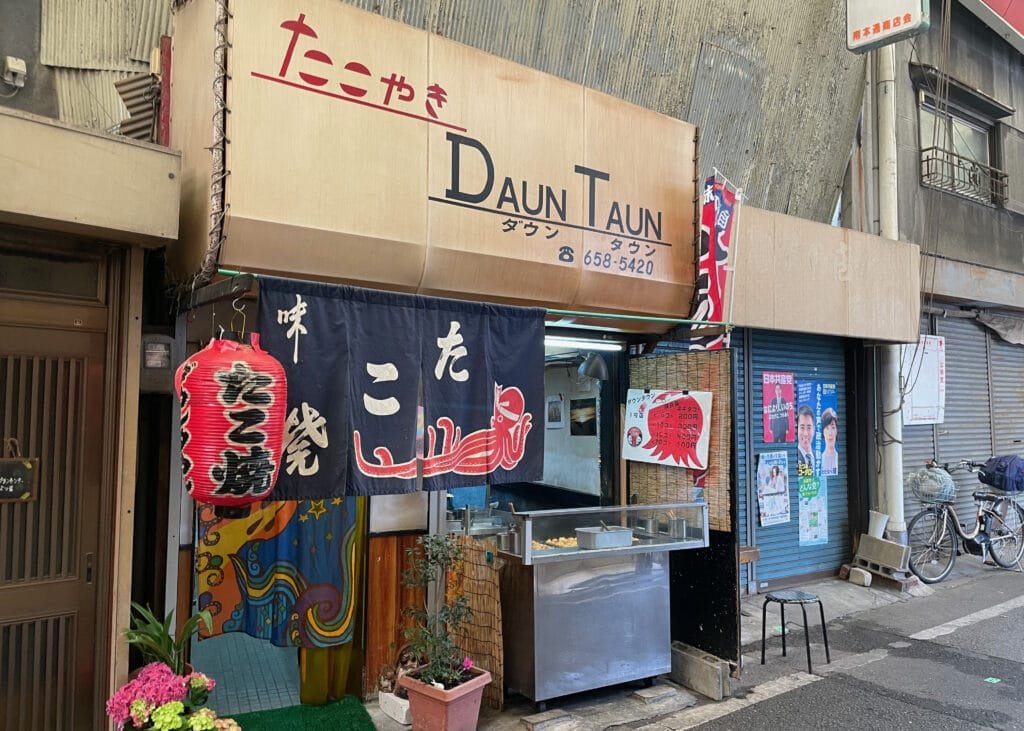 The restaurant has only four counter seats. We ordered 8 takoyaki (200 yen including tax). Although the takoyaki are small they contain a nice-sized portions of octopus and green onions. The dough has a particularly crispy texture, and the sauce is fruity and slightly sweet. Shops selling takoyaki for around 200 yen have become increasingly rare, so its good to support old neighborhood shops like this one.
I know what you're thinking. Two grown men split an order of 200 yen takoyaki. That sounds very kechi kusai (stingy). Guilty as charged. However, we did tell the owner that we would be back to order more in the near future. Maybe we'll invite some Osaka.com readers and have a takoyaki party in the shotengai.
Shishimaru Taro ししまるたろう
Address:1 Chome-11-1 Senbonkita, Nishinari Ward, Osaka, 557-0053. Tel: N/A. Open: 12:00 to 22:00. Closed: Thur and Sun. Instagram
It's time to unwind with a few drinks, and what better place to do so than Shishimaru Taro, a small bar around the corner from Takoyaki Daun Taun. I immediately recognize this as the one watering hole in this sleepy shopping arcade that attracts local drinkers, a sort of oasis in the desert. We can hear laughter from inside, and it appears that everyone is having a good time. This is the type of neighborhood hangout we enjoy.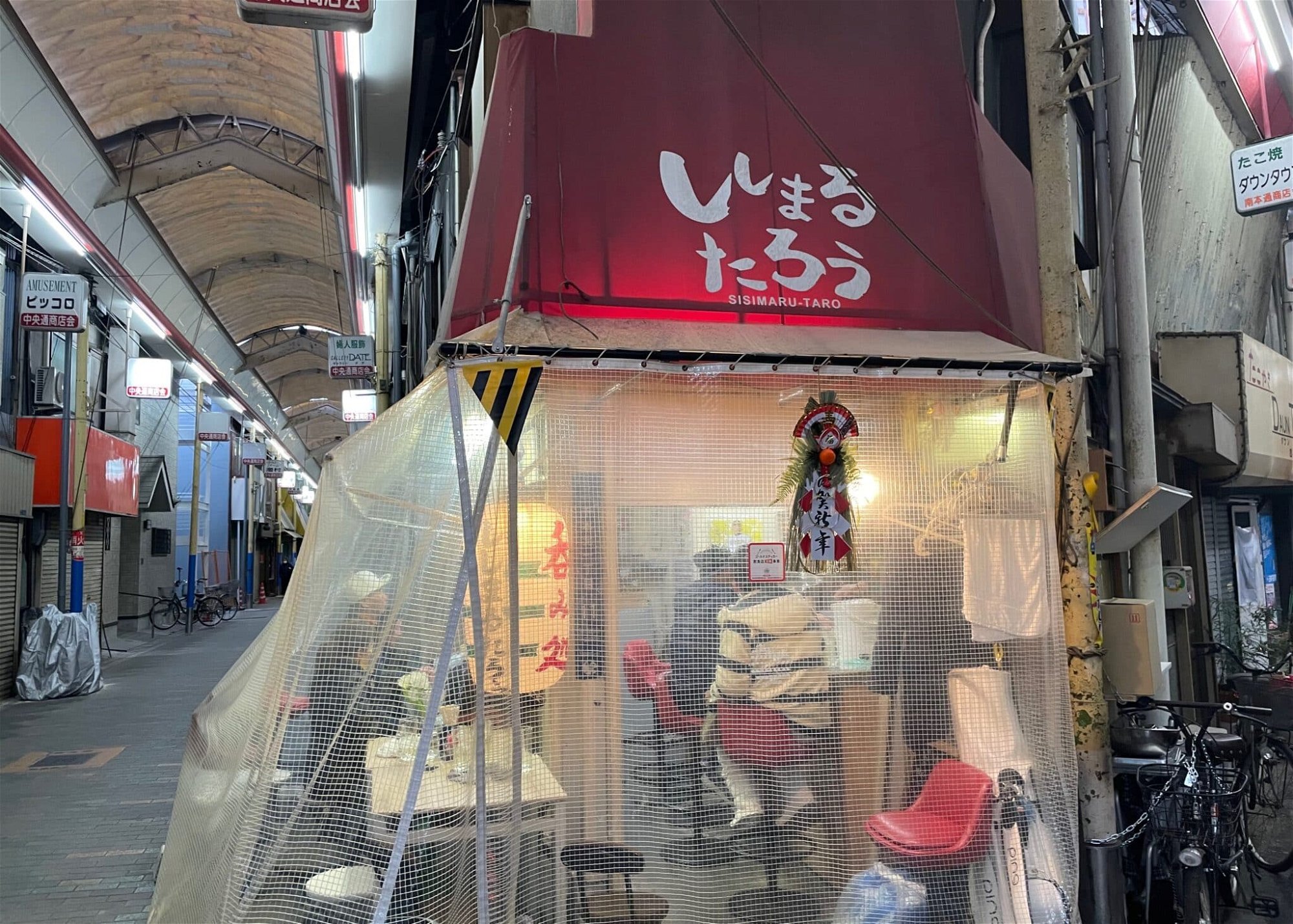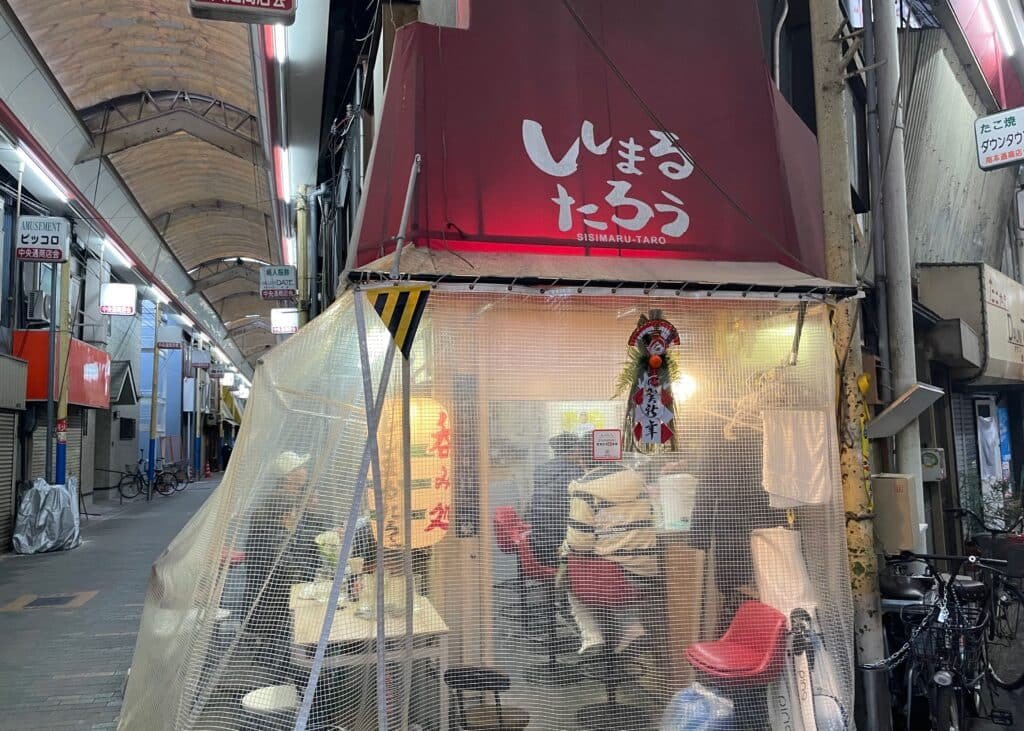 The proprietor greets us and instructs us to take a seat at the counter because all of the tables are taken. After taking our drink orders (beer and tomato chuhi) he says, "Oh you speak Japanese, now I don't I have to use my fluent English to communicate." A newcomer might take this as a sign that the owner does in fact speak English, but we have been to enough places to know that this is a standard joke in Osaka. Right on cue a regular customer sitting at the bar says, "Master, take their orders in English!" and we all laugh. The ice has been broken.
The proprietor introduces himself as Syoujiro Kawabe. He is, in fact, the tencho (manager). His occupation is listed on his business card as (Oyaji gyagu kaihatsu jigybu). Some clarification is required here. "Oyaji gyagu" translates to "Dad Joke," so his job title is "Dad Joke Development Department." Kawabe-san is also listed as 大衆居酒屋奇行師 (Taishū izakaya kikō-shi) which means "Public Izakaya Eccentric." I just know that I am going to love this place!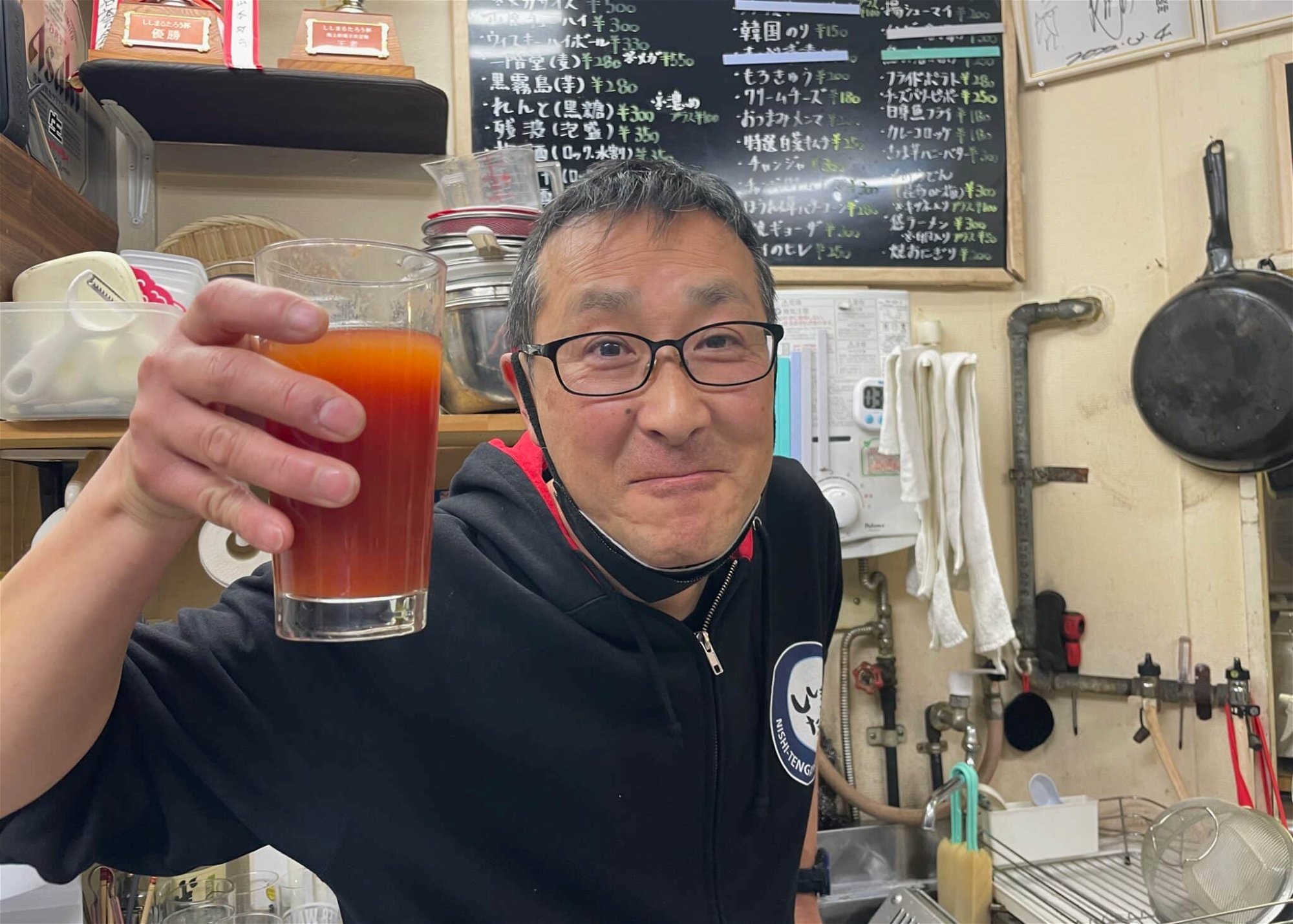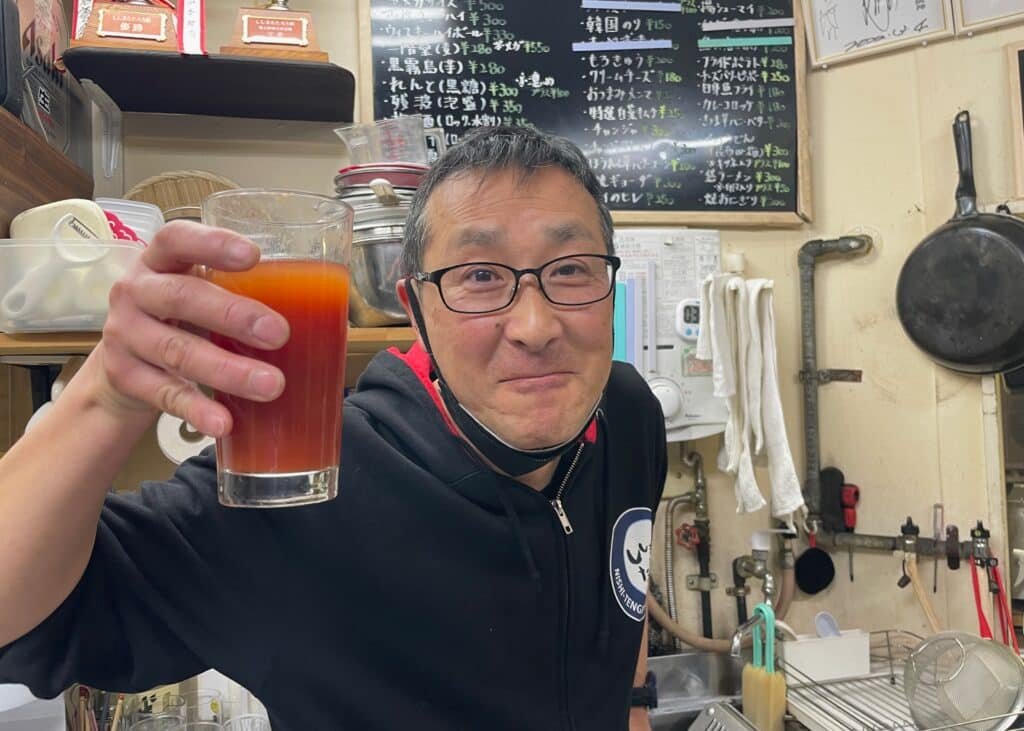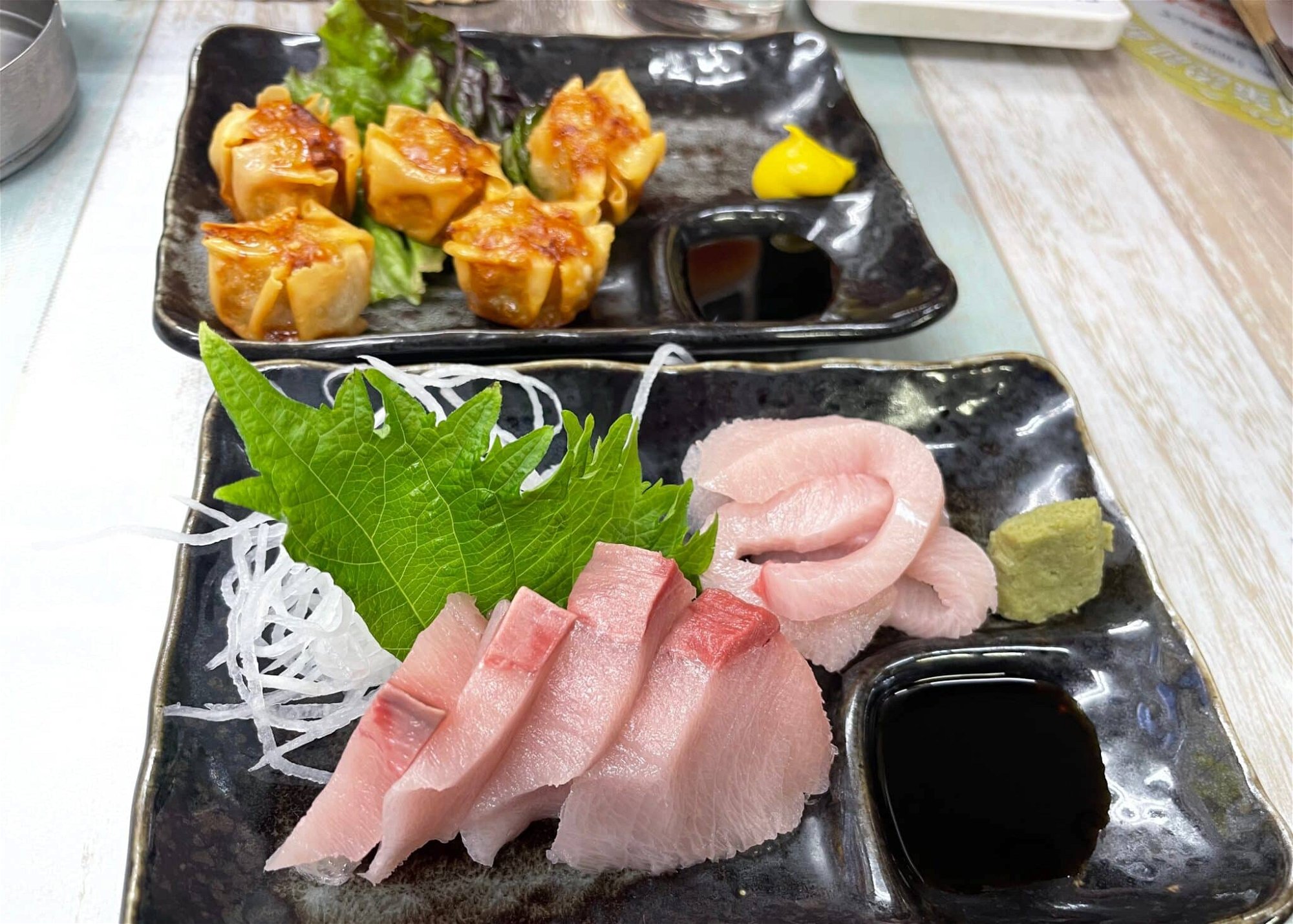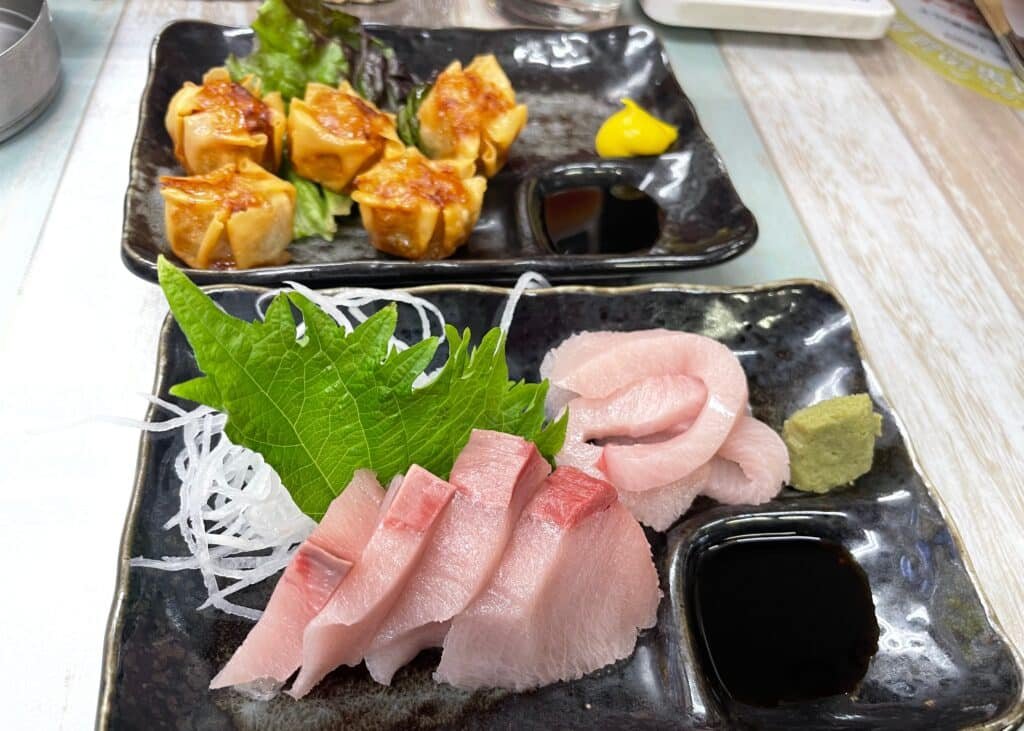 We order buri (amberjack) from Oita Prefecture (¥400), deep fried age shumai (¥200), Korean nori (dried seaweed, ¥150) and chanja (spicy marinated cod innards, ¥300), and buttered spinach and corn (¥220). This last dish is not typical Japanese cuisine, but it is extremely tasty.
A Hanshin Tigers 2023 calendar featuring new manager Akinobu Okada hangs on the wall, and I strike up a conversation about Japanese baseball with one of the regulars. I haven't been to a game in years, but I always enjoy seeing people's reactions when I mention Randy Bass, the former major leaguer from Oklahoma who led the Tigers to their only championship in 1985. Randy Bass's popularity in Osaka cannot be overstated—the mere mention of his name causes die-hard fans' eyes to light up. Bass was just elected to the Japanese Baseball Hall of Fame this year.
There are moments when you visit a local spot and feel more than just a passing familiarity with the area. I hope to see Kawabe-san and the regulars at Shishimaru Taro again very soon because they really made us feel at home from the minute we walked in.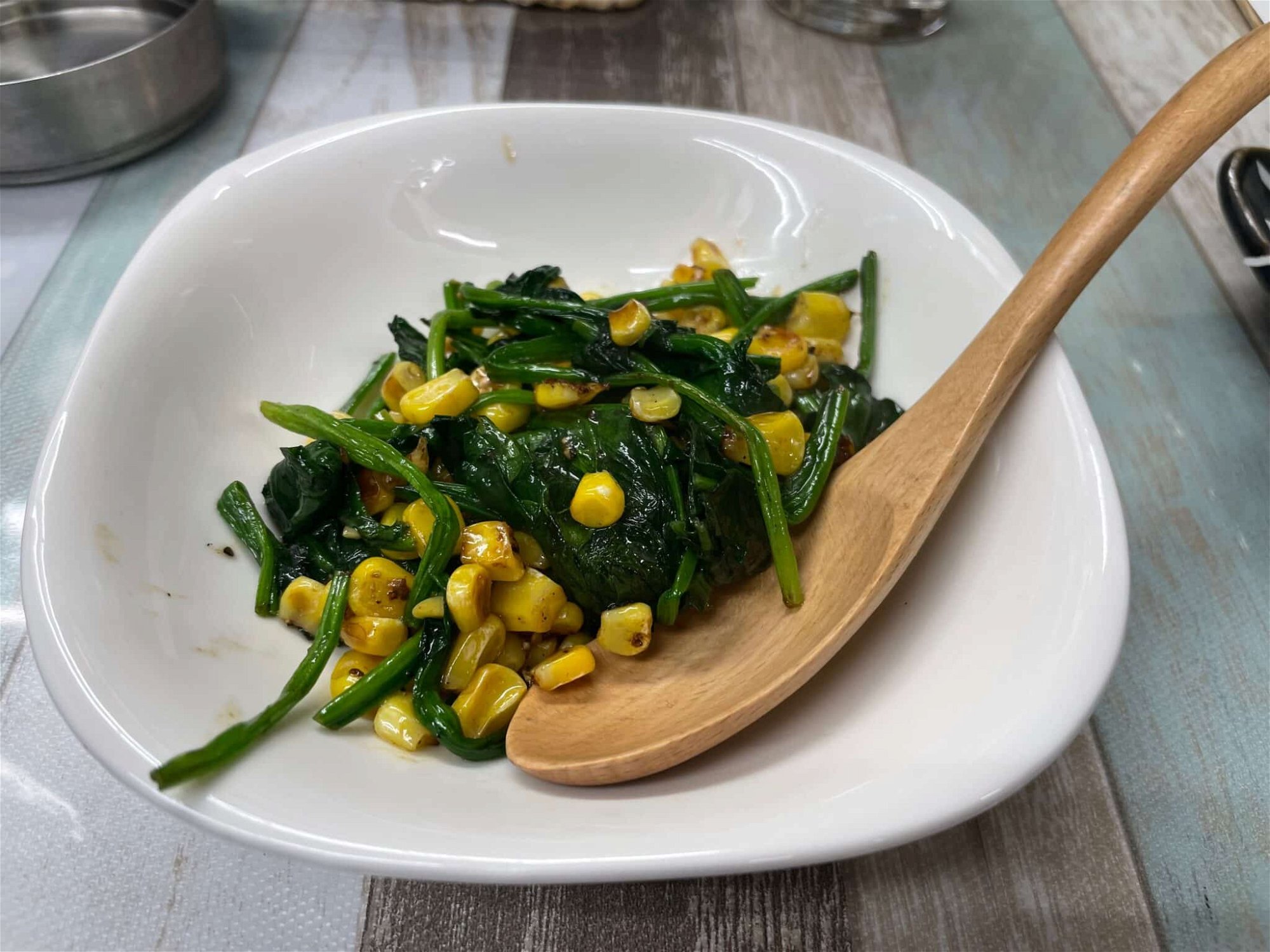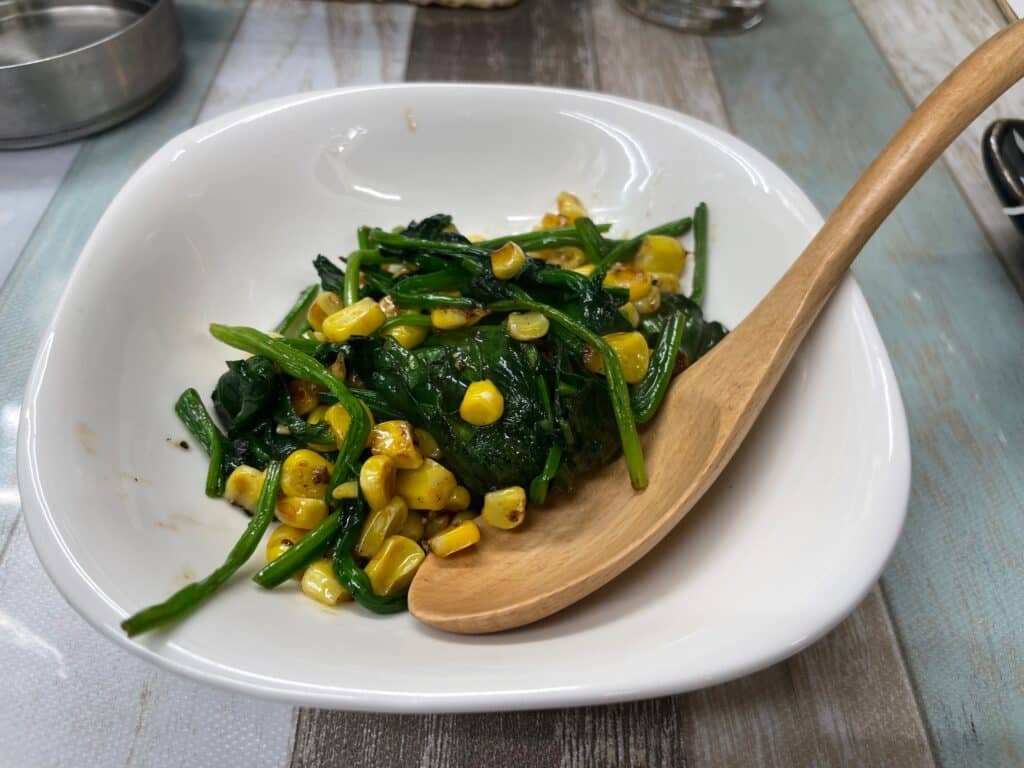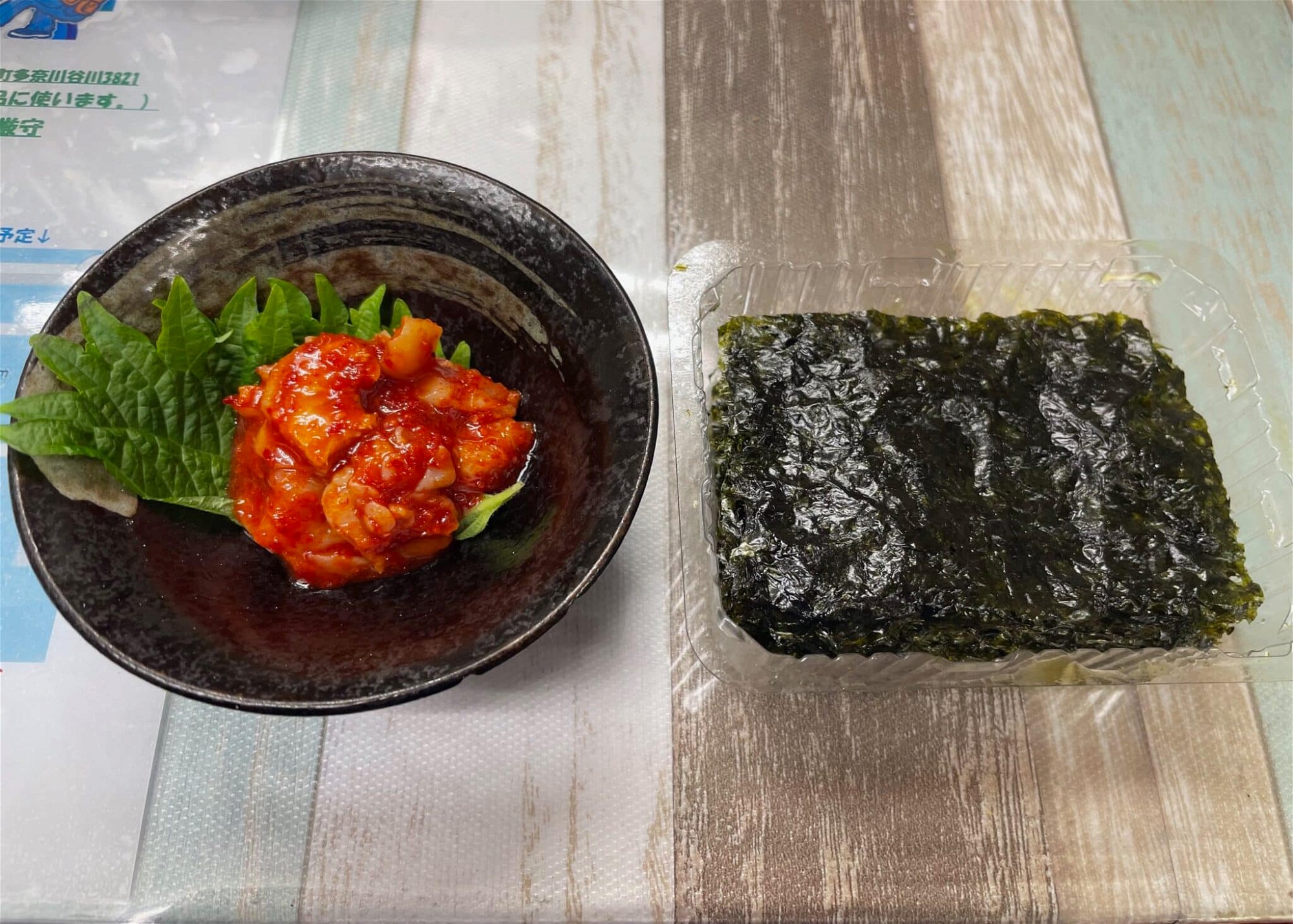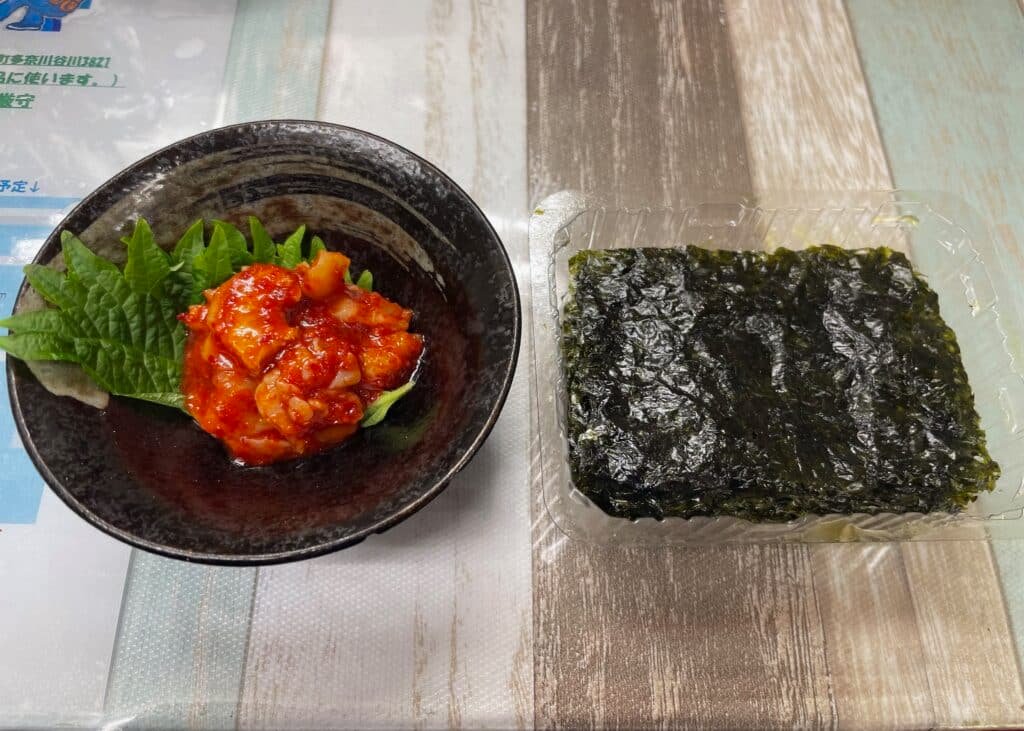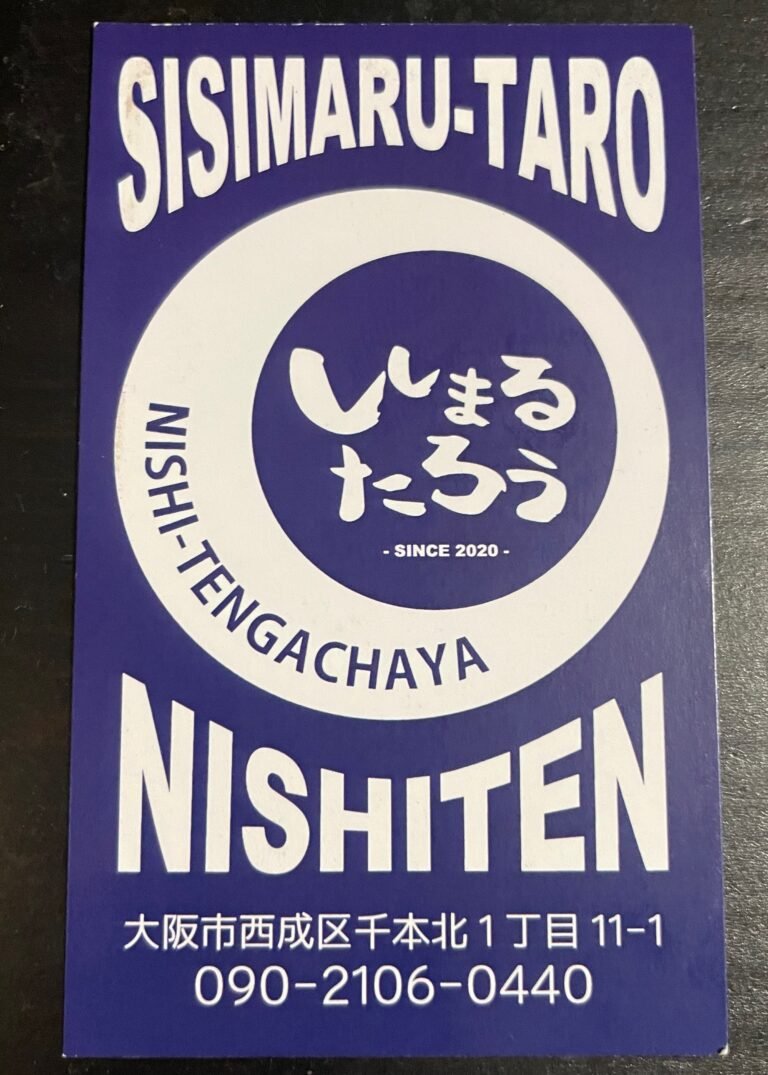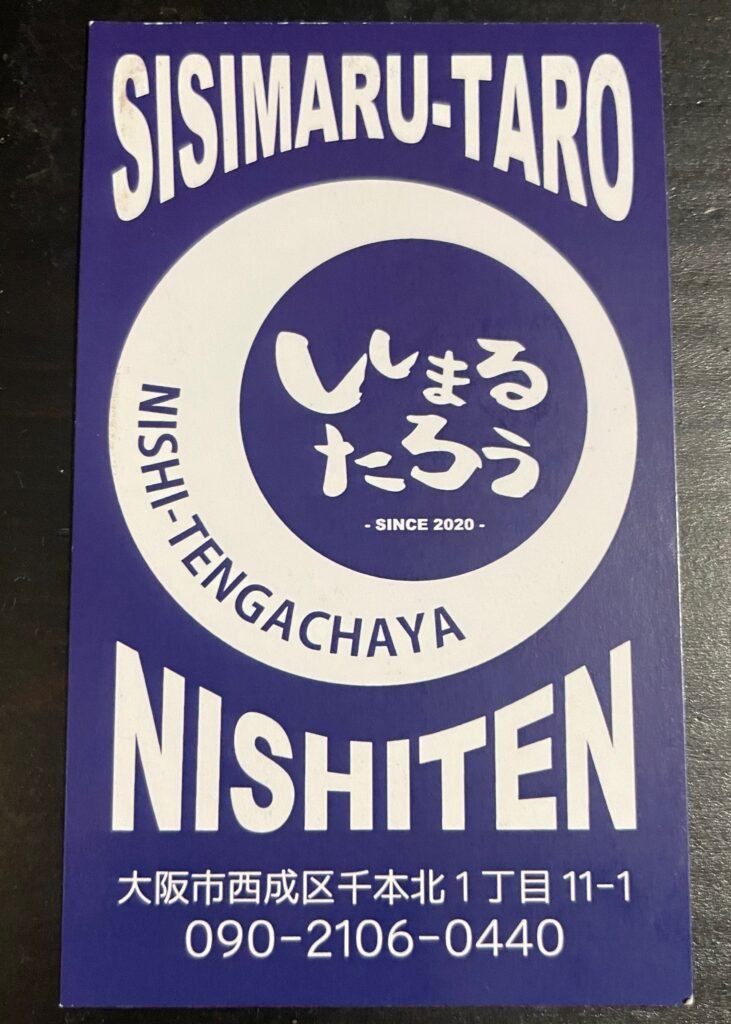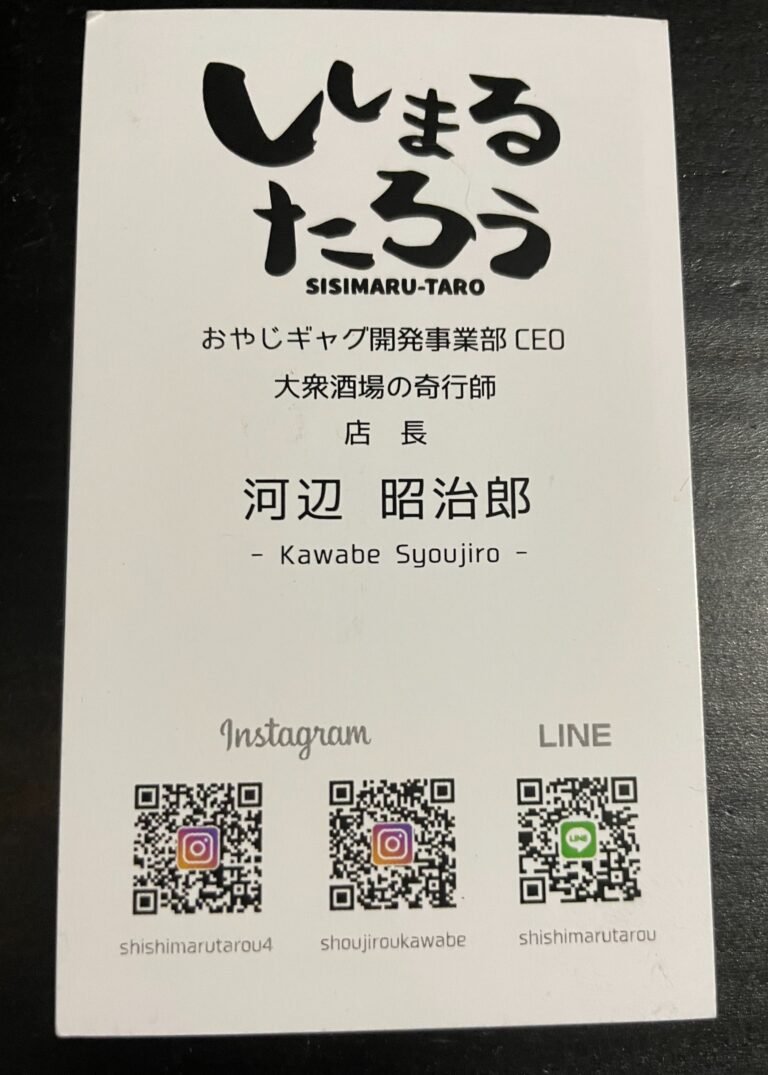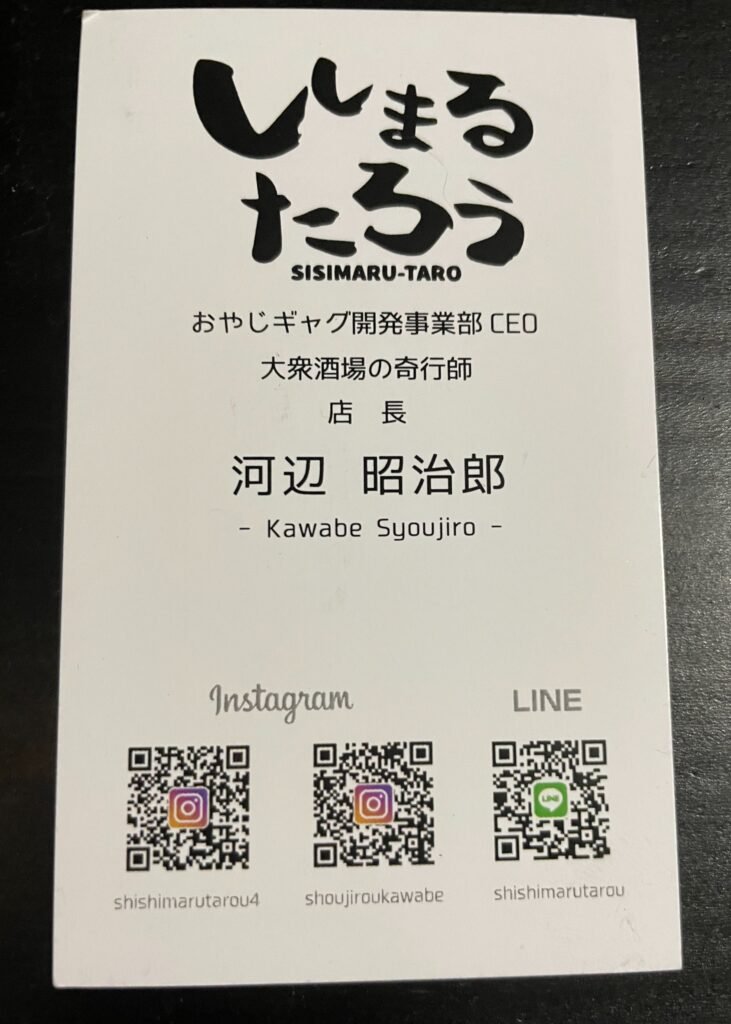 Chuodori Shotengai 中央通商店会
Address: 1-Chome Senbonkita 10~11.
No need to look for Chuodori Shotengai, we're already there: Shishimaru Taro is located at the starting point. Keep going straight, there is a long stretch of colorful shops in this part of the shopping arcade.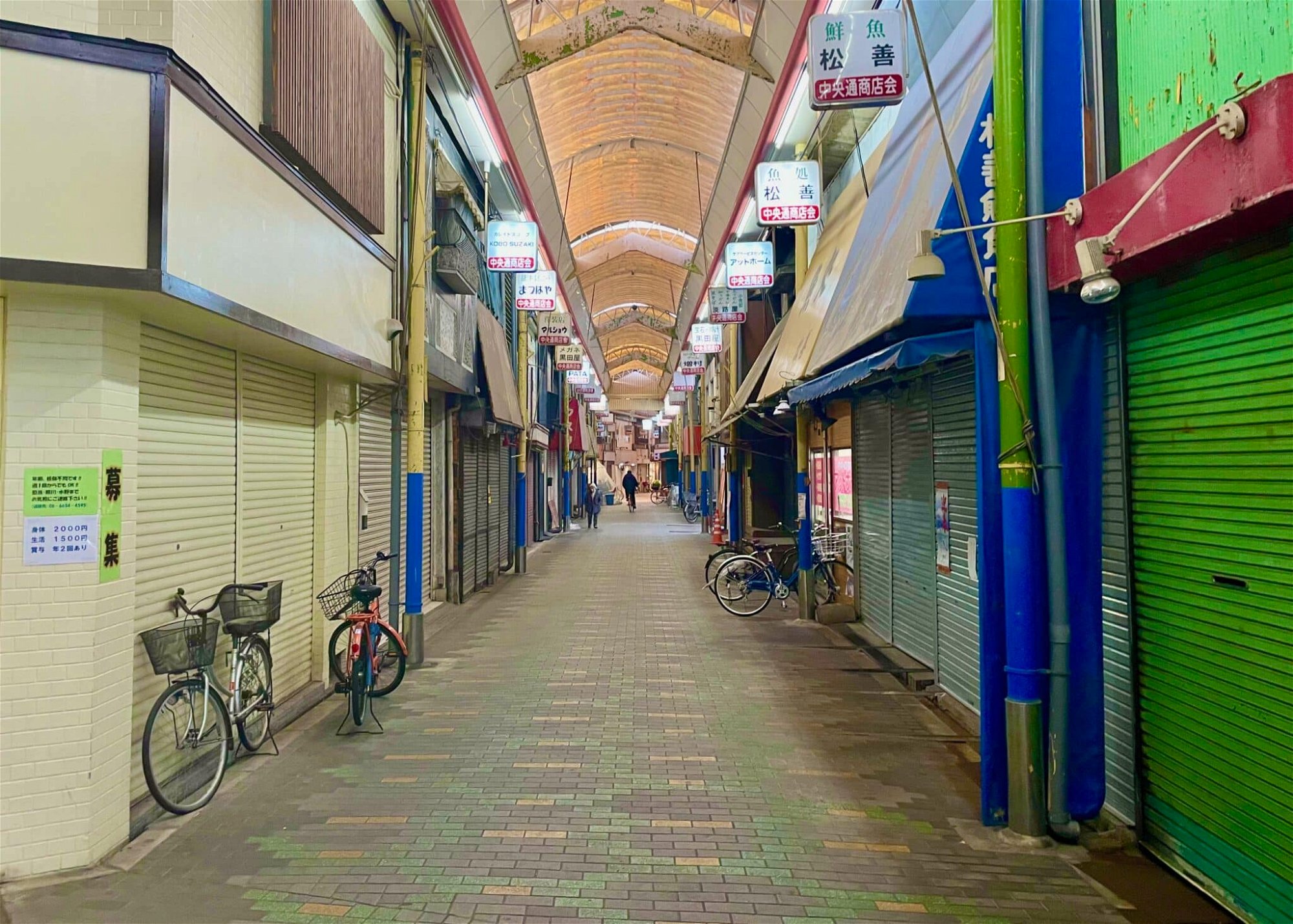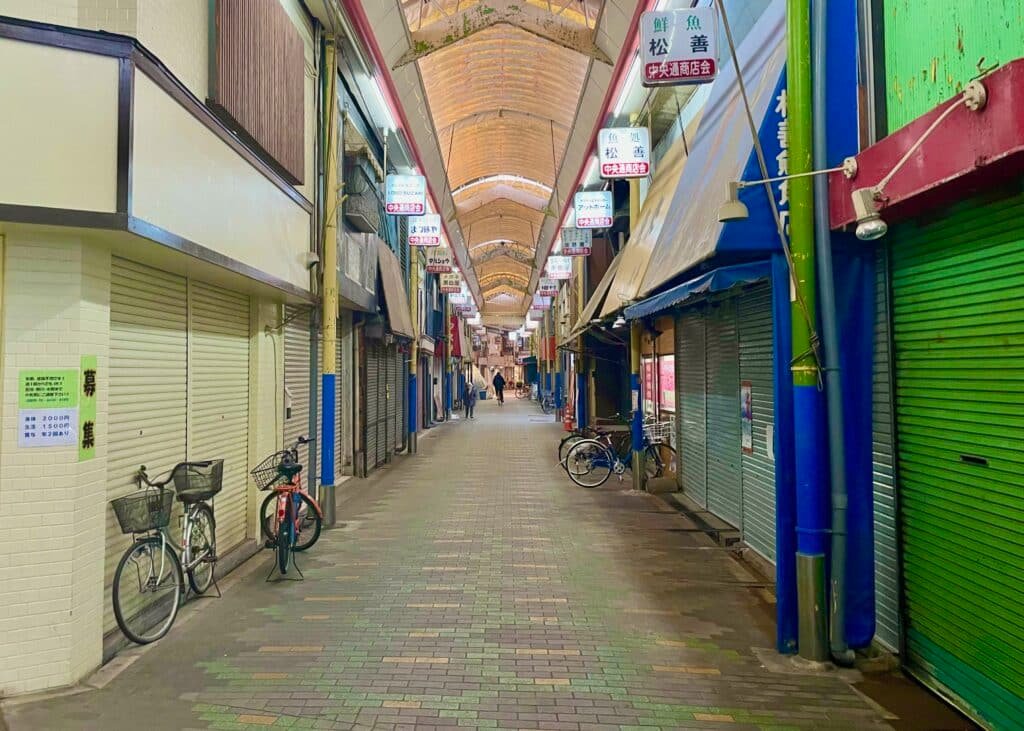 Coffee House Doobie
Address: 1 Chome-11 Senbonkita, Nishinari Ward, Osaka, 557-0053. TEL: N/A. Open: 10:00-18:00 (Sat:8:00-18:30).
Here's something you don't see everyday. A coffee shop named after The Doobie Brothers. I love how they just appropriated the band logo for the sign, but the shop is under the radar so it's unlikely they will ever be sued for copyright infringement. I'm sure the members of the Doobie Brothers would be honored to have a cup of joe at a coffee shop named in their honor the next time they play a show in Osaka. Well, speak of the devil. I just did a google search and the band actually is playing a couple of shows in Osaka on April 24th and 25th. Wes and I already had our morning coffee so there is no way we are going to stop at this shop.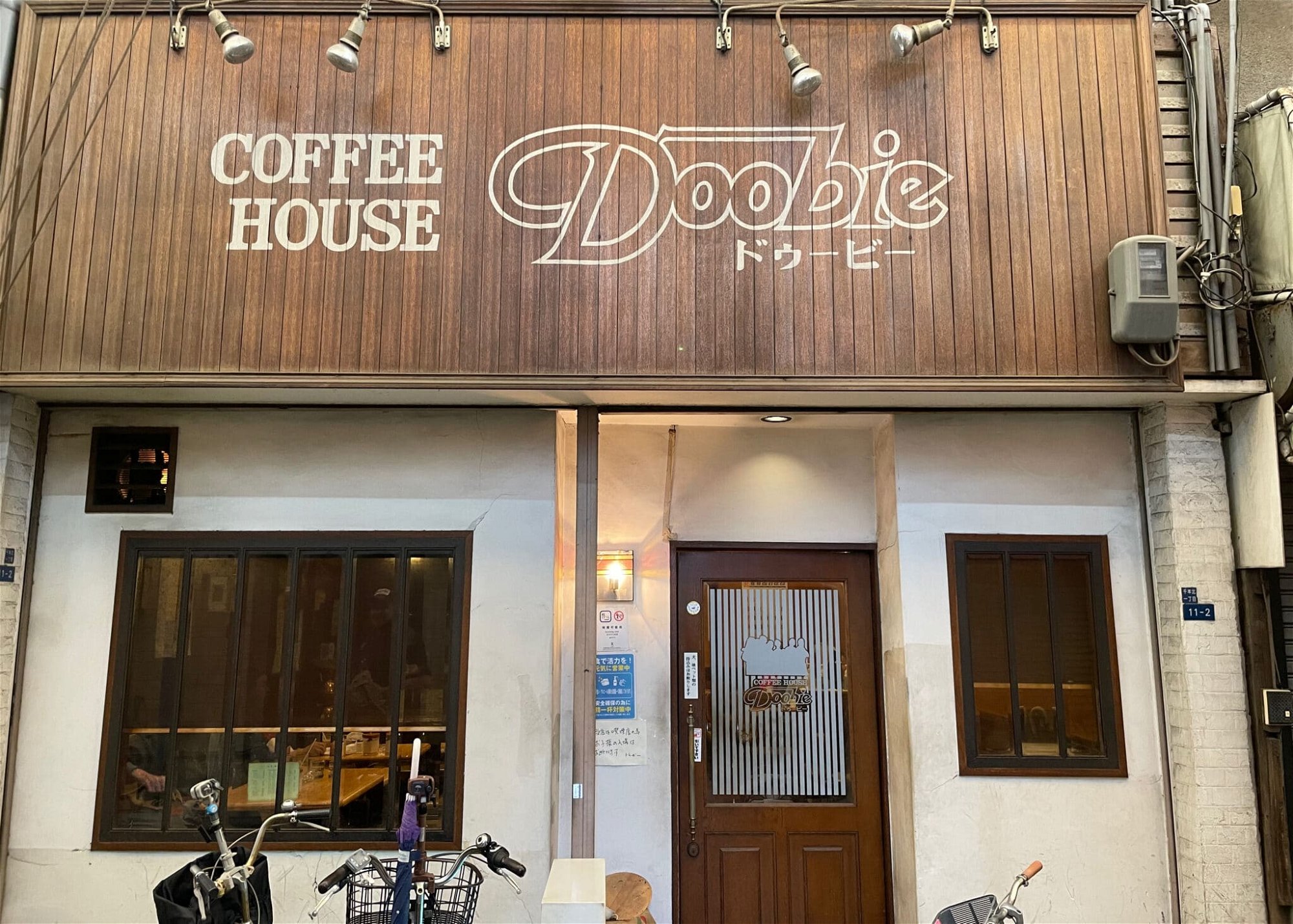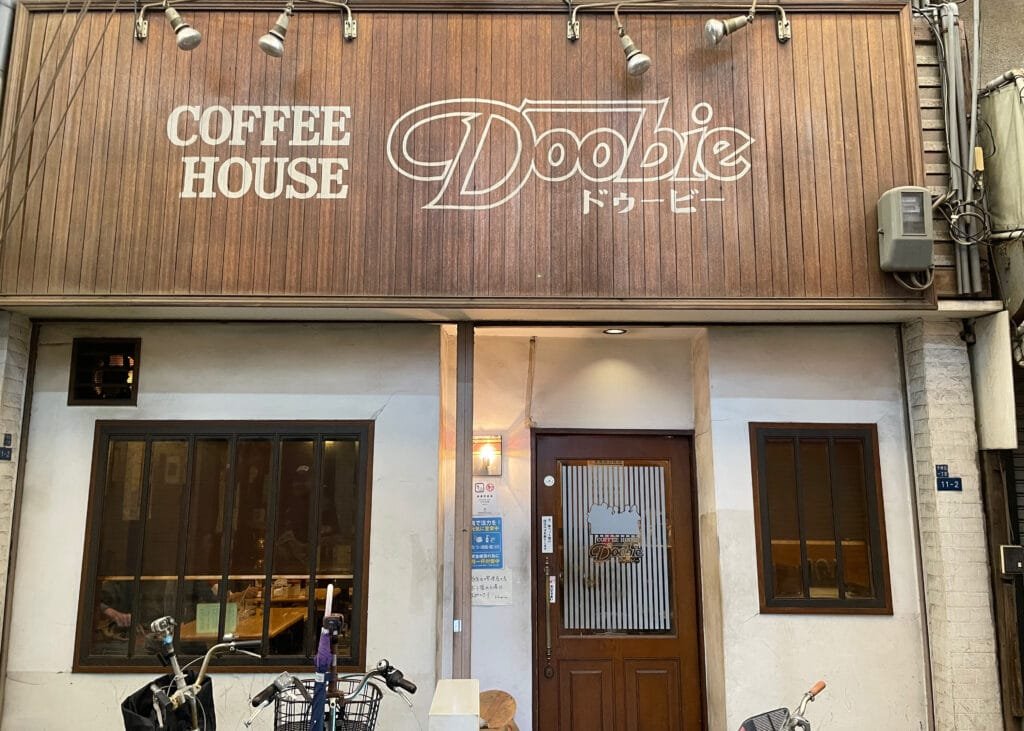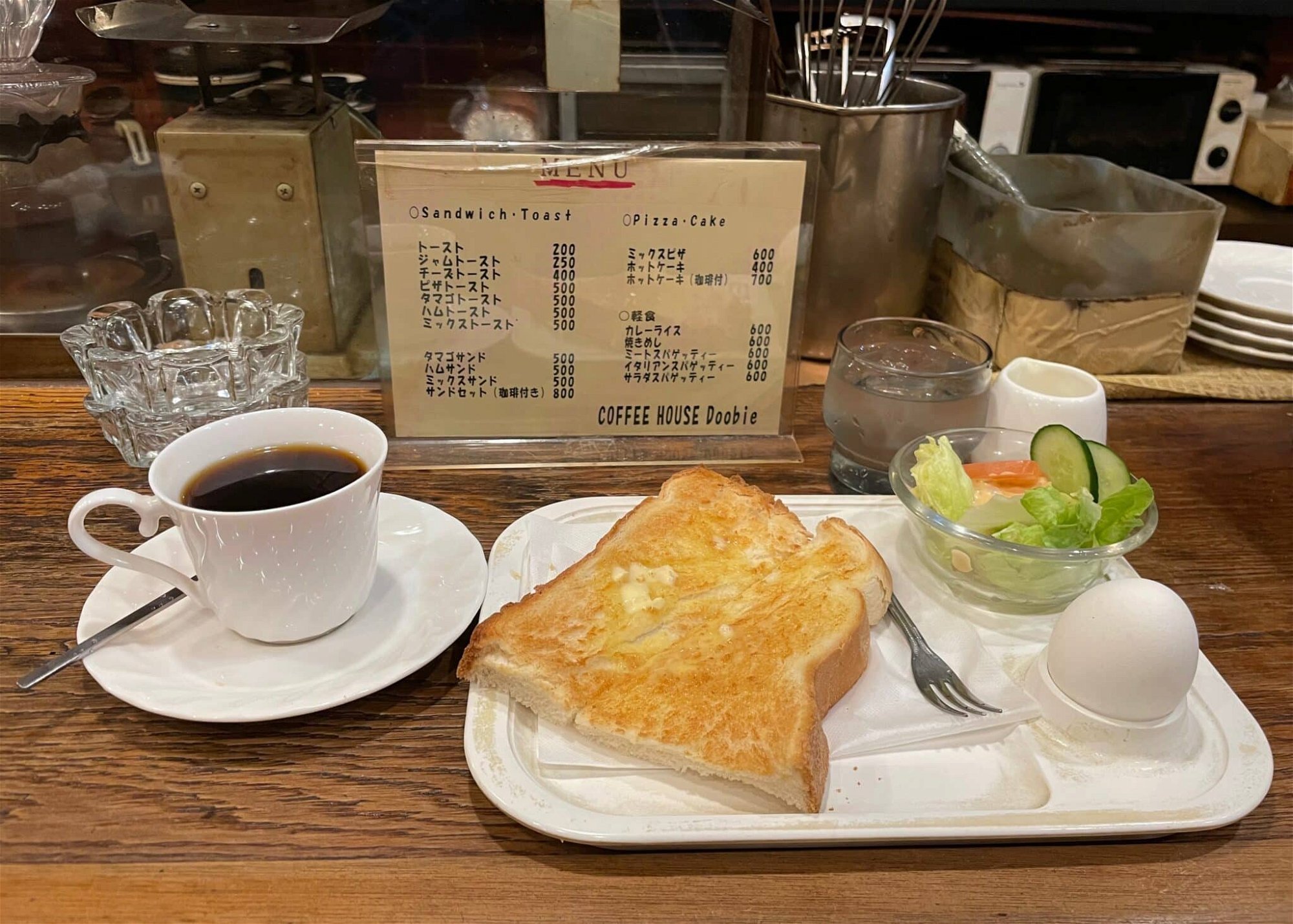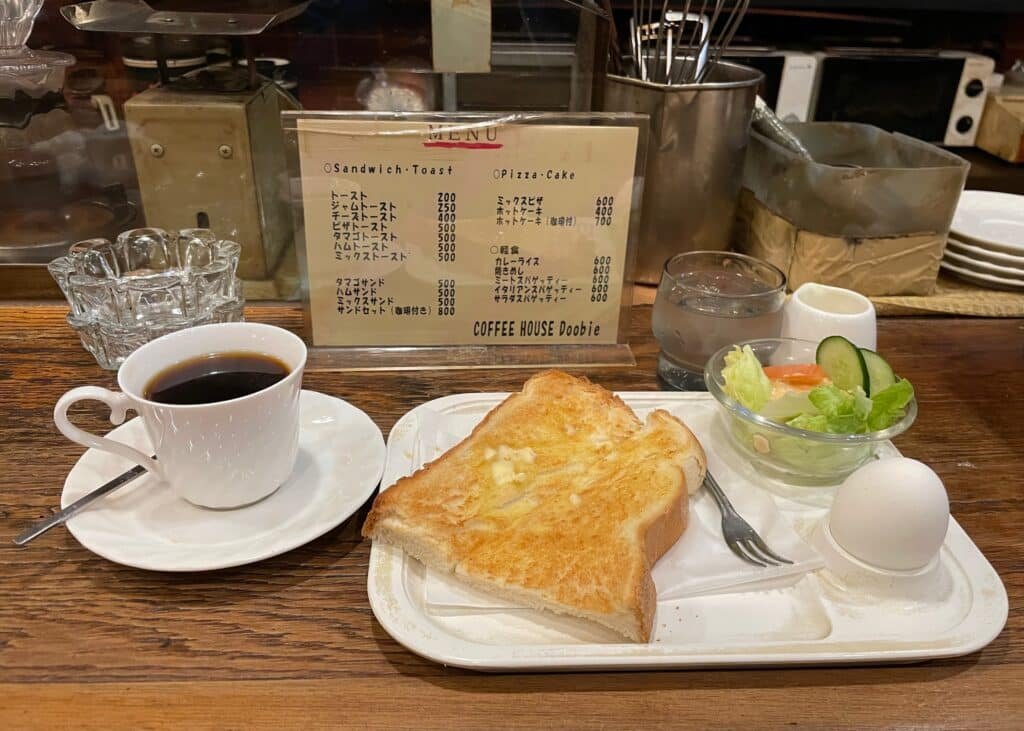 However, a few weeks later, curiosity got the best of me and I ventured back to Nishi Tegachaya on a cold Saturday morning in order to try their morning set (¥460), which consists of coffee, toast, a hardboiled egg and a small salad. The place was packed with regulars, mostly age 50 and over, and had a great neighborhood vibe. Families take note: a sign out front states that children are not permitted inside. No big loss. What kid drinks coffee and listens to the Doobie Brothers?
Tottori とっとり+ Tsujimoto Shoten 辻本商店
You wouldn't come all the way to the Nishi Tengachaya Shotengai just to shop for fruits and vegetables, but these two colorful shops facing each other would both make nice post cards. If I had any skills as an artist, I would set up an easel in the shopping arcade and start painting these picturesque post cards. This is the ideal location to take pictures for an album cover if you are a member of an indie rock band. I'm confident that it will be virtually as well-known as the image of Johnny Lydon taken in Shinjuku that appears on the album cover of the Public Image Limited Live in Tokyo album.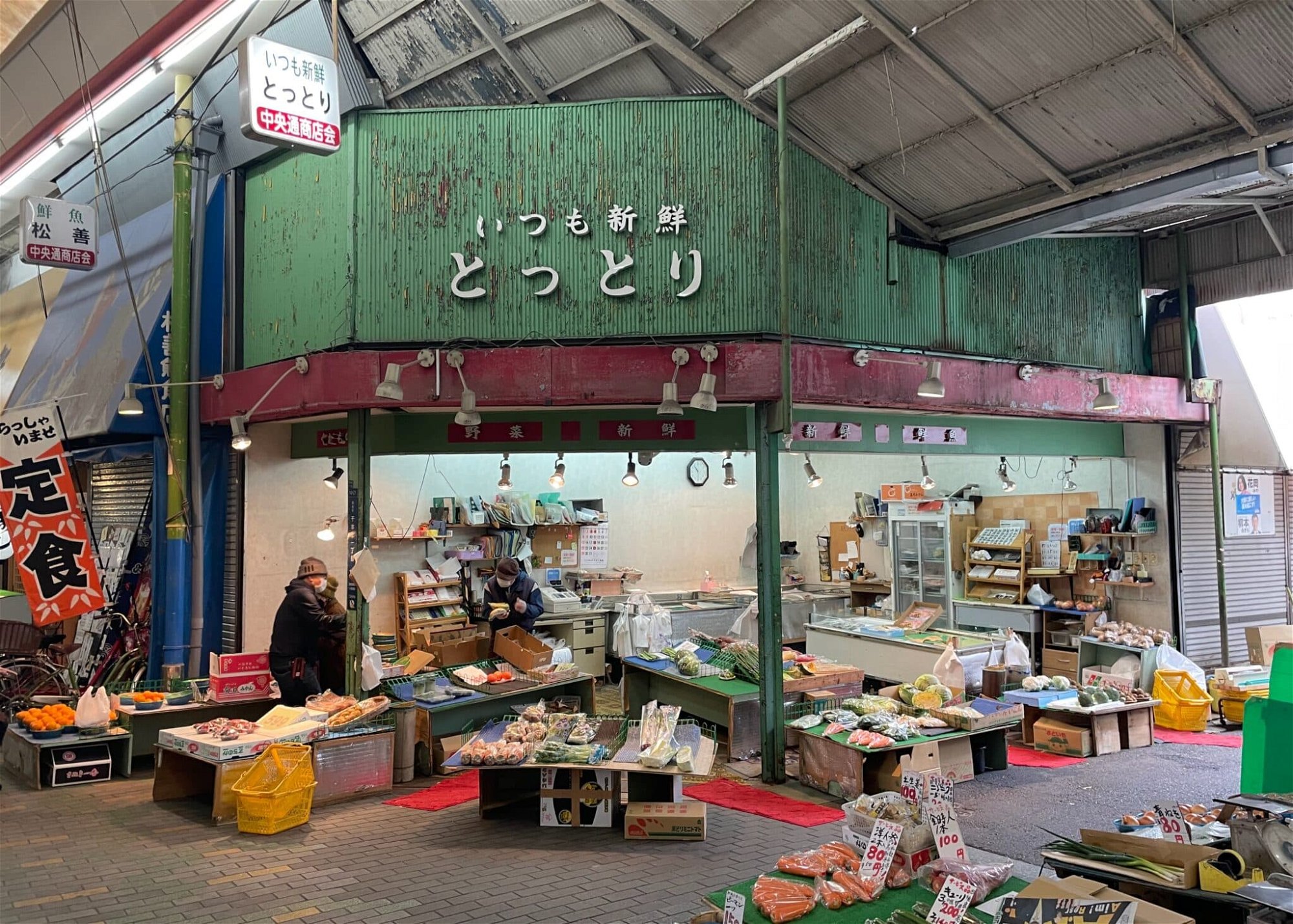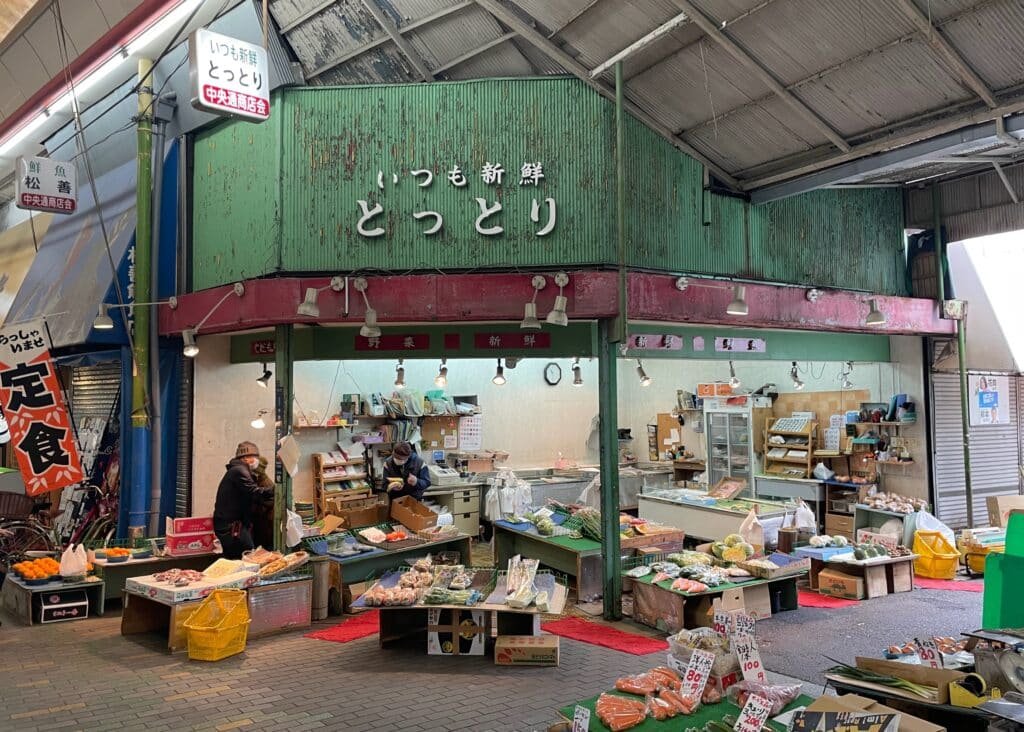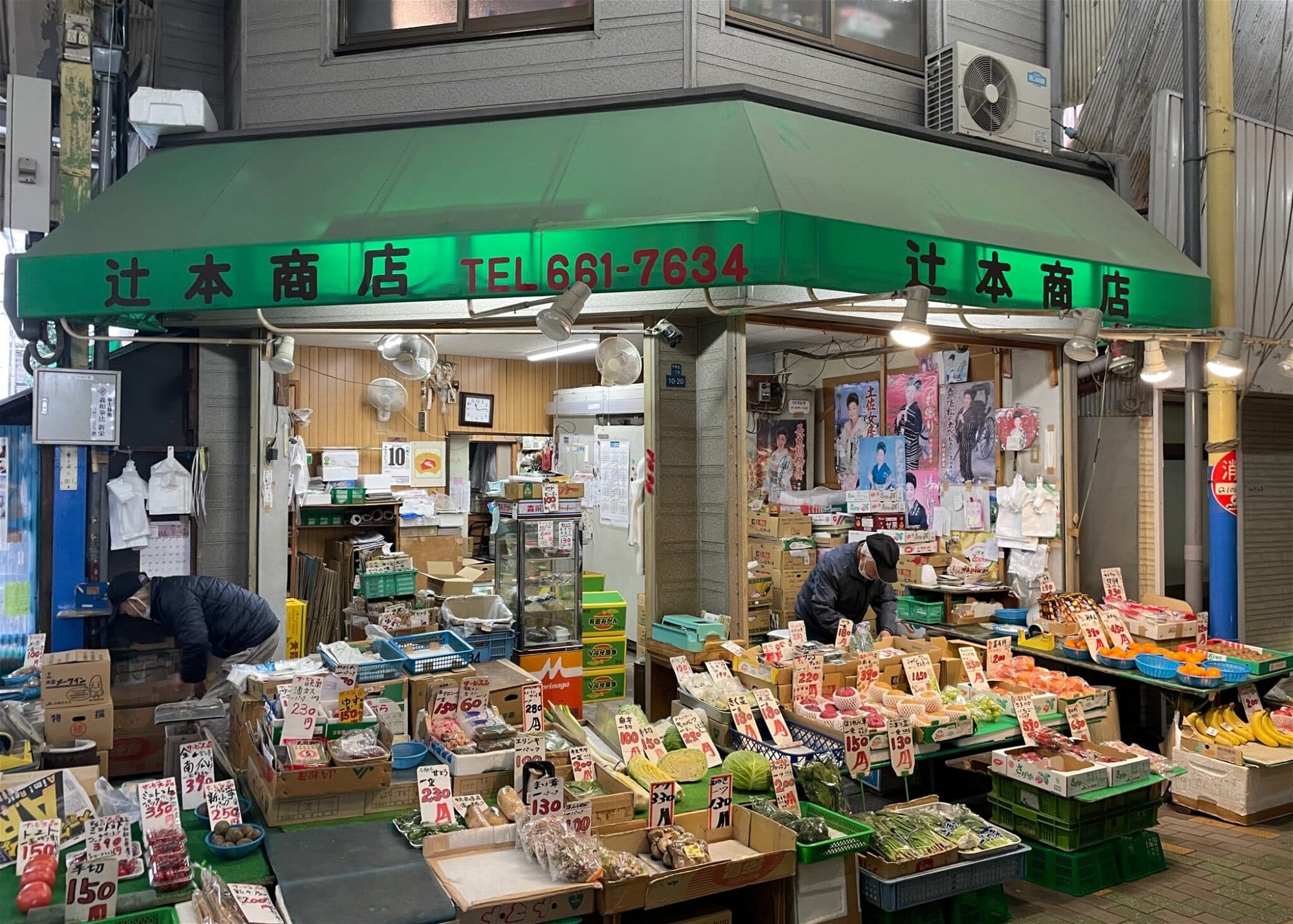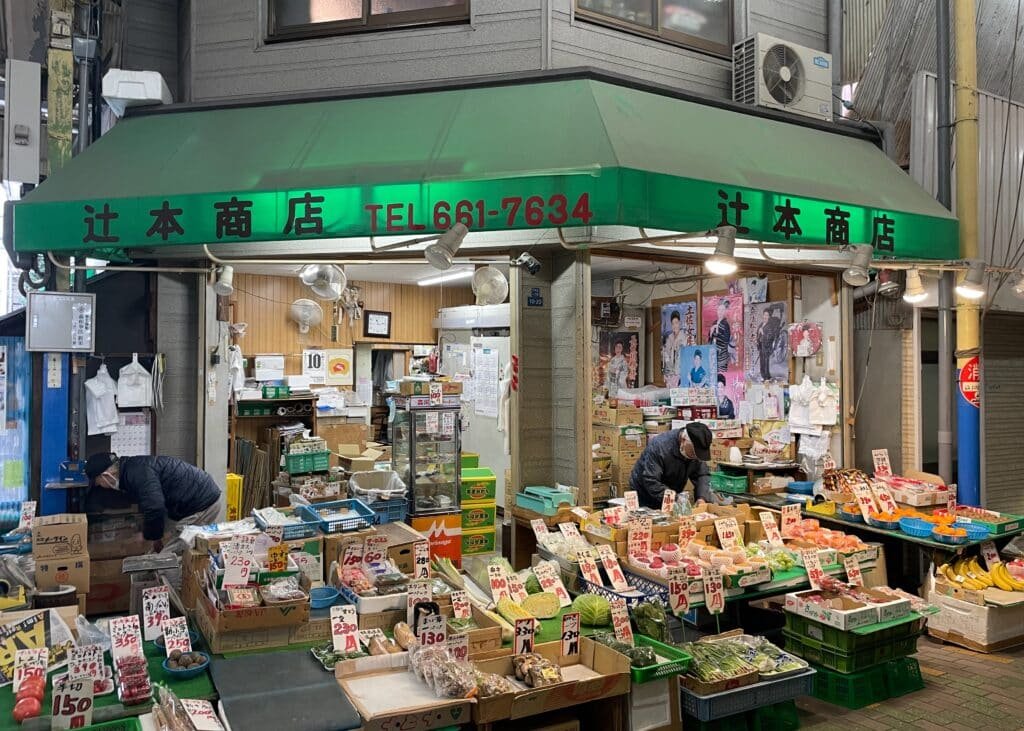 Chuodori Jyukai Shoutengai 中央通寿会
Address:1 Chome Senbonkita 10~4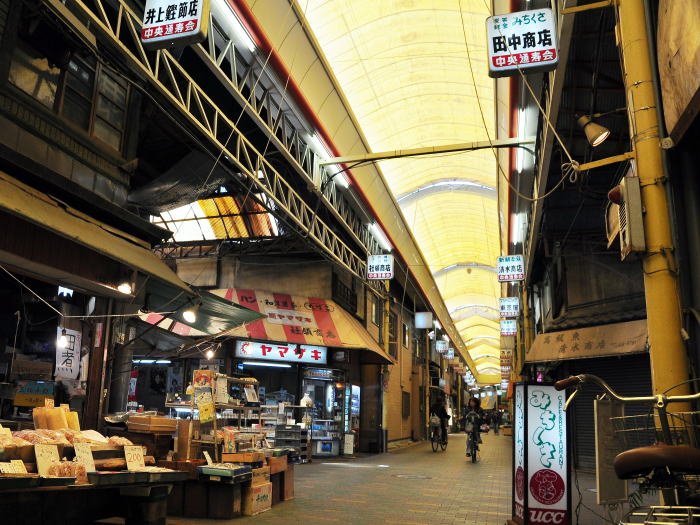 We are coming to the end of the Nishi Tengachaya shotengai (or the beginning if you entered from the opposite direction). This section known as the Chudori Jyukai contains many older shops that are shuttered, including a video rental store that is straight out of the 1980s. This is the second fork in the road that makes the "Y" shape, but it appears that part of it has been torn down. I notice a sign on an empty lot announcing the construction of a 10 story apartment building. I seriously hope that this wonderful old shotengai survives for another decade or two, but there don't seem to be many new businesses opening.
Watch the video of Chudori Jyukai Shotengai below:
I notice a man selling towels in front of an abandoned store and recall that some of my bath towels are beginning to fray. I spend 450 yen on 5 colorful towels. It would be nice if they said "Nishi Tengachaya" on them, but I am pleased with my purchase. There are a lot of small towel factories in Osaka, especially in Izumisano and Kishiwada. I'd rather buy towels from the back of a truck than spend my money at Bed, Bath and Beyond.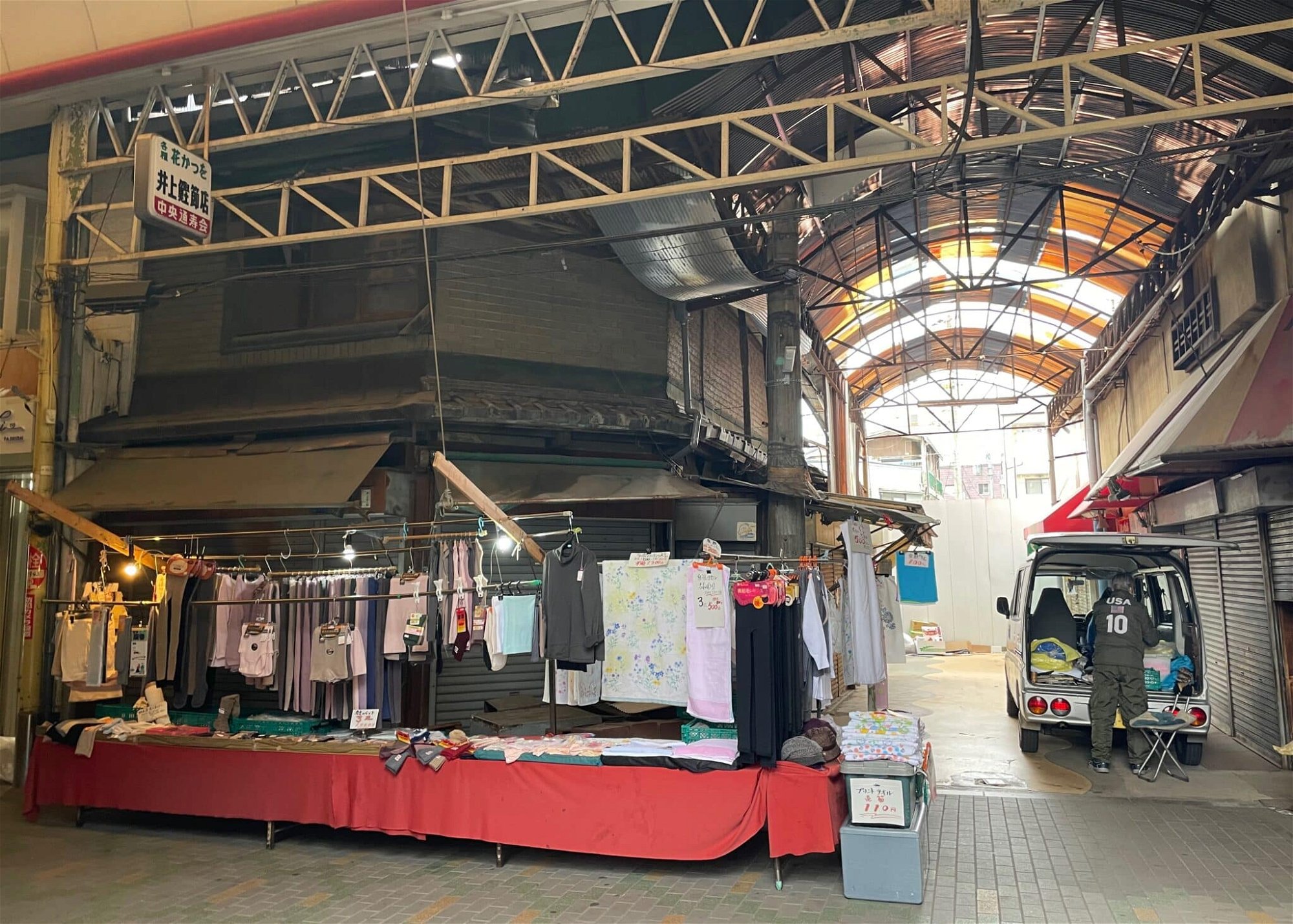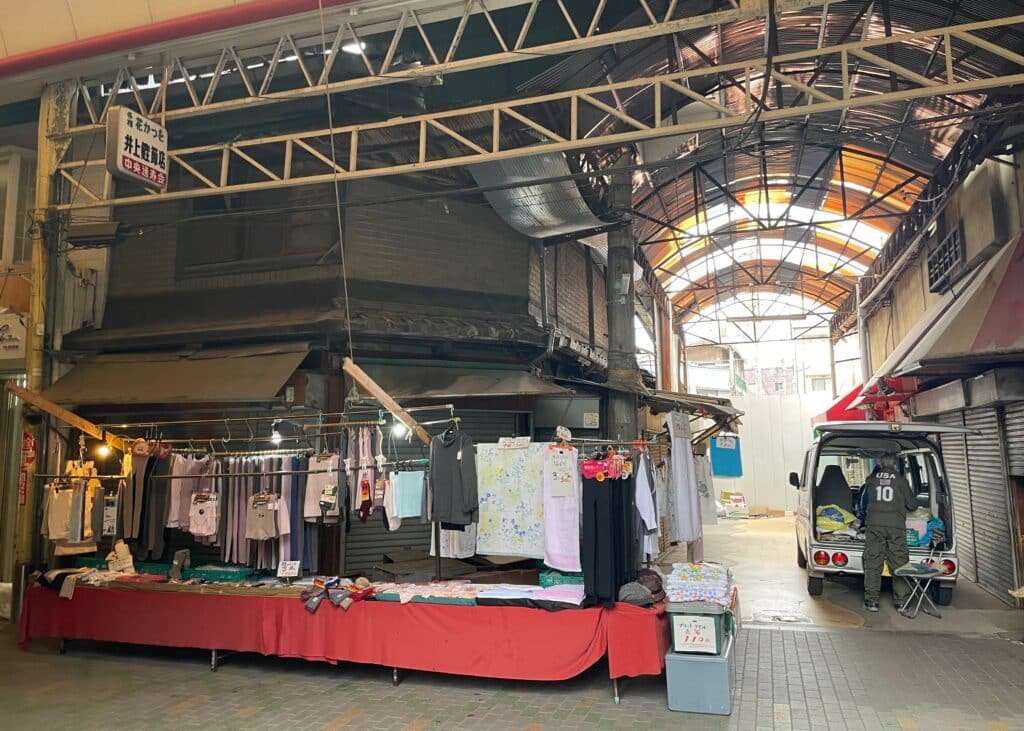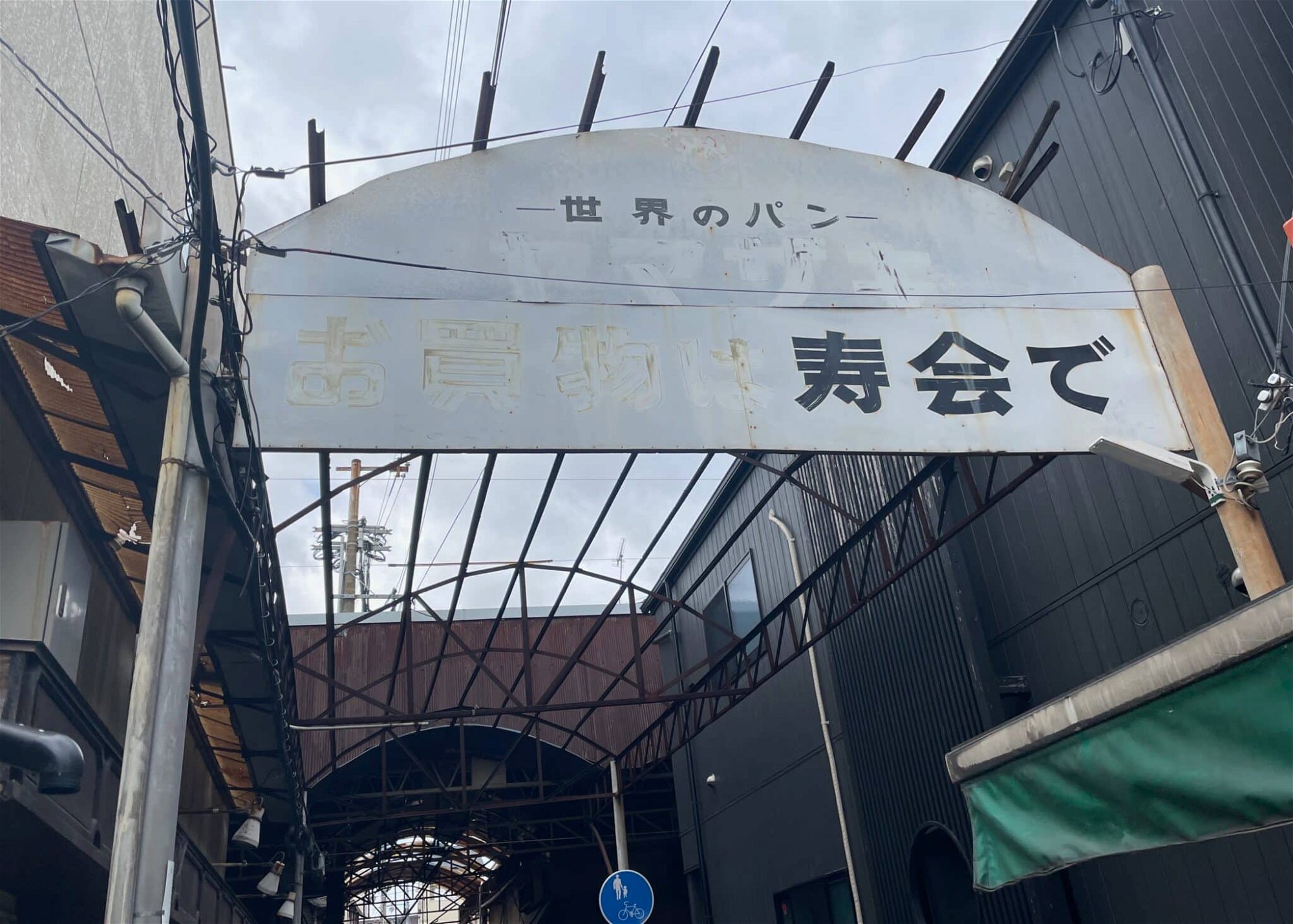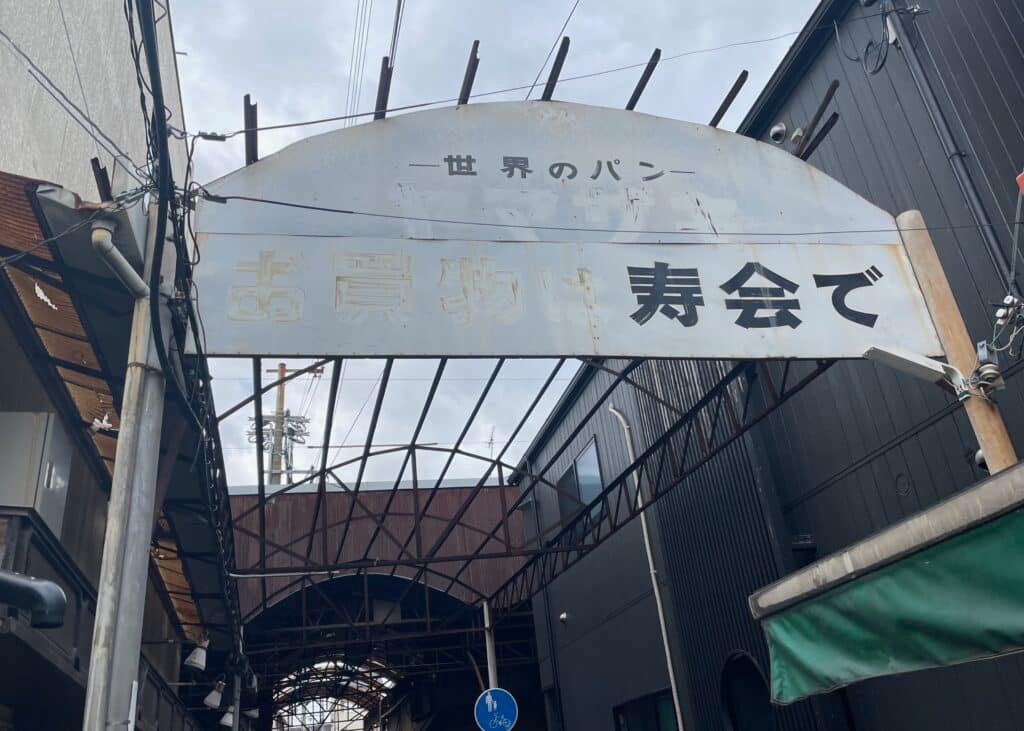 Wes has an uncanny ability to locate hidden public restrooms throughout Osaka. He informs me that there is a restroom inside a corridor next to a seaweed and konbu shop that appears to be permanently shuttered. I'm not sure if we're permitted inside, but Wes insists it's a public passageway leading to the other side of the street. As I walk in, I notice a small closet-sized restroom on the right side by the entrance. There's also a karaoke bar and a snack bar inside the passageway, both no longer in business. The passageway runs beneath an apartment building, but I don't believe anyone lives here. I spot a bunch of rusty bicycles that look as though they were abandoned by the owners over a decade ago. Attention aspiring film directors: If you need a location to shoot a creepy horror film then this place is perfect.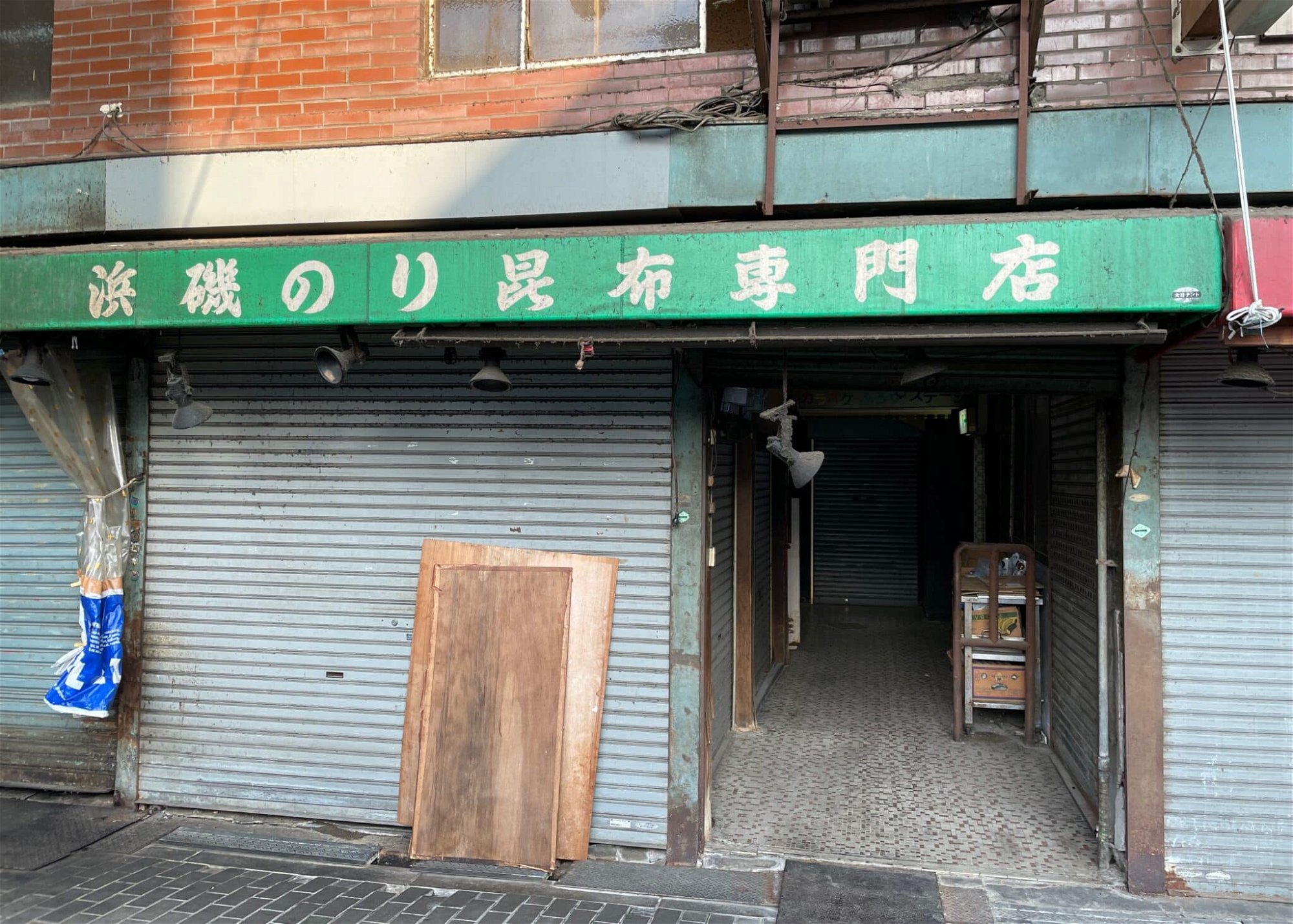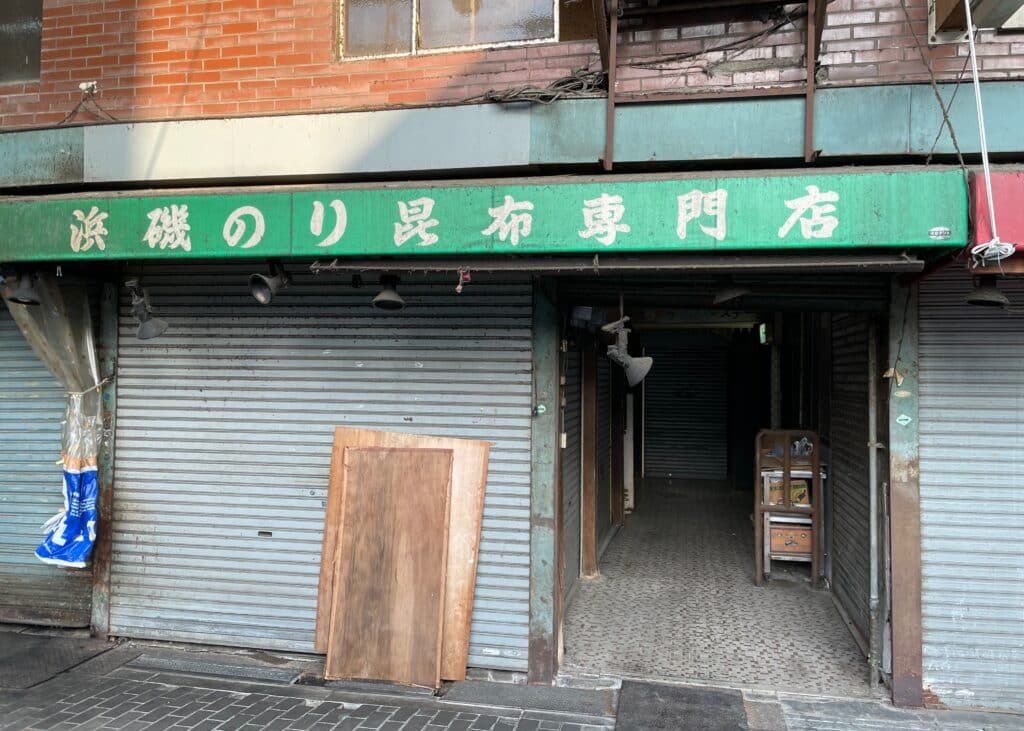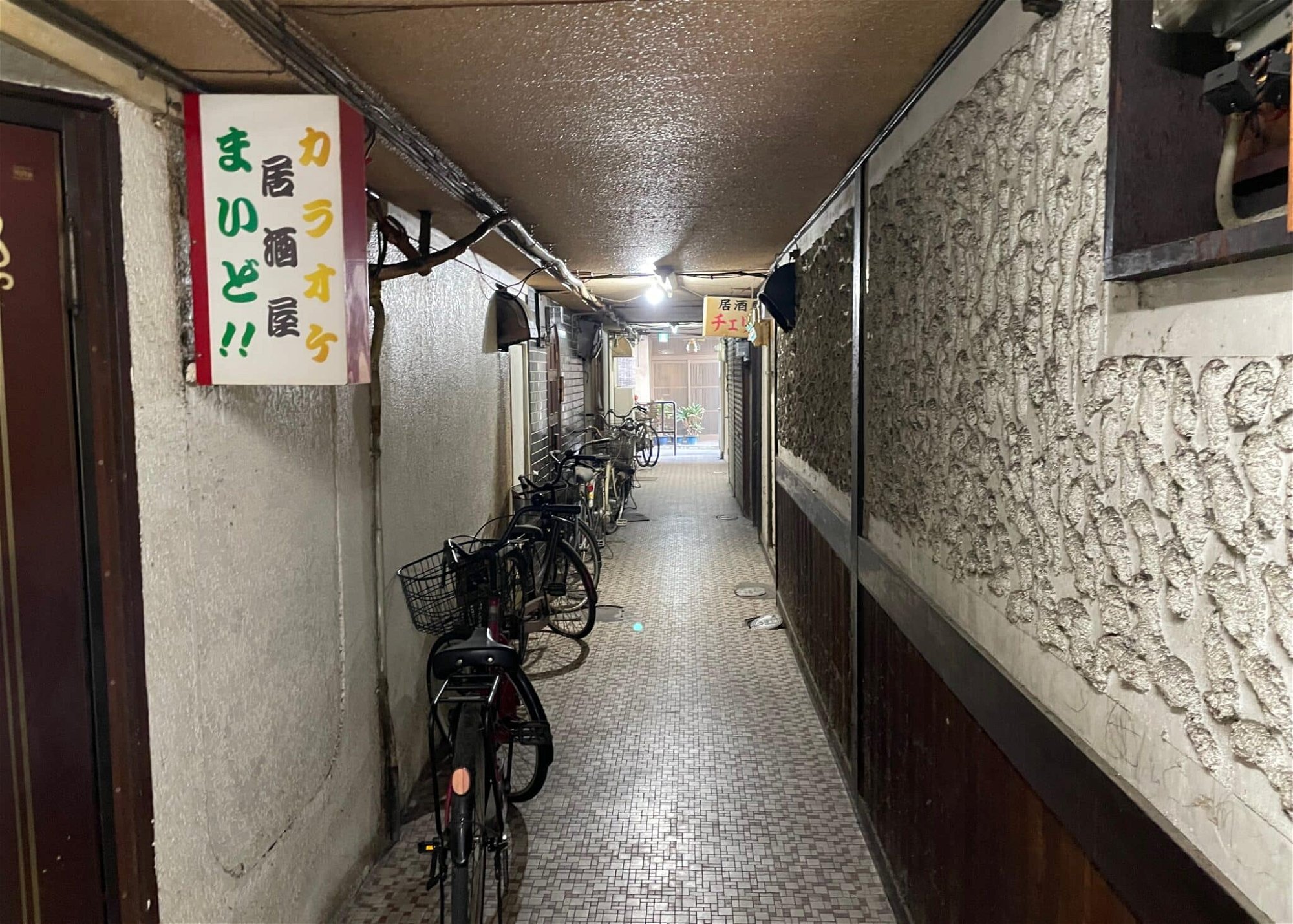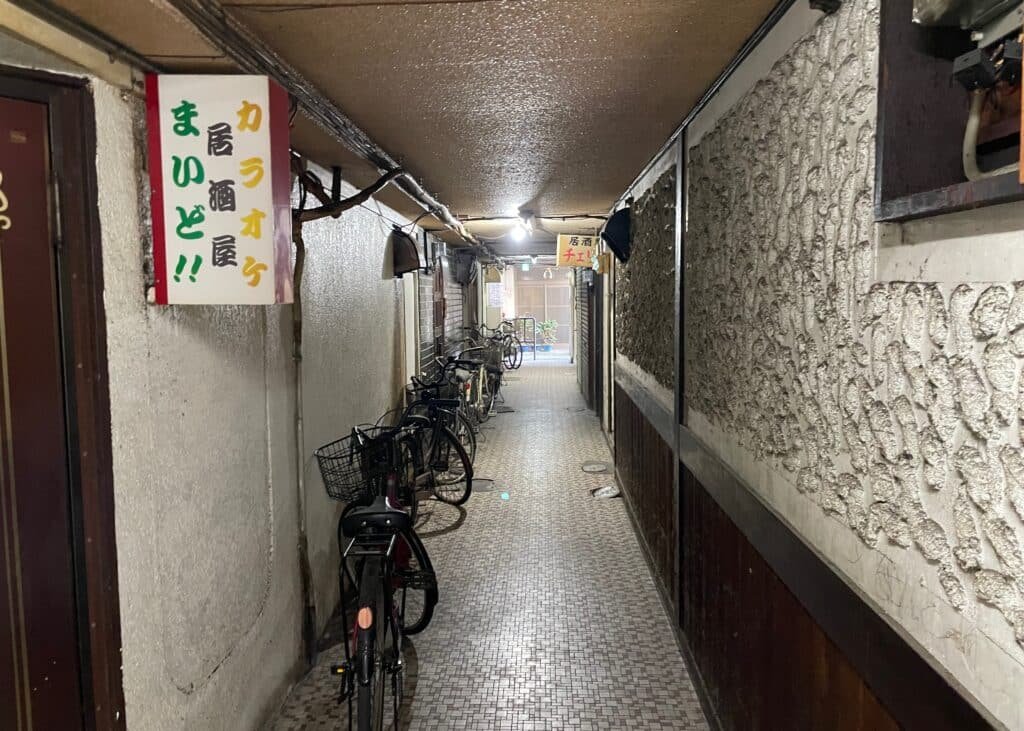 Oyatsu Corner Higashi Ura  おやつコーナ東浦
Address: 557-0053 Osaka, Nishinari Ward, Senbonkita, 1 Chome−14−7 OPBuilding. Tel:06-6651-7700. Open: 10:00-19:30. Closed:Tue, Thur.
Oyastu Corner Higashi Ura, which is located just next door to the shuttered seaweed and konbu shop, specializes in okonomiyaki, yakisoba and oden. It was closed the last few times I had been here, but today the the shop is open for business. I ask the owner when the shop opened and he says (in Japanese) fifty years ago, before clarifying in English, forty-nine years ago. Several people strolling through the shopping arcade seem happy to see him and call out new year's greetings: "Akemashite omedeto gozaimasu." A lot of old shops closed during the pandemic, so it's wonderful to see this staple of the neighborhood up and running again.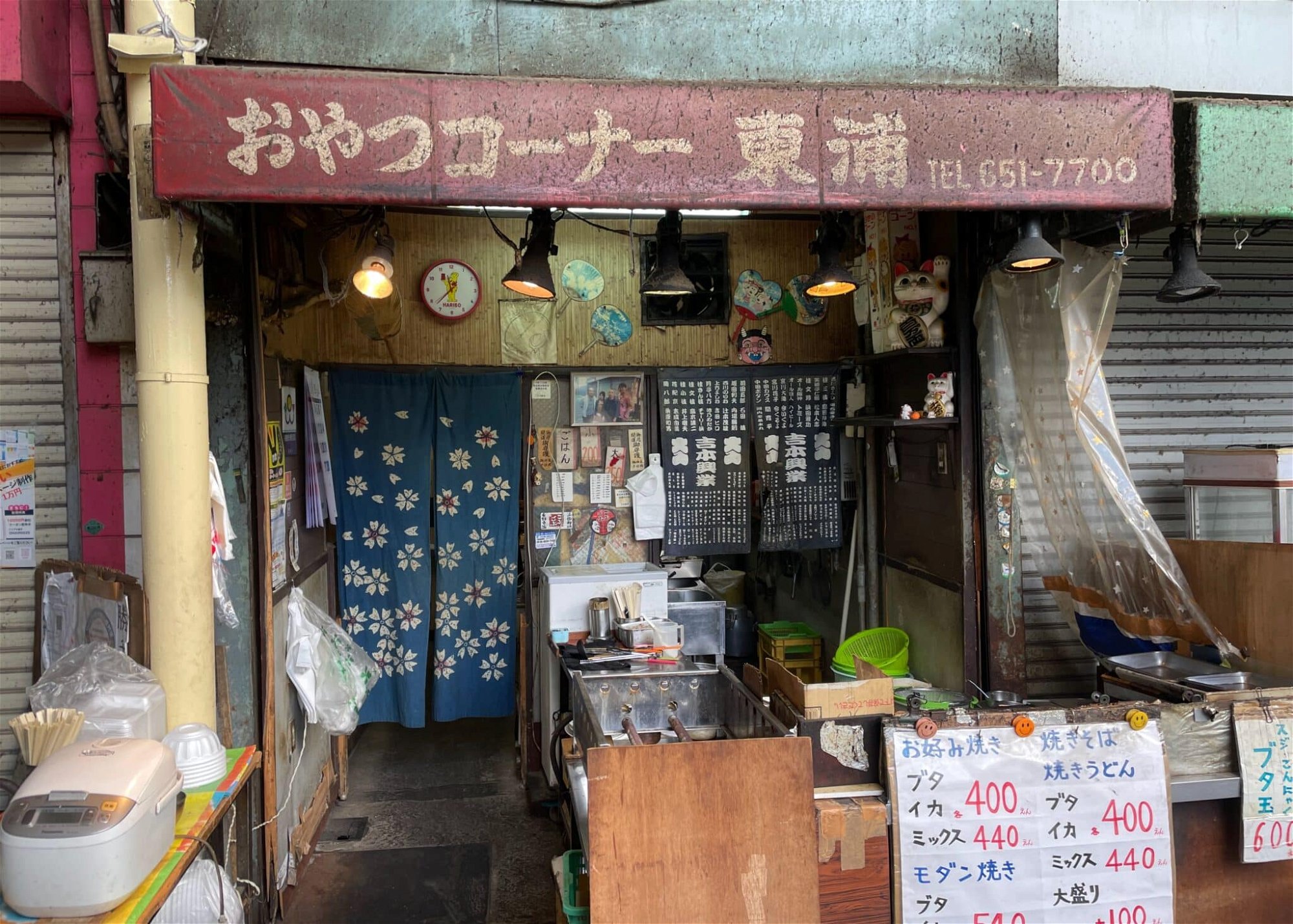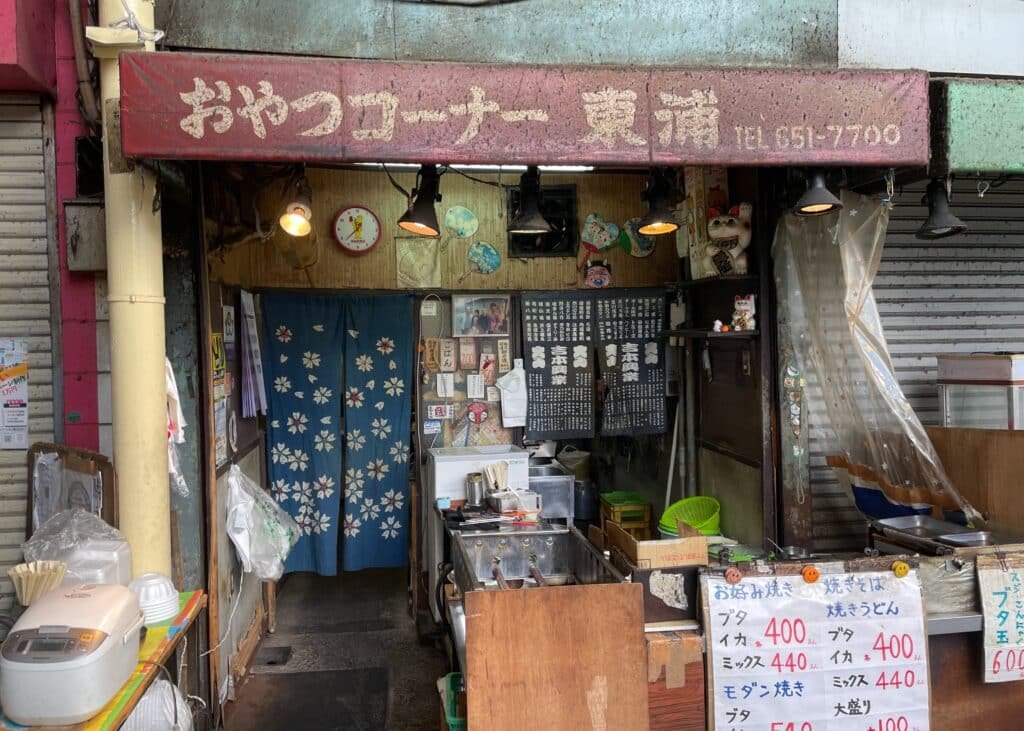 We decided to order a modanyaki, okonomiyaki with yakisoba noodles. The shop offers a choice of pork or squid (¥540), but we go all out and choose the mixed option that includes both items for only a scant 30 yen more. It's wonderful seeing our meal prepared up close on the ancient teppanyaki grill. During the pandemic, when I couldn't go out to eat, I satisfied my cravings by watching YouTube videos of street food being prepared in Kansai without any commentary, fancy graphics, or slick editing. I pull out my iPhone and start to shoot a video in the same manner.
The owner starts off by adding a batter of eggs and flour to the grill that he tops off with slices of squid. He sets down the yakisoba noodles and splashes some water on them which makes a pleasant sizzling sound. After adding the noodles to the batter cooking on the grill, he adds pork, more batter, and flips it over twice. The pork now has a golden hue. Once done, he cuts the modanyaki into 9 pieces and transfers it to a tray. He spreads on okomiyaki sauce on with a brush and squeezes mayonnaise on from a plastic bottle.
Most people order their dishes to go, but we have nowhere to eat it so we ask if we can eat our meal at a small counter outside. The owner tells us that it is too cold outside and invites us into the tiny shop, which I'm surprised has a proper counter. A collection of sumo medallions is displayed on a wall above the counter. The owner then goes to work on a delicious looking pan of oden, which he plans to heat up outside.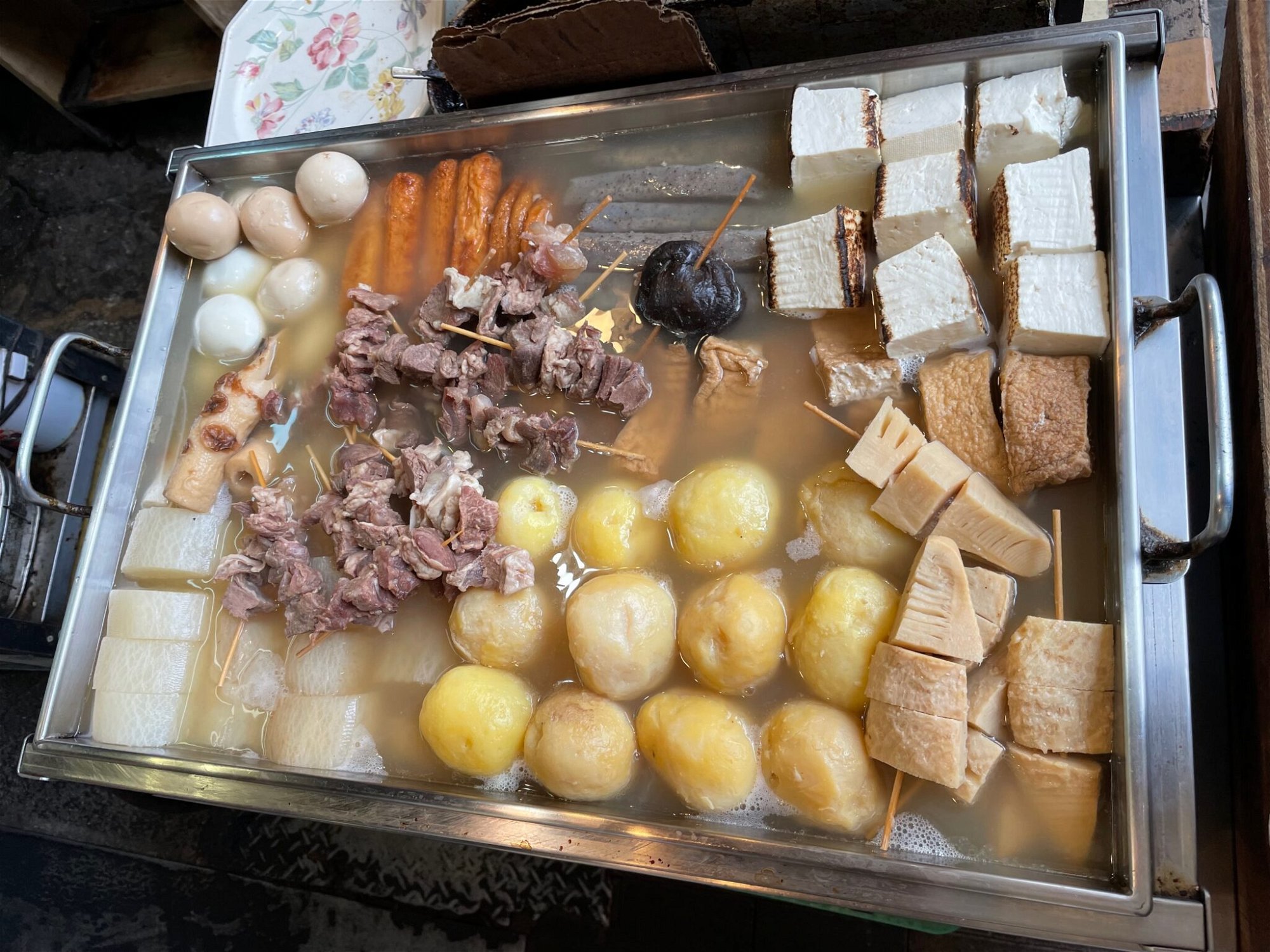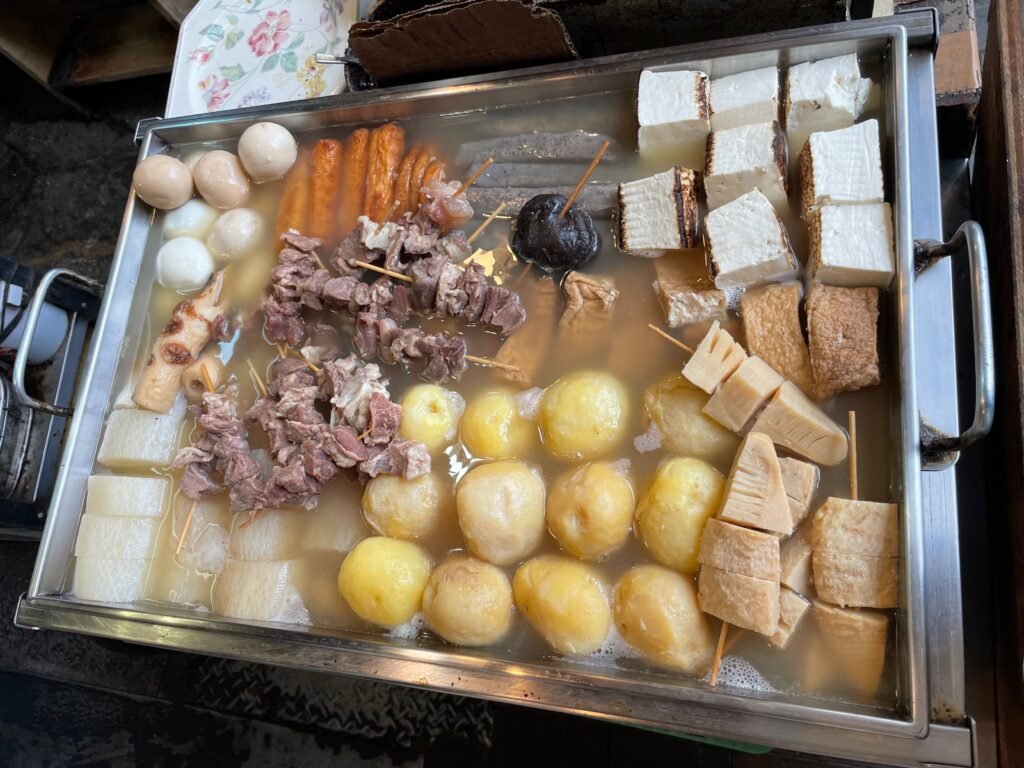 Kishinosato Station 岸里駅
It's only a short 5 minute walk from the end (or beginning) of Chudorijyukai section of Nishi Tengachaya Shotengai. Kishinosato is a stop on the Osaka Metro Yotsubashi Line. It is six minutes on foot from Tengachaya Station it might be easier to walk from there. Most of the shops we plan to visit today are within minutes of the exits. Kishinosato-Tamade Station on the Nankai Line is 8 minutes away on foot.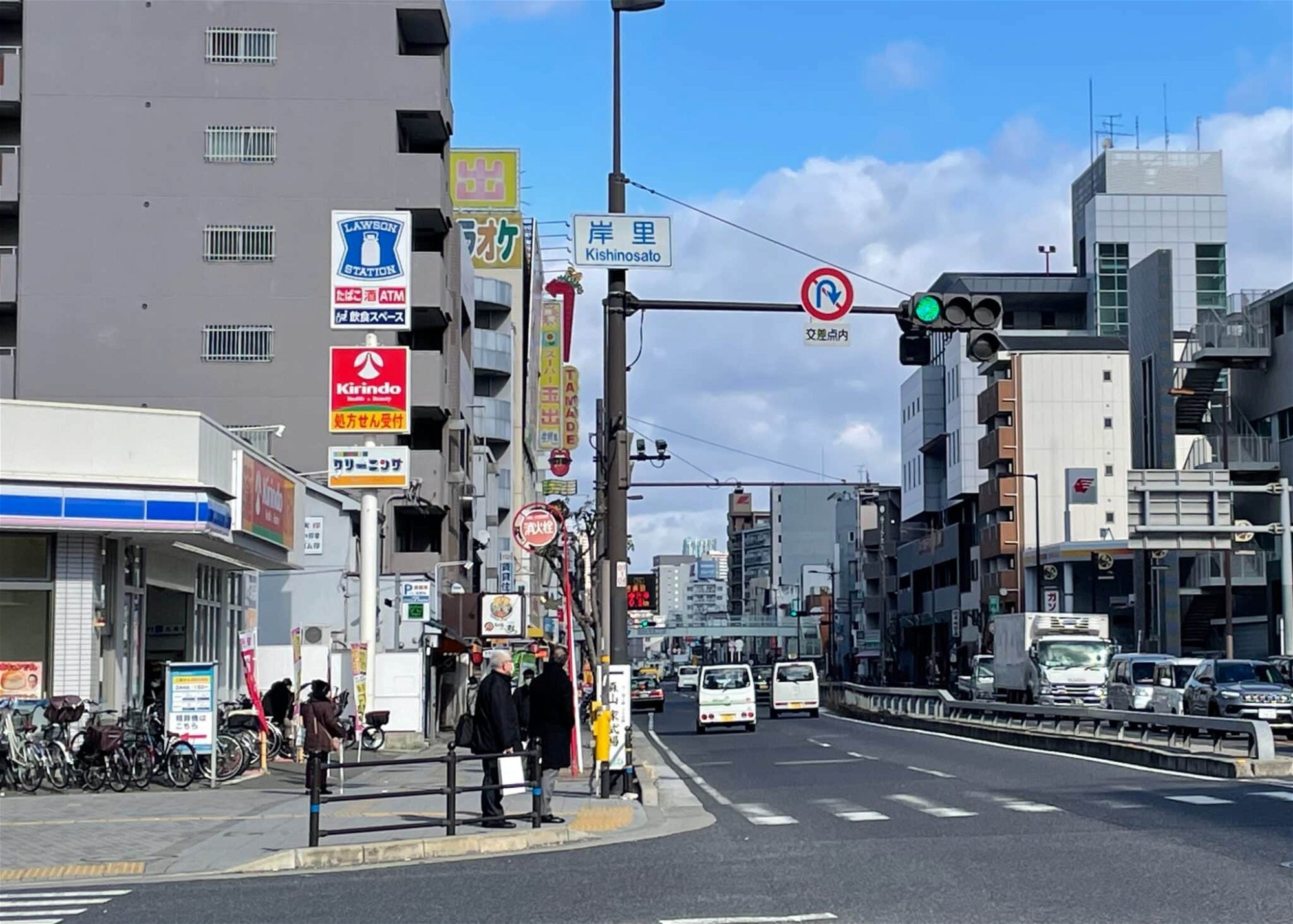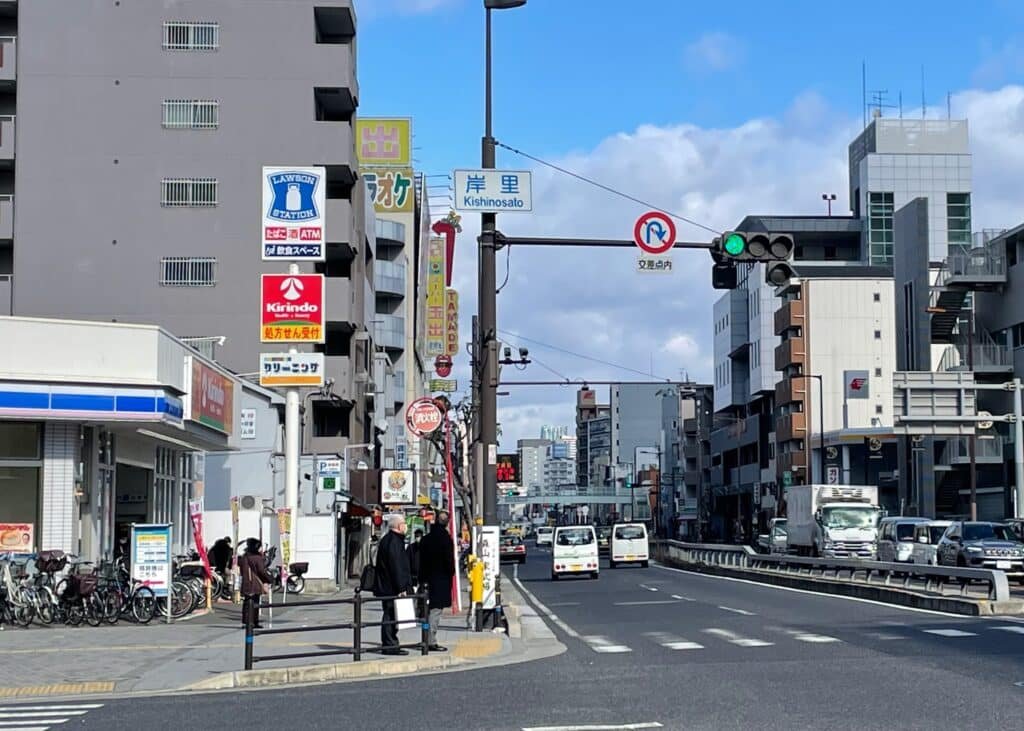 Tengachaya Tea House Ruins 天下茶屋史跡公園
Address: 2 Chome-10 Kishinosatohigashi, Nishinari Ward, Osaka, 557-0042.
We decide to visit the Tengachaya Tea House Ruins, which is a nine-minute walk from the Kishinosato Station. Then we'll head back and go to some restaurants around the station. It's a bit of a detour but worth it. Besides, we need to burn off some calories from our last meal.
In the Tensho era (1573-92), Megi Kohei Misutate I, a tenth-generation descendant of military leader Masatsura Kusonoki, opened the west side of this forest and opened a teahouse here called The Megiya Teahouse. When Toyotomi Hideyoshi, the Sekihaku (the chief advisor to the Emperor of Japan), stopped by this area on a visit to Sumiyoshi Shrine during the reign of Megi Kohei Masatate III, he drew water from the spring from the Megi family tea house and served tea to his companion Sen no Rikyu.
Toyotomi Hideyoshi was so impressed with the taste that he gave the spring the inscription "water of blessing" From there on in, the tea house and the area became known as "Tengachaya" or Shogun's Teahouse" (The literal translation is "tea house below heaven"). Megiya Teahouse was destroyed in air raids in 1945, however, the ruins remained. A huge camphor tree, an earthen storehouse, and a stone statue could be seen at the site, and the site was restored in 1987. It has been designated as an Osaka City historical monument.