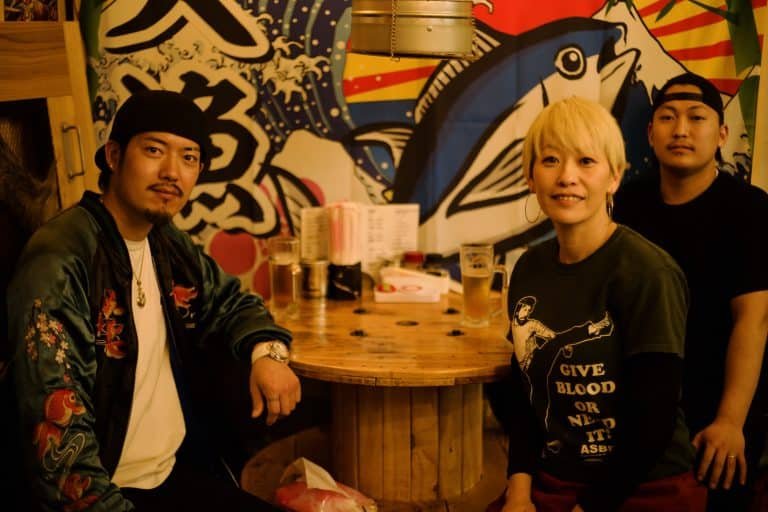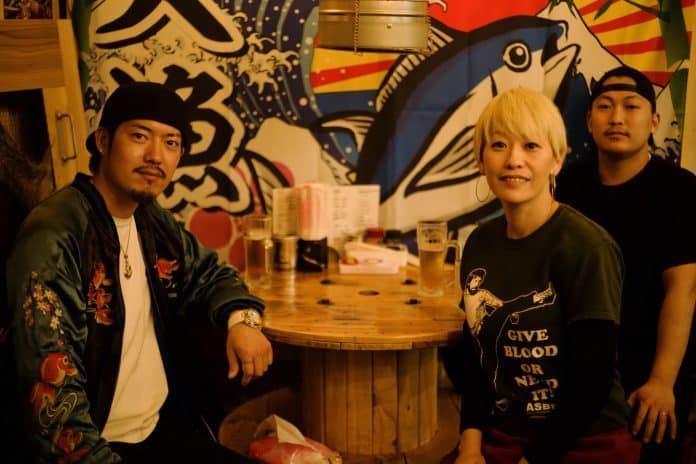 〒557-0004 Osaka Fu, Osaka- shi, Nishinari-Ku, Haginochaya, 3 Chome 4-2.
Nishinari Kazukinchi opening hours: Weekdays 15:00– 22:00/Weekends 12:00- 21:00.
It's 'Game-ON Osaka! And we don't mean just any old game; we're talking WILD GAME! In Japan (with the exception of Hokkaido), the hunting ban is lifted from November 15 to February 15. Hunters near and far don their hunter-orange colors, satchel their weapons, pack their traps, and lanyard their permits around their necks.
Nishinari Kazukinchi
In this very small window of opportunity throughout the country, wild game is sourced for food, for bones and hides, and to cull overly populated herds. This practice insures healthy, disease -free herds and helps save depletion of feeding territory.
Daily life of mountain villages has long been intertwined with hunting. Wild game constitutes an essential part of the traditional food culture of each region. Recently however, big cities too are cashing in on wild game.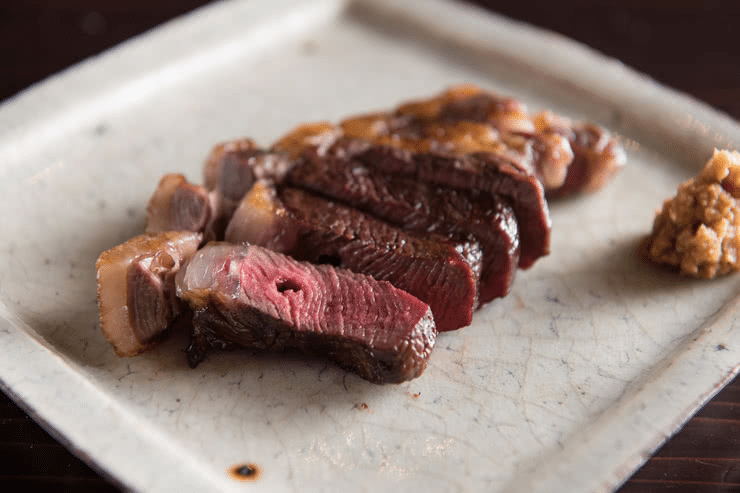 While game is being sourced for an ever growing restaurant market around Osaka and other larger cities, it is also being gathered more locally for a slowly realized, niche market in a certain backstreet neighborhood in south town Osaka…. A rather new Haginochaya Izakaya sitting right on the fringe of Nishinari's Triangle park. Run, don't walk for some of the treats this place has to offer!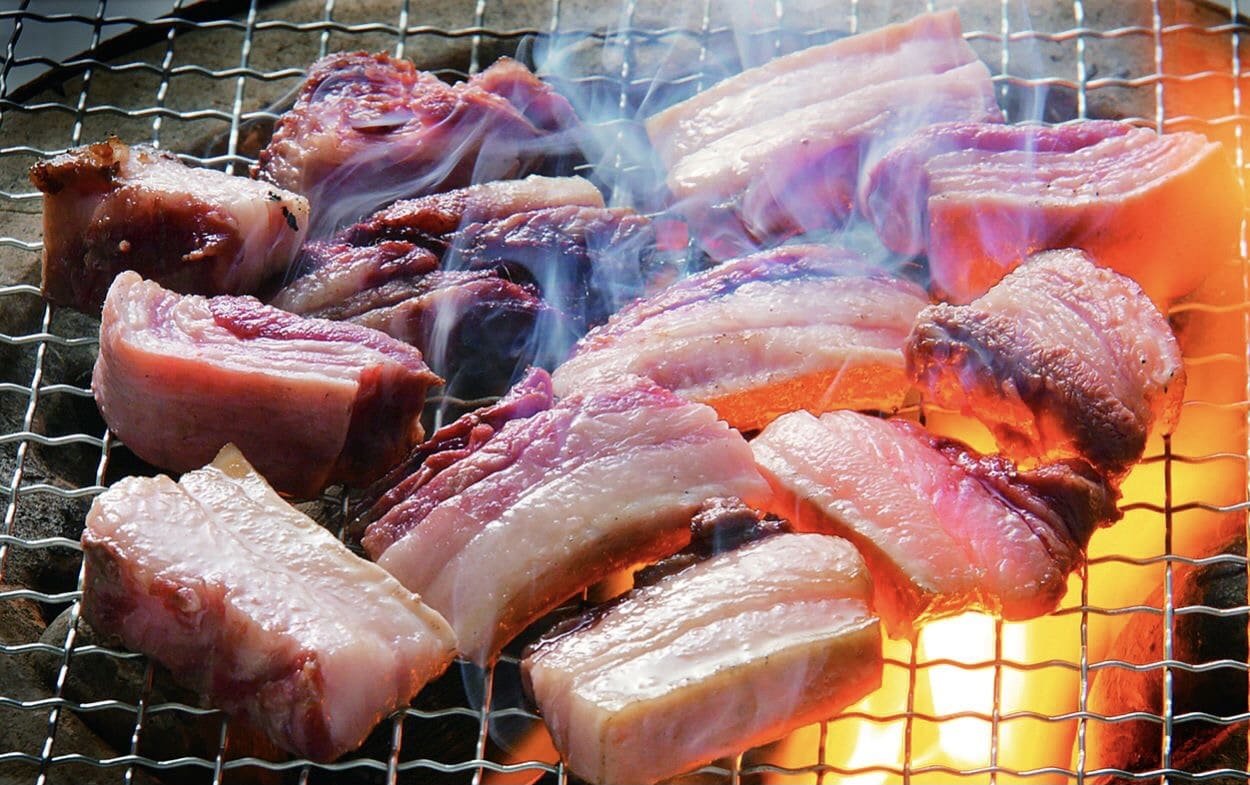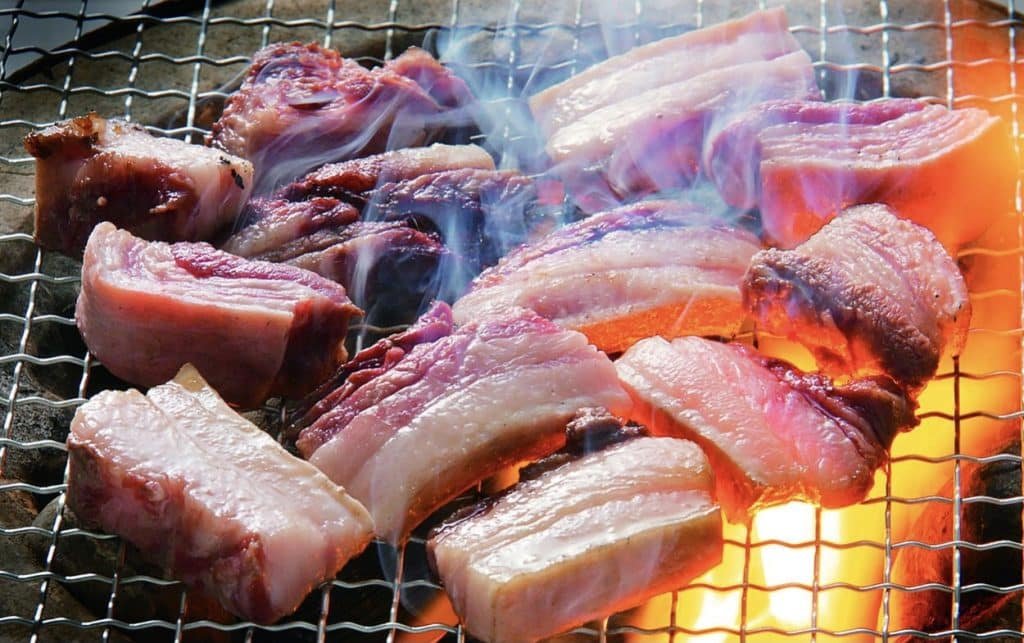 WILD Boar Spotted in Triangle Park
ON THEIR GRAND OPENING, November 7, 2022, Nishinari Kazukinchi hung out out their winter shingle -a full scale, large sized inoshishi (Japanese boar) pelt – drilled to an upright stand. "When the spring months come," they told their customers, "the pelt will shed its fur and need to be replaced in the cooler months of the following year. Might be a bear next!"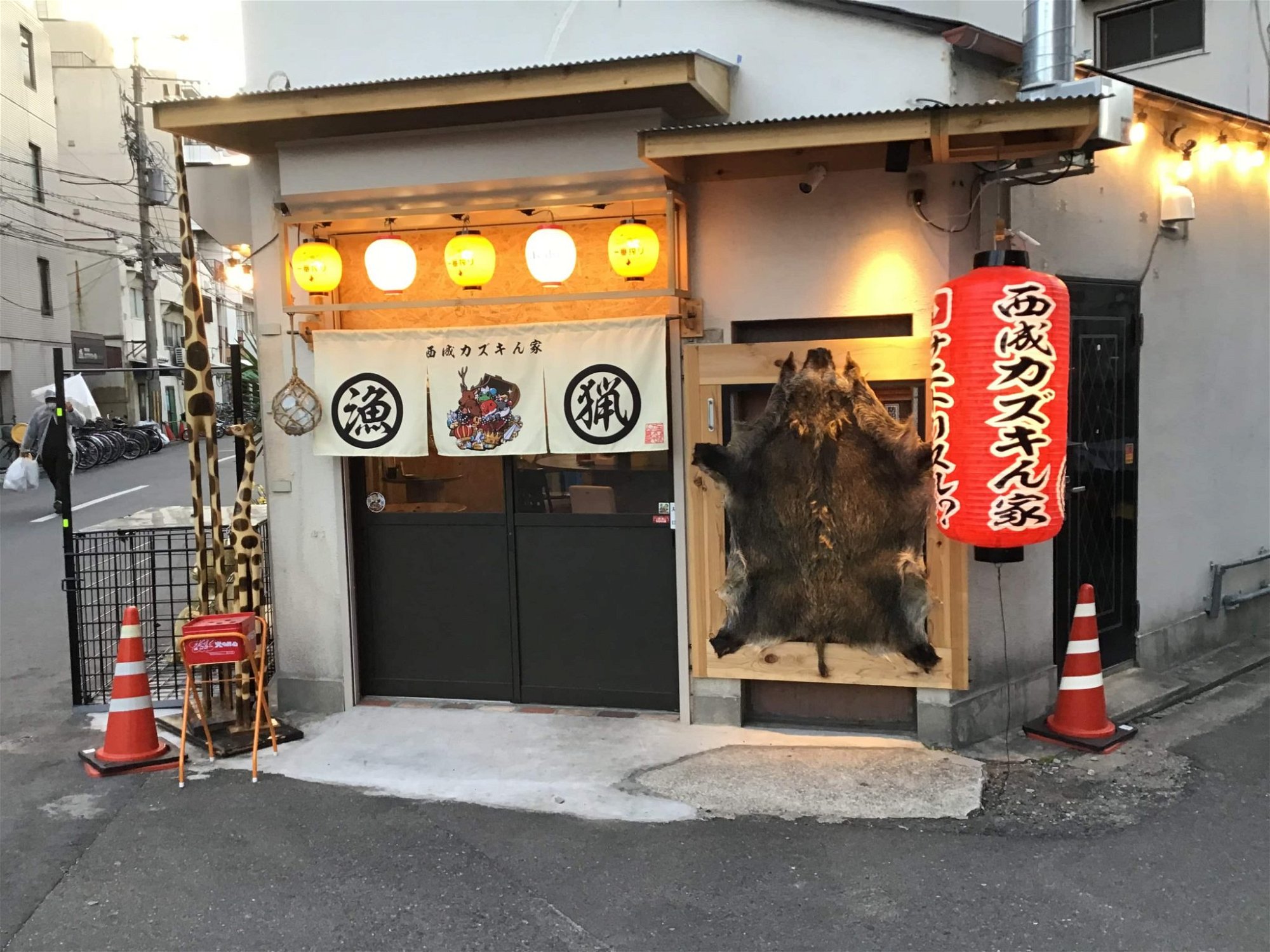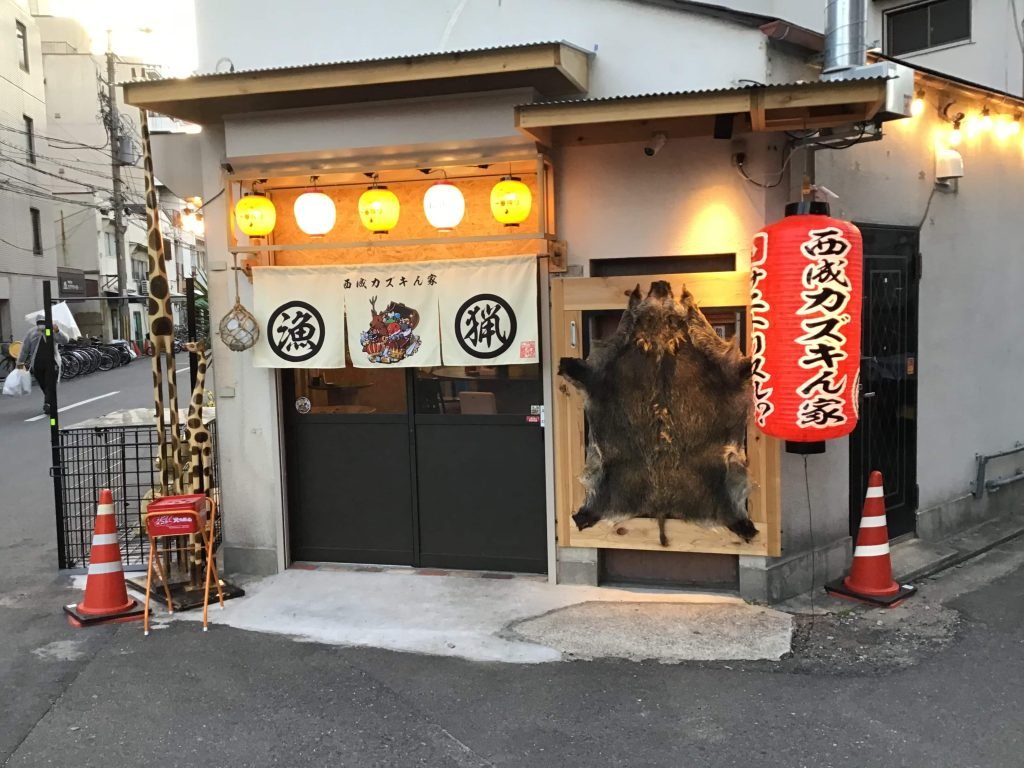 Nishinari Kazukinchi however has its sights set on serving their new customers certain cuts of wild game -as well as freshly caught fish – year round. A Reiwa era watering hole sporting wild game and seafood as their main feature and the owners barely in their mid-to late thirties! Impressive!
One frosty December evening just before the turn of this last new year I had rounded, by chance, a corner on a route to Triangle Park I'd taken no less than a hundred times before. This time however, something was different. Bright lights illuminated the street like fog lights . The building they adorned was a newly remodeled building dressed inside and out in Japan four-star-standard particle board-after a rugged fashion that most certainly screamed "Recent start- up".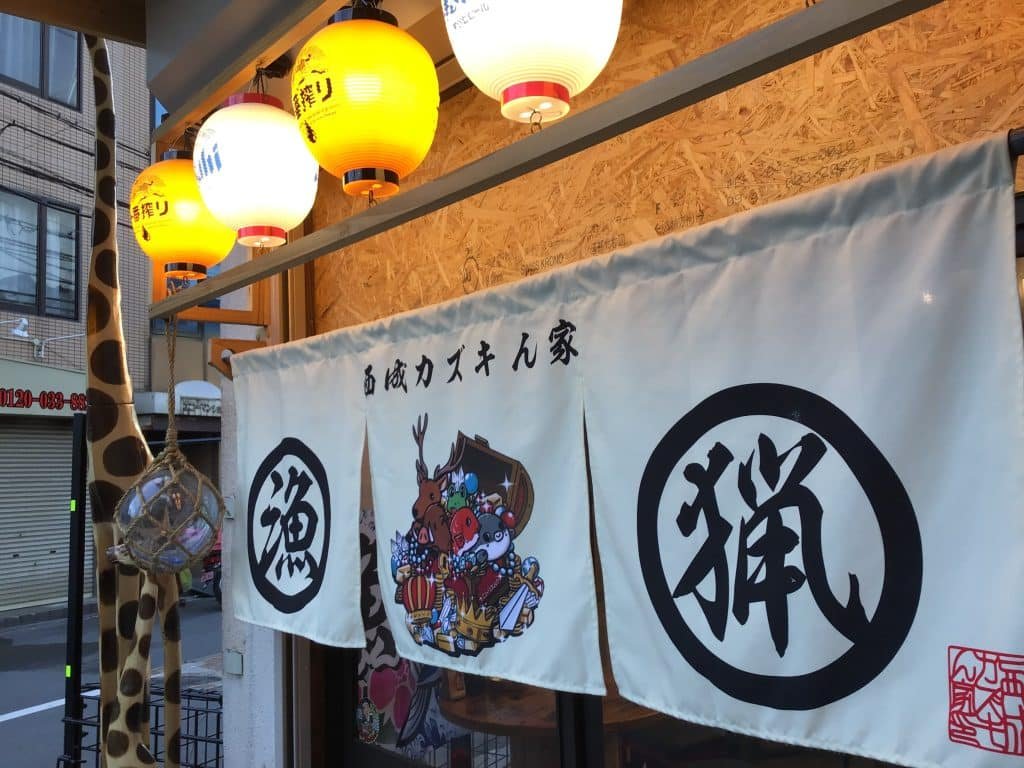 A new, fresh, out-of-the-box, horizontal noren hung above the entrance under lanterns advertising Kirin and Asahi beer. The interior was brightly lit up by multiple hanging bulbs staggered like fish caught in a net. What caught my eye most through the glare however, was a large upright stand of board upon which was pegged out, a grizzly looking boar pelt. In front of it, on the corner of the building, a large, red paper lantern read: 西成のカズキん家, "Nishinari no Kazukin'Ichi".
A giant wild boar pelt staked out in Triangle Park? WHO KNEW?? I went in for a closer look.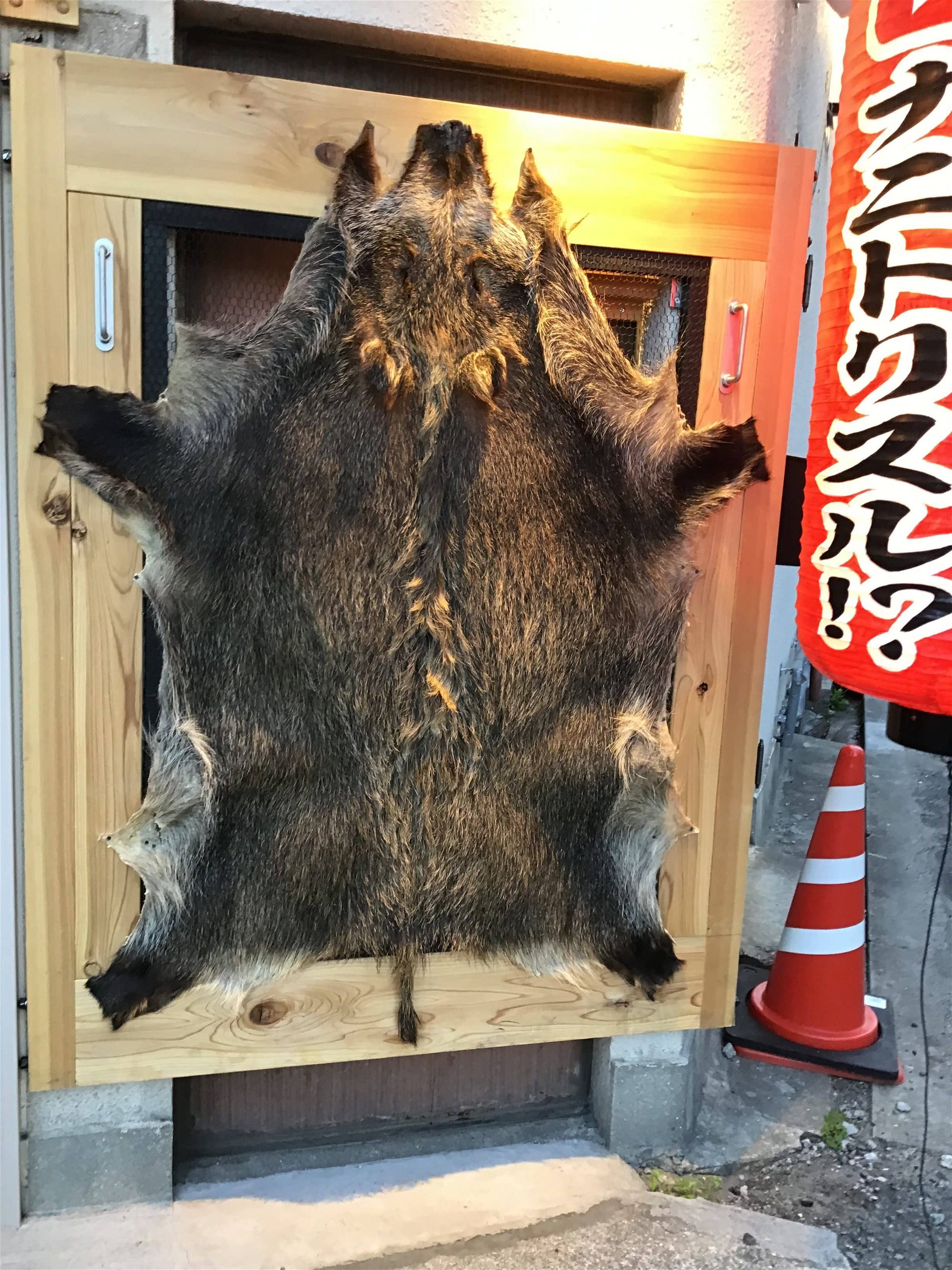 Talk about hanging out your business card out as the newest shop on the block! It was definitely a genuine Japanese boar hide- and a decent sized one at that! Tanned, cleaned, and pegged out on a shingle just as they must have done in the old days long, long ago. This was obviously a drinking establishment but- what manner of establishment was this, exactly?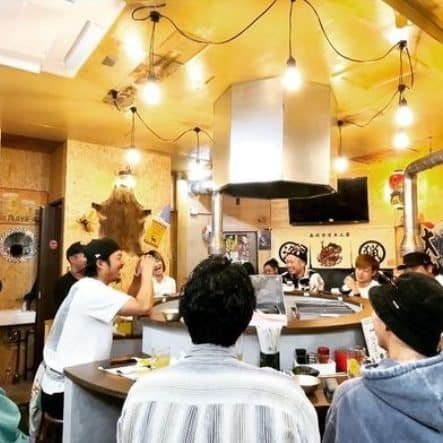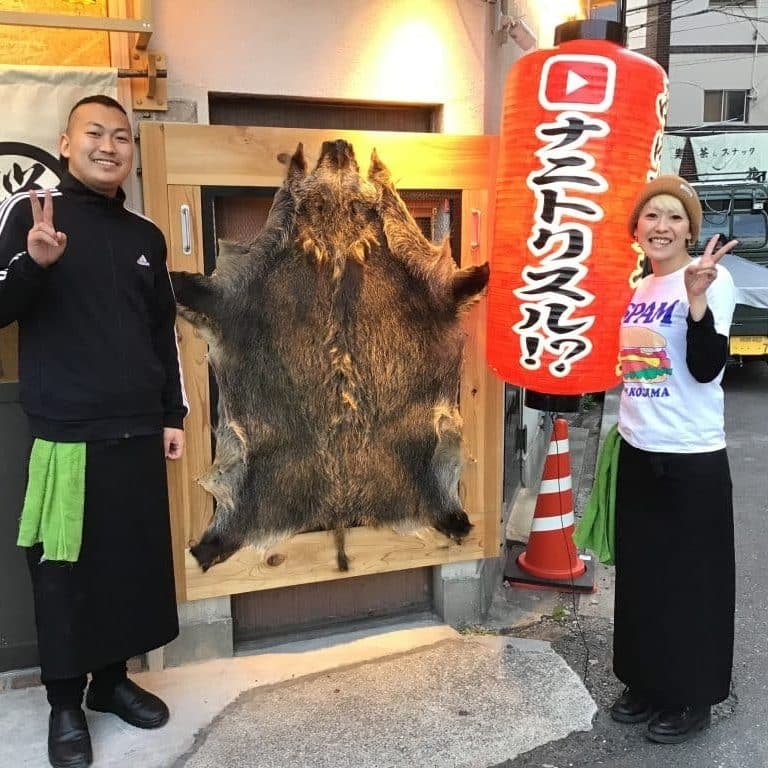 Mama Rika
That night, as I gawked at the wild boar, the place was full of a lively crowd of regulars. I was sure this place was brand spanking new; I'd not passed it before, besides, it was the most colorful, newest thing standing across from a park that has reserved its own less bright color for years now. This Izakaya stands like a beacon, a lighthouse on the streets surrounding the small sea that is Triangle Park. An intoxicating mix of warm color, reds, yellow, golden light up an otherwise dark place after the sun goes down.
As the place was full, their own party in full swing, I felt compelled to move along. As I shuffled across to the welcoming darkness of Triangle Park, I looked back to find a young gal wearing a knit cap, obviously staff, peering questionably out the door in my direction. One day a few months later I'd come to know her as "Mama Rika".

A month later I was down there again , this time see if I might take a photo of the boar and perhaps find out why it was there. The staff girl in the knit cap was quicker this time. She had spotted me. The place was empty, the hour early. She and her crew of one that early evening came out to see what a foreigner might be doing on the doorstep of Nishinari no Kazukin'ichi.
"Would you like to come in out of the cold?" She smiled. A smile hard to turn down at that, I returned mine and asked her what in the world a boar was doing in Triangle Park- and "Could I possibly find a pelt here that might fit this brick outhouse size of chest I've got?"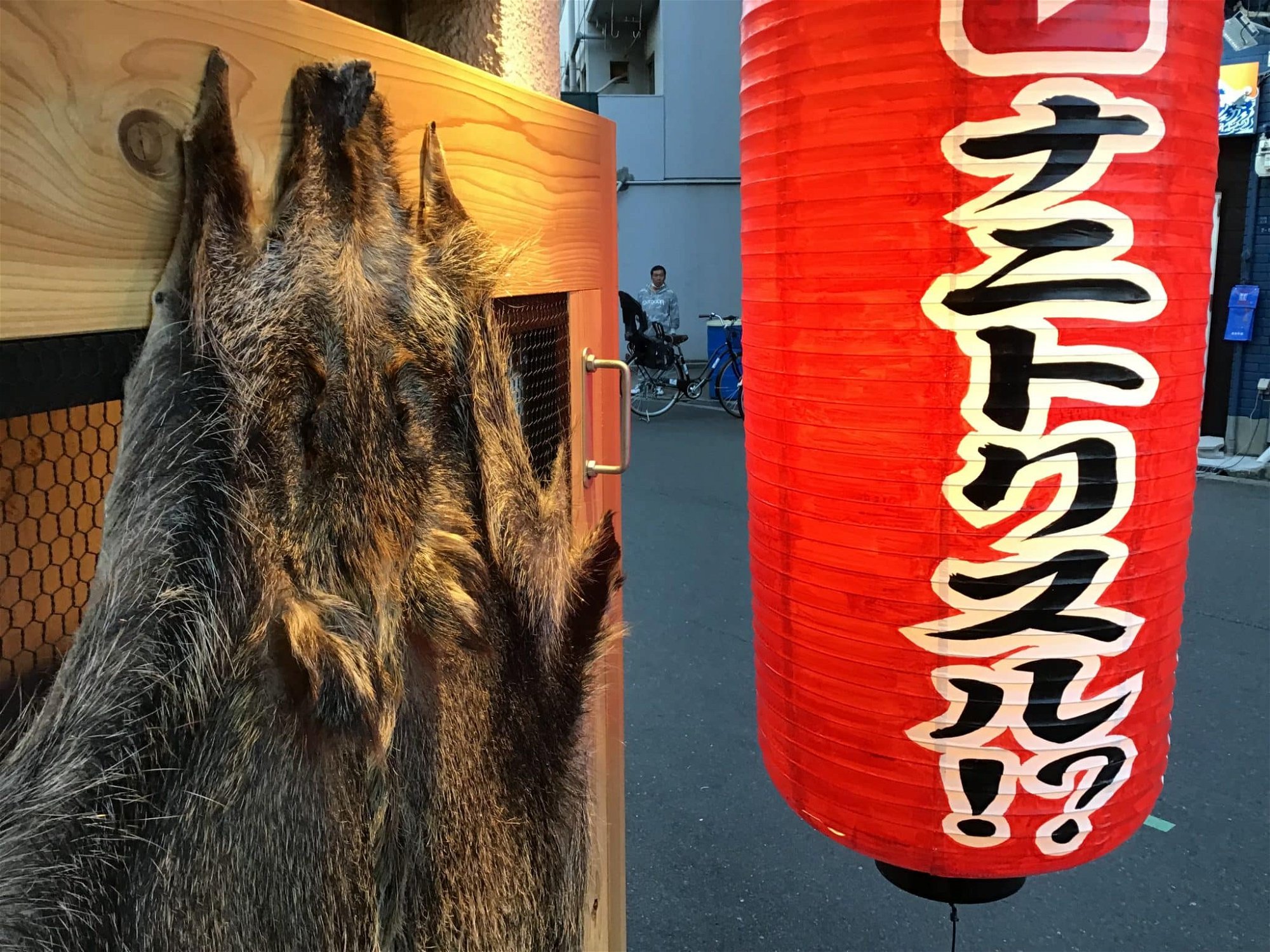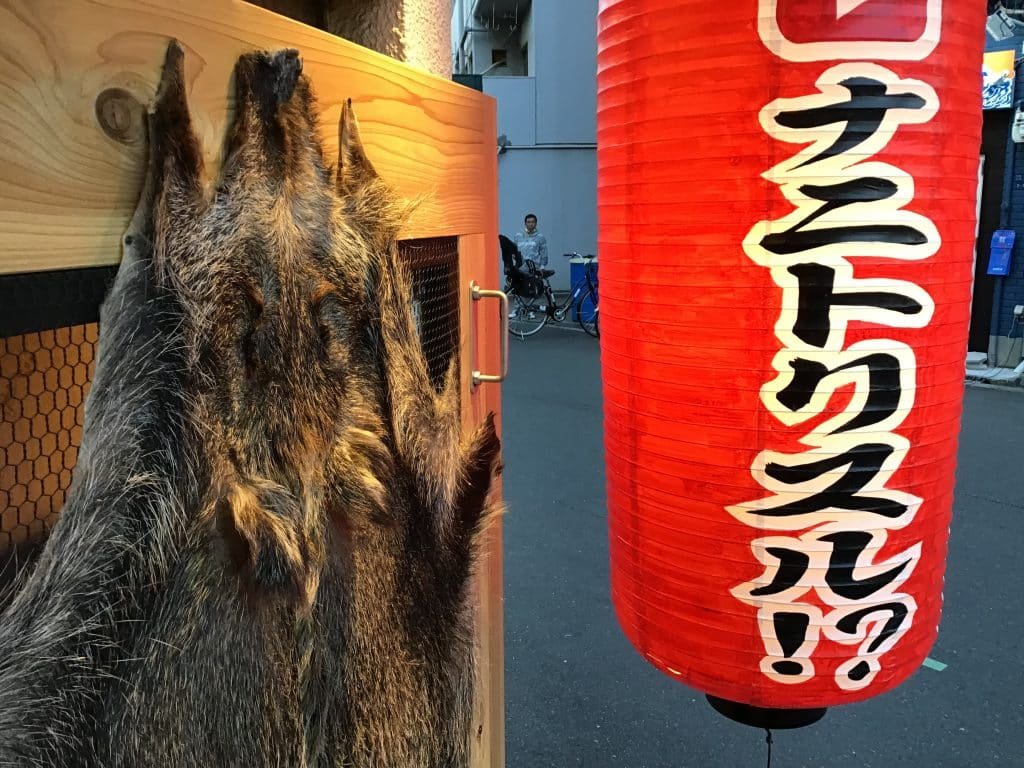 The staff girl blinked twice then we all burst out laughing! "We're not selling it as apparel! I'm Rika," she said, "or 'Mama Rika' as our customers call me." After a few introductions and picture opportunities seized, I stepped over the threshold at the promise of a tall, cold one. Ice cold on a hot day, cold day- or any day- is still the only way to drink a real beer I find, bar none! Kazukin'ichi, Mama Rika explained, was barely three months old; an izakaya start-up specializing in wild game sourced by the owner himself, her husband, Kazuki of Nishinari Kazukin'ichi.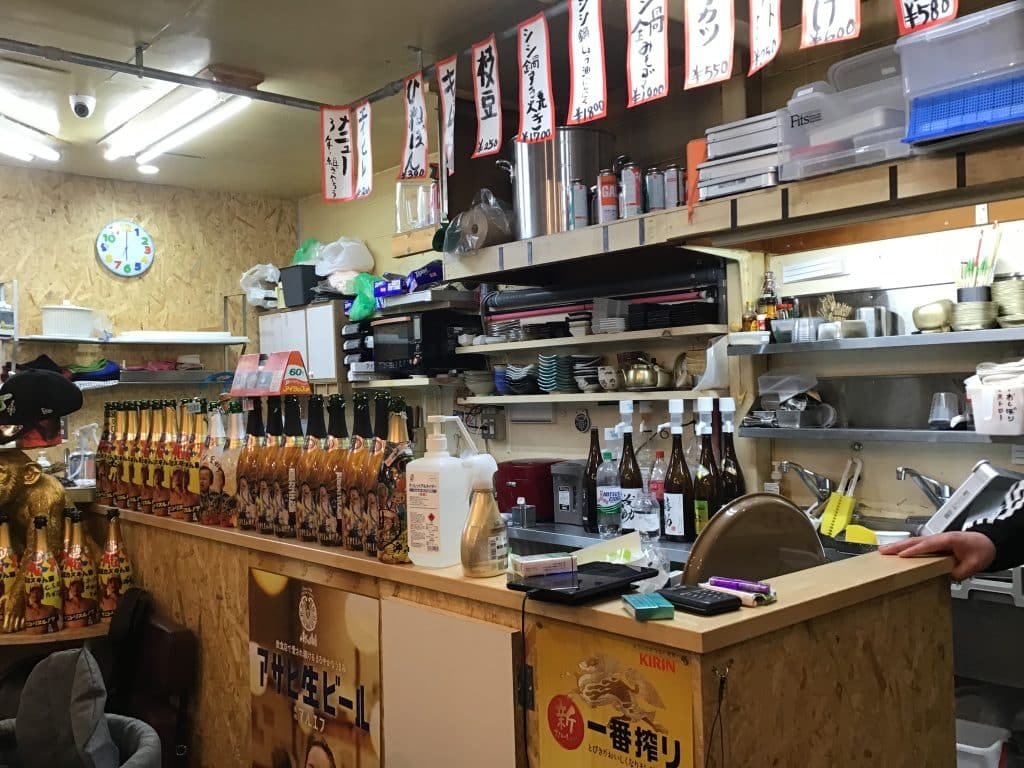 Beer and Game Never Better
I took a seat at a circular counter around an elevated BBQ grill area, a set such that the staff are able to stand in the center to operate the grill. Their menu appeared on the wall in banners beyond, with daily specials chalked in on blackboards. I ordered a tall Kirin Lager beer pulled at the tap. Rika treated me to a bowl of skewered boar oden, a mix of skewered stew-ables immersed in a light broth. It was fantastic! Very tasty, the broth golden and clear, and the boar soft and chewy.
One more beer and I ordered the deer snitzel, katsu, and was blown away by the savory sweetness of the meat, not gamey tasting at all, but very tender. Were all Japanese deer this tender?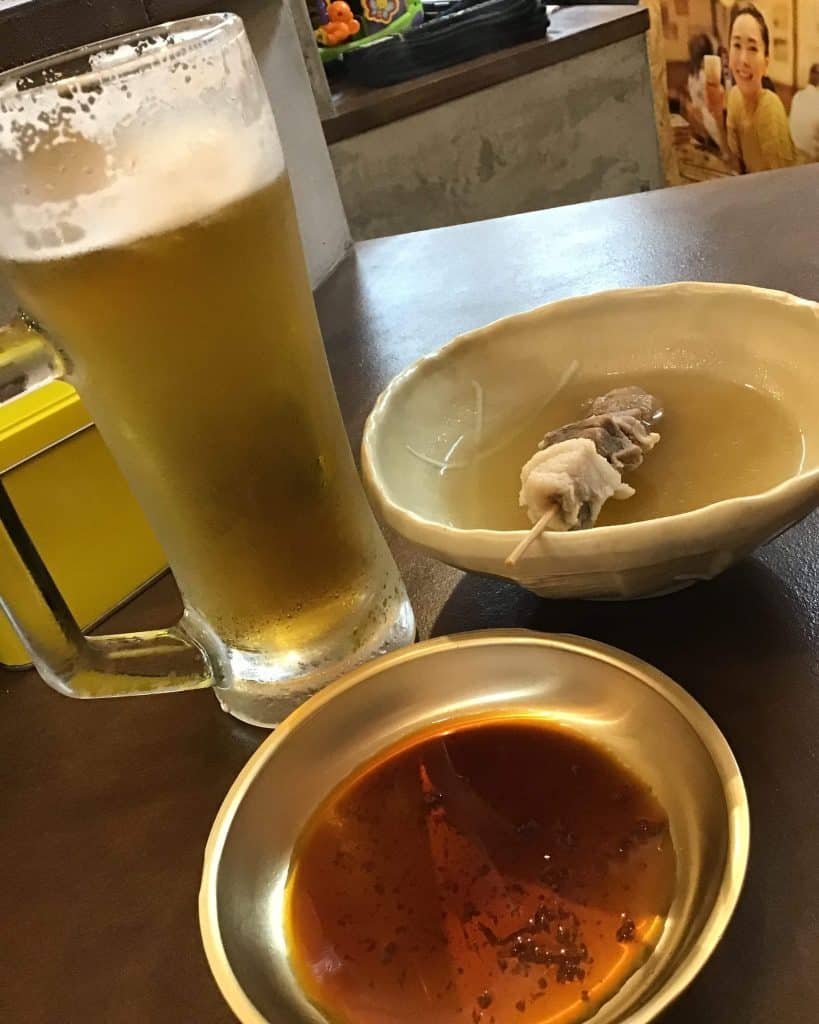 Once an avid hunter and fisher myself, deer where I come from in the high country of California mostly subsist on a diet of wild grasses, wild mushrooms, water cress , scrub brush, and lots of prickly leaves from dry country plants such as mesquite and manzanita. Their meat is lean, sinewy, and very gamey tasting. I said as much to her. "It's all about the preparation- from start to finish," Rika replied as she filled another customer's glass.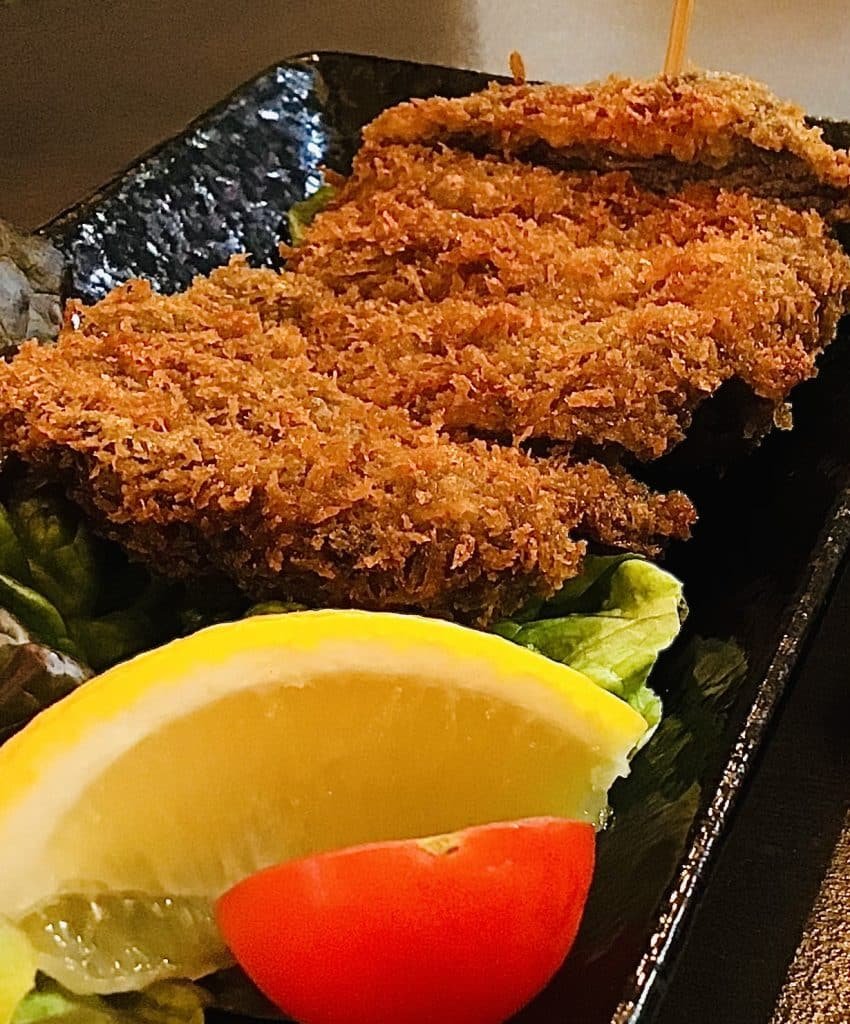 Rika works the counter and cooks. One of her specialties is actually on their menu listed as "Mama Rika's Natto"-fermented soy bean, Omlette". It is thanks in part to Mama Rika that I ever crossed their threshold at all.
"Okaeri, welcome back", she calls out as the front door opened. In stepped her husband, the Master.
Master Hunter-Fisher-Owner: Kazuki
We were introduced that cold evening back in February. I shook his hand and asked if I might take his picture and trade some hunting stories. Rika was wearing a SPAM T-shirt that night as I recall with irony…"Shoulder Pork And Ham" in an Izakaya that sells wild game trapped by the young owner himself- a hunter more than acquainted with his craft.
Kazuki, a native of Himeji originally grew up living in and on the countryside. As all young boys coming up in the country and outlying towns, he traveled with a rougher crowd, fist fought, and boxed his way up into a certain respect among piers. Many mentors helped steer him in the right direction.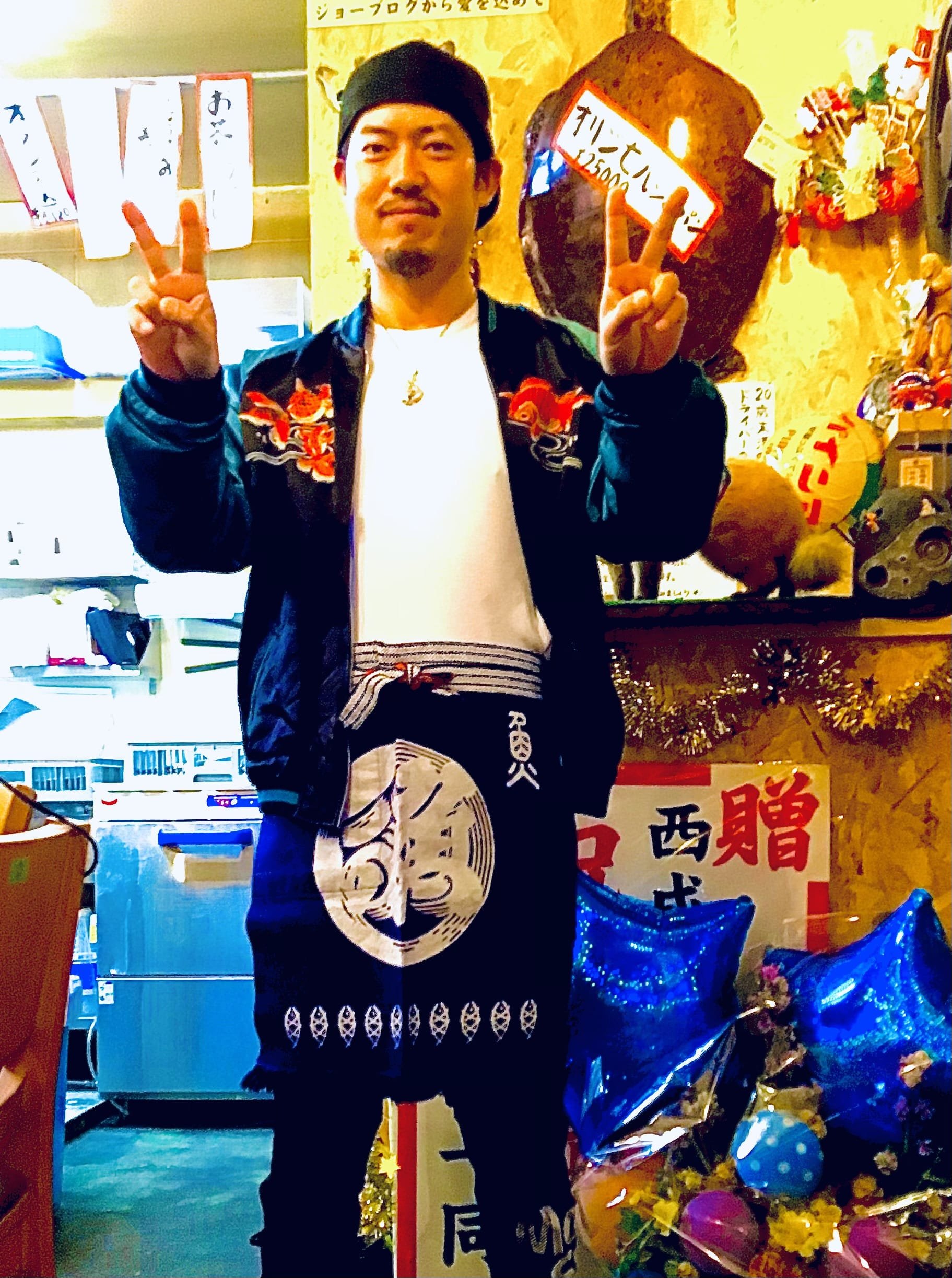 Kazuki started his path to a young man as a carpenter and electrician. Hiring onto a well known company, he worked for quite a few years as an electrician and finish carpenter. He put his all into every job but soon discovered it was the man at the top of the company who got any credit for the fine work and commitment to detail he crafted into each job. Kazuki began yearning for a chance to build something for himself. "I began to feel an urge to put the work of my hands into something I could call my own."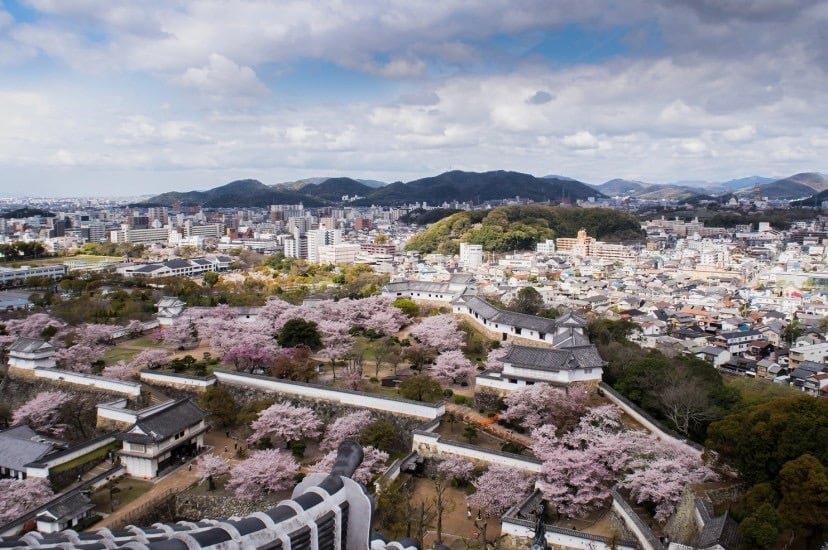 When it came to talent and skill, Kazuki did not need to look past his own roots. Long on the land in his young years and possessing a deeper than average background in hunting and fishing, Kazuki grew up with split passions for both genres.
The Fisher
"Summers were long and hot, but I spent a good deal of them on the sea where breezes often made things cooler. I had a passion for fishing that exceeded most other things other than hunting where, I believe my passion is equal if not stronger there," Kazuki laughs.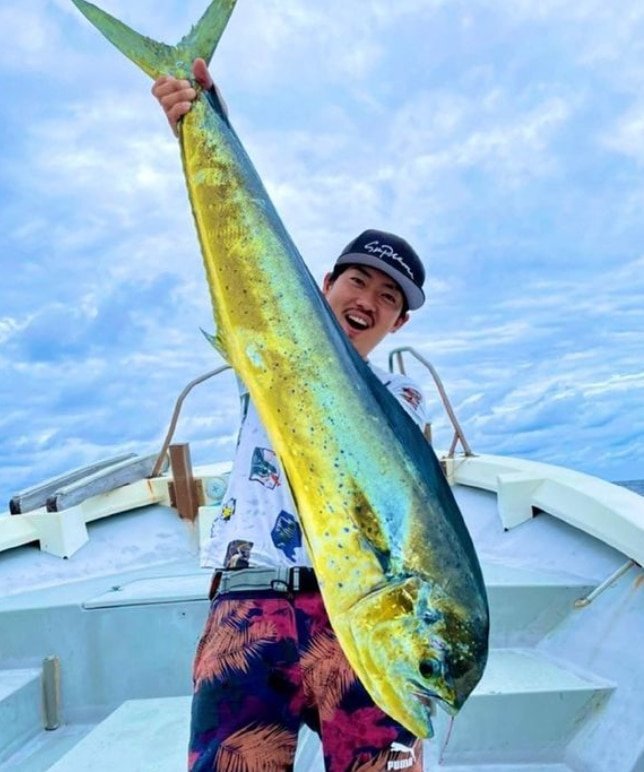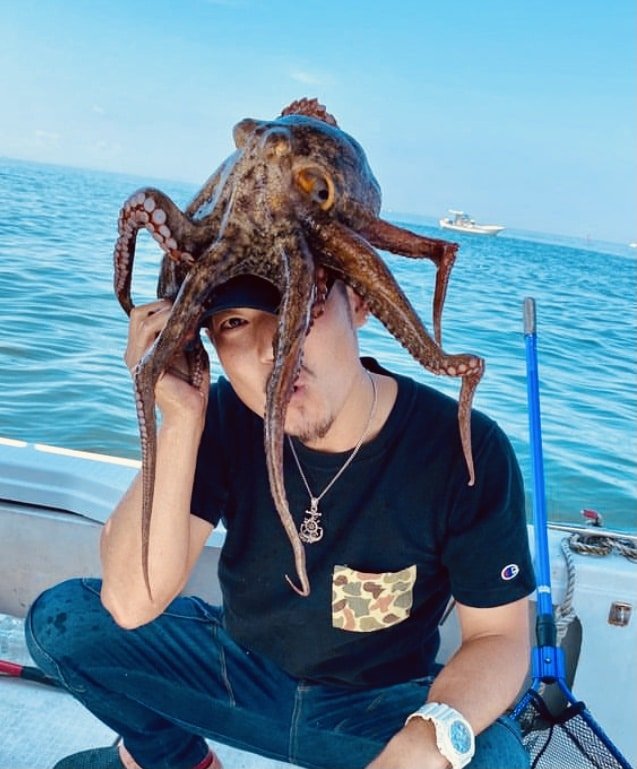 Many a summer he spent his time on the sea mending and hauling nets, net fishing, deep sea trolling, and casting rods utilizing electric motor "catch-assist"reels that allowed the weighted bait offering down into the depths. Note the Maritime anchor he has around his neck.

Strong lures or live bait wired onto a lure plate would be used to catch the strong , fast -swimming buri, yellow fin, hammer headed shira, mahi-mahi, and long, silver tachiwou, cutlass fish measuring four and five fingers wide!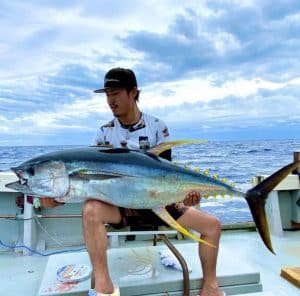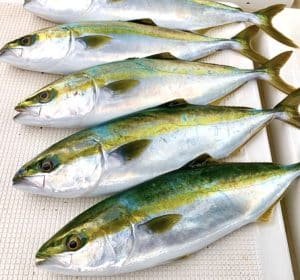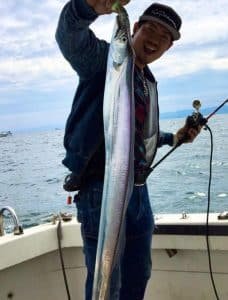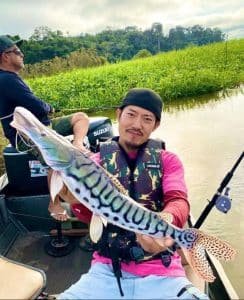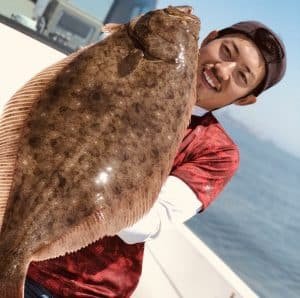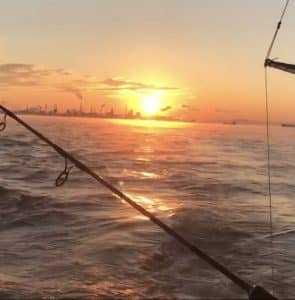 Nights were spent hauling their catch and preparing sumptuous plates of freshly sliced sashimi. Life doesn't get much better than that as the old saying goes.
The Hunter
While many of us might know a great many young, avid fishers, and a great many aging hunters, it is a rare thing indeed to find such an avid, young, licensed hunter in Osaka. It is in this field his passion and skill far outweighs your average bear.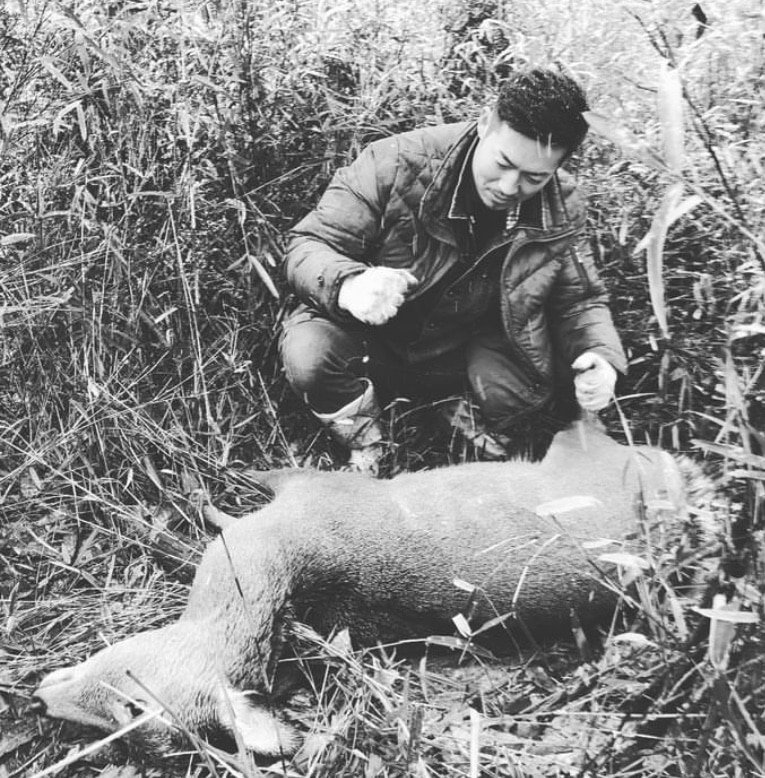 Growing up, winters found Kazuki hunting and trapping boar, deer, black bear, and other species. "I grew up as my people did, hunting and gathering pelts, processing and storing the meat."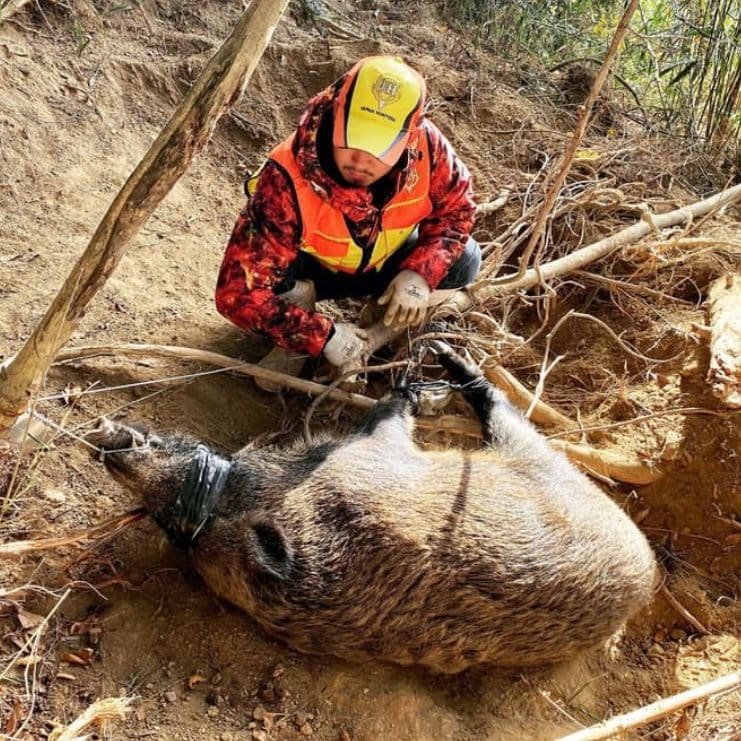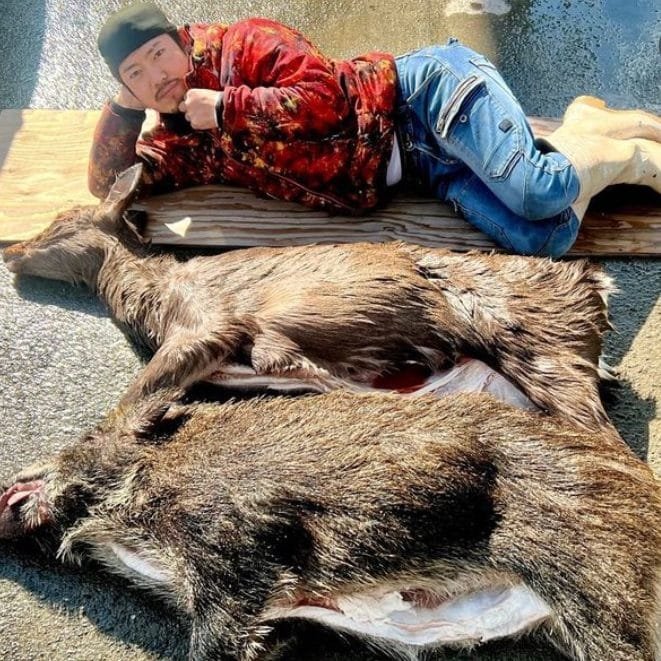 Hunting also has a lucrative bent to it as the the central government together with prefectural and municipal governments plan to cull particularly growing boar and deer herds by half in fiscal year 2024, offering incentive payments of ¥20,000 per wild boar and ¥25,000 per deer culled.
Hunting and consumption of wild game in Japan used to center on pheasants, ducks, and other wild birds hunted for meat. Today however, it focuses on larger animals such as wild boars and deer, which are causing damage to crops and increasingly encroaching into general population territory. Though it could be debated whether or not the case isn't the other way around territory being what it is- the fact remains the herds need to be thinned.
According to the Ministry of the Environment, in fiscal year 528,600 wild boars and 725,000 deer were captured or killed in fiscal 2021, including activities by local authorities. There were also 4,500 bears captured or killed.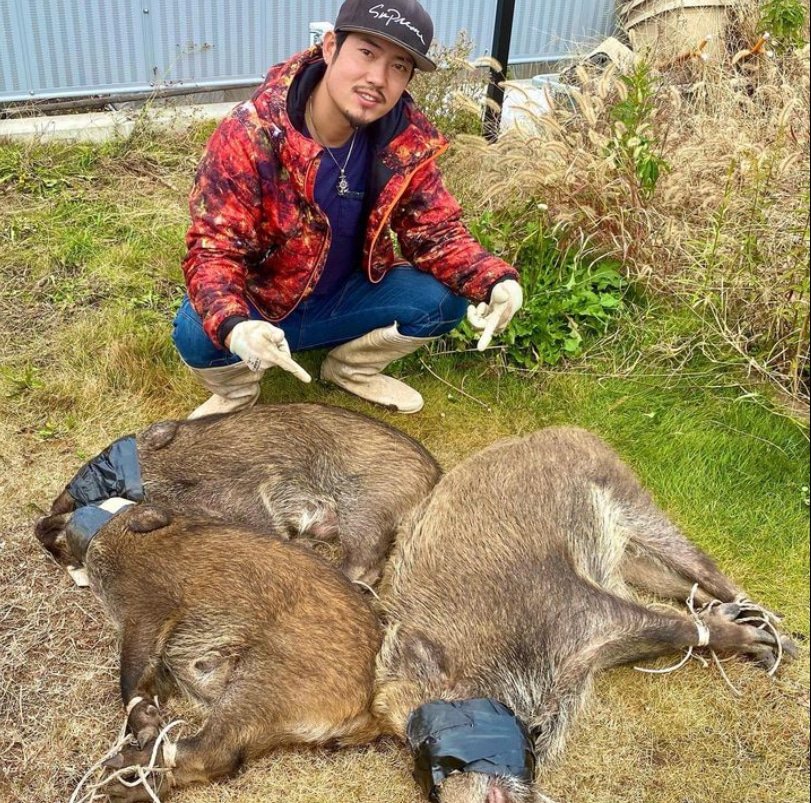 "Many people in the cities and possibly even foreigners don't know that wild game once made up a good deal of the protein in Japanese diet long ago, " Kazuki explains. "The eating of meat became prohibited in the ninth century but that didn't stop country people from doing what they always did, especially come winter when a protein source was scarce."
In Kazuki's twenties he would gradually join the wildlife trade unions and associations he is apart of today as a professionally licensed hunter and fisher.
The Izakaya Master
"I thought if I had a third passion, aside of fishing and hunting, it is for our tradition in central Japan of combining drink and food in the form of trade, izakaya, and small establishments where things sourced feild and forest to table are available to a desirous crowd of people. What better crowd is there than the thriving izakaya nightlife of Osaka?" Kazuki smiles. "In my thirties I began working in the world of food and drink. I began learning how to process and present many of my seafood catches. I owe my elders a debt of gratitude for this time on my life.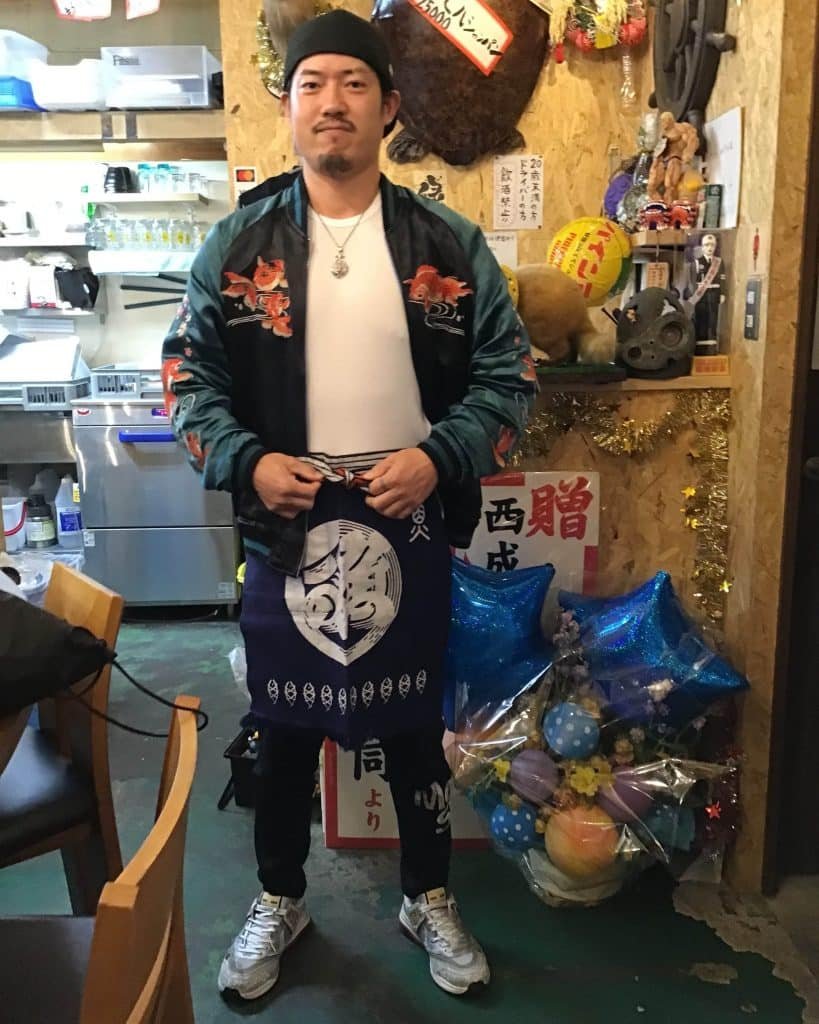 "I combined my talents and resources with those of the food and drink trade. I researched Nishinari as I had contacts and relations here. I joined their trade and liquor unions. I began to wonder what it would be if I brought my wild game to the mizu-shobai , (nightlife food, drink, and all else) table. It would be a big jump if I could do it at all, I thought.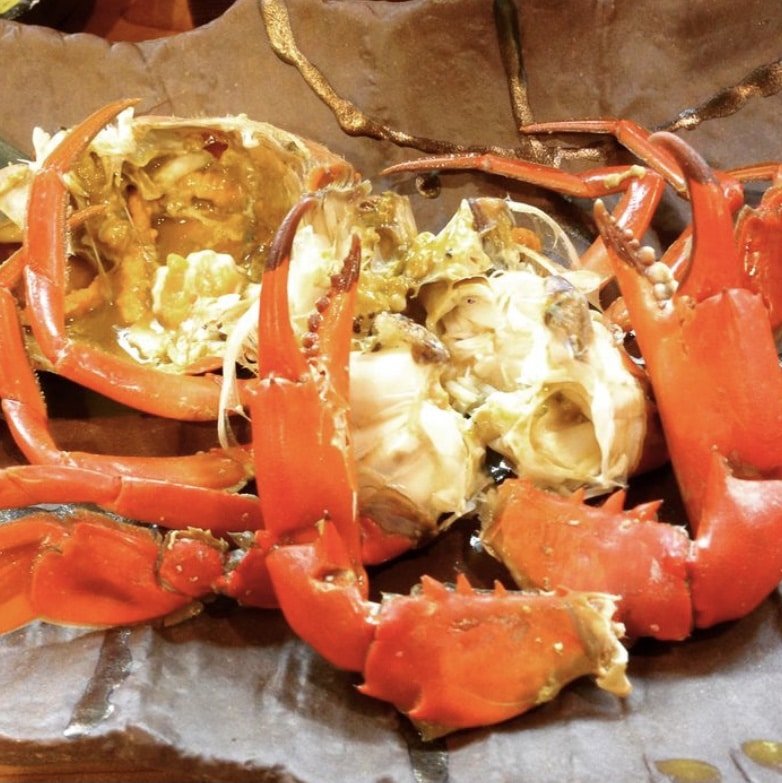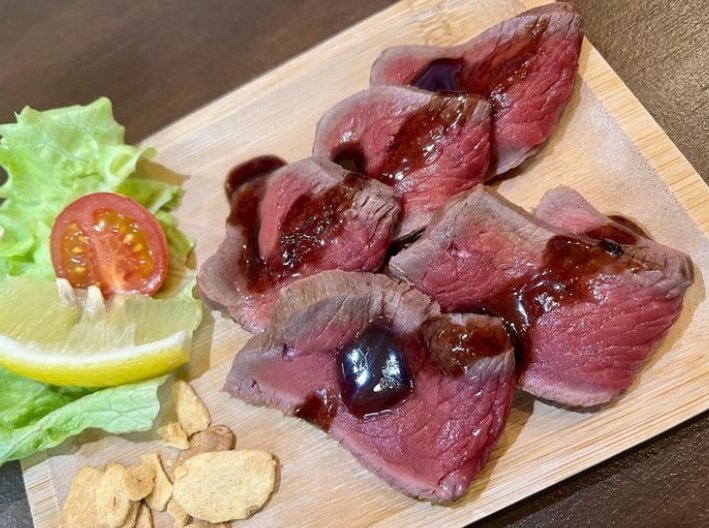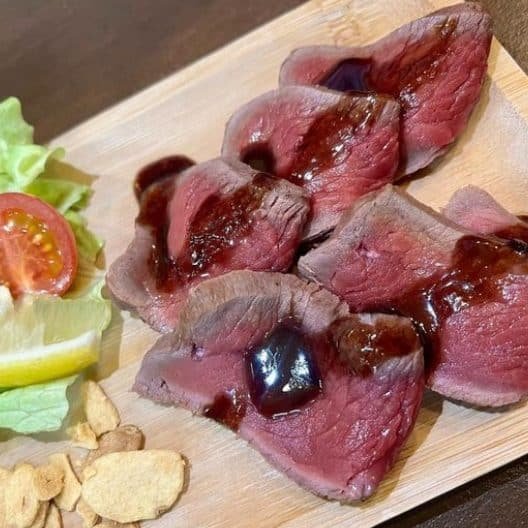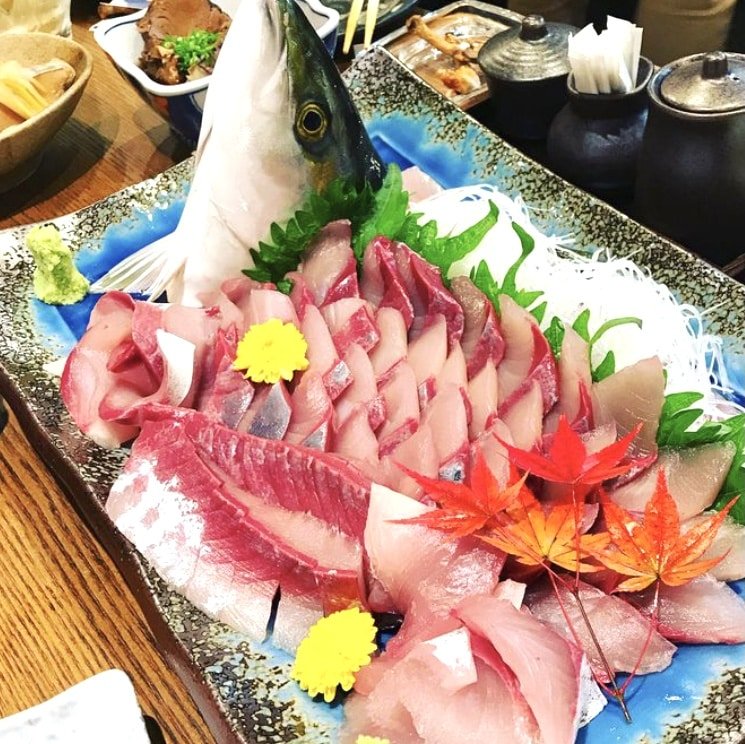 "I mentored under other sempai who agreed to help me up the ladder if I could promise to carry on the vision they have in Nishinari. I learned and wholeheartedly support the vision they have, and now, four months later, here we are! I have finally combined the three things I love…And now there is a fourth: my family and customer family in Nishinari/ Haginochaya. So, as we are on the very fringe of triangle park where the three districts of Nishinari meet, Nishinari is in our shop name for all the above reasons: Nishinari no Kazukin'ichi –'Kazuki's Nishinari House'. I hope we can continue here for a long time."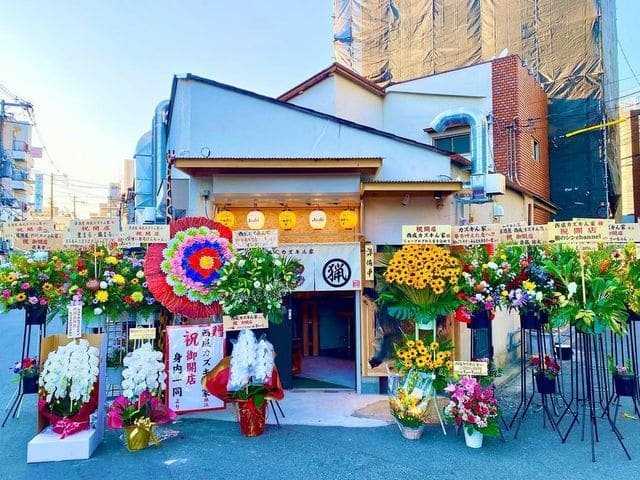 Earlier this year at the tip end of a cold February, collaborators and fellow Osaka.com writer, Matthew Kaufman and photographer, Ross Randles joined me for some cold lager,food, and a sit down interview with Kazuki. M. Kaufman leans forward, "Kazuki, how does it feel to be a master-owner of your own izakaya at what, thirty-two?"
"Thirty-nine,"Kazuki laughs. "It feels great! But I couldn't have done it without the mentors around me. I had people believe in an idea I once could only have hoped in believing: bringing my craft from the Himeji countryside to Osaka inner city izakaya. I also owe it all to my wife and family.
While Ross Randles takes the awesome shot seen above, M. Kaufman decides on a one-two pitch: "Master, there are quite a few izakaya like yours popping up around the city- post Covid-19- shops we have sort of coined "New-Reiwa Style". The operators of these small start-ups seem to be bringing the city back alive with a sort of fusion- new takes on old style recipes and dishes. Do you consider yourself one of these?"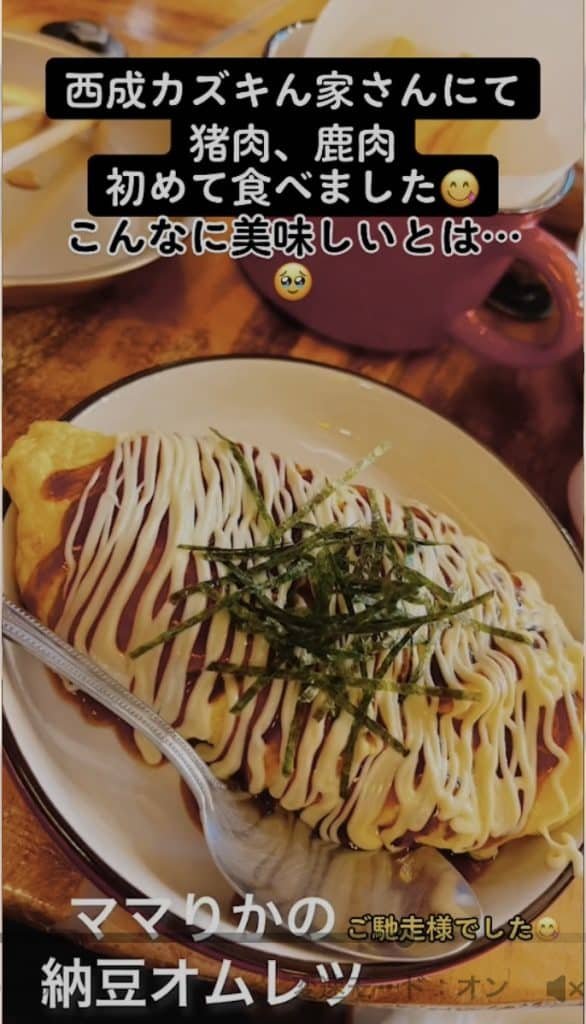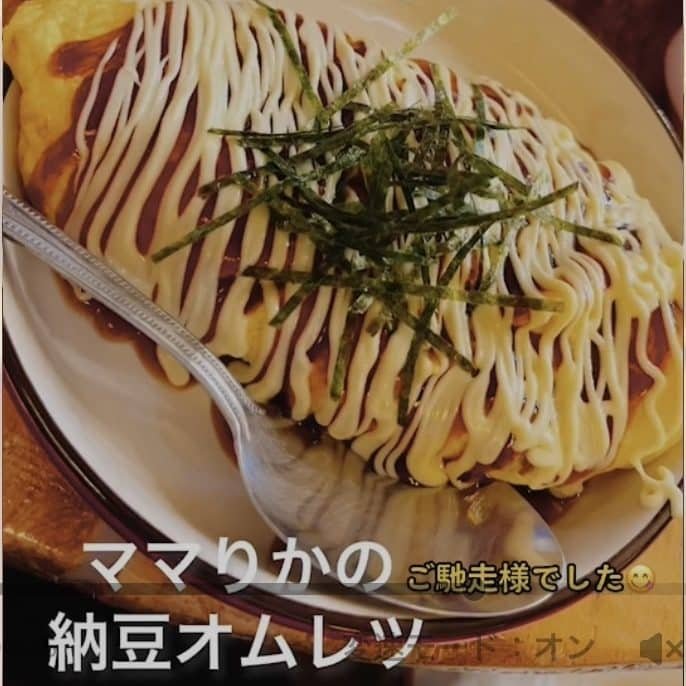 Kazuki takes a slug of beer then swings one leg over the other turning to ask Mama Rika for his cigarettes. "Oh absolutely. Our menu is not that different than many other izakaya; people come looking for favourites they know well. However, we have chosen to fill those same recipes with the freshest fish and the best game we can find. So take our fried Katsu. It's made with very tender deer. You can find katsu here but it will be made of boar or deer. Where else are you going to find this in Nishinari? We use the wild game juices of the boar as the base for our oden broth. It's a two-part dish. A savory bit of the skewered boar is one part, the broth is another part totally holding its own. It's worth it just to drink the broth, I think- especially on a freezing night such as this."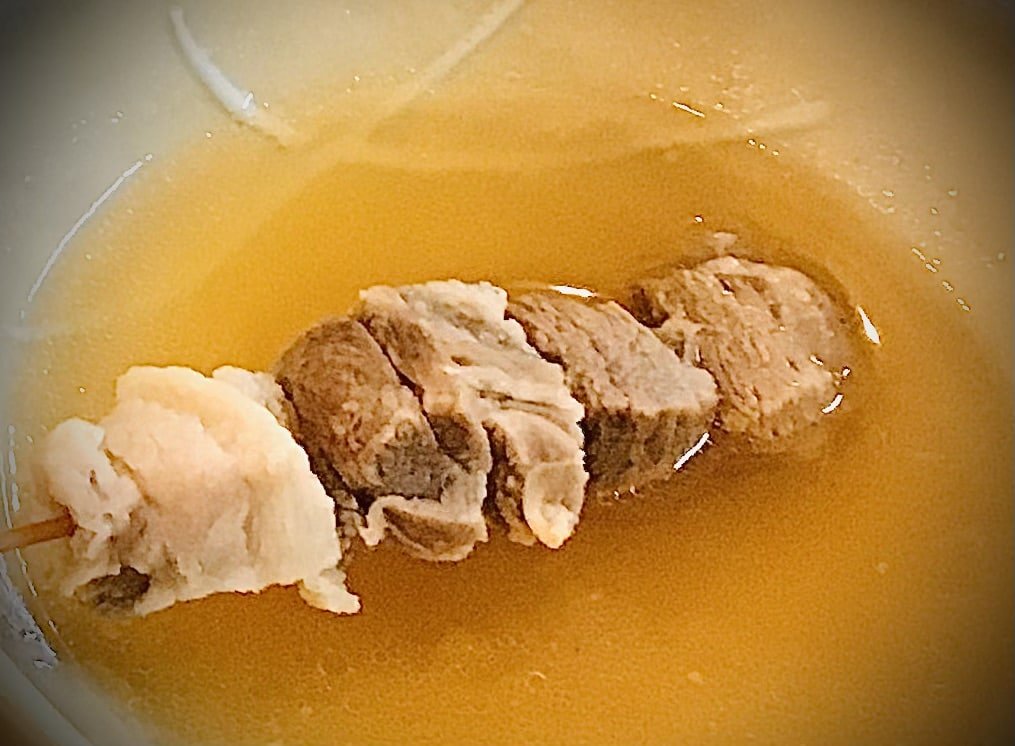 "We also do a wide, seasonal variety of different kinds of fish. We have both fried and sashimi dishes we are very proud of. Lets of customers come for the fish as well. They leave knowing it was the freshest we can provide."
Today, as of the date of this writing, it has been eight months since the startup opened. Hand in hand, Kazuki and Mama Rika have the same vision and take like strides in realizing their futures together. Going strong and confident, Kazuki tells me,
"We have a good thing going. Perhaps no one is really doing both wild game and fish in one place. Lots are attracted here by things we put up like the wild boar in winter times. That thing gets a lot of attention.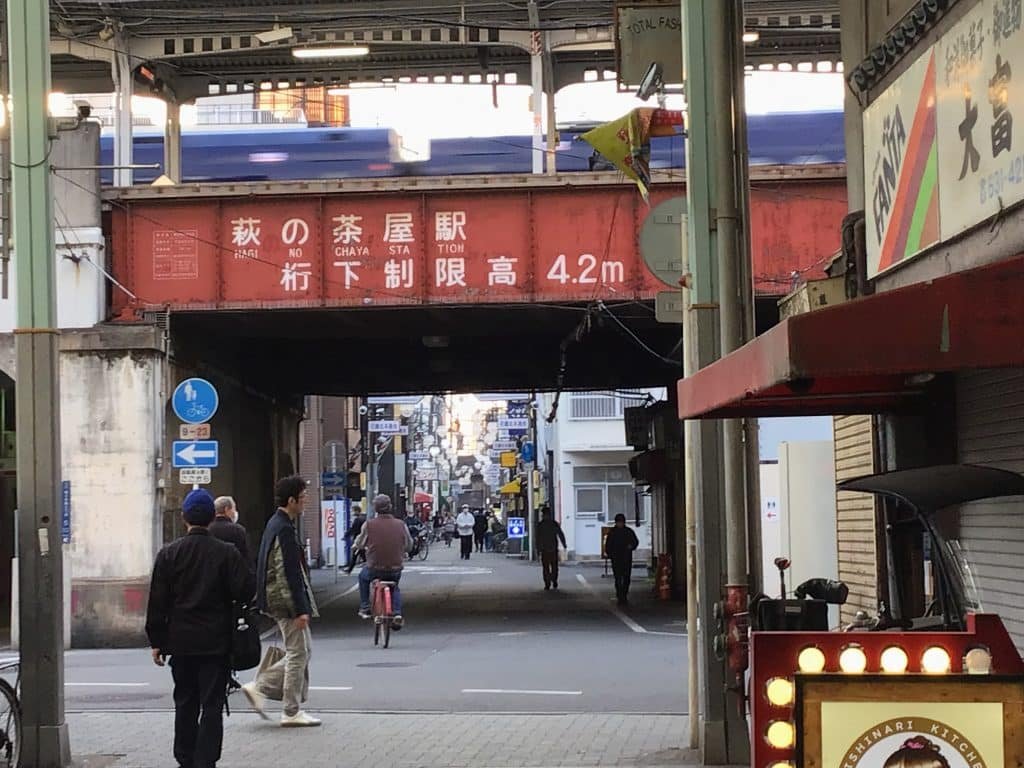 "You can find wild game in Tokyo, you can find it in Osaka. In Tokyo it is fast becoming a high end market. But in Osaka and surrounding area, though a few restaurants in town are indeed specializing in wild game, for the last hundred plus years if anyone cared to eat either boar or deer, it was likely they went to a nabe hot pot restaurant. In such a case they often had to travel out into the country hills like above Takstuki, or south to Yoshino in Nara. Many might even have had to reserve a special minpanku inn to experience a wild game dinner skewered and heated over fired coals. That was mostly the tune to which wild game was prepared- and thats very limited on all you can do with various meats sourced from field and forest.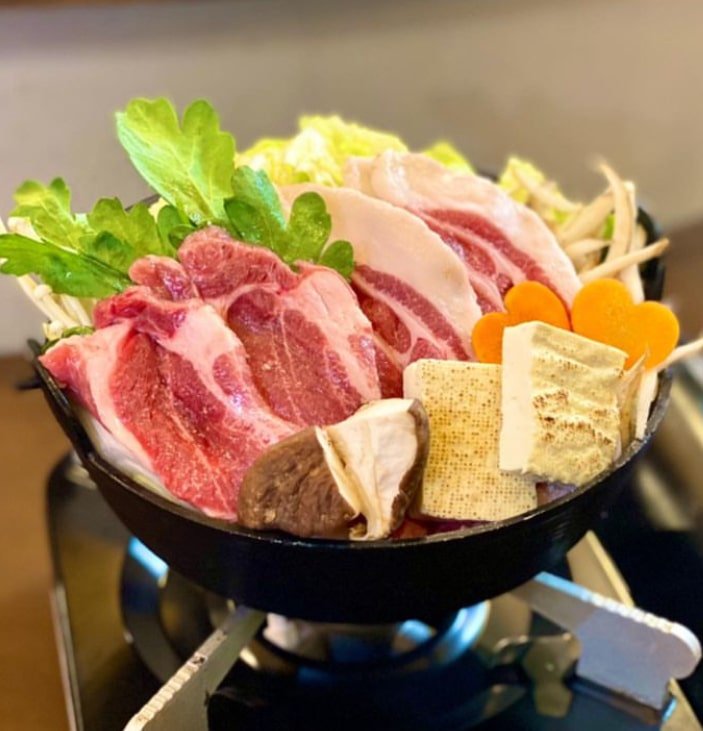 "So, for the time being, from a game angle, at least at this point, it's only me…. US!!. And that's our game: GAME ON! It's a new idea I am trying to sell. The fish, not so new, but never less desired.. SO yea. Fish and Game!
That's OUR Game here in Nishinari."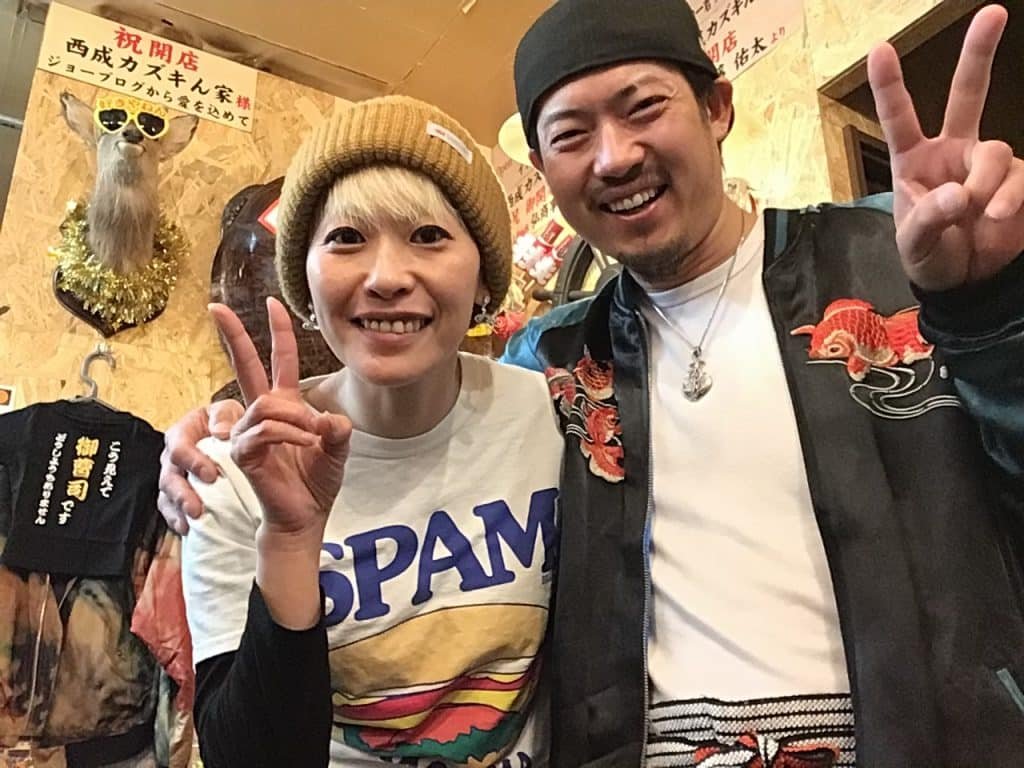 Run, Don't Walk!
If you and yours are interested in some very decently priced fish, wild game, and ice cold drinks, you don't have to make the trip to the hills of Nara, Kyoto, or even Kazuki's hometown of Himeji; You can have it all right here in Haginochaya in the cheerful surroundings of Mama Rika and Kazuki's Nishinari home! Make your way down to Kazukin'ichi today!
Links:
Revival of game in Japanese cuisine :https://www.nippon.com/en/views/b01712/
Haginochaya store: https://youtu.be/9fceBTvdJBY this video; home and shop.