Are you a bit tired of hustle and bustle in urban Osaka? Then why not rent a bike and explore Taisho island where you can encounter a lot of unique attractions?!! cycling in osaka
Here's our recommended route for your Taisho journey: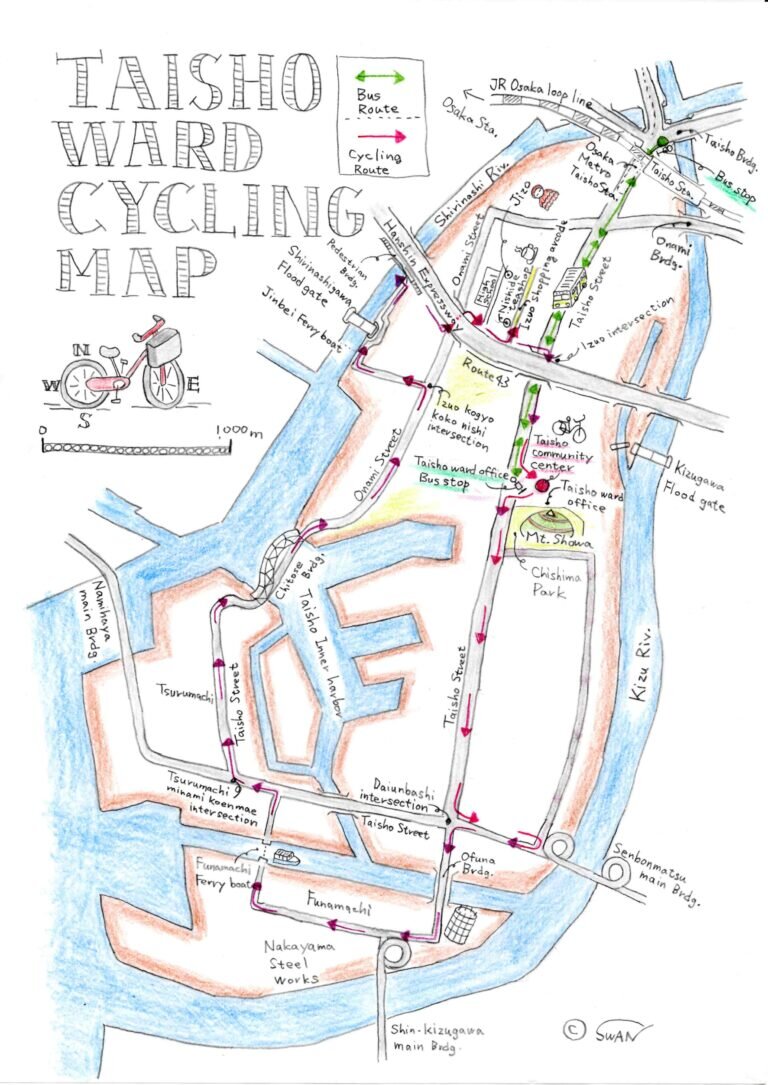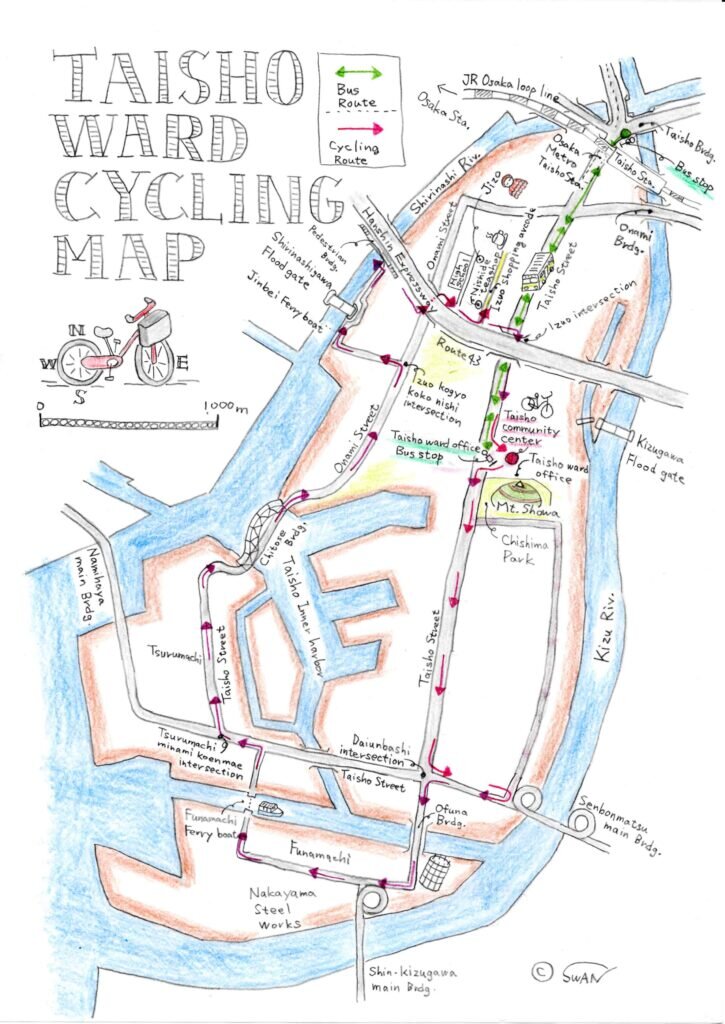 Taisho is a plain and roads are easy to travel on, so people call Taisho as Charinko Tengoku, "bicycle paradise/ heaven".
In Taisho, there are no Starbucks nor "Makudo" (Osaka locals call McDonalds like this), but there is a mountain offering a 360-degree view of Osaka, Nara and Kobe, a unique shaped bridge and floodgate, free ferryboat services available even for bicycle riders, a vintage steel plant that inspired a renowned Hollywood director, a small shop where you can learn and enjoy variety of green tea and small Buddhism statues quietly standing at street corners.
You will be surprised to know how Taisho is rich with unusual unique attractions most foreigners have never seen yet.
Cycling Route Guide from Taisho train station (JR Loop Line or Metro Nagahaori-Tsurumiryokuchi Line)
Access to Taisho Community Center
Taisho has two train stations on JR Loop Line or Metro Nagahori Tsurumiryokuchi Line.
When you leave the station, you will easily find several bus stops. You should head to Bus Stop #2, #3,#4 or #5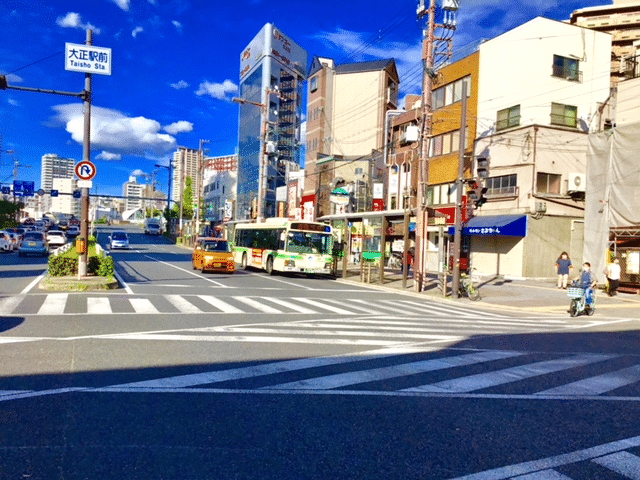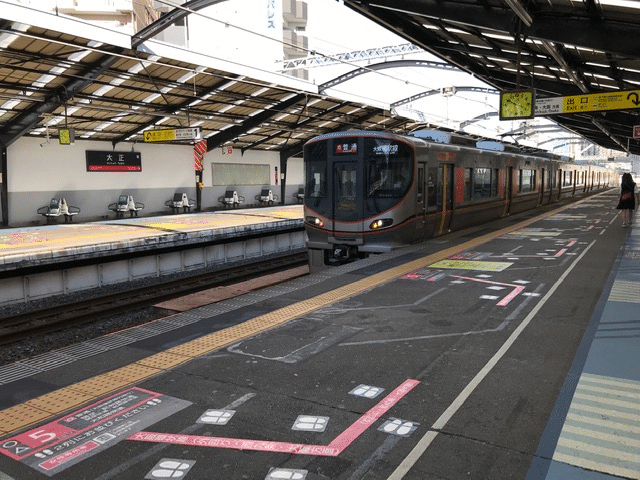 Buses come in one after another. Take a bus bound for 鶴町四丁目Tsurumachi 4chome (#71,#87,#90,#91 or #94)、西船町 Nishifunamachi (#70) or 地下鉄住之江公園Subway Suminoe Koen (#76).
Get off at "Taisho Kuyakusho Mae" bus stop. The ride will take 10-15 minutes. The green area at the back of the bus stop is Chishima Park, the most popular park in Taisho ward.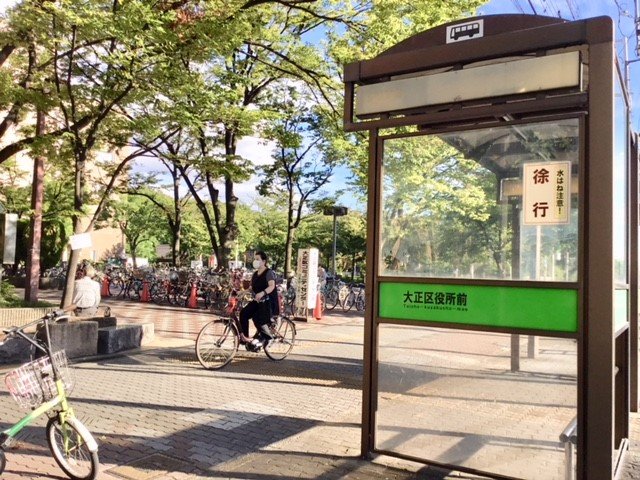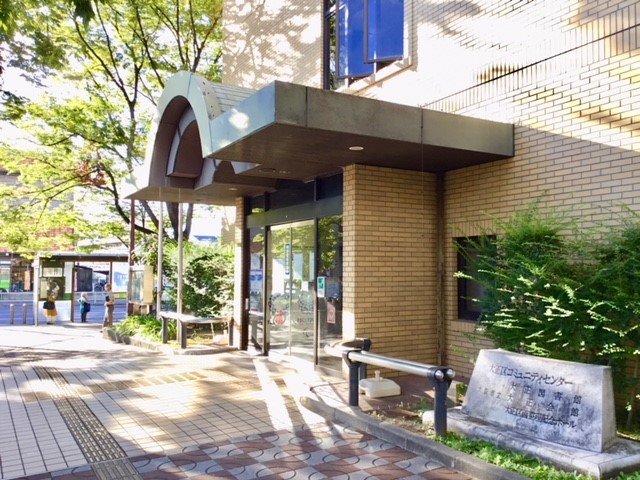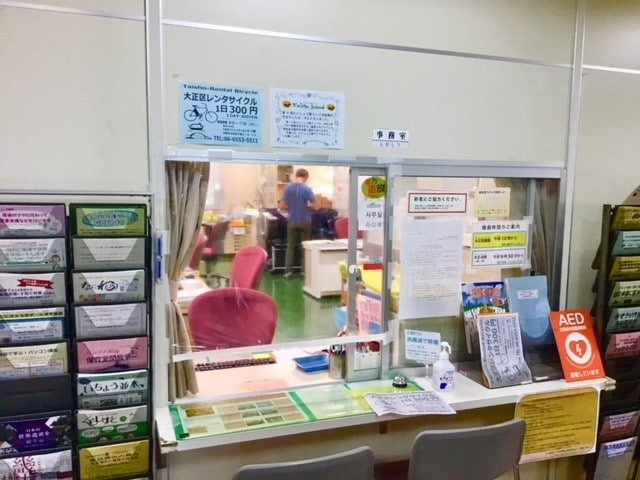 The rental office is on the 2nd floor. You can get guide maps and leaflets here. The staff are kind and helpful. Please note that there are only 10 bikes are available, so it is recommended to check availability in advance.
<Rental information>
Time: 9:30-17:00 every day, except 29 December to 3 January
Fee: 300JPY per day (need to deposit JPY 700 that will be refunded upon return the bike)
Tel: 06 0553 5511
Enjoy the 360° view from Mount Showa
Before you will embark on a bicycle journey from the rental office, it's better to overlook your entire route from the top of Mount Showa which is on your left-hand side.
Mount Showa is located inside Chishima Park. Taisho local government has just created a playground and performance stage at the entrance area of the park.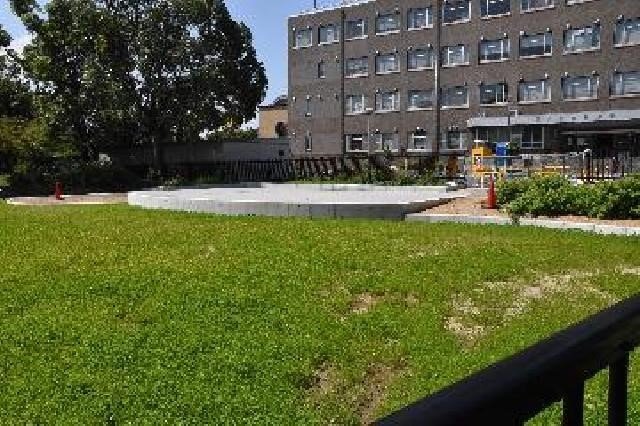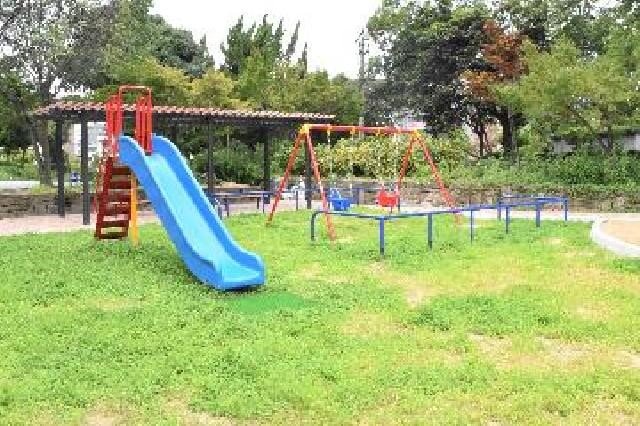 Walking past the playground, you will see the sign of Mount Showa.
It is a man-made mountain using the wasted soil after construction of Osaka Metro in 1970. The mountain is 33 meter high. Until another embankment mountain, Tsurumi Shinzan in Tsurumi ward (height 39 meter), was made in 1983, Mount Showa was the tallest mountain in Osaka city. Anyway, it doesn't take much time nor effort to reach the top, so don't worry.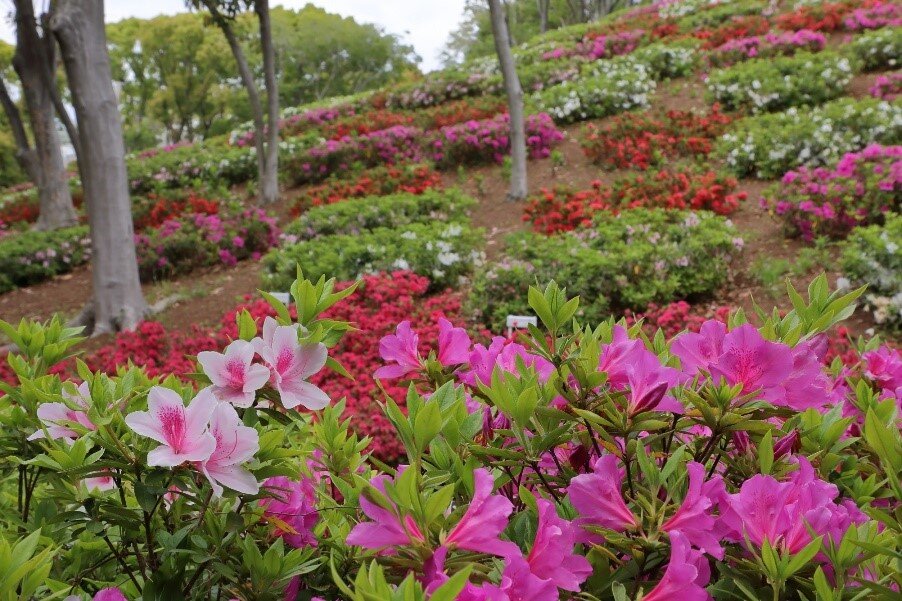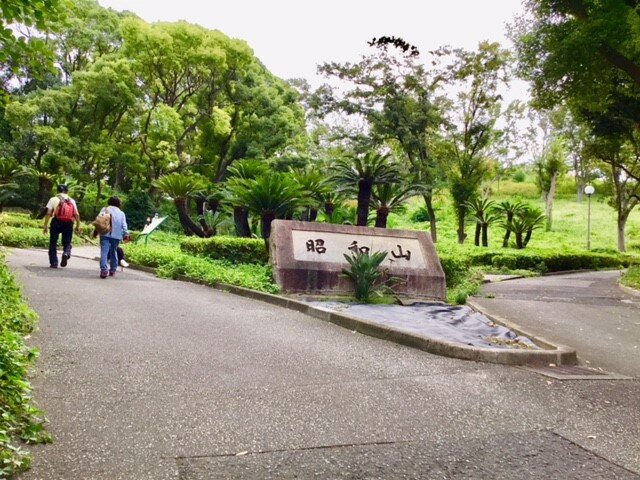 At the top, you can get a 360 degree panoramic view of Osaka- Nara and Kobe in the east far end, Mount Ikoma and Mount Kastusgi in the west far end and Mount Rokko in Kobe. There is a spectacular contrast of the deep blue Chitose Bridge and the bright red Minato bridge.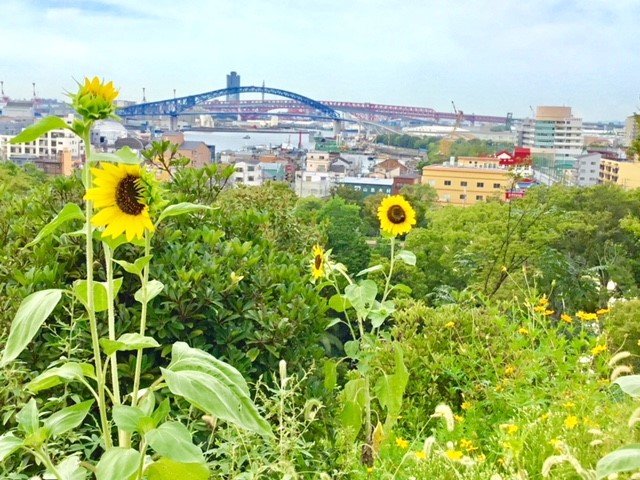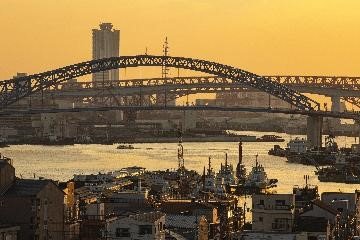 Taisho ward office has just completed remedial planting after the damage caused by a huge typhoon in 2018. Now, you can enjoy variety of trees and flowers throughout year and unblocked view of the sea and mountains. Related information from Taisho Local Government can be found here.
Senbonmatsu Bridge, double spirals on the river
Did you enjoy mini-mountain-climbing? The next stage of the tour is bike ride down to the south until this unique structure will come into your view.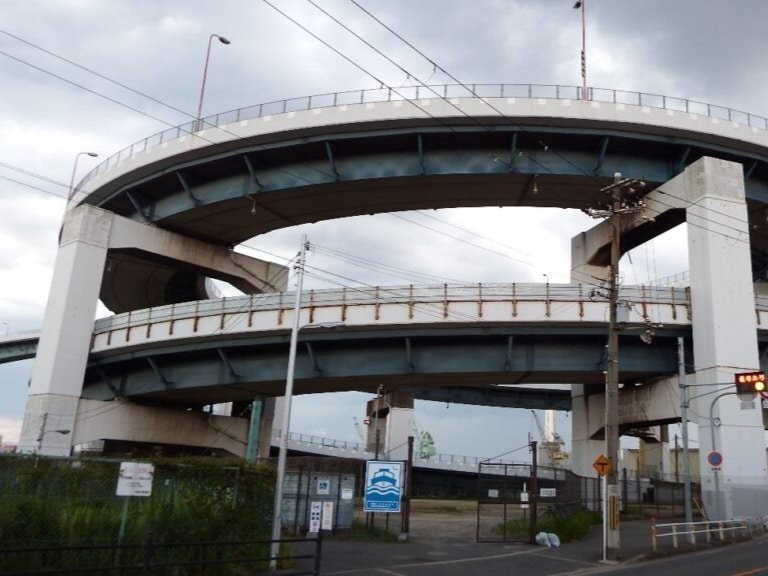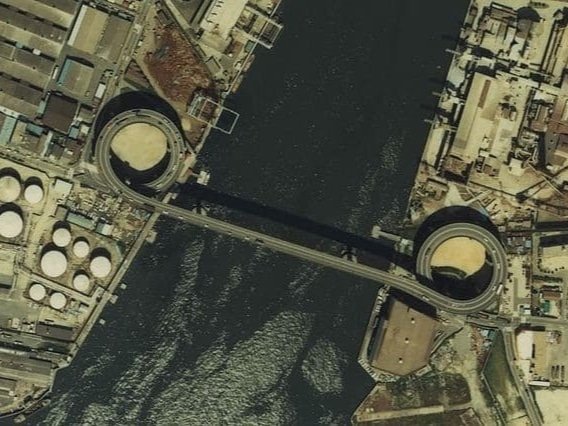 This Senbonmatsu Bridge connecting Taisho ward and Nishinari Ward is dubbed as Megane Bashi, "Eyeglasses Bridge". You can see the reason when viewing from the sky.
The double spiral loops effectively contributes to elevate the height of the bridge in this limited space surrounded by many plants and houses. The lowest part of the bridge girder is 33 meter high.
You can cross the bridge by foot or bike, however ferryboat service is also available. With enough time, you can climb up and down the loops on bicycle and return by boat, or vice versa. The ferryboat allows the boarding of your bike. This loop trip must be fun!
Power of rusted steel, Nakayama Steel Works
Near the bridge, there is a plant called Nakayama Steel Works. You can't miss its striking appearance with the rusted huge metal pipelines. The company commemorated 100th anniversary last year.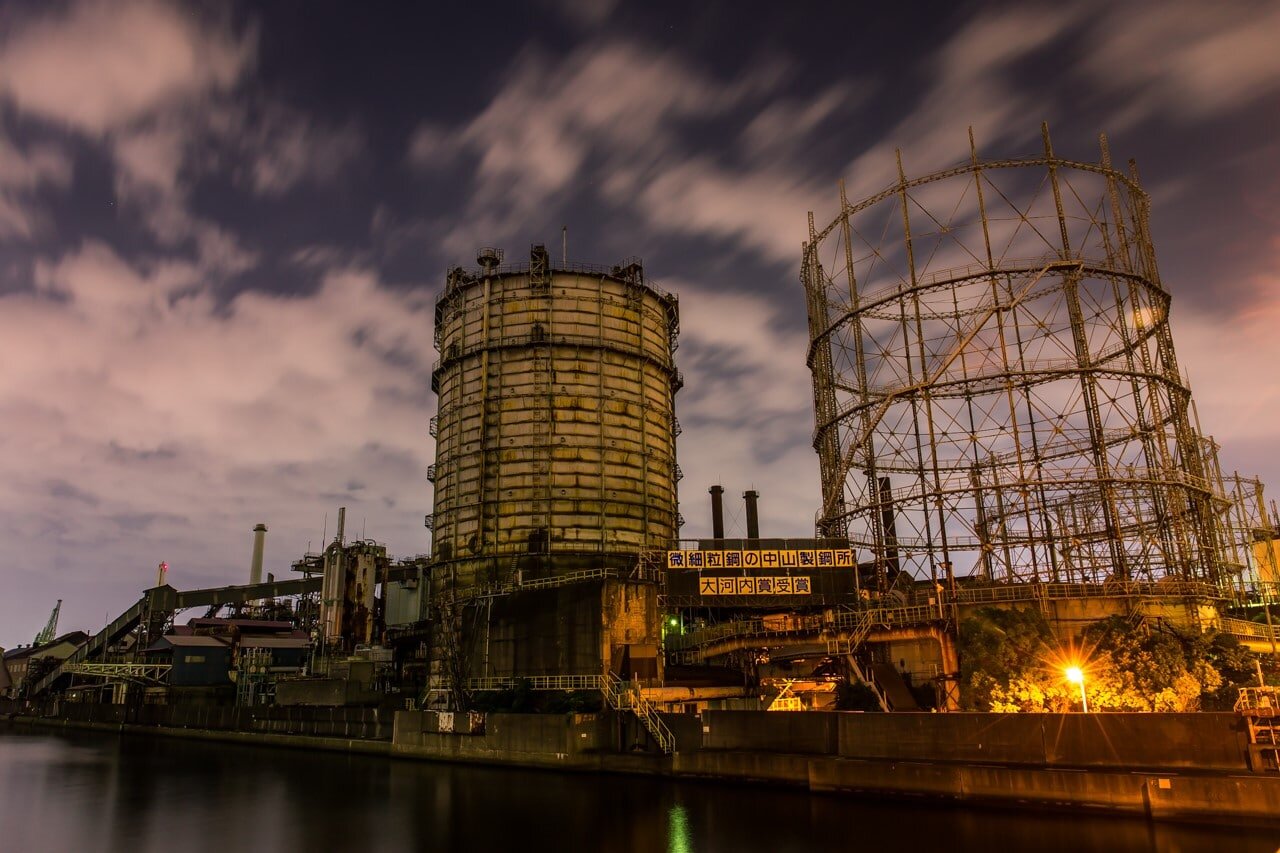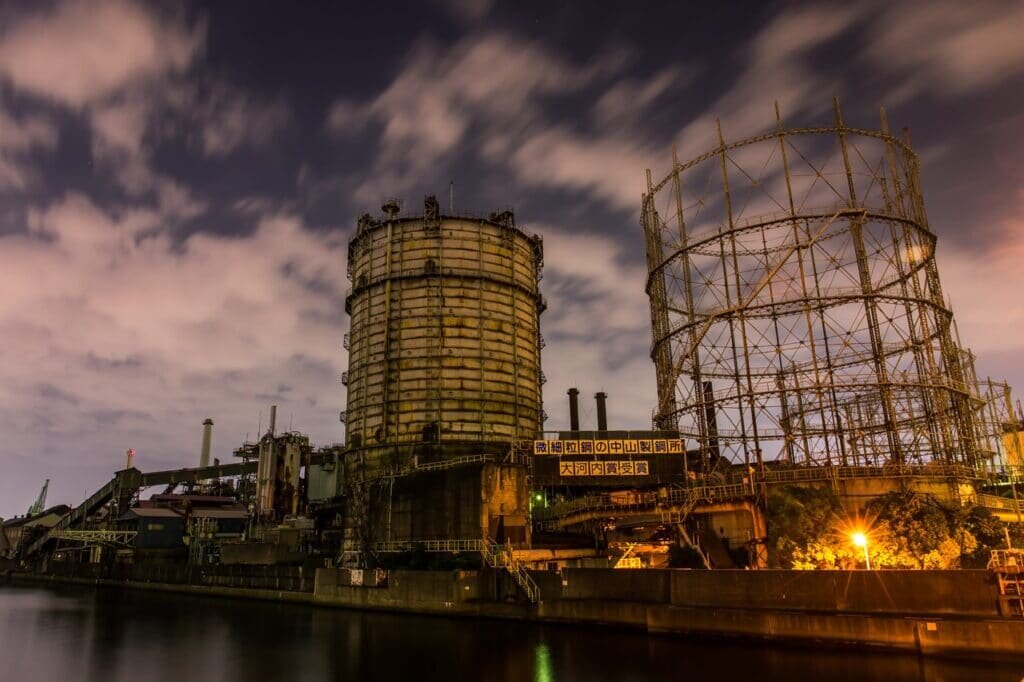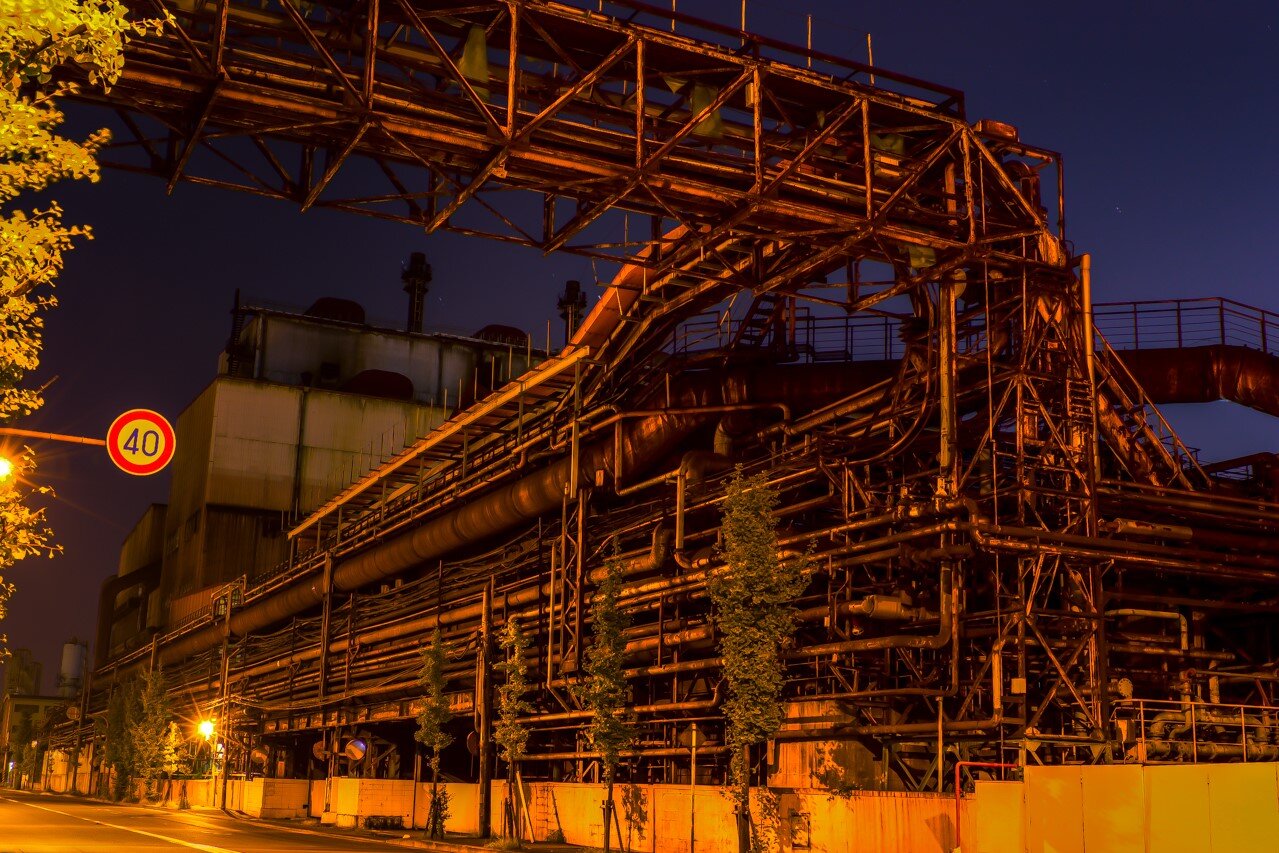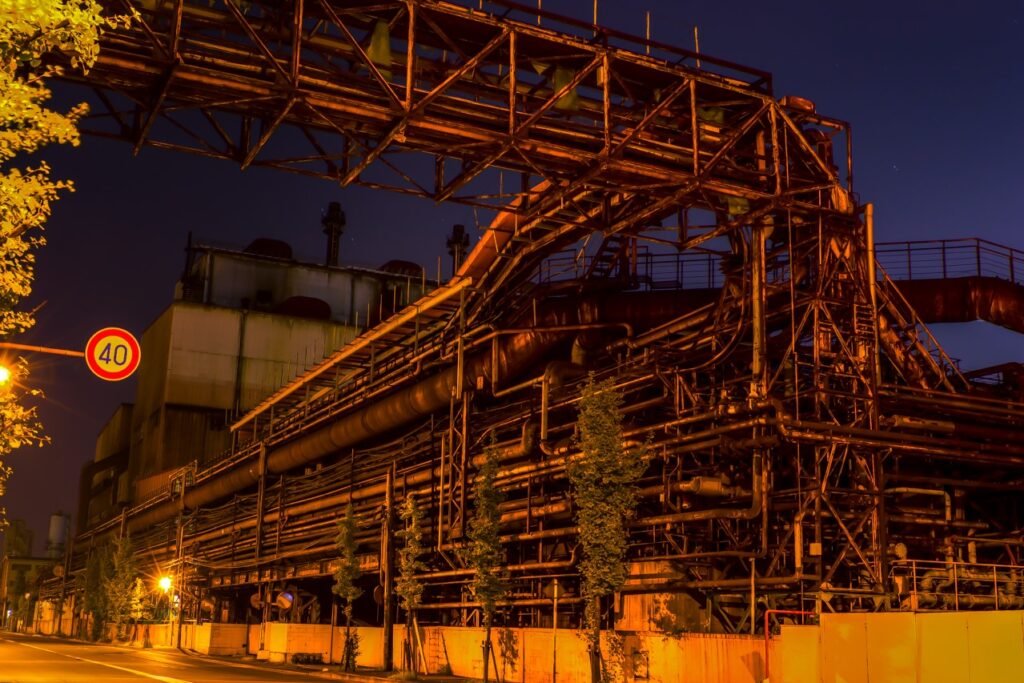 Their main plant here is particularly famous for being a filming location of an American movie, "Black Rain", directed by Sir Ridley Scott whose films are acclaimed for their visual style and rich details. His works include Alien, Blade Runner and Gladiator, just to name a few.
Black Rain is a film-noir, cop movie set in Osaka, starring Michael Douglas, Andy and several great Japanese actors of the era including Ken Takakura, Yusaku Matsuda, Tomisaburo Wakayama, Shigeru Kamiya and many others. It was one of the few Hollywood movies depicting underground societies in Japan that was rarely known to the outside world audience.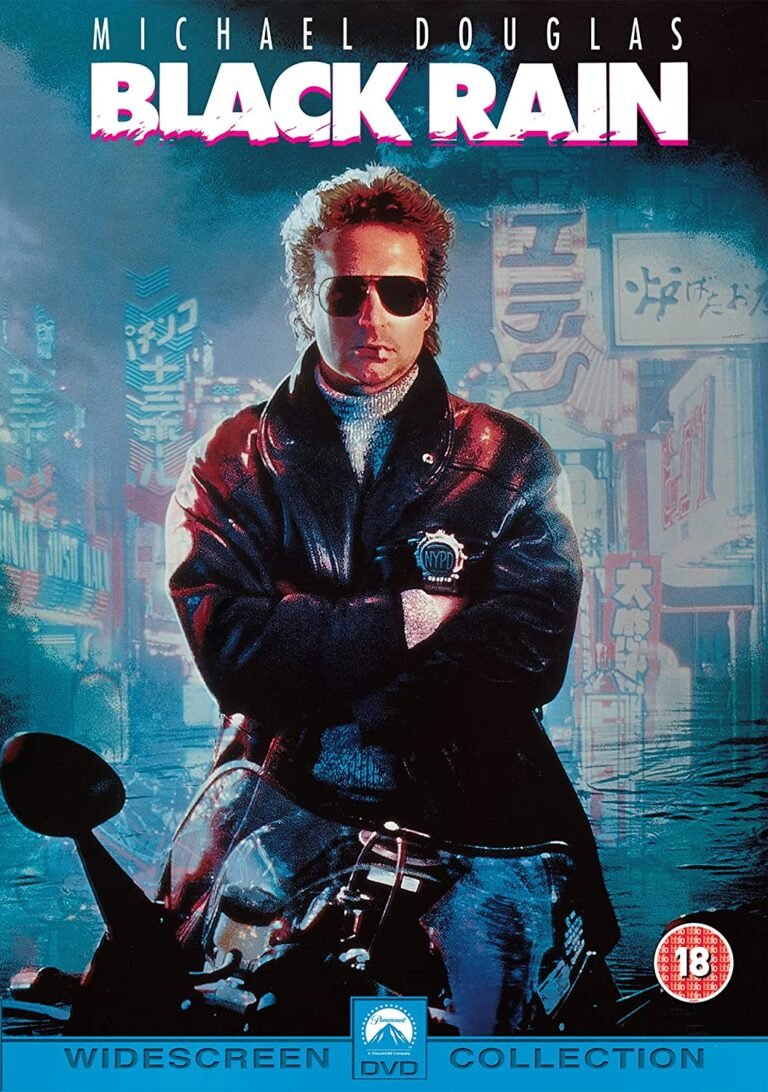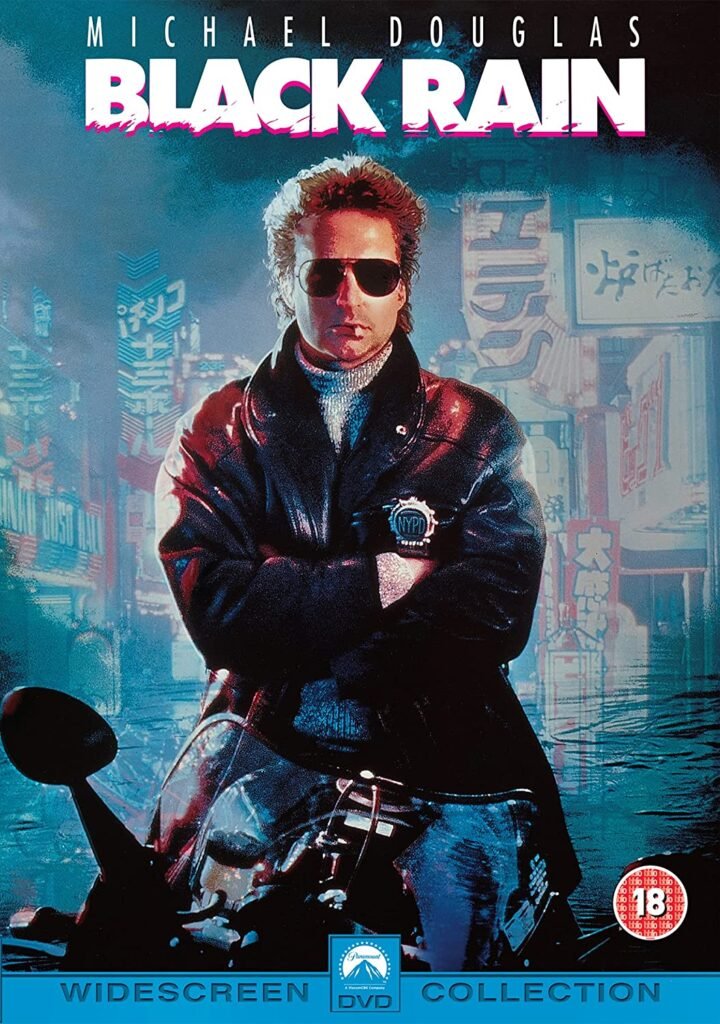 The profound noir images contrasting colorful night neon and impressive suspense music successfully made normal landscapes of Osaka very extraordinary. Especially, a thrilling chase by Michael Douglas and the Japanese mafia (Yusaku Matusda) was the most breathtaking part in this movie. The dark plant filled with flashing image of intensely burned metals and disturbing sounds of roaring machines mysteriously expressed the thrilling plot.
The striking appearance of Nakayama plant reminds us that steel works have long underpinned Taisho's industrial history. If you would like to know how Taisho inspired people and contributed to the Industrial Revolution in Japan, please check this article.
Funamachi Ferryboat Station – Crossing the river
After passing by the head office building of Nakayama plant, you will find "Funamashi Tosenjo", a ferryboat station. From here, you will cross the river from the Funamachi side to the Tsurumachi side. In Taisho, ferryboat routes are officially regarded as "road", so you can board it for free.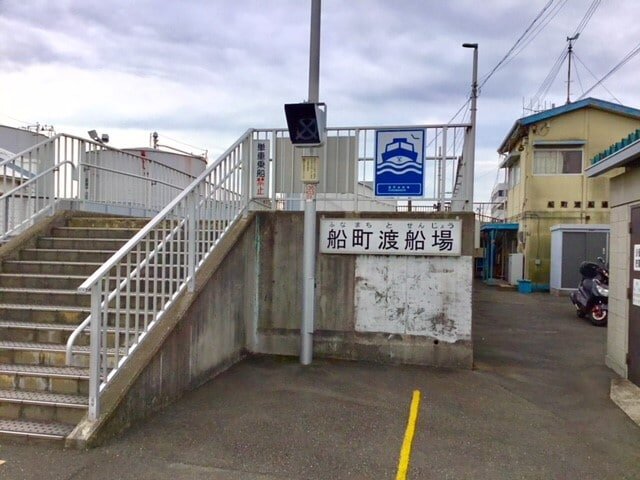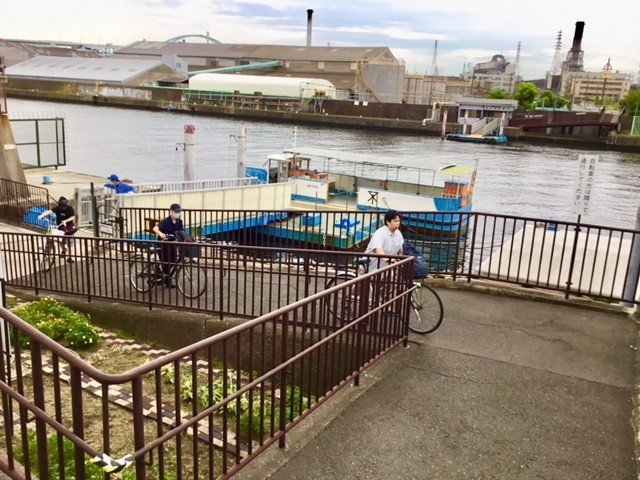 You may notice other passengers are on board with their bikes. This is a symbolic scene of Taisho bicycle paradise.
In Taisho, there are seven ferryboat stations. Local people take boats for go to schools, offices or shopping. Compared to climbing up and down the high bridges, boat commuting is much easier and quicker. Ferryboats are indispensable to their daily life.
Chitose Bridge – Blue carve on the internal port
Your next destination is Chitose Bridge. Its deep blue arch beautifully contrasts with the vivid red dynamic structure of the neighboring Minato Bridge, as you saw from the top of Mount Showa.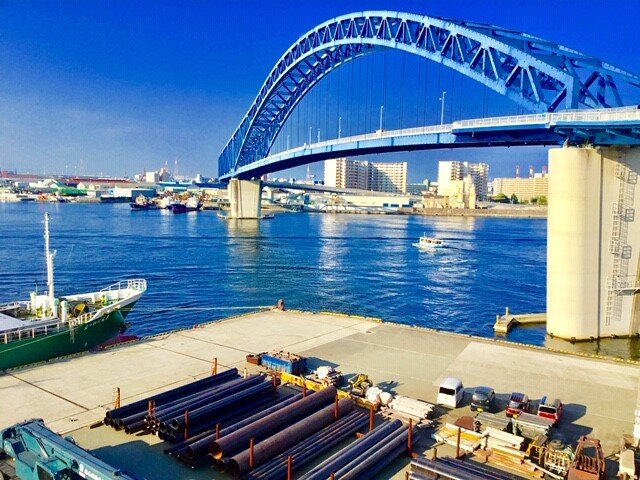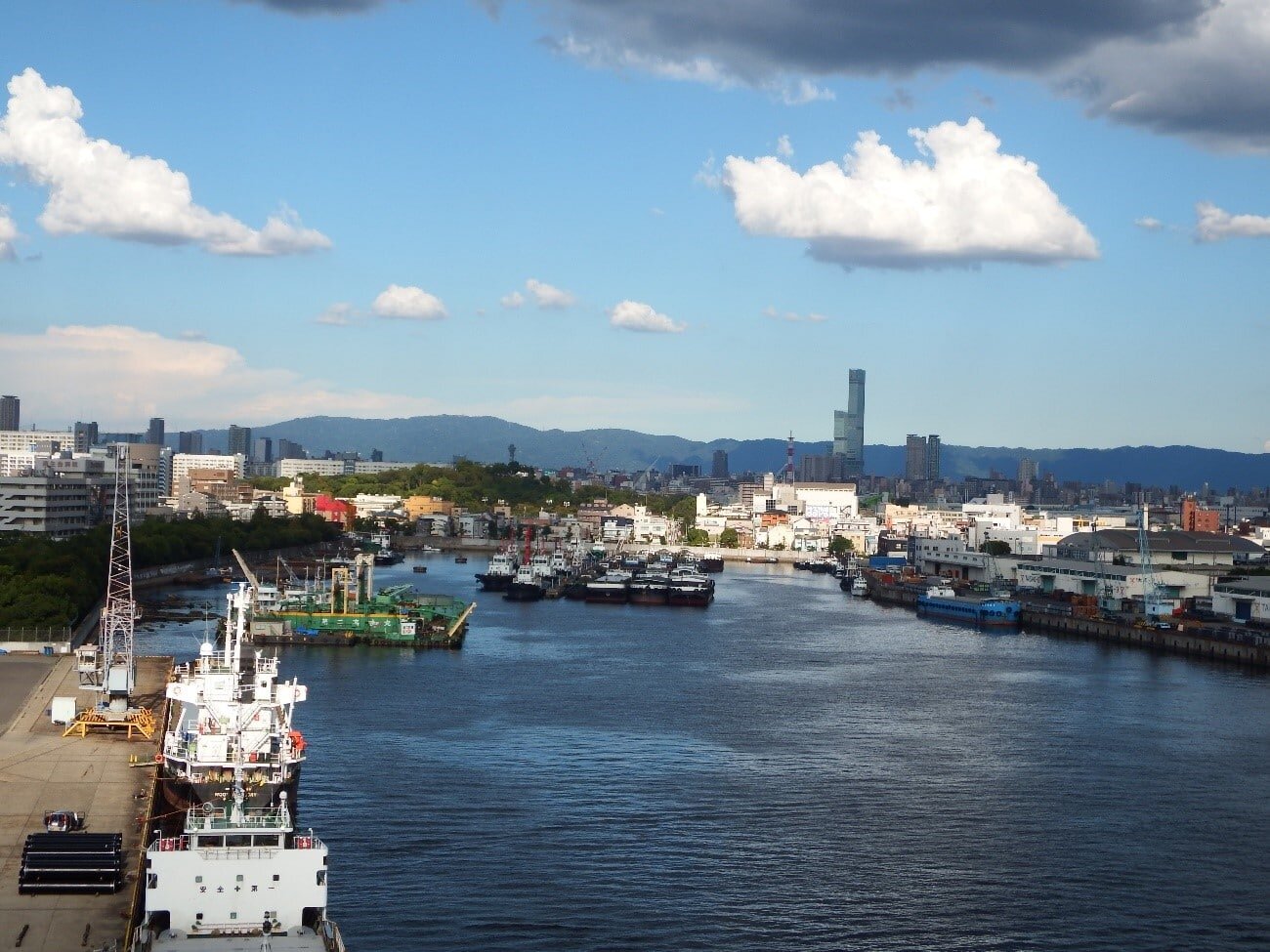 It was not until 2003 that this bridge connecting Kitaokajima area and Tsuruhama area was constructed. Before that, everyone here used ferryboat to cross the river. Even now, most people use ferryboat to save their time and labor of climbing up and down this high bridge.
On the bridge, you can get a fantastic view of Osaka city with remarkable landmarks including Abeno Harukasu, (the tallest building in Japan), Tsutenkaku (the symbol tower of Osaka), Universal Studio Japan, Umeda Sky Building having an amazing floating garden. Far distance, Mount Ikoma and Mount Katsuragi in Nara Prefecture or even Akashi Kaikyo Bridge, the world's longest suspension bridge will also be in your view.
Shirinashigawa Suimon, Arch-shaped floodgate
As you see on the map and now personally realize during the ride, Taisho is a wonderland completely surrounded by water. It is at or just above sea level at best.
In this regard, Taisho was totally vulnerable to floods. As shown below, huge Typhoon frequently caused disastrous floods and severely jeopardized people's lives. Consequently, flood control had been most critical to protect the safety of Taisho citizens.
In 1970, a unique arch-shaped floodgate, Shirinashi-gawa Suimon (Shirinashi River Floodgate), was built to control water level and has long protected Taisho people since then.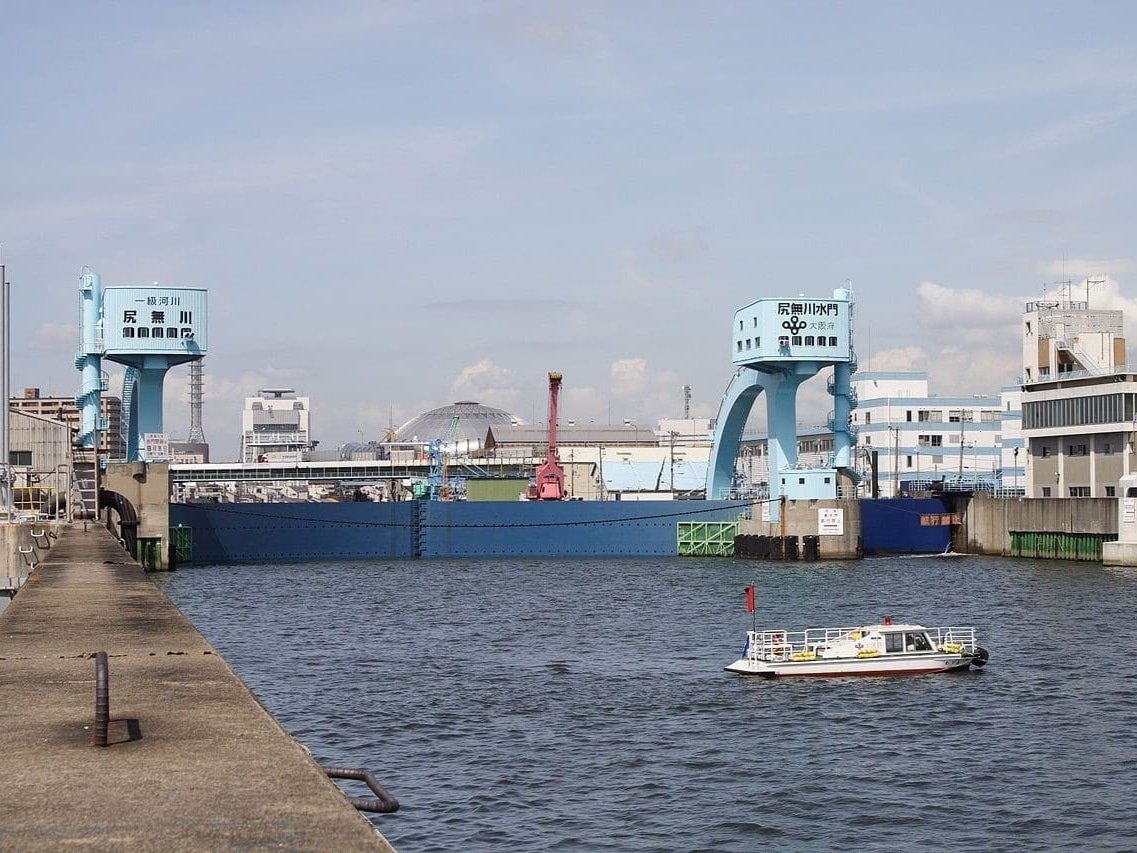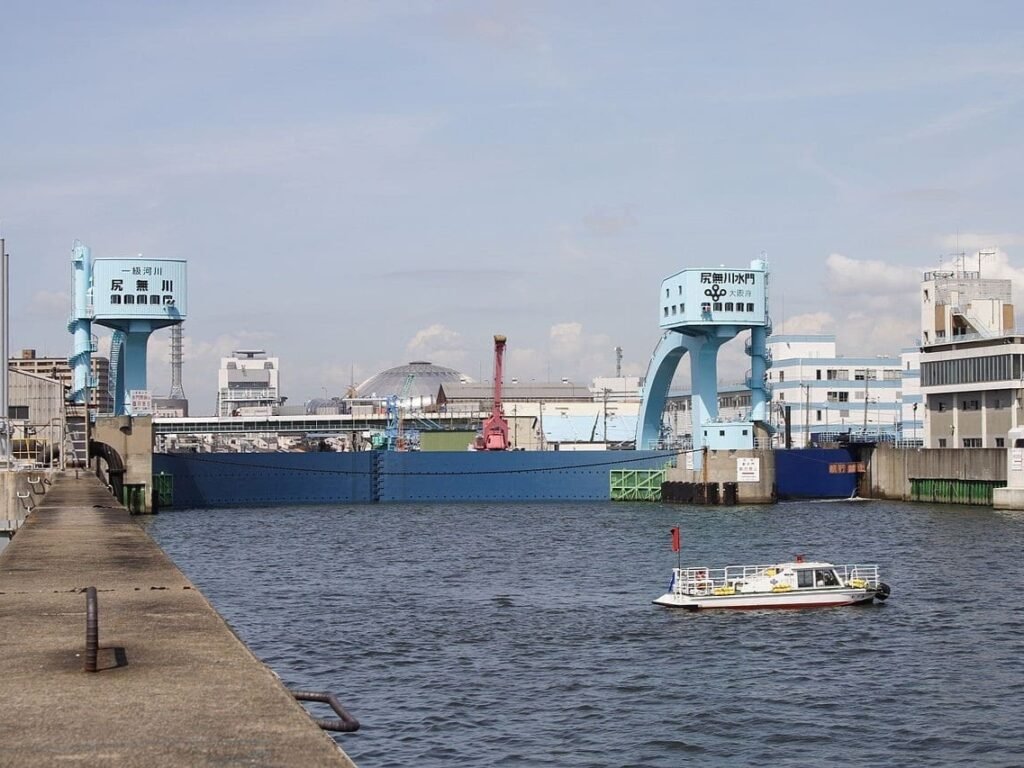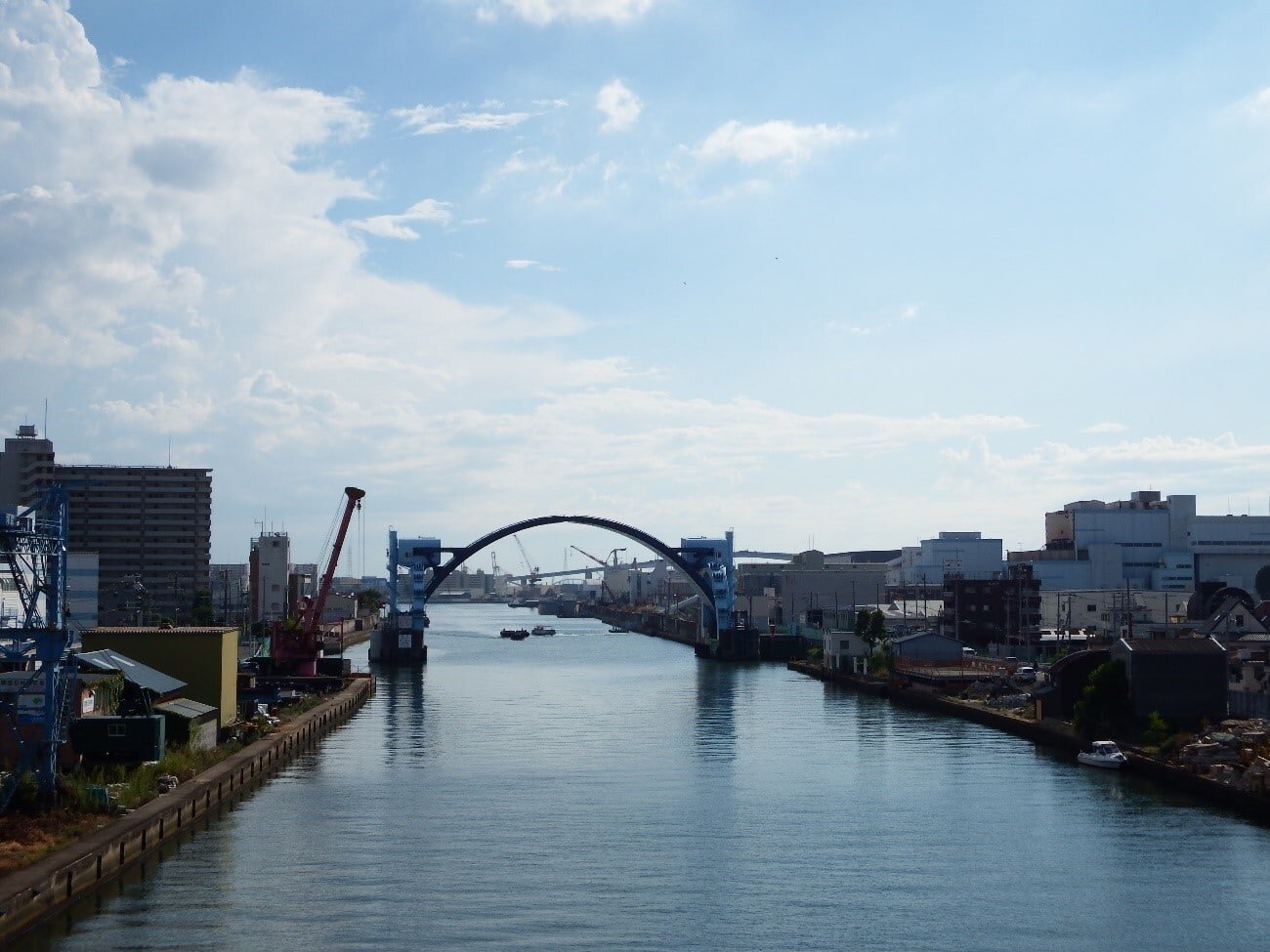 This high arch structure allows tall cargo ships to pass the gate safely. This is one of the three arch floodgates in Japan (other two are Kizugawa Suimon in Taisho and Ajigawa Suimon in Minato ward).
When there are imminent risks of flooding, the gate is closed to block the high tide. This system has been successfully implemented to protect the lives of Taisho citizens.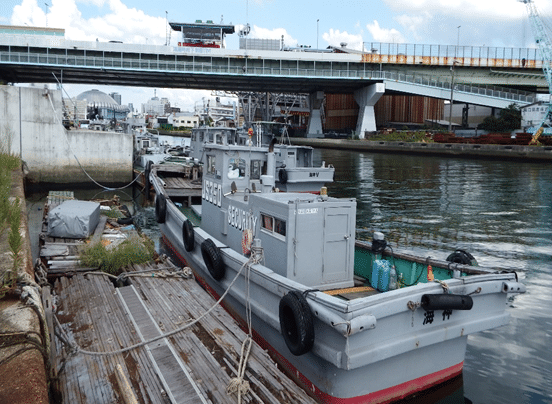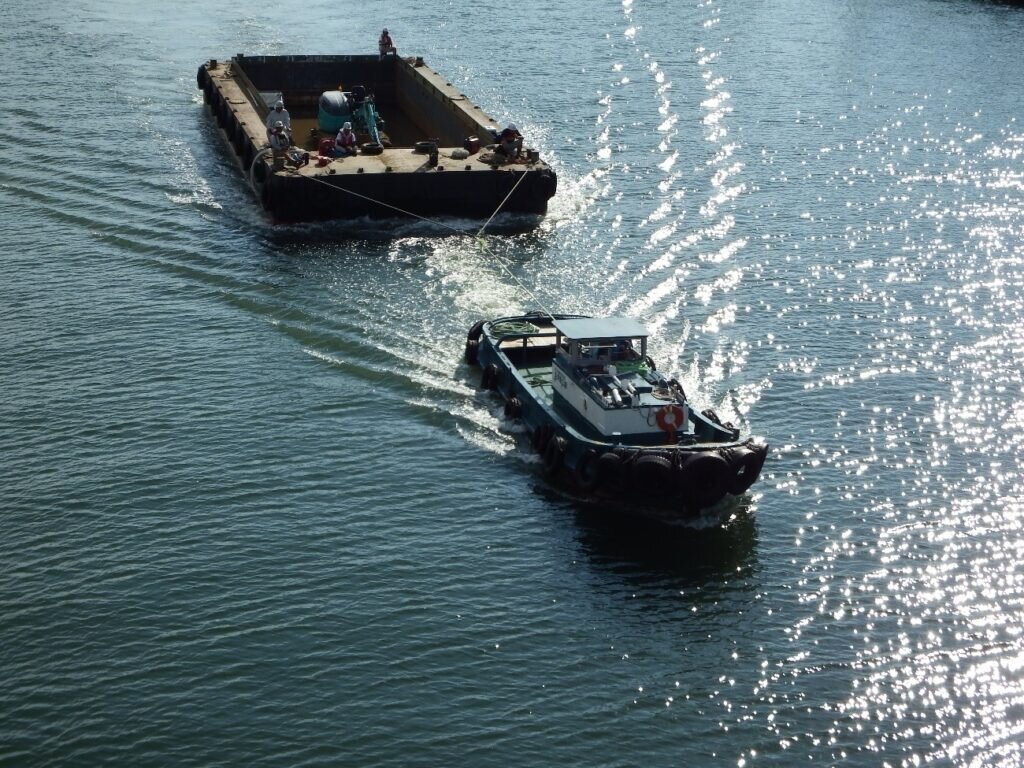 Ojizo sama, Everyday life worships
In some street corners or under the eaves of private houses in Japan, particularly in the Kansai area, you may have seen a Jizo, a stone statue in a little wooden hall. It is a guardian deity of children worshiped by local people. Each district has its own Jizo to revere.
People very respectfully call Jizo as "Ojizo sama". When people are passing by the small hall (お堂、odo), they just stop to put their hands together silently and leave. You can find plenty of Ojizo samas on your cycle journey in Taisho.
This Ojizo sama below stands very close to houses and a parking lot in Izuo area, Taisho. What is this woman with her bike and dog praying for?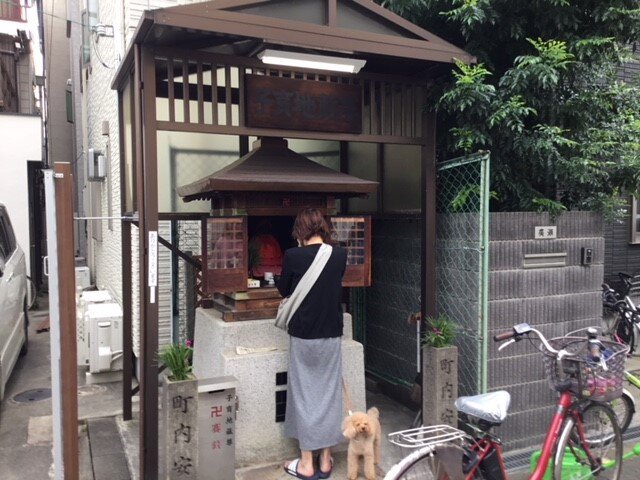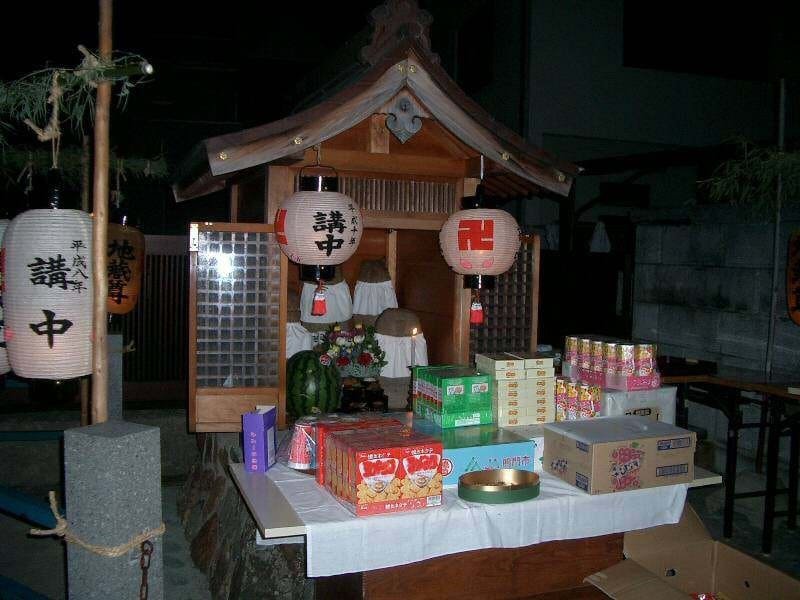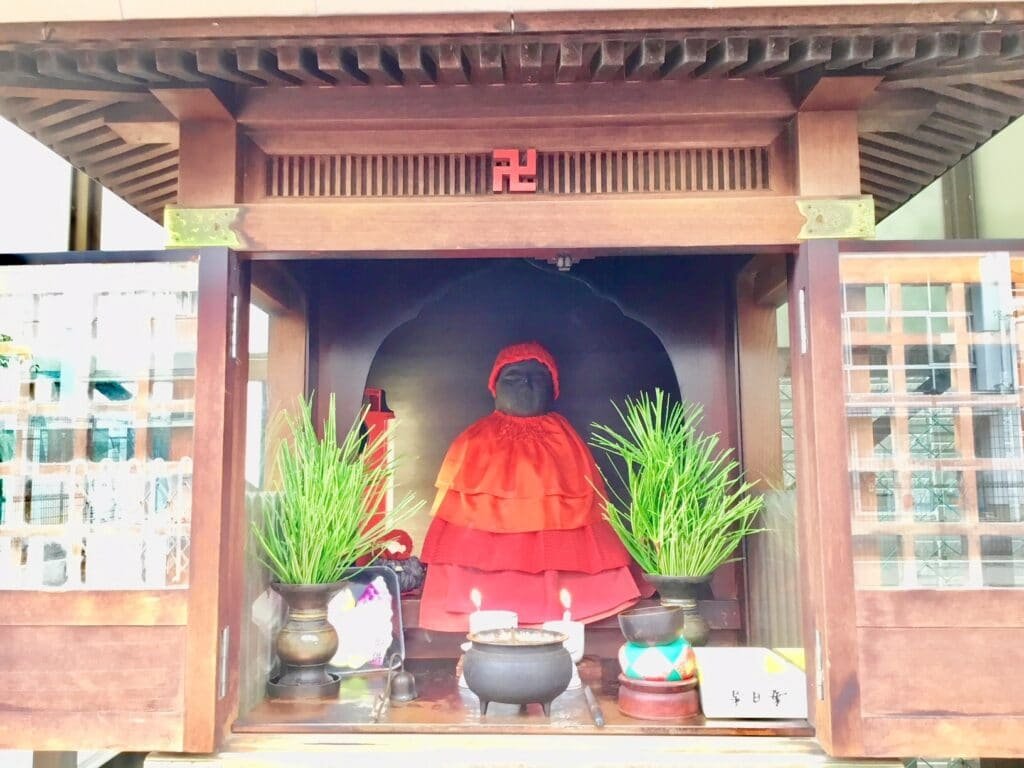 Ojizo sama typically wears a red or white bib. This Ojizo sama in Izuo district dresses elaborately. It seems some Izuo locals dressed him in red bibs and a matching cap to show their respect. This tells you that worshipping Ojizo sama naturally blends into people's everyday life. If you find Ojizo sama somewhere, it's definitely sign of your good luck.
Carrying on the tradition, Nishide Tea Shop
Finally, your amazing ride is reaching the ending. Concluding your journey with a relaxing atmosphere, Nishida Tea Shop on the south end of Izuo Shopping Arcade is a perfect choice.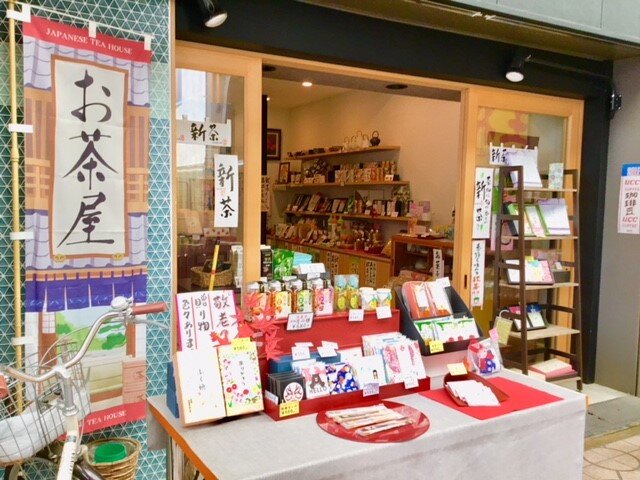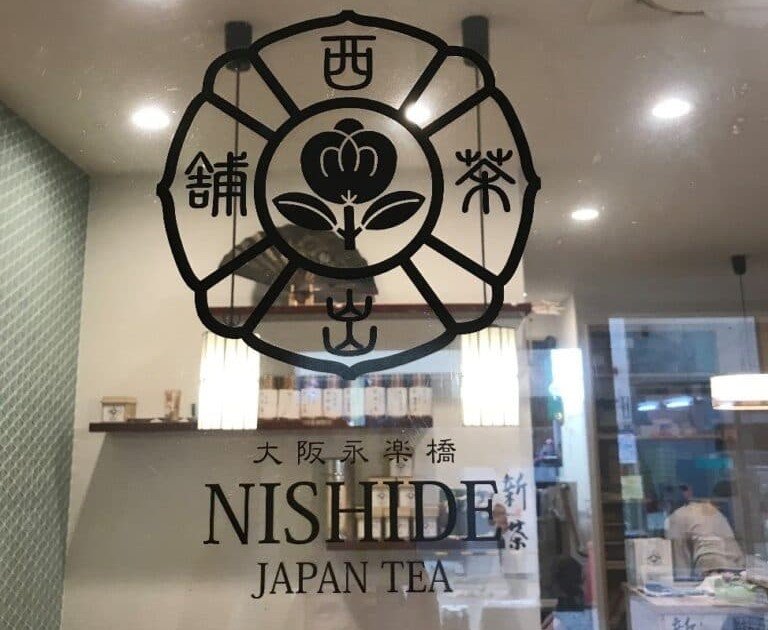 The history of Nishide Tea Shop can be traced back to as early as the 1860s in Kyoto. Kenzo Nishide, grandfather of the current owner, was born and trained at Uji Tawara, Kyoto, the traditional center of tea production. He then came to Taisho to open his own tea shop after the World War II.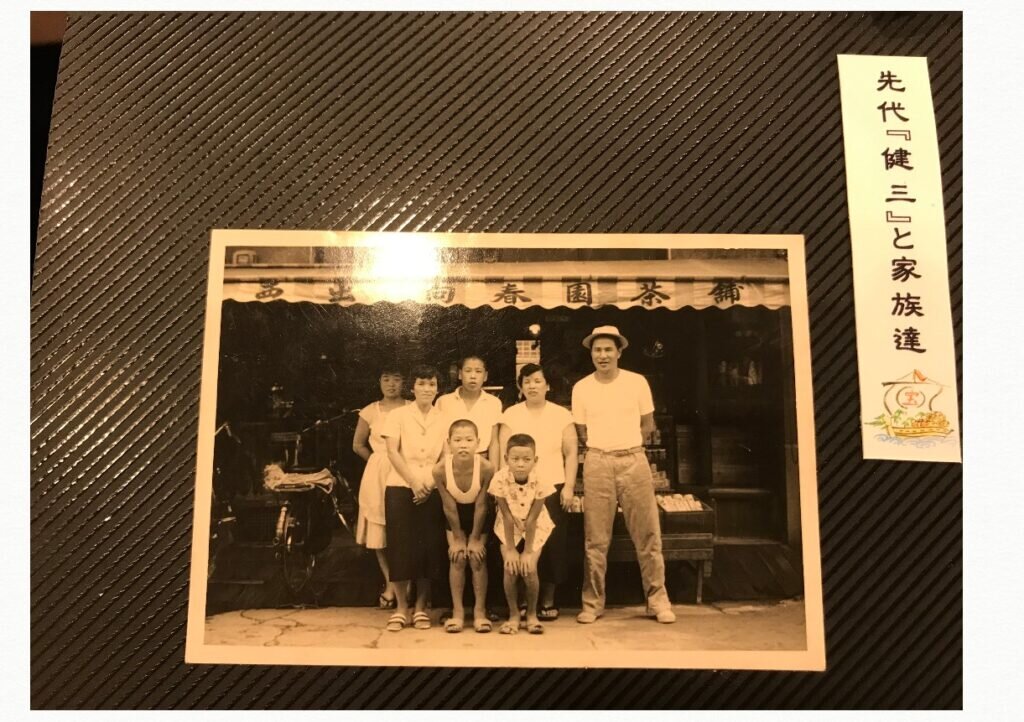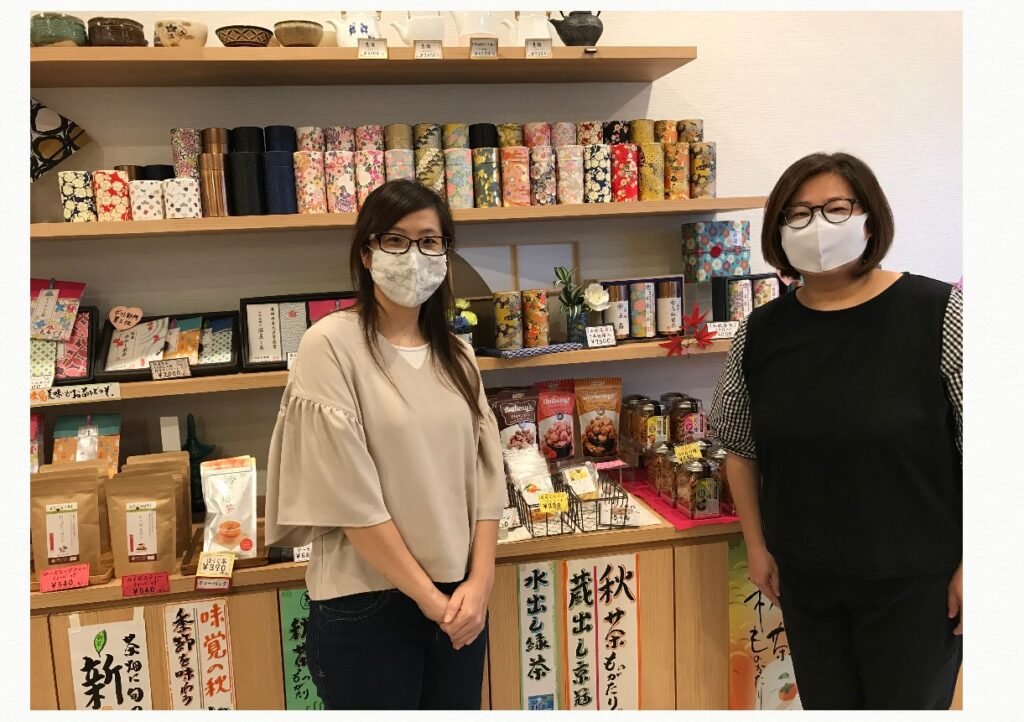 You will be fascinated with their profound knowledge about Japanese tea. Just some tips for OSAKA.COM readers: Typically, tea leaves are harvested three or four times a year. Most precious tea comes from the first session picked early May, called Shincha (新茶, "New Tea"). The day of Shincha is specified for each year. In 2020, it was the 1st of May. Shincha is really special for Japanese people.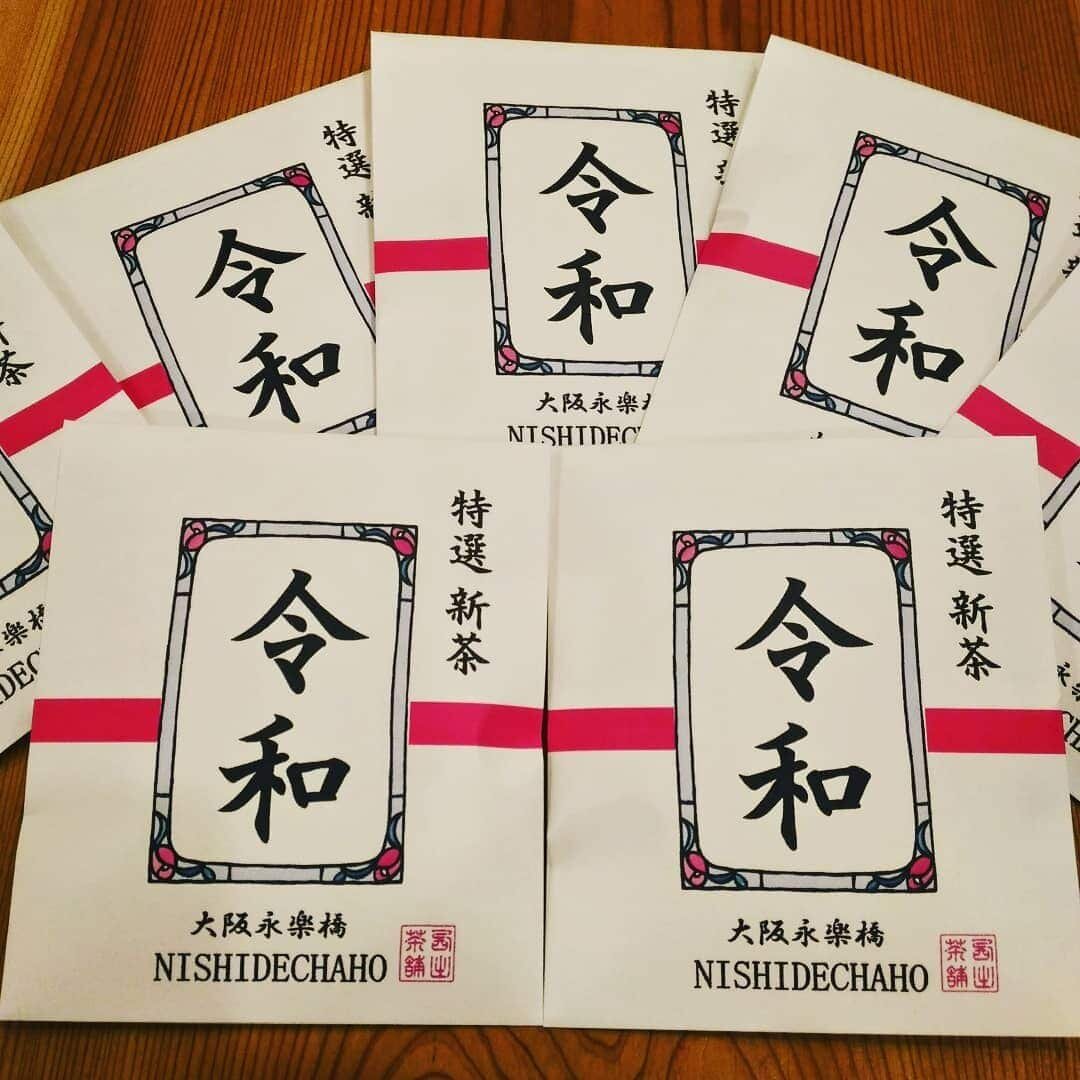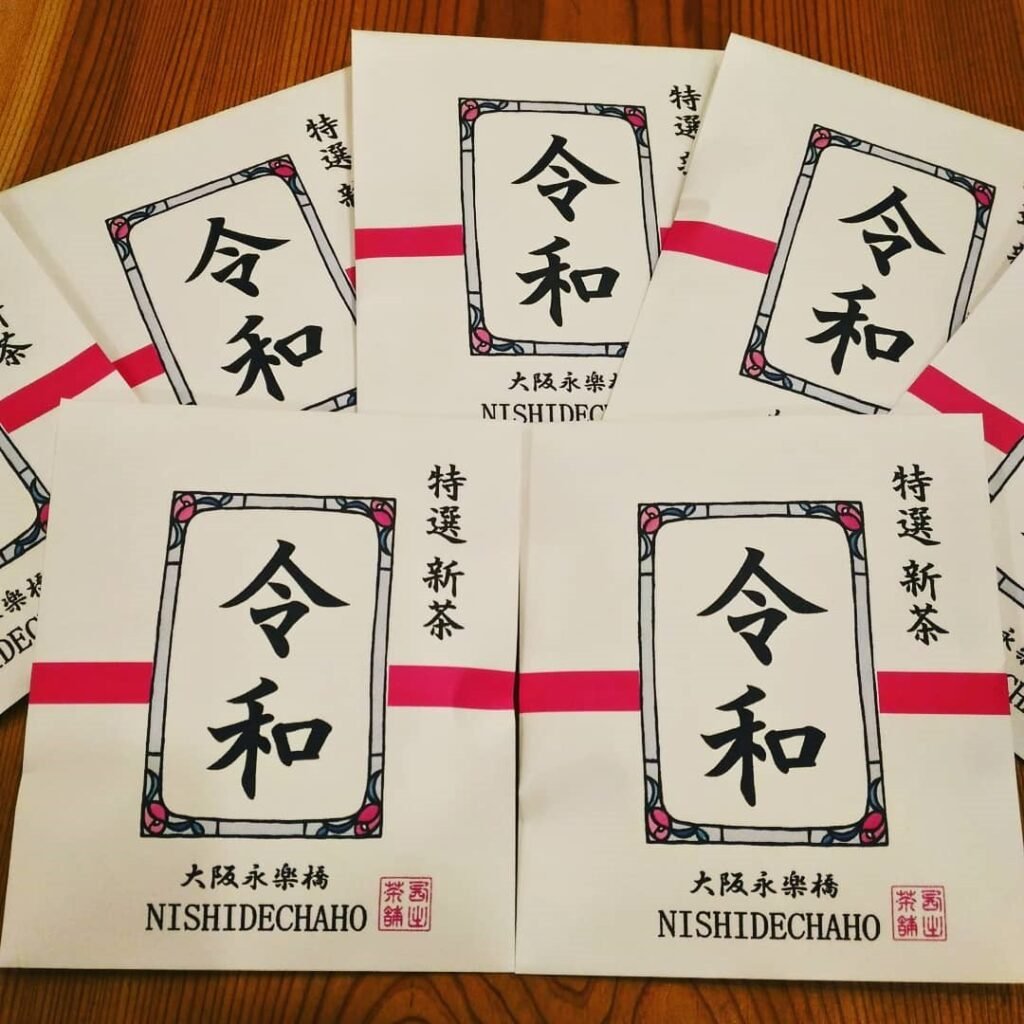 The most important feature for Japanese tea is Gougumi (合組), special blending recipes that are carefully passed down generation to generation in each tea families. "Gou" means blending, "gumi" is composing. As a tea business is typically family-run, each tea family has its own Gougumi with different flavors, colors and tastes.
The Nishide sisters have re-designed and re-branded their shop in 2018. While keeping traditional value of the family, they have started new projects and promoted various original products perfectly for the season.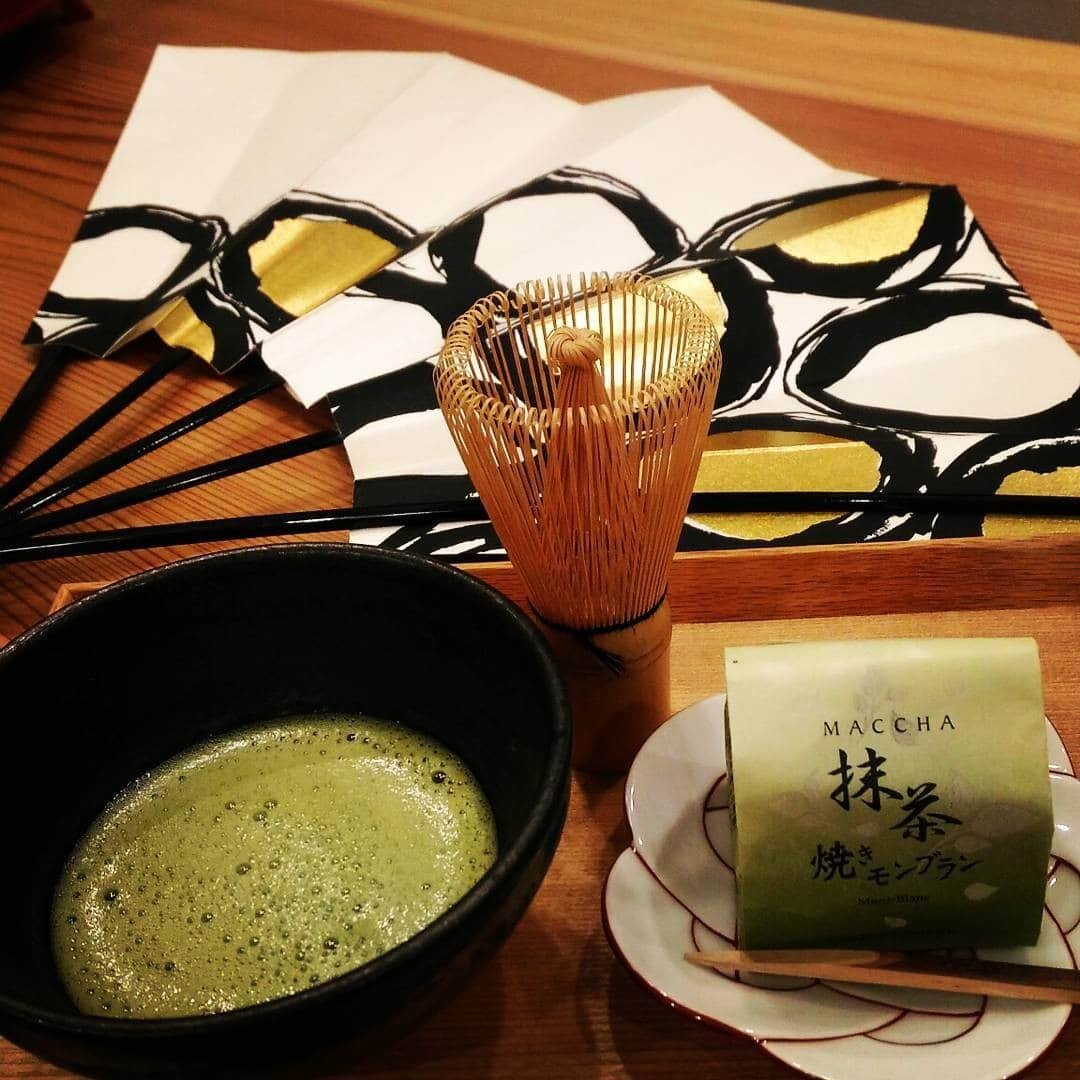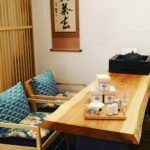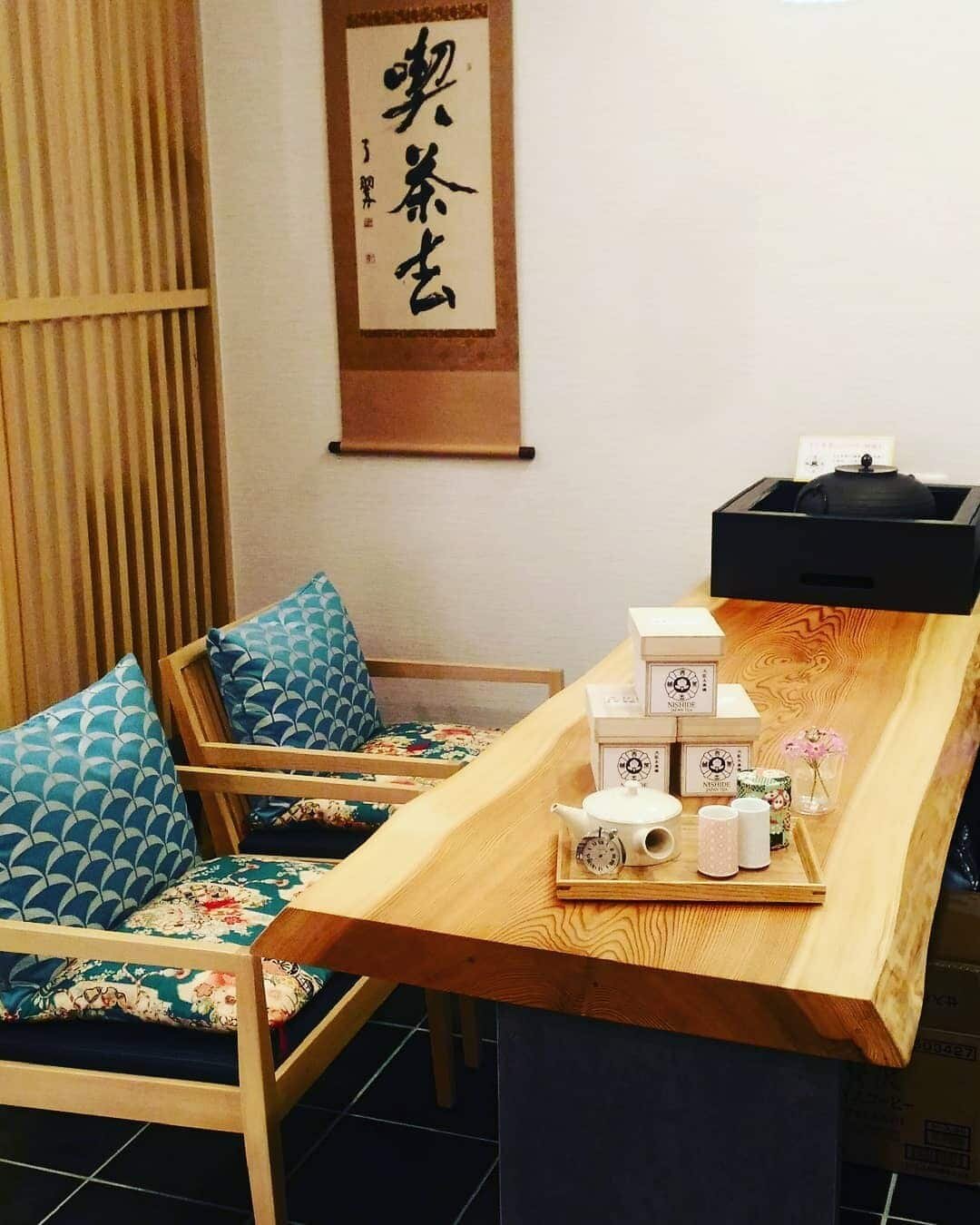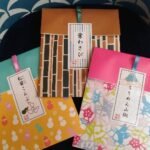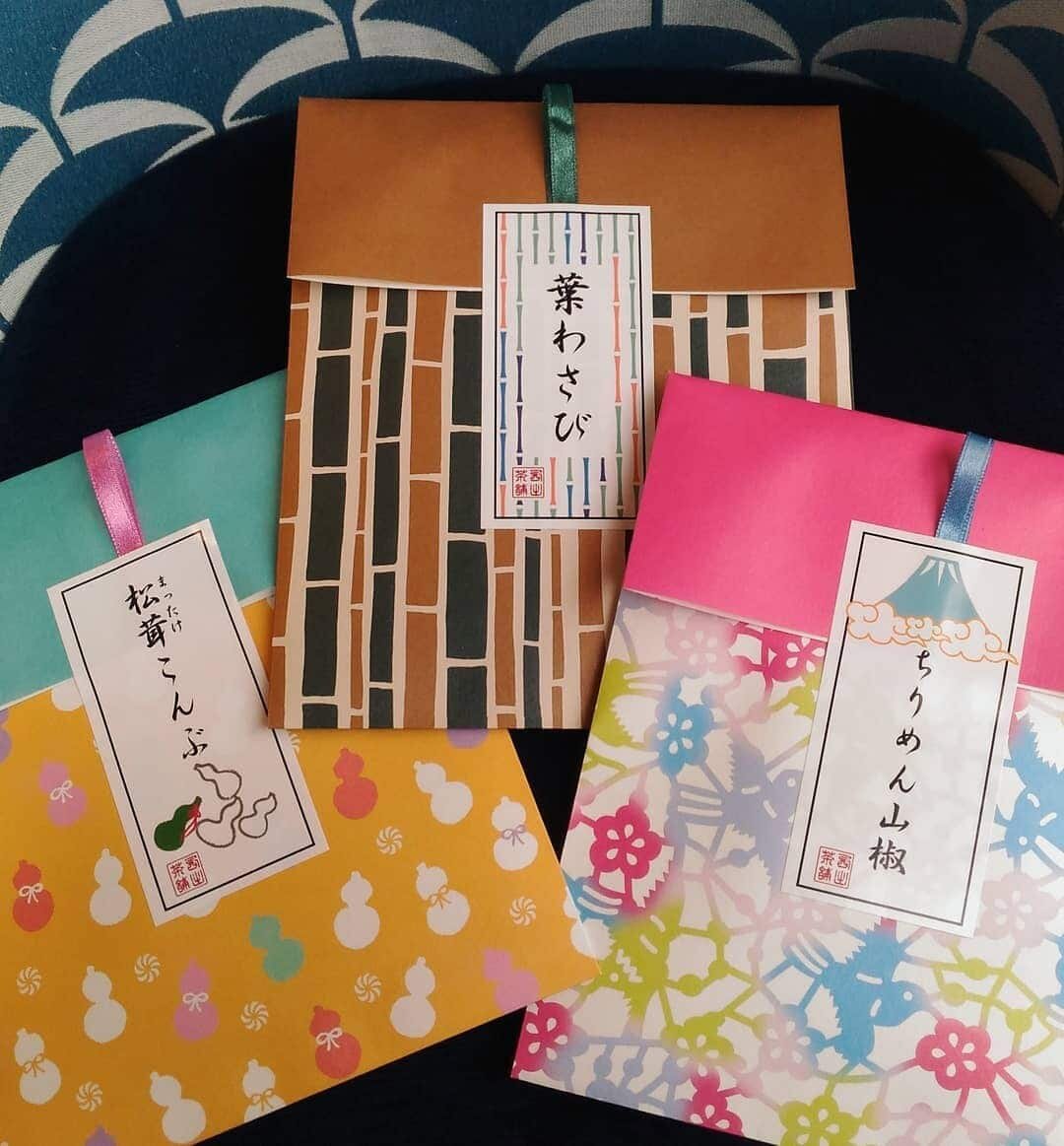 As tea practices highly respect seasonal essence, you can ask them to find the best tea for you and learn how to enjoy it to the fullest. Such small tea gift will remind you of this wonderful Taisho journey forever. You can follow Nishide Tea Shop here;
https://www.instagram.com/nishide.teashop/