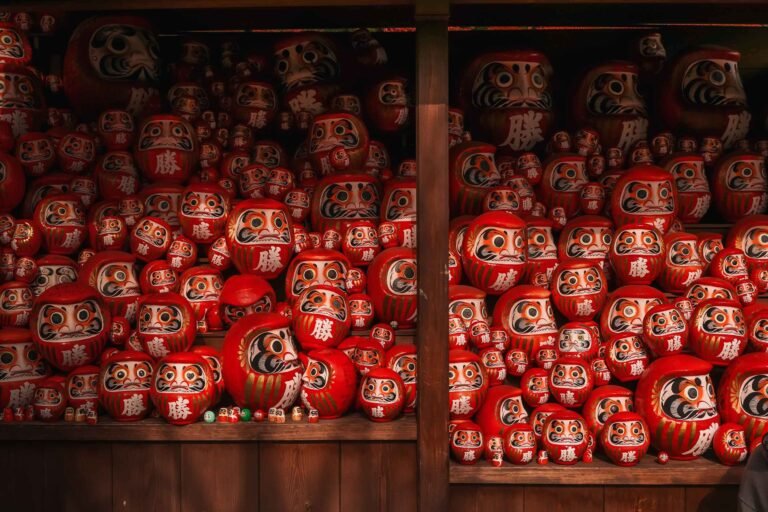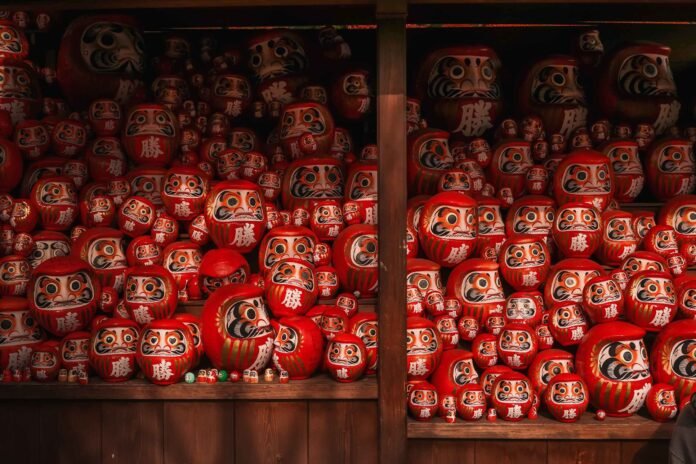 When you think about Katsuo-ji temple, the first thing that comes to your mind may be the popular autumn foliage viewing. The second, very noticeable feature of this temple is the large number of roly-poly (or so-called daruma) that you'll see spread all around the temple grounds as soon as you walk in. Fun Fact: If you have kept up with the trend on Netflix, you must know "Squid Game". Did you know however that there is a Japanese survival fiction comic "As the Gods Will" (Kami-sama no Iu Tōri), with a similar theme as the Squid Game? Actually, a large number of darumas appear in this work. In this article I'll give you some useful information about Katsuo-ji and a detailed explanation of the meaning of daruma in Japanese culture. Katsuoji
Katsuo-ji in Autumn
Many people visit Katsuo-ji Temple in autumn to see the maples. I will introduce Katsuo-ji Temple in autumn in terms of transportation, climate, when to visit and what to pack beforehand.
How to get to Katsuo-ji
First, let's talk about the most important thing, transportation. Many people are used to traveling around Japan on foot, but Katsuo-ji Temple is located in mountains. There is no pedestrian trail on the way, so walking is not recommended. The recommended way of transportation is by bus.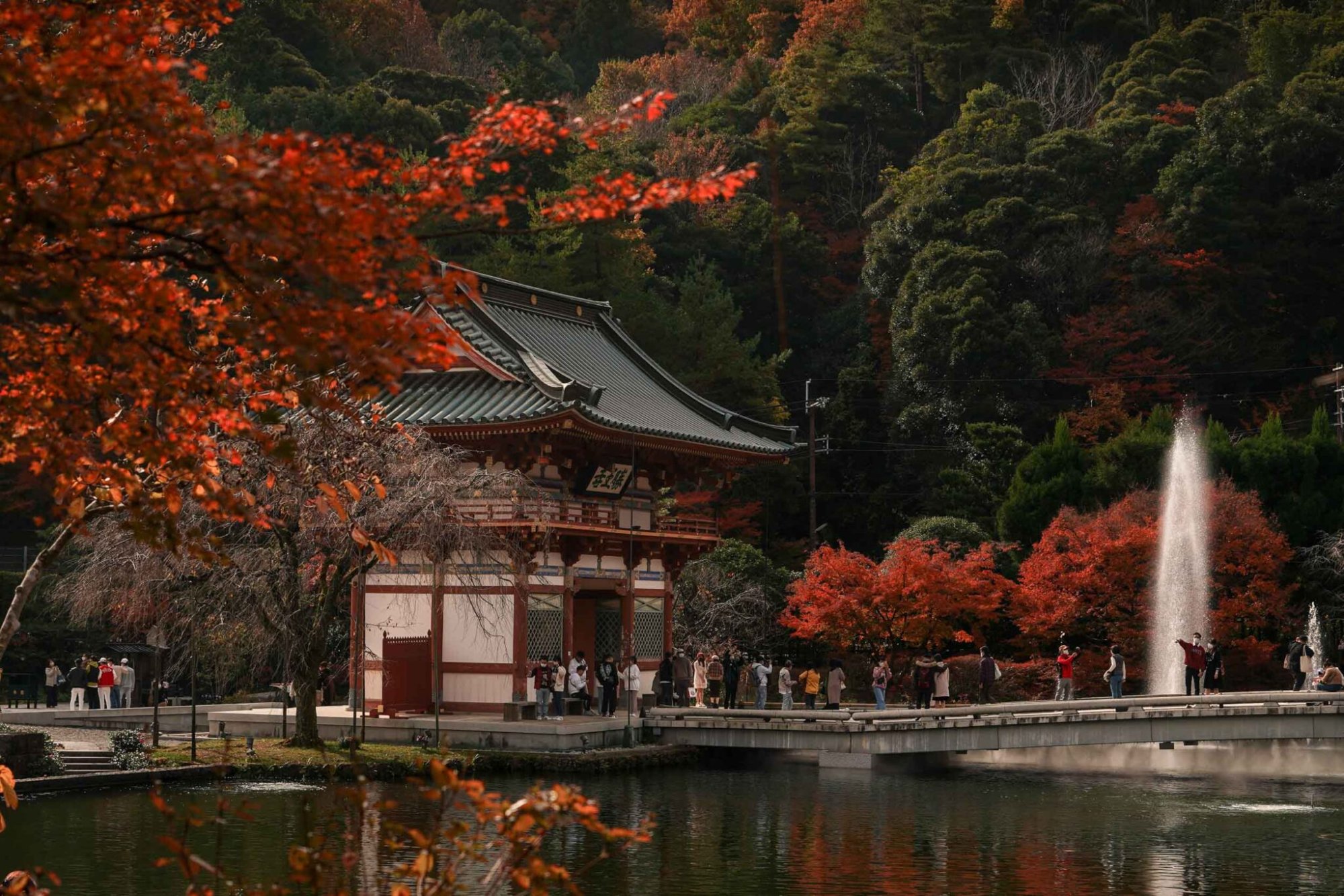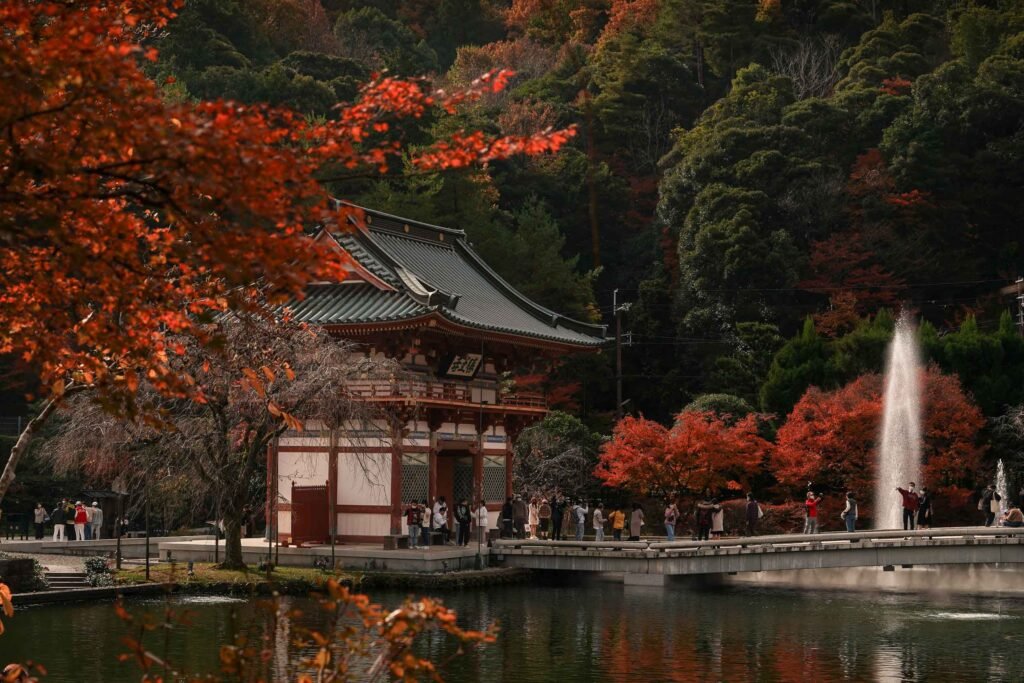 By the way, renting a car is not a good choice. On the way to Katsuo-ji Temple, there are many mountainous roads, which are dangerous when you are not familiar with the area. In addition, to rent a car, you need a Japanese driver's license or an international driver's permit. If you come from Belgium, Estonia, France, Germany, Monaco, Switzerland and Taiwan, you do not need an international driver's permit based on the 1949 Geneva Convention, but you must apply for a Japanese translation of your license in your home country. On the other hand, if you come from countries not mentioned above, you will need to apply for an International Driving Permit in advance. For more information on renting and driving in Japan, you can refer to JAF's website.
If you choose to take a bus, then you can refer directly to the official website of Katsuo-ji Temple. Since there are many people who want to go maple viewing, I strongly suggest you go directly to the starting station, Senri-Chūō (千里中央) Station, and take the bus. The bus schedule is shown on the official website, but due to covid-19, it may be subject to changes.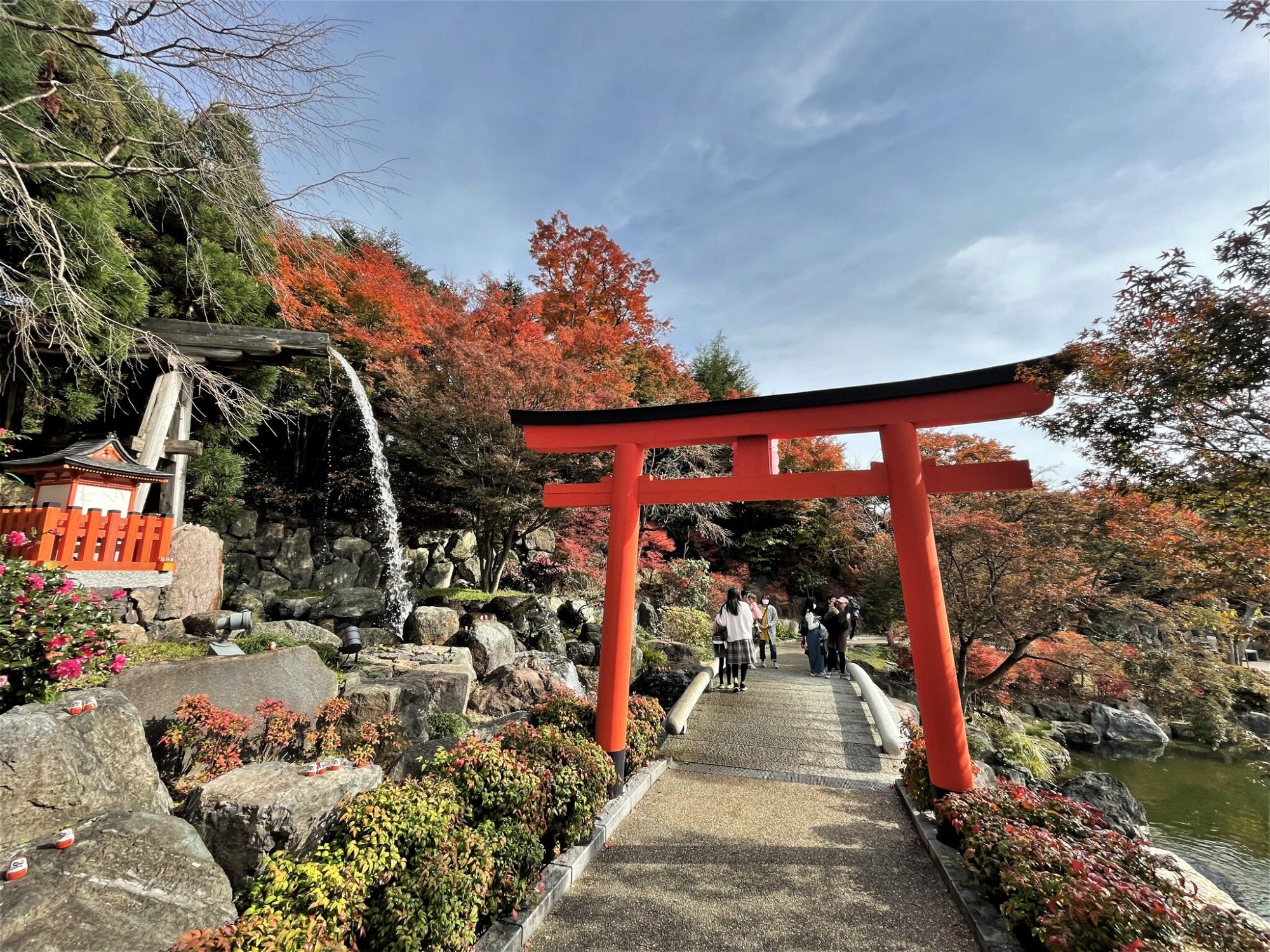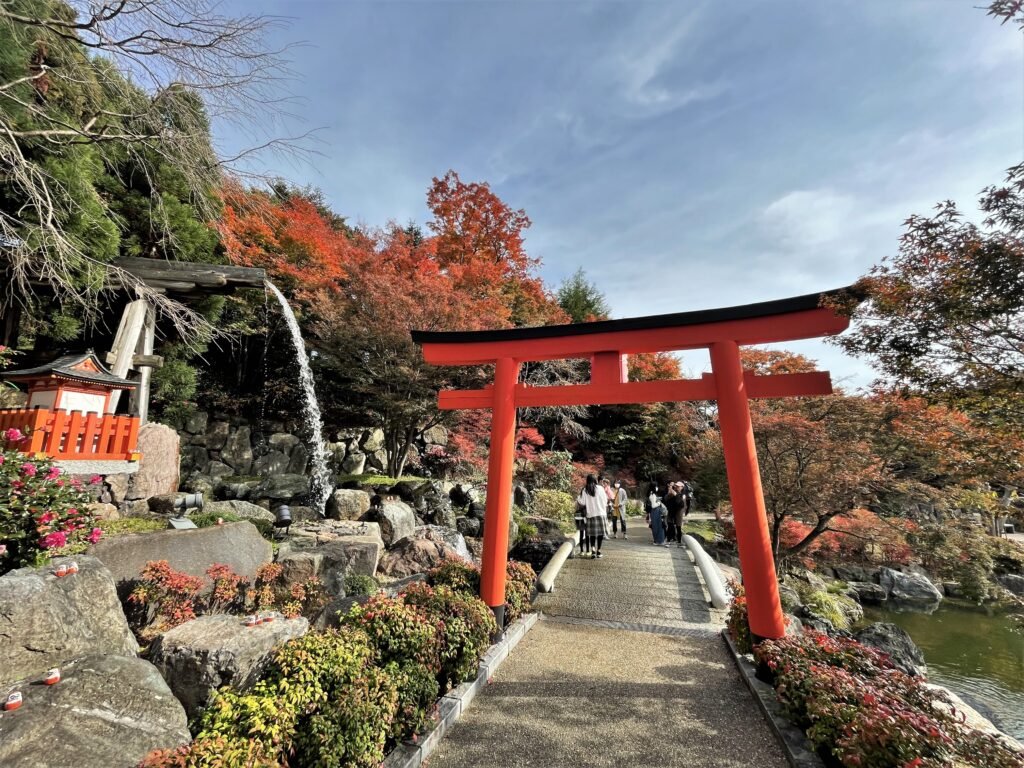 If you do not have a prepaid IC card, "Icoca", you will have to get on the bus by paying money. When you get on the bus, you must take a numbered ticket (整理券). When you get off the bus, you can pay according to the number displayed on the front panel. If you don't have enough coins, you can also get change money with the money changer beside the driver.
Compared to the climate in Osaka's autumn, transportation is not an issue at all. Osaka is usually warm, and it may be hot in the city, but when you get to the mountains, the temperature drops instantly. You had better check the temperature in Minoh (箕面) with your smartphone. It is recommended to prepare scarves, masks and disposable body warmers to protect yourself from the cold weather. It is often rainy in the mountains, so you should buy disposable umbrellas and raincoats at the convenient store near Senri-Chūō Station.
Katsuo-ji Temple charges an entrance fee in order to preserve the environment. The entrance fee is 400 yen for adults and 300 yen for children.
I recommend you set off on the maple viewing after noon because the lake at Katsuo-ji Temple will be foggy and it will feel like you are in a fairyland. However, the last bus leaves at 5:00 p.m. After that, you have to drive or take a cab down the mountain. If you take a cab back to Senri-Chūō Station, the fare is about 1500 yen per person, divided equally between two people.
Katsuo-ji in Winter
I don't know if you are aware of the Japanese custom of visiting temples on January 1, which is called hatsumōde (初詣) in Japanese. You can go to Katsuo-ji Temple for hatsumōde from December 31 to January 5. Due to the large number of people who want to visit, it is recommended that you depart from the hotel early because, according to previous years, there is usually a traffic jam of at least 2 to 3 hours. In order to avoid the peak hours, it is recommended to go after January 4. In addition, if you rent a car or take a cab, it will snow on the mountain, so you should check whether the wheels are equipped with snow chains. If you are worried about traffic jam, you can also buy water, rice balls (onigiri) and sandwiches at the convenience store near Senri-Chūō Station.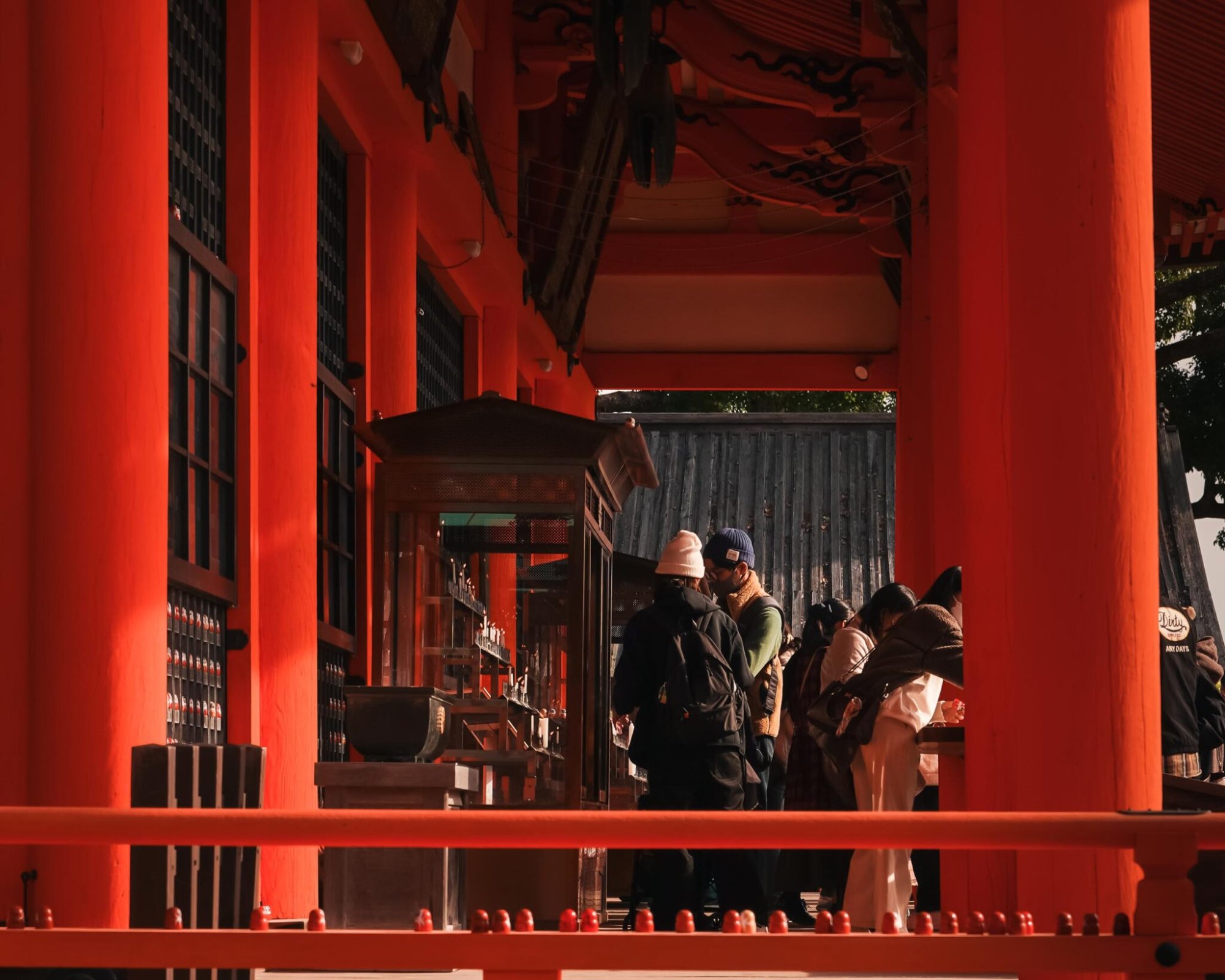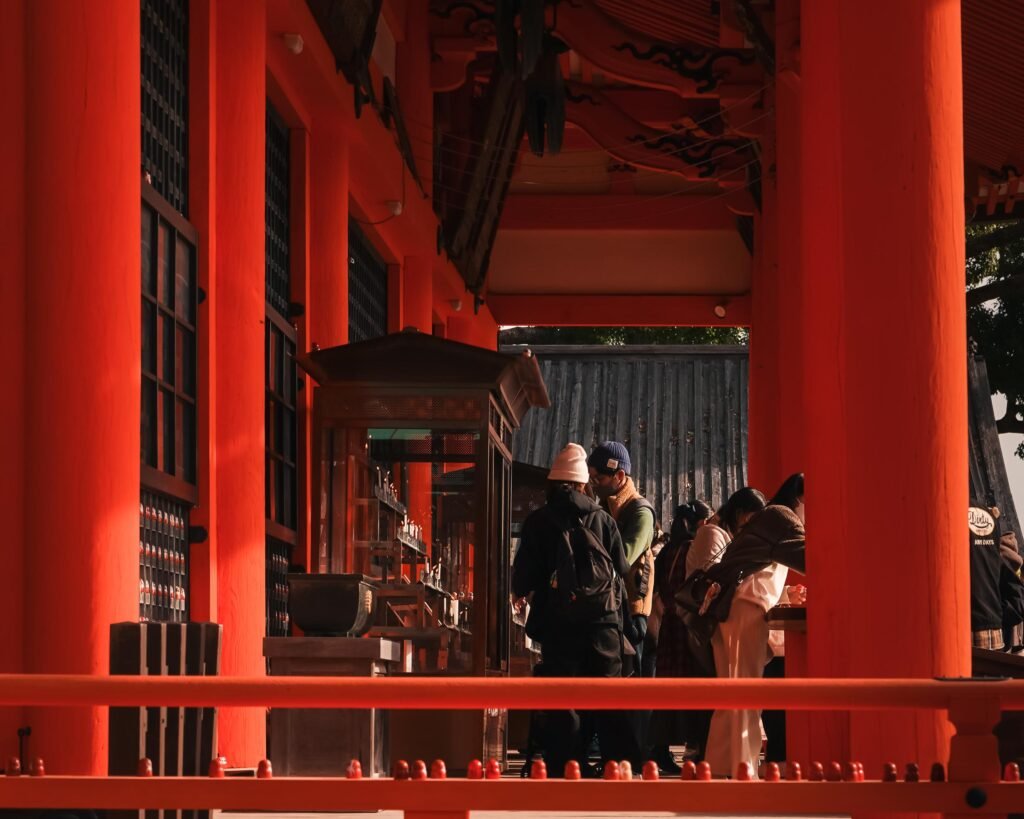 For your reference, there is also a café in Katsuo-ji Temple, but it is crowded during the new year.
In winter, the contrast between the red color of the buildings and the white snow is very beautiful. In addition to taking photos, it is important to follow the customs, such as throwing money and striking the bell. Different from Shinto shrines, visitors must not clap hands.
Since Katsuo-ji Temple is not a shrine, throwing money on New Year's Day is not a way to thank the gods for their blessings, but a practice of giving up one's desires, which is simply an offering (Dāna). People of faith can also throw money when they go to the temple.
Depending on the amount of money thrown, there are different meanings. The most common amount is 5 yen, symbolizing "good fortune" (御縁). If you don't have 5 yen, you can also throw 50 yen, because 50 yen has an opening in the middle, which in Japanese means you can "see through" (見通し) everything and the future is bright. you had better not put in $10 or $500, as they have negative connotations in Japanese.
Katsuo-ji Temple also sells amulet (omamori) and decorative items that visitors can purchase to receive blessings from the gods. The most worth-buying items are "lucky charms" (吉兆品) and "Daruma mikuji" (達磨みくじ).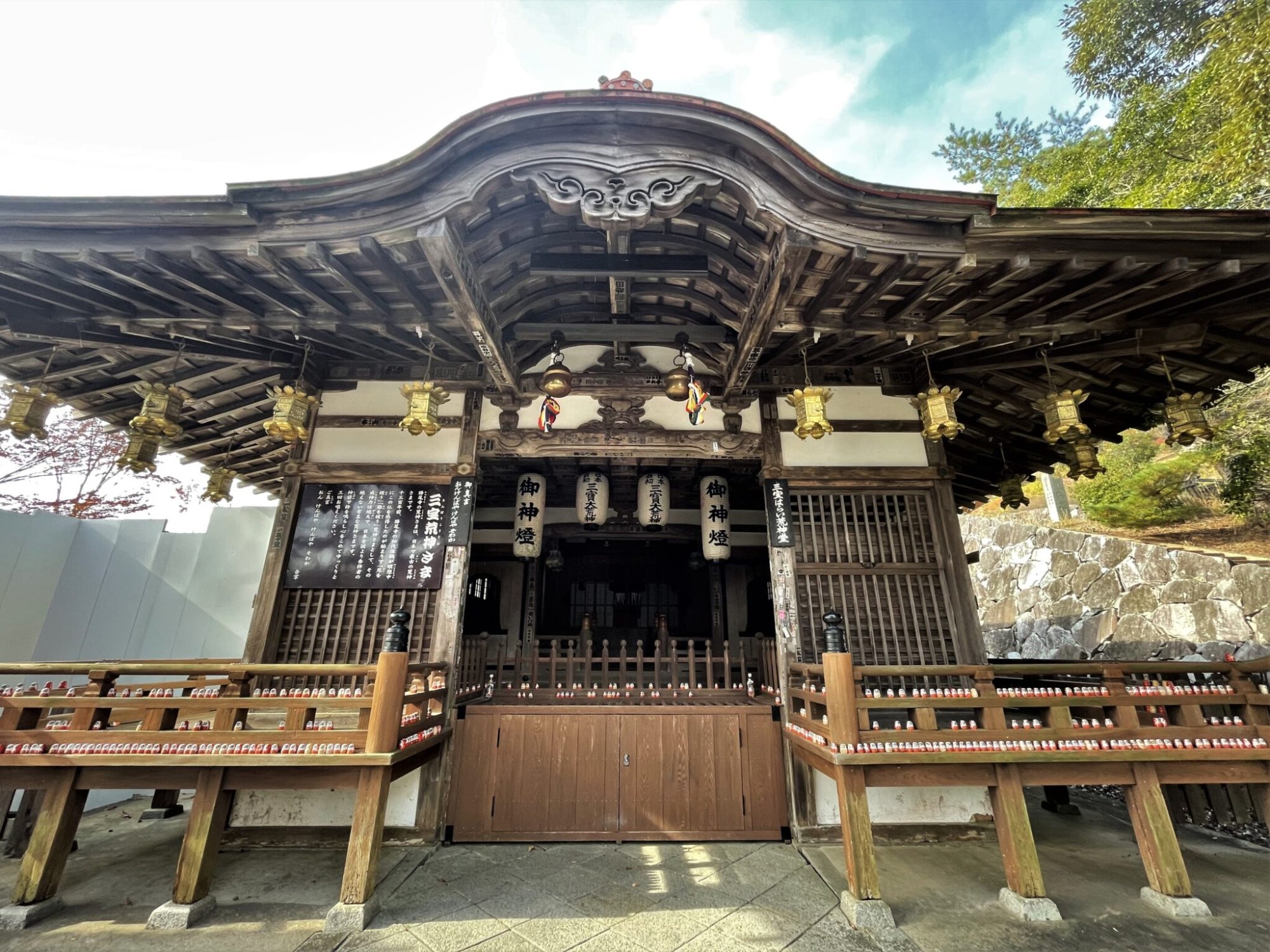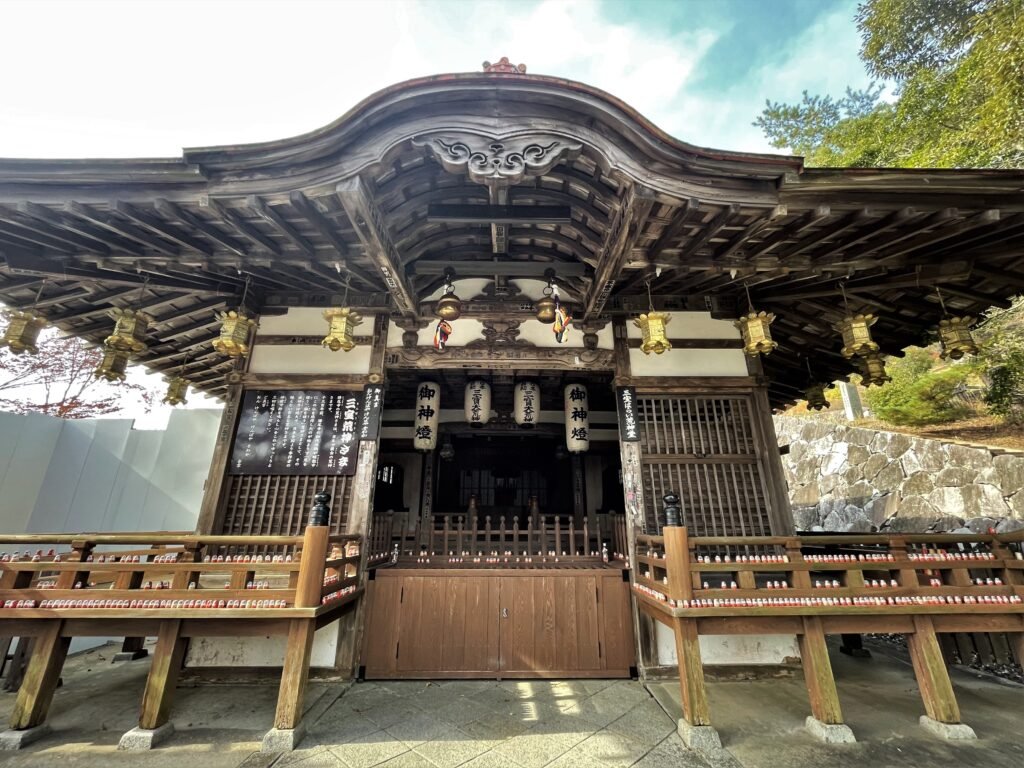 If you have religious faith and cannot buy these souvenirs, you can simply visit Katsumo-ji Temple in winter. Local people usually visit Katsuo-ji Temple for pursuing victory, safe childbirth and vehicular safety. If you happen to be at a bottleneck in your life and have been failing a lot lately, it is recommended to visit Katsuo-ji Temple and you may have a chance to attract good luck.
Daruma in Katsuo-ji
If you can't make it to Katsuo-ji in the fall or winter, don't be disappointed. It's also worth visiting in the spring and summer. The temple is full of daruma dolls. You can look around as if you were looking for eggs at Easter. Some of them are even hidden in the cracks of the stones.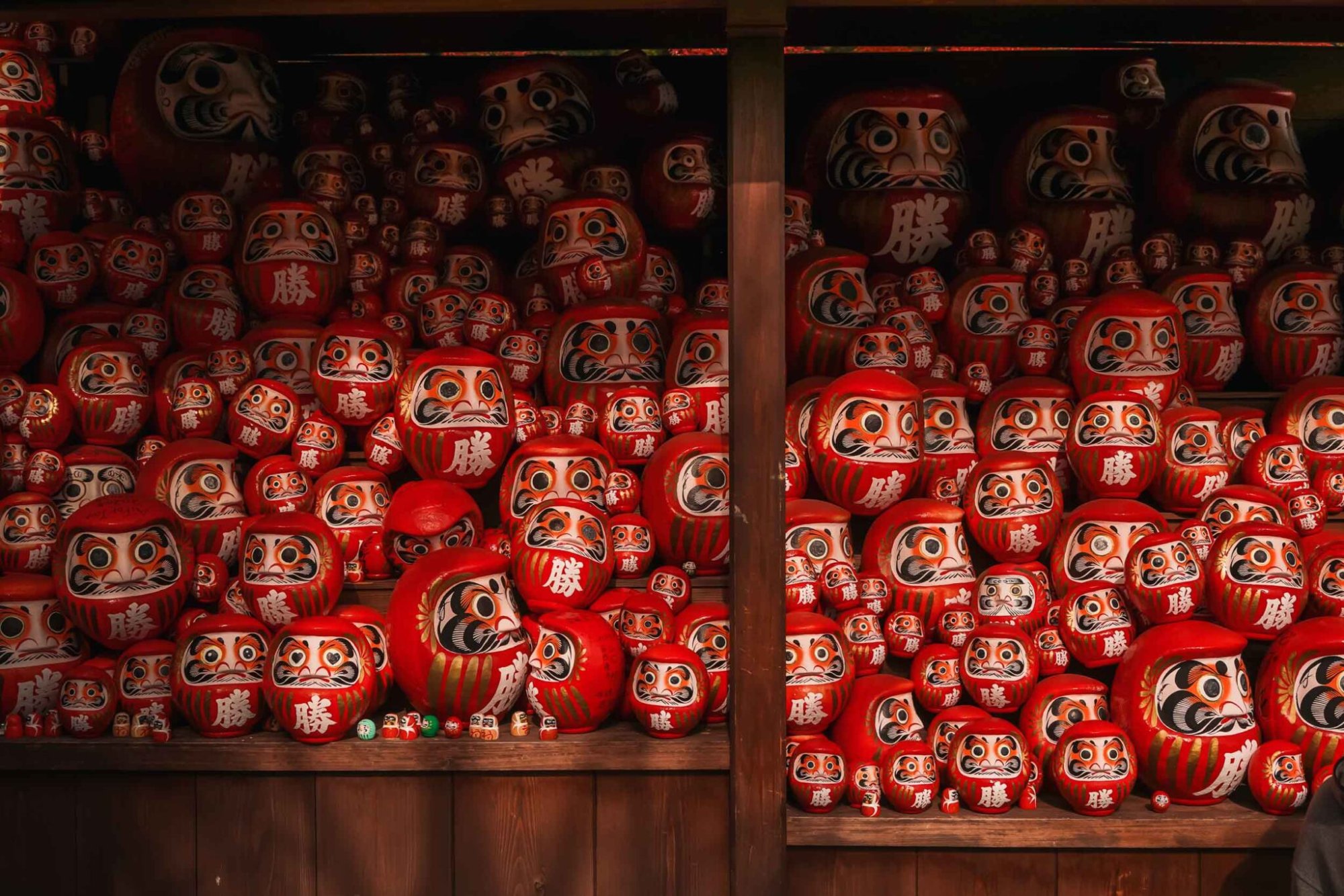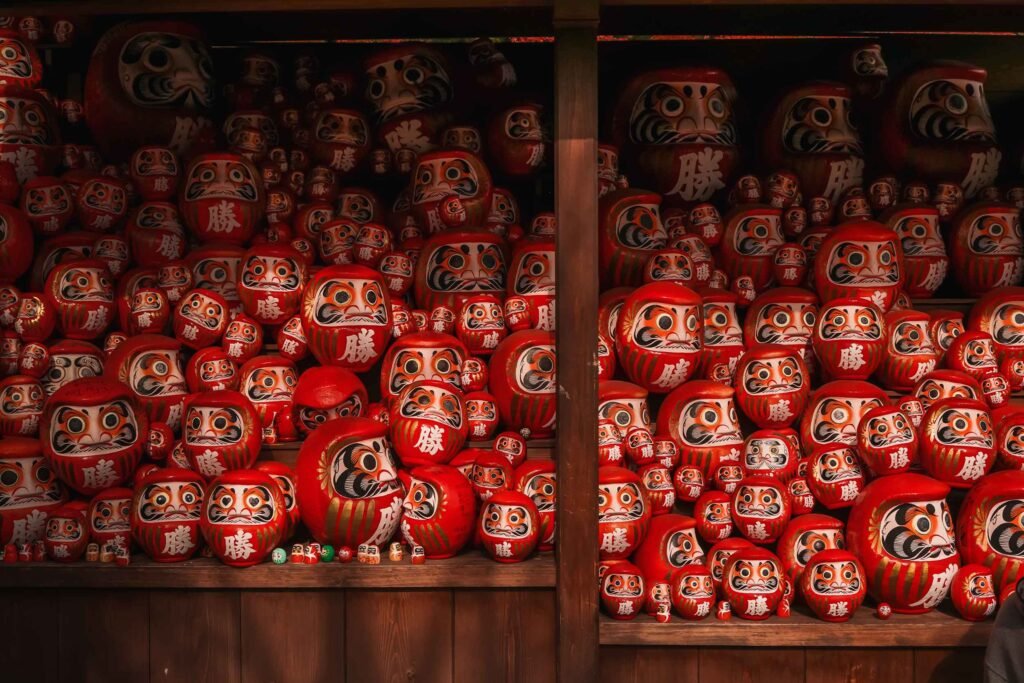 Why is there a large collection of daruma dolls in Katsui-ji Temple? It starts with the history of Katsuo-ji Temple.
The temple was first founded in the Nara period and the reason why people pursuing victory always come to Katsuo-ji Temple dates back to the Heian period. The Buddhist monks of Katsu-ji Temple prayed for the complete healing of Emperor Seiwa's illness. In recognition of their merits, Emperor Seiwa named Katsumo-ji Temple "勝王寺". However, the monks thought being named"王" (which means king) is more than they deserve, so they changed the name to the homophone "尾". Since then, Katsuo-ji Temple has been known for its blessing in "seeking victory". From ancient times, Shoguns (将軍) of the Shogunate, such as the Genji and Ashikaga, have come to Katsumo-ji Temple to pay homage for unbeaten luck.
Modern people also come to Katsuo-ji before taking exams and participating in sports competitions. In addition to examinations, many people come to Katsuo-ji Temple to get rid of bad luck and overcome illness. Businessmen, politicians and celebrities also come for good luck.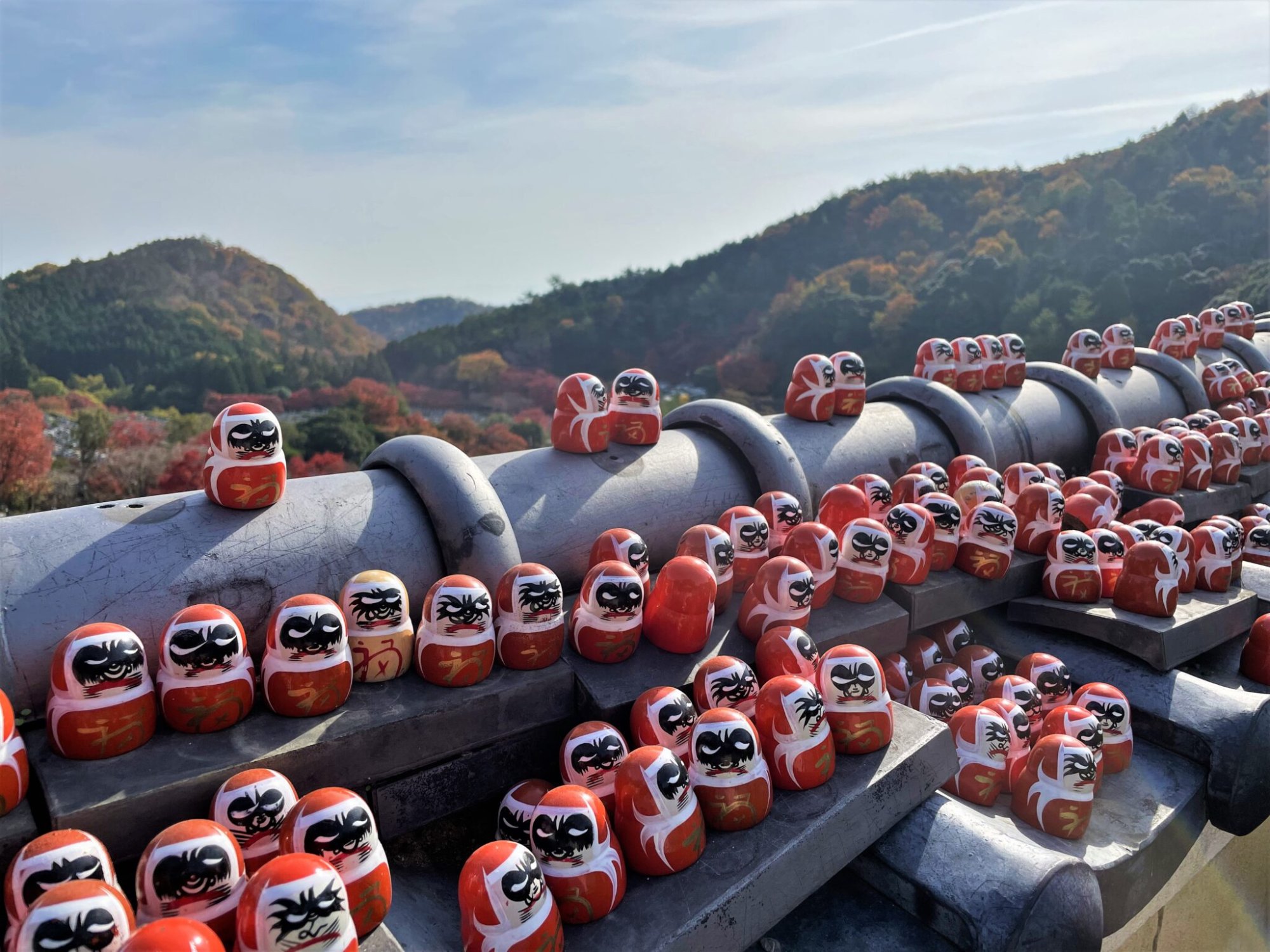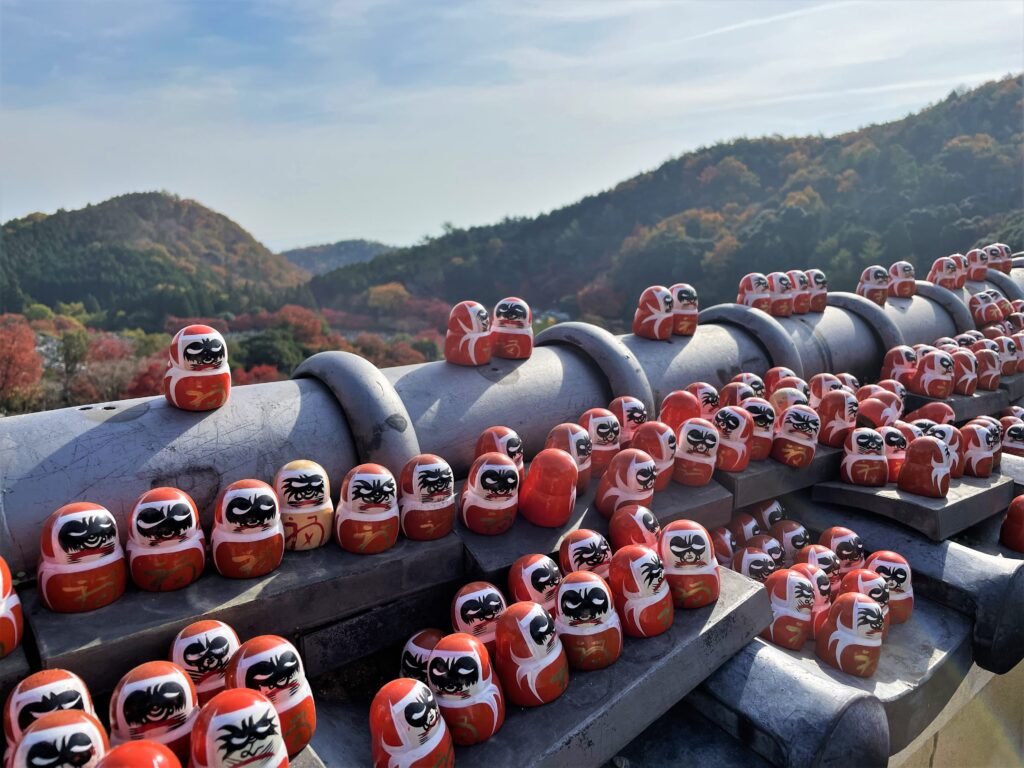 The daruma exemplifies the spirit of "the pursuit of victory".
No matter how hard it falls or be hit, it will never be knocked down. There is an idiom in Japanese, "七転八倒", which excatly describes the way daruma works. In Katsuo-ji Temple, there is also an activity related to the daruma called "Katsu Daruma" (勝ちダルマ). Visitors can buy a daruma doll without eyes. First, you have to write a wish on the back of it. Then, paint the left eye of the daruma doll, taking a few sticks of incense, telling the god your wish. Finally, you must place the incense into the incense censer, smoking the daruma. The right eye must be painted after the wish is fulfilled. After the wish is fulfilled, you should not only paint the right eye, but also go back to Katsuo-ji Temple, dedicating the daruma doll to the gods.
If your faith does not allow you to pray to the Japanese gods, you can buy some daruma amulets and charms as souvenirs instead.
Katsuo-ji Temple and Senri-Chūō Station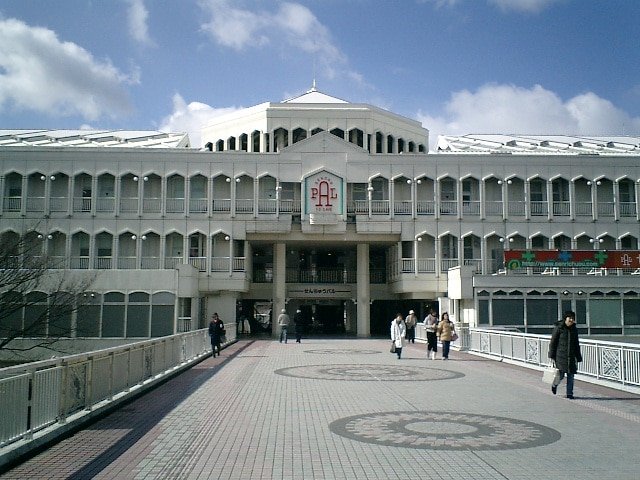 Senri-Chūō Station is the starting and ending station for public transportation to Katsuo-ji Temple. At the same time, Senri-Chūō Station is one of the major transportation hubs in the northern Osaka.
There are four shopping malls in Senri-Chūō Station, namely, Senrito Aeon mall, Senchu Pal (せんちゅうパル), Haute Qualite (オトカリテ), and Senri Hankyu Department Store.
Senri Hankyu Department Store mainly focuses on fashion for mature women. There is a Hankyu supermarket underneath, which is suitable for people who live in Airbnb and want to buy ingredients for dinner.
Uniqlo, the famous café chain Pronto, and the cream puff specialty chain store "beardpapa" (ビアードパパ) all located in Haute Qualite. If you want to try Japanese coffee, don't miss the Kyoto coffee shop "Kyowas" in B1.
I personally recommend Pronto, where you can enjoy light meals such as Japanese pasta at a very low price.
Inside Senrito Aeon mall, you'll find GU, 100 yen store Seria, MUJI and Tamura Bookstore. If you don't have a scarf with you before taking the bus to katsuo-ji Temple in winter, you can come to GU to buy a replacement.
Last but not least, Senchu Pal is very large, including B1, which is connected to Senri-Chūō Station, and has 5 floors. At the same time, there are many restaurants. Western, Chinese, Korean, ramen, soba, udon, donburi, takoyaki, izakaya, you name it, they can be found there. If you want to drink bubble tea, you can also go to 2F's "Gong Cha".
As a Taiwanese, I can't help but recommend bubble tea.
For restaurants, if you're on a budget, I recommend 丼丼亭 at B1 or 千里庵 at 3F.
If you want to know what Japanese izakaya is, then 1F's 八角 is perfect for you.
The 300 yen store "3 coins" is also great for those who don't have sunglasses or scarves, so you can come here to pick them up on the fly.
If you want to buy Japanese snacks, there is also a supermarket called "Hankyu Oasis" nearby.
Useful Information
I have compiled the information above and presented it in a table. I hope this is helpful to you.
Site
Katsuo-ji Temple
Address
〒562-8508 Katsuo-ji Temple, Minoh City, Osaka
Access
By car, cab, bus
Operating Days
Weekday 8:00 – 17:00/ Saturday 8:00 – 17:30/ Sunday and holiday 8:00 – 18:00
Official website
https://katsuo-ji-temple.or.jp/
Maple Viewing
Mid-November – Mid-December
Hatsumode
December 31 – January 5
Entrance fee
Adults (college students) 400 yen
Elementary and junior high school students 300 yen
Children not yet enrolled in school 100 yen
Under 2 years old free
Senri Hankyu Department Store
https://www.hankyu-dept.co.jp/senri/
Haute Qualite
https://www.hautequalite.jp/
Aeon SENRITO Mall
https://senrito-aeonmall.com/
Senchu Pal
https://www.senrichuou.com/