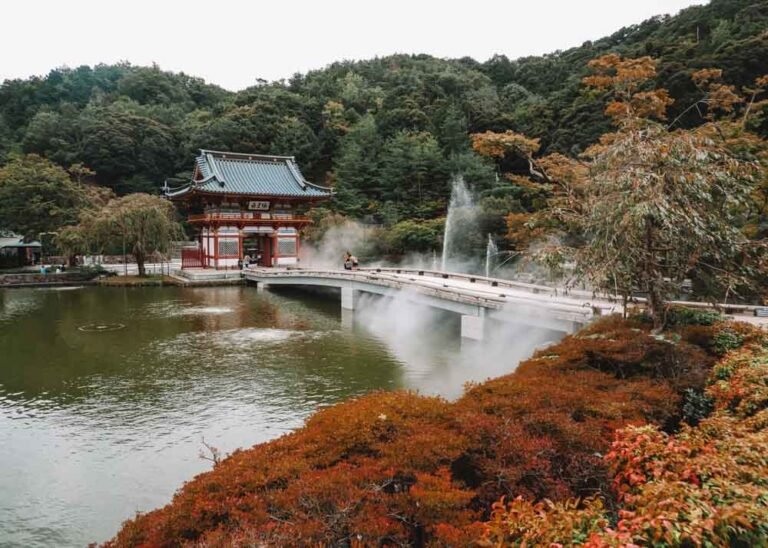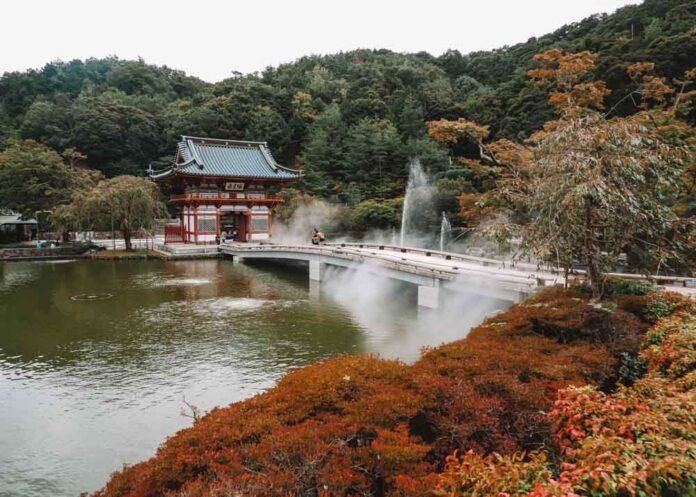 Japan is known for its appreciation for nature and the four seasons throughout a year. Each season brings different festivities, experiences and aesthetics. While spring with the blooming sakura is the most famous season in Japan, autumn offers sights like you've never seen before. The heat of the summer ceases, the air becomes fresh and the weather is perfectly comfortable with many sunny days. It is the season to be outside and to enjoy all its perks!
Autumn in Osaka
If you are traveling to Osaka in autumn ("aki" in Japanese), you may want to do some "momijigari", or "autumn leaves hunting". It is a favorite pastime in Japan, when people just go outside and admire vibrant autumn colors in nature, gardens and temples. The most striking foliage can be seen on Japanese maple (momiji) and gingko trees. There is no shortage of places where to see them, however, if you want to make the most of this magical season in Osaka, follow our guide to discover the best places where to see autumn foliage.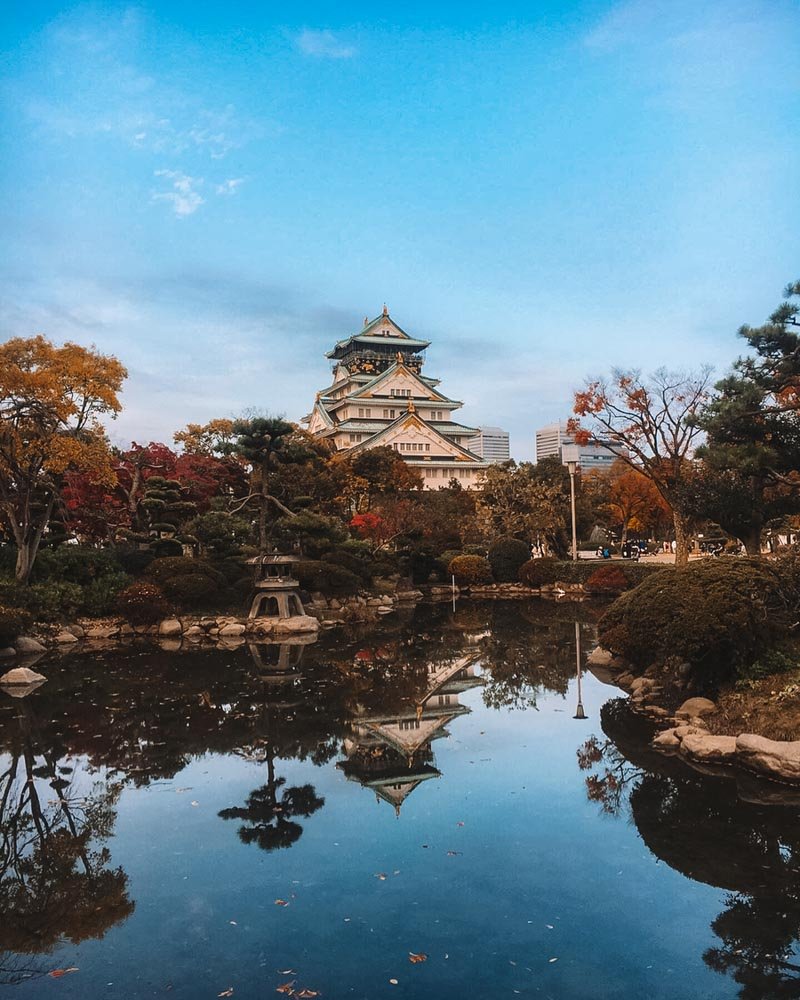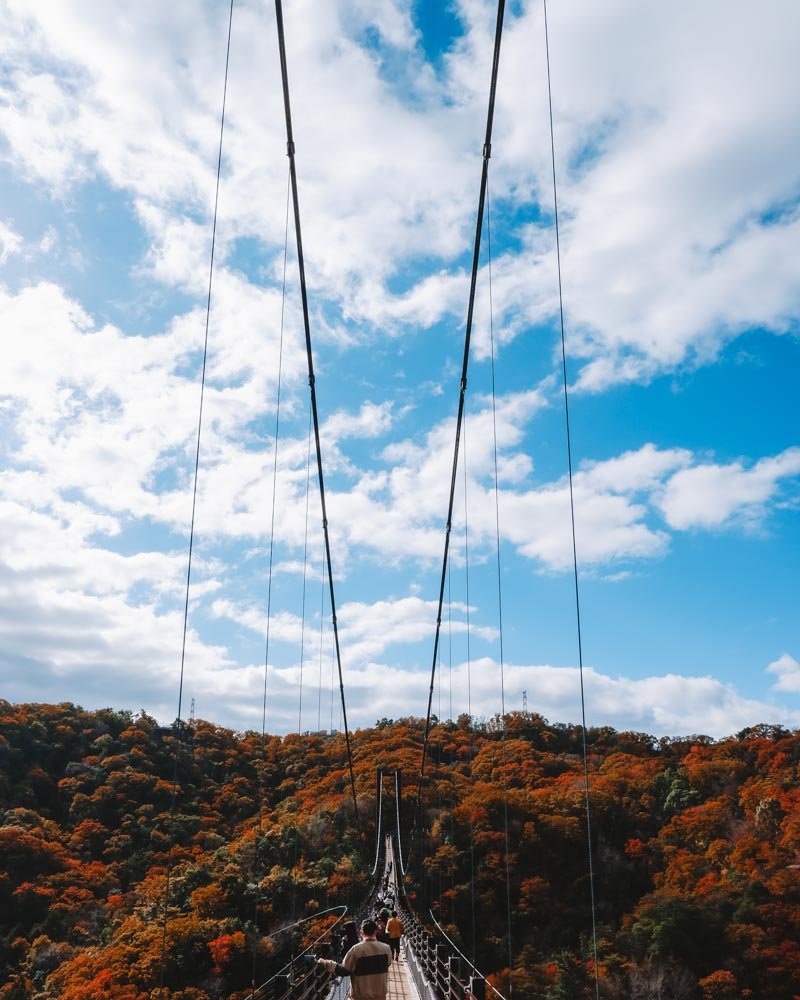 Katsuo-ji Temple
I dare to say that Katsuo-ji temple is one of the top places in whole of Japan to admire autumn foliage. Hidden in the midst of the mountains on the north of Osaka, this temple offers picture-perfect views over the valley and surrounding forests. To enter this sacred place, you will have to cross a mist covered bridge over a koi pond that will reveal the magnificent temple grounds. The atmosphere of the temple is simply dreamy and the sound of waterfall and countless maple trees only enhance this feeling.
Short history of Katsuo-ji Temple
Katsuo-ji was founded in 727 by two monks who built a simple hut on the mountainside where they wanted to devote their lives to Buddhism. The original name was Miroku-ji temple. Emperor Seiwa renamed the temple to Katsuo-ji after he recovered from a long illness. The word katsu refers to winning and thus the temple is known as the temple for winner's luck. Over the centuries, worshipers have been coming here to pray for luck in business, sports, job search, academic achievements, good health, or any other venture they would like to achieve.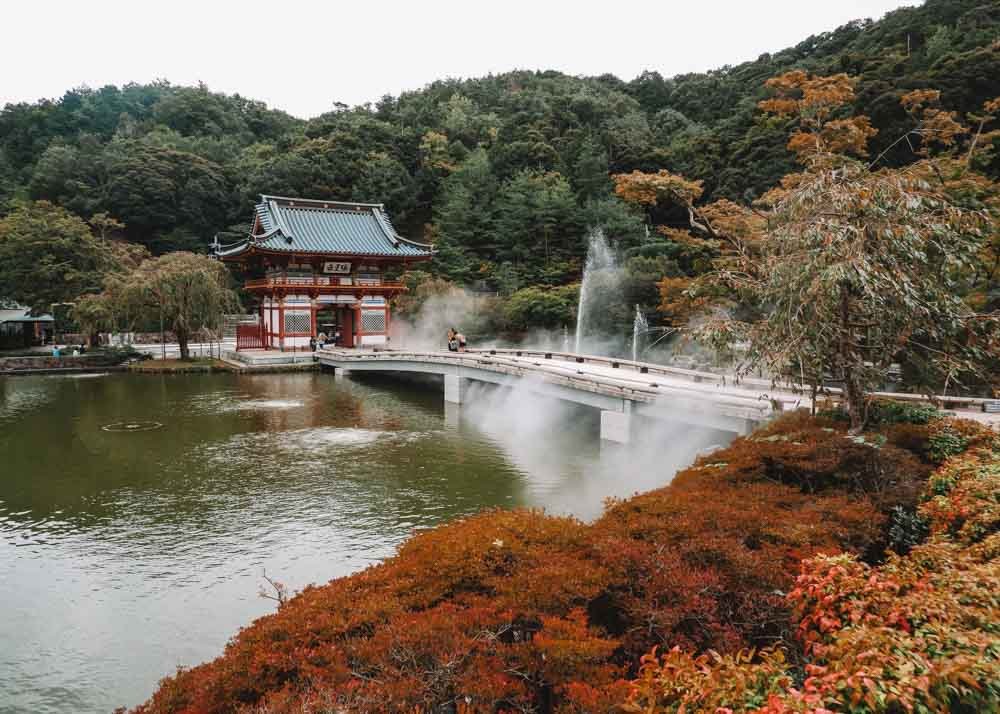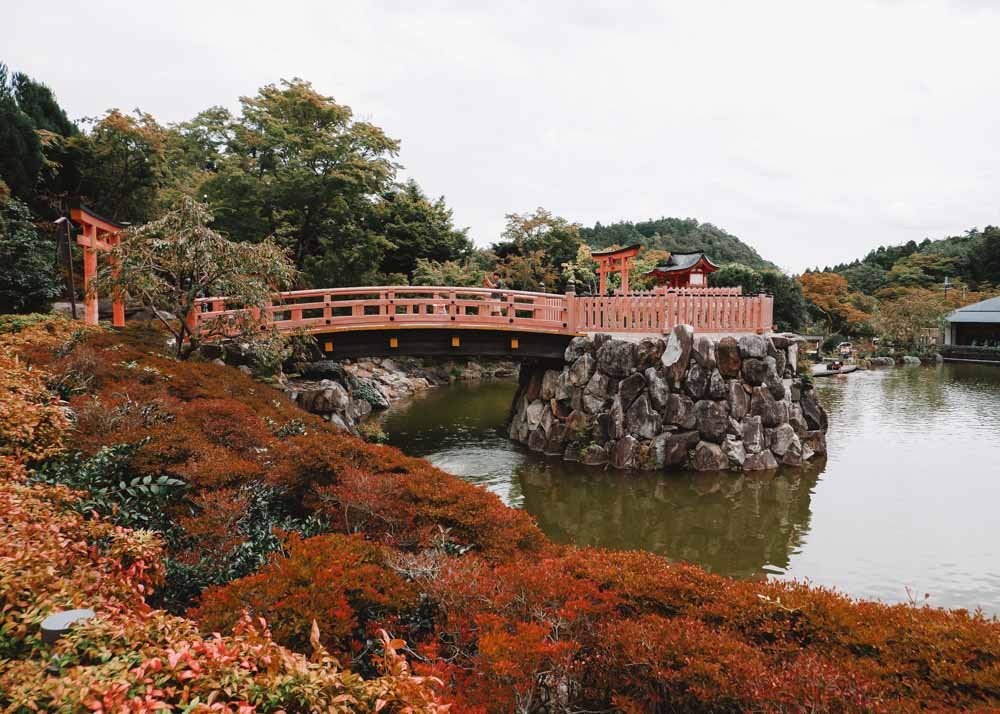 Daruma Dolls
One of the most striking features of Katsuo-ji temple are hundreds of Daruma dolls spread everywhere around the grounds and nearby forest. Daruma is one of the well-known talismans of Japan. These quirky dolls are bought to attract luck and fulfil wishes. They also serve as a reminder to set goals in life and focus on achieving them.
Daruma has white eyes. When you purchase one, you color one of them black and write your goal on the back of the doll. When your wish is fulfilled, you can draw the other eye and bring the Daruma back to the temple. The Daruma dolls can be purchased in the temple and their prices differ based on size. The standard Daruma costs around 2,000 yen, but the price can go up to 70,000 yen.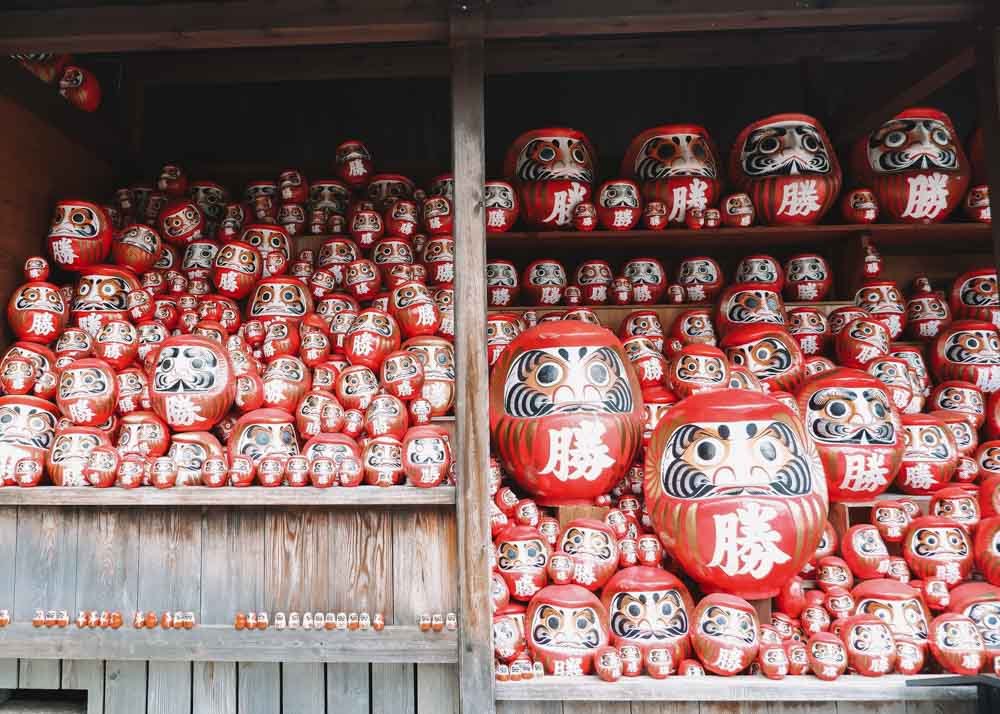 How to get to Katsuo-ji Temple
Katsuo-ji is located on the north of Osaka in the city of Mino (also spelled as Minoo or Minoh). With public transport, the journey to the temple takes approximately 30 minutes from the city but it is a well-worth trip.
The fastest way is to take red Midosuji metro line to Senrichuo station. Midosuji line departs from both big train stations in Osaka – Namba and Umeda. At Senrichuo, you will have to take a bus number 29 from platform 4. The bus journey lasts about 33 minutes and the bus stops right at the entrance to the temple.
Be aware though that to get back to Mino city, you cannot miss the last bus from the temple at 5 pm, otherwise you will have to walk for about an hour to get to the closest station.
Opening hours and entrance fees
The temple is open daily from 8 am. During week day it closes at 5 pm, on Saturday at 6 pm and on Sunday at 5:30 pm.
The admission is 400 yen for adults and 300 yen for children.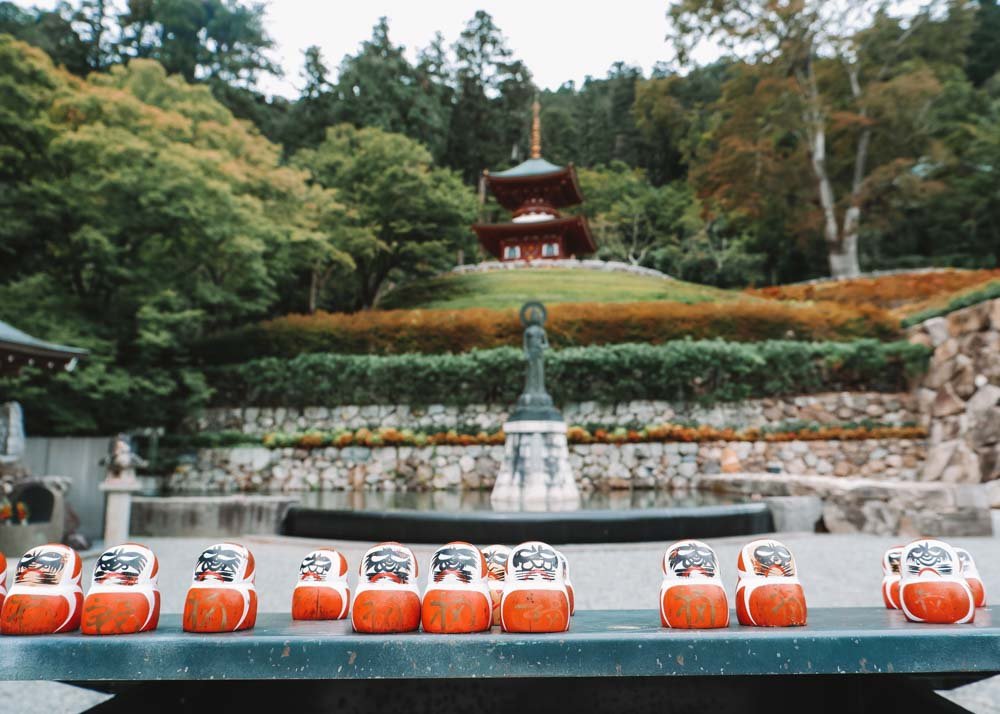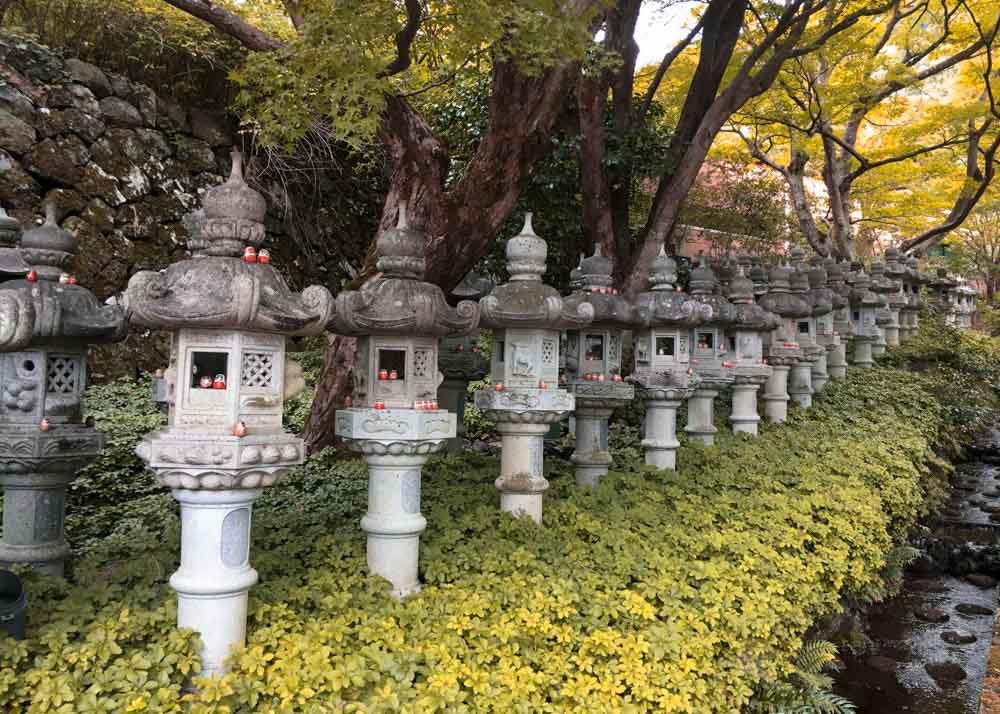 Minoo Park
Besides Katsuo-ji Temple, the city of Minoo hides one more epic spot where to admire beautiful autumn foliage. Minoo Park is a large forested and recreational area on the north of Osaka. It is actually one of the oldest parks in Japan, founded in 1967 to commemorate the 100th anniversary of Meiji Restoration (1867 – 1912). You will find here plenty of hiking trails for all types of hikers, lined with maple and gingko trees.
Because of its close proximity, Minoo Park is a popular getaway from the city all year round. In summer you can expect lush greens, while in winter it is not rare to see the forest under a blanket of soft snow. The most popular season, however, is undoubtedly autumn and the park is claimed to be one of the best places in Kansai to see autumn colors in nature (rather than in temples and gardens).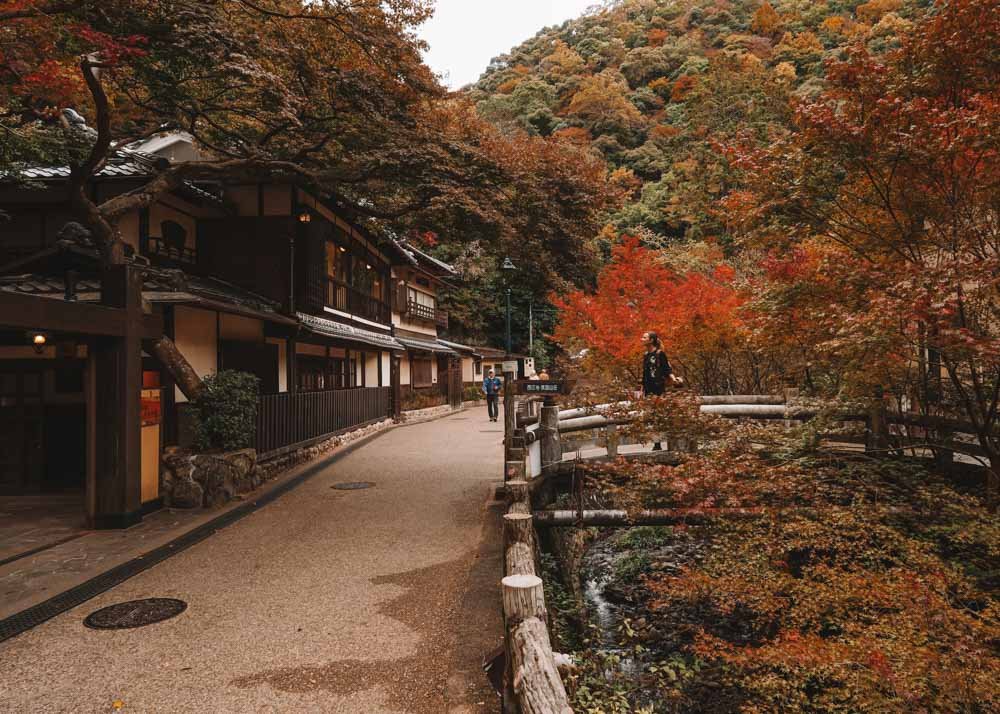 Minoo Waterfall
The most popular hike in Minoo Park is an easy 3 km long walk towards the Minoo Waterfall, which is the highlight of the park. Most of the trail is paved and it stretches alongside Minoo River through the valley. It is a very pleasant walk with a large sitting area right under the waterfall. At the beginning of the hike, you can admire architecture of some beautifully preserved old houses and snack on local delicacy – momiji tempura. Momiji are maple leaves that are, as you can assume, deep fried, and sold fresh along the road. It is crunchy and surprisingly delicious. You can buy a bigger pack as a souvenir.
Minoo Waterfall is about 33 meters tall and 5 meters wide. It belongs to the list of Japan's Top 100 Waterfalls.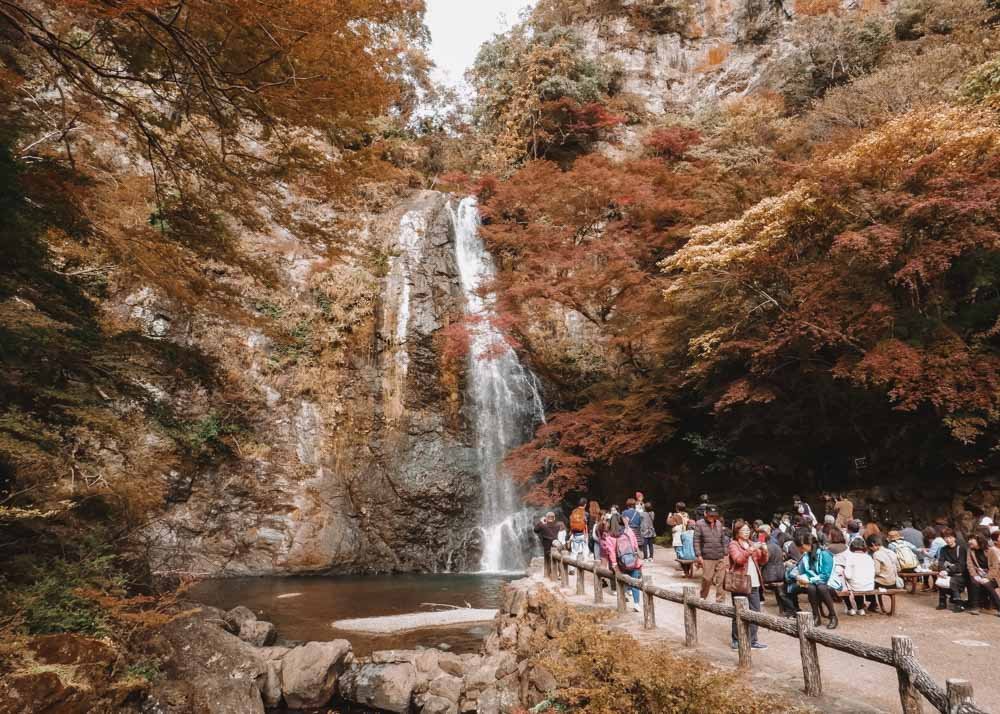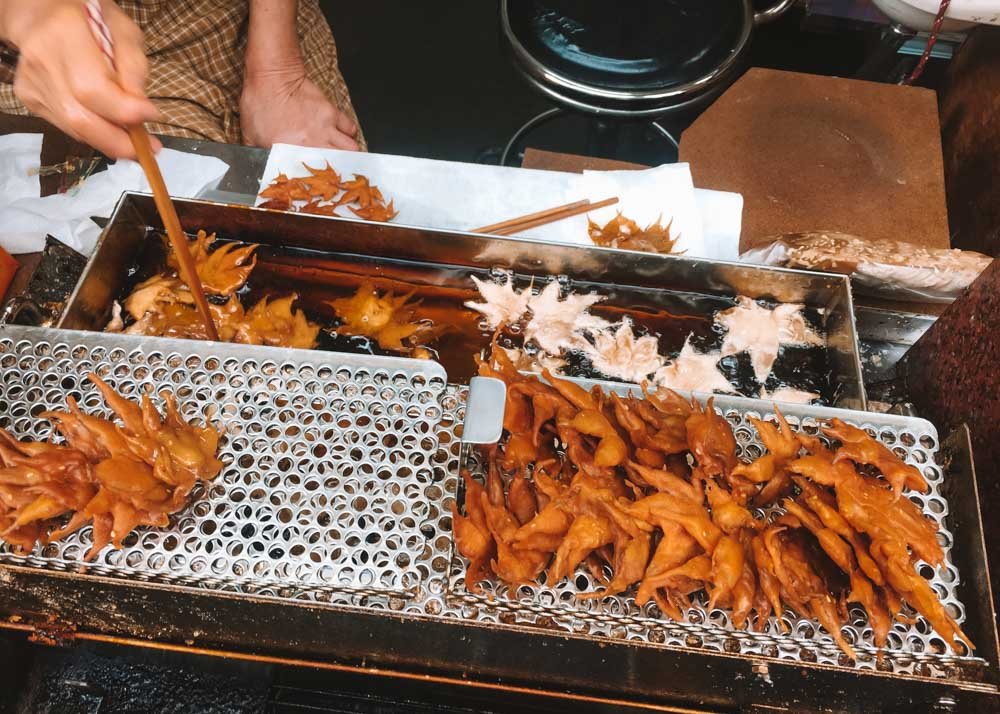 Ryuanji Temple
When hiking up to the Minoo Waterfall, don't miss out on Ryuanji Temple along the way! You cannot miss the bright red bridge that leads to this quaint Buddhist temple surrounded by nature. The temple grounds are open daily from 10 am to 4 pm.
Minoo Insectarium
Another valuable stop in Minoo Park on your way to the waterfall is Minoo Insectarium. This tiny museum is entirely devoted to insects and creepy crawlers. Especially kids will enjoy the interactive exhibitions and children's room.
The Insectarium is open from 10 am to 5 pm. It is closed on Tuesdays. The entrance fee for adults and high school students is 280 yen, anyone younger can enter for free.
How to get to Minoo Falls
The closest station to Minoo Waterfall is Mino-o station, where you can get with Hankyu line. Firstly you will have to take the Takarazuka Line from Osaka-Umeda station to Ishibashi handai-mae station where you will have to switch to the local Hankyu Minoo line. It takes less than 30 minutes to get there from the downtown Osaka.
The hike to the waterfalls starts right at the station. There are signs provided also in English language so you should be able to find your way easily.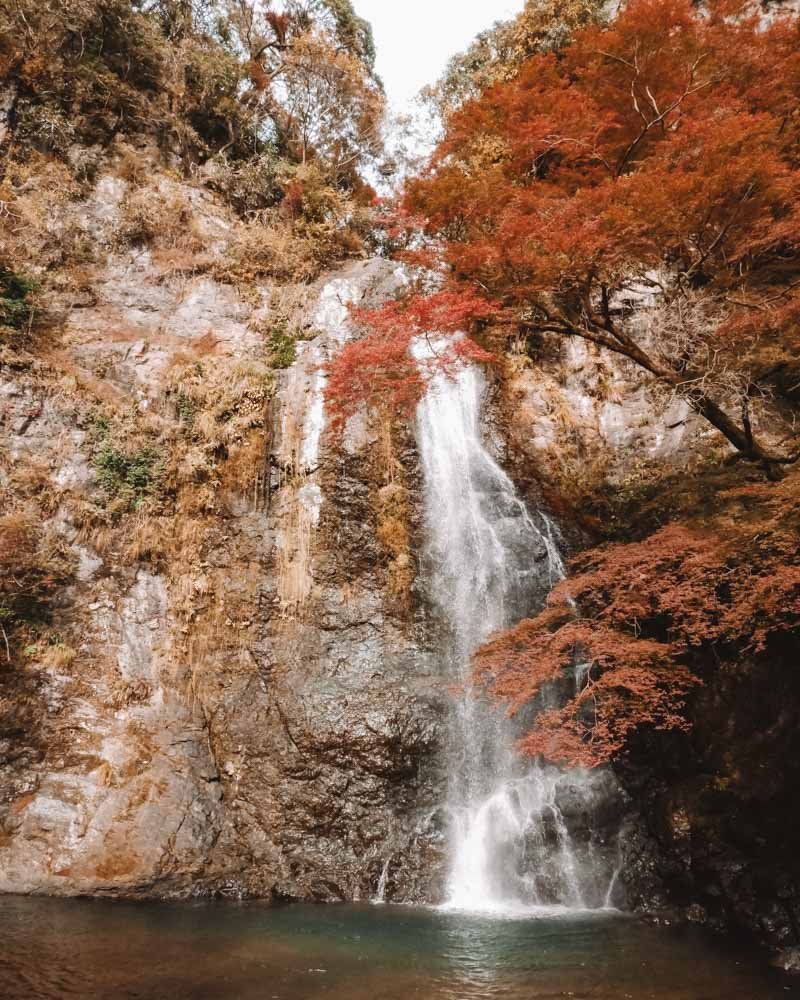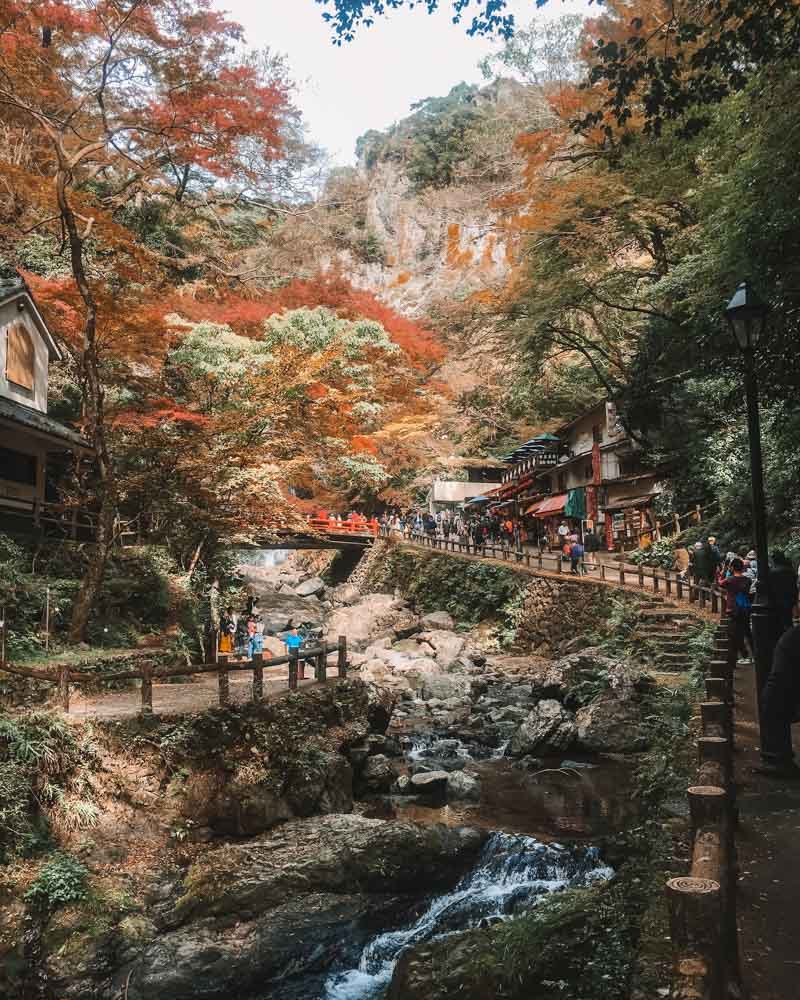 Hoshi-no Buranko suspension bridge
Hoshi-no Buranko, located in Hoshida Park in the Ikoma Mountains, is a popular day-trip from Osaka. The place is described as "Osaka's best kept secret for autumn foliage", however, you can expect high foot traffic here during this time of the year. The 280 m long suspension bridge, with the maximum height clearance of 50 meters, is the longest wooden suspension bridge in Japan. It offers its visitors spectacular aerial views over the canopy of trees underneath.
Hoshi-no Buranko has a very poetic name, which can be translated into English as The Star Swing. Katano city, where the Hoshida Park is located, is the place where the legend of Tanabata takes places. Because of its romantic name, it is a popular place for dates, although the Tanabata story doesn't particularly have a happy ending.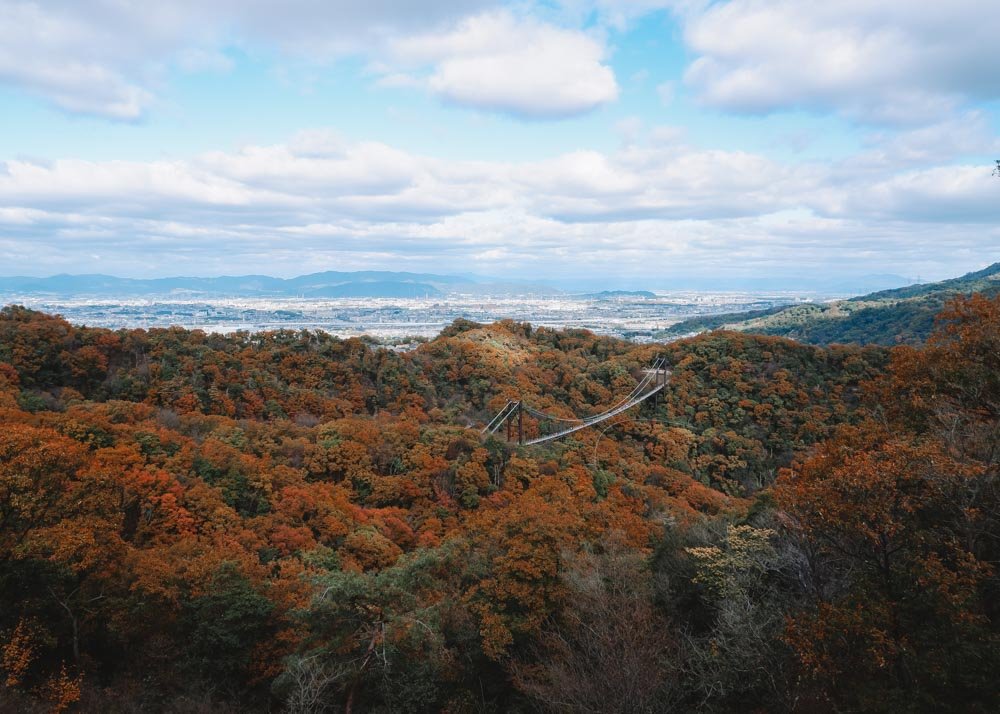 Hoshida Park
The Star Swing is not the only attraction in Hoshida Park. This forested area has many walking trails that can lead you to several observation decks around the mountains. The most popular one is Hoshi-no Buranko Tenbodai, from which you can see the bridge with Kyoto as its backdrop.
When entering the park, you will walk through Forest Railway-style Footbridge. This wooden boardwalk is about 200 meters long in 10 meters height above the ground. It is a very lovely touch to walk through nature and hear the birds chirping in the trees while walking towards the visitor center. Next to the visitor center, there's also a large climbing wall for any climbing enthusiasts.
How to get to Hoshi-no Buranko
Katano city is located on the north-east of Osaka prefecture. The best way to get there is with the Keihan line. Take the Keihan Limited Express from Kyobashi station to Hirakatashi station. At Hirakatashi, change to the Local Katano line to Kisaichi station that will last for about 13 minutes.
From Kisaichi station to the Forest Footbridge it is about 30 minute walk. Even though Google Maps don't show this option, you can walk along the 168 route and along the Amano River. It will eventually lead you to a forested path and to the Footbridge.
Opening hours
Even though it is a public place and free of charge, Hoshida Park is not open 24/7. It's open from 9 am to 5 pm daily, except of Tuesdays when the park is closed. Hoshi-no Buranko bridge opens from 9:30 am and the last entrance is at 4:30 pm.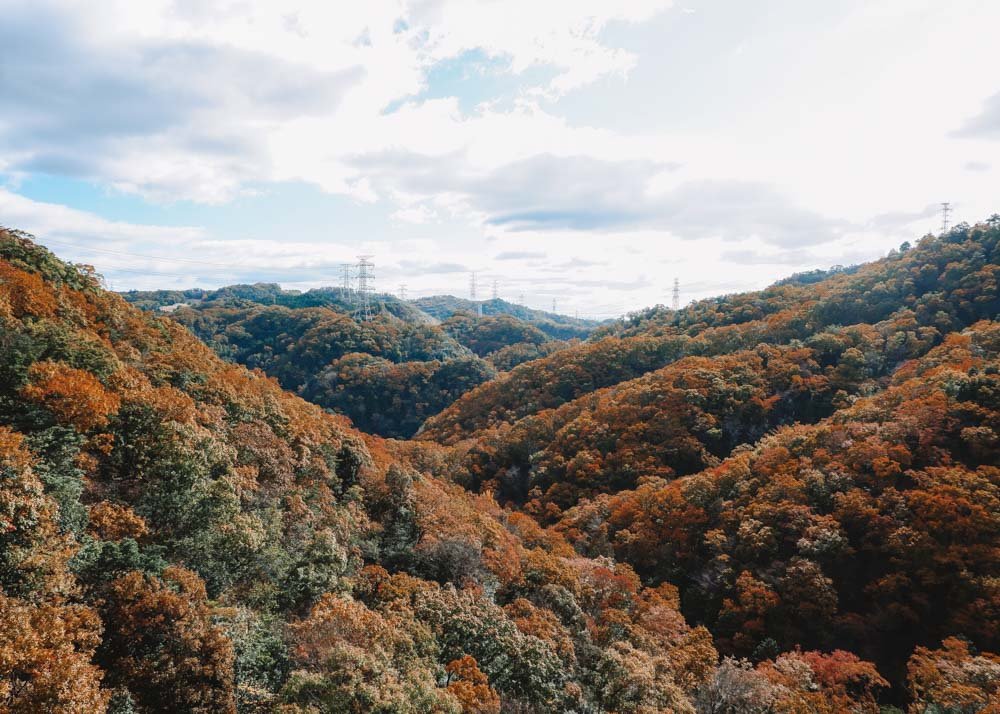 More places around Osaka to see autumn foliage
Osaka Castle Park
Osaka Castle Park is known mostly for its extensive cherry blossom grove, underneath which people love to have their cherry blossom viewing parties. However, the Japanese Garden located right in front of the castle has many maple trees with beautiful foliage.
For more inspiration what to do in Osaka Castle Park, check our article about this place.
Gingko trees lining Midosuji Street in Central Osaka
Midosuji Street is the main boulevard of Osaka and one of the busiest streets. It goes all the way from Osaka-Umeda station to Namba and Dotombori. For most of its length it is lined with countless gingko trees that turn bright yellow around mid-November. In December their branches are cut and colorful lights are put up on the trees, which makes the walk on this street even more special.
Osaka Expo 70 Commemorative Park
Osaka Expo 70 Commemorative Park is large forested area on the north of Osaka, in the city of Suita. You will find here several easy hiking trails, museums, restaurants, seasonal flower gardens and Osaka's famous landmark the Tower and the Sun. One day spent here will fly by!
The park has also some stunning autumn foliage during the second half of November. The best way to experience is to embark on the Sorado Aerial Promenade that will take you on a journey through treetops.
For more in depth information about Expo 70 Commemorative Park, head to our article about this park here.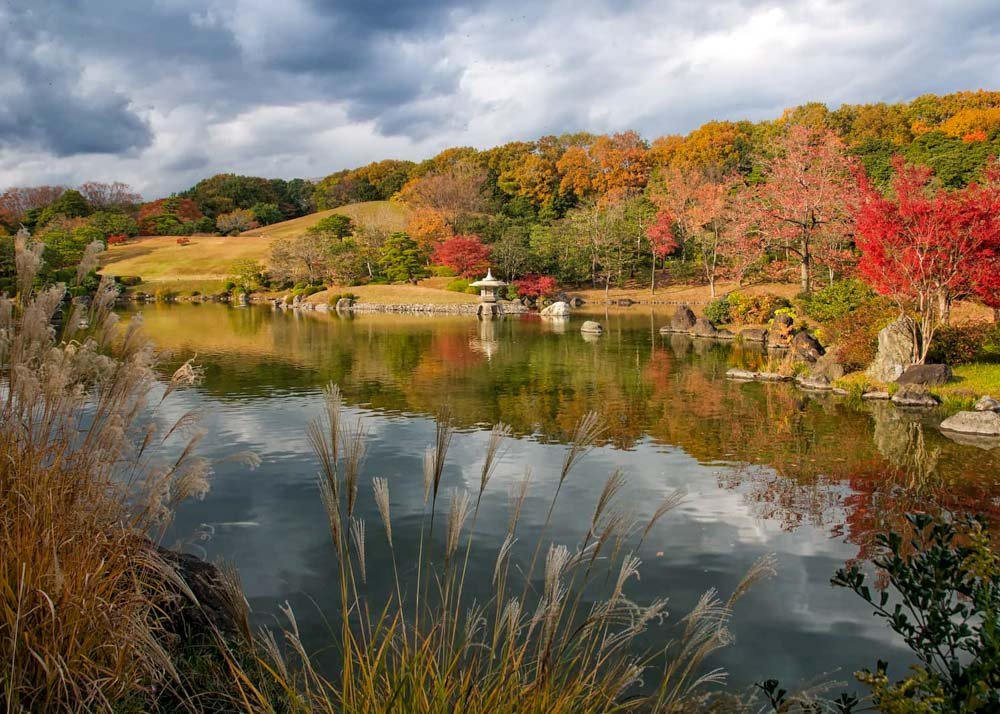 Settsukyo Park
Settsukyo Park is located on a mountainside in the city of Takatsuki and despite being quite far from the Osaka's city centre, it is a good place for relaxation. The park enjoys a great variety of walking trails under the maple trees and you will also find here a waterfall and few observation decks.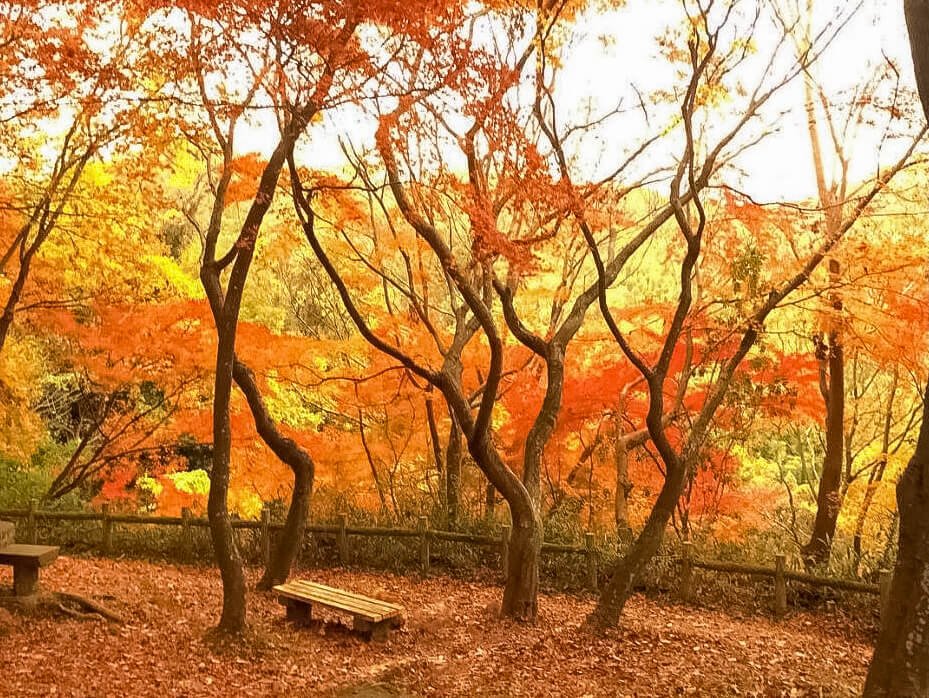 How to get to Settsukyo Park
To get to Settsukyo Park, you have to take the Tokaido-Sanyo Line from Osaka station to Takatsuki station. From Takatsuki station walk about 3 minutes to JR Takatsuki Station North (高槻駅北) and take a bus number 18 to Tsukawaki bus stop (塚脇).From the bus stop it is about 7 minute walk towards the entrance of the park.
Daisen Park
Unlike Settsukyo Park on the north, you can find Daisen Park on the south of Osaka in the city of Sakai. This park is known for its great historical value, as it is home to several kofun – megalithic tombs in a shape of keyholes. The tombs are not open to public, but you can actually see it from a path around the circumference. The biggest kofun is surrounded by a small forested area that looks particularly beautiful during autumn. Daisen Park is also home to Japanese Zen garden with a traditional teahouse with many maple trees.
How to get to Daisen Park
The closest station to the park is Mozu station. You can get there with Hanwa line. From Osaka, you will have to take JR loop line to Mikunigaoka station and switch to Hanwa there. From Mozu station to the park, it is less than 5 minute walk.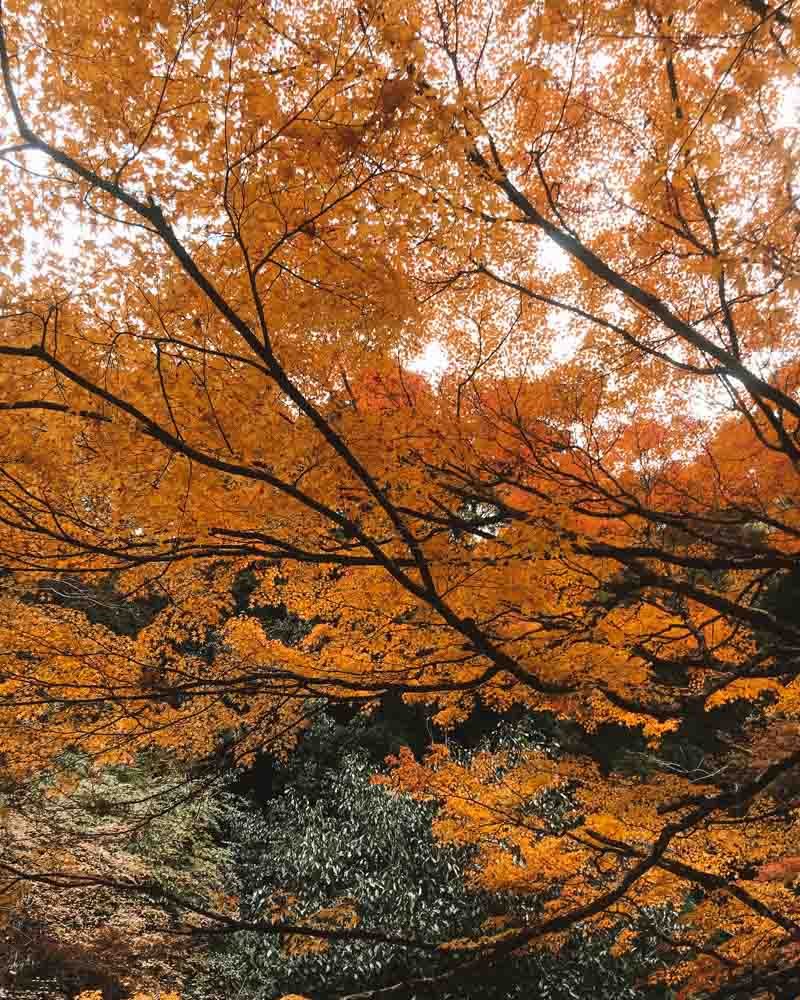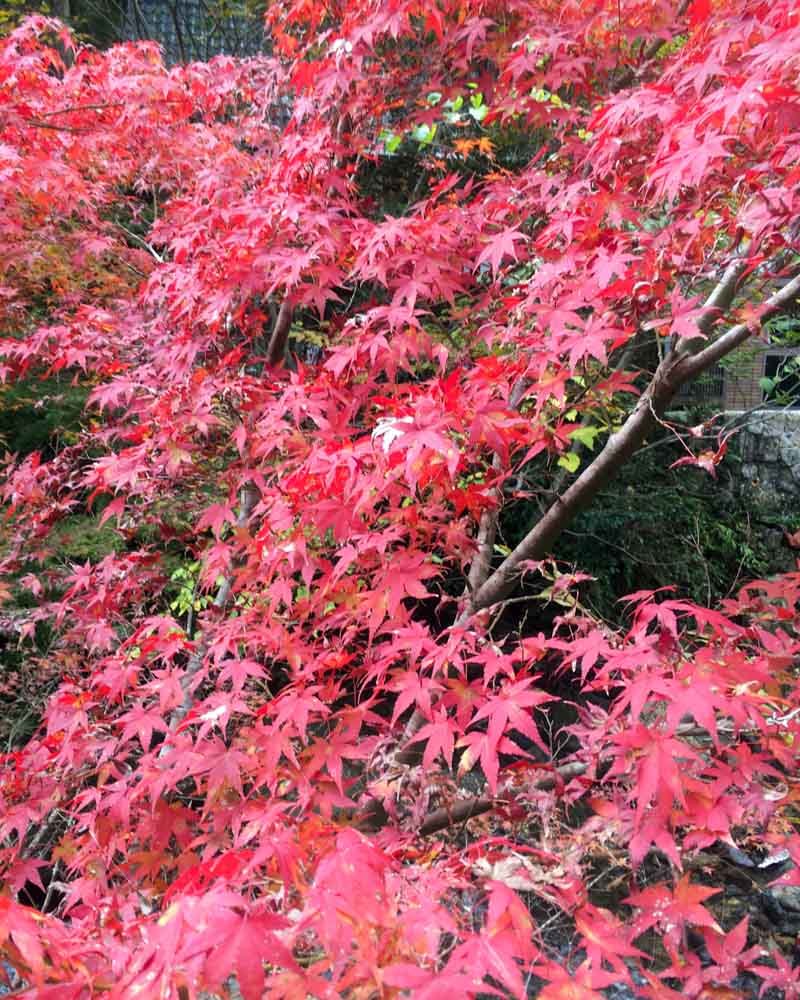 The best time to see autumn foliage in Osaka
Comparing to the rest of the world, autumn foliage in Osaka, and Kansai area in general, starts a bit later. The best time to see the most beautiful autumn colors in Kansai is from mid-November to beginning of December. The season lasts quite a long time (compared to short-lived cherry blossom season), and the weather is pleasantly mild with many sunny days.