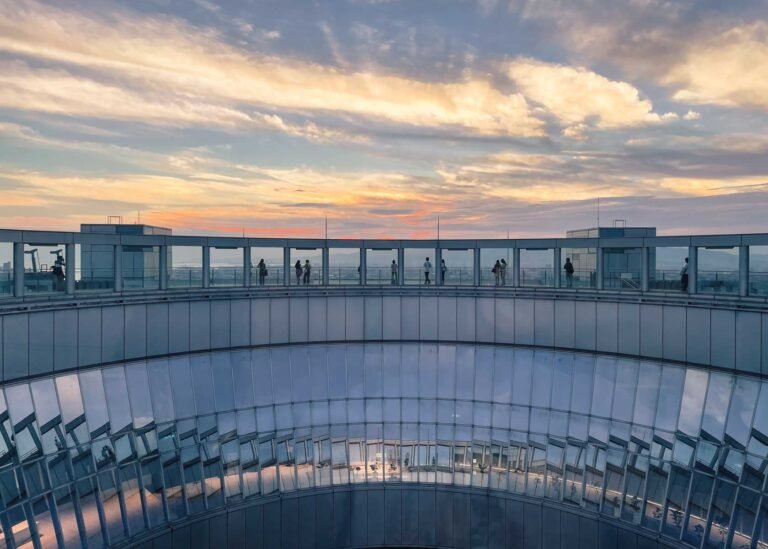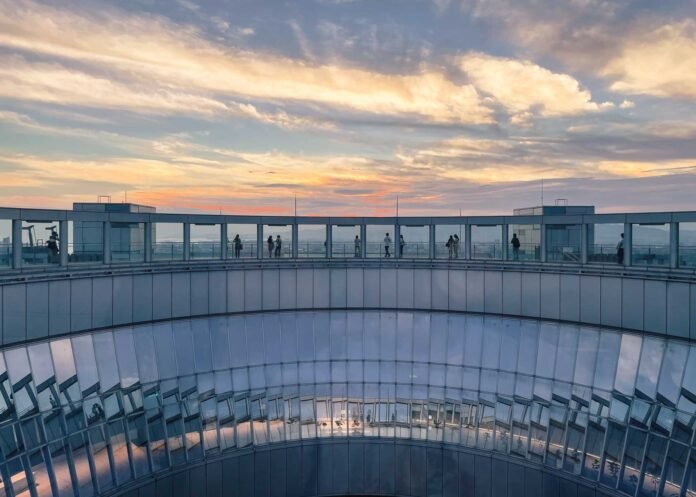 Umeda Sky Building is an inseparable part of Osaka's skyline and one of the most distinctive landmarks in Japan. It is located in the Kita district on the north of Osaka city, near both Osaka and Umeda stations. If you are visiting this area, we can only recommend you to pay a visit to this beauty because there's more to it than meets the eye. Here is everything you need to know!
About Umeda Sky Building
Umeda Sky Building is the 19th tallest building in Osaka Prefecture. It is 173 m tall, but it is not its height that makes it so attractive. The skyscraper consists of two separate buildings connected at the top with a circular observation deck. When you look at it, what will strike you the most are the shiny, almost mirror-like walls made of glass and steel, that reflect the sky. It is majestic and impressive, yet at the same time it has gentle, almost poetic effect.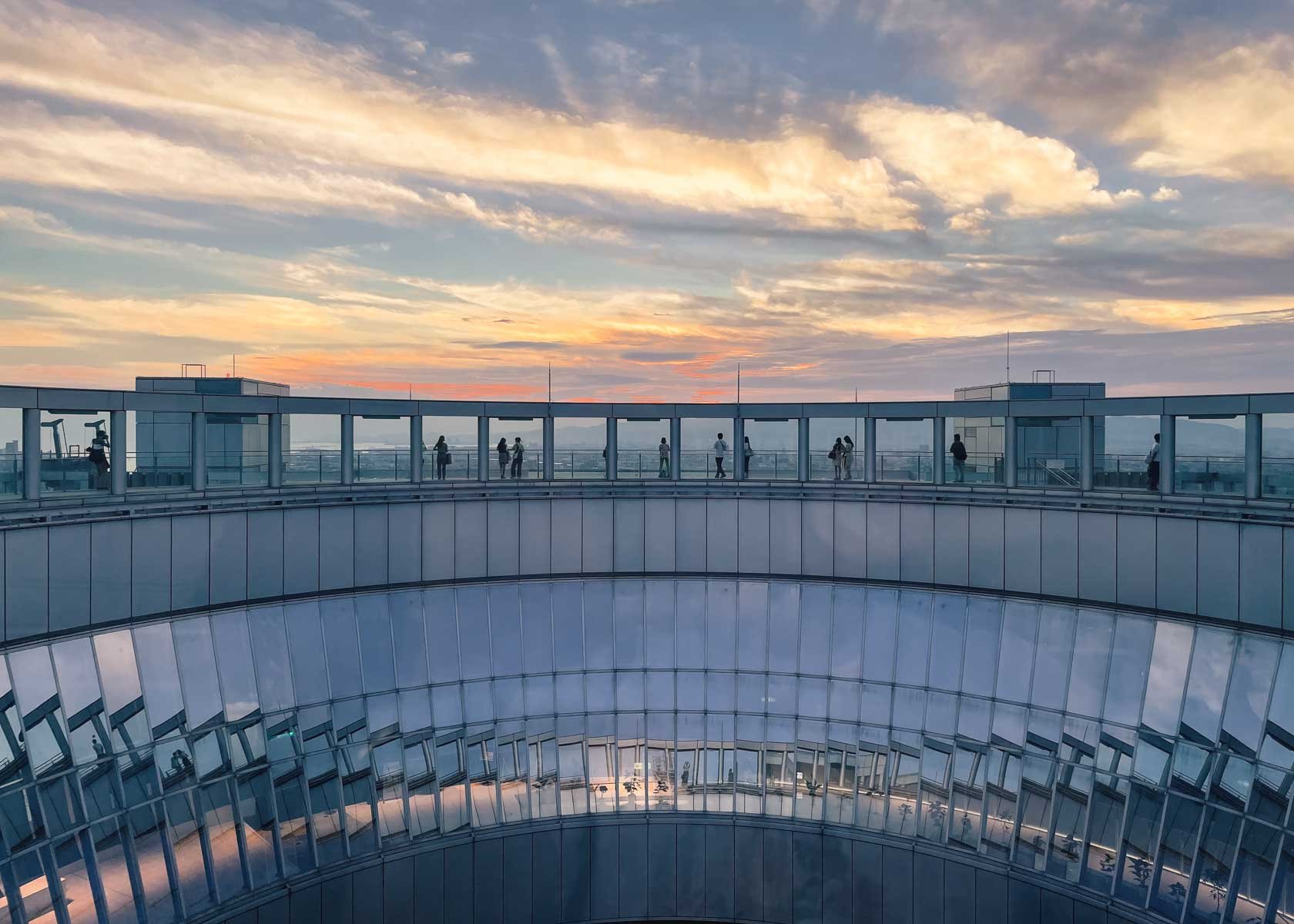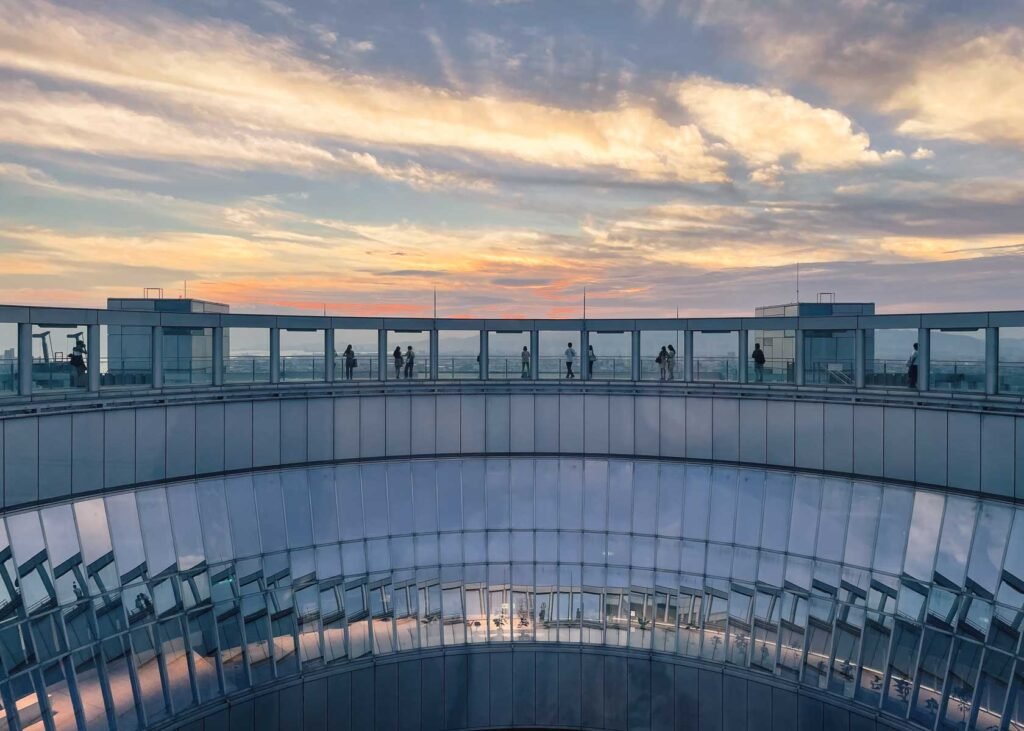 The Design
Architect behind this unique design is Hiroshi Hara, a Japanese architect whose major work, besides Umeda Sky Building, include Kyoto Station, Sapporo Dome in Hokkaido and other important structures in Japan.
The original idea for this skyscraper included four interconnected towers and it was called "City of Air". This was in the 1988, but unfortunately, the burst of the economic bubble in the 80ties caused that the project had to scrape two buildings down. Umeda Sky Building, as we know it today, was finished in the 1993. It is a popular place to visit not only for tourists, but locals alike. In 2008, a list of the "Top 20" most impressive buildings around the world, was published by the famous British publishing company Dorling Kindersley. Umeda Sky Building ranked in this list, together with landmarks such as Sagrada Familia in Spain, or Taj Mahal in India. It was also the only building in Japan to make it into the list.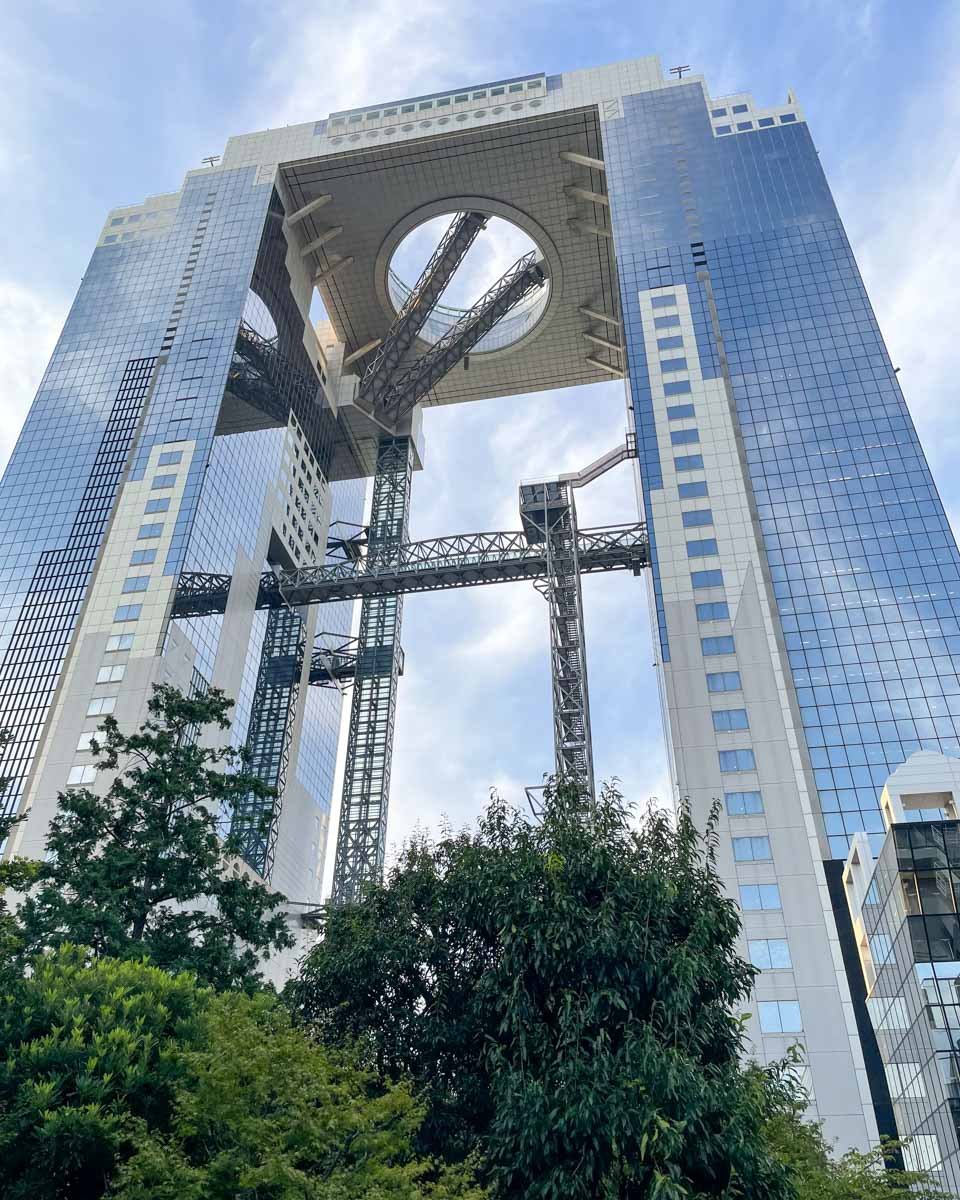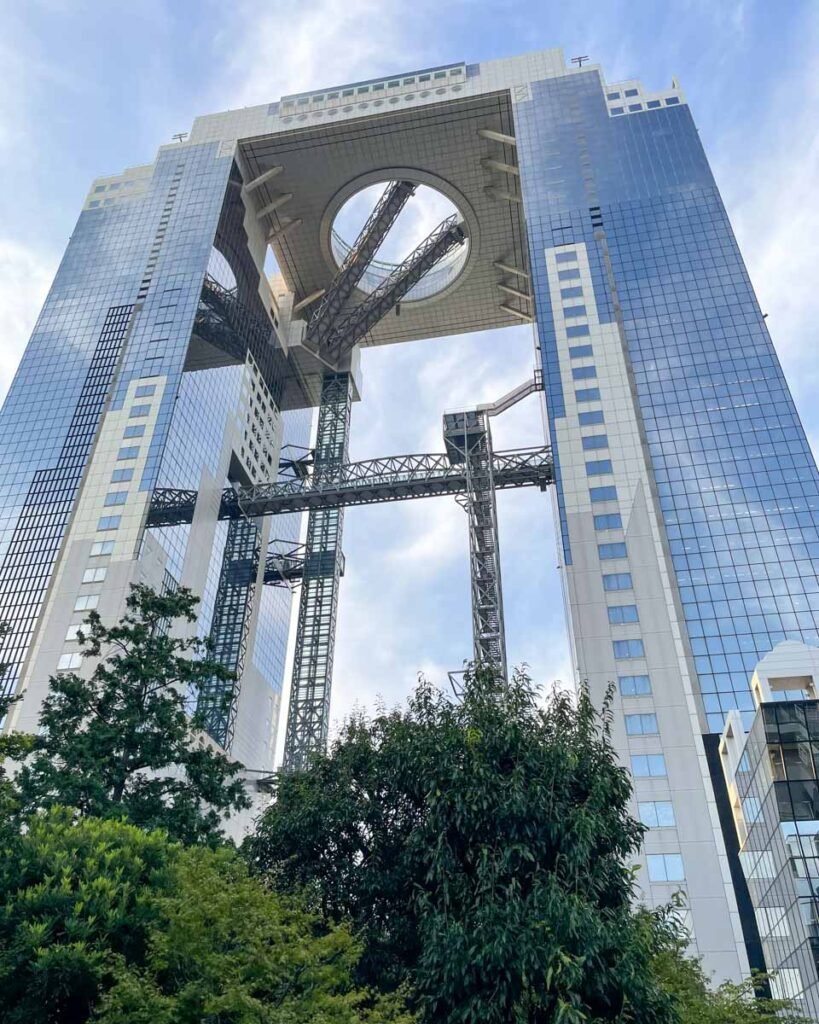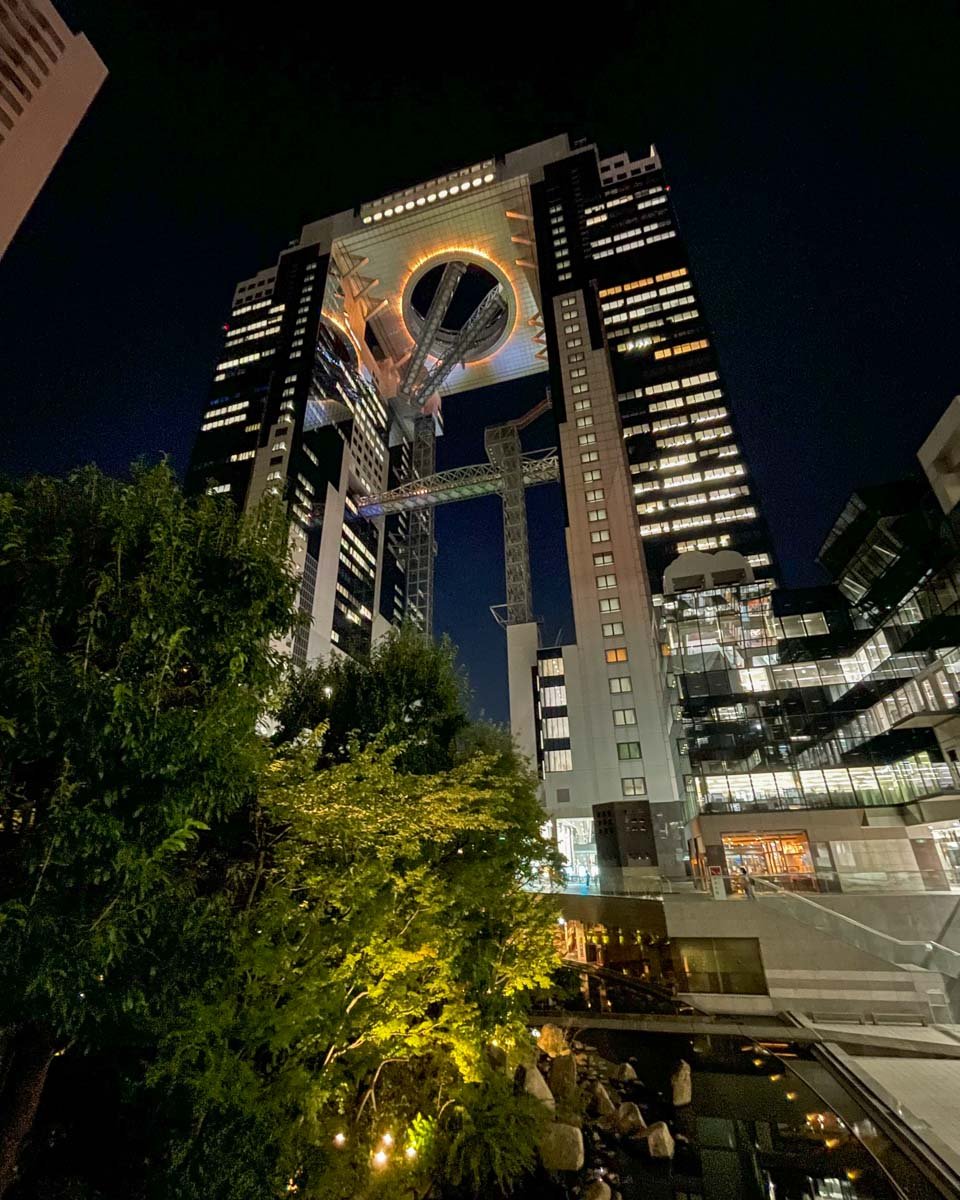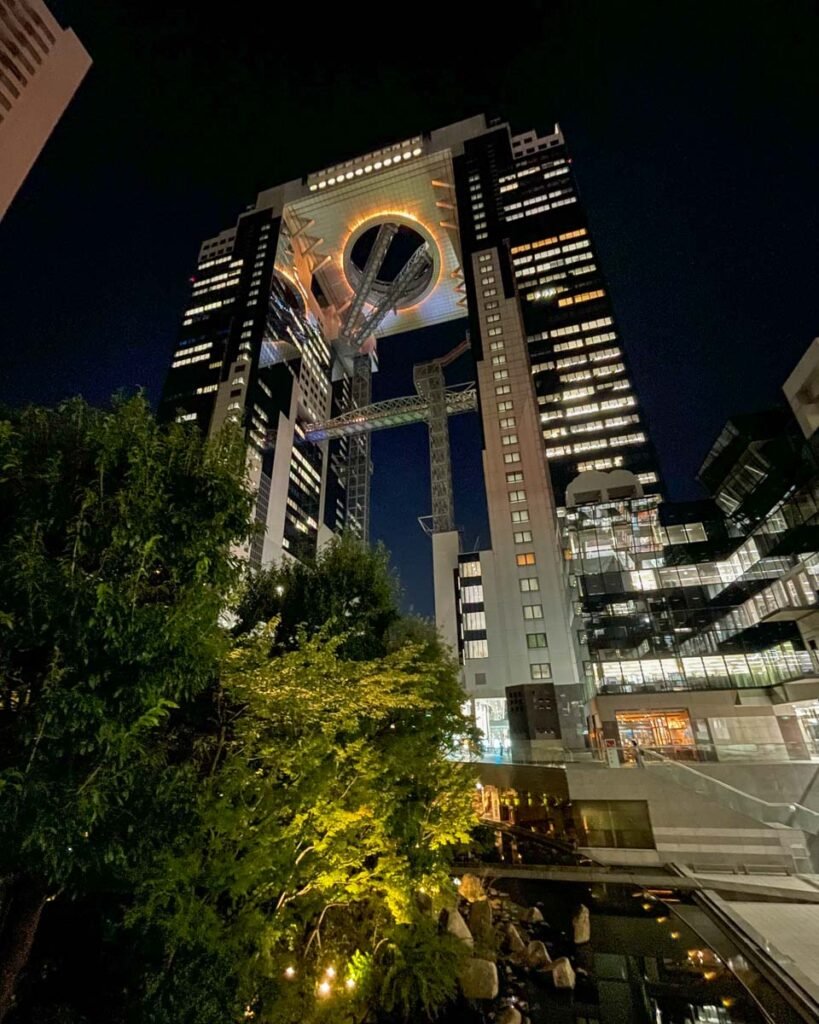 Kuchu Teien Observatory
Umeda Sky Building features quite a few cool places to explore, but its biggest attraction is the Kuchu Teien Observatory on the 40th floor. It is more than just 'another viewing platform'. Kuchu Teien translates as "The Floating Garden", and even though this garden doesn't have any greenery, it has an open deck where you can feel fresh air in your hair while overlooking the city of Osaka.
Sky Walk
The indoor part of Kuchu Teien has large, floor-to-ceiling glass panels all around the circumference, so epic views are guaranteed. You won't know where to look first! The outdoor part is called Sky Walk, and you have to take an additional elevator (or steps if you like) to get there. Once you are out, you will hear funky music and as the sun goes down, the floor will start to shine in the blue light. Suddenly, thousands of little shiny 'stars' will appear at your feet.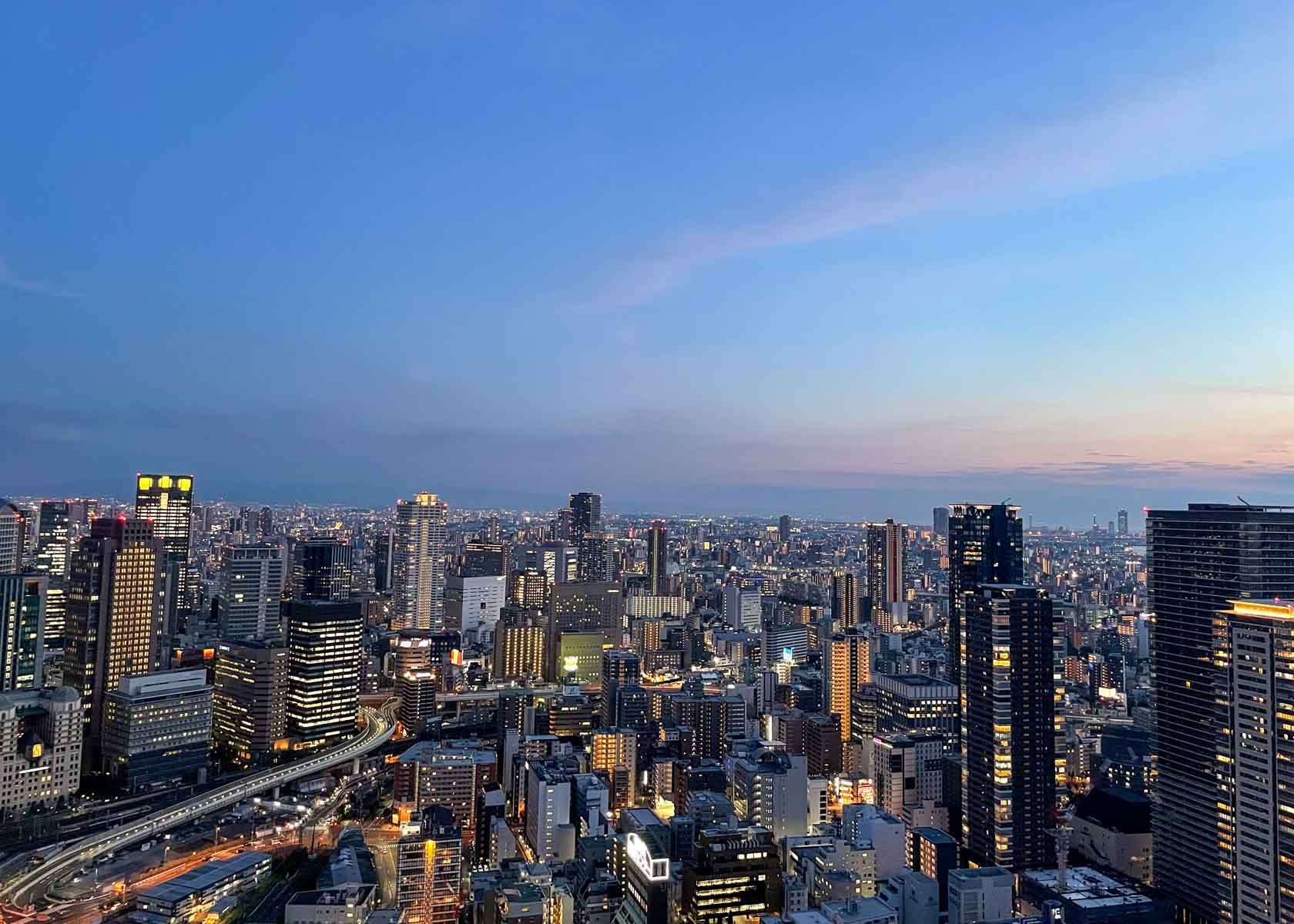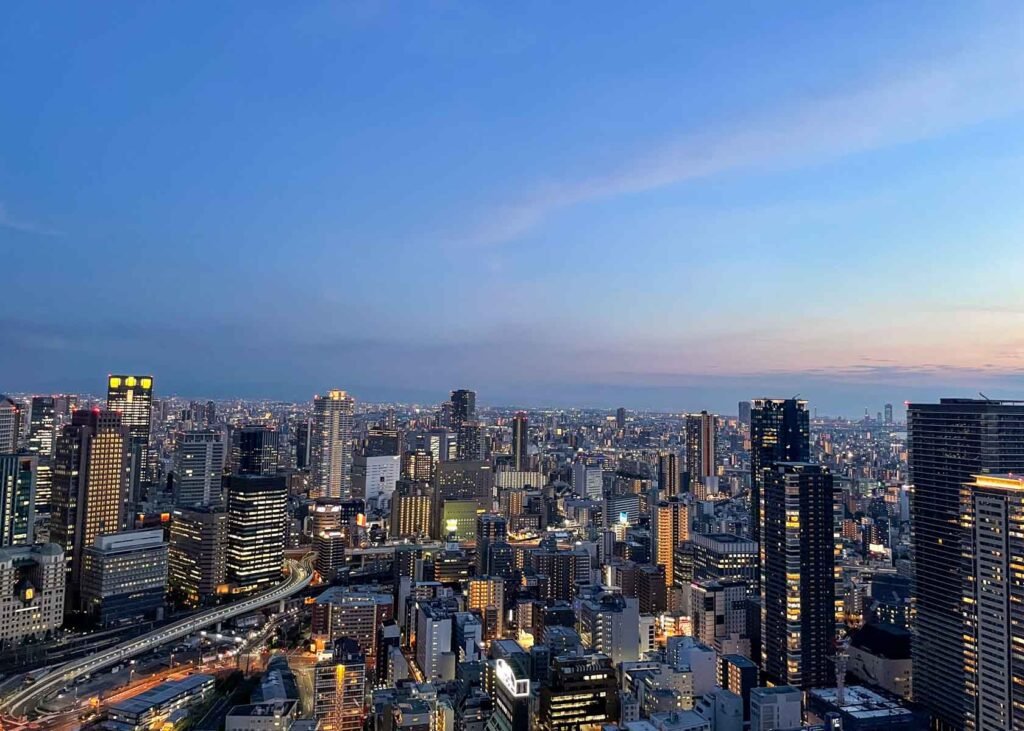 What I personally like about Umeda Sky Building is that you can really enjoy the city skyline. In Abeno Harukas, you see the city from a bird's perspective sprawling under you. Everything is far and out of touch. But here you can see the city boasting with life. You can stretch your hand out to almost touch it. The trains and cars are like cells running through the veins of this living organism. You will hear its noises and smell the air. It is a completely different experience, right in the heart of Osaka.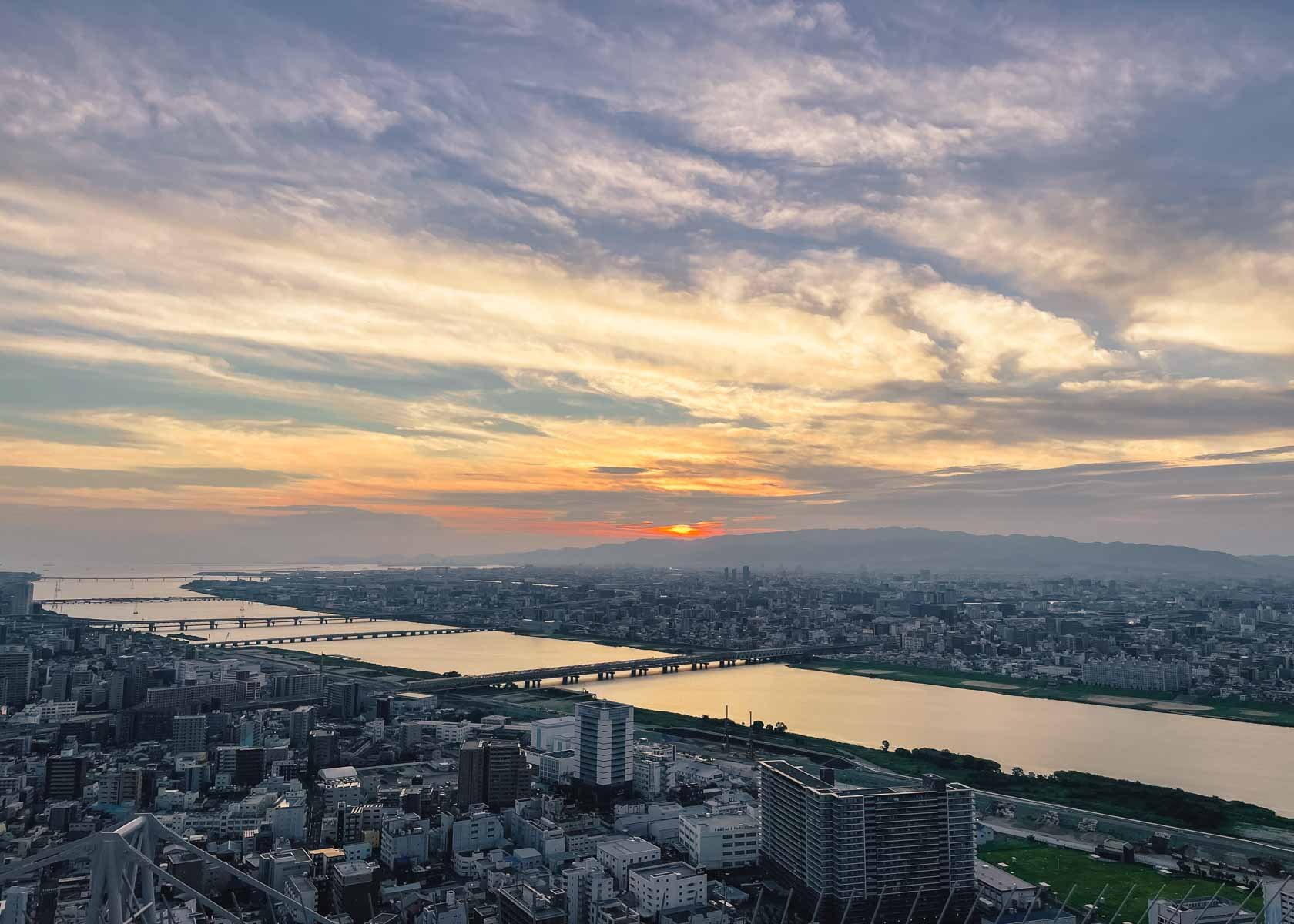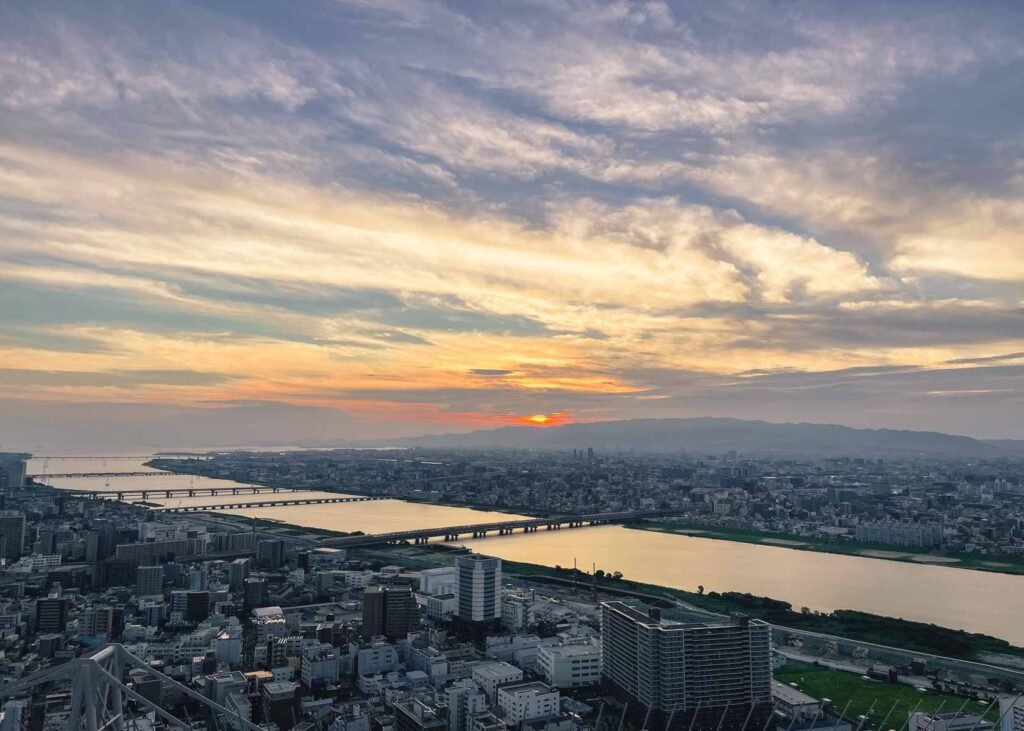 Please note, that it because the Sky Walk is completely open-air, it can get pretty windy out there. You will have to remove your hats, sunglasses and umbrellas prior going outside.
The way up
Going up to Kuchu Teien Observatory, it is an experience itself. First you need to access an elevator on the 3rd floor in the East Tower that will take you up to the 35th floor. The elevator is all made of glass panels and as it is going up, your excitement is rising as well.
On the 35th floor, there's another architectural treat for you – two aerial escalators that seem like they hang in the air purely because of their will. Again, they are covered in glass tubes, so you won't know if you want to look outside, or simply admire this special mean of transport.
Once you find yourself on the 39th floor, you can buy your tickets in a vending machine (also available in English), and from there you can access the observatory.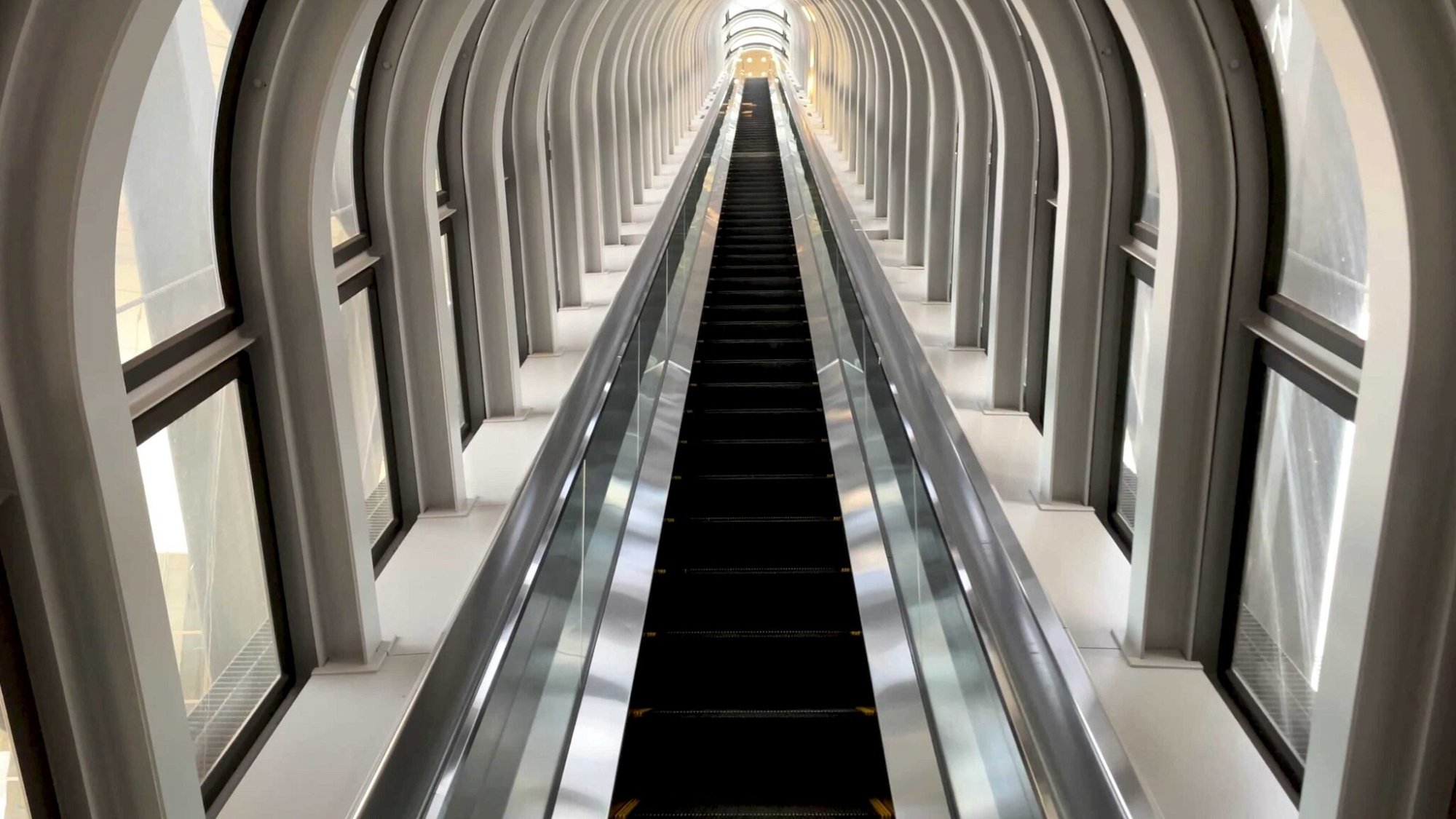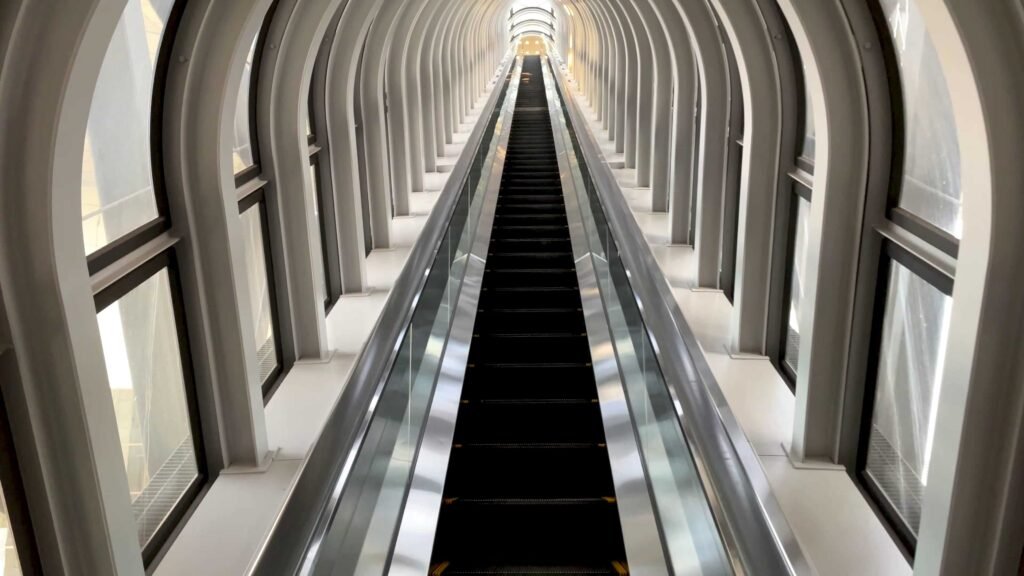 Café SKY 40
If you feel like you need to take a break from all the sightseeing, there's a café on the 39th floor serving coffee, drinks, desserts and light snacks. There are plenty of tables all around the floor, so you can relax while still enjoying the view.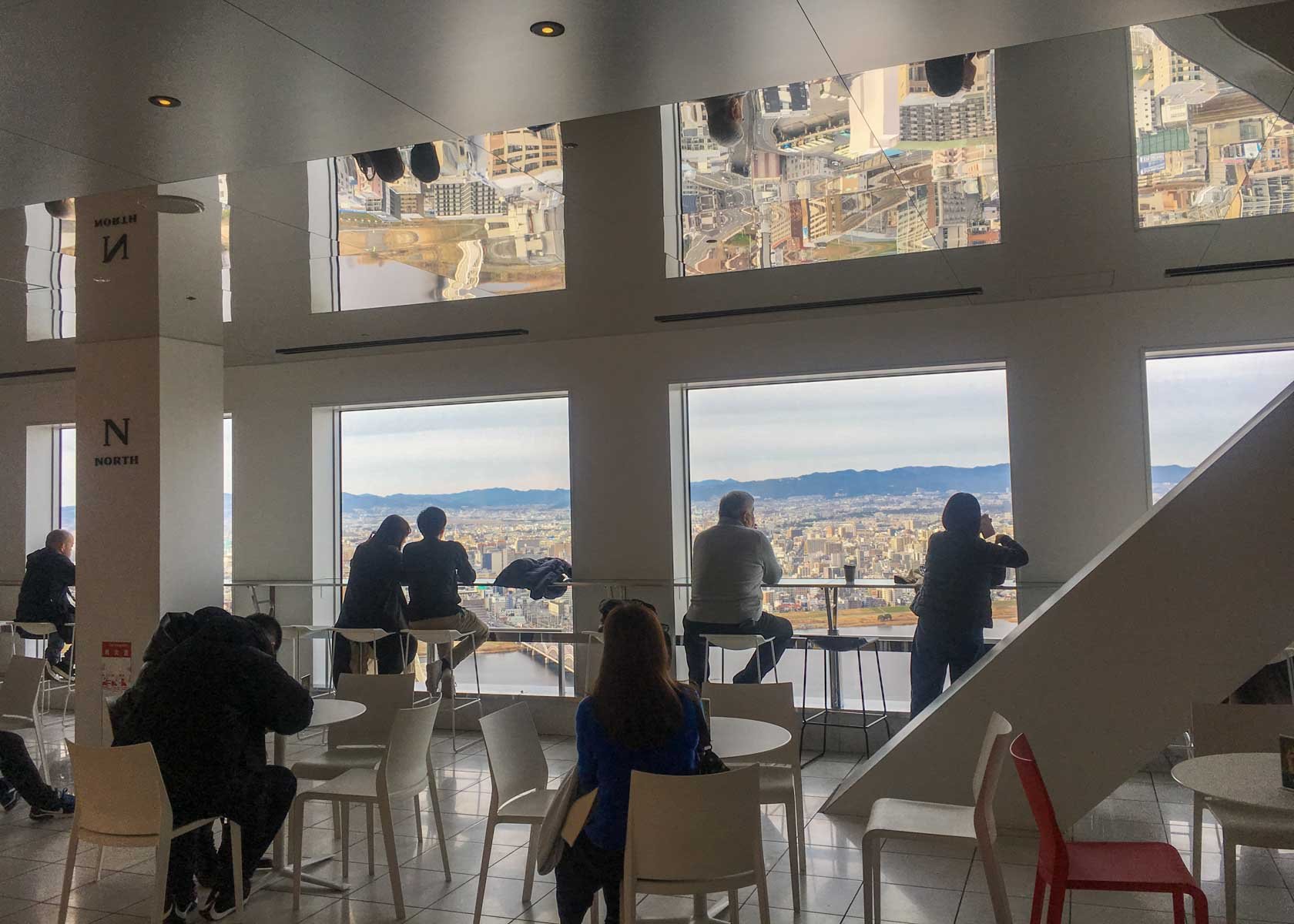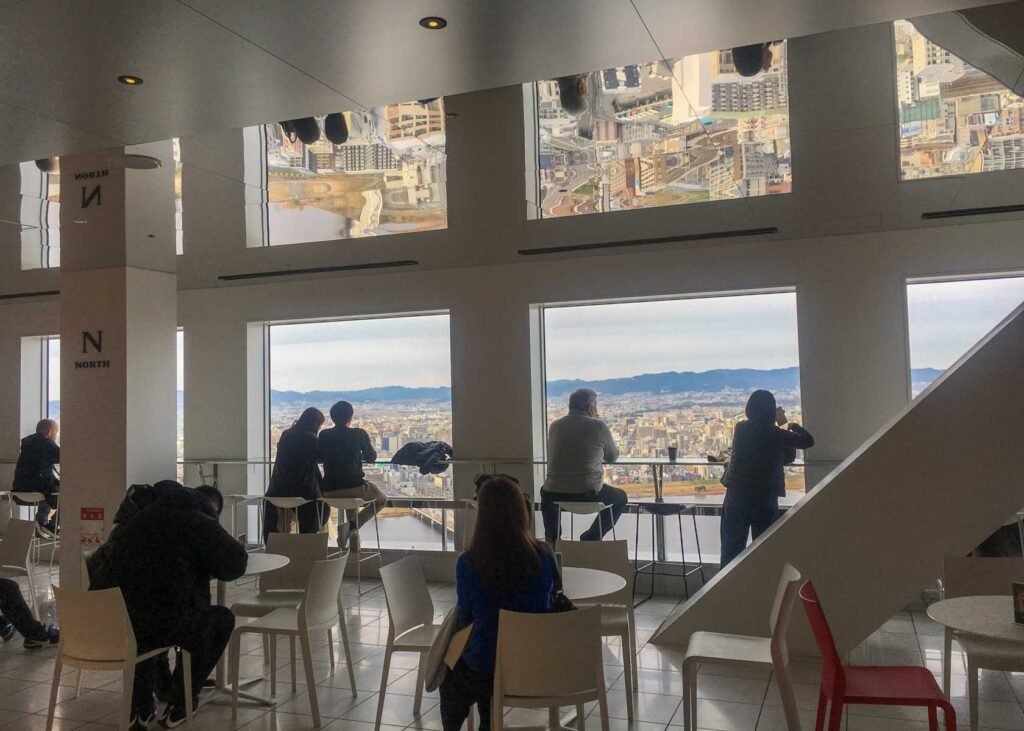 The Fence of Vows
Kuchu Teien Observatory is also a popular place to take your significant other for a date. Especially in the evening the Sky Walk is particularly romantic. Just imagine the setting, when the sun is gone and all the city lights start twinkling in the night. To make your bond even stronger, you can purchase a heart-shaped locket, engrave your names on it and lock it outside to The Fence of Vows where it stays forever. Fence of Vows surrounds the Lumi Deck, which is accessible from the Sky Walk.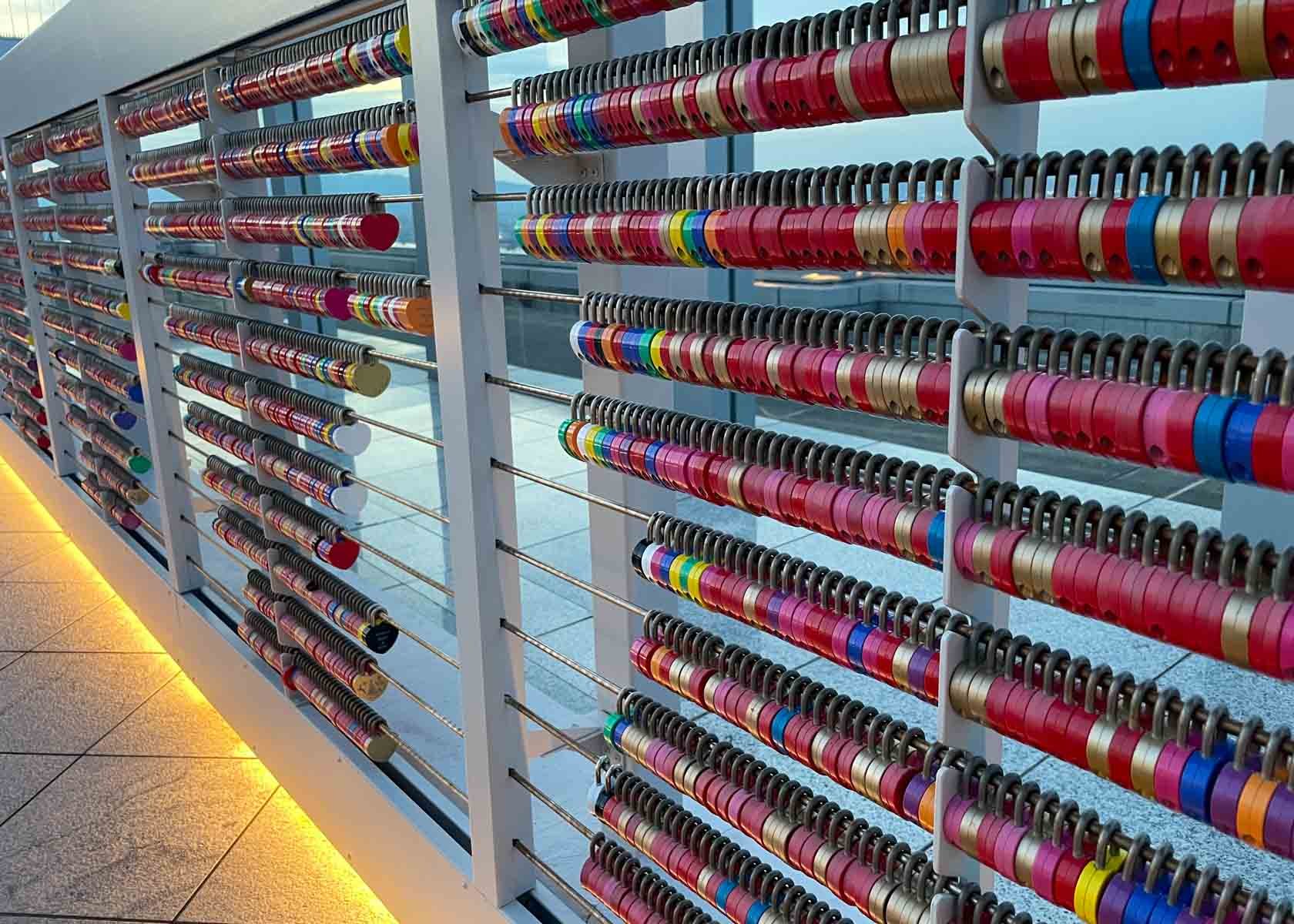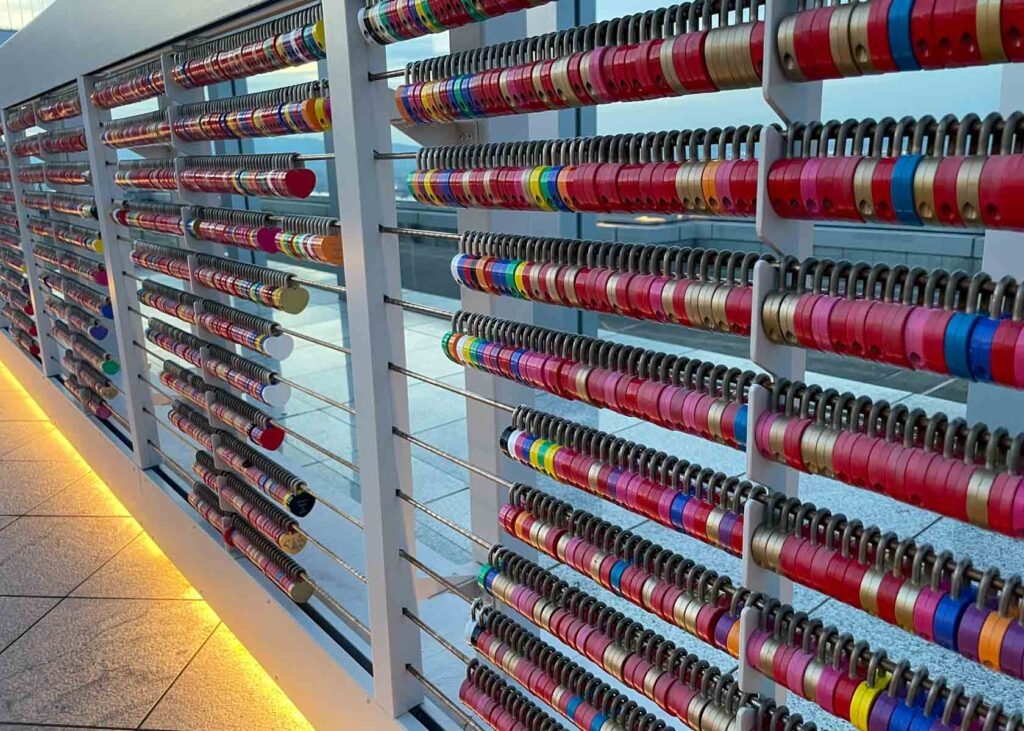 Sky Towers around the world
If you visit Umeda Sky Building and The Floating Garden, it will be the views to take all your attention. But let me tell you, that the inner walls inside the observatory have also an interesting display of remarkable buildings all around the world. Called the Sky Towers, they will make you dream about far-away places. Don't forget to also check out a small display how Umeda Sky Building was built back in the 1993, and which famous structure served as an inspiration for its current shape (I will give a small hint – it is in Paris, France).
Umeda Sky Building Gallery shop
On your way out, on the 39th floor, there's a little souvenir shop where you can buy memorabilia not only from Umeda Sky Building, but from all of Osaka. They have products for daily use, postcards, some jewellery, t-shirts and other souvenirs to take home with you.
Entrance fees and opening hours
Kuchu Teien Observatory is open daily from 10:00 to 22:30, with the last entry at 22:00. There are no closing days.
The ticket for an adult costs 1500 yen, for junior and high school students it is 700 yen and for elementary school students 500 yen. If you want to in with infants, you will have to pay 200 yen for them. Senior citizens pay 800 yen.
Restaurants
If you want to make your evening even more special, there are two restaurants on the 39th floor of Umeda Sky Building. Both Sky Lounge Stardust and Chinese Restaurant Sangu are accessible from Kuchu Teien Observatory, but you don't need the ticket to go inside. Naturally, they have large windows so great views are guaranteed. Sangu is a Chinese restaurant, serving traditional dishes with a modern twist, while Sky Lounge Stardust is an Italian restaurant with a big variety of drinks and cocktails. If you want to make sure that you get a table by a window, I would recommend making a reservation in advance.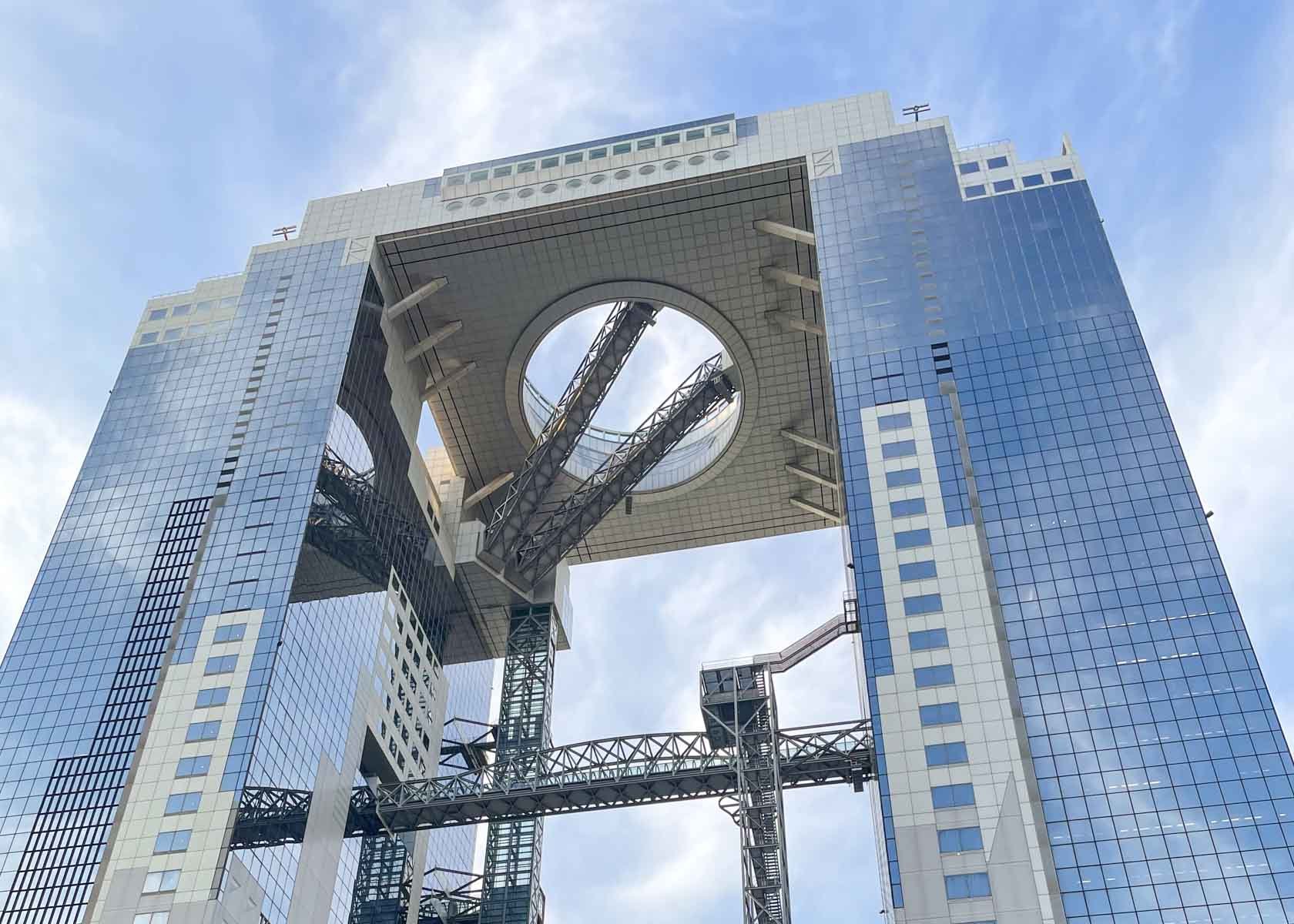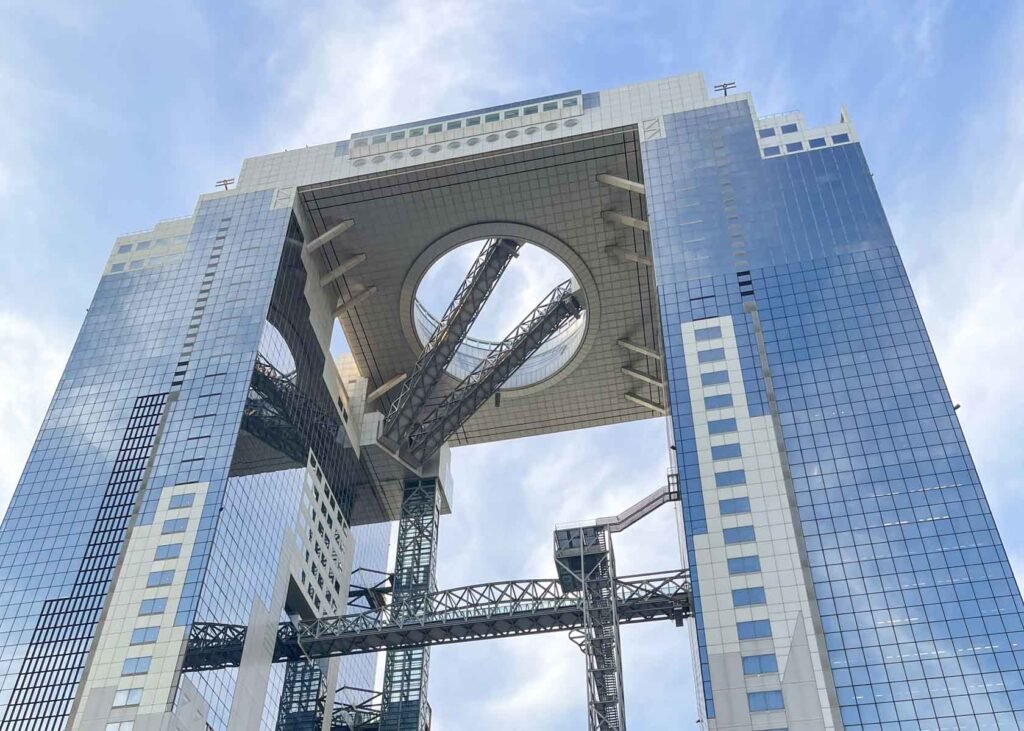 Koji Kinutani Tenku Art Museum
Once you explored Kuchu Teien Observatory, on the 27th floor of the West Tower, there's an art museum worth your attention. The museum was opened only in 2016 and it is dedicated to the sole artist Koji Kinutani. It is the biggest collection of his art designed with the aim is to "inspire visitors' hopes and dreams". Koji Kinutani has been an influential artist in Japan for over 40 years and this museum reflects his work through mixed media – from 3D visuals to fresco and paintings.
Museum facilities
The museum sections are colour-coordinated and every part is a different carnival for your senses. At the end, you can even try a VR experience. The last section is dedicated to a workshop and Tenku café, where you can just chill and admire Osaka from the 27th floor. There's no abundance of funky colours in the café! At the exit, you will also find museum shop, where you can purchase some original souvenirs.
Opening hours and entrance fees
Museum is open daily, except of Tuesdays when it is closed. The opening hours are from 10:00 to 18:00 during the week days and from 10:00 to 20:00 pm on weekends. The admission fee is 1000 yen for adults, but if you purchase a combined ticket to the Kuchu Teien Observatory, you will pay only 2000 yen for both together (which will save you 500 yen).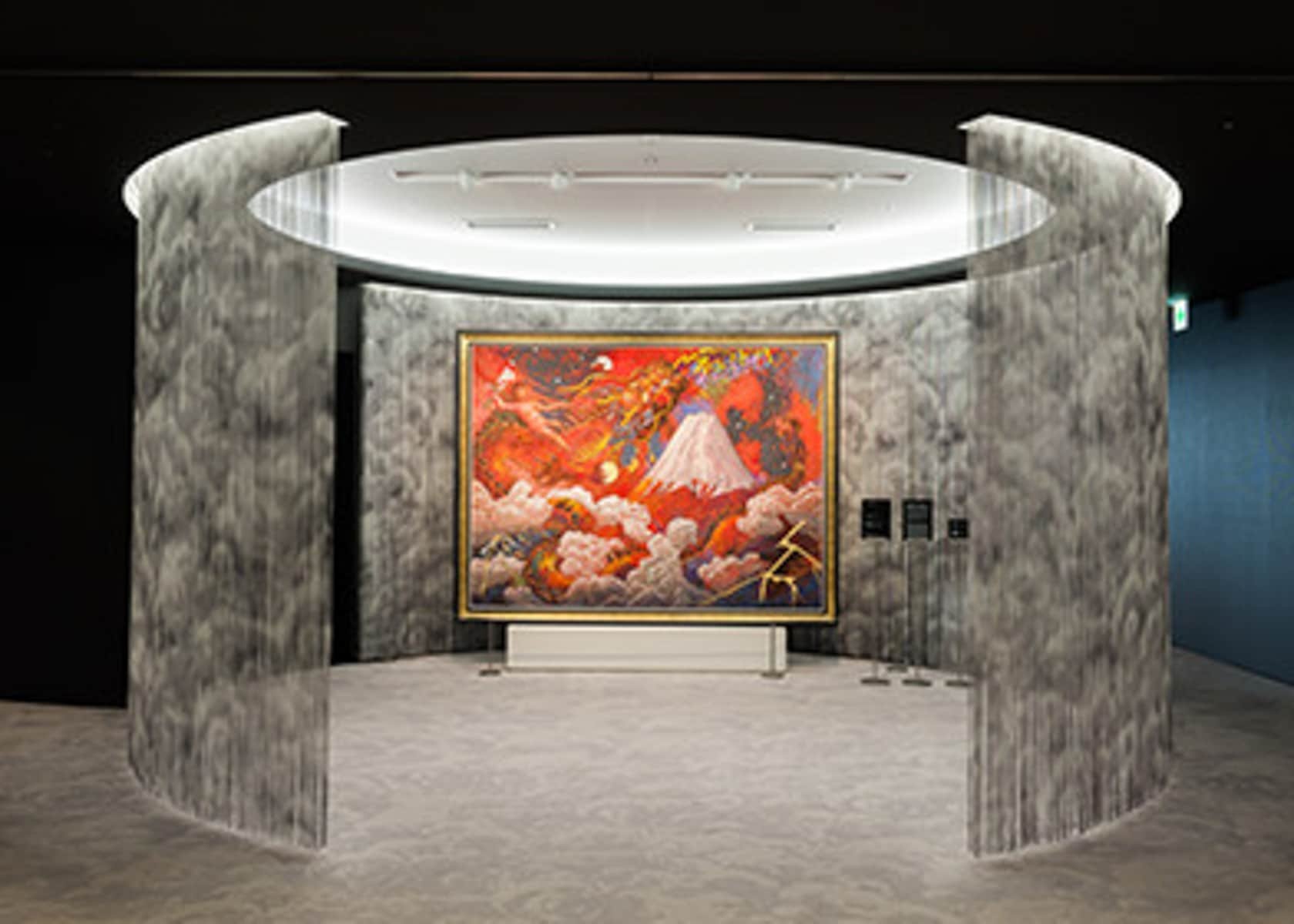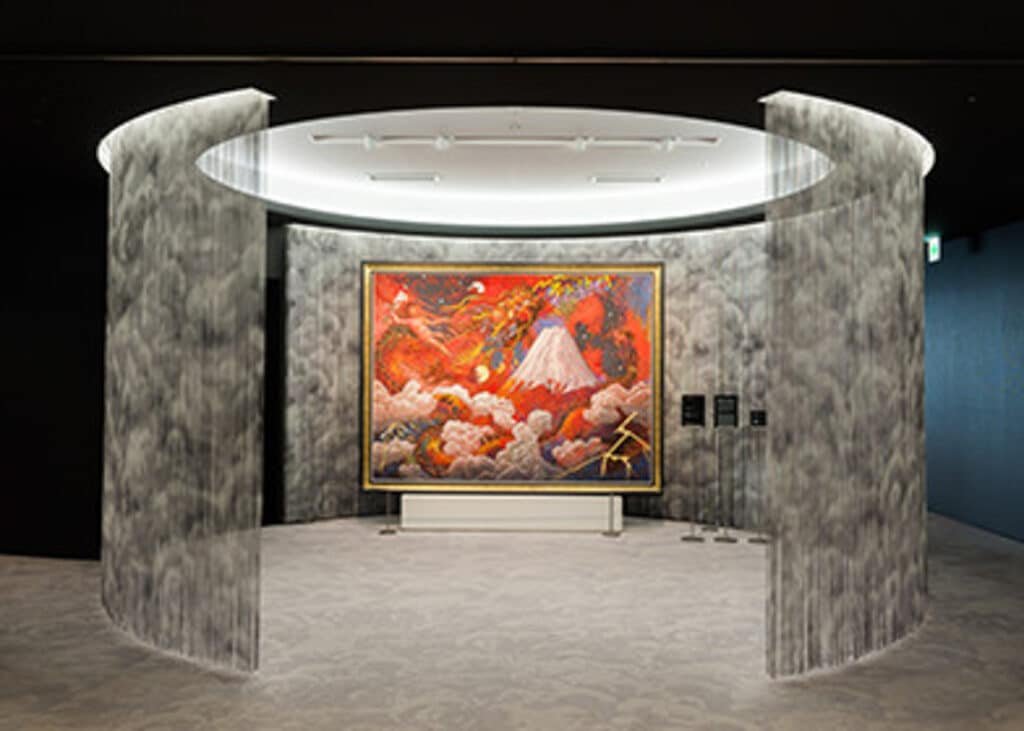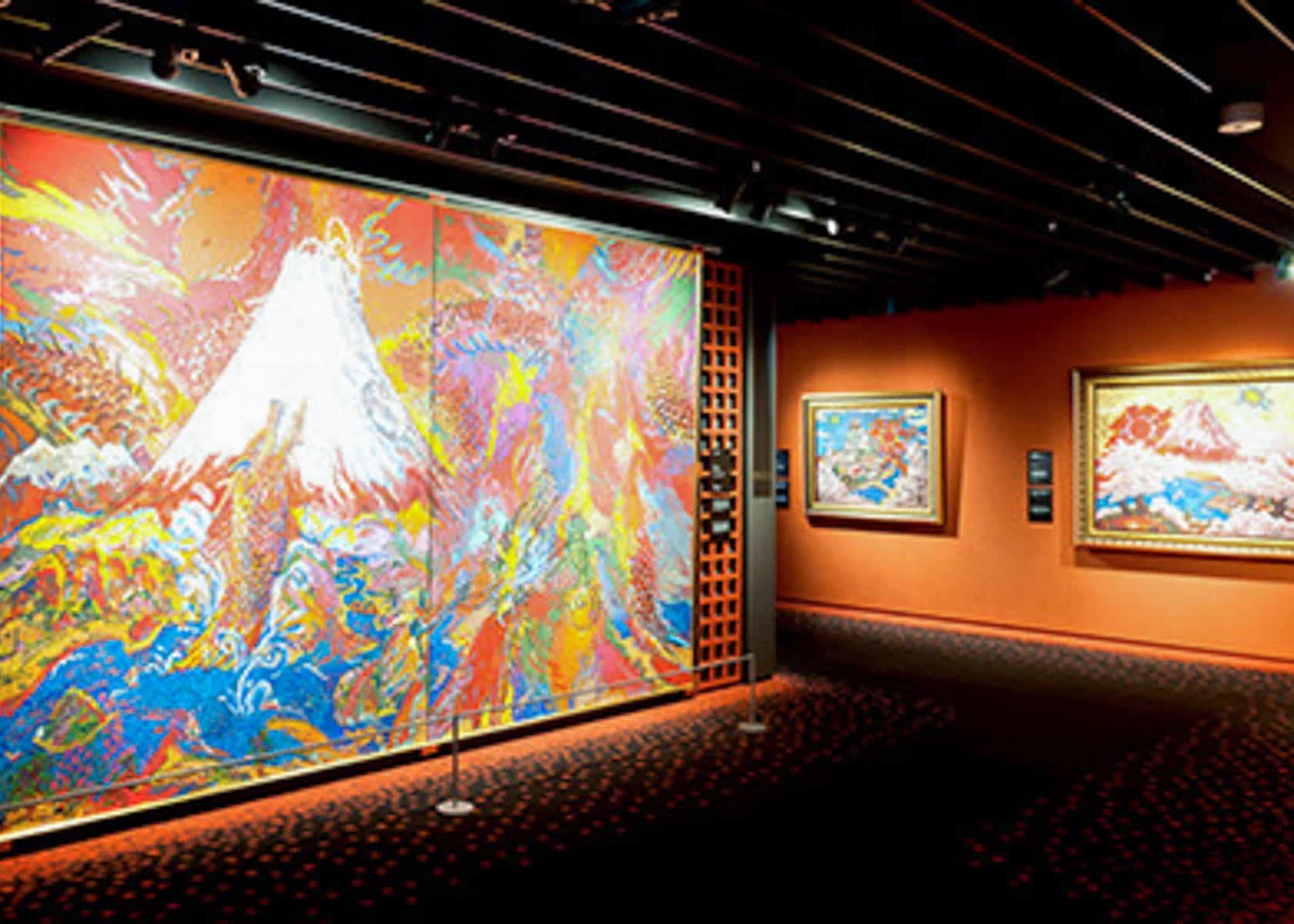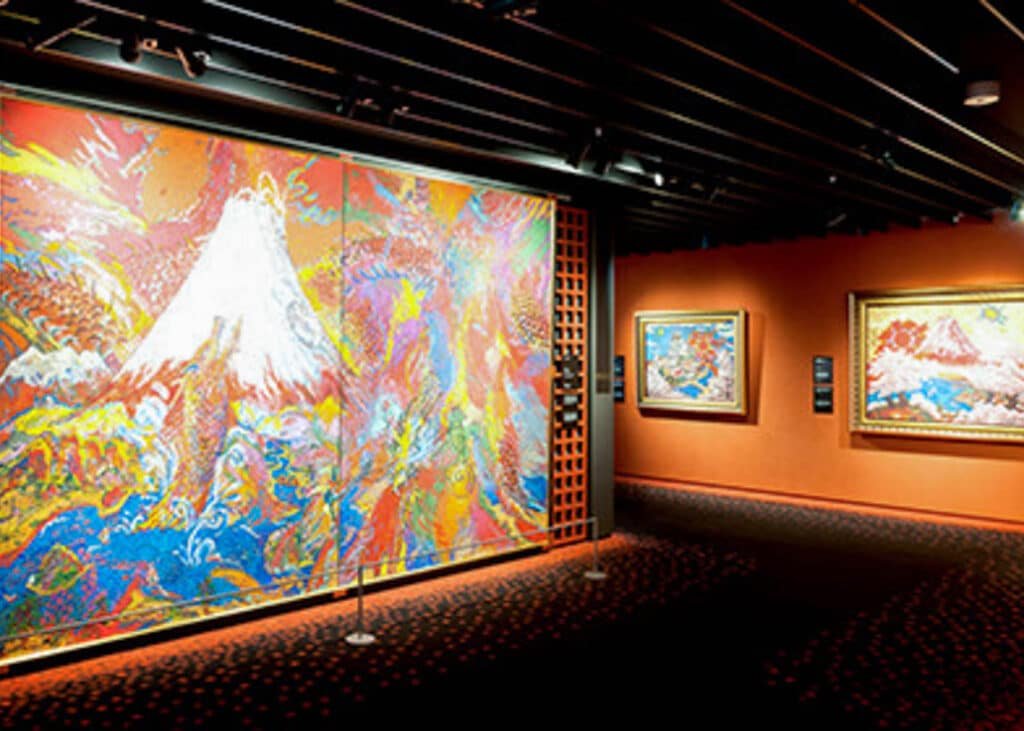 Takimi Koji Retro Street
The basement of Umeda Sky Building hides yet another surprise for its visitors. Once you get to the B1 level, you will find yourself in the picturesque streets of Japan during Showa period (around 1920). It is full of little details, like a dog waiting for his master to come home, old-school car, Inari shrine, cats on the roof and even a display of Japanese living in the 1920ties.
Takimi Koji is actually a gourmet street and a food court. Inside the houses, there are restaurants serving Japanese or world cuisine. You can try here typical dishes that originated in Osaka, such takoyaki and okonomiyaki. Overall, there are 20 restaurants to feed all the hungry visitors!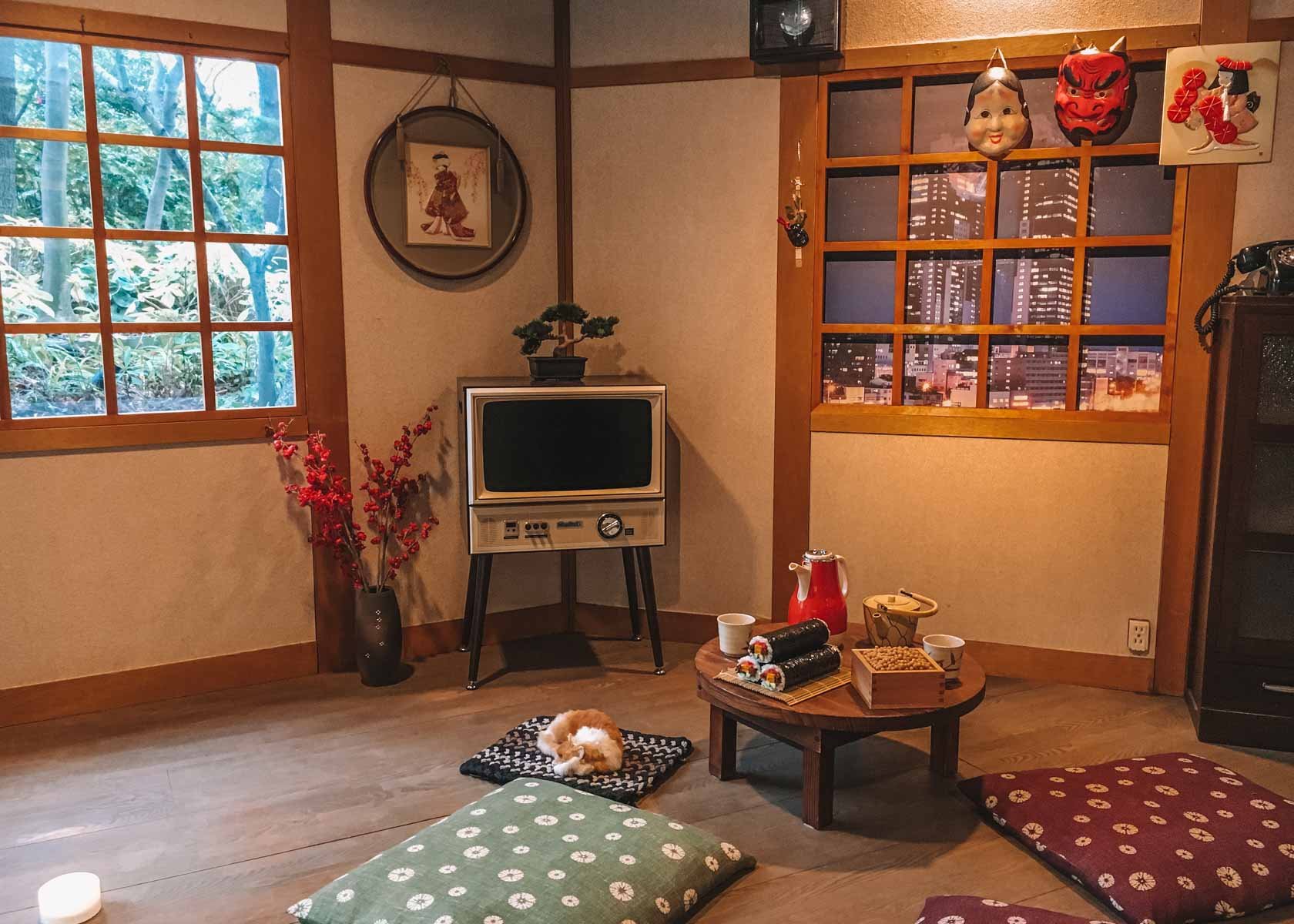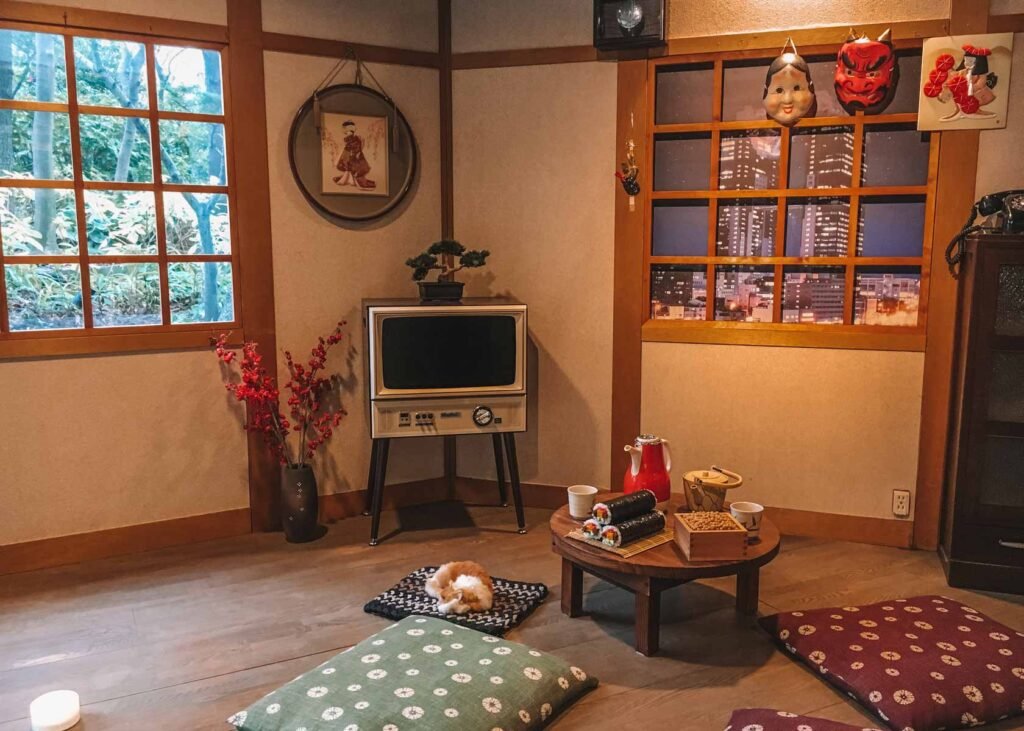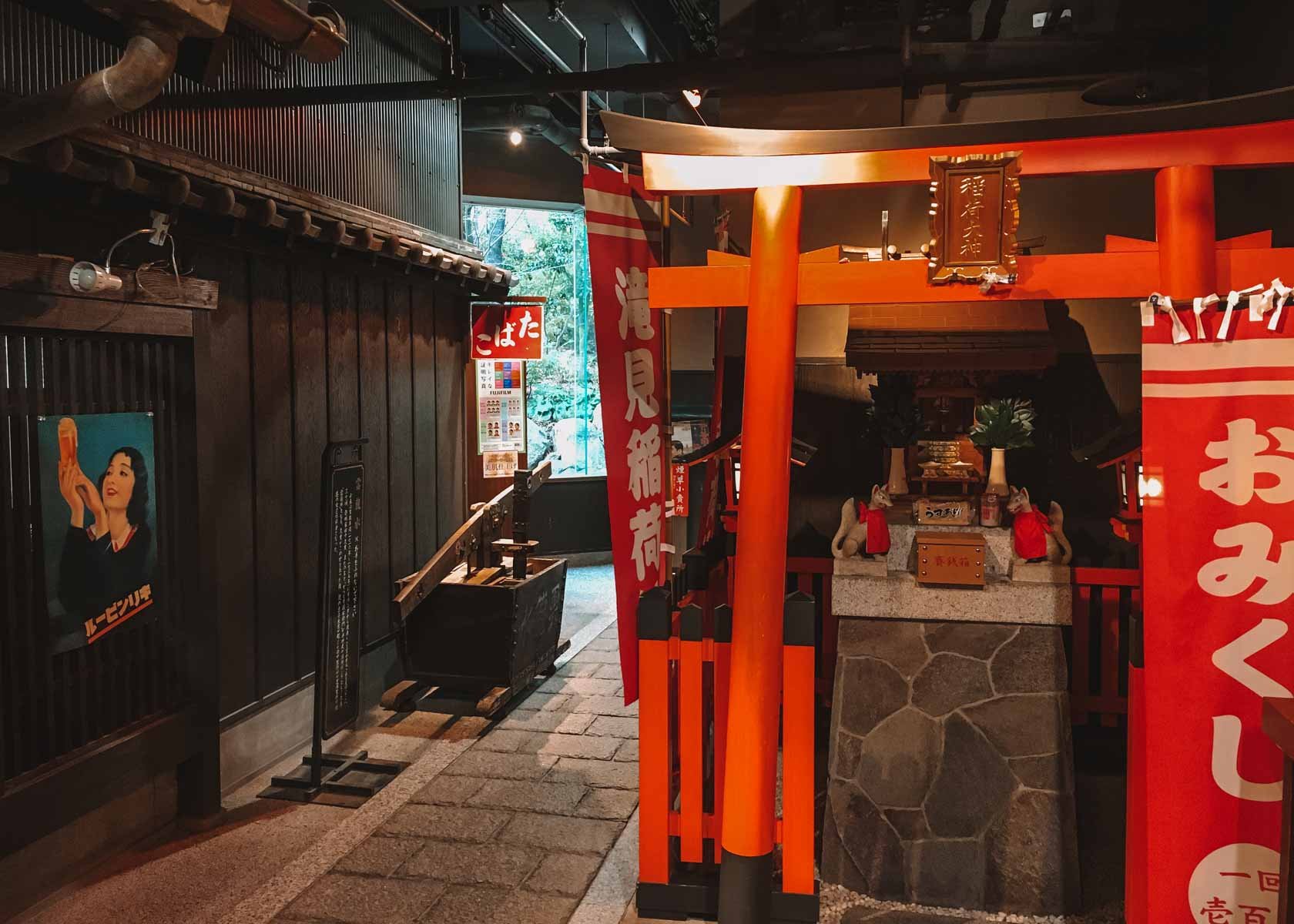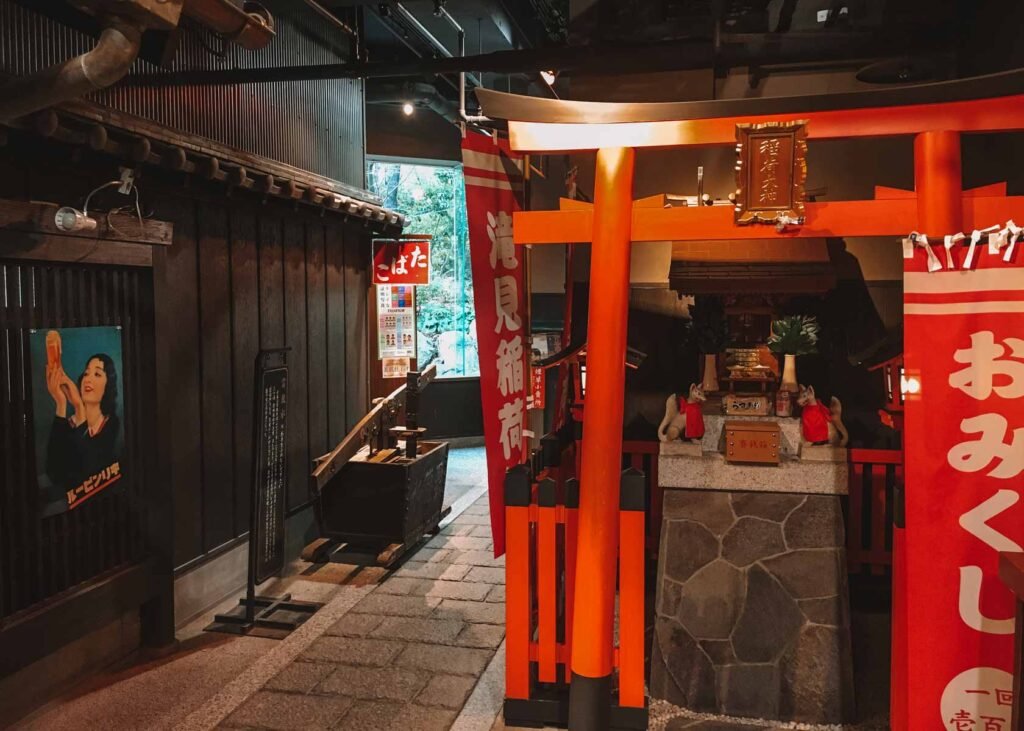 Other Amenities
Cine Libre Umeda
As walking towards the elevator to the Kuchu Teien Observatory, you will be passing by Cine Libre, a cinema with four screens playing Japanese and international movies. The cinema itself is not very large, therefore it is usually not very busy.
Meeting Rooms
In case you are searching for meeting room rentals, Umeda Sky Building has got you covered. In the West Tower, there are rooms of different sizes to be used for different occasions.
Westin Osaka
The Westin Osaka is not located within Umeda Sky Building, but right next to it. If you book a night here, the tickets to the observatory are within the price for your hotel room. Westin is a luxury hotel featuring premium facilities, such indoor pool, fitness centre, restaurants and even an acupuncture salon.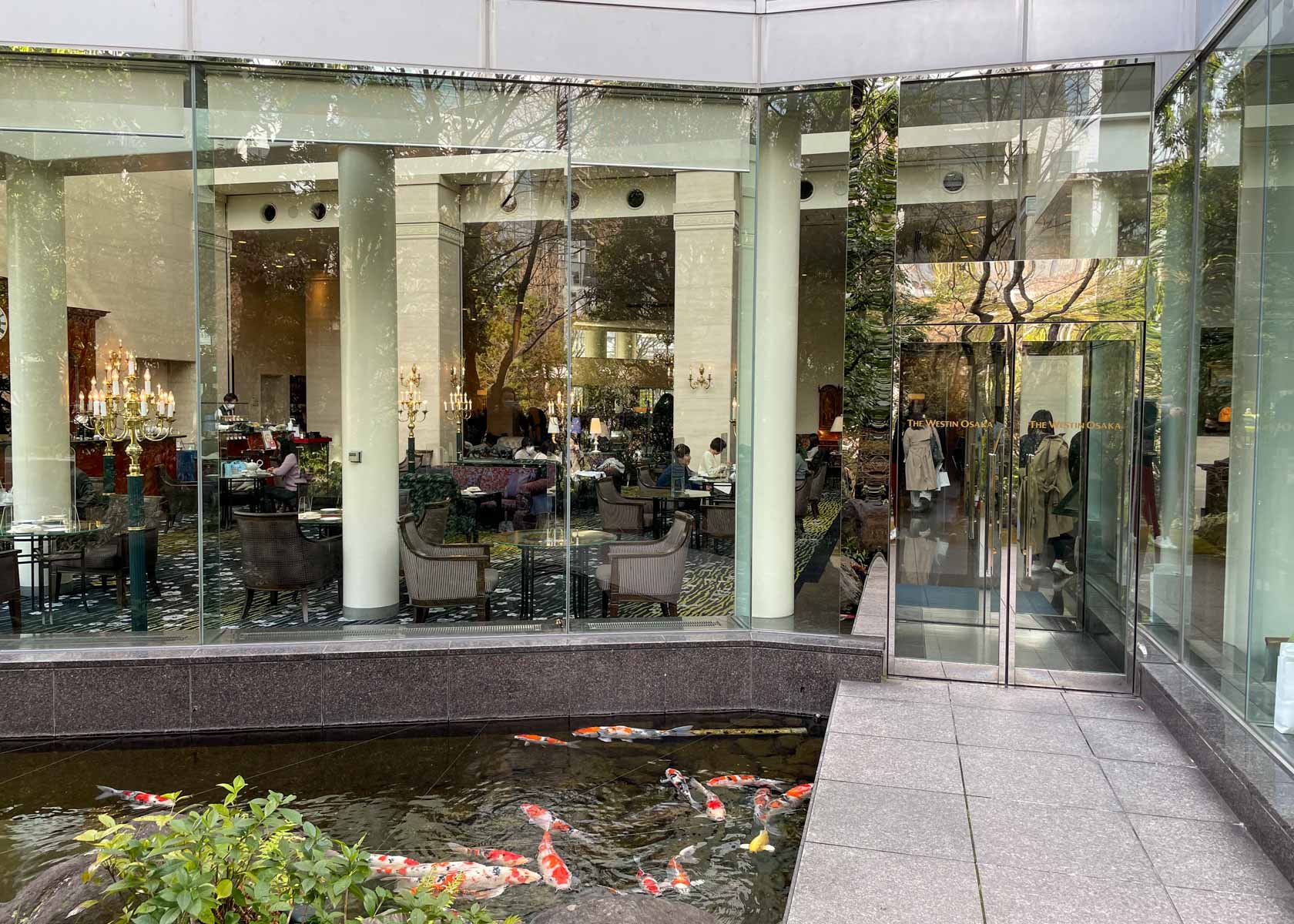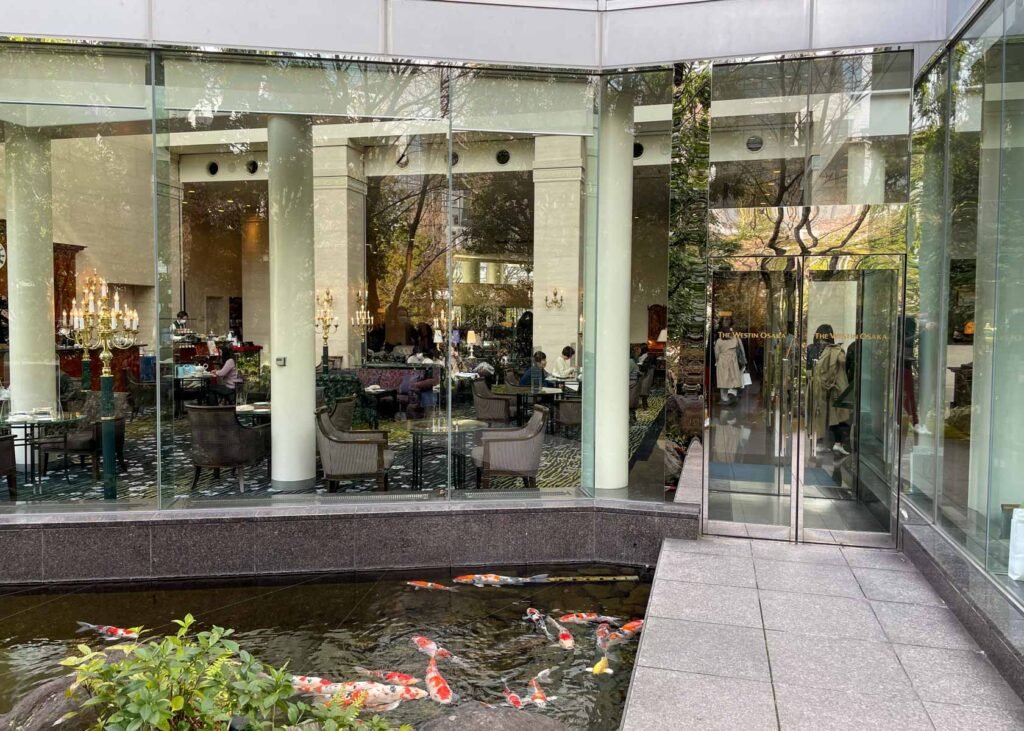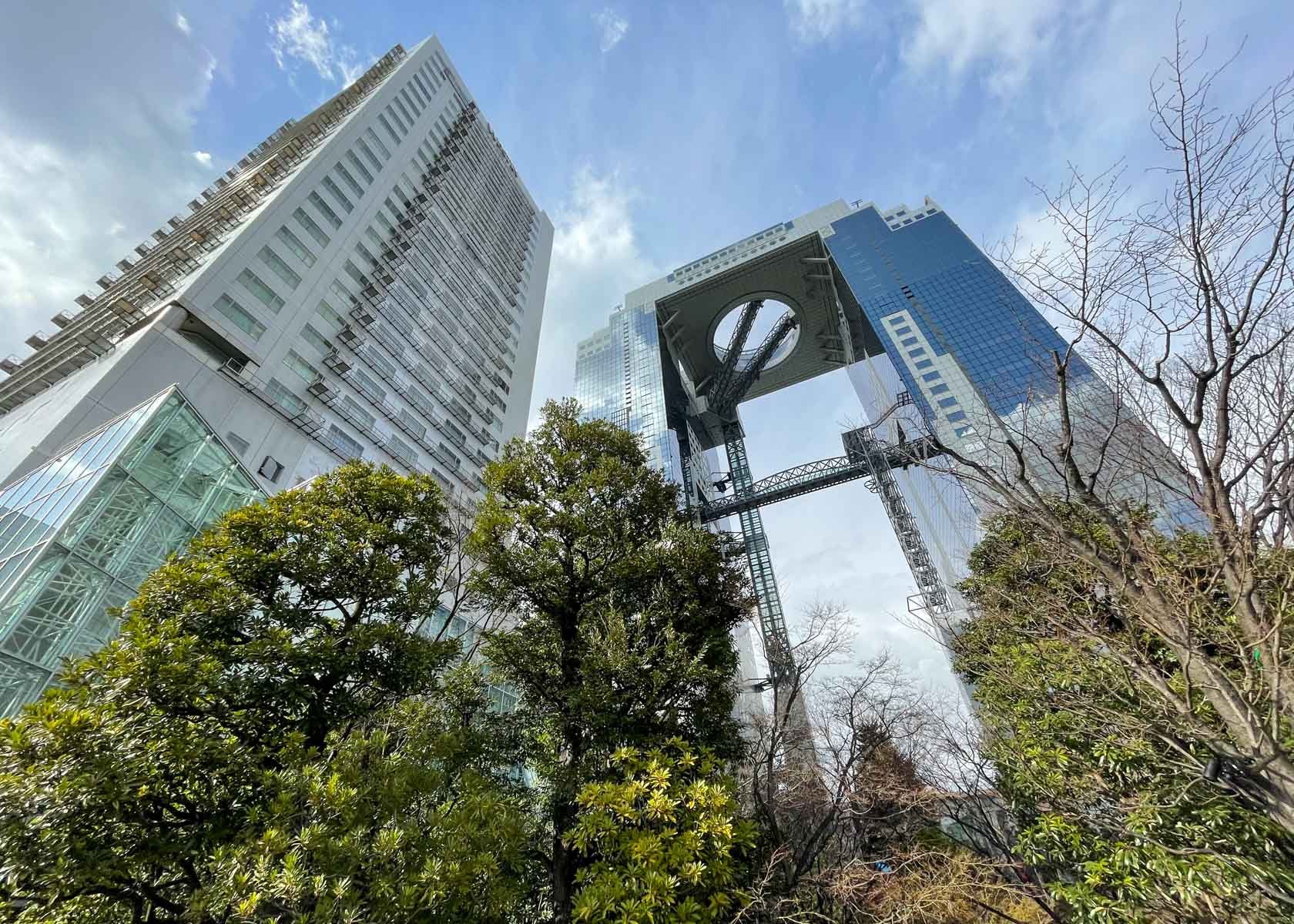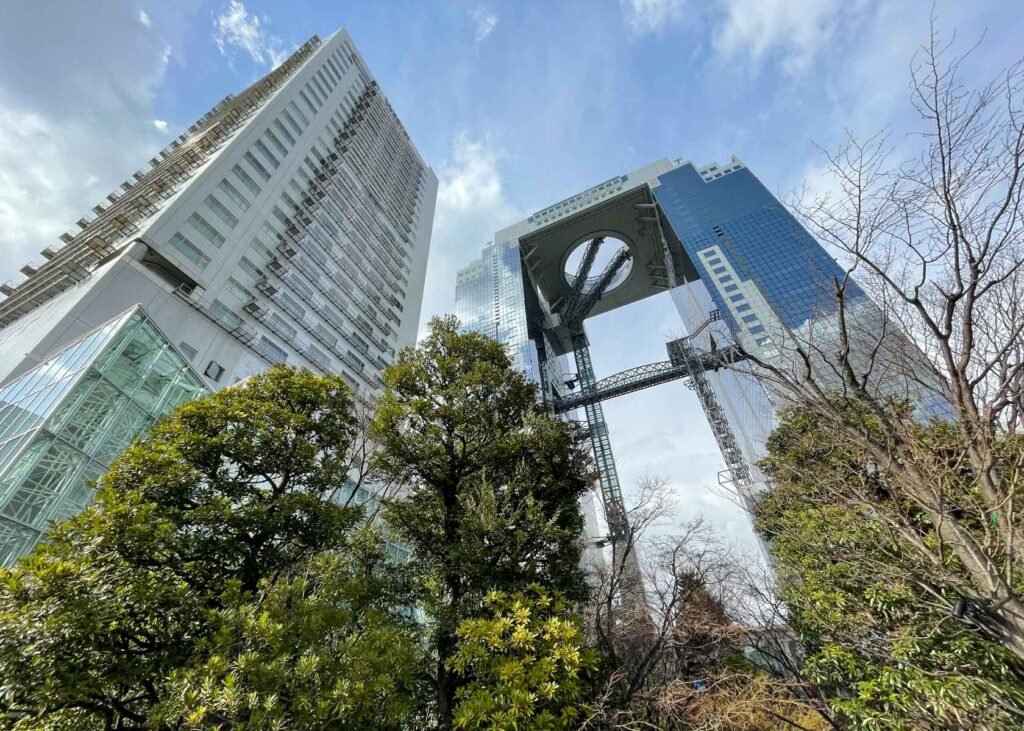 Location
Umeda Sky Building is located on the north of the city of Osaka, in the Kita ward. It is just a walking distance away from Osaka and Umeda Stations. At the moment, the whole area is undergoing through a re-development project with even more shops, gardens and entertainment facilities. It is fun and modern area with attractions for all ages.
Gardens
The Island Garden Forest
Umeda Sky Building is surrounded by lots of greenery. At the base of the building, there's a lush garden with a pond, waterfall, flowers and even a short nature walk. The small garden is designed in a way that you can enjoy it during all four seasons. I love coming here in autumn because of many maple trees. It is called The Island Garden Forest, or Chushizen no Mori in Japanese, and it was built with a vision of a green oasis in the modern city. During hot, wet summer months you can even spot fireflies here!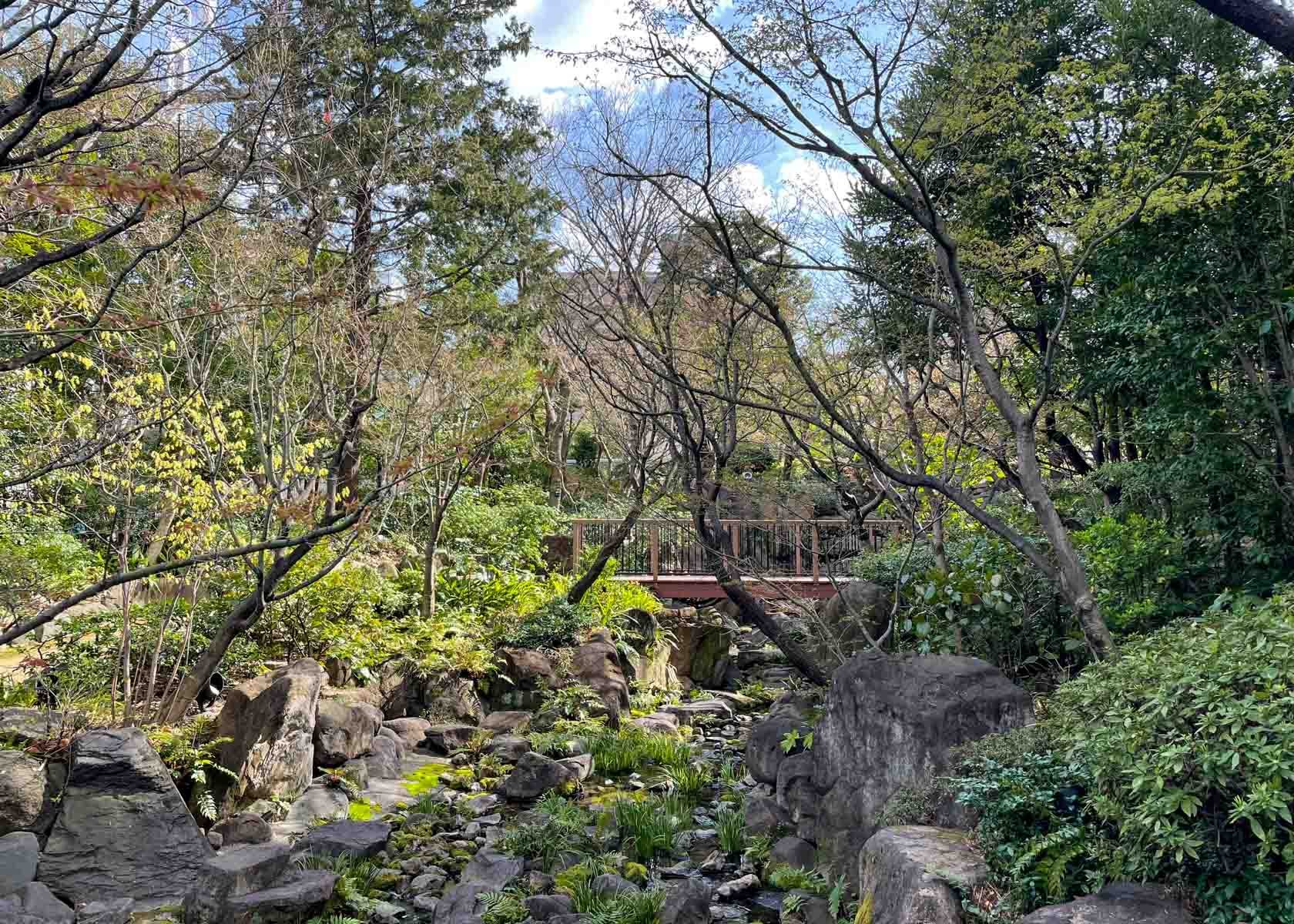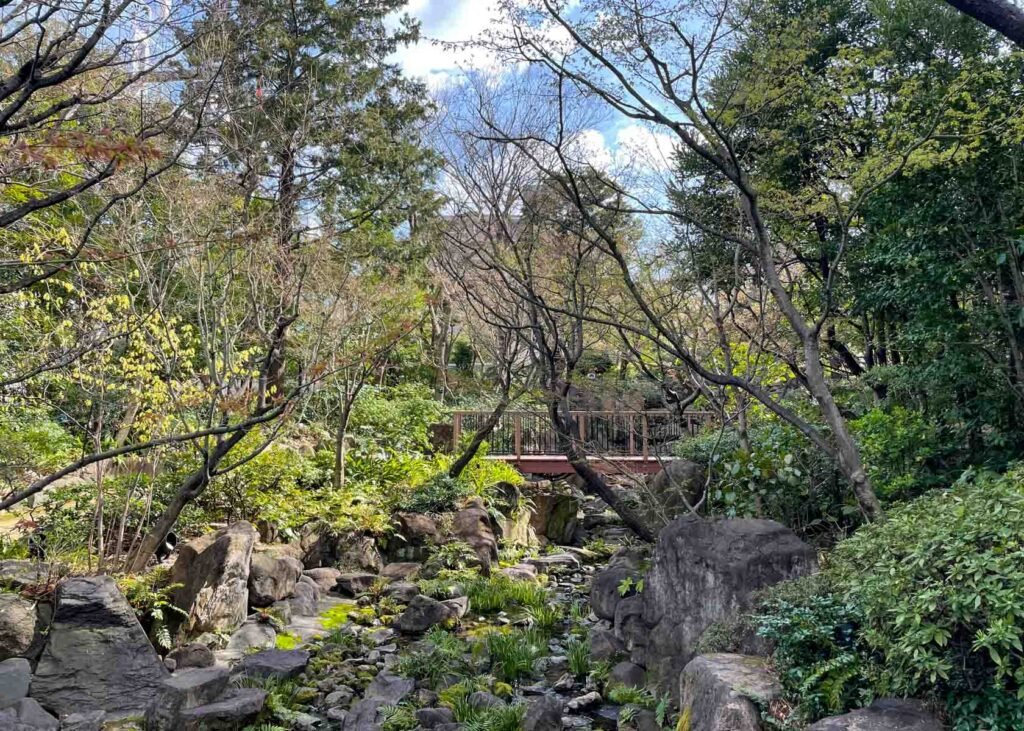 New Satoyama
On the north side of Umeda Sky Building, there's another garden called Shin-Satoyama, or New Satoyama. It's 8,000 square metres large green space where elementary students from nearby schools cultivate flowers, vegetables and rice. Rice is planted in June and harvested in November, so during several months, there's a functioning rice field right in the city centre of Osaka.
Both Island Garden Forest and Shin-Satoyama attract various insects and butterflies, some of them are engendered species. It is very refreshing to see a little piece of countryside in the concrete jungle. People love to come here and just relax, and I advise you to do exactly the same. Slow down and appreciate the nature.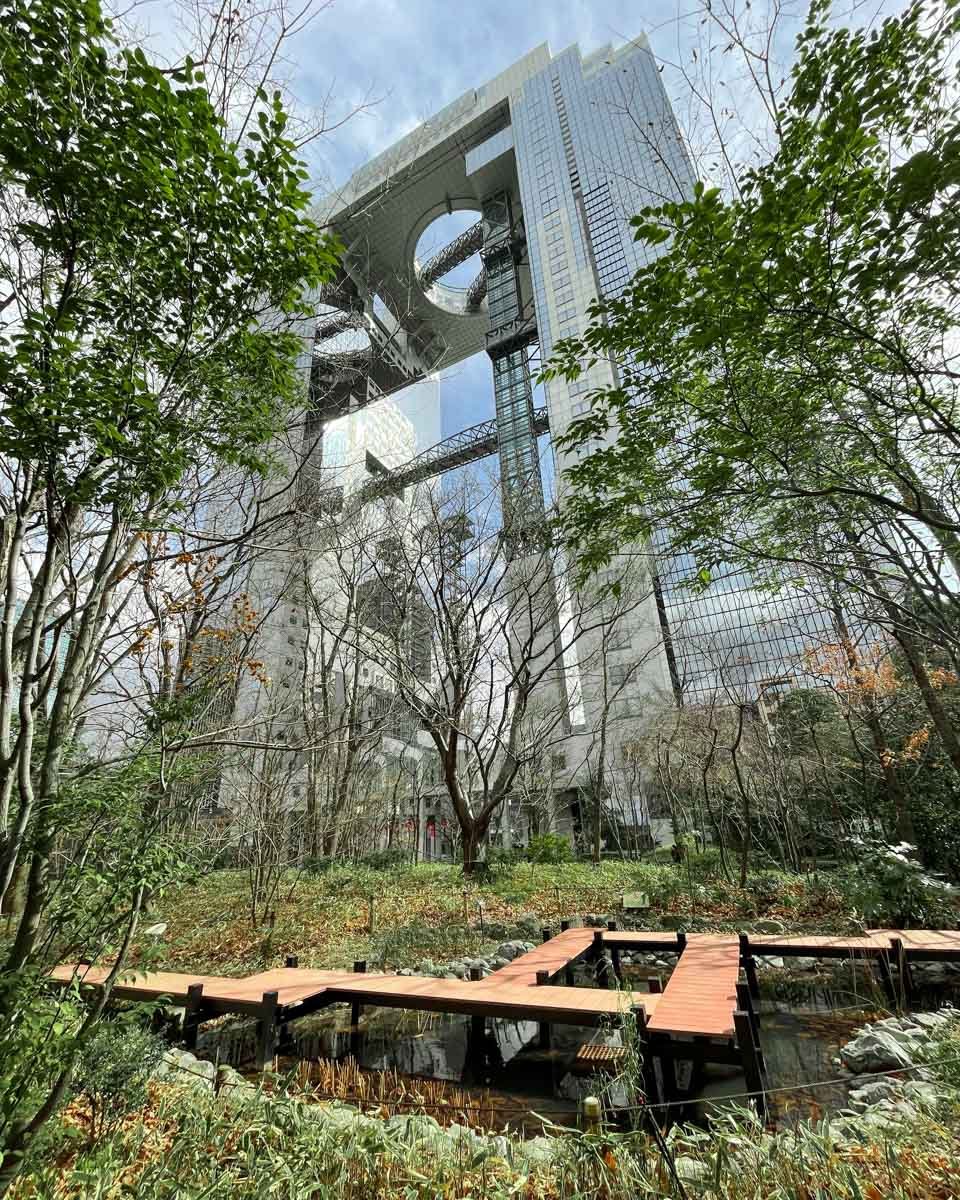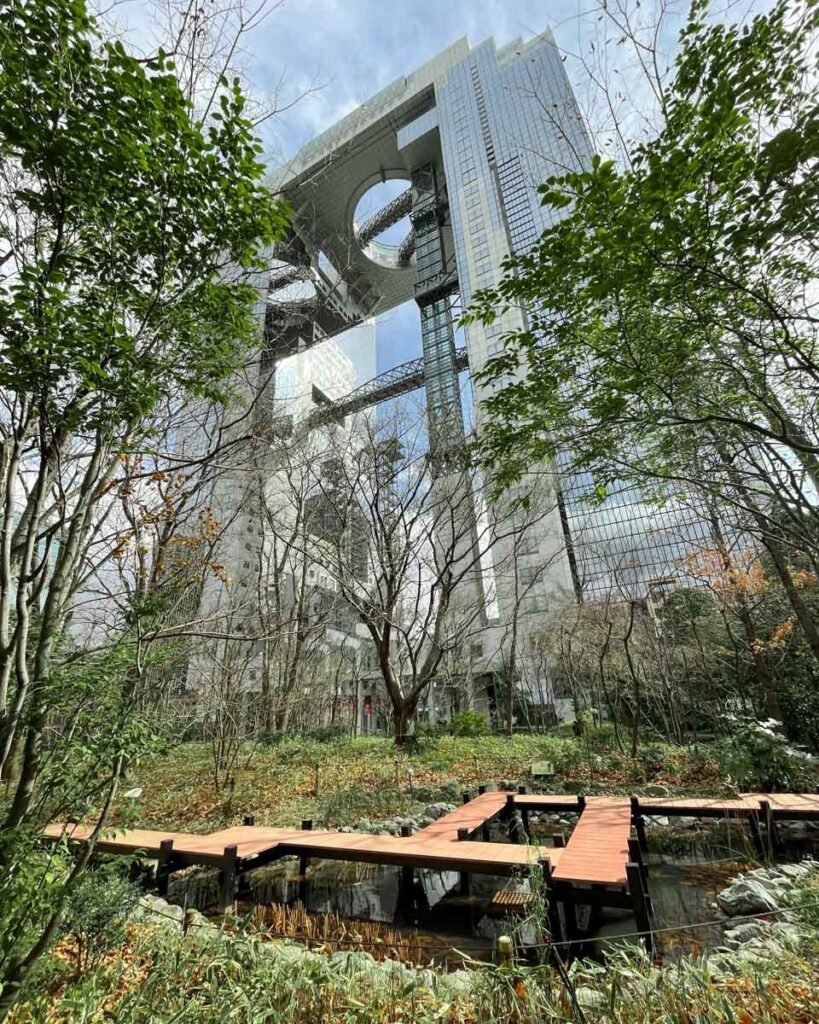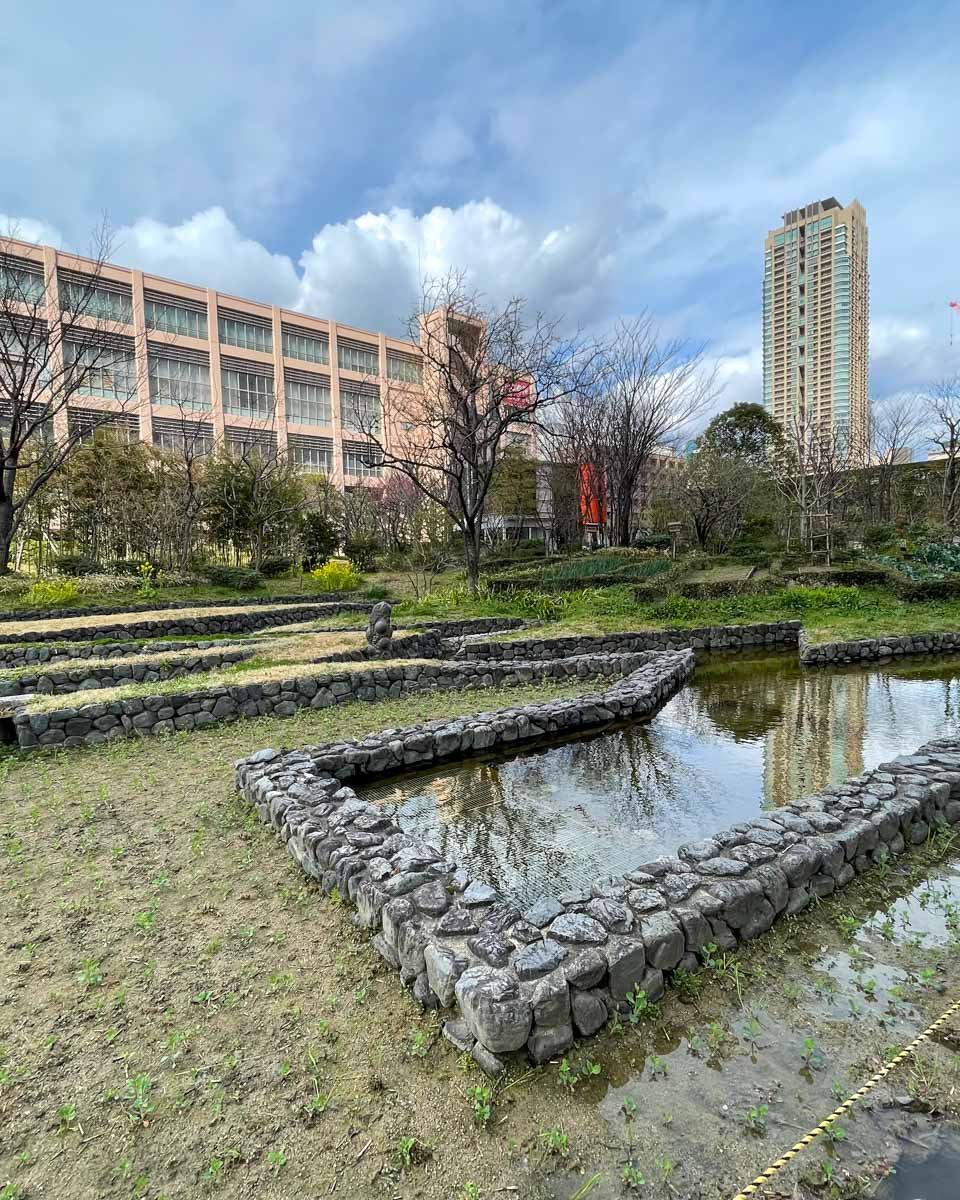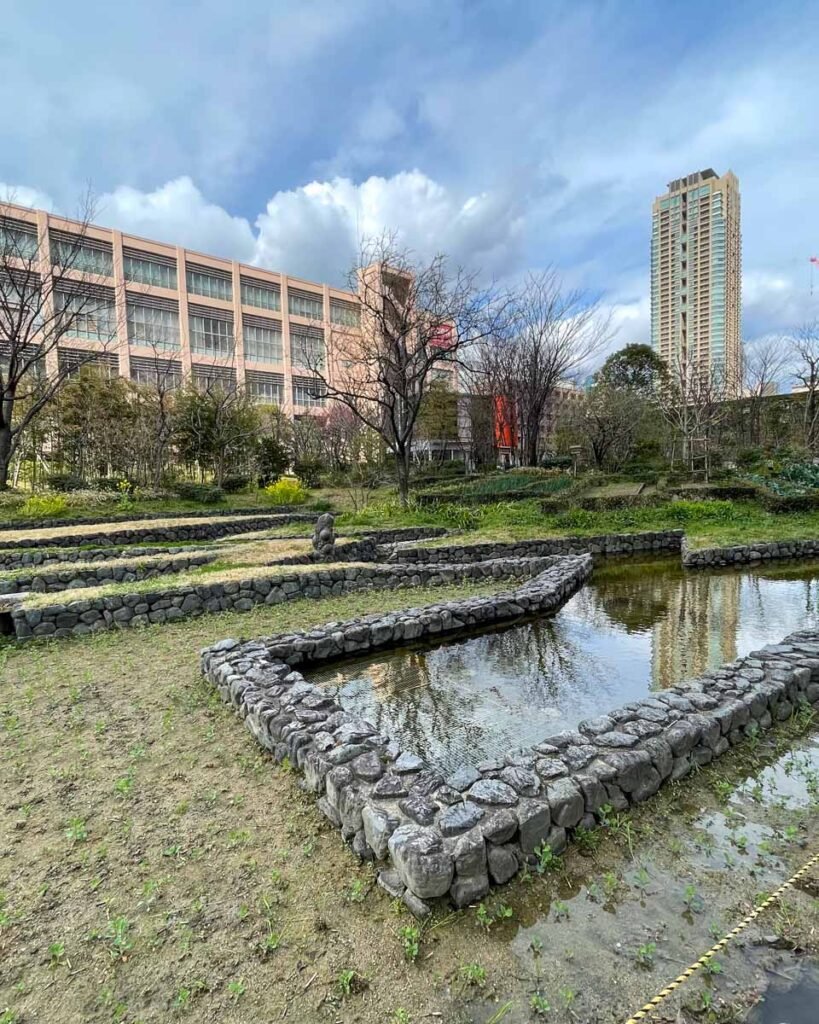 Wall Of Hope
At the end of New Satoyama garden you will notice a large mural, fully covered in flowers and plants. This mammoth of a wall is 9 metres high and 78 metres long. It's called Kibou no Kabe, or Wall of Hope and it was designed by the famous Japanese architect Tadao Ando, who was born in Osaka. The wall was installed as a part of the already existing gardens to introduce new and creative ways how to bring greenery to the city.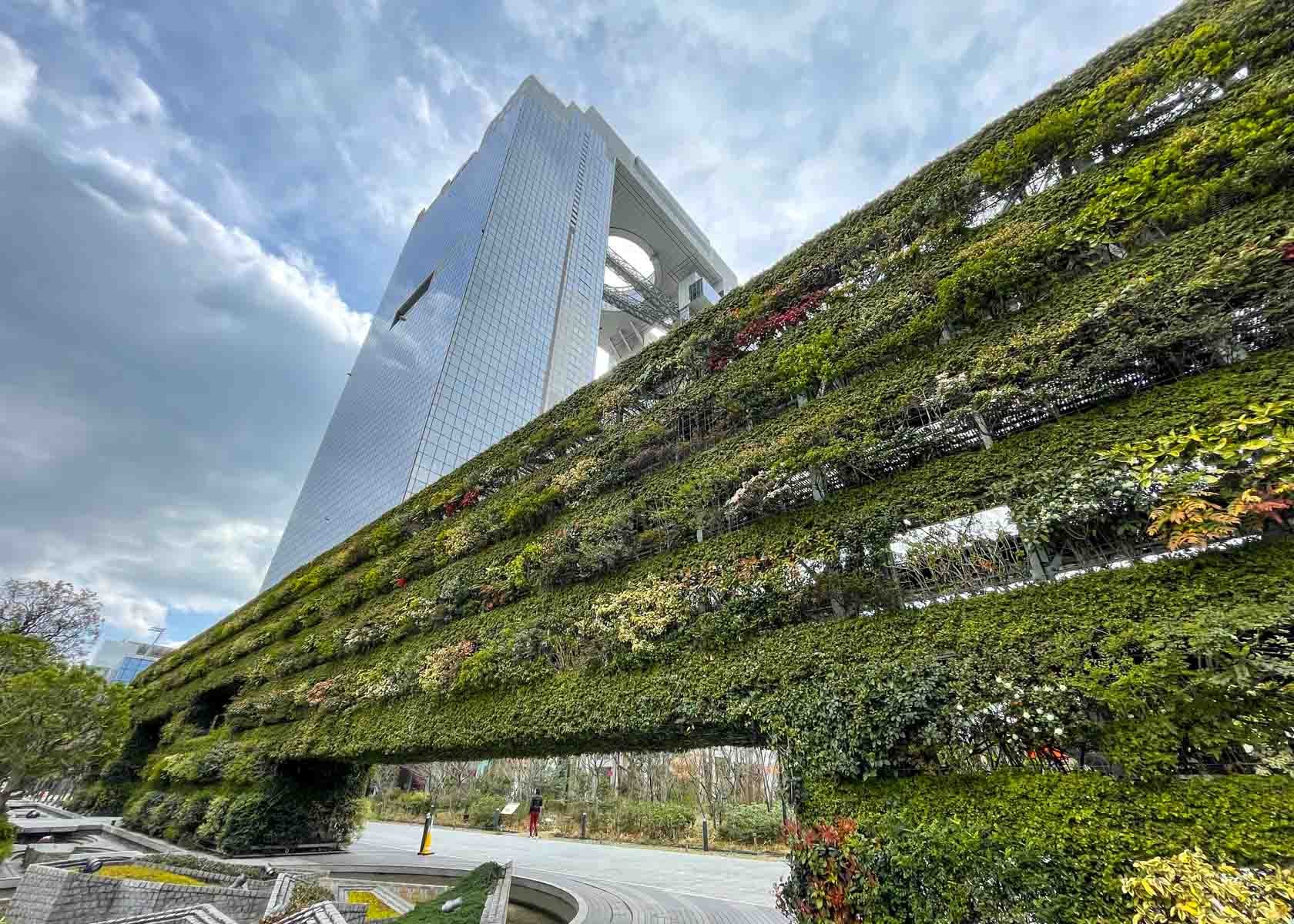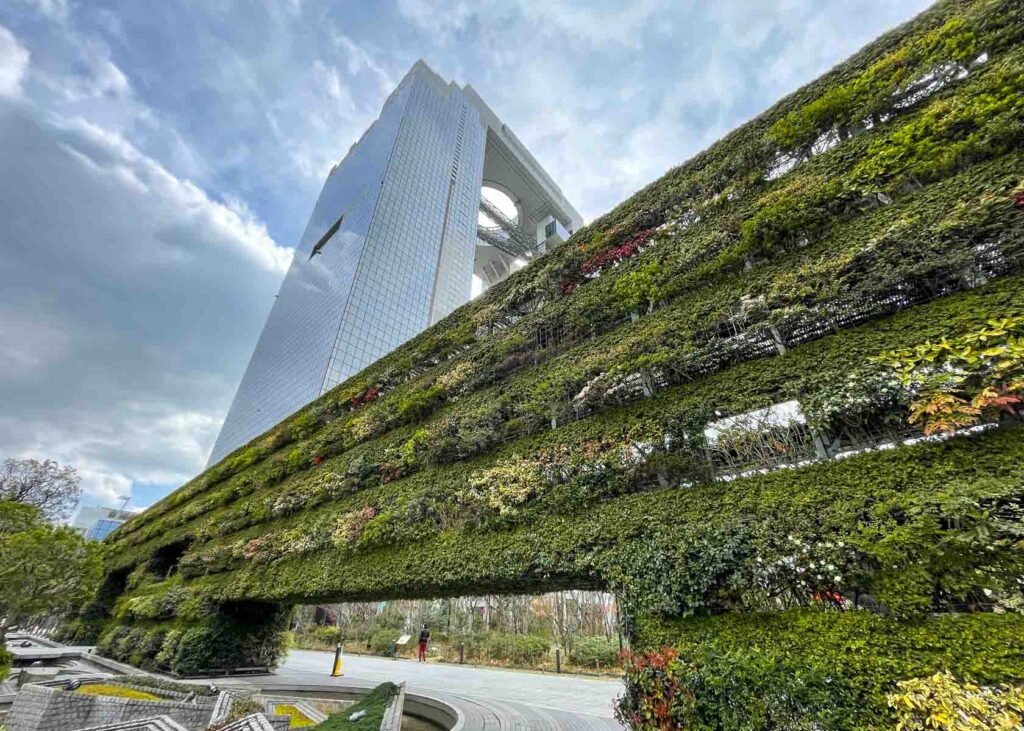 Restaurants in the area
The area around Umeda Sky Building is very lively. Osaka and Umeda stations are less than 1 km away, there are plenty of cafes and restaurants where you can take a well-deserved break. Because the choice can be sometimes overwhelming, here are some of my favourite places where to eat: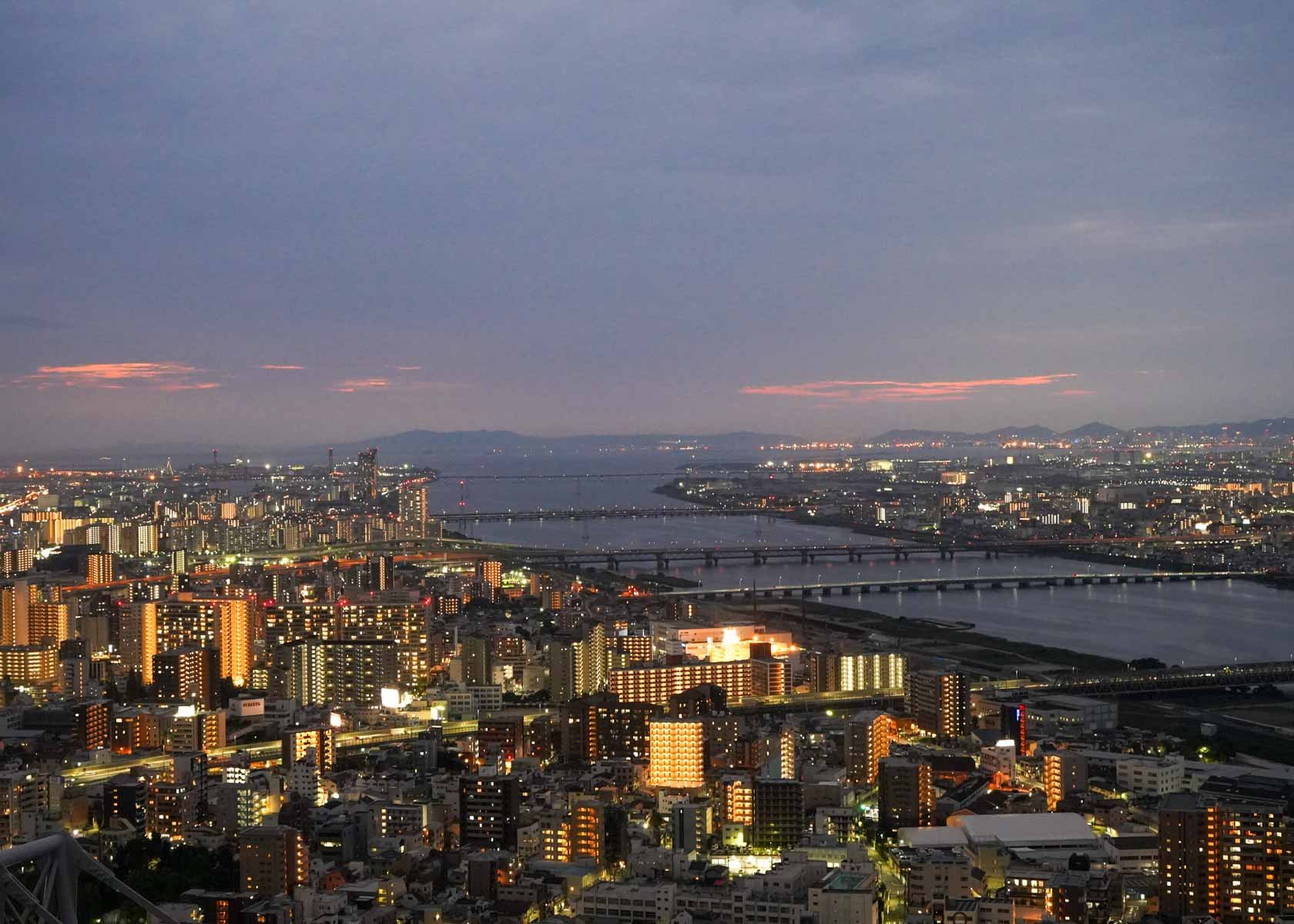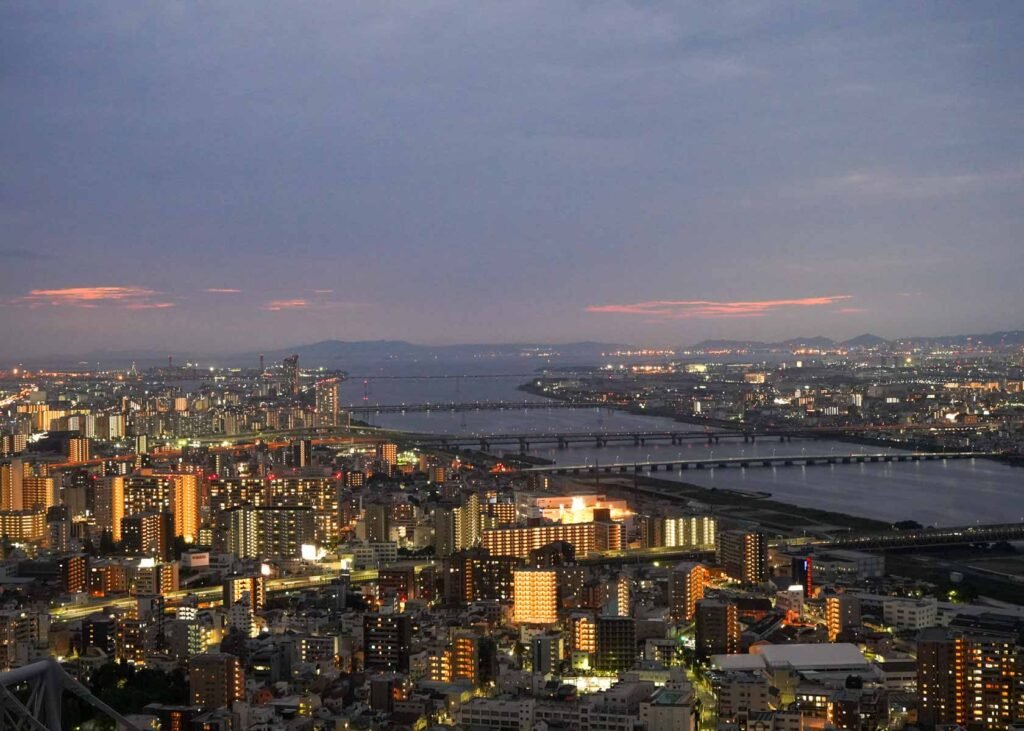 Umeda Sky Building is a real gem and an important landmark in Osaka. I cannot even count, how many times I have visited this impressive tower. If you love stunning city views, don't forget to read our article about the best observation platforms in Osaka here.