The Osaka Metro looks, at first glance anyway, quite similar to the more famous Tokyo Metro. It is true that the Osaka Metro is much smaller and covers a far narrower area than its Tokyo counterpart. However, the color-coded system used for the denoting each line, and the lettering and numbering system used to designate each station should seem familiar, if you've been to Tokyo before.
Although described as a "subway" system, unlike those found in many American and European cities, some parts of the Osaka Metro are above ground level too. More recent additions to the system, like the Chuo Line, have several stations that look and feel more like conventional railway stations than a subway line.
Today we will look at each of the lines that makes up the Osaka Metro in more detail. We'll also give you some handy hints and tips for where to go and what to see, using the Osaka Metro, next time you're in town.
Midosuji Line (御堂筋線, Midōsuji-sen) –
The Midosuji Line has the same red color as Tokyo's Marunouchi Line. Indeed it also serves a similar function. The Midosuji Line, named after Midosuji Avenue, central Osaka's primary main street, connects Umeda to Namba and Shinsaibashi. Moving further to the southwest, it also connects to Tennoji Station. From Tennoji, one can easily catch connection to Kansai Airport for international travel. The Midosuji Line was the first part of the Osaka Metro to be built. Indeed, it is the second oldest rail line of any kind in Japan.
In addition to the familar red line color, Midosuji stations are also labelled with an "M". When looking at the a typical Osaka Metro map, you'll notice something unusual about stations number 08,09 and 10. The section,which runs between Senri-Chūō and Esaka charges a different fare. The reason for this, is that this section of line is owned and operated by Kita-Osaka Kyuko Railway (北大阪急行電鉄, Kita Osaka Dentetsu). Such interconnections between lines run by different companies are fairly common in Osaka. Tokyo and its's surrounding prefectures have many similar such connections.
Stations of Interest
Shin-Osaka is the entry point for anyone arriving into Osaka via the Shinkansen (bullet train). A mere 3 stops away from Shin Osaka lies Umeda.
Umeda station sits directly below JR Osaka Station. Head upstairs to the JR station and you can transfer to a number of local trains.
Next, there's Yodoyabashi. Osaka City Hall is a short walk from here. Yodoyabashi also has a picturesque riverside boardwalk. You can also alight here for the Aqua-Liner Osaka, a river cruise taking in some of the cities best sights. You can also transfer at Yodoyabashi to the Keihan Line which runs to Kyoto.
Shinsaibashi and Namba are two of Osaka's main hubs for shopping in the daytime and partying in the evening. Hozen-ji Temple is also nearby. Namba also has 3 other large rail stations that link into the Osaka Metro. These are the Nankai, Hanshin and JR Lines respectively. The Hanshin Line allows for travel between Kobe and Nara. Whilst the Nankai Line runs to Wakayama.
Dobutsuen-mae, as the name suggests, is where you get off if you plan to visit Tennoji Zoo. There are also a couple of "Shotengai" (shopping arcades) worth checking out near the station for souvenirs and authentic local produce.
Tennoji is a hub for business and leisure. Directly above the exit of the Osaka Metro station stands Abeno Harukas, Japan's tallest commercial building. The nearby Q's Mall also provides a multitude of shopping and dining options. Shitennoji Temple, Tennoji Park and Tennoji Zoo are also nearby.
Finally, towards the end of the line, we have Nagai, home of the famous Nagai Botanical Gardens. Nagai is also a venue known well to soccer fans. It's where J-League side Cerezo Osaka play their home matches.

Tanimachi Line (谷町線, Tanimachi-sen) –
The Tanimachi Line runs from Dainichi Station in Moriguchi City to Yaominami Station in Yao City. Essentially, the line enters Osaka at one end and exits at the other. Osaka Municipal Transportation Bureau refers to it as Osaka City Rapid Railway Line No. 2 (大阪市高速鉄道第2号線). On maps, The letter "T" denotes Tanimachi Line Stations, while a purple color represents the line. Connecting to every other Osaka Metro Line at some point, The Tanimachi Line is second only to the Midosuji Line in terms of daily footfall.
Stations of Interest
One of the main stops for this line is Dainichi. Here, commuters can link up with the Osaka Monorail, which connects to Suita City. Tenjimbashisuji 6-chome is home to Tenjinbashisuji Shotengai. This particular shopping street holds the record as the longest shopping street in Osaka. From Higashi-Umeda a few minutes walk will take you to JR Osaka Station. From here, you can transfer to Kansai's other major hubs, such as Kobe, Himeji, Amagasaki, Takarazuka and Kyoto. You can also link up with further-flung parts of Japan such as Hokuriku, and Tottori.
Minami-morimachi is where you will find the famous Osaka Tenmangu Shrine. Within a few minutes of Tanimachi 4-chome station, you can find both The Osaka Museum of History and Osaka Castle. Tanimachi 6-chome plays host to Karahori Shotengai, another of Osaka's famous shopping streets. Shitennoji-Mae Yuhigaoka, as the name suggests, is the sit of Shitennoji Temple. As one of the oldest temples of its type in Japan, parts of the complex date back more than 1500 years. The Tannimachi Line, like the Midosuji Line, also passes through the commercial and recreational hub that is Tennoji.

Yotsubashi Line (四つ橋線, Yotsubashi-sen) –
The Yotsubashi Line runs parallel to the Midosuji Line. As such, you will notice some overlap with the stations along it. Beginning at Nishi-Umeda the Yotsubashi Line connects the central Umeda business district to Suminoekoen, on the coastal outskirts of the city. The Yotsubashi line appears on maps with a distinctive light blue colour. Each of the station numbers is also labelled with the letter "Y".
Stations of Interest
Like both Umeda and Higashi-Umeda stations, Nishi-Umeda links directly into JR Osaka station. This allows connections to a wide range of areas. One stop away from Nishi-Umeda lies Higobashi. Here, you can visit two of Osaka's best-known museums: The National Museum of Art and The Osaka Science Museum. Yotsubashi, the station from which the line draws its name, allows swift access to the Shinsaibashi area. As mentioned previously, Namba is also renowned for its shopping streets and the religious site: Hozen-ji Temple. At Suminoekoen, travelers can transfer to The Nanko Port Town line. This line covers the entire island part of Suminoe Ward and links up with the Chuo Line at Cosmosquare Station.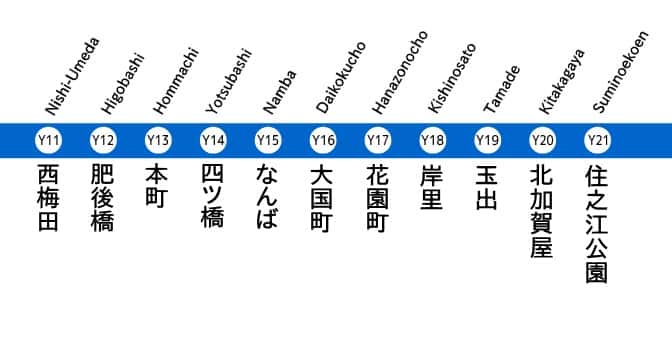 Chuo Line (中央線, Chūō-sen) –
Like the Midosuji Line, the Chuo Line is named after a road. As the "Chuo-Dori" allows cars to run through the heart of the city, the Chuo Line also links the west of Osaka to the east. Its runs from Cosmosquare to Nagata. At Nagata, you can transit to Nara via the Kintetsu Keihanna Line. The Chuo Line is the only one that connects to all other lines operated by Osaka Metro. On maps, Chuo stations are labelled with "C" and the line has an Emerald green colour.
Stations of Interest
Foreign residents living in or near Osaka will be familiar with Cosmosquare. It is the home of the headquarters of the Osaka Immigration Bureau, where we all must go periodically to renew our visas. My former home of Osakako is probably best-known for the Tempozan Ferris Wheel (one of the tallest in Japan), and The Osaka Kaiyukan (Aquarium).
Bentencho is a popular transfer point for those connecting to the JR Osaka Loop Line. The area also has some nice local restaurants, bars and izakayas for evening entertainment too. Kujo sits just a short walk from Osaka Dome and its adjoining AEON shopping complex. Hommachi is one of Osaka's busiest interchange stations. From here you can transfer to both the Midosuji Line and Yotsubashi Line. Tanimachi 4-chome, as we mentioned earlier, offers easy access to the Osaka Museum of History and Osaka Castle. Morinomiya is pretty close to Osaka Castle too, as well as offering another link to The Osaka Loop Line. If you're heading to Nara, then you'll want to transfer to the Kintetsu Keihanna Line at Nagata.

Sennichimae Line (千日前線, Sennichimae-sen)-
The Sennichimae Line runs from Nodahanshin in the northwest to Minami-Tatsumi. According to the Osaka Municipal Transportation Bureau it is officially known as the Osaka City Rapid Railway Line No. 5 (大阪市高速鉄道第5号線). On maps, Sennichimae stations are labelled with the letter "S". The line itself has a pink colour.
Stations of Interest
Although it tends to be one of the less-travelled lines, Sennichimae still has plenty to offer. Tamagawa is where you will find the Osaka Central Fish Market. You can also transfer here to the JR Osaka Loop Line. Namba, as we mentioned earlier, is a hub for entertainment, shopping connecting to other parts of Osaka and beyond. Nippombashi is popular with younger visitors, and fans of "geek culture" thanks to Denden Town. Denden Town is similar in many ways to Tokyo's Akihabara. However, it has not yet become as commercialized and overpriced as its Tokyo counterpart.
For many discerning geeks these days, Denden Town is actually considered the better hang out of the two. Just round the corner from Denden Town, you'll also find the Kuromon Ichiba, one of Osaka's most popular markets. This is a great place both to sample local cuisine and pick up a few souvenirs. My personal highlight of the Sennichimae Line however, has to be Tsuruhashi. As the home of Osaka's Korean town, this area has a character all of its own. Tsuruhashi is also home to some of the best Yakiniku (barbecue) restaurants you will find anywhere in Japan.

Sakaisuji Line (堺筋線, Sakaisuji-sen)-
The Sakaisuji Line runs from Tenjimbashisuji Rokuchome to Tengachaya, heading from the north to the south of Osaka. Osaka Municipal Transportation Bureau refers to it as Osaka City Rapid Railway Line No. 6 (大阪市高速鉄道第6号線). To avoid confusion with the Sennichimae Line, Sakaisuji stations use the designated letter "K". The line itself appears on maps with a brown colour.
Again, despite being a quieter line, the Sakaisuji Line boasts plenty of highlights. Tenjinbashisuji 6-chome boasts the Tenjinbashisuji Shotengai, the longest covered shopping street in Japan. Ogimachi connects the Sakaisuji Line with the JR Osaka Loop Line. Minami-morimachi is within easy walking distance of Osaka Tenmangu Shrine. Kitahama exits directly into Nakanoshima Park. Osaka City Hall, and the Nakanoshima Boardwalk are also nearby.
Nippombashi, as we touched on earlier is where you will find the geek mecca of Denden Town as well as the Kuromon Ichiba Market. Ebisucho is convenient for visiting Imamiya Ebisu Shrine and Shitennoji Temple. Spaworld, a multilevel bathing house complex is also nearby. As we said earlier, Dobutsuen-mae is where you should alight for Tennoji Zoo. From Tengachaya, you can also connect with local trains heading further to the southeast, out to Sakai City.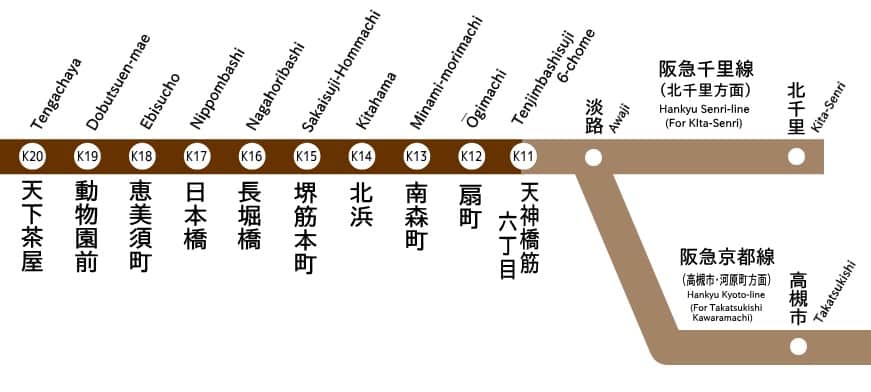 Nagahori Tsurumi-ryokuchi Line (長堀鶴見緑地線, Nagahori Tsurumi-ryokuchi-sen)-
The Nagahori Tsurumi-ryokuchi Line represents something of a milestone in Japanese engineering. It is the first linear rapid motor transit line constructed in Japan. It runs between Taisho and Kadoma-Minami. Osaka Municipal Transportation Bureau designates it as Osaka City Rapid Railway Line No. 7 (大阪市高速鉄道第7号線). On maps, Nagahori Tsurumi-ryokuchi stations are labelled with a letter "N" and represented by a light green colour.
Stations of Interest
One of Osaka's often overlooked treasures, Taisho is home to most of Osaka's Okinawan migrant community. As such, you will find some quite excellent Okinawan food and entertainment venues in and around the station. The Osaka Metro station also lies just across the road from JR Taisho station. This allows for a smooth transfer to the JR Osaka Loop Line. Dome-mae Chiyozaki is situated right outside Osaka Dome, allowing easy access to both the dome and surrounding shops.
Shinsaibashi is Osaka's nightlife capital and offers plenty to do during the day too. Matsuyamachi is worth checking out for the Matsuyamachisuji Shotengai, a popular shopping street. Likewise, Tanimachi 6-chome also has its own shopping street, in the Karahori Shotengai. Tamatsukuri offers another opportunity to transfer to the JR Osaka Loop Line) as does Morinomiya. Kyobashi is something of an entertainment and business hub. It also offers connections to Kyoto via the Keihan Line.
Imazatosuji Line (今里筋線, Imazatosuji-sen)-
The Imazatosuji Line runs from Itakano in the north to Imazato in the south of Osaka City. It is the only subway line that does not intersect with Osaka Loop Line, making it one of the less-travelled lines on the Osaka Metro. Additionally, the Imazato does not have any connections to the Midosuji Line, the Yotsubashi Line, or the Sakaisuji Line. Osaka Municipal Transportation Bureau refers to it as Osaka City Rapid Railway Line No. 8 (大阪市高速鉄道第8号線). On maps, Imazatosuji stations carry a letter "I" and the line appears in orange.
Stations of Interest
Imazatosuji Line is a rather featureless route that does not have any major tourist attractions along it. The stations are all suburban residential areas. Nevertheless, if you want an insight into what the less glamourous side of Osaka looks like, then the likes of Midoribashi, Shimizu and Gamo-4-chome may be worth a look.

Nanko Port Town Line (南港ポートタウン線, Nankō Pōto-taun-sen)-
The Nanko Port Town Line, also known as New Tram, is an automated overhead railway. It connects Cosmosquare with Suminoekoen. On maps, the Nanko Port Town Line stations are labelled with a letter "P". The line has a blue colour, a slightly lighter shade of blue than that of the Yotsubashi Line.
Much like the Imazatosuji Line, a large part of the Nanko Port Town Line consists of residential areas. The main points of interest are at each end of the line. Cosmosquare houses a number of company headquarters, as well as a marina, exhibition center and the immigration bureau. Suminoekoen has Suminoe Park (where the station gets its name, Boat Racing, and an Osaka City Bus Terminal.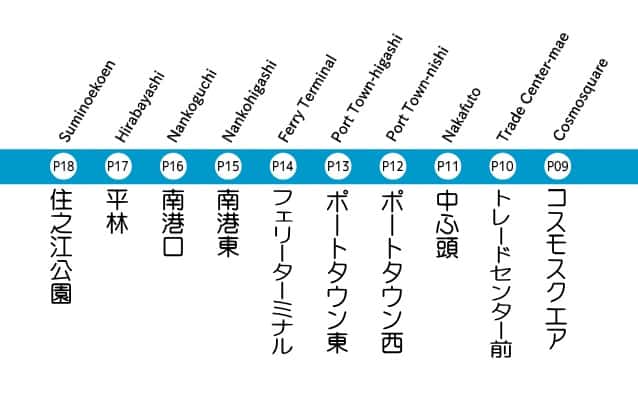 The Osaka Metro can seem daunting to a first time visitor. However, once you familiarize yourself with the different lines, major hubs and where they intersect, its easy. The Osaka Metro can get expensive pretty quickly though, if you're visiting multiple places in one day. In such cases, it is certainly worthwhile to invest in a one-day pass. This pass covers all the lines mentioned here in, though you may have to pay a little extra to reach places beyond the city limits. The pass is priced at 800 yen for adults on weekdays, and 600 yen on weekends and holidays. For children, the price is always 600 yen.
So, next time you're in Osaka, be sure to make the most of the Metro!