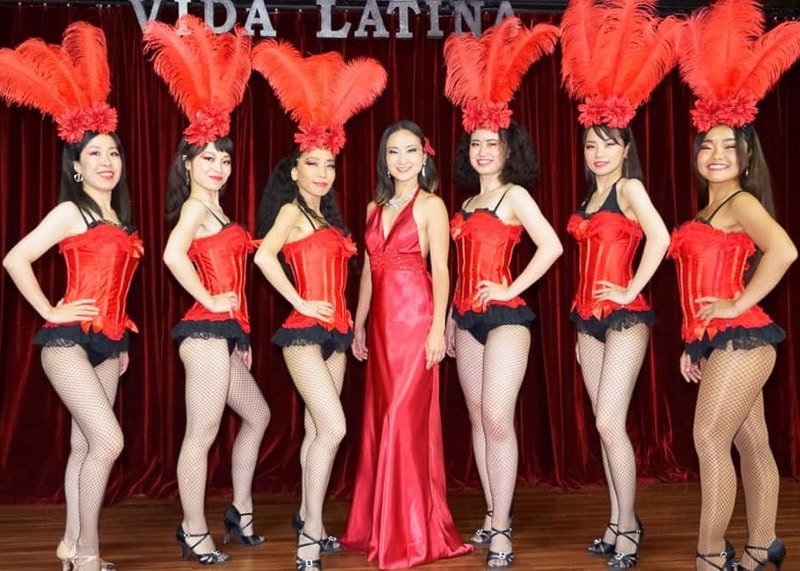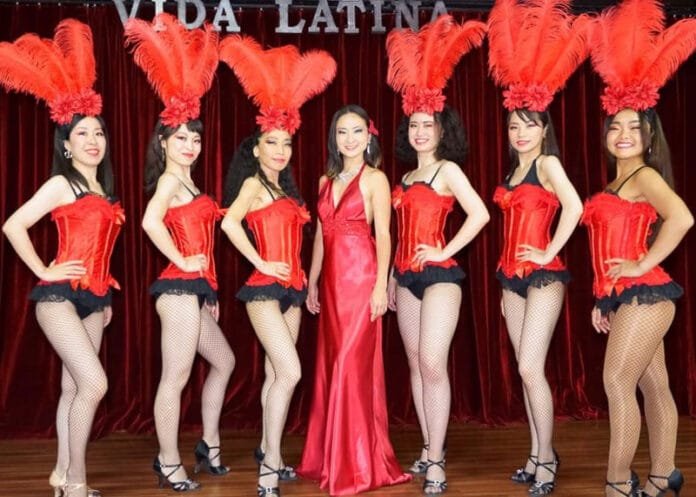 In Osaka.com we are always in search for interesting people and unique businesses in Osaka to interview for our website. Businesses not only for tourists, but locals and expats alike. This month we met with Lenny and Mio from Vida Latina, who run together an artist café and bar, a theatre company and provide Latin dance classes, all under one roof. vida latina osaka
Video interview
The first impressions of Vida Latina
My first impression, after walking into the spaces of Vida Latina, was how cozy and homey it felt. The interior was quite dark, as you would expect from a bar. One wall is covered with ceiling-to-floor tall mirrors, where the students can observe their moves, while the adjacent wall features big windows with great street and park views as the studio is located on the 7th floor. "The big tree in the middle is gingko, while the rest is sakura", Mio comes to me while I look out, "so the view is even nicer in spring and autumn." vida latina osaka
Pictures of Lenny and Mio dancing and performing are presented in the frames along the tables, and dark rugged industrial ceiling is decorated with sparkly chandeliers that give the space a unique vibe. "Everything that you see here was hand-built," says Lenny, "I built the bar the DJ box, the stages, everything is hand-made… All the electrical work was done by me, we are very self-sufficient."
I have to admit, I am impressed! We sit down at the small table and with the soft tunes of Latin music playing in the background, we start our interview. vida latina osaka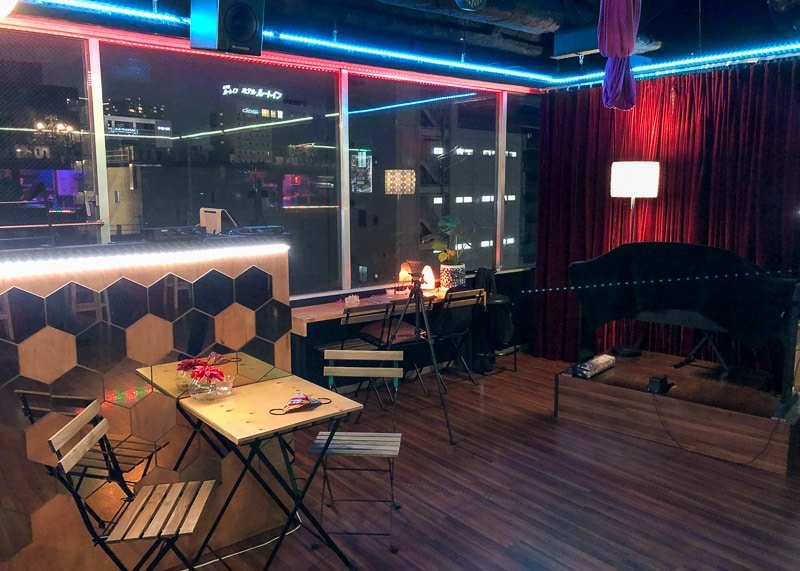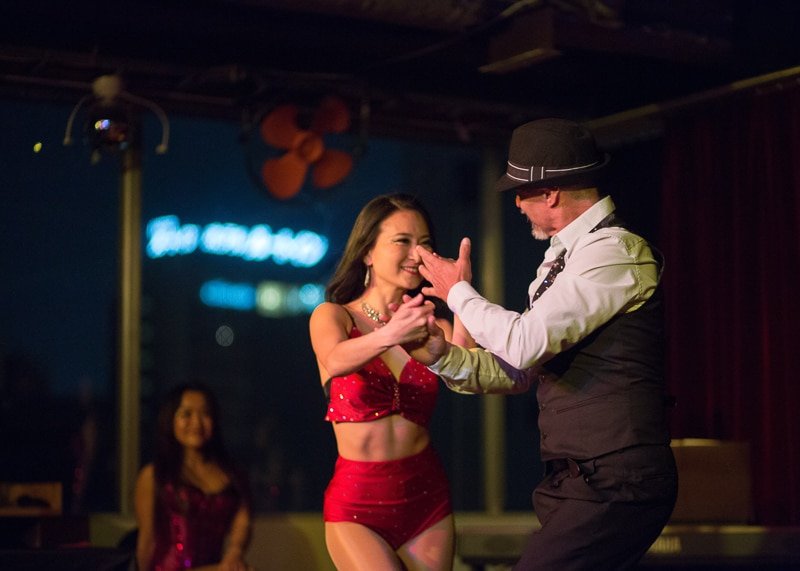 The beginnings of Vida Latina
Lenny and Mio met back in 2002 in April in Brisbane, Australia and by October they decided to start their own company. The very same year they also decided to start a school in Japan as well. "The purpose was to make a sister dance school in Japan and we travelled back and forth," Mio explains. Their first dance studio in Brisbane was established in 2005, while the studio in Osaka has opened for the first time in 2011. "After two years though, it became a little bit difficult, so we had to decide where we want to stay. I love Japan, so we chose Japan," Lenny adds. The school in Brisbane was operating without their constant presence until 2013. vida latina osaka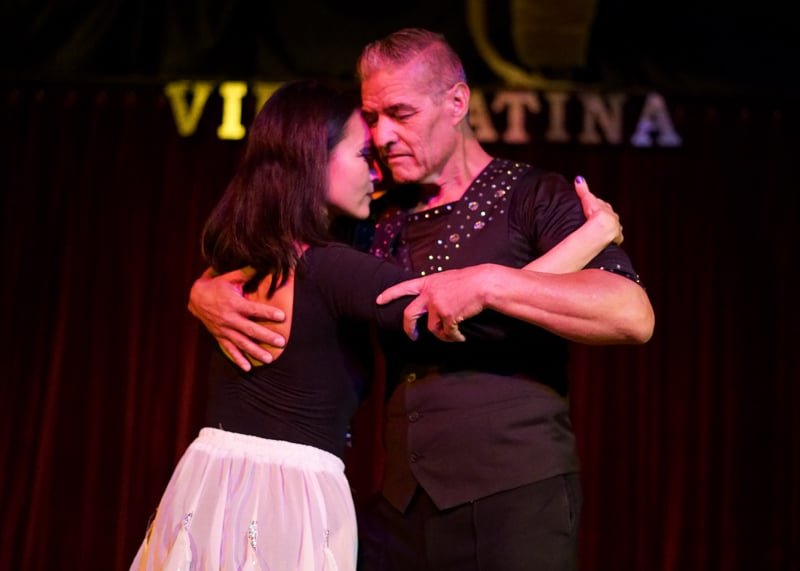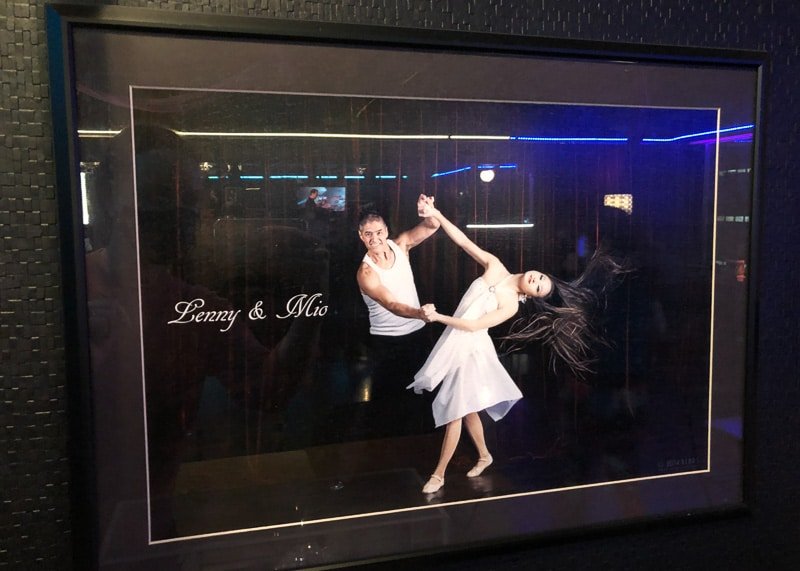 Becoming business partners
Lenny laughs that becoming business partners is Mio's fault. "I used to run a venue with two Latin night events and she came there because she knew I have already stablished dance team that did low level acrobatics. She was looking for something different (from her previous dance company), so she came there and that is how we met and since then everything has changed. I was never inclined to be a teacher as such… Mio was more driven for the business side of it and I followed along." Lenny has been dancing since he was seven years old, while Mio started at the age of 19, when she was also studying architecture in Australia. vida latina osaka
"After we met, we were dedicated to dance only with each other," Mio adds. "Now it has been almost nineteen years. We have learned and grown a lot since we first met. Before, we enjoyed dancing socially, but since we met we wanted to take dancing to another level."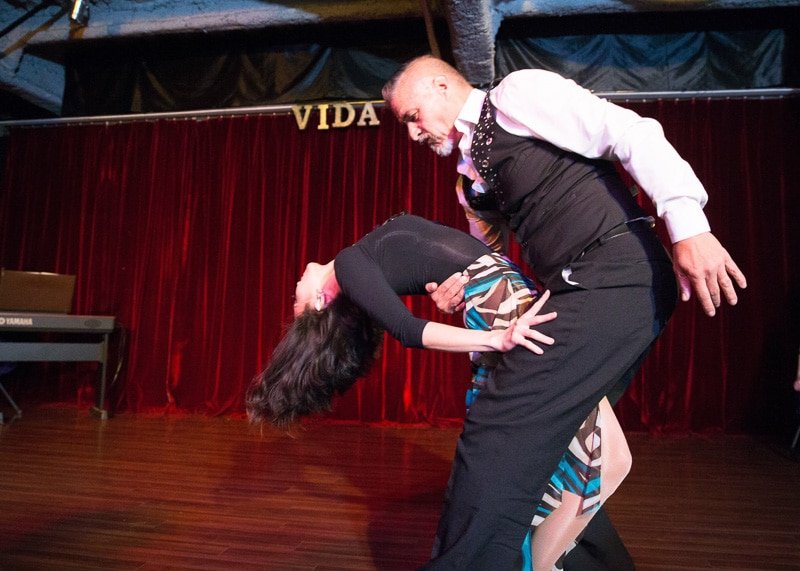 Coming to Osaka
Mio is originally from Hiroshima and while living, performing and running their business in Australia, they also wanted to perform their show in Japan. Their Australian team consisted of nine dancers, a stage manager, and two photographers. "We worked very hard and saved a lot of money and our company actually paid for everybody's travel fees", says Mio, "we did a self-tour of our show in Japan, we went to Tokyo, Kyoto and Hiroshima, and we also came to Osaka." After discussing with the team the possibility of opening a dance school in Japan, everyone united in their response that Osaka was the place to go! "We felt a lot of potential here, because there were not many big dance companies. We could offer a different genre of Latin dance." vida latina osaka
"I personally don't like Tokyo as a place to live," Lenny explains. "To visit, yes, but to live, no. It's too big, too busy, way too much headache. I personally love Hiroshima, that's where I wanted to be in a first place, but it is too small for a business." "Osaka is very convenient and central," Mio adds, "also Kansai airport is very close to here and we wanted to travel to do shows and workshops, as well as we wanted to invite artists from overseas."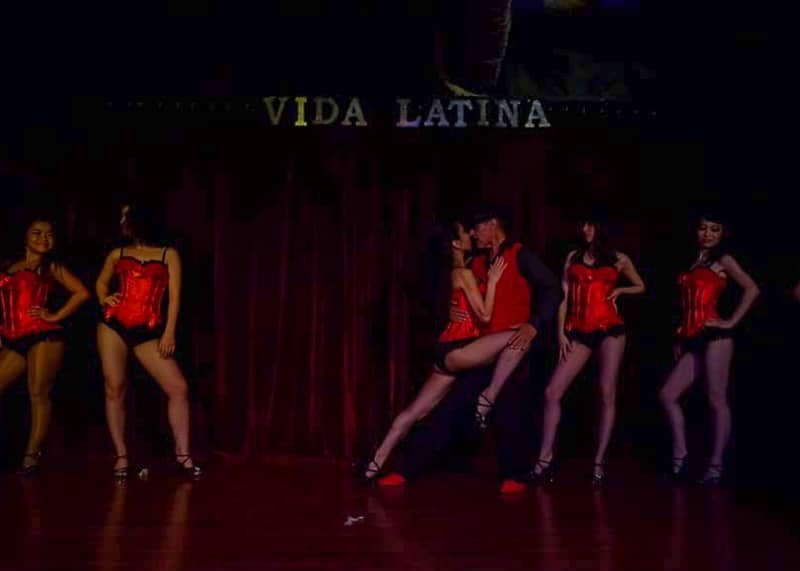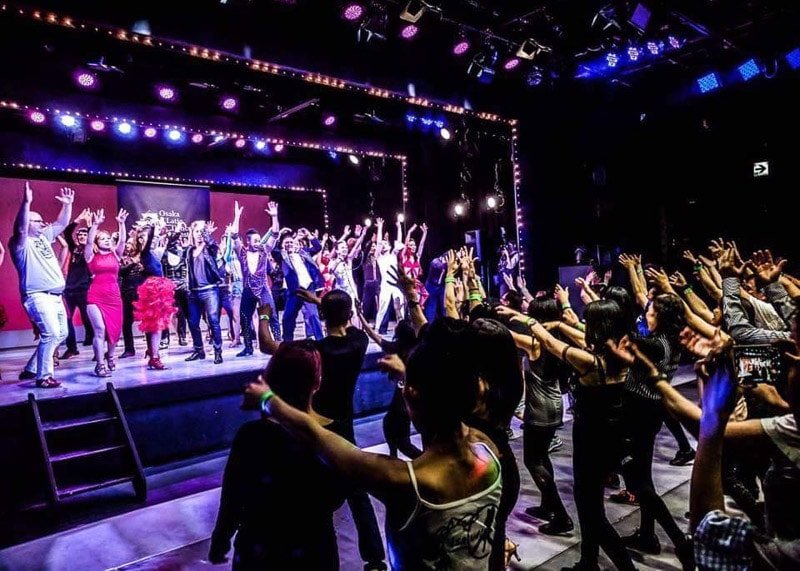 Japanese people and Latin dancing
From my personal experience I can tell that Japanese people can be quite reserved, while Latin dancing is the direct opposite – it's intimate and passionate. How do Japanese people react to the dancing and do they enjoy Latin music? "They absolutely do! They love the freedom of the fun, there's no doubt about it," Lenny says. However, Mio adds that initially they might have a problem to come closer to each other: "I think even non-Japanese people would have a problem about certain (personal) space they are comfortable with, but especially in Japan, we are not used to hugging people and things like that, so it takes a while. Sometimes I feel like I'm a psychology teacher", she smiles. After a little bit of time, they are able to relax, enjoy the music and dance. vida latina osaka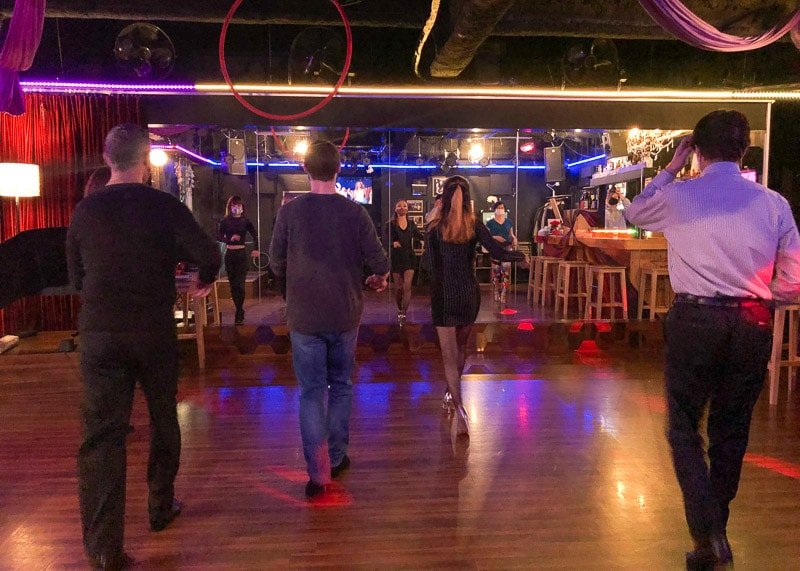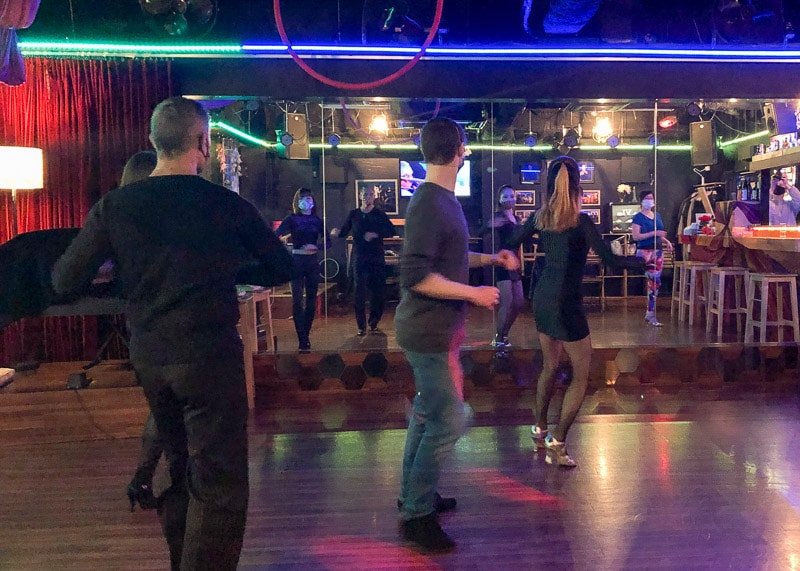 Dance styles you can learn in Vida Latina
Vida Latina can provide any types of music, but their direction is mostly Latin, and that is the type of dance they primarily teach. If you've ever dreamed about learning how to dance Salsa or Bachata, this is the place to go! Beside these famous Latin dances, you can try here also lesser-known Brazilian dance Zouk, or a traditional Angolan dance with a touch of Tango called Kizomba. "I used to teach Brazilian samba for the girls who wish to perform in the show, but since corona we haven't had opportunities for shows. I love teaching samba," adds Mio. vida latina osaka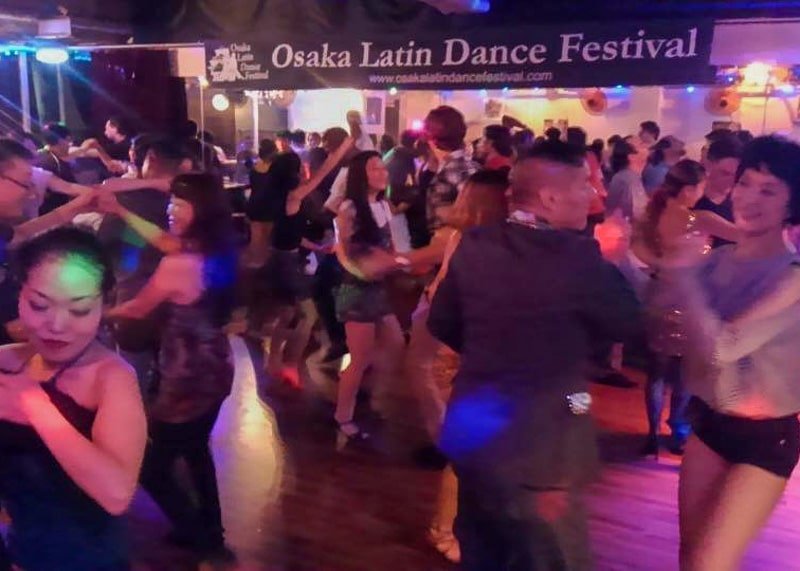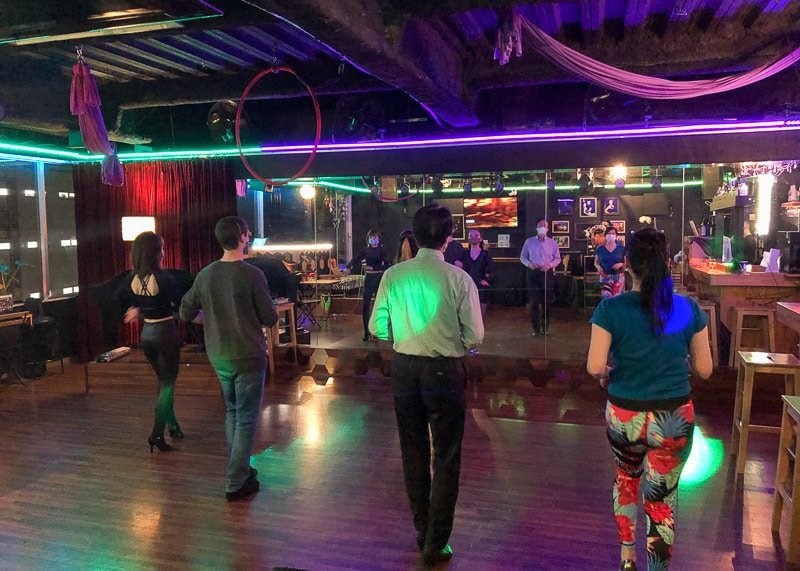 Registering for lessons
If you are ready to step out of your comfort zone and have some fun while dancing Salsa, you can register for a trial lesson or pay up front for a membership with Vida Latina. Mio explains: "Usually, people find us through Google, they can call or email us. Then they can come and take a trial lesson which is 2,000 yen and if they like it, they can become a member or they buy a lesson card. Membership is unlimited dance lessons for four weeks, which means they can take all of different styles of dance classes for 4 weeks. If they don't want to buy a membership, they can buy 4-lessons card, 8-lessons card… Or they can keep coming casually which is 2,500 yen and they just come whenever they want and learn."
Membership is pre-paid for 28 days. Lenny adds, that very few people keep coming casually, as the membership becomes cheaper than buying separate entries: "People don't have to renew their membership on the 28th day, they can stop, take a break and then come back. It's not a rollover membership, it's the membership for the time that you use it."
You can find more detailed information about the prices for the dance classes on their website HERE.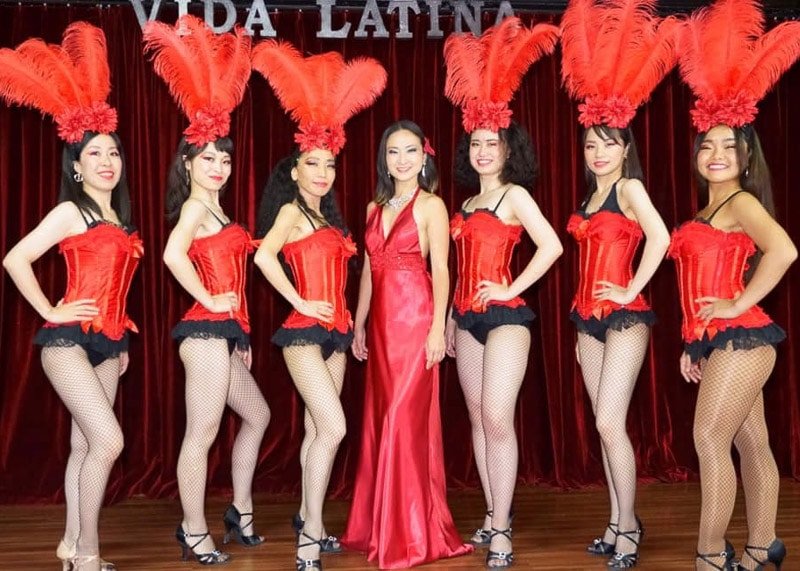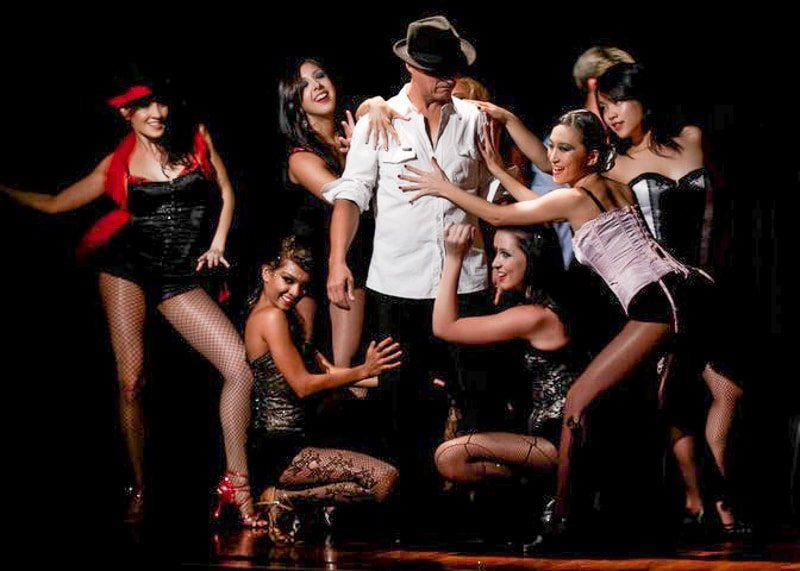 Acrobatic dancing
Besides teaching Latin dancing, running a bar and organizing events, Mio and Lenny are also skilled performers who focus on acrobatic dancing. Seeing the hoops and silk ropes hanging from the ceiling, I have to ask, how they decided to start with something so different from teaching Latin dances.
"I used to do low level acrobatics," explains Lenny, "but since I met Mio, we realized we have a lot of potential so we started to explore a bit more and developing our own connection. We didn't go to academy or trainers, we are self-taught. It's always been just us doing it all." "To us, doing the Latin dancing and acrobatics came very naturally", Mio adds, "it was a natural development and we enjoyed rehearsing together and teaching that to our dancers and performing."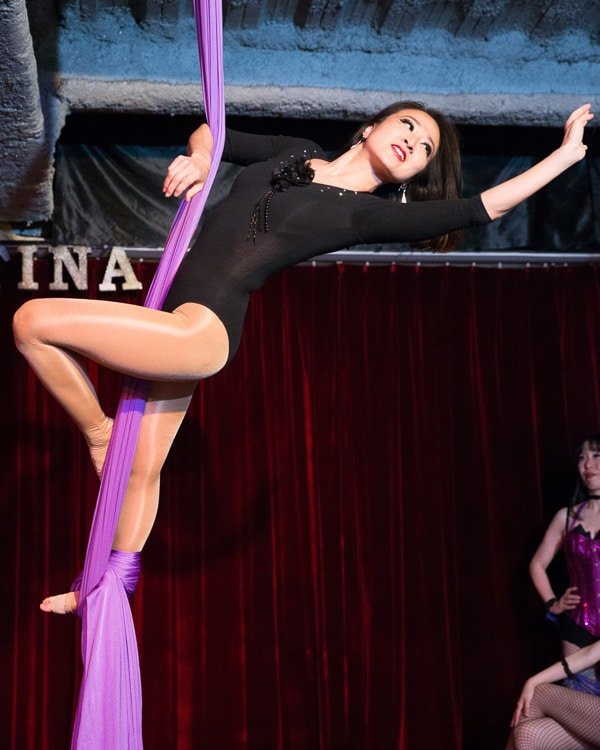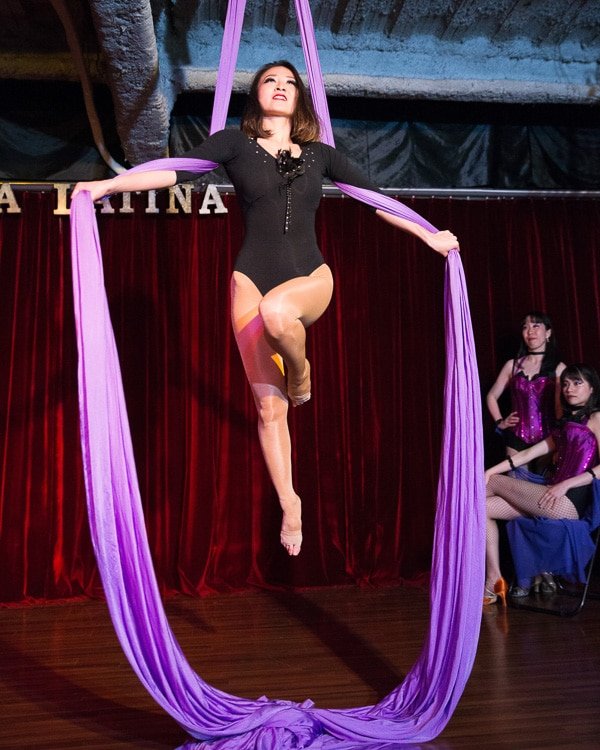 Beginnings of the theatre and shows
When Mio and Lenny first met, they both had already a big passion for dancing. But how does a person go from being a construction worker, or a student to being a professional performer?
"I'm not sure how it (performing) started", Lenny admits, "but I've always had a personal issue with attending events, where you could perform only for three minutes, just one song. When we started to question how we can do more, we found out we would have to travel overseas, spend a lot of money and then maybe be invited (to preform) and I thought that's not good enough for me. So I decided to create a national tour in Australia and it worked. We managed to do thirteen cities in Australia."
"I don't think we even talked about this with each other, it kind of happened naturally," Mio smiles. "When I started to dance it was ballet and jazz in Australia, when I first moved there as an exchange student in high school. Later I was involved in a musical and I saw beautiful dancers on stage and I thought it would be so nice to dance there and be there with them. I've always had this feeling that I wanted to create a theatrical show when I become a dancer. When I was in university I was exposed to Latin dancing and I visualized in my head a musical with Latin music. When I met Lenny he already had a dance group that was doing beautiful shows so when we got together it was naturally developing into that." vida latina osaka
"It was a very natural hand-to-glove fitting between us", Lenny agrees. "We love it, we love the idea of putting together something when people can sit down and take something away from it rather than just the act of one simple dance. Even though one three-minute show still requires a lot of technical work, it is just three minutes and it wasn't enough for us."
"The great thing about theatrical show", adds Mio, "is that it goes over one hour, it gives us a chance to tell a story. Some of the parts we improvise, some are scripted, but it takes the audience on a journey throughout the show. It can be done in three minutes as well, but this way it is a deeper experience."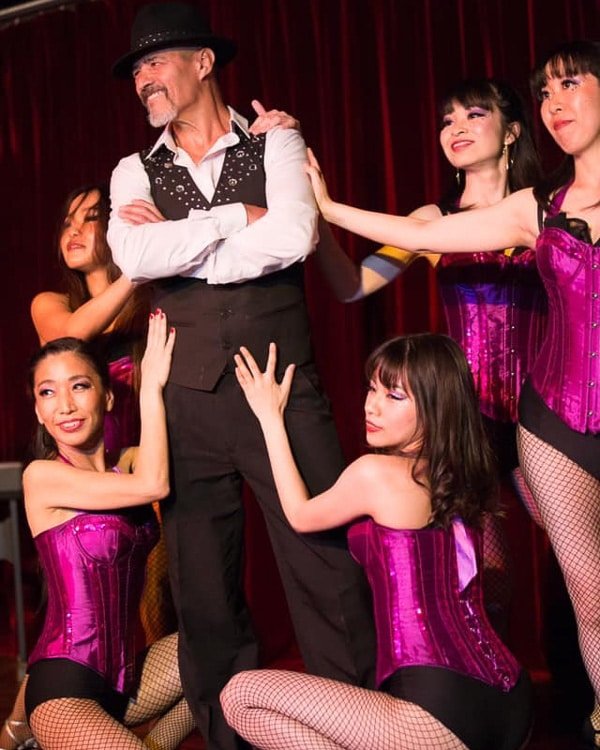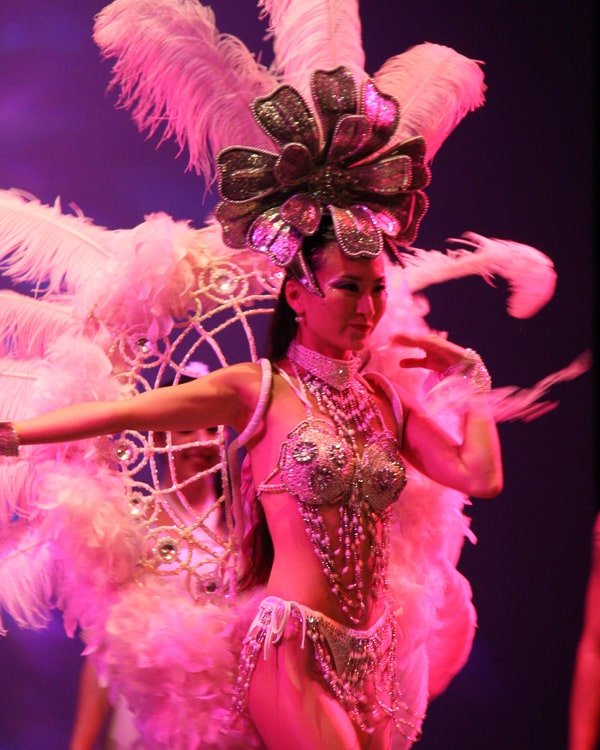 Cirque Osaka
Alongside the Vida Latina, Lenny and Mio have also started and run together an entertainment space called Cirque Osaka, which is a relatively new project. Why and how did Cirque Osaka come along? vida latina osaka
Mio explains: "We've had the Vida Latina Artist Company or Vida Latina Artist Café and Bar for a long time, but since corona happened, we thought we shouldn't restrict our business only with Latin… Cirque means circus in French language and it gives a really fun feel that gives different variety of entertainment."
"To the majority of people in Japan, looking at the name and the pronunciation would be really difficult and when we asked our customers, they often didn't know what the name really meant", adds Lenny. "Once we used the word cirque, people automatically felt "this sounds like fun." The logo and the colors send a very clear message. Now we are in the process of making a new sign, where you can see Vida Latina, Cirque Osaka and the bar itself. We need to show that we are still Vida Latina, and that Vida Latina provides Cirque as a show space."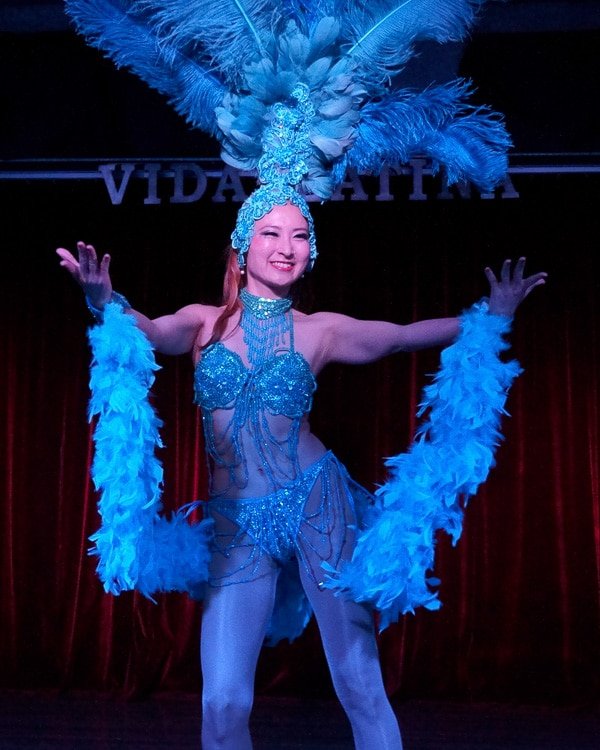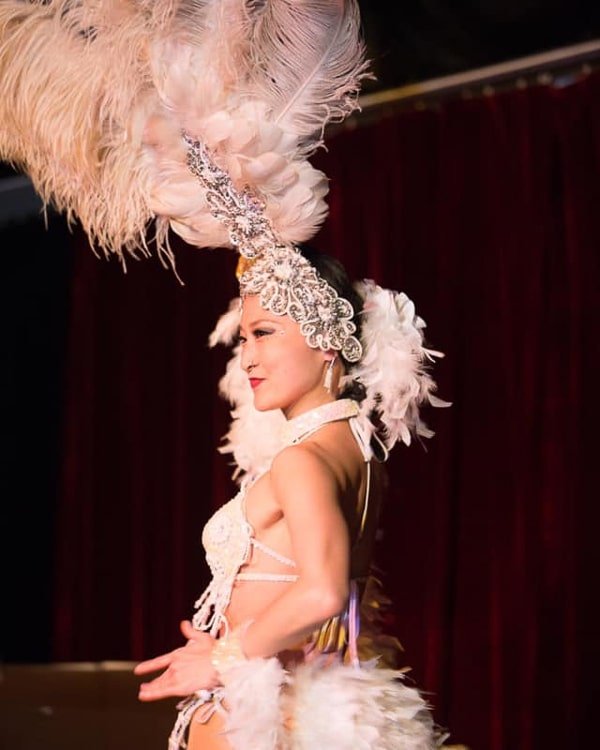 Vida Latina and Cirque Osaka services
Both Lenny and Mio are people of many talents and that reflects in the variety of services they offer. "Our premises can be hired for people to do live events", says Lenny. There have been various musicians and performers, who have used this creative space, not necessarily playing Latin music. "We have a regular client who uses the venue six times a year doing West Coast Swing events so that's completely different from what we do. Primarily it is an event place as well as it is a school, it's a bar and we also offer the theatre shows."
"One of the things we like is that our space is very multicultural", adds Mio, "it's not for just certain type of people. Latin dancing allows people to be very equal, to enjoy the music and dancing and the moment together. People from different countries can use this space to be creative and express themselves. You can just come here and meet new people." vida latina osaka
"I don't speak Japanese", Lenny admits. " But I love the interaction, I talk to people when they visit us, rather than just to dance. The dance is for us to entertain the visitors, and obviously they can get up and dance. If we have ten people or more we sometimes turn the lights on and put up a dance show just for them, even though it's not a paid show. It's what we want them to take away from here…"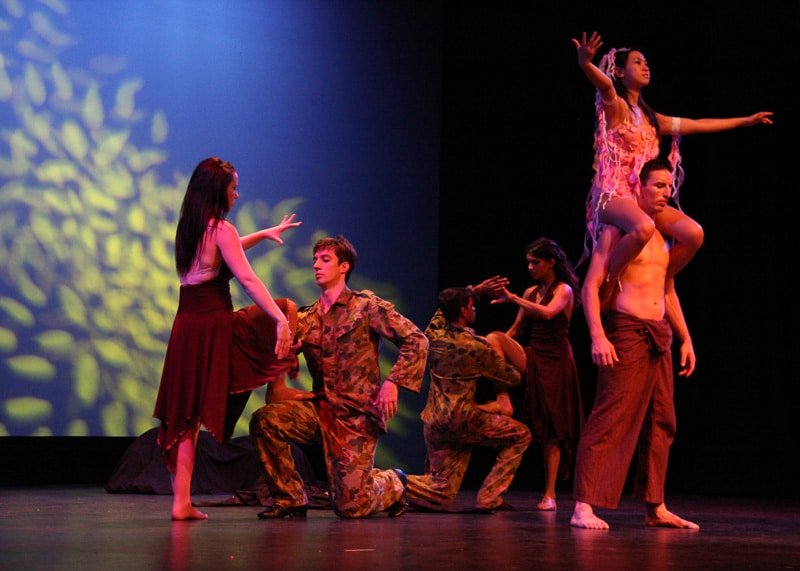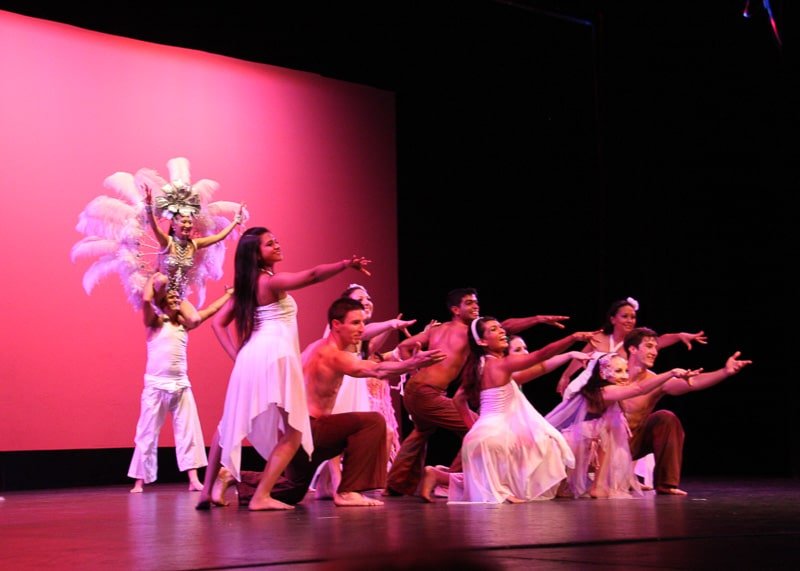 Running a business in the midst of Covid-19
The pandemic has affected the whole world in ways that none of us could have imagined. Small businesses took the hit especially hard, but luckily the Japanese government took some precautions and is trying to help. But how is it really to run a business in the midst of Covid-19 pandemic? vida latina osaka
"I feel like it affected us more personally because it put us out of reach of our clients", Lenny explains. "A lot of the clients stopped coming because of the restrictions, not because they wouldn't want to come here anymore. Now what are the chances that they will return? We hope they will but I think it's unlikely… The fact that we get a lot less people causes that the atmosphere has dropped a lot, so there's an unwanted negative sense because of the situation, not because of the people or because of us… It has affected us like most of the businesses that operate night time. I would say maybe 85% negatively, but then the government said "we are going to help you guys out" so I'm more than content."
Both Lenny and Mio try to stay positive and take something good from the situation. Mio adds: "For me personally, before corona started, all our attention was going out towards the students – make sure that the students are happy, they are learning, they are growing… Like Lenny said, corona stopped people from coming, so the attention, for the first time in nineteen years went the other side, so now it is more about us. For the first time we try to relax and also try to see what area of ourselves we want to grow, not worrying about anyone else. Now we have more time for self-development. We are also learning to trust that what need to come to our life, it will happen."
Lenny nods in agreement and Mio continues: "With the students that are coming currently, it is like a family and I think from these new relationships and connections we hope we can come up with new inspiration and ideas to create a new events. And also through social media, we met a new artist. Everyone is going through difficult times and artists are really in tune with how other artists are doing and think we are all drawn to each other. We have new events coming very soon, jazz live music events and I look forward to that."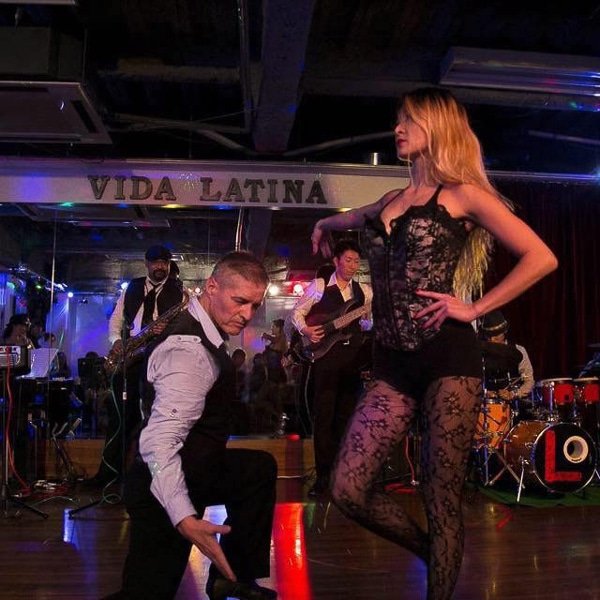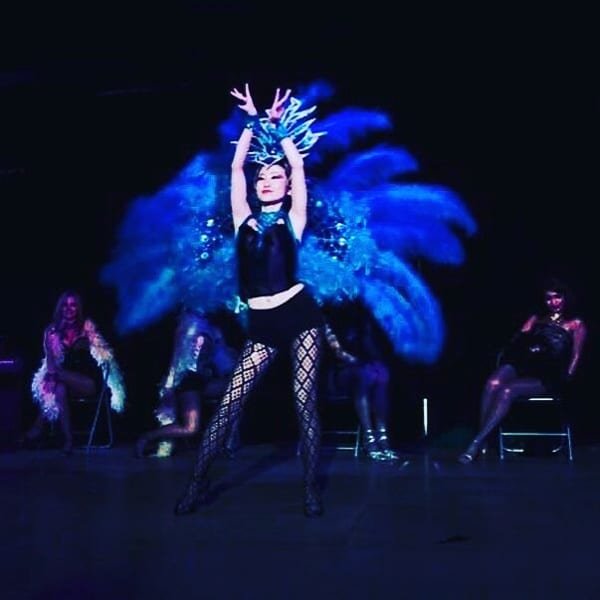 Opening hours (before Covid-19)
The usual opening hours of Vida Latina before the pandemic was 8 pm until midnight and from 7 pm till 11:30 pm on Sundays. The venue is closed on Mondays and Tuesdays. "Those are our free days", laughs Lenny. Mio adds: "If on Sunday, people are still here around midnight, it's okay, we don't throw them out. We have license until midnight anyway."
The state of emergency and special precautions cause the change in the operating hours for the time being. The website of Vida Latina is always updated so you can check here the latest opening hours.
At the moment Vida Latina is open from Wednesday to Sunday from 6 pm till 9 pm.
---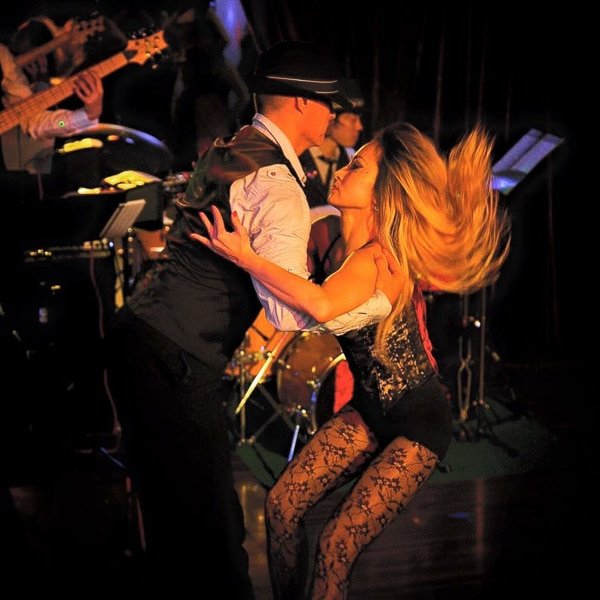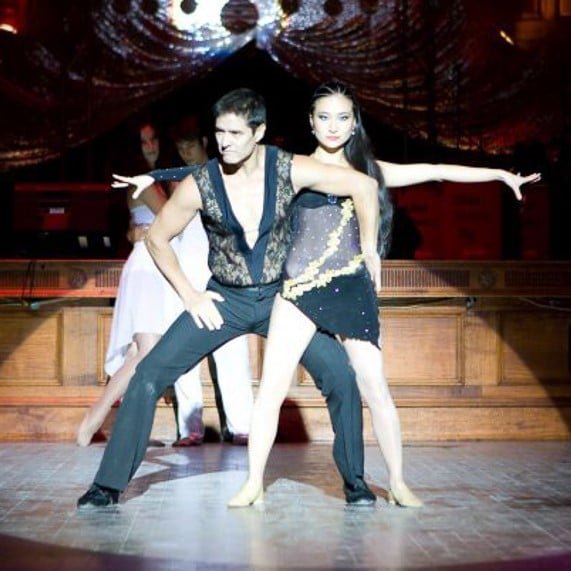 Free time and favorite places in Osaka
To sum up our interview with Lenny and Mio, of course we had to ask about Osaka and how they love to spend their free time in our favorite city. vida latina osaka
"Apart from training with our friends and some of the current performers, we try to walk four to five kilometers a day", Lenny starts. "We love cafes, we have two or three cafes that we love to go to where we can take our boy" (their little Chihuahua). Mio jumps in: "Especially acrobatic training is very demanding on our bodies so it is important not to push ourselves too much and really to take a lot of rest, but every day we take a casual walk and it is also very good for our mind to be creative and relaxed and focused when we need to."
"We focus a lot on life balance and then work, rather than the other way around. We feel that our life should rule how we work, rather than work to rule your life", says Lenny and I have to agree with this philosophy. Mio adds that for them it is about enjoying the local life in Osaka: "We just like the city of Osaka in general, walking around, going to a café and so on."
Favorite place in Japan
When it comes to favorite place in Japan, the answer is clear. "We love travelling to Okinawa", says Mio. "Since we lived in Australia for many years, I think the scenery of beautiful sea is something that we both enjoy so we go to Okinawa sometimes." "Sometimes we talk about moving to Okinawa", Lenny laughs, "but we still love it here." Lenny admits that, as a former military man, he made a strong connection with the marines located on Okinawa and they used to perform there. "When they came to Osaka, they would come here to Vida Latina and drink the house empty", he laughs. vida latina osaka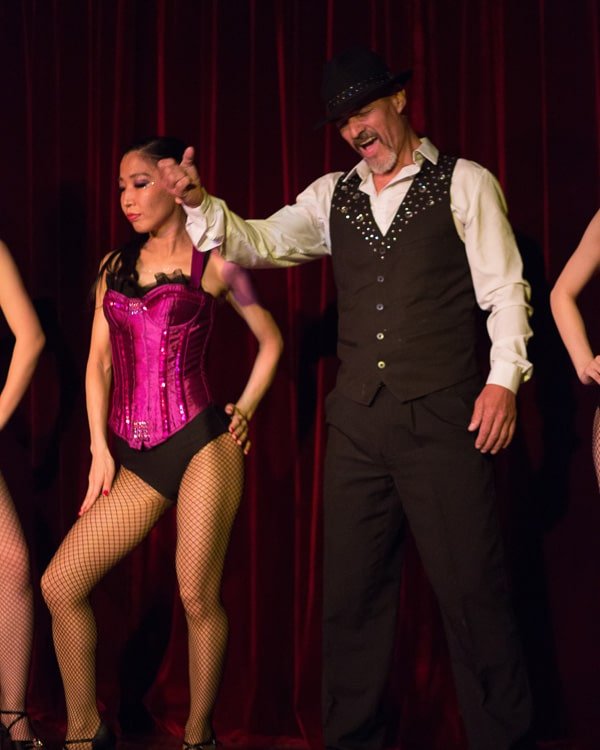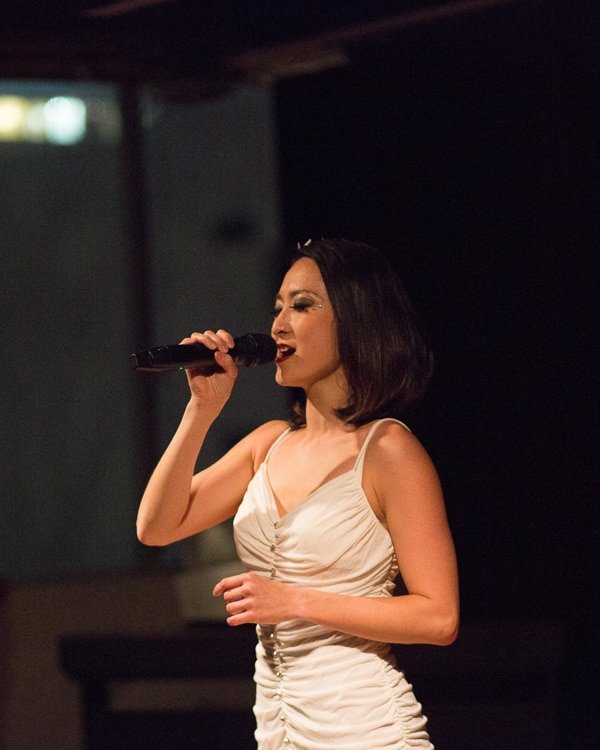 Vida Latina is truly a unique place. You don't necessarily have to dance, you can just come and hangout with locals, foreign expats or tourists alike. The place is very cozy and it feels like a little Latin oasis in the busy city, a little paradise. "When you type into Google "Salsa Osaka" we are number one choice, so when foreign people come (to Japan) and they want to dance, they come and dance here", says Mio.
Lenny agrees and adds: "We are not often very busy, but when people walk in, they love this place. We are not far away from transport, but we are far away from entertainment, so coming here means you cannot really go anywhere else. People tend to come once and that's it. We don't get a lot of repetition, but I think it is important to have place where you go because it's just it, you know… That is one of reasons why we decided to be "off-main" because I wanted people that really want life in a different way rather than being around all that drinking and all the partying."
"We are like a hidden secret spot, kind of a chill-out, a different world", says Mio. "We also have an open rooftop that we use for events in summer." vida latina osaka
Both Lenny and Mio are passionate and humble people. Their charisma can be felt all over Vida Latina. I know this wasn't my last visit, and I wish you would visit this lovely place too. You can watch the full interview with Lenny and Mio on our YouTube channel!