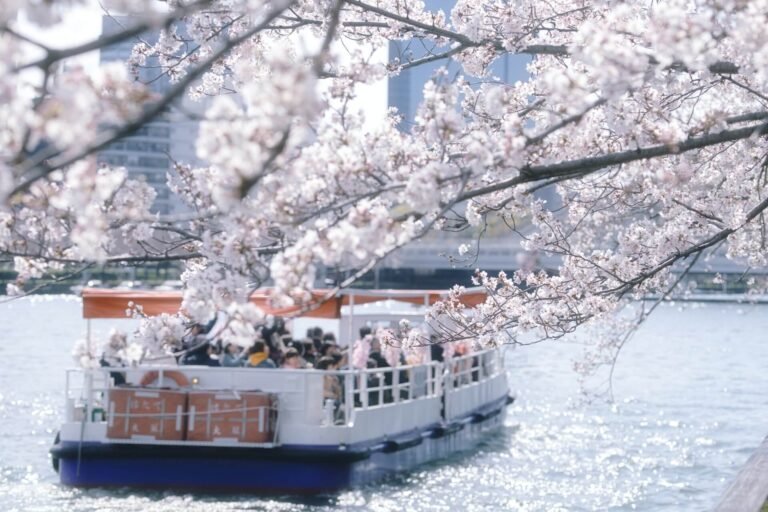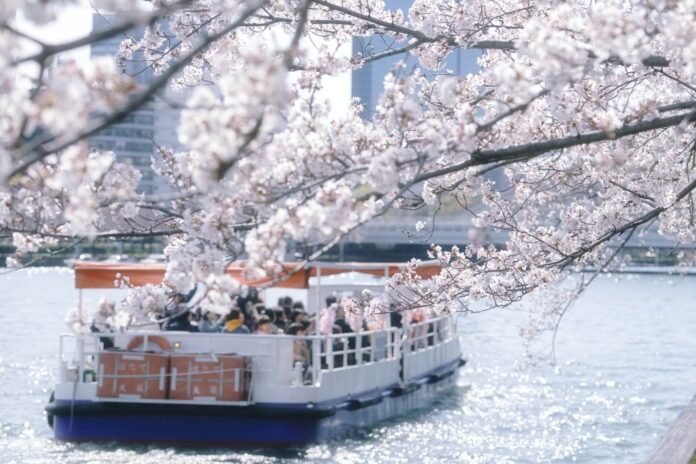 What is Hanami?
Hanami translates to "flower viewing", but it is usually referred to as cherry blossom (sakura) viewing. Shades of pinks and whites engulf the islands of Japan, appearing as a sea of stunning pink clouds. People flock to parks, rivers, and castles to see the effervescent sakura bloom. where to see cherry blossoms in osaka
Hanami can be as simple as a walk in the park but can also be a picnic under the blooming sakura. Popular hanami spots will become very crowded so try to arrive early. Parties usually reserve their spot hours in advance, by placing a picnic sheet with their name. Drinks, bentos, and snacks are all prepared in advance for the day-long picnic. If you are looking to do hanami, you can find most supplies in 100 yen shops (Daiso, Seria etc.).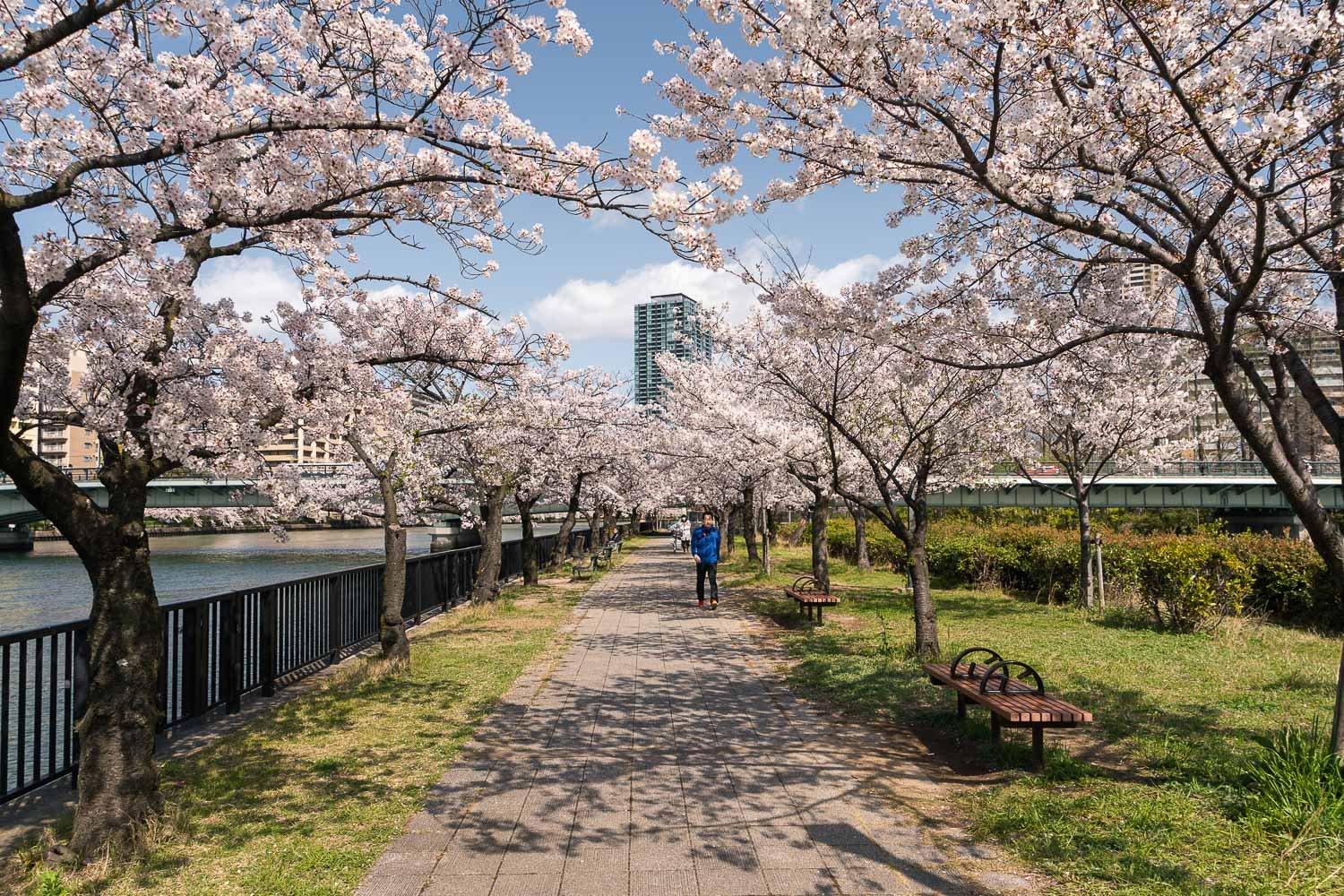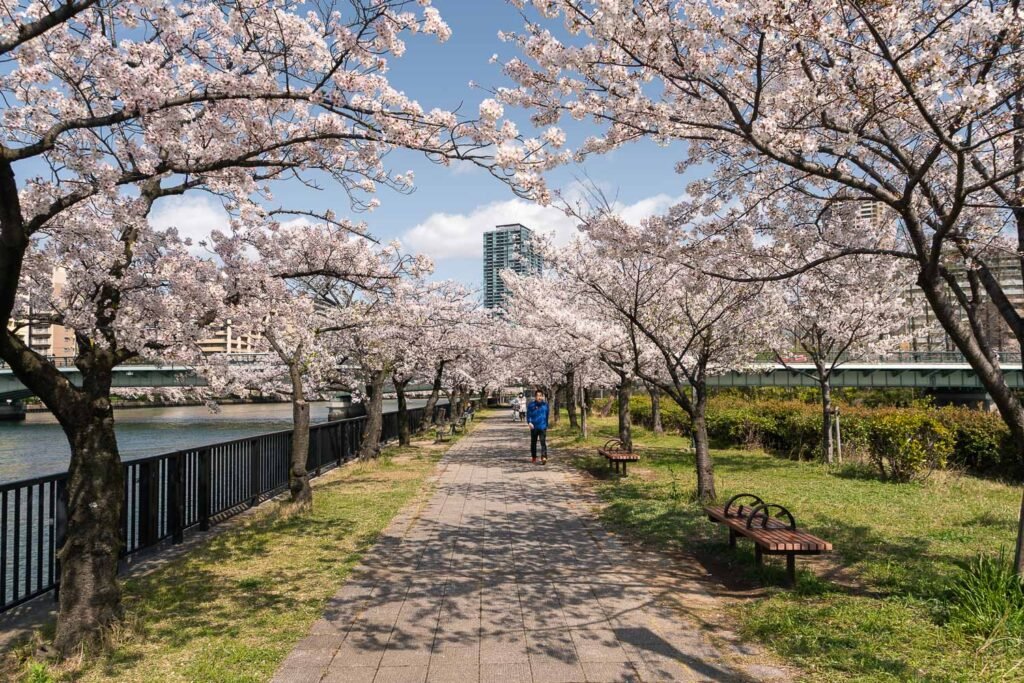 History of Hanami
Dating back to the Nara period in 710-794, the word "sakura" appeared in Japan's oldest existing collection of poetry, the Manyoshu. The kanji for "sa" in sakura, was written as 神, meaning god. "Kura" meant offerings of food and sake were given to this god. When the sakura started to bloom, it meant that the god had taken these offerings. He came down from the mountains and the rice planting season begun.
During his period, it was actually a Chinese tradition of viewing ume (plum) blossom. However, during the Heinan period (794-1185) the Japanese stopped taking influence from Chinese culture and started to develop their own. The emperor at the time, Saga, was amazed at the beauty of one of the cherry trees at the Jishu shrine in Kiyomizu Temple. He decided to hold a party, full of food, alcohol, and music. This became increasingly popular within the imperial court and as time went by, thousands upon thousands of cherry trees were planted. Now, hanami lives strong with the Japanese population, as millions gather to watch the beautiful sakura flowers. People of all ages, during any time of the day, meet up to take part in hanami.
What is the meaning of Hanami
Hanami is not only one of the most beautiful periods of the year, but also one of the most philosophical. The cherry blossoms bloom and fall all within the space of a few weeks so it is very much a fleeting period. Sitting under the trees, watching the petals get whisked away forces you to marvel at nature's beauty. This passing of time and ephemeral moment is the philosophy of life. The cherry blossom petals are small metaphors of human life.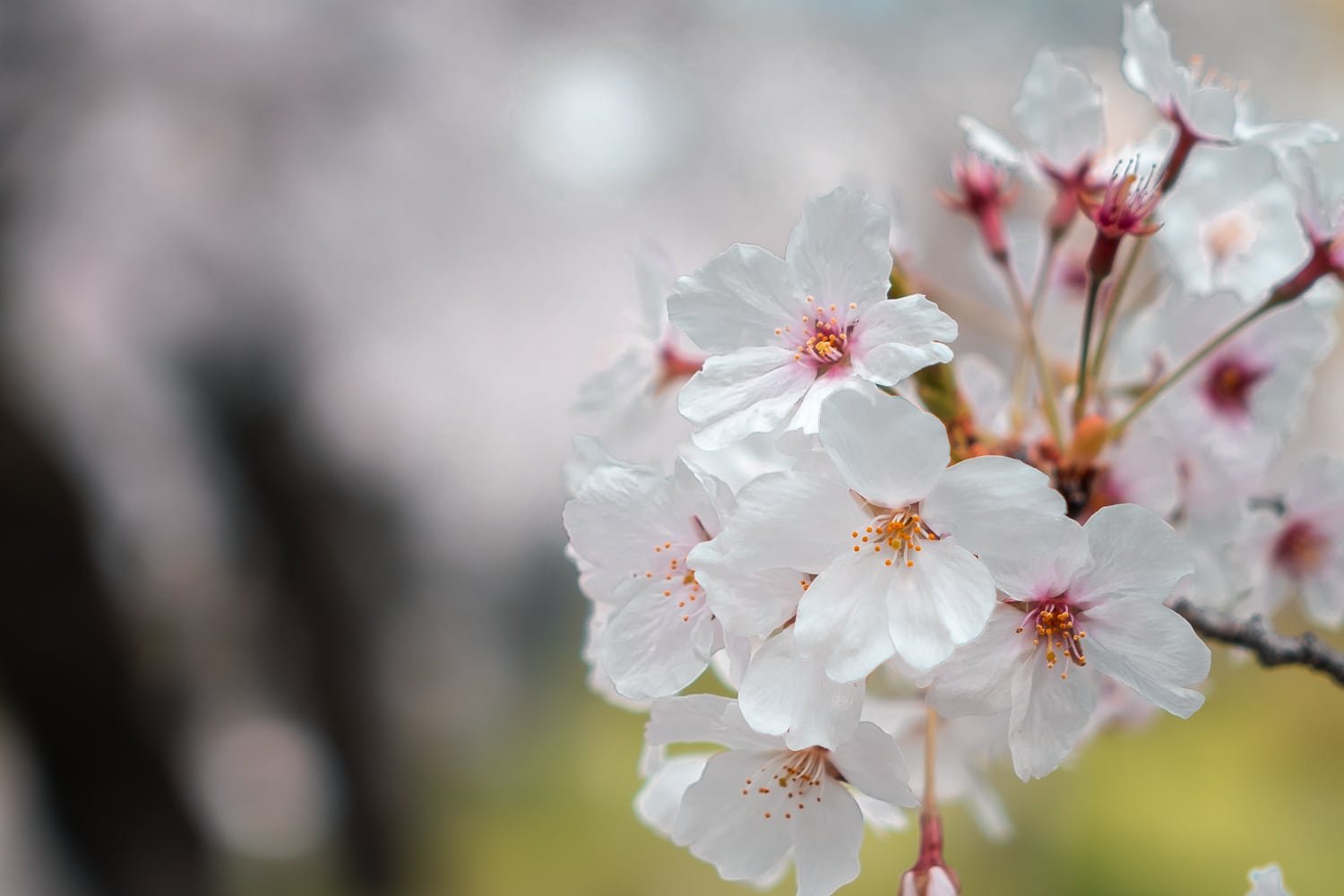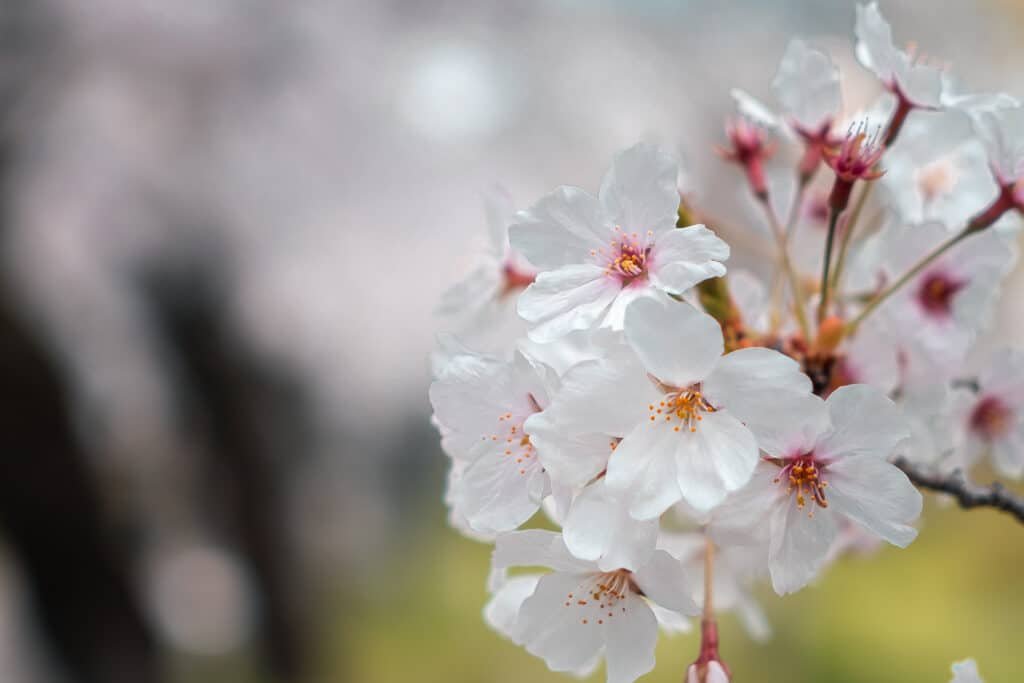 When is the best time to view Sakura?
There is no set time or place like a normal festival but the period when the cherry blossoms are in full bloom is short. In Osaka, sakura starts to bloom during mid-March and is at full peak towards the back end of March. As Osaka is situated in the Southern half of Japan, the climate is warmer. Sakura starts to bloom early than other parts of Japan due to the warmer climate.
Top tips to enjoy Hanami
Arrive Early
If you are planning to do hanami in popular parks or spots, I recommend to arrive as early as possible. People will arrive hours in advance so make sure you don't miss out on the best spots!
Picking the right spot
I recommend finding a spot that is a bit secluded. Try to avoid walkways or entrances and exits as these will be swarmed with people during peak hours. Avoid spots near trash cans at all cost. Throughout the day, these will overfill and might start to ruin the sight and smell of your hanami.
Buy Ahead
Plan how many people are taking part and buy enough food and drinks accordingly. Hanami can last several hours and it's best to be prepared! Surrounding convenience stores, supermarkets and restaurants will all be full of fellow hanami goers. Therefore, buy your bentos earlier in the morning or even make yourself!
Toilets
If you are at a popular park, make sure you line up early for the toilet Lines can form up to 30 minutes so be prepared! I also recommend to bring your own tissues as sometimes the toilet paper runs out.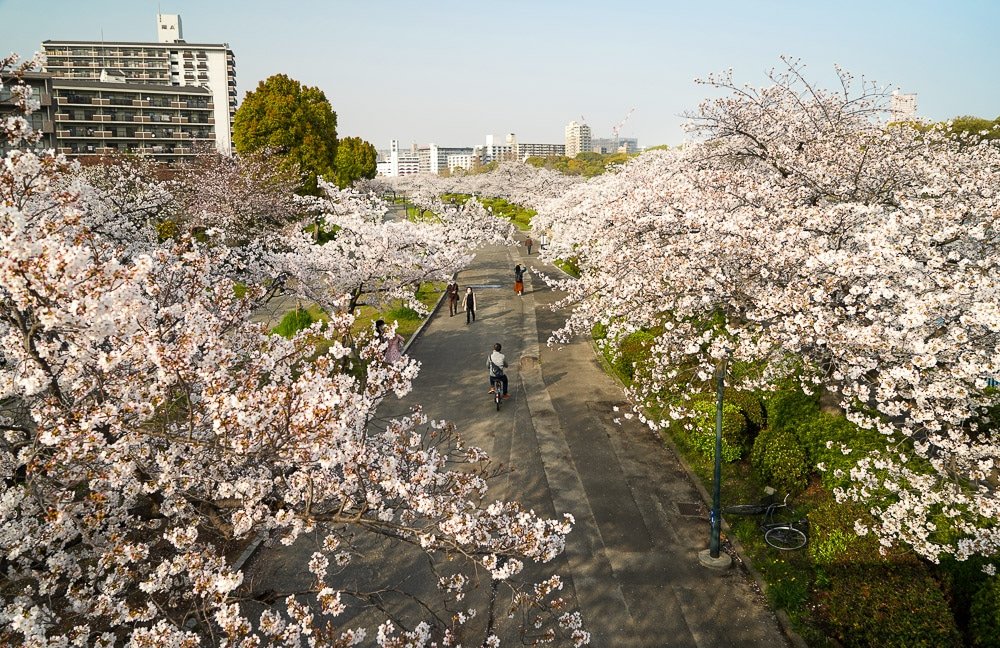 Where to see Cherry Blossoms in Osaka
Okawa River
One of the most popular spots to view sakura, Okawa River flows through the center of Osaka. Around 4,800 cherry blossom trees line the river engulf the river in a stunning array of pink at full bloom. You can also take a 25-minute cruise along the river so you can enjoy the sakura on the water. Kema Sakuranomiya Park and the Japan Mint are two of the most popular spots but can be a little crowded during full bloom.
Address: 1 Chome-10 Nakanocho, Miyakojima Ward, Osaka, 534-0027
---
Osaka Castle
Osaka Castle is a fantastic place to watch the mix of man-made and nature. Within the castle grounds, there is Nishinomaru Garden, which hosts over 300 sakura trees. During the daytime, you can see the beautiful cherry blossoms with the looming castle as a backdrop. At night, you can watch the dazzling lights illuminate the pink petals. This is a must-visit for any traveler.
Address: 1-1 Osakajo, Chuo Ward, Osaka, 540-0002
---
Expo '70 Commemorative Park
The Expo '70 Commemorative Park is the grounds where the Japan World Exposition was held in 1970. Nine different species of sakura, totalling to over 5,500 trees cover the whole park in a cloud of pink. Poking its head from the top is the Tower of the Sun statue made by artist Taro Okamoto.
Address: 1-1 Senribanpakukoen, Suita, Osaka 565-0826
---
Satsukiyama Ryokuchi
Satsukiyama park is located in northern Osaka in Ikeda city. It is a fantastic place to view the sakura with family. There are over a staggering 35,000 trees so walking around the park is definitely recommended. Futhermore, there are hiking trails and Satsukiyama zoo, which are all extremely popular. Admission fee for the zoo is free so after watching the sakura, it's great to see the cute animals with family or friends.
Address: 2 Chome-5 Ayaha, Ikeda, Osaka 563-0051
---
Katsuo-ji Temple
Located in the norther part of Osaka in Minoh City, the sakura bloom a little later than usual. As Katsuo-Ji is situated in the mountains, the cooler climate means that the sakura bloom a few weeks later than the rets of Osaka. If you missed out on the sakura in central Osaka, this is a great place to go. There are over 8,000 trees and the addition of the temple as a backdrop makes for some picturesque scenery.
Address: 2914-1 Aomatani, Minoo, Osaka 562-0021
---
Hamadera Park
One of the not so known spots to enjoy Hanami is Hamadera Park located in Sakai City. The place has a lot more to offer besides Sakura viewing. It features a pool, rose garden, playground and an Amusement Park.
Address: Hamadera Koencho, Nishi Ward, Sakai, Osaka 592-8346
---
Oizumi Ryokuchi Park
Another one of the unknown spots to a general tourist is Oizumi Ryokuchi Park. It's worth visiting in any season and it features a pond, BBQ facilities and a giant slide!
Address: 128 Kanaokacho, Kita Ward, Sakai, Osaka 591-8022
---
Watch a video on Sakura here!
Final
Hanami is one of my all time favourite festivals. Relaxing with friends and family under the clouds of pink and white cherry blossoms is the best way to spend any day. Waching the evervescent cherry blossom leaves cascade from the trees is stunning. If you are ever in Osaka during sakura season, this is a must do.