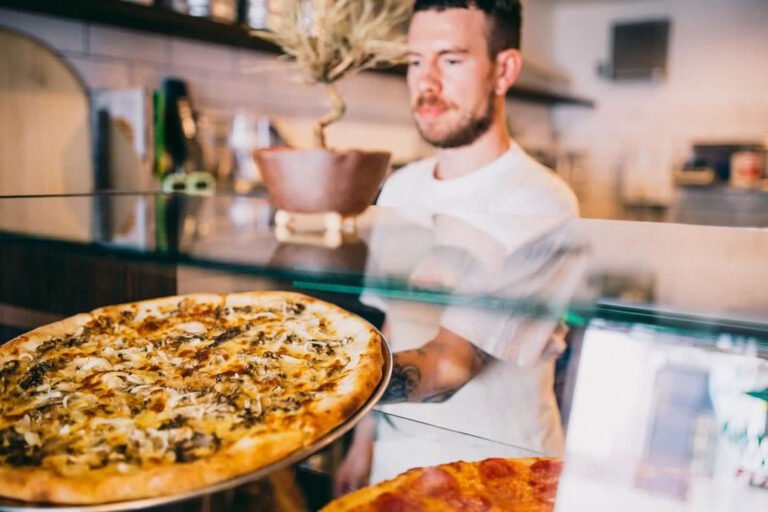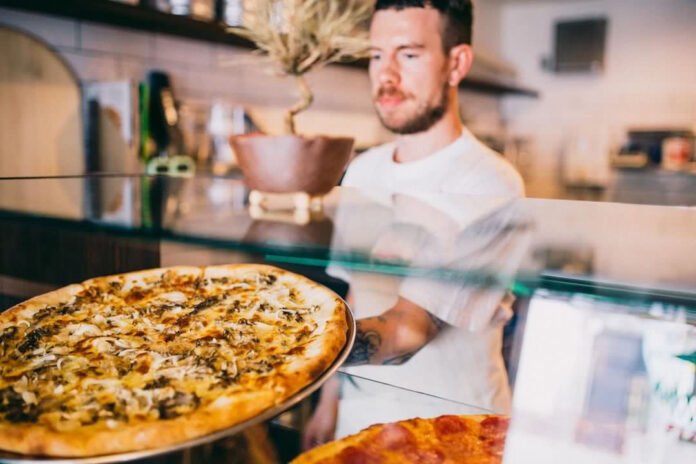 Heaven's Kitchen
Craft beer in osaka
You've likely heard Osaka referred to as "Heaven's kitchen". The moniker comes from the days when downtown Dotonbori was a hub for merchants moving all manner of foods, condiments, and daily commodities across Japan.
These days it serves as more of a blanket term encapsulating the love and passion Osakans have for food and drink. There's no shortage of restaurants and bars catering to just about any palate and budget. Hopefully regular readers of Osaka Dot Com have found some of these gems that are liberally scattered throughout the city.
A while back I wrote about the increasing popularity of tacos in Osaka and how they have permeated the food scene as an excellent street food alternative to the Japanese cuisine. Why would you eat anything other than Japanese food when you're in Japan?
Well, usually the two main reasons for me are: cravings for western food that I'm familiar with and can sometimes provide that little taste of home. And the other reason is simple old palate fatigue. Like I said, in the aforementioned tacos article, I love Japanese food as much as the next guy, but sometimes there's only so much soy sauce and seaweed a person can take.
So when those hankerings for non-Japanese food kick in, where do you go?
Don't you dare say, "McDonald's"!
These days there are plenty of excellent non-Japanese style restaurants and eateries and the good news is, they're pretty authentic too.
The places we'll look at are a mere smattering of what's available out there, but consider it a "greatest hits" or a "sizzle reel" of western food you can pick up in Heaven's Kitchen.
Hughes Pizza
Pizza, along with Mexican food, is an often fiercely debated topic among foreign residents of Japan. Not everyone is a fan of the plethora of Napolitan-style pizzas that are pretty readily available around town. And many are abhorred by the "anything goes" attitude to toppings that show up on some of the menus of the big pizza chains such as Domino's, Pizza Hut and Pizza La. And yes, we've all heard the jokes about corn and mayonnaise being standard toppings, so this leaves a bit of a hole for those looking for a decidedly western take on pizza.
Enter Alex Hughes and his namesake pizza by the slice oasis, Hughes Pizza.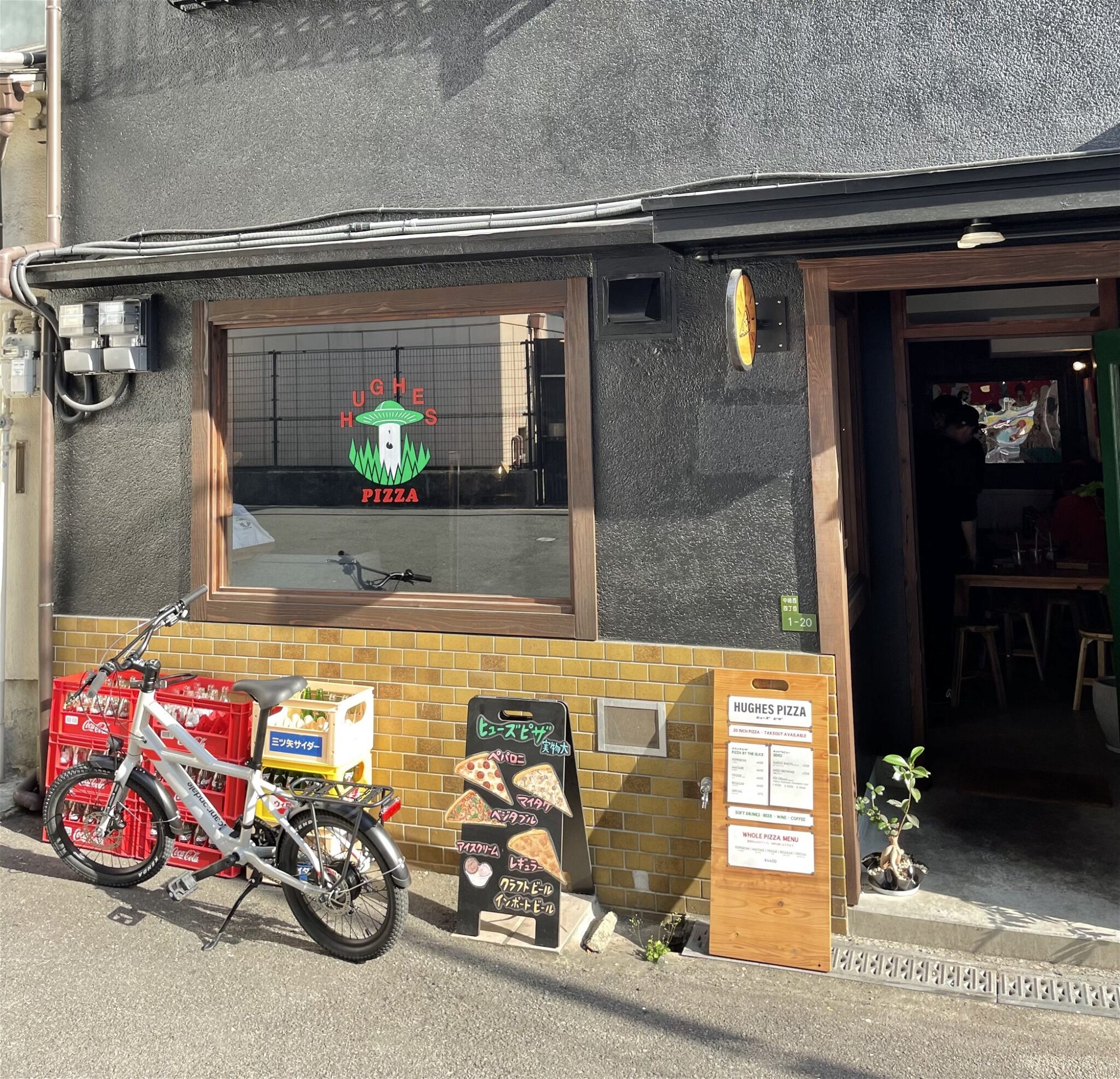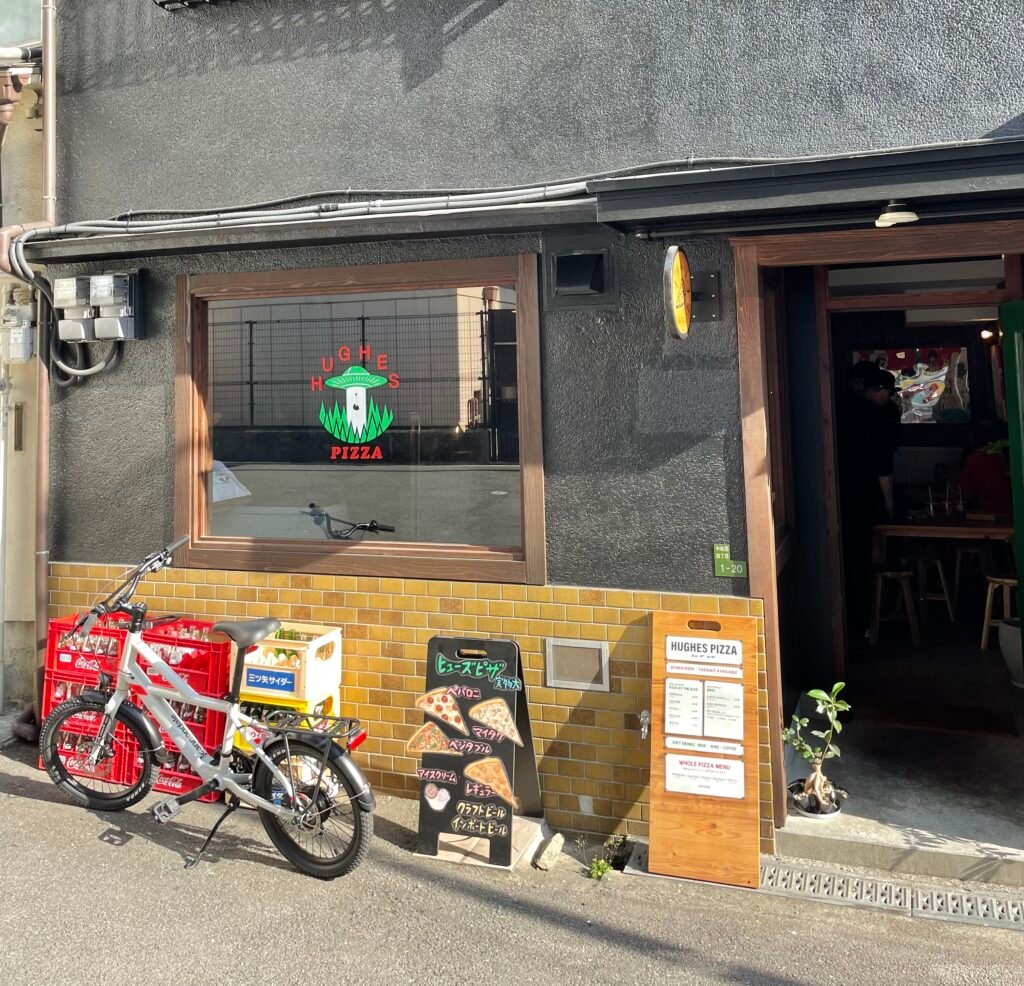 Alex came to Osaka from the UK just five years ago. After his arrival, he initially followed the tried and true path of English teaching, but always had the idea of one day running a pizza shop at the back of his mind.
Although Hughes held no professional experience as a pizza chef, he began experimenting with making pizza from scratch at home for his family and friends, eventually getting to the point where he felt confident enough to step out with his own place.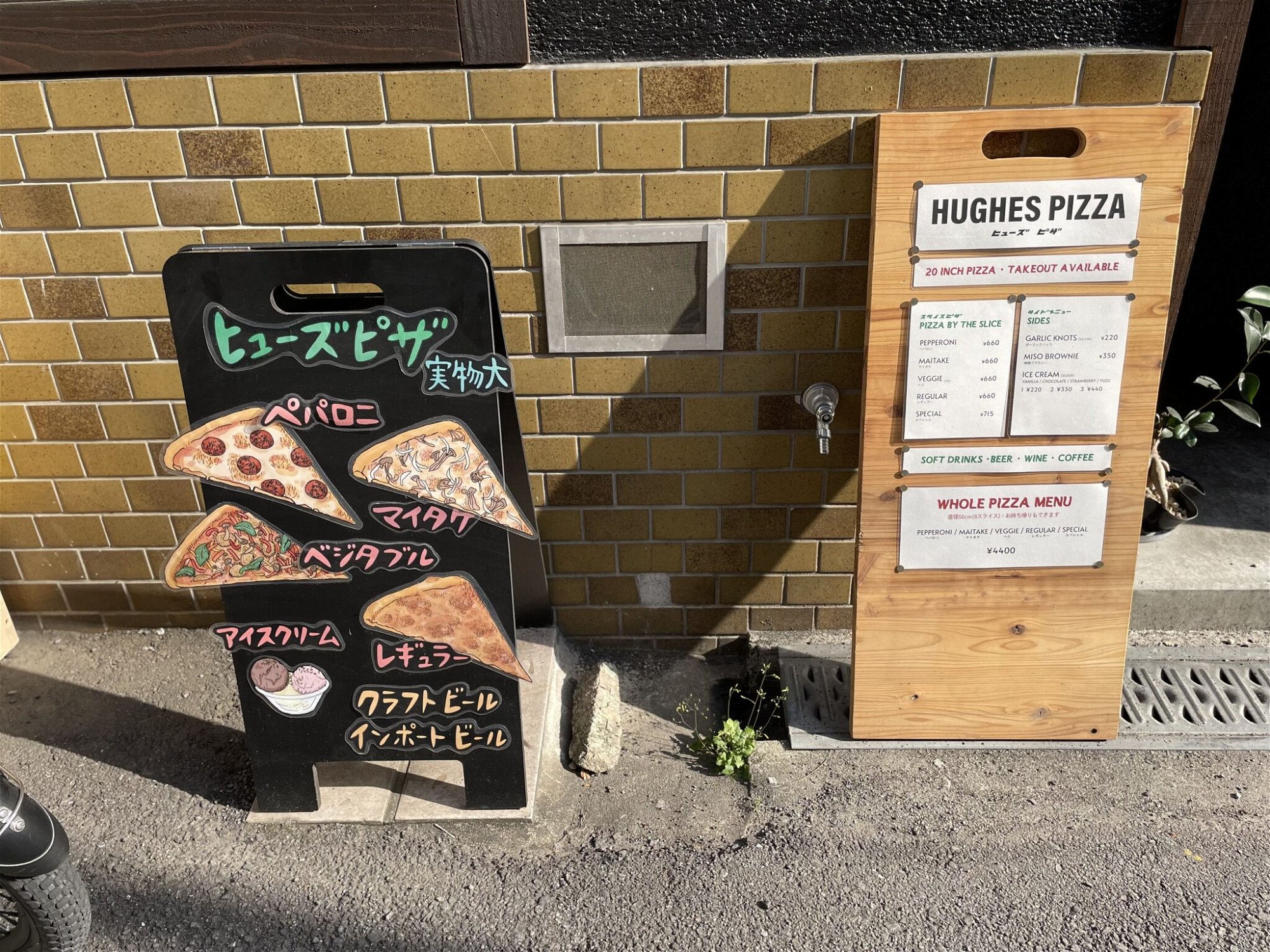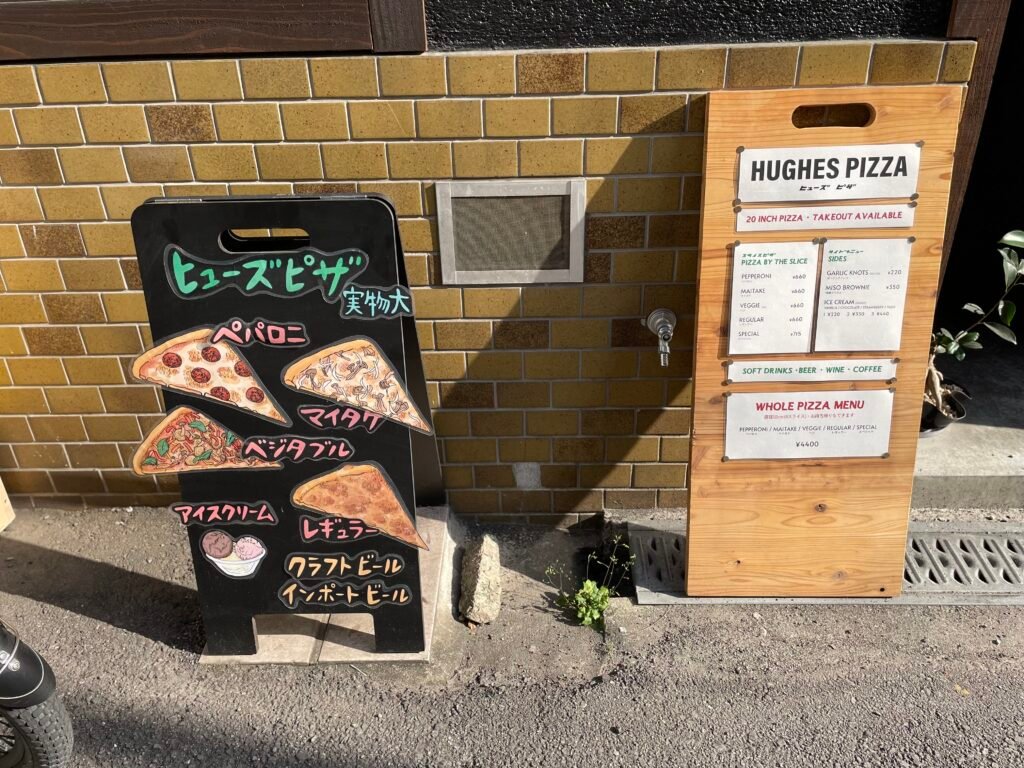 Hughes Pizza finally opened in August 2022 in the uber-chic neighborhood of Nakazakicho near Umeda. With help from a family friend as well his father who came over from the UK to assist, Hughes converted an old machiya into a comfortable, homely pizza joint, adorned with original art from local artists and hand-crafted wooden furnishings. With the turntable vinyl often crackling out anything from old-school punk to deep-cuts seventies funk, Hughes has created the perfect vibe for a casual drop-in when the cravings hit for a slice of NY-style pizza and some craft beer.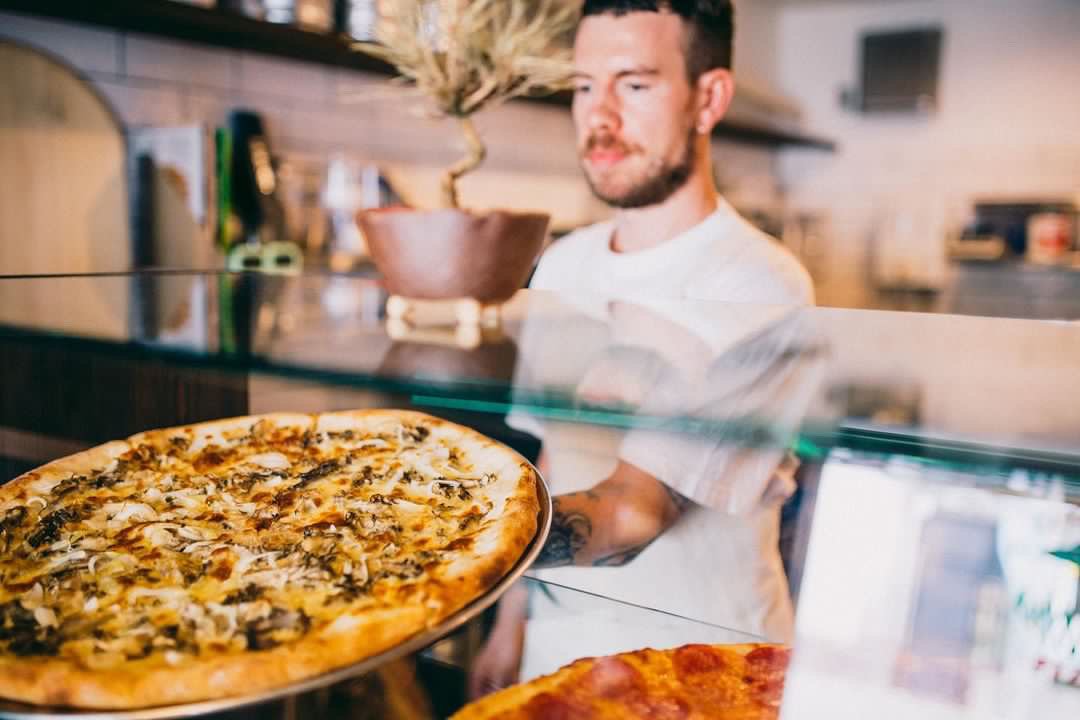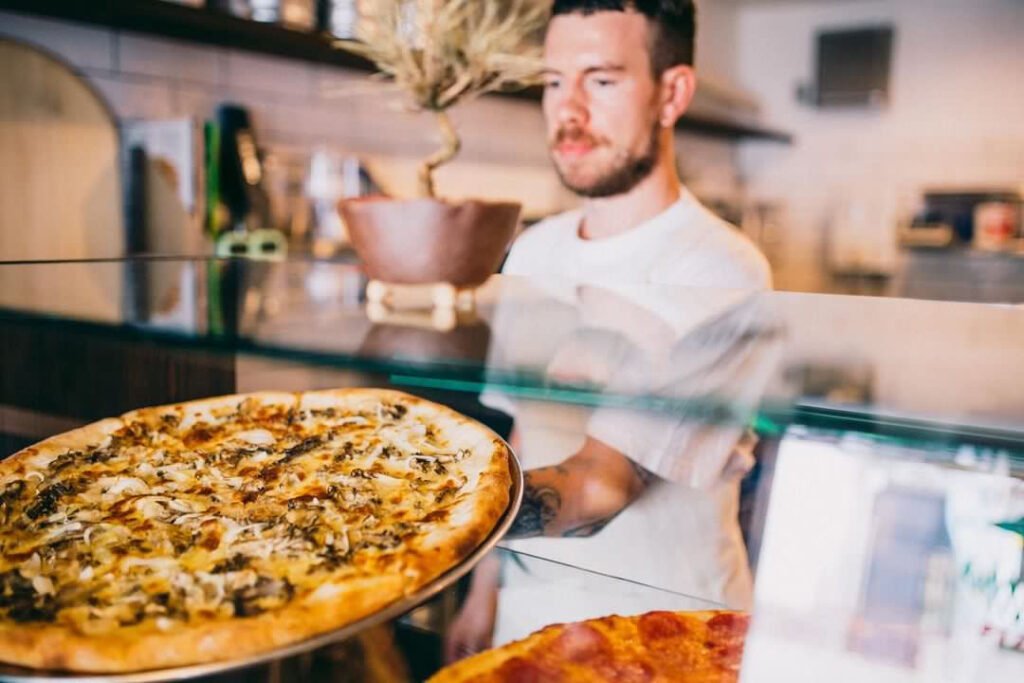 And when it comes to the question of a Brit doing NY style pizza, don't let his accent fool you – Hughes' pizza is worthy of the buzz already circulating in the local community of both foreign and Japanese residents as well visitors to the region.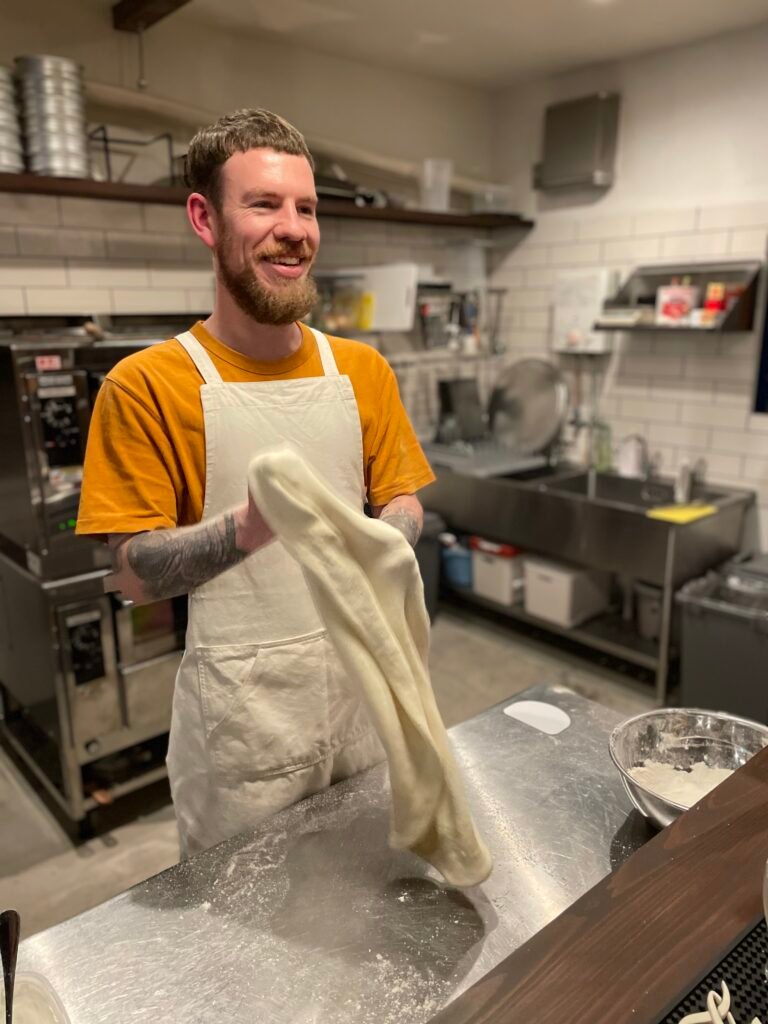 Hughes usually has four 20inch pizzas available by the slice at any given time, with a stock-standard pepperoni almost always on the menu. Other regulars include a maitake mushroom pizza, four-cheese, vegetarian as well as some rotating specials such as white sauce-base pizzas for a little variety. If you've got a few mouths to feed, whole pizzas are also available for eat in or take out.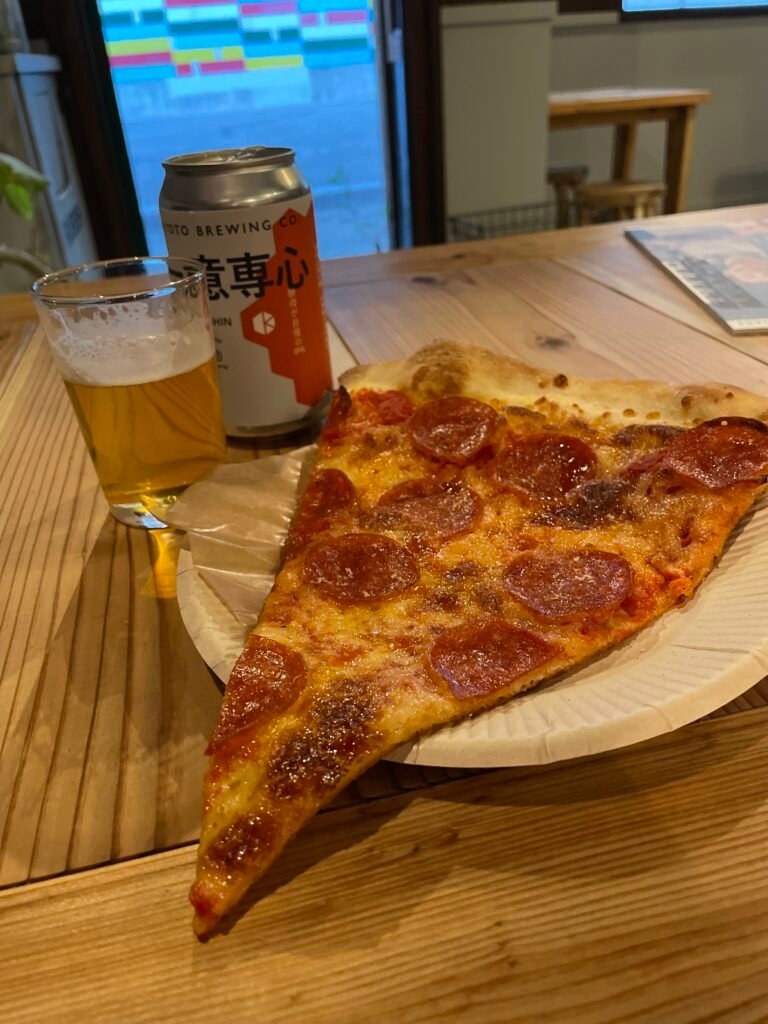 Keep an eye on the Hughes Pizza Instagram account for the occasional vegan cheese pizzas as well announcements regarding collaboration events with some of Osaka's coffee and tea merchants and local artists.
Find Hughes Pizza here.
Fat Dog Stand
While we're talking NY style pizza, the other street food most people think of when they think of New York is probably hot dogs. Some may have noticed that despite the absolute abundance of wiener-based dishes in many of Japan's restaurants, bento lunch boxes and even bakeries, actual hot dogs are surprisingly rare.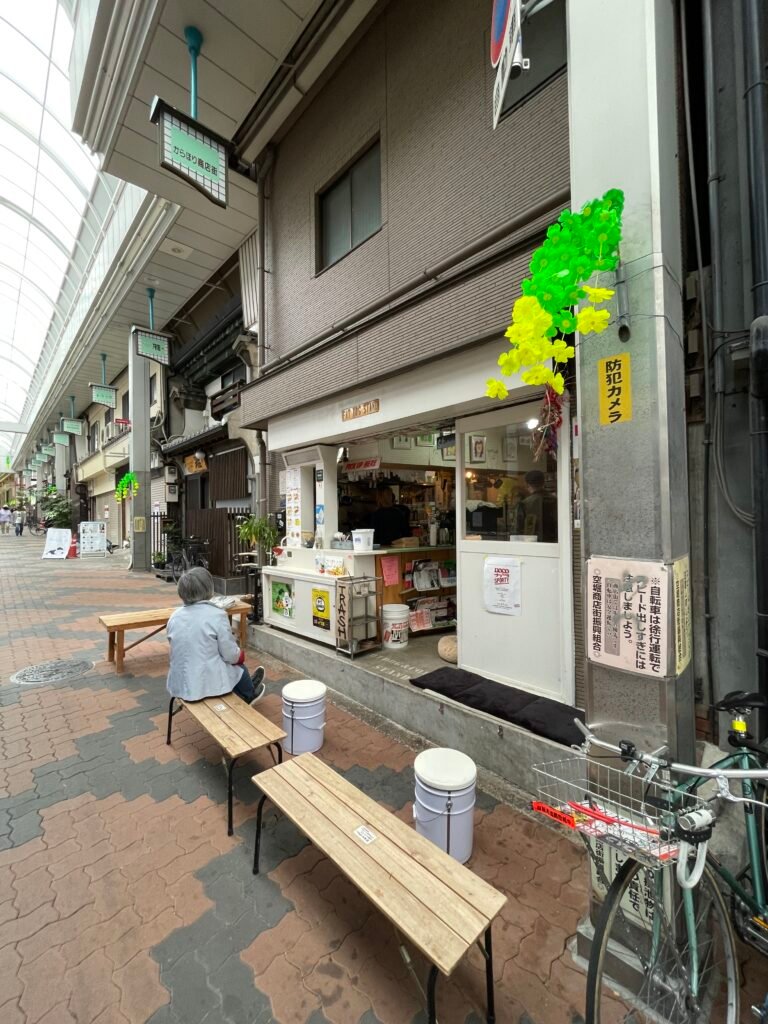 This was a fact that not lost on Takuya Satake when he decided to open hot dog specialty store, Fat Dog Stand. Satake honed his culinary skills in a local restaurant hamburger kitchen, before realizing that although there were a number of restaurants popping up around town that took burgers seriously, there were none focusing on quality hot dogs.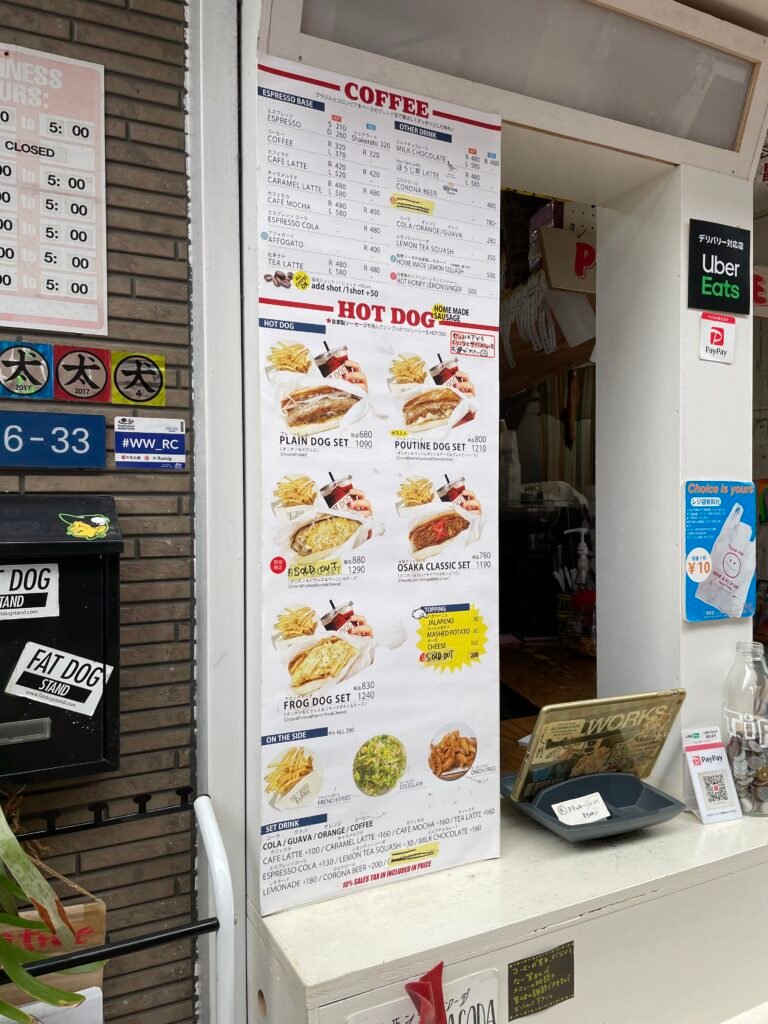 Satake opened Fat Dog in February 2017 in the Haikarhori shotengai (undercover shopping street) in Tanimachi 4-chome, and has since earned a solid fan base for his juicy, homemade pork sausage dogs. Bear in mind, these aren't your standard NY-style ketchup and mustard dogs. Satake lets the quality of his dogs sing with a simple arrangement of pickles and sliced onions on the standard "plain dog".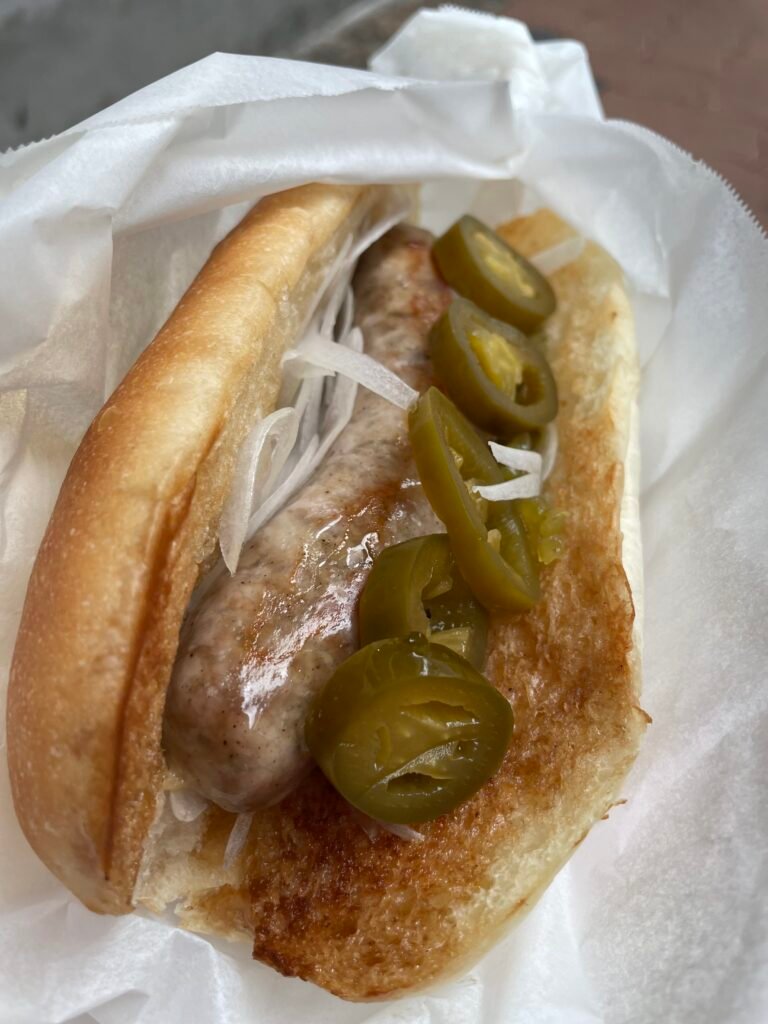 The menu is often augmented with limited edition dogs and occasional collaboration experiments with other local eateries, but the standard offerings include a bacon and cheese dog, the Osaka Classic (topped with onion, curried cabbage and pickled ginger), the Frog Dog (with onions, pickles, cheese and French fries) and finally…for all those Canadians out there, a poutine dog! Yes, after a friend introduced him to the flavor thrill of poutine fries, Satake decided to try a hot dog version with mashed potato, cheese and gravy.
If you'd like, you can pimp any of your dogs with jalapenos, cheese or bacon; or add a couple of sides such as coleslaw, onion fries or good old regular French fries.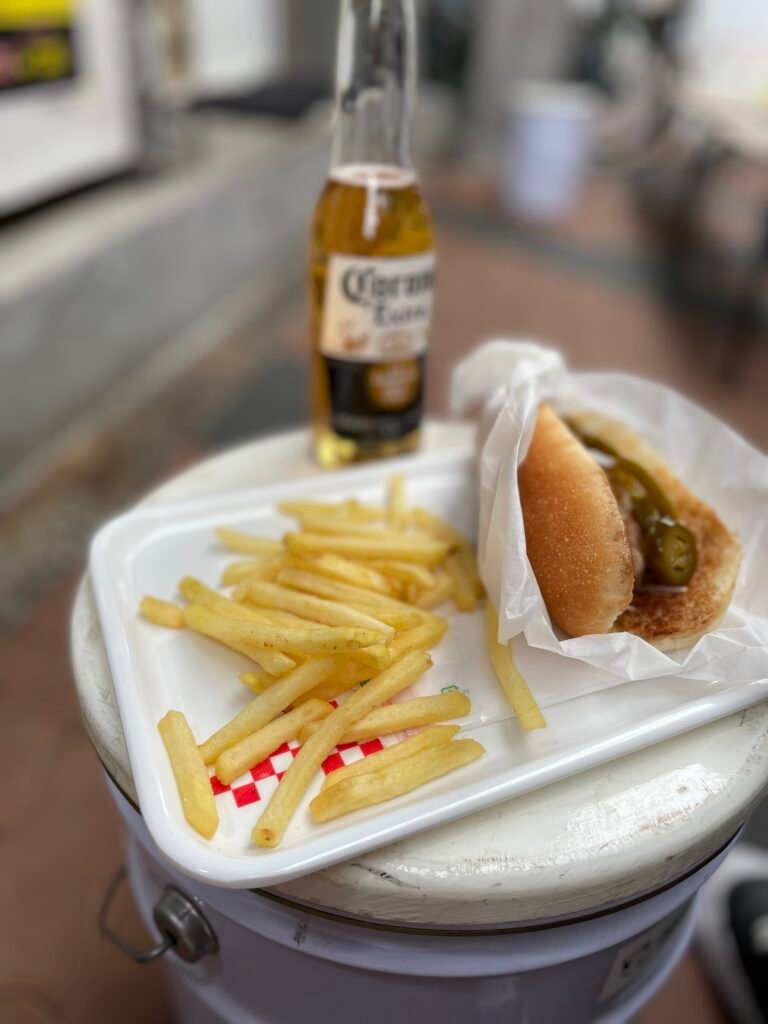 Satake's vision for Fat Dog is to create a friendly neighborhood atmosphere not too dissimilar to a European alfresco vibe, where people can casually drop in for a dog and chat and maybe an espresso. Ah yes, let's not forget – Satake's wife, Nao is a trained barista and works alongside her husband serving up lattes and affogato for those that like a caffeine hit any time of the day.
It's the perfect street food stop (literally – you're eating on the street) for a quick afternoon snack and coffee fix before a night on the town.
Find Fat Dog Stand here.
Brewpub Center Point
Craft beer is huge everywhere at the moment, and Osaka is no exception. What was once a veritable wasteland, devoid of flavorful beers over ten years ago is now an embarrassment of riches for those looking for something beyond Asahi Super Dry.
And one of the best-kept secrets in Osaka is Brewpub Center Point. Located in Kita-ku, near Nakazakicho, a brisk fifteen minute walk from central Umeda, Center Point Brewpub not only offers up fresh, high quality craft beer made on premise, but a Texas-leaning food menu of BBQ and brisket that'll make you forget you're in Asia.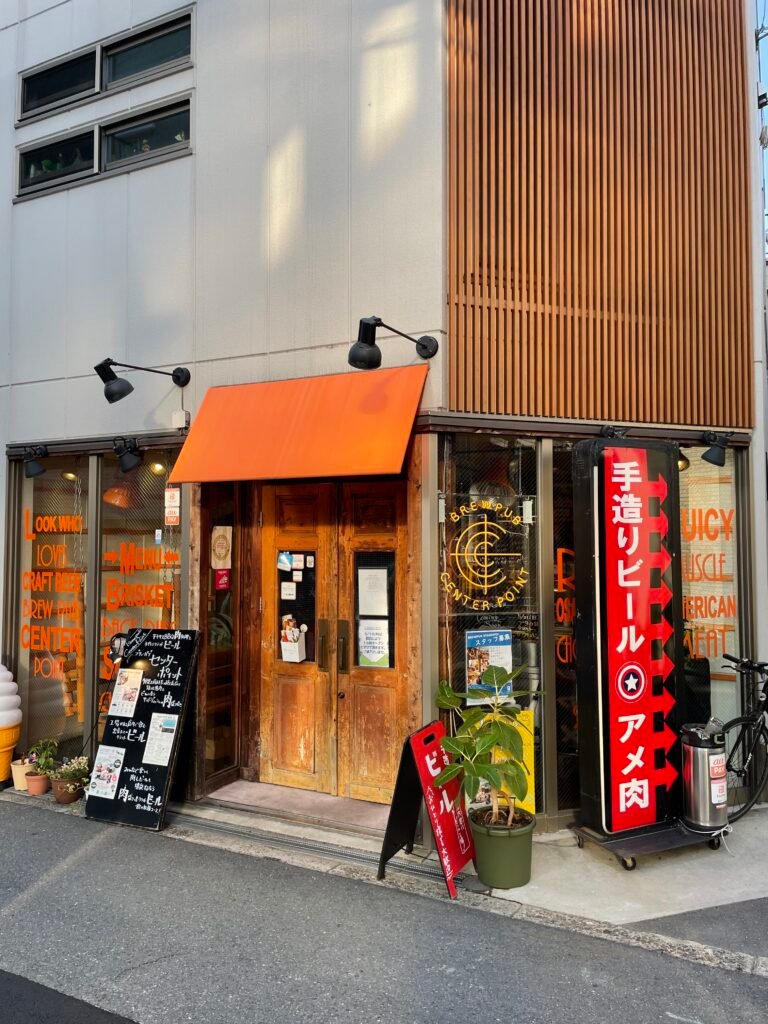 Brewpub Center Point is actually the sister branch of Têtard Vallée, a brewpub located in Temmbashi near Osaka Castle that specializes in craft beer and French-inspired cuisine. Both venues are owned by Osaka-native Koji Matsuo, a former chef who discovered craft beer while working in restaurants in Tokyo.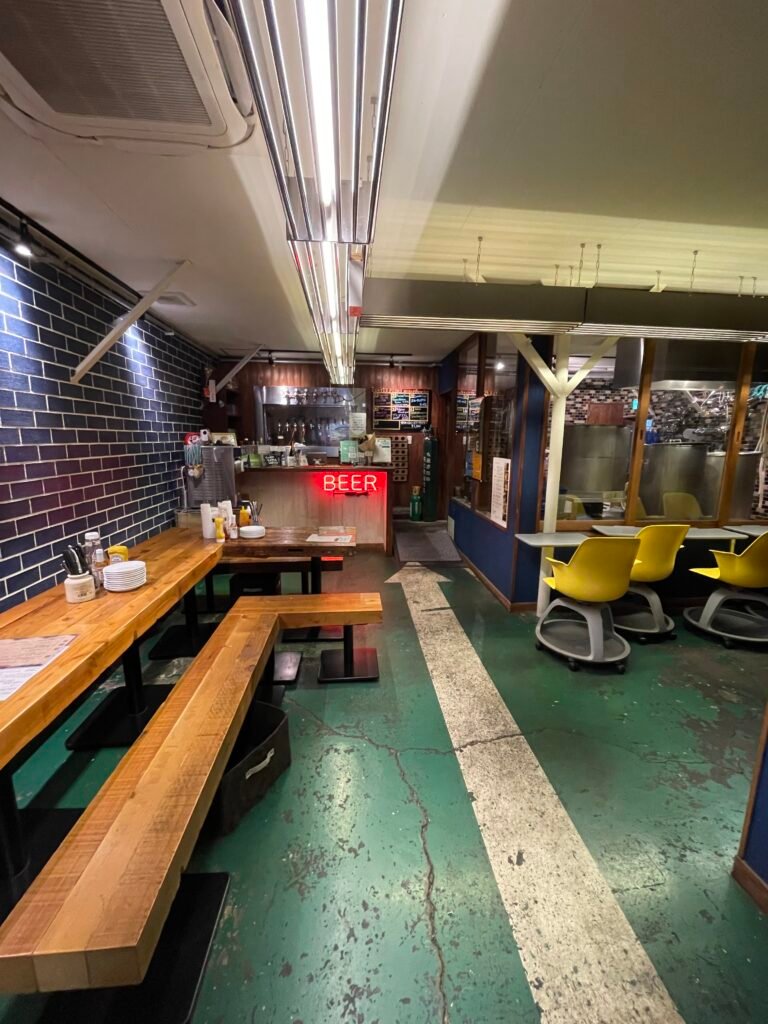 Upon his return to Osaka, Matsuo joined Kotobuki Shuzo, a sake brewery in Takatsuki, north Osaka. Here, Matsuo not only learned about the sake brewing process, but also beer brewing. Sake brewing is traditionally carried out over the winter months, and then, in the off-season, the brewery would switch production to craft beer.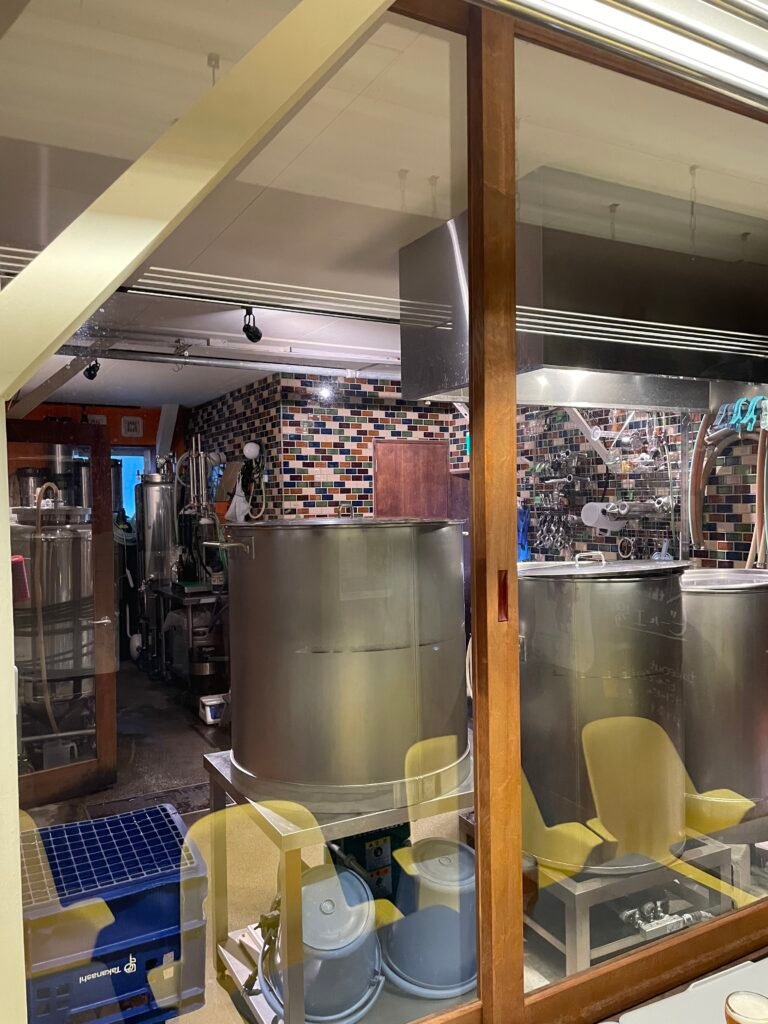 In 2016 Matsuo eventually stepped out on his own to open Têtard Vallée and then in 2018 expanded with Brewpub Center Point. The philosophy and approach behind Center Point is decidedly western with food offerings inspired by Matsuo's visits to the USA where he noticed many craft beer venues serving BBQ and smoked dishes, most of which were not usually served in Japanese craft beer venues.
To go along with Matsuo's ever changing variety of six-beers on tap, visitors can indulge in the grilled BBQ beef brisket in quarter-pound, half-pound or one-pound portions or go for the pulled pork; either of which can also be enjoyed with sides such as chili con carne, jambalaya, and mac'n'cheese. If you can't decide what to order and you've got an appetite, dig into the 4000yen all-you-can drink course (two-hours) that comes with a selection of meats and fries and sides.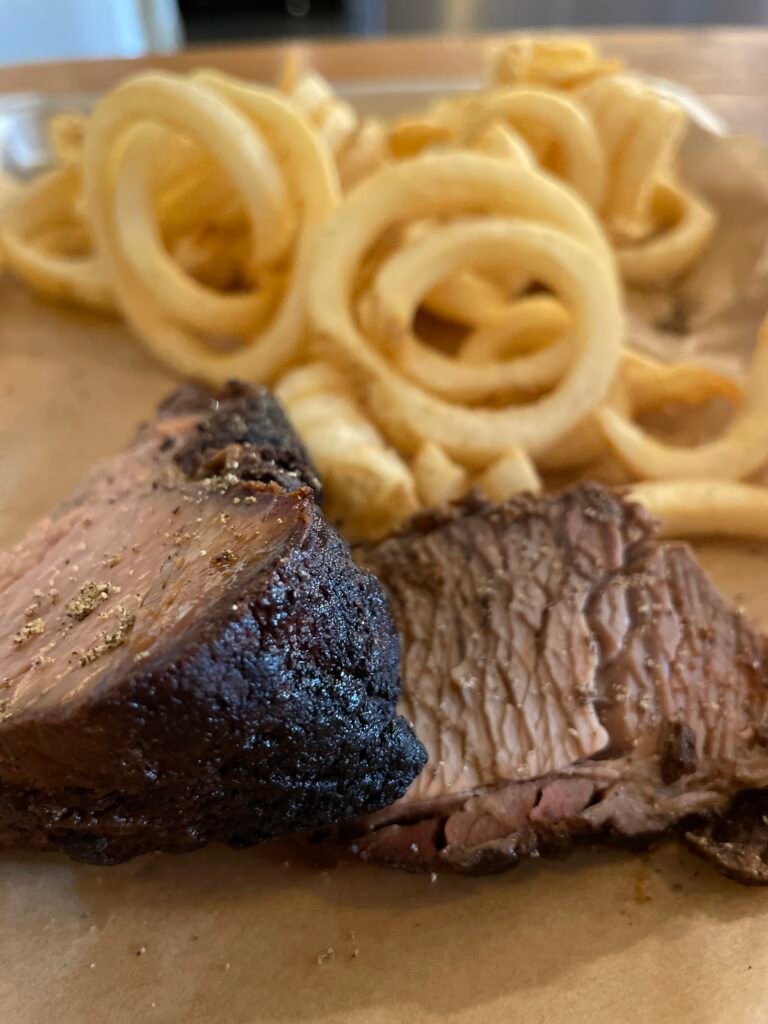 If you're just popping in a for a beer (and why wouldn't you? At 600yen for a UK pint of craft beer Brewpub Center Point is one of the cheapest craft beer venues in Osaka!), pull up a chair by the windows to check out the brewing action, which usually happens twice a week. Or grab a tasting flight and sample the range of Center Point beers at your own leisure.
craft beer in osaka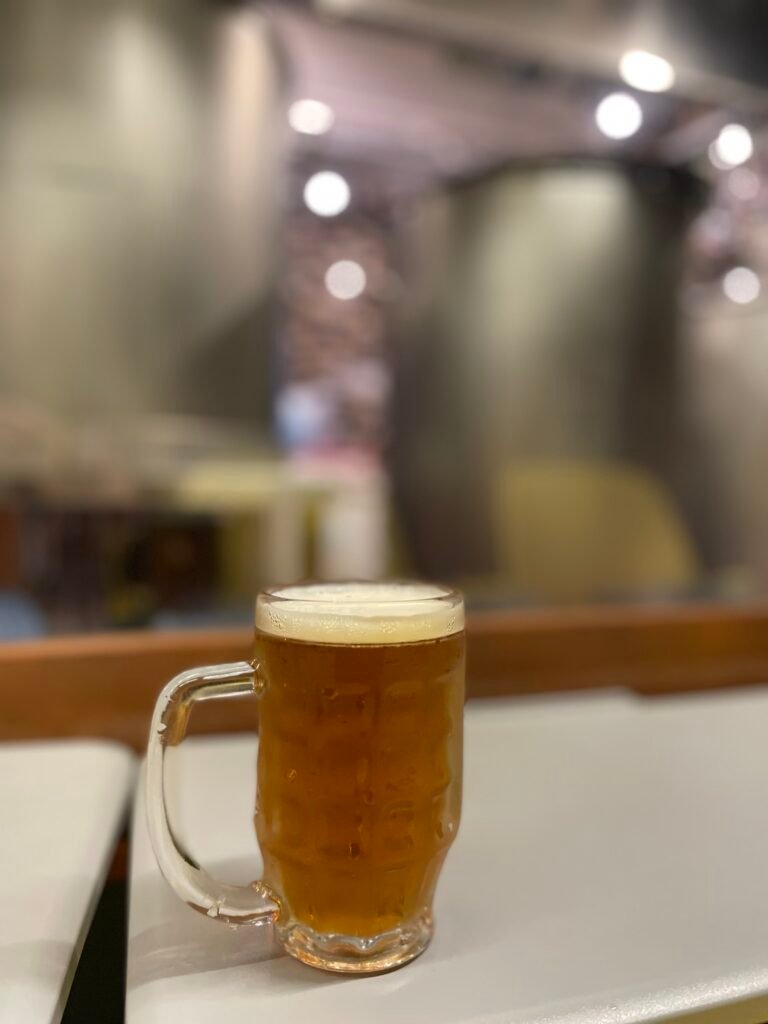 Find Brewpub Center Point here.
Falafel Sababa
For a long time Middle Eastern cuisine was almost non-existent in Japan, however times change, the world's gotten a little smaller and these days you can even get a taste of the Middle East right here in Osaka.
Long-time Osaka resident, Moshe opened Falafel Sababa about four years ago with his wife, Kumo, with the idea of offering the folks of Osaka a genuine experience of Middle Eastern food. Although Moshe is Israeli, he stresses that the food he prepares is not strictly Israeli, but a blend of several regions in the Middle East.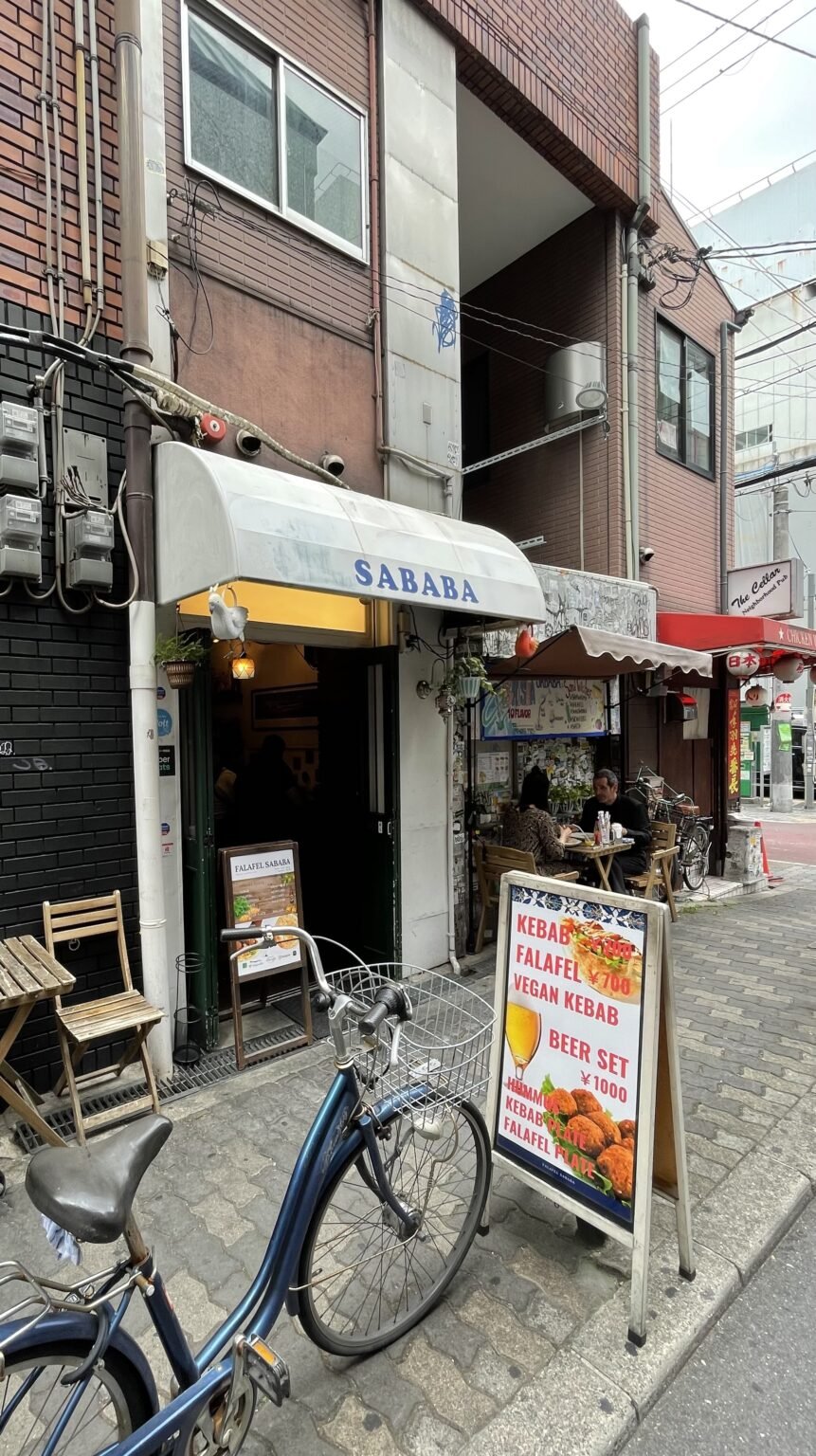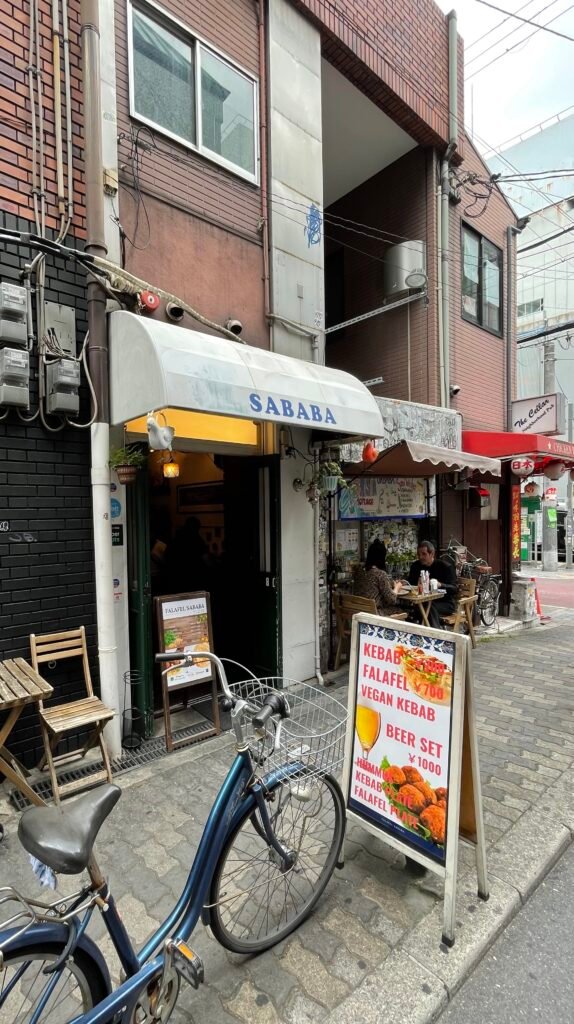 This approach is also reflected in the way Moshe sources almost all his ingredients, from the tahini to the bread to the beer from various regions of the Middle East to achieve their authentic flavors.
It's a tight fit inside the restaurant and it fills up quick, but if you find yourself having to wait for a spell before getting a seat, don't worry -it's worth it.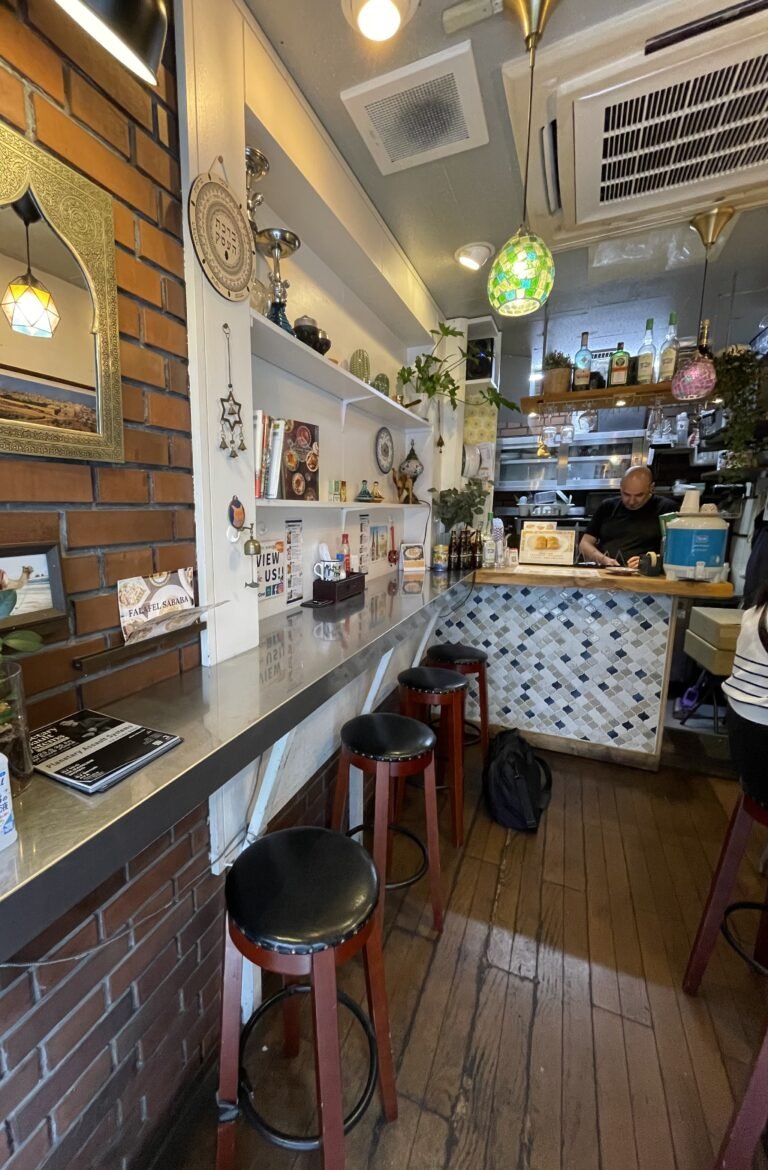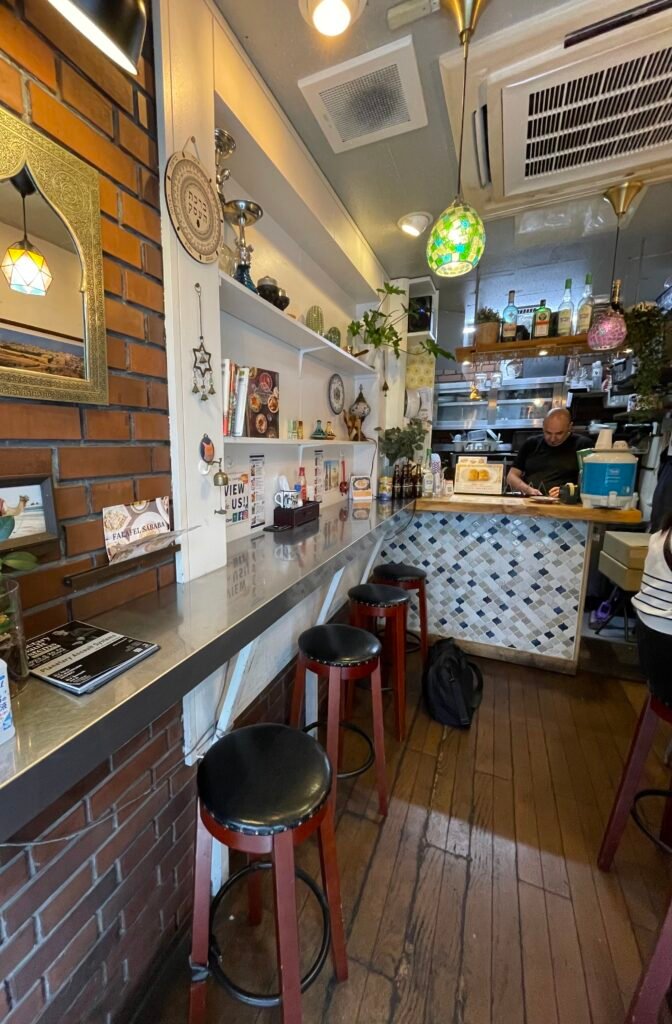 The menu offers staple favorites such as pita bread kebabs, spiced tomato and egg shakshouka, eggplant-packed sabih and of course falafels. You'd also be remiss to go without a generous helping of Moshe's homemade hummus. Save a little space for dessert and grab a slice of the decadently sweet baklava.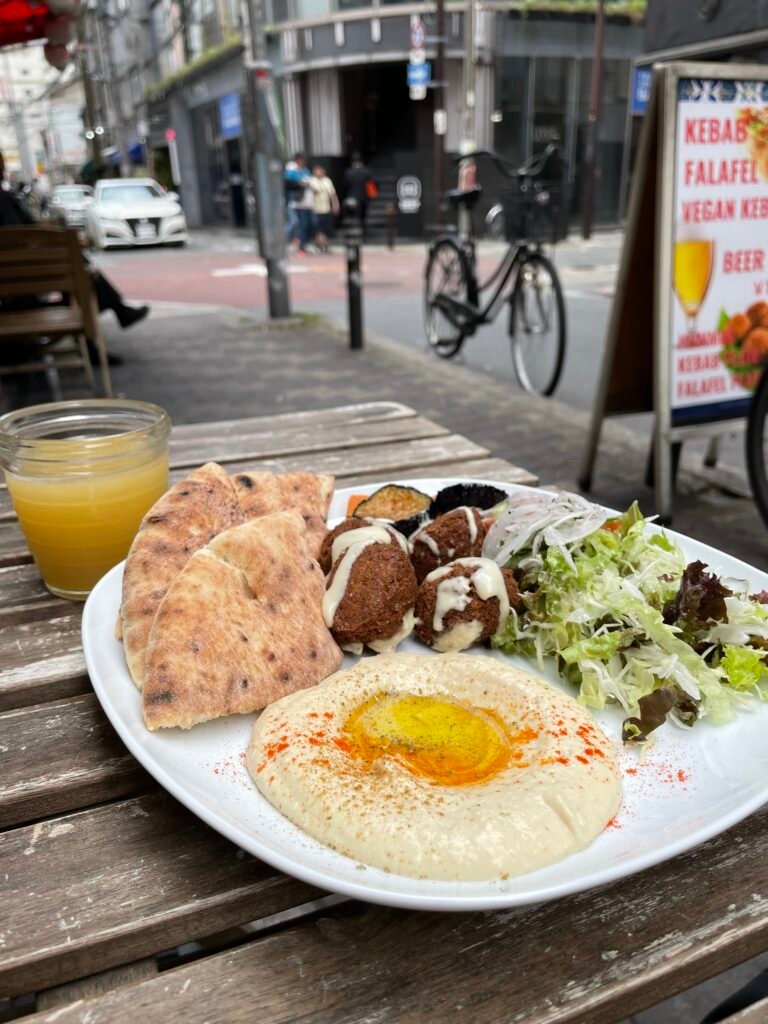 The lunch sets offer great value, but the evening menu offers a little more volume in the dishes.
So whether you're a falafel newbie or a seasoned pro, Falafel Sababa is the spot for scratching that itch to try something very different from traditional Japanese cuisine.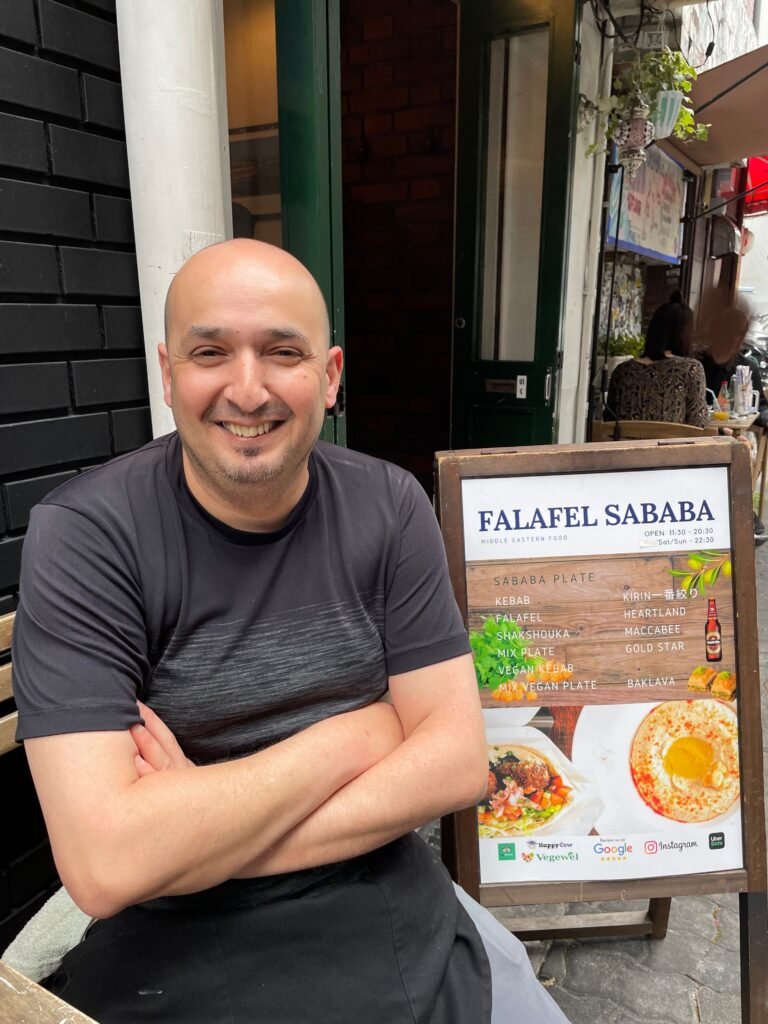 Find Falafel Sababa here.
Craft Burger Co.
We all get those cravings for a good hamburger – and I'm not talking about the ubiquitous hamburg, where you get a juicy burger patty covered in demi glace sauce with a side of rice and no bun. I'm talking about a real burger.
Fortunately there are a number of good options for burgers around town these days, however one stands out for many members of the foreign community.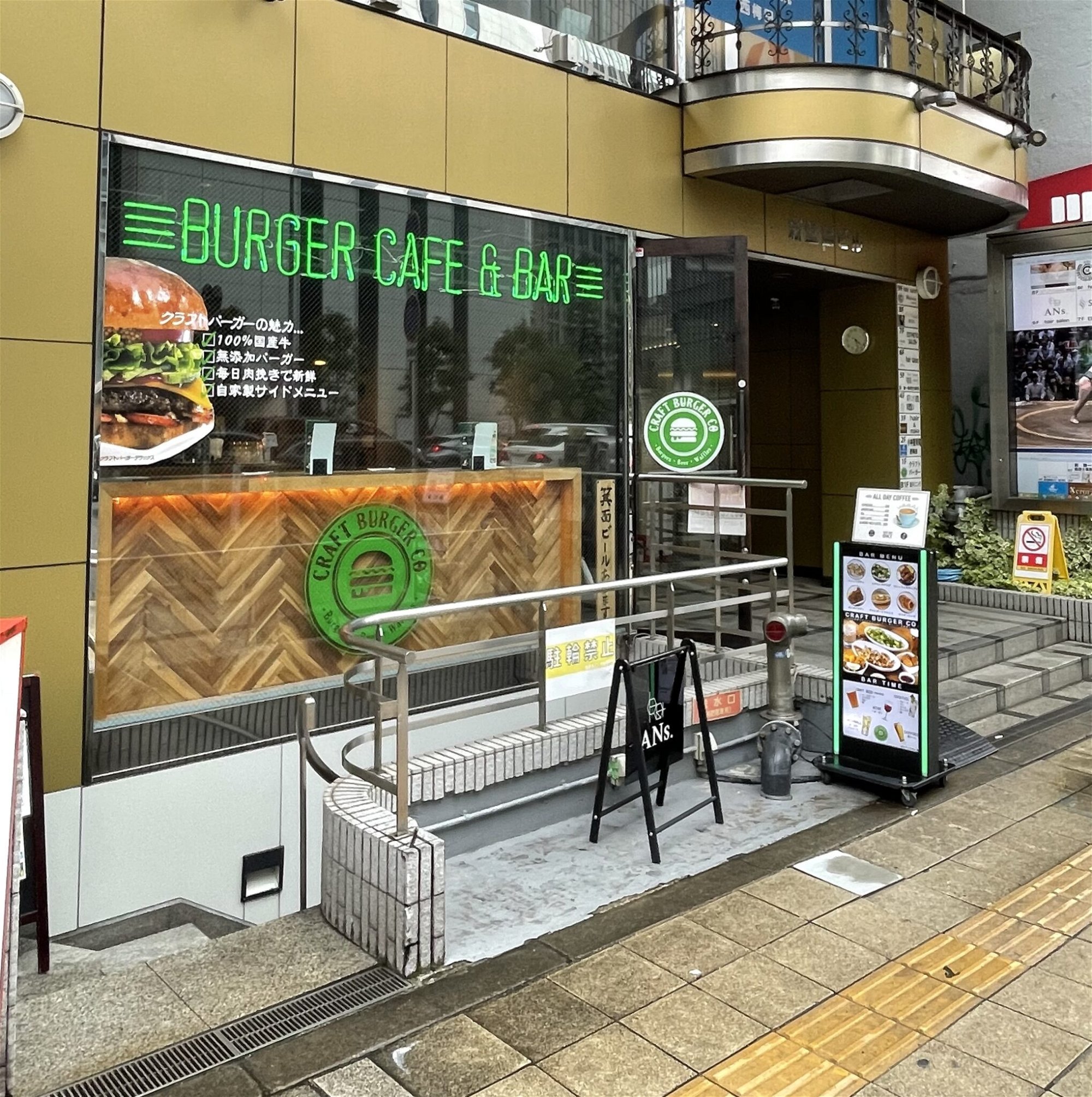 The man behind Craft Burger Co. is Australian, Pat Agostinelli. He opened the first Craft Burger Co. restaurant in downtown Horie in 2016, and just a couple of years later branched out with a second restaurant in Dojima, right near Umeda in Kita Shinchi.
Craft Burger Co. has built a solid reputation for excellent burgers made with top-grade beef from Hokkaido and homemade buns, quick attentive service and a healthy rotating menu of craft beer on tap.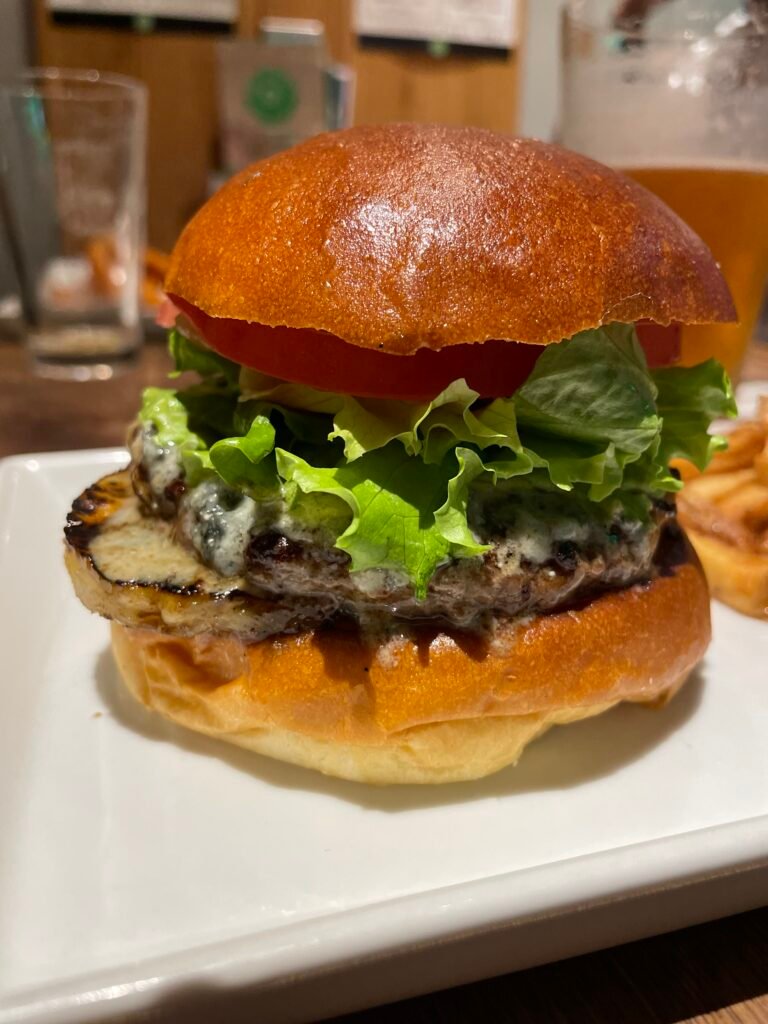 For me, it's the sweet and salty gorgonzola burger with a slice of juicy pineapple that gets me every time, but there's other highlights to be found on the menu such as the swiss cheese and mushroom burger, pulled pork burger, and even a tofu steak burger for the vegetarians.
Get your burgers with a side of house-cut fries and a pint of IPA and you couldn't wish for more.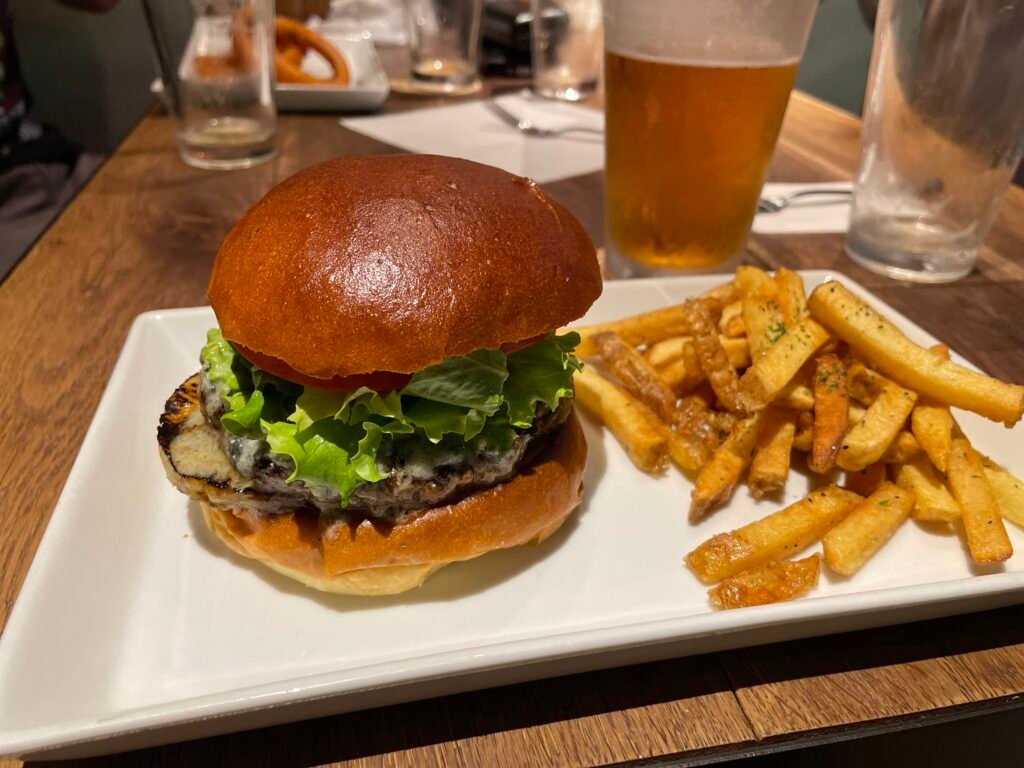 Both venues are open for lunch and dinner, making it the perfect burger stop anytime of the day.
Find the Horie branch of Craft Burger Co. here.
Find the Dojima branch of Craft Burger Co. here