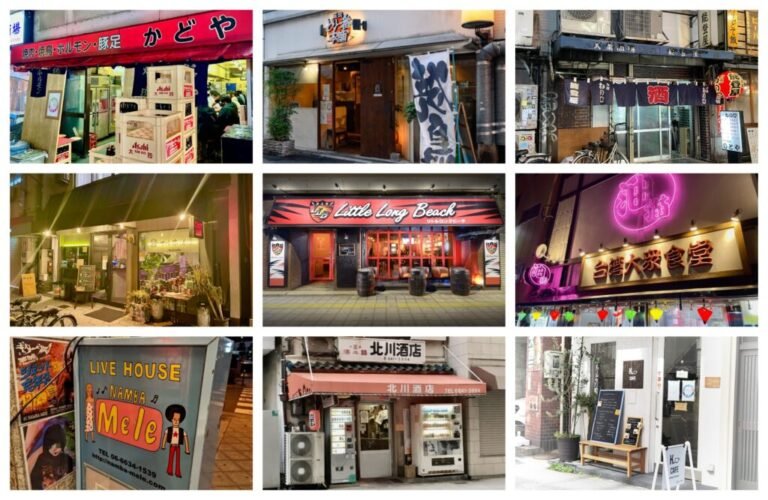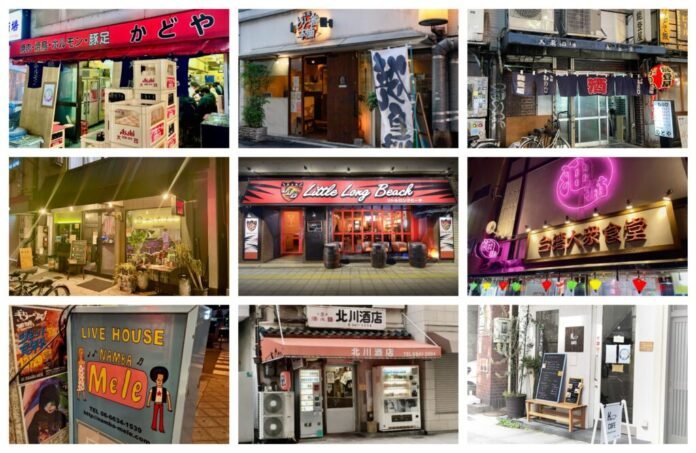 Introduction
I know what you are thinking. An article about bars and restaurants near two exits of a subway station? Let me explain. The area covered here does not seem to have a catchy nickname that has caught on with the public such as "Ura-Namba," which describes the backstreets of Osaka's Namba district near the Misono Building that is famous for tiny standing bars and unique izakaya.
There is also another gourmet spot with about 200 restaurants called "Zaura" north of Nankai Namba Station located in Namba 4-chome. Zaura means "behind the New Kabuki-za Theater. The New Kabuki-za, which was the face of Minami, closed in 2009 and has since been relocated to a building complex in Uehonmachi, but the name Zaura has remained.
The area covered in this article, which is very close to Zaura, spans from Nambanaka 1-Chome to Motomachi 1-chome, is colloquially referred to as "the love hotel area," but that can be awkward when making plans with friends. I have found that it is much easier to say "meet me by Osaka Metro Station Yotsubashi Namba Exit #31 or #32." It works like a charm and you won't get lost trying to find any of the bars and restaurants mentioned in this article—all of which are 20 seconds to 3 minutes away on foot.
EXIT #31 SIDE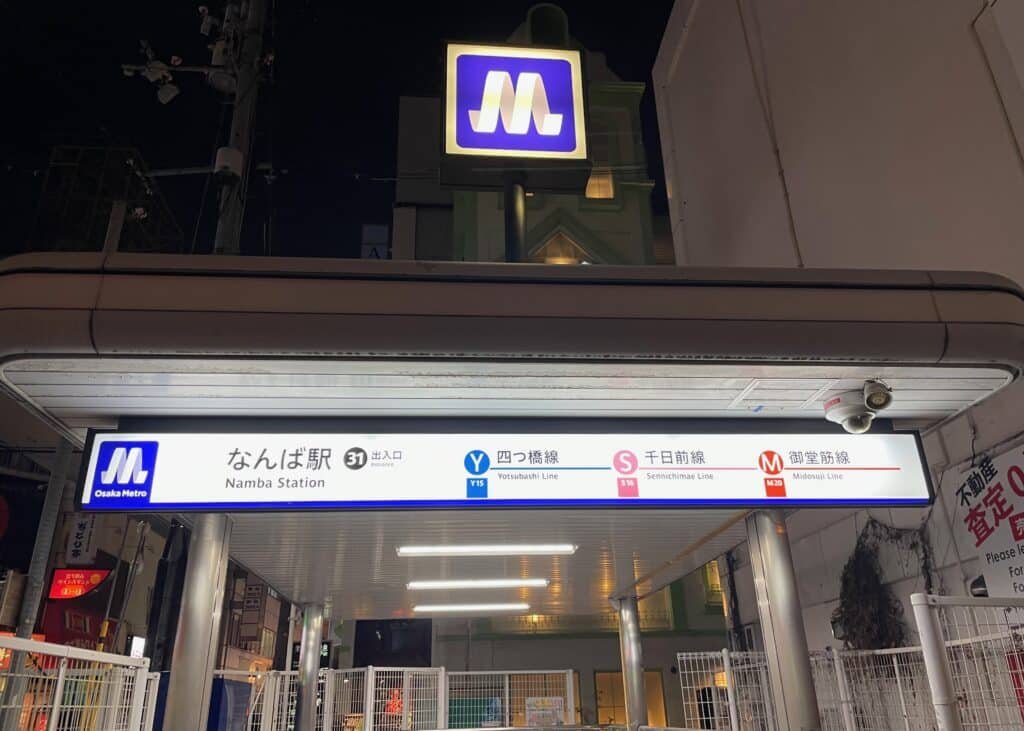 1. Tonsoku Kadoya 豚足かどや
Address: 1 Chome-4-15 Nanbanaka, Naniwa Ward, Osaka, 556-0011. Tel:06-6631-7956. Open: 11:00-22:00. Closed: Tues.
Tonsoku Kadoya, which was established in 1951, is one of the most famous restaurants in all of Osaka. Look for the red awning with cases of empty beer bottles out front. At first glance Kadoya seems like the type of "locals only" dive that requires the aid of an experienced tour guide to help you order. Once inside, you'll find that the opposite is true. Most of the staff is made up of workers from The Philippines, India, Nepal and other English-speaking countries who will be happy to assist you.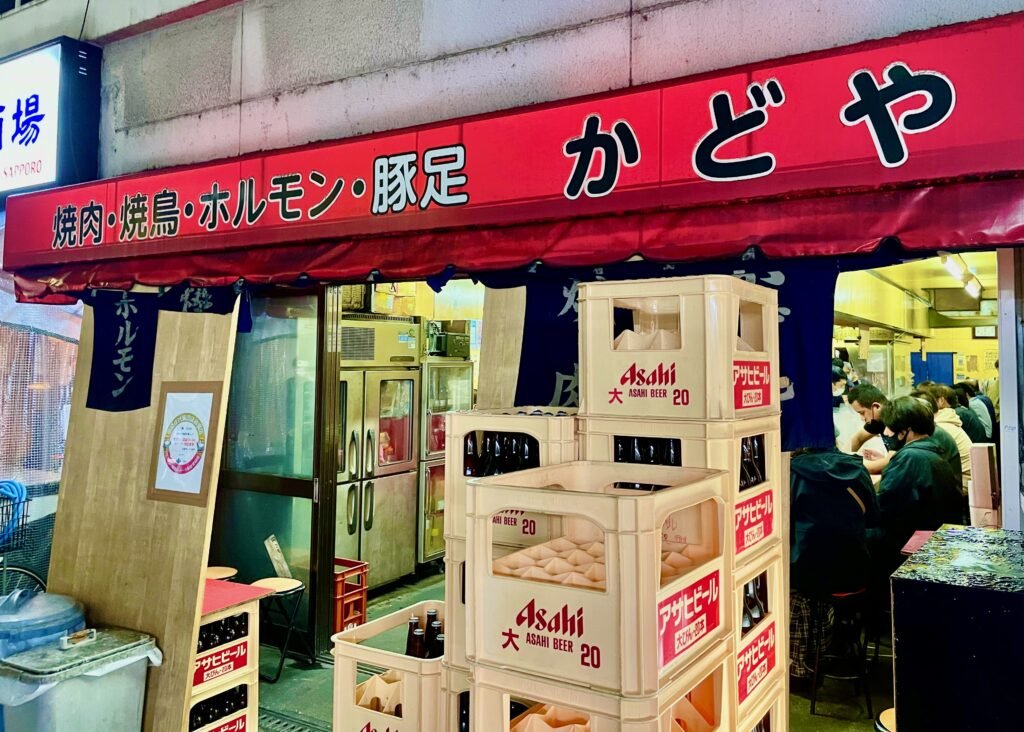 Photo Credit: Tsuyoshi Tagawa
Tonsoku means "pig's feet," but I've never been a fan of trotters or crubeens—until I tried them at Kadoya. This dish is a gastronomical delicacy that will change your concept of pigs feet, which are slowly stewed for hours creating a soft and tender texture that will melt in your mouth. The mouth watering dish is served with salt or a special miso sauce covered with a generous helping of scallions. You can have as many portions of raw cabbage as you like at now extra charge (the same goes for the sauce and scallions). Ask for a small plate of goma abura (sesame oil) because it is also good for dipping. Soup made from boiled pigs feet is also available.
The other thing to get at Kadoya is the kushiyaki, grilled meat which is served on skewers (3 for ¥550). It also comes with cabbage and miso sauce In the past I've always ordered the same three items: yakiniku, tsurami (cheek) and harami (outside skirt). In fact they tasted so good that I had trouble telling them apart.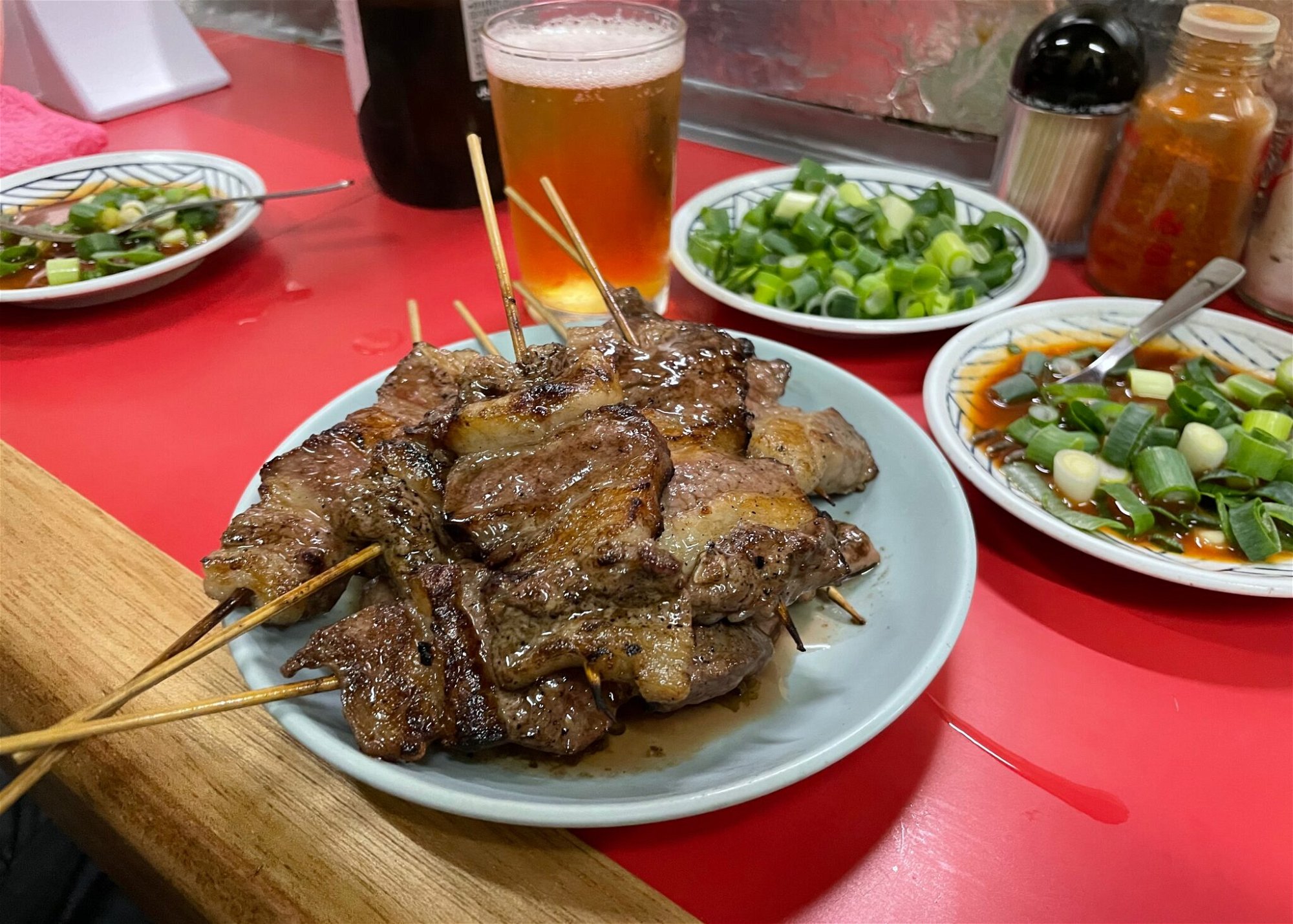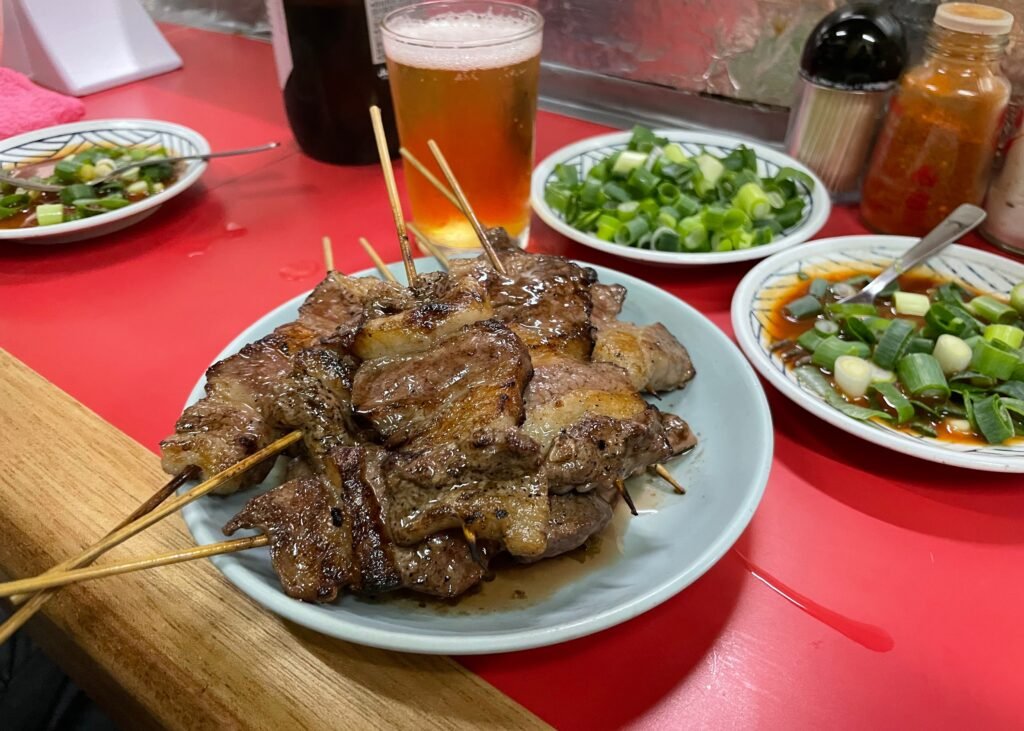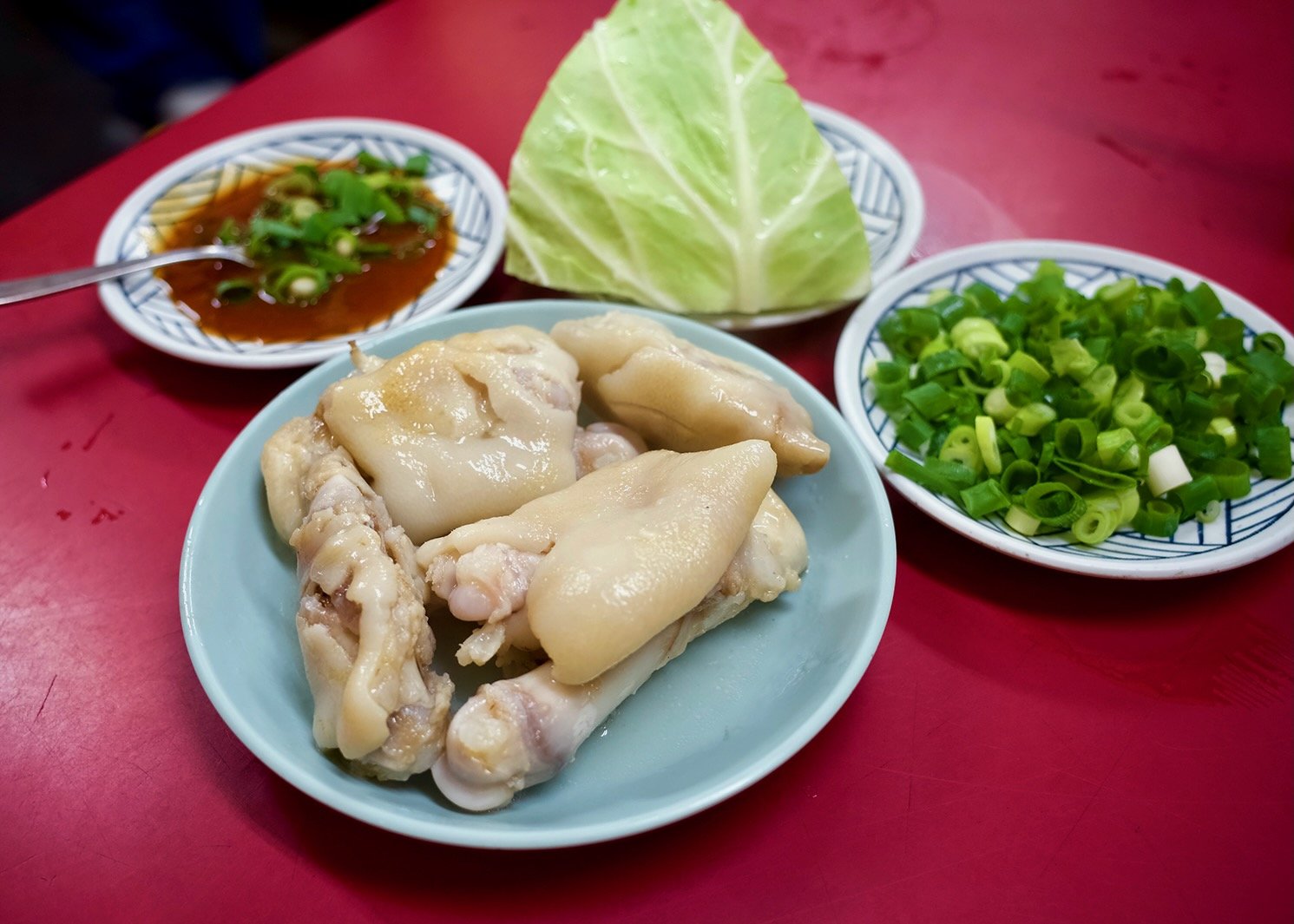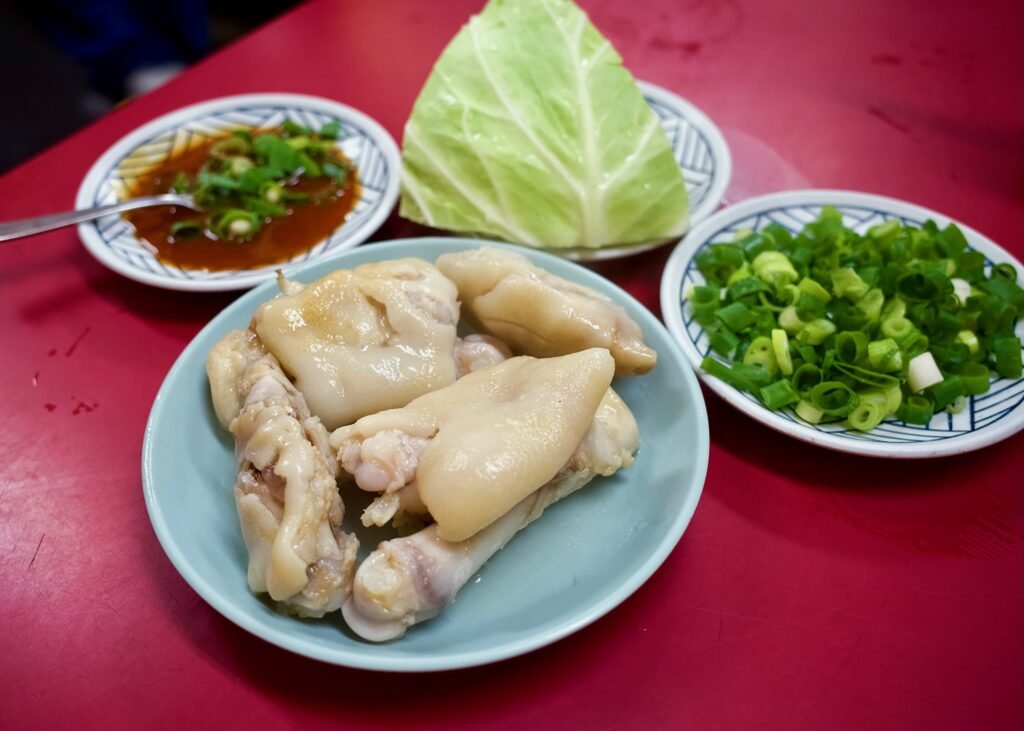 That all changed when I brought my friend Rodney Smith to Kadoya for the first time after a Pavement concert at Namba Hatch. I ordered the usual three items. When it was time to order a second plate, Rodney said, "Forget the tsurami, get the harami." We ended up ordering three more servings and I'm still dreaming about it. Do not leave Osaka without stopping at Kadoya. Come for the 1970s grimy atmosphere…stay for the outstanding food.
Note: Tonsoku Kadoya allows patrons to bring in non-alcoholic drinks. If the place is full, you can sit outside on a makeshift table and chairs made from empty beer cases,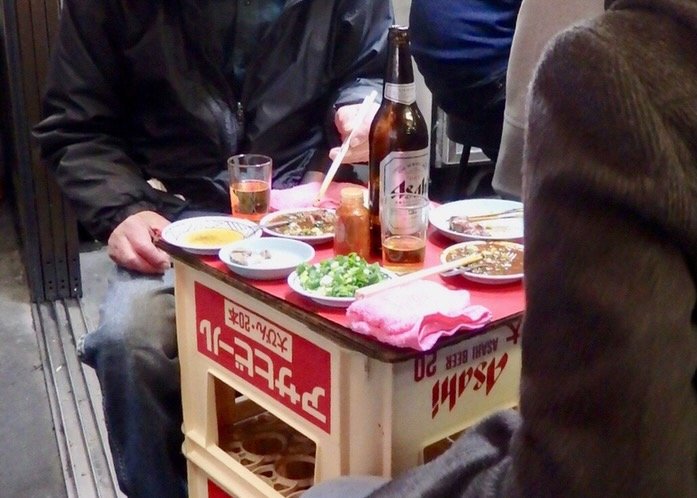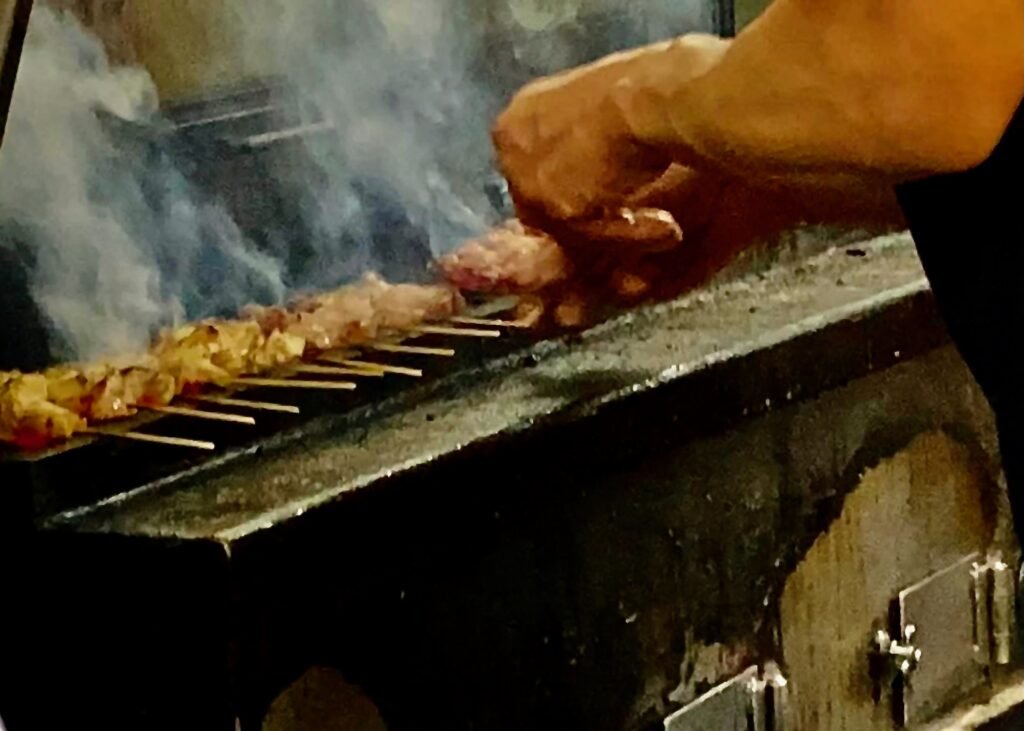 2. Notoya 大衆酒場能登屋
Address: 〒556-0011 Osaka, Naniwa Ward, Nanbanaka, 1 Chome−4−11 若竹ビル. Tel:N/A Open: Mon-Fri 15:30-23:00; Sat 13:00-21:00. Closed: Sun.
Notoya, located two doors down from Tonsoku Kadoya, can best be described as a dive bar-meets-a-greasy spoon. It is rare to find an old beat up cheap-as-sawdust relic full of history so close to Namba Station. While other restaurants have increased their prices to meet inflation, Notoya seems blissfully stuck in an era when it was a haven for salarymen who wanted a bite to eat and a tipple before heading home.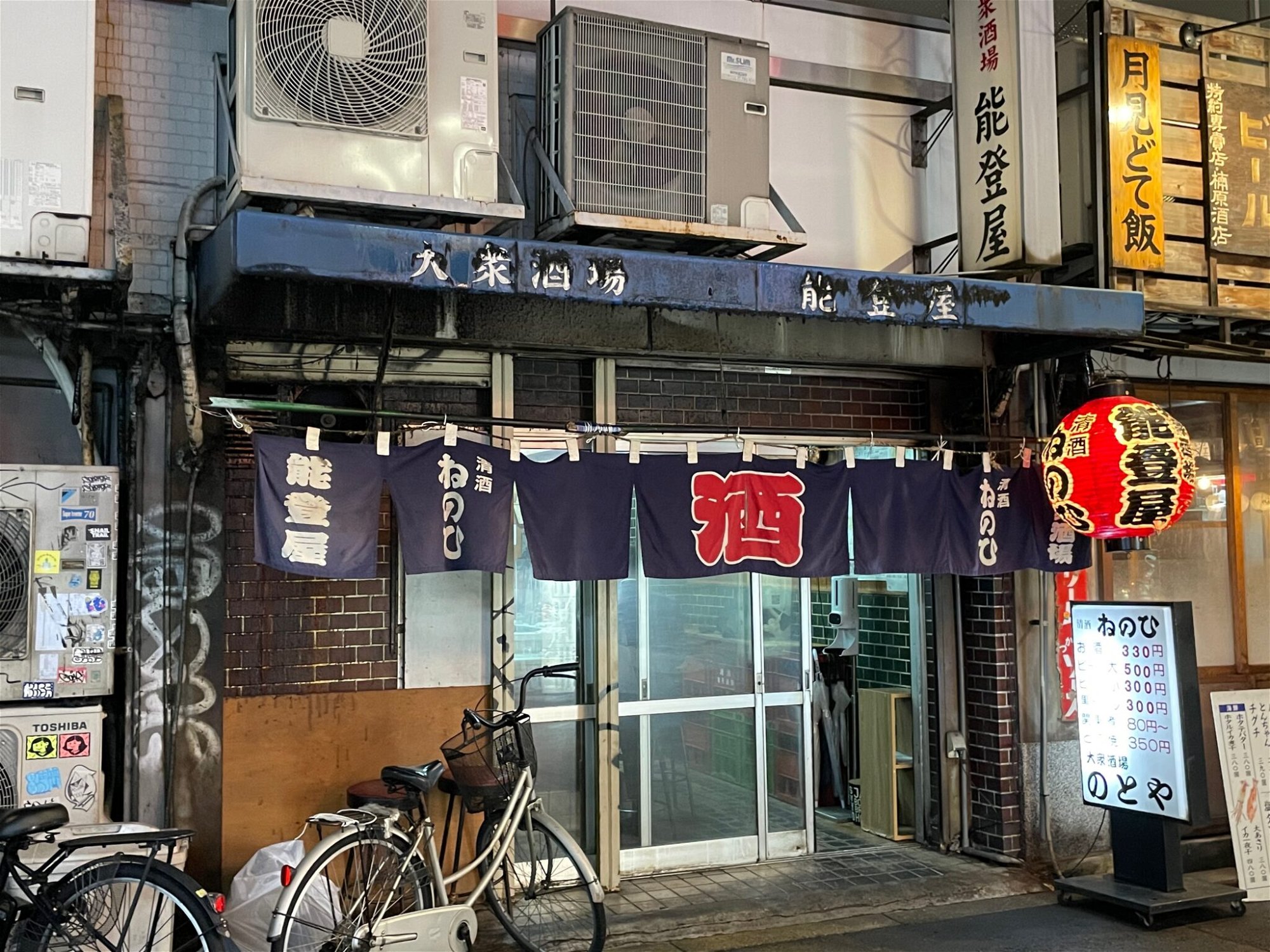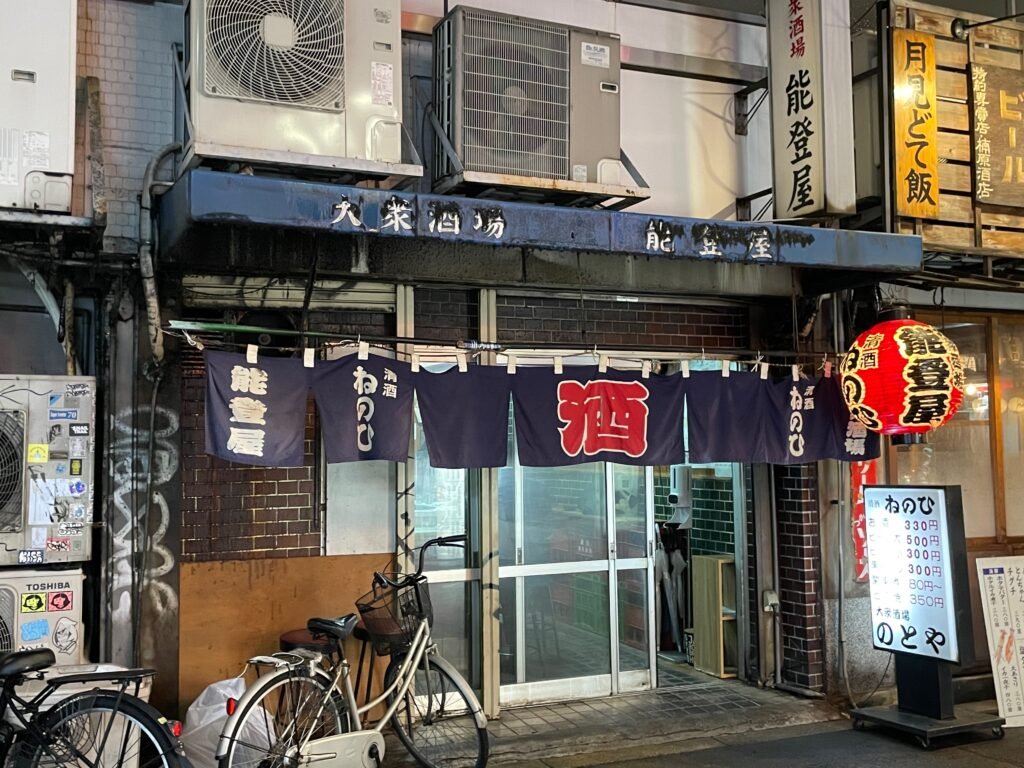 Look at the collage below. Start off with their famous doteyaki (top left). Doteyaki is a slow simmered stew using beef tendon, konjac and miso that originated in Osaka in. 1920. The doteyaki at Notoya has a rich flavor and is topped off with green onions. Don't forget to add shichimi spice to give it an extra kick.
Notoya has a popular dish called the "mixed grill"(top center) made up of sausages, green peppers and bacon. The bacon is far from crispy and sausages often look burnt but I'll be damned if it doesn't taste great. Their ham and egg dish (center left) is slapped together won't win any awards for appearance but really hit the spot with a cold beer.
Another menu item you must try at Notoya is the kantoni (関東煮 bottom left), which is basically the same as oden. Until five minutes ago, I thought that the dish originated in the Kanto region that includes Tokyo, but I discovered this article that states that it may been named after a Chinese dish Canton-ni (the kanji for "ni" (煮) means "boiled." (In Kansai the term "kantodaki" (関東炊き) is also used.)
Do not leave Notoya without trying the piping hot kushikatsu moriawase set (bottom middle) that contains six skewers. It rivals some of the more famous restaurants in Shinsekai.
3.Tori Ichiban Honpo とり一番本舗ナンバ店
Address: 〒556-0011 Osaka, Naniwa Ward, Nanbanaka, 1 Chome−4−11 若竹ビル. Tel:06-6631-3611. Open: 17:00-23:00. Closed: Sun
Eagle-eyed readers will notice that Tori Ichiban Honpo, a chicken-specialty restaurant conveniently located between Tonsoku Kadoya and Notoya, has been featured in Osaka.com twice: in my interview with Swiss film director Roger Walch last year and an article that ran last month by guest writer Jefferson Graham, a photographer and journalist from Los Angeles. Tori Ichiban is so good that it even appeared a third time in Ruth Talks Food, a fantastic informative blog by Jefferson's wife, Ruth Stroud.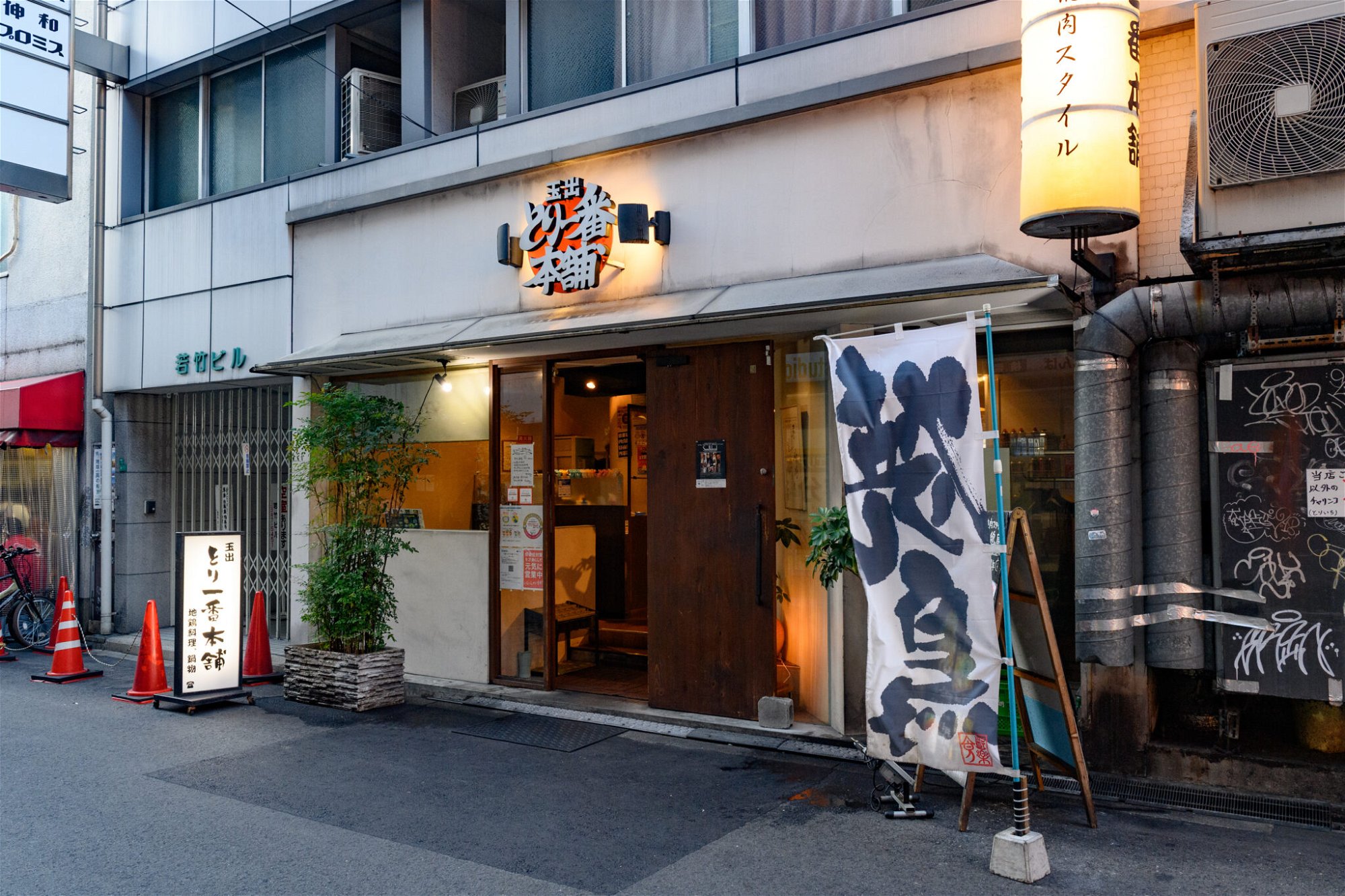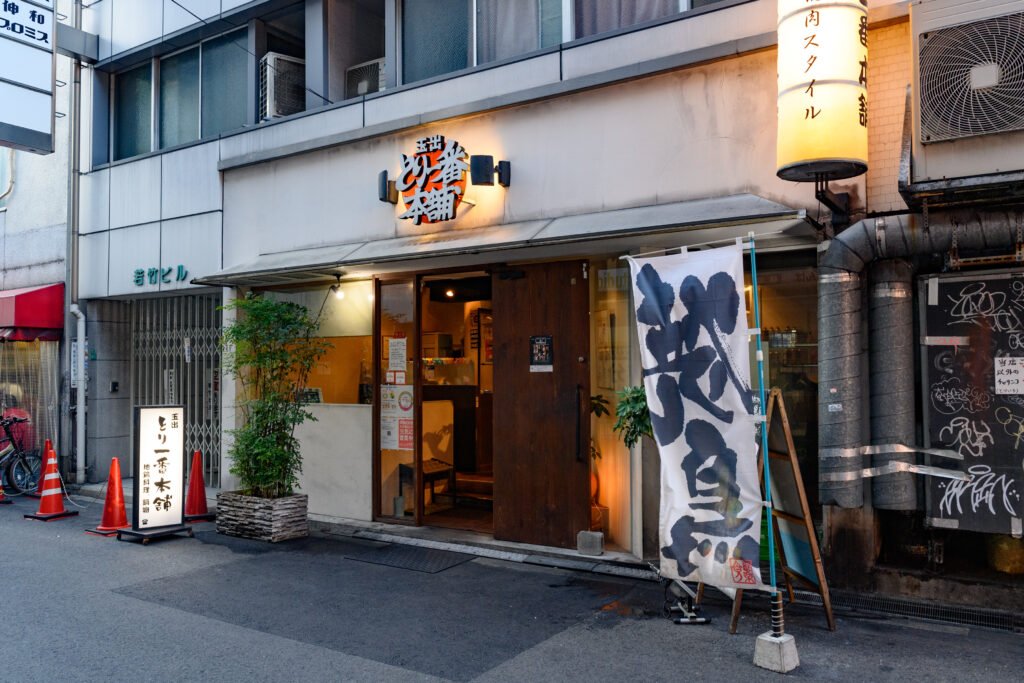 Photo Credit: Tsuyoshi Tagawa
As he recounts in his article, Jefferson, Ruth and my wife Mami and I ended up at Tori Ichiban Honpo because we were overwhelmed by the massive crowd at the Dotombori and wanted to go to a less-populated area to sit down and have dinner. When in doubt, leave the masses and take a detour down a side street. There are plenty of hidden gems just waiting to be discovered and you won't have to wait outside with other hungry tourists.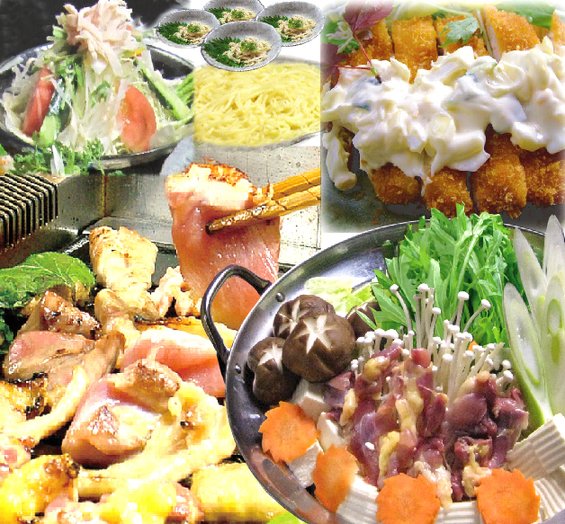 You can read all about the wonderful chicken that we grilled yakiniku style, but Tori Ichiban Honpo is also famous for chicken nabe (seasonal hot pot dishes) with tofu, shiitake and enoki mushrooms and other fresh vegetables. Be sure to try their tasty salads (especially the cesar salad!) and karaage fried chicken, and nanban chicken.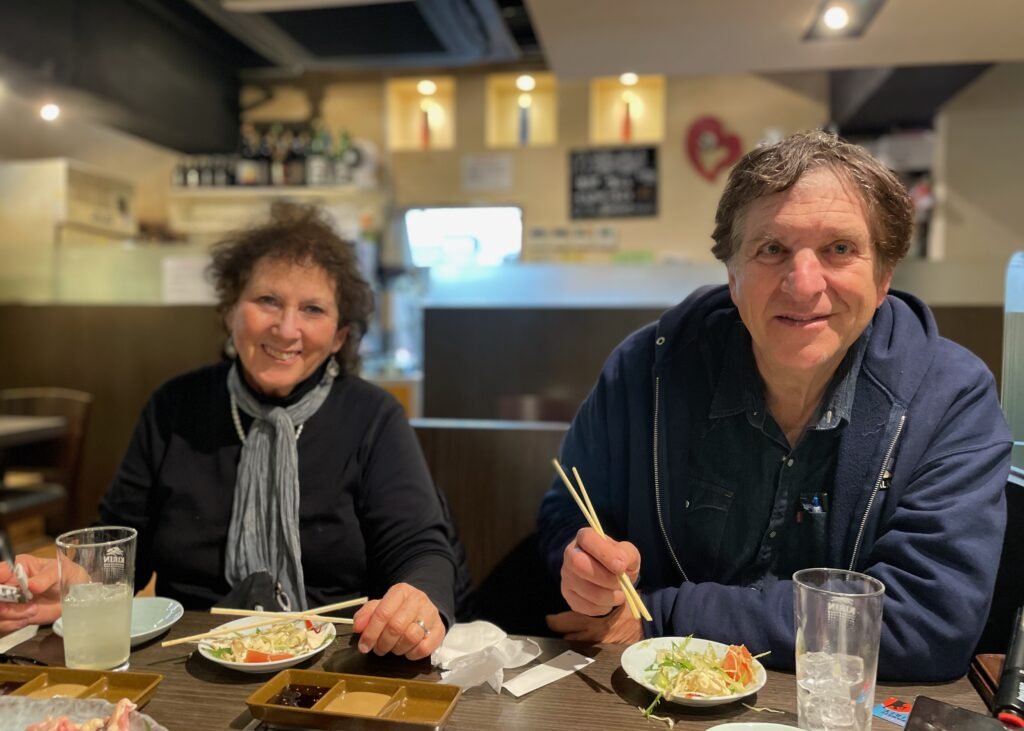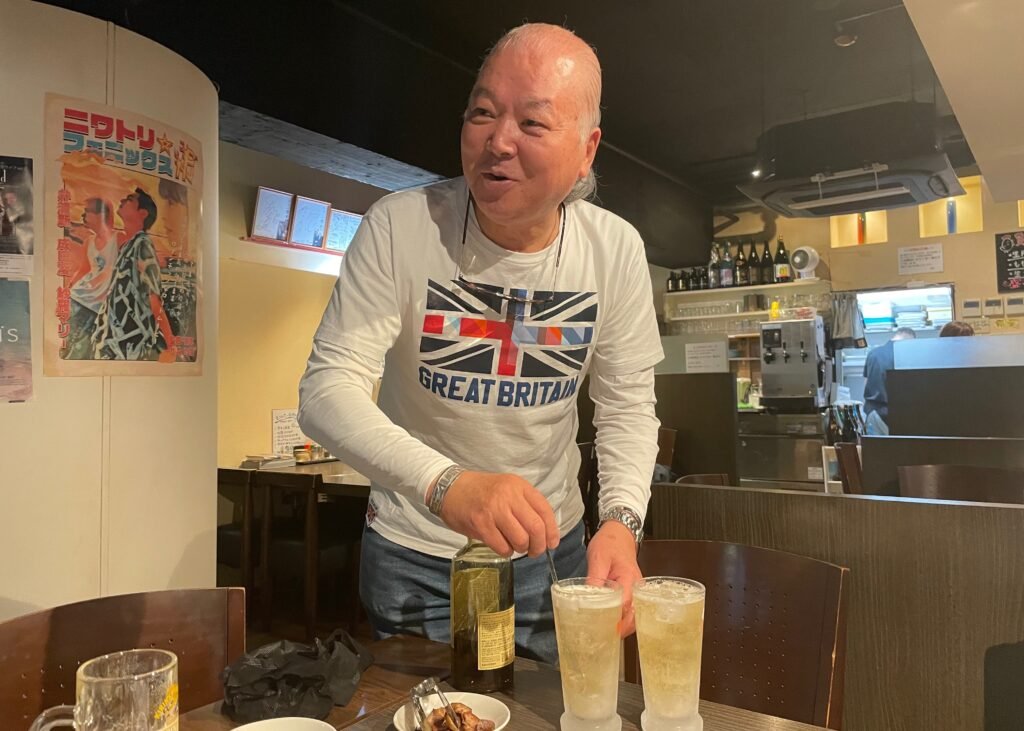 Left: Ruth Stroud and Jefferson Graham. Right: Tori Ichiban Honpo owner Toshikazu Fujimoto prepares cocktails
Best of all, Tori Ichiban Honpo features incredible service, even by Japanese standards. If owner Toshikazu Fujimoto is around he'll be happy to sit down at your table and help you cook the chicken on the grill. Everyone I know who has visited this restaurant has walked away incredibly satisfied.
4.Family Mart Yotsubashi Namba Station ファミリーマート 四つ橋なんば駅前店
Address: 1 Chome-3-10 Nanbanaka, Naniwa Ward, Osaka, 556-0011. Tel: 06-4396-4038. Open: 24 Hours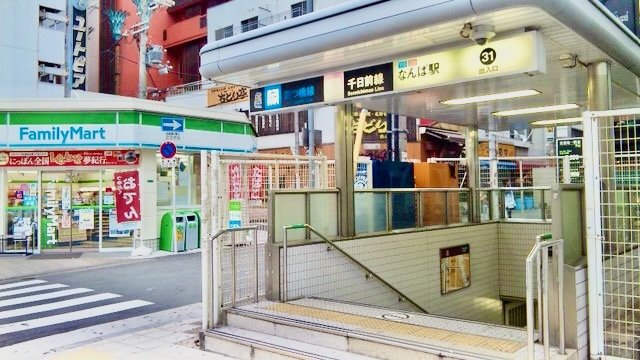 This Family Mart by Exit #31 is known to locals as a drinkers paradise. On any given day you are apt to see up to a dozen customers enjoying tasty alcoholic beverages on the side of the store that faces the street. The trick is to claim the small bench next to the entrance if you feel like sitting down. The best place to stand around drinking cans, however, is by the fence behind Exit #31. The area comes alive at night and you'll have the perfect view of the intersection of side streets and back alleys.
There's something to be said about a group of friends just standing around drinking. Remember that show King of The Hill in which Hank Hill and his friends drank beers in front of a brown picket fence somewhere in Texas? Now you can do the same thing in Osaka. There are no markups on the alcohol and you won't have to walk far to get another round. Feeling peckish? Treat to yourself to some snacks or try the famous Famichiki. Who has better chicken, Family Mart or Lawson? This age old question is something you can debate while drinking a cold beer on a hot day.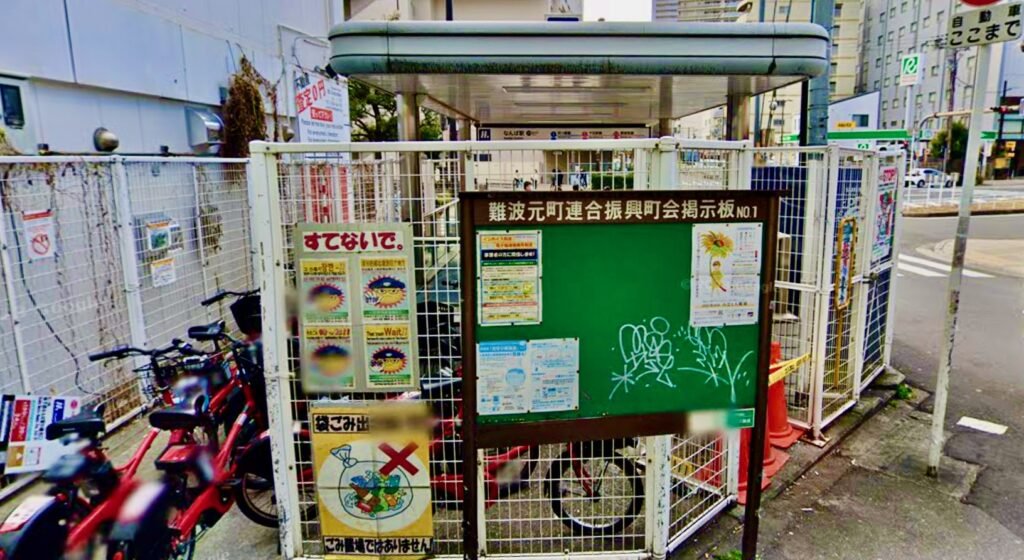 A word of caution. I know that drinking a Suntory -196˚C Strong Zero with 9% alcohol in front of a convenience store is something of a rite of passage that has to be crossed off the bucket list. I've seen the videos about downing a few cans of Suntory 9% Strongs to "get your drink on" as a "pregame" before hitting the town. This is not one of those 'Get off my lawn!' rants from an old timer, but I would seriously avoid drinking more than one of these tallboys if you have never had one before. Sure, they taste good going down, but once the alcohol and chemical boosters kick in you might end up blacking out, punching your best mate in the face, running down the Midosuji in your skivies and getting tossed into the back of a patrol car.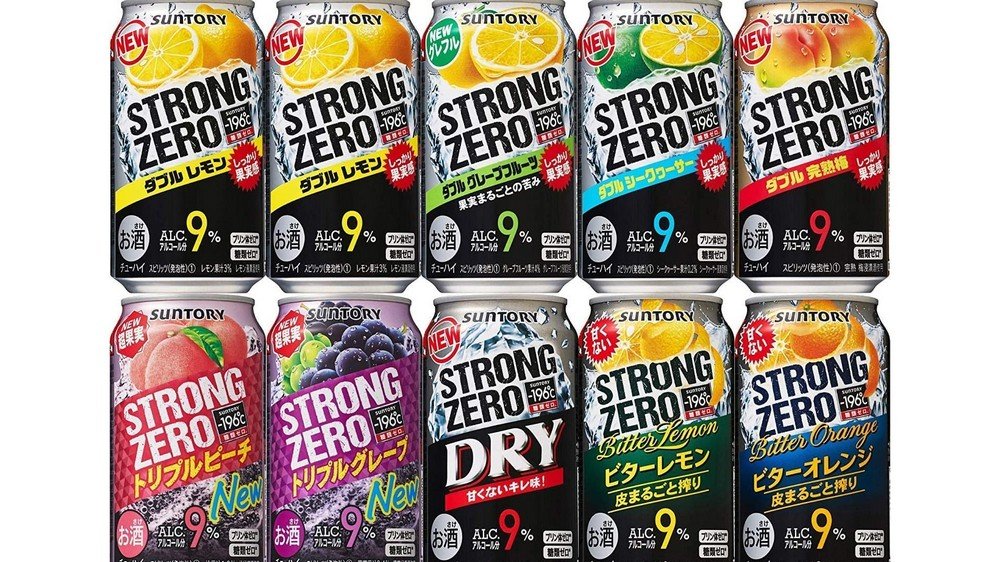 EXIT #32 SIDE
5. Maruho Saketen Craft Beer Bottle Shop & Bistro マルホ酒店 ミナミ店
Address: 1 Chome-4-12 Motomachi, Naniwa Ward, Osaka, 556-0016. Tel:06-7712-6861. Open: 17:00-24:00. Closed: Tues. Website
Maruho Sake Shop, located near Osaka Dome in Kujo, has one of the largest selections of imported beers in all of Osaka, with over 400 varieties, 70% of which are from overseas. The shop was started at the end of the Meiji period by Jirosuke Hohokabe, who moved to Osaka from Tamba in Hyogo. After the war, the shop moved into a burned out building without a roof in 1945. Maruho has been at its current location since 1963.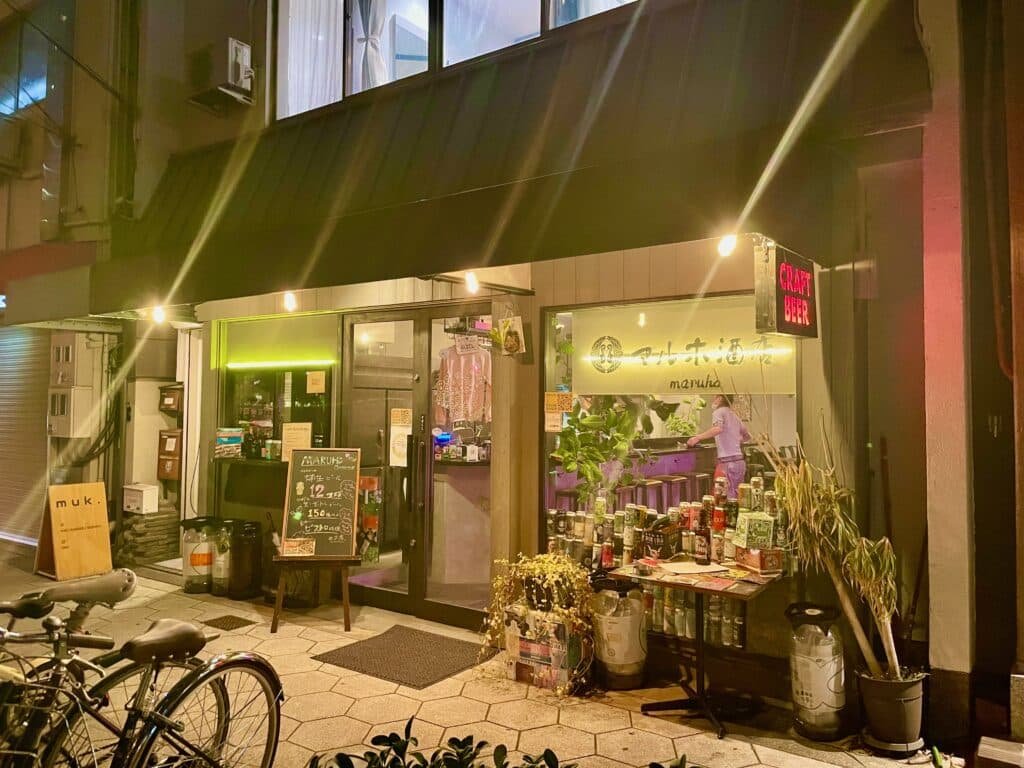 In 2013, Hiroaki Hohokabe, the great-grandson of the founder of Maruho Saketen came across a craft beer called Kagua Blanc that changed his life. "The freshness of the yuzu and the gorgeous aroma derived from the yeast hit me like a ton of bricks," he told Brutus Magazine.
After graduating university, Hohokabe took over the family business and made craft beer his main business. The refrigerator at the shop is full of hard to find cans of beer from Spain, Hong Kong, Ireland, Australia, New Zealand and other countries. The shop functions as a standing bar on Mondays and Fridays from 17:00-20:00.
Craft beer lovers don't have to go all the way to Kujo to enjoy the selection at Maruho. In 2020, Hohokabe opened a bottle shop and bisto in Namba (near Osaka Metro Exit #32) where customers can enjoy food from various European coutries prepared by a chef with a background in French cuisine. In addition, the bistro has 12 taps serving craft beer from around the world.
I visited Maruho Bistro and Bottle Shop on a Friday evening. Upon stepping inside, I was impressed by the layout and decor. The restaurant is wide in the front and deep in the back. There are some craft beer inspired murals on the wall and the door to the restroom is covered with stickers and beer labels.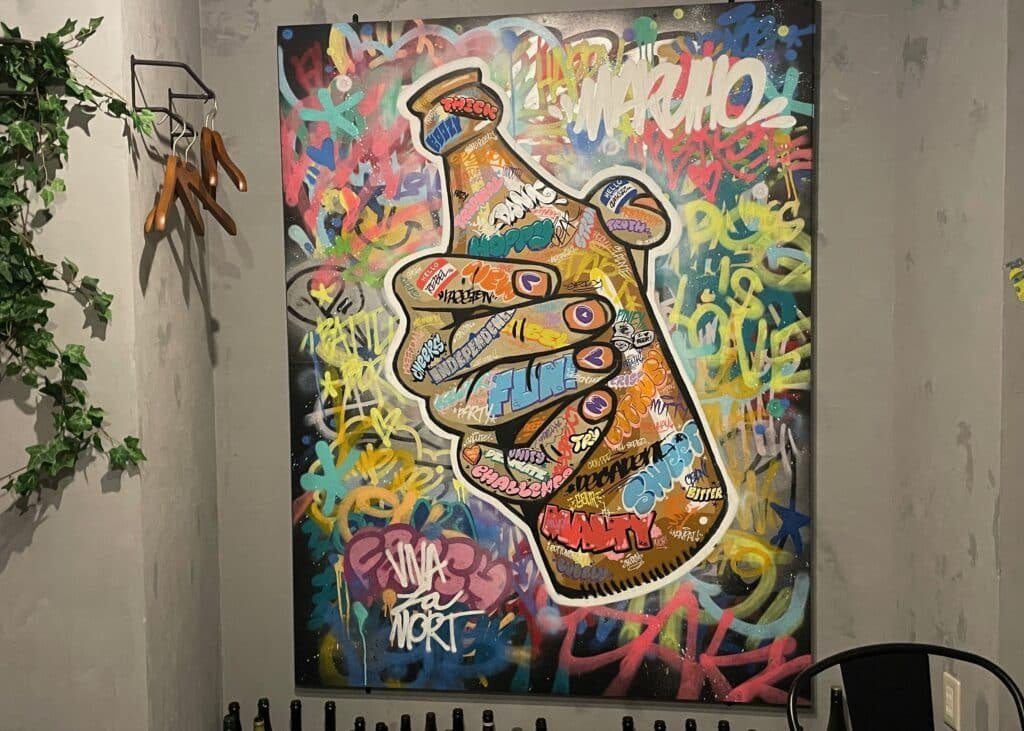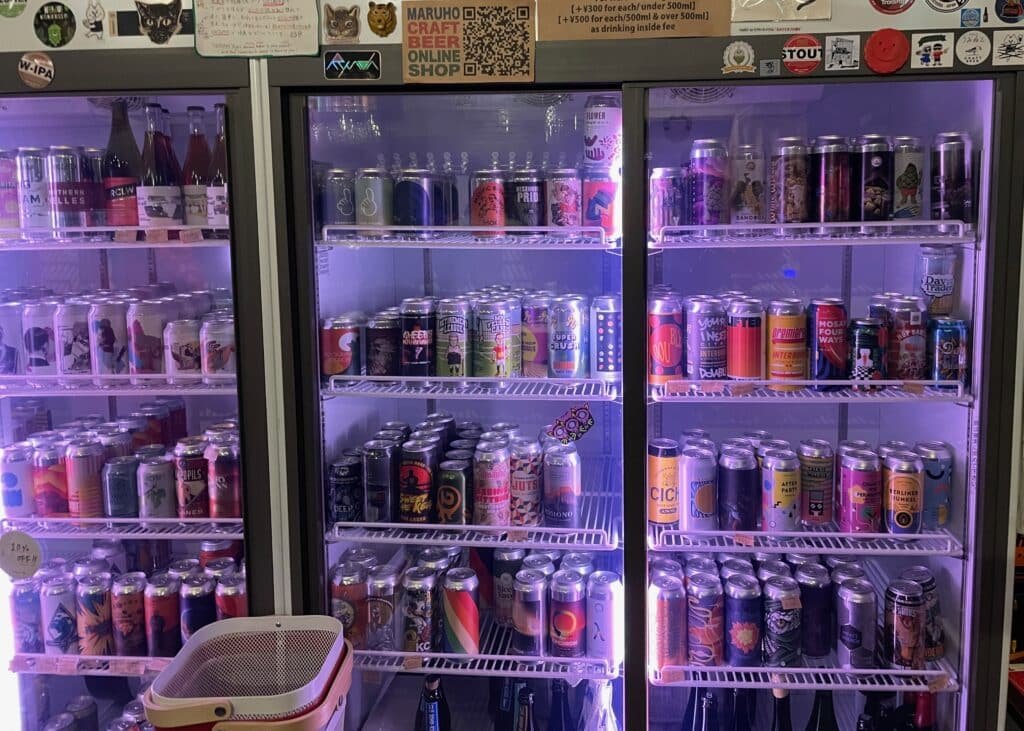 Due to the exchange rate and rising import costs, some of the beer in the refrigerator costs the same as what the average English teacher in Osaka earns in an hour. I suggest starting off with a couple of medium glasses of beer on tap for around 1,000 yen. The friendly bartender was happy to recommend California Love from Smog City Brewery, an excellent double hoppy red ale with pinoit noir, orange peel and oak.
I was in the mood for a sour ale so I ordered Jam up The Mash from Collective Arts Brewery in Toronto. It was outstanding. I couldn't leave without a tipple of the Margarita Rice Lager from Donzoko Brewery in Edinburgh. The delicious lager, which is inspired by the cocktail, is made with Japanese rice and whole lemon and lime zest.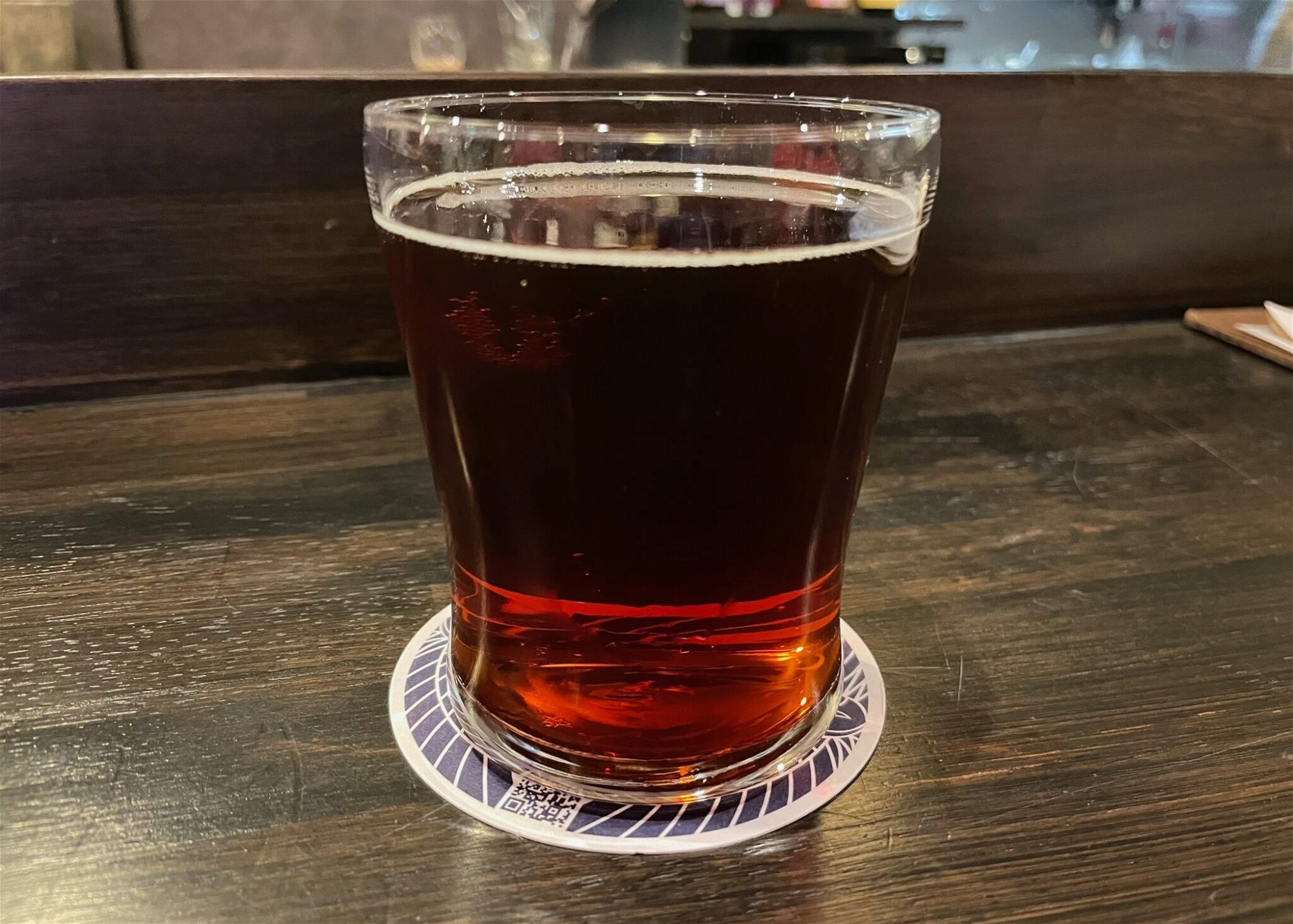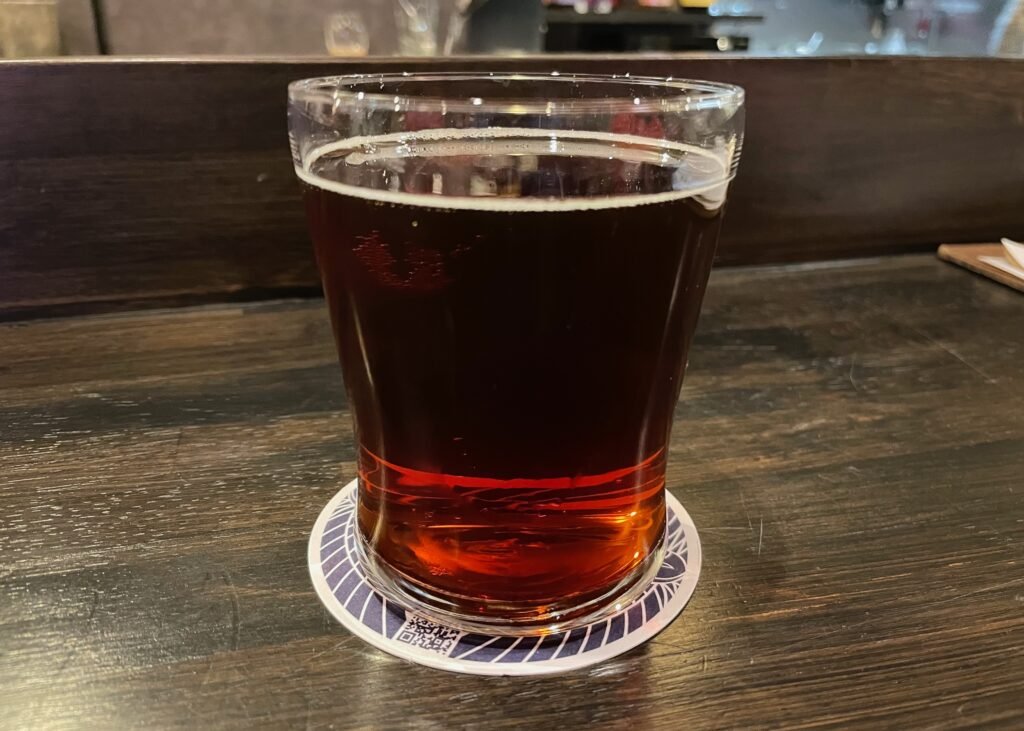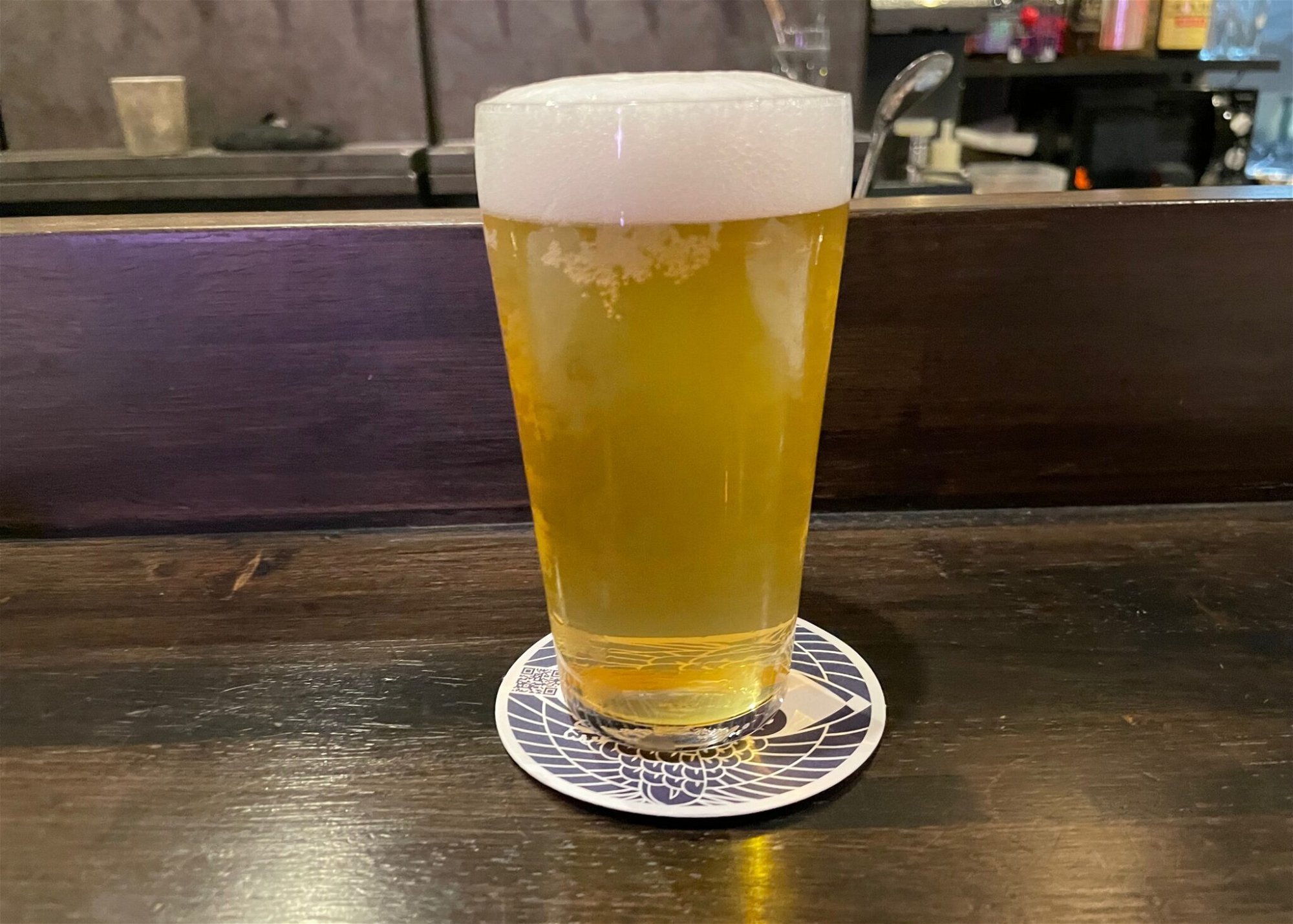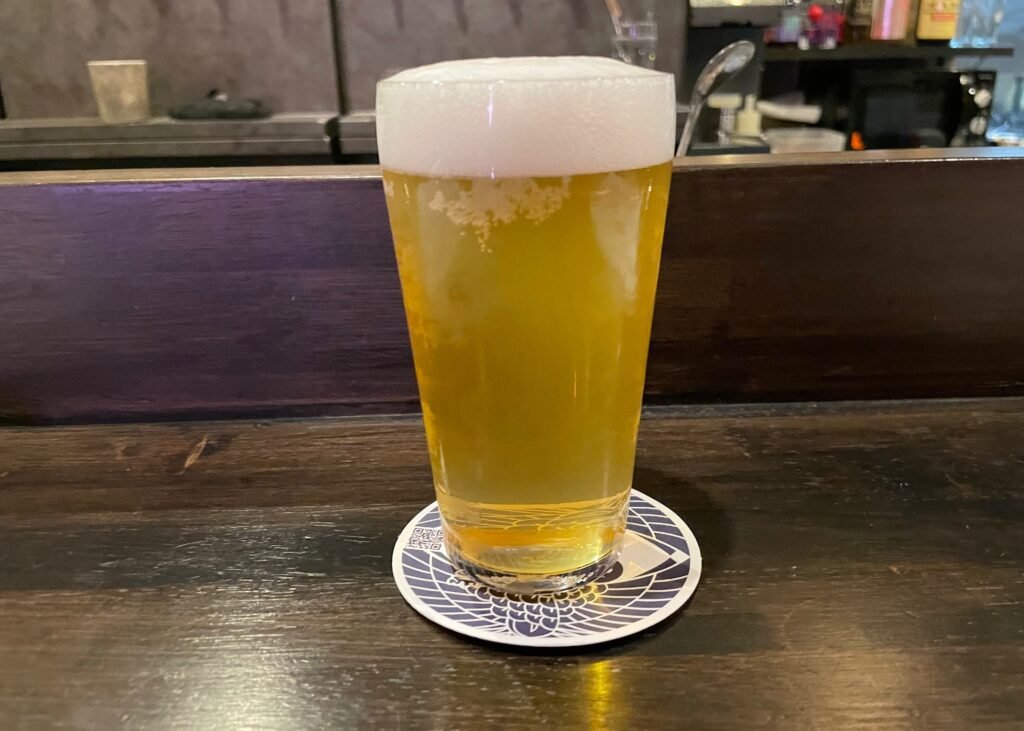 6. Little Long Beach リトルロングビーチ
Address: 〒556-0016 Osaka, Naniwa Ward, Motomachi, 1 Chome−4−22 ロアジール難波 101 号. Tel: 06-6567-8685. Open: 18:00-25:00. Closed: Sun. Instagram. Facebook.
Mosey on down the block to a friendly American-owned bar that has a devoted following by Japanese locals and long-term foreign residents. Chad Bunch came to Japan almost two decades ago with the dream of opening up his own bar. He named the bar after his hometown of Long Beach, California. Little Long Beach started off across the street at a smaller location, and then moved to the more spacious current location a few years later as his clientele grew.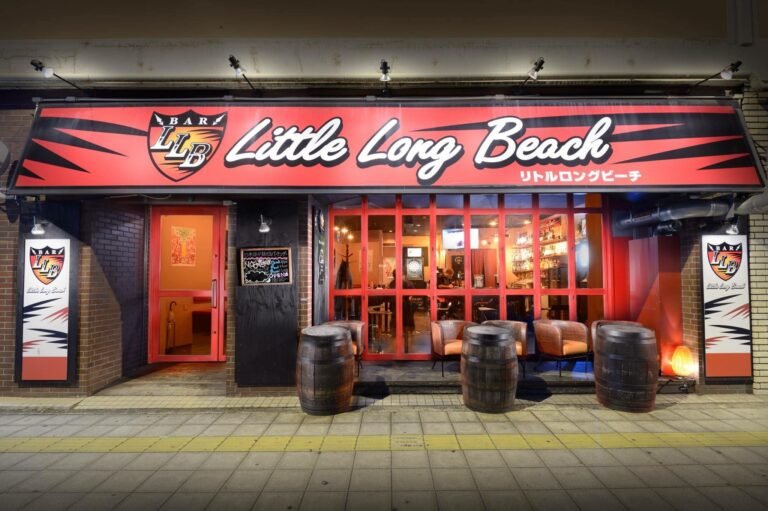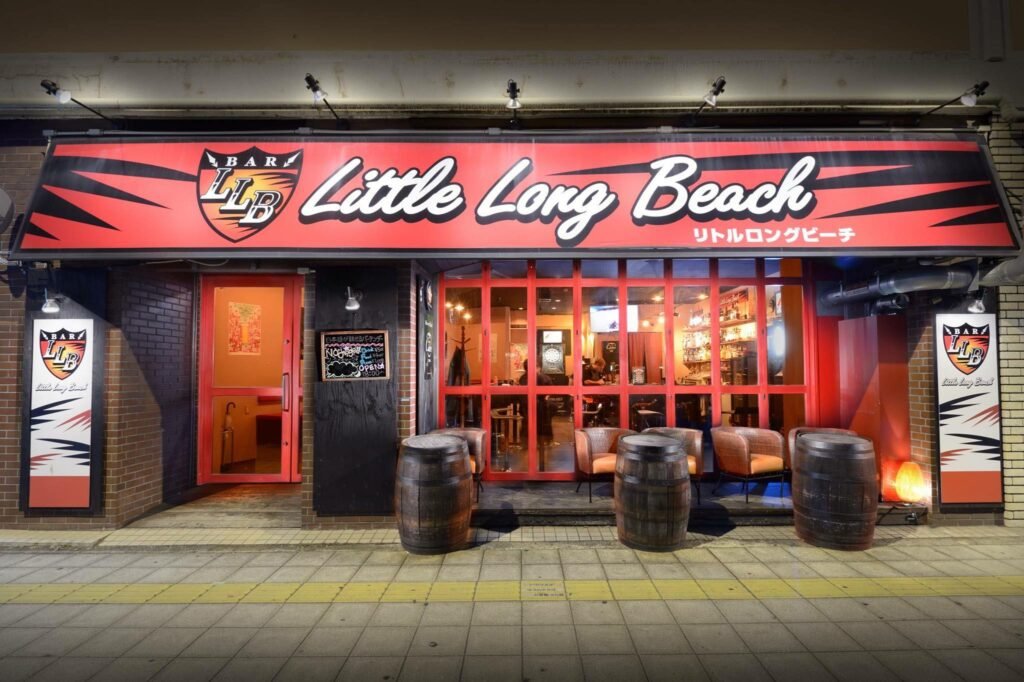 "Fifteen years ago I thought it would be an up and coming place for Japanese," explains Bunch. "I have enjoyed watching the transition from sleepy bed-town to what it is now. And with all the new hotels opening in the area, as well as a new train station being built in front of Little Long Beach, I'm looking forward to the continued transformation."
Bunch is referring to a joint plan by JR West, Nankai Railroad and Hankyu Railroad to create and underground railway line called the Naniwasuji Line, which will connect Kansai Airport to Umeda and Shin Osaka and cut the journey in half to 30 minutes. Construction is expected to be completed in 2031.
Bunch is one of those affable blokes that everyone seems to know. If you've lived here for any amount of times than you'll discover that you have quite a few mutual friends in common. Bunch has the gift that many successful bartenders strive for: he is a natural born raconteur who can entertain his customers for several rounds of drinks with loquacious stories about his life in California and Osaka.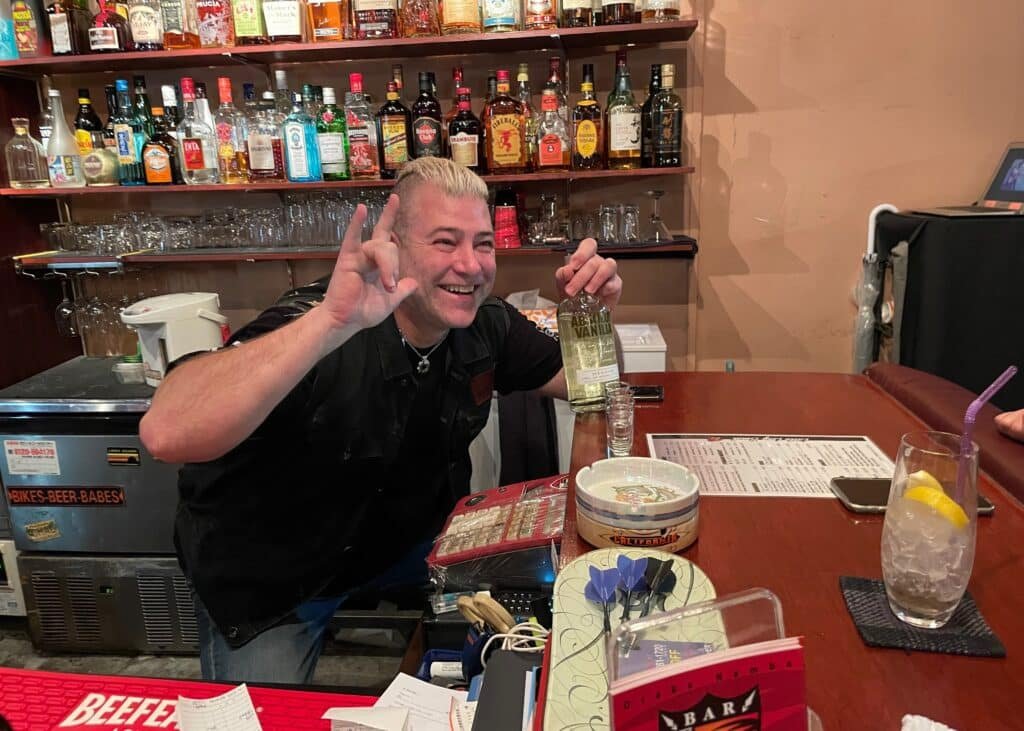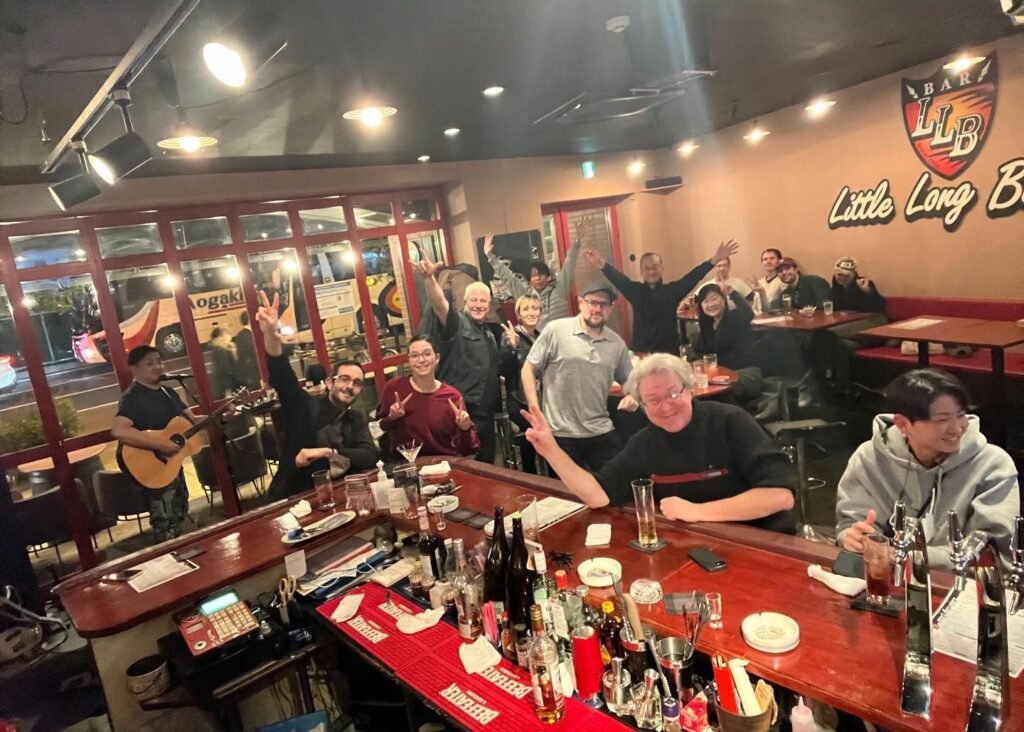 "I have been very lucky to have wonderful regular customers," says Bunch. "In the past 'word of mouth' was one way a lot of people found me. I love people. New customers and old. It's a pleasure to interact and introduce many friends at Little Long Beach. I also enjoy introducing travelers to real Osaka friends. Many vacationers find it hard to speak to regular good people, and I try to help with that at my bar. It's a pleasure to see people getting along so well, with my Japanese friends, who come from all over the world."
Beer, chuhai, and ciders are ¥600. Whiskey and cocktails start at ¥700 and ¥900 respectively and are higher for the top shelf bottles. Little Long Beach, which has a 4.5 star rating on Google reviews, offers a nice selection of bar food such as quesadilla, pizza and nachos at reasonable prices.
7. Taiwan Taishu Shokudo Abu Cat 台湾大衆食堂 油猫
Address: 1 Chome-2-10 Motomachi, Naniwa Ward, Osaka, 556-0016. Tel:06-6631-6006. Open: 17:00-26:00. Instagram
It's hard to miss this colorful new addition to the area. The neon lights and decor of this Taiwanese restaurant make it seem like it was brought over lock, stock and barrel from Taipei. Let's start with the name. You might need a degree in applied linguistics to figure it out. If you can read kanji then you recognize the Chinese characters for Taiwan (台湾). The next four kanji (大衆食堂) "taishushokudo mean "public cafeteria", which implies that the food is cheap. The last two kanji (油猫) translate as "oil cat", but the word for cat is not Japanese ("neko") but "cat" in English.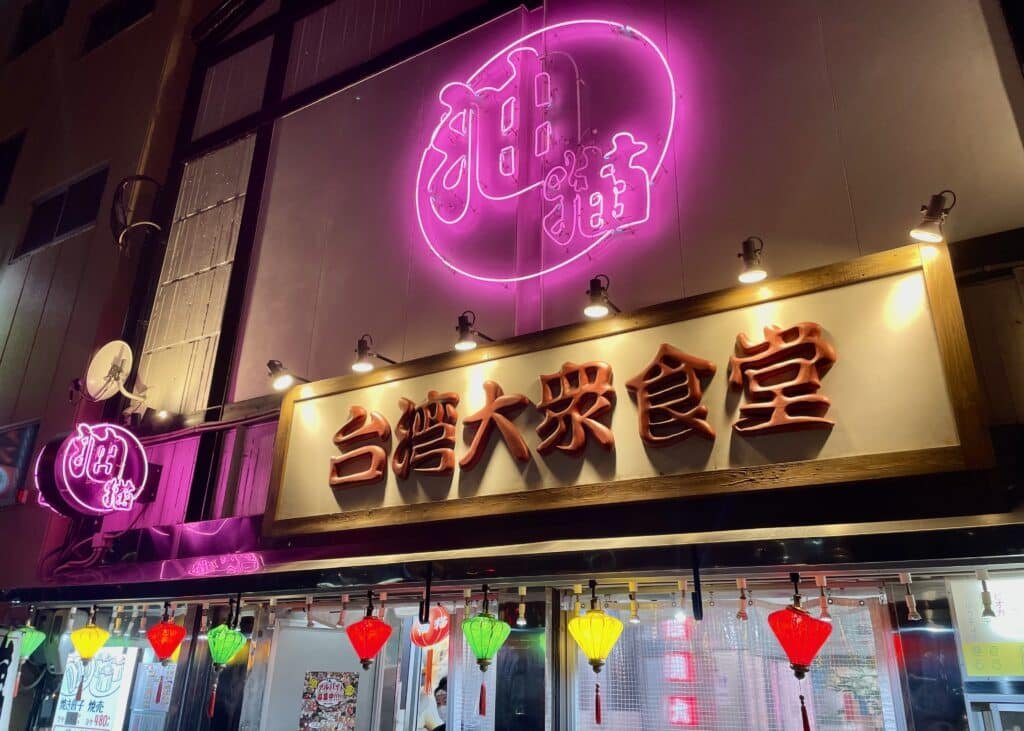 Upon entering the shop I had to remind myself that this restaurant aimed at attracting a Japanese clientele above all else, so any comparisons to authentic Taiwanese food is a complete waste of time. It would be like critiquing an inexpensive Japanese izakaya in Taiwan. That being said, there are a number of restaurants in Osaka that do serve authentic Taiwanese food, but that will have to be the subject of a different article.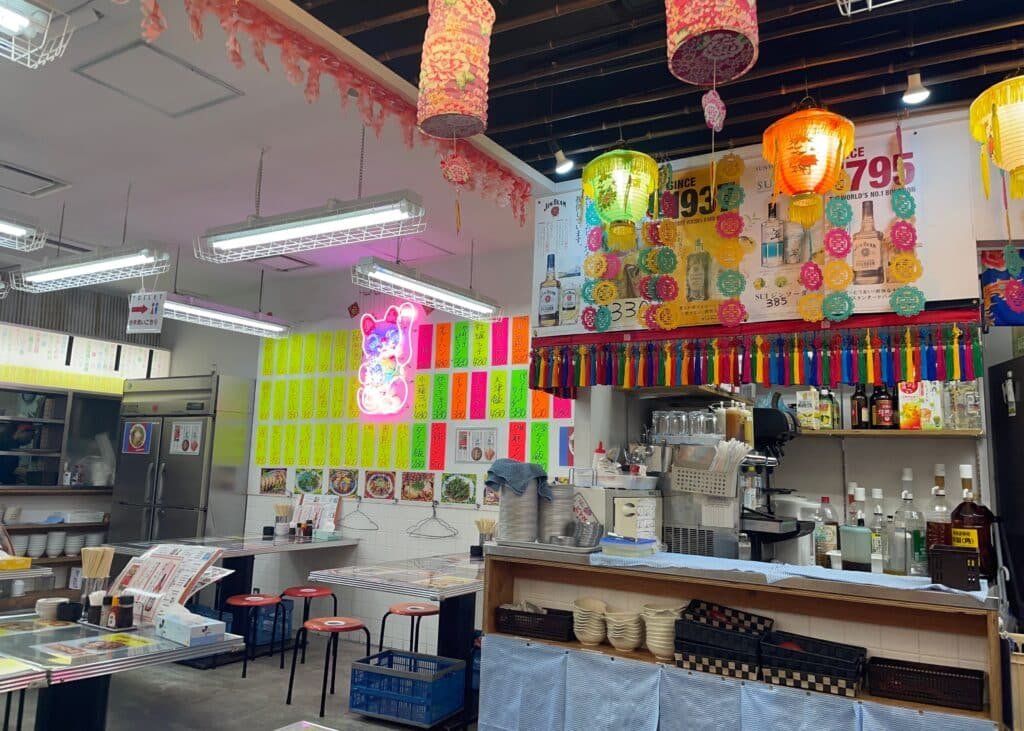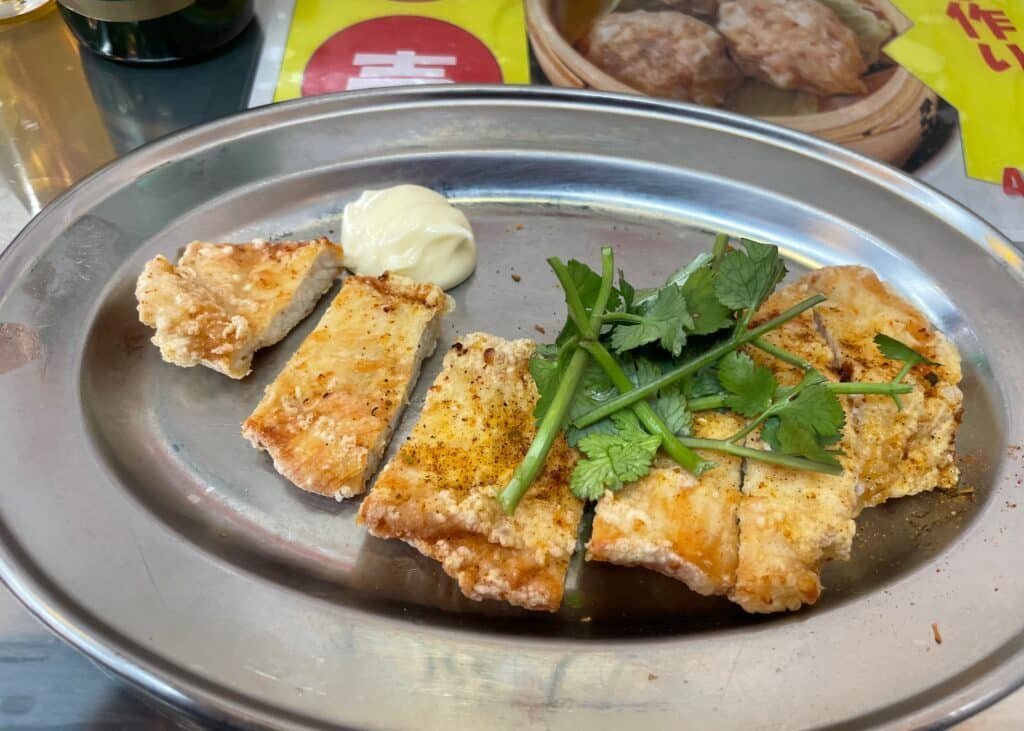 I start off by ordering a bottle of Taiwan Beer. One of the best memories of my two trips to Taipei was buying cans of Taipei Beer because it really pairs well with Taiwanese cuisine. My first food order is a safe choice—Taiwanese fried chicken. You can choose from 100 grams or 200 grams. I go with the smaller option because I am planning on eating a lot this evening. Man, I swore I wouldn't complain about the taste being inauthentic, but this is just too bland to be considered Taiwanese food.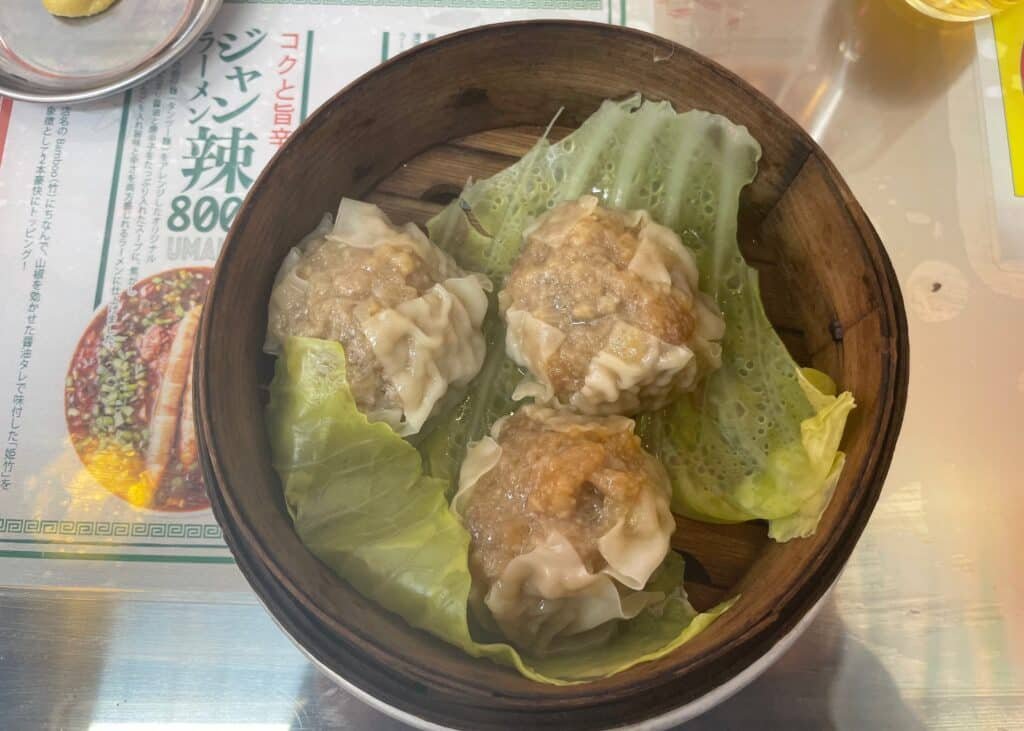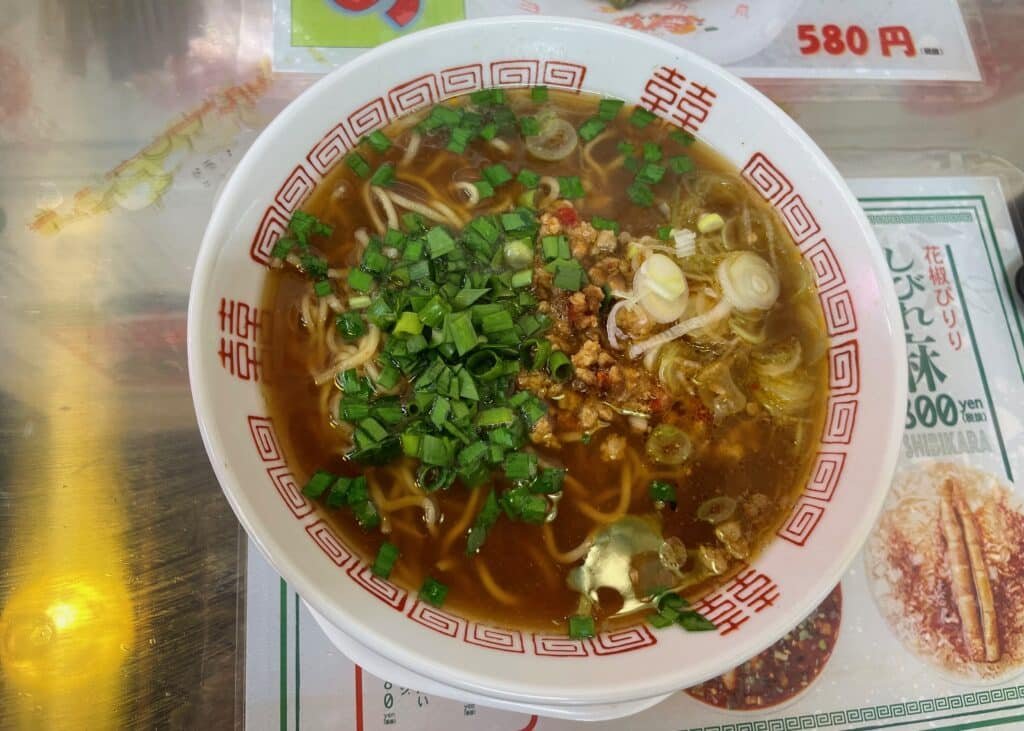 My next two dishes yielded mixed results. The handmade shumai was very good, but again it lacked the distinct spices of Taiwanese cooking that I love. The Taiwan Ramen was a real winner, with chewy noodles and a rich broth. I would definitely order this again.
Live And Learn: This Is What I Should Have Ordered…
A few days later I read some of the rave reviews by Japanese customers on Tabelog and realized that I blew my review by ordering the wrong items. Restaurants like these are meant to be inclusive, so that every member of a drinking party can leave satisfied. A lot of Japanese do not like pakuchi (coriander) or hakkaku (star anise), but they still can enjoy some of the more mild dishes.
Those that want their food to have a more authentic kick opt for spicier dishes such as "umakara" and "shibikara" ramen. Customers also raved about the Lu Rou Fan (braised pork rice) which is topped with mustard greens, pickled takuan, hot egg and coriander; and the spicy mazesoba (¥638), which can be enjoyed twice by adding rice to the second half.
I'm kicking myself hard for not ordering these dishes. Sometimes it actually pays to read the reviews before entering a restaurant.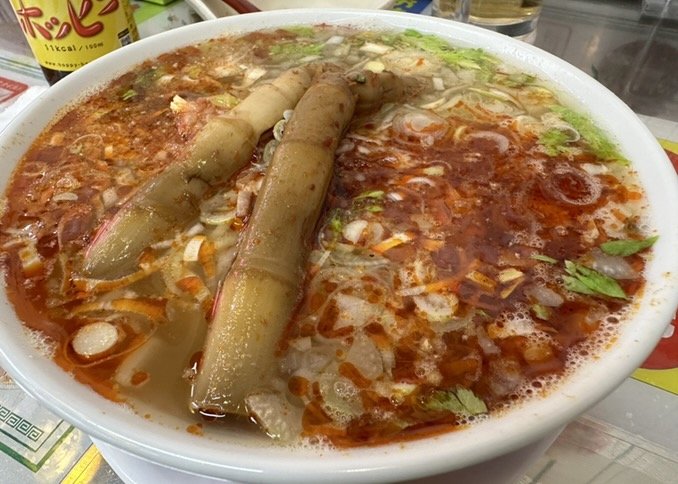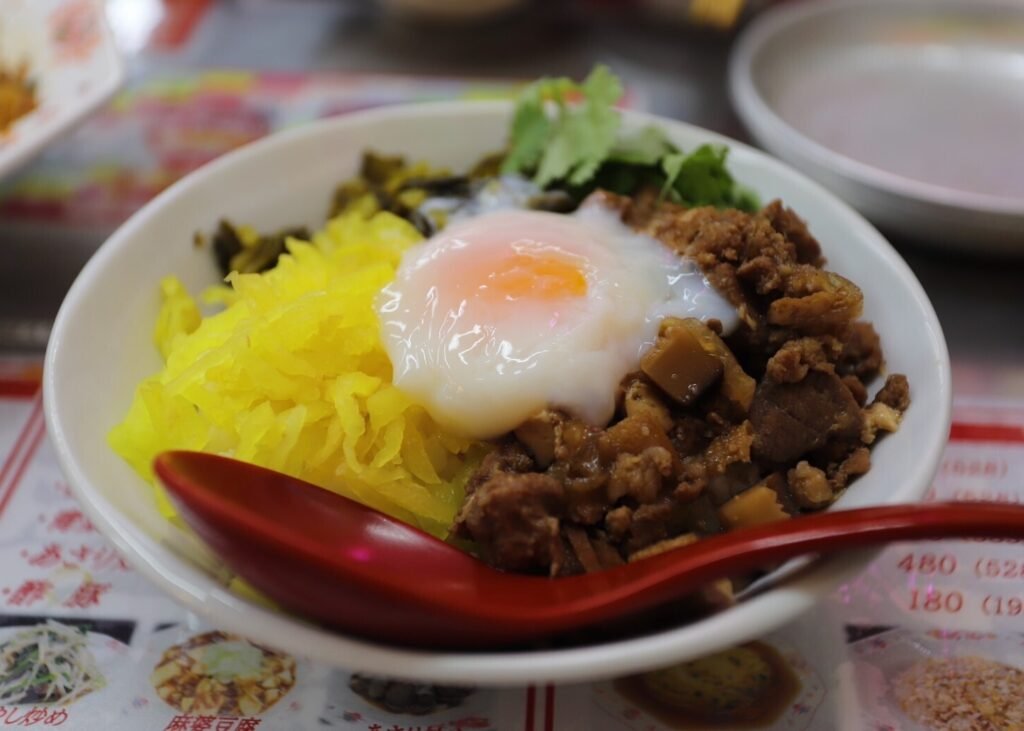 8.Namba Mele
Address: 〒556-0016 Osaka, Naniwa Ward, Motomachi, 1 Chome−2−2 井上難波ビルB1F. Tel:06-6634-1539. Open: M-F 17:00-22:00; Sa-Su 15:00-22:00. Website Instagram YouTube
Osaka has one of the best underground music scenes in the world. The city if famous for artists such as Shonen Knife, Boredoms and noise artists such as Masonna and Solmania. There are plenty of great live houses to choose from such as Namba Bears, Hokage, Sakai Fandango and Hard Rain. My personal favorite is Namba Mele, which is located between Namba Station and JR Namba.
Here's why I love Mele so much. The first reason is that they always book a great lineup of bands. I have an affinity for raw rock and roll bands in the Japanese garage scene (Guitar Wolf, Teengenerate., 5678s etc) and Mele puts on the best events that attract a loyal crowd of fans month after month. They also get quite a few overseas bands such as The Boys and The Courettes.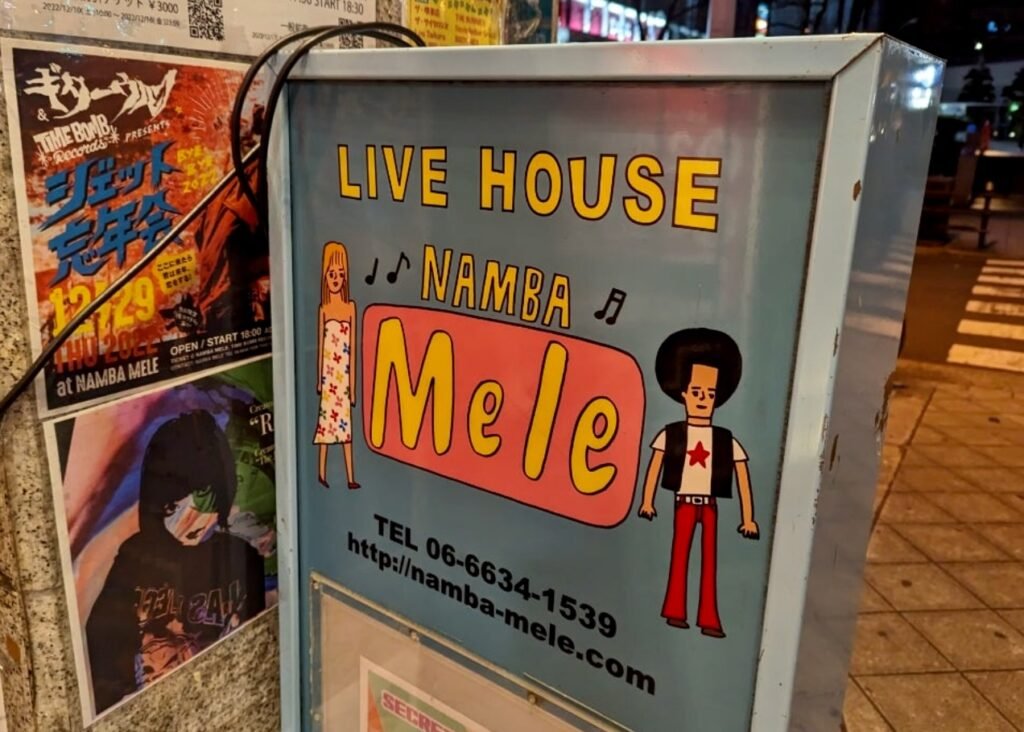 The second reason is a lot more personal. As an aging member of Generation X, I just don't have the stamina anymore to spend two or three hours in a mosh pit. Fortunately, the bar at Mele is in a separate area from the stage, making it easy to take a much needed break between sets. If the crowd gets too wild (which they often do), I'll simply exit stage right and sit down and have a nice cold Brewdog Punk IPA or some other fine beer.
The third thing I like about Mele is that there is a DJ booth on the opposite side of the stage and the DJs play the best obscure music, often from old 45s found in dusty record shops in America, the UK and Australia. I often find myself peering into the booth trying to make out the artist and song as the record spins around. The DJs play records for about 45 minutes after the show ends and its the perfect way to let off steam before heading home.
Mele has an incredible lineup of shows slated for June. Do not miss the mighty King Brothers (June 16th), a band that puts on one of the most intense live shows on the planet. Full disclosure: I first saw the King Brothers in the late 90s when they were still in high school when they opened up for Guitar Wolf.
If you google King Brothers you'll find a quote that has followed me for over 25 years: "See them before they all die of heart attacks." I don't remember saying this, but it is definitely true. The only remaining original member now has gray hair and his once fine suit is now in tatters from years of giving 500% at every single show. King Brothers will be playing with Scooby Do, another band in the same vein that formed in 1995.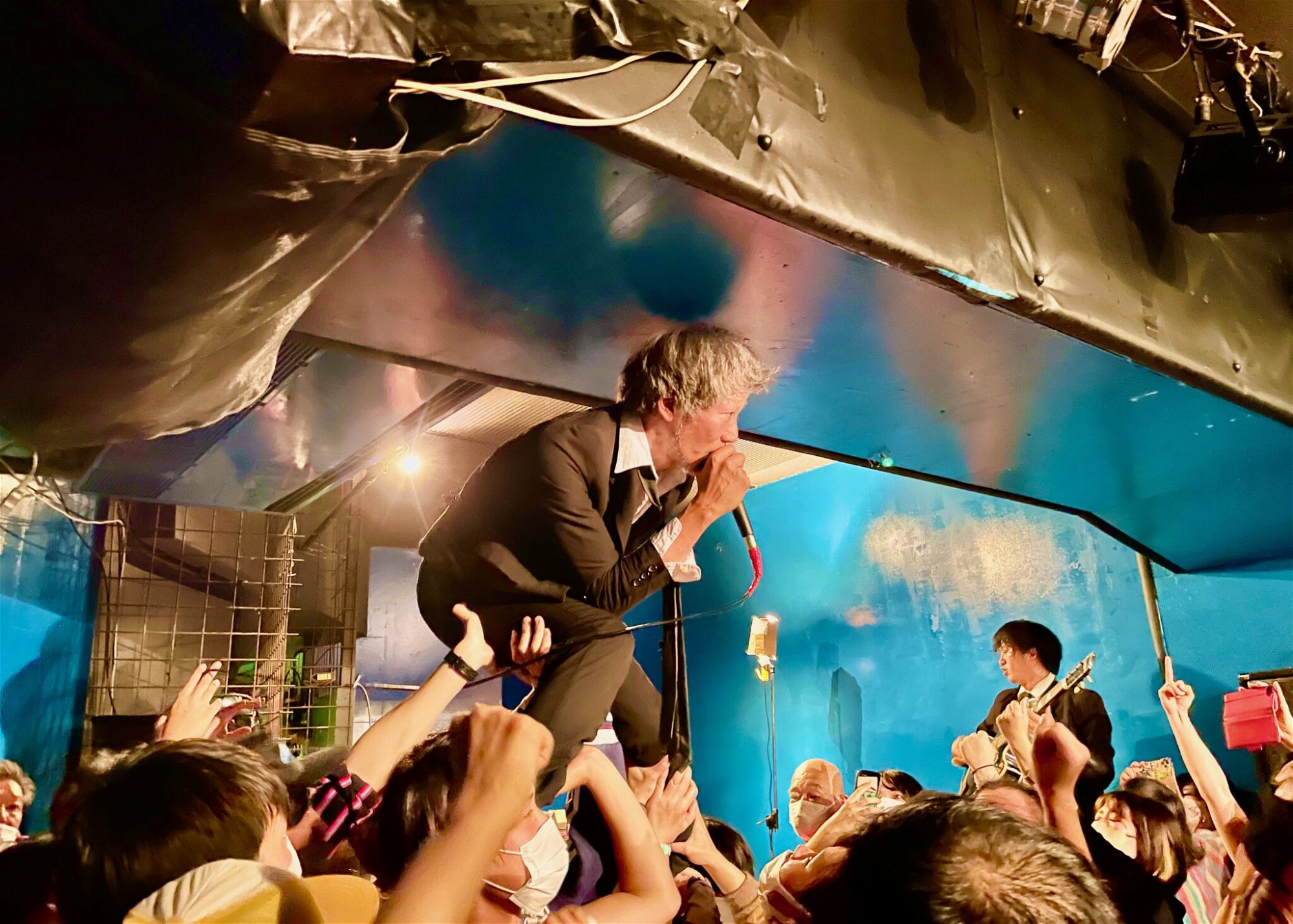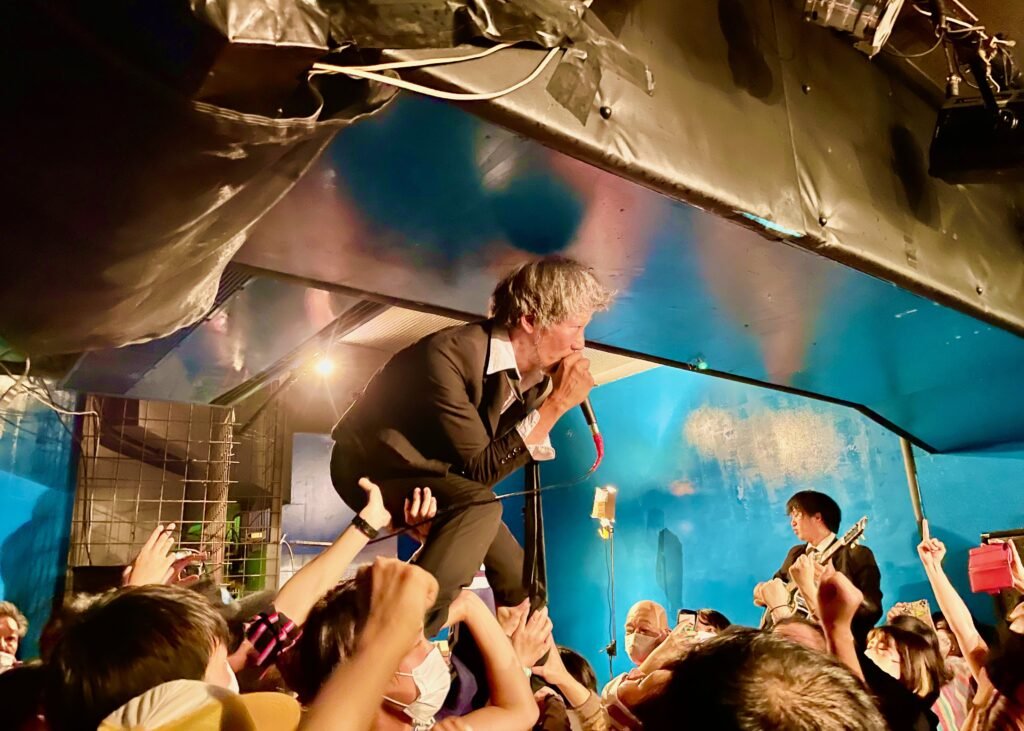 King Brothers live at Namba Mele Photo Credit: Matt Kaufman
Whatever you do, do not miss the show on June 24th. It features an incredible lineup of bands including The Evil Hoo Doo, The Baitones, The Go-Devils, Money Spyder, Nice To Meet You and Iguwannas. Doors open at 17:50 so get their early and make new friends. The audience at these shows is often as stylish as the bands onstage. Another good feature of Mele is that they utilize two stages when multiple bands play; one band sets up while the other band performs creating a seamless flow of music.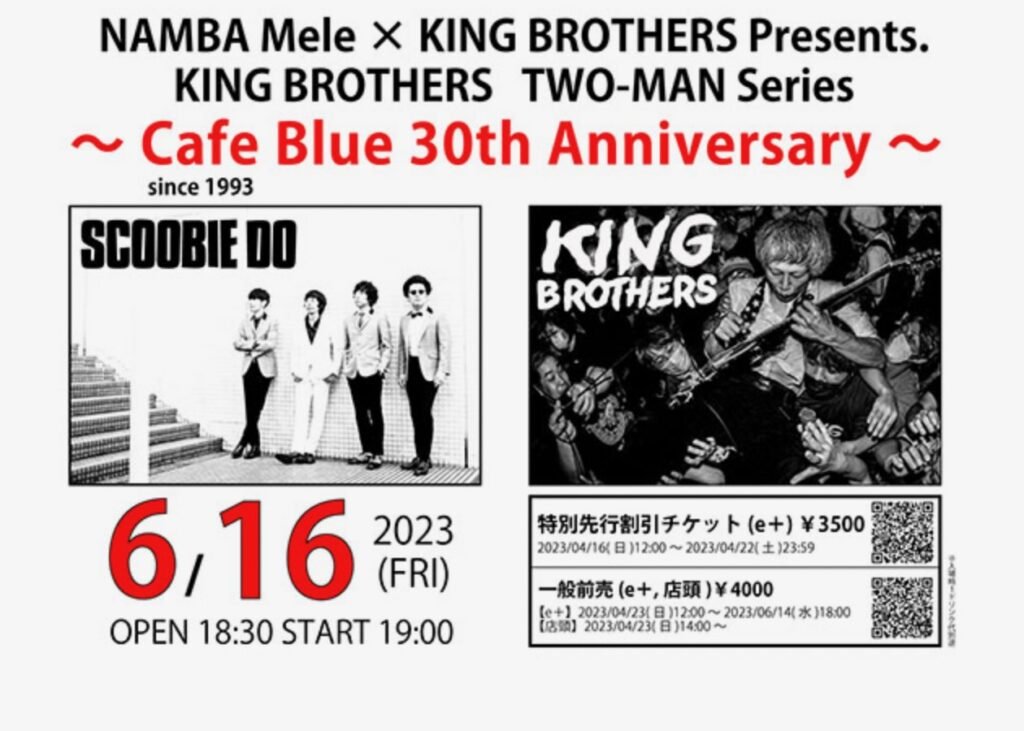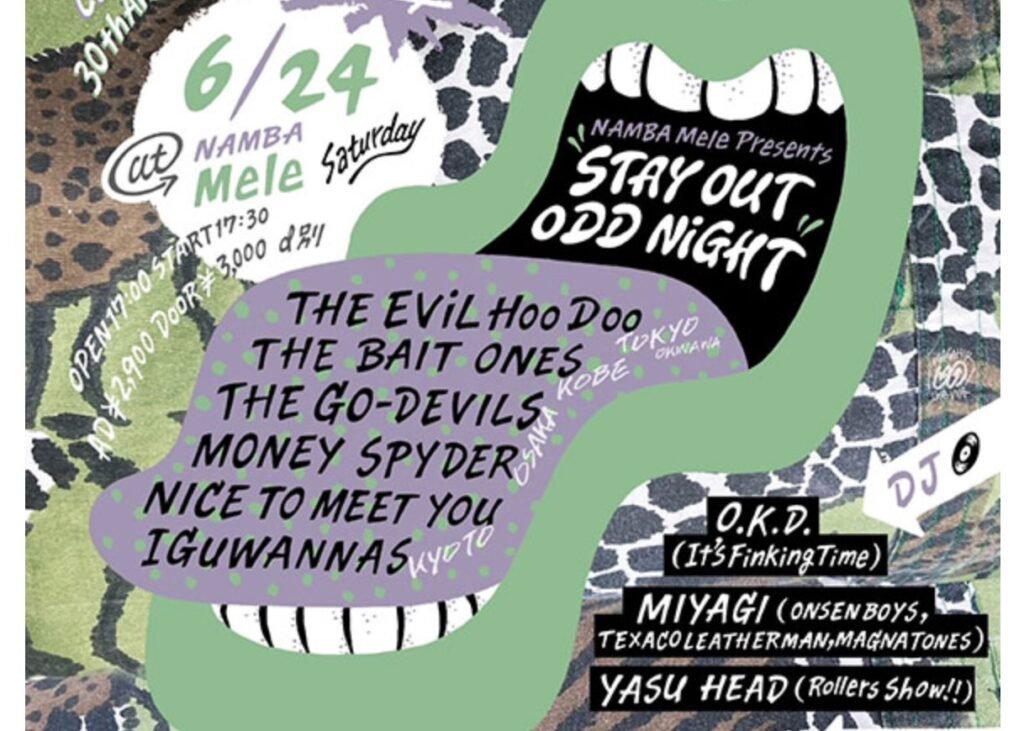 9. Kitagawa Saketen 北川酒店
Address: 1 Chome-2-26 Motomachi, Naniwa Ward, Osaka, 556-0016. Tel:06-6641-3994. Open: Mon-Sat 16:00-21:00. Closed: Sun
Kitagawa Saketen, located around the corner, is the oldest kakuuchi in the area. A kakuuchi is a Kyushu term for a standing bar inside a liquor shop. Prices for alcohol are similar to what you'd find in a convenient store or supermarket, with a small markup (5% or under) for drinking cans or bottles on the premises. Licensing laws prohibit cooking food on the premises, but food that has to be heated up such as oden is allowed. The average kakuuchi will have also selection of kawakimono (dried snacks) and kanzume (canned food).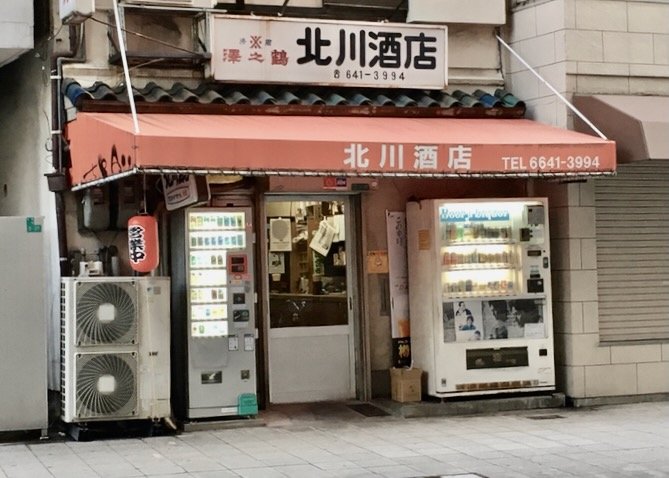 You might get a "look who the cat dragged in" look from the owner upon entering Kitagawa Saketen, but don't let it scare you away. She'll warm up to you as the evening goes on. Just be sure not to share one large bottle of beer (daibin) between three people—one per customer seems to be the unwritten rule, but you don't have to order them all at once.
The nice thing about a place like Kitagawa Saketen is that it has a real mom and pop shop atmosphere in the heart of the big city, and you'll see the same customers again and again. We've run into the gentleman pictured below in the impressive green sweater several times over the years and have always had fun drinking with him.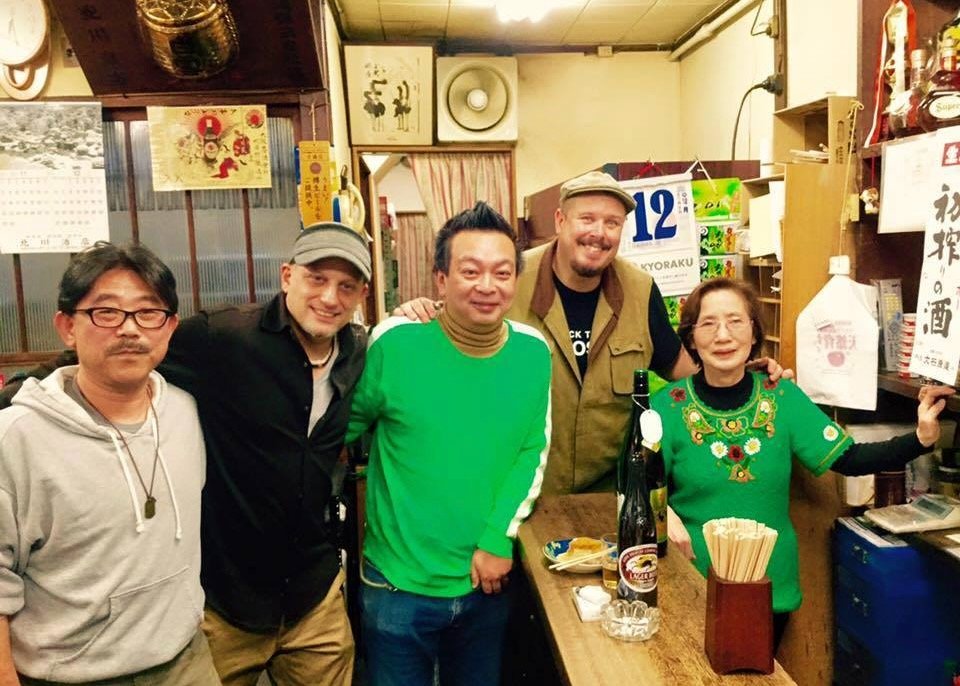 10. K.CAFE ケイドットカフェ
Address: 1 Chome-3-17 Motomachi, Naniwa Ward, Osaka, 556-0016. Tel: 06-6567-8915. Open: M-F 9:00-20:00 Lunch (11:30-14:00); Sat/Sun 11:00-18:00. Instagram
K.Cafe (pronounced "K dot cafe") is a recent discovery that you may have read about in Jefferson Graham's aforementioned article about photographing Osaka. It functions as a cafe during the day and transforms into a standing bar in the evening.
After we enjoyed a delicious chicken meal at Tori Ichiban Honpo, we were in the mood for dessert and coffee. We walked around JR Namba station but couldn't find a good place to sit down, so we headed down the block that Kitagawa Saketen (see previous entry) is located and came to a cafe on the corner that was still open.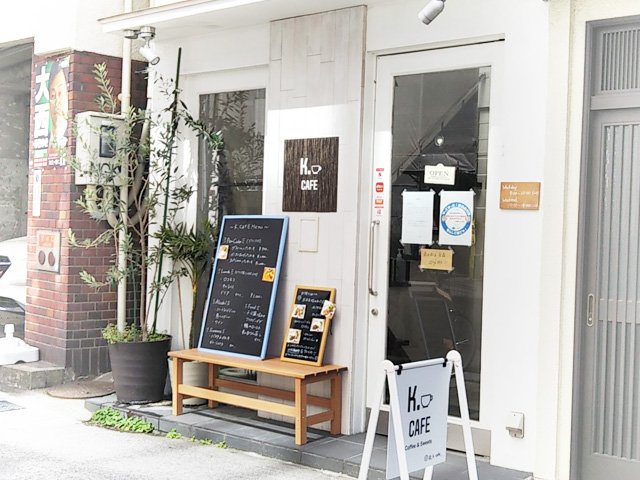 We sat down at the counter and ordered dessert, but the friendly owner told us that dessert is only served during the day. As Jefferson recounts in his article, the owner surprised us by making and exception and served us delicious pancakes with ice cream. We really had a great time here chatting with the friendly regulars who made us feel at home.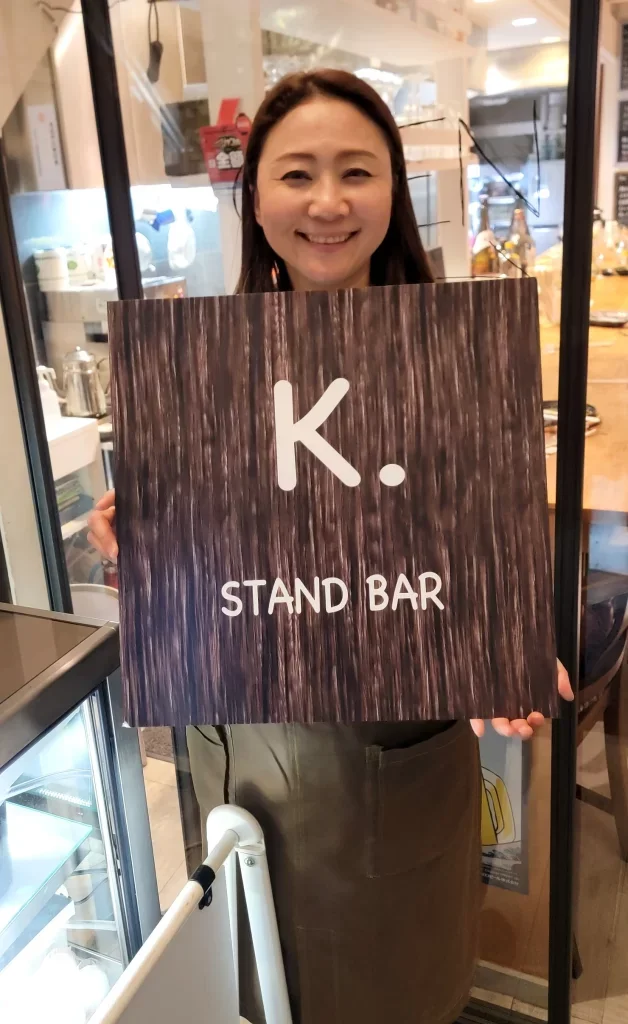 Photo by Jefferson Graham
I went online to learn more about this cosy little place that has two floors and discovered it serves up lunch sets that include salad, a soup, a drink and dessert for only ¥1,000. I need to come back for during the day to try the loco moco hamburger set pictured below. The minestrone soup with niku dango (pork meatballs) also looks delicious. You can see more of the lunch sets in the video below. If you do visit K.Cafe/K.Standing Bar, please post in the comments section.