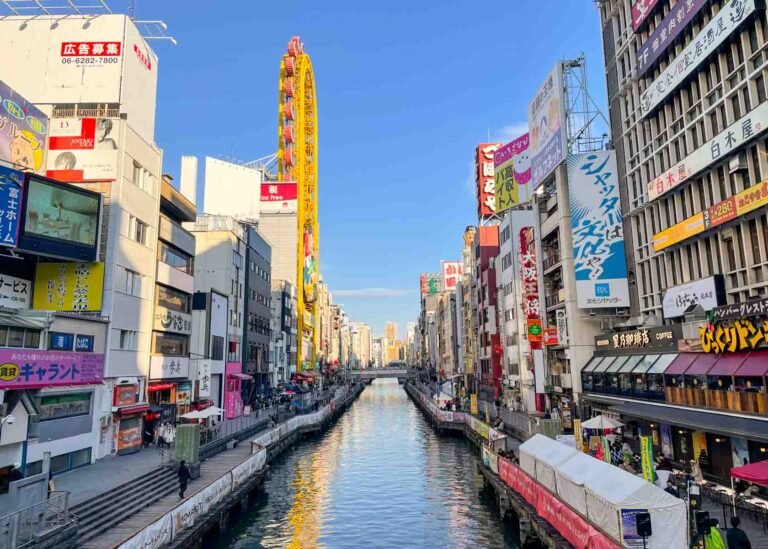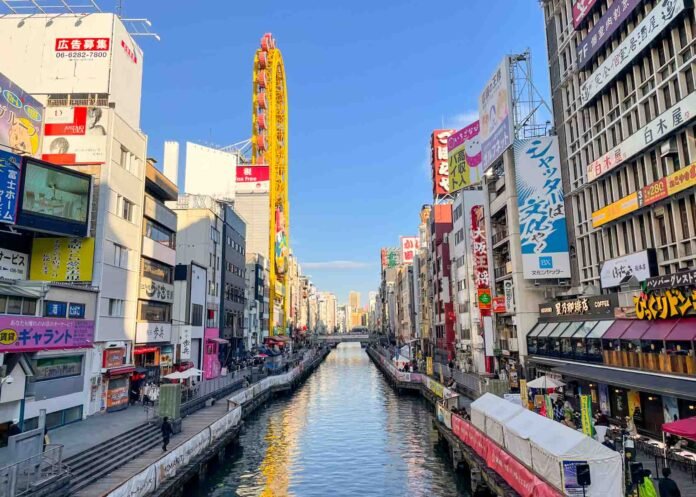 Dotonbori is undoubtedly the most famous and colourful place in Osaka. This lively entertainment district is full of neon lights, moving mascots on top of the restaurants, streets performers and street food stalls. Immediately when you set your foot on the main street of Dotonbori, all your senses will be attacked by illuminated billboards, delicious smells and different noises. Discover with us hidden gems of this popular area in Osaka so you know what to expect and where to look on your next visit!
Introduction to Dotonbori
History of Dotonbori
History of Dotonbori started in 1612, when local merchant Doton Yasui invested his personal fortune into the local development project. The project was supposed increase commerce in this area by constructing a canal through the city. Unfortunately, Doton Yasui didn't survive a series of battles known as the Siege of Osaka, and he was killed in 1615. His cousin, however, didn't give up on Doton's dream. He finished the canal and named the area Doton Bori, or Canal of Doton after his late cousin (bori = canal in Japanese).
The new canal brought in trade and commerce. Multiple theatres grew in the area, as well as restaurants and teahouses to cater the visitors and tourists. By 1626, Dotonbori was already famous as an entertainment district.
Dotonbori after WW II.
Unfortunately, all the remaining theatres in Dotonbori were destroyed during WW II and the entertainment district was in recession. In the 1960s, a new redevelopment project started to improve the quality of the water in the Dotonbori canal and to bring the area its former glory. Today, Dotonbori is no longer famous for its theatres, but rather for its variety of restaurants, izakayas and bars, and for its exceptional nightlife.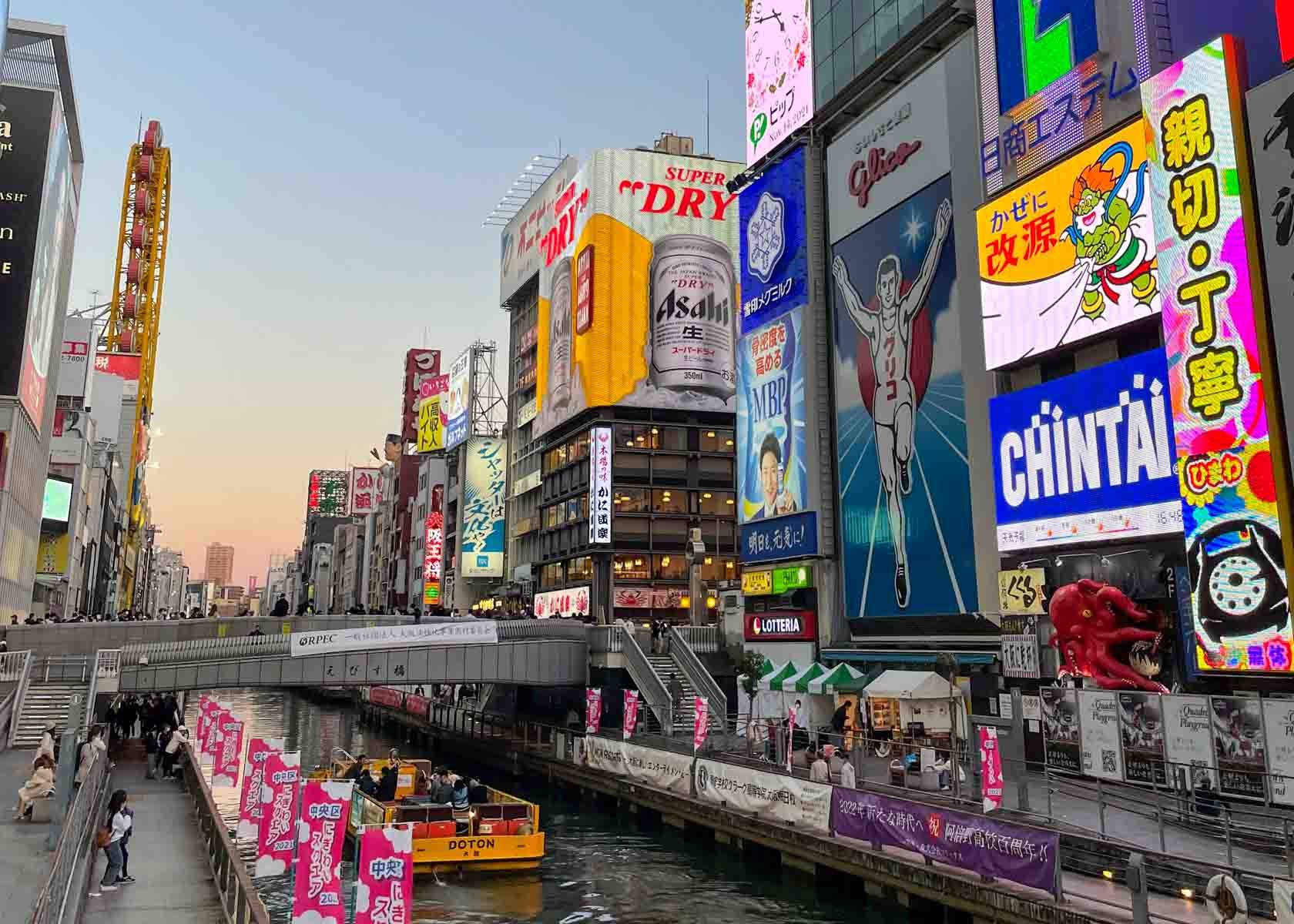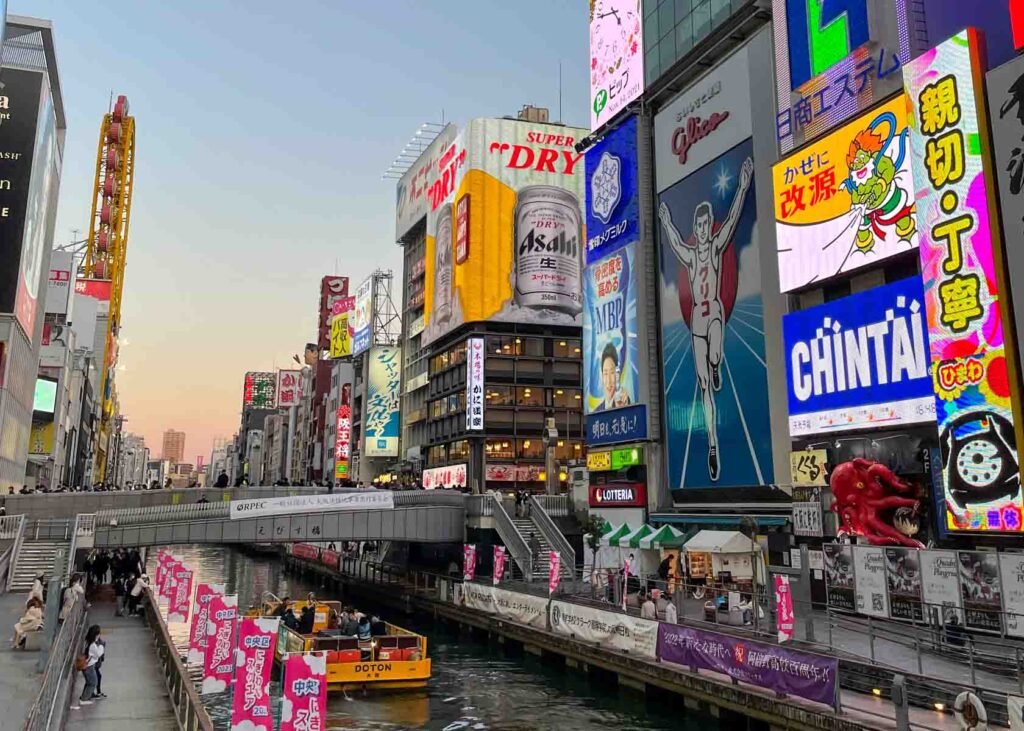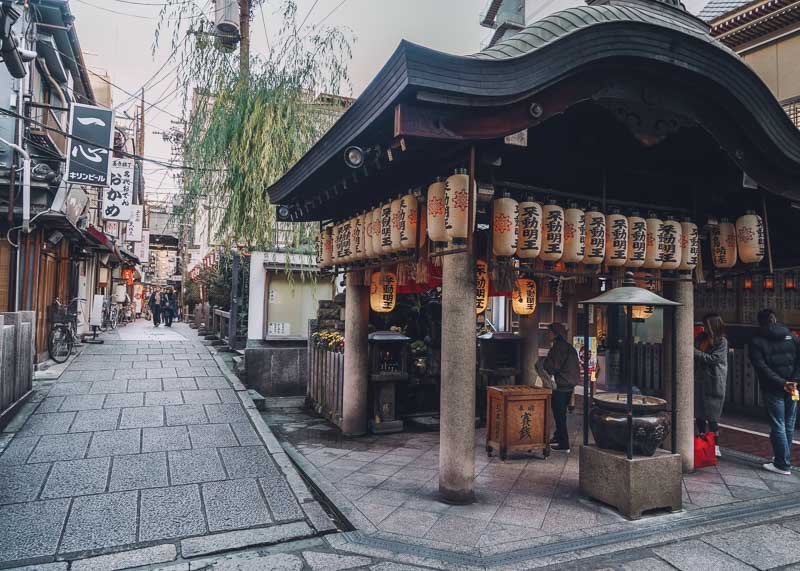 Glico Man Sign
Maybe you have heard about him before, and maybe you haven't, but the truth is that Glico Man has become a symbol of Osaka of the same importance as Osaka Castle, Tsutenkaku Tower, or Dotonbori itself. This cheerful man, running with his hands up in the air, has been decorating the sidewalk of Dotonbori canal since 1935. Glico man is the logo and mascot of Glico company, who makes sweets and confectionary, such as Pocky. Their initial slogan said, that one piece of their candy will give you energy to run 300 metres.
Origins of Glico Man
And who is this famous Glico Man? Well, the sources are not united in the response. Some say that he is actually Filipino field and track sprinter Fortunato Catalon. Mr. Catalon won the 5th Far Eastern Sport Championship Games in Shanghai in 1921. When he was crossing the finishing line, he was beaming with a big smile with his hands thrown in the air. Glico company then adopted his image as their logo. Other sources say, that he is actually a child of unknown name. The founder of Glico company once saw kids racing in the streets and the winner boy did this famous pose. That inspired him to create their famous logo.
The best way to see Glico Man is from the Ebisu Bridge over Dotonbori Canal. People love to come and take pictures with him copying the same pose.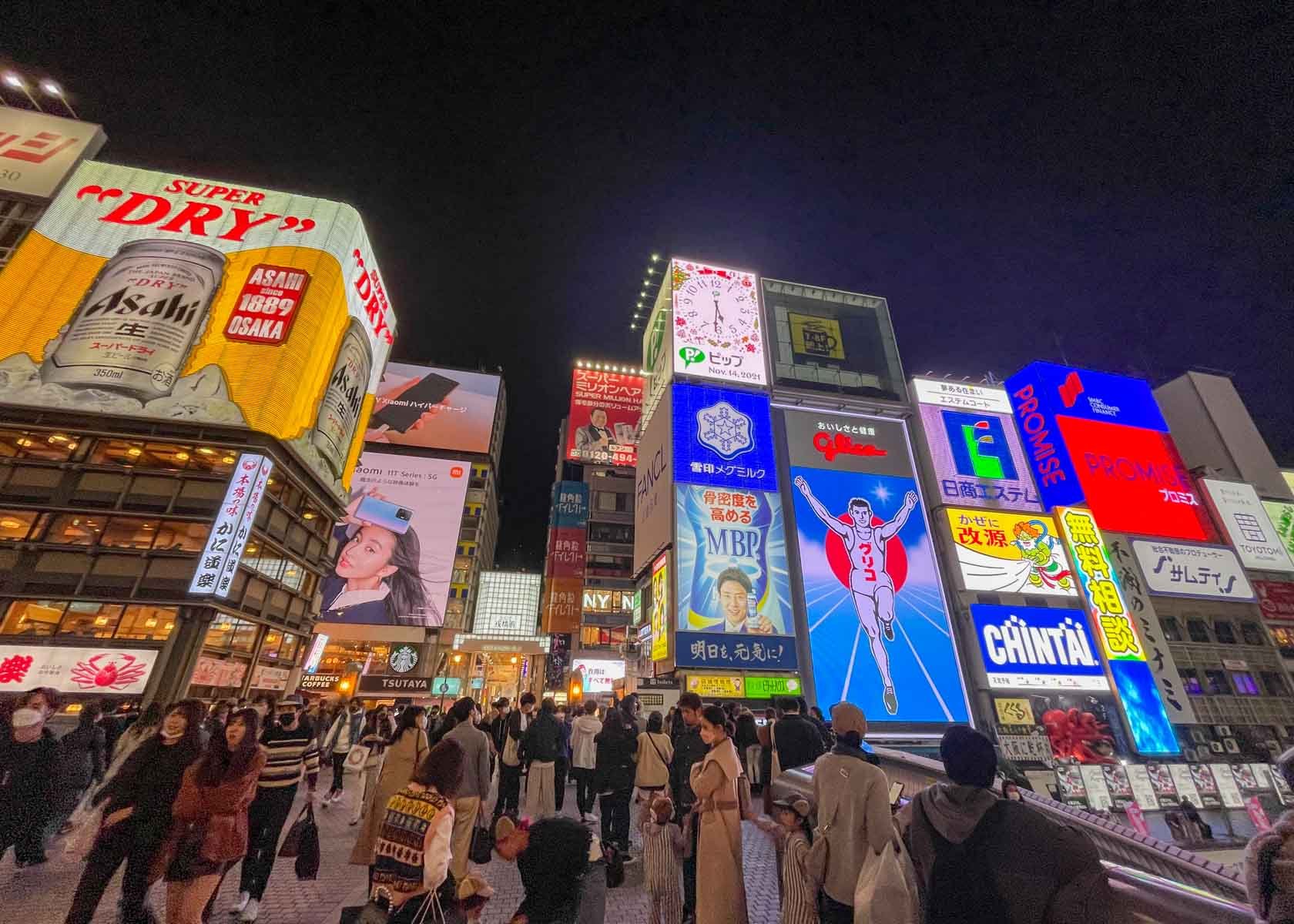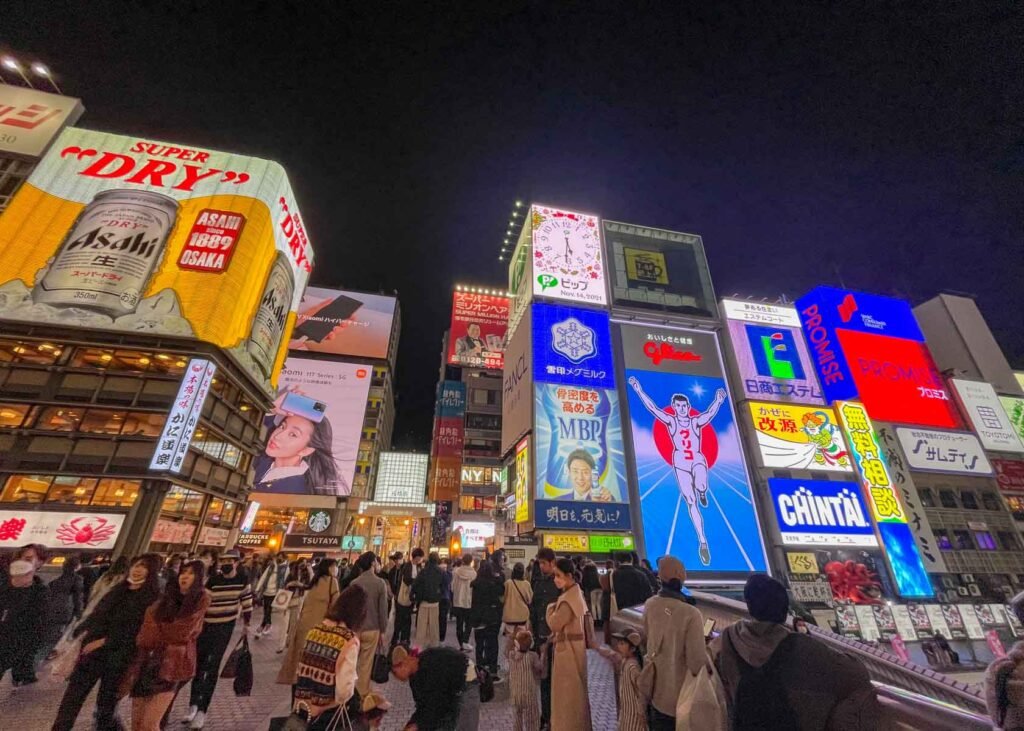 Dotonbori Canal
Dotonbori Canal is the lifeline of the area. At night, all the neon lights reflect in its waters which gives Dotonbori even more colour and fun. People stroll along the canal, or they sit at its shores while enjoying a snack from nearby street food stalls with a drink. If you would like to know deeper history of Dotonbori and see it from a different perspective, you can join a 20-minute long Tombori River Cruise on a yellow boat that soars around the canal.
Curse of Colonel Sanders
Dotonbori Canal is popular among locals and tourists alike. At certain occasions, it is also acceptable to jump into it! In Osaka there is a tradition that when the local baseball team Hanshin Tigers win, fans will chant the name of each player and then the person who looks like him the most jumps into the river. This brings me to the story about Curse of Colonel Sanders.
In 1985, Hanshin Tigers won their first Japan series. People grouped along the Dotonbori Canal and practised their popular custom. That year, however, there was among the players also one American, Randy Bass. No one from the fans looked like him, so they ran into the closest KFC and threw the statue of Colonel Sanders into the canal.
After that, Hanshin Tigers were on the longest losing streak in history. People started to talk about the curse of Colonel Sanders. At one point in 2009, the city officials became desperate and they started to search for the KFC's founder in the canal. Soon enough they found him, without glasses and one hand, but it was good enough to lift the curse.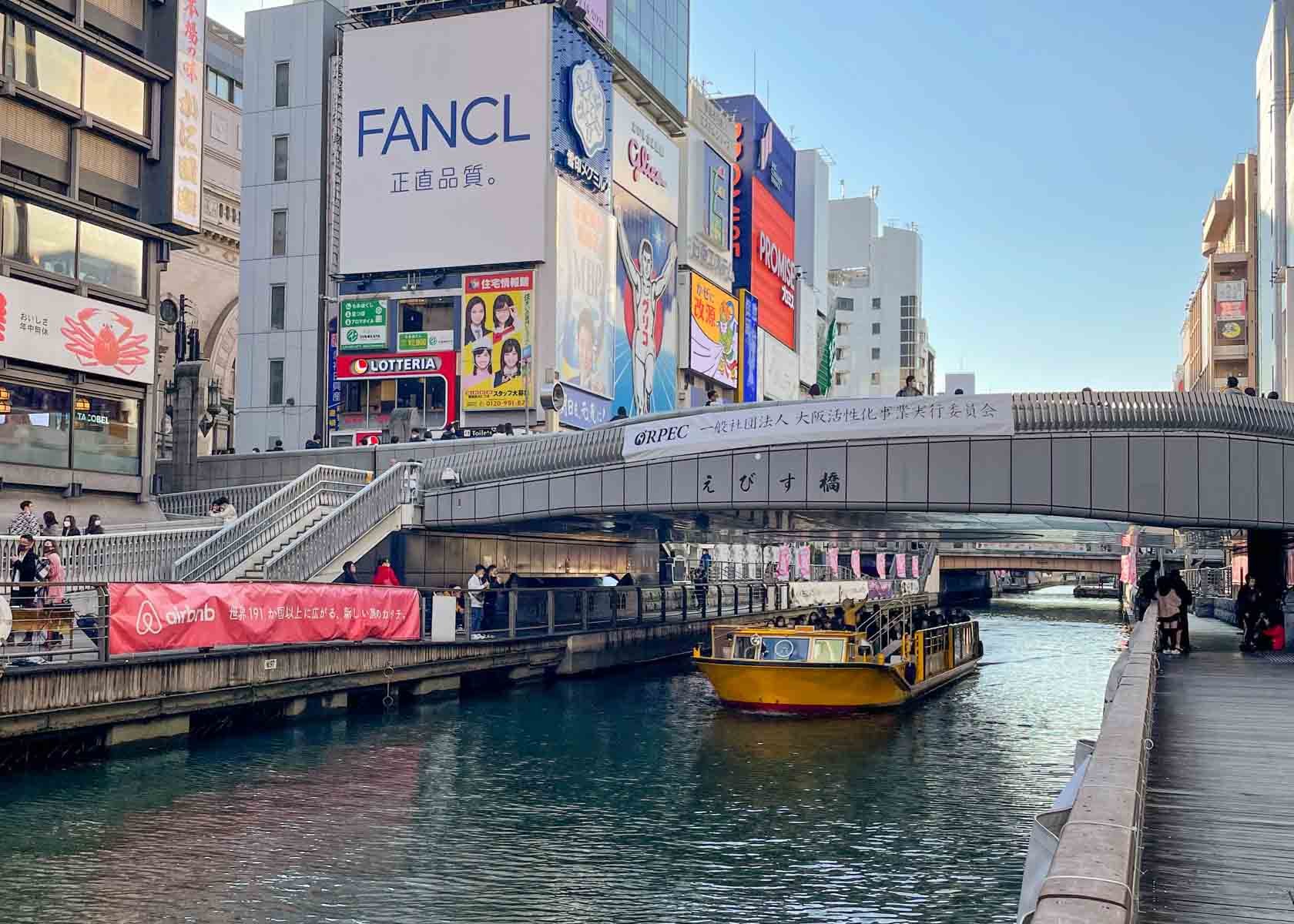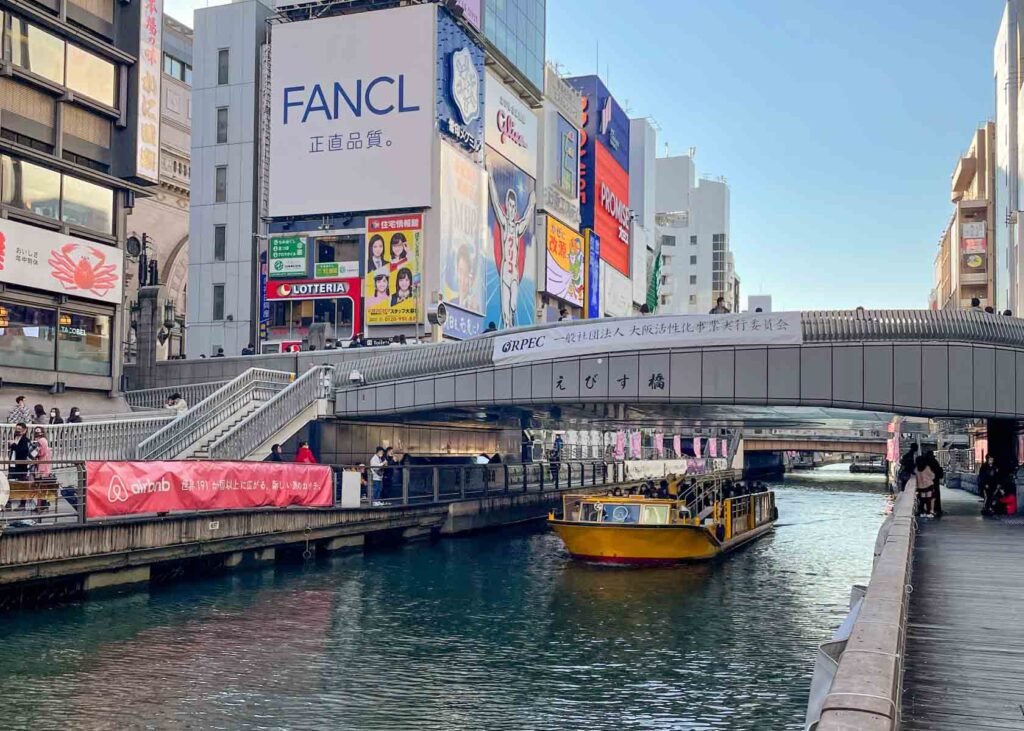 Don Quixote Ferris Wheel
When walking along the canal, you cannot miss the giant yellow Ferris wheel on top of the Don Quixote shop. Well, it is not really a wheel, because it has very unusual ovular shape with glass pods on the circumference. The front of the shop is decorated with large figure of Ebisu, the god of fishermen and good luck, therefore the Ferris wheel is called Ebisu Tower. It reaches 77 metres in height and it is open for public. You can embark it from the 4th floor of the shop. Don Quixote shop is open 24/7, however you can ride Ebisu Tower only from 11 am to 11 pm. The tickets costs 600 yen.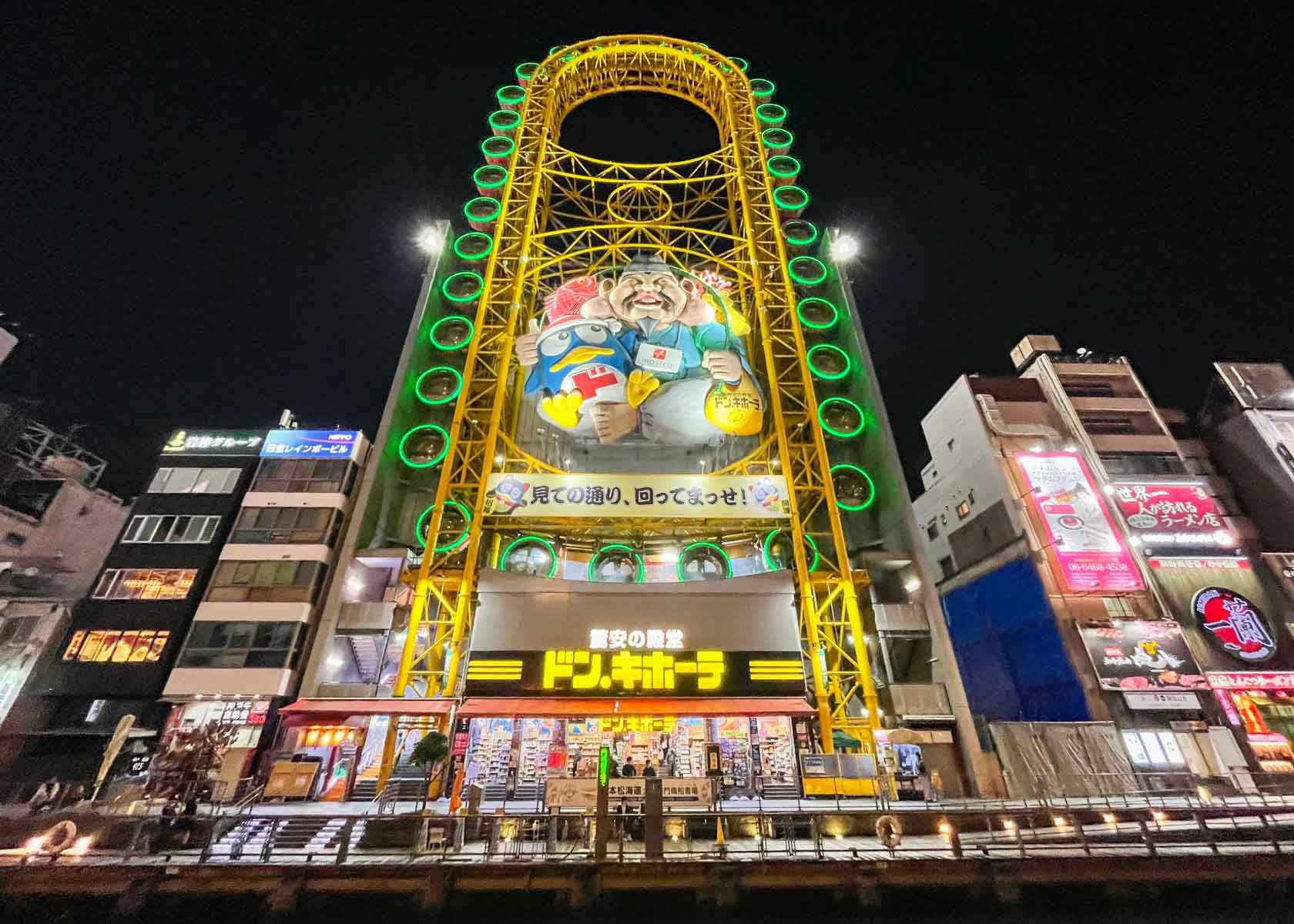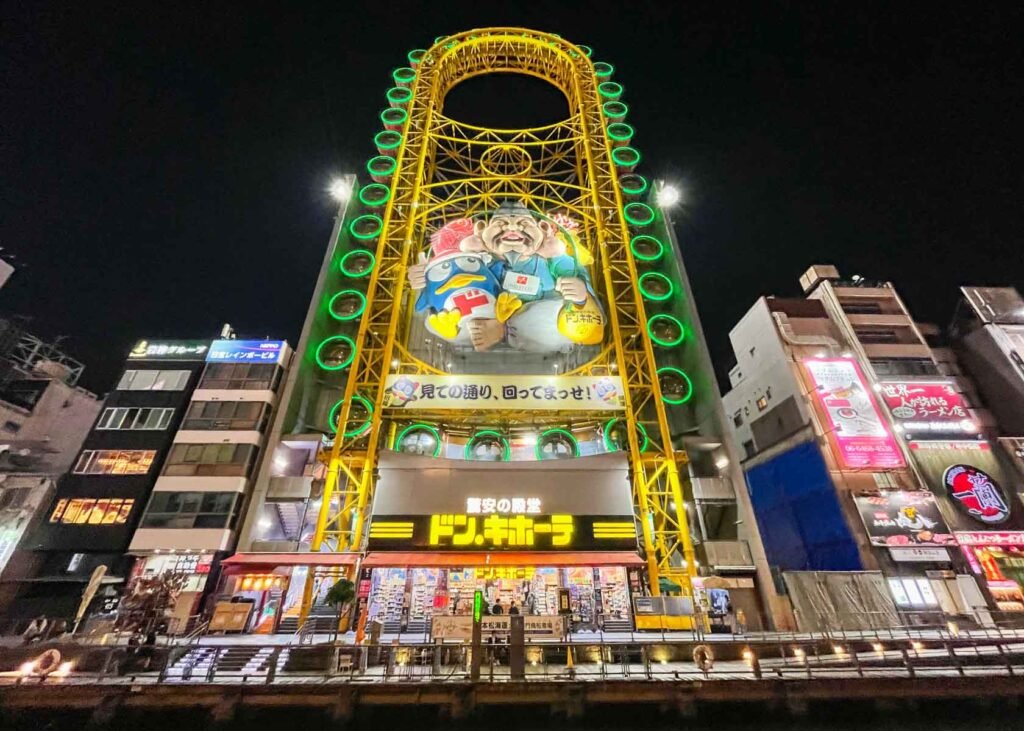 Konamon Museum
Konamon Museum is a fun and interactive museum dedicated to konamon foods. The word konamon means flour-based and it represents dishes such as takoyaki and okonomiyaki. A few years after the WW II., wheat flour was sent to Japan as a relief from the United States. That is when dishes made of flour became very popular all over the country.
Konamon Museum is located on the main Dotonbori street right above famous takoyaki restaurant Takoya Dotombori Kukuru with a large octopus decorating its entrance. You can enjoy performance by skilled Takoyaki masters preparing this meal with extreme precision and speed. In the basement, there is a bistro where you can enjoy your Takoyaki plate with wine or beer. The museum starts on the 2nd floor and you can learn here about the origins of Takoyaki, as well as other flour-based dishes that became an inseparable part of Osaka's culture.
Opening hours and tickets
The admission to the museum is free, if you eat in the restaurant. The standard plate of 8 takoyaki balls costs around 550 yen (depending on what toppings you'd like to order). Opening hours are from 11 am to 10 pm every day.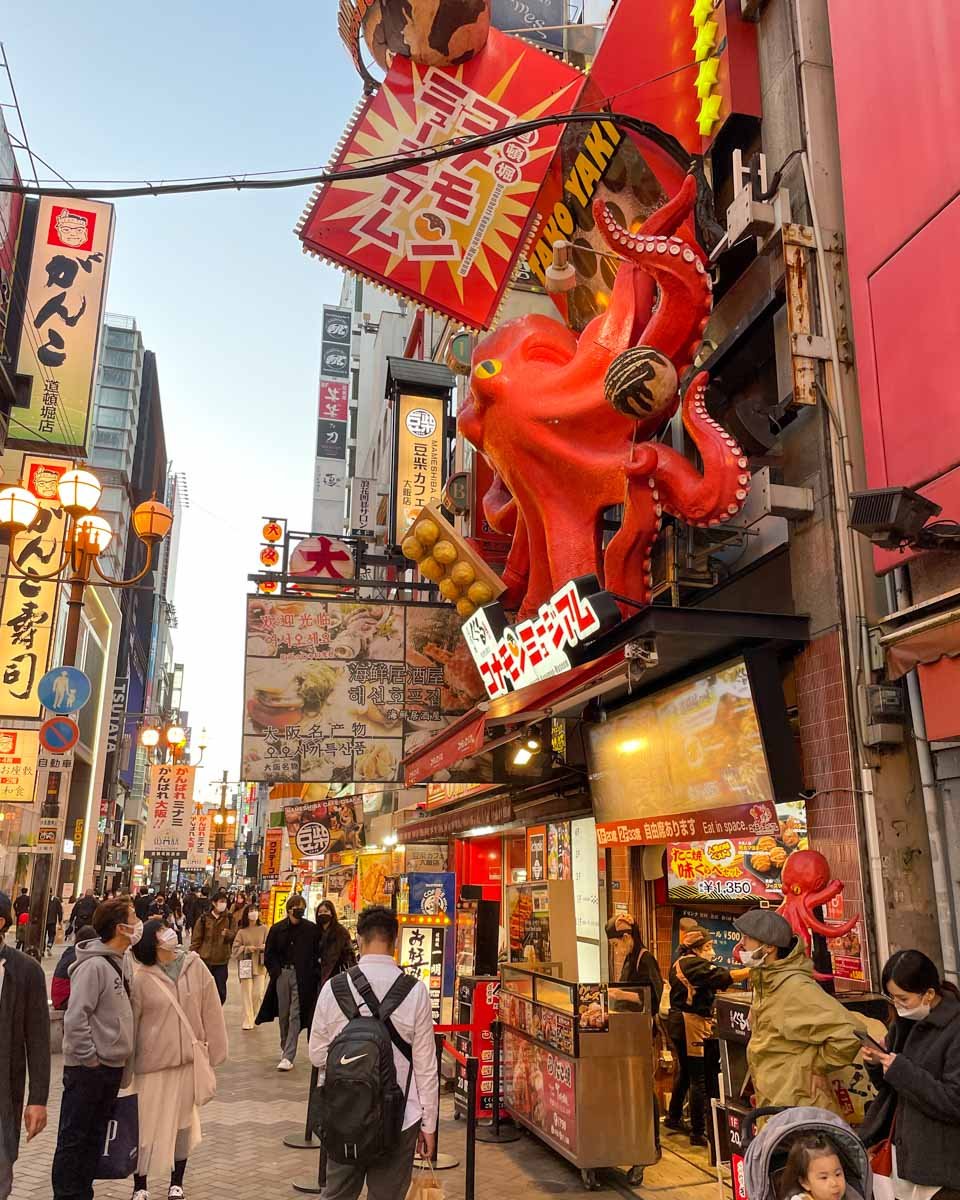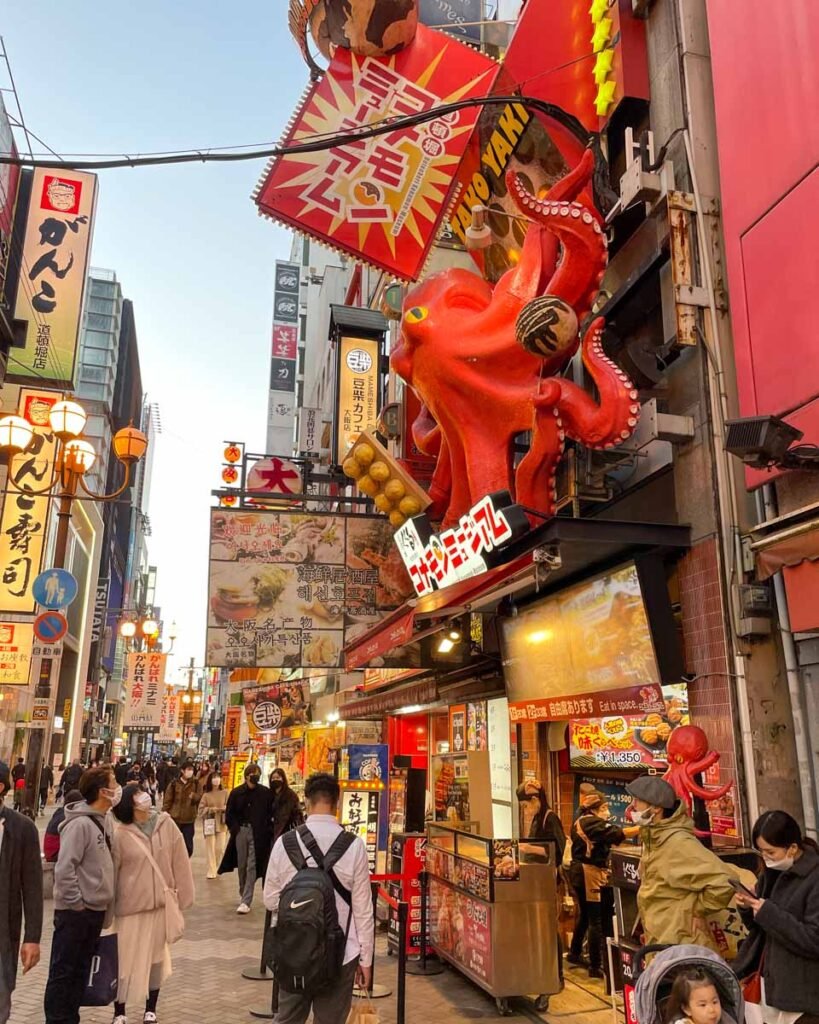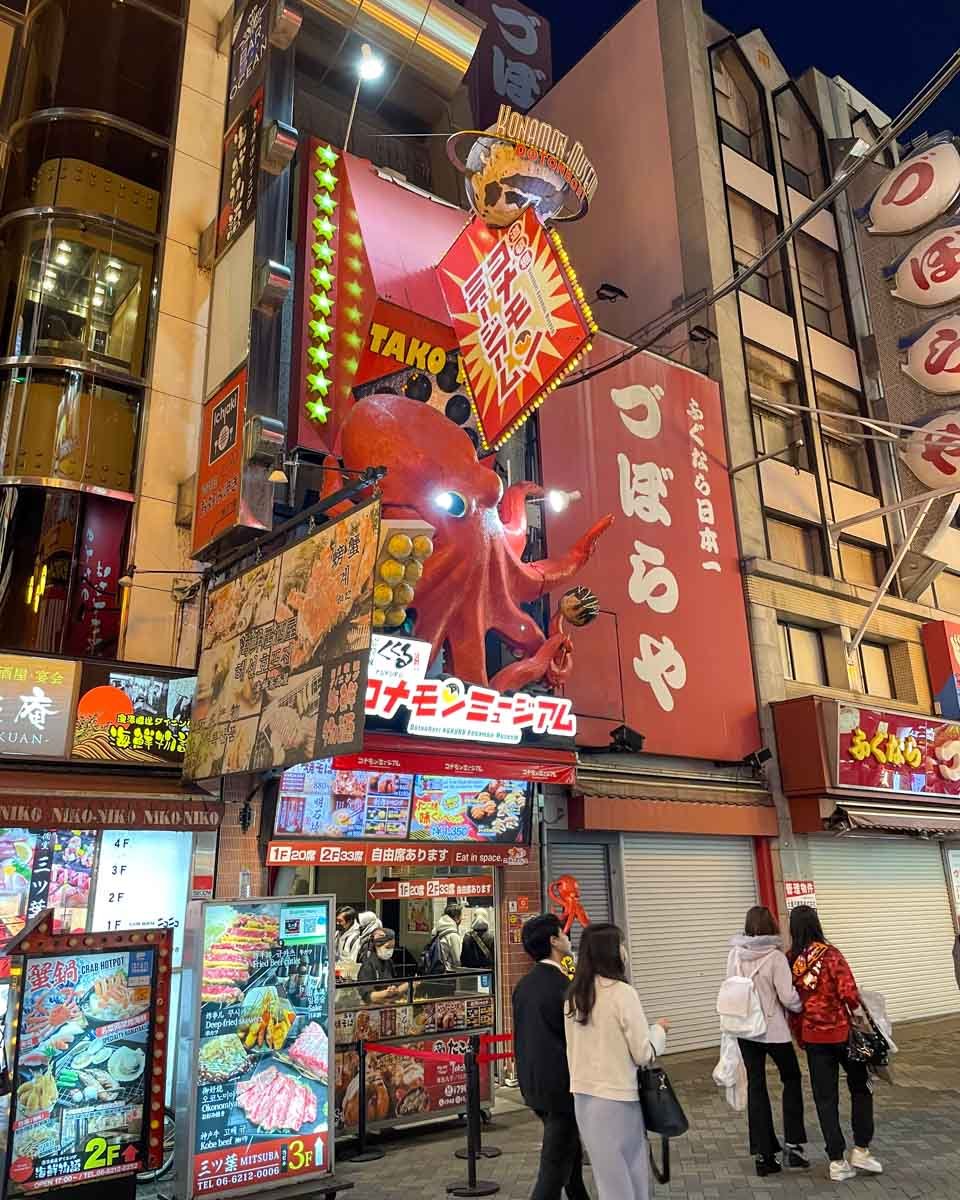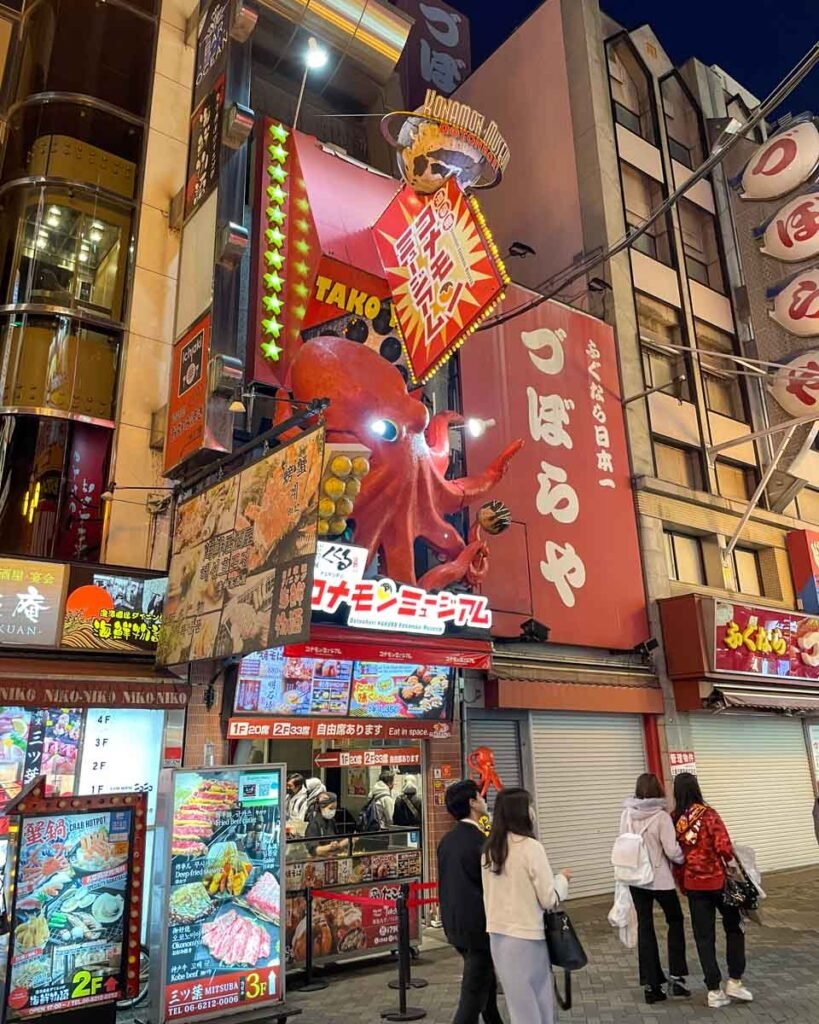 Kuidaore Taro
Besides Glico Man, Dotonbori has one more famous mascot that deserves your attention. Kuidaore Taro is a life size doll of a boy in clown costume playing a drum and a cymbal. His name consists of famous saying from Osaka: "Kuidaore!", which means "Eat until you drop!" and from a popular Japanese name for boys, Taro.
Life of Kuidaore Taro
Kuidaore Taro appeared in Osaka for the first time in 1950 and he was attracting customers to Cui-daore restaurant. The initial craze around this puppet clown started to drop in the 70ties and 80ties, but he remained drumming at his post. In 2008, after 59 years of operation, Cui-daore restaurant unfortunately closed down. Kuidaore Taro was removed and he travelled a bit around Japan for special events. People of Osaka missed their creepy-looking mascot, so in 2009 he came back and he has been drumming in front of Nakaza Cuidaore Building ever since! People love to come and pay him a visit and he will reward you with a smile.
There's a souvenir shop right next to Taro's spot with a special merchandize dedicated to this mechanical clown. And if you decide to visit him, don't forget to look up and notice the chandelier. Can you see what it is made of?
Kuidaore Taro still occasionally travels around Japan. For special occasions, he can even exchange his clown costume to something else. For example, in 1992 Hanshin Tigers were leading at the annual Japanese Central League Games and fans were getting excited to throw Taro into the Dotonbori Canal (just like poor Colonel Sanders). To avoid the disaster, the owners changed his outfit into life-saving ring and swimming goggles with a sign "I can't swim!"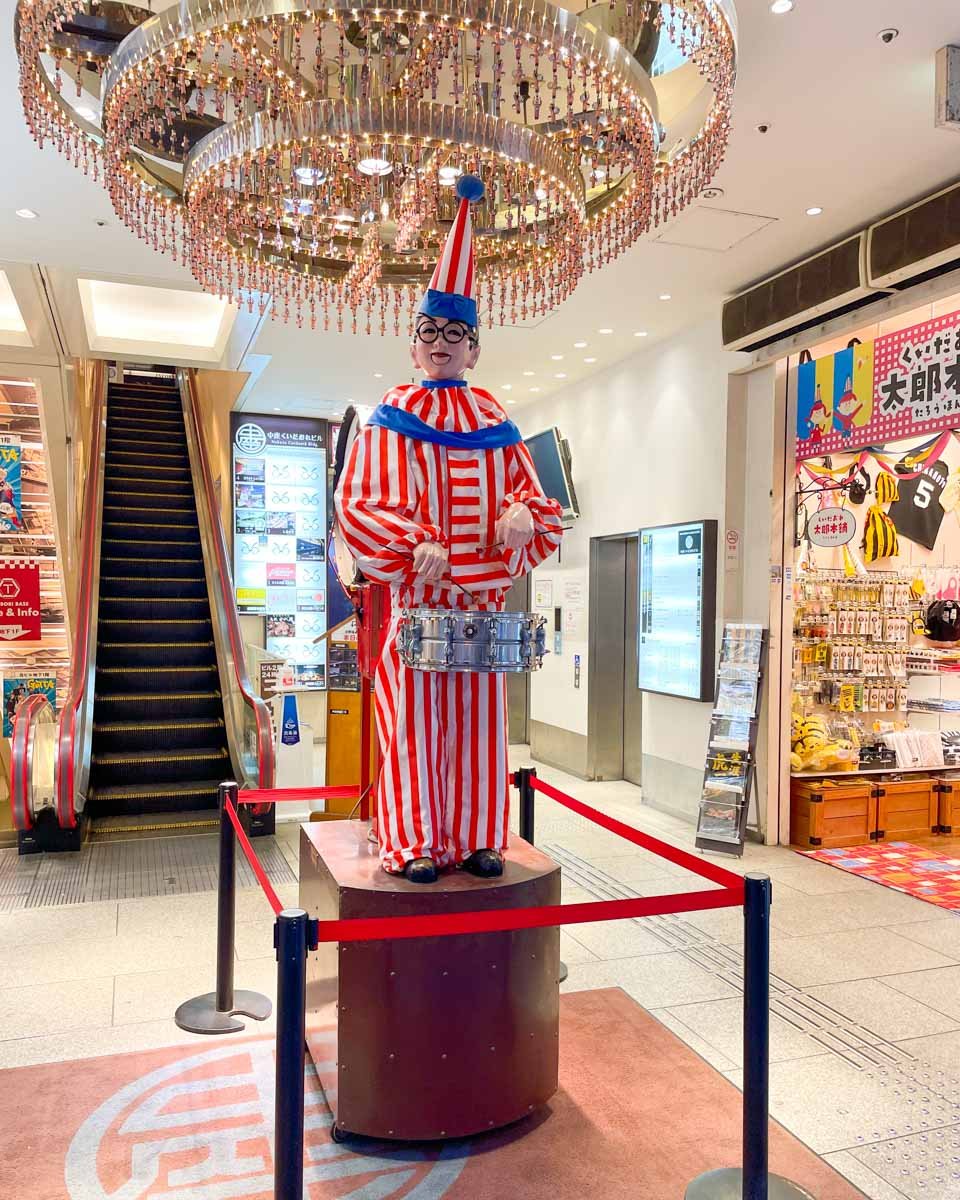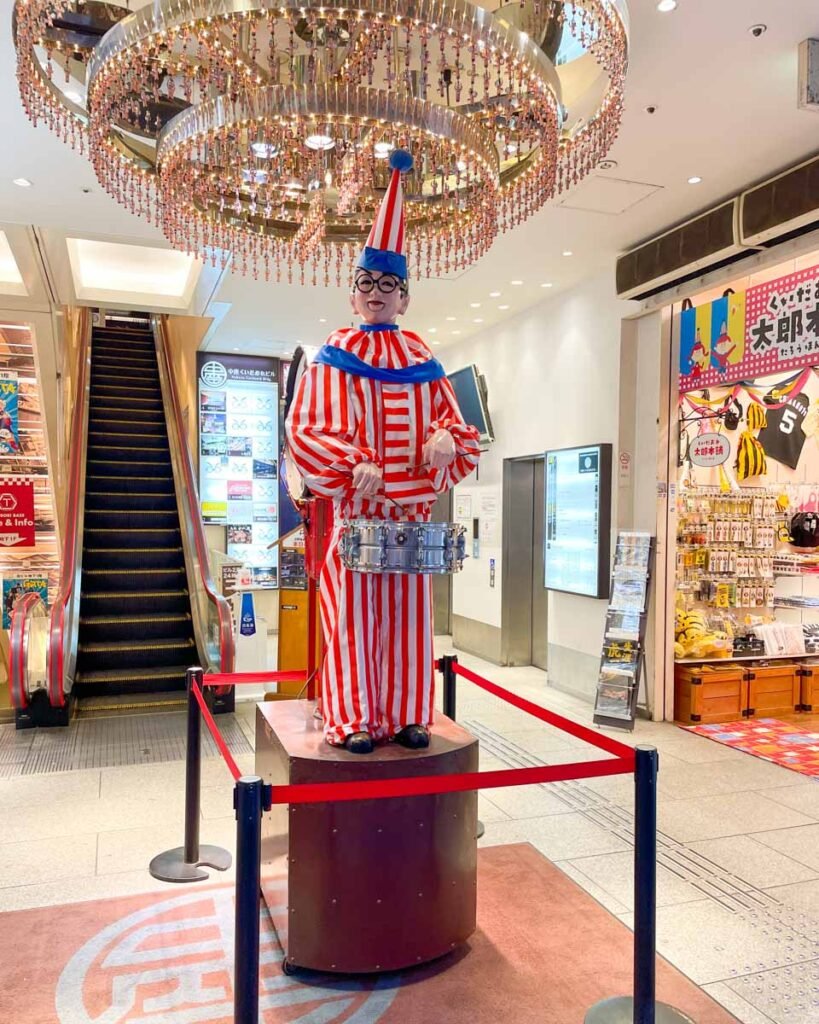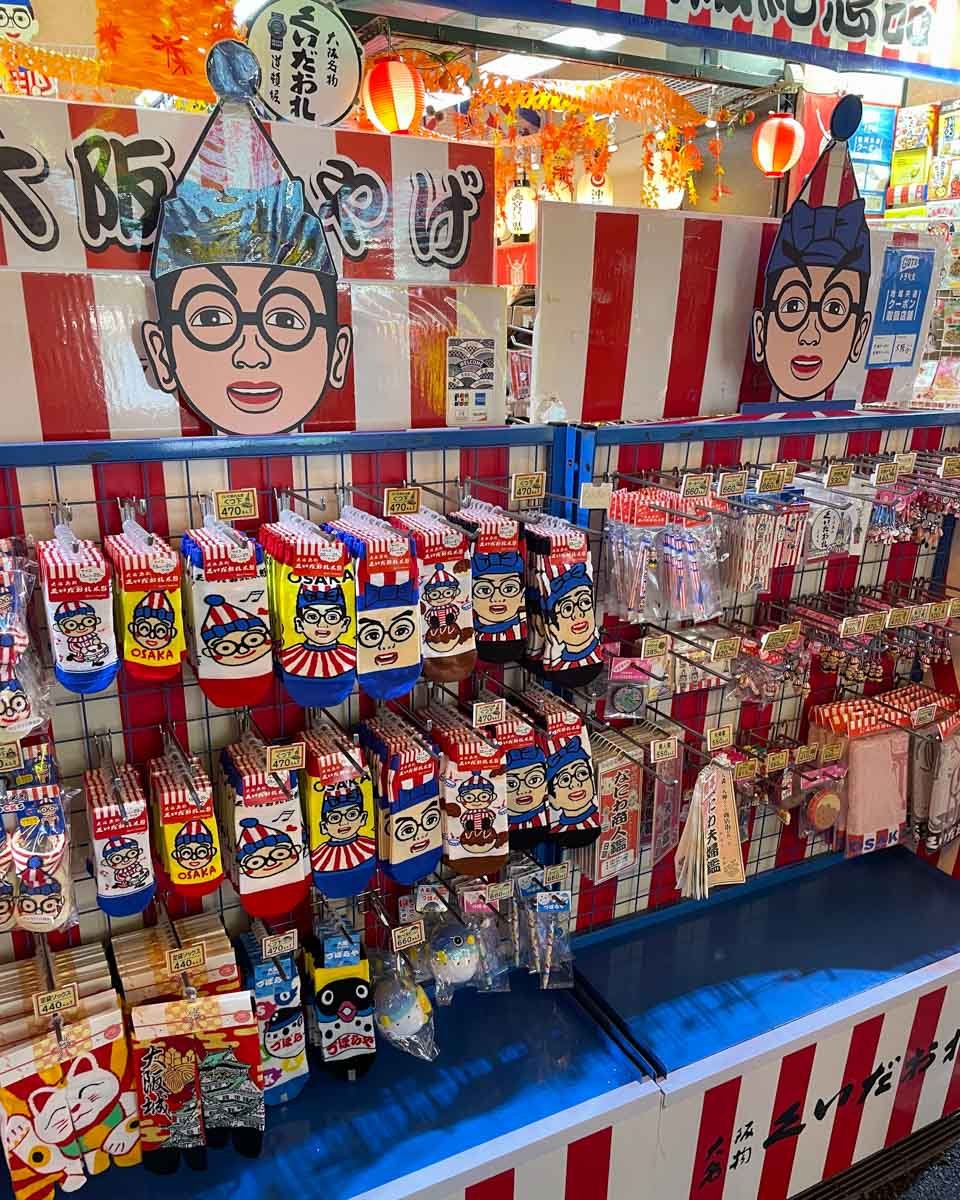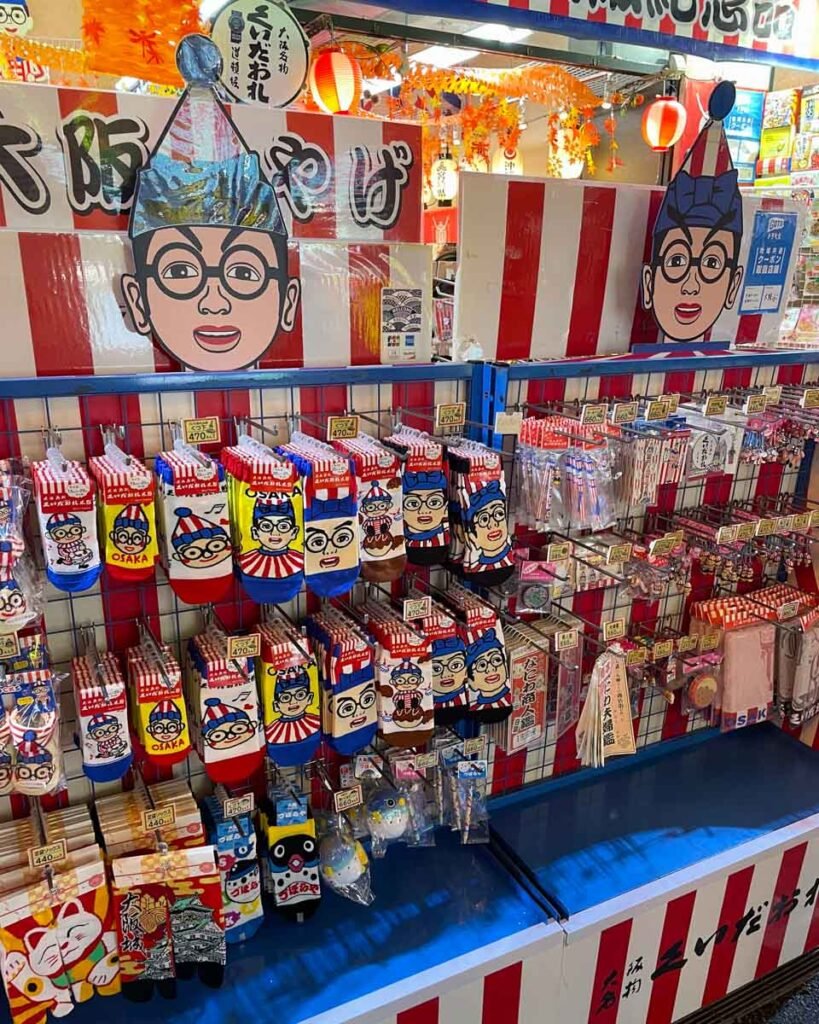 Hozenji Temple
Hidden in the backstreets, away from all the lights and buzz, there's a small temple where you will feel like the time has stopped. Hozenji Temple is the guardian of old Osaka, and it has been a popular temple for pilgrims since the 17th century. Its most distinct feature is the statue of Fudomyoo that is completely covered in moss. Fudomyoo is the god of fury that shall scare people into enlightenment. He represents discipline and firm moral character.
During WW II. the temple grounds were destroyed by bombings, but Fudomyoo stood strong. One day, an older lady came to the temple to pray, but she had nothing to offer to Fudomyoo so she just splashed water on the statue. Because her wish came eventually true, people has been splashing water on Fudomyoo ever since, that is why there's moss all over him. If you wish to splash water on Fudomyoo, don't forget to toss a coin in the treasure box. When you approach him, bow your head, clap your hands twice, say your wish and then you can pour water over him.
Hozenji Temple is open 24/7 and there are no entrance fees. It is located on the backstreet called Hozenji Yokocho full of small local restaurants.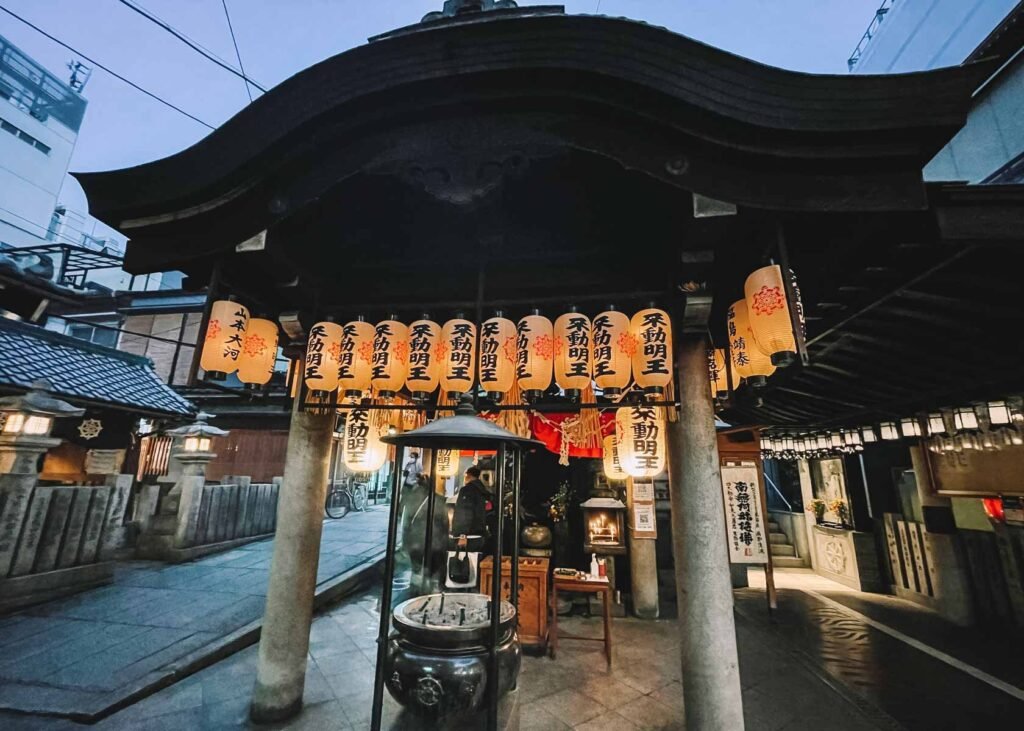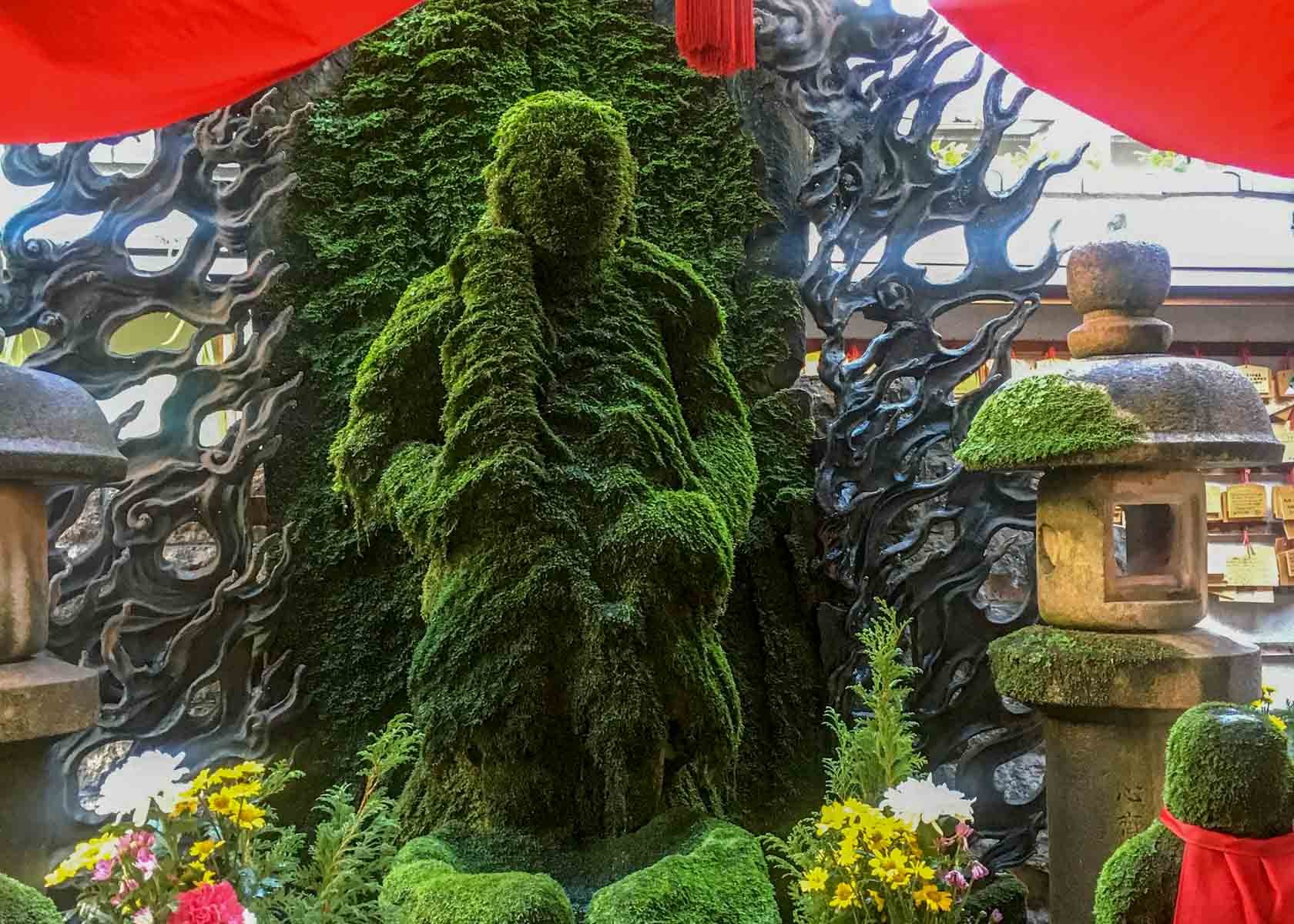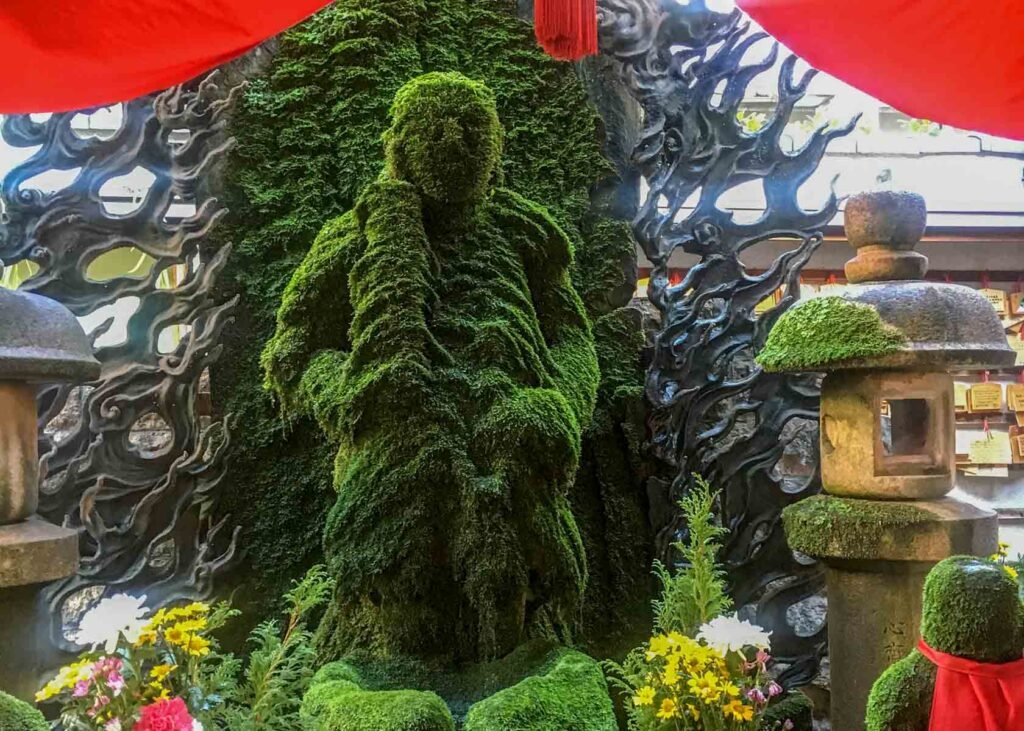 Kamigata Ukiyoe Museum
This tiny gallery is located nearby Hozenji Temple. A sculpture of a large white cat on its walls will welcome you, so you surely won't miss it. Kamigata Ukiyoe Museum is the only museum in the world with a permanent exhibition of traditional Japanese woodblock prints called ukiyo e. The term ukiyo e translates as "pictures of the floating world". This type of art flourished from 17th to 19th century and the artists were portraying truly anything from everyday life – women's beauty, scenes from old Japanese tales, sumo wrestlers, travel landscapes, fauna, flora and even erotica.
Today you can admire around 50 works of permanent and rotating exhibitions, mostly depicting Kabuki actors. Some of them are really old, from Edo period (1603 – 1867). The fourth floor of the gallery is dedicated to ukiyo e workshop, where you can try to make your own piece of art. This activity, however, needs to be booked in advance. You can find necessary information on their website here.
Opening hours and tickets
The gallery is open from 11 am to 5 pm. It is closed on Mondays. The museum shop on the ground floor is open until 7 pm. The tickets cost 500 yen per person.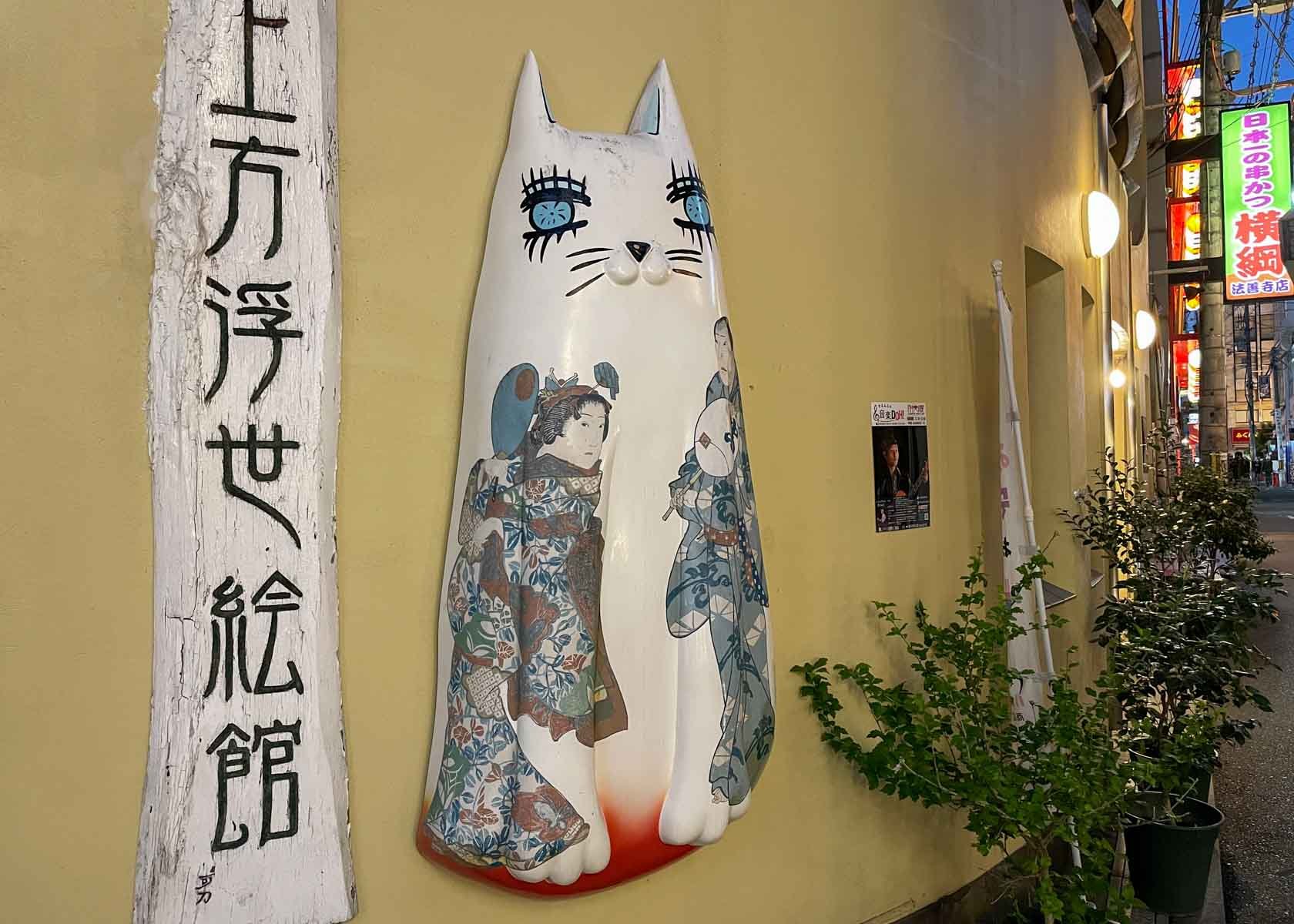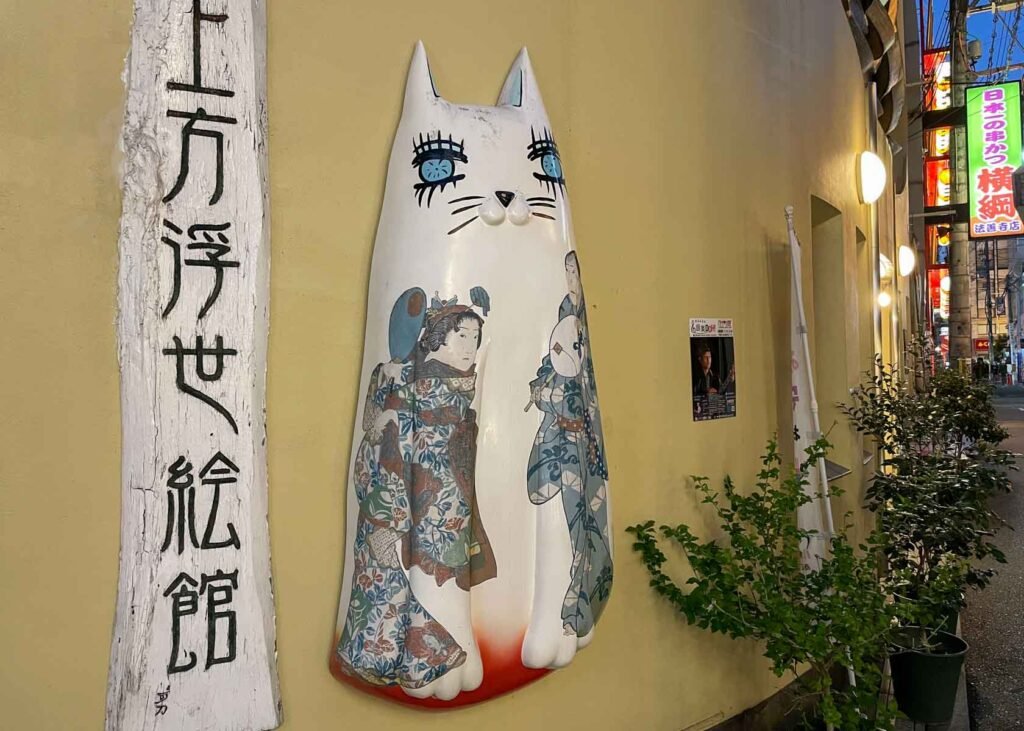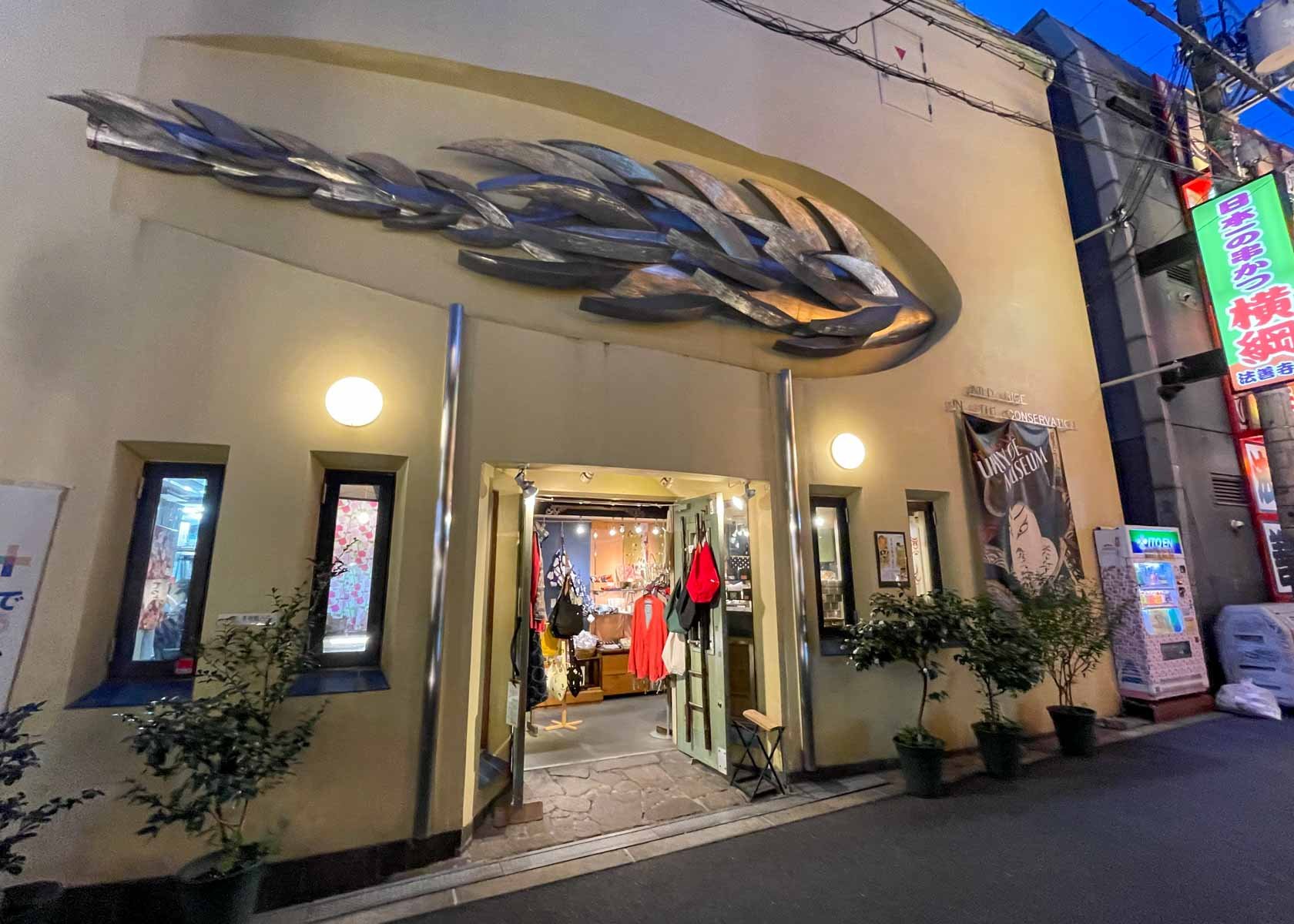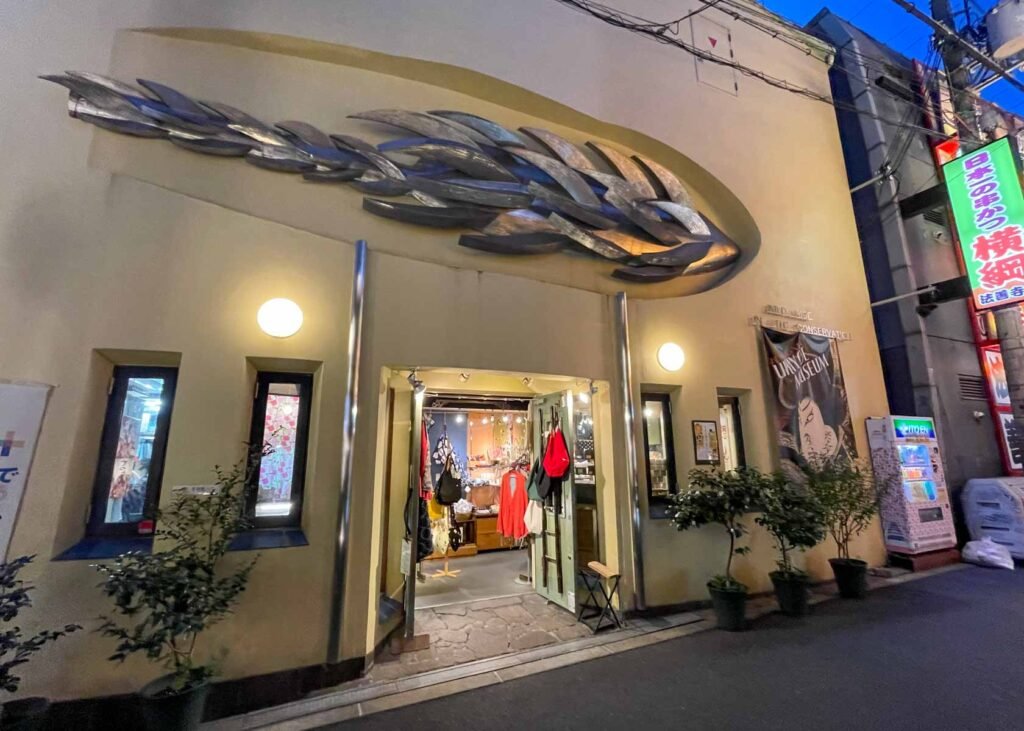 Secret Alley – Ukiyo Koji and Issunboshi Shrine
Dotonbori is not only about flashy lights and moving mascots on the restaurants. Behind the main streets, there's a whole net of hidden alleys and secret backstreets. One of the most narrow and quaint alleys is Ukiyo Koji. If you don't know where it is, you will most probably miss it! When visiting Kuidaore Taro, only about 40 metres down the street, there's a traditional Udon restaurant called Imai. And right next to this restaurant, hiding behind a tree, there's the entrance to this tiny street with red lanterns and pictures depicting life in Osaka in the past.
Issunboshi Story
Ukiyo Koji is full of small details. As you walk down towards the other end, notice on your right-hand side a small shrine. It is a shrine dedicated to the story of Issunboshi.
Issunboshi is a classic Japanese tale about a boy that wasn't bigger than a thumb. His story starts with his older parents who prayed for a baby in a shrine in Osaka. Soon enough, their prayers came true, but their baby boy was born tiny. That's why they called him Issunboshi, which loosely translates as "little-one-inch" or "an-inch-high-samurai" (sun is an old measurement unit in Japan).
When Issunboshi turned 13 years old, he decided he wants to see the world and to become a samurai. He embarked on a journey from Nanba to the capital Kyoto on the river. But because he was so small, instead of a boat he sailed in a rice bowl with a chopstick as a paddle and needle for a sword. In Kyoto, he found a master who trained him and he allowed him to study with his daughter, a princess.
One day, the princess encountered an Oni, an evil Japanese demon who kidnapped her. Issunboshi decided to save the princess and he fought the Oni bravely, but Oni ended up swallowing him whole. Issunboshi was brave and he didn't give up, even when he was in the Oni's stomach. He was poking the Oni with his needle sword, which caused Oni a lot of pain until he spitted him out and ran away in agony. Oni left behind his Uchide-no-Kozuchi, a legendary magical hammer that taps out wishes. The princess picked up the hammer and wished for Issunboshi to grow tall. Then, as it is with fairytales, they got married and lived happily ever after.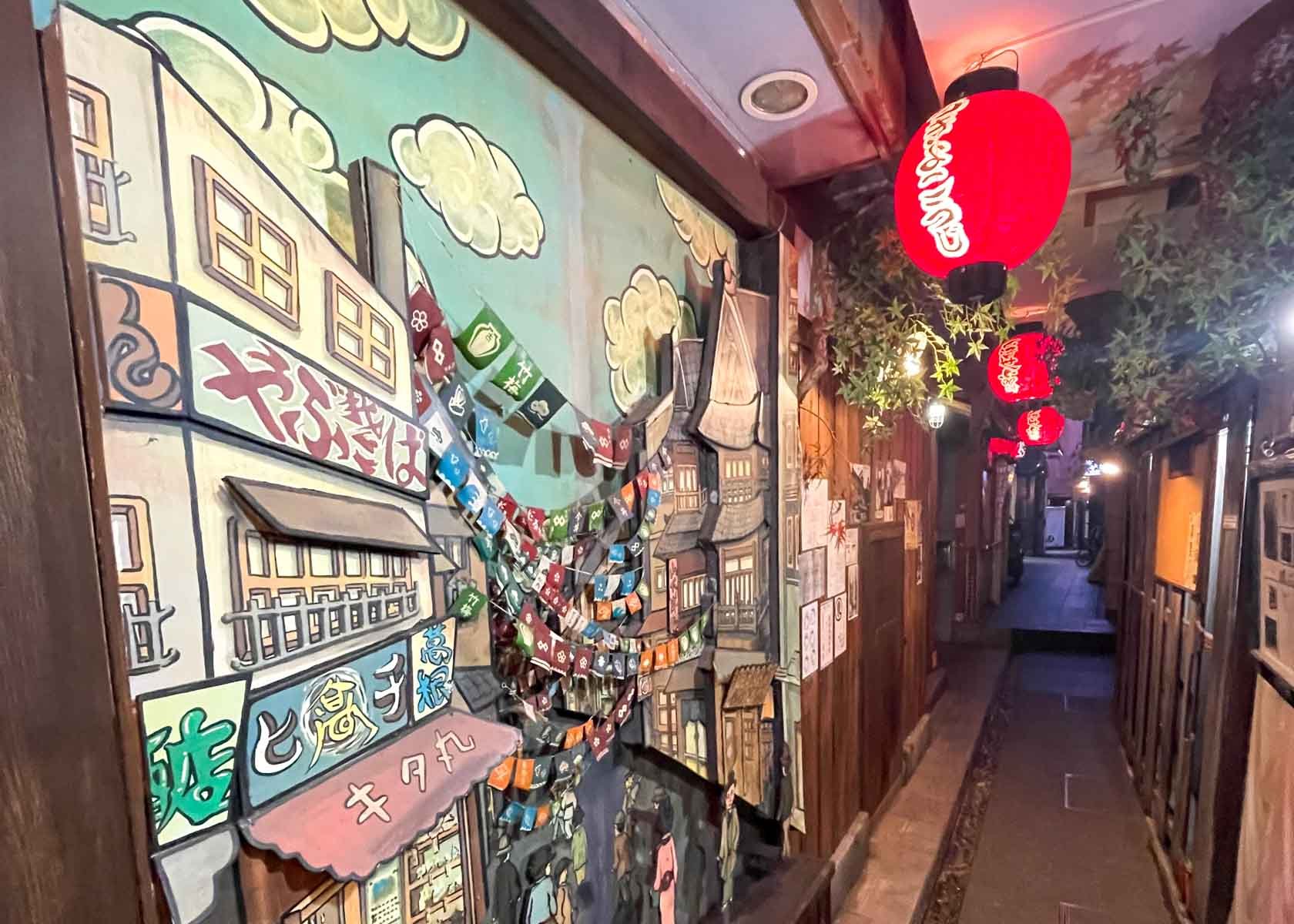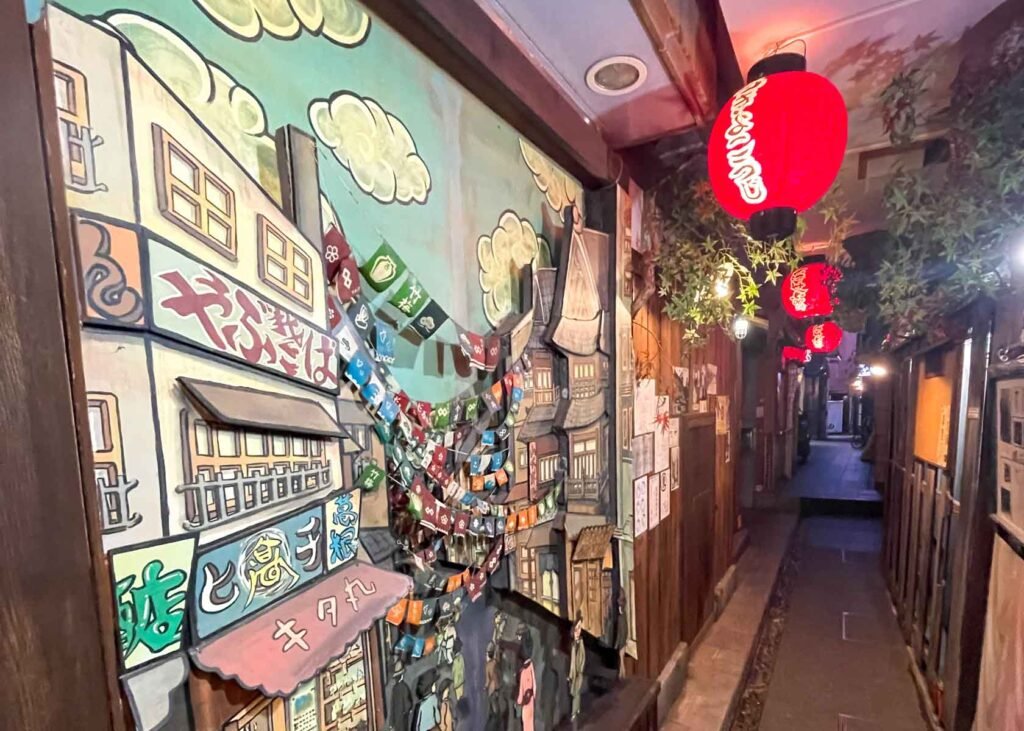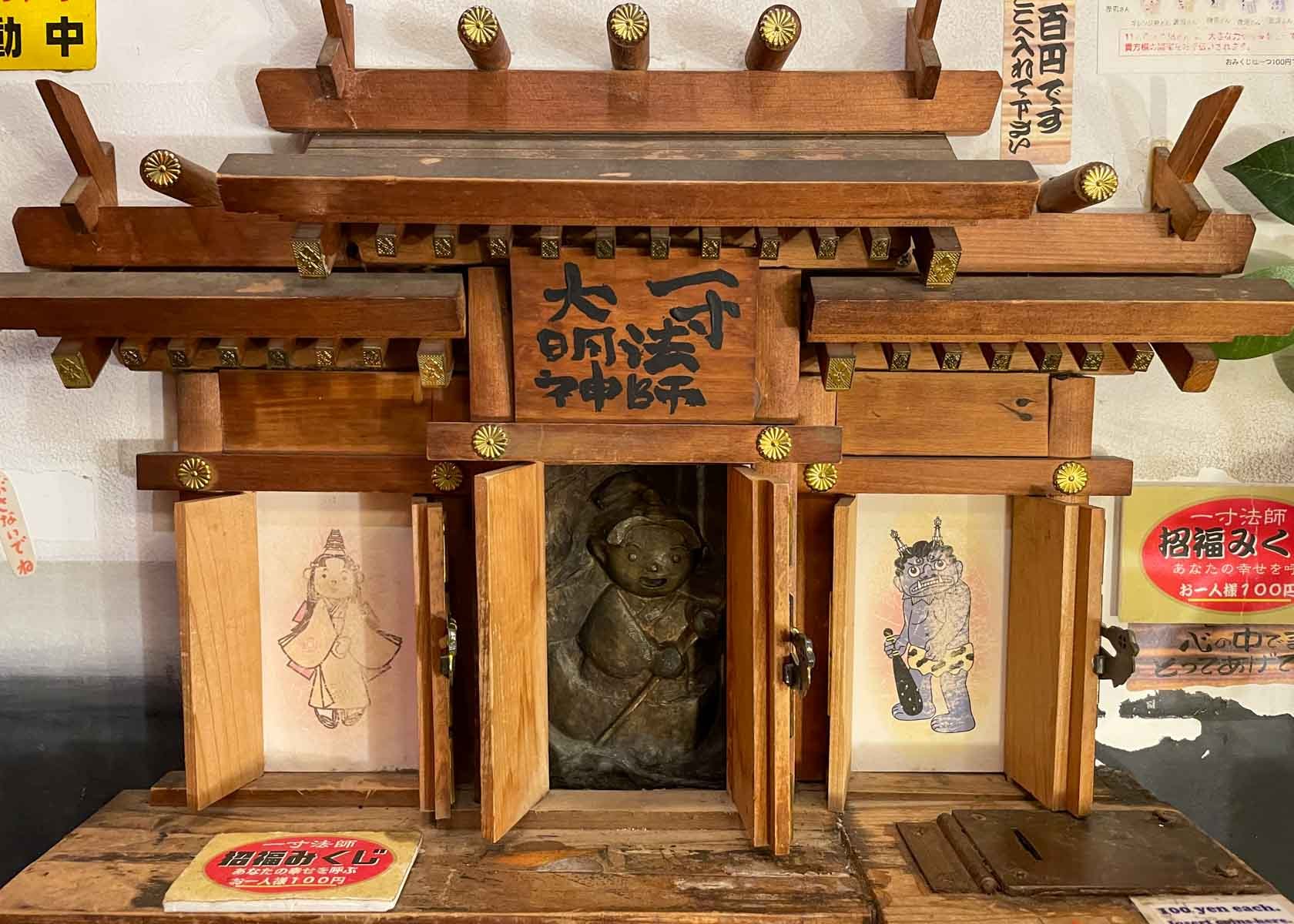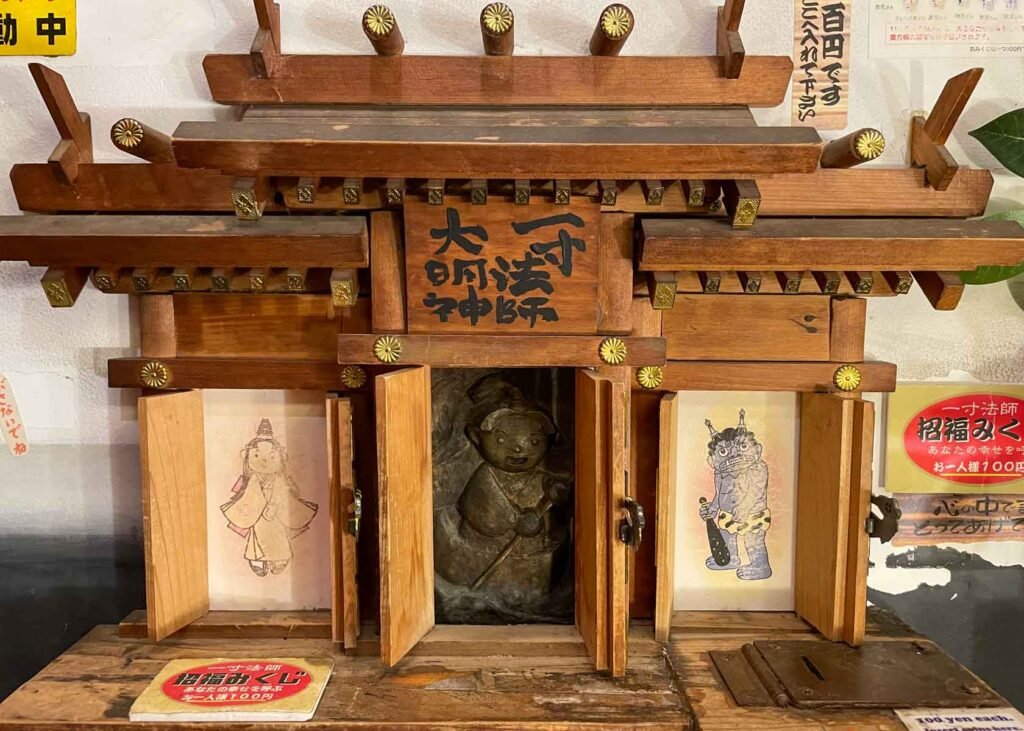 Shinsaibashi-suji and Ebisu Bashi-Suji shopping streets
As opposite to the small and quiet backstreets – yokocho, the busy covered shopping arcades bring a different type of vibe and energy to Dotonbori. Called shotengai in Japanese, these streets can run for kilometres and they give you a unique peek into the life of locals, in contrast with flashy modern shopping malls.
In Dotonbori, two of the largest shotengai meet at Ebisu Bridge. Both Shinsaibashi-Suji and Ebisu Bashi-Suji are some of the oldest shopping arcades, hosting a variety of Japanese boutiques, chain shops of famous western brands, local restaurants and cafes. They are popular shopping destination for locals and tourists alike so don't miss the opportunity to check them out when browsing around Dotonbori. If you want to know more about shopping in Osaka in general, you can read more about it in a separate article here.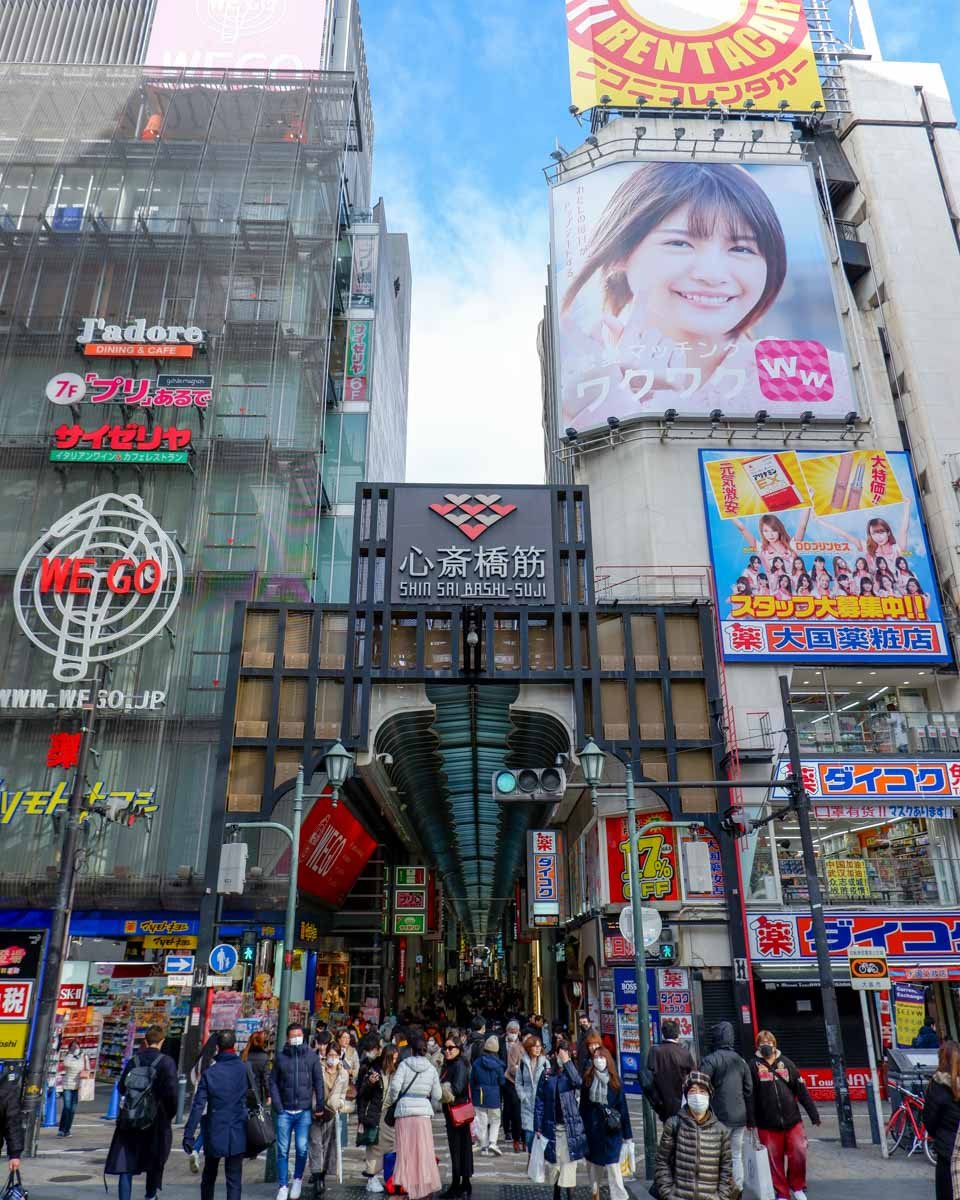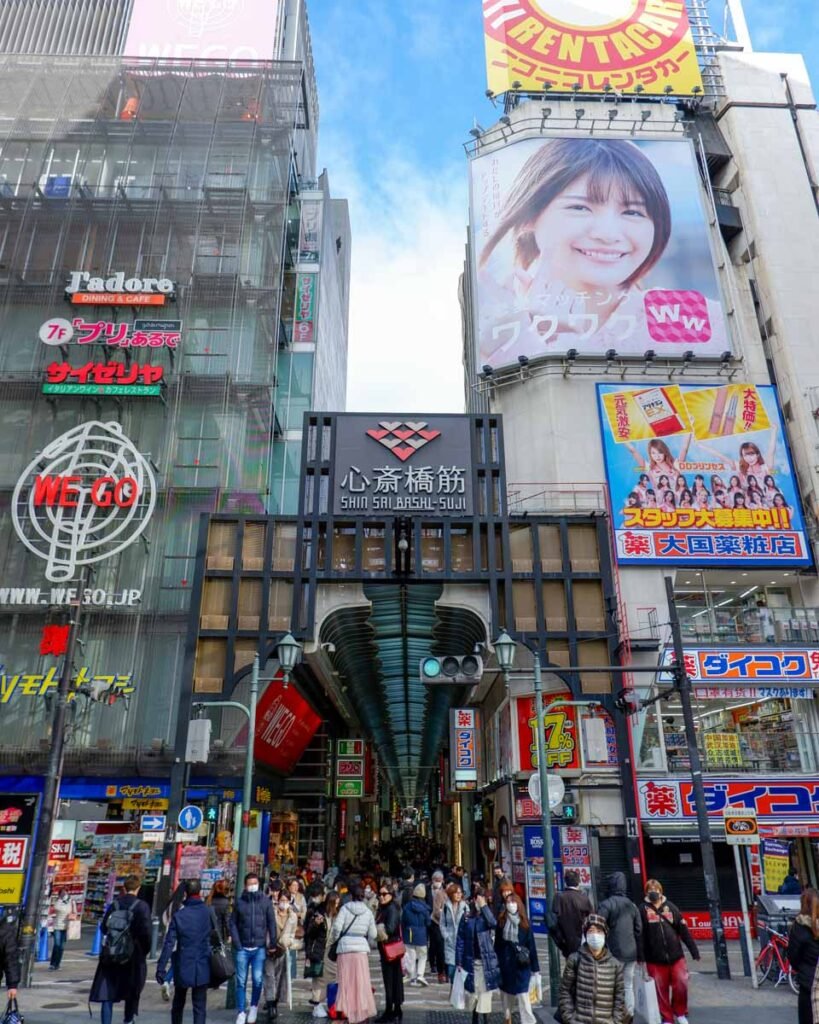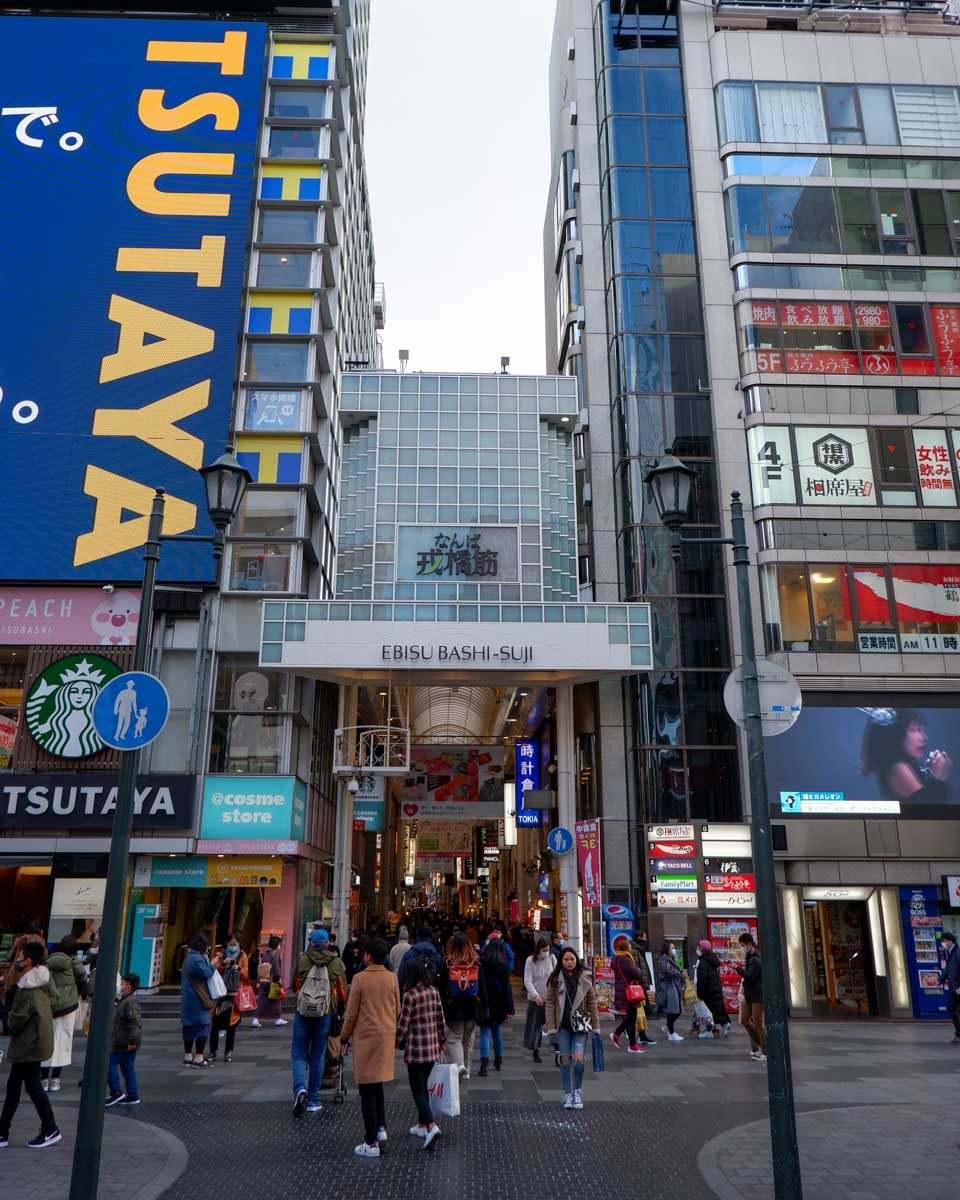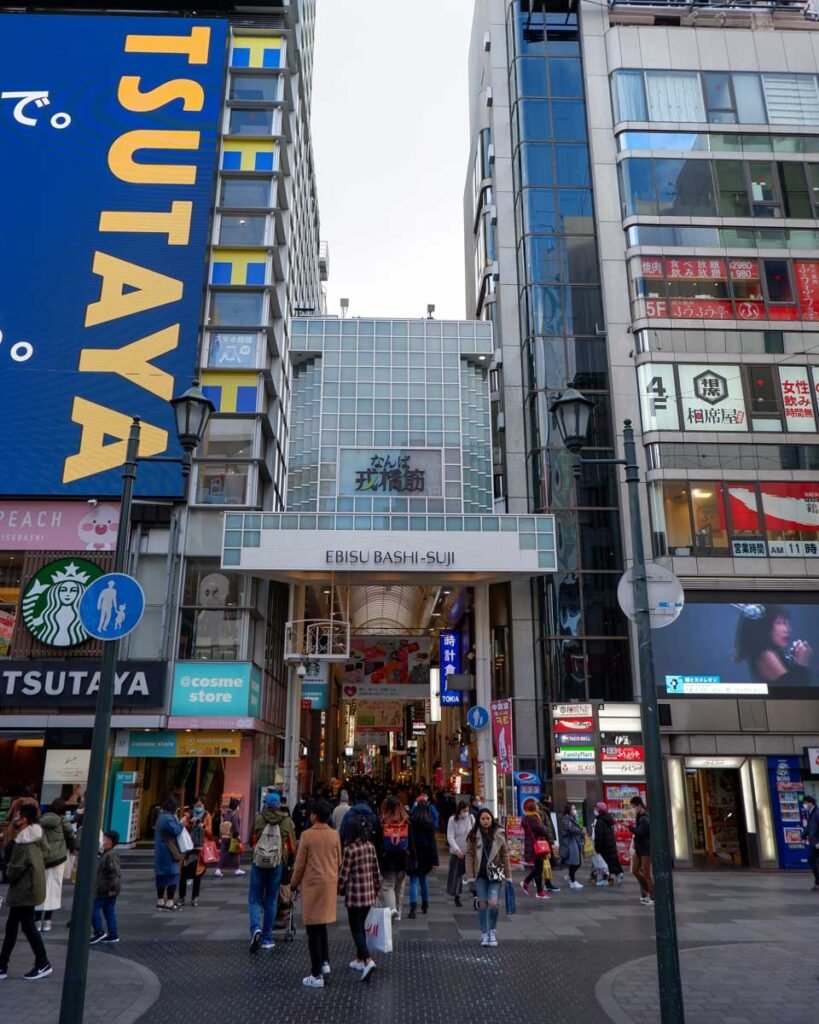 Where to eat in Dotonbori
The most essential part of Dotonbori are its restaurants and street food stalls. When in Osaka, one has to experience "Kuidaore" at least to some extent. Here are the best restaurants, where to eat around Dotonbori!
If you are more interested in typical food of Osaka, don't forget to check our older articles including recipes to the most famous dishes. You can find the article with the list of food you should try in Osaka here.