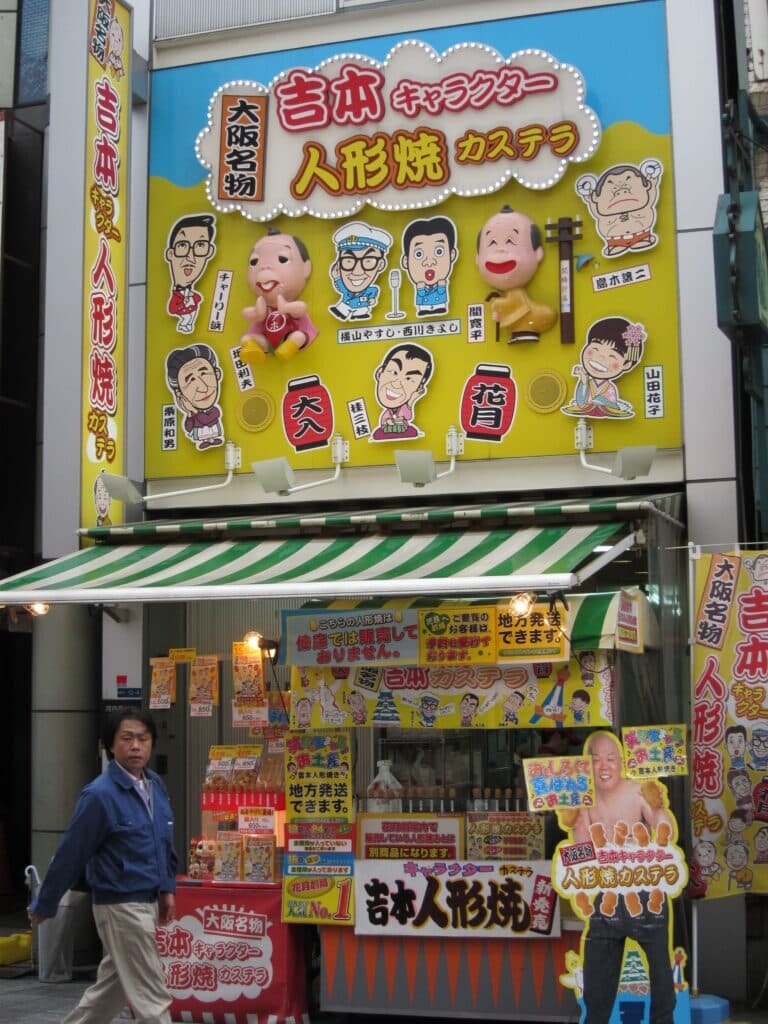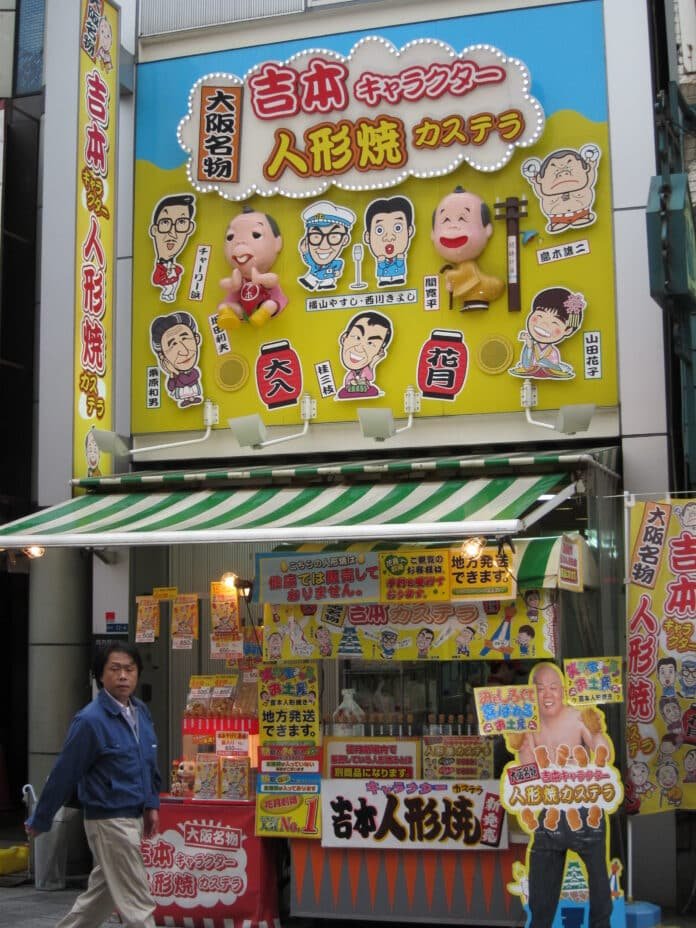 As scientists across the world race against each other to find a vaccine for the novel Coronavirus pandemic, many people have turned towards variety and comedy shows as a form of coping mechanism. But in Japan, when flicking from one channel to the next, you'll find that the majority of comedy and variety shows feature celebrities and TV personalities from one of the largest talent management agencies in the country, Yoshimoto Kogyo. Representing more than 6,000 comedians, singers and actors, including current "it-girl" Naomi Watanabe, the name Yoshimoto Entertainment Company is synonymous with showbiz and laughter. With a history stretching back over 100 years, Yoshimoto Kogyo has helped shape Japanese comedy to what we know and love today. yoshimoto entertainment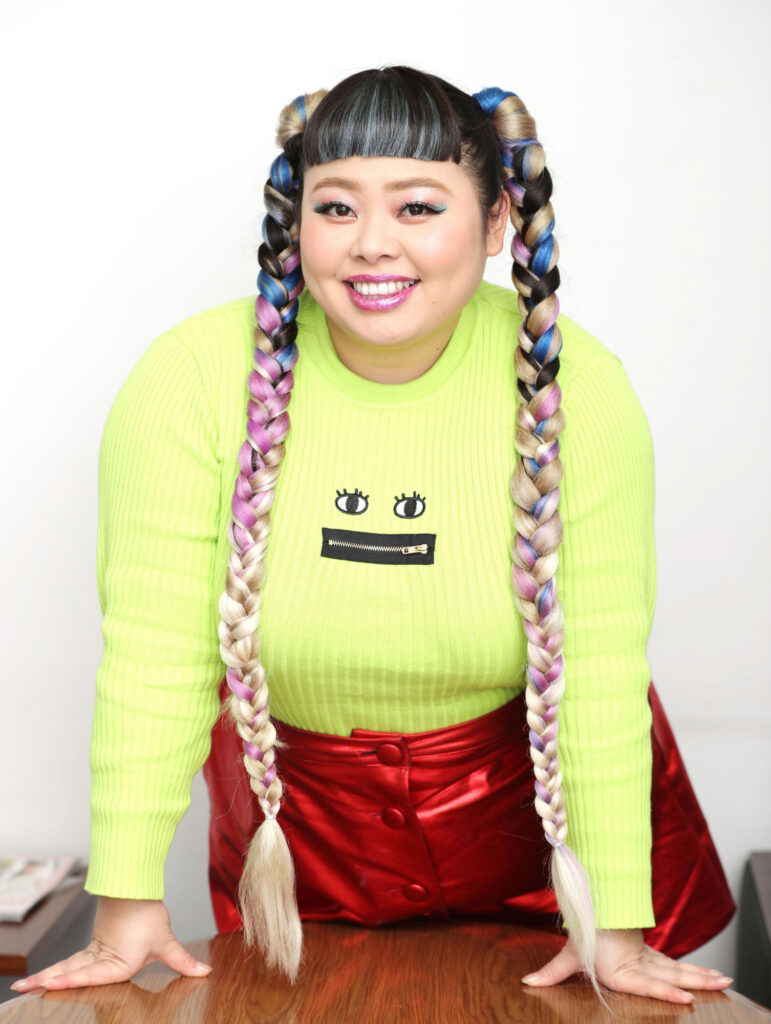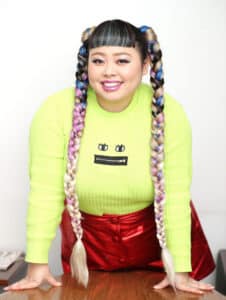 Early Roots
It isn't surprising to learn that Yoshimoto Kogyo started out in Osaka, a merchant city of fast-talkers long associated for their quick wit and a strong sense of humour. Founded in 1912 by married couple Kichibei and Sei Yoshimoto, what is now known as the nation's leading entertainment powerhouse started off as a small theatre for rakugo, the traditional art of comedic storytelling. Though Kichibei and Sei Yoshimoto were new to the world of entertainment and comedy, they strove to create a business that welcomed new forms of comedy. To give itself the needed edge to compete against larger and more established entertainment theatres, Yoshimoto Kogyo marketed itself as 'the cheapest place for laughs' by offering tickets to comedy shows at a third of the cost of its competitors. Along with its affordable entry price, the company ensured audiences varied comedic performances by continuously showcasing and nurturing new talent. This plan proved itself with its high return in sales and the company quickly grew and expanded by opening more theatres and hiring the entertainers as employees. Not only did this strategy ensure the company's success, but also pushed it to develop as a talent agency with a focus in comedy.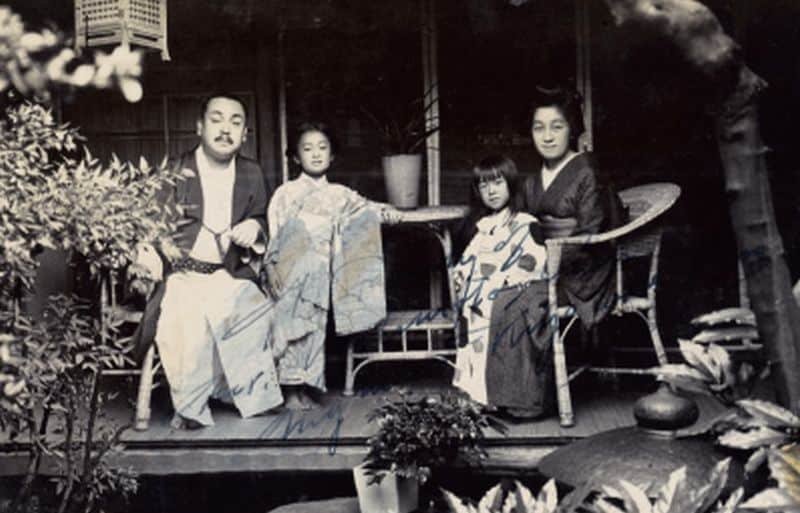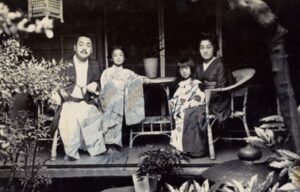 The Breathing Life into Manzai
Today, manzai is the most popular style of comedy in Japan with roots that trace back to the Heian period (794-1185) as a form of entertainment during New Years celebrations. Originally, a pair of performers would visit homes to deliver congratulatory speeches for the New Year along with chanting and dancing. This became a popular custom all over the country and over time developed into a more comedic form by adding more wise-cracking jokes and dialogue infused with riddles. However, it wasn't until 1930 that two comedians from Yoshitomo Kogyo that manzai transformed into the hilarious and fast-paced double man act that is closer to the comedy skits that can be seen performed on today's stage.
Dressing in western-style clothing that wildly contrasted from the traditional garb of Japanese entertainers, Entatsu Yokoyama and Achako Hanabishi burst onto the comedy scene with their 'unusual clothes' and rapid-fire dialogue which they coined shabekuri "non-stop chatter". They formally divided their roles onstage between the tsukkomi "straight man" playing the role of the smart guy and the boke "the ham" the role of the fool.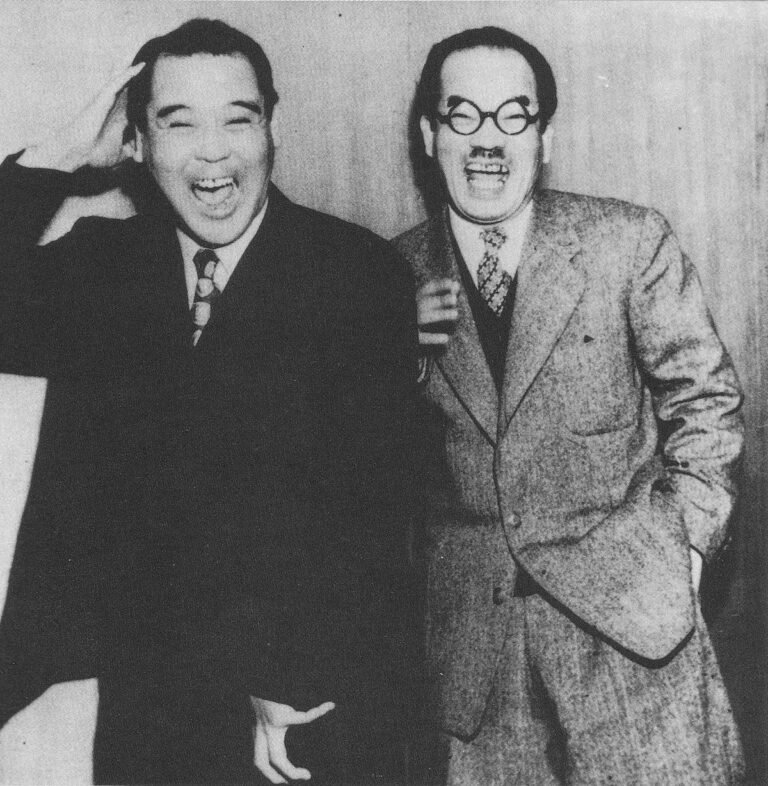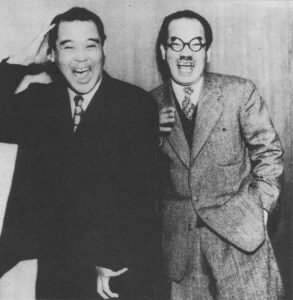 The entertainer's unusual choice in clothing was no coincidence as Yoshimoto executives carefully and decisively shaped and promoted this new form of manzai. Credit can be given to Shonosuke Hayashi, the brother of the company co-founder Sei Yoshimoto as he instructed Entatsu and Achako to wear Western suits to mimic the characters from out of film comedies from English and America. He also suggested to Entatsu to "wear glasses like Lloyd's" and "a moustache like Chaplin's". In a move to further promote the pair's groundbreaking comedy act, Yoshimoto announced at New year's in 1933 that the company would be using new characters (man as in manga and zai as in talent) for manzai to better suit its new and modern image.
Although shaberikuri manzai was a carefully orchestrated masterpiece of Yoshimoto Kogyo, Entatsu and Achako were a breath of fresh air who were willing to take a leap of faith towards modernity with their reborn style of manzai that went hand in hand with the fast-paced life of urban Japan. They quickly rose to fame and inspired a new generation of comedians and performers. During this peak wave of popularity, Yoshimoto didn't lose a beat and utilised its expansive network of theatres, as well as radio and film by its entertainers to expand its empire and transform manzai into a nationally recognised Yoshimoto brand of comedy.
World War II and a New Era of Entertainment
By 1935, Yoshimoto entered into its golden years. It had grown from a small rakugo hall in Osaka to owning more than 40 theatres nationwide, including opening an office in Tokyo and launching the popular Asakusa Kage-tsu theatre in the entertainment district of Asakusa. At this point, the company had over 1,300 talents on its payroll. The future was looking bright for the entertainment giant to the point that it began to branch into other forms of entertainment such as sports, publications and film. In 1934, Yoshimoto co-founded a baseball team that later became the infamous Tokyo Yomiuri Giants, and in 1936 went into partnership with Toho Eiga Distribution Corps. Though the original co-founder, Kichibei Yoshimoto had passed away due to a heart attack in 1924, it was his brother-in-law, Shonosuke Hayashi who laid the foundations for the successful talent agency that is present today.
But as the nation entered a turbulent time due to WWII, there were times when it became uncertain whether Yoshimoto Entertainment Company would survive. Despite working under strict government censorship, the company collaborated with the national intelligence agency and the Imperial Rule Assistance Association to establish Yoshimoto Theatre Caravan in 1941, a travelling roadshow of performers to entertain and support manual labourers across the country. However as the war continued, Japan became devoid of laughter. More and more entertainers, singers and actors were called to the battlefront as the nation required more soldiers. By the end of the war, Yoshimoto had lost most of its theatres and offices to American air raids which forced the company to cancel exclusive contracts with its entertainers.
Shonosuke almost abandoned comedy and instead focused on turning his remaining talents into movie stars, a decision that saved the company and led it on a path of recovery after the devastation of the war. Yoshimoto focused on movie production and screening for sources of revenue, then gradually returning its attention to its strength, live performances. As television went mainstream in the late 1950s and 1960s, the company opened a comedy theatre called Shinkigeki featuring slapstick comedy skits which would be produced for television became a hit with the people in the Kansai region.
The theatre quickly established itself as Yoshimoto's main feature and starred popular actors such as Kyo Hanaki and Hachiro Oka. With its nonsense jokes, often depicting the humour of ordinary life set in restaurants or a shrine during a summer festival, the show was particularly popular after school tv program for children in Osaka. The show's success speaks for itself as it has continued to run for more than four decades and is still on the air in Kansai. One of the leading actors in Shingeki today, Katsunori Uchiba says that he was one of those ordinary Osaka children. However, what makes him and other entertainers of his generation different from their predecessors at Yoshimoto is the entertainment school that was set up in 1982.
Training a New Generation of Comedians
For many years, the road to becoming a professional comedian in Japan was limited. The only way one could become one was to study under an established master and become a live-in apprentice where individuals could "steal" skills and techniques while doing chores for their master. However, when the 1980s rolled around it was clear that the old system was outdated and people began to question whether it was necessary for young comedians to be spending their time living with a master and walking their dog.
This resulted in the establishment of Yoshimoto New Star Creation, or more commonly known as NSC. The school of comedy was set up in Osaka in 1982 with the aim of providing a venue where students could spend time with talented teachers and their peers, where they could maintain a connection with society, grow, practise together, and also compete. The formula was simple, but it produced immediate results.
Amongst the class of 1982, there were two teenagers from the Kansai region who went on to become the most popular comedians of their generation: Hitoshi Matsumoto and Masatoshi Hamada. Together the two formed a manzai duo known as Downtown and their raw talent was quickly noticed that by 1987 they were hosting their first TV program. This was followed by a number of hit shows aired in the 1990s, including "Downtown's This is no task for kids!!" (which is still airing now) and "Downton's Feelin' Good". To this day, NSC teachers have mentioned that the majority of the students name Matsumoto and Hamada as their inspiration and role models.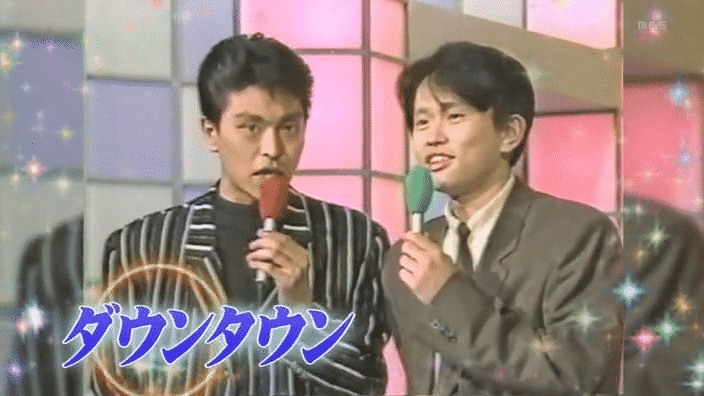 Despite previous generations of comedians from Kansai that were managed by Yoshimoto and went on to have successful careers in showbiz, none had seen fame and popularity like the Downtown duo. It was thanks to these two talented comedians that have made the Kansai dialect into the de-facto language of comedy in Japan.
Comedians with Killer Punchlines
With a history of nearly 100 years, Yoshimoto Entertainment Company has seen its share of scandals, but none have been as prominent as the incident in 2014 when the talent agency was rocked by headlines connecting its entertainers to yakuza, Japanese organized crime syndicates. The company came under harsh scrutiny when 3 high-profile comedians, Shinya Irie, Hiroyuki Miyasako, and Ryo Tamura performed at a party held by a large group of con artists without consulting the agency. It was announced that the con artists had defrauded over a thousand people in 17 prefectures out of more than US$19 million targeting elderly people out of their life savings. Though the comedians claimed to have been unaware that they were attending a party for yakuza, it was later reported that they received a large compensation for their participation which was later disclosed to be ¥1,000,000 to Hiroyuki Miyasako, while Ryo Tamura received ¥500,000. Yoshimoto received scathing criticism of its management and corporate culture. Broadcasters with variety programs featuring the comedians edited them out of scenes and put their shows on hiatus as punishment. This was also swiftly followed by a public apology from President Akihiko Okamoto who took a hefty 50% pay cut for the year.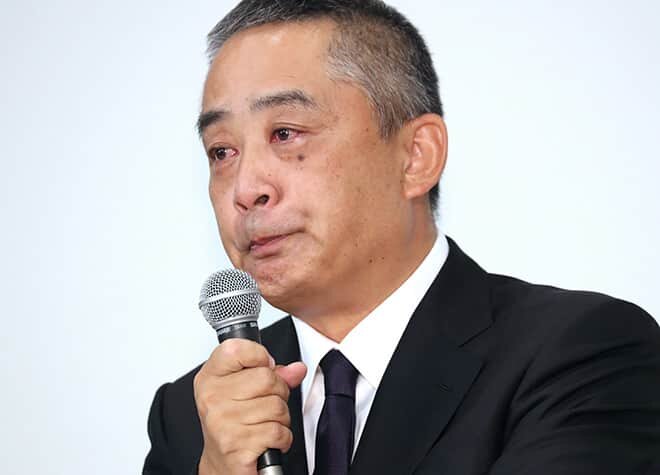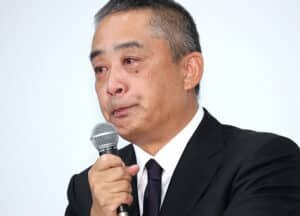 Despite the negative publicity that Yoshimoto received from the scandal, it certainly wasn't time the company had crossed paths with yakuza. In fact, the talent agency has a long history of involvement with Japanese organized crime, stretching back to the 1960s. One of their top comedians, Shinsuke Shimada was forced to retire from show business in 201 after news surfaced that he had close relations with Japan's largest crime group, the Yamaguchi-Gumi.
The Future of Yoshimoto Entertainment Company
Currently, Yoshimoto has signed over 6,00 talent personnel and has enough media partnerships to have unprecedented control over the Japanese showbiz industry. The company owns multiple theatres throughout Japan, has long-established partnerships with nearly every broadcast station, and deals with Yahoo for internet publicity. Yoshimoto has a firm hold over every step when it comes to creating new content, or in their words the "full value chain". They have proven time and time again that they're capable of establishing comprehensive strategies through careful planning, production, PR and distribution in the ever-growing entertainment industry. But where is the company heading now?
Looking back at its history, it's clear that Yoshimoto has veered down several different paths, but showcasing and promoting comedy has always been at the forefront of the company's main activities. However, Yoshimoto continues to strive to diversify its business profile by expanding into new fields such as film productions, idol, sports and video games, and even collaborating with the United Nations on sustainable development projects. It's safe to say that the sky's the limit with the capabilities of Yoshimoto Entertainment Company and foreign audiences may be seeing more content from this famed company sooner rather than later.
Sources
Asian Media Productions by Brian Moeran
The Encyclopedia of Contemporary Japanese Culture
The Japan Times – Yoshimoto Kogyo's New Star Creation: Comedy's a funny business in Japan
Youtube – The History of Yoshimoto
The Japan Times – Five things to know about the scandal enveloping top Japanese comedy agency Yoshimoto Kogyo
The Mainichi – Apologetic entertainment giant boss retracts punishment over 'antisocial group' scandal