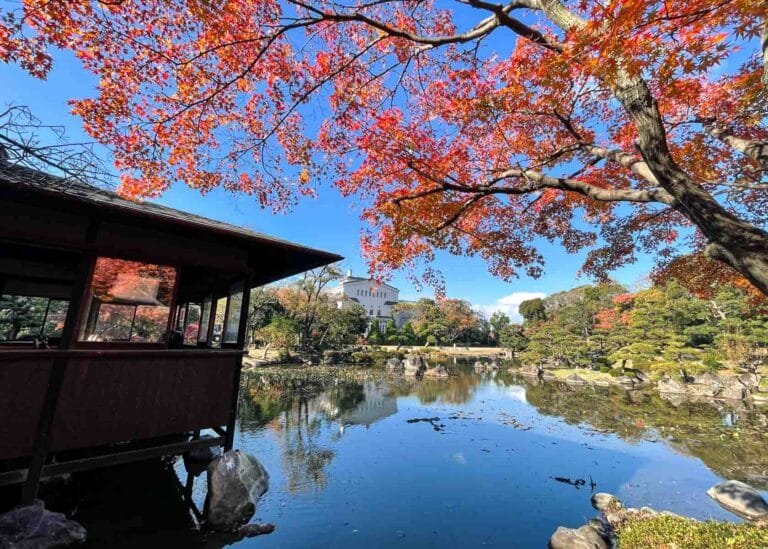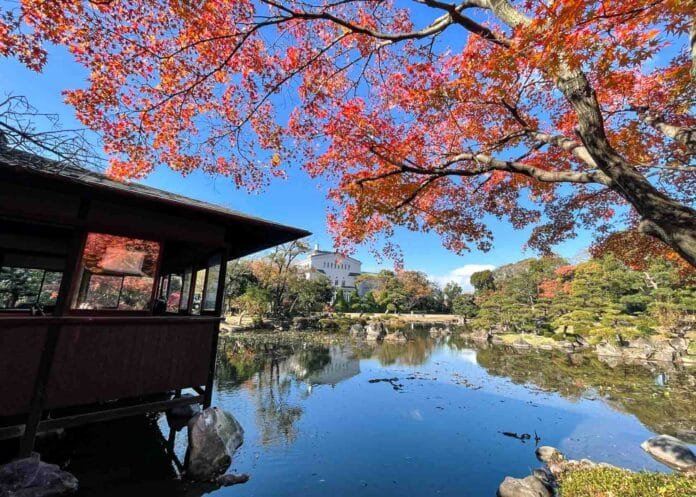 Japan is full of contrasts. Old traditions are mixed with new modern kawaii culture. Ancient temples are hiding among tall business buildings. Long-established arts and crafts live side-by-side anime and manga. Peaceful Zen gardens are set into concrete jungles. In Osaka, you can find all of this, living together in harmony. In this article I would like to present you a small Zen garden on the south of the city, that is not so easy to find.
Keitakuen Garden
Keitakuen garden is one of Osaka's secrets, a hidden quiet place in otherwise lively and busy Tennoji ward. It may not be large in size, but it gives you a place for relaxation when you need it the most. A place where you can forget about the craziness of the outside world. Because most people choose Tennoji Park for their leisure activities, the garden is usually not busy at all, even during peak season.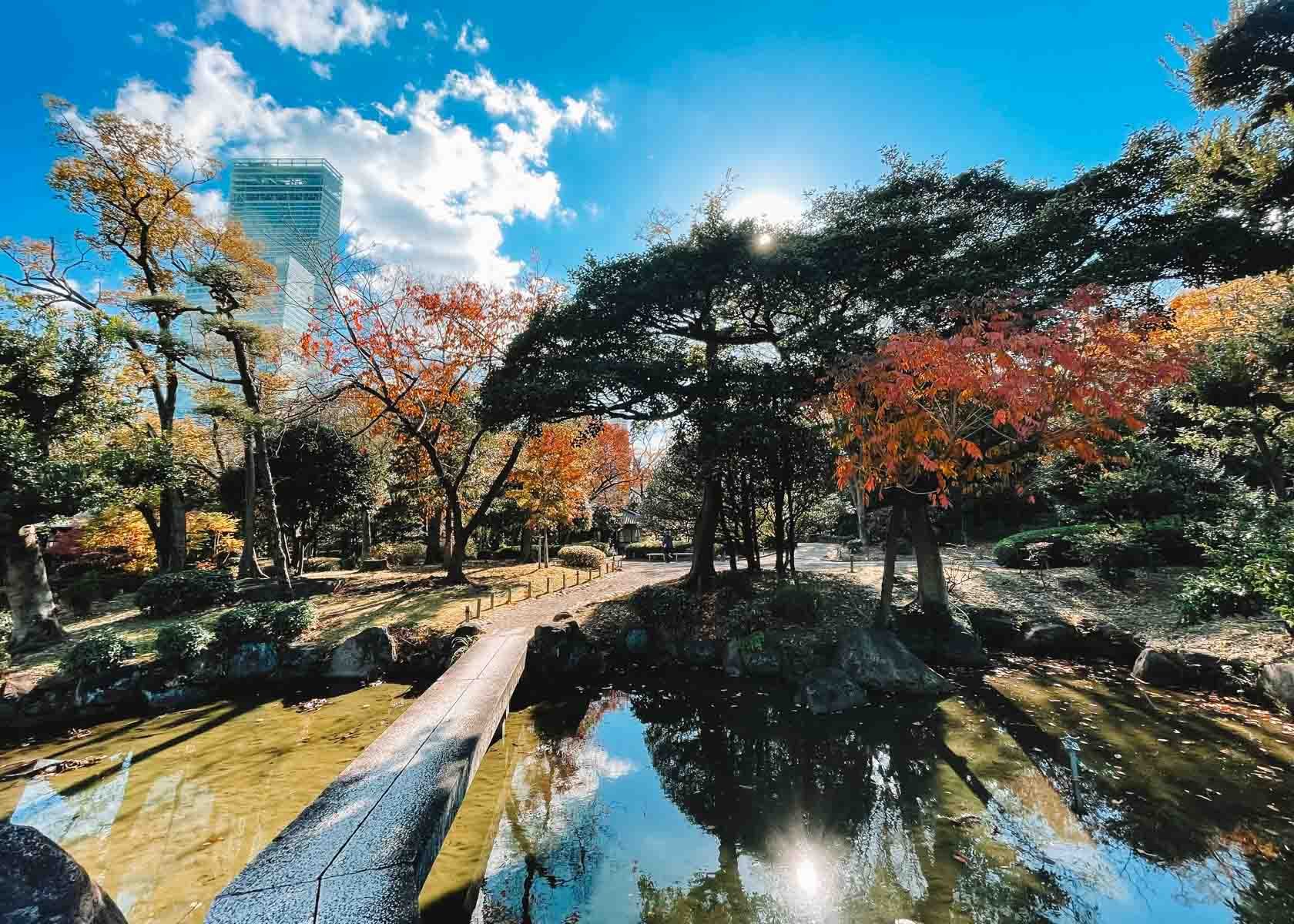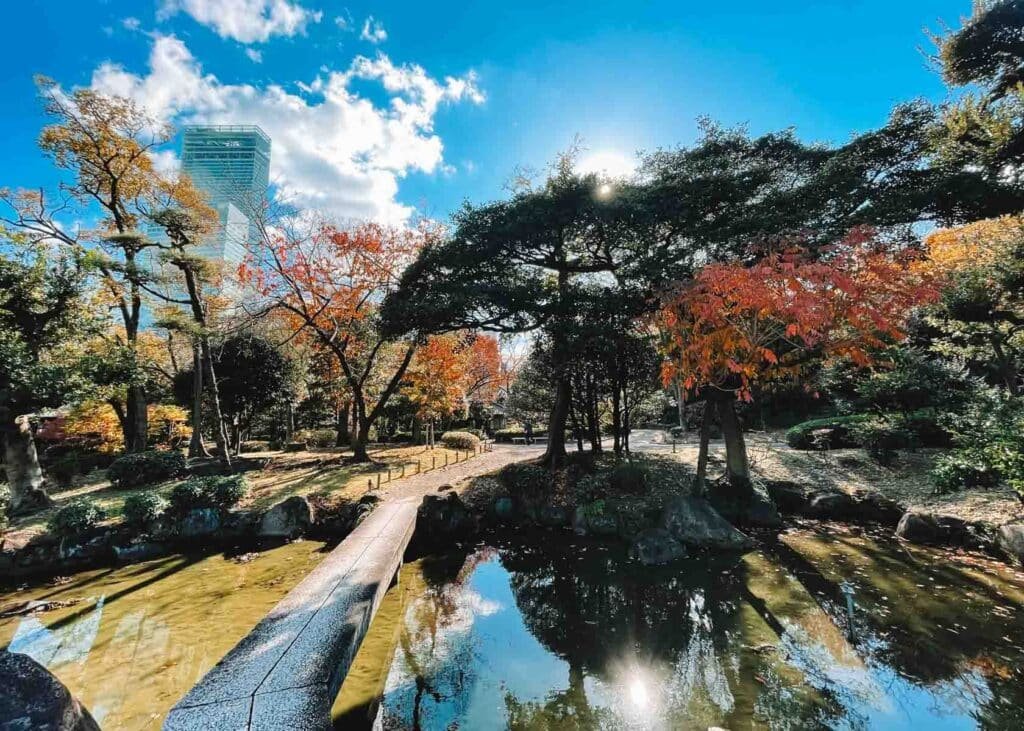 Inside the garden
The garden is spread around a large pond and it gives a plenty of possibilities for a nice stroll. Some of the areas are quite wild and if you are lucky, you can observe wildlife, especially birds, such as egrets and herons. The pond is also full of life. You can see here colourful koi fish while the stones on the shores are occupied by turtles, relaxing in the warm sun.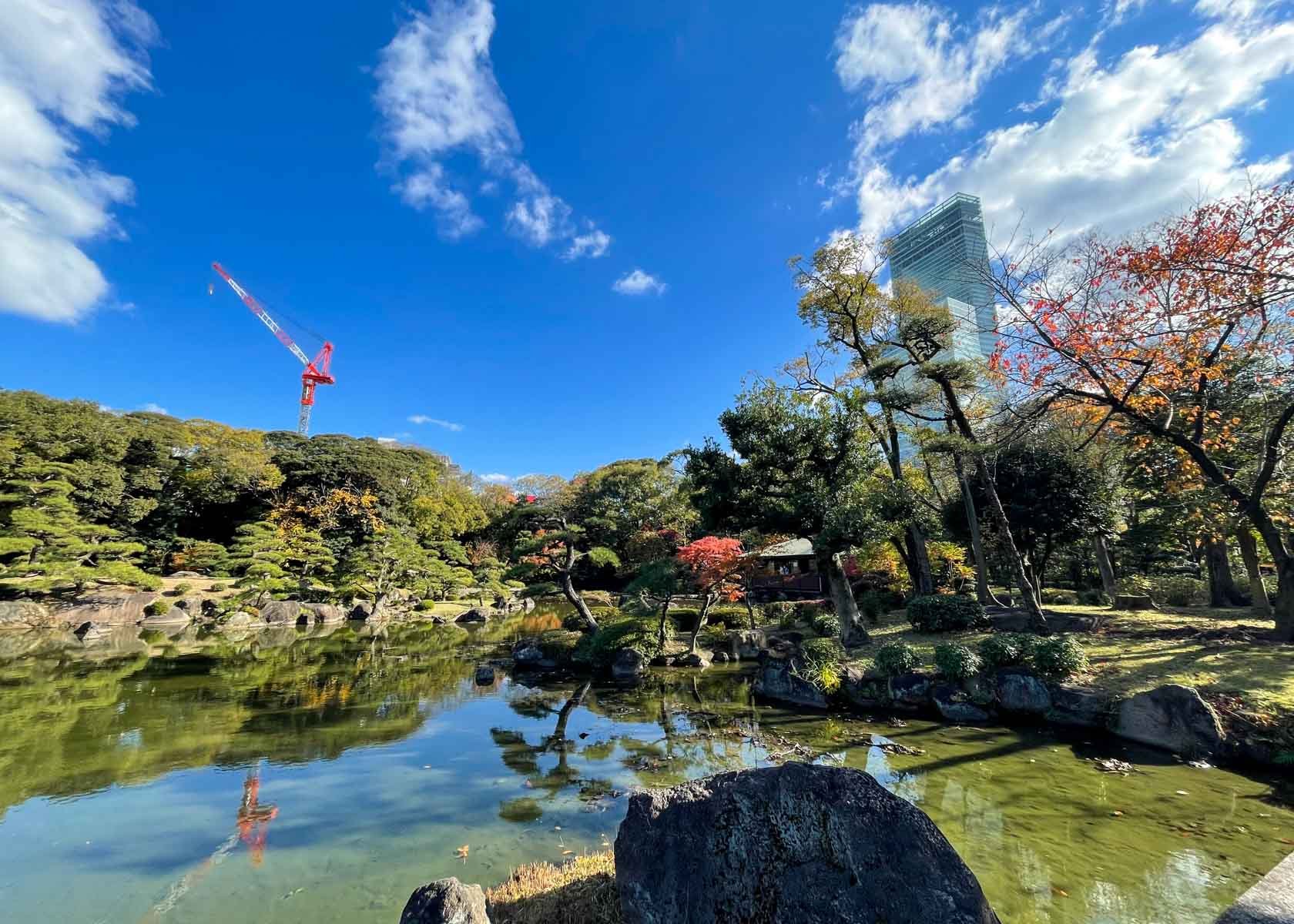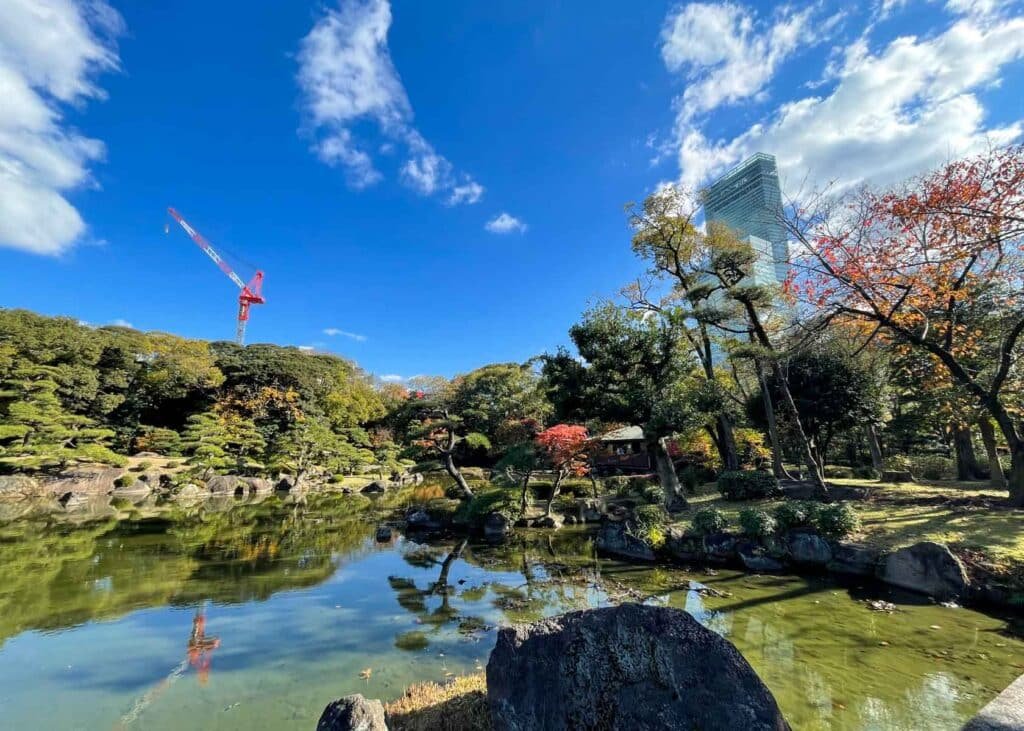 Tea house
On one side of the pond, there's a building of an old tea house called Choseian. It is placed right above the pond with views over the garden. Today it serves as a pavilion, you cannot order tea there anymore, but there are benches inside to sit down and rest. It provides necessary shade during hot summer months. In front of the tea house, there's a vending machine so you can buy some refreshments there. Recently the pavilion has became popular among photographers, who occasionally meet here for photography workshops. It is also not unusual to experience a poetry reading in there.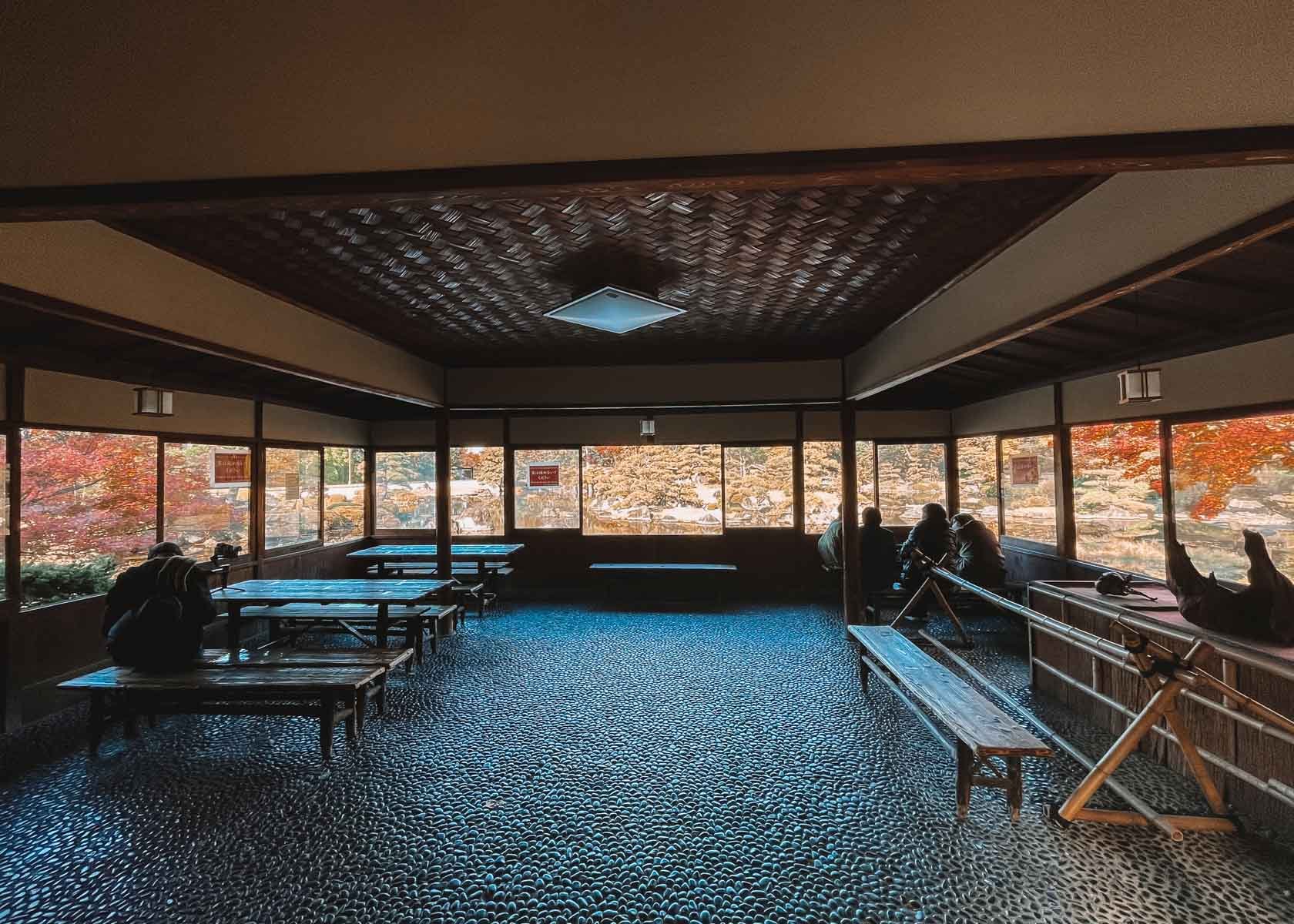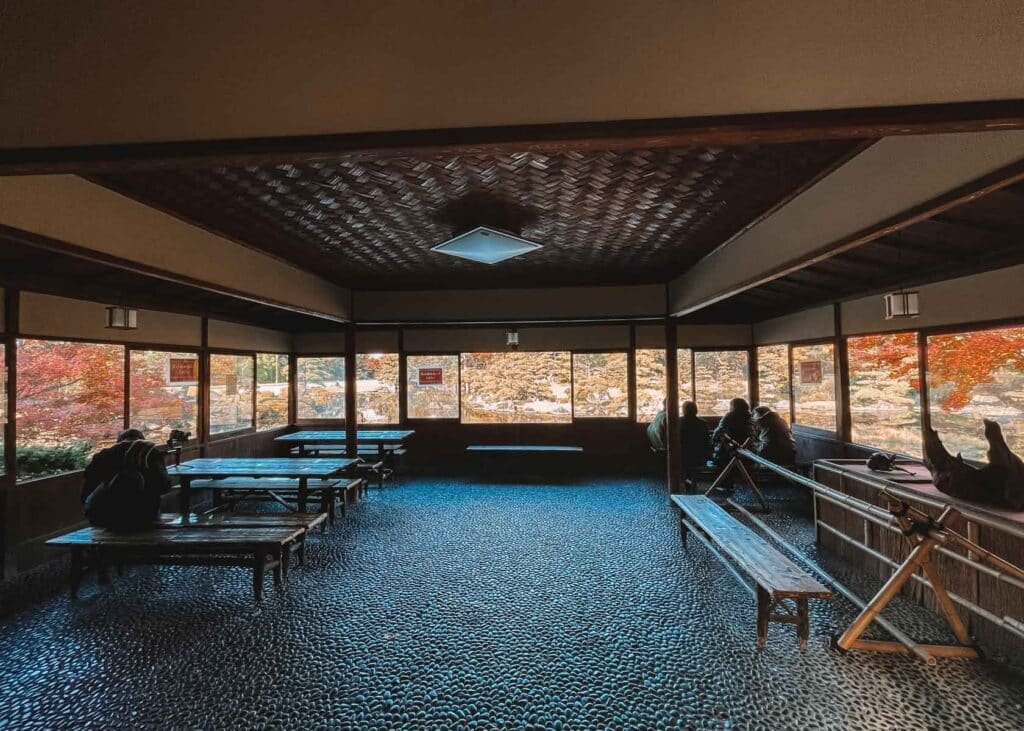 Continuing further, you will follow a stream with small bridges over it. The path will lead you to many secret coves with benches under the trees. Even though the garden itself is not very big, it is possible to spend there a nice couple of hours just appreciating nature and practicing Japanese way of 'forest bathing' – shinrinyoku.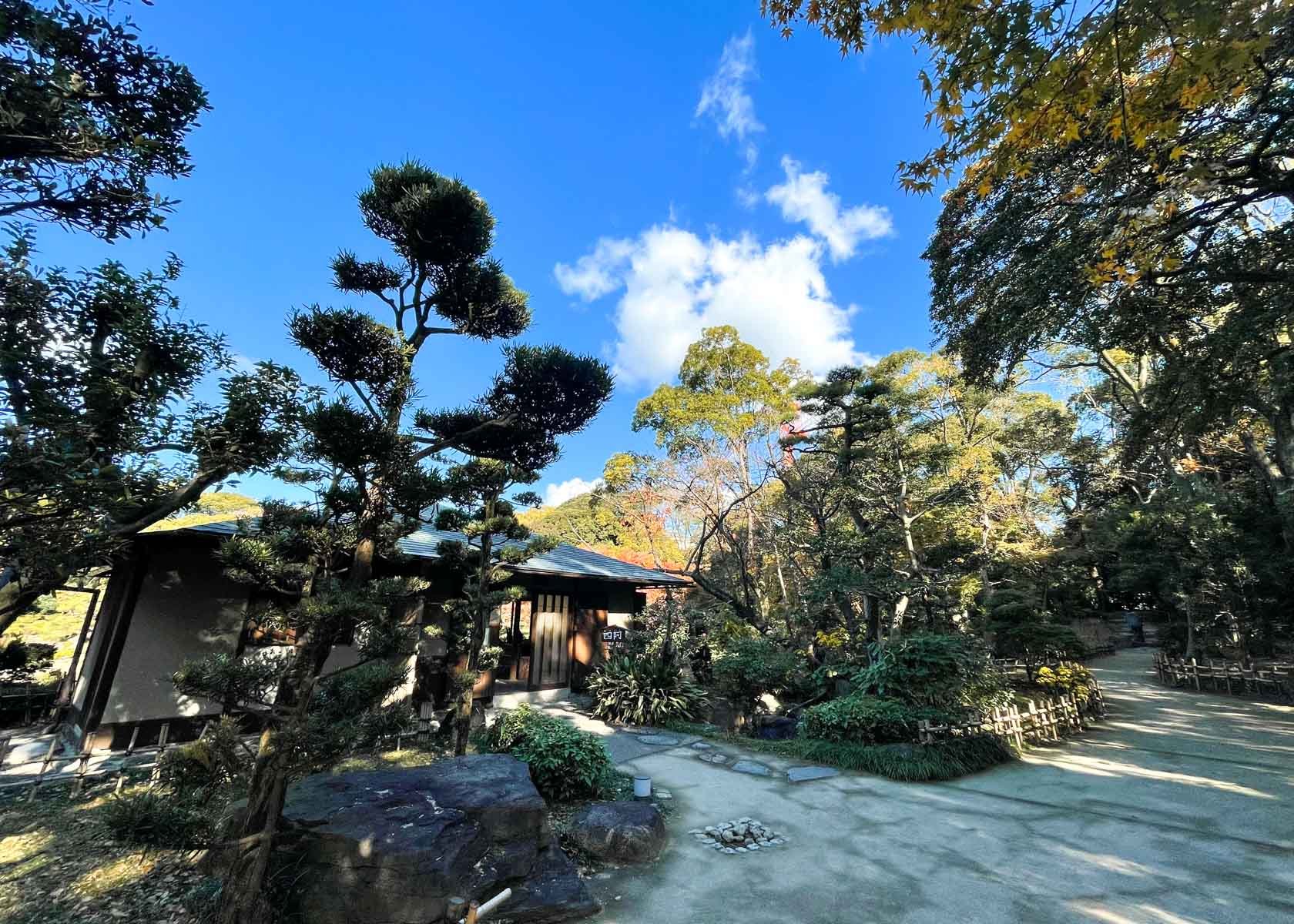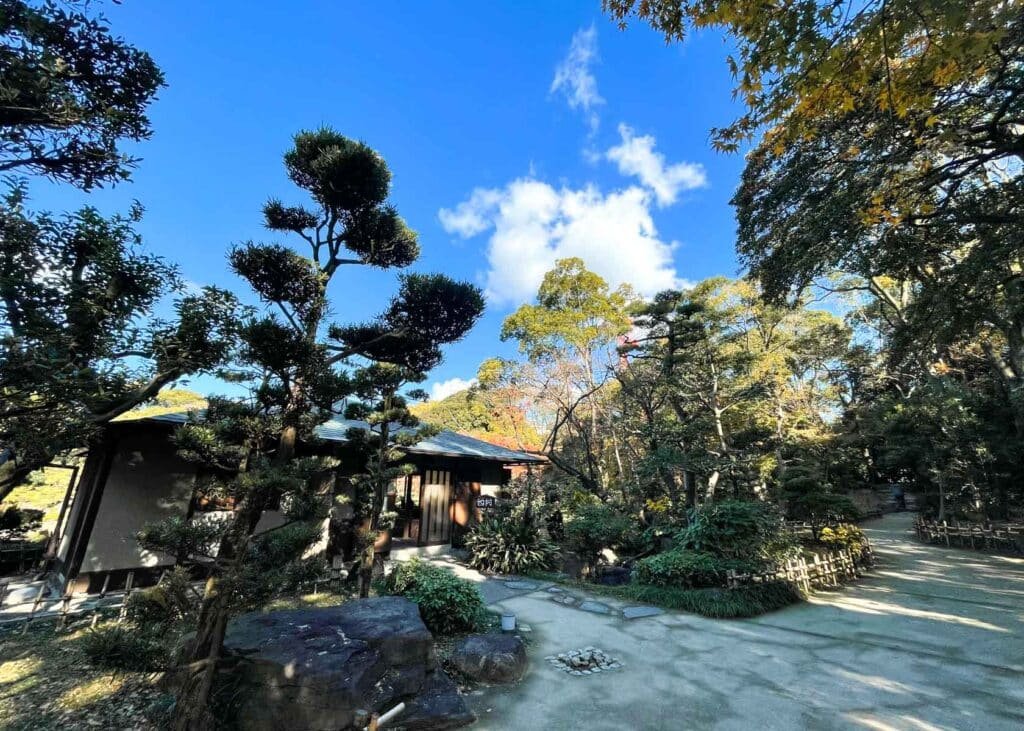 Flora
Keitakuen Garden is a formal Japanese style garden called Chisen-kaiyu shiki. It is a type of garden with a pond in the middle that you can stroll around. There are more than two hundreds of different plant species and each of them peaks in different season. My favourite season to visit Keitakuen garden is autumn, when maple trees Momiji play with all the shades of orange, red and yellow. It is a beautiful sight! In spring and summer, you can admire apricots, azaleas, irises and water lilies. The banks of the pond are rich with pine trees. There are plaques with names of the garden's flora, available in Japanese and English.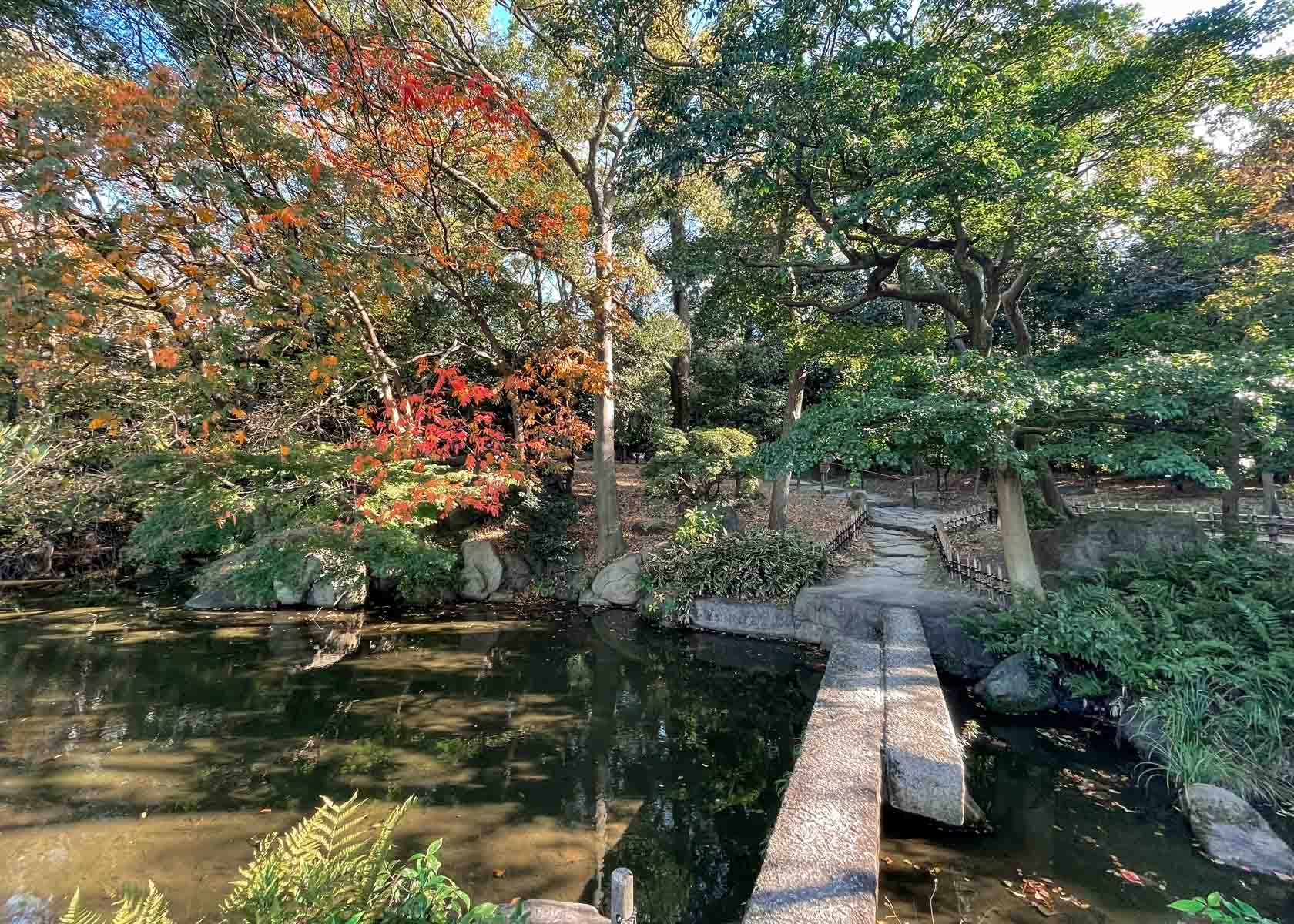 History of Keitakuen
Keitakuen garden once belonged to the Sumitomo family, who donated it to the city of Osaka in 1926, together with their main residence. Today in their former residence, there's Osaka City Museum of Fine Arts which is located right in front of the garden. Sumitomo family were wealthy merchants and industrialists from Osaka since Edo period. They acquired their wealth from their copper mines on the island of Shikoku.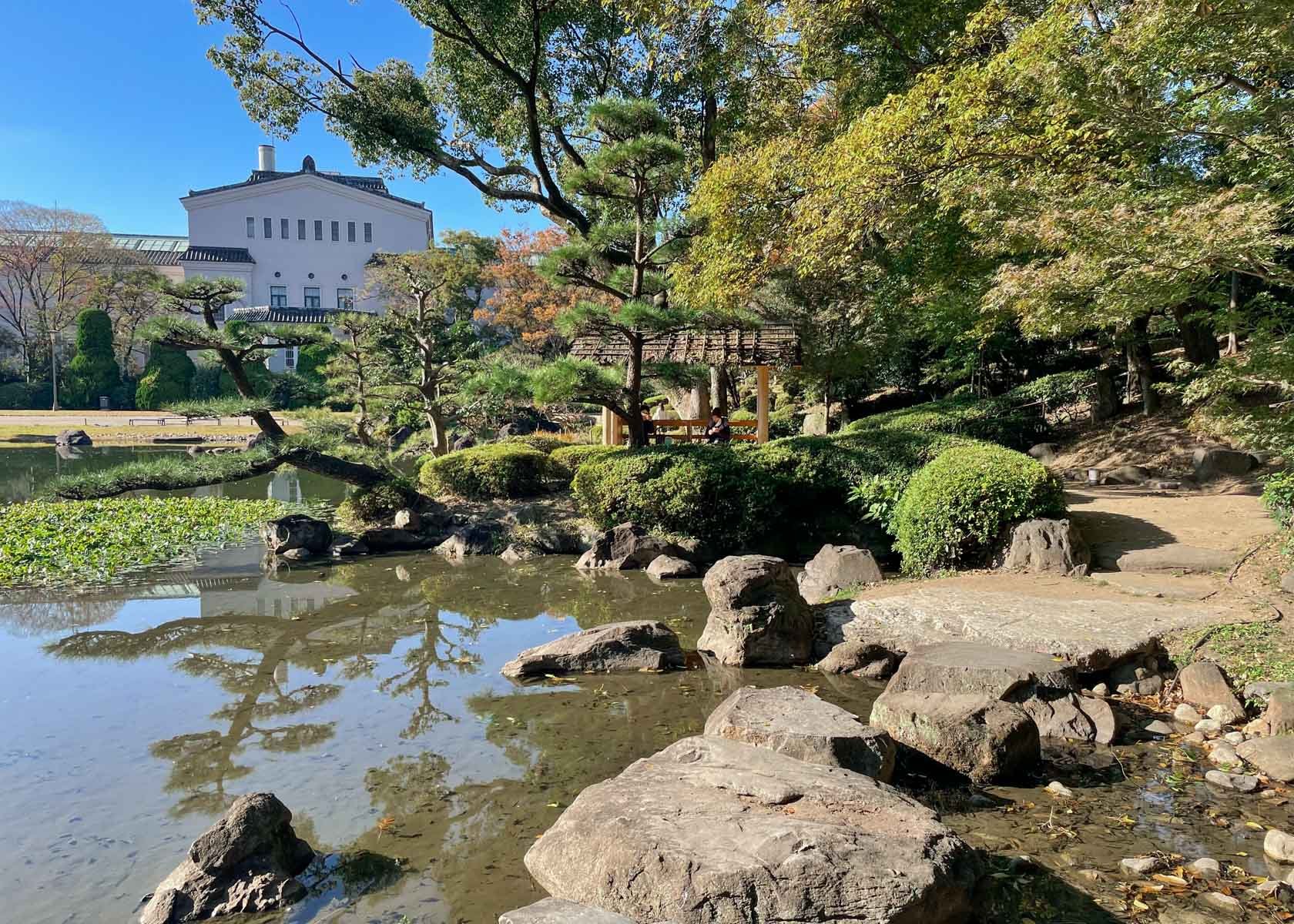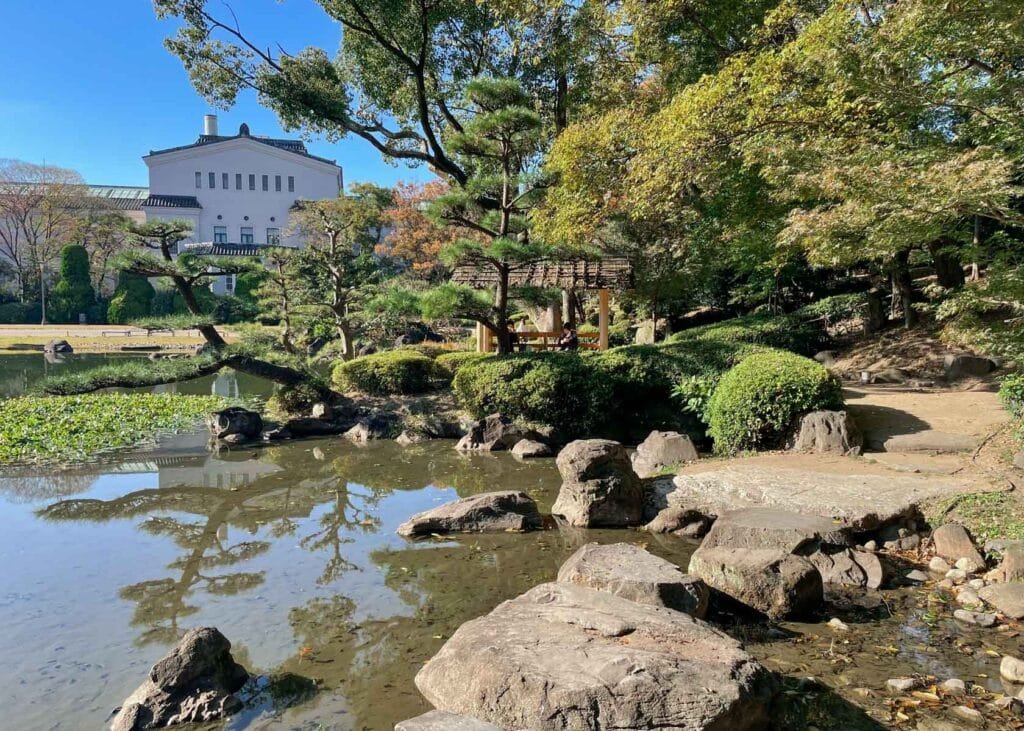 Design
The garden was designed by Ogawa Jihei VII. (1860 – 1933), also known under the name Ueji. The Ueji family specialized in architecture and landscaping for many generations, especially in and around Kyoto. Their landscaping company is active up to this day and the family is still the sole owner. Ogawa Jihei was the 7th generation landscaping architect during Meiji and Taisho era of modern Japan. Besides Keitakuen in Osaka, he also created some other notable gardens in Kyoto, such as Murin-an garden, which has been registered by the government as an Important Cultural Property, gardens around ancient Heian Shrine, or Maruyama Park that is known for its hundreds of Sakura trees and famous hanami parties in spring.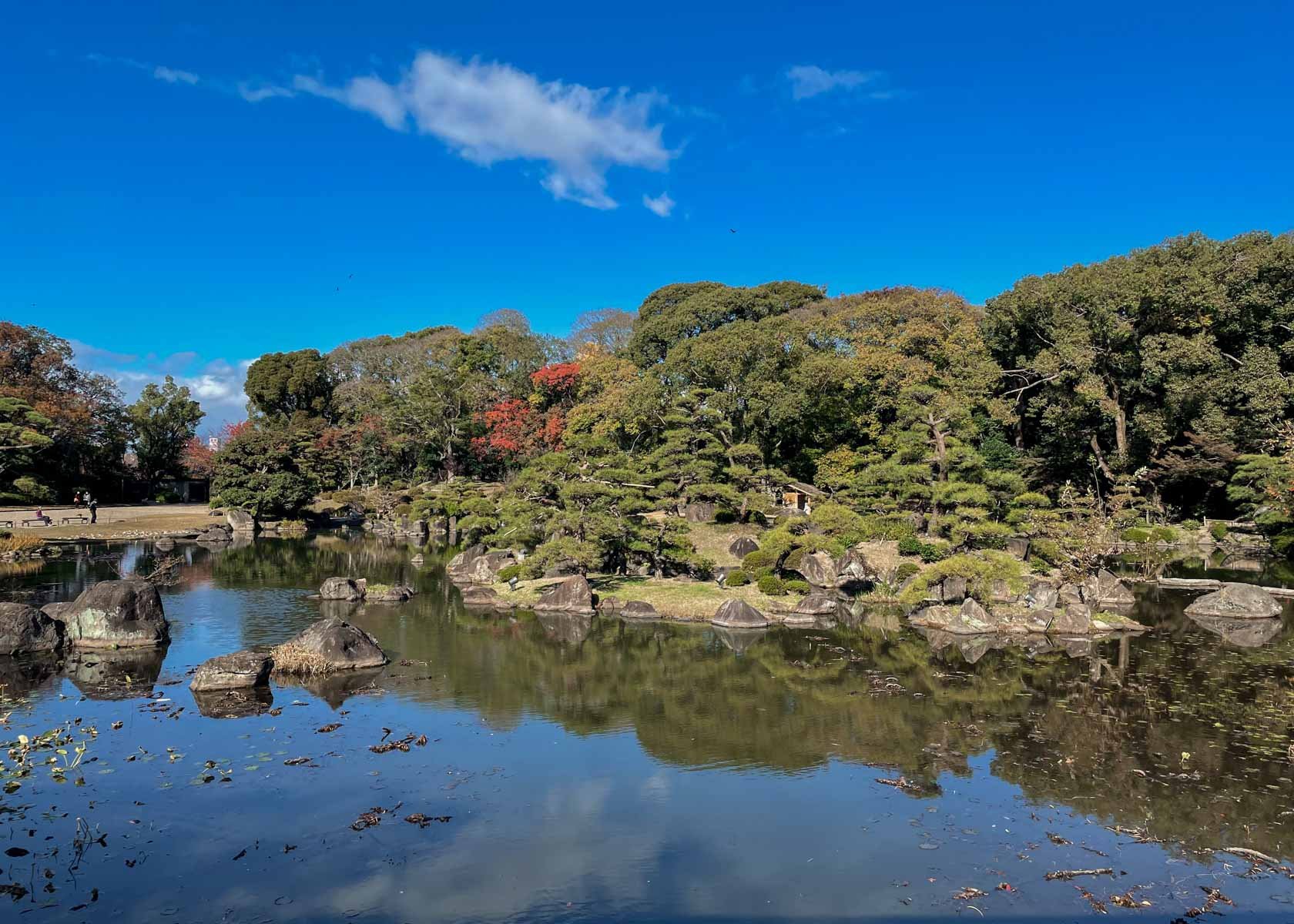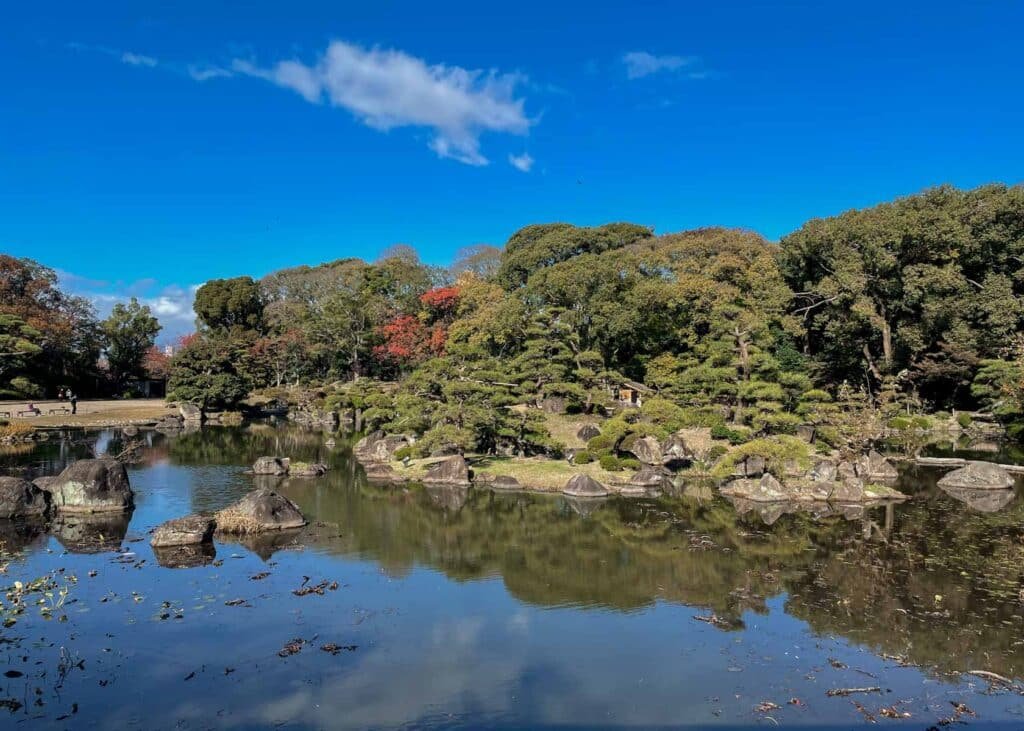 Location
Keitakuen garden is located within Tennoji Park, but its entrance is kind of hidden and you can easily miss it. It is right behind the Osaka City Museum of Fine Arts. The entrance to the garden is on the right when you face the museum. You don't need to visit the museum to be able to go into the garden. They have separate entrances.
How to get there
The closest train station to Keitakuen garden is Tennoji station, one of the major transportation hubs in Osaka. Many train and metro lines go through here.
From Osaka-Umeda station, you can take Osaka loop line, Midosuji line or Tanimachi line. The trip will take you around 15 minutes.
If you need to go from Namba station, you can take Midosuji or Yamatoji lines. With both these lines, the trip will take you about 7 minutes.
Once you are in Tennoji station, go towards the South exit and cross the road to get to the Tennoji Park. Alternatively, you can go underground through Tennoji Metro station. Exit number 4 will lead you right at the edge of the park. From there it is about 5-minute walk.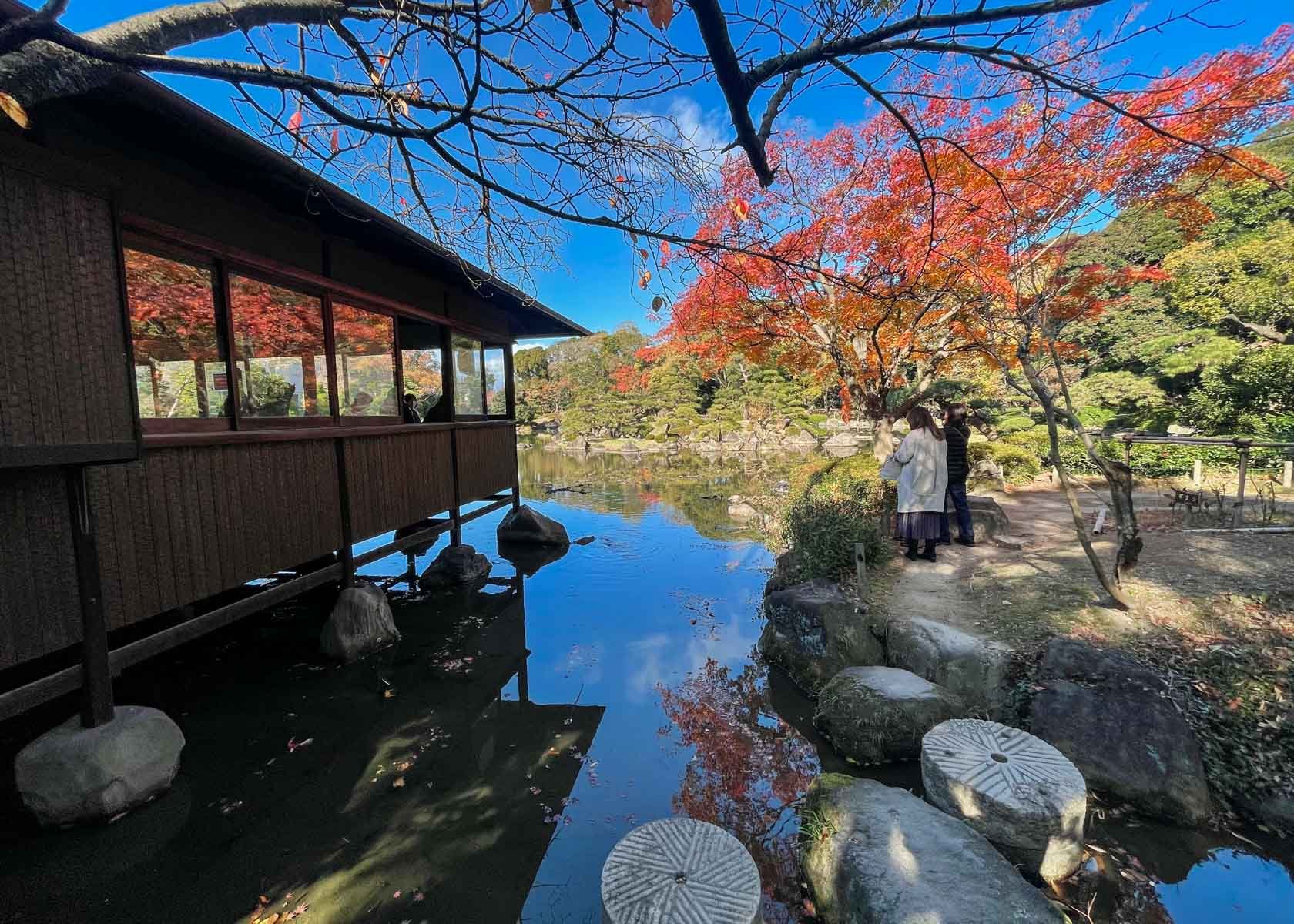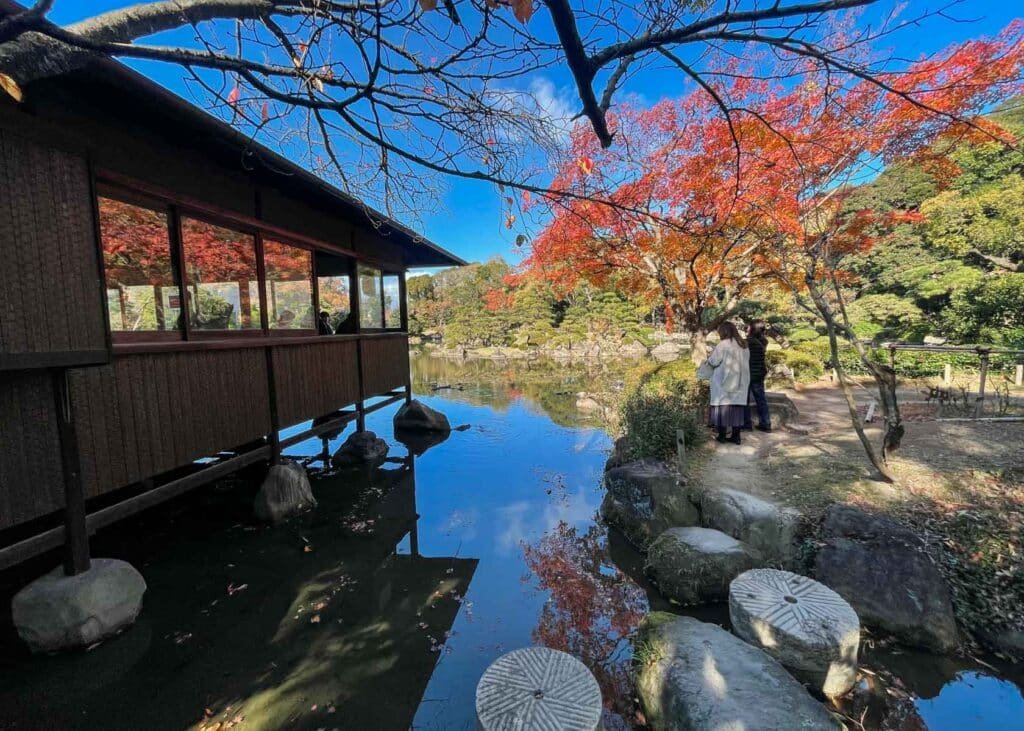 Opening hours and entrance fees
The garden is open daily, except of Mondays when it's closed (same as the Museum of Fine Arts), from 9:30 am to 5 pm. However, during the weekends and public holidays from May to September it can be open until 6 pm. The last admission is 30 minutes before closing.
Entrance fee for an adult is only 150 yen. Elementary and junior high school students pay 80 yen and pre-schoolers can enter for free. Once you pay, you will get a pamphlet with more information about Keitakuen, which is available not only in Japanese, but in English and Chinese languages as well.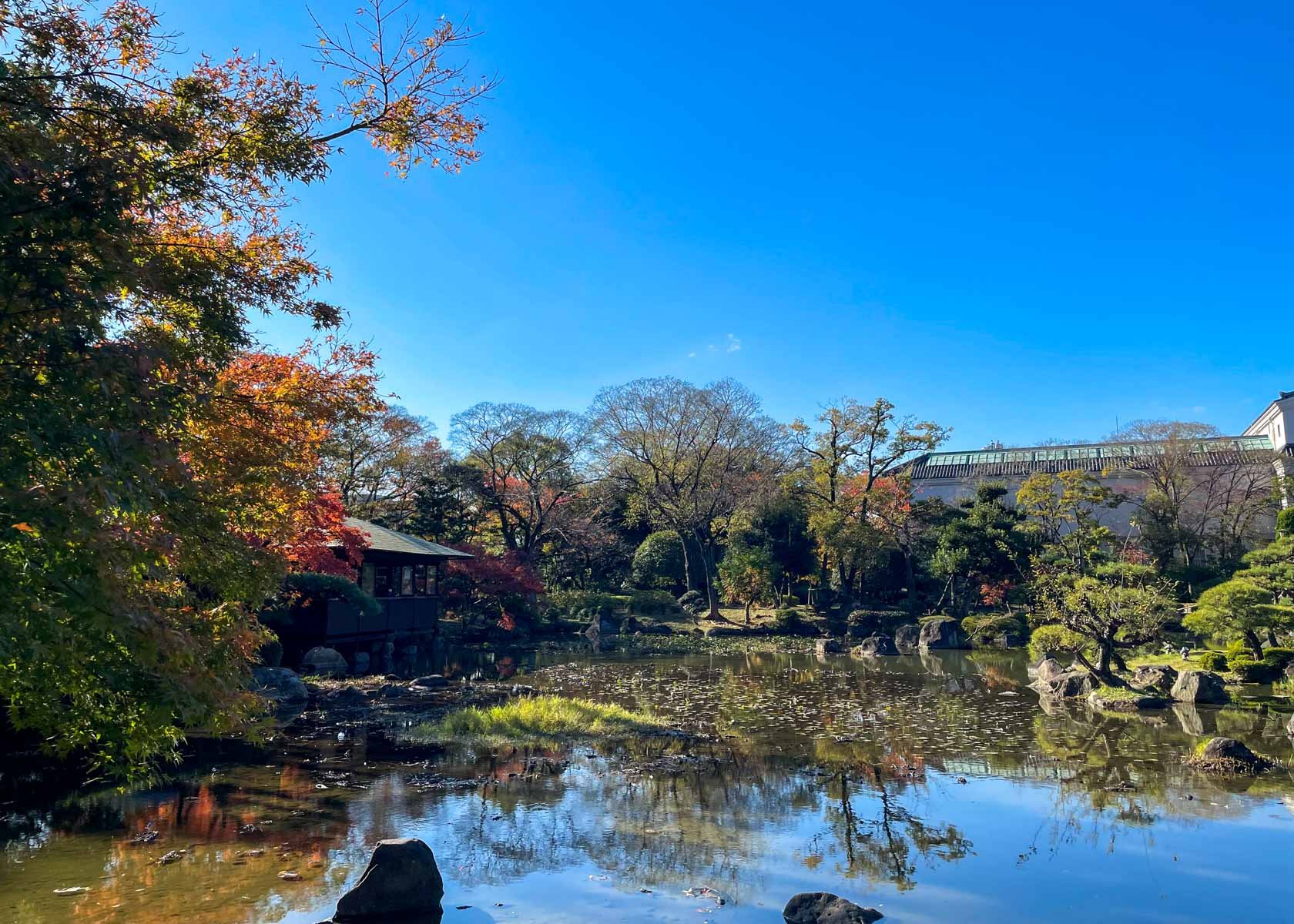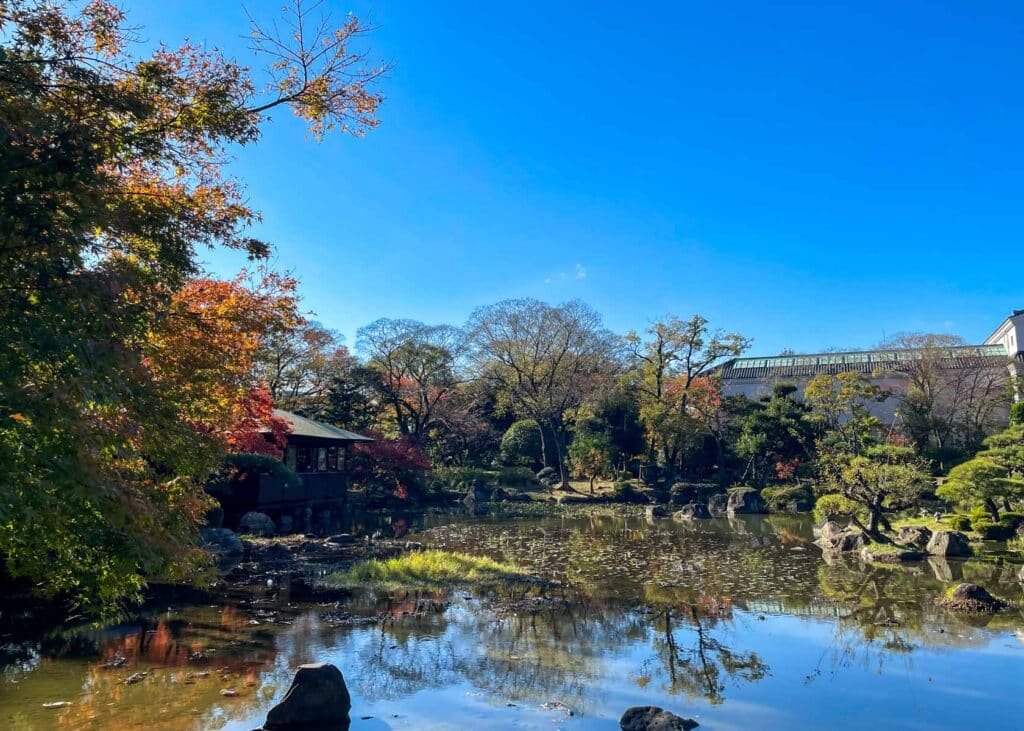 What to do in the area
Keitakuen Garden is a special place in Osaka that is worth your time. Luckily, there's also plenty to do in this area, so you take a whole day to explore the southern part of the city – Abeno and Tennoji wards. Here are some ideas for you.
Osaka City Museum of Fine Arts
As I mentioned before, the building of the Osaka City Museum of Fine Arts is a former private residence of the Sumitomo Family. For Japan, it is an unusual building and it reminds more of a gallery that you would expect somewhere in Europe. In their permanent art collection, you can find over 8000 items. It is truly a remarkable museum showcasing especially Asian Buddhist arts and crafts, Japanese metalwork, Chinese paintings and calligraphy and also ancient works from the Mediterranean. Special exhibitions are regularly organized here as well, in collaboration with other notable museums all around the world.
In 2015, Japanese government recognized the cultural importance of the museum and designated it as a Tangible Cultural Property of the country.
Opening hours and entrance fees
The opening hours are from Tuesday to Sunday from 9:30 am to 5 pm (Monday's closed). The admission ticket costs only 300 yen for an adult and 200 yen for students. Children can come in for free. However, fees can vary depending on the special exhibition held by the museum. You can check their website here (also available in English).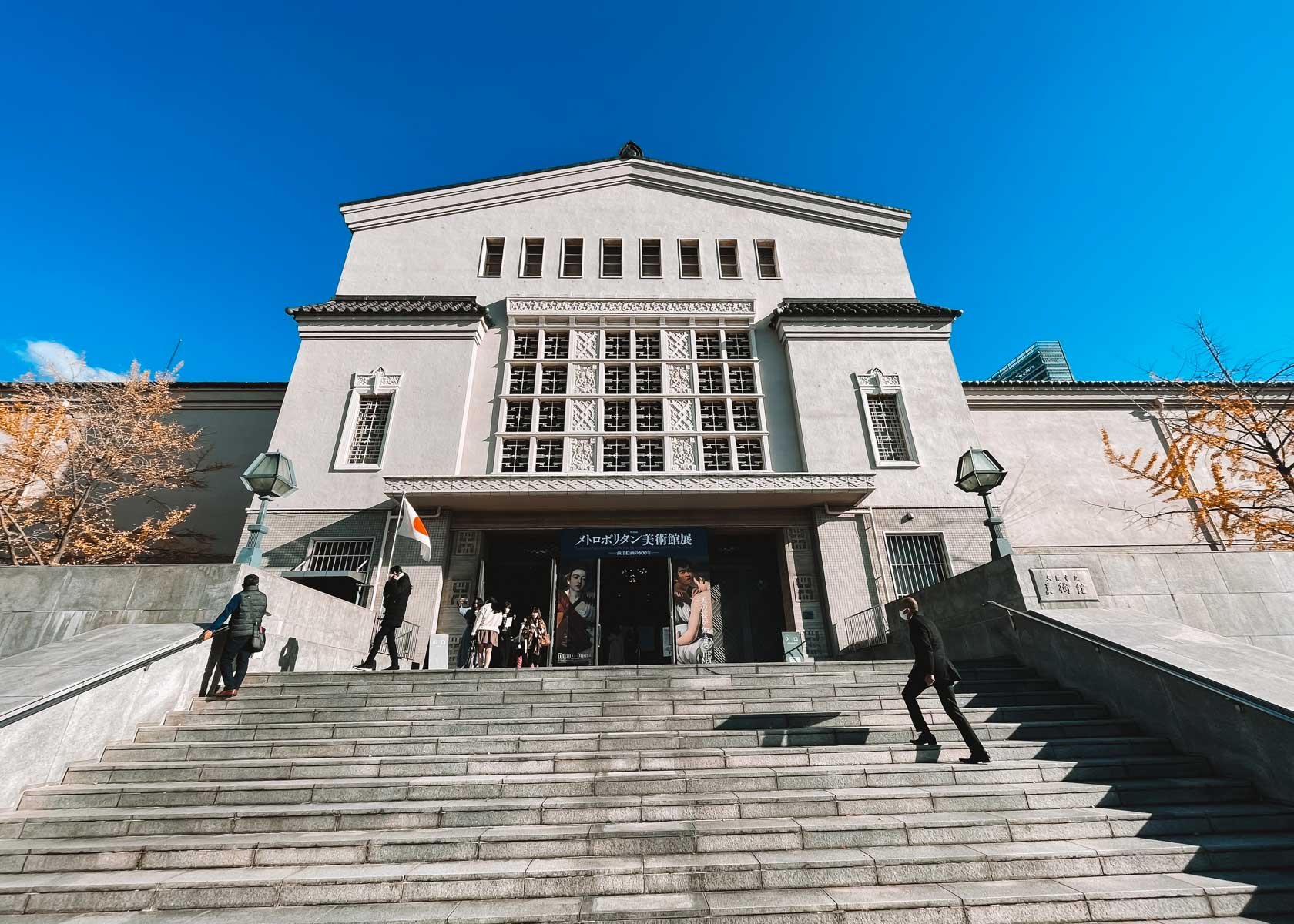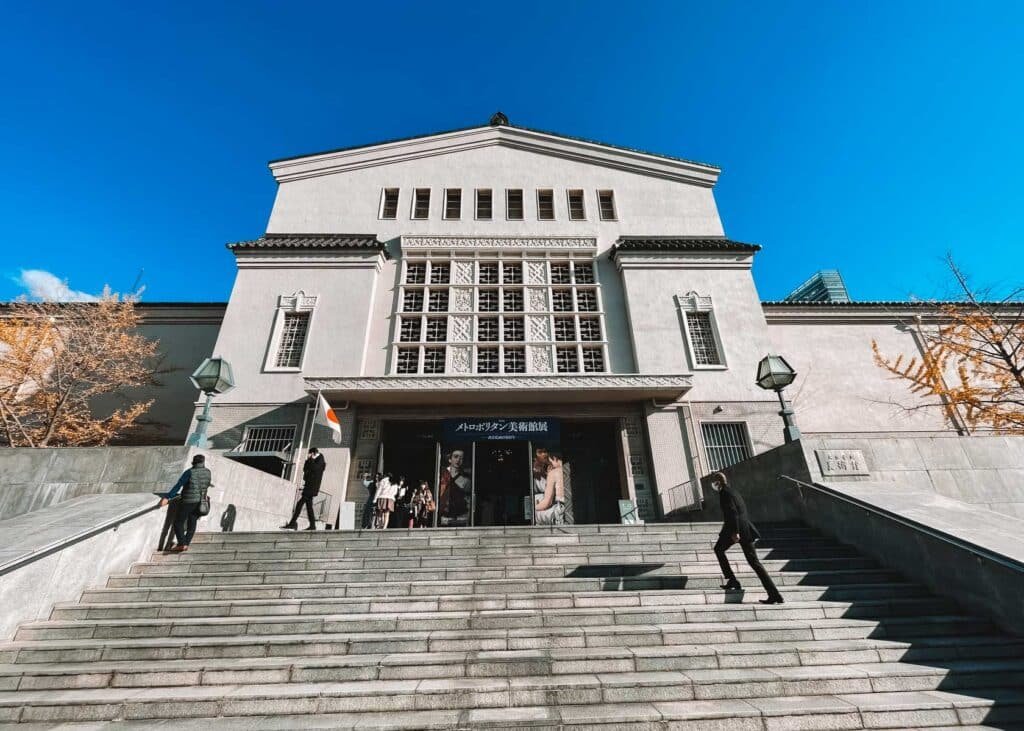 Nature Walk in Kawazokoike
The exit from Keitakuen is on the opposite side as its entrance. You will get out next to an artificial pond with a view at a red walking bridge, called Wake. If you follow the path further, you will find yourself on a boardwalk going through wetlands to a small wild park on a hill. The park is called Kawazokoike. This quiet area is also relatively unknown, it doesn't have a geotag on Google Maps. I found it just by wandering around. The pond has turtles and carps and from the bridge, you can admire Tsutenkaku Tower in Shinsekai in the distance.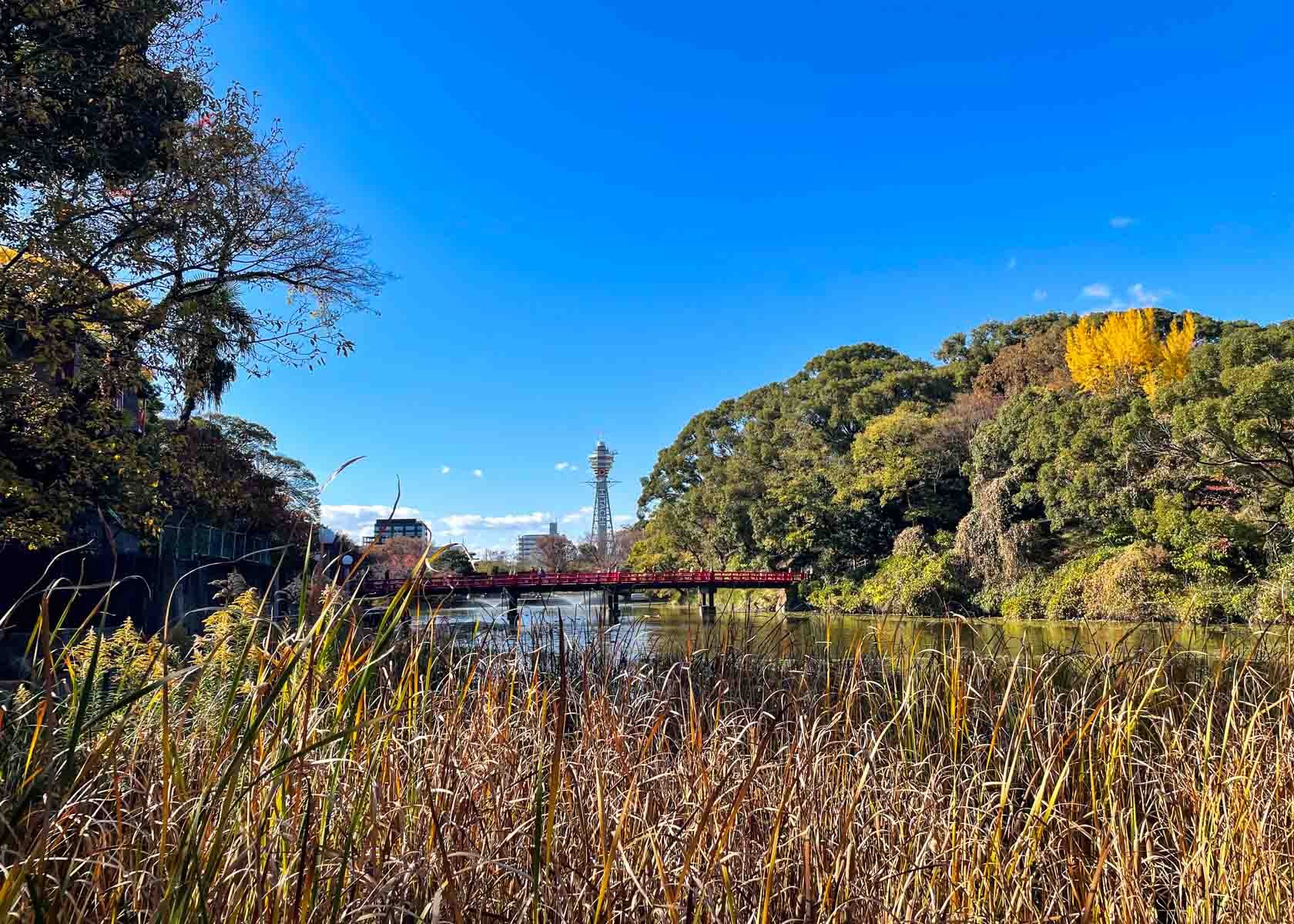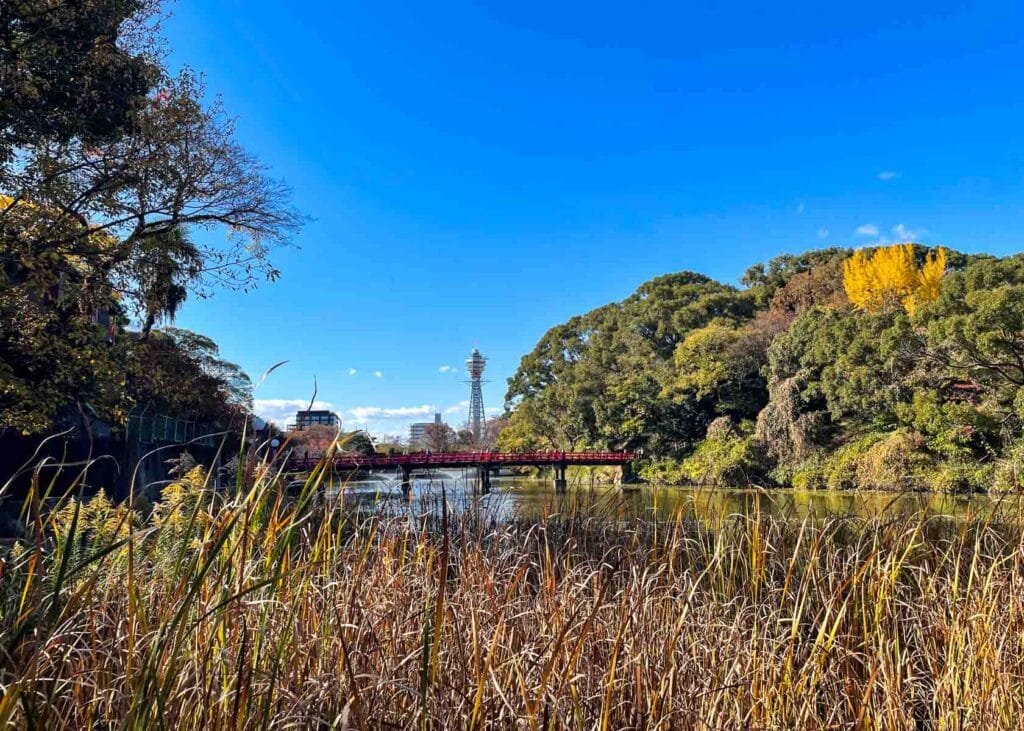 Abeno Harukas
The most remarkable feature of this area is undoubtedly Abeno Harukas, the tallest building in Japan (note: as per August 2022. Both Tokyo Tower and Tokyo Skytree are considered structures, not buildings). On the top of Abeno Harukas, there's an observation platform Harukas 300 that will give you amazing views over Osaka from birds' perspective.
Read more about this place in our article dedicated to this building here.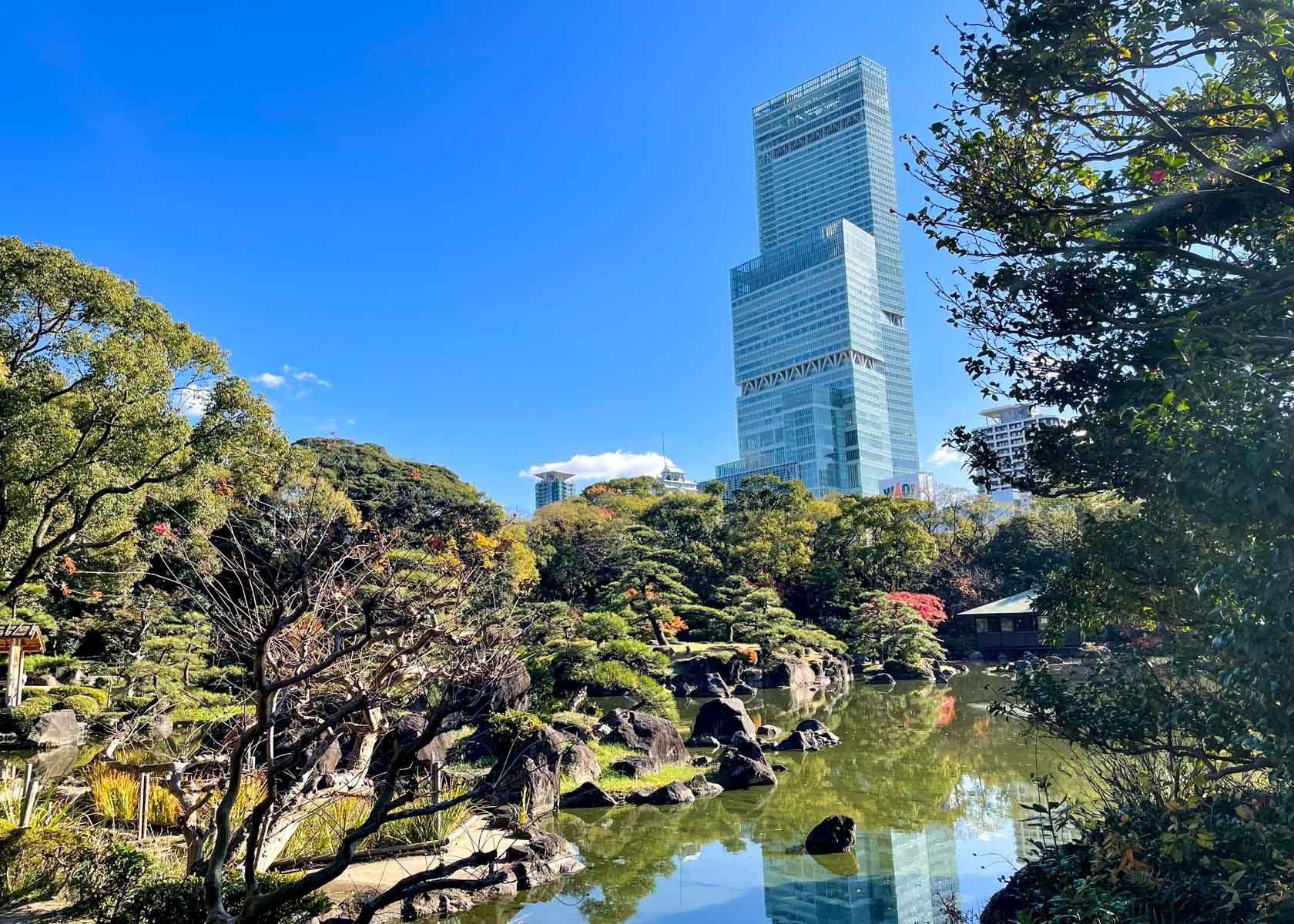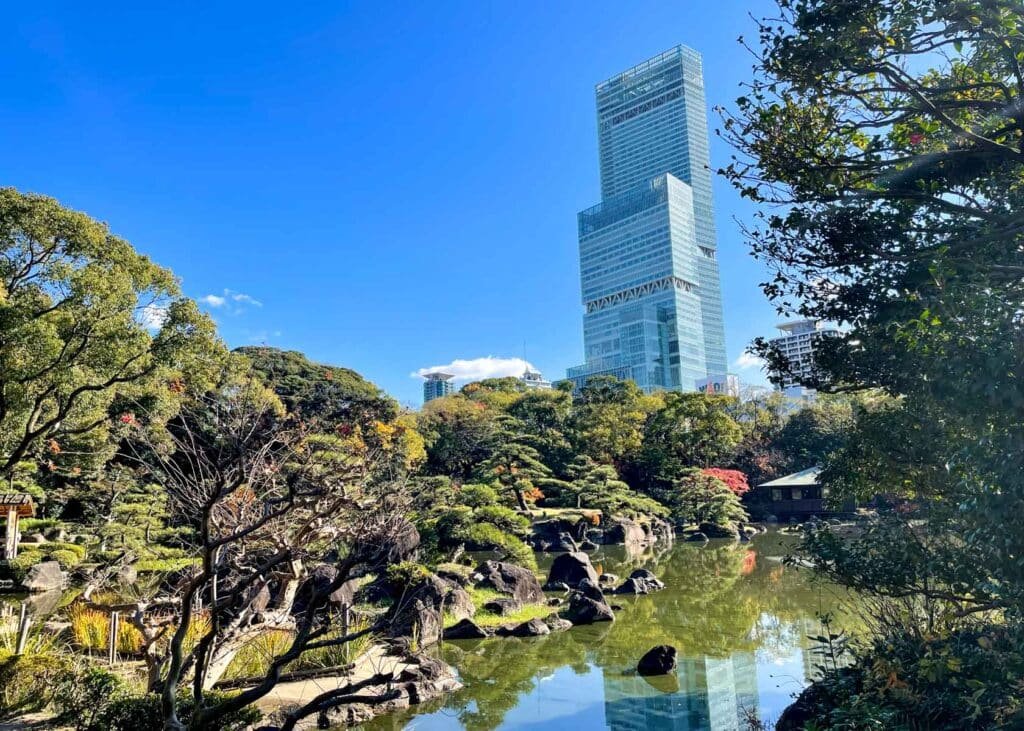 Shitennoji and Isshinji Temples
Shitennoji is the oldest, officially administrated Buddhist temple in Japan. Its pagoda is nothing less than majestic and it is one of the places you really should see when in Osaka. It is about 1 km walk from Tennoji Park.
If your wandering nature decides to walk to Shinsekai from Keitakuen, you will be most probably passing by Isshinji. This small temple may not seem as much at first, but it has very beautiful, modern gate and the Buddha inside carries a unique secret.
Find out more about Shitennoji, Isshinji and other interesting temples in Osaka here.
Tennoji Park and Tennoji ZOO
After a nice stroll in Keitakuen garden, don't forget to relax in Tennoji Park as well. It features a large lawn that is perfect for picnics, hanging out with friends or for sports. There are many cafes and restaurants nearby and the view at Abeno Harukas is just a cherry on top.
Tennoji ZOO is located right at the end of the park. It is not large in size, but their animal enclosures are built in a special way that it seems like the animals from one part od the world, for example lions and giraffes, are together. It is a great place to visit especially if you are travelling with smaller children.
You can read more about the best parks in Osaka here.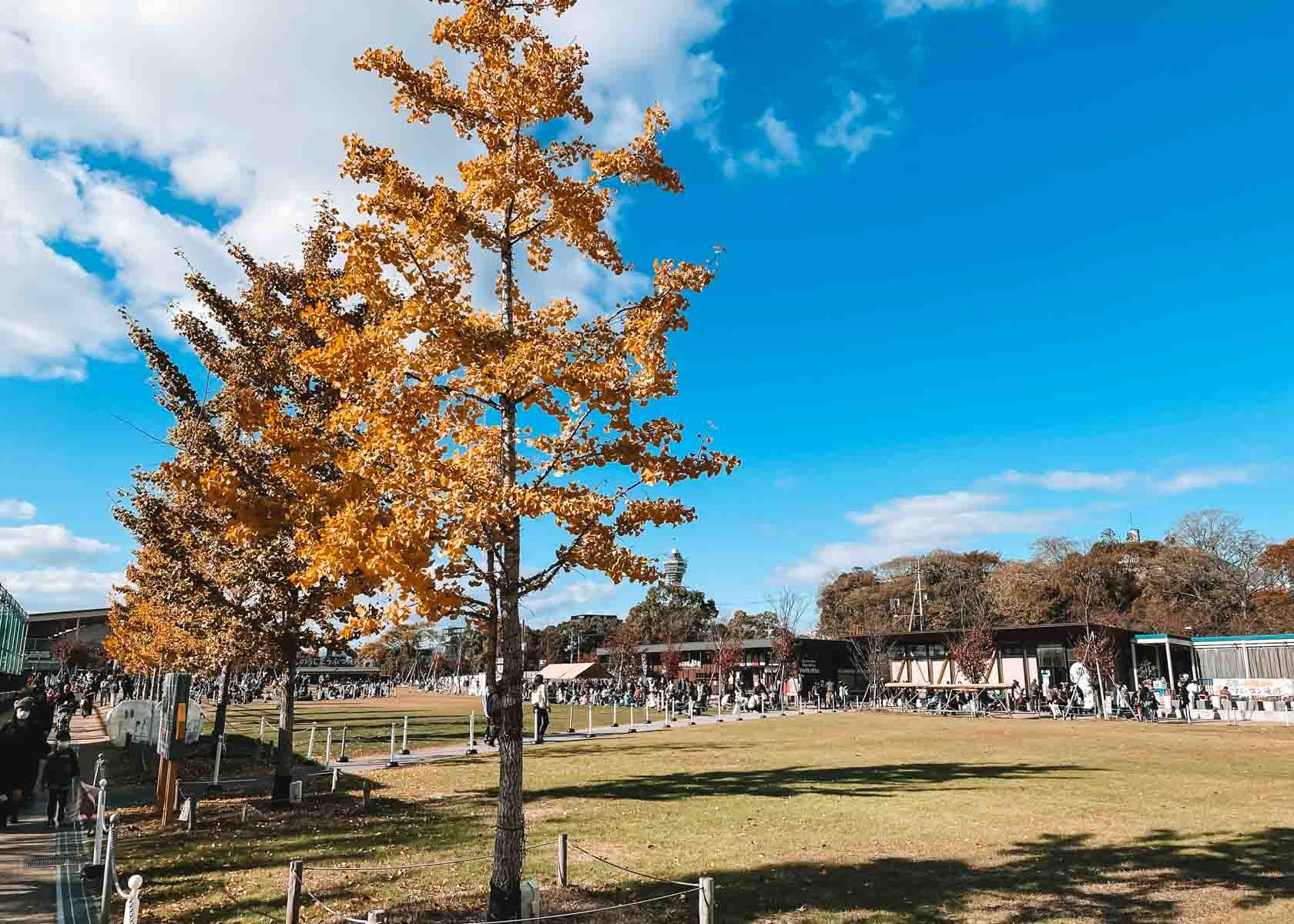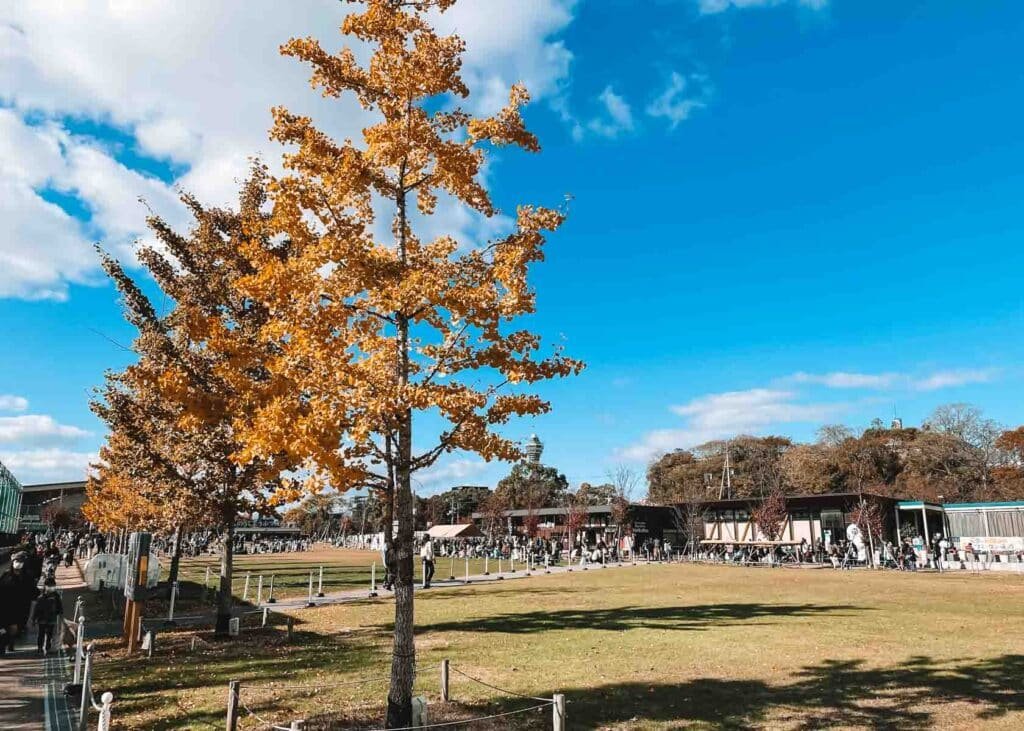 Shinsekai and Tsutenkaku Tower
Shinsekai is a very retro area in Osaka famous for its neon lights. Its most distinguish feature is Tsutenkaku Tower. You can see it from the stairs in front of the Museum of Fine Arts. Shinsekai is full of restaurants and the famous beloved Japanese dish kushi-katsu originated here.
You will find everything you need to know about Tsutenkaku Tower and Shinsekai here.