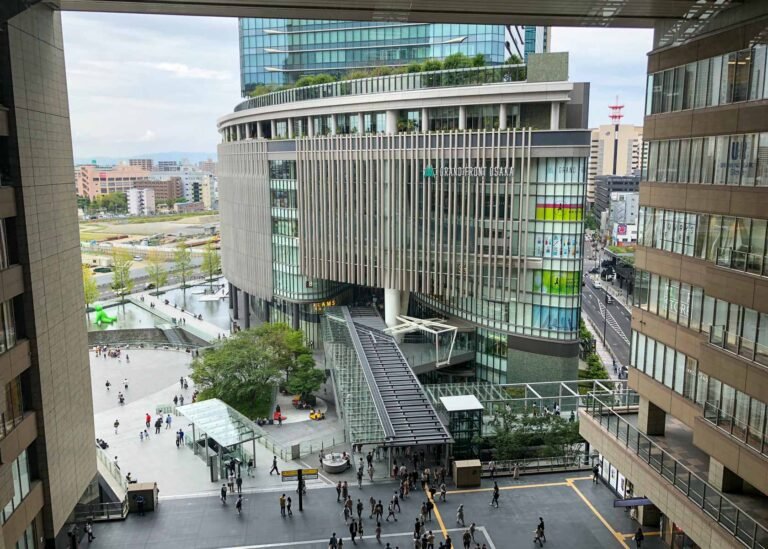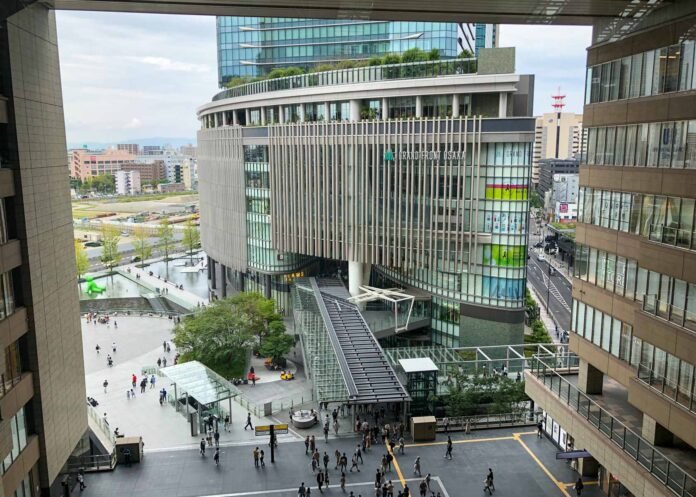 If you ever travel to Osaka, there is a big chance that you will end up in the area of Osaka and Umeda Stations. Located in the northern Kita district of Osaka, this area is much more than just a place to catch a train. It is a destination itself, with plenty of shopping and entertainment facilities. In case you have a time to spare, here is a little guide how to spend a few hours in this area.
Introduction to Osaka-Umeda Station
Osaka station and Umeda station are two separate stations located right next to each other. Most of the train and metro lines make their stop here. Together with other smaller stations, they create the most important transportation hub in Osaka with over 2 million of commuters passing by every single day! According to Japan Today, Umeda station is the 4th busiest station in the world. On the first 3 posts are Shinjuku, Shibuya and Ikebukuro station, all of which are located in Tokyo. In this article I will refer to this large interconnected station as Osaka Umeda.
Osaka Umeda station overview
In case you have to change trains here, do not worry. All the stations have signs in English with all the train lines you need to take. Here is a list of all the train lines and stations they go to:
Hankyu Railway – Kobe Line, Kyoto Line, Takarazuka Line
Hanshin Railway – Main Line to Kobe
Osaka metro – Midosuji Line
JR Loop Line
Tokkaido-Sanyo Line – from Kobe to Kyoto
JR Takarazuka Line
JR Yumesaki Line – for Universal Studios
Yamatoji Line – for Nara
Hanwa Line – for Wakayama
Kansai Airport Line
Osaka metro – Yotsubashi Line
Osaka metro – Tanimachi Line
All the stations are connected with underground tunnels, and walking distance from each other. Beside trains, there's also a large bus terminal at Osaka Umeda, with over-night buses going all around Japan. But let's get to the fun staff you can do in here!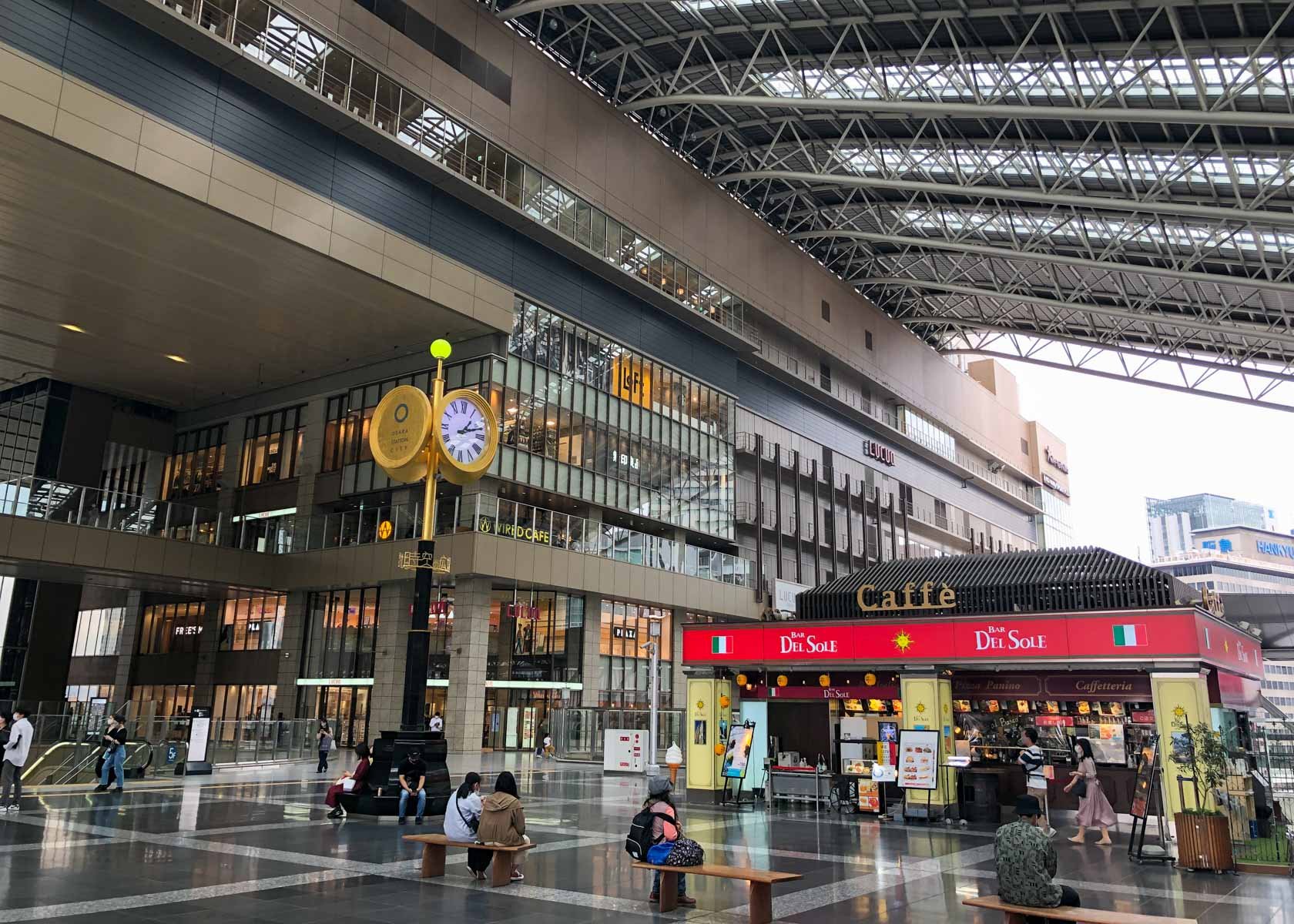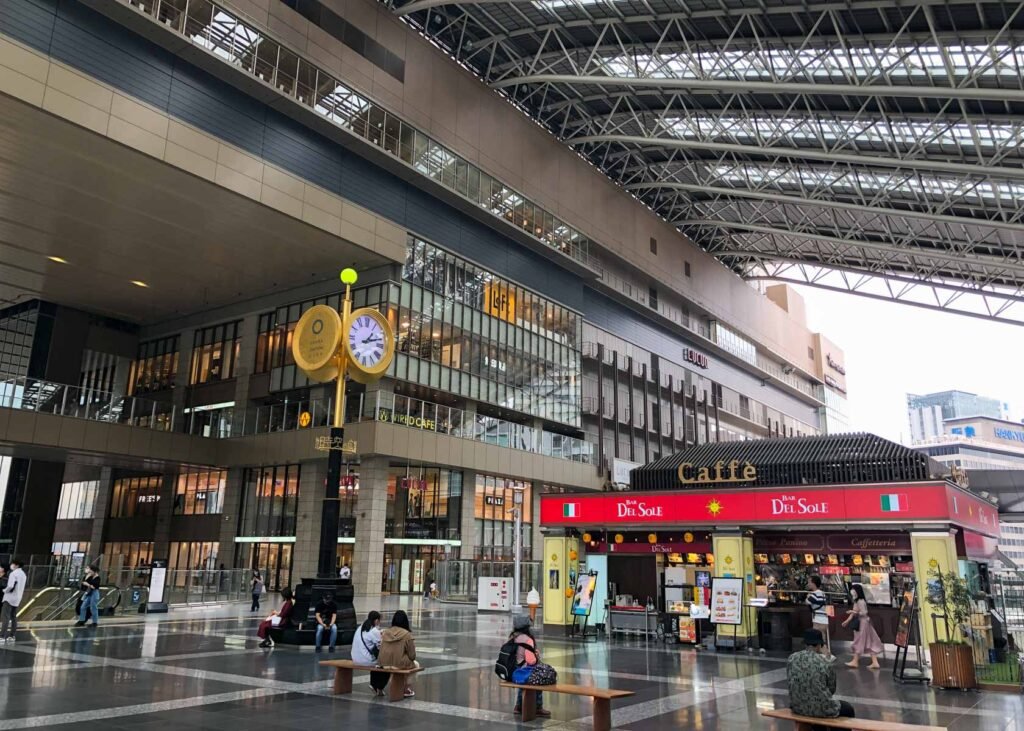 Rooftop Gardens
The area of Osaka Umeda is very modern, but at the first sight you may notice that it lacks greenery. Yes, parks and gardens might be missing on the ground level, but they are actually hiding on the roofs! There are three green spaces where you can escape and forget about all the noises and buzz that is happening in the streets.
Osaka Station City
Osaka station is not just a train and bus station. It is a shopping paradise with many amazing shops of Japanese and international brands. In front of the Central Gate, there's a little square with a fountain and cafes. If you take all the escalators from here on the way up, you won't only discover views over this busy area, but on the roof, there are several small gardens for you to enjoy.
At first you will find yourself in a small Japanese zen garden. When you take another escalator, you will discover Kaze-no-Hiroba Plaza, a chill area with benches and tables, artificial grass, lots of plants and great view at Umeda Sky Building. It is a popular place because kids can run free, there's a convenience store for you to buy snacks and chill, and couples like to come here at the end of their date to watch the sunset. I encourage you though to search another set of stairs to go even higher, to Tenku-no-Noen Farm. This is a public community garden with fresh produce such as cabbages, lettuces, fruit trees and flowers. It is a very serene and unique place.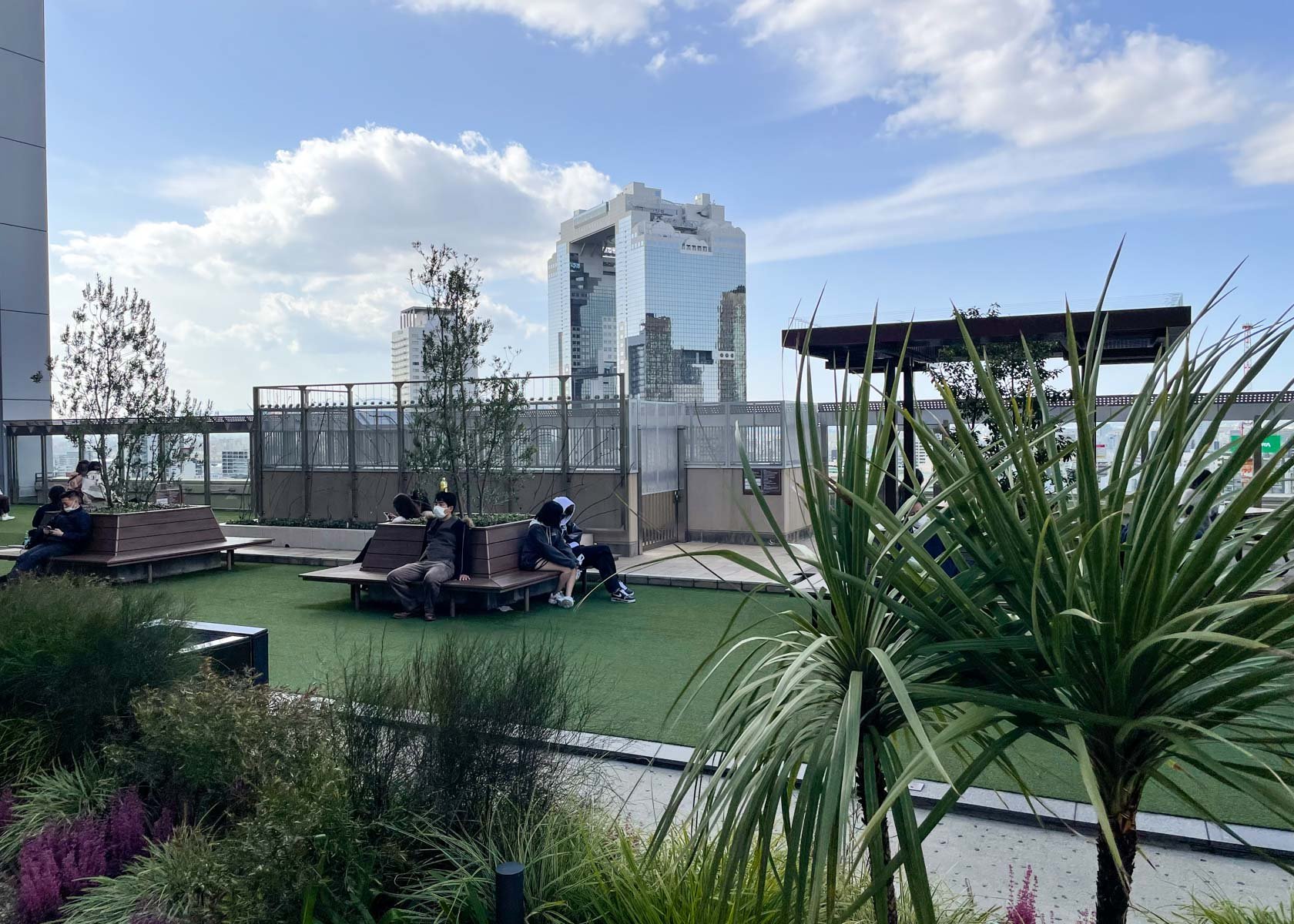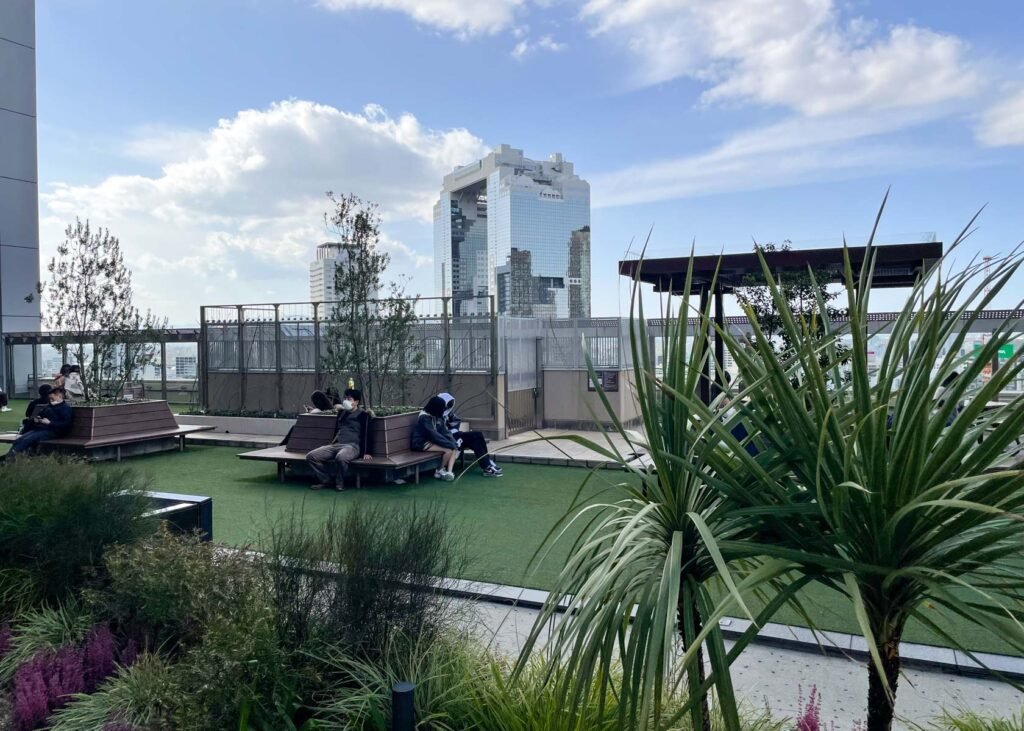 Grand Front Osaka
Grand Front Osaka is a large shopping and entertainment district right in front of Osaka station. It consists of two buildings and each of them has a garden on the roof spreading on several levels. With benches, trees, grass and flowers it is the perfect place to escape the hectic life underneath you. If you have an hour or so to spend near Osaka Umeda station, I would head up here to clear your mind and enjoy the city views. Unlike Kaze-no-Hiroba Plaza, there's no convenience store here, so if you are hungry, grab something in a food court beforehand.
All the gardens are completely free of charge and they are open till late.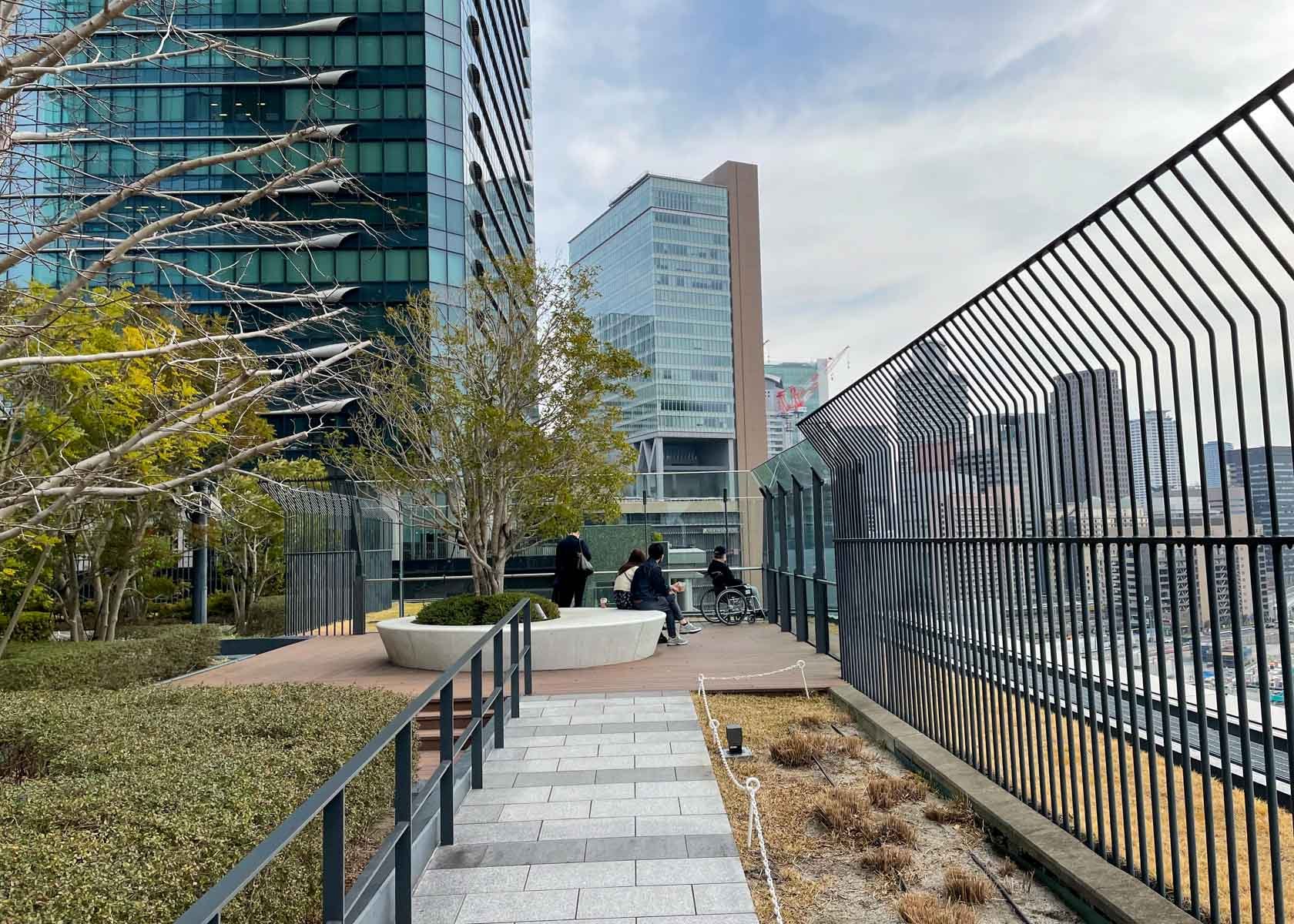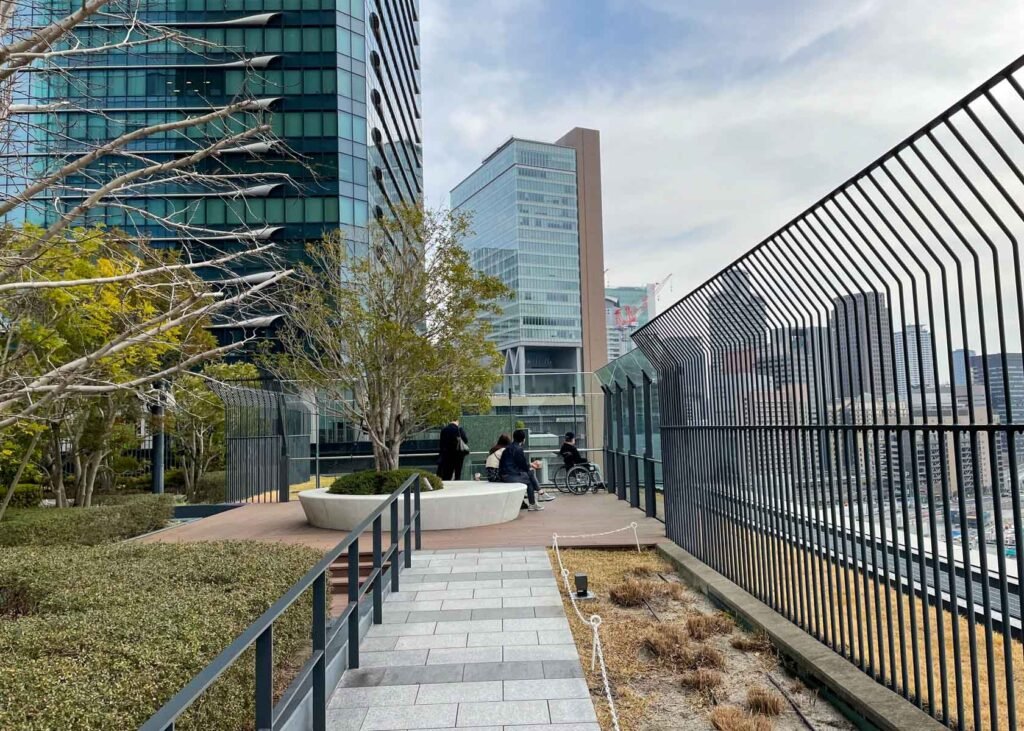 HEP 5 Ferris Wheel
Travelling through Osaka Umeda, this giant red Ferris wheel will surely catch your attention! Osaka features several Ferris wheels, but this is the only one right in the city. Its highest point reaches 106 metres above ground. It is really thrilling experience with great panoramic views. You can access it from HEP 5 shopping mall from the 7th floor. Tickets cost 500 yen per adult and I can tell you, it is really worth it. The Ferris wheel operates from 11:00 with the last ride at 20:45.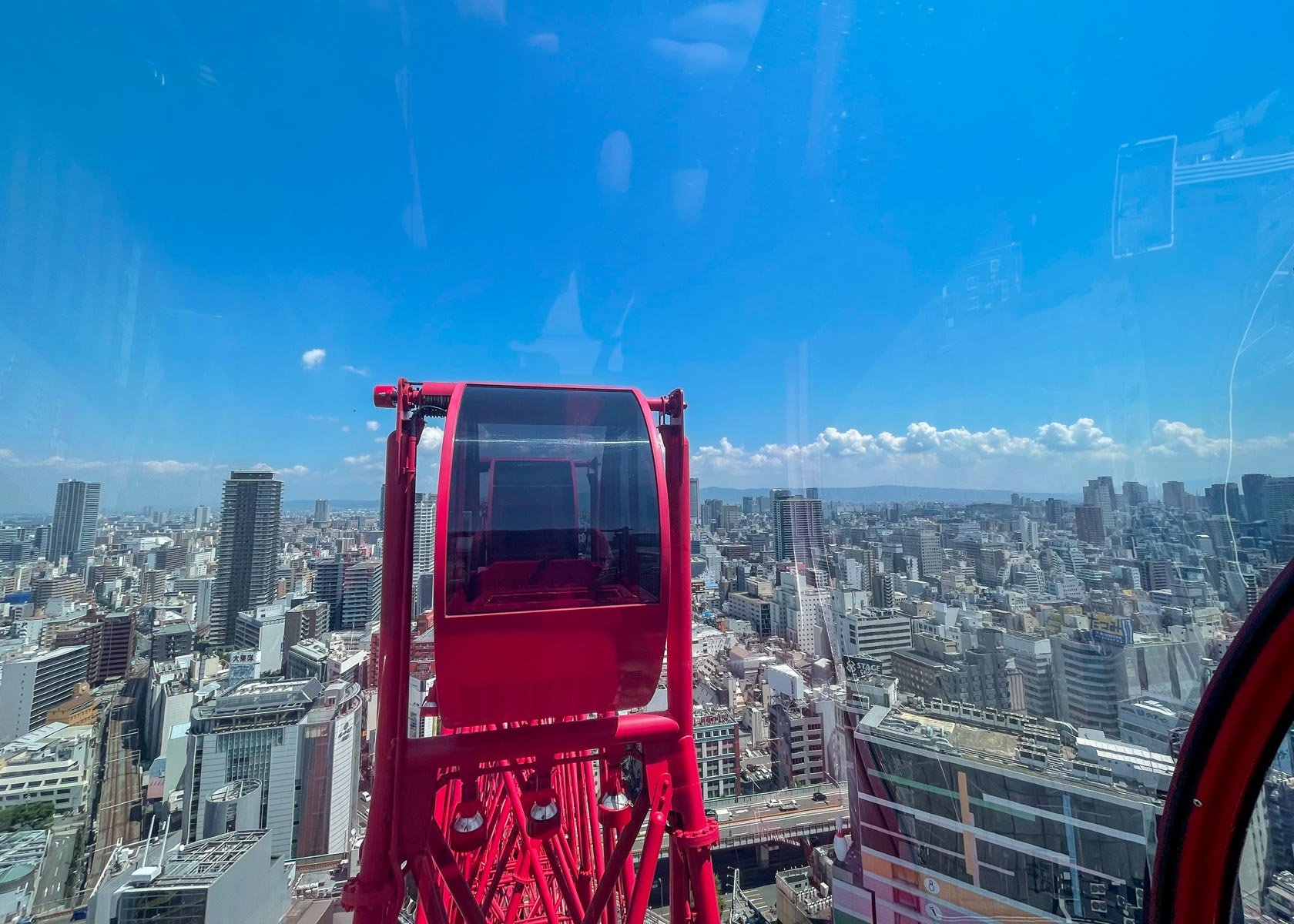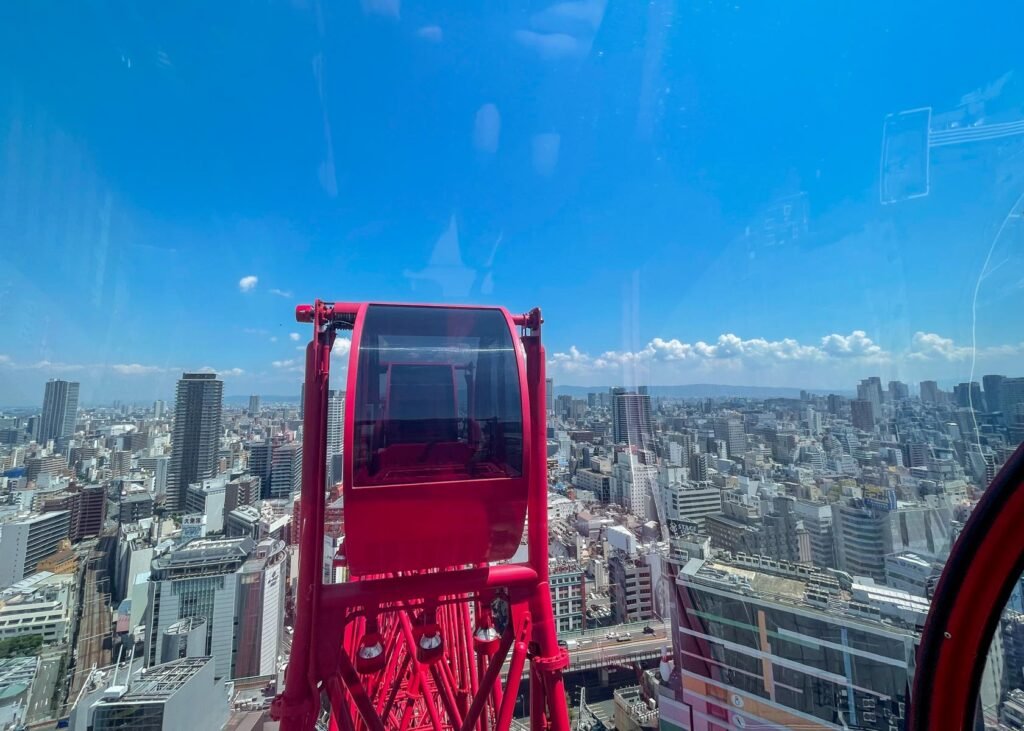 HEP 5 is a very stylish shopping mall. At the entrance, a giant sculpture of a whale with its baby will welcome you to the open atrium. This incredible piece of art hanging in the air was made by designer and musician Tatsuya Ishi. On the upper floors of HEP 5, you will find an entertainment area with games and funky photobooths. The 7th floor is dedicated to cafes and restaurants.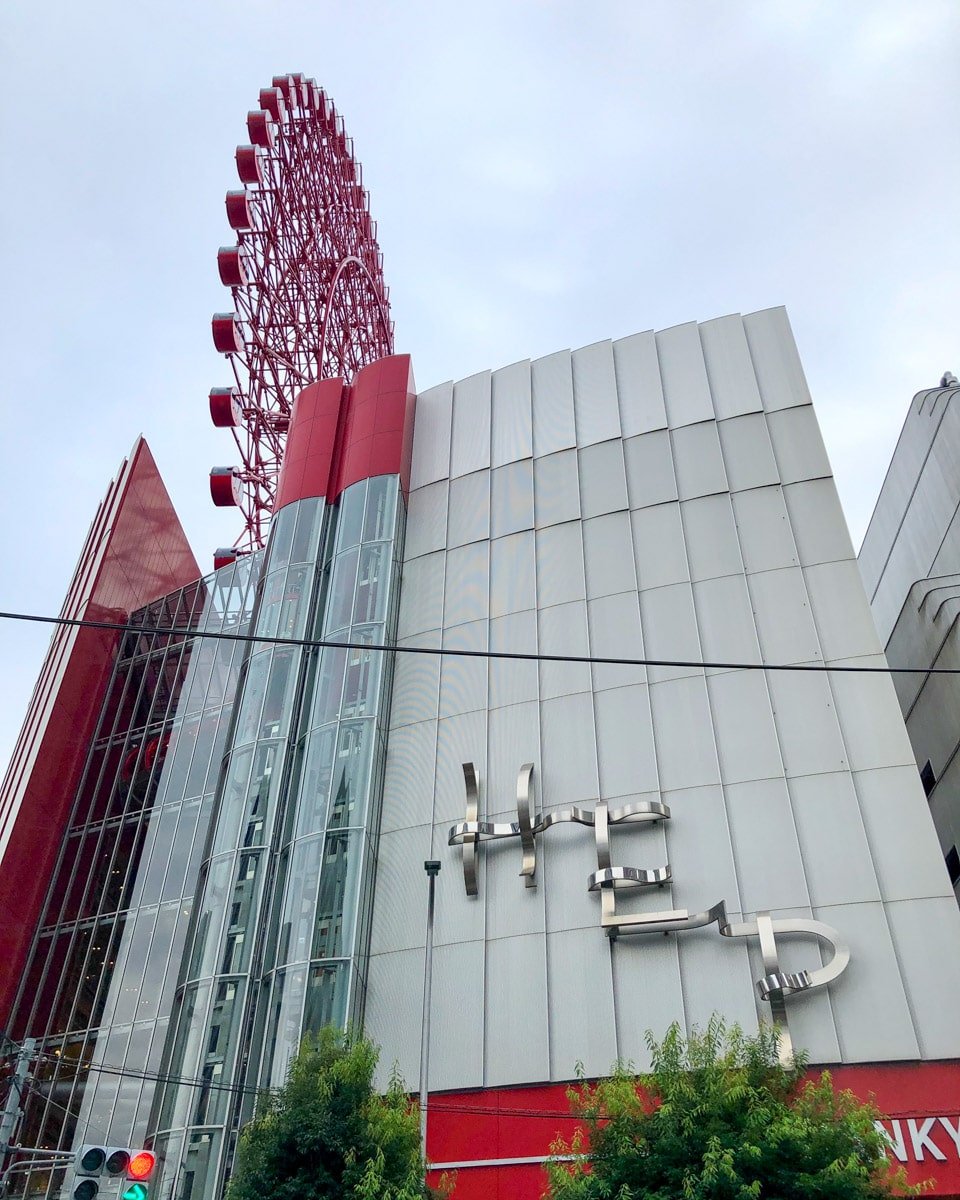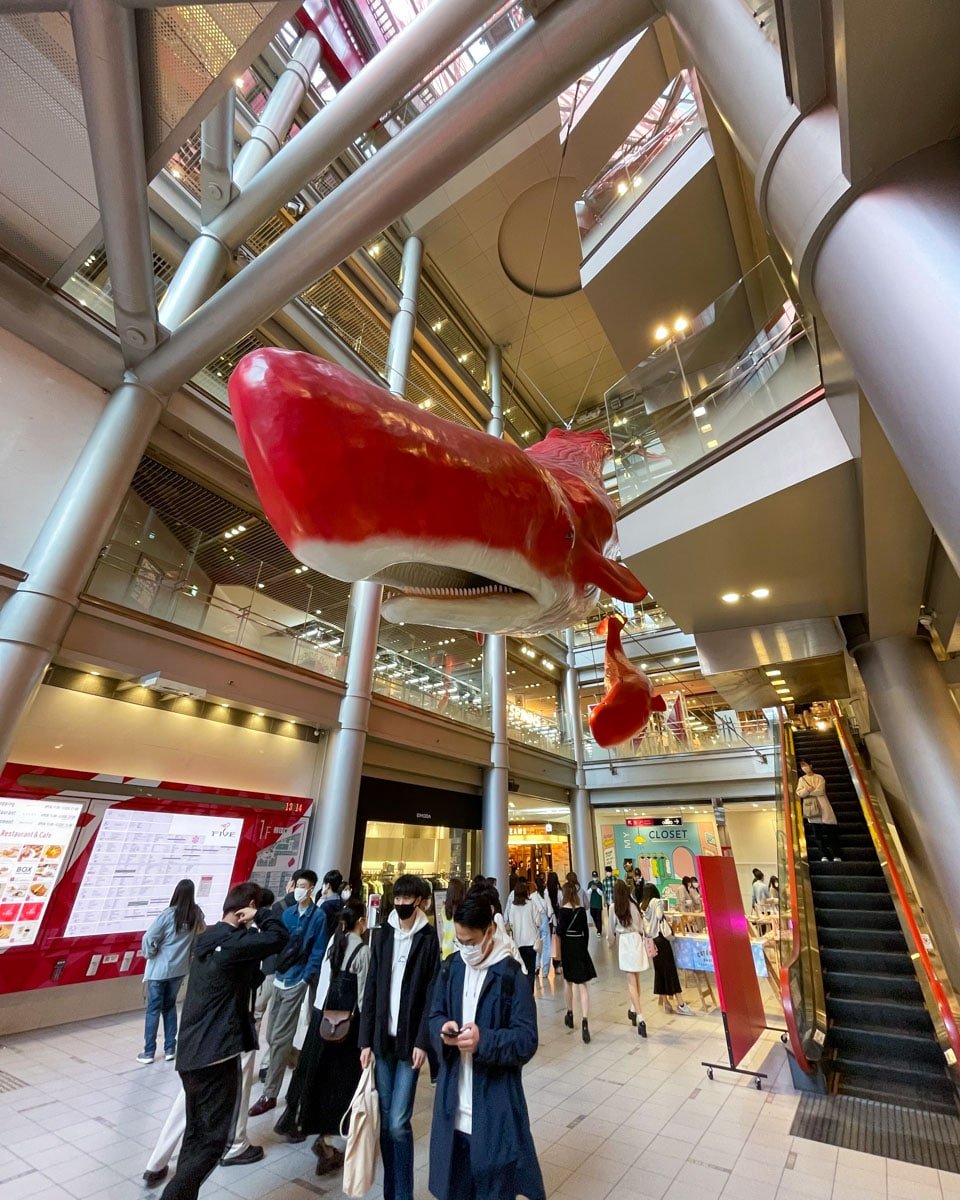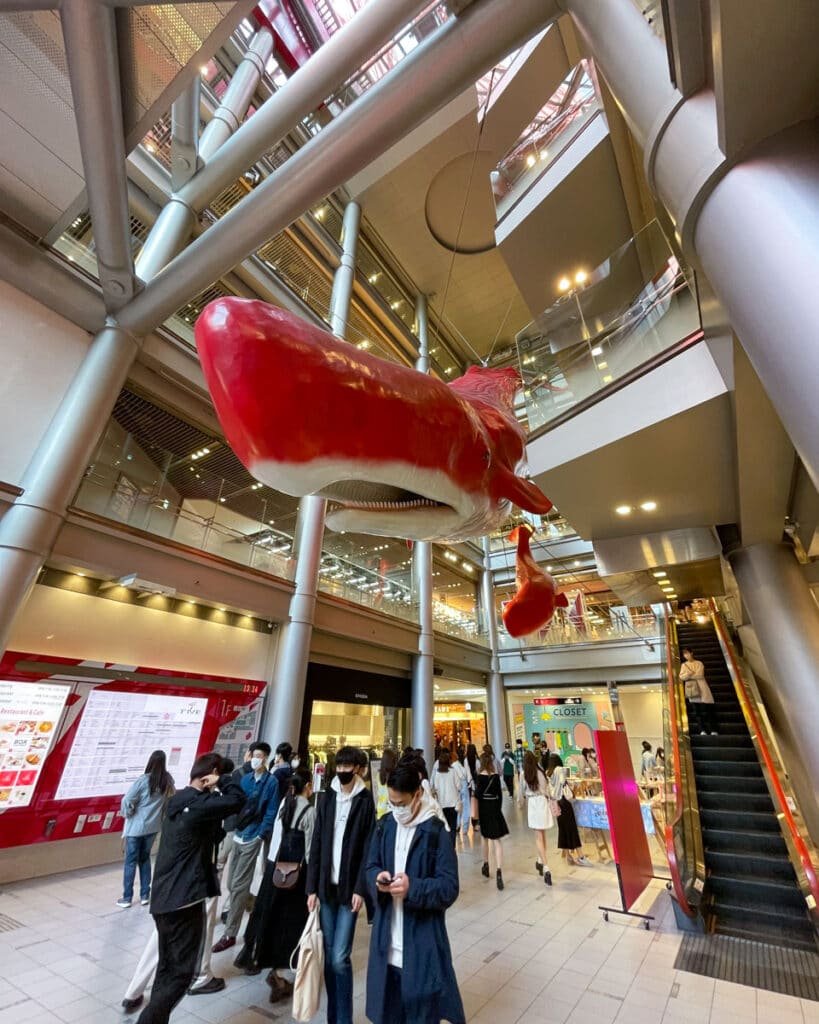 Nakazaki Neighbourhood
In case you are tired of big modern city, I suggest you to explore Nakazaki neighbourhood, or Nakazakicho. You won't believe that a calm place like this is still a walking distance from the crazy Osaka Umeda station. Nakazakicho is an old district with hip and artsy vibe. You will find here old Japanese houses, vintage shops, cute cafes and restaurants. In the evening the area comes alive with jazz clubs and stylish bars with live music. During the day, in the quaint streets you can see tiny shrines and local cats playing behind pots of flowers at the front doors. However, don't expect picture-perfect streets like in Kyoto's old town. Nakazakicho has its own charm in its unique and little bit edgy kind of way.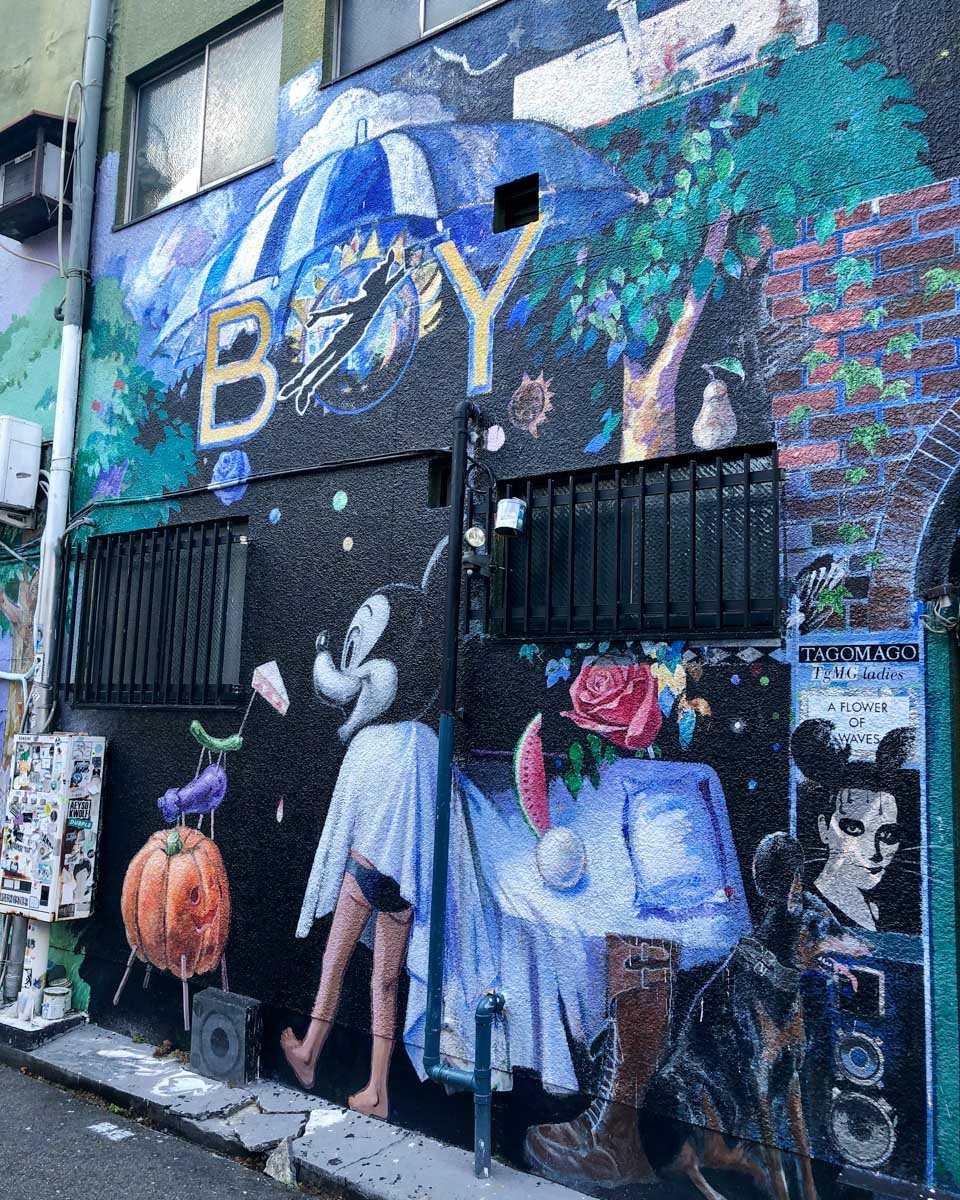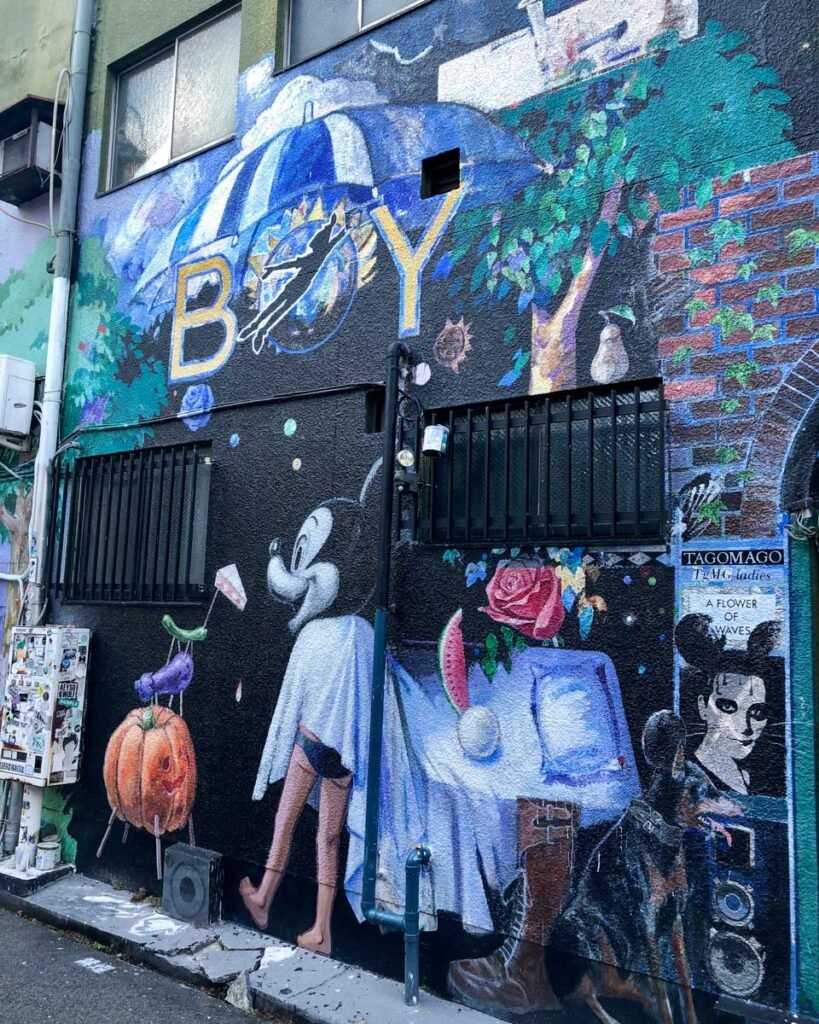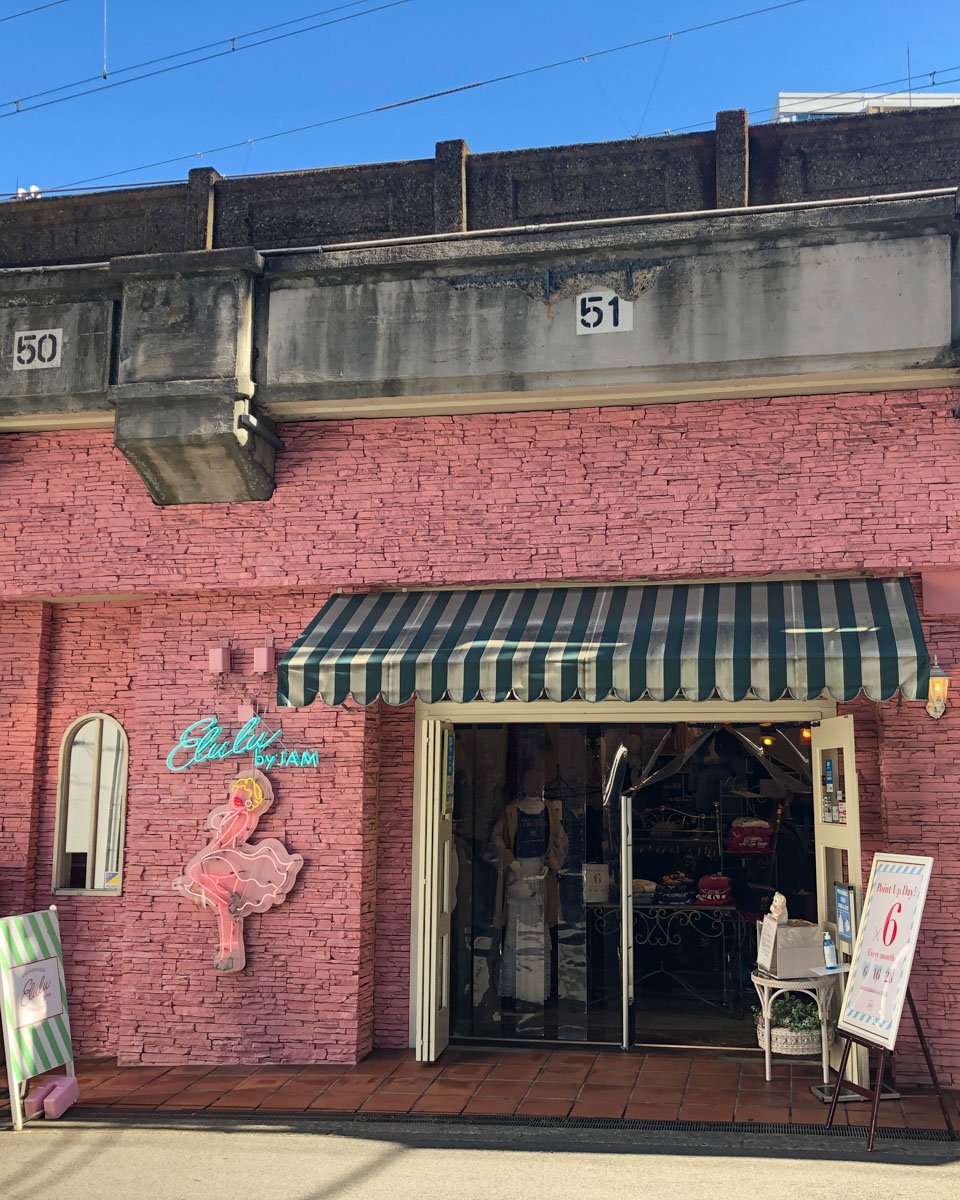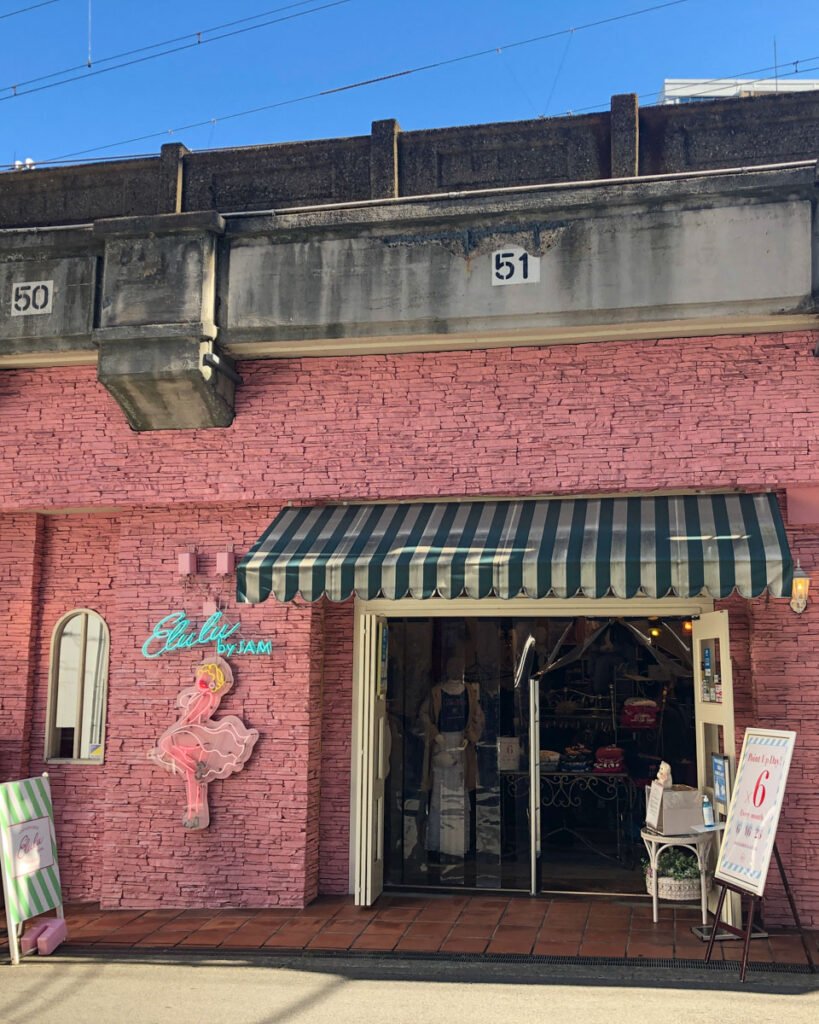 Fluffy Pancakes Restaurants
Fluffy pancakes, that feel like a little piece of soft cloud in your mouth, are a Japanese classic! In recent years, many cafes popped up around big cities specializing on this delicious treat. There are several fluffy pancakes restaurants near Osaka Umeda station. These are my favourites.
Bibliotheque
Bibliotheque is not just a pancake place, but rather a combination of a cosy restaurant with a book shop. They make their pancakes with wholewheat flour and they serve both sweet and savoury variations. What I like about this place is that they have outdoor terrace under the trees.
Locanda
Locanda is located on the 12th floor of Hankyu Department Store. Besides fluffy pancakes they also serve classic French crepes and other desserts. It is small but cosy and very stylish.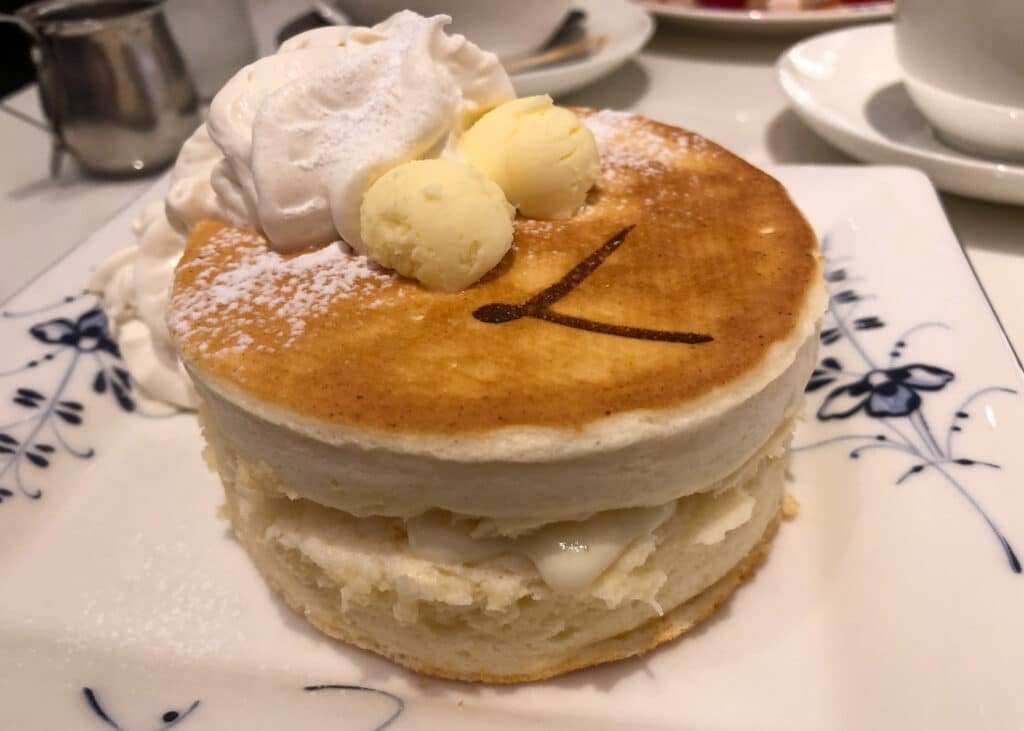 A Happy Pancake
A Happy Pancake is a very famous pancake place on the Awaji Island, where you need to wait in line for hours to get inside. Lucky for us, they opened their café in Osaka as well and I haven't experienced any waiting in front of the restaurant at all so far! Their pancakes are truly the fluffiest, decorated with fresh fruit, or if you prefer savoury, with eggs and bacon. The interior is very girly with chandeliers and pink benches. It is a great place for girls' brunch.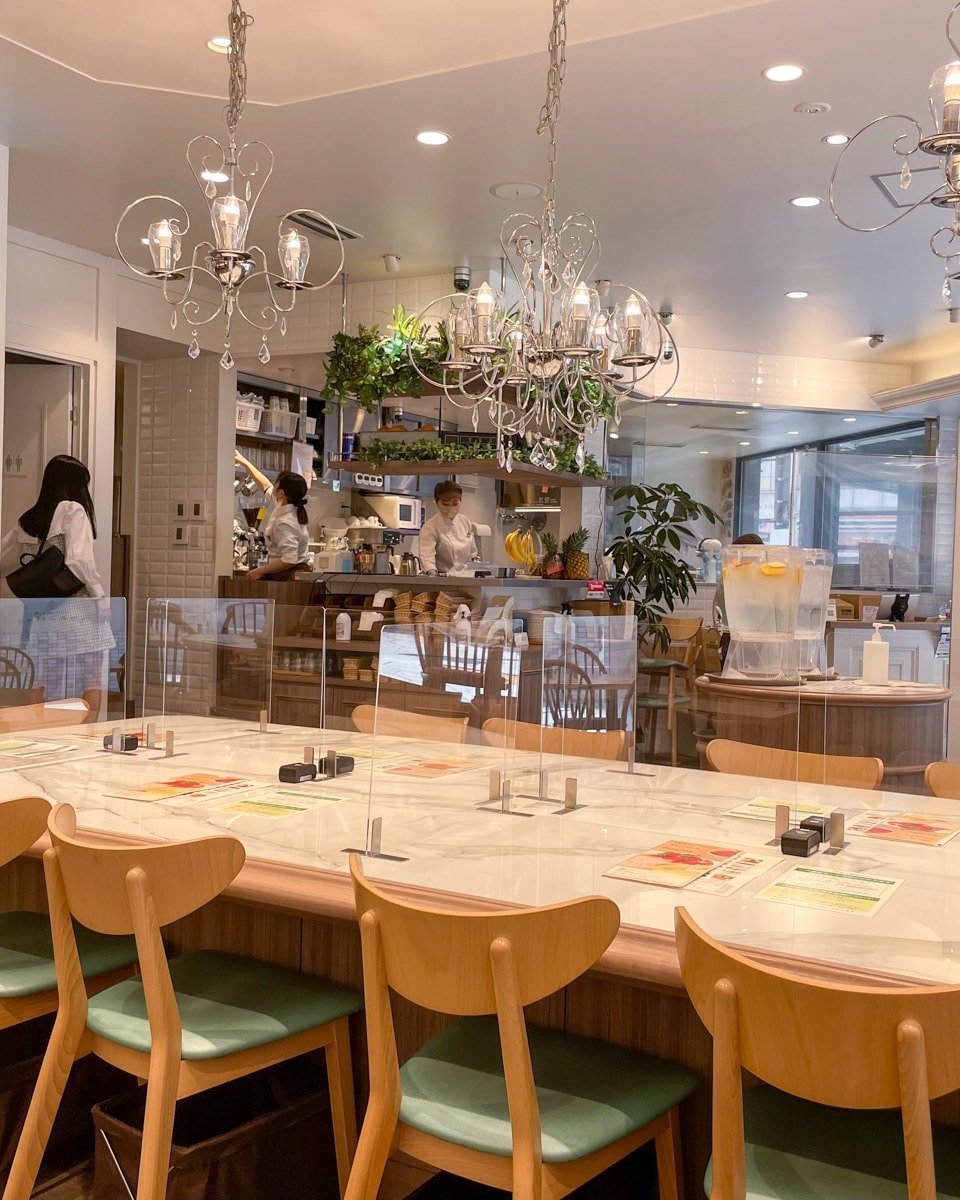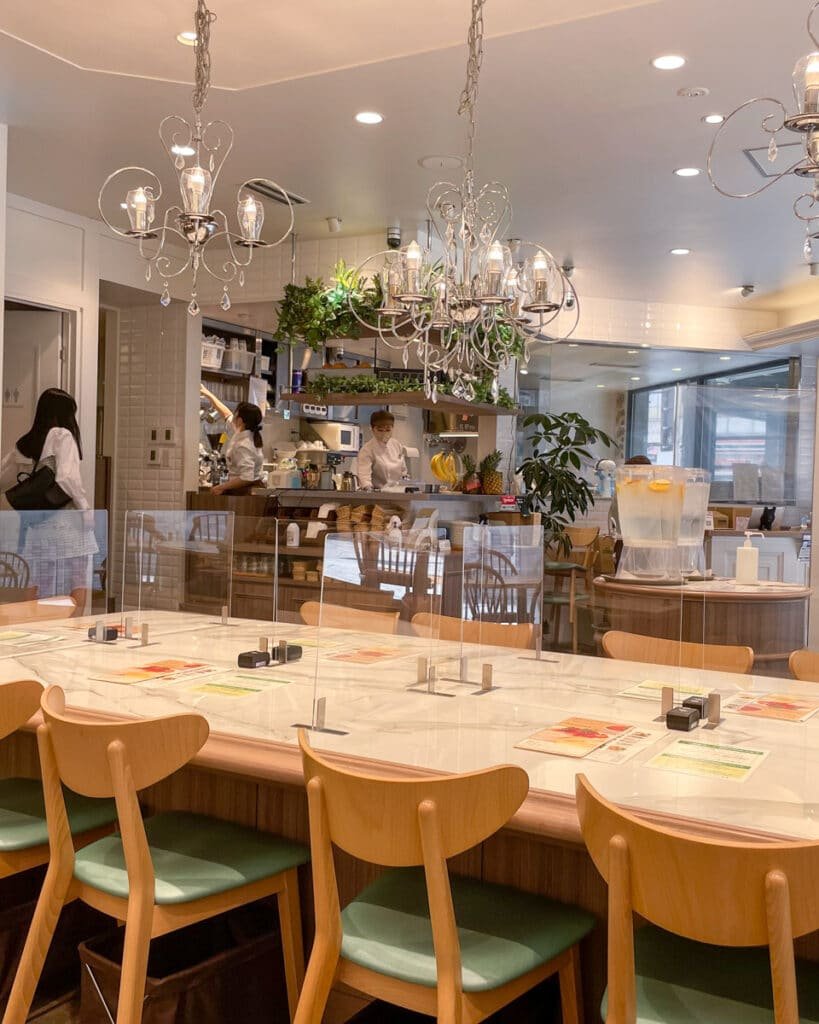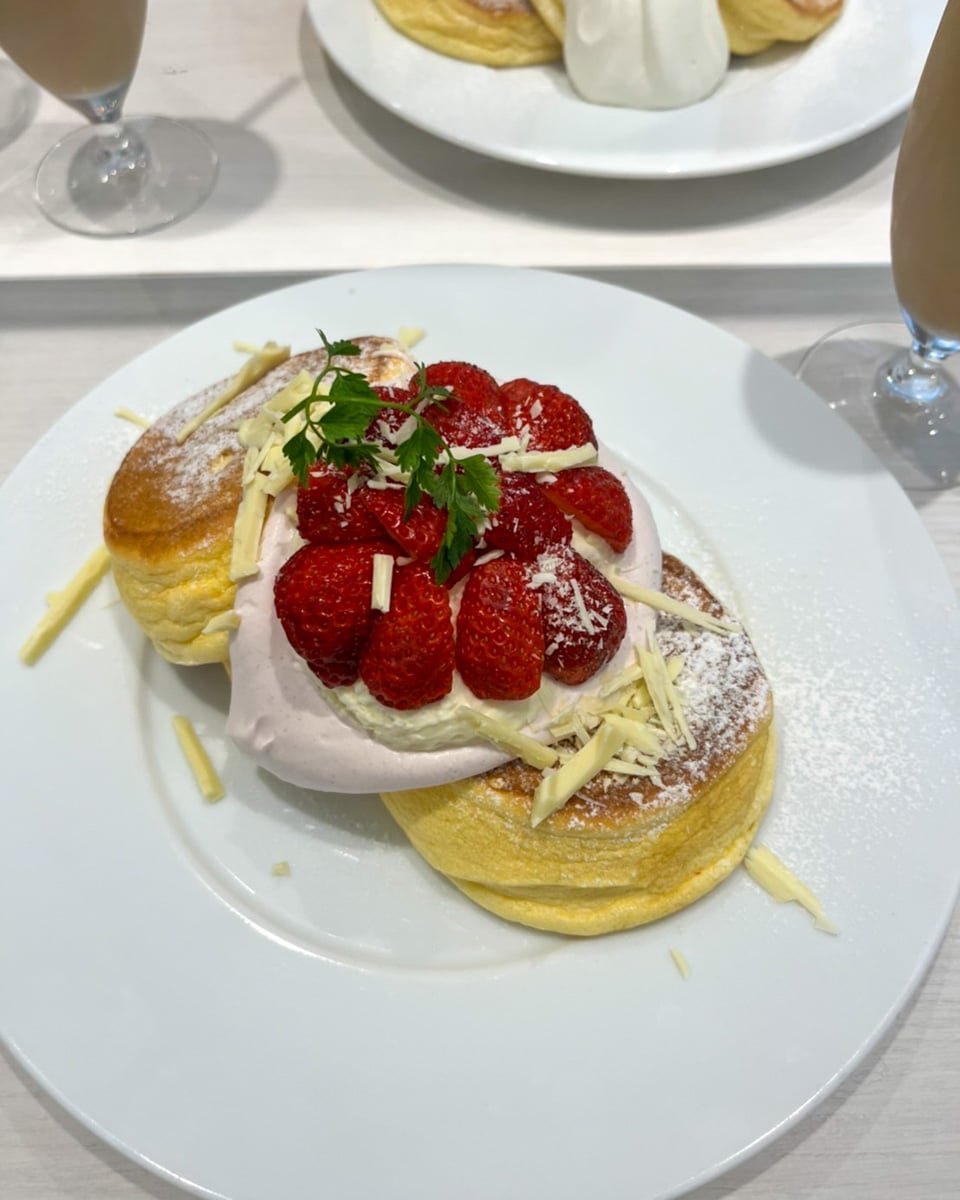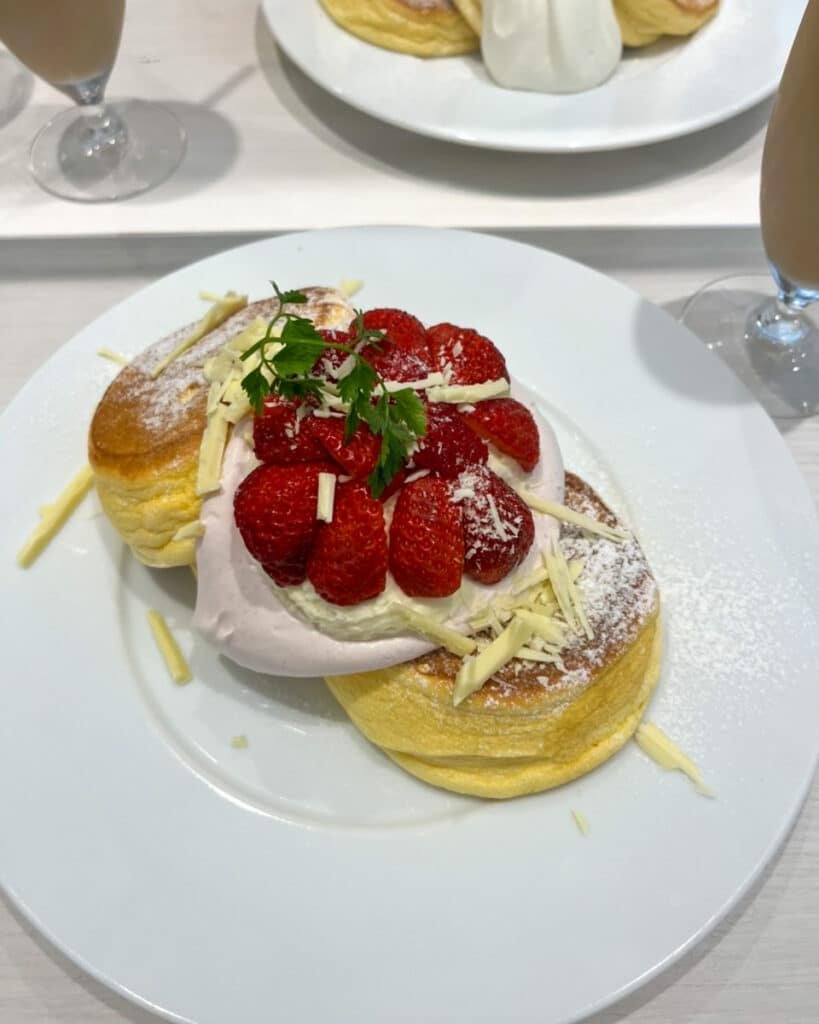 Climbing Gym Gravity Research Umeda
Sitting on a train for a long time can be uncomfortable and exhausting. If you need to stretch and you like climbing or bouldering, you are in luck, because a new climbing gym has opened its doors in Grand Front Osaka. It is not very big, but it has a convenient location and it will satisfy your needs for sport.
Gravity Research Umeda is open daily from 10:00 until 23:00 and it is located on the 6th floor of the North Building in Grand Front Osaka.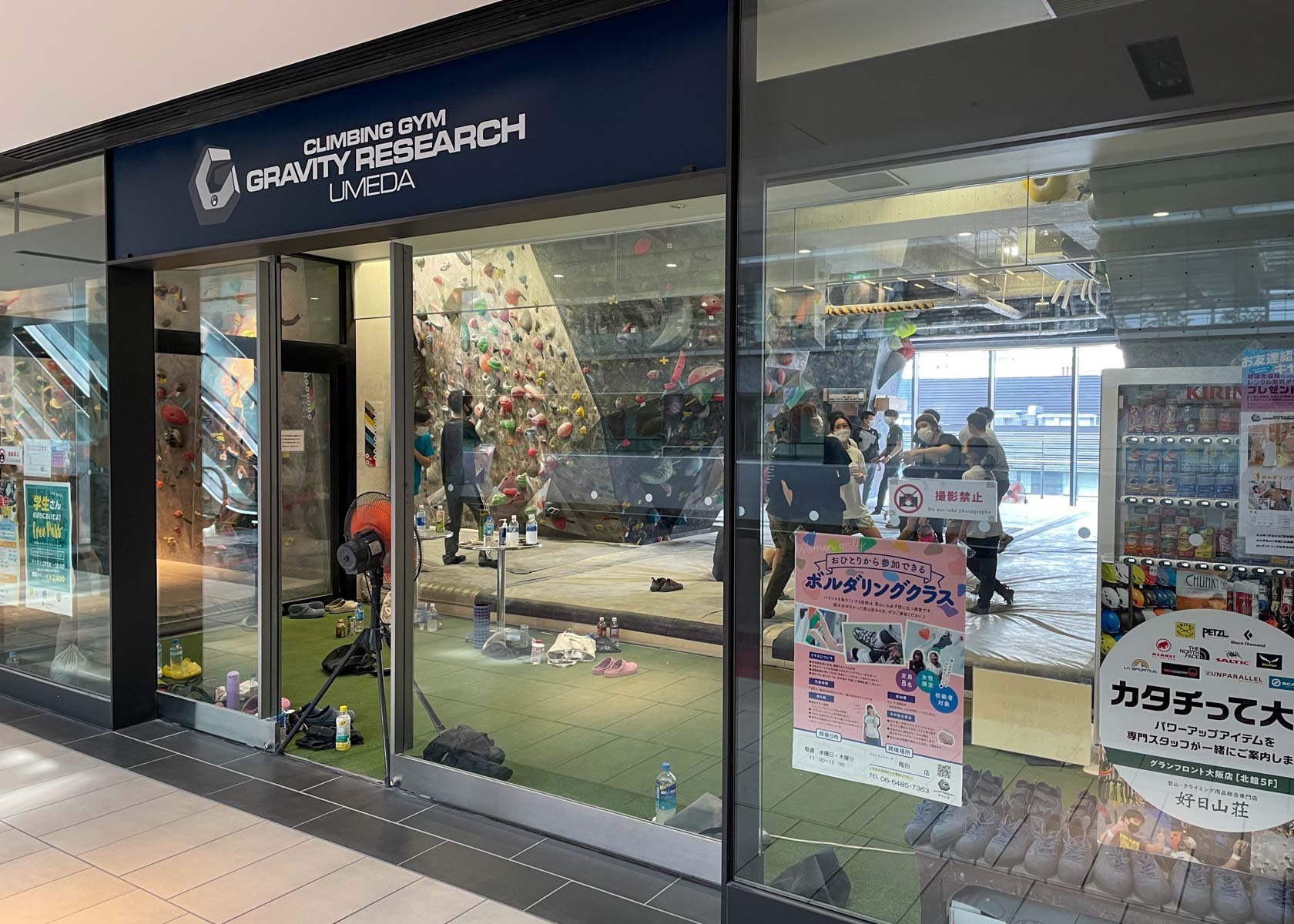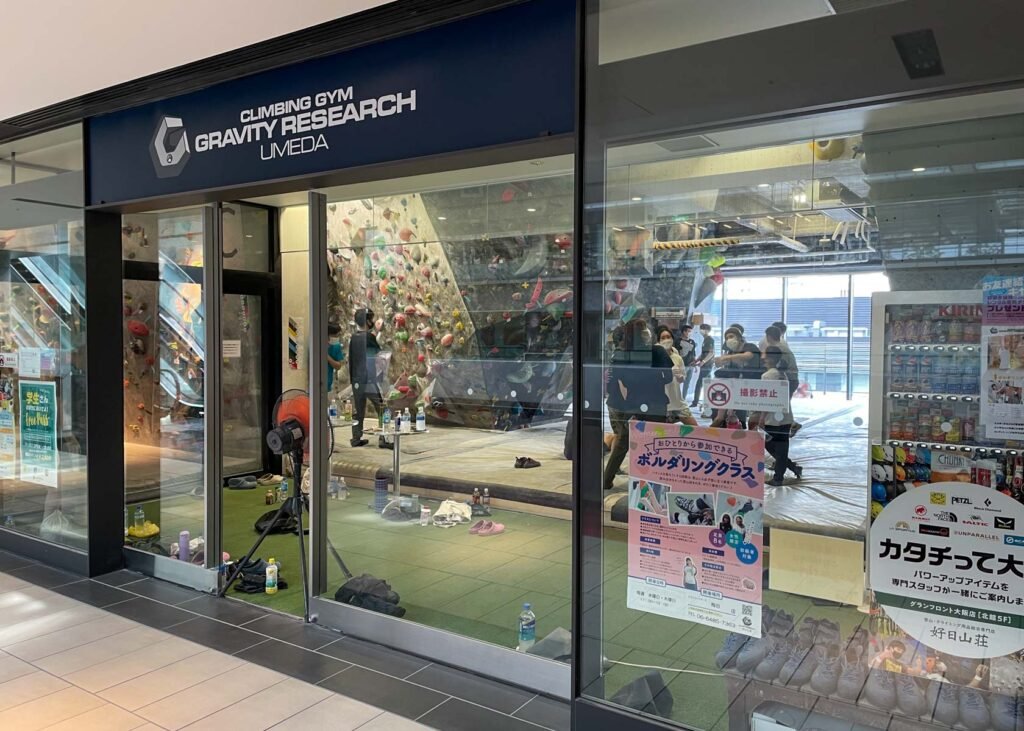 Meguri Spa and Wellness
If you need some 'me-time' and pampering, Meguri Spa at the InterContinental Hotel shall fulfill your needs. It is a day spa so you don't need to be the guest of the hotel. They offer many treatments and massages. You can find them on the 4th floor in the Tower C of the North Building of Grand Front Osaka. You can visit their official website here.
Shimano Square
Every bike or fishing enthusiast has probably heard of Shimano equipment. Established in 1921 in Osaka, Shimano quickly became leader on the market for bicycle and fishing sports with factories and offices all over the world. On the 4th floor in the North Building of Grand Front Osaka, you can visit Shimano Square, a café with adjacent museum dedicated to Shimano products. The café is quite large and stylish, offering great coffee and sandwiches. The staff is very polite and their manager can speak English. It is cool place to chill and learn about this famous Japanese company.
Shimano Square is open daily from 11:00 to 19:00. The museum is free of charge, you can just enter, you don't need to be a customer of the café.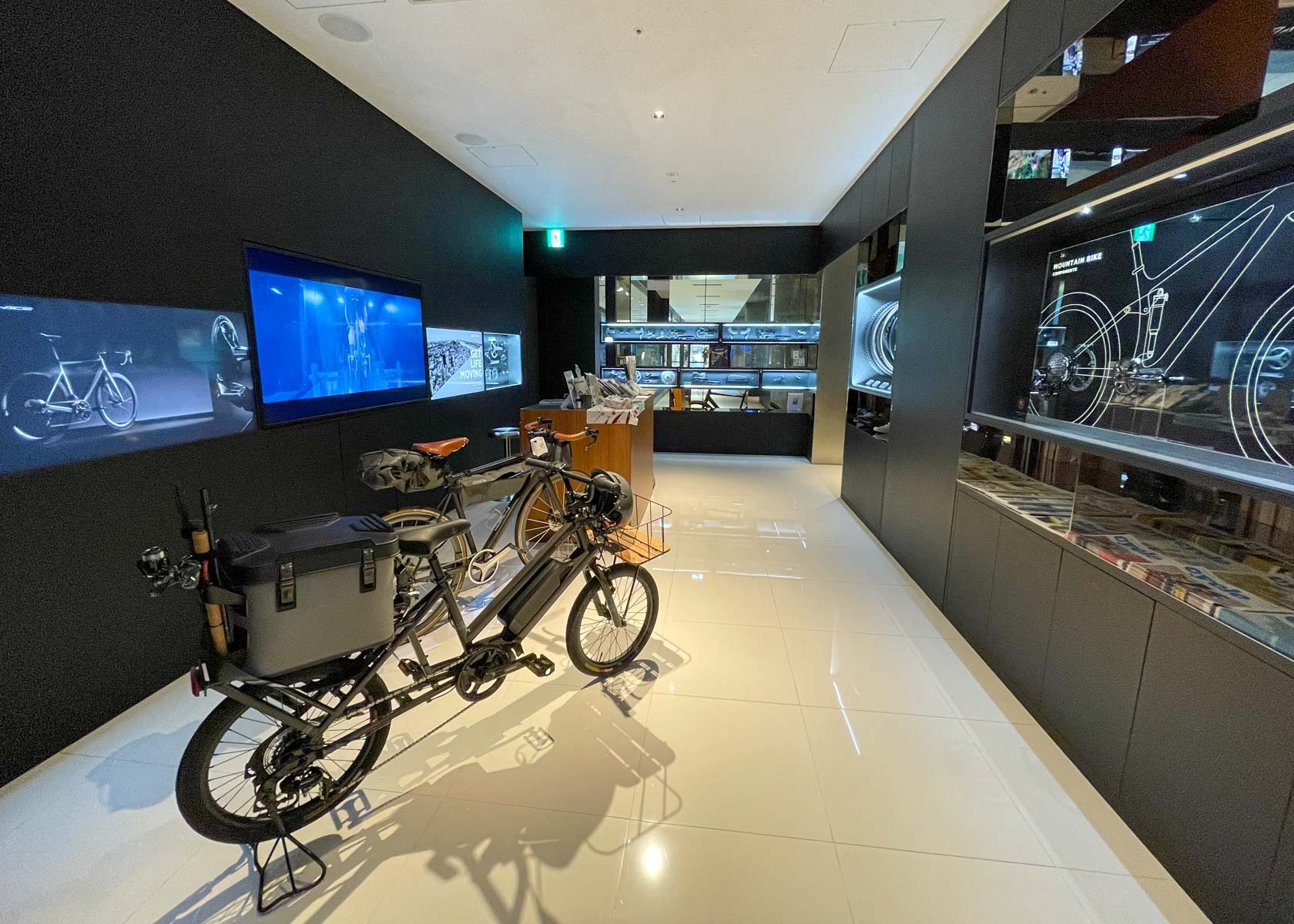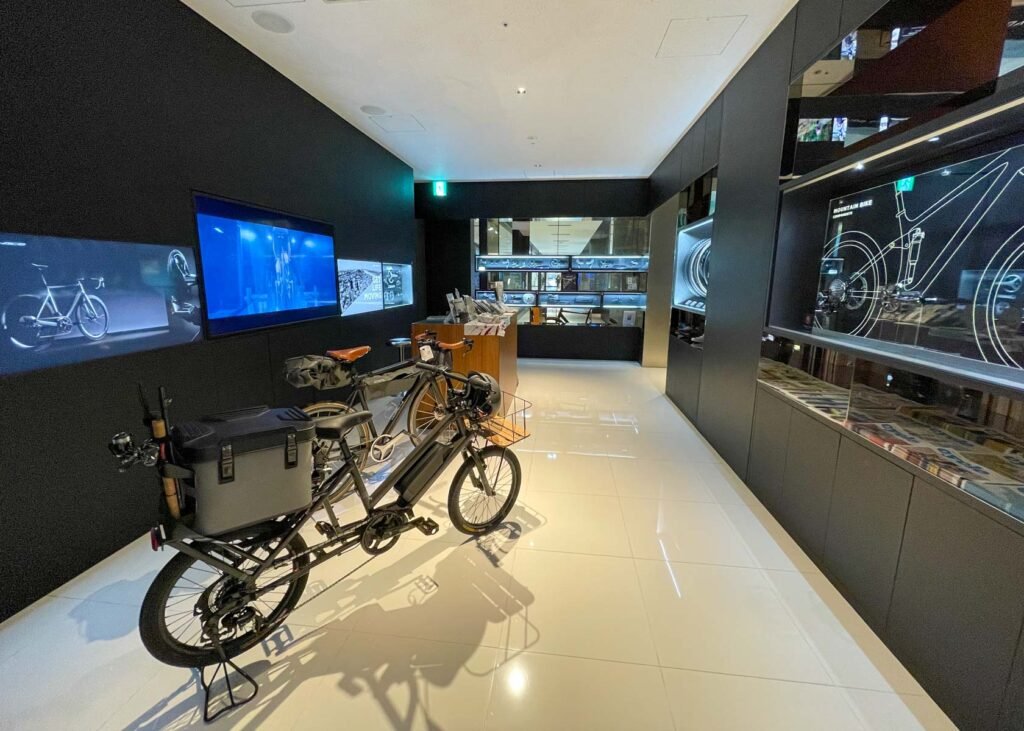 Anime and Manga shops
Undeniable part of Japanese culture are anime and manga comics with loyal fans all around the world. Who wouldn't know Pokémon, Demon Slayer, One Piece or Naruto series? If you consider yourself a fan as well, or if you know anyone who would appreciate a gift with their favourite character, here's a list of stores you can visit near Osaka Umeda station.
Pokémon Centre Osaka
Daimaru department store, which is directly connected to Osaka station, has a very large Pokémon Centre on the 13th floor. You can find here anything with your favourite characters, from plushie toys to items of daily use, such as lunch boxes or chopsticks. It is a paradise for every Pokémon lover!
Daimaru is open every day from 10:00 until 20:00.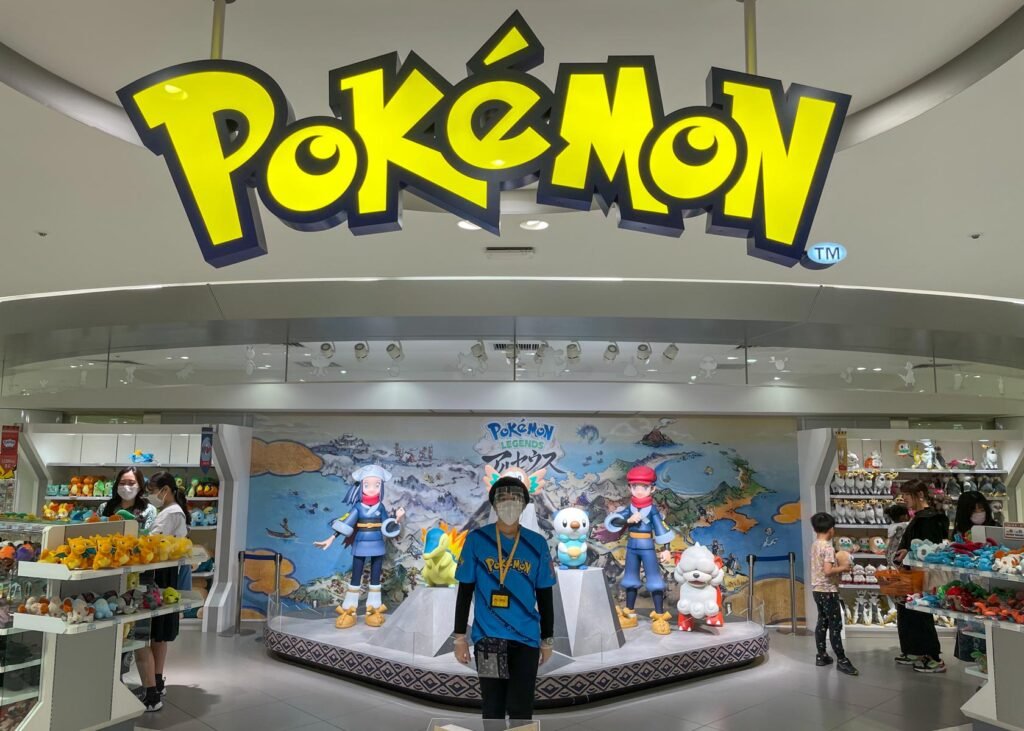 Sanrio
Sanrio is home to all the kawaii characters we know and love, such as Hello Kitty, Gudetama, My Melody, Pompom Purin and others. Near Osaka Umeda station, there are a few of shops dedicated to Sanrio souvenirs. Daimaru Department store has a Sanrio section on the 5th floor. In HEP 5 shopping mall, you can find Sanrio boutique on the 4th floor, and another one is in Lucua on the 1st floor (near the Central Gate of Osaka Station). All of them sell not only toys but also clothes and items for daily use.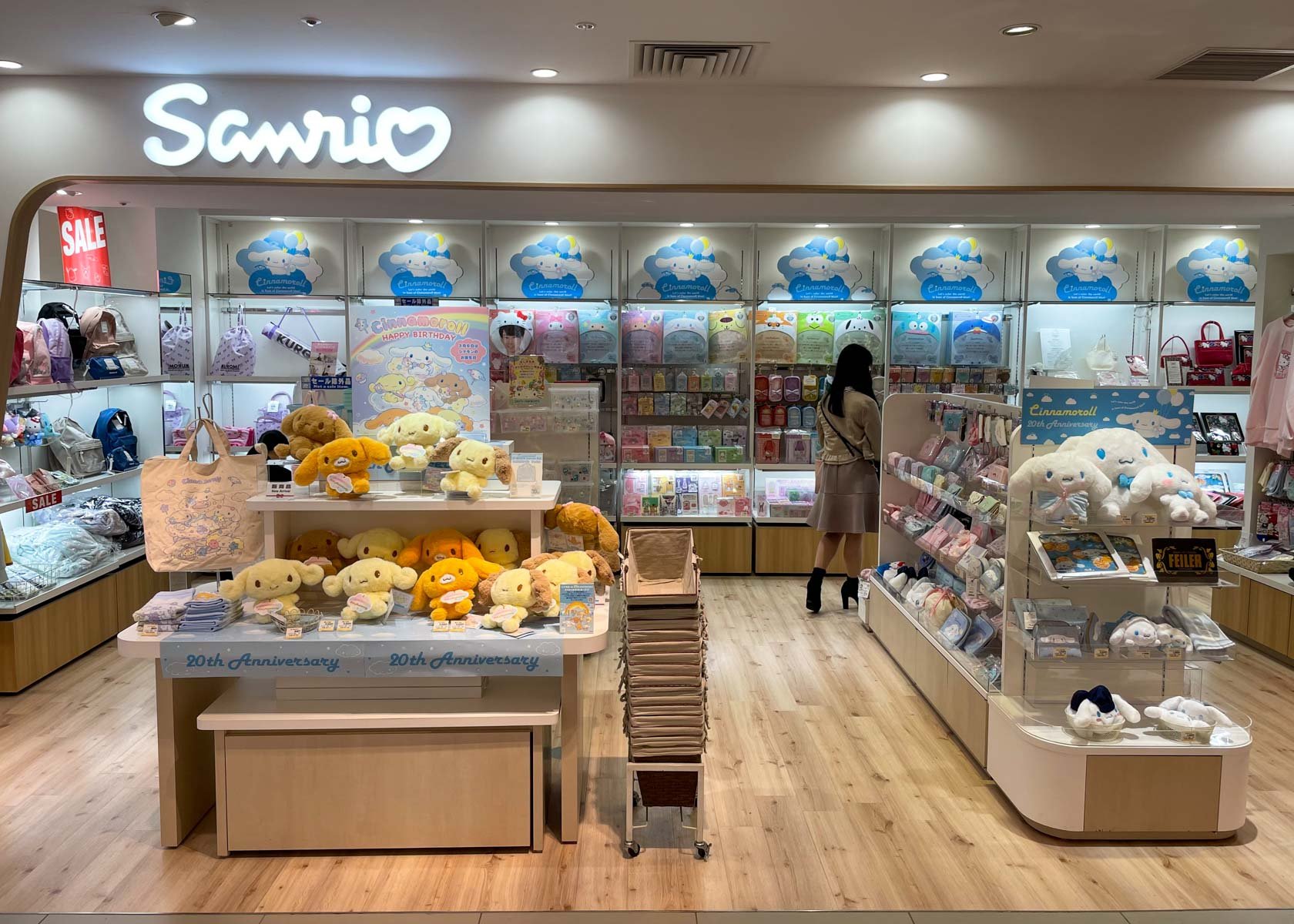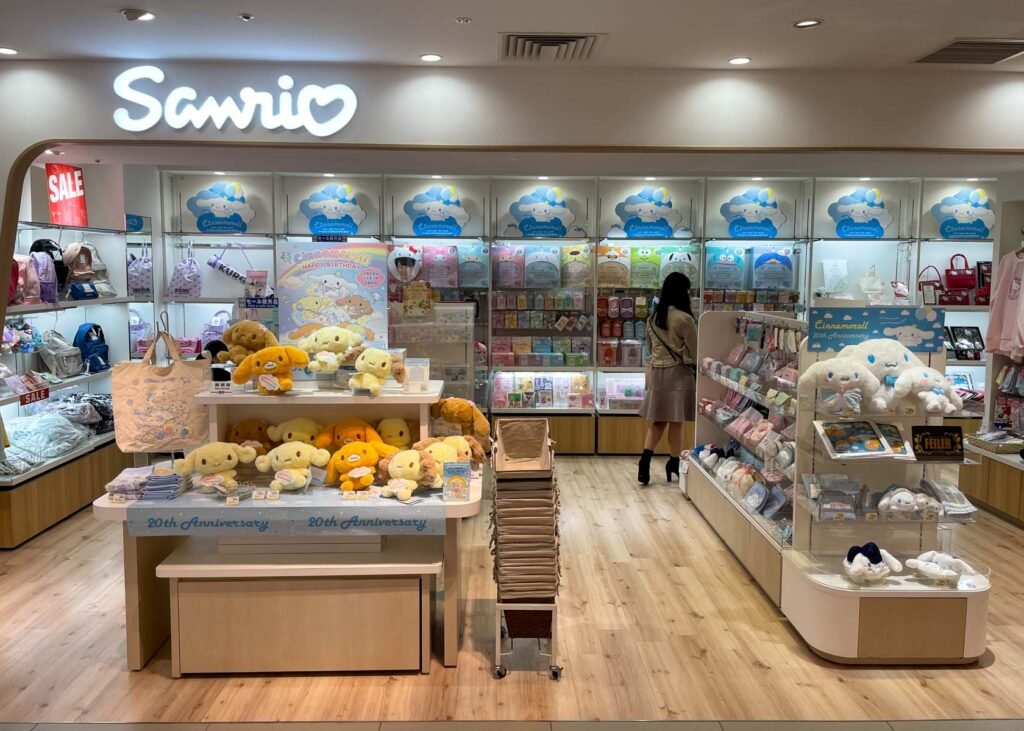 Anime/Manga souvenir shops
If you are a fan of Japanese anime and manga comics, Osaka Umeda is a destination for you! There are collectible stores near the stations where you can buy character goods and other collectible items that you cannot find anywhere else, only in Japan. JUMP Store is located on the 6th floor of HEP 5 and it is the official store of Shueisha company, publishing popular manga magazines. If One Piece is your favourite, on the 14th floor of Daimaru, right next to the Pokémon centre, there's a dedicated One Piece collectibles shop.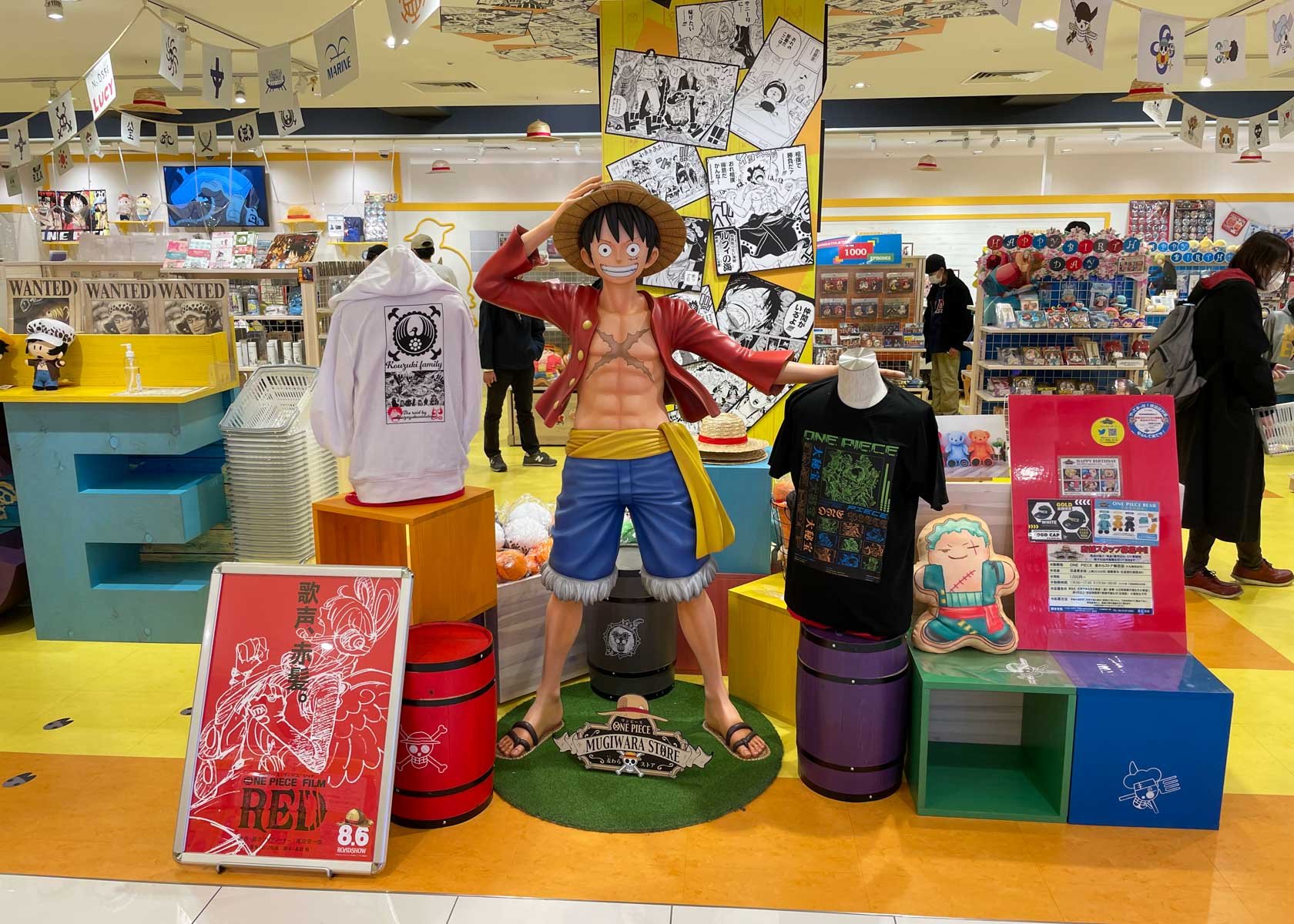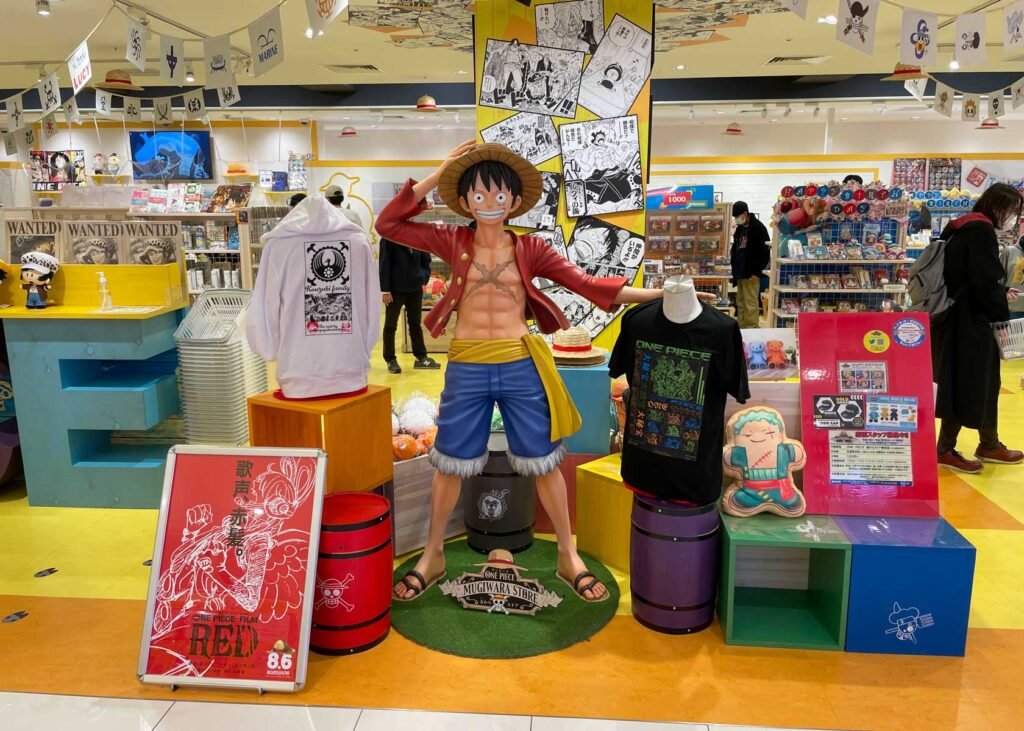 Disney store
Of course, Disney is not a Japanese company, but it is very beloved here. If you love Disney too, in HEP 5 on the 4th floor there's a specialty Disney store. It is quite large and they sell many great souvenirs and toys.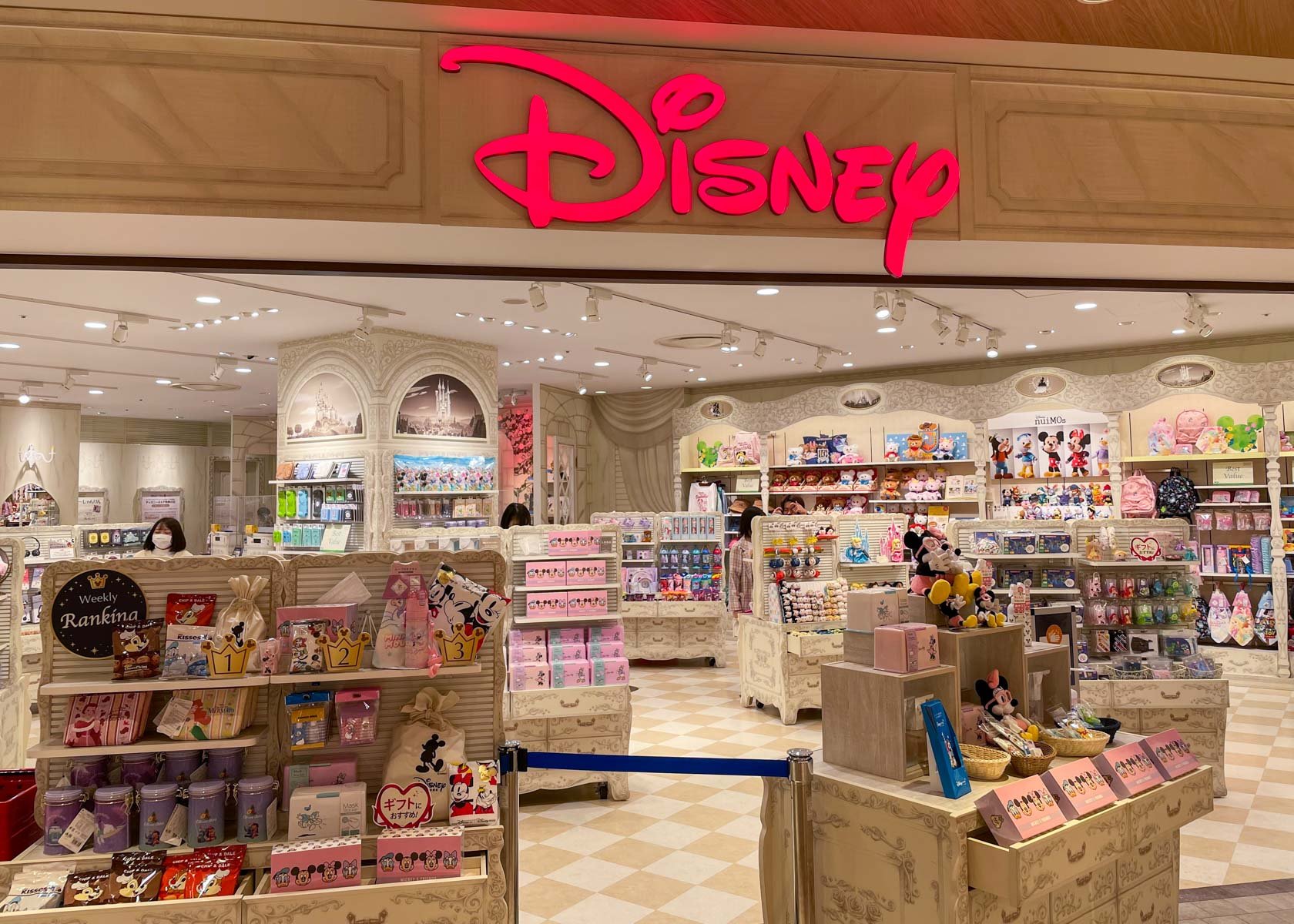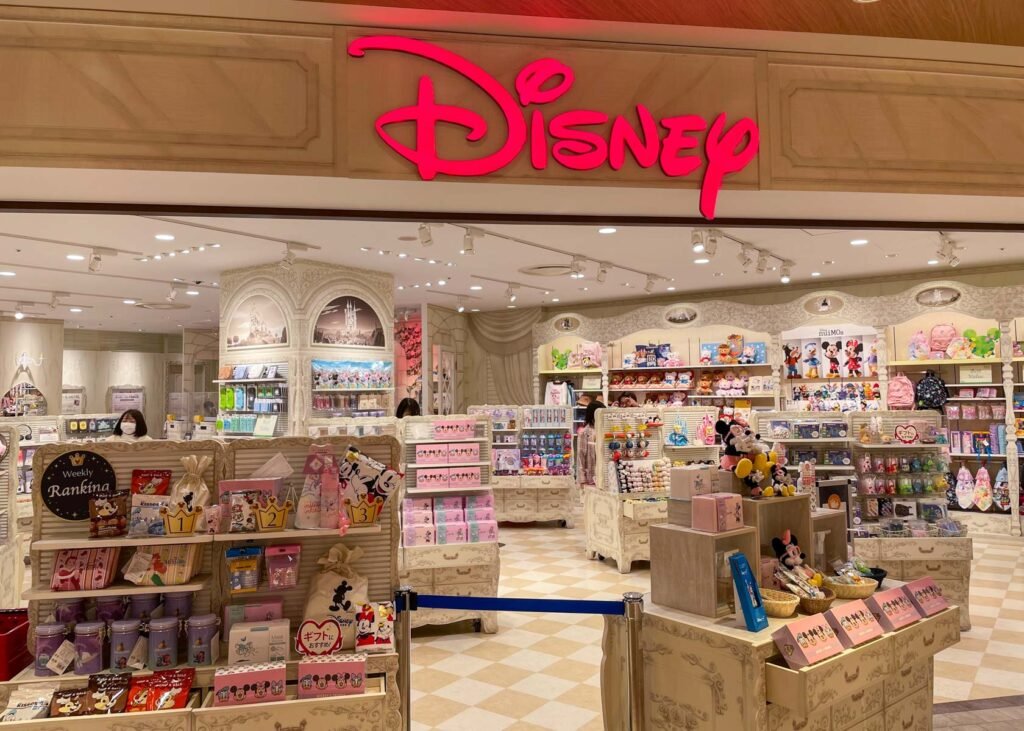 Tsuyu-no-Tenjinja Shrine
Tsuyu-no-Tenjinja is the guardian shrine of Kita district in Osaka and it is said that it is as old as 1300 years. At that time, this area was still a swampy bay and the shrine was built on an island. In 1945, during WW II bombing, the whole area of Umeda was completely destroyed to the ground. The shrine was later rebuilt in 1957, and today it proudly stands as a symbol of resilience. It is a lovely little place of worship, hidden behind tall buildings. With Sakura trees, artificial grass and benches, it is a quaint place to pray and relax.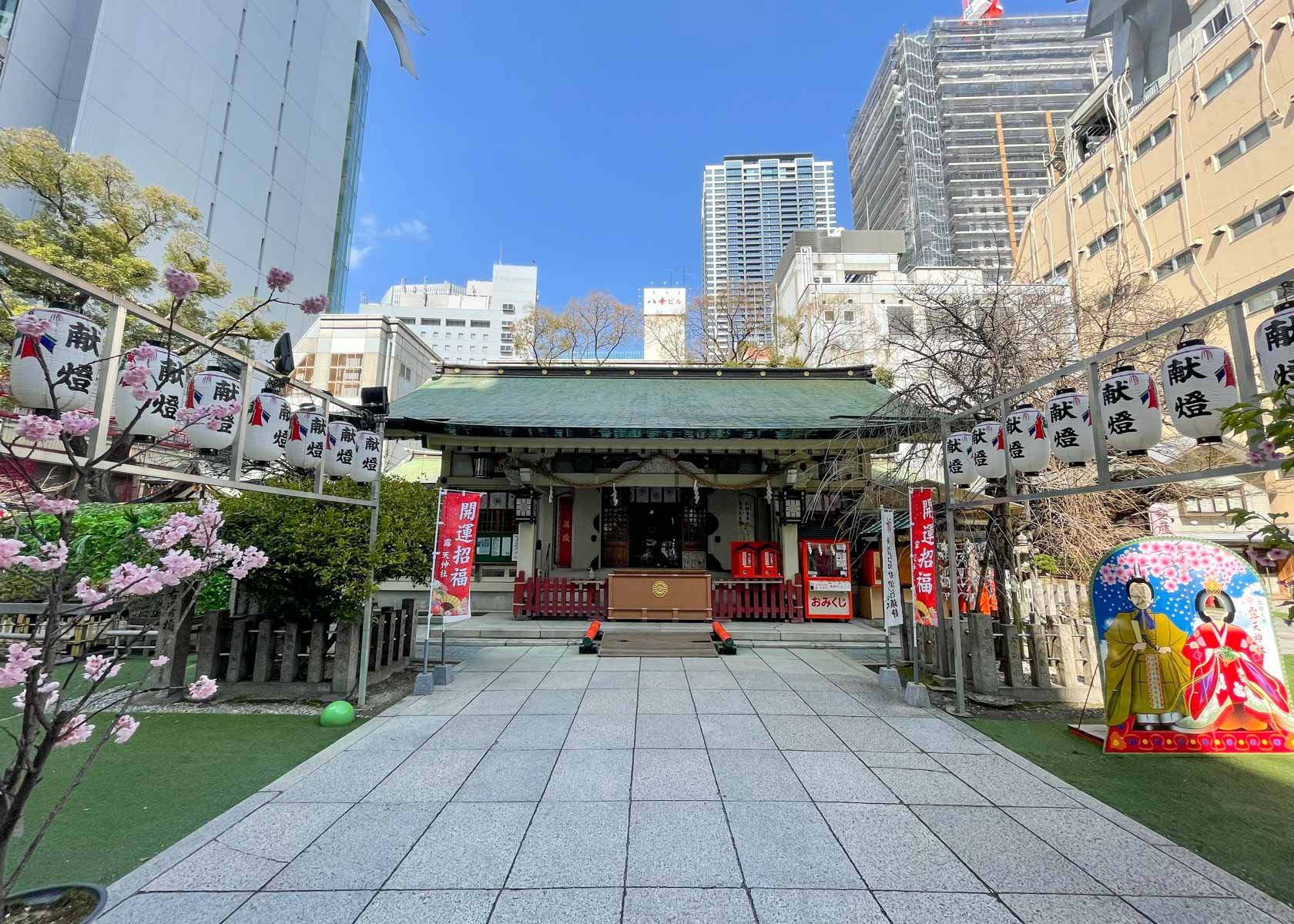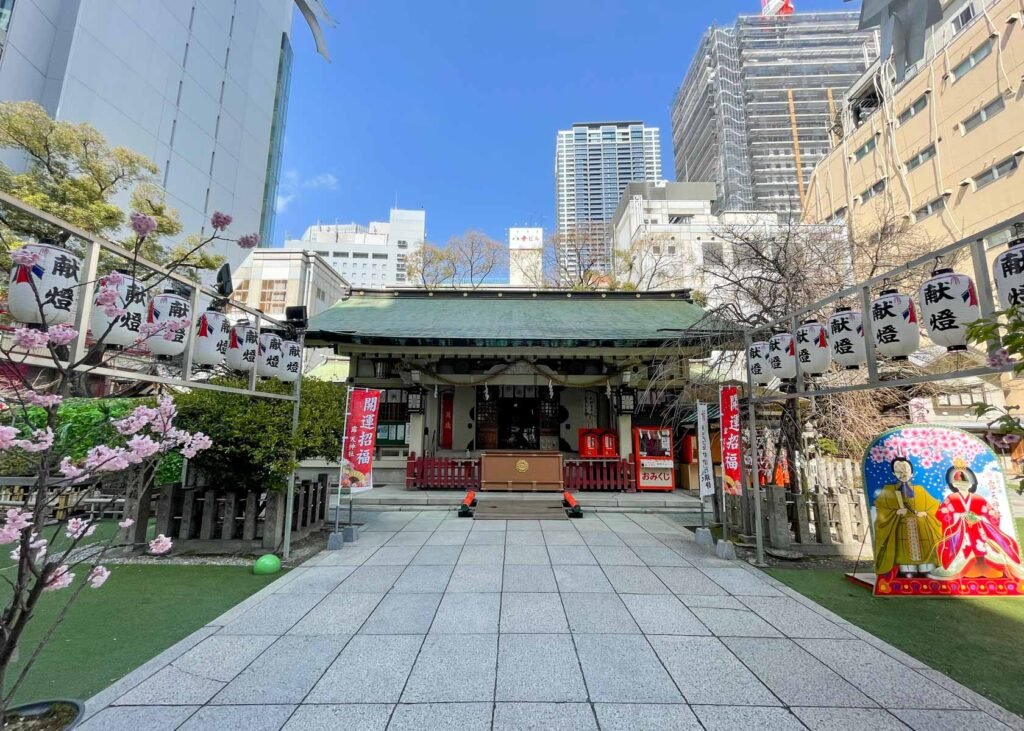 Tokubei and Ohatsu Story
The shrine is mainly known as the place of tragic love story of Ohatsu, a concubine and Tokubei, a shop worker who was employed by his uncle. The lovers couldn't be together publicly, and on top of that, Tokubei's uncle promised him to another woman so he can run his own shop later on. Tokubei refused which cost him his dignity. Later he was betrayed by his best friend who stole his money. Tokubei didn't see other solution than to commit a suicide. He came to visit Ohatsu one last time before taking his own life. Ohatsu couldn't imagine to live in a world without her lover and decided to end her life as well. They came to this shrine where Tokubei first killed his loved one, and then took his own life too.
Because of this tragic love, Tsuyu-no-Tenjinja is a popular place where couples come to pray for their eternal love, and single people come here to search for their significant other. Within the shrine, there's also a smaller building, where parents come to pray for the health of their children.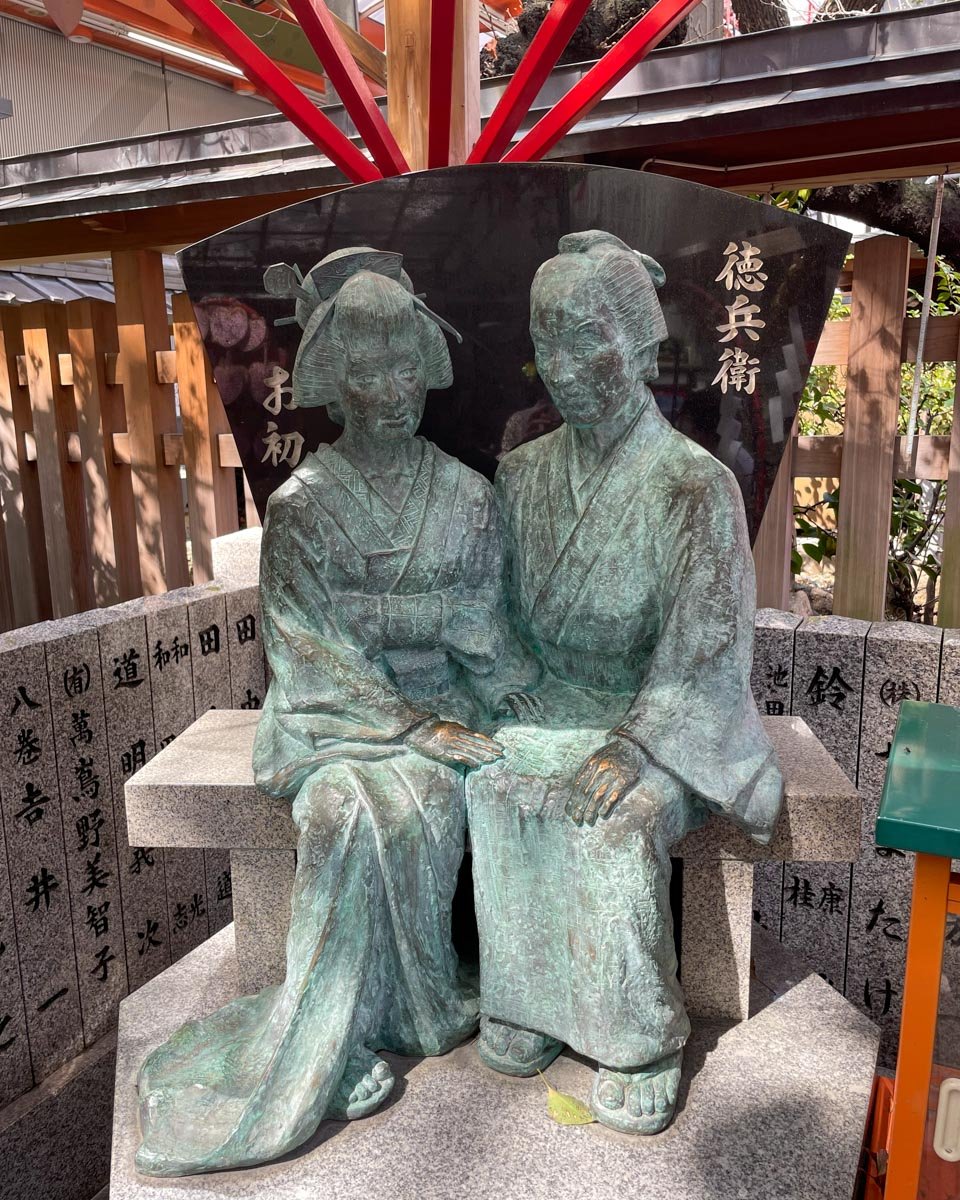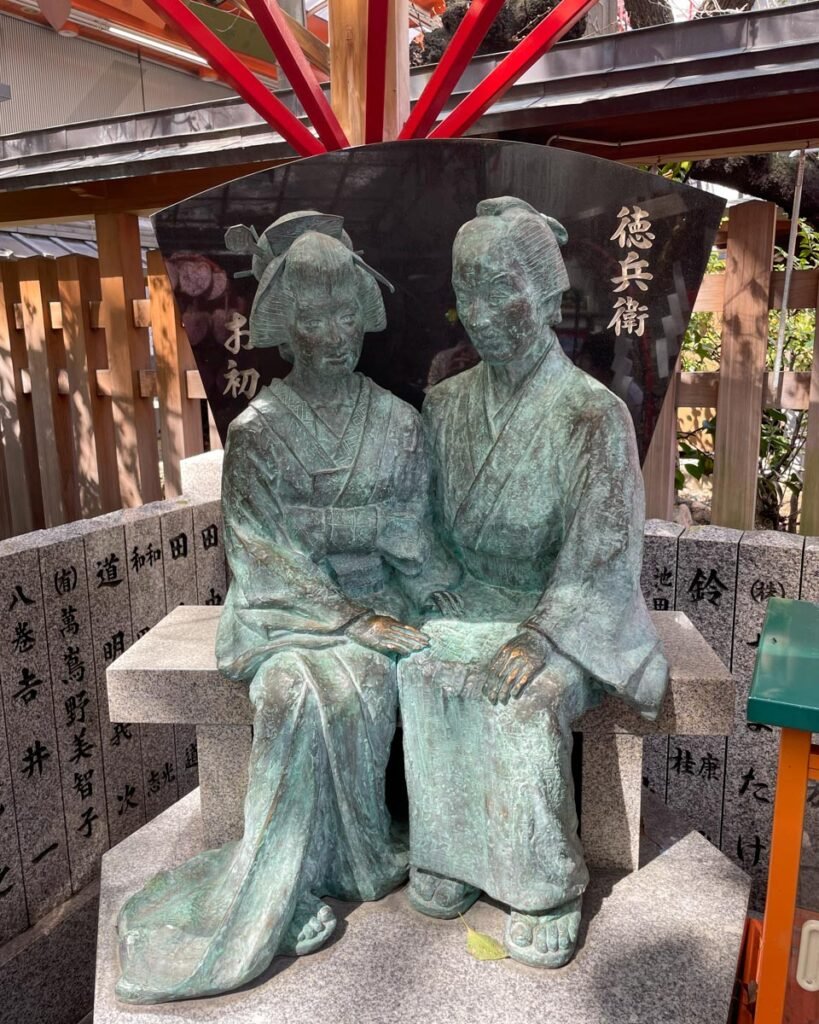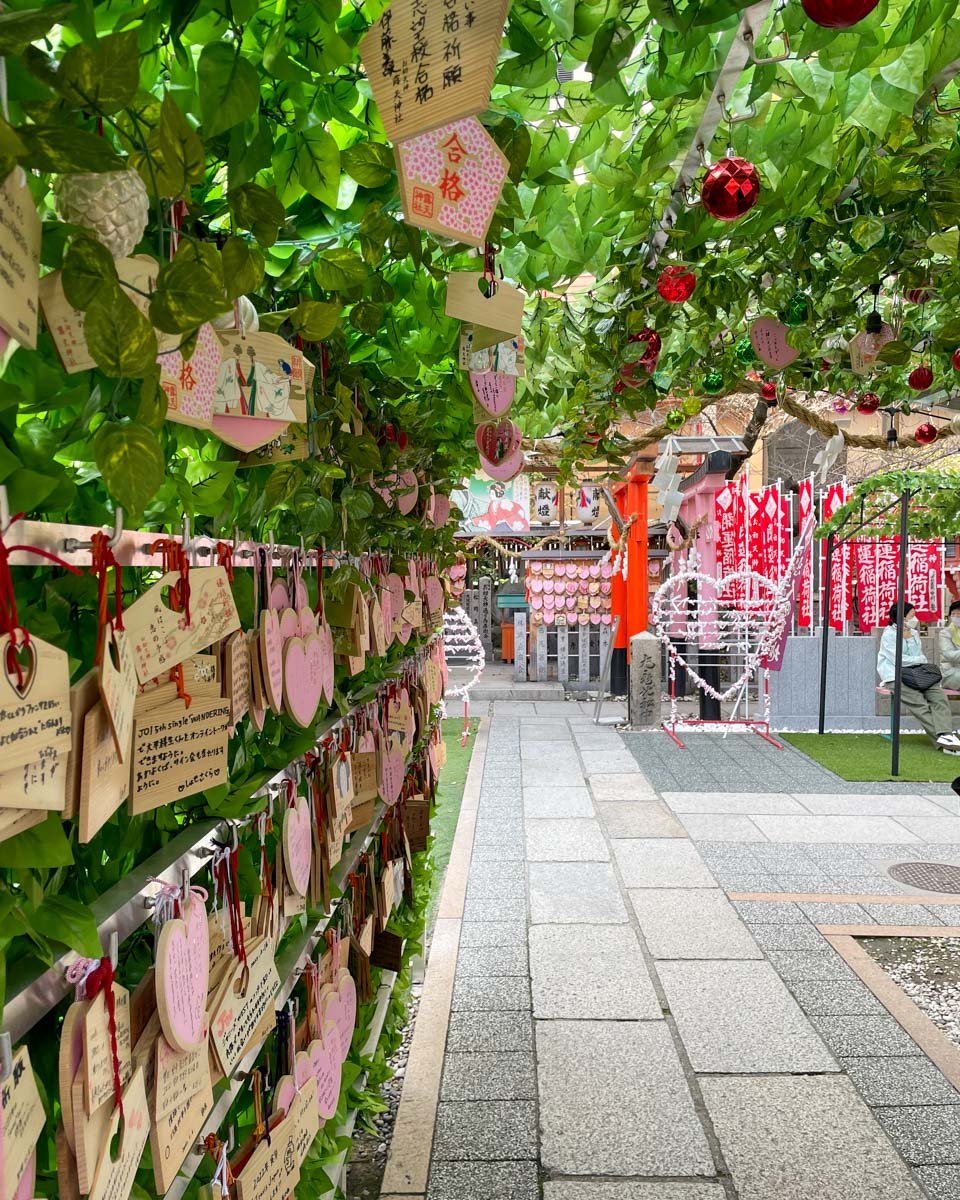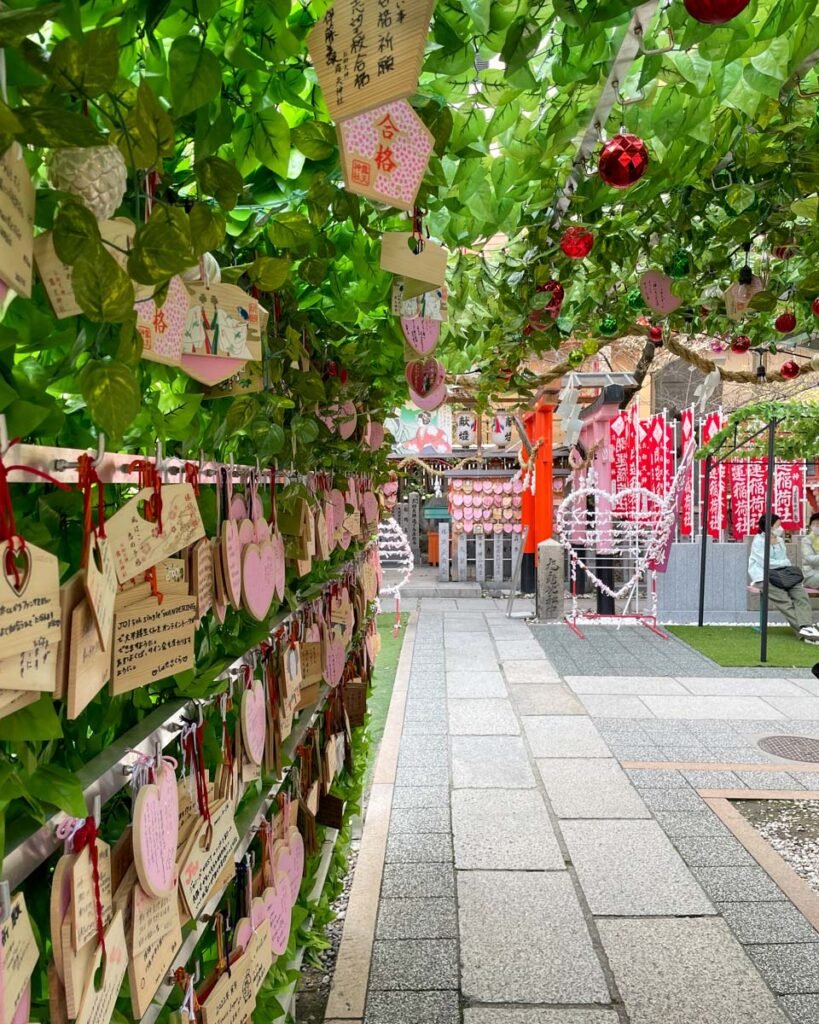 Location and opening hours
I personally love this place because it is full of little details and it is truly hidden. You can find it at the end of a covered shopping arcade called Ohatsu-Tenjindori Shotengai. It is full of little cafes and restaurants, so it is also worth to explore. The shrine is open every day from 7:00 until 23:00. The entrance is free. In the shrine, there's also a little shop where you can buy charms or wooden plaques called emu. You can write your wish/prayer on the emu and leave it in the shrine so it comes true.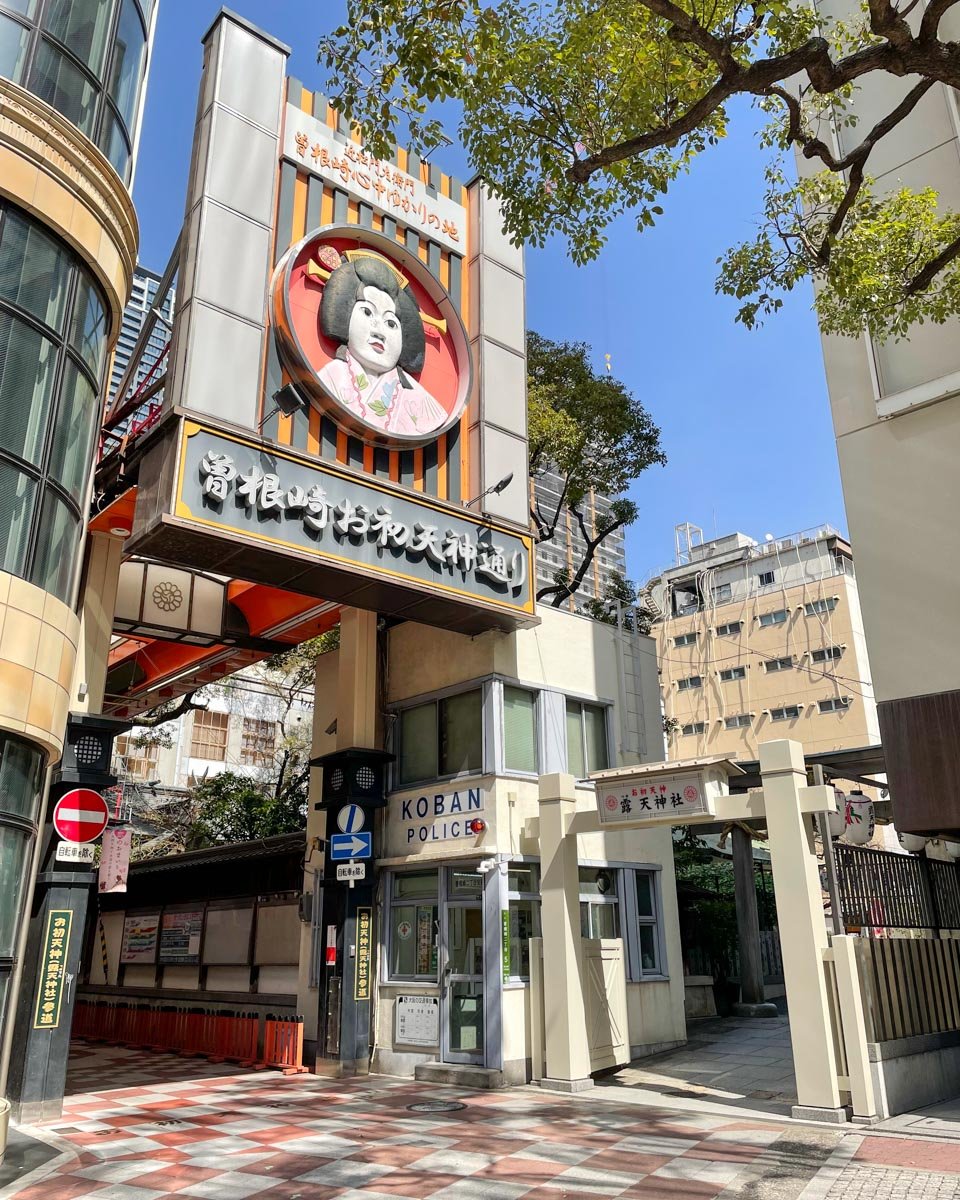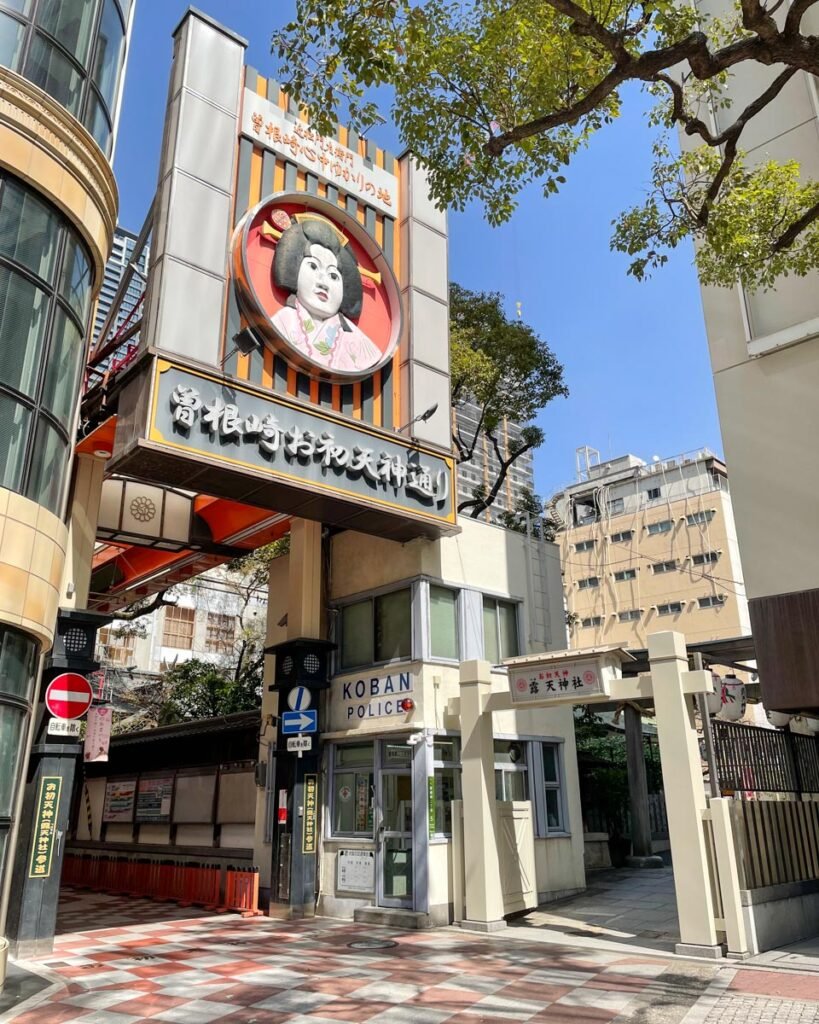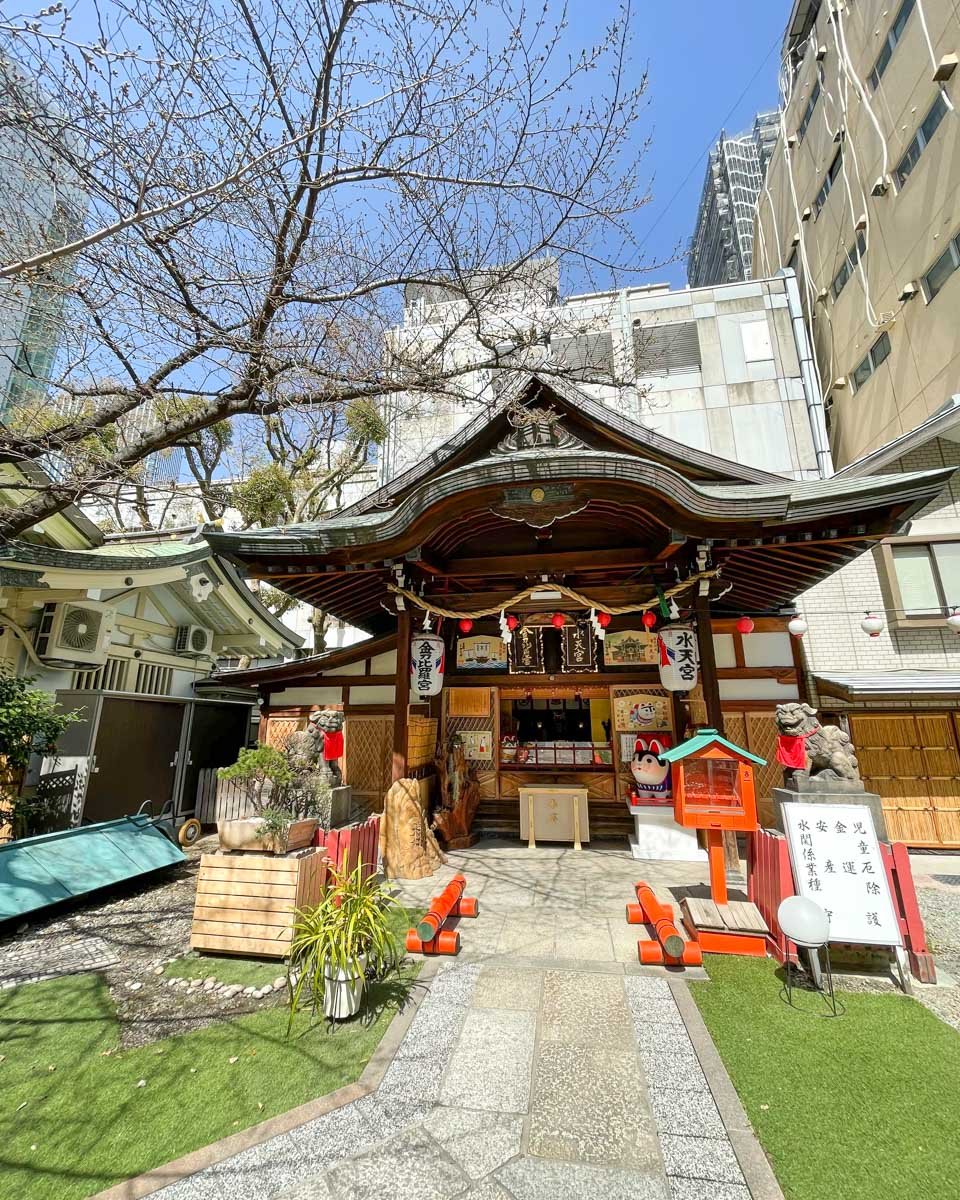 Osaka Umeda is a shopping heaven
The area of Osaka Umeda station is not only an important transportation hub, but a popular shopping district, where you can buy virtually anything. For a detailed guide to shopping in Osaka, check our older article dedicated to this topic.
Umeda Sky Building
One of the most popular and unique landmarks of Osaka, Umeda Sky Building, is located just about 800 metres away from the Central Gate of Osaka station. If you have time to spare, I can only recommend to visit this unusual skyscraper! The views from its observatory on the 40th floor are simply stunning.
The area of Osaka Umeda is very modern, but it is still going through development. A new project is currently in place that will bring more parks and trees to this area, as well as skyscrapers and shopping malls. It is fun now, but imagine the endless opportunities in couples of year time.